Last Updated on

WHY GO: As a Colonial seaport and one of the country's oldest Naval Shipyards, Portsmouth was open to many immigrants from foreign lands who lived and socialized together in an enclave picturesquely called "Puddle Dock." The town bustled with shops and eateries, barges plied the rivers delivering goods: it was lively and friendly – and still is. At one time, Portsmouth was home to the country's largest brewery, and craft brewers still take their beer seriously here. Known for unique boutiques and shops, zero sales tax on purchases, and for a burgeoning culinary scene, Portsmouth NH melds history with pleasure in the best of ways.
Things to Do in Portsmouth NH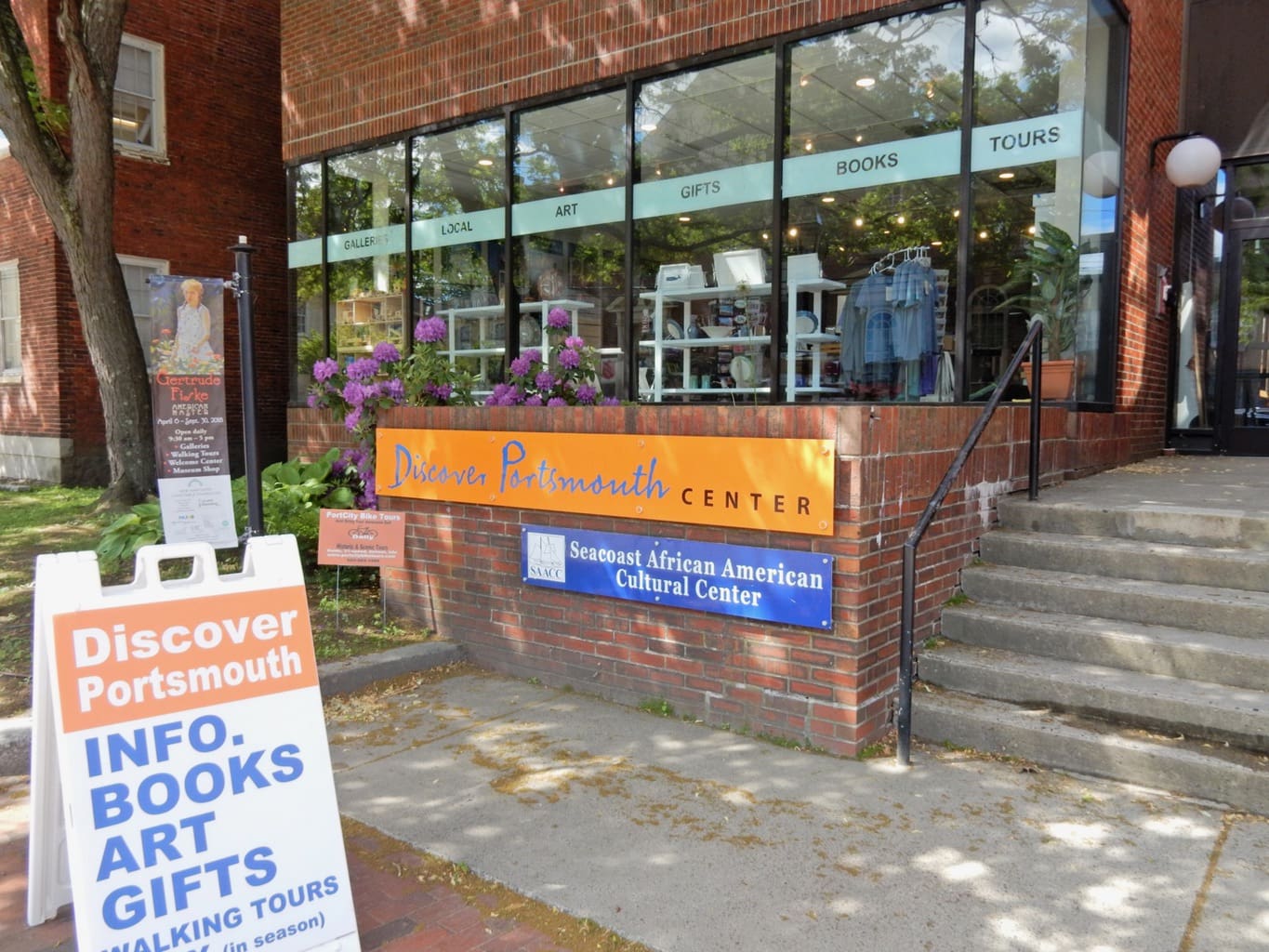 WALKING TOUR: Discover Portsmouth Walking Tours. To understand this multi-layered city, the 4th largest during the Colonial era, it's a good idea to start at Discover Portsmouth – the large Federal Style brick building (built in 1810 as an Academy with 25 women in the first class) right across from the John Paul Jones House (more on that in a minute). An art museum, gallery, and great gift shop, Discover Portsmouth is also the starting point of several 75-minute walking tours that begin with a 12 minute video.

Portsmouth NH was founded for economic, not religious, reasons. Five tributaries pour into the Piscataqua River, and the area was found to be rife with timber and fish – quite a boon to England. In the 1700's, English shipbuilders and ship's Captains grew wealthy working for the King, but when Paul Revere warned the populace that the British would be confiscating all gunpowder, a locally formed militia stormed nearby Fort William and Mary (which became Fort Constitution), absconding with 96 barrels of gunpowder in the first act of defiance leading to the Revolutionary War.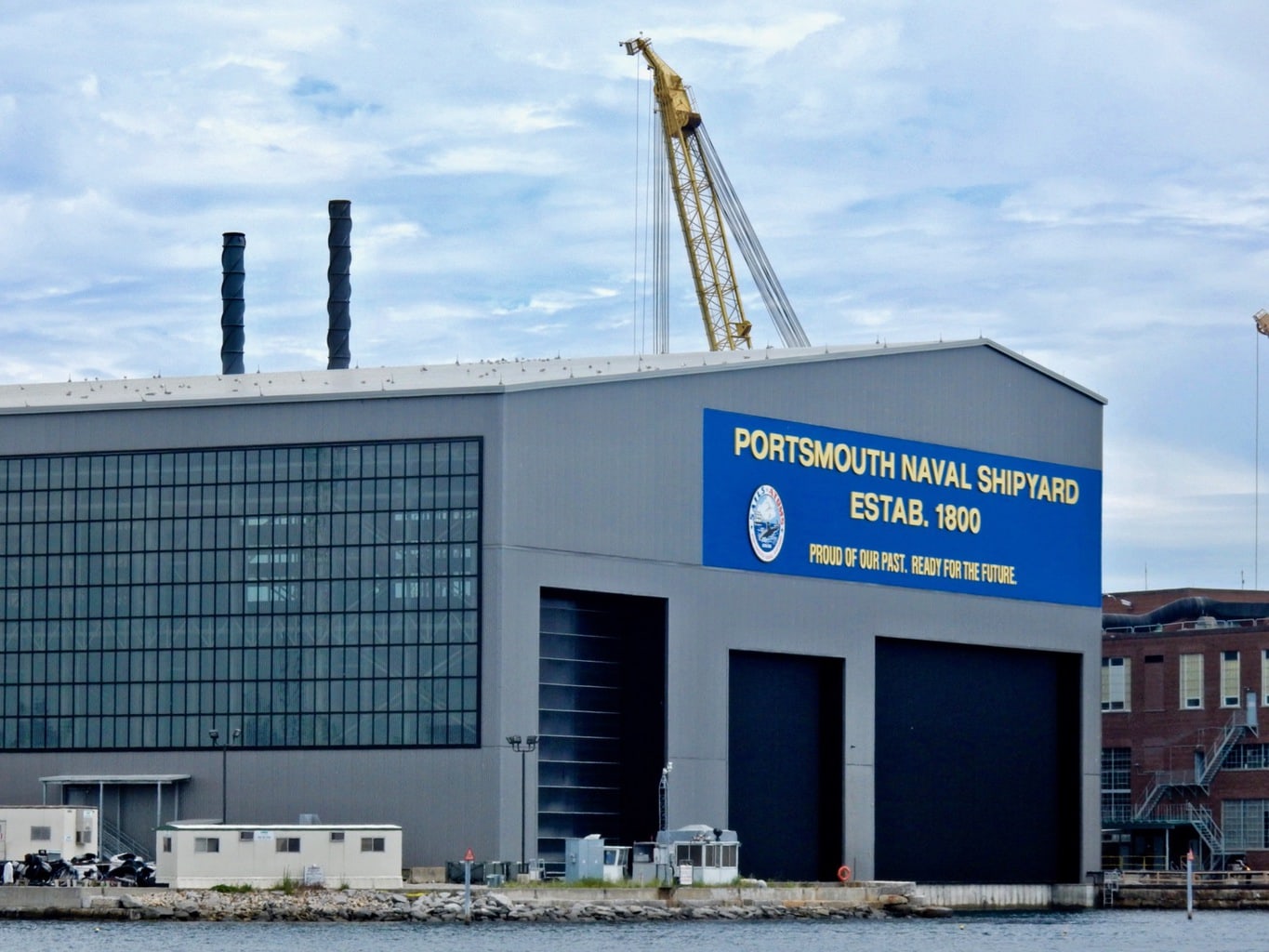 The newly formed U.S. Navy began to build ships here, which is when John Paul Jones entered the scene. He lived in Portsmouth for a short time in 1777 while overseeing the construction of his Naval ship, the USS Ranger, which he subsequently sailed to France and the Irish Sea to assist with the American cause. Post War, the shipyard, and thus the local economy, was in the doldrums, until the mid to late 1800's when the titan of beer-making, Frank Jones, turned Portsmouth into a brewery town, employing over 500 people and shipping off 250,000 barrels of beer a year.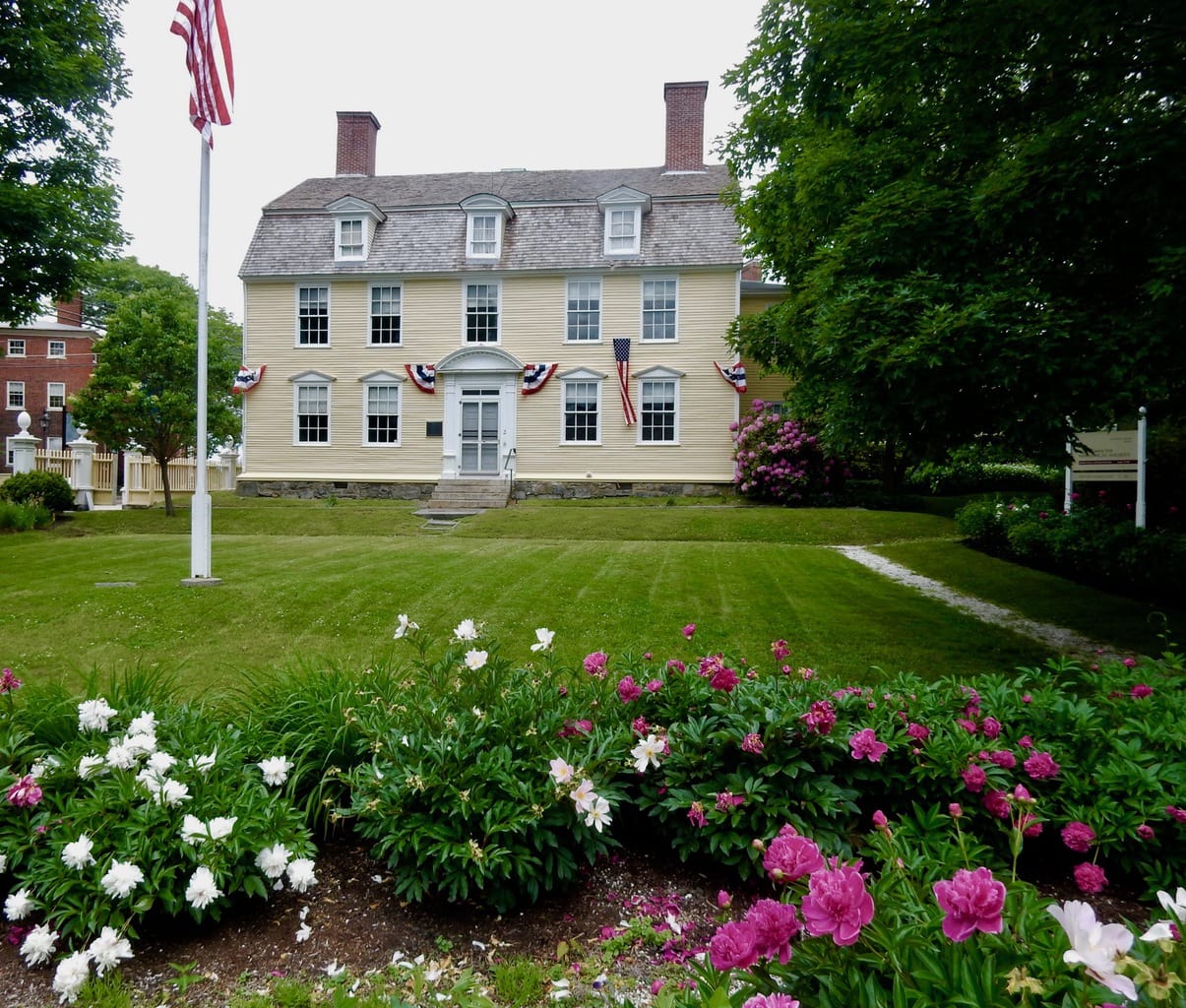 During the early years of the 1900's, over half a million people had been killed in the war between Russia and Japan. In a Camp David move of his day, President Teddy Roosevelt appealed to leaders of both nations to come to the coast of New Hampshire, where made sure that local dignitaries fêted them with dinners and lawn parties (while he stayed in the White House at a respectable remove): a diplomacy that culminated in the "Treaty of Portsmouth," signed at the Wentworth Hotel on September 5, 1905 – an historic event that made Portsmouth famous.
The Naval Shipyard pulled the local economy out of the Great Depression. In fact, the city's location and ample employment opportunities during WWII drew a slew of African Americans, women, and immigrants – you know, real Yankees – who all lived and worked together in one big melting pot. (The best place to learn about this era is at the living history Strawberry Banke Museum, see below).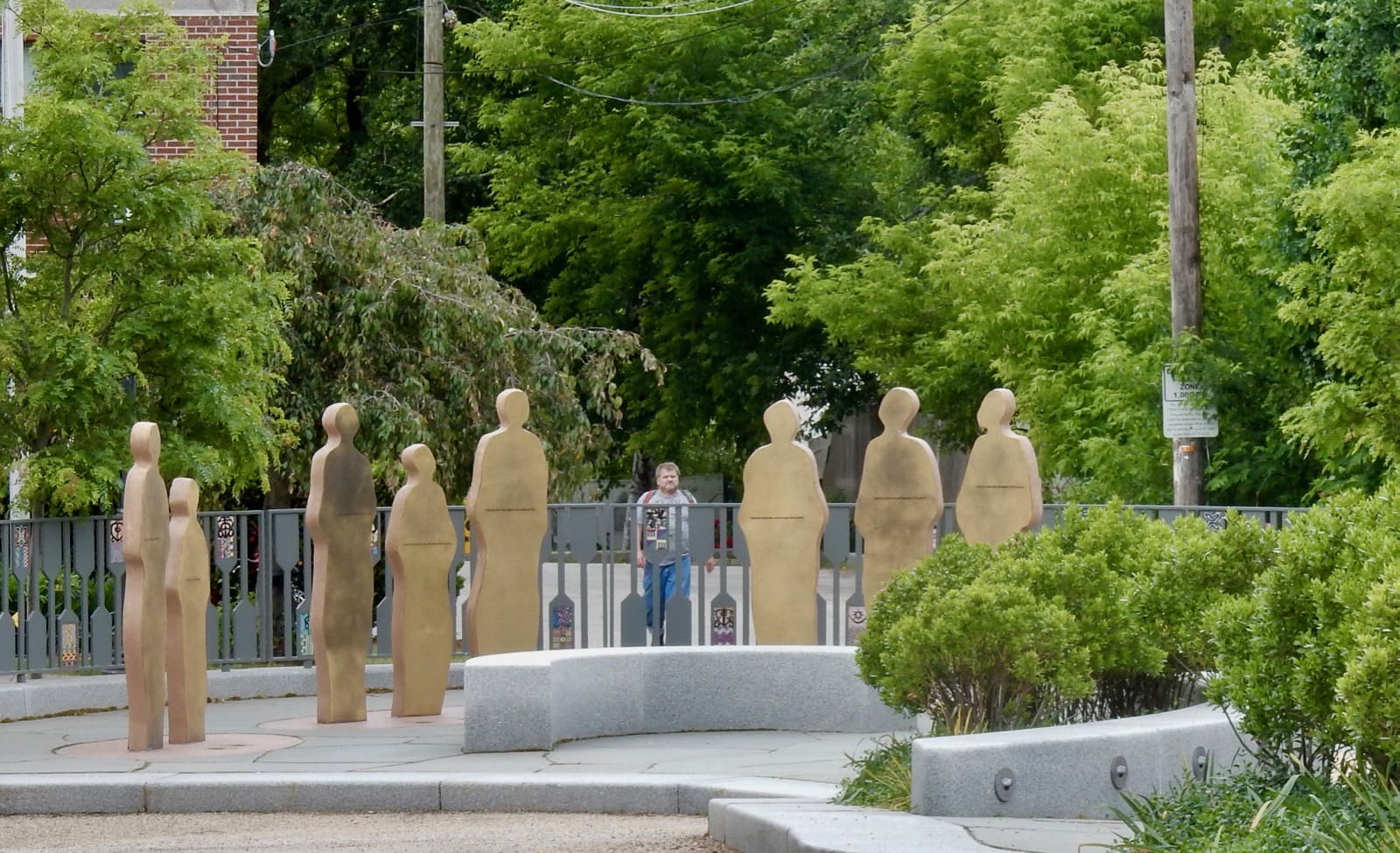 The walking tour takes you to the house that John Paul Jones rented, past the African Burying Grounds Memorial (when civil engineers were laying sewers, they unearthed caskets and bodies of slaves), and through small cobblestone streets – with great stories along the way.
Our guide pointed out the Tide Clock on top of People's Bank – indicating how important the tidal swings are to the local economy – and St. Paul's Church, which has one of 12 "Vinegar" Bibles in existence. Printed in 1717, the heading of one chapter in this multi-typo'd version of the Holy Book read "The Parable of the Vinegar" instead of "The Vineyard." Historic Downtown Tour, 75 minutes, daily, 10:30m, $15 per person.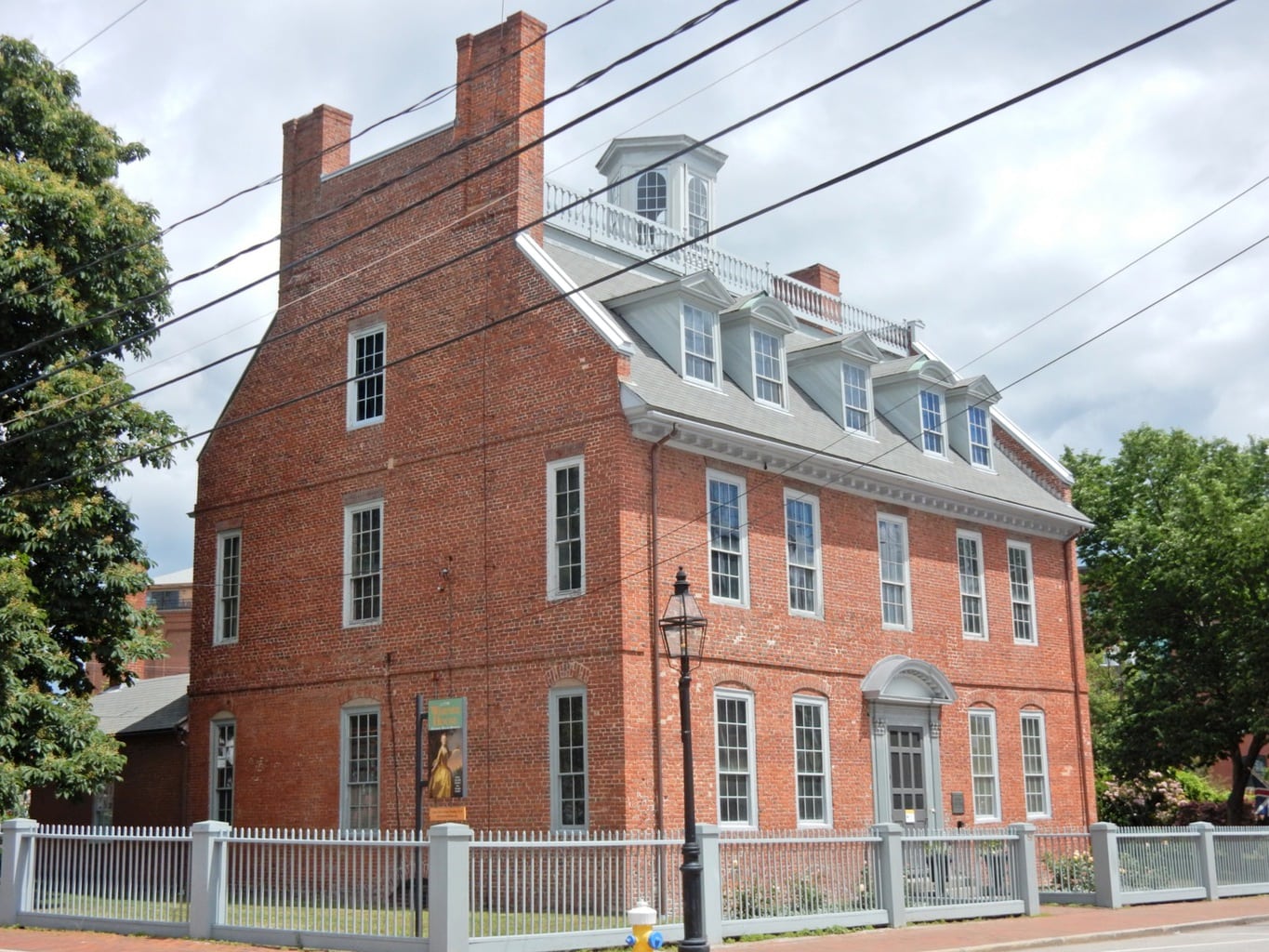 VISIT: Warner House. Built in 1716 for a sea captain, the Georgian style Warner House is the oldest urban brick house in Northern New England. After six generations, the house was rescued from demolition by the Warner House Association in 1932 and opened as a museum. Open June-October Wed – Mon 10-4. $8 adults, $4 kids.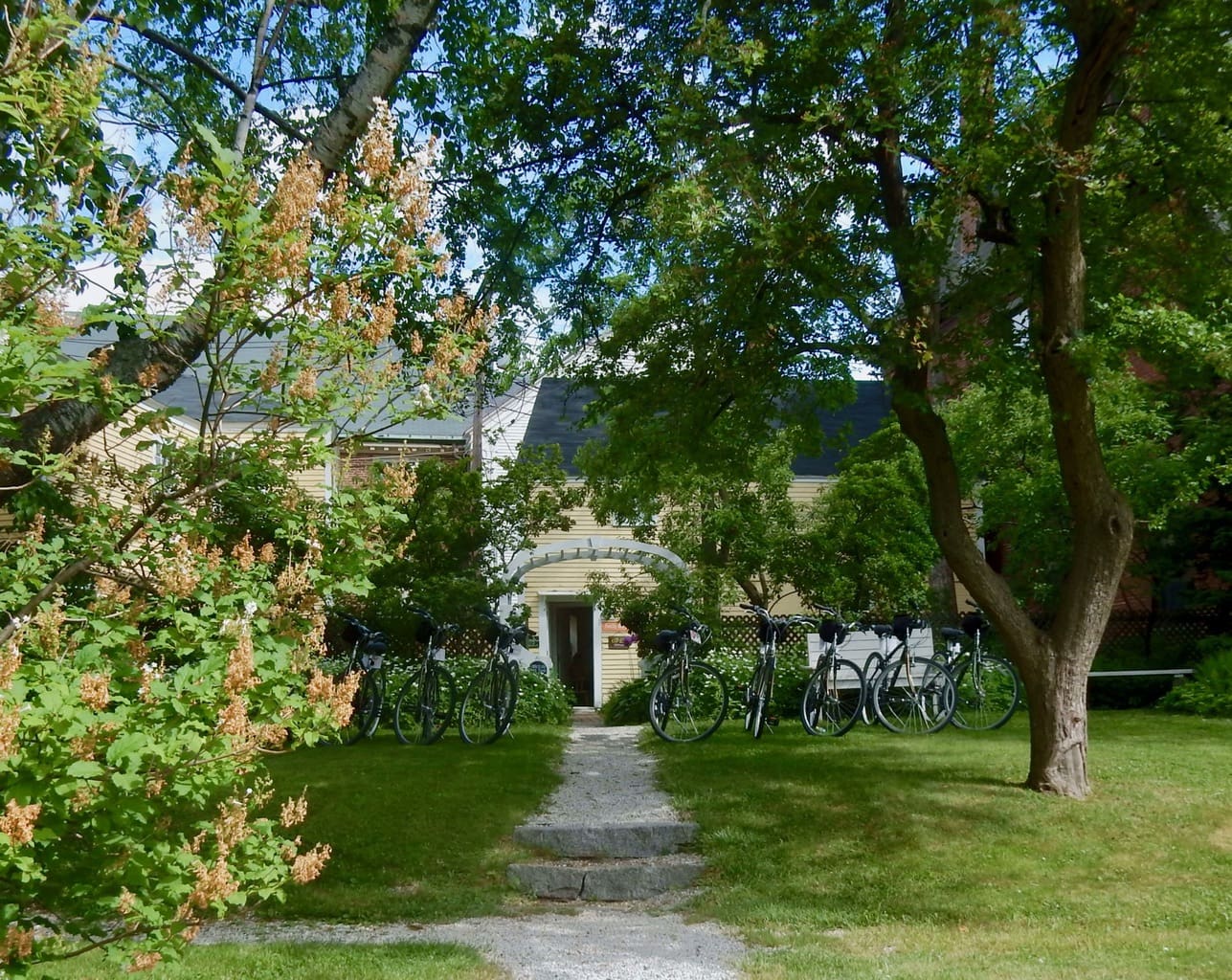 BIKE TOUR: PortCity Bike Tours. An alternative way to see Portland while on the move, PBT offers a Historic Tour, Coastal Tour, Island Tour, and Neighborhood Tour. Check website for dates and times.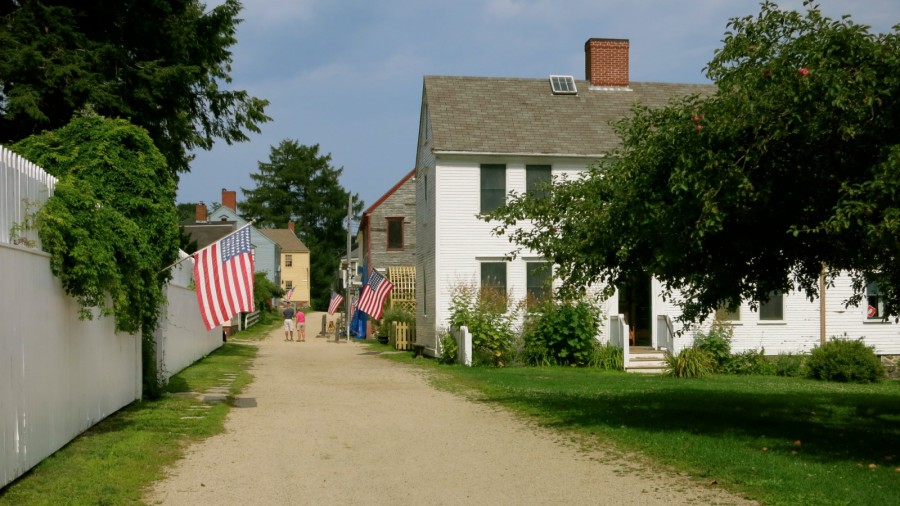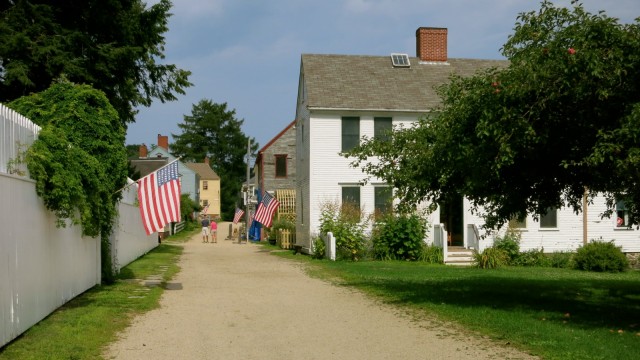 TOUR: Strawbery Banke. Perhaps more than in any other New England seacoast town, it's easy to imagine what life was like in this country when it was new and growing thanks to Portsmouth's living history museum, Strawbery Banke.  Strawbery Banke isn't a "museum" so much as a collection of 32 homes and establishments, most in their original locations, manned by costumed guides who interpret the lives and duties of the actual families that lived and worked in them. When English merchants first sailed up the Piscataqua River in 1630 and noticed wild berry bushes along its shores, they called what is now Portsmouth "Strawbery Banke." The living history museum of that name depicts 400 years of life in Portsmouth with costumed re-enactors, hands-on-archaeology digs and other innovative programs. Plan on at least two hours to wander ten acres in some of the authentic homes and shops that are in various stages of repair. You'll engage with costumed role-players who interpret the people who actually lived or worked in each home or shop, such as "Mrs. Shapiro" – a Russian immigrant who arrived here in 1909, innkeepers at the Pitt Tavern – the origination point for the first Portsmouth to Boston stage coach, where wayfarers could find three meals a day served family style, and the "owner" of the Little Corner Store – that served as a community center where locals traded ration stamps for canned goods and gossip about the neighborhood during WWII.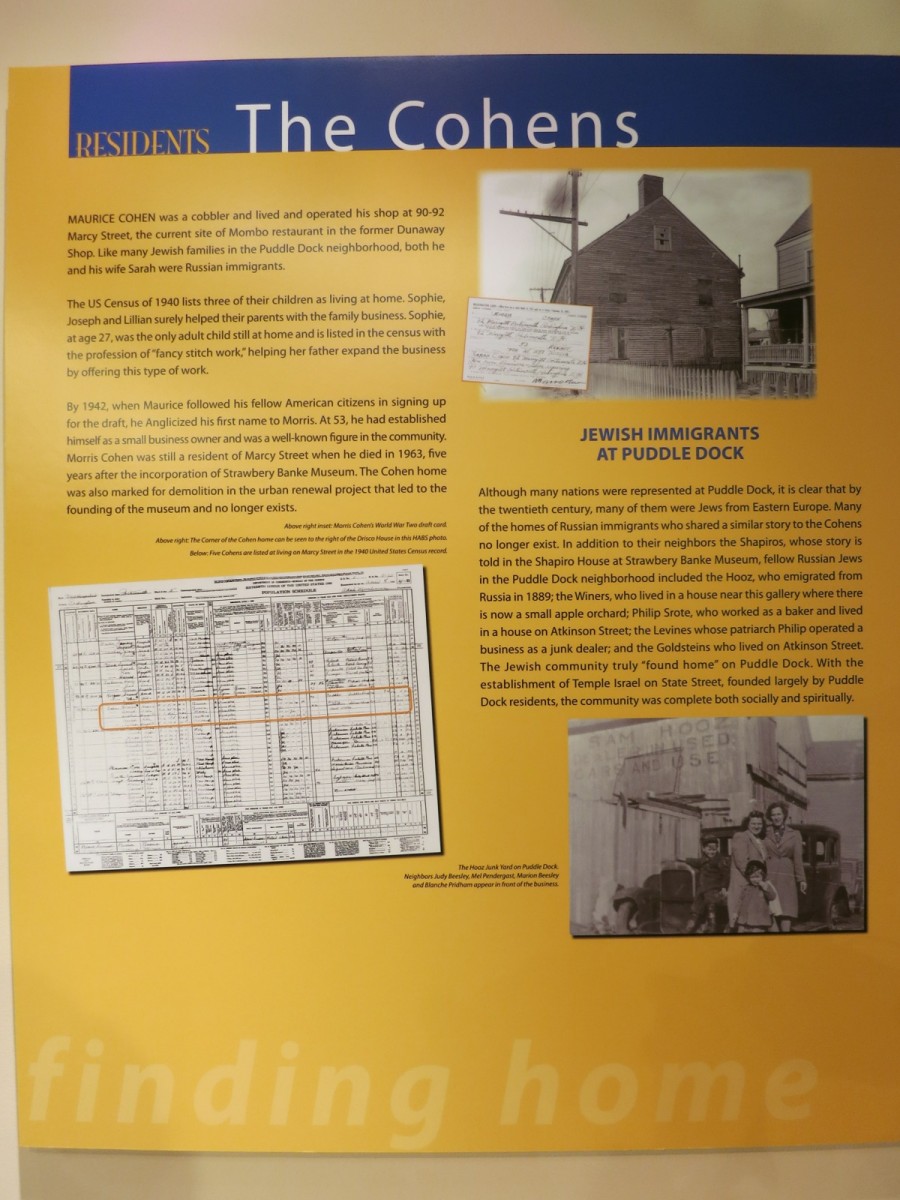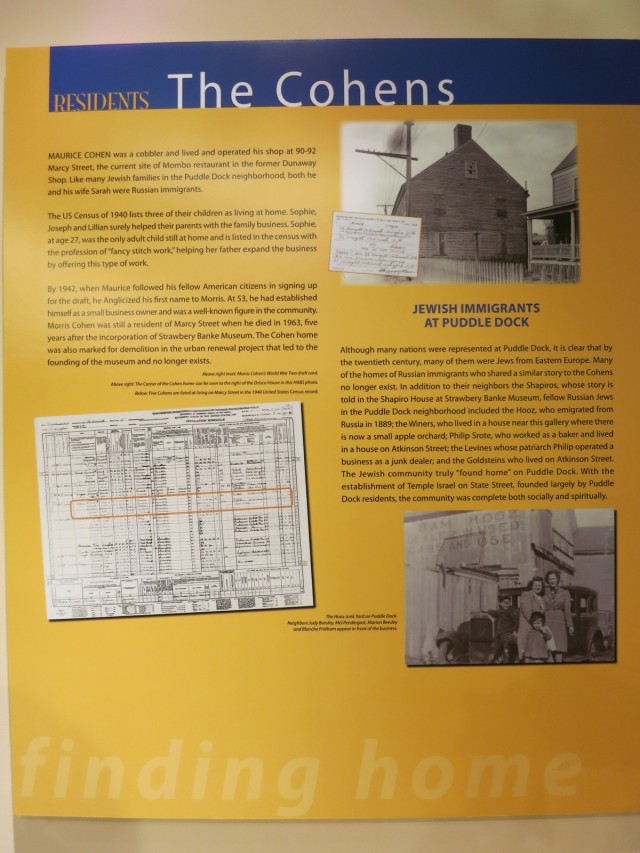 Begin with a 7-minute video that fills you in on the history of this settlement. In the 1700's, Portsmouth rivaled Boston and Philadelphia in overseas commerce, and the streets bustled with trade. The 1800's Industrial Revolution brought immigrants to town: Italians, Russians, French, Germans – over 30% of the town's citizens were foreign born.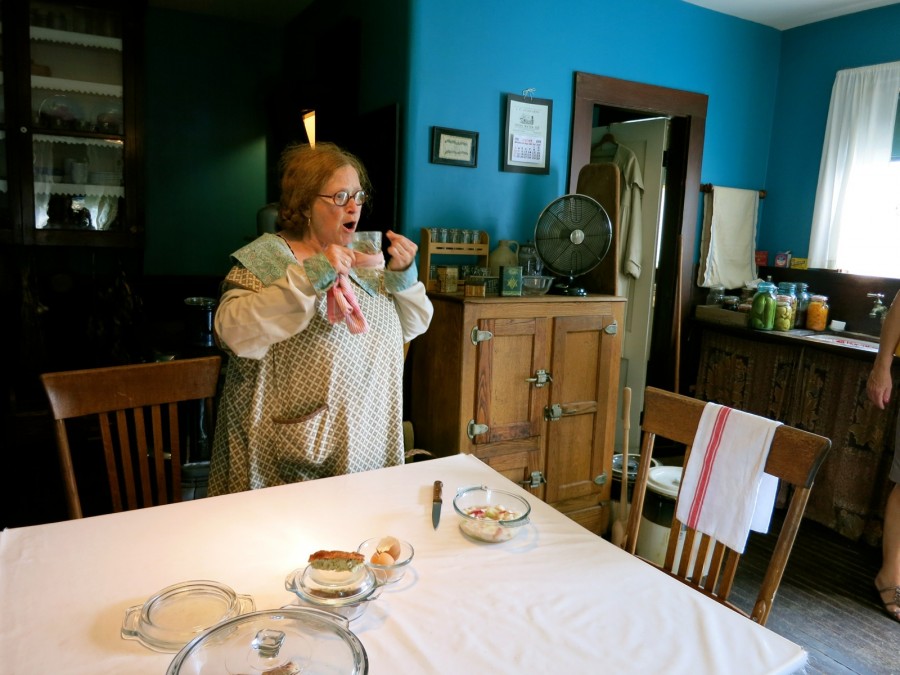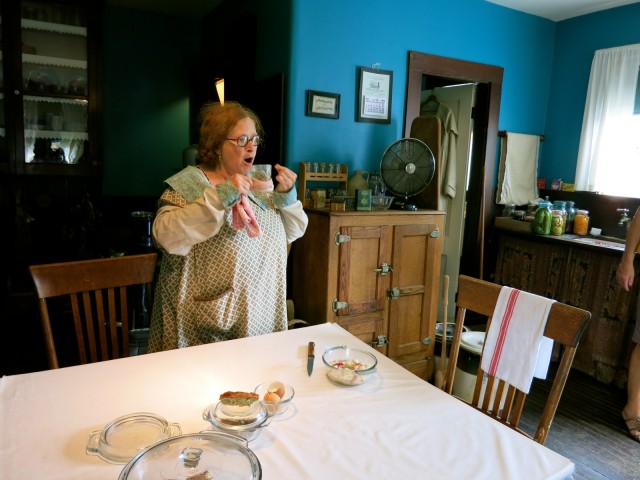 Though all buildings hold interest, my favorites were the home of Ukrainian Jewish immigrant, Sheva Shapiro (built in 1775, she and her family were the 13th family to live there when they immigrated from Russia in 1909), and the Abbot's Corner Store. Enter the Shapiro's home, and it's 1919. Sheva, dressed in period clothing, might show you how Russians drink tea through a sugar cube. She'll talk about her home-apothecary garden, her daughter Molly's tenth-year birthday gift – a pogo stick – sitting in the corner (if you ask, she may allow you to use it), and about the innovative way she expanded Molly's sweaters as her daughter grew. After the "War to End All Wars" (WWI), Sheva explains, it was her "patriotic duty" to rent a room to Mr. Russell, who worked in the Naval shipyard across the bridge. You're invited to visit Molly's room and the rest of the house –and to see pictures on the walls of the family that "Mrs. Shapiro" brings to life.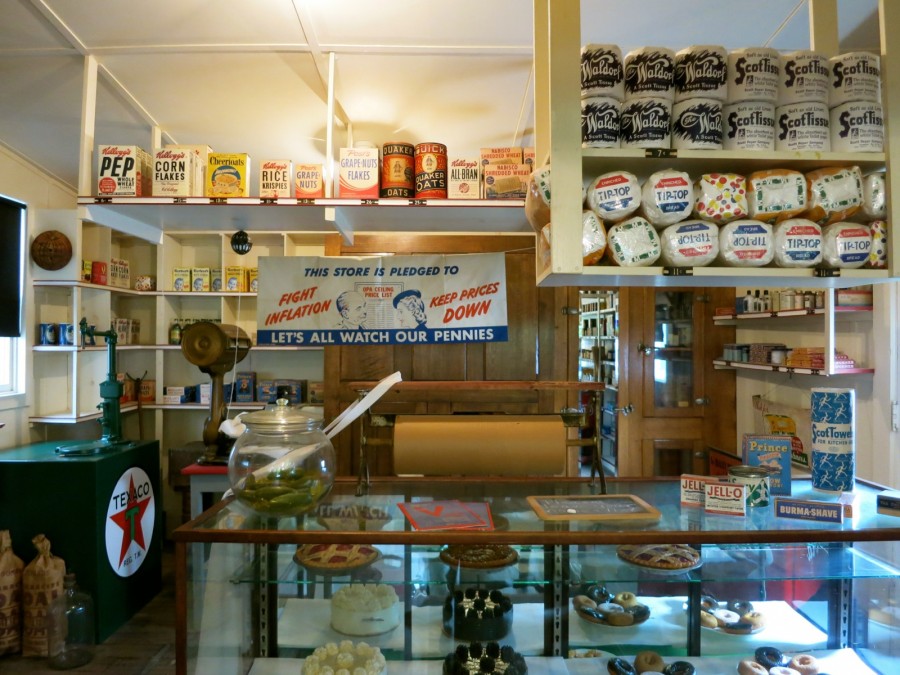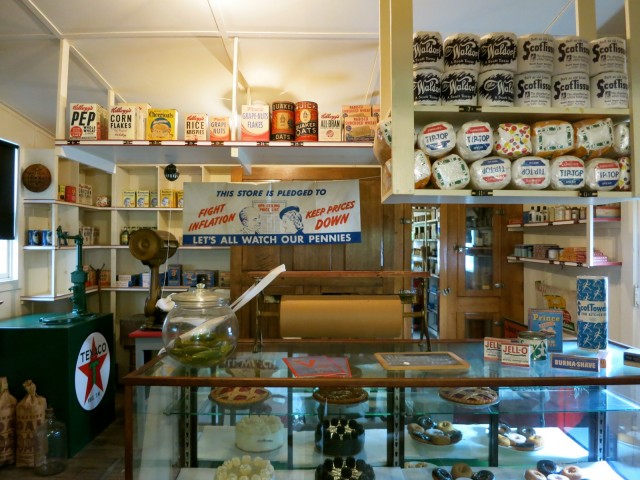 At Mrs. Abbott's Little Corner Store, the "War Effort" is on full display. This was a Naval town – most residents worked in the shipyard where dozens of submarines were built during WWII. Patrons used ration stamps to purchase cans of food (on display), most grew "Victory Gardens," and managed to stretch their food in ways that are just coming back into style today.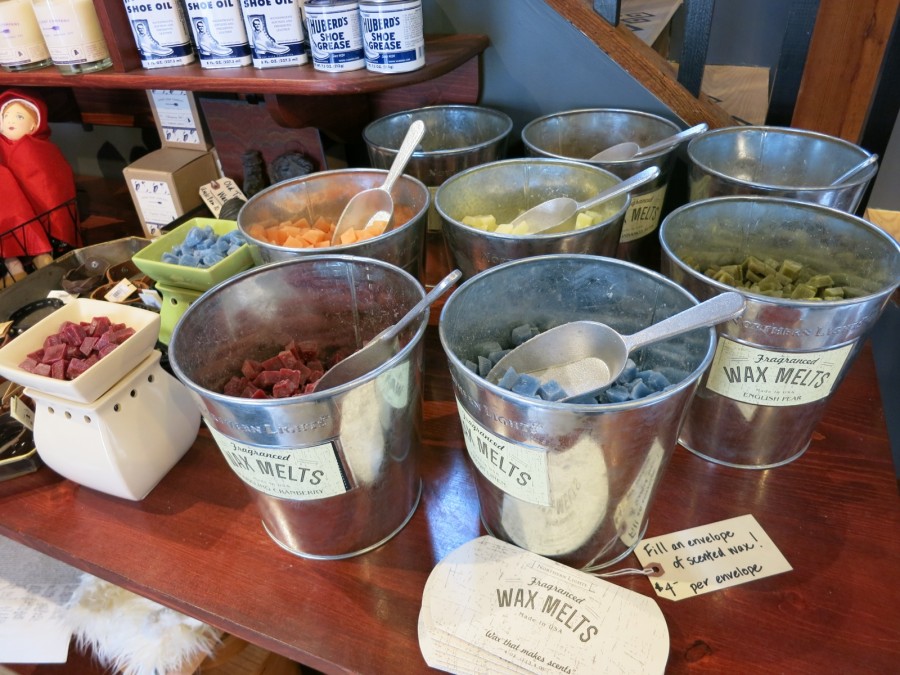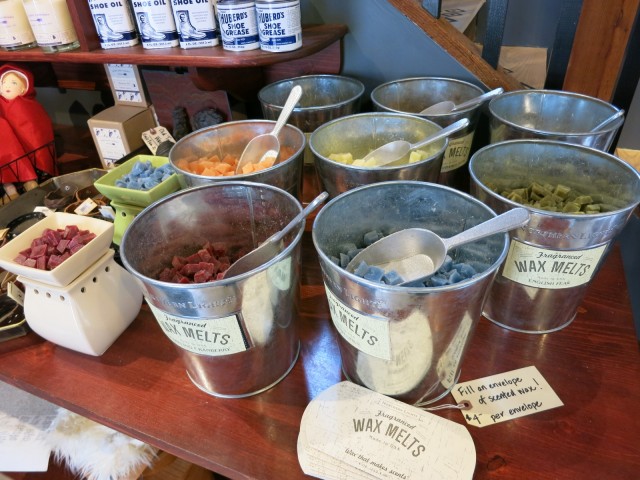 New to the Banke is a shop like no other. Pickwick's @ The Banke is a theatrical, sensory experience incorporating a costumed shopkeeper and artfully displayed Maritime Heritage gifts. Named after the Charles Dickens character, the shop is meant to evoke the curiosity store of Victorian times. Two consecutive day pass to Strawbery Banke is $17.50 adults, $10 youth, May 1- Oct. 31 daily 10-5. Weekends other times of year (check website).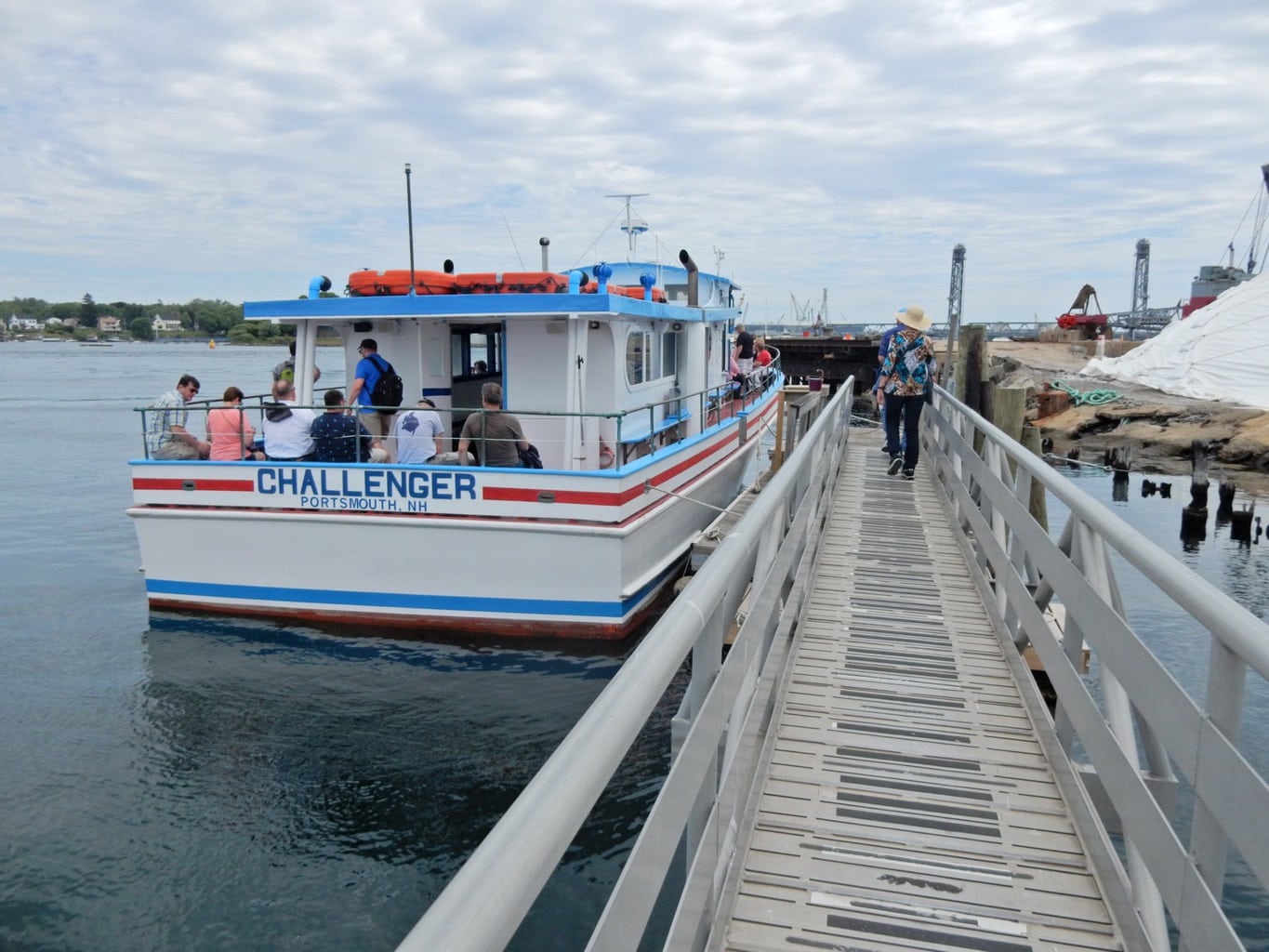 BOAT TOUR: Isle of Shoals Steamship Authority. Both ships in the Isle of Shoals Steamship Authority fleet leave from the Market St. dock between the two bridges that connect Portsmouth NH to Kittery ME. On a narrated tour, passengers get a good overview of the natural and maritime history of Portsmouth Harbor, before heading seven miles out to nine small islands collectively called the Isle of Shoals.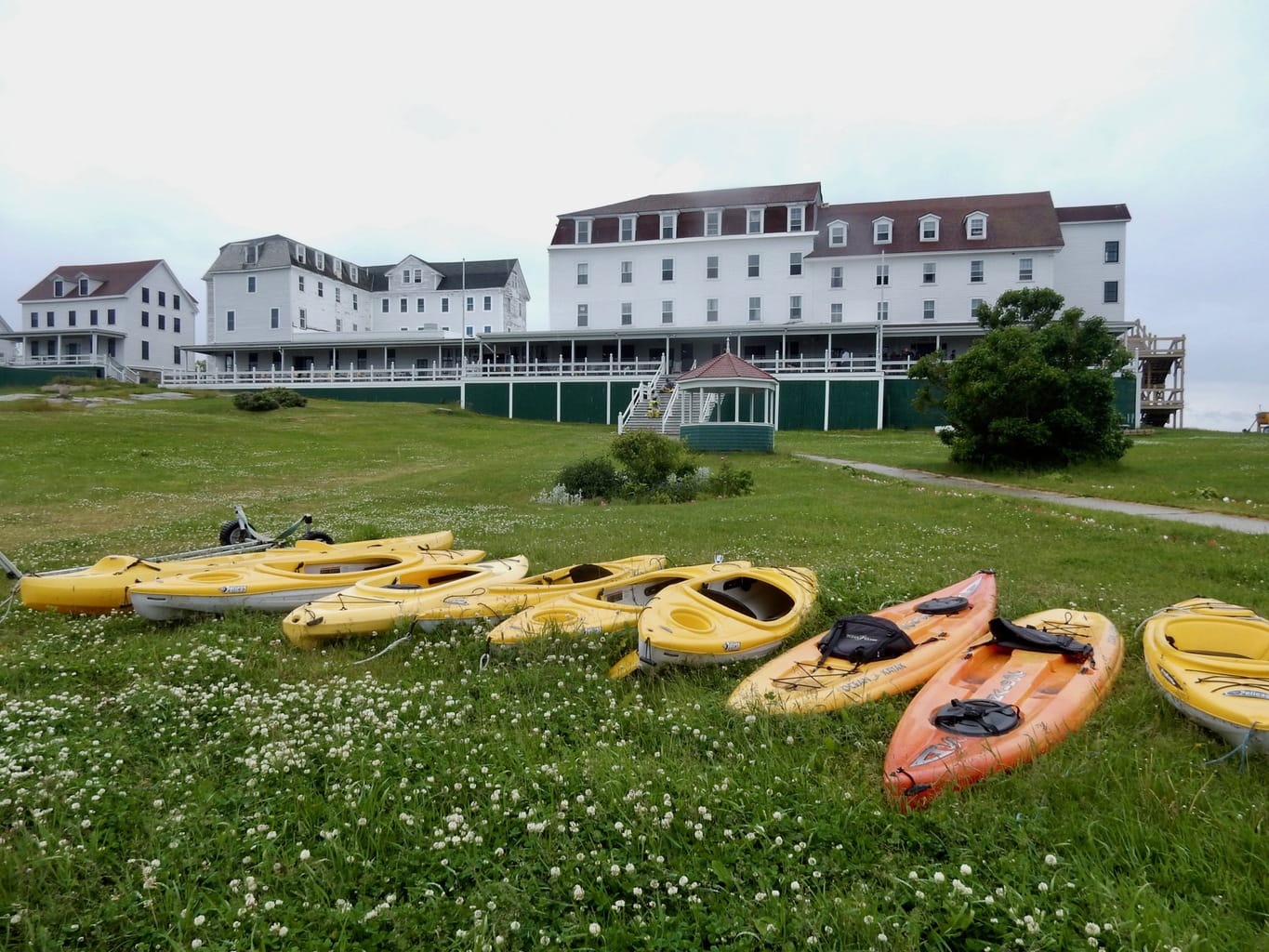 On the border of Maine and New Hampshire, five of the Isles belong to Maine, four to New Hampshire. The second largest, Star Island, is the only island open to visitors, and you'll want to spend at least an hour there.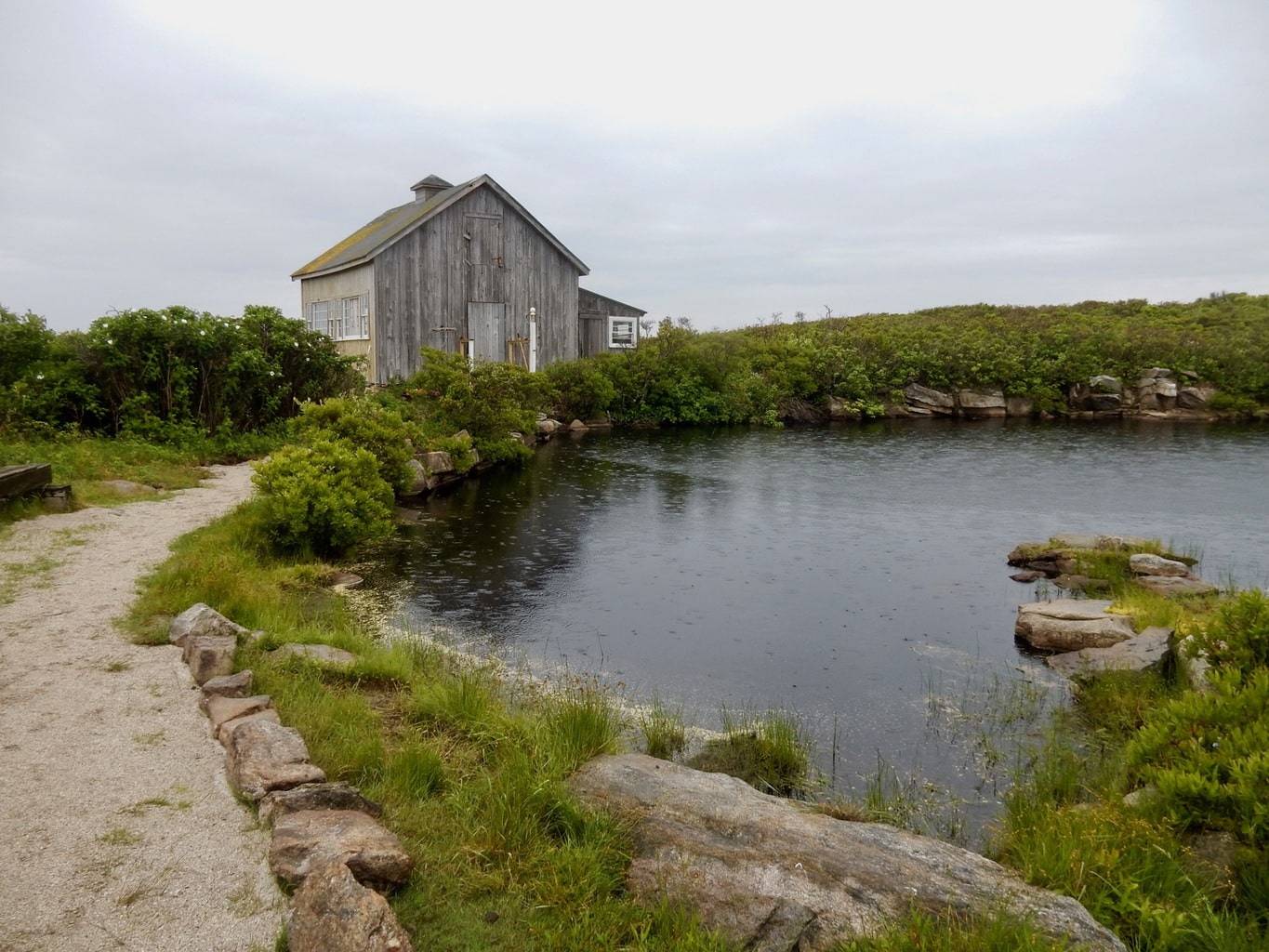 Now owned by the Unitarian Universalist Church, the whole small land mass is comprised of residences, a Chapel, and the Oceanic Hotel, built in 1875 – one of the only Victorian era hotels in New England still standing in its original state.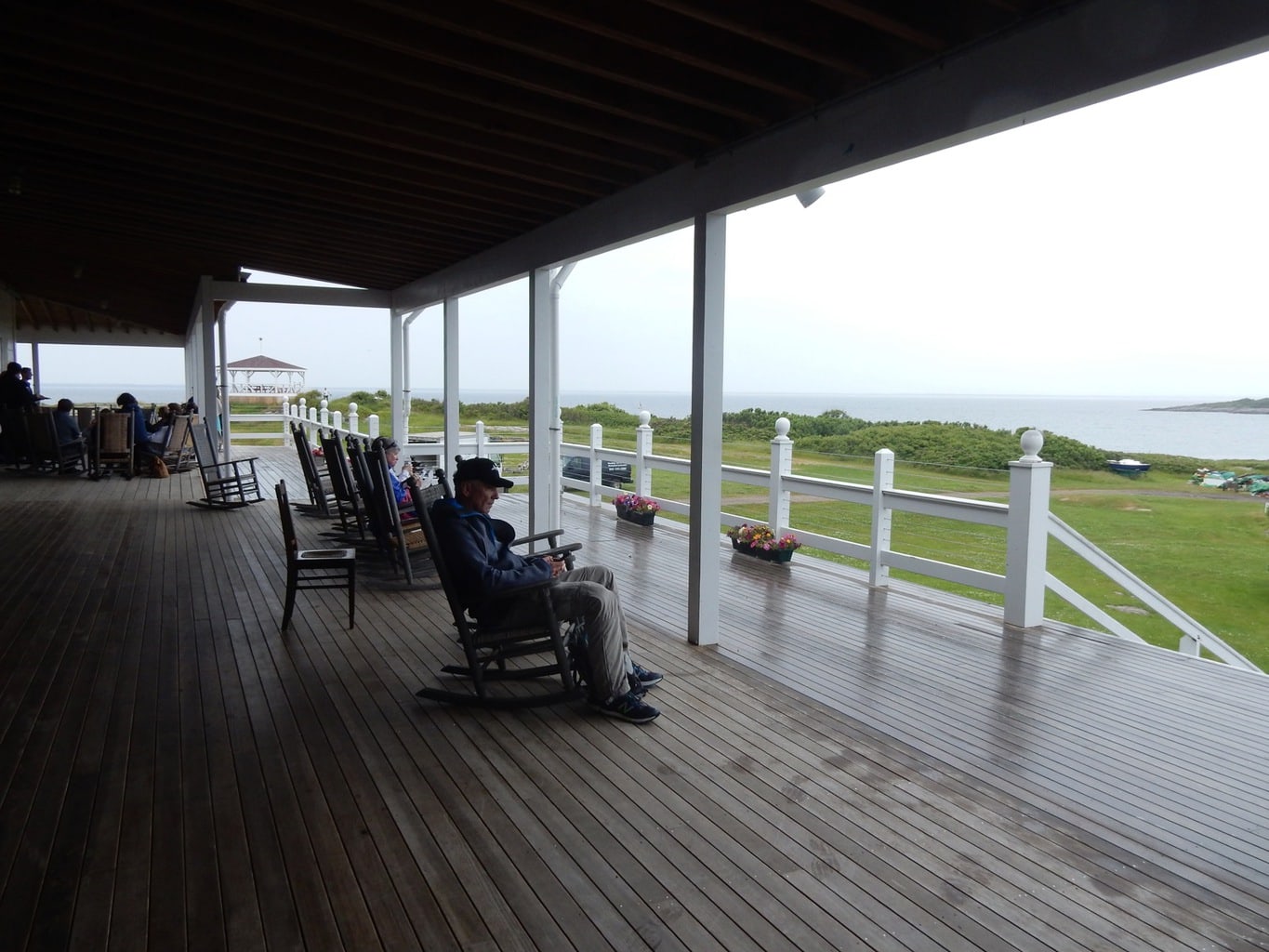 Walk around the whole island via its outer dirt road, scramble over rocks for one of the best views of the Atlantic Ocean waves bashing up against granite cliffs, or just hang out on the front porch of the Oceanic Hotel watching the boats in the harbor. Those who wish to stay overnight can do so by signing up for a weeklong conference, or a few nights for a "personal retreat." Contact starisland.org for arrangements. Portsmouth Harbor and Star Island Tour (3 hr 45 min), $37 adults, $27 children. There are also Portsmouth Harbor Tours, Star Island Full Day Visit, and Sunday Sunset Harbor cruises. Check website for details.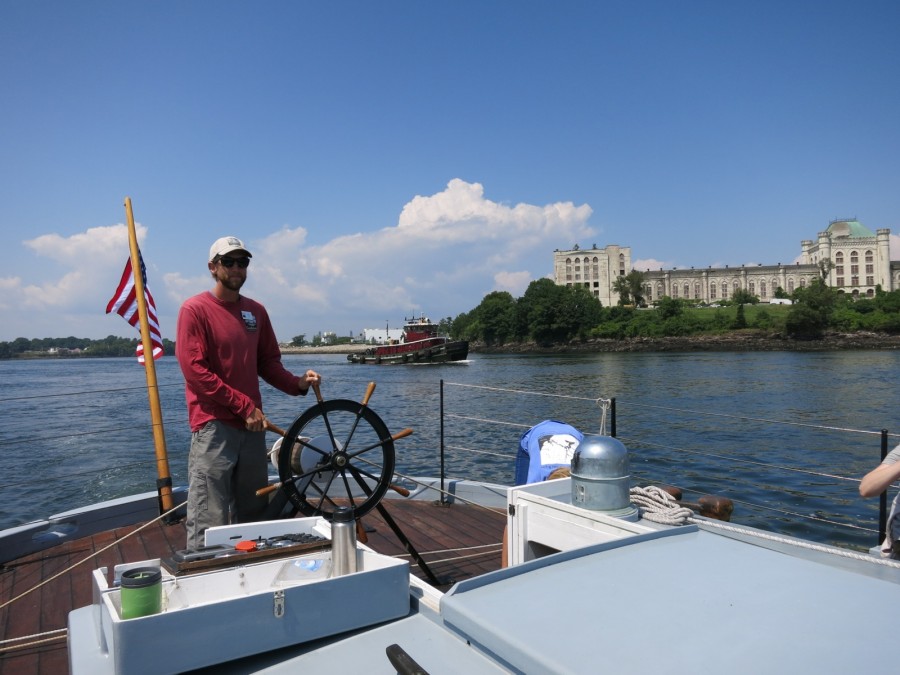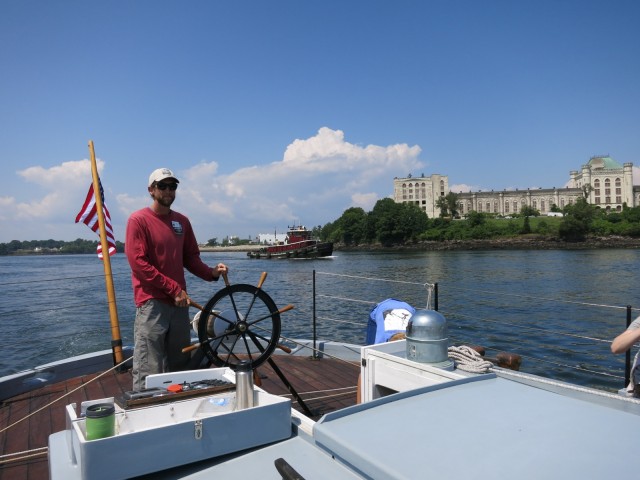 DO: Sail on Piscataqua. Experience a Portsmouth harbor tour on a gundalow, a flat-bottom sailing barge considered "the semi-tractor-trailer truck of its day." This replica, which took wooden boat craftsmen six months to build in 2011 at Strawbery Banke, represents those that plied  New England rivers and bays from 1600's until early 1900's, when it was more efficient to ship lumber, bricks, cotton, farm goods, oysters and other products by boat than by land.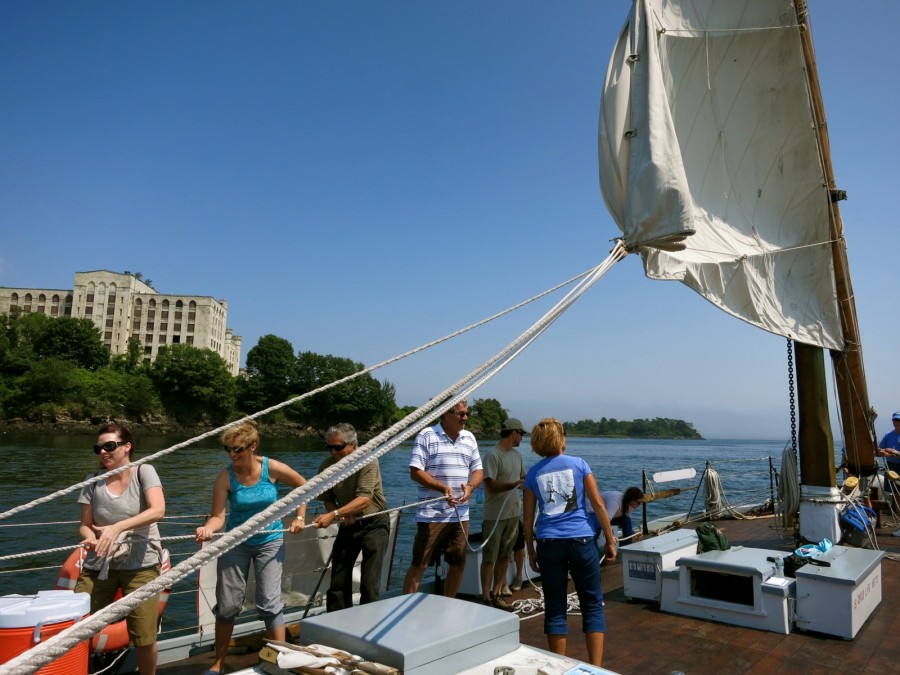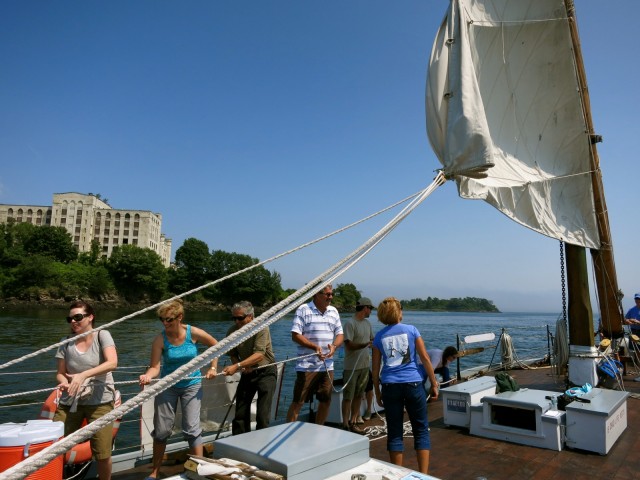 You can join the crew and "heave-ho" the sail, while passing sights like the crumbling but still grand decommissioned Naval prison (referenced in the movie "The Last Detail") and Fort Constitution at the mouth of the river. The Fort is considered the site of the first Revolutionary War act – when, in Dec. 1774, Patriots stole munitions from the British stronghold.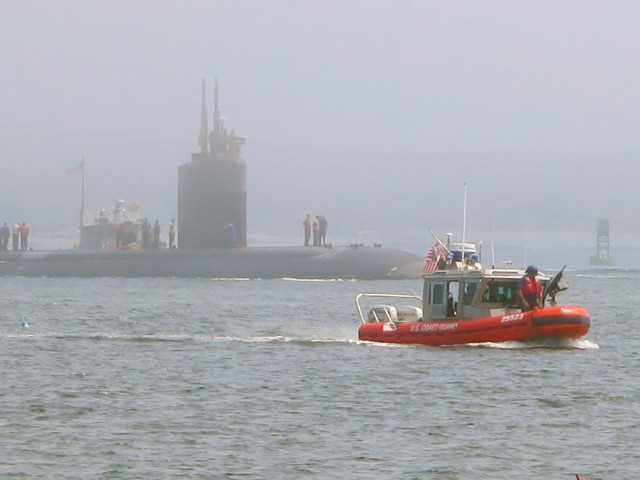 The Piscataqua River, a 12-mile long tidal estuary that empties out into the Atlantic Ocean, is rife with fish and tankers, and, if you're lucky, a Naval submarine coming in for repairs. As the gundalow is an open boat, you'll want to bring rain gear if raining and plenty of sunscreen if not. For lunchtime sails, pick up a boxed lunch at The White Apron Café at Strawbery Banke across the street. Check website for schedule of a variety of afternoon and sunset cruises. Tickets $20 – $40 adults, $10-$20 youth.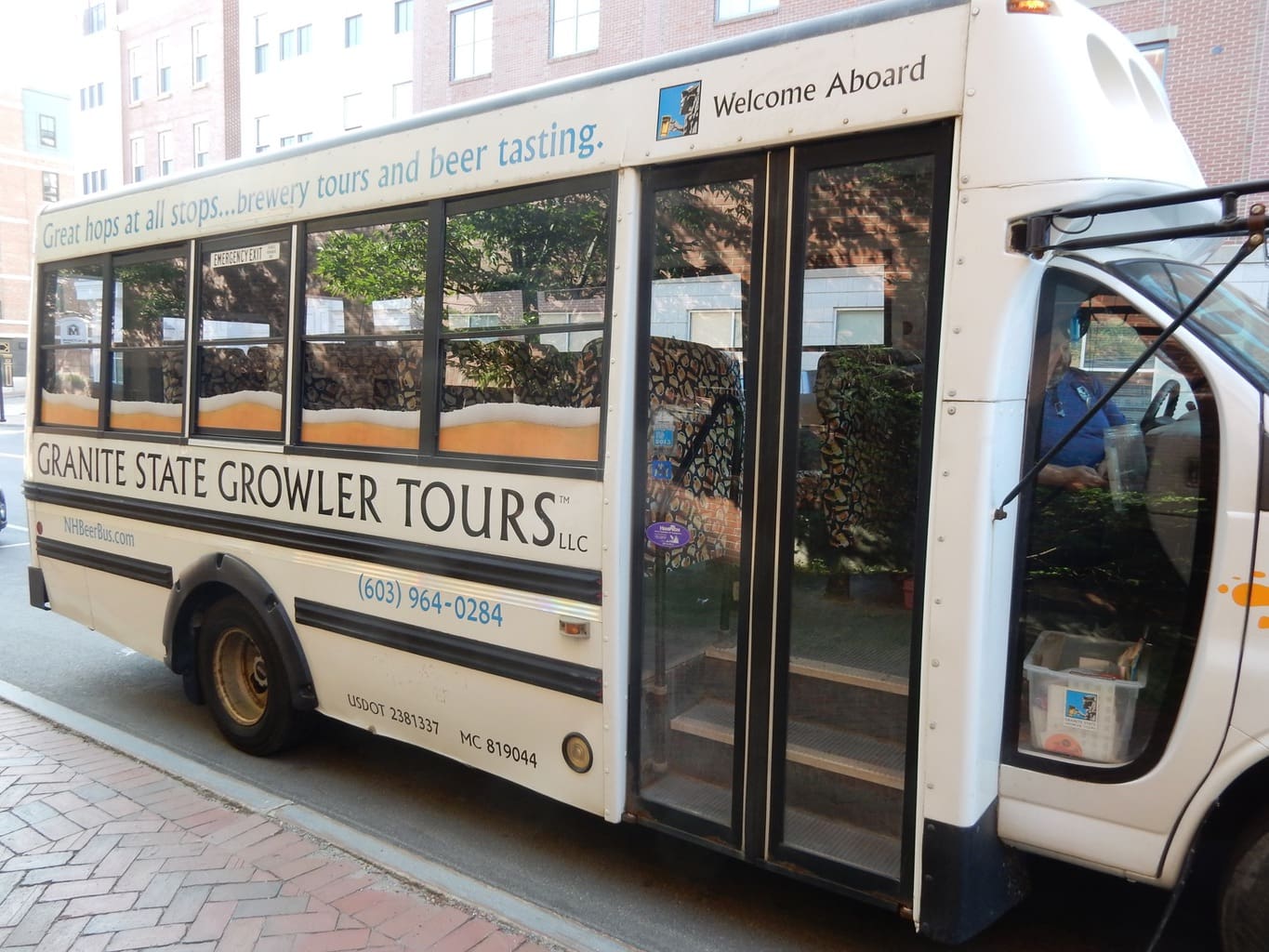 TOUR/BEER: Granite State Growler Tours, Portsmouth. Hops on and hops off on this intimate and engaging bus tour to several of the NH Seacoast's best breweries and pubs. Guides for Granite State Growler Tours harbor a deep affection for beer. Such affection, in fact, they conduct these brewery tours on their time off, as most have other, full time jobs. GSG owner/founder, David Adams, launched these bus excursions through the NH Seacoast's brewery history on a whim, even enlisting his Mom who makes the now legendary "fluffy" pretzels distributed during each outing.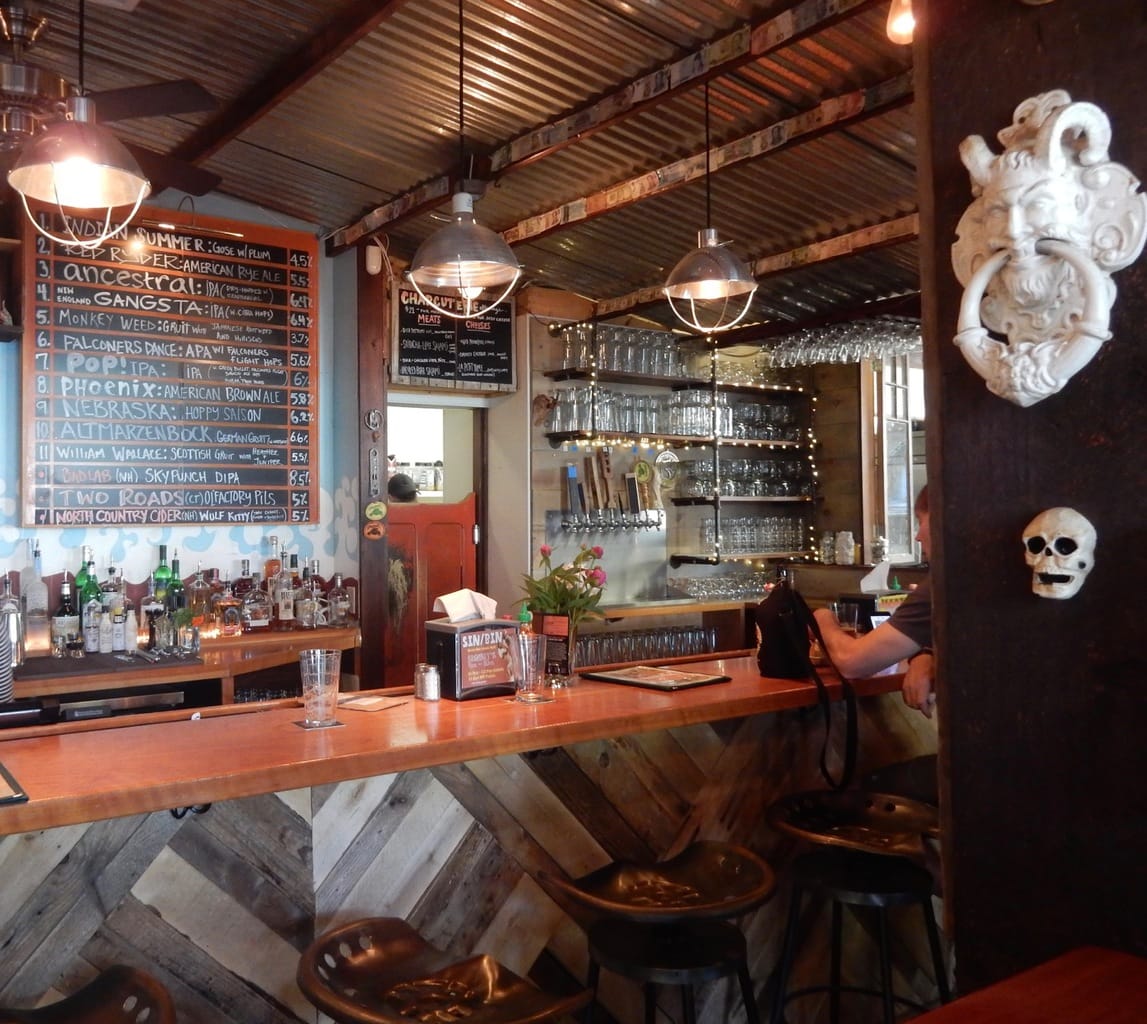 Guides elucidate on beer and the seedier side of Portsmouth history – "what they don't tell you on regular city tours" – such as the fact that last century, the whole working waterfront was a red-light district with 140 bars and brothels. Portsmouth was also one of America's original brewery towns – in the late 1800's the Frank Jones Ale Works was the largest brewery in the United States, shipping out 250,000 barrels of beer and employing over 500 workers. (The buildings have been converted into apartments and restaurants)
There are six nano or "nano-plus" breweries in Portsmouth, and more than 25 in the surrounding area – plenty to choose from on each tour that introduces you to three of them. One of the most popular is the rare women-owned Throwback Brewery – on a sheep farm in North Hampton NH. In my case, I visited two very distinct spots within city limits – Earth Eagle Brewing, and Liar's Bench Beer Co.
Earth Eagle Brewings: Owned by bro-in-laws, Butch Heilshorn (author of Against All Hops) and Alex McDonald, the hole in the wall Earth Eagle (nickname for wild turkeys) offers a full pub menu, tastings, growlers and 4-pack cans. Alex is the traditionalist, Butch leans experimental – choosing to brew "medieval style" (prior to the use of hops), incorporating herbs, bark, flowers, wheat – and even in one case, elk head meat in his concoctions. One of EE's more unique ingredients is the invasive Japanese Knot Weed – aka "Monkey Weed," which, when steeped with hibiscus flower, tints Earth Eagle's signature gruit, "Monkey Weed," pink. "This is a great beer to cook with." $11 for six 4 oz tastes.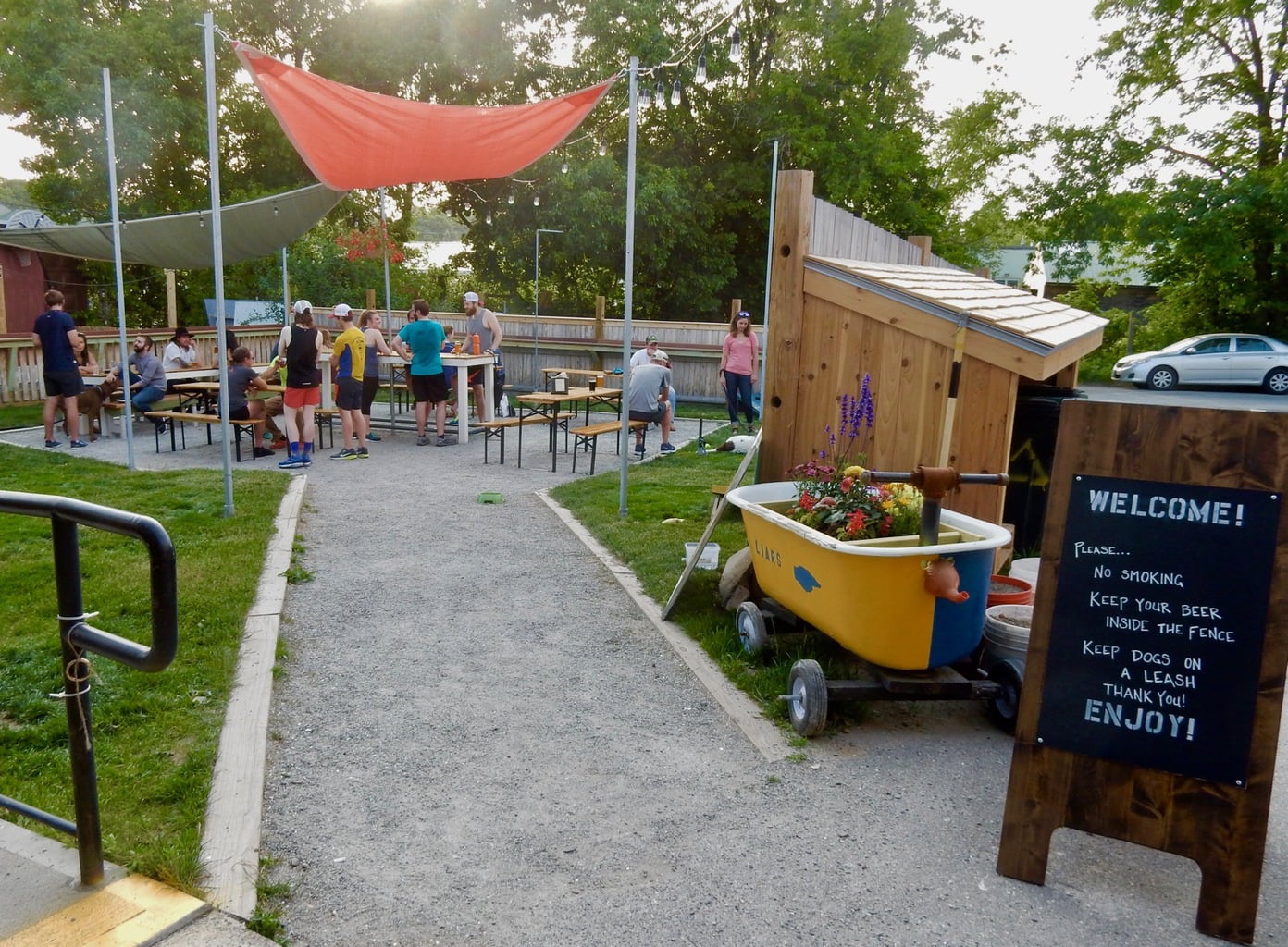 Liar's Bench Beer Co.: With its outdoor dog park/beer garden, this nano-plus brewery is a hit with neighbors with canines in tow. Owned by Dane and Dagan (who makes his own sausage), Liar's Bench (named for the seat at the terminus of the Appalachian Trail where hikers are known to spout some tall tales) just celebrated its second anniversary. Take your No Dice Pilsner, Babble On Saison, Punxsutawney Swill, and other brews on draft to the convivial atmosphere outside, where a hub of beer lovers play with puppies and converse with each other – not a cell phone in sight.
Not to be left out, other breweries in town include Beara Irish Brewing, Great Rhythm Brewing, Loaded Question Brewing, and Portsmouth Brewery. On each tour, guests meet and talk with the brewers, sample local craft beer, see historic brewing locations. Tours start at $65 per person, all tastings and transportation included. Three hour tours generally on weekends. Check website for dates and times.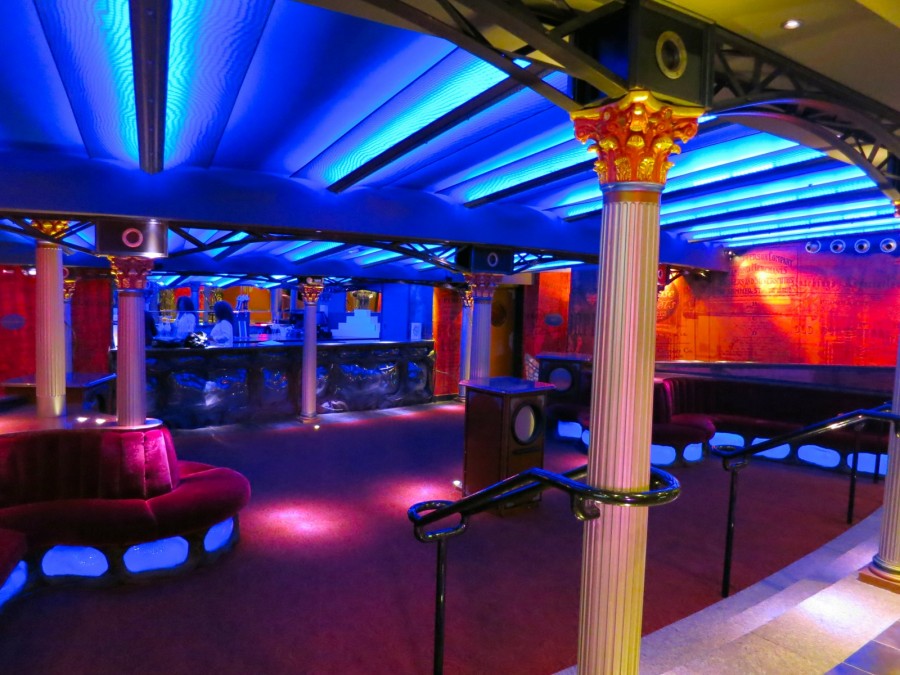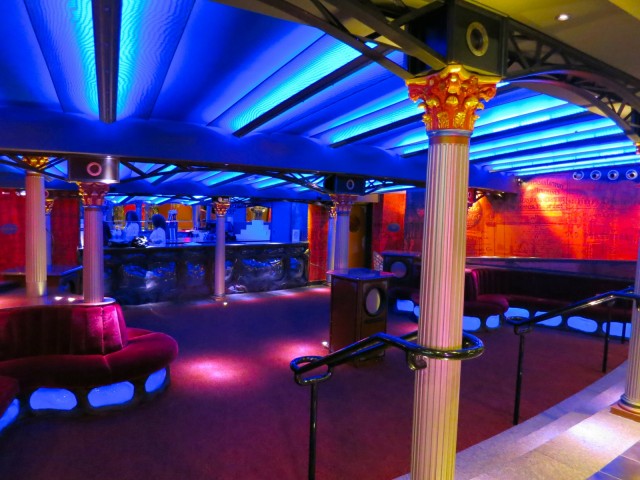 SEE: The Music Hall. Even if you don't see a show at this 900-seat theater (built in 1878, renovated in 2008), pop in to see the otherworldly blue-lit lounge, jack-hammered out of a wall of rock, and the Harry Potterish bathrooms with circular sink and elaborate mosaic floor.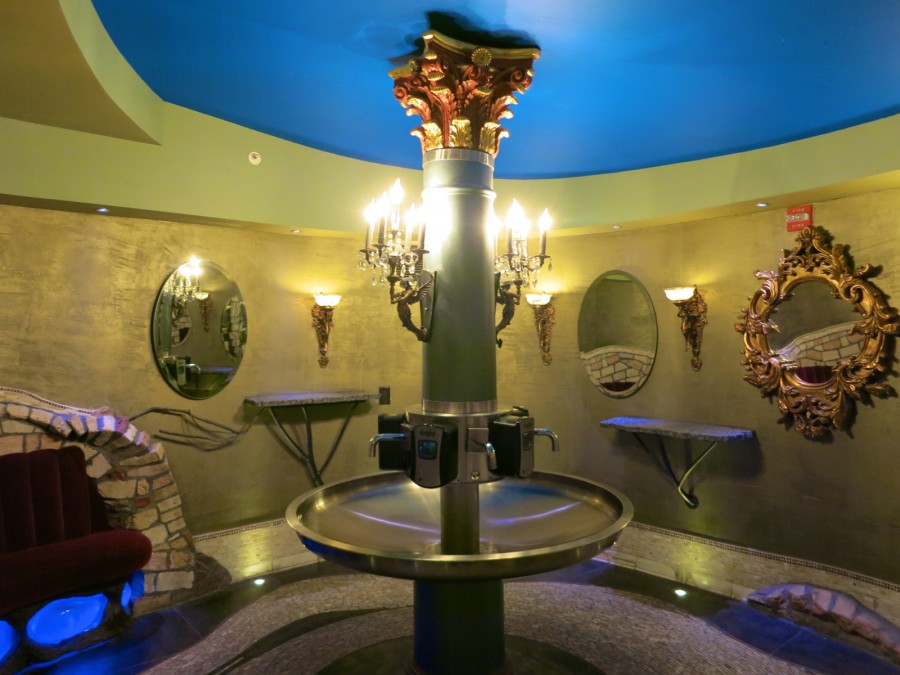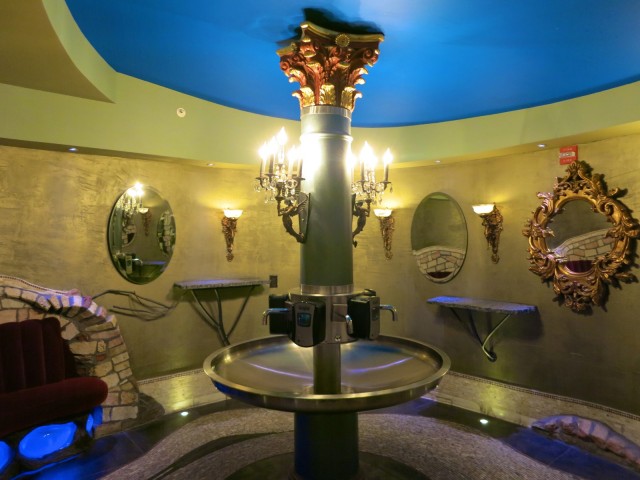 Showmen and women have been hoofing on these floorboards since this Beaux-Arts Theater opened, and during renovations, workers found decades old candy wrappers that had fallen beneath the floorboards and are now on exhibit. See musicians, top authors, comedians and indie movies throughout the year. Or just stop in to say hi and check out the bathrooms.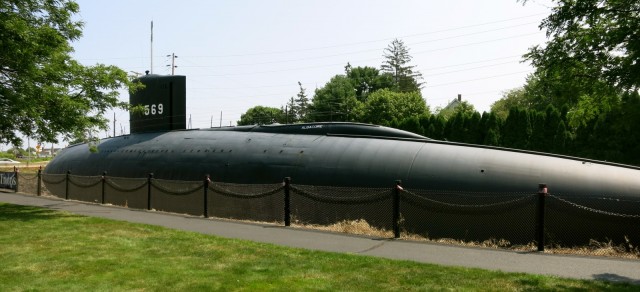 TOUR: The Albacore. Nicknamed the "Sub in a ditch," the Albacore is far from the waterfront and situated, literally, in a hole in the ground. This diesel and electric powered submarine was built in Portsmouth in 1952 as a prototype test vessel in the newest design and modern technology of the day, and was returned to Portsmouth in 1985 without having been to war. The first sub ever built with this fish-like streamlined shape, it was fabricated to be hydroponically correct – at its best underwater – and could reach speeds in excess of 45 knots (faster than nuclear subs). Now, you can take a very hands-on self-guided tour to learn how 55 men could work and live in a 205' by 27' space. Sit in seats and initiate dive sequence, drive the sub and wedge into bunks: It's all highly interactive and great for kids and kids at heart. Open daily Memorial Day to Columbus Day 9:30-5:30, closed Tues/Wed other times of year. $5 adults, $3 kids 7-17.
DO: Portsmouth Kayak. Modern day paddlers can view Strawberry Banke living history museum while kayaking around gentrified Portsmouth. Or circumnavigate New Castle and the beautifully restored Wentworth By the Sea. Or choose from a variety of kayaking tours. A spectacular way to get out on the water. Tours $45-$75 per person.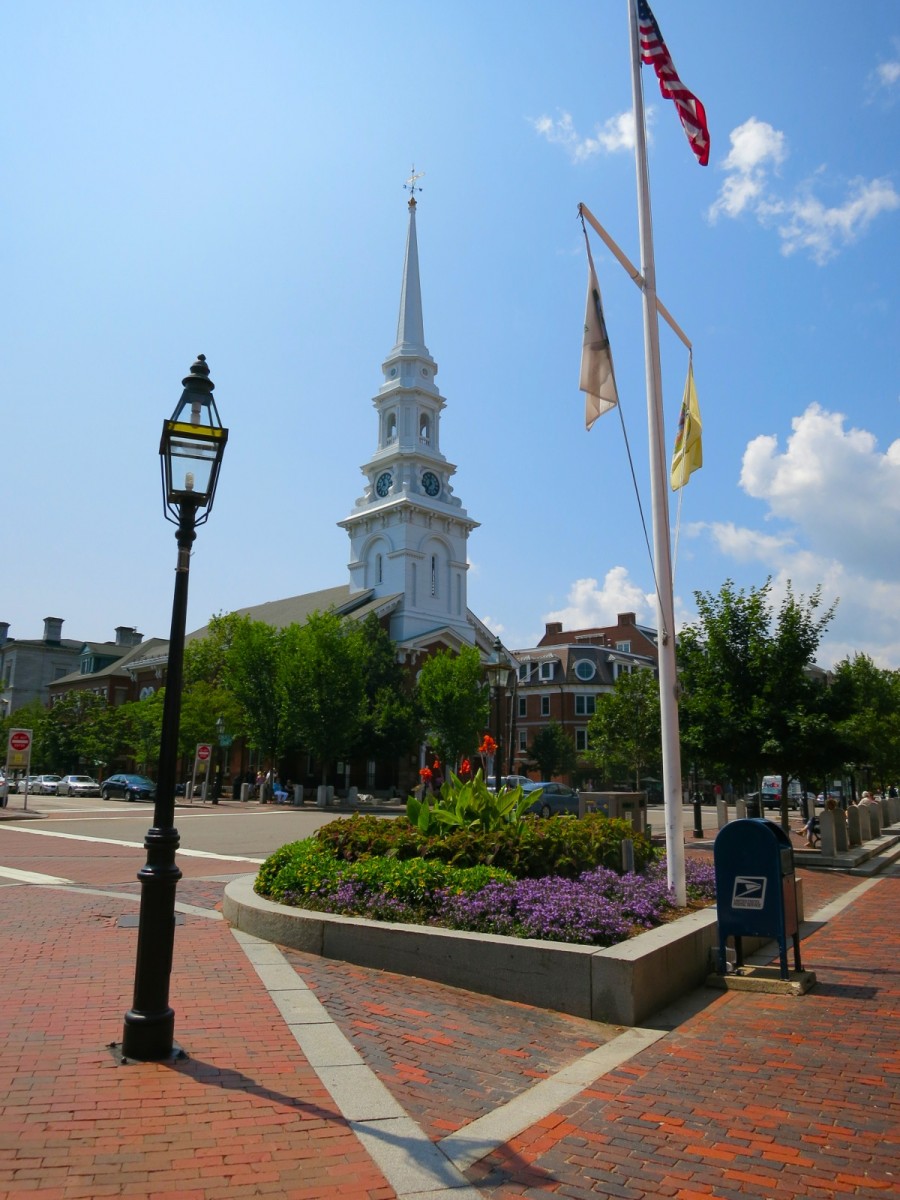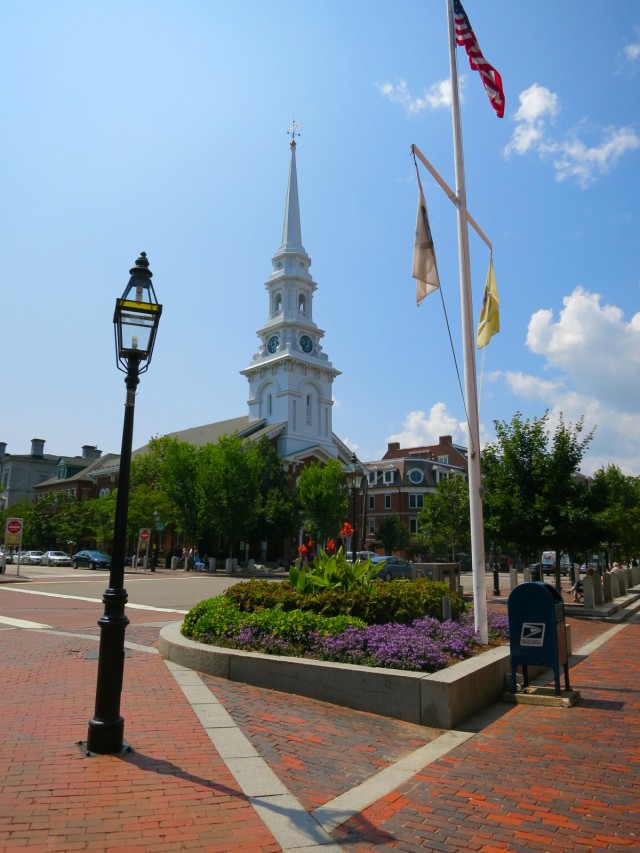 WANDER/SHOP: Market Square and its offshoots. The center of Portsmouth, Market Square, is also the center of boutique shopping and for many visitors, the town's number one lure. Running off of the Square, wander up Bow Street (curved like a bow), rebuilt in brick after a devastating fire in 1806 completely consumed the original wooden structures.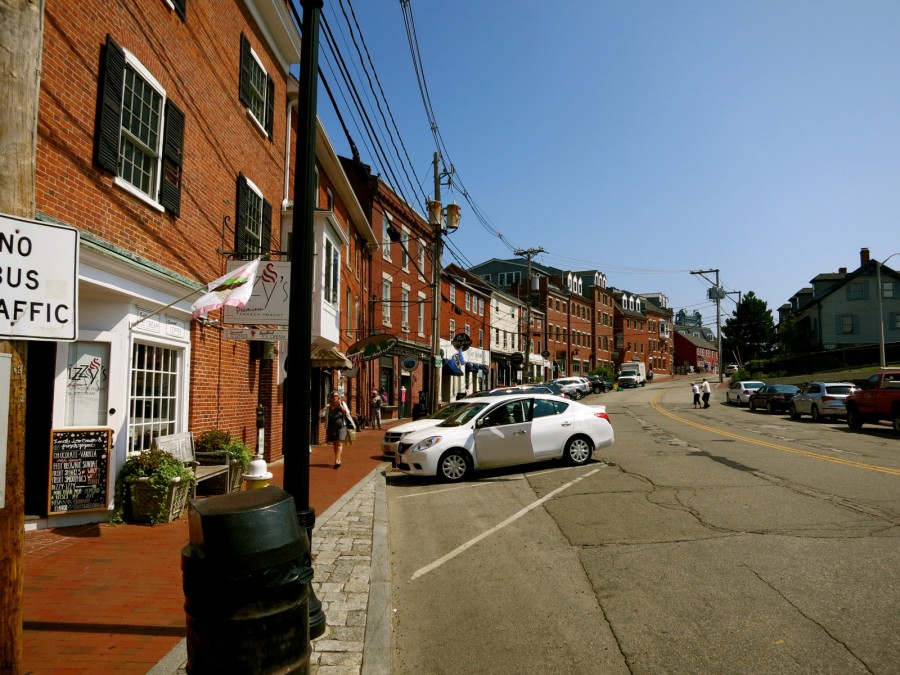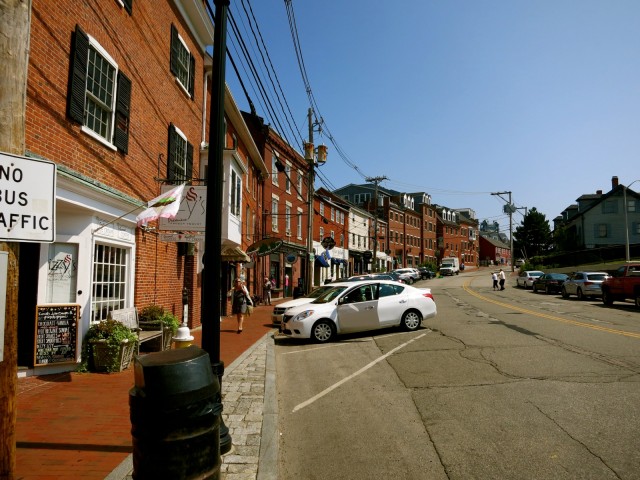 At the back of Bow St. you'll find a selection of waterfront restaurants: Ferry Landing for fried Shrimp Basket, Harpoon Willy's, the River House for chowder and the relatively upscale Martingale Wharf featuring a fire pit and baskets of blankets.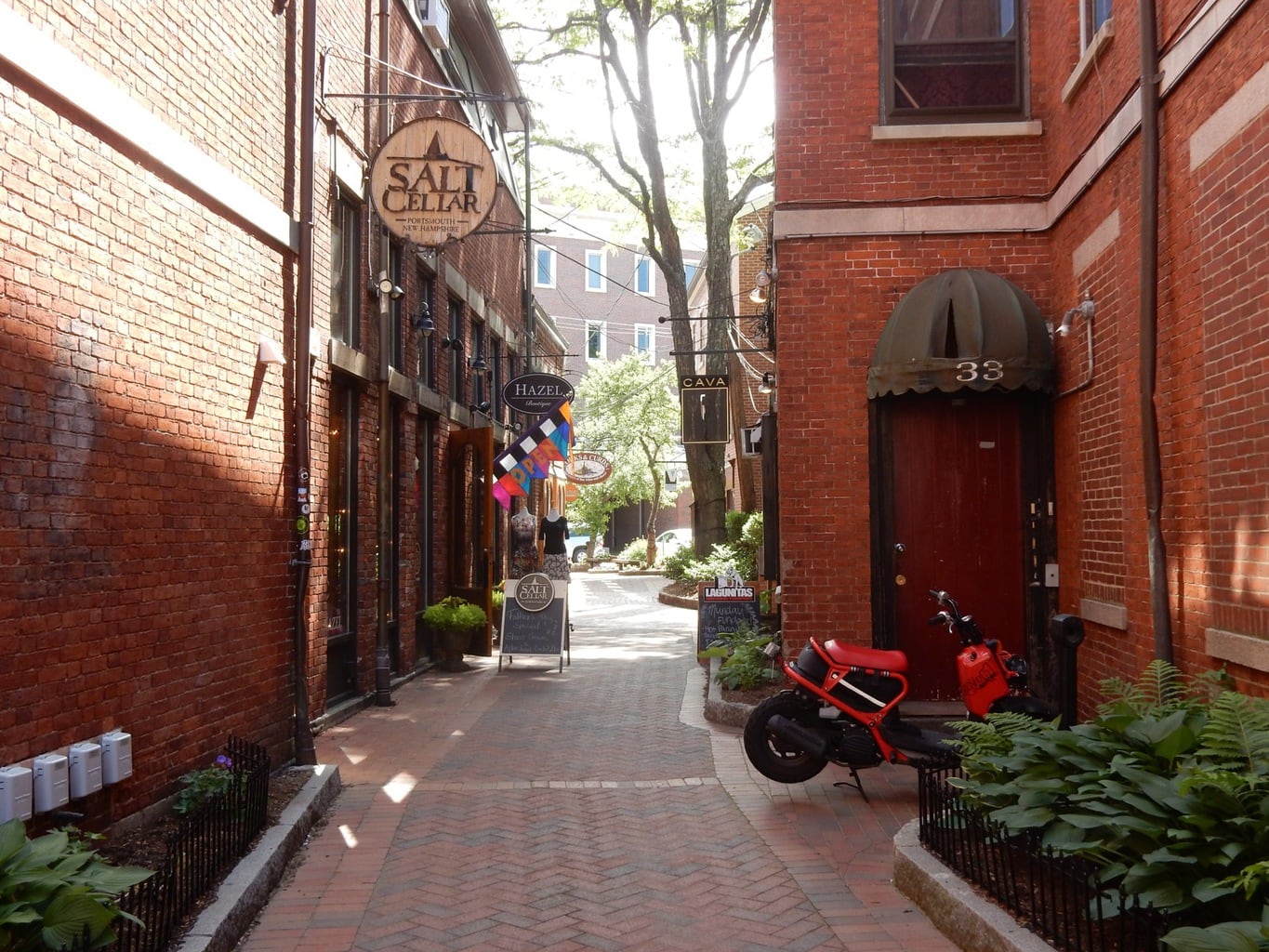 Fun independent shops include Gus & Ruby Letterpress, Pickwick's Mercantile, Kennedy's Gallery, Pretty Poppy, Scallops Mineral & Shell Emporium ,Puttin' On the Glitz for the perfect hat, and one of my favorite spots, Hazel Boutique for unique clothing. Foodies may find The Salt Cellar – offering exotic salts from around the world – particularly tasty.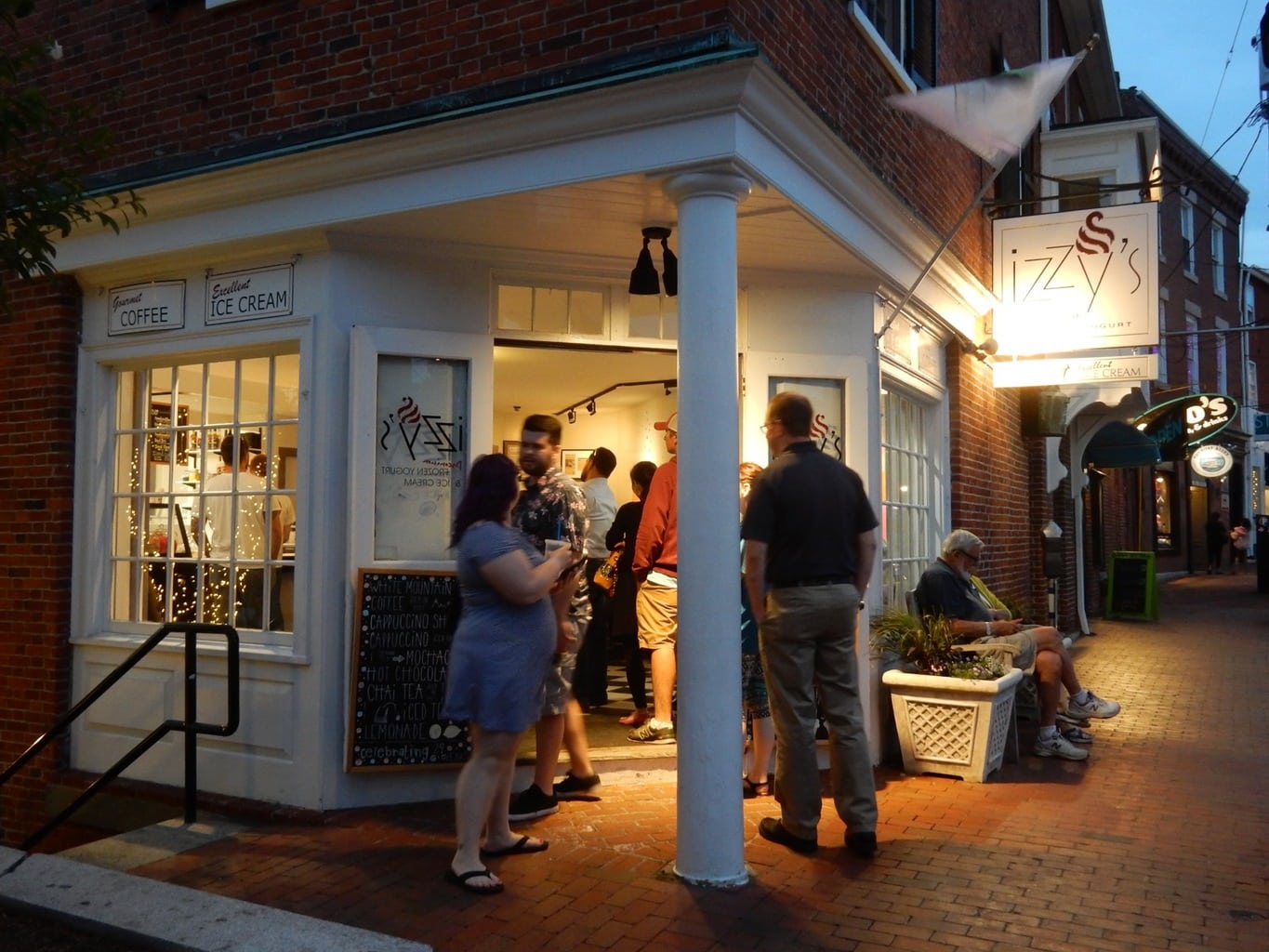 ICE CREAM: Izzy's. Izzy's frozen stuff seems fresh from the cow. Ten minutes before closing time on a hot midweek June evening and the line is out the door. No big surprise – the ice cream and fro-yo is that good.
Best Places to Eat in Portsmouth NH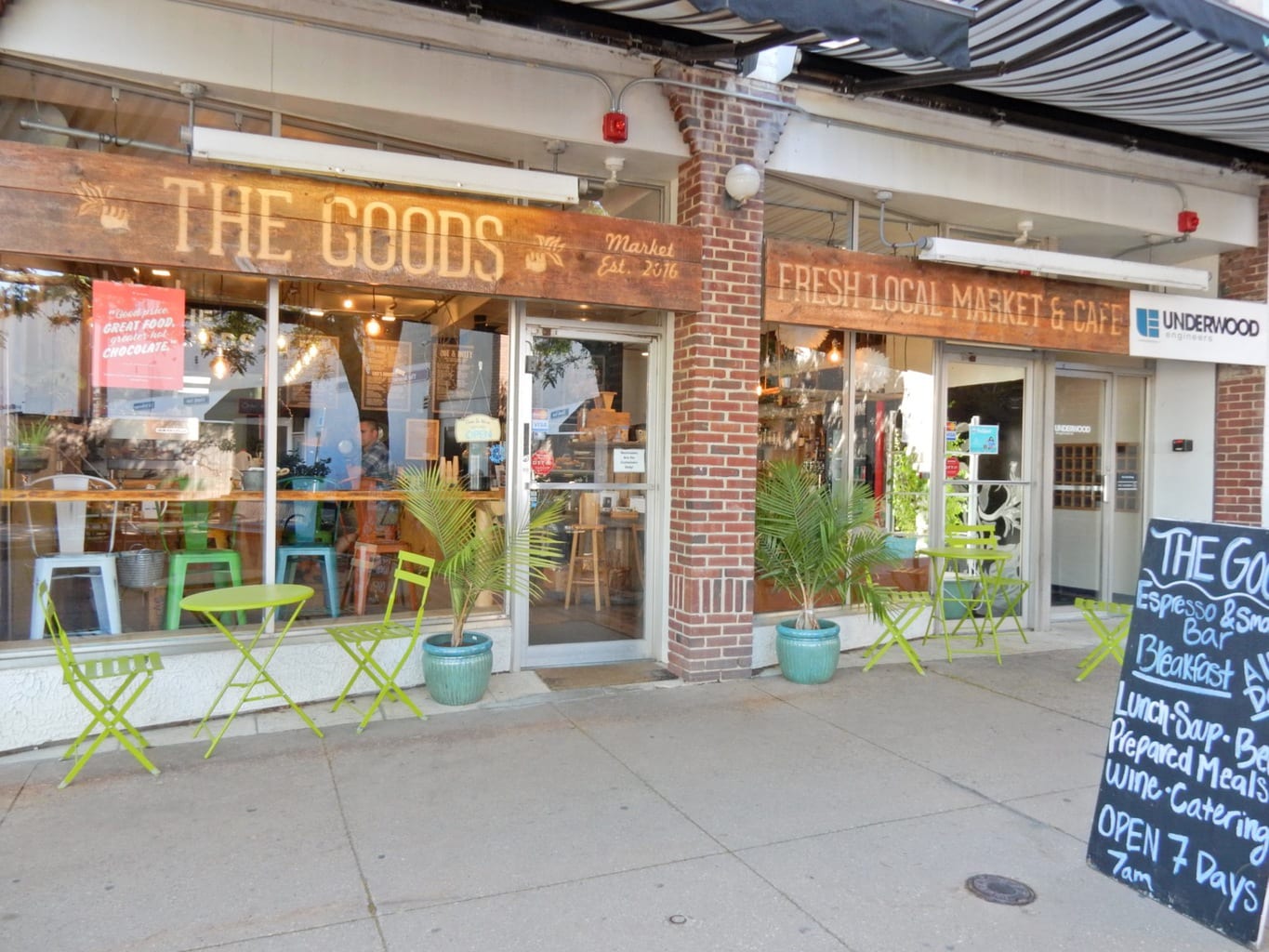 EAT: The Goods- Local Market and Cafe. Tucked away downtown in the small pedestrian Vaughn Mall, The Goods is exactly that – GOOD – with a seriously excellent coffee and smoothie bar, bakery, specialty pizzas, and sandwich shop with salads as fresh picked crisp as any place on earth – from pluck to plate in under one second. How? There's a "Grow Tower" replete with lettuces and herbs of all kinds that dominates the front window.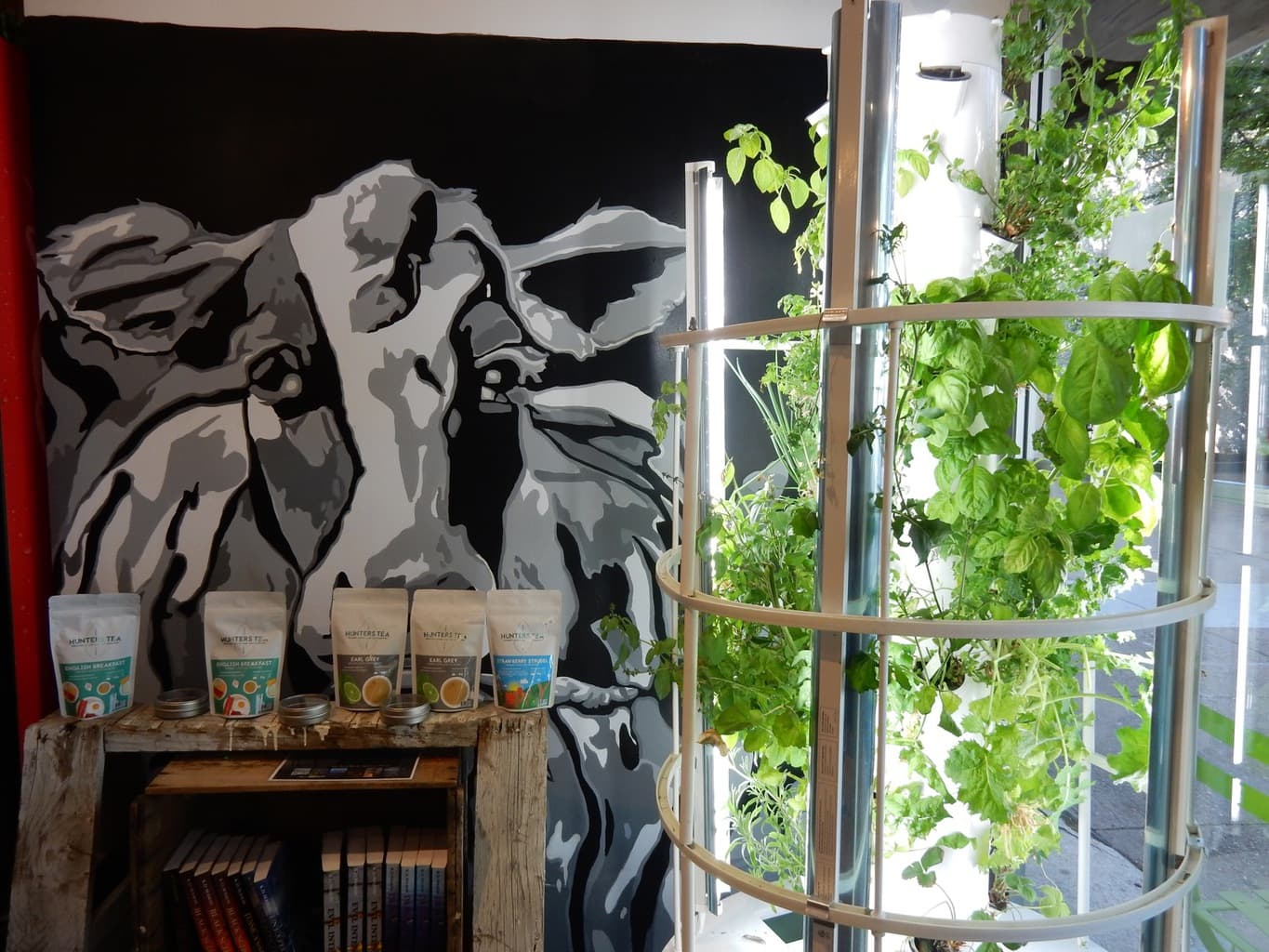 Owned by expat New Yorker, Jacqui Harmon, and her two daughters, Kayla and Shoshanna, The Goods is "all about healthy. Everything is made from scratch," except the bagels, which are imported from NYC. Try the Chef's Favorite Cali Wrap – a cocoon of eggs, avocado, roasted veggies and goat cheese that comes warm and crispy – and one of the "cleanest" tasting foods I've ever tried. No wonder people were swarming in on a random June weekday.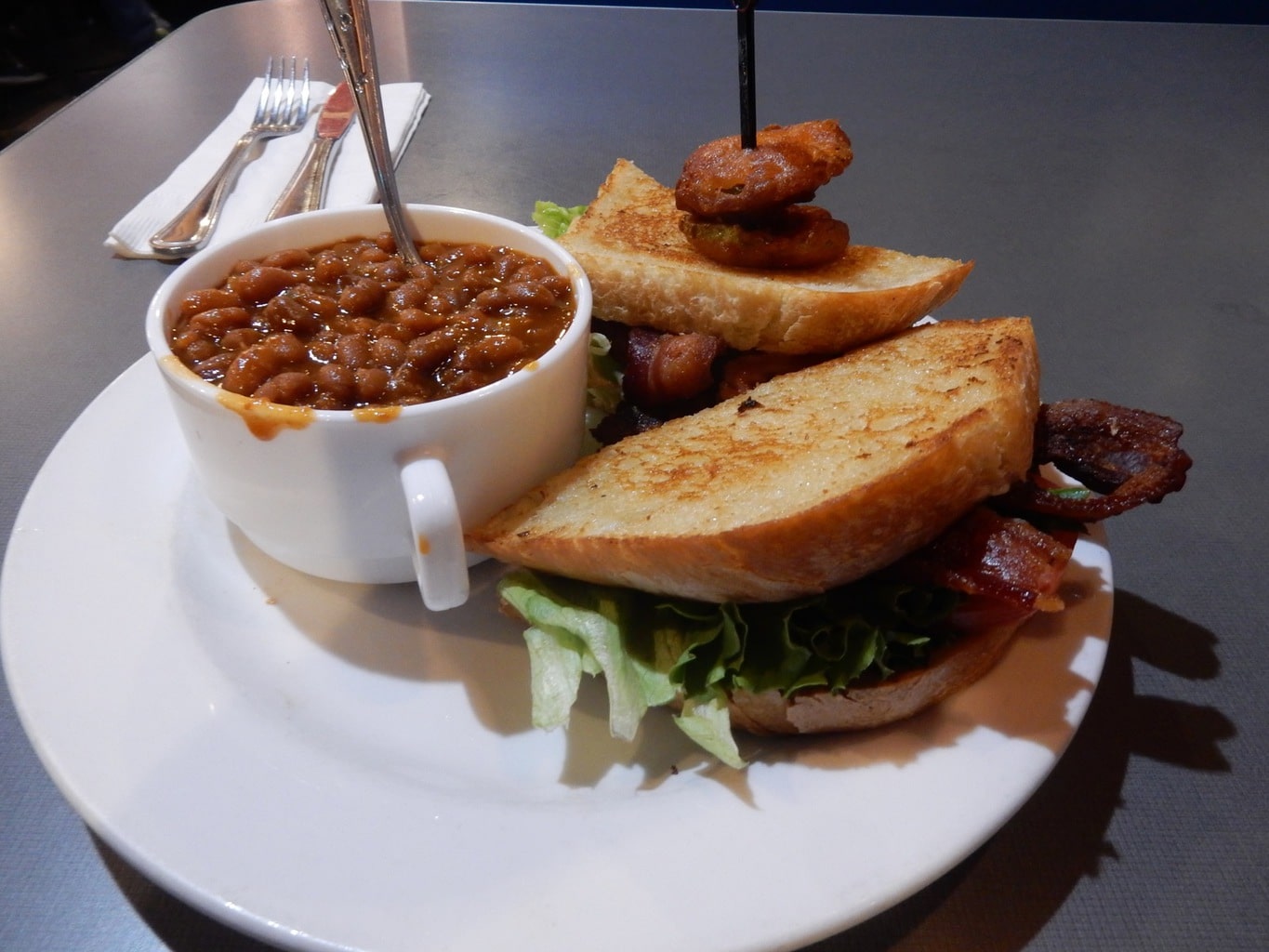 EAT: The Roundabout Diner. Located at the Route 1/I-95 roundabout, it's easy to dismiss this place as just a coach bus stop, but don't. Formerly Howard Johnson's and then Bickford's until 2010, this fun "breakfast all day" eatery is now a "50's classic retro style diner with modern twists. Surprisingly, it's got a strong local following. Some of this has to do with the diner's full bar, rare for this type of eatery. Other reasons include way above average food and specials. On the menu are un-dinery dishes like Truffle Lobster Carbonara and Sirloin with Truffle Jam and Risotto. The BLTCA (BLT with Cheddar and Avocado) is the best of its kind – anywhere – due to locally sourced "killer" maple bacon (yeah, baby). Owners try to utilize local purveyors when possible, and mostly everything is made from scratch, including the homemade desserts, which are "all you can eat" on Sundays. Plus, as the owner quips, "the line goes quicker with liquor." The Roundabout installed a "Build Your Own Bloody Mary Bar" on Sundays – a resounding success.
EAT: Café Espresso. In a strip shopping center a bit out of town, this casual spot is a local favorite, especially for breakfast. Besides the "Best Omelets," it's got great salads and "Lobsta Your Way" – Lobsta Salad ($11.99) and Lobsta Roll ($11.9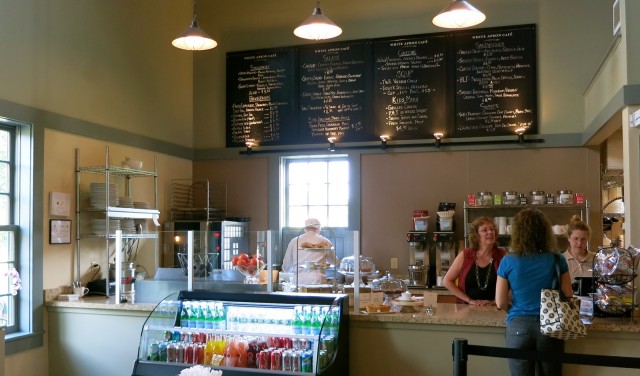 EAT: White Apron Café.  No need to leave Strawbery Banke now to eat. Grab a salad, sandwich, homemade soups and sweets at this casual, from scratch spot. Arrange a gourmet picnic to go, as well. Perfect for an al fresco lunch overlooking the  waterfront, for an event at Prescott Park or for the lunchtime sailing on the gundalow Piscataqua.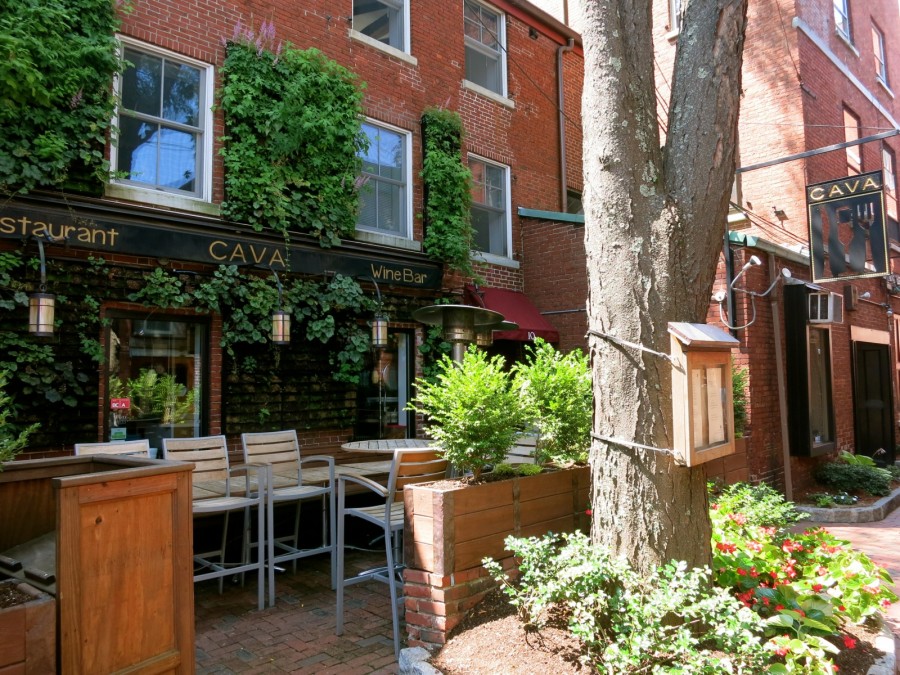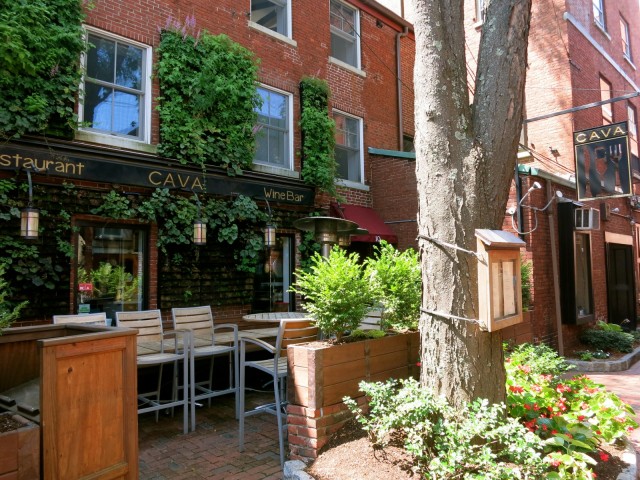 EAT: There are "as many restaurant seats as citizens" in Portsmouth, so it will be virtually impossible to nail down the very best in this guide. But the following were mentioned again and again. Cure, owned by Chef Julie Cutting, which won Top Restaurant in NH, Row 34, Lexie's Joint, Black Birch, Popovers on the Square for, well, the signature dish – a breakfast favorite for locals, Black Trumpet Wine Bar for Southern inspired farm to table cuisine, modern-American Tapas at Moxy, Cava for small plates and great tasting menu, Jumpin' Jays Fish Cafe for exceptional fish, and BRGR Bar for very popular "Adult Milkshakes," like the Orange Creamsicle ($10) or Bacon Marmalade ($10).
Best Places to Stay in Portsmouth NH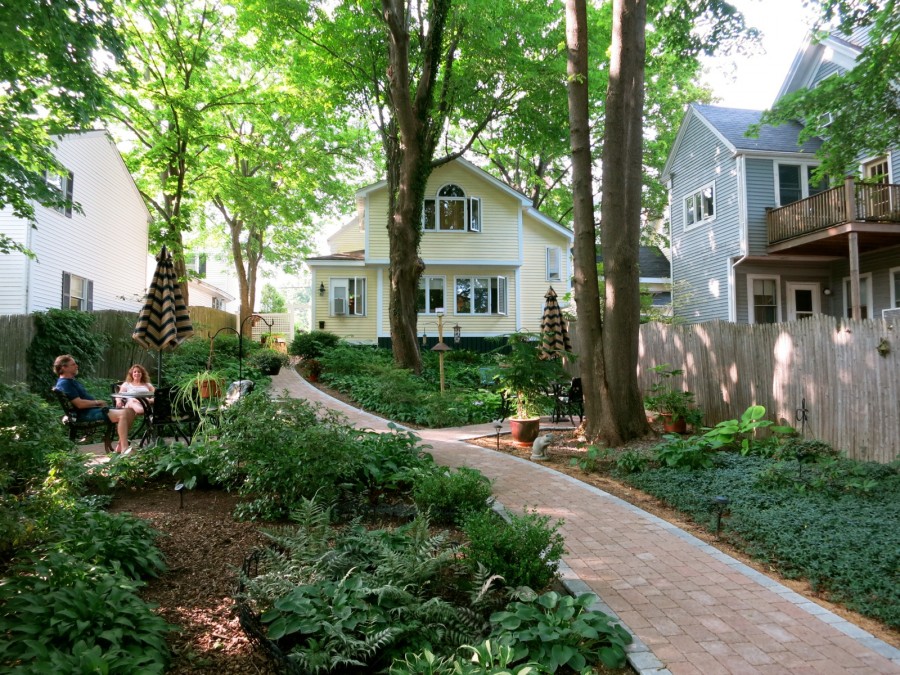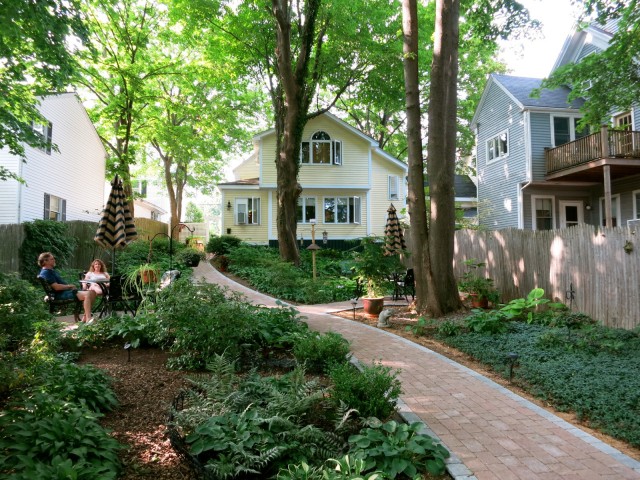 STAY: Martin Hill Inn. There are plenty of full service hotels in Portsmouth, but Getaway Mavens readers generally seek a more intimate, singular, personalized, gourmet breakfast type of experience, and you won't find one better in Portsmouth than the Martin Hill Inn.  Hosts Meg and Russ took over this 7-room 2-building B&B – just a ten-minute walk to Market Square – in 2013 and are keen on the little details that make a B&B stay so special: soft drinks available round the clock, complimentary sherry in the afternoon and evenings, baked goods at check in and a full-gourmet breakfast (not to mention free wi-fi and parking). Rooms, named after clipper ships, are dressed in colonial-era finery.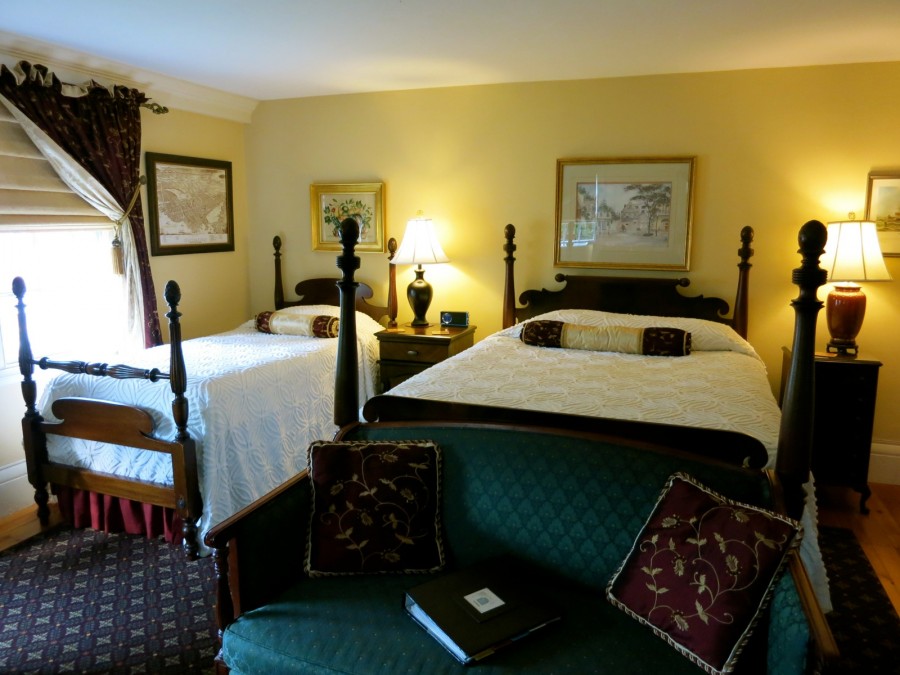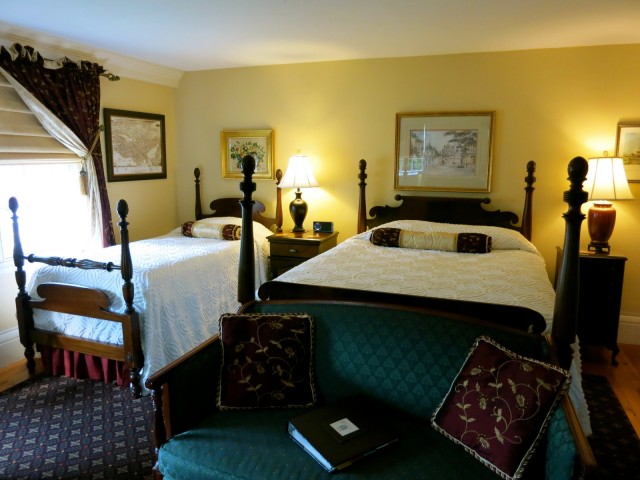 The Ranger Room on the first floor features two beds (a double and single – perfect for friends traveling together), a corner hutch, other Federalist furniture and a picture of George Washington to evoke the proper era.  There's a gorgeous garden out back, perfect for an afternoon glass of wine (or summer's eve sherry), and baked treats to welcome you back from a day of exploring. Breakfasts consist of locally grown and sourced ingredients- quiches, frittatas, stuffed French Toast and the like – and cooked to your preference. Rates are reasonable, even in high season, topping out at $210 per night. $135-$210 includes sherry, afternoon refreshments, gourmet breakfast, parking and wi-fi.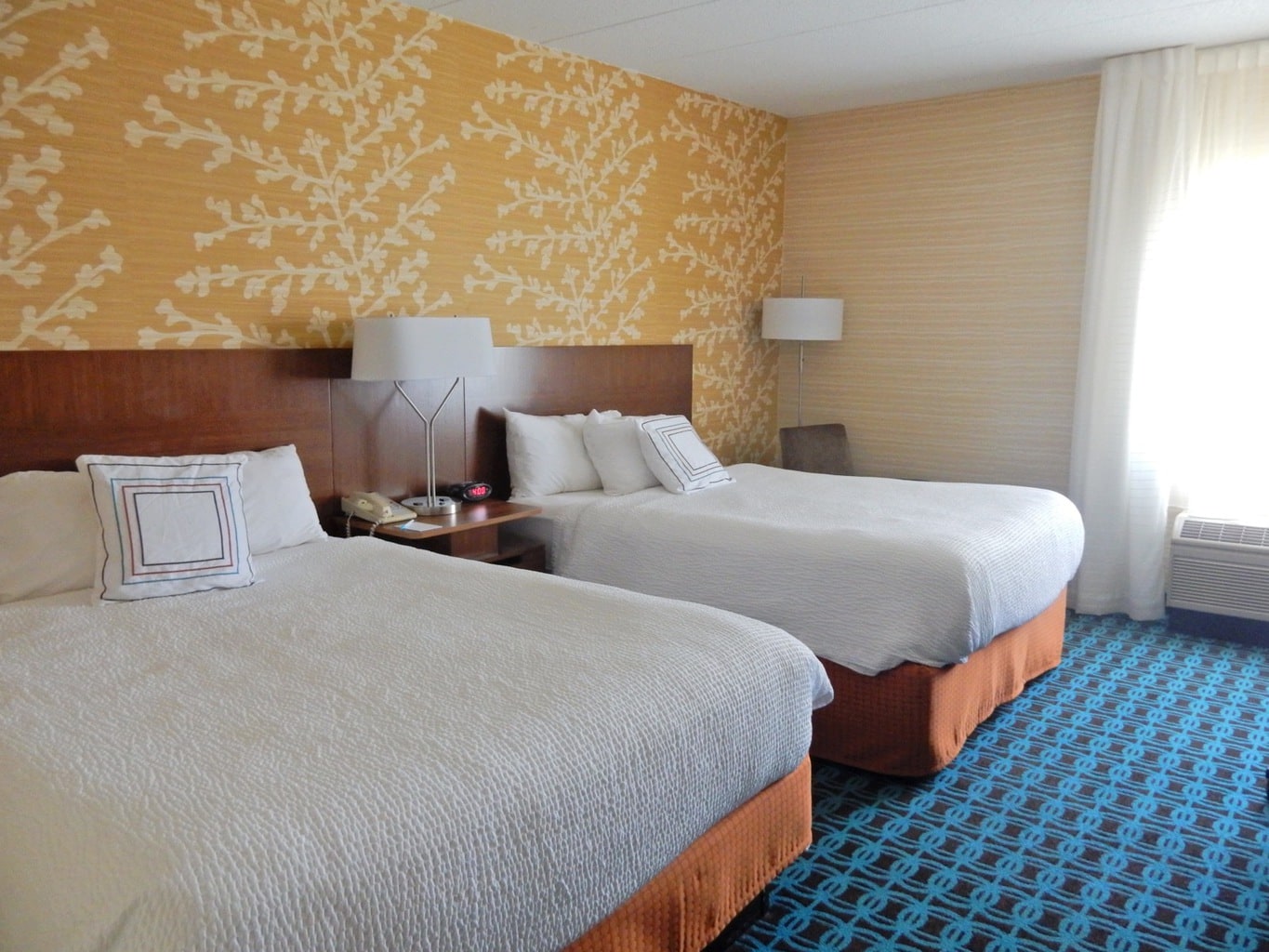 STAY: Fairfield Inn Portsmouth Seacoast. This well rated, fully renovated hotel a couple of miles from town was fully booked on an early June Tuesday night. Why? The rooms are trendy-modern and spotless, beds are comfy, there's a complimentary shuttle into town (no parking headaches), a complimentary hot and cold breakfast buffet, nicely landscaped outdoor pool, free wi-fi and complimentary USA Today. And best of all, rates are slightly lower than in town, starting at $170 per night.
STAY: If you prefer an in-town full service hotel, the Hampton Inn and Suites and the Residence Inn By Marriott are both clean, comfy and fine.