Last Updated on June 24, 2022 by Editor
WHY GO: Small town Exeter NH, home to the venerable prep school, Phillips-Exeter, will charm you to pieces. And, it will also provide an enlightening glimpse of our Founding Father's debate over what makes "a more perfect union" at the American Independence Museum.
Visitors to Portsmouth are missing a great deal if they ignore the city's outlying areas – within the region dubbed Seacoast New Hampshire.
From one of the oldest Country Stores in America, to exotic creatures from the Gulf Of Maine, to the Hotel that hosted a world-famous Peace Treaty – this Getaway stands on its own as a true Patriotic New England escape. But add Portsmouth to get the very most out of a Seacoast NH discovery tour.
Things to do In Exeter NH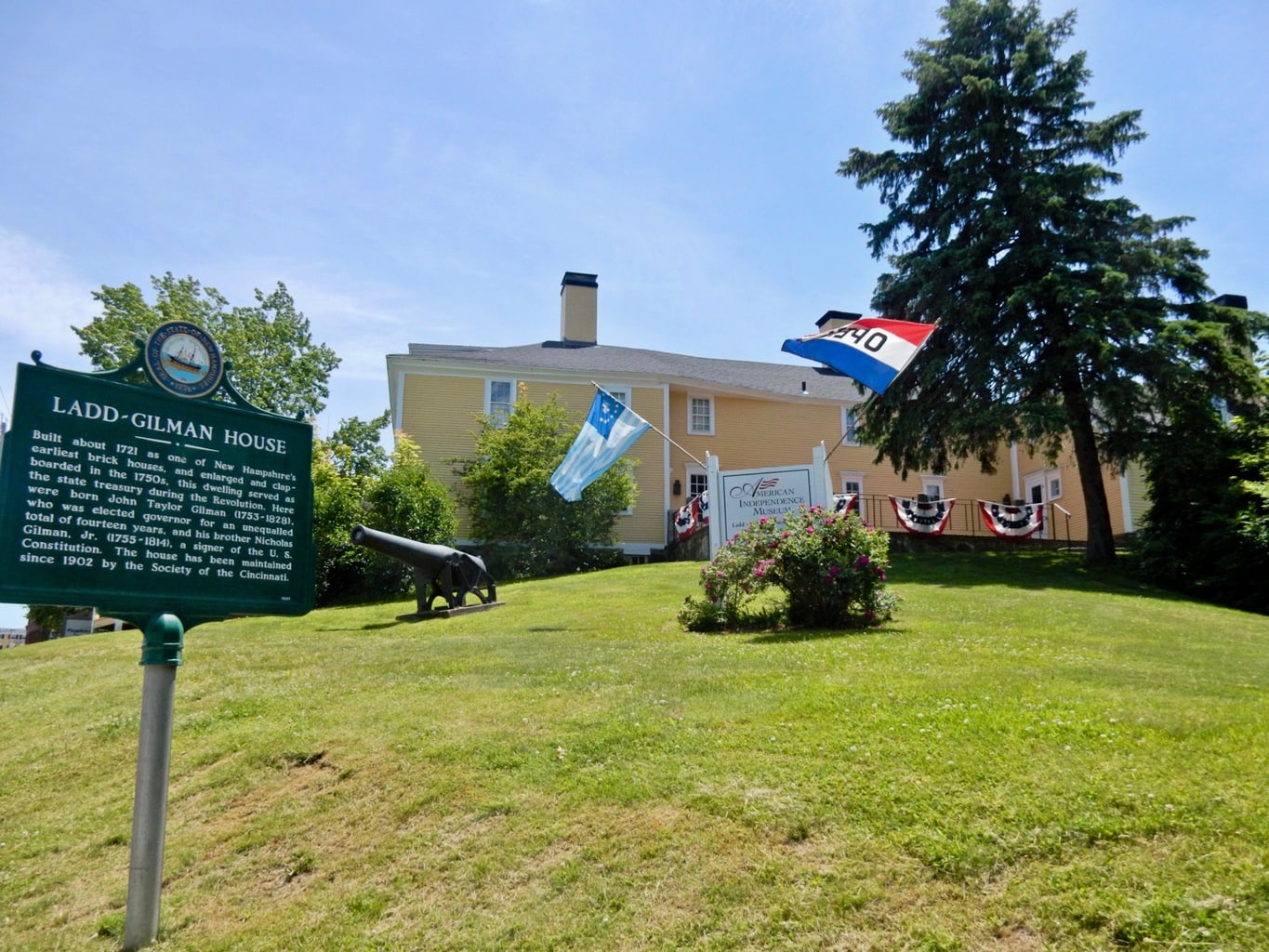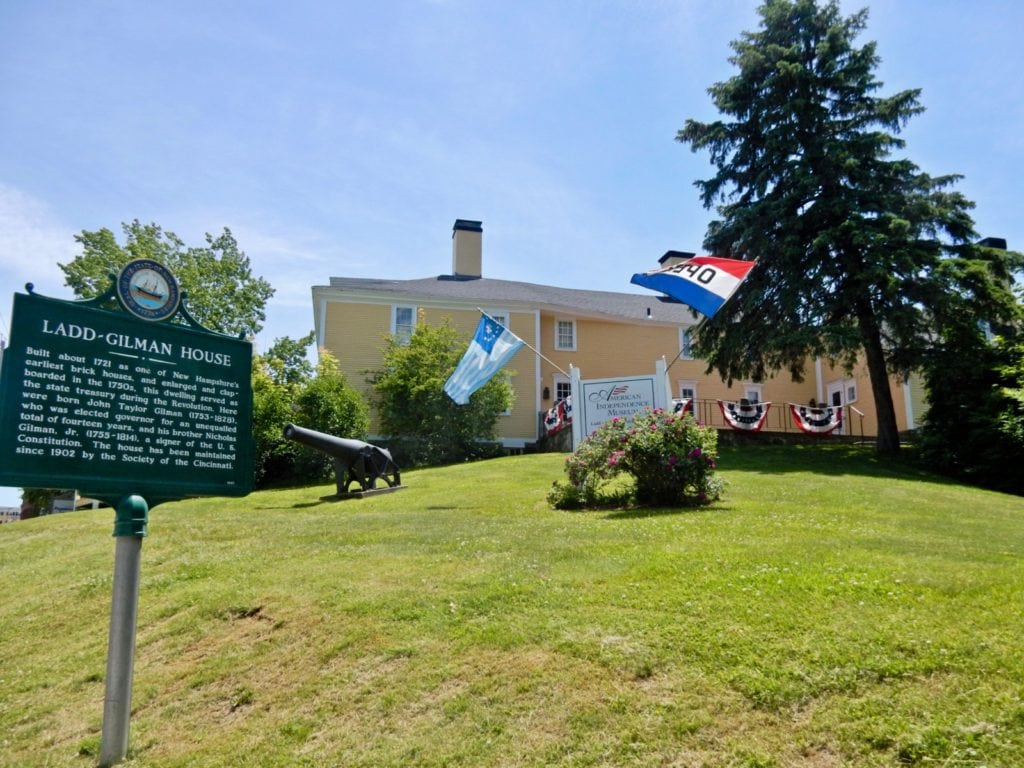 One of the many misconceptions about the Declaration of Independence and US Constitution is that they emerged from the minds of our Founding Fathers fully-fledged, Intelligently Designed. This couldn't be farther from the truth. Both were works in progress, with many reworked drafts. And, the American Independence Museum, located in the Ladd-Gilman House, illuminates this better than any other historical museum.
Ladd-Gilman House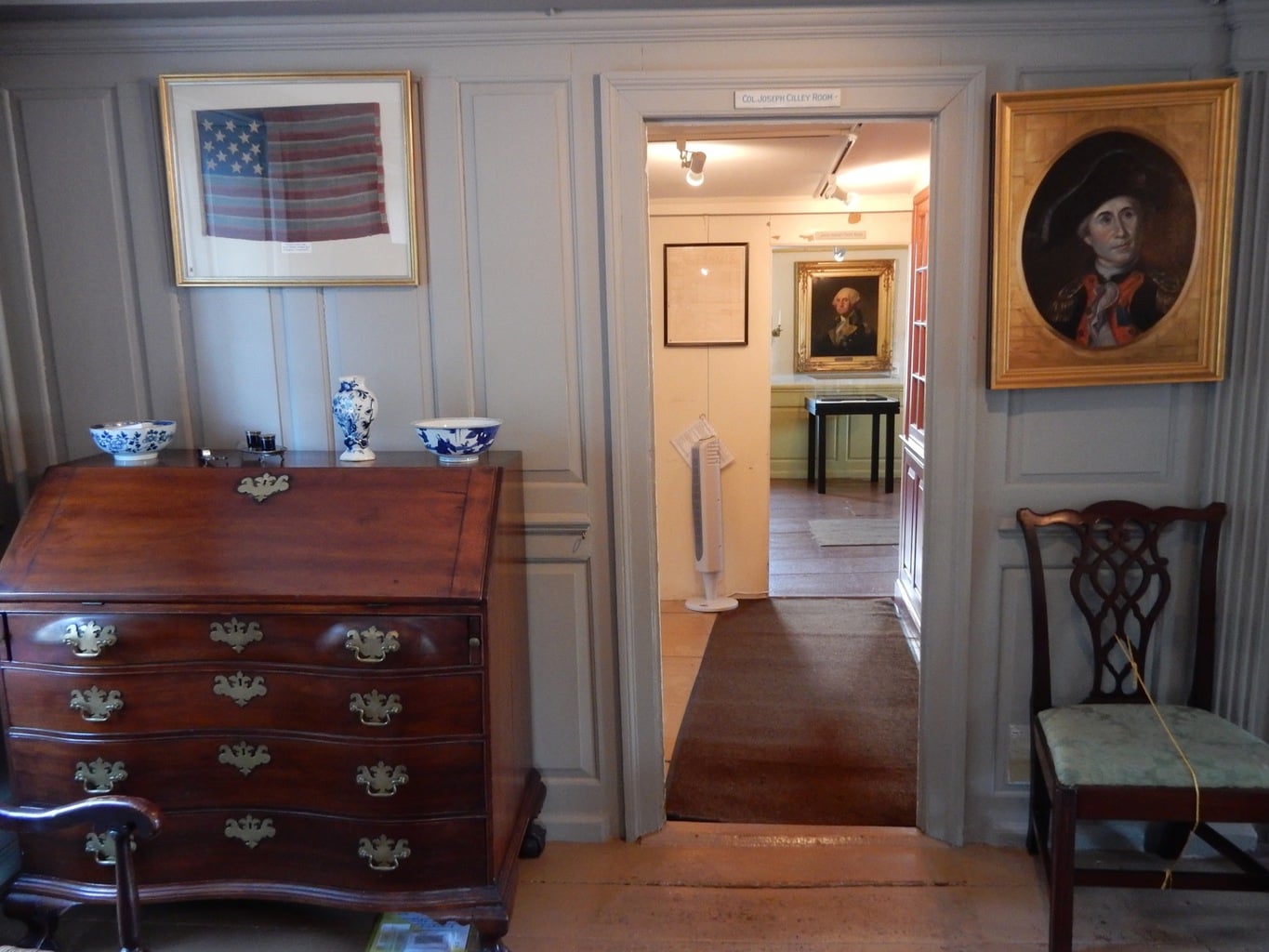 The circa 1721 Ladd-Gilman House was home to signer of the U.S. Constitution and State Senator, Nicholas Gilman, Sr. and his brother John Taylor Gilman. Nicholas served as the New Hampshire Treasure. During John's tenure as Governor, it was the Governor's Mansion.
It is now The American Independence Museum, renowned for historical documents dating back to the birth of our nation. And, also, for a Club formed right after the War – The Society of Cincinnati.

In the 1700's, the New Hampshire coastline was a British stronghold. Fort William and Mary (renamed Fort Constitution), a repository for gunpowder.
Though there was never a Revolutionary War battle in New Hampshire, the 1774 American raid on the Fort to steal stockpiled arms, is considered one of the first (if not the first) volley in the Revolutionary War. This was a full year before the Shot Heard Around the World in Concord MA.
The gunpowder, subsequently used in the Battle of Bunker Hill, was shipped to several other outposts. Some came to Exeter, and was stored in the Powder House that you can still see across the river today. For a moment in time, when the British fleet threatened Portsmouth in July 1775, the government of New Hampshire was moved 27 miles upriver to Exeter.
Society of Cincinnati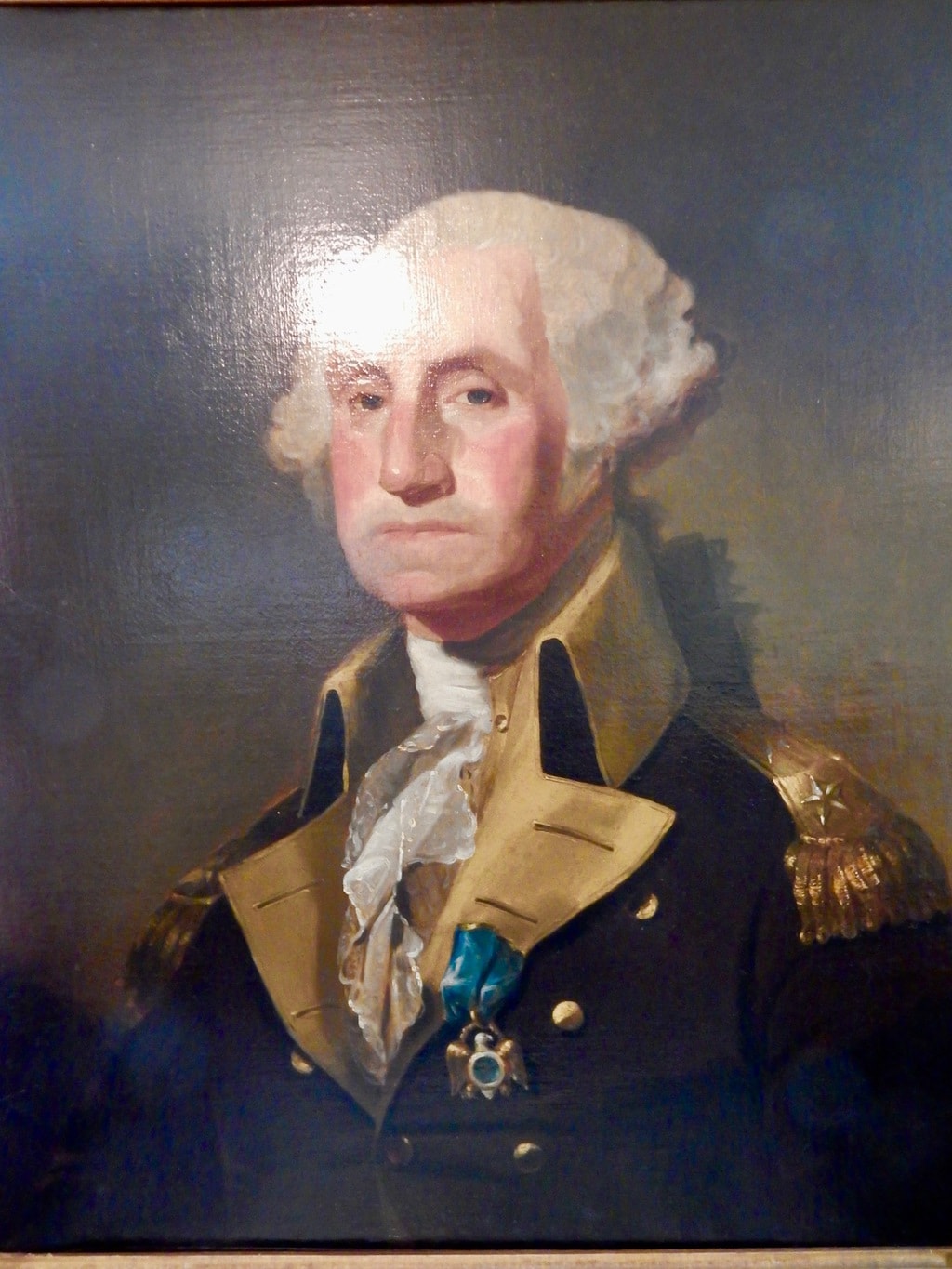 After the War, in 1783, Military Officers formed the Society of Cincinnati, a club named for Lucius Quinctius Cincinnatus, a Roman statesman and military leader who retired to work his farm after heroic service. (Interestingly, the city of Cincinnati OH is named for the club, not the man).
Membership in the Society, which still exists today, was initially passed from father to first born son. But then it expanded to include other sons and family members.Never women, however. The Society of Cincinnati remains a male-only club.
The Society of Cincinnati purchased the Ladd-Gilman House in 1901, a few years after the last Gilman family member passed away. It was used as a clubhouse until 1991, at which point it opened as a museum.
Dunlap Broadside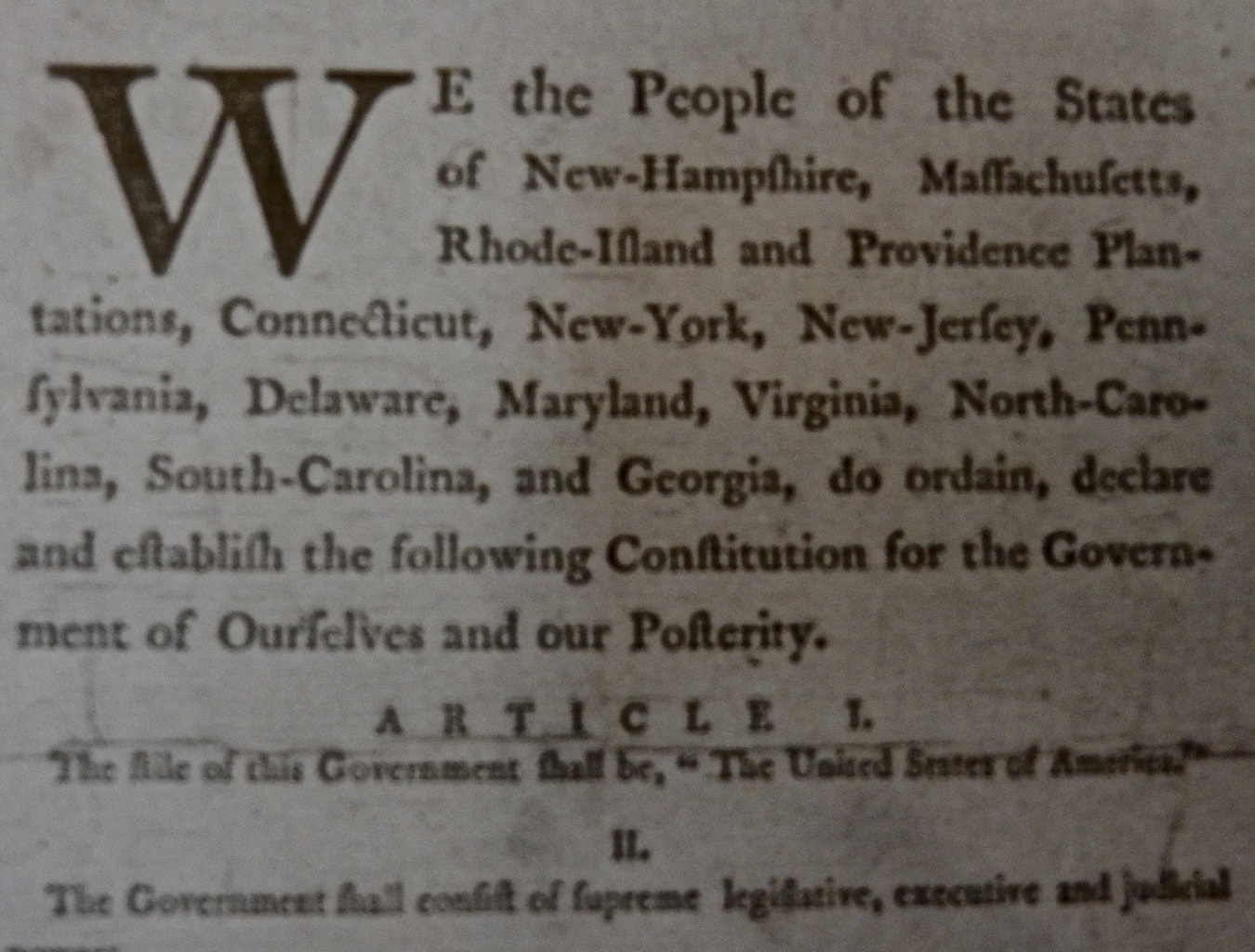 As a Society made up of Revolutionary War Officers, you can imagine the treasured documents they held and passed down through the ages.
In 1985, researchers discovered an original broadside of the Declaration of Independence in the attic. It was one of 200 printed by John Dunlap in Philadelphia that were distributed to the original 13 colonies.
Incredibly, it was the very same document that John Taylor Gilman read to the public on July 16, 1776. (JT Gilman served 14 years as New Hampshire Governor in the late 1770's and early 1800's).
The museum still owns this original Dunlap Broadside (one of only 26 known to still exist). And, though a facsimile is on display year round, each year, on the weekend closest to July 16th, the museum Director removes the original from the vault. It is then handed over to an actor dressed as John Taylor Gilman who reenacts the public reading from the same piece of paper used nearly 250 years ago.
Original Draft of US Constitution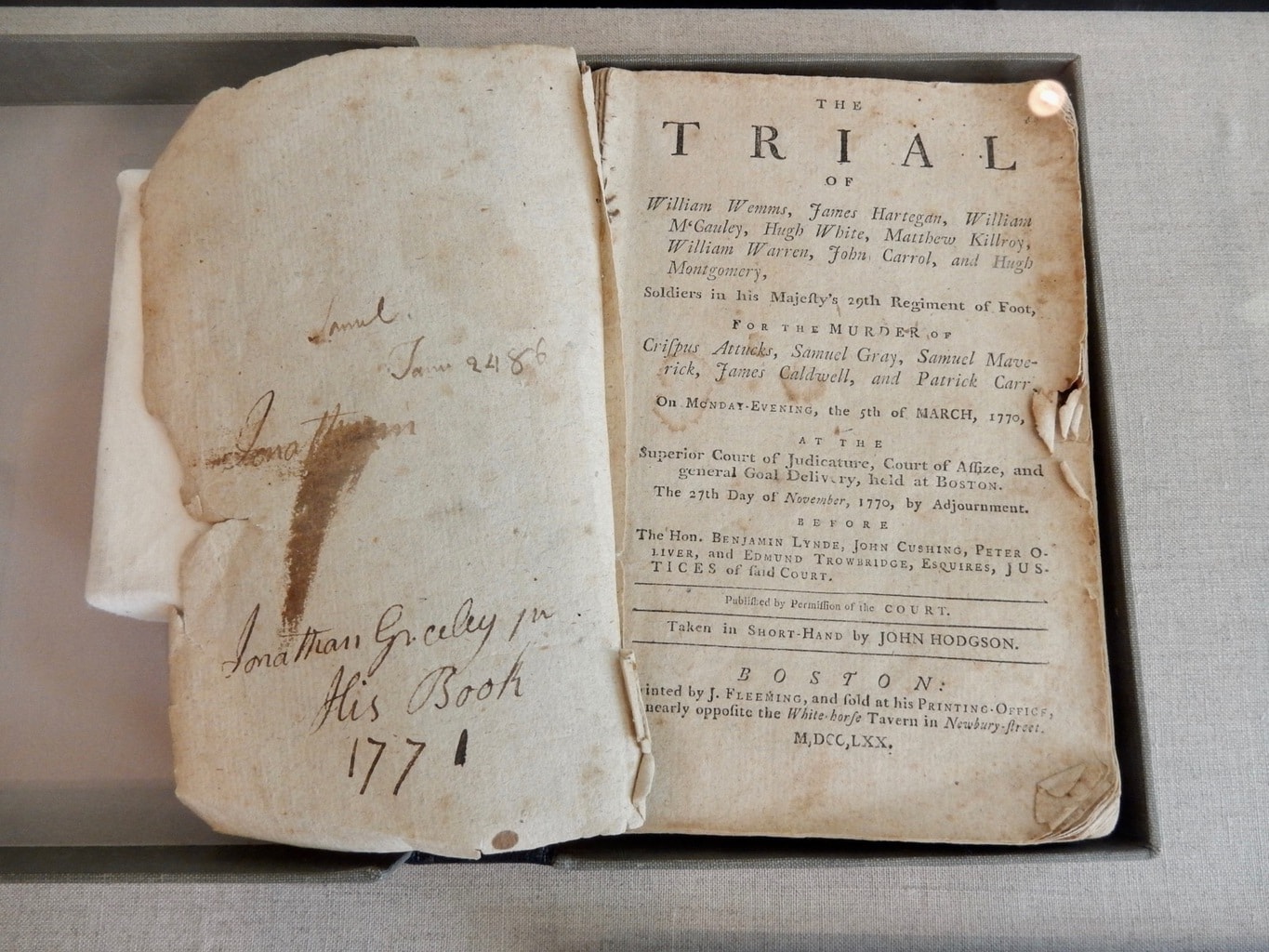 The museum also features an original, notated iteration of the United States Constitution, which differs from the final Constitution in one very significant way. It begins, "We The People of New Hampshire, Massachusetts, Rhode Island," etc., itemizing each state, rather than the collective "United States of America."
Why was it not finalized this way? Well, the delegate from Rhode Island never appeared at the signing, for fear of being found guilty of treason. And so Rhode Island could not be listed by name.
A copy of the Constitution is also on display in the museum. And, again, the original is taken from a secure place and shown to the public for a day.
First Drafts of Declaration of Independence
The American Independence Museum also showcases the first two drafts of the Declaration of Independence. Neither were signed. The Continental Congress agonized over it again and again, as you can see from a copy of the first draft, with Thomas Jefferson's notations.
There's so much more here. Don't miss one of the original trial transcripts (printed in book form) of the Boston Massacre Trial dated 1770, a portrait of George Washington wearing the blue Society of Cincinnati Medal, and a double-sided "Partner Desk." Just like one owned by George Washington.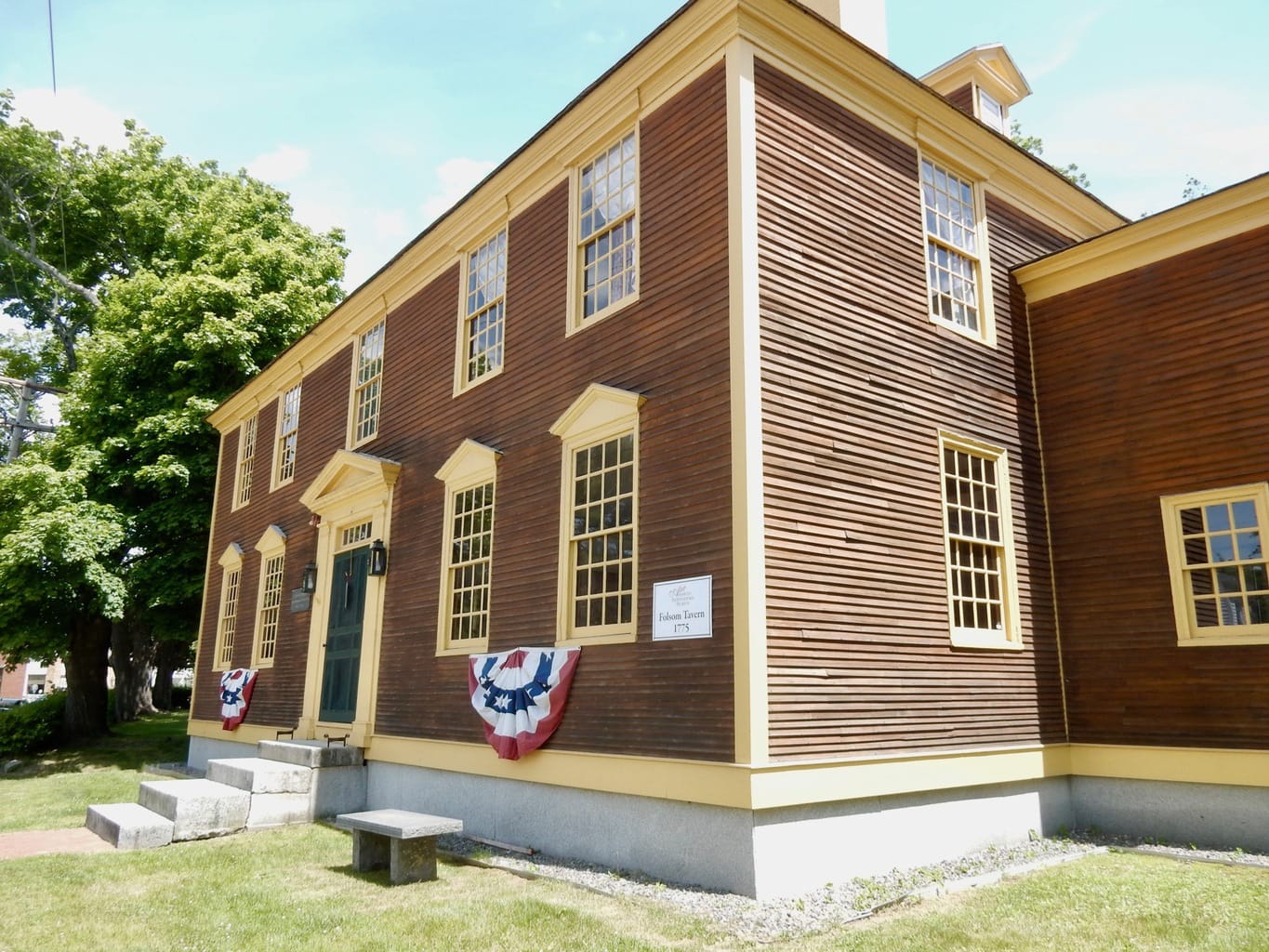 Speaking of GW, the Folsom Tavern, moved to this property in 1929 and recently renovated, once served as a high-end road house. Although he didn't sleep here, in 1789, President Washington scarfed down a hasty brunch without fanfare, before continuing on his tour of the United States.
Both the home and tavern are included in a modest entry fee. You can ask for a guided tour – a docent will be happy to show you the highlights. Open May – Nov. Tues-Sat 10-4, $6 adults, $3 kids. The museum offers plenty of programming including Lunch and Learn, Tavern Talks, Ghost Tours, and Beer-related events.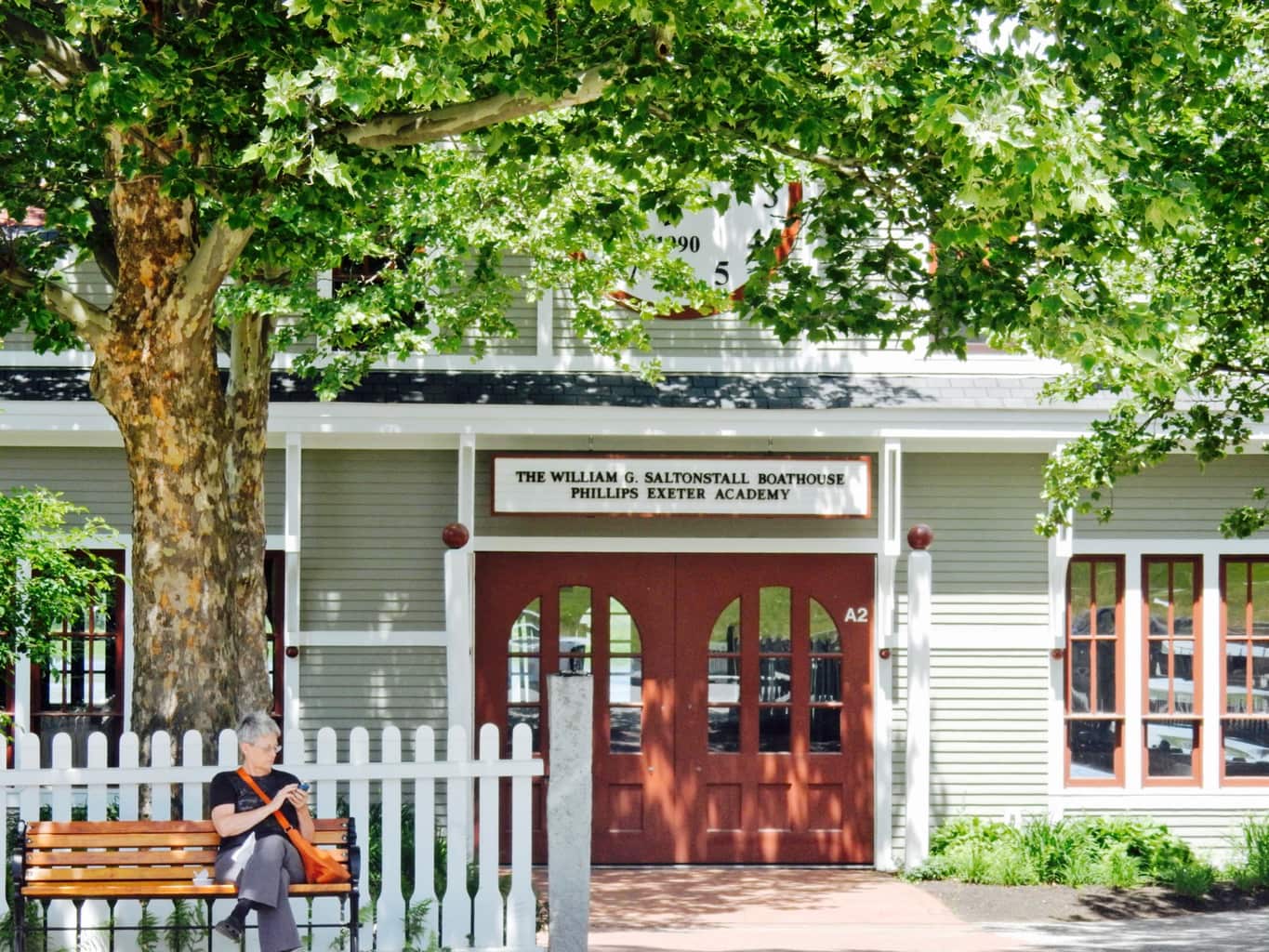 EXPLORE: Exeter NH
Known mostly as home to the elite Phillips-Exeter Academy, Exeter NH, is an Amtrak stop (7 minute walk from the station to downtown) on the Boston MA to Portland ME line. It's is also a Portsmouth NH commuter town with a funky, open-minded, intellectual vibe.
Exeter is so emblematic of a "small New England town," in fact, there's a bandstand in the center of Main St. just made for a 76-trombone-type parade. There are plenty of boutiques and restaurants – so plan to stay awhile. See below in "Where to Eat" for recommendations.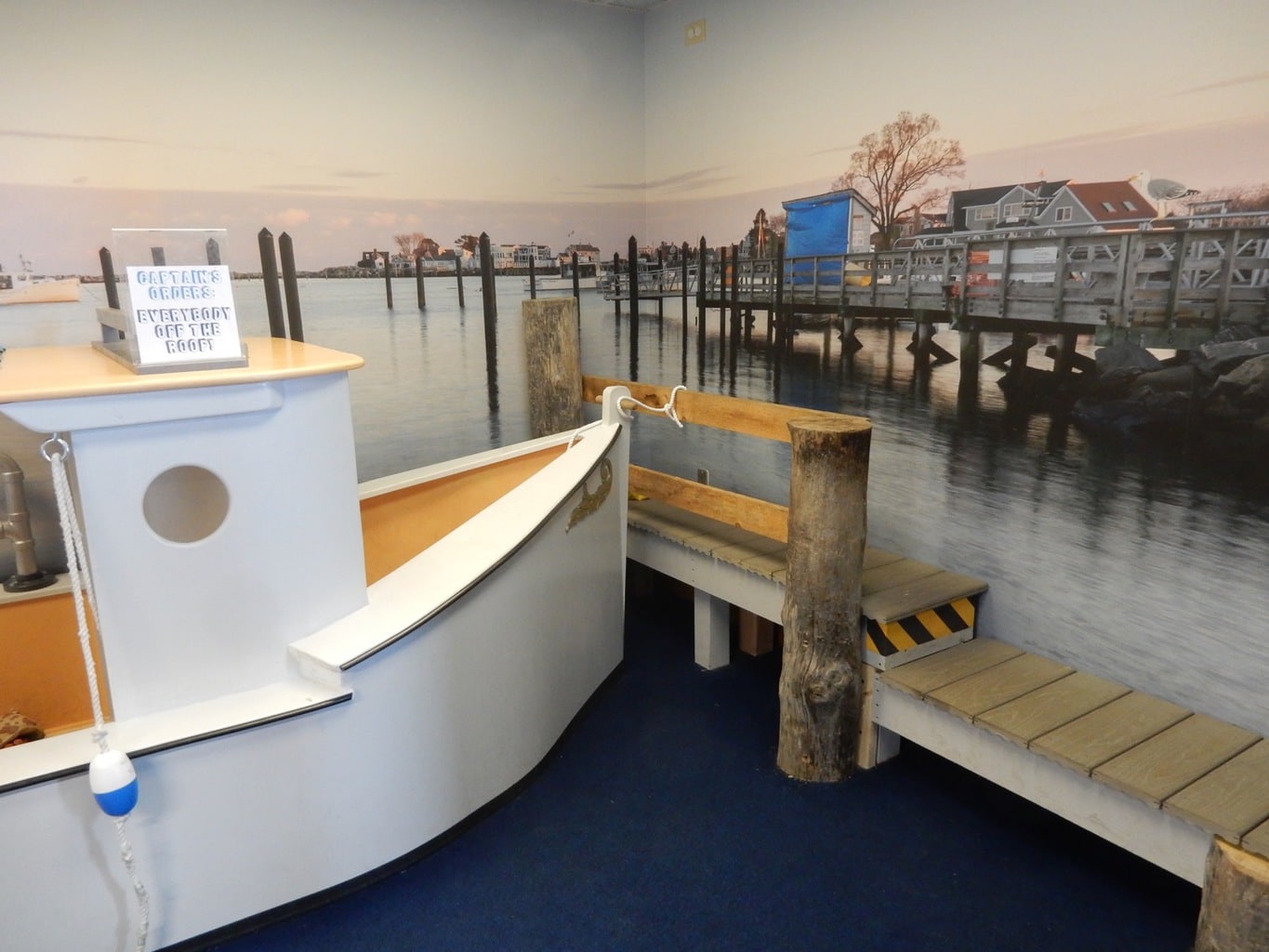 Odiorne State Park features a good chunk of New Hampshire shoreline encompassing a rocky beach, walking trails, and remnants of WWII military fortress. The area is a fascinating place to explore even without the Seacoast Science Center.
But plan to add 30 – 40 more minutes onto a park visit to get a gander at what's inside this compact, entertaining, and engaging institution. Interestingly, the original stone Officer's Quarters of the WWII fort, is completely encased within the Science Center's modern structure, and now used for programming. What was once the wrap around porch is now enclosed. But look out the picture windows to see the harbor, lighthouses, and, at low tide, families with buckets exploring the tidal pools a few yards away.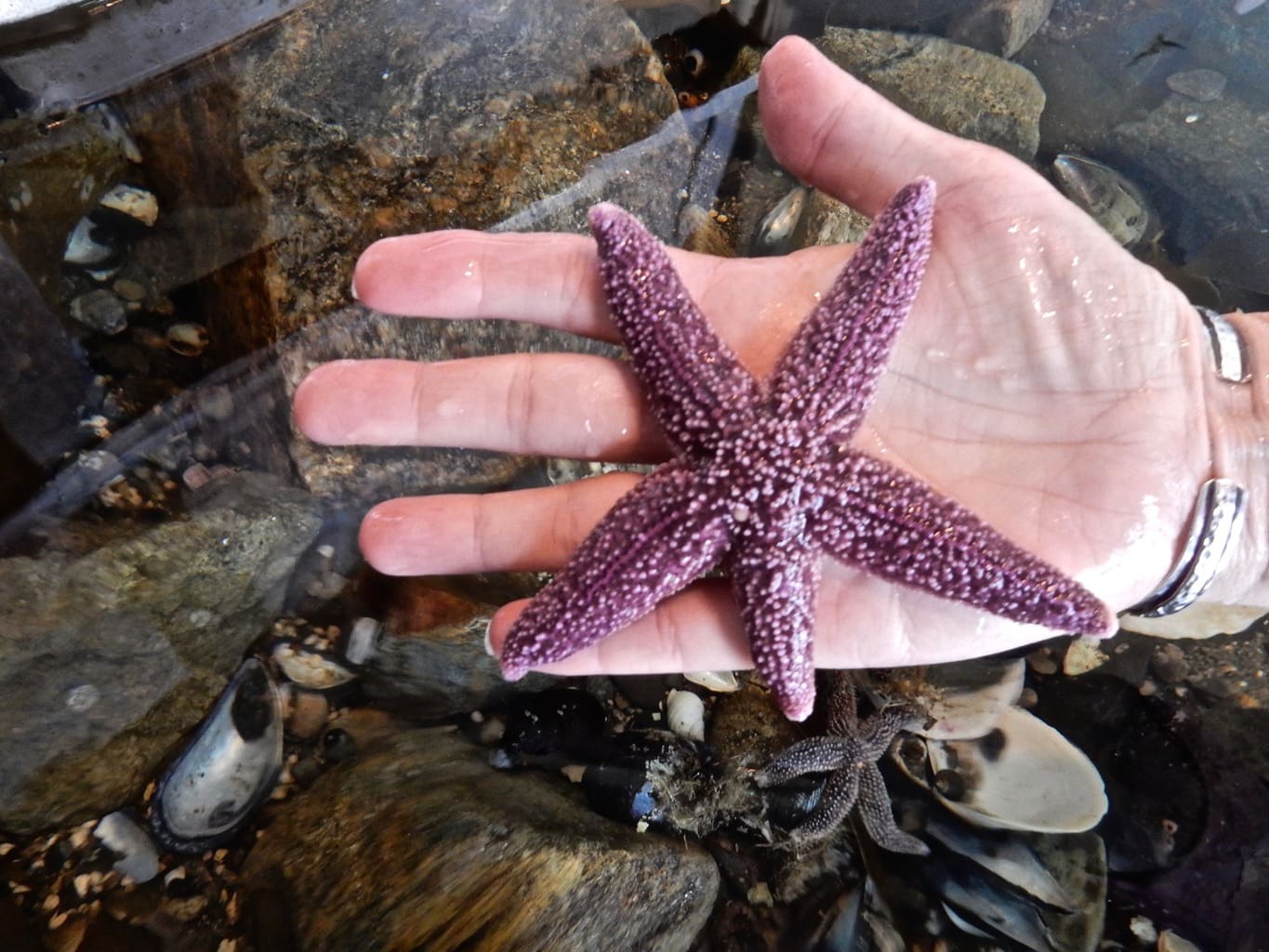 Though traveling exhibits are compelling, don't miss what makes this place tick. Most popular are the "Touch Tanks," with sea stars, sea urchins, and other creatures of the tidal pools. During exceedingly hot or nasty weather, they are best observed inside.
Jumpin' Jay's Discovery Dock
"Jumpin' Jay's Discovery Dock" is also a hit with kids. They spend hours pretending to pilot the wooden boat, fish, and sell their catch. The boat, surrounded by a photographic mural of Rye Harbor, places them right in the middle of the action.
Unexpected Sea Creatures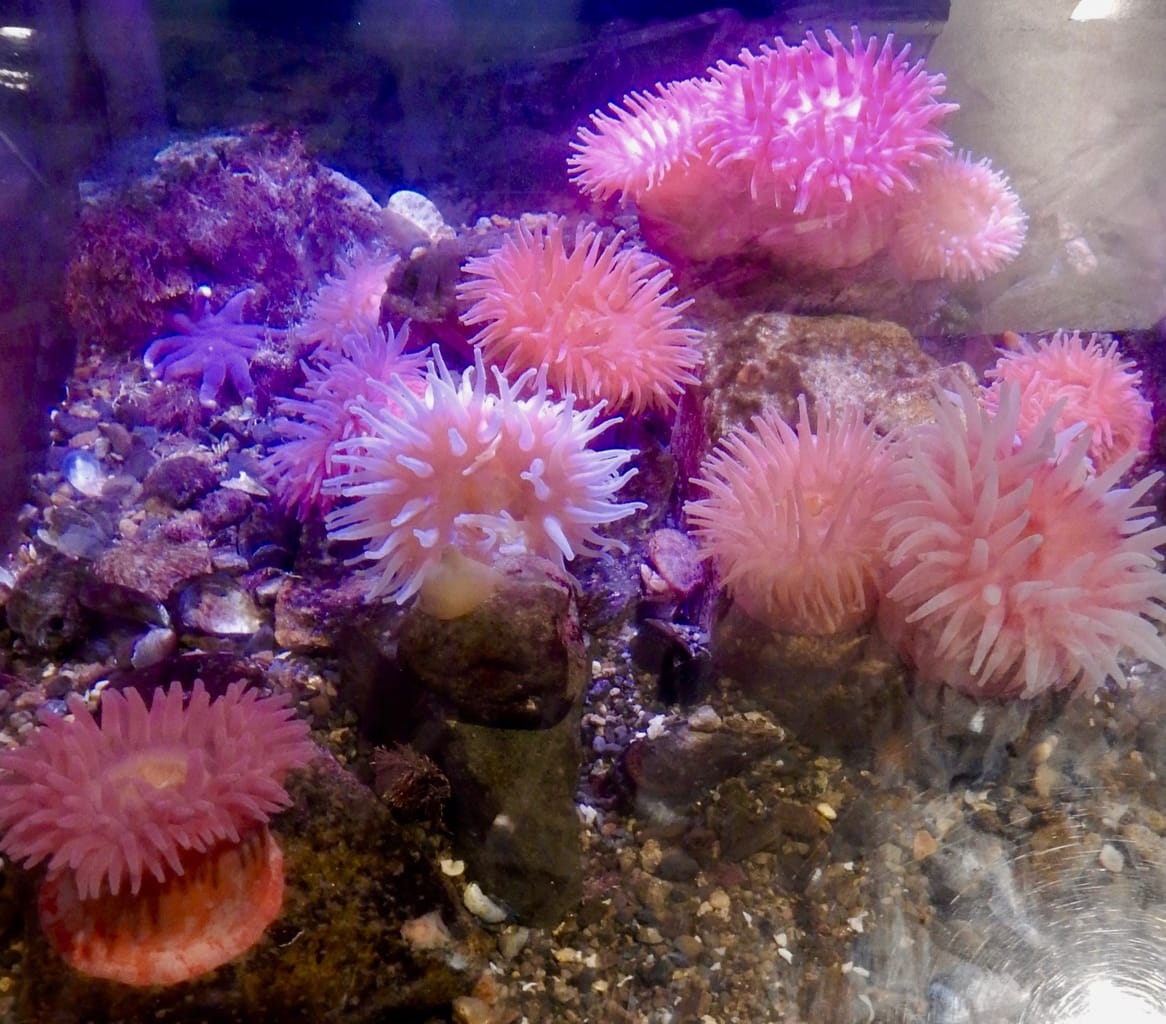 One of the most dramatic exhibits, called "Hurricanes," allows guests to click on a touch screen to see videos of devastating storms.
In addition, there's a whole room devoted to sea creatures found in the Gulf Of Maine. Some of these critters are downright intriguing and/or gorgeous.
Meet 23 year old Raspberry – a 3-toed Box Turtle, two giant forty year old Blue Lobsters, a tank full of large active Sea Horses, and an assortment of Skates, Flounder, freaky Cuttlefish, Spider Crabs, and Alewives. In a tropical tank donated to the aquarium, I watched the antics of a couple of Blue Tangs. These cute little guys were recognized by squealing kids as "Dory!"
However, the Red Anemone – in vivid rosy shades I'd expect in the Caribbean, but not in the Northeast – was most unexpected. Under the Sea indeed. Open Mid Feb-Oct daily 10-5, Nov to mid Feb, Sat – Mon 10-5.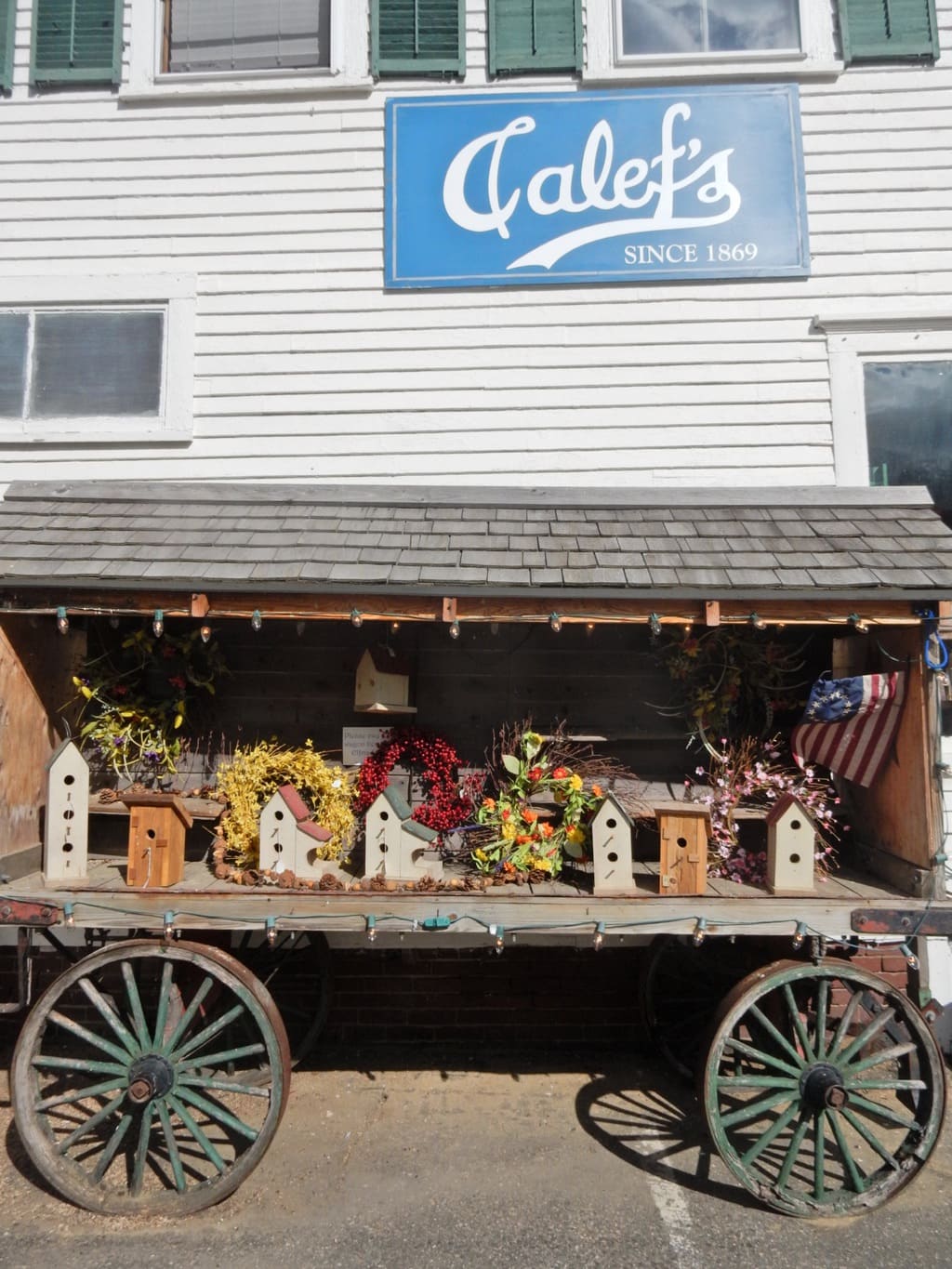 As I walked into this 150-year-old Country Store on a country road in rural NH, "Ain't Nothing Like the Real Thing" was playing on the radio. How incredibly coincidental, I thought.
Calef's, "a New Hampshire Tradition since 1869," is certainly the real thing. With its original creaky wood floors and wood stove, patrons have been "buying local" since Ulysses S. Grant was President.
Those in search of old-fashioned, personal service, hot and BBQ sauces, NH craft beer, bread mixes, canned brown bread, soaps and lotions, kitchen gadgets, and a deli known for "Rat Trap" Cheddar, will find all that and more here.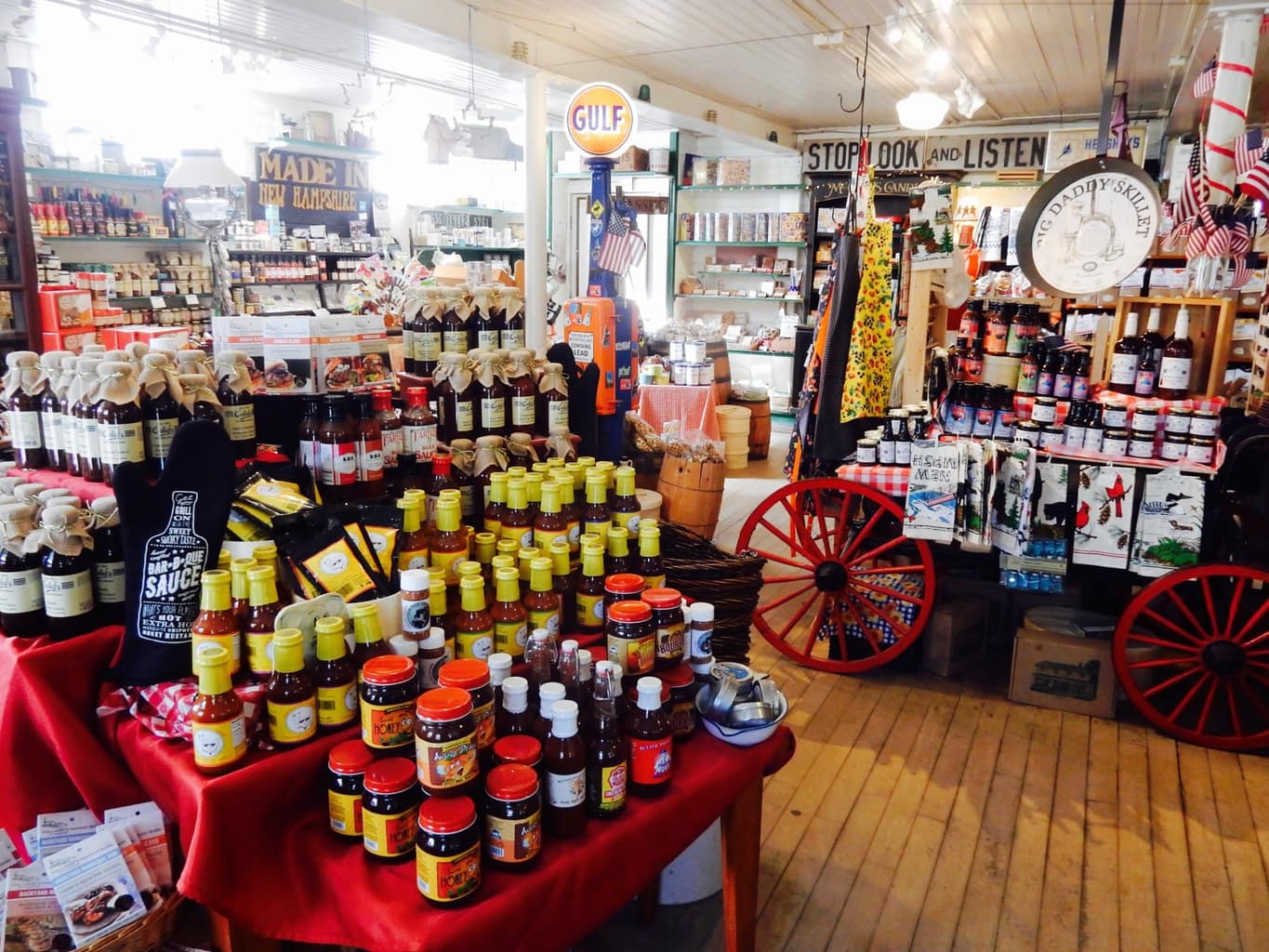 This well-trafficked store supports nearly 300 local vendors, and staff turnover is low. One employee, Joel Sherburn, has been at the deli counter for 60 years. (A book about Joel, "60 Years of Cutting the Cheese" is on sale near check out).
Recently, an 86-year old woman came in and mused, "I haven't been here since I was six." She was probably one of the many children who honed her math skills in the penny candy section. It's still there, with a whole jar of candy for one cent each. And still attracting school kids who learn to make change though their purchases.
This is also one of the Getaway Mavens recommendations for a quirky romantic place to pop the question in New Hampshire. 
Where to Eat in Seacoast NH On Portsmouth Outskirts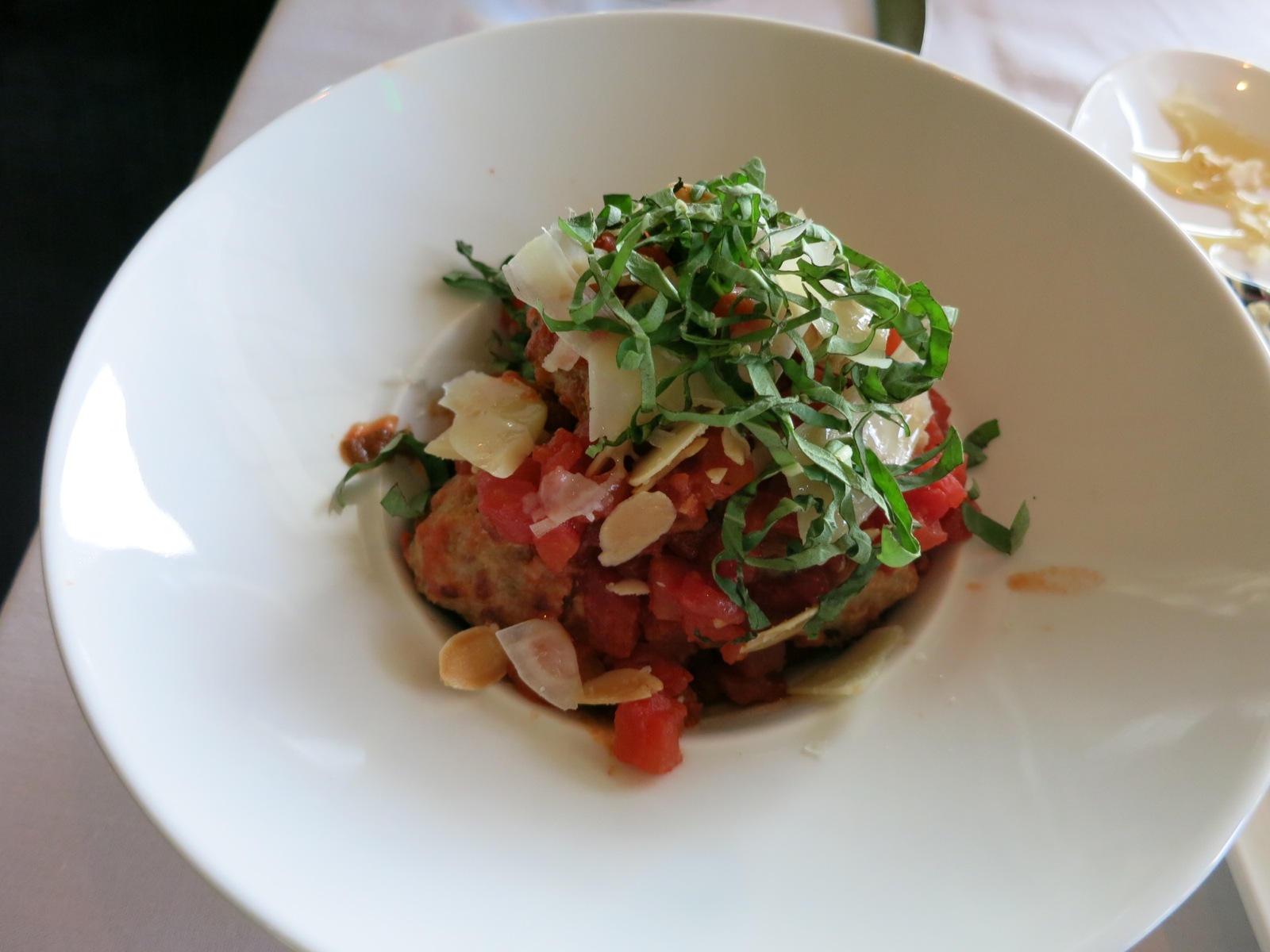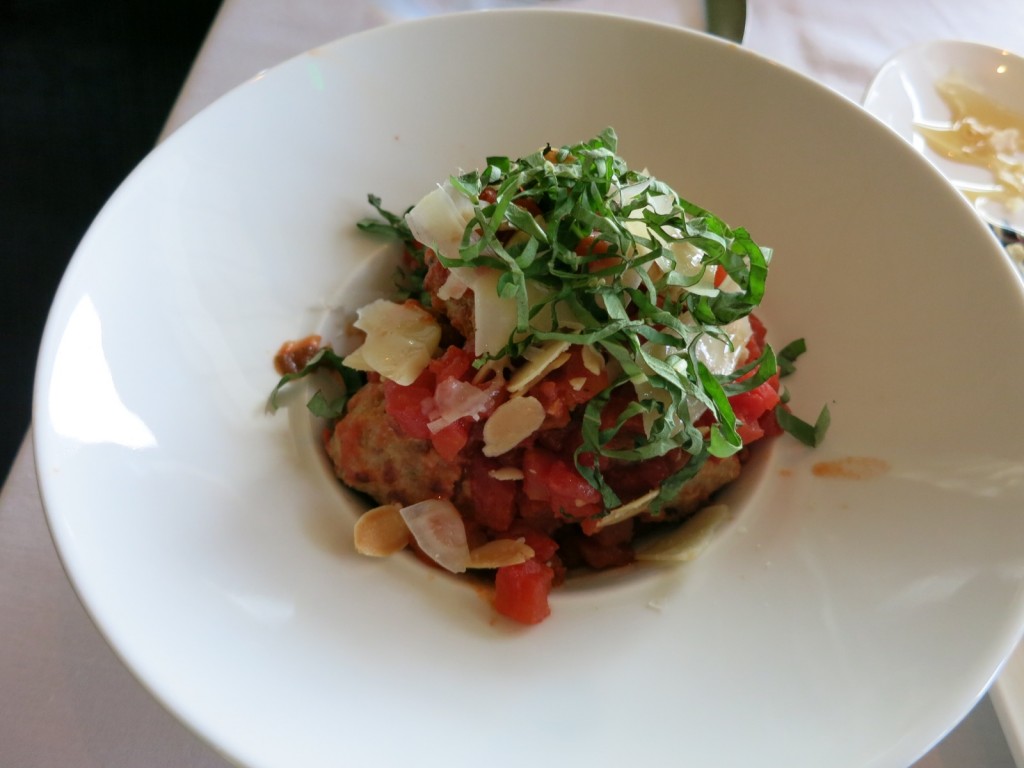 EAT: Salt Kitchen and Bar,Wentworth By the Sea, New Castle
The formerly fusty Wentworth dining room is contemporary and bright, yet retains its original hand-painted domed mural.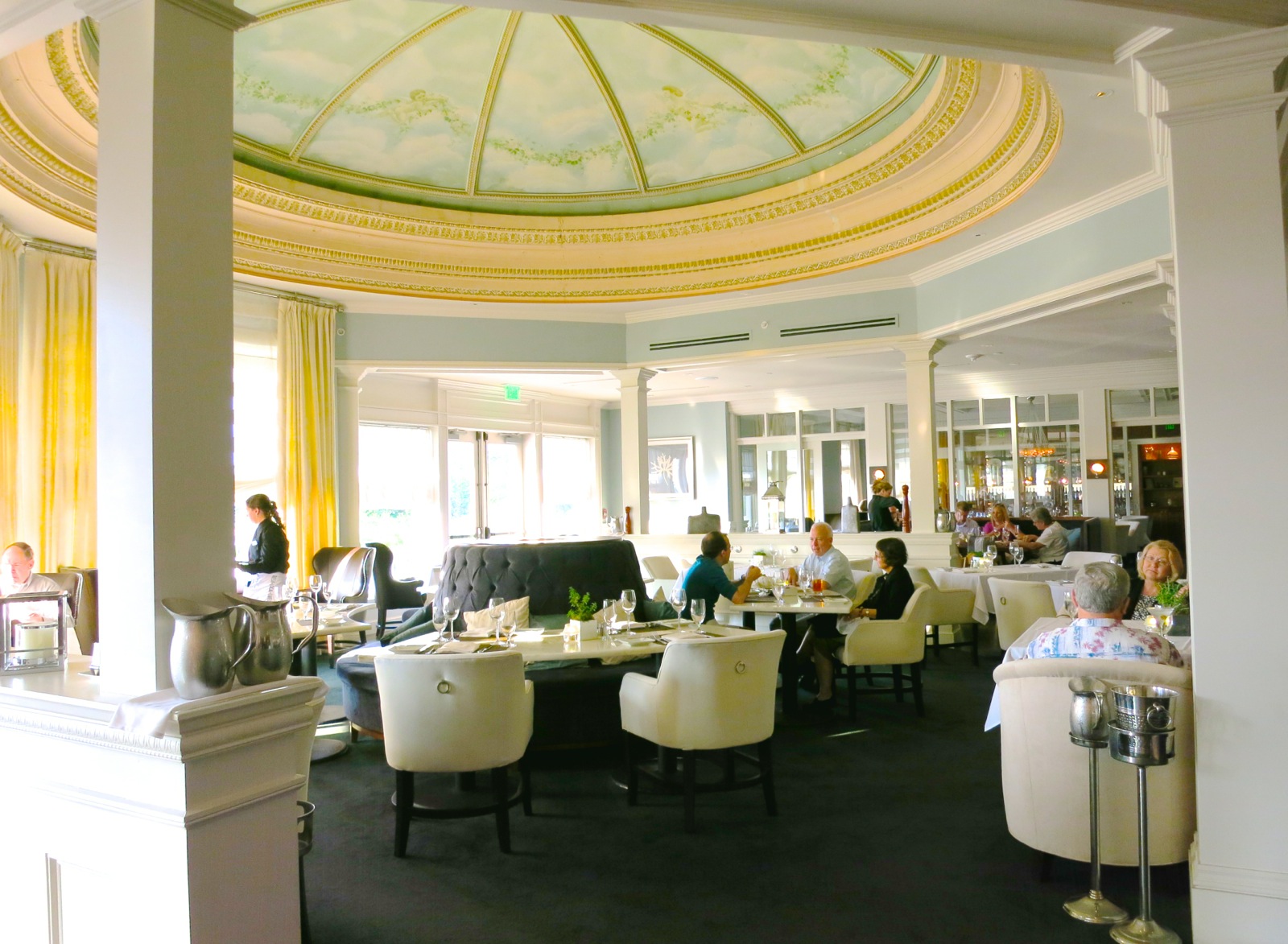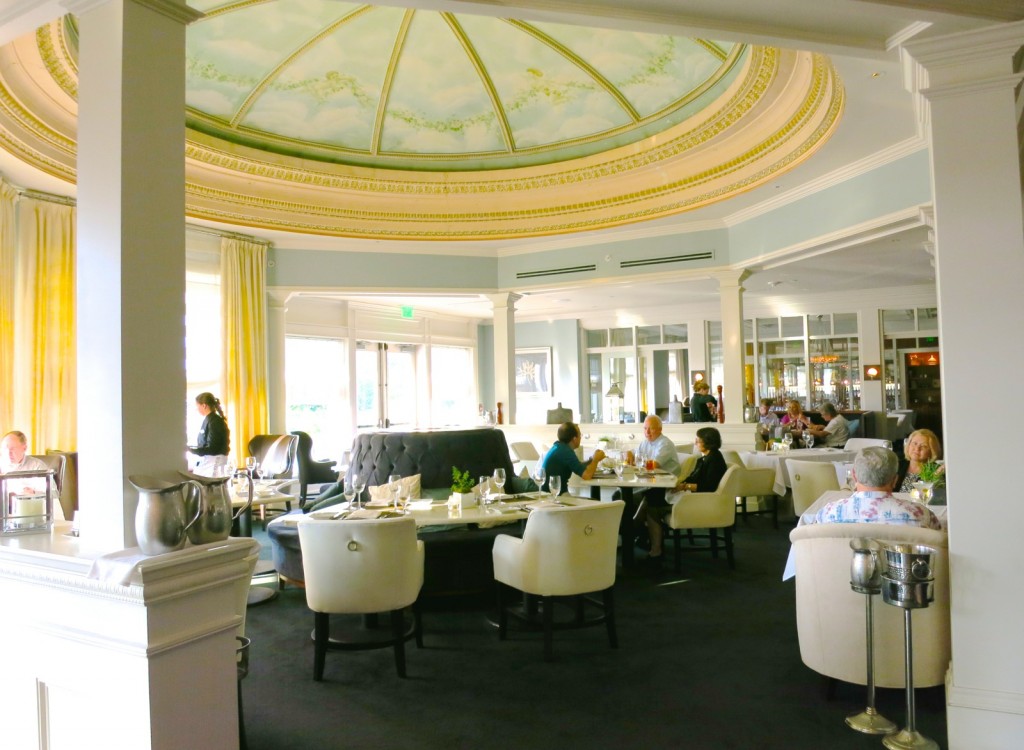 Dine on raved-about small plates that change with the seasons.
EAT/EXETER: Locals also recommend
Otis, Green Bean, Sea Dog, and 11 Water St.
Where to Stay in Seacoast NH Outside of Portsmouth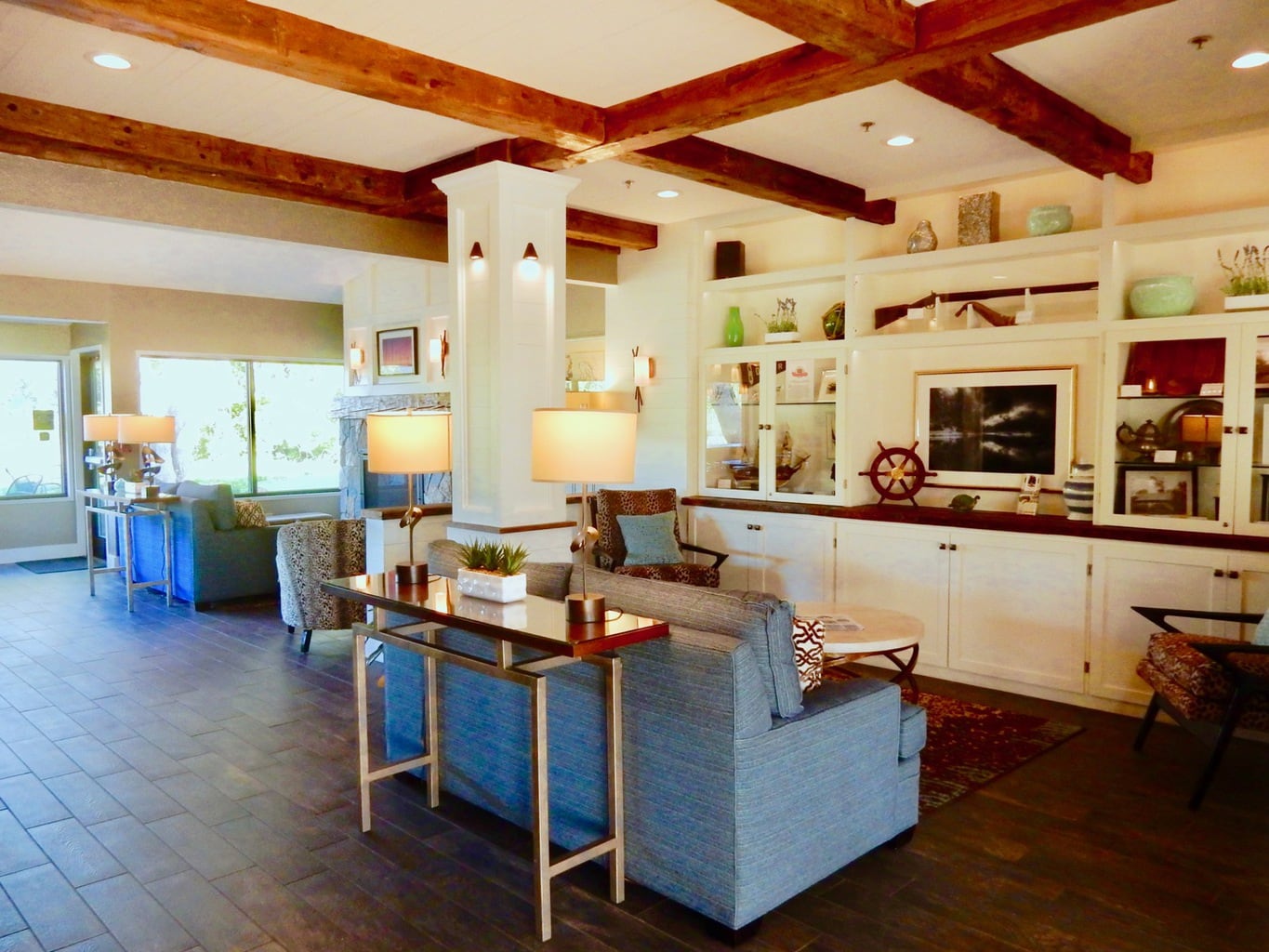 Though a visitor might first size up The Garrison as a high-end motel, walk through the door and this new hotel has all the earmarks of an upper-mid-level boutique.
The lobby and common area are crisply styled in nautical fashion, with shiplap structural posts, rough-hewn ceiling beams, and fireplace. The dining area features a communal table with hidden electrical outlets for both work and morning breakfast, which is complimentary with guestroom.
Directly outside French doors, you'll find a pretty patio with fire pit for evening conversation. The indoor pool is relatively substantial, though the fitness room is on the smaller side.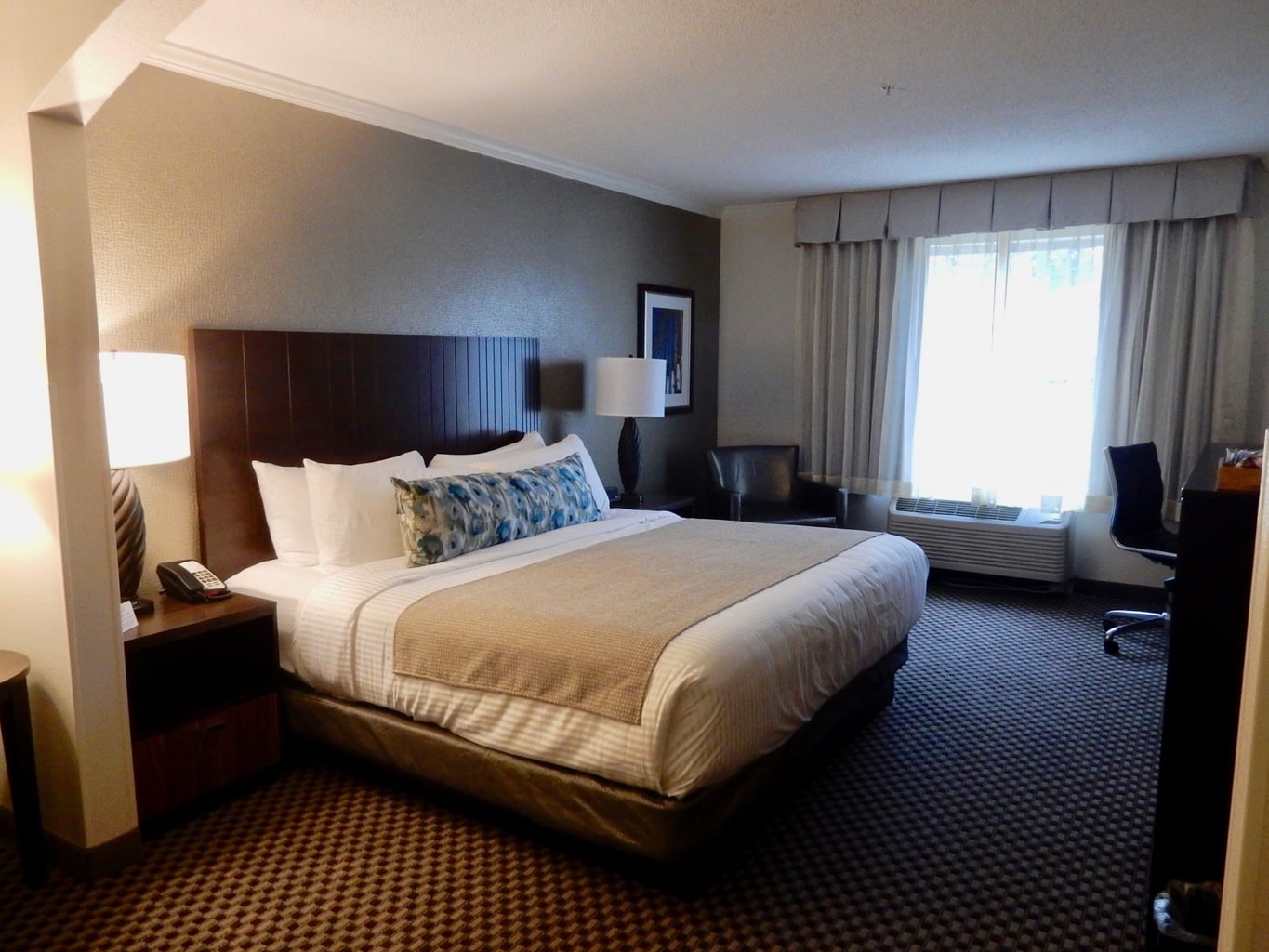 Rooms, in earthy hues, are brand new. They feature comfy beds clad in white, punched up by a poppy pillow, and immaculate modern granite counter, ceramic "faux hardwood" floor bathrooms. Rooms from $107 offseason to about $259 in season include complimentary breakfast.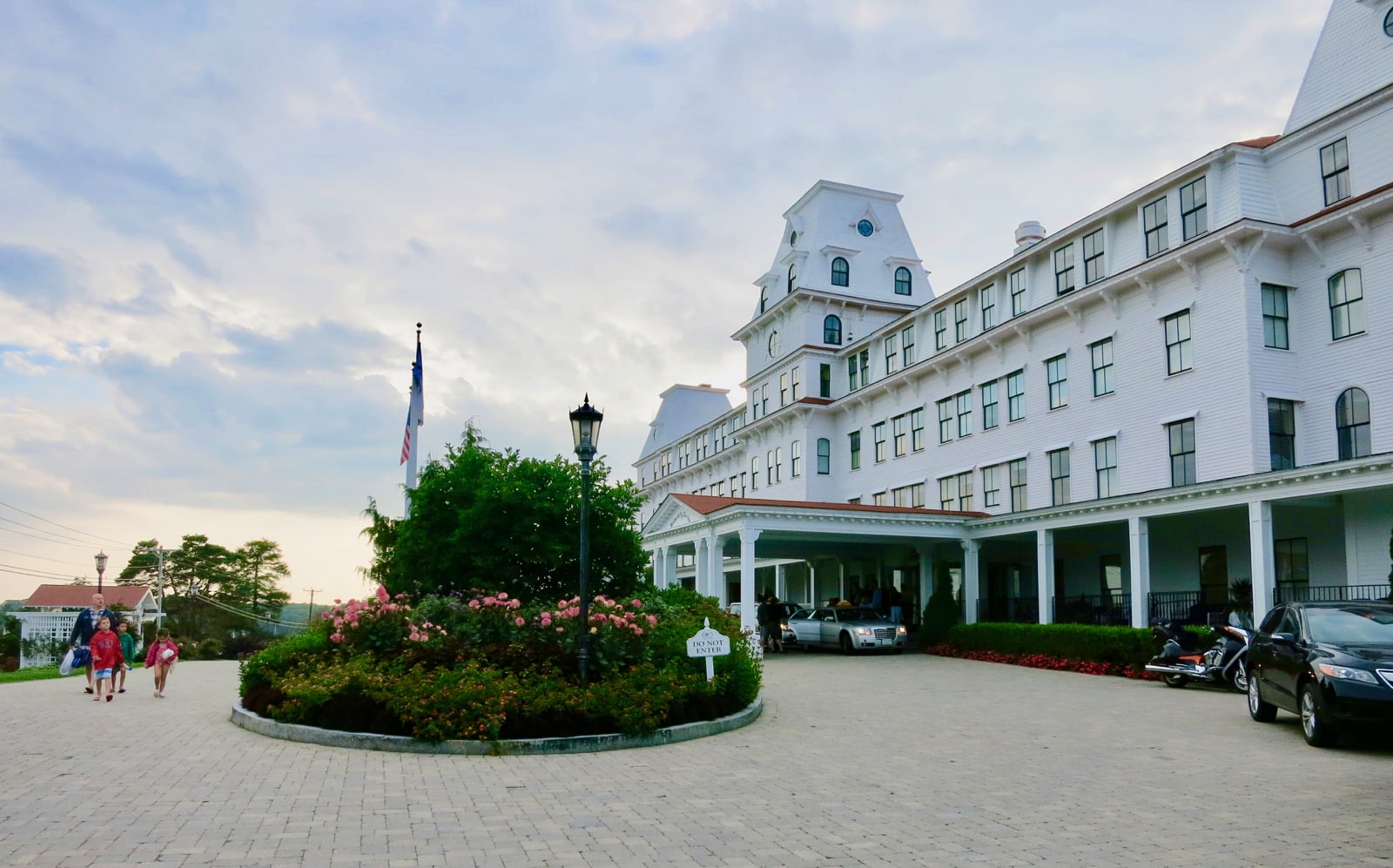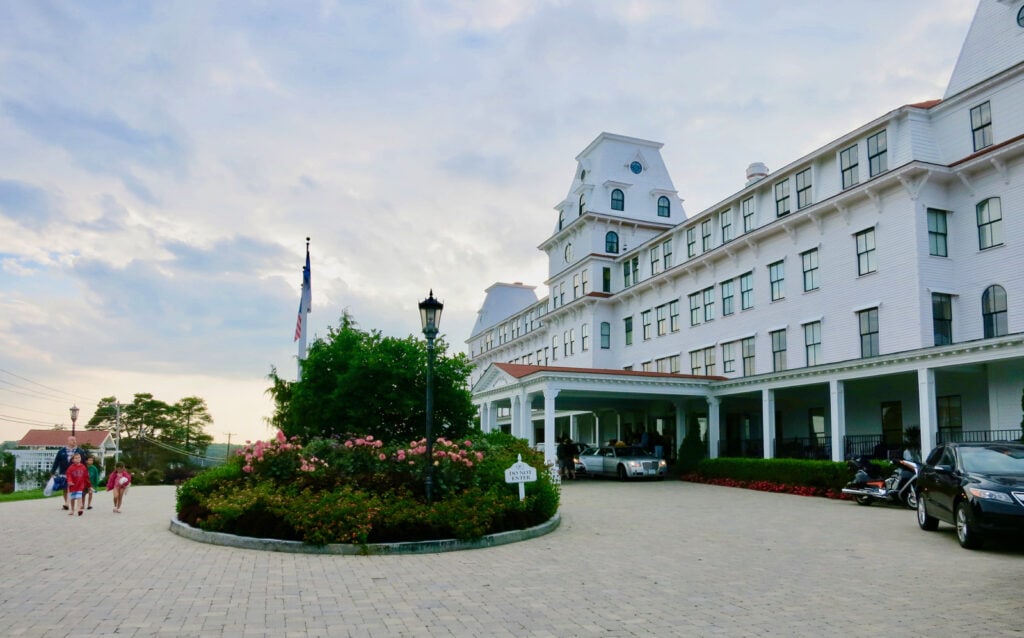 STAY: Wentworth By the Sea,New Castle
The 1874 Wentworth was a landmark in Victorian-era travel. One of New Hampshire's last grand hotels,  with as imposing a history as the presence it commands on Portsmouth Harbor, it was rebuilt as a flagship Marriott Hotel.
President Teddy Roosevelt earned the 1906 Nobel Peace Prize by negotiating, in absentia, the end of the Russo-Japanese war here. (The Treaty of Portsmouth). Treaty delegates stayed at Wentworth for 30 days at no charge, while conducting formal negotiations.
Though much of the hotel was renovated in 2003, the central portion, including the main entrance and lobby fireplace, remained intact. As a full-service resort, rooms are luxe and come with a number of amenities and activities. Room rates start at $179 off season, $379 in season up to $1500+ per night for 2 bedroom villa.
Patrons rave about this very upscale canary yellow boutique inn right by the bandstand in downtown Exeter. Unique rooms and suites from $299 per night.