Last Updated on March 3, 2023 by Editor
WHY GO: There are so many things to do in Hampton VA, it almost defies belief. It certainly defies gravity (you'll see why later). With 400 years of approachable, invigorating, epic history here, it makes this average American wonder how this Hampton Roads town escaped more national attention all these years.
To start, the city of Hampton Virginia is the country's oldest English-Speaking settlement, and where the pirate Blackbeard met his bloody, head-on-stick end.
It's also where the first twenty Africans were deposited in 1619. It's the site of the first African-American Art Museum on the campus of one of the country's first Black colleges (established in 1868).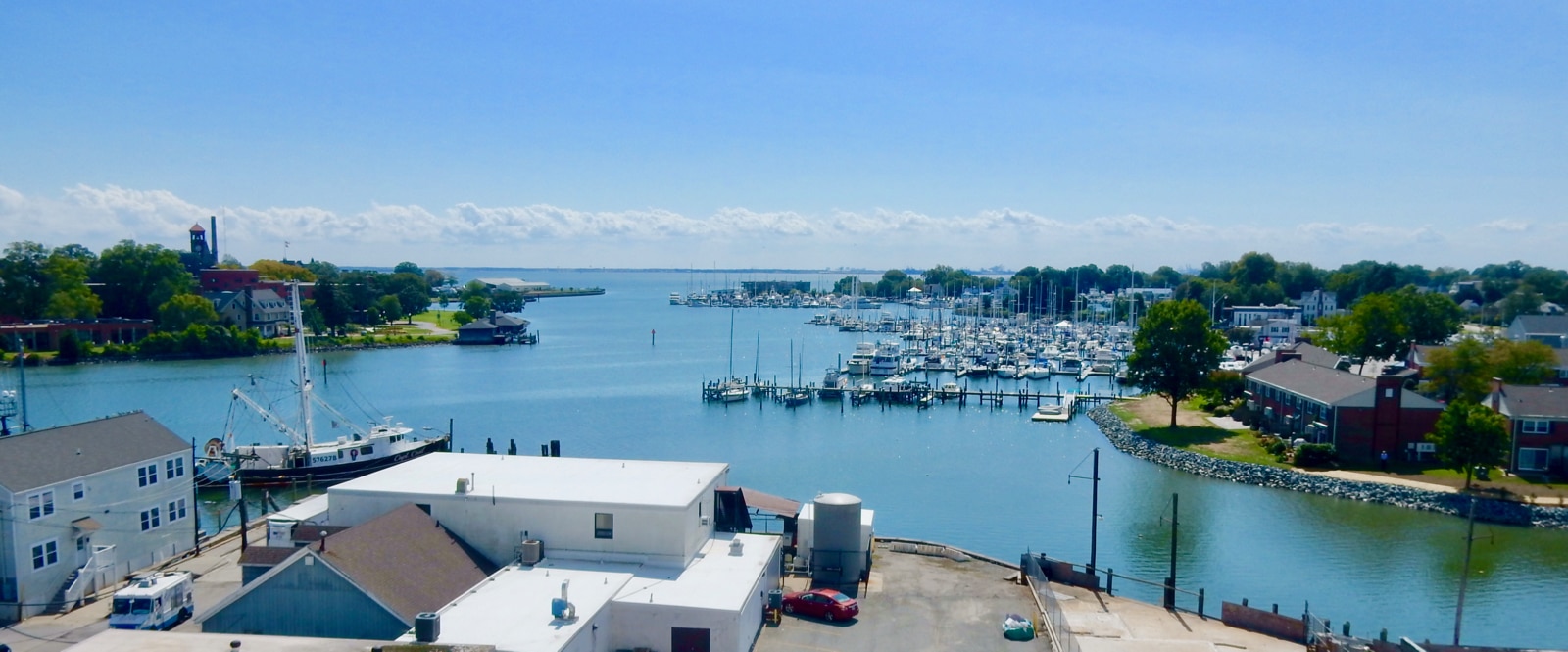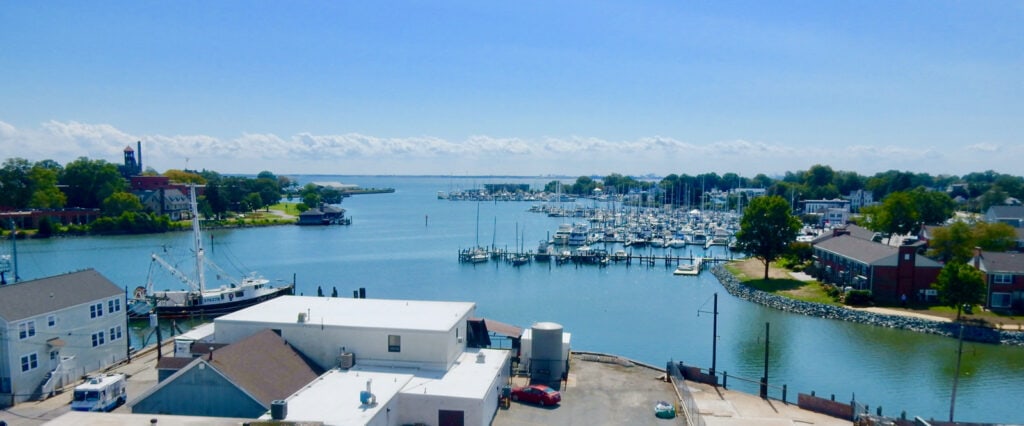 Edgar Allan Poe was enlisted, and Jefferson Davis served time in jail, at what is now Fort Monroe National Monument. And Langley Air Force Base Research Center, is based, you guessed it – right in Hampton.
Langley, you may have heard, established NASA's Mercury Project, literally launching the space race. You'll eat well, sleep well, and have a blast (off) learning about our country's origins – to infinity and beyond – in this Chesapeake Bay town.
Extend your trip by exploring neighboring Norfolk VA, a cool new foodie and arts destination.
Looking for more escapes with your honey? Check out the Mavens Romantic Getaways in Virginia.
Things to Do in Hampton VA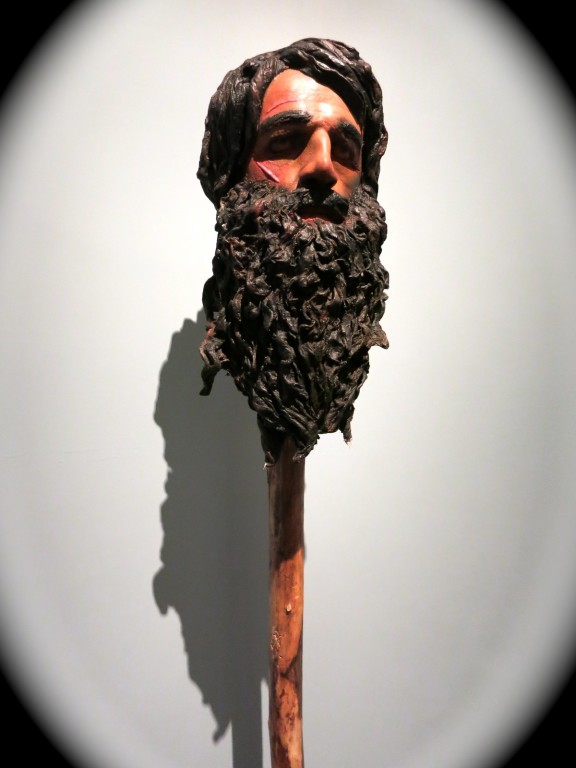 Pocahontas's father lived on the land where our country's first Space Center was built. That's in effect the span of time covered in this delightful local history museum.
The exhibit that should be titled, "White Men Behaving Badly," follows merchants from Europe looking for a shortcut to China. They found generous Native Americans bearing tobacco instead.
So, what did they do? In the mid 1600's, said Europeans returned with guns to tame or wipe out those welcoming indigenous tribes, and cultivated the tobacco-rich land for themselves: eventually running it into the ground.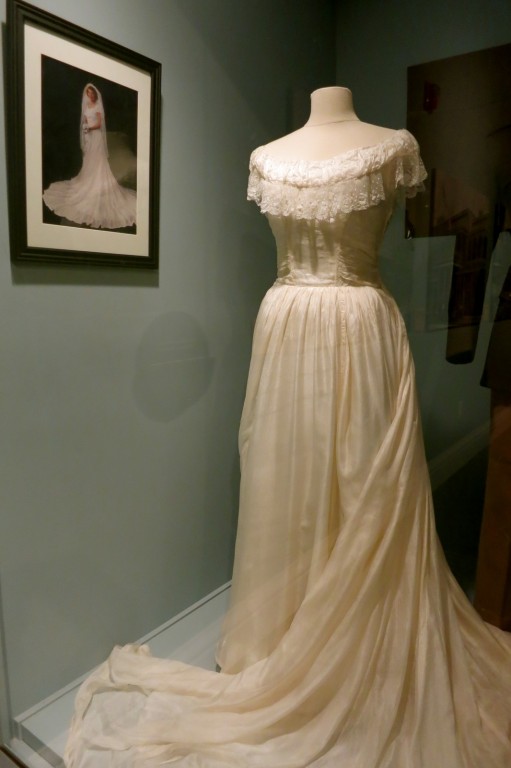 The Tobacco Trade saved Colonial Virginia. And due to the wealth it created, gave rise to a cosmopolitan aspect unmatched in the colonies.
This area became one of the biggest tobacco ports by the early 1700's. Large barrels of the crop were shipped to England. The same barrels, overflowing with wine, textiles, Chinese Porcelain, Dutch Delftware and other civilized comforts, made the return trip.
These riches drew a nefarious element offshore.  Pirates intercepted merchant ships, taking all the booty for themselves.
How to put an end to the pilfering? By capturing Captain Edward Teach – aka – Blackbeard, the most fearsome of them all. Decapitated, his head was impaled on a ships bowsprit, sailed back to Hampton and hung from a pole on what is now Blackbeard's Point.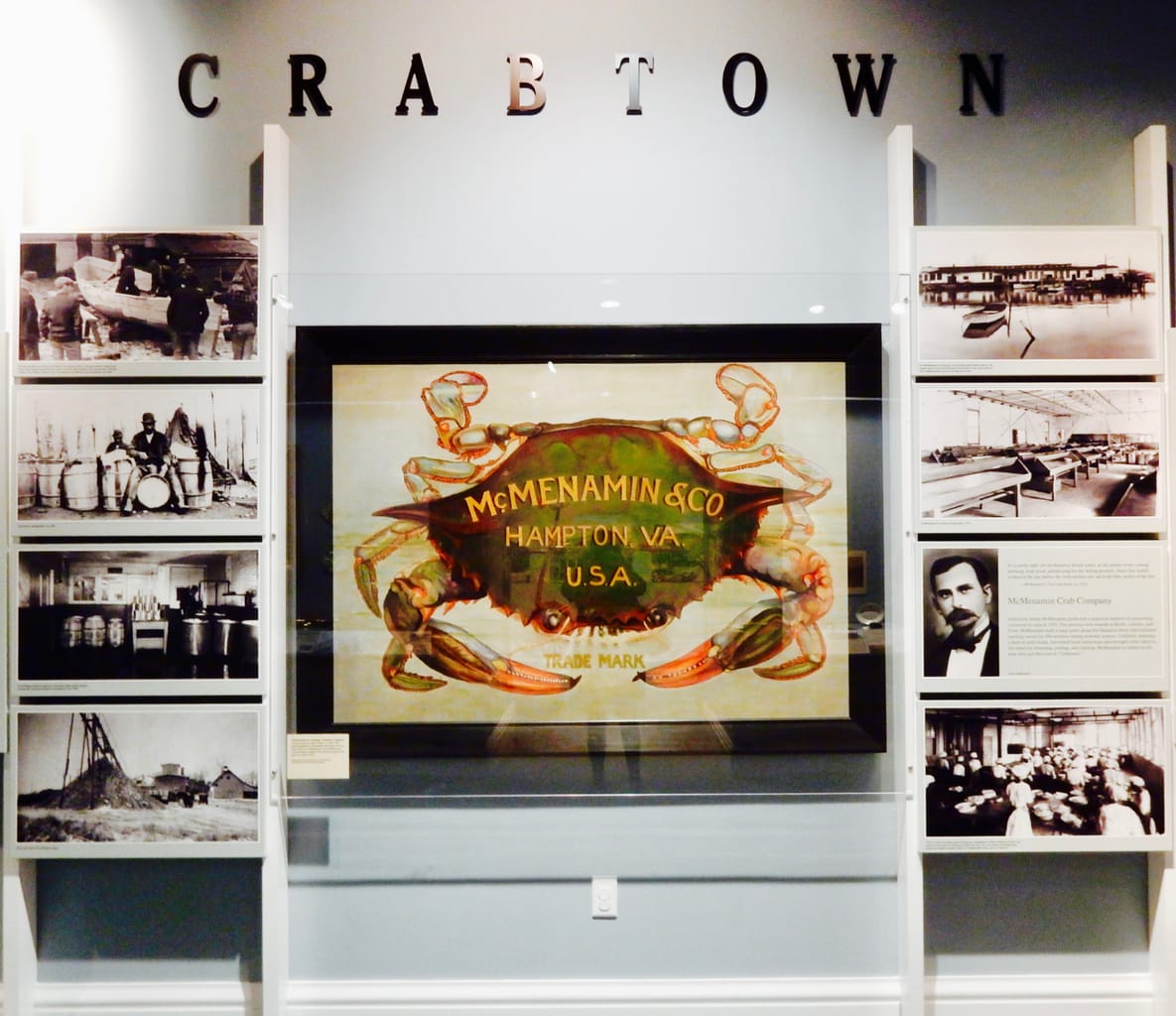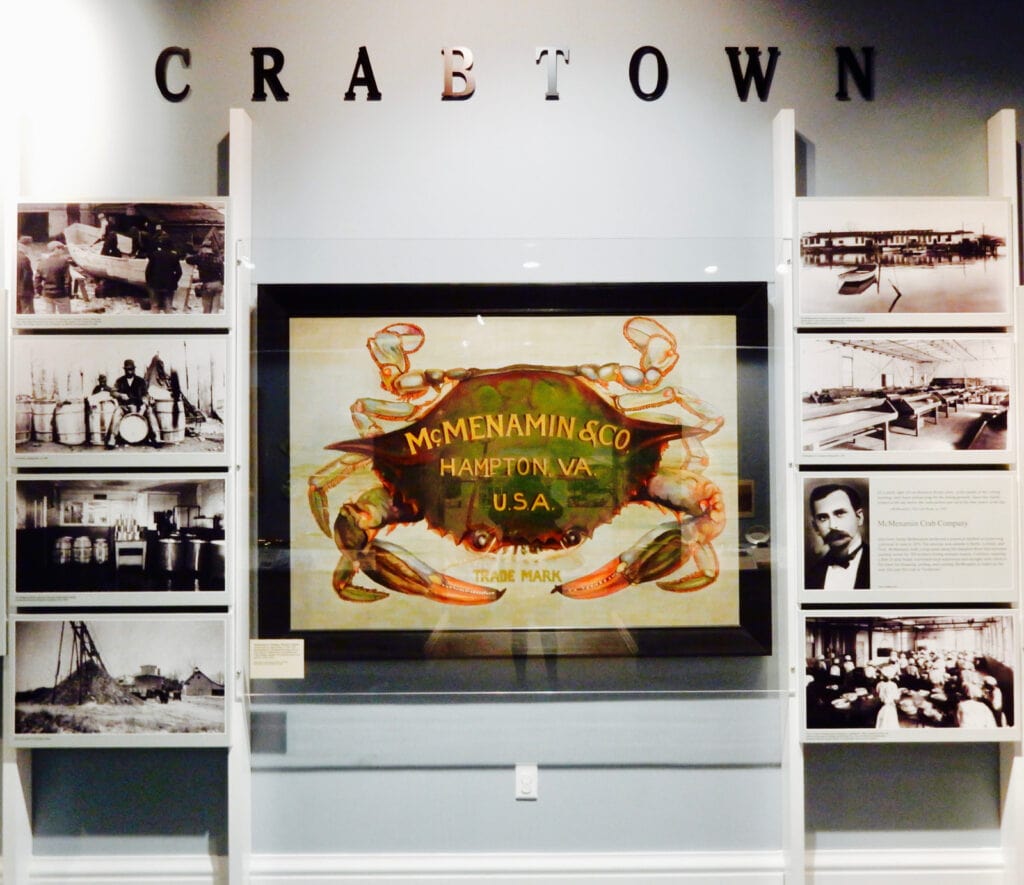 After the Civil War, the Oyster, crab and seafood industry kicked into gear and Hampton became known as "Crab Town." (the High School football team remains the Hampton Crabbers).
In the mid 1900's, NACA (National Aeronautics Civilian Agency) situated at Langley AFB  begin training jet fighter pilots with the Right Stuff.  And the rest, they say, is history.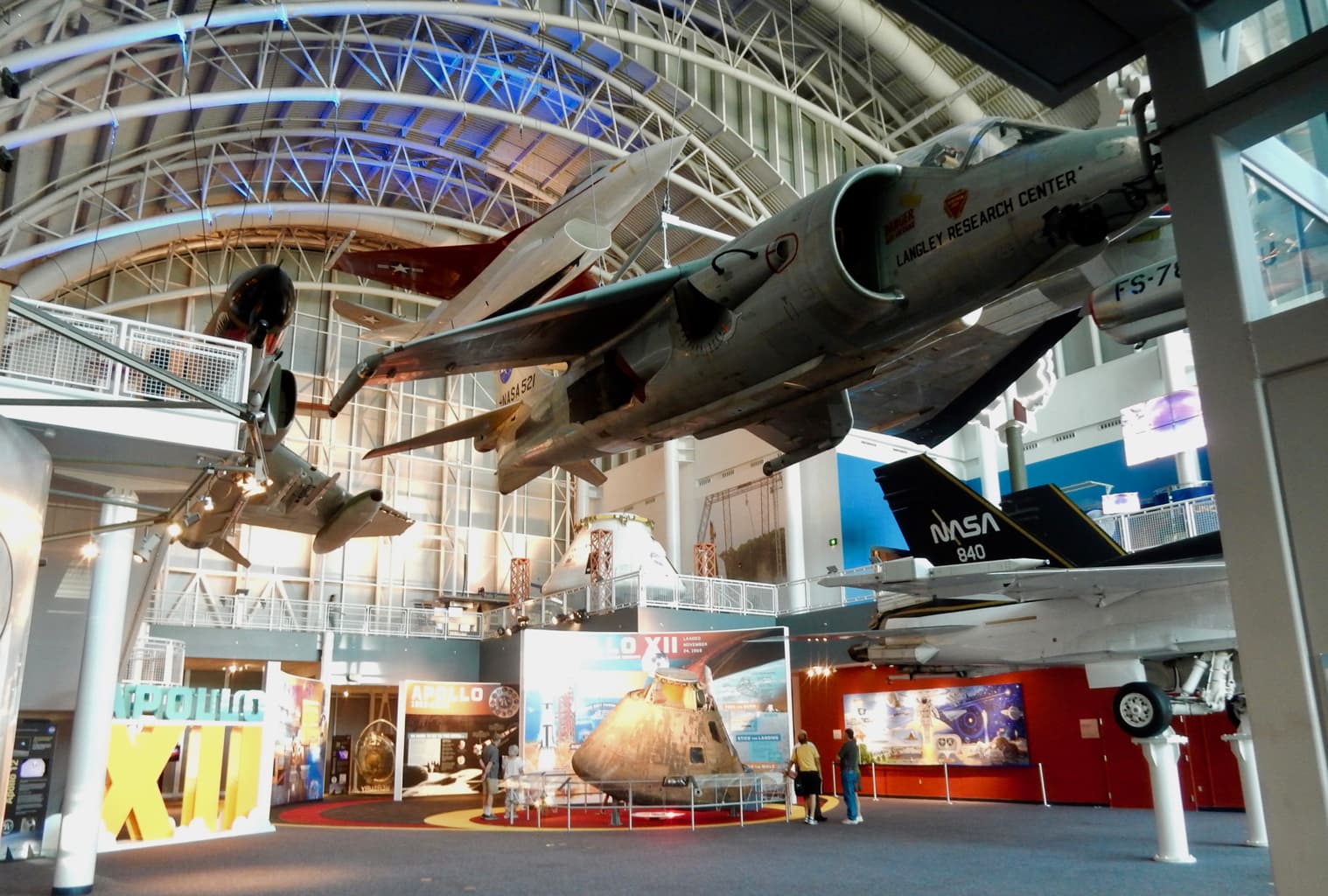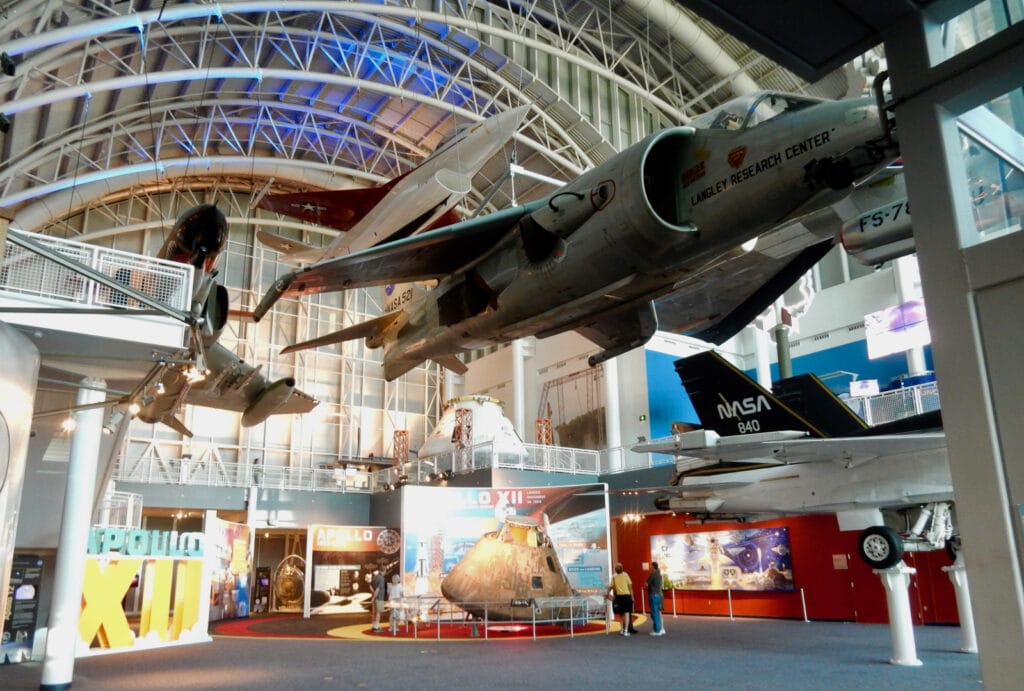 Serving as Langley AFB official Visitor's Center, the Virginia Air and Space Museum is an OMG kind of place. Vast, sun-lit, and with over a hundred interactive exhibits and dozens of whole airplanes (many suspended from the Rocket-Hanger high ceiling), it can be overwhelming.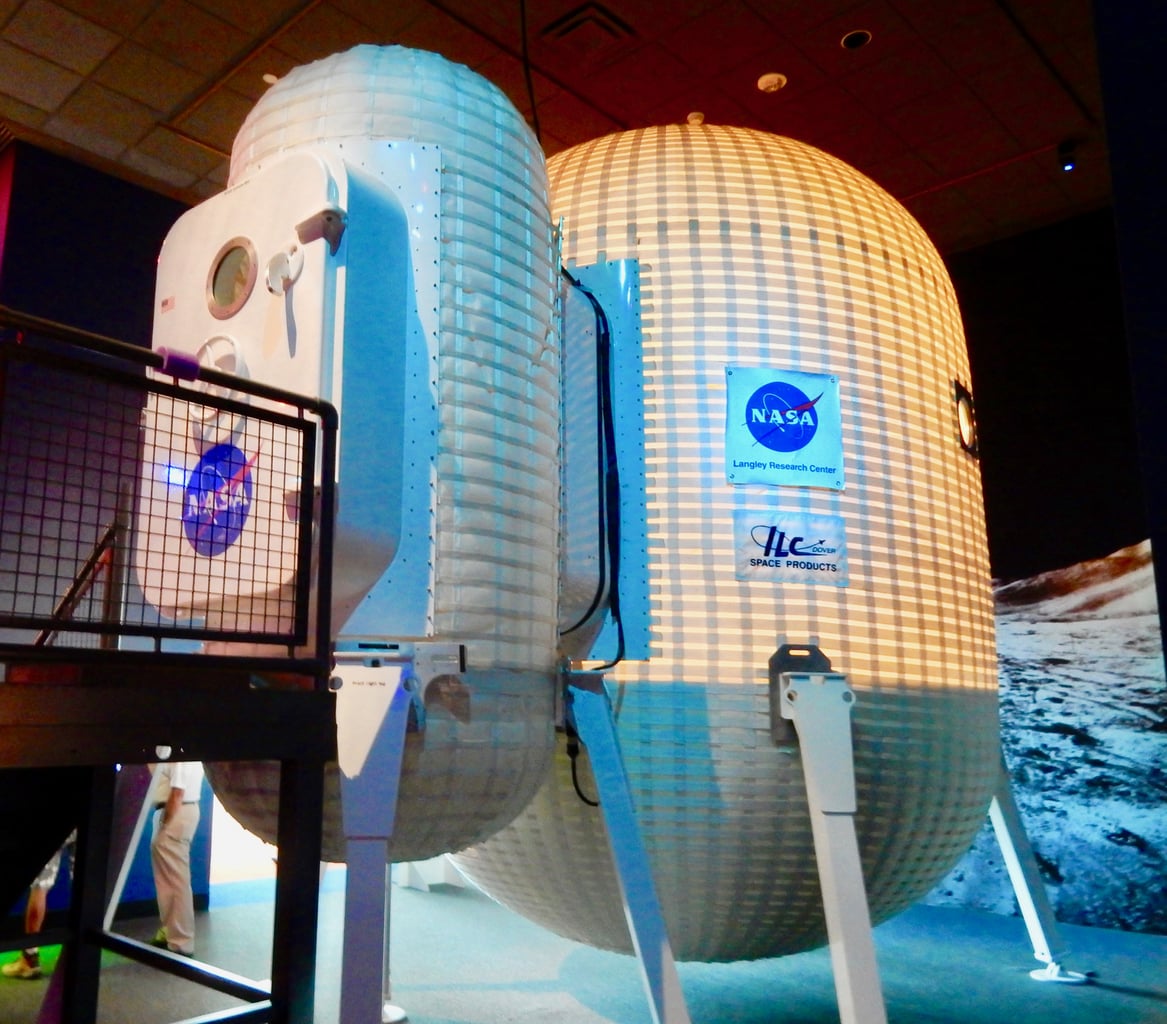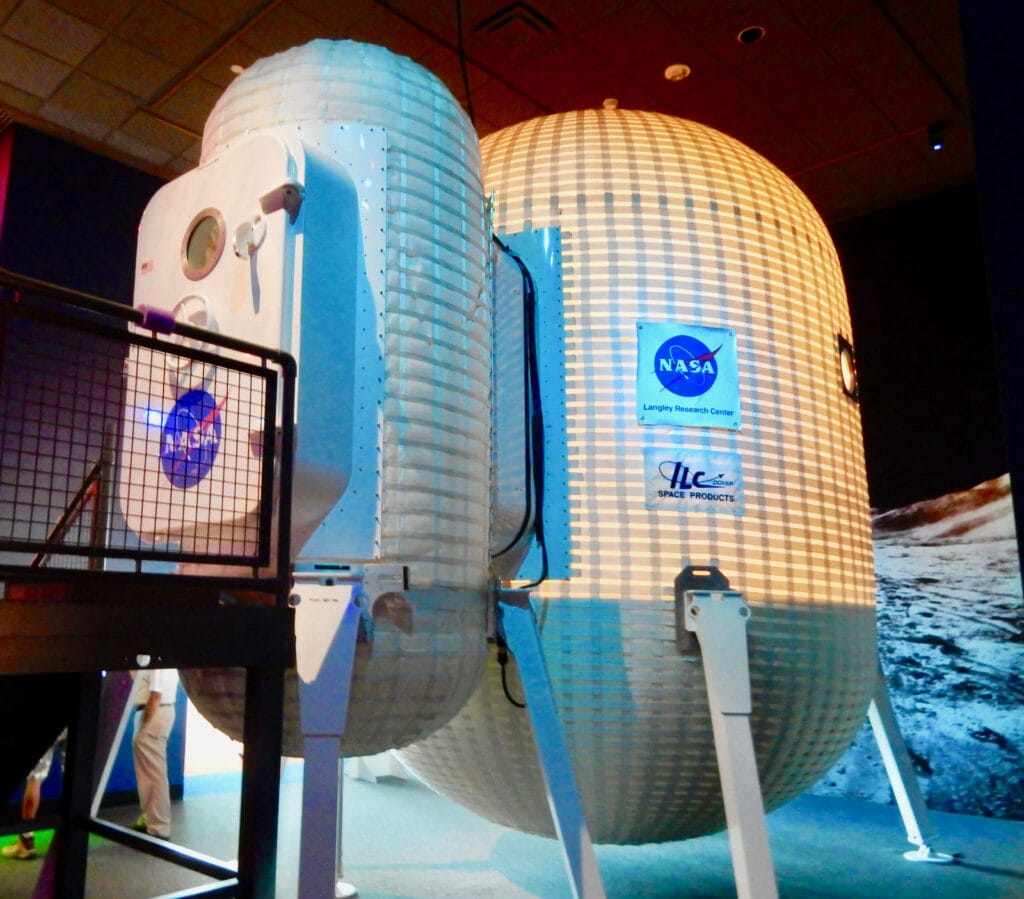 Check out the experimental pop-up housing structure, designed for use in space or on inhospitable-to-human environments, care of the brains at NASA. Though not fully developed, it clues you in on the possibilities.
The Center covers flight from the Paris, France launch of the first Hot Air Balloon in 1783 to the remote Mars Explorers now in use.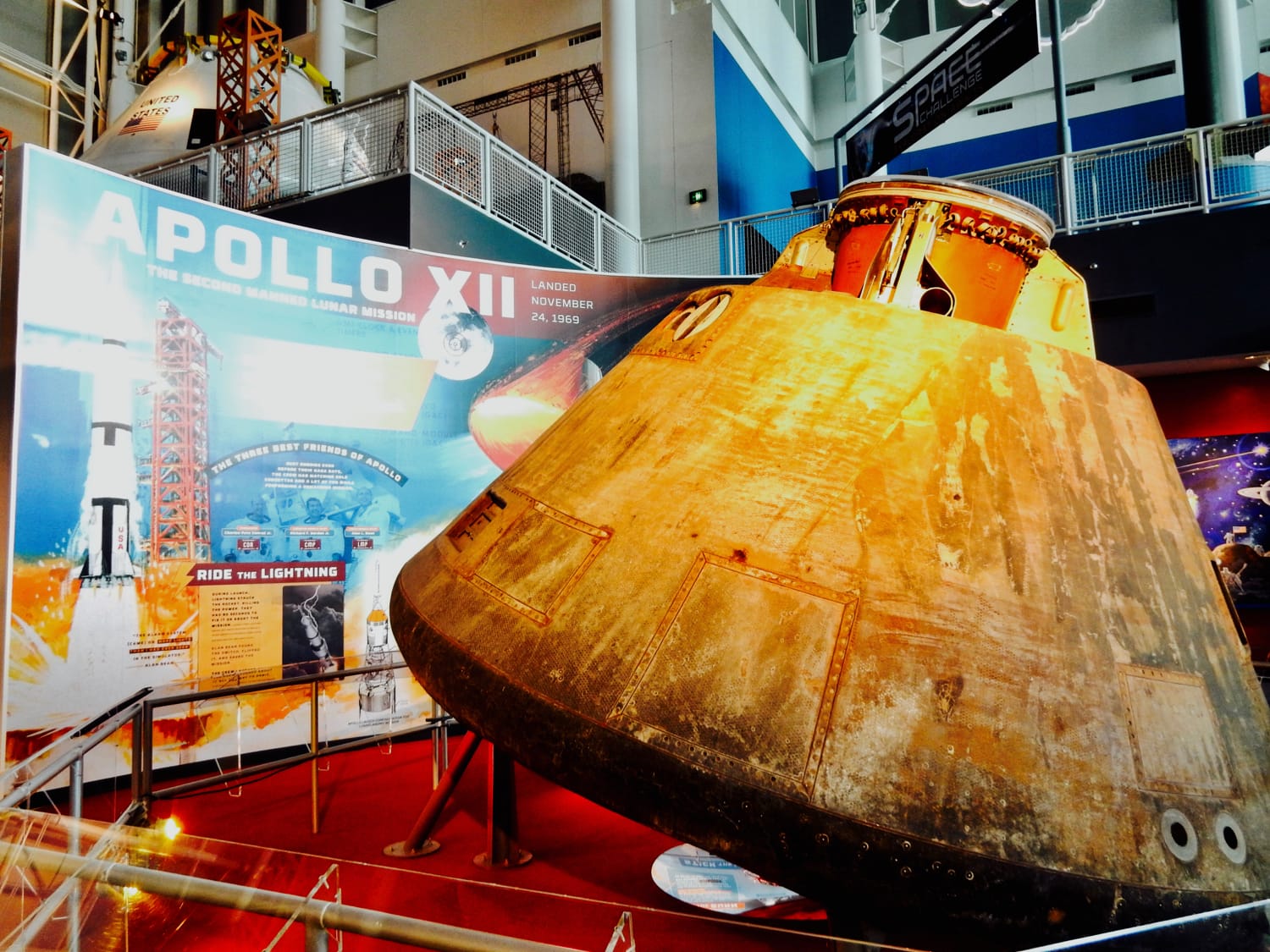 Project Mercury was headquartered in Hampton, so this museum is home to some famous NASA artifacts, including the original Apollo 12 Command Module.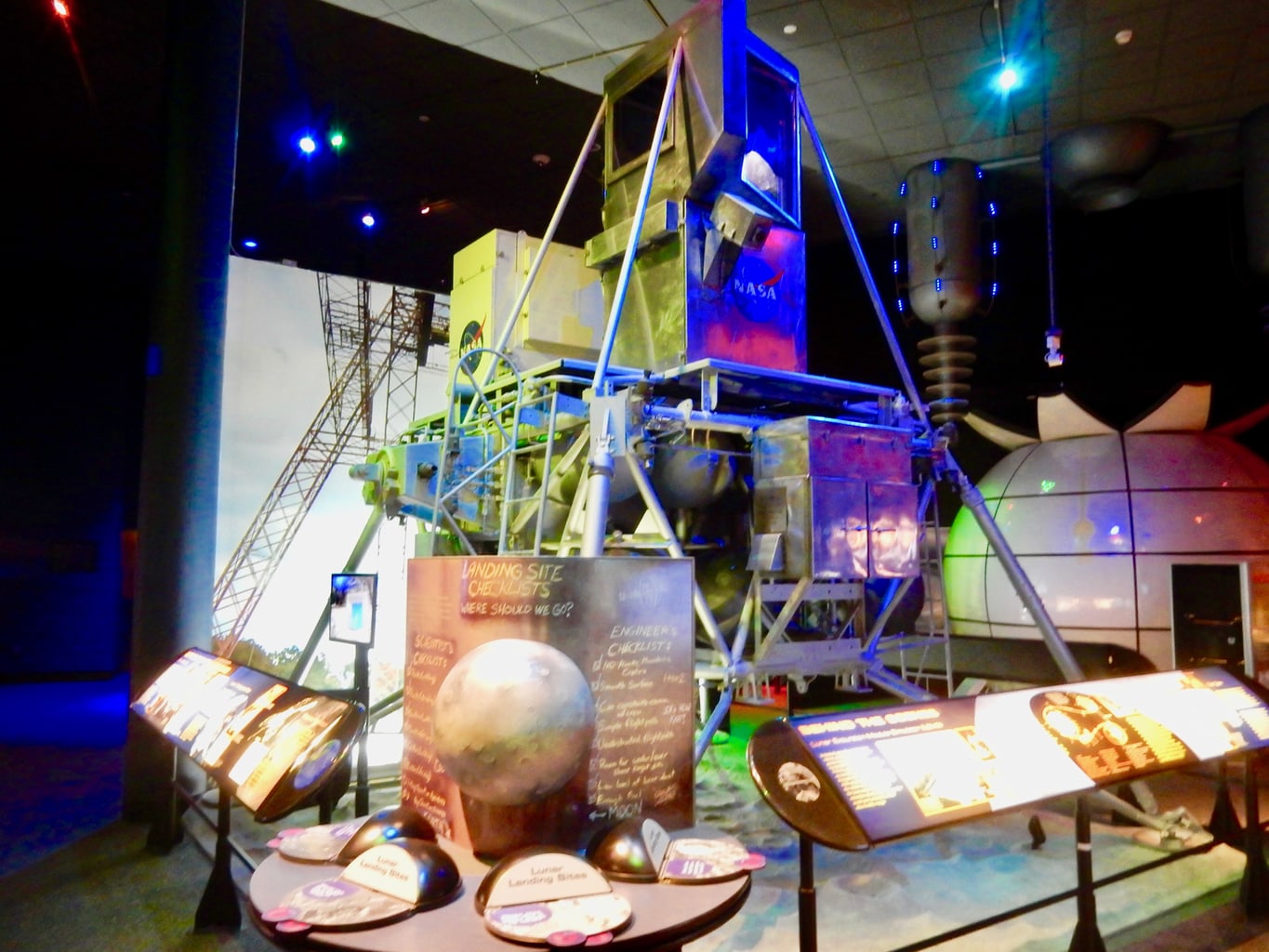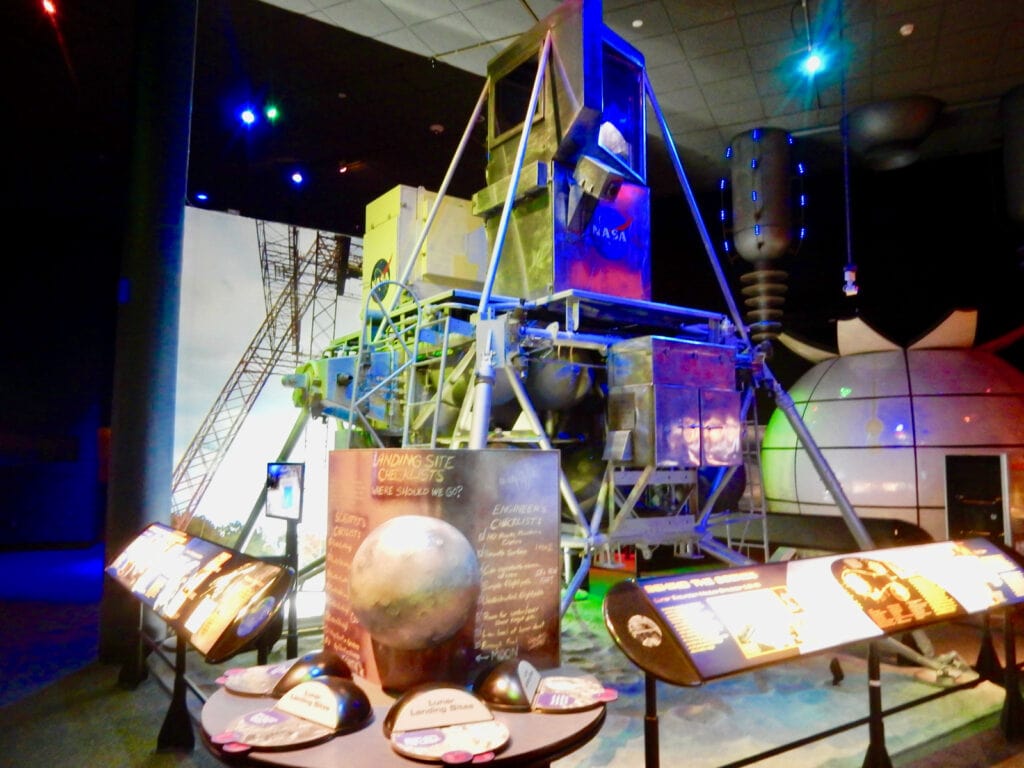 The simulated Lunar Lander used to train astronauts at Langley is one of the most intriguing exhibits. Suspended by cranes above a landscape that replicated the surface of the moon, the astronauts "landed" their mock Lunar Module via small rocket motors.
Armstrong's first words when touching down on the real moon were, "Houston, it was just like landing at Langley!"
There's a Shuttle Landing simulator, Lunar Excursion Module Simulator (LEMS), Glass Cockpit Flight simulator – and a groovy-man Solarium Exhibit that projects the surface of the sun on a jumbo screen, solar flares and all.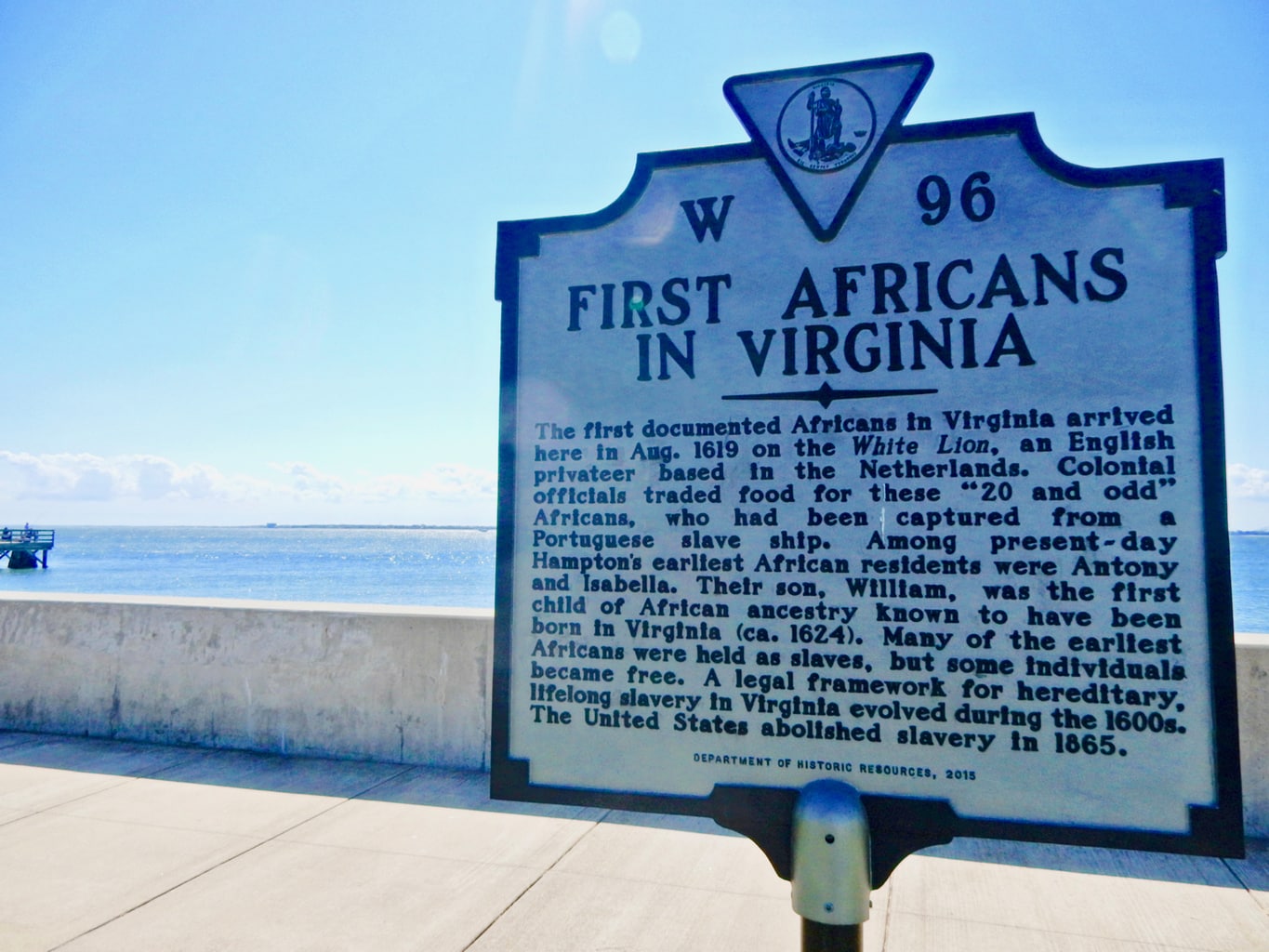 STOP: Old Point Comfort
Before entering Fort Monroe National Monument, stand exactly where the "20 and odd" Africans, confiscated from a Spanish slave ship, were offloaded onto the docks in August 1619. Among them were Antoney and Isabella. Their son William, baptized in 1624, is the first documented African child born in English North America.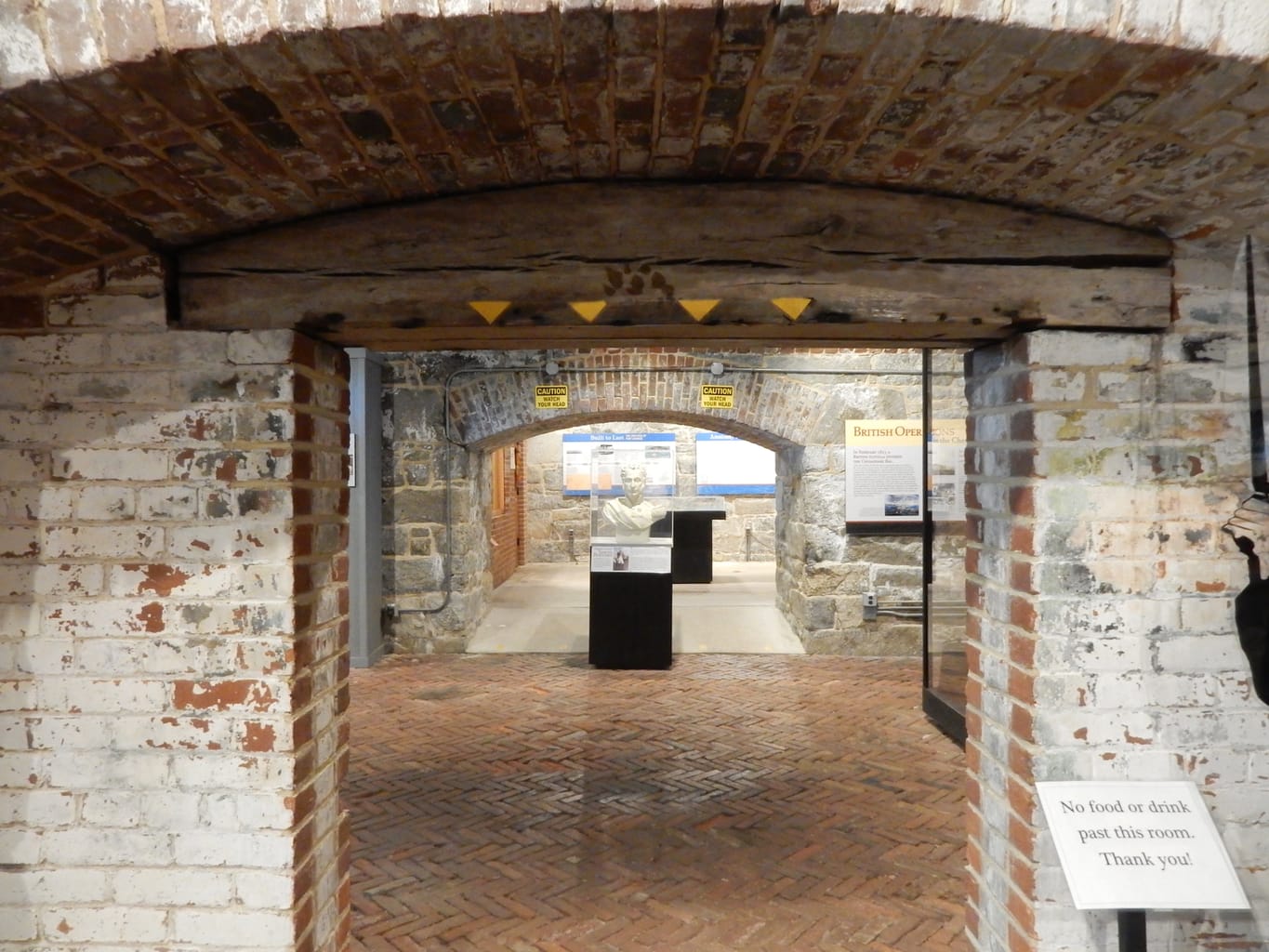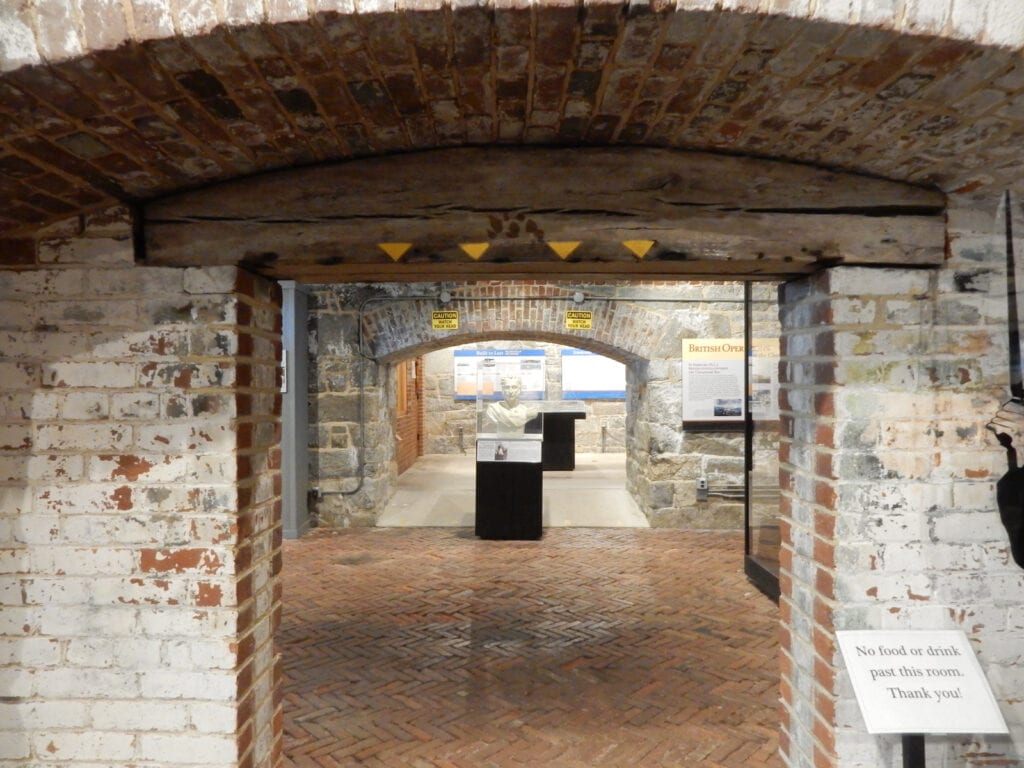 Ducking under low stone arches from one casement (rooms in a fort) to another, discover the history of Fort Monroe – the largest all-stone fort ever built in the U.S. and just decommissioned in 2011. Although there are no guided tours at the moment, you can pick up a self-guided map and brochure at the Visitors Center.
Origins of Fort Monroe
Storms destroyed prior forts on this property over the years, but after the War of 1812, when unprotected Hampton was sacked by the Brits, Congress authorized a fortification to be built for coastal defense.
Encompassing 63 acres, it was, at the time, "the most powerful military installation in the New World."  Young engineer, Robert E. Lee saw his first child, George Washington Custis Lee, born here while supervising Fort Monroe's construction.
And enlisted man, Edgar Allan Poe spent a few months here in 1828 before heading to West Point (from which he was kicked out the following year).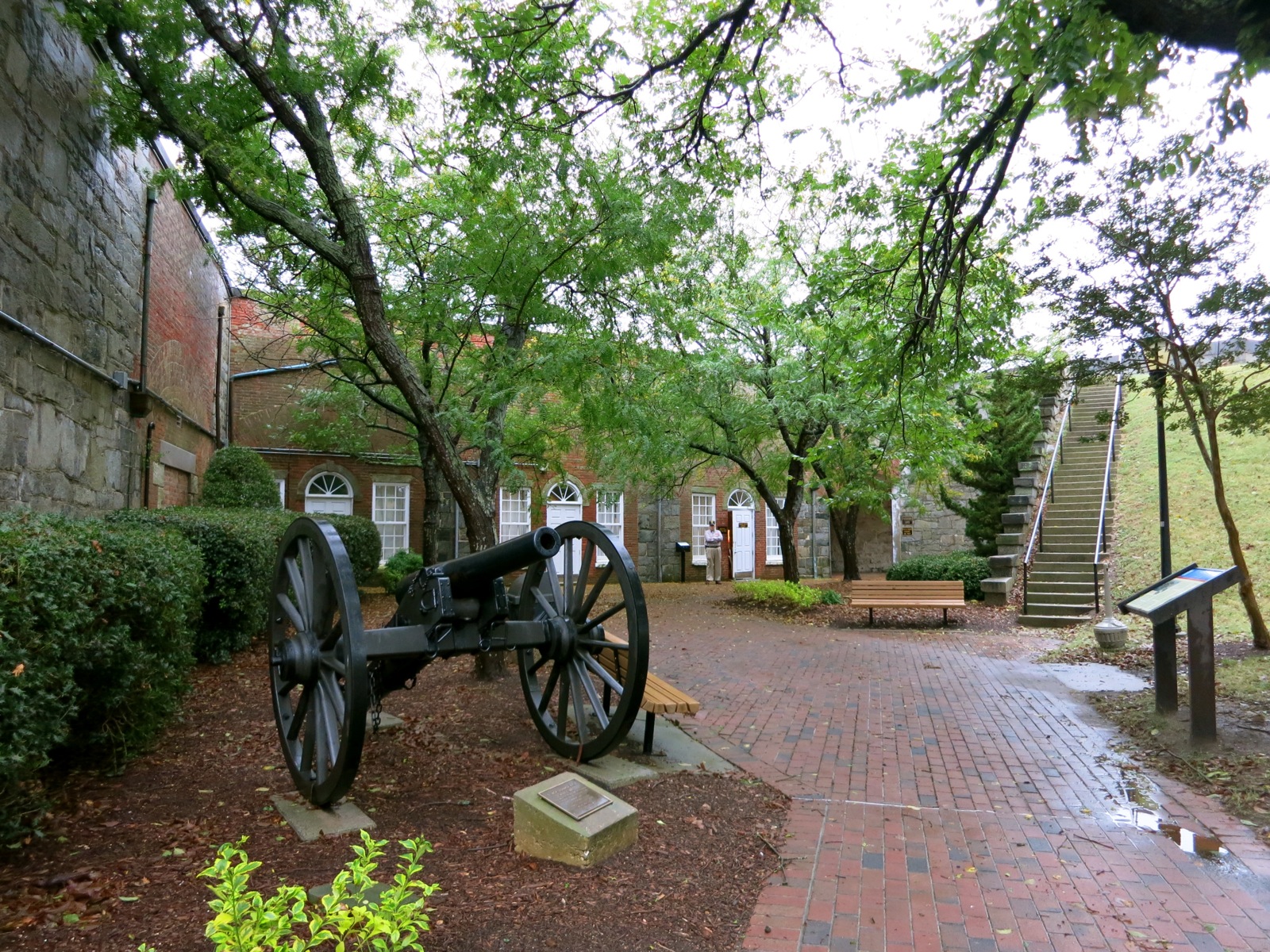 African-American History: "Freedom's Fortress"
Fort Monroe played a significant role in African American history.
During the Civil War, Abe Lincoln assigned a Union officer, the canny Massachusetts's lawyer, Ben Franklin Butler, to oversee the fort.
On Butler's first day in residence, three escaped slaves sought asylum. Under the Fugitive Slave Act, Butler was required to return them to their owners. But he came up with the perfect loophole.
As a Confederate State that seceded from the US, Virginia was considered a "foreign country at war with the US." So Butler seized the slaves as "contraband," leading to the Contraband of War Decision which evolved into the Emancipation Proclamation.
Slaves in the Hampton area got the memo quickly, "If you can get to Fort Monroe, you can be free!" Thus Fort Monroe became "Freedom's Fortress."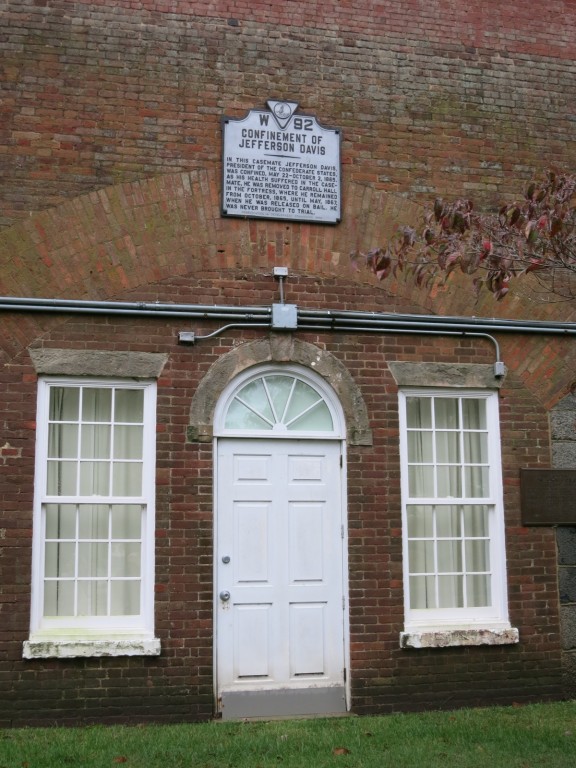 Stand inside the cell where Confederate General, Jefferson Davis was held – allowed only a Bible and Book of Episcopal Prayer. He was charged with, among other things, treason and mistreatment of Union prisoners. In 1867, Davis was released on bond and, in 1869, all charges were dropped.
Fort to Resort And Bizarre Trivia
From 1870-1930's, the breezy, waterfront Fort Monroe included a resort with 2,600 hotel rooms. It became such a popular destination, mothers sent their daughters there to "catch a soldier."
Some really offbeat trivia; the fort was home to the longest contiguous 24/7 poker game that ran from just after the Civil War to World War I.
And, mysteriously, 244 pets are buried on the parapet.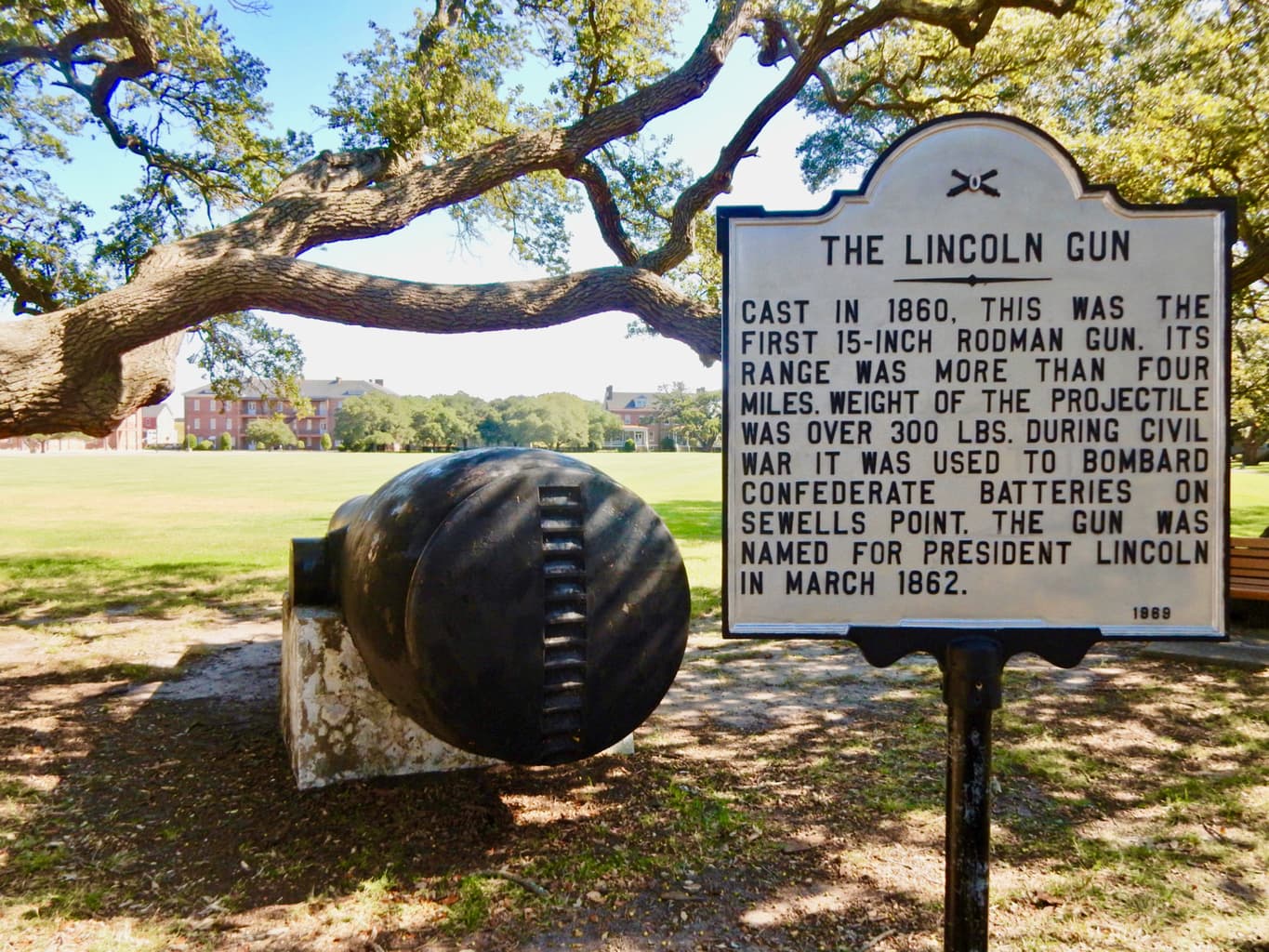 Before leaving the Fort grounds, look for  the 475-year-old "Algernourne Oak, and the 49,100 lb. "Lincoln" cannon that could propel exploding cannonballs 4 ¼ -miles.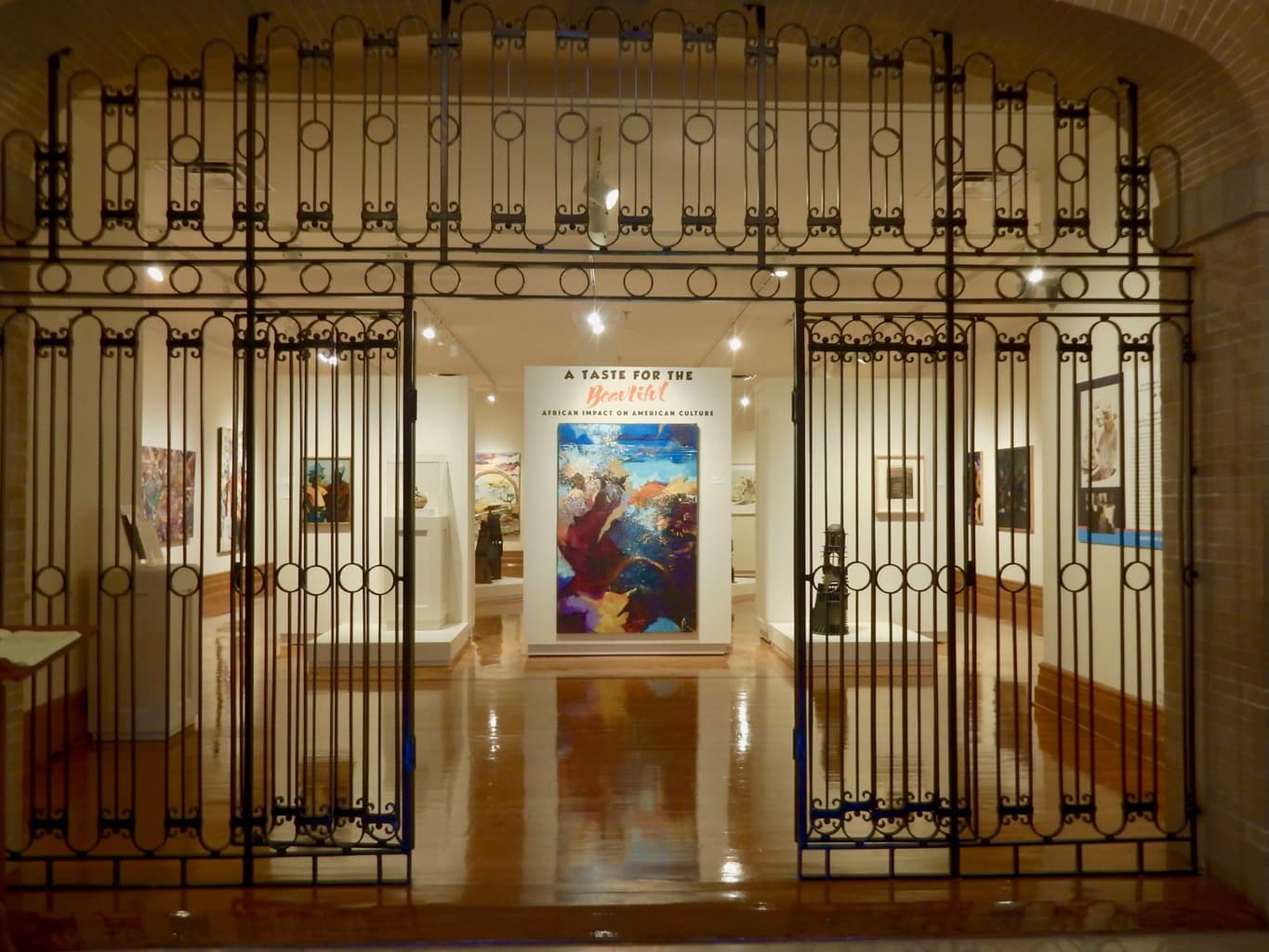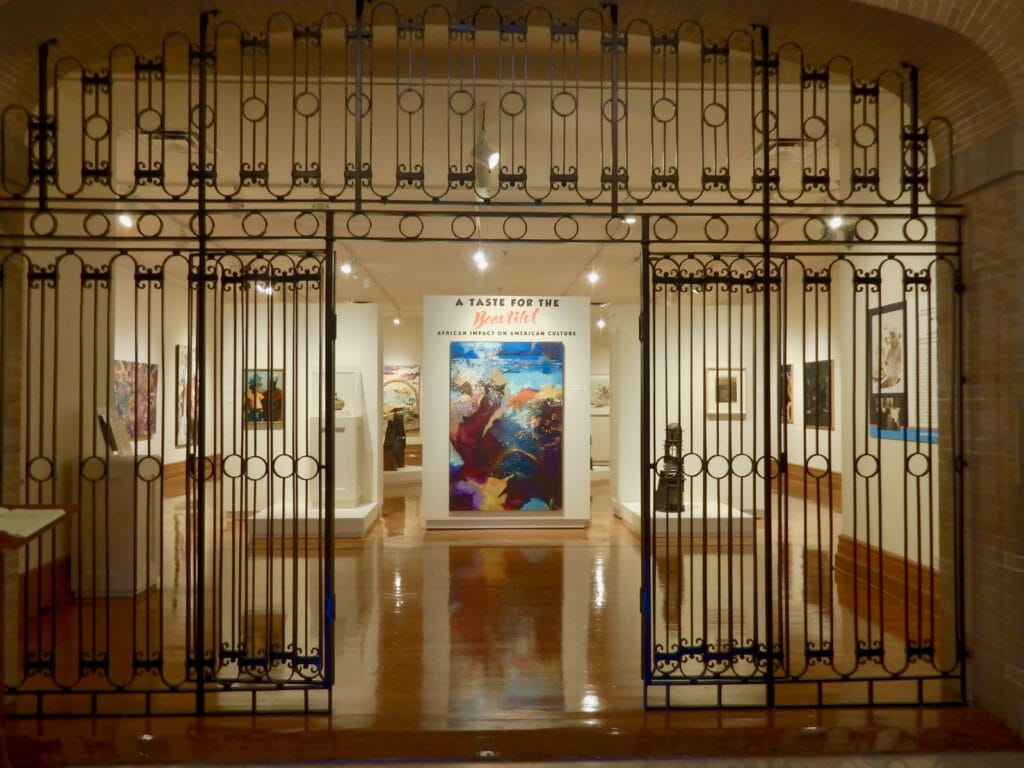 The oldest African-American Museum in the country was established in 1868 on the campus of Booker T. Washington's alma matter, Hampton University.
In 1878, Hampton University opened its doors to Native Americans, and has been multi-cultural ever since.
Though the University's founder, General Samuel Chapman Armstrong, a son of Hawaiian based missionaries, was white, he led several black troops during the Civil War, and modeled Hampton College after his parent's motto: Hands, Head, Heart.
Black missionary William Sheppard brought back one of the museum's prized possessions: a riveting Kuba mask from the Congo. The reason he scored such a precious gift? The Kuba regarded Sheppard as their reincarnated King. Thus, the Royal family accepted him with reverence, and the presentation of this mask. The current Kuba King's young brother attended Hampton for his MBA. And so the tradition continues.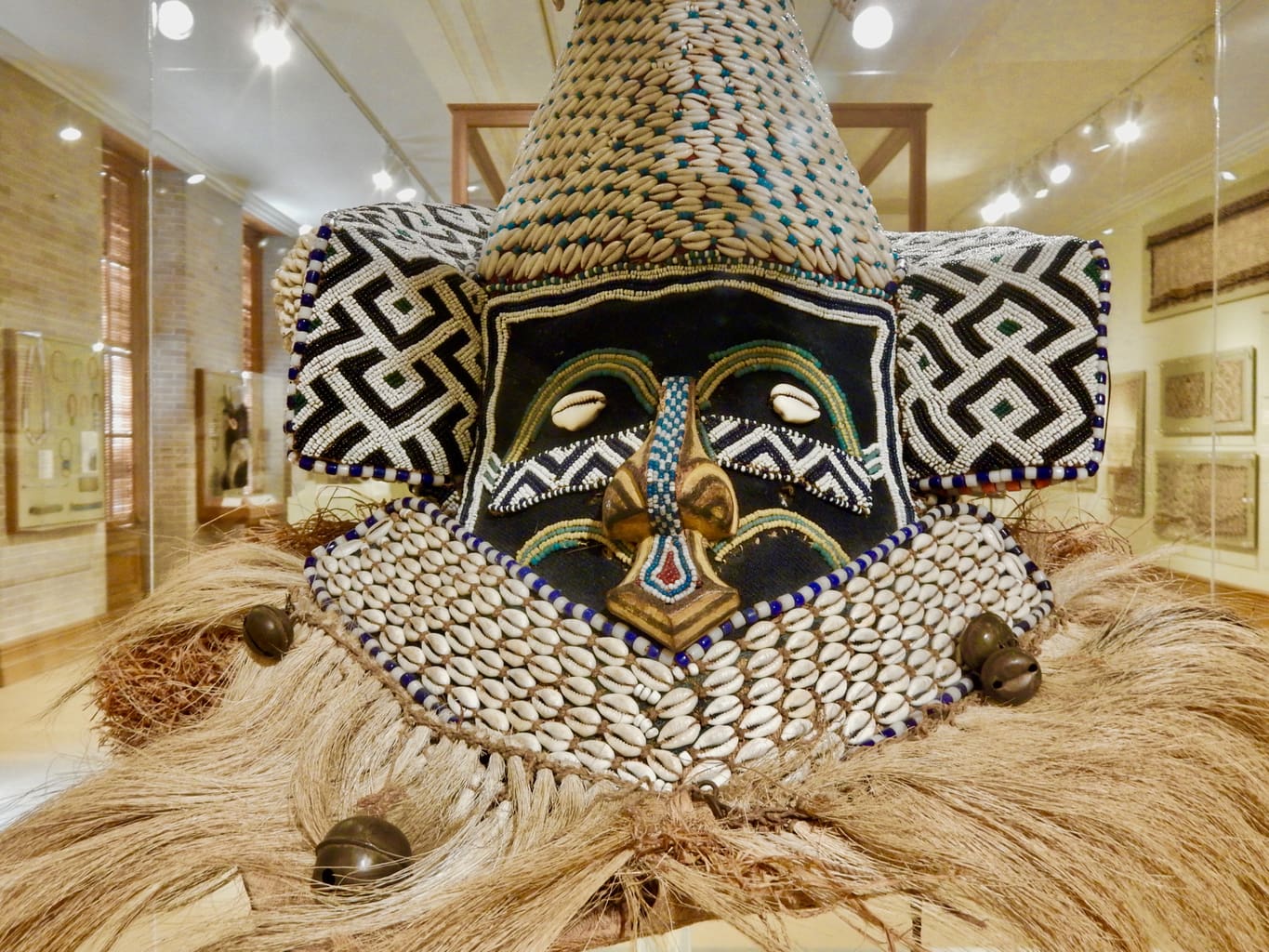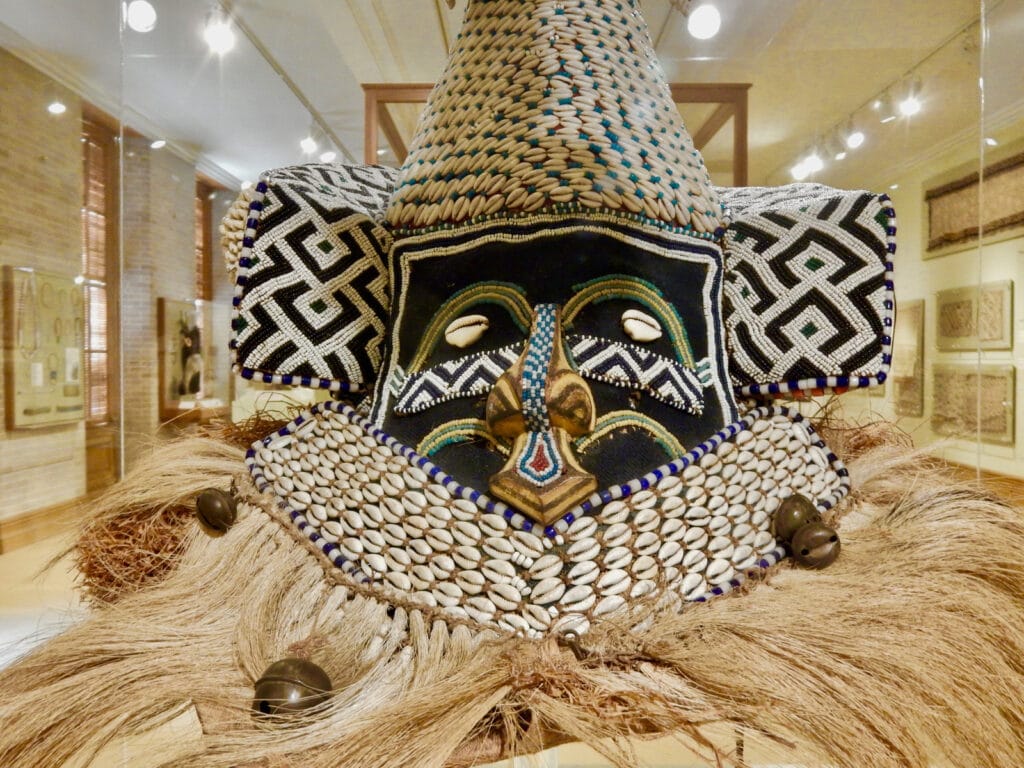 The Museum showcases 200 years of African-American Fine Art, as well as emerging contemporary artists and African, Native American, Asian, and Pacific Island artifacts.
Plus, one of the three pens Abe Lincoln used to sign the Emancipation Proclamation is also on display. A most thrilling artifact.
GO: Sandy Bottom Nature Park
Once a garbage dump, this 456-acre park is now a symbol of land reclamation, and a model for such urban properties all over the world. An environmental education center and wildlife management facility, Sandy Bottom Nature Park also features wetland marshes and a 10,000 sq. ft. Nature Center.
WALK: Grandview Nature Preserve
It's 2.6 miles out and back to a white sandy beach within the 500-acre Grandview Nature Preserve on the Chesapeake Bay. Birders and beachcombers will find both woodland and wading birds on this walk through cordgrass marsh. No cars allowed – human foot power only. (Parking on the right side of State Park Drive only).
BEACH IT: Buckroe Beach
If you prefer a more sedate waterfront experience, plant your tush on a patch of sand at Buckroe Beach. While it's not on the Atlantic Ocean, the Chesapeake Bay is a fine local alternative. With a 3/4 mile expanse of sand, you'll find some place to sit and relax between all the activities you'll be busy with in Hampton.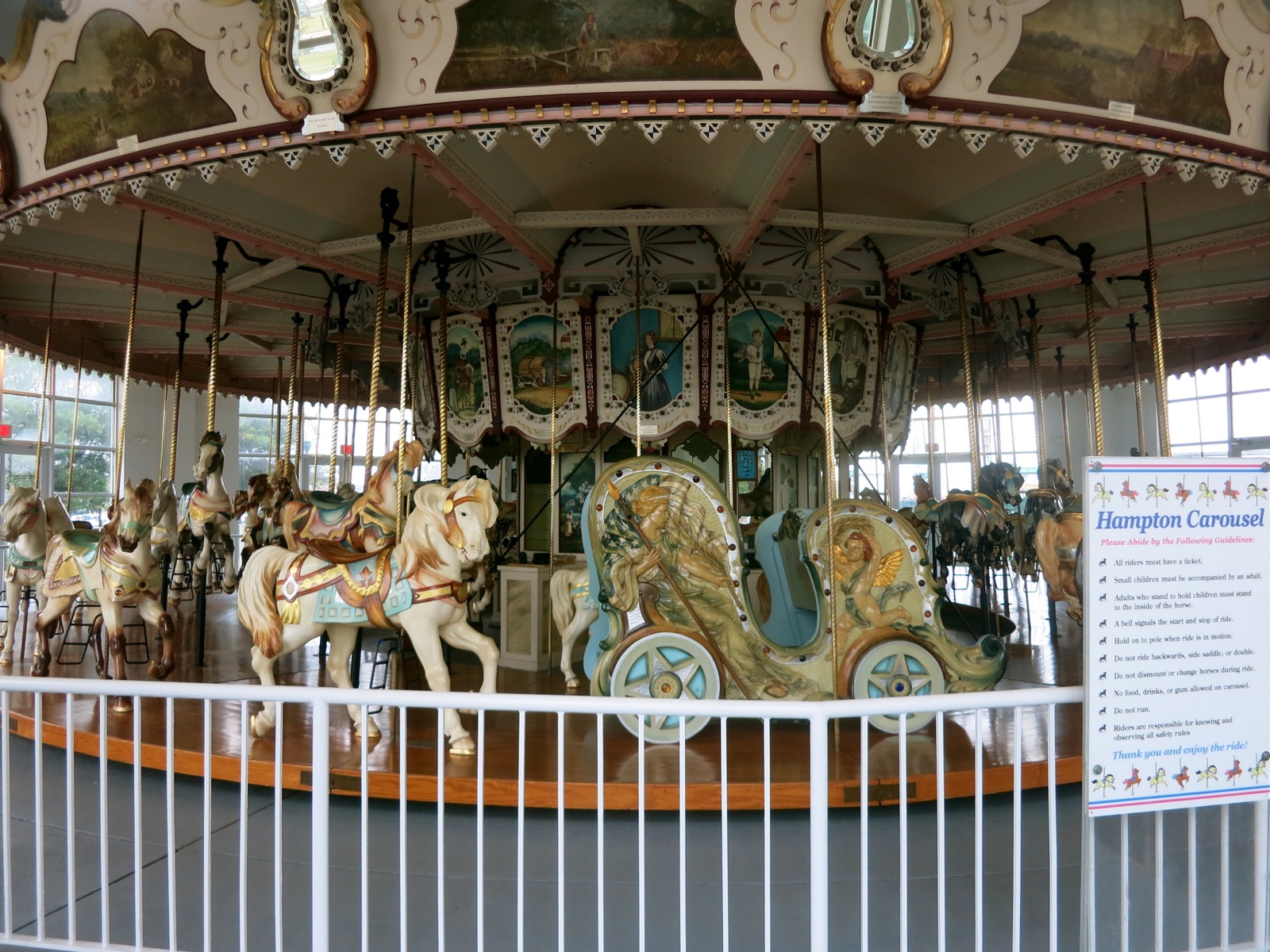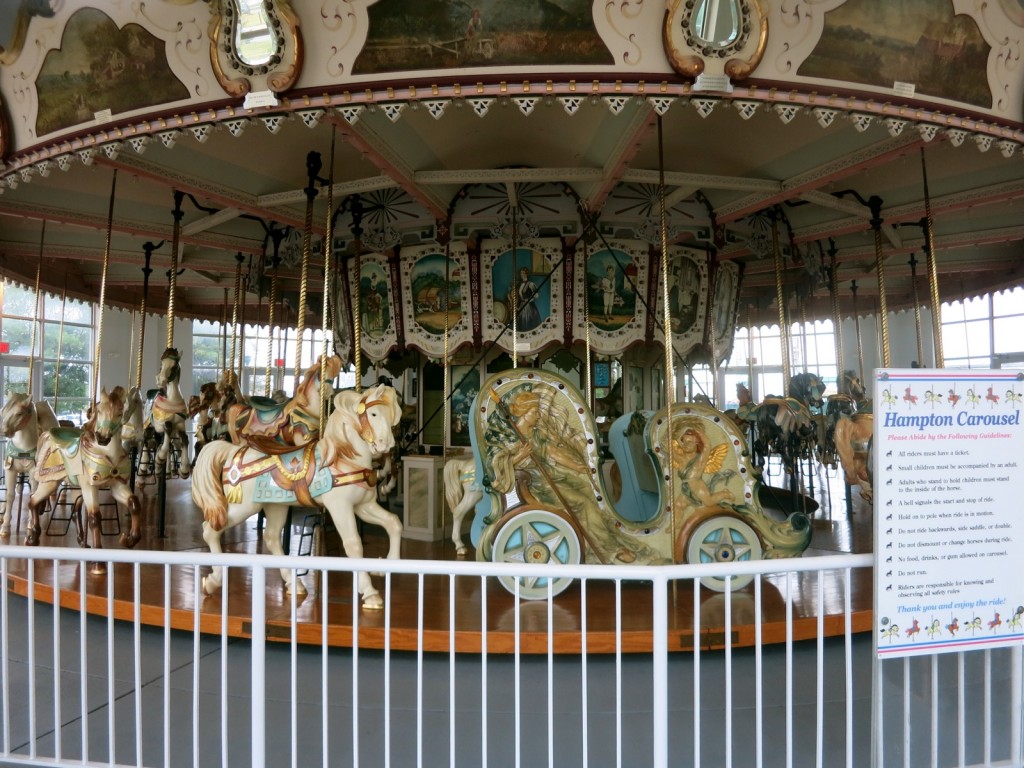 SPIN: On the Hampton Carousel
Built in 1920 and restored to it's original luster, this is one of only 170 antique wooden merry-go-rounds left in the United States.
VISIT: Bluebird Gap Farm
Wild and farm animals vie for attention at Bluebird Gap Farm, especially if you've got some authorized animal feed in hand. (Available for a quarter a handful from several machines.) Owned and run by the city of Hampton VA since 1969, the park also features a covered pavilion with 18 picnic tables: just in case you plan to host a massive family reunion.
Best Restaurants in Hampton VA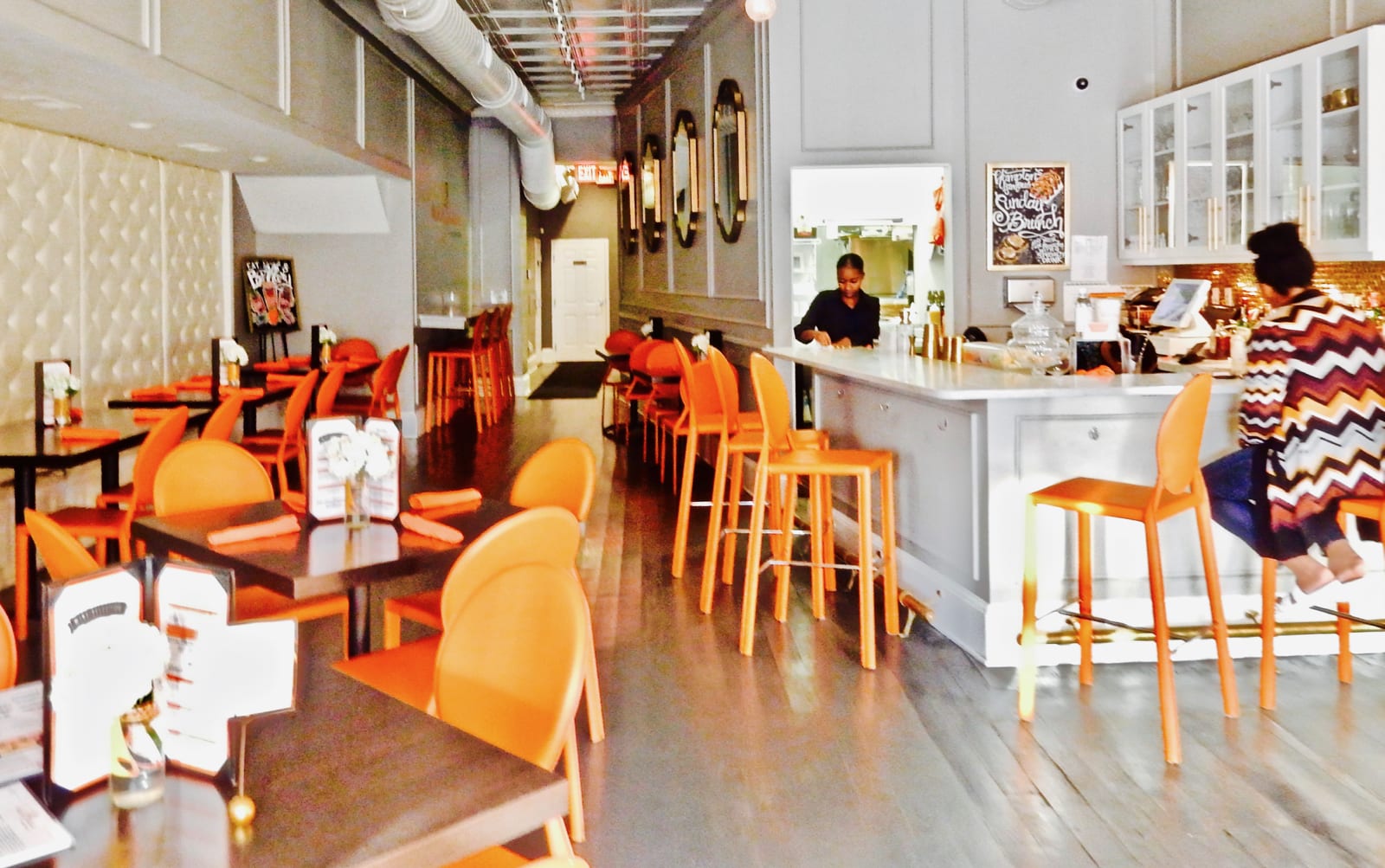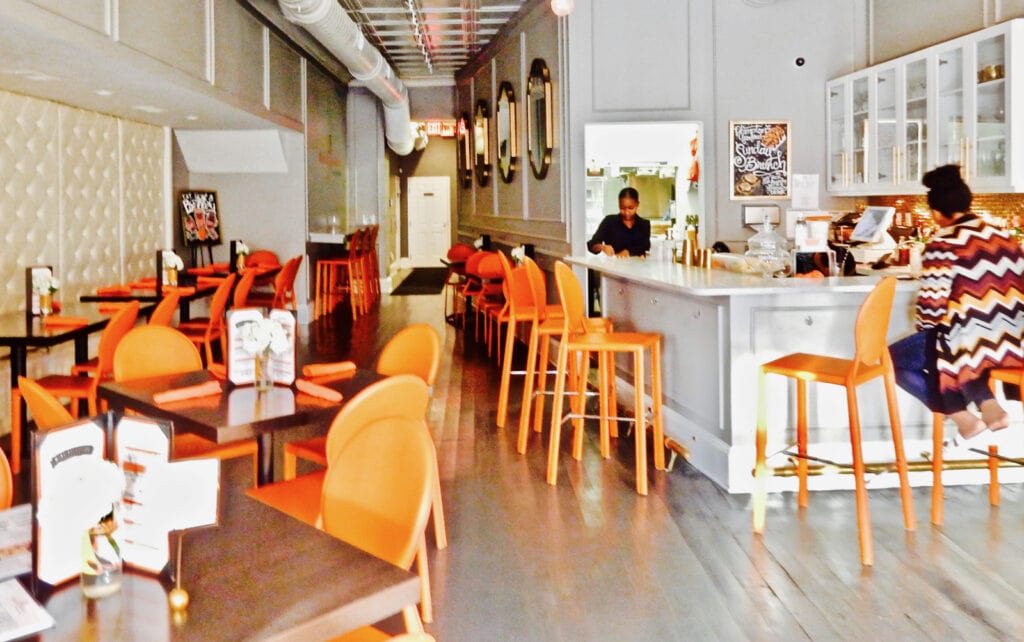 When you crave Southern-French-Creole-Neo-Soul food, you gotta come to this pretty grey and orange place. Here, veggie burgers come topped with Fried Green Tomatoes.  Sure, you can get Chicken-Fried-Chicken, and Salmon Lafayette smothered in etouffee tomato cream sauce.
But my fave was the smashing Ginger Shrimp – a perfect blend of snappy and sweet. If you buy nothing else, come for the mango preserves. Made on site, it's outrageously good.
EAT: Locals Love
Locals also recommend Brown Chicken Brown Cow for burgers and bbq, Drexler's Woodfired Grill for open-kitchen cooking, Vanguard Brewpub and Distillery, Venture Kitchen and Bar for pizza and tapas, The Deadrise for great seafood near Fort Monroe, and Fuller's Raw Bar for seafood.
Most Romantic Place to Stay in Hampton VA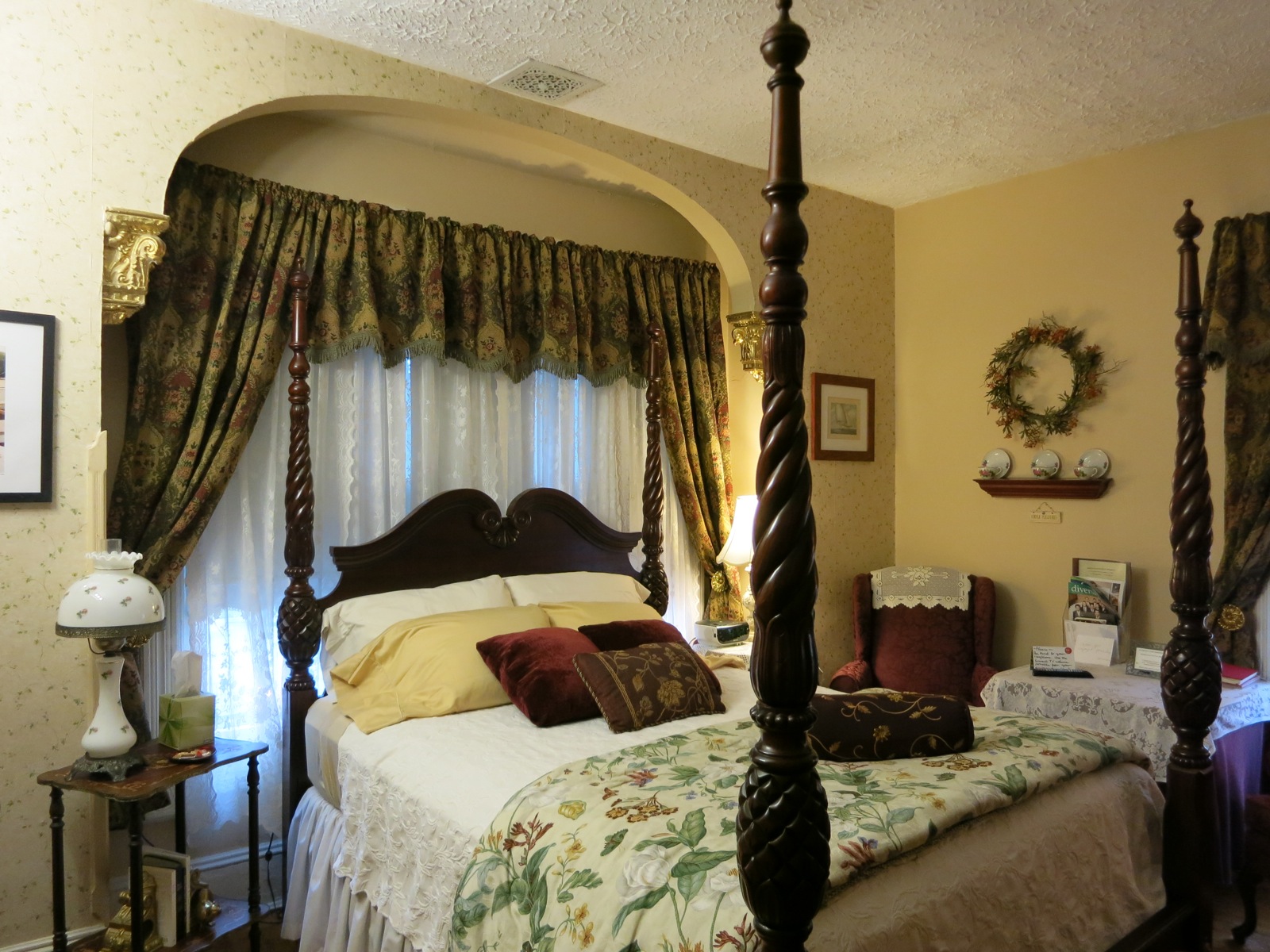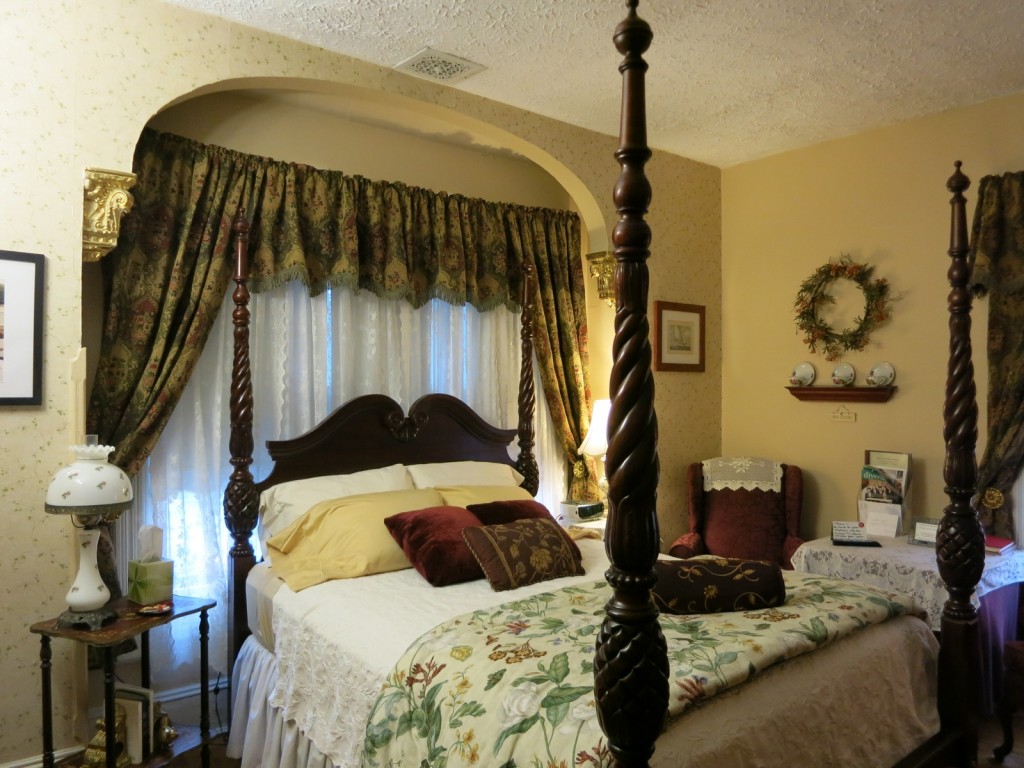 Lankford and Joyce Blair created a lovely, upscale B&B with a unique feature; it doubles as a small wedding venue for up to 20 guests.
Lankford is a Mental Health administrator. Joyce has been a surgical nurse for over 25 years. Though they are both "grounded in their careers," the couple started inn-keeping as a natural extension of "wanting to take care of people."
Three baronial rooms with extravagant bathrooms come with full breakfast. In addition, wine and soft drinks are available to take out to the inviting wraparound porch.
STAY: Franchise Hotels
There are franchise hotels aplenty, especially near the Hampton Coliseum. Take your pick. They're all good. I stayed at the Courtyard by Marriott, which was friendly, clean, and a quick ride into downtown.