Where and What are the Laurel Highlands PA?
WHY GO: The Laurel Highlands PA sit southeast of Pittsburgh on the West Virginia border. It figures that the largest ski area in Pennsylvania, Seven Springs Mountain Resort, is in the State's hilly west. Here, you'll also find a sanctuary for Frank Lloyd Wright homes, authentic bakeries and coffee shops, great wineries, and hidden State Parks.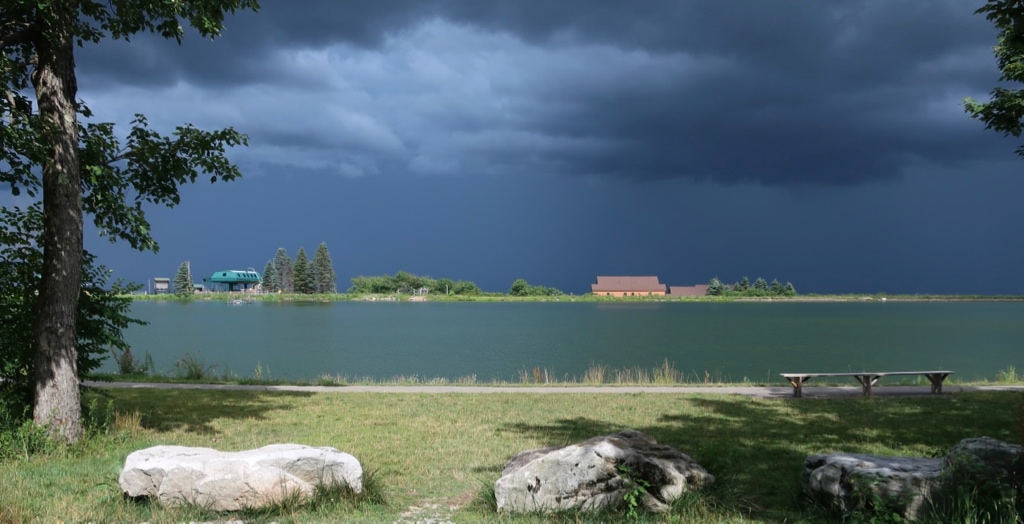 The Getaway Mavens have already covered much of the Laurel Highlands, including FLW's Fallingwater and Kentuck Knob, Fort Ligonier, Mr. Roger's hometown of Latrobe, the hard to explain Nemacolin, and more in this Laurel Highlands post.
In this post, we continue with some overlooked (but not for long!) treasures of western PA.
Though there are no kitschy heart-shaped tubs, you'll find plenty of romantic things to do in this rustic-upscale outdoor adventure locale. Just follow our lead.
Consult this website for exhaustive list of goings on in the Laurel Highlands.
Check out this Romantic PA Post for other great ideas in the State for Adventurous Duos.
Things to Do in the Laurel Highlands PA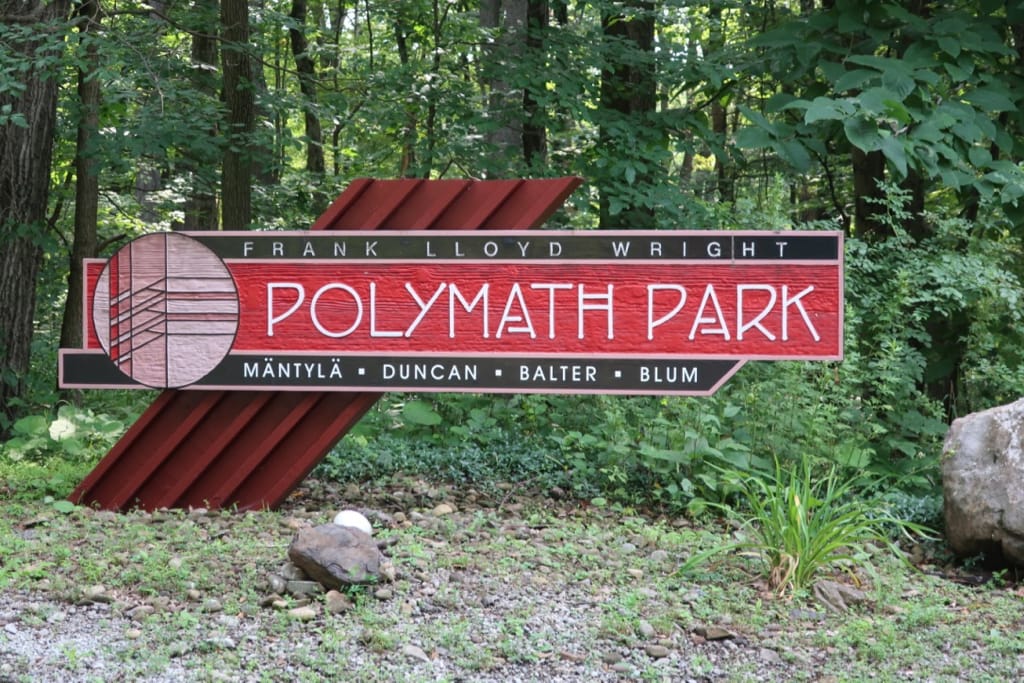 Are you inspired by Frank Lloyd Wright's architecture? Have you already seen Fallingwater and Kentuck Knob – also in the Laurel Highlands of PA? Would you actually like to spend a night with your honey (or friends/family) in a FLW designed home? Then book a tour or overnight at Polymath Park.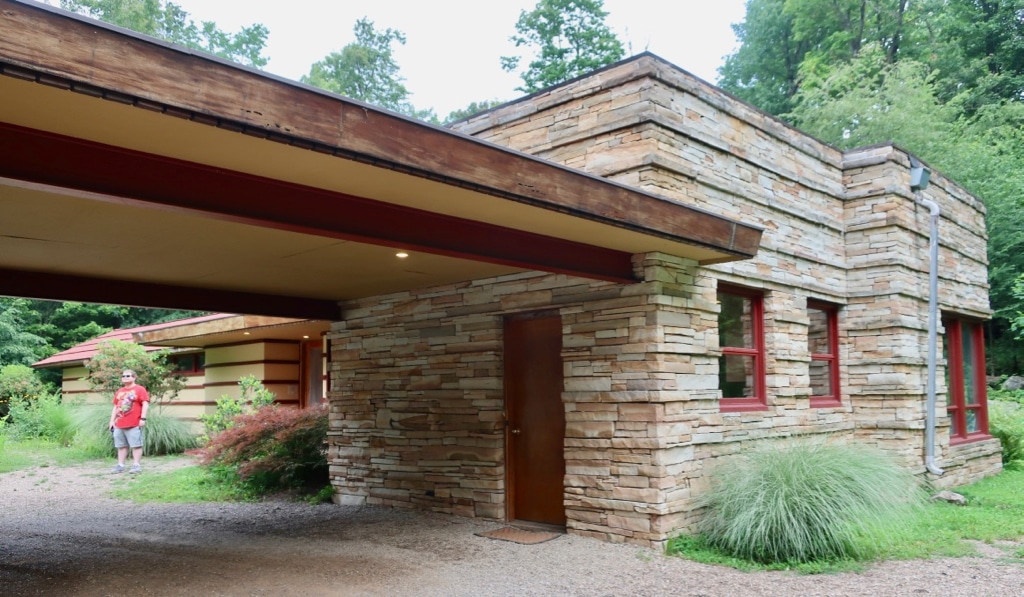 How did Frank Lloyd Wright envision his Usonian designs to influence American culture? Why were his Mäntylä (from Minnesota) and Duncan (Illinois) houses relocated to Polymath park? How close did Wright's apprentice, Peter Berndston, get to his teacher's style with his own home designs?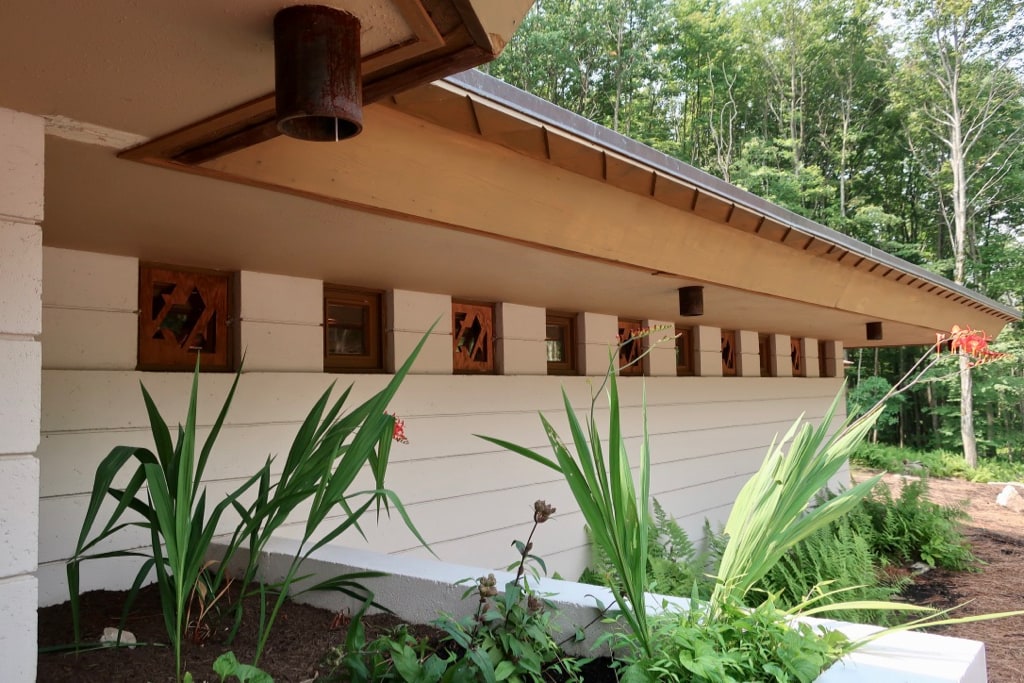 You'll find the answers to these questions and more on a small-group tour of three homes: two designed by Wright, and a third one (of two) designed by Berndston – original to this property. Short answer – Polymath Park is a rescue sanctuary of sorts for Wright's designs around the country that are slated for demolition. Each home is meticulously taken apart and rebuilt on this property after an exhaustive and exacting site orientation study.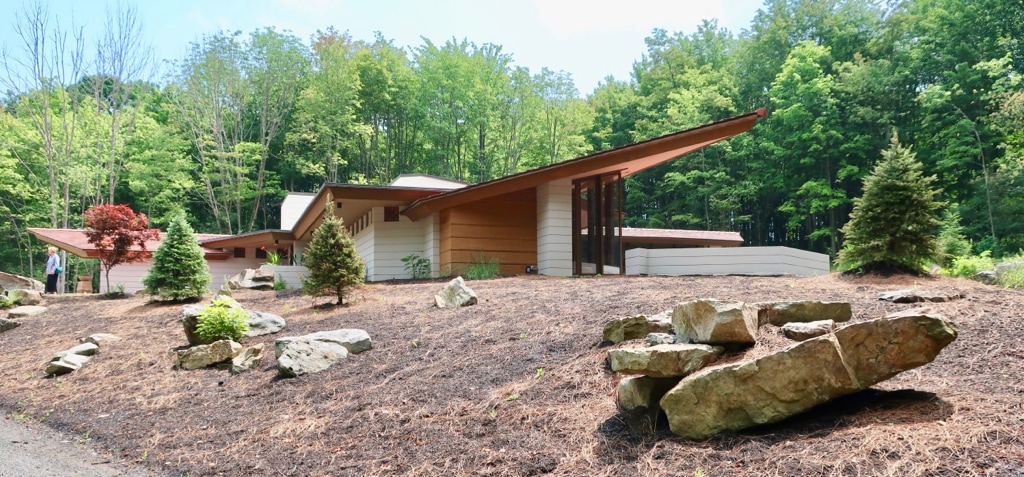 Book ahead, tickets sell out fast. Once here, check in at Treetops – the onsite restaurant that has garnered raves from fans, and entices foodies out to the woods southeast of Pittsburgh. You'll travel from house to house in a small bus with guide, and can wander through each home after short orientations. Suffice it to say, the interiors are larger and brighter than what they seem from the front doors.
My choice for an overnight would be the 1955 Mäntylä, a "Grand Usonian" with lots of room and original built in furniture. Mantyla, $575 per night for 4 people (3 bedrooms), Duncan House $475 for 4 people. Tour only, $28pp. House tours + lunch at Treetops, $60pp. House tours + dinner, $125pp.
Polymath Park is one of the most quirky-romantic places to propose in PA.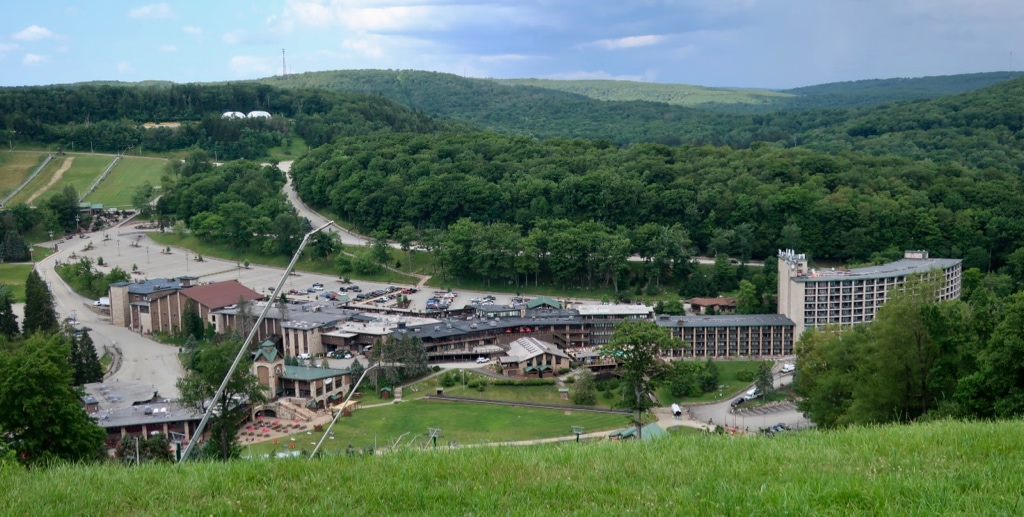 (See also, below, under Where to Stay and Eat)
Ski (Winter. Obviously)
Seven Springs Mountain Ski Resort is the largest of all 23 in the State. It's got fantastic snow making that starts early in the season (weather cooperating), and can see upwards of 10,000 skiers per day. If you excel at snowboarding, you're in luck. Seven Springs offers freestyle terrain areas and the only 22 ft. Superpipe in the East.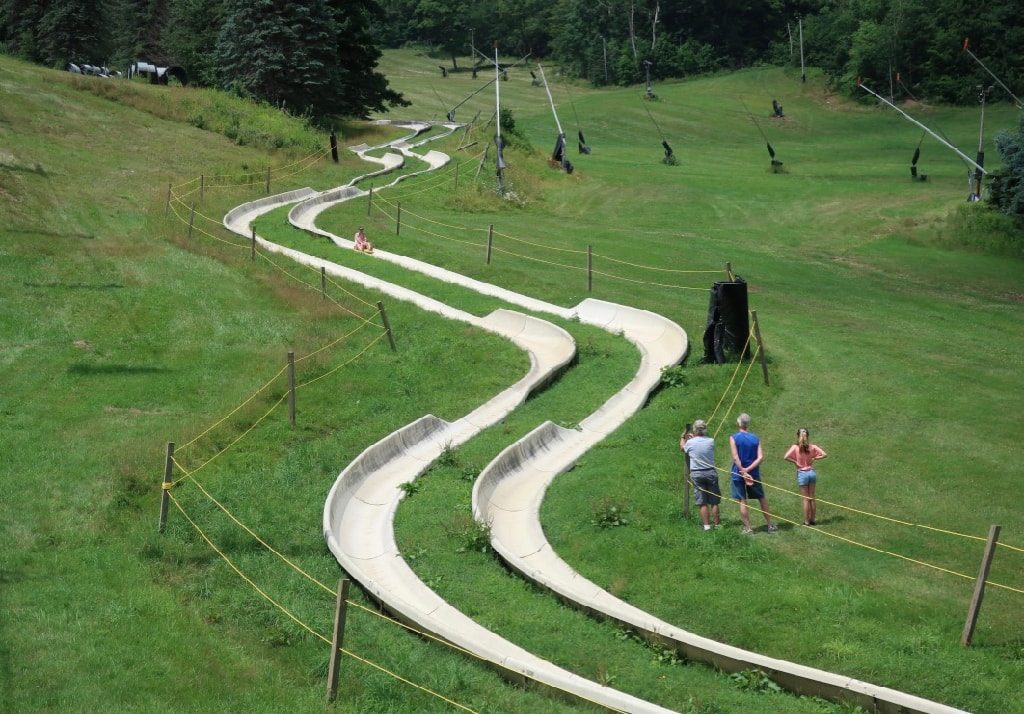 Alpine Slide (Summer)
Travel down this twisty-turny track at your own pace. Take the chair lift up to the top of the hill, grab a wheeled slide, and let gravity take its course. Watch for one stomach turning "drop," but otherwise the path is pretty leisurely (if you're prone to ride the brake).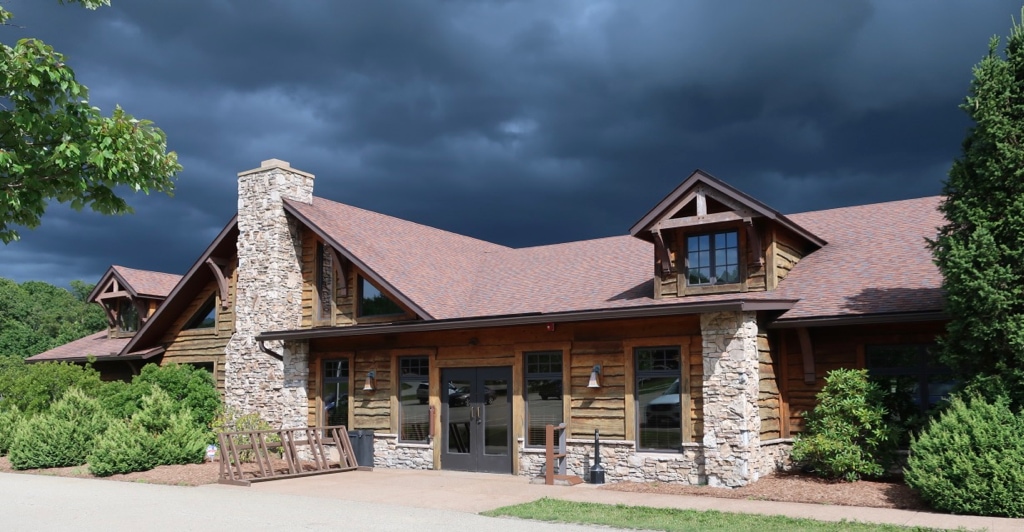 Sporting Clays
Why are sporting clays the "up and coming" team activity? According to those addicted, it's "a relatively unknown sport and easy to have some success right away," "a lot of fun," and "doesn't take six hours." I'll add: for those adverse to hunting, you can shoot a gun without killing anything.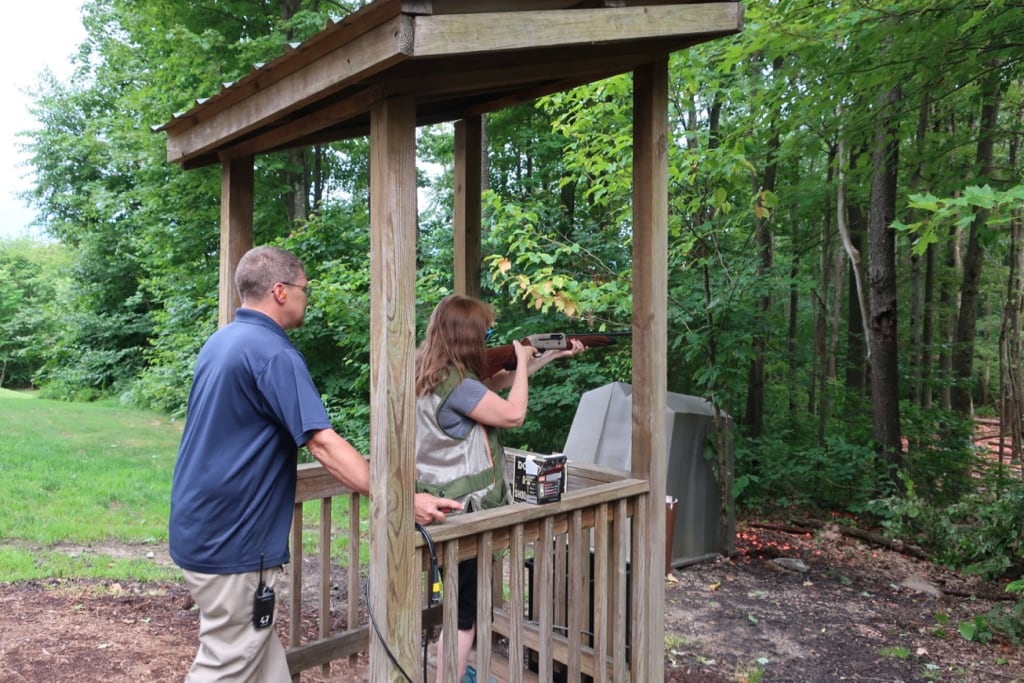 Every group (or single) secures a "Trapper" (like a caddie, but for shooting clay objects) who teaches novices how to hold the shotgun, aim, and fire. The trapper will also take experienced clay shooters to the most difficult stations (out of 45 available).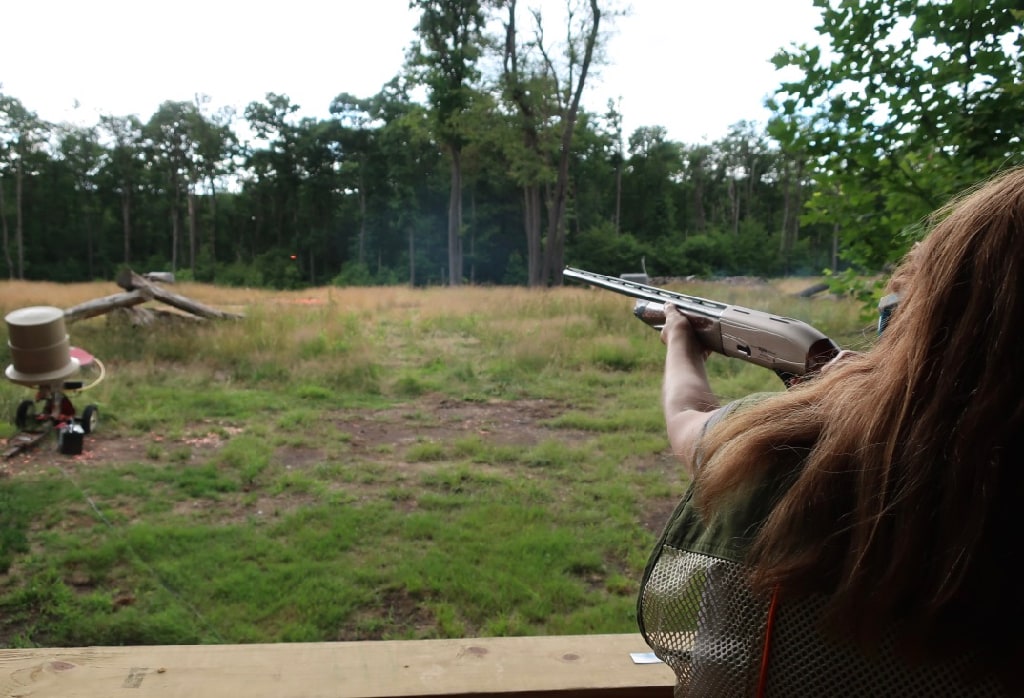 Sporting Clays have proven to be a fun team-building experience. There's even a heated enclosed five-stand station, so guests can shoot clays year round.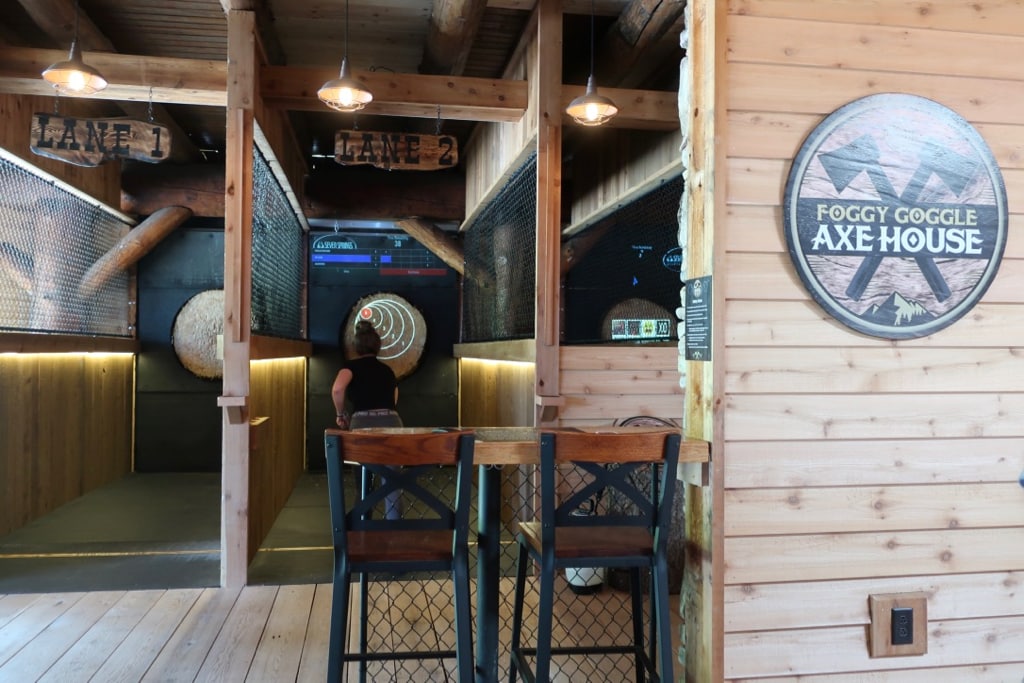 Axe Throwing
This new sport, a trendy tweak on stodgy ole darts apparently, is taking hold in bars all over the country. Here, you'll find Axe Throwing in Foggy Goggle – the ski lodge bar with 50 beers on tap. Booze and axes. What could possibly go wrong?
OK – so I discovered that axe throwing is relatively safe, providing you listen to the training instructor, wear closed toed shoes, and keep away from the possible sharp-implement bounce-back.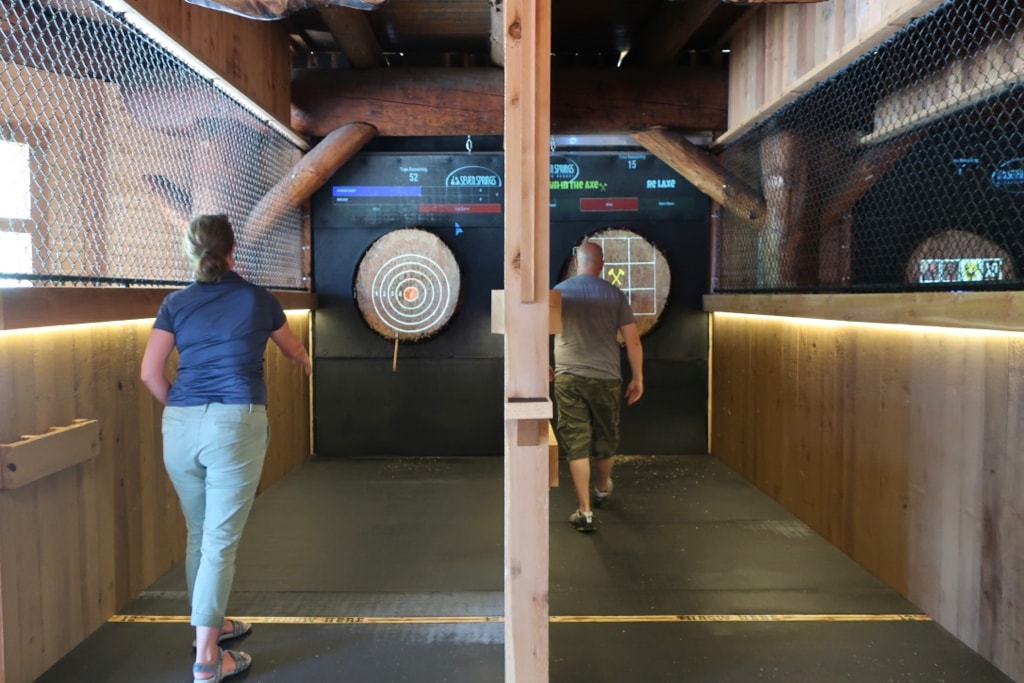 Each thrower is assigned his or her own bay, so you really can't hurt anyone else. I tried to hit the target upwards of 100 times, and connected once. But, I was in the minority. Like bowling, it gets easier once you get the hang of it.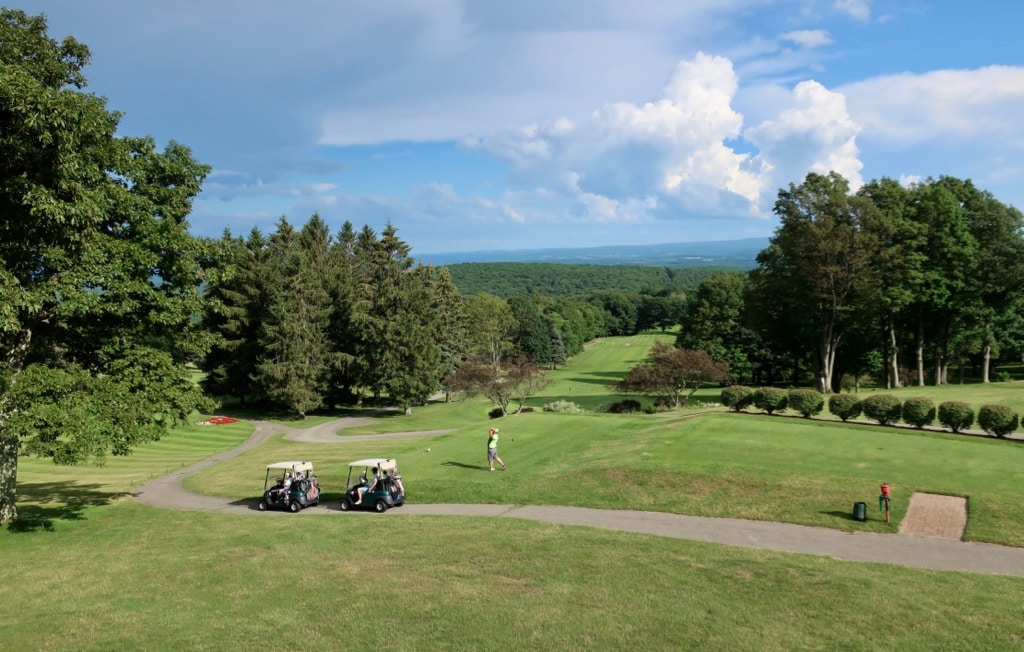 Golf
This 18-hole hillside golf course has got to be one of the most scenic in the country. From the Pro Shop deck, you can see three states: Pennsylvania, Maryland, and West Virginia. Renowned as a very challenging course, "plan to use every club in your bag," says the manager.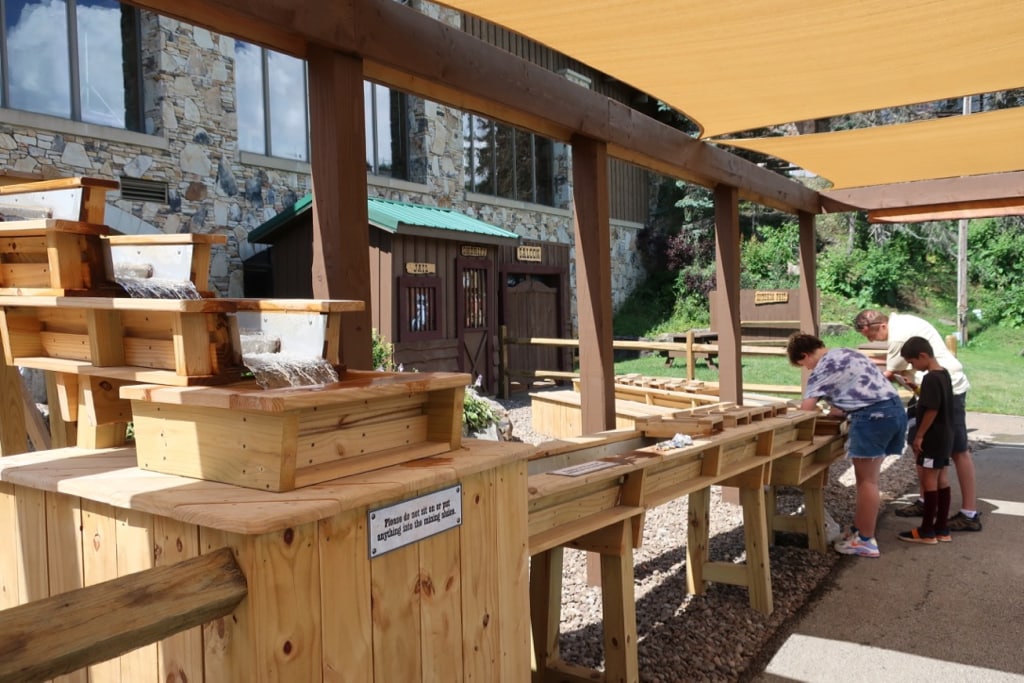 Gem Mine
More for families with little kids: purchase a bag of dirt, take it out to the water sluice, and pan for gems. You're guaranteed some cool rocks and minerals.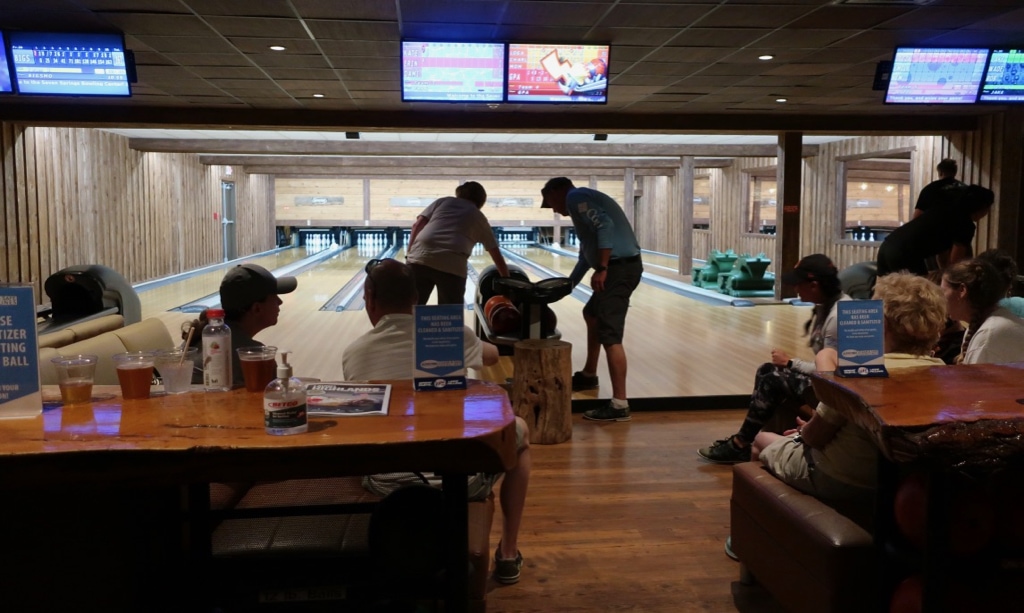 Bowling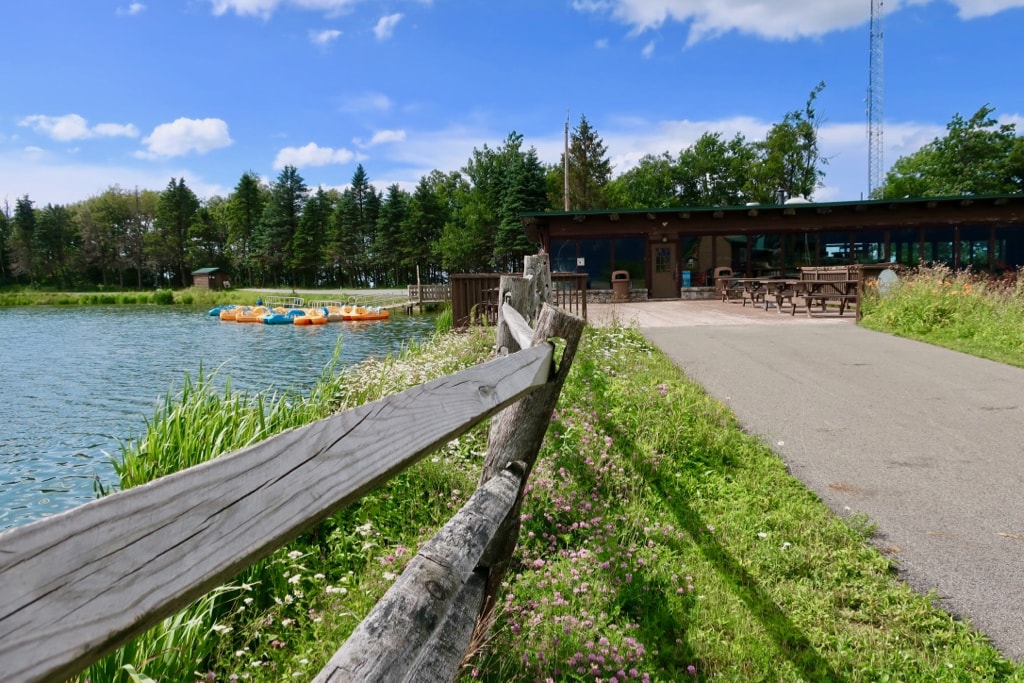 Paddleboats, Swimming, SUP's on "Lake Tahoe"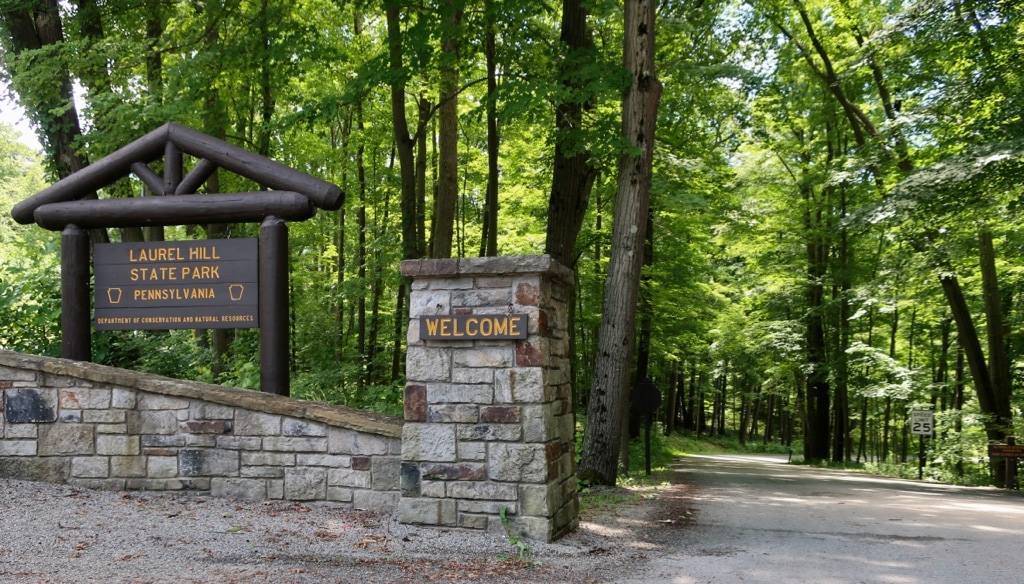 In the late 1800's, this area of PA was a wasteland. "Thanks" to timber barons, loggers all but decimated the landscape. Enter FDR's CCC (Civilian Conservation Corps), who replanted and revived this forest.
Laurel Hill SP is not as well known as nearby Ohiopyle SP – but worth experiencing for its serene beauty and recreational activities. An auto road winds and switchbacks through the park, with ample places to pull over to enjoy some peace and quiet.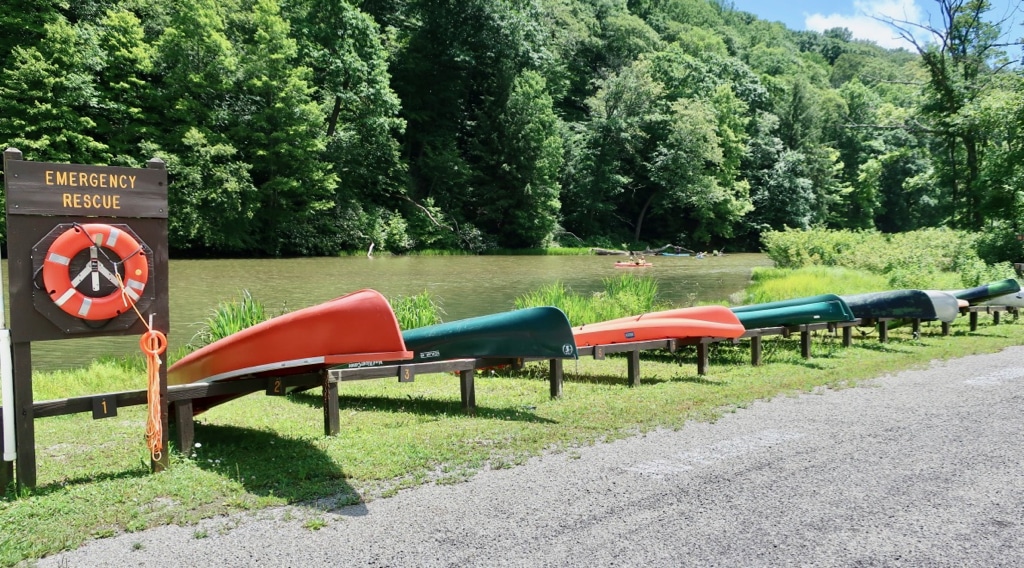 You can walk through a grove of old-growth Hemlock trees left alone by 19th century loggers. Or wade in a shallow rocky stream. Or swim or kayak on a small lake. In winter, snowmobile, x-country ski, or snowshoe in permitted areas.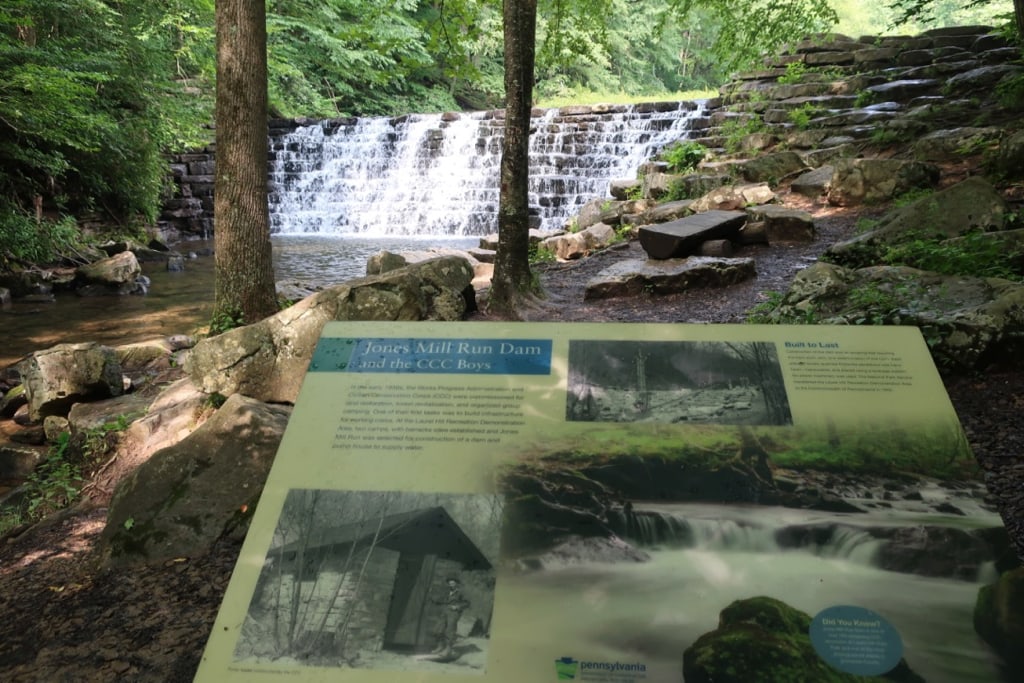 Don't leave without hiking to the scenic Jones Mill Run Dam, about ½ mile in on the Pumphouse Trail. It's an easy walk, and the photo-op payoff is spectacular. Open year round, daily, sunrise to sunset. Free.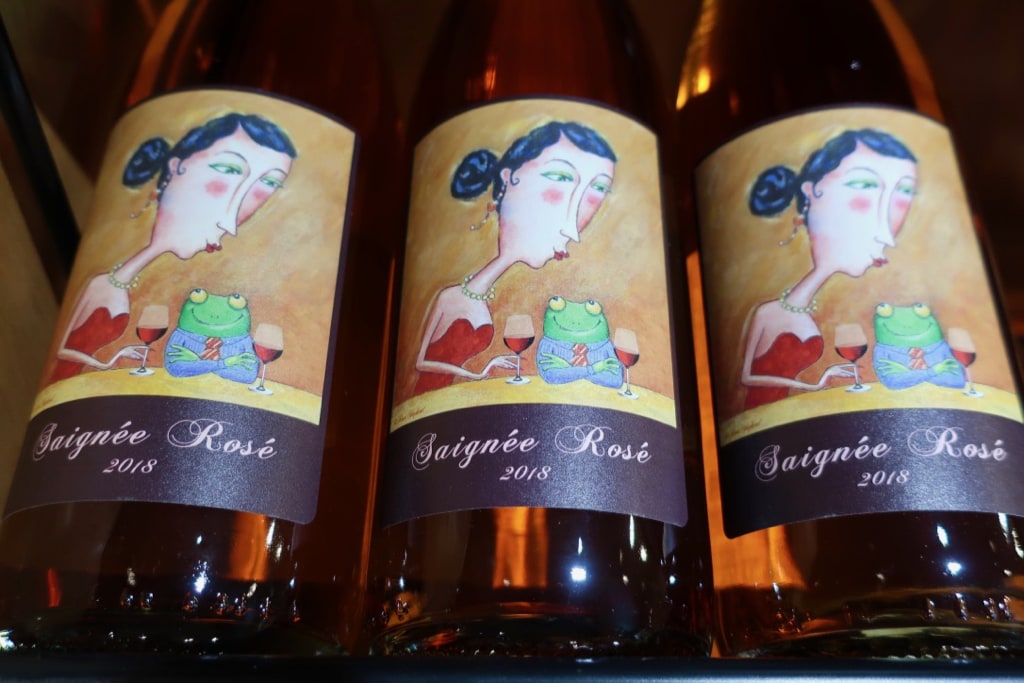 Not just a winery, this complex includes gardens, apple orchards, a market, bakery, penned llamas and goats, and guinea hens running around. No surprise it's also a hot wedding venue.
Sweet wines are popular here – the Blush most of all. You can sample the first three for free. I tried the interesting Rhubarb Wine ($16 bottle), which might sound weird, but actually tasted subtly sweet and surprisingly good.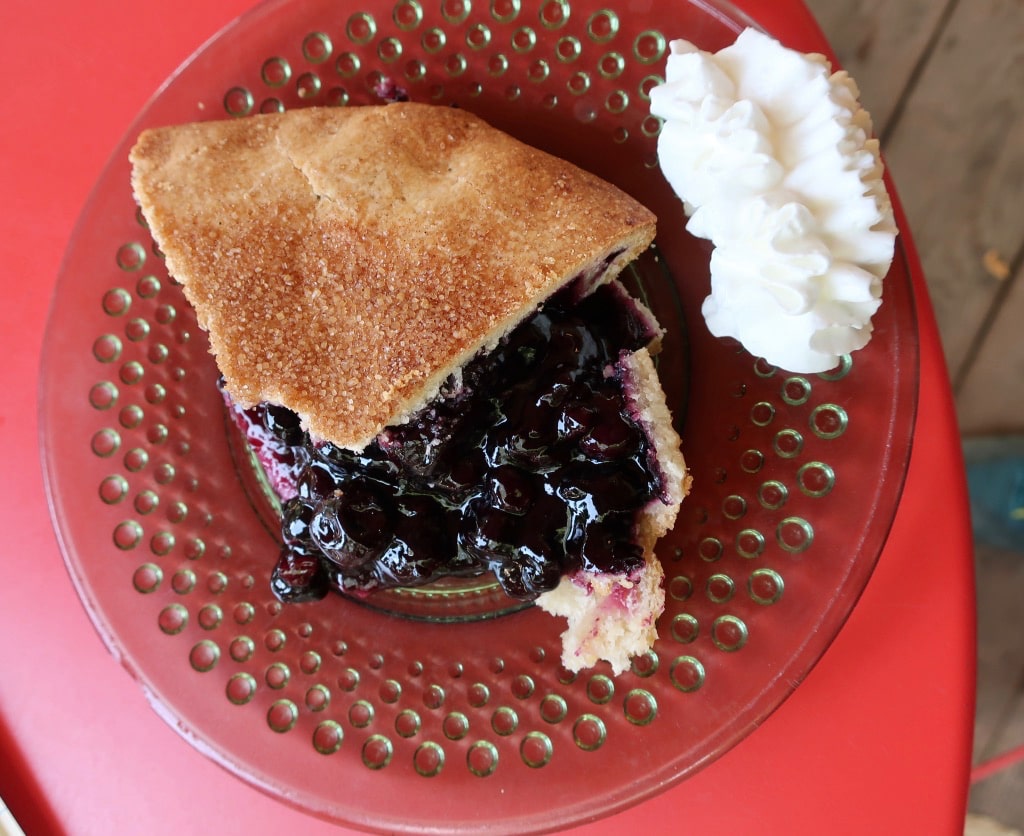 Even if you're not a wine drinker, come here for the fresh-baked homemade pies. I got a slice of Blueberry Pie – made with berries grown right on the premises – and I can honestly say that it was one of the Top 5 pies I've ever had in my life. Kudos to the bakers!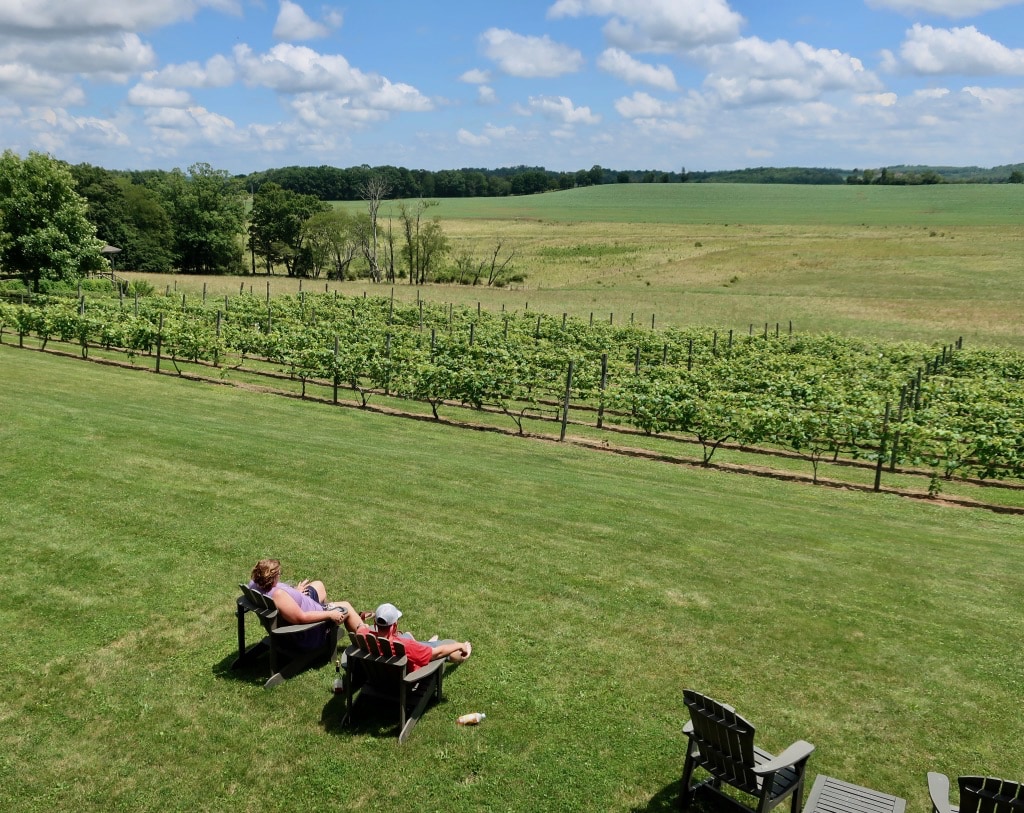 This winery is big into sweet wines and slushies in summer. Those "adult" frozen drinks, or a bottle of the popular "Black and Blue" ($21, made with blackberries and blueberries – no grapes) are the perfect accompaniment to gazing at the hillside vineyard and PA landscape from an Adirondack chair. Visit on Saturdays when there's live entertainment, or any other time just to chill out.
There's some dispute over why Mt. Pleasant seems ironically called "Helltown." It might have something to do with its zipcode – 15666. Or possibly for the 120 coke ovens nearby, that, when in full operation in the early 1900's, turned the sky red and covered the town in soot. Either way, it's a hell of come on. Try the "Buffy" (New England IPA), "Salem" (Brown IPA) or "The Rapture" (American IPA).
All of the above wineries and breweries are on the Laurel Highlands Pour Tour 2.0. Visit the roughly 40 spirit makers, get your Passport stamped, and win prizes like t-shirts and tote bags.
Where to Eat, Drink, Provision Near Seven Springs Mountain Resort in Laurel Highlands PA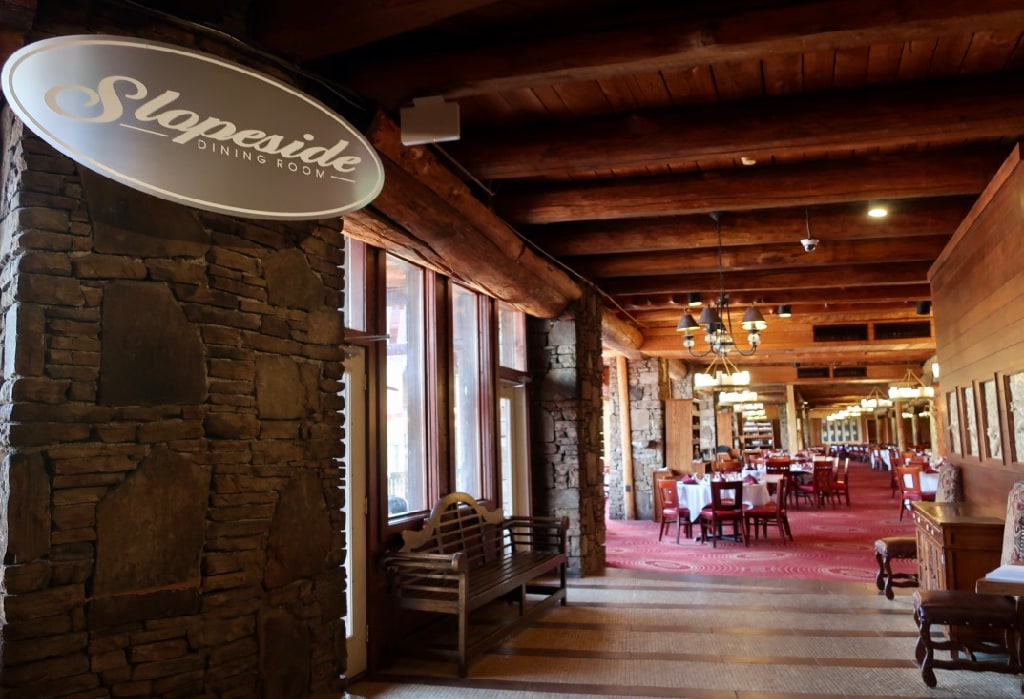 EAT: Seven Springs Mountain Resort (See Below)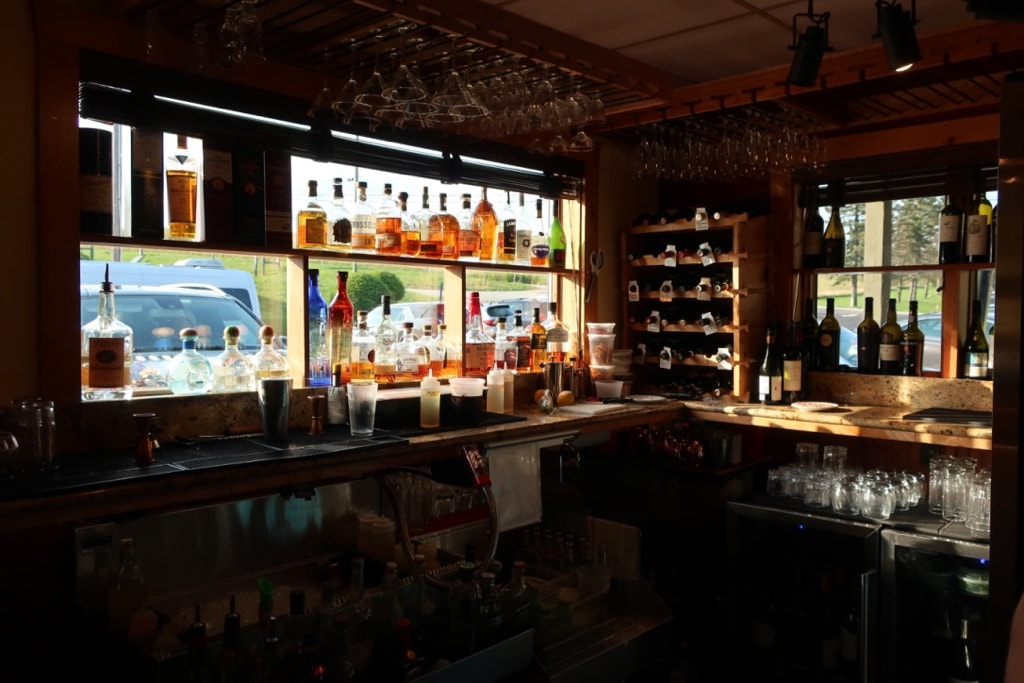 This highly rated restaurant is known for a great cross section of food, its mushroom soup, and for its signature smoked salmon platter that just might give some NYC delis a run for their money.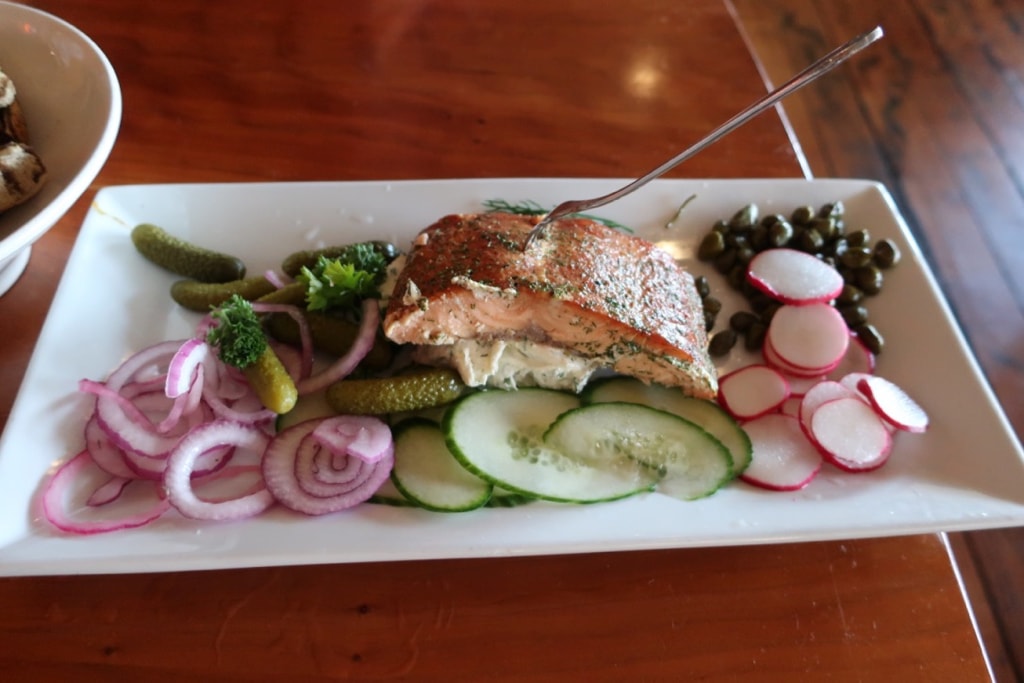 For just $16, you get "Everything Crusted Flatbread," house hickory smoked salmon, onions, pickles, veggie cream cheese, and toast. It's delish!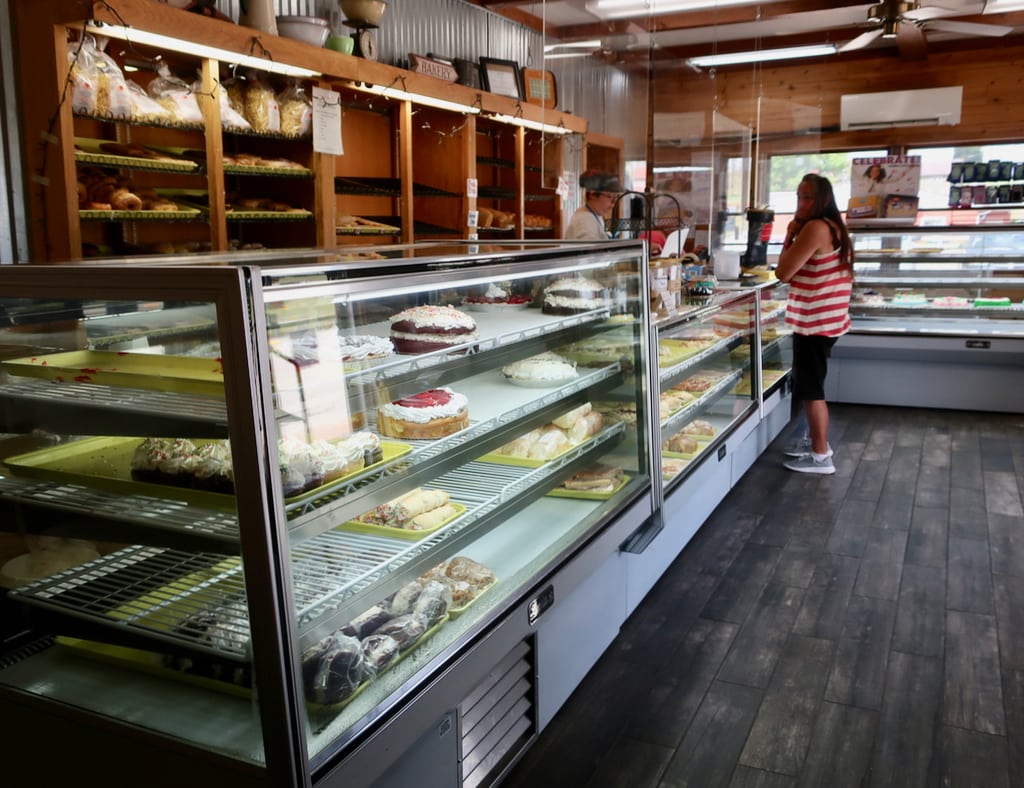 BAKERY: Country Pie Shoppe, Donegal
Fans of old fashioned bakeries come in for pies, cakes, and cookies. Nothing fancy, but just the thing for a sweet bite.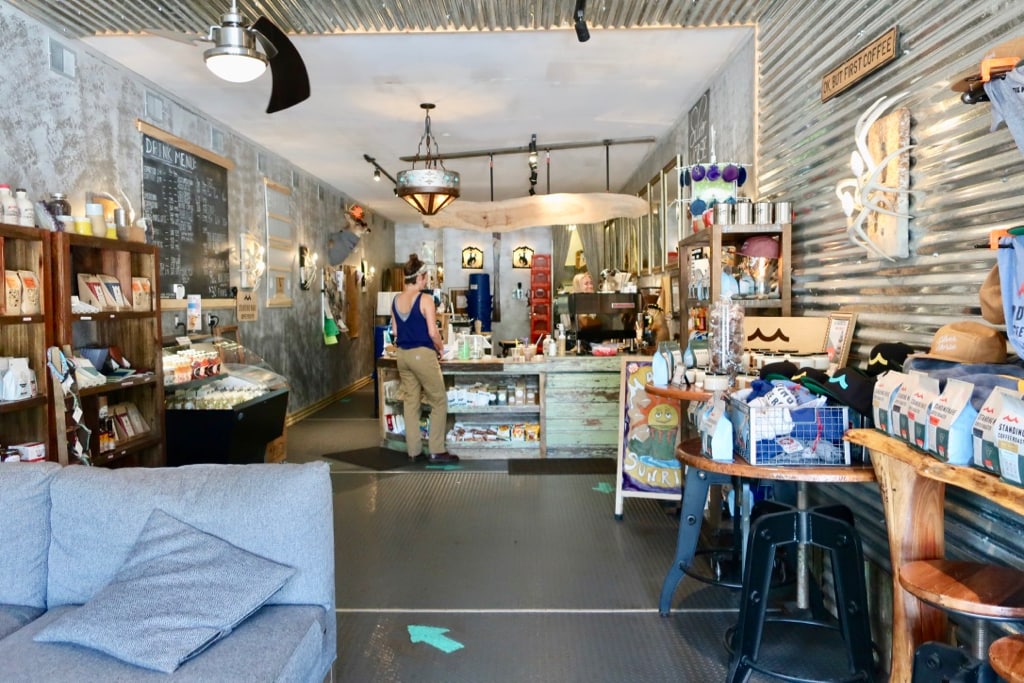 Silver Horse Coffee is the coolest Western US themed coffee shop in the Laurel Highlands. The Brothers Frye grew up in these here parts, and at least one ventured west to work. For awhile. But he returned, and his vision to own a coffee business with his brother came to fruition. The Fryes roast their own small producer grown coffee beans, so the java is deeply flavored and fresh.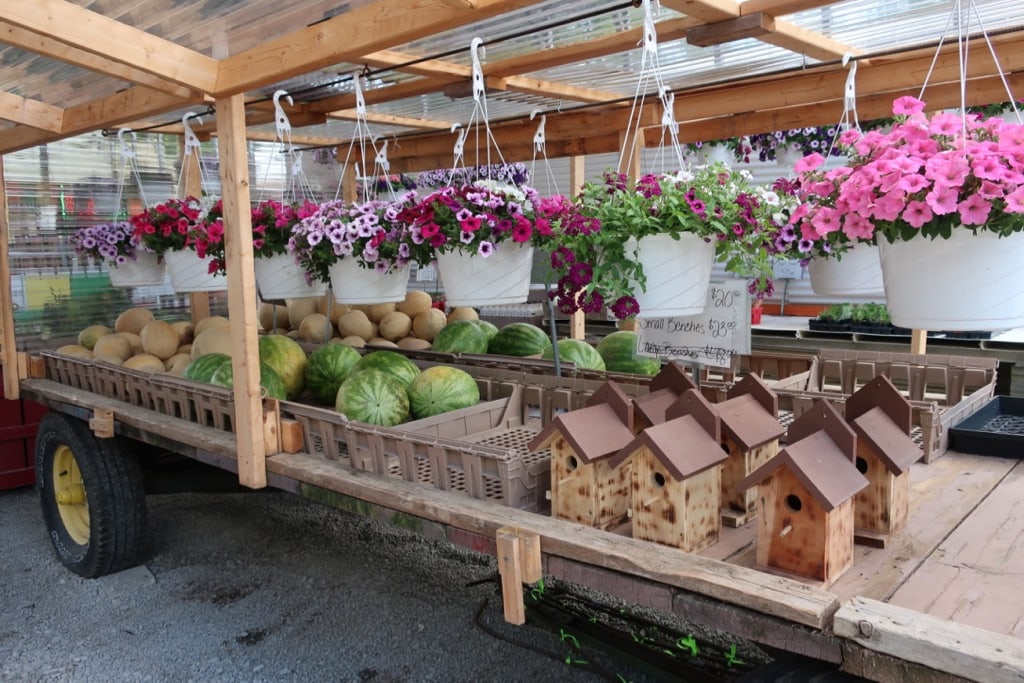 PROVISION: Pletcher's Farm Market, Champion
Pletcher's is a local favorite for produce, flowers and canned goods like jellies and jams. The produce is lovely to look at and just-picked fresh.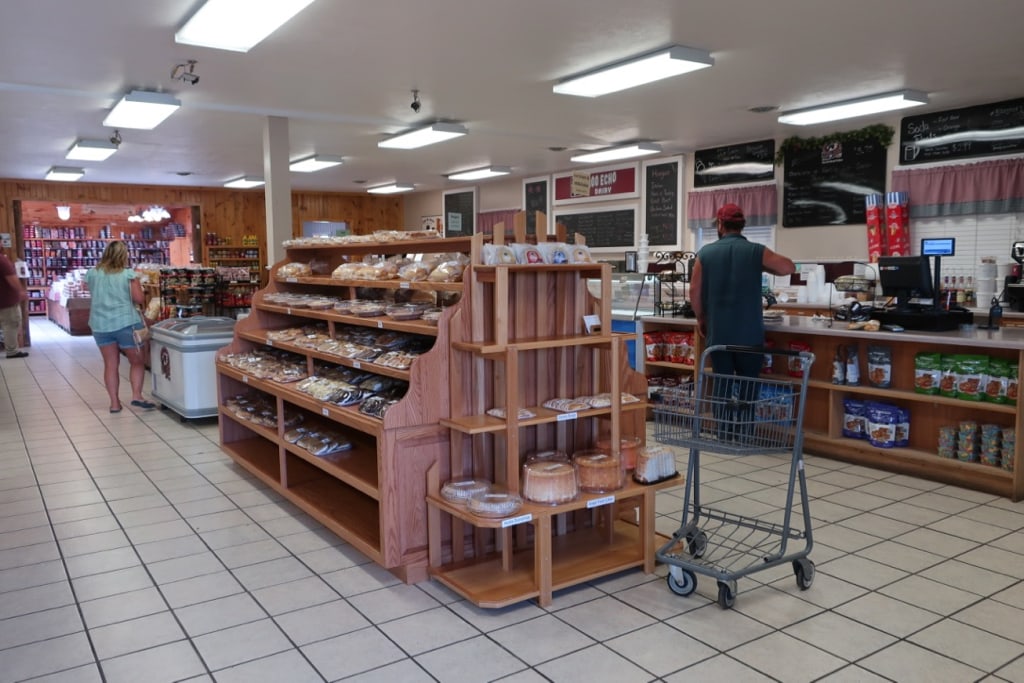 ICE CREAM: Moo Echo Dairy, Somerset
Local favorite Amish store for goodies, ice cream, snacks and cheeses.
Where to Stay in the Laurel Highlands PA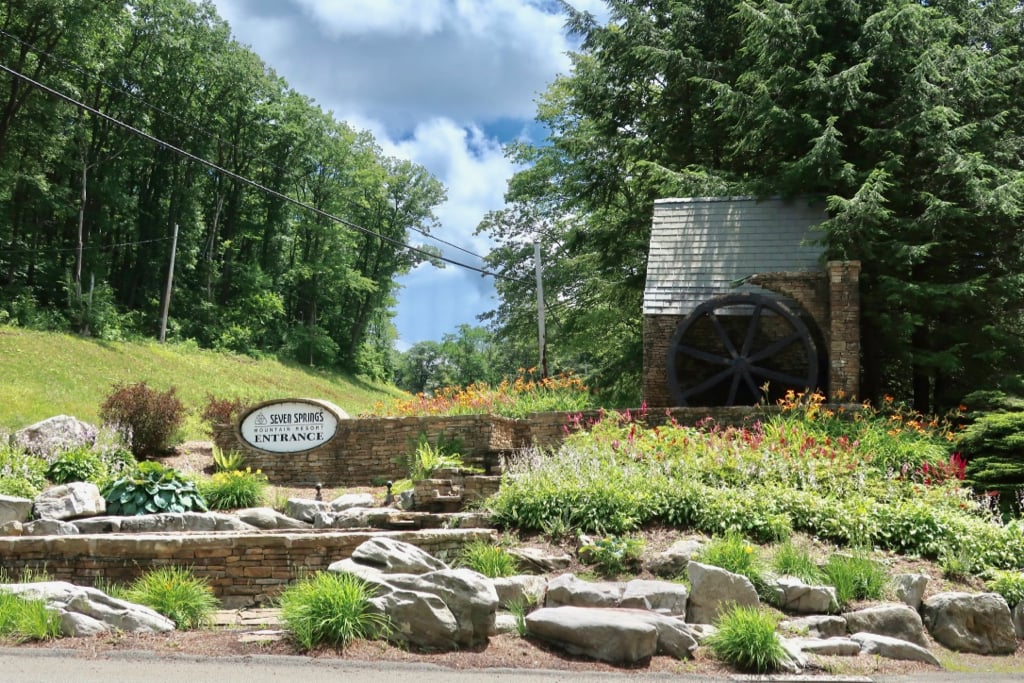 See above under Things to Do for Seven Springs Activities
There is nothing "corporate" about this independent, upscale camp-like resort, spa, and hotel. On over 5,000 acres, there are 1,200 private condo units, a 414-room hotel, and 25 cottages and chalets.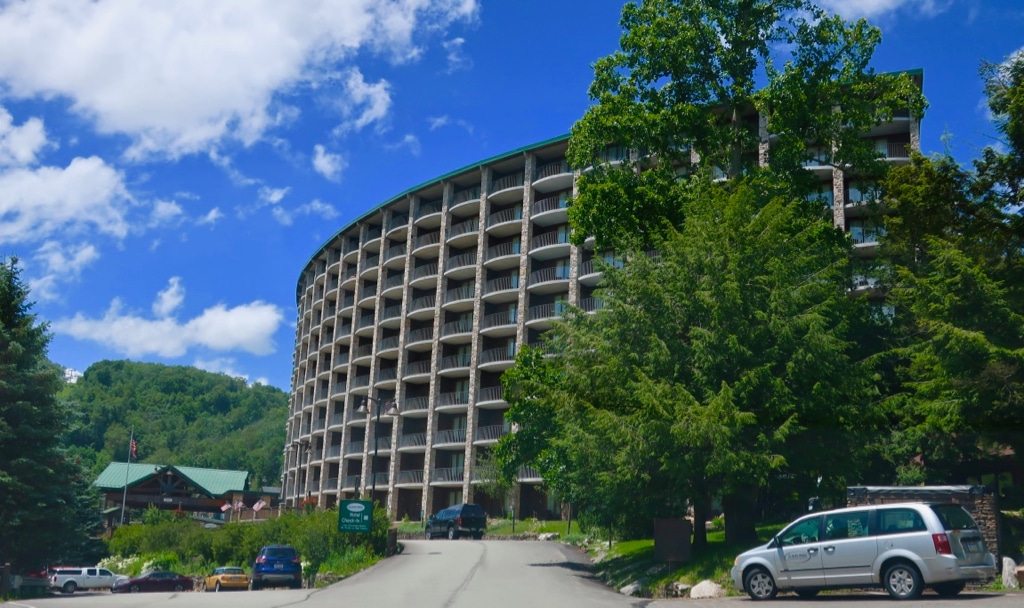 In 2006, newspaper scions and Pittsburgh Pirates majority owners, Ogden Nutting, and his sons Bob and Bill, purchased the legendary Seven Springs Mountain Resort and went about renovating and expanding it. Back then, having operated for decades, and resting on its laurels (literally) the resort required a refresh – which the Nuttings accomplished. Plus some.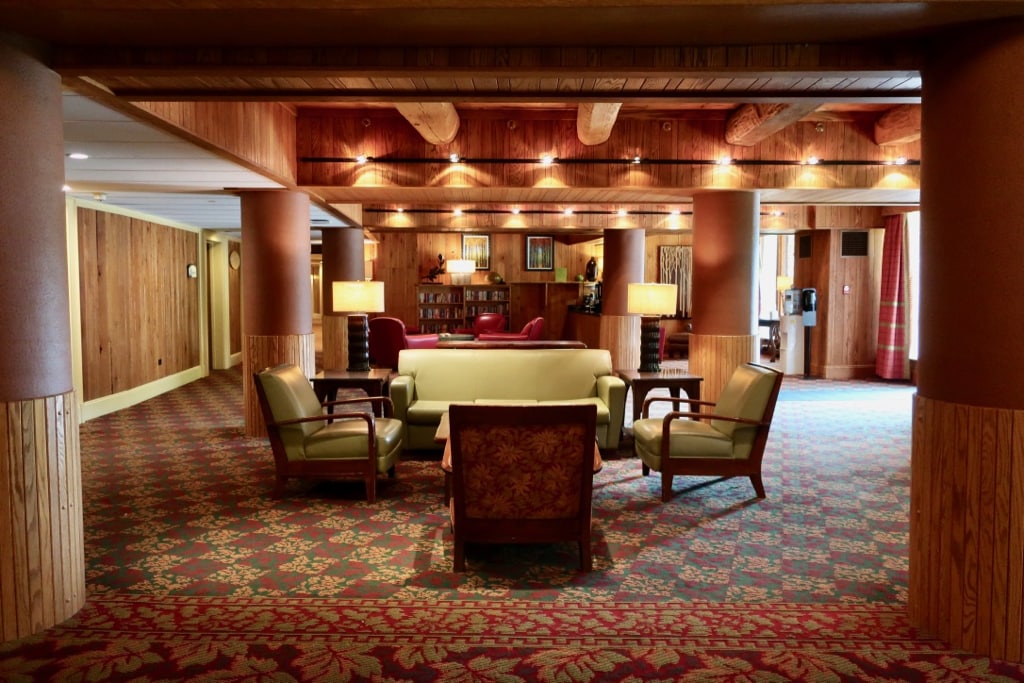 Accommodations are high-end, though not twee-resort lavish. Book an inclusive package and you won't have to pay astronomically high rates.
Rooms at Seven Springs Mountain Resort
With slope-side condos, mountain cottages, and hotel rooms on offer, there is literally something for everyone.
I stayed in the 70's style high-rise hotel, (curved like the Watergate Hotel in DC), with views of the ski hill.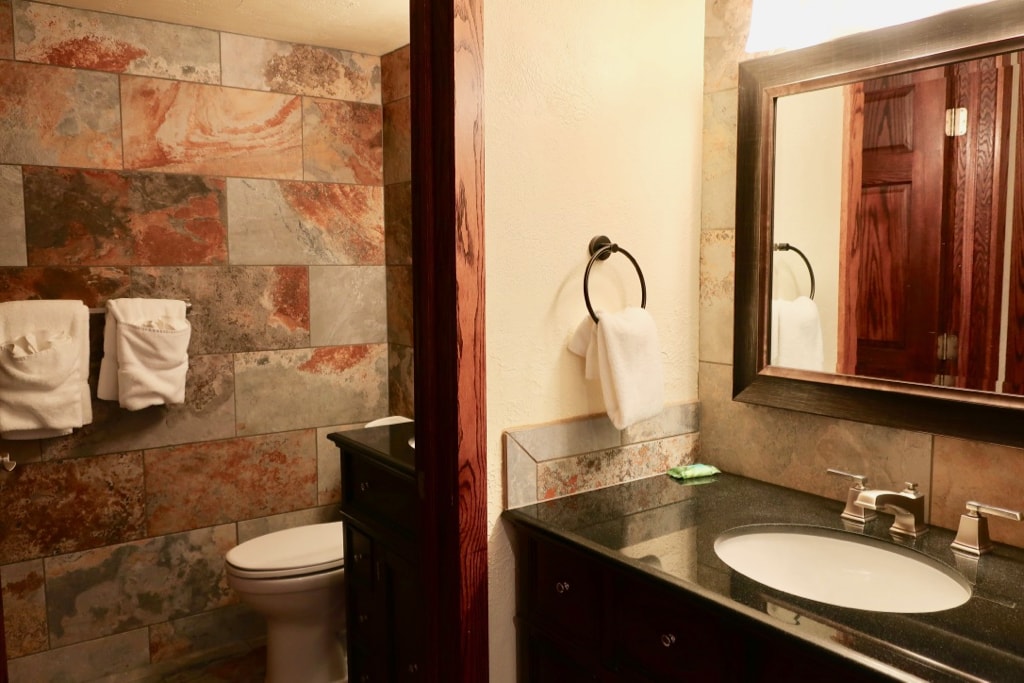 Guest rooms have been redone in maroons and tans. I loved the artsy stone tiles in nature's hues throughout the bathroom, and into a large shower. A bit of the outdoors brought in.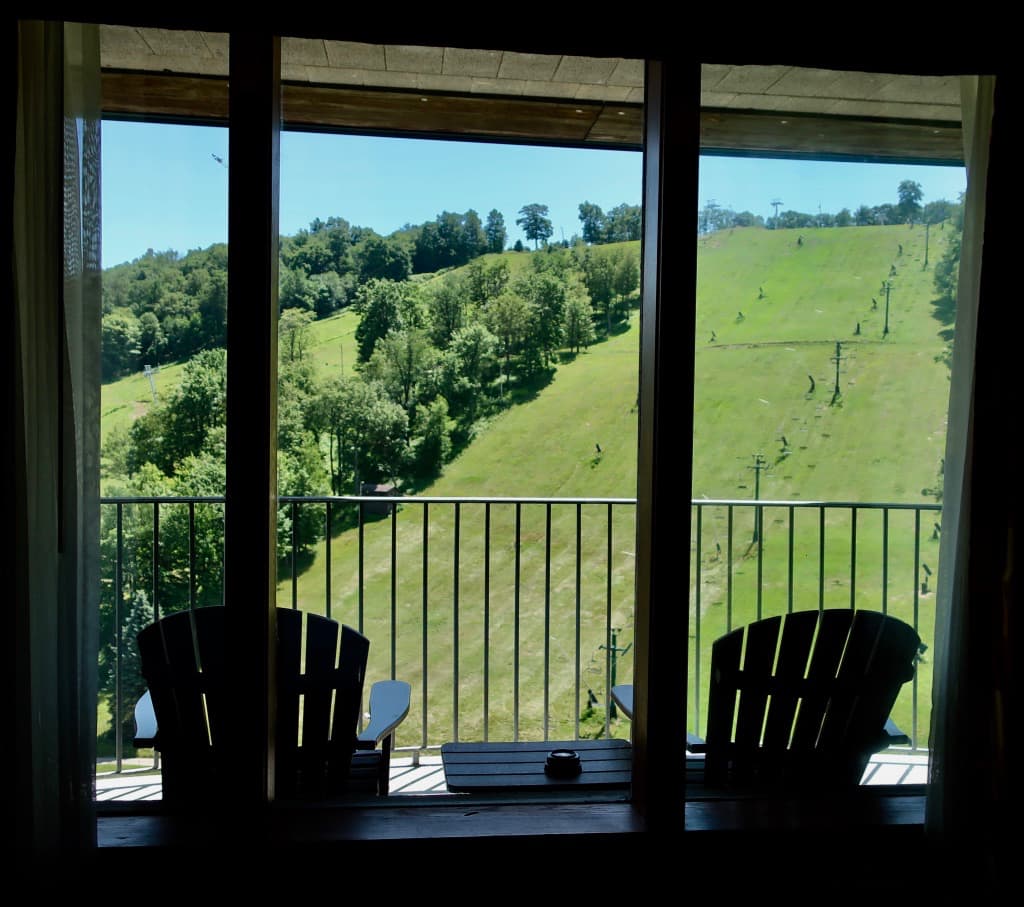 Yes, scenes of the ski hill from your room can be exciting, but just be aware that those slope-view rooms are noisy in the wee hours due to the overnight snow-making machines. You can always use earplugs!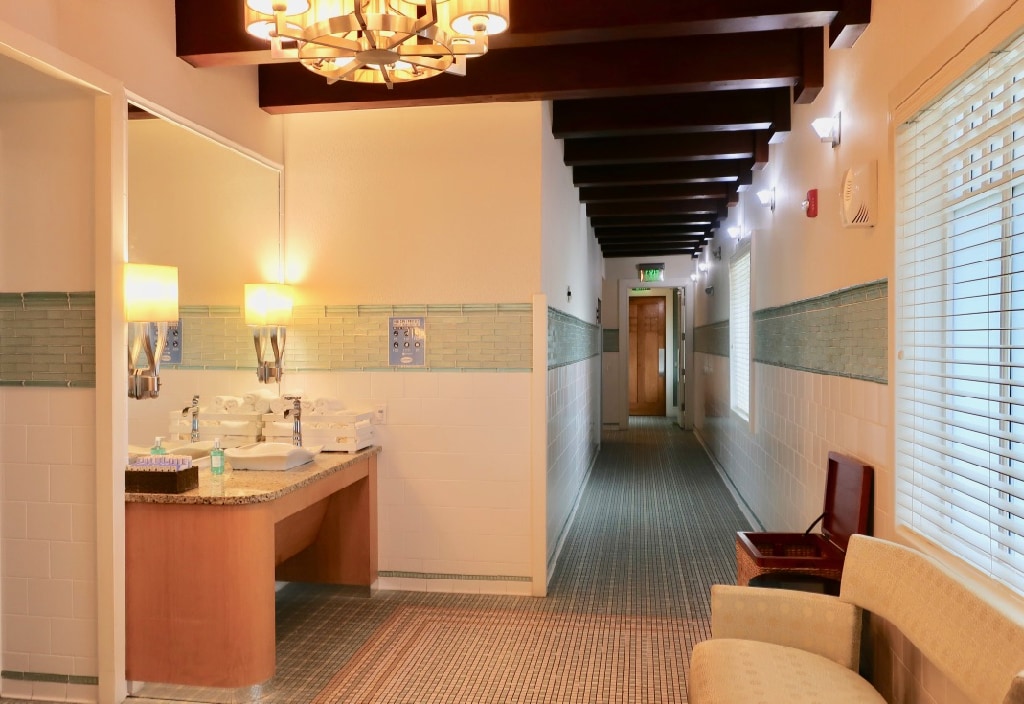 Trillium Spa at Seven Springs Resort
This stand-alone full-service spa radiates romance. Relish a spa treatment with your honey? Trillium features a fireplace room devoted to Couples Massage, complete with its own hydrotherapy tub for two. Of course, there are dry and steam saunas, stylish locker rooms and waiting areas, and 7 other treatment rooms. Book a Mani-Pedi, Facial, Massage, or other treatments pre or après ski or golf.
Dining at Seven Springs Mountain Resort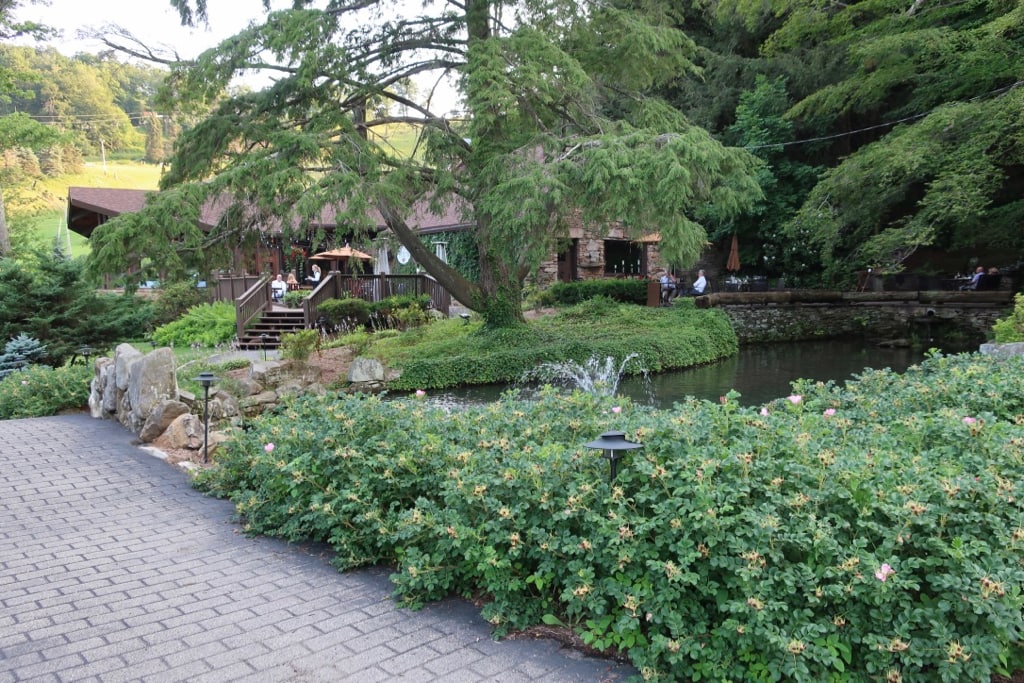 Helen's
Nestled alone in the woods, near the ski lodge complex, this fine-dining restaurant is a hot ticket most days. So, make sure to book in advance.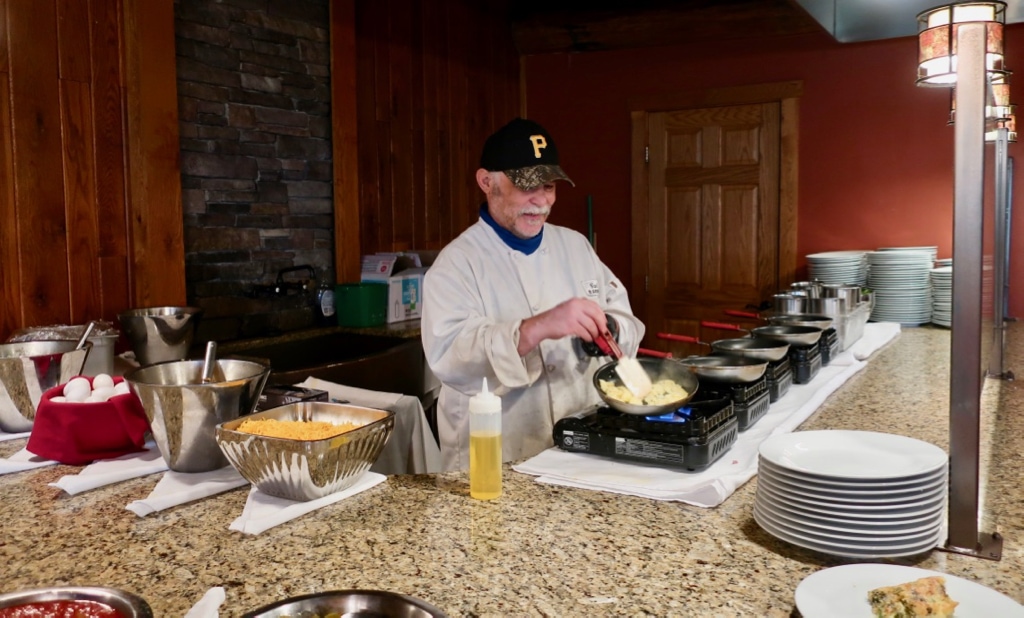 Slopeside Dining Room
Higher end dining with great views of the ski slopes.
It's also where guests find the breakfast buffet each morning (complimentary with most packages). You'll find a range of pastries and breads, and an array of warm dishes. But be sure to chat up Carl, the omelet guy, who's been turning out eggs your way for 16 years.
Bavarian
Beer, spirits and pub food.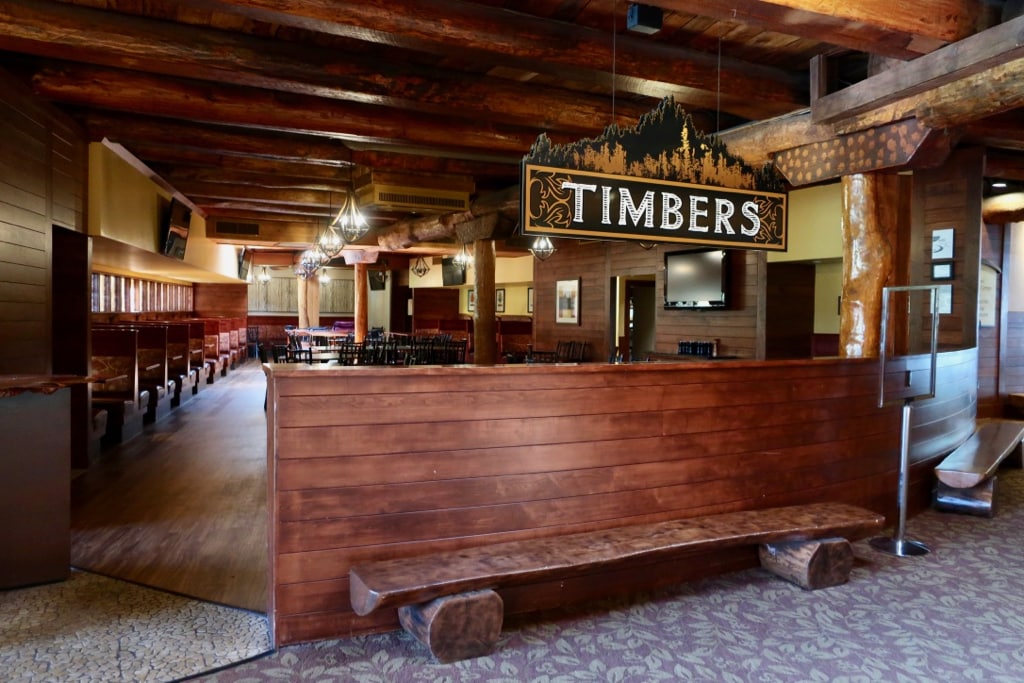 Timbers
Casual sandwich place.
Mountain Cocktails – counter service in the "Retail Corridor."
Emo's Pitt at the Ski Lodge
Great BBQ on the deck.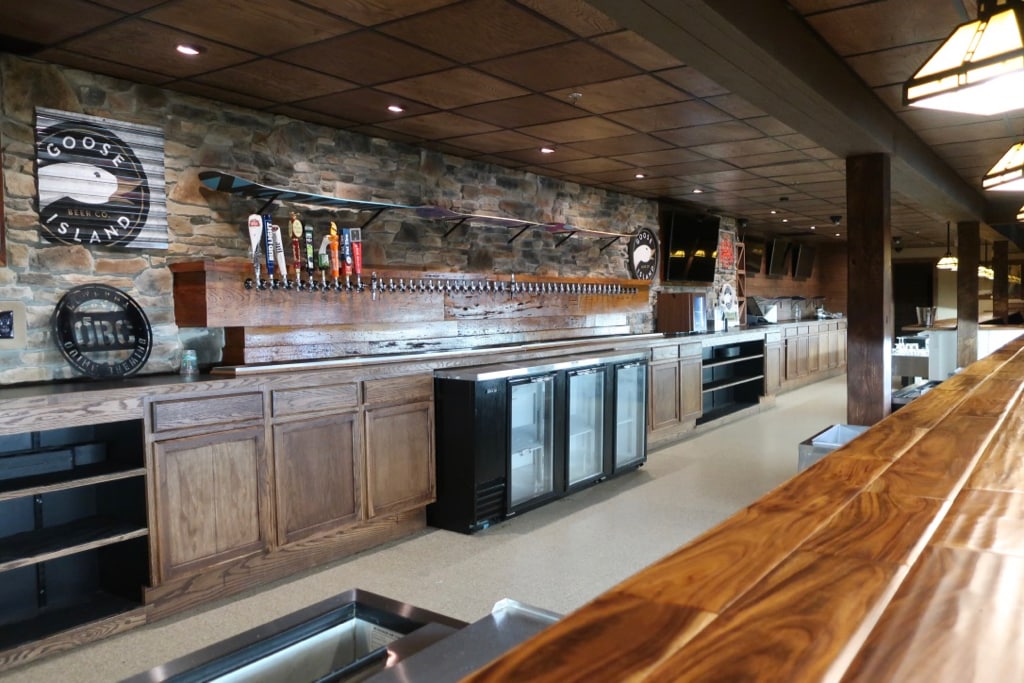 Foggy Goggle
Massive eatery in the ski lodge, with "crafted" farm to table food. Most popular, Bison Burger from area farm, traditional Ramen, and 50 beers on tap.
The Grille at Sporting Clays Center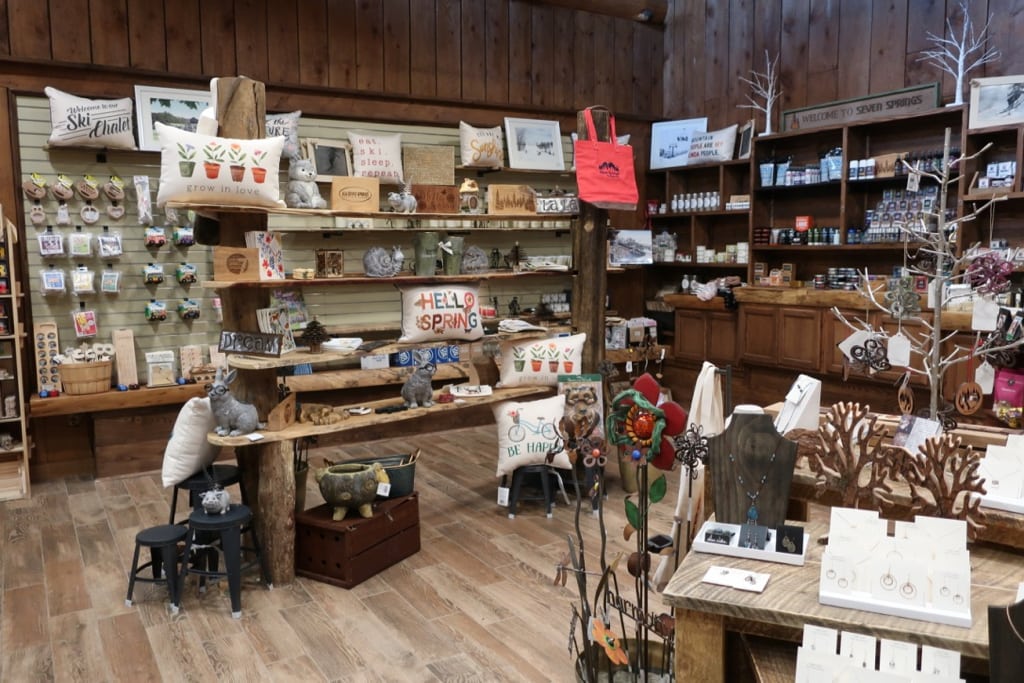 Shopping at 7 Springs Mountain Resort
The "Retail Corridor" offers several specialty shops, among them:
Mountain Mercantile – the resort's signature store for locally crafted products.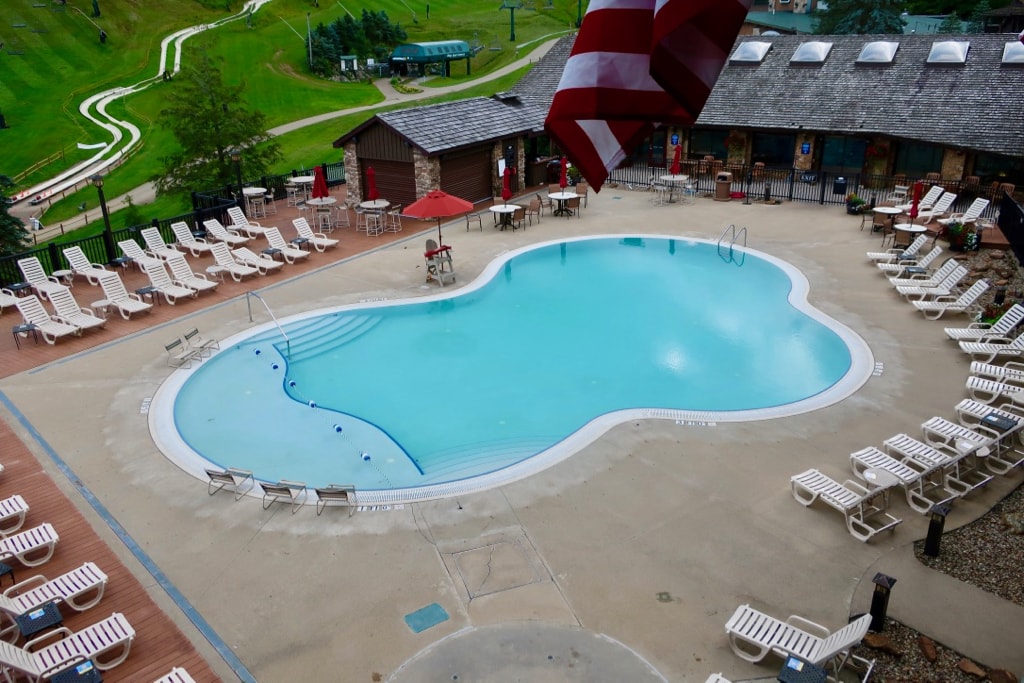 Current Packages At Seven Springs Mountain Resort Laurel Highlands PA
Be aware that prices do not include tax.
Mountain Money Double Dollars from $169 per room includes one night lodging and $40 to spend at the resort. Through Nov. 30, 2021
Golf Midweek Package from $165 per person includes one-night lodging, breakfast, one round of golf with cart at 7 Springs, one round of golf at Hidden Valley Golf Club, bucket of range balls, access to pool. Through Sept. 30, 2021
Fallingwater or Kentuck Knob Package midweek from $404 per couple includes lodging for one night, tickets to Fallingwater or Kentuck Knob, breakfast, and $75 per adult dining credit. Through Nov. 30th 2021
Unbeatable Fall Golf Getaway from $129 per person includes one nights lodging, two rounds of golf at Seven Springs or Hidden Valley, bucket of range balls, dining credit, breakfast. From Sept. 27, 2021 – Oct 31st 2021 only.