WHY GO: Known principally for it's world-class and uber-historic hotel, The Omni Bedford Springs Resort, the town of Bedford PA actually has a few quirky attractions up its sleeve. In addition, the somber Flight 93 Memorial is a 30 minute drive away. Stay in 200-year-old spa luxury, check out some American handicraft, and pay your respects to some heroes on this mid-PA getaway.
Omni Bedford Springs joins this roster of 18 Top Romantic Getaways in Pennsylvania. You might just get some more romantic getaway ideas.
Things to Do in or Near Bedford PA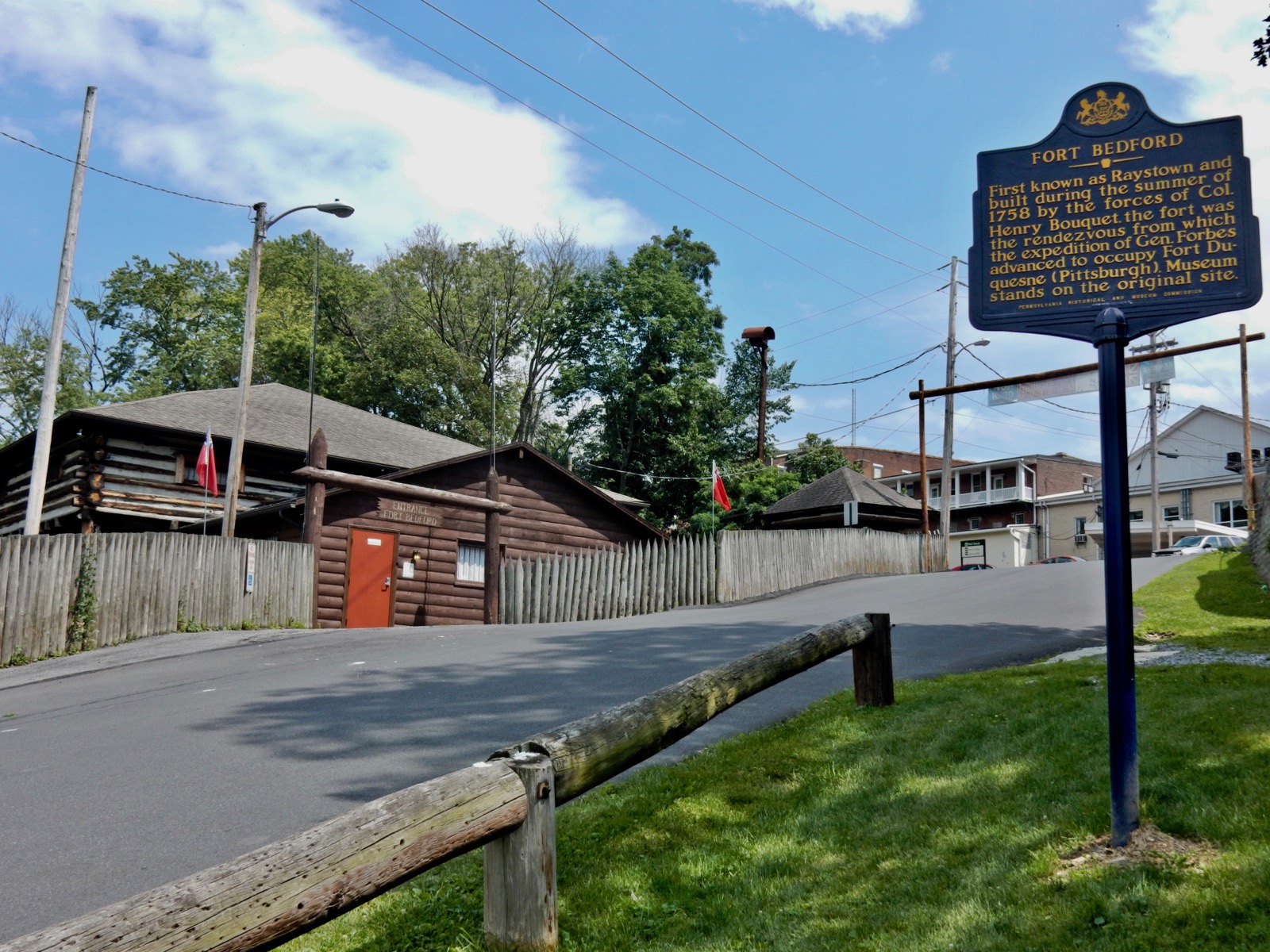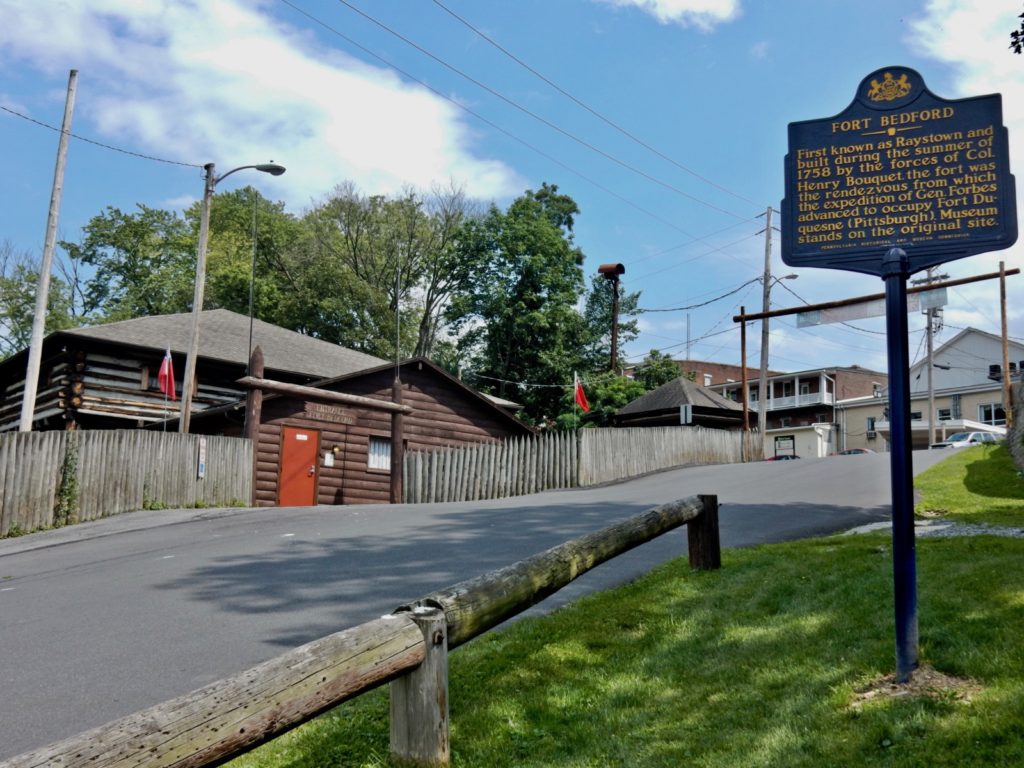 TOUR: Fort Bedford Museum
Bedford PA has significant frontier history. This is best explored at the Fort Bedford Museum – a 1958 recreation of a 1758 French and Indian War Era fort right on site.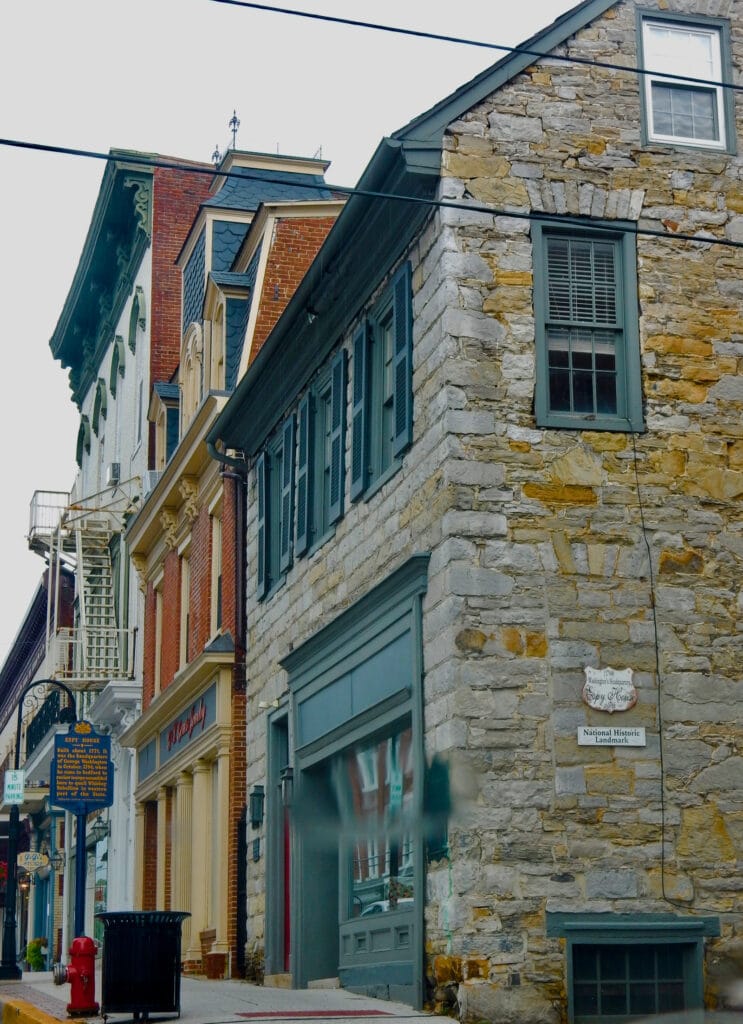 PHOTO OP: Espy House Downtown Bedford PA
Though not open for tours, the Espy House in downtown Bedford PA, is a National Historic Landmark. It served as President George Washington's headquarters during the 1794 Whiskey Rebellion – an insurgency that caused nearly as much agitation as the earlier British tax on tea.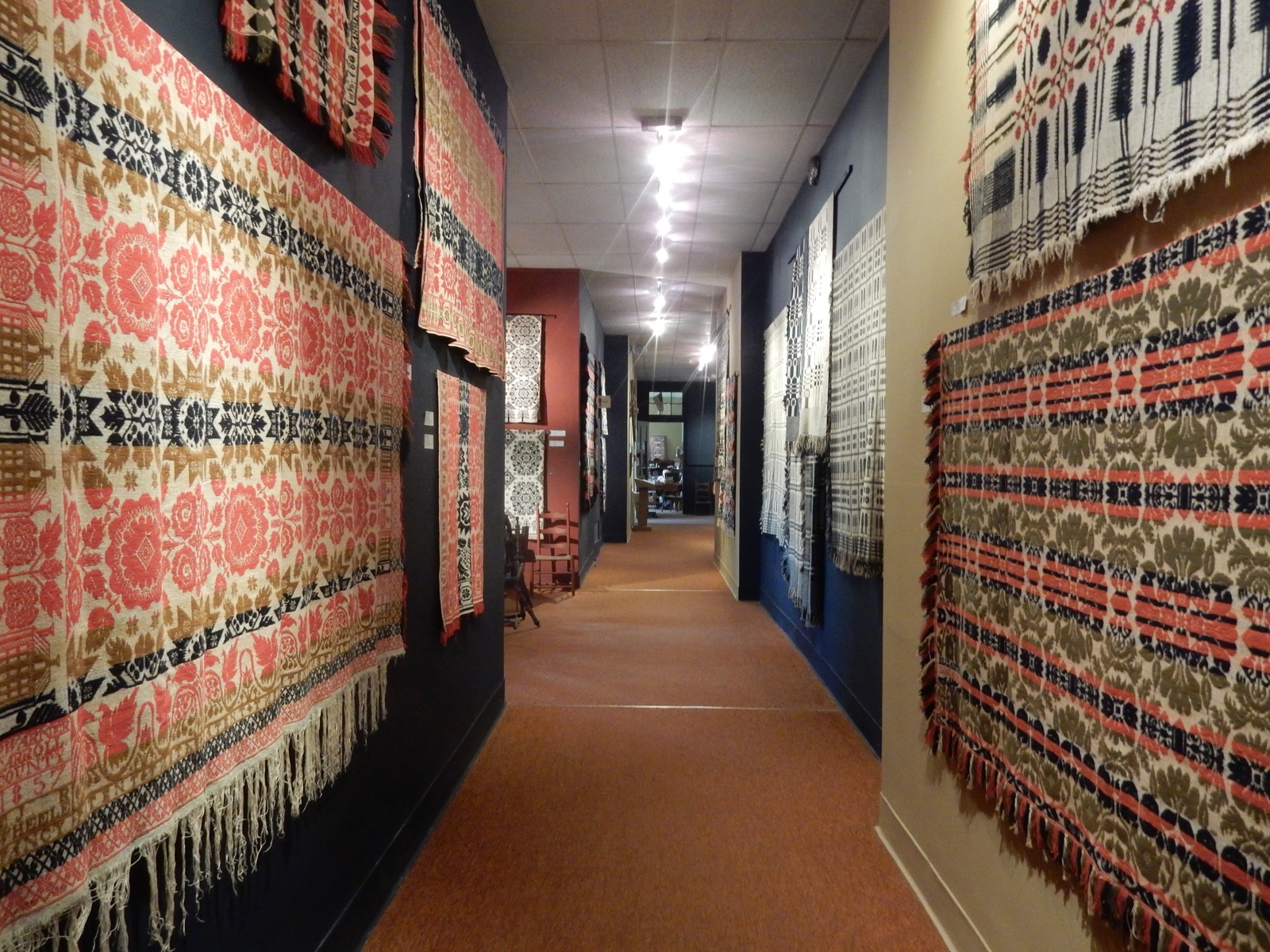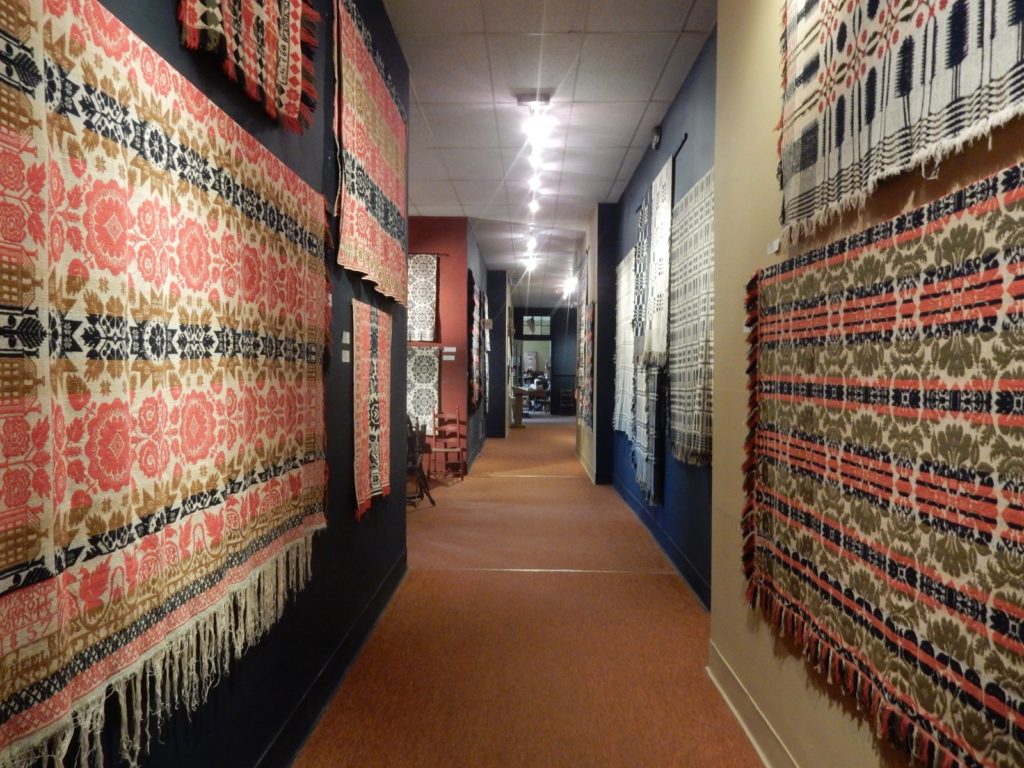 The National Museum of the American Coverlet is situated in the 1859 Bedford Primary School. Weird and wonderful enough to warrant mention on the Atlas Obscura website, antique coverlets earn their stripes, so to speak, as an American art form here. Authentic coverlets are displayed in all their magnificence throughout a labyrinth of old classrooms that now serve as soaring galleries.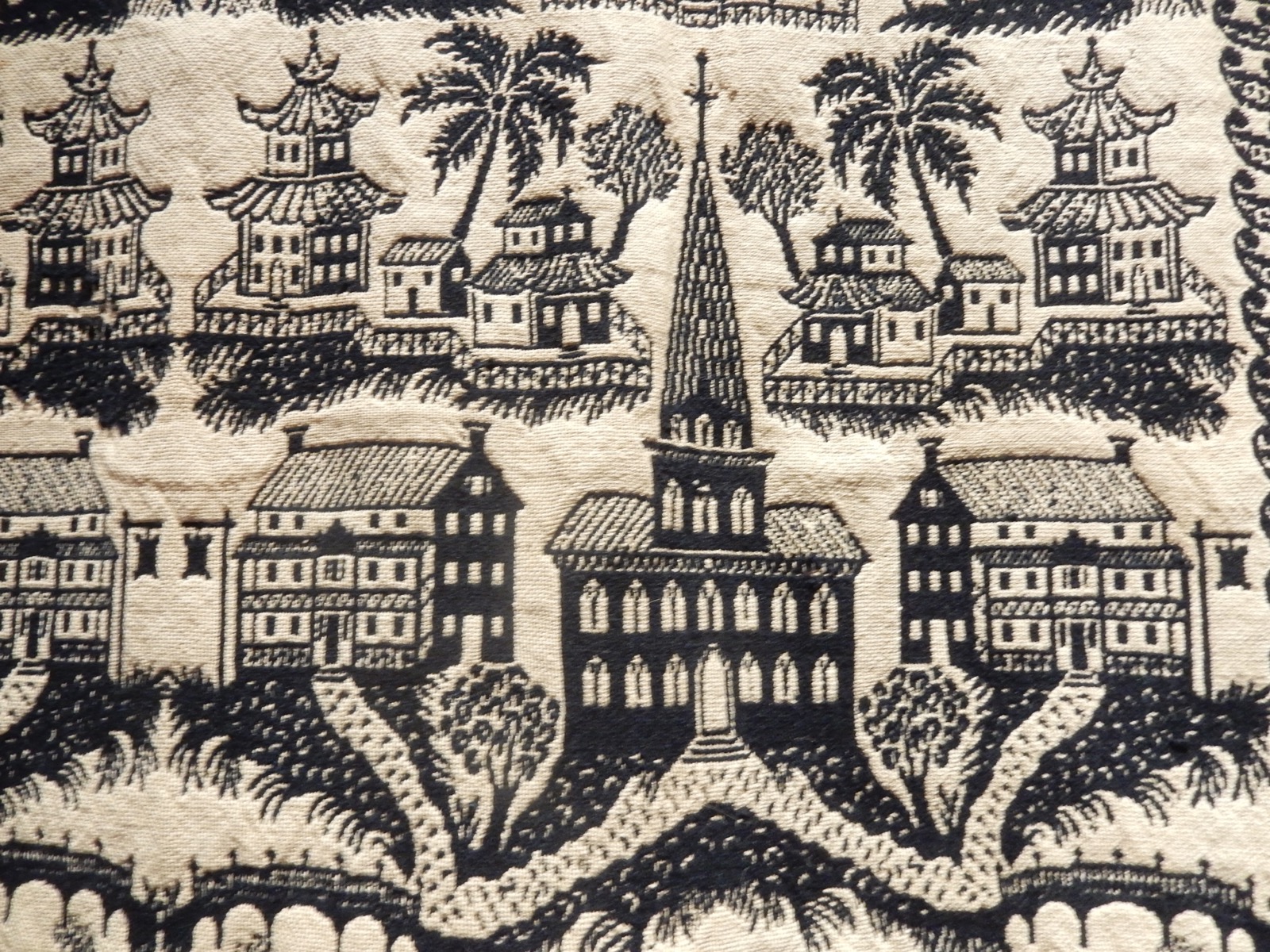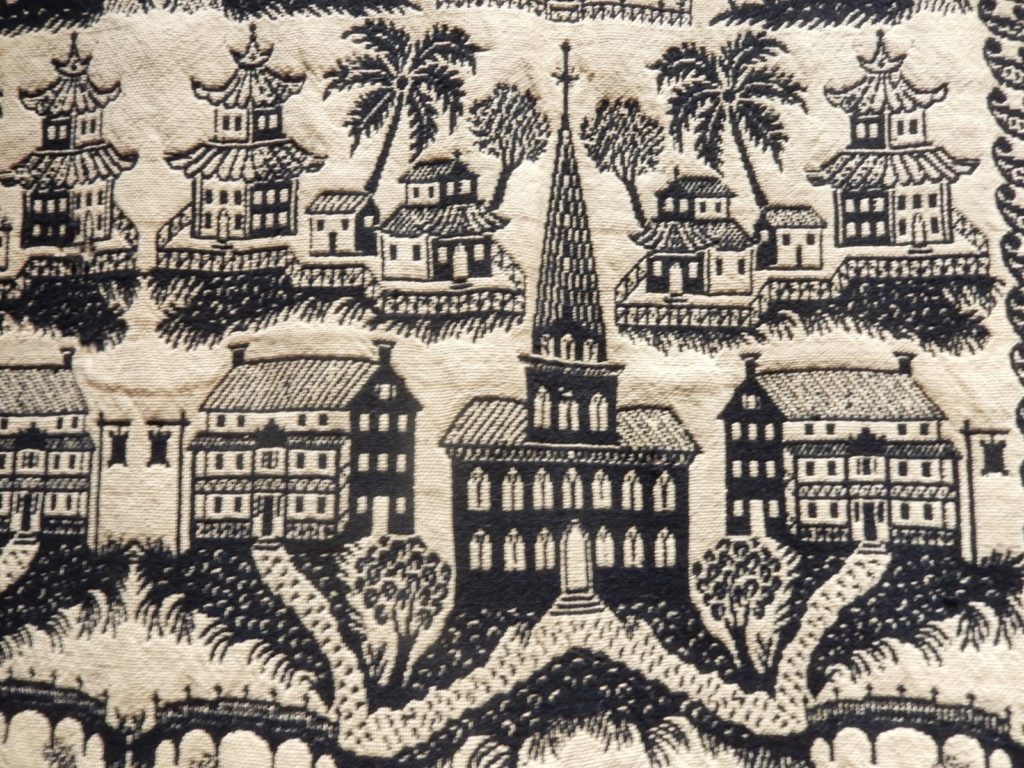 "People know about quilts, but not about coverlets, which are made on a loom," says Melinda Zongor, who, with her husband, Lazlo, founded the museum in 2006. All 500-600 coverlets, dating from 1771 to 1889, have been donated and are in beautiful shape.
Most have the owner's name and date woven into the design. Some of the more dramatic ones feature silhouettes of buildings and nature scenes. All coverlets are juxtaposed with complex looms of the day.
The Museum also offers classes in weaving and spinning – and is gaining aficionados.
Be aware, though. If you come midweek on a summer's day, the place may seem closed. Even if you don't see a car in the parking lot, and it's within stated operating hours, go to the front door. The museum will most likely be open. Open daily, Mon – Sat 10-5, Sun 12-4, $10.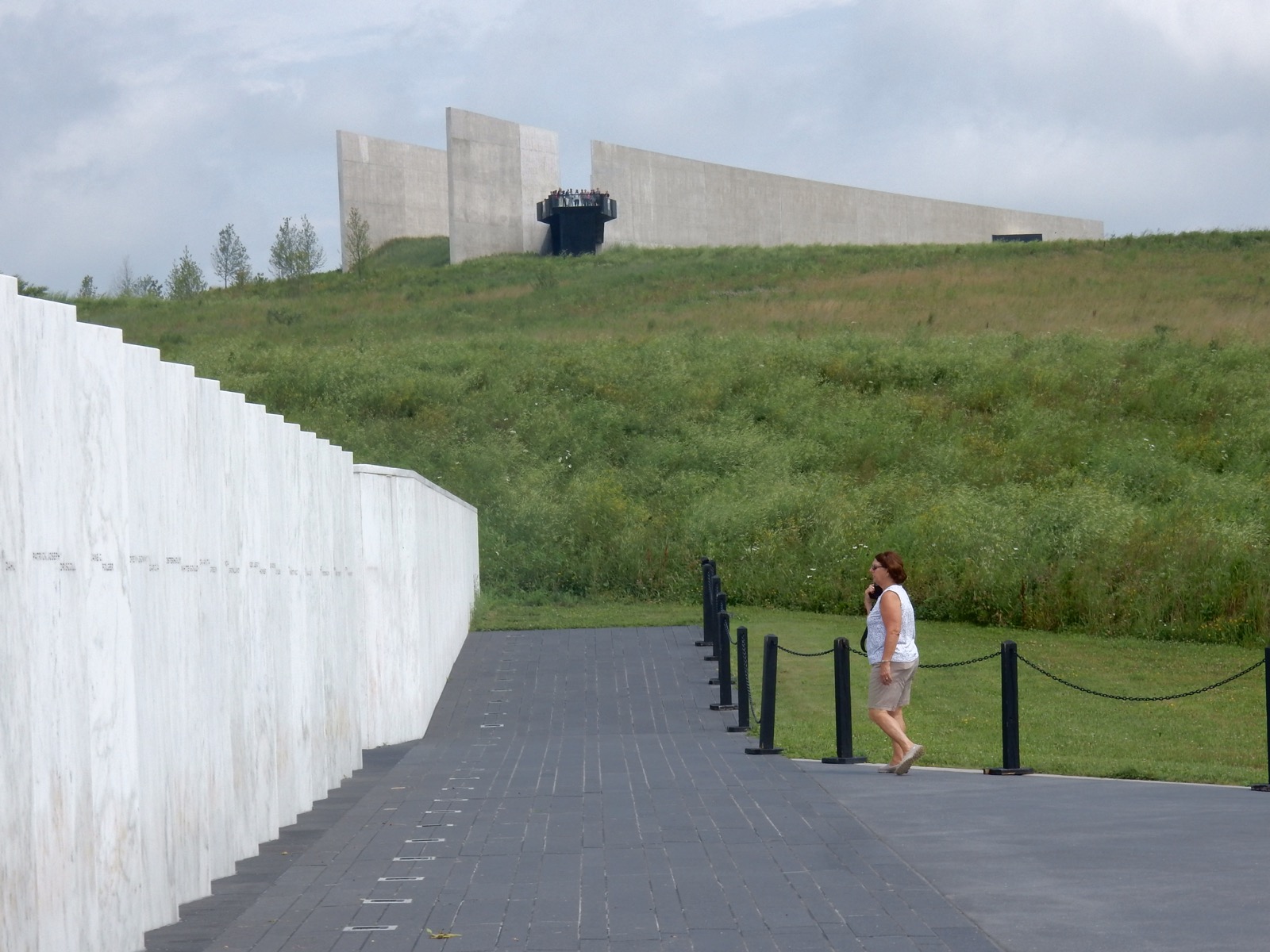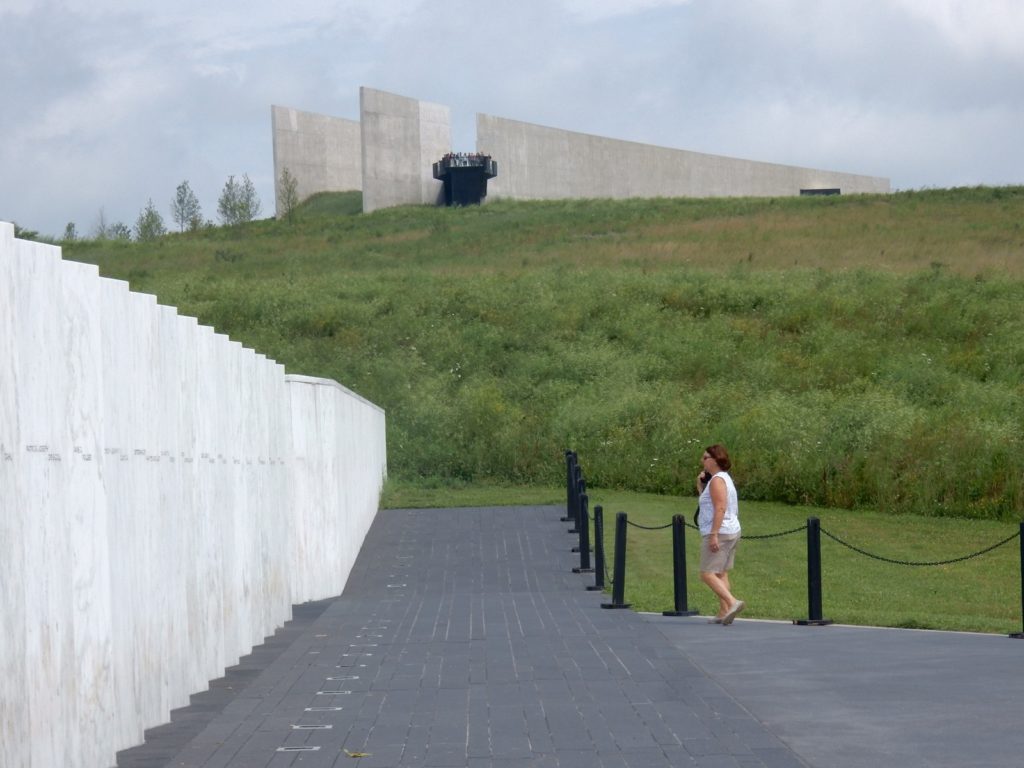 On a much more somber note – if you are heading West to Pittsburgh, or even if you are not, drive 30 minutes to the place where, on September 11, 2001, heroes on board Flight 93 forced down a hijacked plane heading to the US Capitol building.
The Memorial is now a National Park. Plan a couple of hours to tour several structures, including the Visitor's Center and Memorial Plaza, within the crash site bounded by the hilly Allegheny Mountains.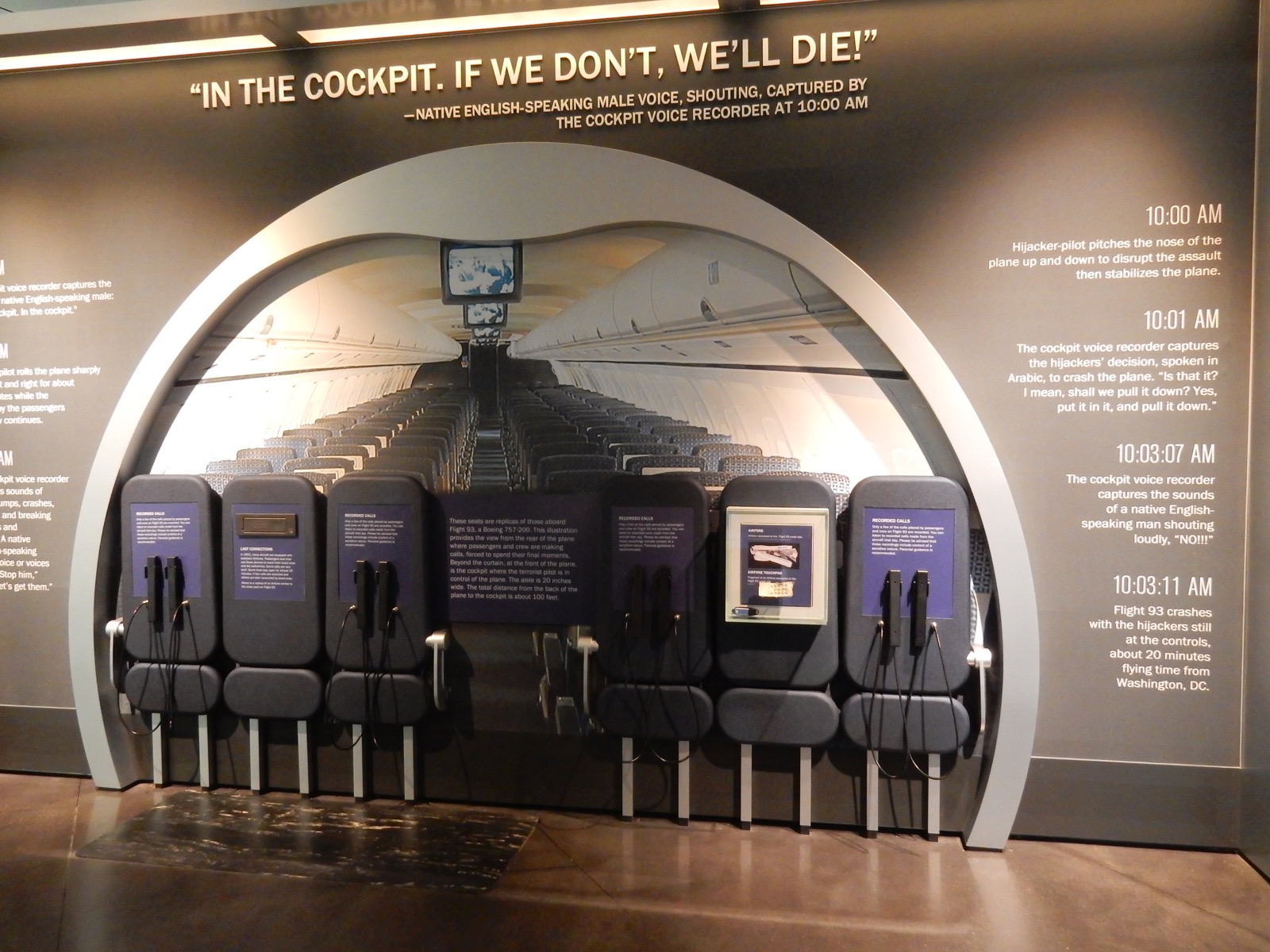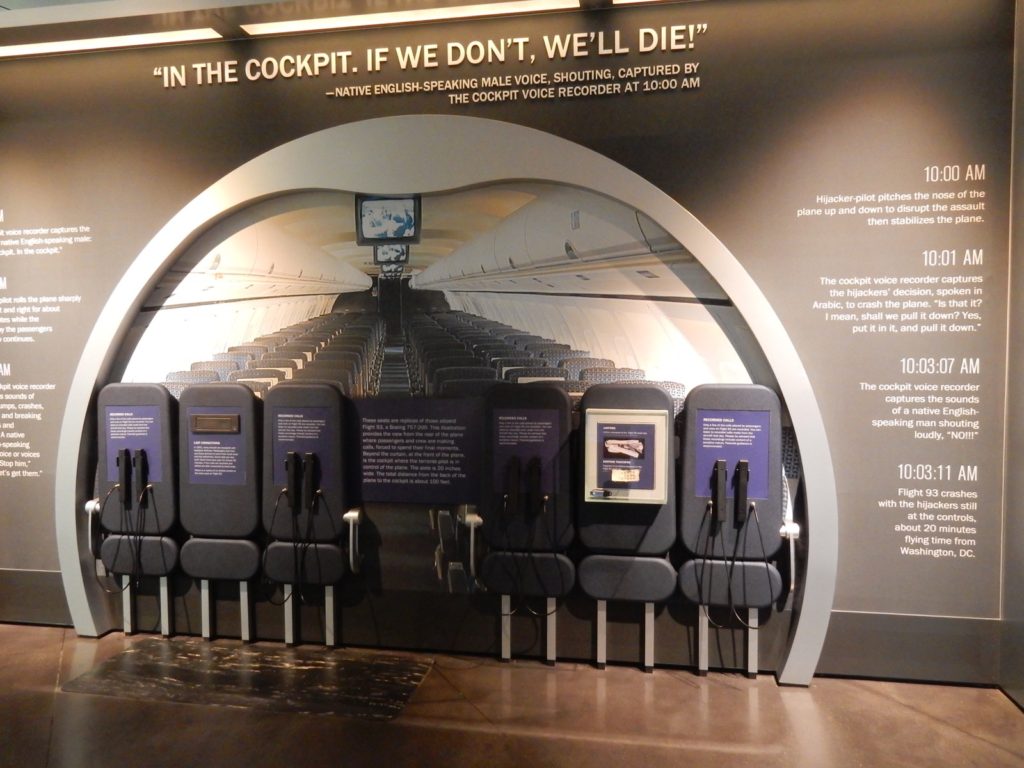 You'll likely encounter groups of sobbing people in the Visitor's Center. Learn the story of the 33 passengers and 7 crew members who deliberately thwarted a terrorist attack, knowingly risking their own lives.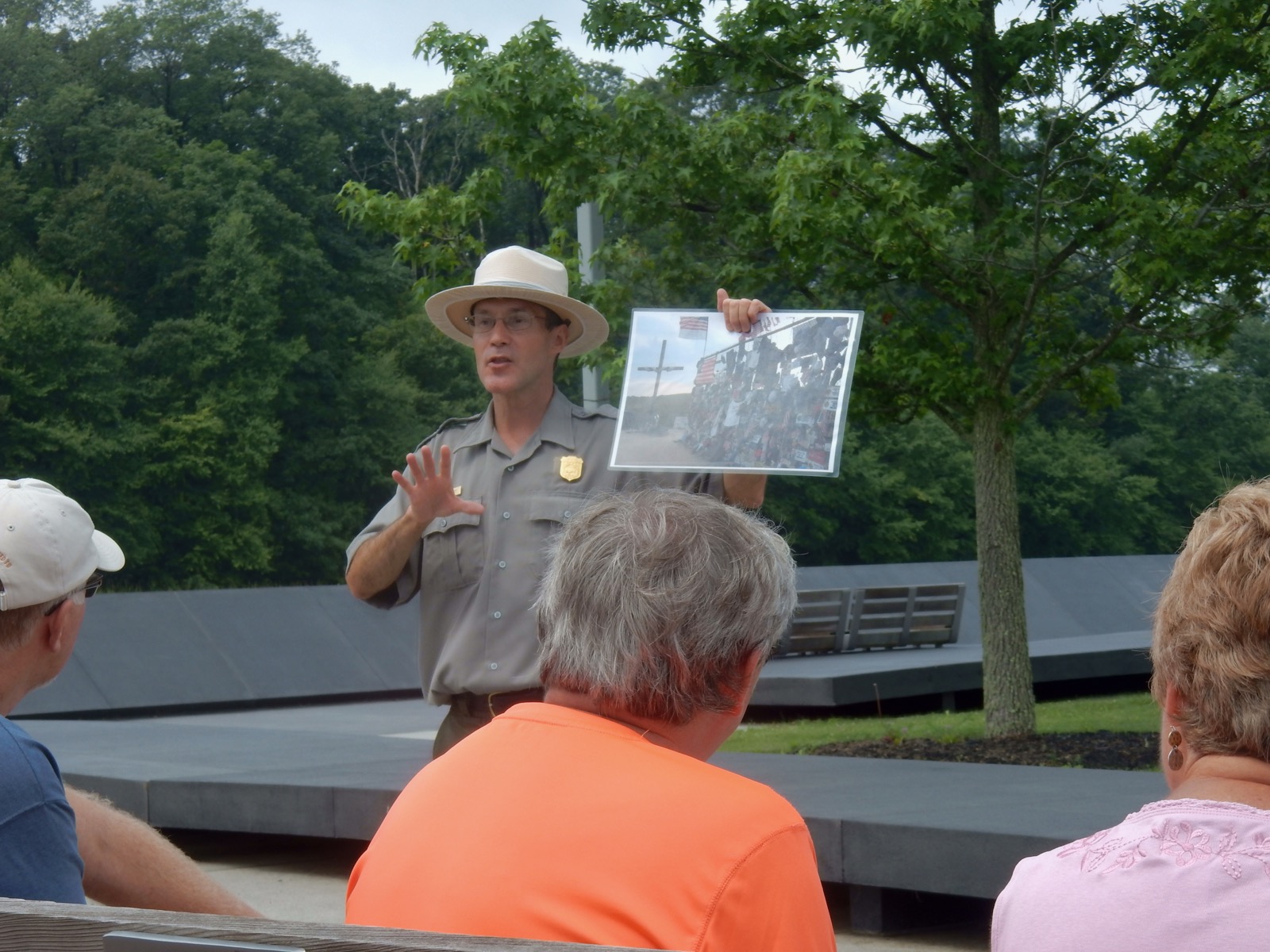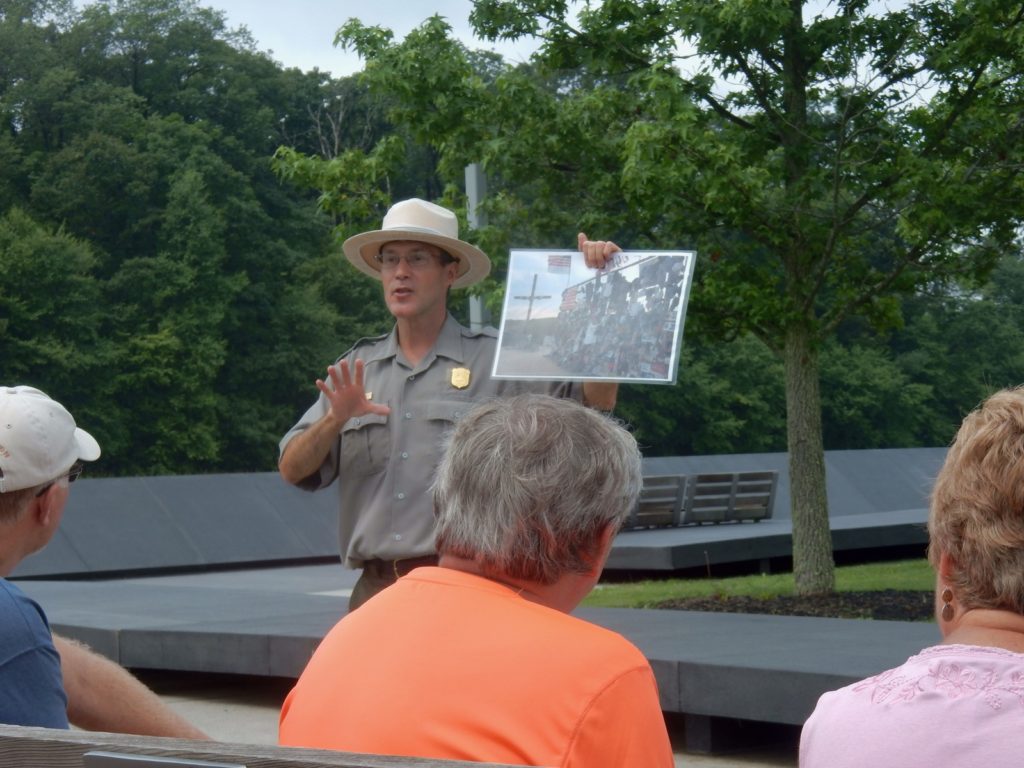 Park Rangers, like Thomas Burnett, Jr., provide the Flight 93 backstory several times a day. The fact that the plane took off 24 minutes late made all the difference. This delay allowed passengers, in contact with loved ones, to know what was happening that morning in NY and DC. Travelers on board made a total of 37 calls. Some left tearful messages on answering machines. Those are now included in the heartbreaking multi-media exhibit.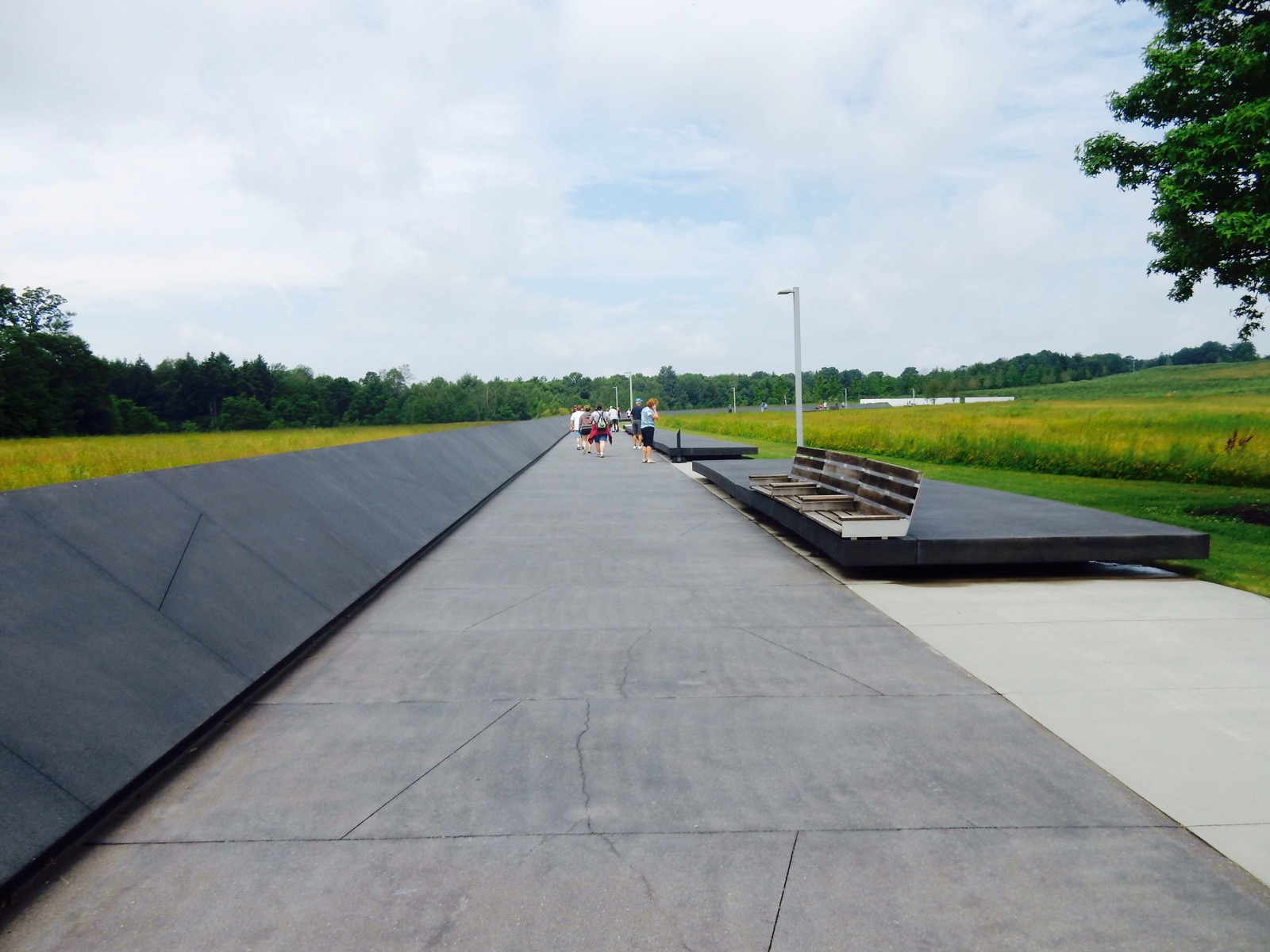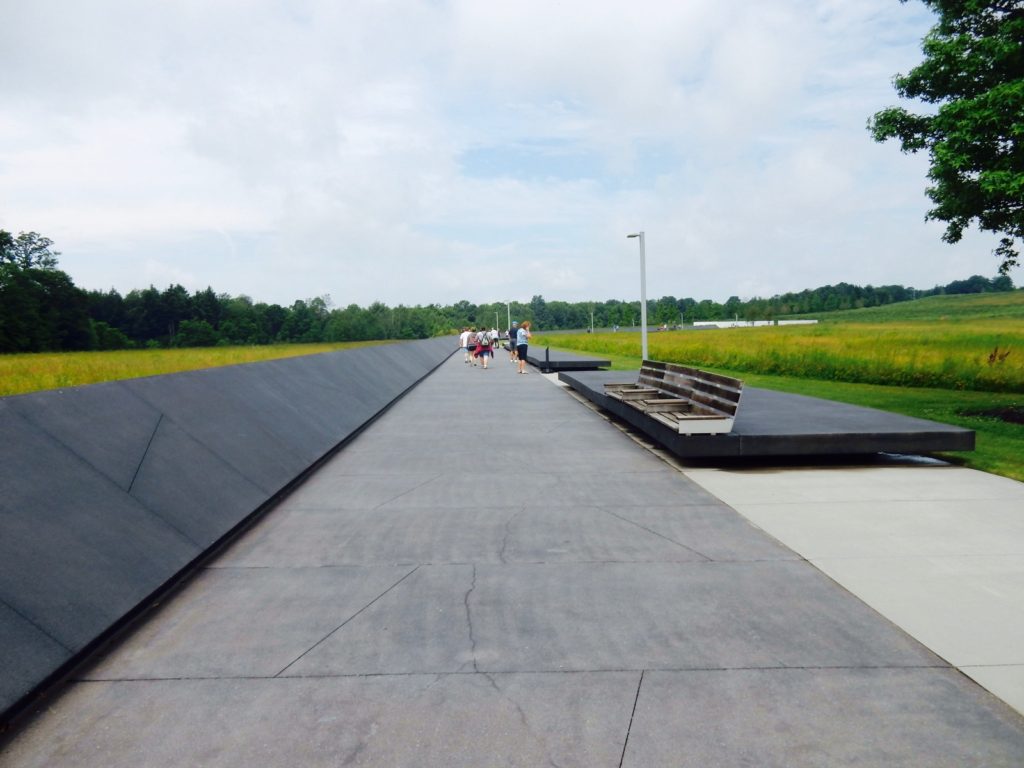 Flight 93 crashed at a 40-degree angle at 563 MPH with a full tank of fuel. It left a 40 acres debris field and an impact crater 30 feet wide and 15 feet deep. It missed Shanksville's Elementary School, with kids just back from summer break, by three seconds.
The footprint of Memorial Plaza runs along the debris field, and extends to a Wall of Names at the impact site. Come to pay tribute to those who lost their lives to save others. Open daily 9-5 (except for New Years, Thanksgiving and Christmas), free.
Where to Stay in Bedford PA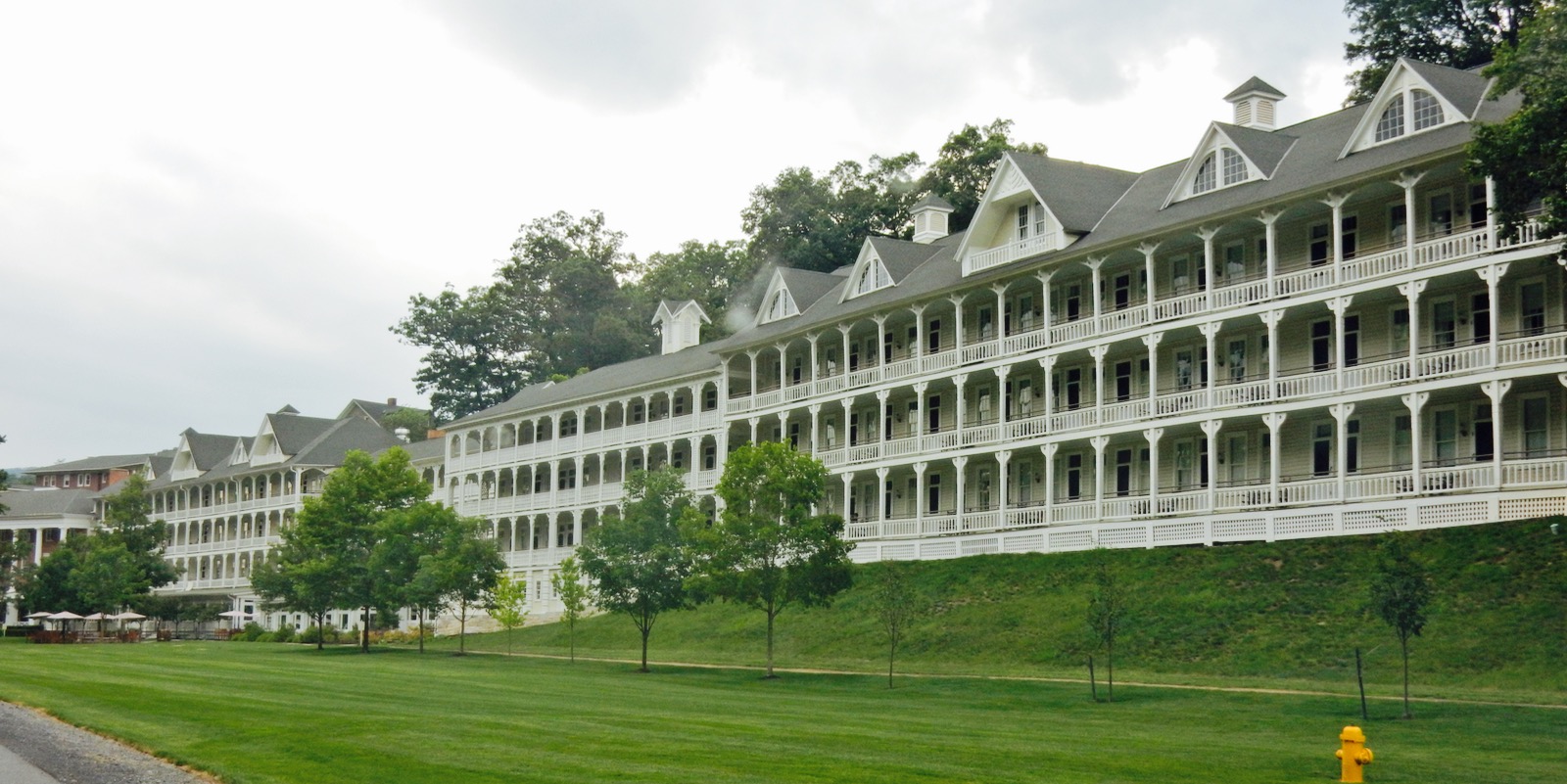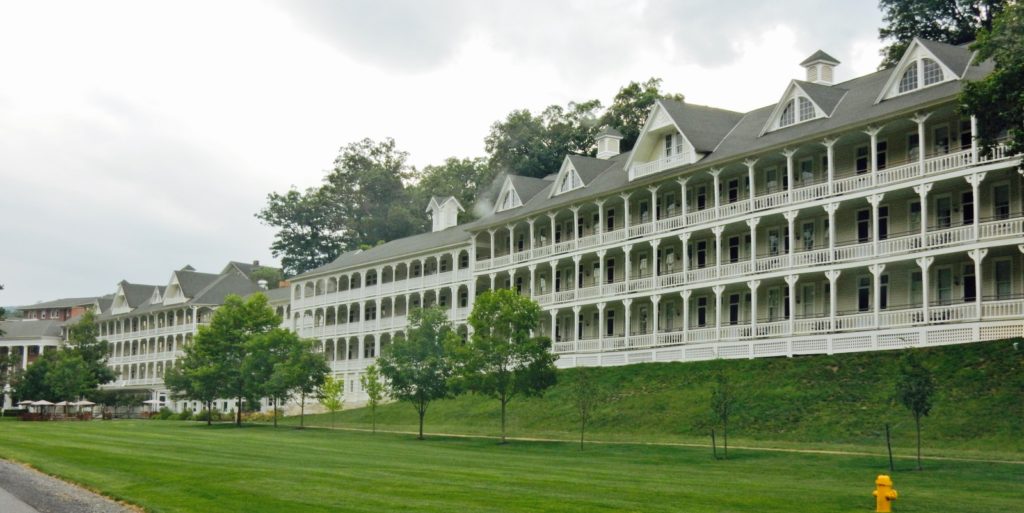 In the late 1700's, Dr. John Anderson learned that Native Americans used the water emanating from the springs at what is now the Omni Bedford Springs Resort, in Bedford PA, for healing. Believing the springs to have curative properties, Anderson purchased over 2,000 acres and began to bring patients to this western area of Pennsylvania.
Word spread. And when wealthy people started making the pilgrimage here, in 1806 Anderson built the Stone House as a sanatorium where weary patients could drink and swim in the restorative water.
Thomas Jefferson stayed a few weeks in 1819. James Buchanan considered this his "summer home." And other US Presidents have visited since then. As a favored mid 1800's vacation spot for Southerners, Bedford Springs was one of the only northern resorts not destroyed by Confederate troops during the Civil War.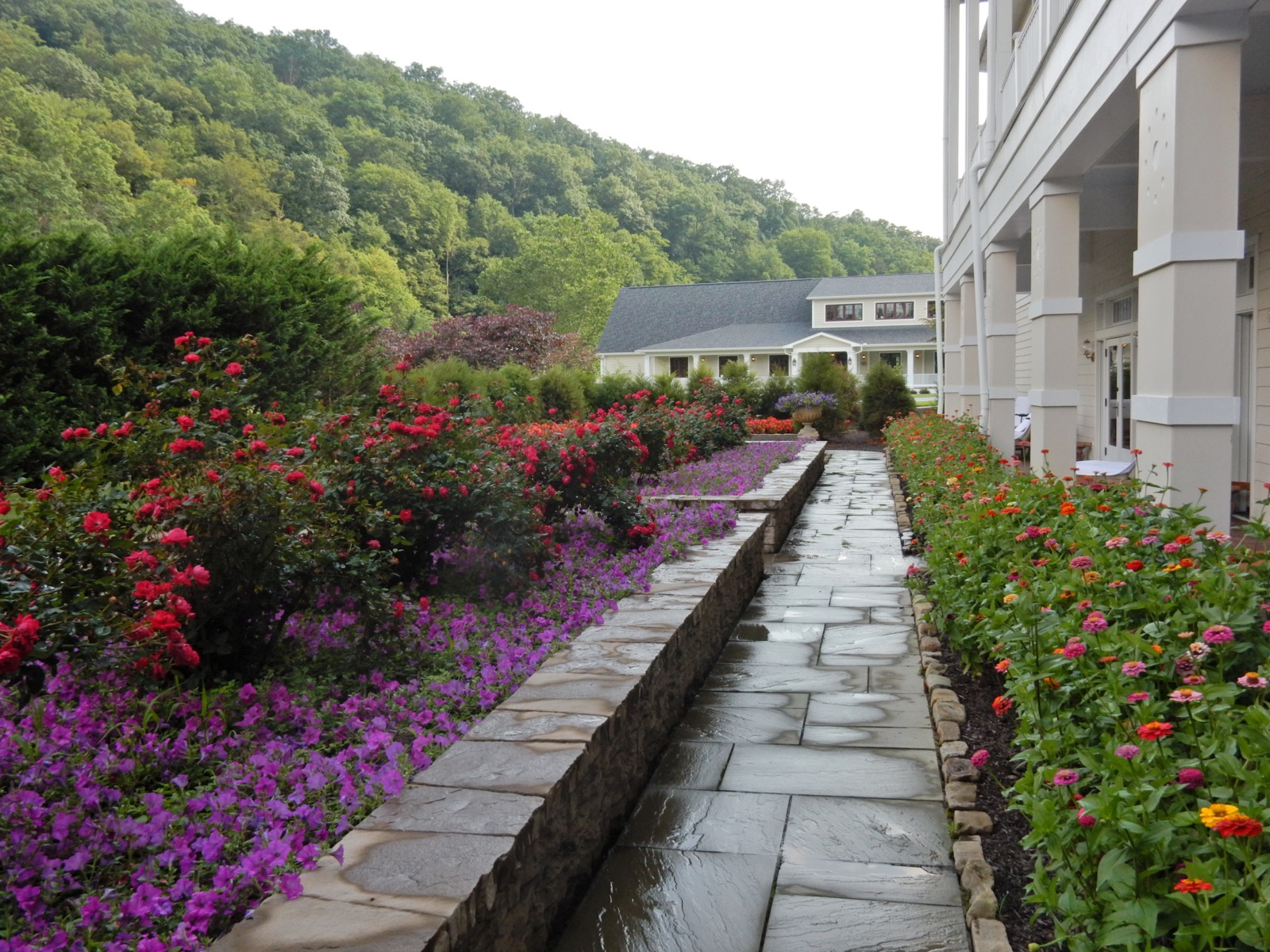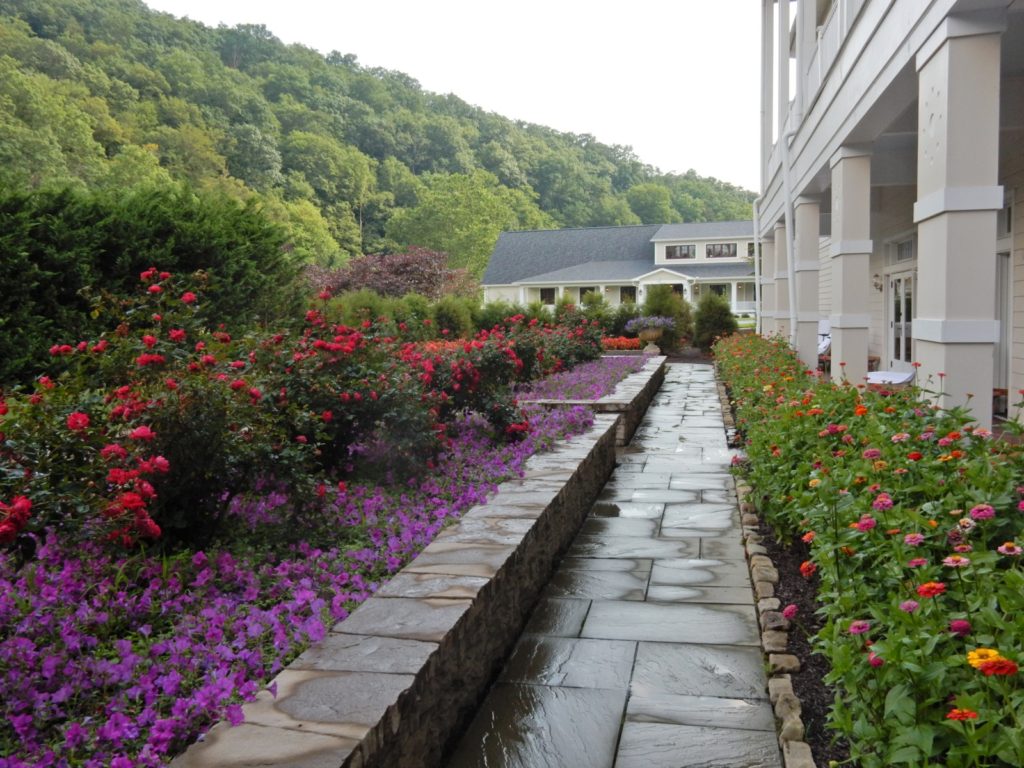 Over the years, the property morphed into a summer resort for the rich and famous. More and more buildings were added, lending a unique asymmetrical multi-architectural style to the meandering building.
Bedford Springs resort featured one of the first golf courses and one of the first indoor pools in the United States. The property remained a popular hotel until the 1980's when resort travel the world over declined. In 1984, the Bedford Springs Resort was named a National Historic Landmark. And then, in 1986, it abruptly closed.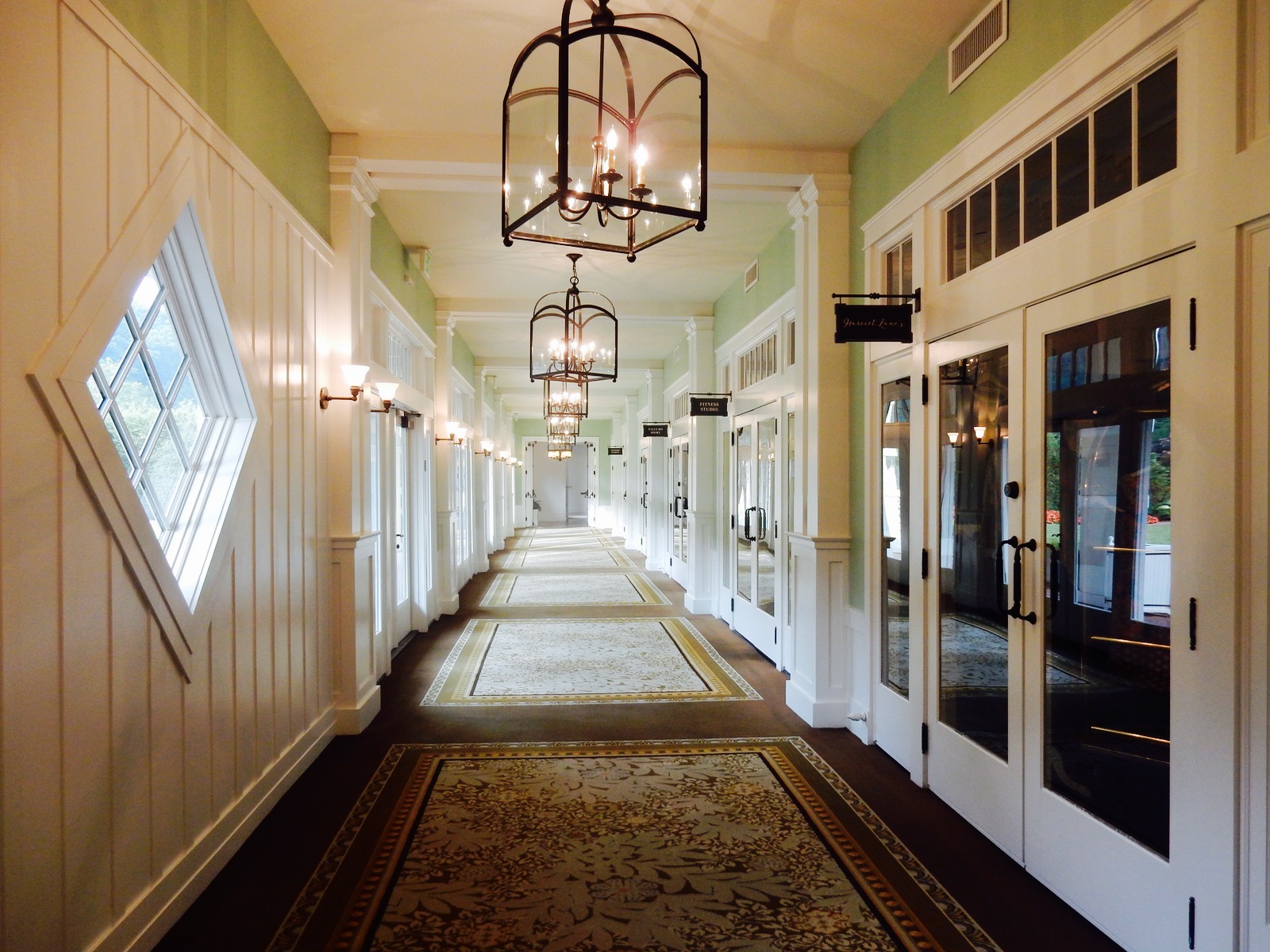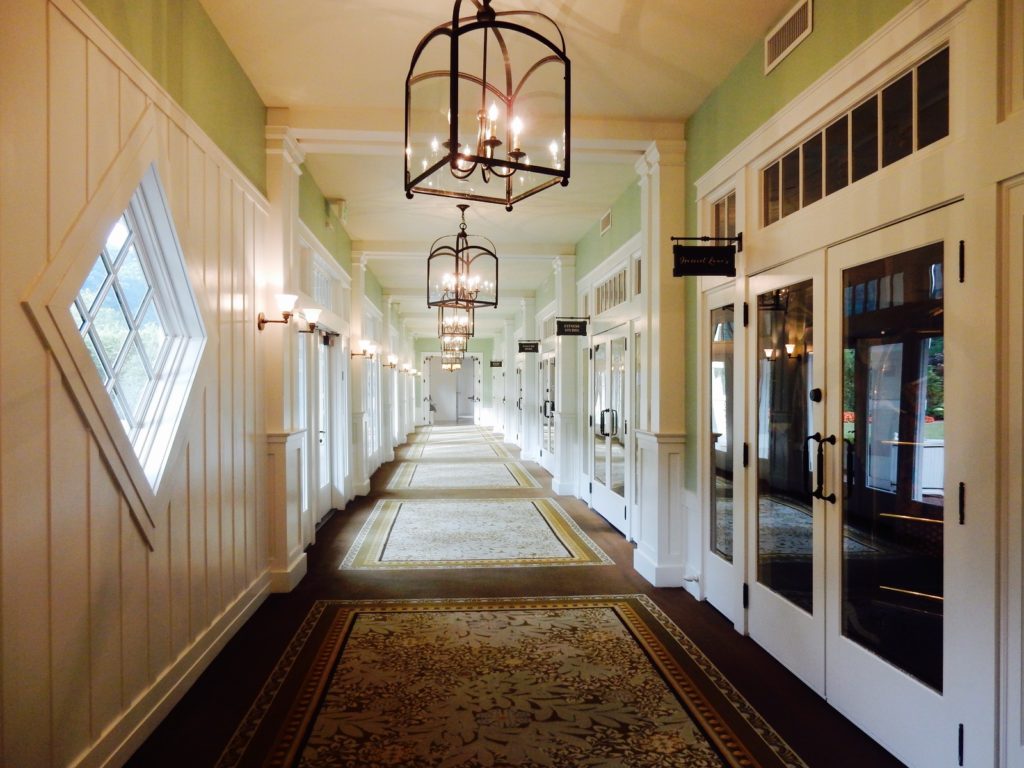 Enter new owners in the 1990's who sunk $120 million into renovations, reopening the hotel as the luxury 216-room Omni Bedford Springs Resort in 2007. Renovations were cleverly and appealingly done – using fixtures and colors matching the hues and period amenities of each distinct building.
First Impressions of Omni Bedford Springs Resort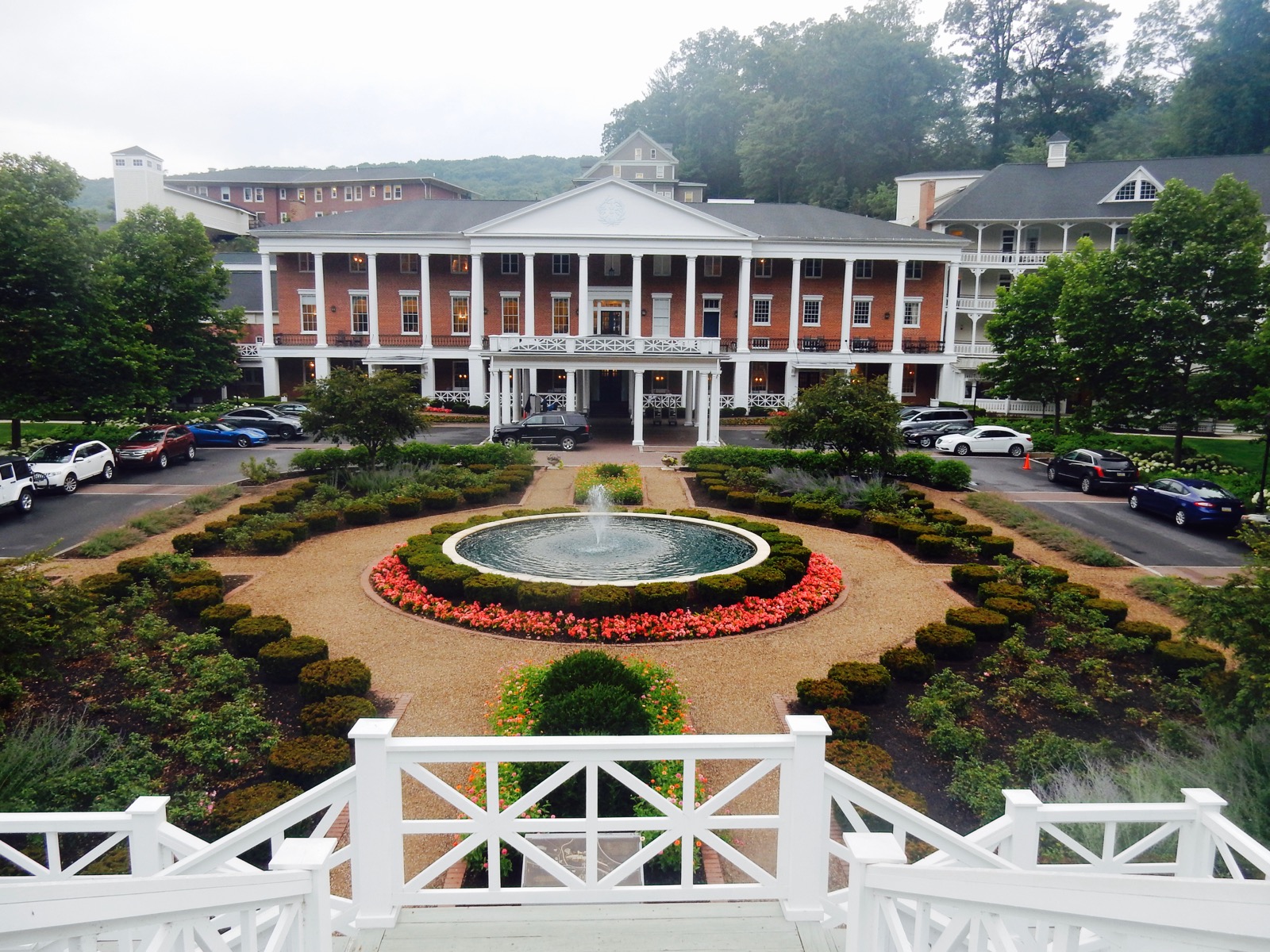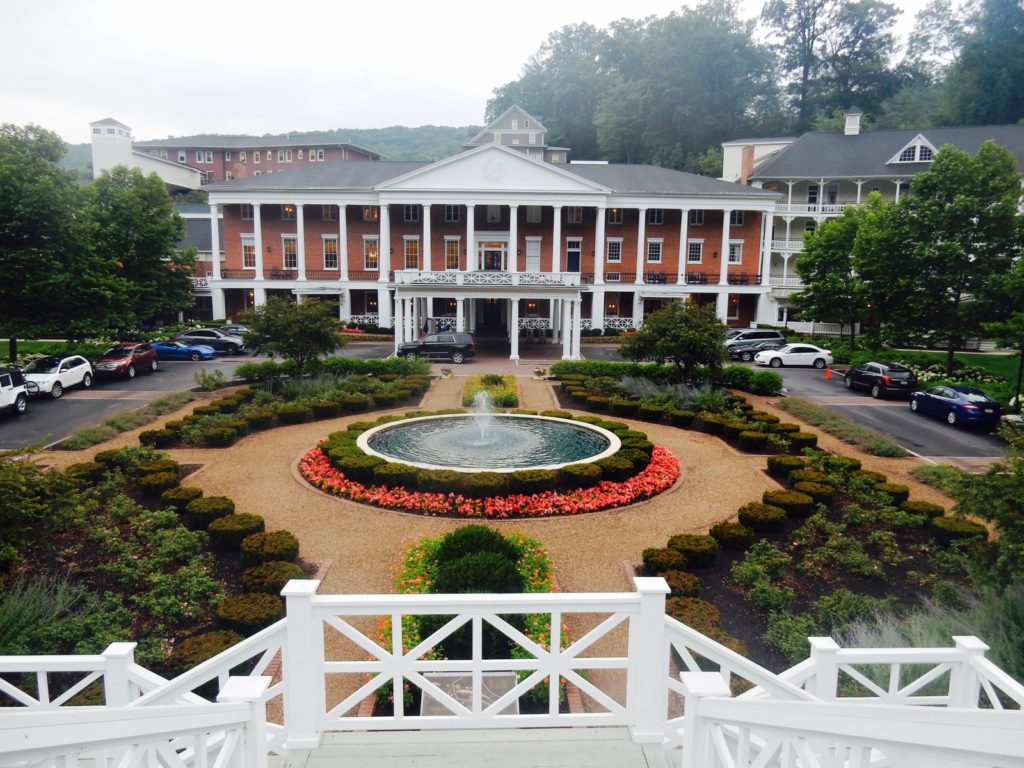 Even on a dreary, grey, and drizzly day, eye-catching landscaping and gardens brighten up this imposing place.
The Colonial-style lobby is large and appealing. It features lots of windows and natural light, period décor, and a double split staircase leading to ballrooms on higher floors. There's a rare 1889, 39-star US Flag behind the reception desk. It's just one of just several in existence worldwide.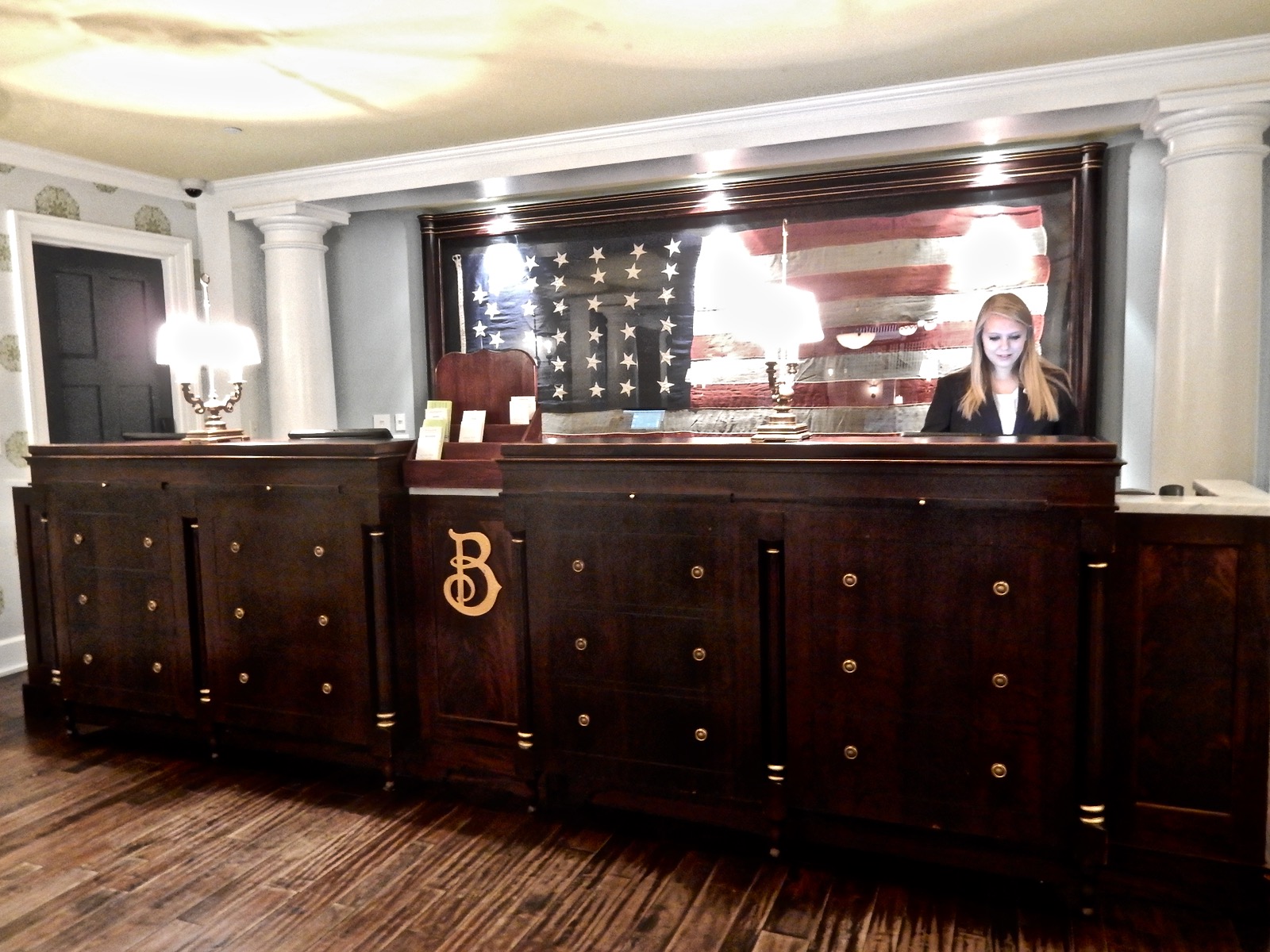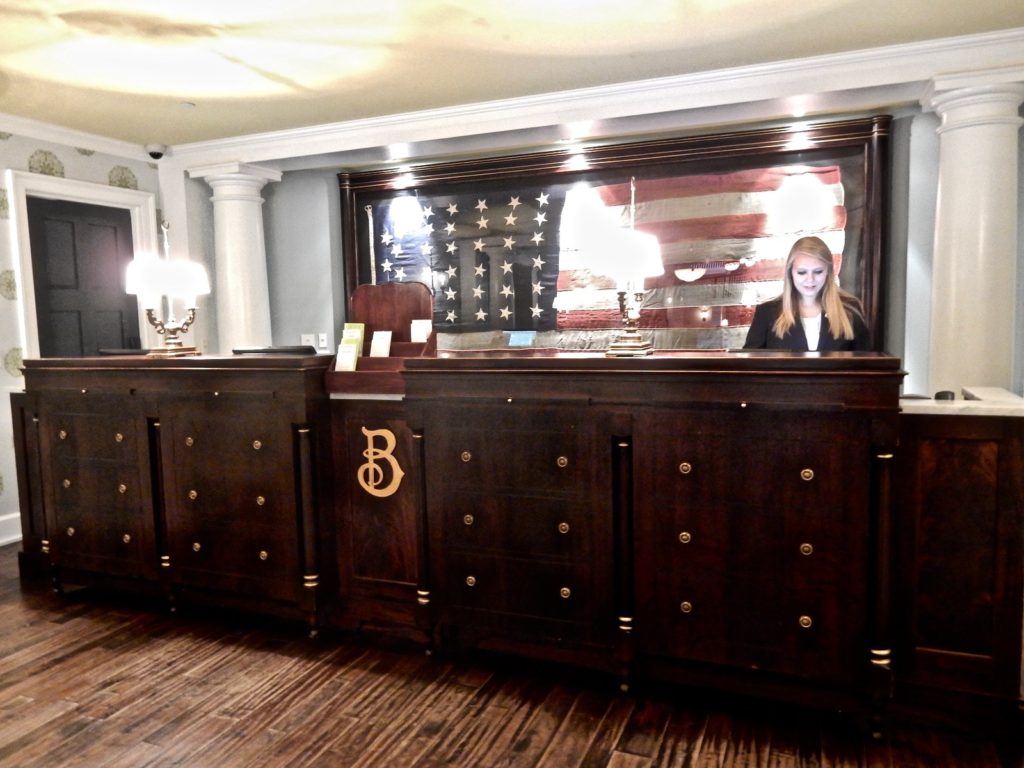 Each room and corridor throughout several buildings serve as museum galleries showcasing photos, art, and artifacts from the resort's early years to present. There's so much to take in, I recommend taking the $10 hour-long tour of the property offered daily at 10am, and additionally on Friday and Saturday at 1pm.
Rooms at Omni Bedford Springs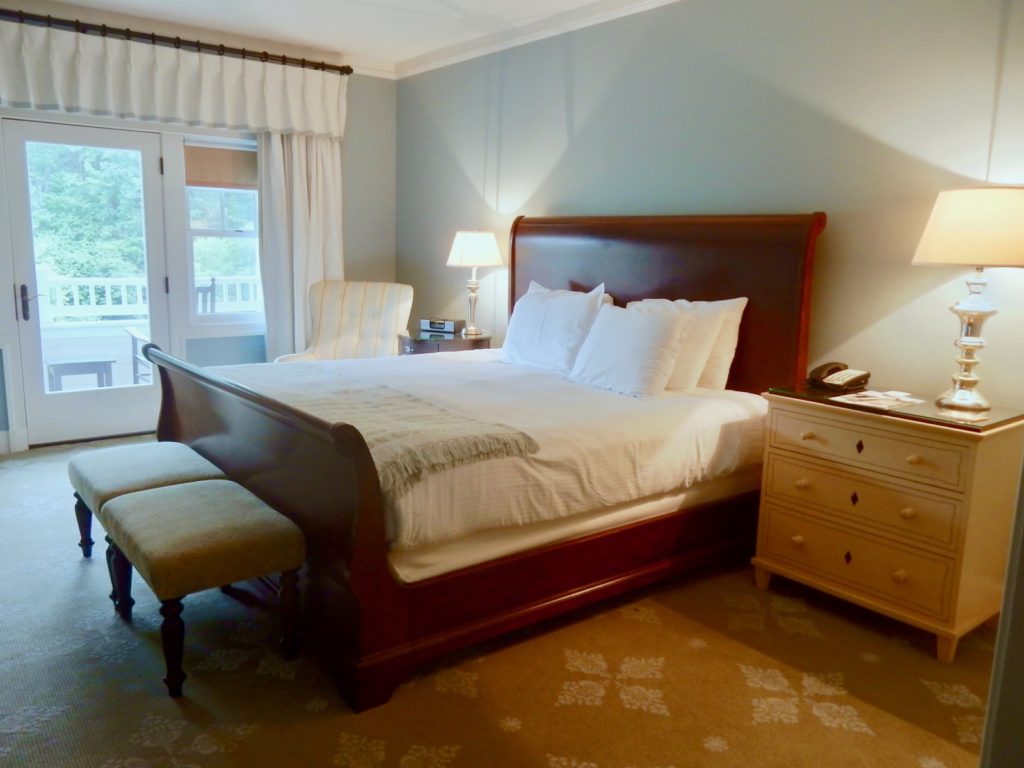 Guestrooms are designed to best represent the time period in which each corresponding building was constructed. The new Spa Rooms exemplify an atmosphere of serenity, in a pastel palette of whisper blues and greens.
The wood sleigh bed is topped with cloud-like bedding and the softest of sheets. A balcony with several chairs overlooks hills and hiking trails. Bright French Doors enter onto a Carrera marble and subway tile bathroom. Understated opulence.
Dining At Omni Bedford Springs

There are four full time restaurants on site. The upscale steak house, 1796 references the year Anderson purchased the property. Casual Frontier Tavern is best for pub food and family dining. Tillie's at the Golf Clubhouse is perfect for a quick bite before or after a game.
The Crystal Dining Room is a fantasia in white, with black and white portrait photographs blanketing the walls, and glittery crystal chandeliers overhead. Partaking of a meal here is like dining inside a 1920's movie.
Golf at Omni Bedford Springs, Bedford PA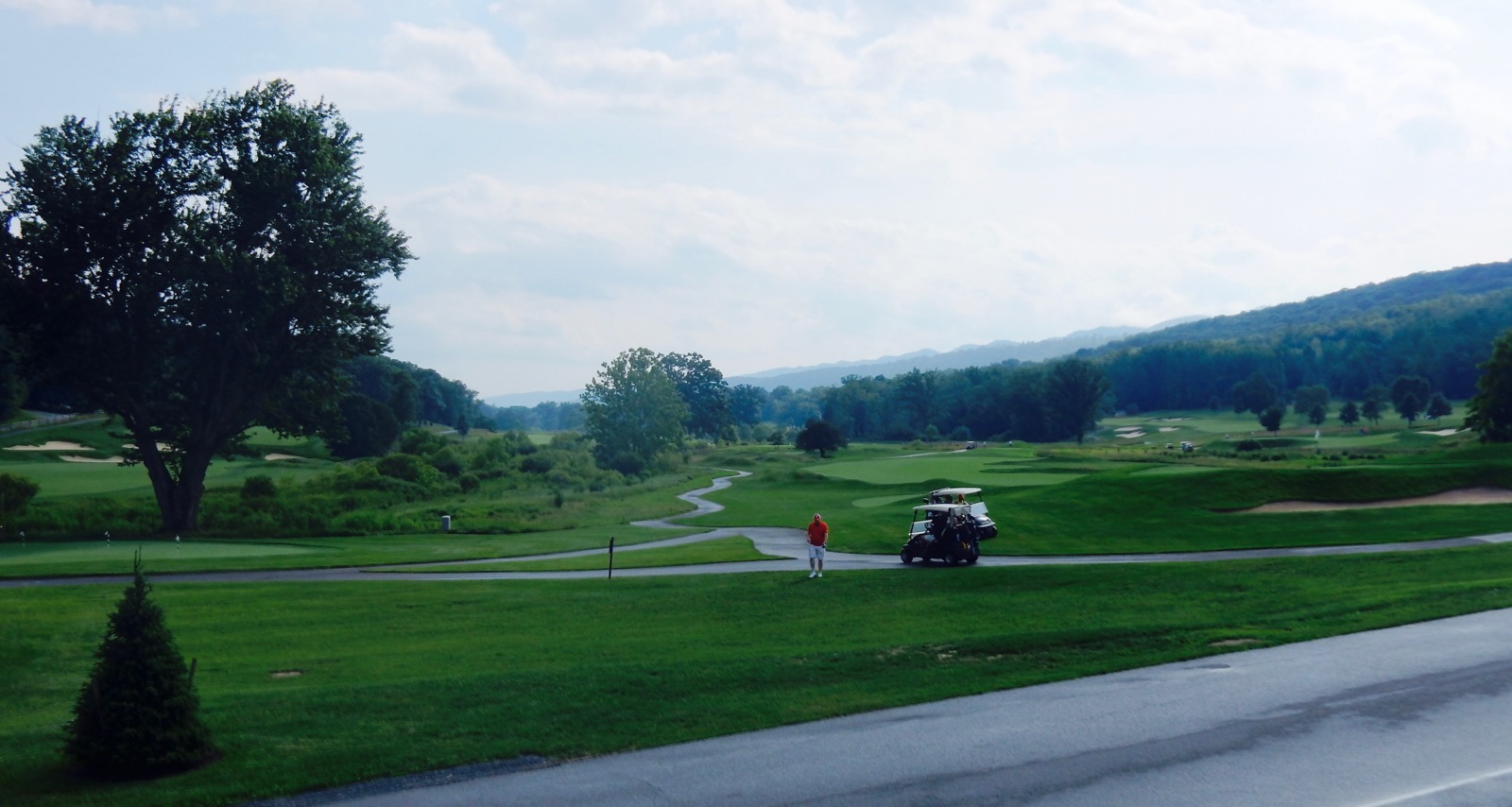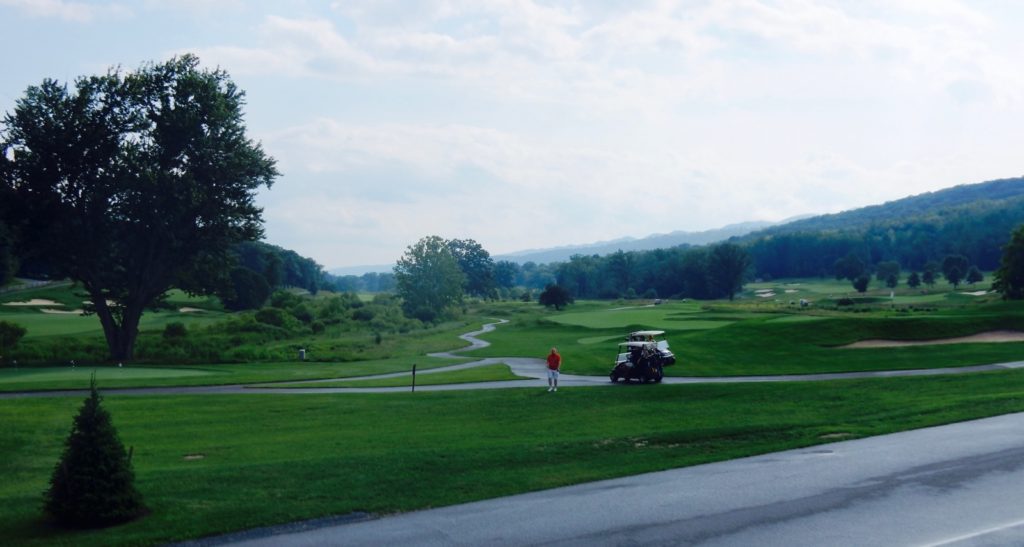 Considered one of the Top 100 Golf Courses in the USA, the 18 hole Bedford Springs course was first designed by Spencer Oldham, and then redesigned by A.W. Tillinghast and Donald Ross.
Indoor Pool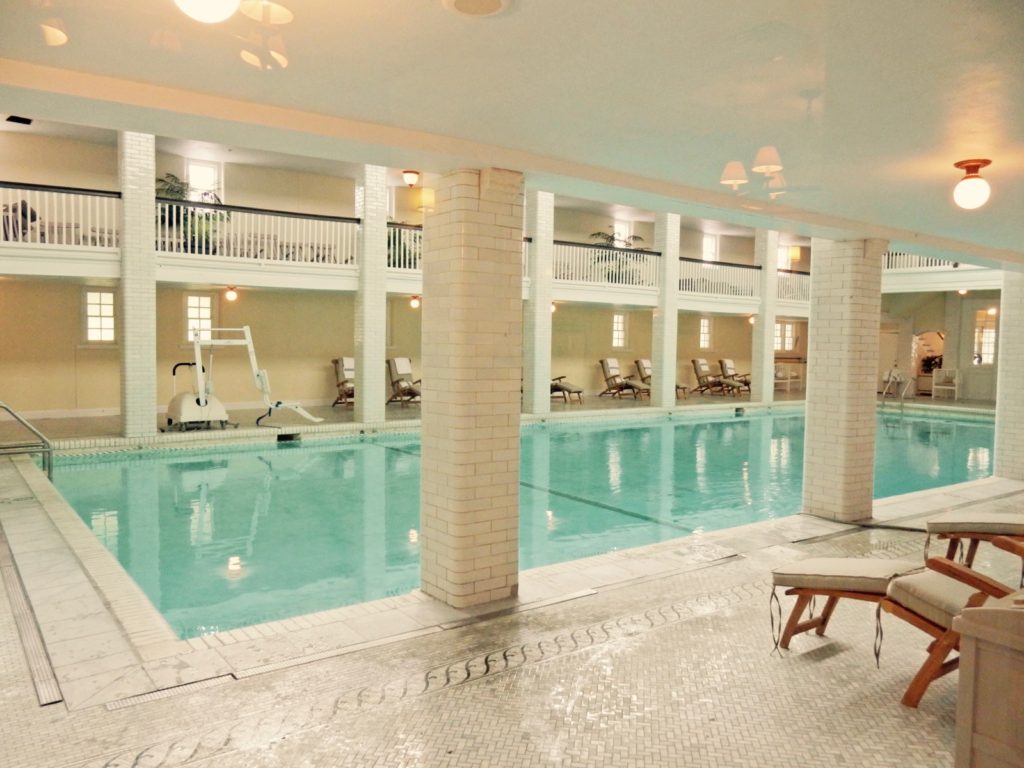 Built in 1905, this mineral spring-fed pool was one of the first indoor swimming pools in the country. Originally 9 feet deep from end to end, it was just the right depth to inspire guests to swan dive from the overhead balcony. The pool has since been reconstructed with a shallow area, but remains spring fed and crystal clear.
Outdoor Pool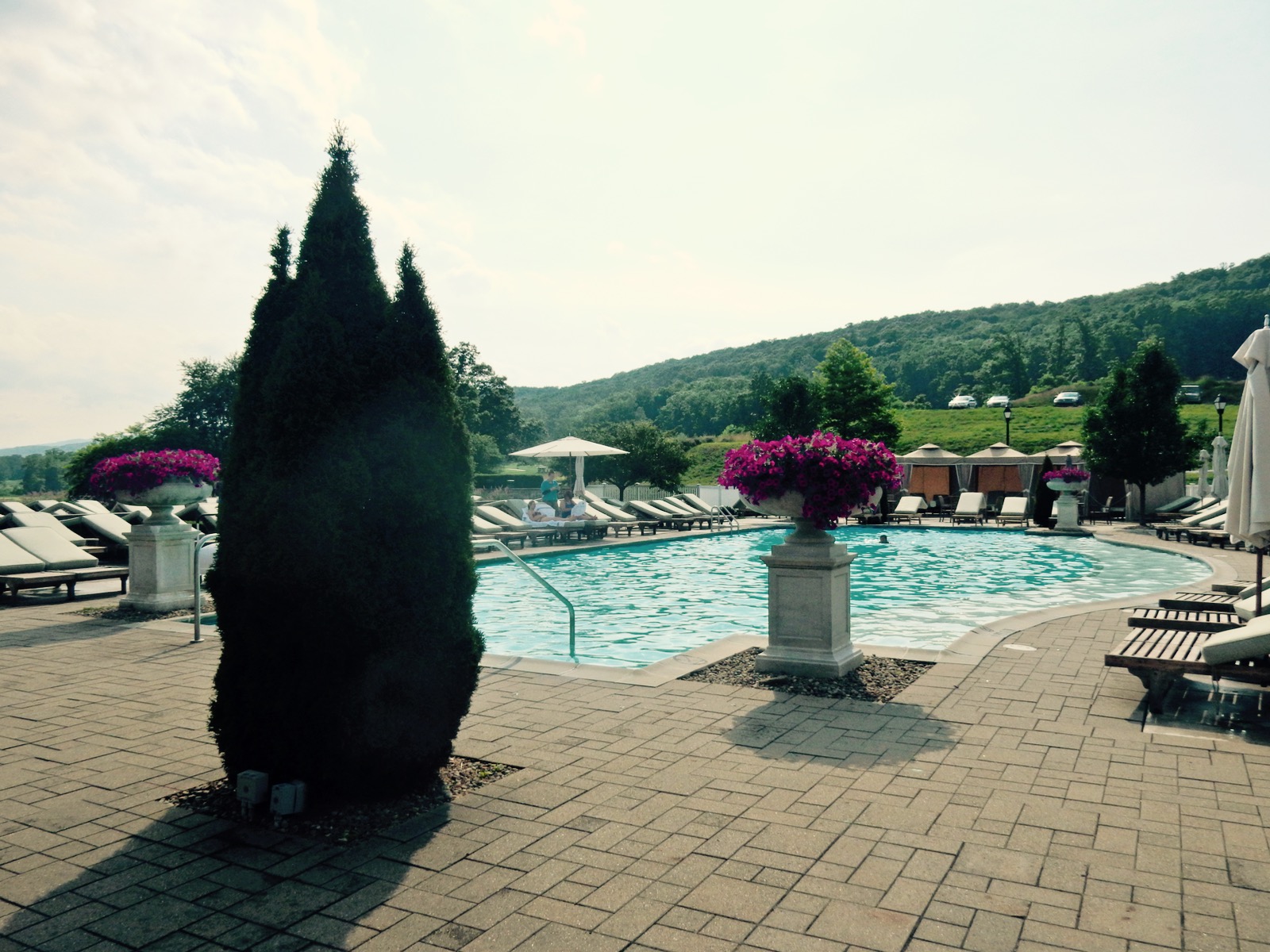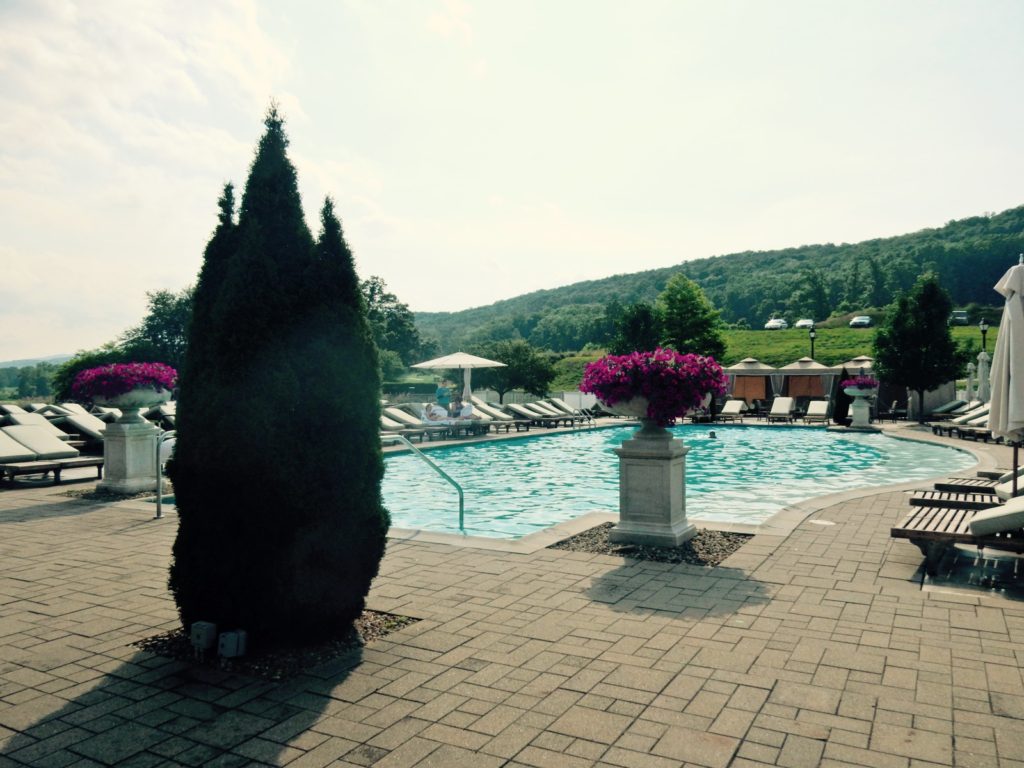 With views of surrounding hills and golf course, Omni Bedford Springs outdoor pool is one of the prettiest in the country.
Hiking and Biking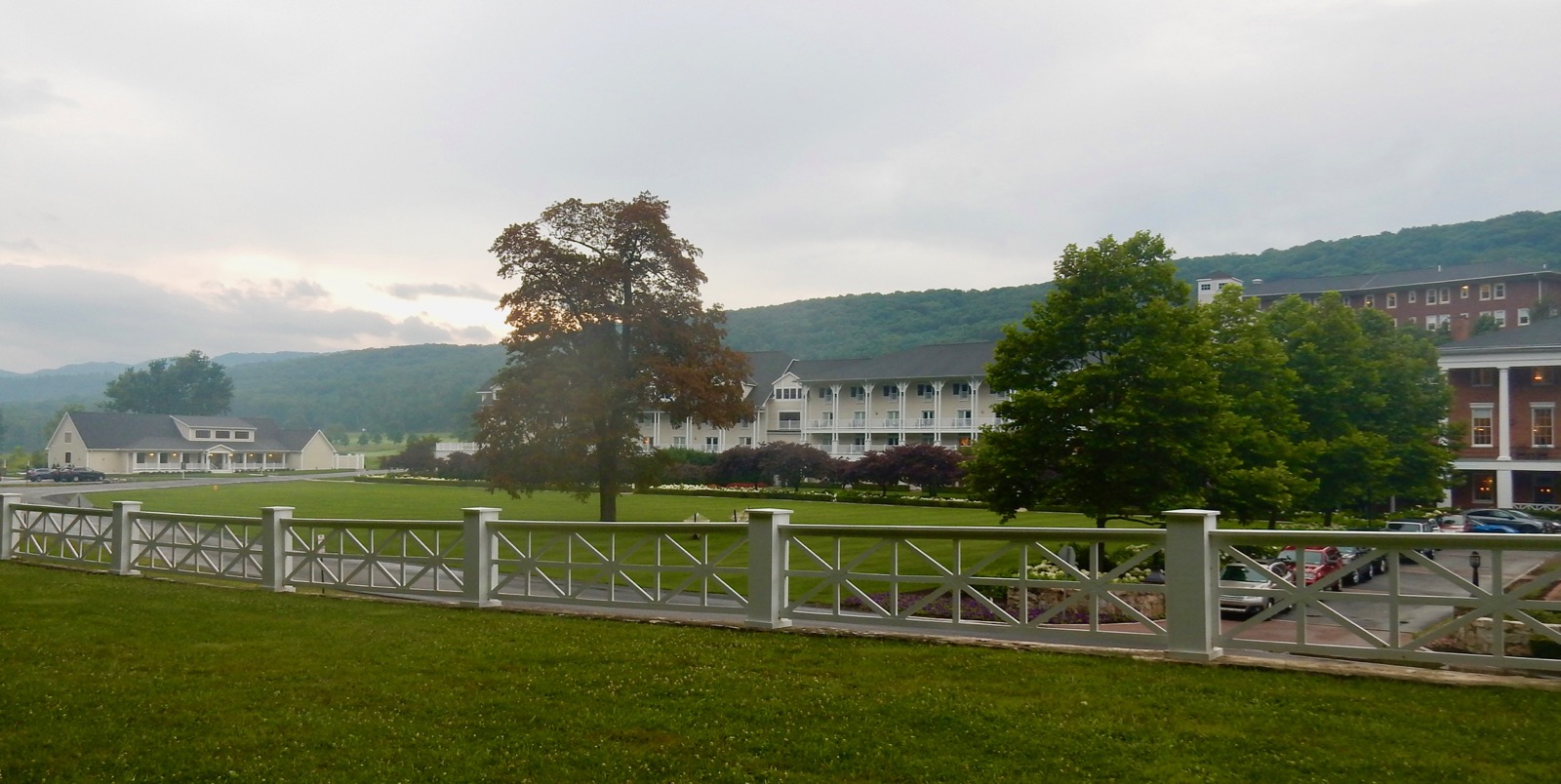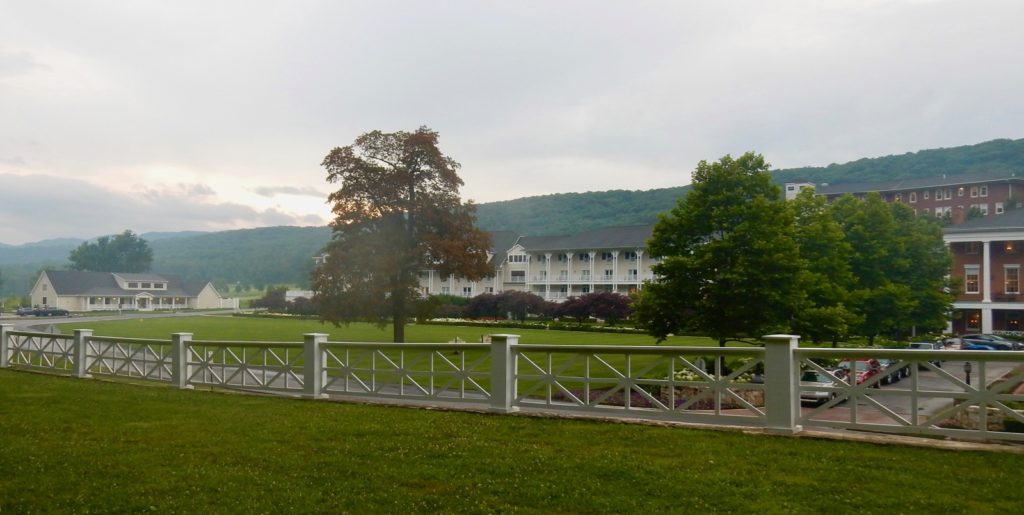 Miles of footpaths from easy to difficult range from half a mile to 4.5 miles. There are also two dedicated mountain bike paths – one moderate, one difficult – on the property.
Other Omni Bedford Springs Amenities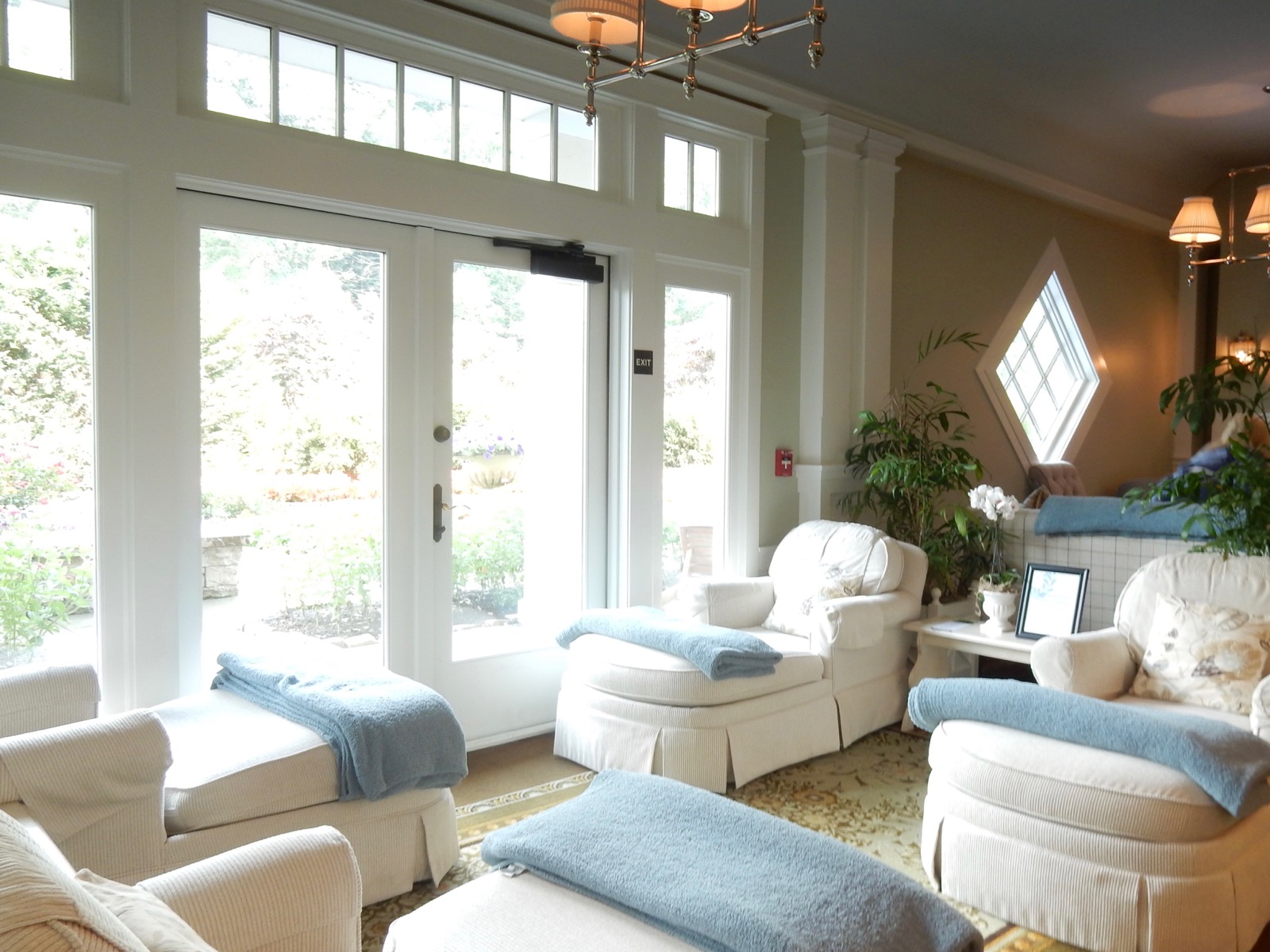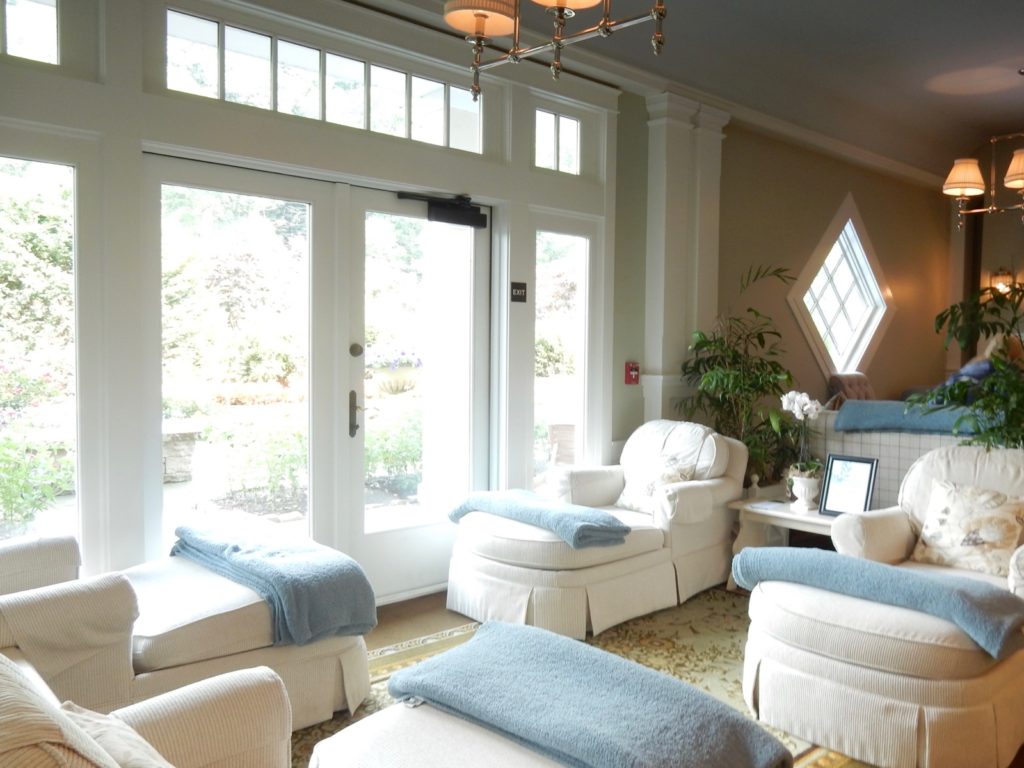 The OBS houses a full-service Spa.
An on-site outfitter arranges Segway Tours, Archery, Fly-Fishing, UTV, horseback rides, and trap shooting.
Rooms from $239 per night include parking.