Last Updated on January 7, 2020 by Editor
Your first view of Hudson Valley Rose Bed & Breakfast in Middletown, NY is that of a tree-lined gravel road that seems to go on and on and on.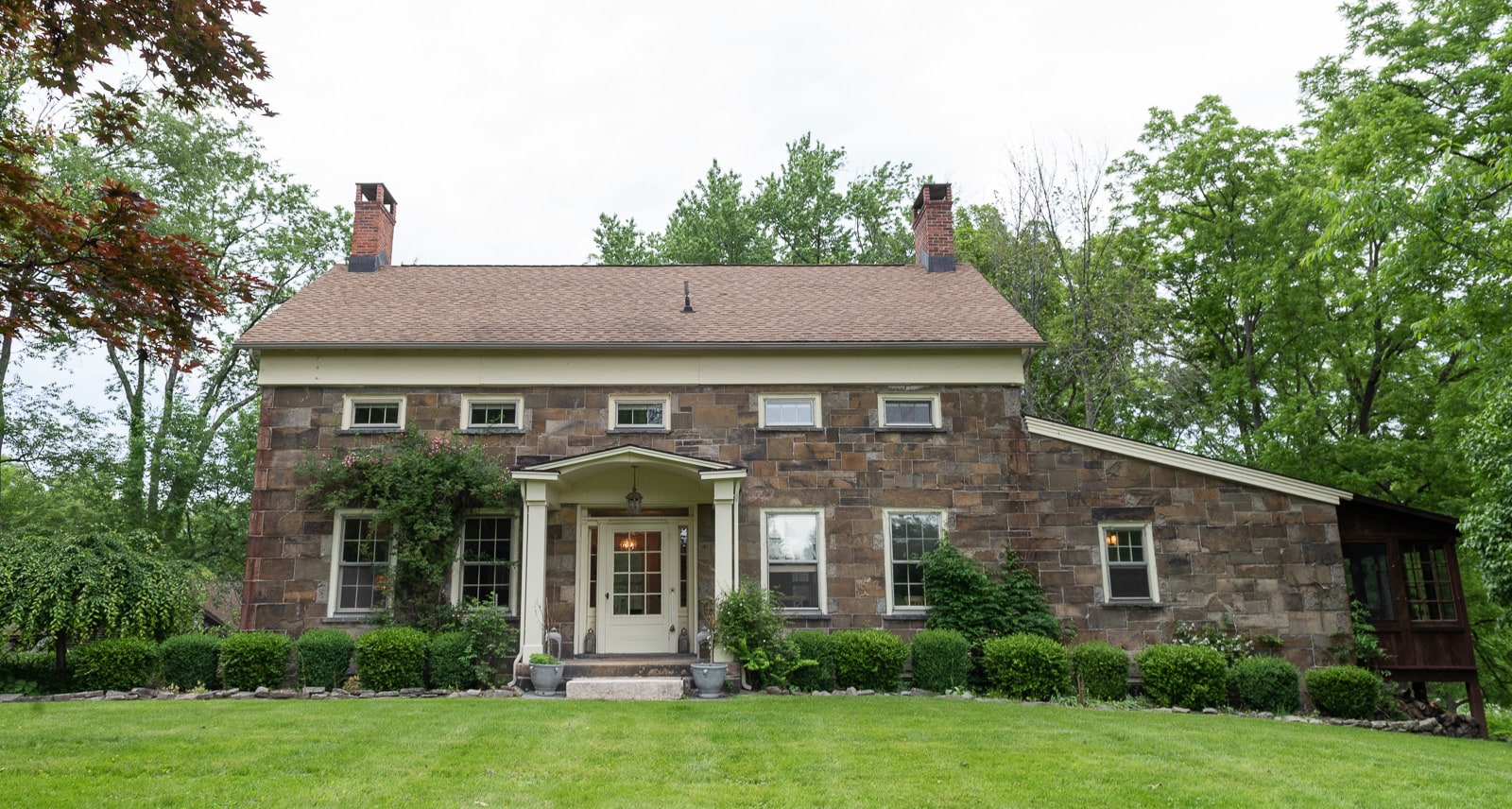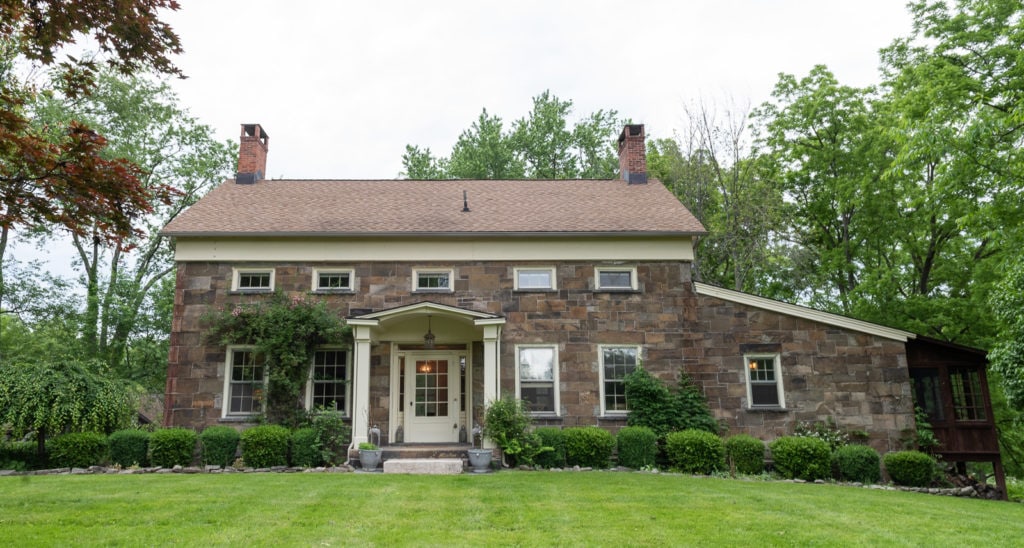 Surrounded by all the lush foliage, you might be tempted to belt out the 1960s hit TV Show theme song, "Green Acres is the place to be. Farm livin' is the life for me. Land spreadin' out so far and wide Keep Manhattan, just give me that countryside."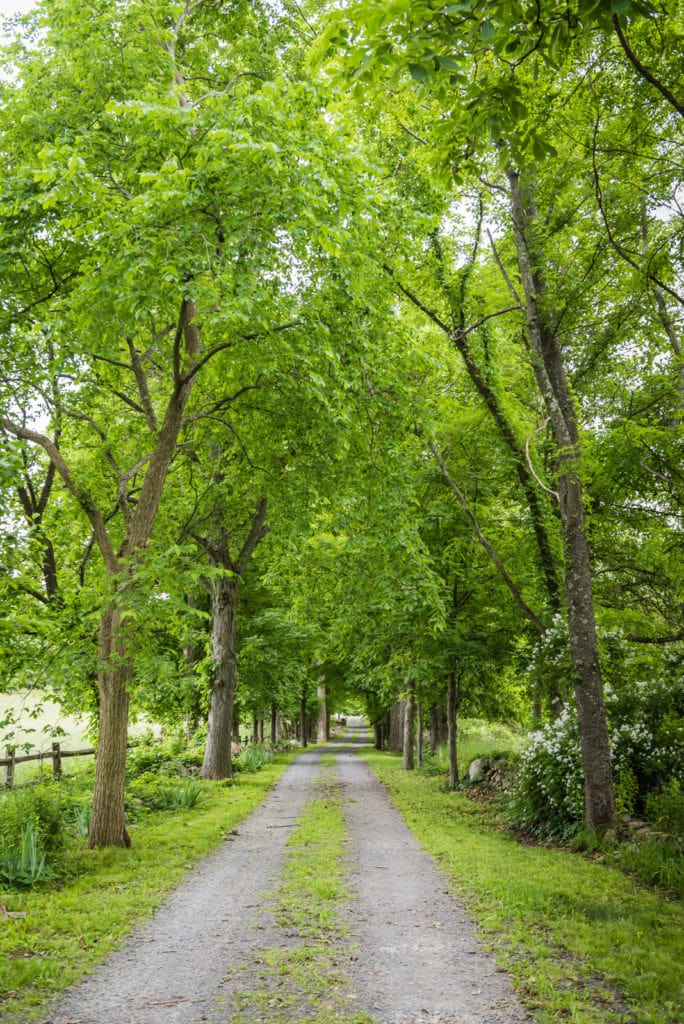 Set on over 60 acres of Hudson Valley forest and farm land, the estate was the country home of an illustrious list of tastemakers that includes designer Laura Ashely and makeup artist Kevyn Aucoin. Today, New York City expats Doug and Jace have transformed the private home into a intimate retreat with three uniquely luxurious rooms in the original 1847 Stone House, and the sumptuous Manchester Cottage that's perfect for a romantic getaway.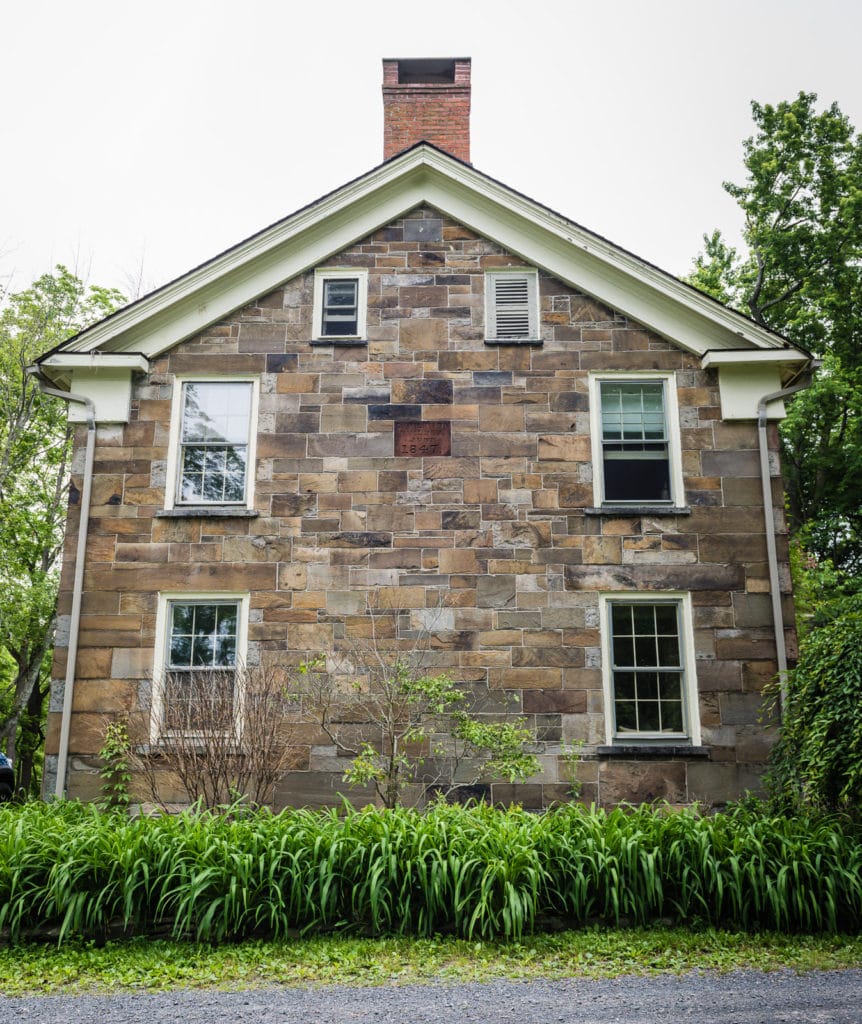 A stay at Hudson Vally Rose B&B begins with an email listing things to do in the area and driving instructions (although GPS works well in the area, printed routes can be invaluable on country roads.) Upon arrival, Doug and/or Jace and their adorable toddler (the family and their friendly dog live onsite in a separate cottage) are there to meet guests with a warm greeting that extends to going above and beyond to stock rooms with thoughtful amenities.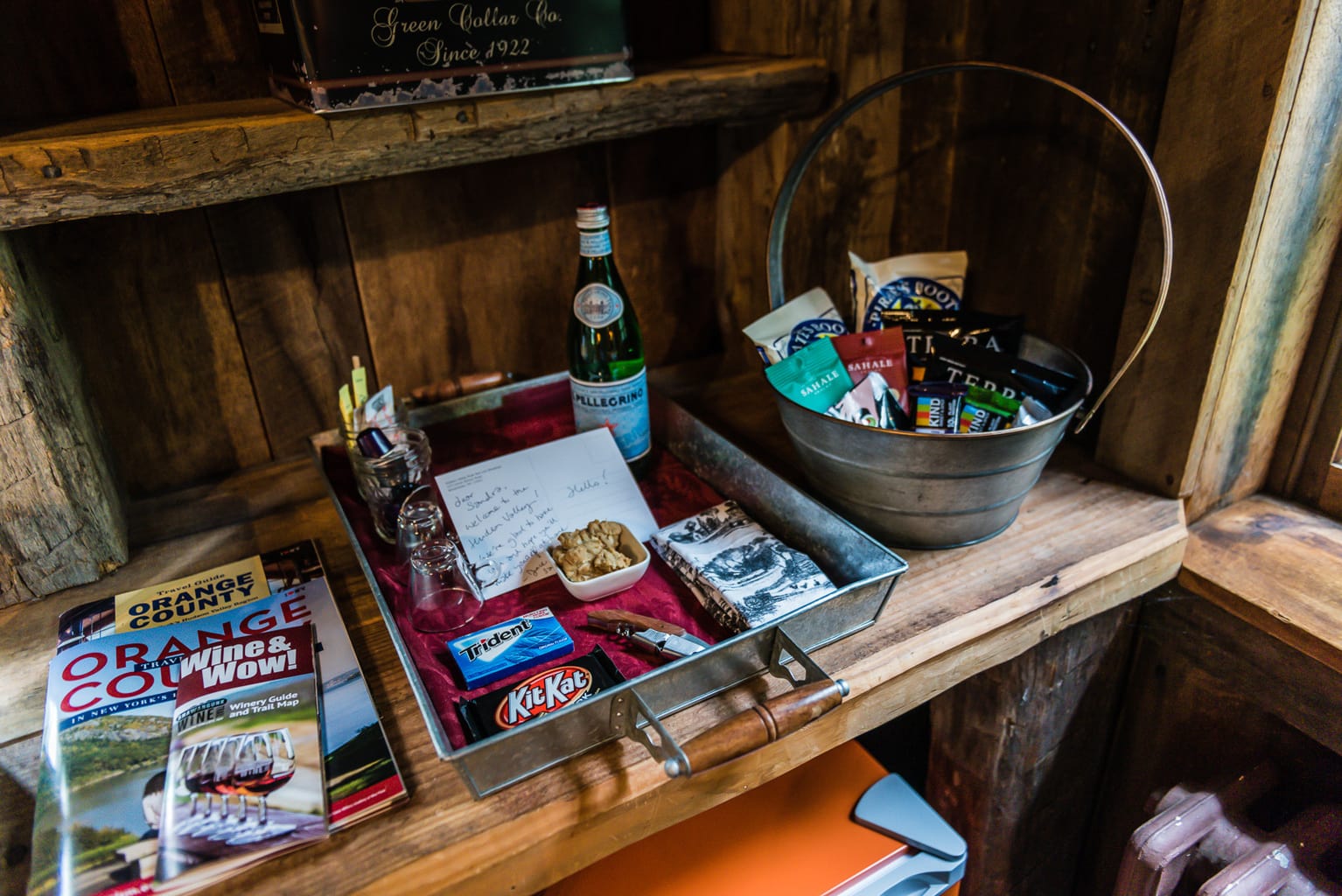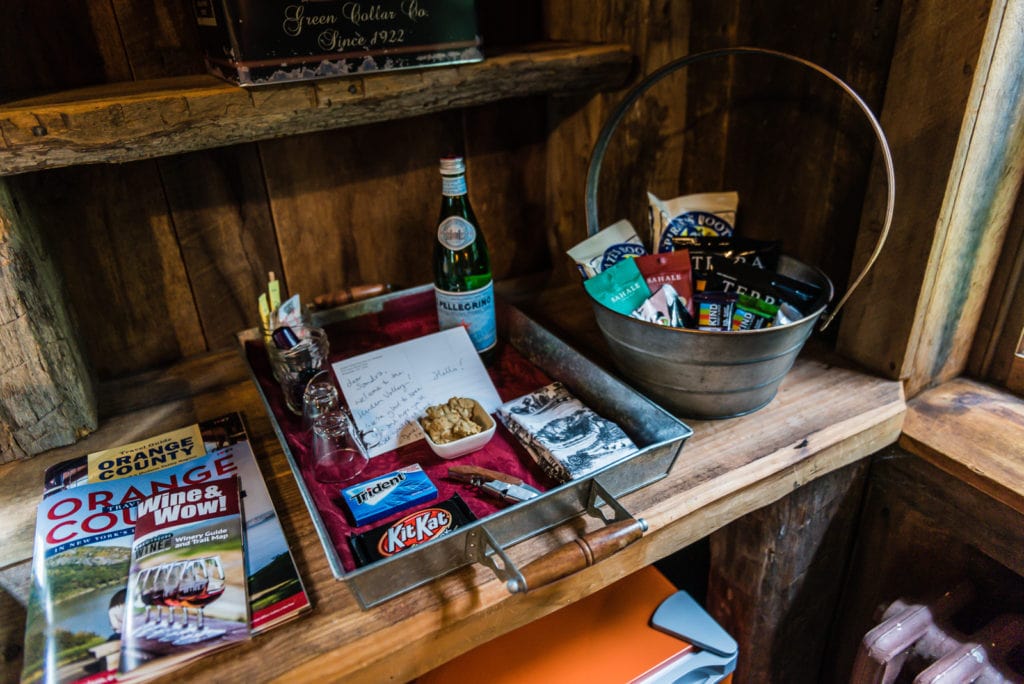 You might expect the monogramed robe and high end toiletries, but less usual is a wicker basket tempting you to toss your itinerary in favor of a picnic on the lawn. (Note that picnic food is available at an additional charge.)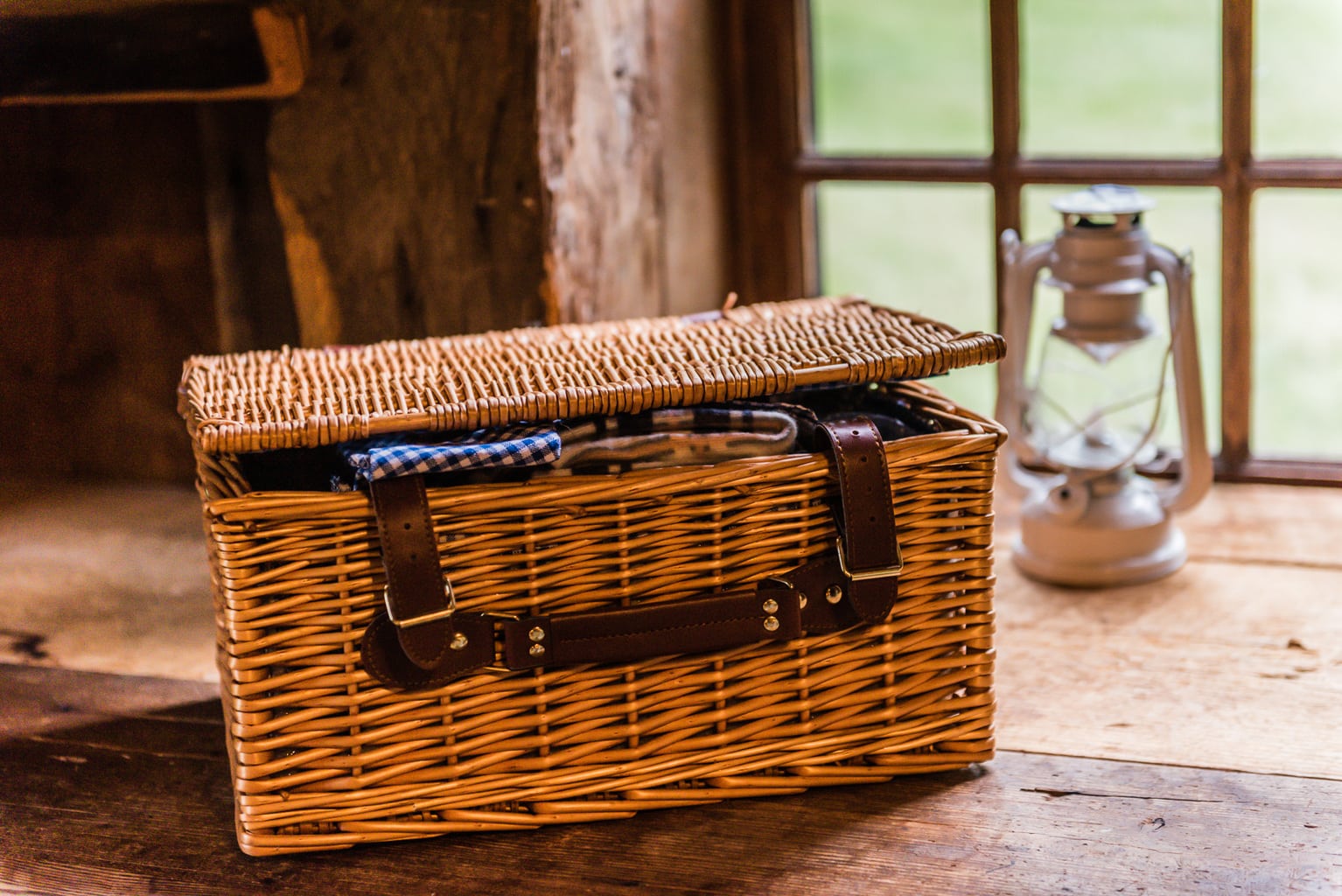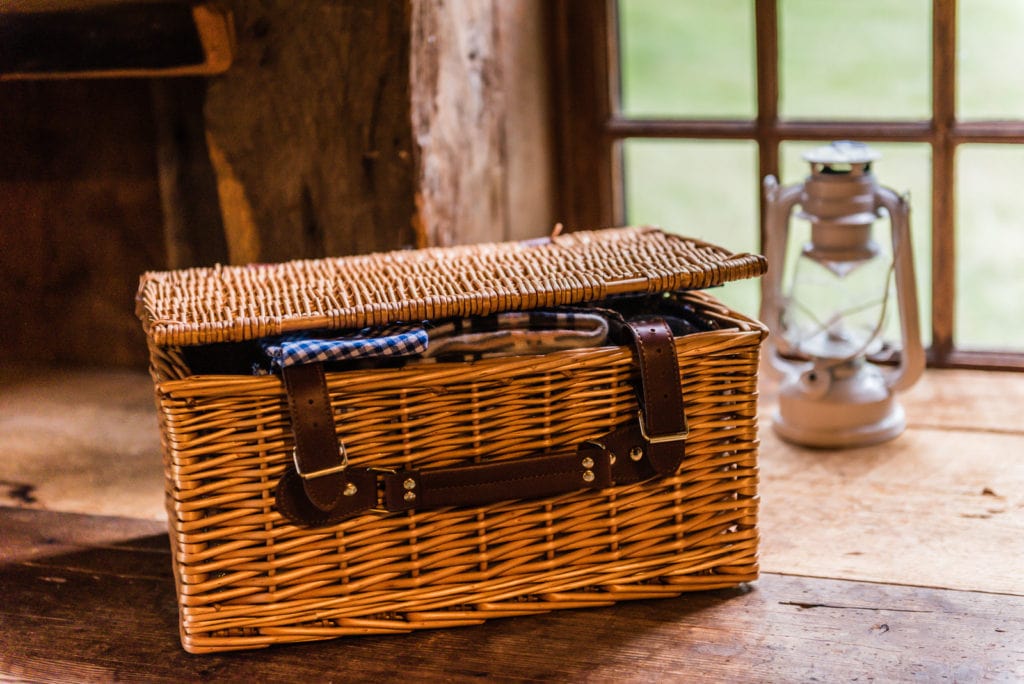 But it soon becomes clear that an appreciation of the outdoors is integral to the Hudson Rose. And why not? Hudson Valley is one of the most scenic areas in the Americas, so beautiful in fact, that it inspired the Hudson River School, an art movement of landscape painters influenced by Romanticism.
A tour of the property might begin outdoors, skirting picnic tables and perennial gardens, to see the fields leased out to farmers and onward past rose brambles to where hiking trails lead into the dense forests. Indoors at the Stone House, accommodations are upstairs, while the main level separates into a main living room and sunny breakfast room with attached reading nook.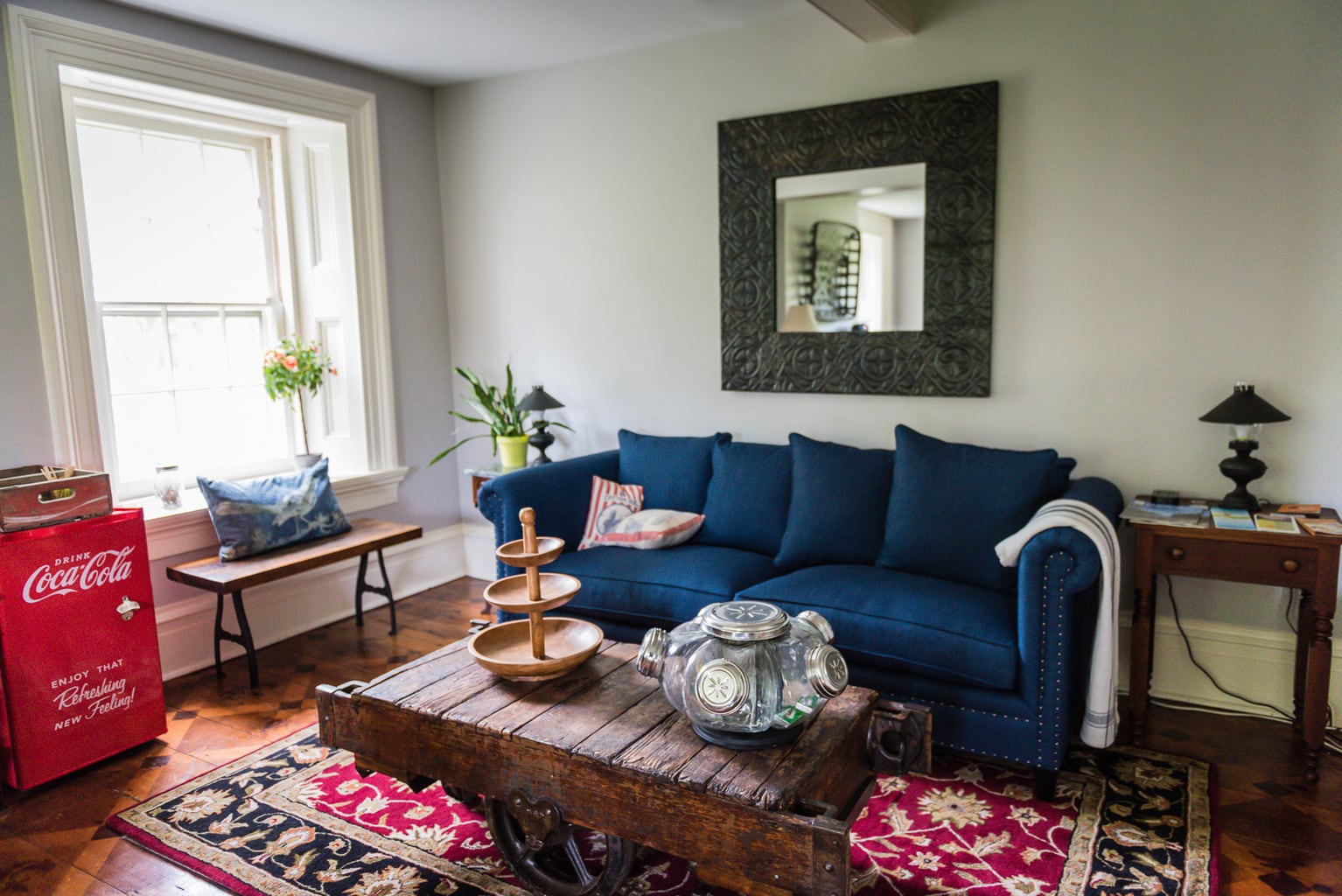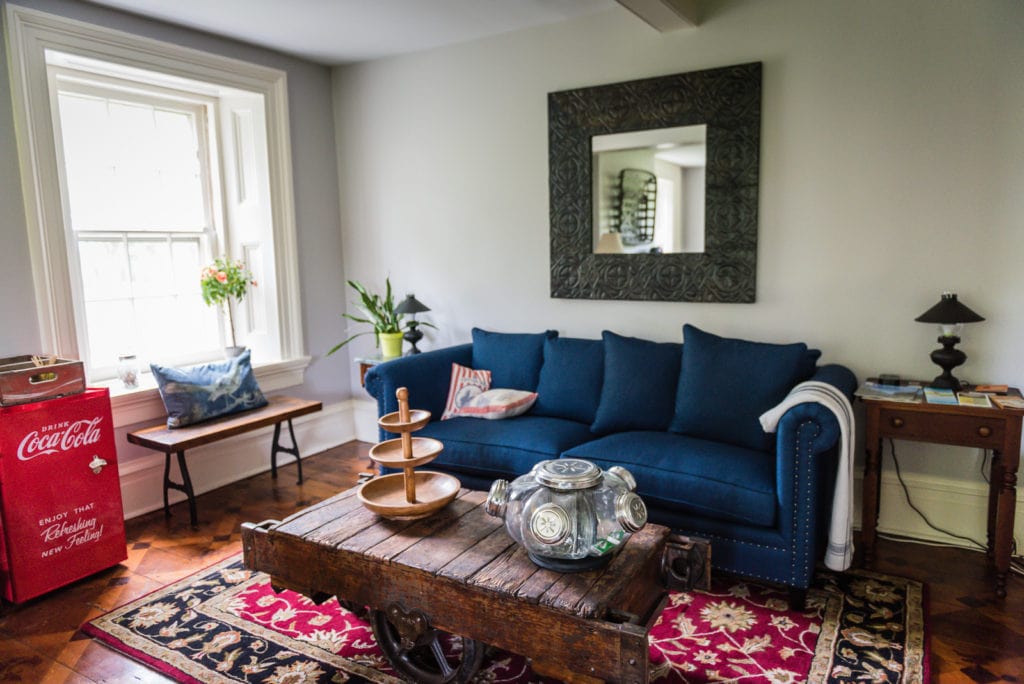 The front living room runs almost the full length of the house, offering multiple seating areas. Furnished with an eclectic collection of antiques and curiosities, the decor itself becomes a topic of conversation.
Rooms and Suites at Hudson Valley Rose B&B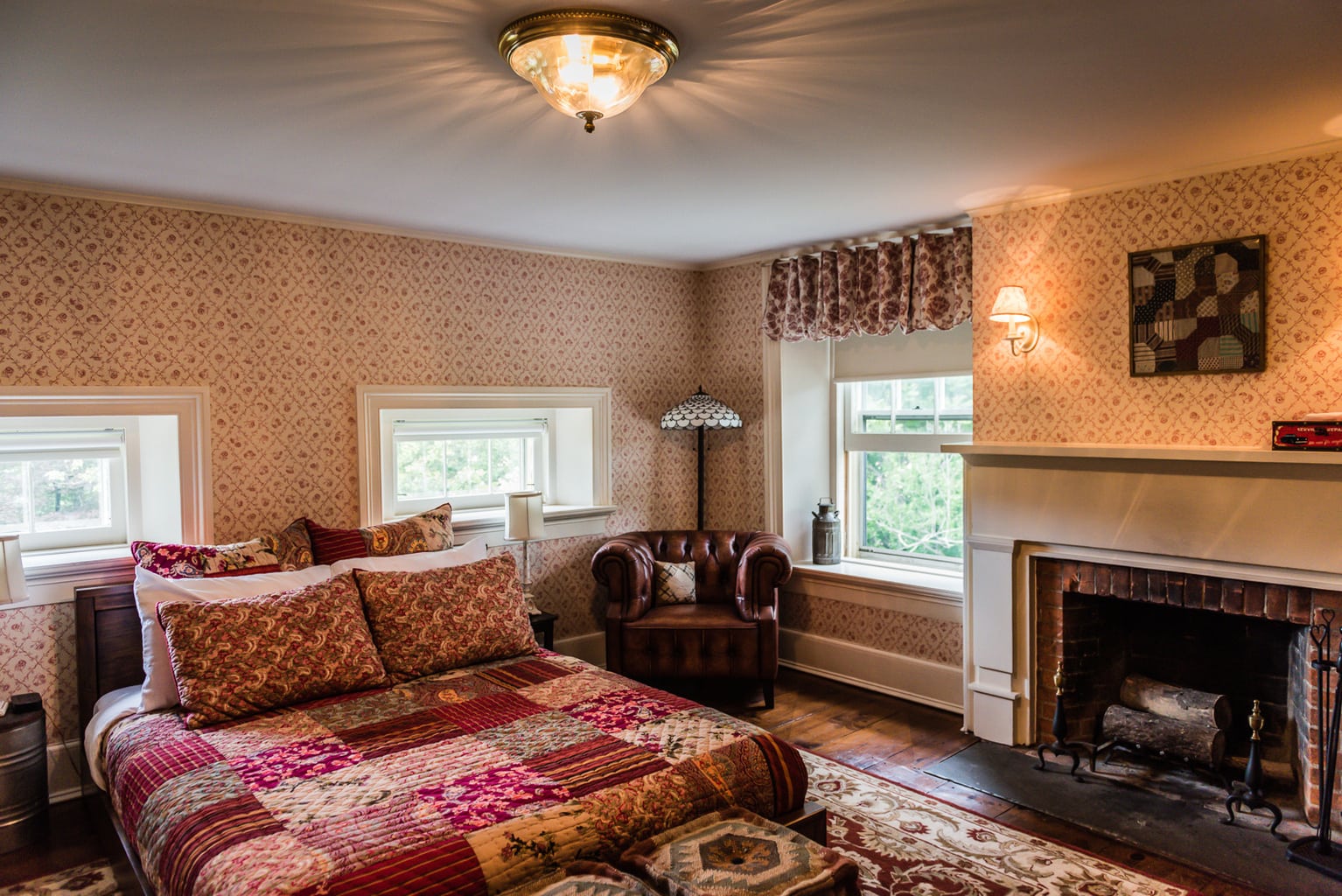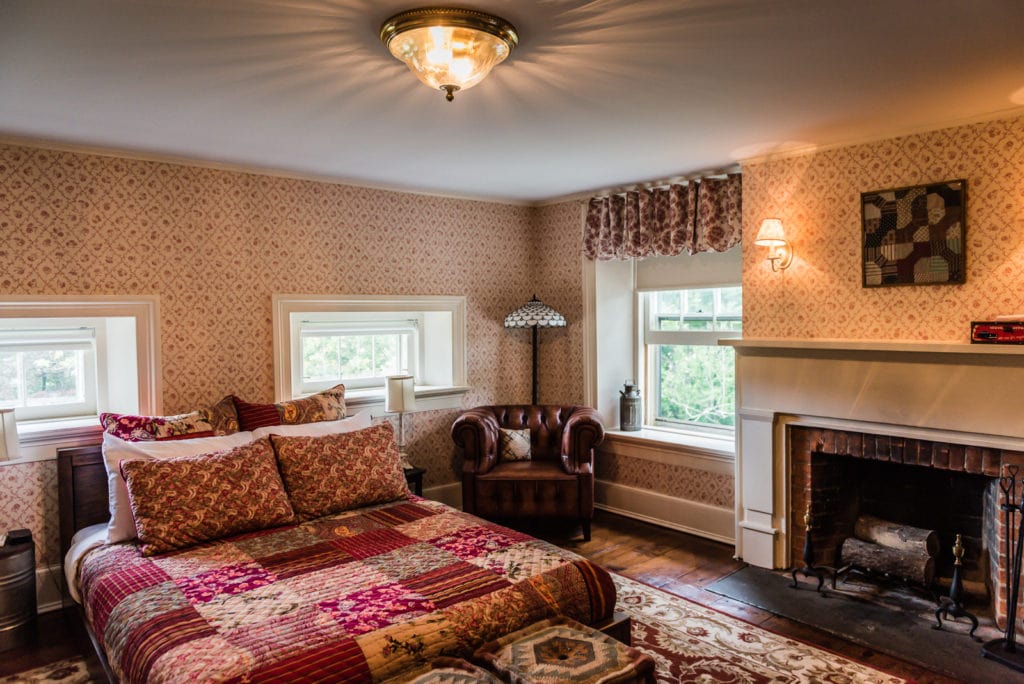 Each room is unique. The Laura Ashley room, inspired by the famous designer's penchant for floral motifs, surrounds a queen-size bed, fireplace, and claw-foot bathtub with rose-motif wallpaper and linens. The Wilkison room, named for the stone mason who built the house, exposes an original stone wall as well as wood ceiling beams.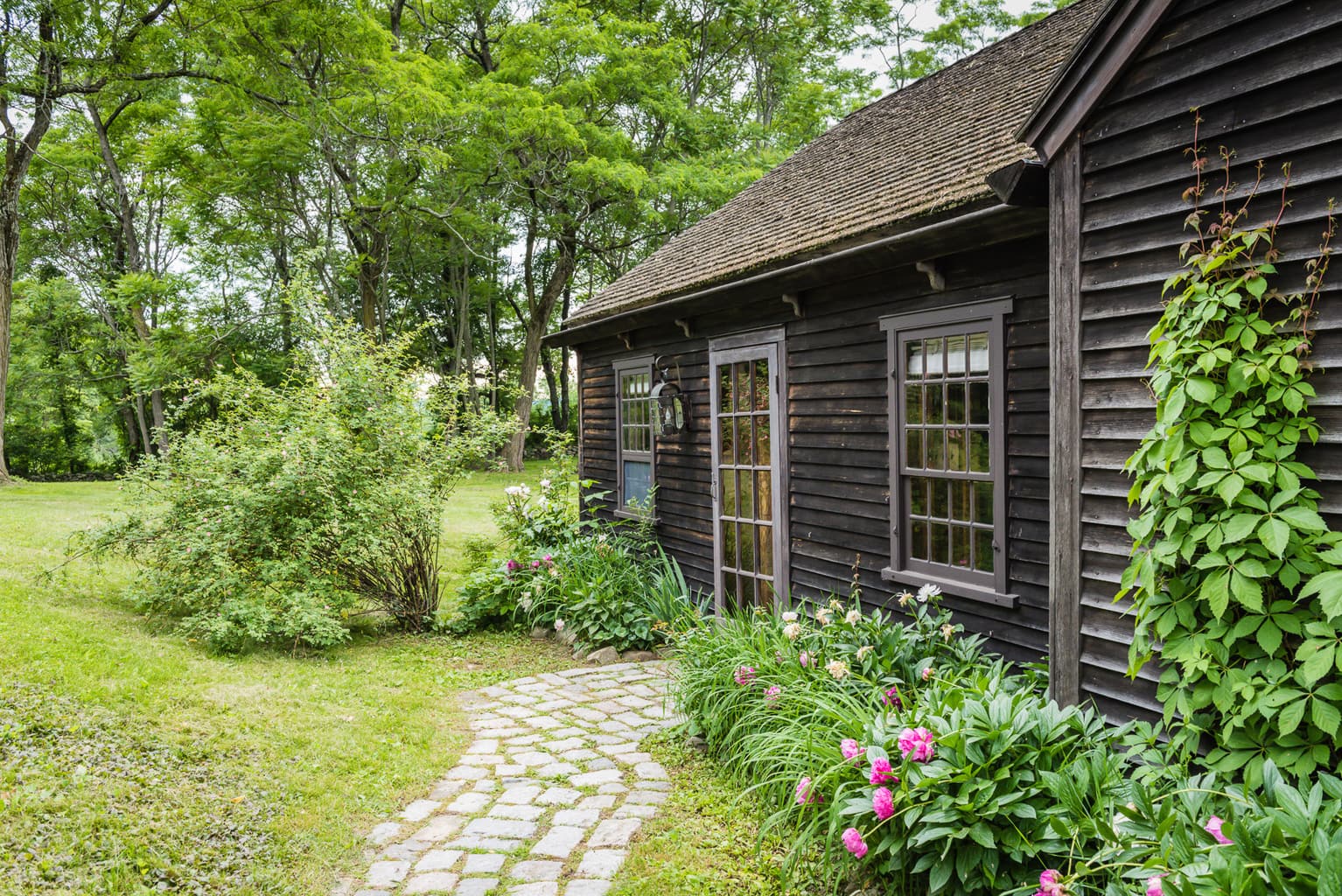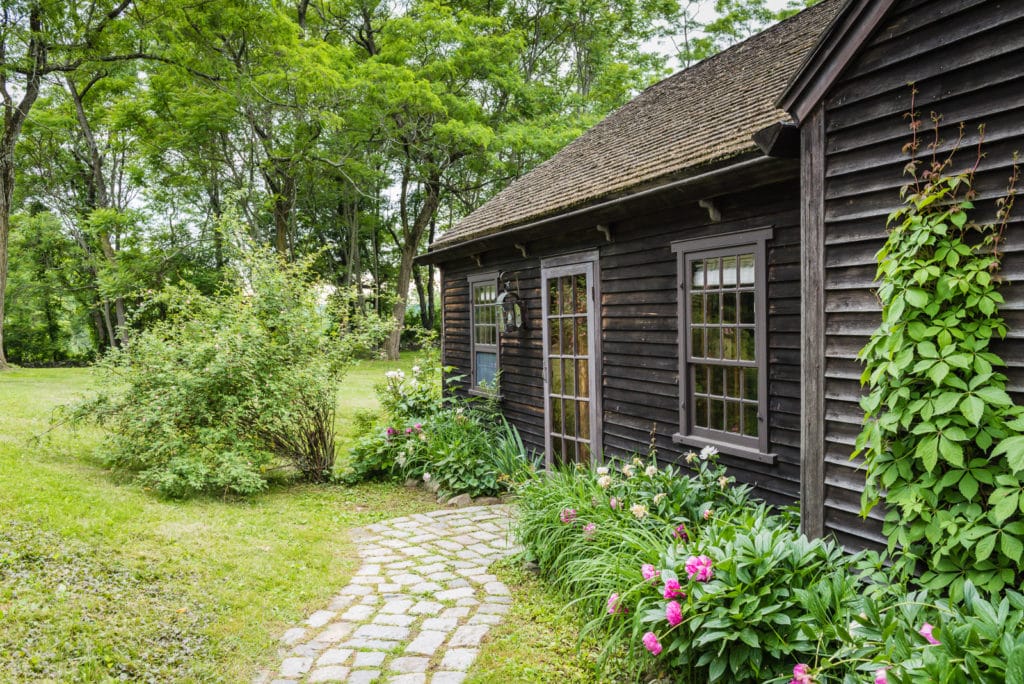 Most charming of all, a short garden path past peonies and daylilies leads to Manchester Cottage, named for the 1990s owner who sourced materials from regional 18th Century barns to construct two cottages on the estate.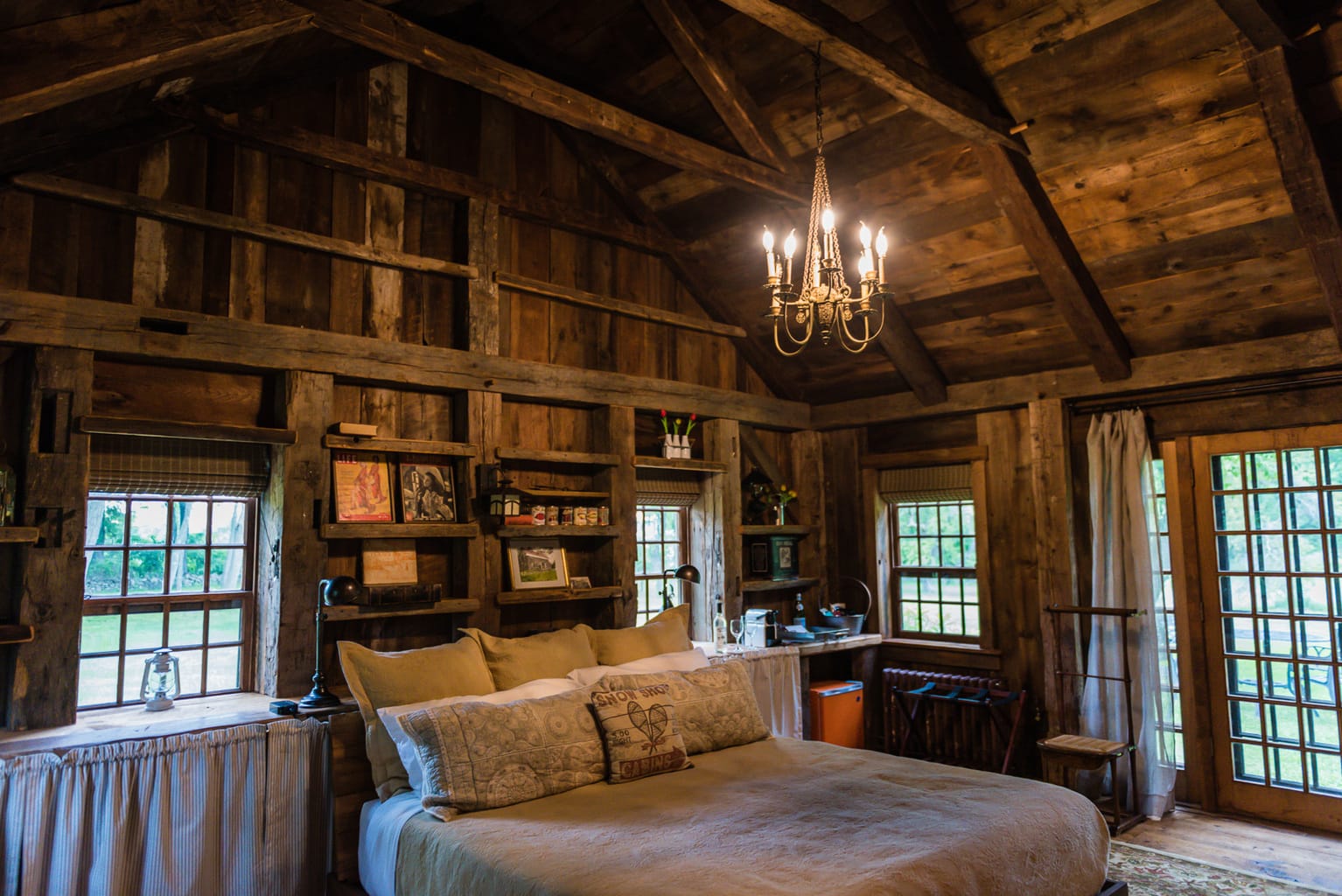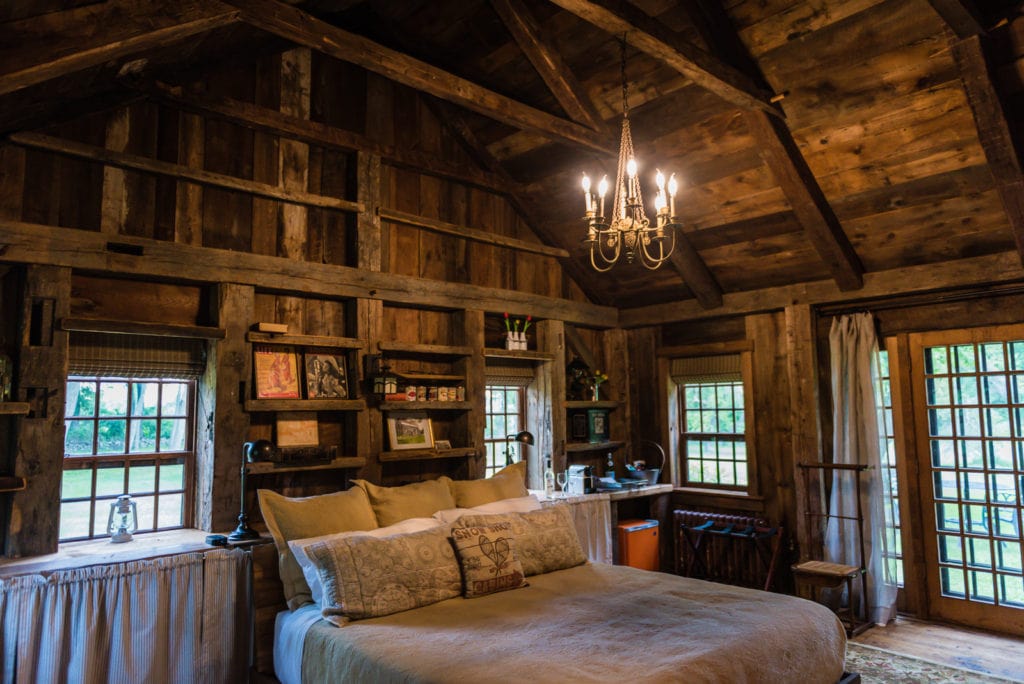 Barn-like high ceilings made of salvaged wood are softened by luxury lines and the glow of tapered lights reminiscent of candlelight on a central chandelier.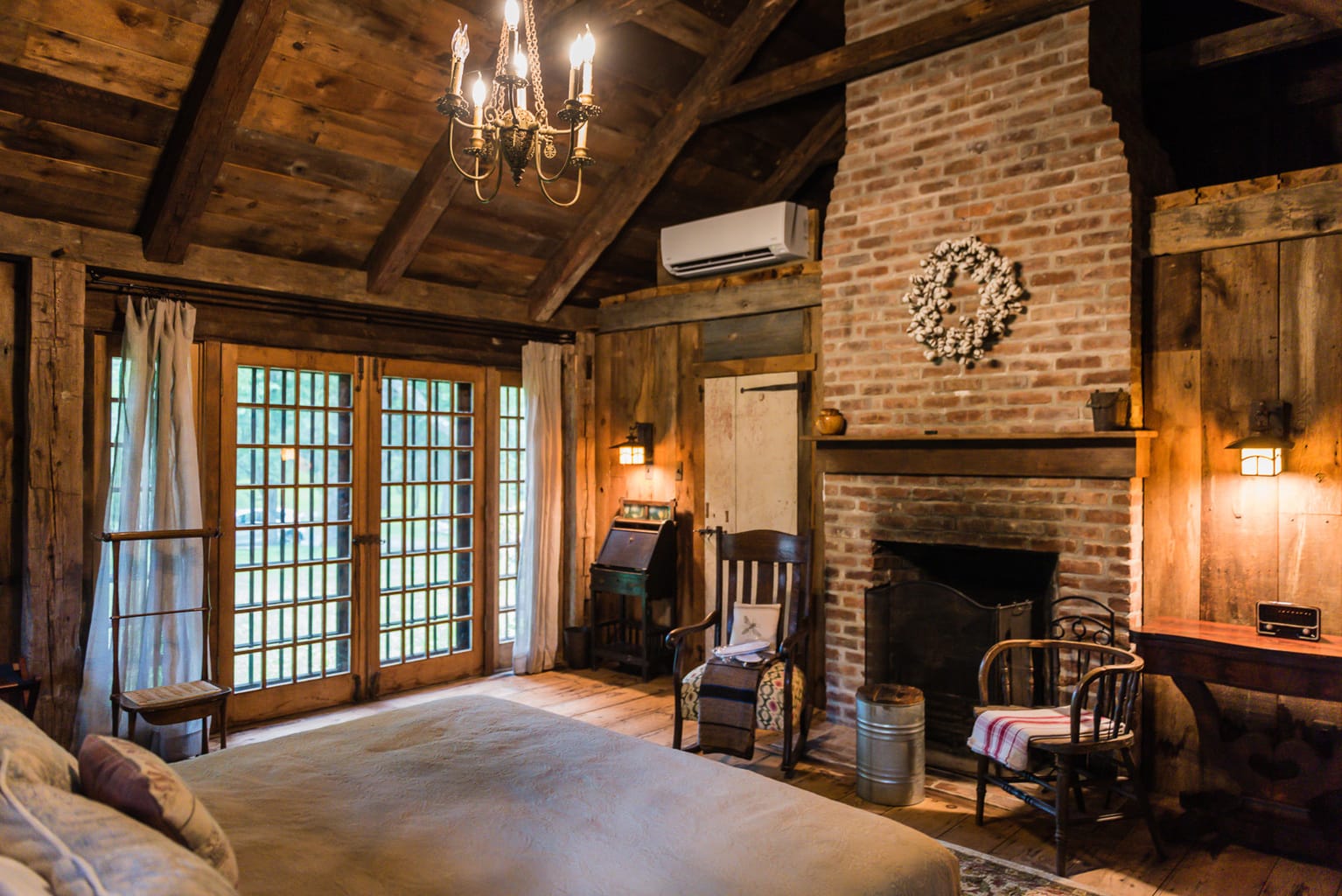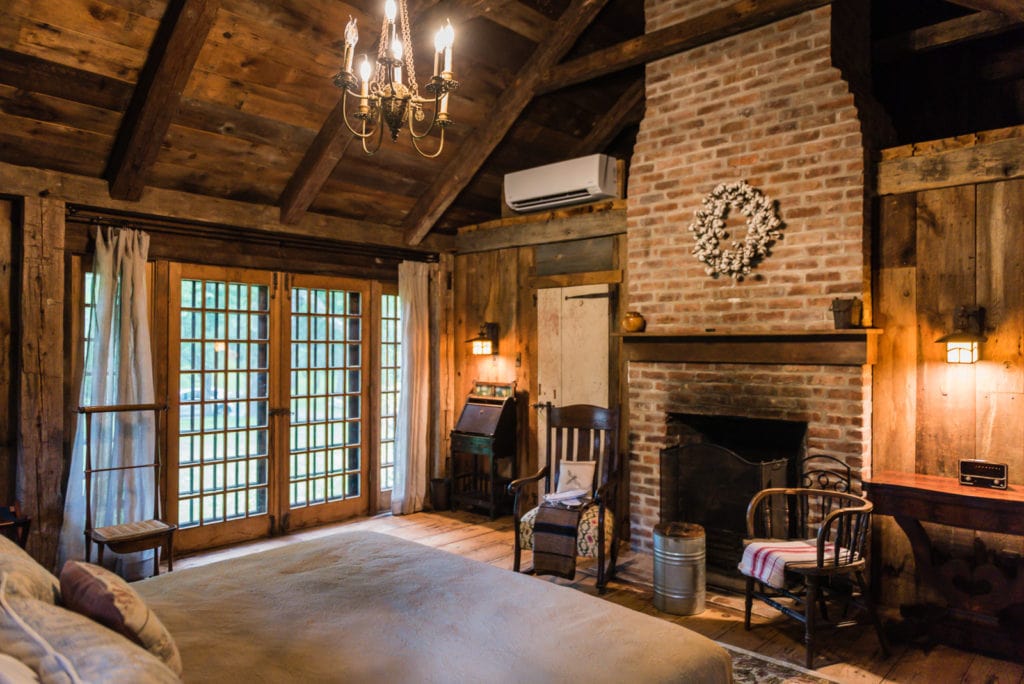 A tall brick fireplace dominates the space while windows on three walls, plus French doors invite the outdoors in, and visa versa.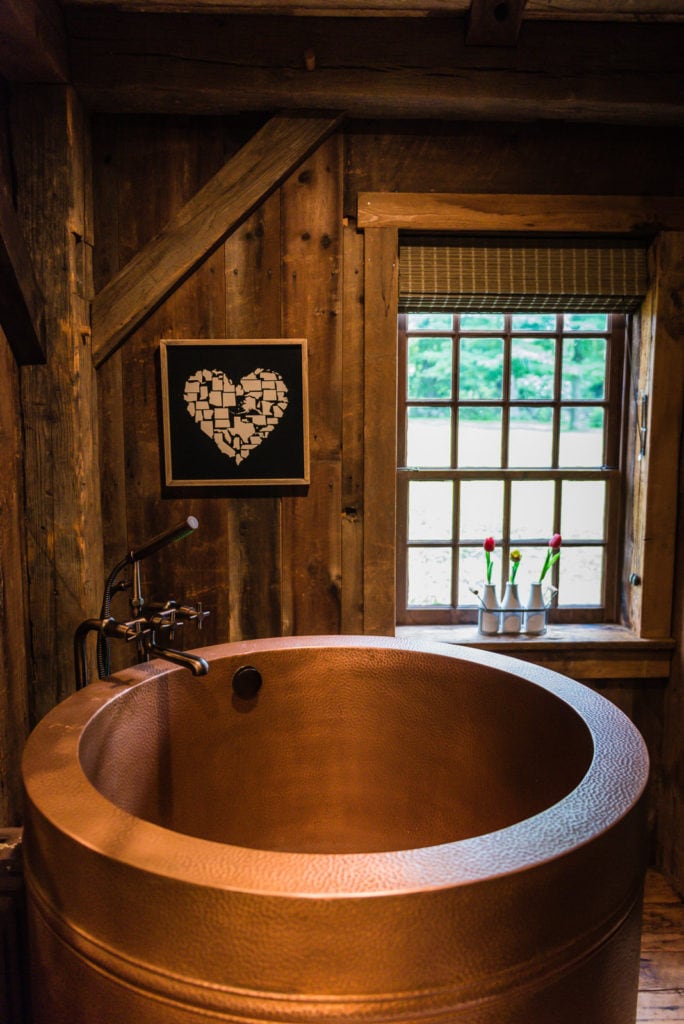 An ample walk-through glass-wall shower provides all necessary functionality, but the star of the bathroom is a therapeutic copper Japanese soaking tub.
Breakfast at Hudson Valley Rose B&B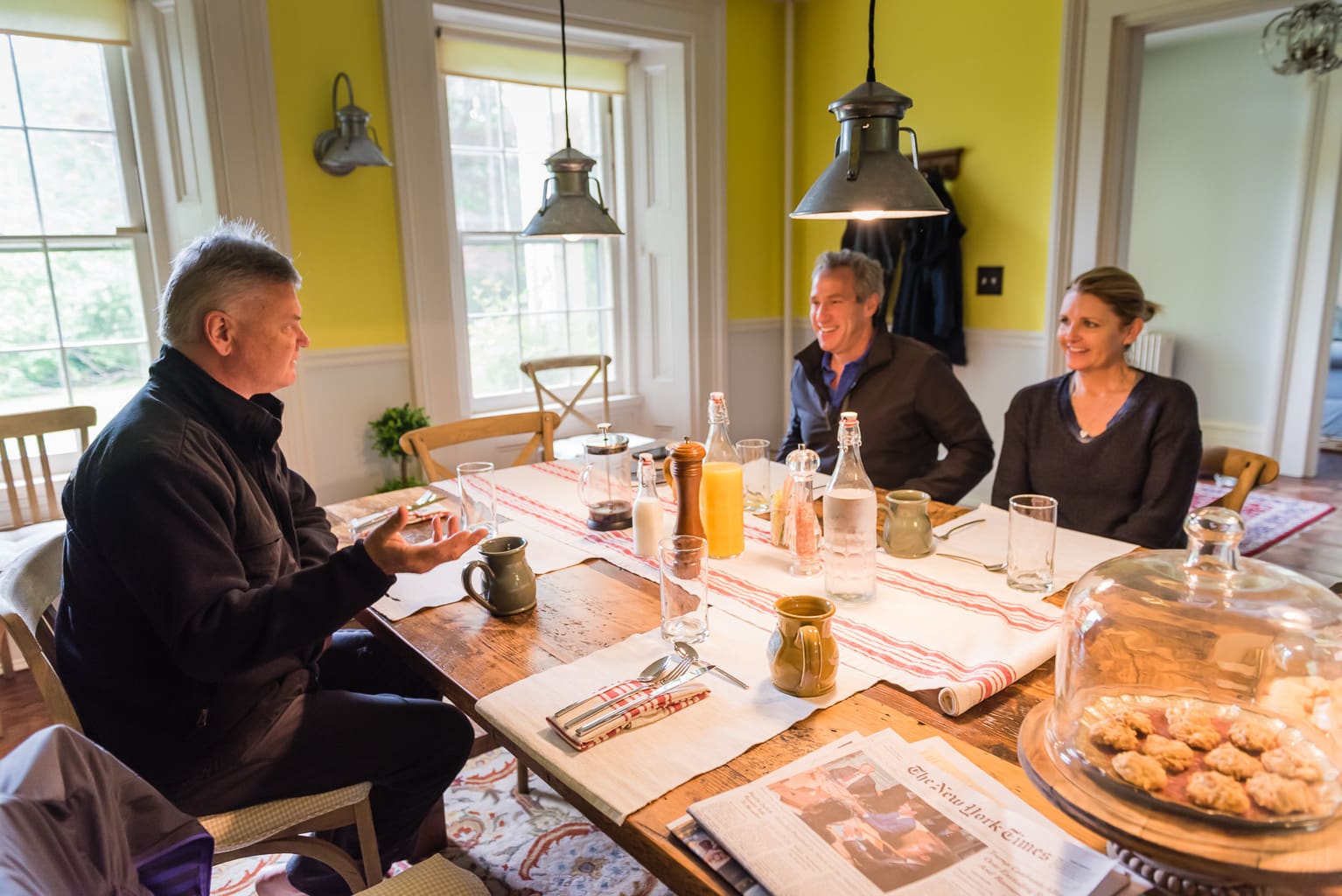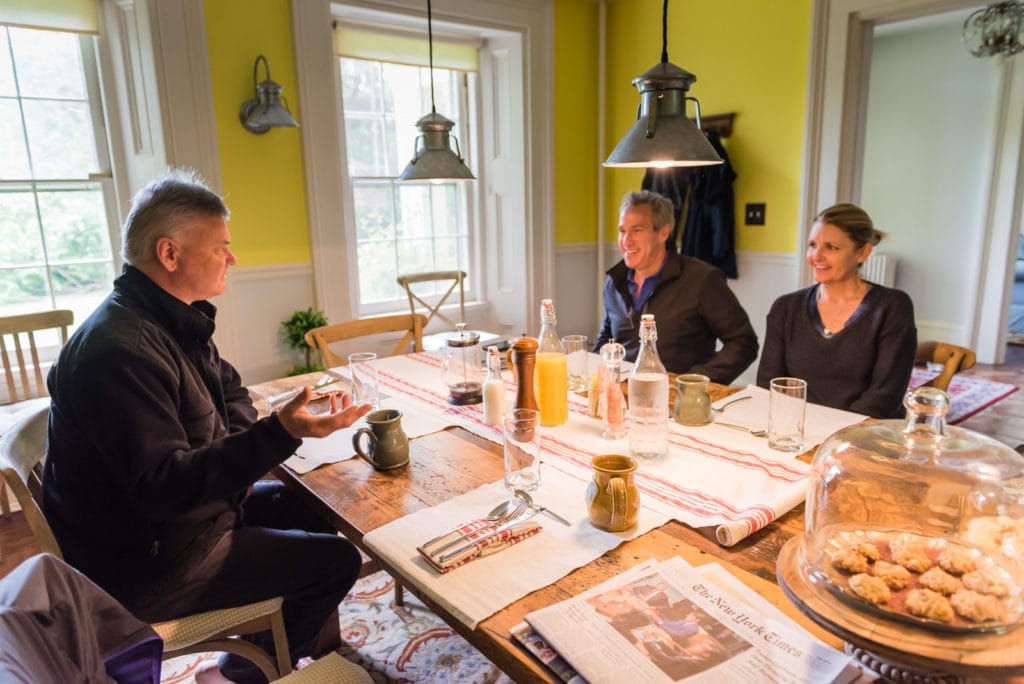 Doug and Jace's unstinting attention to detail is most evident at the breakfast table. Not only do they bring in farm to table–the eggs are picked up two doors up the road–but they've clearly put a lot of thought into the presentation of the yummy offerings. Rich brewed coffee is poured into hand-made clay mugs stamped with the Hudson Valley Rose logo.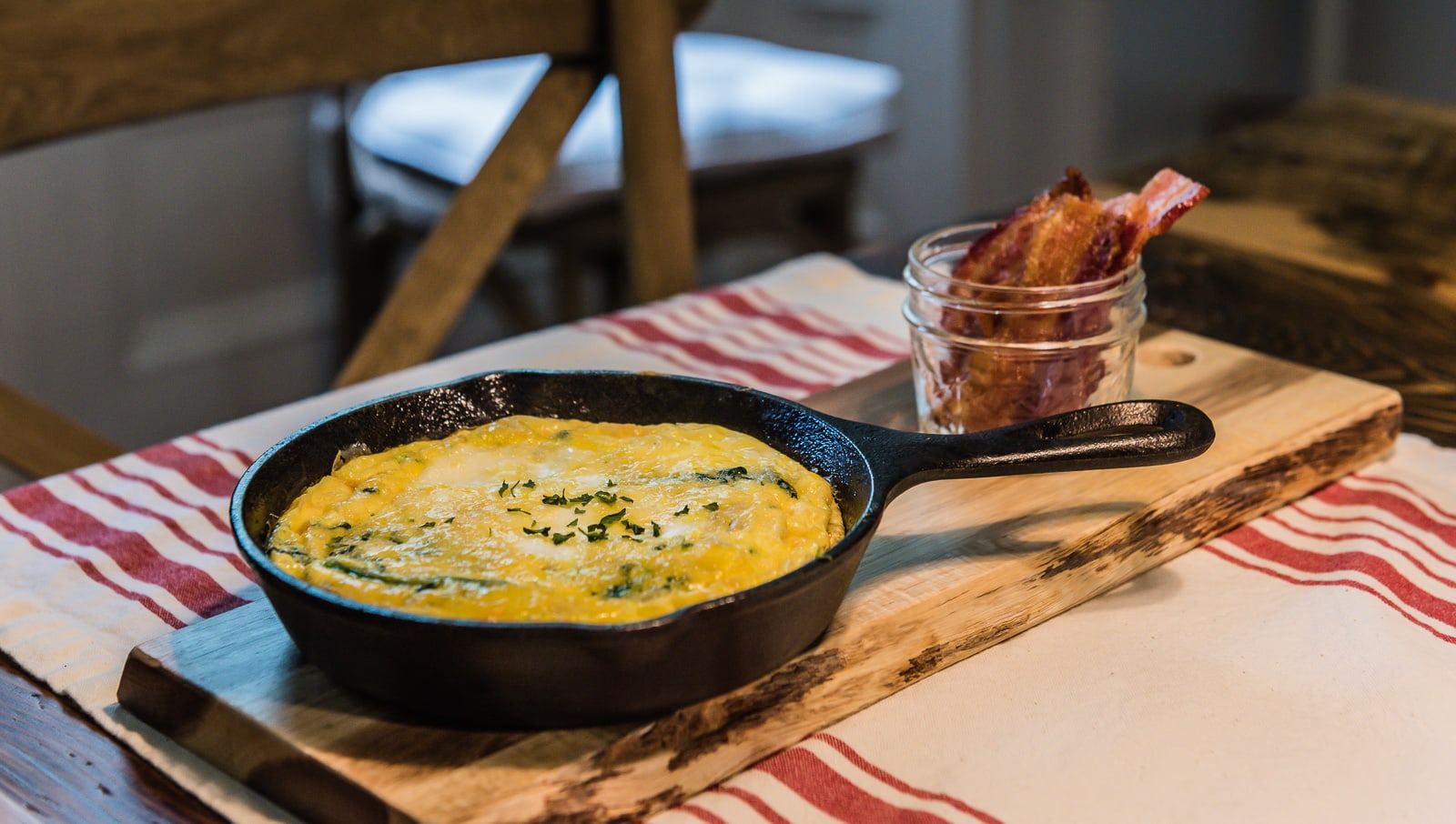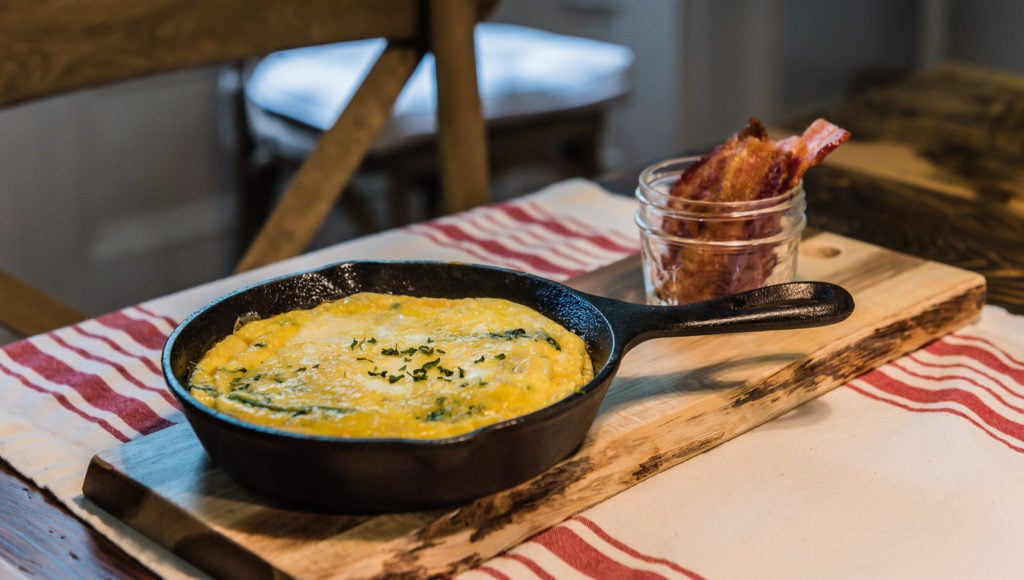 Thick slabs of bacon are presented upright in a glass jar accompanying a frittata which arrives in a personal-size iron skillet. Conversation, fueled by hearty fare and the Sunday New York Times, flows freely at the farm table. The breakfast table is made for leisurely-paced meals where guests may linger as long as they like. Like every facet of Hudson Valley Rose, it invites guests to forget their day to day lives in favor of the relaxing pleasures of a perfect country weekend.
Just the Facts
Rooms from $200-$500 depending on day and season, includes full breakfast, parking, wi-fi. Ask about available gear such as picnic baskets and fishing rods.
Nearby Hudson Valley Getaways: