WHY GO: Budget Travel Magazine once deemed Saugerties NY one of the Ten Coolest Towns in America. However, I'll also add that it's one of the most down-to-earth, friendly, and community-minded, with not just one, but two independent bookstores. (As well as an indie movie theater and a slew of owner-run shops).
So, it's no big surprise that Jimmy Fallon, the kindest and most gracious late-night talk show host, was raised in Saugerties, New York.
There's a wonderfully inviting yarn and tea shop where even the biggest klutz (me) can learn to knit. Plus, you'll find emerging artist galleries and the "crafting kitchen" & spa for one of NYC's most well-known organic and holistic skincare lines.
That's in addition to a beautifully restored lighthouse offering overnight accommodations, a sanctuary for abused and neglected farm animals, an inn and event venue resurrected on the footprint of an old paper mill, and plenty of great places to eat. Saugerties folks are deeply tied to and proud of their town. With good reason. Come see why.
Things to Do in Saugerties NY
Owner Mary Ebel never met a person who couldn't learn to knit under her tutelage. She certainly had quite the challenge with uncoordinated me. Ebel totally rose to it.
Within an hour, I learned to cast on and knit a rudimentary stitch, all while sipping freshly made tea and yakking with fellow knitters. When I messed up, she was right there to help.
Ebel's shop is colorful and warm (both in temperature and temperament), with a variety of yarn at different price points. Some are even locally dyed. Needle workers drop in all the time for advice; to purchase knitting material; or to take one of the classes offered five days a week ($10 per class, $20 for "specialty" classes).
During the famous New York Sheep and Wool Festival – 30 minutes away in Rhinebeck – Ebels estimates that over 2,000 people come into her small shop throughout the week. Open Mon-Fri 11-6, Sat 10-4, Sun 12-4.
It seems incredible that all the organic products for three Savor Spas in Manhattan (one in the West Village, one on the Upper West Side, and a pop-up in NoLita) are made right here, upstairs, in the only Savor//Beauty outside of NYC. From here, it's shipped all over the world.
The Spa/Salon is a confection of space: a little bit glossy, a little bit floral-pop.
Savor Beauty founder, Angela Jia Kim, points out that Koreans are "obsessive about skin care." Her mother "always had something new sent from her sisters in Seoul."
A concert pianist by training, Kim had an epiphany after using a new hand lotion and breaking out in hives right before a performance. She started messing around with natural organic ingredients, creating creams and skin care products for herself and her friends.
Soon those friends started asking her for more to keep and give as gifts. Thus, a business was born. In the Village of Saugerties, you can avoid the city crowds and book a massage or full facial in Savor's only spa outside of New York City.
Even if you just opt for the 30-minute min-facial, you'll walk out with glowing baby-soft skin and a game plan for keeping toxic ingredients in Big Brand cosmetics from polluting your precious body. Facials $65-$195, massage $105 for 60 min.
Owner, Robert Langdon, believes that "art is for everyone," and all emerging artists should get a shot at presenting their creations to the world.
And so, by giving local artists an opportunity to do so, and pricing their ceramics, paintings, jewelry, and mixed media fairly ($20 and up), Langdon is making art accessible to all. "People connect with art and nature– it's why many people are moving up here from the metropolitan area."
Each month, Langdon challenges 25-50 exhibiting artists to create a piece of work around a theme (e.g. "How art inspires poetry and poetry inspires art"). He's become very inspiring for a growing number of Saugerties creatives.
For a week in August every year, 45 area artists open their studios for the very popular Artist Studio Tour. Every October, the town celebrates "Shout Out Saugerties" to bring awareness to all forms of art (culinary, literary, fine arts).
Langdon rents out a stunning three-bedroom apartment above the gallery for $150-$350 per night. That's for all three bedrooms, two baths, and a fantastic country kitchen. A real deal.
You've got to hike ½ mile each way to get to this 1869 Italianate gem (that also serves as a 2-bedroom B&B – $225 per night) right on the Hudson River.
Left vacant in 1954 after it was automated, the shambled lighthouse was placed on the National Historic Register in 1979. It was renovated in the late 1980's and has been operating as a year-round B&B for nearly 20 years.
On Sunday afternoon, come for a tour, or plan to stay – even in wintertime. Heated by coal stoves, it's a cozy retreat when the Hudson River flows with ice.
You've got to hike in with your stuff (a small backpack is perfect – no need to get gussied up). But the effort, for the most fantastic views in Upstate New York, is so worth it.
If you love eccentric characters with passions expressed as enduring attractions, you'll love this in-the-woods expanse of bluestone ramps, stairs, pedestals, statues, and ledges – all created by one man, Harvey Fite.
Born to a poor family in 1903, Fite moved to upstate NY to enter the ministry but abandoned holy rolling to become an actor. Too antsy for backstage downtime, Fite realized his talents would be best served in the fine arts. Specifically, as a sculptor.
In his quest to find a "huge pile of rocks," Fite stumbled on an abandoned bluestone quarry (from which many New York City sidewalks of the day were sourced). Fite purchased the property, built a beautiful home, sculpted statuary from abandoned quarry stone, and became a Professor of Art at nearby Bard College.
A Lifelong Pursuit
Using traditional quarryman's tools – hammers, chisels, drills, crowbars, and a boom and pulley system – Fite singlehandedly fashioned a six-acre ramped and stair-stepped bluestone terrace. He was somehow able to stand a huge monolith, that he found in a nearby streambed, on a central pedestal.
Fite was 37 years into his planned 40-year "opus" when he fell to his death at the age of 72. Now, Fite's stepson, Tad Richards, and Tad's wife Pat are stewards of Opus 40. It remains a non-profit organization.
To raise money to maintain the grounds and work, the Richards host concerts and performances, and welcome visitors to explore the property. Sonny Rollins, Richie Havens, and Jimmy Cliff have all played on these rocks.
To emphasize what a treasure this attraction is, Opus 40's Director of Marketing just sent me this update:
We have received a $300,000 grant from The Andrew W. Mellon Foundation for the repair and conservation of our world-famous 6.5-acre bluestone sculpture created by the late artist and Bard College professor Harvey Fite. This award matches a grant of the same size from the National Parks Service/Save America's Treasures program and will help us preserve the masterwork at the center of our 57-acre property.
It's a fantastic, one-of-a-kind venue, and apparently, one worth preserving. Open Memorial Day through Columbus Day, Thurs-Sun, and Holiday Mondays, 11-5:30. $10 adults, $3 kids. Concerts $40 per person.
Since it opened in 2001, CAS has rescued about 3,500 farm animals. Many run underfoot on these 110 acres, like the free-ranging creatures they are now fortunate to be. Guests are invited on weekends to interact with an assortment of animals on a 1 ½-hour tour that begins every half hour from 10:30 to 2:30.
You'll hold chickens, pet sheep, pigs, and cows. And you'll also learn about the "special needs" animals – like blind horses and rescued veal calves. Should you wish to stay, there's a very pretty, newly opened B&B in a renovated Civil War-era building on site. Tours are $12 for adults, and $8, for kids. Rooms with shared baths are $115-$175, and suites are $295.
This 1727 stone house and barn out back have been newly renovated. Thankfully, much – like the original wide plank floors and 18th-century glass paned windows (some with family inscriptions) – has been preserved.
The newly reassembled Dutch Barn serves as Art and Cultural Heritage Gallery. It's one of the oldest barns in the county. Open Sat 11-2, Sun 1-4.
The spelling of blueberry with two y's is not a typo. It's just the owner, Brooke Michaels' way of declaring her individuality. The 25-year-old Michaels makes most of the crystal-based jewelry on display and teaches all the yoga classes in the back-room studio. After each session, "people will stay awhile just to shop."
There are "all kinds of goodies" in what is ostensibly a bedding store. Peruse throws, pillows, slippers, robes – all things for a good night's sleep – as well as kitchen tools. A fun place to browse.
Find kitchenware, sundries, and a whole room devoted to kids and babies.
SHOP: Two indie bookstores
Inquiring Minds (helpful staff and coffee/soda bar). And, Our Bookshop (rare and used books in a parlor-like room).
Rae Stang owns the very delicious Lucky's. You'll find not just "small batch organic chocolates," but also croissants, chili, soups and other delights.
Woman in Gold on the billing with Mall Cop 2? That's the beauty of this indie-pop movie theater right in town.
Best Restaurants in Saugerties NY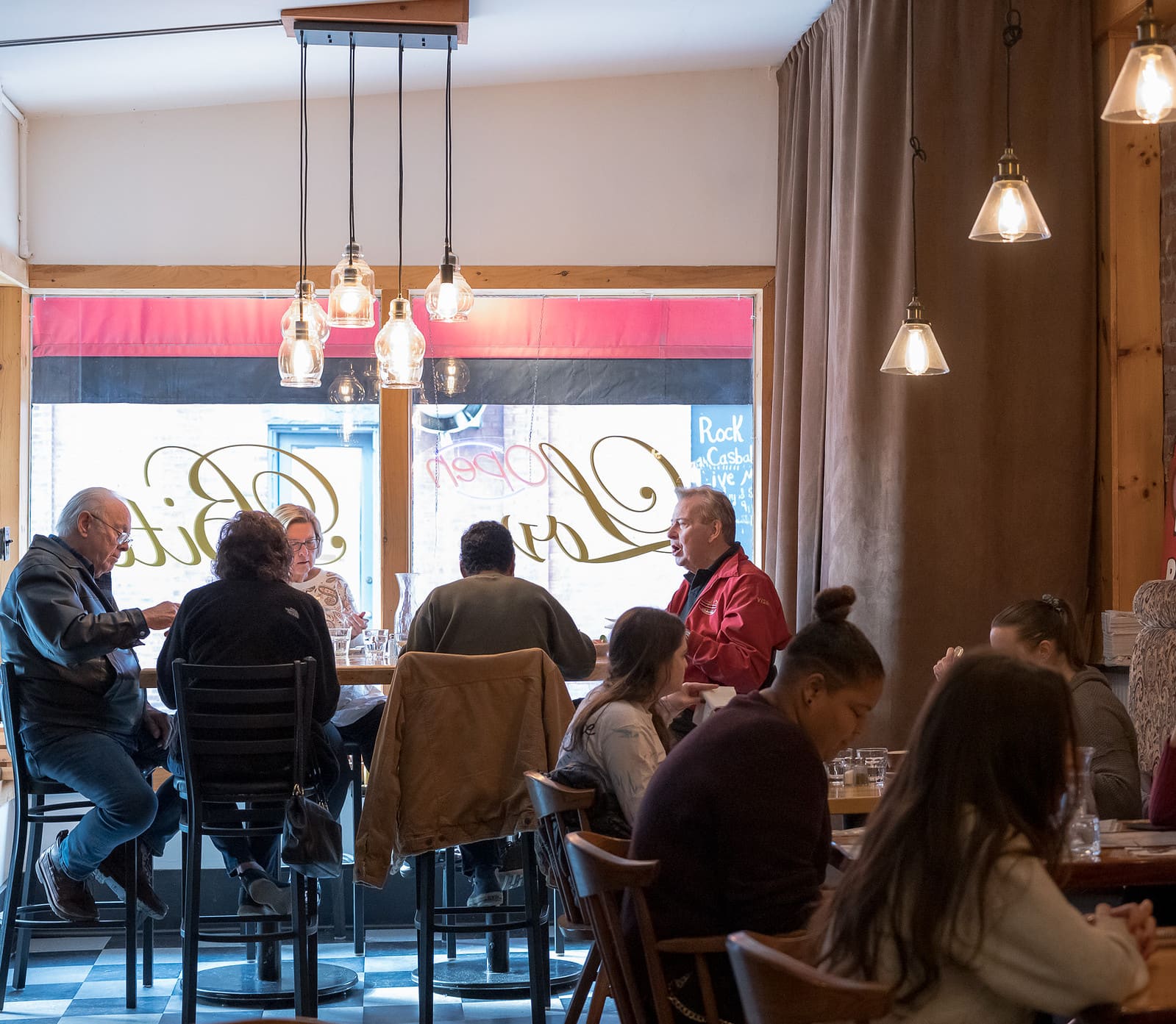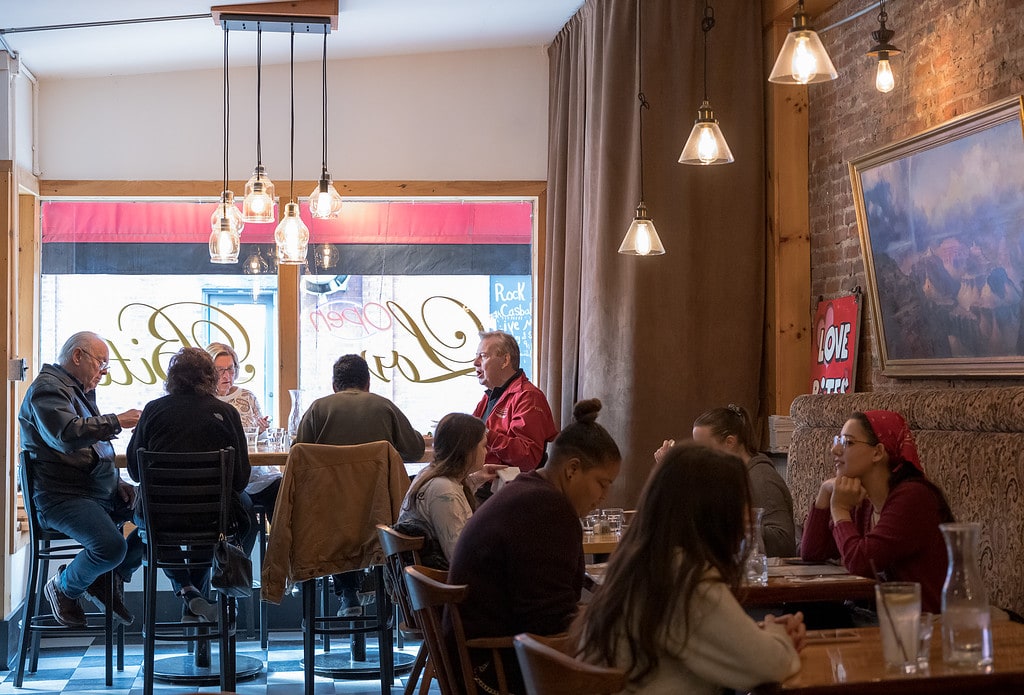 Head to Love Bites for unpretentious farm-to-table casual fare in an art-filled cozy setting. Brunch and lunch are served daily. Specialty lattes, varied teas, and an inventive cocktail menu complement a choice of Benedicts and one-of-a-kind breakfast faves.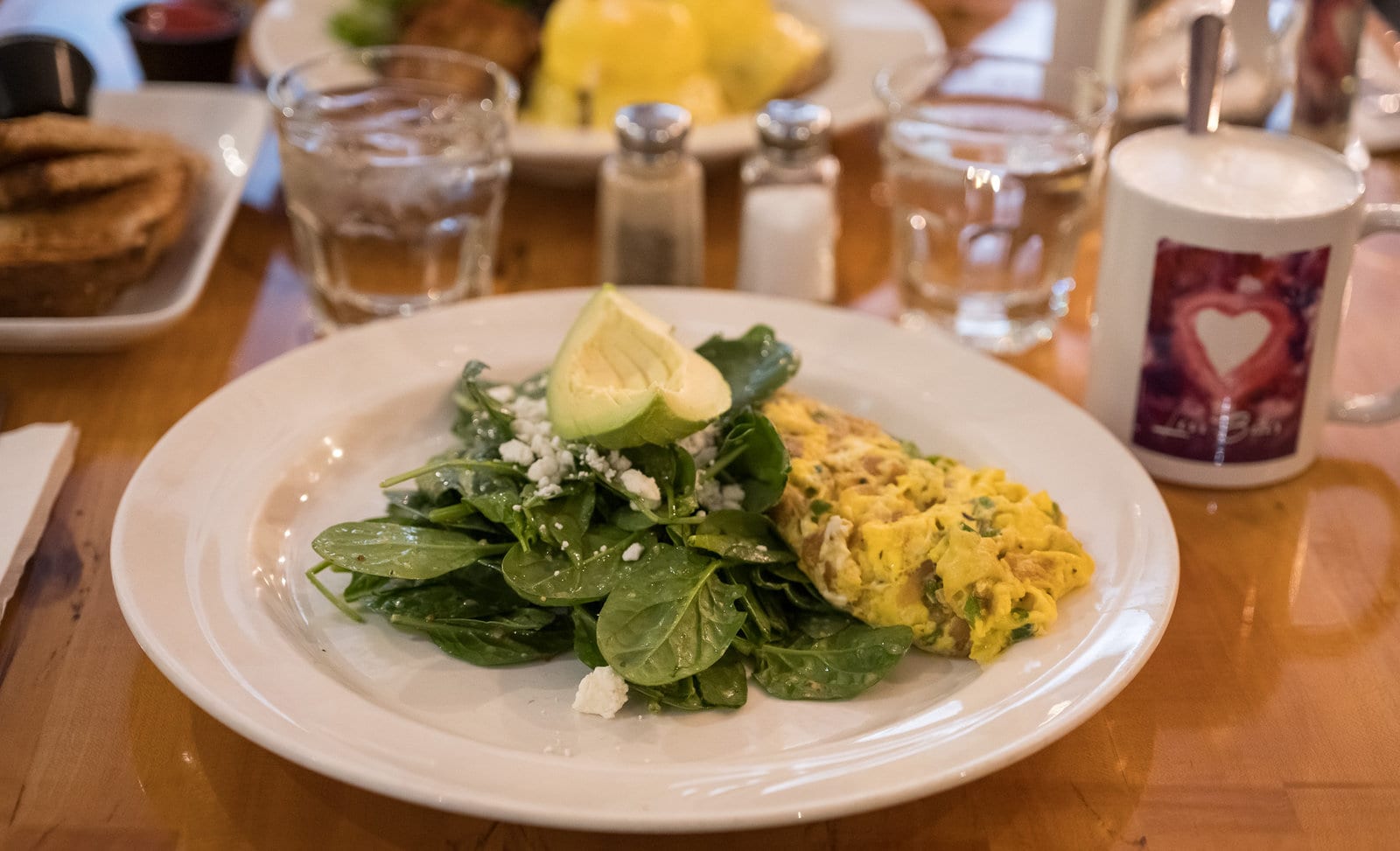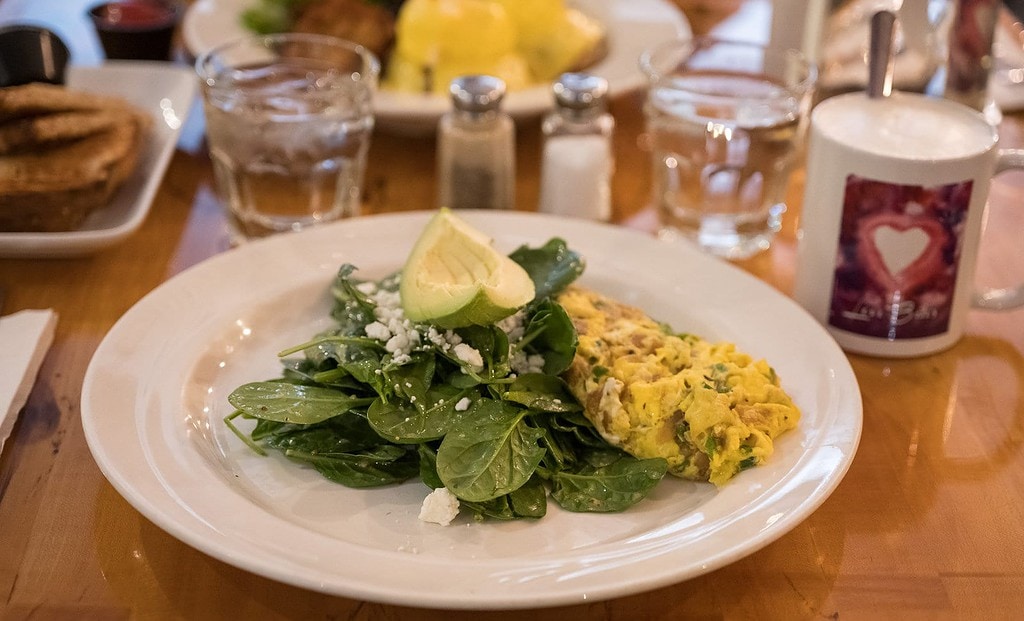 Sweet or savory, meaty or vegan, dishes are outstanding.
Opened the day after Prohibition was repealed in December 1933, the Dutch Ale House was a Saugerties "dive bar" for generations. It remained the place for a pint, even as it became more and more run down. Shunned by foodies, the menu featured mostly "frozen food."
That all changed when Dallas and Ted Gilpin purchased "The Dutch" in 2018.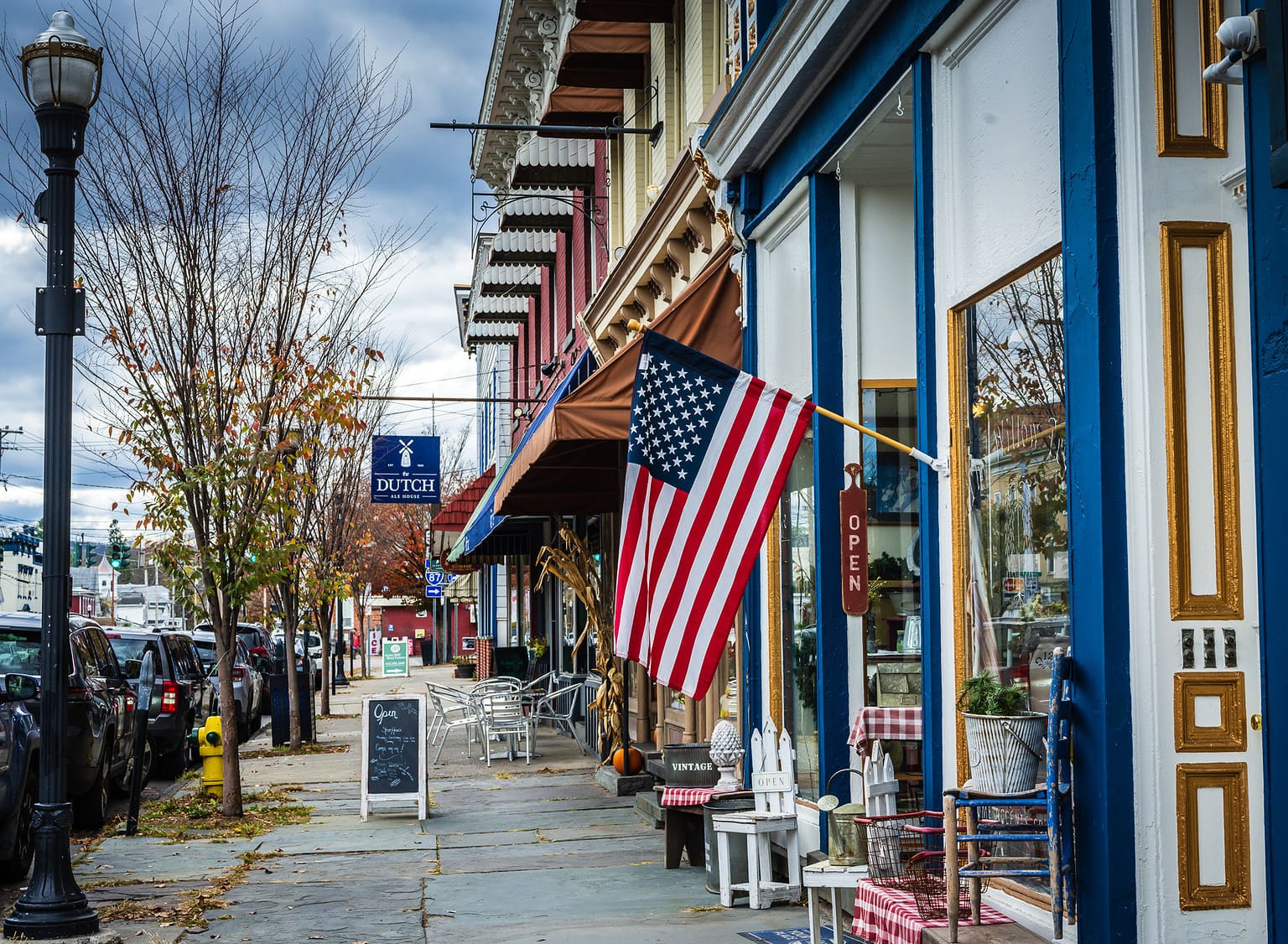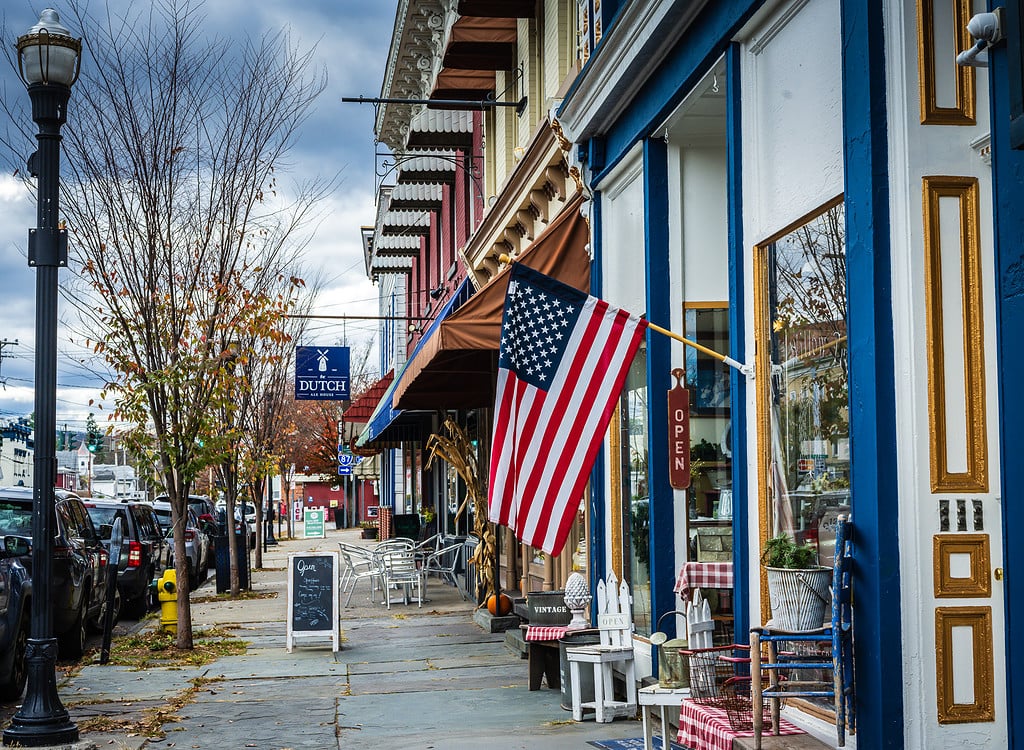 From NYC to Country Restauranteurs
The Gilpins were "weekenders from NYC," with a country house a bit north. They'd stop in Saugerties on their way up for a burger and beer because they "loved the bartender." So much so, they held their wedding rehearsal dinner in the space.
So, when the Dutch went up for sale, Dallas left her job at Goldman Sachs, and she and Ted moved here full-time. (He still commutes into NYC).
The couple expanded the restaurant into the t-shirt shop next door and demoed the walls to reveal "original Saugerties-made brick." Then, they brought in an esteemed Southern chef and BBQ king, Jonathan Botta to run the kitchen.
Botta's menu is as far from frozen as it gets. He smokes his own meats in-house, makes his sausages from scratch, and crafts his own beer-based mustards (heavy on IPA). If nothing else, you must order the Truffle Garlic Parm Frites ($10). It's an outlandishly mouthwatering amalgam of finely sliced parmesan cheese, grated fresh garlic, and long thin golden brown fries.
But you can't go wrong with other dishes that are quite enticing, including the Hot Smoked Salmon($20) served over a bed of greens, Pastrami Beef Ribs ($32), and Dutch Onion Soup ($7) finished with Guinness Stout.
EAT/BREAKFAST/PICNIC: O &Co.
The "O" stands for Olsen, as in the mother-daughter duo Marianne and Elizabeth Olsen. They, with their cousin, Janelle, opened this tiny but mighty women-owned gourmet store specializing in local cheese, pasta, bread, eggs, meats, and coffee.
Marianne got her to start making goat milk soaps on her family goat farm. She soon realized that Saugerties needed a little provision shop so that locals had a place to sell their own homemade products and food items, and visitors could pick up gifts, cheese, and bread for dinner parties and picnics.
It's a win-win for all. And now, especially, for foodies who have deemed both the Breakfast Sandwich (two local eggs, melted gruyere, sprouts, pesto mayo, and uncured maple bacon on Sourdough bread) and Chicken Salad worthy of a long drive.
EAT: Sue's
If you want to find the locals in Saugerties, go to Sue's on any given night. It might not offer the most innovative or obsessed-over cuisine, but recently renovated Sue's, on 9w, a mile or so from downtown, is packed and quite boisterous every day of the week because it does offer the perfect kind of food and venue for family and group get-togethers.
There are actually people who go a few times a week for the meatballs alone. Though Momma Costello still cooks her authentic Italian meatballs and other Italian specialties, she's got a couple of CIA-grad relatives in the kitchen as well. And it shows.
Though deep-seated pizza traditionalists might eschew the light and crispy crusts here, I'm not alone in singing the praises of a slice of Slice's pie. It is fantastic. One piece makes for a very tasty lunch break.
EAT: Locals recommend
Miss Lucy's Kitchen for down-home, stovetop goodness.
Saugerties NY Hotels
Tom Struzzieri, founder/producer of the Hunter/Jumper competition Horses in the Sun (HITS), resurrected the spirit of the paper mill that used to command this dogleg turn on Partition St. (before it burned down in the mid- '70s).
Dusting it with understated glitz, Struzzieri opened the 30-room Diamond Mills Hotel, perched on a cliff overlooking the Esopus Creek, to house horse show competitors, horse owners, and enthusiasts. It's since become a go-to for weddings and special events for both locals and NYC Brides and Grooms.
There are "winks to" the former mill – gears, weights, pulleys, brick and stone walls – throughout the small lobby, public areas, and on-site restaurant.
First Impressions of Diamond Mills Hotel
Diamond Mills is divided into three sections; the fortress-like hotel itself. A large event space perched right on the creek. And, the on-site restaurant, The Tavern.
The hotel lobby is small and intimate, with one friendly and helpful staff person at a casual reception desk. In the off-season, there is no valet. Unless there's an event (and especially off-season), plan to park your own car in the very convenient lot, and roll your luggage in yourself.
Rooms at Diamond Mills Hotel
Subdued and classy, each sizable room is angled for optimized views of the surging water over a man-made dam.
Unwind on your private balcony. Rooms are clad in tawny, sea-foam, and cream shades. Extras like Kerug coffee maker, mosaic tile radiant heat in the bathroom, glass rain shower, and custom "DM" toiletries enhance your overnight experience.
Dining at Diamond Mills Hotel
Though the rooms at Diamond Mills are upscale and wonderful, the in-house restaurant, Tavern, is really where this place shines.
Tavern, is a soaring, bright two-story atrium, with espresso-dark wood floors, stone slab fireplace, contemporary tableware, views out to the overflowing dam and river, and, like many establishments in the Hudson River Valley, crammed with CIA grads, even in the front of the house.
While a number of tables sit in the center of the not-so-intimate vast and modern room, several high backed banquets create nearly encapsulating cloisters for parties of two or four.
Celebratory Bread Course
"Chef recommends that you taste the olive oil first before adding lemon – it will enhance the flavor," said my waiter, as he introduced the bread course that he brought to the table with three additional house-made spreads.
I'd never been schooled on the proper way to taste/prepare olive oil for bread dipping. This was quite an educational and delicious start to the meal.
The Tavern serves Hudson Valley favorites "with a Mediterranean Twist." According to Chef Giuseppe Napoli, you can get anything from a Tavern Burger ($16), Antipasti ($21) Trota in Saor (Trout, $22), Grilled Branzino, a gleaming brontosaurus-sized Moroccan Braised Lamb Shank ($21), or other dishes that change seasonally.
If you want something lighter, go for one of the Pizzettas. This cracker-thin crust cheese and veggie-topped flatbread is truly out of this world excellent.
Rates start at $175 off-season per night for advanced booking. Does not include tax, but does include wifi, parking, coffee in the morning, and a glass of wine and cheese in the Tavern from 5-6 pm. From May-Oct HITS season, rates go up exponentially, starting at $660 per night.
Walk into this whimsical 6-room, "anti-Queen Anne" Victorian, to a "sensory orgy." Built in 1890 in a hodgepodge of styles – the home represented a backlash to the ostentatiousness of the Victorian era. And, to "blend into nature."
Knickknacks and art abound, reflecting the interests of the globetrotting and spiritually-minded owners David and Justine Smythe. David is an instructor at the Culinary Institute of America, and Justine is a graduate of the CIA.
You'll find Buddhas to 300-year-old barn beams in the bedrooms (from a local barn reclamation). And in the backyard, a man-made fish pond and tremendous views of the Catskill Mountains.
This is the only B&B in this area owned and operated by professional chefs. So,  at check-in, you're handed a personalized Breakfast Request. You can choose to have your breakfast any time between 7 am and 10 am, and from an assortment of made-to-order dishes.
Room décor is busy, but surprisingly calming. You'll find a plate of chocolates from Krause's Chocolates and biscotti from Hudson Valley Dessert Company on arrival.
The bathrooms, lovingly restored by David, are the most unique aspect of this B&B. One sports a jet-age steam shower and clawfoot tub. Another features a steam-bed rock wall. Rooms $225-$295. Include made to order gourmet breakfast, welcome treats, free wi-fi, parking.
STAY: More Saugerties B&B's
For a small town, Saugerties has a good number of worthy, and might I say, offbeat, places to stay. Hear roosters crowing and cows mooing morning and night at the Homestead Inn at Catskill Animal Sanctuary. (Picture above; $115-$175 shared bath , suite $295). Watch the Hudson River go right by your back deck at the Saugerties Lighthouse ($225). Stay in a grand mansion at Renwick Clifton House B&B ($210-$300).
More Weekend Getaways In Upstate New York