Last Updated on July 11, 2022 by Editor
WHY GO: A visit to Hyde Park NY on the Hudson River in Dutchess County would not be complete without a tour and meal at the Culinary Institute of America, our nation's premier culinary educational institution.
Spend at least half a day at the FDR Museum and Library at FDR National Historic Site (even if you've been there before). Follow up with a traipse through showcase Gilded Age homes reminiscent of Downton Abby.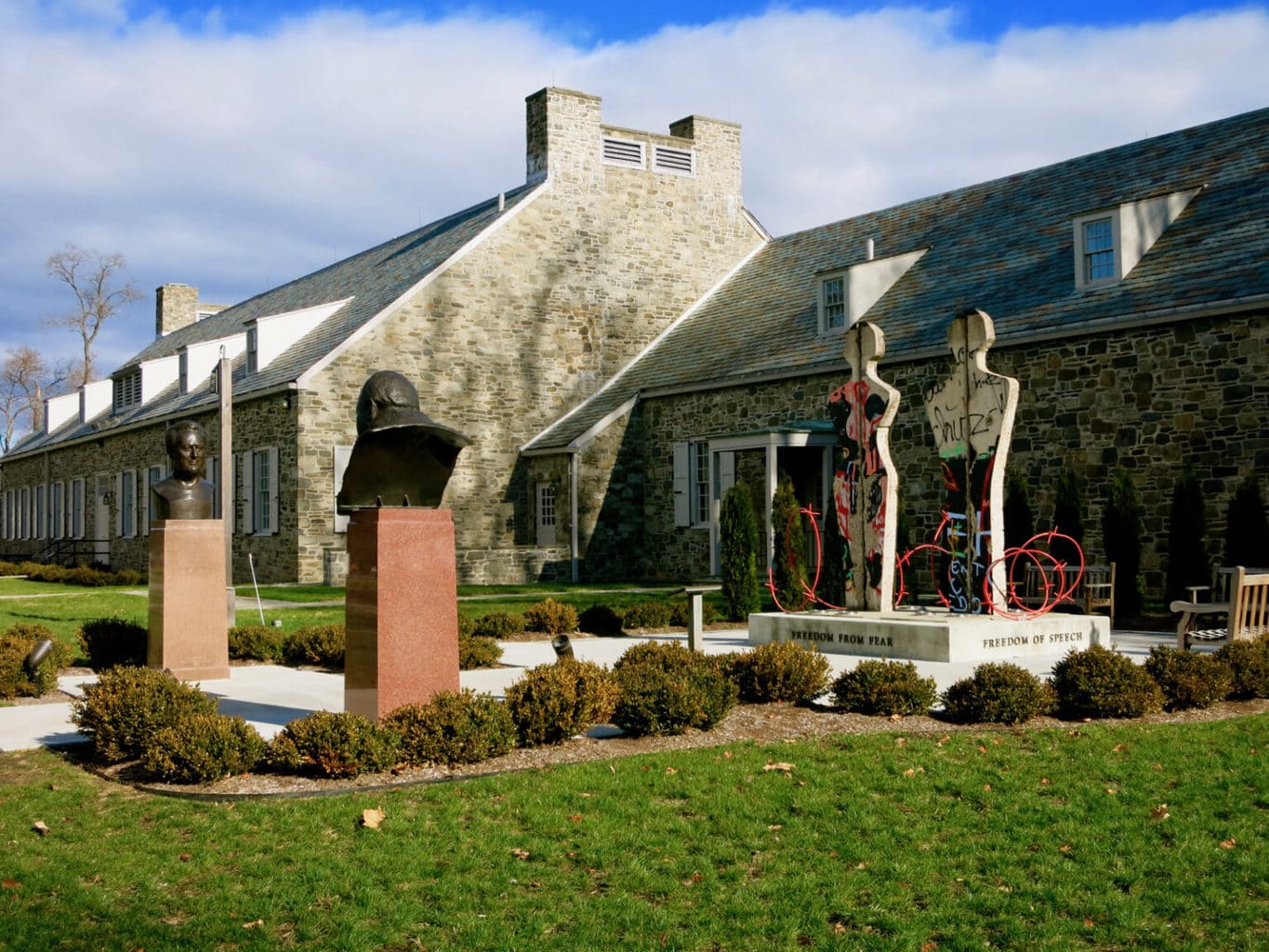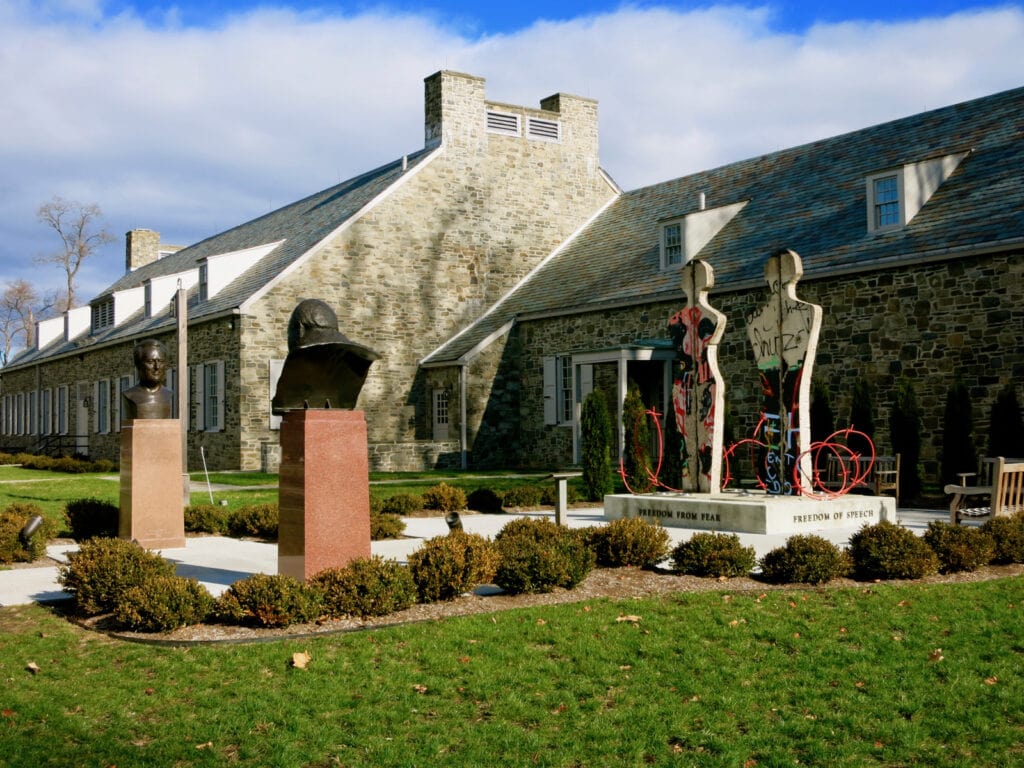 This is that singular getaway that combines the best of culinary, historical and scenic experiences – all within a short drive of New York City.
Things to Do in Hyde Park and Poughkeepsie, NY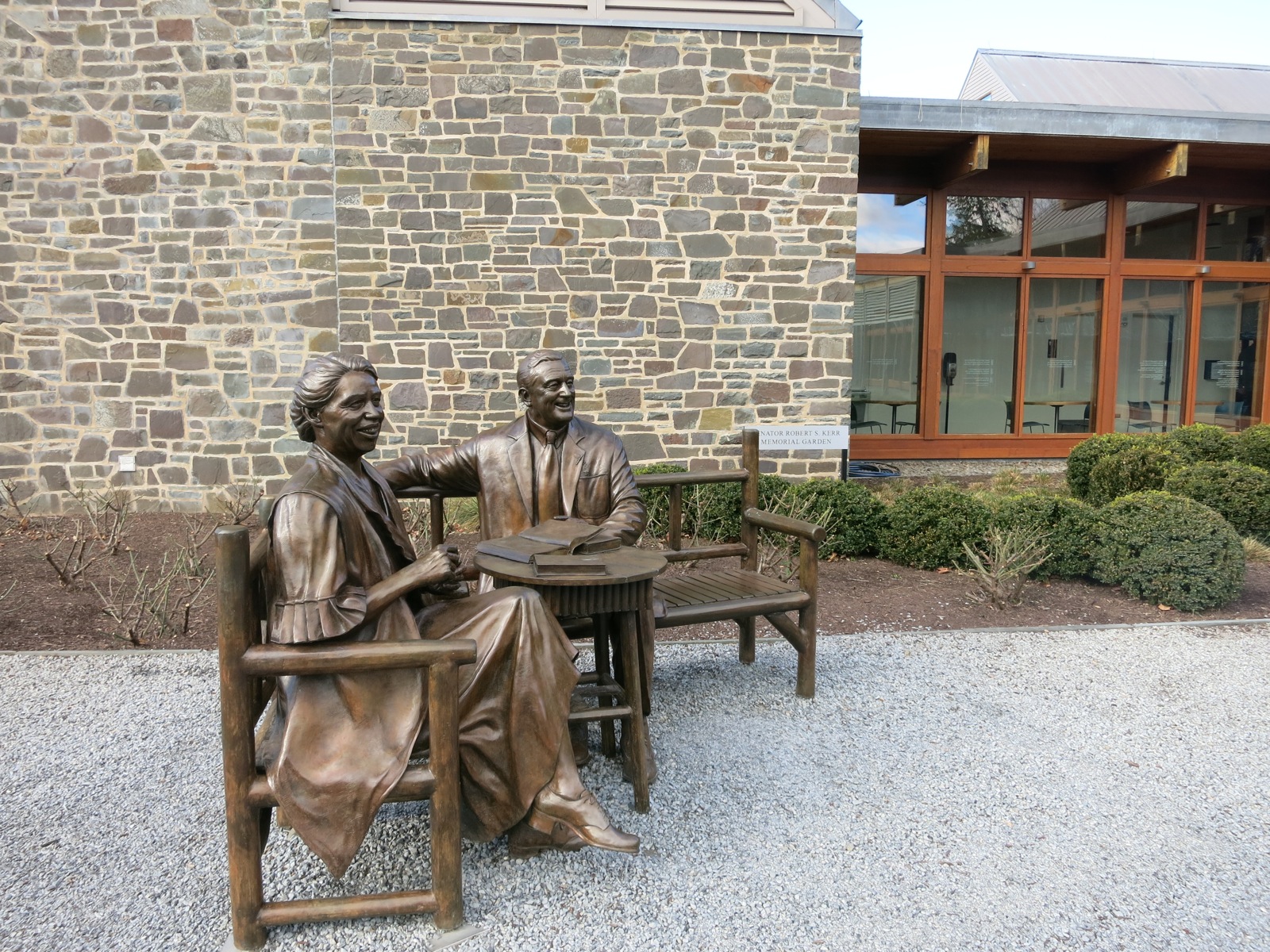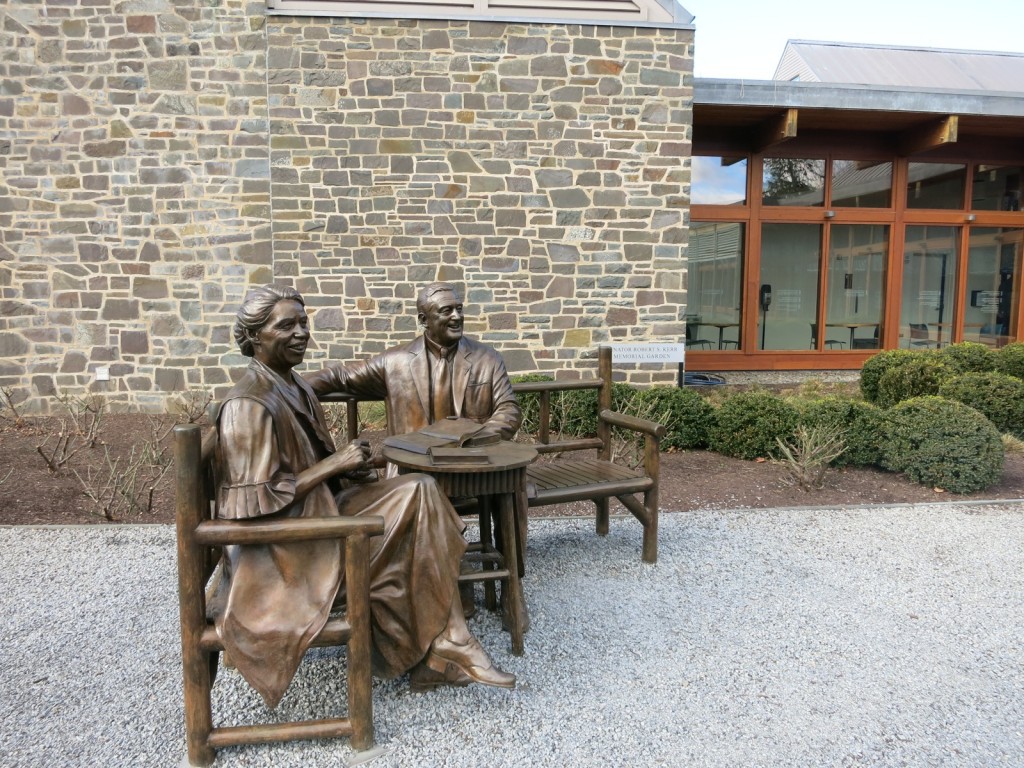 Franklin Delano Roosevelt was the only United States President elected to four consecutive terms. He died in office during his fourth term, after steering our country out of the Great Depression and through a World War.
FDR's first campaign song was "Happy Days Are Here Again." He offered hope to a Depression-weary populace. Proclaiming, "We have nothing to fear but fear itself," during his first inaugural speech– written in Hyde Park in 1933 – President Franklin D. Roosevelt pledged a "New Deal for the American People."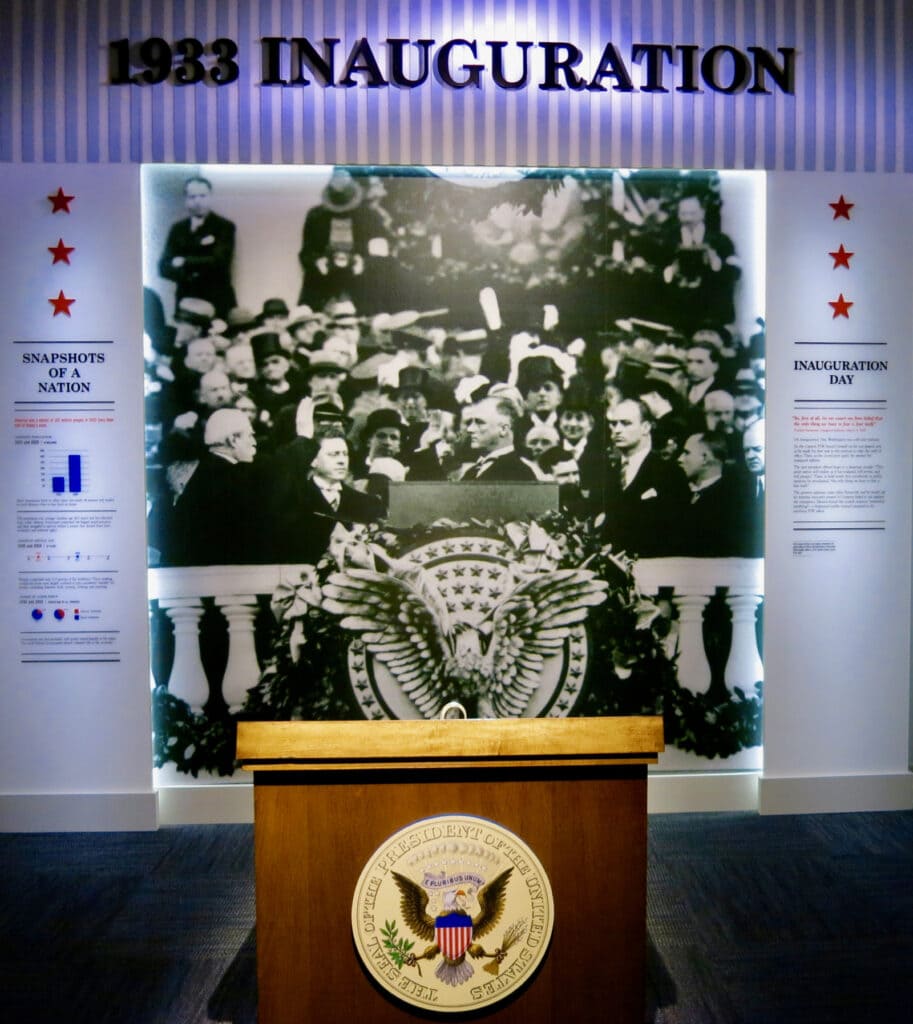 The Roosevelt Administration instituted Social Security, Welfare, and Unemployment benefits. He oversaw the creation of ten million new jobs.
Workers planted trees to mitigate farm dustbowls, added a million miles of highway, and created the very first Presidential Library.
And despite the fact that he had polio, FDR exuded a "champagne ebullience." He never once admitted to the public that he couldn't walk.
Tours begin in the Visitor's Center with a 20-minute video. Open daily 9-5, from April to October, open till 6pm. $20, adults.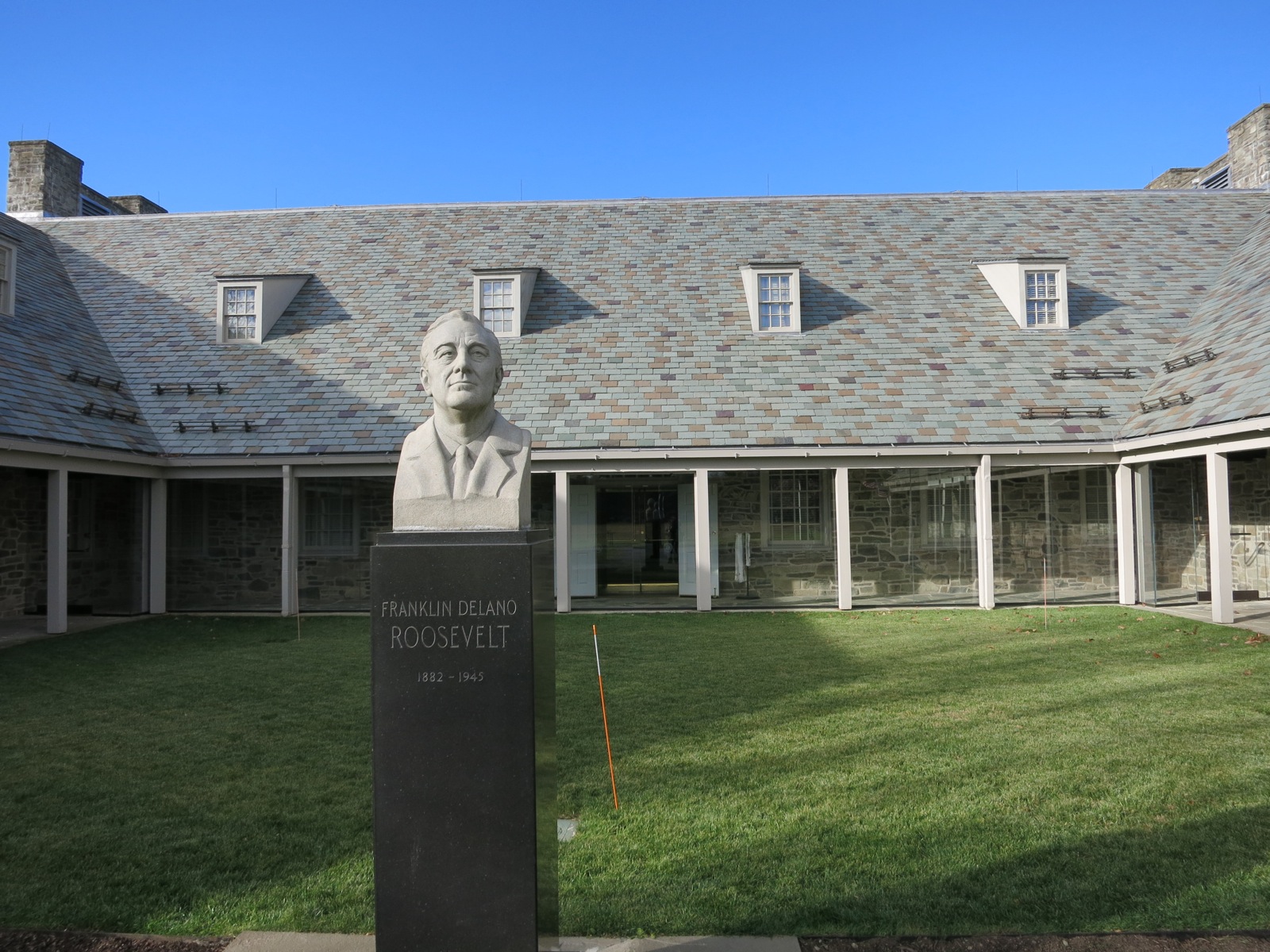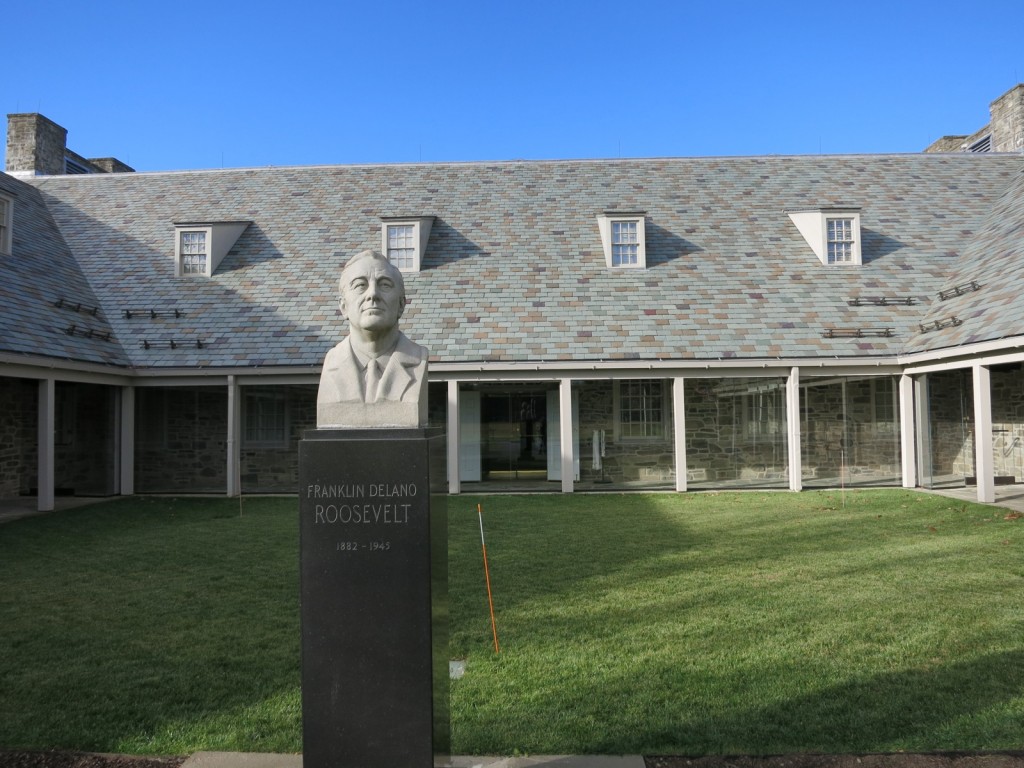 Reopened in 2013 after a three-year, $35 million renovation, the interactive, multi-media, museum ropes you in and keeps you intrigued.
It begins with a study of the Great Depression. At 25% unemployment, the economy shrunk in half. Without the safety net of unemployment insurance, breadlines soon spread across the land.
FDR's First 100 Days
FDR, though, had a vision. Crippled by polio, he nonetheless was elected in Nov. 1932 at 50 years old. His first 100 days were action-packed. Though some initiatives failed, FDR created jobs through the Works Progress Association (WPA), and instituted Social Security – an entitlement program that was not universally accepted.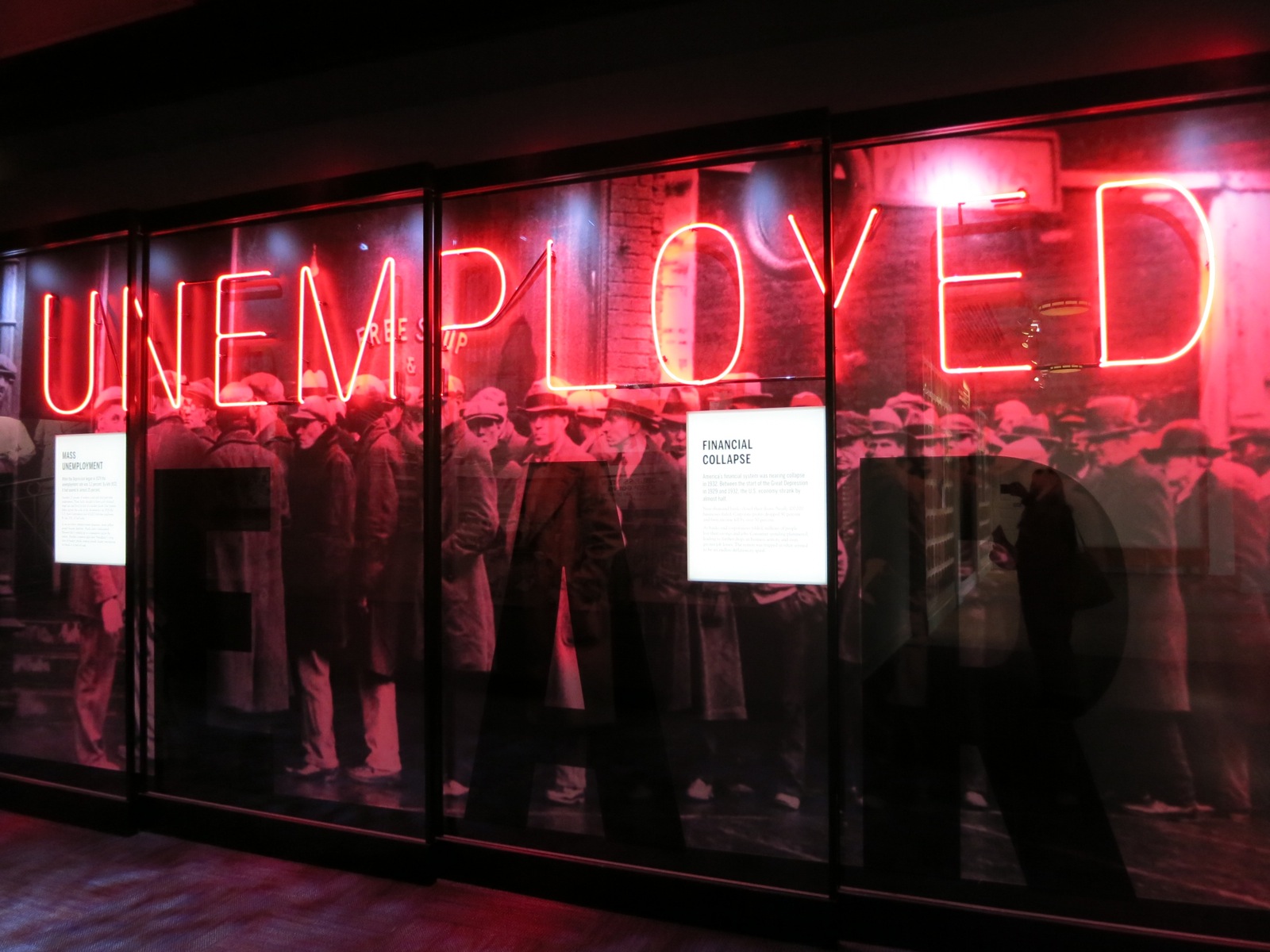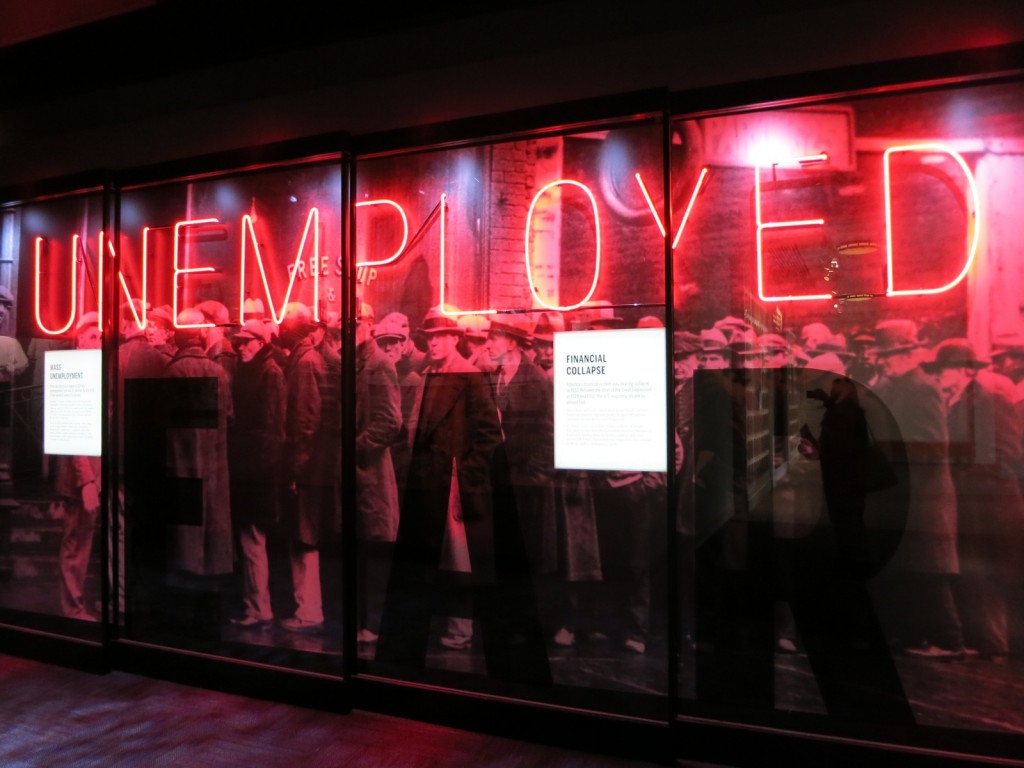 Critics believed that FDR and Eleanor were "radicals, leading the nation to socialism and dictatorship." The left considered him much too moderate.
By the late 30's, unemployment had dropped beneath 10% for the first time since 1930.
The 1940 election, FDR's third, revolved around U.S. involvement in the war abroad. Should the US remain neutral? December 7, 1941 Pearl Harbor answered that question.
FDR proclaimed the day "A date which will live in infamy," stirring our troops to fight with our allies in Europe.
FDR won his fourth term by the narrowest margin and died a year and a half later on April 12, 1945 at the age of 63. This left President Harry S. Truman to determine whether or not to deploy two atom bombs in Japan in order to end the war.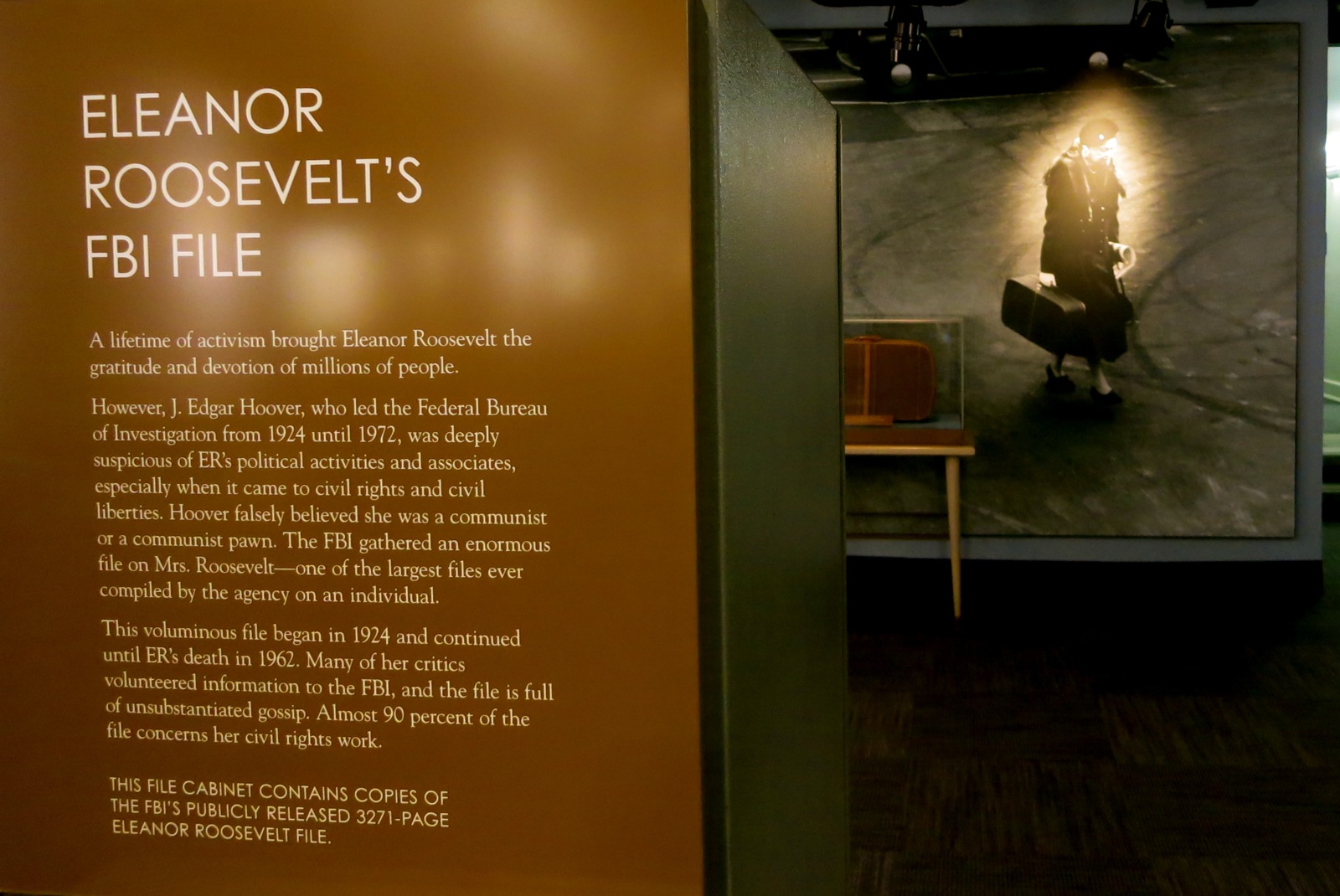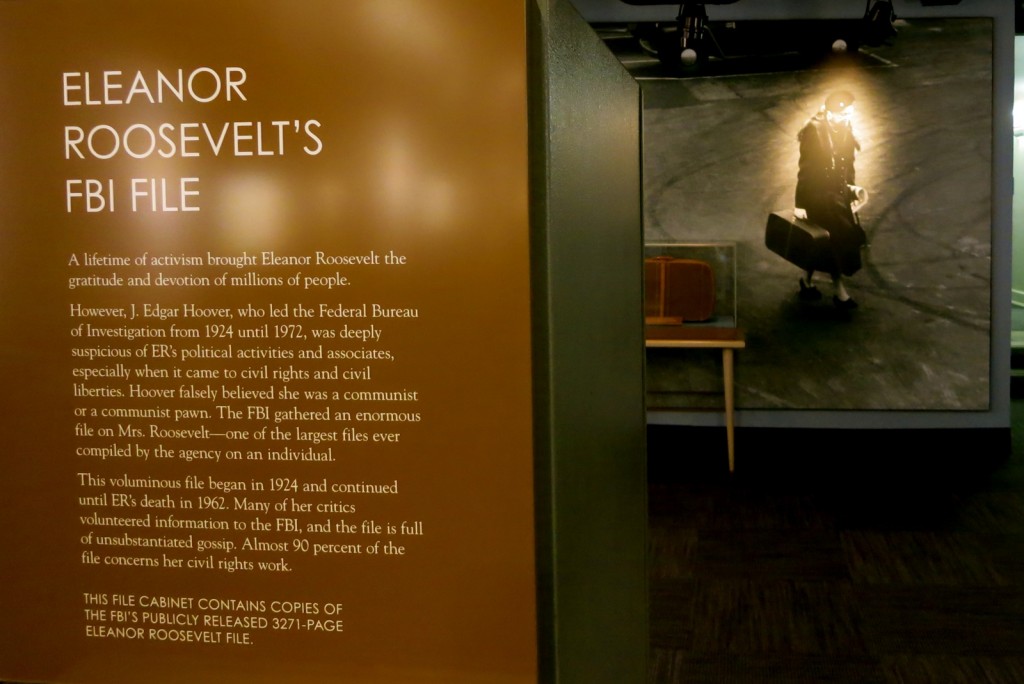 Eleanor Roosevelt continued to work on behalf of Civil and Humanitarian issues for 17 years after her husband's death. Her efforts are depicted in a marvelous exhibit that includes the suitcase she took to Tennessee on a Civil Rights trip, despite being threatened by the KKK.
Exhibits conclude with a video written and narrated by President Bill Clinton who called FDR "kind, comforting, and reassuringly positive. He steered America through the roughest seas."
*Be aware that FDR's home will be closed for renovations from April through October 2020.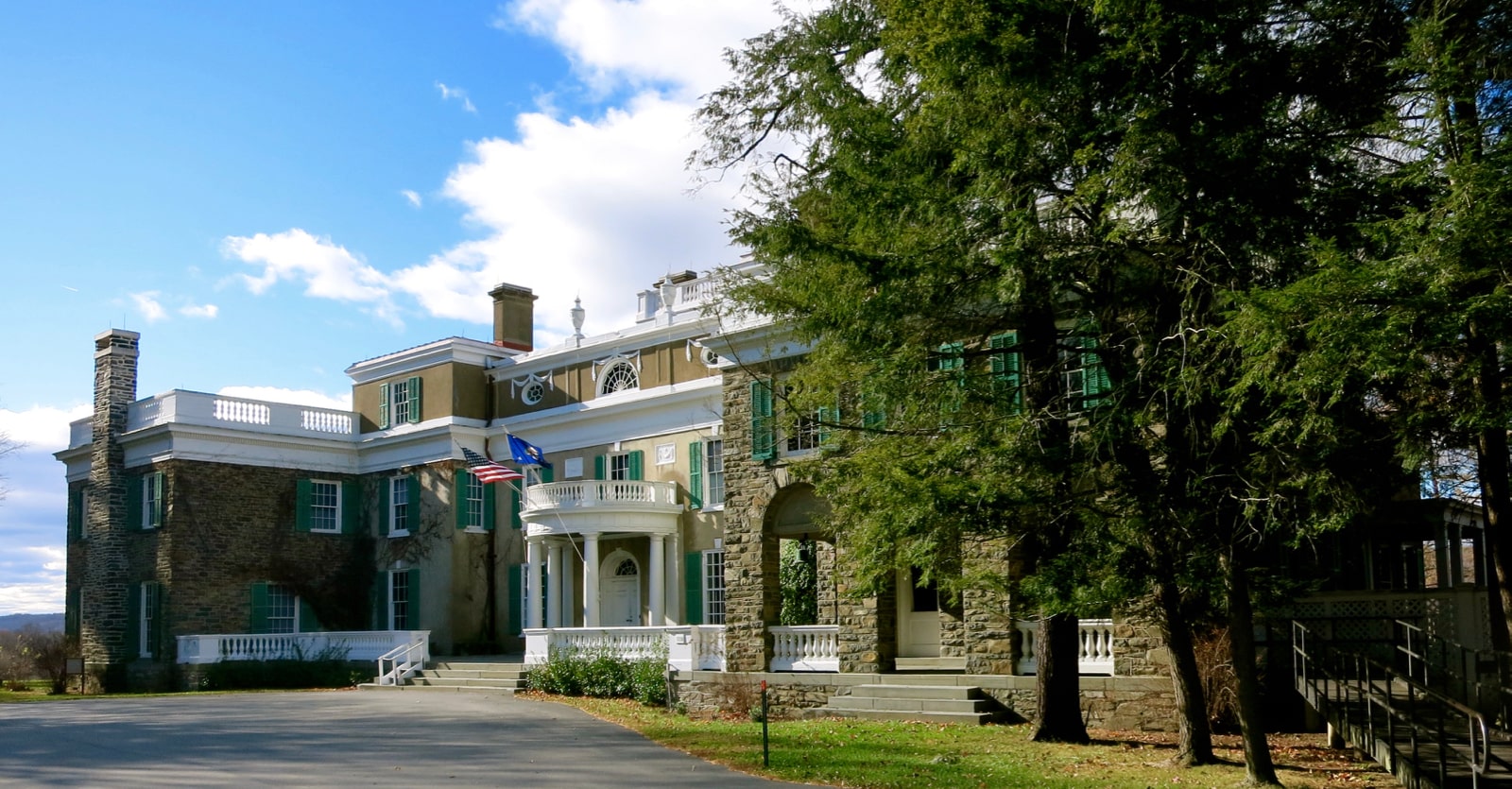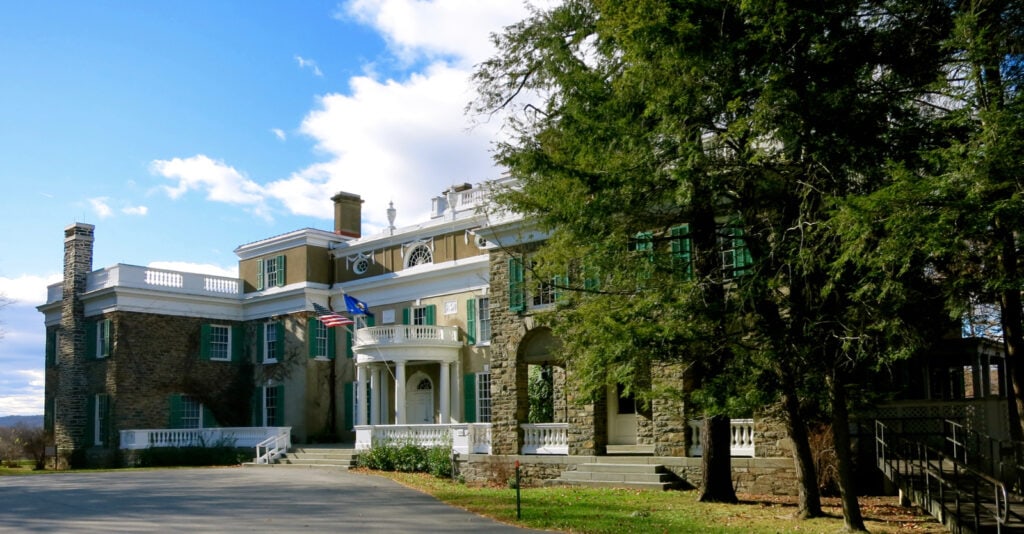 FDR was born in 1882 into a wealthy railroad family in this ancestral home. A tour provides an intimate look at the man who refused to let his useless legs define him. Incredibly, you can see the bed on which his mother, Sarah, gave birth to her only child.
Roosevelt "walked" by gripping the stiff arm of his son and swinging his brace-heavy legs out in a circular motion.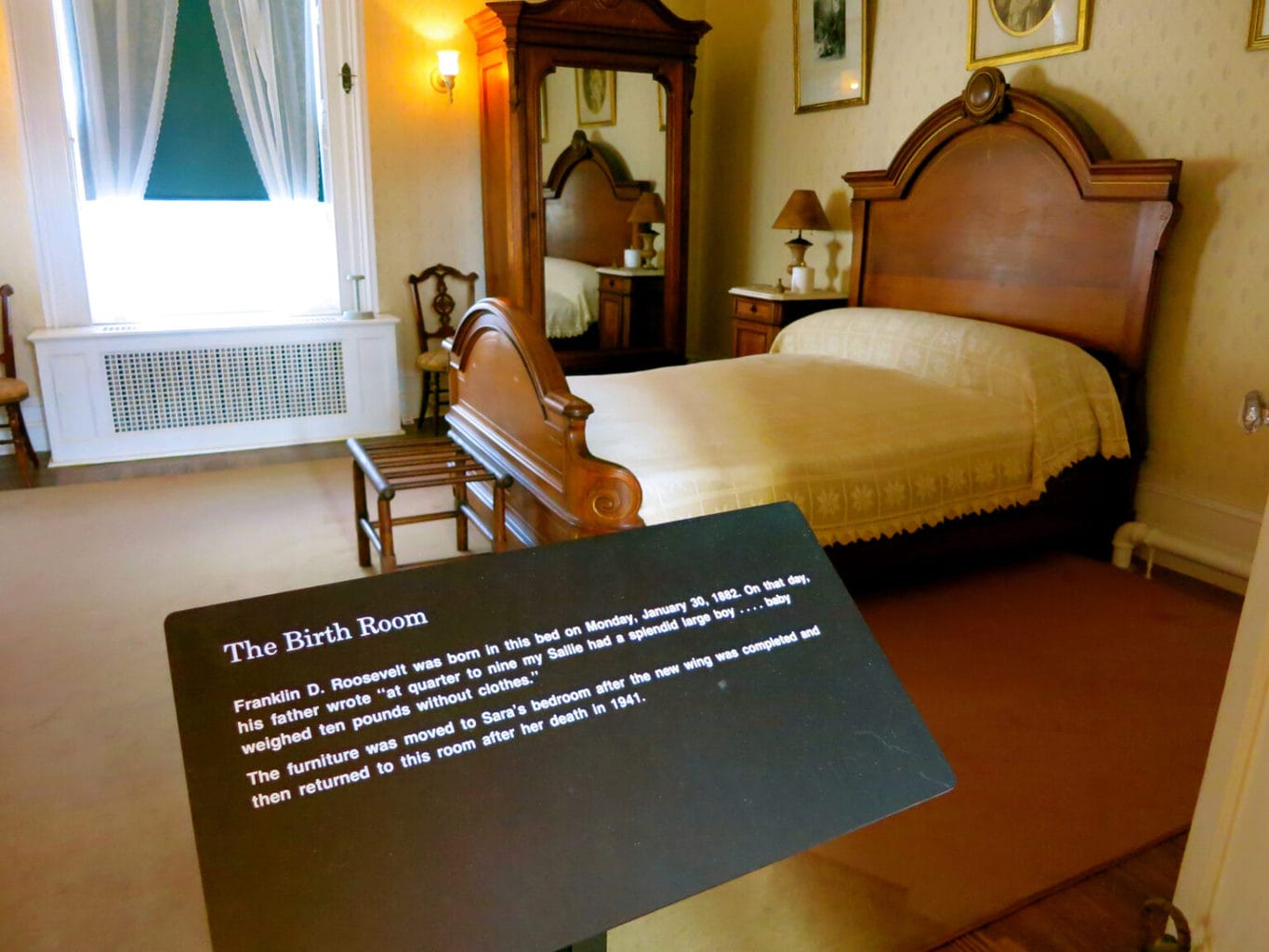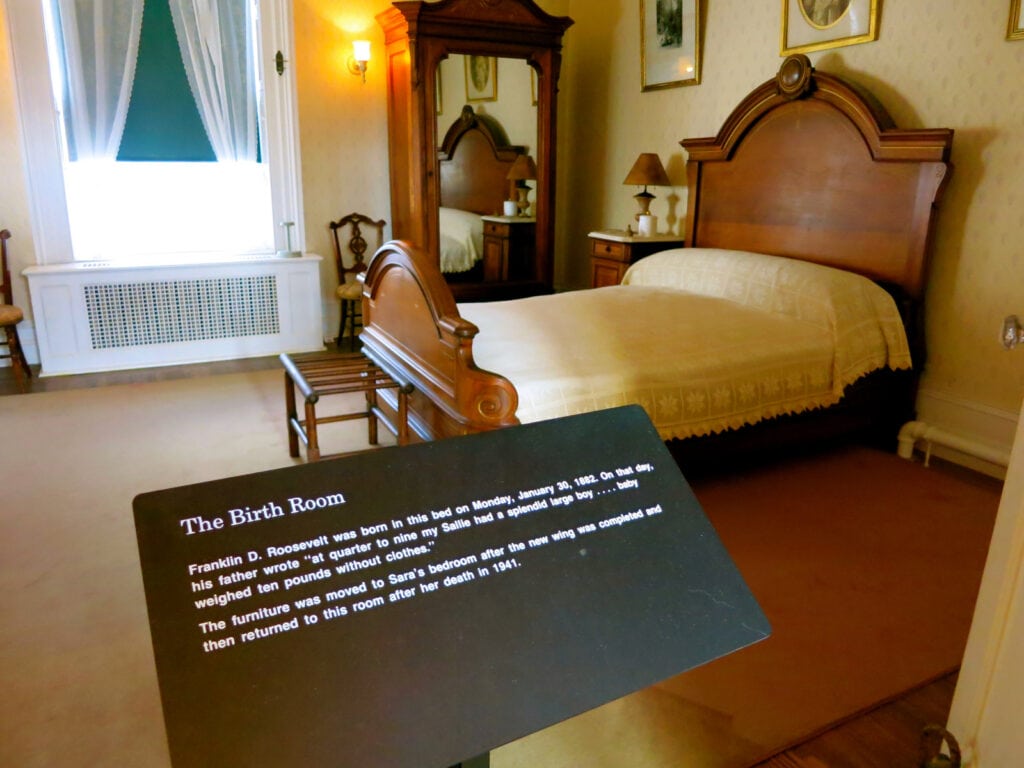 He also used a hidden dumbwaiter to move between floors, thus creating the illusion that he was able to climb stairs.
The President carved out a small office for himself in the servant's quarters in the basement ("who would look for me here?"). There, he first learned about the secret development of a potentially game-changing weapon – the Atomic Bomb.
While on his groundbreaking US Tour in June 1939, King George VI of England and his wife stayed at the FDR home in Hyde Park. It was the first time a reigning monarch had ever set foot on American soil. The whole country seemed as Royal crazy then as we are now.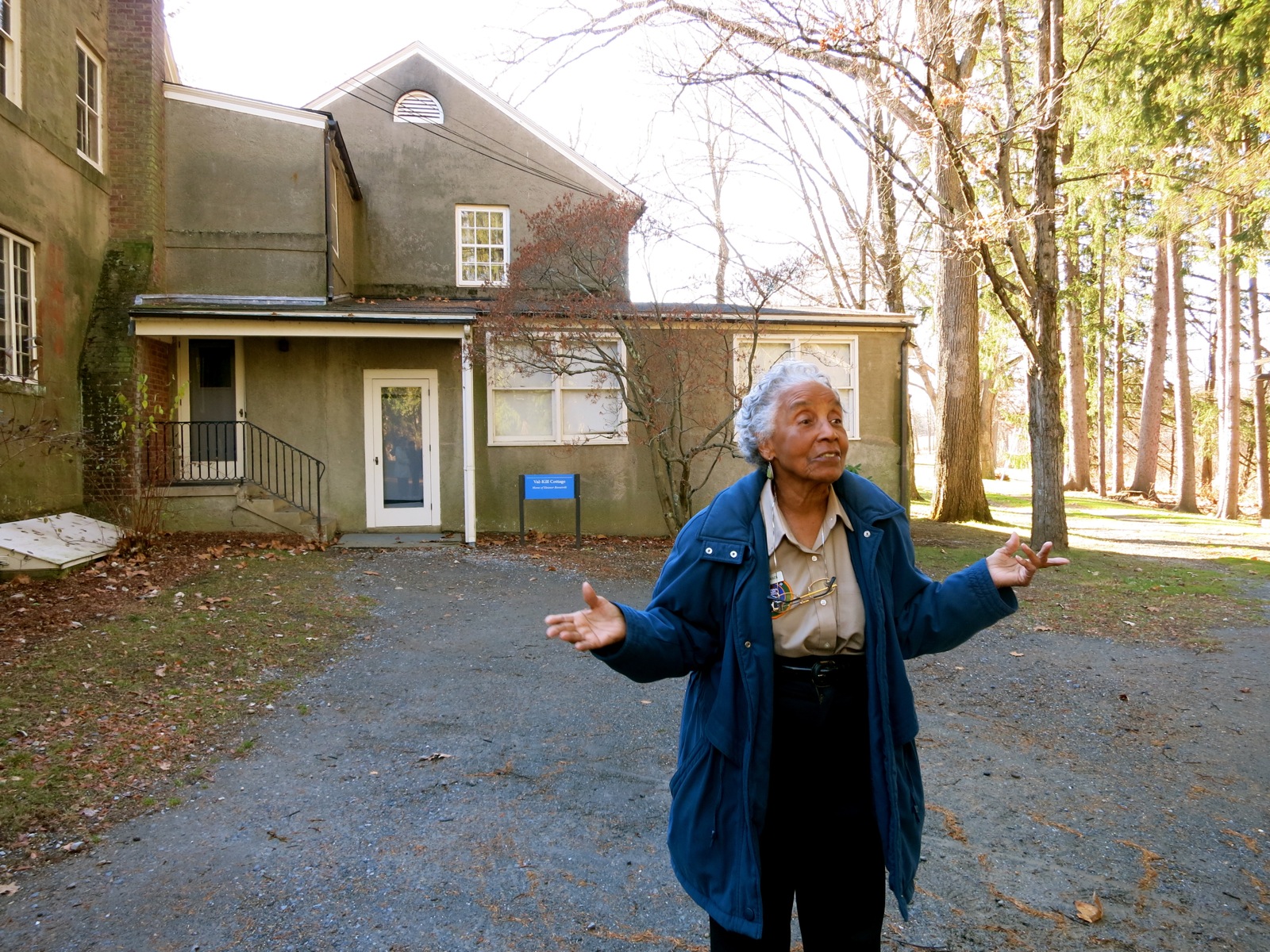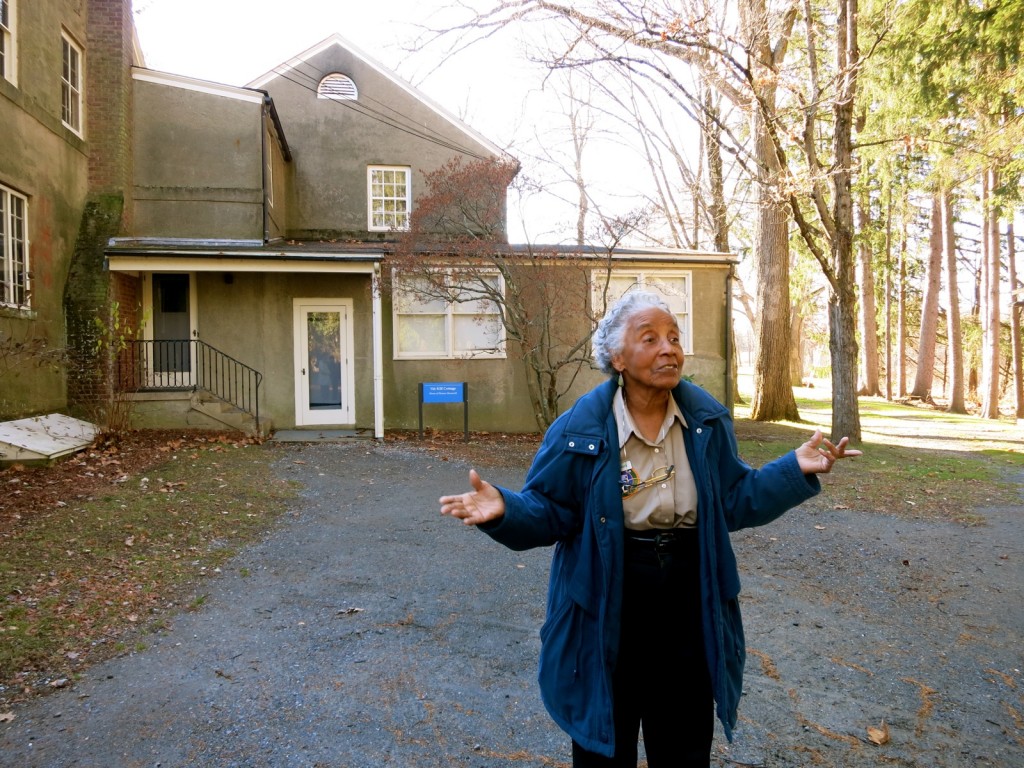 Named after the Dutch word for Country Stream, Val-Kill was the only home Eleanor Roosevelt ever owned. With 5 children, she was a devoted wife and mother until she discovered her husband's infidelities in 1938.
Agreeing to stay married, Eleanor remained FDR's confidant and "conscience." But she asserted her independence by building her own home on the site of Val-Kill Industries (a real "Cottage Industry"). The collective had been established in 1926 by potters, woodworkers, weavers and pewter workers a few miles from the Roosevelt home.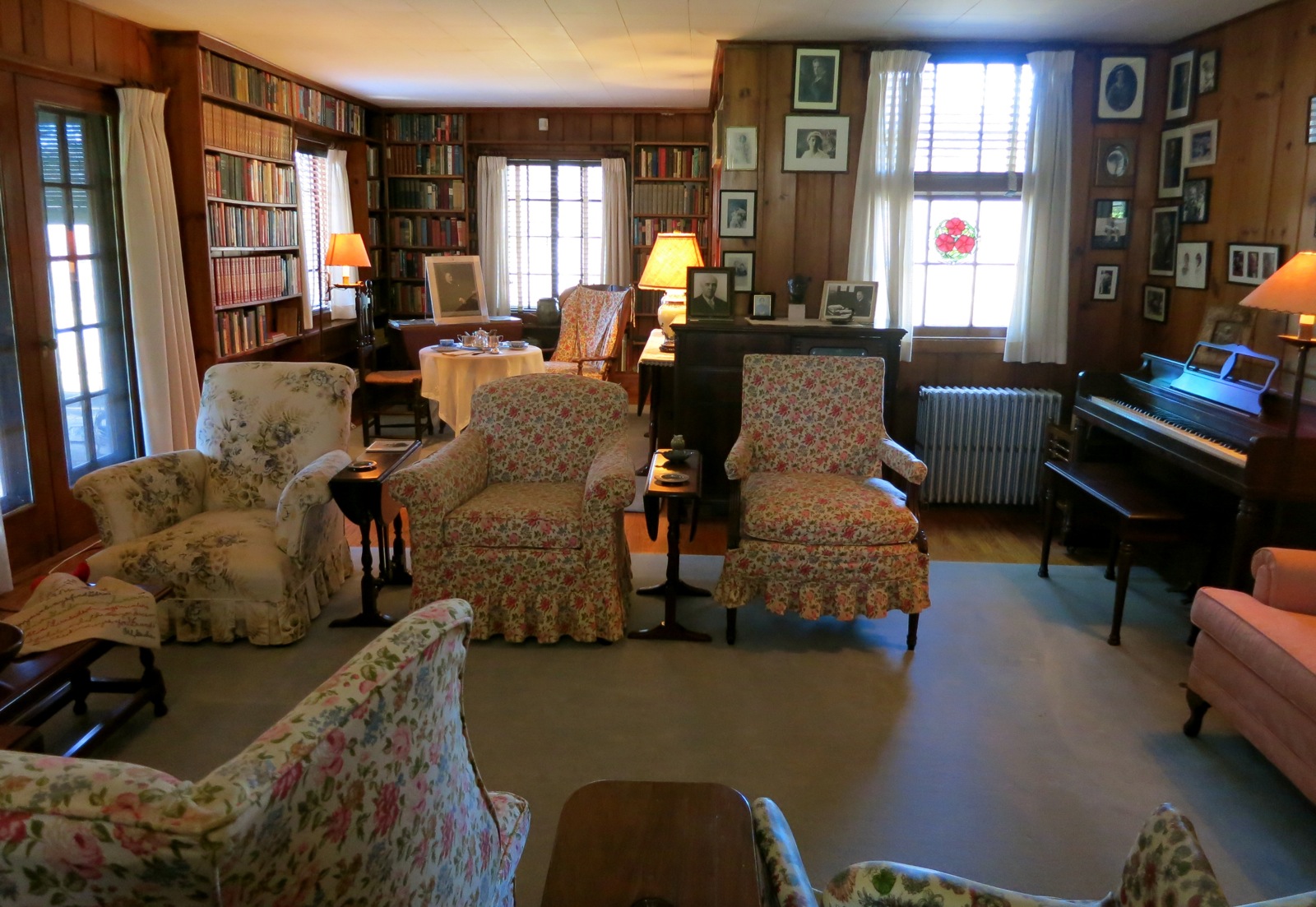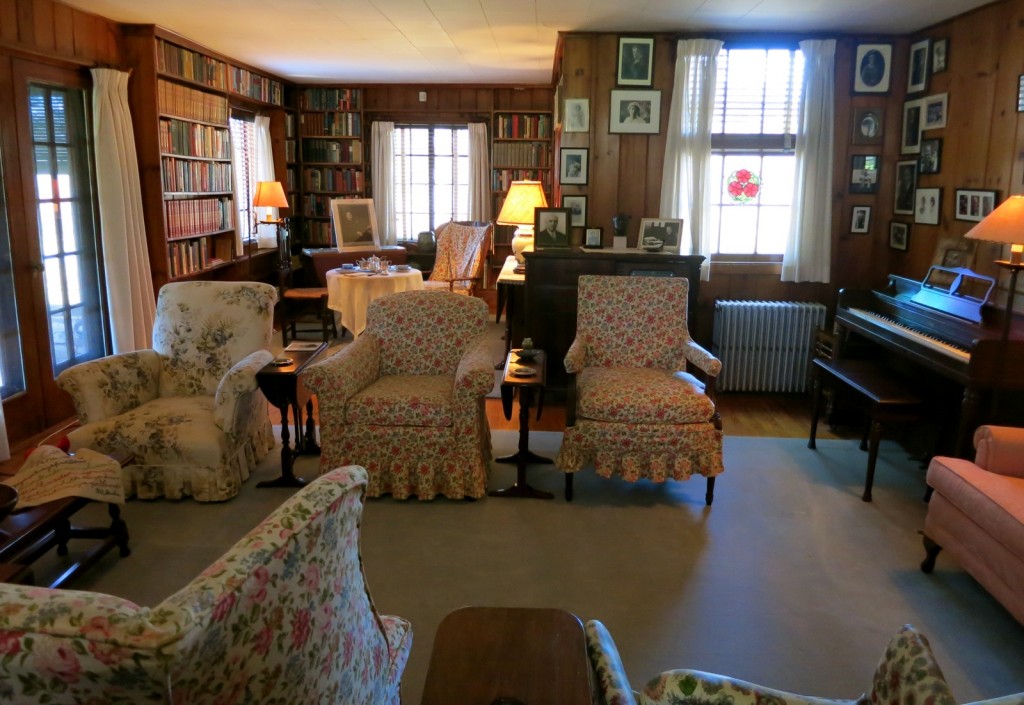 When FDR died in 1945, Eleanor moved in permanently and lived at Val-Kill until her death in 1962. Kings, Queens and diplomats would arrive at the modest screen door asking "are we in the right place?"
With a pool a few feet from the door, the Roosevelt's 28 grandchildren rushed in and out while Eleanor conversed with dignitaries "without blinking an eye," according to Val Kill guide extraordinaire, Doris Mack, 98, who knew Eleanor and her children personally.
Christmas cards from the White House – still in their original Five and Dime frames – line one wall in a small dining room. A modest dining table is set with dime store glassware.
"See that small table in the back of the parlor, set up for tea? That's where Eleanor sat with young John F. Kennedy who came because he wanted her to back him for President. Despite her reservations about his age and experience, he convinced her," said Mack. Tours $10, Doris Mack leads them on select days.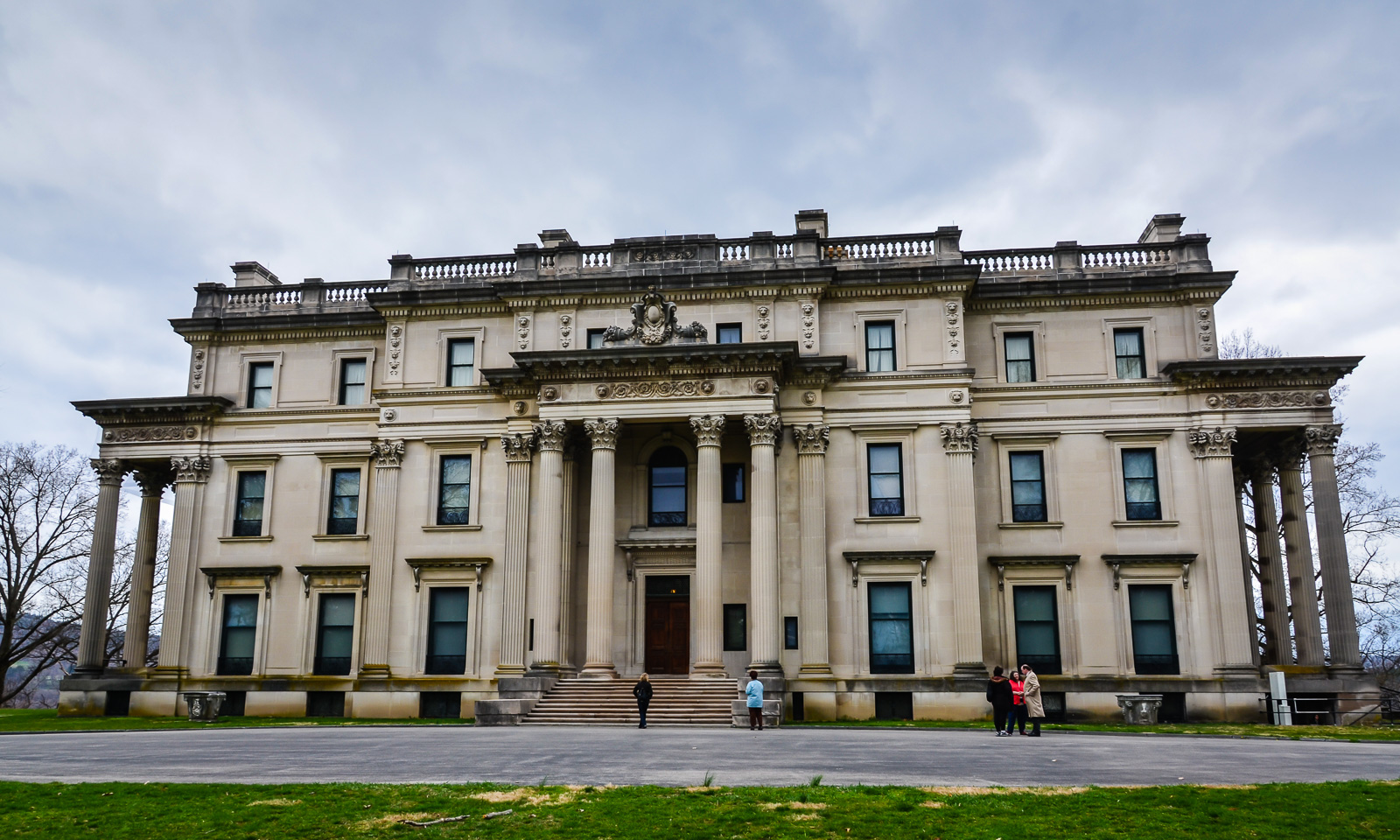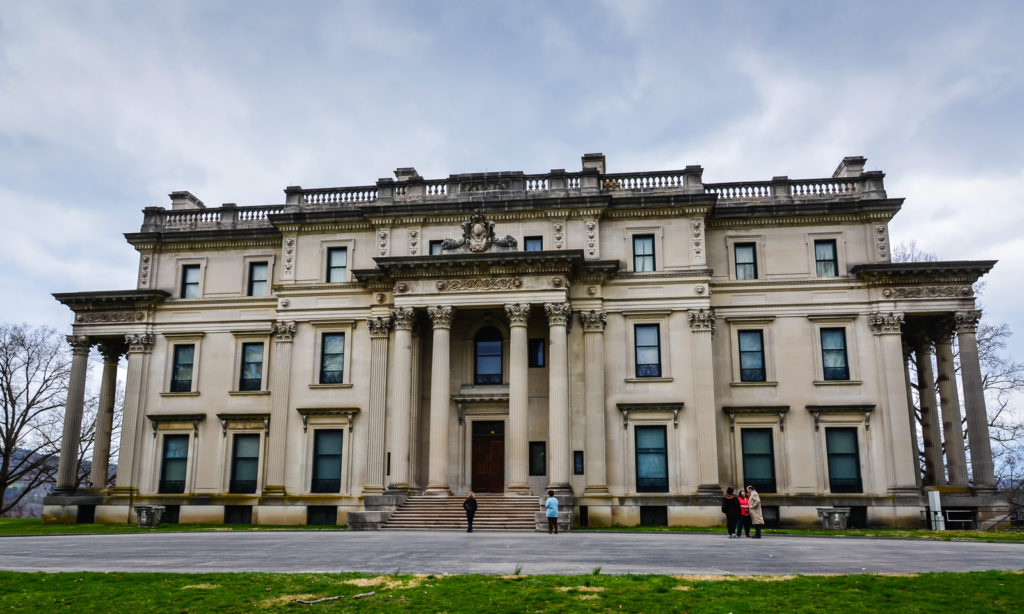 The smallest of all 40 Vanderbilt Mansions countrywide at only 50,000 sq. feet, this autumn "Country Cottage" belonged to Frederick.
Fred was but one of eight Vanderbilt grandchildren who conspicuously spent their Grandpa Cornelius's fortune. (The oldest brother, Cornelius II, built the Breakers in Newport, and the youngest brother, George, lived in the 244 room 8,000 acre Biltmore in Asheville, NC).
Now, the circa 1896 McKim, Mead and White designed Beaux Arts mansion, containing all original furniture, stands as a "Monument to the Gilded Age."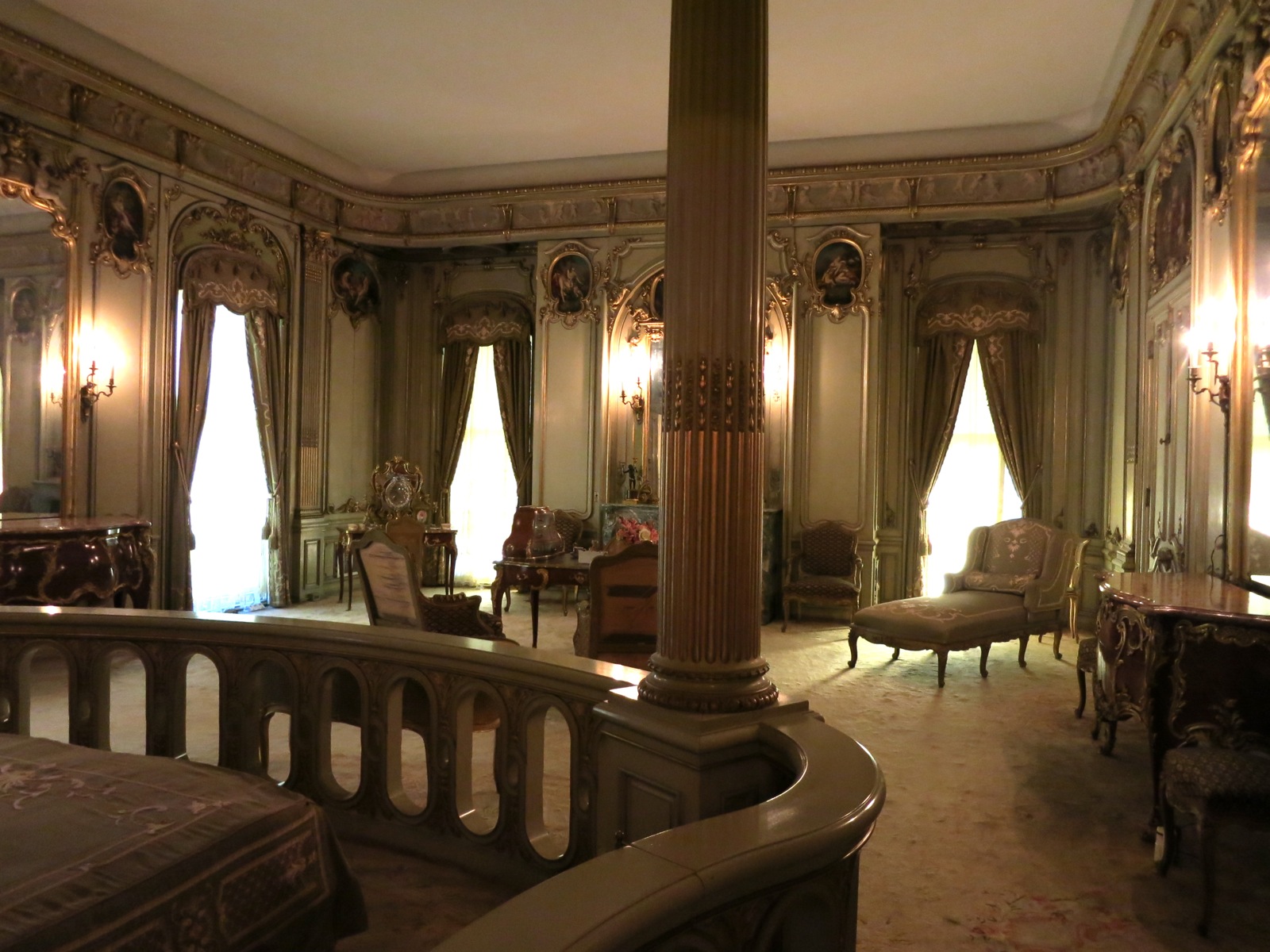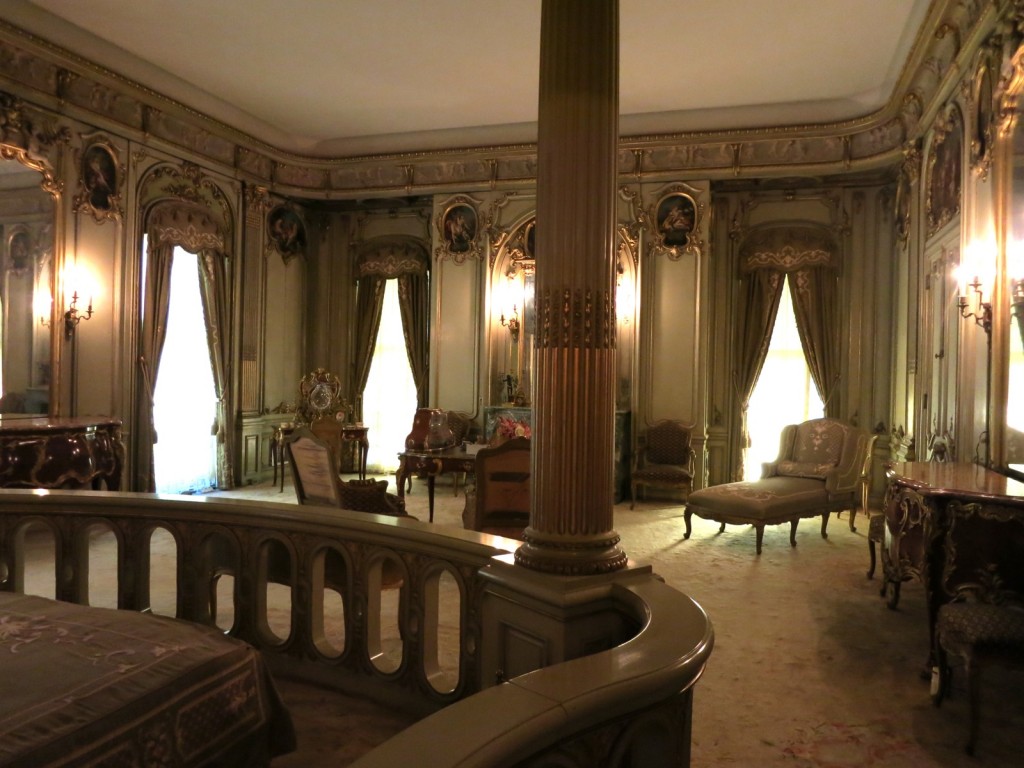 Walk into a unique circular foyer, no staircase in site. With marble columns, skylight, bedrooms fit for kings and queens, it was built not as a home but showplace used from Labor Day until mid-November only.
The dining table is "just shy of 27 feel long." Dinner – the event of each day, would last for 2 – 3 hours beneath a 400 year old carved wooden ceiling from Italy.
Modeled after European royal chambers, Frederick's bedroom sported gold-leaf crowns on both his headboard and ceiling. Louise's room was designed to look like Marie Antoinette's opulent boudoir.
The childless couple left their home to the US Parks Service, at the behest of friend and neighbor, FDR. They left the rest of their fortune to 33 servants, who received from $1,000 (a princely sum in 1938) to $250,000. Open daily, tours 10,12.2, 4. $10 adults.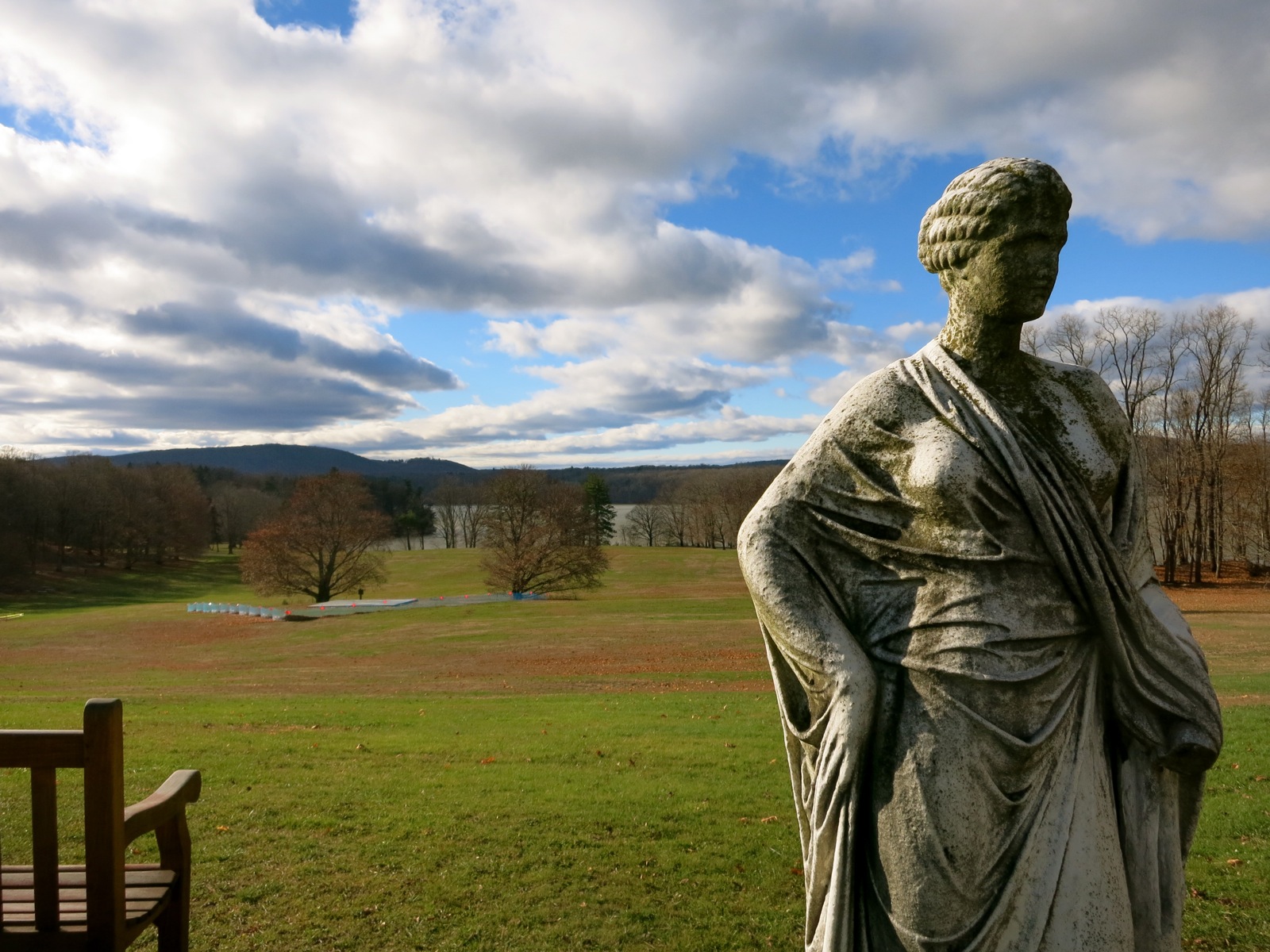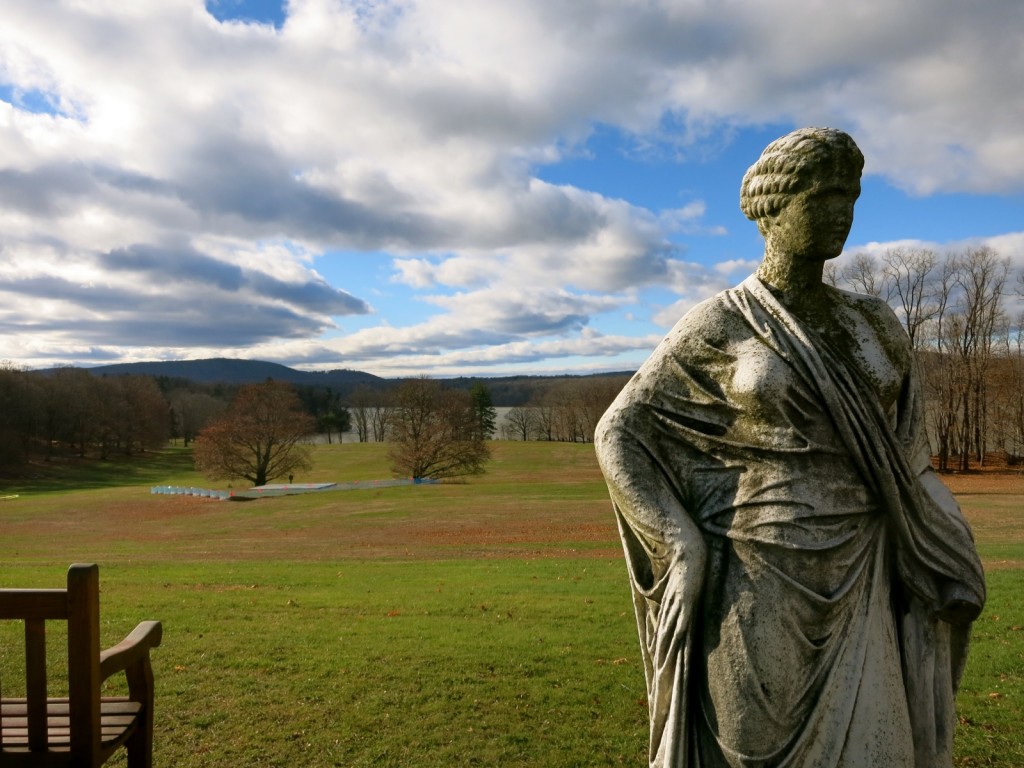 Like the Vanderbilt's place down the road, this McKim, Mead and White designed mansion, owned by financier Ogden Mills and his wife, Ruth, was re-built in 1895 to showcase great wealth.
Ruth Livingston Mills grew up in a more modest version of this home. But, aspiring to be numero-uno Society Lady, she hired starrchitects of the day to expand the 25-room Hudson River home into its current 79 rooms.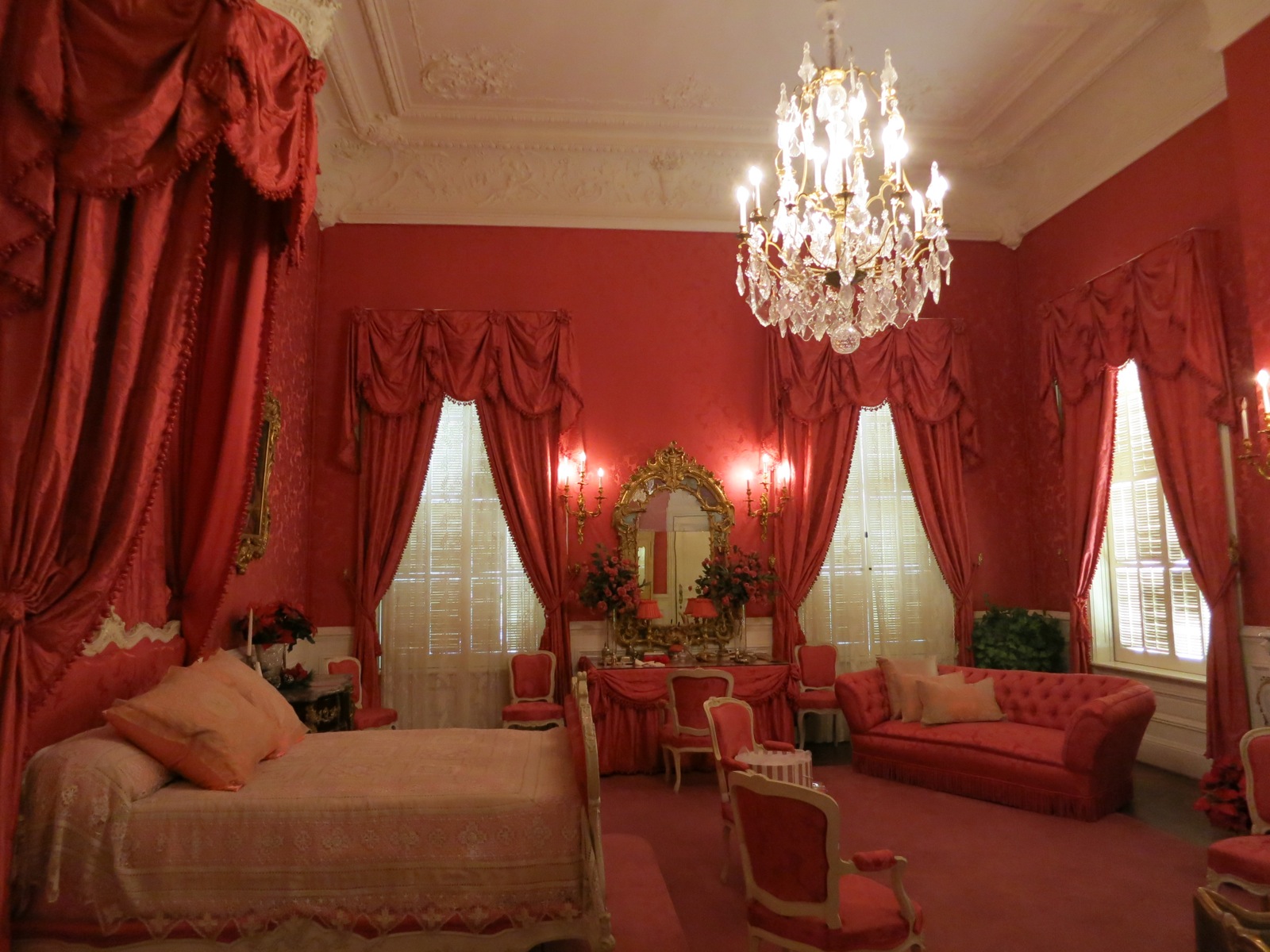 The Mill's soaring 18 ft. royal bedrooms are draped in finery. Ruth's was a fantasia in pink, with crystal chandeliers.
Enter through the front door, just as guests back in the day would be welcomed into the home if you were of proper social standing. Catch your breath as you take in the grand staircase, ceiling and walls cloaked in quarter-sawn oak.
Medieval tapestries hang on massive walls. The Hudson River glistens through back windows, and French doors open onto a vast terrace.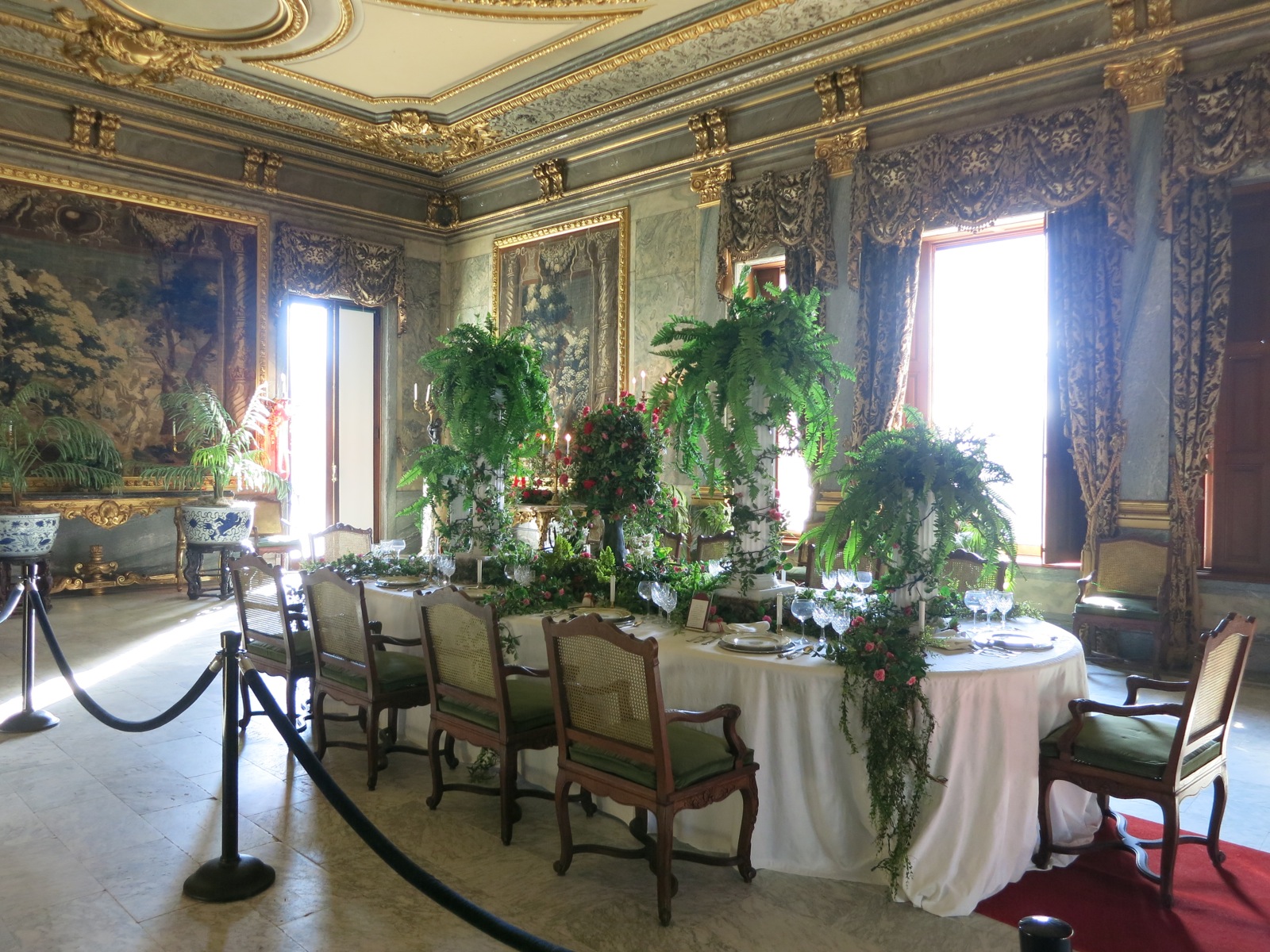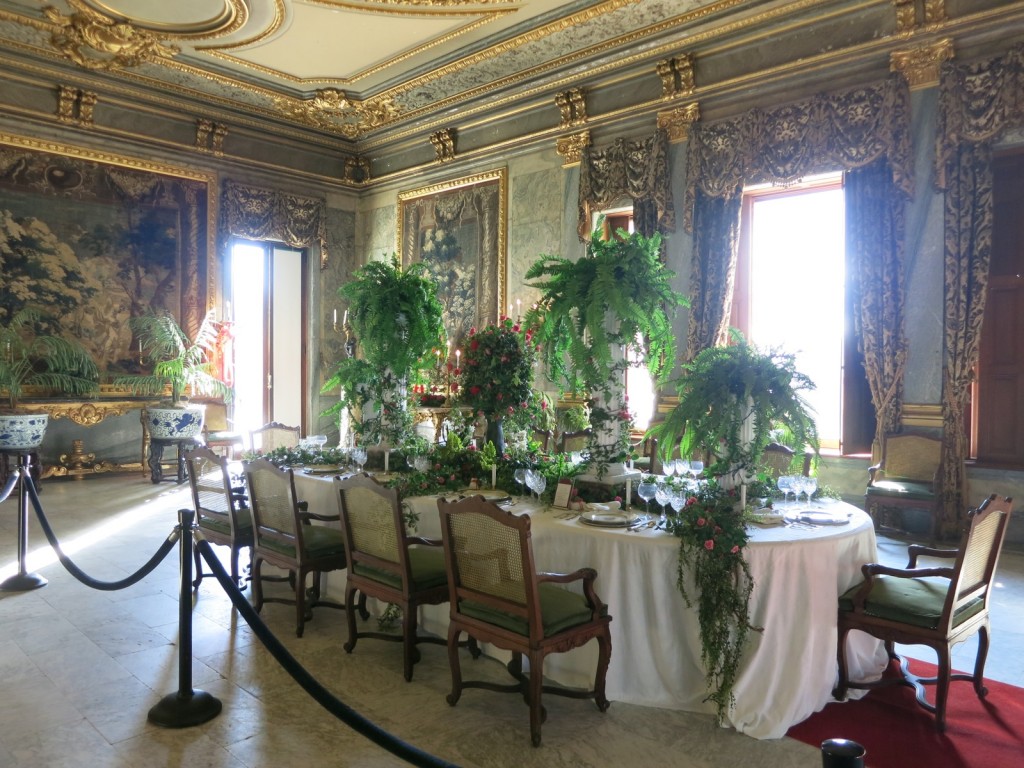 Ruth was fanatical about her lineage. Portraits of ancestors occupy prominent wall space for all visitors to see. One was her great grandfather,Francis Lewis, who signed the Declaration of Independence.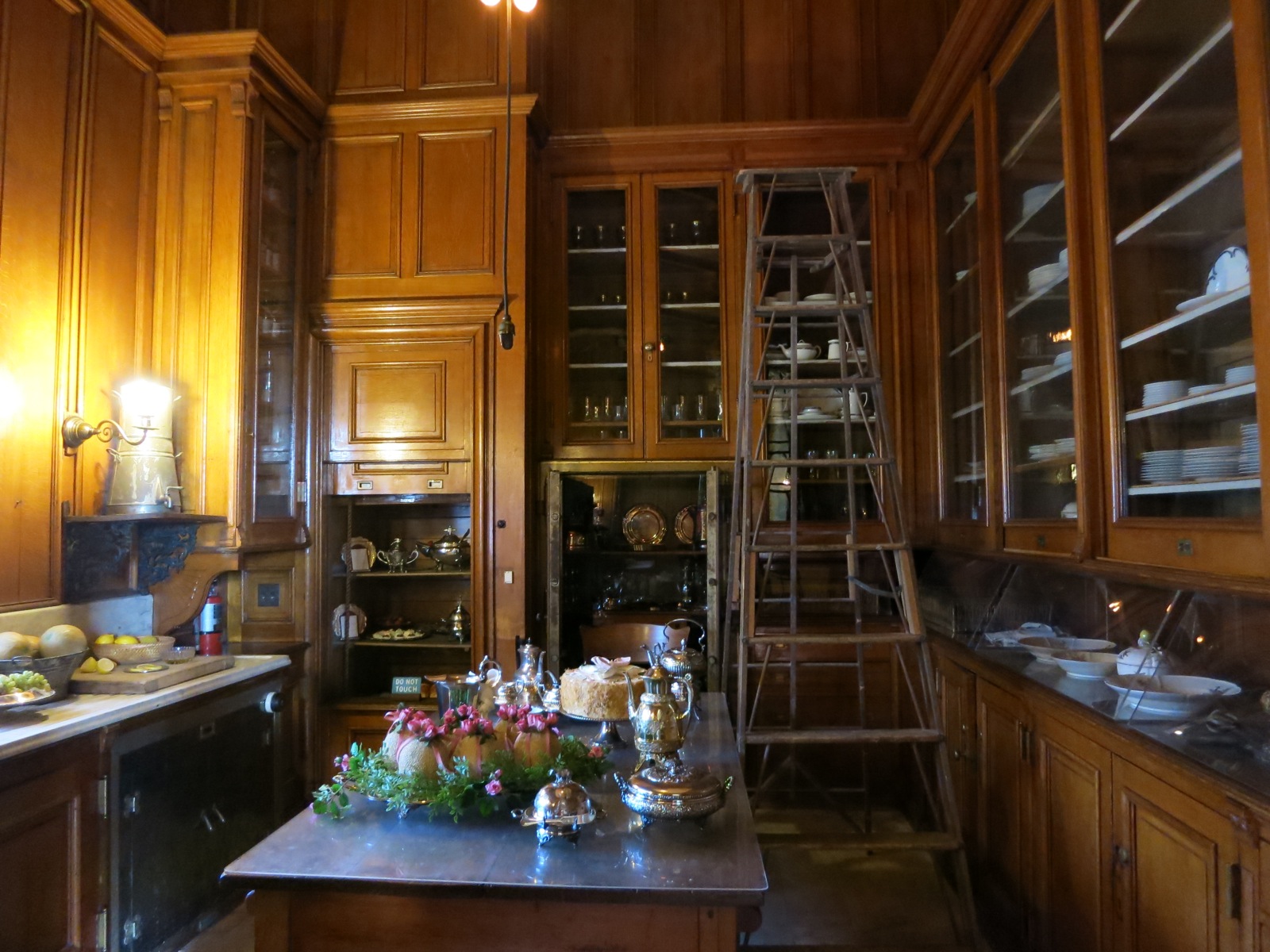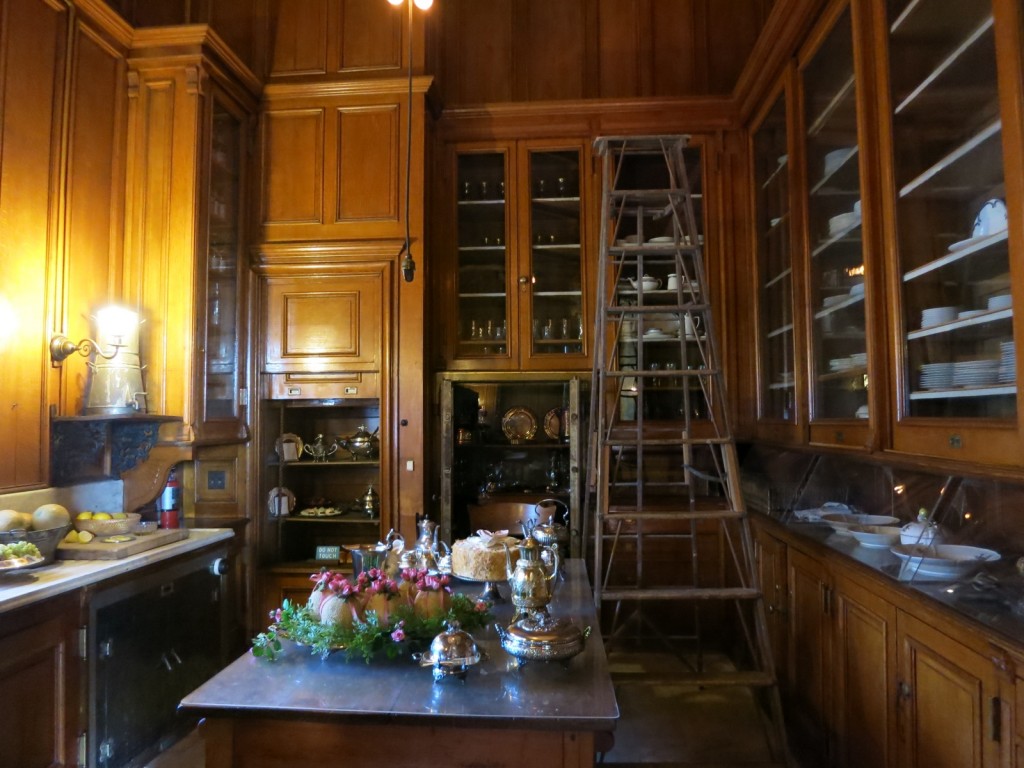 Edith Wharton visited Staatsburgh often with her Aunt who lived nearby. Because of this, rumor has it that Wharton's book, The House Of Mirth, is based on the Mills and their friends.
Home open from April – Oct, Thurs – Sun. 11-4. Day After Thanksgiving to Dec. 31, Thurs-Sun. 11-3, $6 adults, kids under 12 free.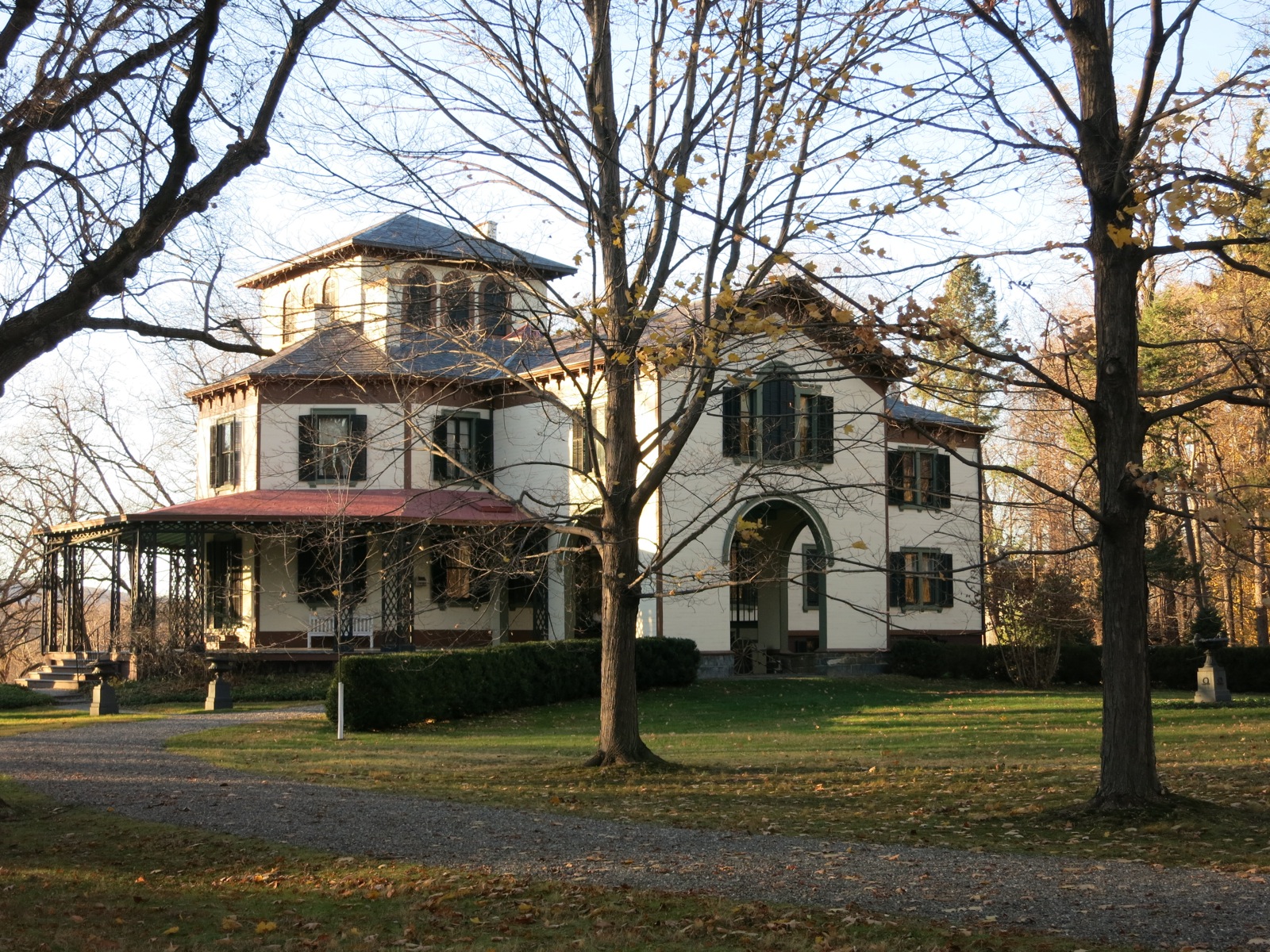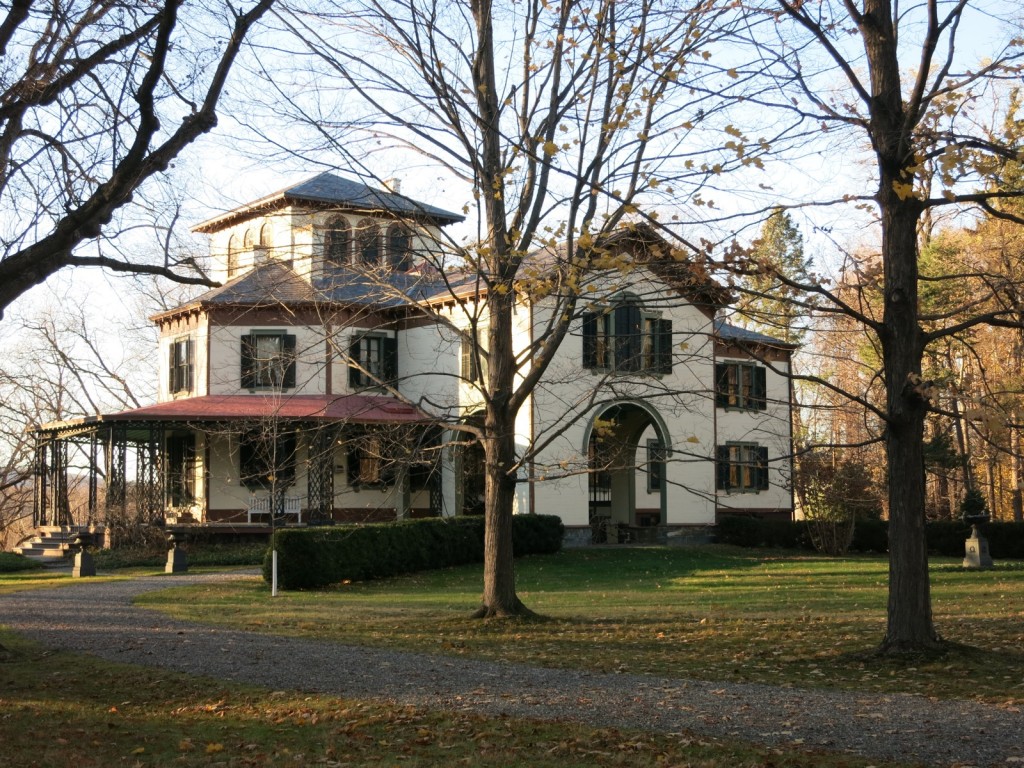 The "Father of Modern Telecommunication," Samuel Morse, hit it big with the telegraph and his "Morse Code," (patented in 1840). Feeling flush, he purchased this Ornamental Federal-Style home in 1847, then remodeled it as an Italianate Villa.
Morse died in 1872. In 1895, Wilbur Young, a prosperous NYC lawyer, purchased the home. He added a large dining room but kept much of the home and some artifacts intact. These included photos by Mathew Brady, a student of Samuel Morse when Morse was a Professor of Art at NYU.
Tibetan bells in the Central Hall once called the Young's in for dinner. The immaculate butler's pantry had one unique feature – a mirror tilted in order to see Mrs. Young nod for service over a room divider.
The Young's youngest daughter, Annette, moved in at age 10 and lived here until her death at age 90 in 1975.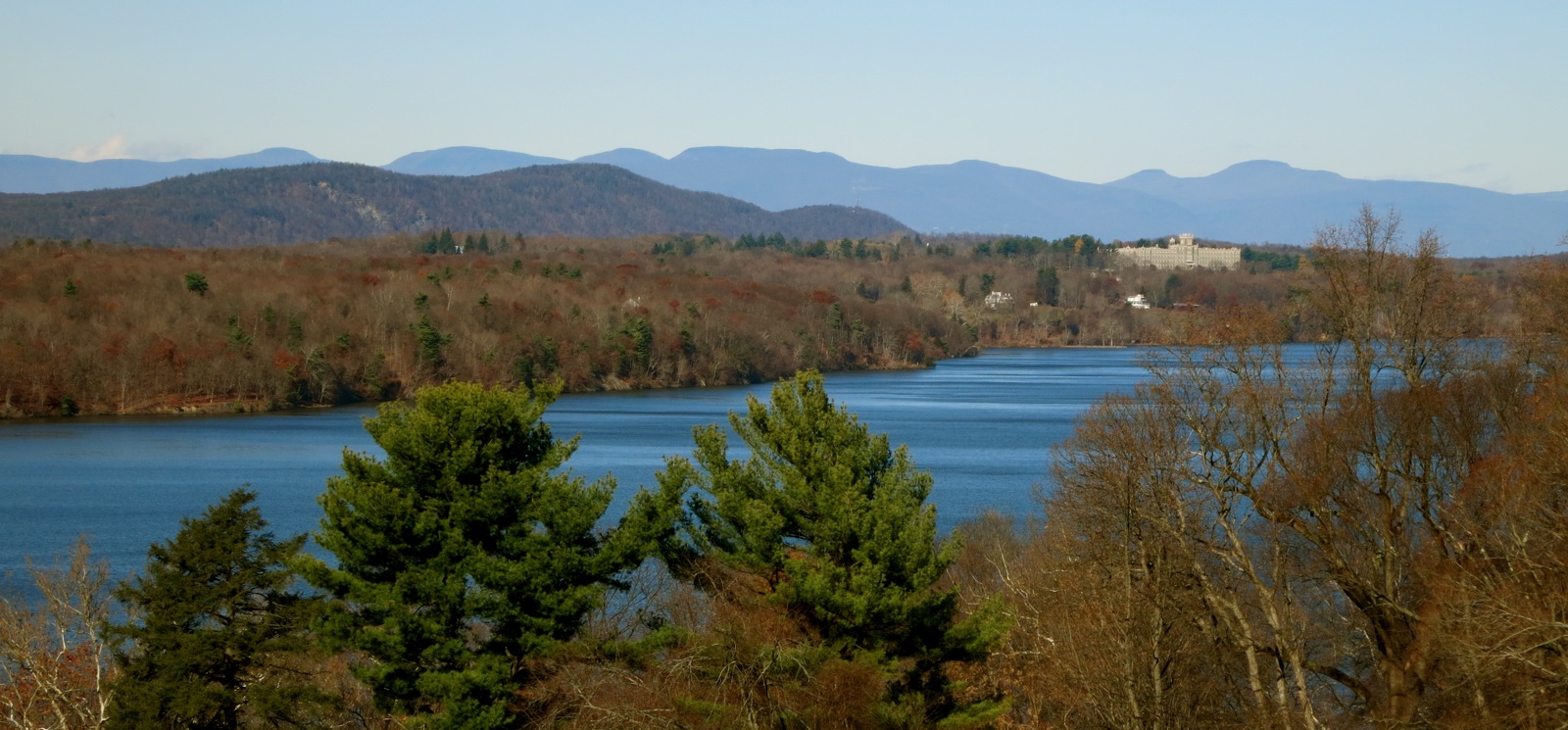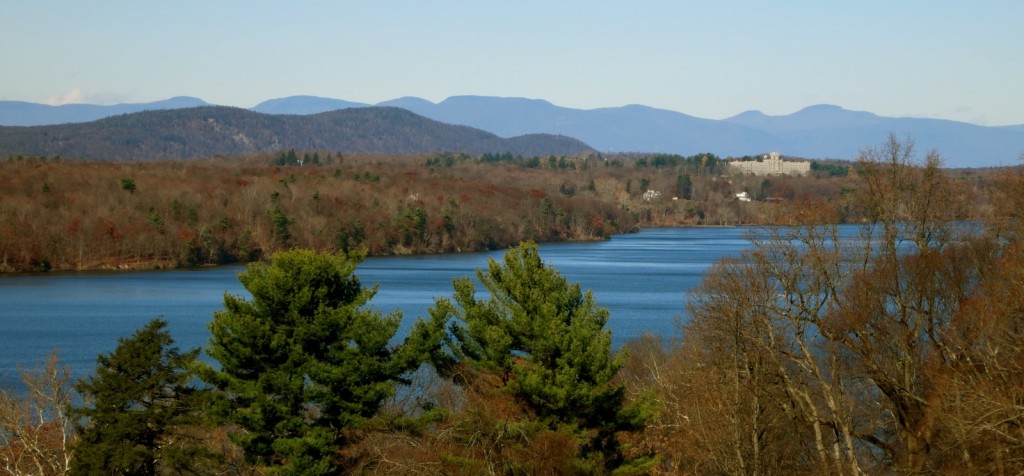 On 180 acres with 5 miles of trails along the Hudson River, Locust Grove is worth visiting, even if you don't take a tour of the home itself. House tour Feb-Dec Mon-Sat 10-4:30 (last tour at 3:15), Sun.1-4:30,$9 adults,$4 kids.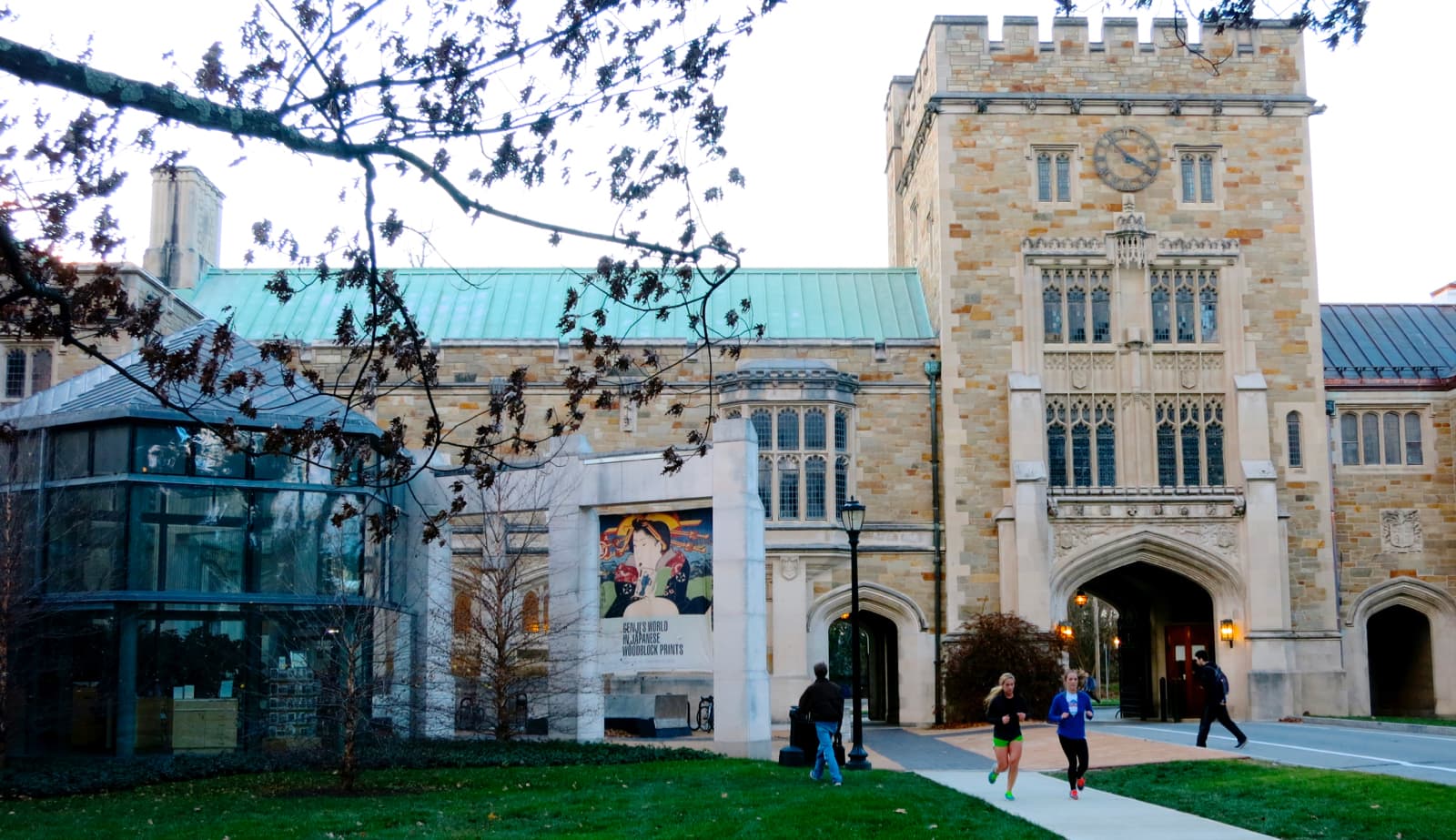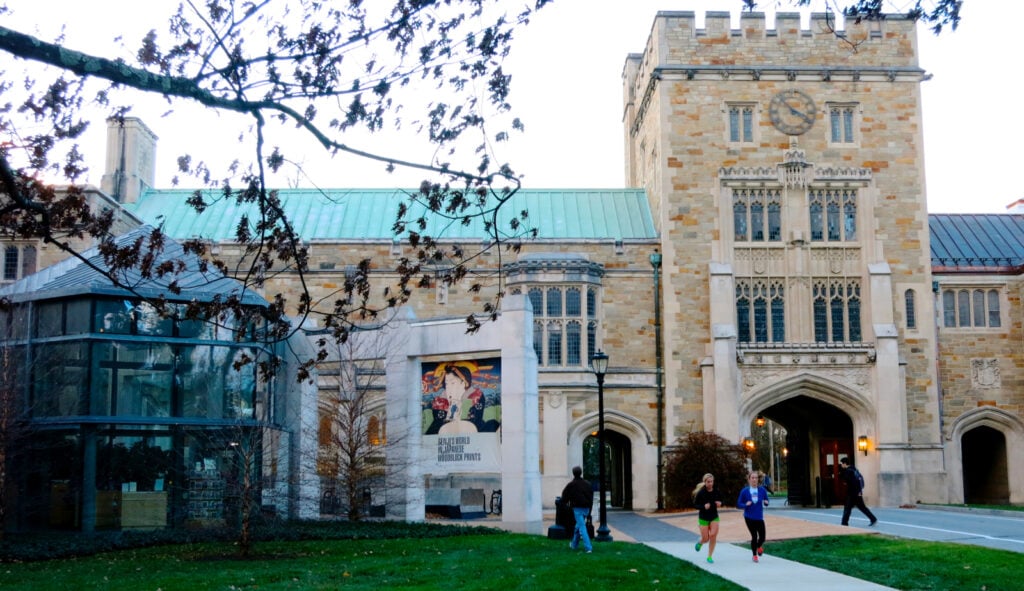 Head through the Main arched gate of Vassar College. Look right immediately to find the contemporary glass entrance of the Frances Lehman Loeb Art Center.
Small but compelling, share staring space with engaged students in galleries displaying ancient to modern treasures.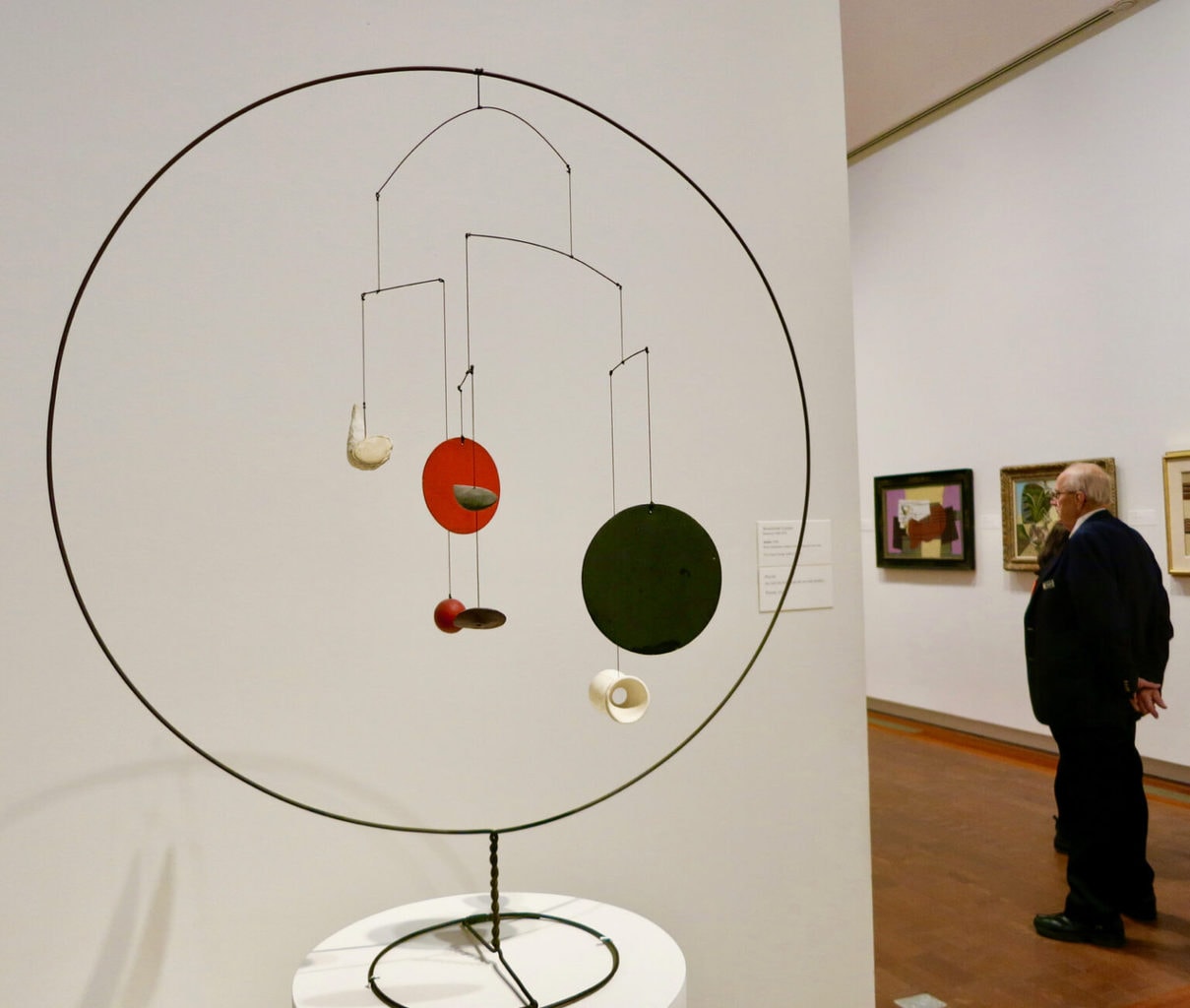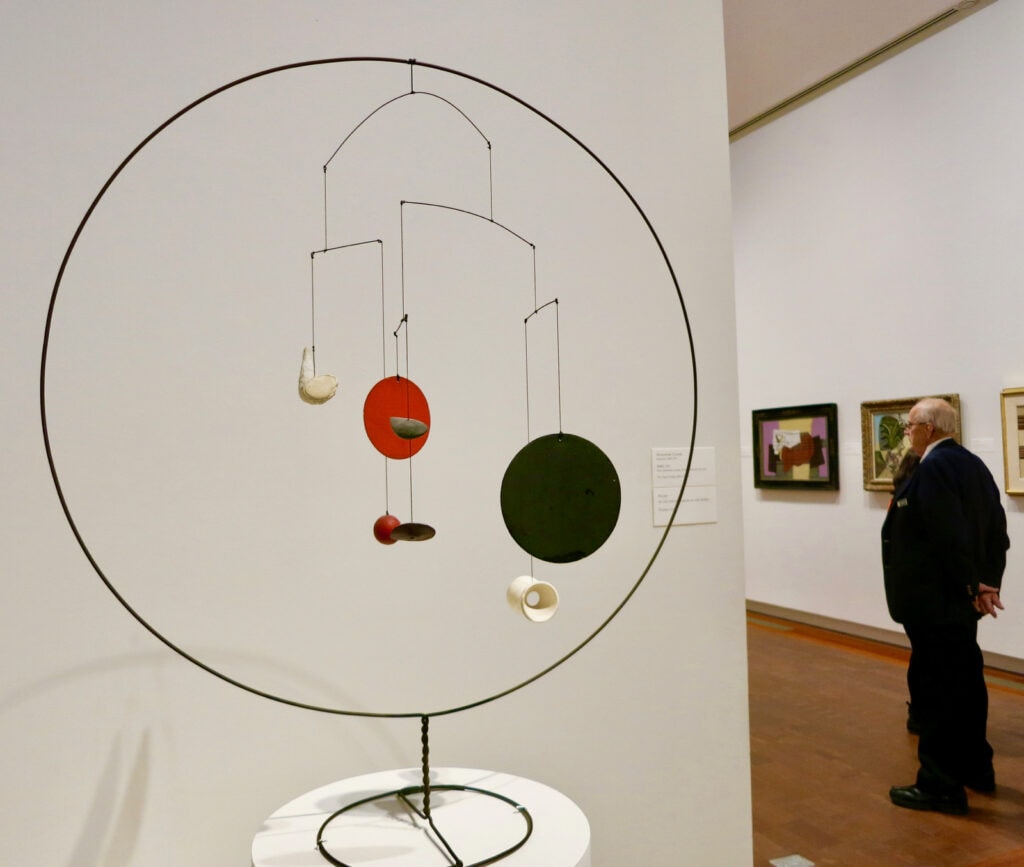 Discover Thai, Chinese, Tibetan, 1st Century Roman, Greek, the head of an Egyptian viceroy from a sarcophagus cover, religious, A Bellini triptych from 1440, Christ, Madonna, Picasso, Matisse, O'Keefe, Munch, Bacon, Ernst, Moore, Calder, Lichtenstein, Stella and more.
It's the Met, brought down to bite size. And totally worth a visit. Free admission. Open Tues, Wed. Fri, Sat 10-5, Thurs 10-9, Sun 1-5.
With an enrollment of 2,800, CIA Hyde Park is spawning grounds for some of the best chefs in the world. The CIA was founded in New Haven, CT in 1946. It moved to its current campus (taking over a Jesuit Seminary) in 1972.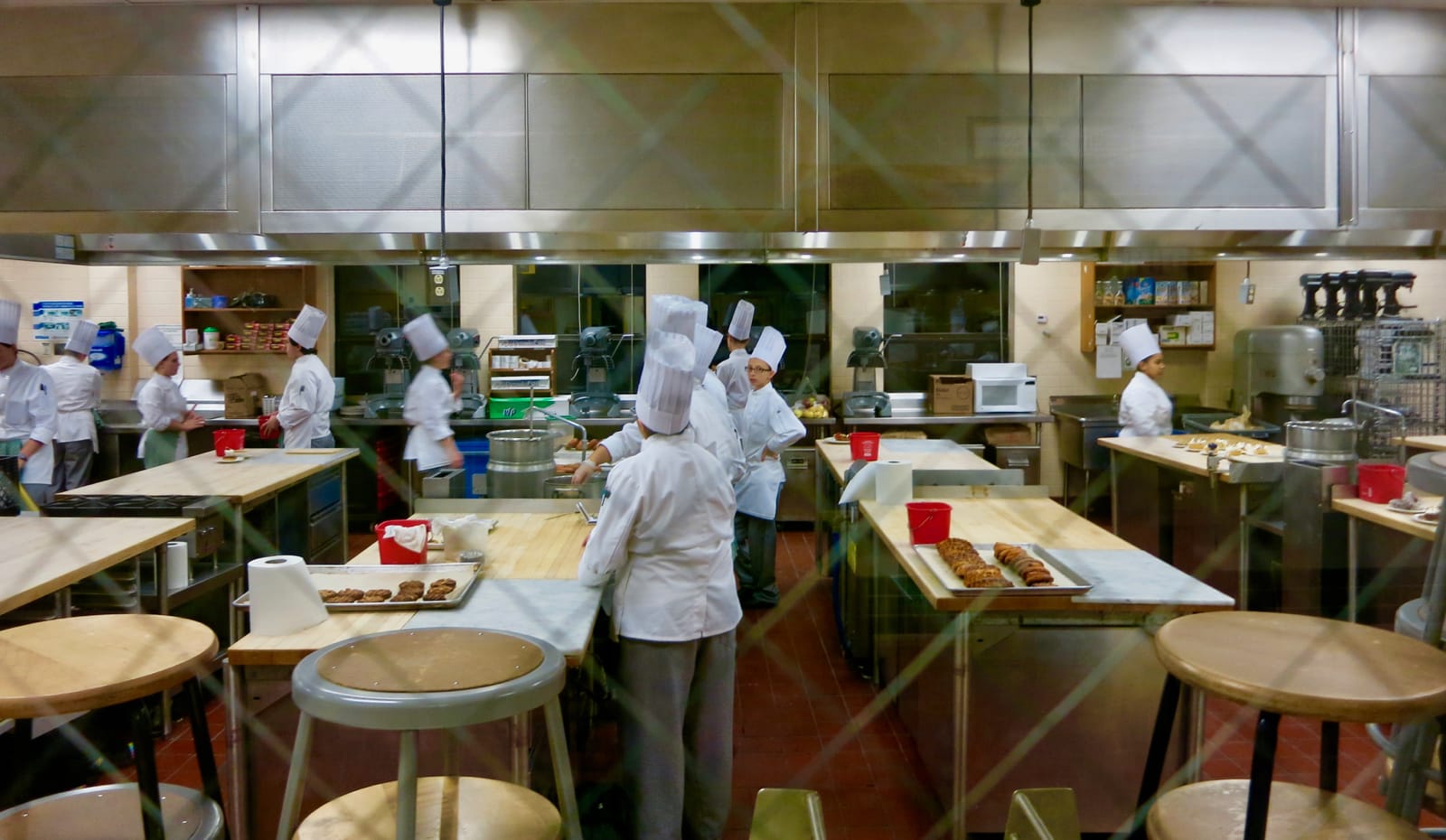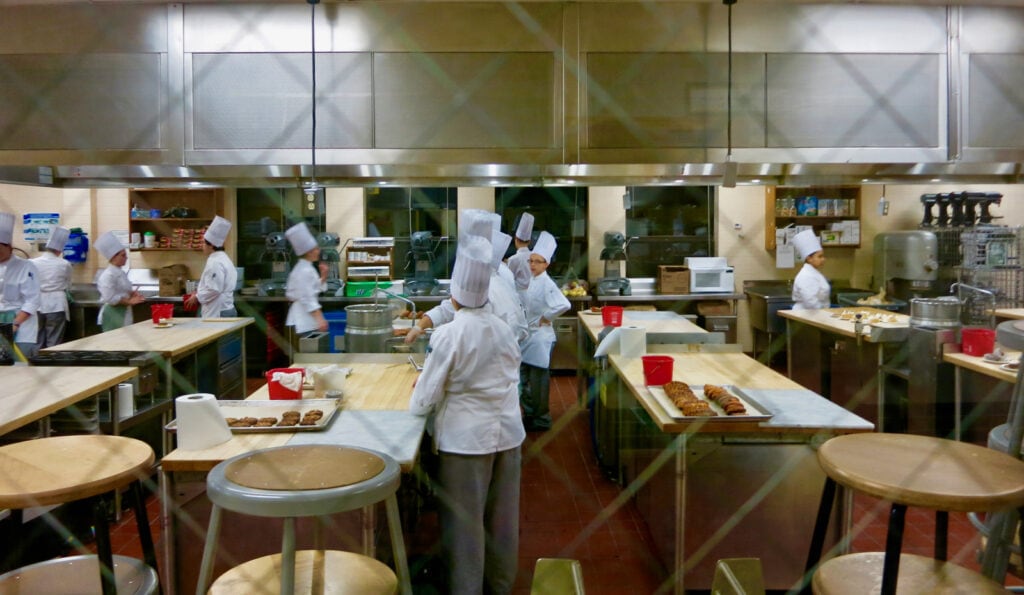 Take a tour through the well-trod tiled halls. Peek into the "Wine Spectator" Classroom – the only place in New York State where students aged 18-21 can sip (then spit out) wine. And watch men and women mixing, chopping, and learning the elements of culinary arts in other windowed kitchens.
Students make meals for each other. You'll most likely witness lines of white-frocked folks taking their trays to the former Jesuit Chapel, now the magnificent Farquharson Dining Hall.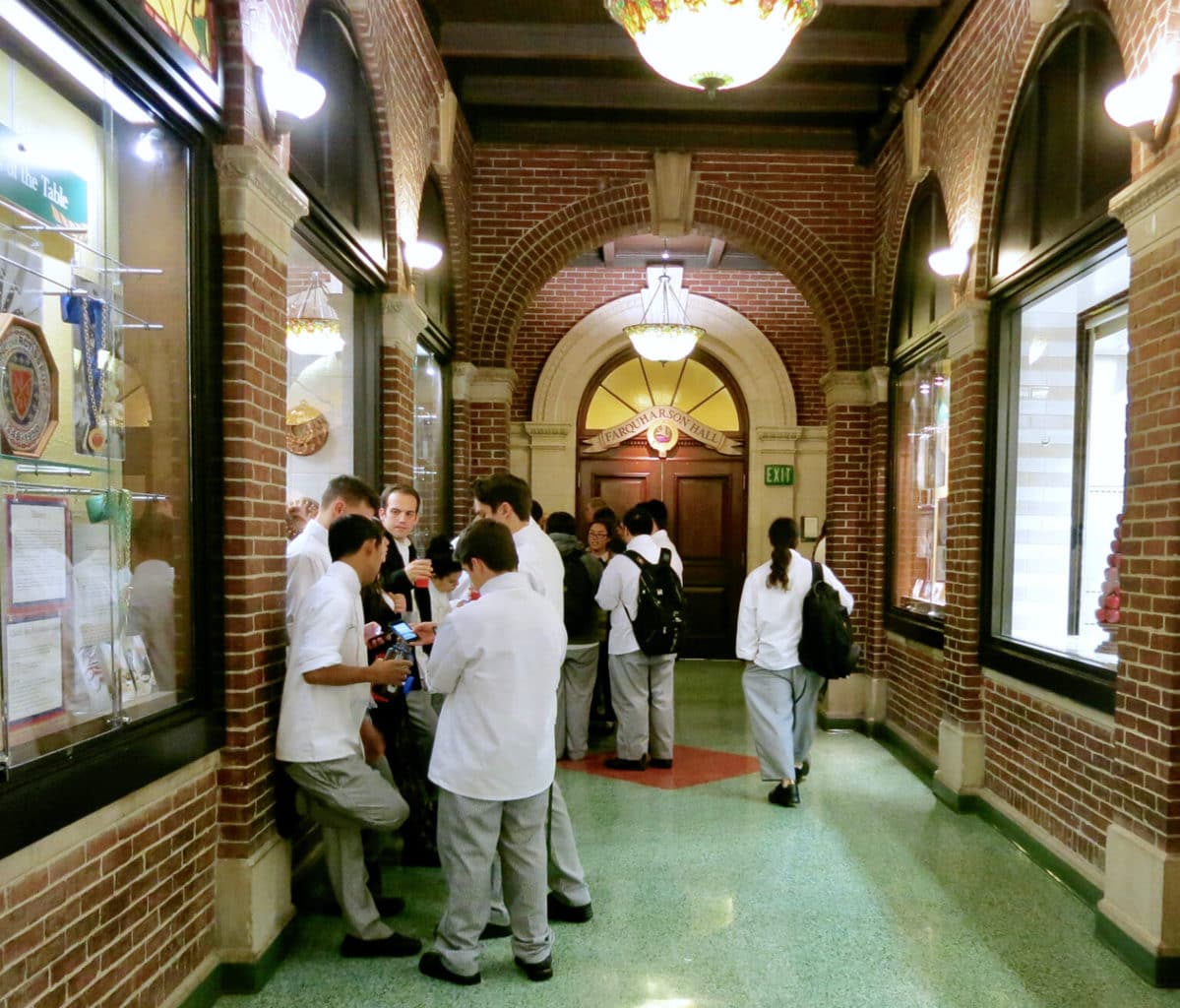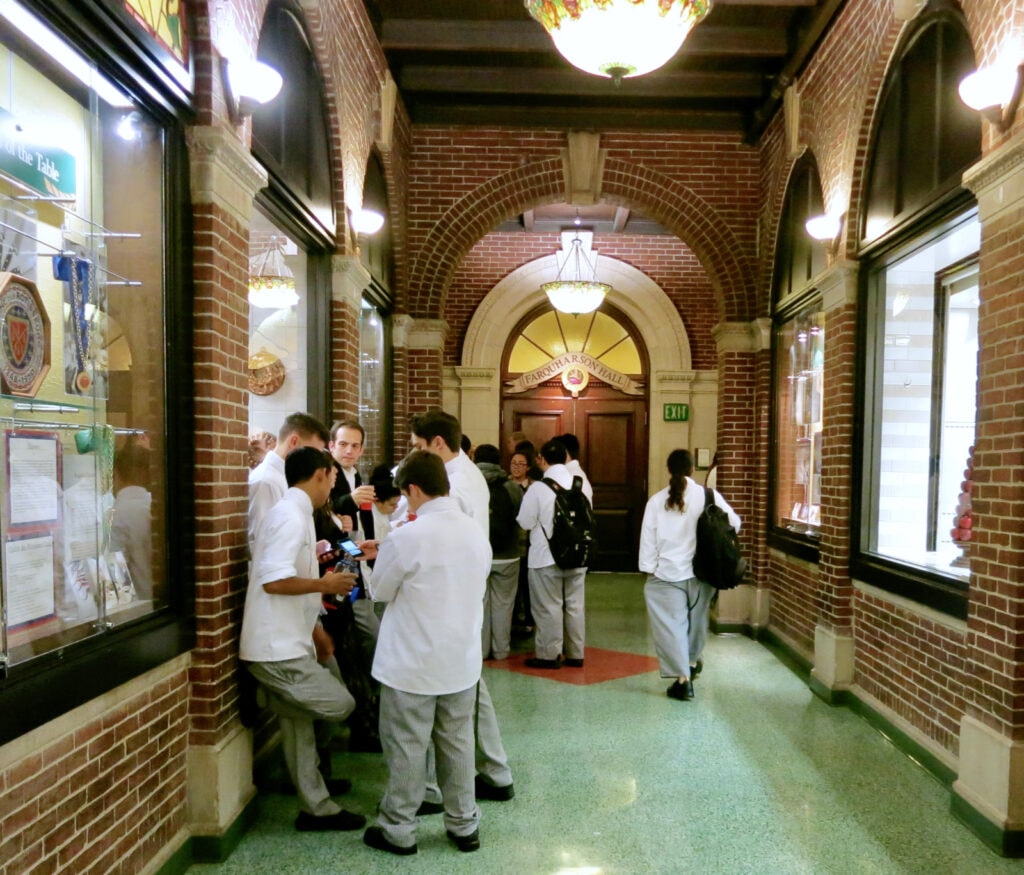 Want to fulfill your CIA fantasy but don't have two years? Take a five-hour Saturday immersion class for $250. Tours, Mon-Fri 4pm, Mon. also at 10am, $6.
Restaurants in Hyde Park and Poughkeepsie NY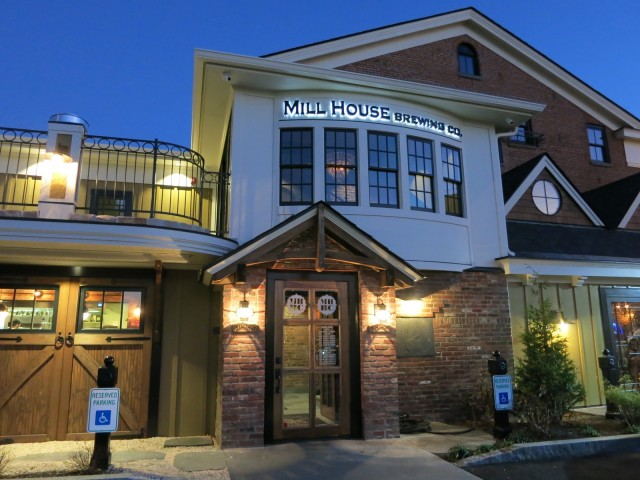 EAT: Mill House Brewing Company, Poughkeepsie
Owned by brothers Chris and CIA-trained Dan Crocco, with emphasis on beer and beer-infused everything, Mill House uses local ingredients, including hops grown in the brewer's local garden.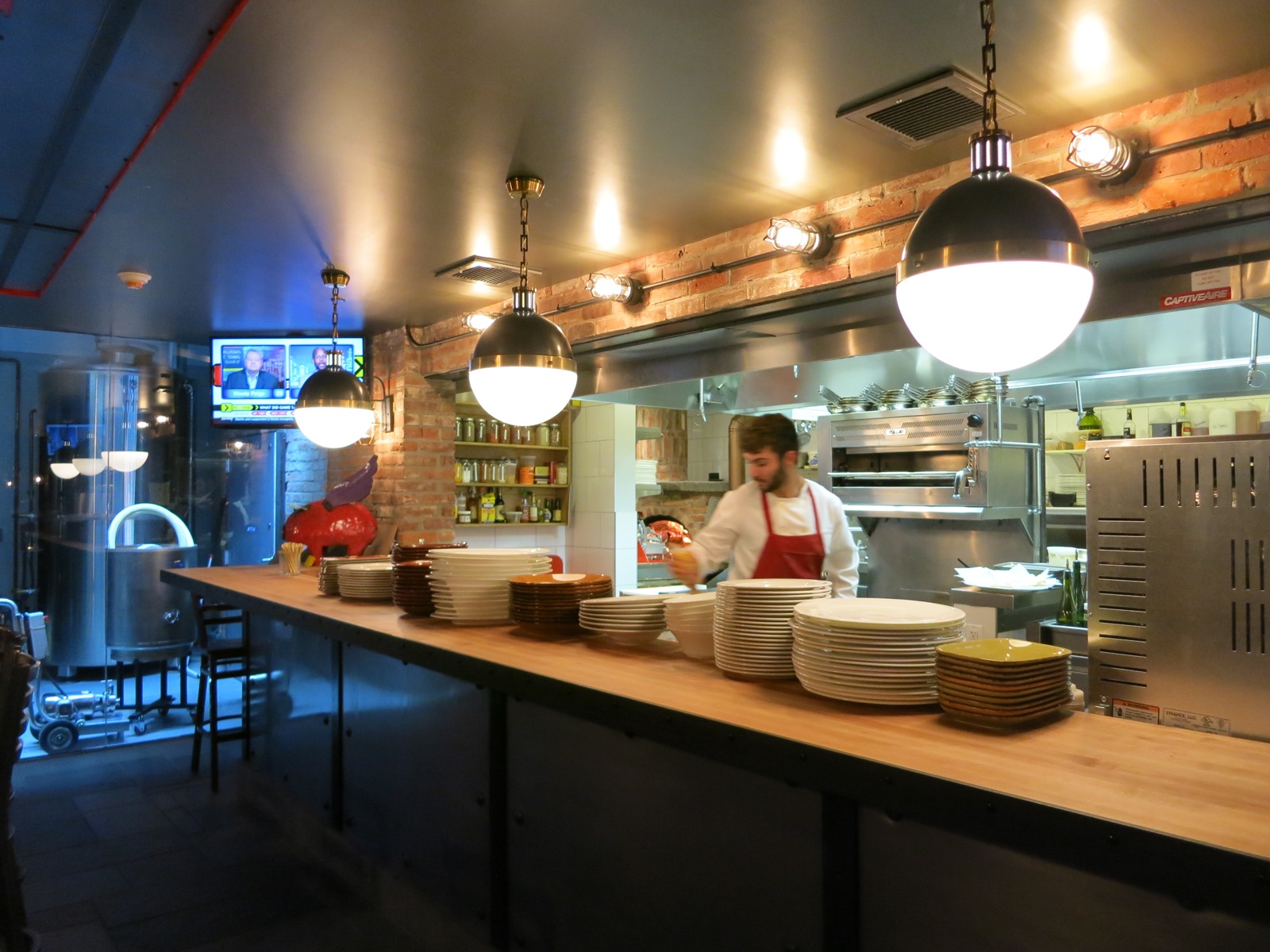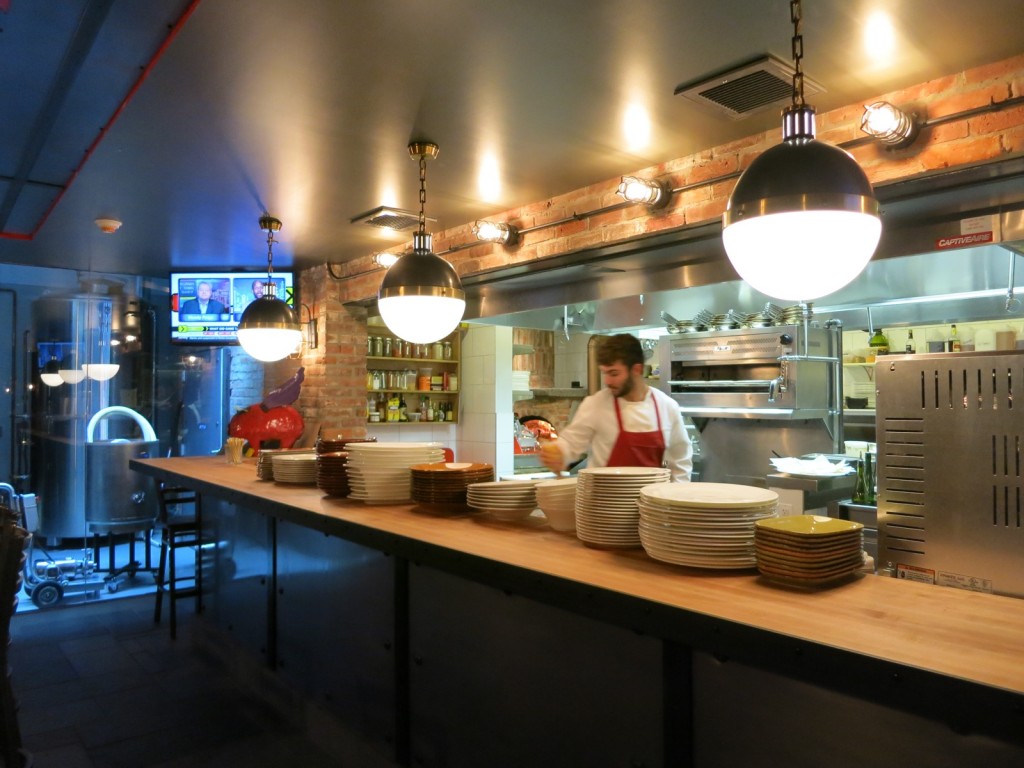 Try a pull from the "randall" – a gizmo filled with fresh hops – for some of the cleanest, lip-smacking beer to ever slide down your gullet. Then gobble up home-smoked, homemade sausage, Beer Steamed Mussels , Smoked Trout, and PK Pale Ale Chowder, Garlic and Sherry Glazed Chicken. Finish with "Dirt" – crushed Oreos and a gummy worm on creamy chocolate pudding.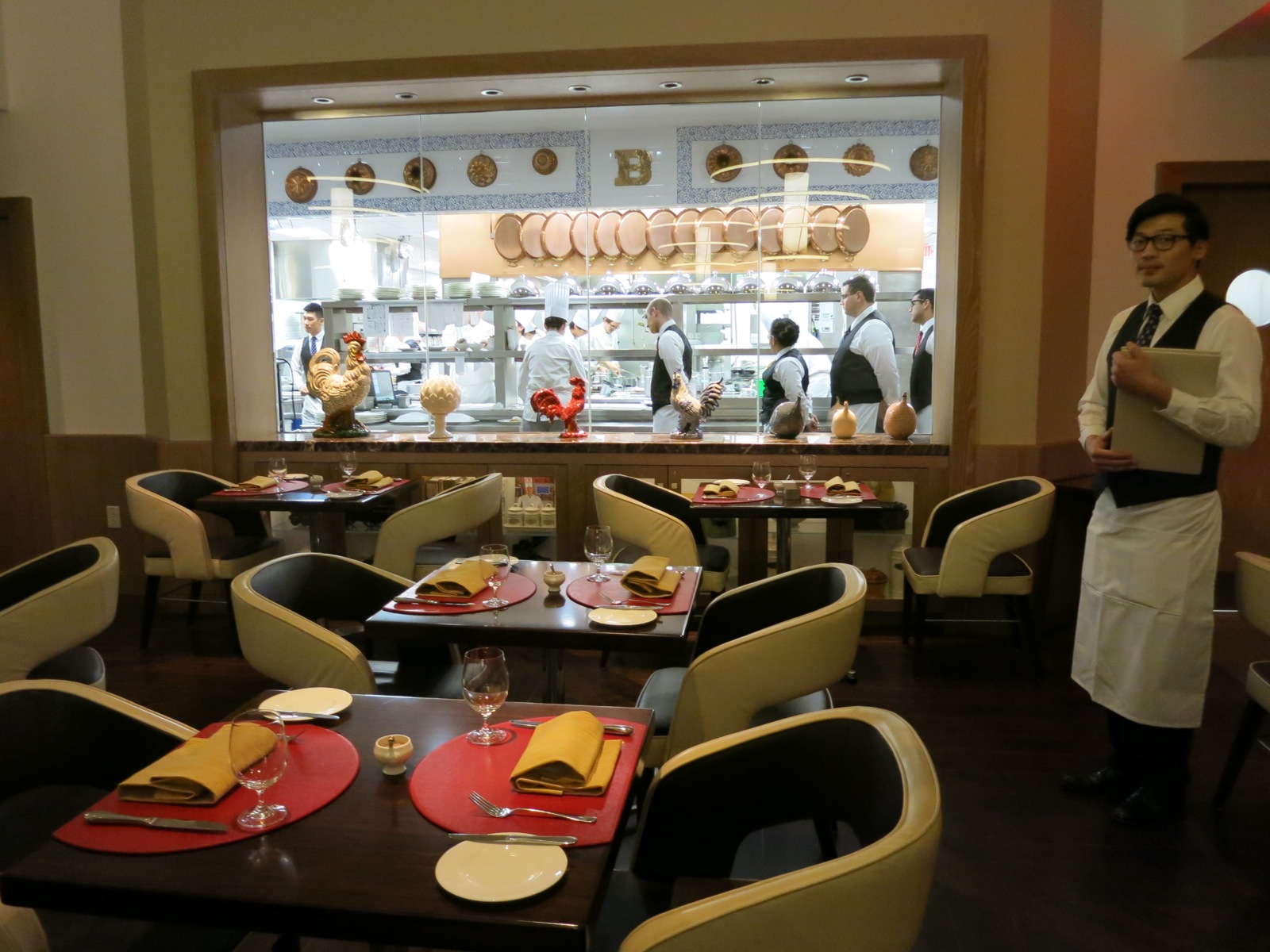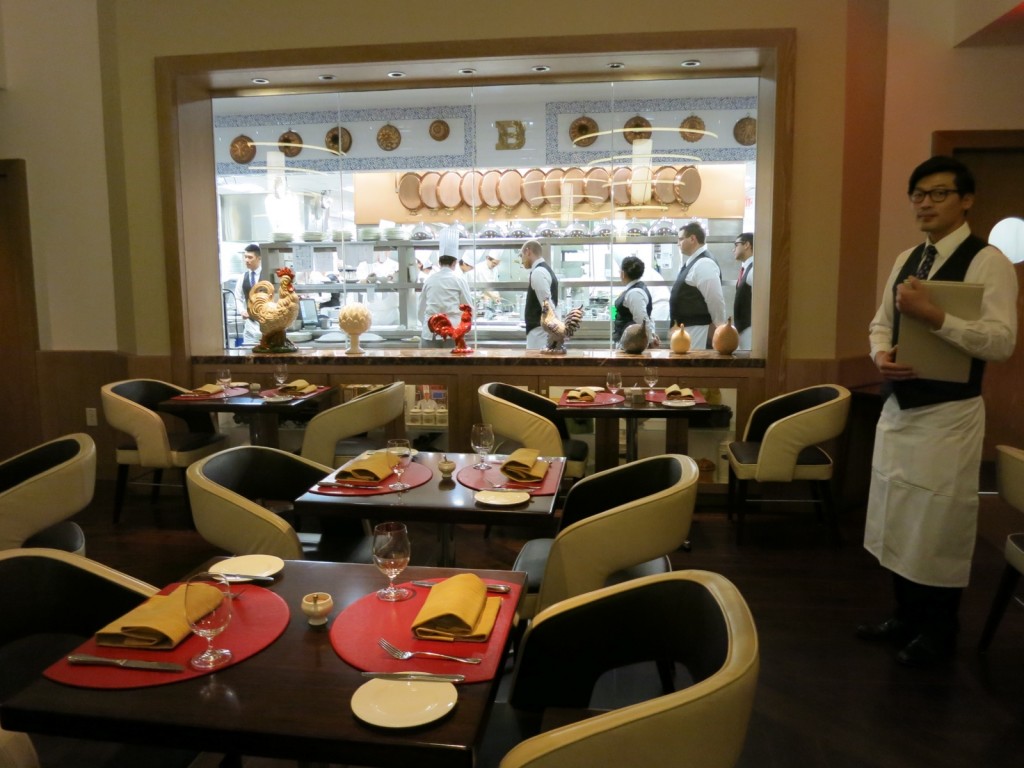 EAT: Culinary Institute of America (CIA)
This college for the cooking elite pampers those lucky enough to score a table at one of the four training restaurants: American Bounty and The Bocuse Restaurant (both high end), Apple Pie Bakery Café, and Caterina de' Medici (more casual).
Though the chefs and staff are students, meals merit favorable comparison to many multi-starred restaurants. The contemporary Bocuse made a splash when it replaced the fussier Escoffier Room.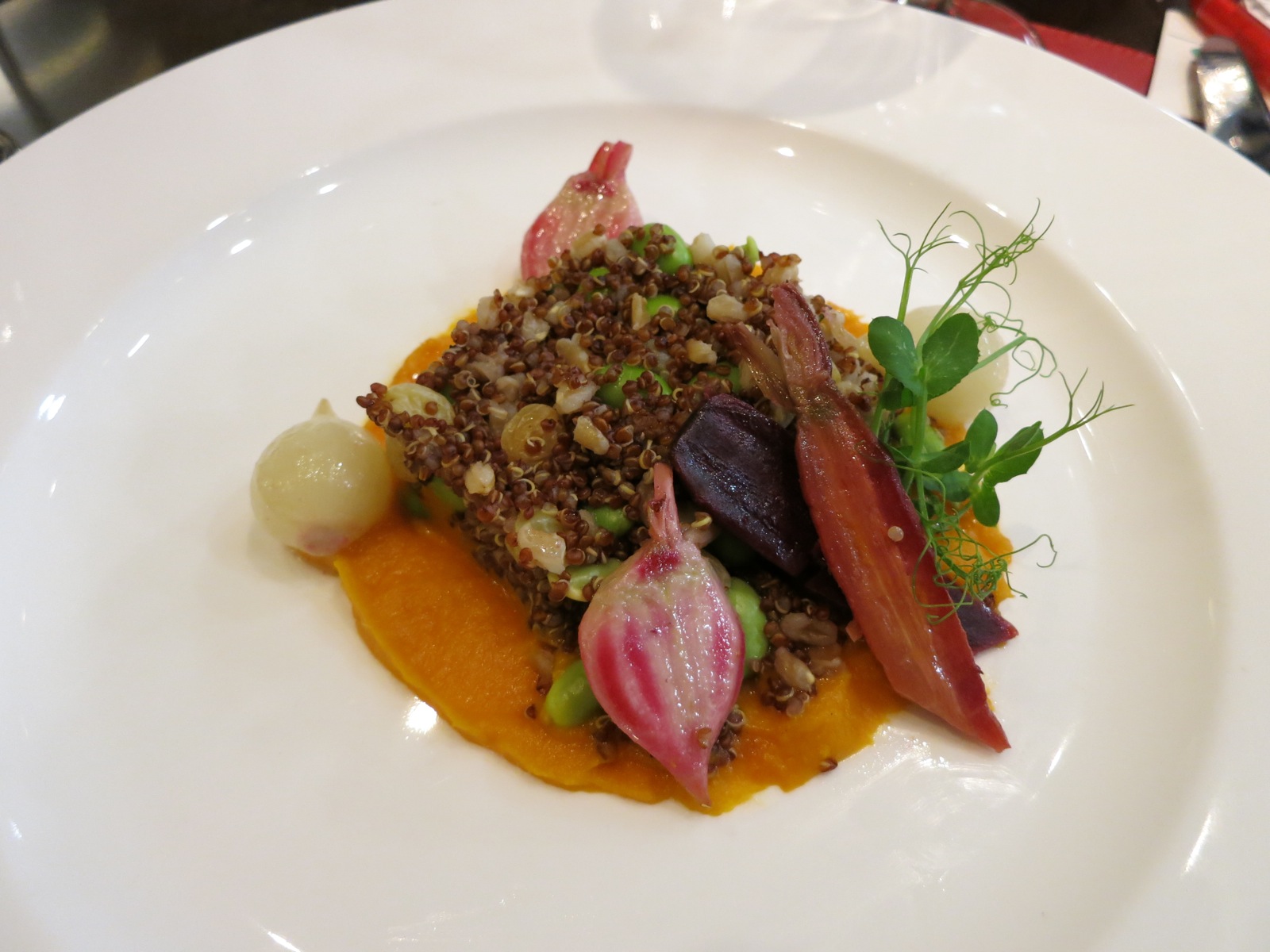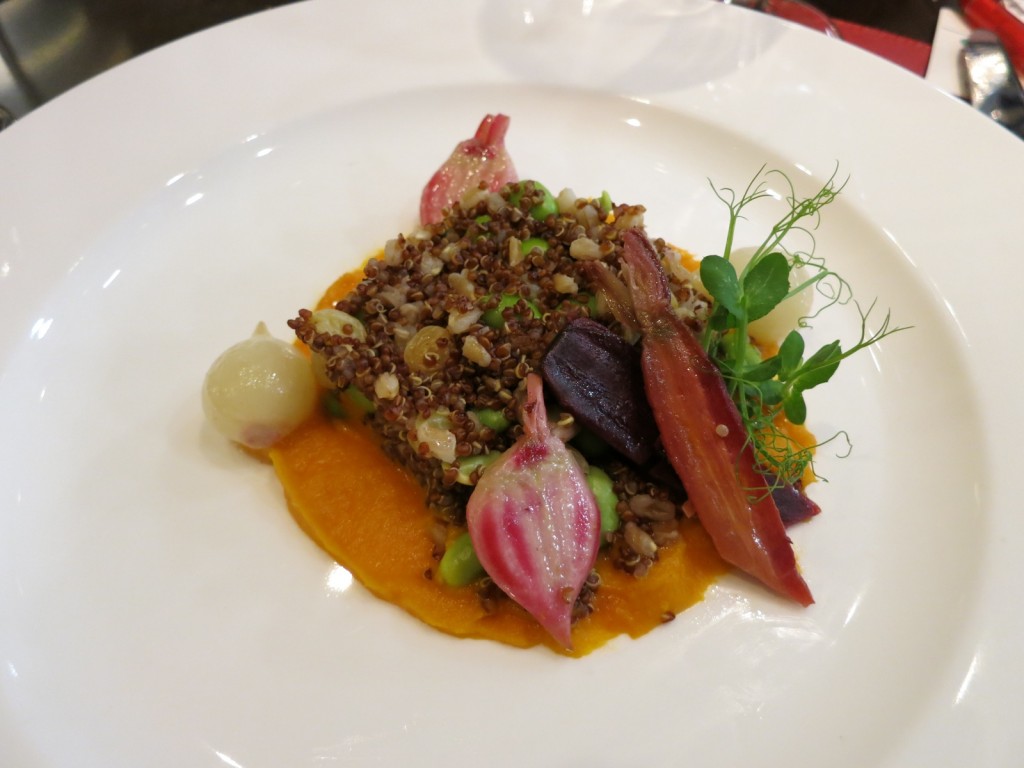 Bocuse
The restaurant is named for French Celeb chef, Paul Bocuse, who sent his son to CIA rather than Cordon Blu back home. In a stylishly cool palette of grays and off whites, Bocuse impresses even jaded NYC foodies.
Opt for the Black Truffle Soup – a Paul Bocuse signature that dates back to the 70's. A piquant beef broth, infused with earthy truffle and topped with a dome of golden puff pastry, it is a perennial favorite.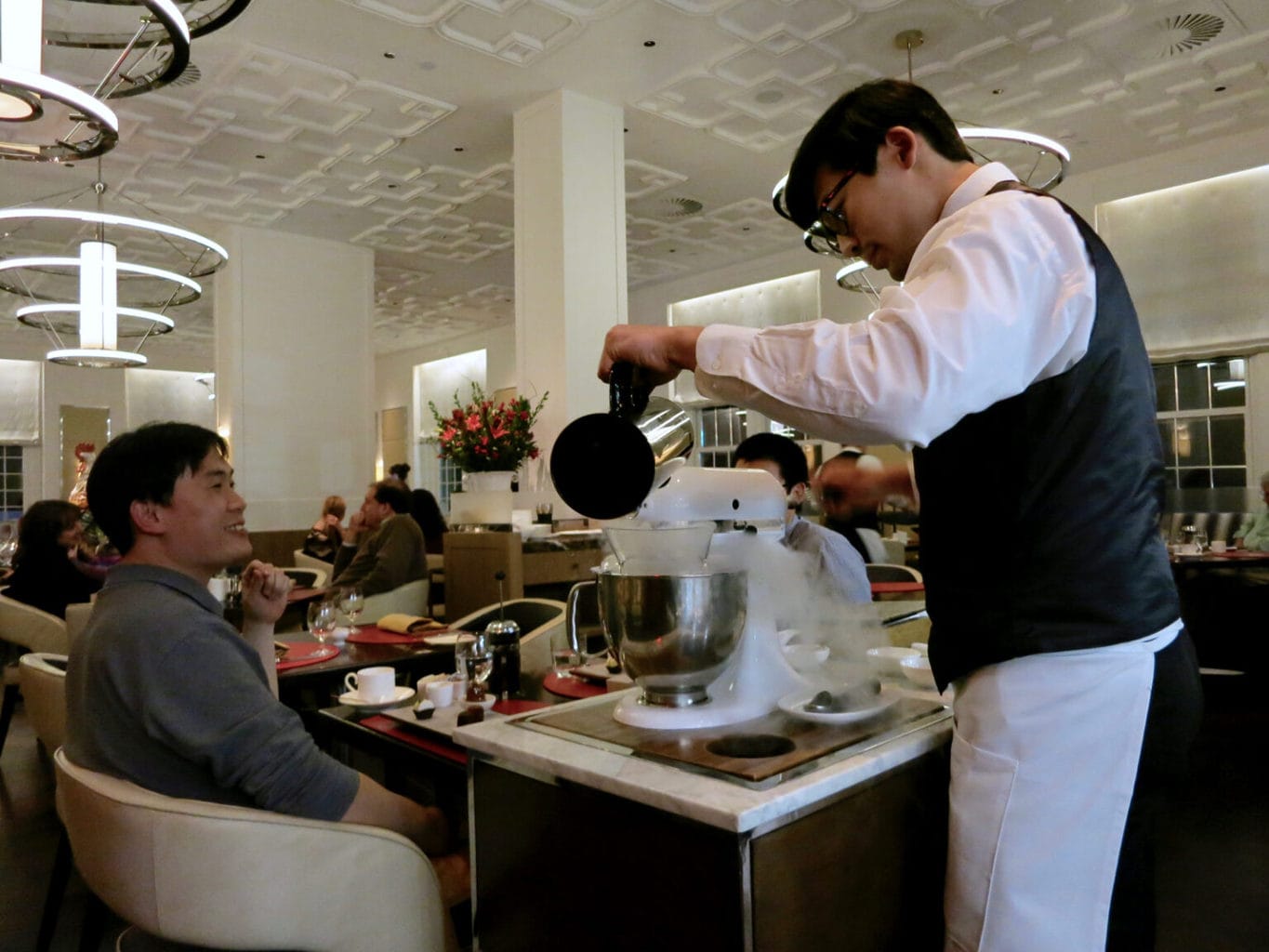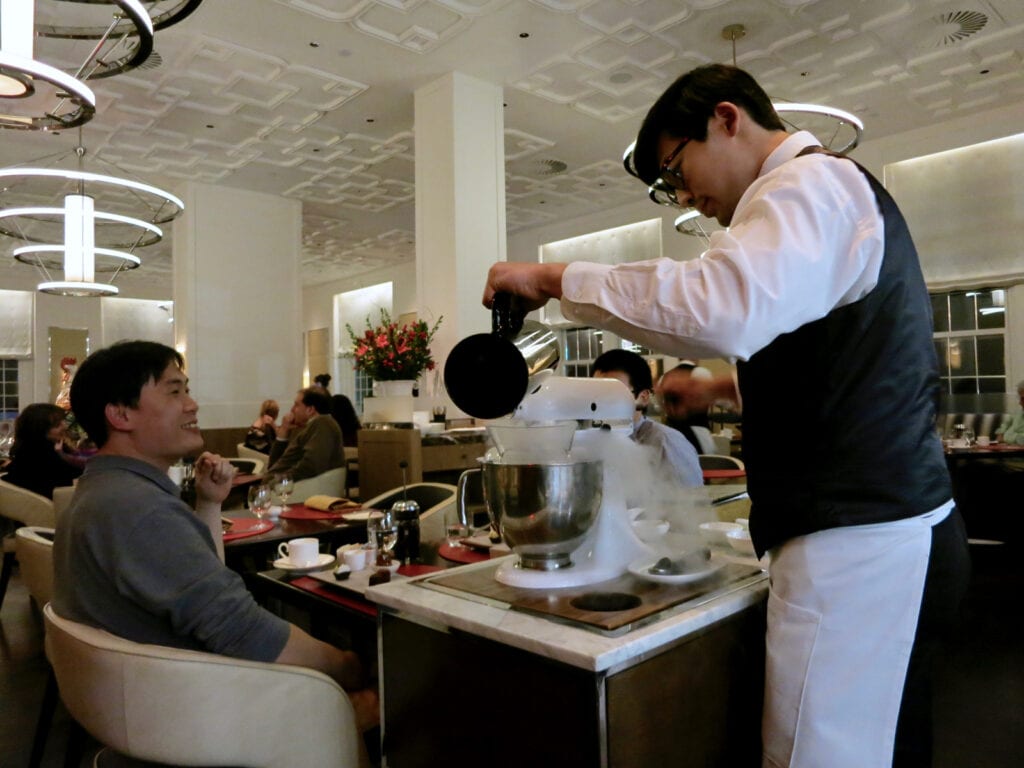 Or try Pan Seared Branzino, Slow Cooked Pork Belly, Warm Farro and Quinoa Grain Salad. Each exceptional dish owns its drama upon presentation.
Try to score a coveted seat by the kitchen window to watch students lined up for orders. What's more thrilling? The excellent food or the knowledge that these waiters and chefs will be off to the finest restaurants (or starting their own) within three weeks?
Hotels in Hyde Park and Poughkeepsie NY
STAY: Most local hotels are chains or variations of same. If you're a fan of larger hotels, stay at the newly refreshed Poughkeepsie Grand Hotel, which has some great views of the Hudson River. In Hyde Park, go small and intimate at the 7 room Journey Inn B&B, with beautiful rooms right across from the Vanderbilt Estate.