WHY GO: It's hip, it's hot, it's contemporary, it's historic. Kingston NY was the center of New York Government for several months during the Revolutionary War, a key coal shipping port, and place where former slave, Sojourner Truth, pleaded for and won (in court) her son's freedom.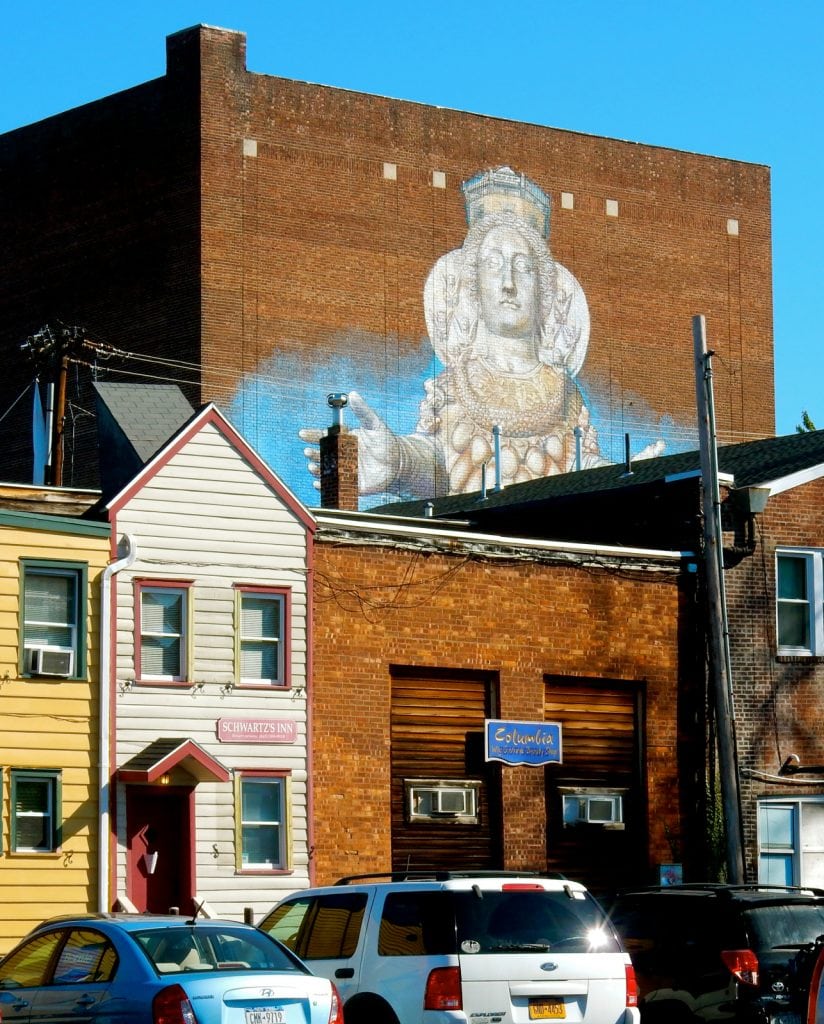 Nowadays, Kingston is getting buzzier – with a funky, Vogue Magazine recommended B&B, a cool boutique hotel carved from a Historic District bank, and more indie lodging on the horizon.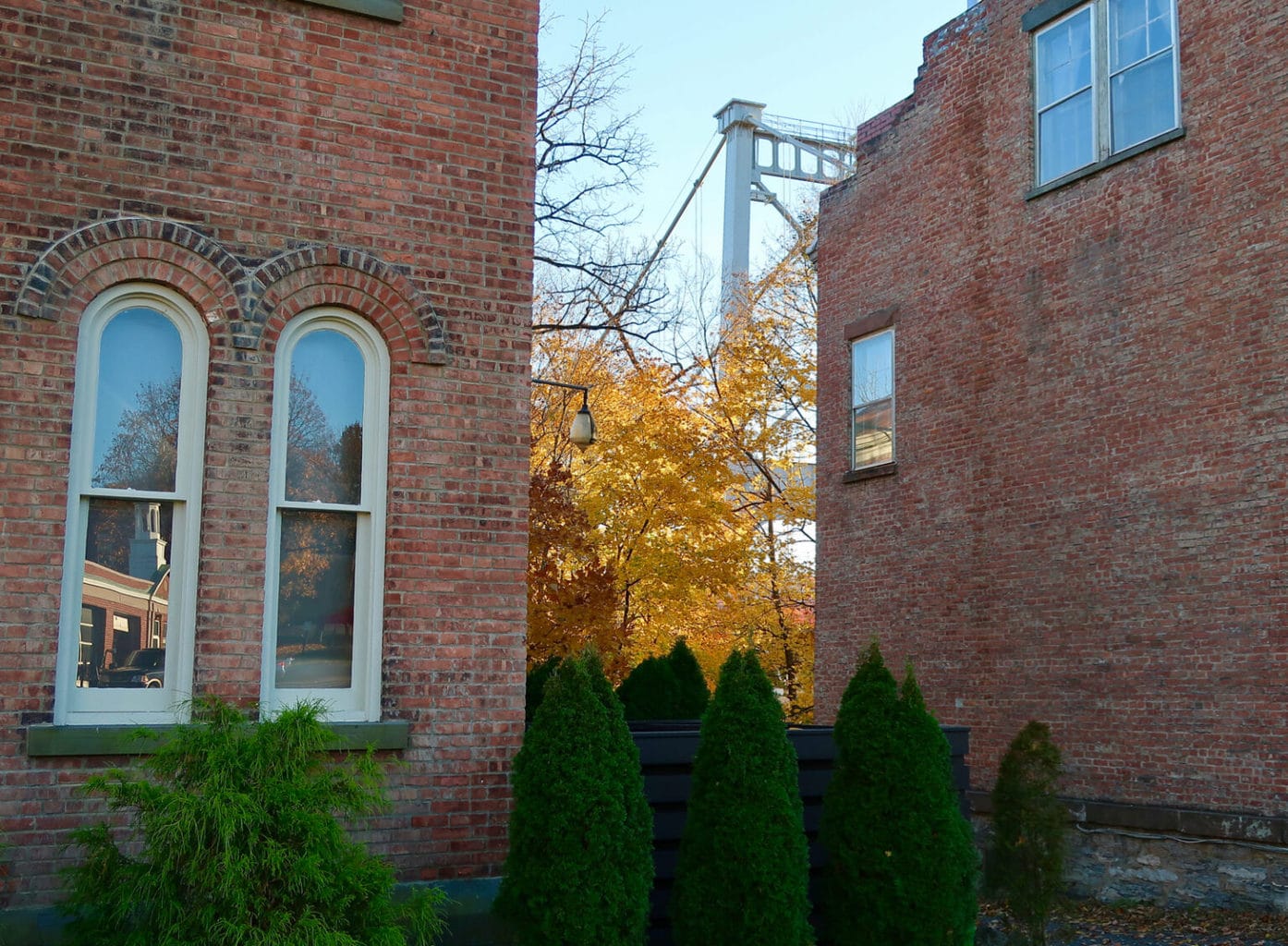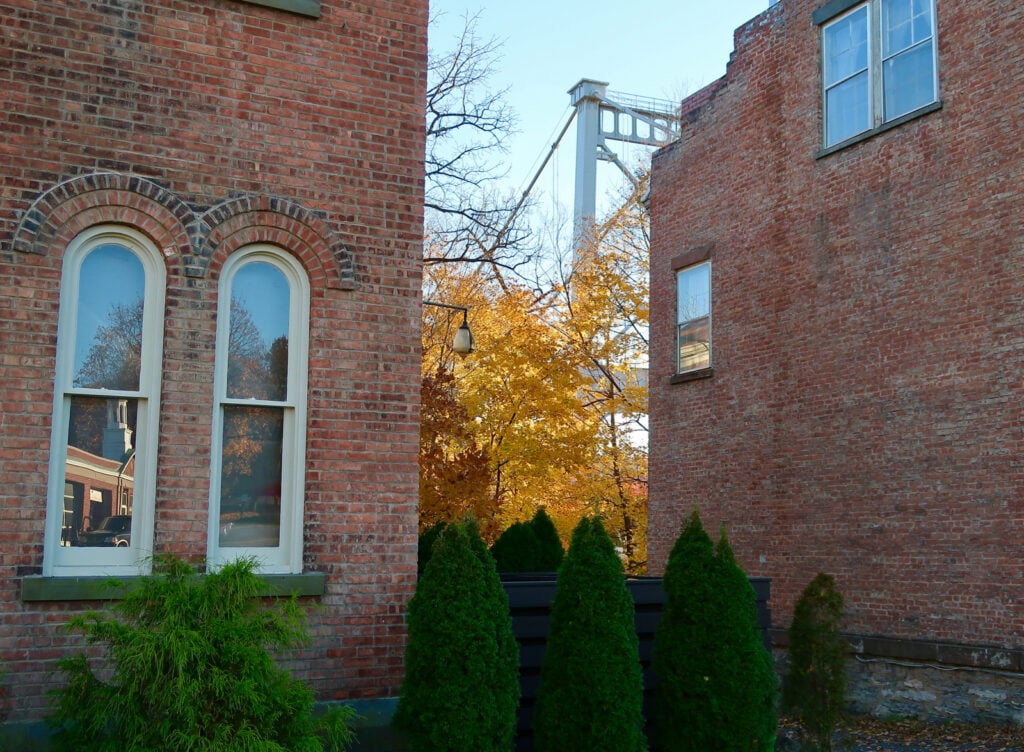 Most of the attractions and shopping are found in Uptown Kingston – the Stockade District – where early settlers fortified themselves from the indigenous Esopus tribe – and Downtown Kingston aka Rondout on the riverfront, where coal barges and tourist steamships once vied for space.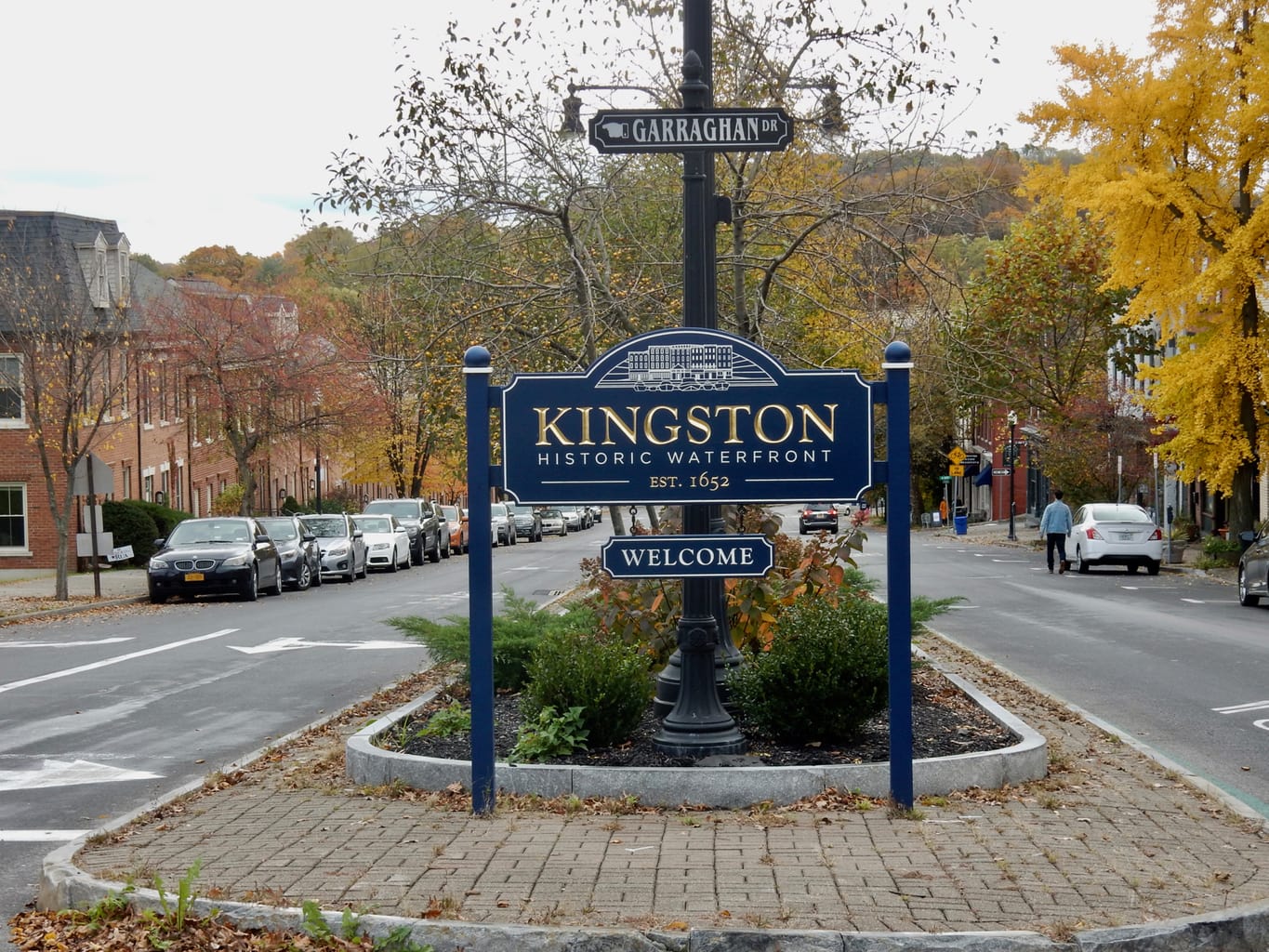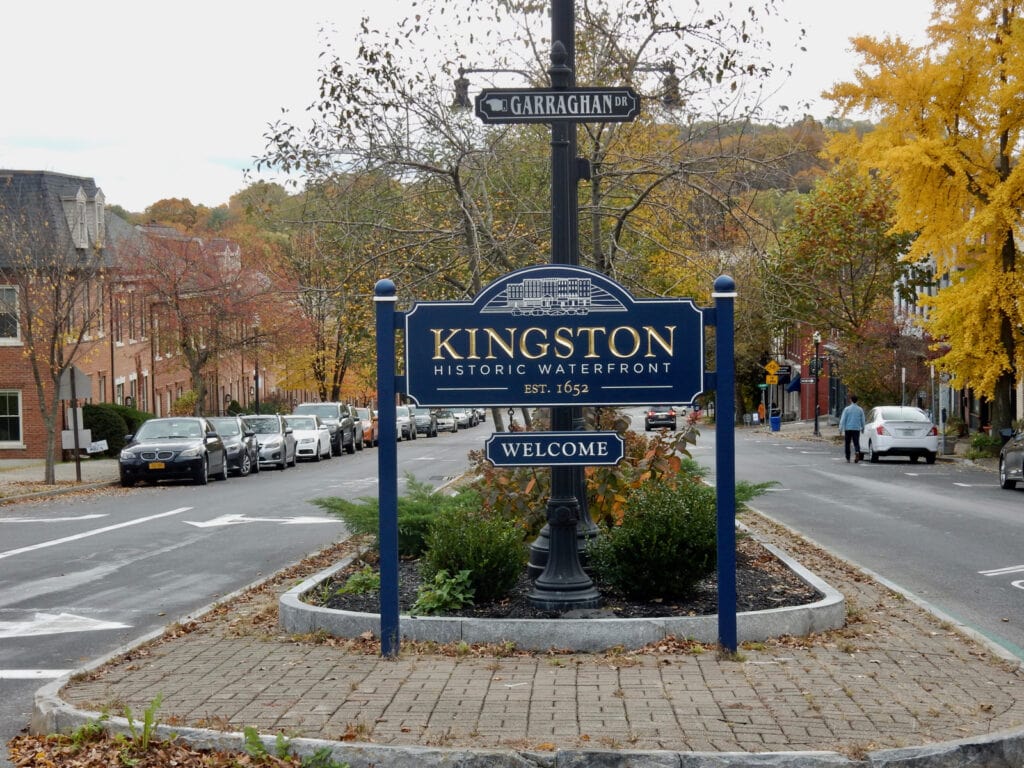 Craft beeries will already be aware of Keegan Ale in Midtown Kingston, but here's something you may not know (even if you live in town): Kingston's I-587 is the shortest Interstate in the country at just 1.21 miles long. Pair this trip with New Paltz/High Falls escape for a real Hudson Valley getaway.
Things to Do in Uptown and Downtown Kingston NY
UPTOWN KINGSTON
WALK: Kingston Stockade National Historic District, Uptown Kingston
In 1658, to protect his constituents from Native American raids, Director-General of the "New Netherlands" colony, Peter Stuyvesant, demanded that all 6o or so residents who lived along the Hudson River move 1 ½ miles uphill to a defensible point.
Colonists built a 14 ft. high fortification wall on the bluff above the river, encompassing a church and residential homes. The walls are long gone, but the Uptown Stockade District is one of the oldest and most charming neighborhoods in America. Within it see: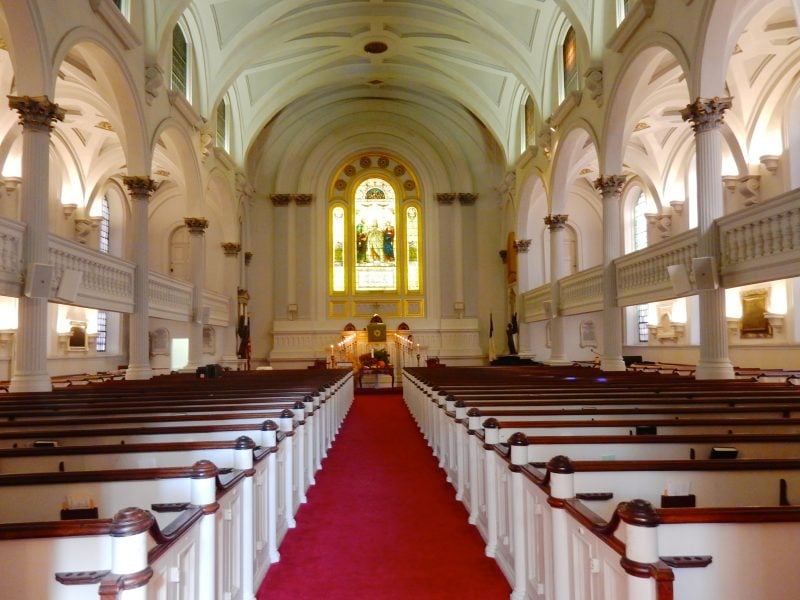 Established in 1659, this is the longest continuously operating Protestant Dutch Reform congregation in New York. Designed in 1864 by Minard LeFever, the fourth structure for this congregation was built over an existing cemetery, encasing many buried parishioners beneath its stone floors.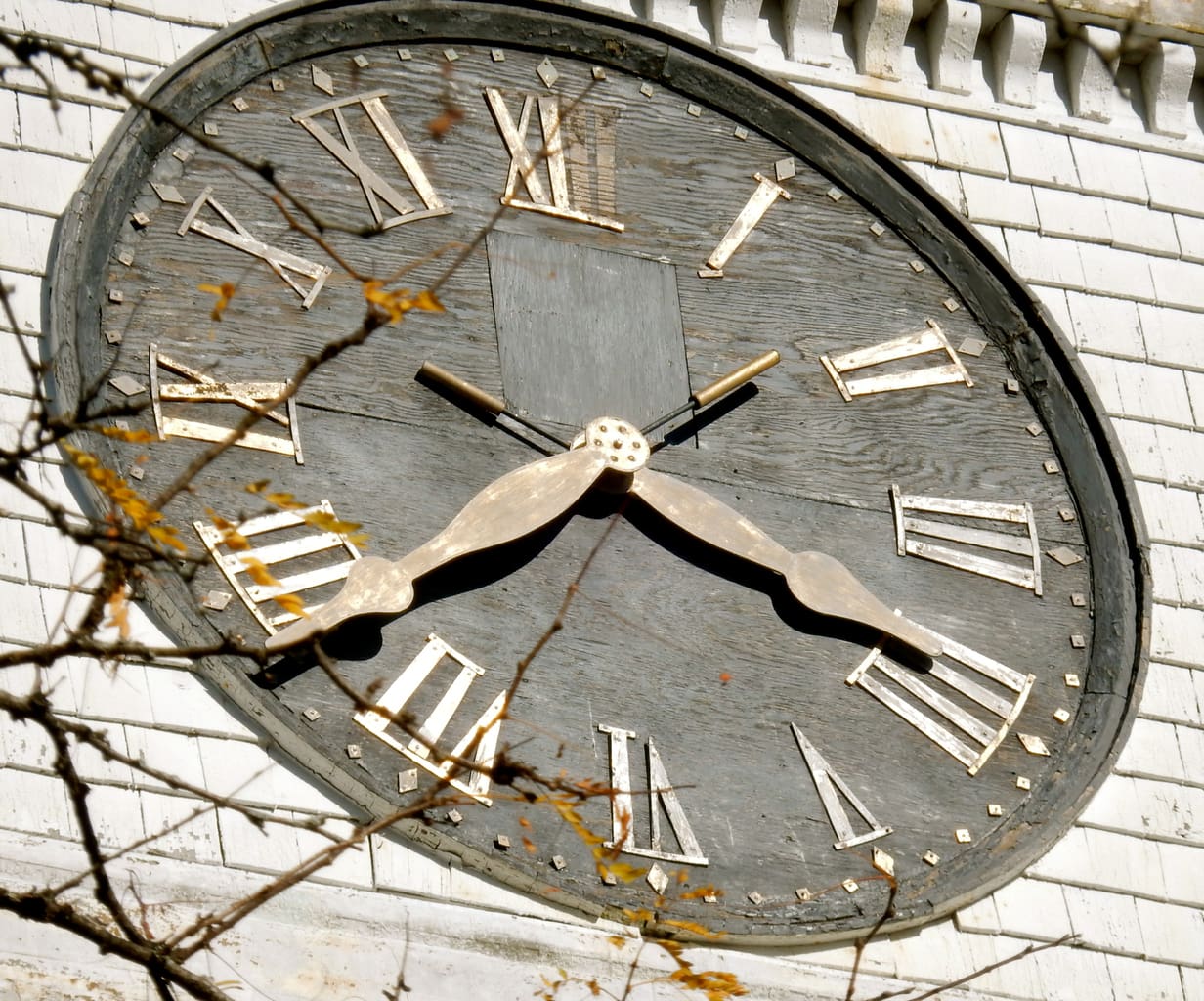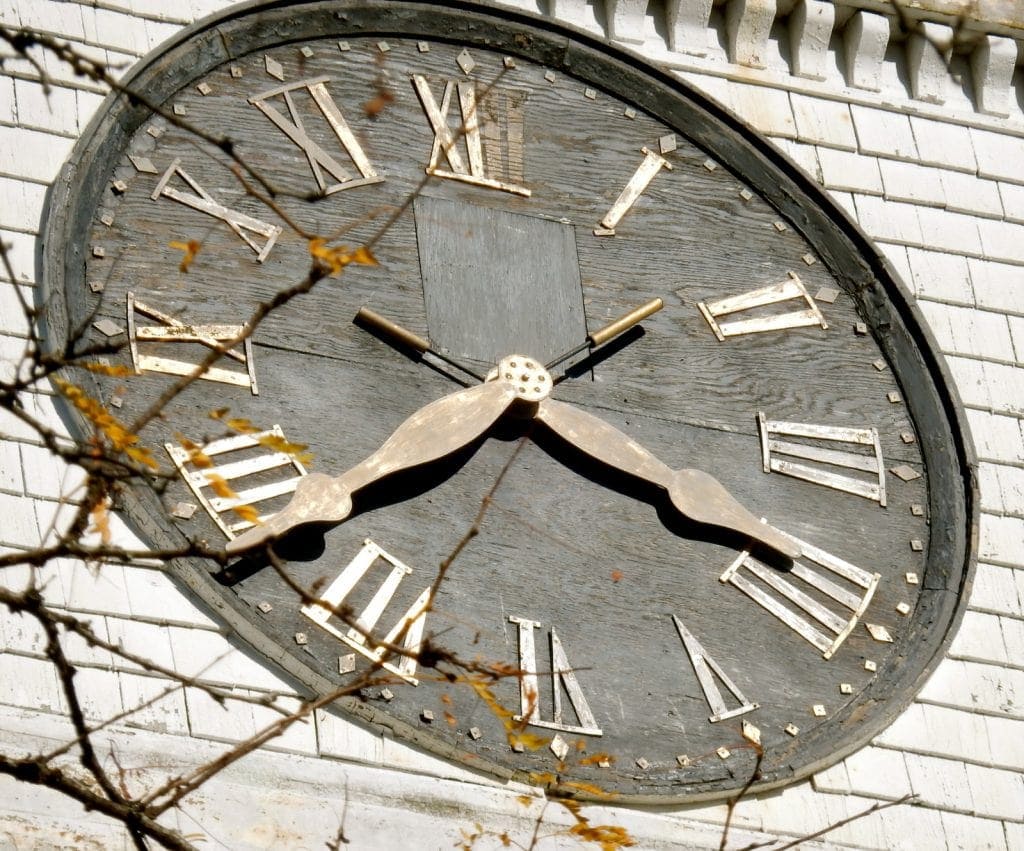 Come for a tour (call for information) or just pop in to see the Tiffany-like stained glass window behind the alter, a magnificent Moller Pipe Organ with three keyboards, an original pulpit bible from the 1600's, 1700's hymnals, original Civil War battle flags and upstairs in a small museum, a collection of historic artifacts and memorabilia including a travel chest from 1676.
Drop in most Thursdays from 12:15-12:45 in Fall and Spring to hear an organ concert – perhaps the best way to be immersed in this age old congregation. Before leaving the grounds, look up to the clock tower to see a huge oopsy: the clock maker originally deemed the noon hour "13 O' Clock" – XIII. Open year round for self-guided tours Mon-Fri 10-4.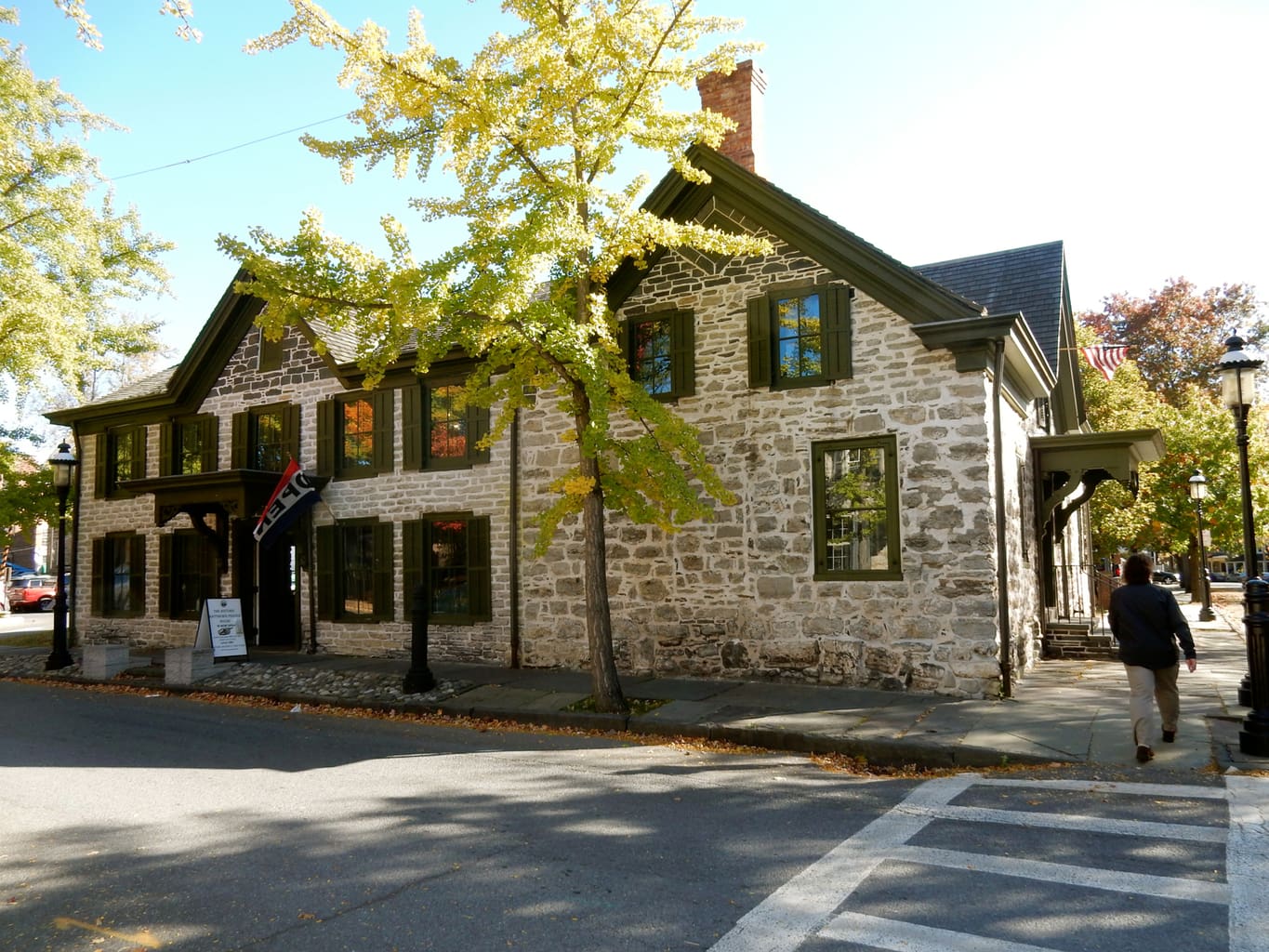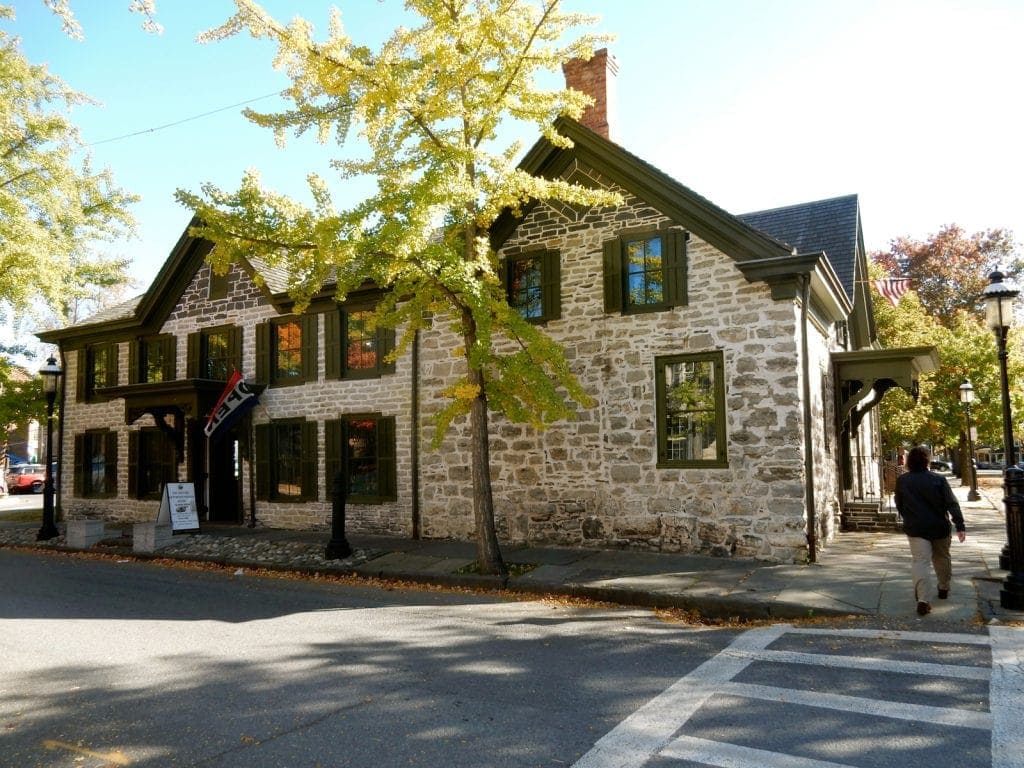 This 1661 structure, owned by Ulster County from 1914 until it was abandoned in 1999, tells the story of Kingston in its stone walls and singed wooden beams. Slated to become an office building, local history groups saved it from development. They stabilized the building's original "bones," unearthing 20,000 archeological artifacts in the process. The Persen House was open to the public in 2008 as a Cultural Heritage Center.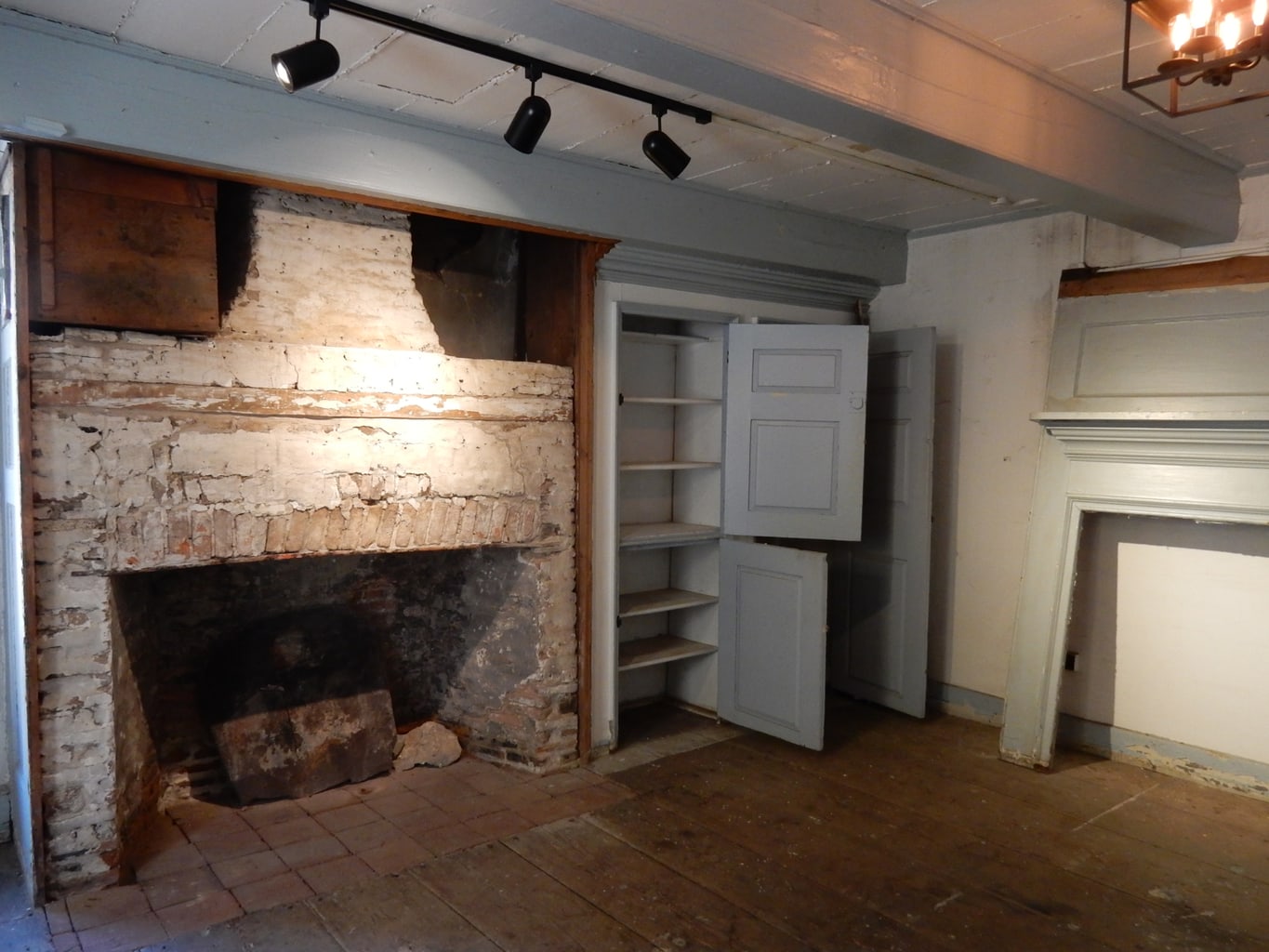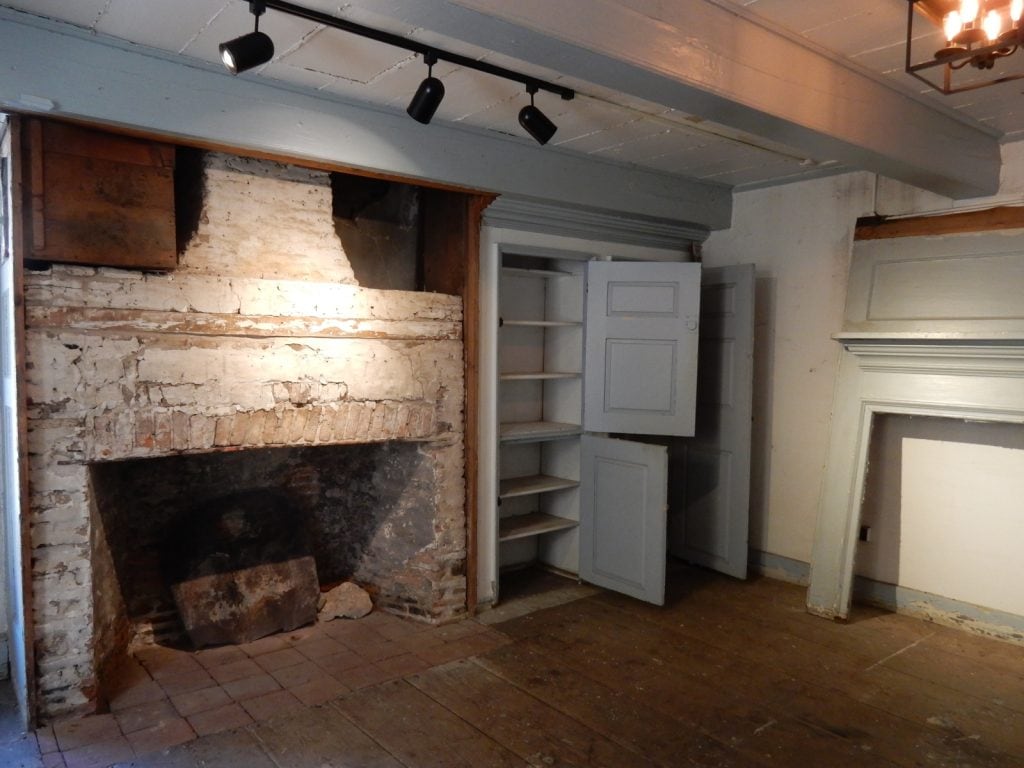 Though named after its longest resident, the first owner of the Matthewis Persen House was barber/surgeon Gysbert Van Imbroch who died in 1665 leaving a complete inventory of his home. This inventory, translated from the Old Dutch in 1896, is the basis for a new permanent exhibit upstairs – posters that tell the story of day-to-day life in the 1600's here. Among clothing and home goods, Van Imbroch's holdings included yoke for oxen, ice skates, a child's coat "made by the savages," and the largest book collection in the New World.
Barber-Surgeons and Fashionistas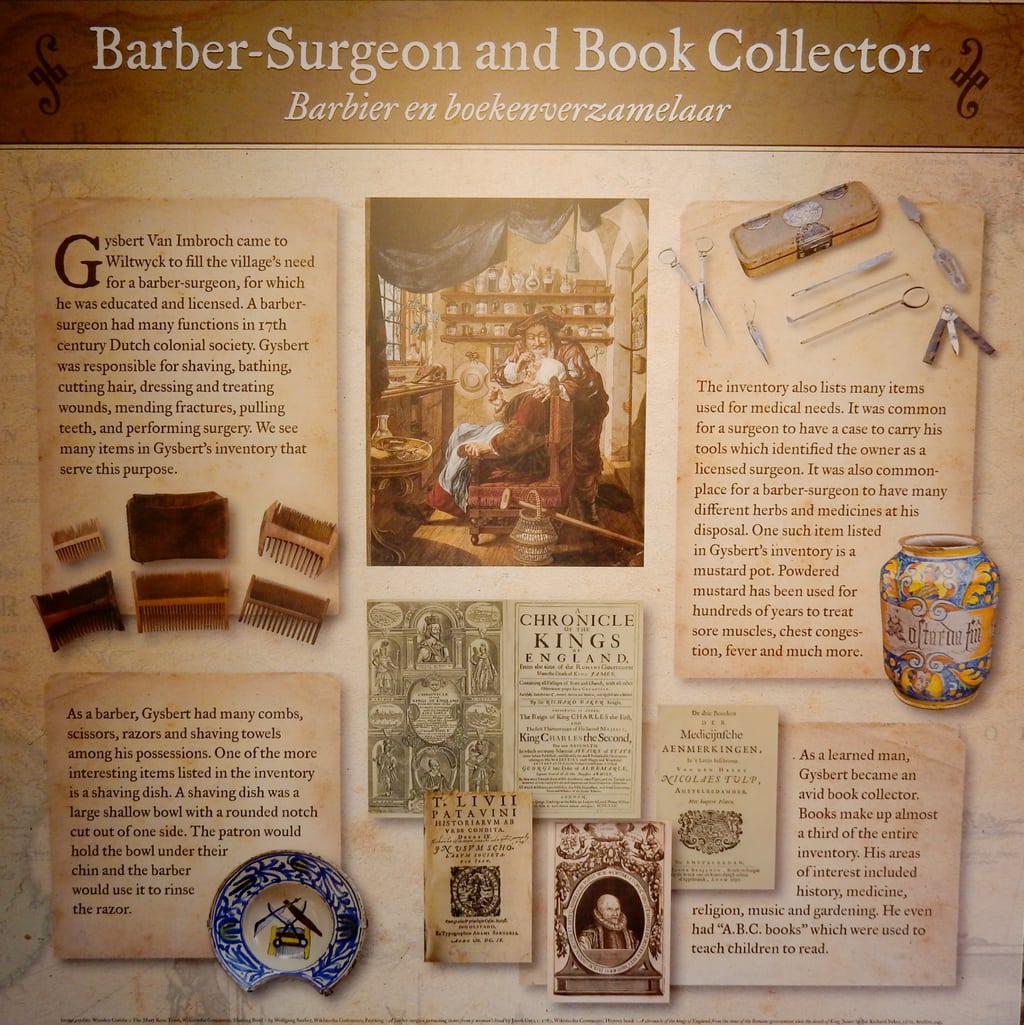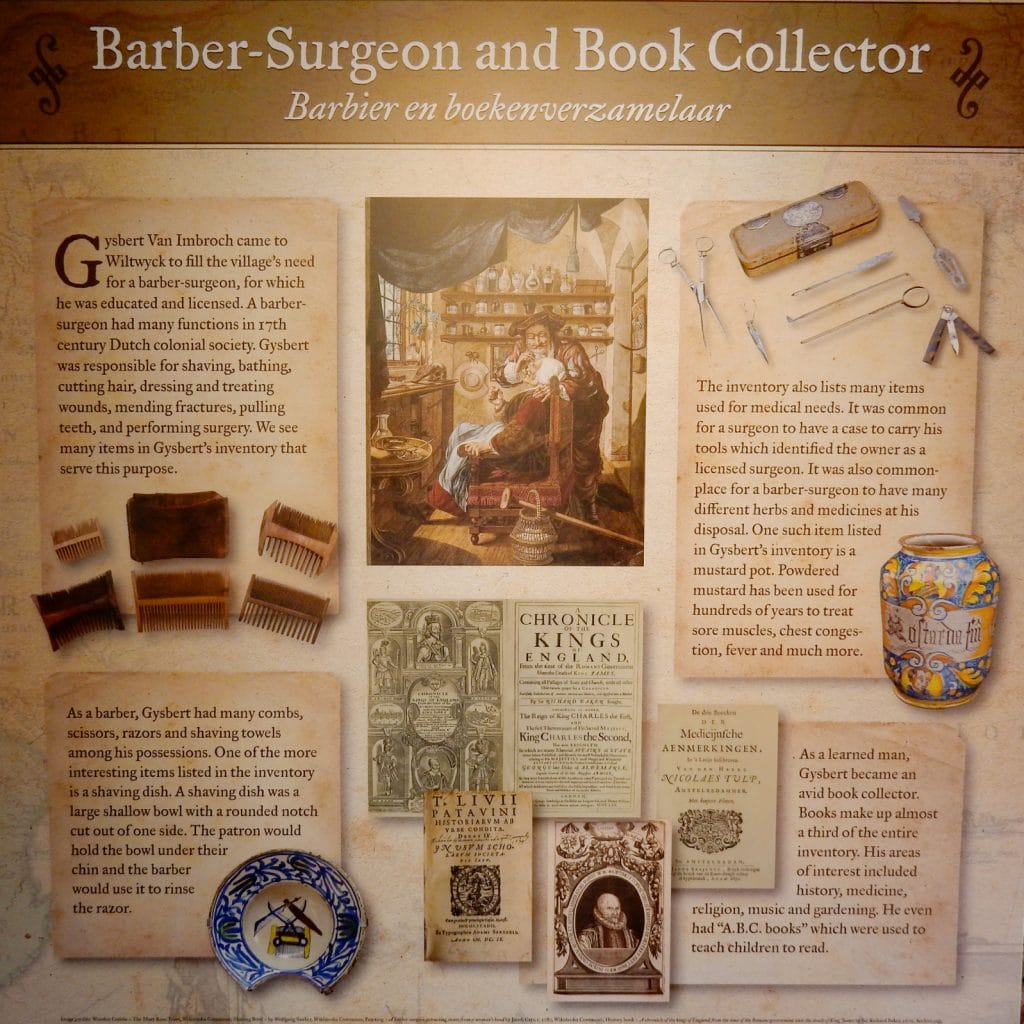 Depending on your interest, you're bound to discover something compelling here. Physicians might find the history of barber/surgeons of particular interest. According to engaging guide, Taylor Bruck, "at the time, doctors were strictly diagnosticians, but surgeons were anyone with sharp implements."
Fashionistas might pick up some old ideas to tweak for today.  "Stomachers"  (embroidered triangular bodice attachments that could be swapped out), and the Dutch "bodkin" (a lacing needle that doubled as a head ornament) were all-the-1600's-rage.
Students of political history might be surprised to learn that government regulations are nothing new. Laws in the 1600's required homes to be built with tiled roofs, and homeowners had to keep chimneys clean (one household fire could destroy a whole town) –  with stiff fines for non-compliance.
Built in Phases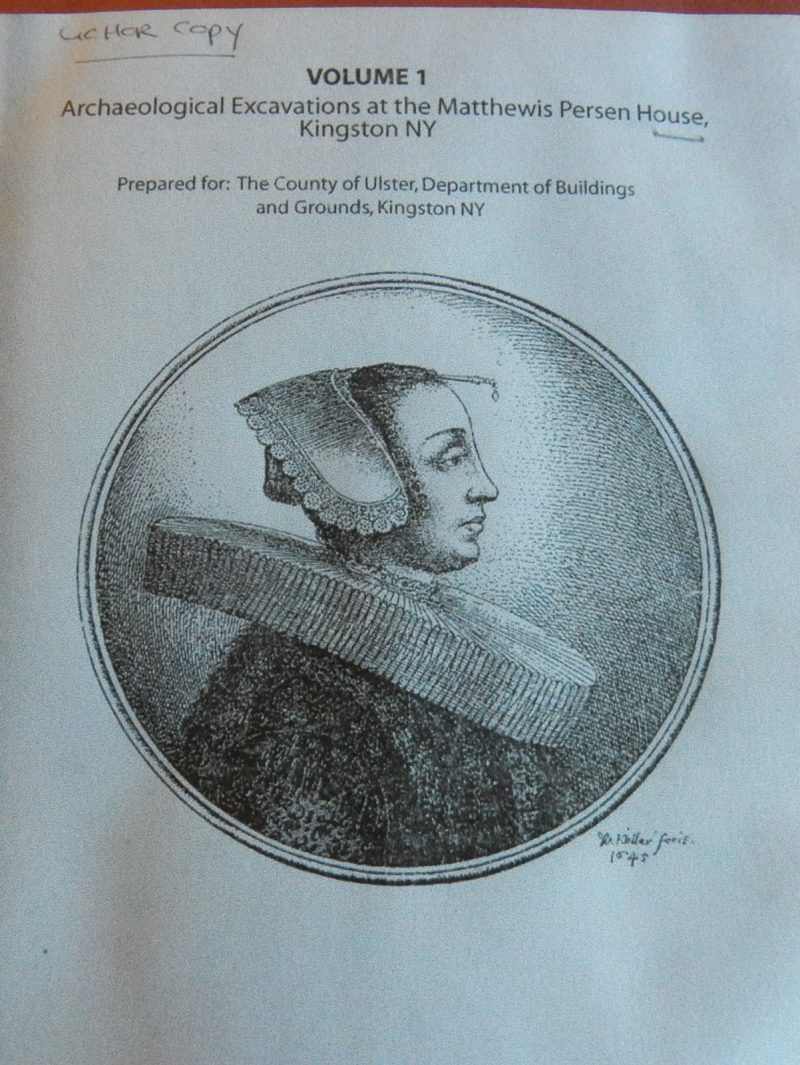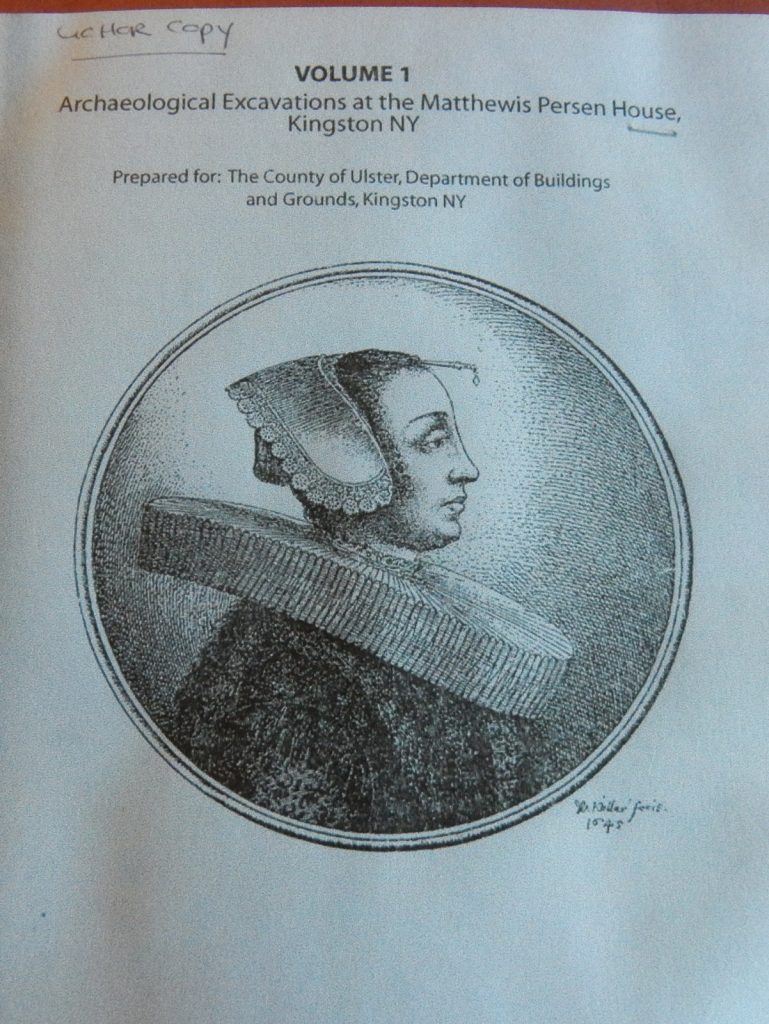 Like many older homes, this one was built in phases. A 45-minute tour will take you on a timeline through each extension. In 1661, Dr. Van Imbroch, his wife, Rachel, and three children lived in one wooden room, burned by Native Americans (who also kidnapped Rachel – though she managed to escape) and rebuilt in stone.  In 1669 a second room was added on and you'll see both rooms in raw form, as this project is a work in progress.
Phase III – from 1698-1735 saw the construction of the kitchen with jambless fireplace. In 1739 (Phase IV), Matthewis Persen turned the building into a "Public House" tavern and ran it until 1818. For nearly 200 years, the stone structure cycled through a succession of owners and uses, and now can be enjoyed and studied by all. Tours are free, Memorial Day to Labor Day Tue-Fri 9-4:30, Sat 9-3, Sep – mid Nov Sat. 10-2 or by appointment.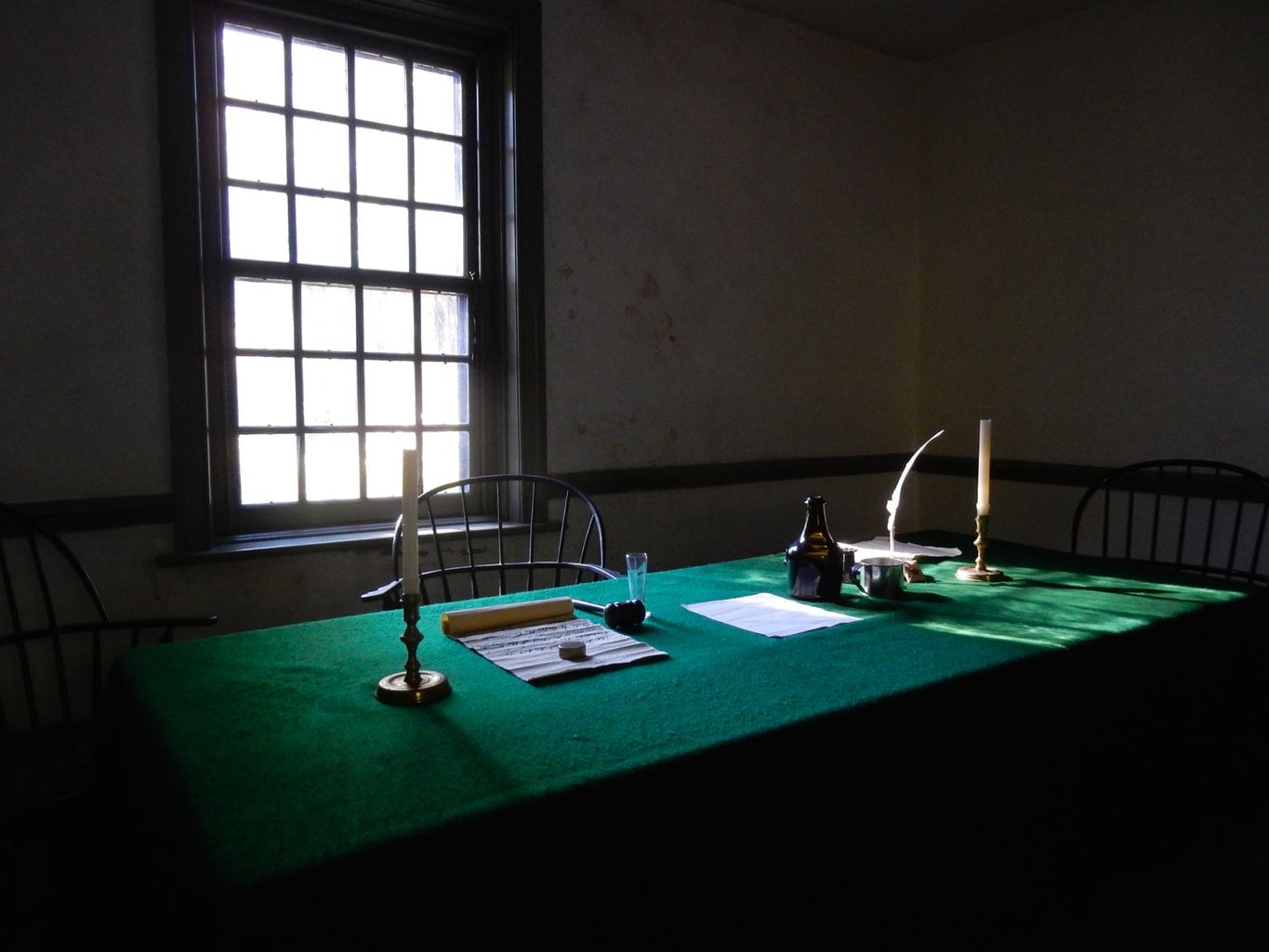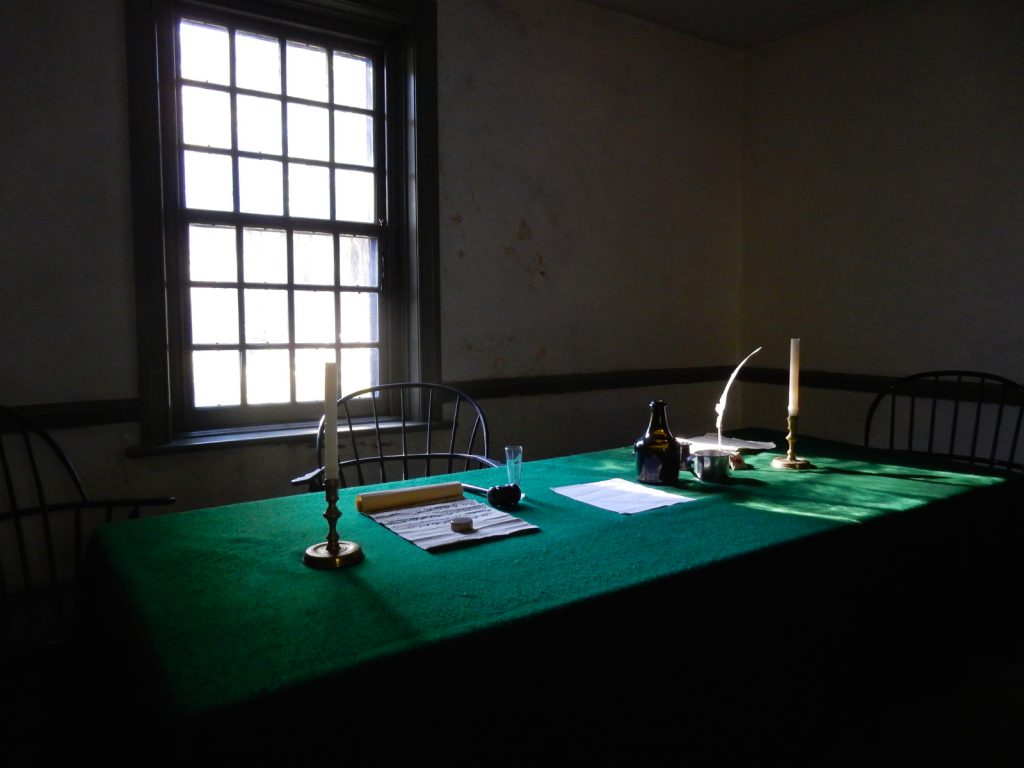 From April 1777 until Kingston was burned down by the British in October 1777, the New York Senate met in this private house as a matter of security. During the American Revolution, local government moved around to remain in continuous operation, and here, Abraham Van Gaasbeek rented out space in his private home so that NY State government could stay intact.
A tour here includes one of the oldest public houses in America – the only original building affiliated with the formation of the New York State Government. Visitors are shown a typical Dutch style home decorated as it would have been around the time of the US Revolution, with its Colonial Revival kitchen and a cooking/sleeping area the size of a studio apartment. Guests are invited to handle reproductions of items that were used in the room where the NY Senate assembled.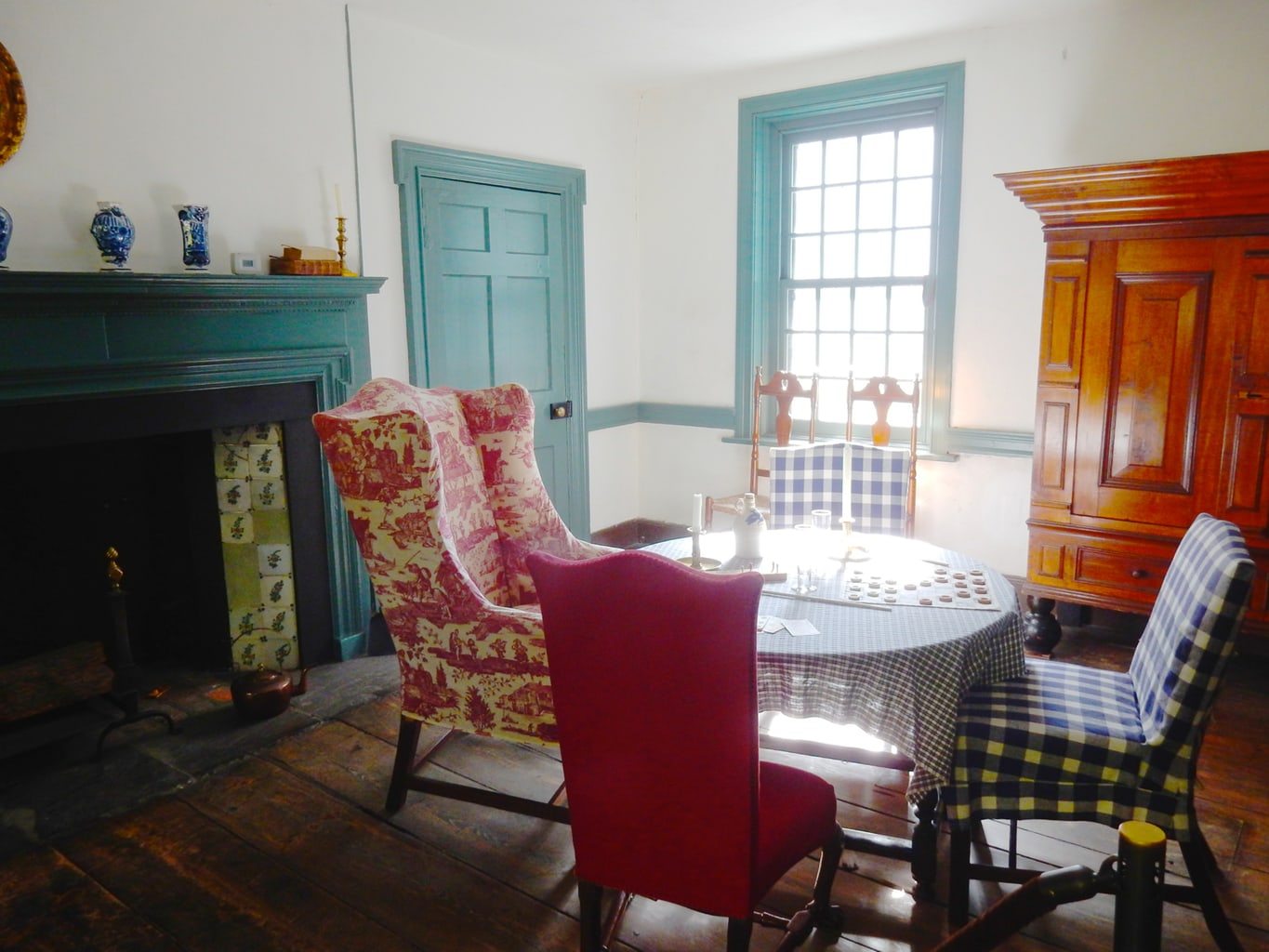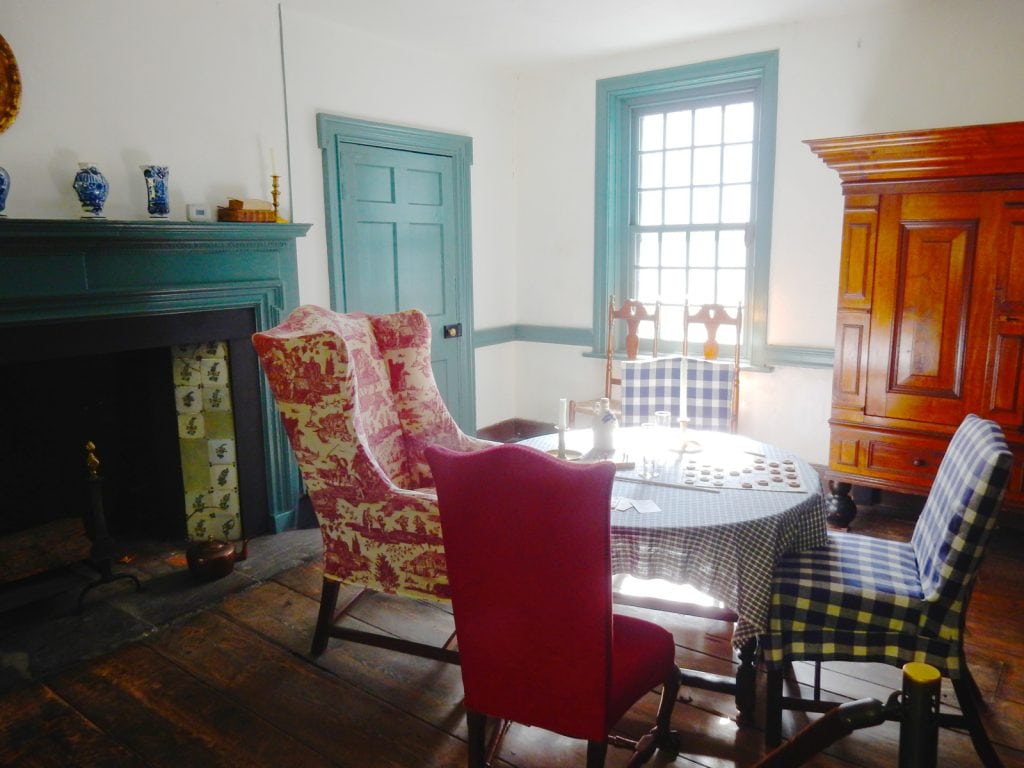 The SHS also maintains a small museum with the world's largest collection of John Vanderlyn paintings. Born and raised in Kingston, Vanderlyn (1775-1852) was the first American artist to study in Paris (sponsored by Aaron Burr), the first artist to paint Niagara Falls (predating the Hudson River School of Art), and the first to paint an American Nude. Scandalous! Open mid-April – October, Wed-Sat 10-5, Sun 1-5, free.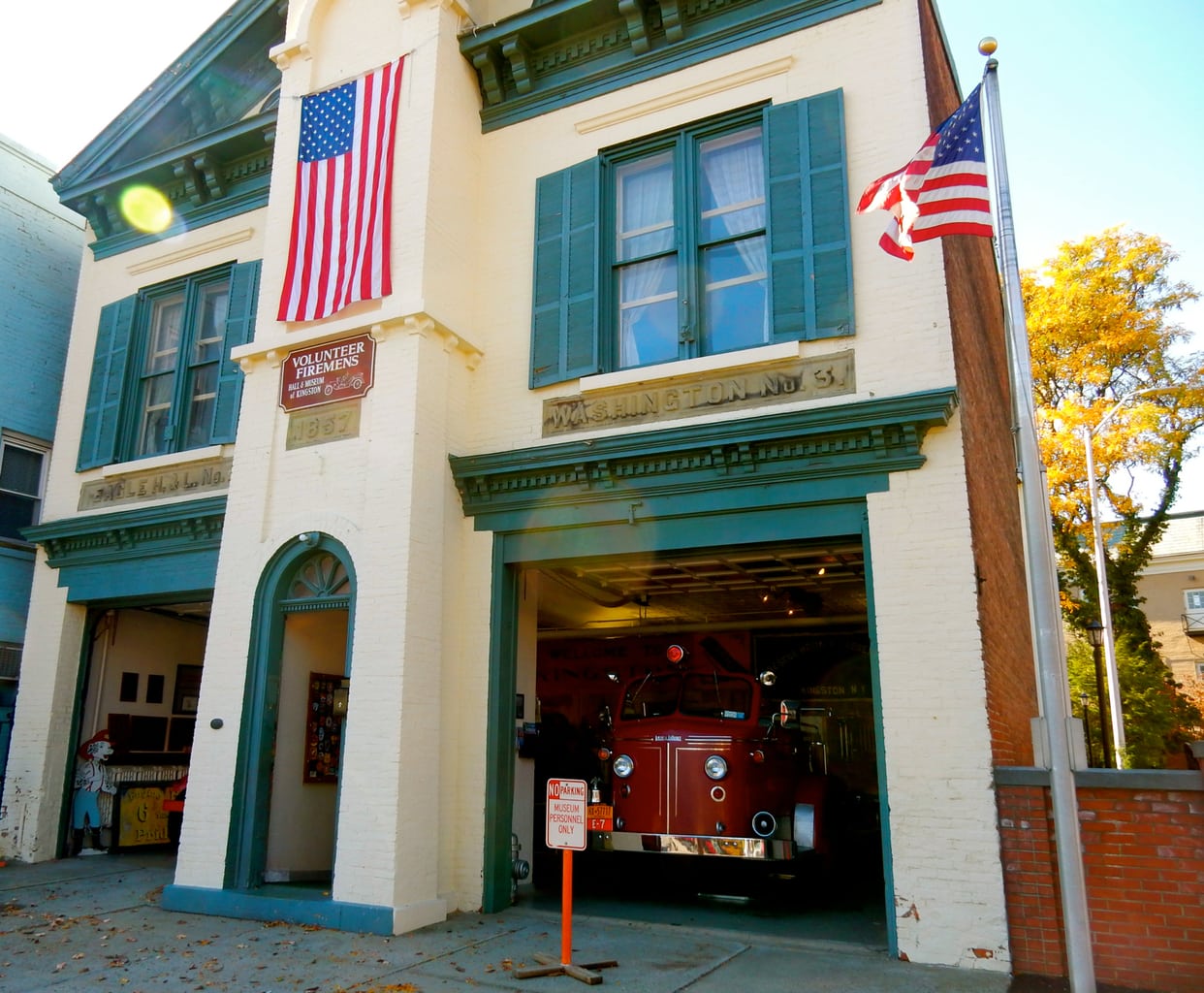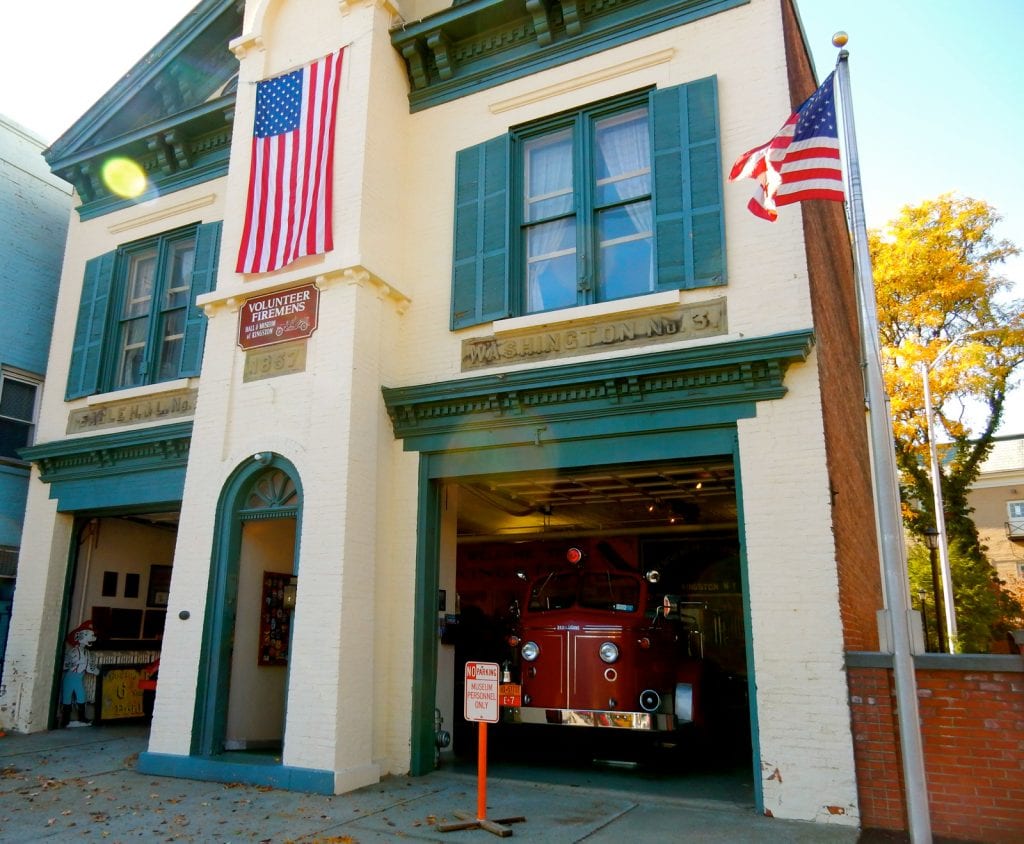 Yes, you'll find old fire trucks that you'd expect to find in a Fire Station Museum (here a 1934 Sanford and 1957 American LaFrance active until 2008). But you'll also see ornate parade and hose carriages, and harrowing photos of local fires like the one caused by a train load of dynamite.
Back before computers, how did firemen find the fires? Transmitter controls were complex machines connecting call boxes on each street with their corresponding numbers. Open April, May Sept, Oct Fri 10-3 and Sat 11-4, June-Aug Wed-Fri 11-3, Sat 1-4.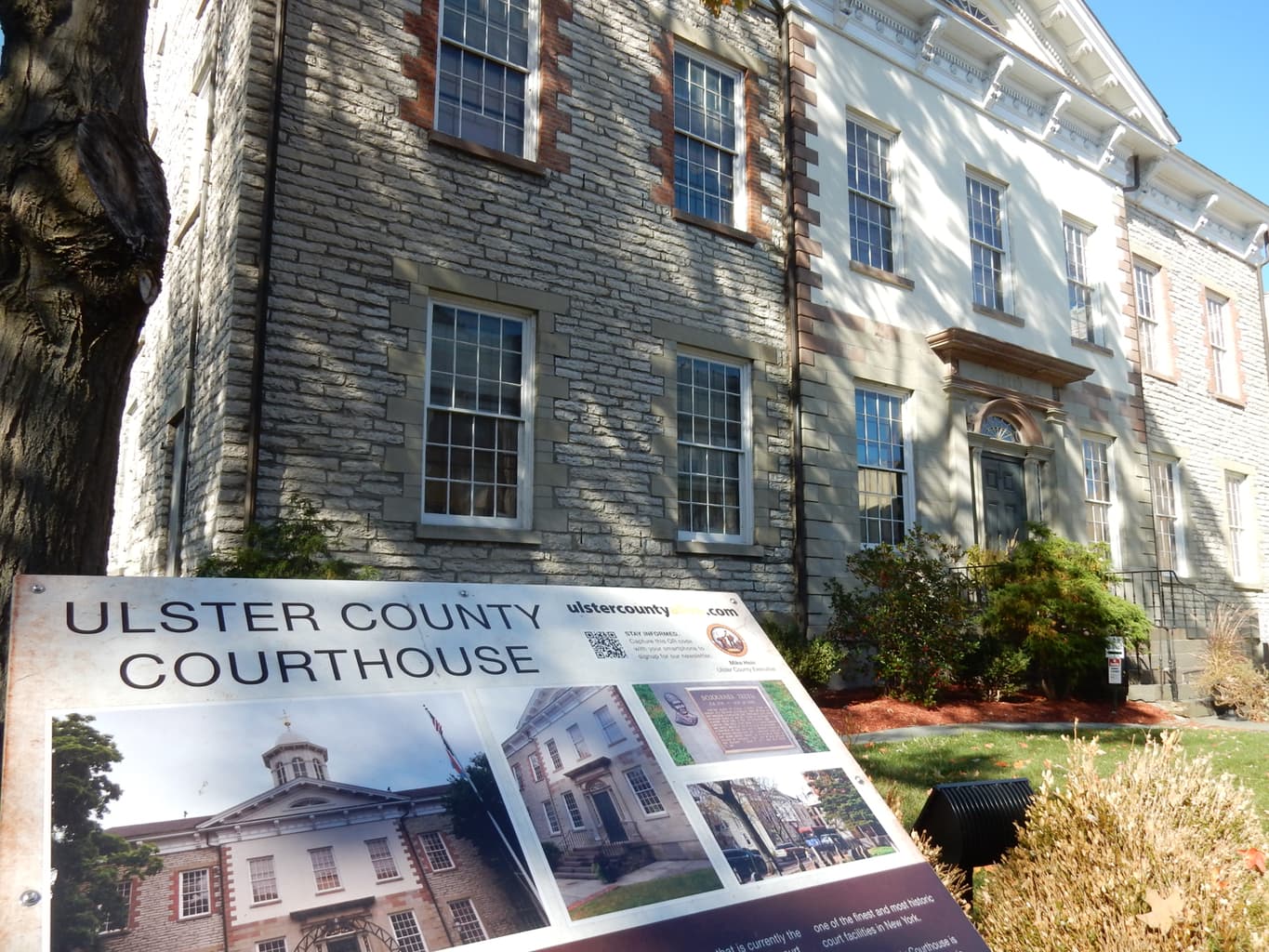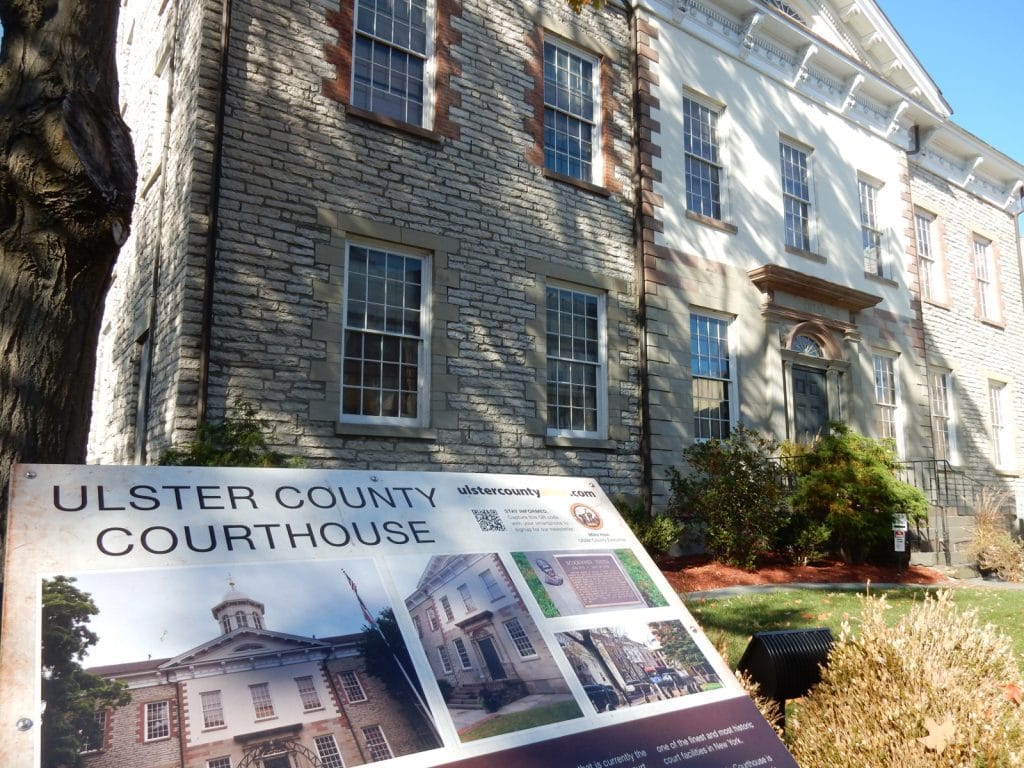 It was here, in this 1818 courthouse, that escaped slave and abolitionist, Sojourner Truth, saved her son from slavery in Alabama in 1828. She was the first black woman to win a case against a white man. Truth went on to become an advocate for freedom and women's rights.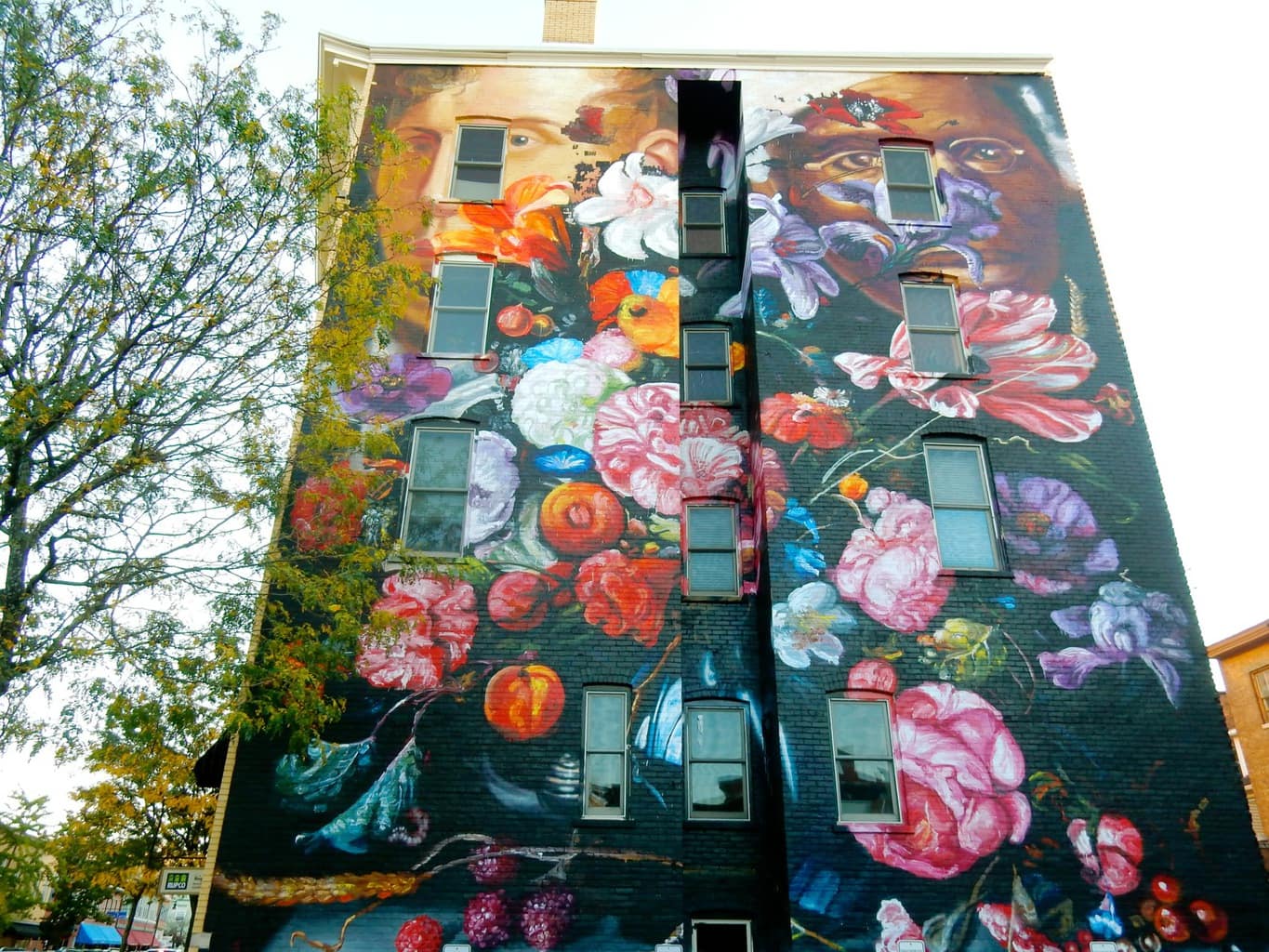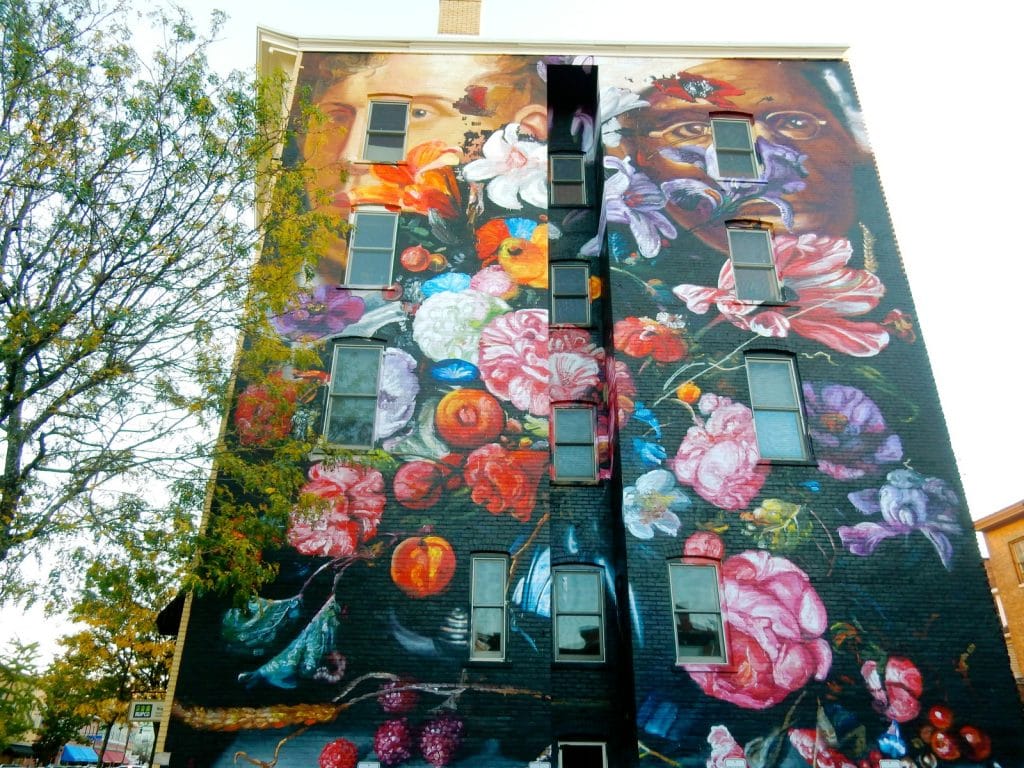 The stunning murals that grace buildings in Kingston were gifts of O+ (referencing the blood type). This arts organization exchanges the "medicine of art for the art of medicine." In other words, beauty for medical care. A more than fair exchange, I'd say.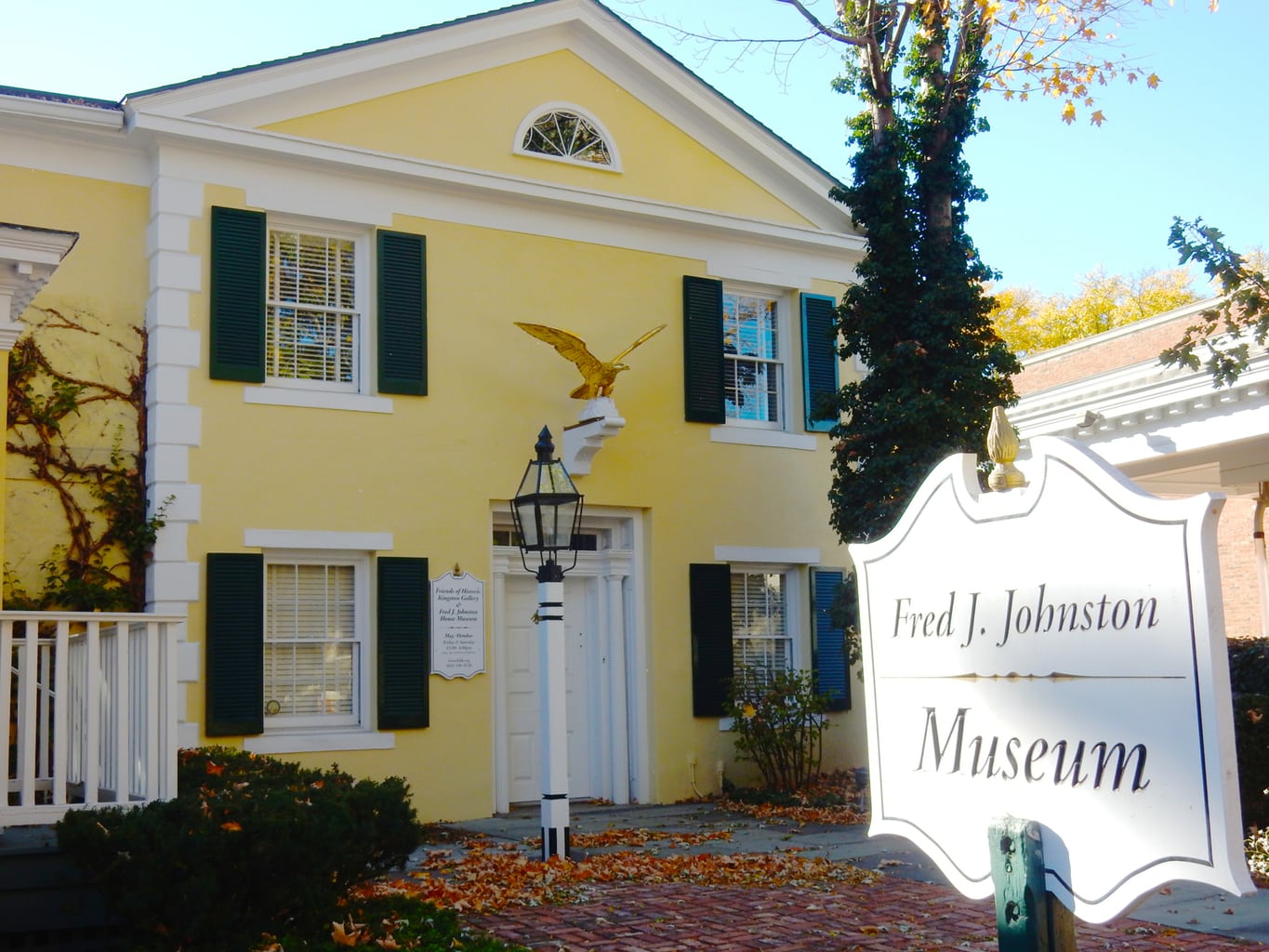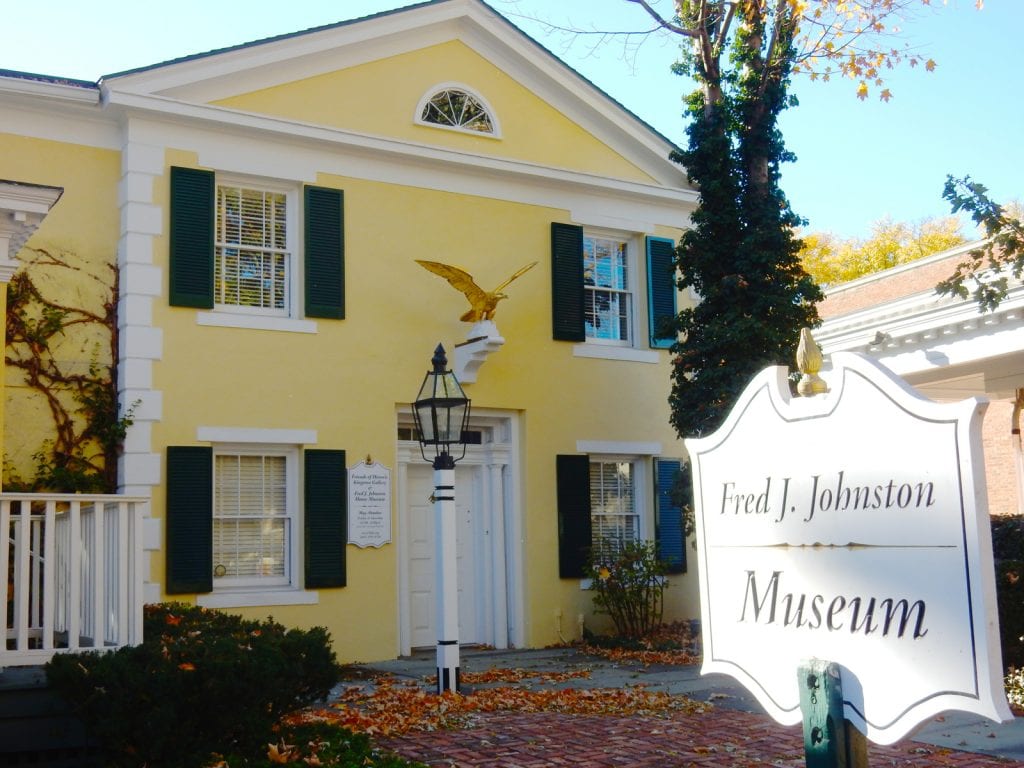 Called a "mini Winterthur," this museum of decorative arts is housed inside a lovely 1812 Federal style house. Open May-Oct, Fri. and Sat. 11-4, $5.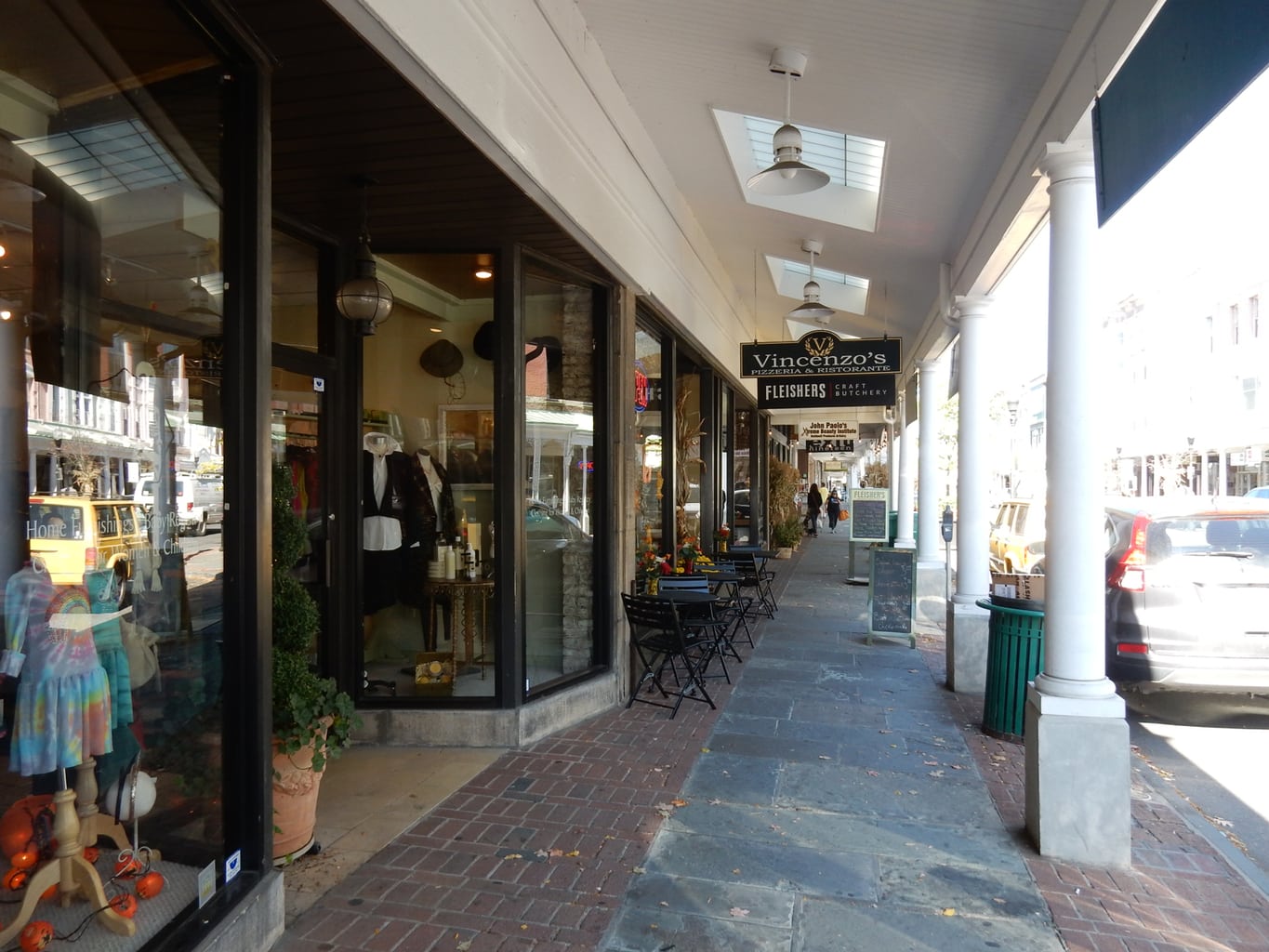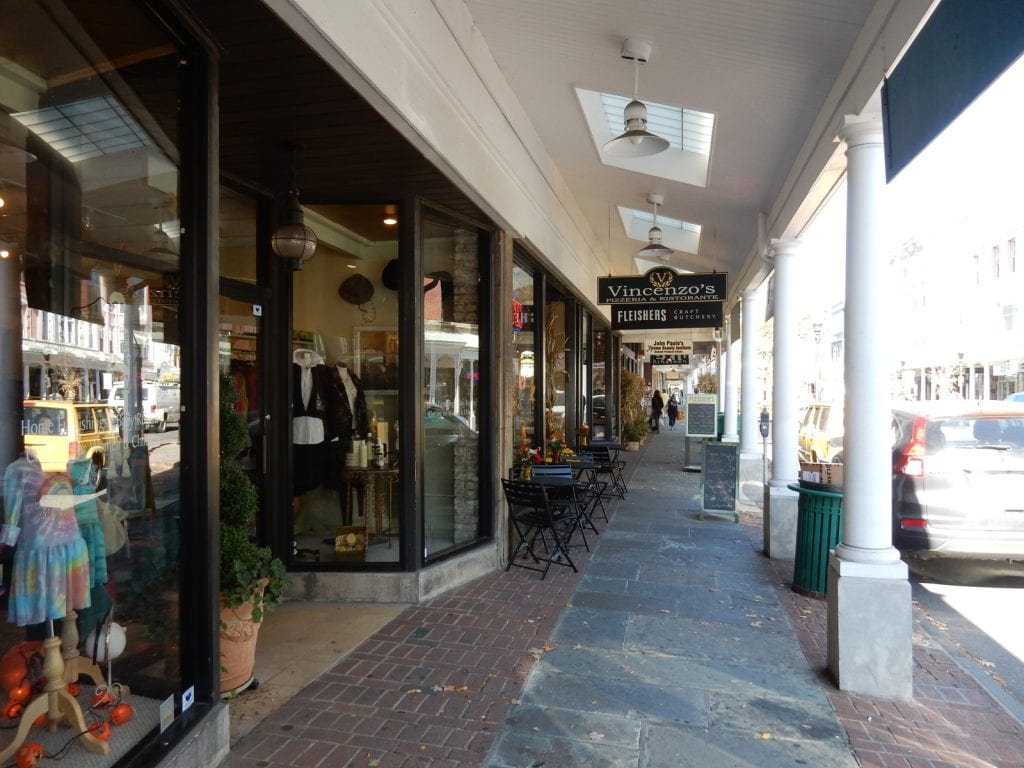 WALK/SHOP: Stockade District Shopping Area
Sidewalks on the two main shopping streets are covered like old-fashioned arcades making shopping a pleasurable, dry experience even when it's pouring out. Here are some of our favorites: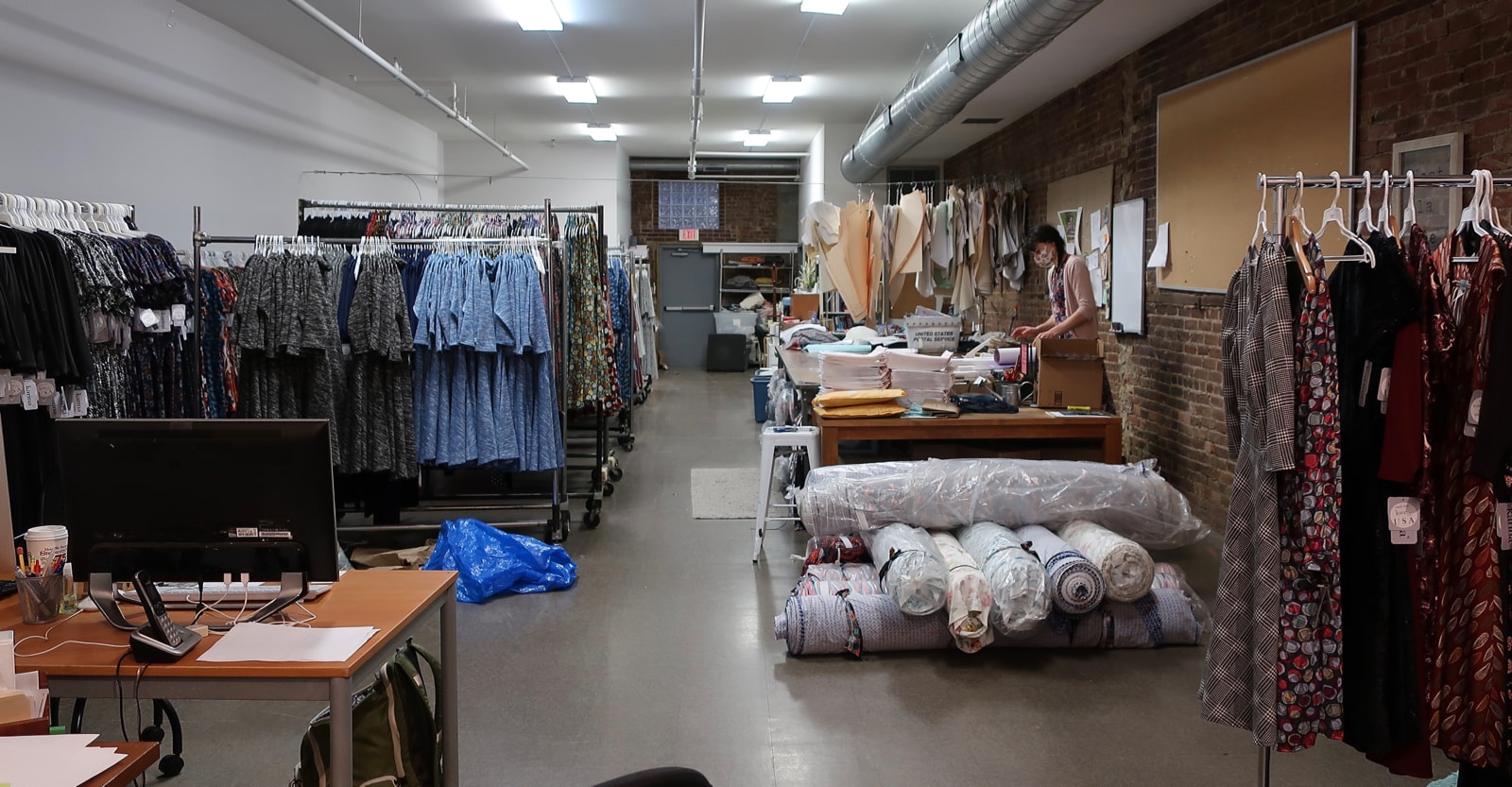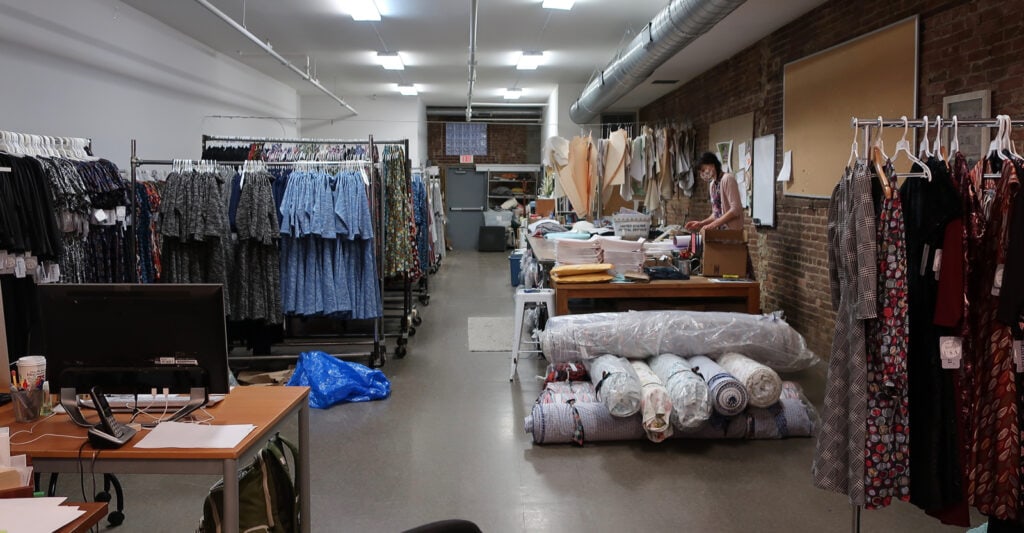 Although you'll find stretchy, machine-washable Karina dresses in stores and boutiques all over the country, Karina Cousineau, and her crew, sews and sells her flattering designs from her brick and mortar shop/studio in Uptown Kingston NY. The ultimate in travel-wear (stash them in a backpack; they won't wrinkle), most Karina styles are well priced at $108.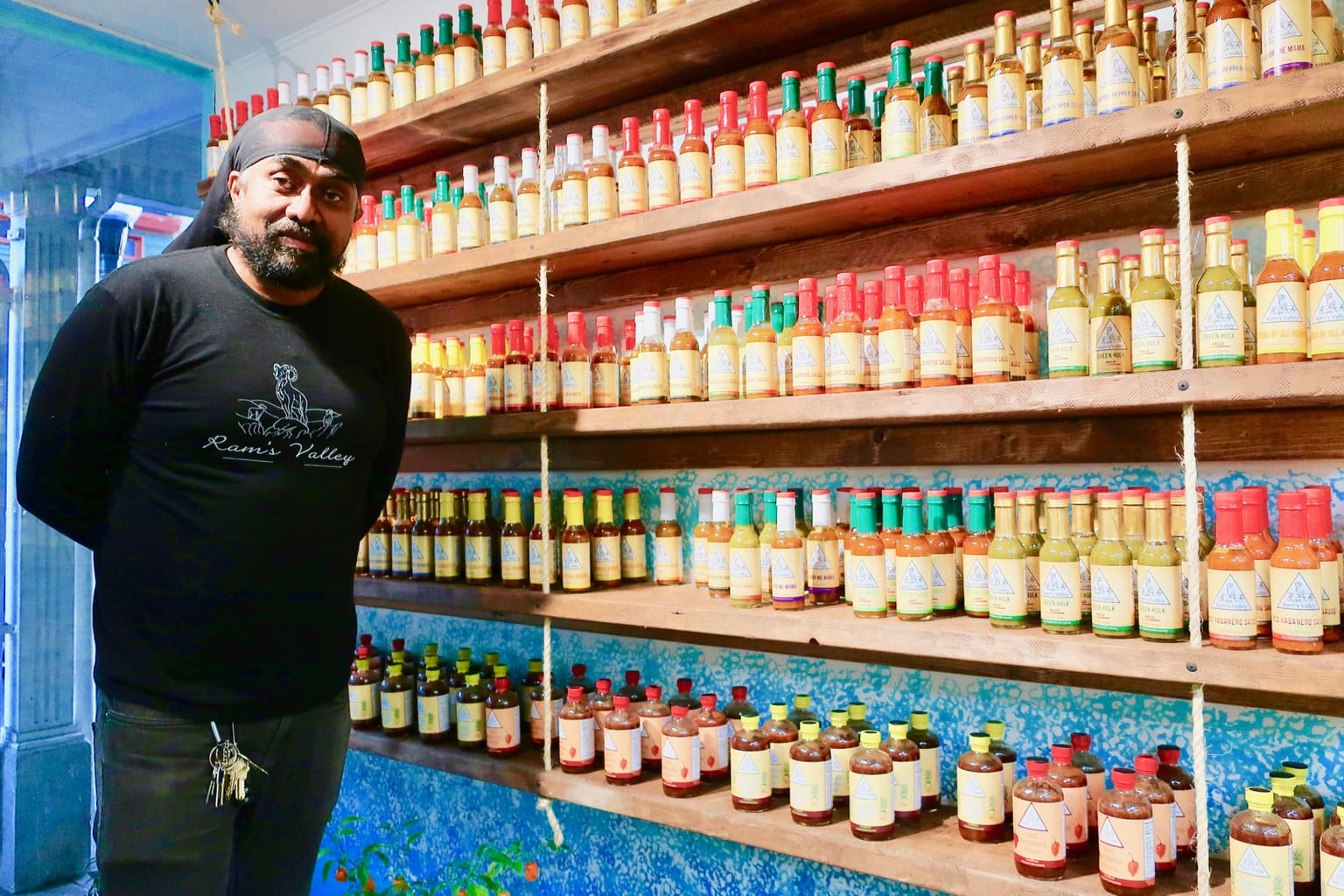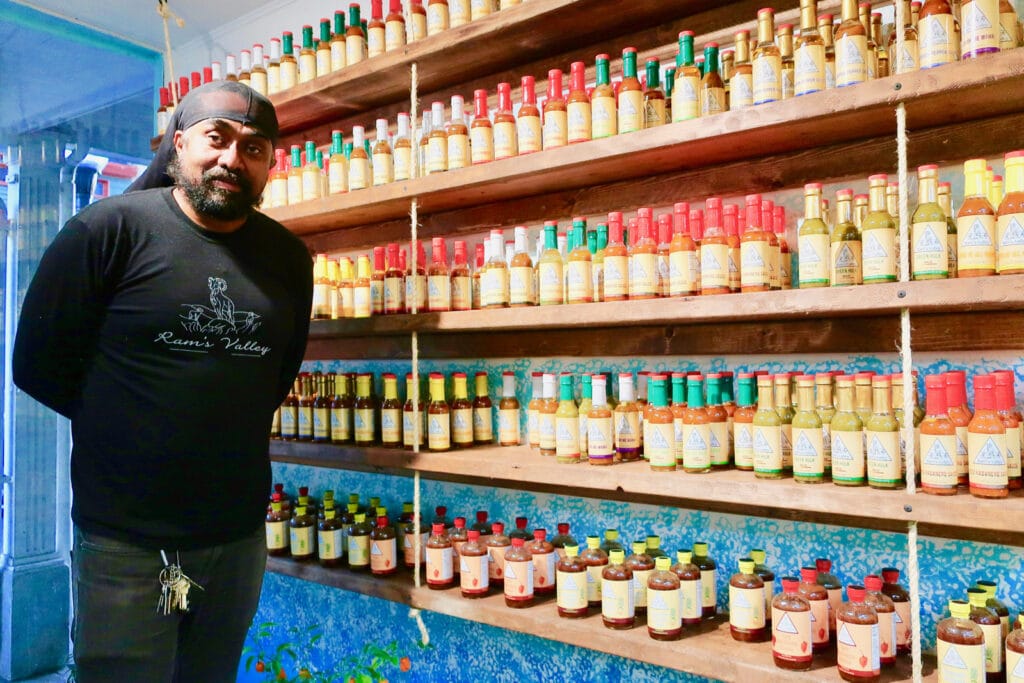 Ram's Valley
Owned by Trinidad-born Ram Rajkumer, Ram's Valley sells Caribbean spices, beverages, and hot sauces made from ingredients grown on local organic farms. Even better, Ram's Valley has partnered with ARC of Ulster Green to hire adults with disabilities.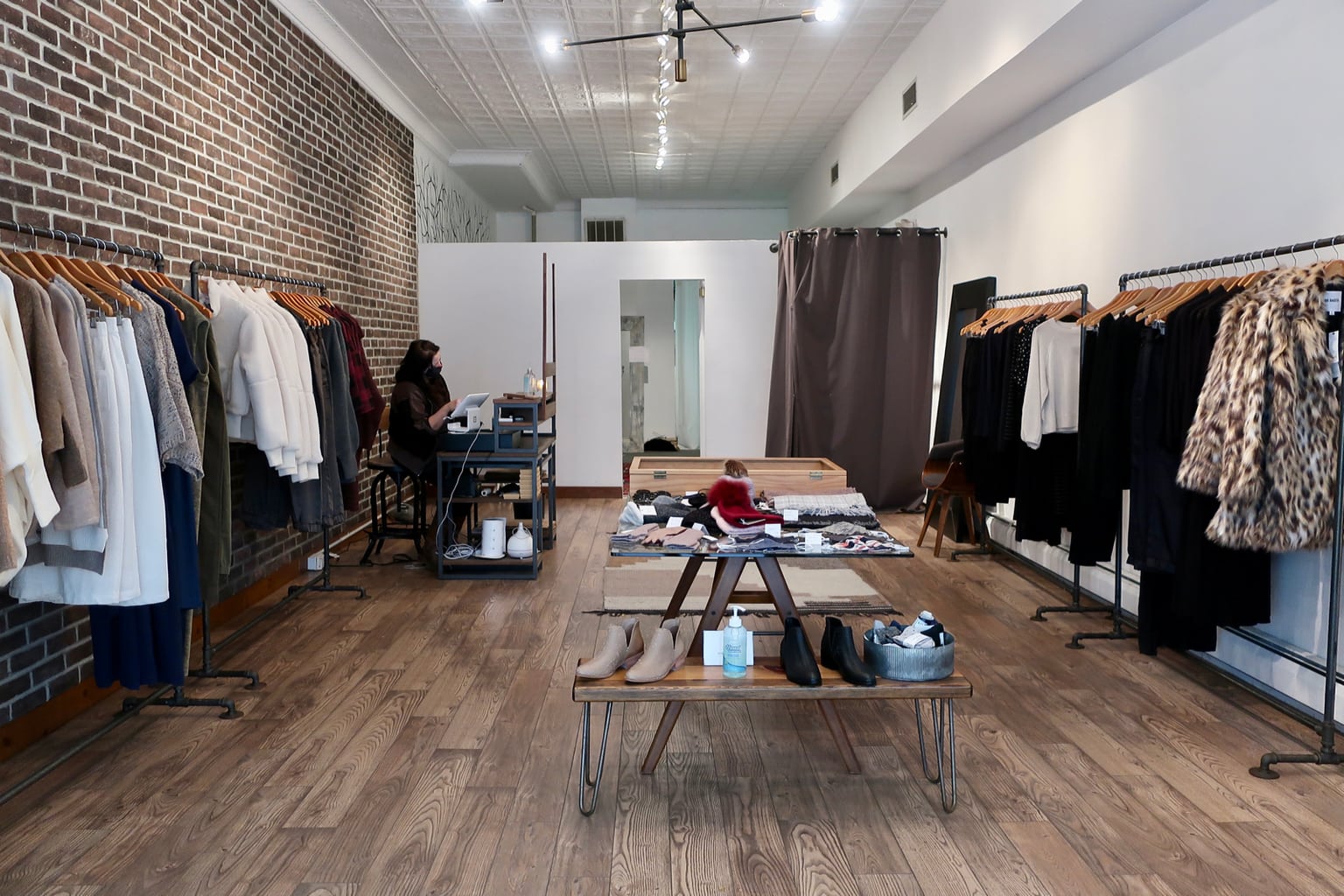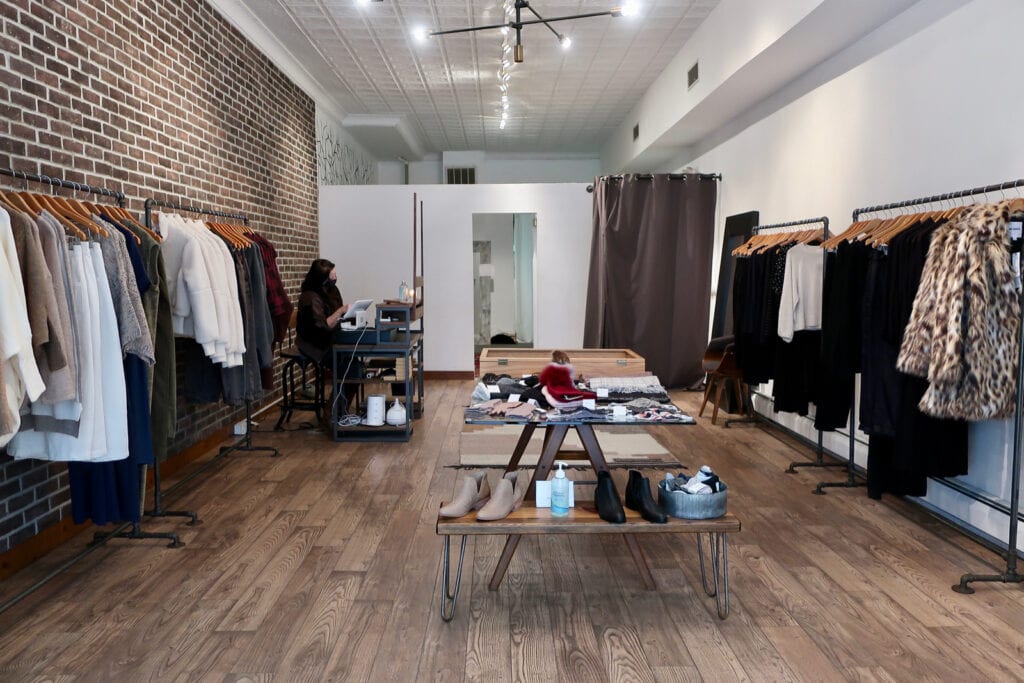 People come from "all over the world" to shop at this boutique that sells mostly L.A. designer clothing. But some locals as well.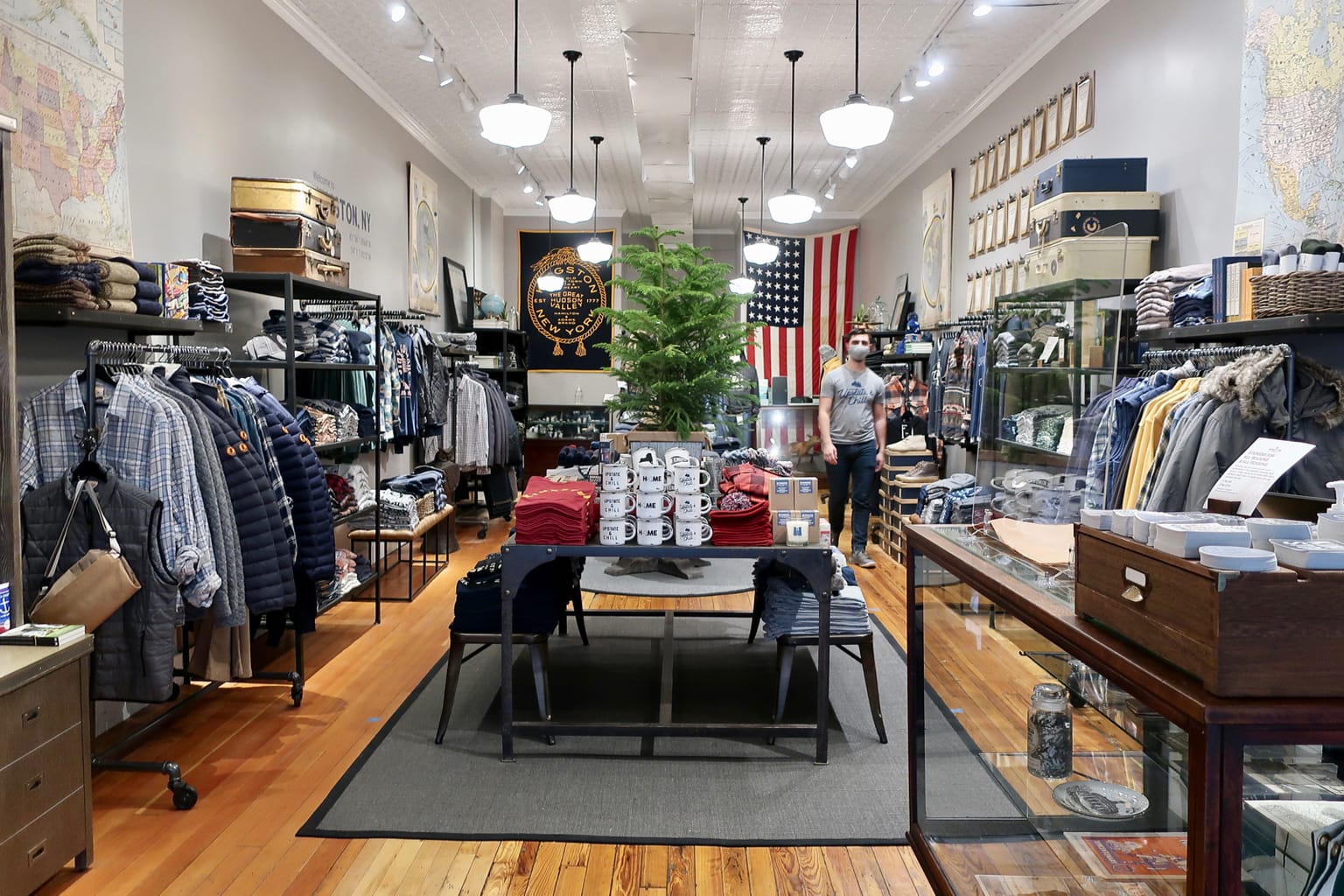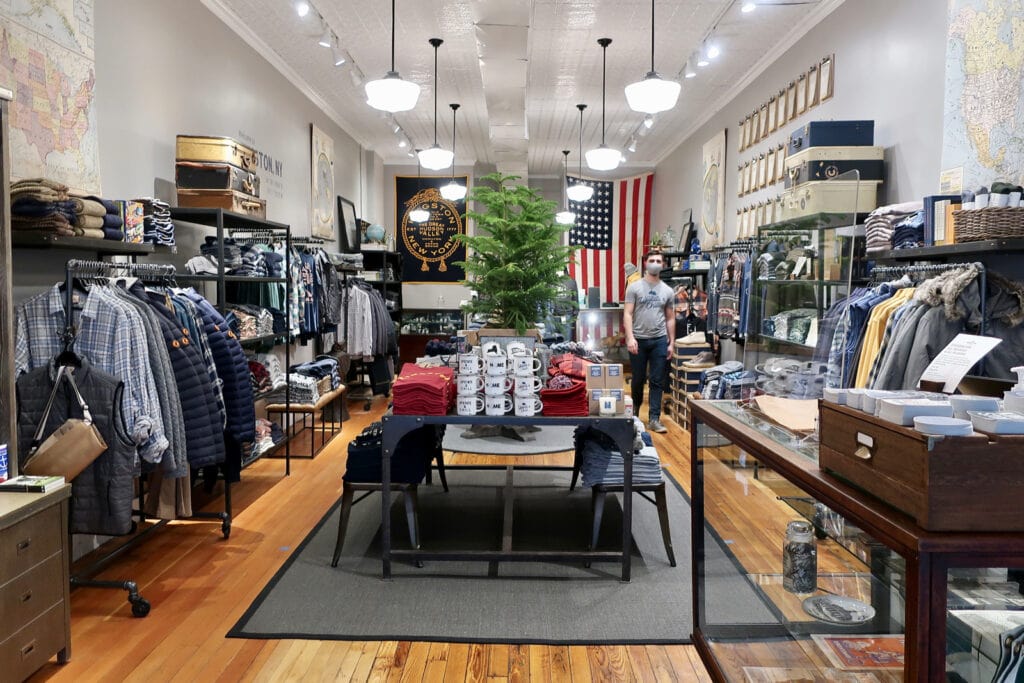 The aesthetic here is "modern-guy-goes-camping." But be on the lookout for a new women's section: in process on the day I visited in Nov. '20.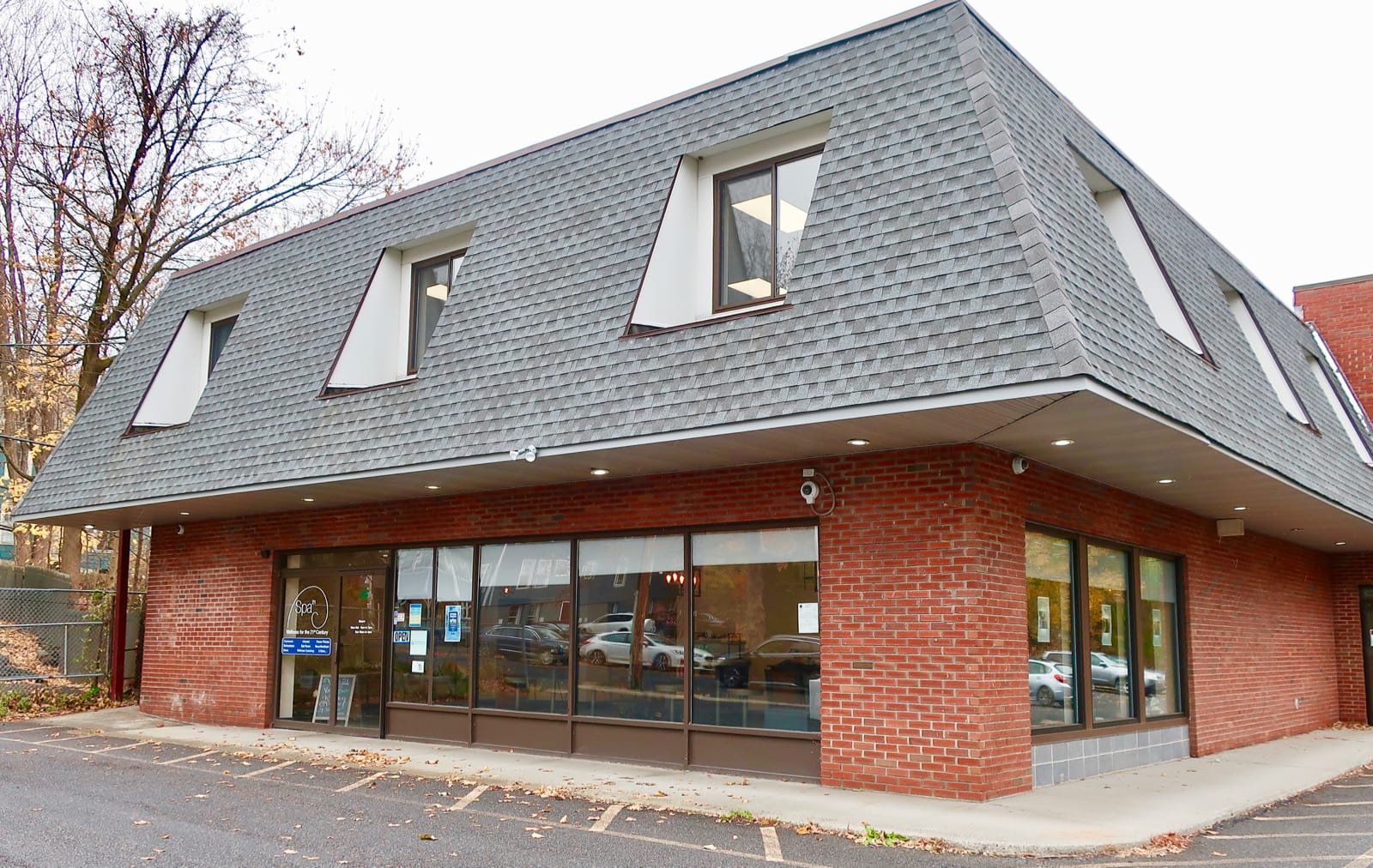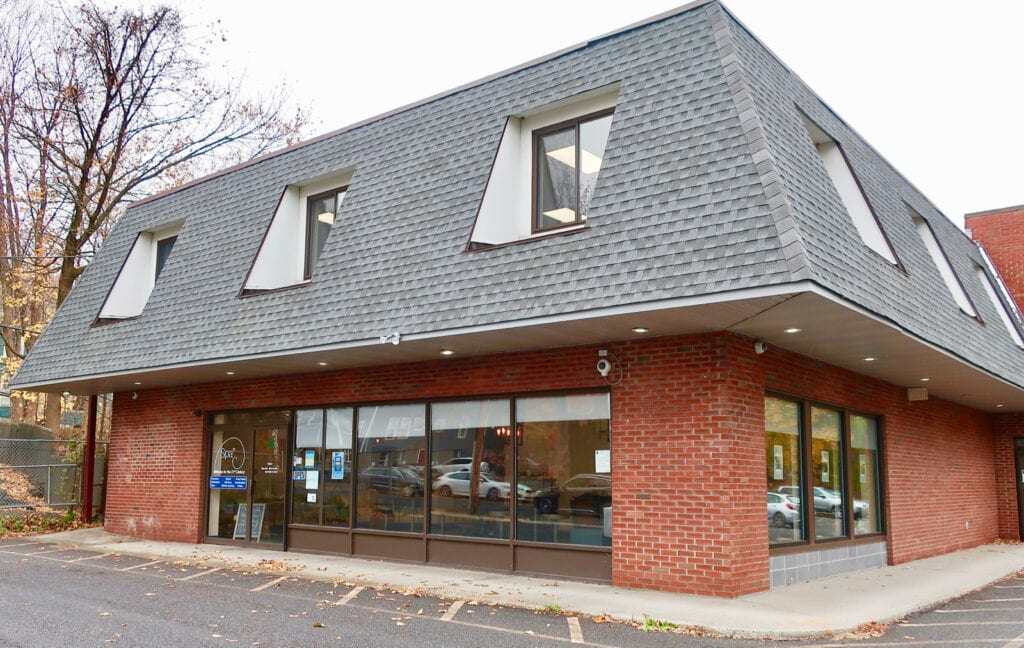 SPA: Spa21, Upper Kingston
It's a spa like no other: more of a hands-free "wellness center" with a techno-boost. A "French Concept Spa for the 21st Century" – treatments here seem tailor-made for the Covid-era. So, don't expect wraps and body-kneading massages. Instead, look for Gravity Flow beds, isolation float tanks, infared treatments, micro-ionized salt remedies, neurofeedback, cryotherapies, electromagnetic fields, oxygen, biofeedback, aroma and music therapies, and more alternative forms of healing – all in private rooms.
Downtown Kingston AKA The Rondout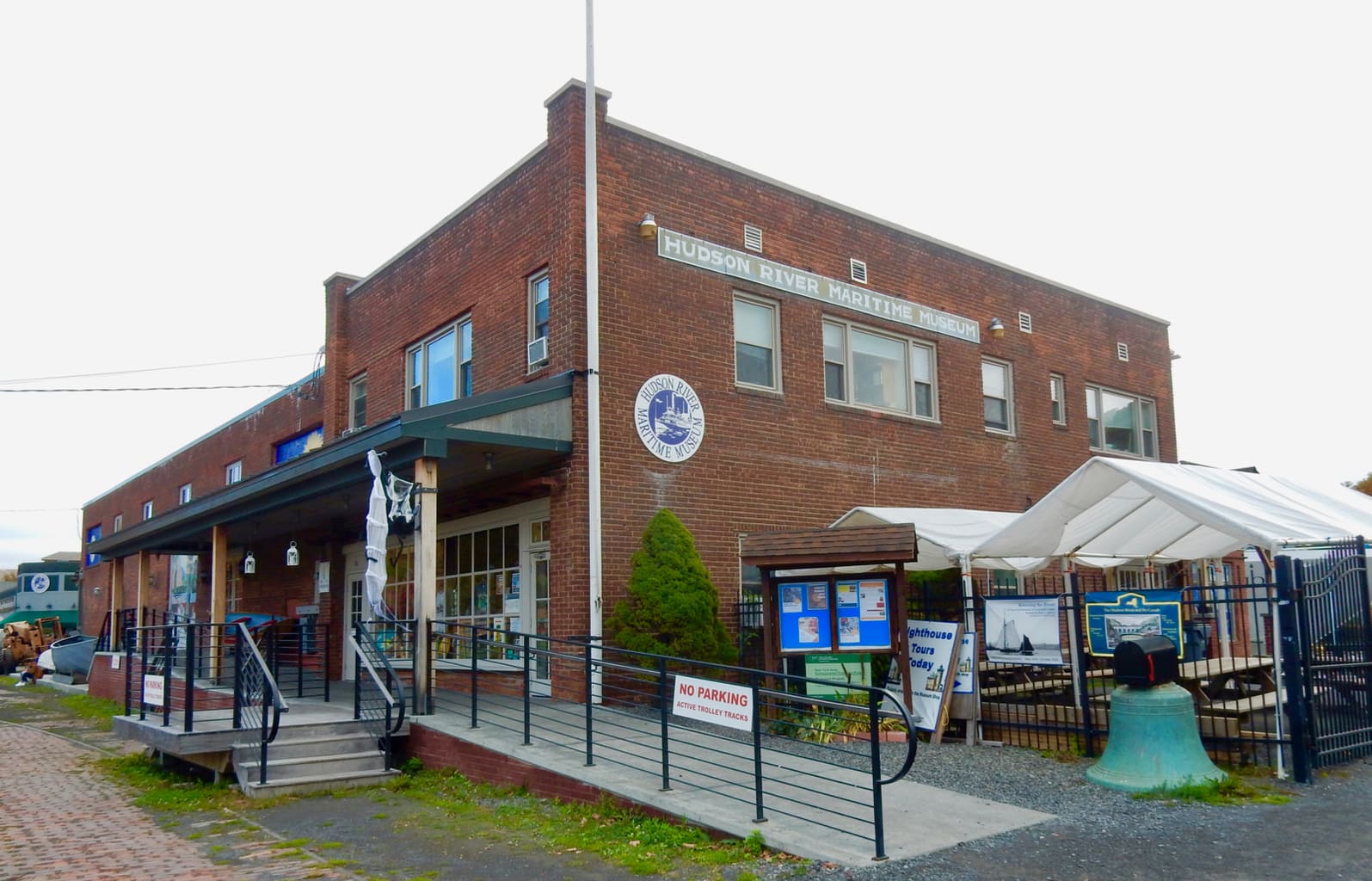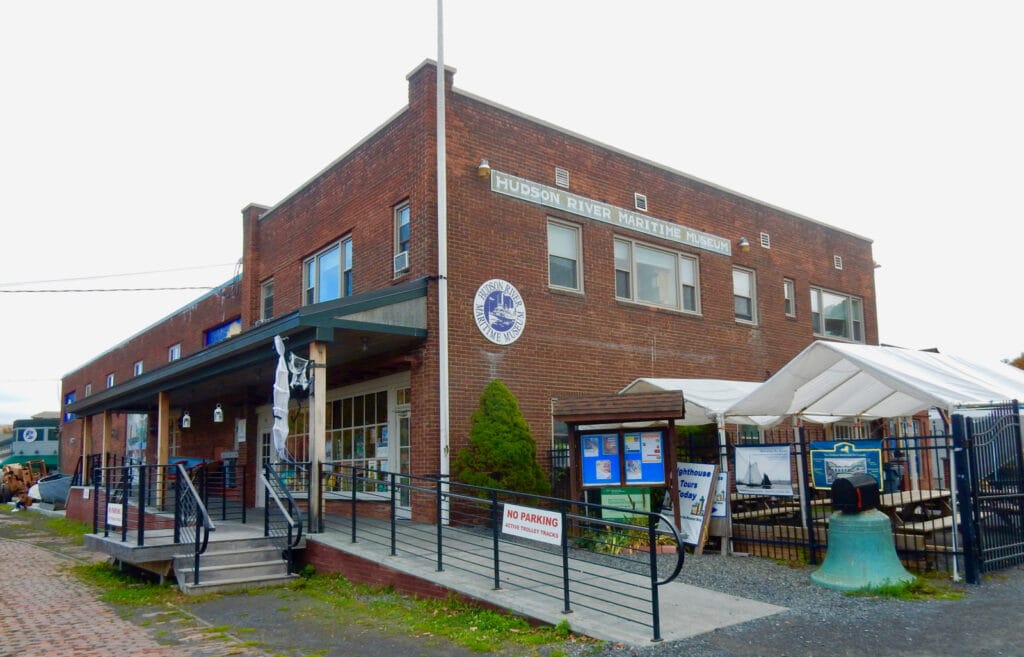 In the 1800's, the deepwater Rondout Creek, at the mouth of the Hudson River, was (and is) a protected hurricane hole like no other. Not quite halfway between New York City and Albany on the formidable Hudson, Rondout bustled with barges, laden with tons of black coal, that had been loaded 108 miles up the D&H Canal in Honesdale PA.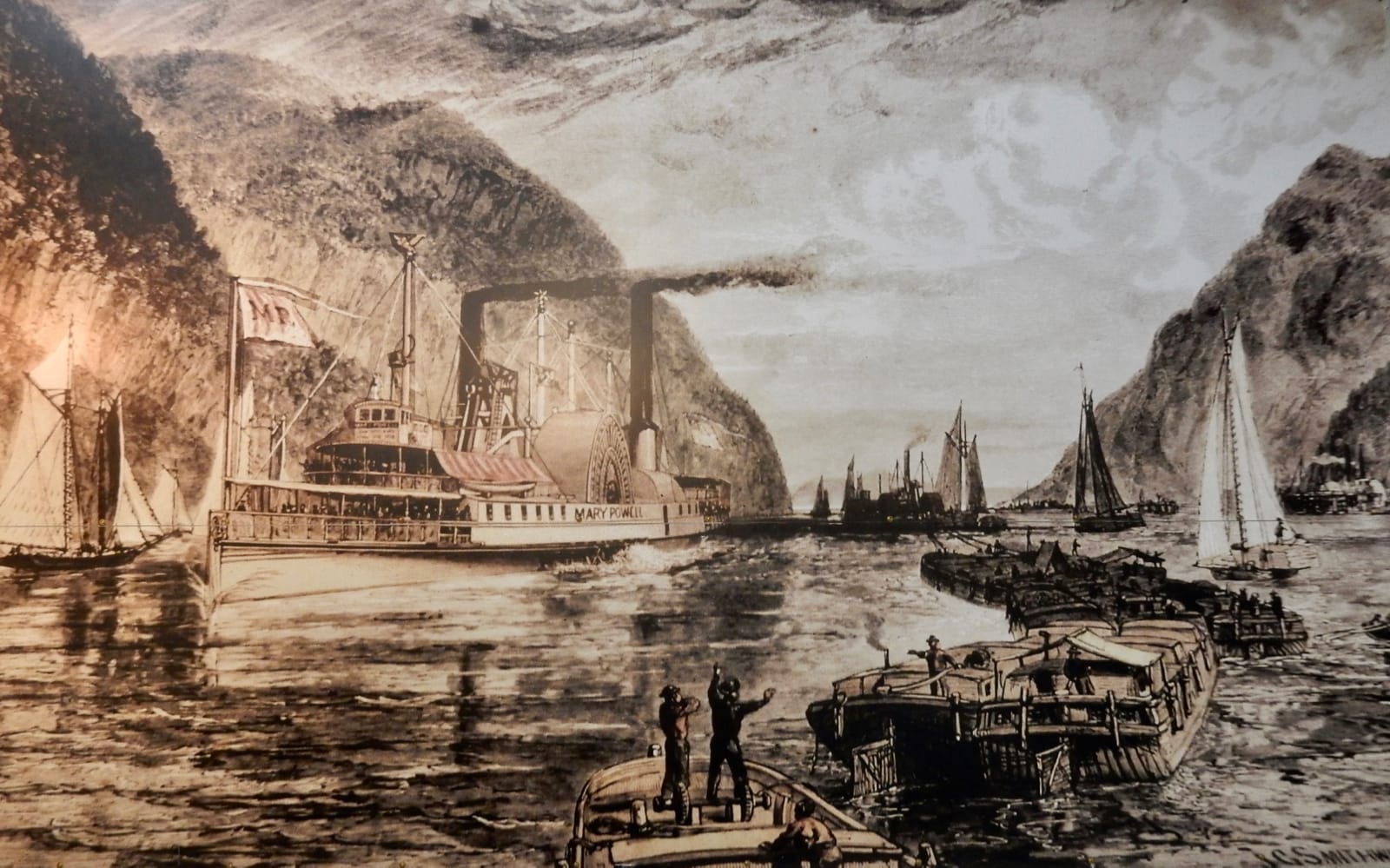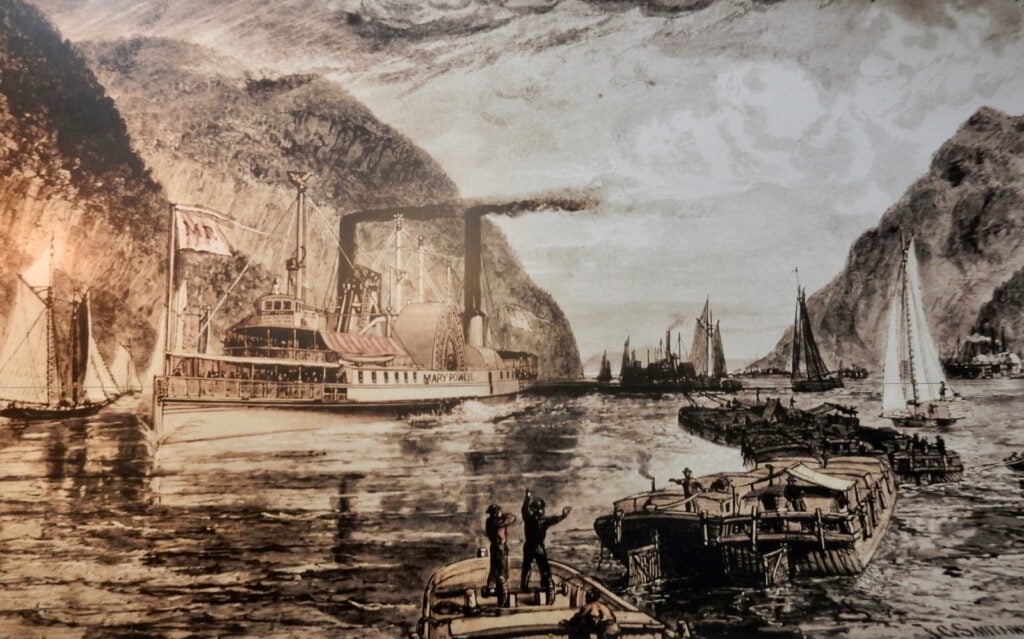 Here, the coal was transferred to larger barges right outside what is now the Hudson River Maritime Museum and sent to points north and south. Though the Hudson was chiefly a commercial byway back then, it became a tourist mecca by the late 1800's and well into the 1900's when steamships and Day Liners allowed the city-weary to escape for a mere pittance.
From Henry Hudson's 1609 Half Moon On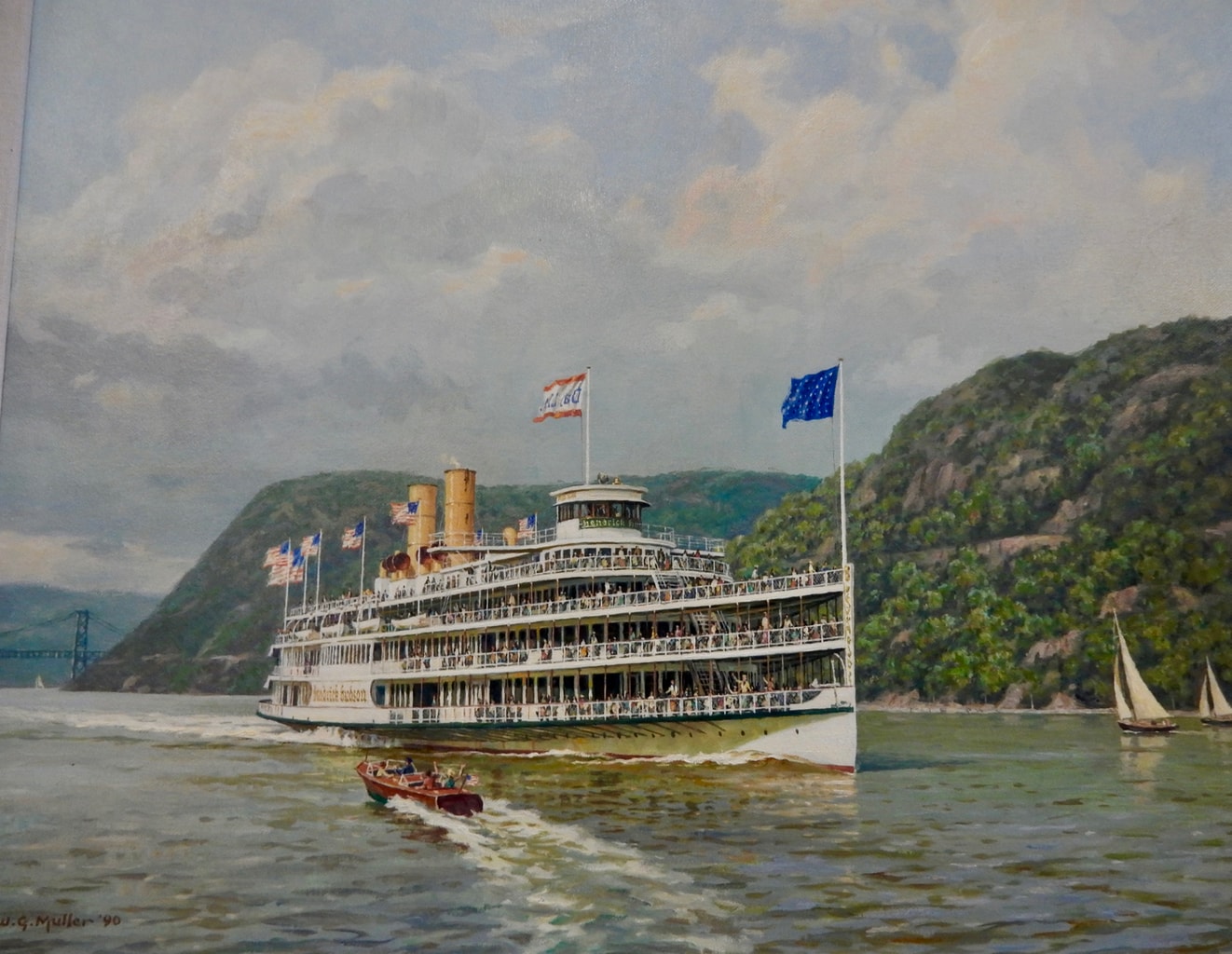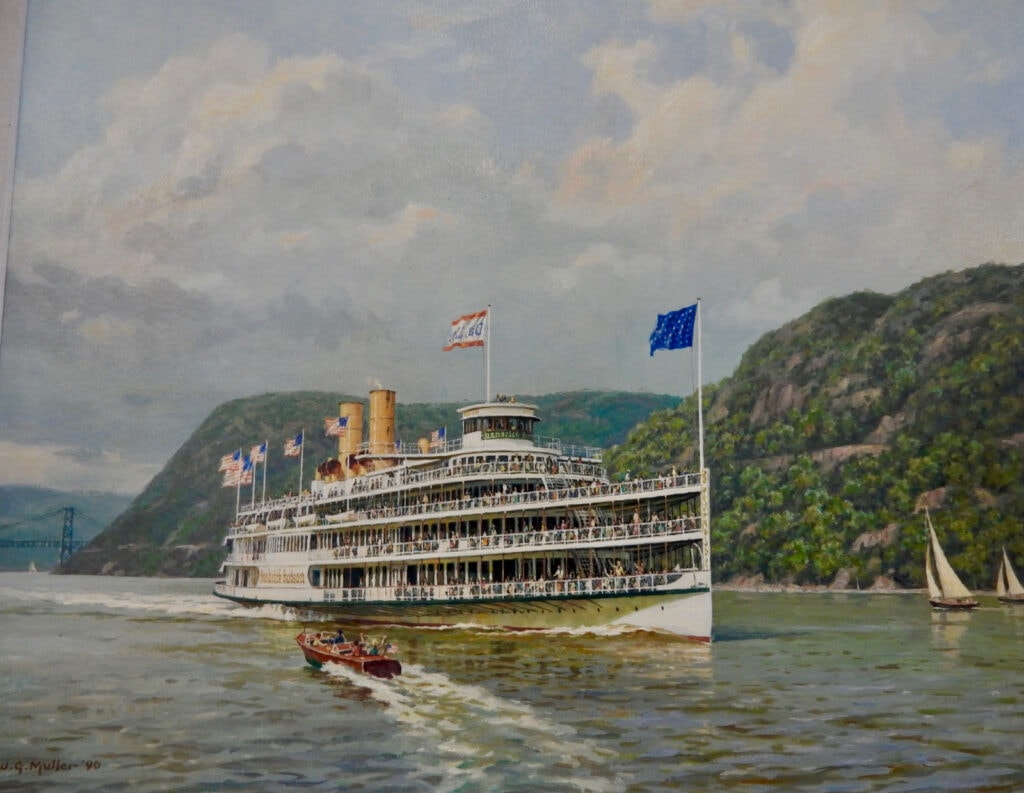 You can't miss this small but info-packed museum, identified by the big 1898 Mathilda Tugboat on dry dock out front.  It provides easy to digest nautical snippets of the Hudson River in general and Kingston – then called Rondout – in particular. Start your self-guided tour with an historic 100-year-old small-scale model of Henry Hudson's 1609 ship, the Half Moon before moving on to the meat of the museum in the East Gallery.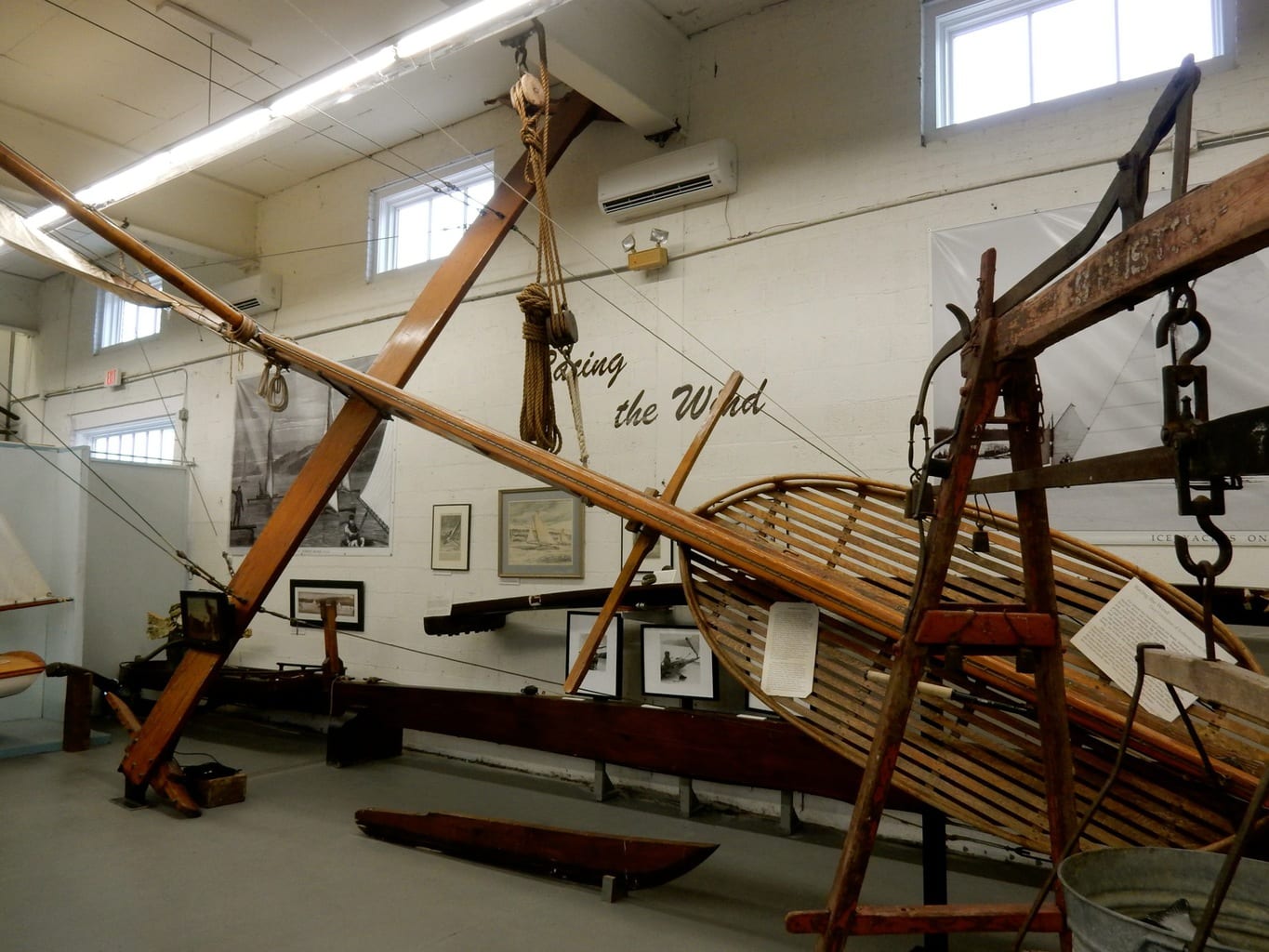 You'll want to spend at least 30 minutes (or more) here.  Exhibits on all aspects of maritime Hudson range from Ferries, Tugboats, and Rowing Teams to Ice Yachts, the fastest vehicles on earth. (There's one unassembled 80 ft. original in storage that's too large to fit).
There are displays on the Geology of the Hudson, Ice Harvesting, and other topics of importance. But perhaps the one that resonates the most with visitors is a whole boatload of info about The Hudson Day Line.
The Hudson Day Line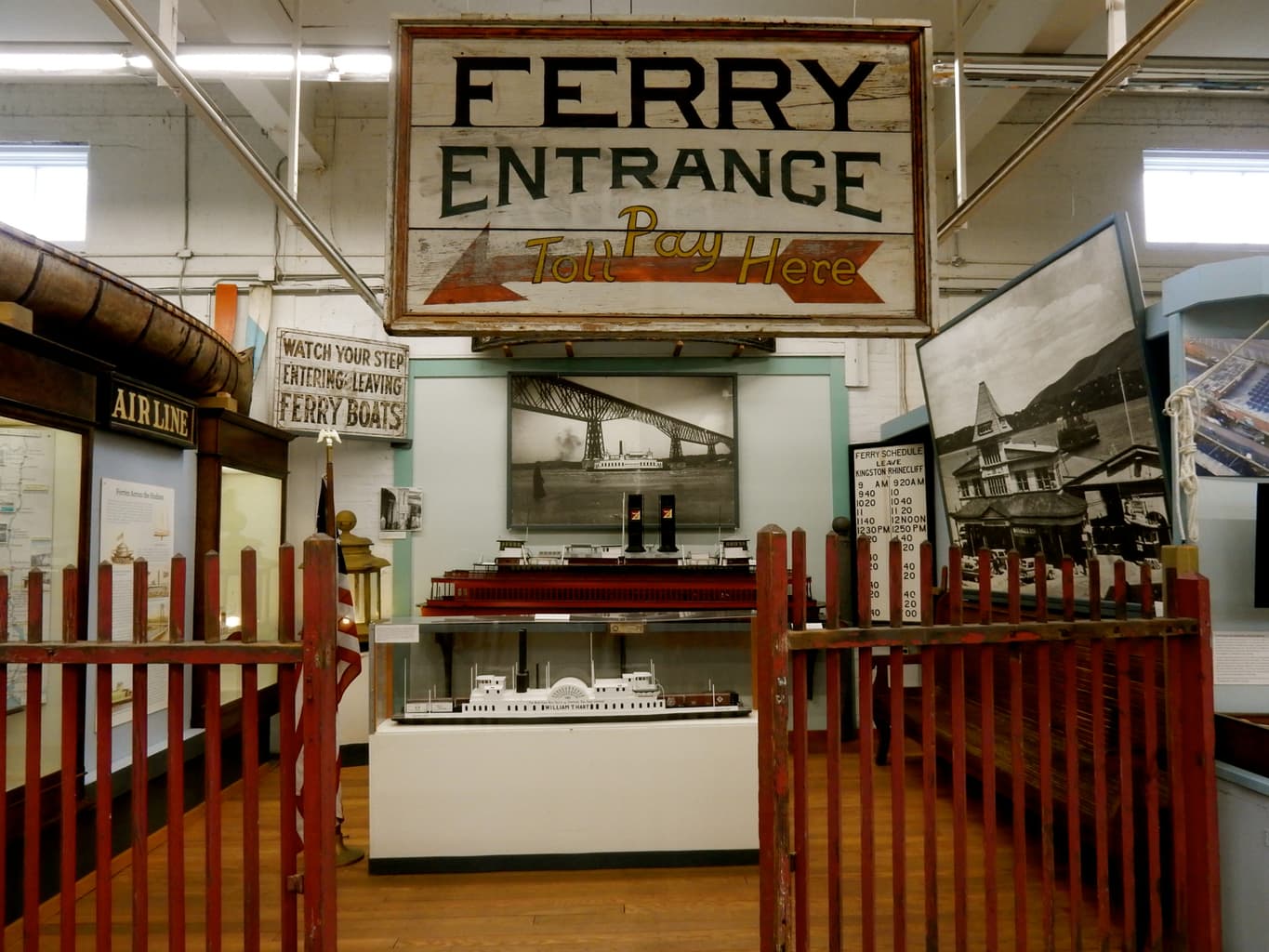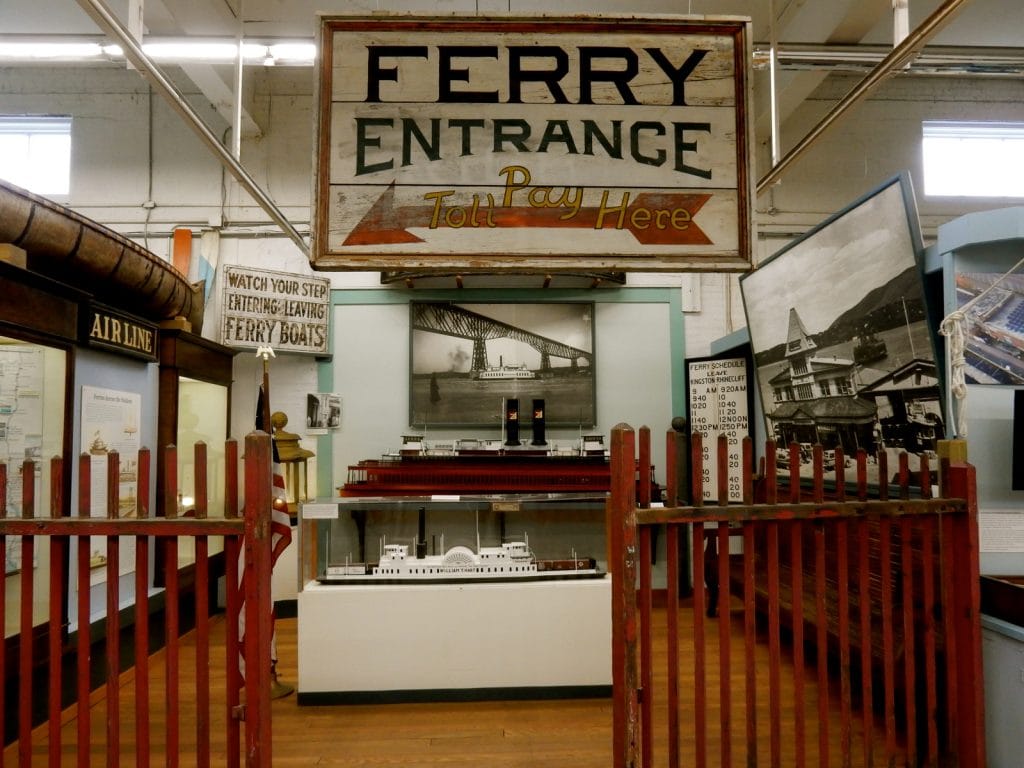 The Hudson River Day Line ran from 1860-1971 out of Manhattan, transporting millions of people up and down the river. For just a few dollars, you could motor up the Hudson – most likely to Bear Mountain State Park, a popular stop. Passengers dined in the ship's restaurant surrounded by nice artwork, while listening to live music and enjoying ever changing views. It was a true respite from the heat and din of the city.
Sloop Clearwater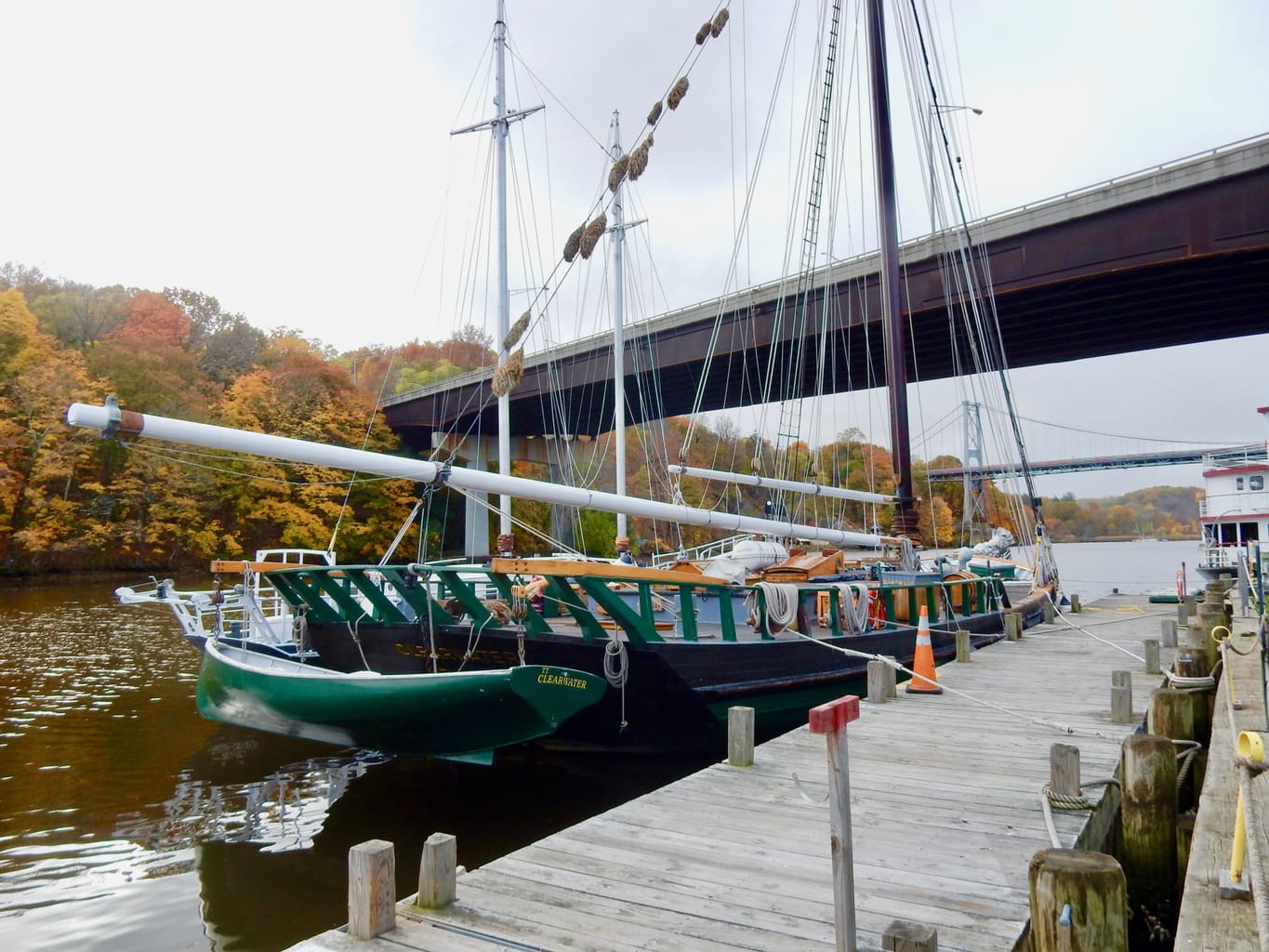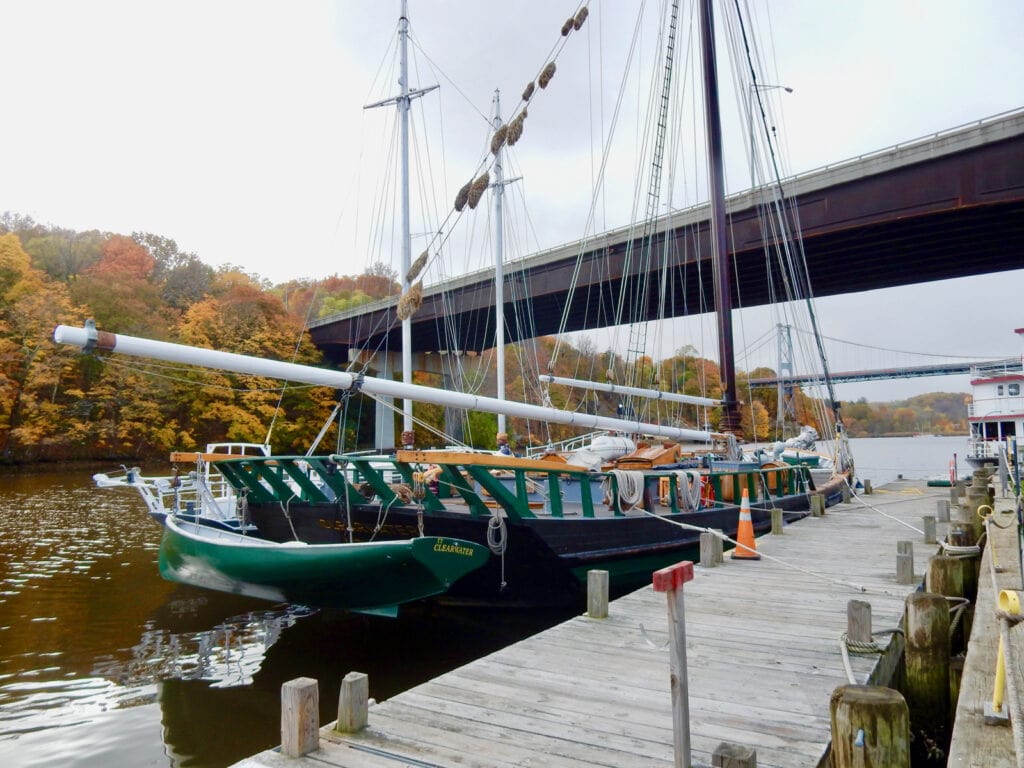 Right out back, look for the Sloop Clearwater at its home berth. (Pete Seeger had the Clearwater built in the 1970's to bring attention to the then polluted Hudson River. He was involved with it until his death in 1014 at age 95).
Electric Solaris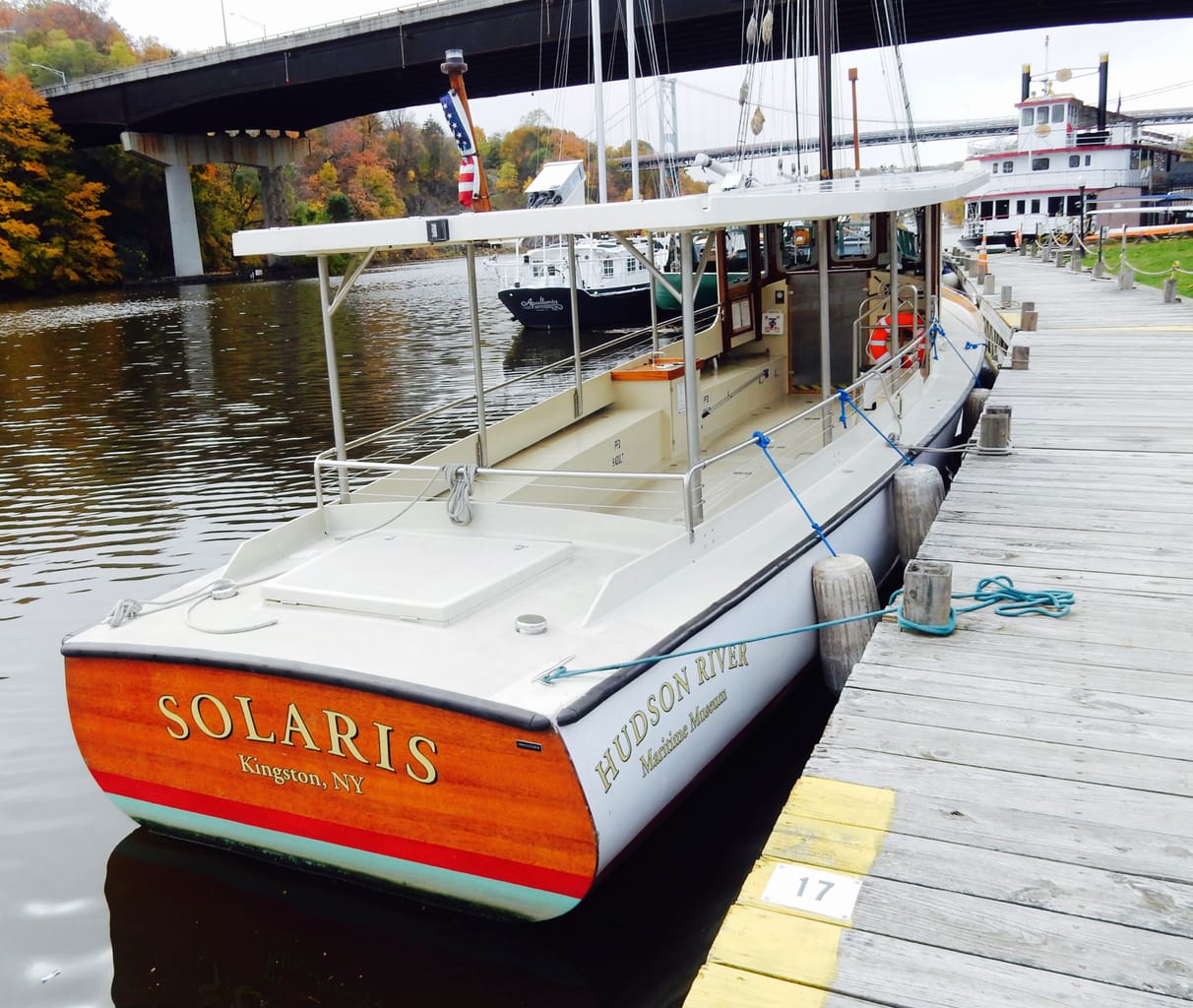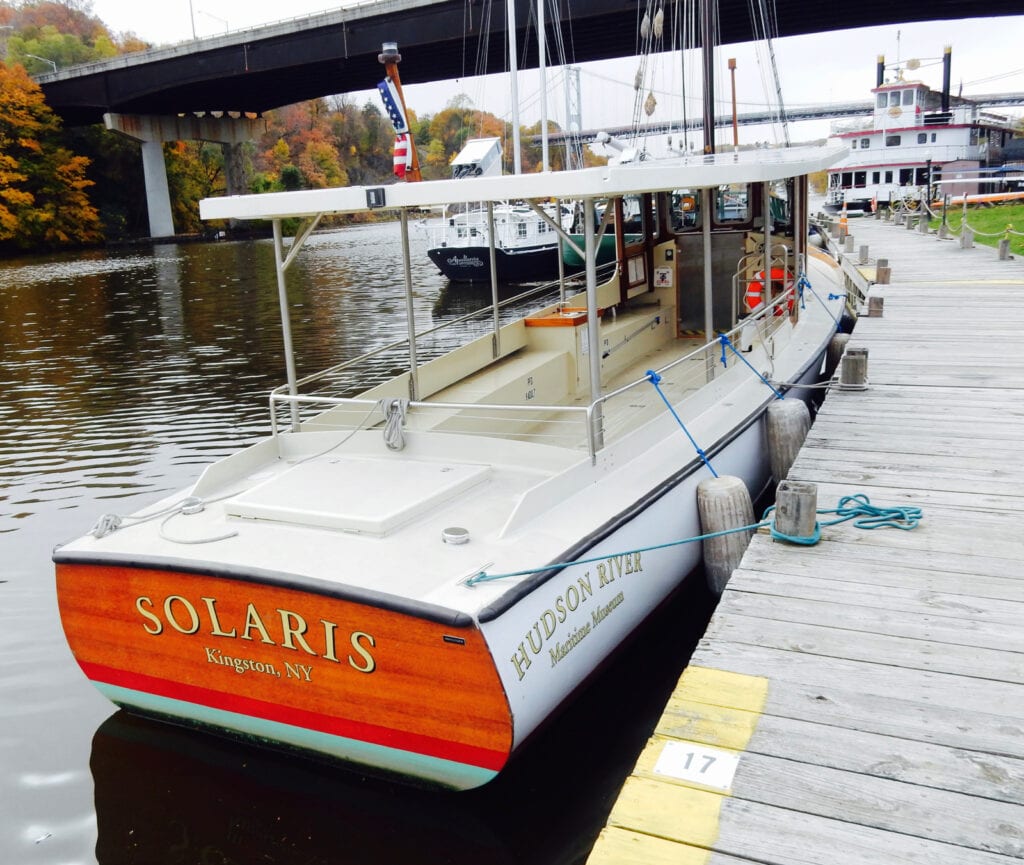 The museum's latest, and highly acclaimed acquisition is the sunlight-powered 28-passenger vessel, Solaris. You'll recognize the Solaris by 16 solar panels atop its roof – enough to light up a small house. It's the world's first completely solar Coast Guard commissioned boat that runs strictly on batteries juiced up by the sun.
Not to be confused with an Electric Boat,  Solaris never needs to be plugged in. It's also totally silent when  out on Bird Watching, sightseeing, and  "painting en plein air" trips. Akin to a golf cart, this boat does not contribute to air, water, or noise pollution. Amazingly, it can gain top speeds of 6-7 knots.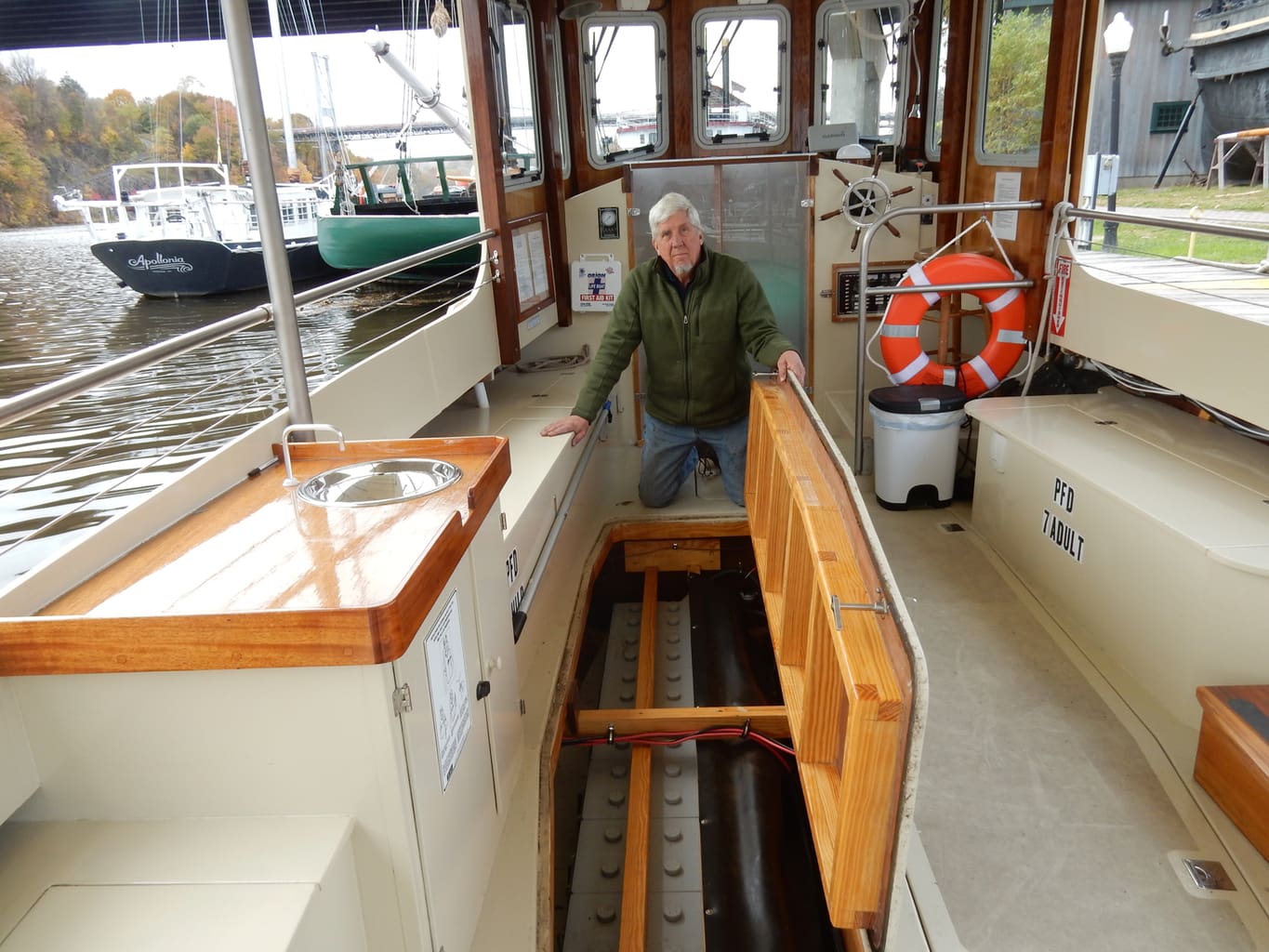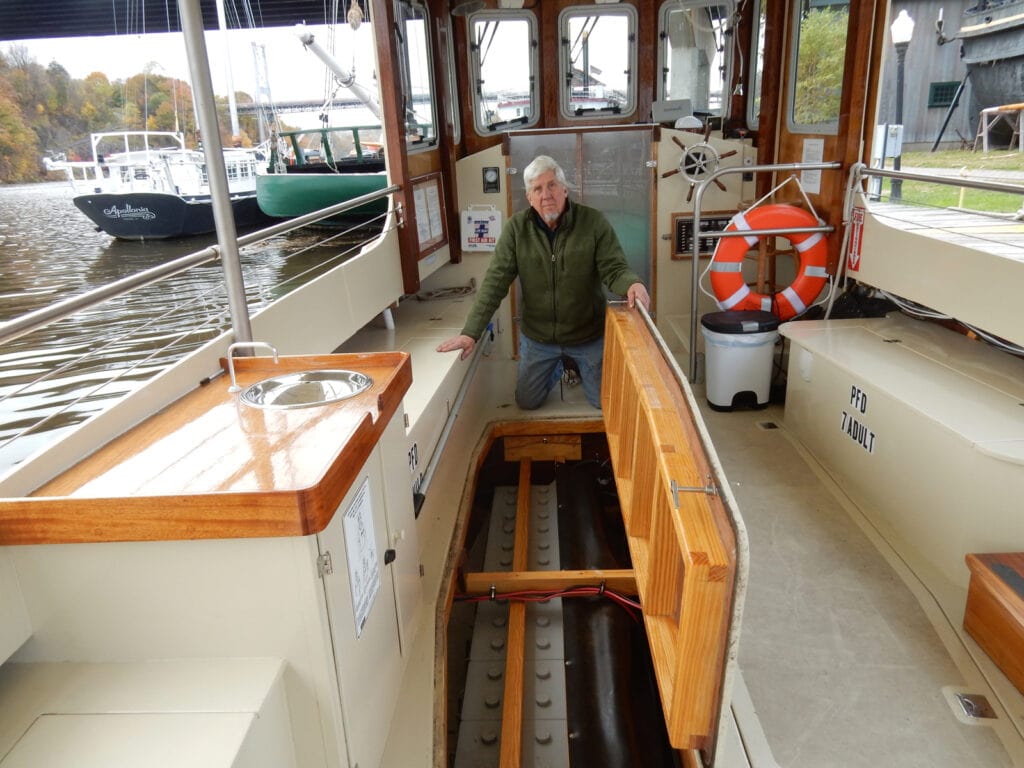 The Solaris was commissioned by an RPI Professor (who holds the intellectual patent). It took two years to build and perfect at a cost of $550,000 – funded by grants from NY Department of Environmental Conservation, Scenic Hudson and others.
Solaris can recharge itself while on route during the day. And even when it ran for eight hours at night, it still had 50% battery power left. The capacity of those 32 deep cycle lead-acid batteries (located beneath the boat's floorboards) have exceeded scientists' expectations.
The Museum also manages transient and seasonal slips for area boaters. At the Riverport Wooden Boat School, you can participate in a one-day workshop to build your own rustic bench ($250) or a weekend building your own toboggan ($290, materials included). Museum open daily 11-5, $7 adults, $5 kids.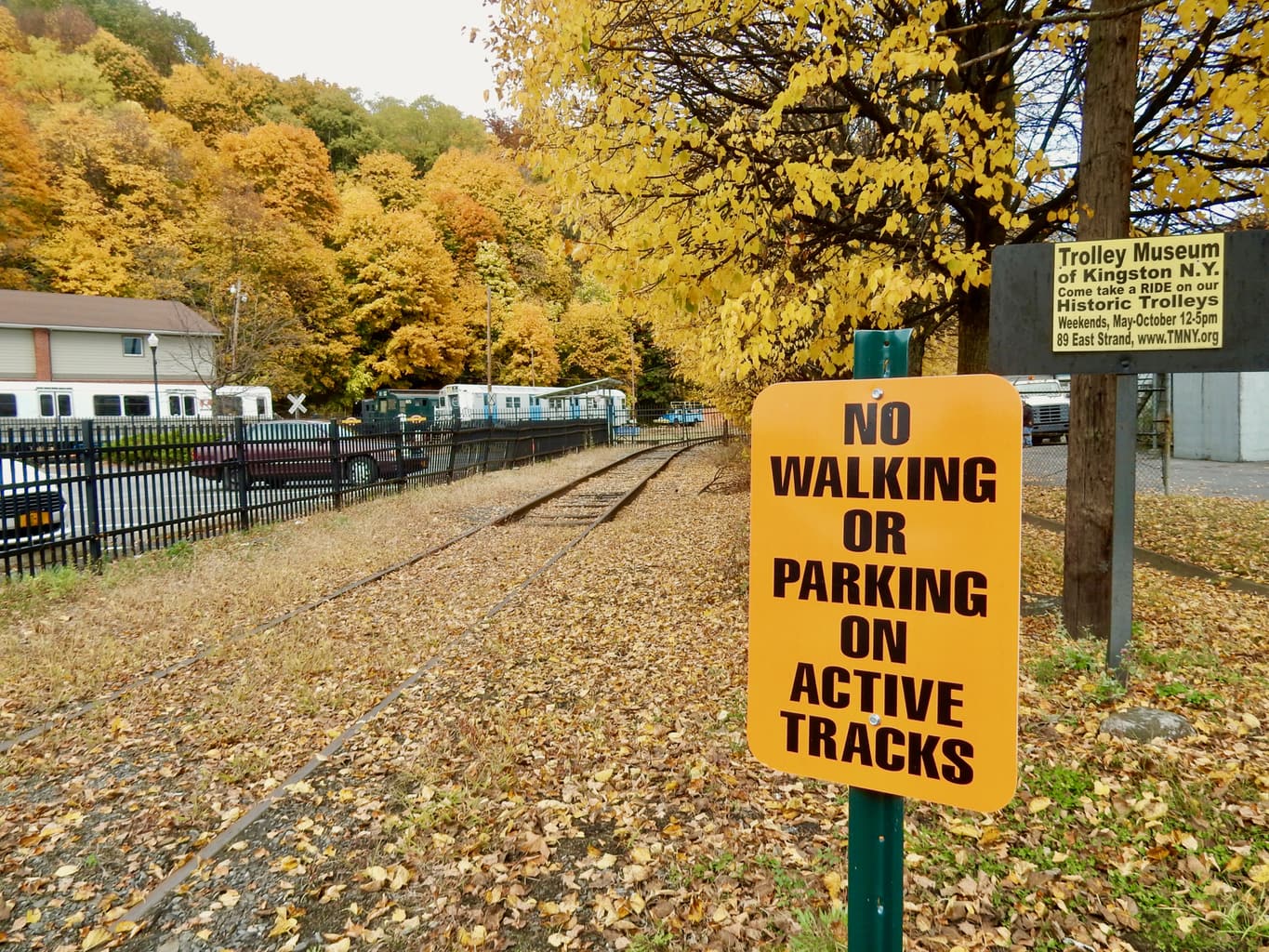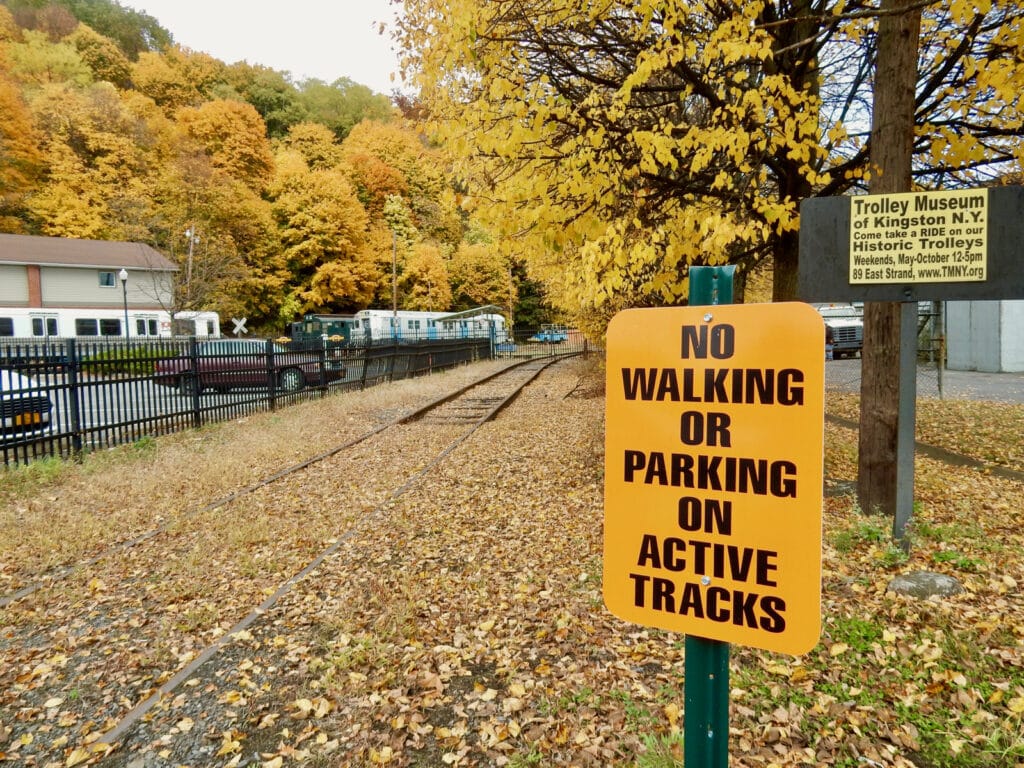 Ride a restored trolley at this small but much loved museum. Grandmas and Grandpas love introducing the offspring of their offspring to this most nostalgic form of transportation. Open April – October Saturdays and Sundays from 12-5, $8 adults, $6 kids.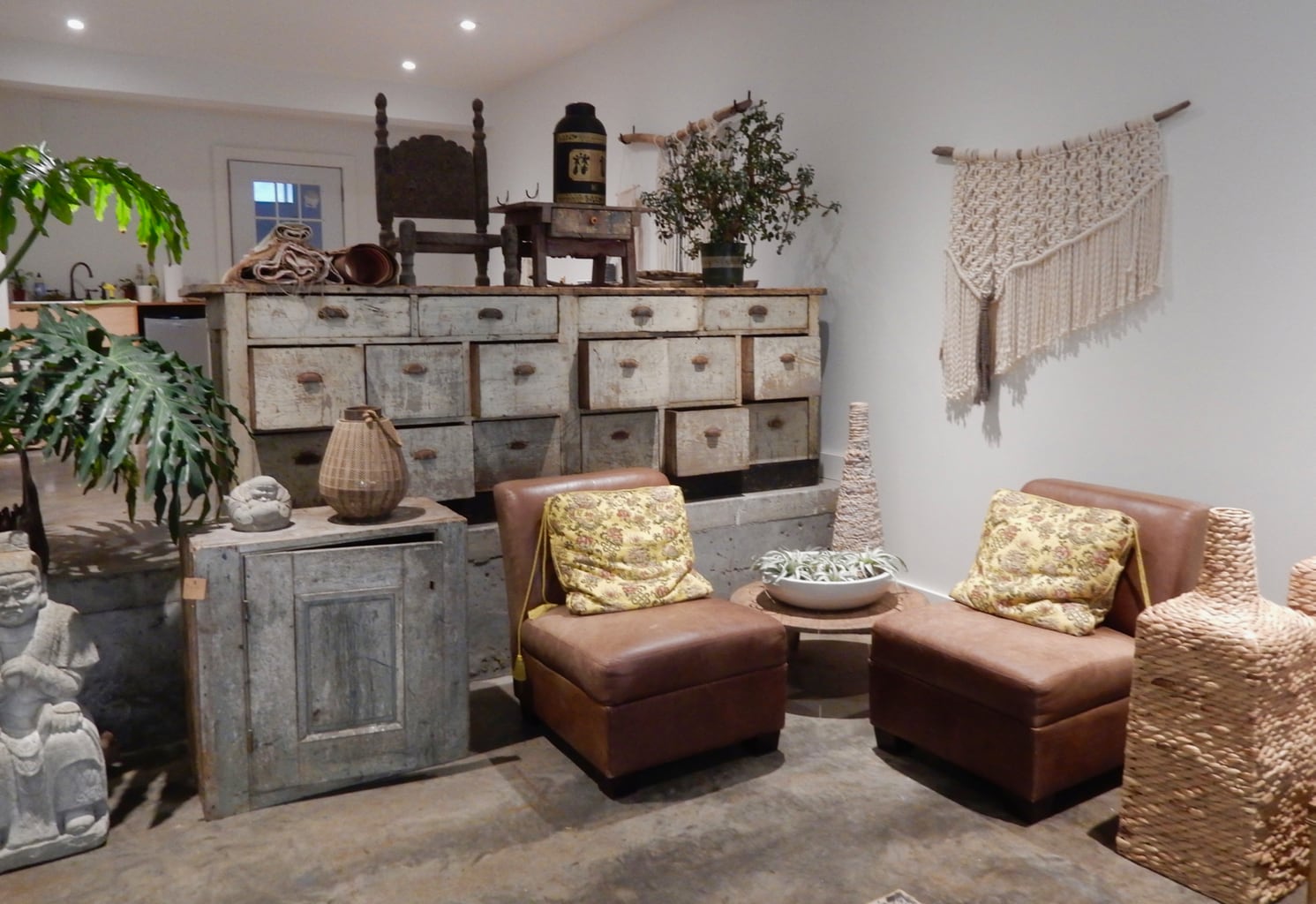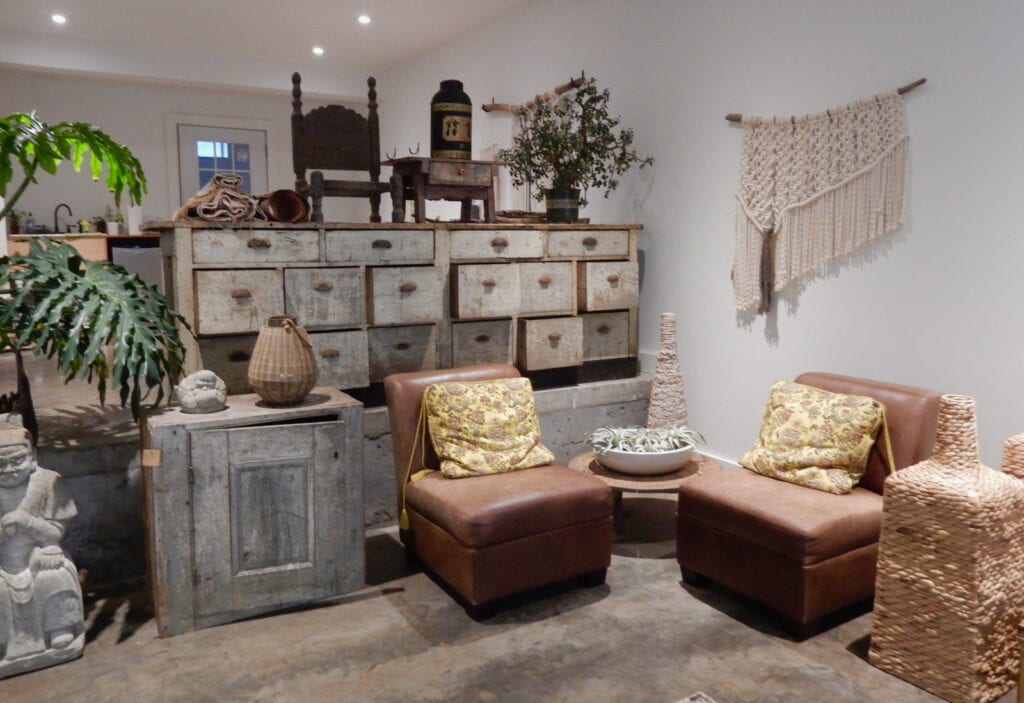 Wanderers who make it up the hill and through a hidden alley will be rewarded by this groovy home furnishings store. (Which also serves as the office of Graphic Designers).  This Kingston newcomer supports the local art community while taking you back to the days of the driftwood and macramé aesthetic.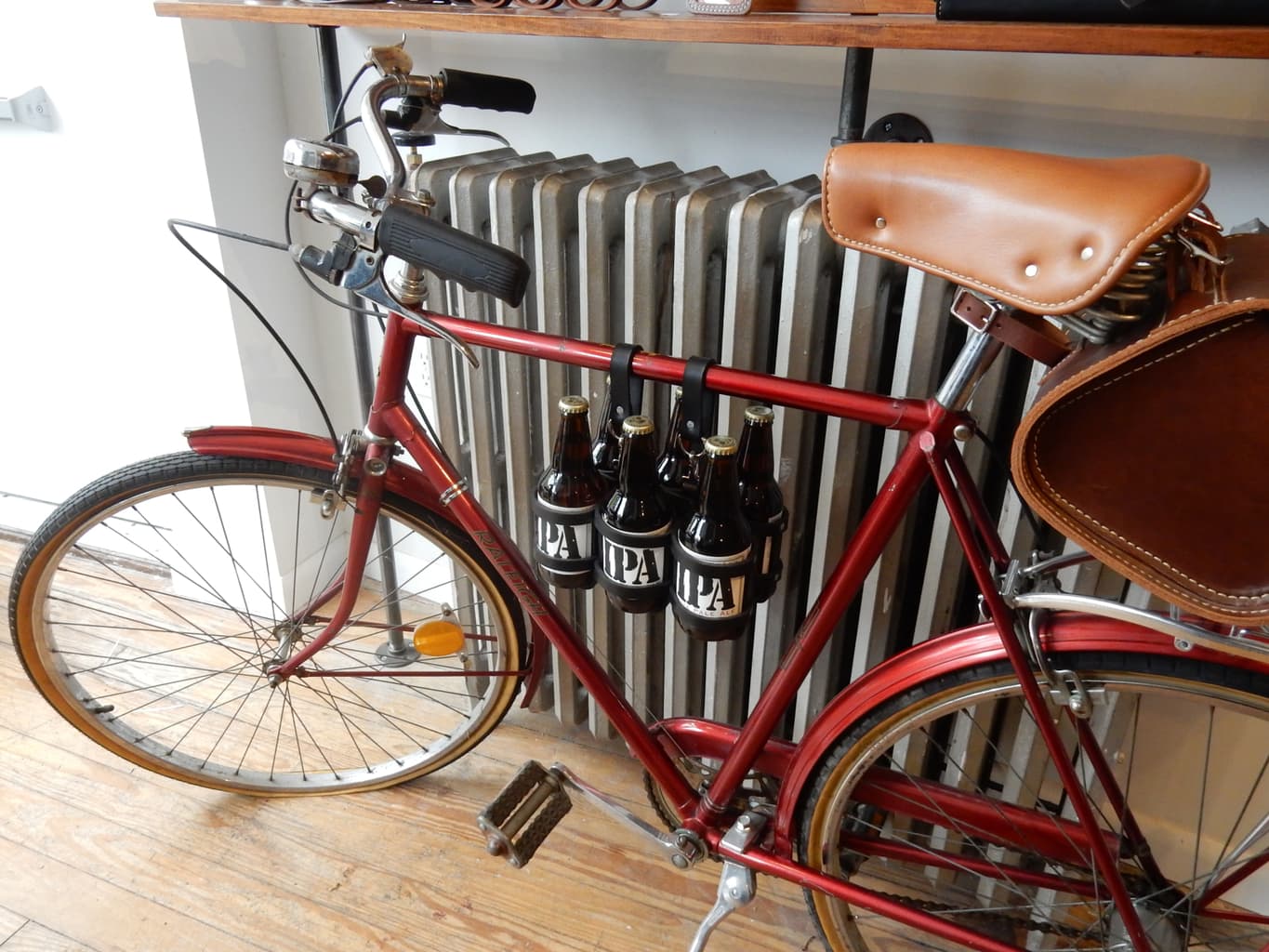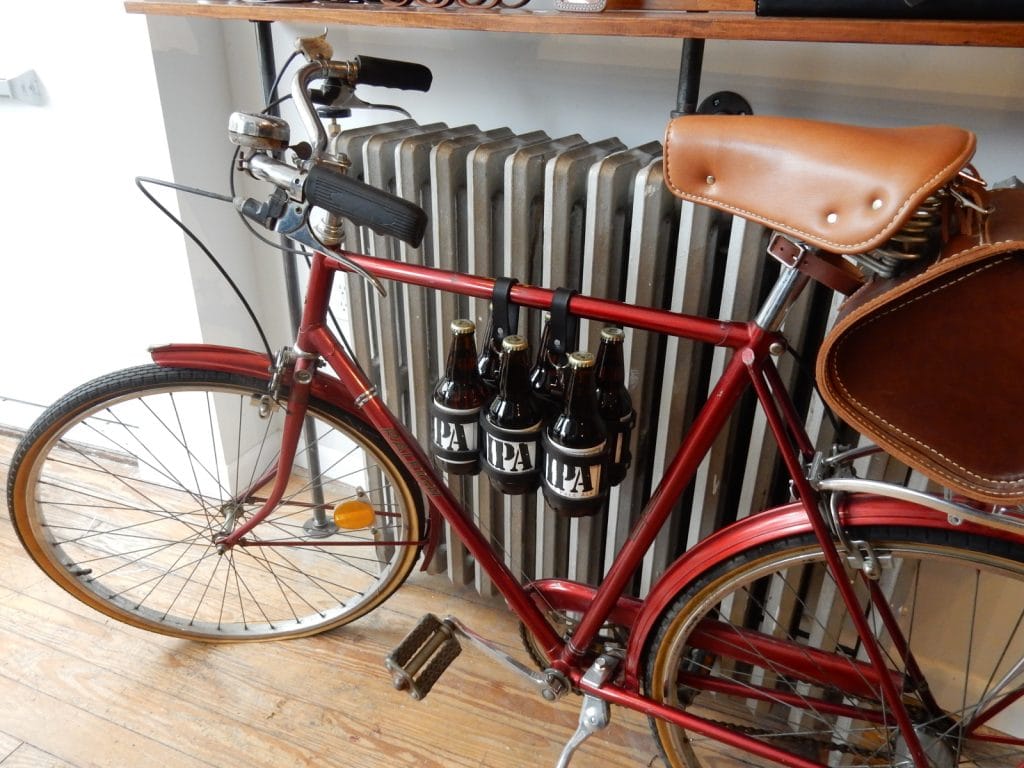 Buy leather goods and rent a vintage-reproduction bike at this modest little leather shop known around the world for its custom motorcycle and bicycle seats (average price $350 for beautiful hand-tooled work). Know someone who loves craft beer? The leather strap 6-pack holder balances ingeniously over the center bike bar ($90).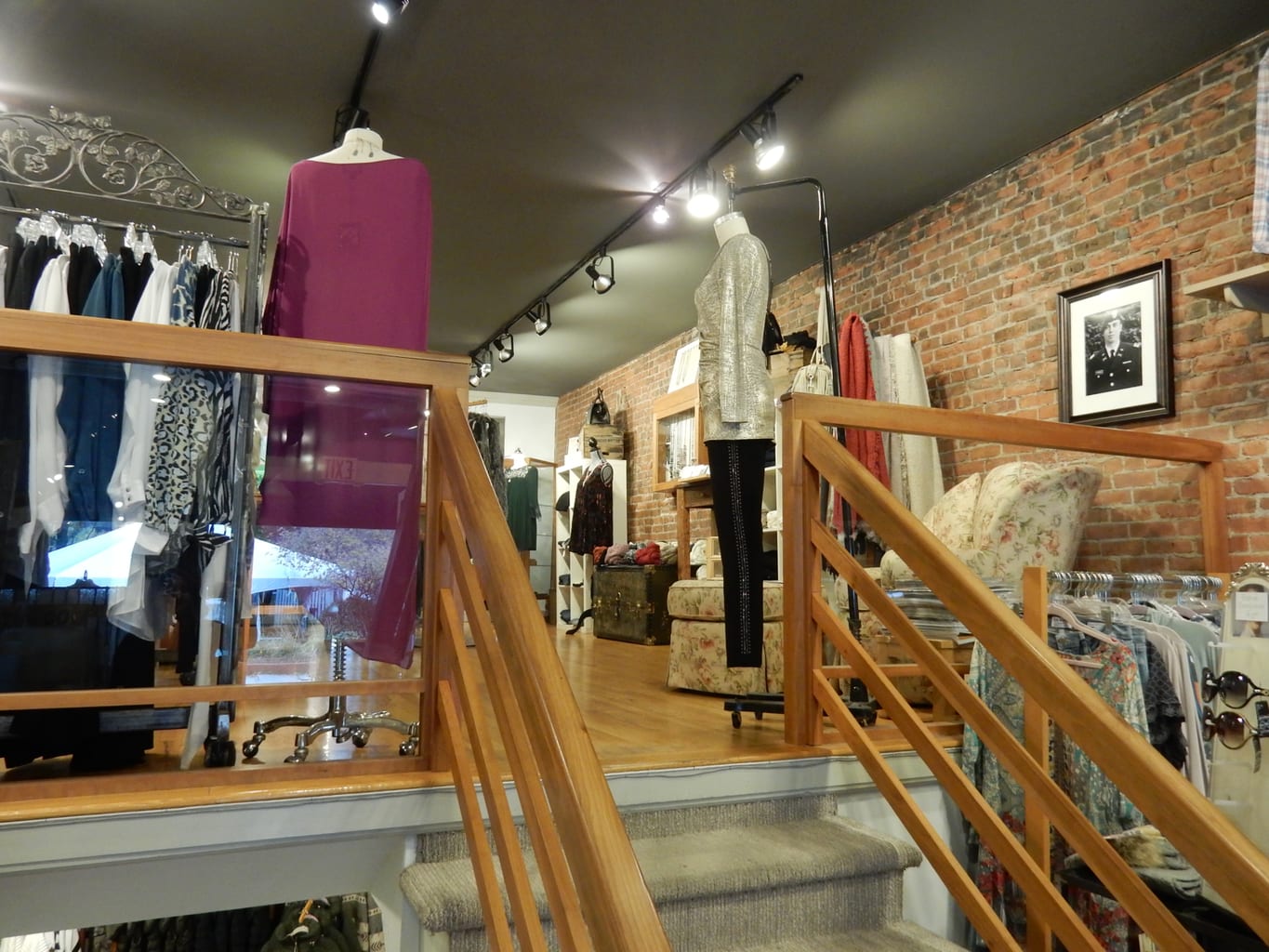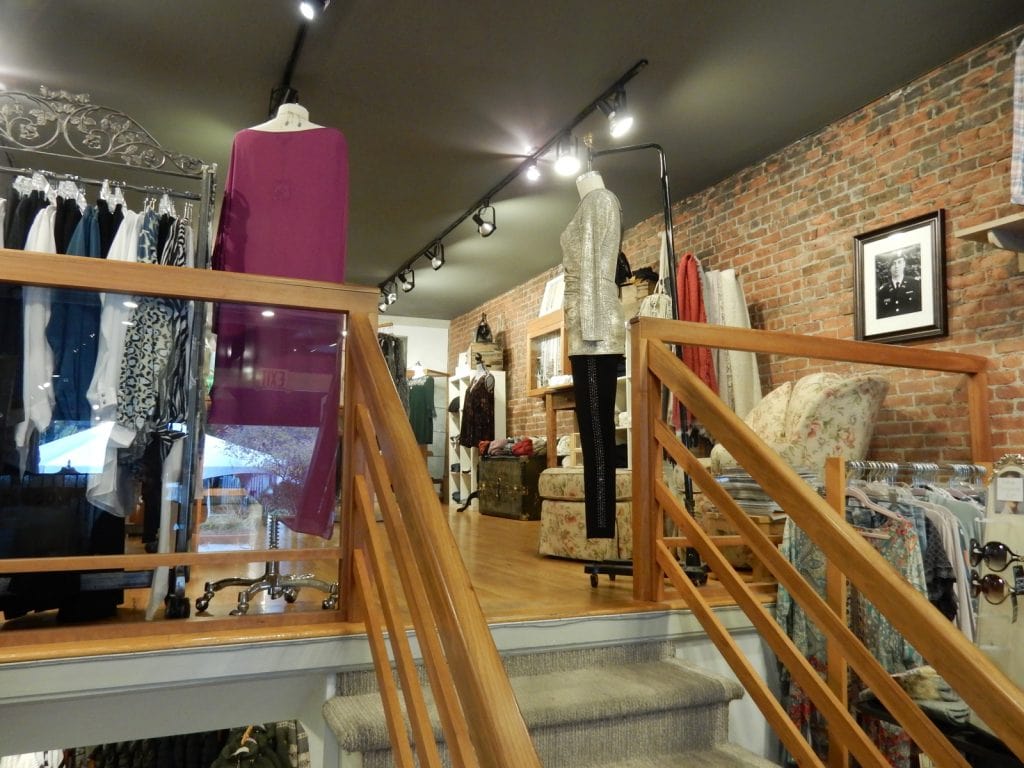 A seemingly small women's fashion shop that just keeps going. There's a variety of offerings at very fair prices.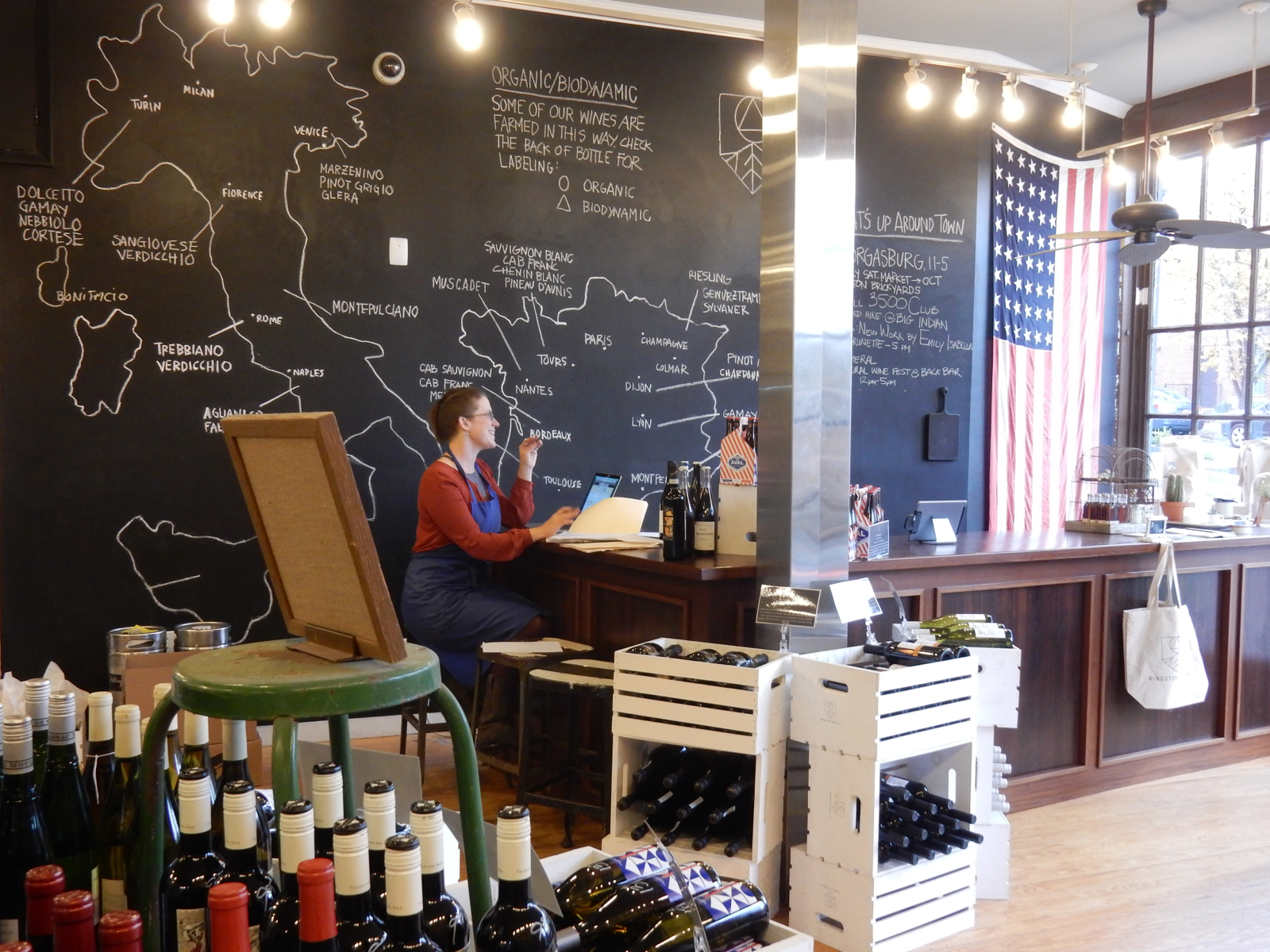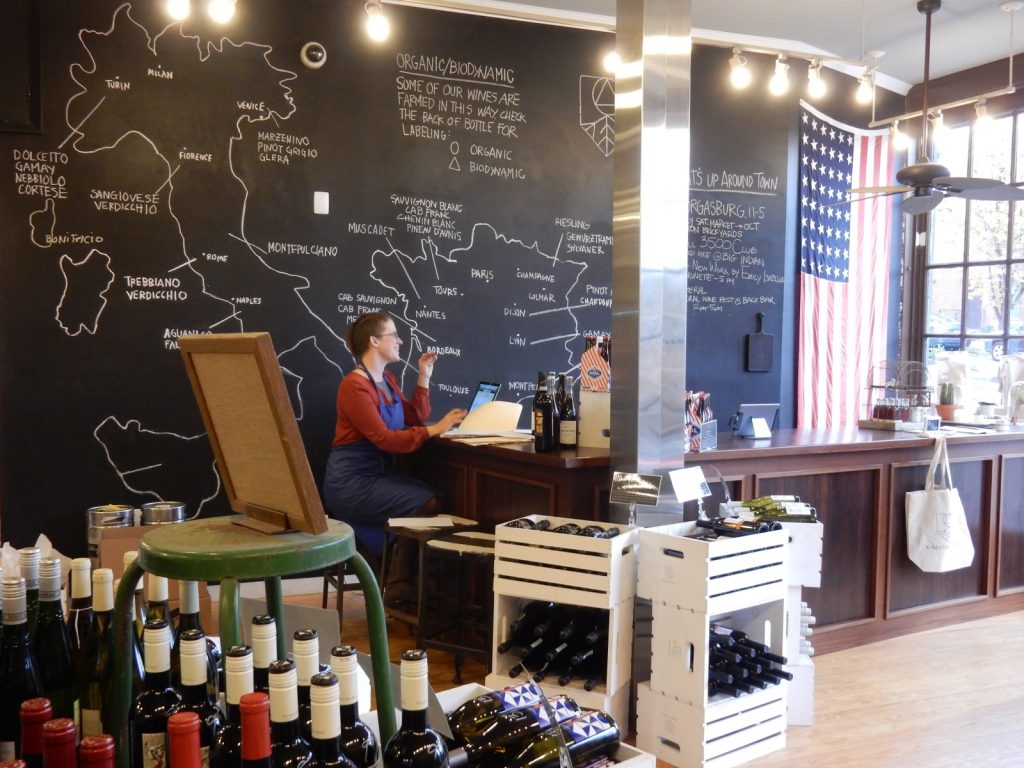 Though tastings are scheduled most Saturday afternoons, you'll find a match for your fish or meat at this chic shop.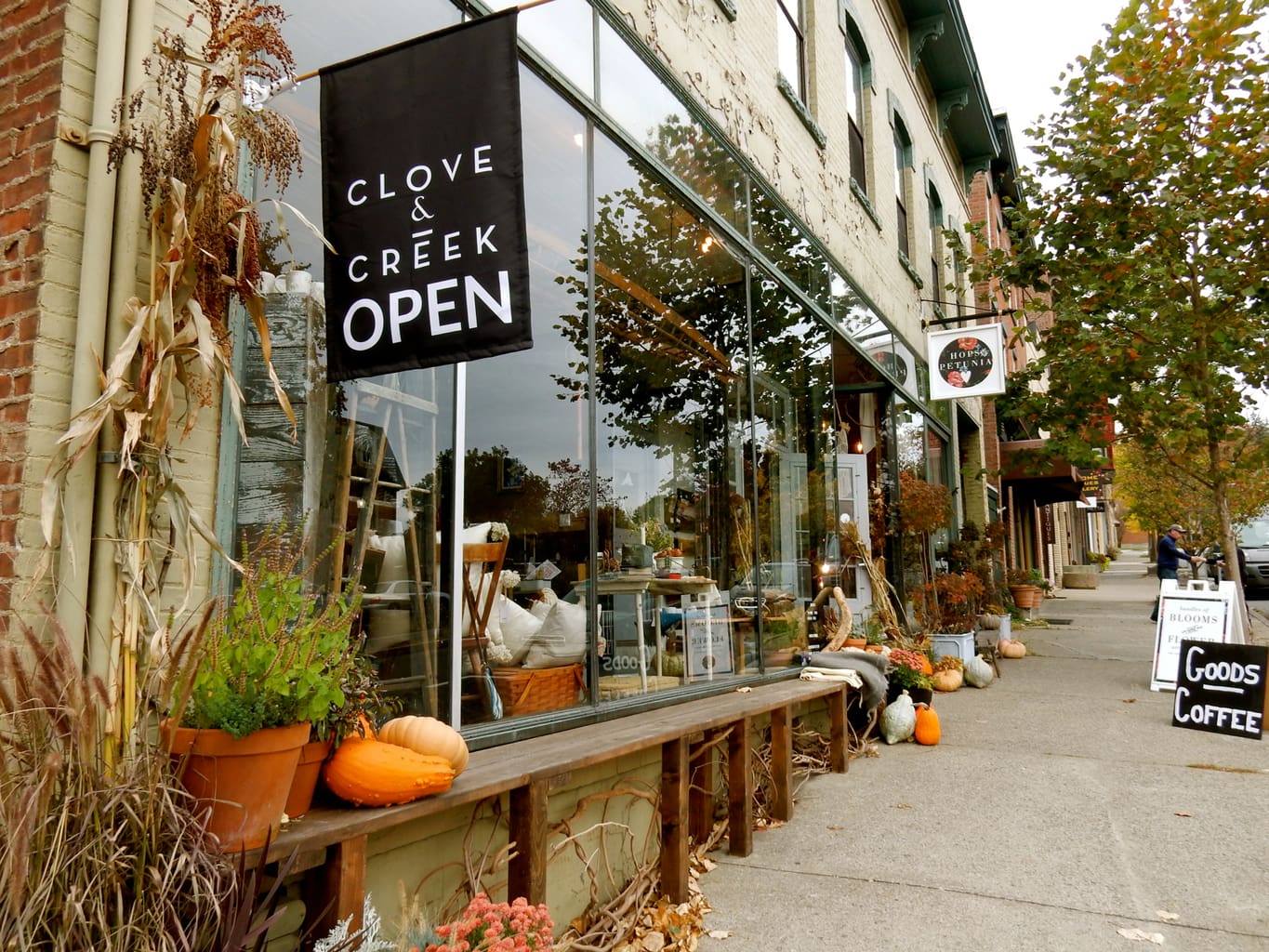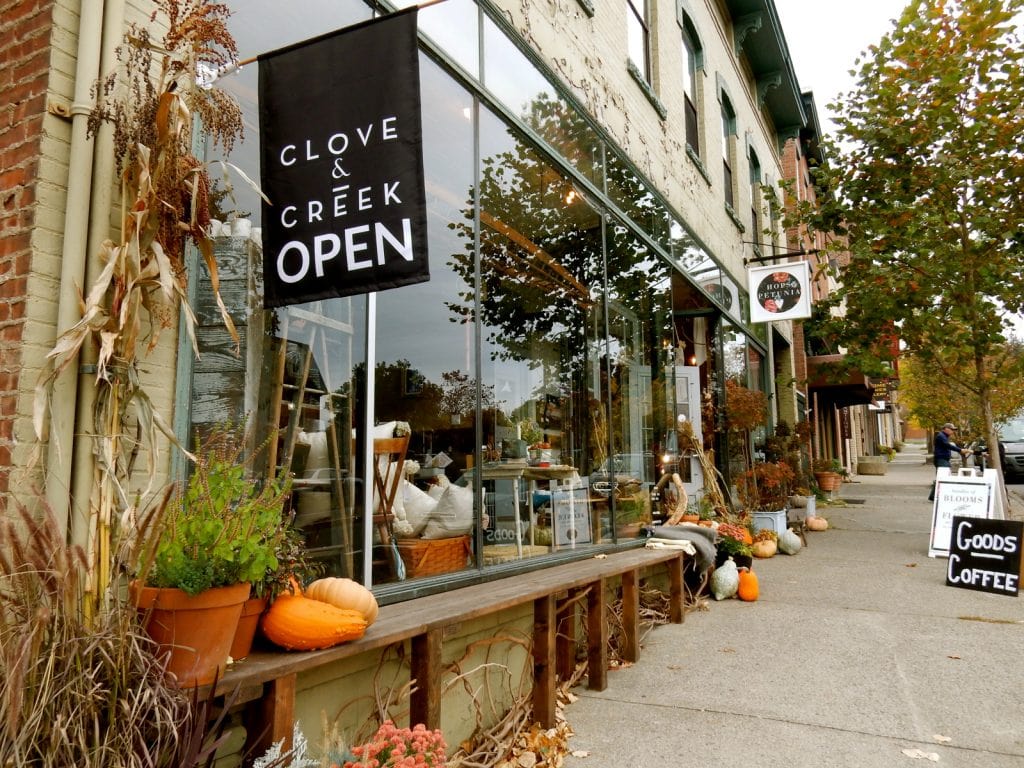 Never show up empty handed to your friend's country house. Lovely artisanal products from the hands of hipster-makers at C&C are the perfect compliment to custom made floral arrangements. (See also, wine, above).
Restaurants in Uptown, Midtown and Downtown Kingston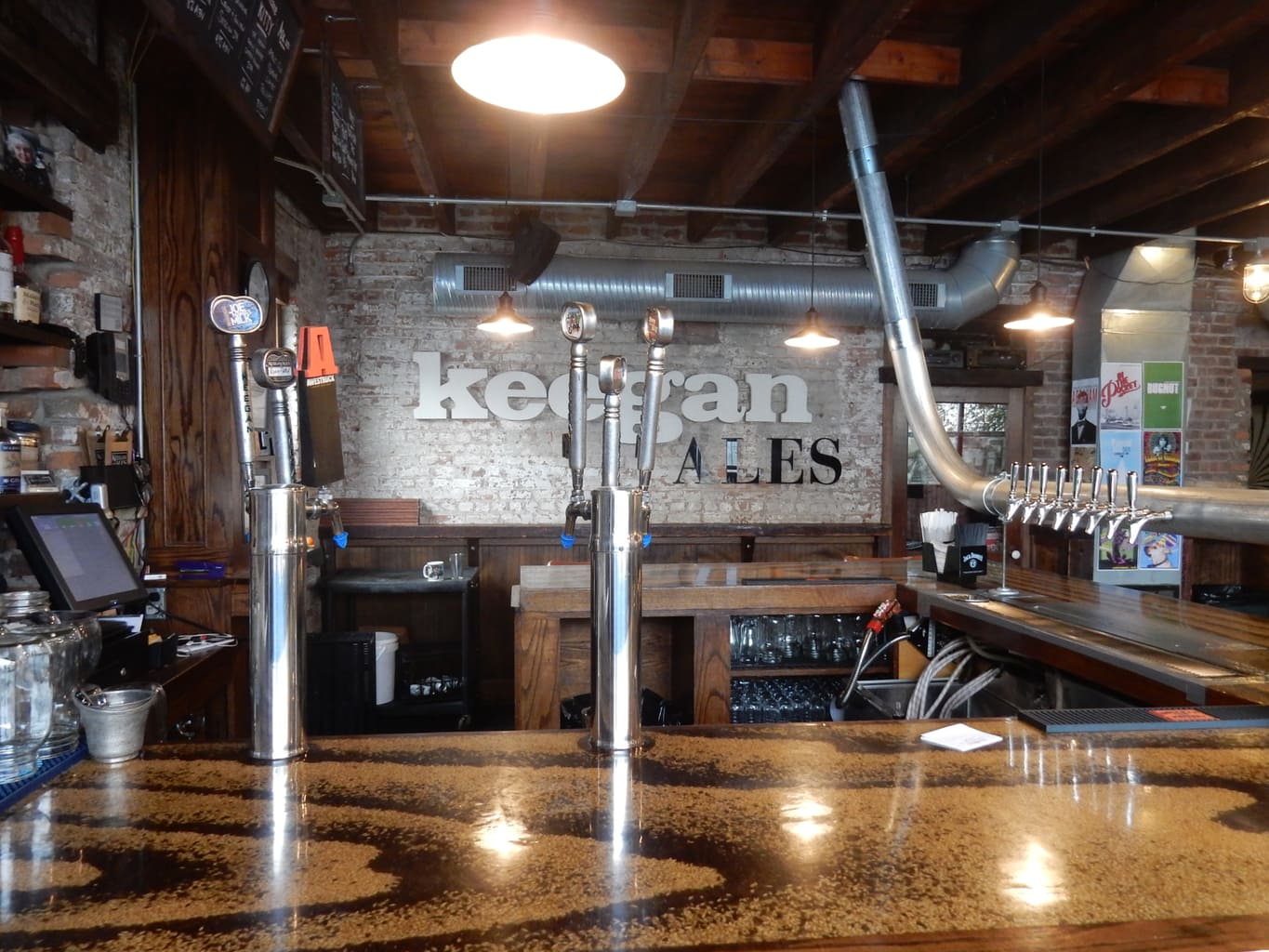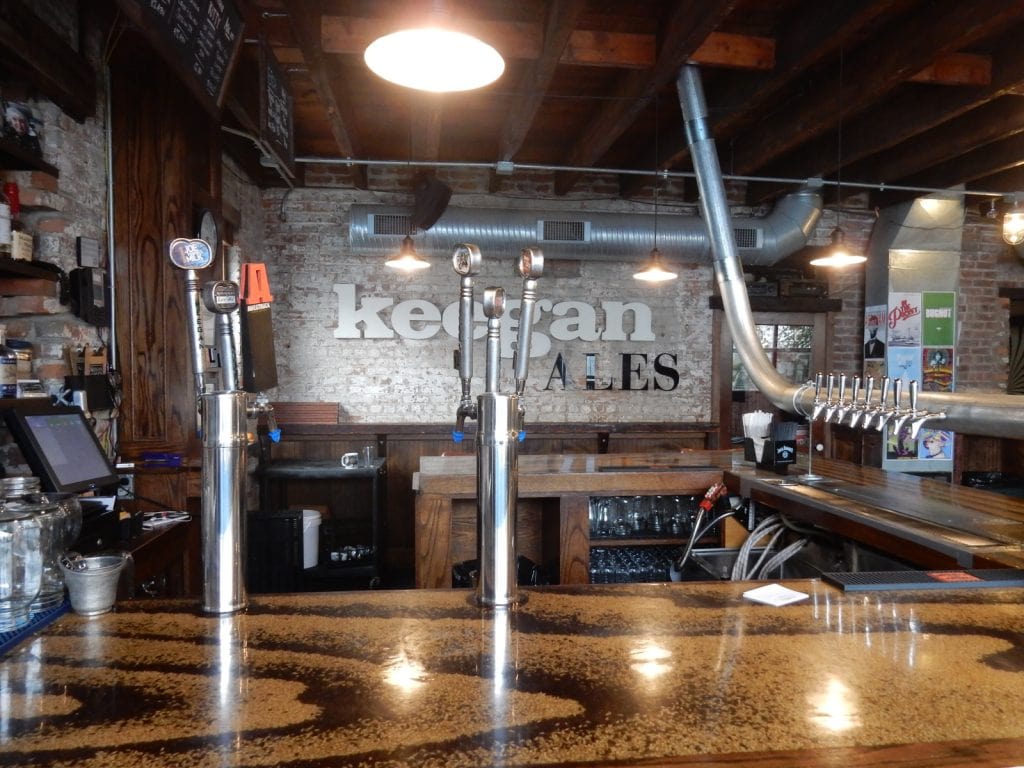 DRINK: Keegan Ales, Midtown Kingston
Tommy Keegan put Kingston on the beer map with this house of Old Capital Golden Ale, Mother's Milk Stout, Hurricane Kitty IPA (named for his feisty Grandma), Helga Lager and a bunch of others you can try out in a spacious tasting room.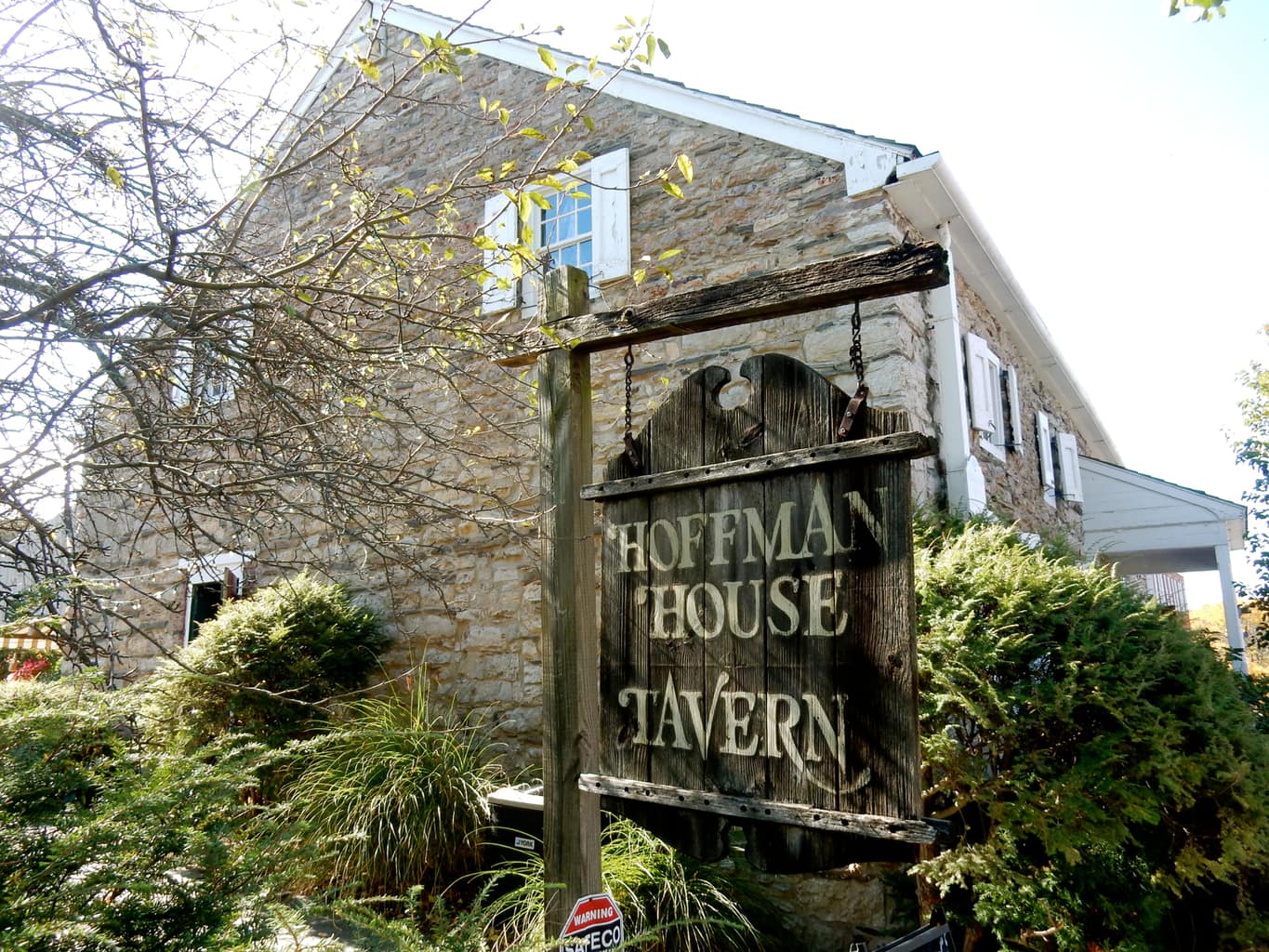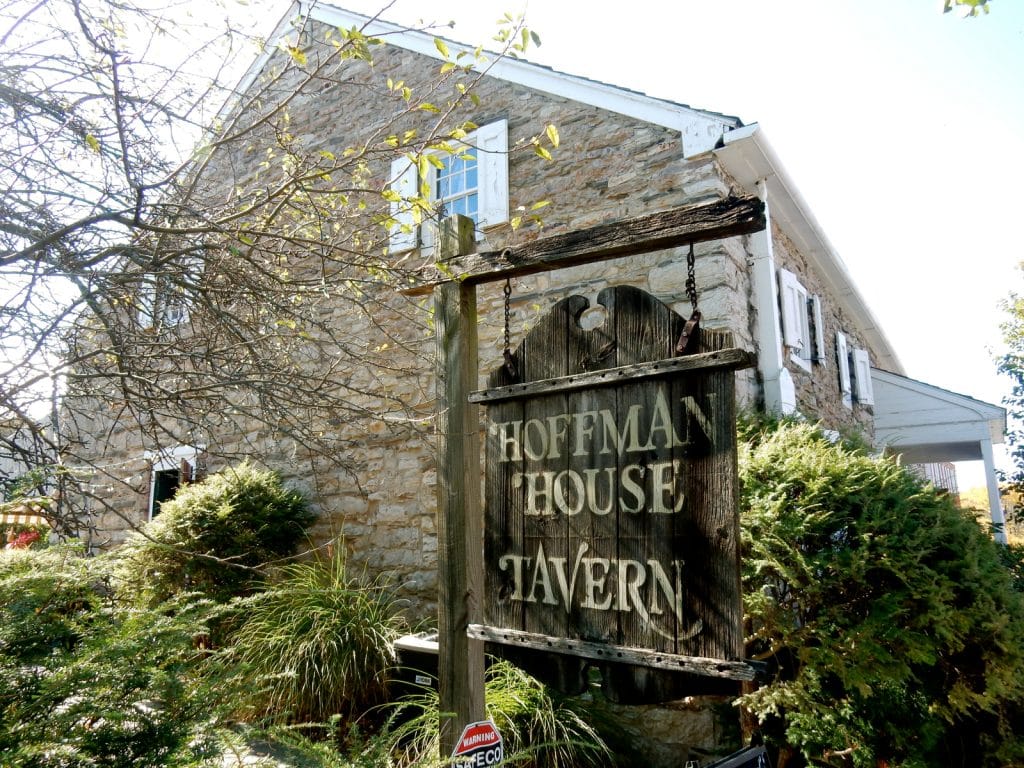 EAT/LUNCH: Hoffman House, Uptown Kingston
Built in 1679 and on the National Historic Landmark, the Hoffman family owned and occupied the house for 201 years, until donating it to the Salvation Army in 1908. Pat and Ginny Bradley purchased the property in the auspicious year of 1976 (America's Bi-Centennial). Then they restored it using original floorboards, mantles and door paneling. It opened as a restaurant in 1977 as one of the historic highlights of the Stockade District. Your basic Reuben, French Dip, Burger, Wings and Salads, are very good and fresh. No surprise it's a popular hangout for city movers and shakers.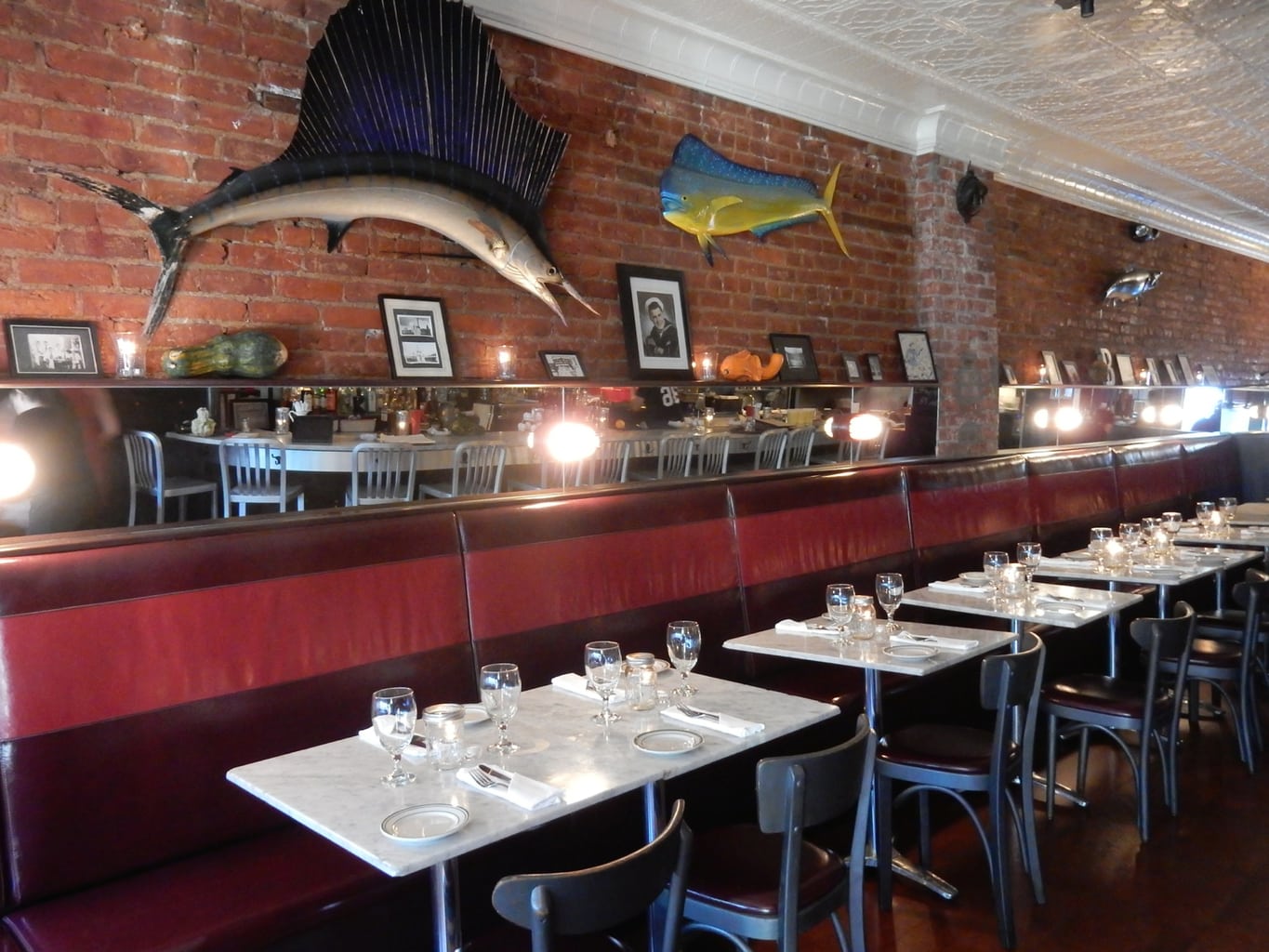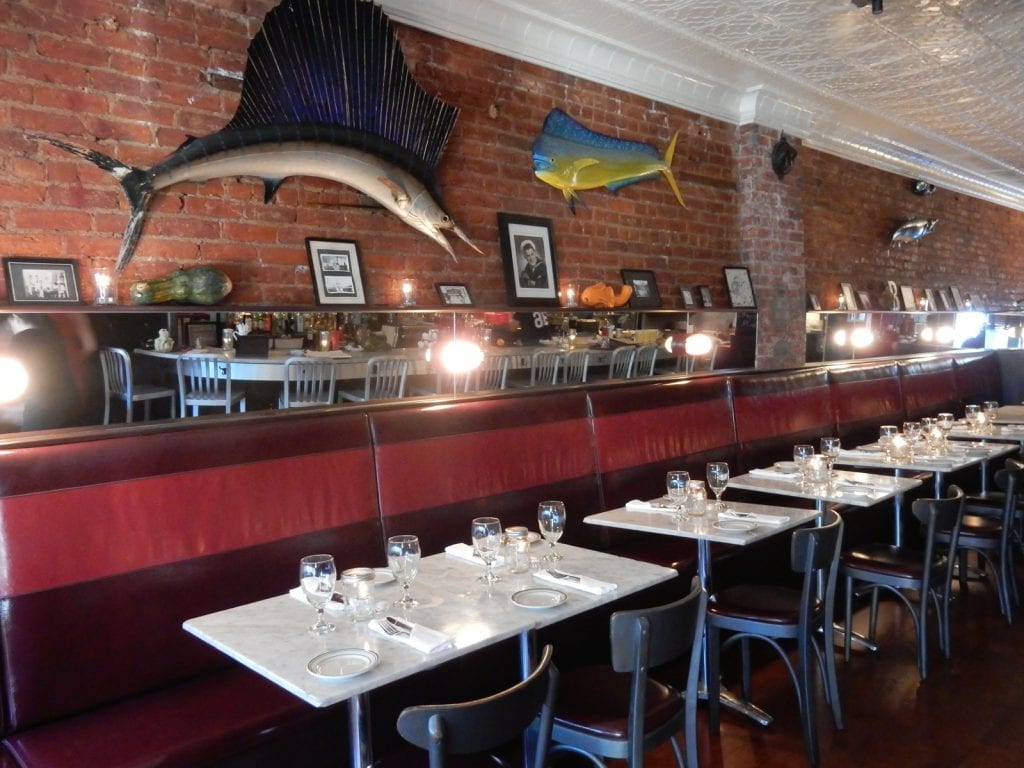 EAT/DINNER: Boitson's, Uptown Kingston
The signature Cauliflower Wings with Hot Sauce and Blue Cheese is "the most popular dish," which gives you an idea of the cuisine and clientele at this fun but seriously good eatery. Mason jar votive candles on marble tables lend romance to the narrow brick walled space. Frank Sinatra warbles while you dine on Dr. Frank's Stuffed Oysters ($14.50), Molasses Glazed Salmon ($24), those OMG fantastic Cauliflower Wings ($11), and a host of inventive dishes.
EAT/UPTOWN KINGSTON: Locals also love
Sissy's for great vegan. Outdated for coffee. And The Stockade Tavern for drinks in a very popular historic tavern atmosphere.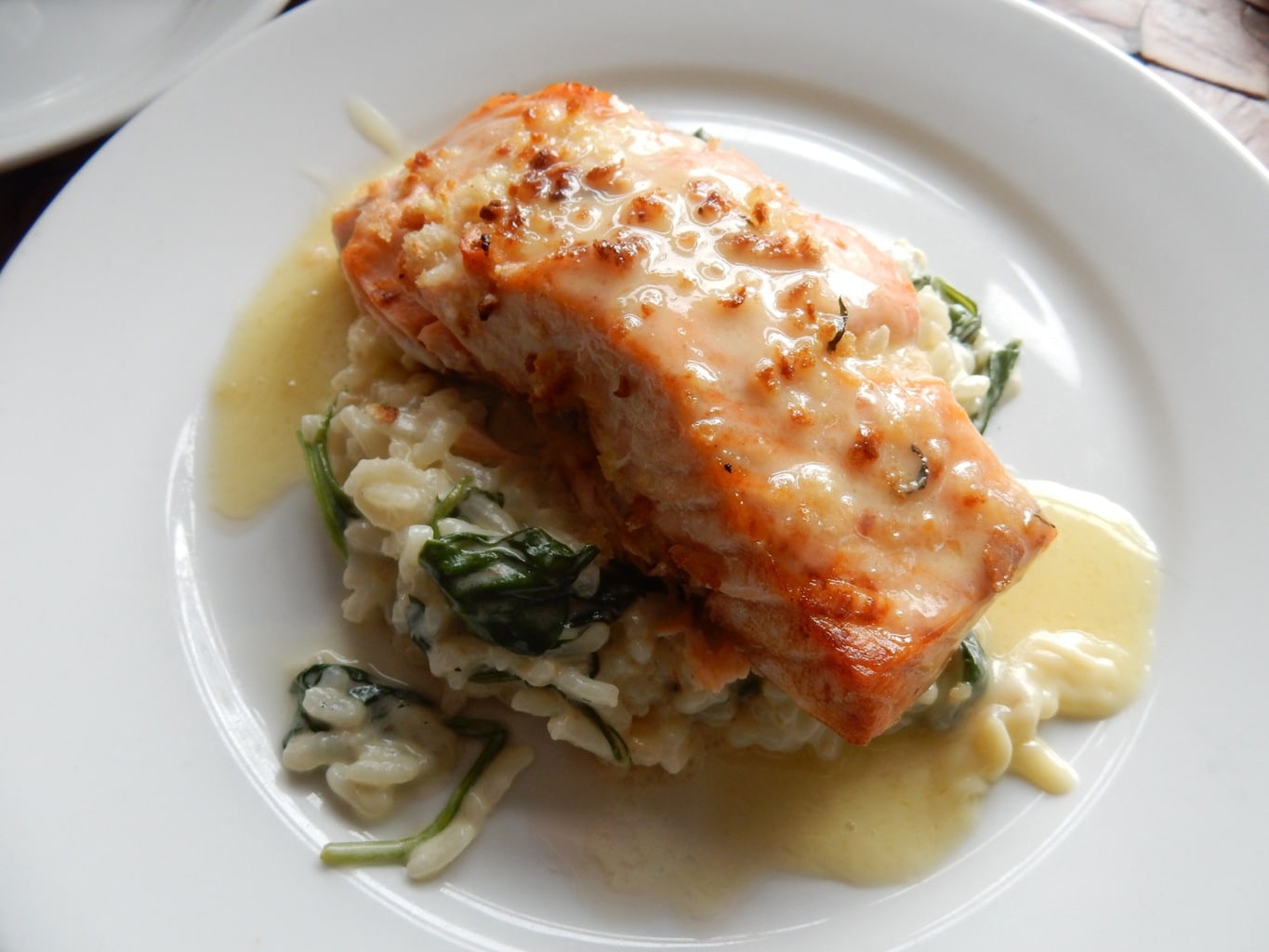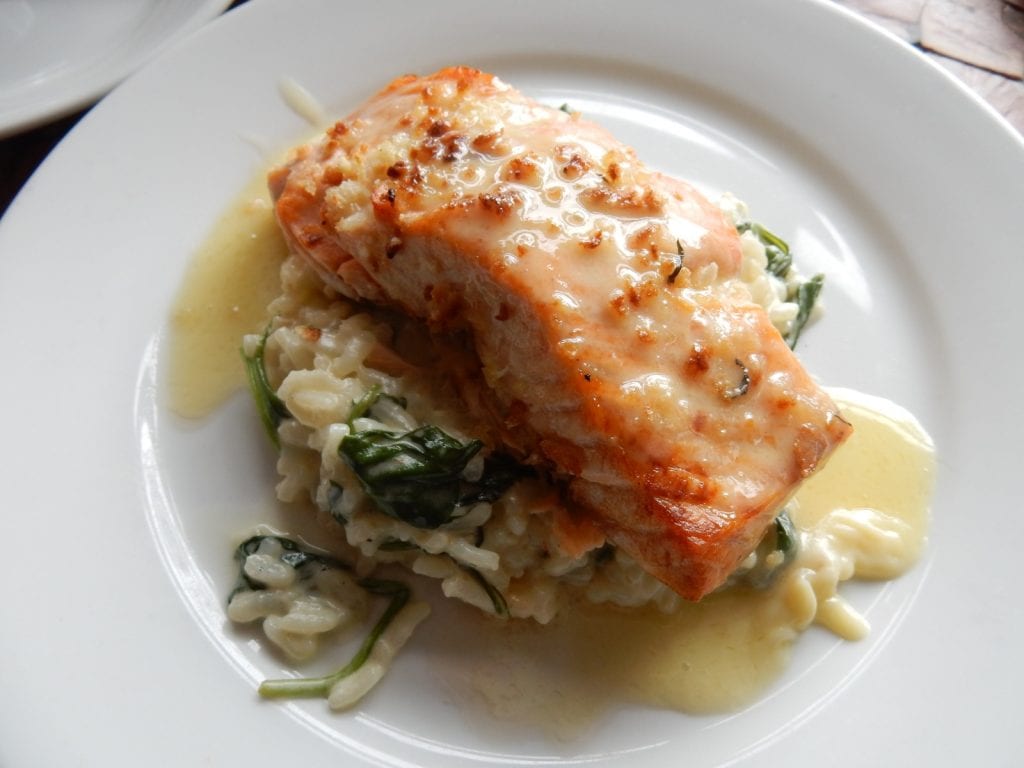 Across from the waterfront, this cute Italian place on the Kingston Rondout is a local favorite. It wins for friendliness and delicious tweaks on rustic dishes. The slightly sweet and moist Salmon Limoncello made my taste buds happy.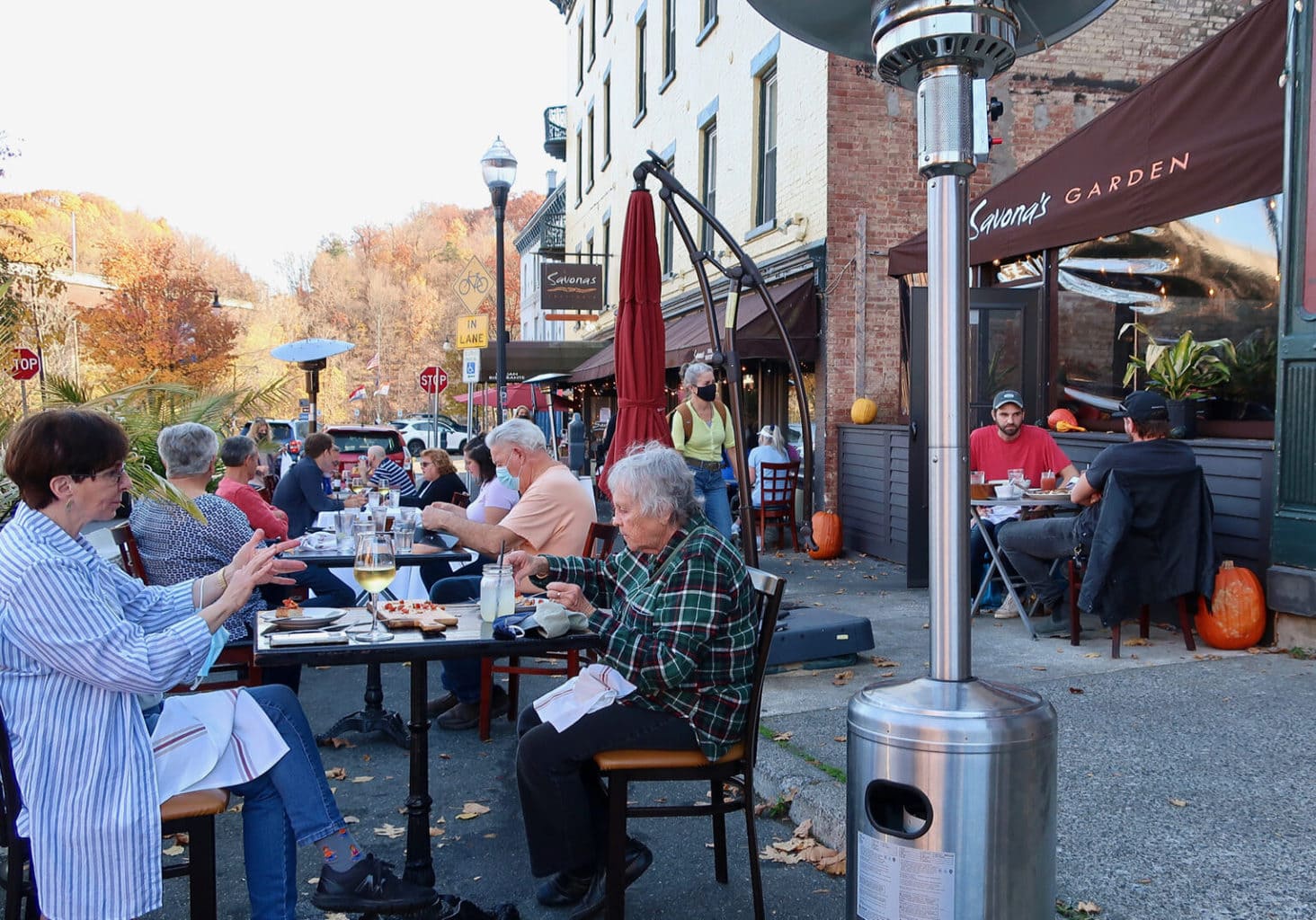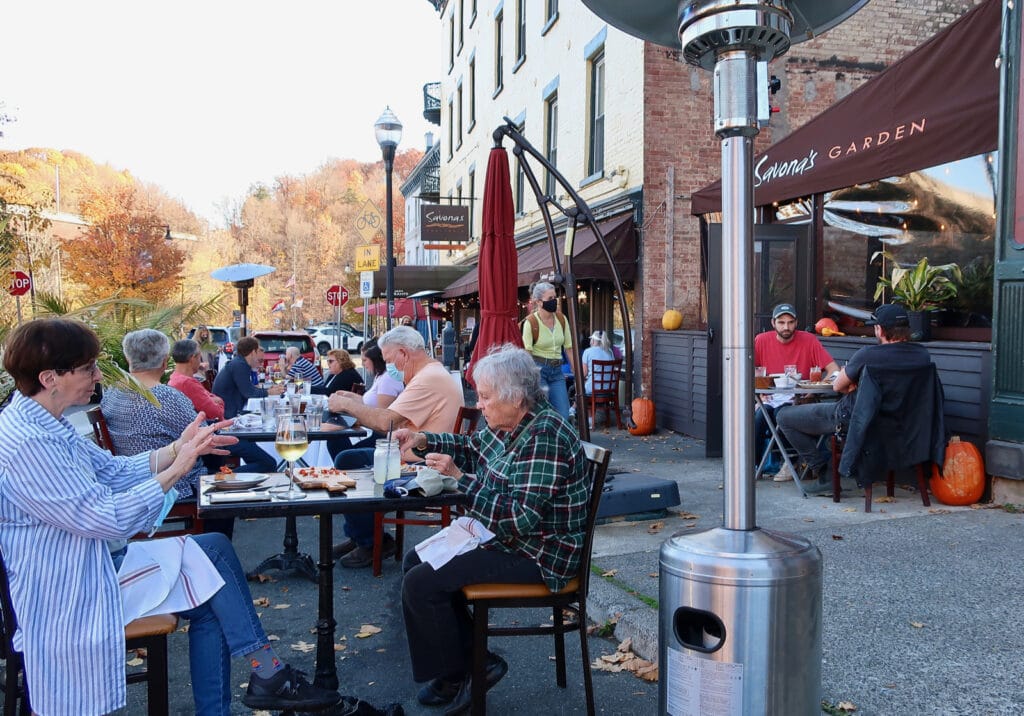 But for comfort food with a dash of guilty pleasure – nothing beats the Chicken Milanese Salad (arugula, cherry tomatoes, topped with a flavorful chicken cutlet), or the Eggplant Napoleon Stack (fried eggplant layered with sundried peppers and gooey melted gorgonzola). Oh, and don't miss the garlic bread sticks that come before the meal. Decadence plus.
EAT/DOWNTOWN KINGSTON. Locals also love
Armadillo for authentic Mexican food. Brunette Wine Bar for fine vino and nibbles. And Enchanted Cakes, which are to baked goods what some NYC spots are to pizza; slices only please. But oh, what slices they are.
Where to Stay in and Around Kingston NY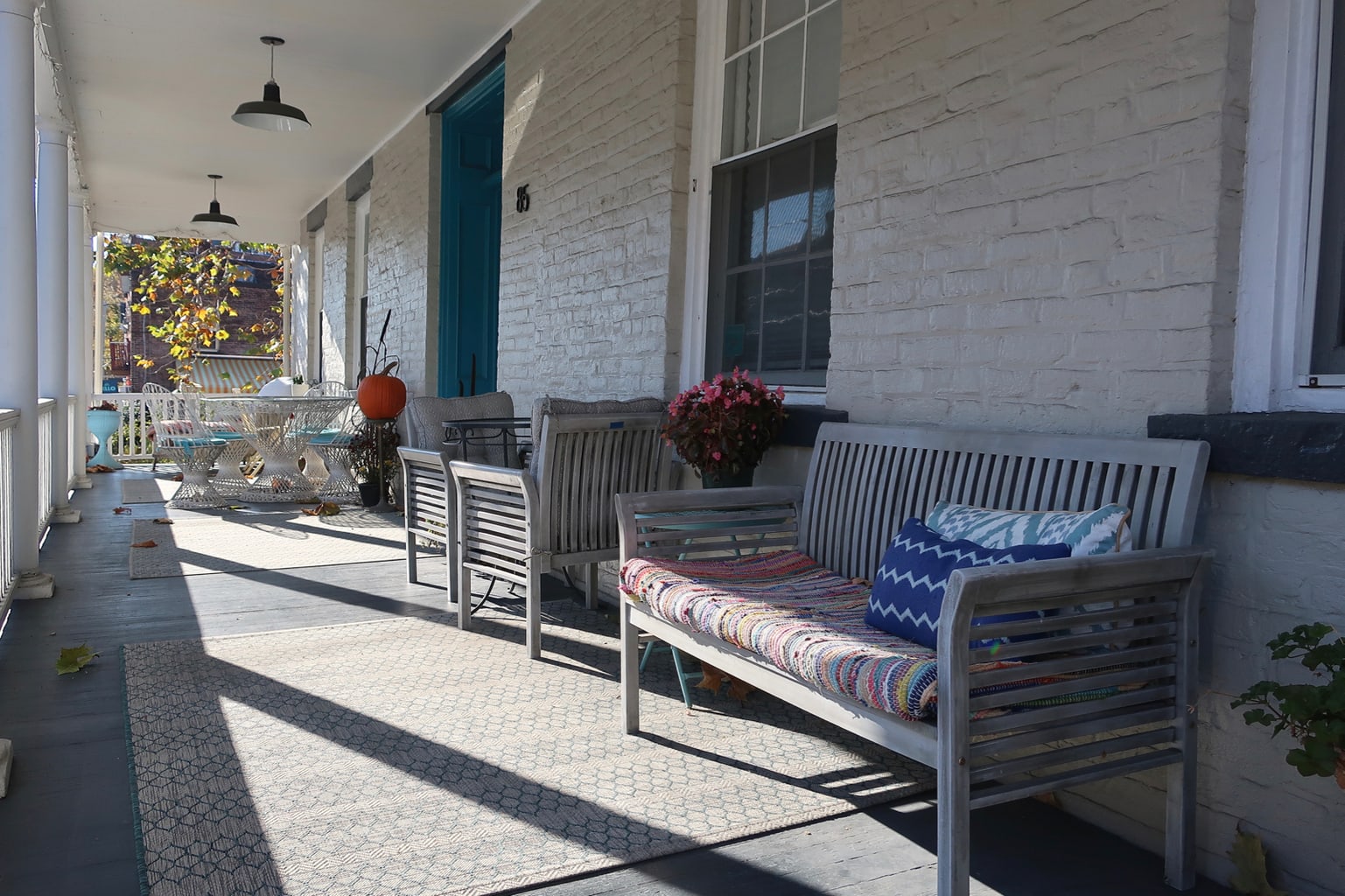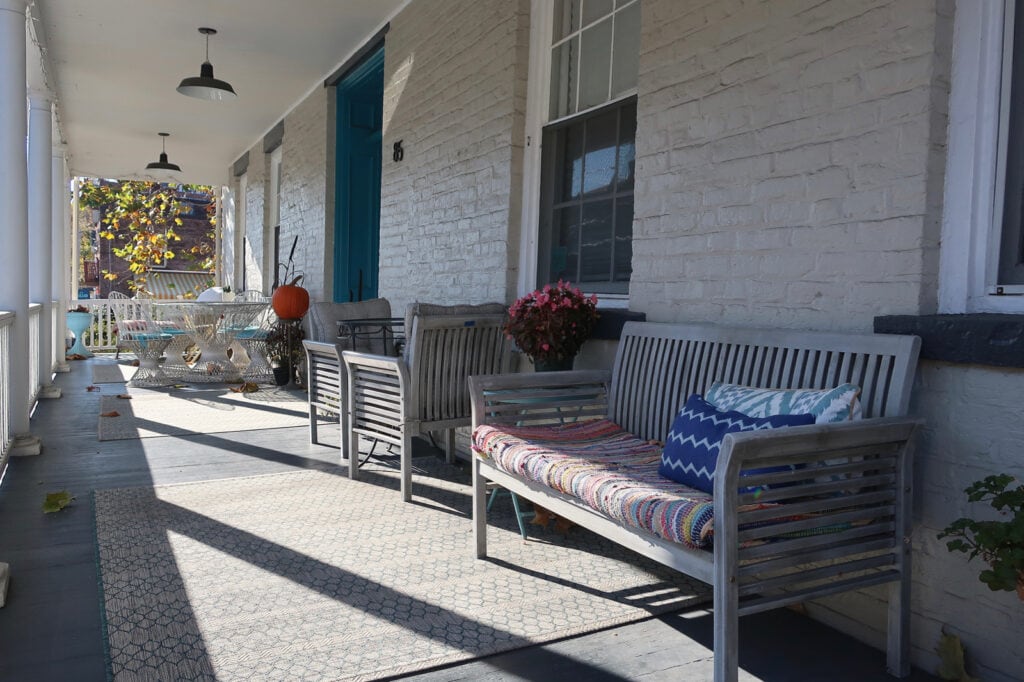 STAY: Forsyth B&B, Downtown Kingston NY
Is chocolate, in either bar or brownie form, your thing? Or, perhaps you'd rather a house cocktail, made with pineapple rum and ginger beer, delivered into your eager hands, gratis. If so, then plan at least one night at the Forsyth B&B – a six room, dog-friendly, design-forward lodging in Lower Kingston (the Rondout) NY, just a block from shops and restaurants.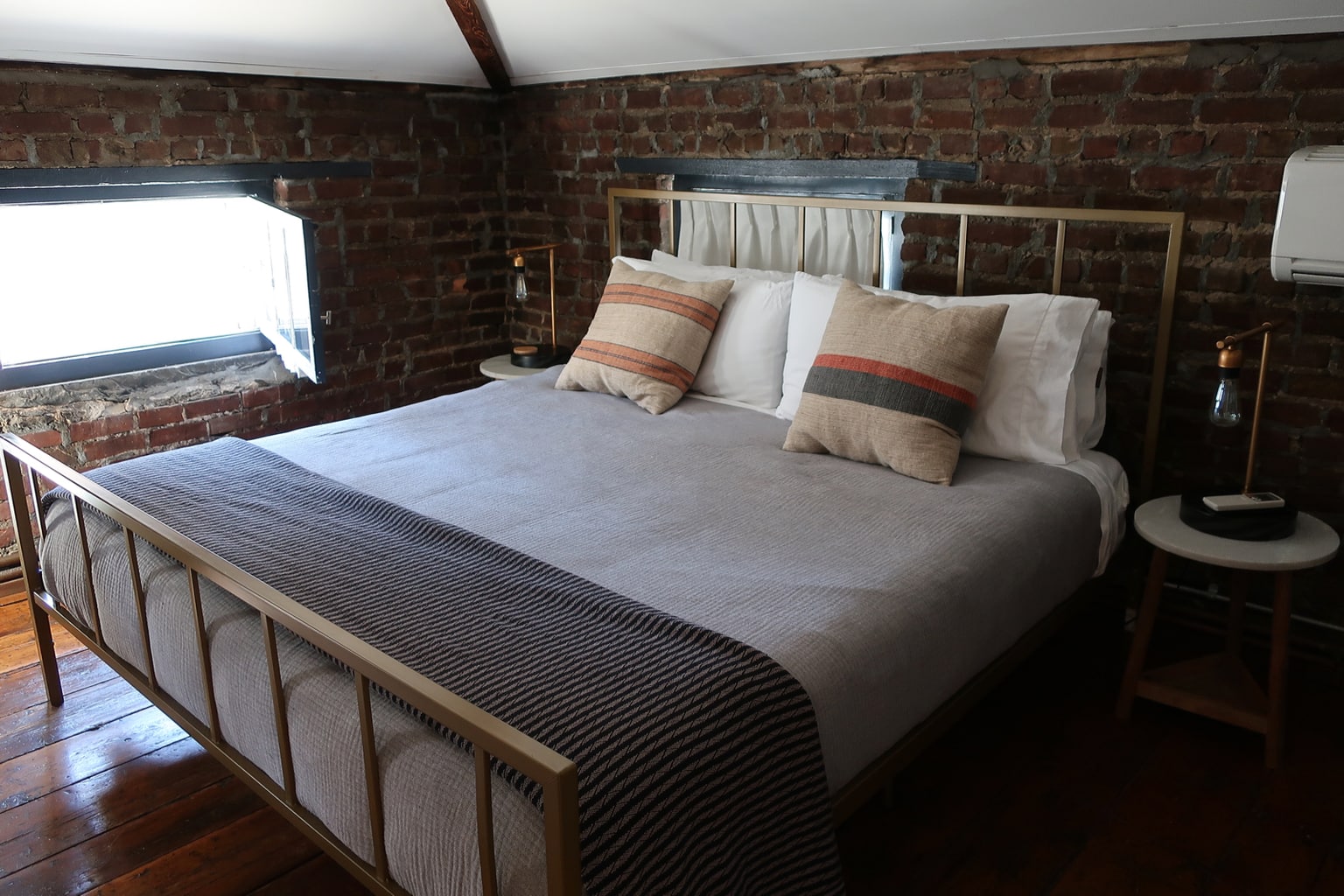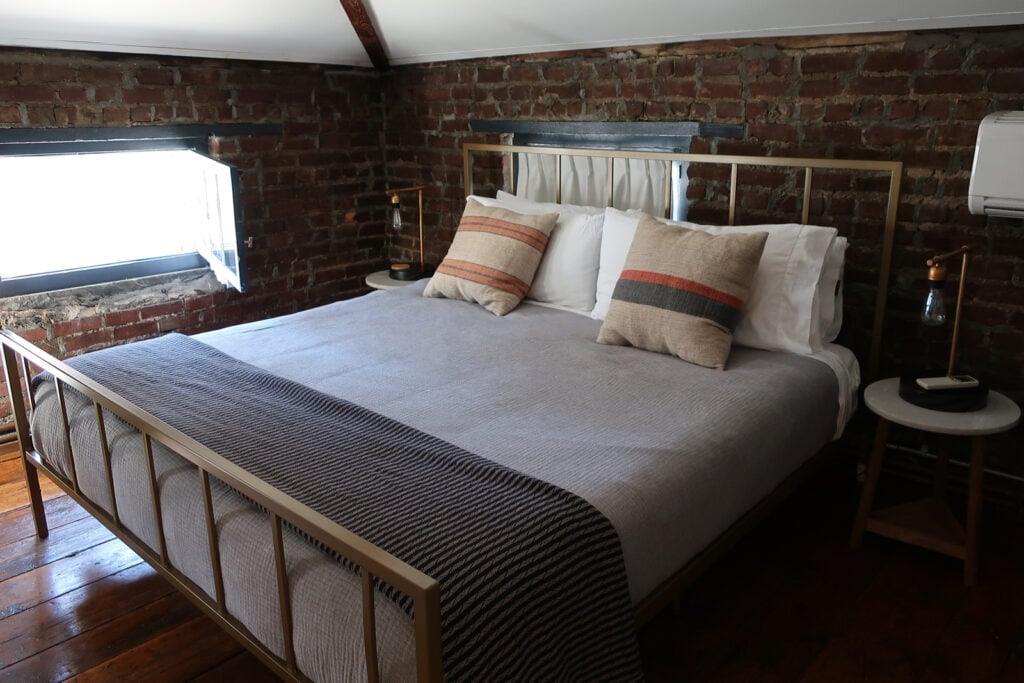 First built in 1830, this in-town home was in shambles when Tamara Ehlin, a Brooklyn-based pastry chef with a background in fundraising, purchased it in 2015. She kept the original pitted wood floors and wooden-beamed cathedral ceilings in the guestrooms and glammed up the rest with contemporary art and eclectic furniture. Décor is both trendy and elegant, which is probably why the Forsyth earned a mention in Vogue Magazine. Instant hitsville.
First Impressions
What at first appears to be a nondescript rowhouse on a residential street (albeit with a welcoming, furniture-stocked front porch,) turns out to be, inside, a photo spread from a lifestyle magazine.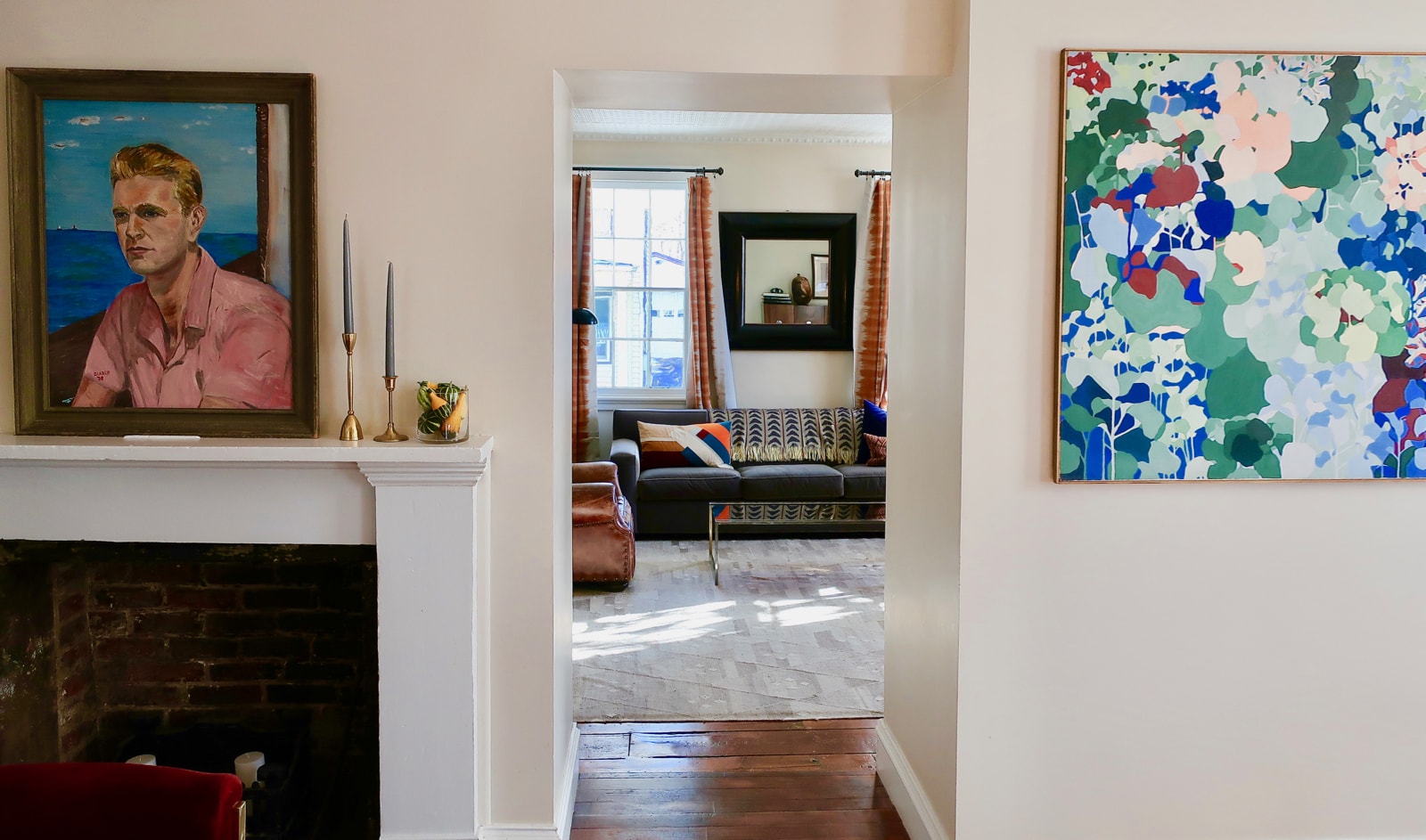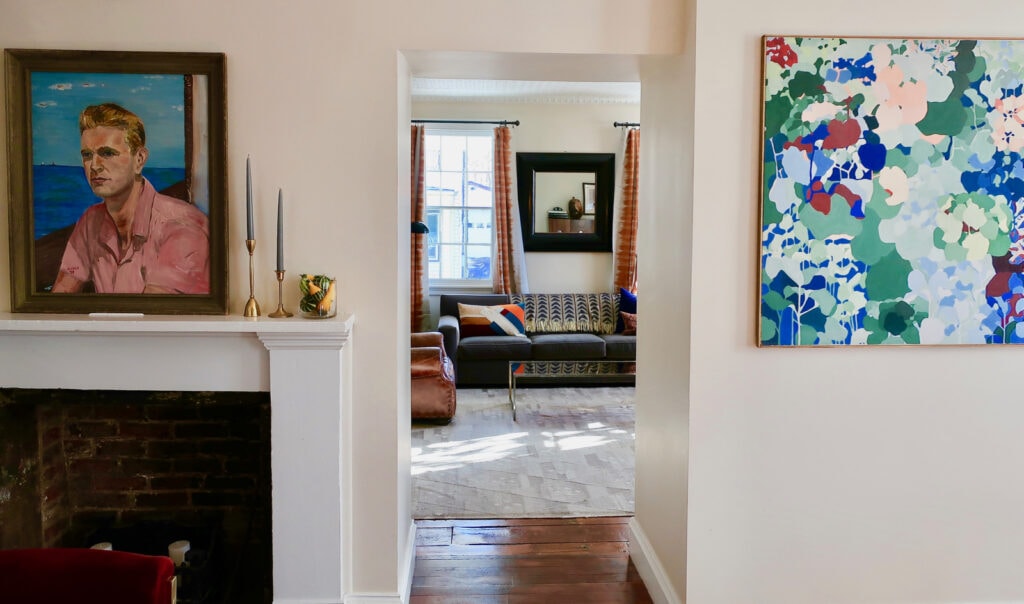 But cool décor means nothing in hospitality if the innkeeper isn't warm and gracious. This is where the Forsyth B&B shines. Tamara is as bubbly and hospitable as I've seen in this business.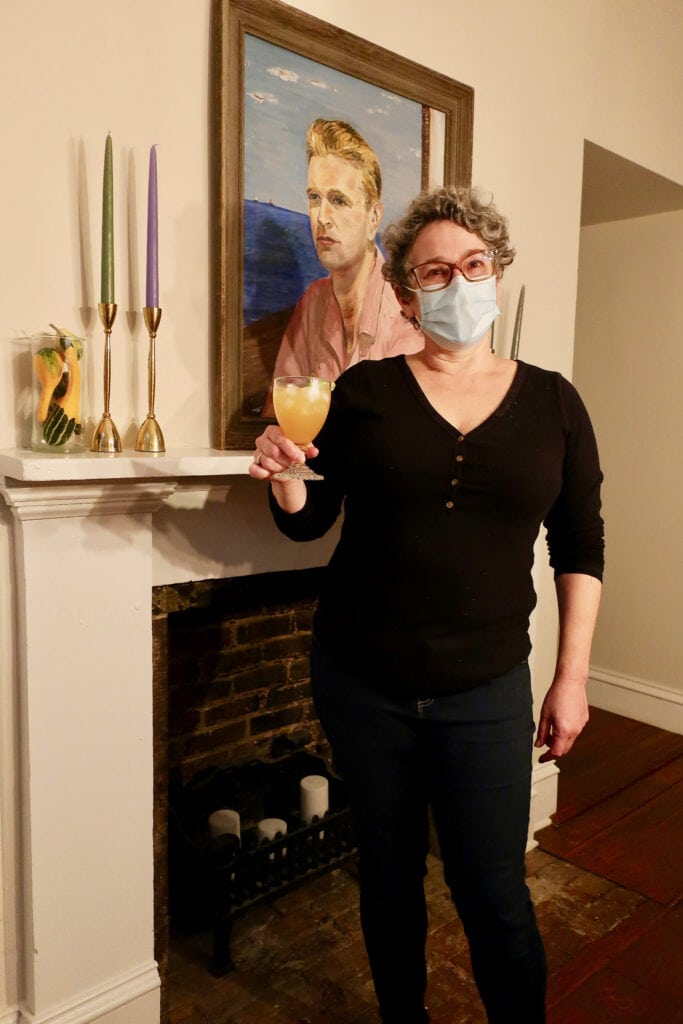 Before Covid, Tamara set out her aforementioned cocktails in the afternoon, for all guests to enjoy. Now, it's a one-on-one amenity; one that obviously hits high marks for a growing number of repeat guests.
Rooms
Spacious guest rooms, with brick-clad walls, seem even larger due to soaring, cathedral ceilings that angle upward. Airy carved Victorian-era support posts add architectural interest. Beds are supremely comfy. Besides offering a blissful night's sleep, they also make for the perfect remote-workspace. (I speak from experience).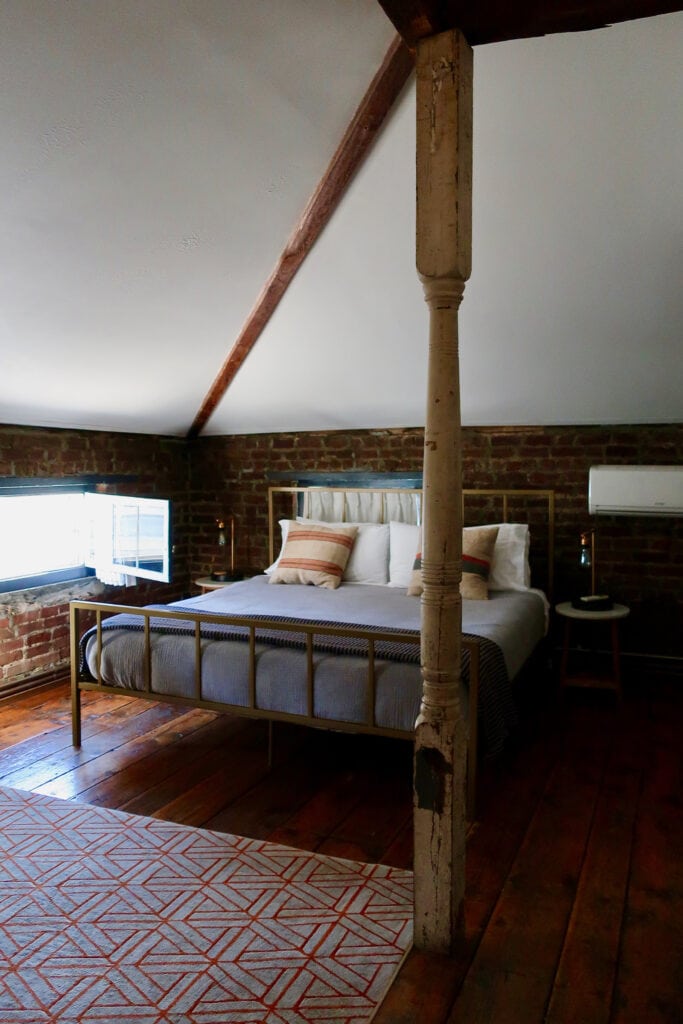 Just FYI – there are no TV's in the rooms, a fact that hasn't affected occupancy at all.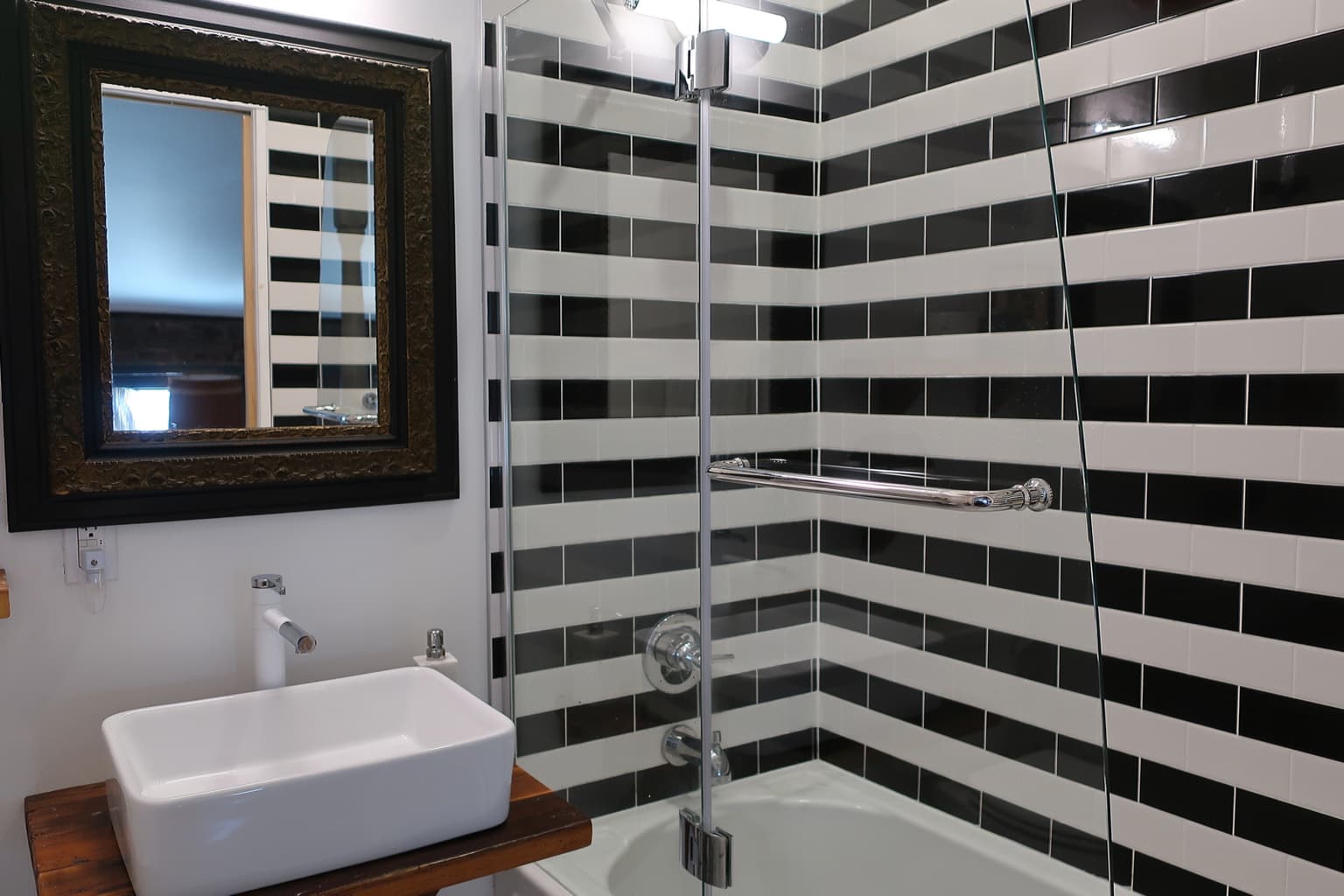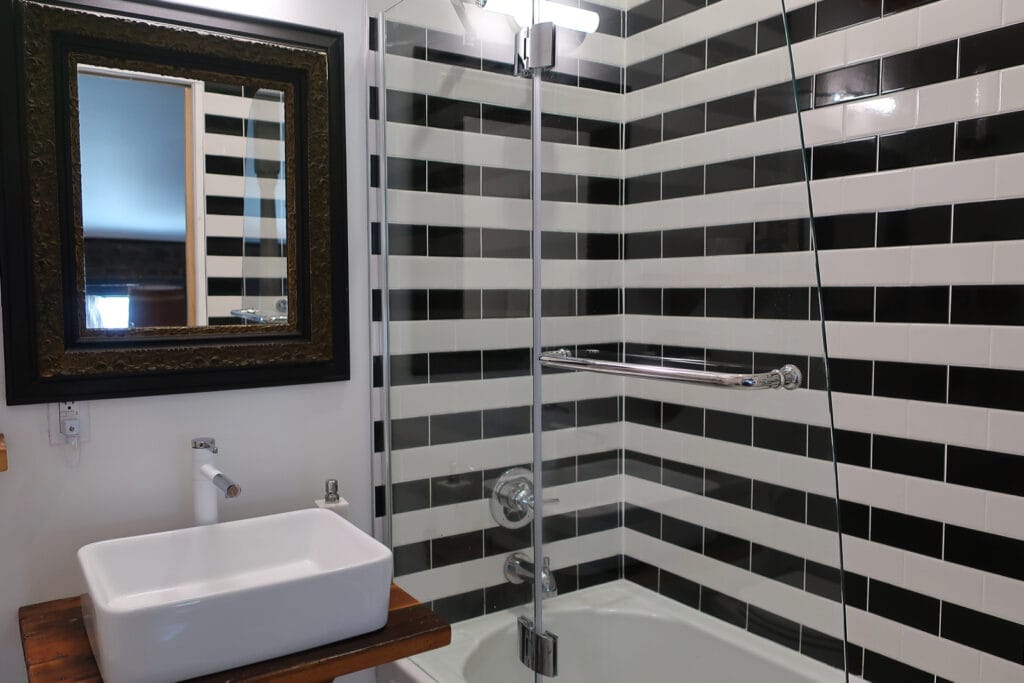 In the gleaming bathrooms, glass showers, stocked with large containers of Hask Coconut Oil hair products, pop with zebra-striped subway tiles. (No landfill-glutting little plastic bottles here.)
Breakfast
Some guests are enticed by online photos of Tamara's resplendent breakfasts, and book for that reason alone. For now, Covid protocols are in place. Individual coffee carafes, and already plated dishes are set out on the dining room table by 8:30am.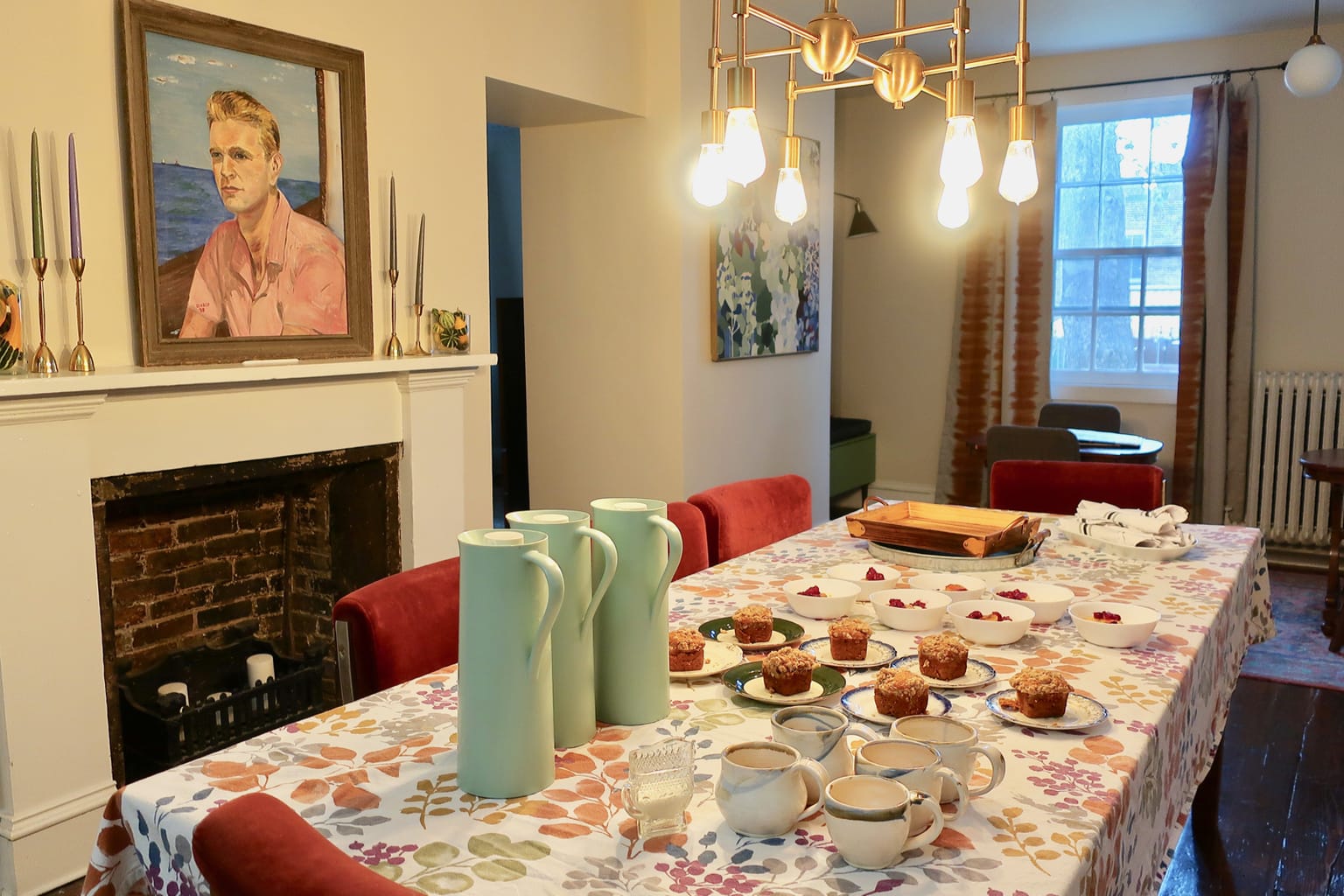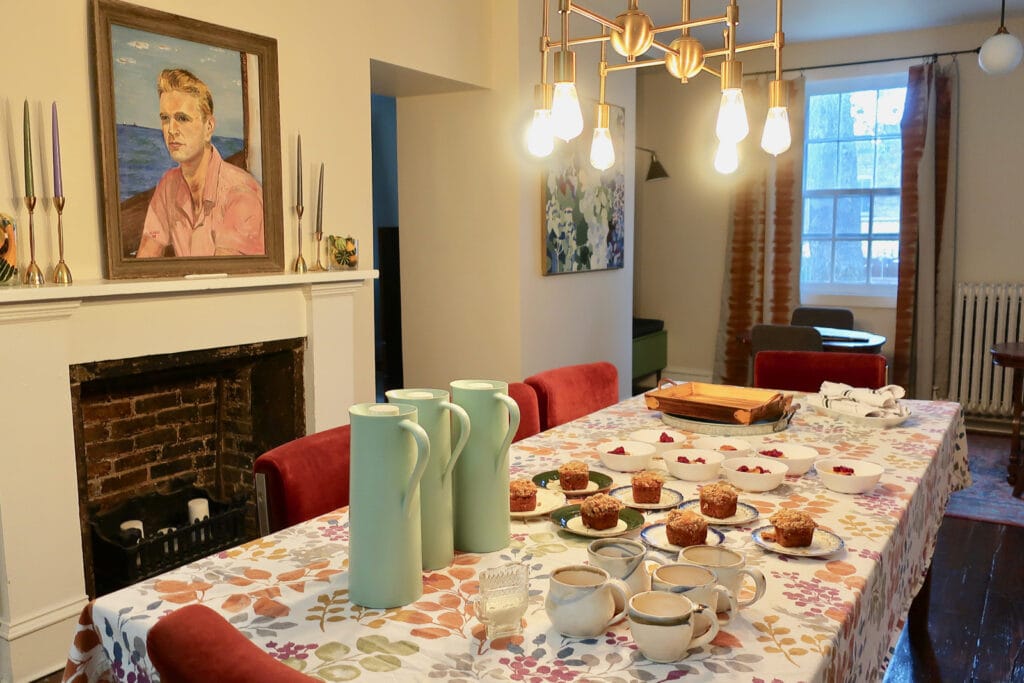 Guests are encouraged to take the food to the front or back porch, or up to their room.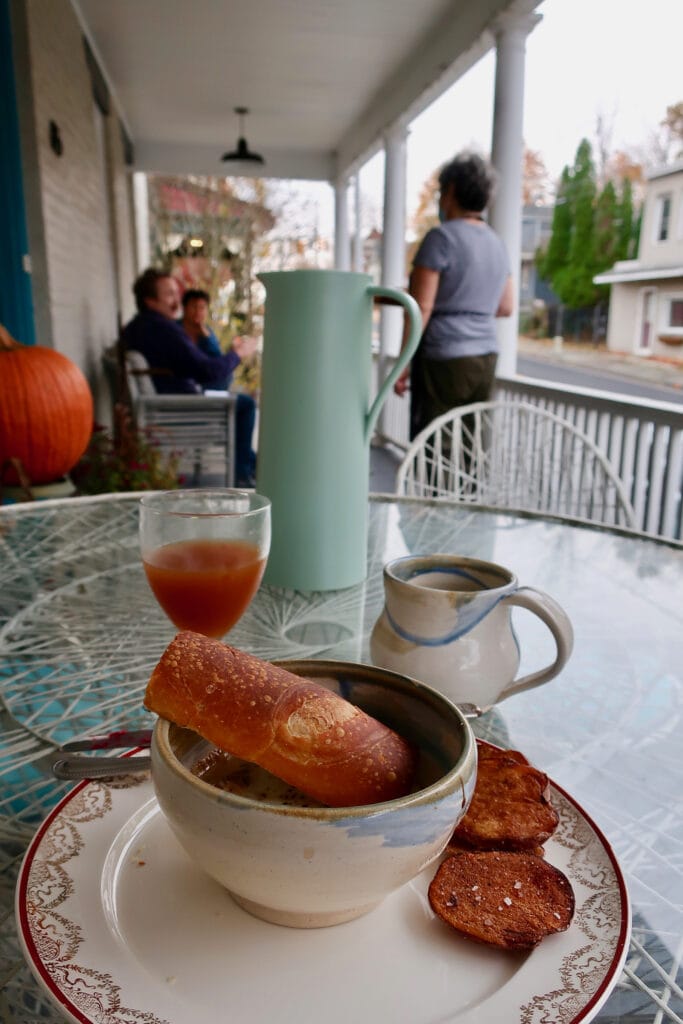 My breakfast began with pumpkin-streusel muffin and roasted apple yogurt compote, followed by a poached egg and mushroom dish topped with half a French baguette for sopping it all up. Between the food and the company, I felt wrapped in joy. Rooms from $219-$289 per night include welcome cocktail, baked treat, filtered water, gourmet breakfast, wifi.
Find Forsyth B&B on Getaway Mavens 15 Top Romantic Hideaways Northeast US 2022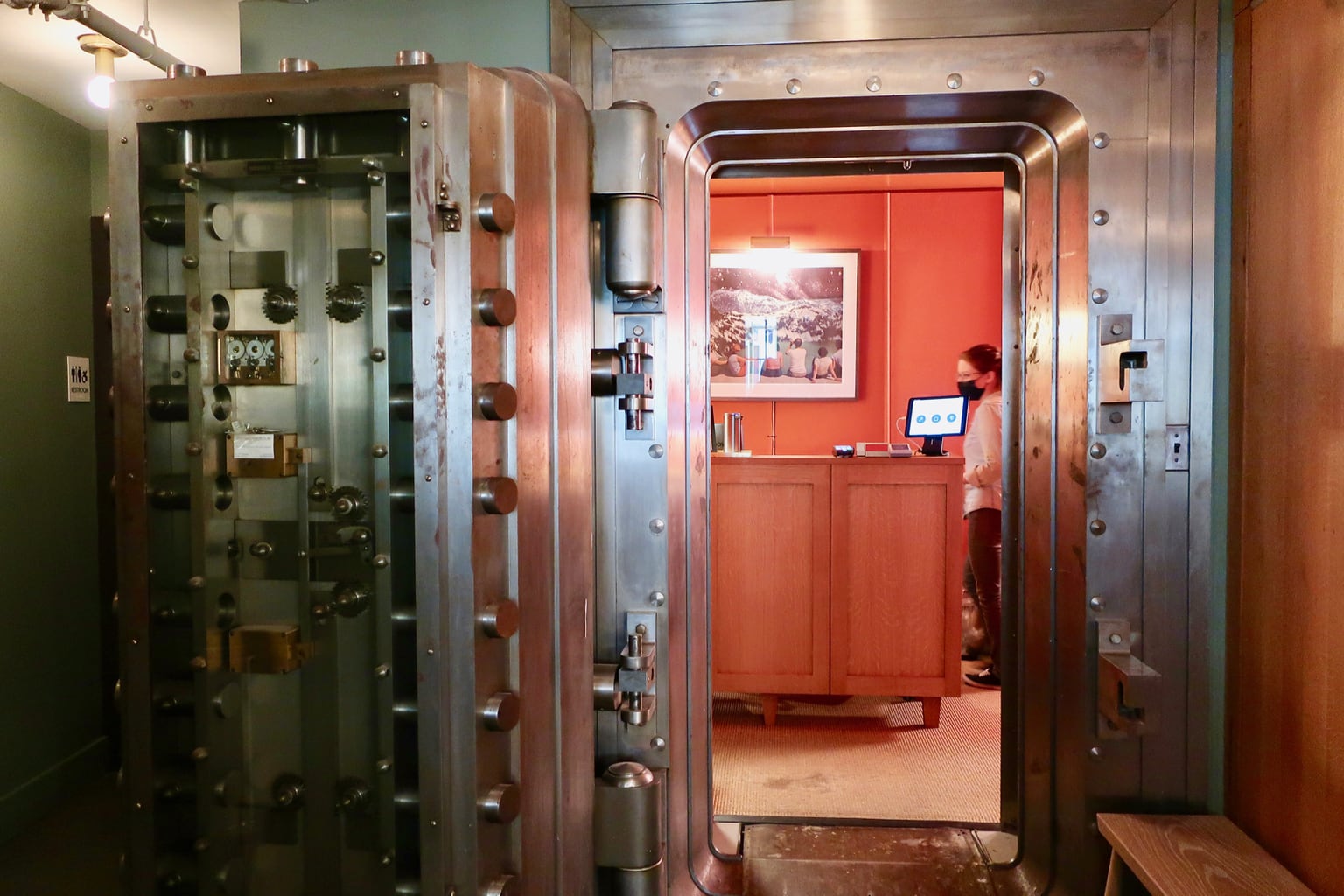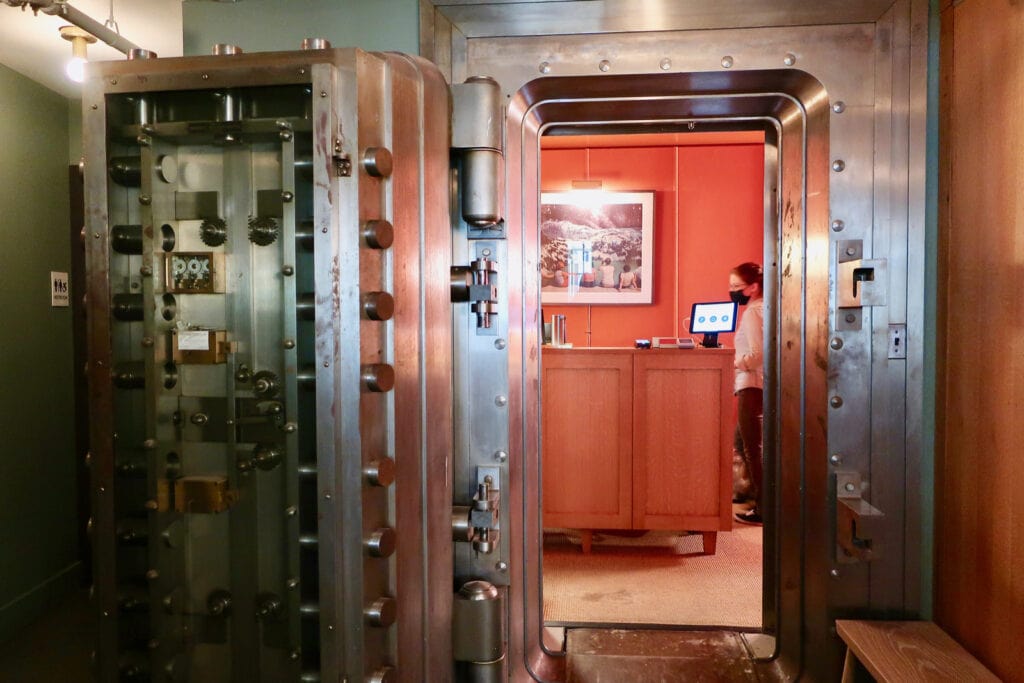 STAY: Hotel Kinsley, Stockade District, Uptown Kingston
Check into this cool boutique hotel – formerly a bank – inside its thick-walled vault. Rooms are stylish, some sport gas fireplaces, but just be aware: there are no elevators. Staff will bring your luggage up to the 3rd floor, but you'll have to climb the stairs yourself.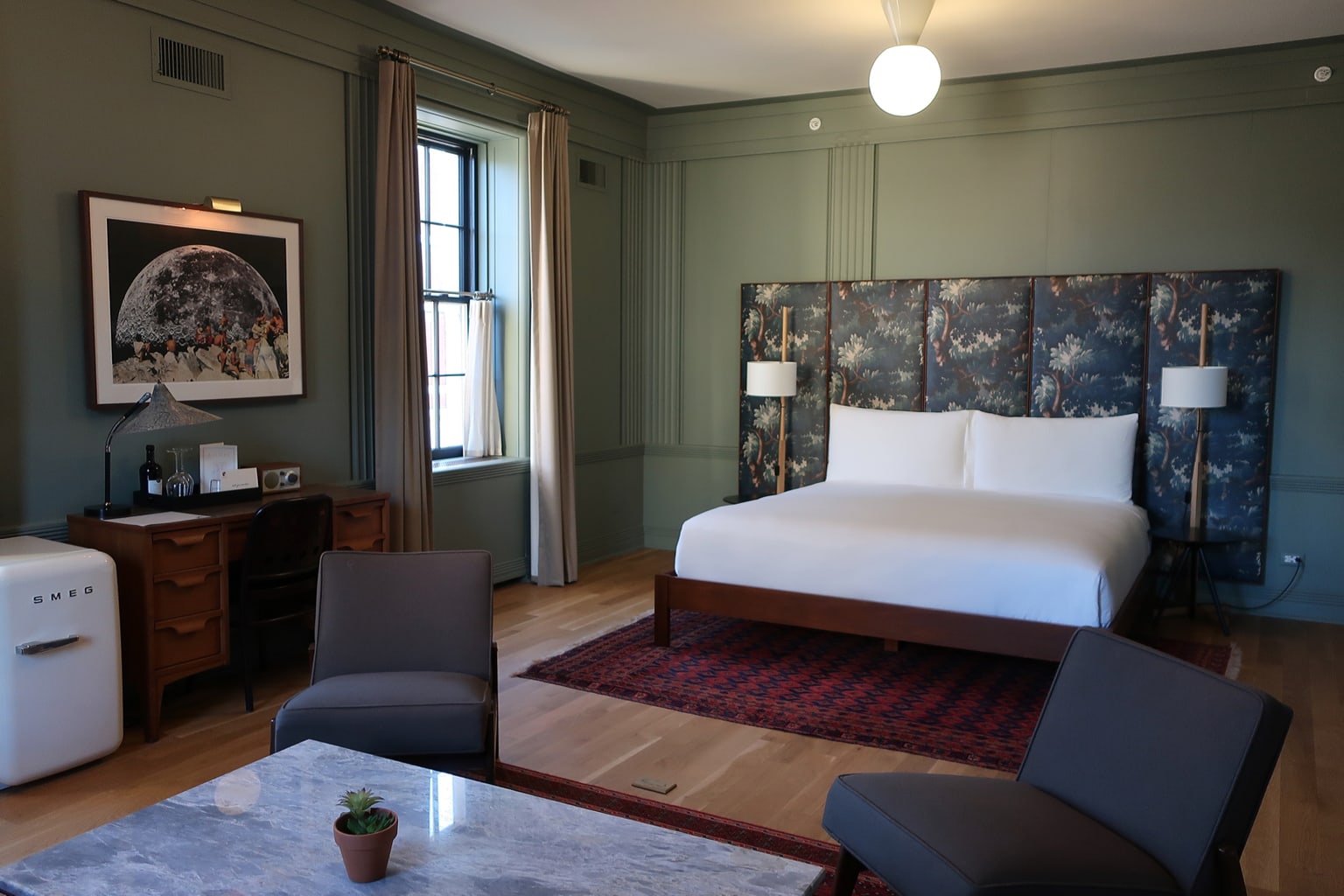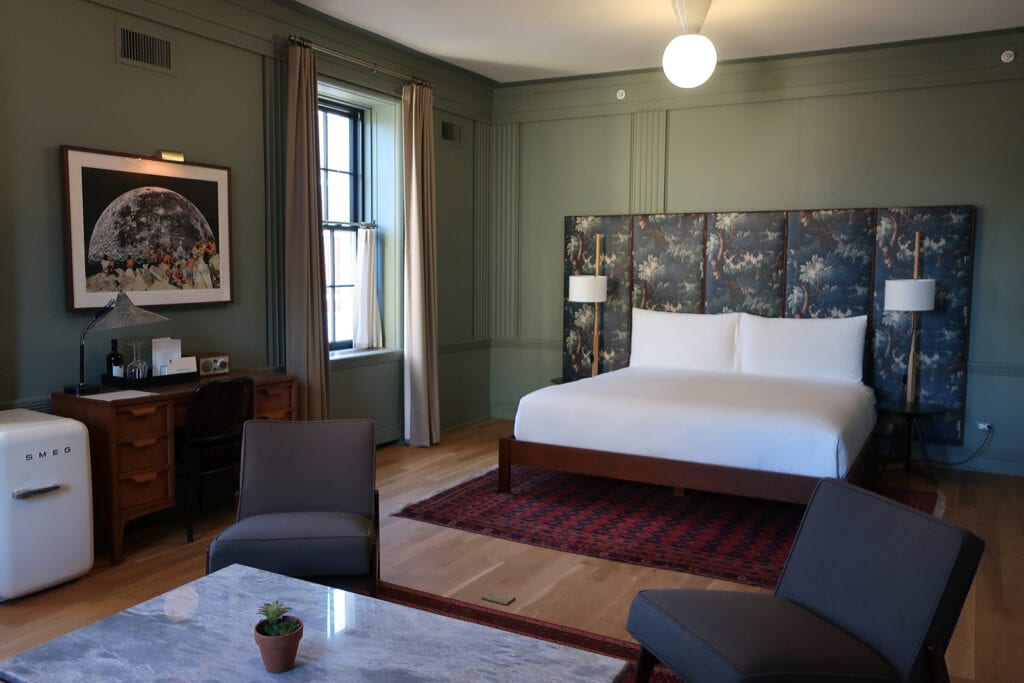 A mid-week "Work From Hotel" package includes access to a co-working space across the street. And the "Relax and Reset" package includes a bottle of sparkling wine, State Park passes, and treatments at the local "techno-spa," Spa21.