Last Updated on
WHY GO: Ridgefield CT is a feast for all five bodily senses – sight, touch, smell, hearing, taste – and one more: the sense of humanity. This town of 25,000 is home to Connecticut's only National Park, which also happens to be the only National Park in the country dedicated to an American painter. There are three live theaters, a contemporary art museum, and a "magical" movie theater run exclusively by adults with developmental disabilities. You'll find an organic farm, highly rated restaurants, and a haute hot dog cart that's been serving locals for decades.
On its surface, Ridgefield is the quintessential New England town. Colonial homes line a wide Main Street. The Town Hall, adorned with a blazing gilded eagle, stands in a central location where the First Selectman's door is always open. And the church is still the tallest structure around.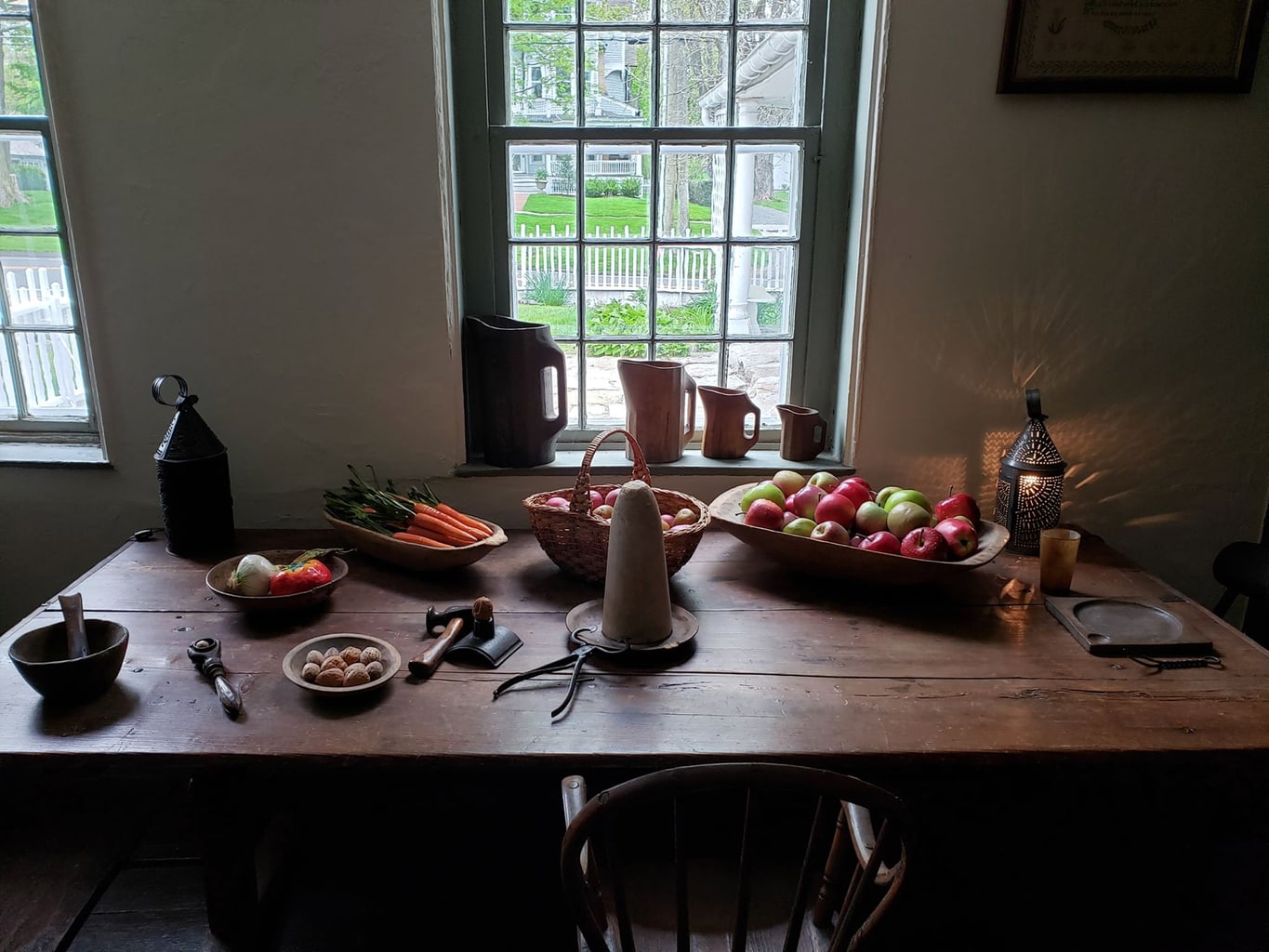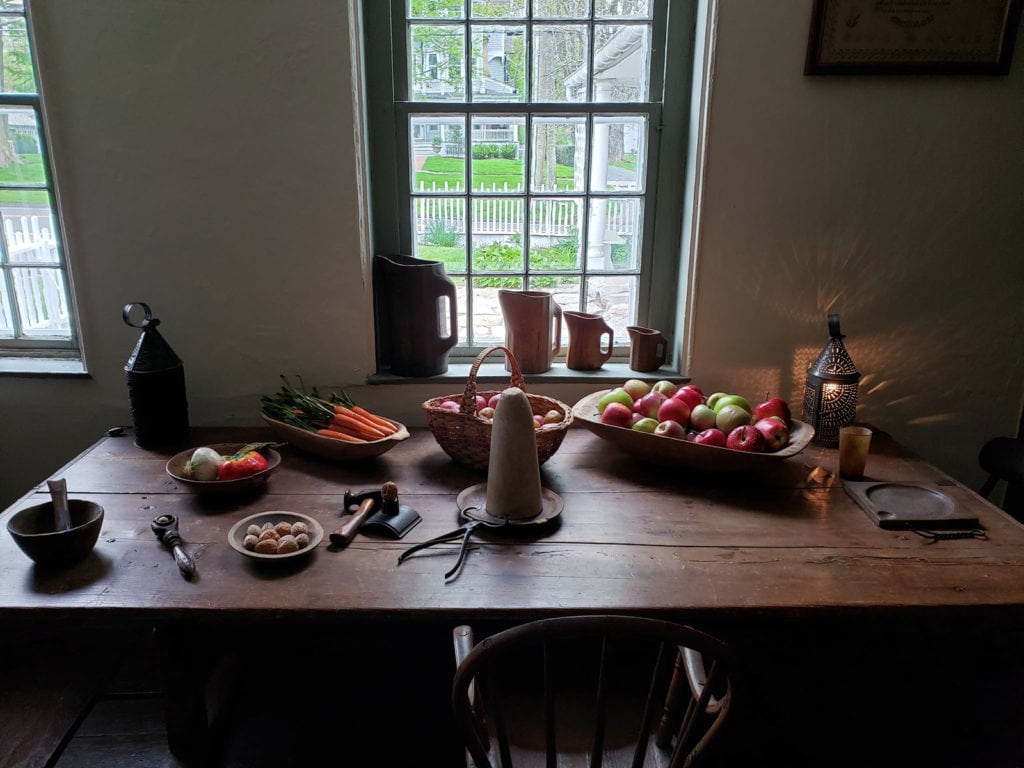 There's a city sophistication here, though, that belies the Norman Rockwell feel of the place. Residents are just as likely to be transplanted Manhattanites as dyed in the wool Connecticut natives. Expectations are high for state-of-the-art culture and comforts.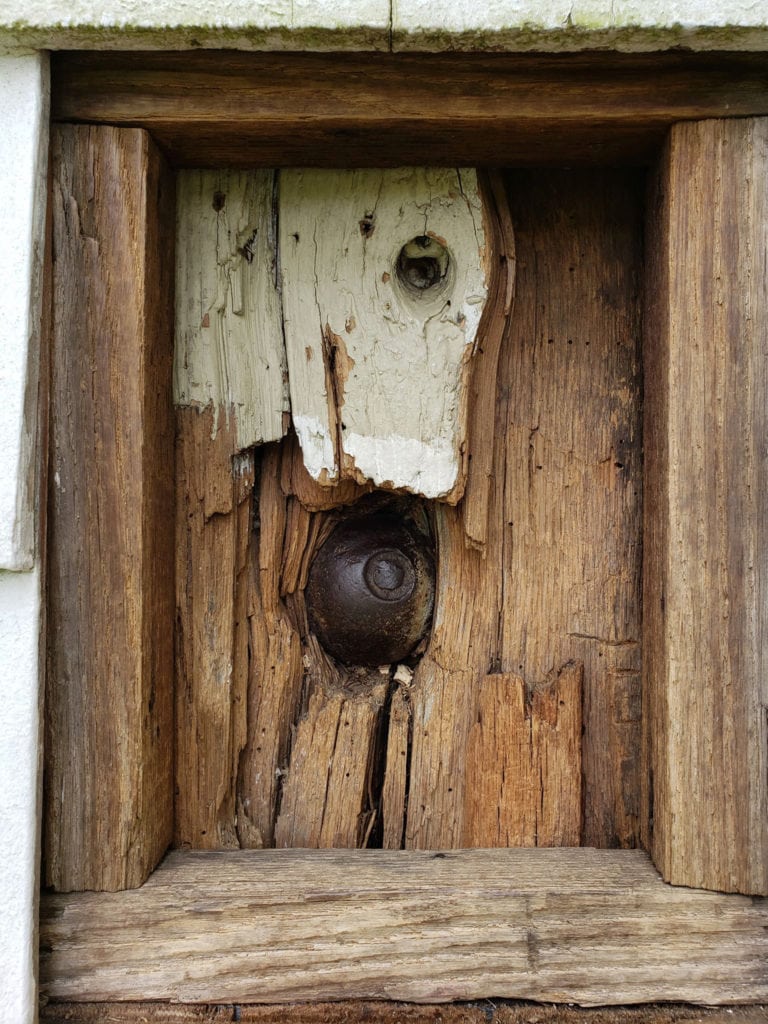 Come to Ridgefield and you can step into the past and feel the cold steel of a British cannonball, explore the rustic art studios of our country's most cherished artists, or see a staged play before it moves to Broadway. You can also enjoy modern amenities and pay a visit to the future. All in one weekend. Read on…
Things to Do In Ridgefield CT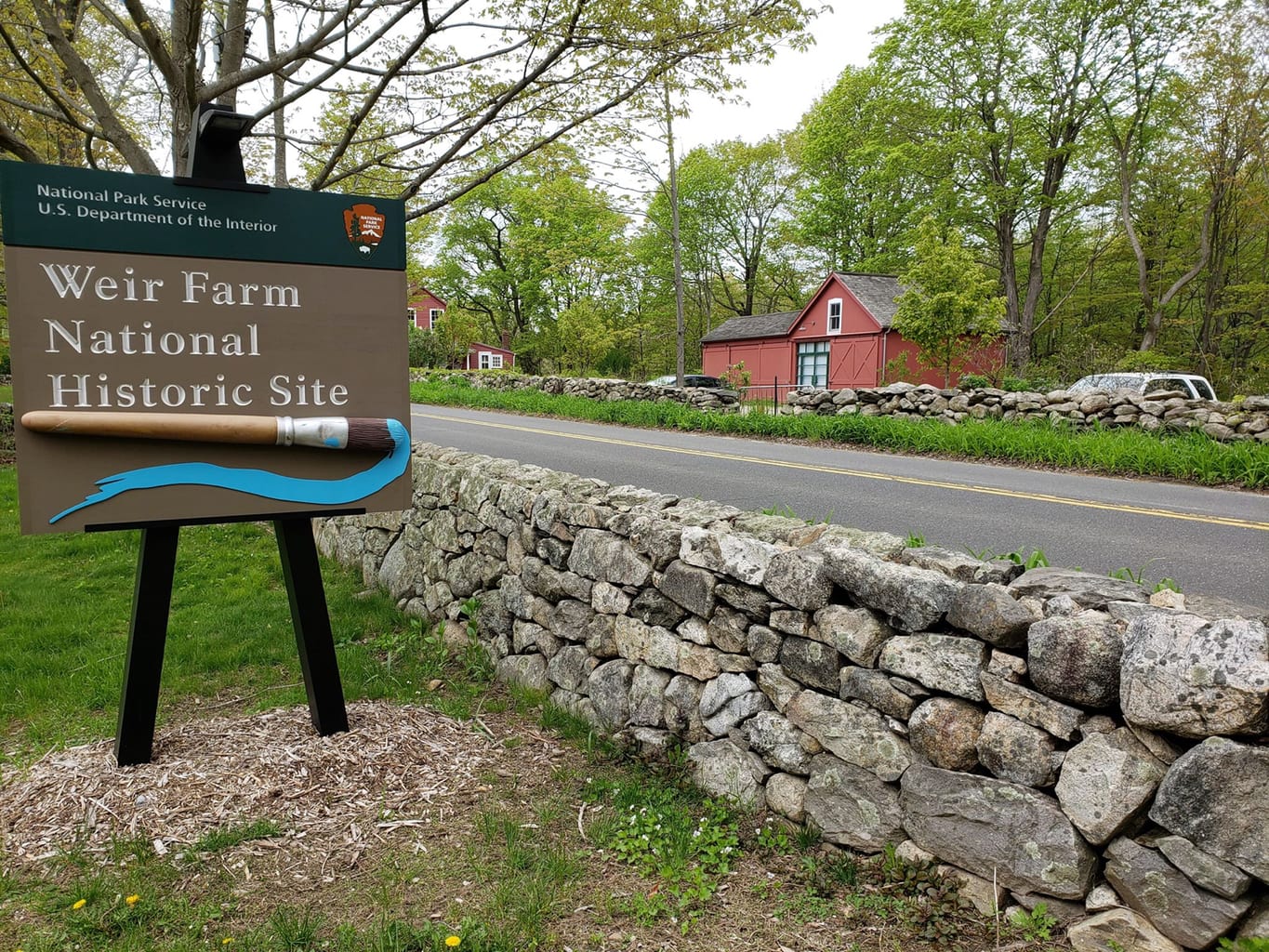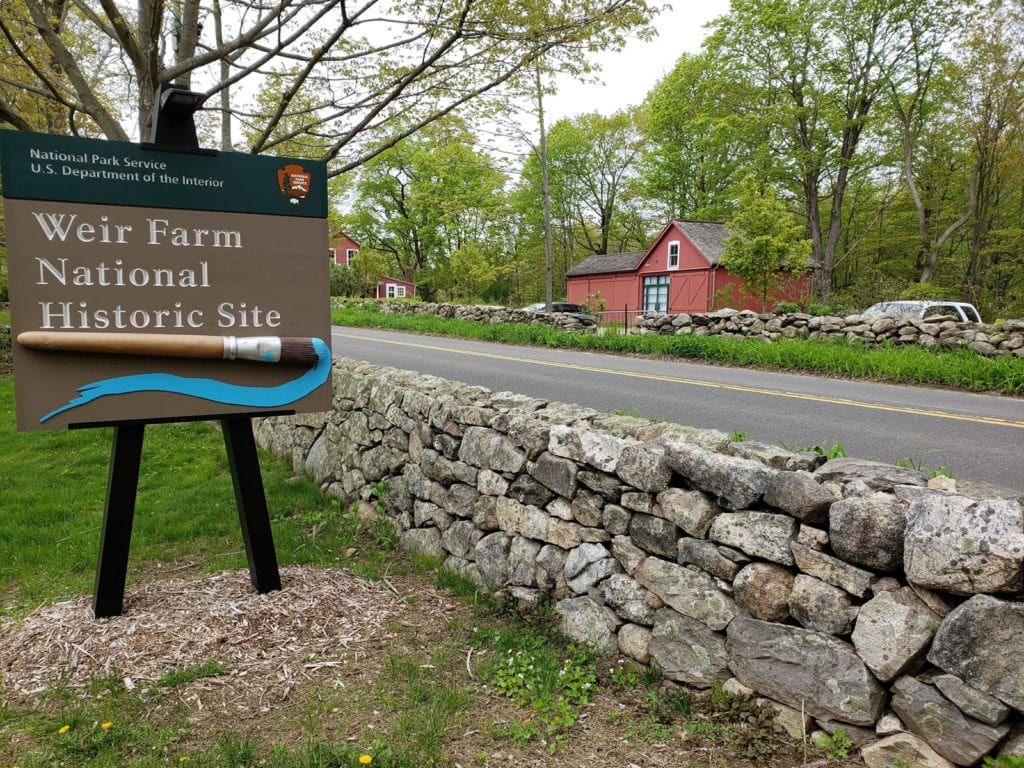 TOUR: Weir Farm Historic National Site. The only National Park in Connecticut, and one of two in the country dedicated to the arts (the other is Saint-Gaudens National Park in New Hampshire), Weir Farm allows visitors to discover the story of the people who shaped American Impressionism, and delight in the stunning landscapes of backcountry Connecticut, with its distinct stone walls, flowering trees, and undulating meadows and woodlands.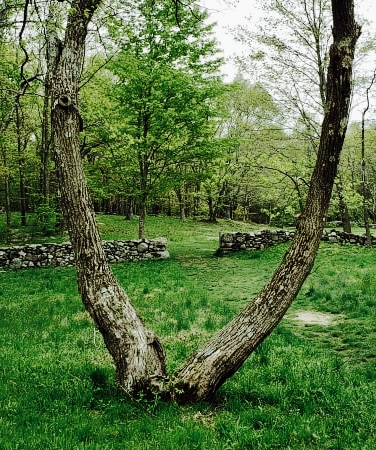 In 2014, after a nine-year restoration project, the home and studios of J. Alden Weir, one of America's first Impressionist Artists in the late 1800's, were opened to the public, and the result is pure bliss.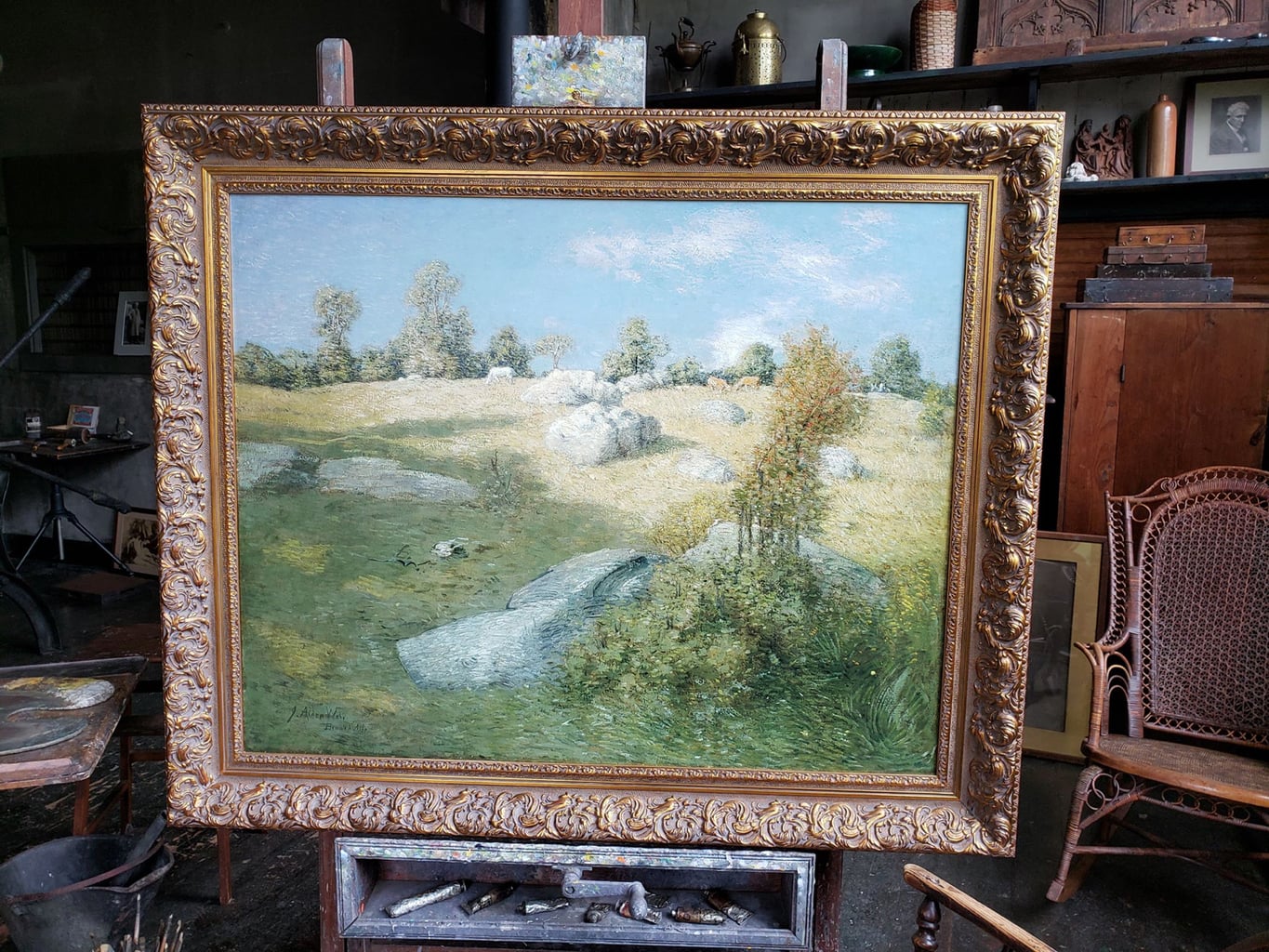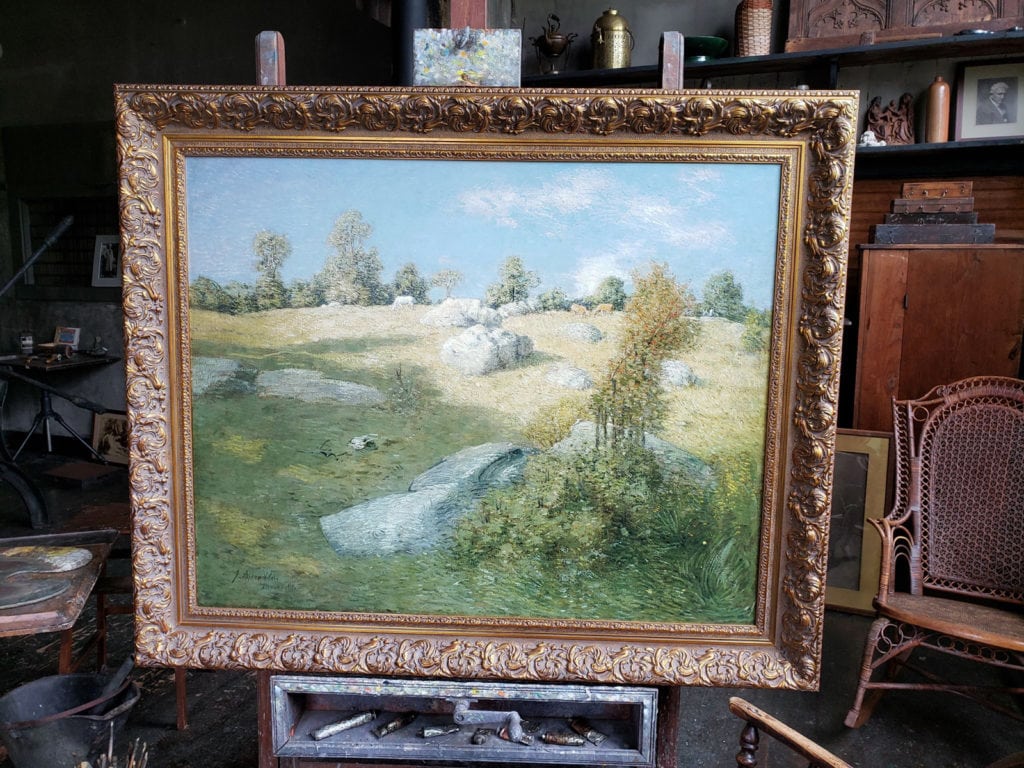 The gauzy mist that envelopes 60 acres of ponds, gardens, and forests most mornings here seemingly inspired Weir's work. Weir owned property in the Adirondacks in NY, but was so captivated by the light, color, and topography of this Revolutionary-era farm when visiting his friend, Irwin Davis, he traded a valuable painting that he picked up in Europe for the place. Weir spent summers here from 1882-1919.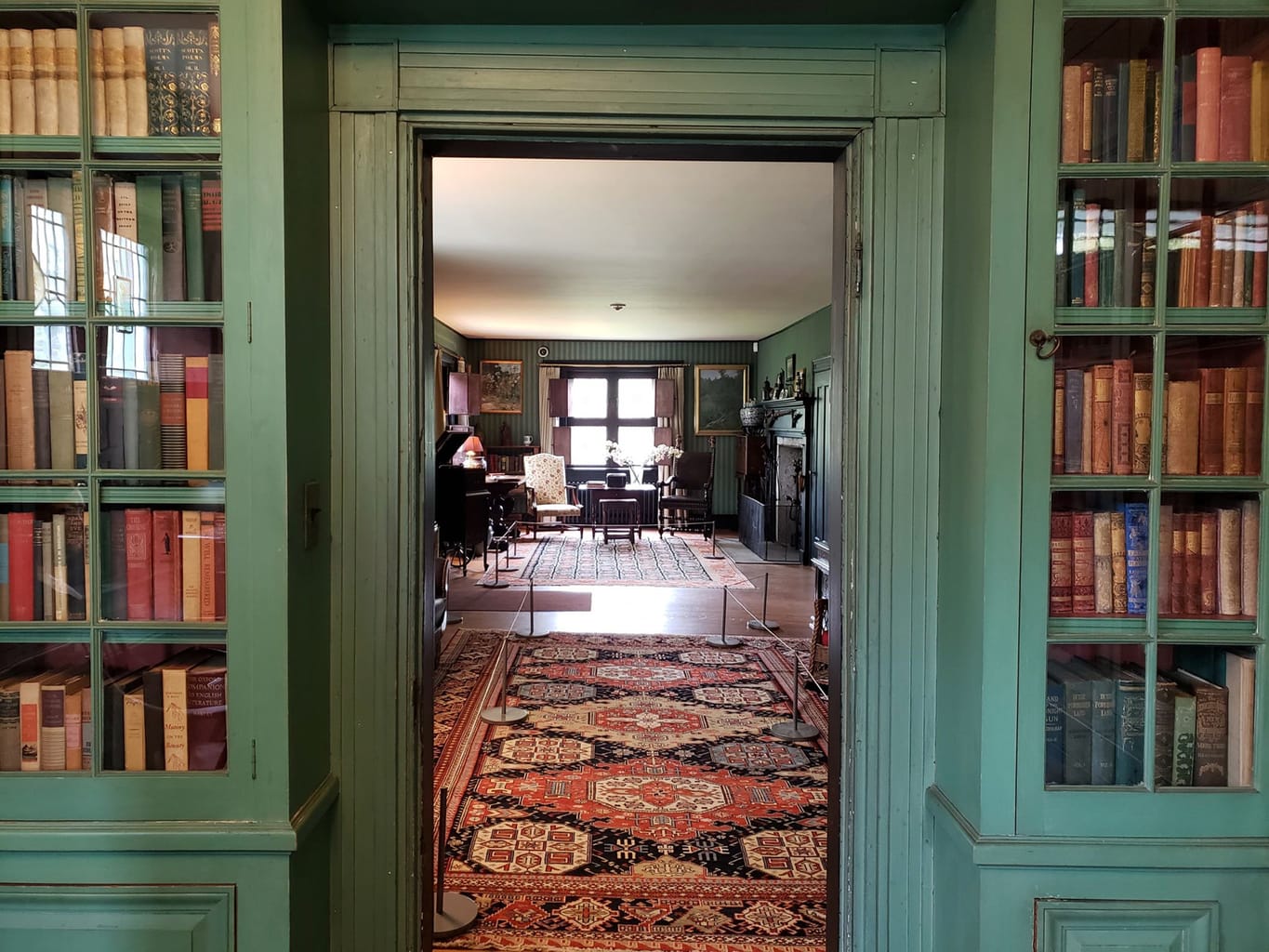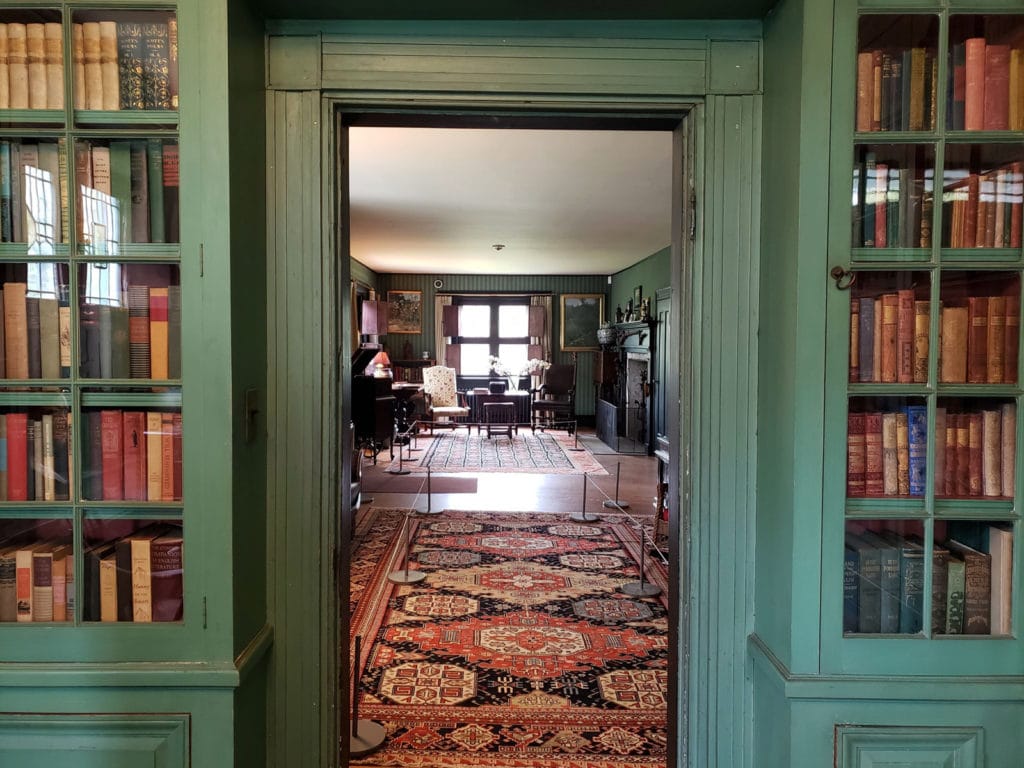 Weir hired the architectural firm of McKim, Mead, and White to design the dining room, and decorated his country home with eclectic art and artifacts that attracted his eye. His barn studio, originally windowed on all sides, apparently let in too much light for his needs. Weir boarded up all but one wall: as he preferred the less glaring northern exposure.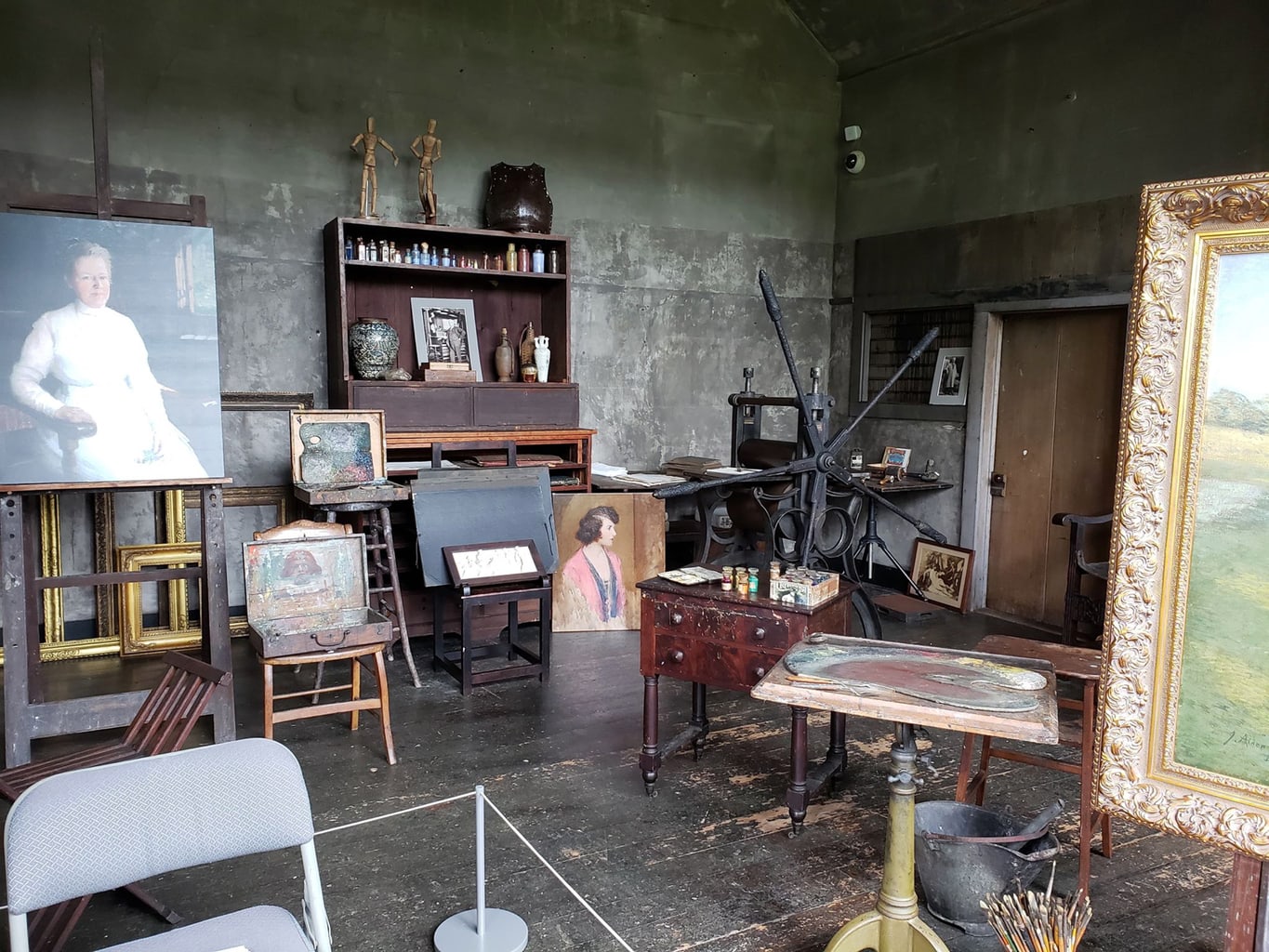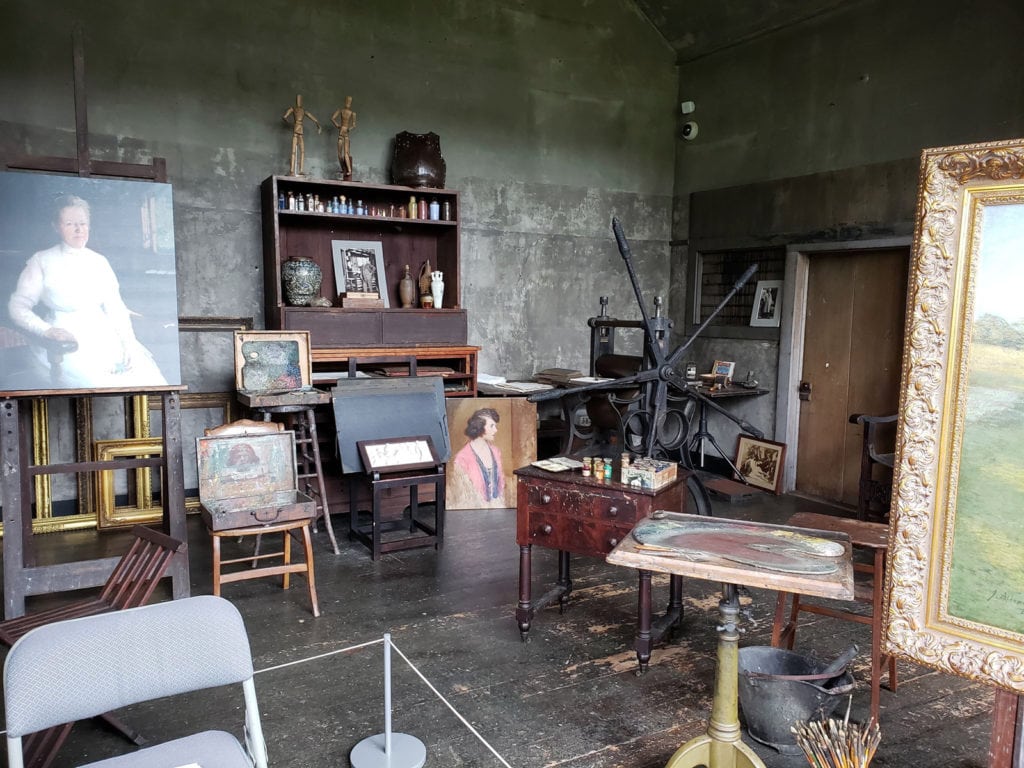 Weir's middle daughter, Dorothy, married the prominent sculptor, Mahonri Young (grandson of Mormon Church President, Brigham Young), who fabricated some of his best-known work in the second studio on site. After Young's death, the farm was purchased by artists Doris and Sperry Andrews, who painted and lived here until 2005.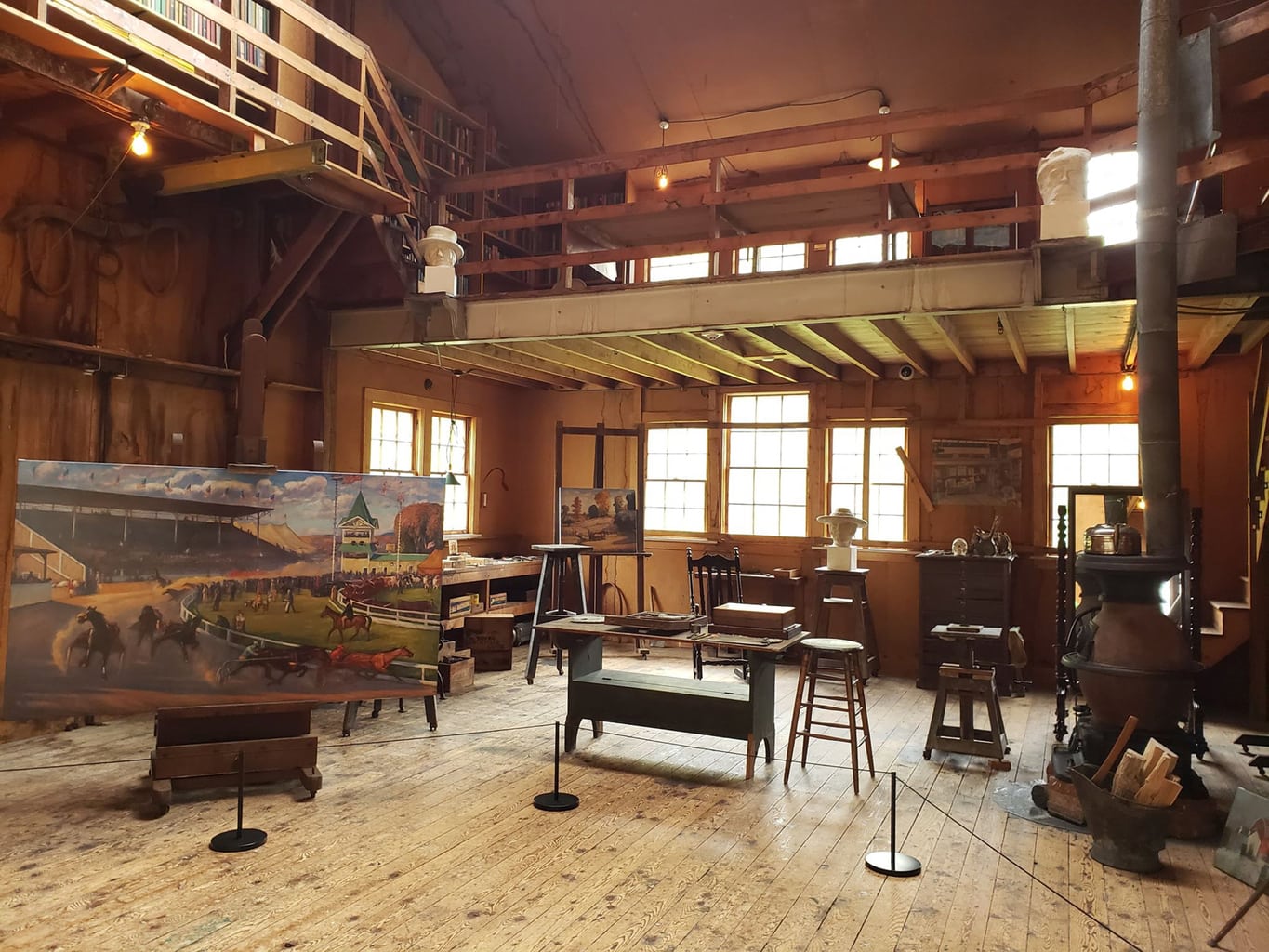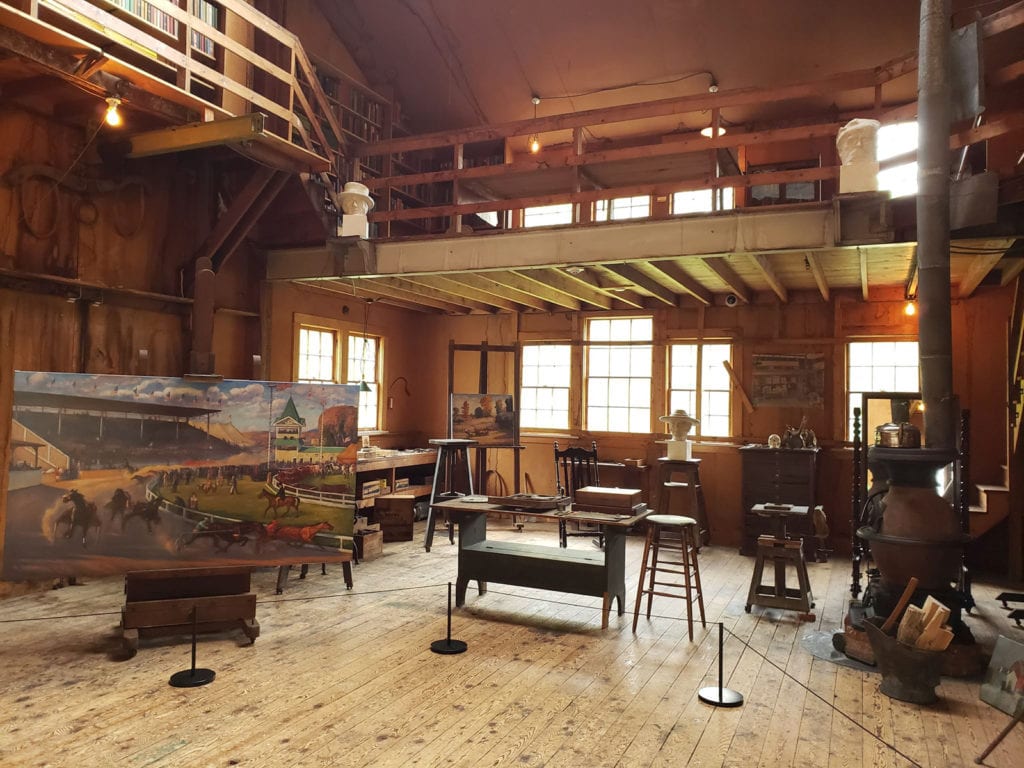 Visitors can amble on dirt paths, tour the home and two freestanding studios, and be inspired to create some new artwork. Start at the Visitor's Center in the Burlingham Barn where you can sign up for a tour, obtain a Painting Sites Guide that directs you to the spots that Weir and other guest artists rendered on canvas, and then pick up a packet of art supplies to "Take Part in Art" yourself.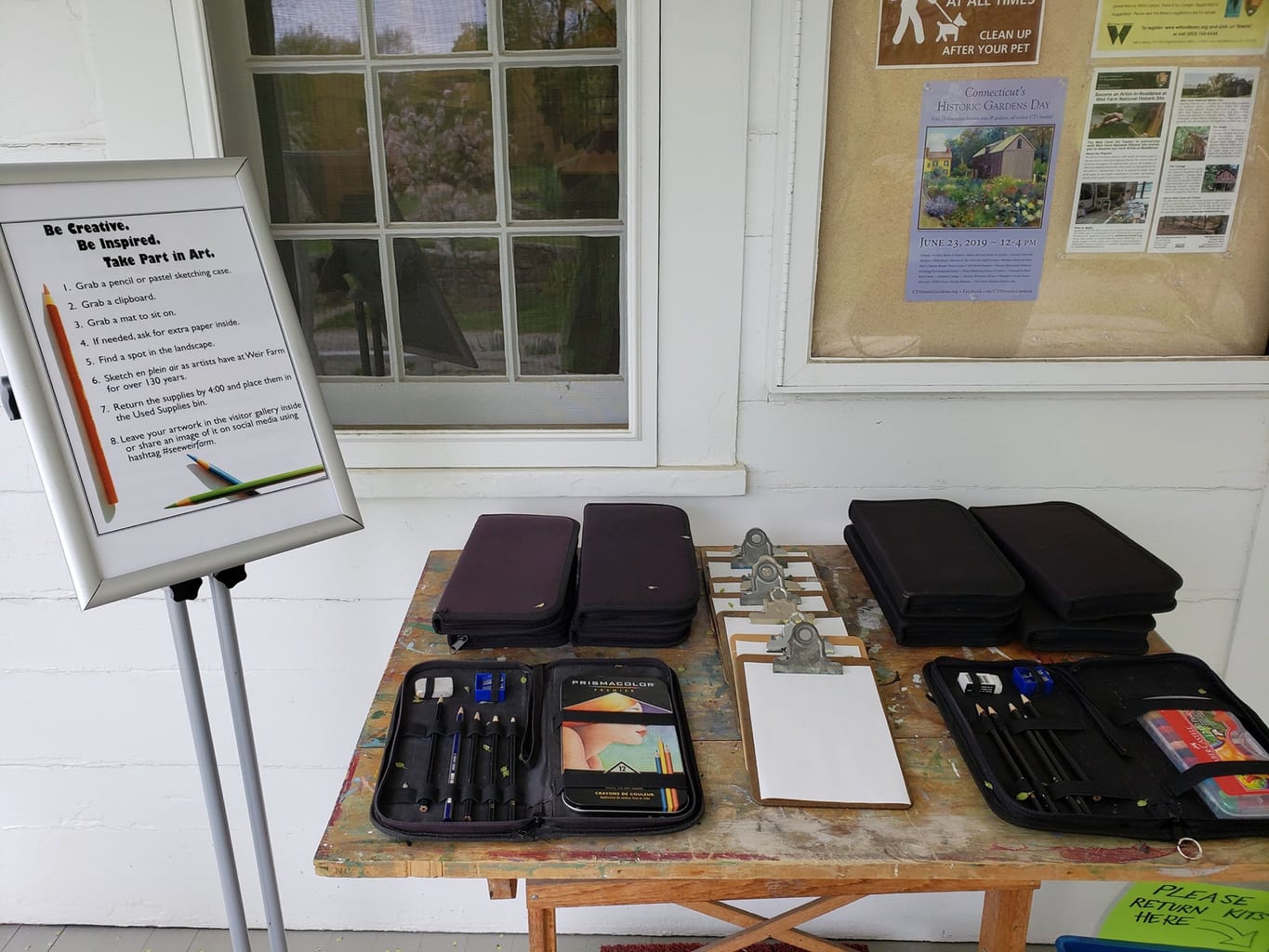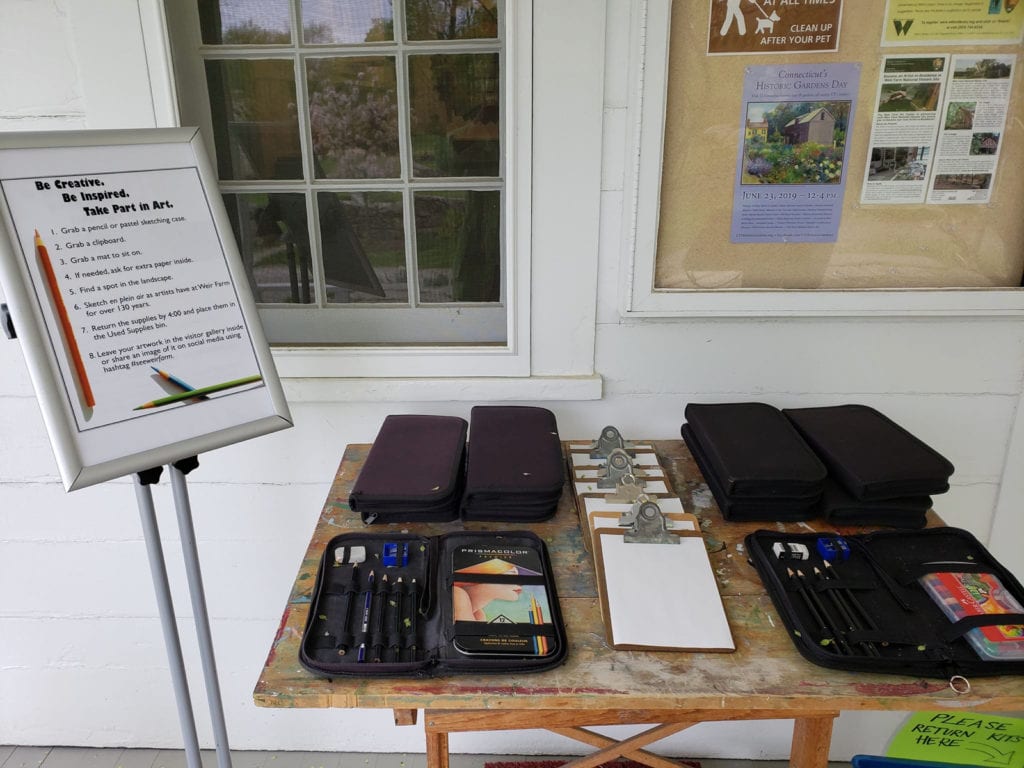 There are also Art Therapy and Stone Wall Workshops, and Yoga in the Garden. Open May-October Wed-Sun 10-4, free tours of the Weir House 11, 1, 2, and 3pm, grounds open daily year round sunrise to sunset.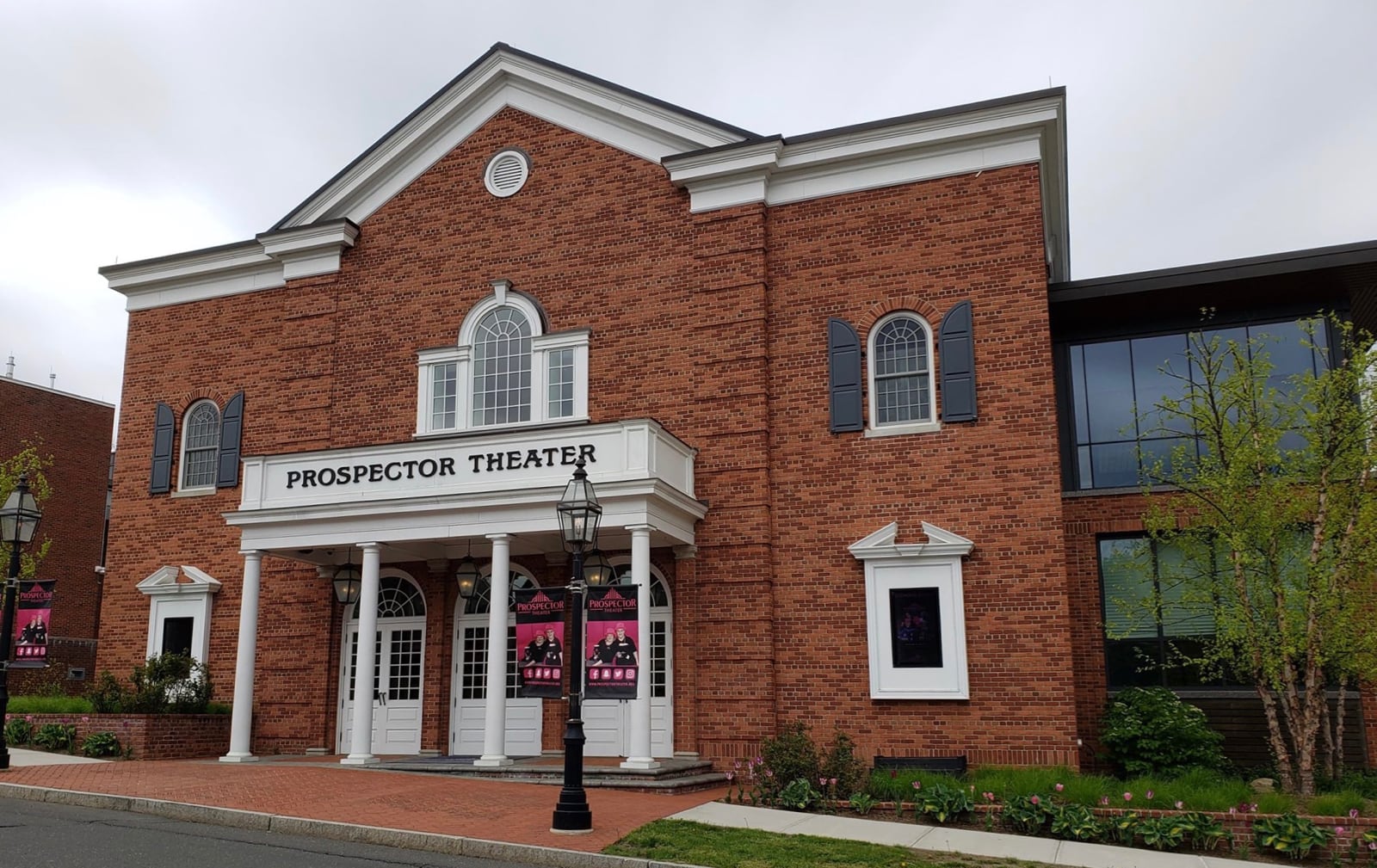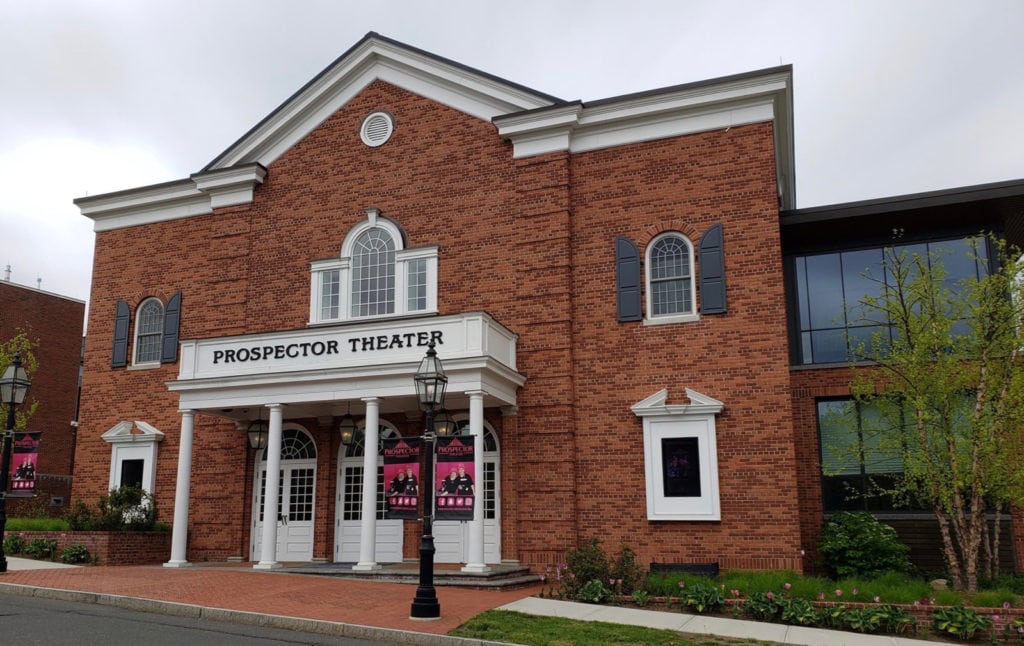 GO/MOVIE THEATER: Prospector Theater. My brother and sister-in-law, who live in Ridgefield, call the Prospector Theater "magical," and after visiting, I second that emotion. (Which is why I'm placing it high on the "Things to Do" list.)
The Prospector encompasses four theaters – one with a dozen Eames Chairs in the front – ranging from a private 16-person space to the largest, with 167 seats. It is a theater unlike any other, but should be a model for every town in the USA. Here, 122 adults with developmental disabilities (called "prospects") have found full employment, each according to their passion. And each passion, called "sparkle," is turned into a job. Prospects are taught life skills though innovative means – e.g. using rap to learn vocabulary.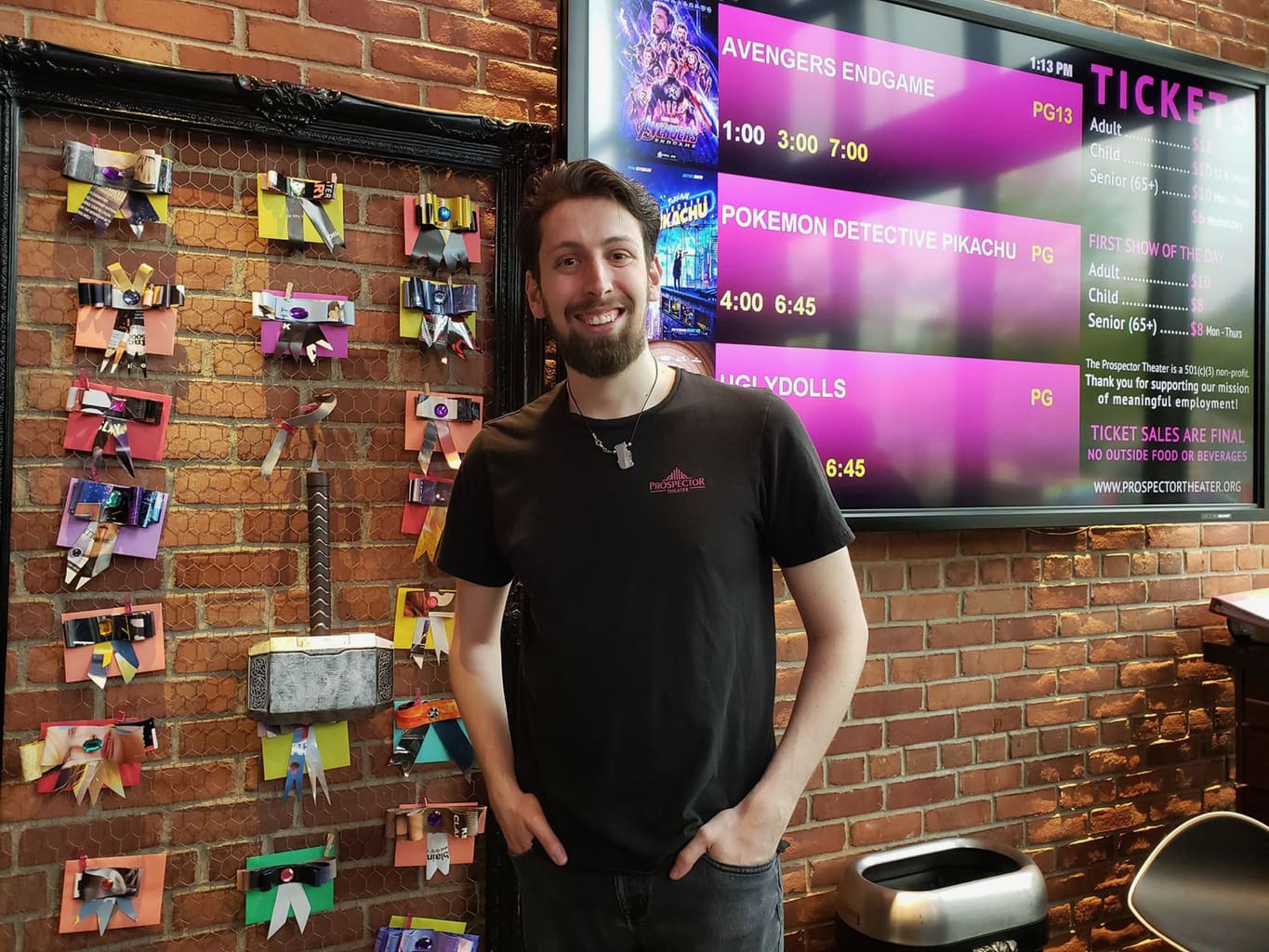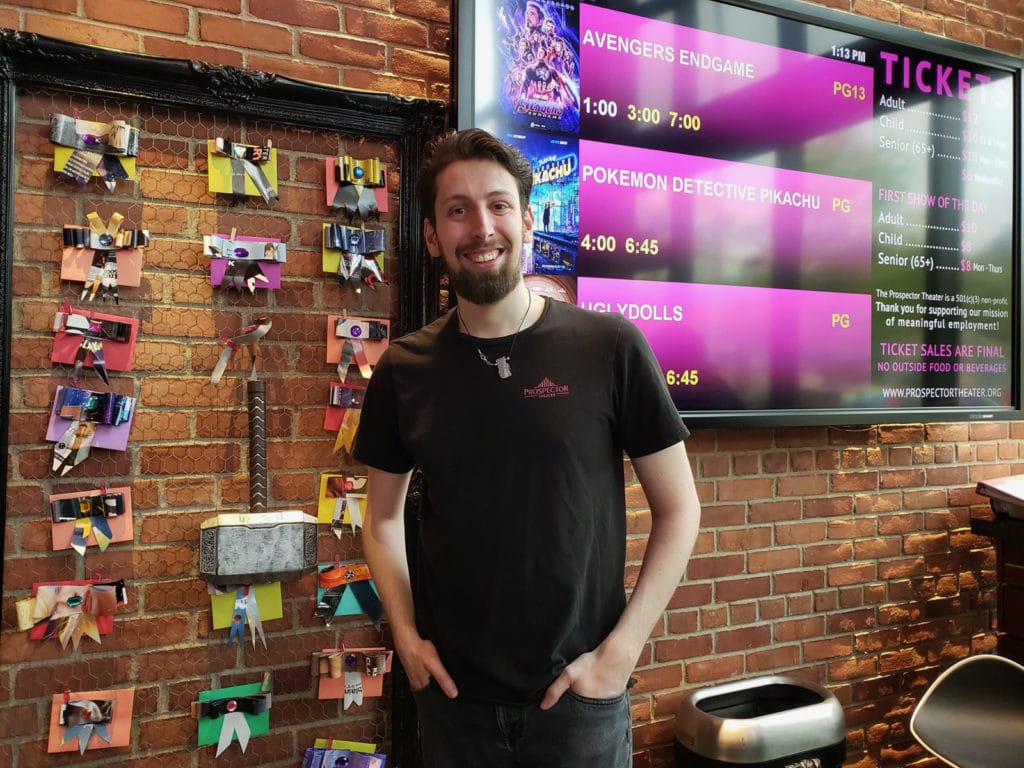 Joe's "sparkle" is Star Wars, so he learned to operate a complex embroidery machine and emblazoned his own shirt and others with "May the Sparkle Be With You." Josh Adelson (in photo), has a penchant for socializing and teaching others – so he was my excellent and knowledgeable tour guide throughout the building.
Other Prospectors run the Ticket Counter/Concession Stand, pour wine and beer at the "Heads Up Café" (look up to see a ceiling blanketed with 33,718 pennies – a nod to the building's former iteration as a bank), make gourmet popcorn and other treats, create gift card bows out of recycled movie posters, usher, take tickets, help with dazzling and uplifting decorations for every movie premier, and otherwise emerge from the shadows as vital and productive members of the community. The Prospector Theater is, according to my sister in law and everyone else, "the most special place in town."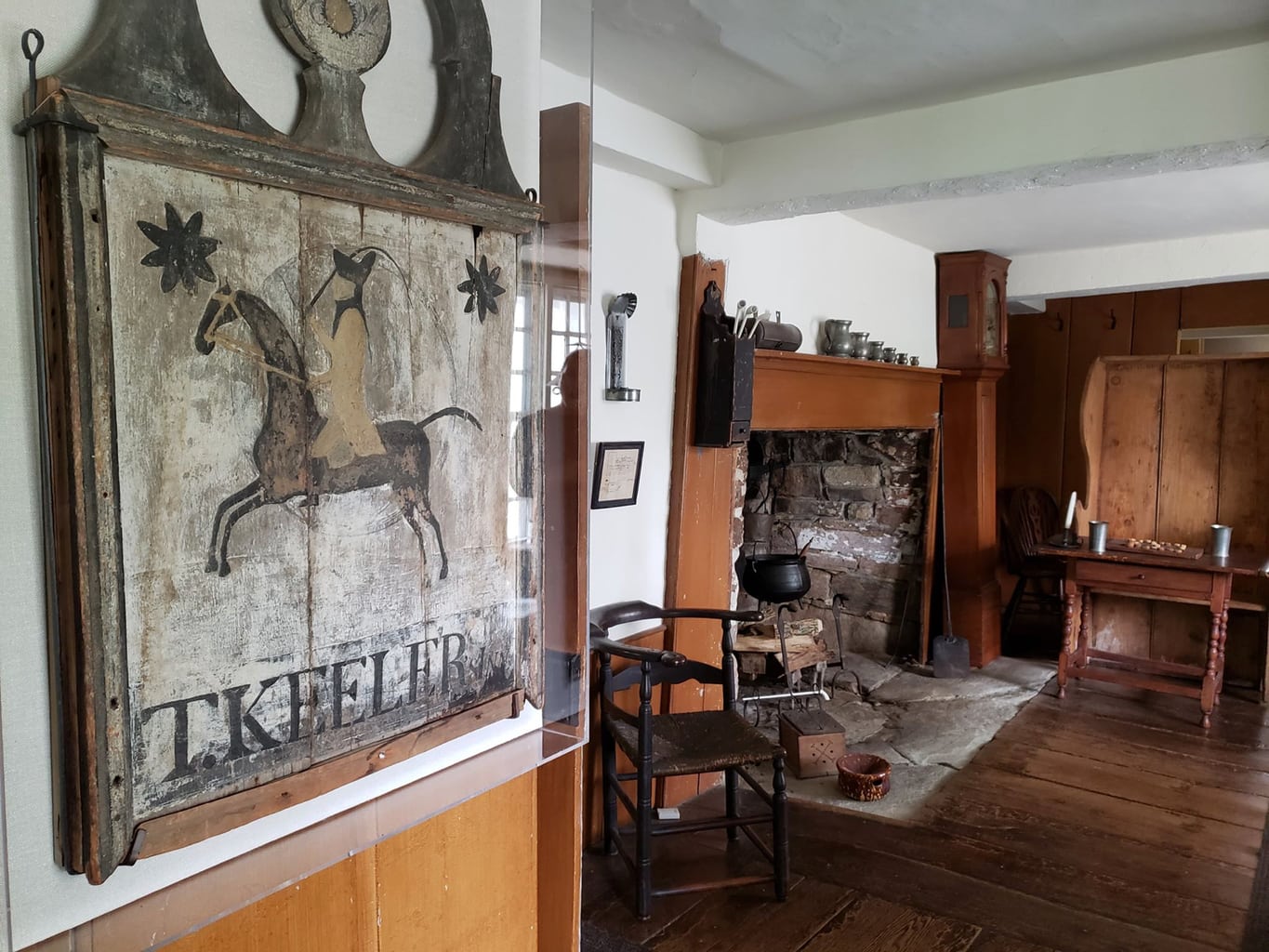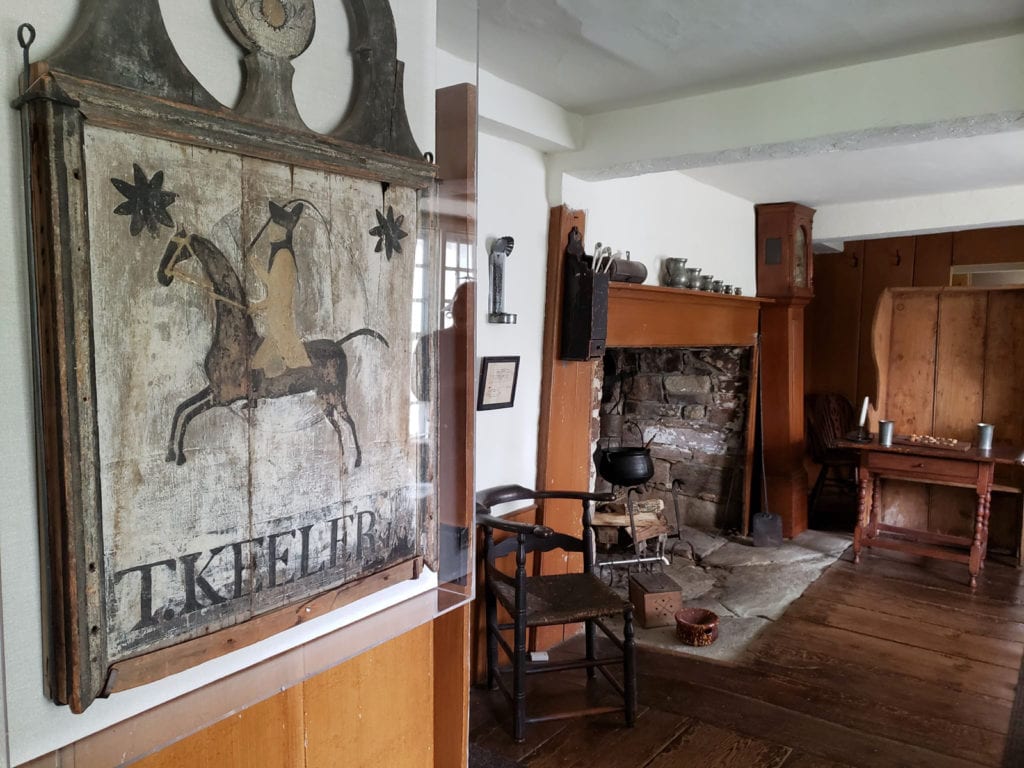 TOUR: Keeler Tavern Museum. The museum features costumed guides who escort visitors though rooms built in 1713. You are transported to a time when homes were small, kids slept four to a bed and a woman's work was truly never done.Preserved here is a British cannonball fired at the Tavern on April 27th, 1777. It is embedded in a corner post – and is the most ogled reminder of our Revolutionary War.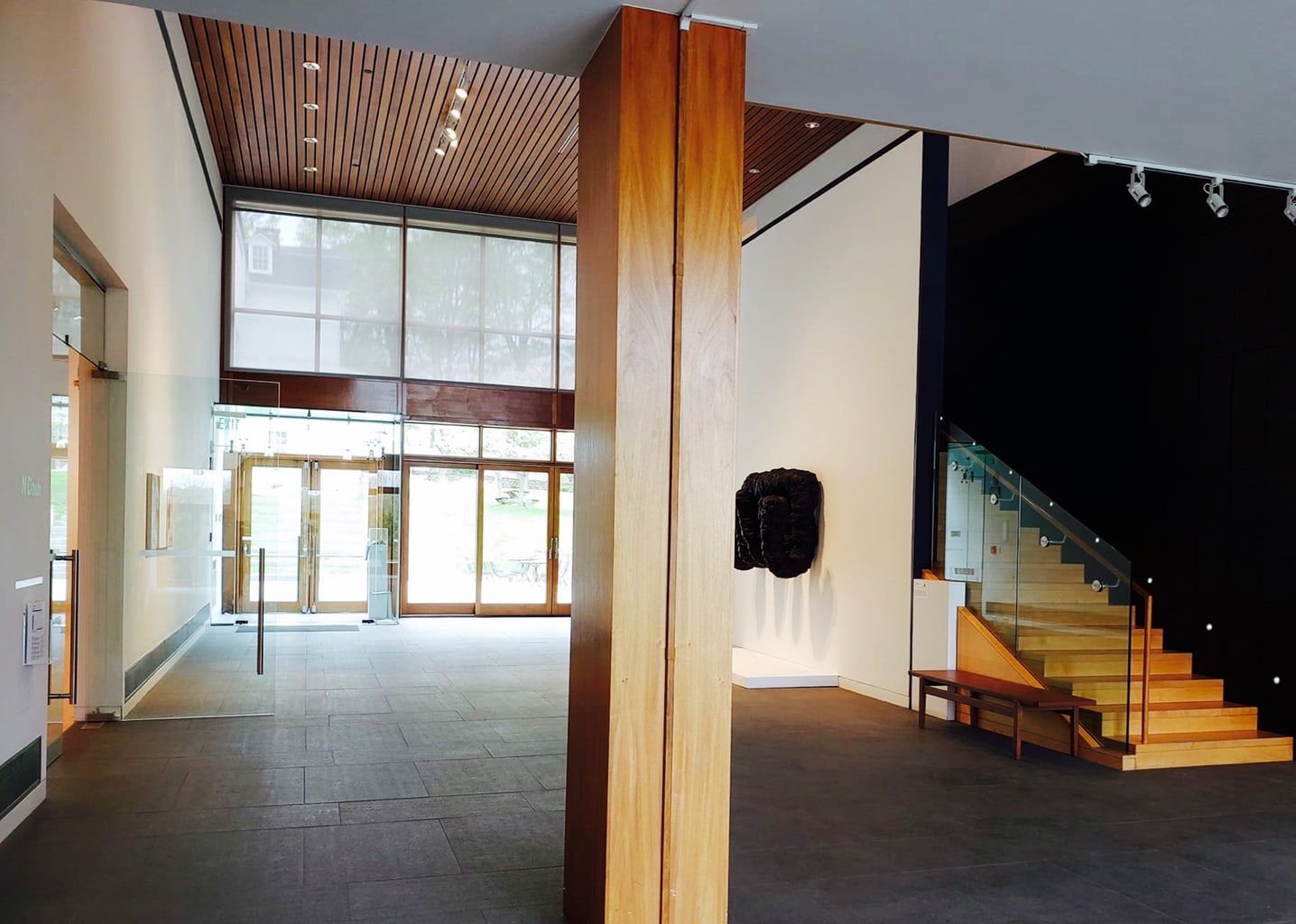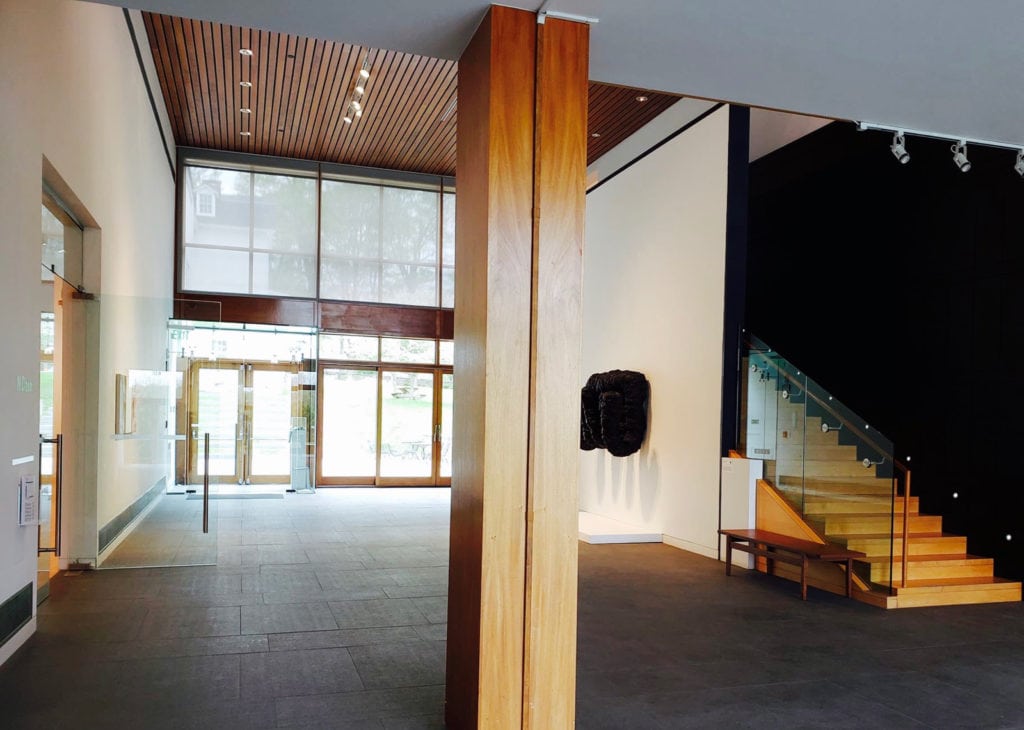 GO: Aldrich Contemporary Art Museum. A few doors down from Keeler Tavern, fast-forward in time to the cusp of the future. The museum hosts innovative and cutting edge exhibitions and programs for adults and children. Video art, mixed media installations and plain old canvas paintings provide guests with a peek at a rotating roster of contemporary art. $12 adults, under 12 free, Sat. 10-5, Sun, Mon,Wed-Fri. 12-5, closed Tues.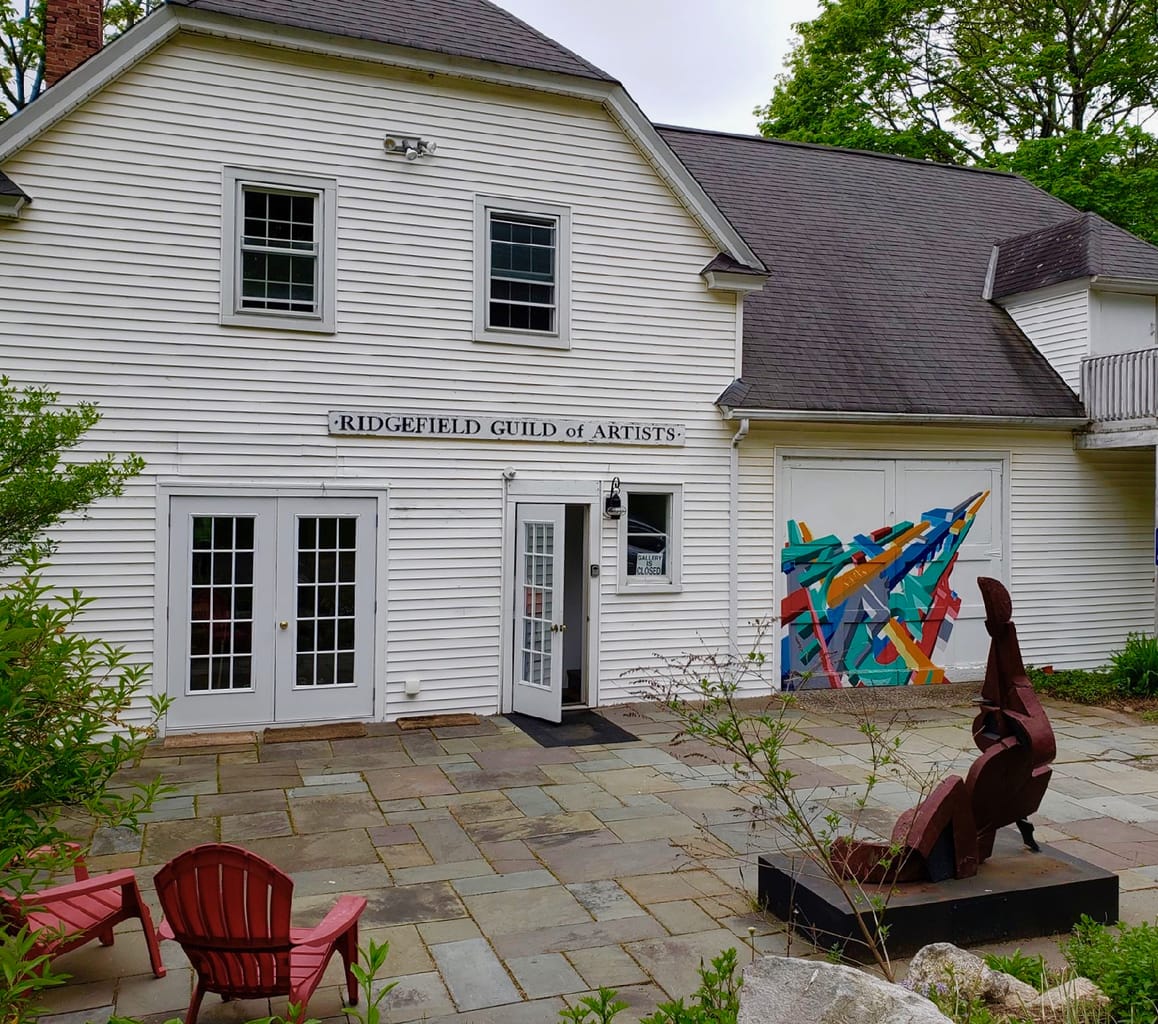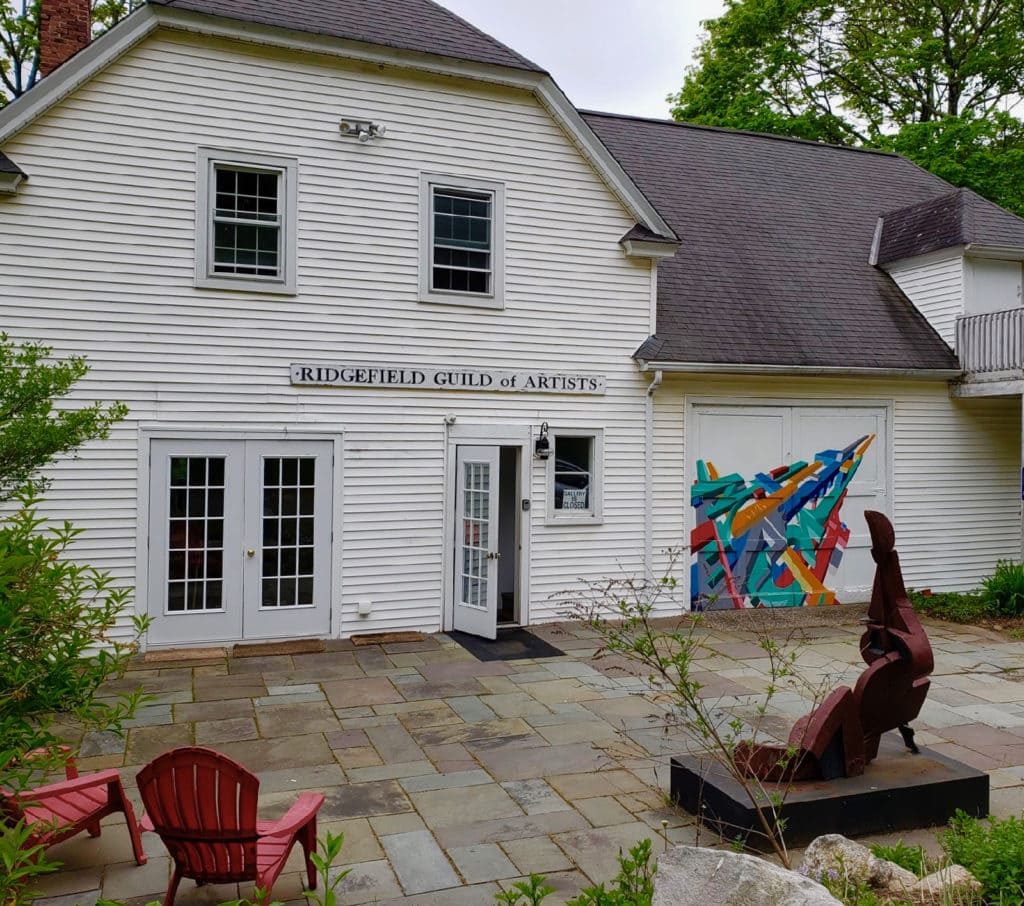 VISIT: Ridgefield Guild of Artists Gallery (Across from the Ridgefield Theater Barn). This upbeat positive association includes about 200 artists from "an 85 year old who just took up painting to professional artists." Sign up for a "Drink and Draw" art class, or take a tour on dates of gallery shows. Check website for events and openings.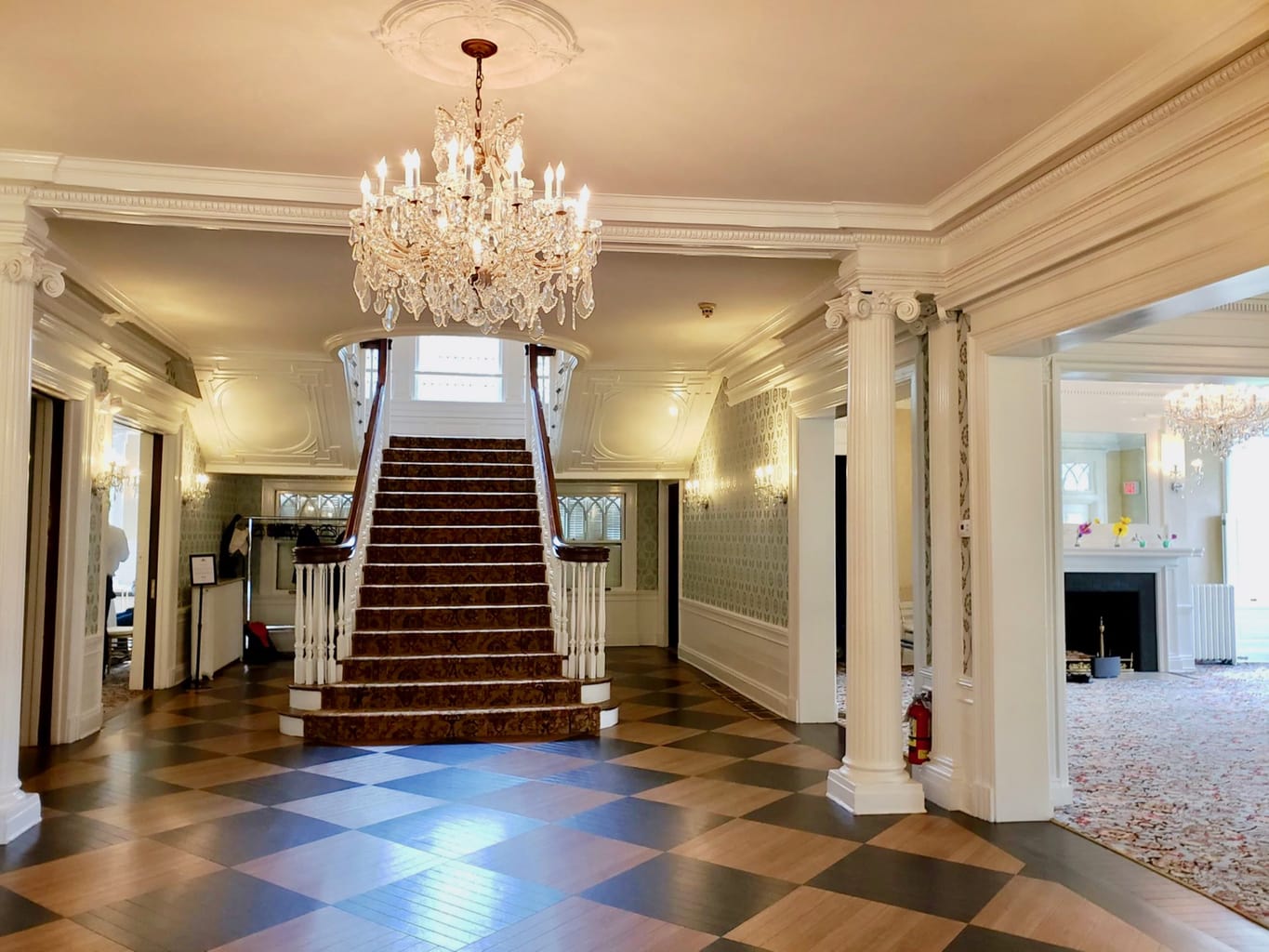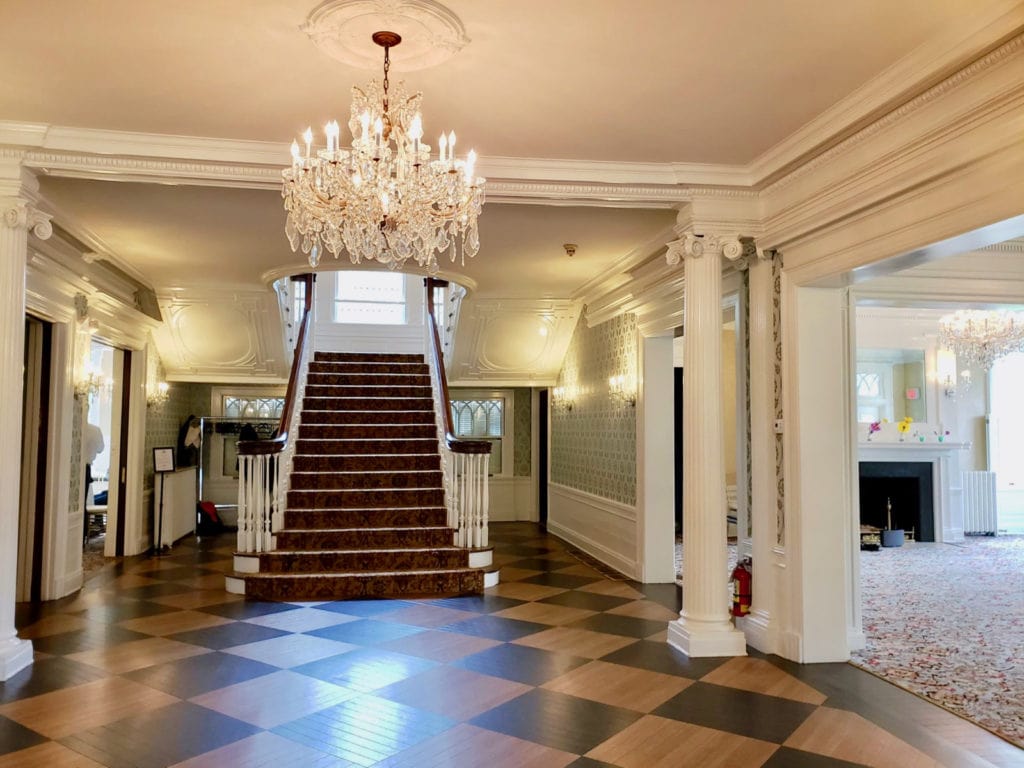 DROP IN: Lounsbury House. How magnanimous is Ridgefield? The town took over a grand main street mansion, built in 1896 for Phineas Lounsbury, the 53rd Governor of Connecticut, and turned it into a Community Center, open to all. Aside from being a sought-after wedding venue, this "cornerstone of Ridgefield" has been "entertaining and building memories for the town for 60 years."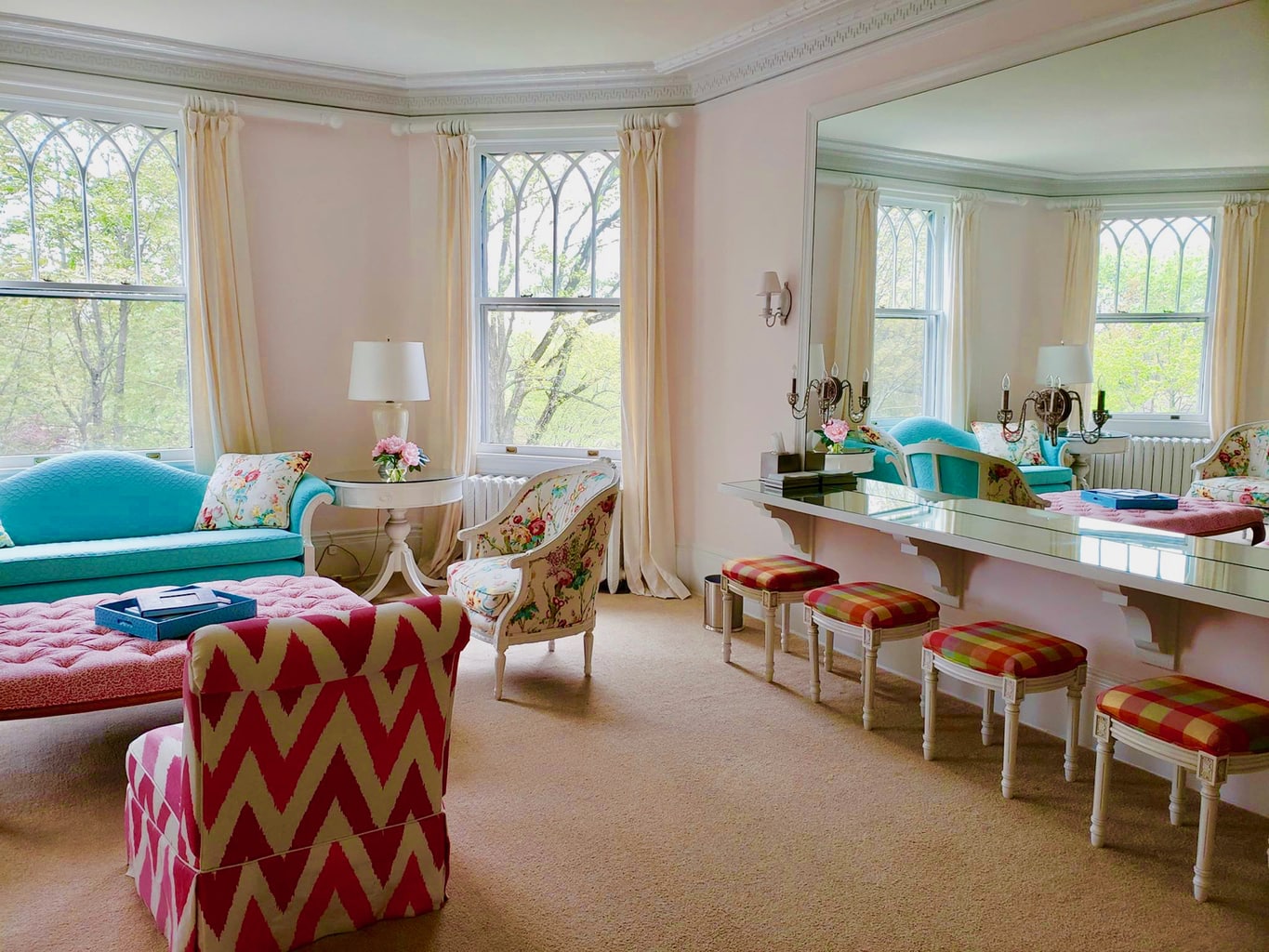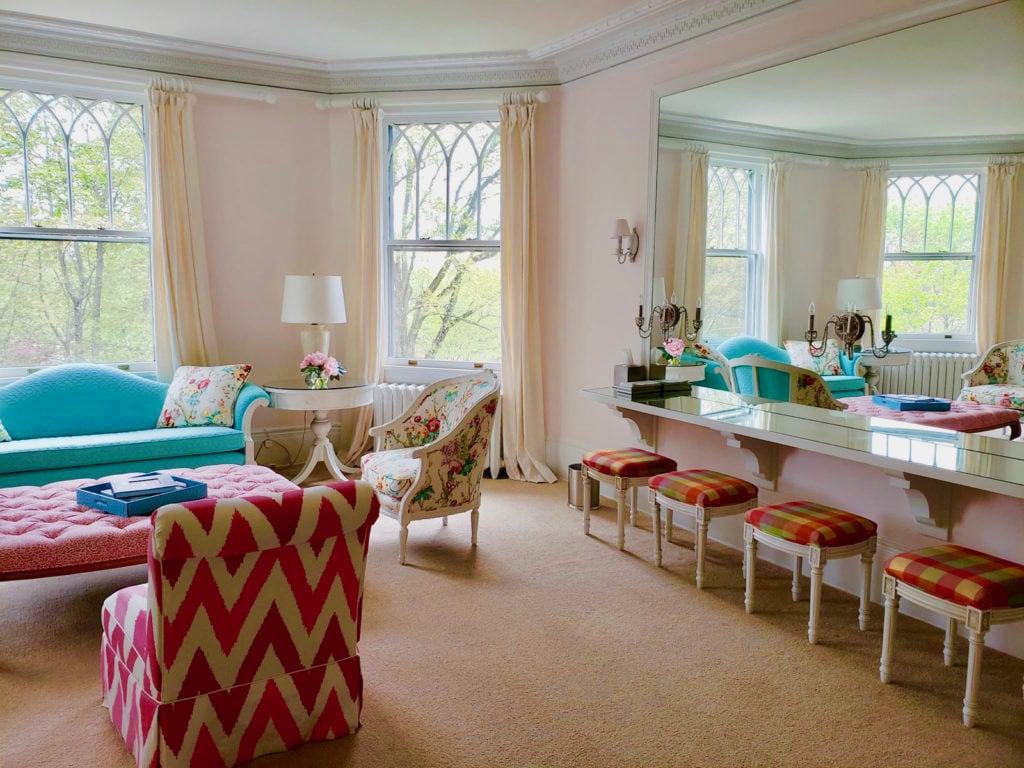 There are art, holiday, and cooking events throughout the year, to which the public is welcome. Even without anything going on, it's worth it to step inside, walk up the double staircase, and peek into one of the most glamorous bridal-prep rooms on the planet. Check website for open events.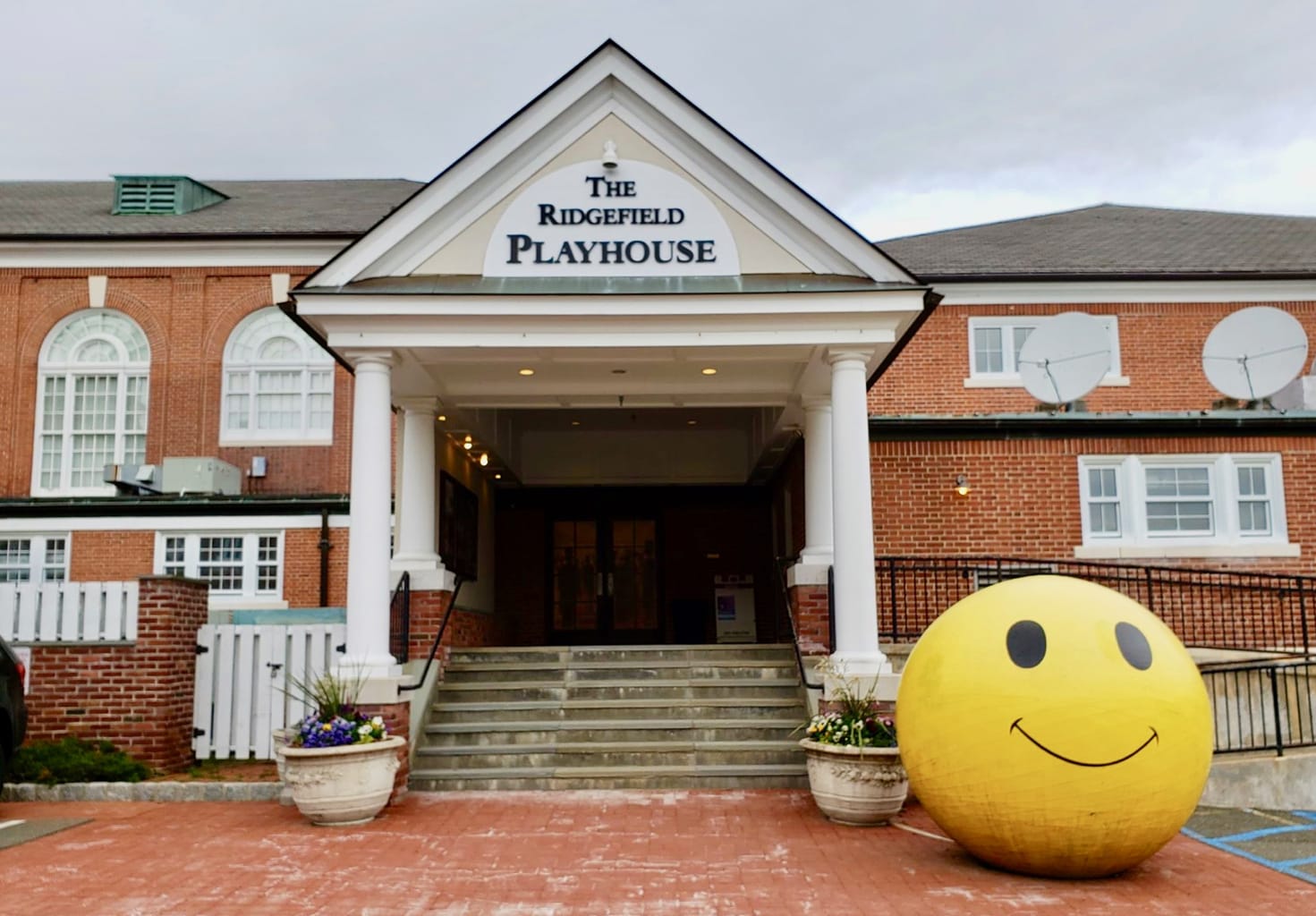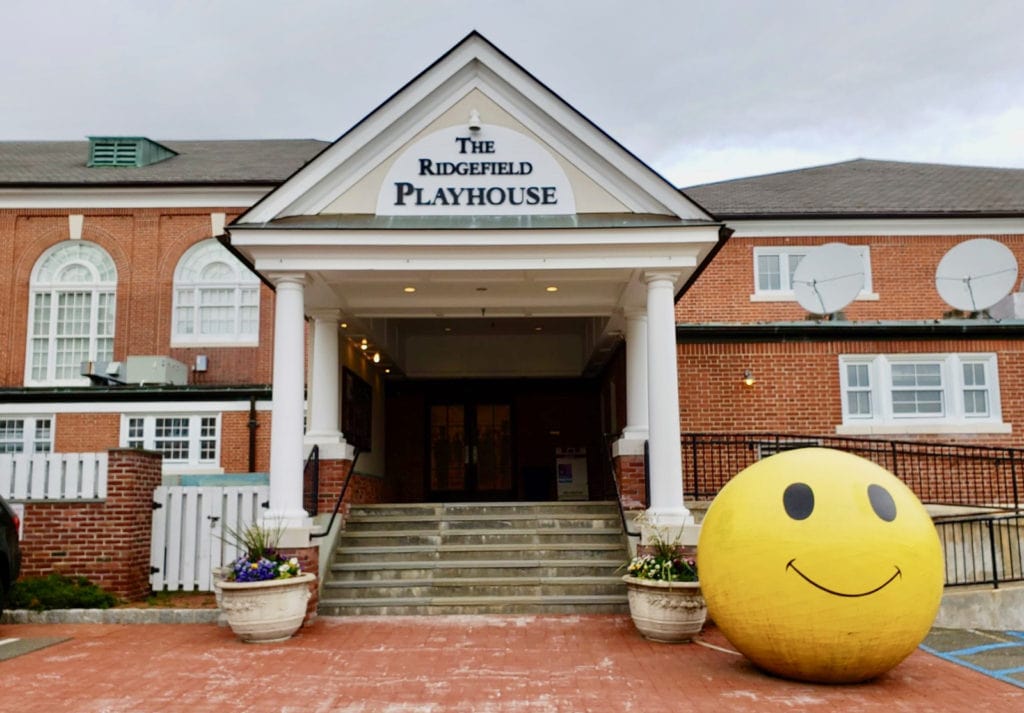 THEATER-MUSIC/COMEDY: Ridgefield Playhouse. A celebrity magnet in this fife-and-drum town, The Ridgefield Playhouse hosts musical, magical, and comedy acts in a relatively intimate space. Coming up – Seth Meyers, Colin Jost, Lyle Lovett, Randy Rainbow, The Zombies, The Wallflowers, Dick Cavett in conversation with Christopher Walken – just to name a very few.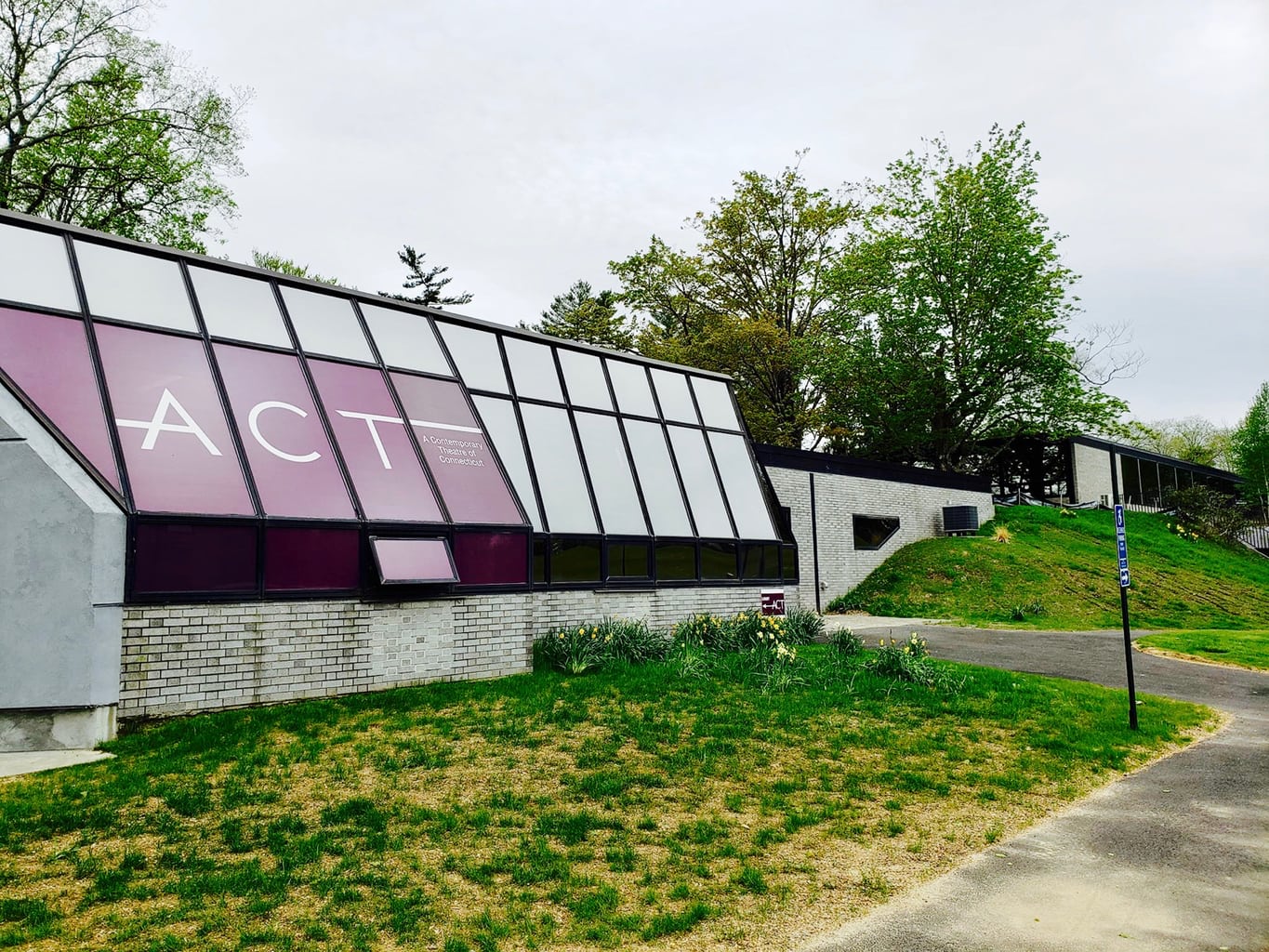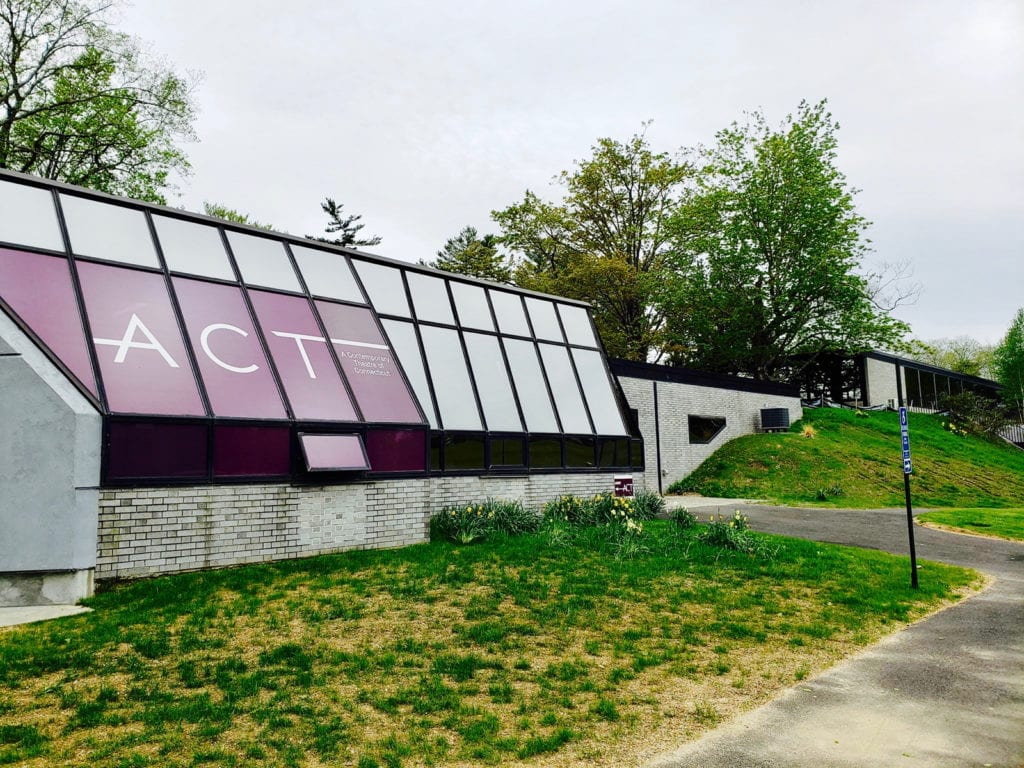 THEATER: ACT – A Contemporary Theater of CT. Opened in 2018 in the former Phillip Johnson designed Schlumberger building, ACT features well known and going-to-Broadway premier productions staged by SAG actors in a fantastically modern space.
THEATER: Ridgefield Theater Barn. BYOD (Bring You Own Dinner) to this Community Theater where locals take over the boards.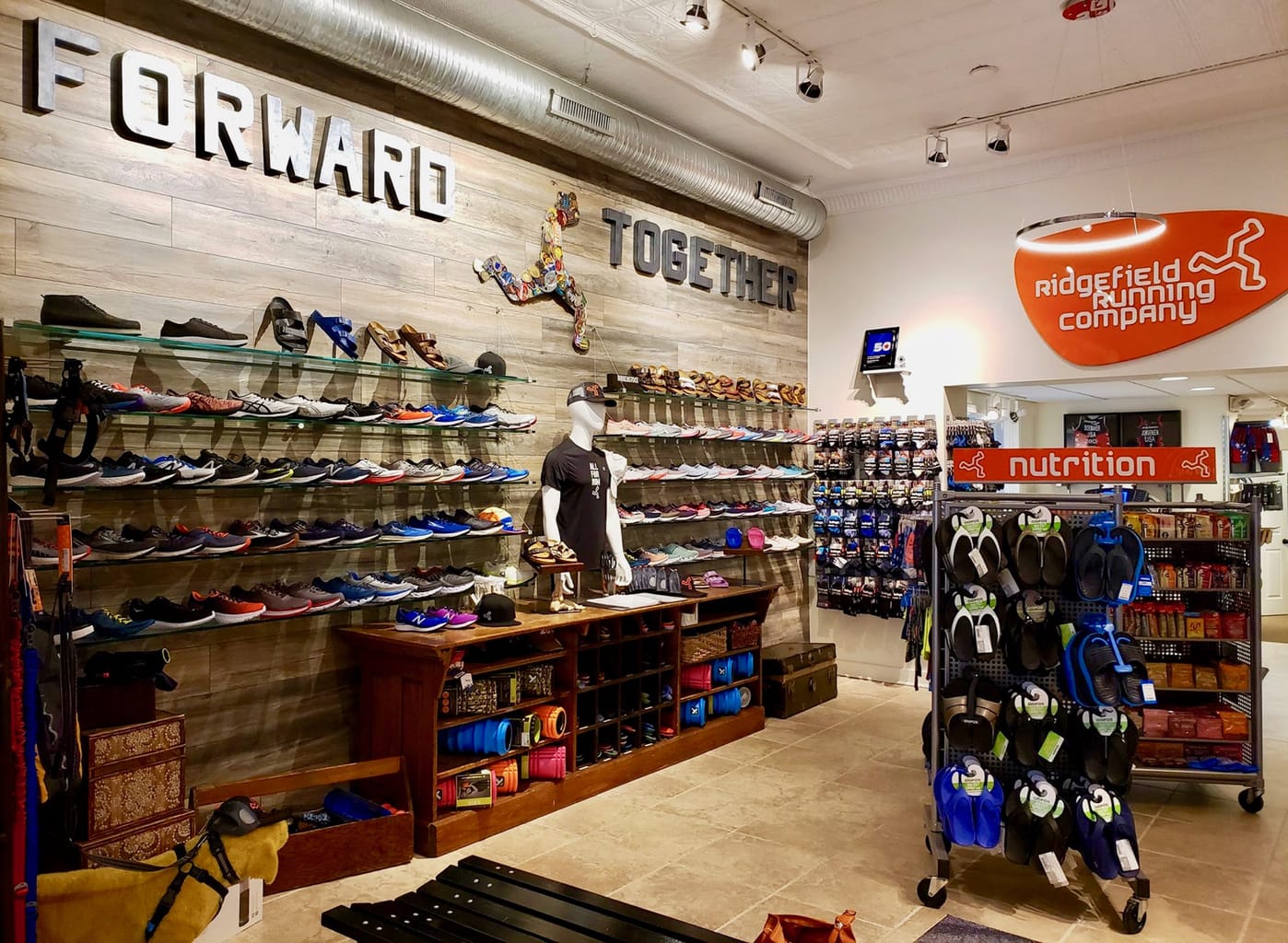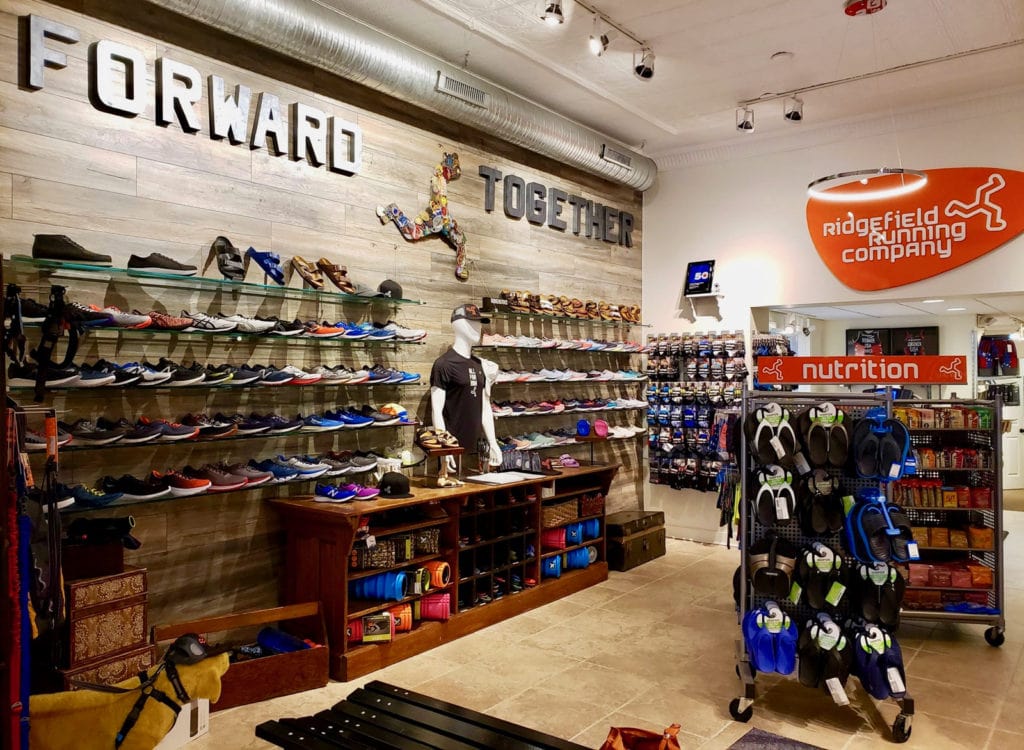 SHOP: Ridgefield Running Co. In 2014, Megan Searfoss, founder of Run Like A Mother (a "women-only 5K" launched in 2008), opened what has fast become one of the "Top 10 Running Stores" in the country: Ridgefield Running Co. In addition to running shoes and other paraphernalia for people who enjoy foot-powered speed, Ridgefield Running Co. stands alone in New England in featuring the only 3-D scanner and treadmill-analysis that together generate custom-made insoles and the perfect fit.
SHOP: Books on the Common. Like most culturally progressive small towns, Ridgefield has an independent, community-minded bookstore. And whenever I find one of those, I sing its praises.
Shop For Specialty Foods in Ridgefield CT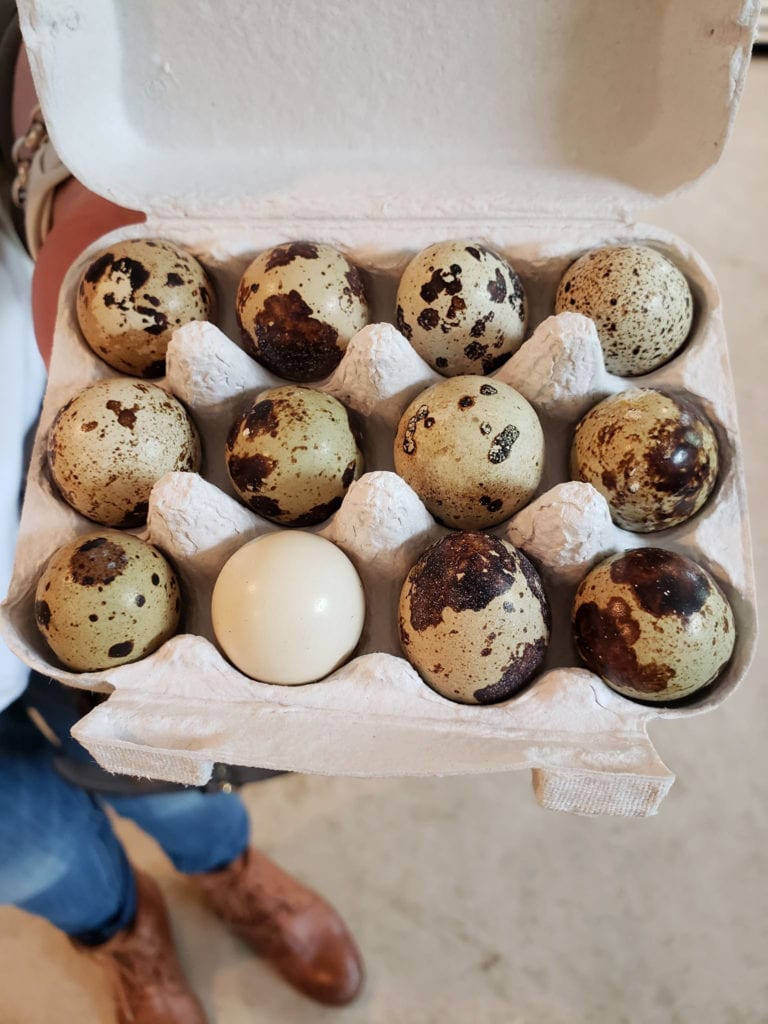 The Hickories. The mission of this 100-acre organic farm is to raise livestock – lambs, sheep, pigs, chickens, and quail – in a humane and symbiotic relationship with fruits and vegetables, resulting in produce that is more nutrient-dense than your Stop and Shop variety. What this means is that the plants and animals that grow here are tastier and better for you than from supermarkets.
You can wander the pastures, watch the animals gambol, tag along on a Farm Tour (Saturdays), purchase fresh cut flowers, and/or pick up Salsa, Pasta Sauce, Cows Milk Soap, Woolens, Sustainable Fiber, Quail Eggs, Organic Meat, or other handmade or farm-fresh items in the Farm Store. Open daily 10-5.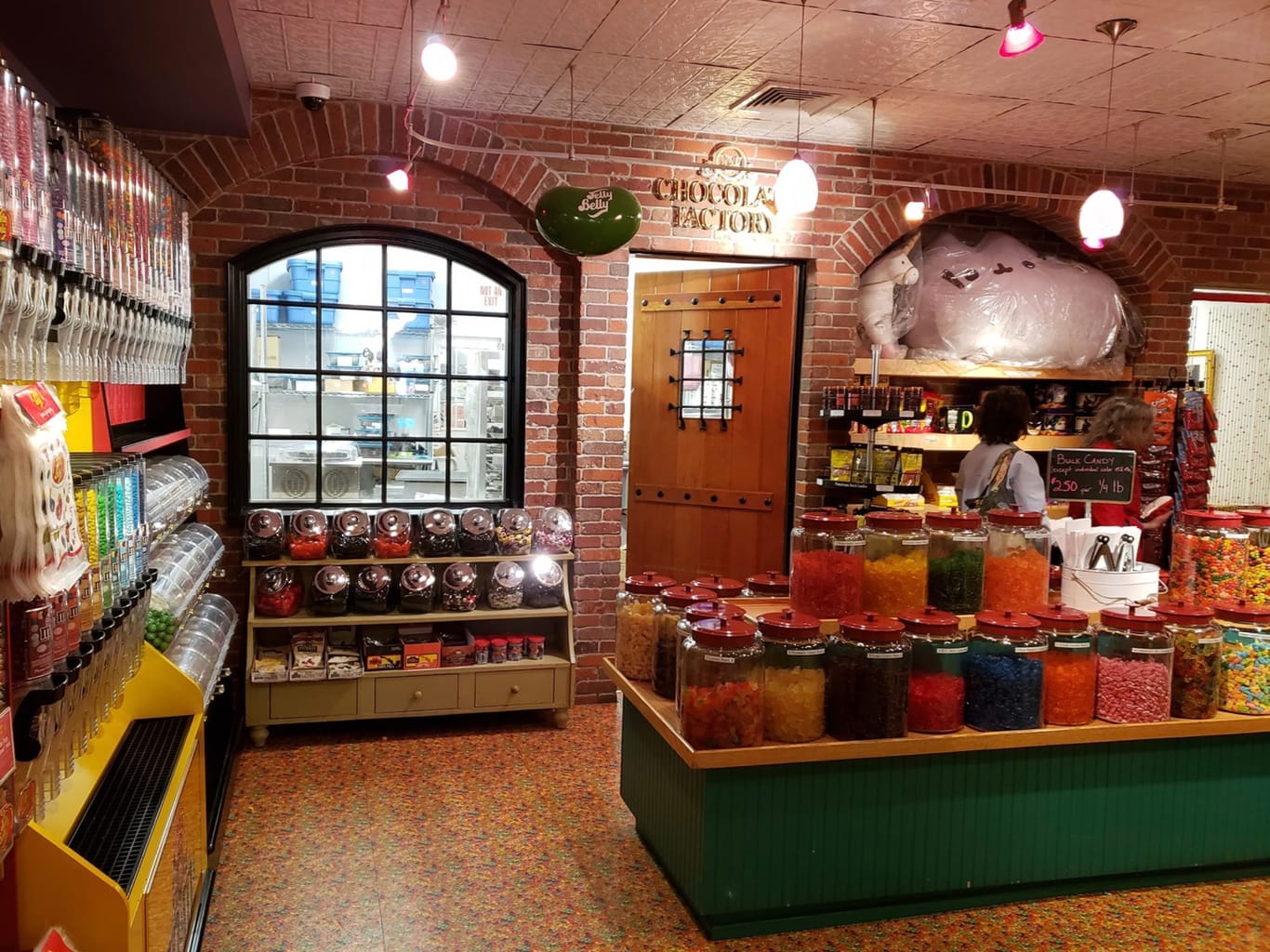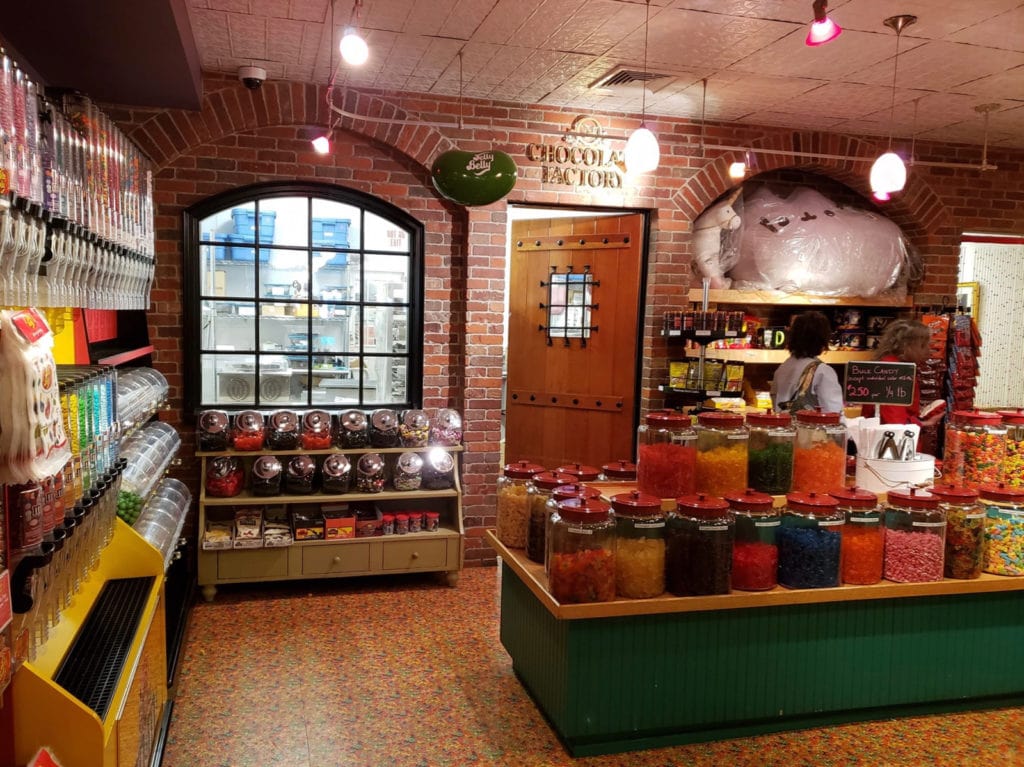 Deborah Ann's Homemade Chocolates. Mike Grissmer and Debbie Backes, Yale Law graduates, left the corporate world to make and sell chocolate and other confections. Now, over 20 years later, Deborah Ann's is a town institution, and has made Ridgefield a sweeter place.
Milillo Farm, known for their fresh-baked pies.
The Cake Box Guess what they sell? And yes, these sweet goods are decadent, especially, and surprisingly, the vegan chocolate Bundt Cake.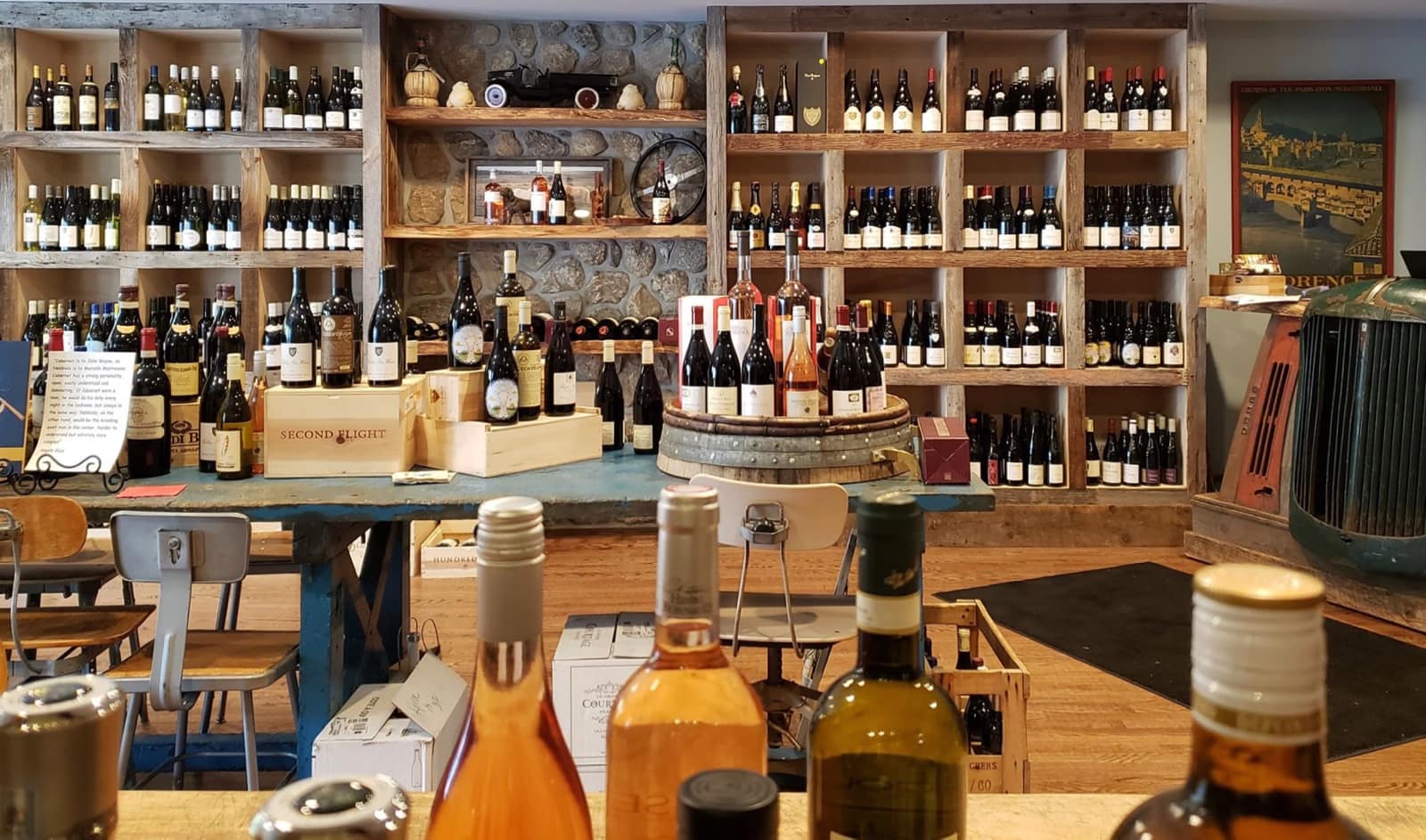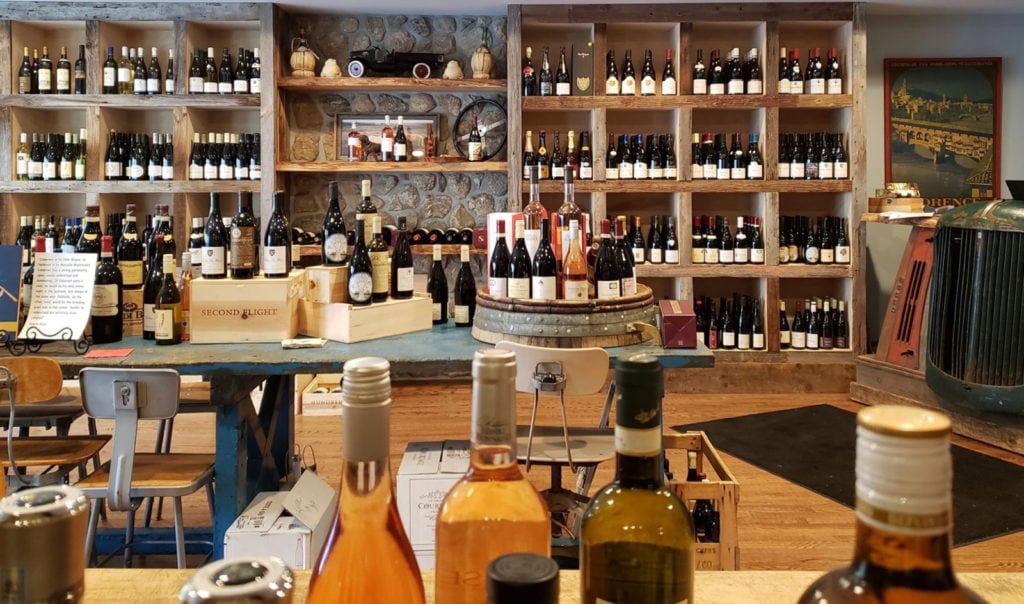 Copps Hill Plaza. There's a cornucopia of food merchants in Copps Hill, where you can pick up fixin's for a dinner party or food-forward hostess gifts. Get your just-baked crusty loaf at Ross's Bread, and then pick up some recommended fromage and a bottle to go with it at Fine Wine and Cheese.
Where to Eat and Stay in Ridgefield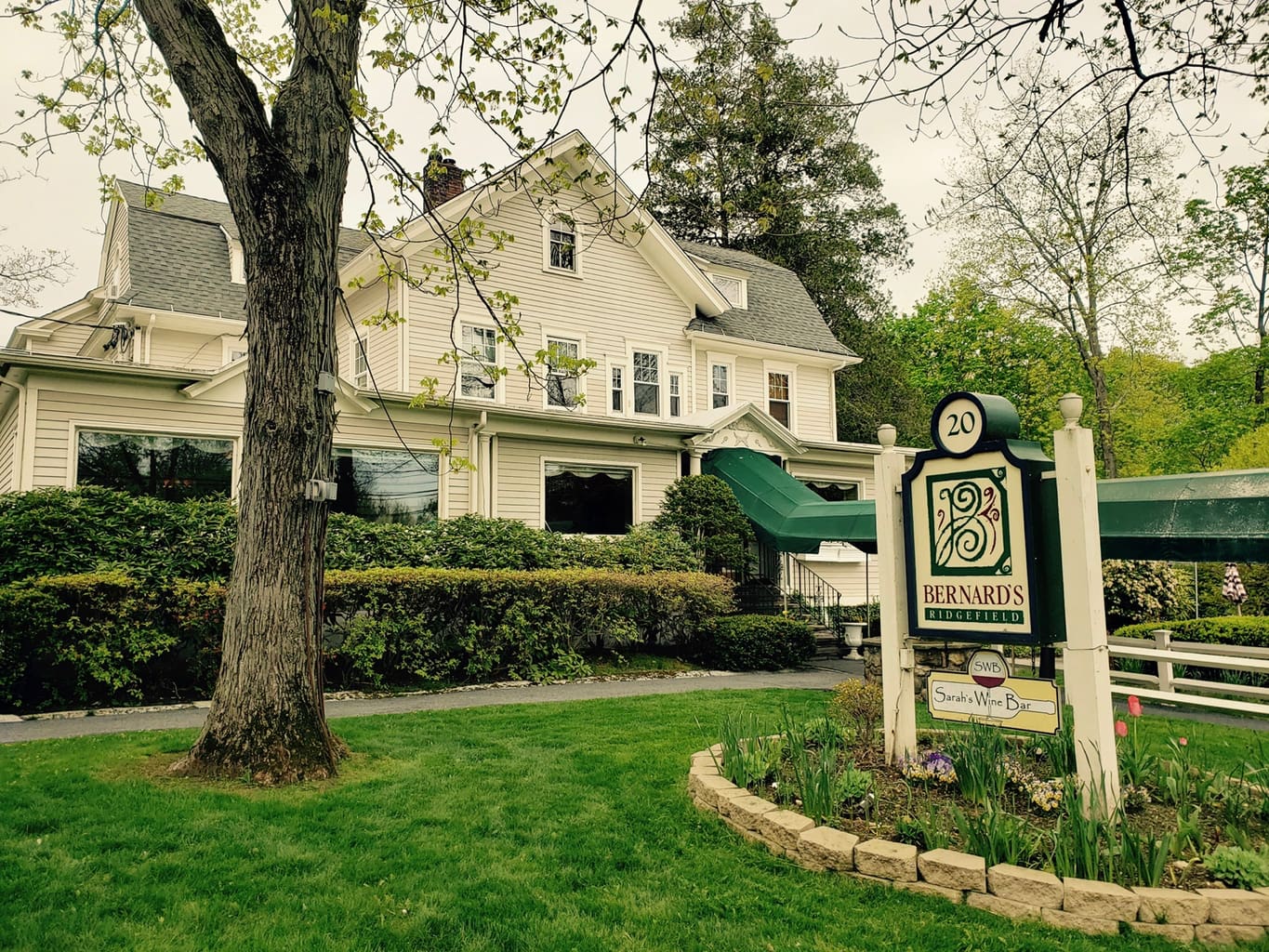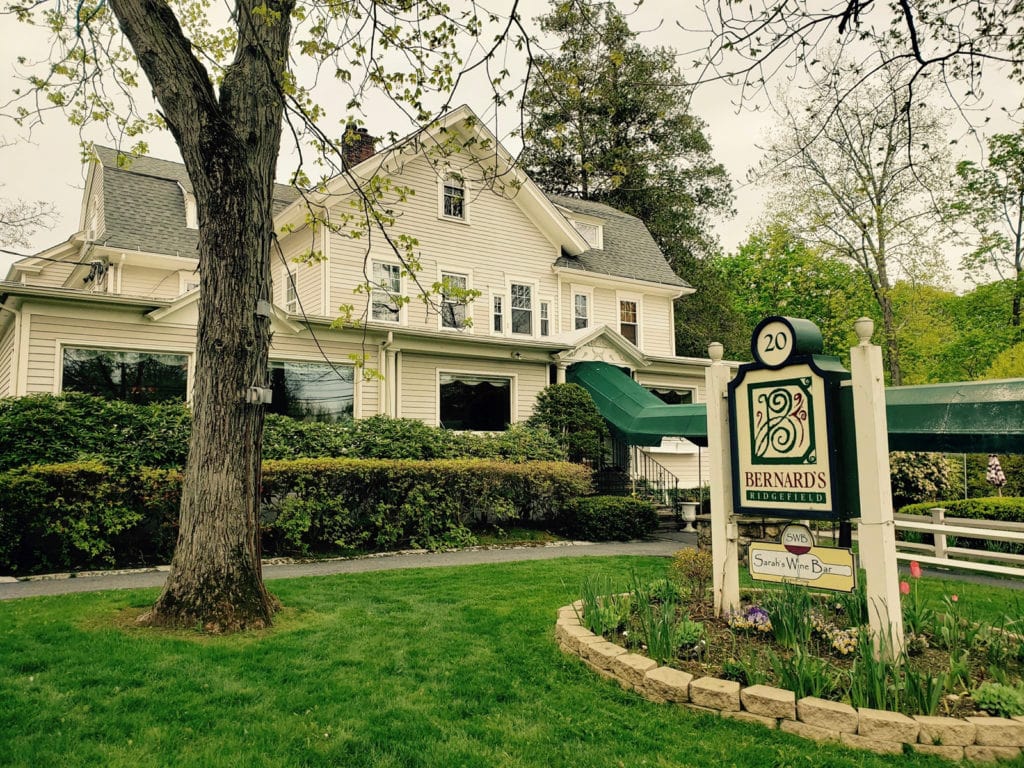 EAT: Bernard's Inn at Ridgefield. Sara Boussiou and her husband, Bernard, did stints at Le Cirque and with Thomas Keller before opening their own place in a rambling inn on prestigious West Lane in Ridgefield. It is, not surprisingly, one of the top (if not the top) restaurant in town, ranking high on the "Most Romantic" lists. Dine in the elegant linen and crystal main room downstairs – or upstairs in the more casual "Sarah's Wine Bar," which hosts live jazz music and local art for purchase.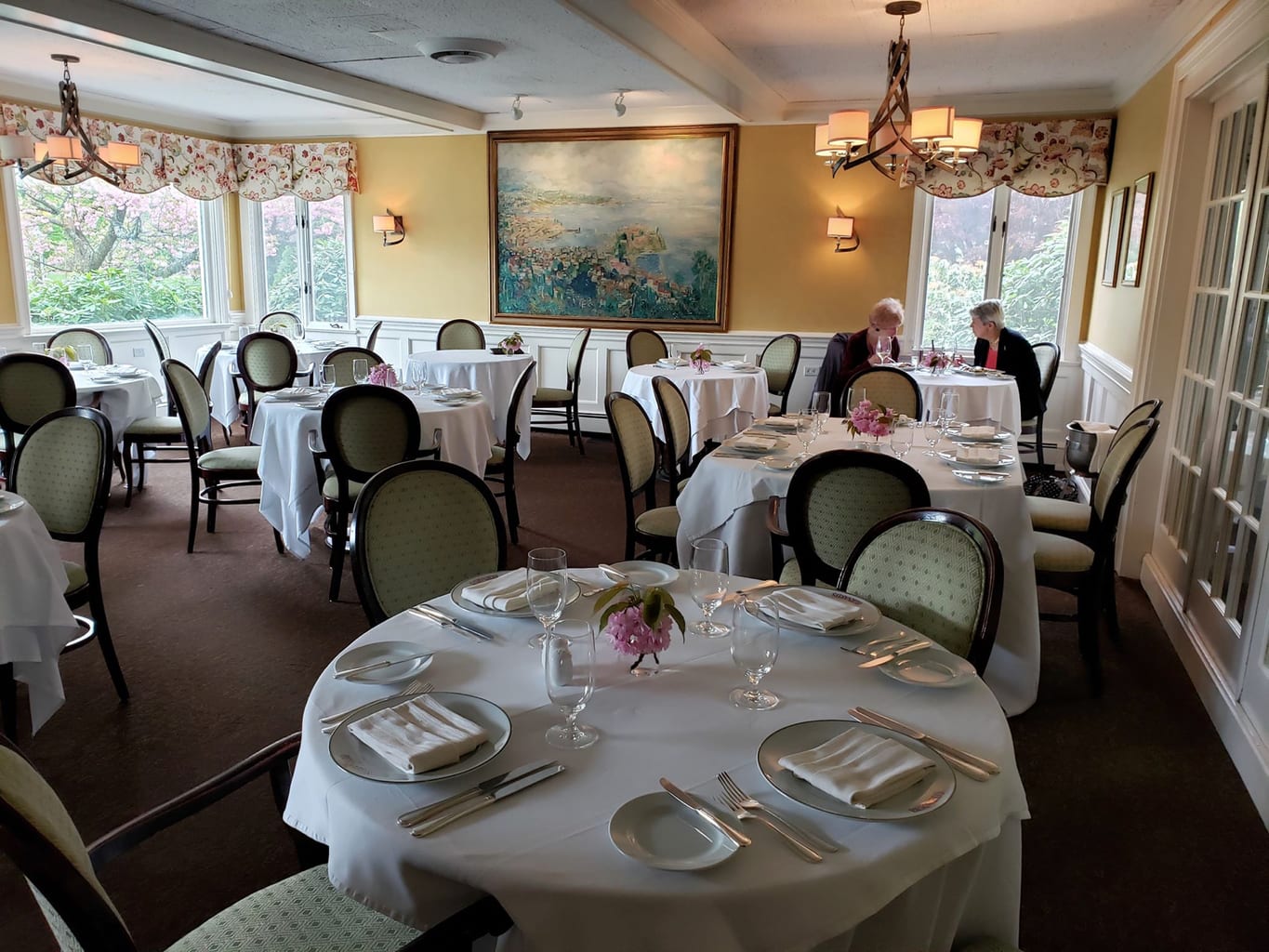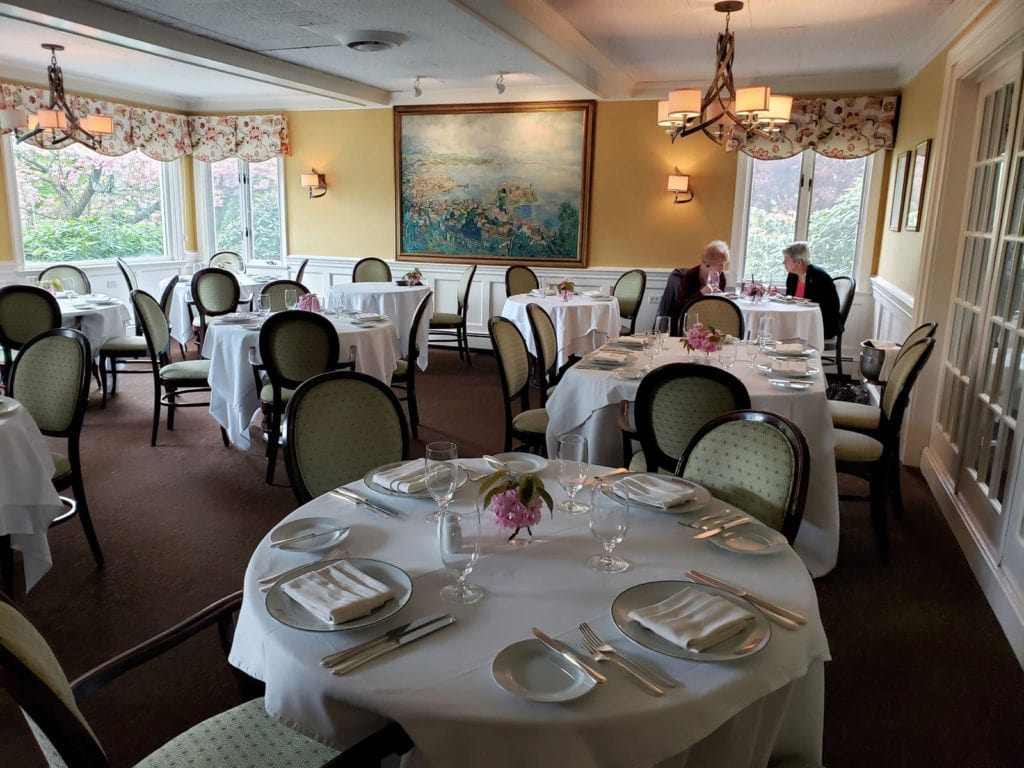 Dinner entrees run $26 for Heirloom Brown Carrot Leek Ravioli to $46 for Lobster. But those in the know will order the unparalleled Cassoulet in winter or the memorable Chicken Paillard smothered with a variety of grains and greens from the backyard garden. Unbridled culinary joy.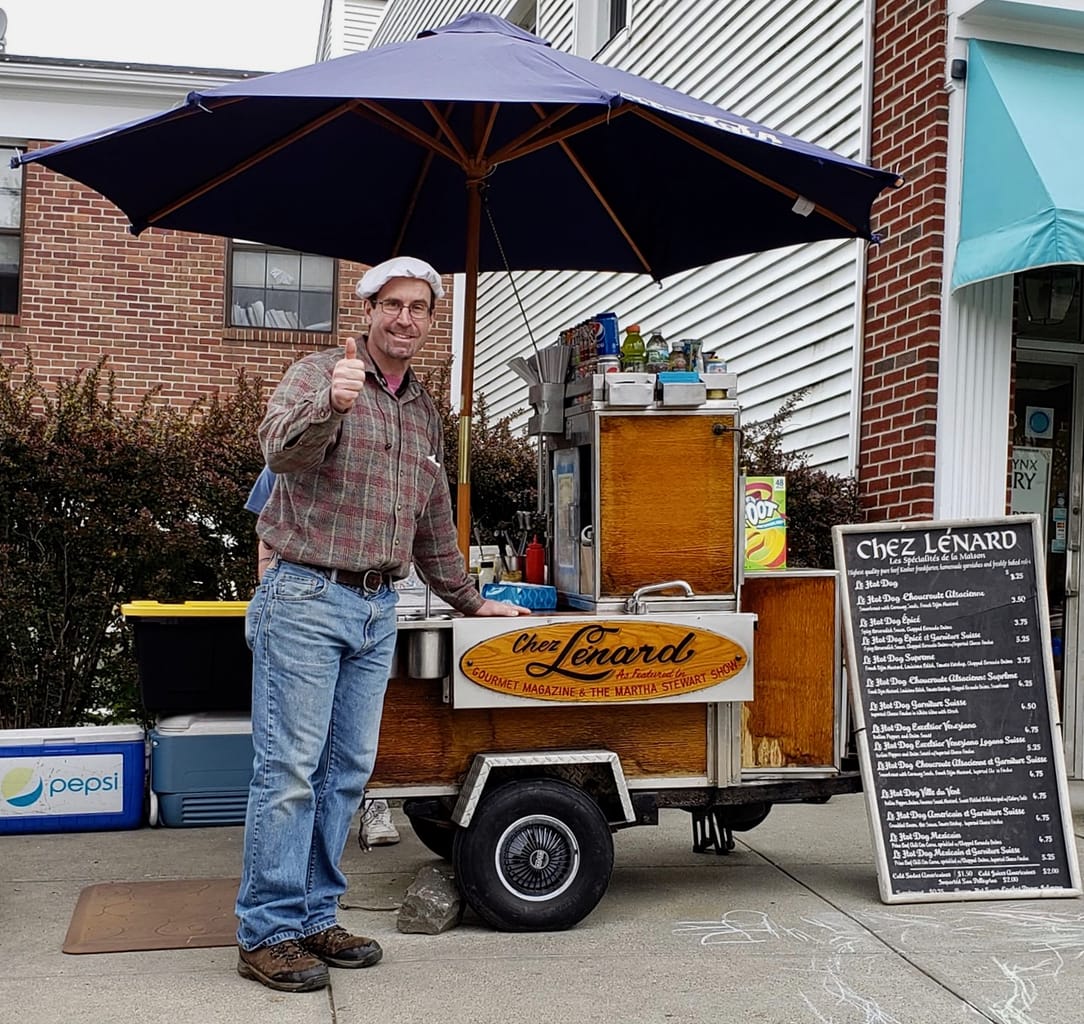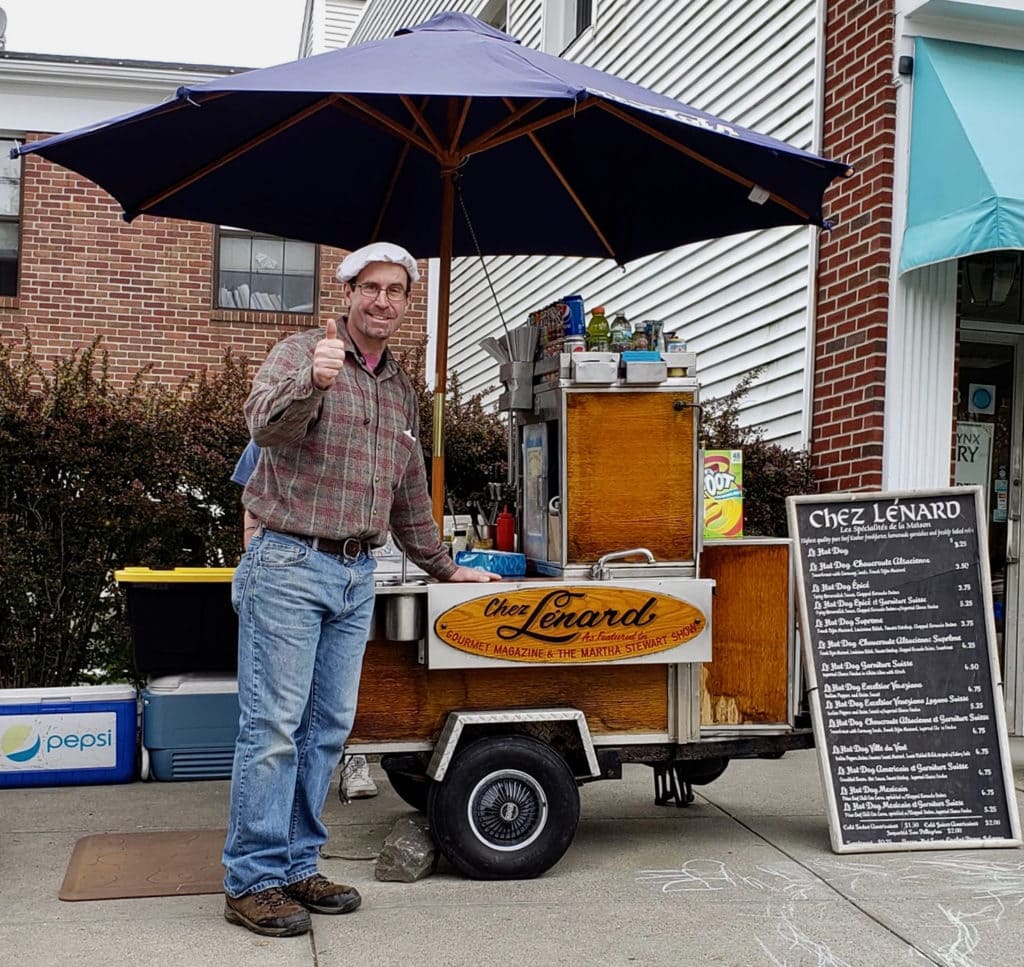 EAT/SNACK: Chez Lenard. A visit to Ridgefield would not be complete without a stop at Chez Lenard. Voted "Best Hot Dog Stand in New England" by Yankee Magazine, "chef" Mike Principi wins top honors for dispensing graciousness and good will along with his Mexican, Swiss and French style franks. Folks come from far and wide to get a fix of this $3.25-$5.25 meal.
EAT/ BREAKFAST: The Early Bird Café. Locals flock to this age-old spot for breakfast. Specialties include omelets, French Dip and the homey feeling of friends gathering together to share their day.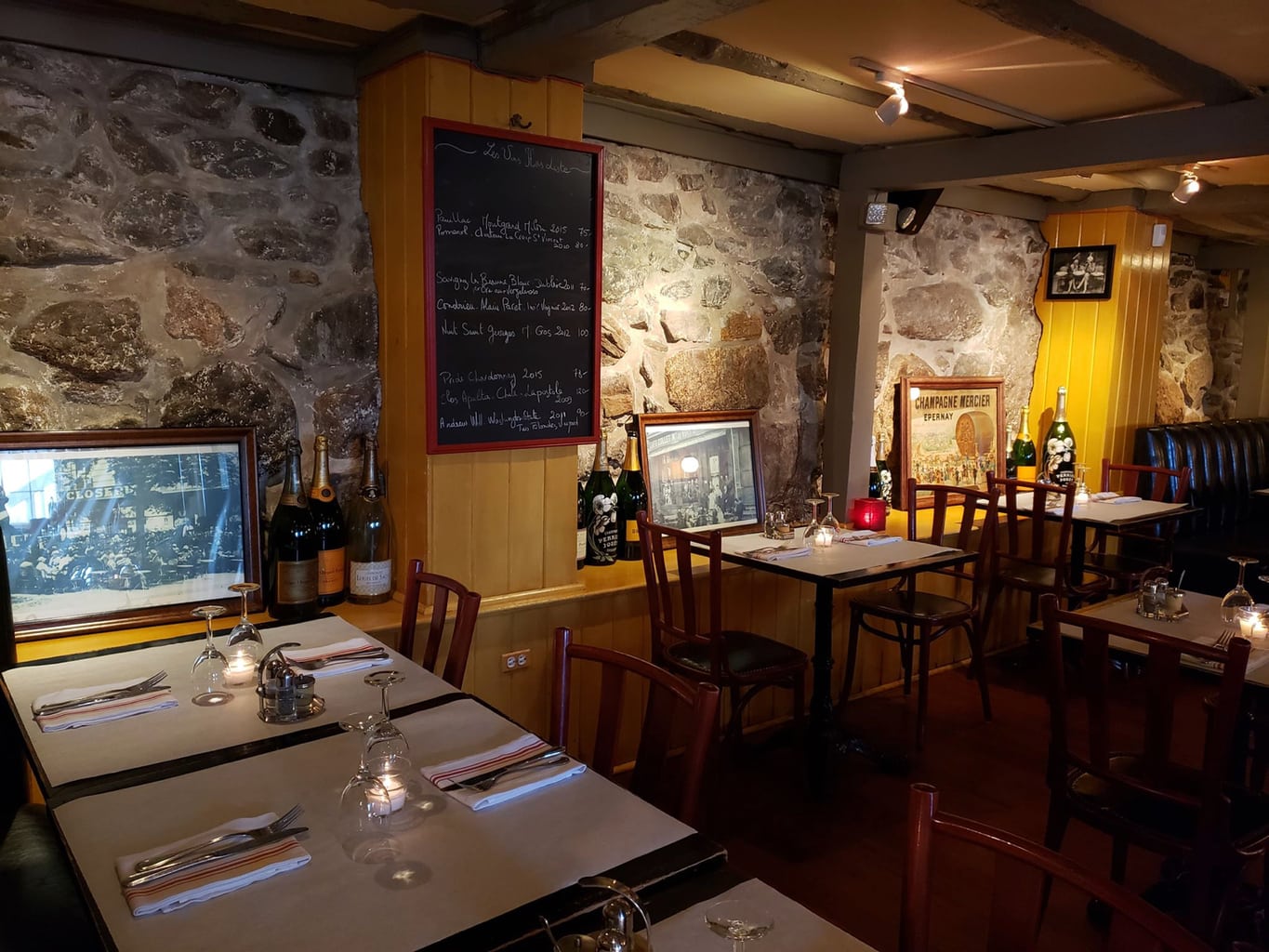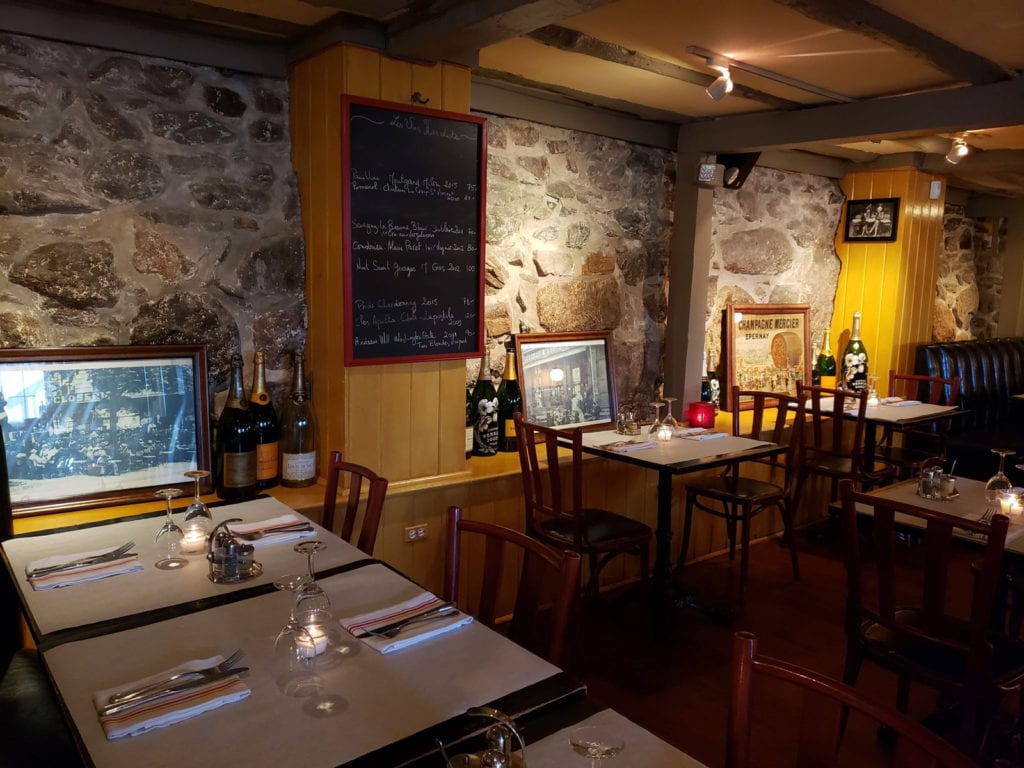 EAT: Locals also recommend TerraSole for upscale Italian; French restaurant, Luc's, for its famous pot 'o mussels; Steve's Bagels for the best smoked salmon and coffee; the cute, hidden, "very good" cozy Italian Bartolo; and Hoodoo BBQ on Route 7 for, well, smoked meats.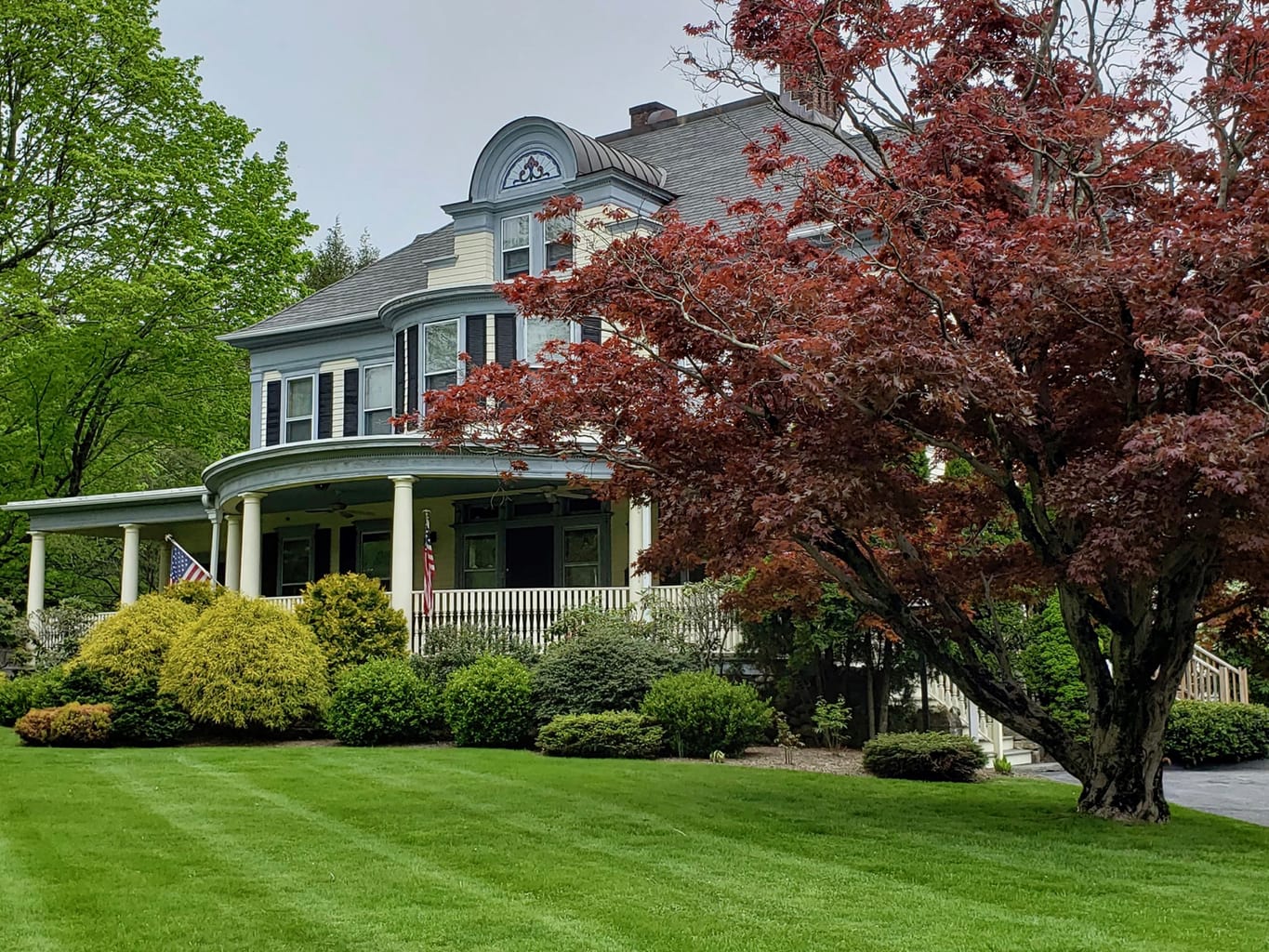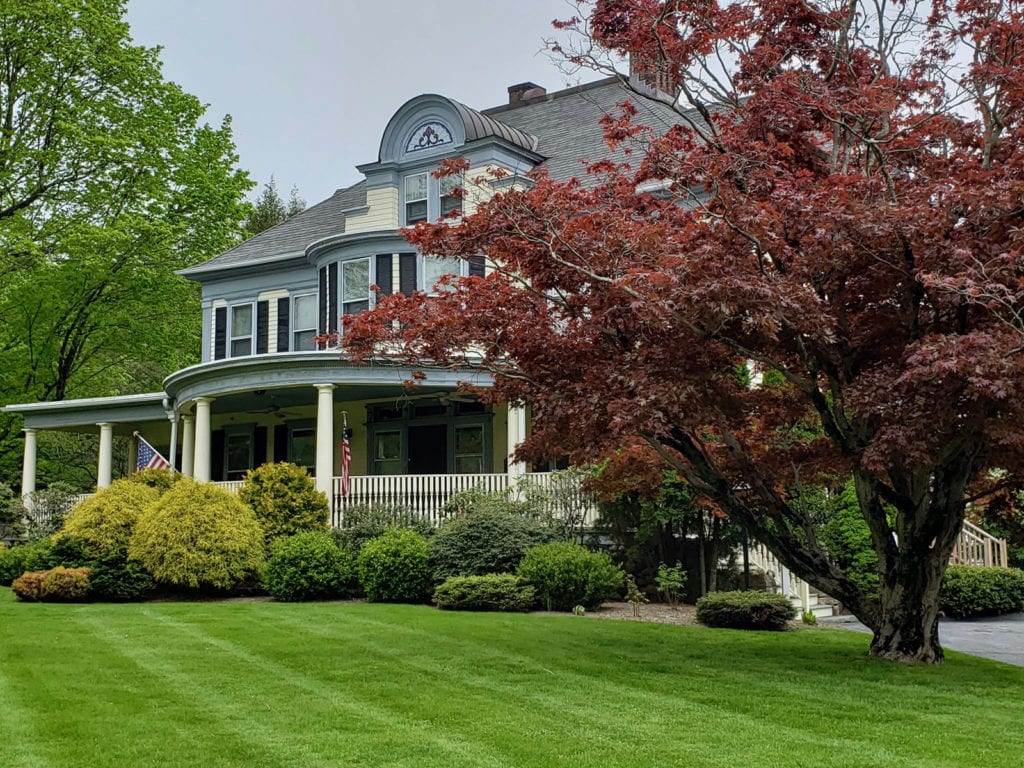 STAY: West Lane Inn. This country inn, next door to Bernard's, is the only place to stay near downtown Ridgefield, providing guests with a true traditional New England lodging experience. Rooms from $215 – $255 per night.