Who says Vermont, New Hampshire, and Maine have cornered the market on the vibrant colors of Fall Foliage season in the Northeast?! Connecticut Fall Foliage can be just as dramatic, just as breathtaking – and closer to major metro areas for many.
We assembled a roster of ways to experience Fall in Connecticut by taking you to all corners of the state: from the Litchfield Hills to the Connecticut River Valley, along the Housatonic River and the shoreline of Long Island Sound. As a bonus – we provide turn by turn directions on lesser known backroads (with amazing payoffs) for the ultimate Rural CT fall foliage driving trip.
When Is the Best Time To See Fall Foliage in Connecticut?
The sweet spot for leaf peeping in Connecticut is generally mid-October to early November. You can always consult Connecticut's Peak Fall Foliage Report.
7 Stunning Ways to Experience Connecticut Fall Foliage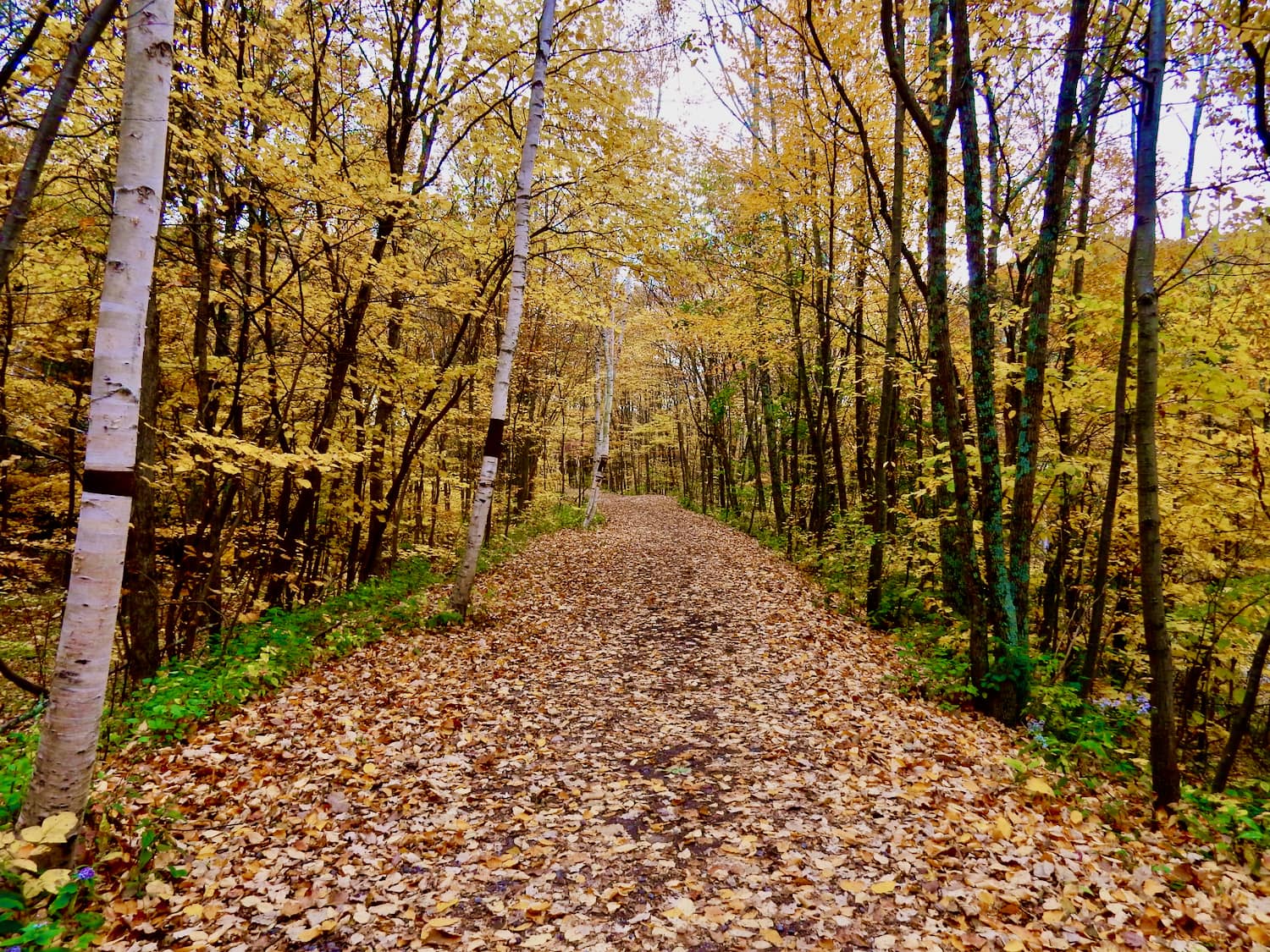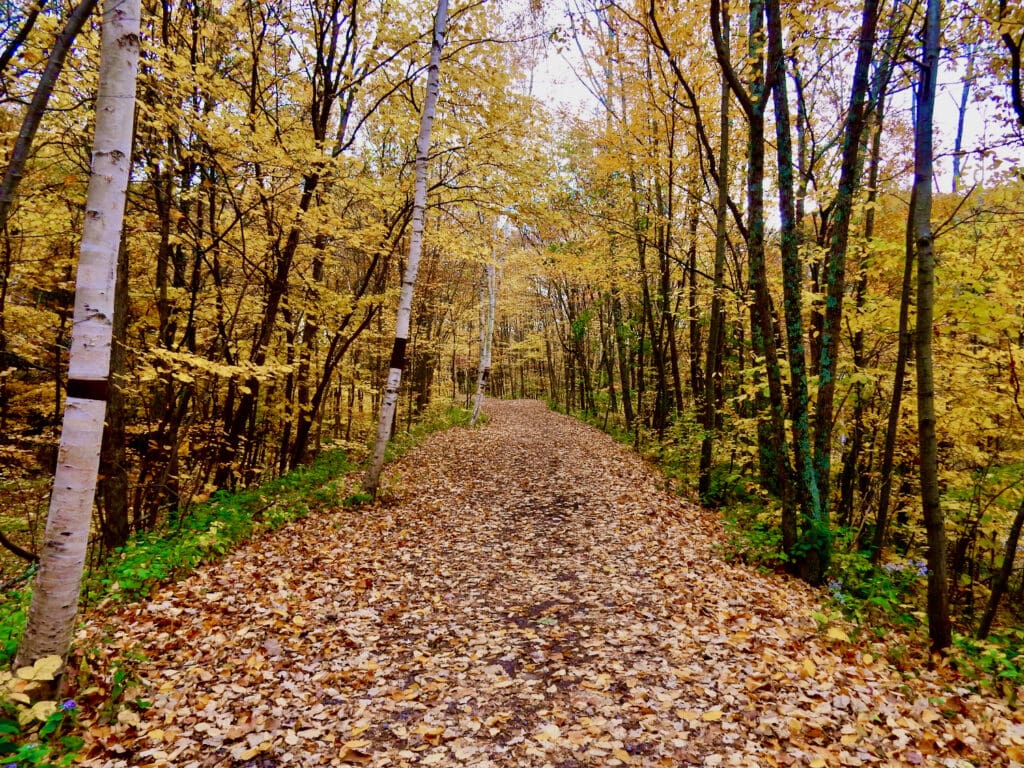 Climb A Mountain or Wander Through A State Forest
Climb the 1.25 mile Tower Trail at Talcott Mountain State Park (20 minutes from Hartford in central CT) to get to the Heublein Tower – a remote summer home built in 1914. The 360 degree views from the mountaintop tower are magnificent.
Alternately, climb a 3.2 mile (out and back) trail to the observation tower atop Mt. Carmel at Sleeping Giant State Park – just 15 minutes from downtown New Haven. You'll be rewarded with sweeping views of Long Island Sound and downtown New Haven CT.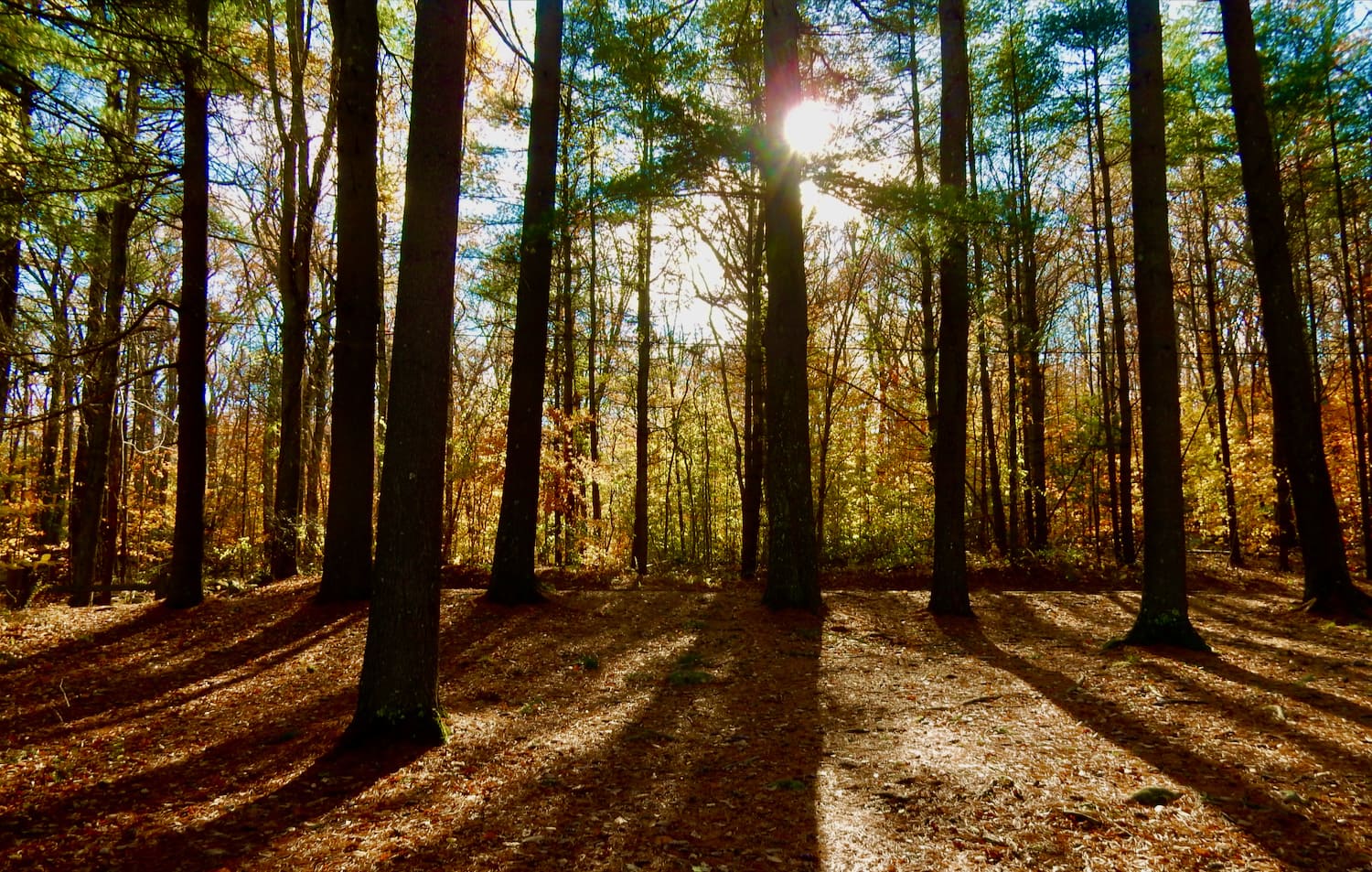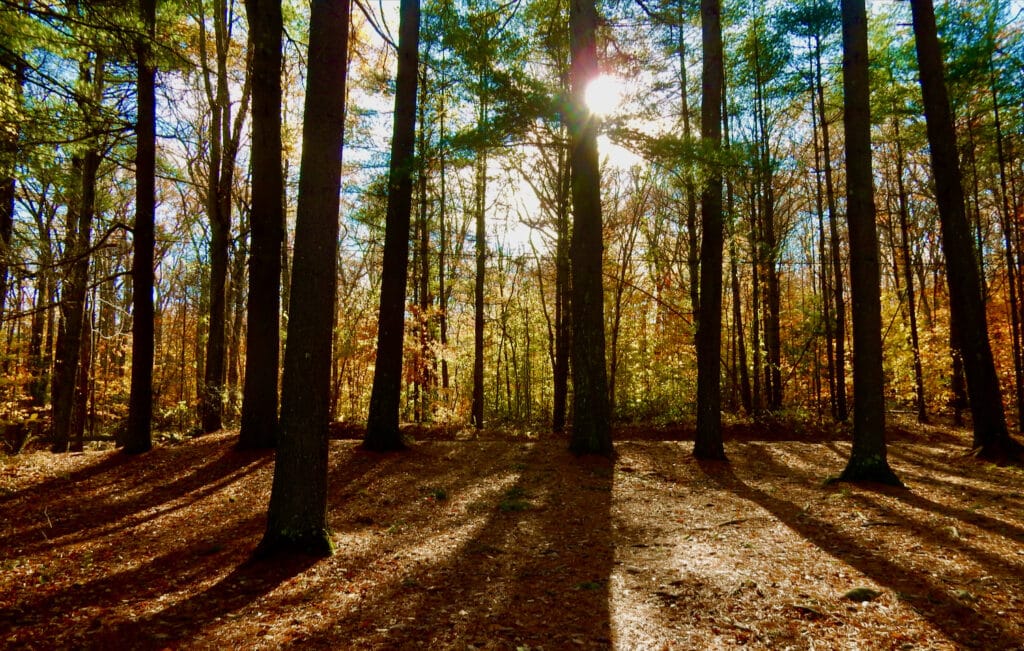 Pachaug State Forest sits on the Connecticut – Rhode Island border, close to CT's Northeast Corner. The State's largest State Forest (at over 26,000 acres), it abounds with ponds and streams that make for the best fall foliage reflection shots. Watch out for deer hunters and ghosts. Yes, Pachaug SF is rumored to be haunted!
Located along the Mohawk Trail (the Native American footpath that connected the Connecticut and Hudson River Valleys), in Connecticut's northwest corner, Mohawk State Forest offers leaf-peepers a real wilderness experience. Come here to avoid crowds and witness the beauty of the turning-leaves up close.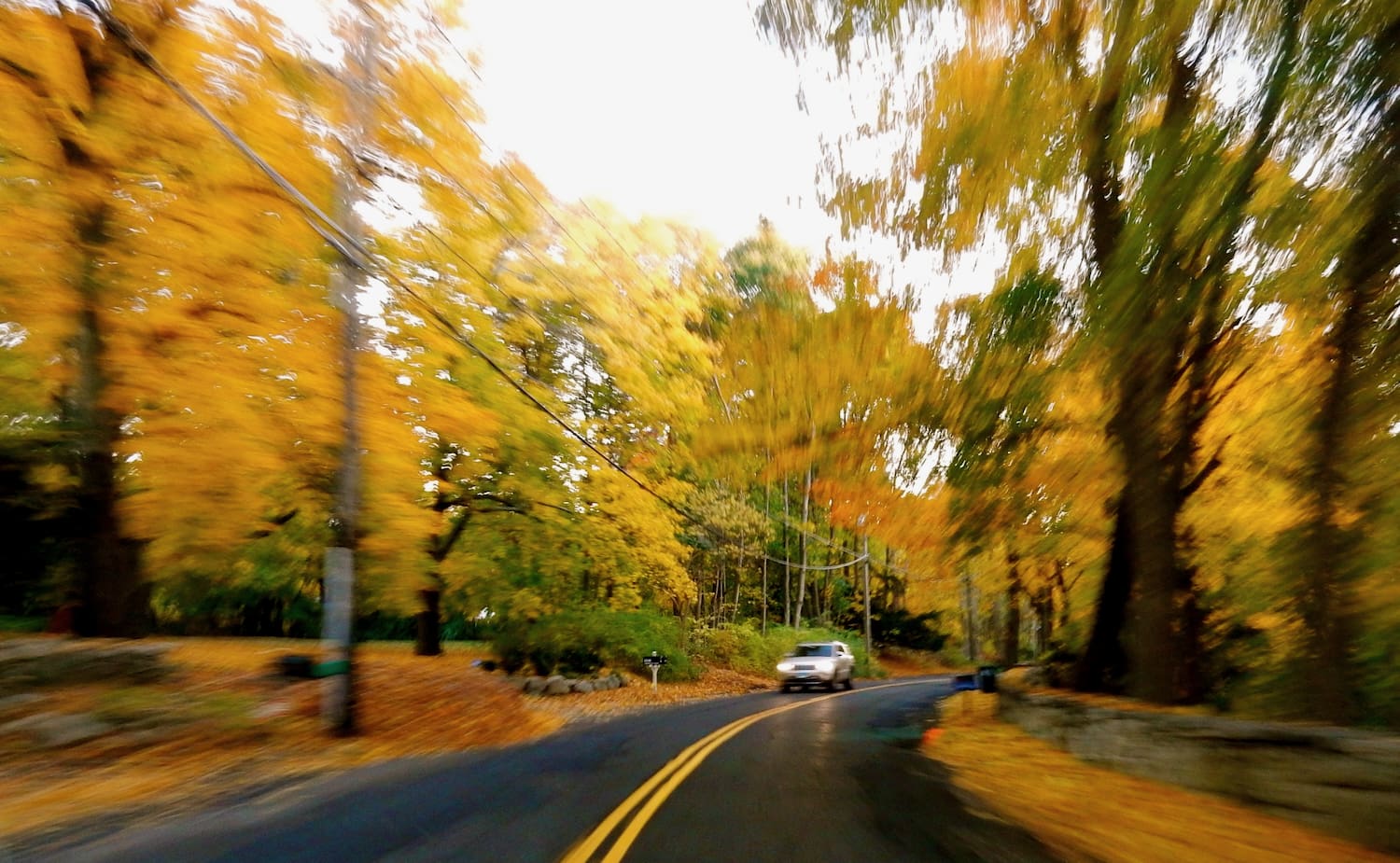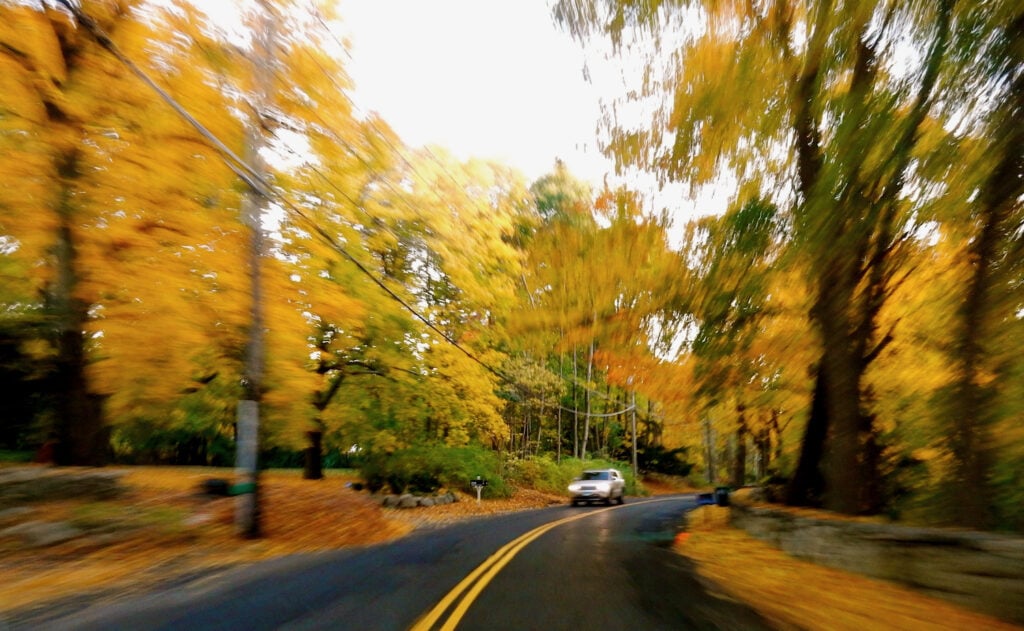 Scenic Drive Along The Connecticut Shoreline
Autumn is the perfect time of year to take this off-interstate, leisurely Connecticut Coast Scenic Drive. The fall foliage might take second fiddle to shoreline views – which vary from the pink granite Thimble Islands in Stony Creek CT to the "Lyme Light" in the Birthplace of American Impressionism – Old Lyme CT. But that's OK. However you look at it, shoreline CT scenes are delightful.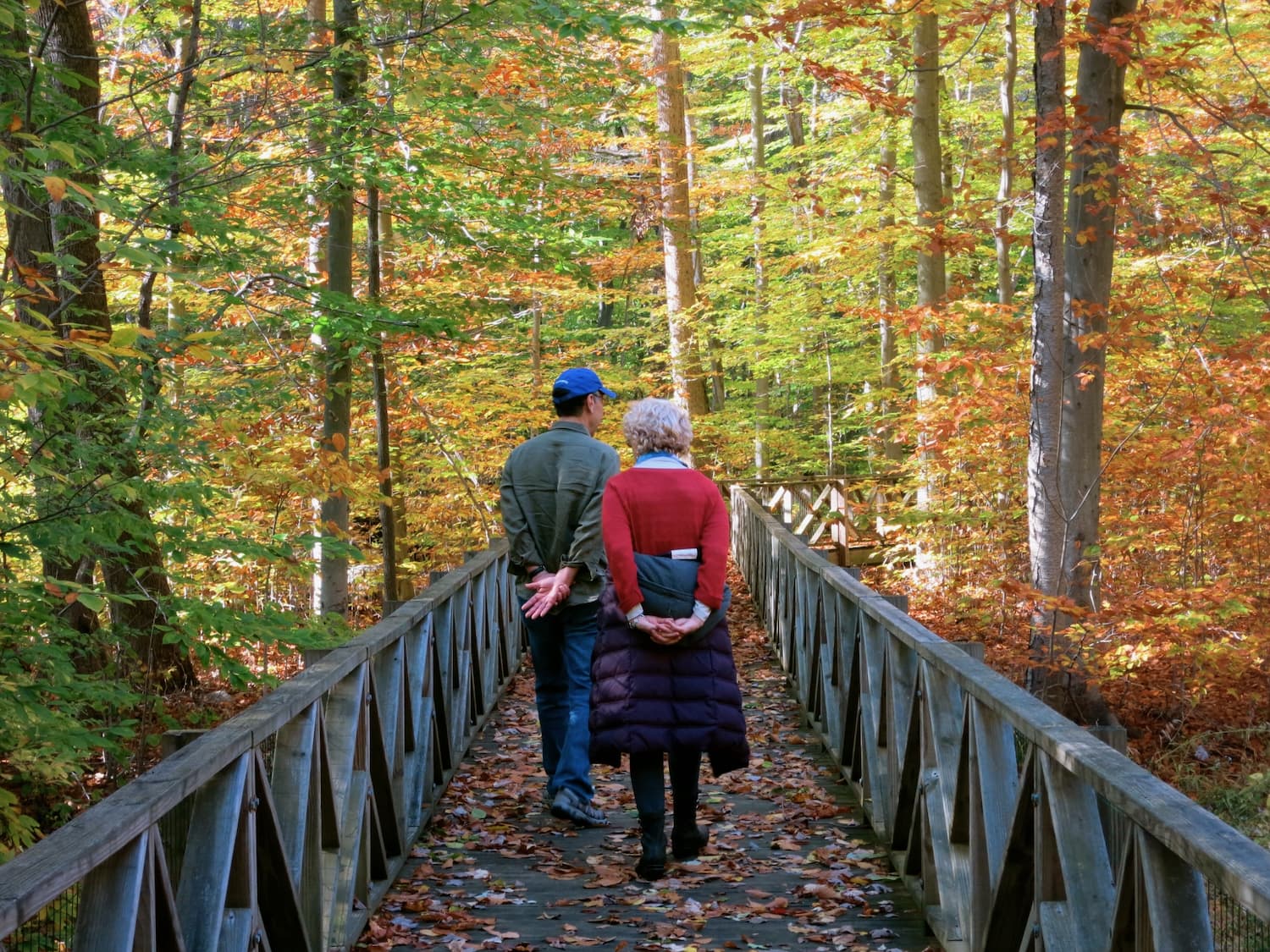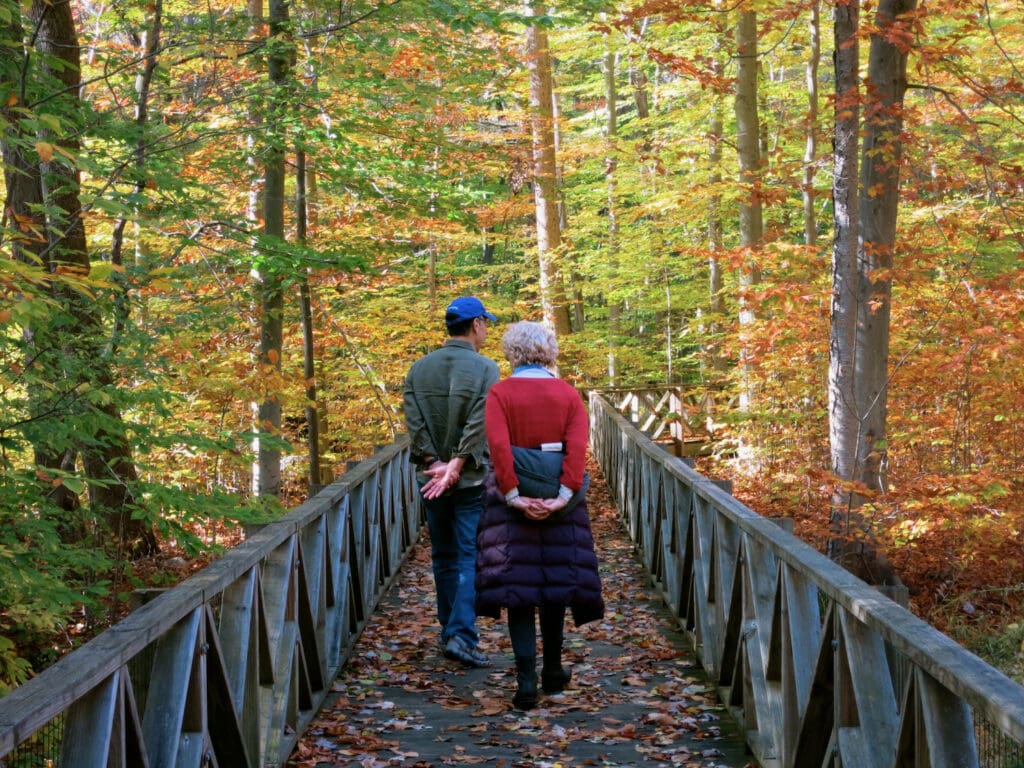 Wine and Waterfalls On A Rural Connecticut Fall Foliage Road Trip
Spend roughly 6 hours stumbling onto dams and waterfalls, orchards, vineyards, and farm-stands north of Hartford CT while whizzing past translucent, turning leaves, glistening in the afternoon sun.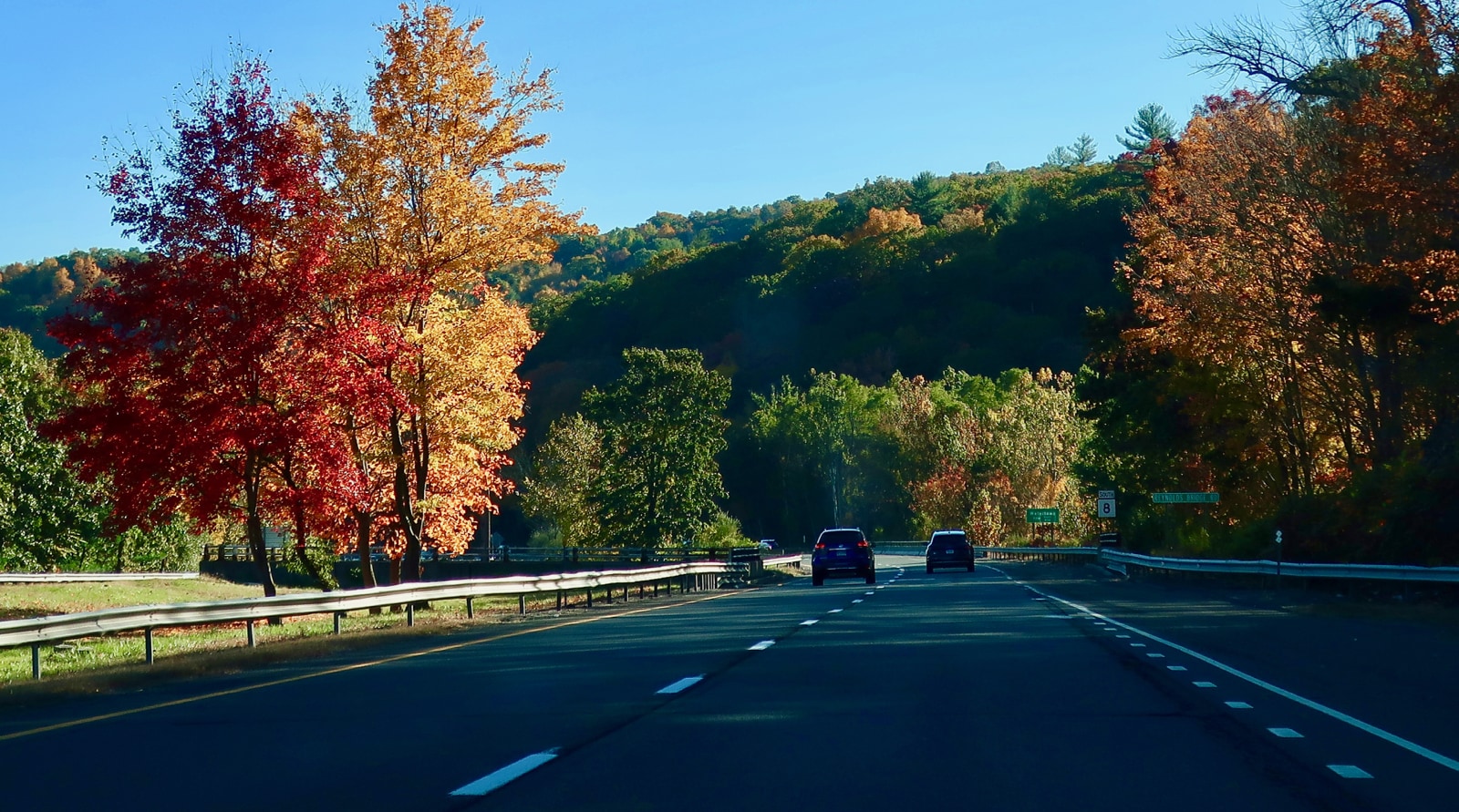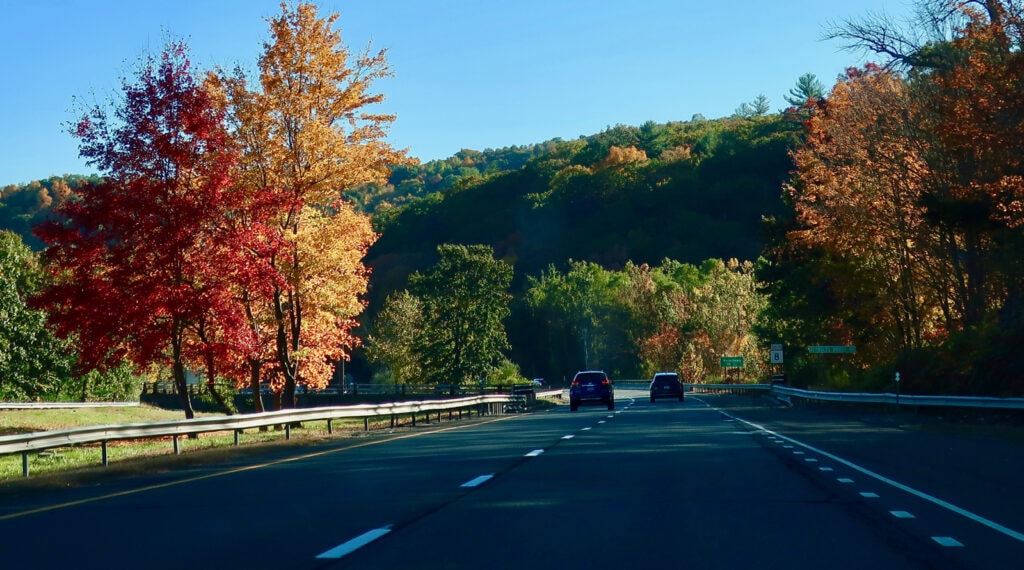 New England Fall Foliage road trip fans don't need much persuasion to take an impromptu, back-roads expedition. For many of us, it's a heartwarming, must-do, annual tradition with payoffs undiminished by "progress" and the passage of time.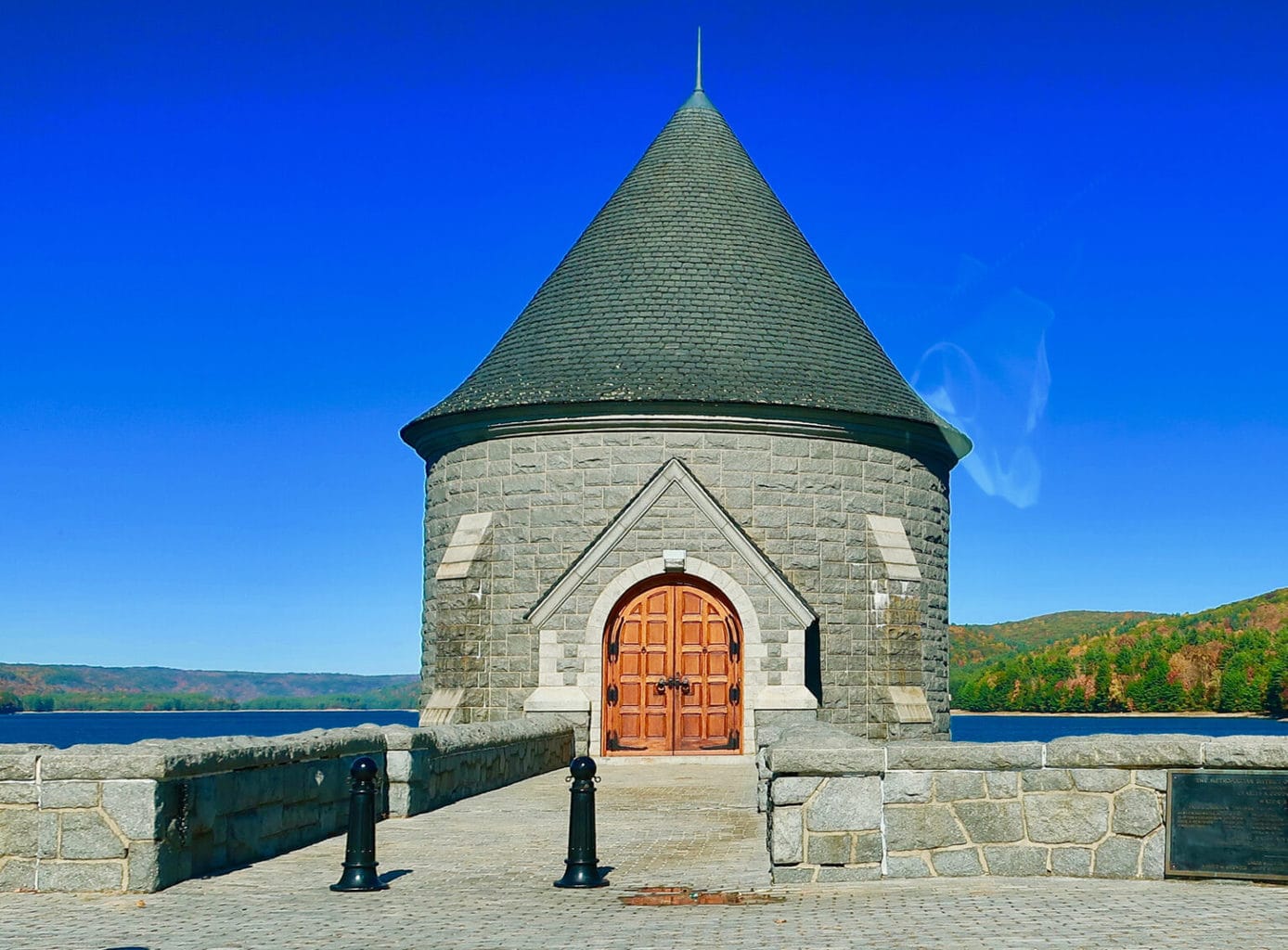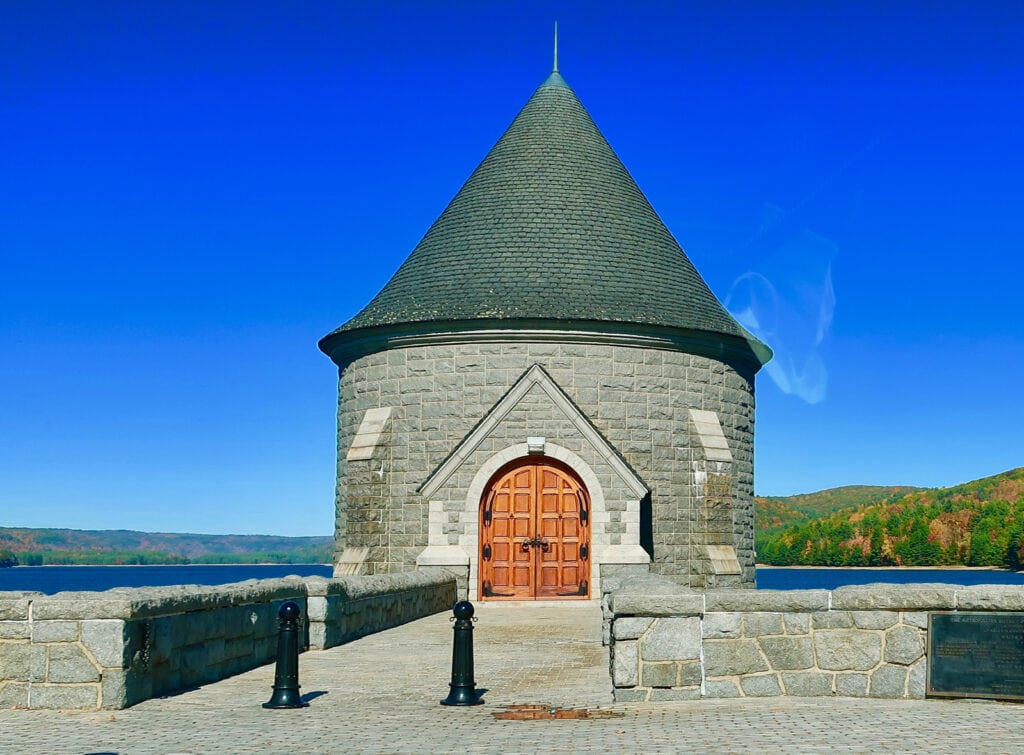 Here, we've done the work of finding the coolest, most obscure stops, so you can maximize your hours. We provide concise, turn-by-turn instructions. Follow along. The first stop, the Saville Dam, is roughly 1 1/2 hours from mid-town Manhattan and 40 minutes from Hartford CT.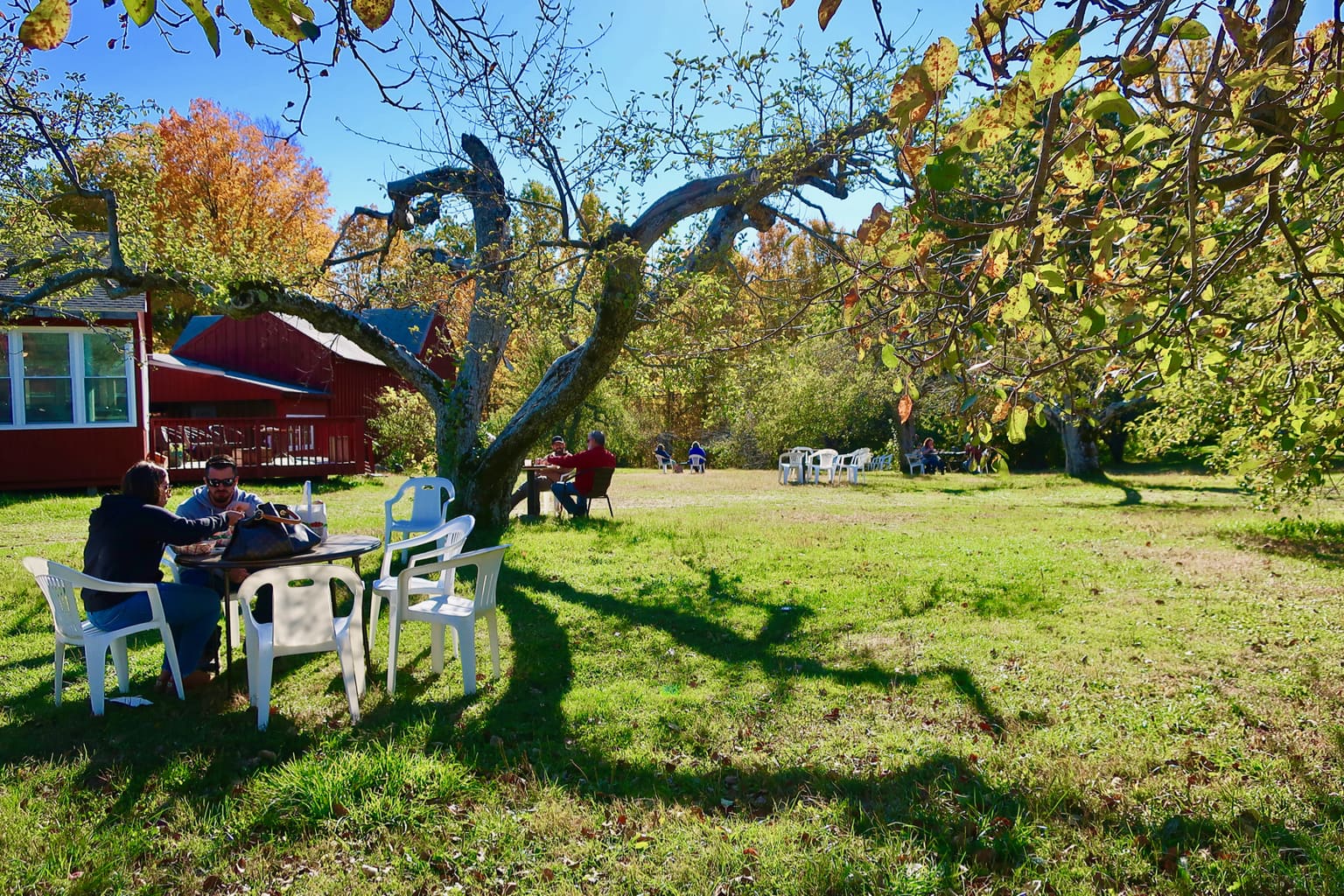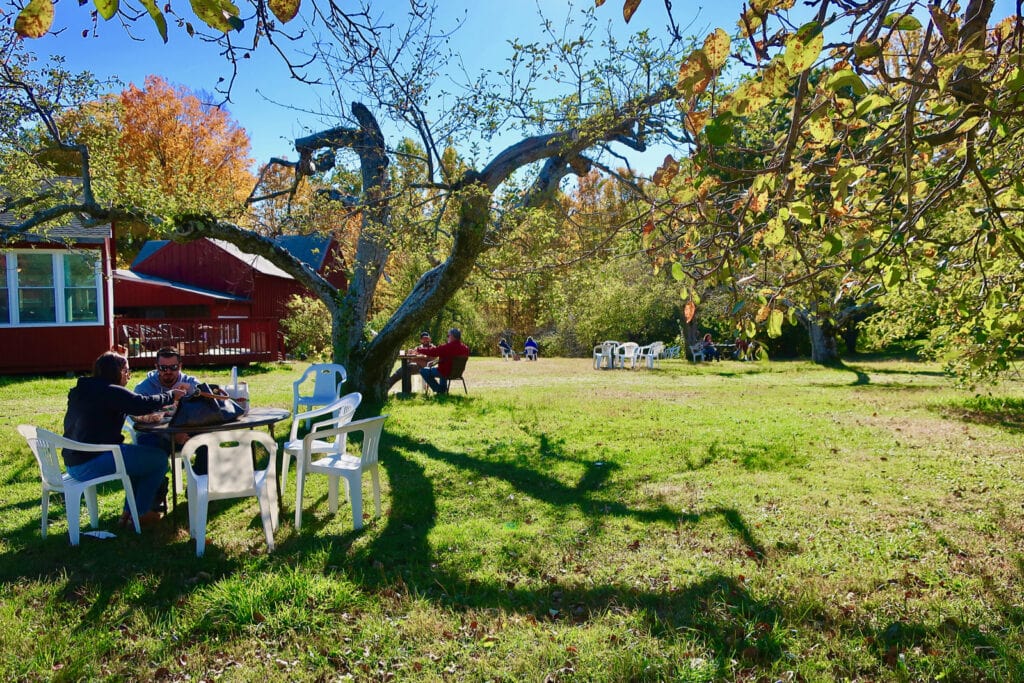 Points South to Route 8 CT and Saville Dam, Barkhamsted CT
Begin on Route 8 CT N. (from either the Merritt Parkway or I-95). It's about 50 miles North to US 44 E./New Hartford R.
Drive 3.2 miles to Rt. 318 E. – turn Left onto 318E.
Follow 318E for about 3 miles, take sharp right on 219 N. Find parking for Saville Dam on bridge.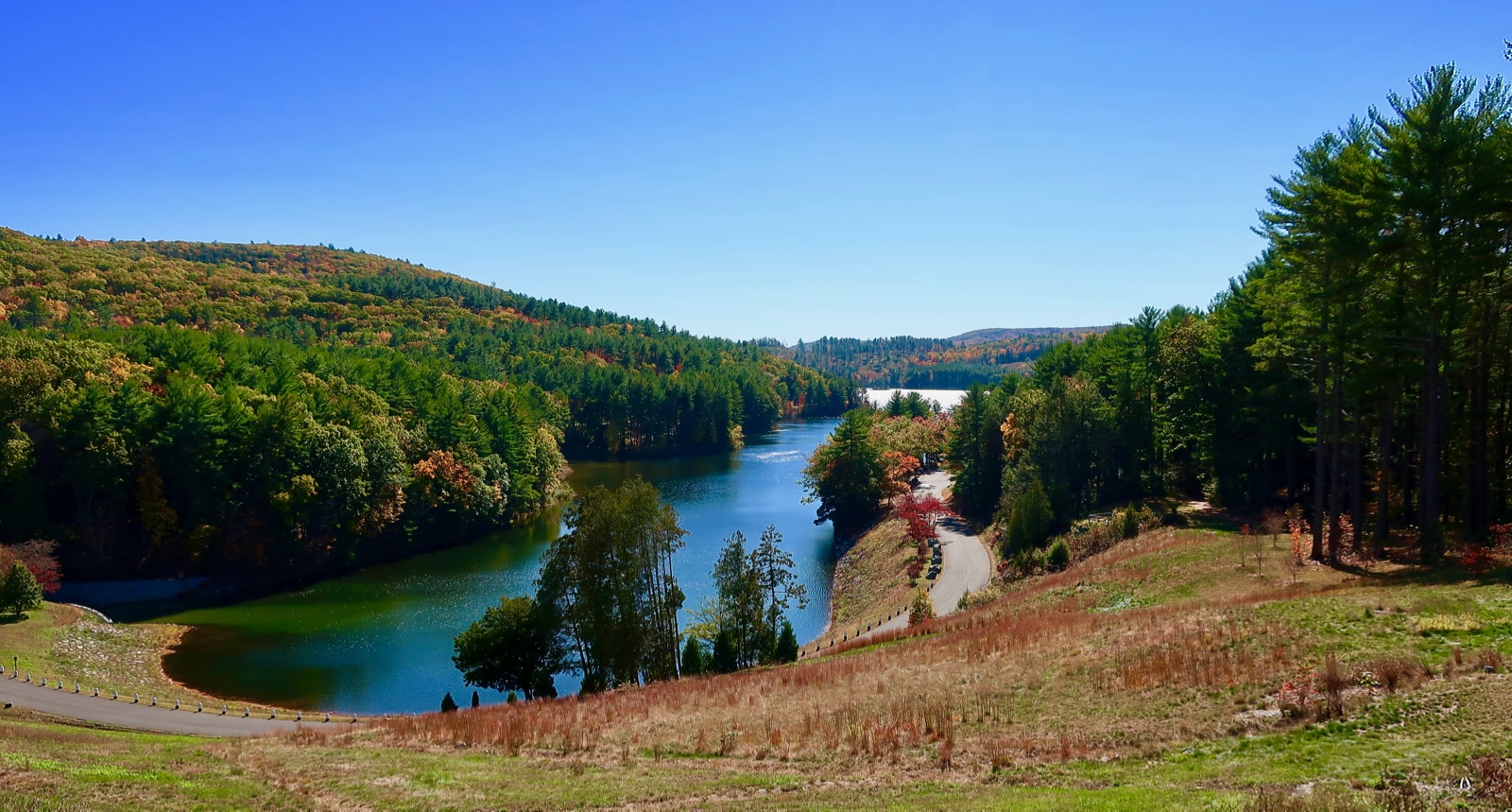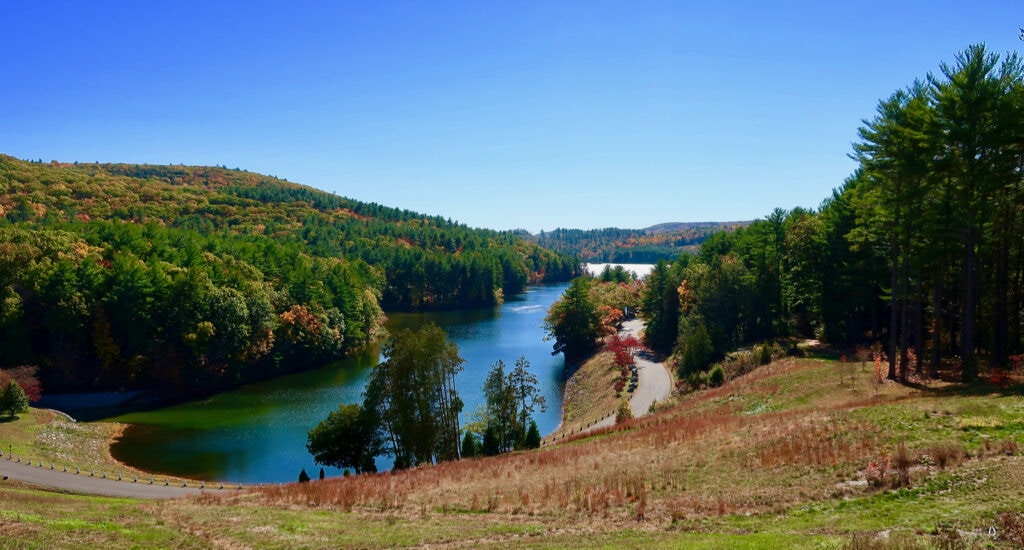 STOP: Saville Dam
The 135 ft. tall earthen embankment dam is notable for its stone church-like gatehouse and other masonry features. It's one of those unexpected aesthetic pleasures that appear abruptly in the middle of nowhere. There are walking trails, and picnic areas around the Barkhamsted Reservoir. But, if you want to save time for a waterfall hike, take a snap and move on.
Saville Dam to Enders State Forest, Granby CT (5 miles)
Stay on CT-219N for 5 miles. Look for signs for parking on right.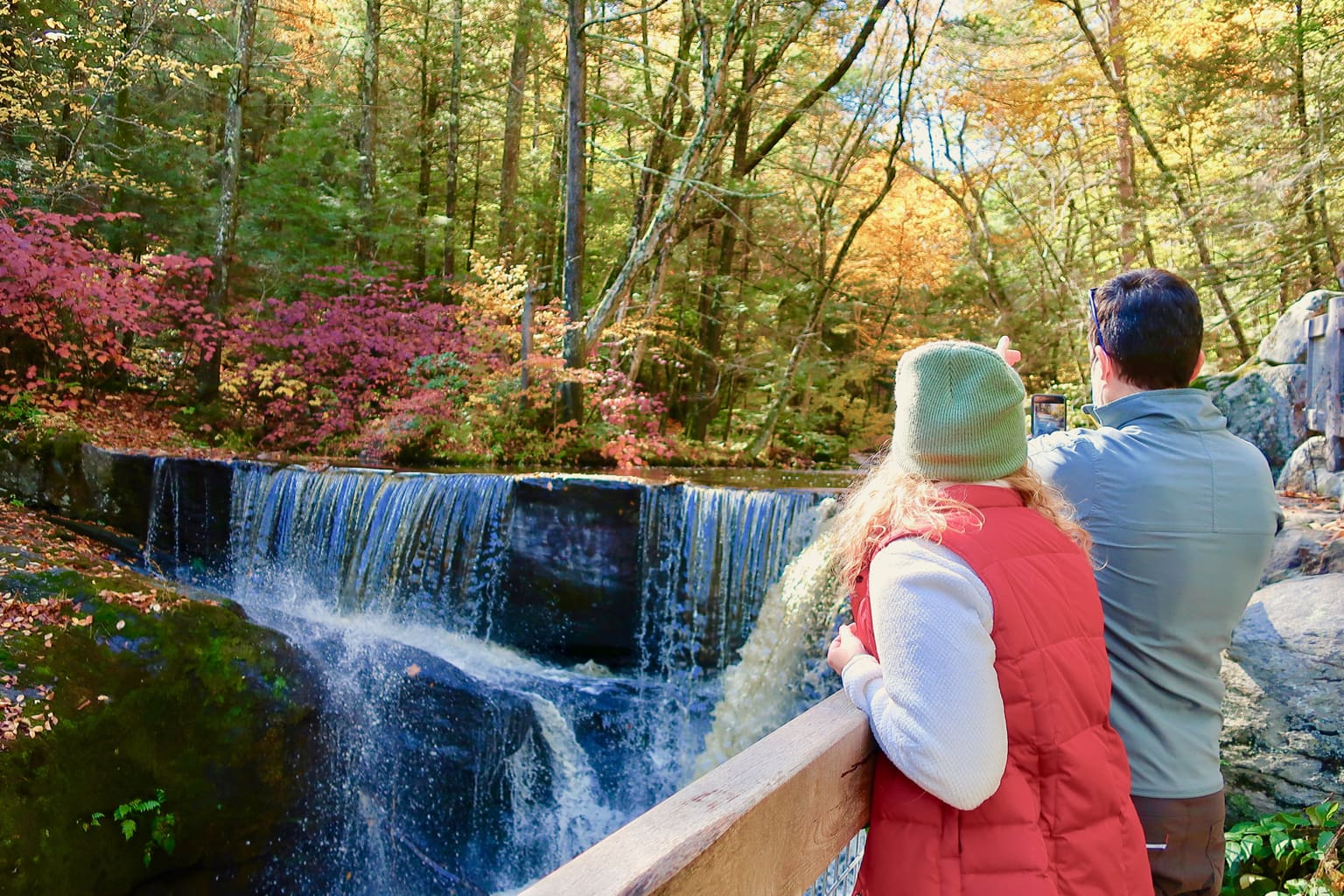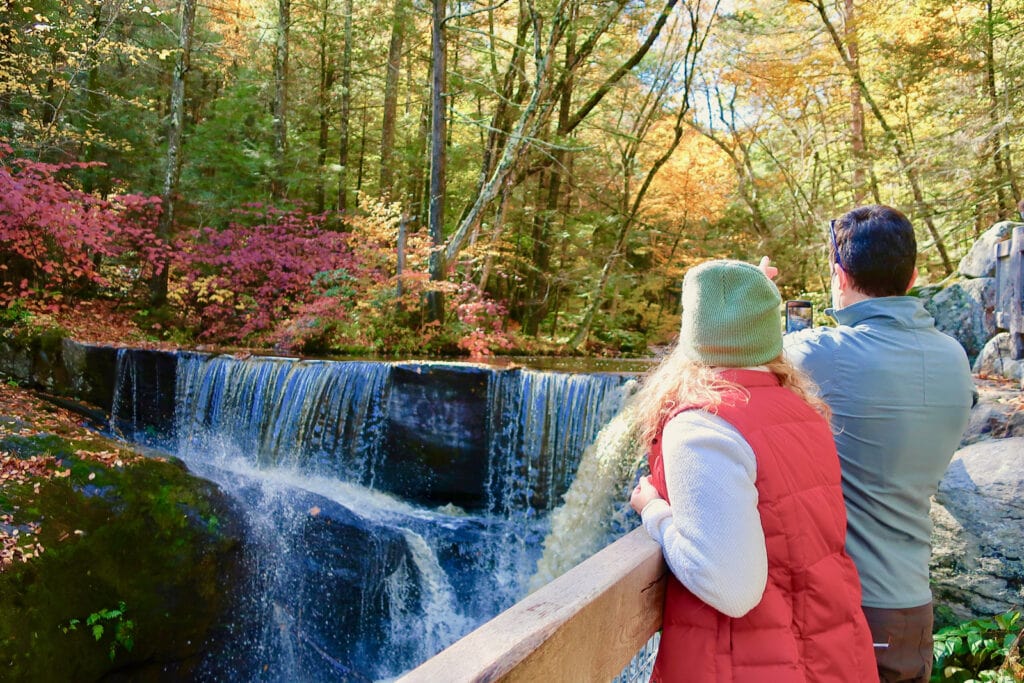 From the parking area, take a short trail to the river. Turn left to a series of stairways and boardwalks that traverse rapids and tiered waterfalls. Plan on 30-60 minutes, depending on how long you'd like to stay.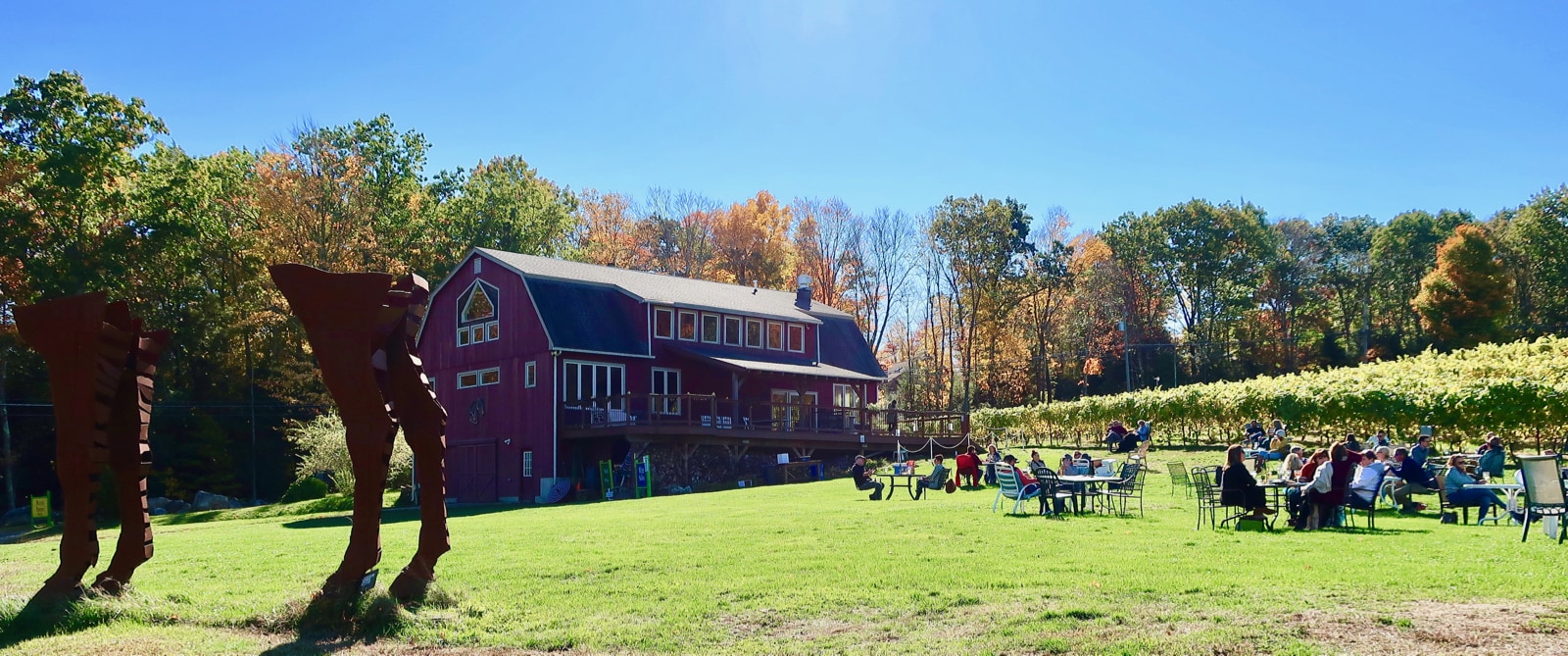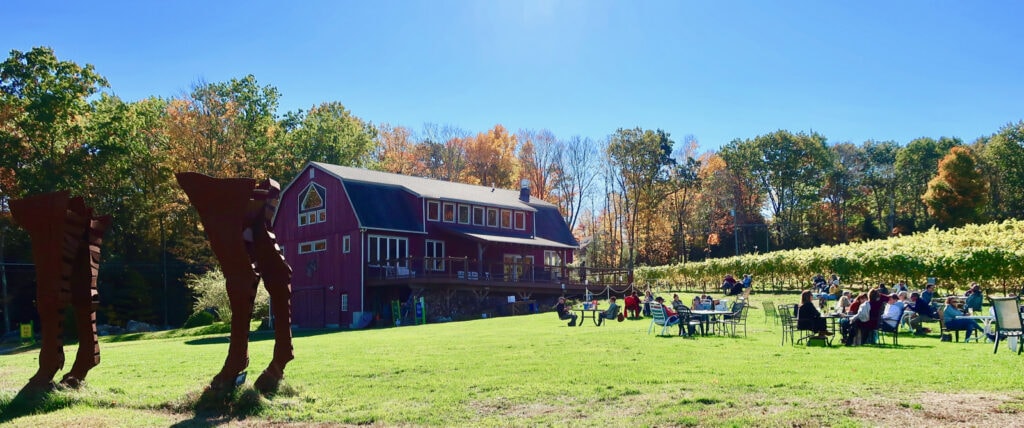 Enders State Forest to Lost Acres Vineyard, N. Granby CT (5.6 miles)
Continue on CT 219 N 1.5 miles to Route 20 W
Right on to Rt. 539 then almost immediate left onto Donahue Rd.
Drive 1.4 miles, take sharp left onto Lost Acres Rd. – Vineyard on right in ½ mile

This remote farm vineyard, with outdoor seating amidst a luscious landscape, plans to stay open on weekends through November, as weather allows. Purchase a cheese platter and bottle of wine, and take it to a table near planted vines. It's as picturesque a winery as you'll find in Connecticut.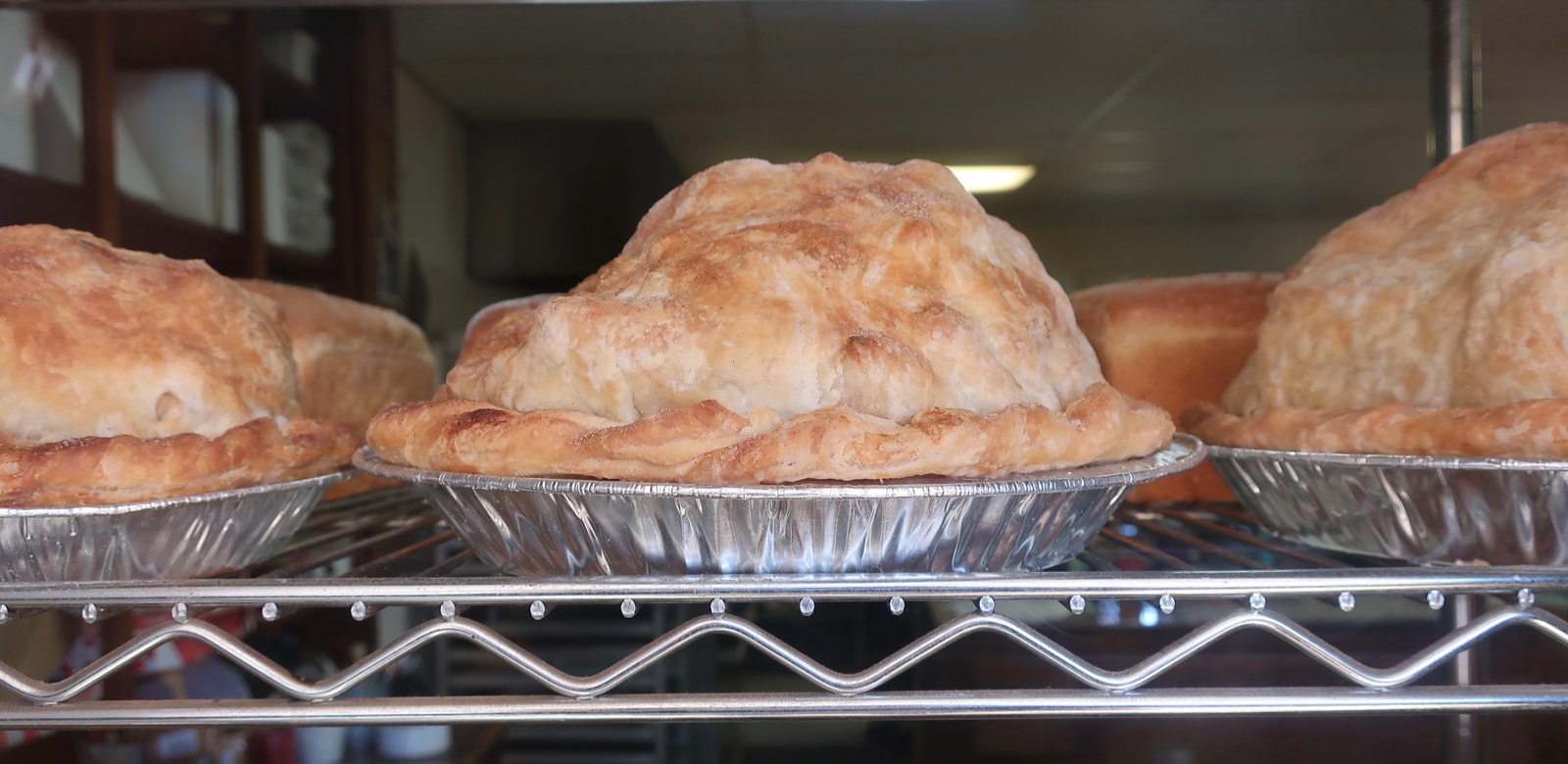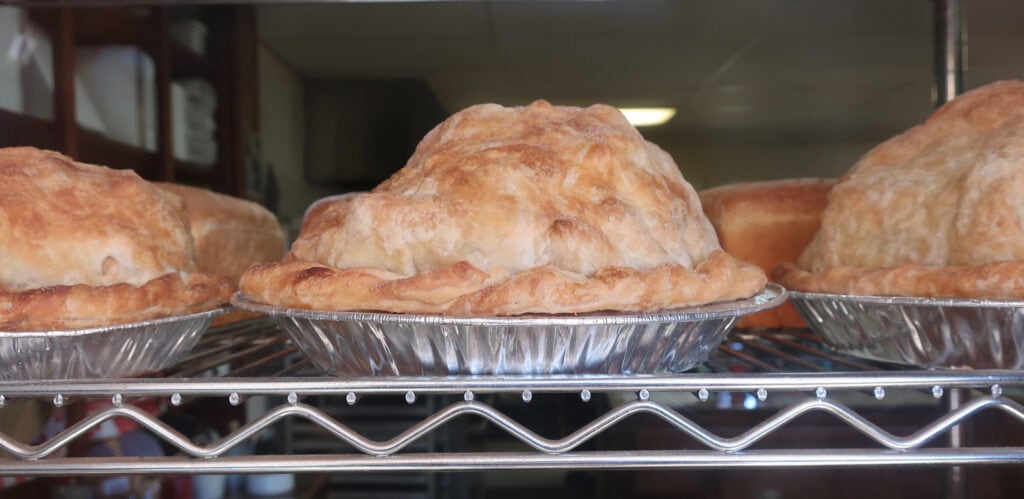 Alternately, you can feast on fresh-picked salads, sandwiches, soups, and/or highly praised apple pie at Lost Acres Orchard, just ½ mile from the Vineyards (take a right out of the vineyard parking lot and drive up the hill).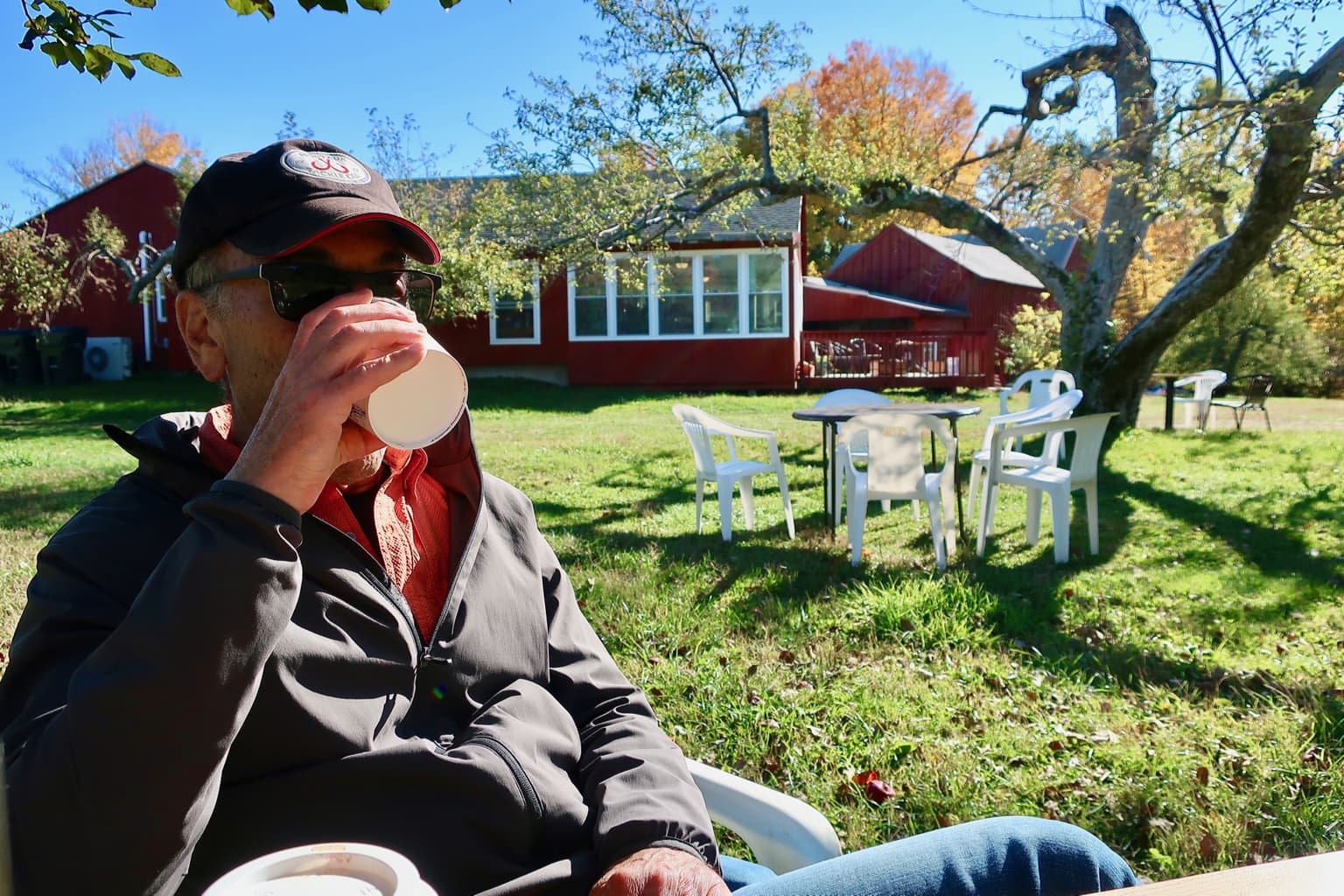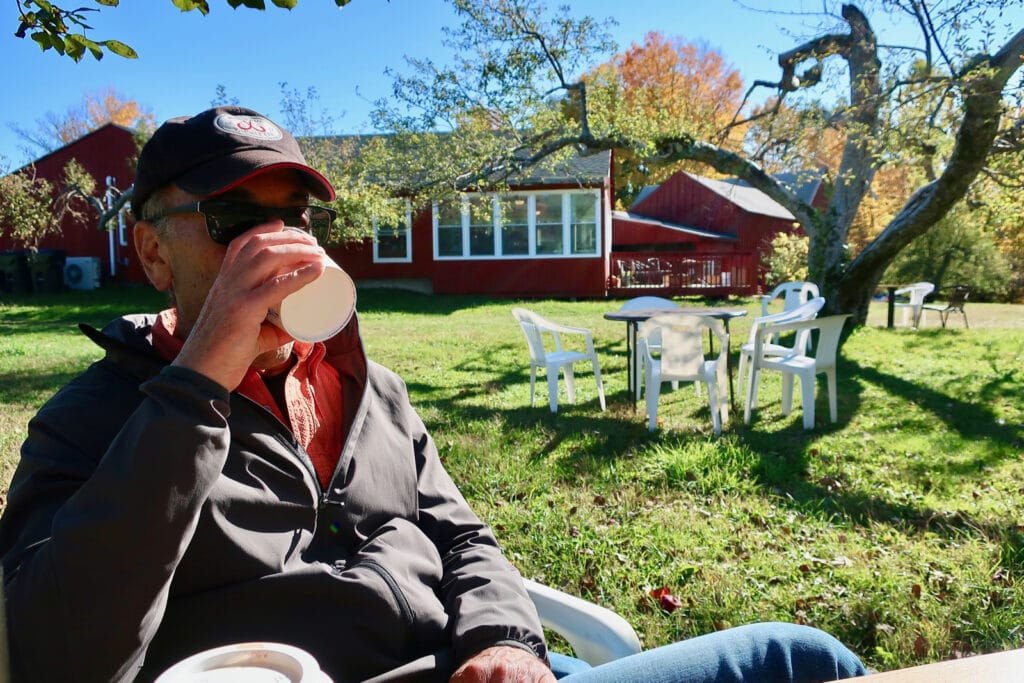 Take your lunch to a spot under an almost bare apple tree to enjoy the last of this quickly fleeting season.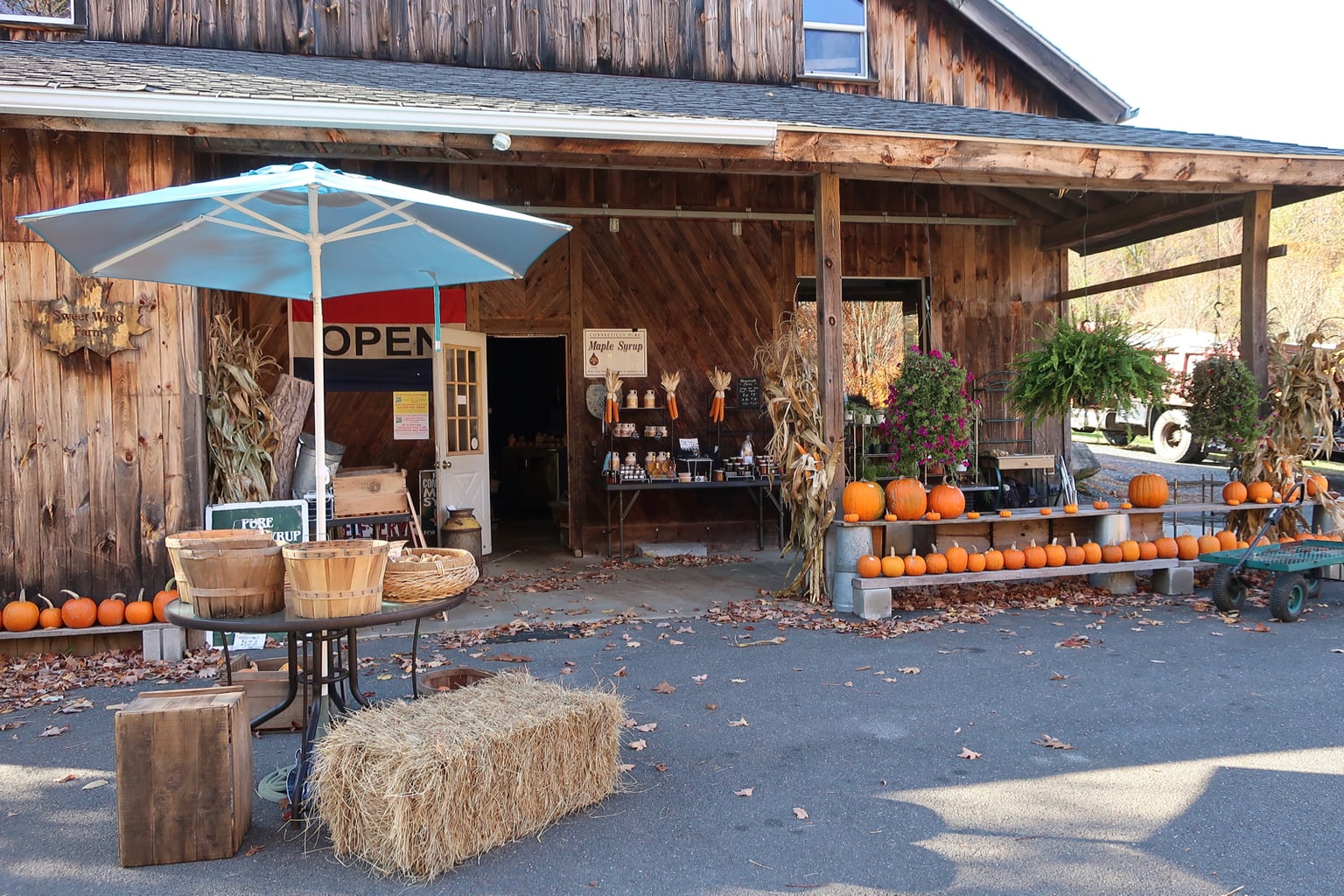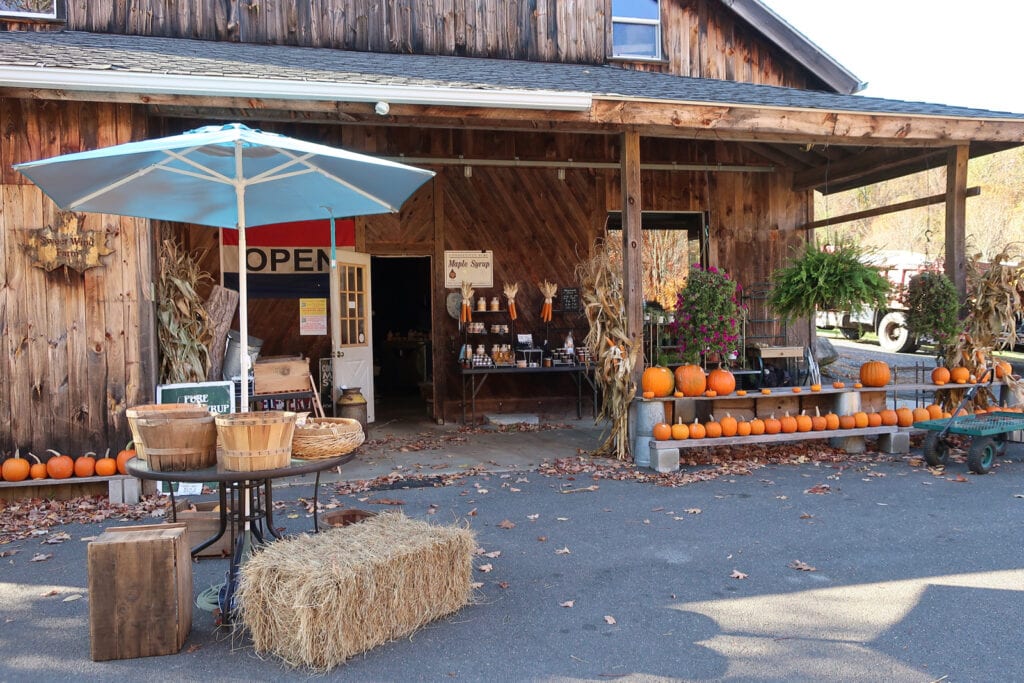 Lost Acres Orchard to Sweet Wind Farms, East Hartland (6 miles)
Continue on Lost Acres Rd (take a right out of the orchard parking lot) for 2 miles
Take Left onto Granville Rd. for 2.3 miles
Left onto State Rd. 179 for 1.7 miles. Sweet Wind Farms is on the right.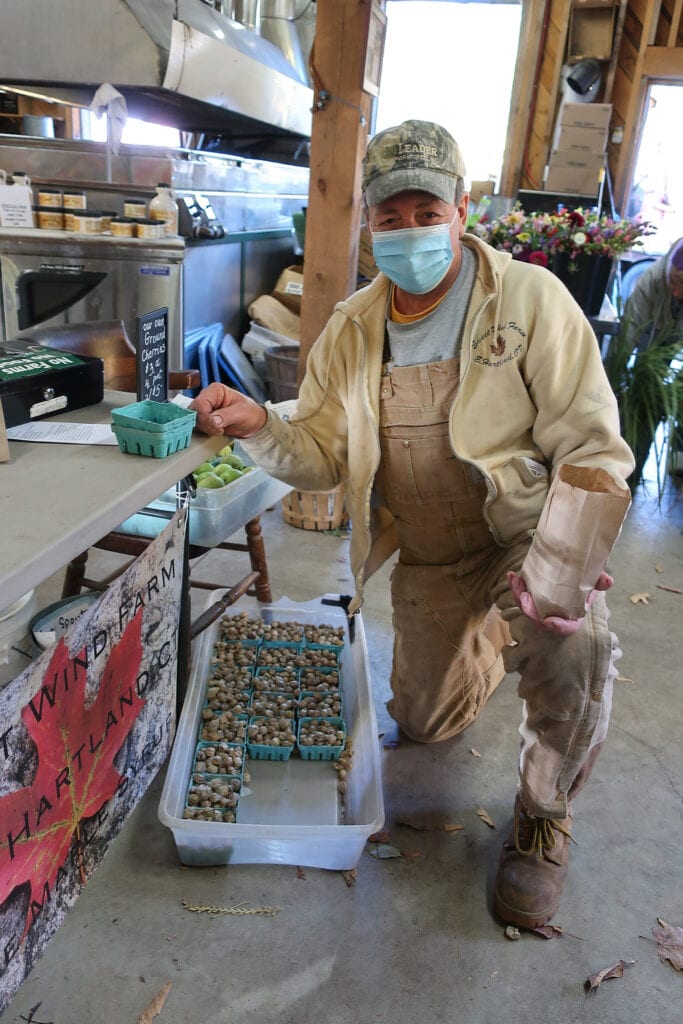 Arlow and Susan Case own this 3rd generation Maple-Sugar shack and sell much more than their maple syrup products. Now, more than ever, it's important to support these Mom and Pop operations. Here, it was a no-brainer to pick up a few jugs of syrup, containers of Maple Cream, homemade jams, and cold-weather veggies, especially since everything is grown without sprays or pesticides.
It's 6 miles back to Saville Dam from Sweet Wind Farms (Rt 179 S to Rt. 219 S), and you've made a complete loop. Or, keep on going onto a New York fall foliage road trip.