WHY GO: When Ayn Rand needed to gather material for The Fountainhead when President William Taft sought a summer home when Tom Thumb came a-courting, they all turned to the Thimble Islands, a slip of Connecticut that many New York City to Boston travelers miss.
Most assume that the dingy industrial harbors of Long Island Sound glimpsed through windshields while barreling up I-95 near New Haven, CT is all there is.
But, nope. Not even close.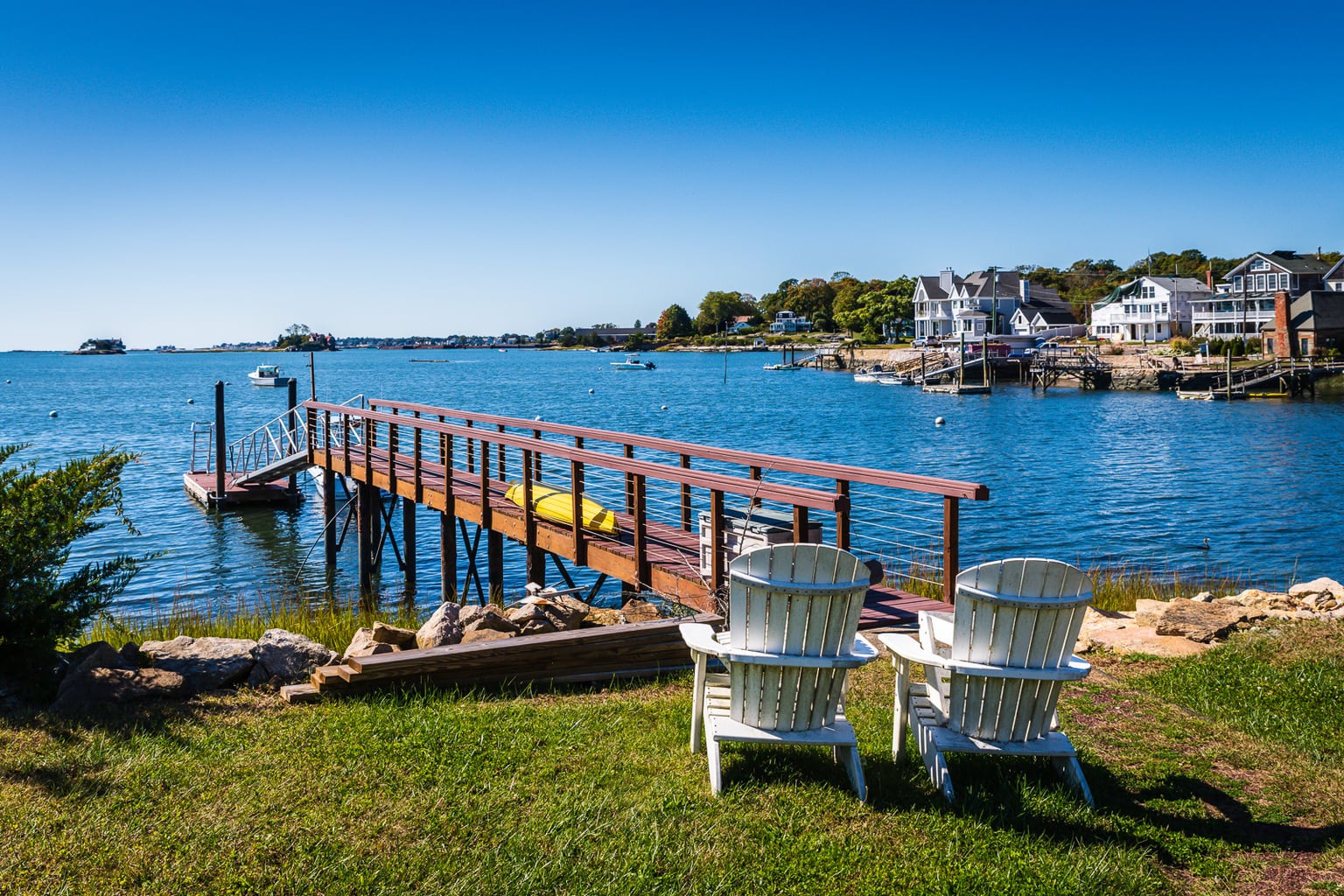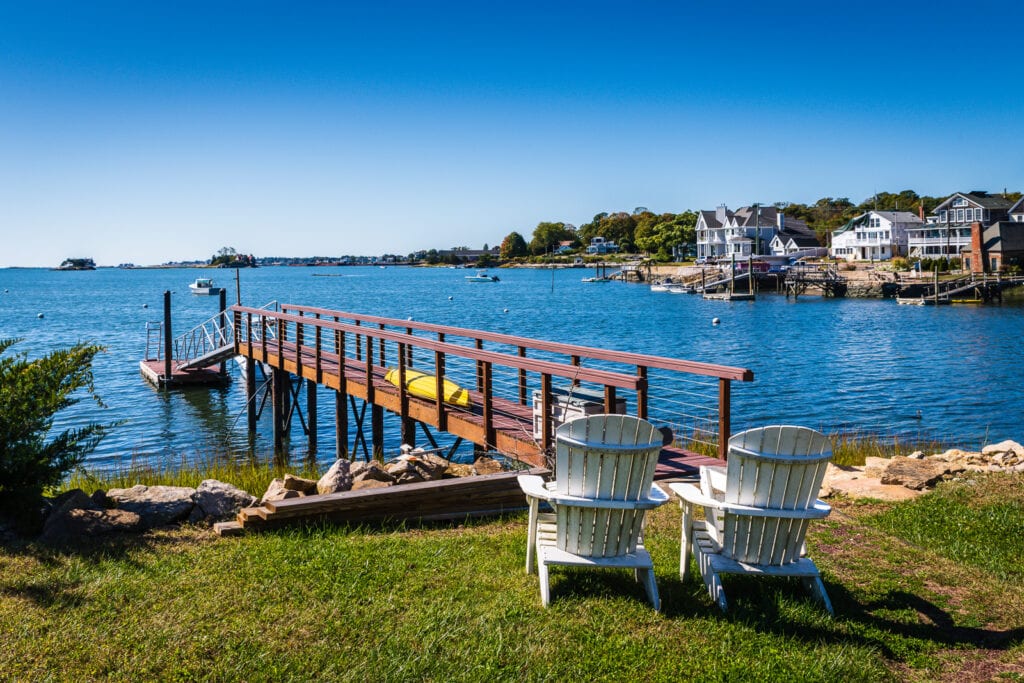 Exit the Thruway. Hug the coastline. And witness what artists and writers admired and continue to admire about the Connecticut seashore.
Salt marshes spread like the Kansas prairie. Sea-stained buoys hang from weather-beaten balconies.
Pink granite outcroppings and breathtaking views of pristine coves and towns glimmer in the particular light that inspired the American Impressionist movement.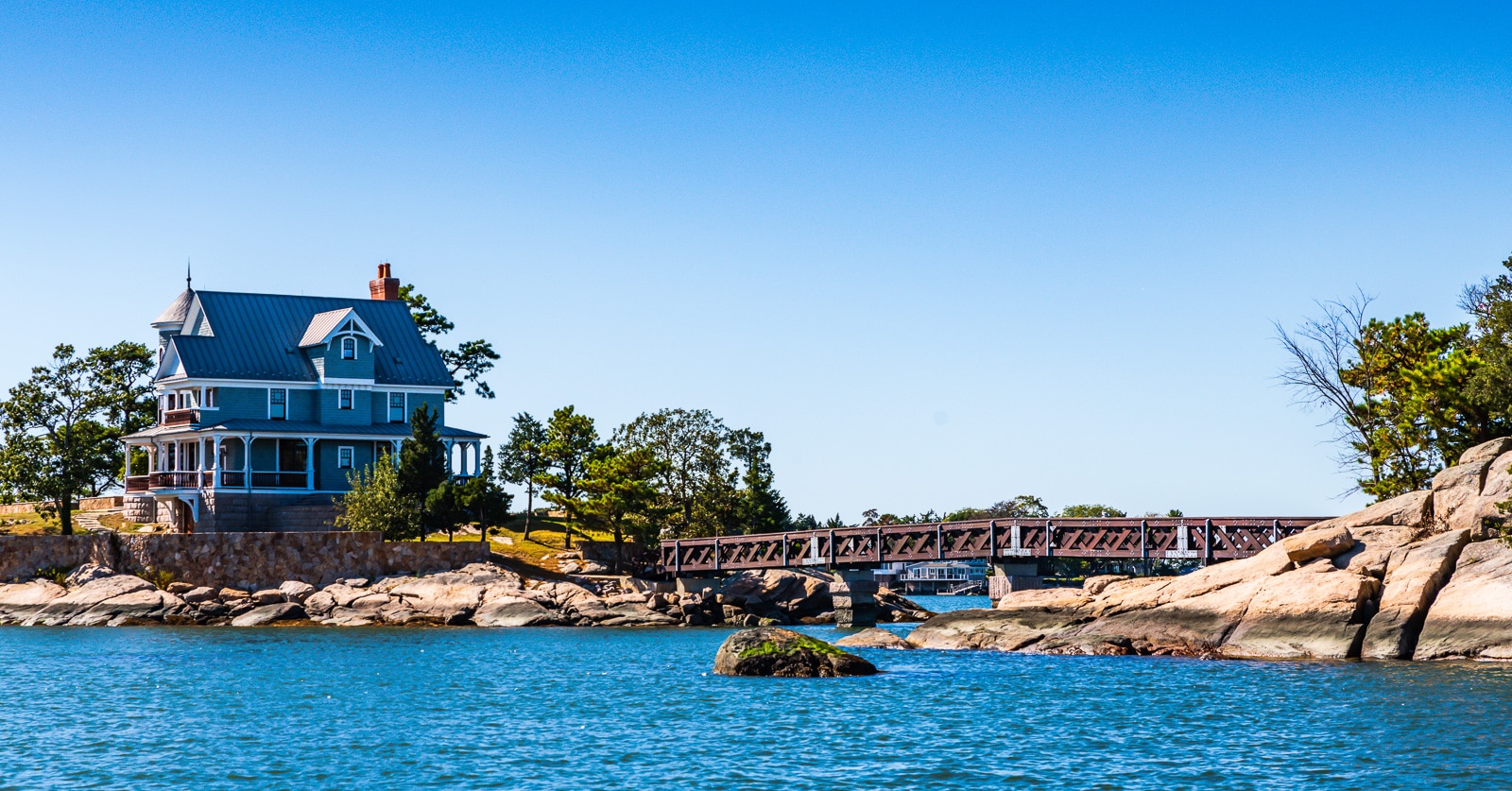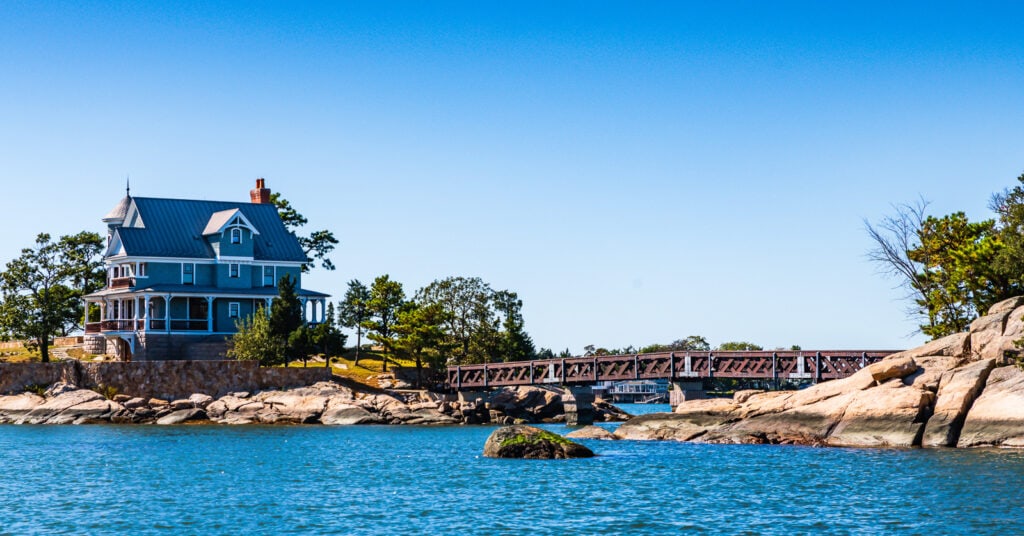 Spend a couple of days exploring the region that's a bit Florida Everglades, a bit Maine Coast. But singularly Connecticut.
For more on the Connecticut shore, read our Connecticut Shoreline Scenic Drive post. Or explore a little further with our roundup of romantic getaways in New England.
Thimble Islands Things To Do
Take a 45 minute cruise around the mauve-colored Thimble Islands (named for the prolific Thimble Berry, not their size.)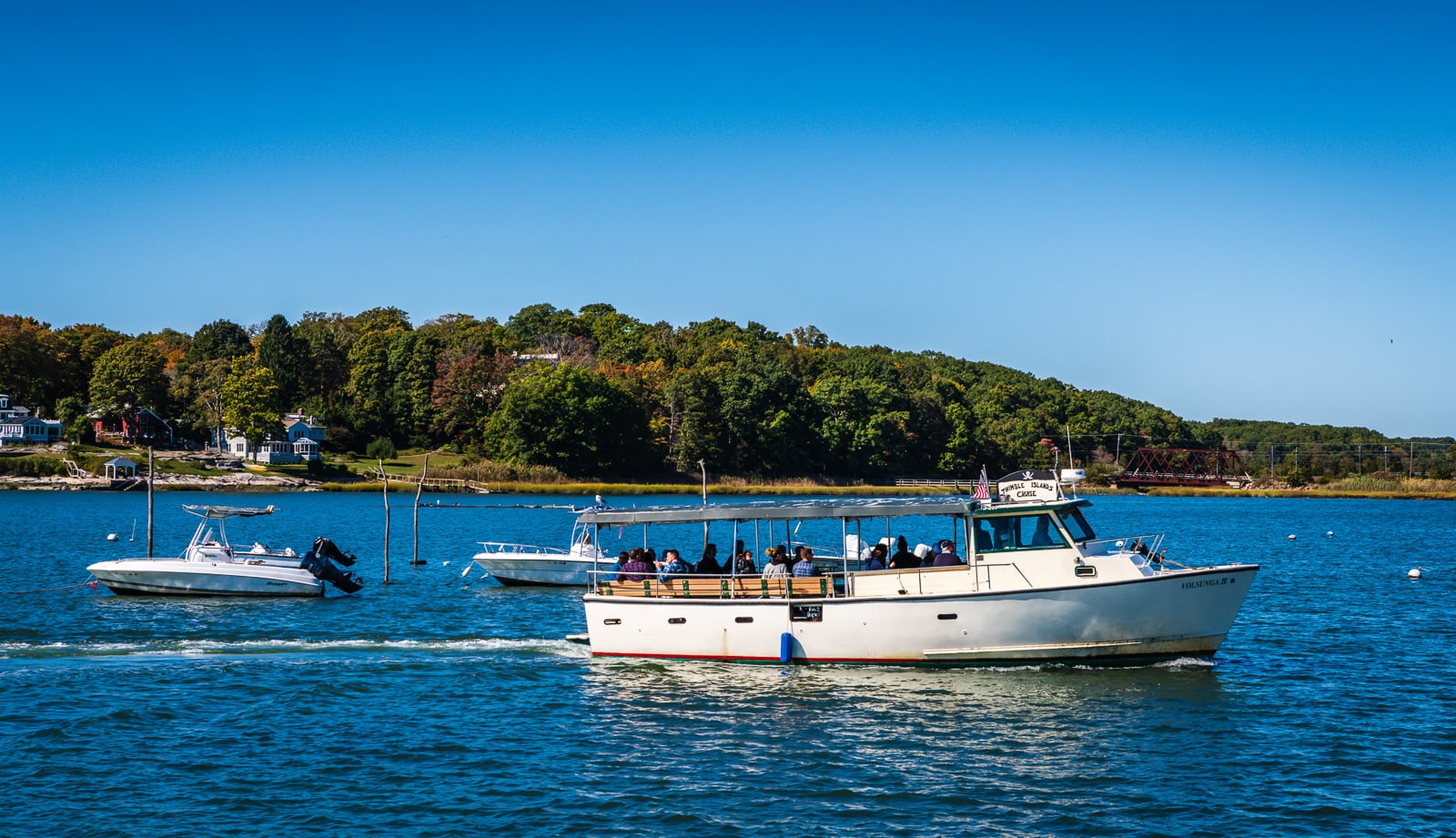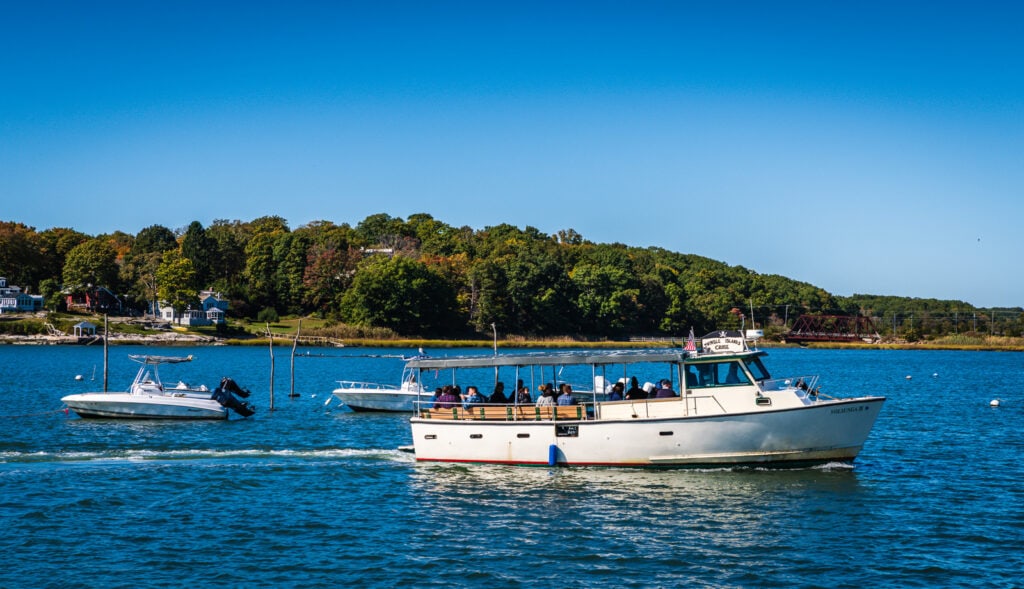 This collection of over a hundred islands of various dimensions (only twenty-five being inhabited islands) – some no bigger than a breadbox, others large enough for 32 houses – is home to star-studded history galore.
President Taft summered on Elton's Island and at the height of his popularity, Tom Thumb courted a woman on Cut-In-Two Island. Rumor has it that Captain Kidd hid his pirate treasure here.
The real treasure now is in the valuable real estate properties of fabulous summer cottages. 7.5-acre private island Roger Island, with its 8,746-square-foot mansion and Jack Nicklaus-designed putting green, sold for $21.5 million in 2018.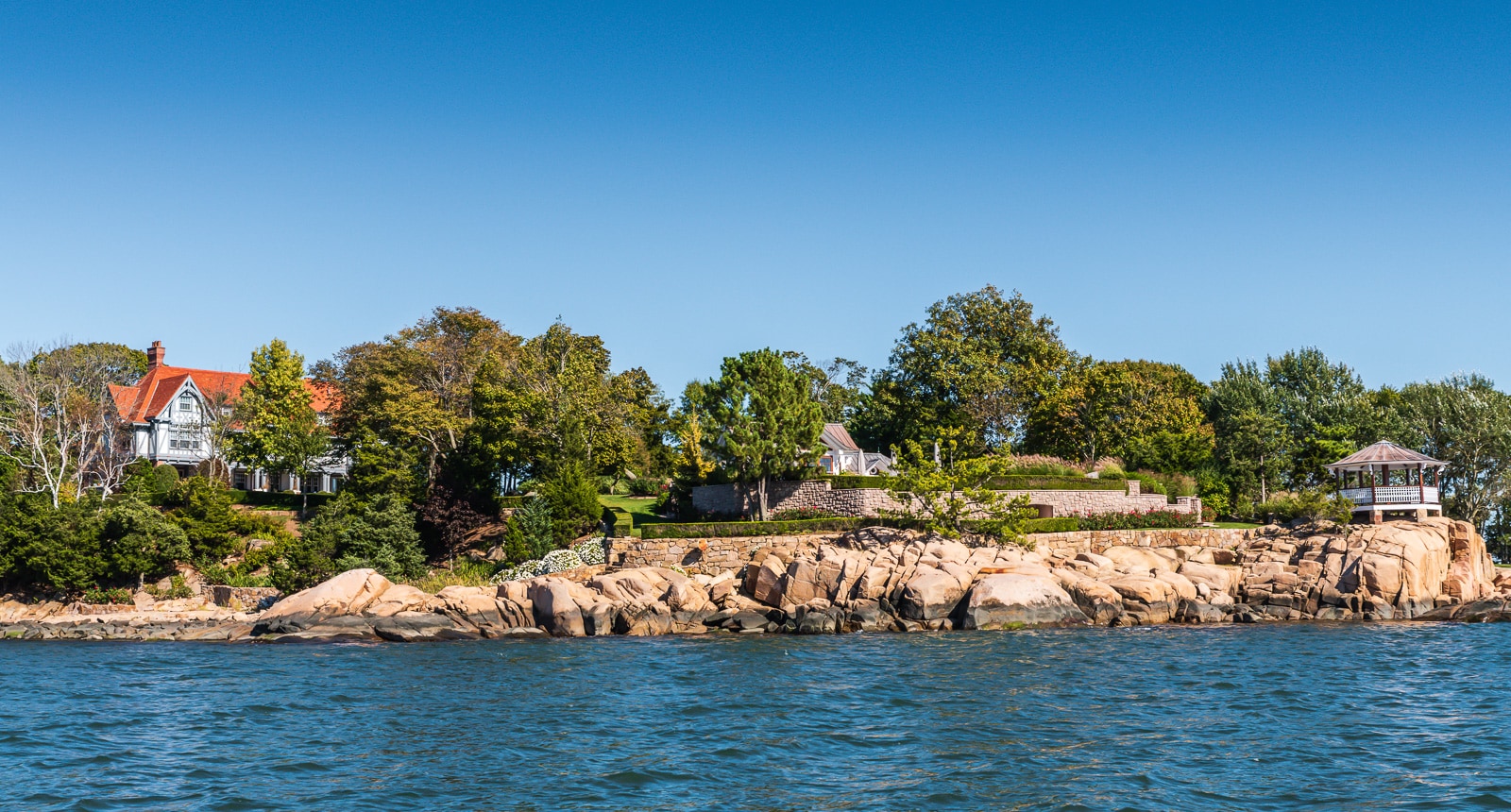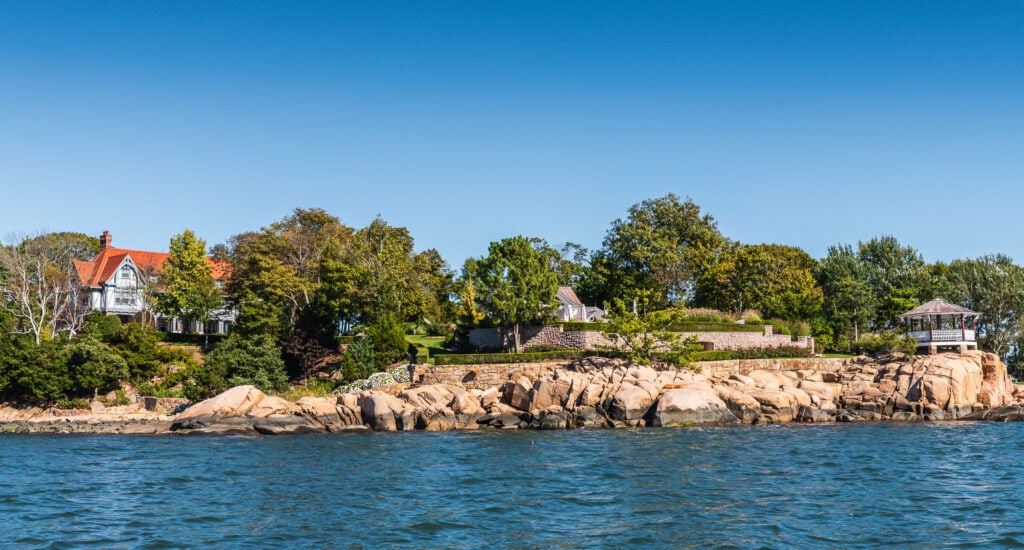 Find the Sea Mist at the Town Dock in Stony Creek CT. It's one of three boat companies, with different tour schedules, that includes the Volsunga IV and the Thimble Island Ferry.
If you have your heart set on a Thimble Island tour, and one tour boat is unavailable, take another. Or- if you've already experienced one, try a second. Both tour boat captains grew up in Stony Creek and know these islands – and their stories – like the back of their hands.
When Captain Bob Milne passed away a few years ago, his daughter, Anna Milne, decided to take the helm. Anna grew up by his side, and could easily pilot the boat and regale guests with Thimble Island tales and legends. However, she was required to obtain her Captain's license: not an easy task. Currently, she's the only female Cap'n providing public boat tours in Stony Creek.
GO: Take the Thimble Island Ferry to Outer Island for a nature break in the Stewart B. McKinney National Wildlife Refuge
The outermost Thimble Island is home to a cobblestone beach, pink granite boulders, and the nesting habitats of birds and waterfowl.
DO: Kayak the Thimbles
Yep, there's another way to see the pink granite islands. And that's with Branford River Paddlesports.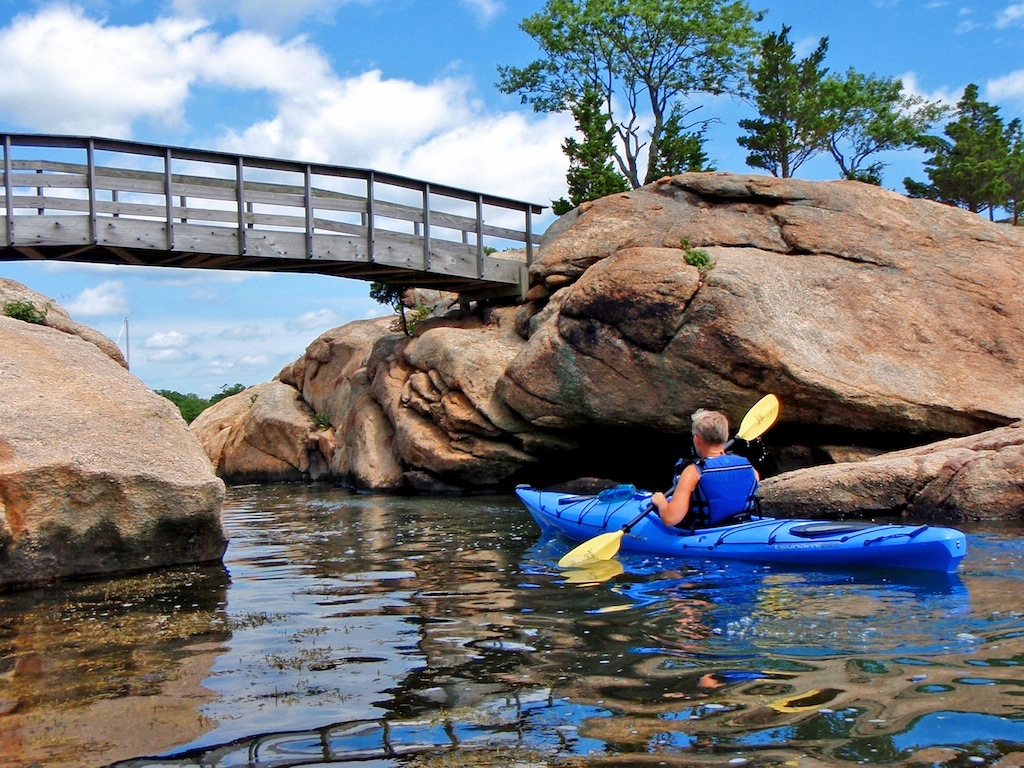 They supply everything you'll need for a 2 or 3-hour four-mile paddle around the Thimbles.
Things To Do In Stony Creek CT
In the mid-1860s, rock quarries flourished on this section of the Connecticut Coast. Nearly 2,000 people – whole communities – worked to remove, process, and carve the highly desirable pink-speckled and veined stone gleaned from the Stony Creek Granite formation beneath the earth here.
At the turn of the last century, Stony Creek Granite was known to be durable, enduring, and unique. To artists' eyes, its veining imparted the illusion of "motion," rendering it almost a living thing.
But over the years, land along the waterfront became too dear, and most of the quarries sold out to encroaching civilization. Now, only one, Stony Creek, is still in operation.
Where to Find Stony Creek Granite
Chunks of stony Creek pink granite form the base of the Statue of Liberty, the abutments of the George Washington Bridge, Grand Central Station, the 46' tall column of the West Point Battle Monument, and the entire AT&T Building in New York.
While summering in Stony Creek, Ayn Rand hung about and researched these stoneworks to flesh out the main character of The Fountainhead, Howard Roark, who takes a job in a Connecticut quarry.
Stone Requirements for Landmark Structures
On the National Register of Historic Places, Stony Creek Quarry supplies stone for other iconic Landmarked structures built out of its signature granite. In fact, landmarked structures must "match to existing," providing that the supplier still exists.
For example, Stony Creek Quarry provided stone for the new Statue of Liberty Museum to match Lady Liberty's base. And recently, the Metropolitan Museum of Art in NYC removed carpeting from several galleries to replace it with tiles to match the original Stony Creek Granite floor.
Most blocks, cut in 25-ton 5'X6' sections, are sized for sea transport in shipping containers. However, Stony Creek Quarry also specializes in both "oversize" and more organic shapes.
The Peabody Museum at Yale University required a "monumental pedestal" for its large-scale bronze dinosaur and worked with Communications Director and Sculptor, Darrell Petit, who has been at the Quarry since 1989 "in almost every capacity."
As a sculptor, Petit can "read the stone" and helps procure the perfect block for each custom order. "Most builders want rectilinear blocks, but artists look for more organic shapes," acknowledges Petit.
Land Management and Sustainability
The watchwords for modern rock quarries are Land Management and Sustainability, "so we don't pollute or leave a pit," when the quarry is depleted, states Petit. In years past, the granite was cut with torches heated to 3400 degrees with diesel fuel.
But now, the quarry utilizes diamond-enhanced wire, which revolutionized the quarry world, to saw through the stone. Used with water, the process is environmentally friendly, doesn't compromise the material, and, requiring only one man on the saw, and is three times more productive.
And while once whole broken sections were tossed aside, Stony Creek Quarry now operates with a no-waste policy. Fractured blocks can be bashed into smaller pieces, pounded into gravel, and crushed into sand and then utilized for harbor jetties to protect the shoreline and mixed into concrete for custom paving.
Throughout the year, the Quarry engages with the design world, welcoming engineers and architects, as well as students in STEM programs, to its 55 acres. Though generally closed to the public, twice a year, usually on the 2nd Saturday in May and October, the Stony Creek Museum arranges very popular tours.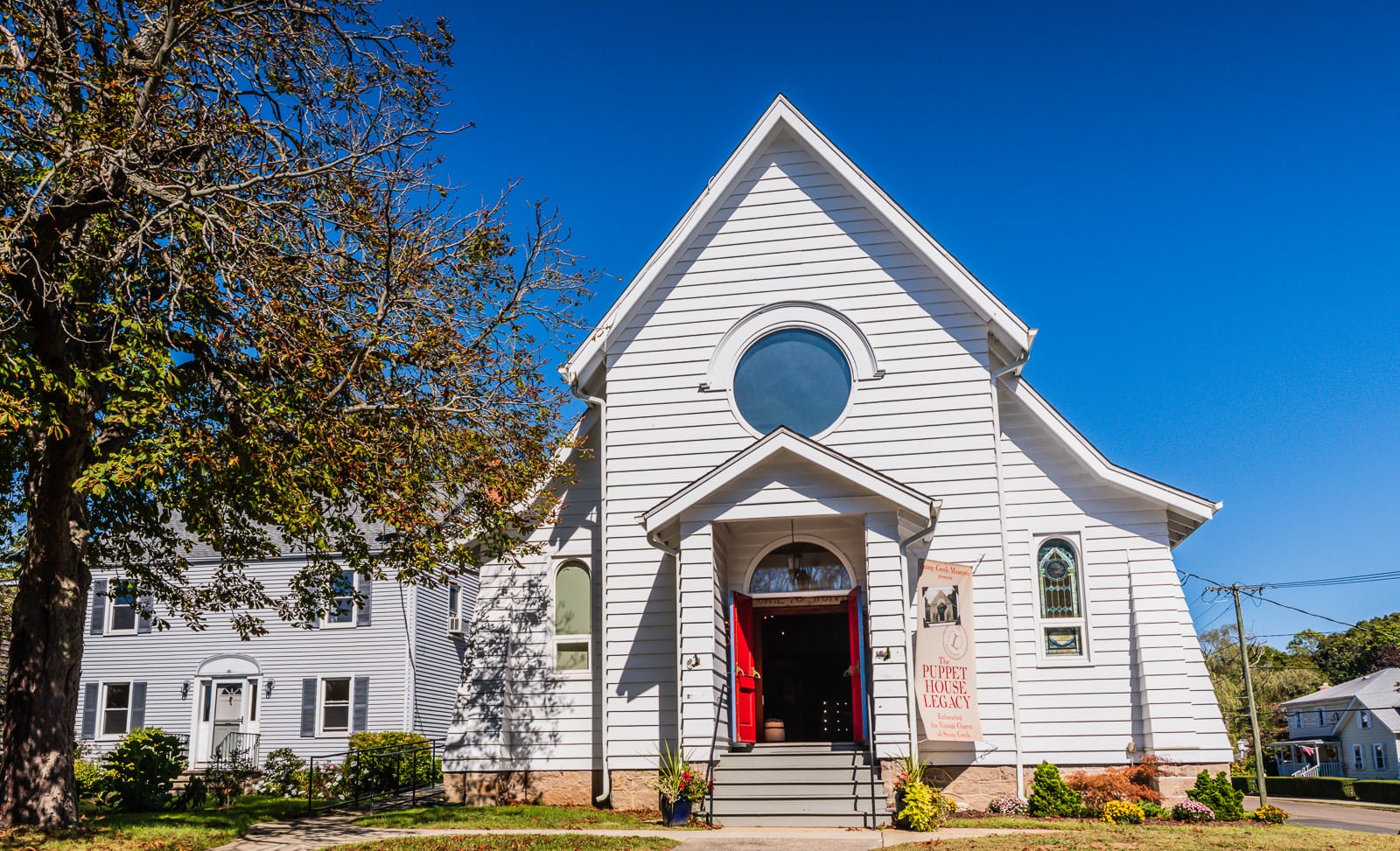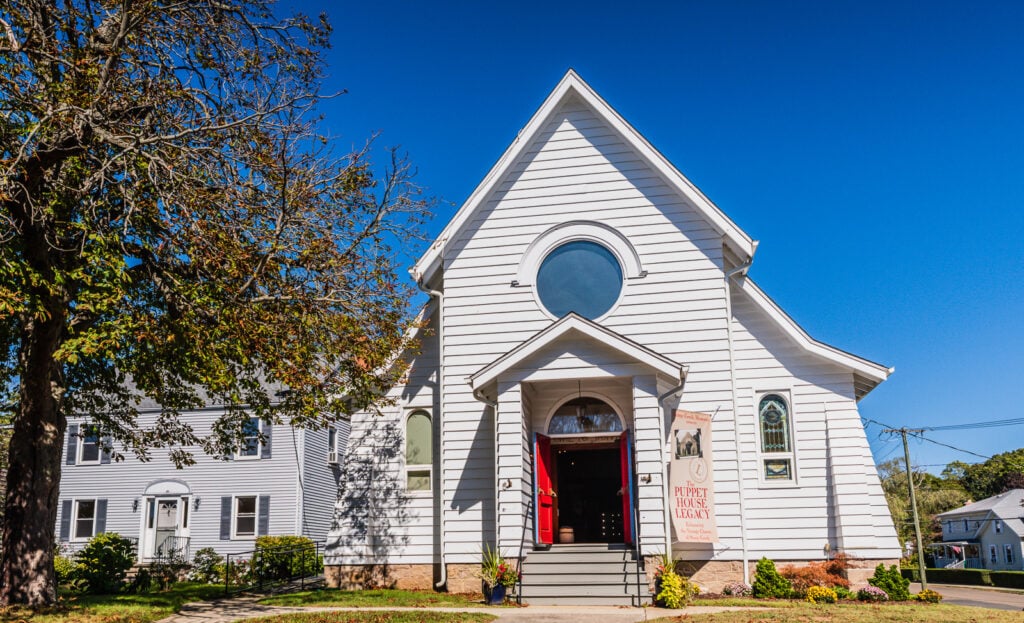 The charming little museum celebrates the nostalgia of Connecticut's coastal village as well as the story of the quarry behind some of America's most notable landmarks.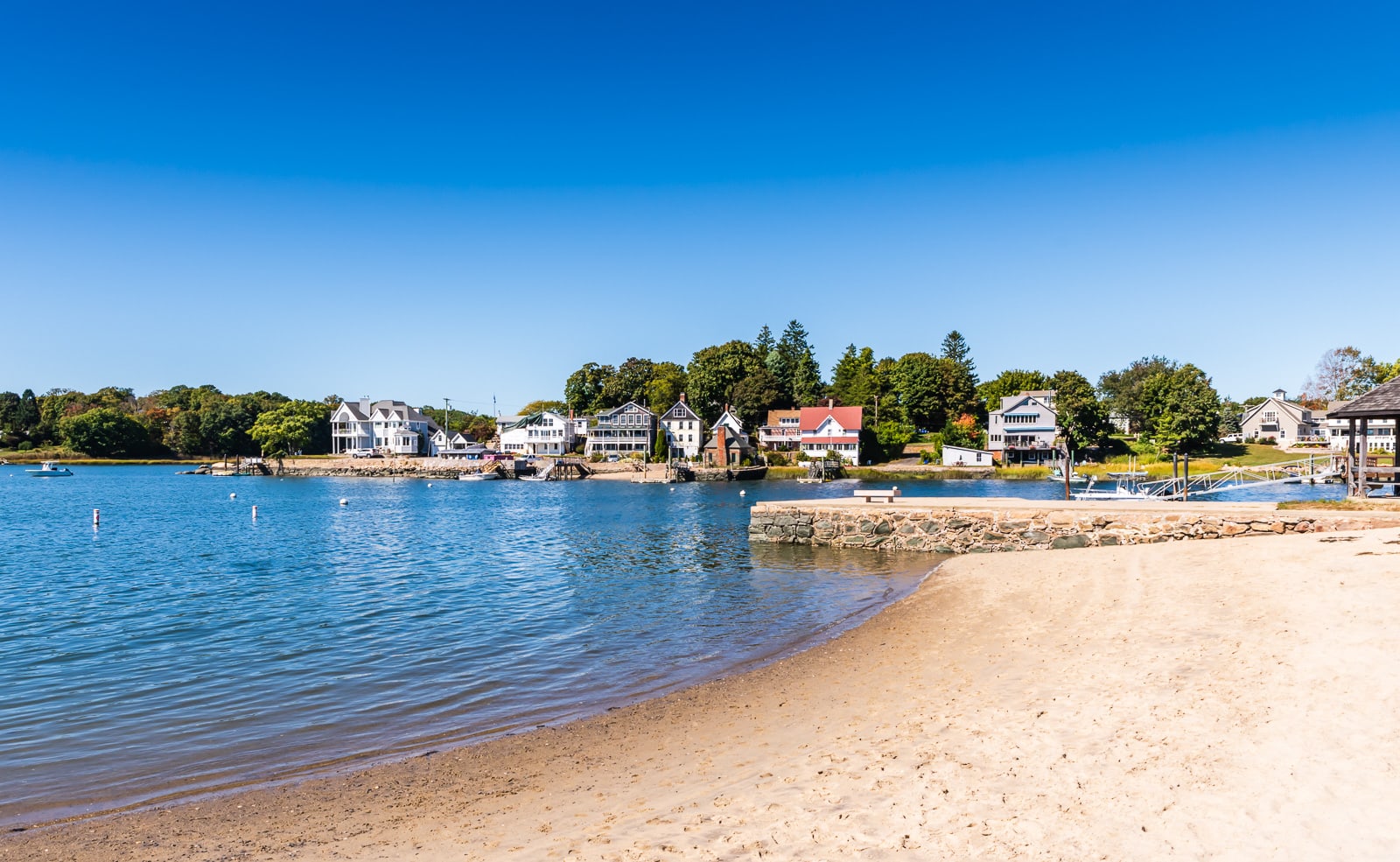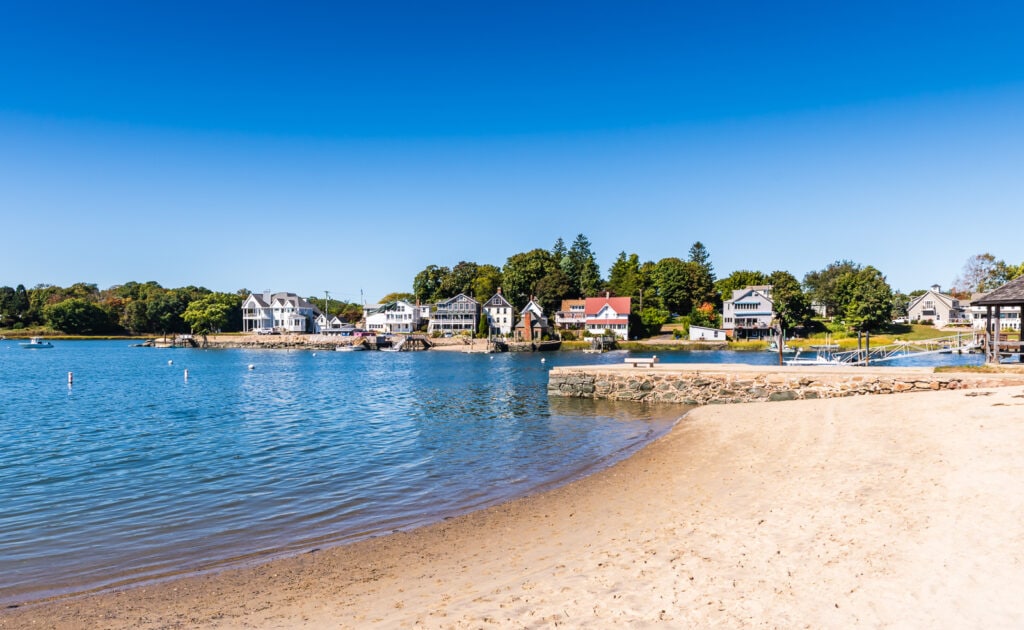 Pack a picnic and catch some rays by the shore at the postage-sized beach on the edge of Stony Creek Village. Stony Creek Beach is one of several beaches found along the coast of Branford CT.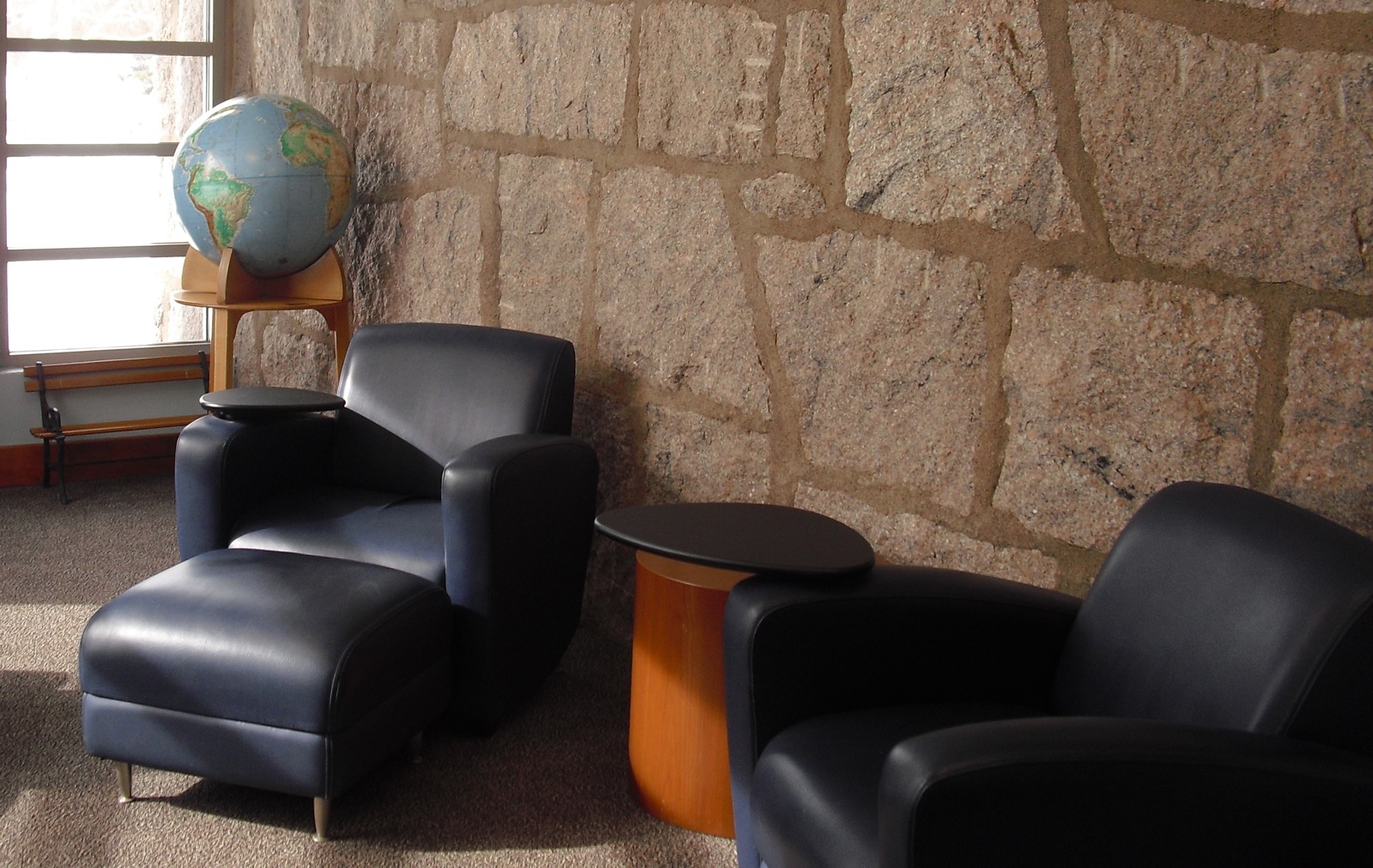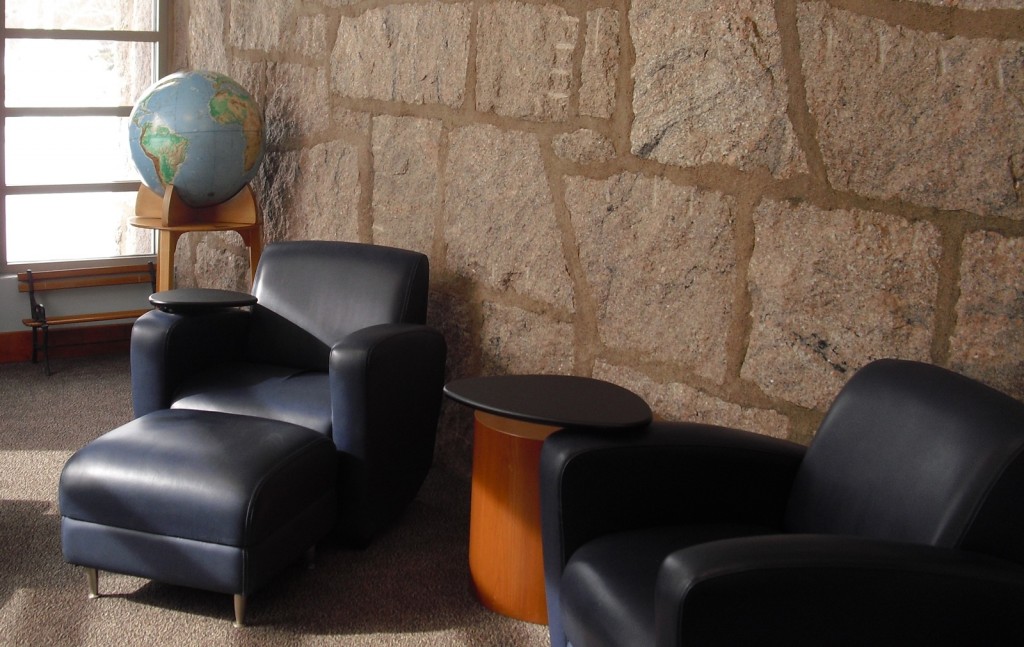 See examples of both rough-hewn and polished Stony Creek Pink Granite here. On rainy days, sink your tush into a comfy chair and read or catch up on email.
There's a small but wonderful art gallery and the foyer showcases uniforms from the local Fife And Drum Band. This is the perfect rainy or snowy day cocoon for bibliophiles.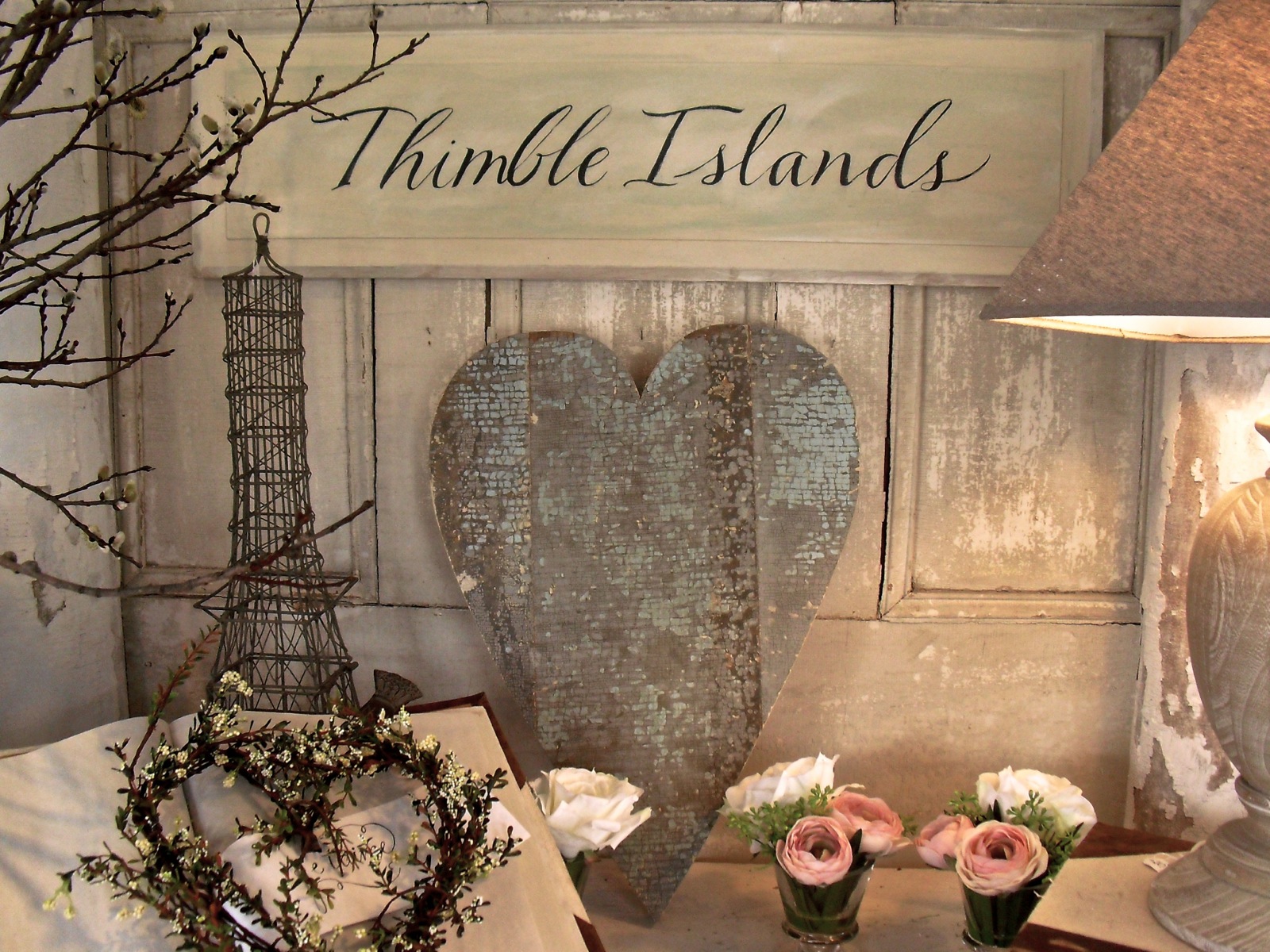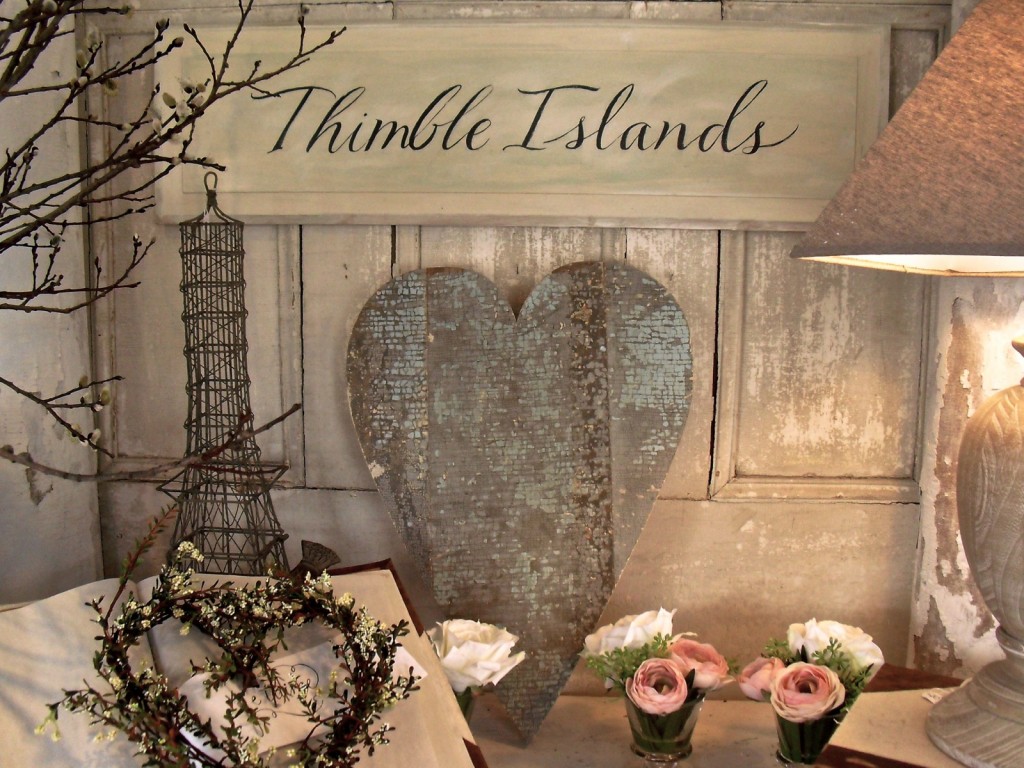 There is really no "downtown" to Stony Creek. There are a few art galleries on Main Street, a couple of market-type eateries, and the library. That's it.
Drive a mile or beyond Stony Creek Village into greater Branson CT, though, to Taken For Granite, a gift shop just as notable for its creative displays (and its name) as it is for its content.
This former antique store is now the fun, reasonably priced gift, housewares, clothing shop, Seaside. Seaside shares a building with Stony Creek Market. It's the perfect place to peruse housewarming gifts – especially if the said house is on one of the Thimble Islands.
Thimble Islands Restaurants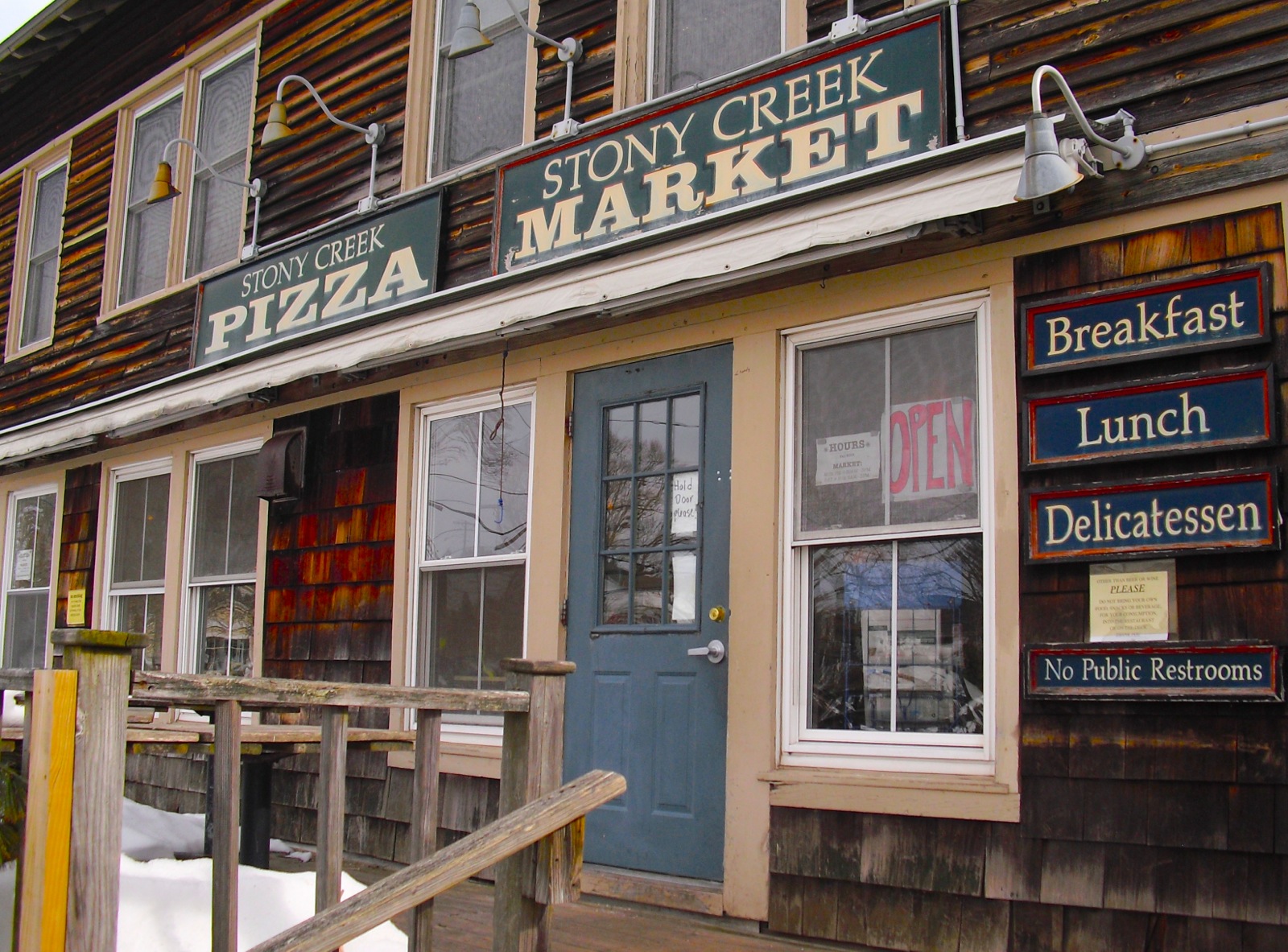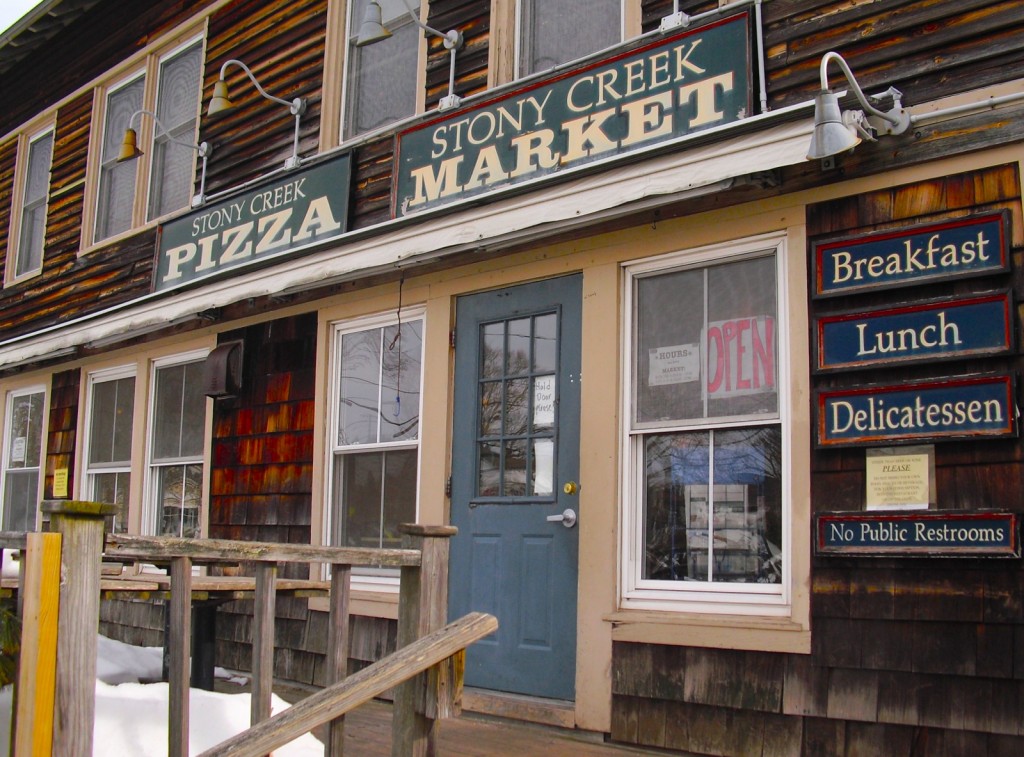 You might be invited to a Town Hall meeting if you linger here long enough. It's that kind of place. In the morning, Moms and babies prevail, and later on, seniors discuss local and world politics.
The freshly made Chicken Curry Salad is particularly toothsome, and all dishes are straight from the stove or oven excellent. From Memorial Day till Labor Day Thursday to Sunday Nights, you can pick up (or eat in) a carb-loading pizza dinner.
In the former "Creeker's" space, chef/owner Mike McNamara presides over this unpretentious eatery. Breakfasts like The Bear Island (two poached eggs on English Muffin with fresh tomato, sautéed spinach, and melted cheddar) take center stage.
I can personally attest to the awesomeness of the Home Fries and fresh thyme-infused New England Clam Chowder as well.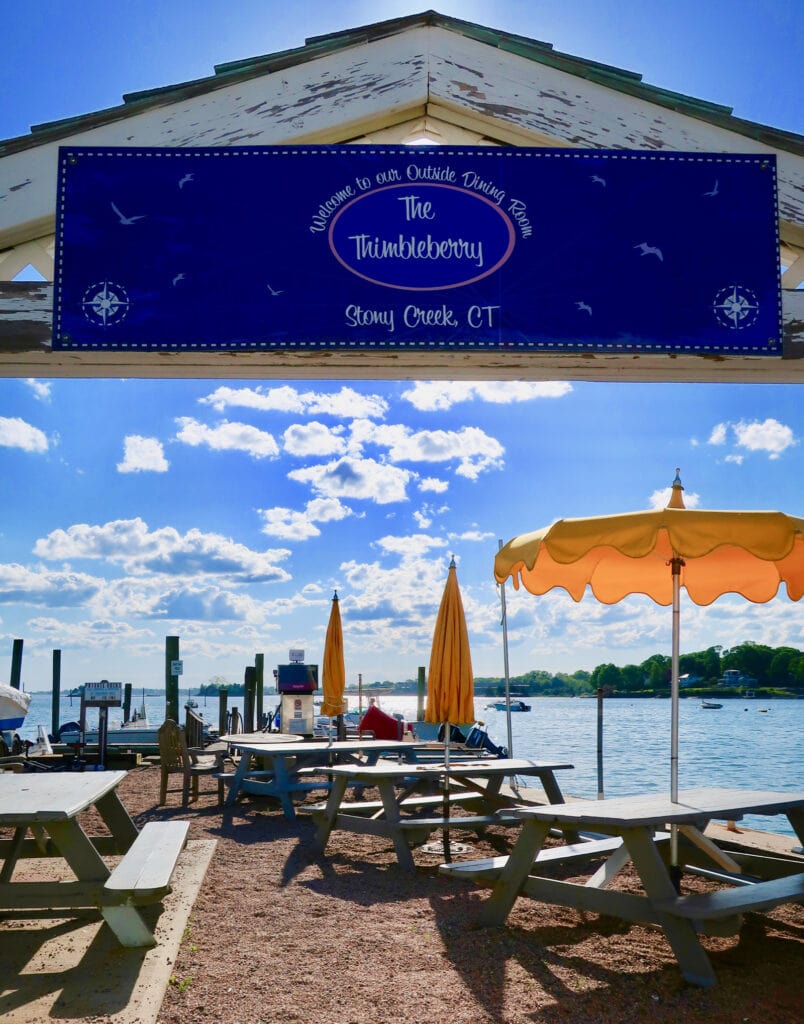 Thimbleberry recently added a shore-side outdoor dining area. Why be stuck indoors in this glorious place?
Drop in for tastings, tours, and growlers-to-go at the "largest self-distributing micro-brewery in Connecticut."
The scene is hopping, pun intended, at the Branford River waterfront location of the Stony Creek Brewery. With dock access, an indoor-outdoor taproom, a game pit, and now a rotating food truck schedule.
Hotels in Branford CT and the Thimble Islands
The nearest hotel to the Thimble Islands is the Thimble Islands Bed and Breakfast in Branford, Connecticut. Just two rooms, but each one magnificent, this newcomer to the Stony Creek Village is already a favorite of many. Enjoy wine and cheese in the afternoon on the waterfront patio and a full breakfast in the morning.
Weekend Getaways In Coastal Connecticut