Last Updated on
WHY GO: If you've ever been curious about why Connecticut is called The Constitution State, Hartford is the best place to find out. The groundwork for the US Constitution was laid right here – in a 1639 sermon, The Fundamental Orders, by the Reverend Thomas Hooker – calling for a representative government in Connecticut. Home to the State Capitol, the Old State House (where you can ogle a two-headed calf), Mark Twain, Harriet Beecher-Stowe, an arcade-like state-of-the-art Science Center, America's first public Art Museum, and a plethora of great restaurants,  there's more to this Insurance hub than actuarial tables.  Come for the business, stay for the pleasure on this constitutional Getaway.
Things to Do in Hartford CT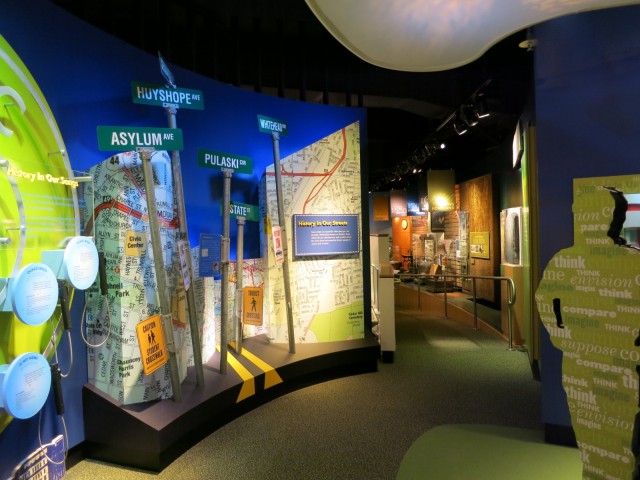 VISIT: Connecticut's Old State House. This is the only place on earth where you can see Mark Twain's bicycle, a large Gilbert Stewart portrait of George Washington, rooms in which the Amistad captives were tried, and a two-headed calf all in the same building. Dwarfed by insurance skyscrapers that surround it, this was one of two State Capitol buildings in Connecticut (alternating with New Haven) before it became Hartford City Hall in 1878 to 1913.  In 1996, the State House was renovated to include a wonderful interactive exhibit: History Is All Around Us. You'll find out how Asylum Ave. got its name (ok, I'll tell you: it was named after the Asylum for the Deaf and Dumb, now American School for the Deaf). From Native American settlement to colonial era town, as a factory city, then a national insurance hub – the history of Hartford and its environs unspools in a creative, entertaining way.
Upstairs, tour the old Court Room where the Amistad slaves and abolitionist Prudence Crandall were tried, and the House of Representatives chamber where PT Barnum served. Also on the 2nd floor, you'll find the "Museum of Curiosities" – a Maven's favorite. Though it's stocked with Victorian-era oddities, like newly-discovered creatures from the China Seas, it also features a Barnum/Ripley esque taxidermied Two Headed Calf – the most photographed curiosity here. Don't forget to pick up some CT-made items in the gift shop.  Shelton, CT manufactured Wiffle Balls and Bat sets are just $10 each.  Open 10am-5pm Mon-Fri., Summer Tues-Sat. $6 adults, $3 kids.
TOUR: Connecticut State Capitol Building. Take a self-guided tour of Connecticut's confectionary of a High Victorian Gothic style state house, built in 1878 and completely renovated in 1989. Along with statues of state heroes Prudence Crandall (who was arrested for accepting an African American girl into her private school in 1832) and Nathan "I regret that I have but one life to lose for my country" Hale, you'll be directed to a fountain beneath the staircase used to fill buckets of water for the legislator's horses hitched to the back porch.The fanciful Victorian-era interior, ornately painted and carved, is worth seeing if only for a few minutes. Guided tours are also available and free, on the hour 9:15-1:15 Mon-Fri.
VISIT: Connecticut Science Center. At nine stories, the LEED Certified green Science Center looms over the I-91 corridor, and its top floor provides incredible views of the Connecticut River and beyond. But that's not why you should visit.  Museums like this are the key to making science entertaining and relevant for the newest generations, but you don't have to be a kid to have a blast here. Step inside a Hurricane Force wind tunnel – where 80MPH gusts whip your eyelashes around.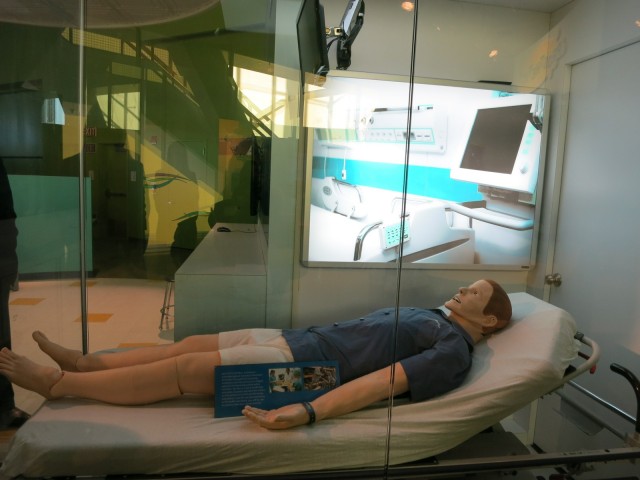 Give the lifelike "Sim Man" a heart attack or allergies, and see how he reacts: disconcertingly, his eyes swell up as an allergic reaction. Try your skill on the "Downhill Dash" ski racing arcade game, program a 1 ½ ft tall humanoid robot to dance, and create the new big thing in the "Invention, Dimension and Explorer" Exhibit. Race sailboats, play basketball with a computer, scream your head off in a soundproof room and indulge in other Mad Scientist adventures. Hundreds of games, displays and state of the art experiments will keep you happy for hours, if not days.  I'm going back to master that Downhill Dash. Open 10am-5pm Tues-Sunday, $19 adult, $16 kids.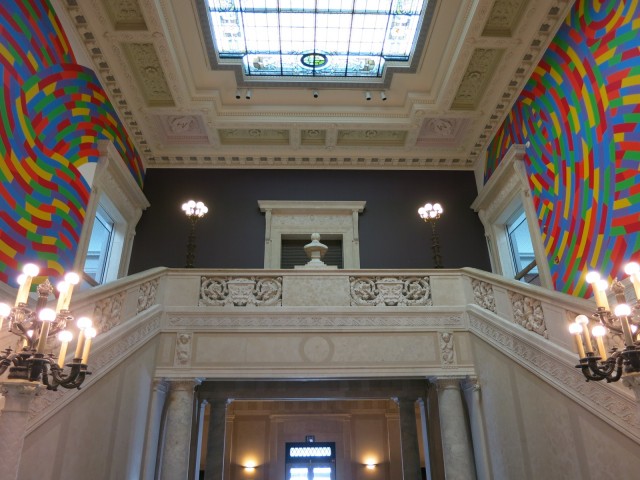 VISIT: Wadsworth Atheneum. Opened in 1844, the Wadsworth is the country's first public art museum, and has been on the cutting edge of art acquisition since its inception.  It was the first American museum to display works by Salvador Dali, Joan Miro, Piet Mondrian, Max Ernst and others. And with over 50,000 pieces in a variety of galleries, the Wadsworth is a terrific place to wander and discover those that call to you. If Sol LeWitt is your man, you're in luck, as his murals grace several soaring spaces throughout the museum.  I got stuck in front of Norman Rockwell's rendering of a grinning pigtailed girl with a shiner, waiting outside the principal's office.  I spent a few minutes looking at Andy Warhol's "Jackie" – just one piece in a grouping of pop art.
I was intrigued by an 1890 oil by Julius L. Stewart: On the Yacht Namoune Venice, so lifelike and contemporary it appeared to have been painted yesterday.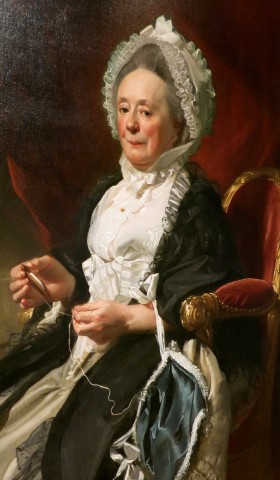 I got caught up with John Singleton Copley's 1780 Portrait of a Lady, which bears a striking resemblance to Dame Maggie Smith as the Dowager Countess of Grantham on Downton Abby. I could have lingered longer around the massive John Trumbull oils – especially The Signing of the Declaration of Independence and The Battle Of Bunker Hill. But other galleries beckoned, including some with very odd juxtapositions: like the Porcupine Puffer Fish hanging right next to a Prussian House Alter.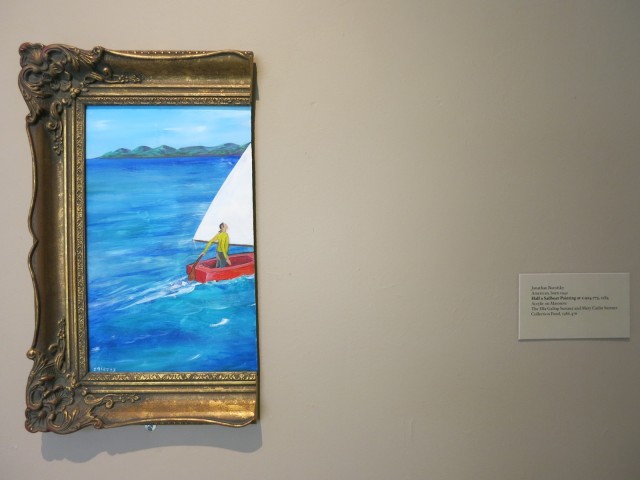 And sadly, I left without knowing the story behind Jonathan Borofsky's 1984 "Half A Sailboat Painting," which is literally, half an oil painting of a sailboat. $10 adults, kids under 12 free, Wed-Fri 11-5, Sat/Sun 10-5.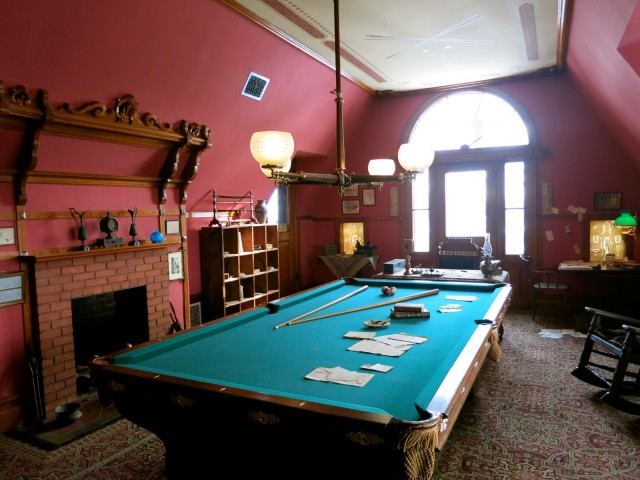 VISIT: Mark Twain House and Museum. It's incredible to think that a couple of decades ago, Samuel Clemen's (pen name, Mark Twain) Hartford home was in danger of financial collapse. Now, no less than National Geographic declares the Mark Twain House one of 10 Best Historic Homes worldwide (in the US, only the Twain House, Monticello and Mount Vernon made the cut), and Twain lovers flock here by the tens of thousands. After the Southern humorist married Livy, a Yankee girl from Rochester, NY in 1870, they moved to Hartford to be near Twain's publisher. While living here from 1874-1891, Twain wrote most of his best known books: Tom Sawyer, Huckleberry Finn, The Prince and the Pauper, A Connecticut Yankee in King Arthur's Court, and several others. A tour of the 11,500 square foot home takes you through many of the 25 rooms, though the first floor, designed by Tiffany to suggest Moroccan, Indian, Japanese and jungle themes, is the most dramatic.  Along the way, you'll learn about the joys and tragedies in Twain's life, why he might have been considered Best Dad Ever to his three beloved daughters, and how he would routinely rile up his prudish wife each evening as she edited his writing by the fireplace. Livy nicknamed her husband "Youth," because he always acted like a kid. Twain called his darling wife "Gravity," as she kept his feet on the ground.
A lover of gadgets and an "early adopter," Twain put in central heating, purchased one of the first home telephones, installed a battery burglar alarm, and devised a bedside gas reading lamp using a rubber tube that extended from his gaslight chandelier (and still set up this way).  My own favorite room is his 3rd floor Billiards Room where he'd shoot pool with friends and write. I can just imagine the trash talk around the pool table: the great writer's presence is still palpable there. According to some staff accounts, visitors report the smell of cigar smoke, which has mysteriously set off the fire alarm. By Tour only, adults $16, kids $10, Open Mon-Sat 9:30-5:30, Sun 12-5:30, 90-minute Stowe-Twain House combo tour $23 adult, $15 kids.
VISIT: Harriet Beecher Stowe Center. "So you are the woman who wrote the book that started this Great War…"  – purportedly stated by Abraham Lincoln to Harriet Beecher Stowe, author of the anti-slavery Uncle Tom's Cabin, in 1862. Harriet B. Stowe, daughter, sister and mother of a line of well-known Ministers, composed what was to become Uncle Tom's Cabin as a serialized story in the Washington DC Abolitionist newspaper, The National Era. Living in Maine at the time (her husband, who she referred to as "my Rabbi," was a Professor of Theology at Bowdin College), Beecher-Stowe wrote with seven small children underfoot, and was surprised by increasing public interest and frenzy over her installments. Uncle Tom's Cabin was released in 1852 and became a significant best seller in the 19th Century, second only to the Bible, pivotal in helping to change public opinion about slavery in America. Like today, there were product tie-ins –commemorative plates, figurines and booklets. And no doubt Solomon Northup took note of all this interest: his memoir, Twelve Years A Slave, was released the following year.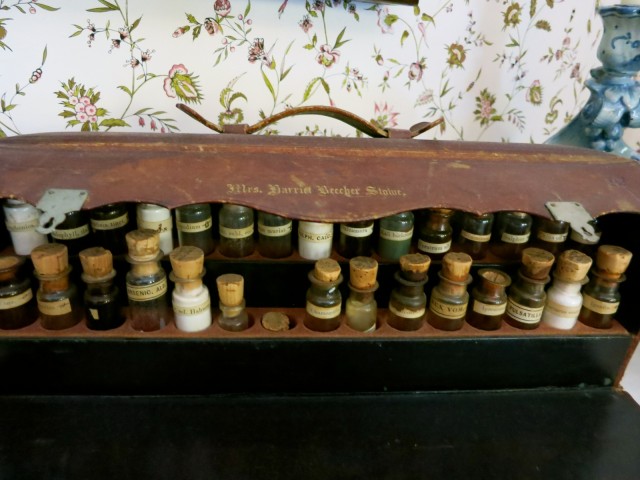 By the time the Stowe's moved next door to Mark Twain in the mid 1870's, Harriet had written most of her 30 published books. The Stowe Center was just recently listed as a National Historic Site, offering provocative and timely programs and tours. By Tour only, adults $10, kids $5, Open Mon-Sat 9:30-5, Sun 12-5, 90-minute Stowe-Twain House combo tour $23 adult, $15 kids.
DO: Ride the Bushnell Park Carousel. One buck gets you 3 ½ minutes on one of the 48 hand-carved horses of this 1914 carousel.  Open seasonally.
EXPERIENCE: Riverfront Recapture Events.  From May – November, the Connecticut Riverfront bursts into song, dance and quirky events.
RIDE: DASH. Free transportation! The DASH bus makes 12 stops throughout downtown Hartford from the Convention and Visitor's Center. Runs every 15 minutes Mon-Fri 7am-7pm. FREE.
Best Restaurants in Hartford CT
EAT: Dish Bar and Grill. Black-washed exposed industrial ceiling, blue-glow UFO shaped lighting – this downtown restaurant is one in a growing number of upscale, locally sourced places cropping up to feed an ever more sophisticated business (and tourist) crowd. Vegans will be happy here: the Pan Seared Cauliflower Steak with Watercress Salad is outstanding ($13). Burgers and Sandwiches are fine as well.
EAT: Max Downtown. One of nine restaurants in the "Max" group, this high-end, leather-clad, atmospherically clubby steak house also serves up fish from "top of boat" and other inventive dishes sourced from farms and purveyors listed on a big chalk-board over the peekaboo kitchen. "Chophouse Classics" from $38-$48.
EAT: Feng Asian Bistro. Normally, sushi is an expensive proposition, but come to Feng between 4pm-6pm for "Feng Shui Hour" and you'll find Maki or hand rolls for $3 and $4 and a delish Chicken Satay appetizer for $2.50.  Well drinks are $5 and wines by glass just $4. Food is fresh and finely done right before your eyes.
EAT: Trumbull Kitchen. Typical contemporary tavern décor, but small bites are creative and good. Signatures include Rock Shrimp & Sweet Potato Fritters ($8), Grilled Fillet Mignon with Truffled "Tater Tots" and Blue Cheese Fondue ($12), and a delectable Chiang Mai Curried Noodles, Tenderloin, Coconut Milk and Shallots ($7) – all favorites.
EAT: Salute. Let's say it's zero degrees out with snow in the forecast.  What to order at this very popular downtown eatery?  Anything pasta.  Burgers and sandwiches are very good, but the Sweet Potato Ravioli ($9) and Chicken/Shrimp Piccata with onions and leeks tumbled in essence of tomato broth over linguini ($12) will warm you till the storm passes.
Stay the Night in Hartford CT
STAY: Marriott Downtown Hartford. Hartford is businesslike and traditional when it comes to lodging.  For a comfy, north-of-mid-level stay, the Marriott Downtown set between the new Convention Center and Connecticut Science Center (and across from a brand new multiplex cinema) offers fine rooms and exemplary service.  Little things mean a lot to this traveler, and this particular Marriott has a few. Not that it's a "little thing," but service is so friendly, your stay here will feel the opposite of impersonal.
Breakfast in the Concierge-level lounge includes a smoked salmon and bagel platter (with onion/chive cream cheese!) – worth the extra $30/day alone for lounge privileges (though it also offers many more perks and meals through the day). Rooms are basic, traditional Marriott – with great bedding and cool Thann products in a granite-sink bathroom. I love the uniquely shaped "Rice Bran Oil" soap bar that comes in a small trapezoidal box: it fits like a talisman in my palm. Rooms $129-$400 per night. Higher rates reflect Concierge Level with breakfast and unlimited snacks and services.
For more leisure travel information about visiting Hartford,
contact the Central Regional Tourism District: