Straight off you have to understand that in the early 2000's, National Harbor MD did not exist. In effect, the Gaylord Hotel group pioneered the development of what was once an 1800's plantation on 300 desolate acres just ten miles from downtown Washington DC.
Taking a leap of faith, Gaylord built the 1,996-room National Resort and Convention Center in 2008 – the first of now six hotels located in this made-up burg.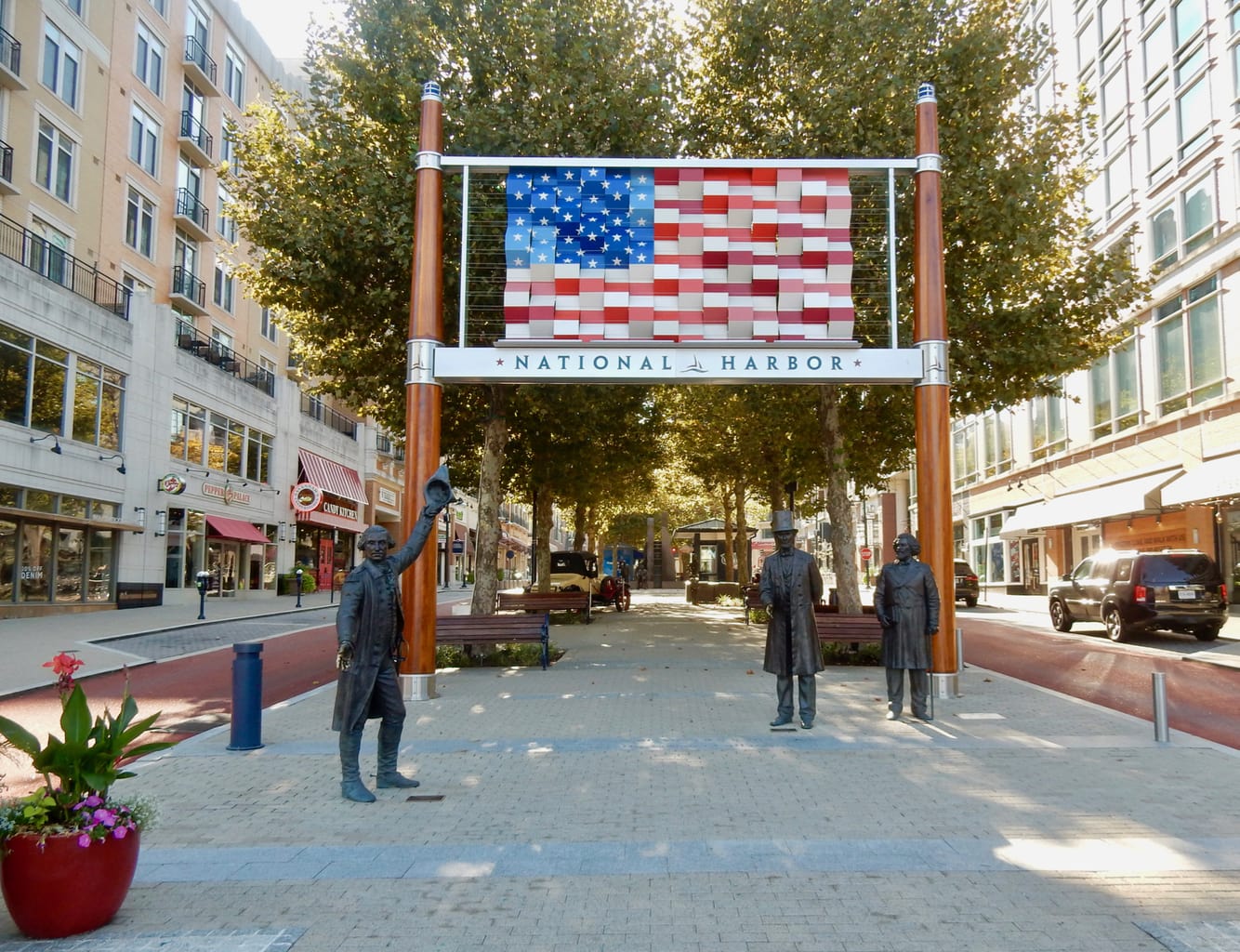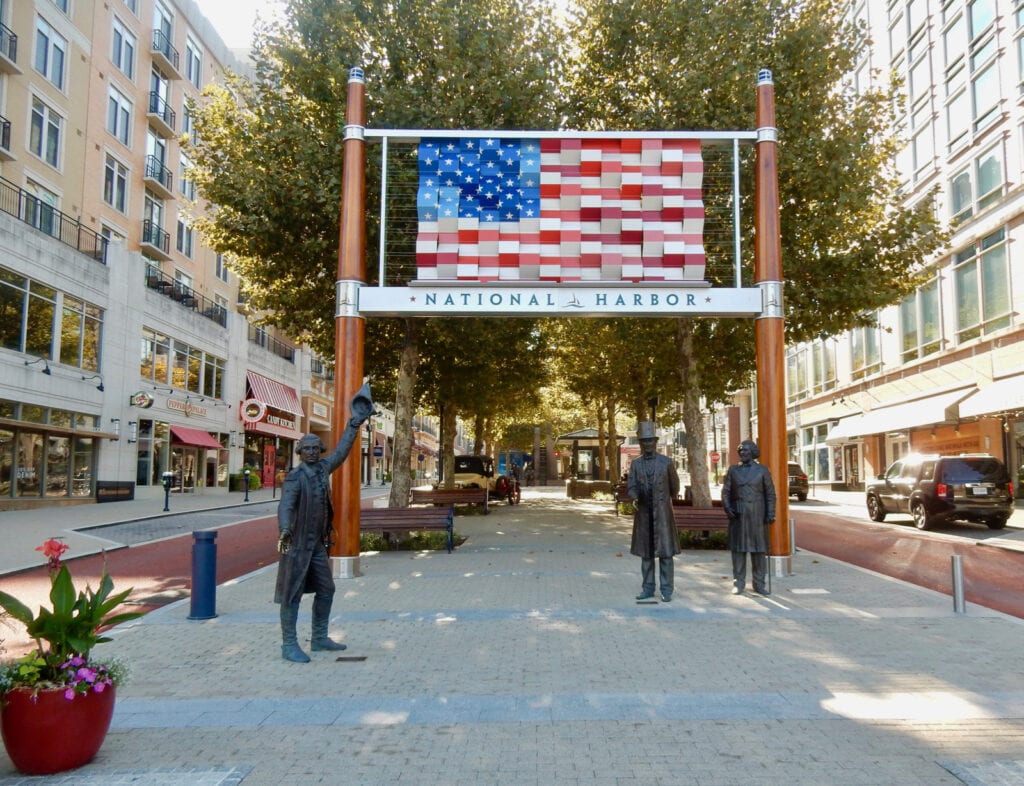 National Harbor MD, a Pleasure Island-like planned community, is one that Walt Disney might have envisioned. Consisting of several square blocks filled with shops, restaurants, nightclubs, apartments, condos and hotels, National Harbor is bolstered by recreational opportunities like SUP's, kayaking, canoeing and paddle-boat rentals, walking paths, and its very own signature Ferris Wheel with climate controlled gondolas.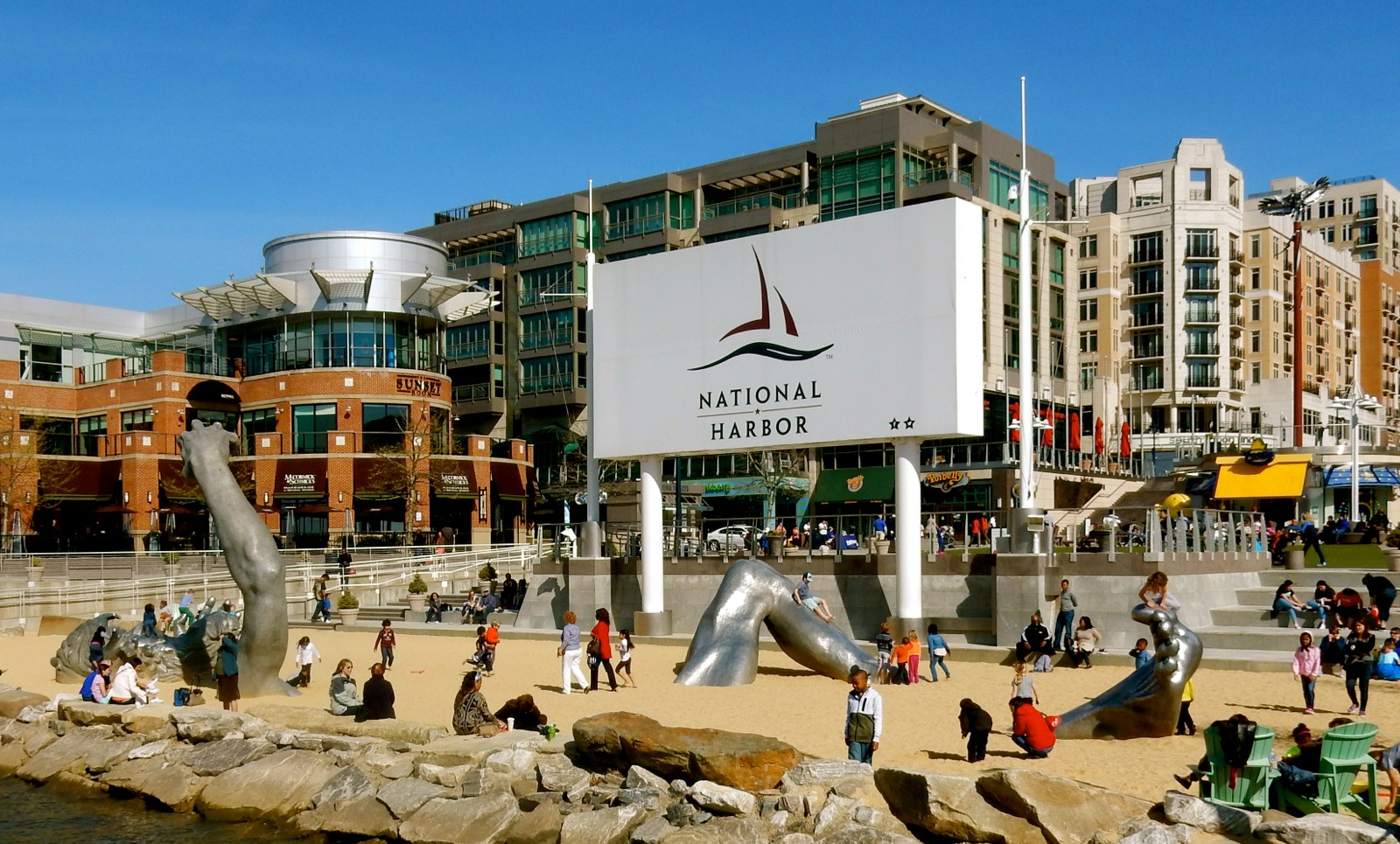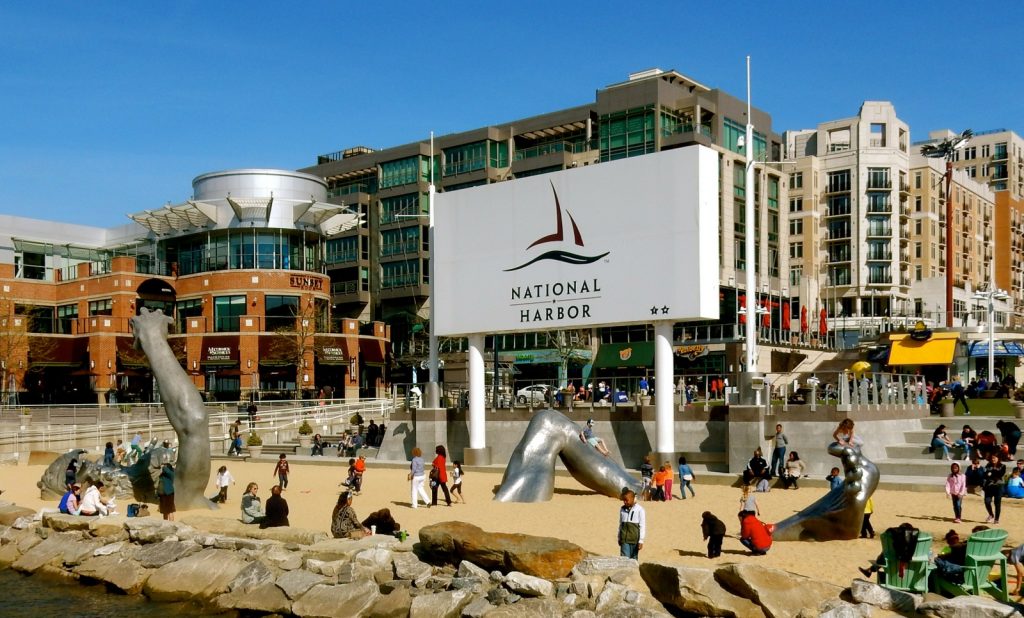 National Harbor's version of the "London Eye"–the Capital Wheel –rises above a large-yacht marina and small sandy beach where kids cavort on the arms, legs and head of a semi-buried sculpture called "The Awakening" (formerly situated in downtown Washington DC). There are Tanger Outlets, and the MGM National Harbor, with lots more development in store.
National Harbor is at the southern end of Prince Georges County MD. PGC is so large, we've divided it into three posts: 1. this one – National Harbor; 2. covering College Park, Hyattsville, Riverdale Park, Brentwood, and Laurel; and 3, the "Rural Tier" composed of Upper Marlboro MD and Brandywine MD Wine Country.
National Harbor is also on our list of 17 Best Romantic Getaways in Maryland. Check it out for more adventures with your loved one.
Things to Do In National Harbor MD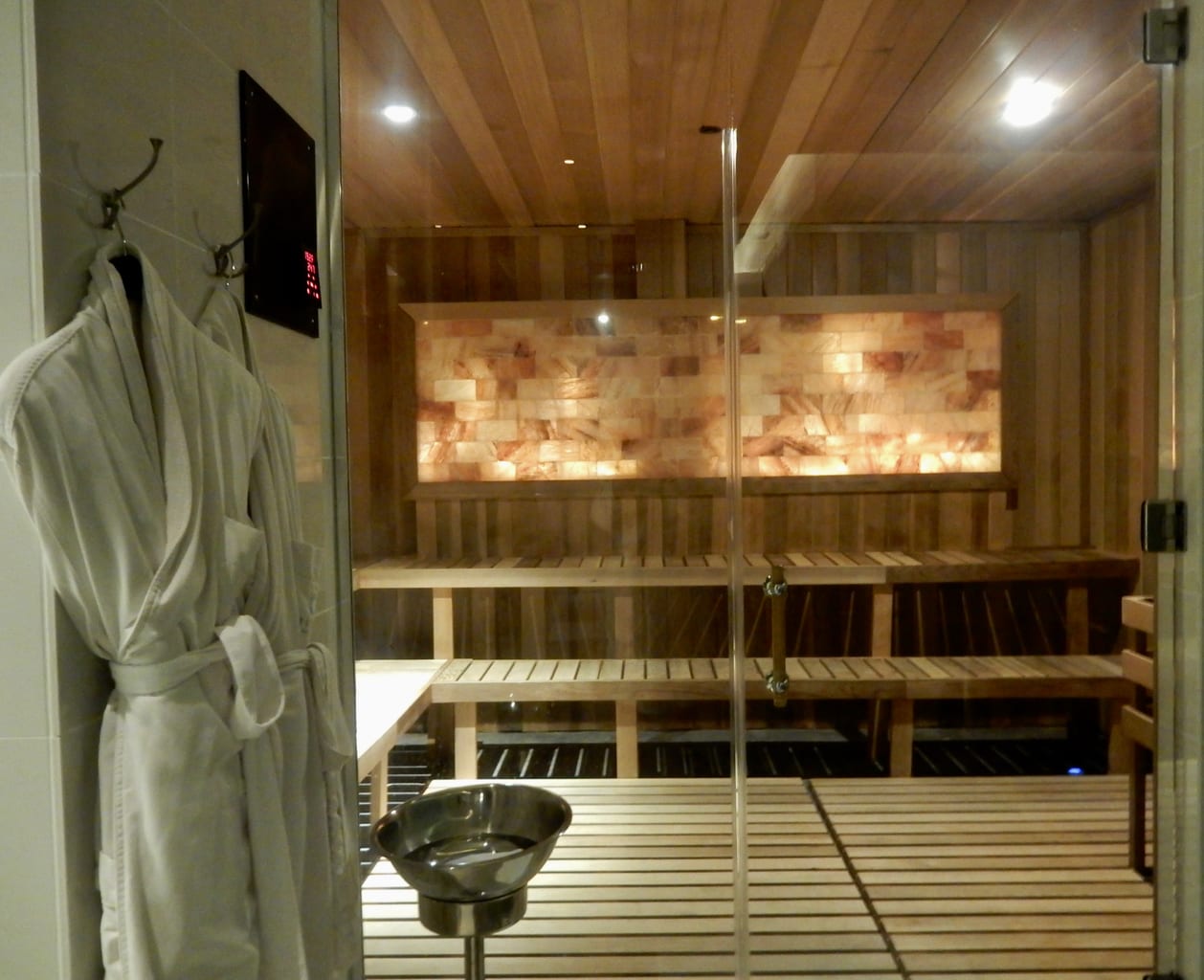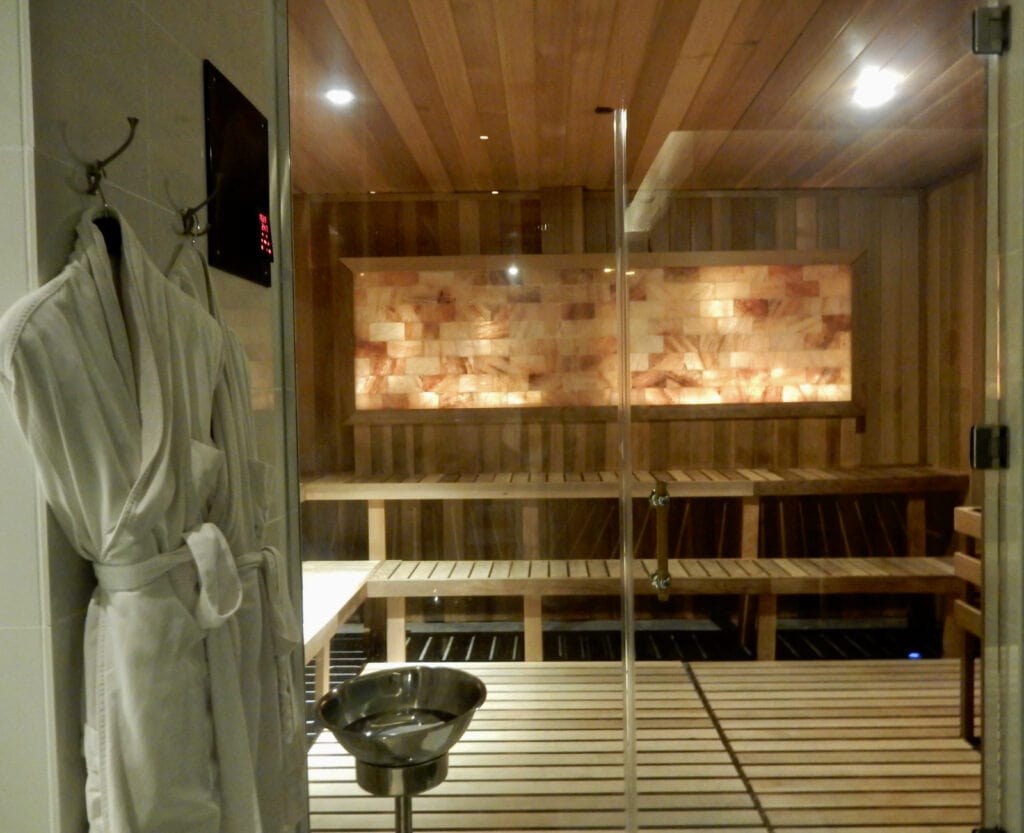 SPA: Relache Spa at Gaylord National Resort Convention Center
(See Below Under Where to Stay)
SHOP: National Harbor Shops
National Harbor is home to franchise shops galore, including a myriad of off-price luxury brands at Tanger Outlets. But my personal stand-alone favorites are: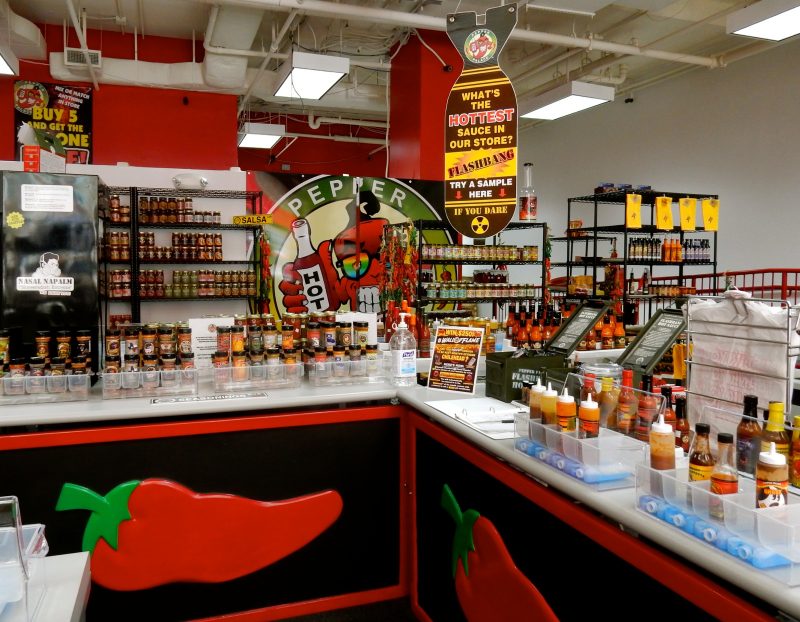 Pepper Palace – for the numerous hot sauce lover in my life and….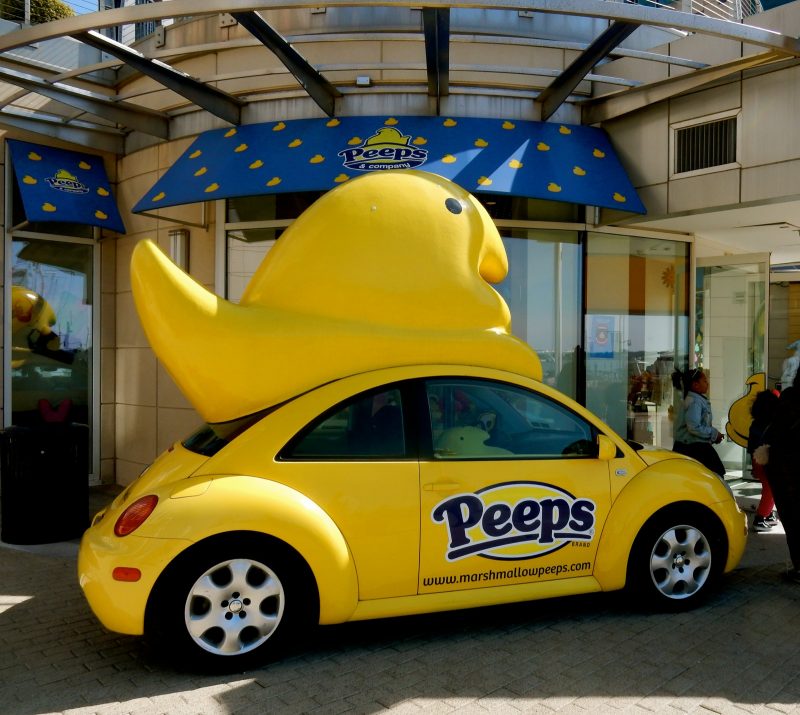 Peeps – because, yes, I love those little yellow chicks, which have expanded into their own brand and store. Come for a sample or discounted packages.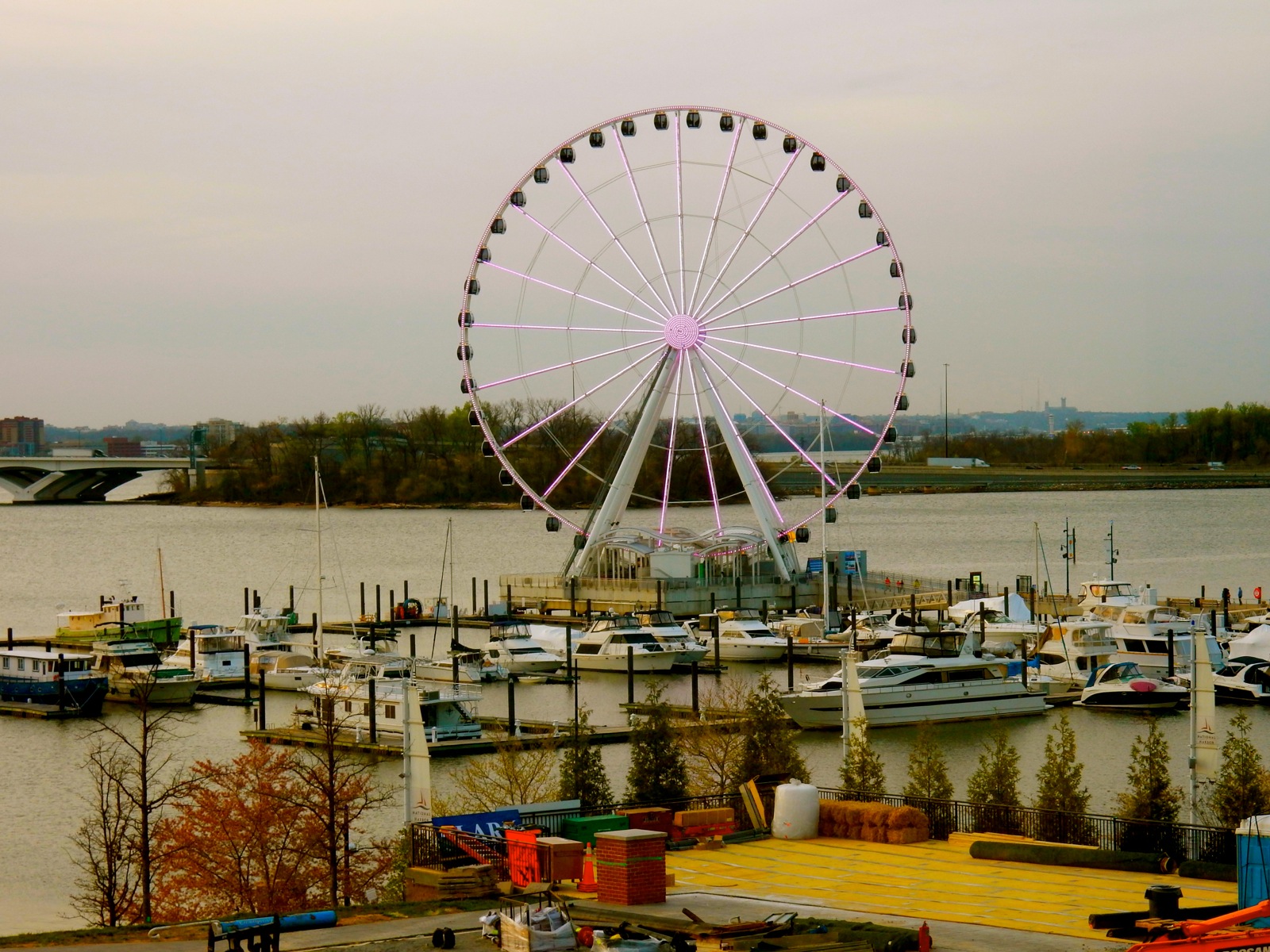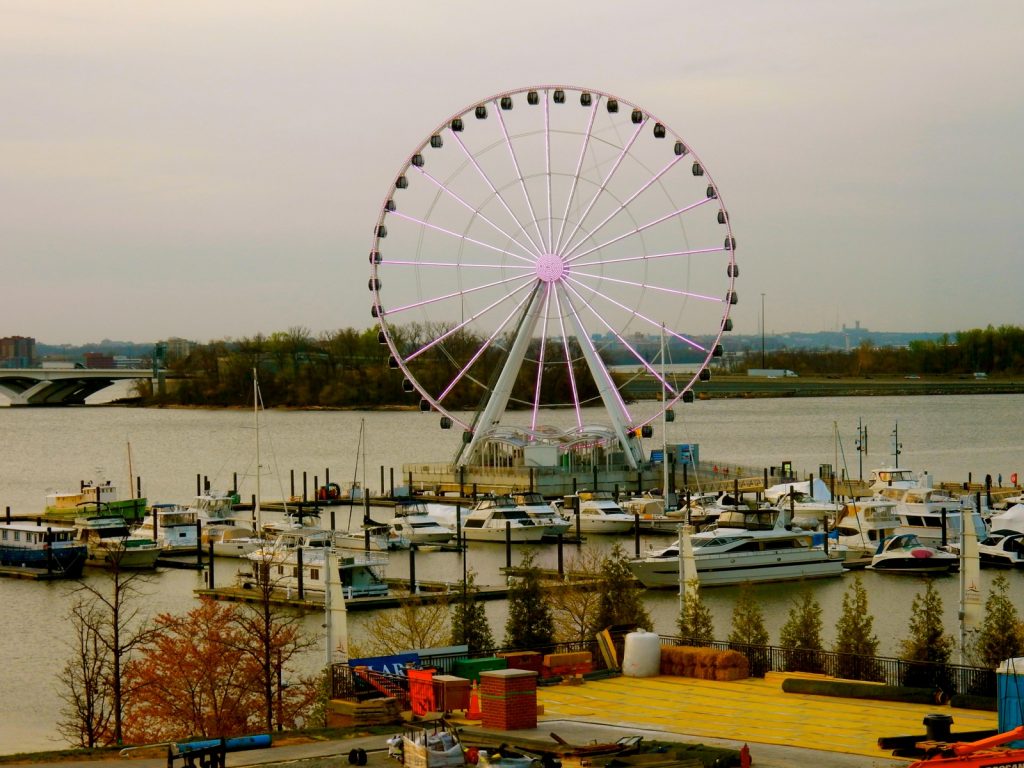 Though it's $15 for a few minute ride, it's worth it for the experience to soar 180 feet above the Potomac River in a very slow and gentle way. All 42 individual gondolas are heated, so you can even take this ride in winter and at night. The recent addition of outdoor bar, The Flight Deck, right beneath the Ferris wheel, adds another dimension to the experience. You can actually bring your drink with you as you spin up and around. $15, check website for times.
From June through September, visitors to National Harbor can watch free movies on an outdoor Jumbotron every Thursday ("Date Night" and Sunday evening ("Family Movie").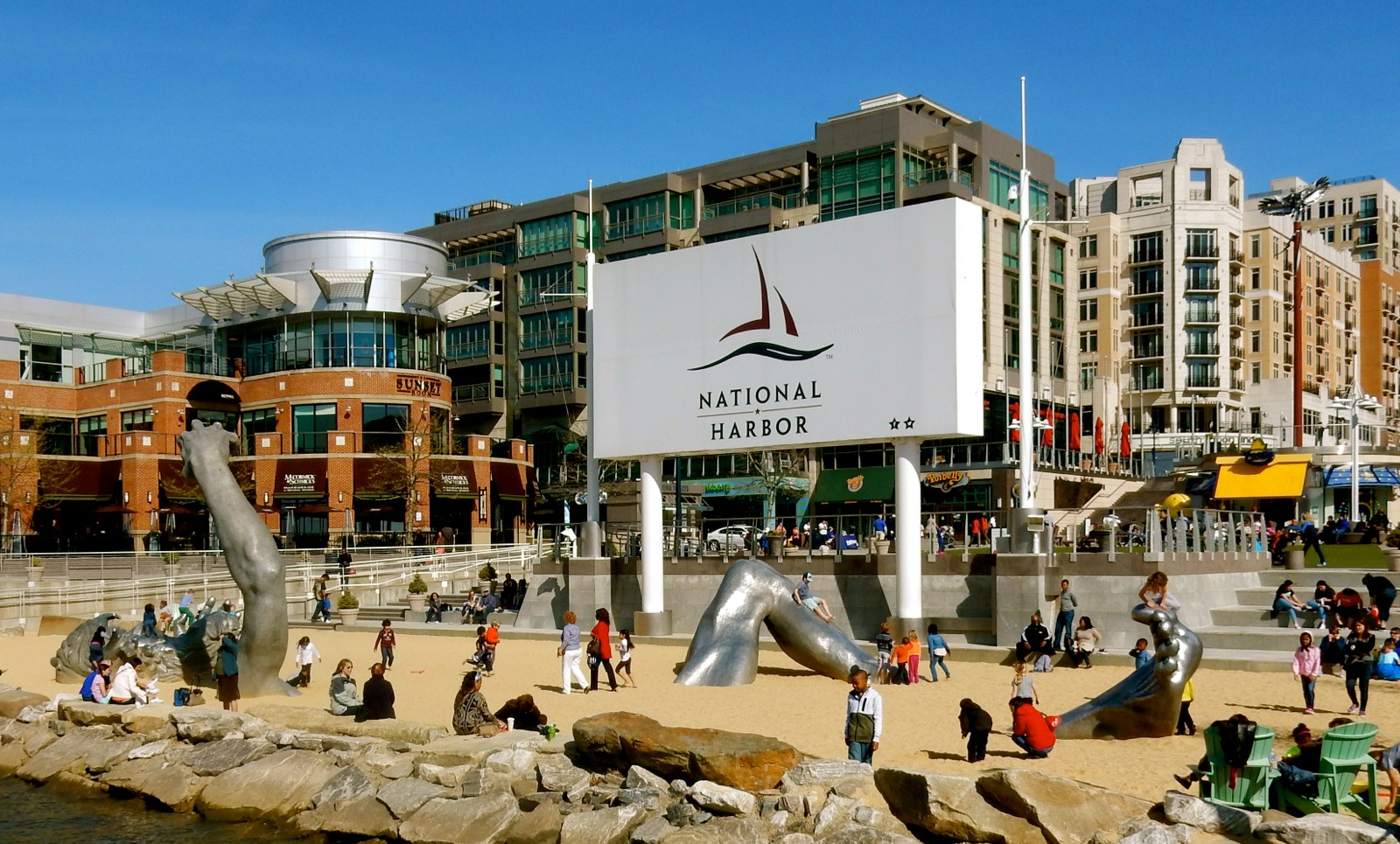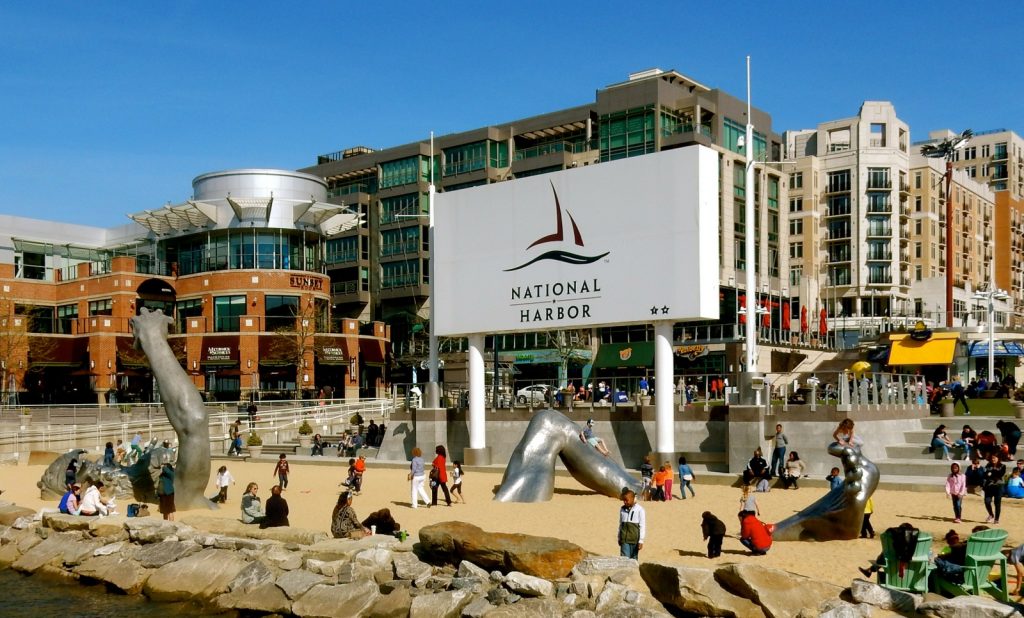 BEACH/CLIMB: The Awakening Sculpture
You'll find kids (and their adults) climbing on the giant head, hands and feet of this buried in sand sculpture.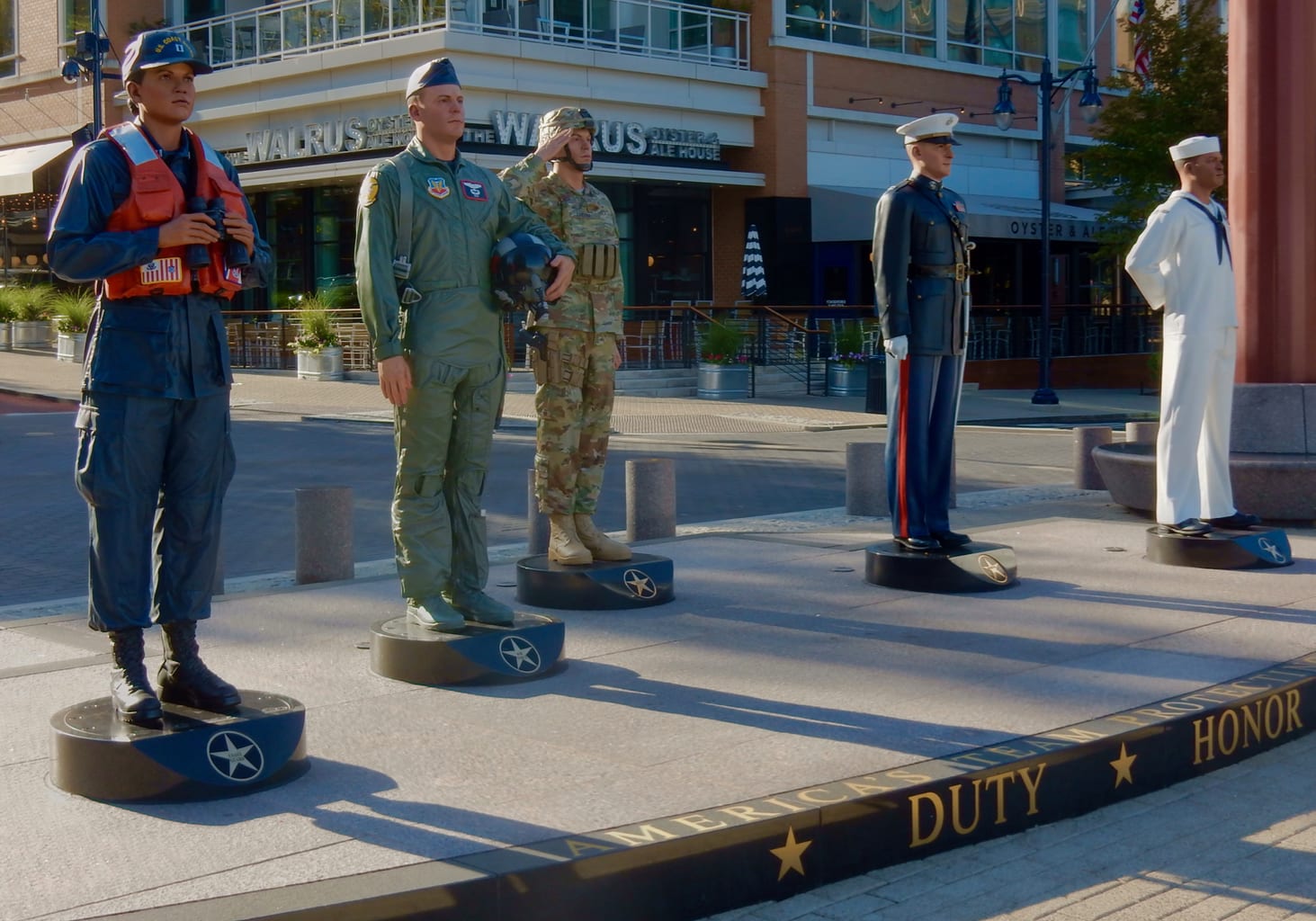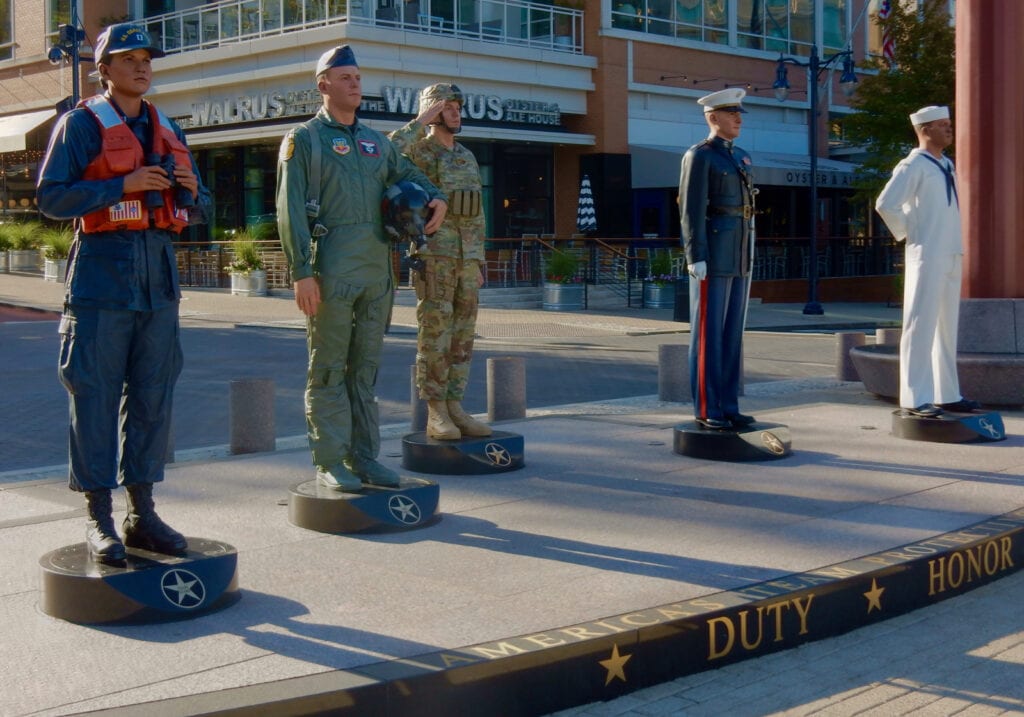 PHOTO OP: Duty – Honor – Country – America's Team Protecting our Freedoms 
These moving (and unnervingly realistic) sculptures of servicemen and women represent the five branches of the US Military. Ever since the piece was unveiled in 2018, the monument has been a selfie and family photo magnet for veterans and those who now serve.
Take the Water Taxi from Old Town Alexandria or The Wharf in DC to National Harbor ($18 weekdays, $20 weekends round trip). Get around town on the National Harbor Circulator Bus ($5 all day pass).
Restaurants In National Harbor MD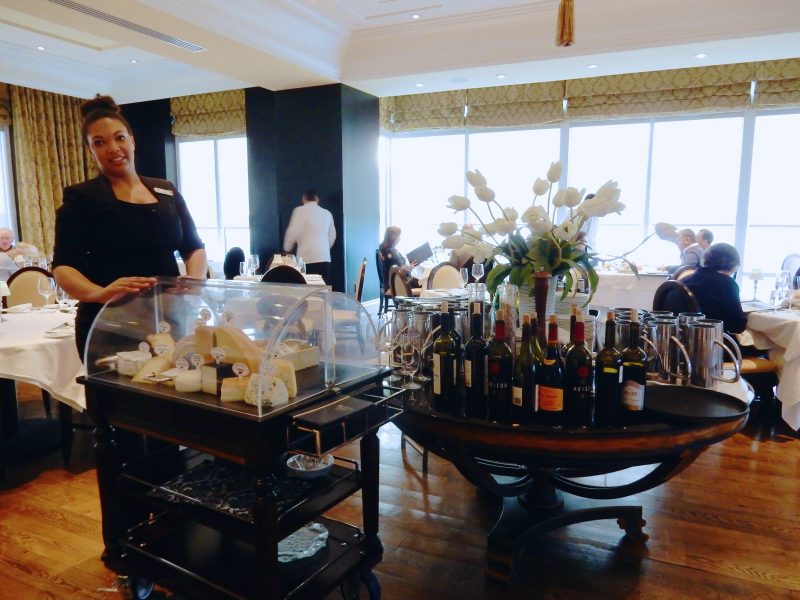 EAT: Old Hickory Steakhouse at Gaylord National Resort
(See Below under Where to Stay)
With its giant Golden Buddha standing sentry by the stairs, over the top decor, small bites, and outrageous craft cocktails, Grace's has been a hit in National Harbor since the start, and continues to pack 'em in. Warm towels and a carafe of lemon, cucumber, and mint infused water come to the table even before you order. Sushi and Noodle dishes are delish, but The General's Cauliflower is a fantastic alternative to the chicken version.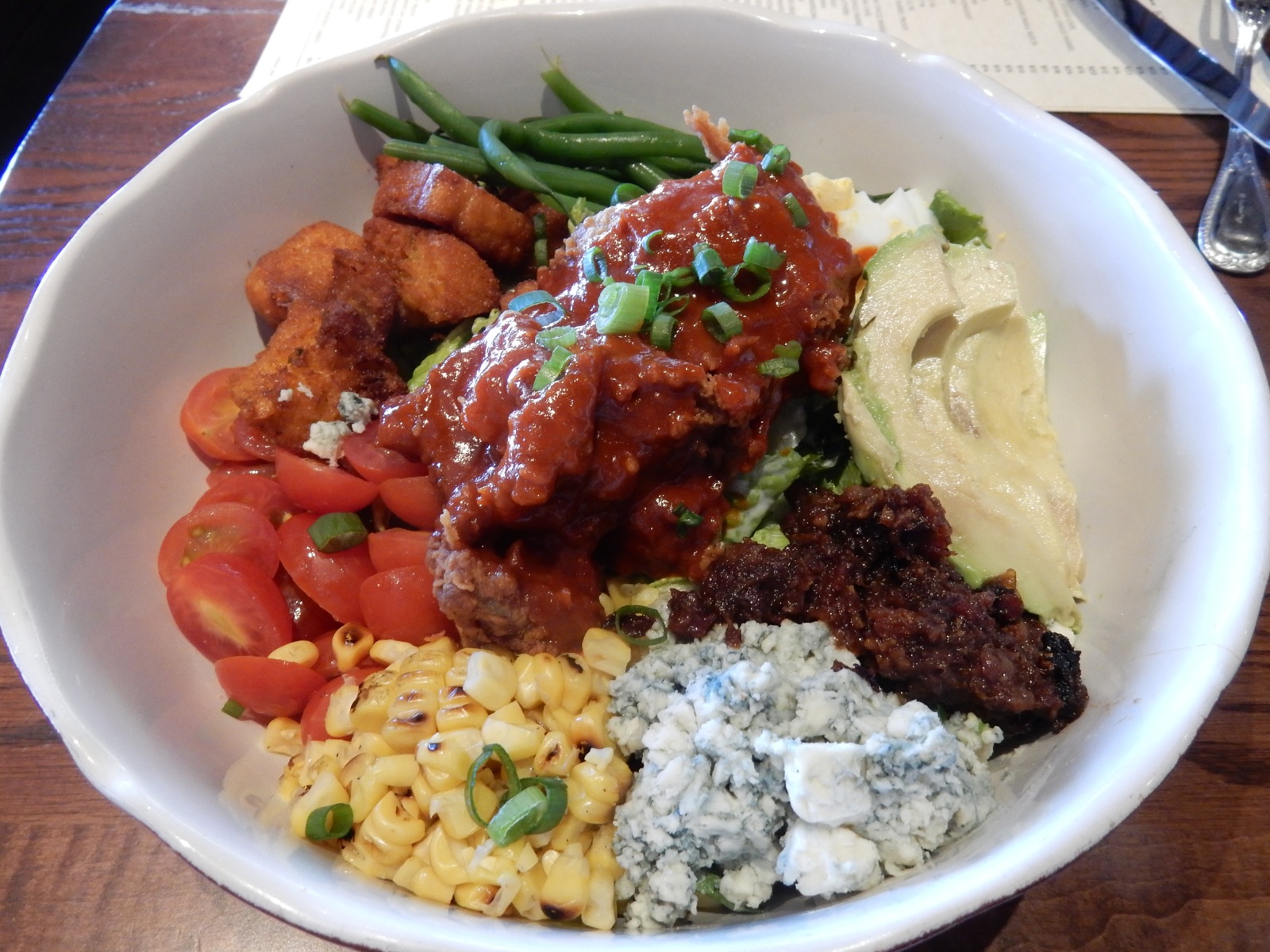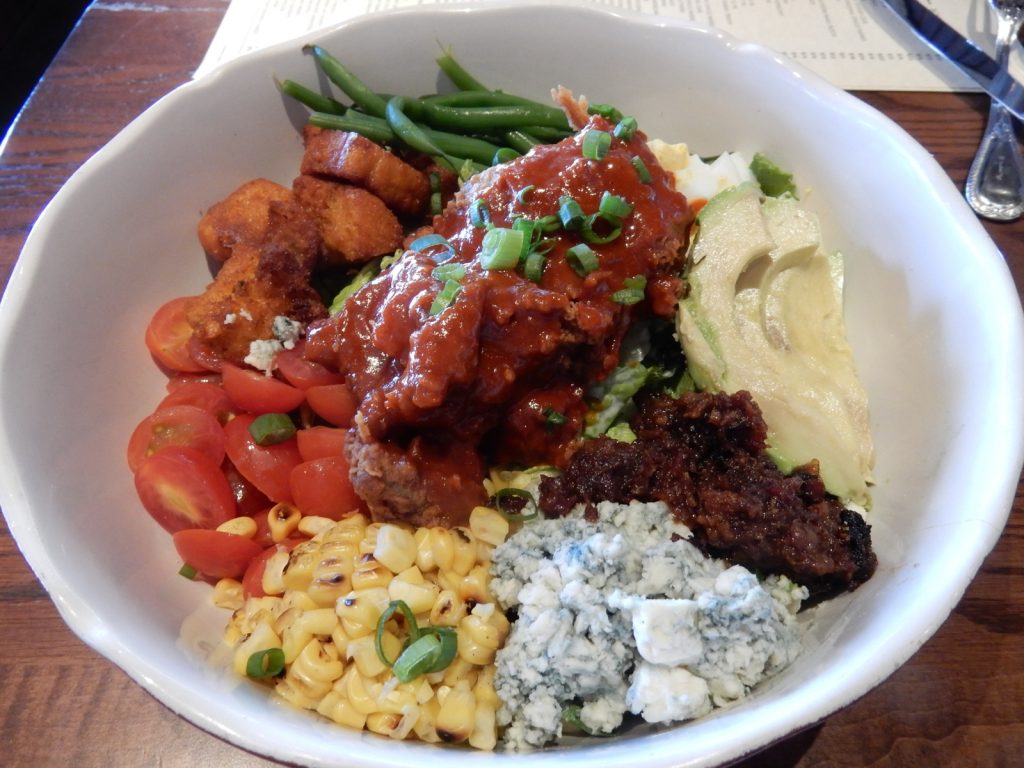 One of the better restaurants in National Harbor for lunch, this Bourbon-Street lamp-lit place does Louisiana fare with a major (Asian) twist. Best is the "Dirty Chicken Cobb" ($15)– fried chicken breast tossed in Korean spices and set within a colorful plate of corn, greens, hardboiled egg, and bacon jam. You can also get Fried Green Tomatoes, Fried Catfish and Collards, Chicken Waffle and other salads and burgers while listening to recorded jazz/blues.
National Harbor MD Hotels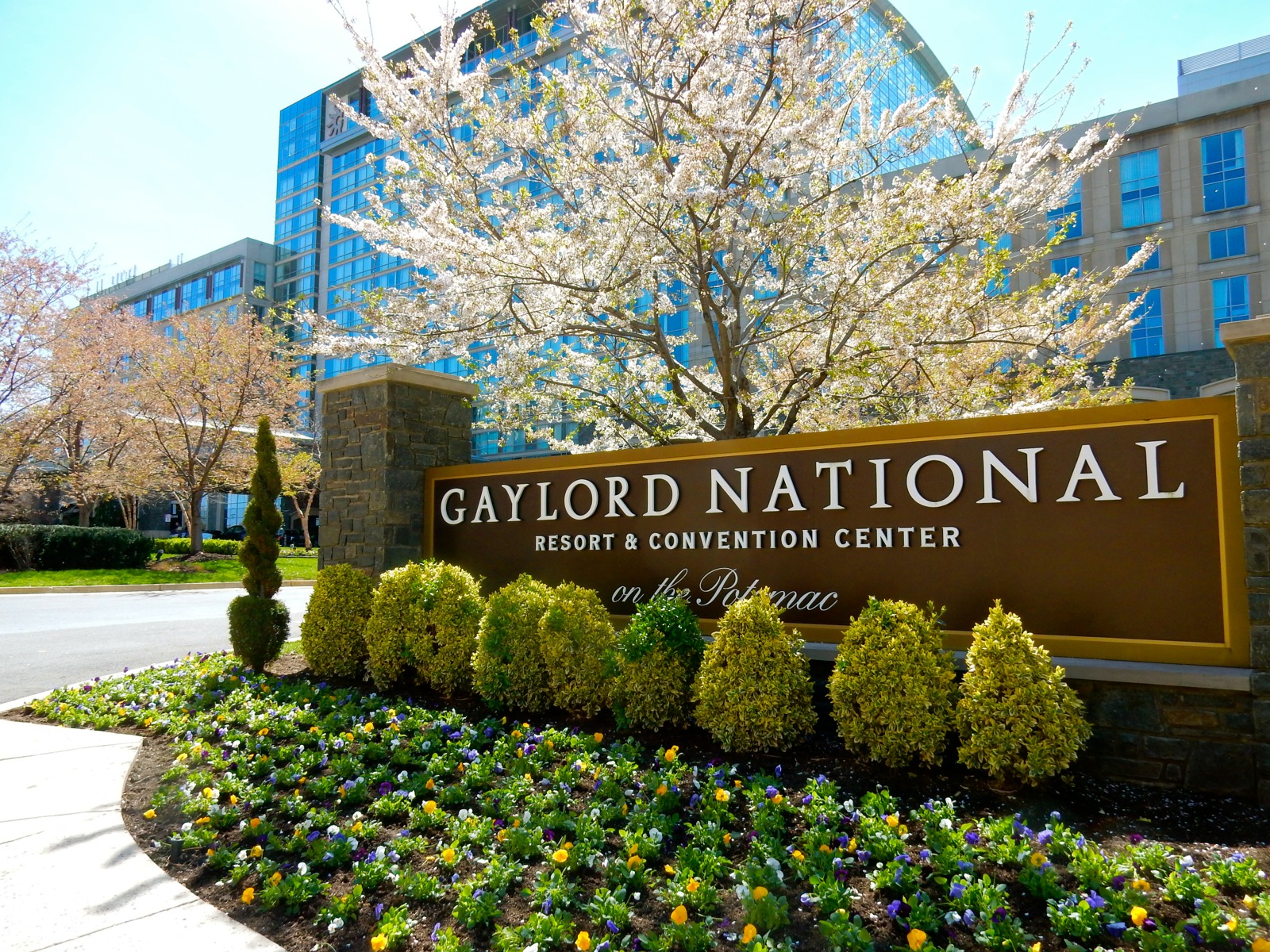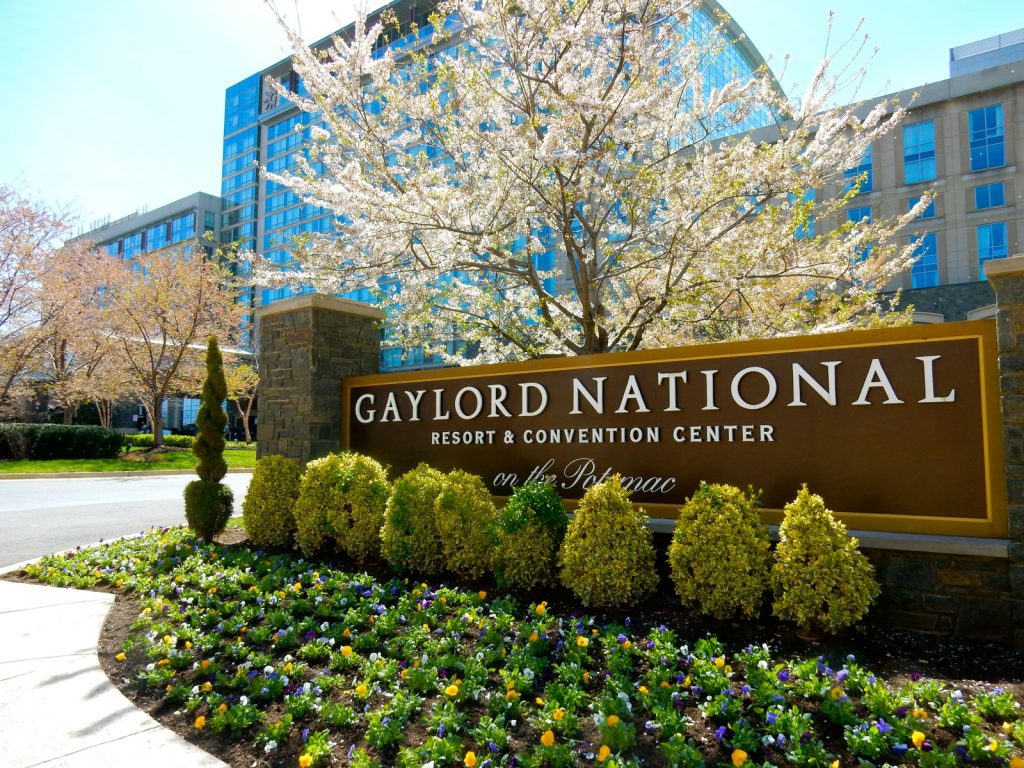 STAY: Gaylord National Harbor Hotel and Conference Center
Though about 2/3rds the size of Gaylord Opryland Hotel (in number of rooms), the 1,996 room Gaylord National Resort Convention Center in National Harbor MD, is the tallest of the Gaylord Hotels – with its 19-story glass atrium overlooking the shores of the Potomac.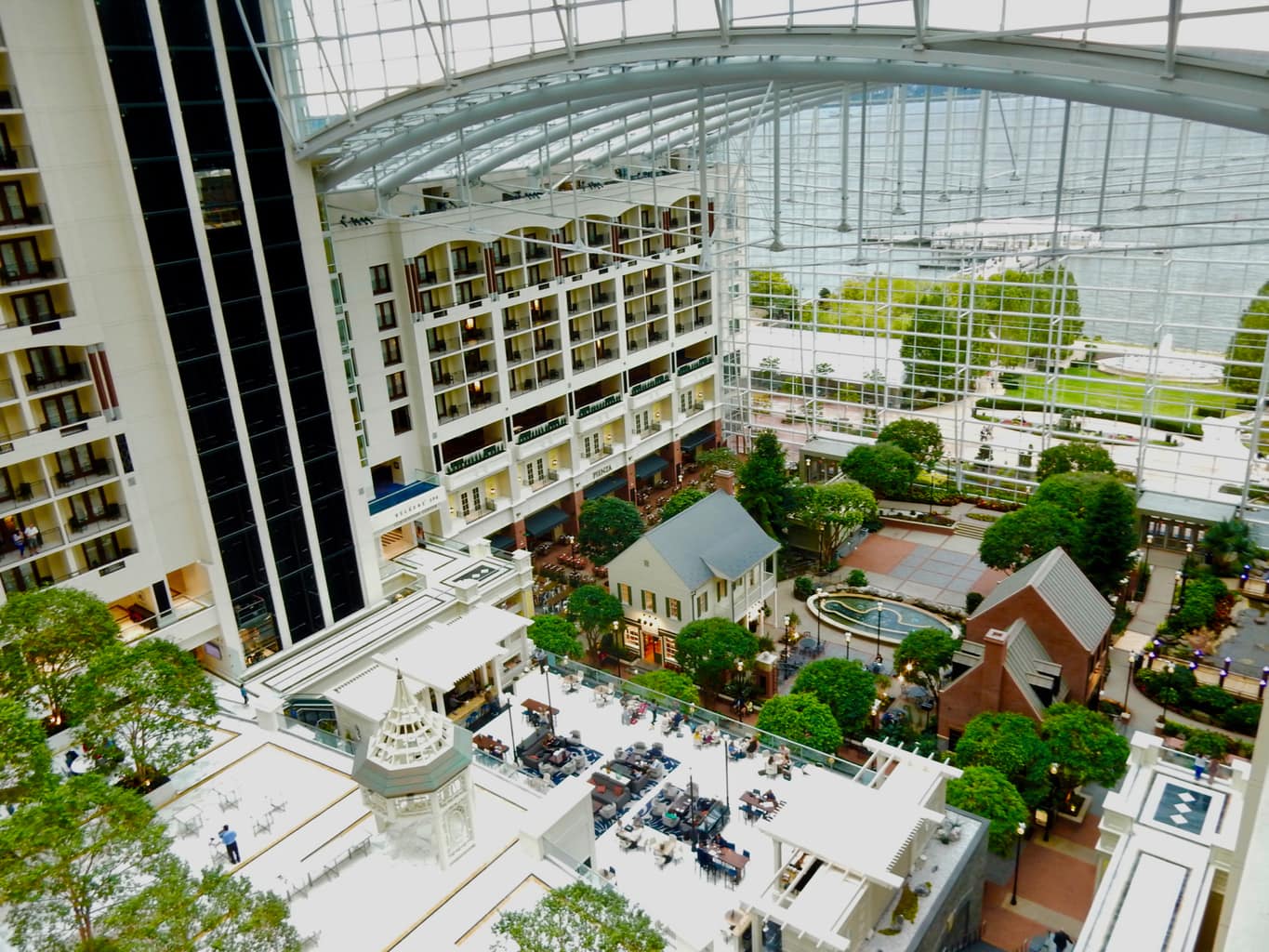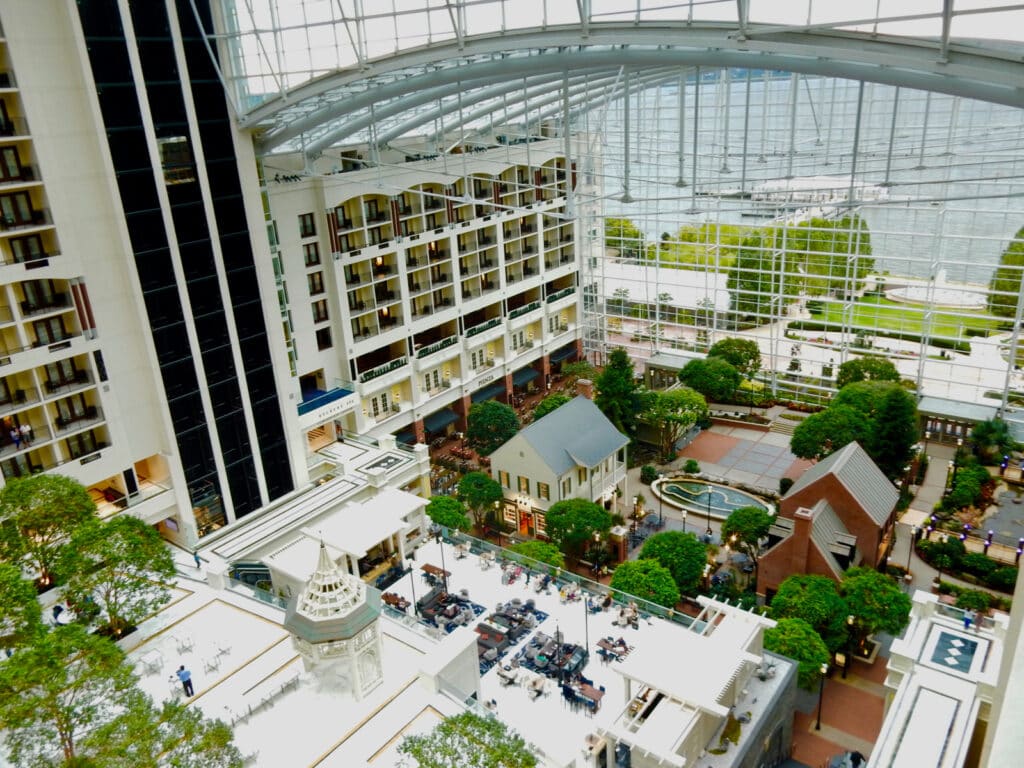 Anyone who's been to Opryland Hotel in Nashville TN will recognize Gaylord's signature architectural element; multiple acres under glass (in this case, 1.5) enclosing burbling brooks, secondary buildings, restaurants and shopping, stone pathways, water features and interior gardens.
Check In at Gaylord National Harbor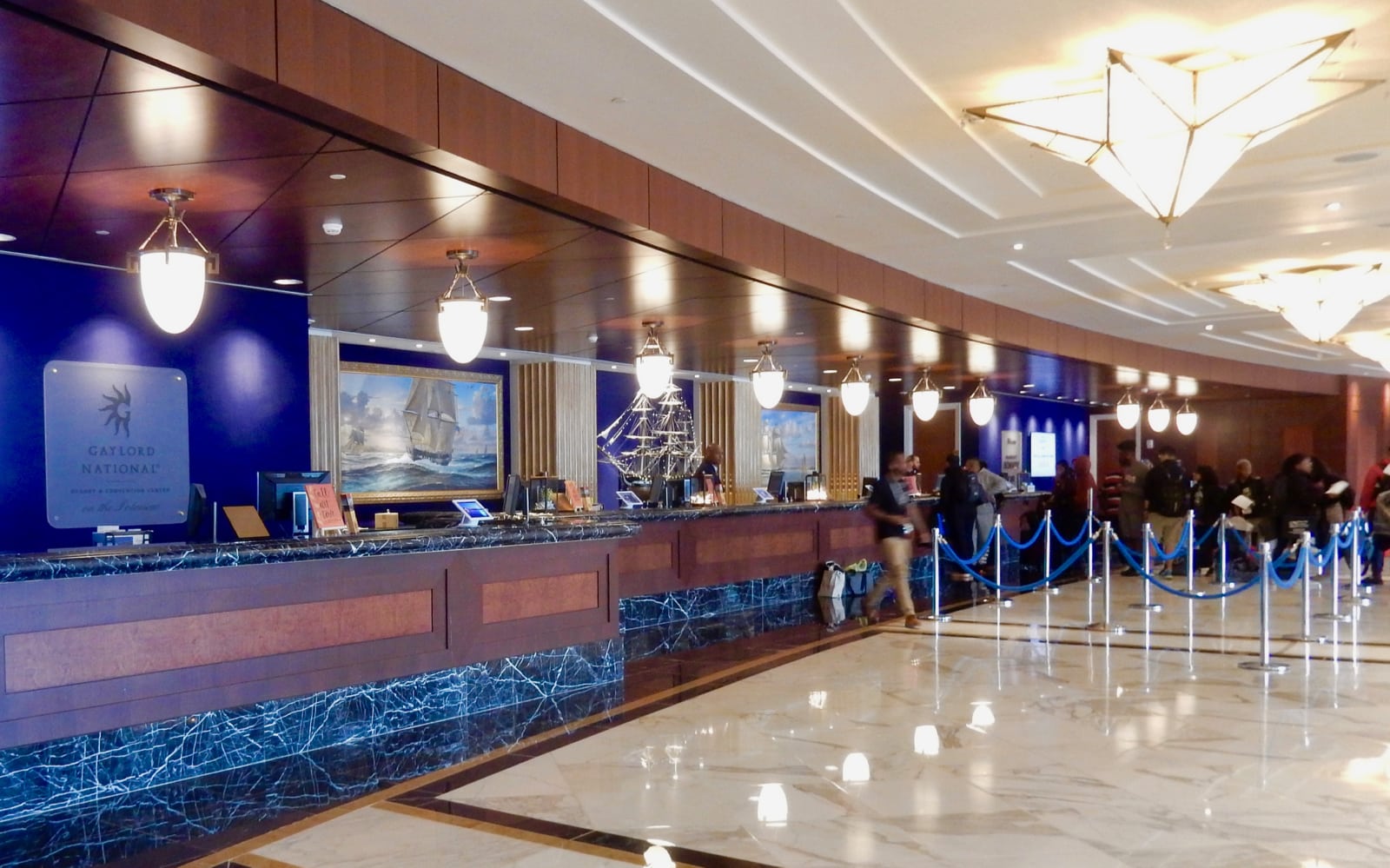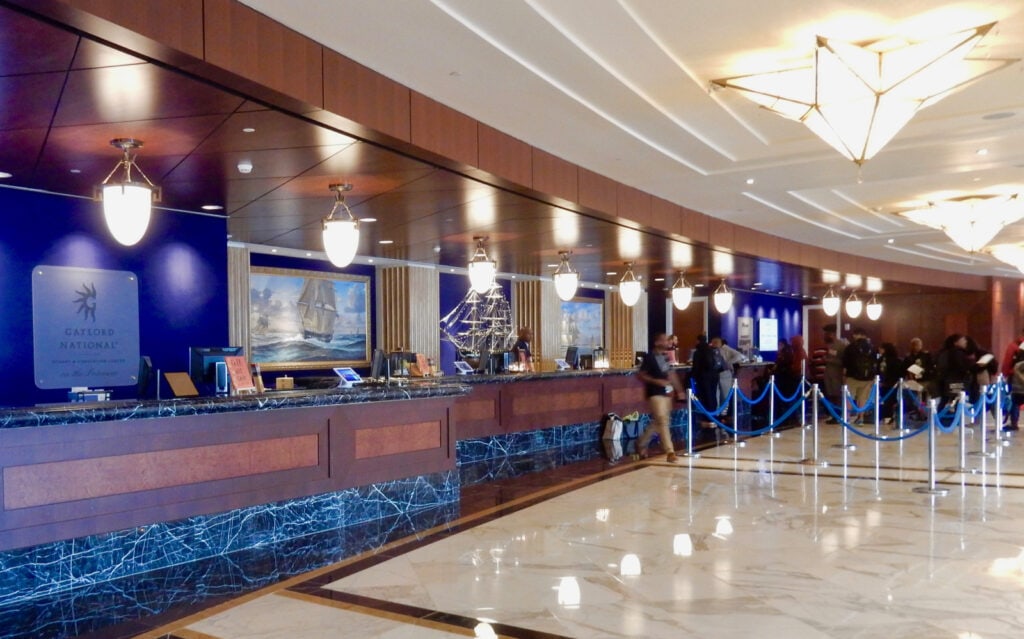 The pure scope of it can be overwhelming. But Gaylord knows how to bring things down to the personal. Quick and friendly check-in (at one of a multitude of beautifully updated reception desks) is like clockwork. VIP Guests are treated to exclusive service in a private room, where snacks and drinks await.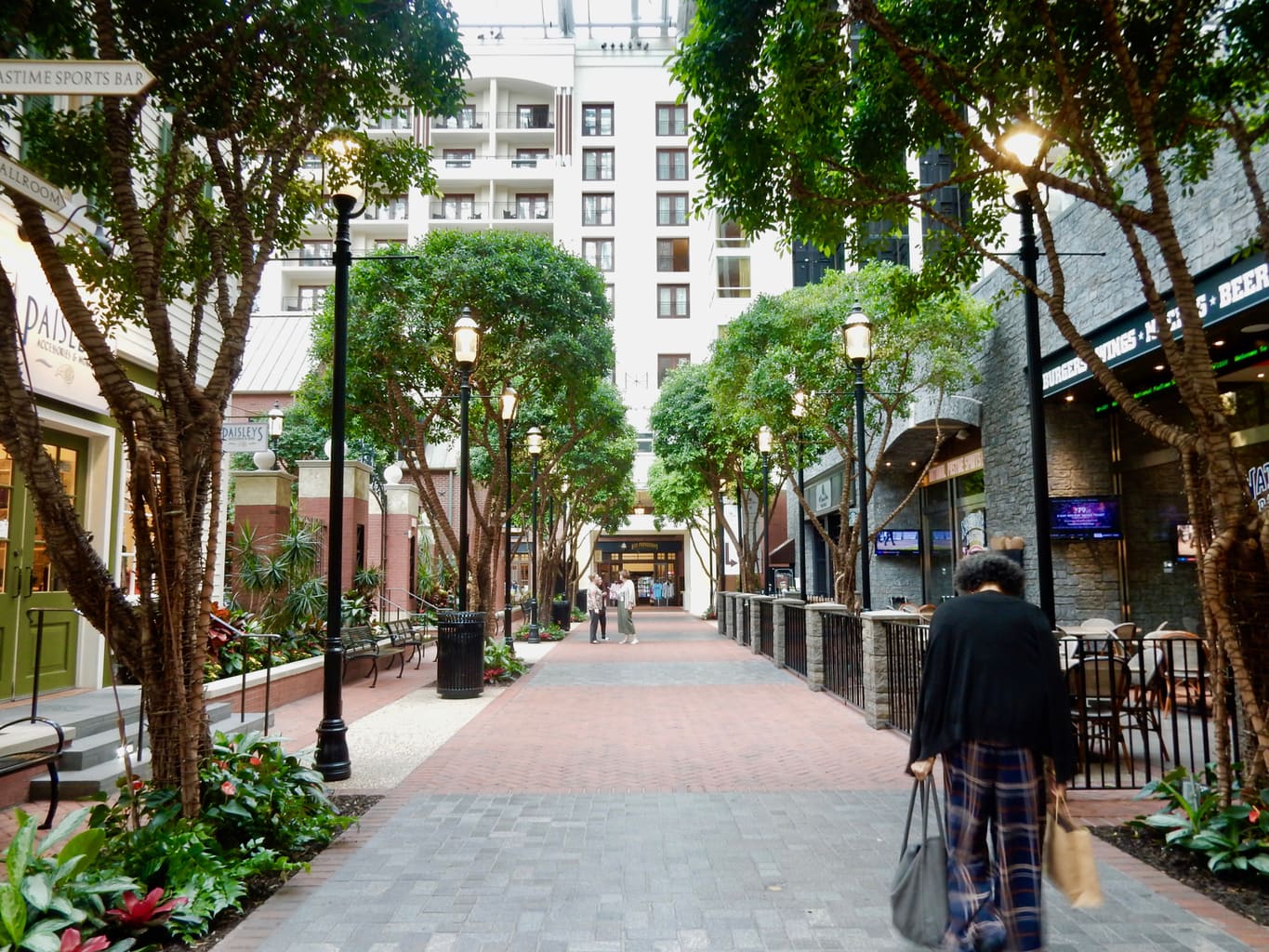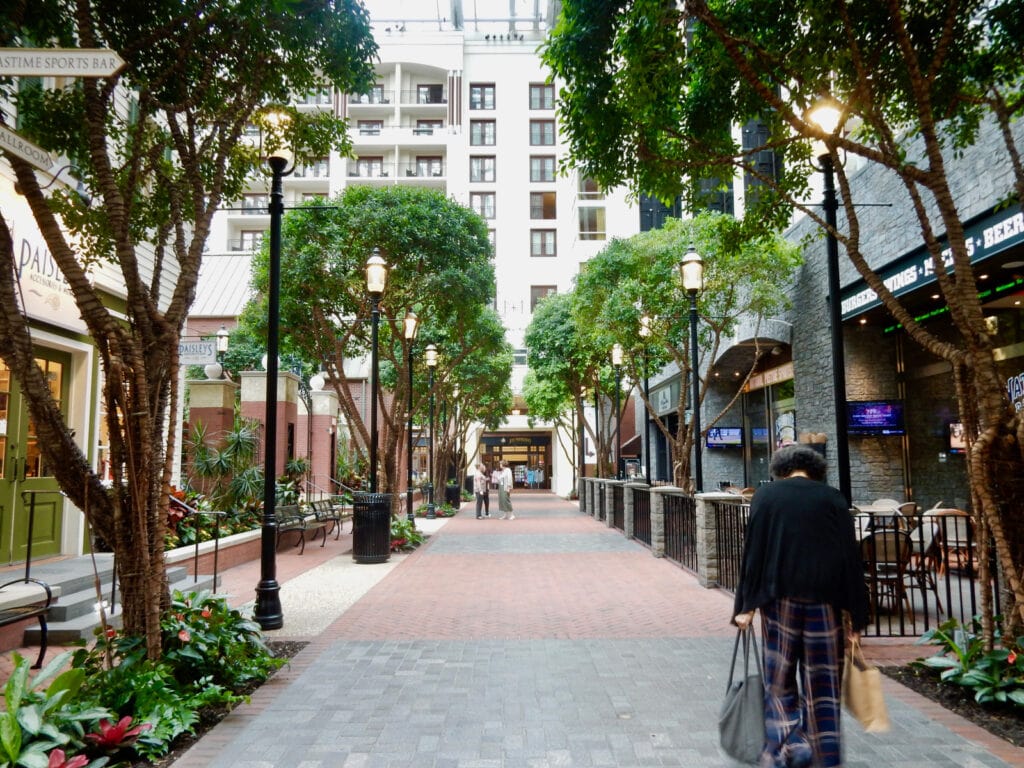 Interior designers incorporated nautical elements (referencing the Potomac River) and nods to downtown Washington DC, with Georgetown style brick buildings housing gift shops and eateries. Over 400,000 bees work hard on the hotel roof making honey for use in drinks and restaurant dishes, and infused in the Spa's Body Lotions. Last year, these busy bees produced nearly 450 pounds of honey!
There's a nightly Fountain Show, and in the popular Christmas season, a profusion of lights and indoor snowfall, which gives guests the fantastical impression of being inside a humongous snow globe.
Rooms at Gaylord National Resort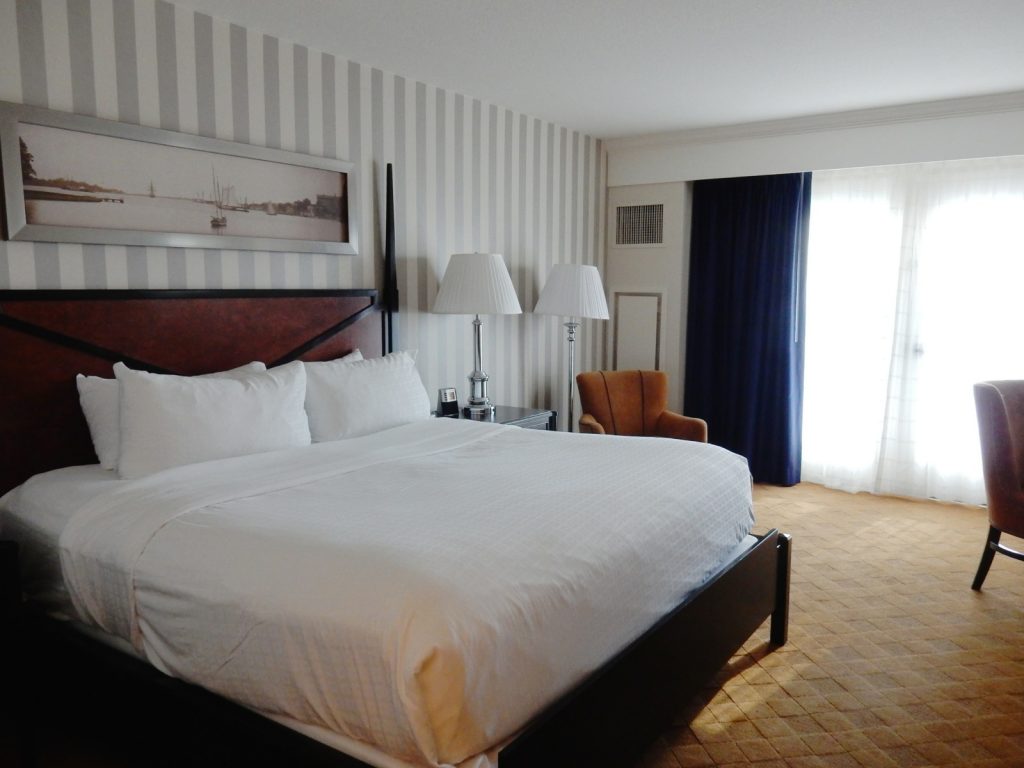 Each guest room is elegantly traditional. Crisp white duvets, gray and white striped wallpaper, sand-hued carpeting, and local photos as art leave the drama for the spectacle outside the window, especially if you request a room overlooking the enclosed atrium. Vertiginous from higher floors, it's a perfect perch from which to watch the activity below.
Dining at Gaylord National Resort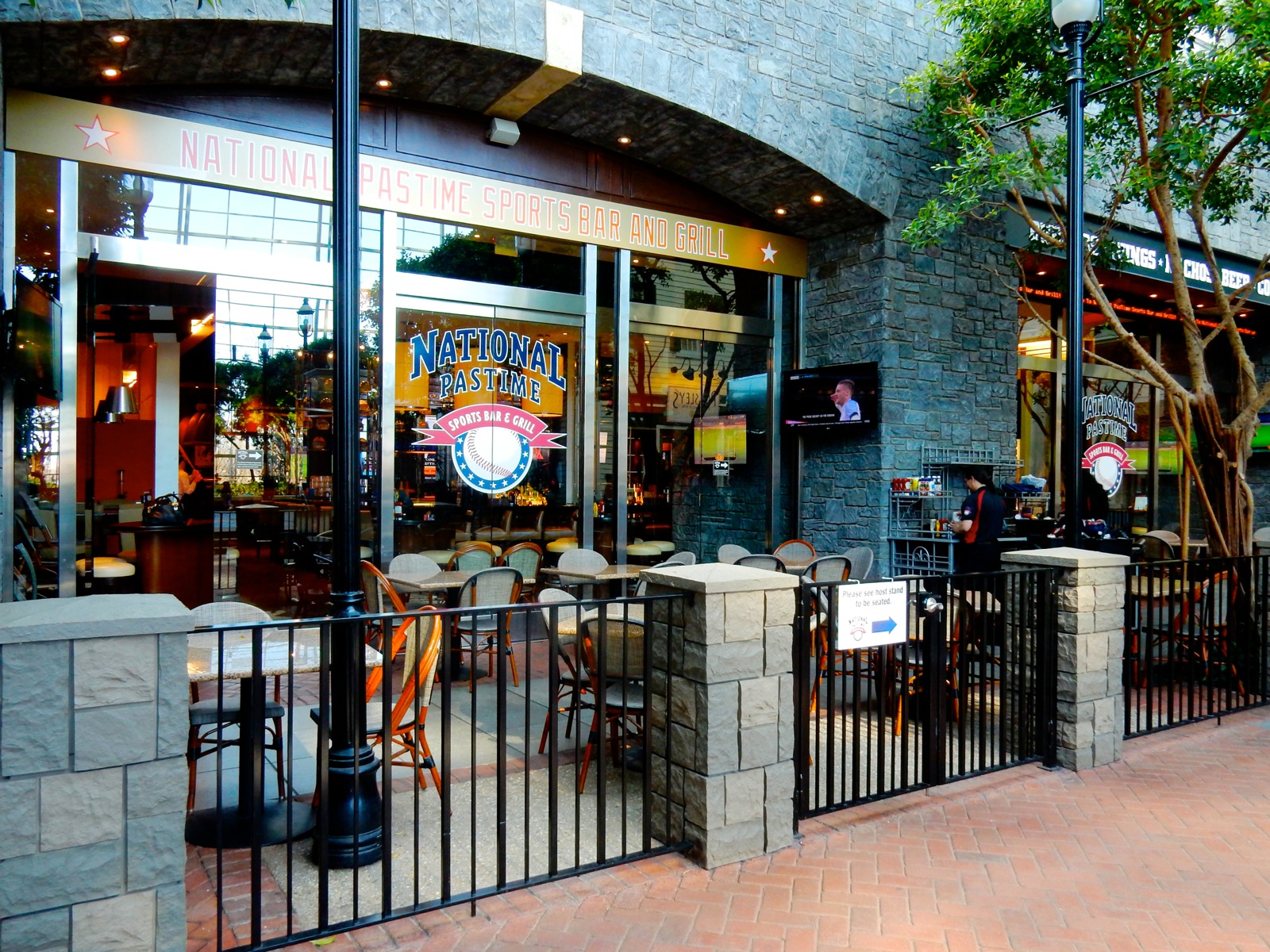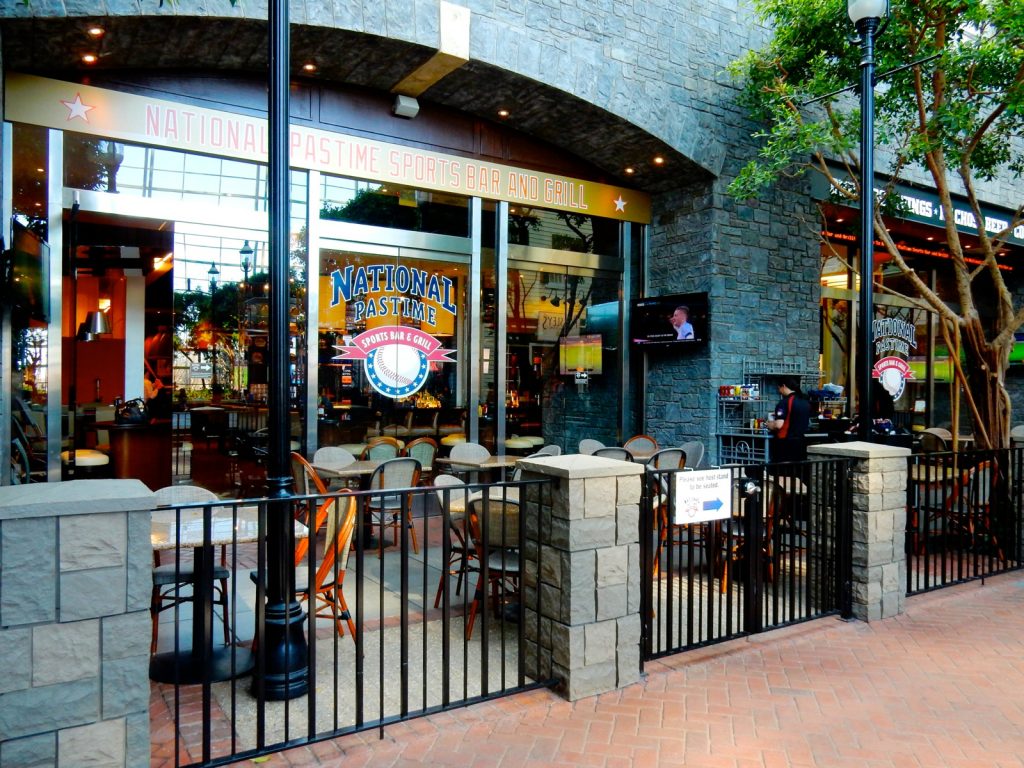 Though there's a selection of casual eateries at Gaylord National Resort (Pienza Restaurant, National Pastime Bar and Grill), Getaway Mavens readers will want to experience at least one of the two upscale restaurants.
Belvedere Lobby Bar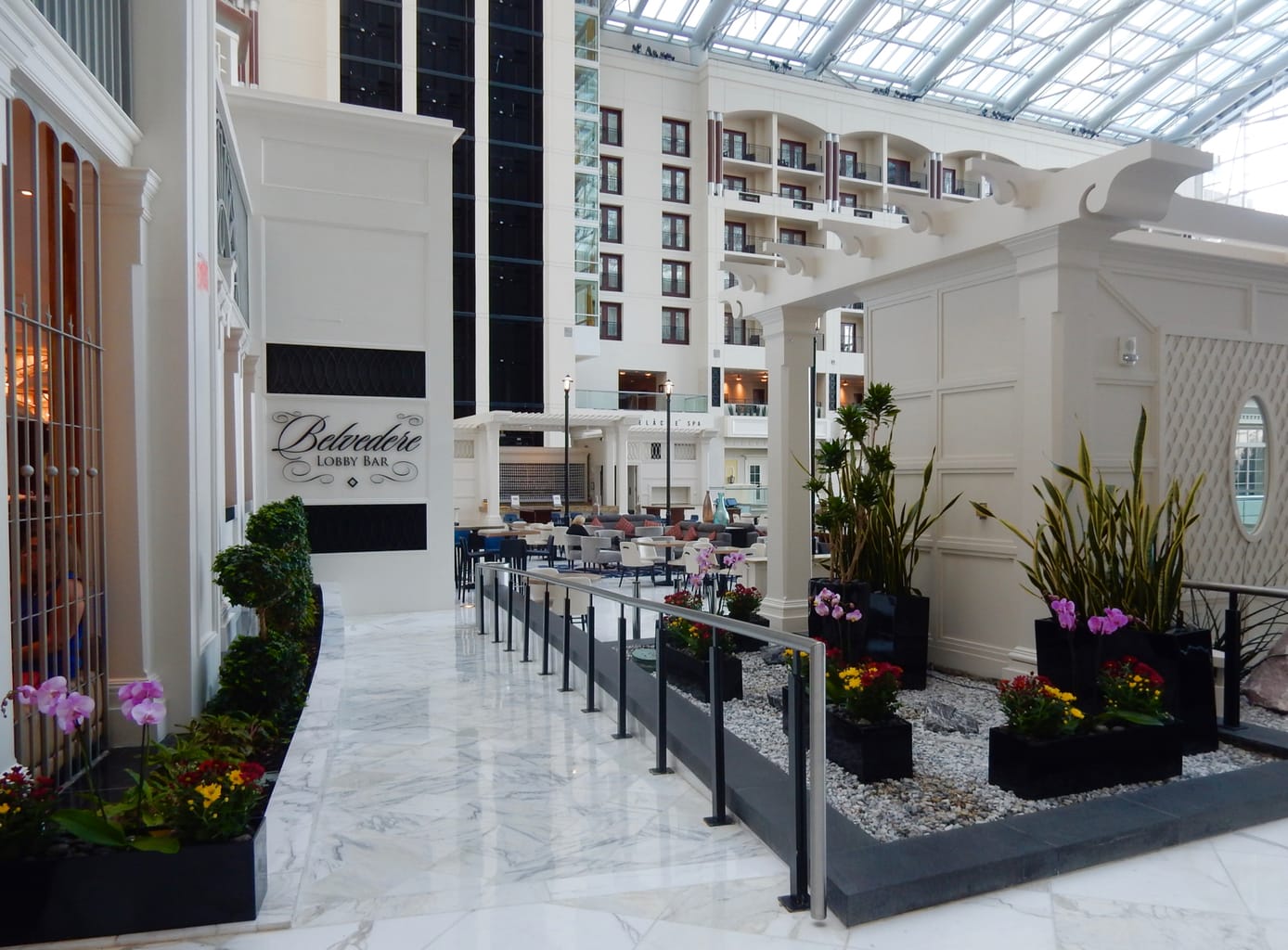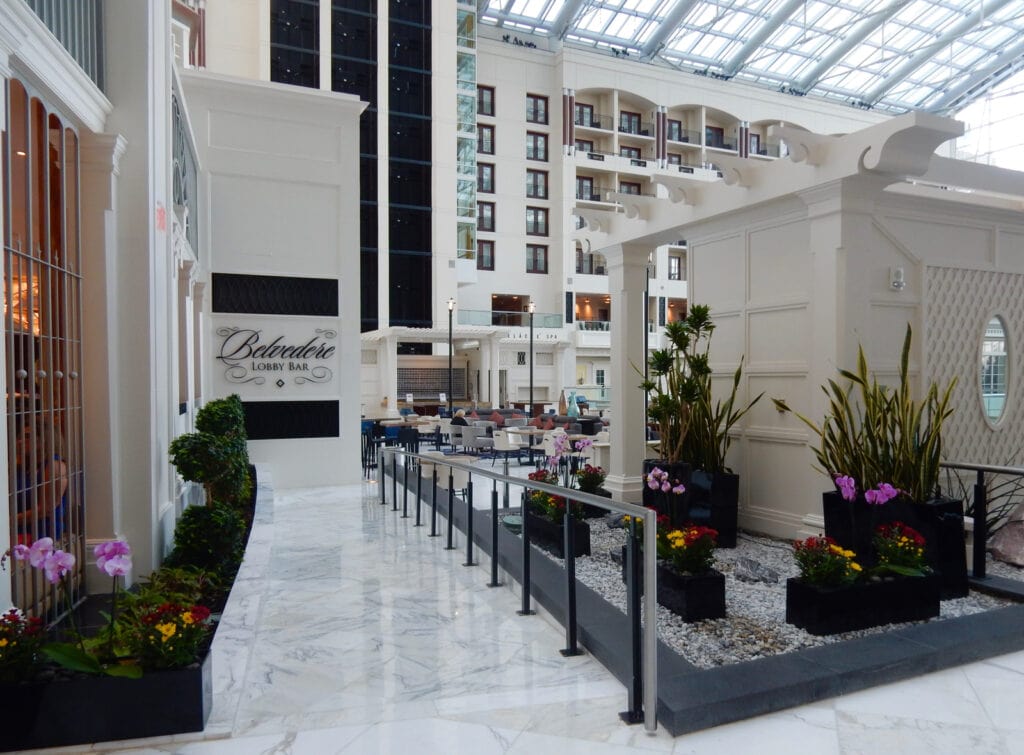 The Belvedere Lobby Bar, overlooking the atrium's ground floor, is actually a Sushi Bar, and it's thrilling to watch the Fountain Show each evening on the hour between 6pm-8pm, the lit up Capital Wheel, and beautiful sunsets while munching on Spicy Tuna Rolls and other raw fish delights.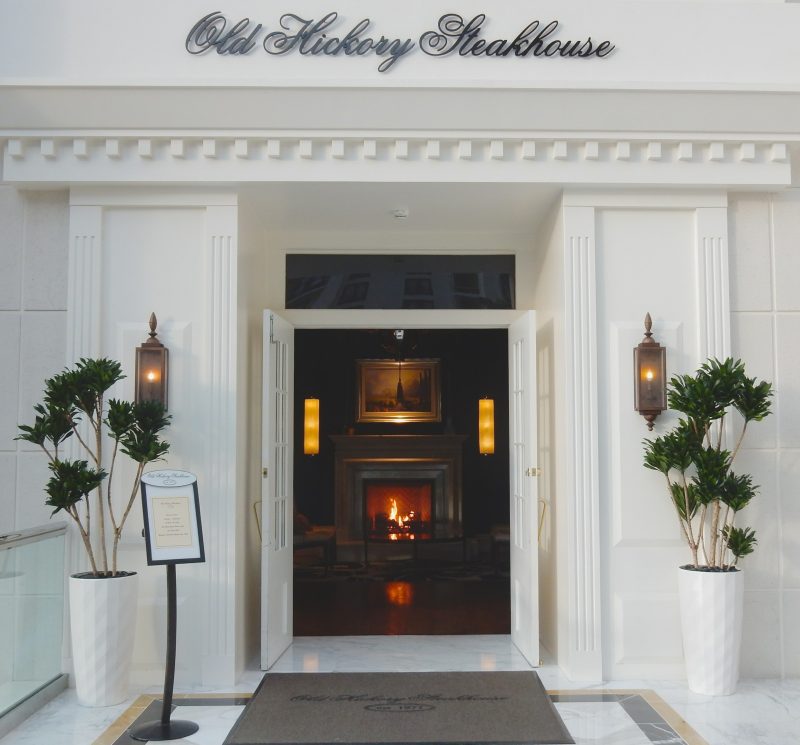 But for the best meal in National Harbor, book a special dinner at Old Hickory Steakhouse, and be prepared to settle in for a few hours in a room imbued with Southern charm. The restaurant is named after Andrew Jackson, nicknamed "Old Hickory," who was known for throwing parties, featuring big wheels of cheese, in the White House.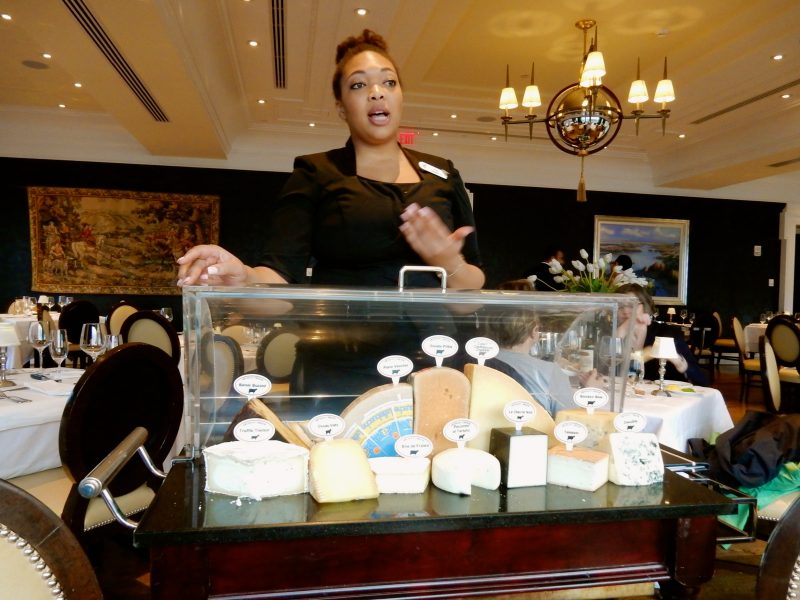 Your meal begins with a selection of artisanal cheese, in fact, carted to the table by the Maitre D'Fromage, aka "The Cheese Diva," who helps you choose several to enjoy either before or after the main course. Crusty breads are divine. And steaks ($40-$52), of course, are phenomenal. But so are other dishes. Though located in a large resort hotel, Old Hickory Steakhouse is destination dining at its best.
Relâche Spa at Gaylord National Resort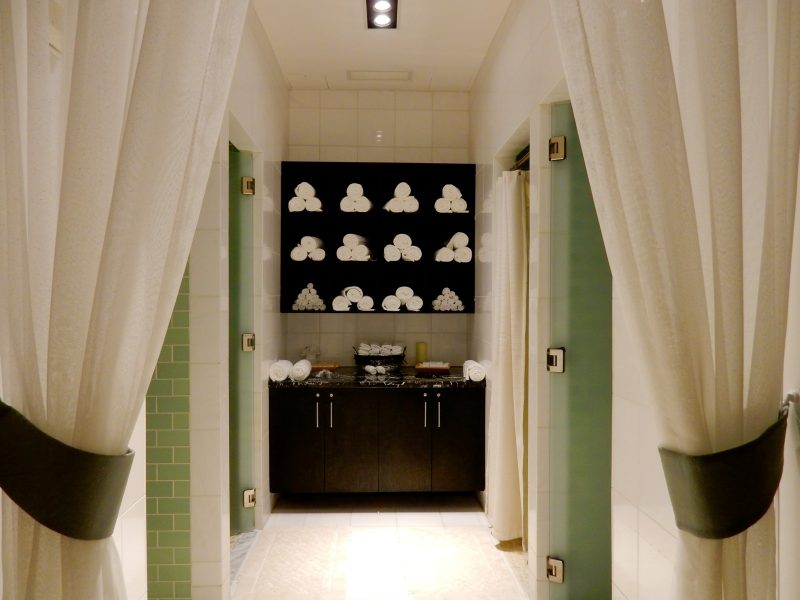 The excellent Relâche Spa is the largest full service spa in Metro DC area. Within  20,000 sqare feet, it encompasses 11 treatment rooms, a Riverview Relaxation Room, and a Hair and Nail Salon.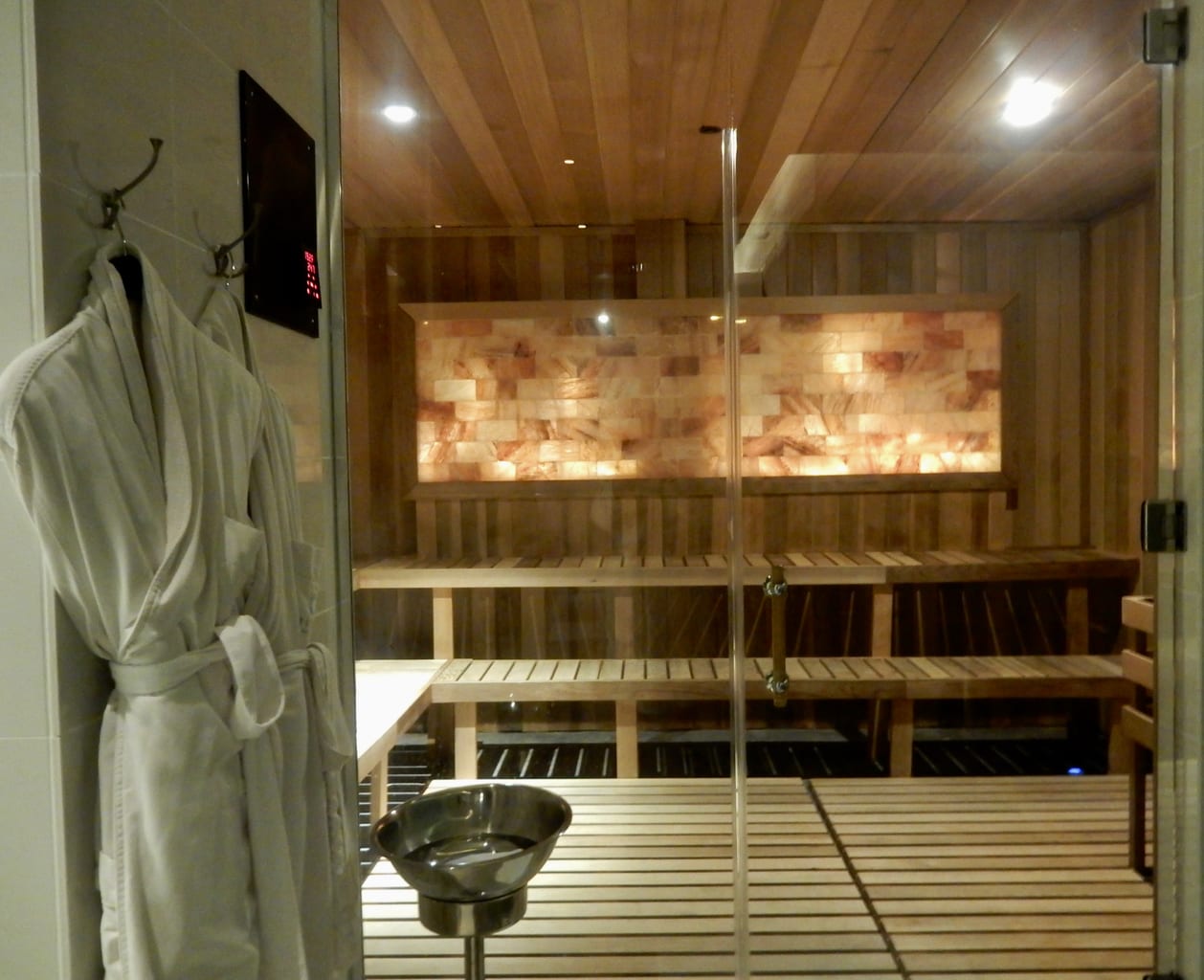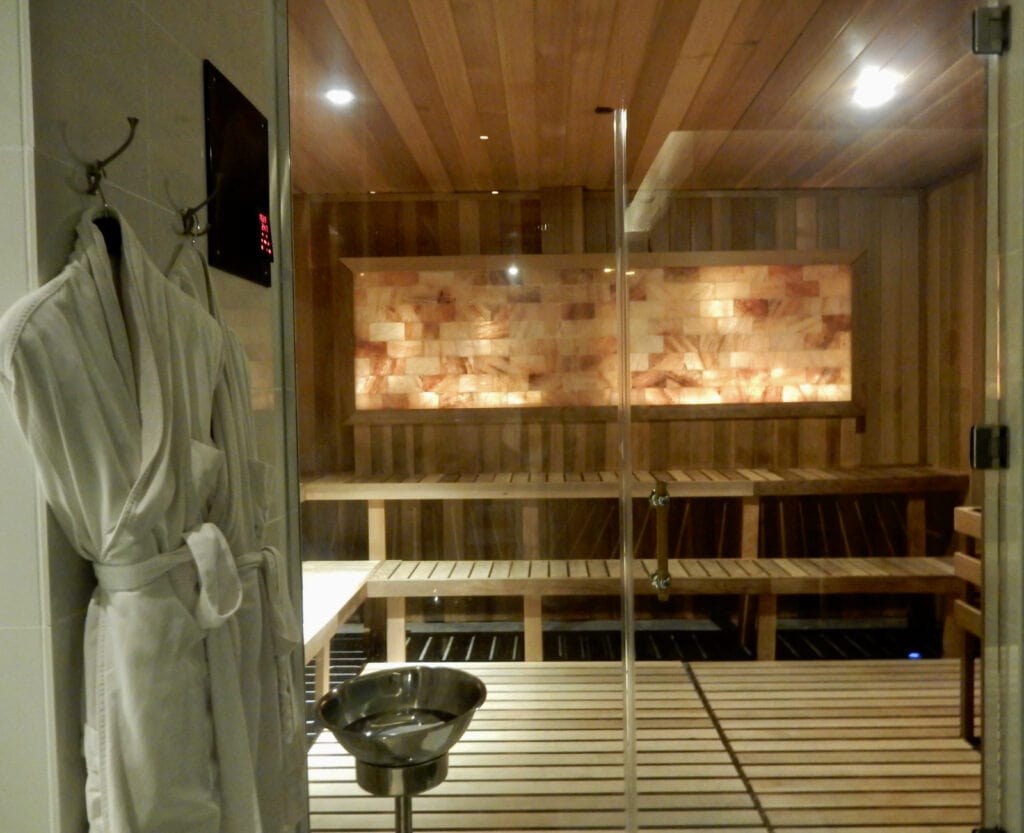 I can attest to the elegance of the décor, warm reception, and quality of treatments, having had several.  My big tip: if you're in need of a top-notch massage, request Mario! He's got the magic hands that alleviated months of tension from my neck and years of pain from my feet. A treasure.
RiverView Ballroom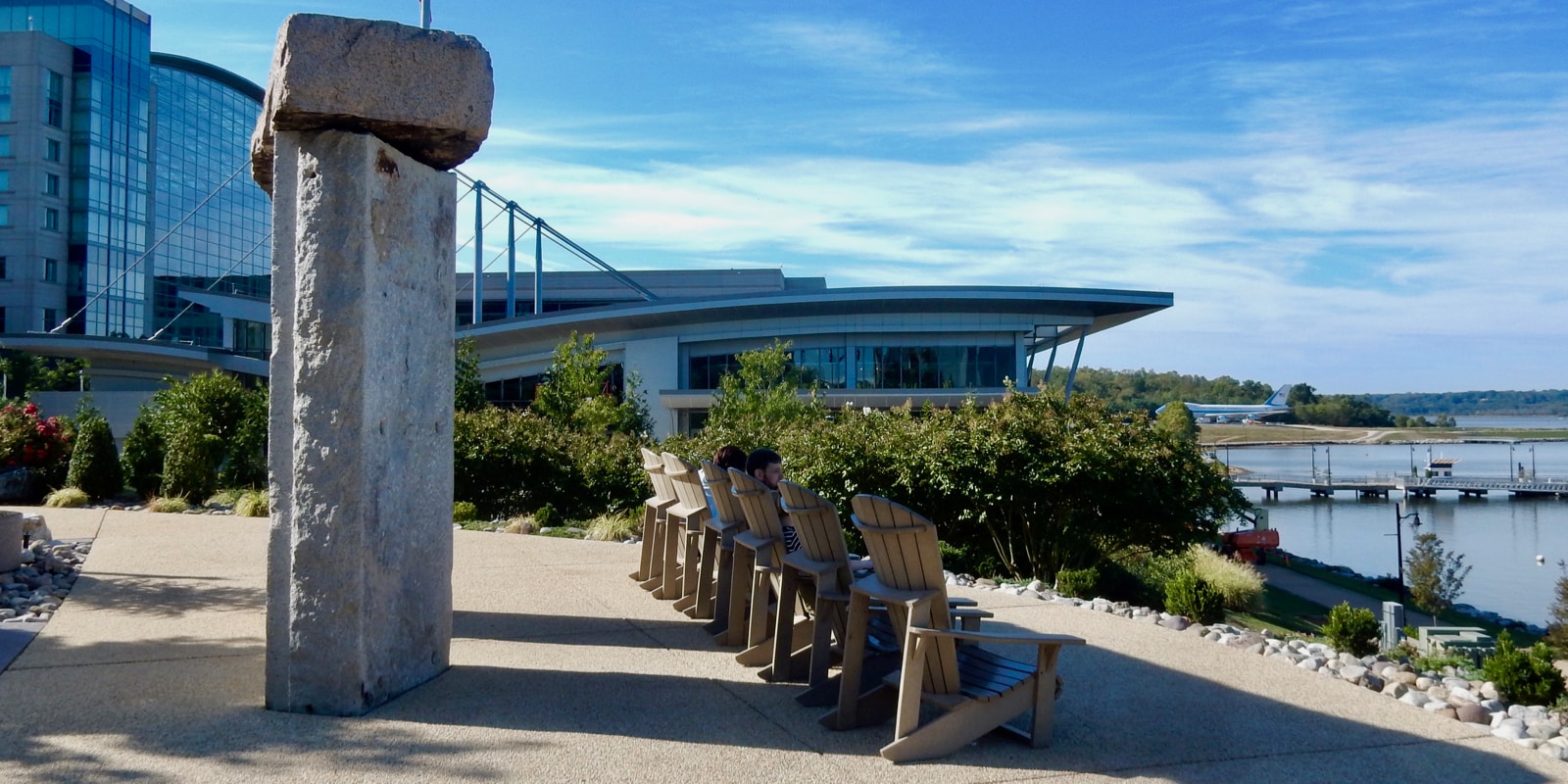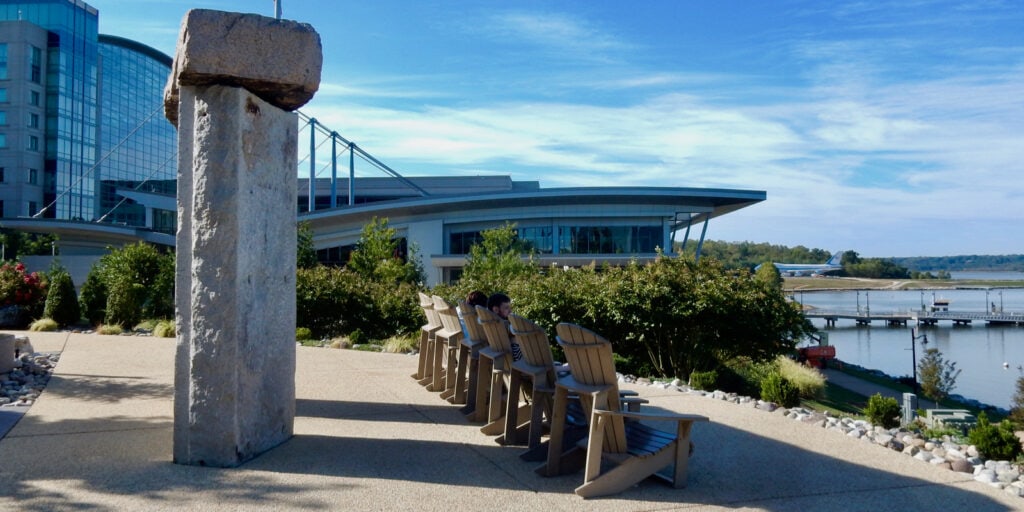 The RiverView Ballroom (nicknamed the "Infinity Ballroom" because it seems to project right over the Potomac), opened in 2017. The 16,000 sq. ft. space, with a spectacular 270-degree bank of windows overlooking the water, can accommodate a whopping 1,850 seated guests.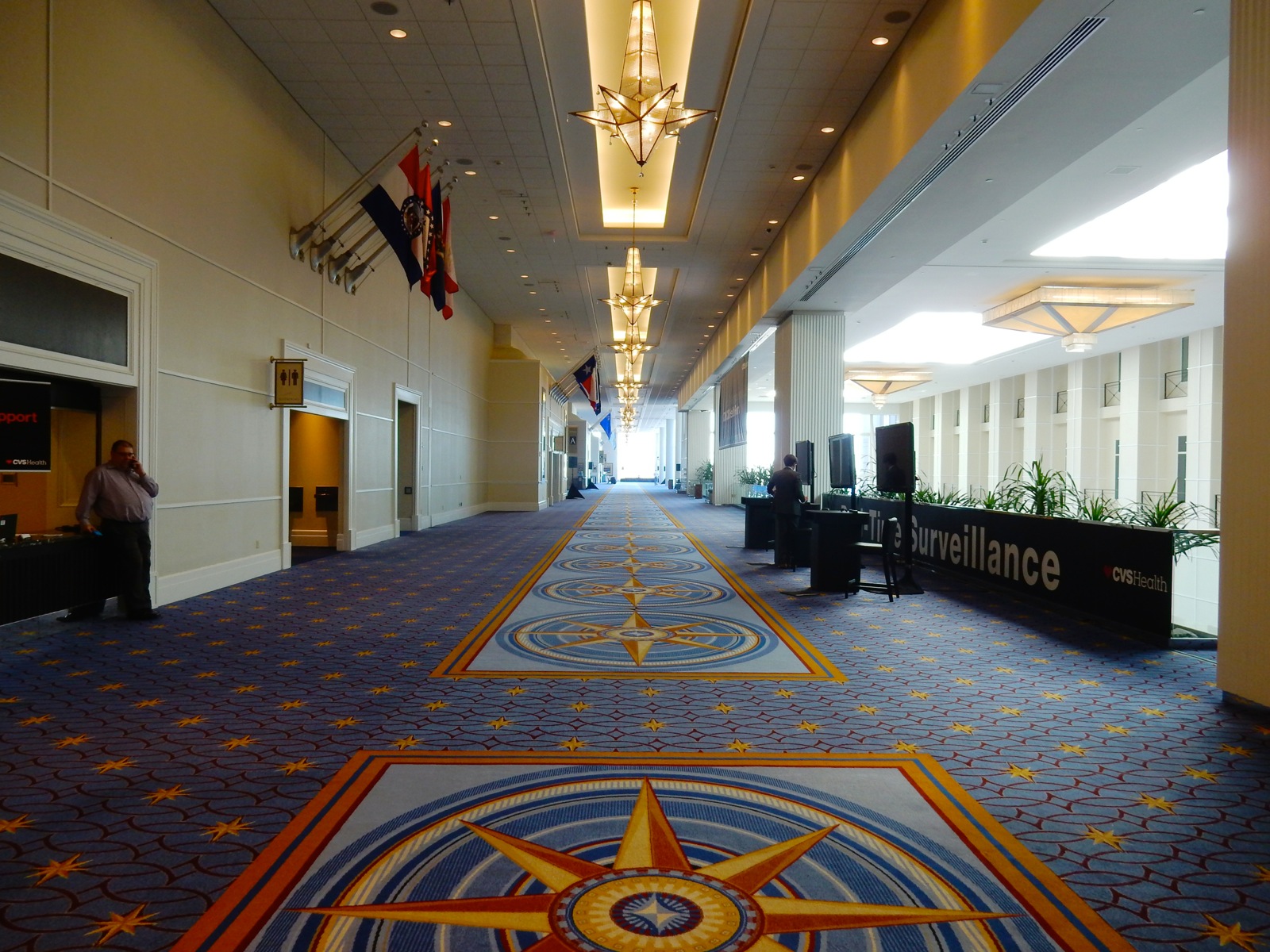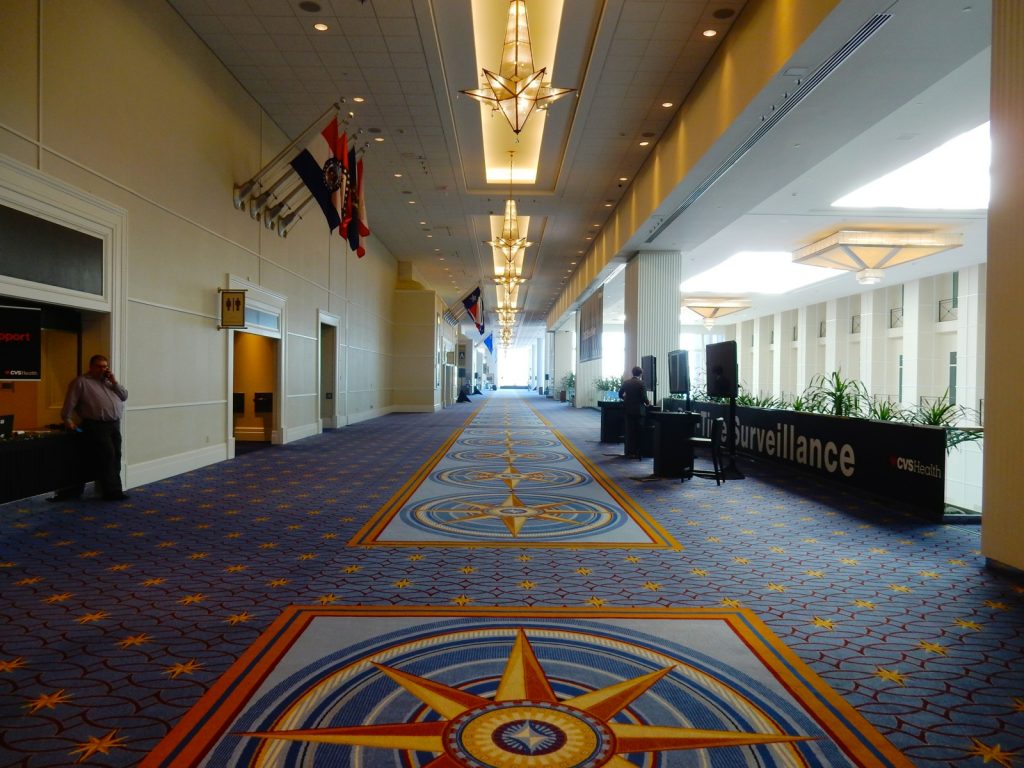 The massive Conference Center wing of the hotel encompasses a whopping half a million square feet of meeting space. Its main hallway is so long, you can lay the Washington Monument (555 ft.) on its side and still have a few feet of corridor left.
Indoor Pool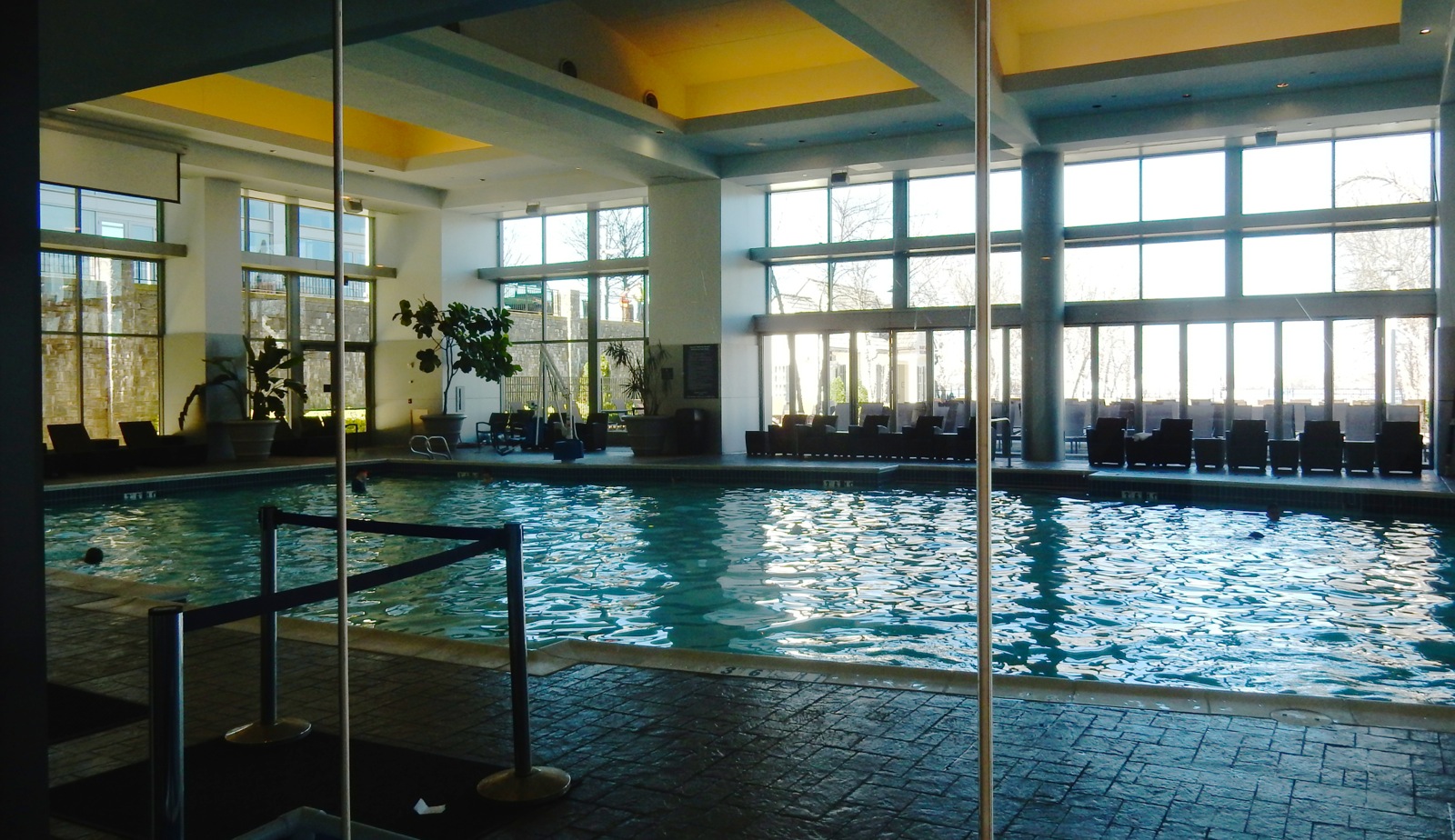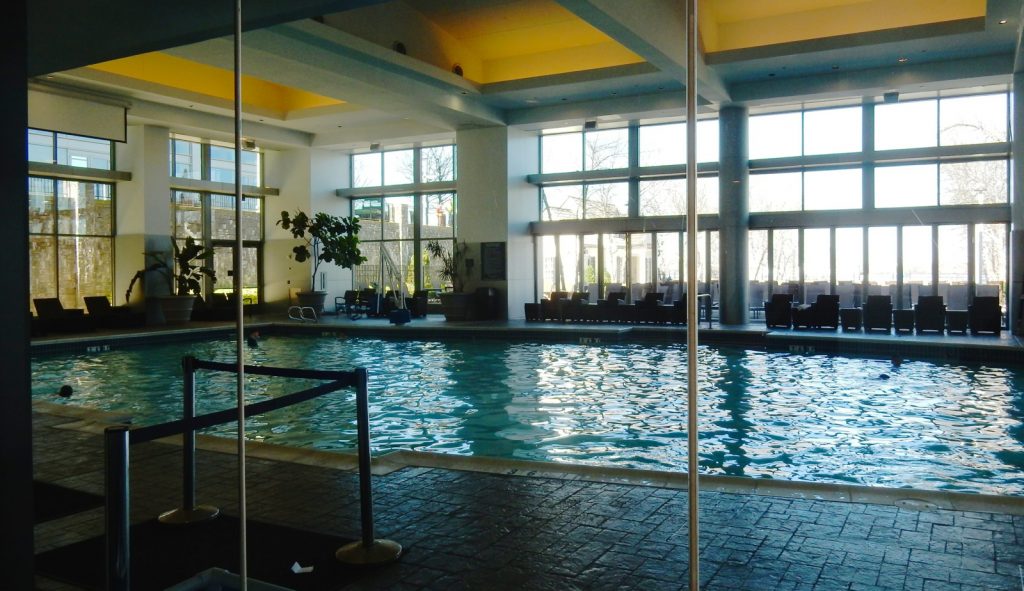 A state of the art Fitness Center contains every single cutting edge machine you'd ever need. And, the near-Olympic-sized indoor pool is a favorite with kids and lap-swimmers.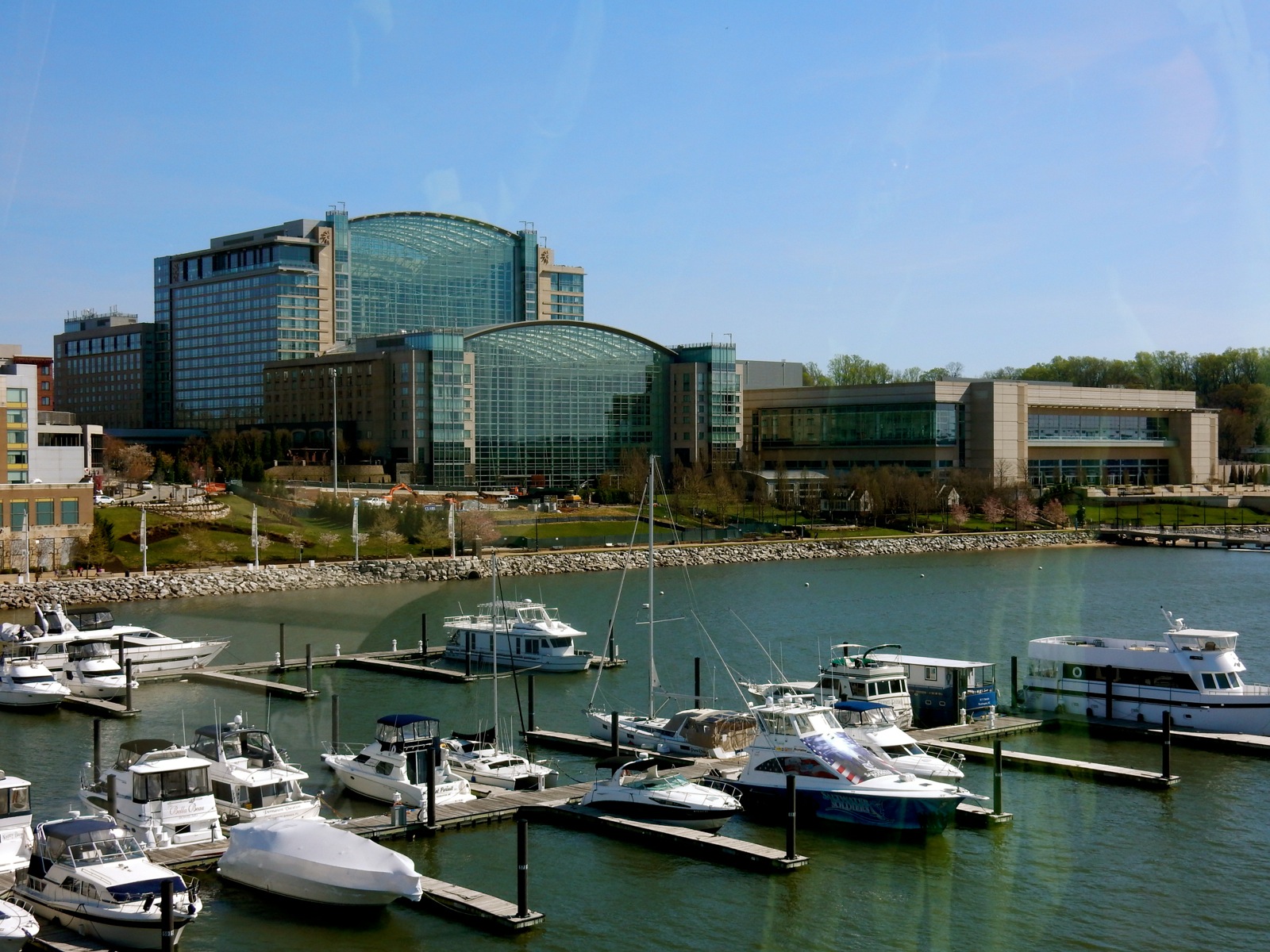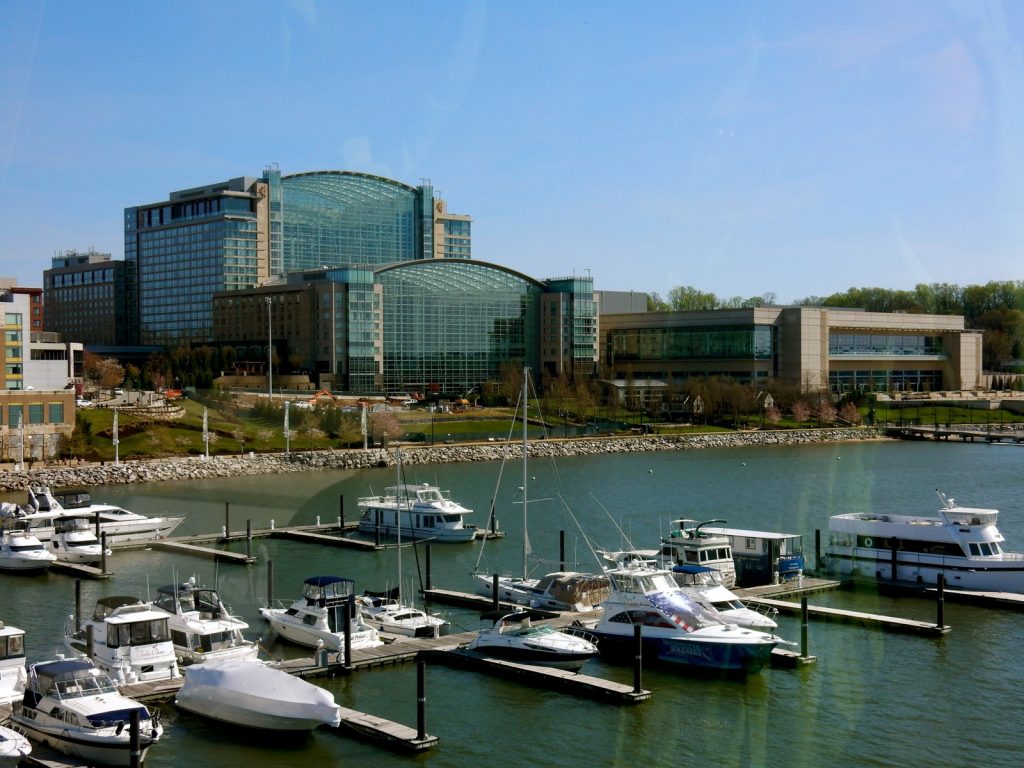 Local Water Taxis stop at Gaylord National Resort's private dock outside on the Potomac Riverfront, to take guests to and from Old Town Alexandria (just across the River), Georgetown, Mount Vernon, and even the Nationals Ballpark.
Just the Facts
Rooms rates from $125 per night, with multiple packages for families and adults available. Check website as they change seasonally.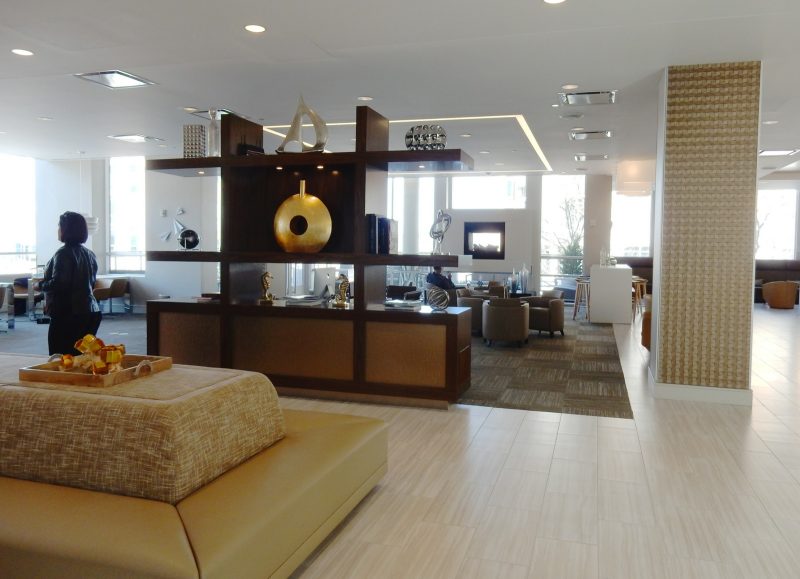 STAY: AC Hotel
For Millennials or Boomers looking for a contemporary room in town, the AC Hotel delivers. Neutral woodsy colors offset by shimmery golds, cocktails from a lobby bar dressed up like a sunset, communal tables, Mac computers, hardwood floors, lots of modern art and guest laundry – AC is the modern-quiet yin to Gaylord's traditional crowd-pleasing yang.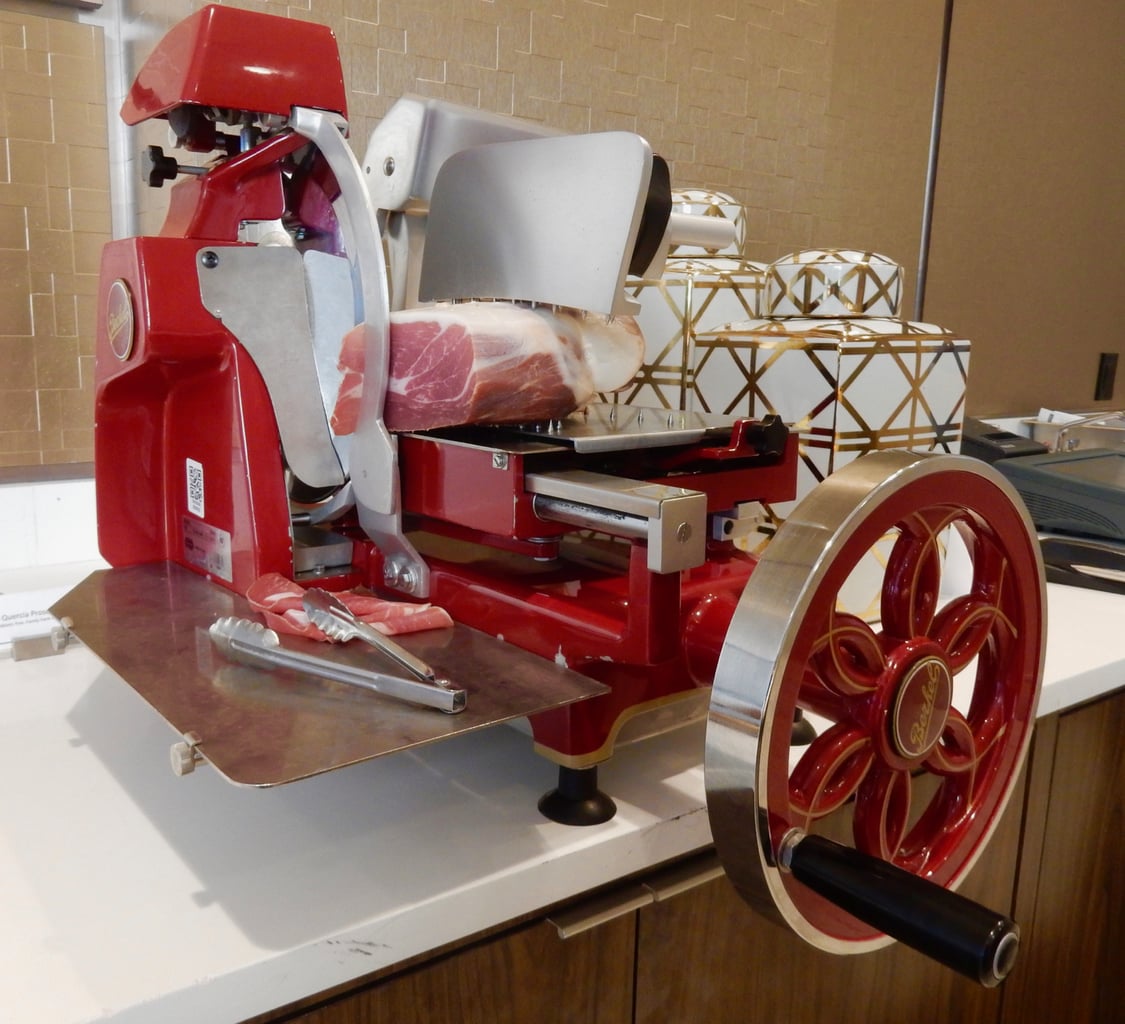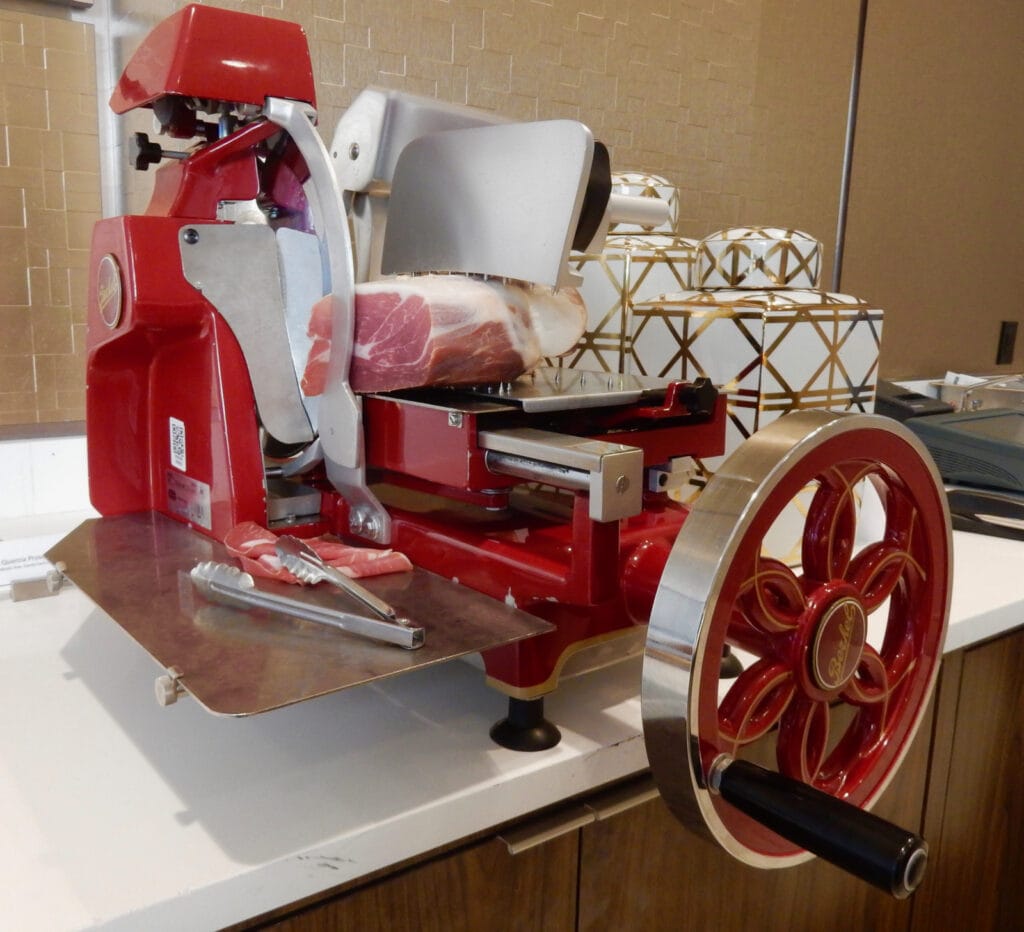 In the morning, guests are treated to a lovely Spanish-influenced breakfast. Find authentic flakey croissants, savory and sweet tarts, cheeses, and fresh-cut prosciutto, sliced right before your eyes. Rooms from $170 per night.