WHY GO: In contrast to the sometimes frenetic surrounding areas, particularly the District of Columbia, Carroll County MD is "Zen Peaceful" – in only the way that an agricultural region can be.
But what puts this Maryland county on this Maven's Go List is a phenomenal inn whose owners are so humble, they've kept news of their superb establishment a secret, at least to regions beyond the Mid-Atlantic.
But here's the thing: Carroll County, which encompasses the towns of Westminster, Taneytown, Hampstead, Mt. Airy, and more, has some pretty quirky and compelling aspects, as well – including a world-renowned PEEPshow, a funky, Woodstock-esque pottery compound, remnants of a civilized way to care for poor families, a young trio of siblings making a splash in the winemaking world, great food, and of course, an ultra luxurious overnight.
Carroll County is on our list of 17 Best Romantic Getaways in Maryland. Check it out for more adventures with your loved one.
Things to Do in Carroll County MD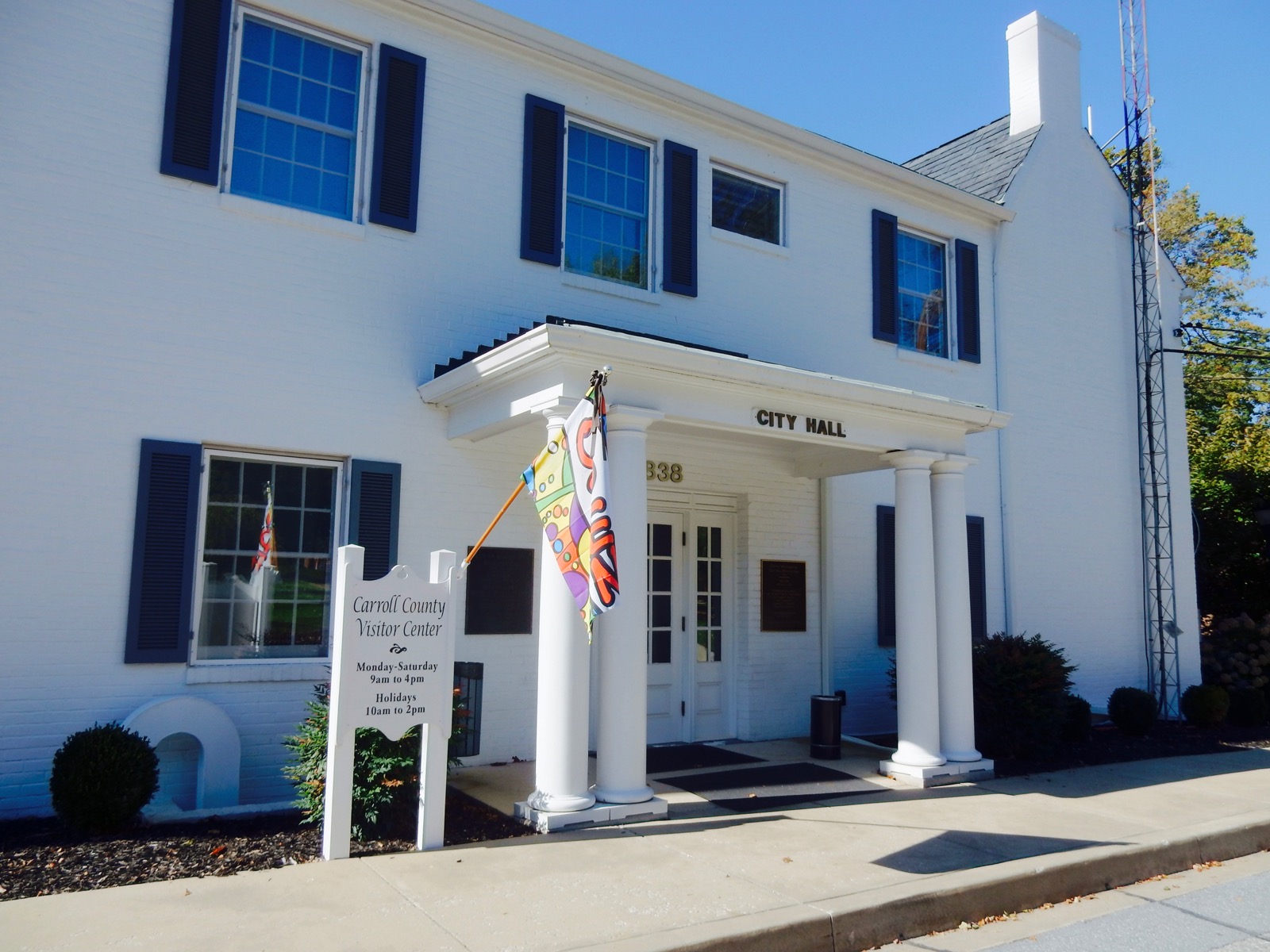 As the County Seat, Westminster, founded by William Winchester, is smack on the route from Baltimore to Gettysburg PA (about 1 ½ hour drive). Which makes it the perfect place to stop for a few hours or a few days.
The Visitor's Center is located in beautiful Emerald Hill: a whitewashed brick Pennsylvania farmhouse meets Georgian mansion that previously served as Town Hall. Come in for a chat, or to pick up some information and brochures. Open Mon-Sat. 9-4, Holidays 10-2.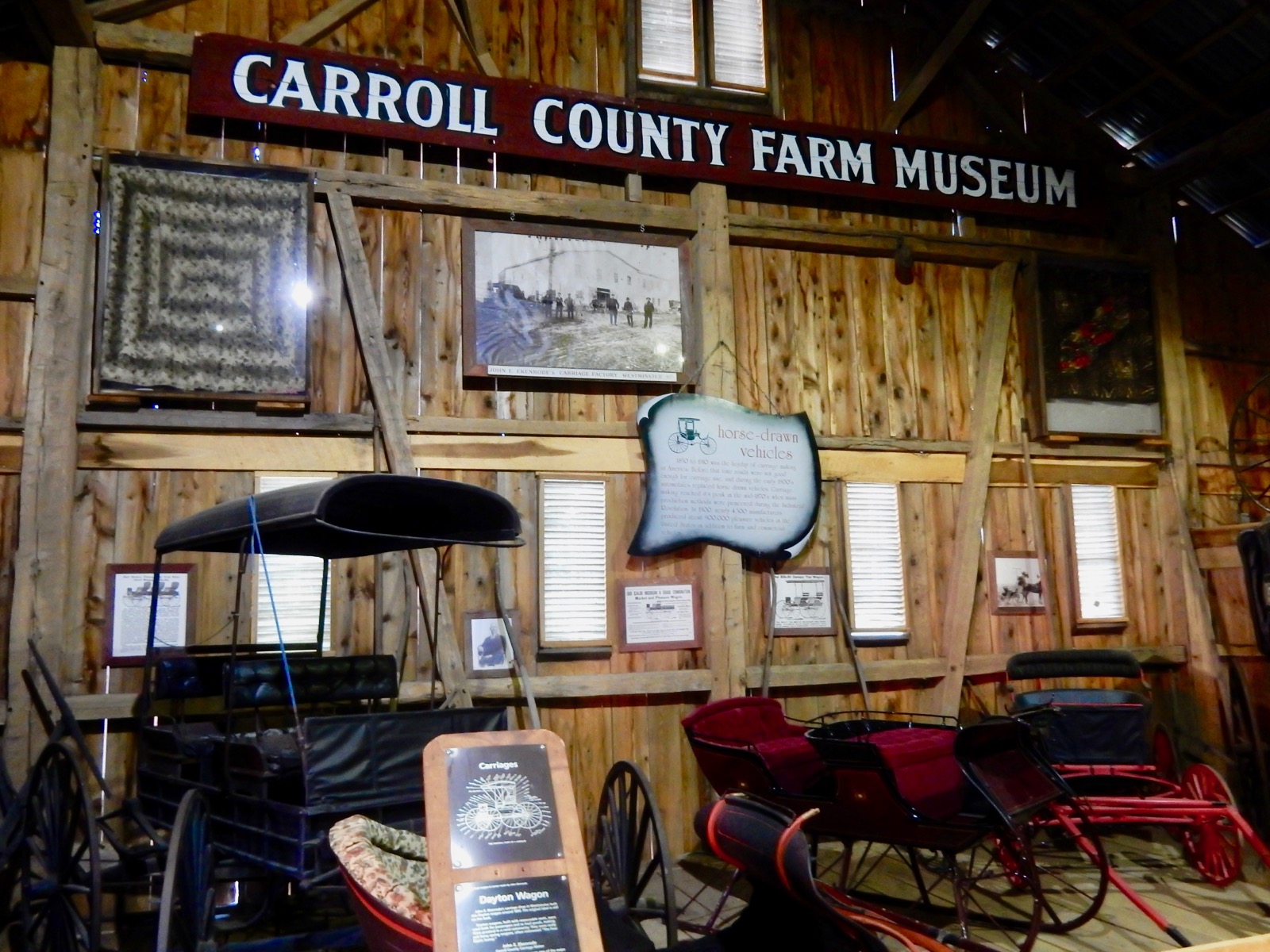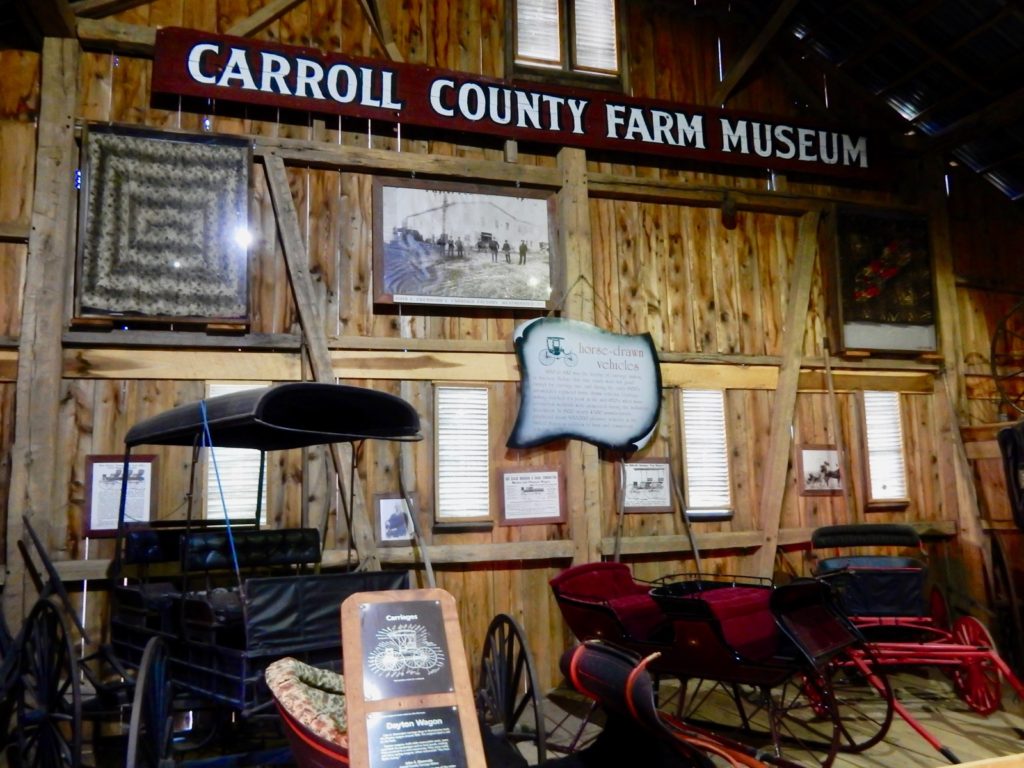 Let me preface this by saying that this is not your typical Living History Farm Museum. From 1852 until 1965, this was the county Alms House and 300 acre farm – where families and individuals who "lost everything" could work the land and live free. It seems this was a most dignified and sensible way to take care of the destitute and homeless. Touring it, and its outbuildings and barns, is remarkably compelling.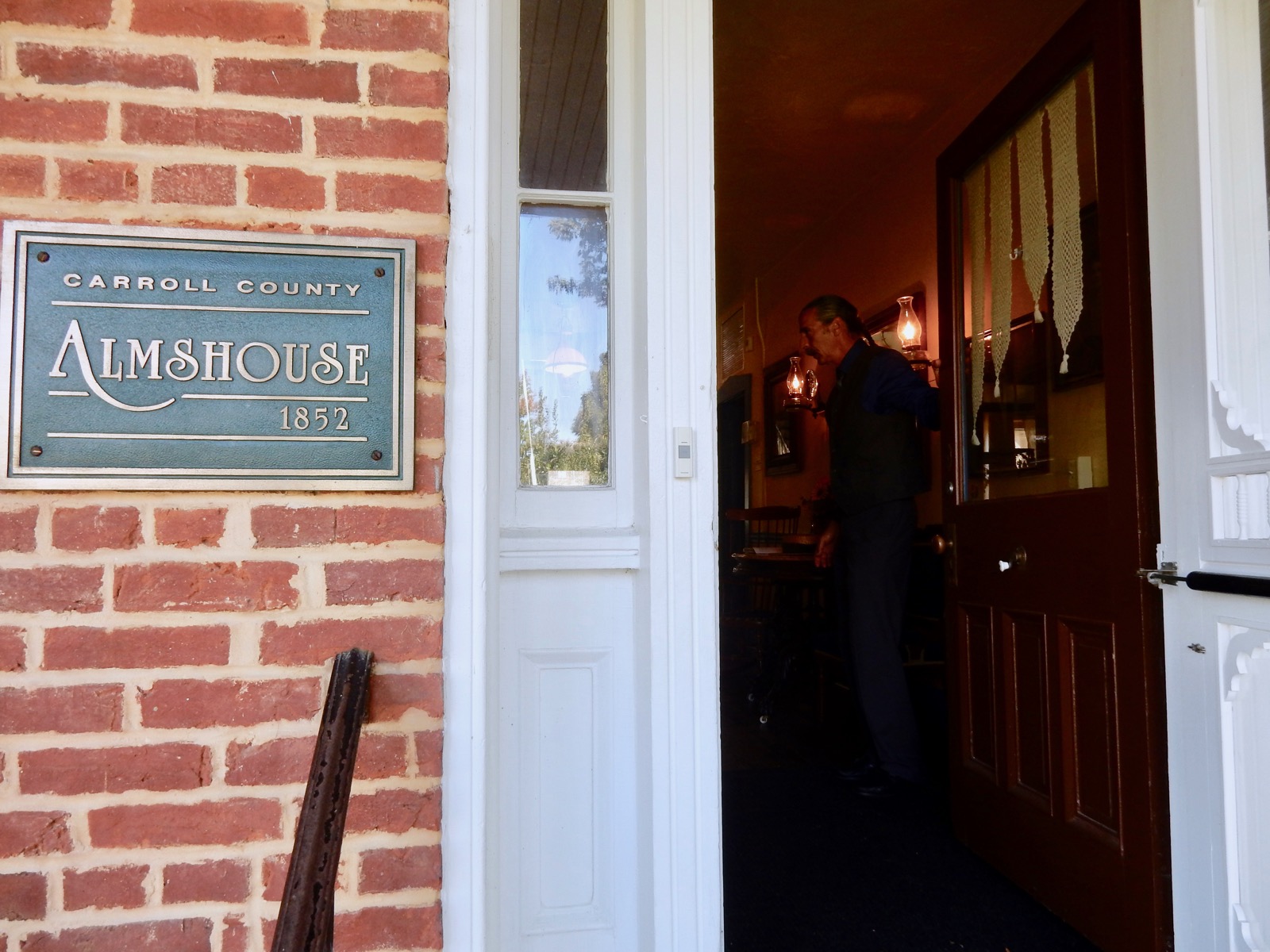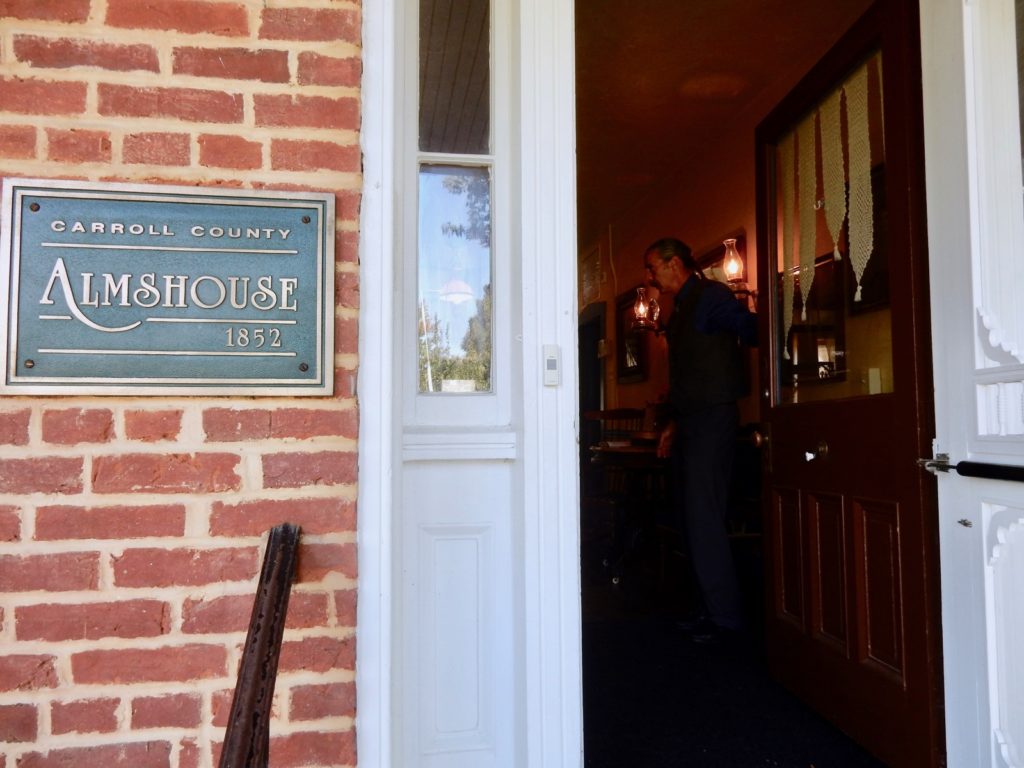 Men's And Women's Buildings
The main home housed women and children. Men and older boys stayed in what we'd now consider dorm rooms in a separate building. Girls, beginning at age 13, and young men of 21 would be taught a trade, and work as indentured servants for room and board. At its height, about 90 people lived and labored here.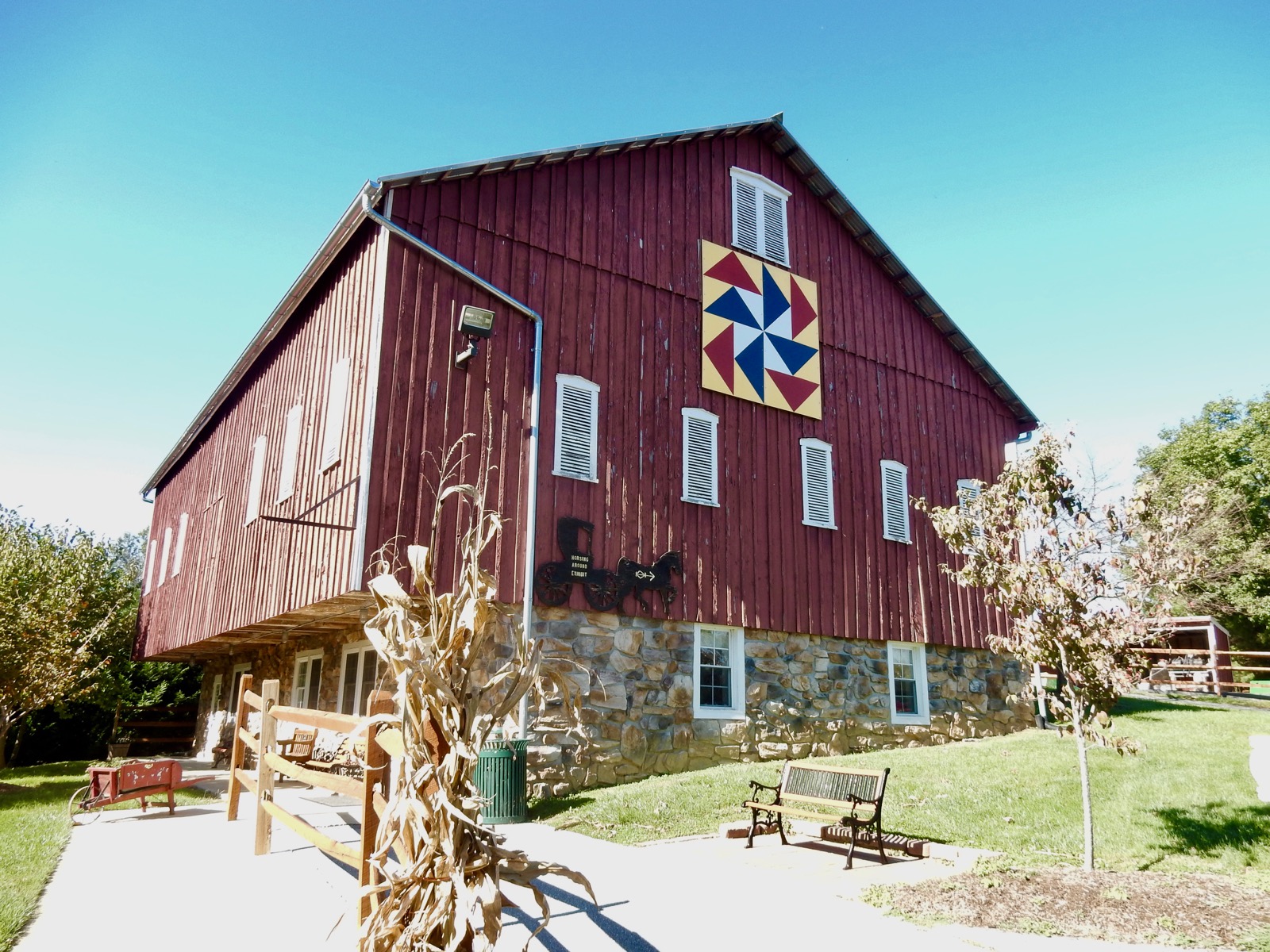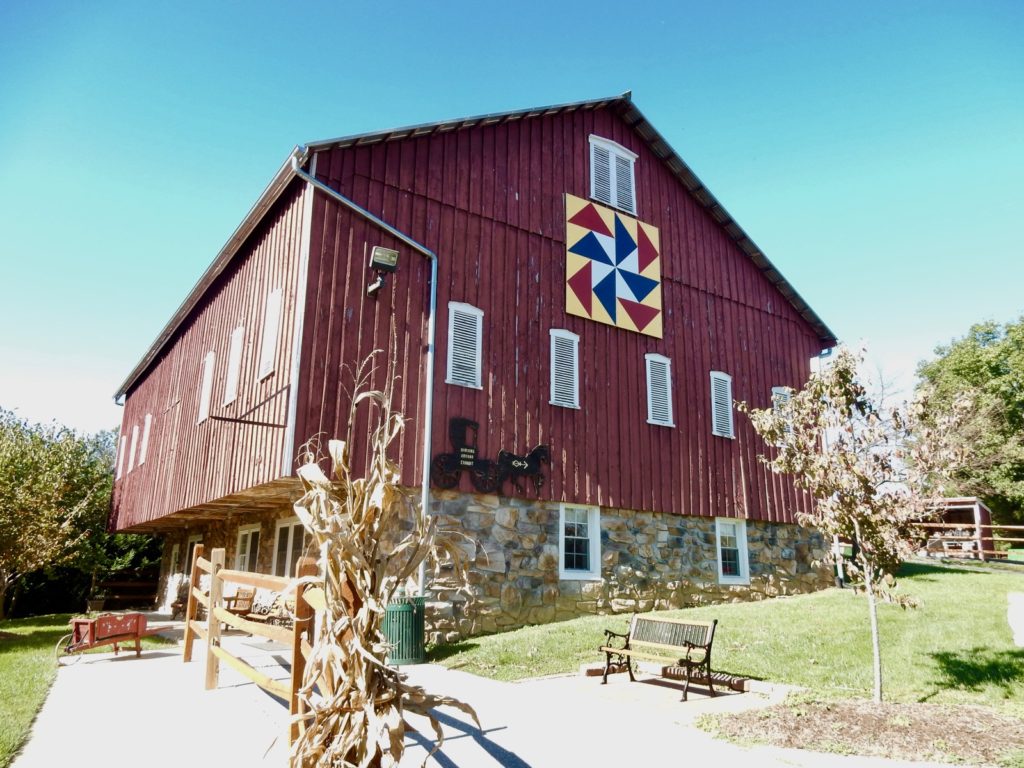 When the Alms House closed in 1965, the buildings were in such good repair, they needed very little restoration. The Carroll County Farm Museum was opened in 1966 with the mission to foster "the preservation and proper appreciation of the rural culture of Carroll County and the spirit and the values which this culture typifies."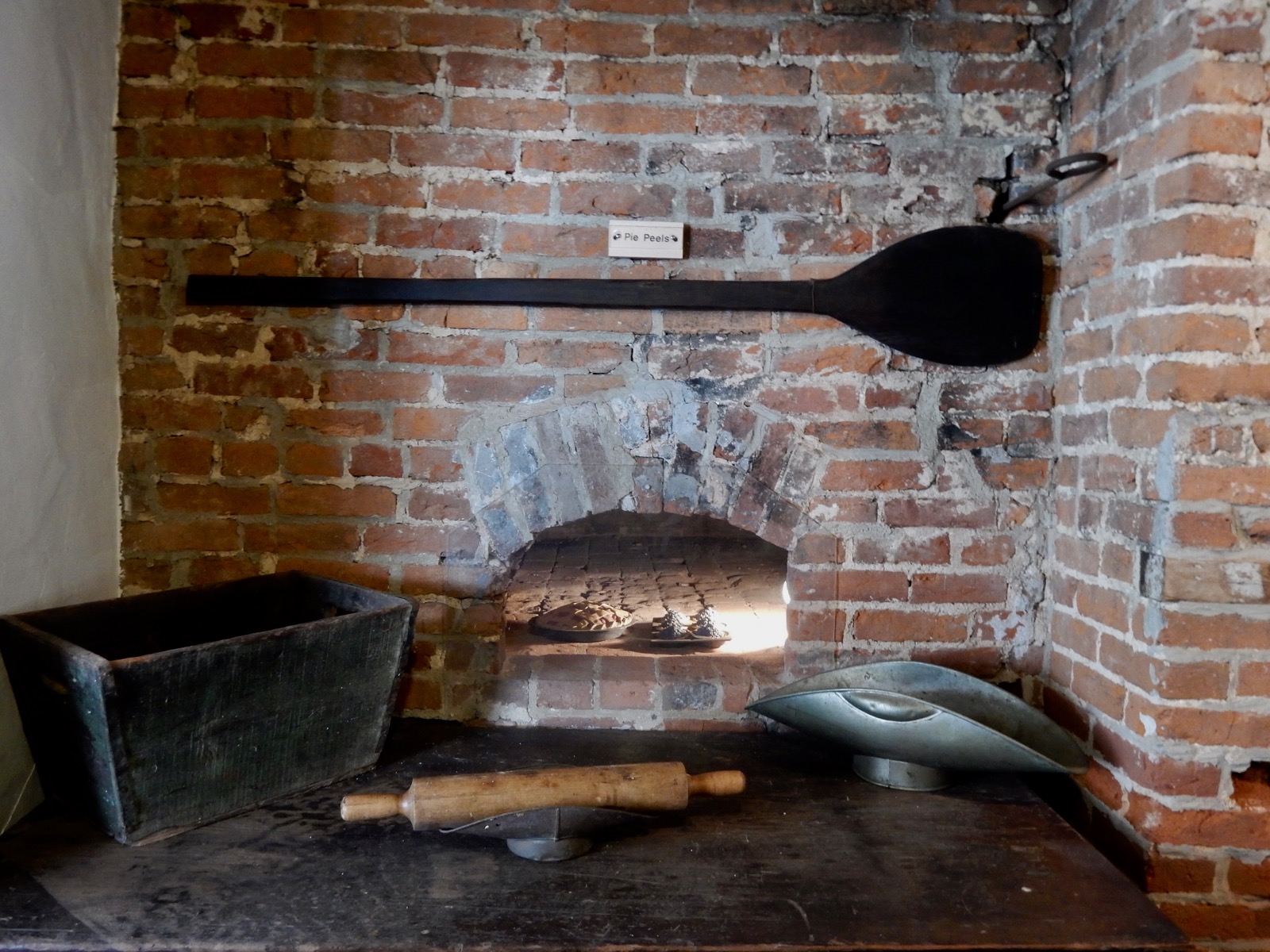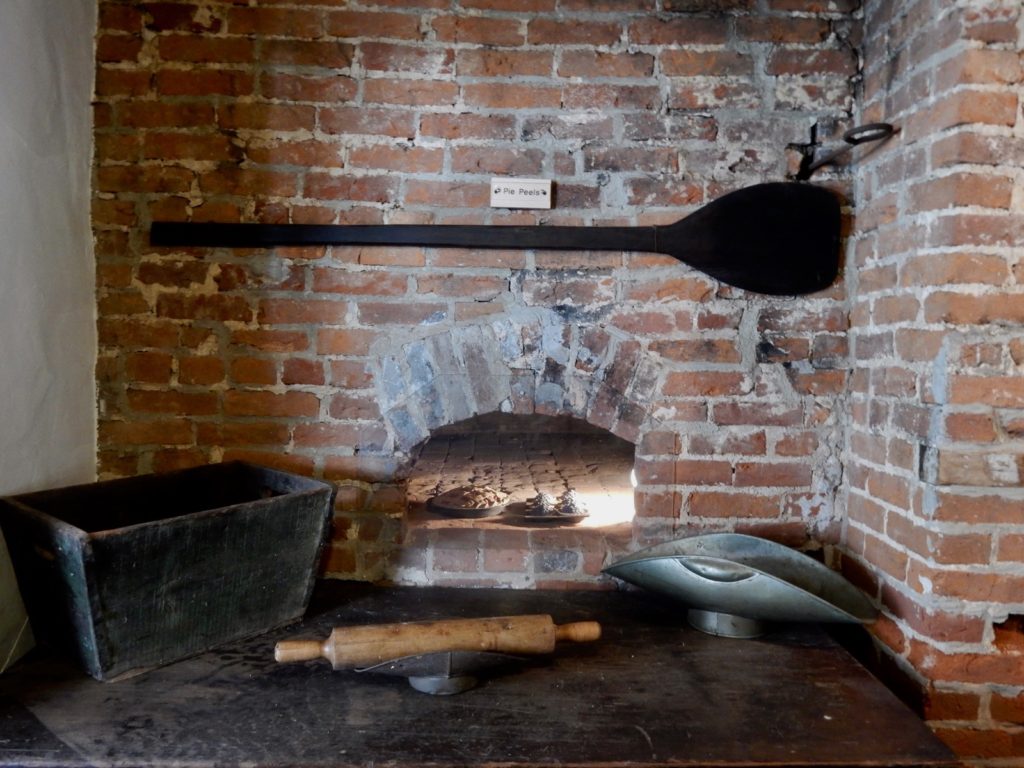 To that end, the dozen or so buildings on 160 remaining acres stand as they were. The home is decorated as it would have looked in the 1890's for upper middle class caretakers who made $400 a year, and lived on the 2nd floor. The poor lived on the 3rd floor.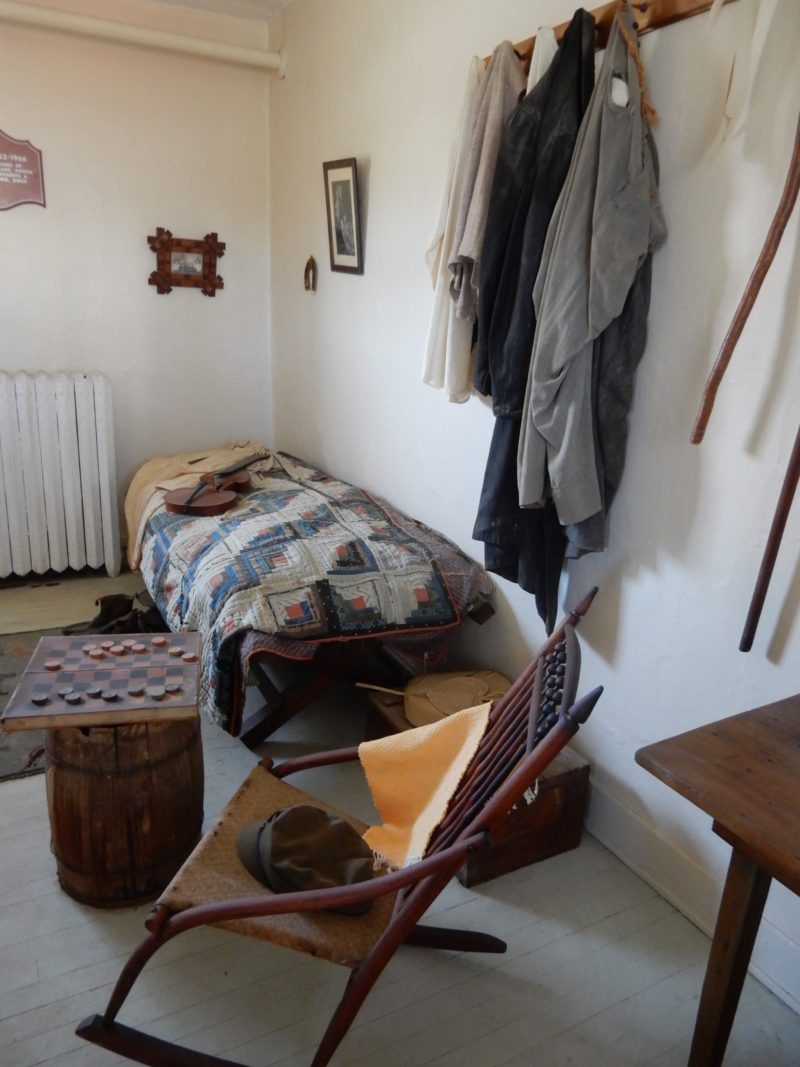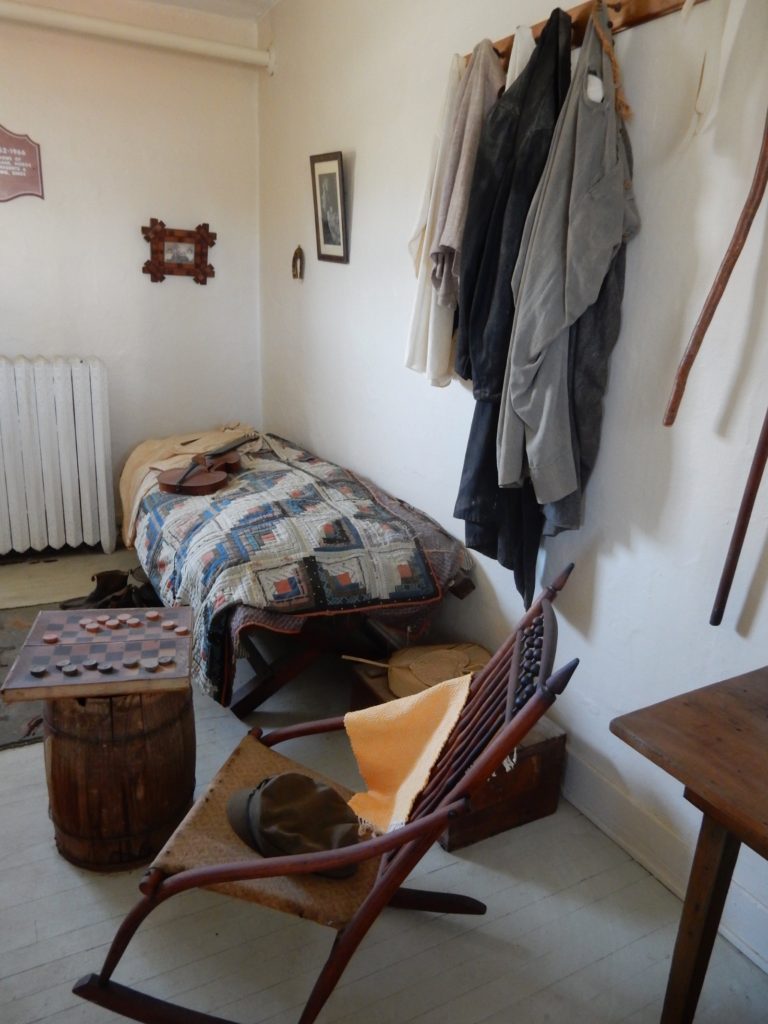 The Men's building has been converted into a showcase for different crafts and service jobs. There's a blacksmith, and tinsmith, a large-animal veterinarian office, hearth kitchen with brick oven – and on weekends, lots of demonstrations. In outbuildings, there are farm implements and exhibits about the crops grown here.
Wormseed Central
In the 20th century, this area of Maryland was rich in wormseed, a very labor intensive crop whose oil was used for myriad reasons: to rid the body of intestinal parasites, as an additive in women's perfumes, and on ships' hulls to repel barnacles. Locals could produce ten to fifteen gallons a day (synthetics killed the industry, however).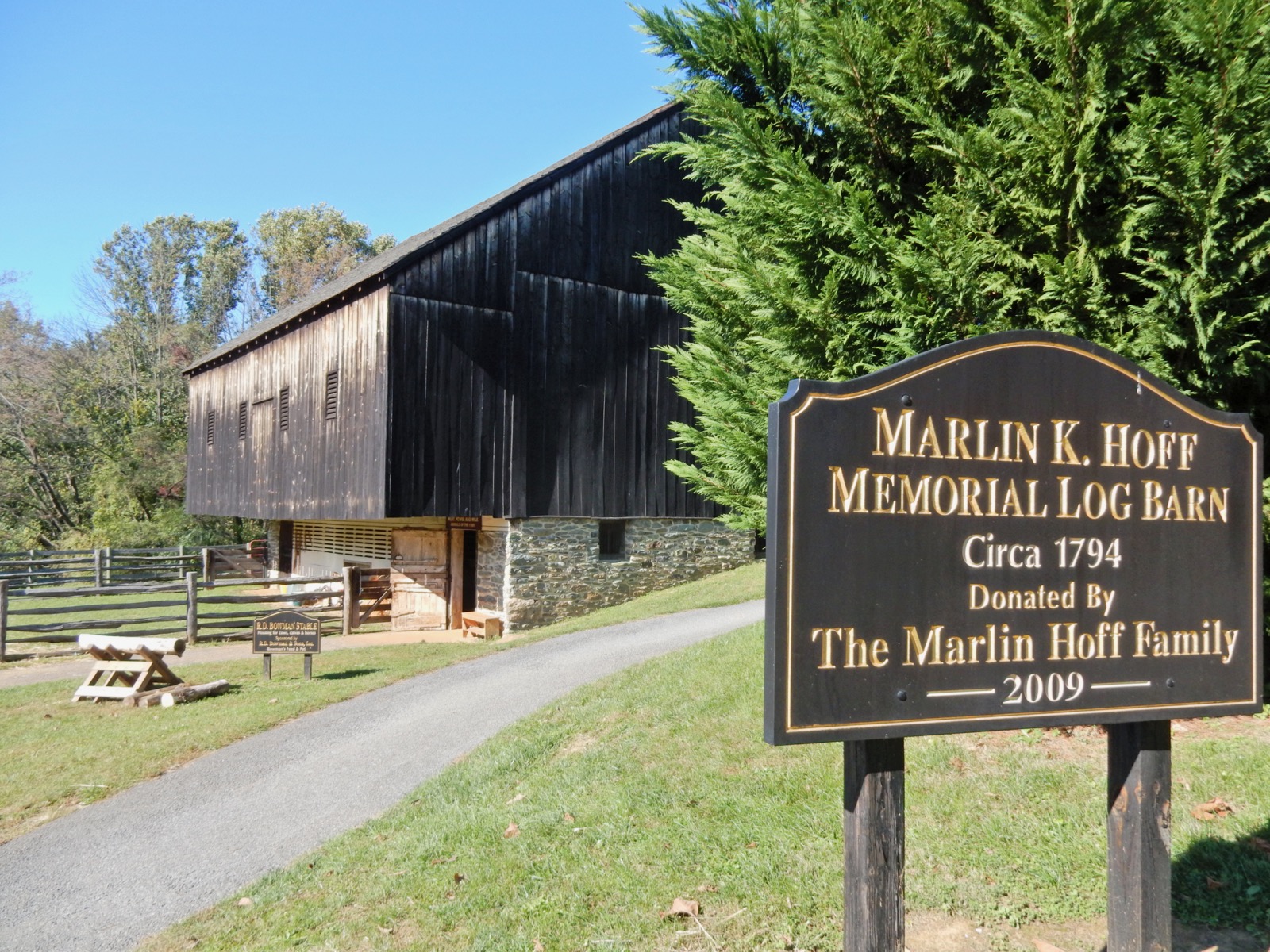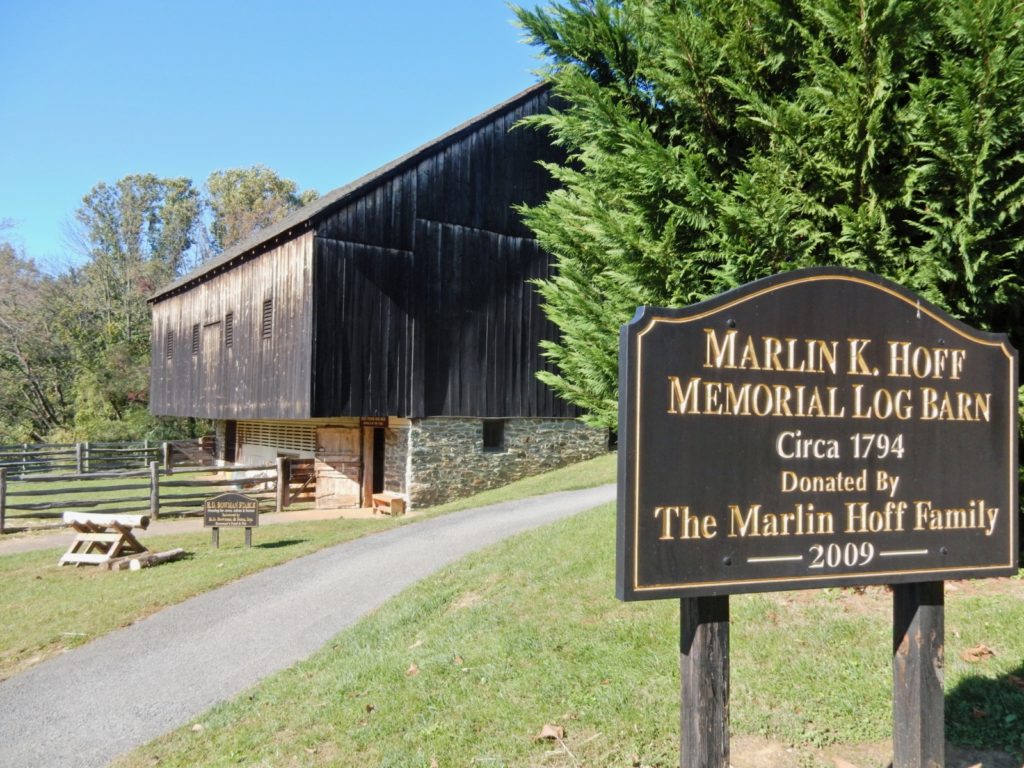 One barn displays Mail Wagons from the late 1890's, when Westminster became an RFD. This newfangled personal delivery service faced resistance from local residents who looked forward to daily social interaction while picking up their mail from the General Store.
Barn Built "When George Washington Was President"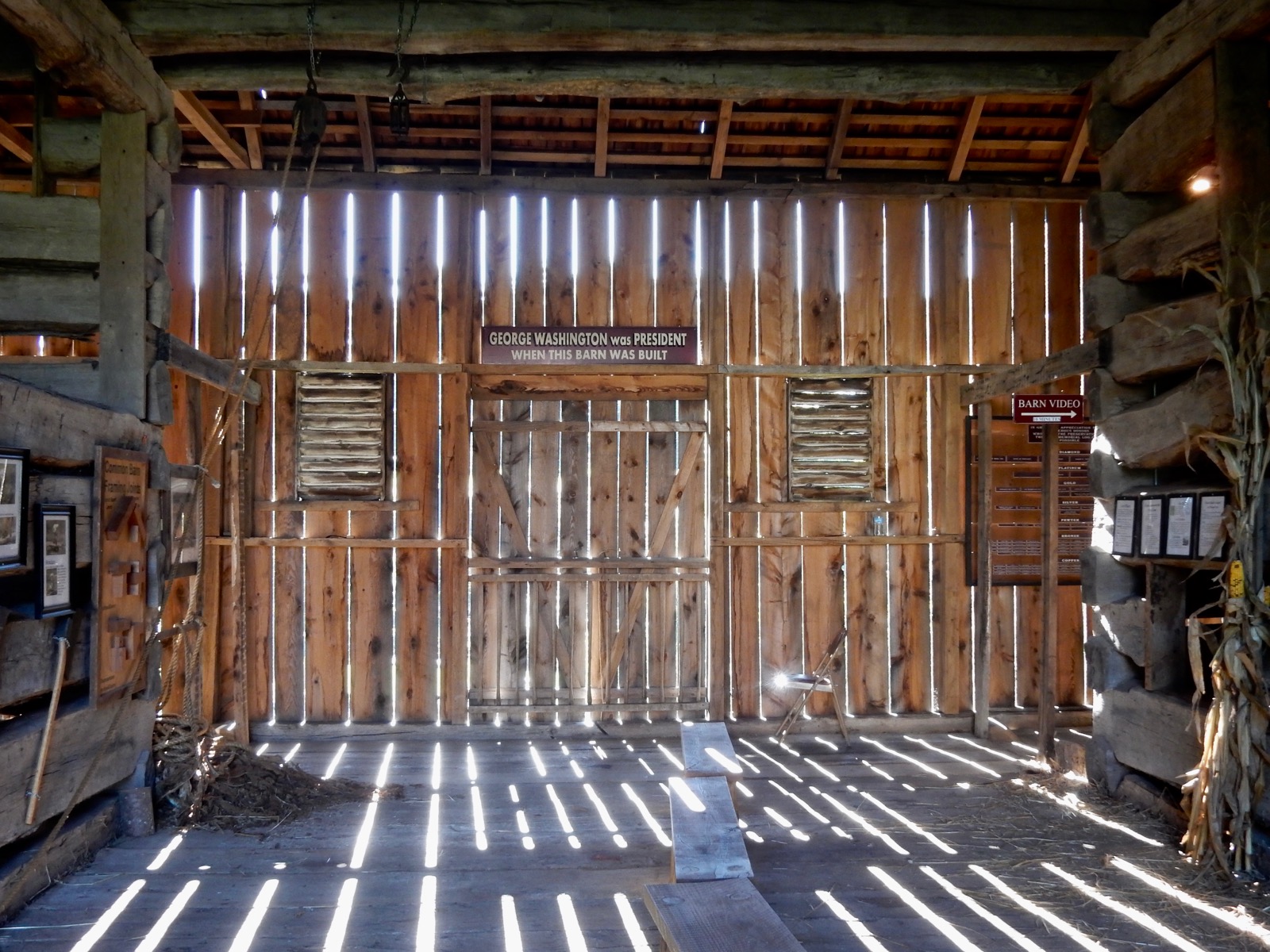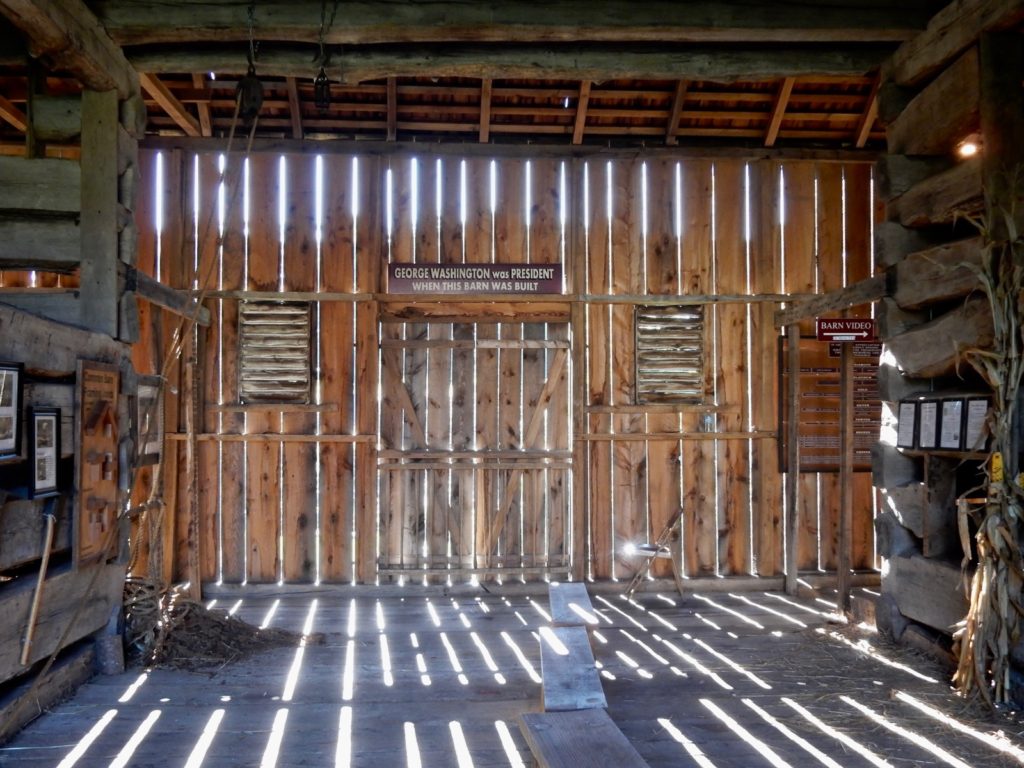 The Hoff Log Barn, a 1794 Bank Barn, was built, as it blares on a large sign, "when George Washington was President." Visitors learn that the largest animals were positioned near the door to prevent predators from entering, and kids love to test their strength against their 18th century counterparts by hoisting hay via a pulley system.
This generally sparks discussions about the fact that farmers had to grow their own hay and grains for the livestock – as there were no feed stores. Open Mon-Fri 9-4:30, Sat 9-4, Sun. noon-4, $5 adults, $10 families, free Jan-March.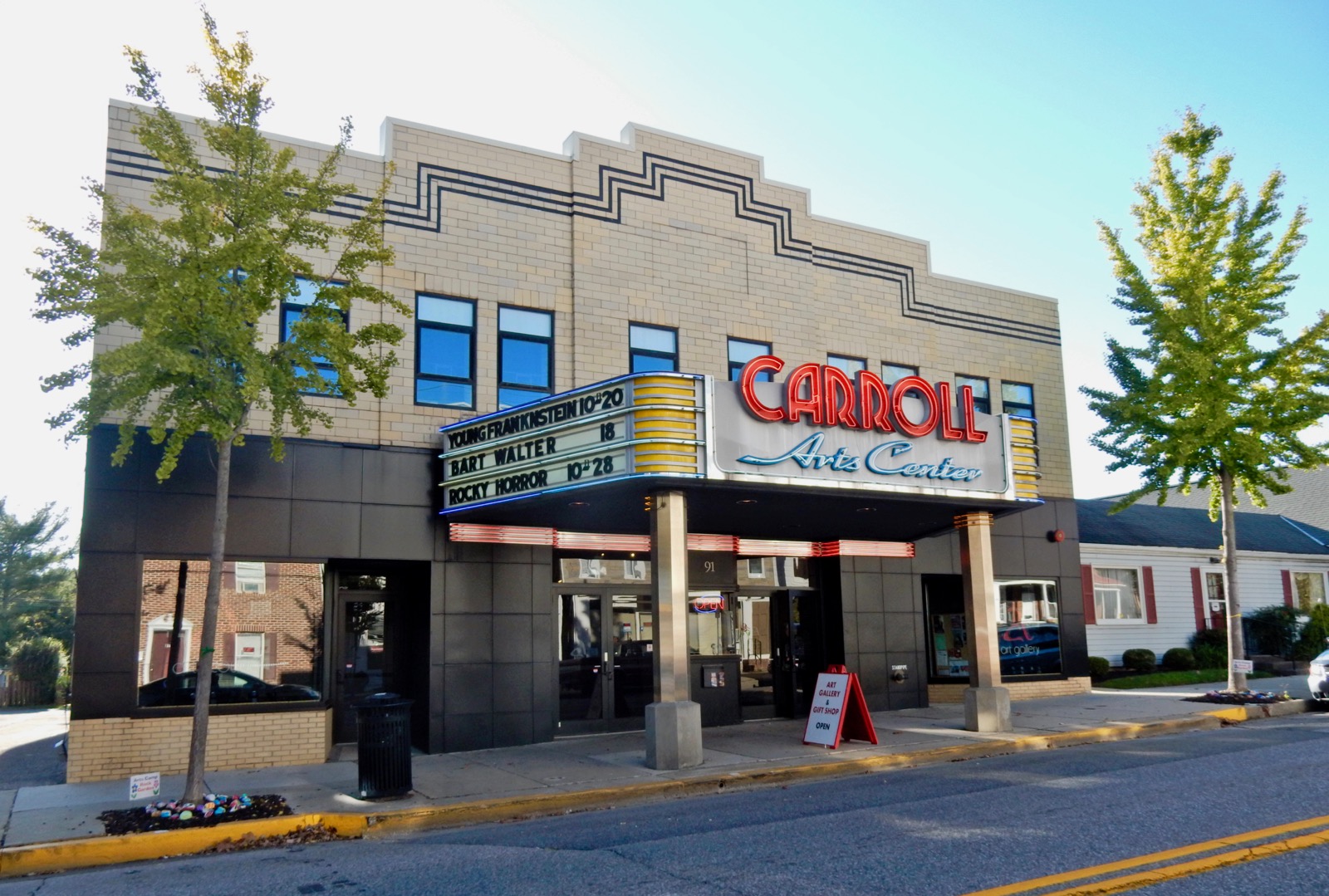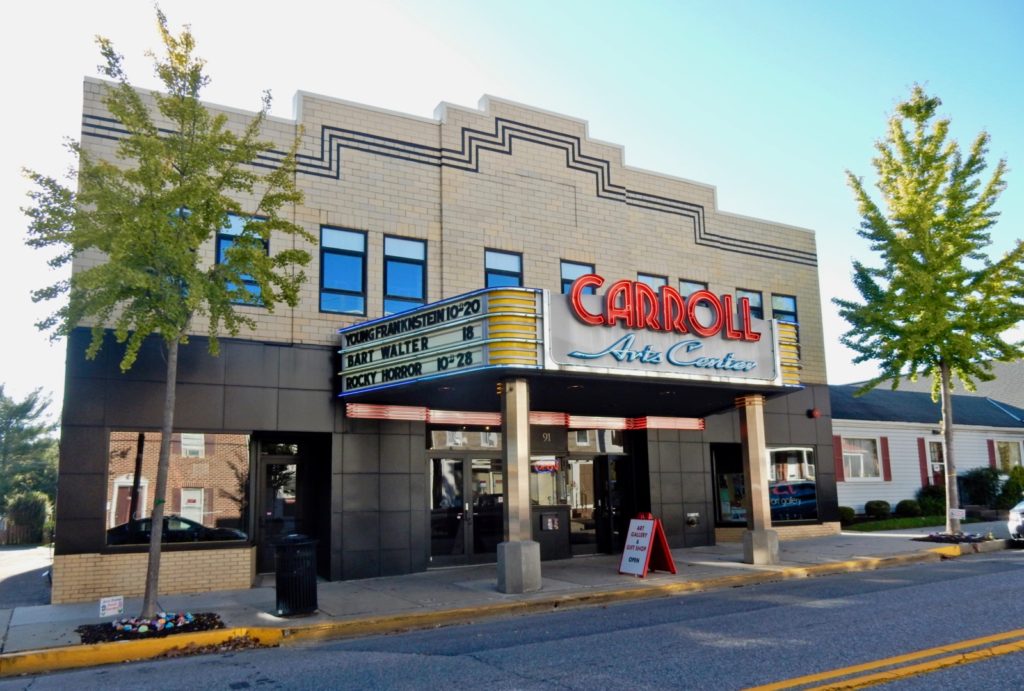 Have you heard of the PEEPshow? That yearly extravaganza of art made entirely from the little yellow (and now multi-colored) marshmallow chicks associated with Easter Season? If so, you already know about the Carroll Arts Center in this small Maryland town.
The original 1937 movie theater was beautifully renovated and reinvigorated in the early 2000's. It remains a vibrant place at all times – what with a constant stream of art shows, book talks, vintage movies, lectures, and theatrical performances. The annual ten day PEEPshow, however, is by far the Carroll Arts Center's biggest event.
Carroll County PEEPshow History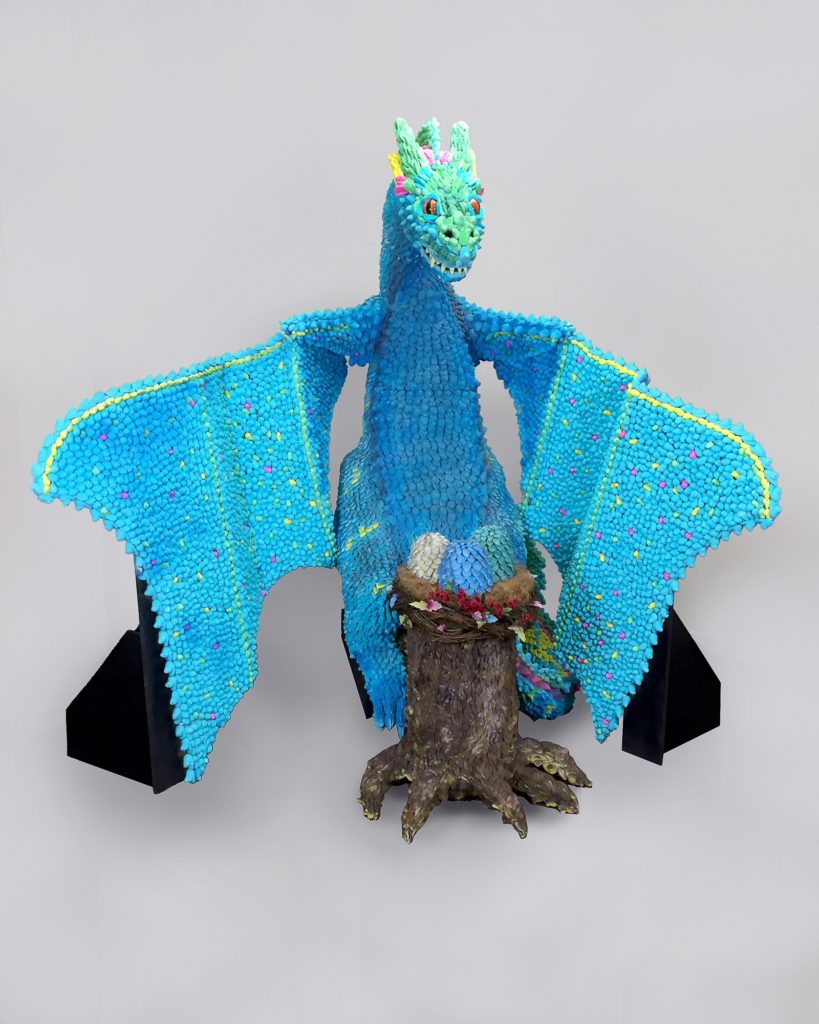 It all began ten years ago, after Executive Director, Sandy Oxx, submitted her "Peep With A Pearl Earring" diorama into the Washington Post Peeps Diorama Contest and was rejected. Undeterred, Oxx decided to launch her own competition. She widened it to include sculptures and PEEPs art of all sizes (e.g Game of Thrones Dragon was made up of 5,000 Peeps).
Over the past decade, the PEEPshow has turned into a major happening. The annual event draws upwards of 27,000 people from all over the world who line up around the block to see the latest creations every late March or early April. This is Carroll Arts Center's biggest fundraiser, and helps cover its annual operating costs. However, according to Oxx, "we're much more than marshmallows."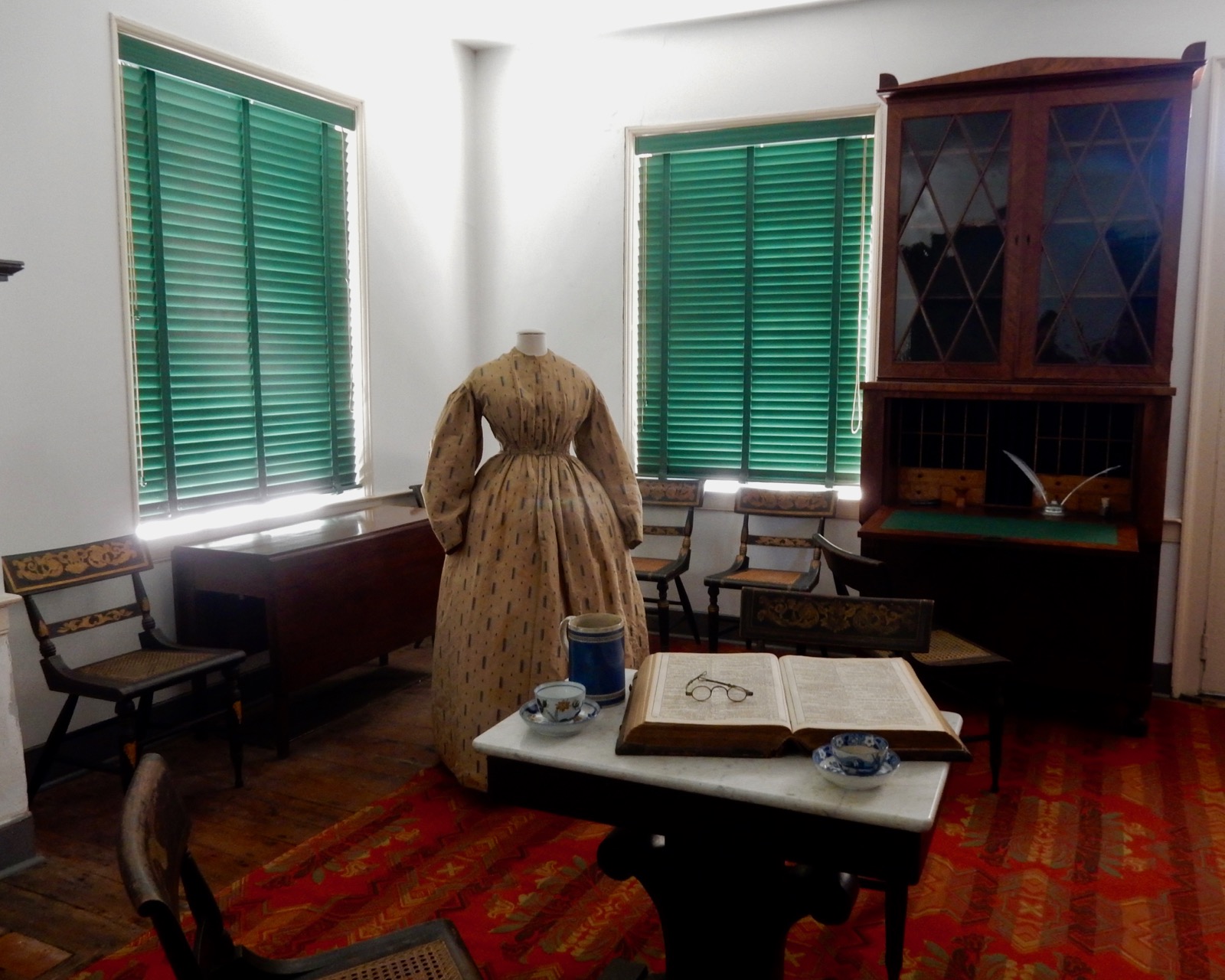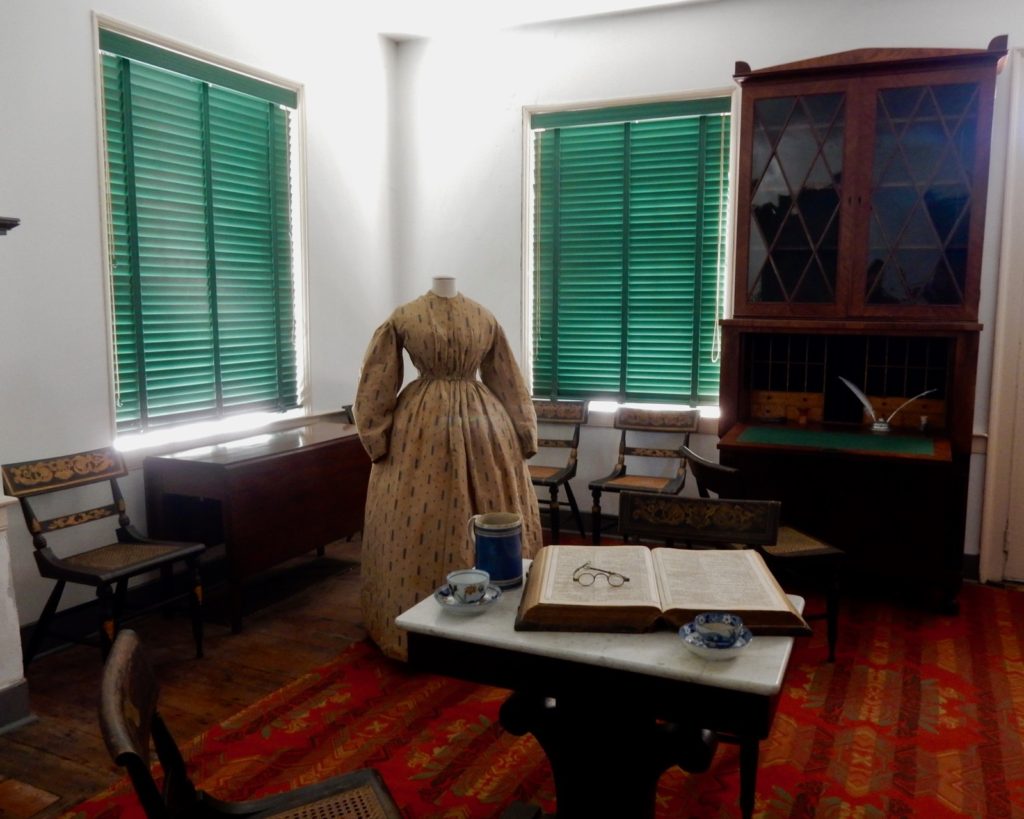 Pop in to the 1800 Kimmey House to see vignettes of the area from centuries ago. I bet you didn't know that venetian blinds were used in fancy 1700's homes! Open 9-5 Tues-Fri.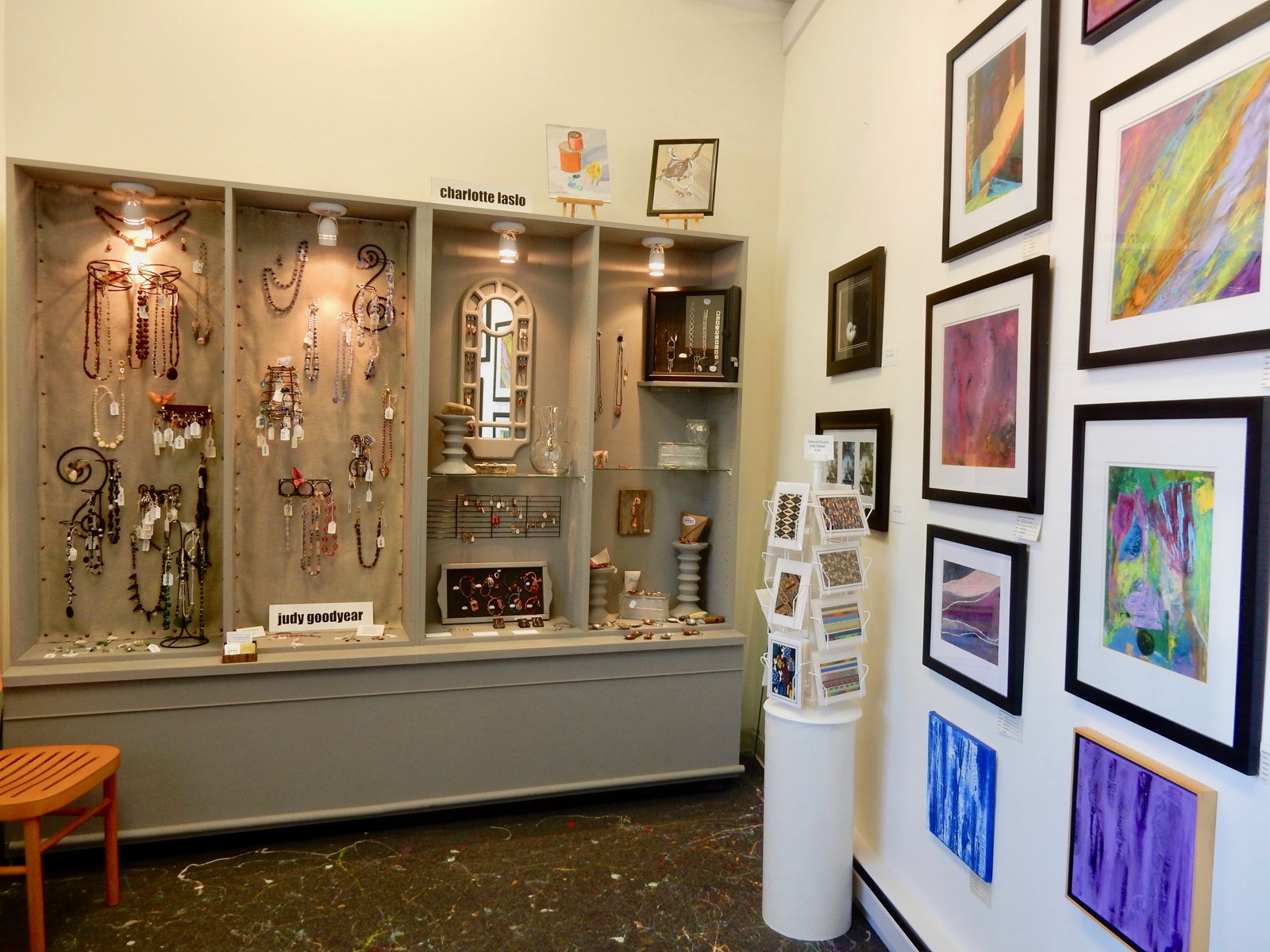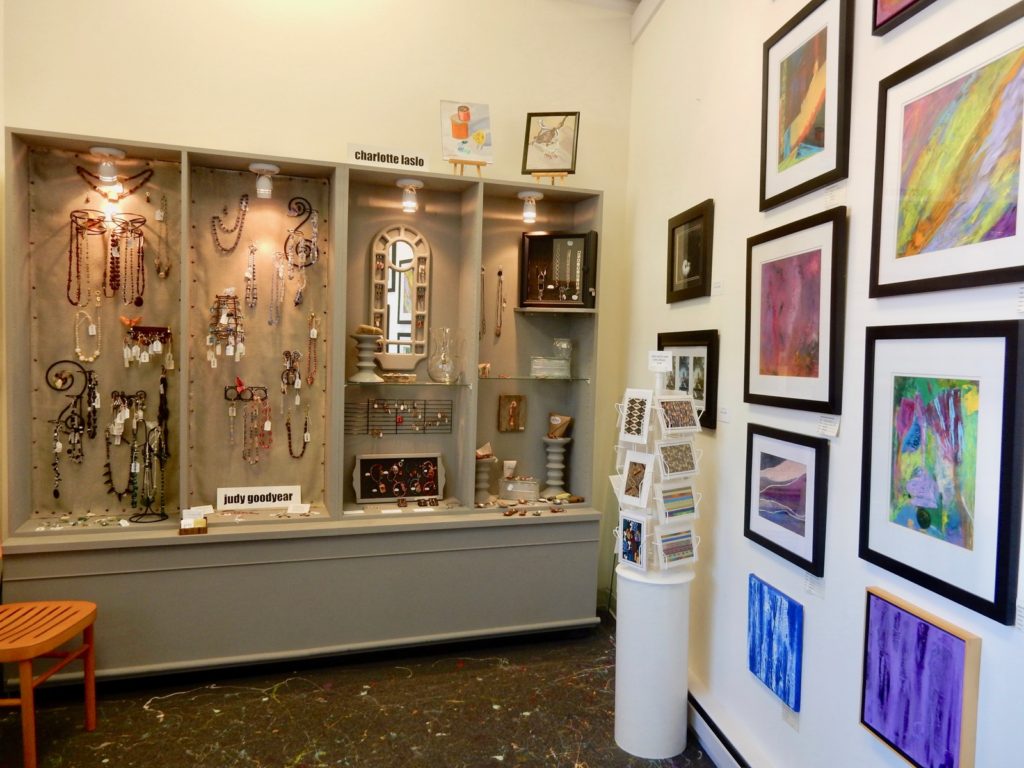 This seven-partner art gallery is located across from The Cup Café, and right beside the railroad tracks. (Hence the name). It features unusual and eye catching wall art, home goods, and jewelry.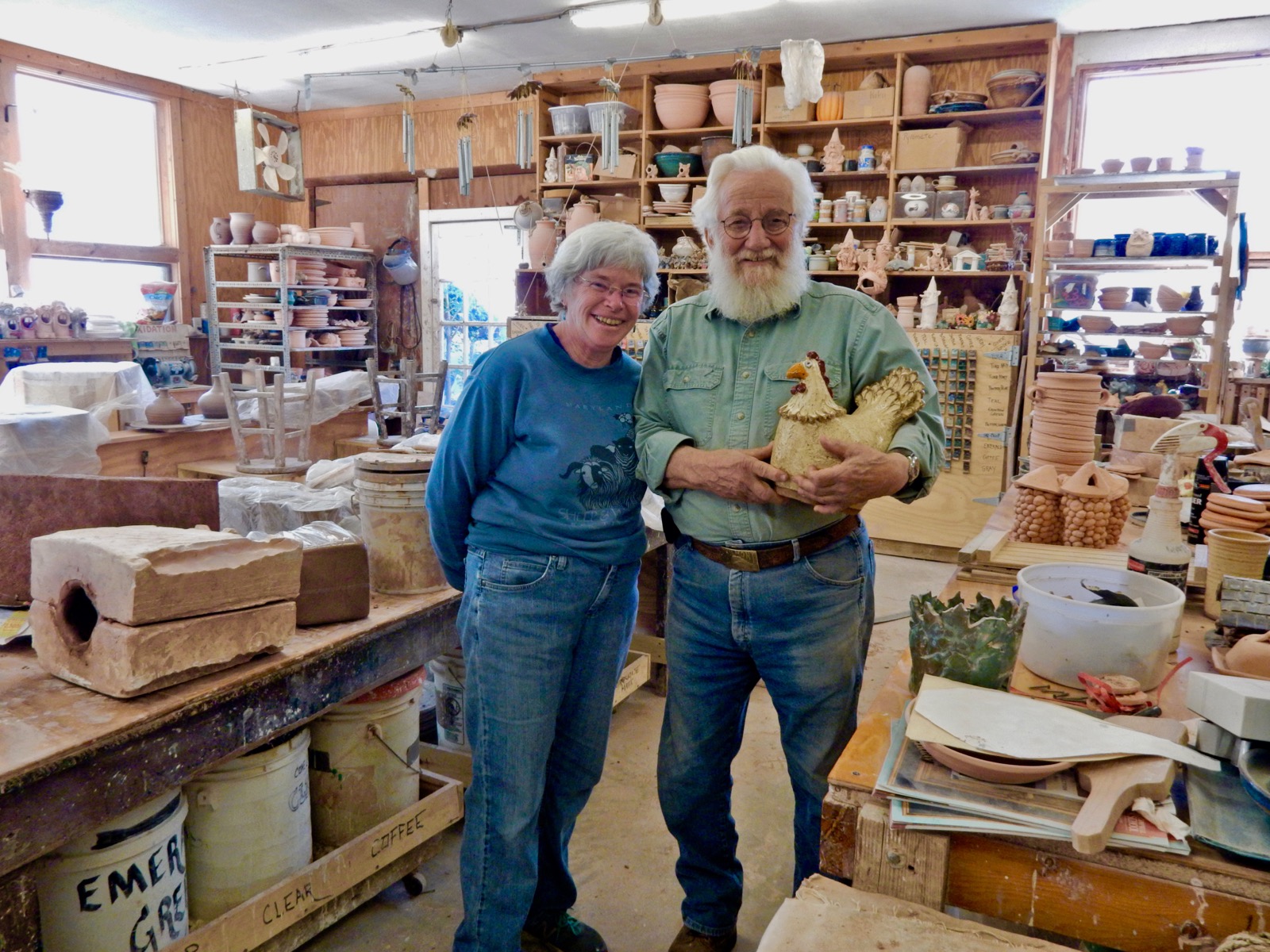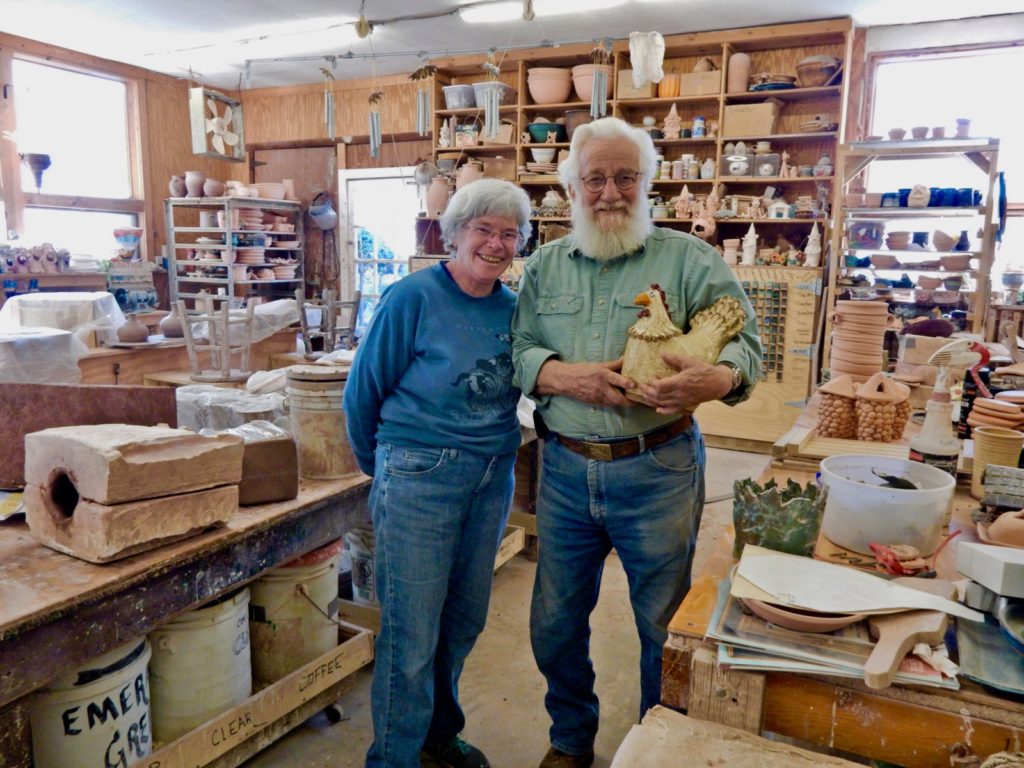 Shiloh Pottery owner, Ken Hankins, looks (and acts) like Santa Claus as rendered by Mad Magazine. A clay-master for decades, his creations tend toward the whimsical – such as serving bowls stamped with a dozen white sheep and one black. His latest – funky chickens – are flying off the shelf. "I just can't make them fast enough."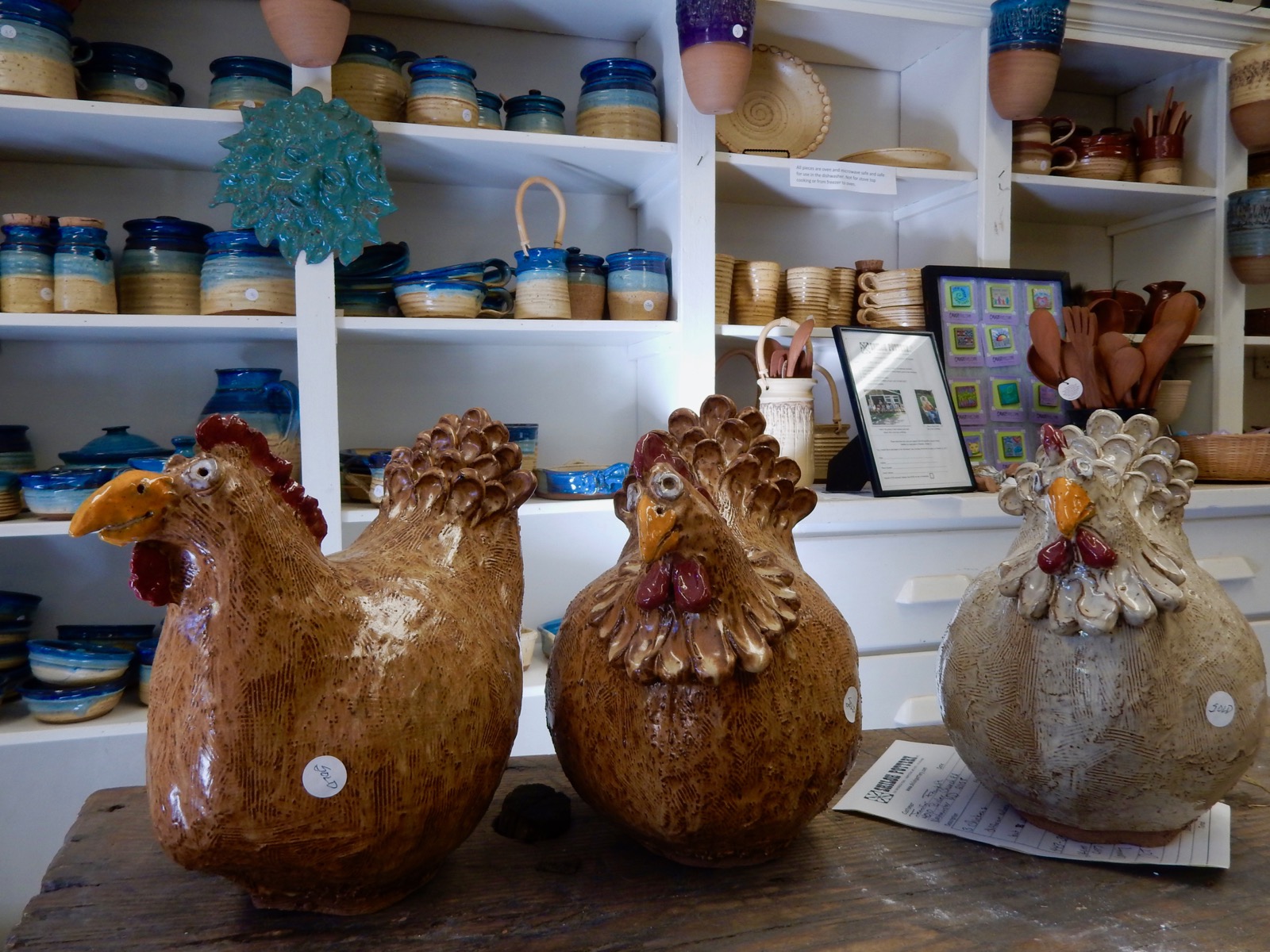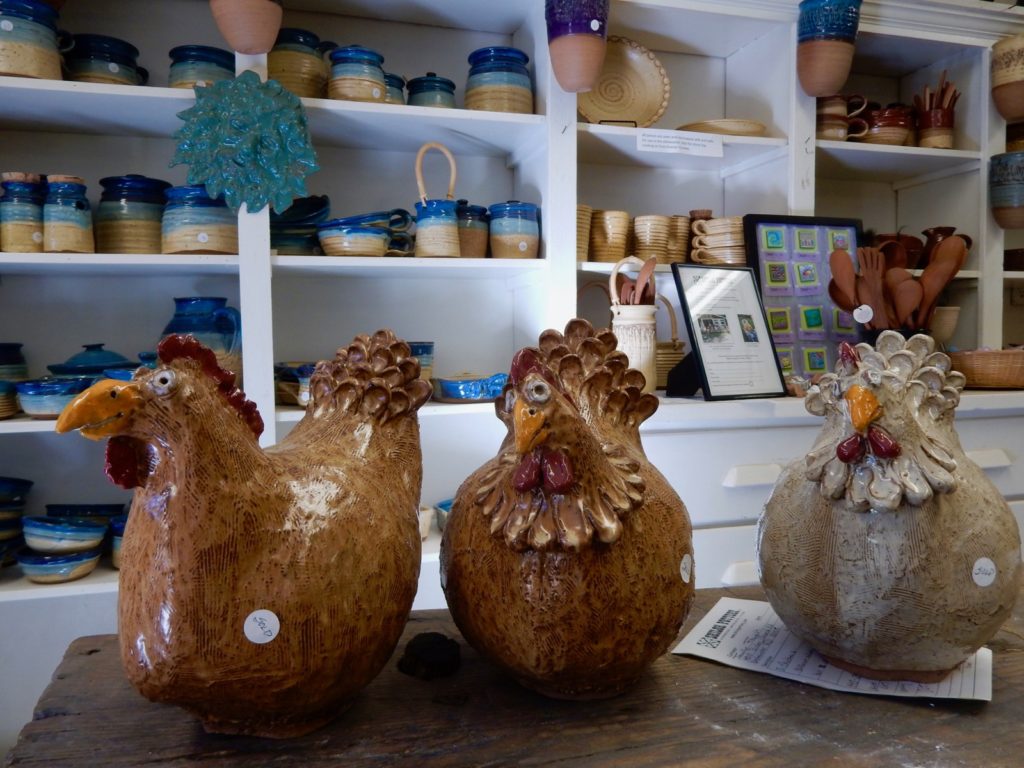 If you've ever wondered where Woodstock went, it packed up and moved to this jumble of buildings, playground, chickens, woodworking and ceramic shops on land that used to be a "Kosher Jewish Summer Camp."  It had a pond, pool, and recreational opportunities for Baltimore kids from 1967-1976.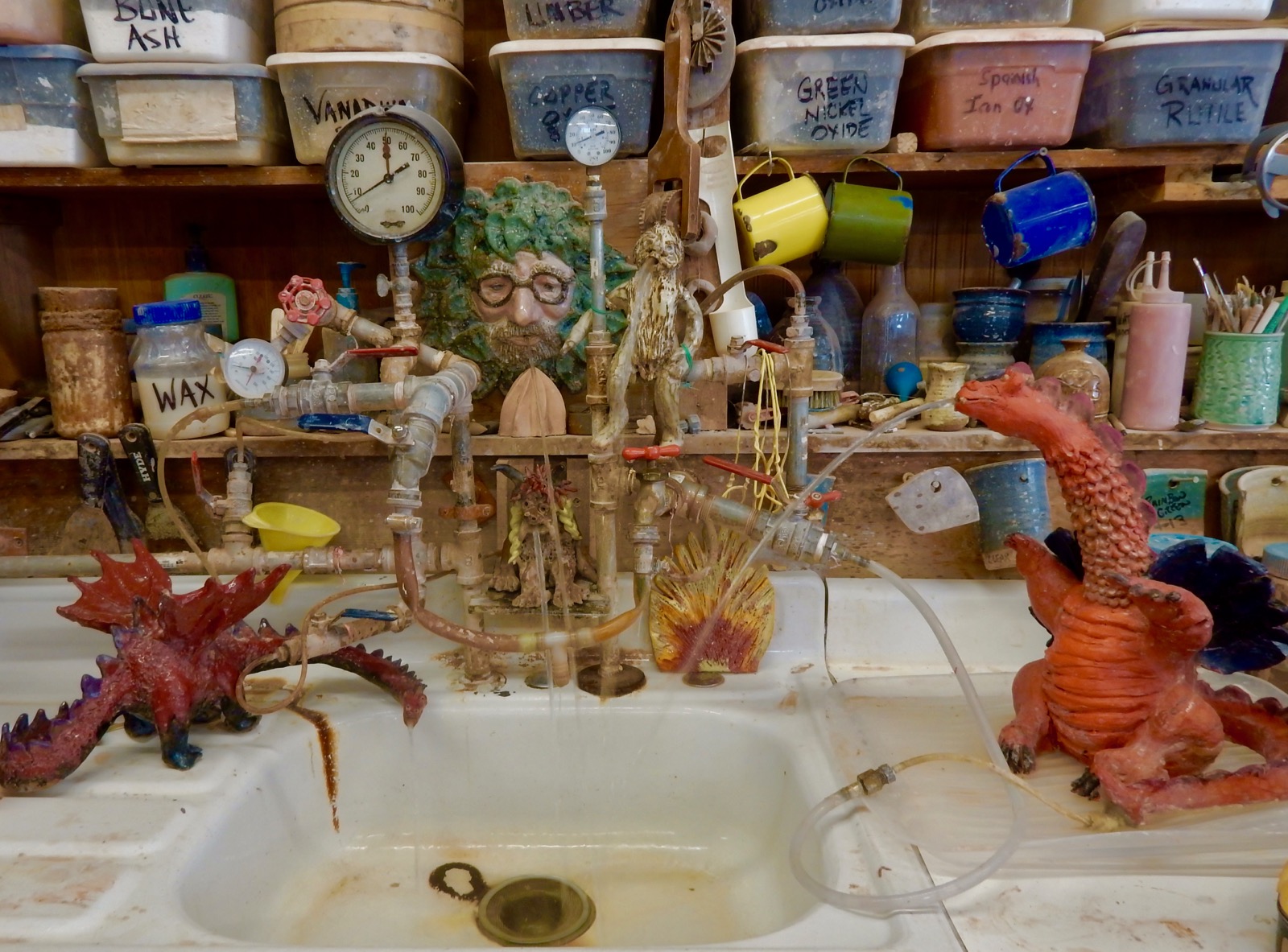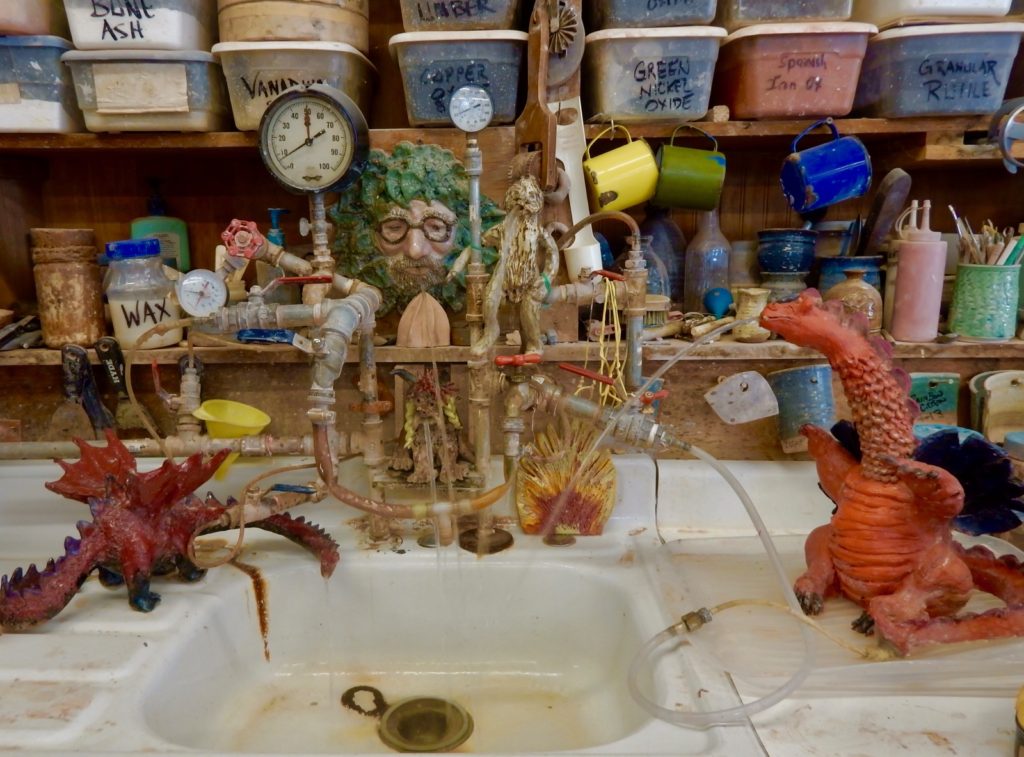 Ken, who has a Masters in Ceramics Education and his wife, Marty, took over and ran Shiloh as a Pottery Camp. The Hankins were educators (Ken has been teaching at McDaniel College for 45 years), and in their semi-retirement, now offer workshops and classes for kids and adults onsite. Ask Ken to show you the Rube-Goldberg-esque faucet system in his studio-classroom sink. His clay dragons spit water from a multitude of hoses.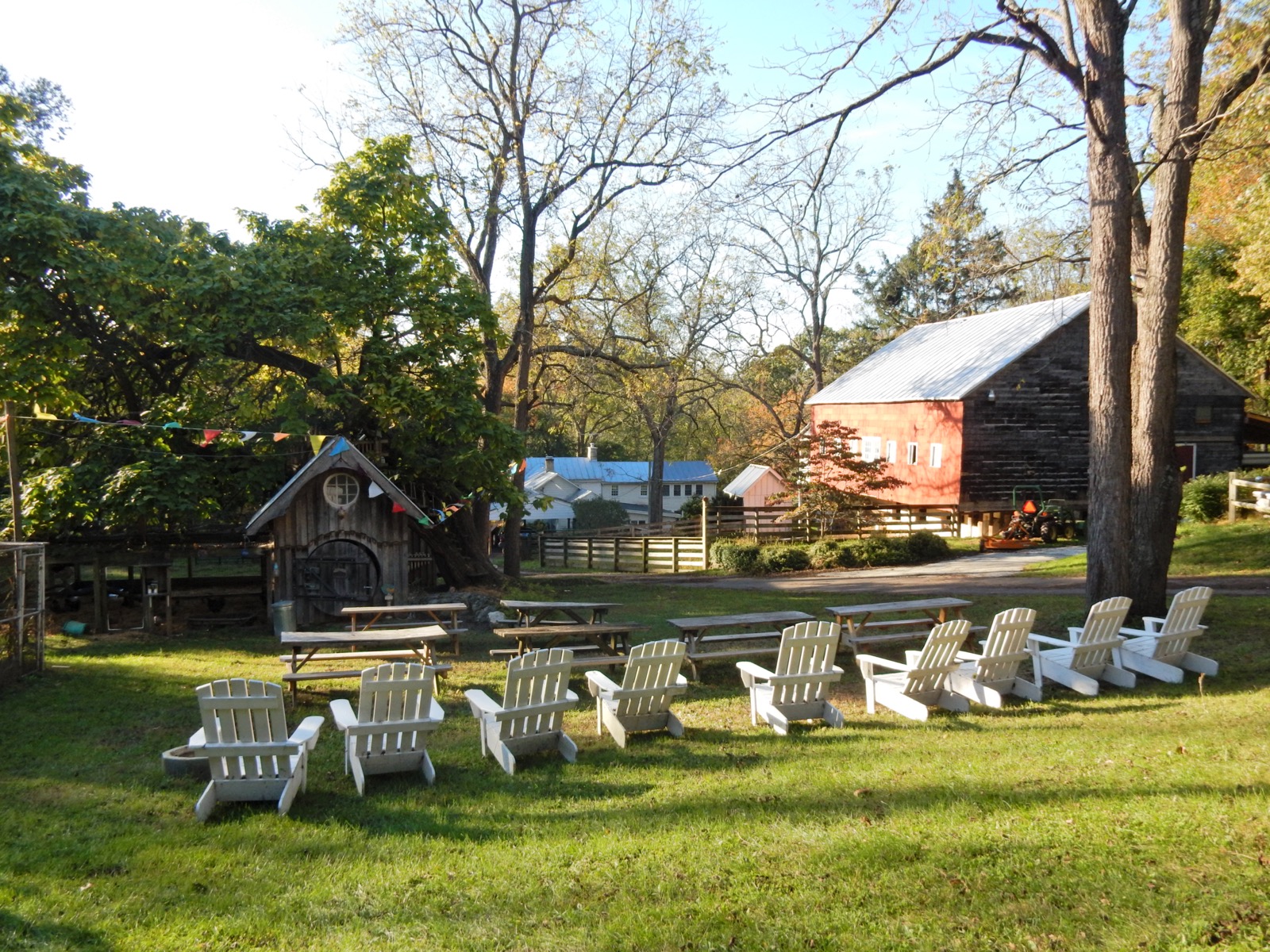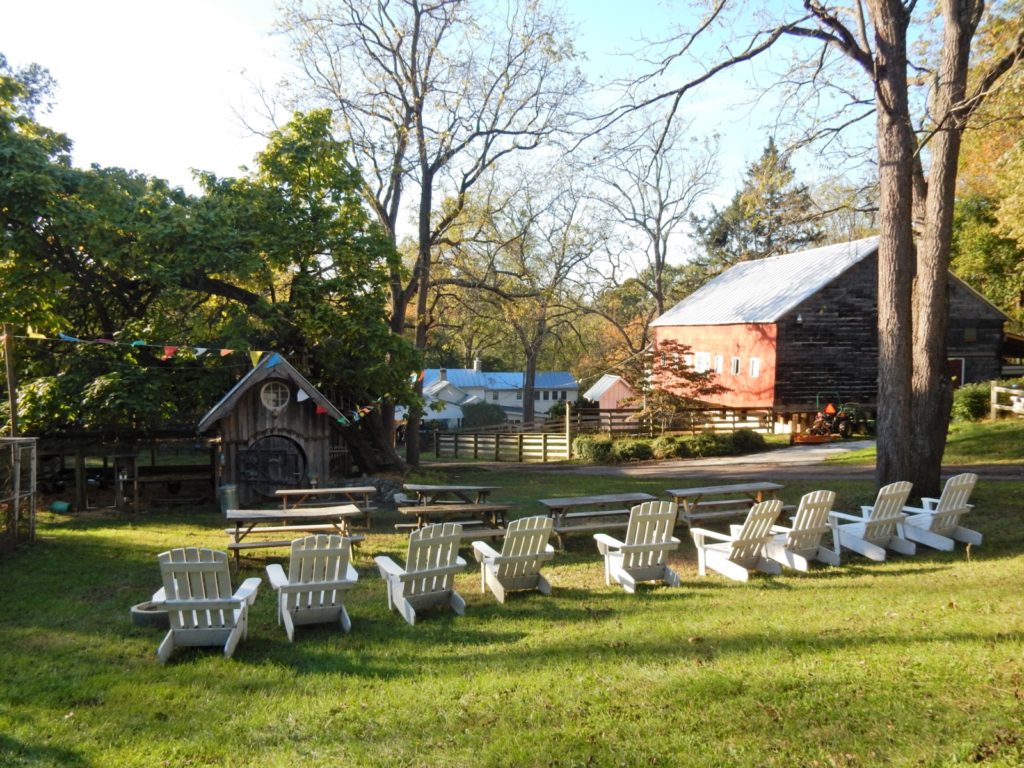 If clay is not your thing, sign up for a four hour make and take Adirondack Chair workshop. For just $150 (includes materials), you can make your own outdoor chair, and take it away.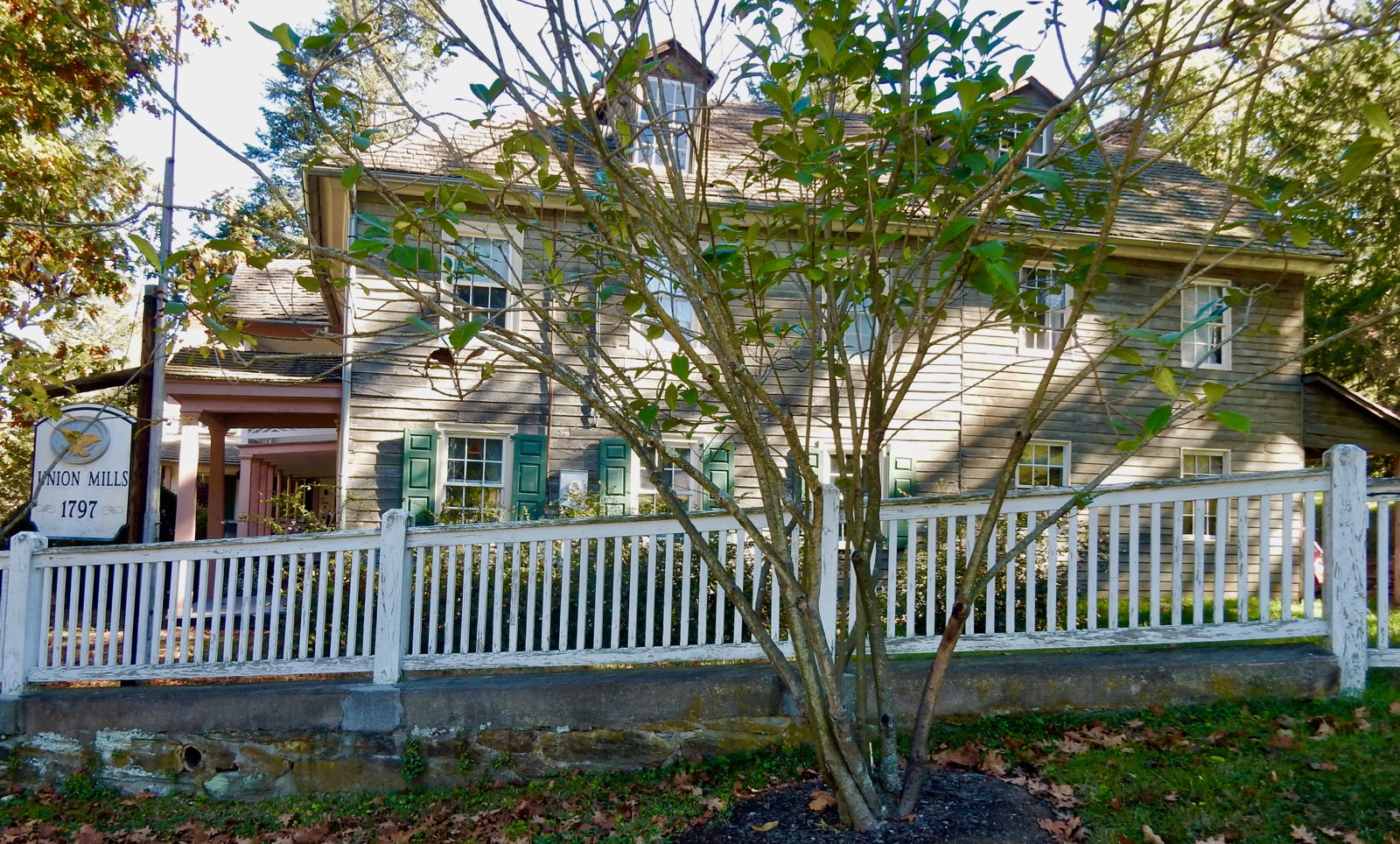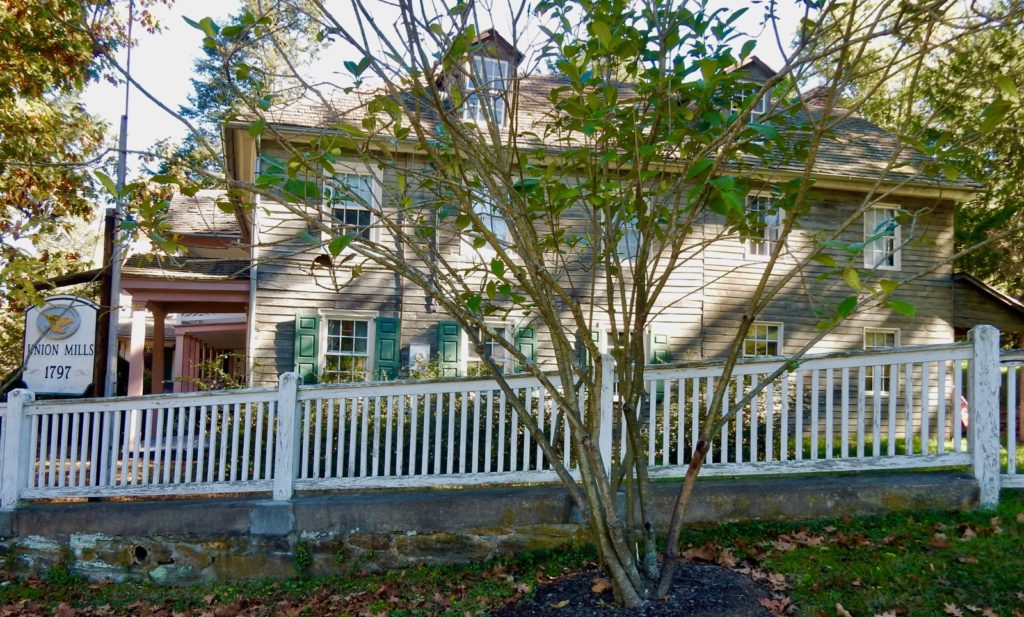 This gem of a home sits in the middle of nowhere. To get here, drive miles west from Westminster on undulating back roads, traversing farmland with split rail fences. The Shriver homestead served as both domicile and business center for B.F. Shriver Company, which operated Union Mills as merchant millers from 1870's – 1940's.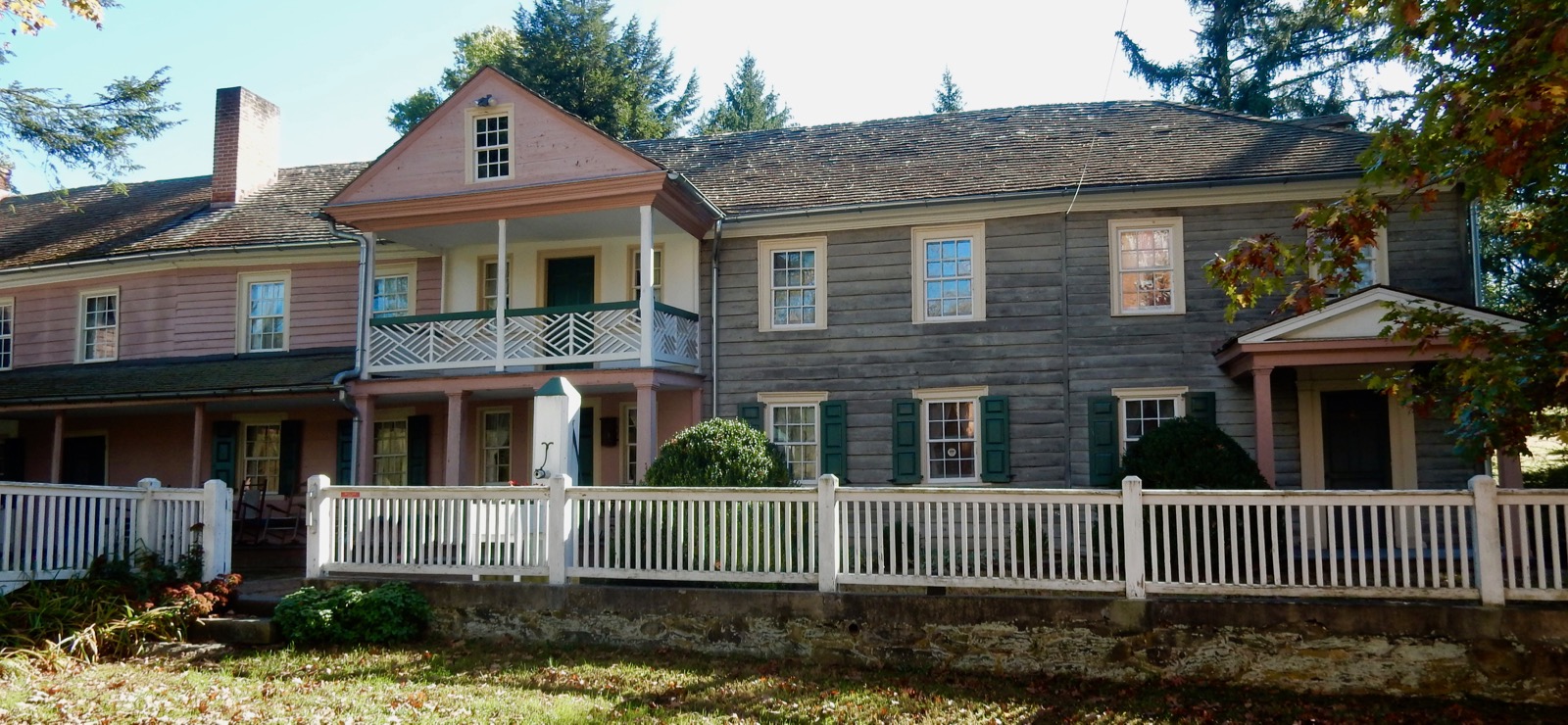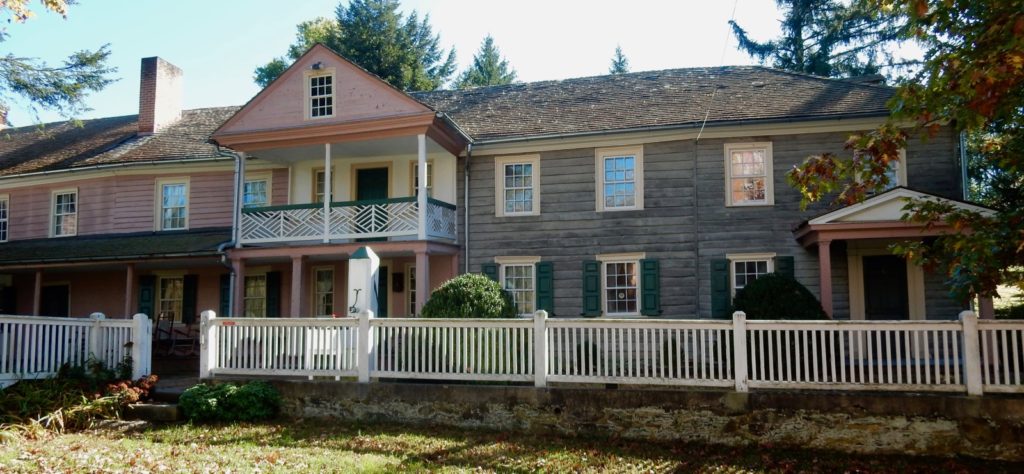 In 1797, brothers Andrew and David Shriver built two 14 x 17 ft homes side by side near a creek. Here, they set up their gristmill, sawmill, tannery and other shops. Andrew arrived with his wife and six children. David was a bachelor at the time.
The Sergeant Shriver Connection
The home's last occupant was the artistic and quirky Bessie Shriver Kemp, who planted the property's beautiful gardens and passed away in 1957. A tour brings you through the two homes, linked together and expanded over 160 years – six generations – of the Shriver family.
And yes, this is the same family that eventually merged with the Kennedy Family when Sergeant Shriver, Jr. married Eunice Kennedy. A wonderful tour weaves together tales of both branches of the family, and ends at the still operational gristmill.
Andrew's side of the house grew faster by necessity, as he and his wife arrived with six children. Andrew eventually served as Postmaster of Union Mills, so his living room became the Post Office.
Francis Scott Key,  James Audubon, Washington Irving All Slept Here
In 1824, Thomas Jefferson appointed David Superintendent of Roads. (Look for a copy of Jefferson's missive on Monticello letterhead). Subsequently, Shriver established a toll road that led to his house and multiple businesses. Hence, Union Mills became an important "whistle stop" for celebrities of the day.
Francis Scott Key addressed a crowd from the home's balcony. Washington Irving stayed overnight. James Audubon watched a Baltimore Oriel build a nest in a nearby willow tree, and we all know what he did with that observation.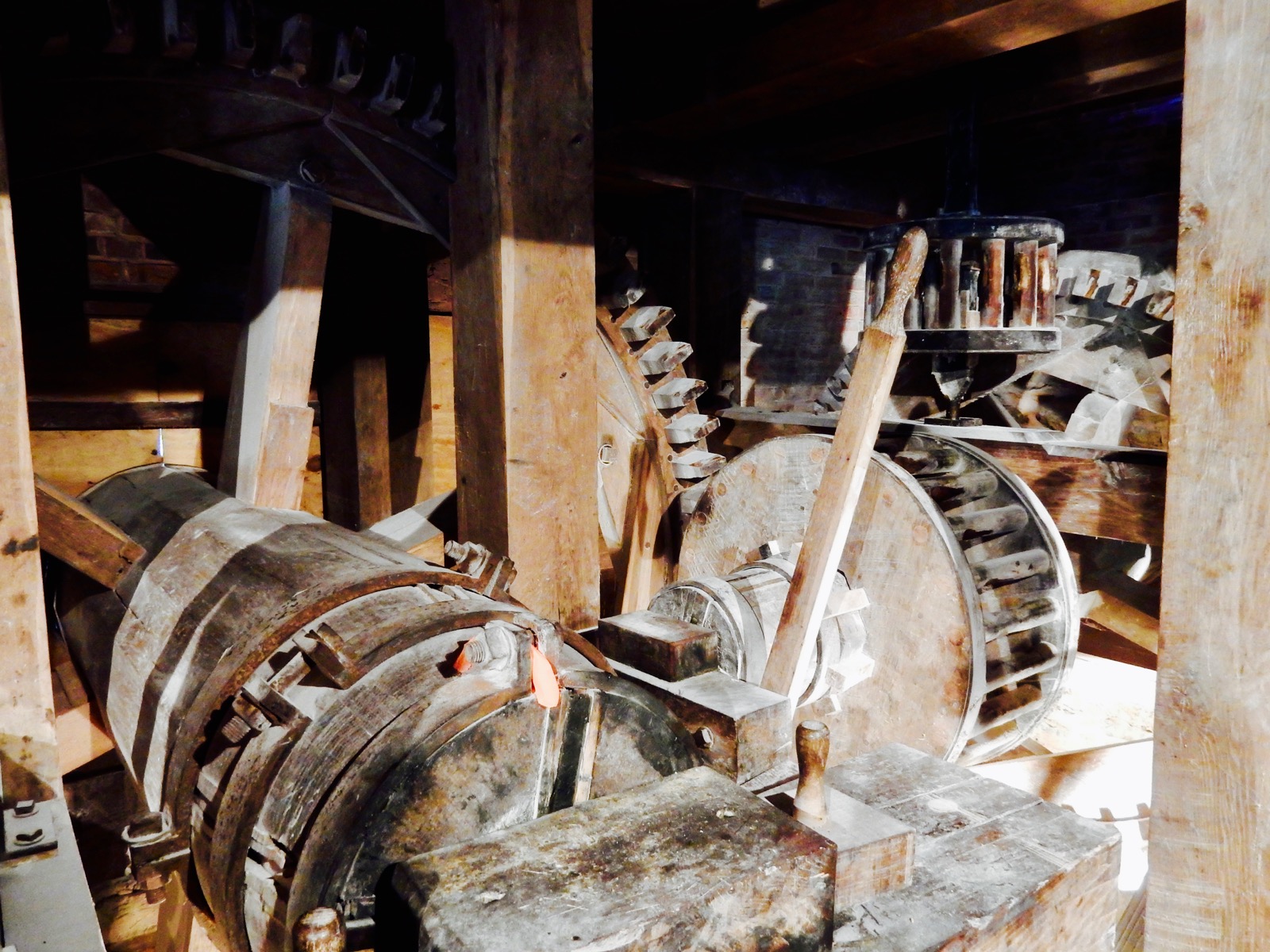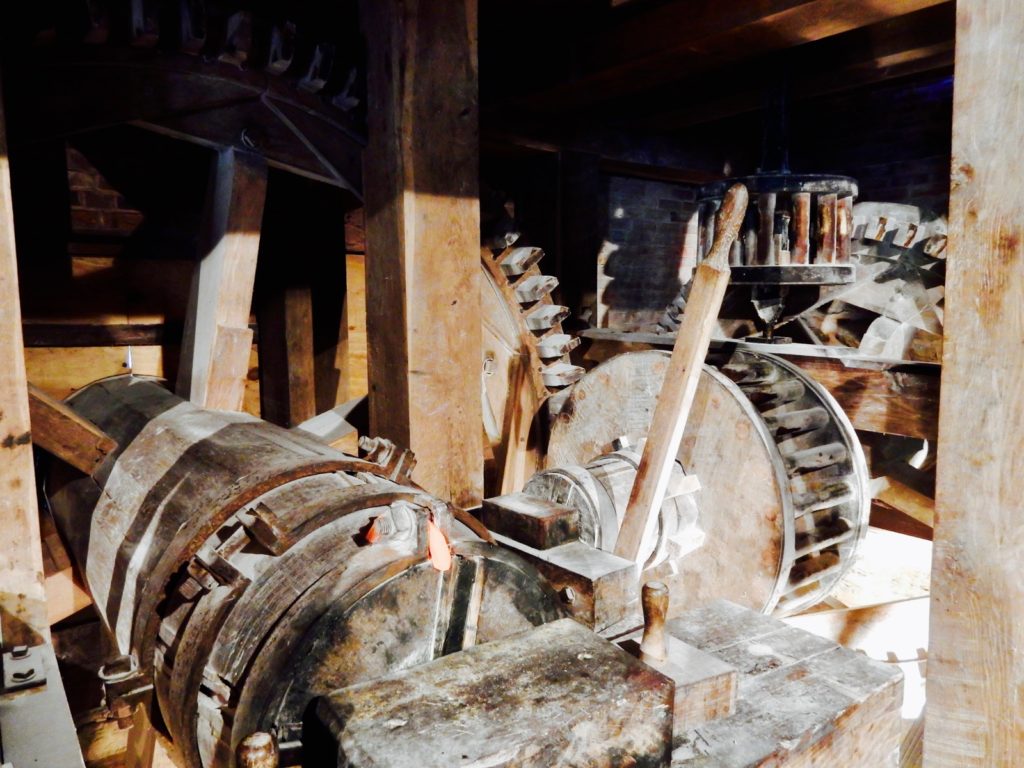 In the early days, furniture, like the feather-painted corner hutch, was made on site and much of those pieces are still here. Though the sawmill is gone, the gristmill has been brought back to life. Its original millstones and recreated wooden shafts and gears provide an accurate depiction of how grain was milled 200 years ago.
It is quite thrilling to see how the gears move and hear the rumbling of the completely wooden apparatus, put together with dowels rather than nails. "There are no other mills in Maryland quite like this," says a docent. Open May and Sept. weekends only noon-4, June-August Tues-Fri. 10-4, Sat/Sun noon-4, $5 for house and gristmill tour.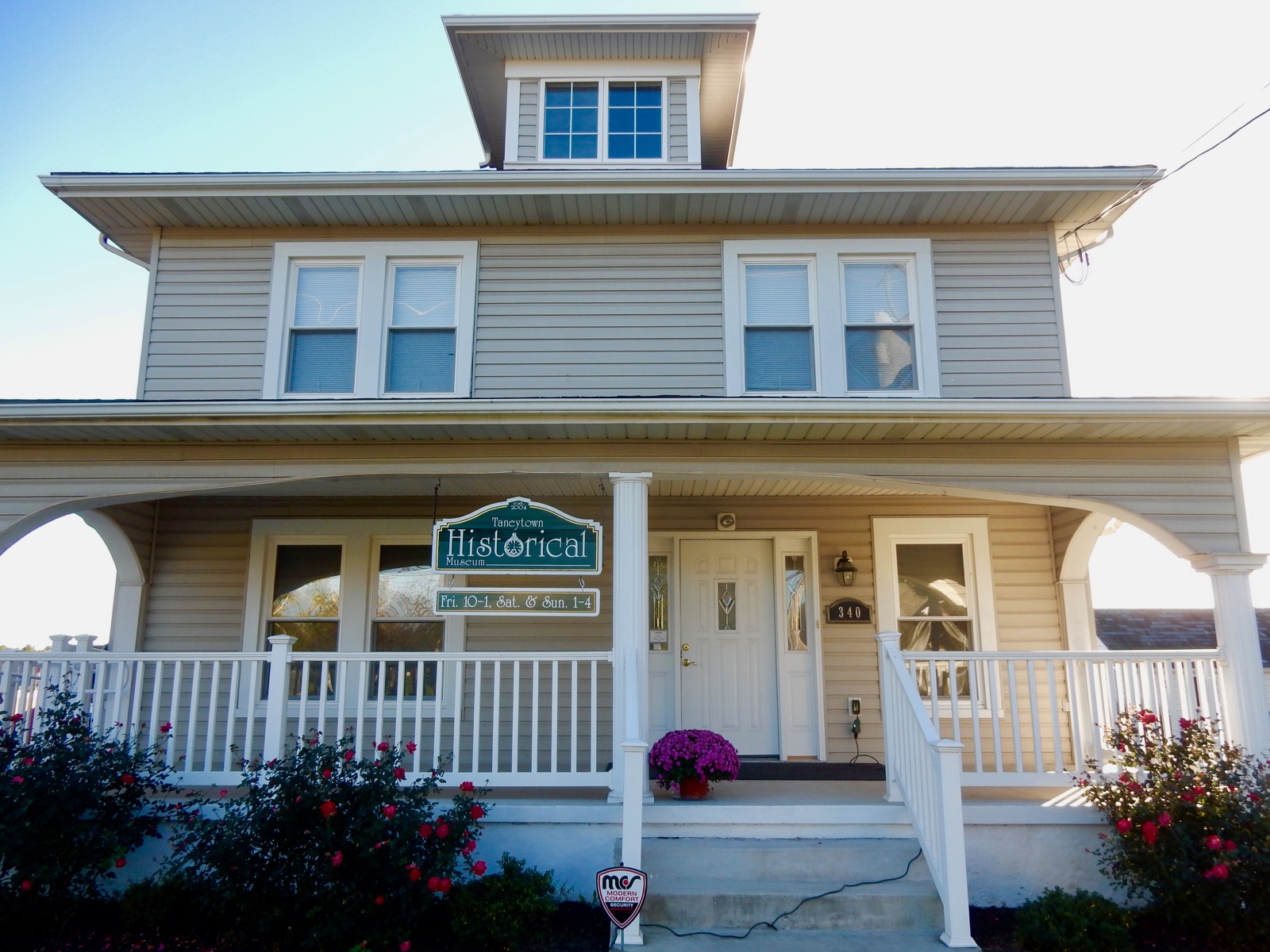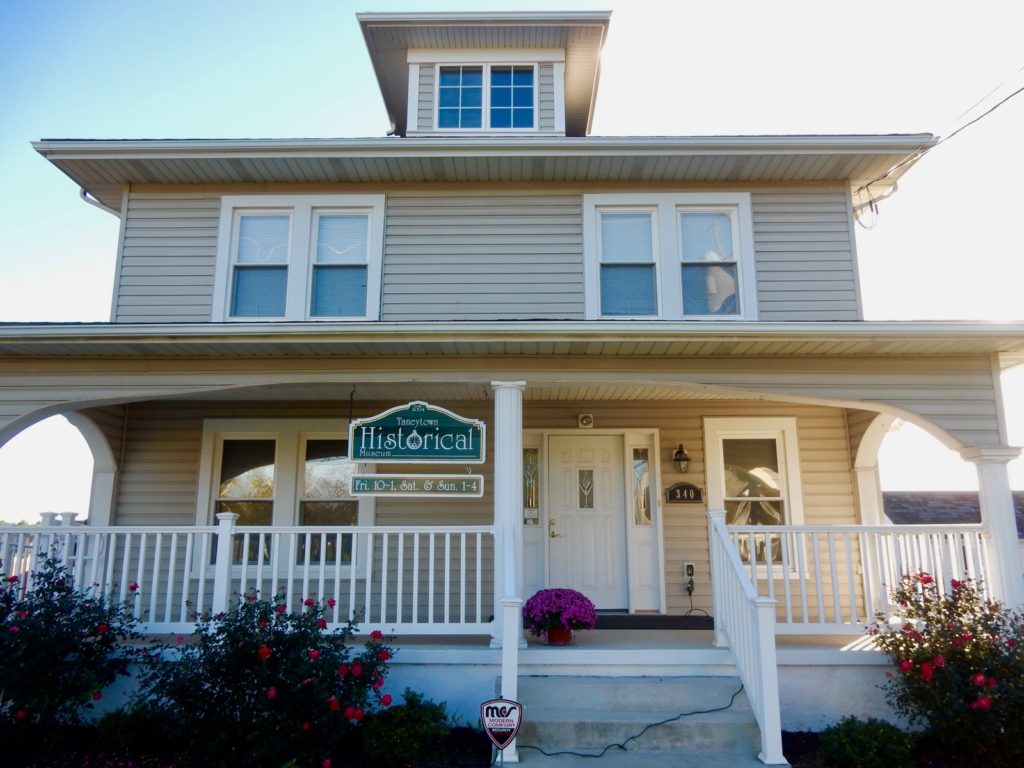 You'll often discover the essence of a small town at its Historical Society Museum.  Taneytown MD is case in point.
On display are two Taneytown-made Eli Bentley clocks. One was made exclusively in the late 1700's for Michael Waggoner, a Revolutionary War hero whose name graces the clock face. That one was purchased at Sotheby's and donated to the Historical Society, as Bentley lived in Taneytown. The second one was donated after serving time in a nearby funeral home for decades.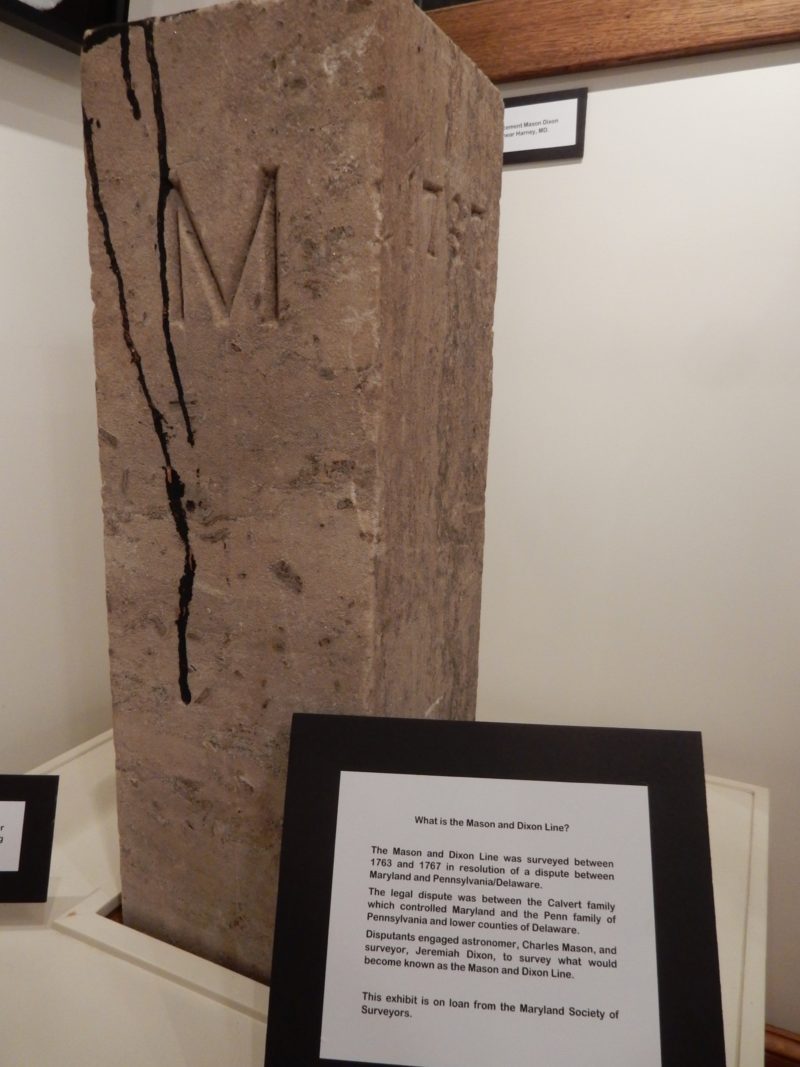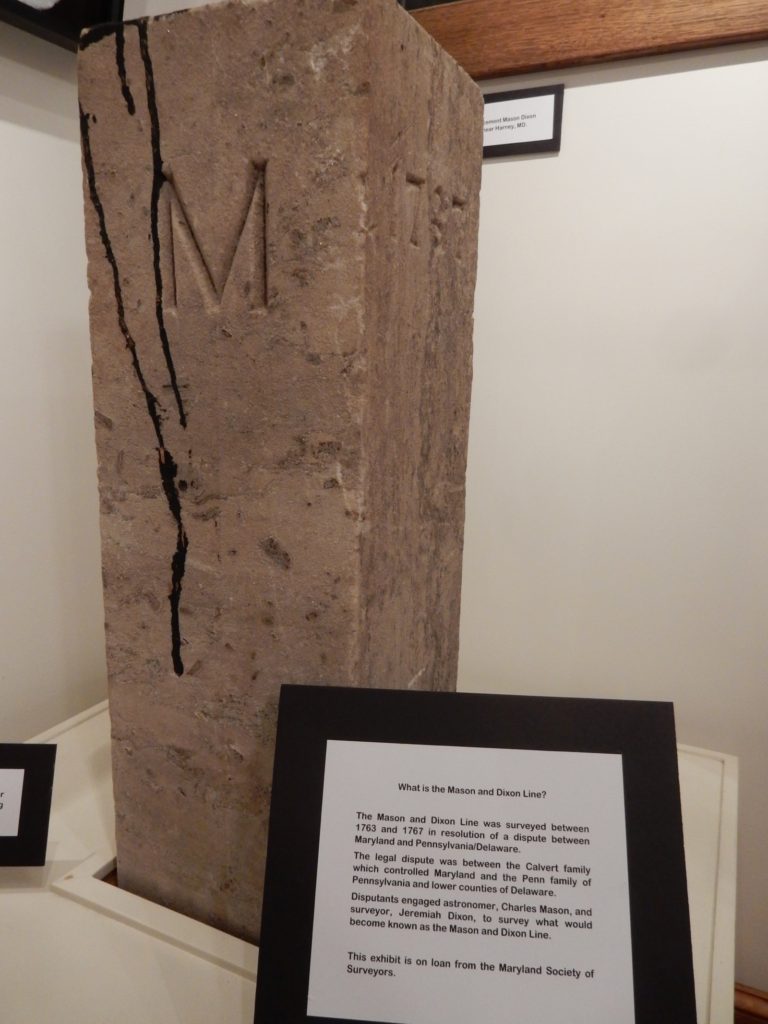 Also on exhibit is a rare Mason/Dickson Line marker stone– emblazoned with an M (Maryland) on one side and P (Pennsylvania) on the other. There are artifacts and papers from when Taneytown was a thriving cultural and business center. After the railroad arrived in 1872, folks from all around would come here to shop in department stores, and see traveling shows at the Opera House.
Beloved Antrim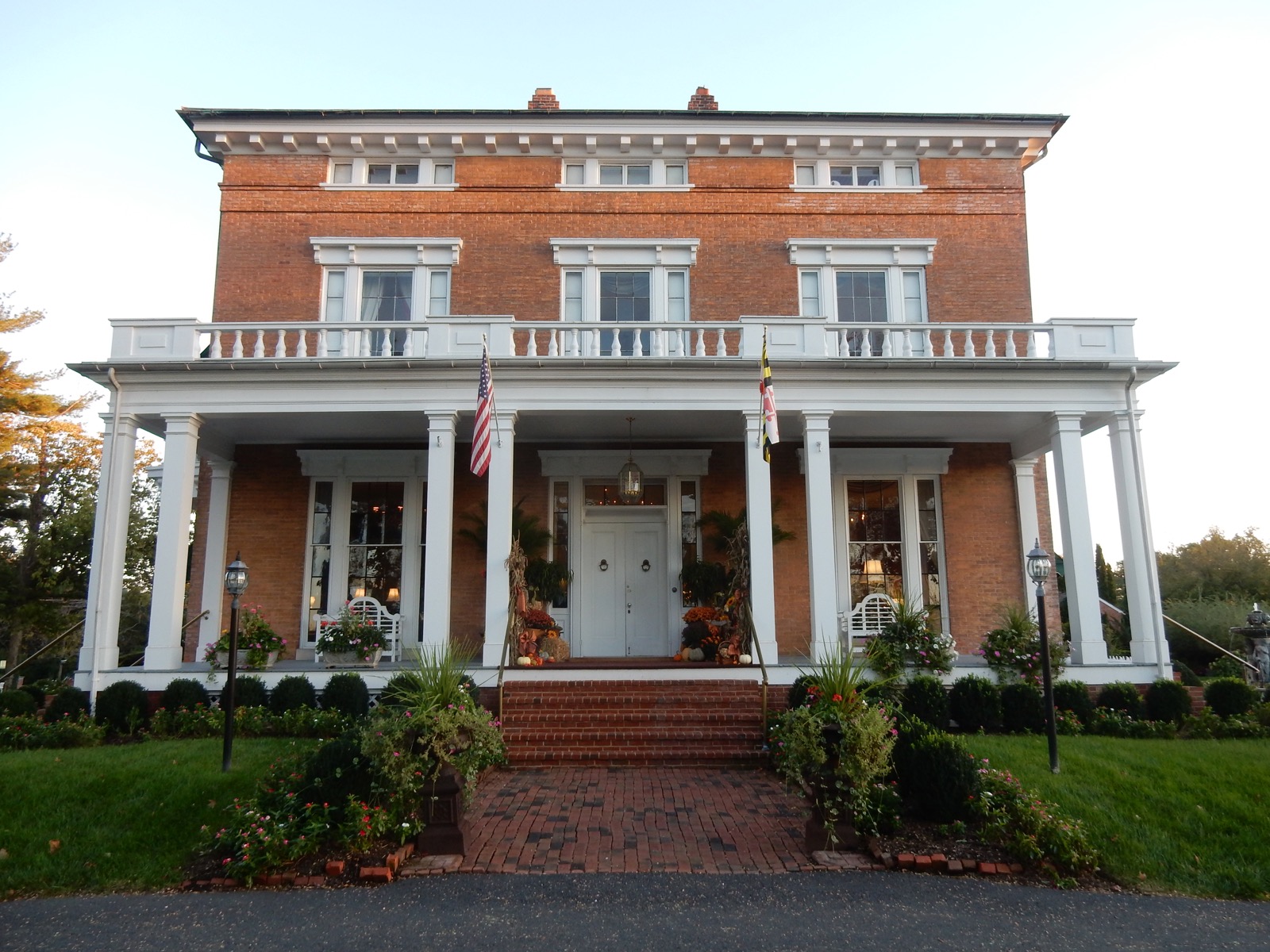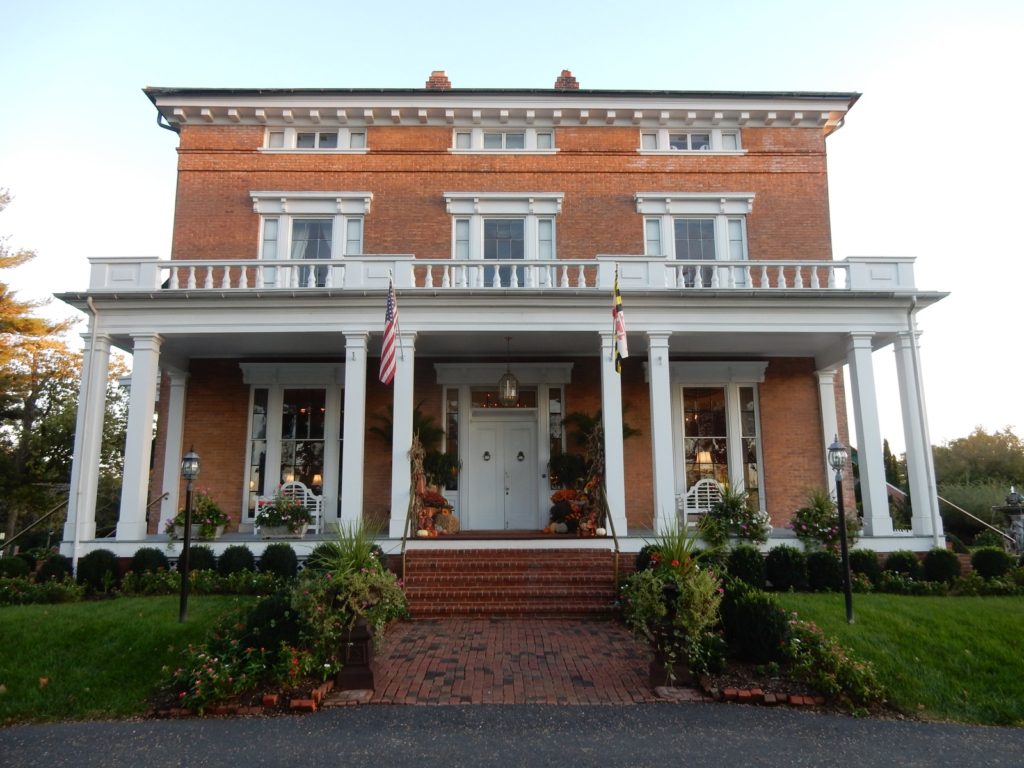 The beloved Antrim is perhaps the most famous historical Taneytown building. A summer home, built in 1844, Antrim was owned by the Clabaugh Family for 100 years, and sold to George Crouse, Sr in 1961. Although Crouse never moved in, he saw to it that the stunning structure wasn't vandalized.
Antrim sat vacant for nearly 75 years. But thanks to a very protective community, the original windows were intact when Richard and Dorothy (Dort) Mollett purchased it in 1987 and opened it up as a B&B the following year.
Antrim 1844 is now among the most beautiful inns in the country and the place to stay for a romantic getaway (see below under Where to Stay). Open Fri. 10-2, Sat/Sun 1-4, Spring through Fall.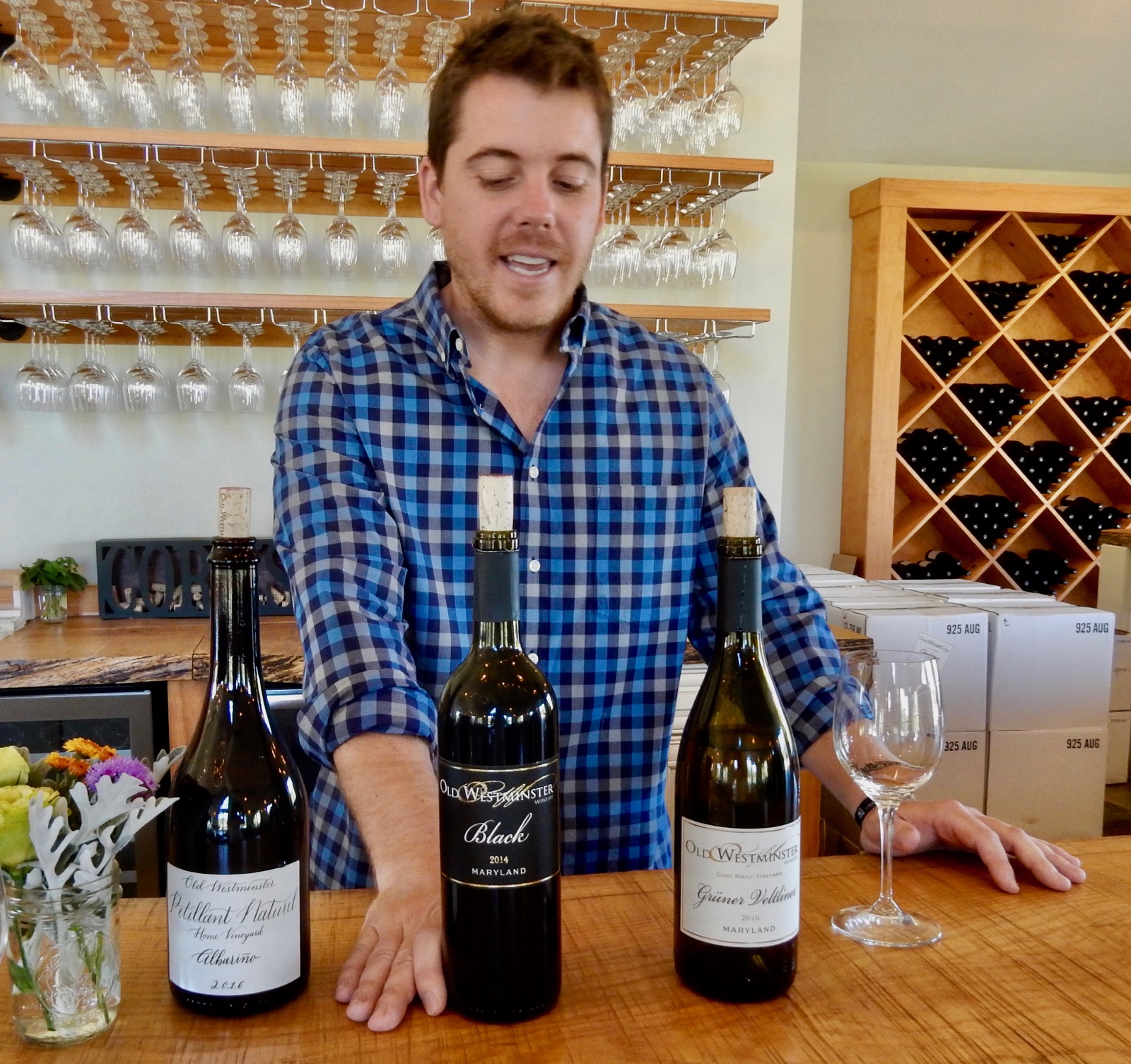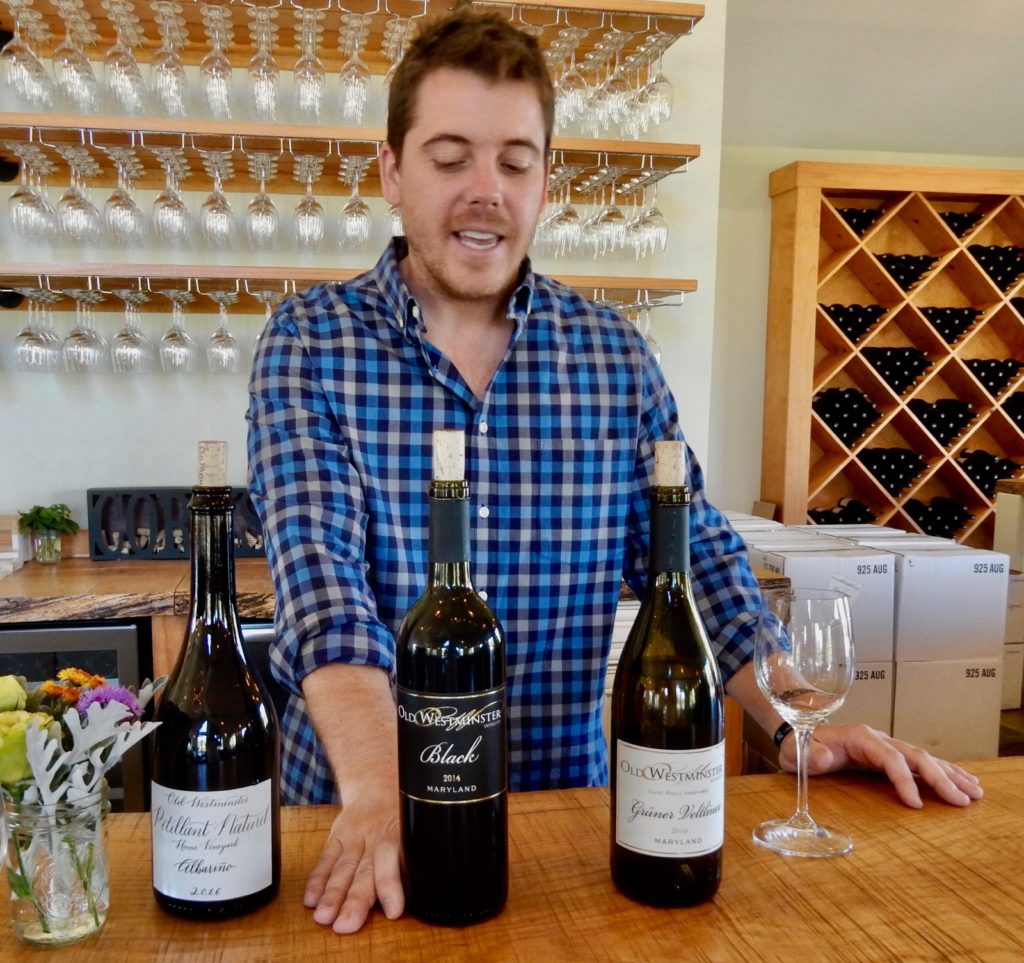 Owned by young couple Drew and Casey Baker, and Drew's two sisters, Old Westminster Winery is the answer to "What do we do with a family farm when our parents don't want to farm it?"
To that end, Drew and his wife Casey, along with Lisa – a Chemistry major turned winemaker, and Ashley, who, with Drew, was a Business major, banded together to create this up and coming family winery.
They hired a French Vineyard consultant, planted their first 7,600 vines in Spring 2011, and bottled the first vintage in Spring 2013.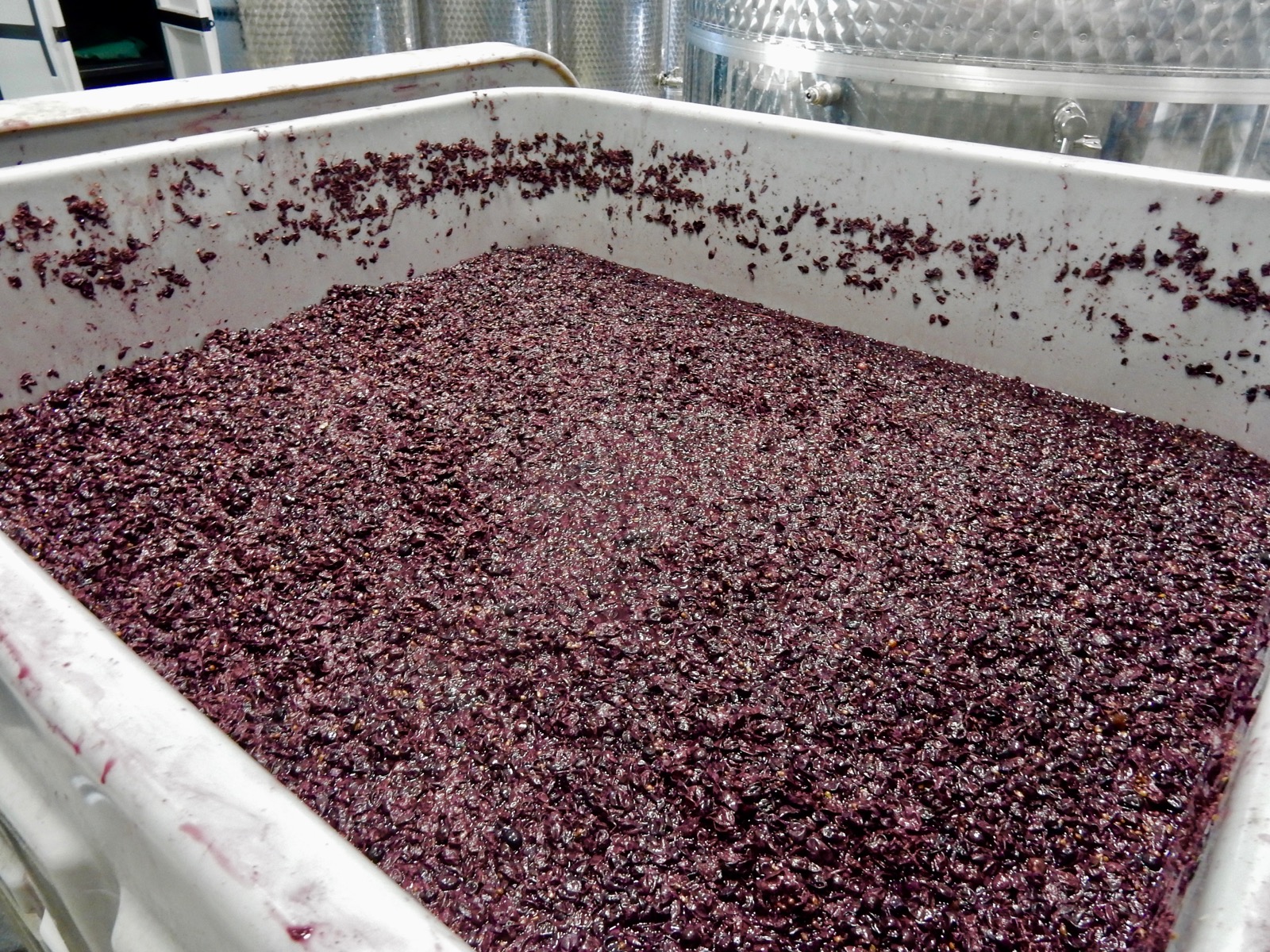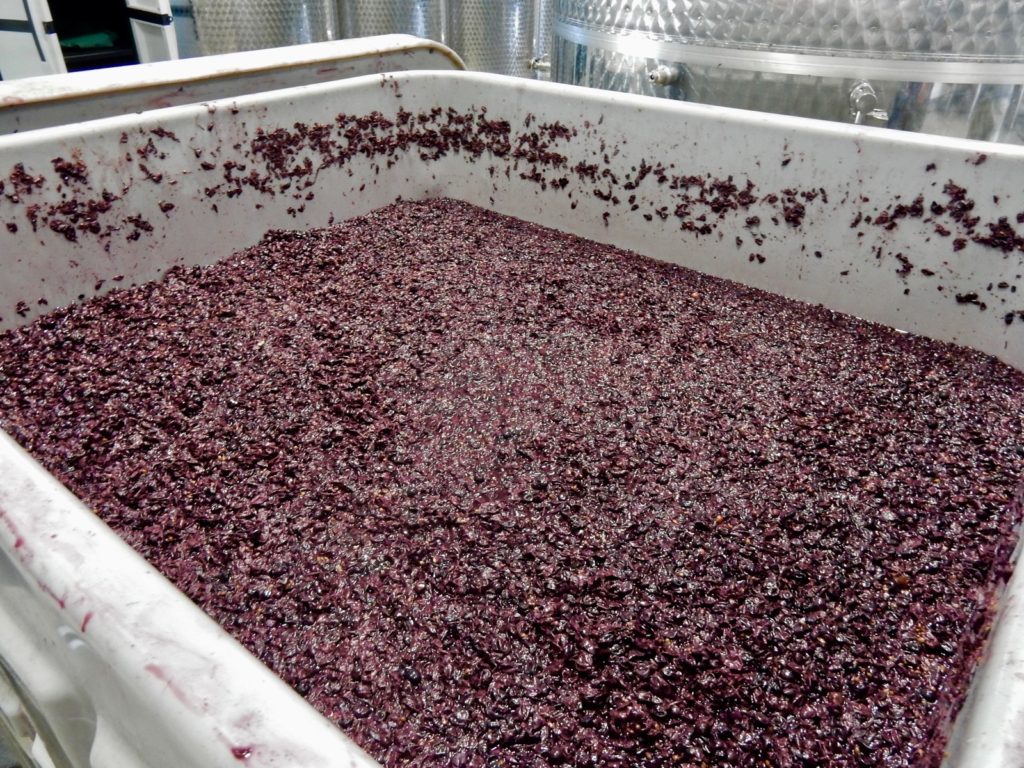 Experimentation, says Drew, is a core Old Westminster principal. "We make delicious unadulterated Maryland grown wine." Many blends are "no-makeup-wines," in other words, authentic vino without any additives. "Everything is done by hand: powered by sweat, not oil."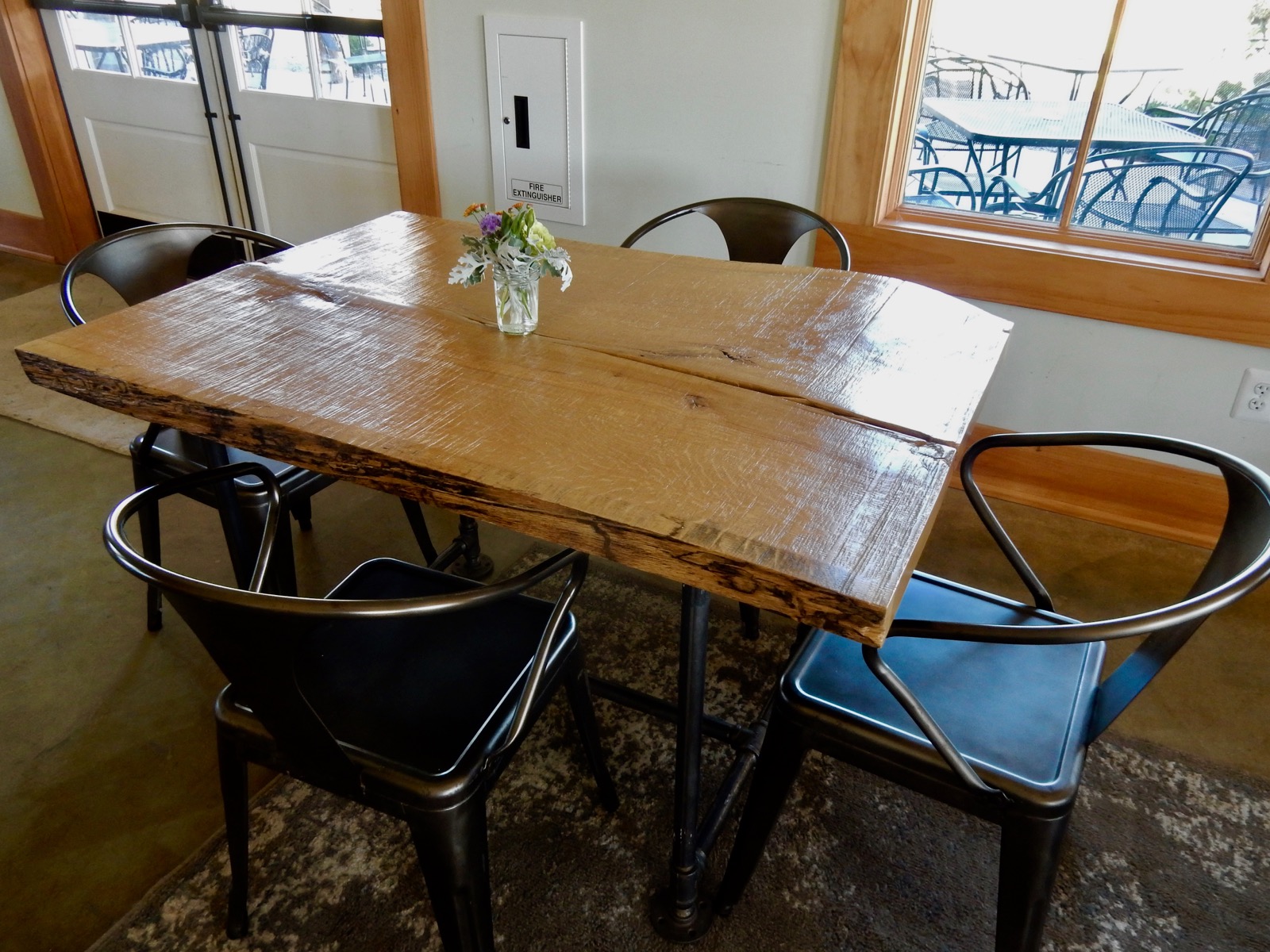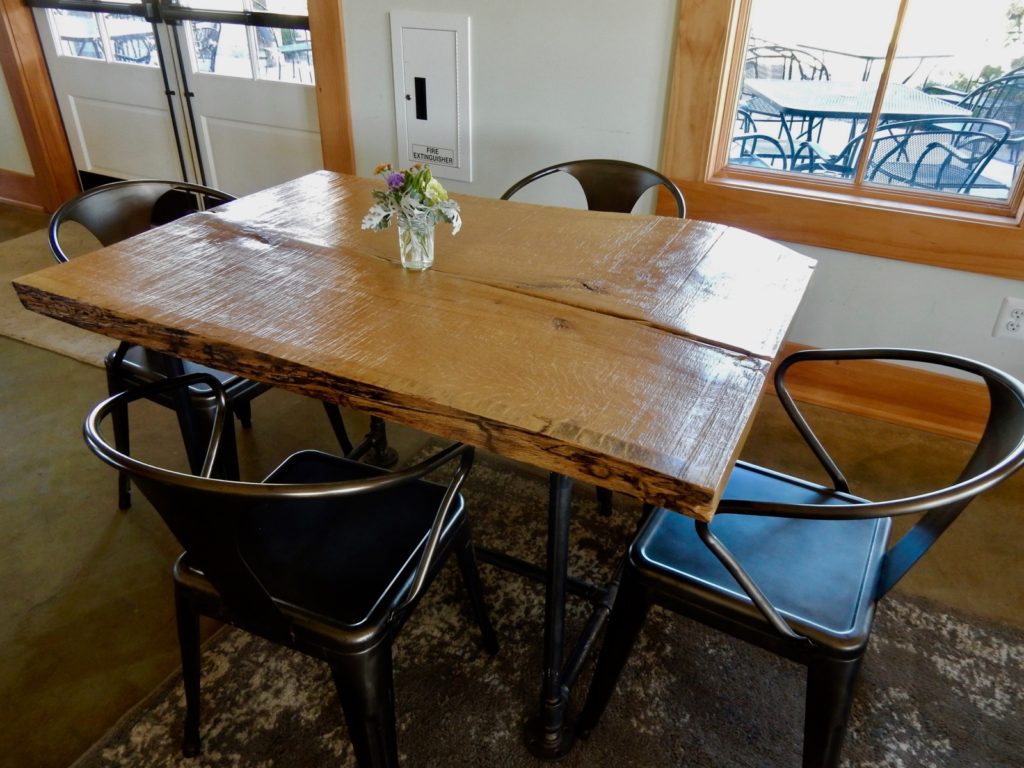 Though their classic red blends are popular, including the deep, dark, mostly Merlot and Cabernet Franc Black, Old Westminster is known for its unique "pet nat" blends – bottled within a month of harvest. An ancient, now resurgent method of sparkling winemaking, most of the fermentation happens in the wine bottle.
"Dancing Wine"
Pet-nat, what Drew calls a "dancing wine," is more effervescent than the hard-core bubbly-ness of Champagne. It also seems to be gaining favor among Millennials. Old Westminster was among the first in the county to employ pet-nat in the making of wines, and after releasing its first, The Daily Meal ranked Old Westminster among the Top 101 wineries in the USA.
The Baker sibs are now in the midst of expanding. Adding to their 17 Clarksburg acres, they've purchased 117 acres on Burnt Hill in Montgomery County, and will soon be releasing wines under the Burnt Hill label.
For now, come to the lovely tasting cottage outside of Westminster for a tasting flight – and sit at 250-year-old-oak topped tables, milled from a tree that fell on the property. Tasting Room open Sat/Sun noon-5.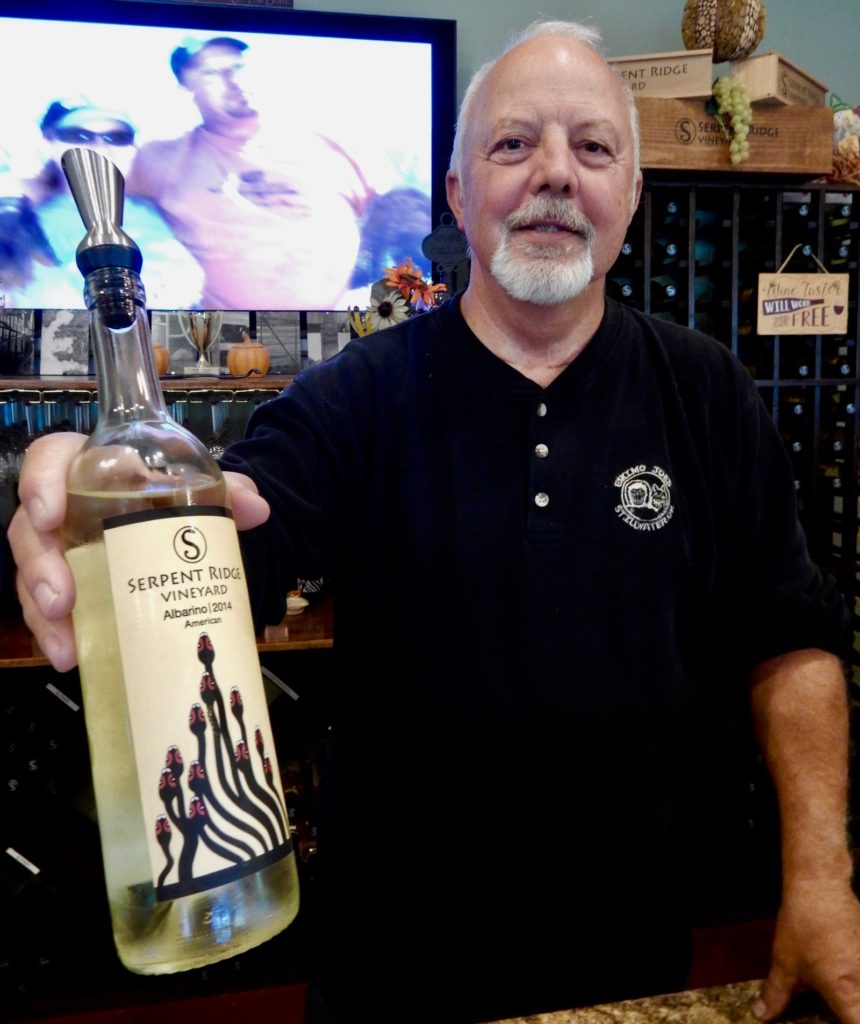 This very small two person Mom and Pop vineyard is owned by Hal Roche and Karen Smith – who moved here in Feb '14 and produce some easy drinking reds and whites. Serpent Ridge is such a small operation, Roche and Smith cork bottles by hand using the newfangled "Zork" – a bottle sealing device that's a snap to remove and reseals easily after opening. Open Wed-Fri 12-5, Sat/Sun 10:30-6.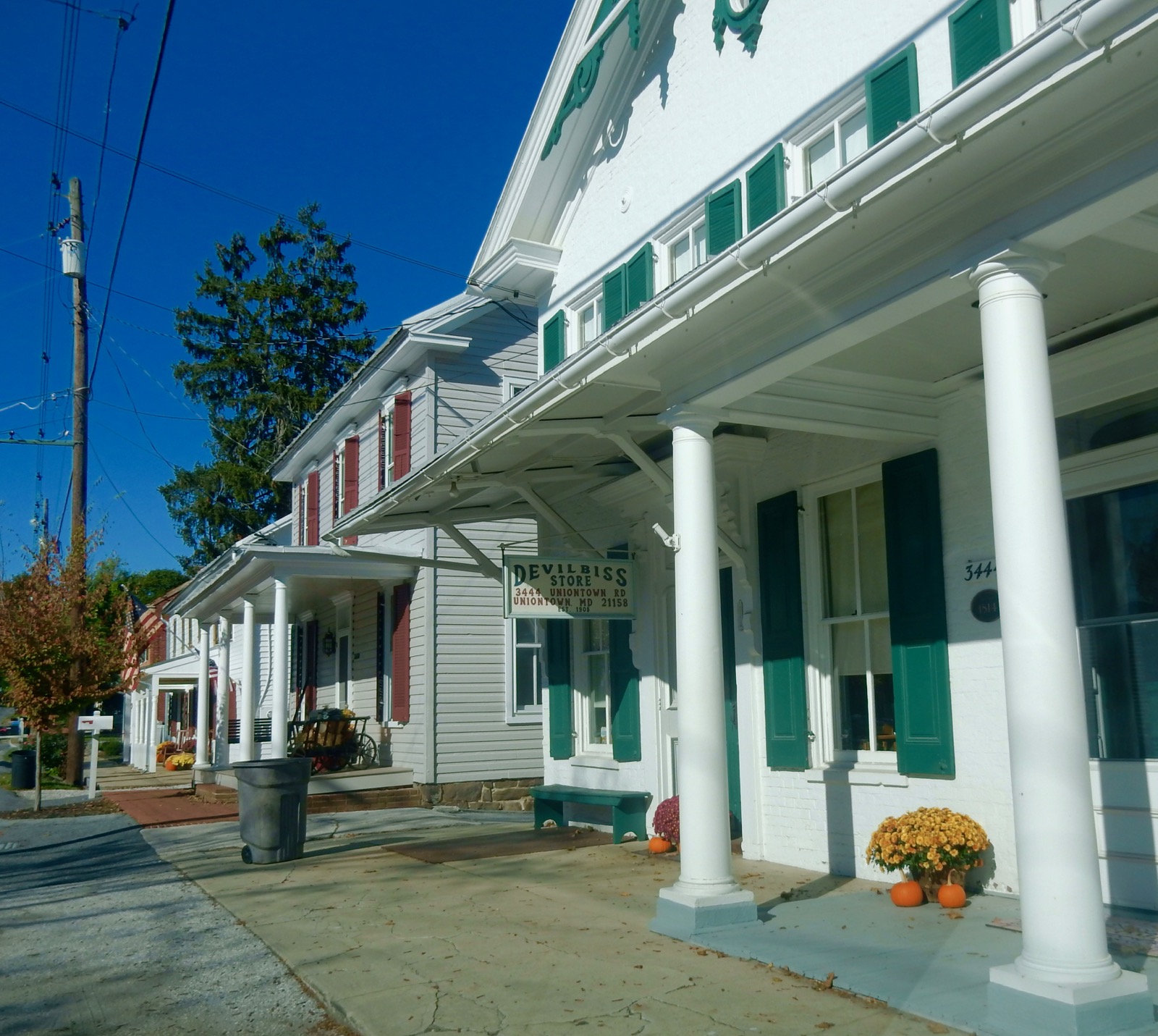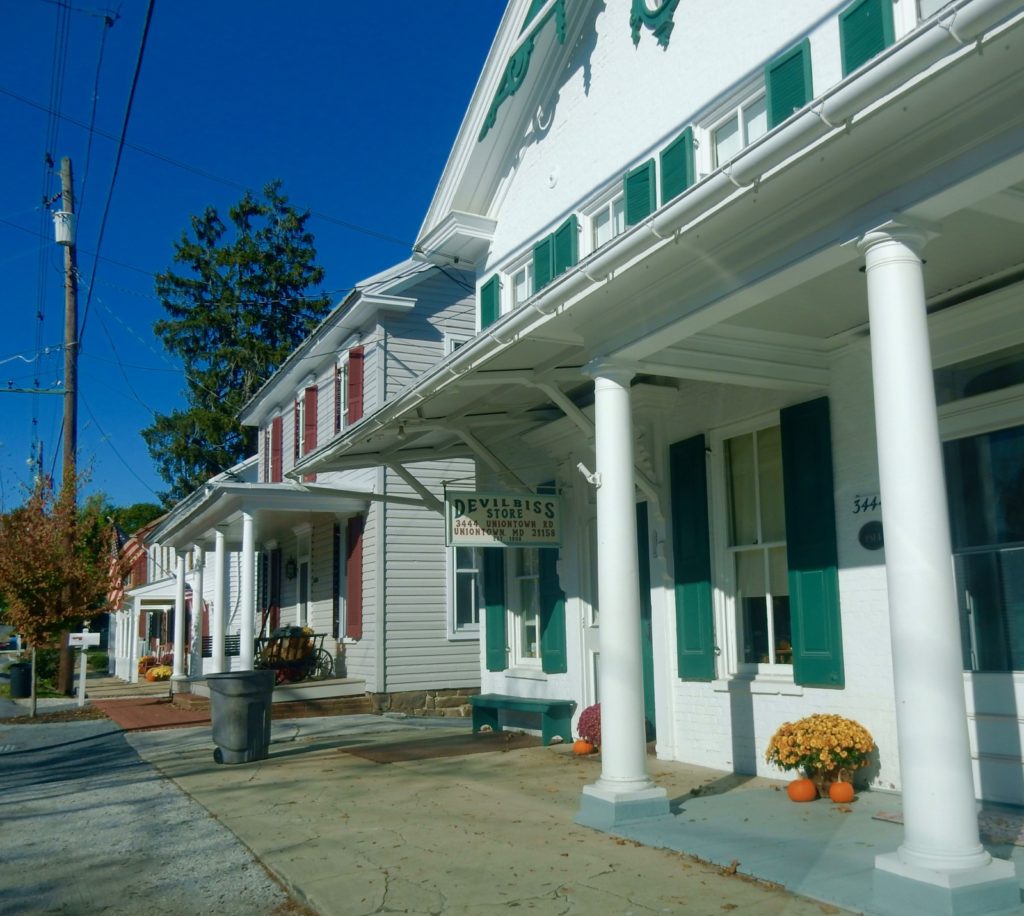 EXPLORE: Uniontown
So small, it will take only a minute to drive through, Uniontown is historically significant in that so many Civil War era homes line Main Street (a toll road that originally cost 3 cents to traverse), the whole district is on the National Historic Register. Uniontown Academy (no longer there) was the first school to teach German immigrants English in the 1700's.
The first telephone in town was installed in the still-standing Devilbiss Store in 1908. And, on a somber note, as Uniontown was on the road to Gettysburg, many soldiers marching through took time to pen letters to loved ones, some sending their very last sentiments postmarked from the Uniontown Post Office.
Formerly Western Maryland College, (which was confusing because it wasn't in Western MD), this was the first co-ed university south of the Mason-Dixon line. Now, McDaniel College is world renowned for its Masters in Deaf Education.
Restaurants in Carroll County MD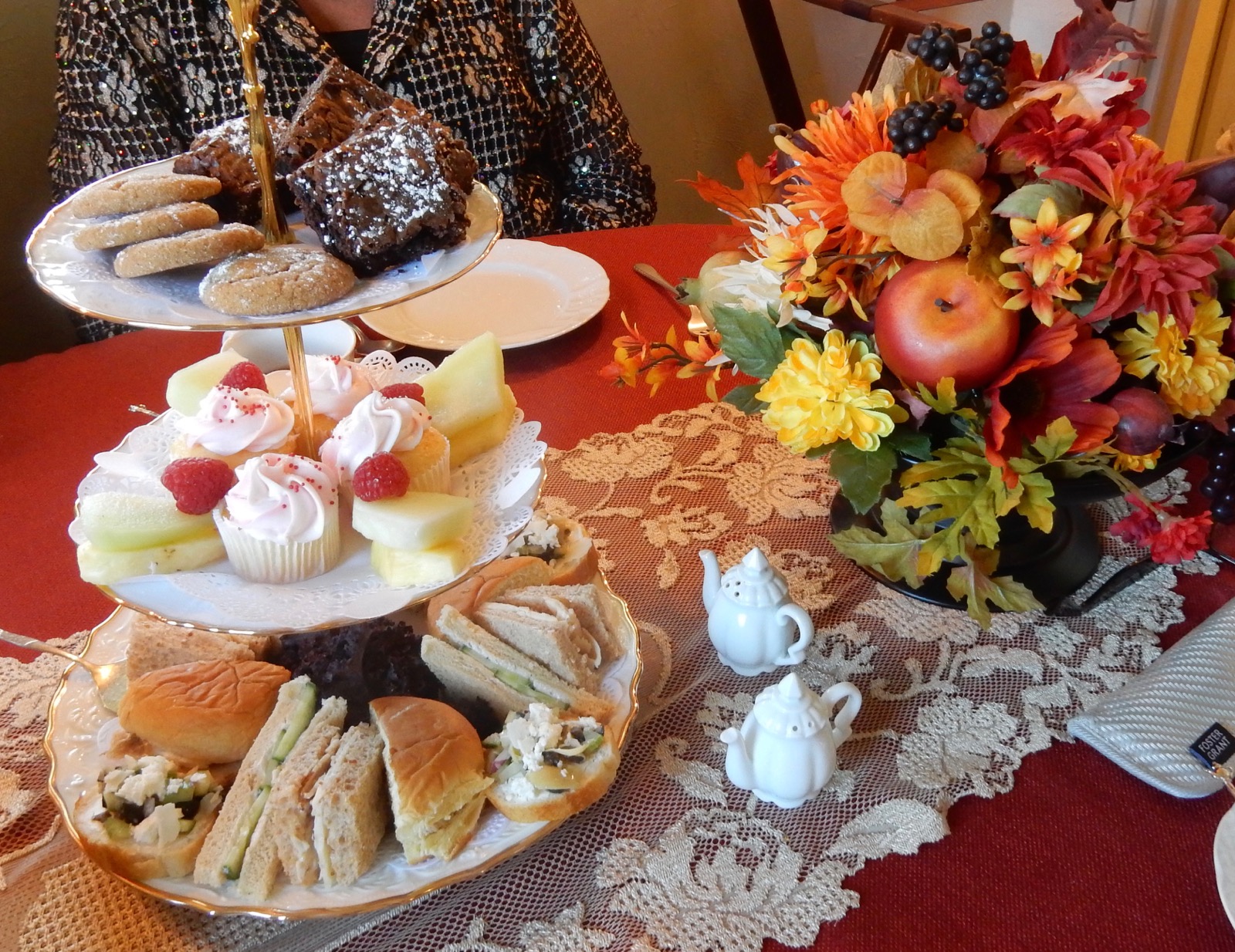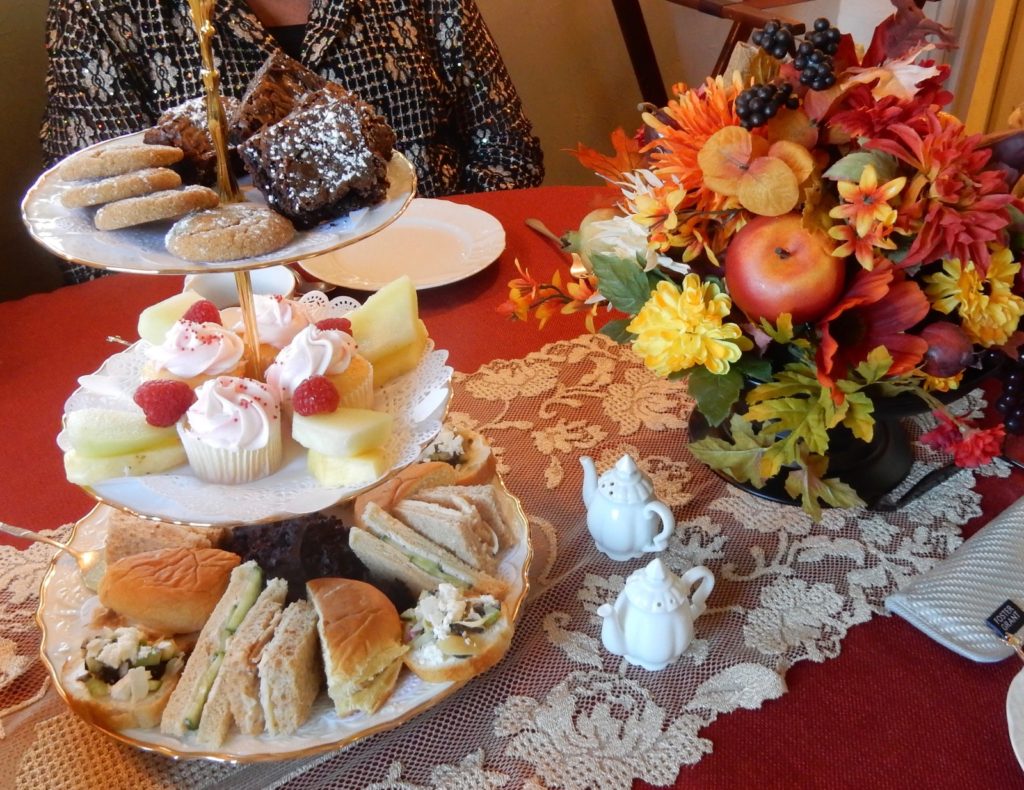 It makes sense to enjoy this most English of rituals in William Winchester's home, built in 1760, when the US was still a British colony.
Though not ostentatious, this is a beautifully presented complete Tea. It's got all the bells and whistles – scones and clotted cream, cucumber sandwiches, baked goods, and of course, you choice of tea. You will not leave hungry. Afternoon Tea available daily 11-3, $26 pp.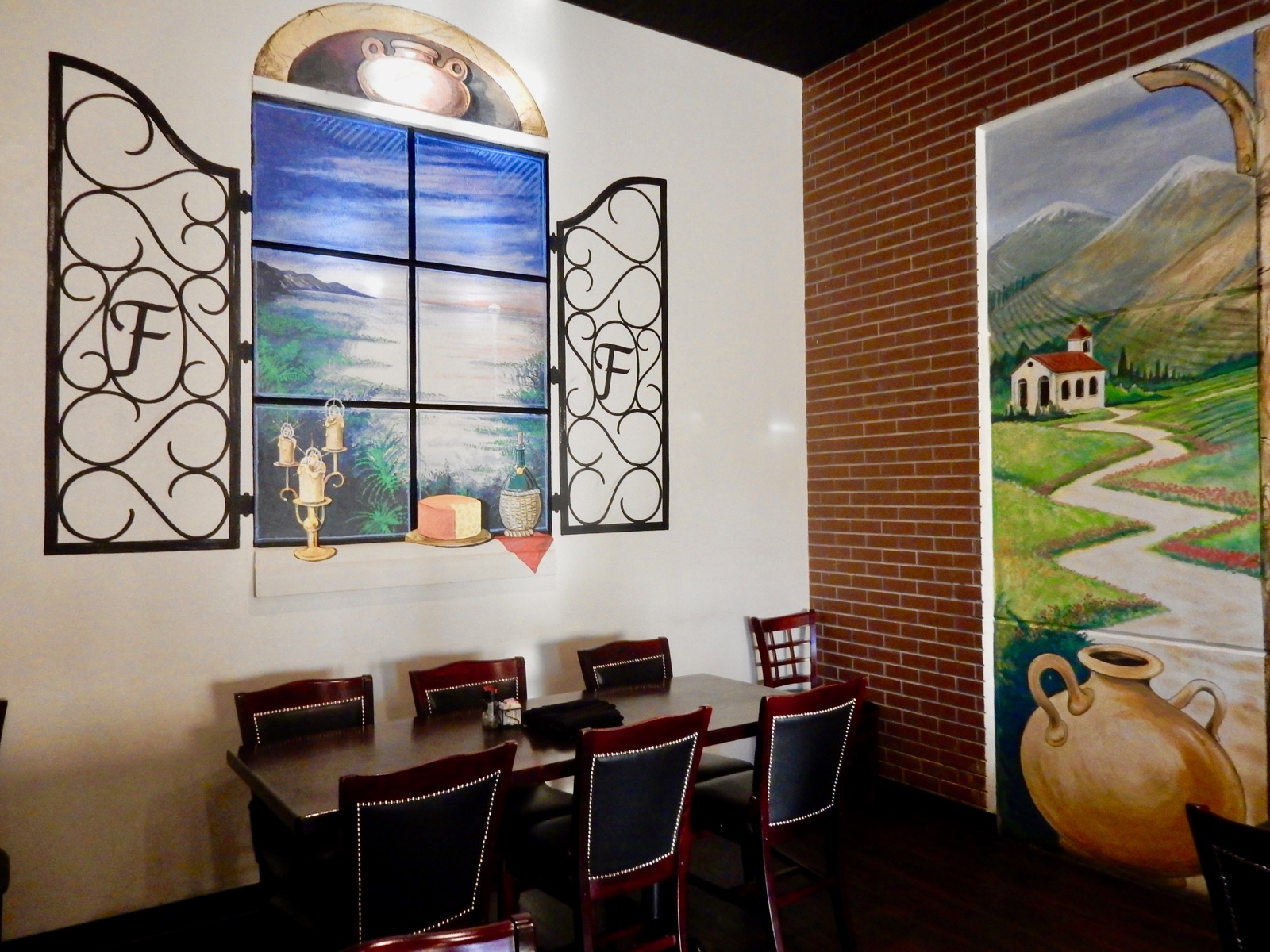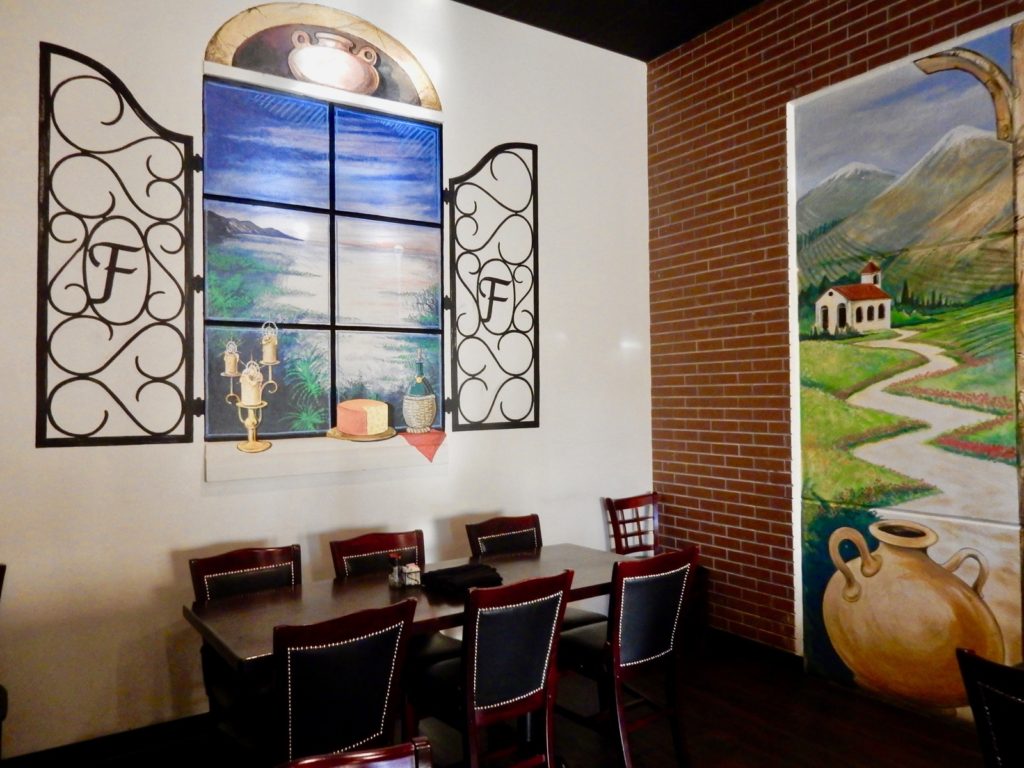 EAT/DINNER: Fratelli's, Hampstead
"People come here just for the crab cakes," says the waiter, which is strange, since this is your basic, casual, neighborhood-choice Italian restaurant. The pastas and other Italian specials are good, too. But, yes, it's the huge all-meat crab cakes (one $18, 2 for $29) that shine here.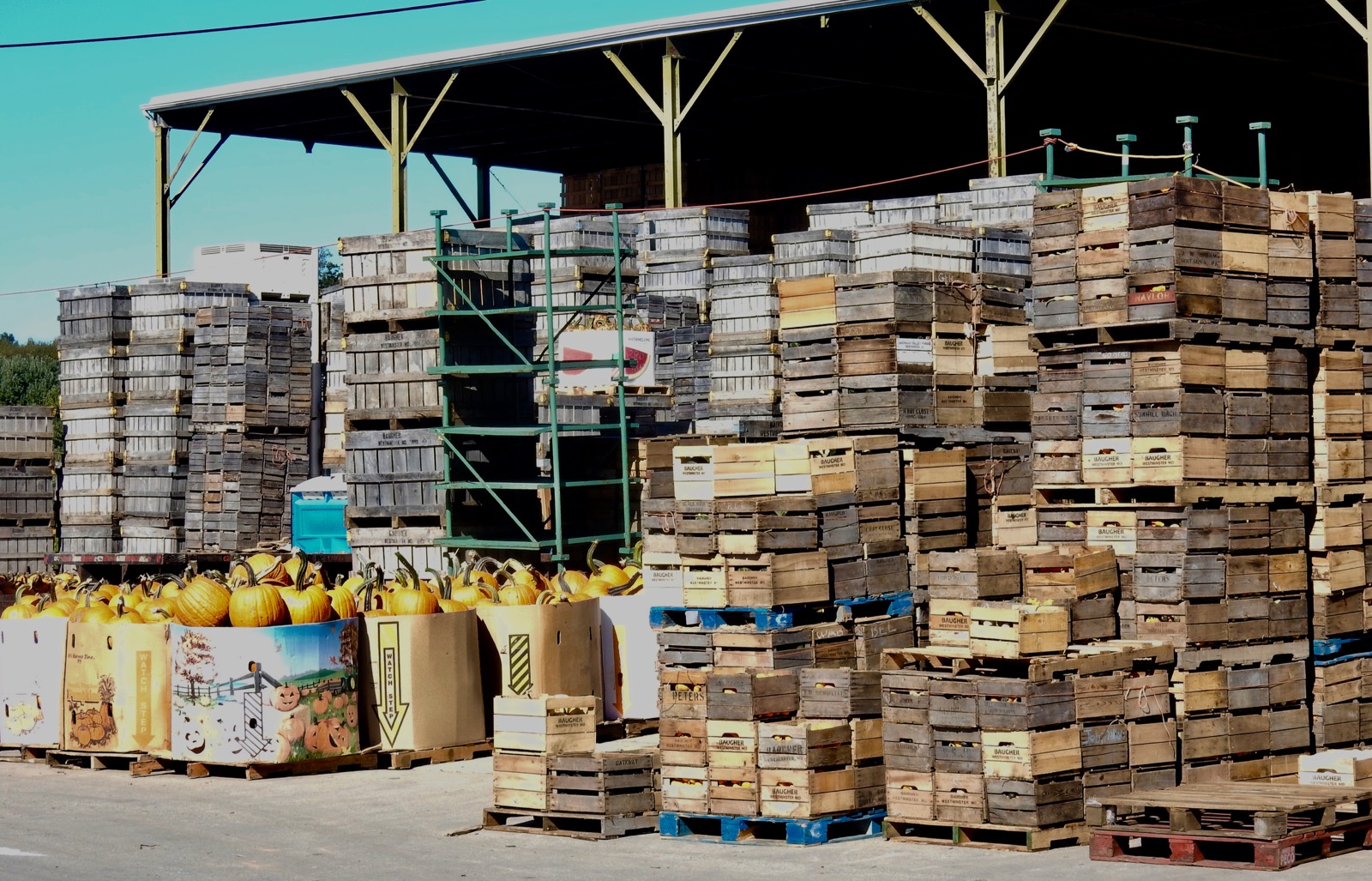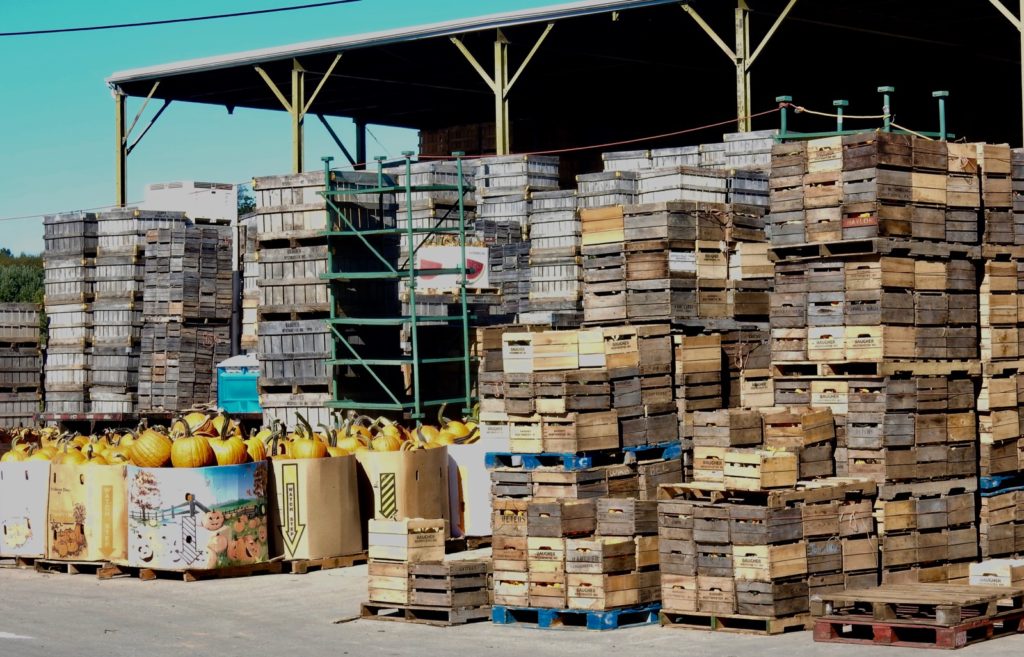 Baugher's is widely known in the region as a "pick-your-own" farm as well as farm-stand and homemade ice-cream parlor. In the fall, you're bound to see crates upon crates of apples.
EAT: Locals love
Brick Ridge Restaurant in Mt. Airy – a "farm-to-table" eatery before its time in an 1890's brick schoolhouse. RockSalt Grill in Westminster for great burgers and shrimp. And Maryland Mallet also in Westminster, for steamed crabs and BBQ,
Hotels in Carroll County MD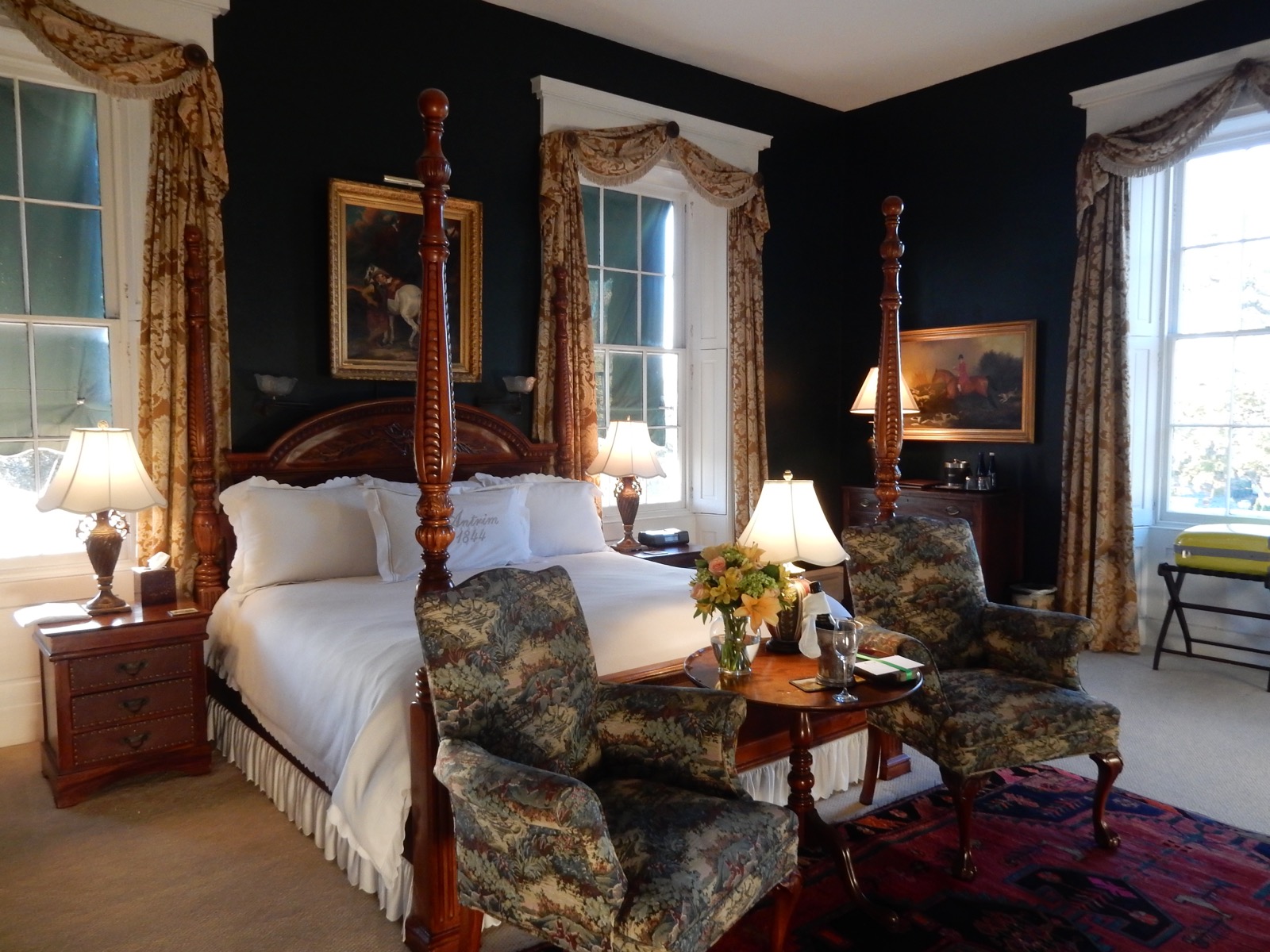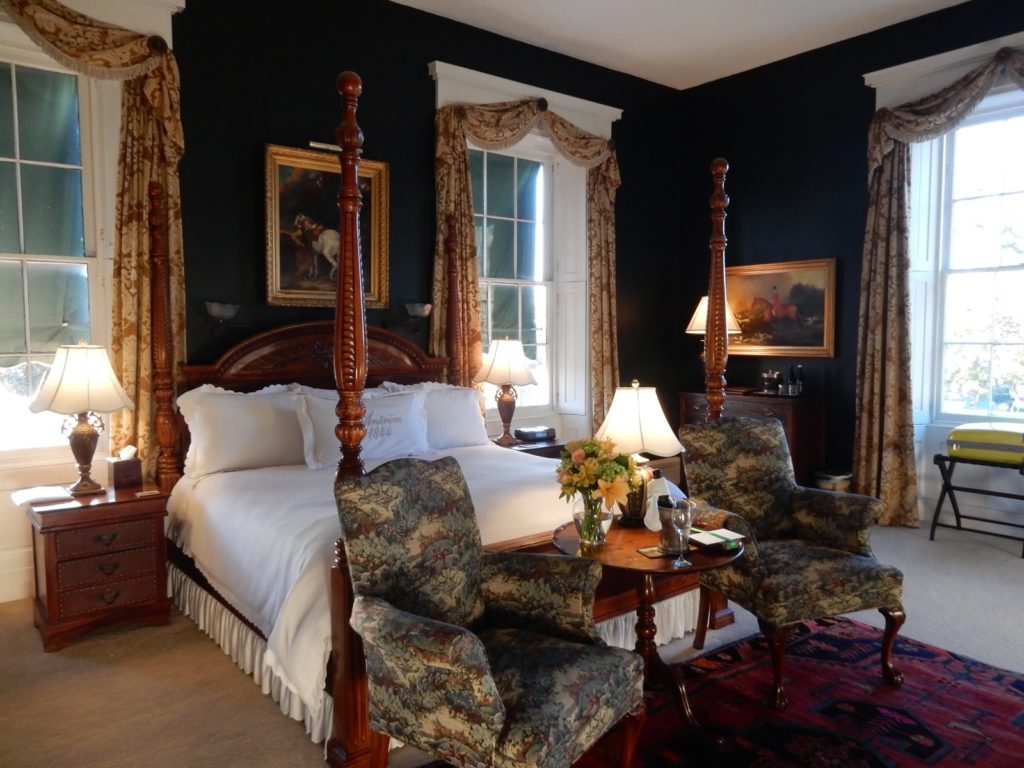 For luxury travelers, there really is only one place to stay in Carroll County. It's actually the reason that many people come here in the first place. Surprisingly, though Antrim 1844 is virtually unknown outside of the Mid-Atlantic. As a strongly recommended Maven Favorite, the complete write-up can be found HERE.