The escalating hassles of international travel (not to mention a fearsome fear of flying) turned my attention recently to a type of vacation that has been growing in popularity of late: Small Ship American River Cruising. Specifically on American Cruise Lines, a cruise line that plies the inland waterways of the USA.


As a Connecticut-based empty-nest travel writer with an active, fit 81-year-old teacher-naturalist mother, I sought a trip that could satisfy our particular Mother/Daughter bonding requirements: a short drive, good food, unusual small-town ports, American history, excellent customer service, and lots of local experts. My search led me to American Cruise Line's Chesapeake Bay Cruise. It's one of the company's most popular excursions.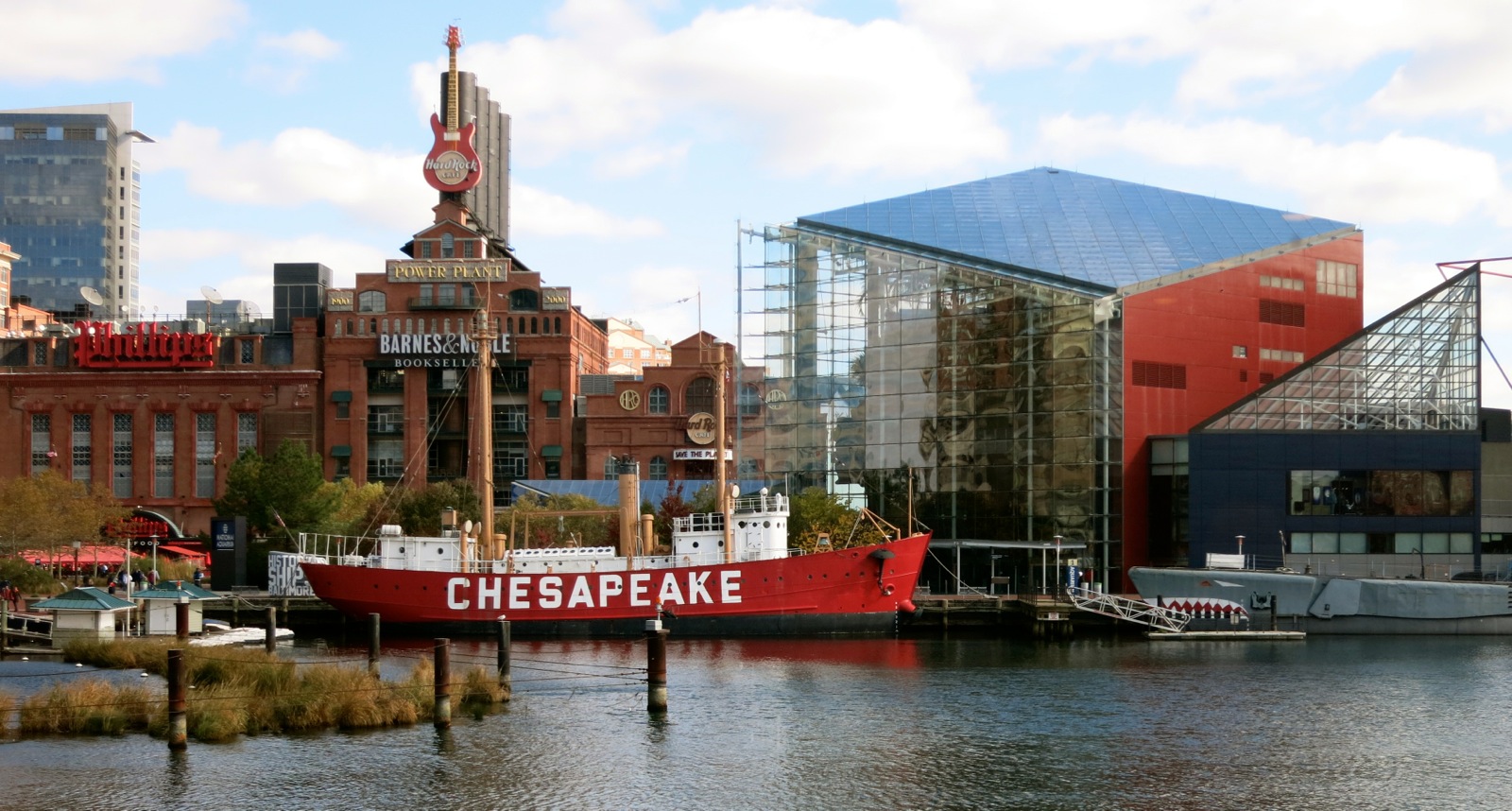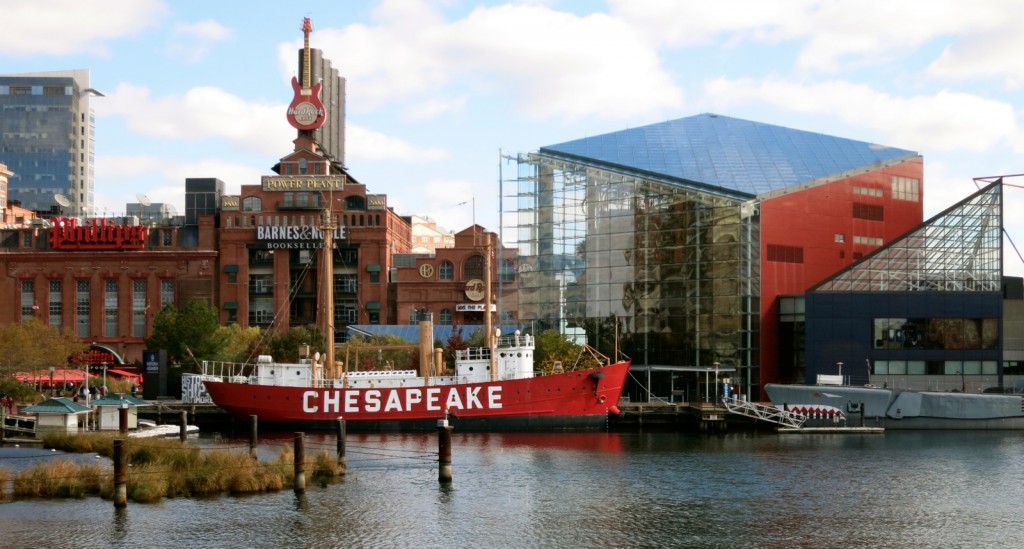 Round trip from Baltimore, the Chesapeake Bay itinerary would take us to Annapolis, Yorktown, Tangier Island, and other small towns on America's largest estuary — during the final days of Fall Foliage, the first week of November.
Though an experienced cruise-ship voyager — on mostly multi-thousand passenger behemoths — this would be my first time on a small (100 passenger) domestic ship.
I admit I was a bit apprehensive. I'd read all the reviews, both positive and negative. "Friendly. Lots of camaraderie. Great ports of call. Terrific lectures. Pricey. Floating nursing home. Tired décor."
I honestly didn't think I fit the demographic.
American Cruise Lines is small-ship cruising in every sense of the word. (Check out what happens when I returned for a Hudson River Fall Foliage Cruise.)
Ships accommodate 49-150 passengers.
The company prides itself on being completely American. (Every ship in the fleet is built in the USA, flagged in the USA, with US employees, and itineraries).
The Small Ship Difference
Even before our embarkation date, I could tell that my cruise experience on the 100-passenger ACL Independence would be vastly different from that of the mega ships I'd sailed on in the past.
A few months prior to departure, I'd received boarding passes, luggage tags and a small, 20 page brochure that included maps, phone numbers, information about towns we'd be visiting and shore excursions.
Emblazoned on each page was an 800 number to call with any questions or special requests. It seemed so tidy, to the point, and low-key. Almost too easy.
The Independence was docked right in Baltimore's Inner Harbor — in the very center of the action. We parked in a garage across the street, rolled our luggage one block to within site of the ship, and handed our bags to ACL crew members, who promised to deliver them to our stateroom pronto.
Then we flashed our boarding passes at the gangway, climbed up, received our stateroom keys and name tags (to wear at all times onboard), and, well, that was it. No drama. No hoops. Just a friendly welcome aboard.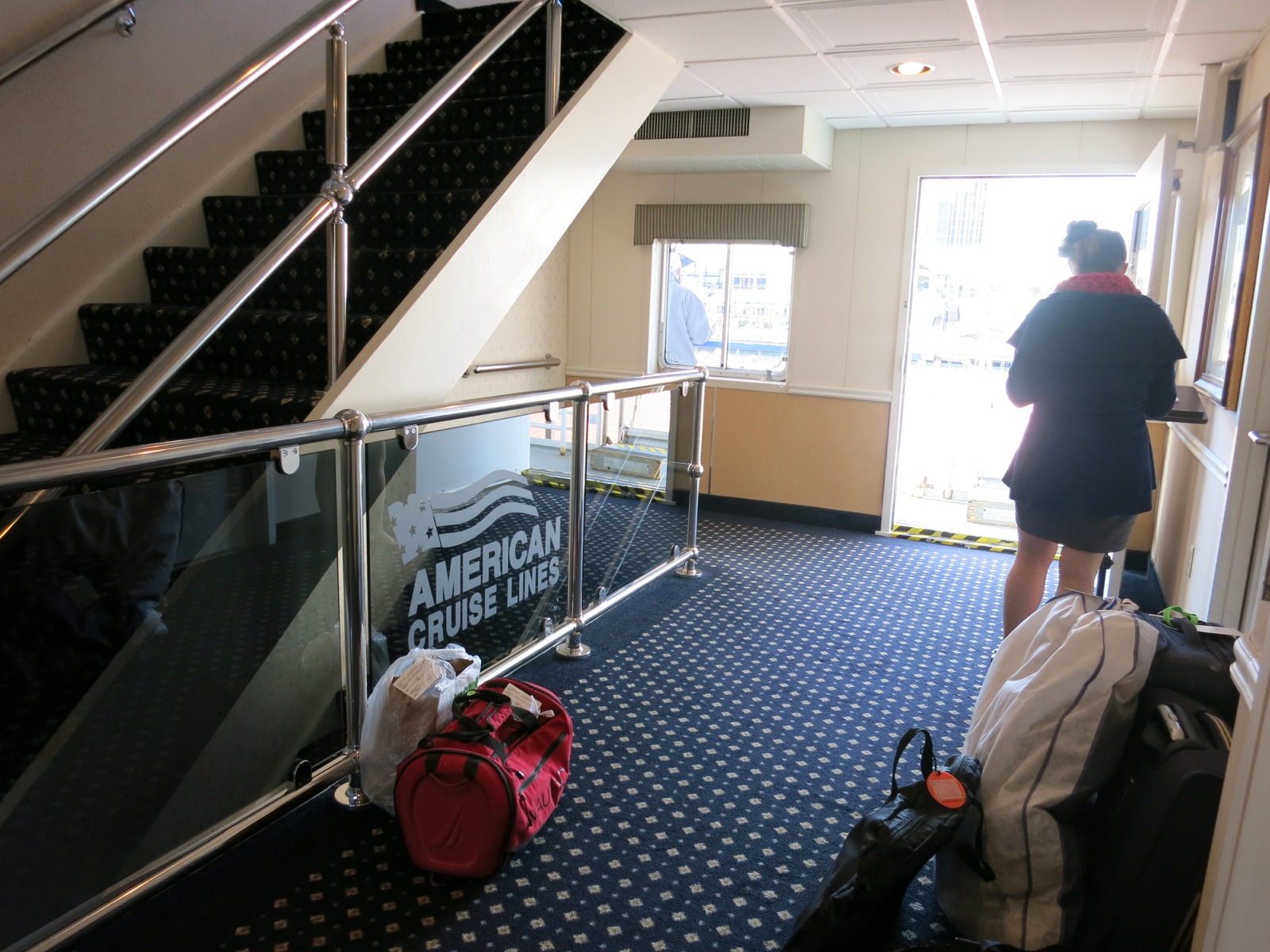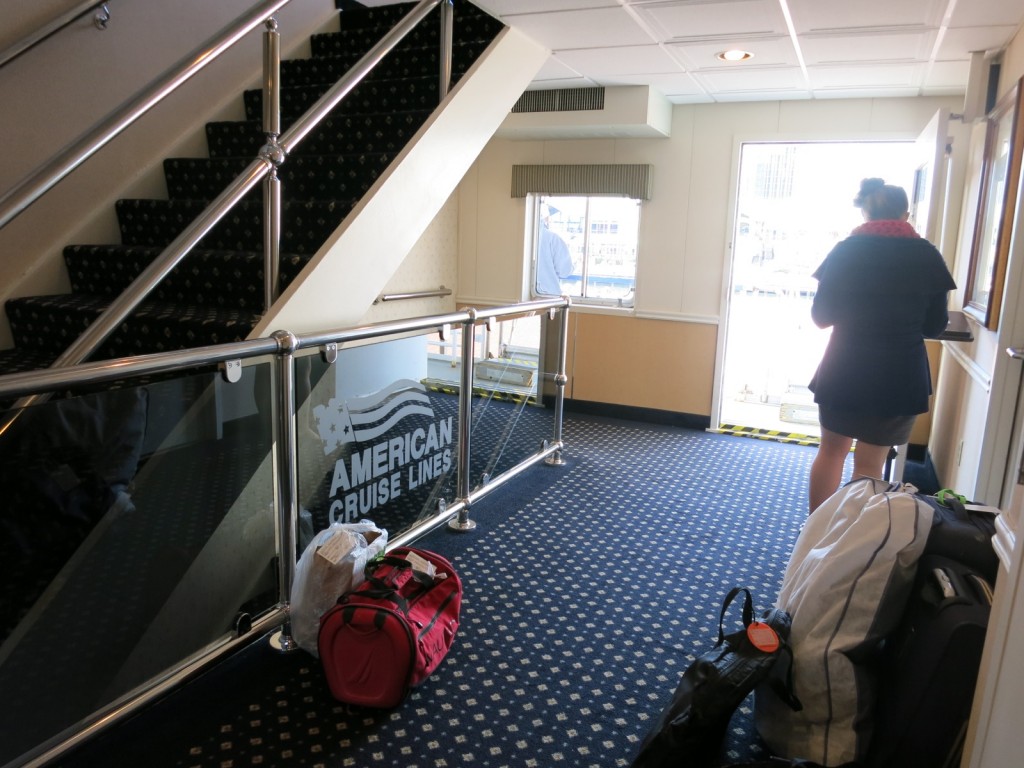 First Impressions of American Cruise Lines Independence
It was a bit after 11am, and Mom needed coffee, stat. No problem. We were sent straight away to the Chesapeake Lounge where coffee, soft drinks, water, and delectable fresh-baked cookies, and other snacks foreshadowed the abundance of food to come. But more on that later.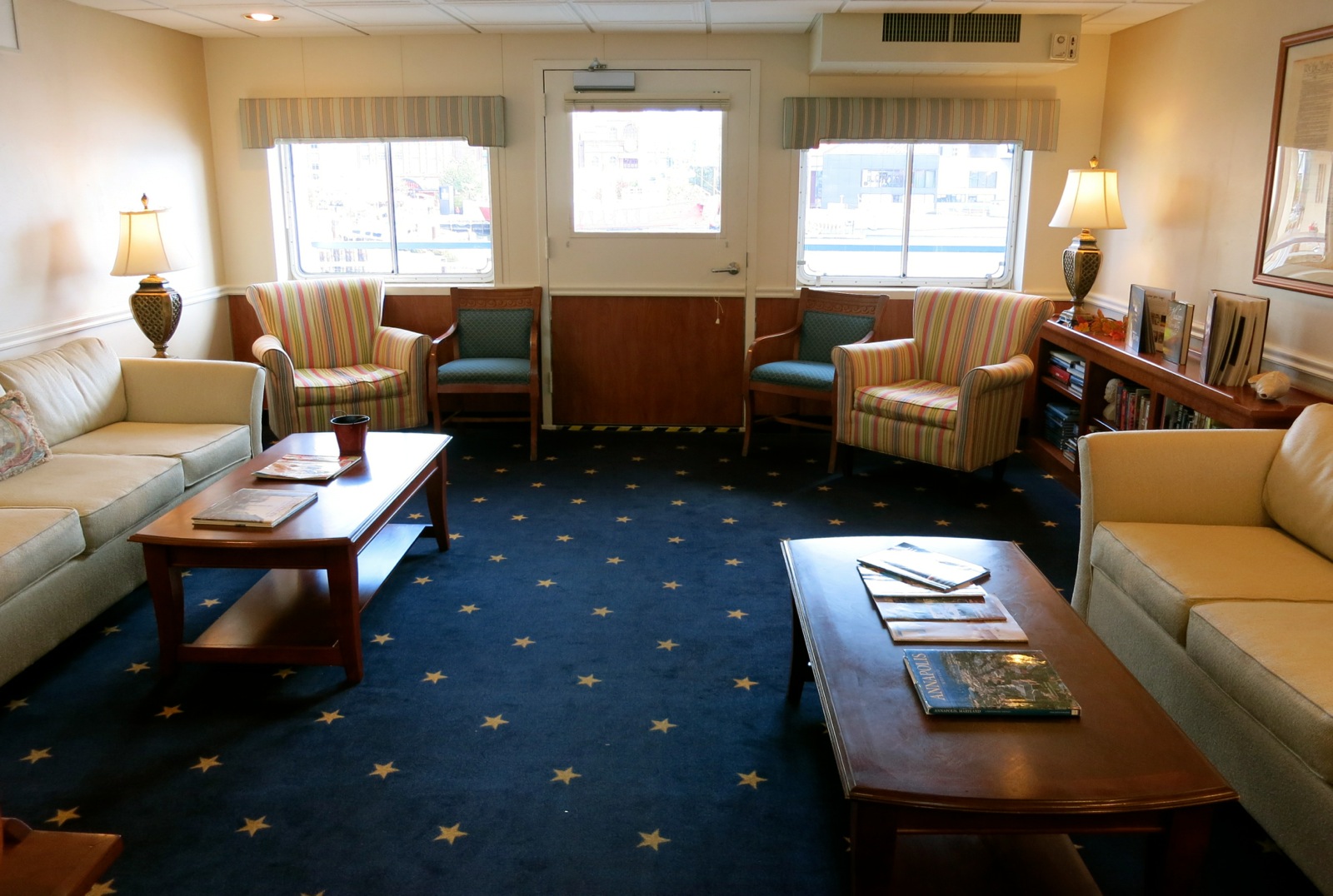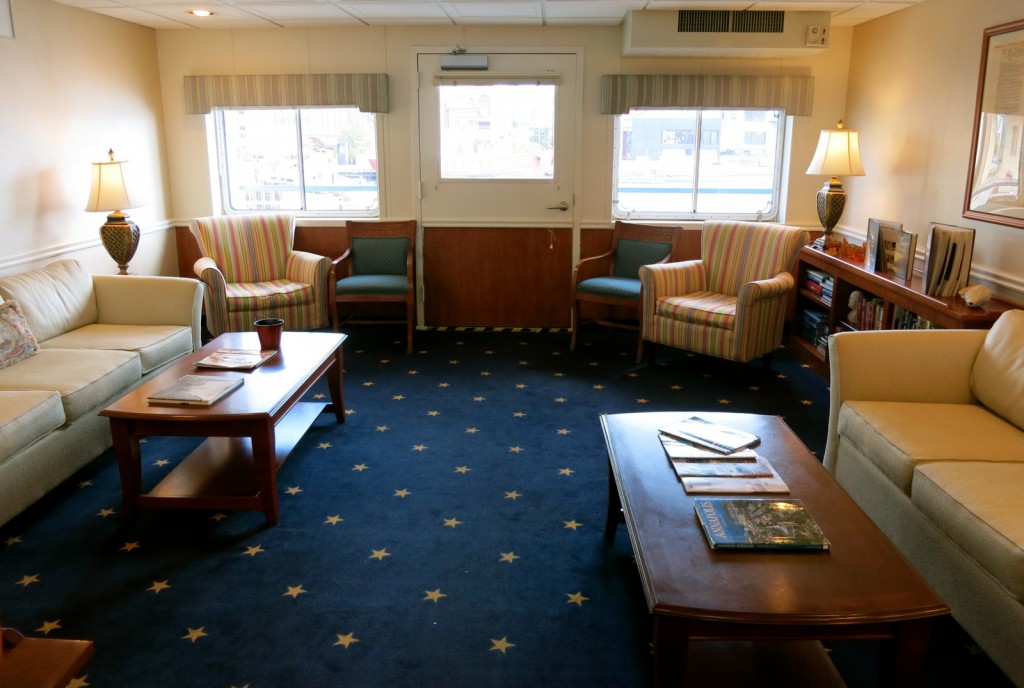 The Chesapeake Lounge and three other "reading room" gathering spots – one on each of the Independence's three levels – are furnished in traditional, comfy, New England style.
I found the ensemble of couches and upholstered chairs a perfect place to plop down for lectures or casual conversations with other passengers.
Staterooms on ACL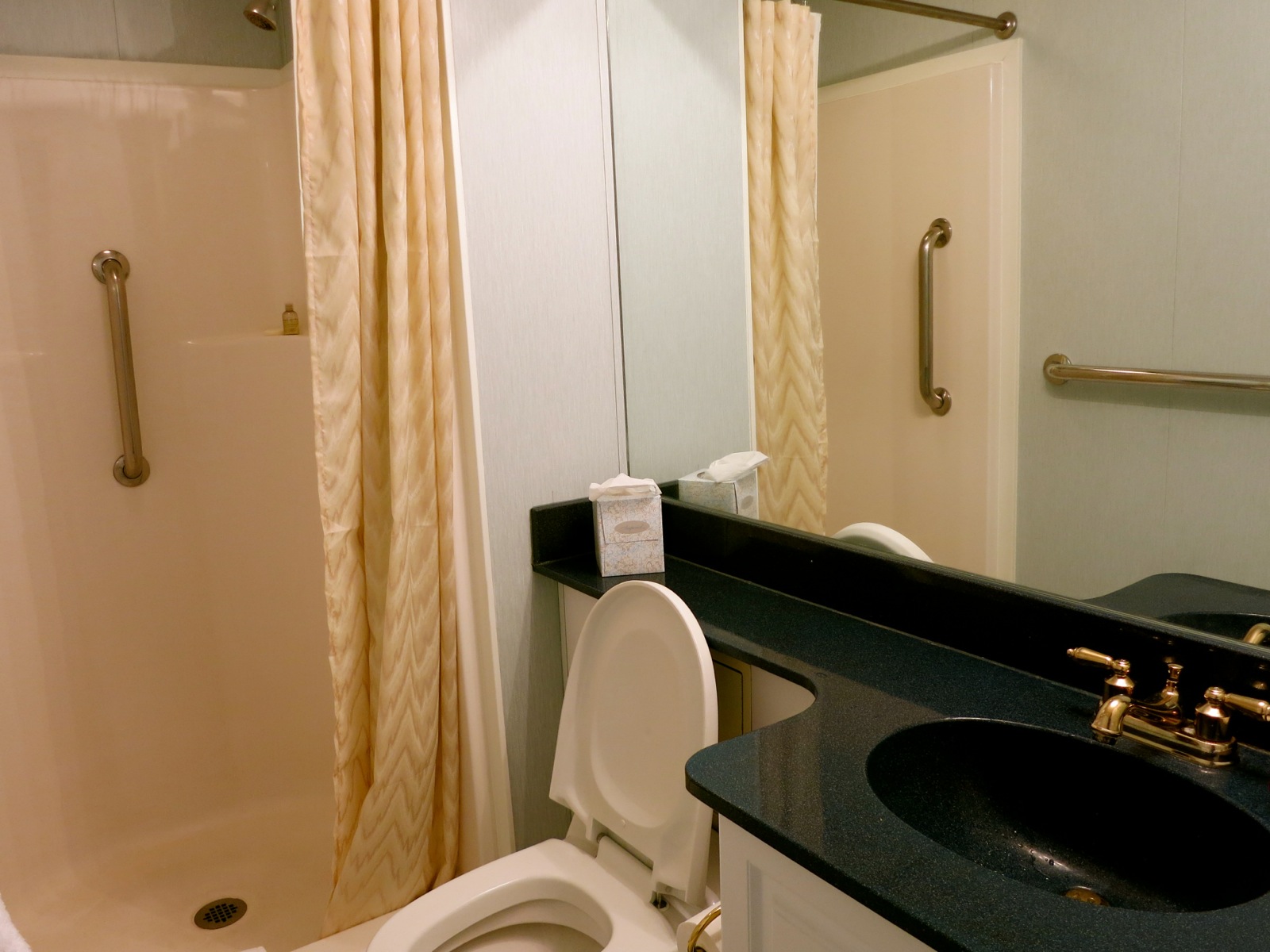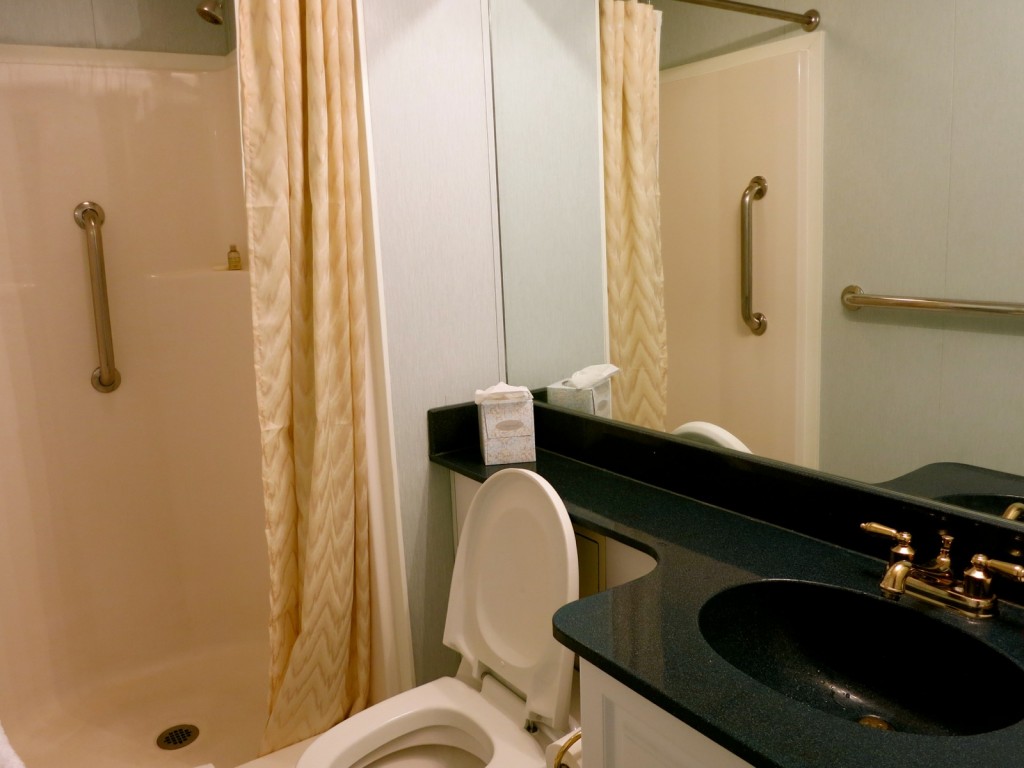 At first glance, staterooms are on the spare side. They are, however, larger than most on small ships (200-600 sq ft). Even better, private bathrooms sported full showers. Room 305, like all others on the second and third decks, featured a large window and private balcony.
Incredibly, the sleekly nautical triple-drawer dresser, six smaller drawers in the writing desk, the sizable closet, and three large bathroom drawers held the contents of two large suitcases perfectly.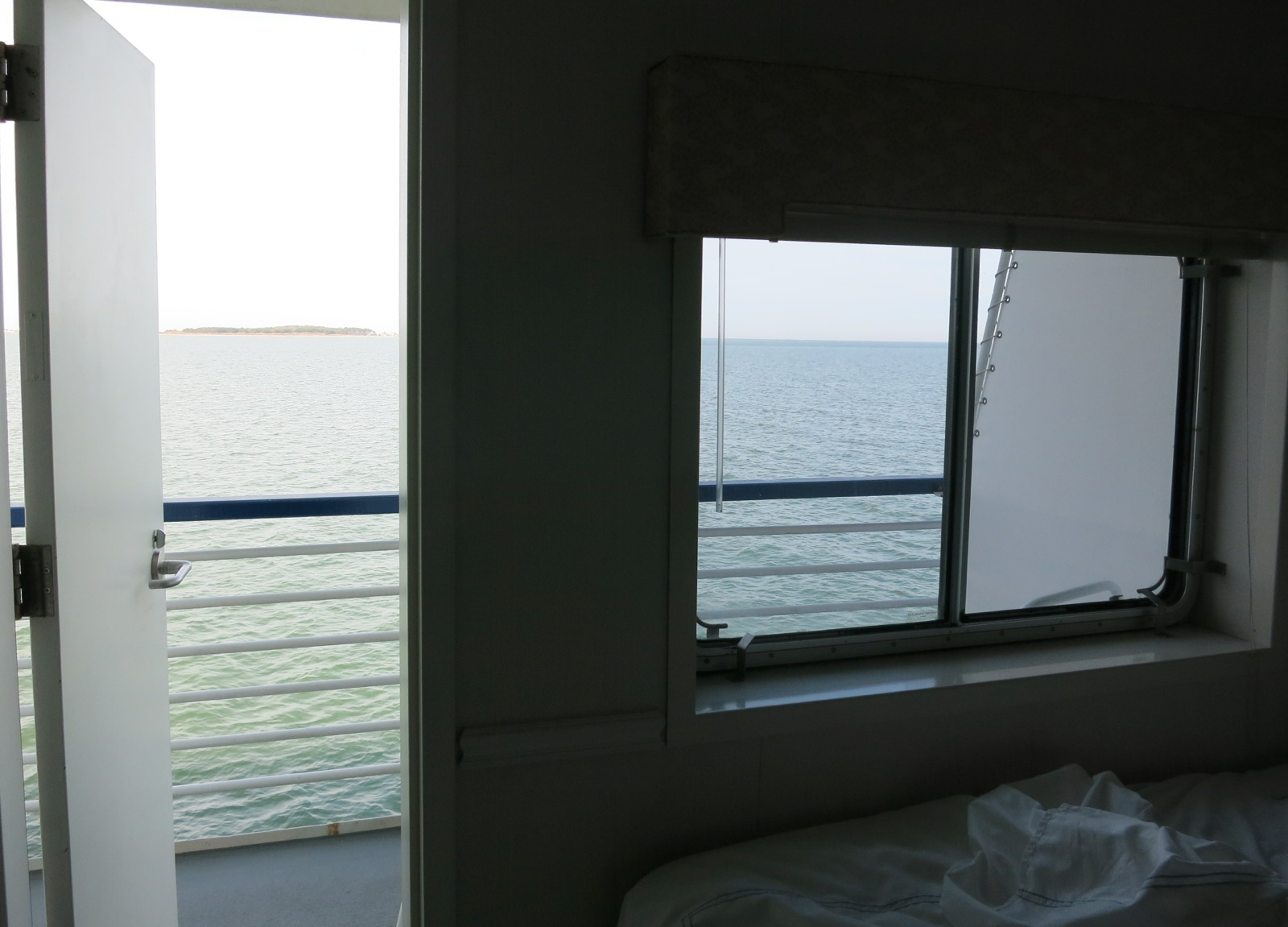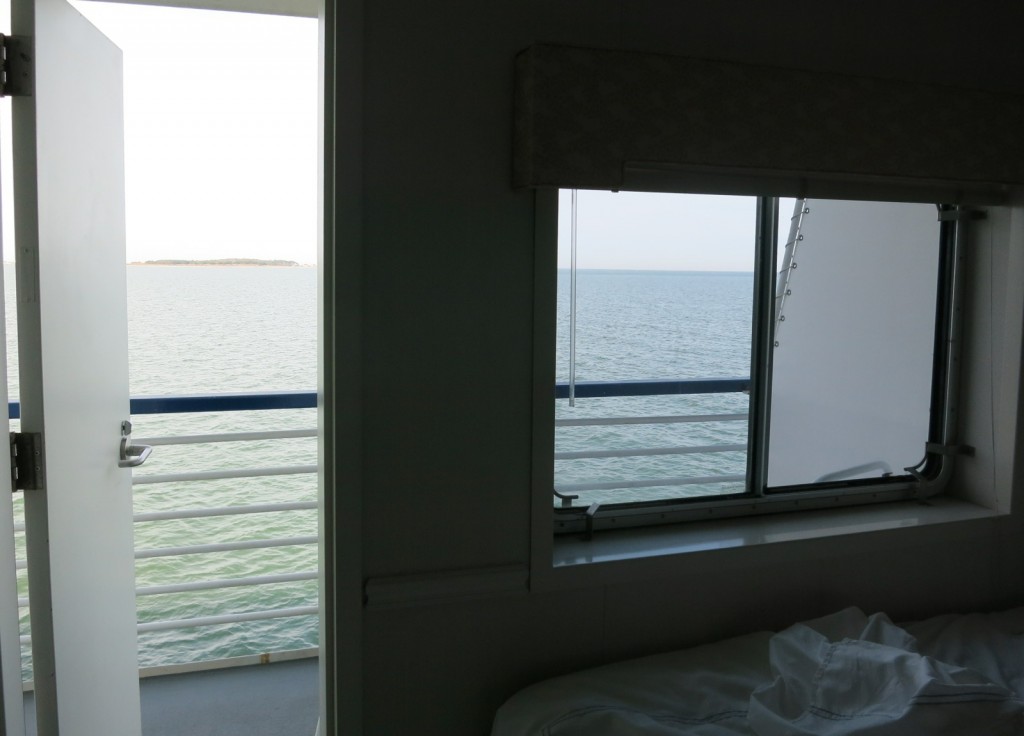 Mom chose the twin bed "closest to the bathroom," leaving me with the one nudged up against the wall beneath the window.
Bedding was plump, soft and dreamy, almost impossible to emerge from in the dawn hour. But emerge I did to sit up and lift the shade to watch, transfixed, the daily sunrise over a calm or choppy Chesapeake Bay. My appreciation for this cocoon of a room increased over the week.
Food and Drink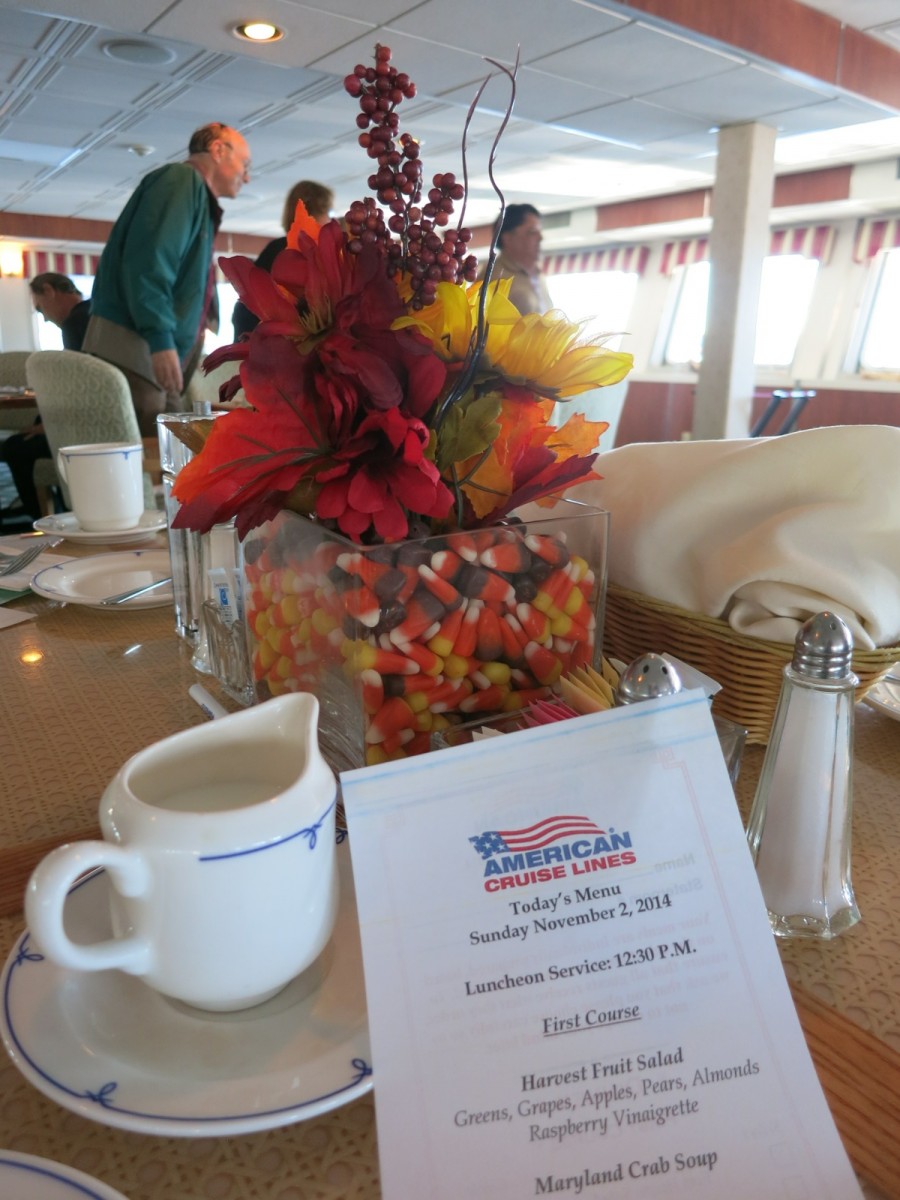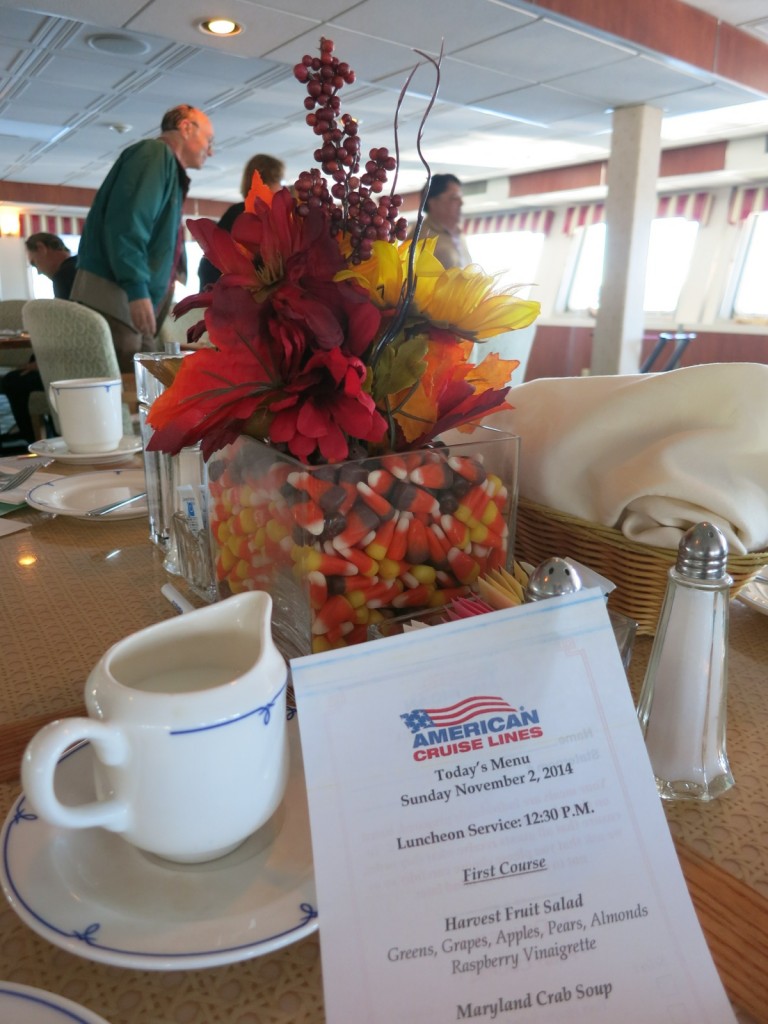 Overall, food onboard was very good, bordering on excellent in some cases, and missing the mark in others, but surpassing the "Big Ship" cuisine in quality and freshness. Waiters and waitresses are young, but diligent and pleasant.
Chefs provision at each port and utilize local or regional ingredients as much as possible. So, this being a Chesapeake Bay cruise, emphasis was on crab every which way, seafood and fresh oysters.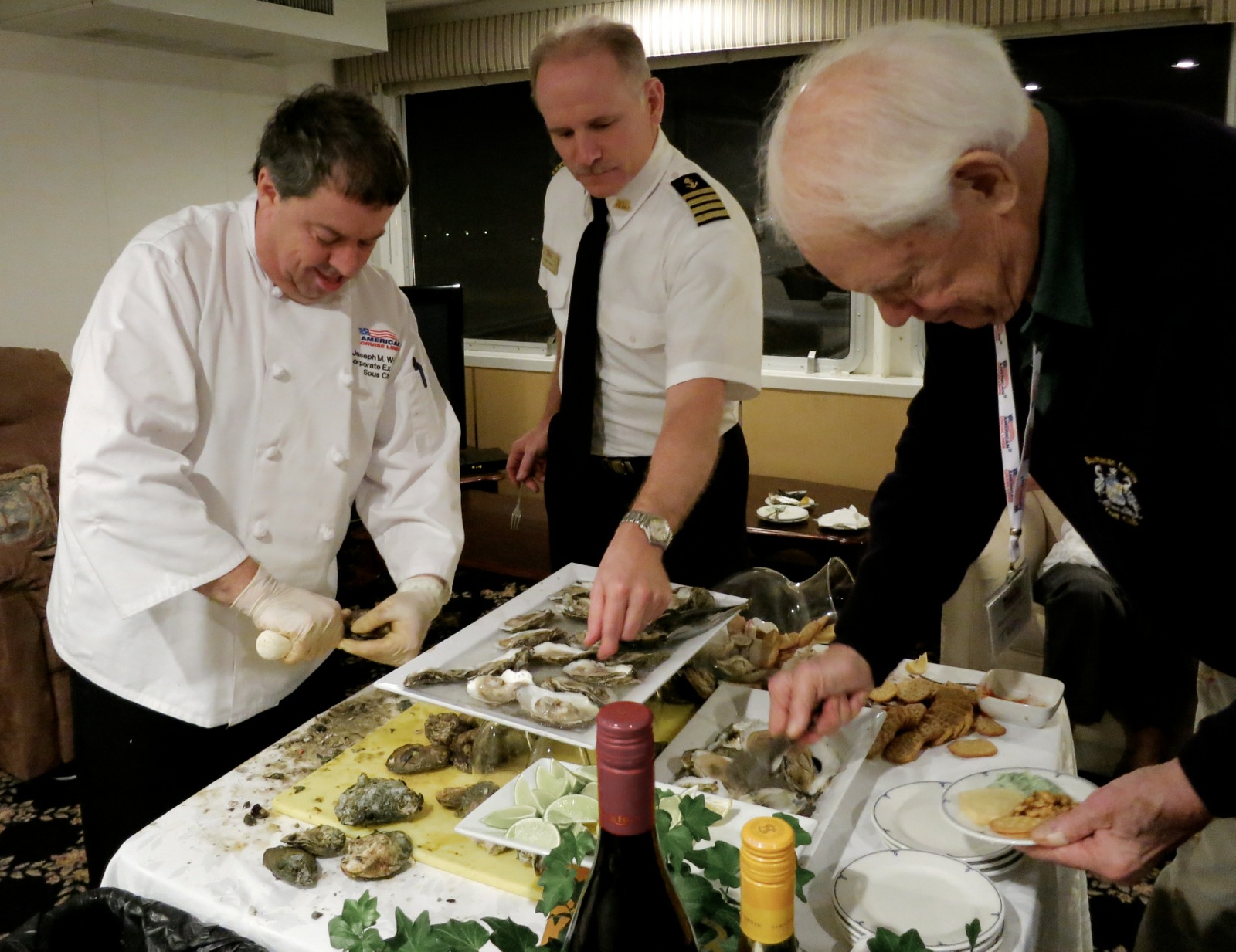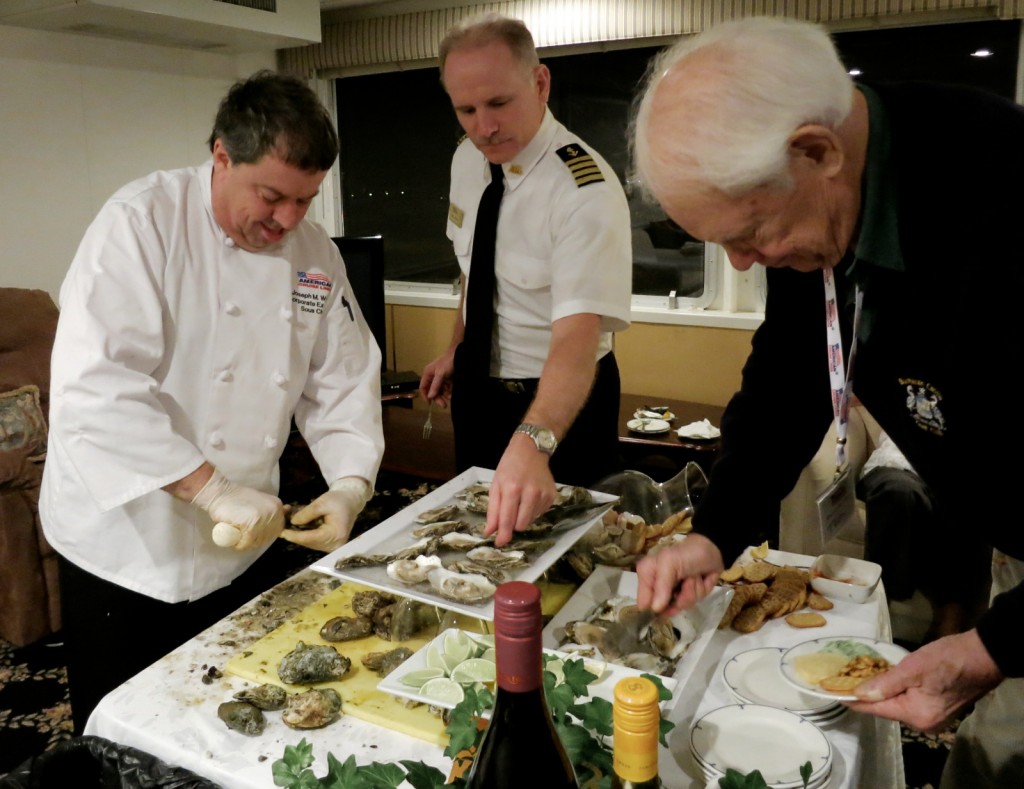 Conceivably, you can eat all day long. Coffee and fresh-baked treats are set out in the Chesapeake Lounge at 6:30 AM, breakfast is served between 7:30 and 9am, lunch at 12:30, drinks and appetizers from 5:30 – 6:30, at which point you sit down to dinner (which includes complimentary wine).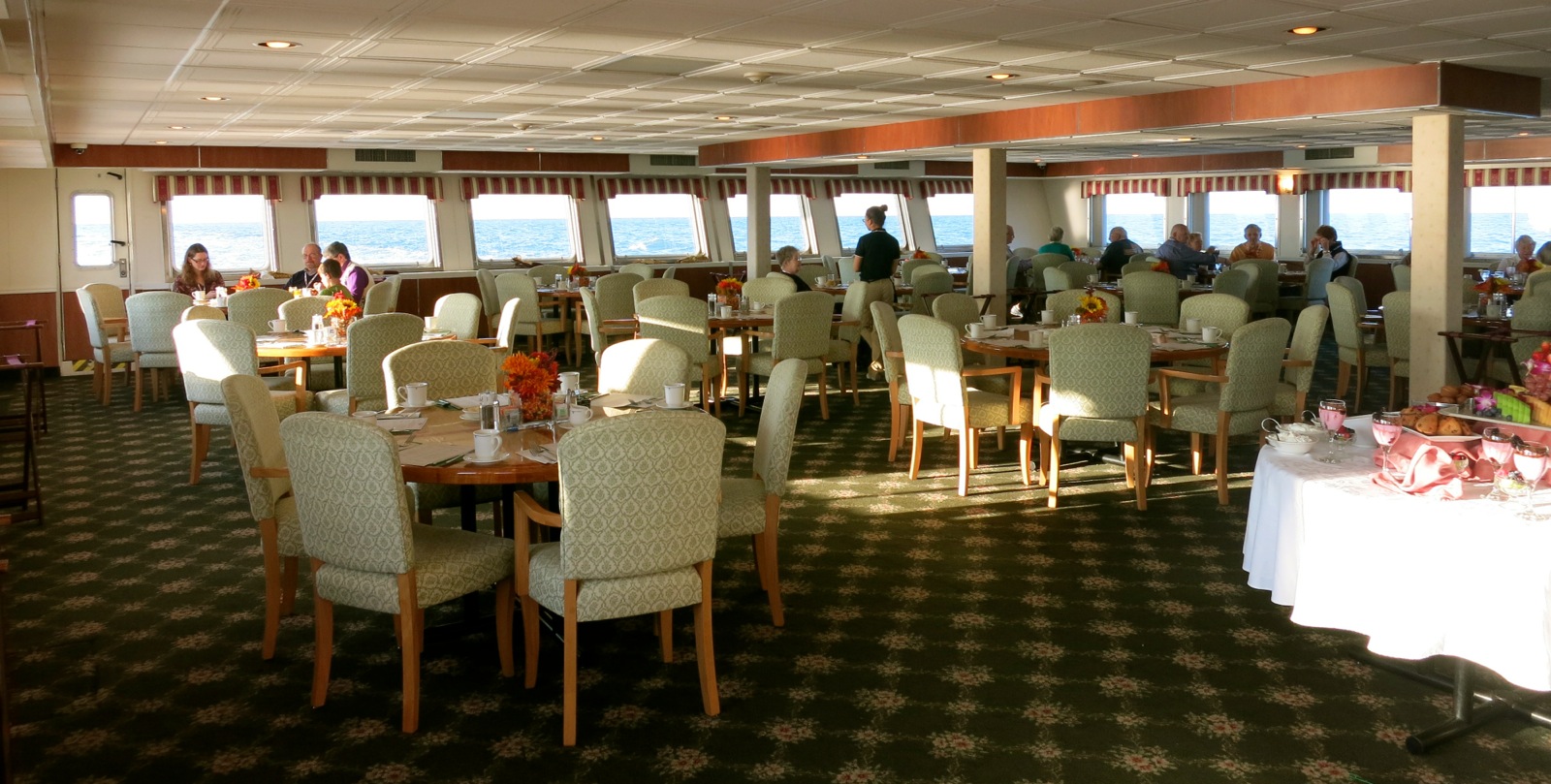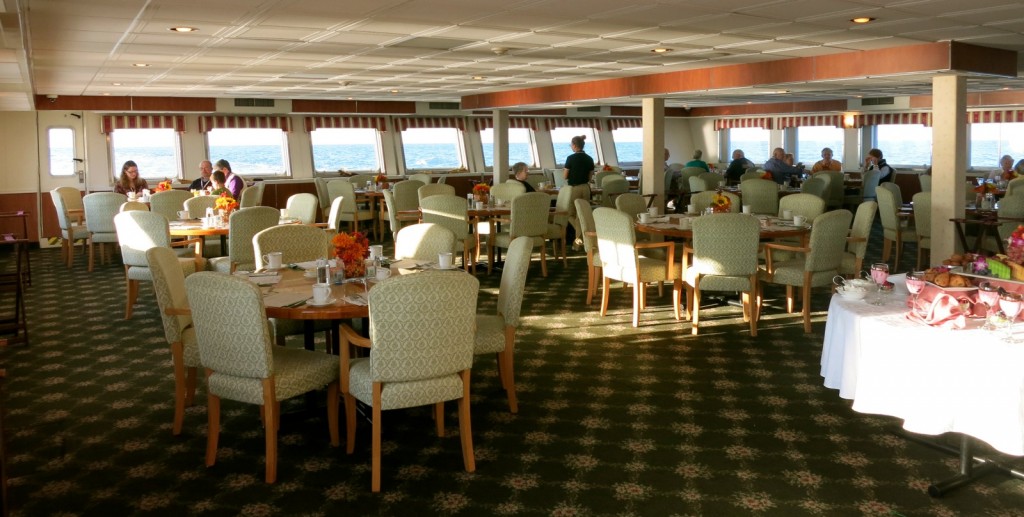 During the evening's entertainment or lecture, the crew passes around baskets of popcorn, ice-cream sundaes and root beer floats.
After a full day of gorging, I was astounded to see how many guests nodded "yes" to an 8:30pm hot fudge sundae. Obviously these were repeat ACL cruisers who knew how to pace themselves.
Distinct Benefits of American Cruise Lines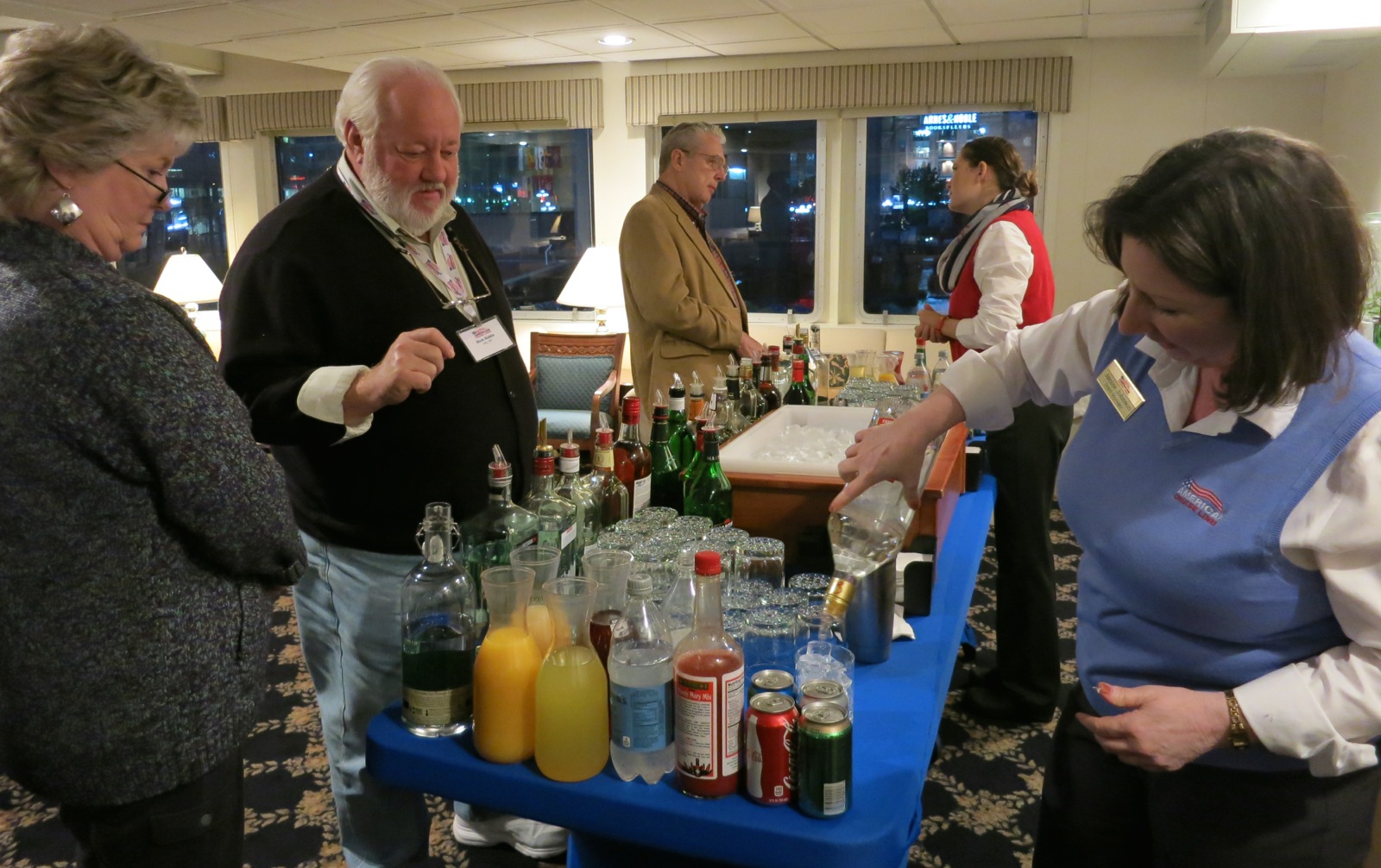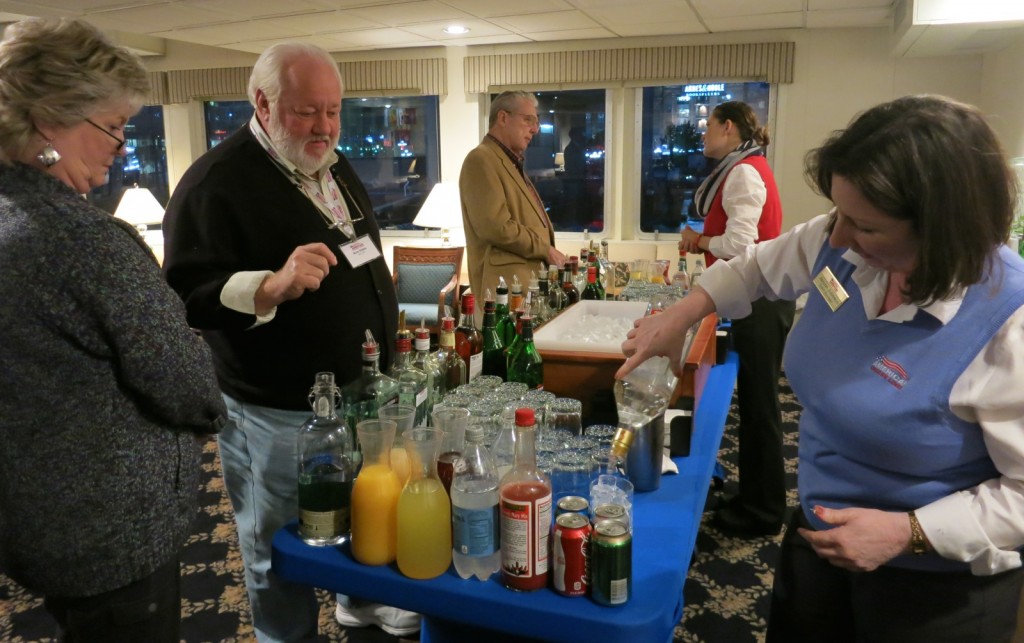 There are two very distinct benefits to American Cruise Lines when it comes to food and drink.
One (and many would say the most important) is the daily 5:30-6:30 complimentary open bar that features most premium brands of hard liquor. For one whole hour, the Chesapeake Lounge turns into a convivial cocktail party, with passed and tabled hors d'oeuvres, and all the wine, beer, martinis, whisky rocks, Bloody Mary's or any other drink you can down.
"My bar bill on other cruise lines is sometimes almost as much as the cost of the cruise," one guest, a frequent-floater, told me. "So even though American Cruise Line is pricey, it's worth it."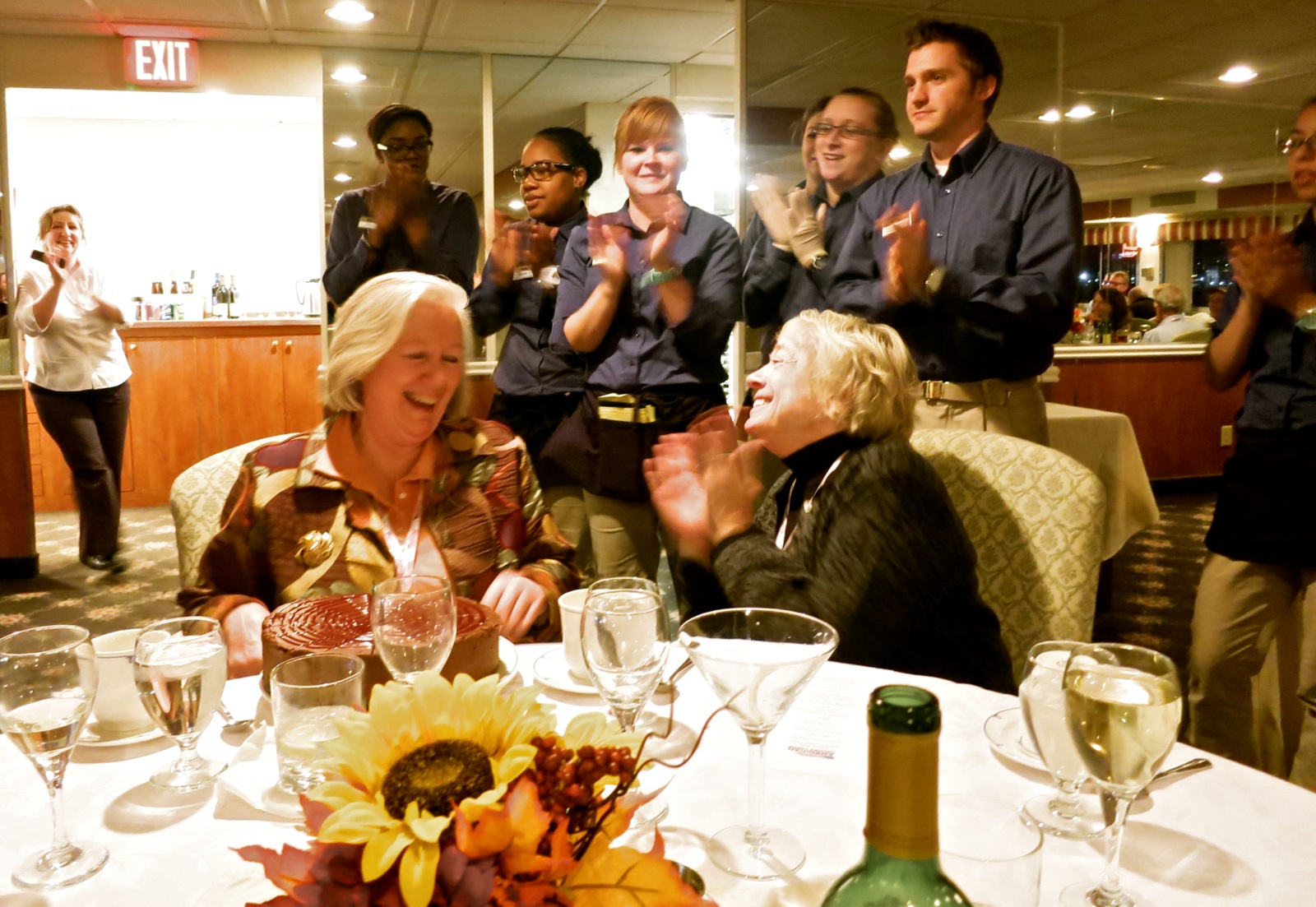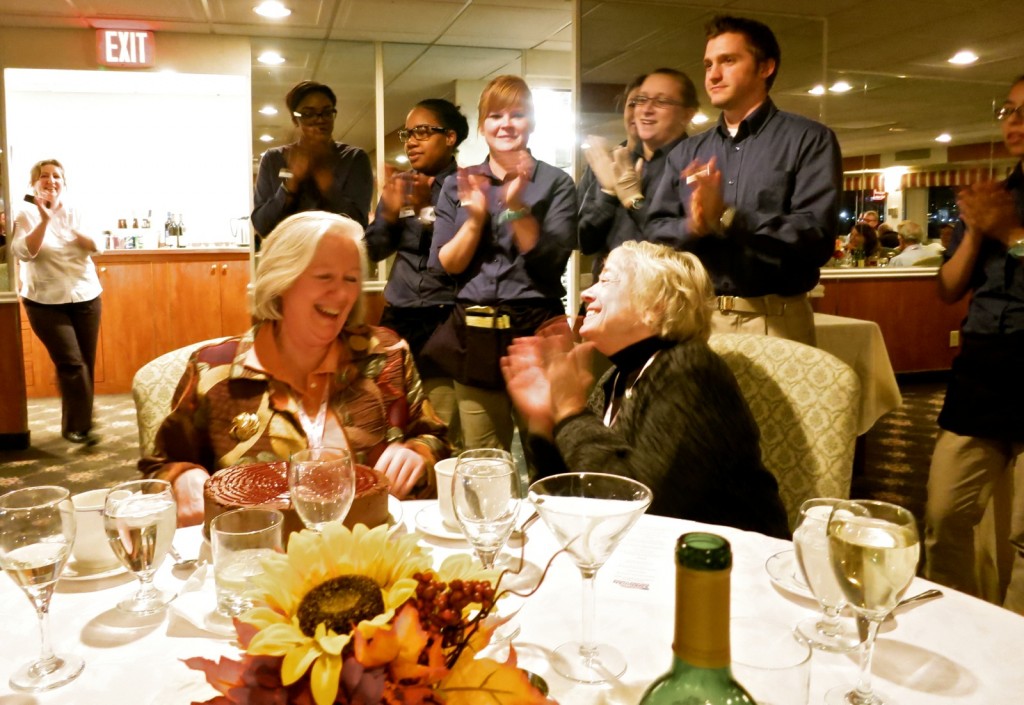 The second benefit is one that is only feasible on a small ship. A convivial, "if we don't have it, we'll fetch it for you" way of thinking. Perhaps you'd like, say, sugar-free chocolate ice-cream and the kitchen has only sugar-free vanilla.
The Hotel Manager will go out while in port and purchase whatever you desire (within legal limits, of course). On our trip, this also applied to bottles of preferred Bourbon and Vodka.
On Board Entertainment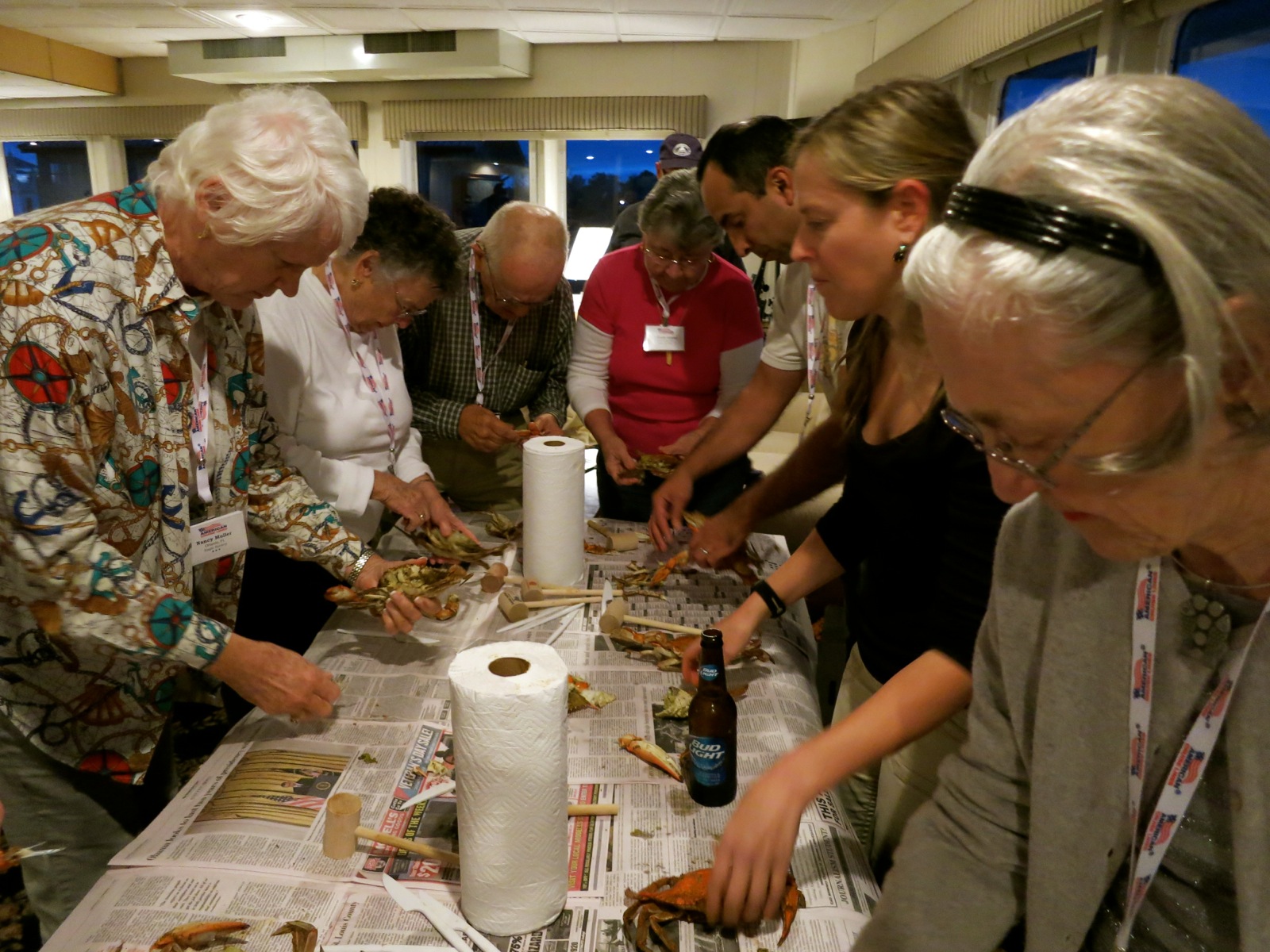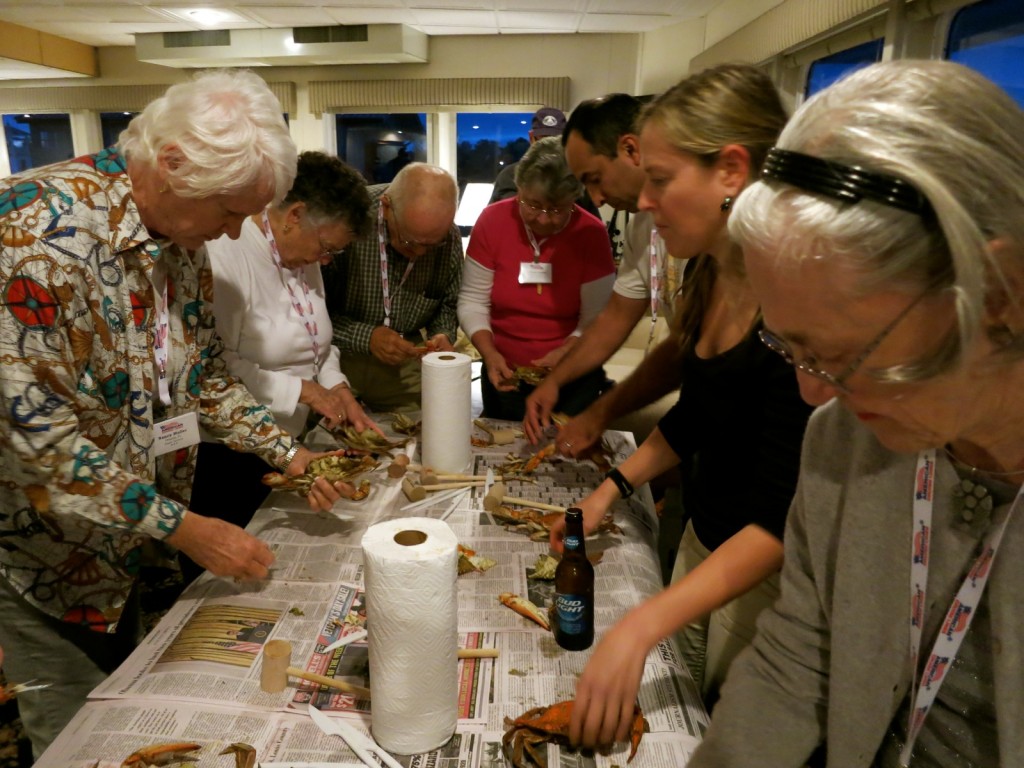 It's not a Carnival. There are no Celebrities. It's a small ship with intimately sized lectures, talks and music. Just after dinner, at 8:15 every night, we found delightful and insightful programs in the Chesapeake Lounge: crab experts (from both ecological and eating standpoints), Revolutionary War medical practice experts, piano and dulcimer players.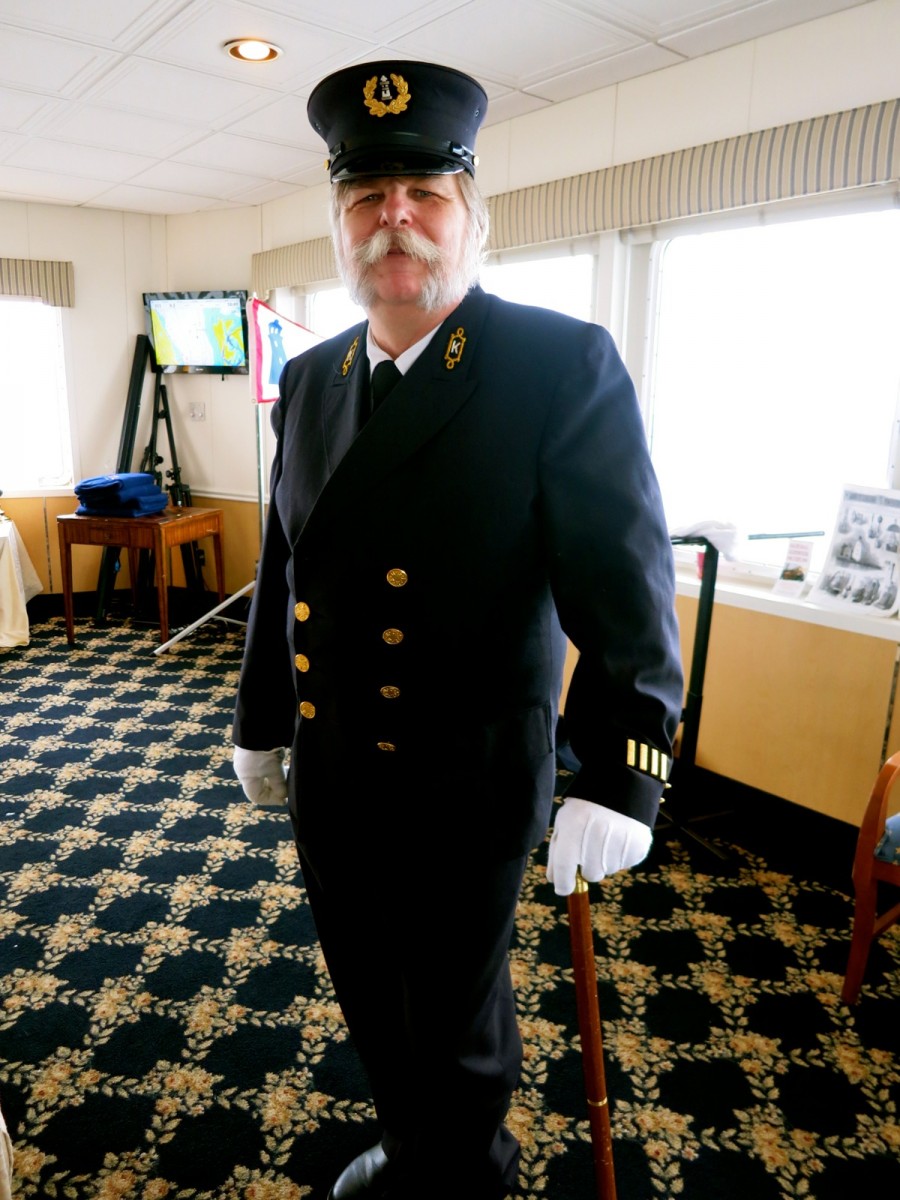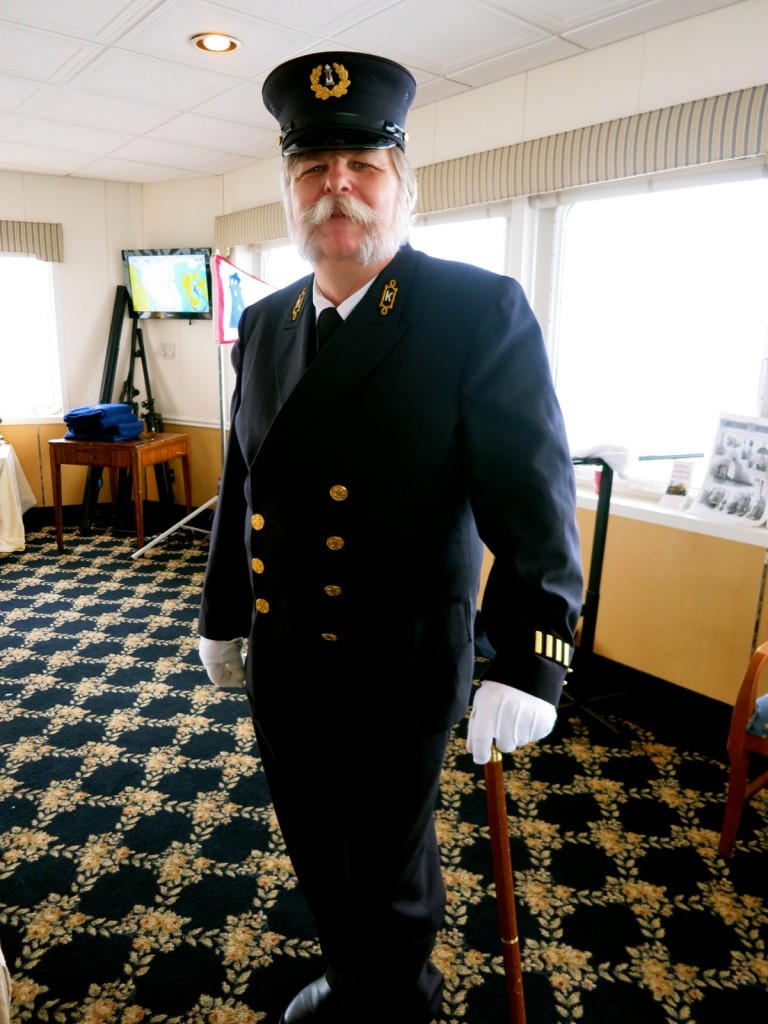 Storyteller/historian, Doug Weeks, stayed on board to entertain us with his various alter egos. As fur-trapper, Brave Wolf, he spoke of the early Chesapeake Bay settlers including John Smith. Another night, Weeks morphed into Lighthouse Keeper, Peter Bird, injured at Gettysburg, then appointed to keep the fires burning at lighthouses in the Great Lakes and on Chesapeake Bay.
Sure, some of it was corny, but as Weeks channeled Peter Bird, passengers became engrossed in his passionate, detailed accounts. We soon learned that Bird was Doug's Great-Great Grandfather, and all these stories had been passed down through generations of his family.
Ports of Call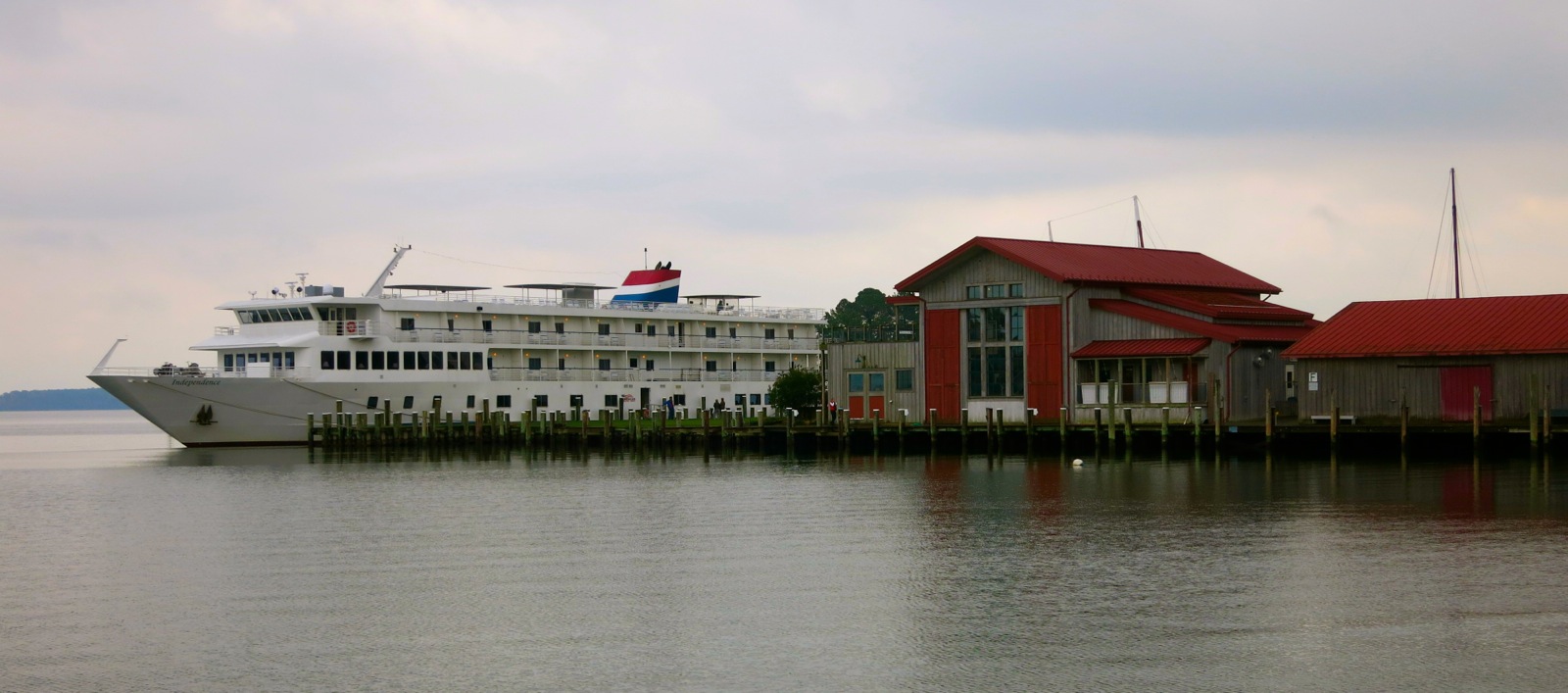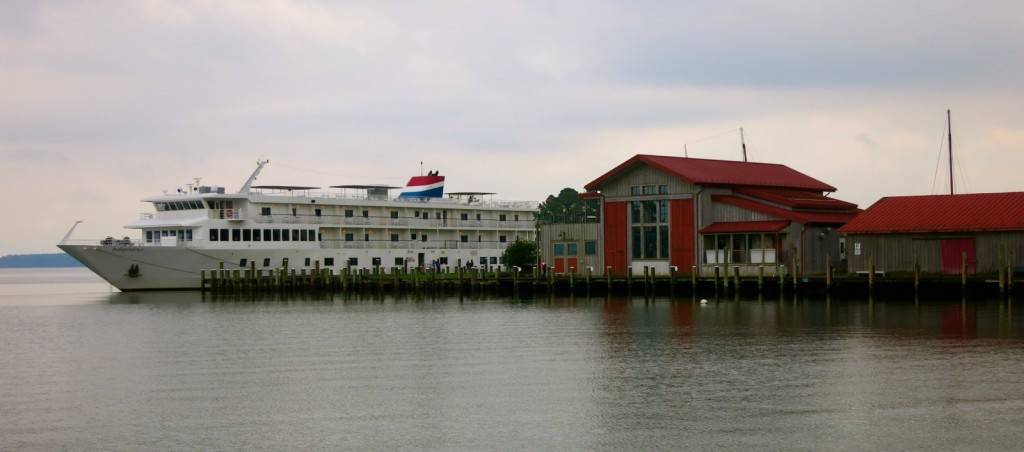 Small cruise ships can dock where the big boys can't. And so, in Yorktown, we were steps away from the National Park and the riverfront shopping-restaurant district. In Crisfield, "The Crab Capital of the World" and gateway to Tangier Island, we docked a block from the Tangier Ferry that took many of us to that tiny lost-in-time island.
We parked right inside the Chesapeake Bay Maritime Museum in St. Michael's, MD and were given free reign to investigate its many buildings. And while the giant cruise ships sat at terminals a bus ride from Baltimore's Inner Harbor, we were right there with the Water Taxis, museums and thousands of land-bound tourists.
Connecting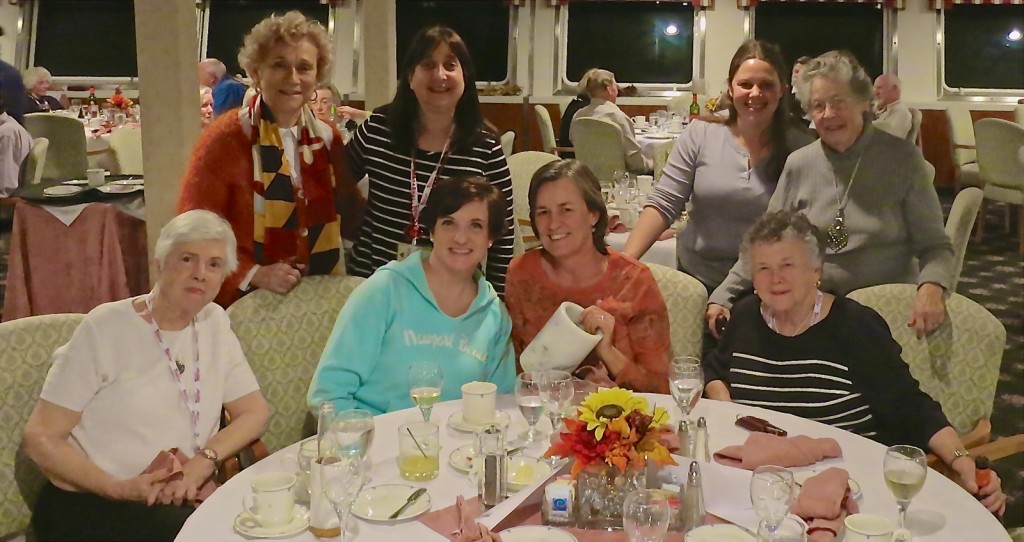 Though marketed to retired professionals "age 62 and up," American Cruise Line passengers skew older with a spattering of younger whippersnappers. Interestingly, a good number on the Chesapeake Bay cruise were retired teachers.
On my cruise, there were two very young, well-behaved boys traveling with their parents, aunt, and grandparents, one couple my age (late 50's), a gay couple, a 13-strong family reunion, two other Mother/Daughter combos, (Doris and Ann Eberlein, Pat and Jeanne McGuire), one Grandma/Granddaughter combo (Kathryn Price and Ida Lu Brown), and lots of conventional pairs ranging in age from 50's to hearty 90's.
Folks From All Over
What amazed me was not so much the range of ages, but the geographic diversity. There were folks from California, Texas, Arizona, Wisconsin, Michigan – from many US States.
Republicans were thrown in with Democrats, liberals with conservatives, and through the magic of Cocktail Hour lubrication, open seating and inquisitive minds, everyone spoke to each other. Everyone seemed interested in each other's stories, and, over the course of the week, I witnessed friendships forming before my very eyes.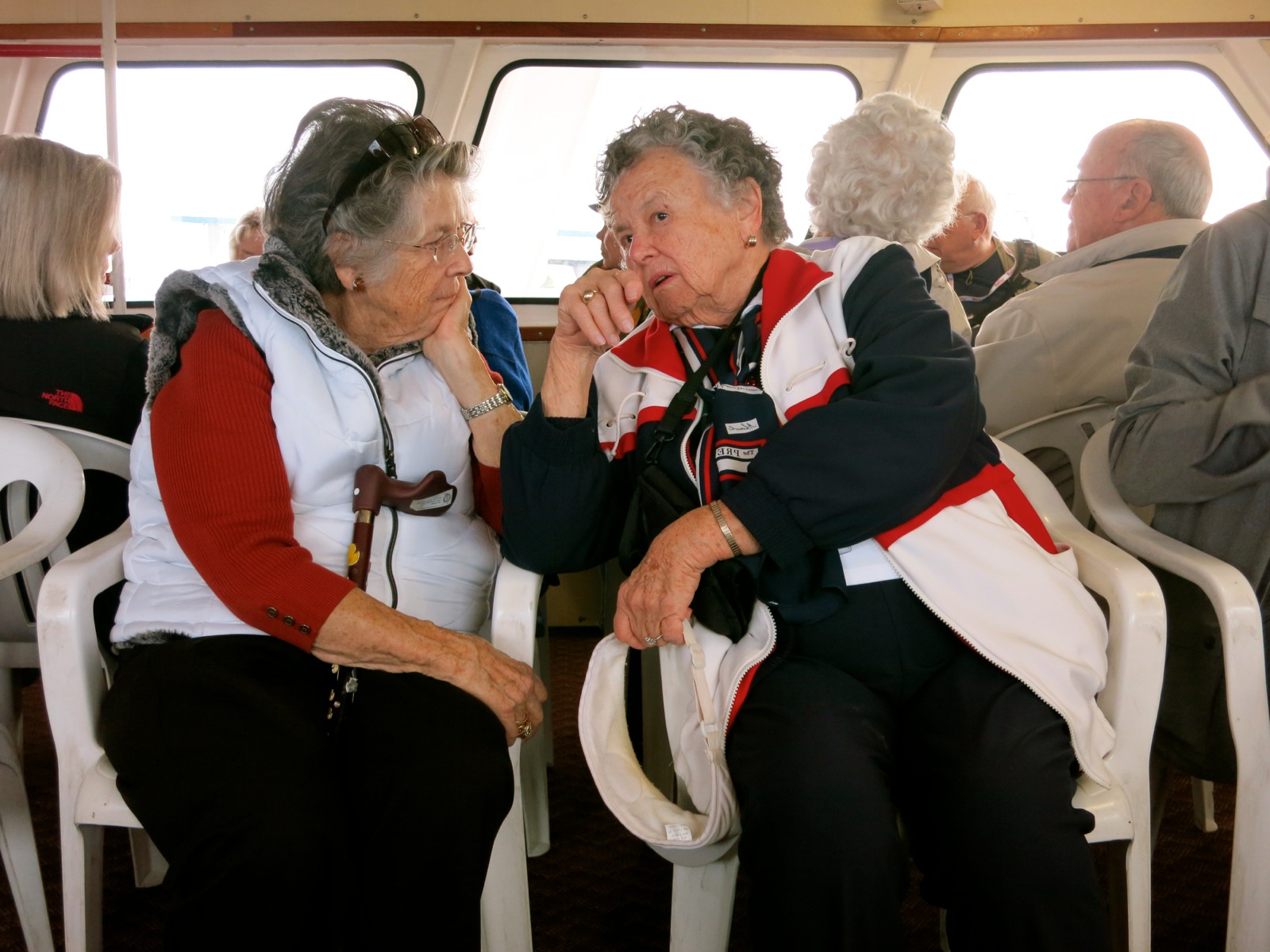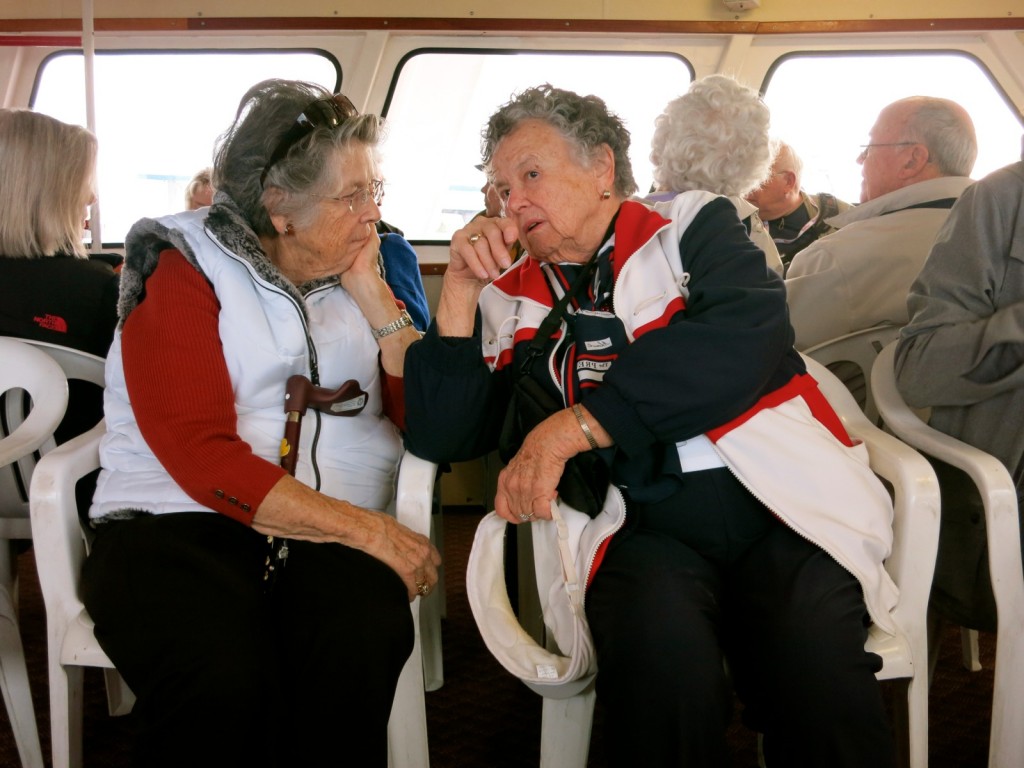 This, apparently, is not unusual. On this cruise, I watched as Ida Lu Brown, grandma of 17, great-grandma of 25, great-great-grandma to four, warmed up to Doris Eberlein on the 75 minute ferry boat ride to Tangier Island.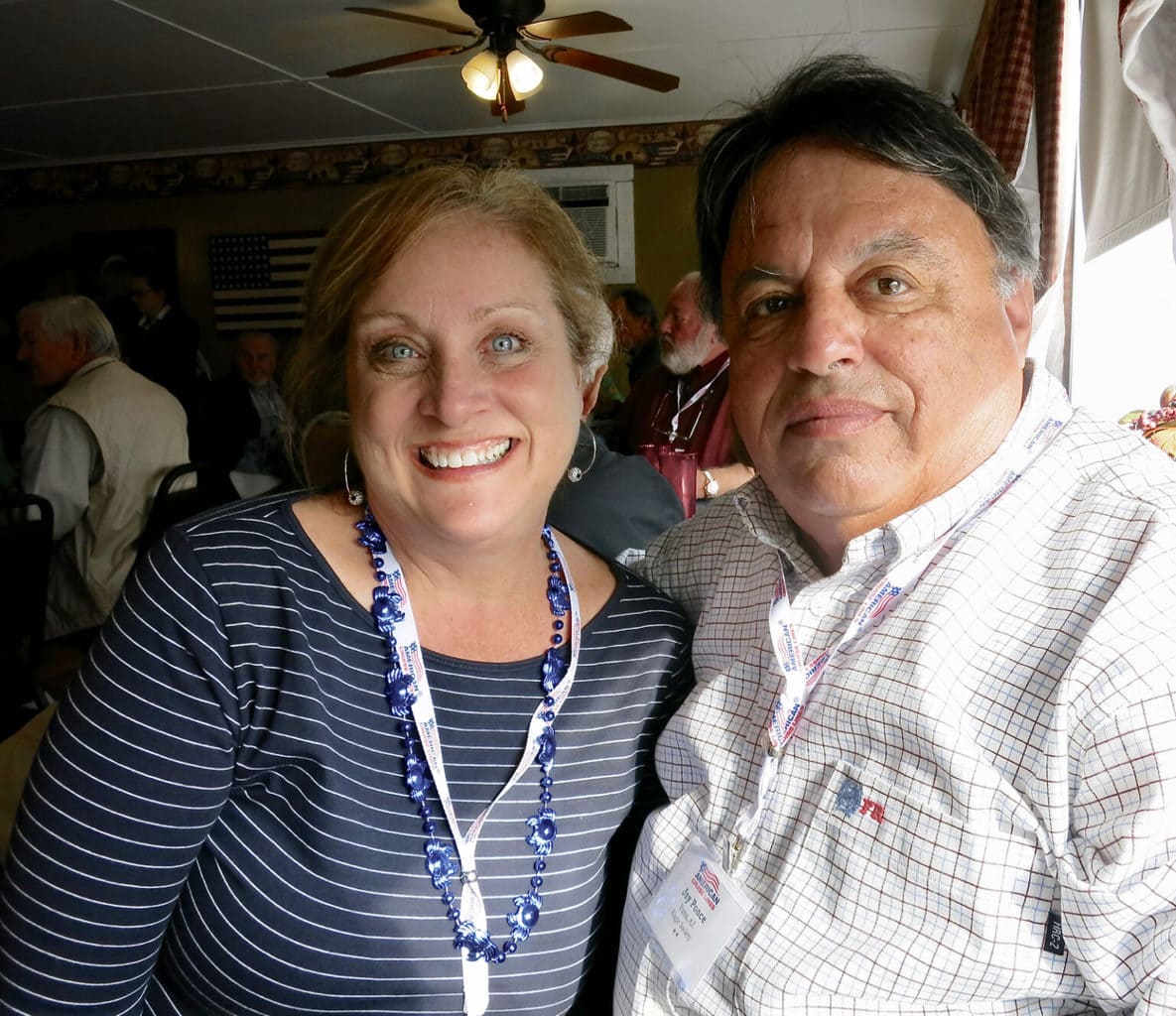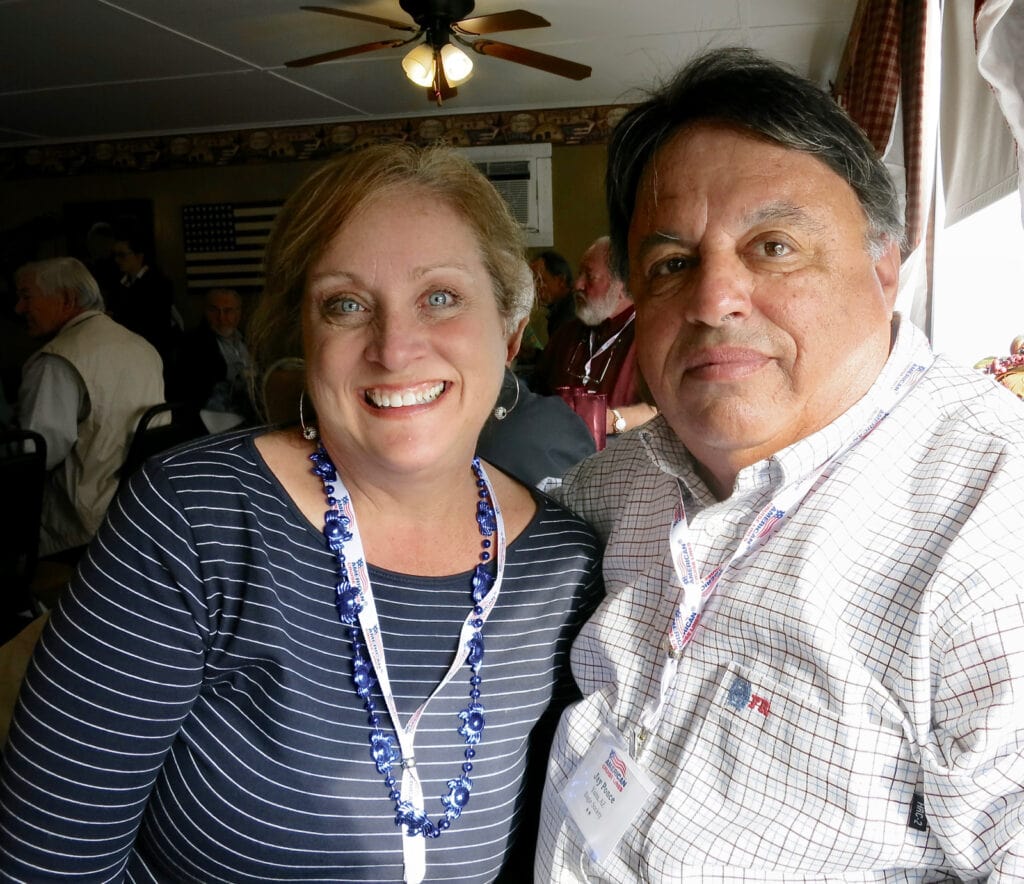 I became very fond of Dawn and Jay Ponce from Yuma, AZ – a retired school Principal and her business-owner husband. "I can tell if you lived closer together, you'd be close friends," my Mom observed.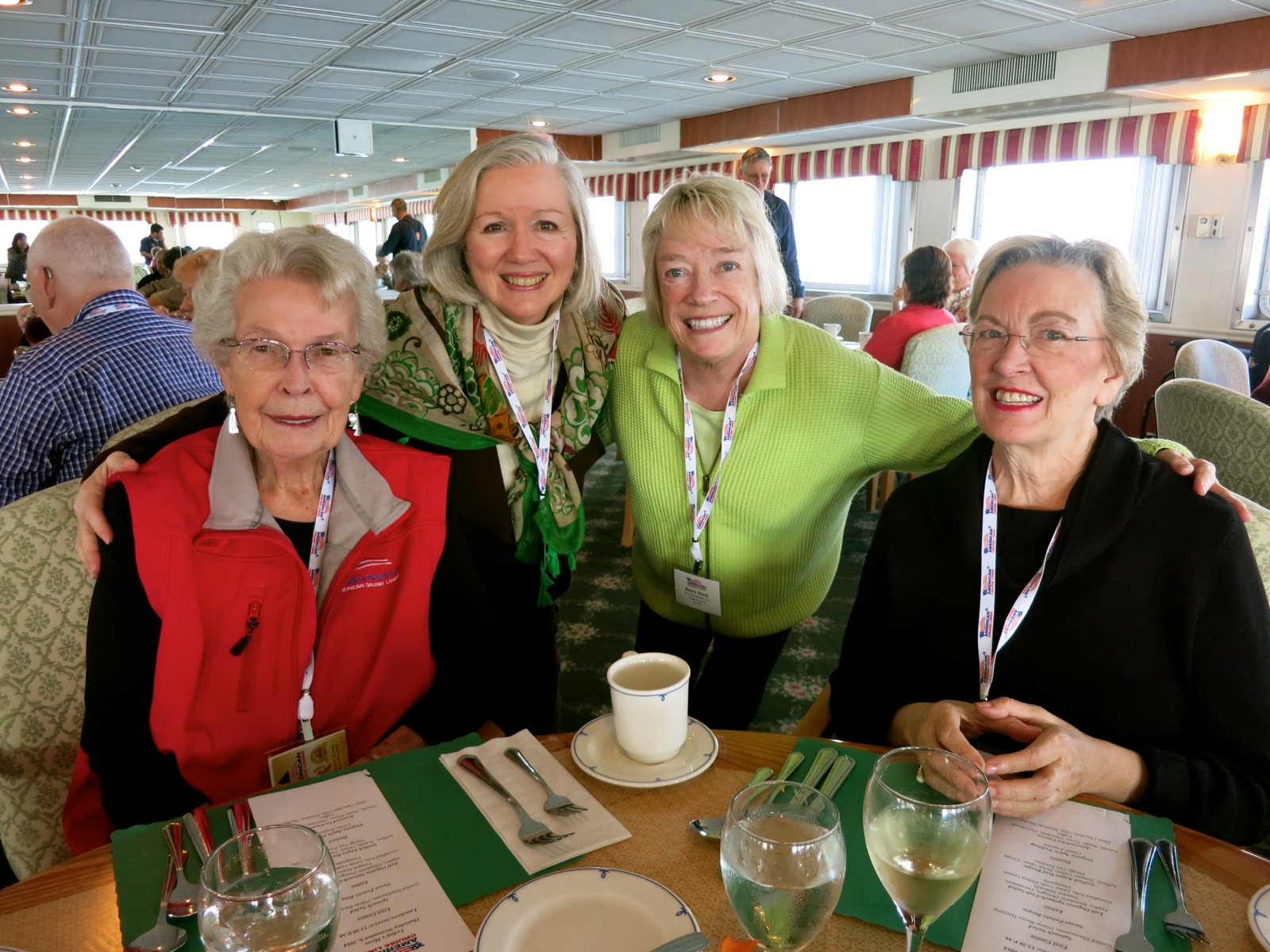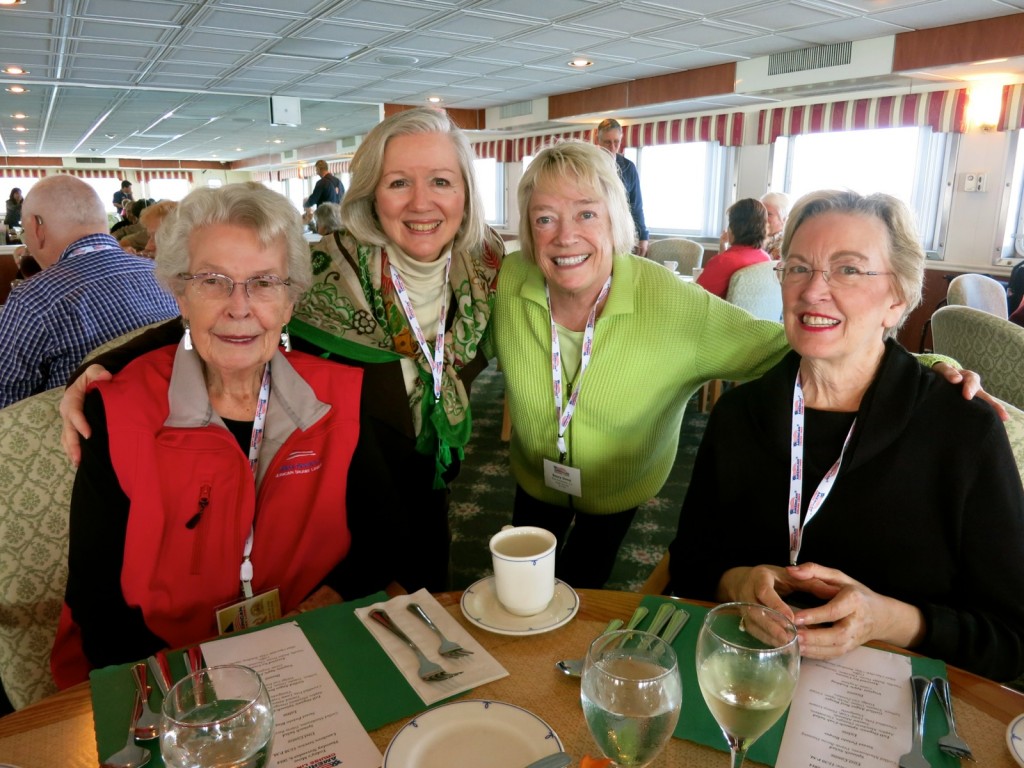 "American Cruise Lines attracts kindred spirits – intelligent, curious, friendly," stated California lawyer, Nancy Duval. Duval was one of four widowed women who met on an ACL cruise three years ago. They've been traveling together every year since.
She met retired 5th grade teacher, Laurel Hansen (this time, on her 19th American Cruise Line cruise), retired teacher/librarian Sherry Johnson, and Sally Cobb – all solo at the time. Lone travelers don't seem to stay lone for long.
Many Guests Return Again and Again
By the end of the week, I was seriously considering signing up for another cruise. Perhaps The Mark Twain Tribute Cruise on the Mississippi. There certainly was incentive – a 15% discount if you put down a deposit before leaving the ship. I didn't – only because I've got too many road trips planned. But I was in the minority. As many repeat passengers were settling accounts – paying for shore excursions and tips – they were also booking future cruises.
Bottom Line
Expect a low-key intimate experience, not the bells, whistles, fanfare and free-time choices of larger cruise ships.
Expect to socialize. Though you can get away with sequestering yourself in your room, most ACL passengers are welcoming and primed to meet others. (Think: opposite of Middle School). Large dining room tables invite mixed groups. And the daily cocktail hour is friendly and boisterous.
American Cruise Line features an assortment of itineraries on waterways all over the USA. "Theme" Cruises, like the Mark Twain Tribute Cruise on the Mississippi, New England Lobster Fest Cruise, Columbia River Wine Cruise and Hudson River Fall Foliage Cruise tend to book up at least a year in advance.
Cruise rates for 6 or 7 nights average $3,700-$4,500 per person. Includes all meals with wine at dinner, daily one hour open bar, twice-daily stateroom service, nightly lectures and entertainment, unlimited snacks and soft drinks throughout the day. Shore excursions are extra. Although for "Eagle Society" Members (those who have been on three ACL cruises or more), shore excursions are free.
Author, Malerie Yolen-Cohen, was hosted by American Cruise Lines. However all opinions and views are entirely her own.