Last Updated on December 9, 2022 by Editor
Iceland is such a magical island nation that for many visitors, once is not enough. Couples return again and again to see and experience the country's natural wonders. You can visit many of the best attractions on an 8 Day Iceland Itinerary, and save a ton by doing it in November.
Day One – Reykjanes Peninsula
There's a reason that The Blue Lagoon is often the first tourist stop in Iceland. It opens at 8 am – so early visitors get to see a beautiful Iceland sunrise. Just 20 minutes from the International Airport, the hot, milky blue water is oh so restorative, and just the ticket for aching, tired muscles.
On one side of the lagoon, there's a kiosk where staff scoops facial mud mask gloop into waiting hands. (You apply it yourself, and just use the hot water to wash it off). On the other side, there's a swim-up bar.
The basic package (around $65) provides entrance to the Lagoon, use of a towel, one mud mask, and one drink at the bar. I opted for the "Premium" Package (around $80), which also includes two more mud masks, the use of a bathrobe, and slippers to keep.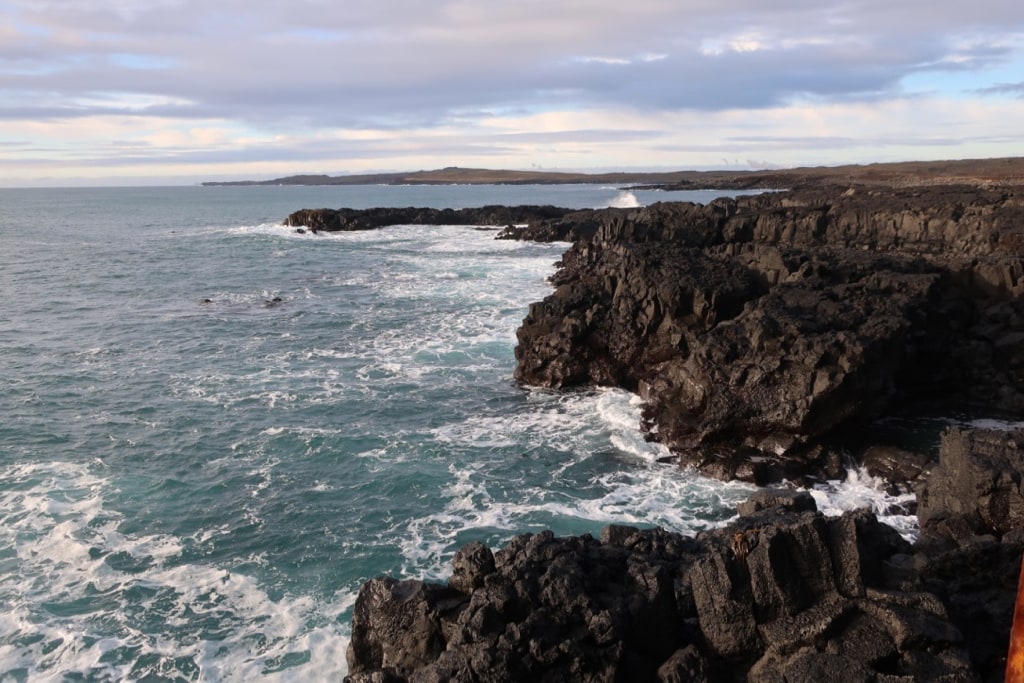 COAST LINE: Brimketill Lava Rock Pool
Drive 15 minutes from The Blue Lagoon to a roadside observation point. The dramatic North Atlantic Ocean smashes up against lava cliffs here – a great view.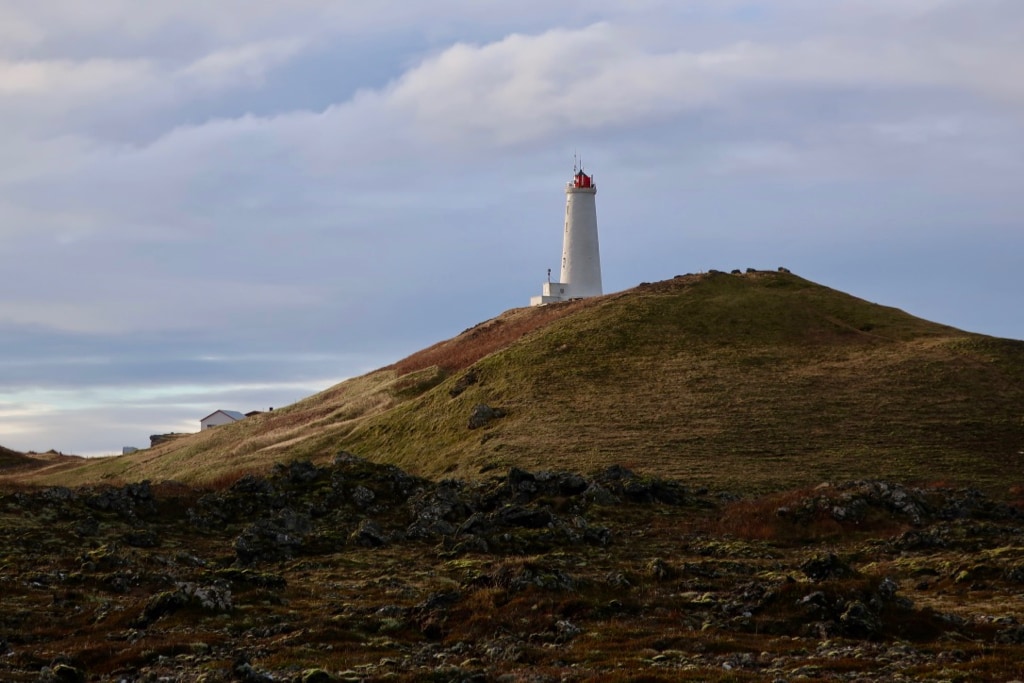 LIGHTHOUSE/ROCK FORMATIONS: Valahnúkamöl Cliffs and Lighthouse
(10 minutes from Brimketill)
This area overlooking the sea is stunning in the early morning sun. The lighthouse glows, and the "Sea Stack" rock formation stands steady against the waves.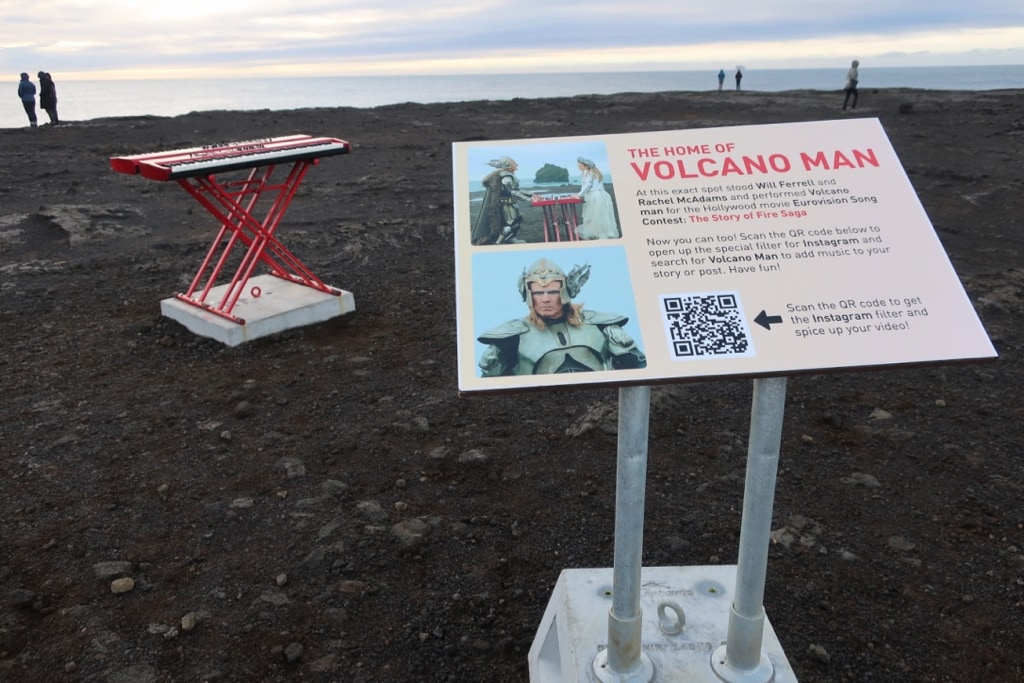 Will Ferrell fans might recognize this as the setting for the "Volcano Man" song in the movie, Eurovision Song Contest: The Story of Fire Saga.
DO: The First Night in Reykjavik
(One hour from Valahnúkamöl Cliffs)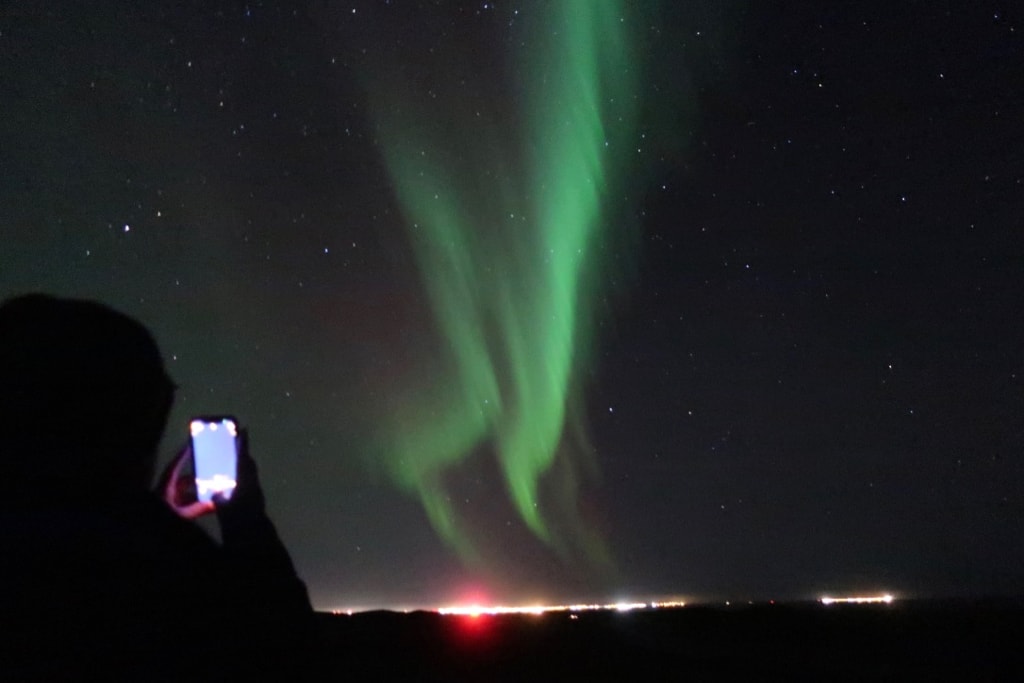 TOUR: Northern Lights and Hot Chocolate
Let's face it. You're here to see the Northern Lights. So, it behooves you to start looking Night #1, because you may or may not see them. Or, if you do – you may not get another chance.
Several companies run these tours – which typically begin at 9pm this time of year. You'll drive 30-45 minutes outside of the Reykjavik city limits to a place best known to the guide for optimal viewing. This is the one main advantage over trying to do this yourself.
STAY: Canopy By Hilton, Reykjavik
You'll want to stay in the City Center, as close to the hot shopping/restaurant streets as possible.
I chose the Canopy Hotel by Hilton – a "lifestyle" upscale hotel right off of the pedestrian-only Laugavegur St. (that turns into Bankastaeti at the intersection of Skolavordustigur – the "Rainbow" painted avenue that rises up to Reykjavik's best-known church).
For more choices at City Center, check our list of best hotels in Reykjavik as well as our favorite restaurants.
Day Two: Golden Circle

SUNRISE: Þingvellir National Park, Selfoss
(50 minutes from Reykjavik)
Time your arrival to get to the National Park by sunrise – around 9:15am. Þingvellir NP marks a rift in the valley caused by the separation of two tectonic plates. Iceland promotes this area as the place where visitors can "walk between two continents."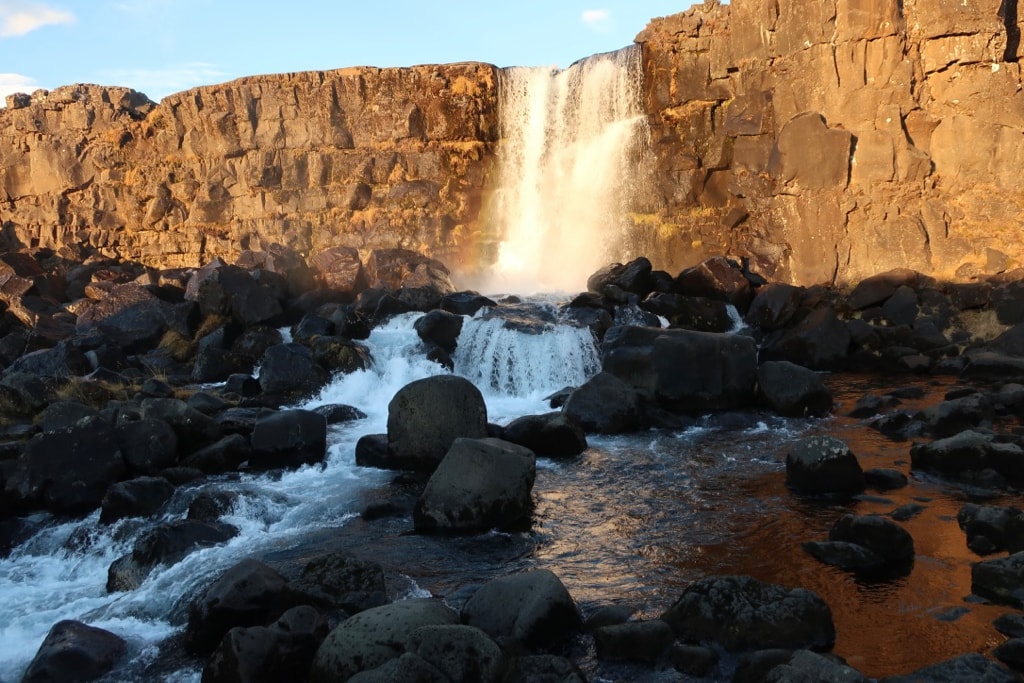 WATERFALL: Oxararfoss at Þingvellir National Park
"Foss" means "waterfall" in Icelandic, just FYI. And, this one, Oxararfoss, is one of the most popular features in the National Park. By morning, there will probably be several tourist buses there already.
There's a short hike, mostly on boardwalk, to the "main event." The waterfall cascades over a basalt ledge and into a pool of rounded rocks. From there, the stream extends out into the rift.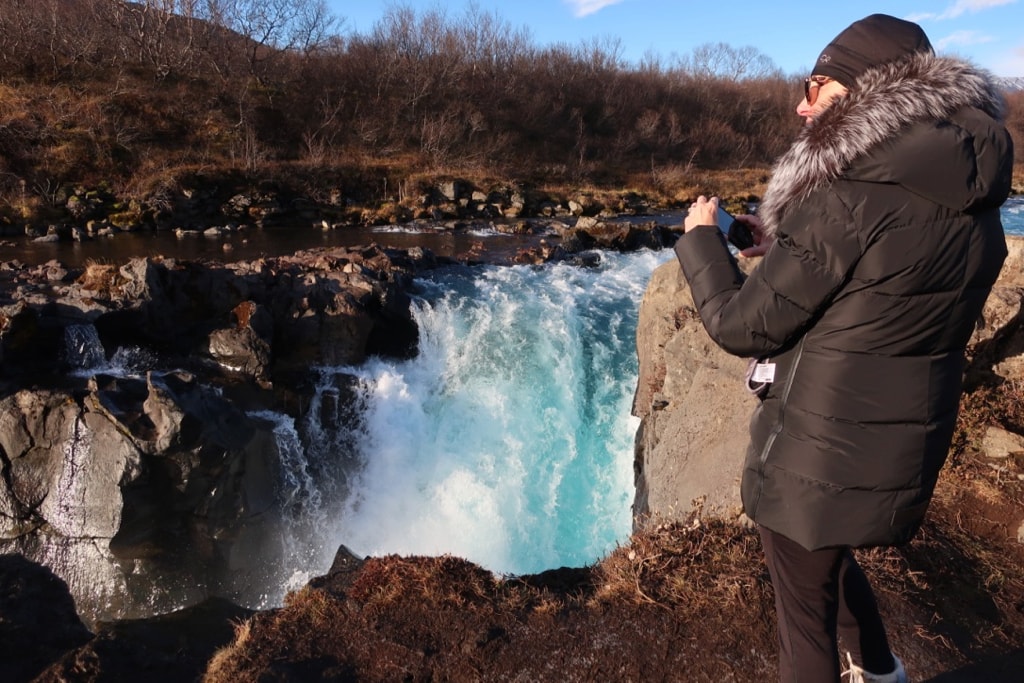 WATERFALL/HIKE: Bruarfoss
(45 minutes from Oxararfoss)
No tourist buses here!
Plan on about 1 ½ to two hours on this four-mile, out and back, flat trail to a fantastic payoff. Park in an unassuming area by a small bridge (you'll see other cars), and basically follow the river.
You'll hear the water drop-off before you see it. Once you get there – to where the water falls full volume between a wedge in the rocks – you'll want to stay for awhile. It's such a dynamic spot, and tough to capture in still photos.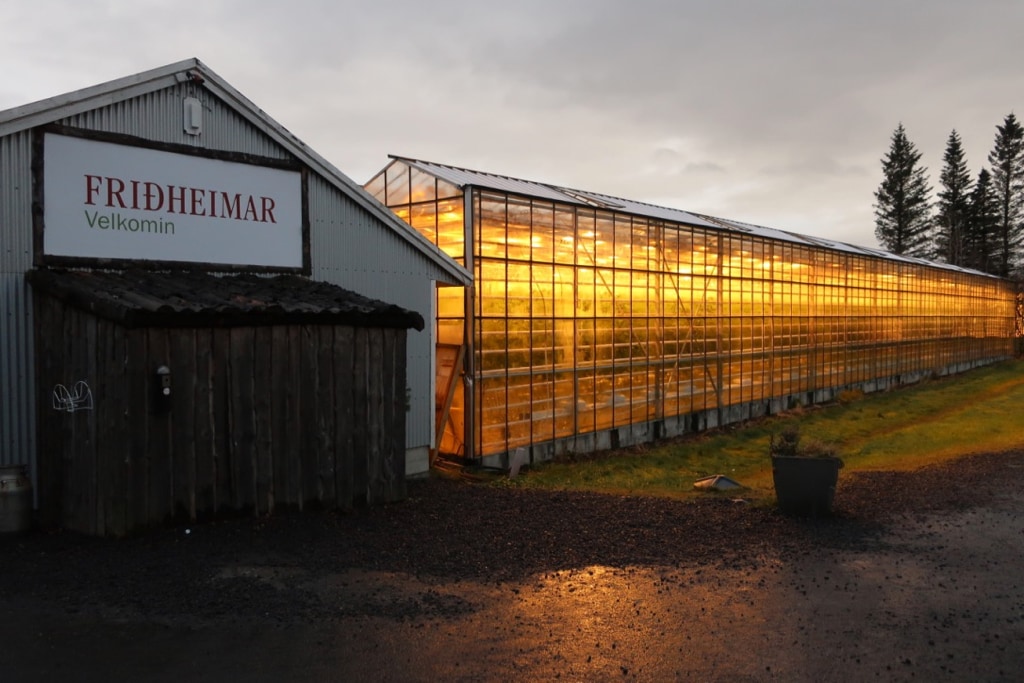 (15 minutes from Bruarfoss)
Fridheimar grows about 80% of Iceland's tomatoes – and other produce as well – on their hydroponic farm near Geysir. Do yourself a favor and rsvp for lunch (it's only open from Noon to 4pm) inside one of their greenhouses.
It's a real restaurant, with a bar specializing in "Tomato Beer" and cocktails made from the plump fruit-veggie right off the vine. Opt for the all-you-can slurp Tomato Soup with unlimited slices of just-baked bread. Or, have one of the freshest salad's ever.
(About 2 minutes from Fridheimer)
Polish immigrants, with a penchant for chocolate-making, set up shop on what's become a stop in and of itself on the Golden Circle. You can order pizza, burgers, and other food. But you'll probably succumb to a large cup of intense hot chocolate after a tasting a small sample.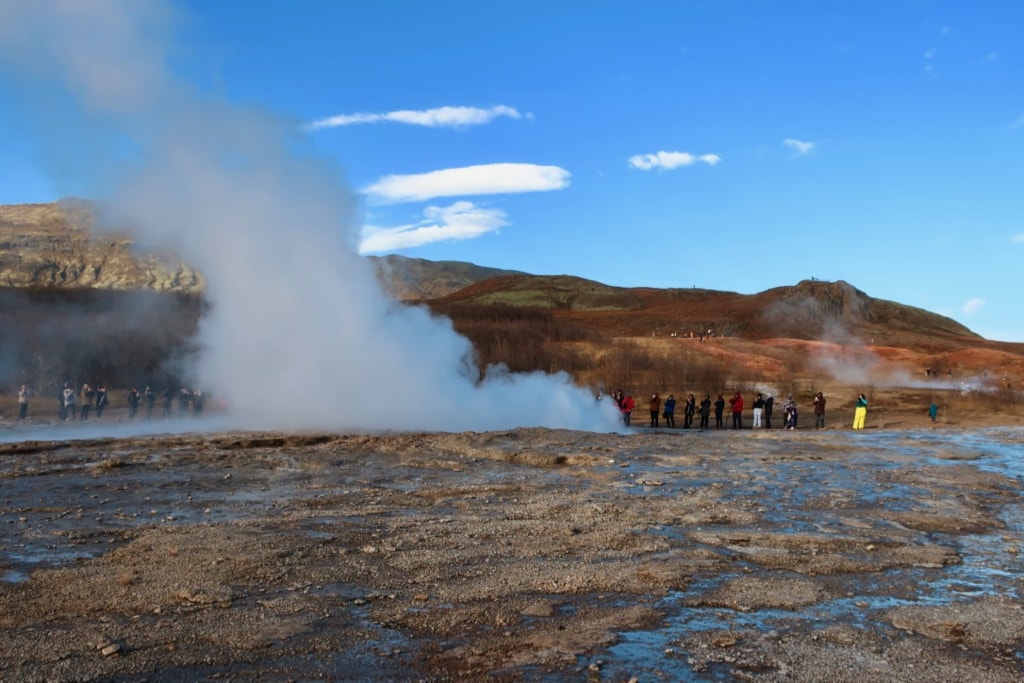 HOT MOTHER (NATURE): Geyser Geothermal Hot Springs
(15 minutes from Restaurant Mika)
For those acquainted with Old Faithful in the USA, the most famous geyser here, Strokkur, may be as faithful, but not as dramatic. You'll be lucky to get much more than a blow of steam and perhaps a bubble. But, that's OK. There's one that purports to rise less often (every 6 to 24 hours), and others along a slopeside path.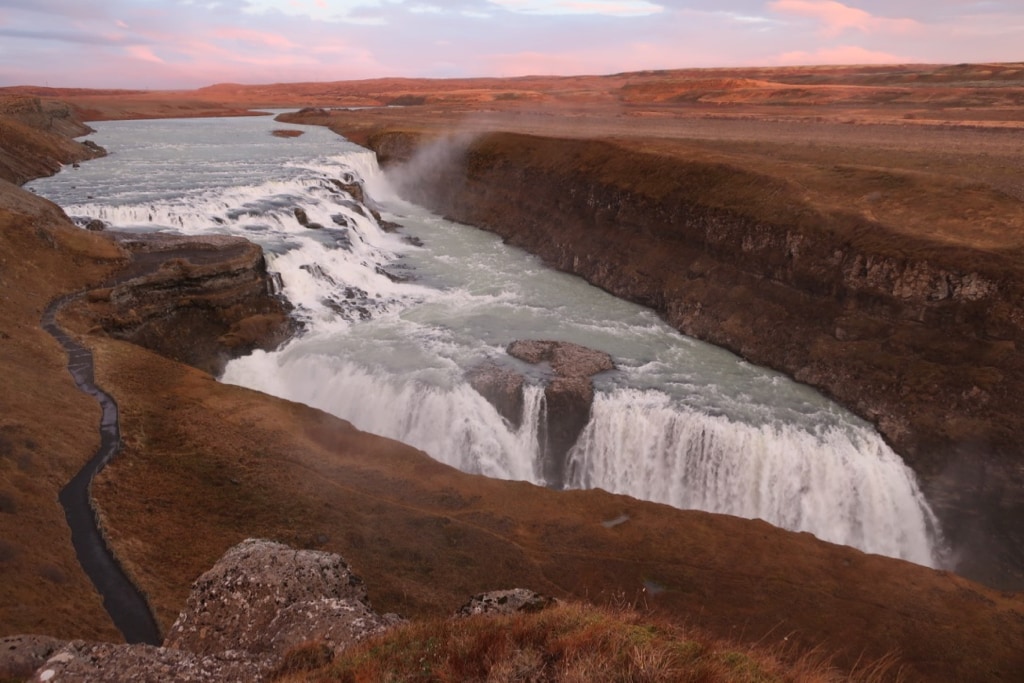 SUNSET: Gullfoss Waterfall
(10 Minutes from the Geyser)
Before you get to the platform overlooking the Gullfoss Waterfall, it seems as if the entire river is plunging and vanishing into the center of the earth. No big surprise that Gullfoss is one of Iceland's premier attractions.
Depending on your stamina, you can view this spectacle of nature from different vantage points. Or, if you're worn out from the day, just stroll a few paces to the top of the stairs and soak in the view. The gift shop (yes, there is one), stays open till after the sun goes down.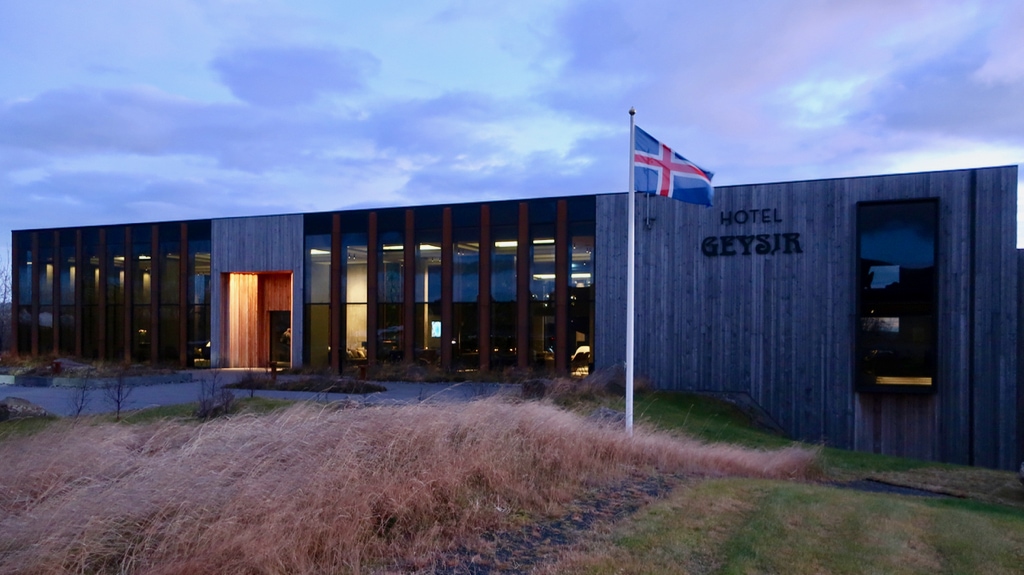 STAY: Hotel Geysir
(10 minutes from Gullfoss)
The Hotel Geysir, directly across from the Geyser Hot Springs, is an upscale, welcoming place. It's where you'll want to stay after a full day, because, I'm sure you'd much rather be enjoying a two for one Happy Hour glass of wine in the bar, and an excellent meal rather than trying to get back to Reykjavic in complete darkness.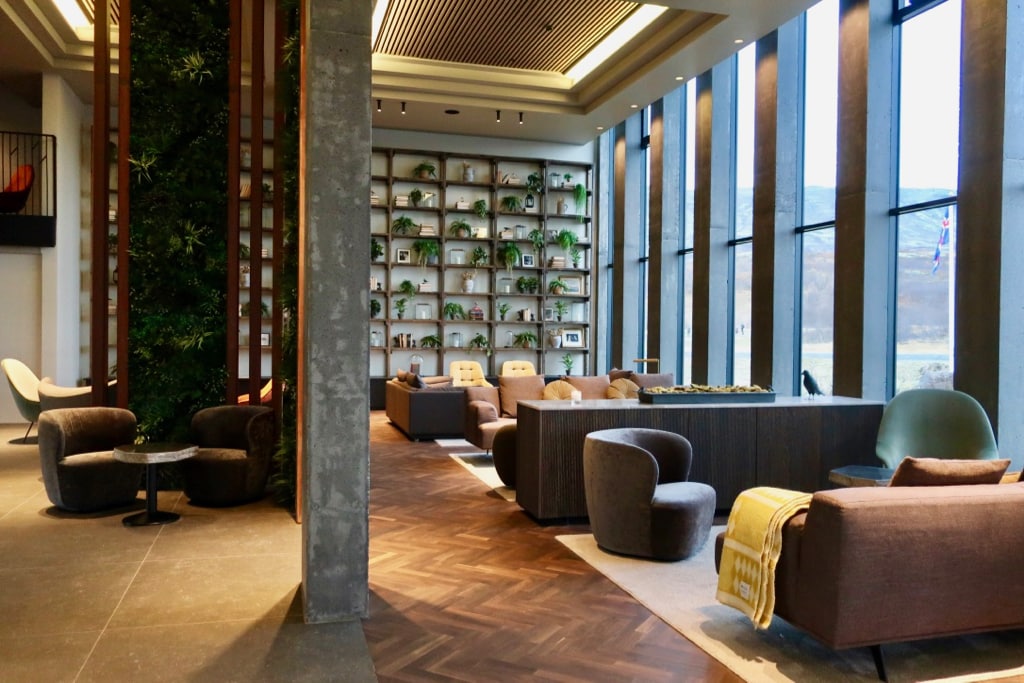 Rooms are small, but cozy and as plush as you're going to find in Iceland. And, about the Northern Lights? The front desk will call your room if and when they can be spotted – even if it's in the wee hours of the night.
A bountiful European Breakfast spread (read: lots of cold-cuts and cheese) is included with the room.
Day Three: Southwest Coast, Vik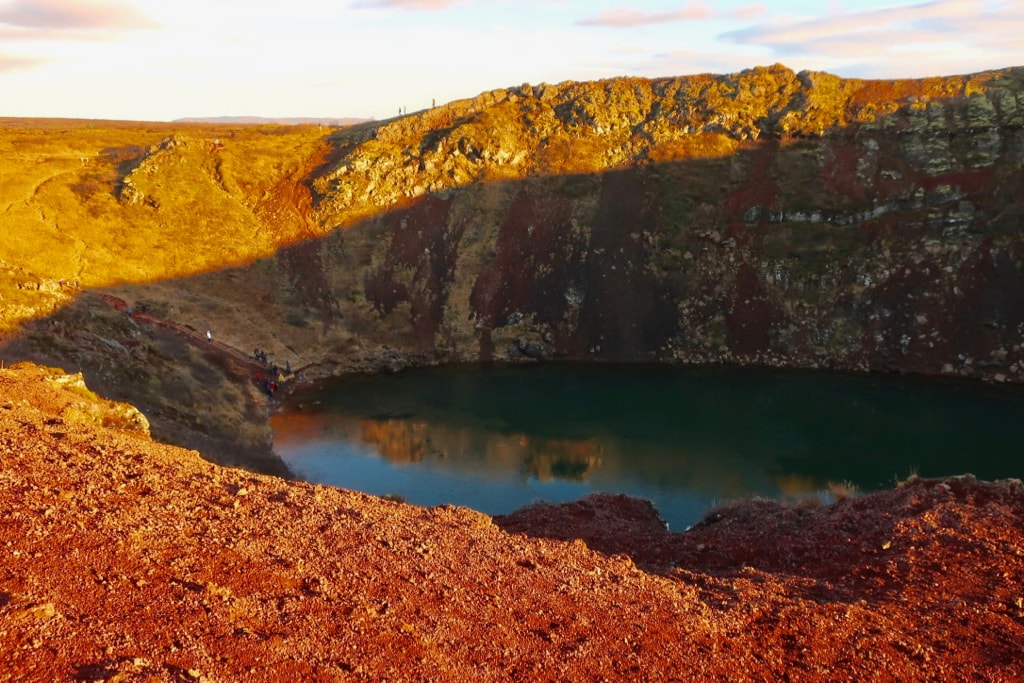 NATURAL FEATURE: Kerið Crater
(40 Minutes from Hotel Geysir)
Ostensibly, the Crater is one of the stops on the Golden Circle. I'd call it a Stop and Snap pause on your way to the more dynamic waterfalls. However, you are certainly welcome to hike the rim or descend down to the waterline.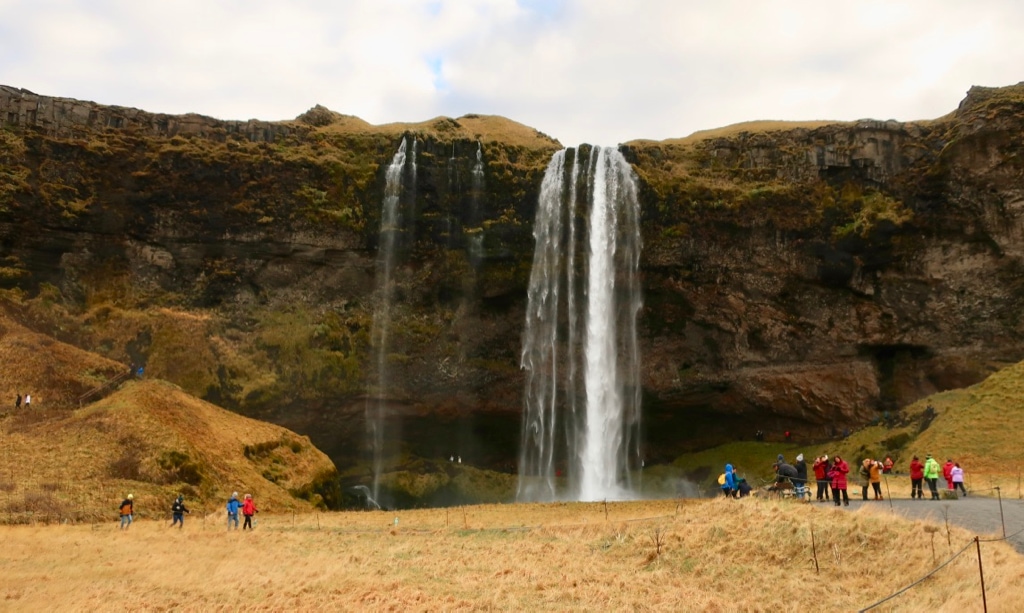 WATERFALL: Seljalandsfoss
(70 Minutes from Kerid Crater)
Don your wet pants, waterproof down coat, and insulated hiking boots for this stop. I assure you, you will get wet if you do Seljalandsfoss right.
This waterfall is a tourist favorite: not for its height or volume of water, but for the fact that you can really get behind it. As in – see the cascade from all sides.
Just be aware that in November, what is a normally wet, rocky, and muddy route to the back of the waterfall might be even more slippery with ice. Just FYI, you'll have to scramble up and around boulders and loose stones to the rear of the falls. For those with sure footing – it's definitely worth it.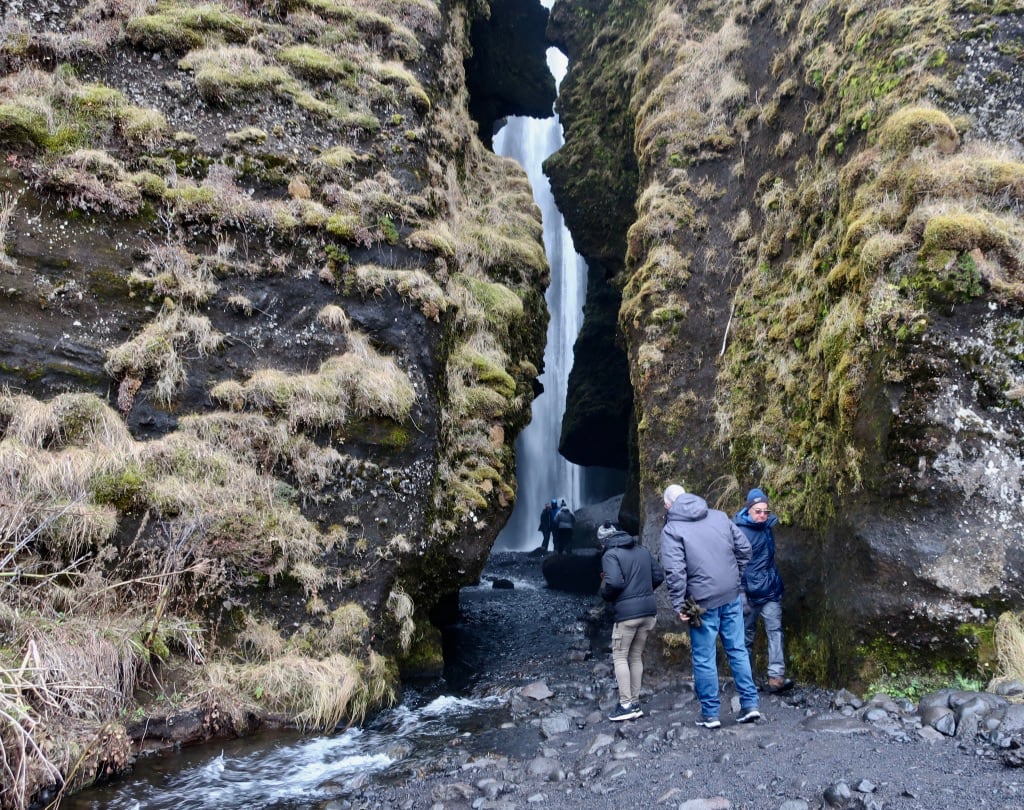 WATERFALL: Gljufrabui
(3-minute drive or 10 minute walk from Seljalandsfoss)
Park at the campgrounds, or walk on a clear path from the more crowded Seljalandsfoss, to this lesser-known waterfall that tumbles down into a cave.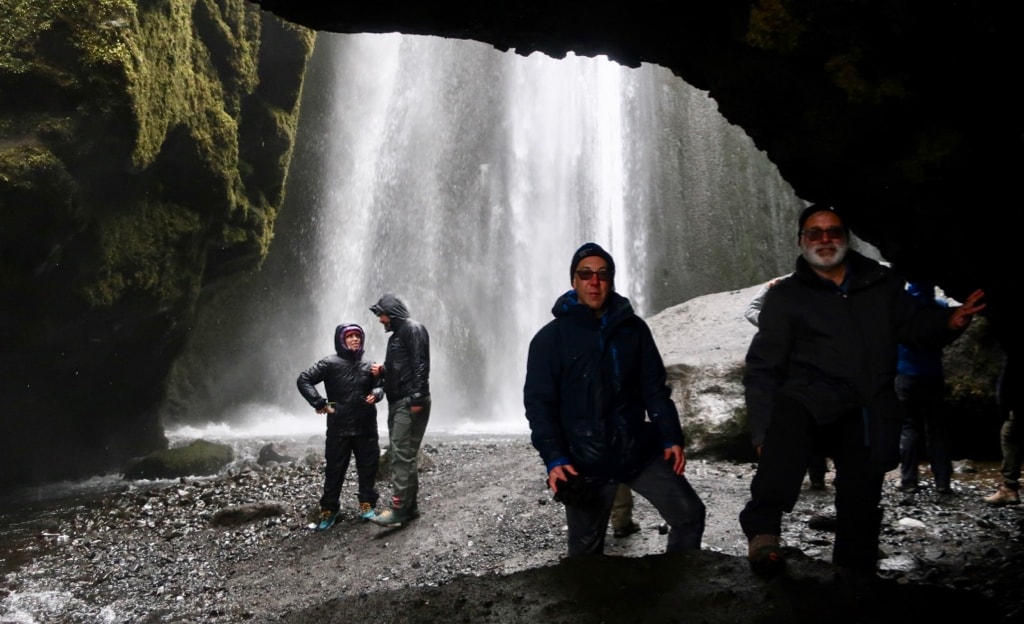 Not only can you peek inside the crevice that leads to falling water, but you can enter and feel the spray on your face. Many people miss this place – so there's joy in discovering something that at first glance, seems a bit secretive.
WATERFALL: Skogafoss
(25 Minutes from Gljufrabui)
Another popular coach bus stop, this voluminous waterfall will soak you, even from a distance. If you have the time, climb to the top for another view. Otherwise, move along. You've got some horseback riding to do around sunset in Vik.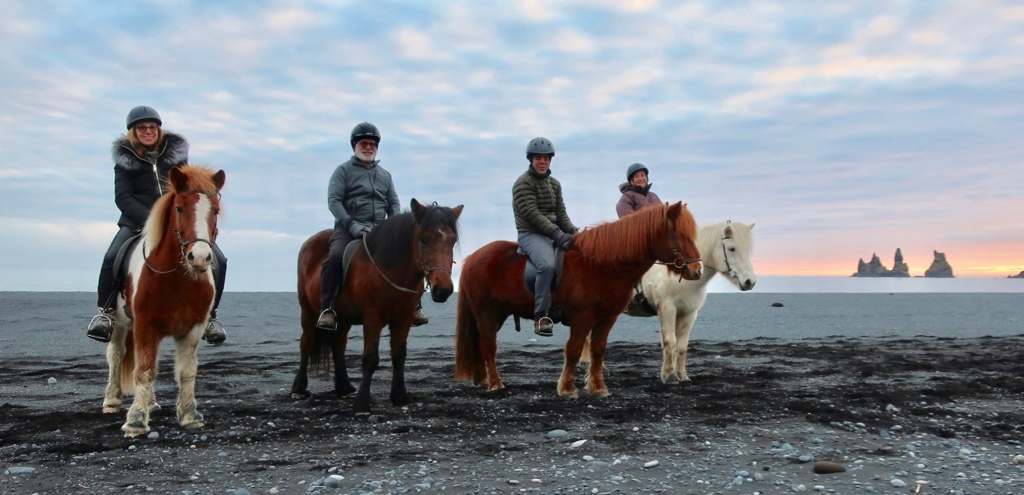 ICELANDIC HORSE RIDING: Vik Horse Adventure Near-Sunset Ride
(30 minutes from Skogafoss)
At 4pm in November, the skies over Iceland start to dim. This is the optimal time to ride a tame Icelandic Horse on a black beach, with cool rock formations just offshore.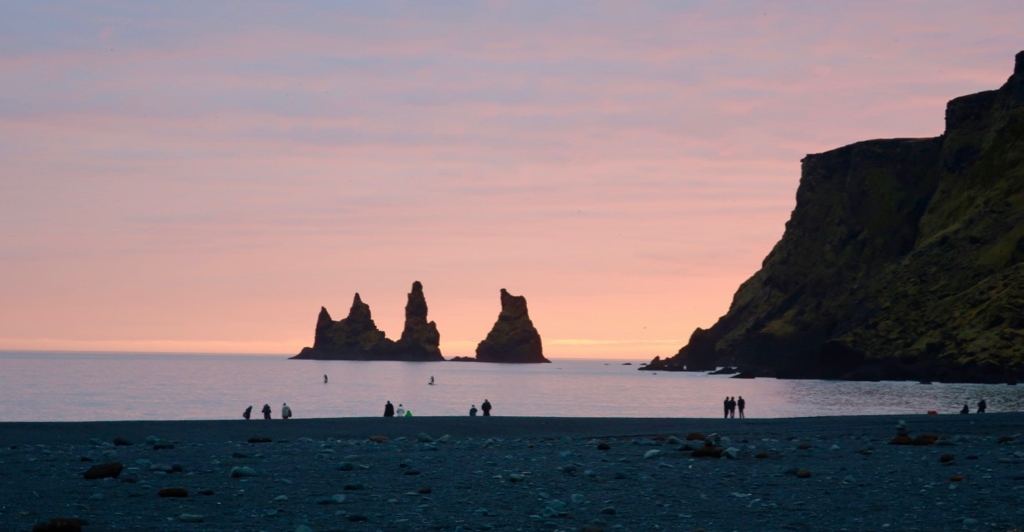 The folks at Vik Horse Adventure are friendly, careful, and professional. Even if you never ridden a horse before, they'll make you feel comfortable on this one hour beach ride that takes you over streams and on black sand, with time for photos. Around $85 per person.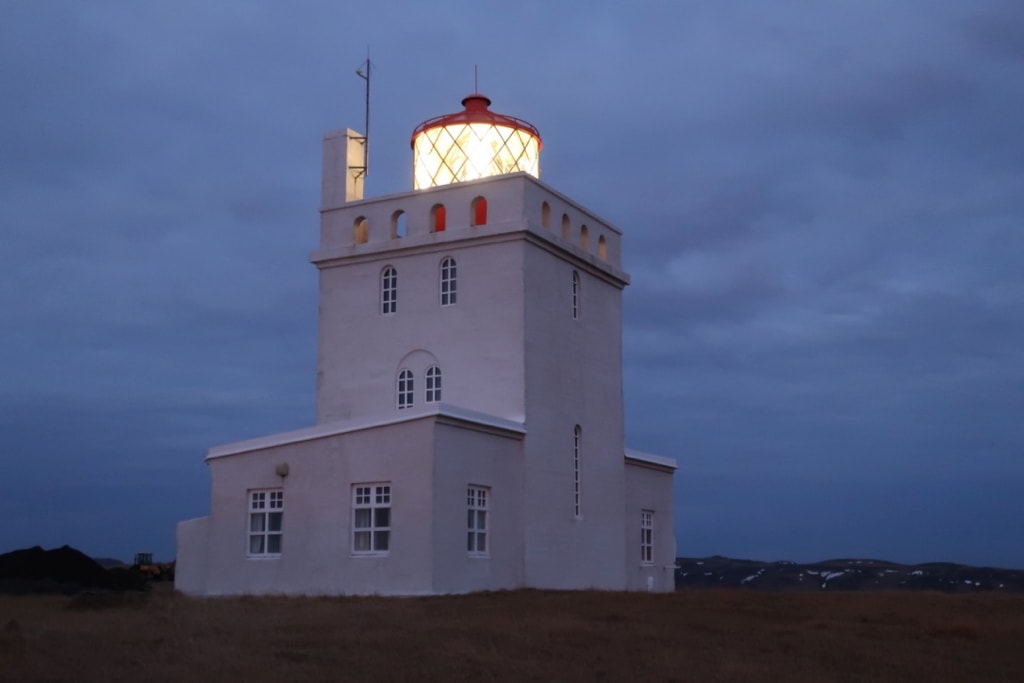 SUNSET: Dyrhólaey Viewpoint and Lighthouse
(20 minutes from Vik Horse Adventure
It's quite a drive on mountain roads and switchbacks, but if you can make it to the Lighthouse before it gets too dark, you're rewarded with multicolored sunset scenes that play off the rock formations, the North Atlantic, and black beaches below.
You'll be far from alone. This is a known observation point.
STAY: Hotel Kria, Vik
No need to leave town after sunset. While the rooms at Hotel Kria are pretty basic (several levels up from a hostel), its in-house Drangar Restaurant is fine dining at its best. Plus, again, staff will alert you at all hours if/when the Northern Lights appear. There's no light pollution in this town of 800 folks. FYI- the crunchy-chewy Sourdough bread is addictive.
Day 4: Ice Caves and Glaciers – Vik to Glacier Lagoon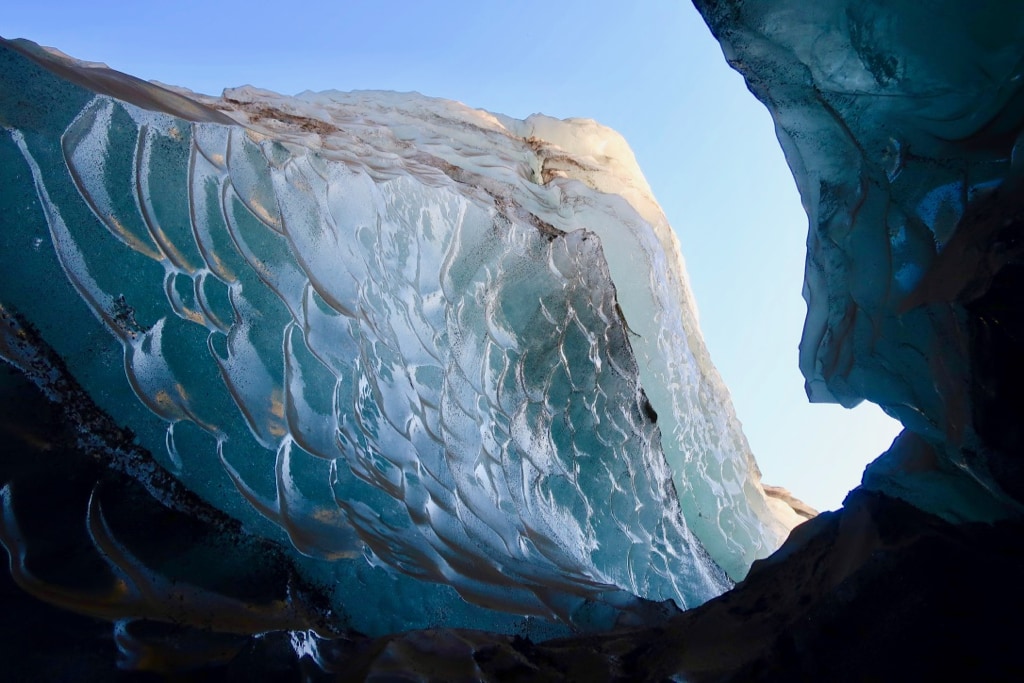 Pick up point in Vik
Take a big-ass cruising truck onto the moonlike volcanic black sands of the Kötlujökull Glacier. (You really can't do this on your own, so spend the bucks: about $150 for a 4 hour guided tour).
As the sun rises, the rays hit the ice, emitting shades of glowing blue. It's quite thrilling. Guides know these glaciers intimately, and what is a full-on ice-cave one day might be just a broken arch or puddle of water the next.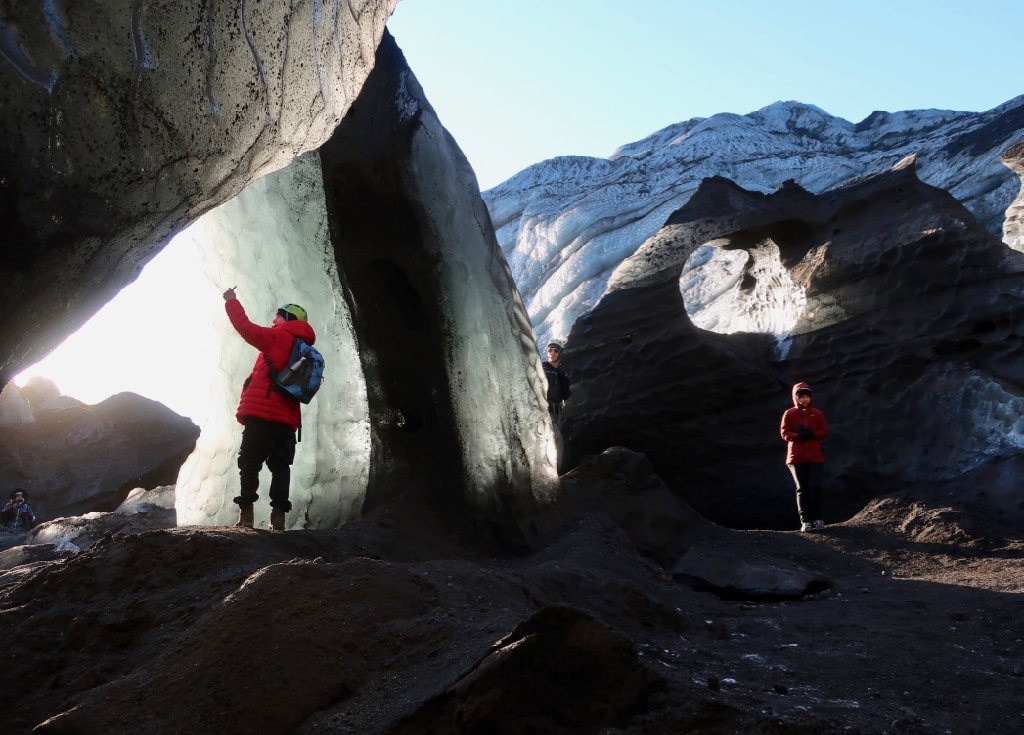 Expect to do some hiking. As the glaciers recede, the remaining ice gets farther away from the parking areas.
BEACH: Reynisfjara – Black Sand Beach, Vik
(12 minutes from Troll Expedition Drop Off)
Before heading East on Route 1, take a short back-track detour to the other black sand beach in Vik – this one known for its angular basalt columns that resemble a giant array of jutting crystals. It's definitely a photo op like no other.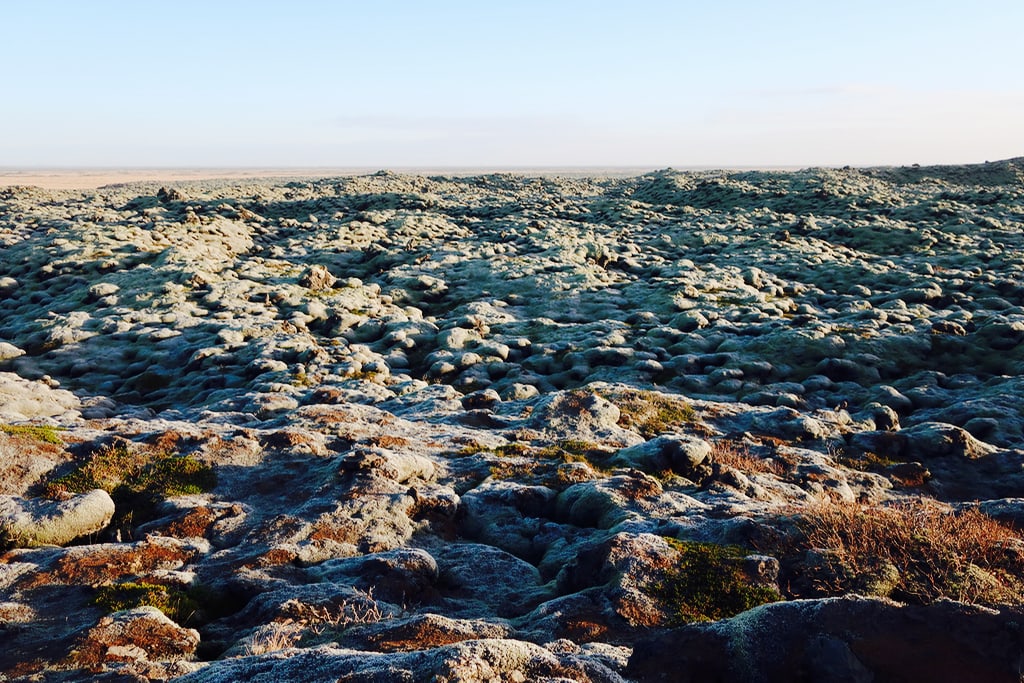 NATURAL FEATURE: Eldhraun Lava Field, Route 1
(50 minutes from Reynisfjara Beach)
Just a quick roadside stop to observe the moss-covered lava fields you've been seeing for miles. Just look. Don't touch. They are, as the quasi-Zuck in the Iceland tourism video states, "very delicate."
CANYON: Fjaðrárgljúfur Canyon
(10 Minutes from Lava Field)
You'll find this attraction off a dirt road (there are signs), and it can be confusing to get there. But you'll know the Canyon when you see it – with cars and some small buses aplenty. It's gorgeous, and worth a view from the road bridge – and again from the first hillside observation viewpoint.
You can keep climbing – or get back on the road to get to the spectacular Diamond Beach by sunset – a 1 ¾ hour drive. Views out the car window are spectacular.
SUNSET: Diamond Beach and Jokursalon Glacier Lagoon
The "diamonds" are crystal clear pieces of glacier that are sloughed off into the ocean and get washed up on this fine black sand beach. At sunset, the ice seems to glow from within. Like diamonds.
STAY/DINE: Fosshotel Glacier Lagoon
This upscale hotel not only offers pretty rooms, amazing food, and Northern Lights wake up calls, it also has a spa. At the end of the day, drive the 20 minutes from the Glacier Lagoon (no, the hotel does not overlook it), and book space in a 6-8 person outdoor hot tub. You'll make friends and relax at the same time.
Day 5: Hike and Ice Cave Tour on Jokulsarlon Glacier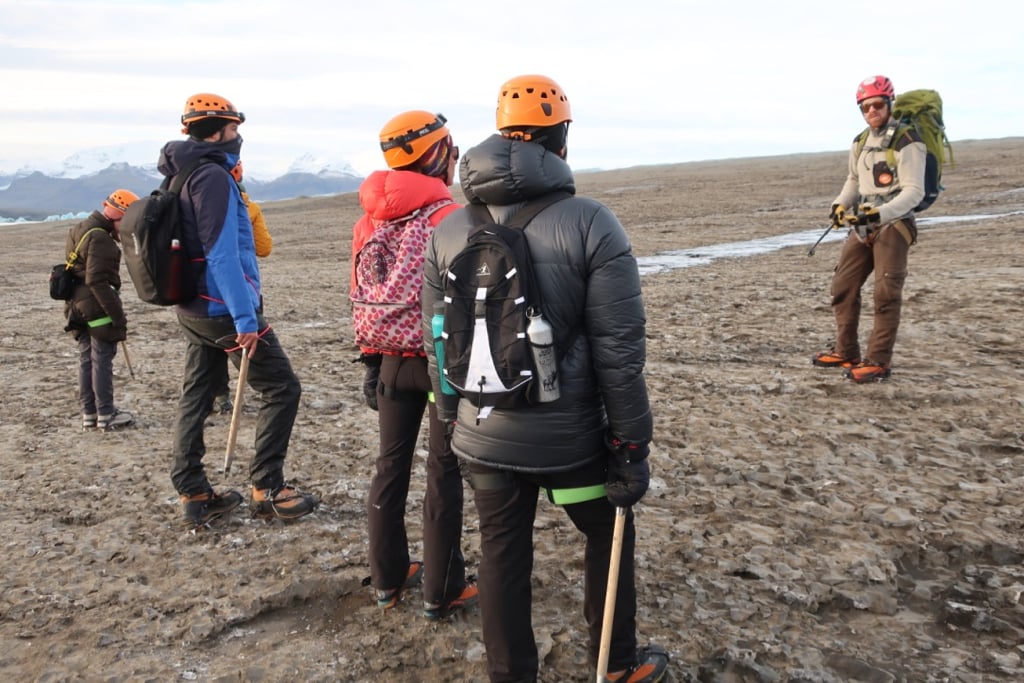 This tour takes some 'splaining. Yours truly, a retirement-aged female in average shape, found herself, with her like-aged husband and two friends, on this pretty strenuous 7 hour, 7-mile hike, quite by accident.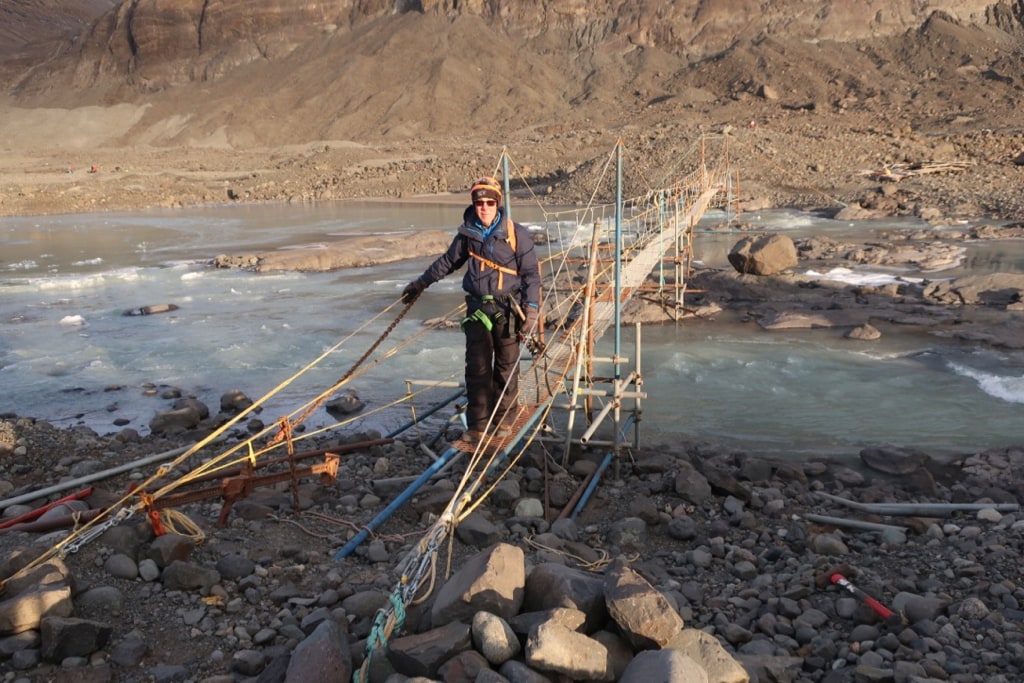 The travel agent hooked us up with the wrong tour, and we didn't realize it until right before the 45-minute drive to the glacier, when our terrific guide, Oli, handed out crampons, and an ice ax to use if we "got in trouble."
It is a small group tour – and the other 5 people were half our age. And yet – we old fogies persisted. And, I managed to get some ok photos in the process.
We hiked first to the edge of the glacier, where we donned crampons and crunched the ice until our first stop: an off-the-beaten path ice cave. Back on the ice – we climbed up and over an endless hill to get to the edge of the far side of Glacier Lagoon and sat there for lunch. Spectacular.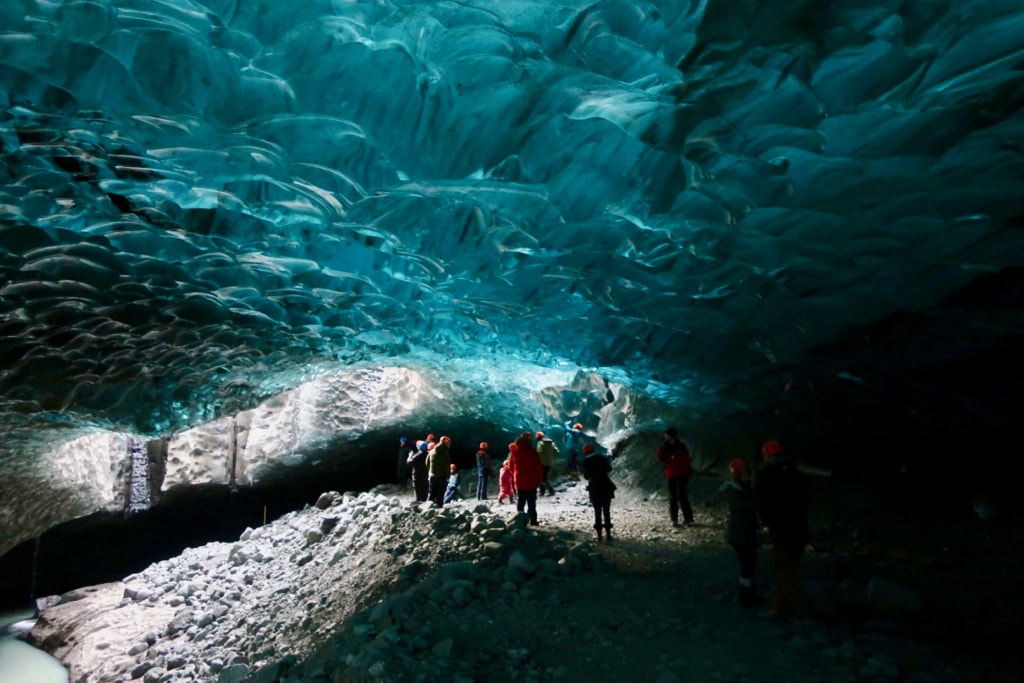 Then, it was back to where most people go for a 2 or 3-hour ice-cave tour: a second tube of ice, which probably won't exist by next month or next year. It's up to the Iceland Glacier guides to find, each year, what becomes a temporary tourist darling. Cue discussions about Climate Change.
For our readers who are looking to test their mettle, this tour is incredible. For those who require something a bit less strenuous, be careful with your bookings. Others are two or 4 hours long. Cost – about $200 per person.
Day 6: Glacier Lagoon to Reykjavik
DRIVE: 4 ½ Hours to Reykjavik on Route 1
It's 4 ½ hours back to the city from the Fosshotel (where you'll want to stay after a day of exertion).
It's a straight shot on Route 1 – Ring Road, with mesmerizing landscapes and views only Iceland can provide.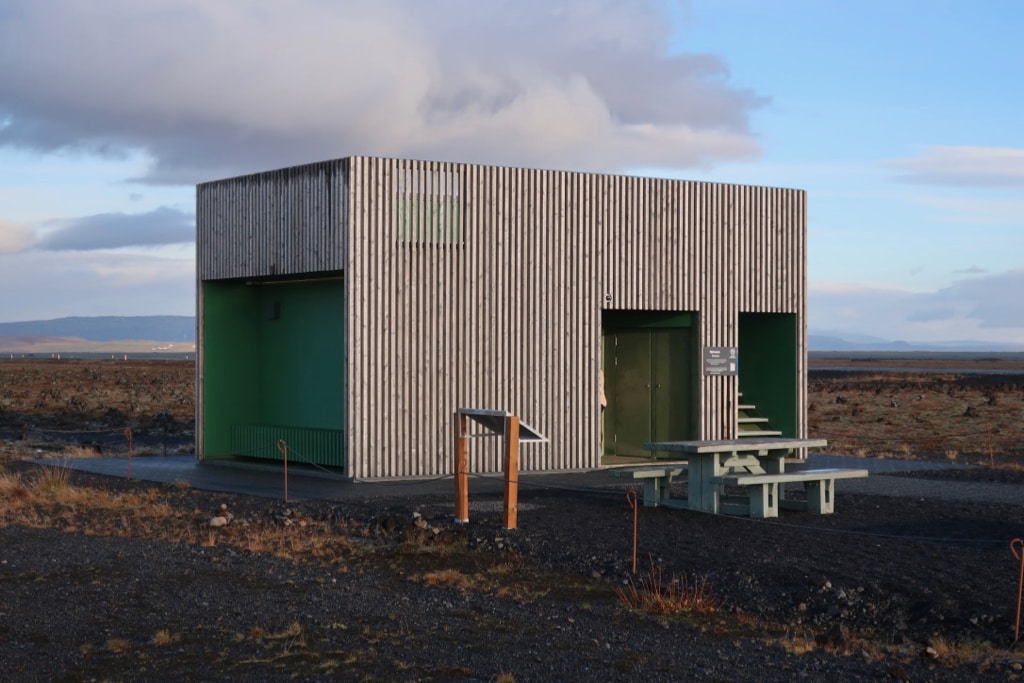 PIT STOP: Cool Bathroom
The WC pictured above, in the midst of a mossy lava field, far from civilization, is clean and techie. To access the bathrooms, you'll need a credit card (cost is about 25 cents).
Day 7 – 8: Reykjavik
DO: Stroll Around
One of the best things to do in Iceland's largest city is just to wander. There are joys to be found at every turn. Traverse Laugavegur and Skolavordustigur streets and pop into shops and restaurants. And don't forget to look for murals – both on the ground and on the sides of buildings.
Skolavordustigur climbs diagonally (from Laugavegur) up to the Hallgrimskirkja Church. The tallest structure in Reykjavik, the Church is a meeting place for locals and tourists alike.
VISIT: Hallgrimskirkja Church
The tallest church in Iceland, Hallgrimskirkja took 40 years to complete. Construction began in 1945, and didn't end until 1986. It's worth it to go inside – you might be privy to a soul-stirring organ concert.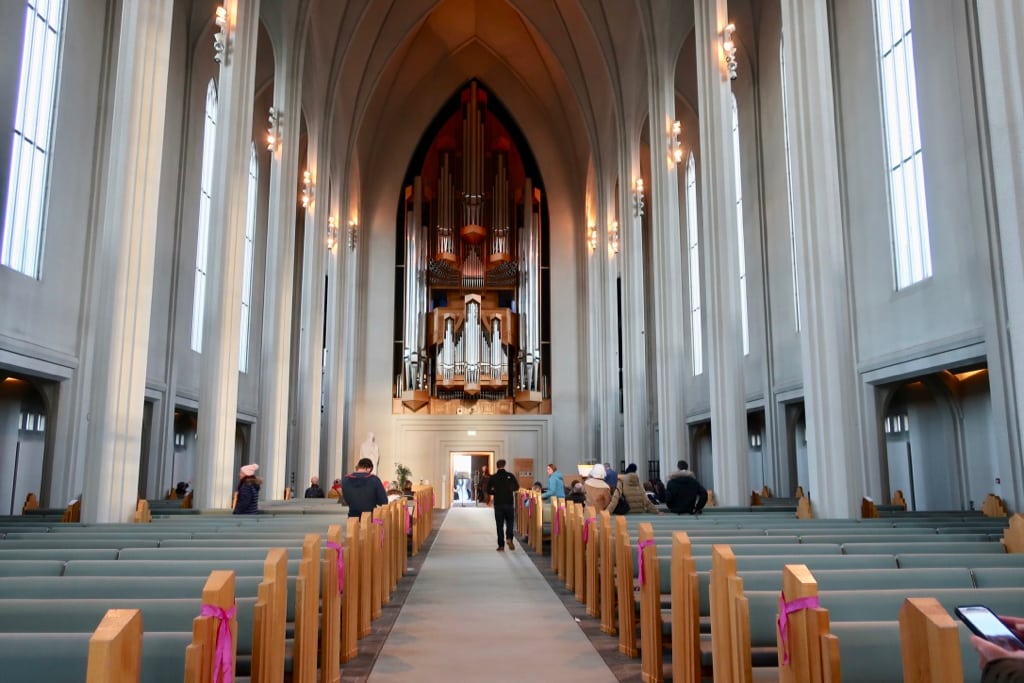 For a small fee, you can also take an elevator up to the Church Tower for a bird's eye view of Reykjavik.
Although they run a shortened free city walking tour, CityWalk also runs a 2.5 hour small group or private tour ($40 pp).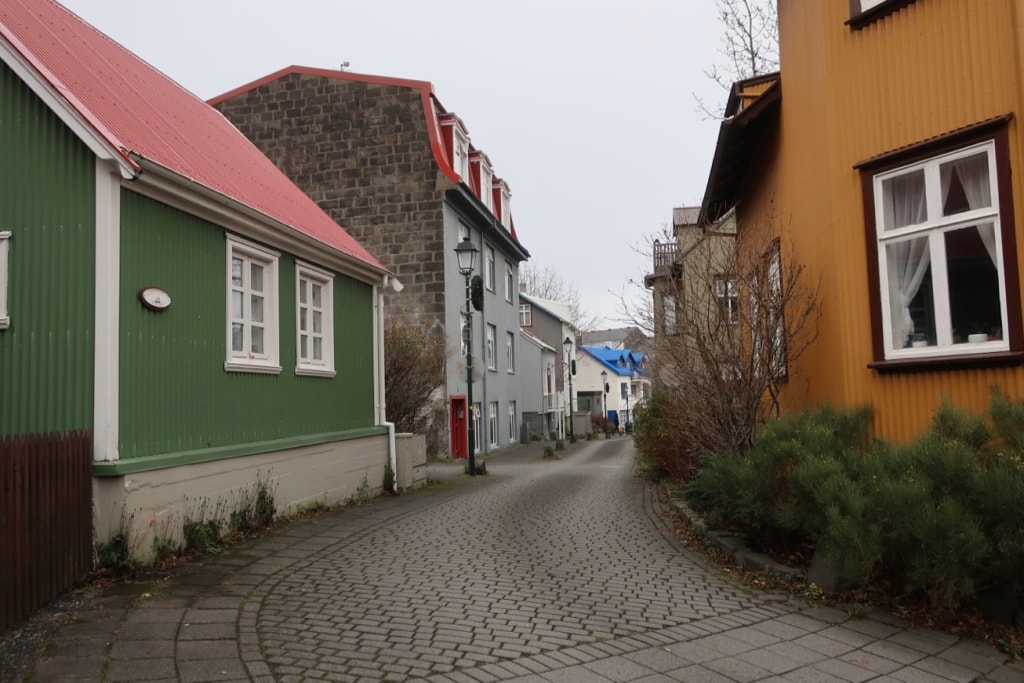 Gain access to closed buildings, cut through cool backyards, and find tucked away neighborhoods.
We were able to get to the top floor of the brilliantly designed Reykjavik Opera House, and learned about Iceland culture and government, and were introduced to the oldest homes in the city.
Thoughtful guides are well versed in Icelandic history, so if you're in the mood for a good overview you'll be pleased.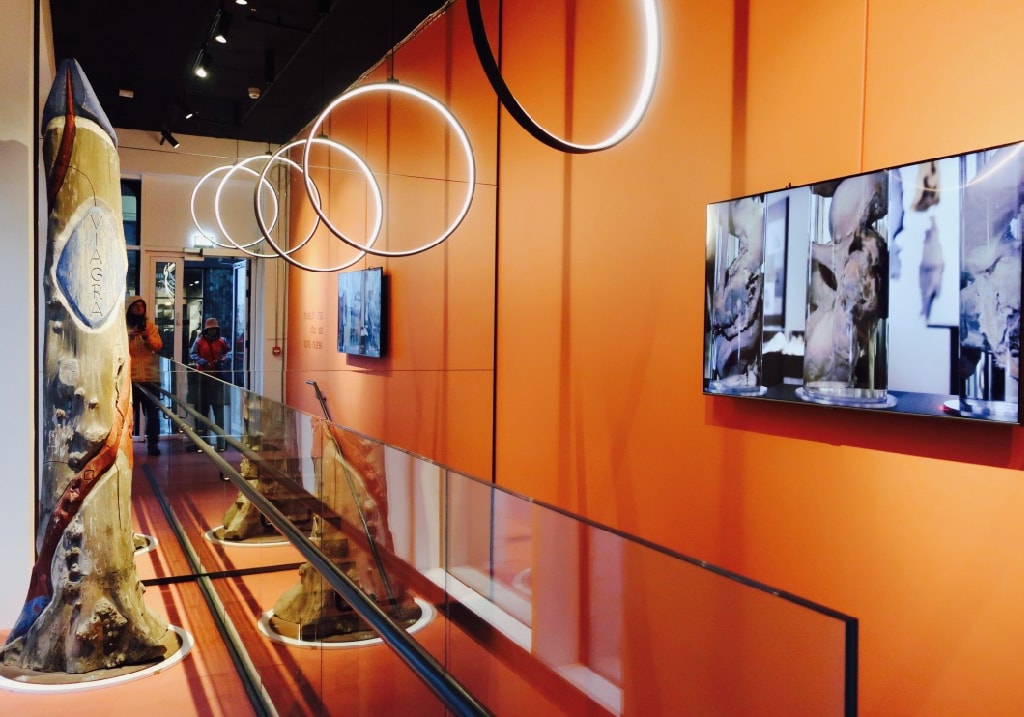 Yes, I "went there." And you know you want to. Here's your chance to visit the only museum in the world devoted to the male sex organ. You can peer at all manner of male genitalia, from birds to mammals (including the largest from the Blue Whale), penis-shaped crafts, and even those proudly donated to this museum (don't ask).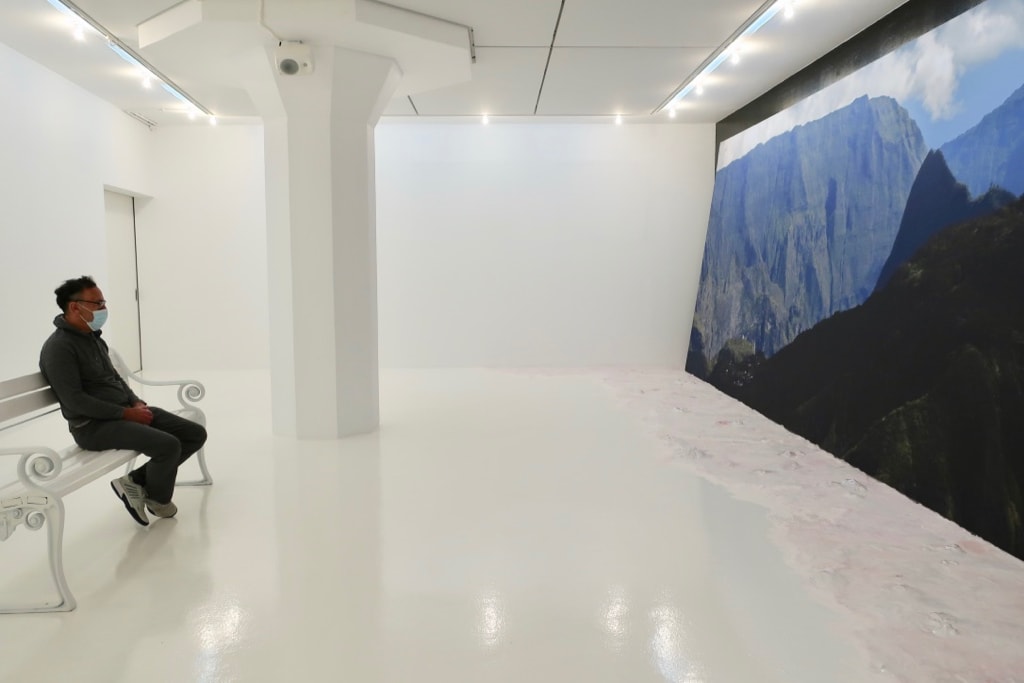 Interactive and engaging, this contemporary art museum near the harbor is perfect for a rainy, nasty day.
Another rainy-day option – the National Museum covers Iceland's history: Vikings to Today.
Bundle up and plan to get to the docks before 9am. Even if you don't encounter whales, at this hour in clear weather, you are at least guaranteed to see a glorious sunrise over the waterfront, mountains, and sea.
If your flight back home is in late afternoon or evening, this tour makes for a perfect last taste of Iceland. (About $90 pp).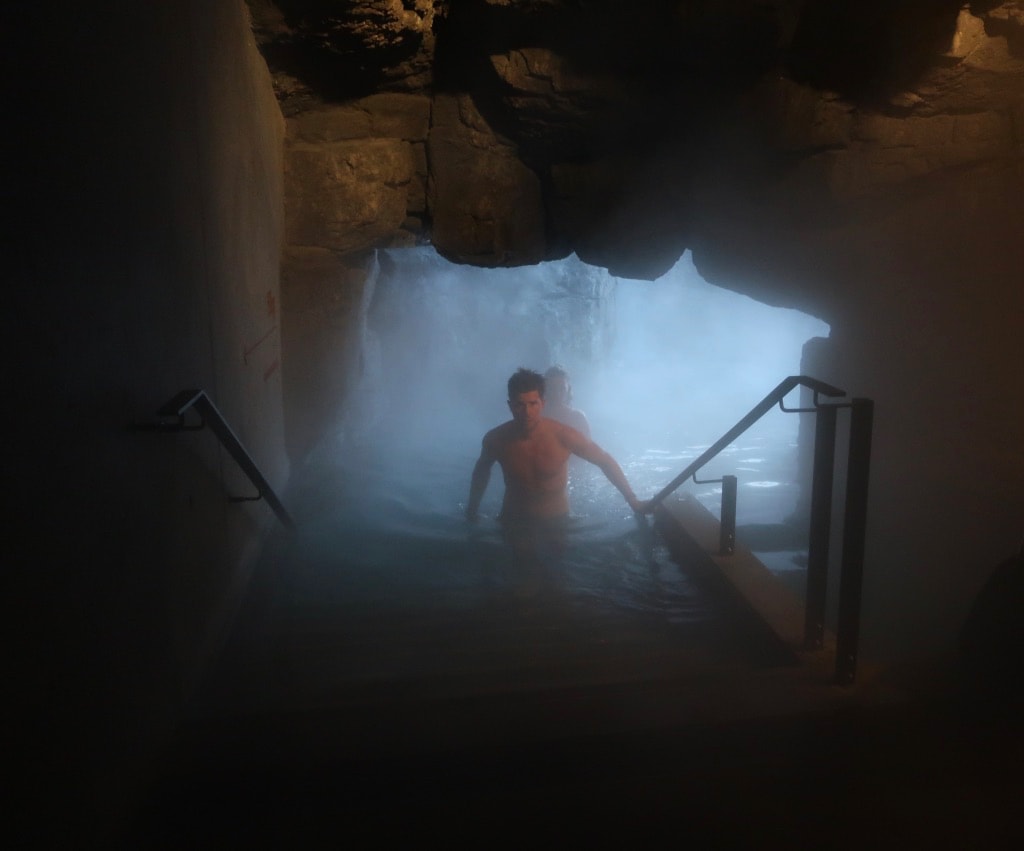 Though smaller, the Sky Lagoon is a bit more elaborate and upscale than the Blue Lagoon. Its infinity pool-like view of the Harbor, and a "7-Step Ritual" that includes dunking in freezing water, a hot sauna, salt scrub, and misty steam bath, makes it a good alternative to the Whale Watching trip on your last morning in Iceland. (About $75 for Pure Ritual Pass).
Iceland Travel Guides