Last Updated on December 11, 2022 by Editor
Reykjavik may be best known as the gateway to Iceland's natural wonders, but it's also a vibrant city that's home to a number of hotels that are redefining contemporary luxury.
Whether you see yourself in an ultra-modern chic highrise or surrounded by the most extensive collection of Icelandic art, Reykjavik has the sanctuary that you crave. And because Downtown Reykjavik is not that big–you can walk end-to-end in under 30 minutes–there's no issue being near all the main attractions.
Still, we've only selected our favorite hotels, all within a five-minute walk from the heart of Reykjavik, the Rainbow Street that runs from the famous Hallgrimskirkja church to the main street of Laugavegur. This is also where you'll find our favorite date-worthy Reykjavik restaurants.
Pack your bags, here are the 5 best hotels in Reykjavik, plus a bonus splurge-worthy resort you won't want to miss!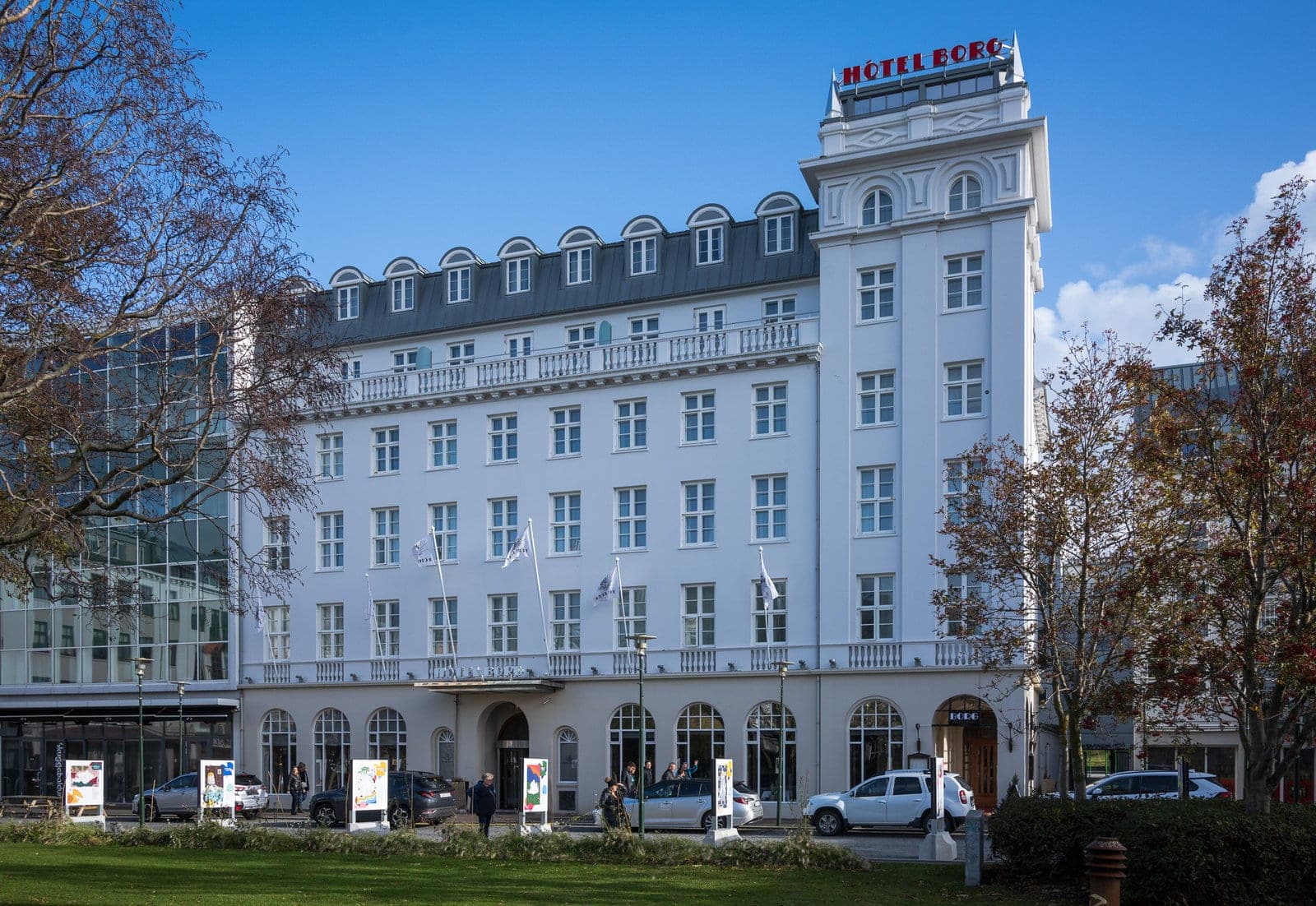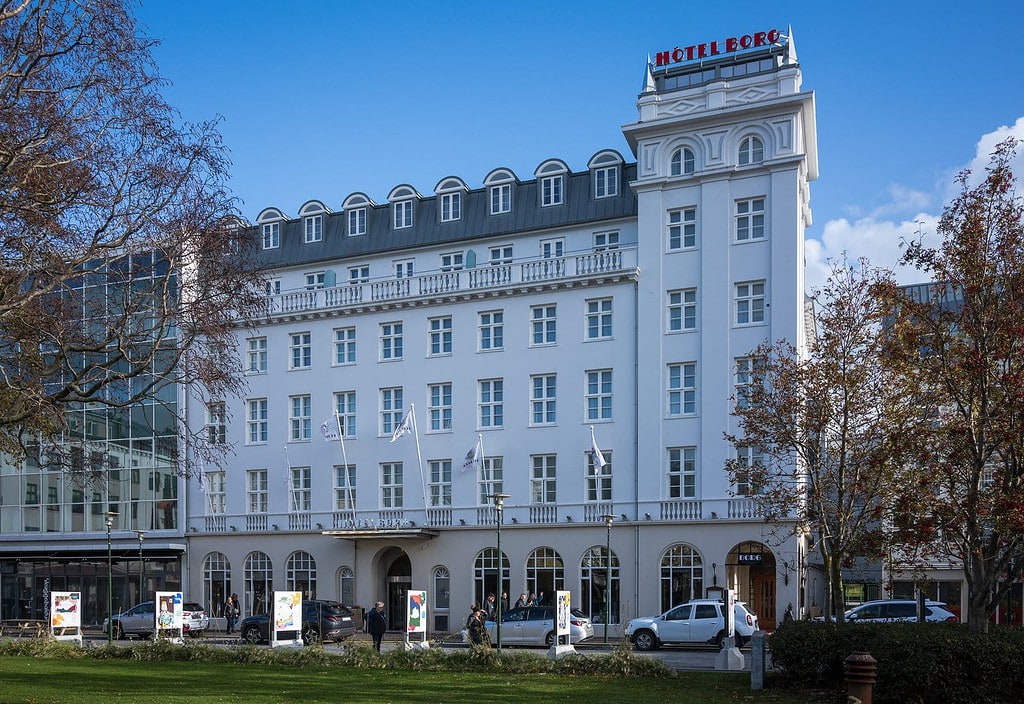 Historic Luxury – Hotel Borg
Set across a quiet green square from Althingi Parliament House, Hotel Borg combines old-world elegance with modern luxuries.
Convenient to all of Reykjavik's downtown attractions in a location that is close to the city center, it's at the end of town that's also closer to the Harpa Concert Hall and whale watching embarkation point.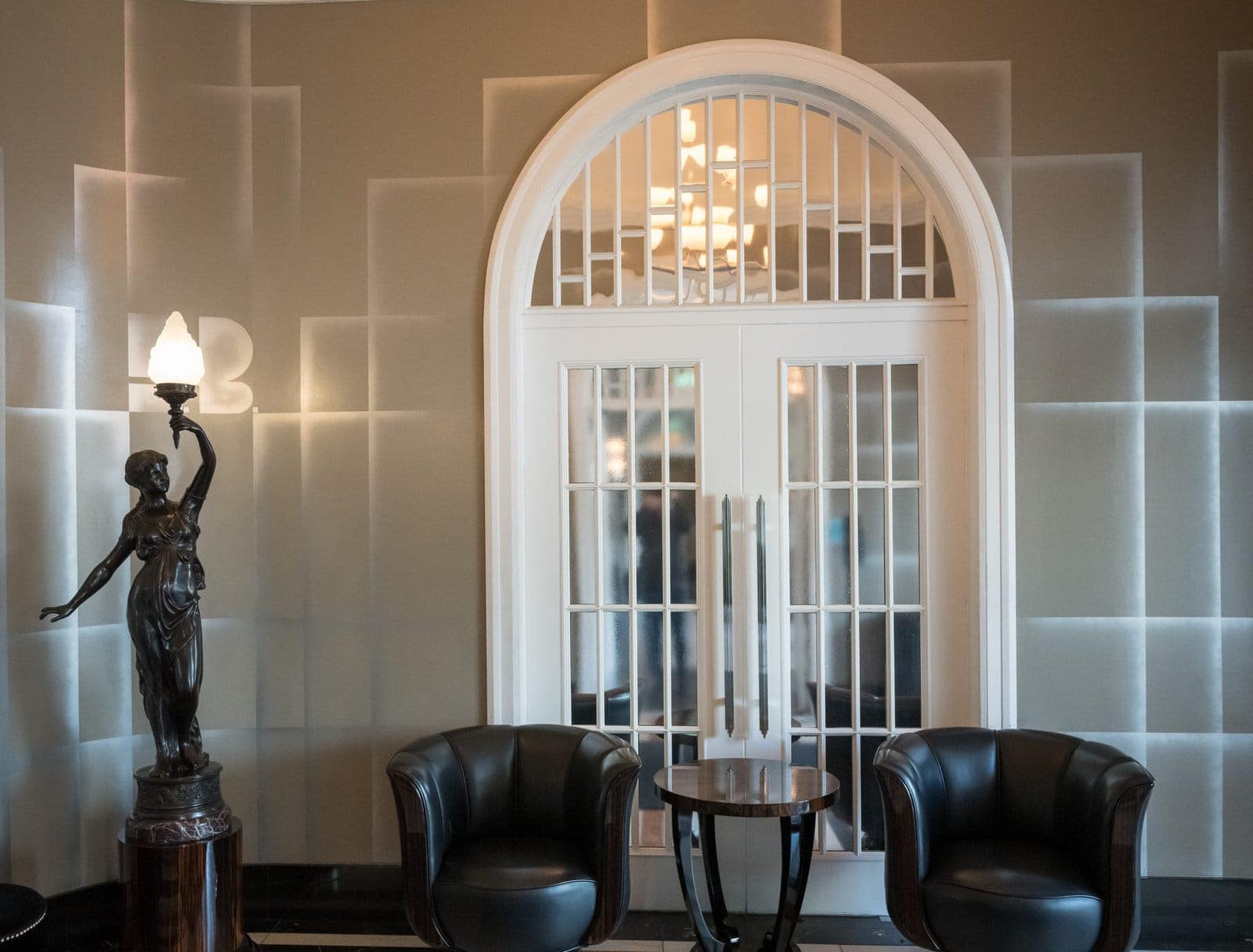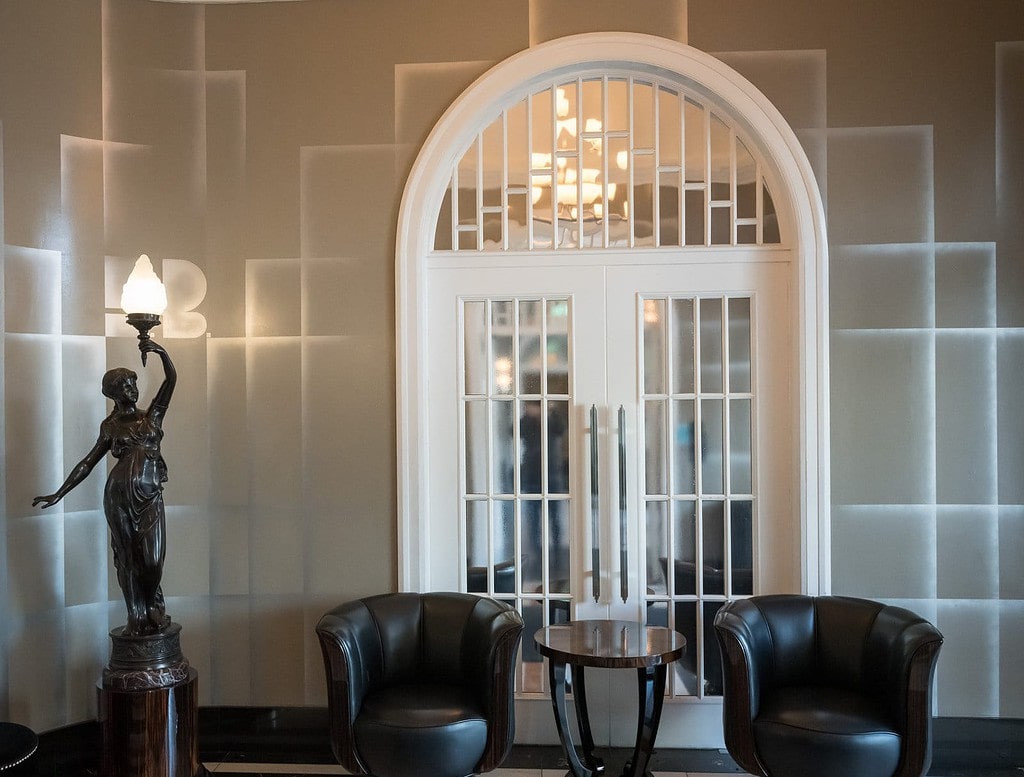 Nonetheless, the hotel's location off the main thoroughfare means that you immediately experience a sense of peace and relaxation upon arrival. That feeling extends to guest rooms that are much larger than typical city rooms.
And continues with windows overlooking park gardens, or with bathrooms featuring soaking tubs.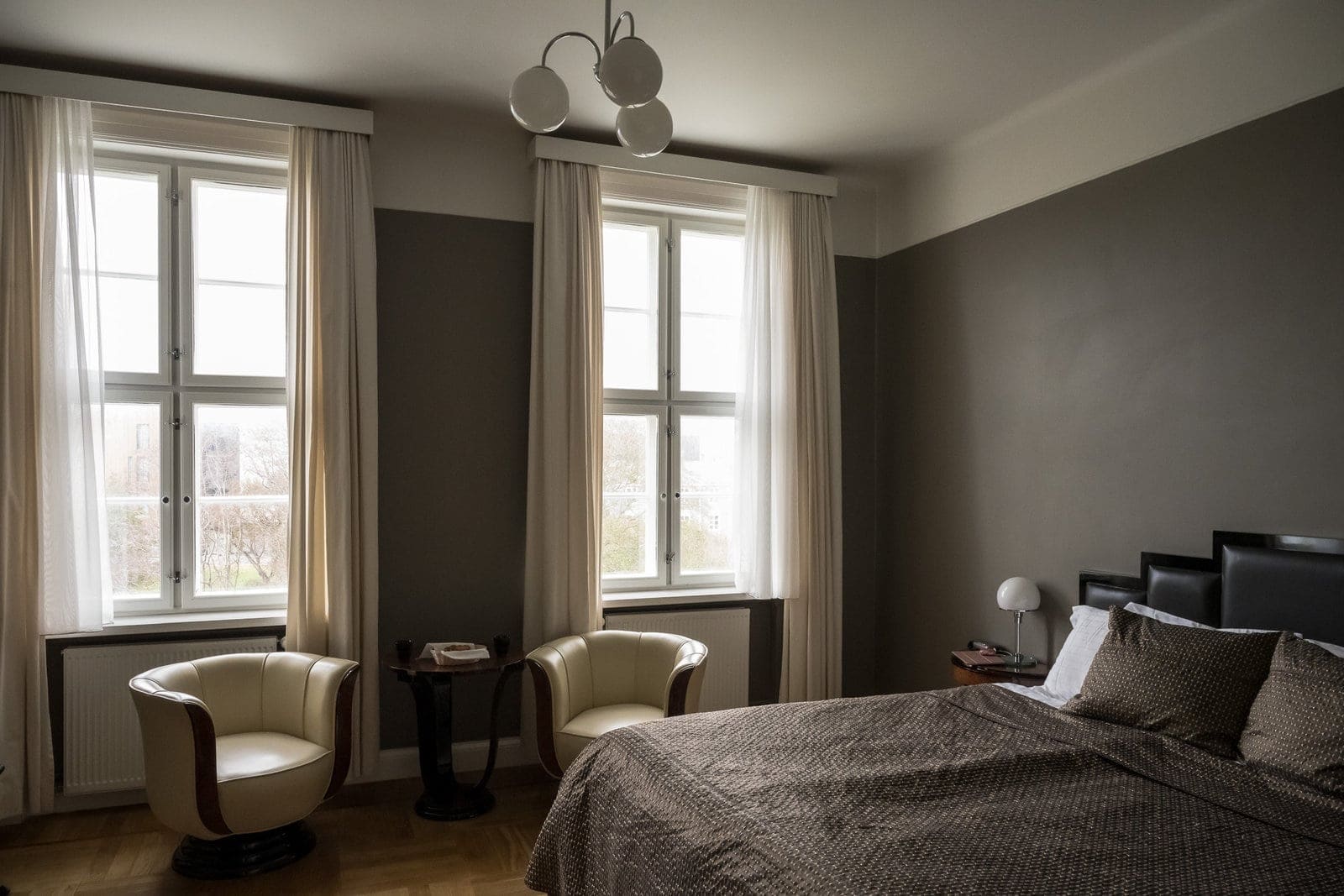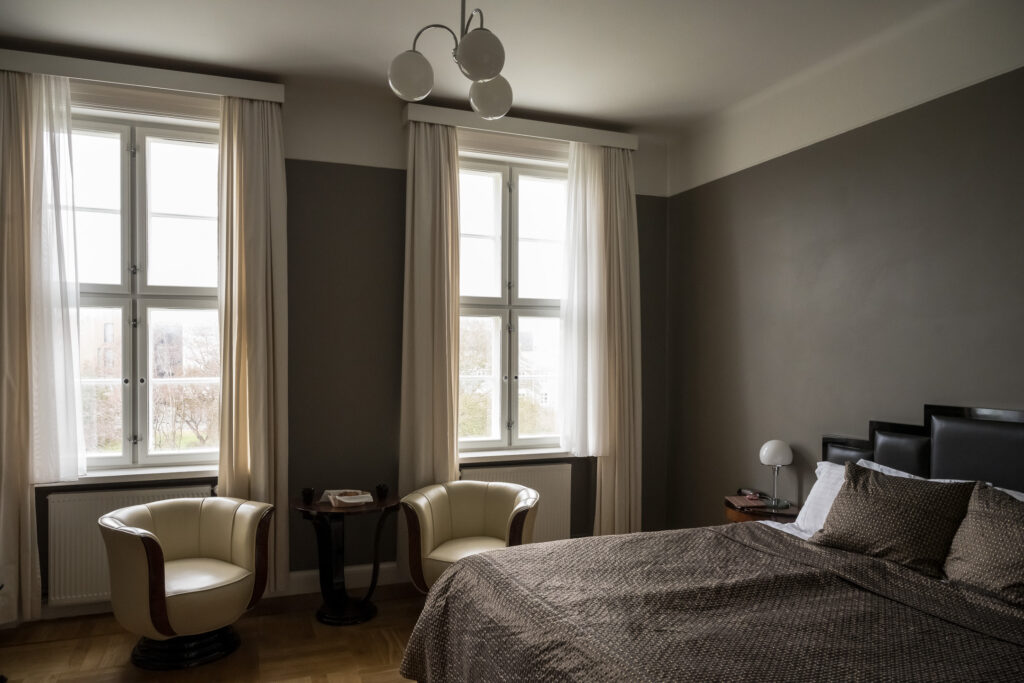 Most relaxing of all, hotel guests receive complimentary access to the spa where they can enjoy the steam room, sauna, hot tub, or fitness room. And there's a full range of beauty treatments available, including facials and massages, that incorporate Icelandic skin care products.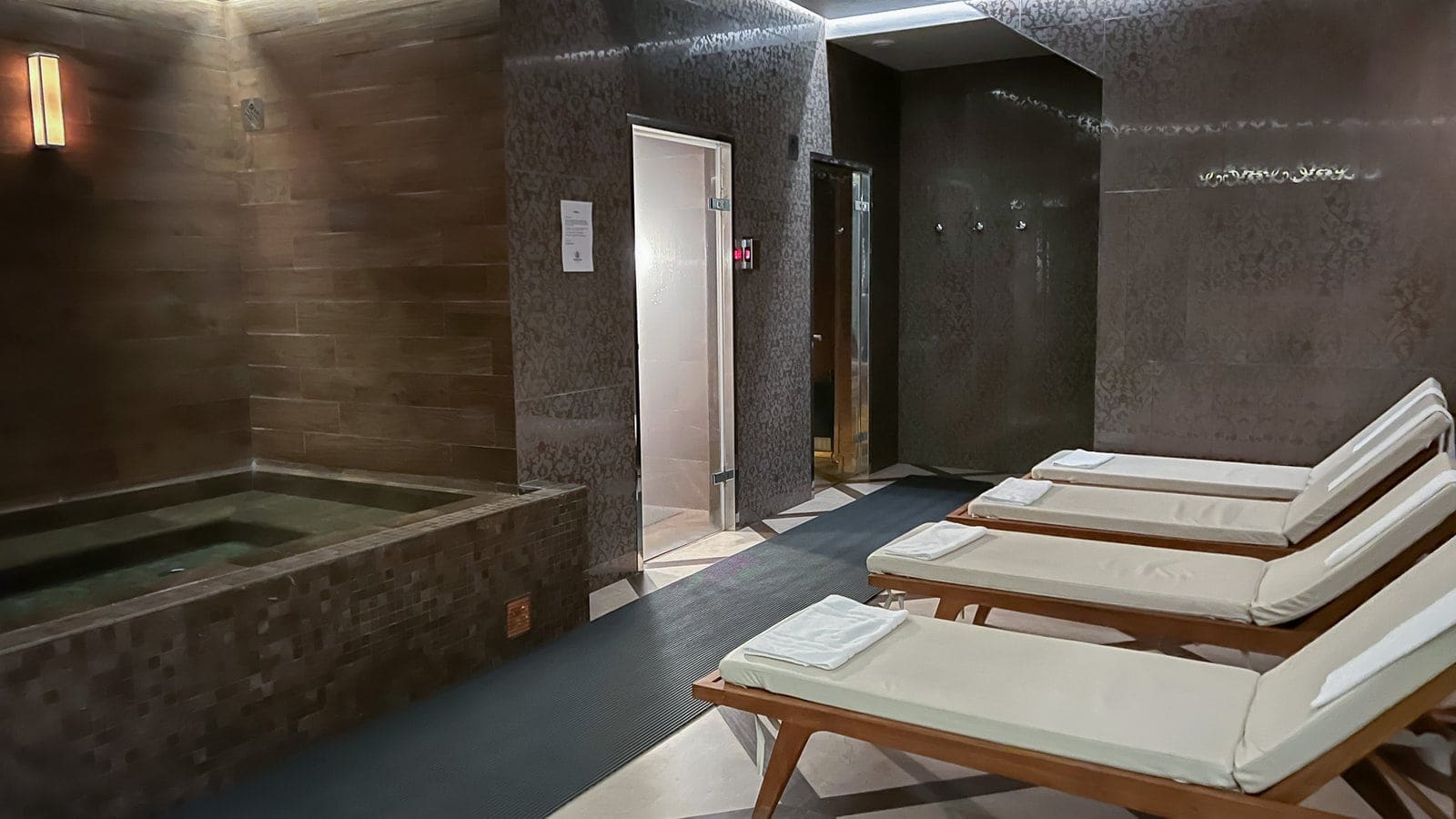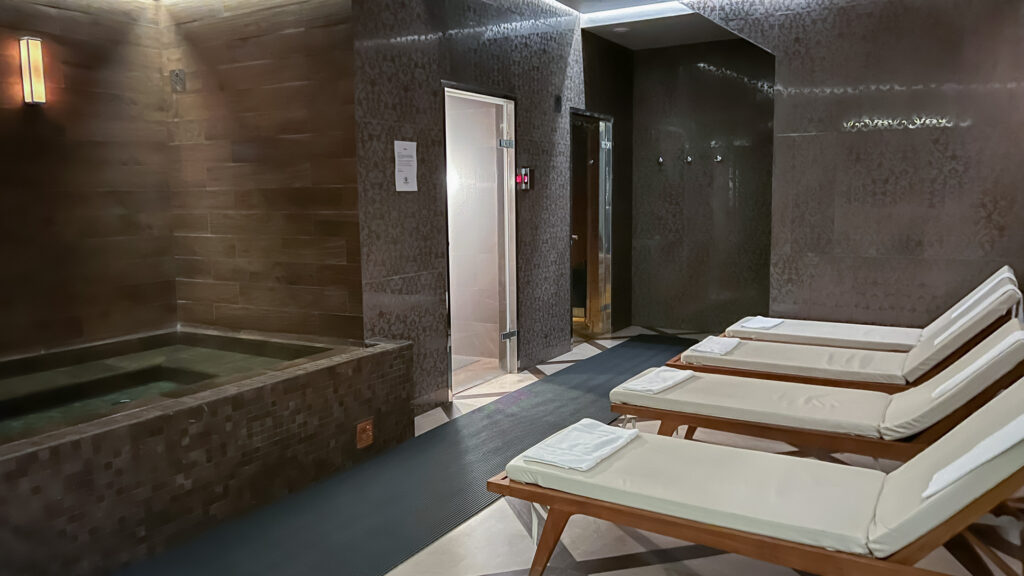 An in-house restaurant serves breakfast (at additional expense,) as well as fine Icelandic cuisine. Parking is not available at the hotel, but there is a parking garage nearby.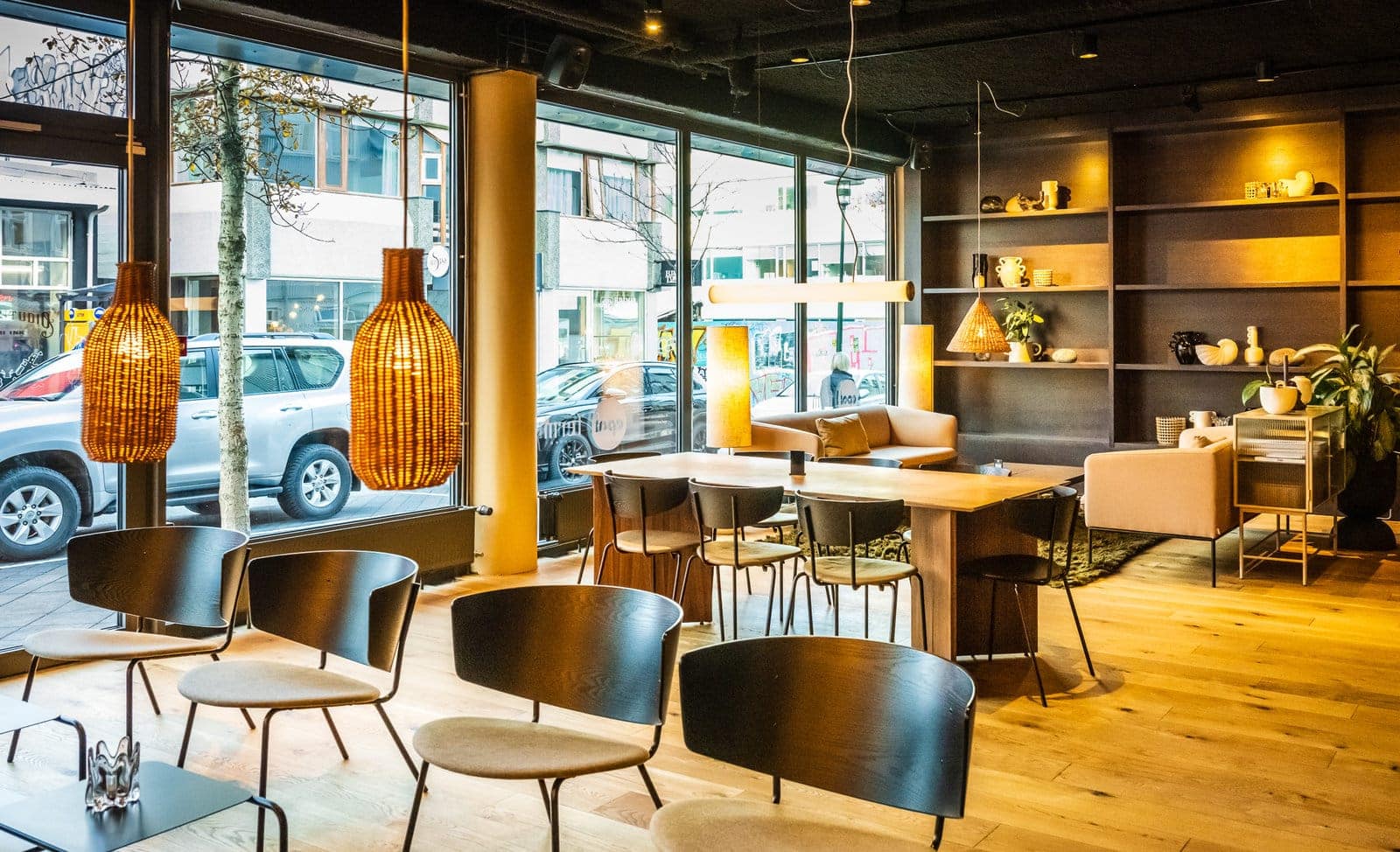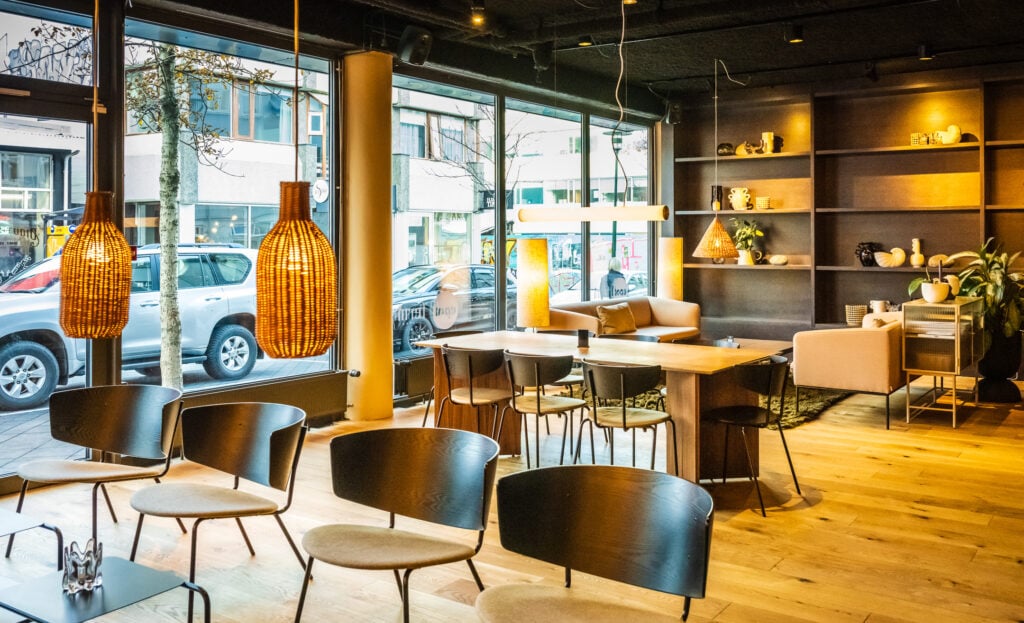 Reykjavik Main Street – Hotel Alda
If you want to be where all the action is, then Hotel Alda is your best choice. The boutique hotel is located right on Laugavegur, Reykjavik city's shopping street.
Floor to ceiling windows in the lobby are great for people watching, as well as being a light and airy place to hang out. And yet Hotel Alda has one unique feature – a very hip barber shop.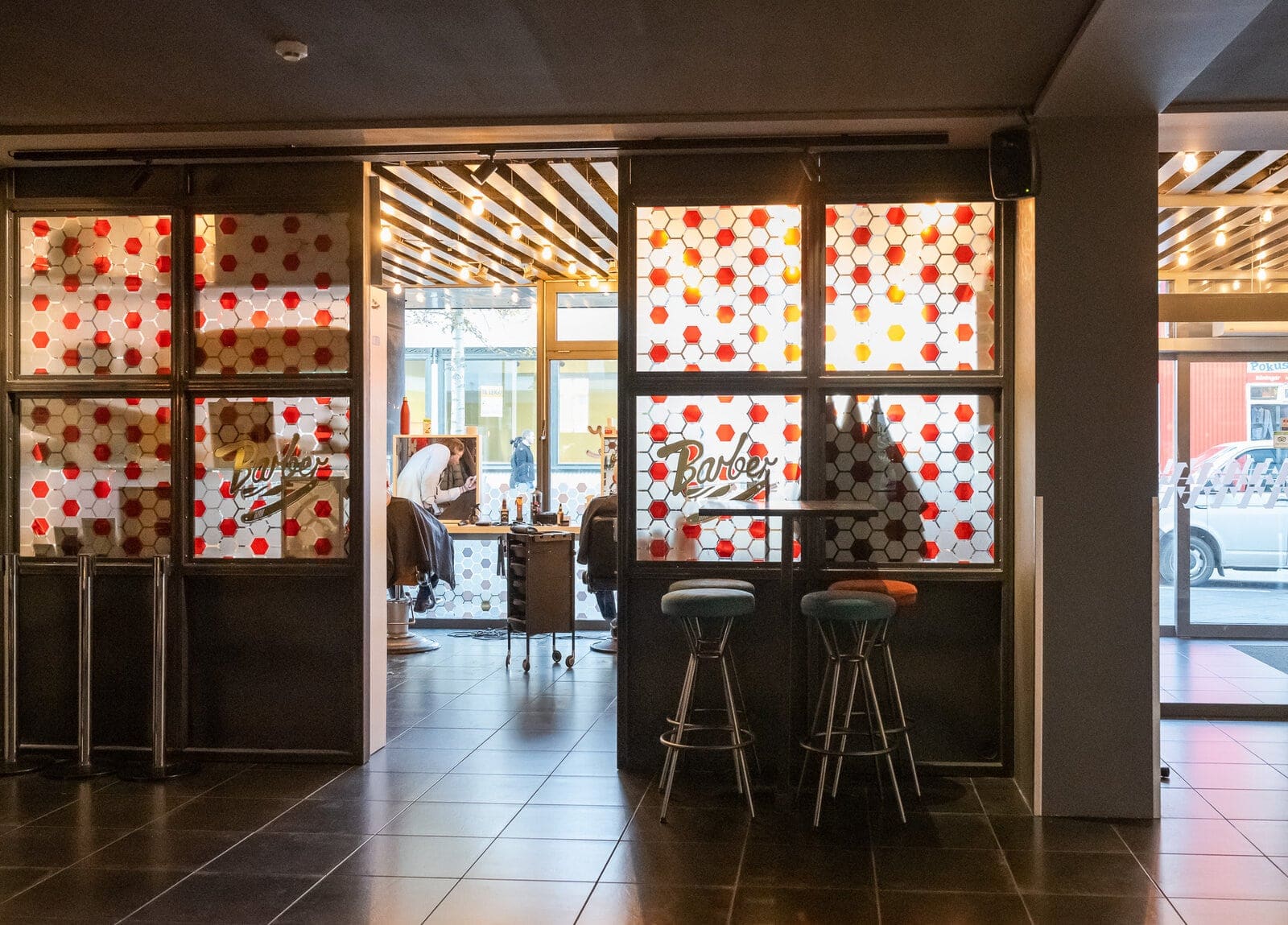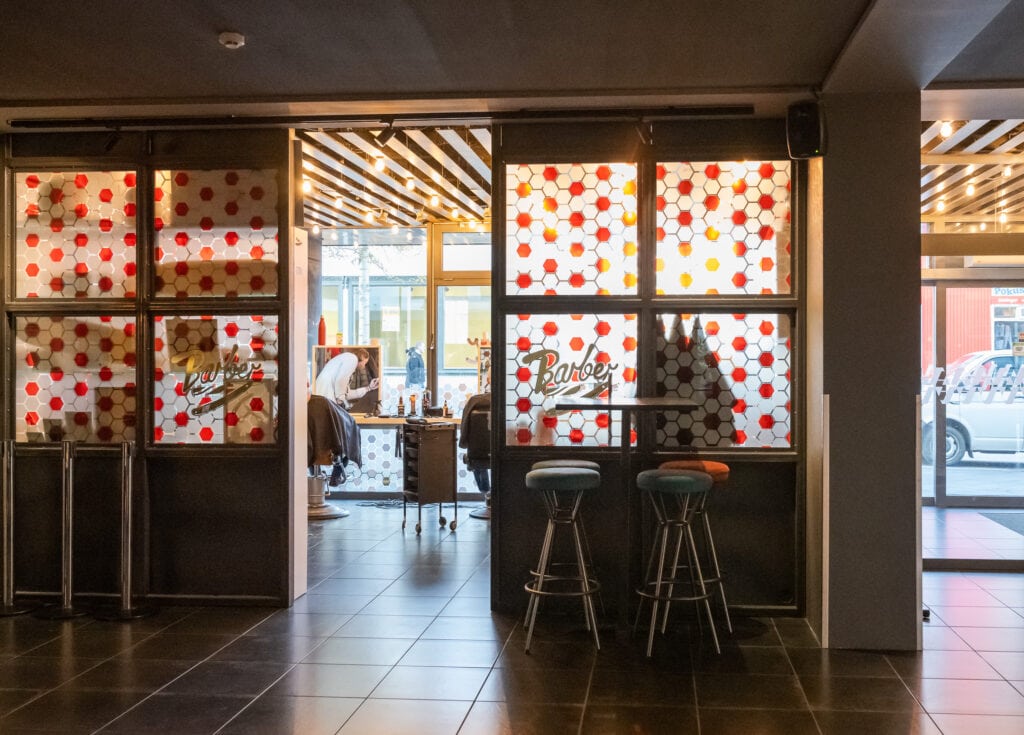 Rooms are cozy with Icelandic wool accents even extending to fixture covers. Fine-quality linens elevate the standard bed configuration we saw all over Iceland–twin beds that are joined into one upon request.
And as is typical here, separate covers even for king beds.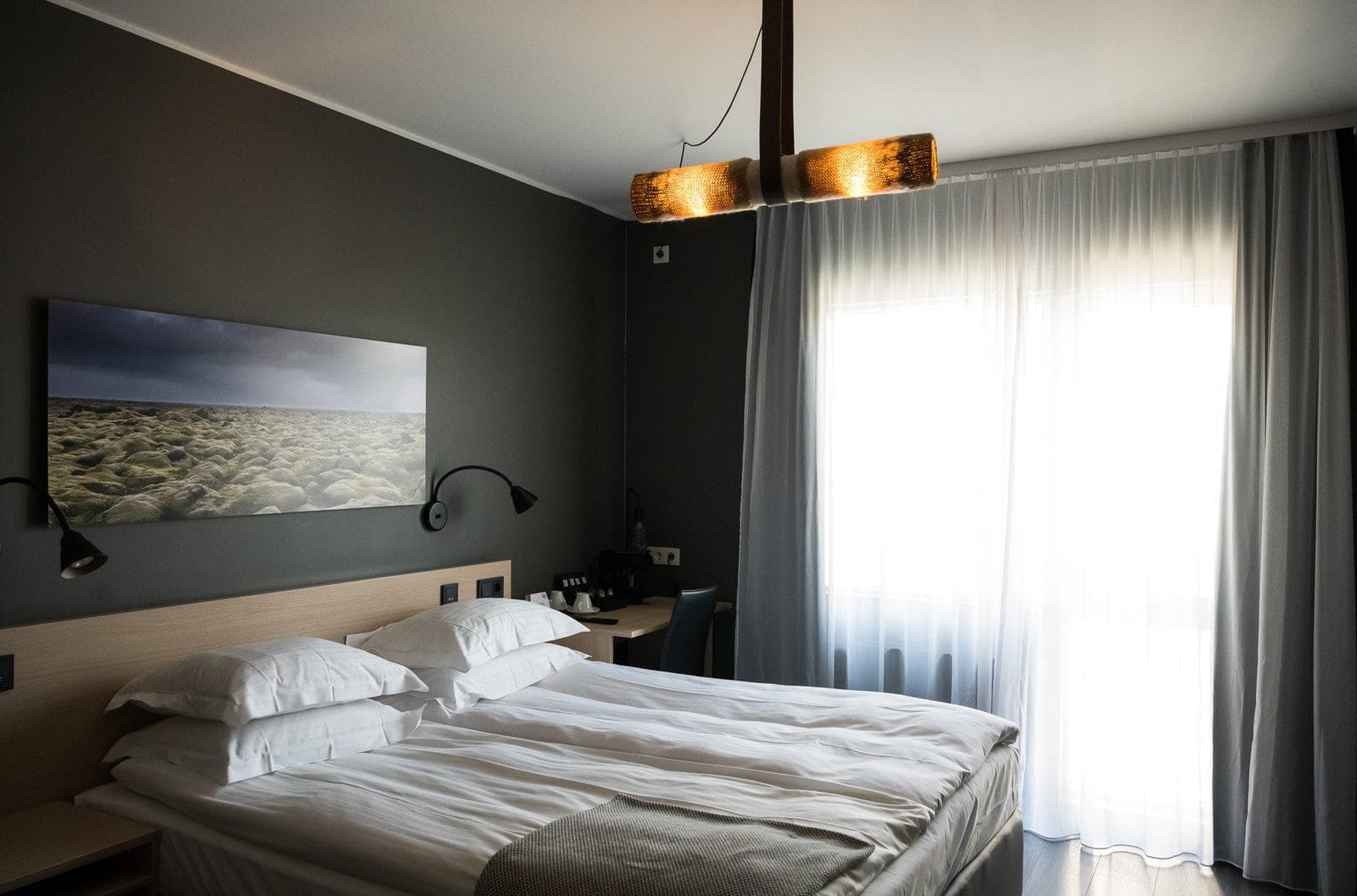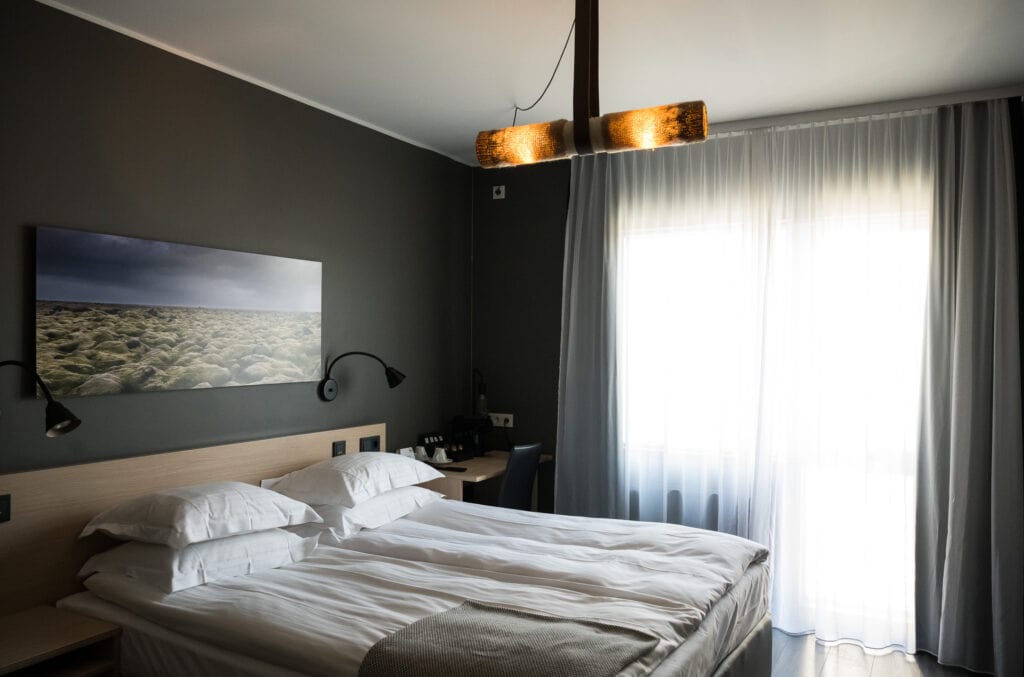 Hotel Alda does have a good-sized fitness room that leads out to a courtyard outfitted with a hot tub.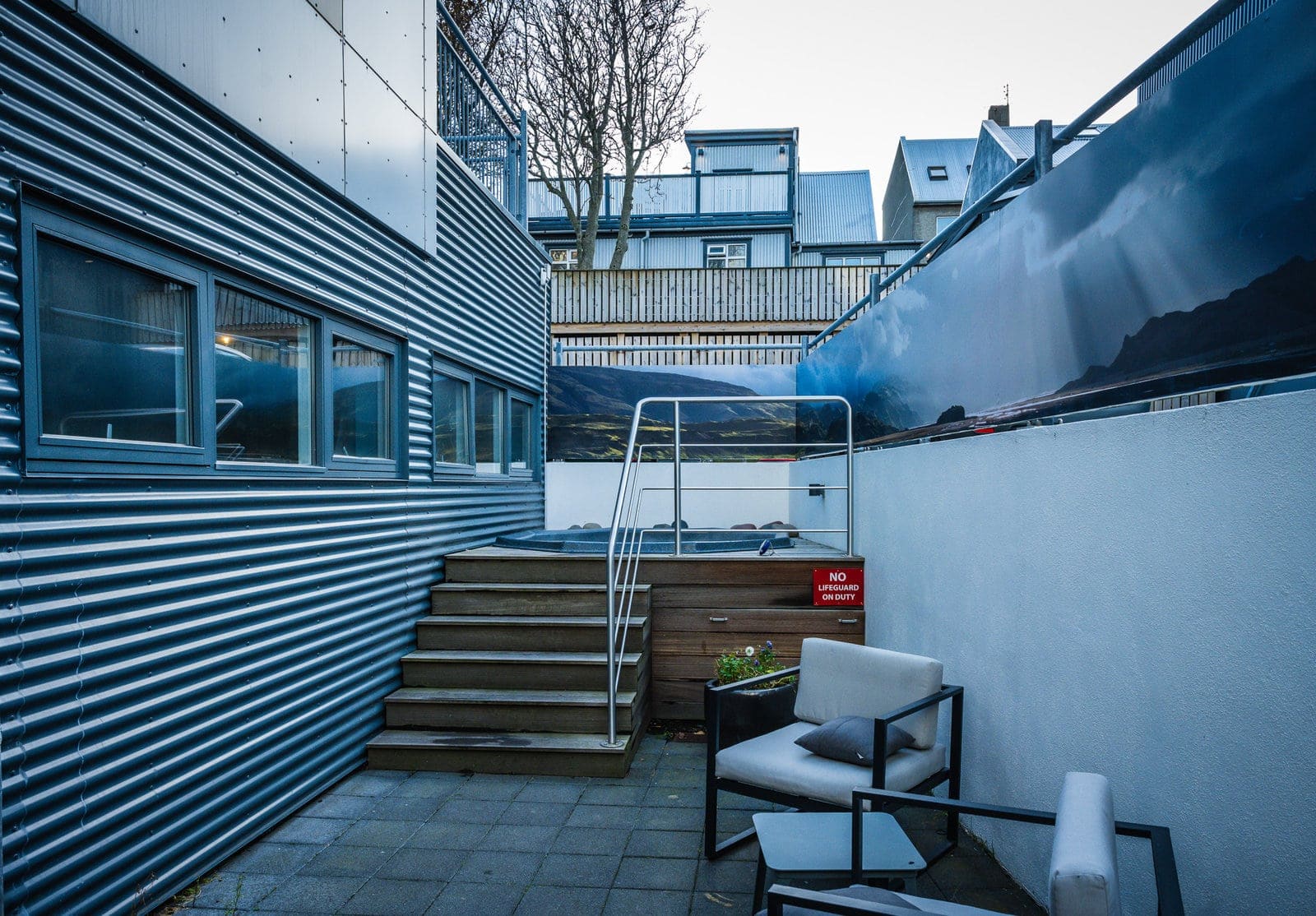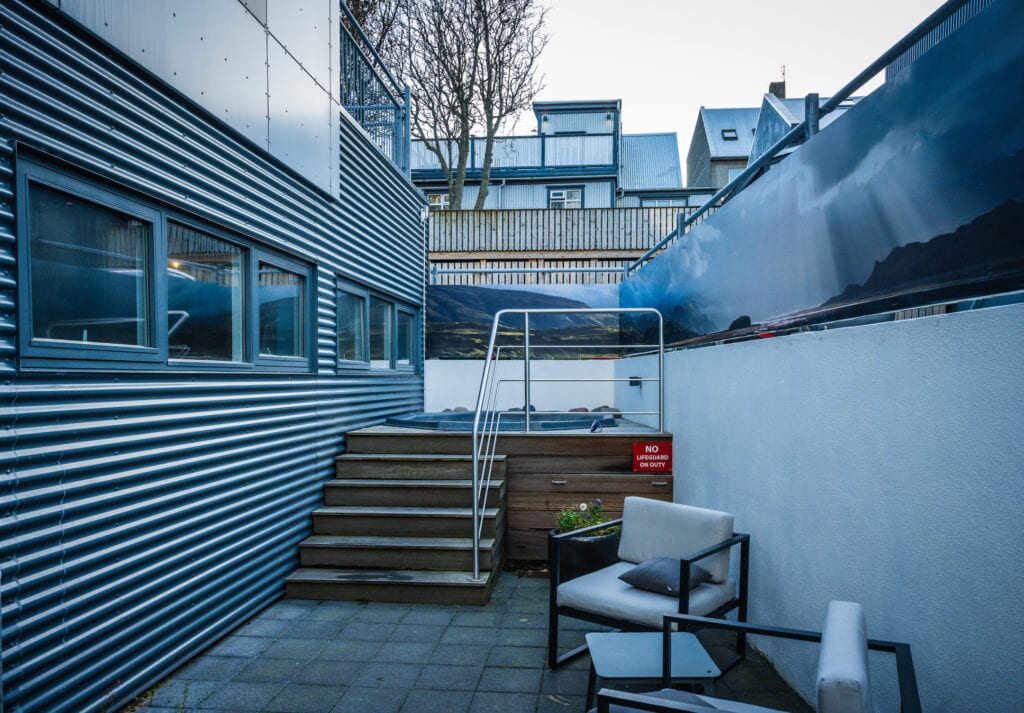 Breakfast is available, at an additional expense. Do bear in mind that because it's located on a busy thoroughfare, loading and unloading can be challenging. Street parking, free after 6 pm, may be available nearby, and there is a parking garage just down the street.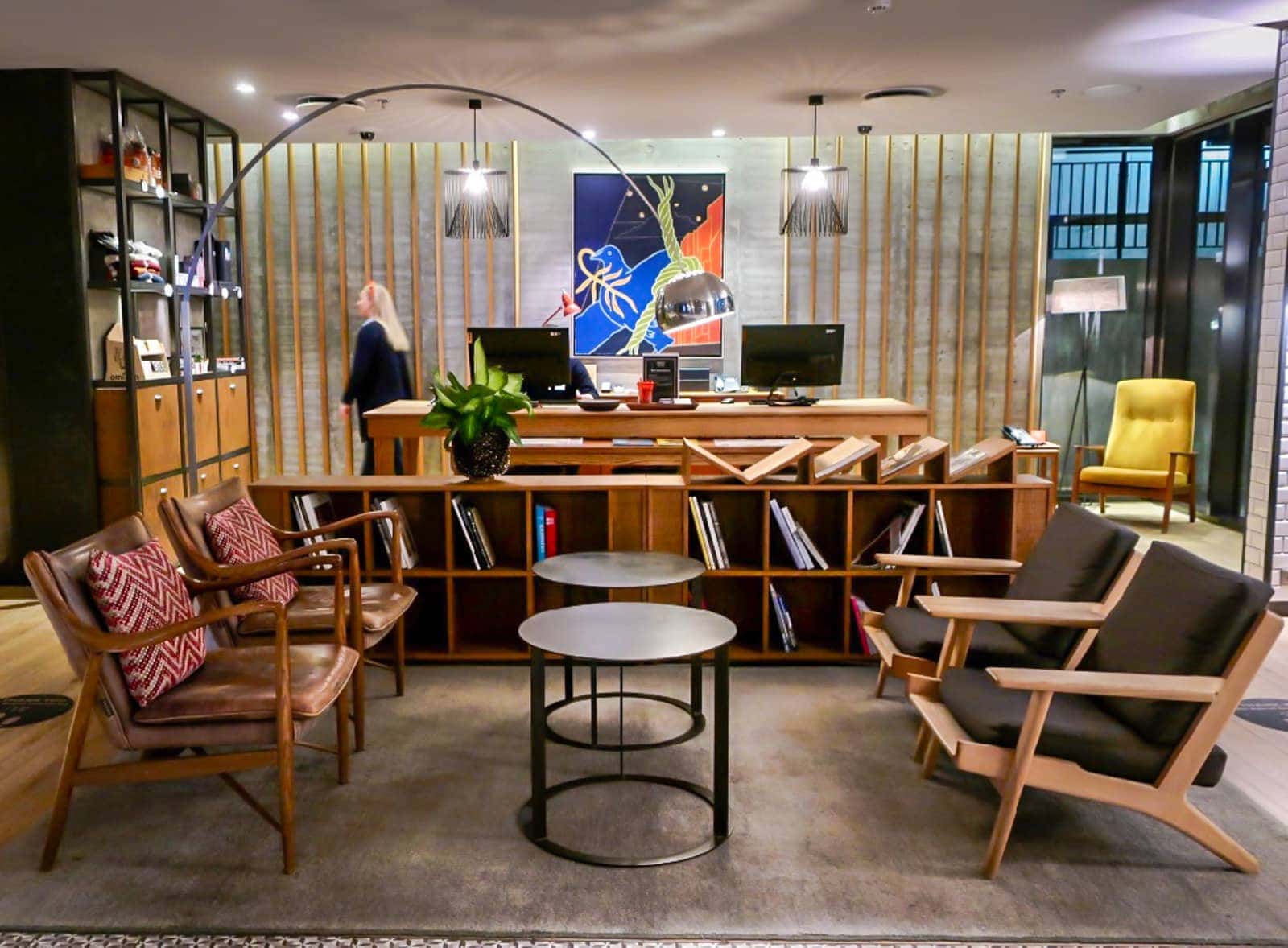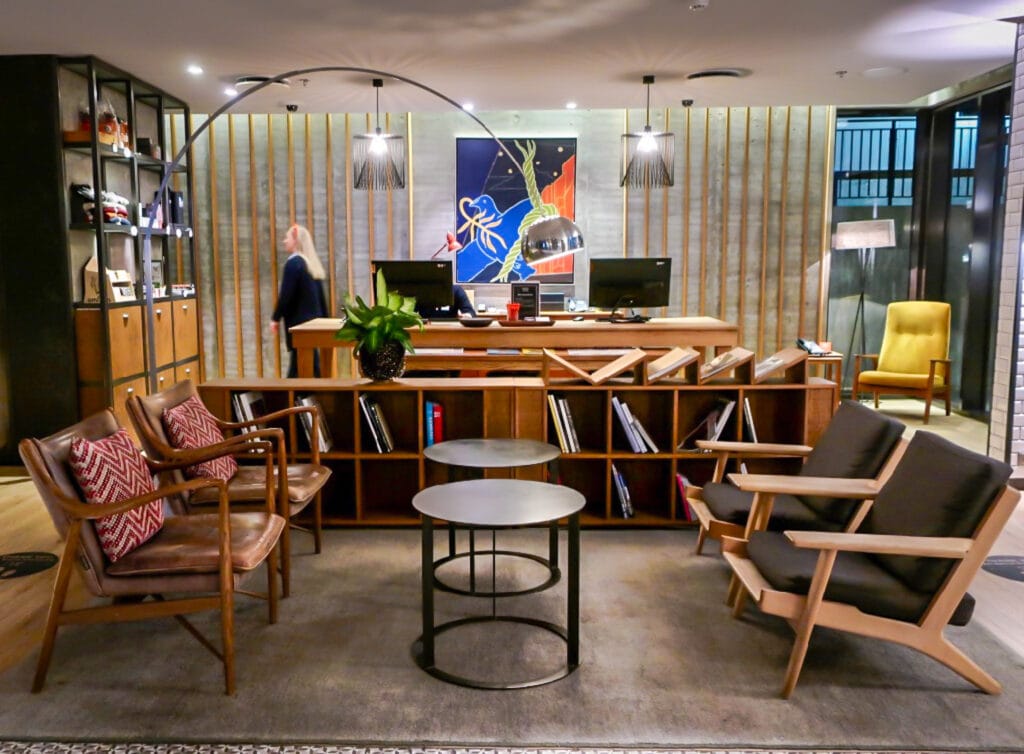 Canopy By Hilton City Center
Canopy By Hilton City Center combines the best of both worlds by being right off Laugavegur Street, on a side street of the downtown area. So, it's at the heart of the city without the hassles of being right on the main street.
And because it's one of Hilton's lifestyle boutique hotels, it's a fun place to stay.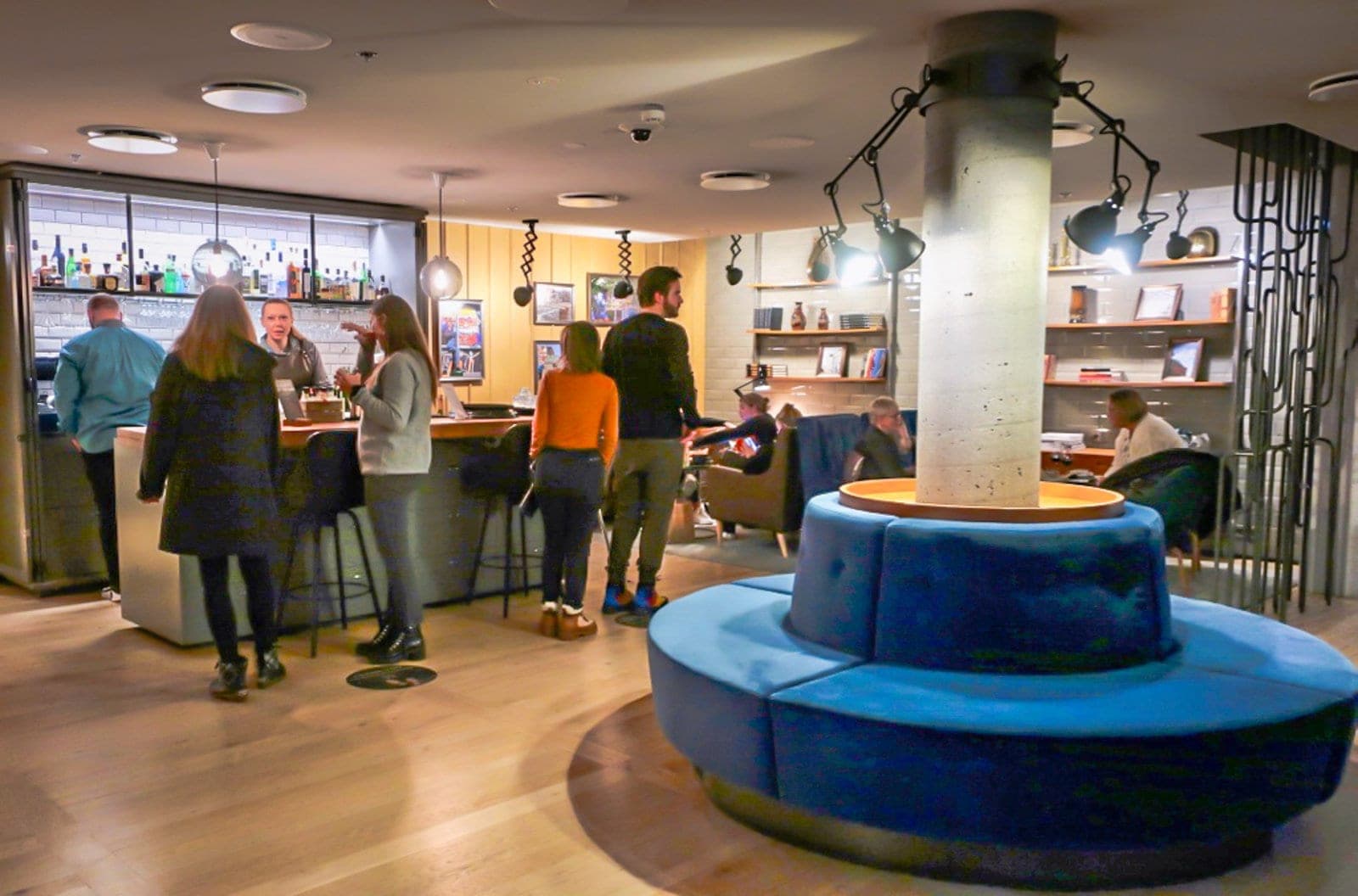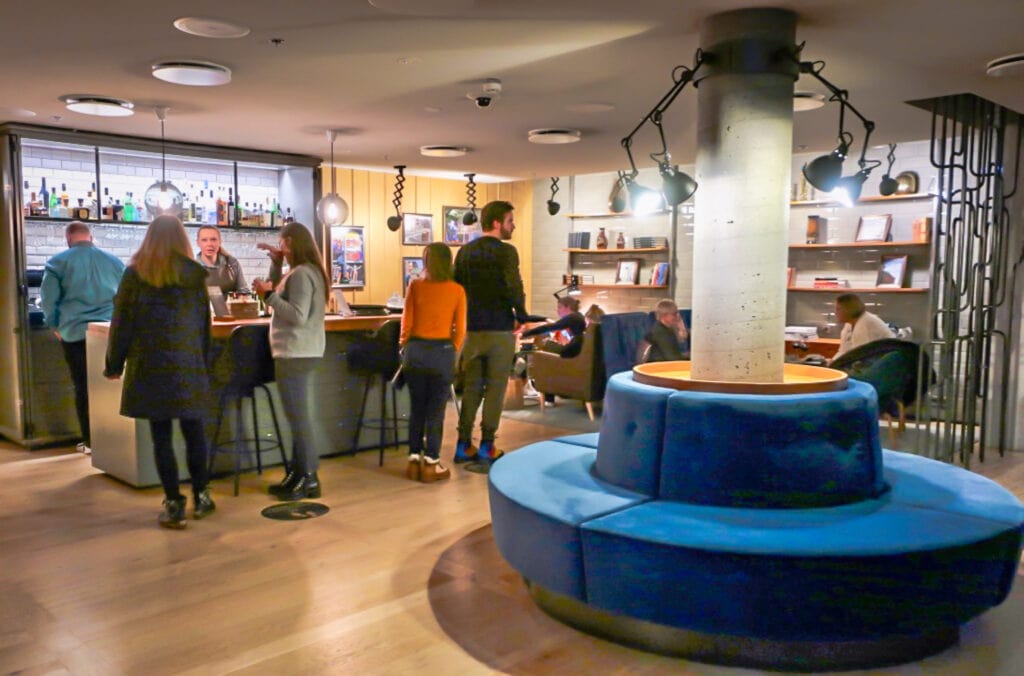 The lobby is a welcoming spot to hang out, while Happy Hour at the bar is a great way to meet other guests.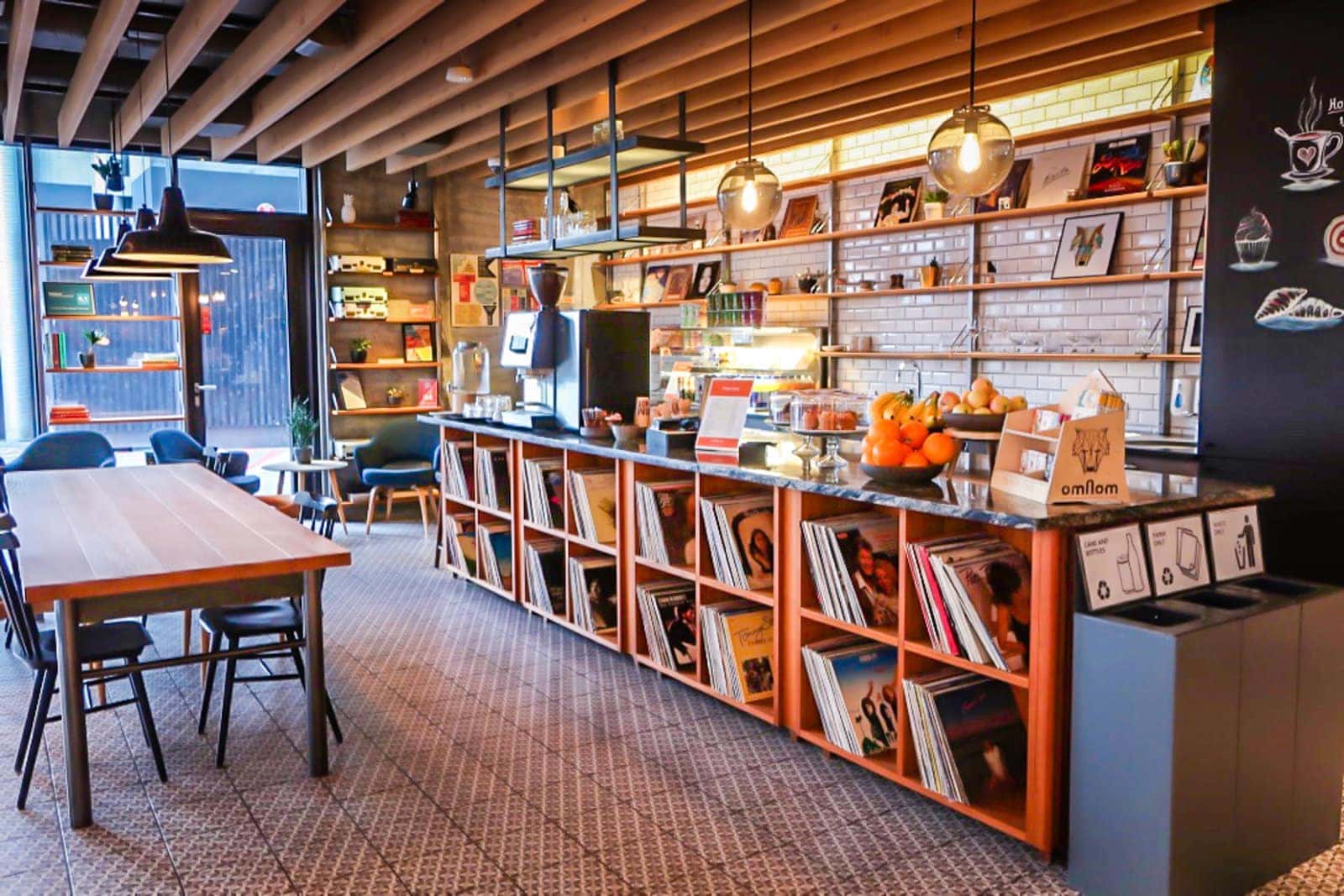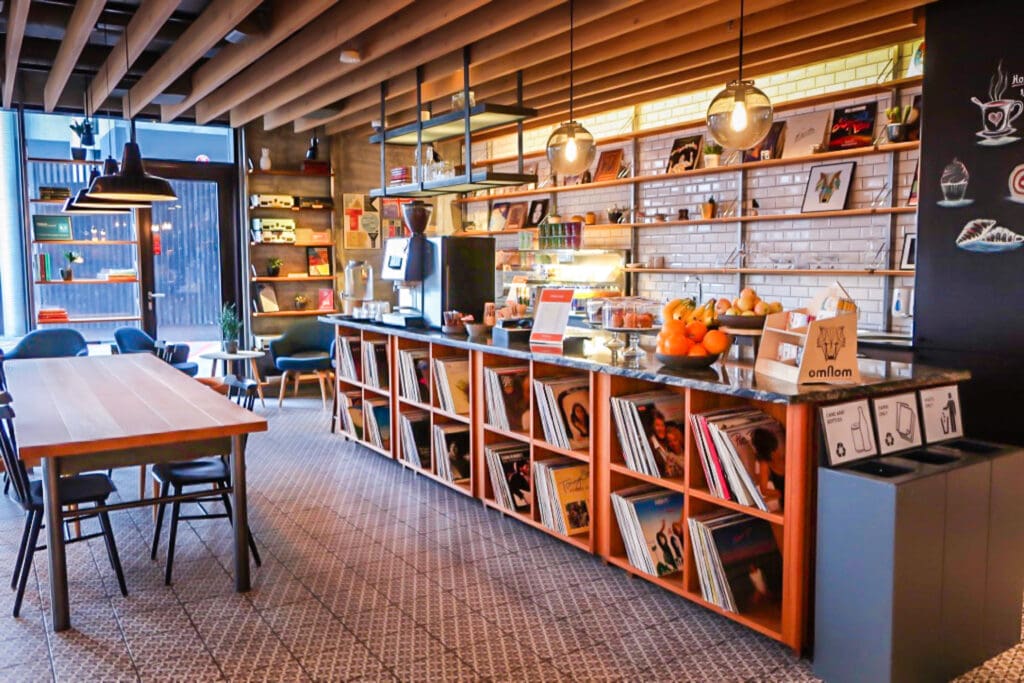 When booking the hotel, you can select a Half Board option that includes breakfast and dinner. The hotel does not offer free parking, but there is a parking garage only half a block away. And, of course, there is the benefit of using (or earning) Hilton points.
Marriott Hotel In Reykjavik
If you prefer to use (or earn) Marriott points, consider the 101 Hotel, a member of Design Hotels. It's one of the most stunningly beautiful hotels in the city, featuring an excellent collection of modern Icelandic art.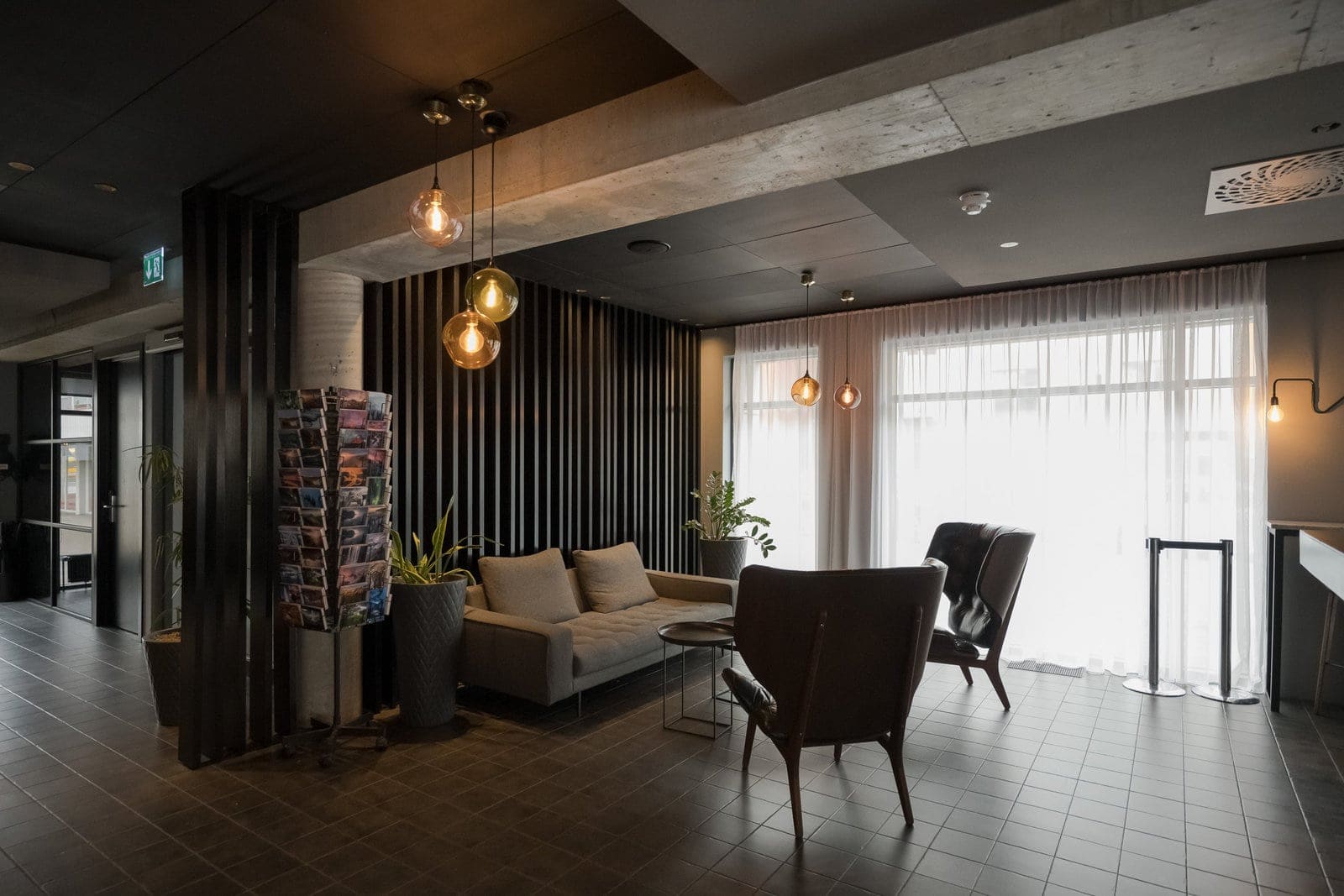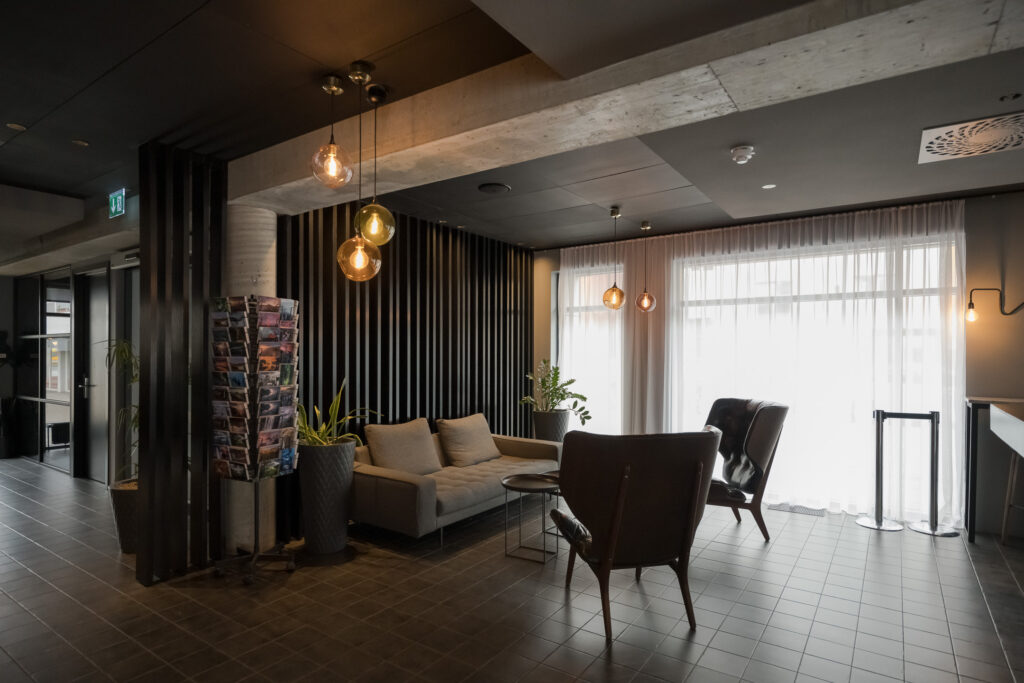 Downtown Reykjavik Boutique – Hotel Skuggi
Experienced Iceland visitors, who return year after year, choose Hotel Skuggi. The boutique is favorably located just one block from Reykjavik's Main Street and within a 3-minute walking distance from Rainbow Street. But it offers a number of amenities at no extra charge.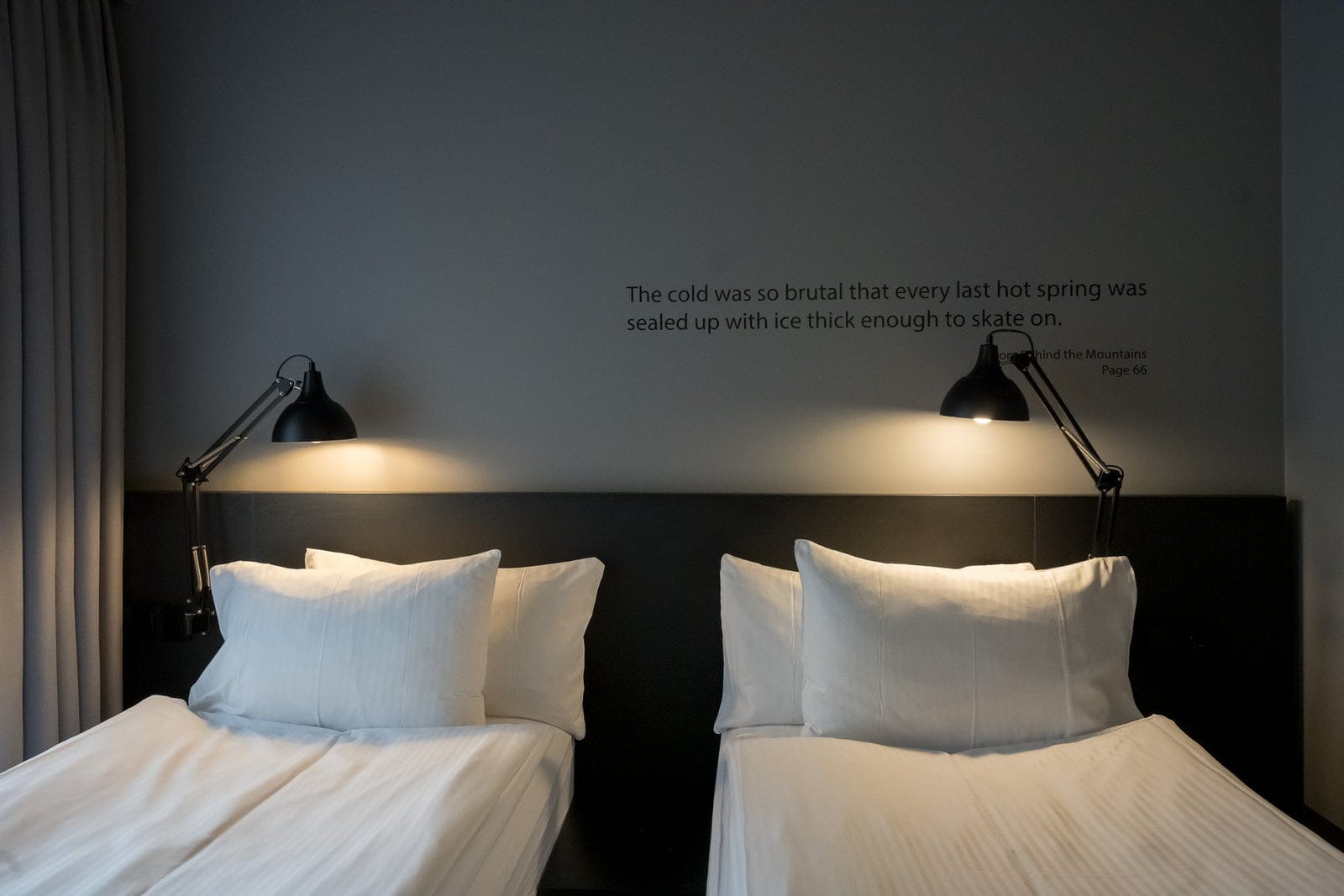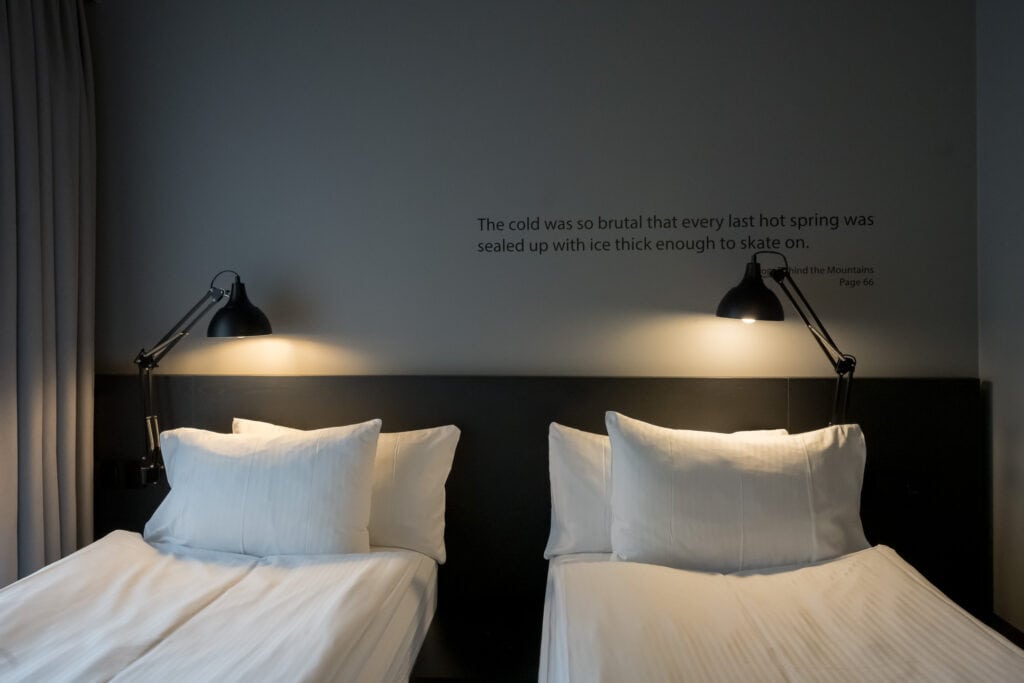 Guest rooms are snug, but we like the quotes on the walls. They're taken from a coffee table book about Iceland photography found in each room. Rooms feature an electric kettle, with coffee/tea, although the discounted beer at Happy Hour may well be the beverage of choice.
And if you request a room on the 4th Floor, windows open out onto a balcony that runs 180 degrees around the building. It's a lovely spot to watch sunsets, and if you squint, you can even see the top of the waterfall-shaped Hallgrimskirkja landmark. And if you're very fortunate indeed, you might even spot the Northern Lights above.
A very extensive breakfast buffet is included. But perhaps the best perk that we like at Hotel Skuggi is the parking in the indoor basement garage. It's both free and convenient.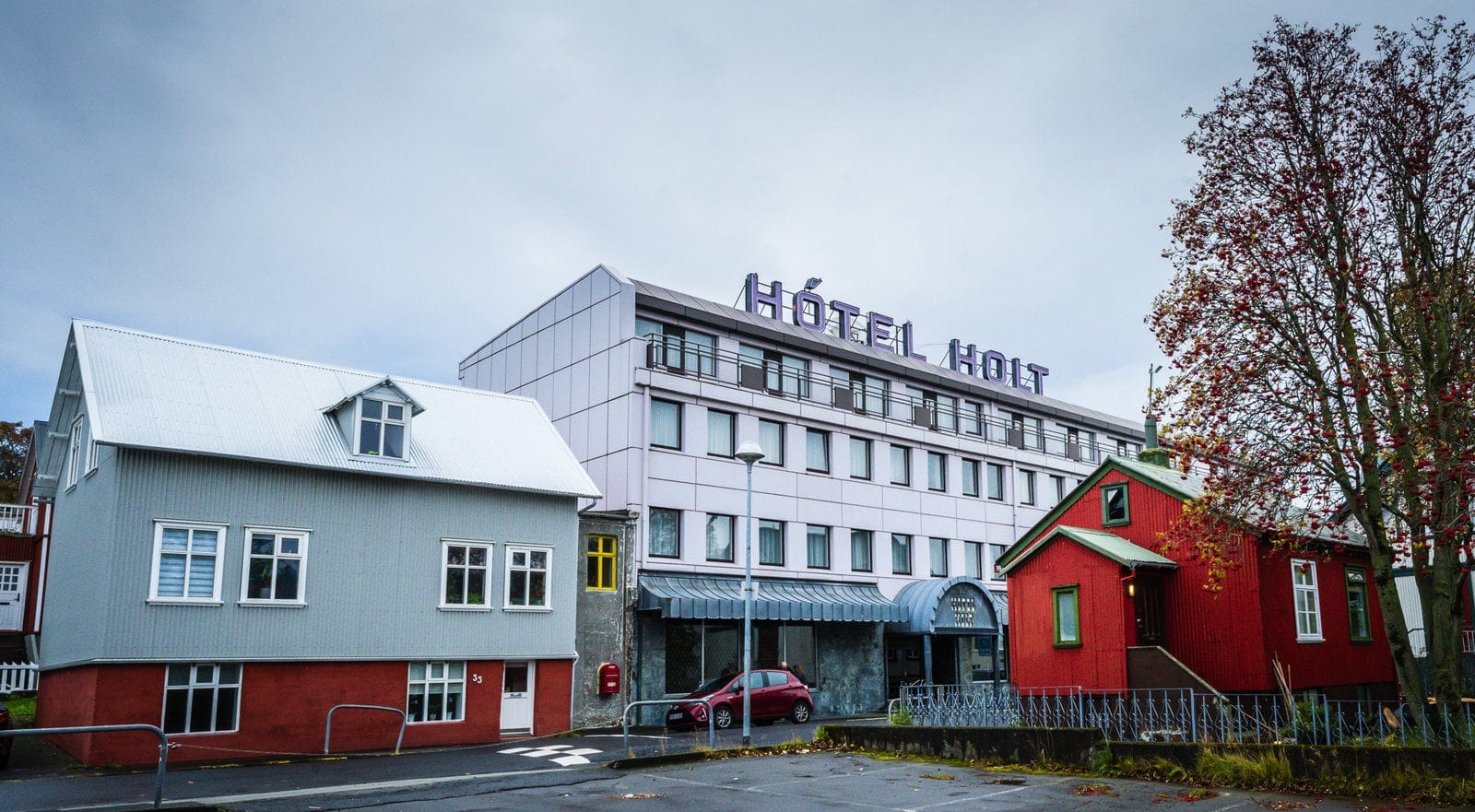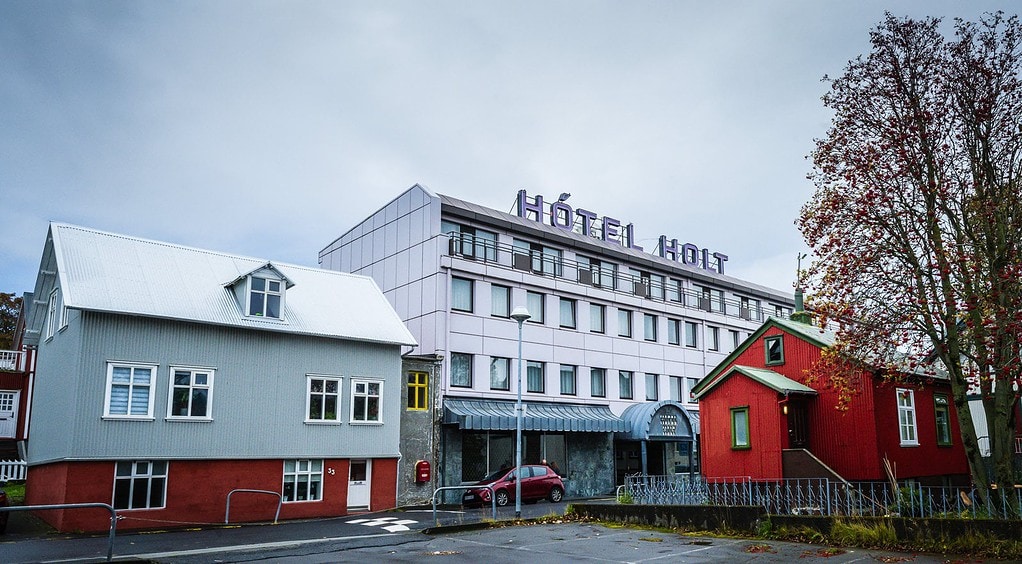 Hotel Holt – Art In Central Reykjavik
Constructed in 1965, with interior design by renowned designer Gunnar Magnússon, Midcentury Modern Hotel Holt features a more extensive collection of Icelandic art (the largest private collection) than even city museums. In fact, there are over 450 works on display, from a total of 1560 pieces.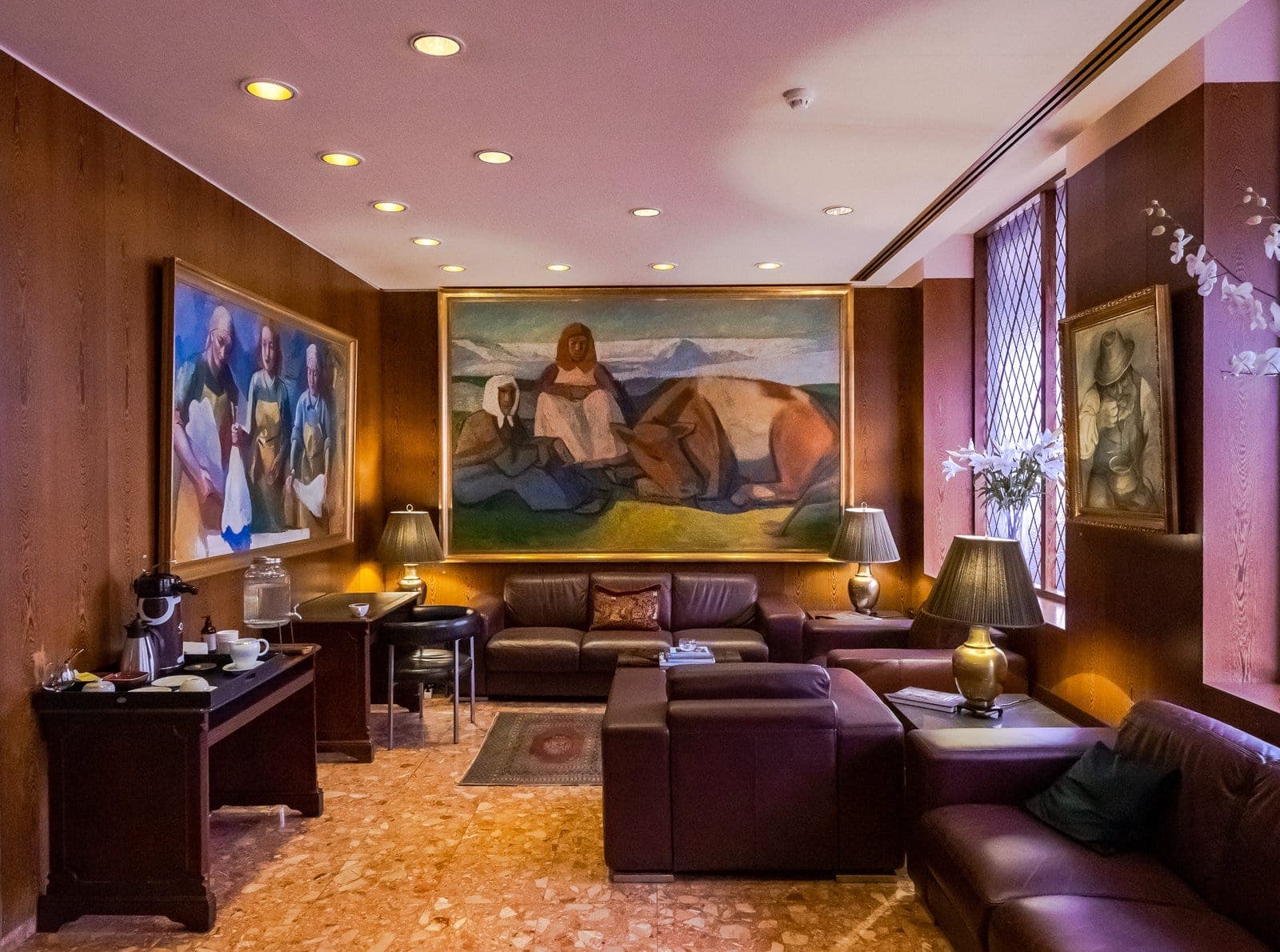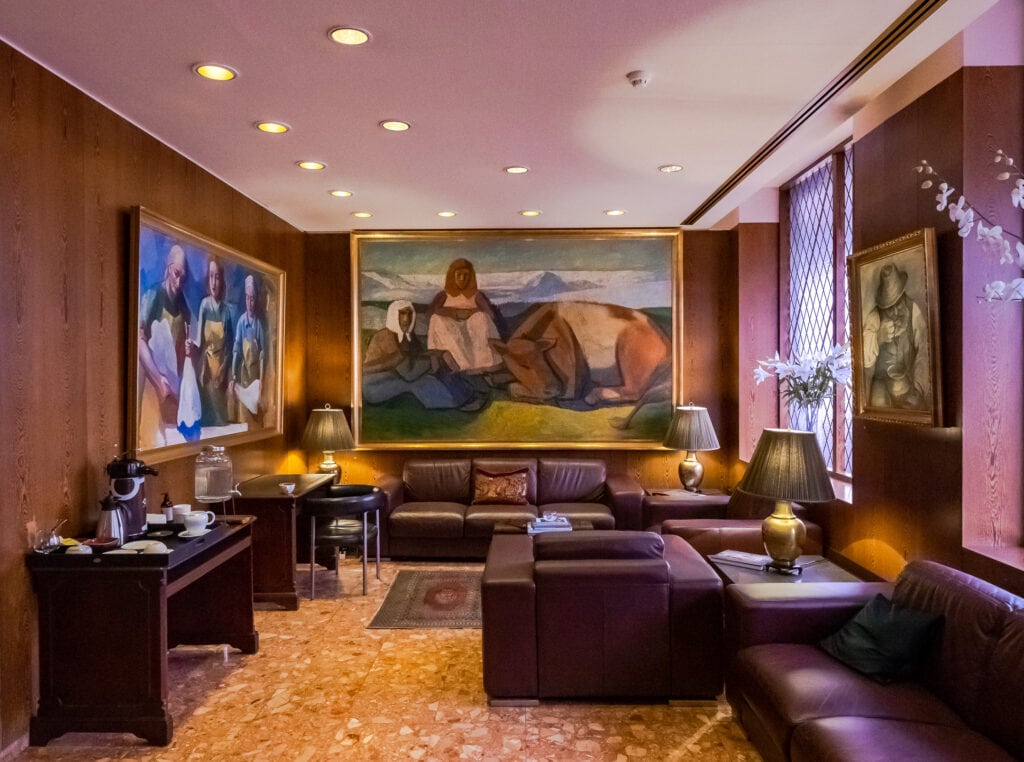 Paintings and sculptures are on view in the lobby, bar, restaurants, hallways, meeting rooms, and even guestrooms.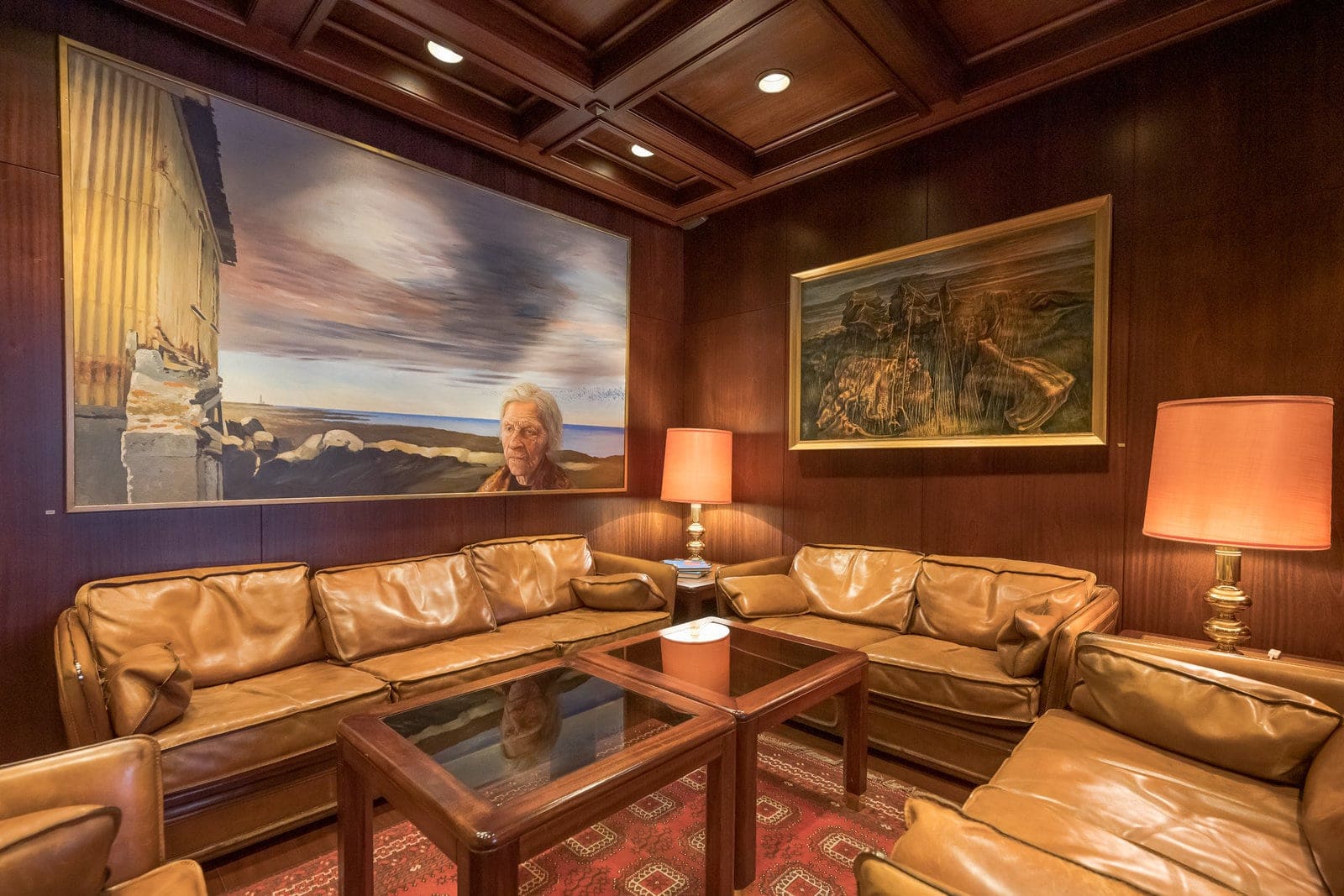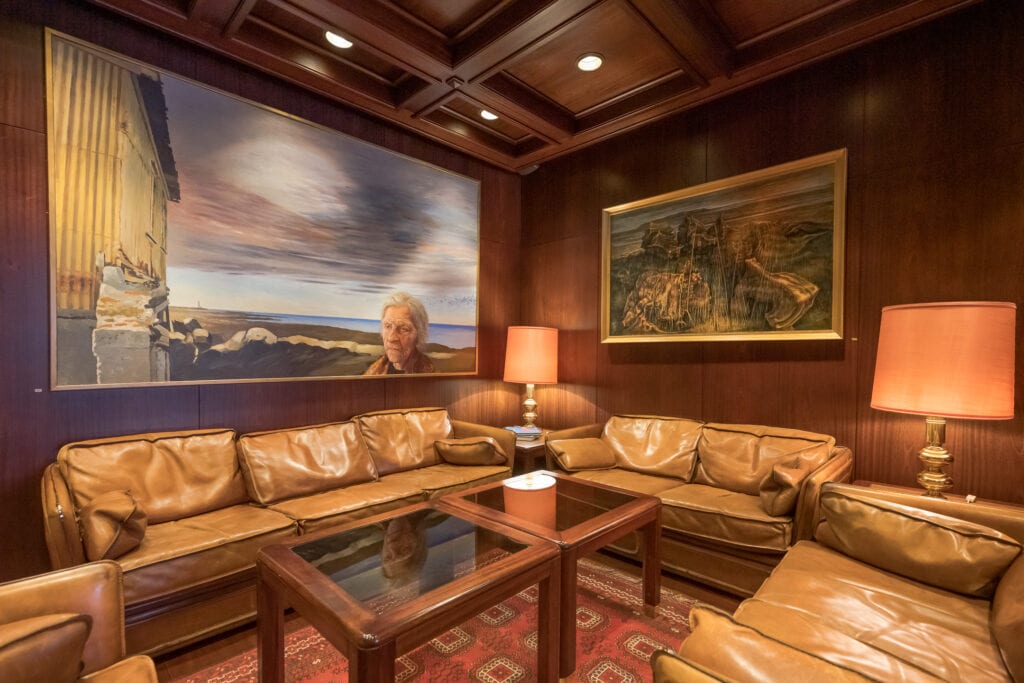 And the collection includes over 500 paintings by Jóhannes S. Kjarval, one of Iceland's most influential and prolific artists. His style varied greatly but included both the realistic and fantastical that drew inspiration from Iceland's landscapes and folklore.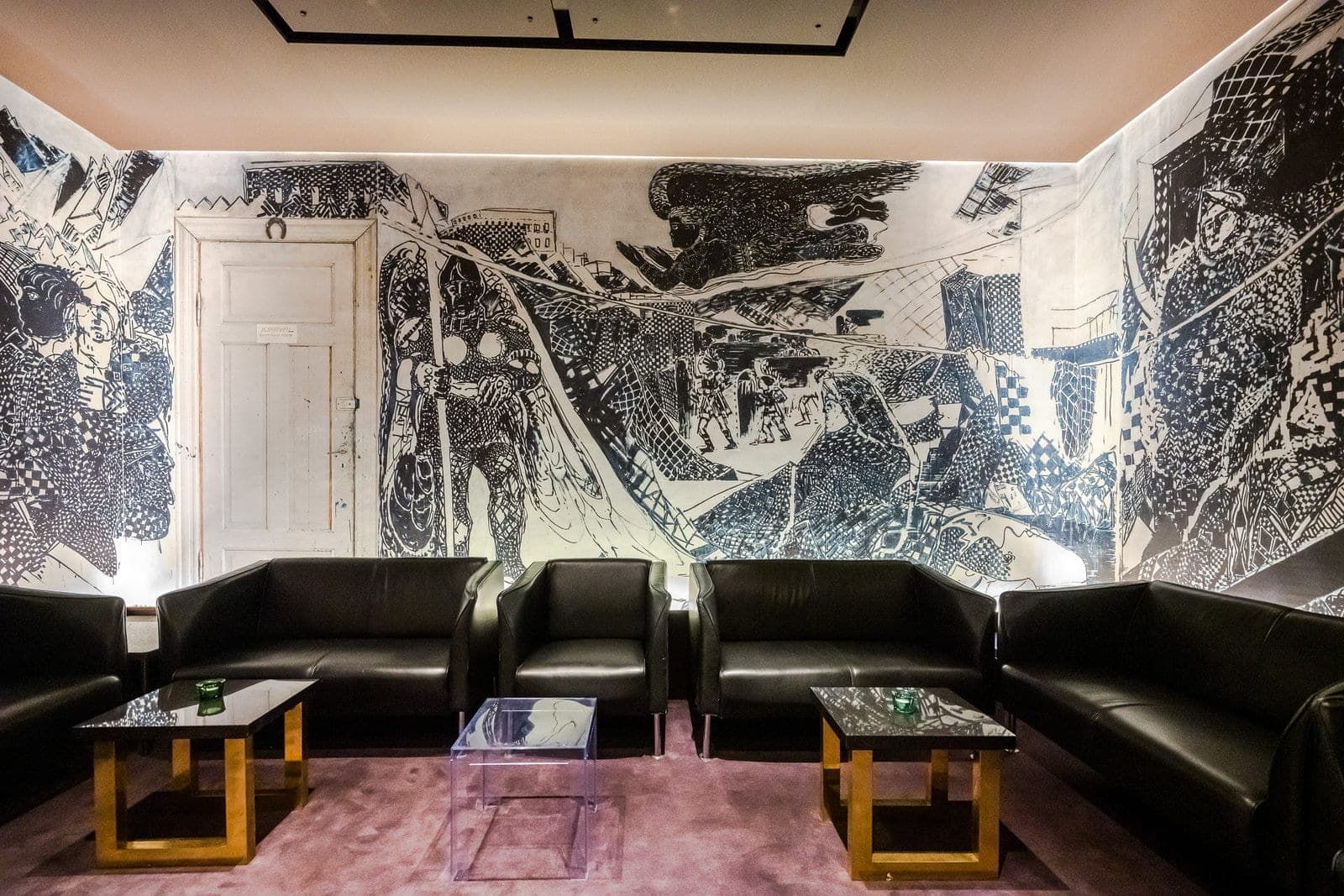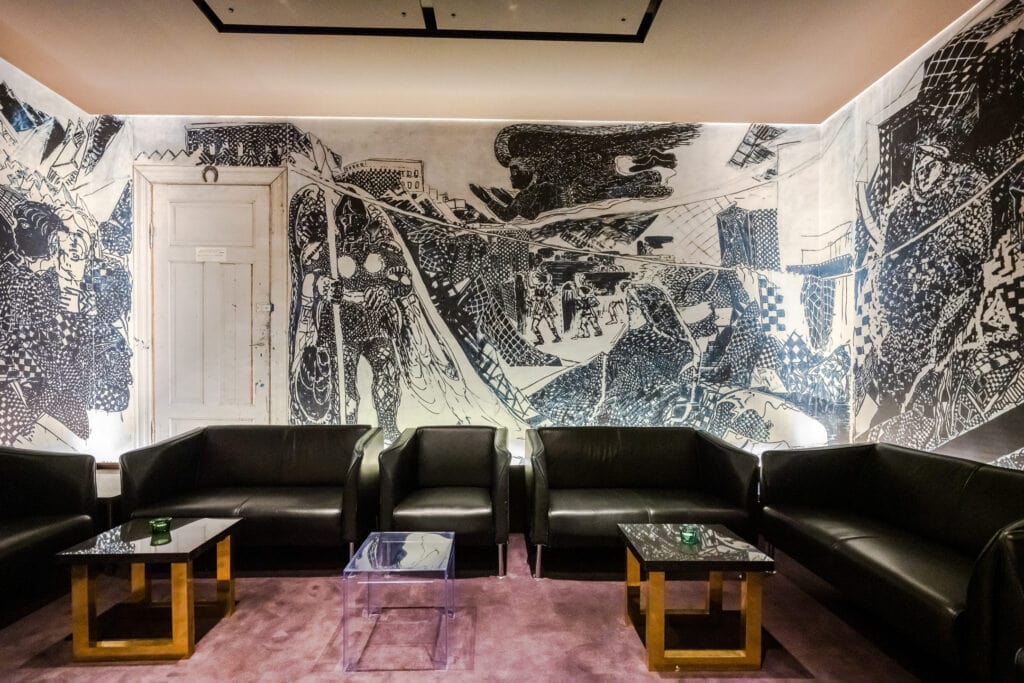 You can learn more about the art collection online, or ask to see the gallery binder at the front desk.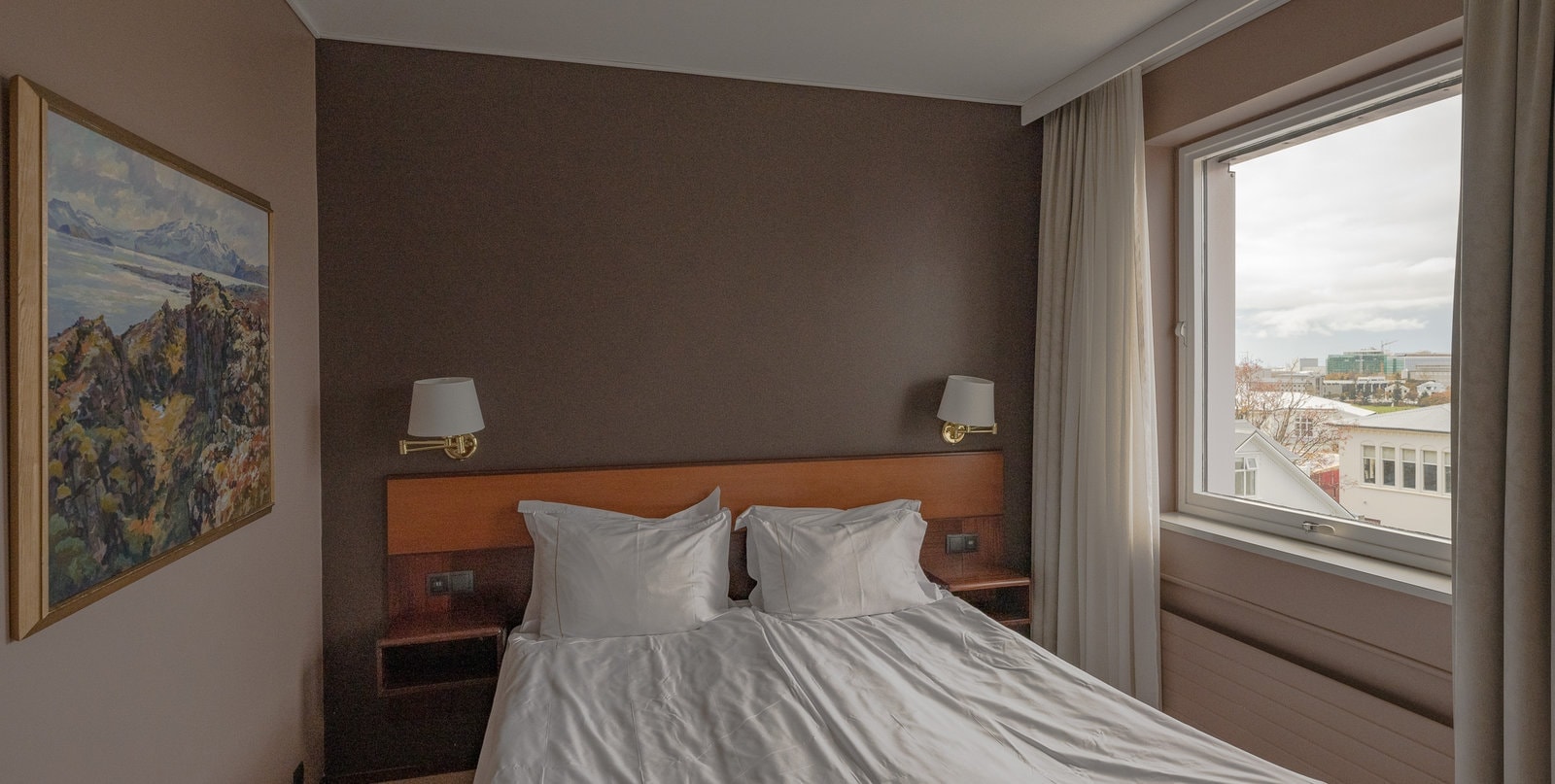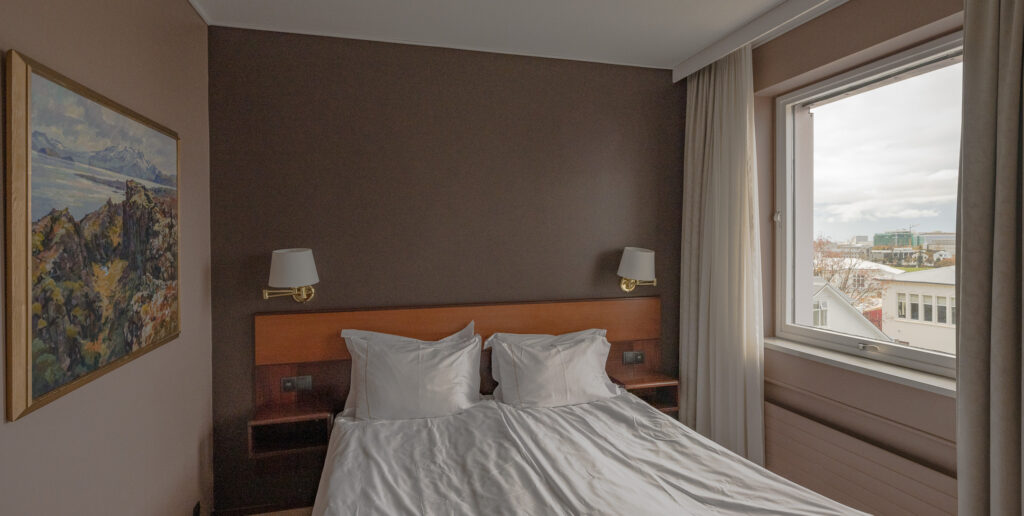 As for the hotel, the guest rooms are comfortable if a little overdue for an update. Breakfast is available (for a fee) in the main dining room. And parking is free in the small outdoor lot.
Note that Hotel Holt is a little removed from City Center. It's located on a residential street on a hill behind The National Gallery of Iceland, but it's still only a 4-minute walk from Rainbow Street. And one of Reykavik's most romantic restaurants, the award-winning Three Coats, is just around the corner.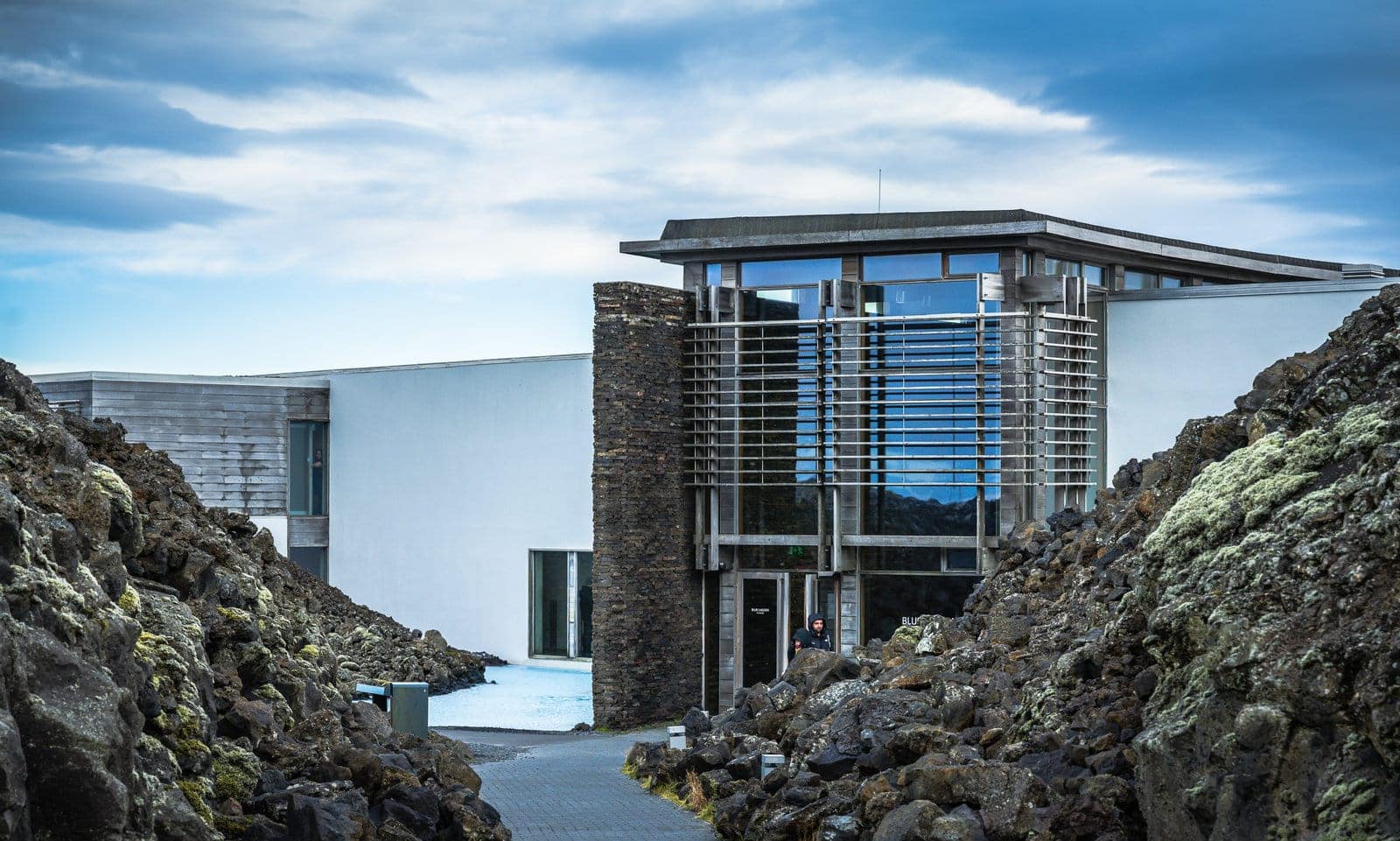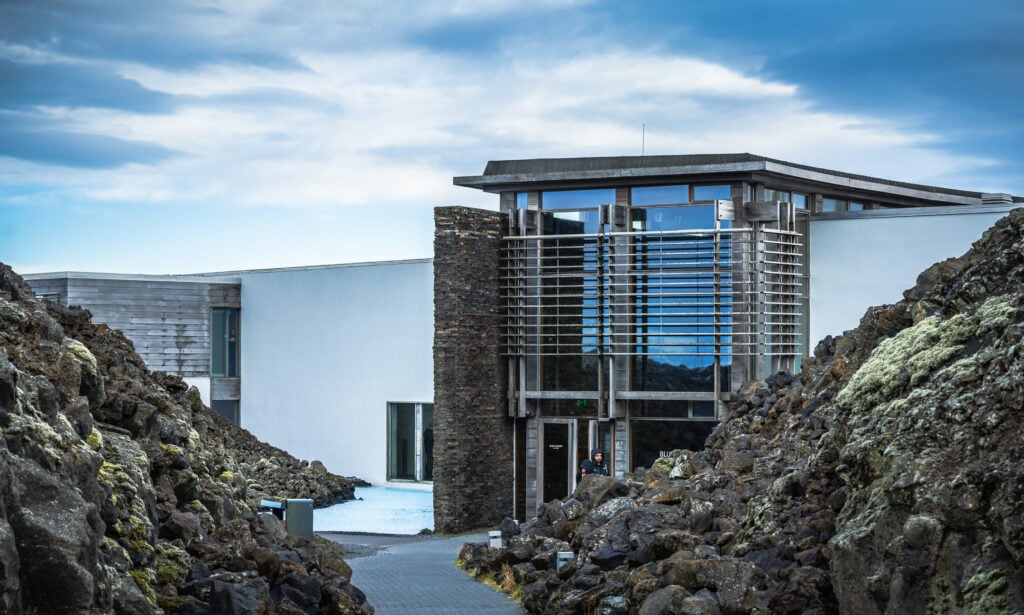 Bonus Splurge Hotel
If you have time for one more Reykjavik hotel, consider splurging at a resort that's actually near the airport. The Retreat Hotel at the Blue Lagoon is the perfect place to kick off an Iceland vacation or wind down after an island-wide road trip.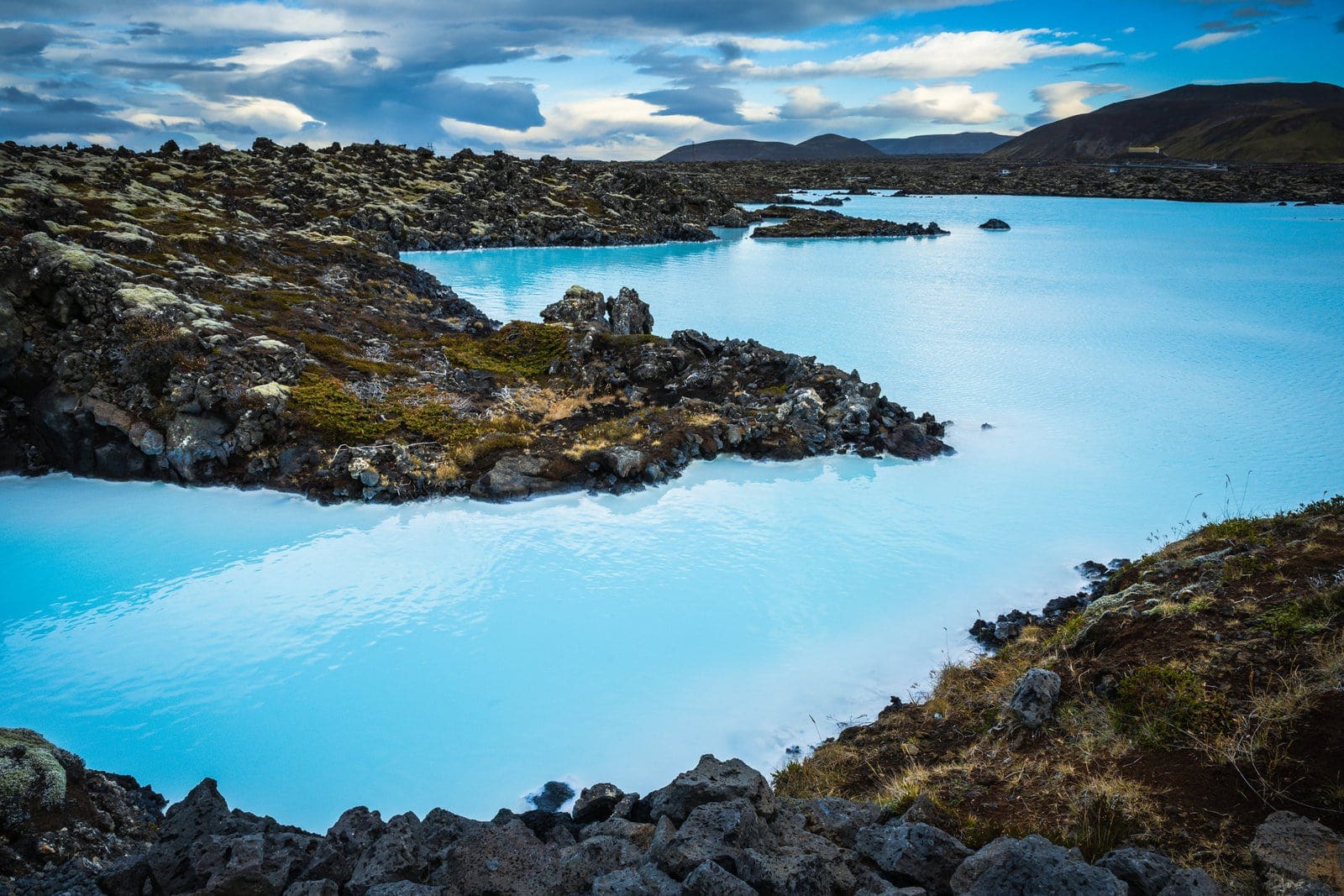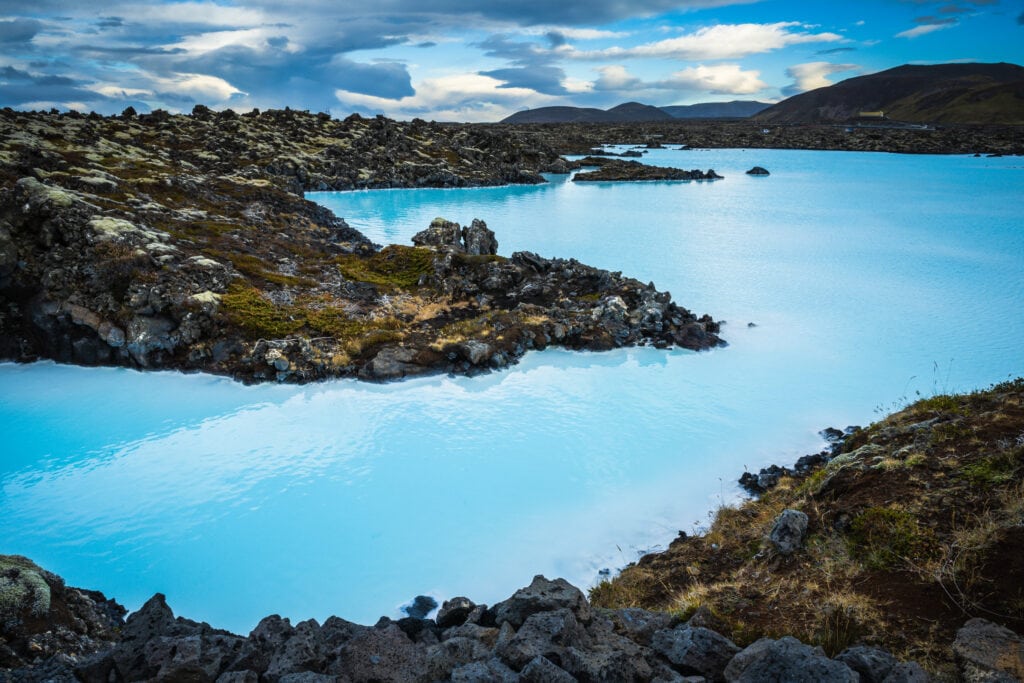 With an overnight romantic getaway, you not only have access to the quieter side of the geothermal pools, and the legendary spa treatments, but you can partake of signature dining experiences.
Iceland Travel Guides
Whether you choose to stay in Reykjavik only upon arrival or departure, or if you stay long enough to explore the capital city's many attractions, we've got you covered. We've put together a number of guides for planning your best romantic getaway yet!