WHY GO: The defining characteristic of Wellsboro PA is nostalgia. Everything – from the tidy gas-lamp lined boulevard, to the neon-marquee cinema, old-timey Trolley and Covered Wagon Tours, a historic hotel, and a shop that dabbles in non-electronic games and toys – puts one in mind of the 1940's.
Or at least a simpler time. The town is so unconsciously precious, its park fountain features a sculpture of Wynken, Blynken, and Nod – one of only two in the country.
Wellsboro is the gateway to Pennsylvania's Grand Canyon: considerably smaller (of course), more verdant, and just as muddy a river as its Western namesake. For the best overview of the town and its environs, sign up for the Wellsboro Trolley Tour and then take an Ole Wagon Tour into the Canyon – a unique way to access its natural wonders.
Things to Do in and Around Wellsboro PA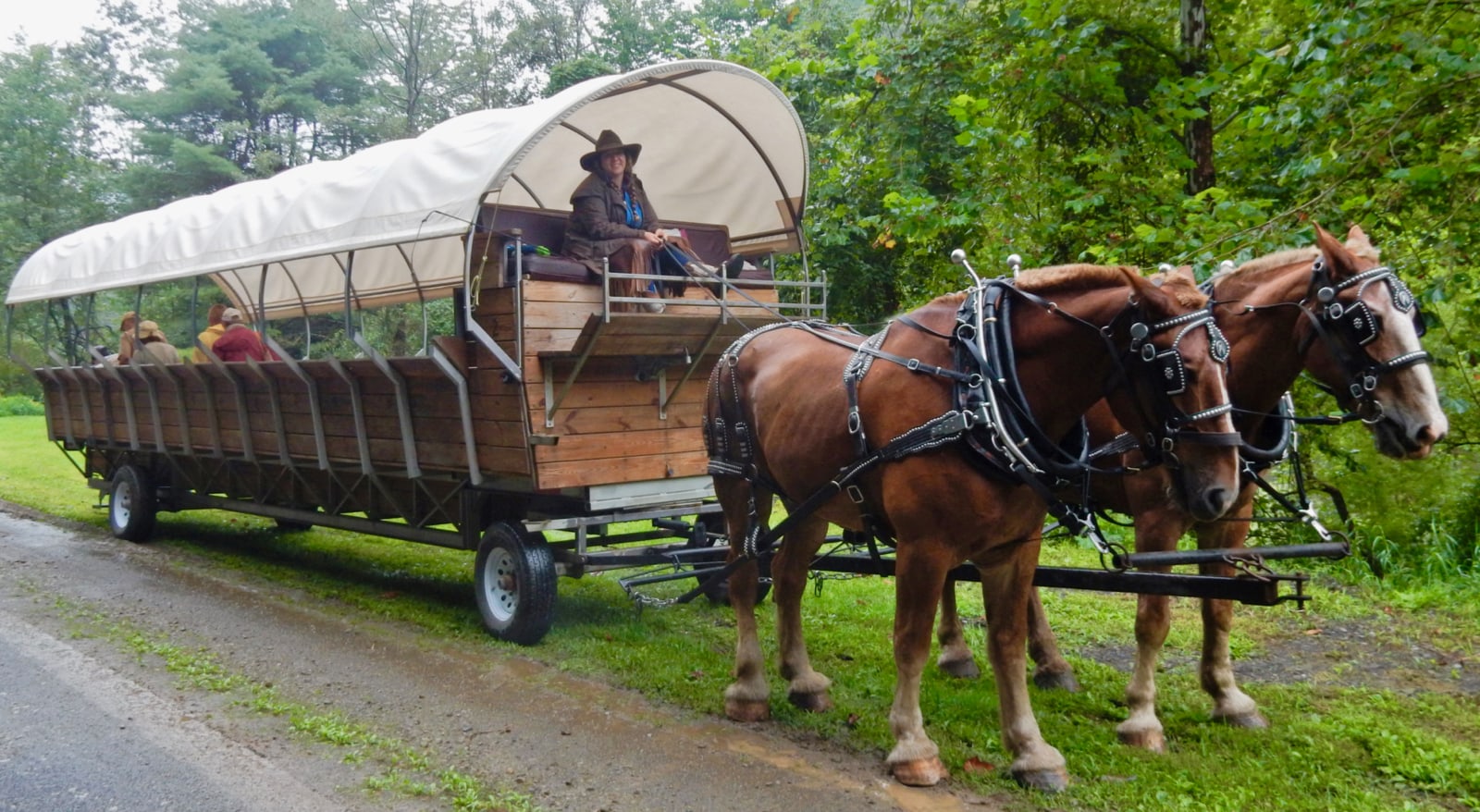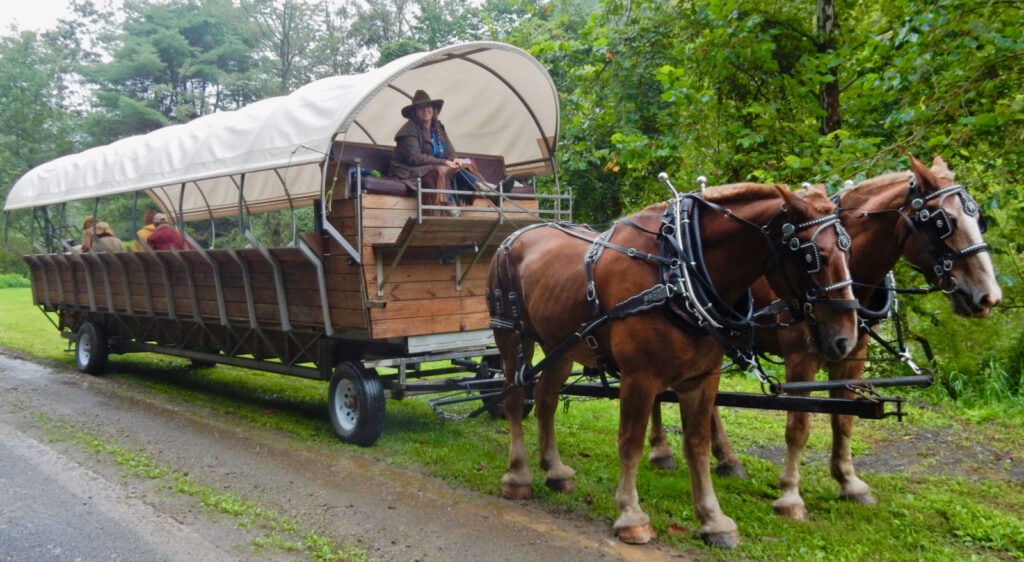 TOUR: Ole Covered Wagon Tours (of PA's Grand Canyon) Wellsboro PA
If you're looking for a slow-paced encounter with nature in an undeveloped area of PA, there's no better way than by horse-drawn covered wagon through Ole Covered Wagon Tours, Inc. Motorized vehicles are not allowed "down in the Canyon," according to our folksy guide. So, rain or shine, the "stretch" wagon, outfitted with comfy cushioned seats, takes up to 30 guests along a portion of the 62-mile rail to trail that runs through the canyon floor.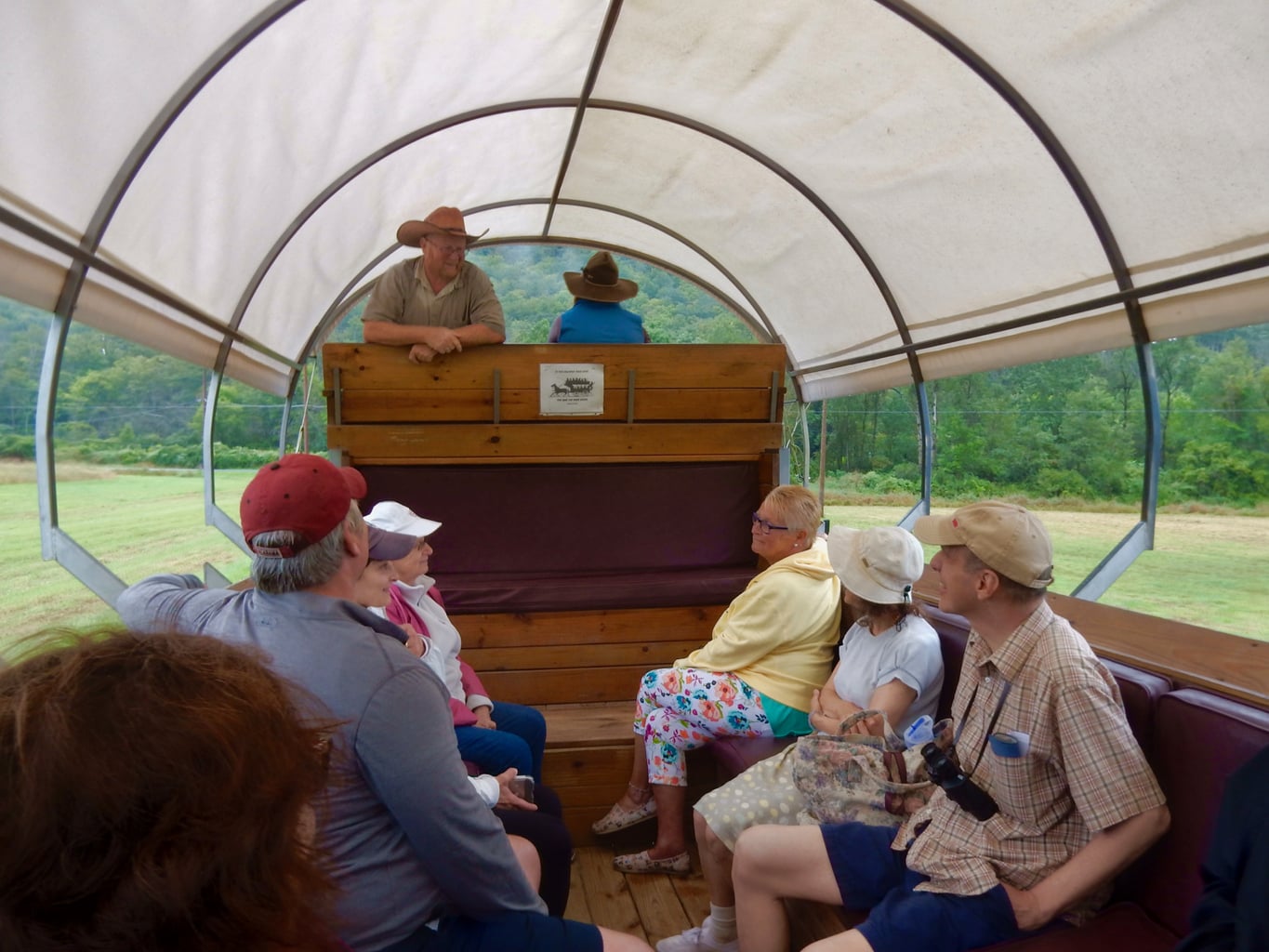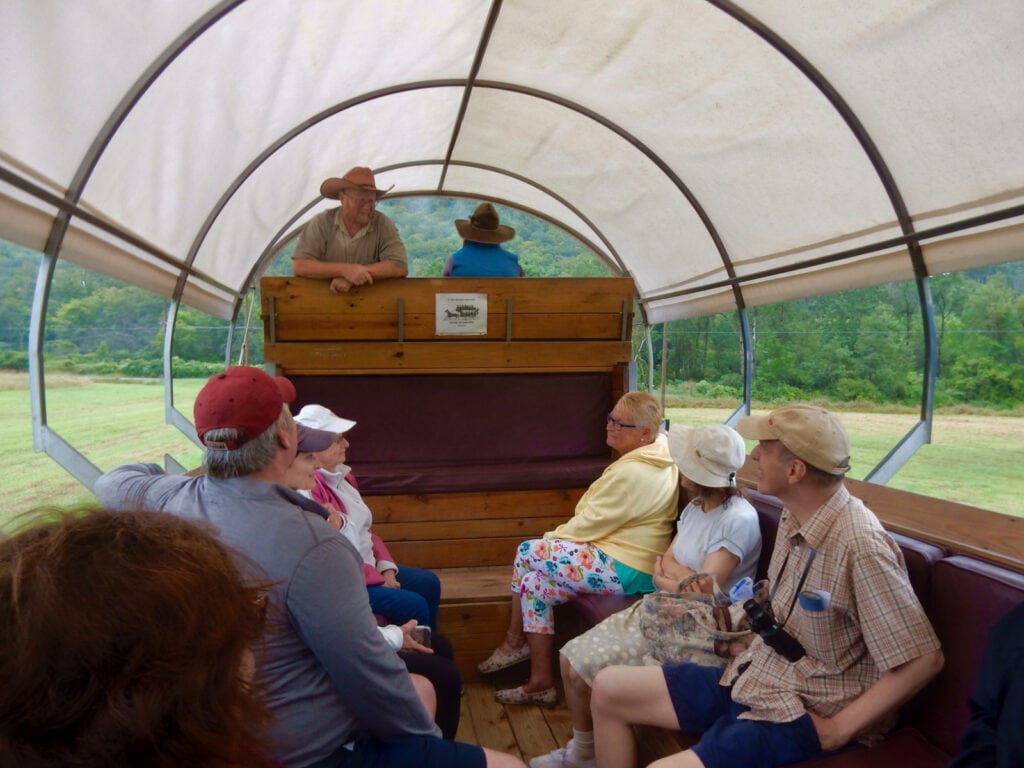 The guide sits up front. He turns to banter with guests, while the teamster drives a set of two "gentle giants" – muscular Belgian horses bred to haul lumber and work the farms in this area of PA.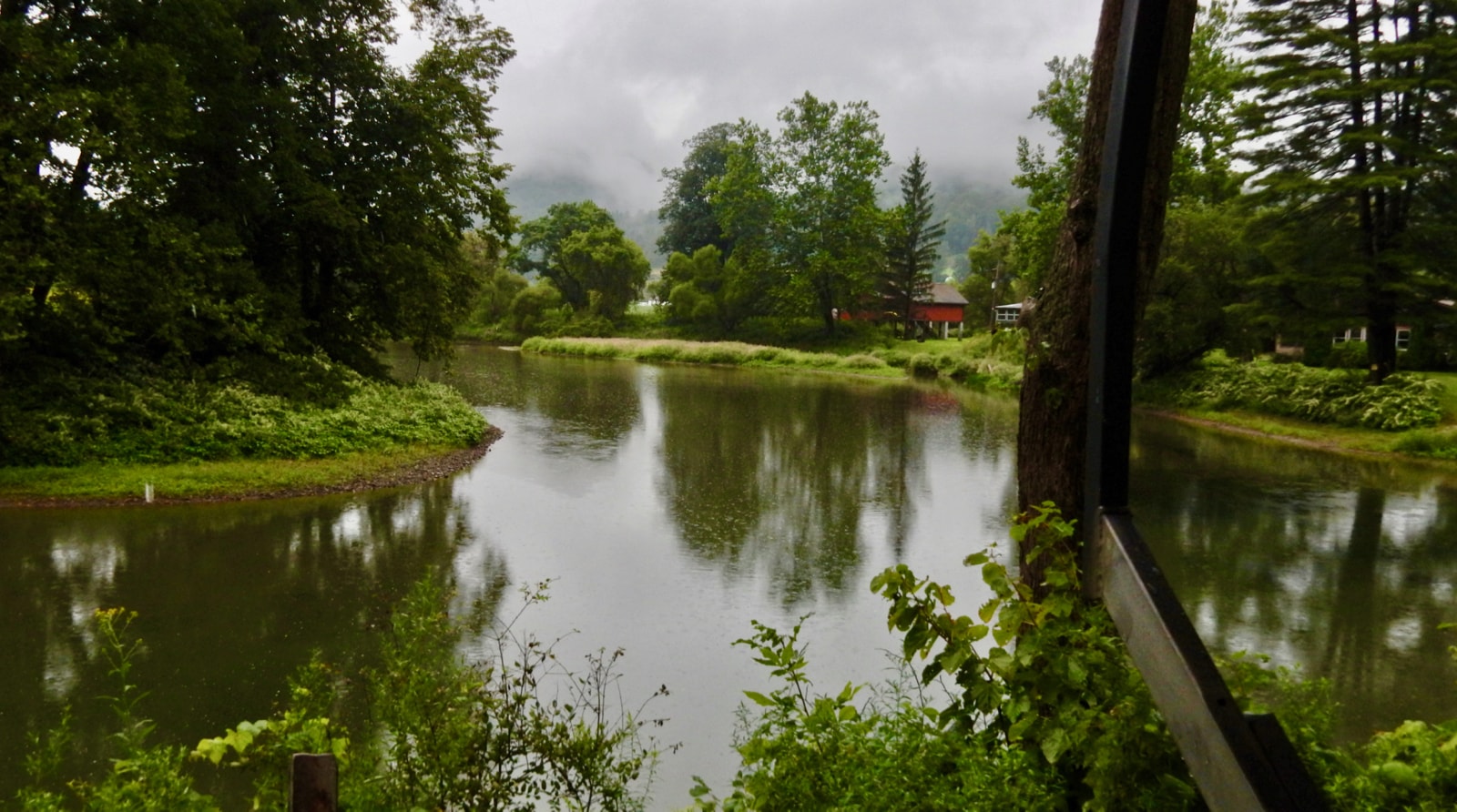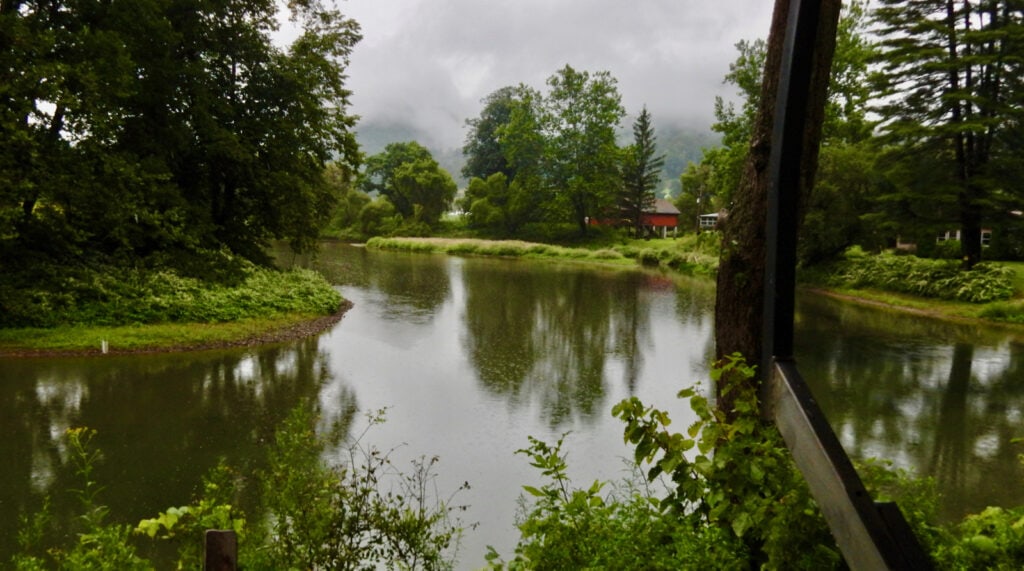 On my three hour tour, as I watched a panorama of canyon and creek unfold, the guide talked about the area's Native American history, provided information on the plants scrolling by (including an alarming amount of invasive Japanese Knotweed), and pointed out Eagles and Blue Herons. It was the perfect speed by which to see nature up close.
Waterfall Tour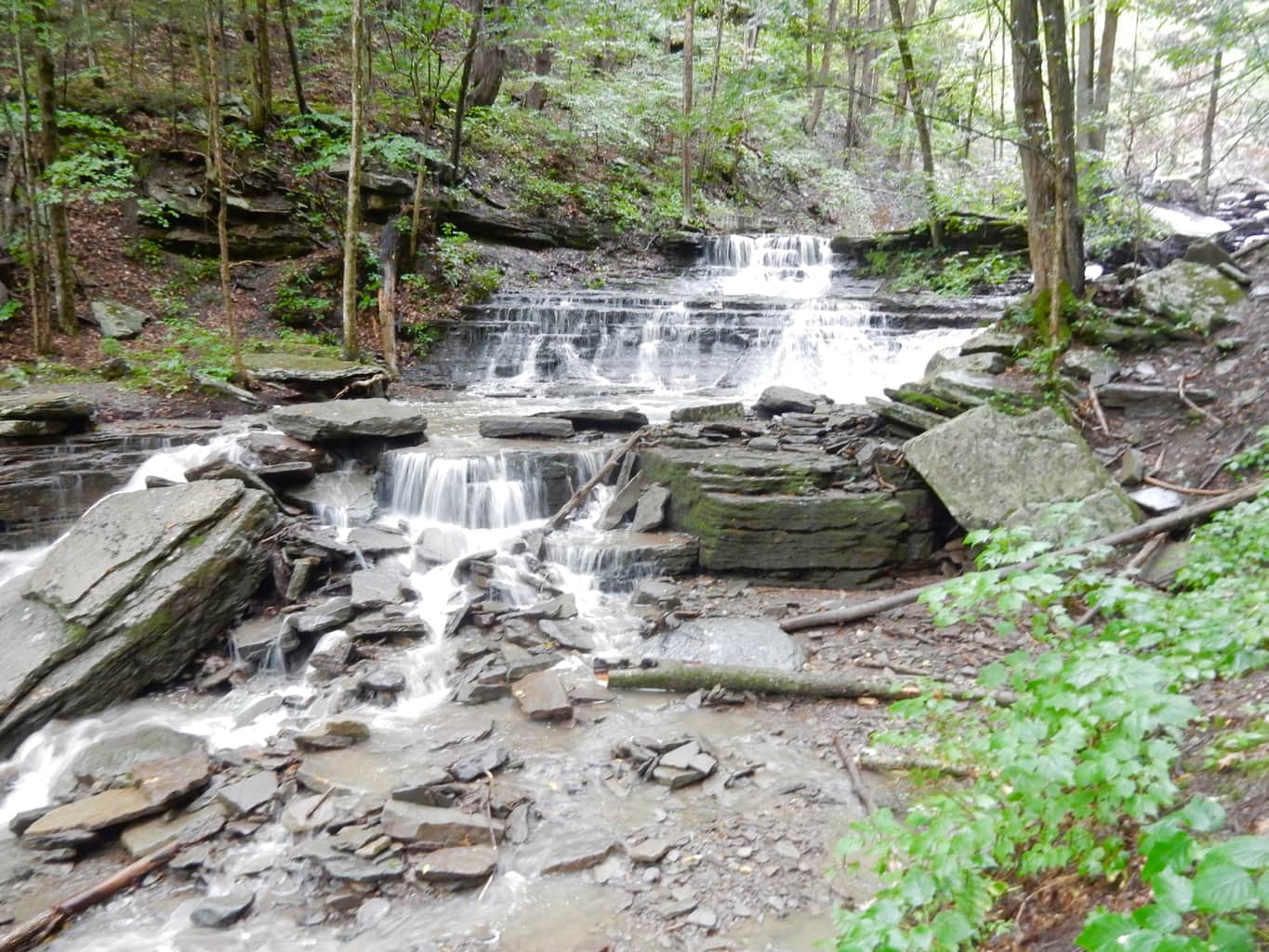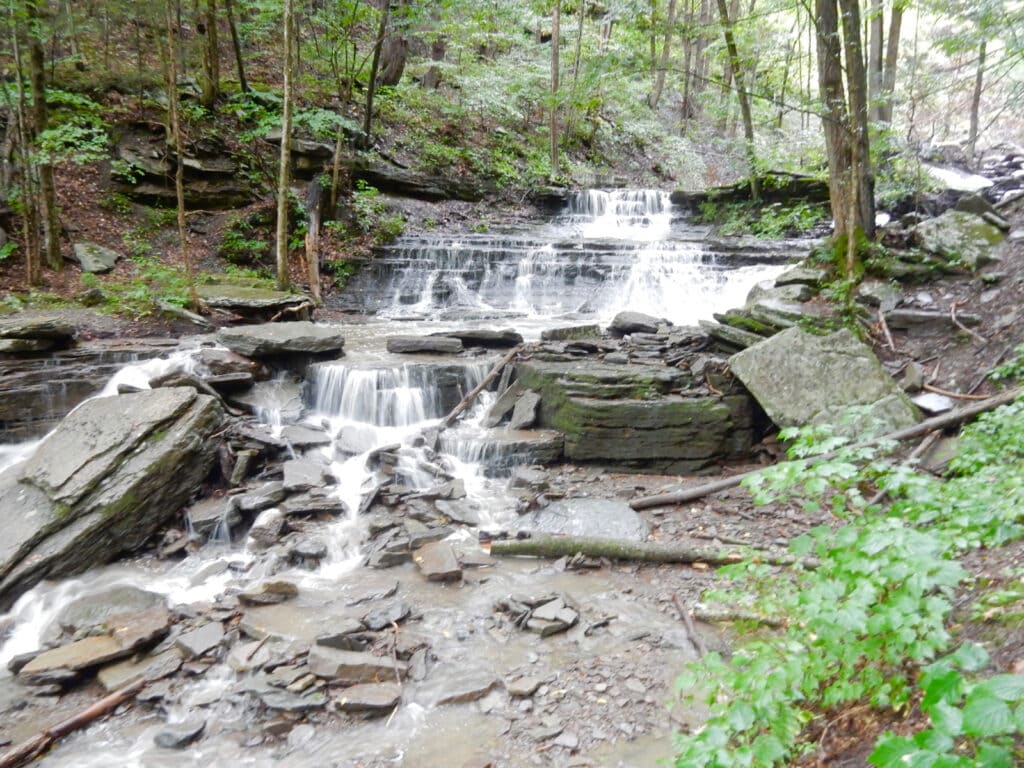 Fans of waterfalls will want to take the 3-1/2 hour Waterfall Tour, which turns around at the foot of a beautifully tiered cascade of water: the Little Fourmile Run Waterfall. You'll get a better view if you hike 200 steps up to its midst, which makes for great family and couples pics. Mid-May through Mid October 10:30 and 2:30 daily. In summer 3X day, 2-hour rides. $35 adults, $18 kids; 4 hour Waterfall Tours $45 adults, $22 kids.
Olde Covered Wagon Tour is one of the most quirky-romantic places to propose in PA.
TOUR: Tony's Tioga Trolley Tour
This entertaining and educational 1 ½ hour tour of Wellsboro begins outside of the Penn Wells Hotel. This establishment was Wellsboro's point of pride in the early 1900's, when more and more people began to hit the road in cars.
"Wellsboro was the best paved city on US Route 6 between New York and Chicago in the 1920's," our guide began. "You could leave NY at 9am and be at the Penn Wells for dinner at 6:30." (The same 250-mile trip today takes 4 ½ hours).
Corning Bulb American Flag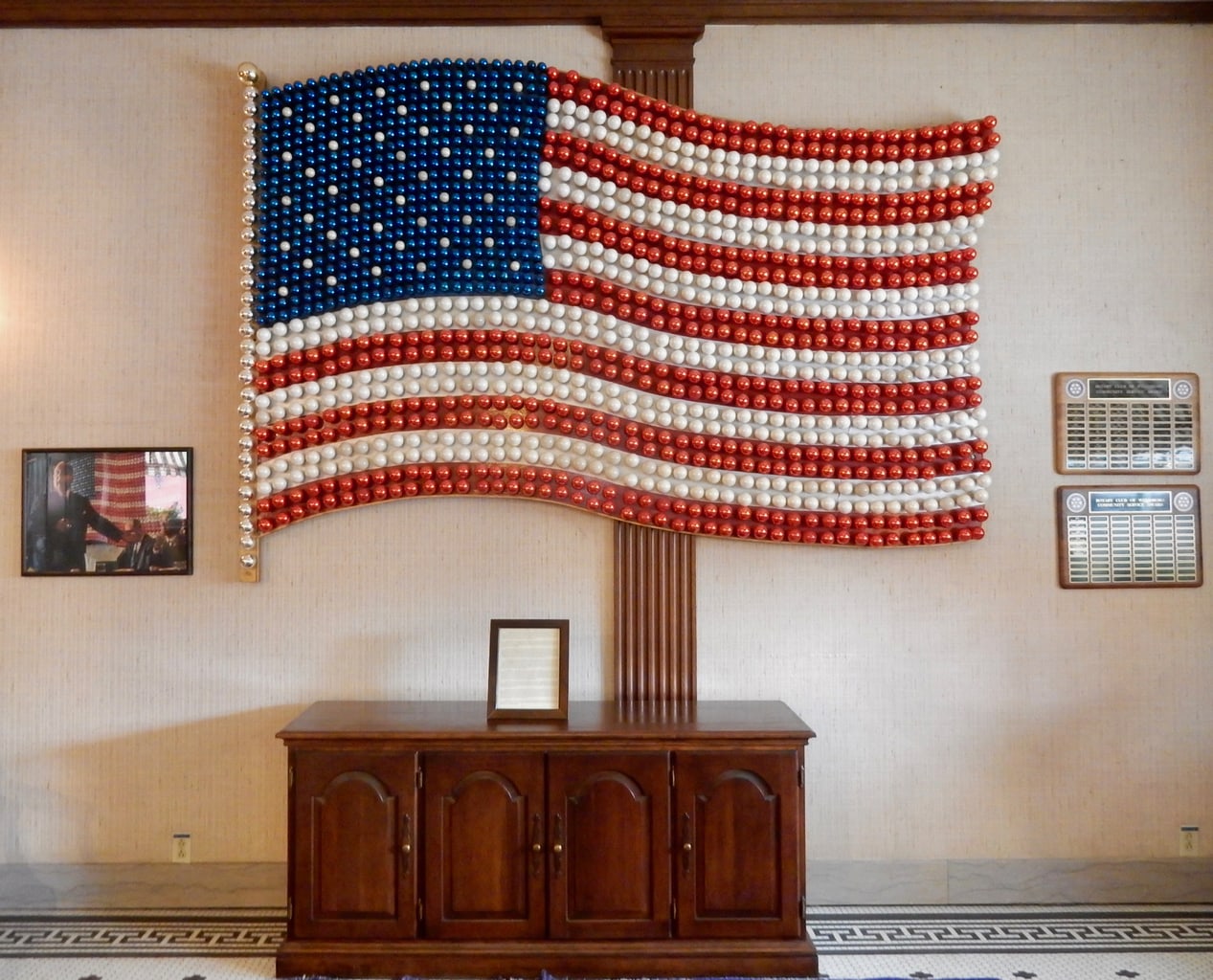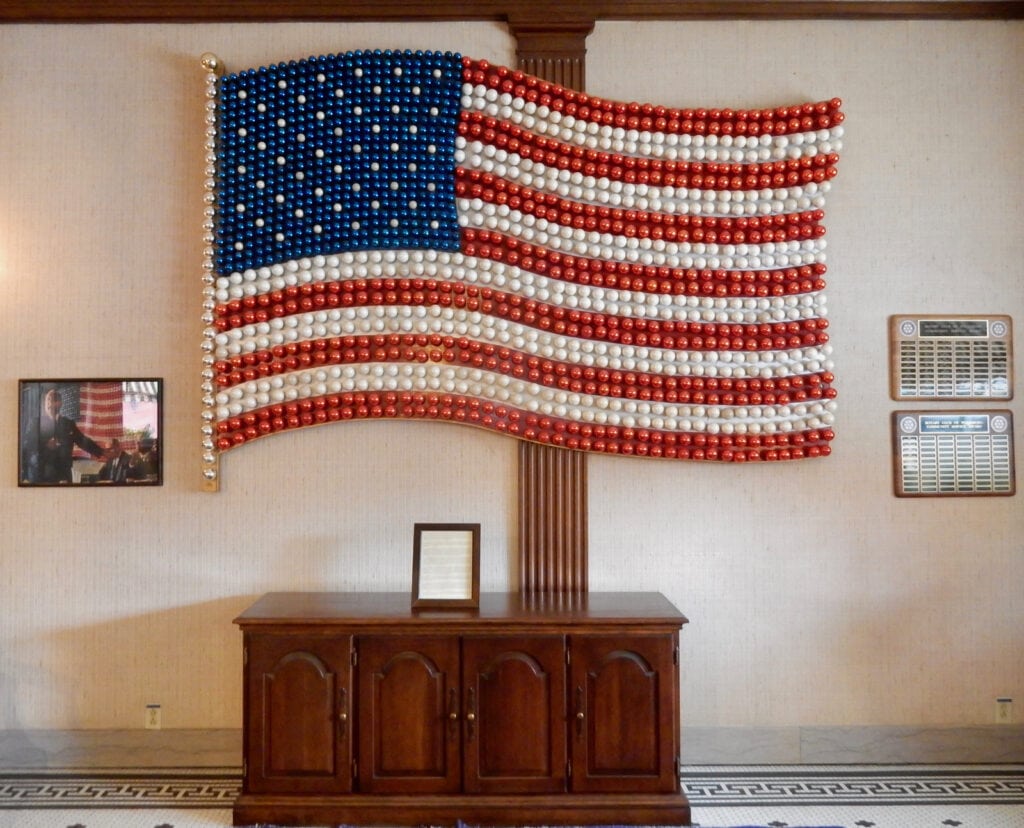 During WWII Corning Glass manufactured Christmas tree lights here. In fact, the lobby of the Penn Wells is festooned with an American Flag made entirely of these bulbs.
Wynken, Blynken, and Nod Fountain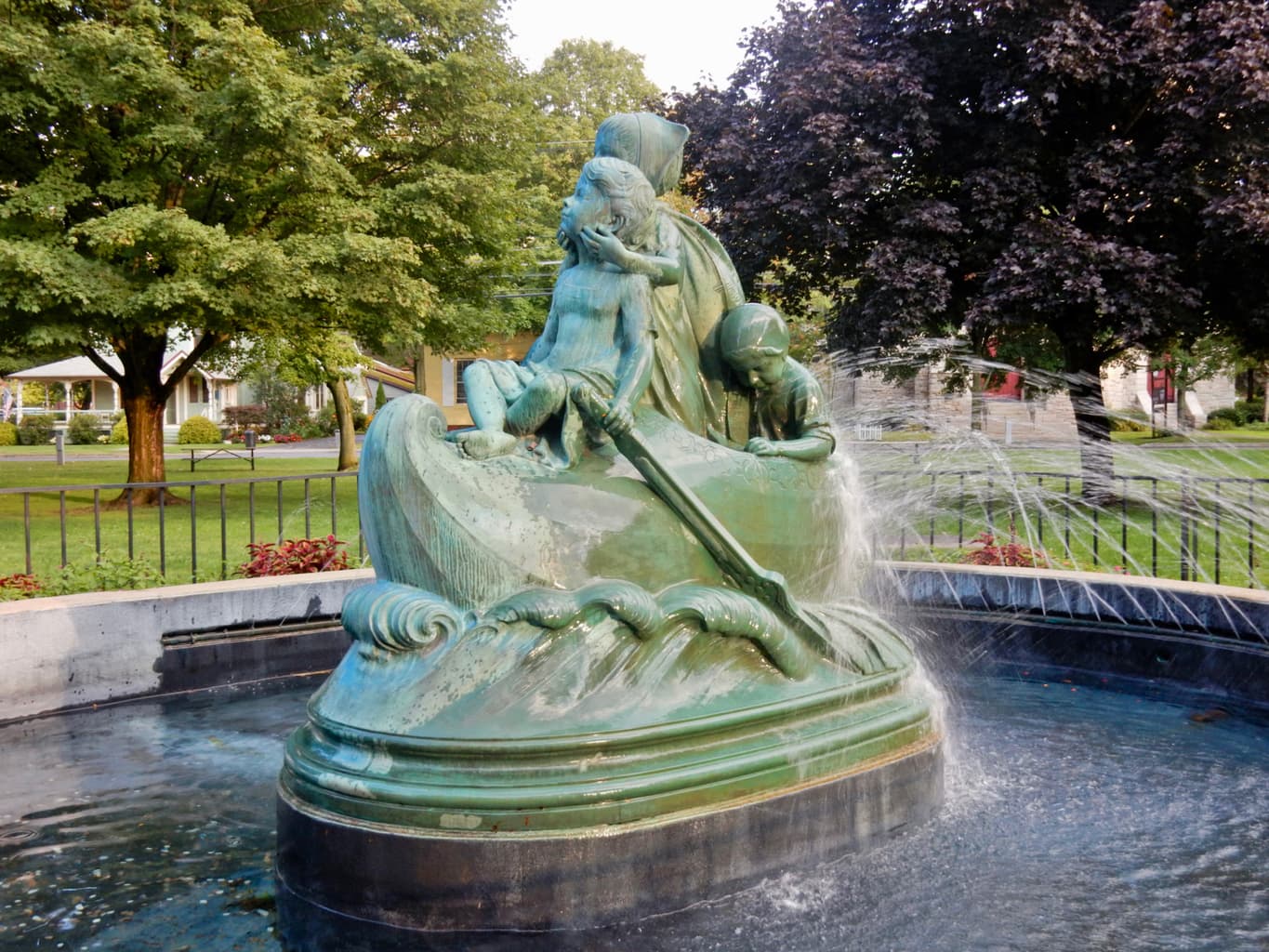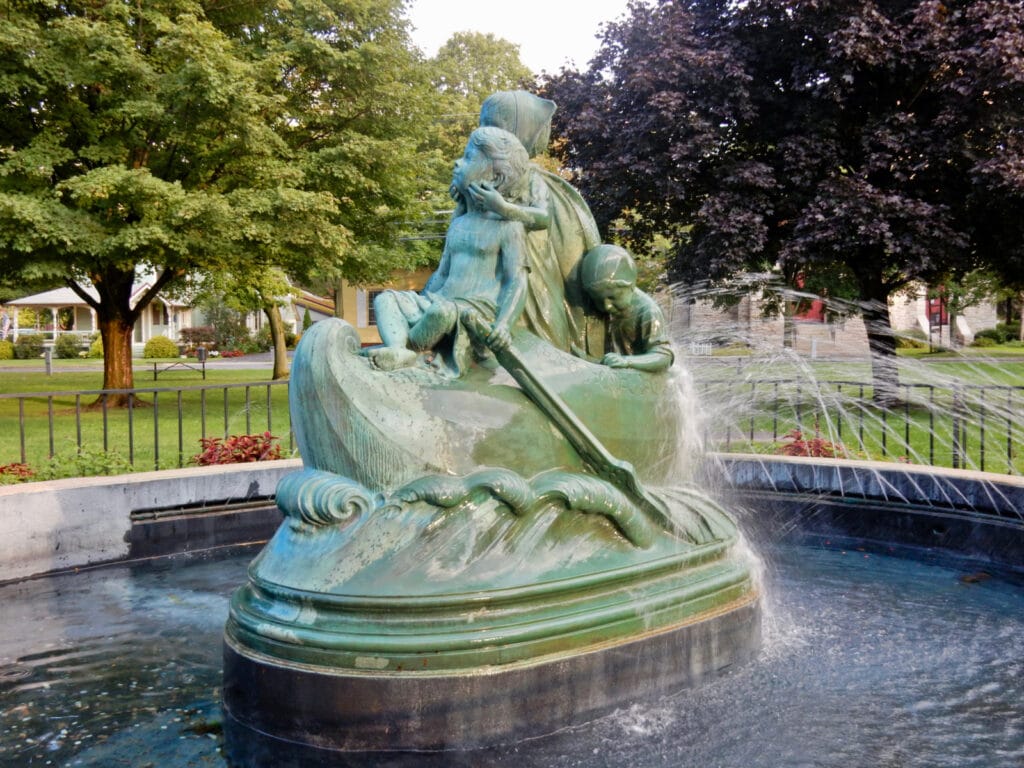 There's plenty of history, a story about a main street house door that was a gift from Abraham Lincoln, a drive-by look at the Wynken, Blynken, and Nod fountain (commissioned by a wealthy resident for his daughter), and a couple of stops. Both are sweet in so many ways. The Trolley lets you out at The Main St. Creamery for homemade ice cream. And then at Highland Chocolates for a Factory Tour. $20 adults, $10 kids, check website for times and days.
Even if you don't come on the Trolley, it will warm your heart to tour Highland Chocolates. Twelve special-needs adults are employed here (nine at a time). Visitors are encouraged to ask questions. These men and women are incredibly proud of their accomplishments, and take their work seriously. Todd, putting bags of treats together, was thrilled be photographed.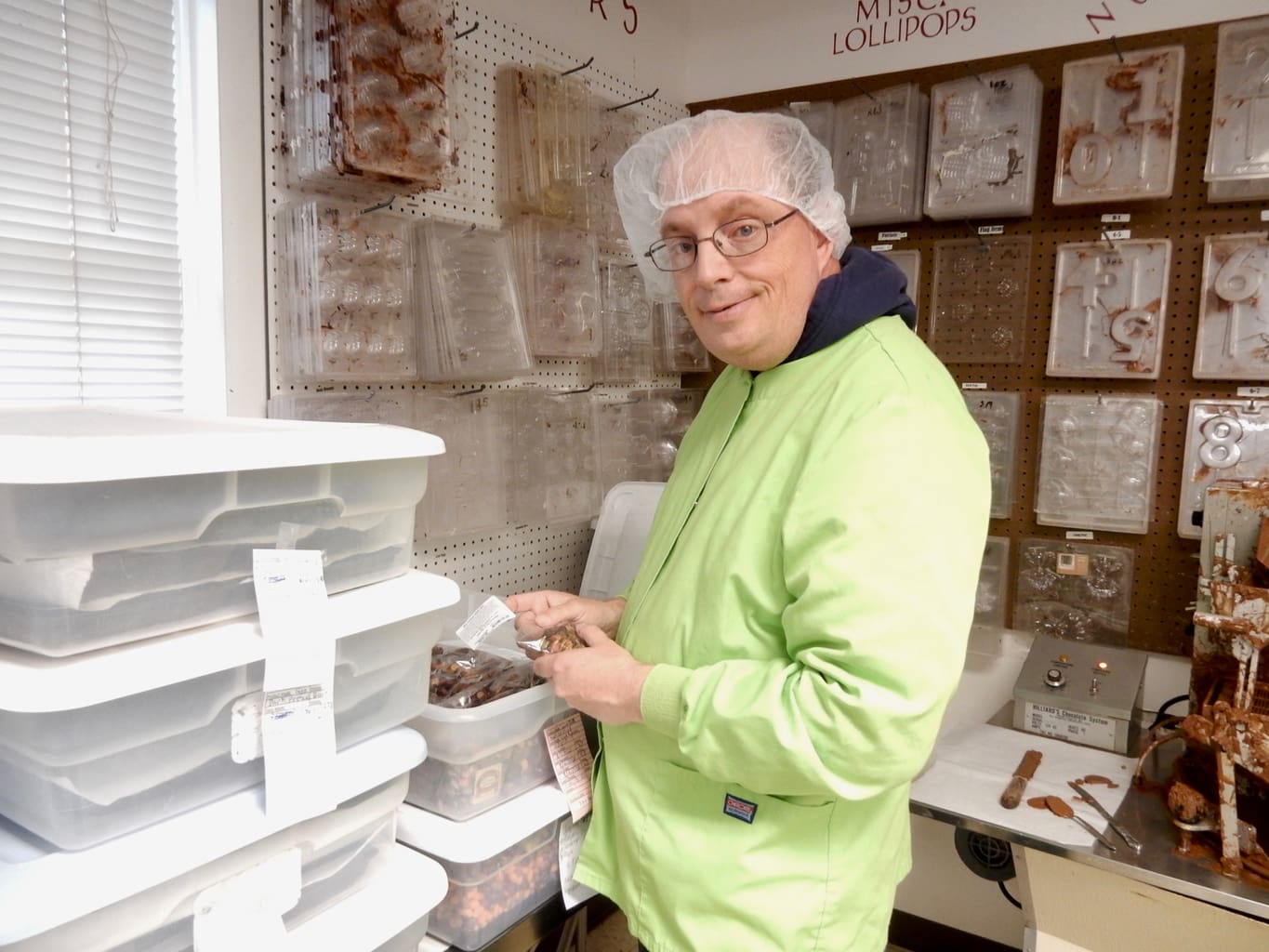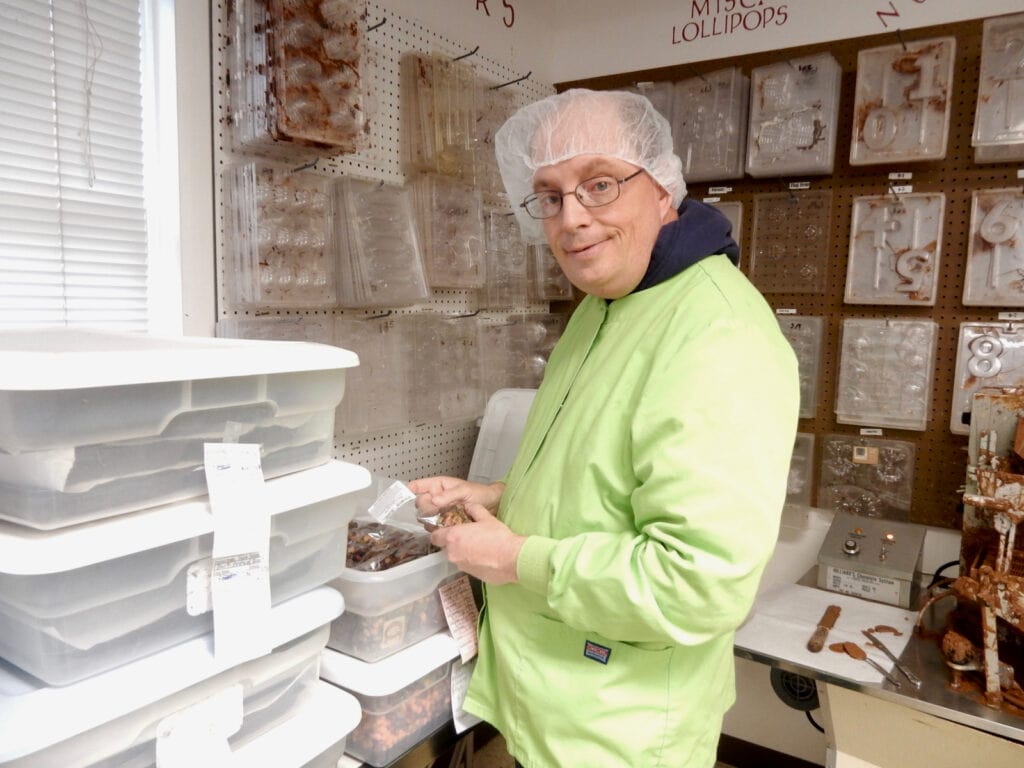 PA based Herr's Corp. donates the pretzels Highland's signature Pretzel Bark. The non-profit also makes custom molded chocolates for companies during the holiday season. It supplies crunchy nut snack mix for Sands Casino, cherry flavored galaxy glitter bars for Cherry Springs Dark Sky State Park, and 2,000 molded chocolate ears for a local audiologist, just to name a few. Open for tours Mon-Fri. 9:30-2:15.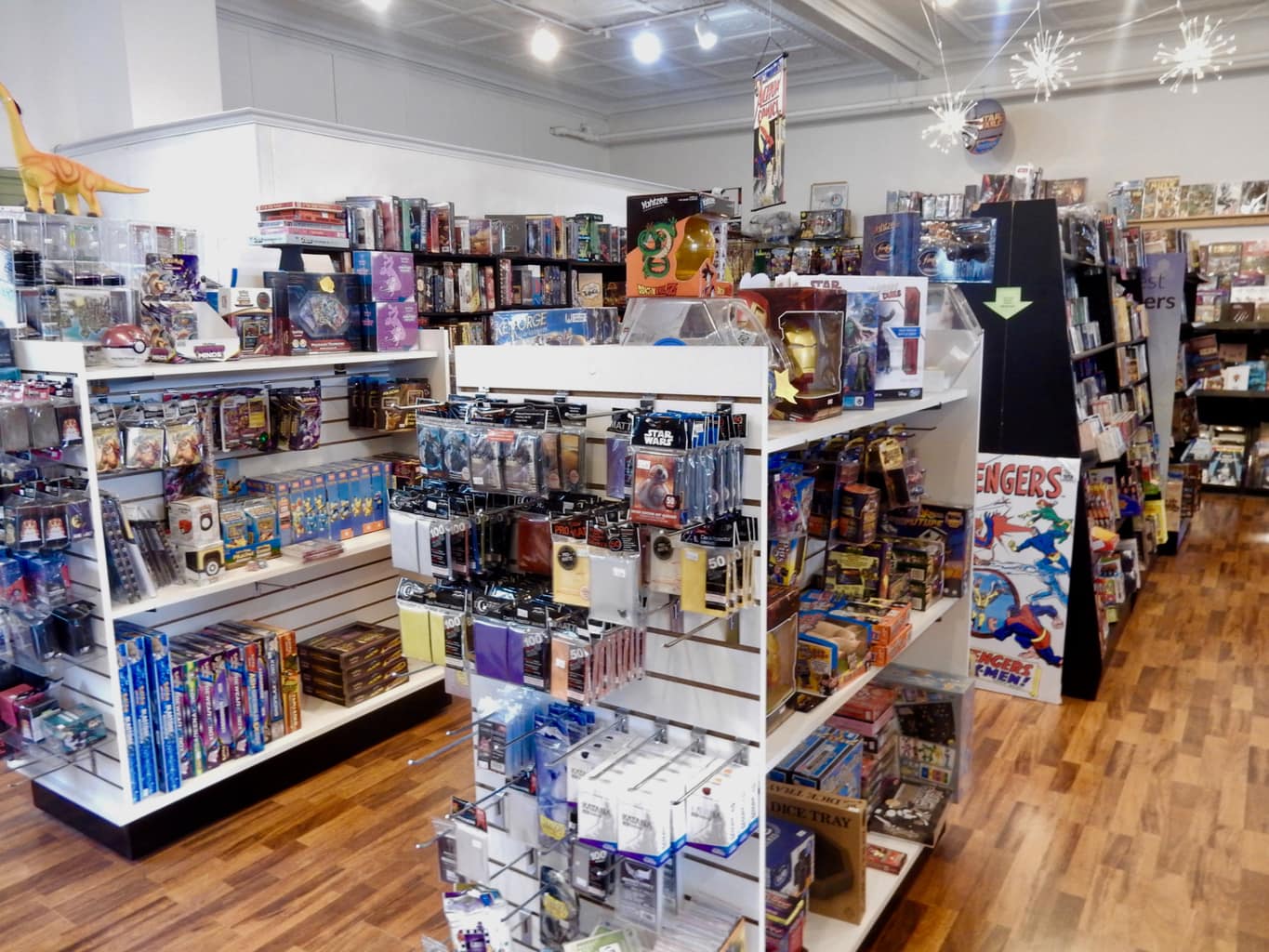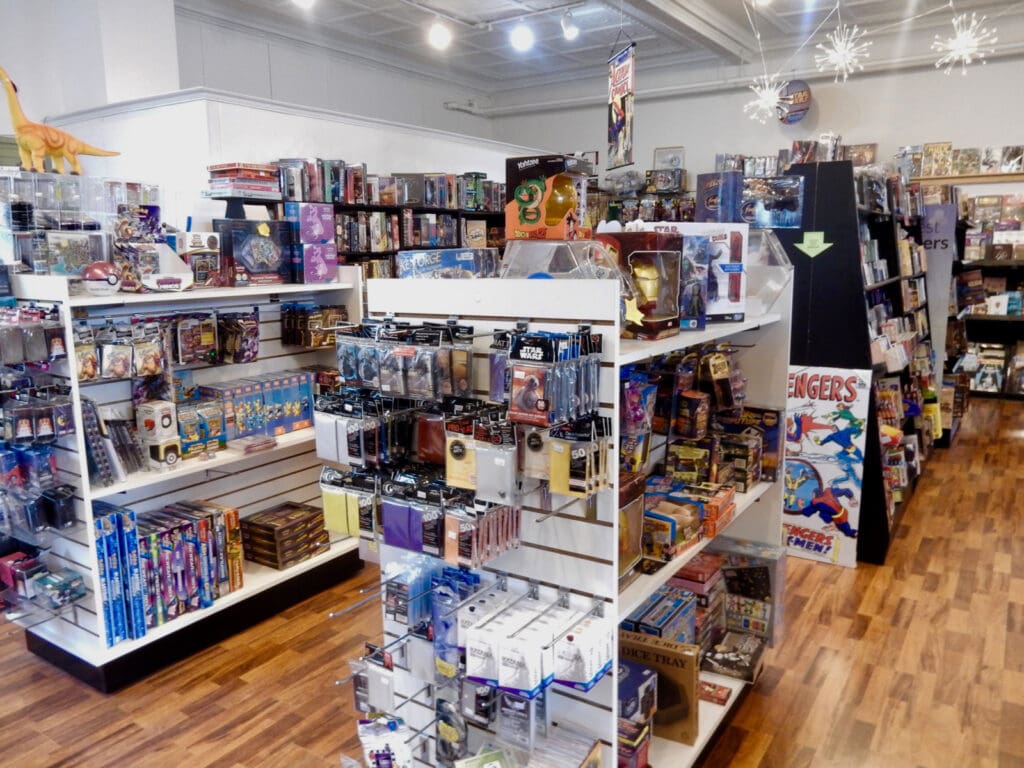 Anja Stam was a German translator, her husband, Julian, a Boston College Librarian, when they got the urge to change their lives. So, the Stams moved to lost-in-time Wellsboro PA and opened up a store filled with the games and toys that they "grew up with." The duo is on a mission to "get people off their screens and interact face to face."
I'd say they've exceeded their goals.
This specialty shop now stocks and ships "thousands of games" all over the world: from Cat's Cradle, Jack's, and Tiddly Winks, to toddler approved "Roll 'n Play," comic books, board and card games, magic, Marvel and Star Trek figures, and more. Proprietary jigsaw puzzles feature artistic images of iconic Wellsboro, shot by local photographers. Naturally these make for fantastic souvenirs and gifts.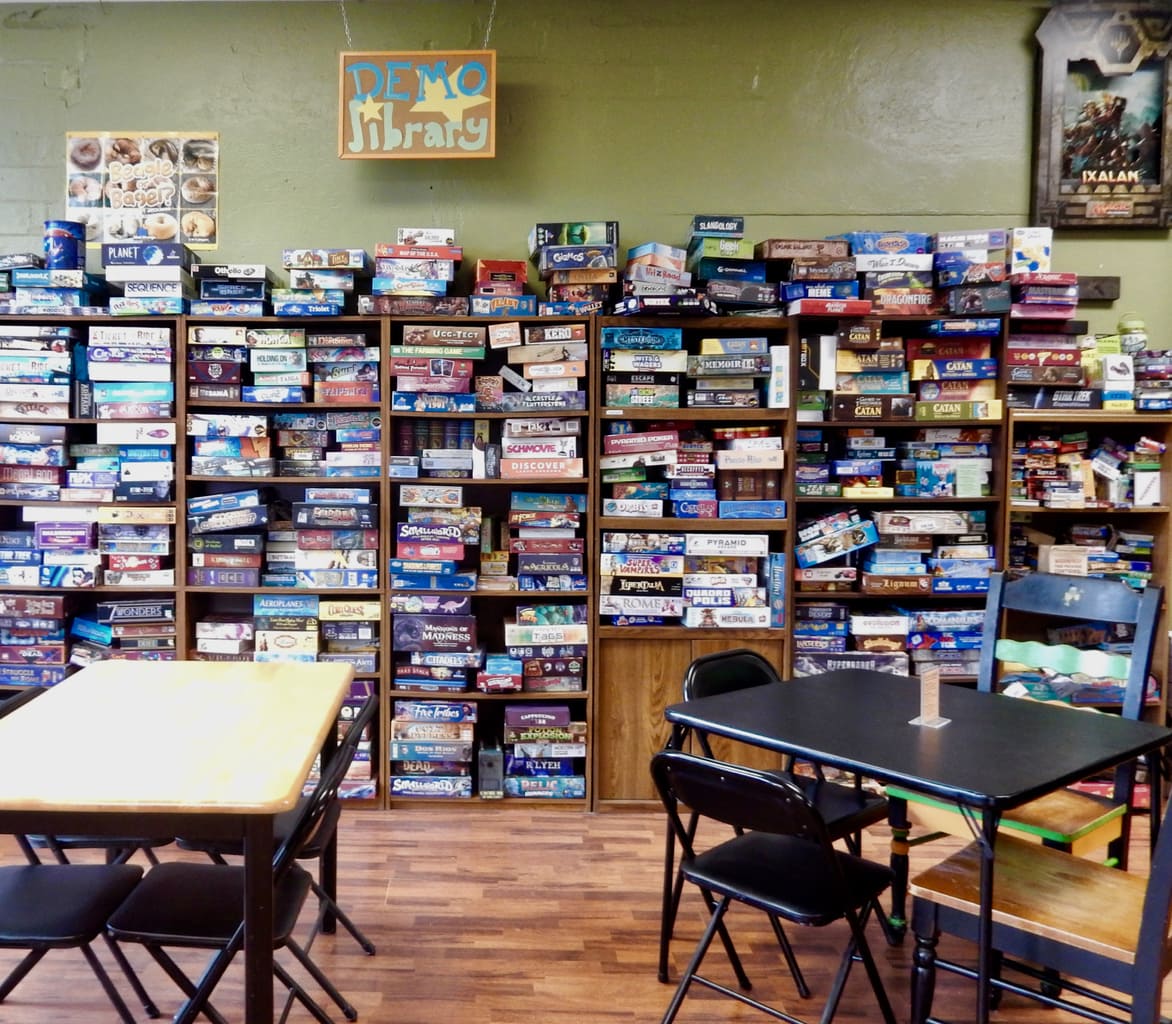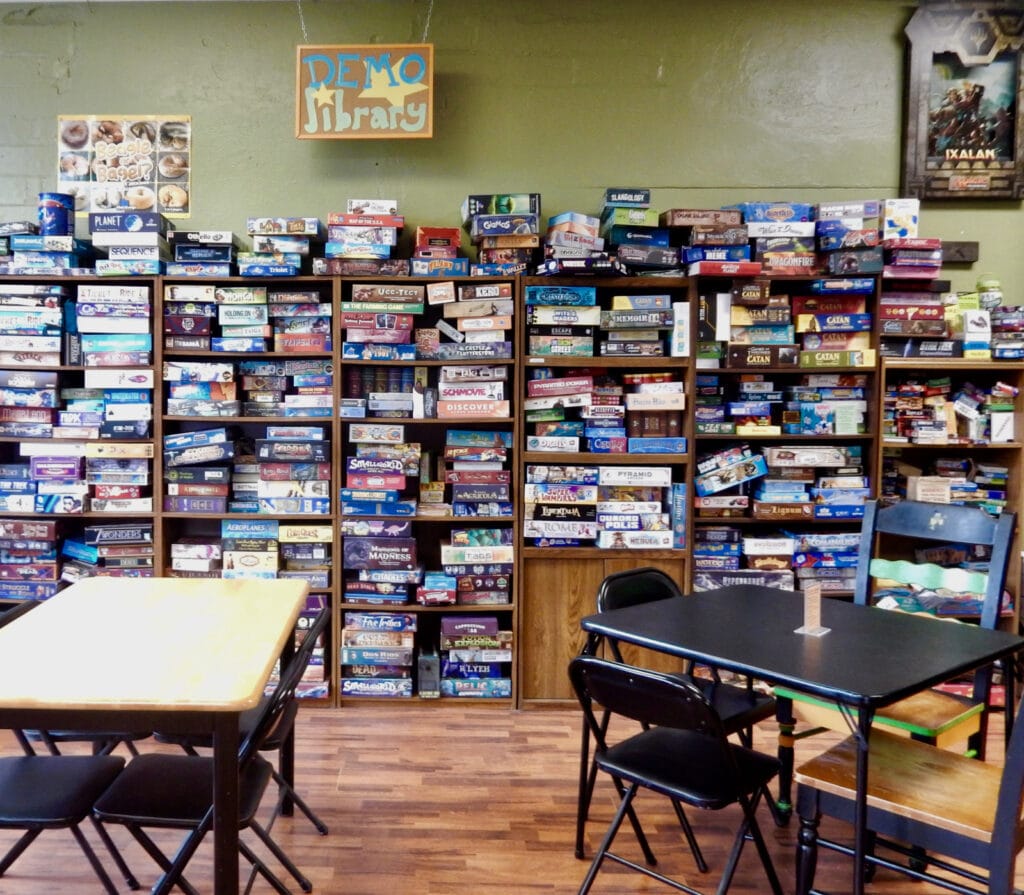 At 3:30 after school every weekday, Pop's Culture Shoppe sees an influx of kids and families. They head to the back room to join tournaments, Leagues, themed game play, and open game nights. "It's safe and fun," says Julian, who is a fount of information when it comes to choosing just the perfect thing. After sizing me up, he recommended a travel Farkle dice game. He was right. It was an instant hit on our family trip. Open Mon-Sat. 10-6, until 9pm on Thurs, and later on Fridays.
Restaurants in Wellsboro PA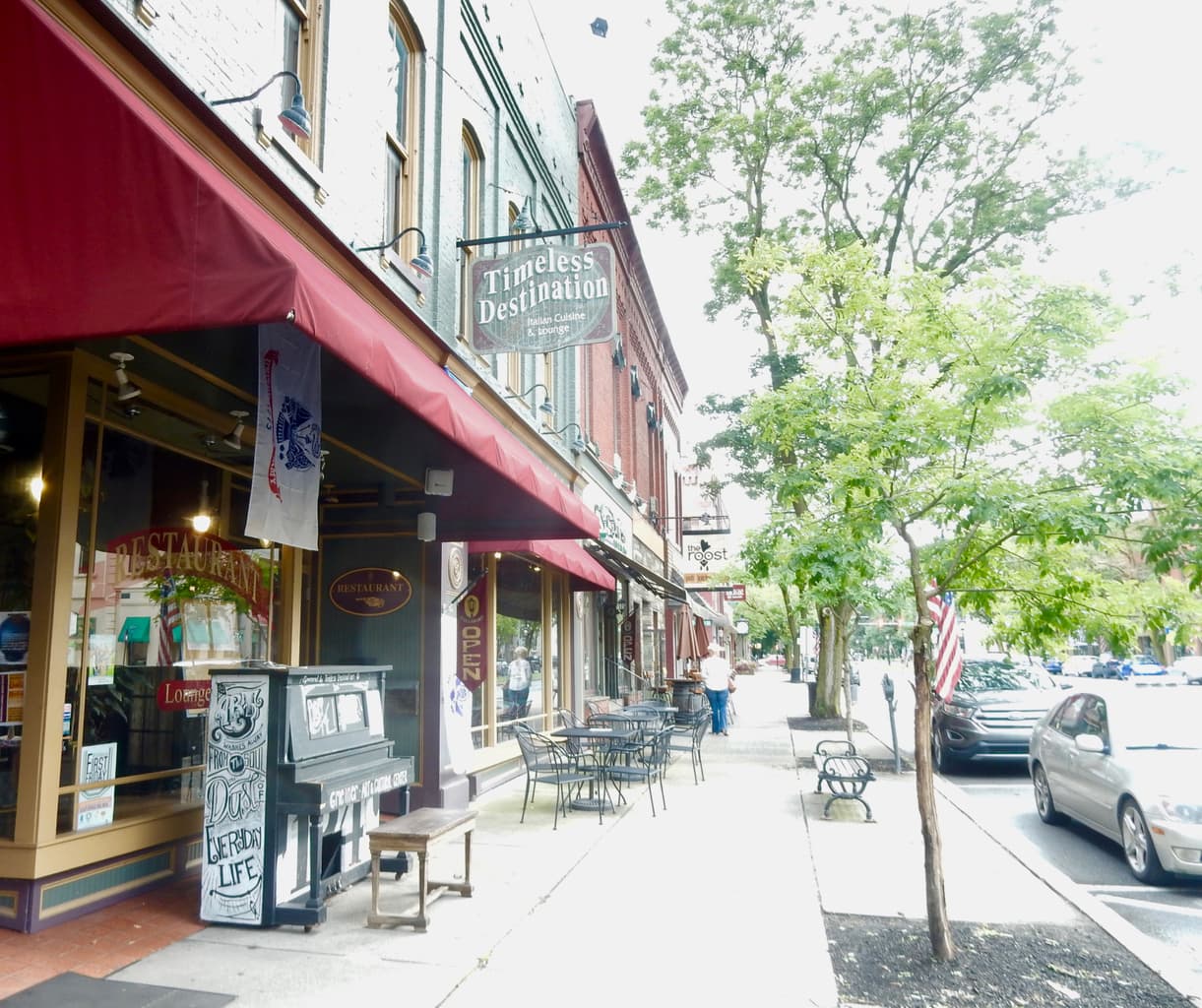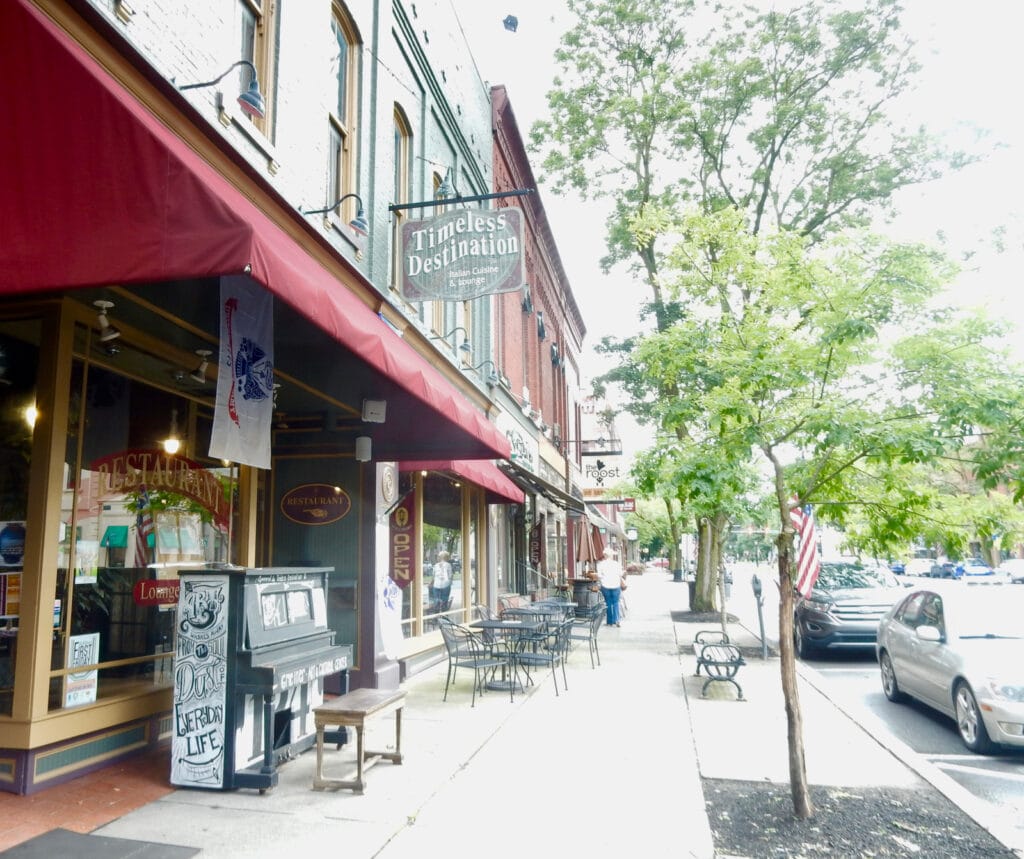 EAT: Most eateries in Wellsboro PA are of the Family Restaurant variety. The Red Skillet, once a food truck, now a brick and mortar, has great counter service fresh food. Timeless Destination has good food at good prices in an eclectic space. Grab a cup of coffee at the Wellsboro Diner – a tourist favorite.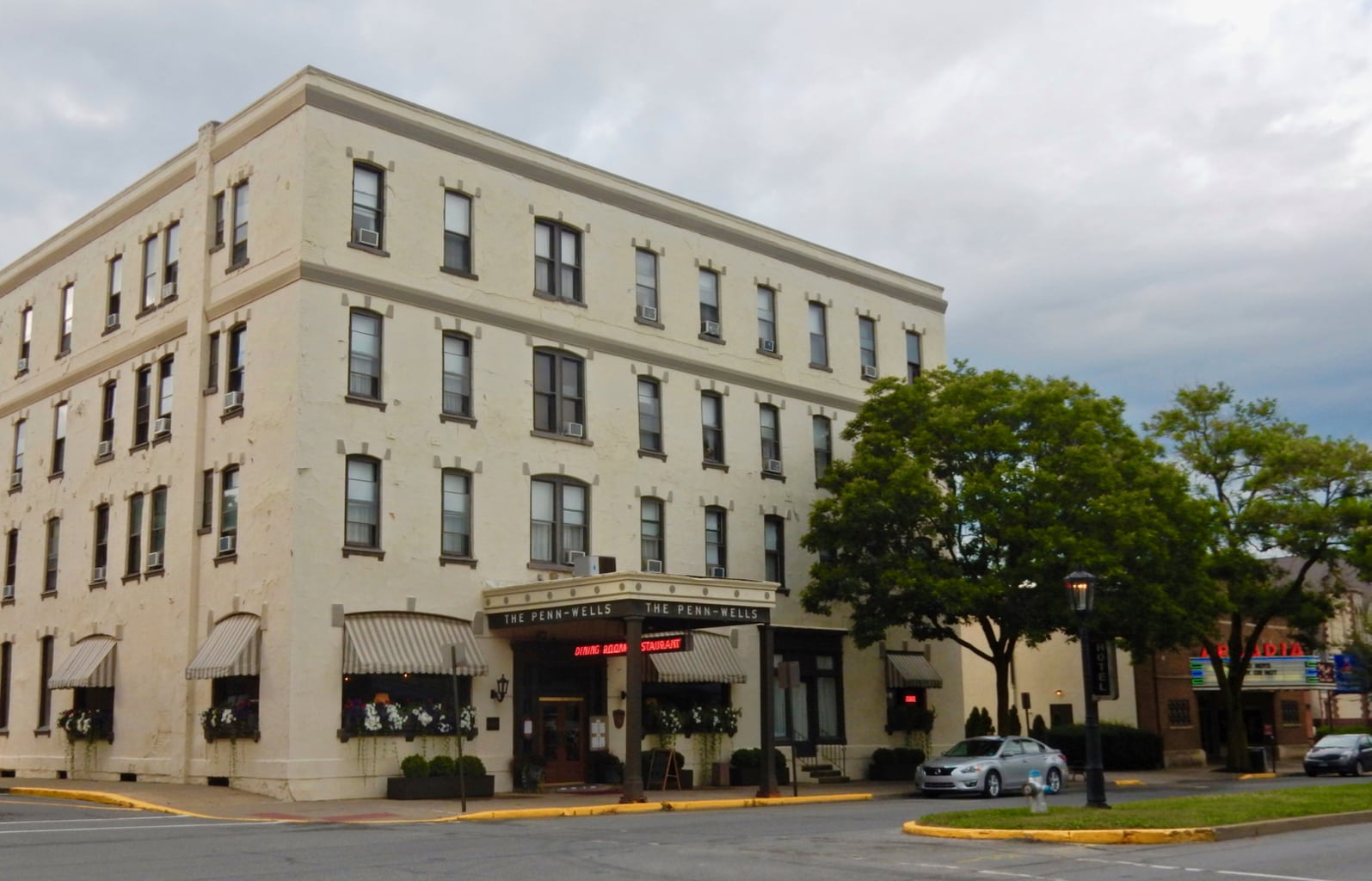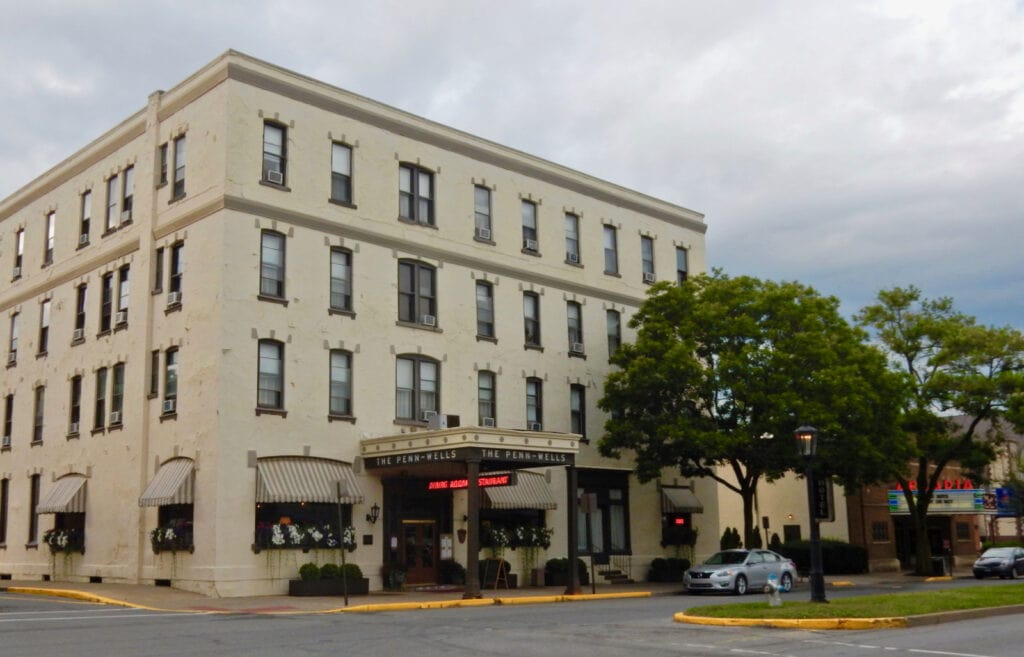 Depending on your preference, you can stay modern or historic in Wellsboro PA. Rooms at the original Penn Wells Hotel, built in 1869 (a new member of Historic Hotels of America), have been refreshed.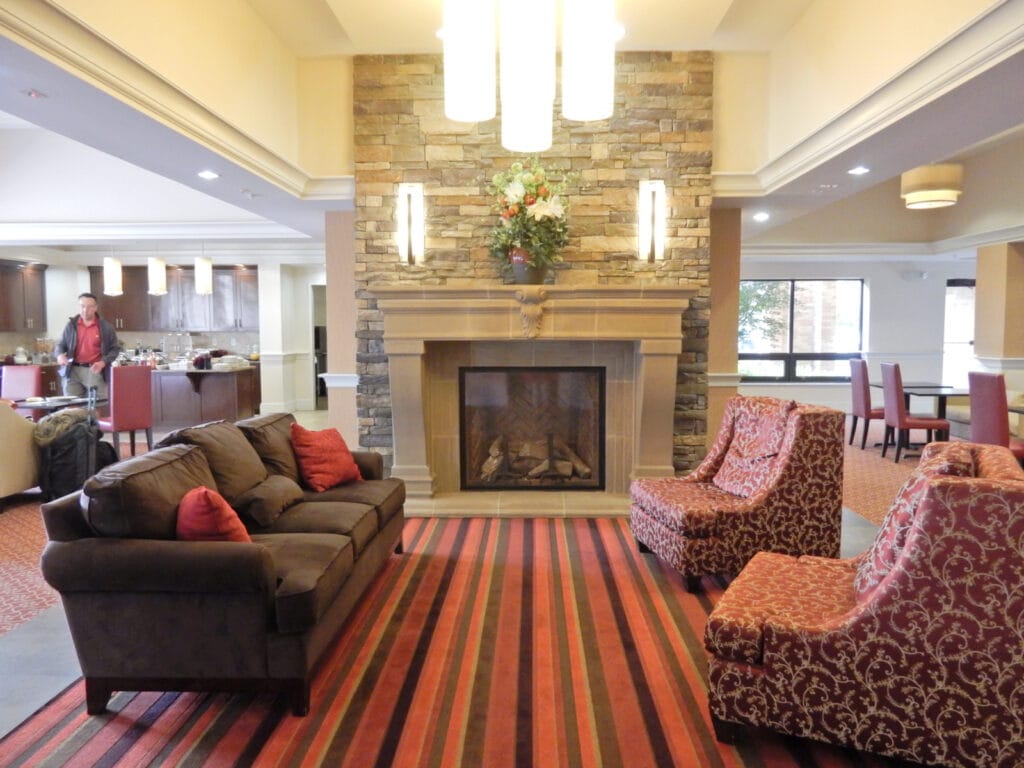 A couple of blocks away, the Penn Wells Lodge, built in 1960, re-opened in 2012 after a top to bottom redo and a 40 suite addition. Both the Hotel and Lodge, as well as the Arcadia Movie Theater, are owned by Shawn and Ellen Bryant. The Bryants practiced law in the Washington DC area before returning to Ellen's hometown to take over these distinguished properties.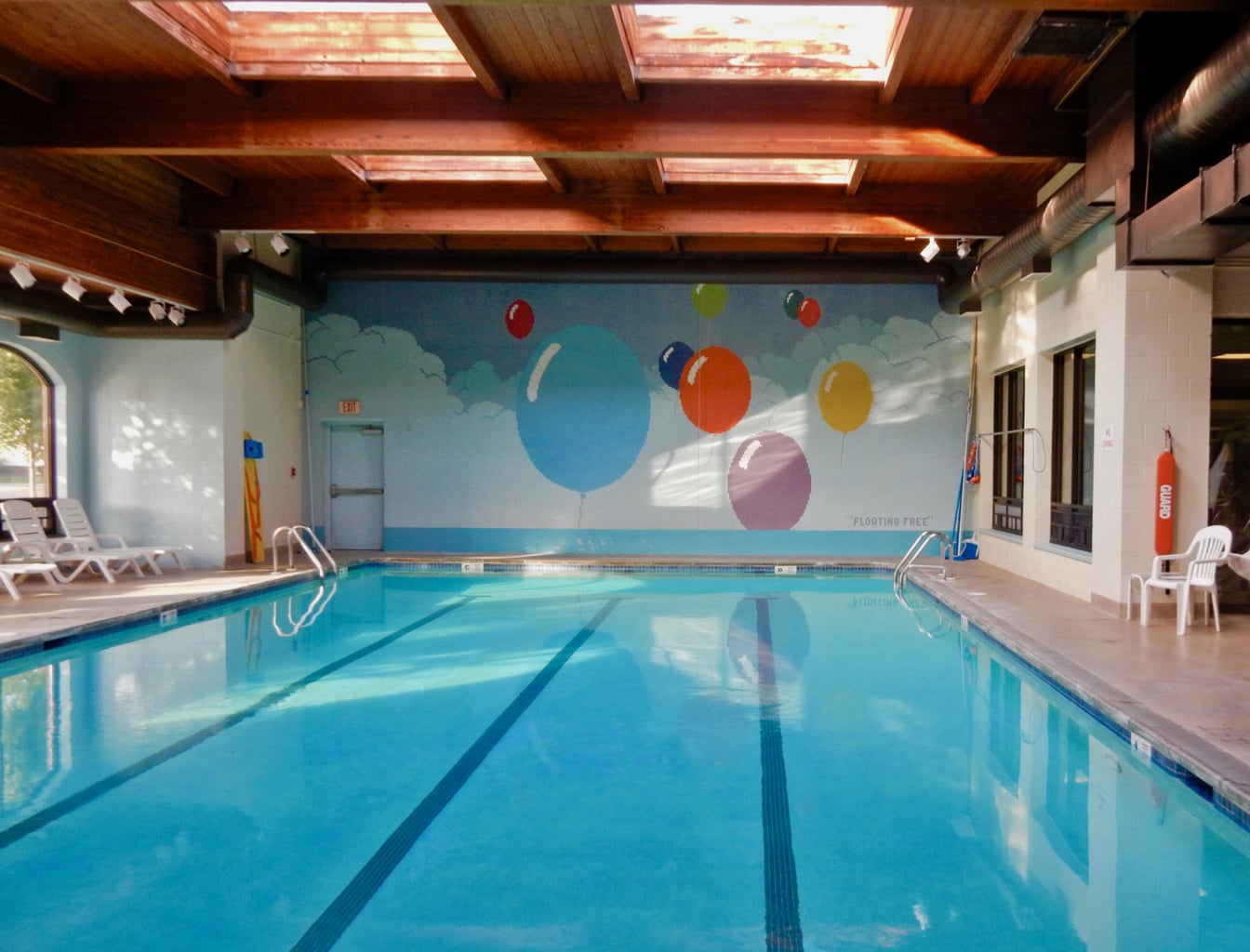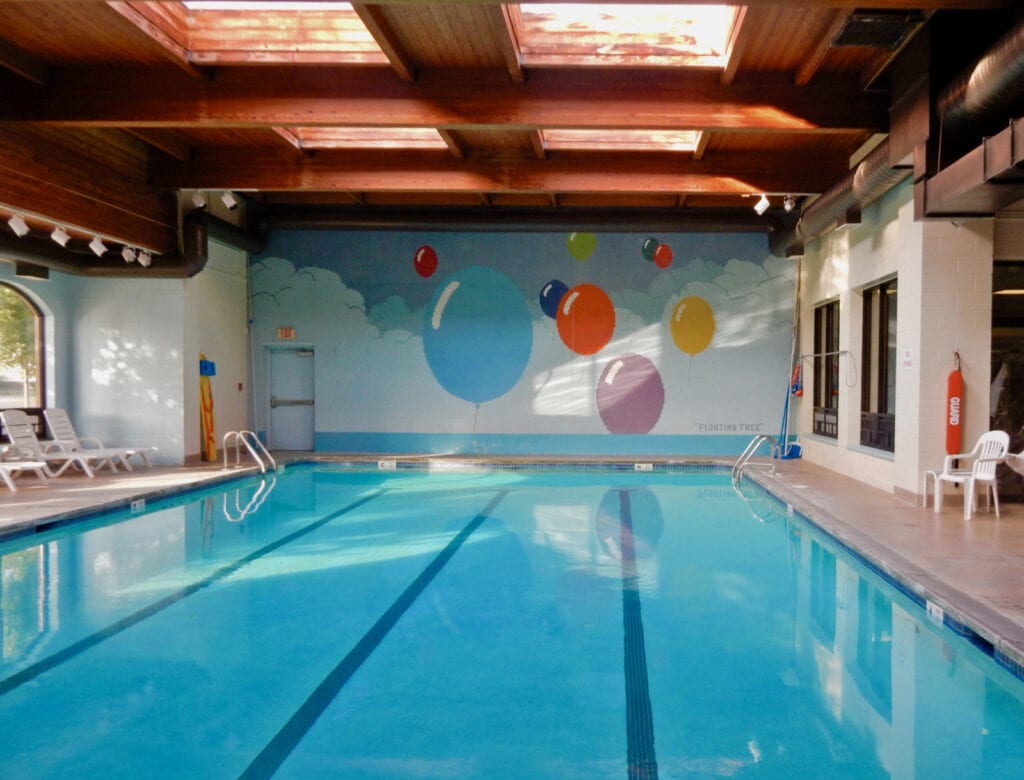 The Lodge – think "Hampton Inn," but privately owned – encompasses a pool and a large fitness center, a welcoming lobby where a hot breakfast (complimentary with room) is served every morning. Rooms, updated in 2012, feature new furniture, carpeting, bedding, and flat screen TV's.
They've held up remarkably well. Hotel rooms run from $84 for "economy doubles" (read: bare bones), to $164 in high season. Rooms at the lodge from $90-$200 per night. Includes a complimentary breakfast.