WHY GO: Because Valley Forge was the third of eight Revolutionary War Winter Encampments, and you'll discover why it was important enough to commemorate.  Because an 18 year old James Audubon was dispatched here (by his French father) to avoid conscription in Napoleon's army. Because you can hear and see hundred-year-old Wurlitzer Organs and Nickelodeons on an incredible tram tour though Mechanical Music History, then peruse the extremely unique home and furnishings of a prominent turn-of-last-century architect/furniture designer that few have ever heard of. So, if even the mention of George Washington or US History makes your eyes glaze over, there's curiosities aplenty here in the Valley Forge Region of PA, and we let you in on the best. Read on.
Things To Do In Valley Forge
TOUR: Valley Forge National Historic Park. Valley Forge was just one of eight Revolutionary War Winter Encampments. During the third, from December to June 1777-1778, there were no battles fought on these 3,500 acres, and it wasn't even the worst winter of the war-torn years. "So," on-site interpreters ask, "why honor this place as a National Historic Park, and why do schoolbooks dump all of the War's suffering in one place?"
Park staff and signage do an excellent job with the answers; perseverance through a winter that incurred the highest death toll (a record 2,600 died from illness), the fact that France, wanting to stick it to its nemesis England, began sending arms and men (in no small part due to the influence and finesse of Ben Franklin who was living in France at the time) and the arrival of a Prussian mercenary named Von Steuben who had served under Frederick the Great and turned the disorganized, ill-supplied collection of 13 militias into the United States Continental Army.
Pick up a park map and take a self-guided tour on a well-marked ten-mile driving loop.  Be sure to stop at Washington's Headquarters, "The Pentagon of its day." As you drive along, you'll see clusters of recreated log cabin huts representing the 2,000 that soldiers built for the harsh winter. Entry to the National Park is free, as is the self-guided tour.  For a more comprehensive tour, purchase an audio tour CD ($14.99) at the Visitor's Center, or take a 90-minute narrated Trolley Tour ($16 adults, $8 kids).
TOUR: American Treasure Tour. Take a 90 minute guided tram tour through the staggering collection of one media-shy man obsessed with Mechanical Music – specifically Band Organs and Nickelodeons from 1900-1926, and animatronics, or "automatons" used for department store window displays. It's the most extensive collection of Mechanical Music in the world displayed in 100,000 sq. feet of the former BF Goodrich Tire Factory.  As you glide along, your guide will turn on Band Organs and toys via IPad ap triggering childhood memories of carousels and ice-skating rinks. Step off the tram into a vast Nickelodeon Hall.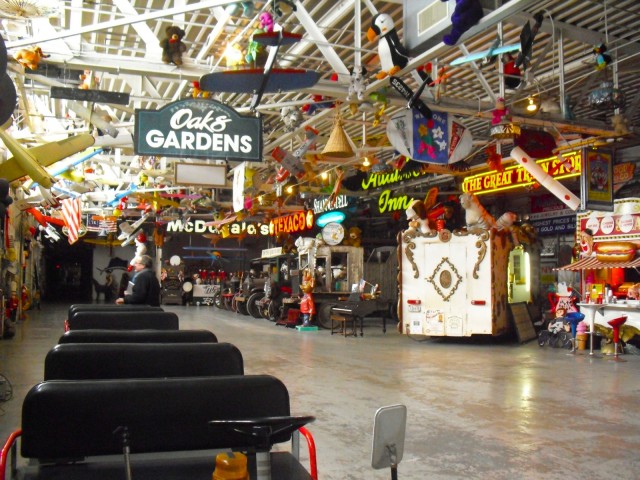 If you imagine that Nickelodeons are strictly player pianos, you'll be surprised by the diversity of instruments that could be employed for that nickel; drums, harps, violins and banjos, too.  The "Photoplayer" made for a silent movie theaters, features foot pedals that play chirping, bopping and other sound effects for the screen. The collection also includes a seemingly limitless number of cars, stuffed animals, Americana.  But come for the music.  This is an attraction that should be trumpeted throughout the world.  And I know just the Wurlitzer to do it. $15 per person, call for tours 610-666-0363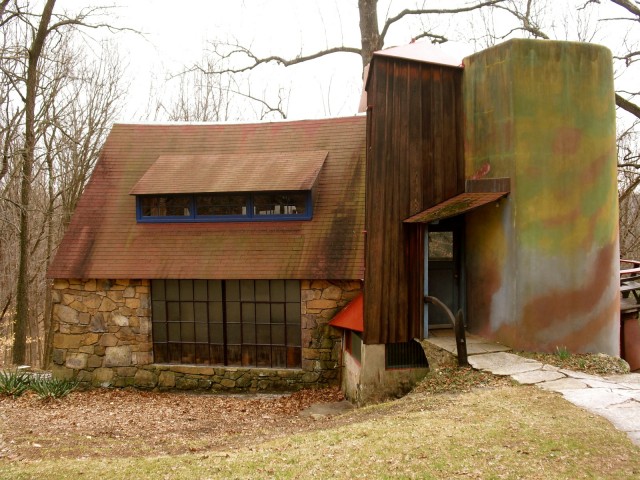 VISIT: Wharton Esherick Studio. A little bit Gaudi, a little bit Frank Lloyd Wright, Wharton Esherick, artist, sculptor and furniture designer should be a household name. Anyone who is interested in architecture, furniture design or just plain quirky buildings should come to this little studio/home in the woods. Constructed over a span of 40 years, the structure is a triptych of styles; beginning with a 1926 stone studio uphill from his farmhouse, followed by a wood portion in 1942, and then a silo he encased in mixed pigment stucco in 1966.
Believing that building designers should throw out their T-Squares, Esherick, the "Dean of American Craftsman," said, "why be straight and square when nothing in nature is?" A memorable house tour takes you through the building as Esherick left it in the late 1960's.  You access three levels via steps bolted into tree trunks – the whole tight spiral staircase was showcased in the 1940 World's Fair as the centerpiece of a Pennsylvania Hill House. Heading up to Esherick's bedroom, you'll grasp a sensually smooth Mastodon tusk handrail. The artist's clothes are still neatly folded in the chest of drawers beneath his raised bed.  "It's a space that changes lives," says curator Paul Eisenhauer.  "People who came as kids bring their kids.  There's just nothing like it. Guided tours by reservation only – call 610-644-5822 to book, " $12 adults, $6 kids, open Mon-Sat 10am-5pm, Sun. 1-5pm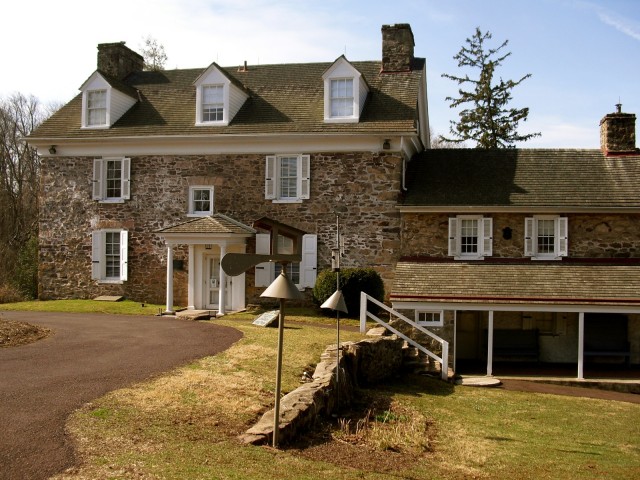 VISIT: John James Audubon Center @ Mill Grove. James Audubon killed every bird he painted, so it would probably puzzle him to learn that his name would be associated with one of the most forceful conservation groups on earth years after his death. This was Audubon's first home in the United States and there's plenty more you probably don't know about the guy. He was born out of wedlock.  He was French. He was never trained in art or science and was despised by the elite of both disciplines. See a complete set of Double Elephant Portfolio of "The Birds of America." (Out of a run of 200, there are only around 100 in existence today. The last complete set sold at auction for $12 million).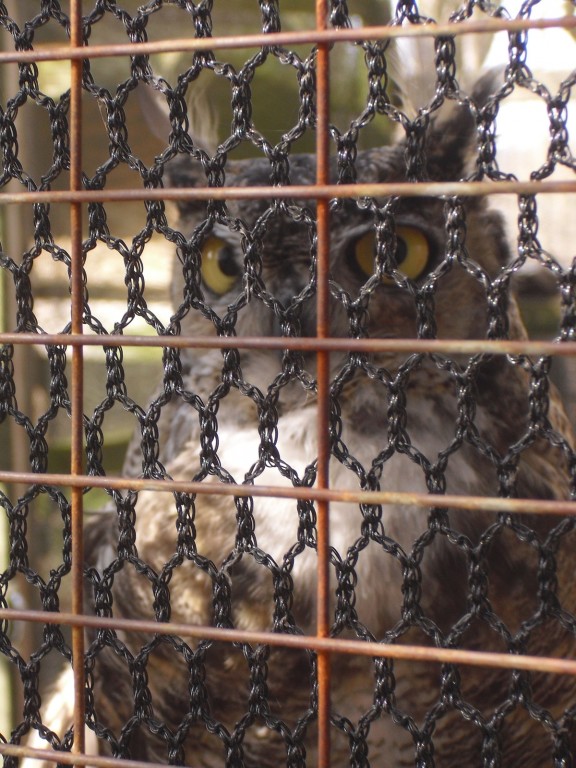 Plan to spend at least an hour in the house and outside by the owl hut where you'll find Odin, a big, engaging, Horned Owl. Open Tuesday thru Saturday 10am – 4pm, Sunday 1 – 4pm. Grounds, including 5 miles of walking trails open Tuesday thru Sunday 7am – Dusk.
What To Eat In Valley Forge
EAT: Cedar Hollow Inn. Enjoy tasty sandwiches, wraps, soups and personal pizzas in the sundrenched enclosed patio. Veggie Wrap with spinach, onions, mushrooms, broccoli, and hummus wasabi ($8.75) is a particularly tasty choice. Partners Daniel Wesolowski and CIA-trained Chef Stephen Guiseppe turned an old 1860's roadside farmhouse into an inviting restaurant in the late 1990's and it has since become a lunchtime and dinner favorite for local corporate executives and foodie hideaway hunters.
EAT: Ralph's South Philly @ Sheraton Valley Forge; If you can't make it to South Philly, this Ralph's outpost is the second best thing.  More contemporary than the original, which opened in 1900 and is the Oldest Family Owned restaurant in the country (6th generation), the kitchen retains some old-time favorites like the World Famous Mussels – Red and White ($13.75) and Chicken Trombino (diced tomatoes, roasted peppers sautéed in garlic, olive oil and white wine; $18). According to Anthony Barone, partner and Head Chef, who has already appeared on The Chew, "Ralph's is not just a kitchen, it's a family."  In a three-floor townhouse in South Philly, regulars come dressed in 6's or Philly's jerseys – it's a laid back place. Listen to Frank Sinatra songs while enjoying dishes slightly altered from its Philly location: "There we serve regular gnocchi. Here it's spinach gnocchi with gorgonzola and sun-dried tomatoes."($23).
Where To Stay In Valley Forge
STAY: Wayne Bed & Breakfast Inn, Wayne, PA. Facing a big empty nest, Traudi and John Thomason were determined to convert their five-room 1890 Arts & Crafts Victorian home into a B&B.  Opened just last year (2012) the Wayne Bed and Breakfast Inn has already earned quite a following.  Hardwood floored guestrooms reflect Traudi's taste; a mix of period pieces that include oriental rugs, four-poster beds, antiques and contemporary art.  Of course a good B&B has to be clean and look beautiful, but what makes it special is the warmth of the hosts.  The Thomason's love people and it shows.
STAY: Sheraton Valley Forge. For those who like a more traditional hotel stay, the Sheraton sunk millions of bucks into an ultra-modern redo.  Rooms are chic, and service is friendly and on-the-ball.