Last Updated on December 14, 2020 by Editor
WHY GO: Why go to Bryn Athyn PA? Because a Pennsylvania Rags to Riches Captain of Industry, John Pitcairn, founded a whole new religious branch of Christianity about 15 miles north of Philadelphia. And, he built a world-class cathedral on his property.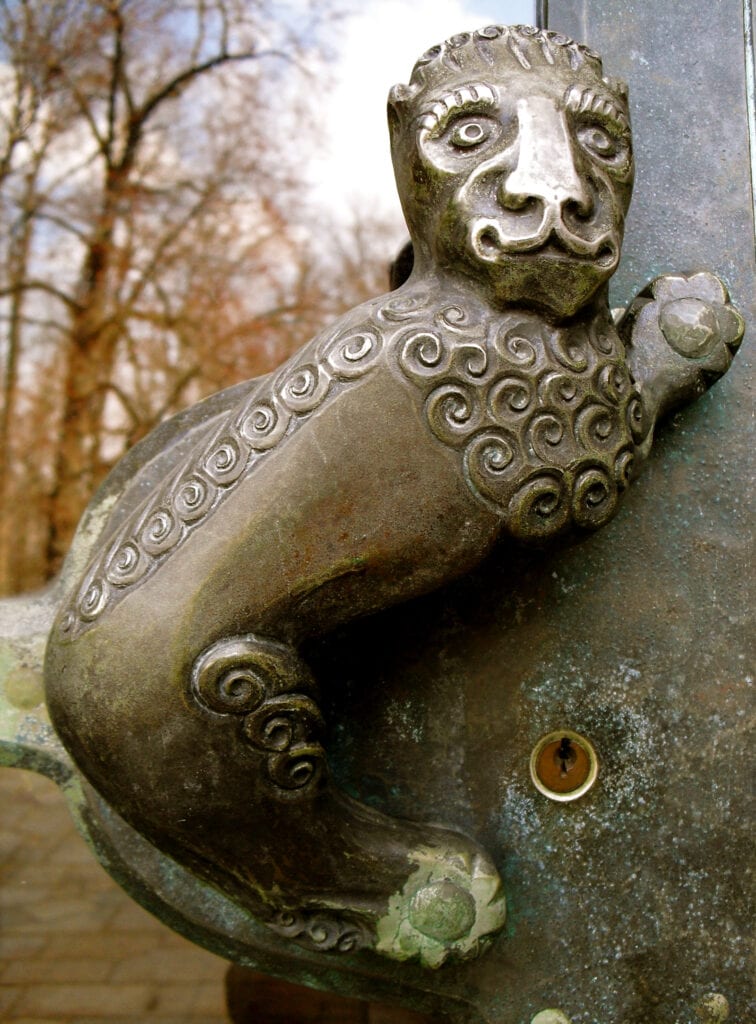 Because his son, Raymond, continued his work and in the process amassed the largest collection of Medieval stained glass in private hands in the country. Because discovering John's country estate, Raymond's mansion and the stunning cathedral, collectively a National Historic Landmark known as Bryn Athyn, is like finding Angkor Wat Temple in the jungle. Who knew it was there? So close to Philly? And wow, it's incredible!
Also nearby, you'll find the only museum devoted entirely to the Three Stooges, the Stoogeum (open only on Thursdays from 10-3) "Soitenly" a find of a different sort.
Things To Do In Bryn Athyn
John Pitcairn was a poor Scottish immigrant when he settled in Pittsburg in the mid-1800's. But in Horatio-Alger style, he invested early in what was to become the Western Pennsylvania Oil Boom. He then took his winnings and co-founded another money-maker, Pittsburg Plate Glass – a new technology at the time.
While most tycoons back then bought up art and endowed museums, Pitcairn's interest lay in religion. He was a proponent of what came to be called The New Church. Pitcairn identified 550 available acres on the outskirts of Philadelphia; enough land for his large-scale country house and a grand Cathedral. He hen hired architects John Carrere and Thomas Hastings, trained at Ecole des Beaux-Arts in Paris.
Cairnwood Estate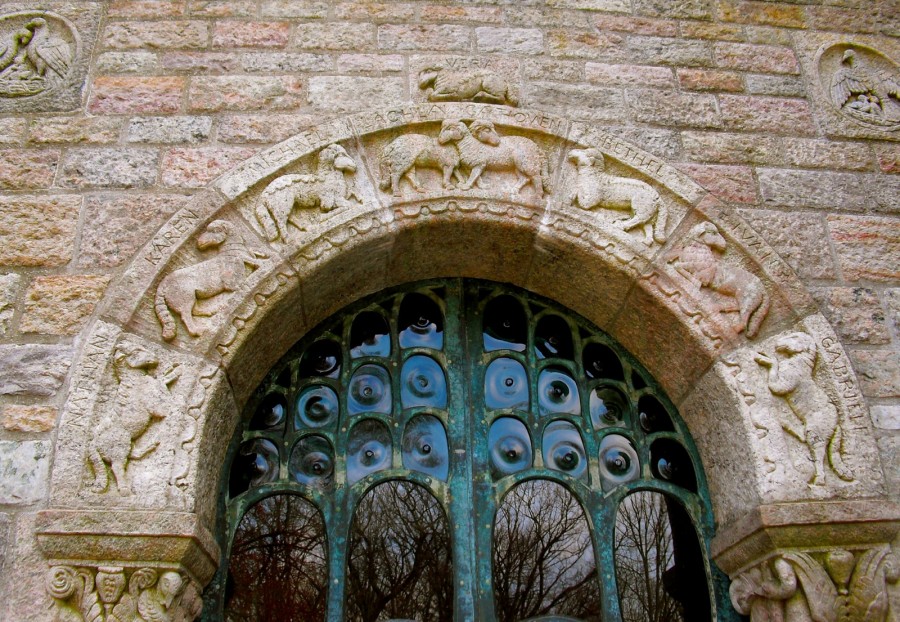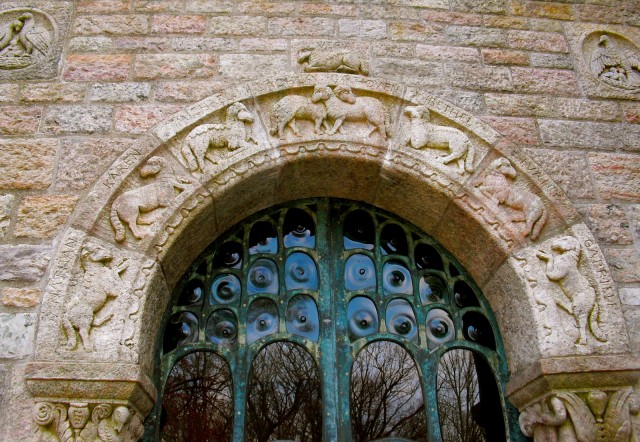 The home, Cairnwood Estate, a salmon-hued French-Country retreat, is now an event space. (You can have your wedding there for anywhere from $1800 – midweek off season, to $8800 -weekend in season, and every dollar is put back into landmark preservation projects.) Brides no doubt imagine making their grand entrance down a unique zigzag staircase in the entry hall.
Glencairn
But the focal point of the guided tour is Raymond Pitcairn's estate. John's son built his home, the Romanesque Glencairn, adjacent to his parent's place and raised his own nine children there. You can spend a whole day touring the homes, their outbuildings and cathedral, and if you have the stamina, I highly suggest it.
Garden and Carriage House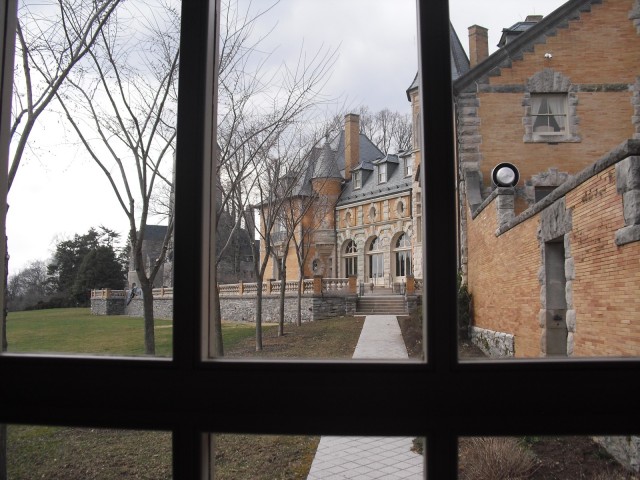 Begin at 11am in the Garden House, now the Visitor's Center, for a 14-minute orientation video and a peek at the piece of paper that begin it all – the raison d'être that this compound exists. It's the $500 check that Pitcairn wrote on Jan. 14, 1874 to establish The General Church of New Jerusalem.
The church school, still in existence, celebrates "Founders Day" every Jan. 14th. Go back in time to the Carriage House with one of the largest collections of horse-drawn carriages; a ladies surrey with fringe on top, sleighs with bells beneath, and the Cairnwood Dairy Farm Wagon.
Touring the still-active Gothic Romanesque Bryn Athyn Cathedral will take as long as you want. It's actually so fascinating, you'll need at least one to two hours. Built from 1913-1919 in a style befitting Medieval France, it is remarkably contemporary inside.
Filled with elements that correspond to stories in the bible, no two things are alike, "just as no two things in creation are alike." Because John Pitcairn had been in the glass business, he was particularly interested in creating stained glass here, just as it was made for Chartres and Canterbury in Europe.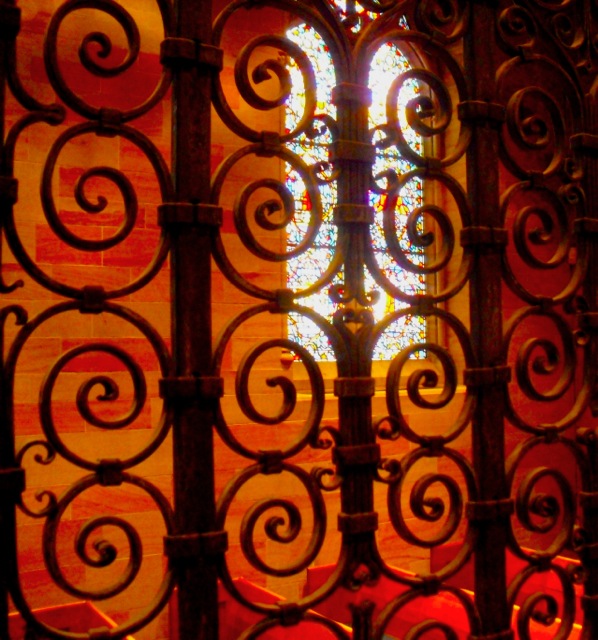 Pitcairn hired artisans who meticulously recreated these windows, and the result is spectacular. Panels include biblical scenes with phrases in Greek and Hebrew. A few in a side chapel behind a fillagreed wrought iron gate depict the afterlife.
Your tour of this breathtaking place would not be complete without a discussion about the Religion itself. The General Church of New Jerusalem, now called the New Church, seems to be a kinder, gentler form of Christianity that espouses that good people of all faiths are destined for heaven. Daily 1-4pm, but check for events first.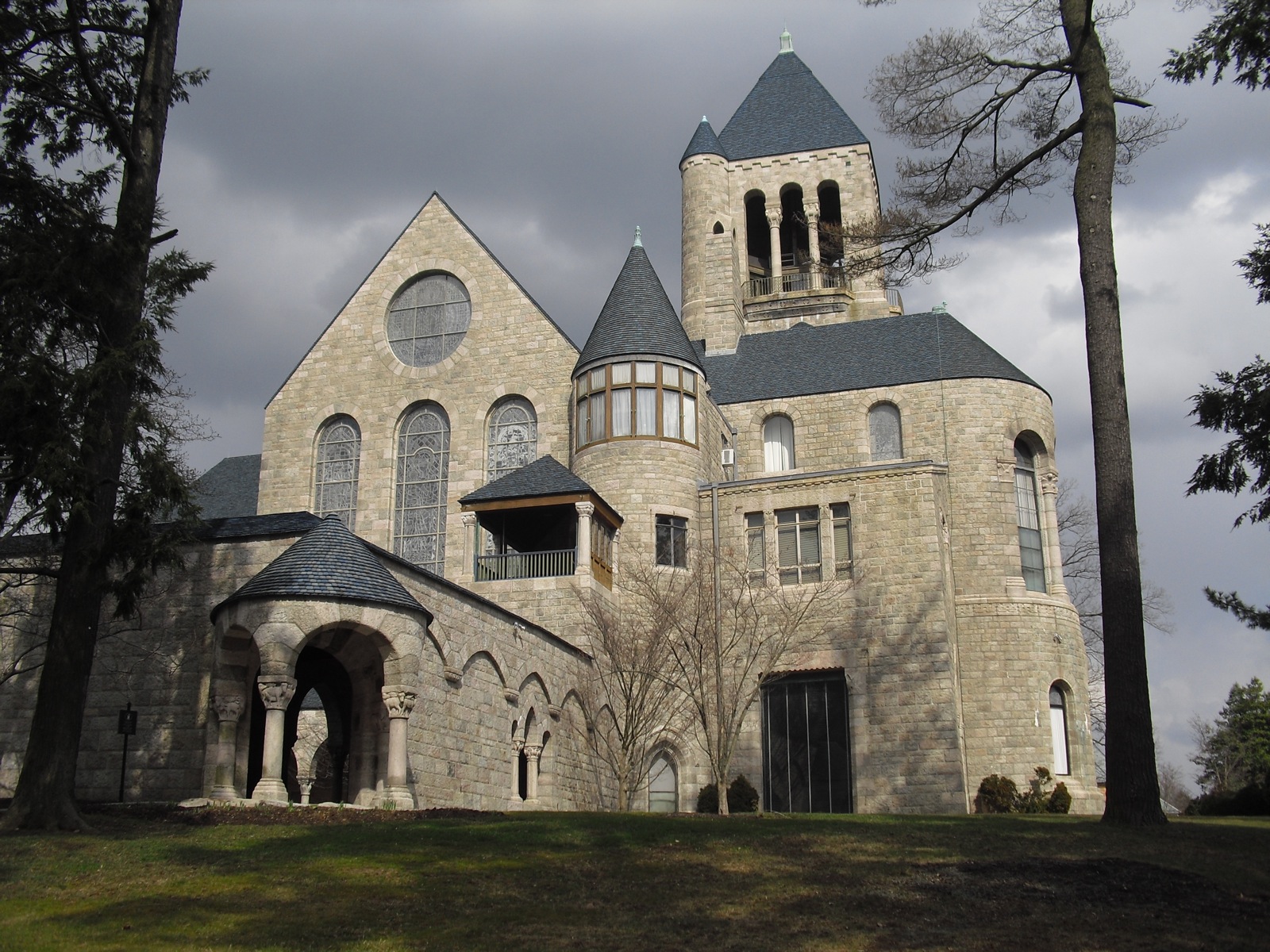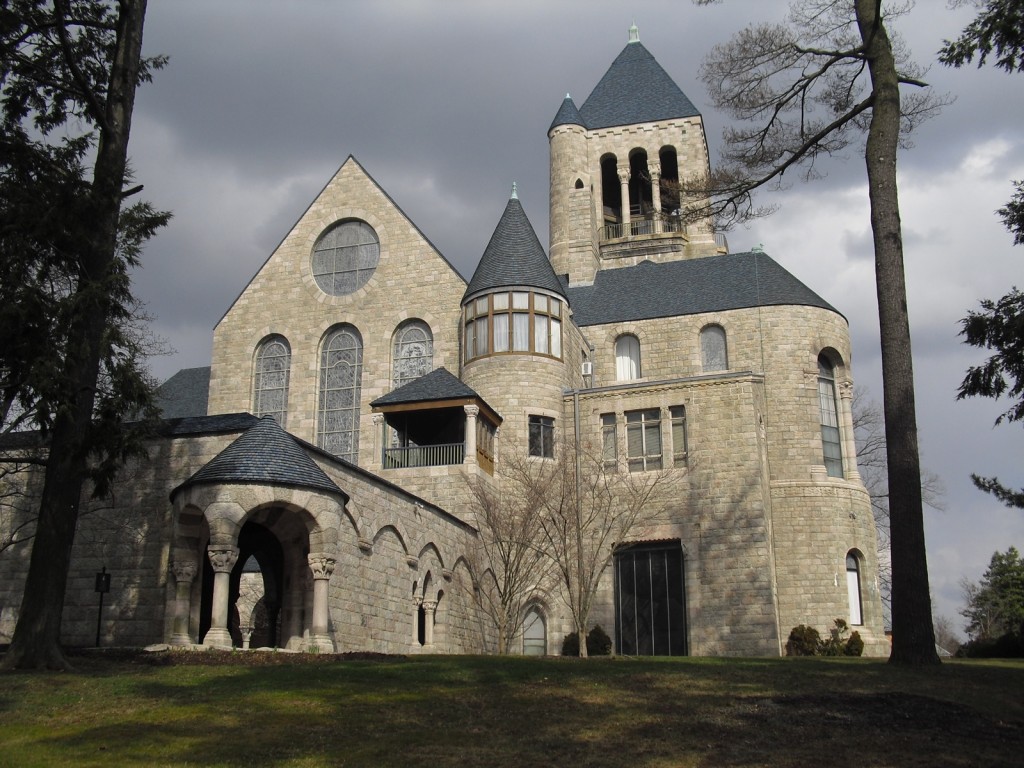 It might take more than an hour to find the lambs and sheep that repeat as a motif in Glencairn. Raymond and his wife, Mildred, believed that these animals represented family and obedience to G-d. Before walking through the unique front door, you'll find the names of eight of their nine children (one died in childhood) overhead.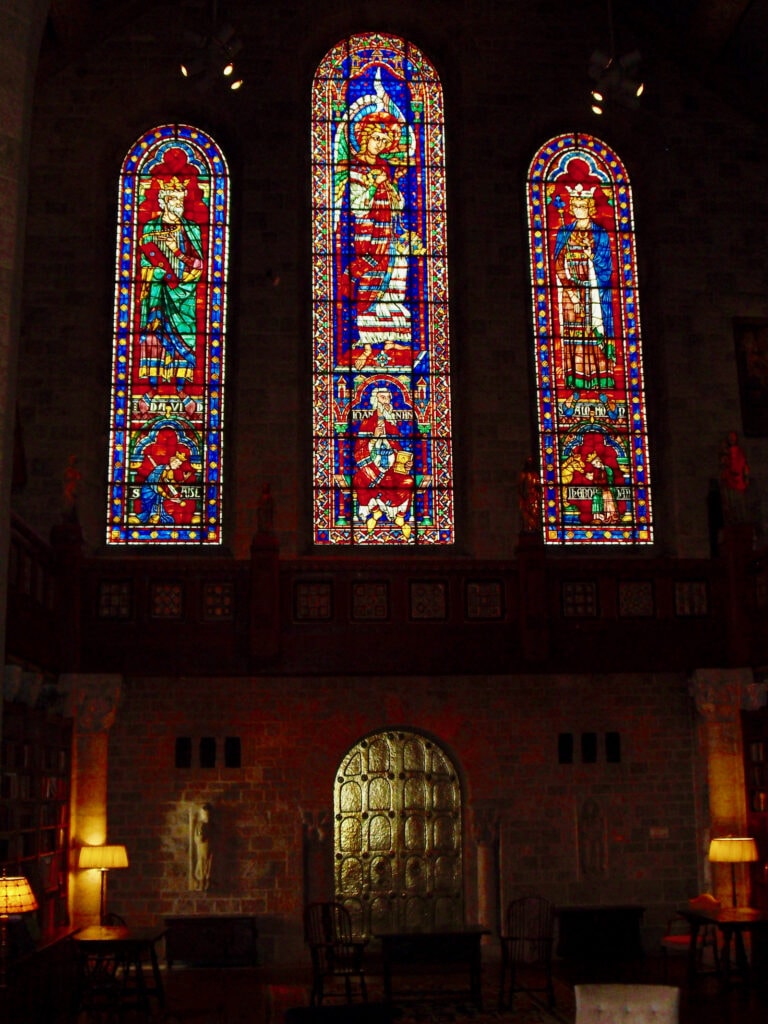 Glencairn features the largest collection of Medieval stained glass in private hands in the USA. You'll see a sampling in the breathtaking Great Hall – a soaring Cloisters-like space where bas reliefs and mosaics are also incorporated throughout.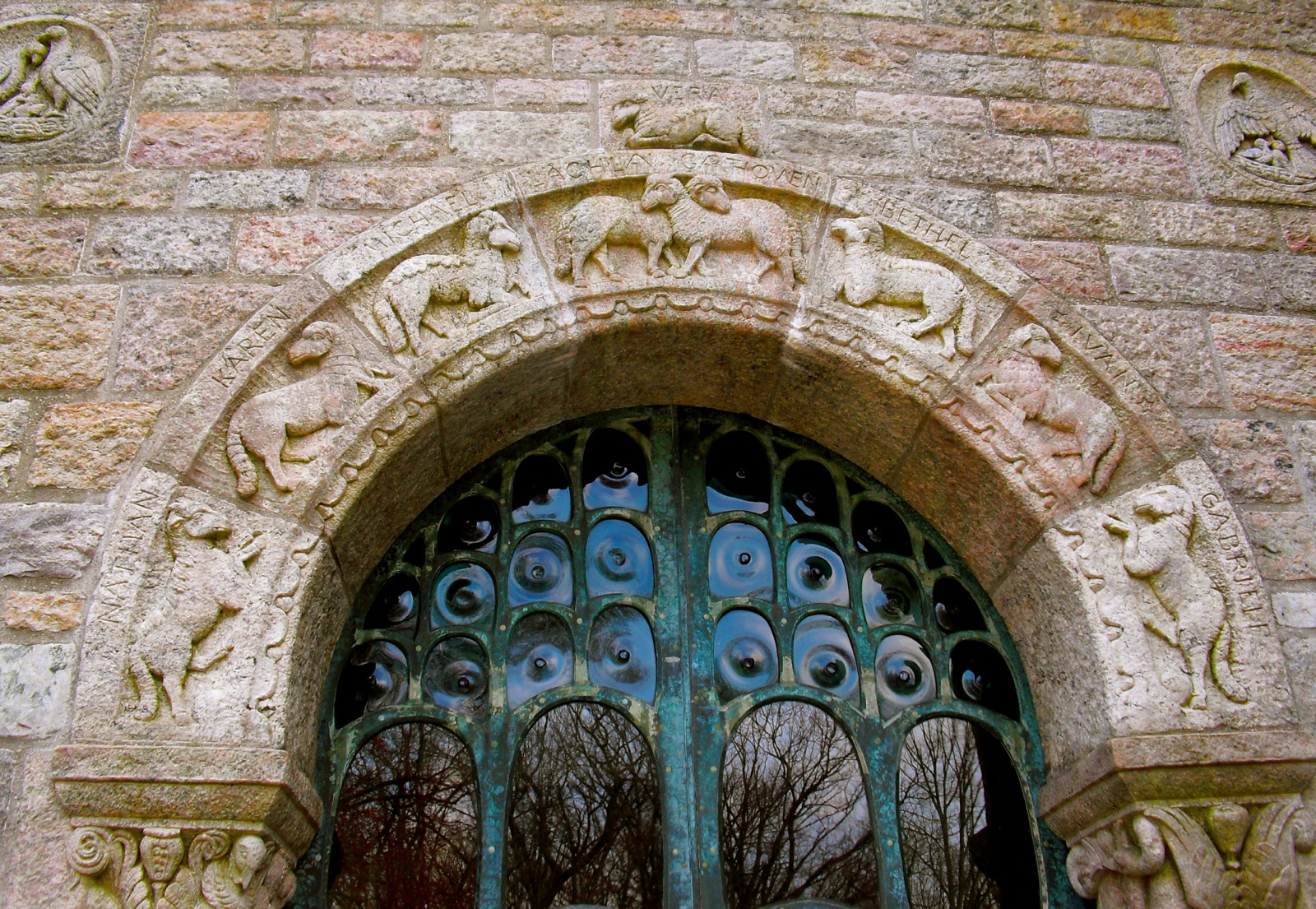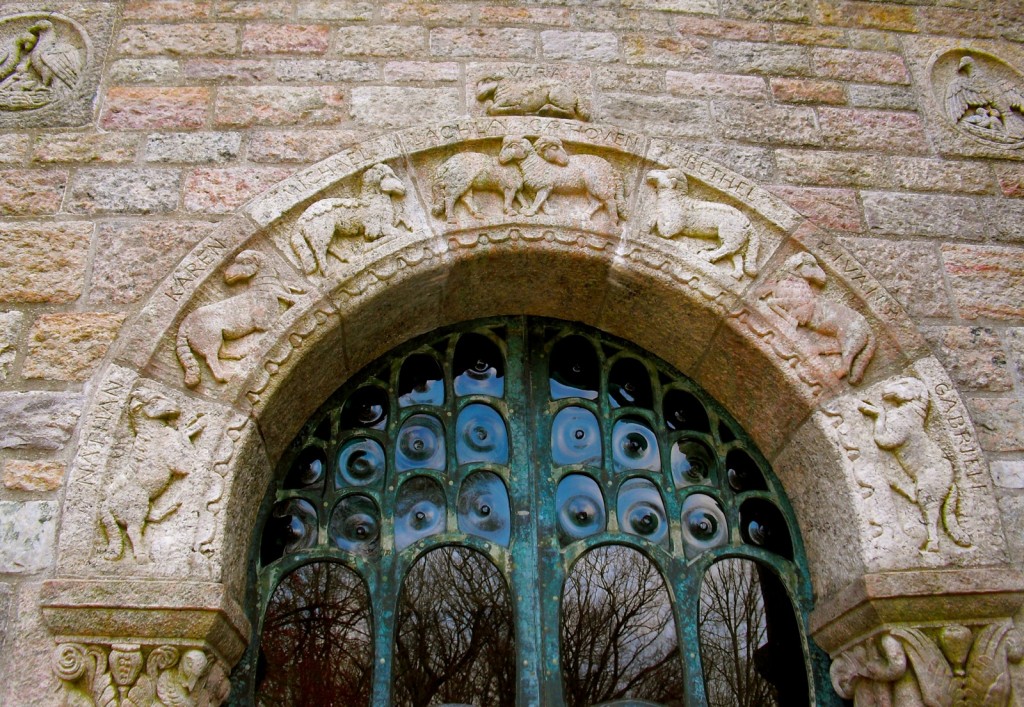 An elevator takes you 150 feet up to the enclosed Turret Tower. The stunning 360-degree view includes downtown Philadelphia – only 20 miles away.
In the Master Bedroom, I found it touching that this couple, who produced nine children, chose entwined lovebirds as finials on their four –poster bed. Even in privacy, love reigned.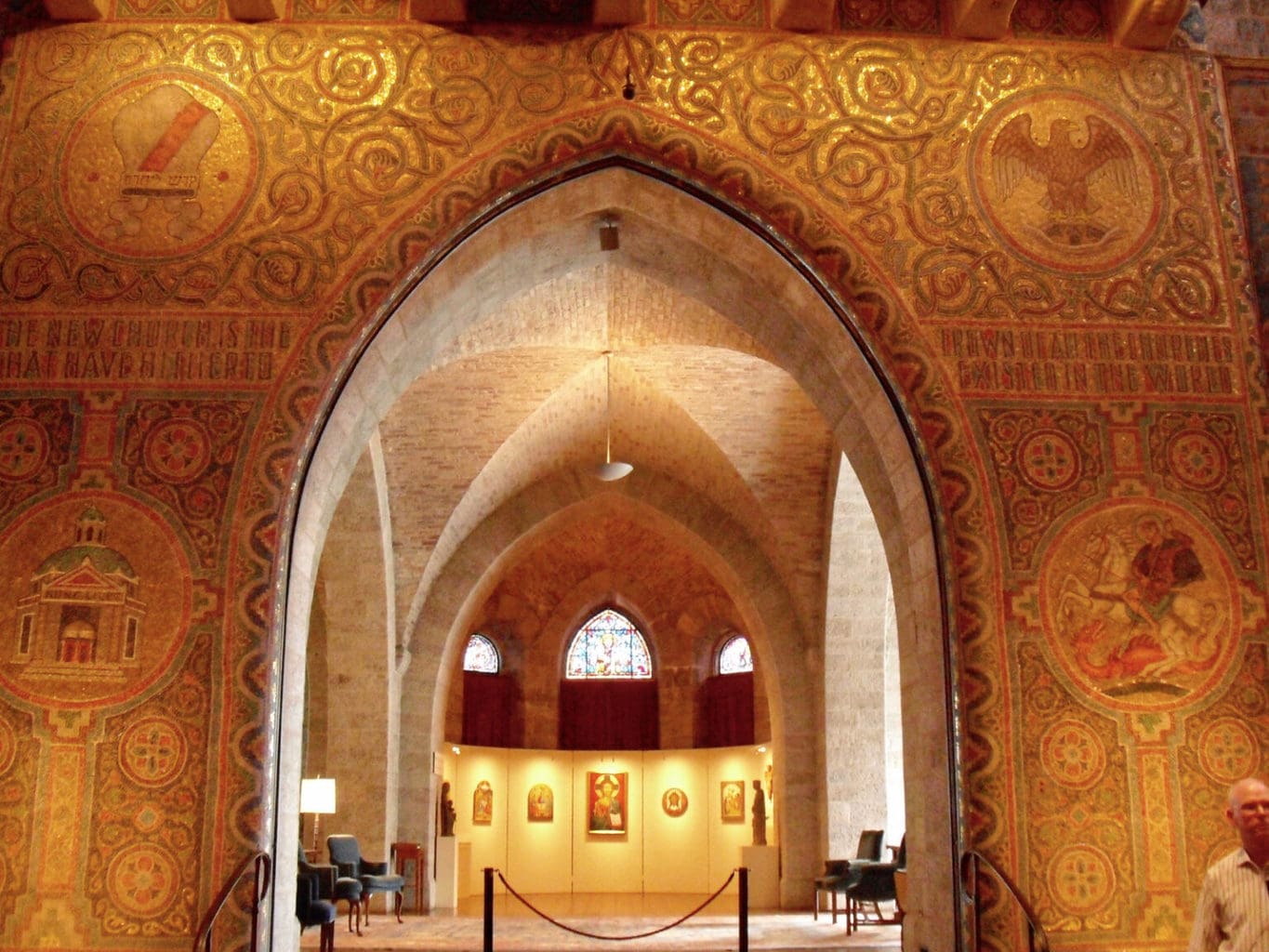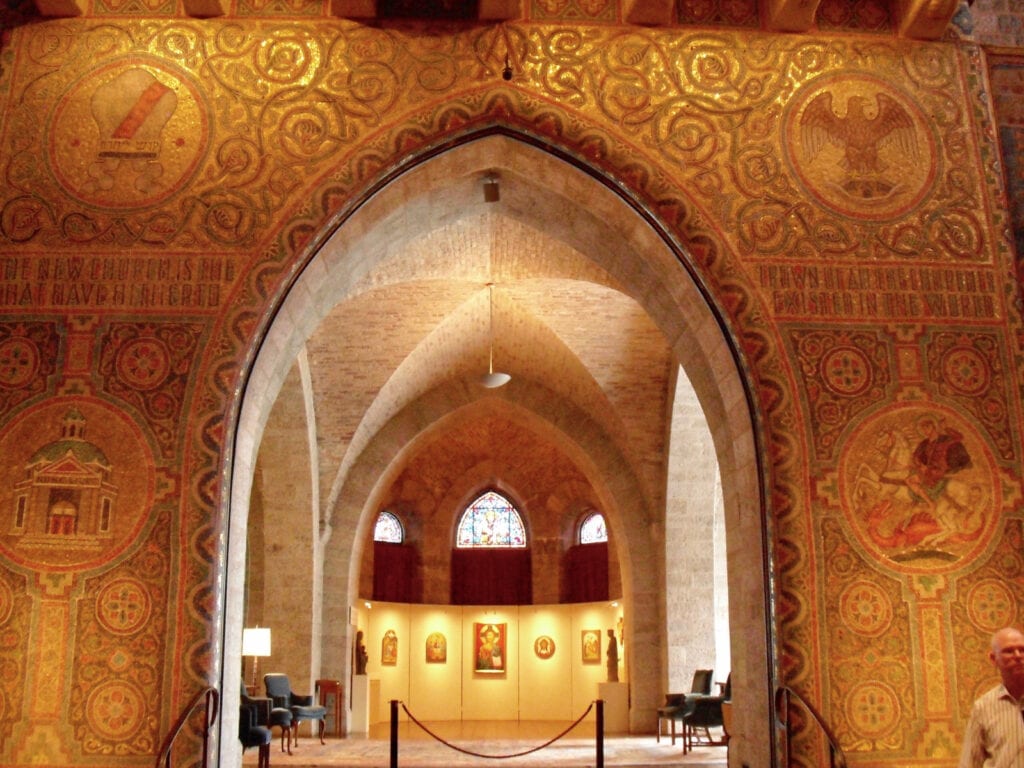 Glencairn also serves as a Museum of Religion. Galleries showcase Greek and Roman glass, jewelry, pottery and sculpture and religious artifacts from around the world. Tours weekdays @ 2:30pm, Saturdays at 1pm, 1:30pm, 2:30 and 3pm.
It's been said that more people are able to identify the Three Stooges than the three branches of government. You can take that as either a statement on the woeful condition of our educational system or the staying power of three guys who made the double-eye poke a thing.
If you can't get enough Moe Larry and Curly (or Shemp, depending on the year), this compact but excellent homage to the trio is a must see. But to see it, for now, you've got to come on Thursday from 10am-3pm or not at all. And, when you do make the pilgrimage, chances are you won't find it easily.
There are no signs from the road, and just one small one on a former architecture-firm office building within a commercial complex. Founded by the grand-nephew-in-law of Philadelphia's own Larry Fine, there are enough posters, personal artifacts (Shemp's 1945 IRS tax return; he earned $14,016.66), art, historical exhibits and continuously running clips to fill three floors within 10,000 square feet of space, plus, an 80-seat movie theater.
Michelle Squiccimara, MA Museum Collections and Erin Thomson, MA Specialty Archivist have "serious jobs in a very silly place." Their presence points to the fact that this museum is bona fide, professional, and highly entertaining. Thursdays 10am-3pm,$10 adults, $8 kids.
STROLL: Abington Art Center Sculpture Park
Take about an hour to meander the 27 acres of kinetic, organic, interactive outdoor sculptures. Every year installations change in this woodland landscape, offering a serene, contemplative place to commune with nature (suggestion; leave your phone in the car). I can't comment on the sculptures themselves, as they will most likely be different when you read this, but suffice it to say that curators will choose entertaining, interesting and creative pieces to please visitors of all ages. Wear comfy shoes – some paths are uneven. Open 24/7, free.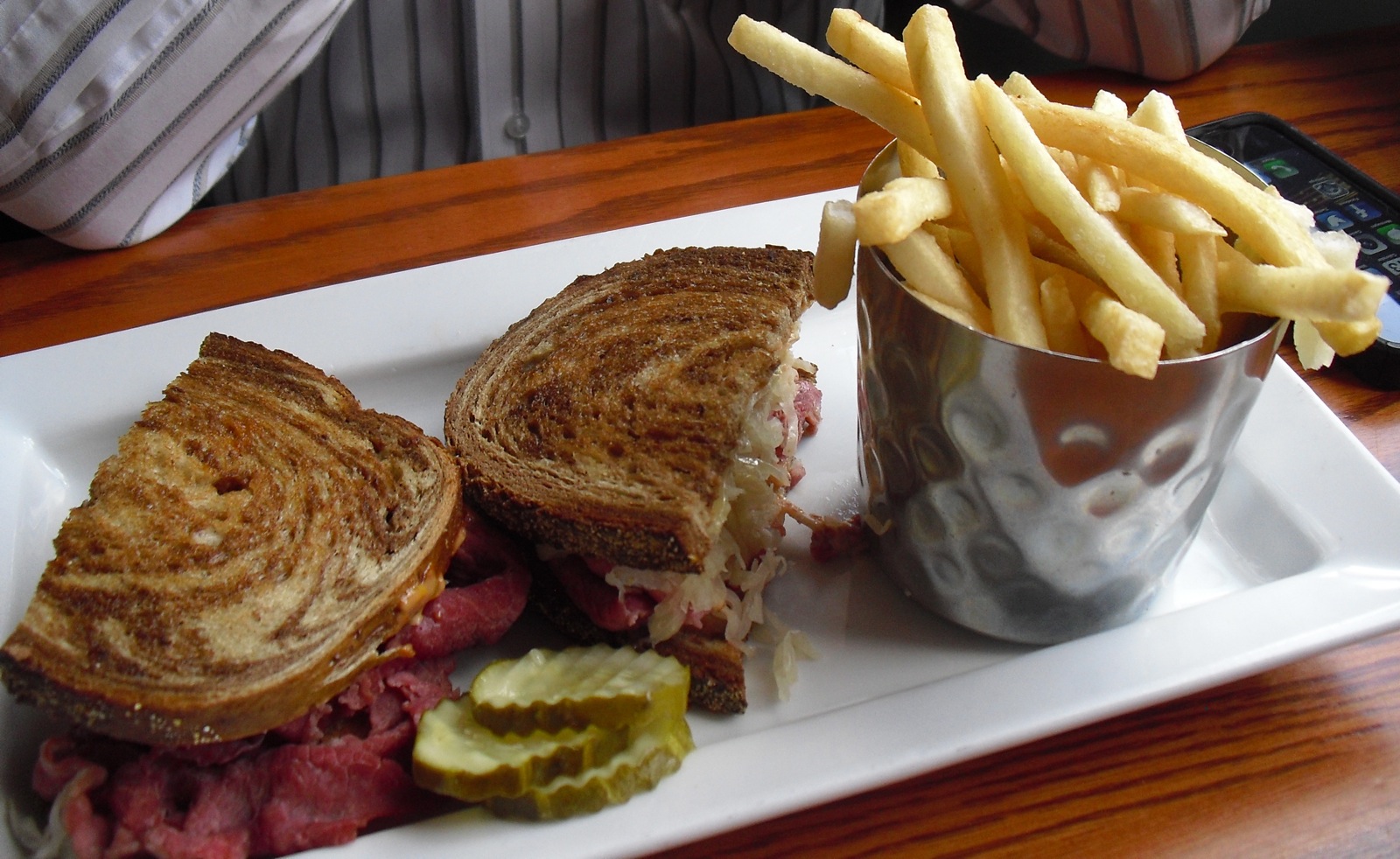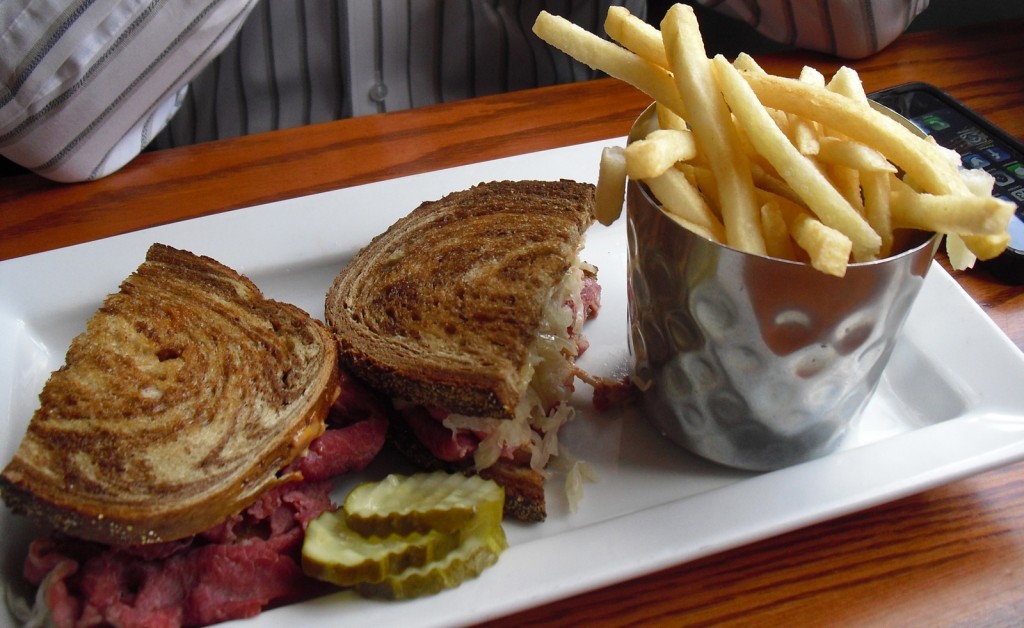 Restaurants In Bryn Athyn PA
Greek brothers Steve and Ted Makris, who have been in the restaurant biz for over forty years, took a run of the mill diner and, looking to attract a younger clientele, spiffed it up. Now space-age, it's a popular, dare I say it, chic bar scene.
The dining room is a barrage of color – with a water wall and multi-colored leather and wood seats – and the outside patio throngs with happy-hour-goers in warmer months. Though service can be enlivened a bit, the food is above average for a diner. Lunch special Tilapia Piccata is delicately sautéed, perfectly seasoned and comes with an ice-cream-scoop of mashed potato and perfect 4 al-dente asparagus ($10.99). Dinner specials are equally appealing and well priced; Shrimp Scampi is $11.99.
Where To Stay Near Bryn Athyn PA
William Penn would have been so lucky to have eaten here, though he did apparently make frequent trips to the area in the early 1700's. Opened in 1714, the menu now harks back to those days, with Early American cuisine. Dine on Prime Rib, roast chicken and other foods easy to recognize by candlelight in an ornate, Colonial mansion with hardwood floors, white linen and crystal stemware. Three opulent rooms are available for overnights. Stay one night Sun-Friday, and enjoy overnight accommodations, champaign, roses, $100 gift certificate for in-house dining, and continental breakfast delivered to room. $250 per night per couple.