WHY GO: Don't think of Gettysburg, Pennsylvania as a romantic weekend getaway? Well, the bodice-ripping movie, Gone With the Wind, was set in the same Civil War time period. Talk about sexual tension.
Yes, the Rhett Butler – Scarlett O'Hara "frankly my dear, I don't give a damn" relationship was dysfunctional beyond repair. But couples who thrill to the most dramatic and tragic parts of American History will find much to obsess over at one of the top historical sites in the US.
We've gathered all the most shocking things to do in Gettysburg PA, plus the most romantic restaurants and places to stay.
Of course, most people visit Gettysburg PA for guided tours of Gettysburg National Military Park, which tells the story of our county's bitter divide better than any other site in the country. After all, it's the place where President Abraham Lincoln, in his Gettysburg Address, chose to commemorate the dead while attempting to reunify a nation.
Millions of people from all over the world visit this town of just 8,000 residents each year. But to avoid the crowds, come to the off-season. Gettysburg is not exactly known as a romantic escape, but there are ways to get your heart pumping here, and we tell you how.
For more romance in a much more rural setting just 20 minutes away, discover the charms (and fantastically romantic inn) in Carroll County MD.
Things To Do in Gettysburg PA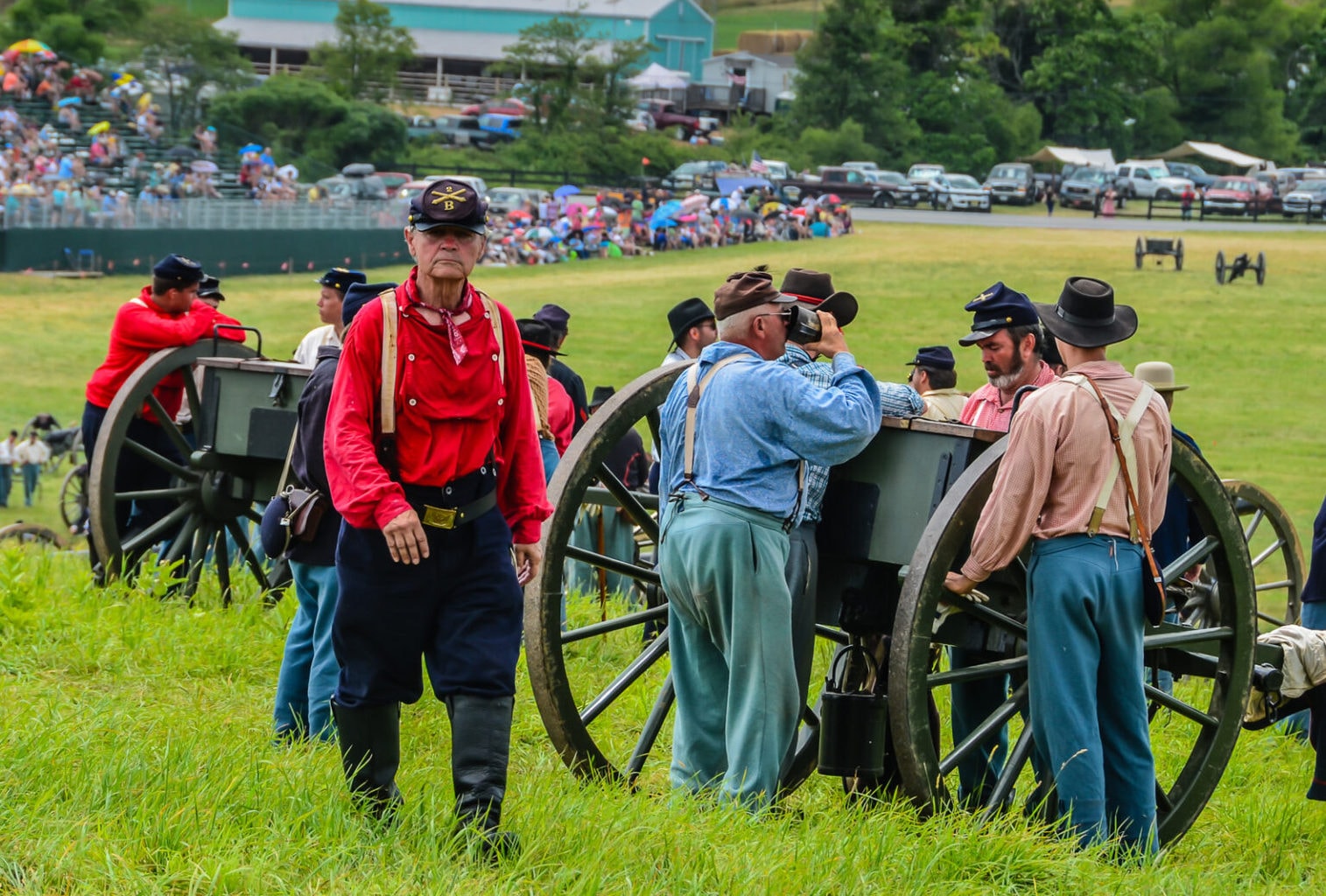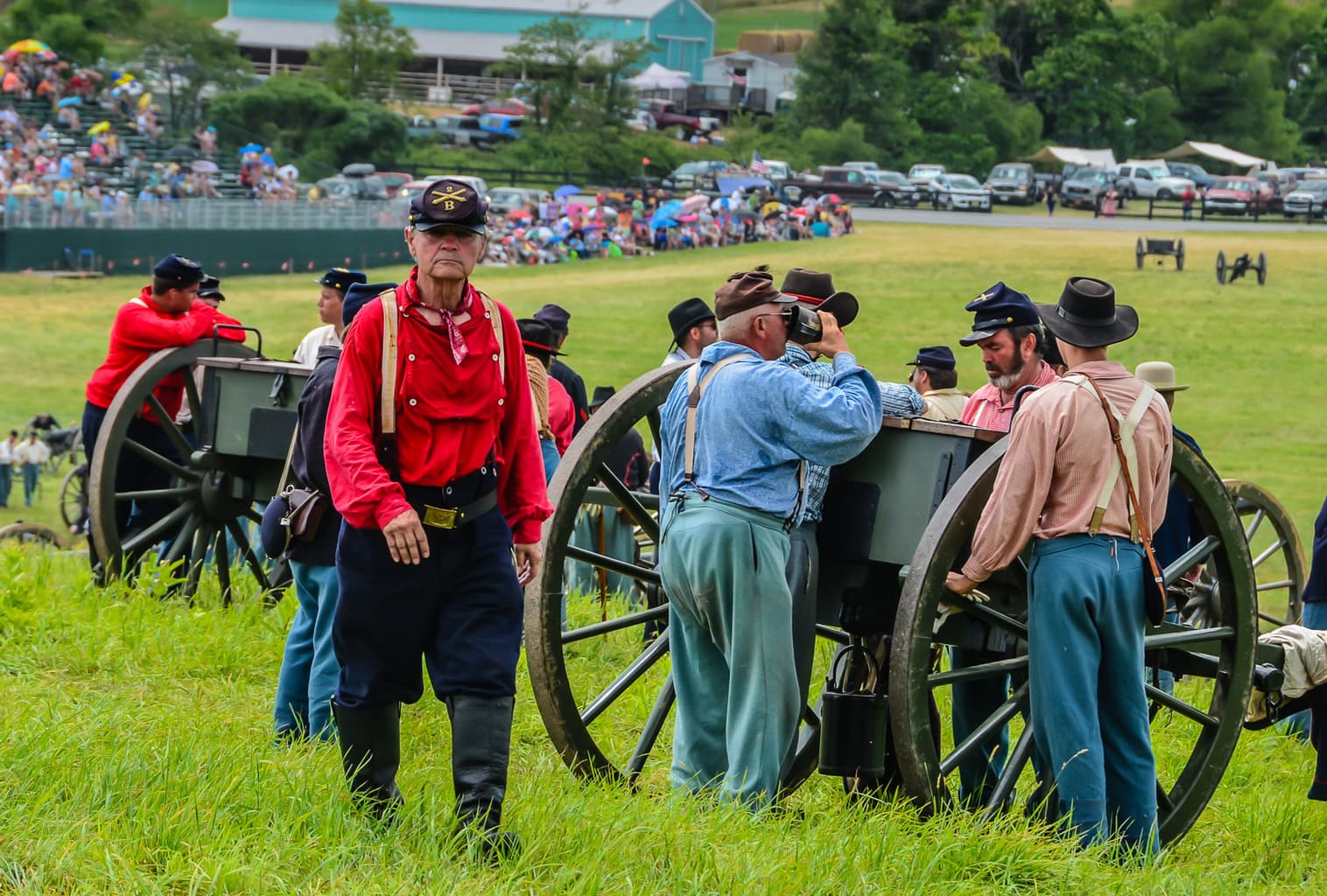 VISIT: Cyclorama at Gettysburg Battlefield National Park Visitors Center
Begin at the Gettysburg Battlefield National Park Visitors Center to get an overview of the Battle of Gettysburg.  Purchase a ticket for the Cyclorama, Film and Museum, then plan to spend at least two to three hours.
Start with the movie A Birth of Freedom narrated by Morgan Freeman (whose surname could not be more apt for this purpose). In the 1860s, Southern States seceded over the issue of slavery and became the "Confederate States of America."
Gettysburg was a turning point in the war that followed.
The Union Army (North) won the decisive battle against General Robert E. Lee's Confederate Army but, as you'll discover, only after three days of horrendous and high-casualty combat that could have gone either way.
From the first shot on July 1, 1863, to the last on July 3, 1863, over fifty-one thousand men were killed, wounded, or went missing.
After the movie, you'll take an escalator to the Cyclorama – the "Largest Painting in the US," at 42 ft. high, 377 ft. in circumference, and completed in 1884.
Restored and reopened in 2008, this Gettysburg diorama on steroids remains a spine-tingling depiction of the Battle of Gettysburg, where you can truly imagine you are "standing behind Union lines on Cemetery Ridge."
VISIT: Seminary Ridge Museum
The Seminary Ridge Museum is located within Schmucker Hall, a building that served as both field operations base and hospital during the Battle of Gettysburg – and it has one incredible draw.
You can climb to the open-air cupola at the top of the building just as Union General John Buford did on the evening of June 30, 1863, when he saw the campfires of Confederate soldiers nearby, inadvertently warning the Union Army about their approach.
Seminary Ridge Museum is the only institution that focuses on the First Day of the Battle, caring for the wounded, and the role of Faith and Freedom during and after the War.
Warning – some dioramas and images are jarringly gruesome, so use discretion when bringing children. Reservations necessary.
DO: SegTours, Gettysburg National Historic Park Segway Tour
There are plenty of ways to "do" the Gettysburg Battlefield, including walking tours and the crowd's favorite big bus tour.
But the best way to really understand troop movements, skirmishes, and the individual players on a human, sometimes humorous, most times harrowing level is through the wind-on-your-face, out in the elements Segway Tour.
You'll spend about half an hour getting familiar with this unique transportation device and then, you're off, with a Segway staff member AND your very own licensed battlefield guide who narrates through Bluetooth headsets as you move along.
Stopping frequently, you can ask questions, get your bearings and learn awesome trivia including the fact that on the final day of the conflict, during the two hours of Pickett's Charge, 11,000 rounds of cannon fire created the loudest sustained noise ever heard (before or since) in the Western Hemisphere – a noise that was detected 80 miles away in Washington, DC. 
TOUR: Shriver House Museum
Most tourists visit Gettysburg to see where the battle occurred, oblivious to the fact that there was a town here, too. Consider the Civil War through its effect on one family; the Shriver Family at the Shriver House Museum.
I won't give anything away, but suffice it to say that the room-to-room narration has twists and turns and involves Confederate troops, forensic reports, and curious artifacts found in the house and walls.
It was said that after the battle – with hundreds lying dead and amputated limbs decomposing in the streets – the odor emanating from downtown Gettysburg was so horrendous it could be smelled in Harrisburg 30 miles away.
TOUR: David Wills House
Tour the place where Abe Lincoln prepared his Gettysburg Address, and then stayed overnight before delivering his famous speech. The David Wills House tells the story of the aftermath of the horrendous battle when Attorney Wills opened his home up to the wounded and those who cared for them.
WALK: Sachs Covered Bridge
If wood planks could talk…. Built in 1852, the Sachs Covered Bridge vibrated with the footsteps of both Union and Confederate troops during the Civil War. And, it still stands today.
TOUR: President Eisenhower National Historic Site
Dwight Eisenhower was the first president to fly in a helicopter. Interestingly, quite a few of those flights were between his very first private home, now the Eisenhower National Historic Site, in Gettysburg, PA, and Camp David just 20 miles away.
When Eisenhower tired of formality and wanted to "take the measure" of a World Leader like Charles De Gaulle or Nikita Khrushchev, he would escort them to his Gettysburg Dairy barn or porch for some R&R.
You'll learn all about the General's habits and hear insider stories on this fascinating tour of the home and grounds of our  34th President.
Restaurants in Gettysburg PA
EAT/DINNER: 1776 Dobbin House Tavern
Dine by candlelight in Alexander Dobbin's library, bedrooms, parlor, and root cellar. The Dobbin House Tavern is the most atmospherically romantic place in town, enhanced by excellently prepared food. The "Colonial Era" menu is fun reading; separated into "Of Soups," "Of Flesh," "Of Fish," with Colonial s's that look like f's.
Start with the "King's Onion Soup." It's "Freshly made with beef and a variety of cheeses on top, baked in a 'quick' oven to a succulent tenderness, and served up hot and delicious in a tureen."
EAT/DRINK: Garryowen Irish Pub
If you and your honey are fans of whiskey, Garryowen Irish Pub will be your home away from home – with 120 versions at the bar.
In fact, Garryowen is of the most popular drinking spots in Gettysburg. Walls are plastered with Police and Fire Department patches from all over the country. You can find traditional Bangers and Mash, Shepherds Pie, and a touch of haute-Irish pub food.
EAT/BREAKFAST: Dunlap's
Though it's a no-frills Formica table type place, Dunlap's is like Cheers for the local Senior Men's Club. If you're a frequent customer of a certain age, it seems everyone knows your name. Prices are small-town low.
Hotels in Gettysburg PA
STAY: Federal Pointe Inn
The coolest lodging in town, Federal Pointe Inn was originally built in 1896 as Gettysburg's first High School. Gutted and renovated into boutique-luxuriousness, there are 18 elegant high-ceiling guest rooms on two floors.
Stay in the former Boys or Girls' bathrooms. These are floodlit second-floor corner rooms with 12-foot ceilings, granite bathrooms, and sinfully soft bedding.
STAY: Other Boutique Options
Both the Inn at Lincoln Square and the Gettysburg Hotel keep you right where the action is in downtown Gettysburg. You'll also find plenty of bed and breakfasts in the Gettysburg area.
More Weekend Getaways For History Lovers In Pennsylvania