Last Updated on May 27, 2022 by Editor
WHY GO: Believe it or not, the unusual history of Guilford CT became the impetus for the Getaway Maven's focus on quirky destinations.
Guilford borders Stony Creek and the Thimble Islands, an abundance of fanciful pink granite isles and outcroppings that create an otherworldly landscape.
Guilford is known for its artsy boutiques, a celebrity-favored outdoor restaurant, and the oldest stone home in New England – which makes it, of course, a low-key getaway. But it has a rather odd and bloody past.
Offbeat History of Guilford CT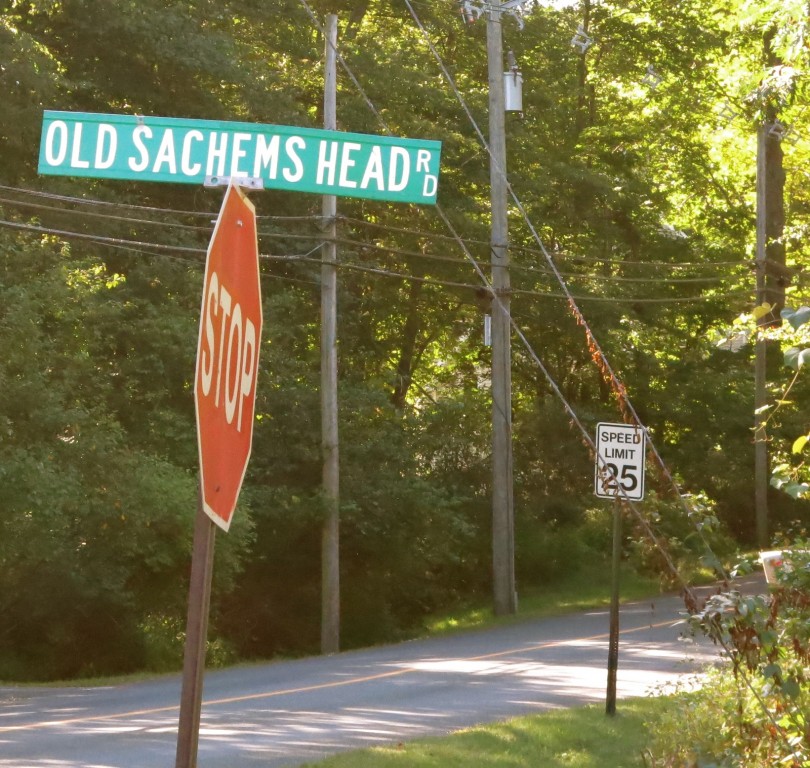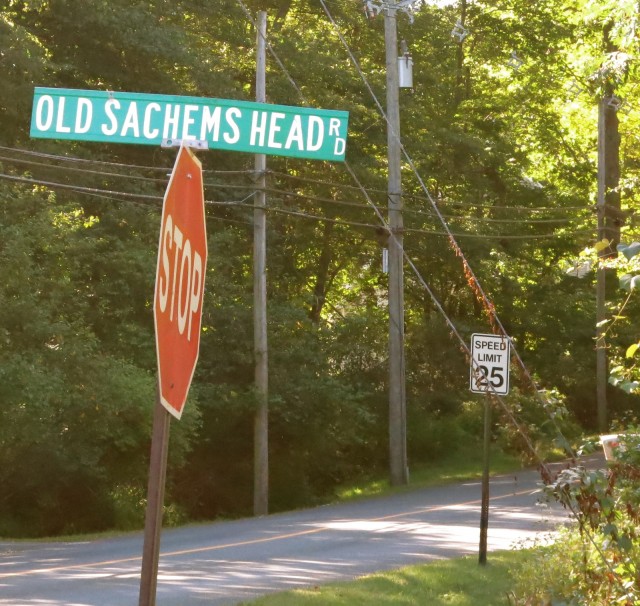 THE OFFBEAT TRIVIA THAT STARTED IT ALL: Sachem's Head
I was touring Guilford with a town historian, as we turned into the Sachem's Head section of town.  I'd assumed that this neighborhood was so named because it juts out into Long Island Sound – and thus, a "headland."
But I soon learned that Sachem's Head refers to the decapitated head of a captured Pequot Tribal Chief – the Sachem. After a territorial skirmish in 1637, Colonial Brits placed the severed head in the fork of a shorefront tree to warn other tribes of their fate should they retaliate. I find it strange that a whole neighborhood in Connecticut still bears the name of a hacked-off Native American's head.
Weirdly, the picture-book yellow cottage nestled within Sachem's Cove, where this bloody episode occurred, was summer home of landscape-design superstar, Frederick Law Olmstead. Most likely, the Father of American Landscape Architecture, best known for designing New York's Central Park, had no idea of the violent history right outside his door.
This ethereal inlet, where backyards of surrounding homes aren't much more than slabs of gently-rounded bubble-gum hued rock, and where Olmstead spent his youthful, obviously impressionable summers, once ran red with the blood of Native Americans.
Things To Do in Guilford CT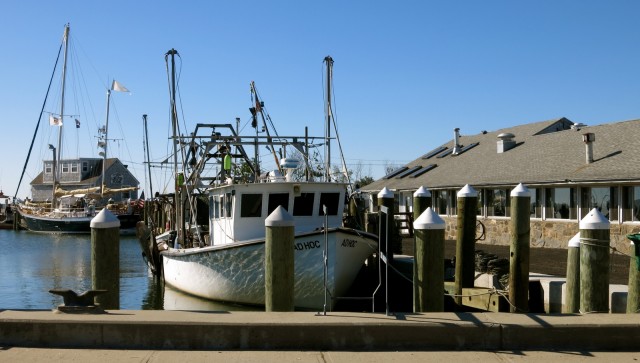 To get the best overview of Guilford's historic homes and shoreline, join Rich Petrillo on a delightful Segway Tour. Roll past colonial houses, diagonally through the Guilford Green (which sparks much pointing and business card-dispensing.)
Stop at the Henry Whitfield House, then out to the harbor to see sweeping views of salt marsh, Osprey nests towering above the reeds, and shore birds diving into the water like crashing kites. $70 per tour, call for tour times.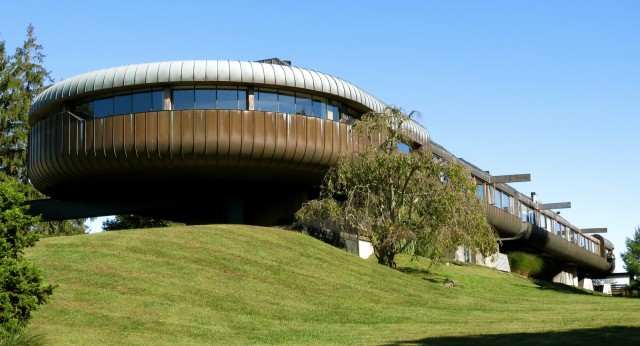 SEE: "The Spaceship"
Most of the homes in Guilford are regal and timeless; craftsman-style, Victorian, Salt Box or variations on Colonial. But an elliptical copper-clad structure near the town dock seems more Expo '67 than fife and drum. It stands out like a shark in a Koi pond.
This unusual condo building, nicknamed "The Spaceship," generated negative heat when first proposed nearly 35 years ago.  Now, apparently, Guilford has grown to accept it.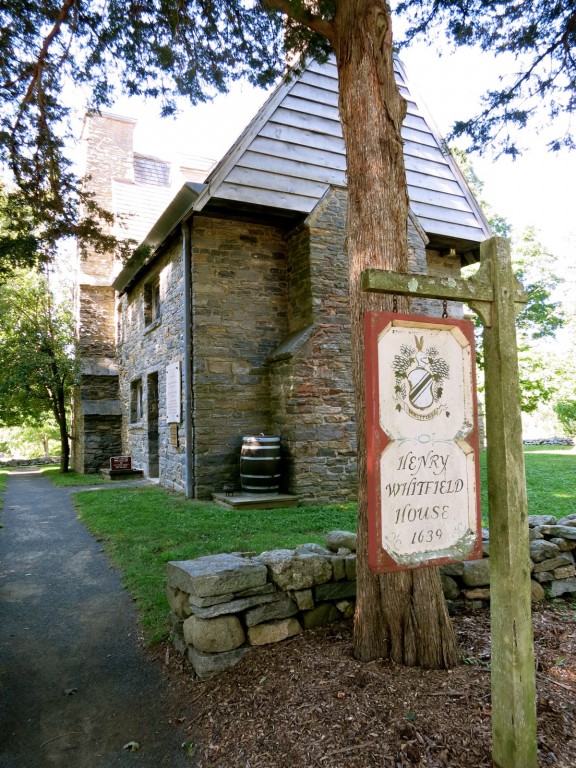 Guilford is best known for the Henry Whitfield House, the oldest home in Connecticut. (And the oldest stone home in New England).
It was built for the Anglican Minister Henry Whitfield in 1639, "the same year that the Taj Mahal was under construction," docents like to point out.
The sturdy stone structure was both family home to Whitfield and ersatz town fort.  Fires and restorations – the most ambitious one in the 1930's – have pretty much obliterated the original interior.  But the museum still draws busloads of kids and adults who can explore the dark rooms with flashlights. $8 adults, $5 kids, May 1 – December 15, Wednesday – Sunday, 10:00 – 4:30
SIT A SPELL: Guilford Town Green
Once grazing area, graveyard and fairgrounds, the Town Green turns dense with booths at annual craft and lobster festivals. Come on an off-weekend or weekday and it's the essence of small town.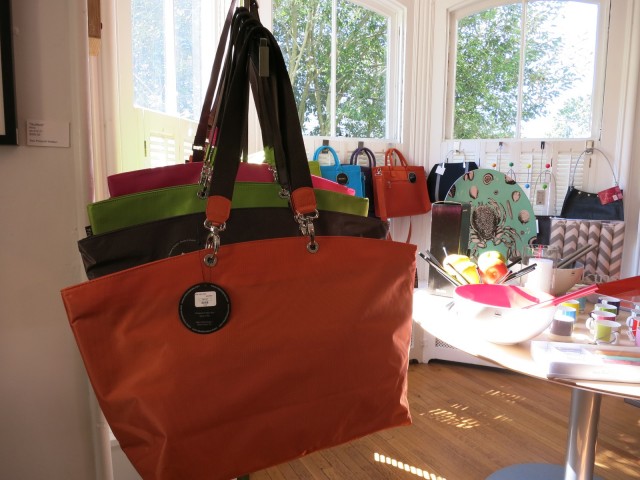 SHOP: The Galleries and Stores Around The Green
If you crave unusual gifts, stop into contemporary craft shop, Mix Design Store. Coolest tote for a song: a vibrantly colored Milano Bag for just $40.  Find fused glass jewelry and wearable art at glass workshop and gallery, BSK Design.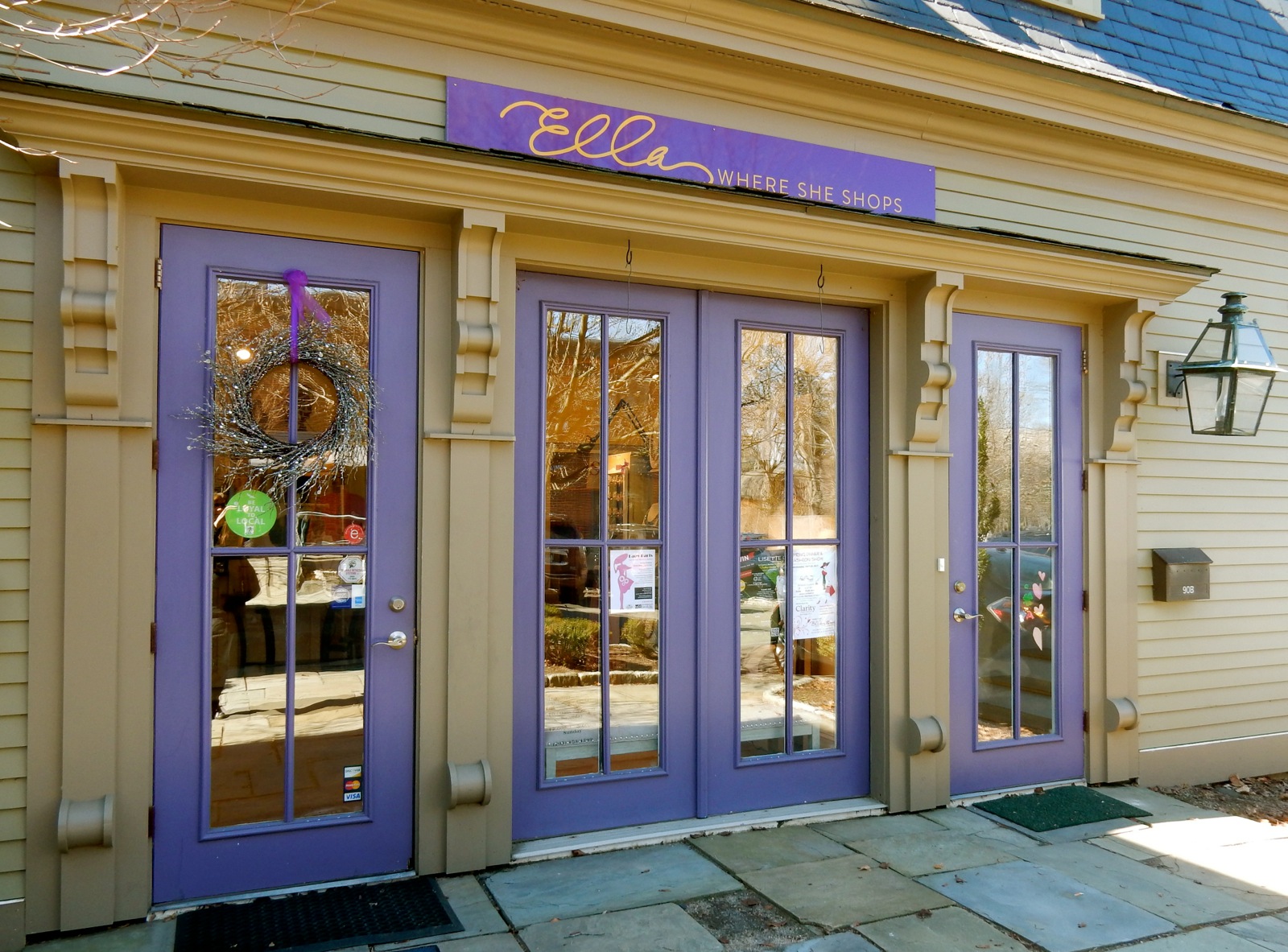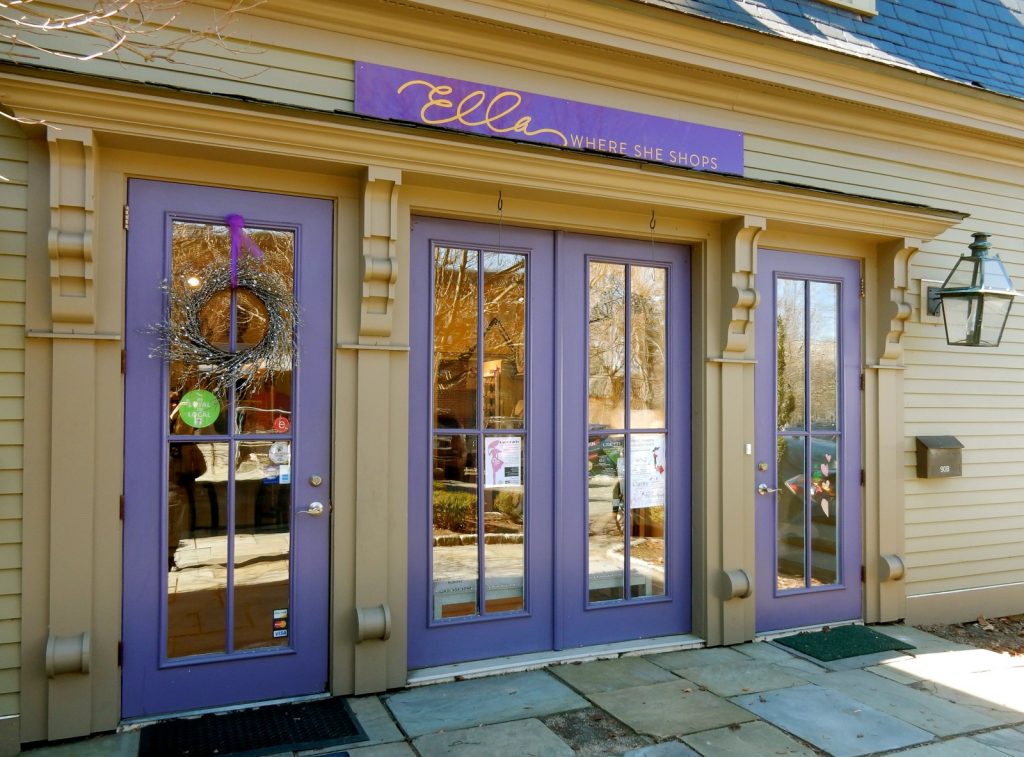 When I'm anywhere near Guilford, I detour to shop here for well made clothing that doesn't make me, a Baby Boomer, look like a shrink-wrapped teenybopper. Apparel is trendy and well-priced – the perfect combination.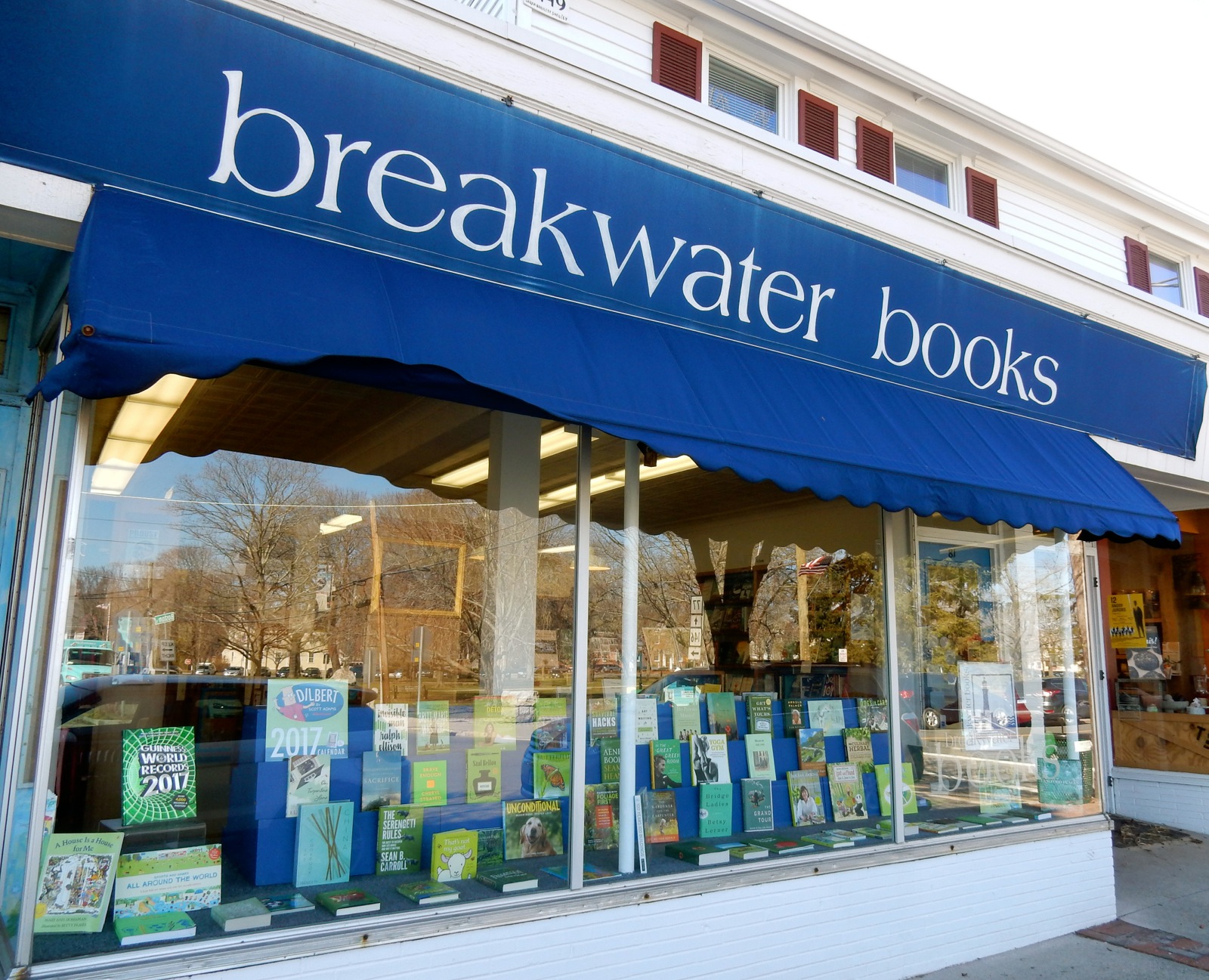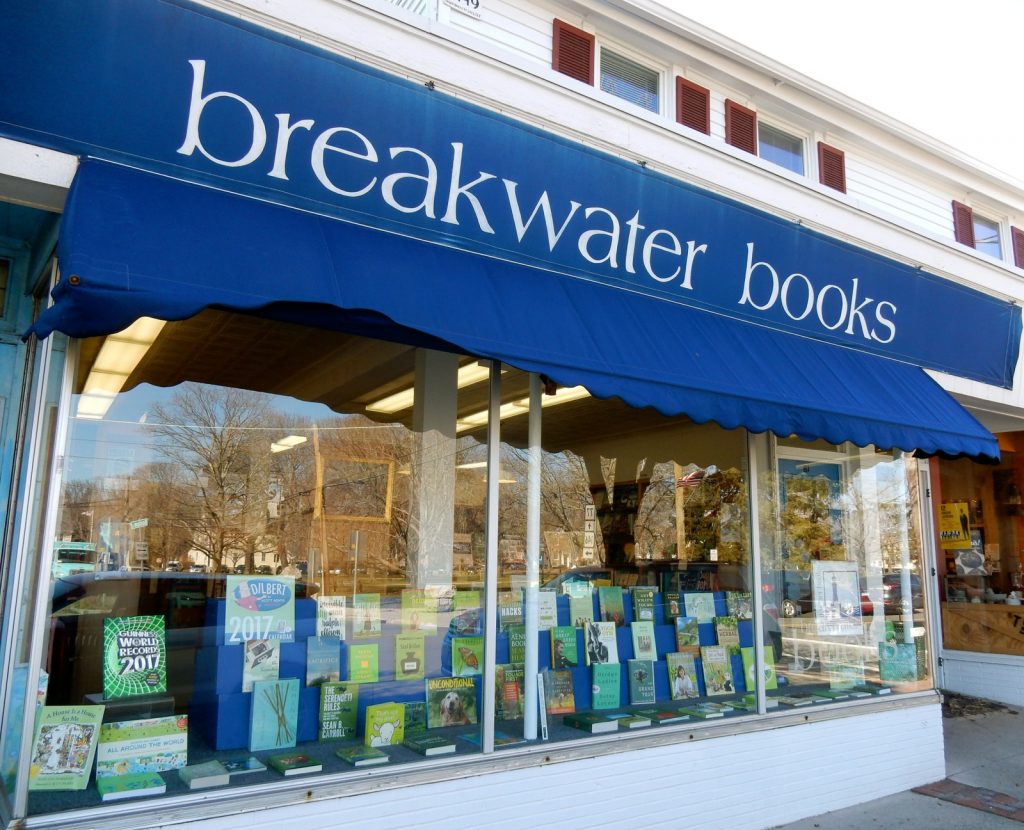 Any town – no matter how small – that supports an independent bookstore, is a town rich in culture, in open mindedness, and in worldly pursuits. Though not very large, Breakwater Books offers story-time for little ones, Staff Picks, and special orders.
Restaurants in Guilford CT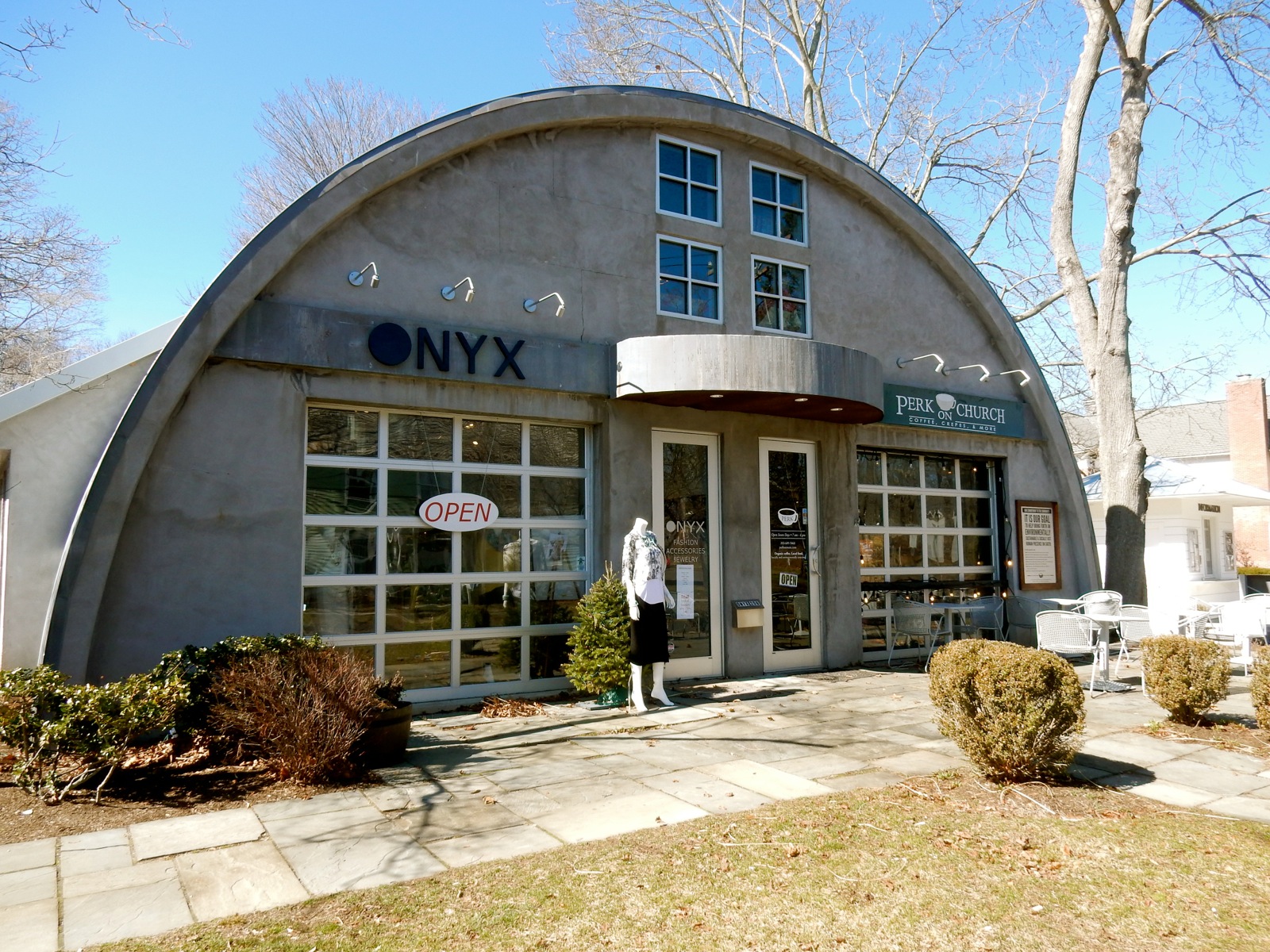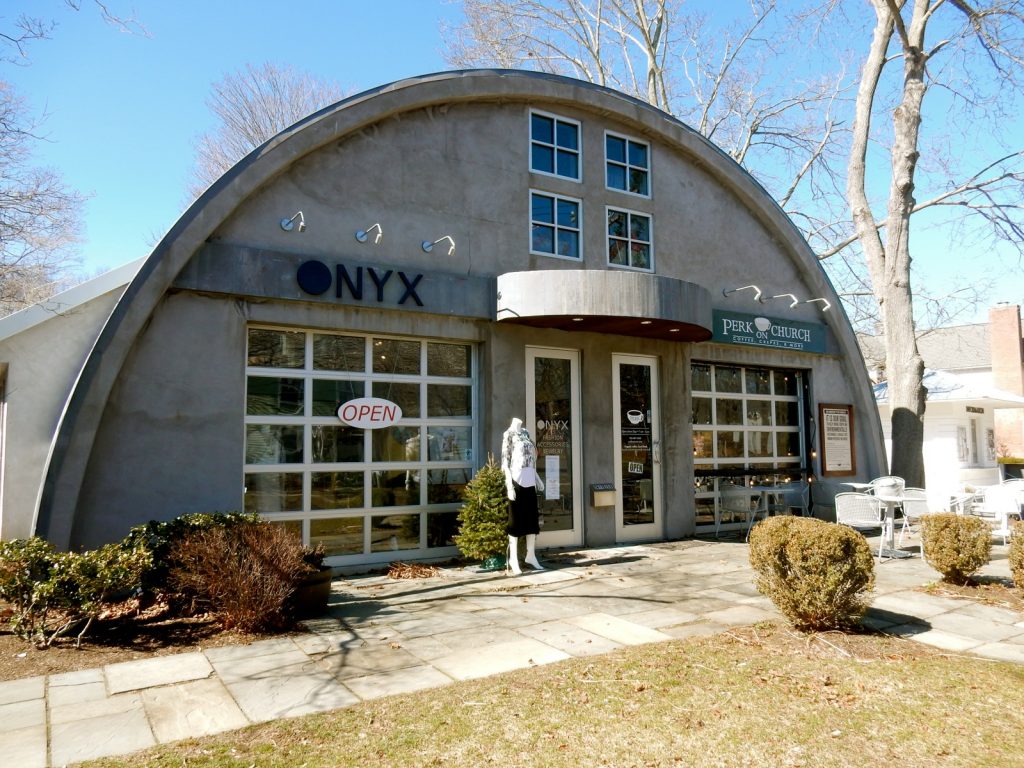 How 'bout a local Quonset hut reimagined as a funky coffee shop? It's like sipping latte in an airplane hanger and tres chic.
Locals have embraced this petit piece of Paris in Guilford. You'll find macarons, madeline's and muffins (among other French pastries) seemingly straight from France.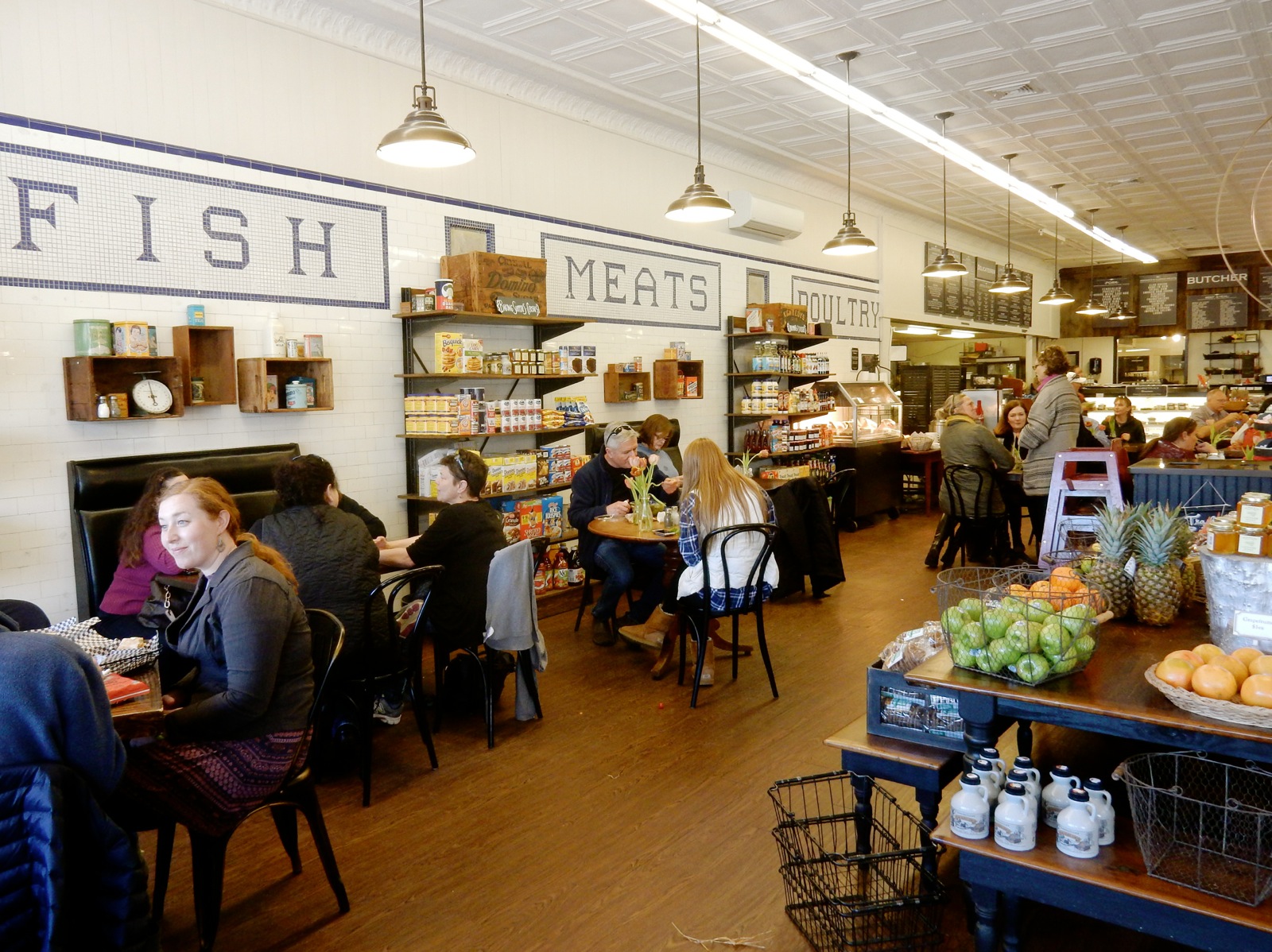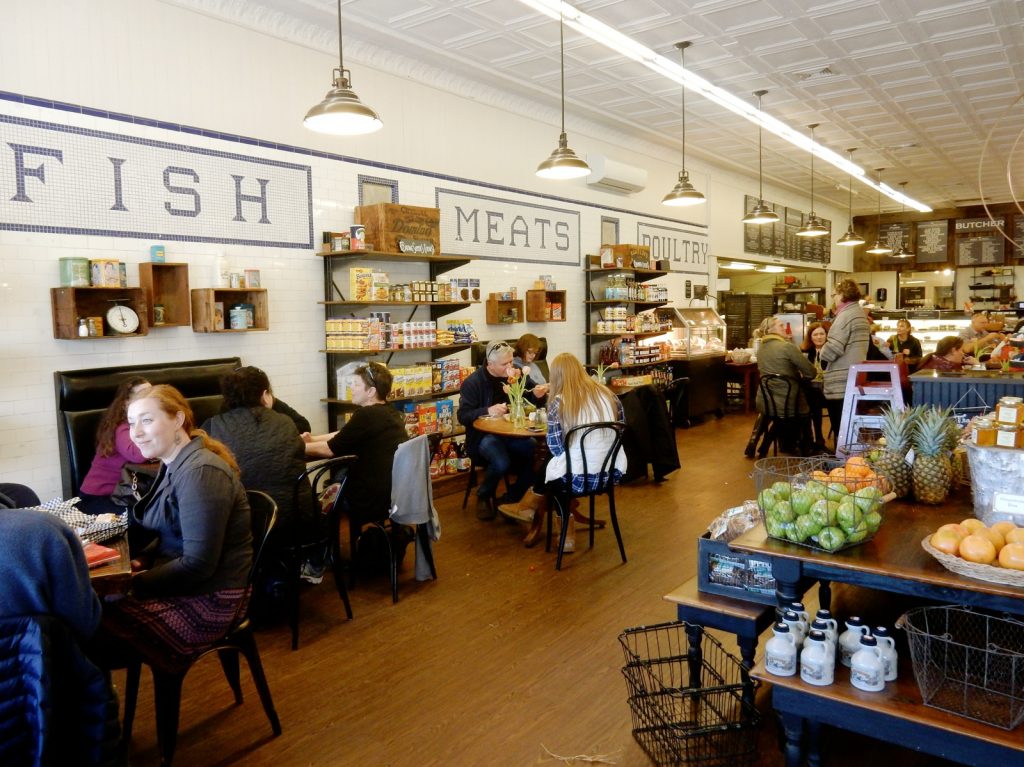 The Marketplace is all the rage these days in Guilford. A former grocery store, right on the Green, was converted into a cool place to pick up fresh meat and fish. Plus, quench your thirst with hundreds of custom Italian Soda flavors, get the best local craft beer on tap, and grab a prepared sandwich, salad, and side for lunch with friends.  Open 7-7 Mon-Sat, 7-4 Sunday.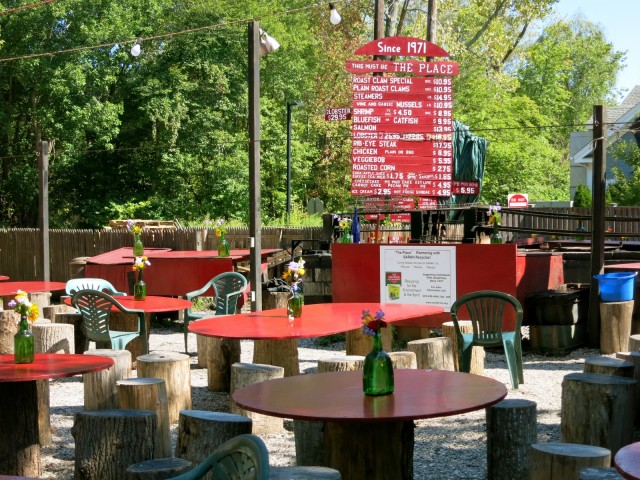 Beefy guys preside over a humongous flaming grill, topped with charring rib eye, salmon, steamed clams, corn, and other local fruits of sea and field.
Owned by brothers Vaughn and Gary Knowles, The Place has made "best of" lists in national magazines. Fans include celebrities like Will Ferrill and hard-to-please foodie Martha Stewart.
Tree stump seats encircle poppy-red tables made from recycled cable spools. Eat here frequently enough, you'll become "stump-worthy" and garner your very own, personalized, slice of trunk.
On a sunny day or Saturday night, The Place swells to 400 patrons and 22 employees. "Our worst enemy is the weather," Vaughn admits. "Our second worst enemy is the weather forecast." Open April – October, M-F dinner only.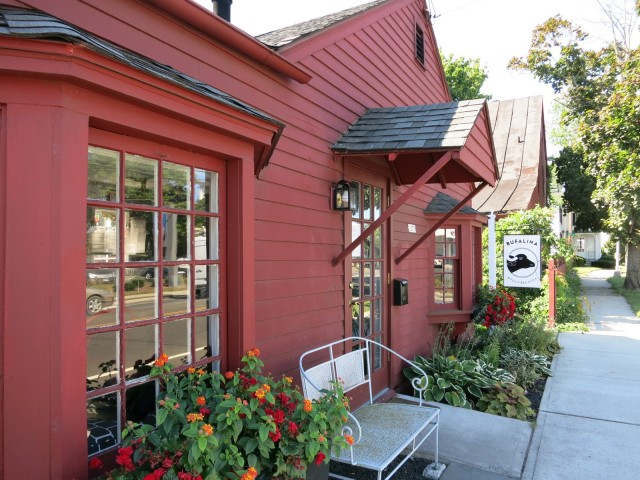 Some patrons call Bufalina's wood-fire pizza "the best in Connecticut," which says quite a bit since Connecticut itself is known for having the country's best thin-crust pizza. Pros: intimate space (read – tiny), fresh food made with passion, heavenly charred-chewy crusts. Cons: paltry parking. Tues-Sat. 4:30-9pm.
Where to Stay In Guilford CT
STAY: B&B at Bartlett Farm
The Bartlett Farm has reported that it is closed "for the foreseeable future."
The farmhouse is right out of the Wizard of Oz, and you'll wake up in a room much like one that Dorothy did after her twister-related bump on the head (only with luxe modern amenities).  But this farm isn't in Tornado Ally – it's in the northern section of Guilford CT about 7 miles from the Green and  waterfront.
On undulating farm-roads, you might whisk right by this three-room ramshackle-chic 1784 home: only a very small sign – Bartlett Farm – affixed to the red barn, gives any indication you've arrived.
With a veranda named by Yankee Magazine as  "The Most Relaxing Porch in New England," and a bountiful farm breakfast that makes use of eggs from hens out back and produce picked fresh from the garden, this working farm miles from the nearest store fits the elemental definition of a "getaway." Rooms $150 and $165 include full breakfast for 2.