WHY GO: When I first wrote about Portland ME ten years ago, this working port on Casco Bay was a laid-back town with a "mellow vibe." But now it's crazy busy. Especially in Old Port by the waterfront, where uneven cobblestone streets make ambling a pleasurable challenge.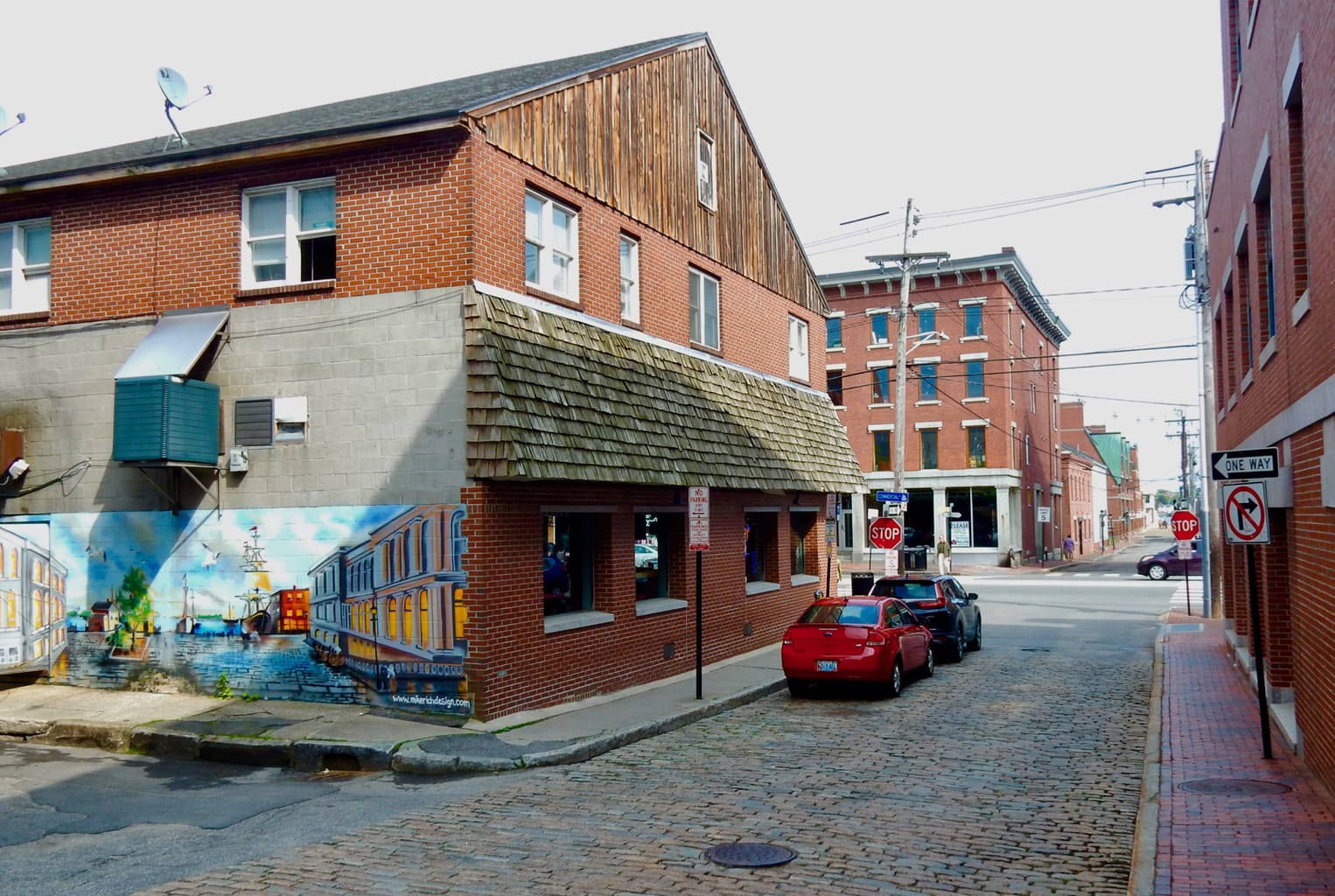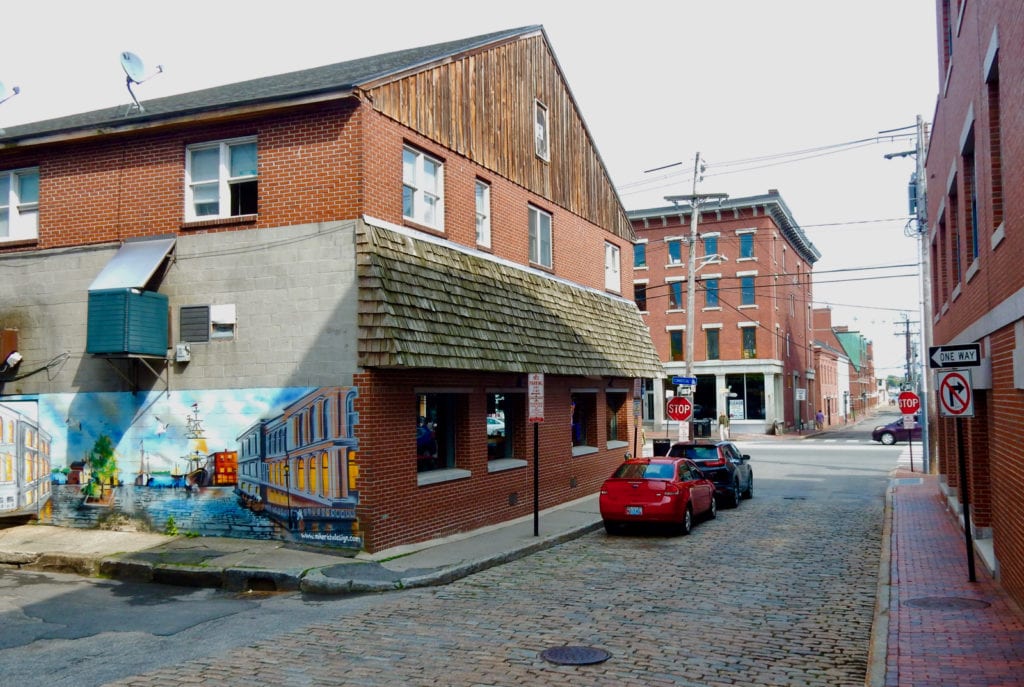 There are a gazillion places to eat, catering to both the gastronome and tourist trades. But it's not just the chow. Portland is known for its brews as well: Shipyard Brewery and Allagash most notably. Portland, however, does have its cultural side.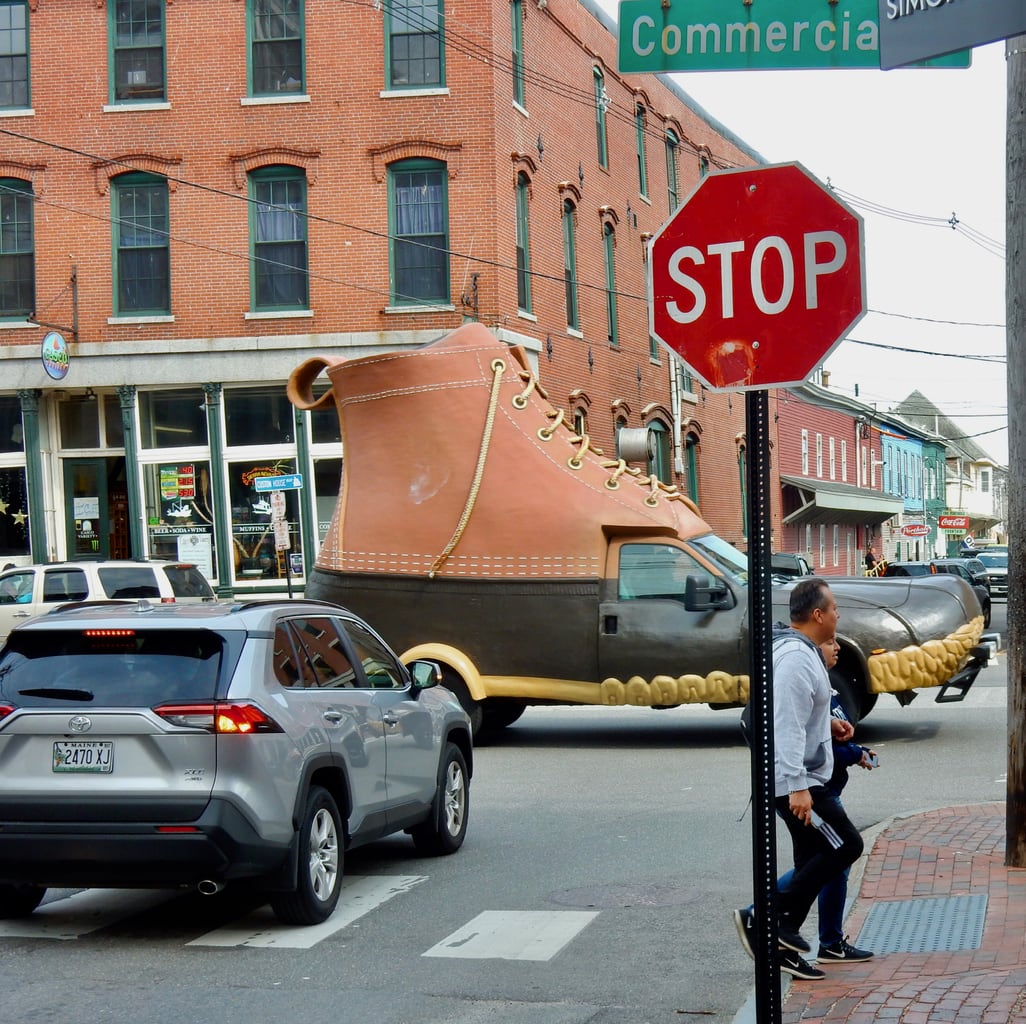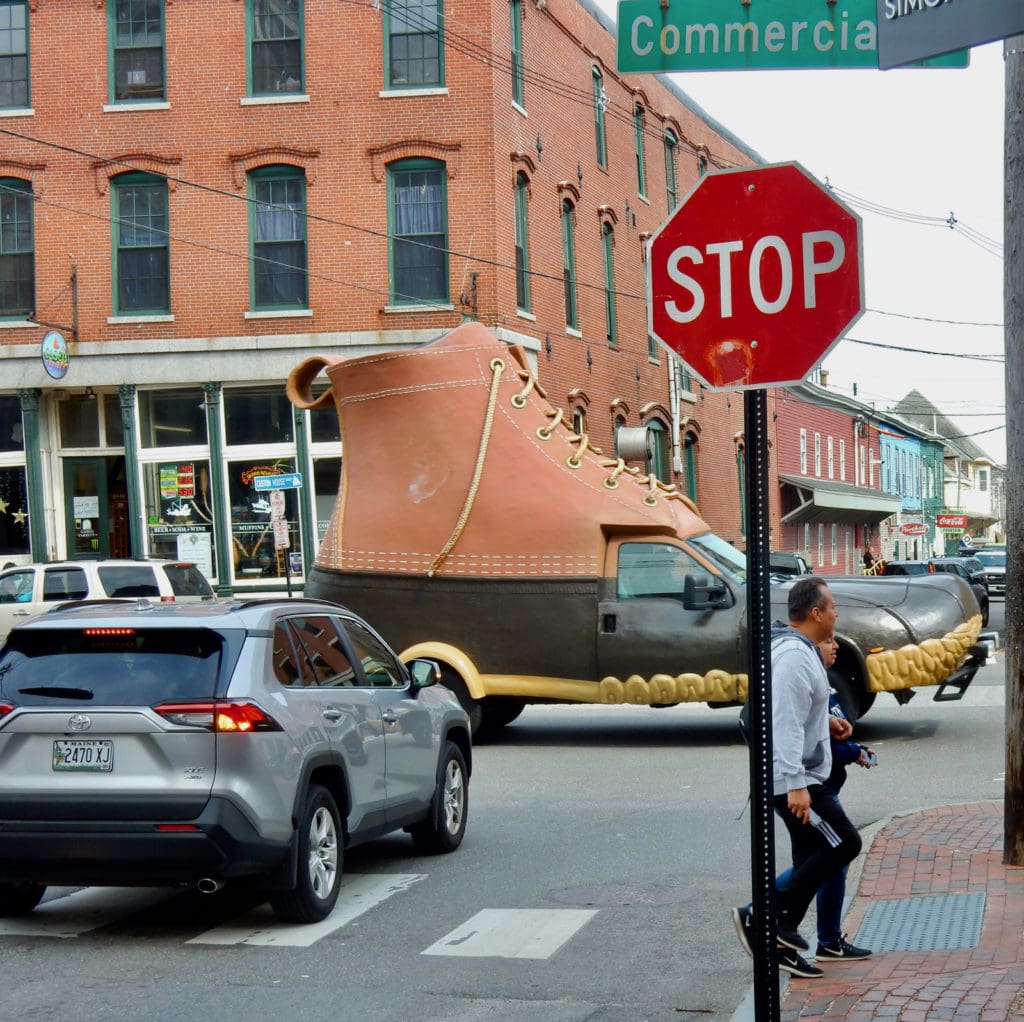 The poet, Henry Wadsworth Longfellow was born and raised here. And Winslow Homer had his first exhibition at the Portland Museum of Art – in 1893. There's so much to do in Portland – here's how to maximize your time.
Things To Do In Greater Portland, Maine
To be sure, foodies have discovered Portland Maine. But this maritime town did not become a culinary destination overnight. Join Maine Foodie Tours three-hour Portland Old Port Culinary Walking Tour for a great historic overview, and to explore both the oldest and newest foodstuffs this city offers.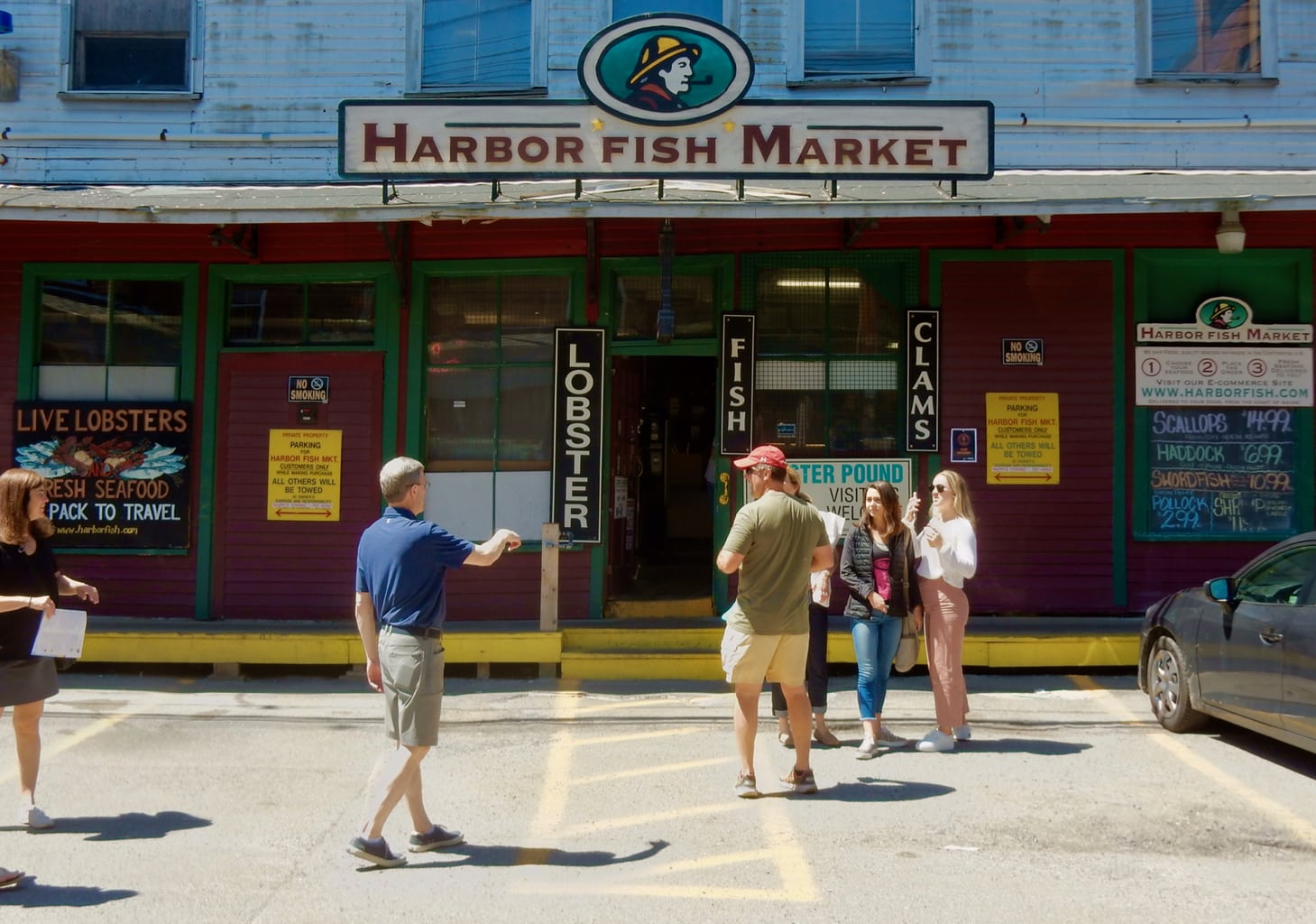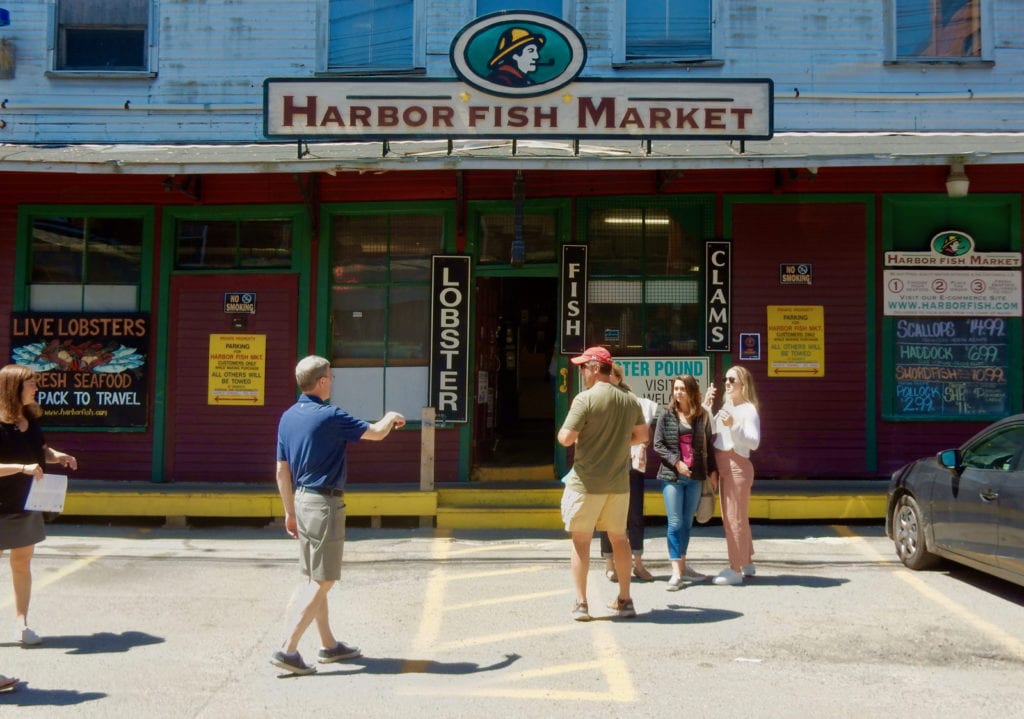 Pam Laskey, founder and owner of Maine Foodie Tours, runs these stuff-your-face-and-mind expeditions in four Maine towns. Judging from the number of people on my Portland Old Port Walking Tour on a hot early June weekday, these events sell out quickly.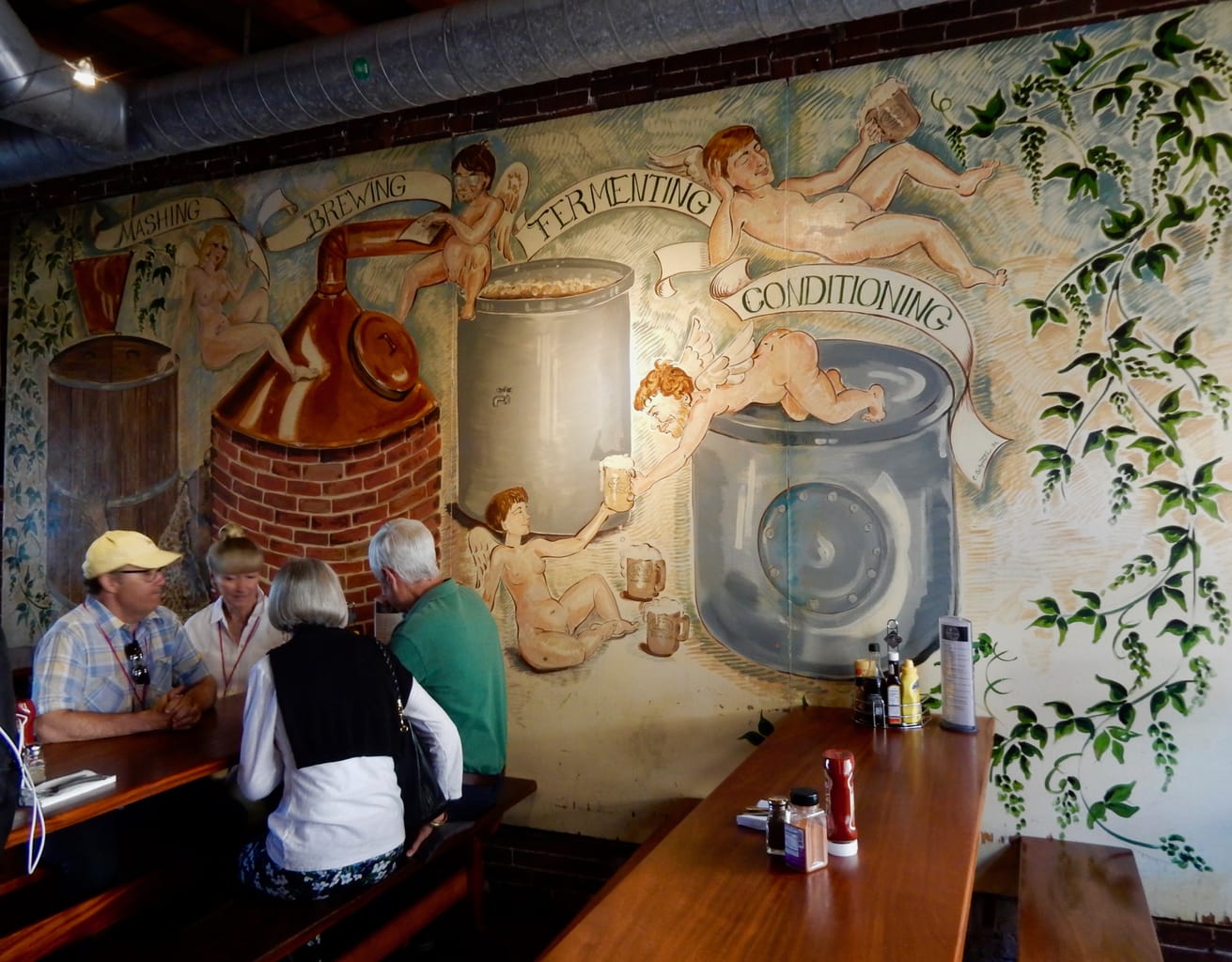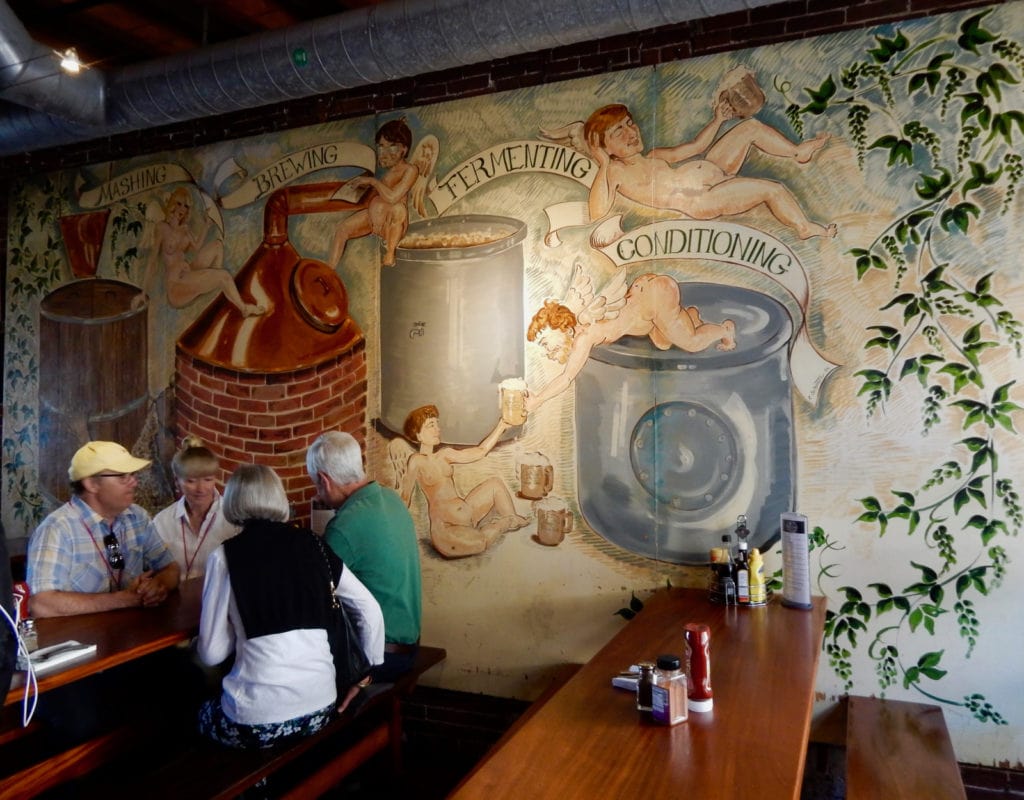 The tour covers a good swath of downtown Portland, and you'll sample everything from spices and vinegars to lobster mac & cheese, the irresistible Holy Donut, Fish and Chips and Lobster Rolls at Gritty's ("Maine's original Brew Pub"), sumptuous soup at Kamasouptra, crab rolls at Mr. Tuna, jams and scones at Stonewall Kitchen. Not to mention a singularly Maine confection, the "Needhem" at Dean's Sweets, made from coconut, dark chocolate, and….mashed Maine Potatoes. (Although in this case, Maine Potato Vodka).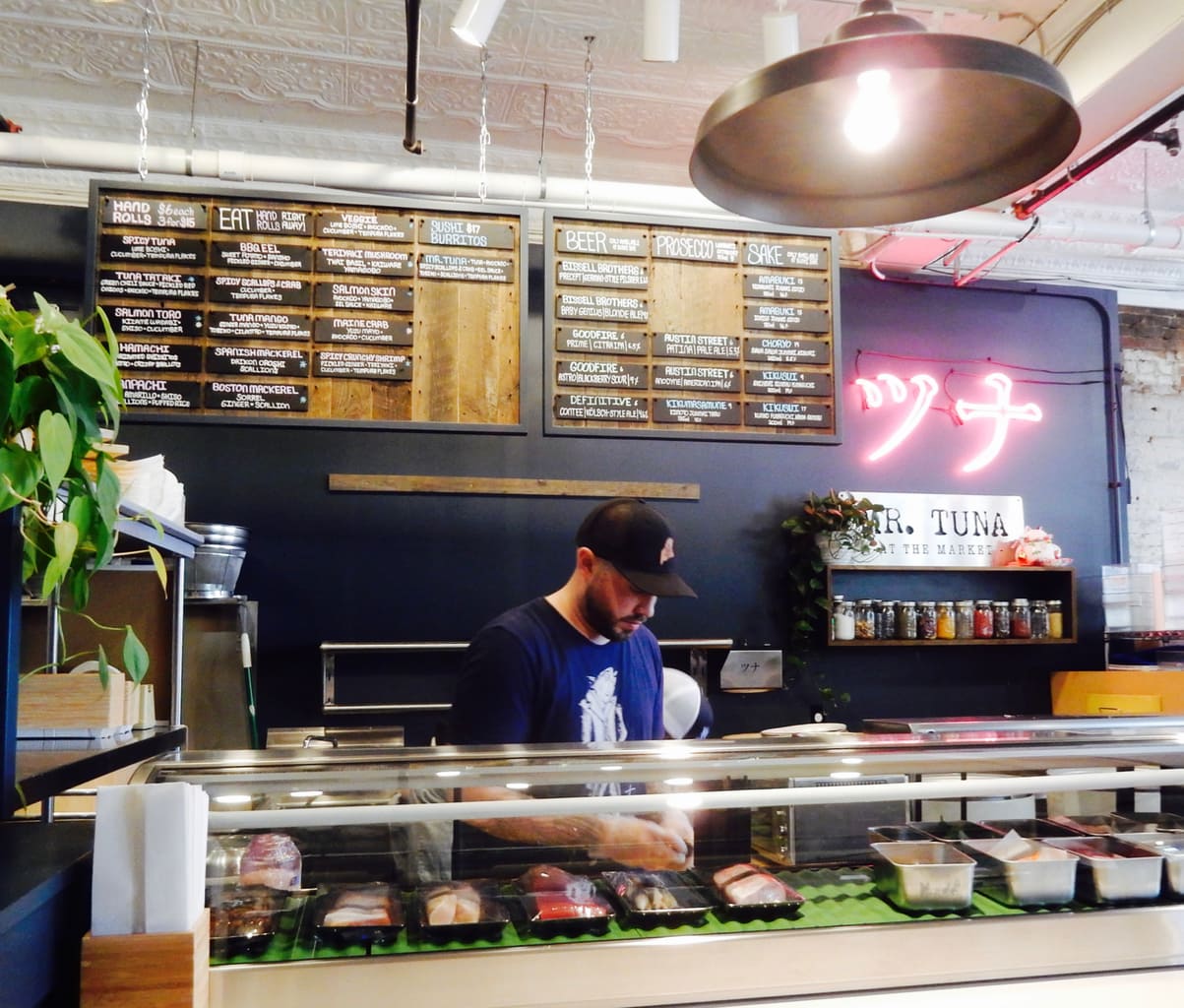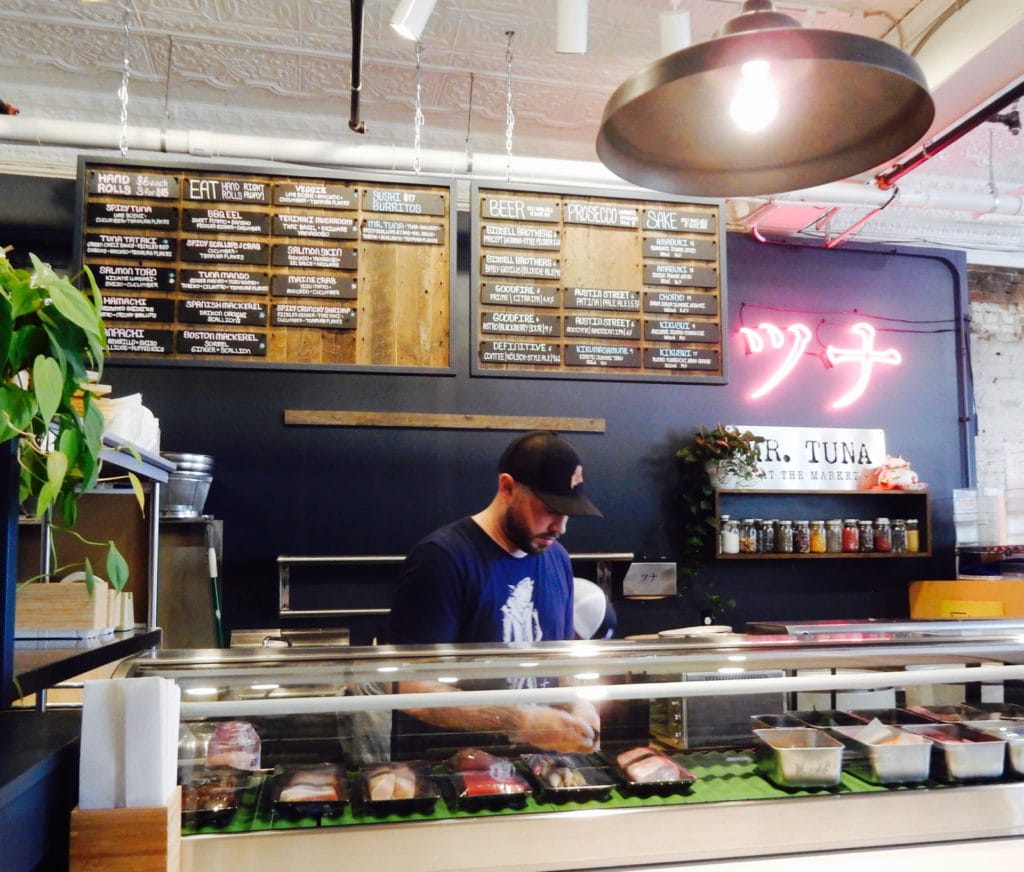 Along the way, you'll visit the last remaining authentic Fisherman's Wharf, featuring the iconic Harbor Fish Market that dates back to the late 1800's, Monument Square, home to the country's oldest Farmer's Market, an upscale food hall/chef incubator, and more.
Maine Foodie Tours offers a multitude of "Edutainment" opportunities from early morning to late night 21+ tours. The flagship 3-hour Portland Old Port Walking Tour is offered nearly every day year round and costs $69.95 per person.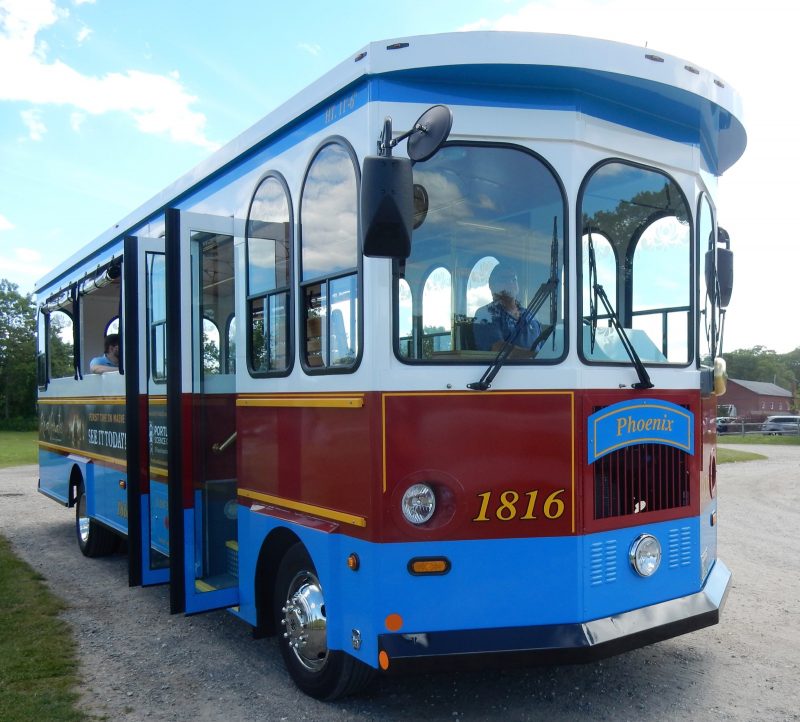 Traffic is nutty in this city – and so is parking, which is nearly non-existent. And when you do find a place, you've got to move your car every 2 hours or pay the consequences. Best to hop on a city orientation tour that does not involve your own vehicle, is less than 2 hours, and optimally, has an engaging driver-guide.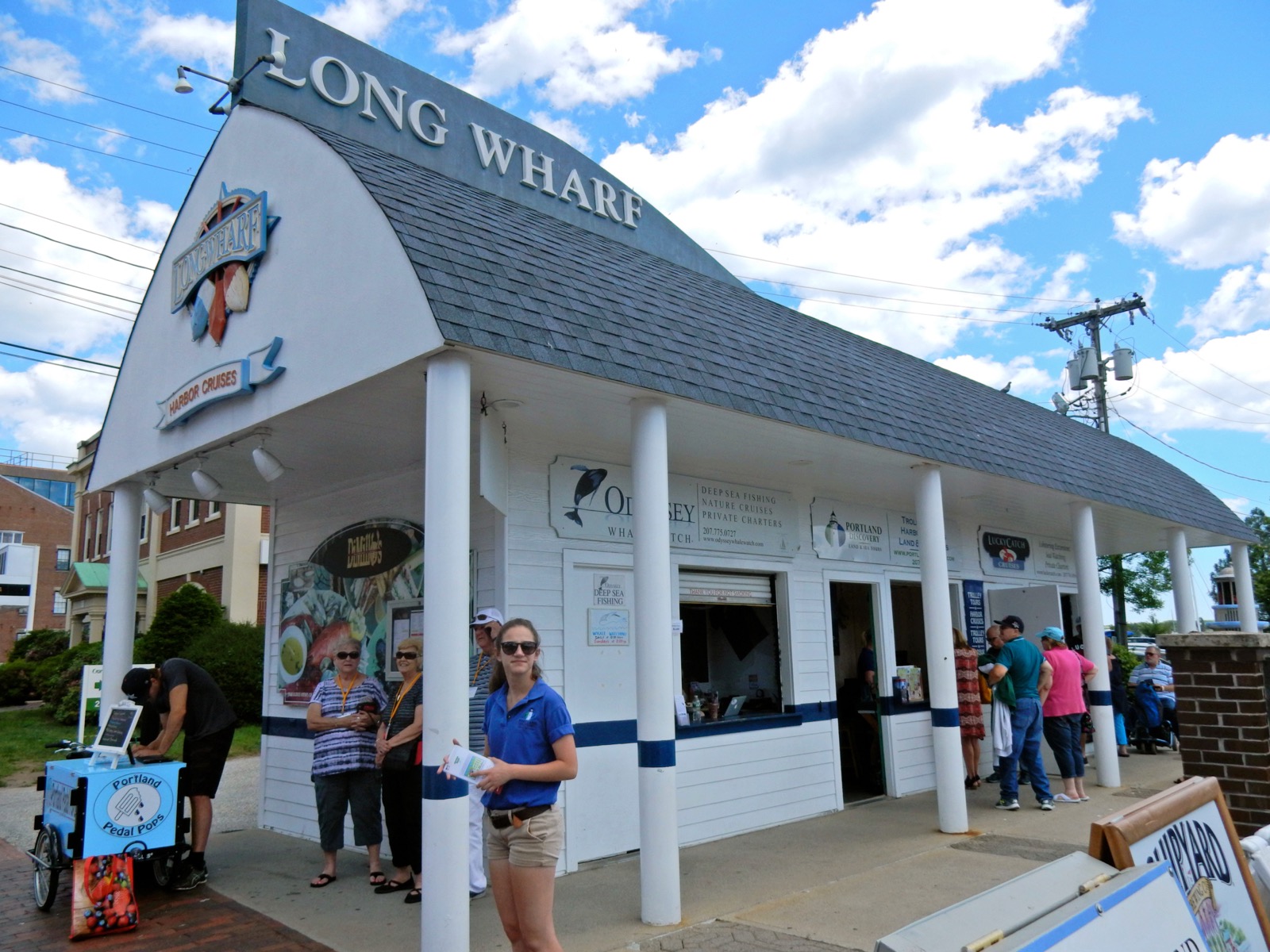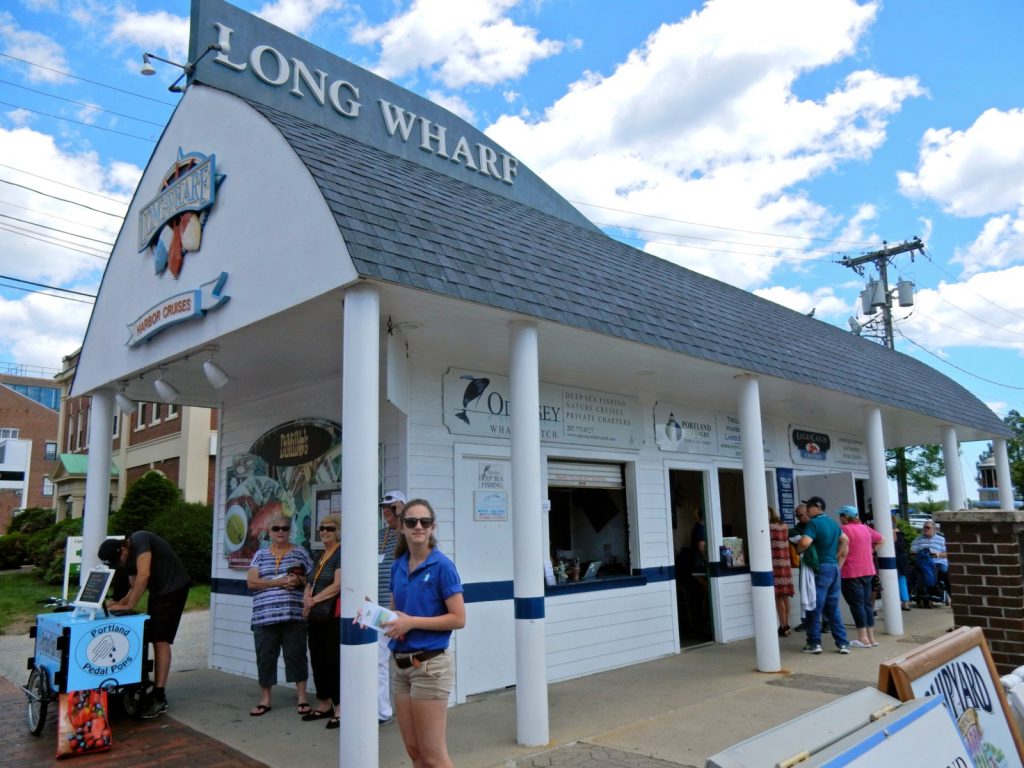 You'll find those requisites with Portland Discovery Land and Sea Tours. Its kiosk is on Long Wharf and Commercial St. next door to Portland Lobster Co. First timers who are also lighthouse fans, will want to take the 1 hour 45 minute city and Portland Head Light tour. Yes, it's a hokey trolley tour, with somewhat jokey and homespun narration. But it covers a lot of ground, especially if you don't have much time.
Commercial Street
As the primary route along the waterfront, Commercial Street features a mélange of working and recreational boats, condos, restaurants and bars.
Portland Harbor is one of the busiest ports in North America; with a couple of cruise ships sailing in and out of Gateway Terminal daily in season, and tankers offloading oil into clusters of oil receptacles – called "tank farms" – that dot the shoreline.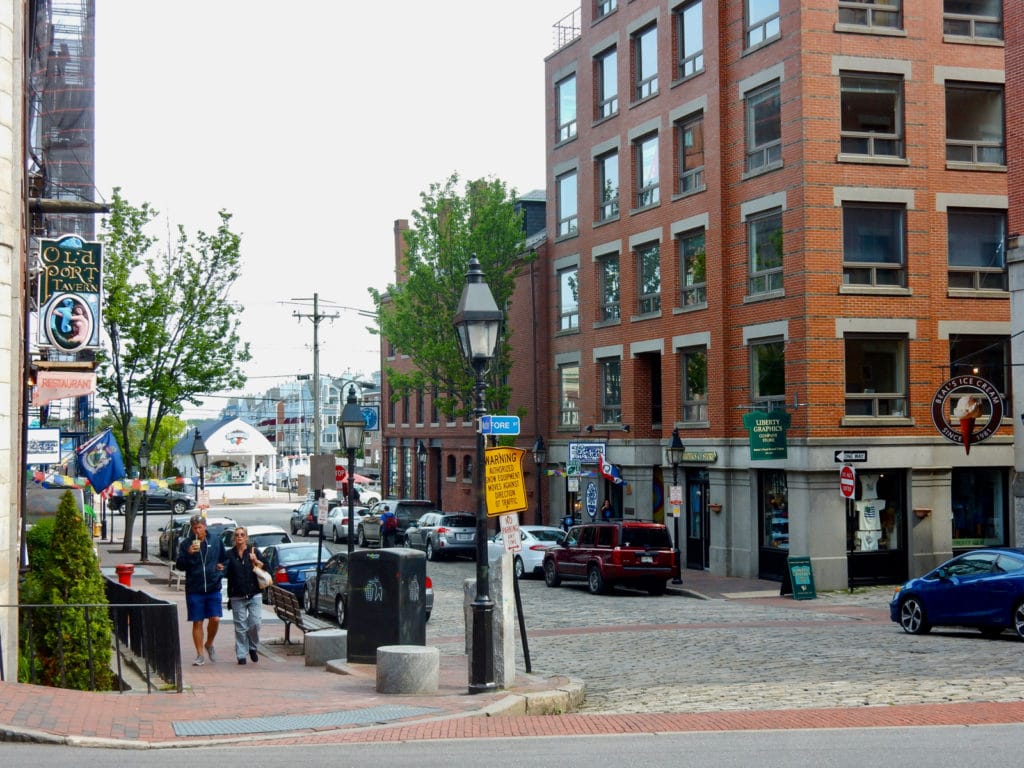 During WWII, armies of women, collectively known as "Rosie the Riveter" or "Wendy the Welder," built 236 Liberty Ships right here. Today, the Ferry Terminal bustles with boats going to and from the inhabited islands in Portland Harbor. Over 1,000 people live all year surrounded by water. Island kids take the "schoolbus" ferry to the mainland every day.
Munjoy Hill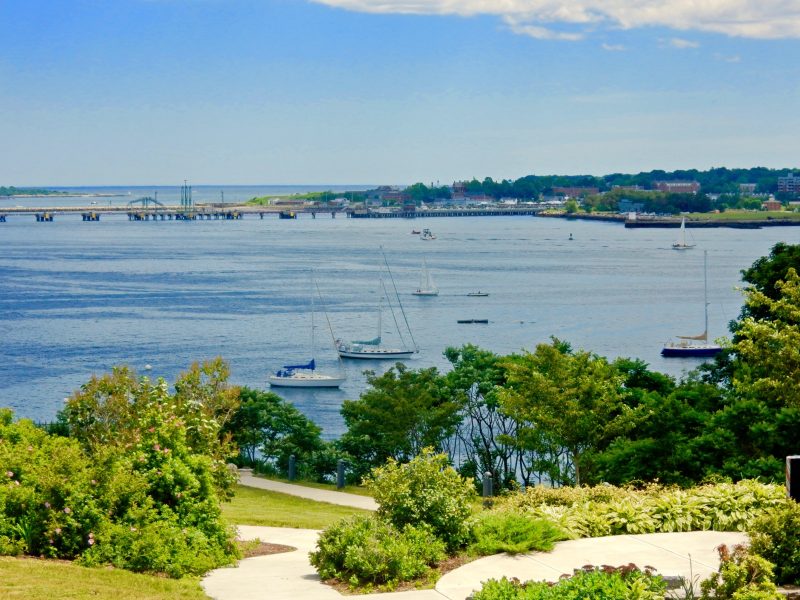 We lurched by the Maine Maritime Academy Training vessel, which was preparing to shove off to Ireland. You'll feel as if you can see the Emerald Isle while stopping for a second in a hilltop park overlooking the expansive Casco Bay.
From here, you'll understand why the windmill-like 1807 Portland Observatory (see below), the only remaining signal tower in America, was situated near the top of Congress St. on Munjoy Hill – an Italian and Irish neighborhood with some great eats, like the comfort-food hit, Front Room Restaurant.
The Father of Prohibition
Before heading out to the lighthouse (see below) and back to Commercial St., the trolley passes the Neal Dow House – open for tours. By the late 1700's, over a hundred rum makers operated distilleries in Portland as part of the "Triangle Trade" – tobacco, rum, slaves. Back then, as a rule, sailors had the right to a ration of rum each day. Incredibly, by the mid-1800's, the general public, including kids, had easy access to the spirit. Growing alcoholism led to slovenly disorder all over the city.
Neal Dow, a Quaker and Mayor of Portland, banned the purchase and sale of alcohol in 1851, earning the moniker, "The Father of Prohibition." Things got ugly, though, when it was discovered that Dow had stored away a goodly amount of demon rum "for medicinal purposes." For information about the Lighthouse – see below. Trolleys run May-Oct., check website for times, Trolley Tour with Lighthouse Stop, $26 per person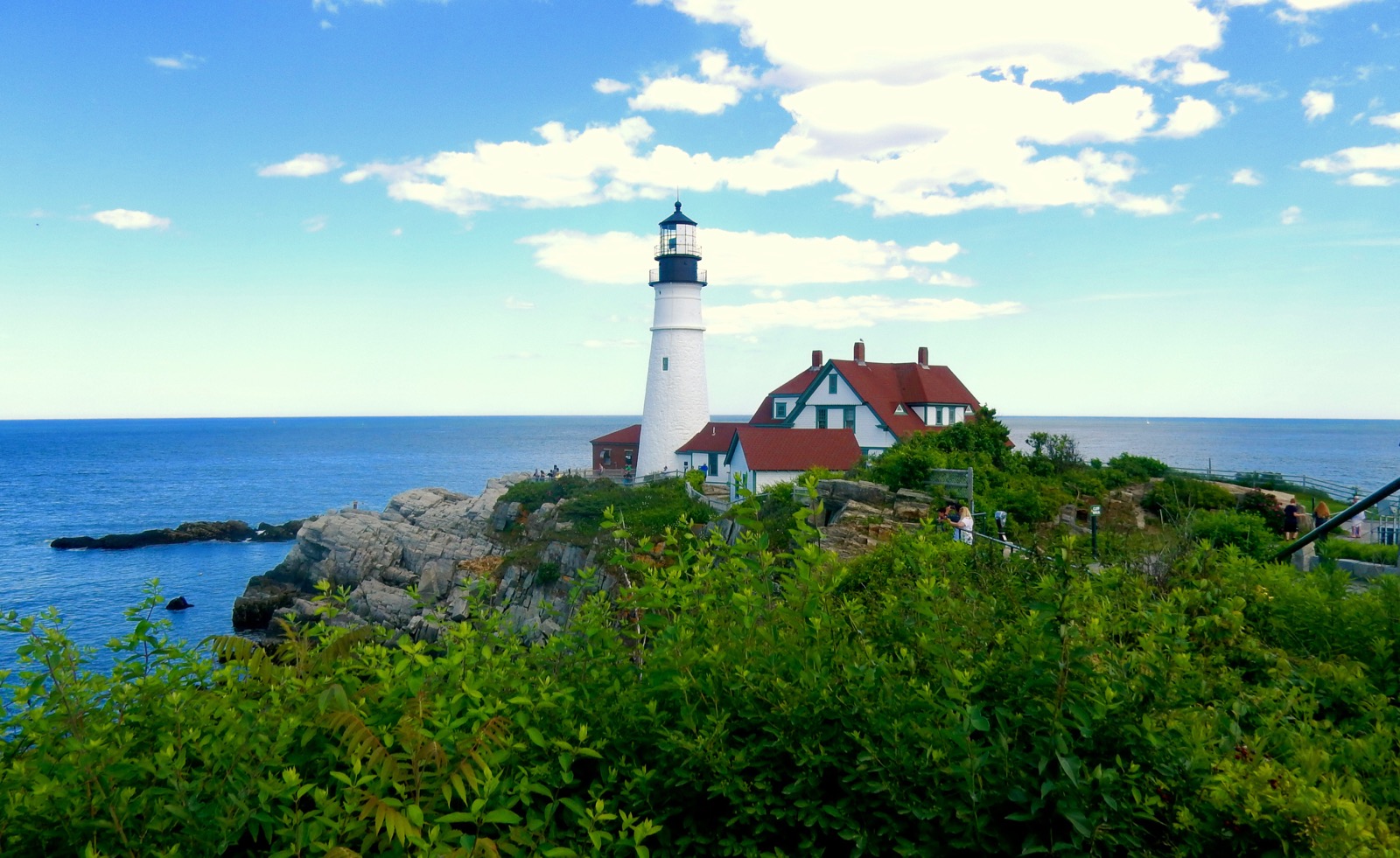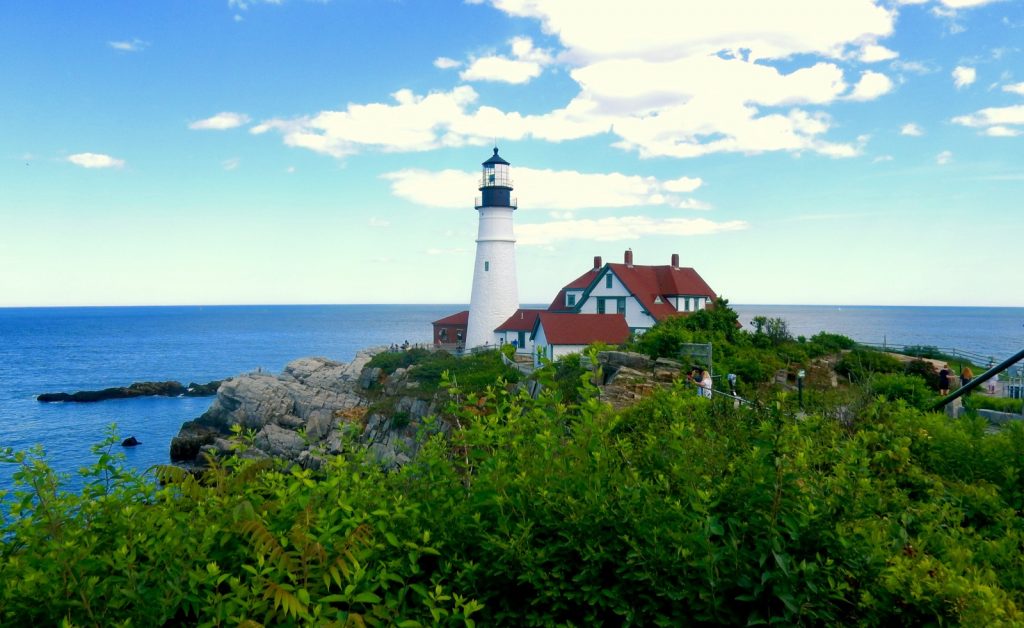 The Portland Head Light still guides sailors from its perch on a promontory at the entrance to Portland Harbor. It sits at the terminus of a mile long cliff walk, within the magnificent waterfront Fort Williams Park.
In 1787, President George Washington commissioned the construction of this caisson-style lighthouse. Built in 1790, it's now the most photographed lighthouse in America. For good reason. It is breathtaking.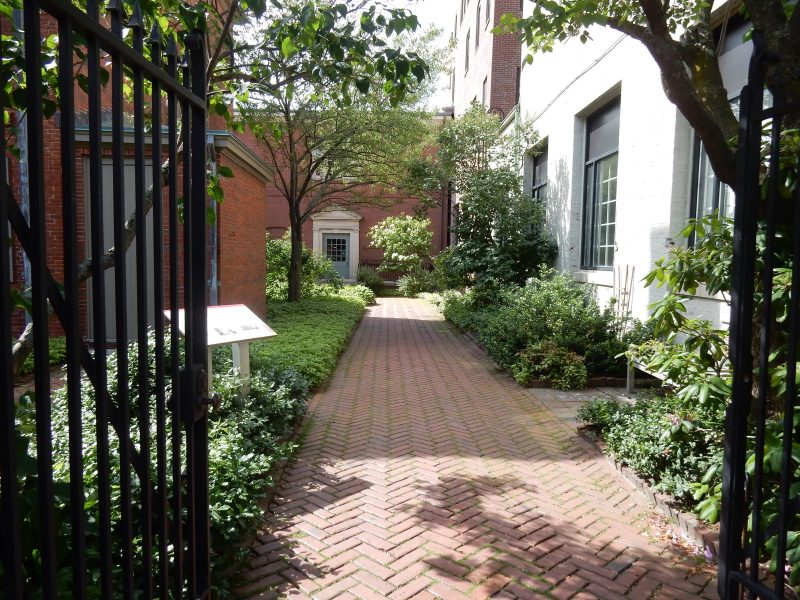 When Henry Wadsworth Longfellow's younger sister, Anne, passed away in 1901, she left the house and all of its contents – from three generations of Wadsworth-Longfellow's – to the Maine Historical Society, founded in part by her father, Stephen Longfellow in 1822. Anne stipulated that the Society's library be built on the property. It was, in 1907, and remains separate from the historic home, which you can now tour.
Henry was born to Stephen Longfellow and Zilpah Wadsworth in his aunt's home on Fore St. in Portland. (Zilpah's sister's husband was away at sea, and she and Stephen were helping her out).
A few months later, the Longfellow's moved, with baby Henry and two year old Stephen, into Zilpah's parent's home. They had six more children, and raised them all in this three story brick Georgian-style house.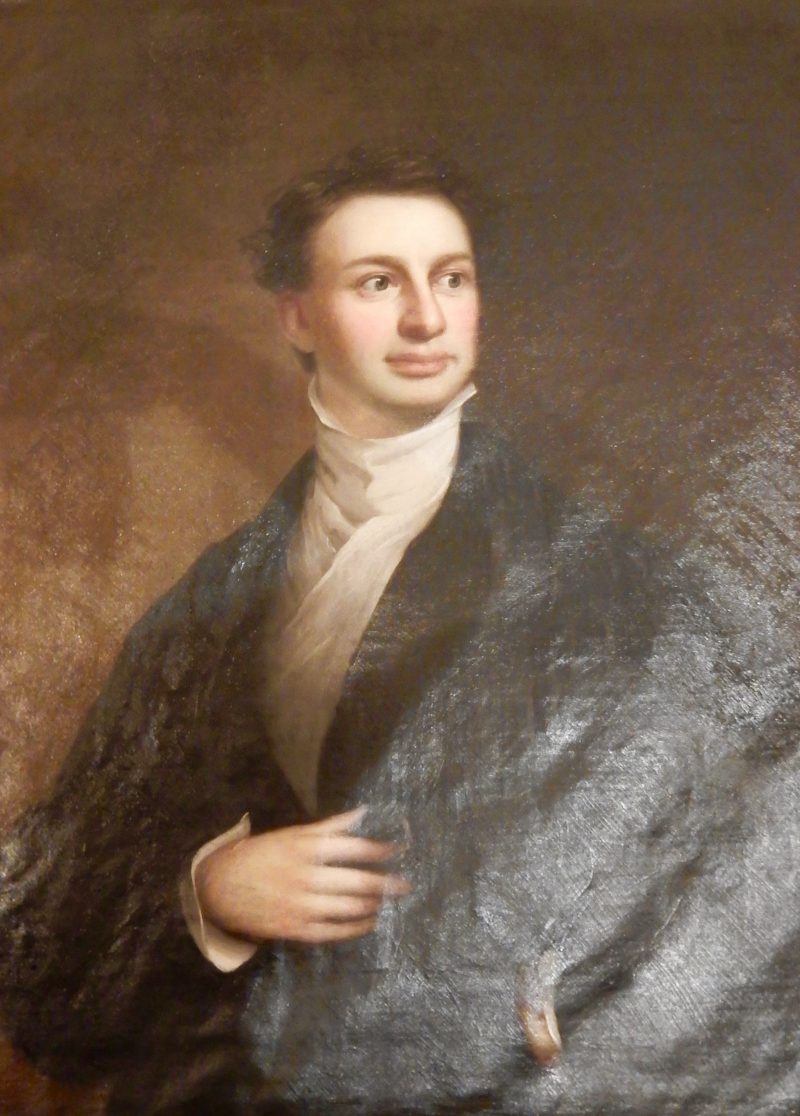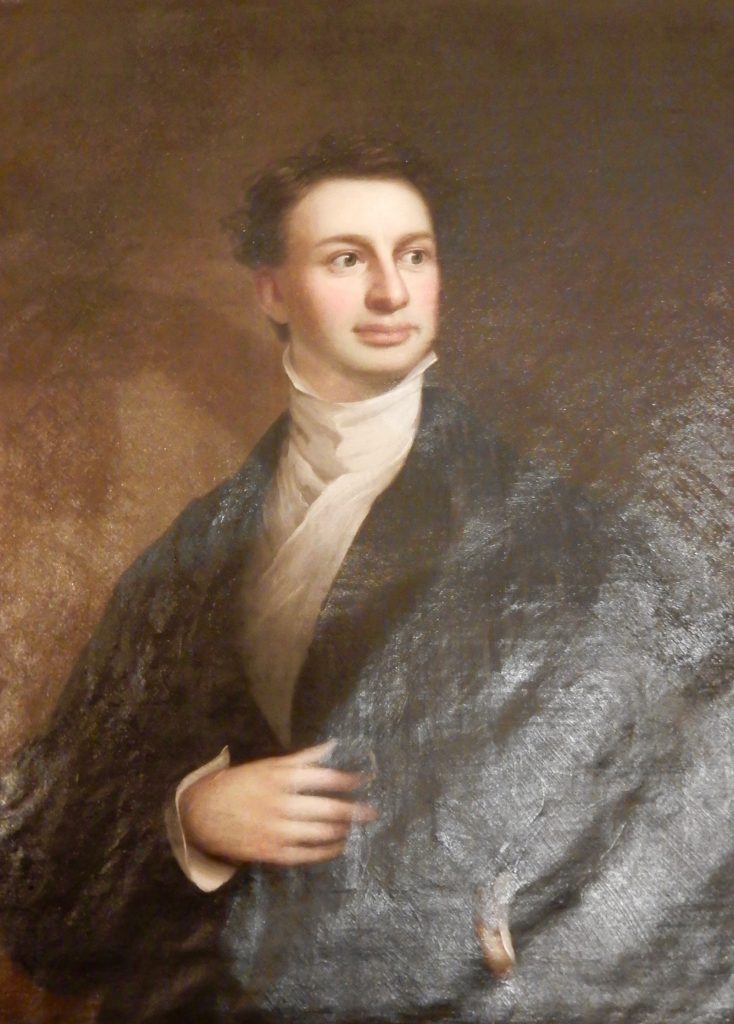 If you're lucky, John Babin, author of Henry Wadsworth Longfellow of Portland, will be your tour guide. Far from a dry recounting of the poet's history, Babin is a storyteller with a fount of knowledge about the man who most famously penned Paul Revere's Ride. "Come listen my children and you shall hear…" of the antics of one of America's favorite poets.
Come listen my children and you shall hear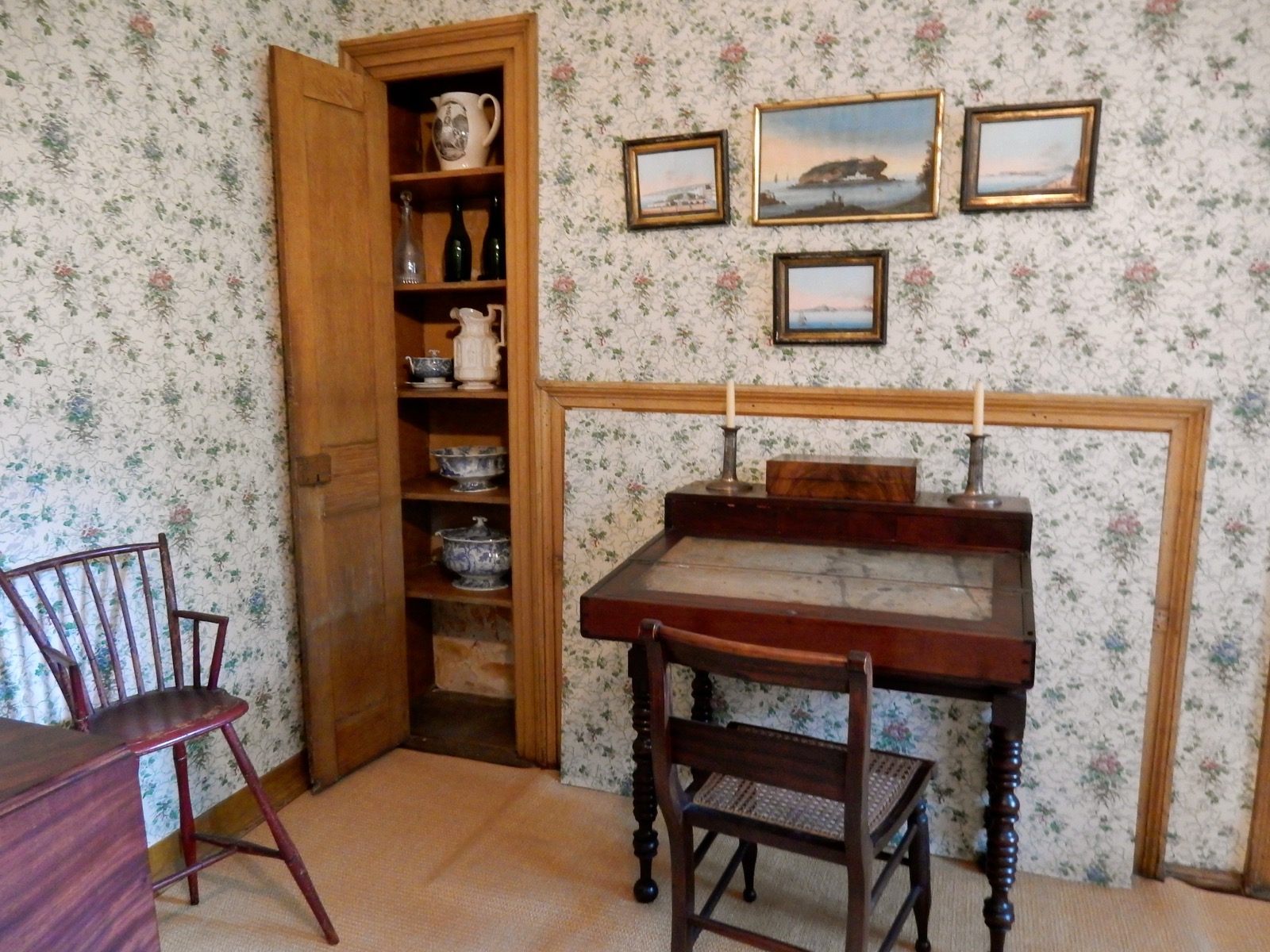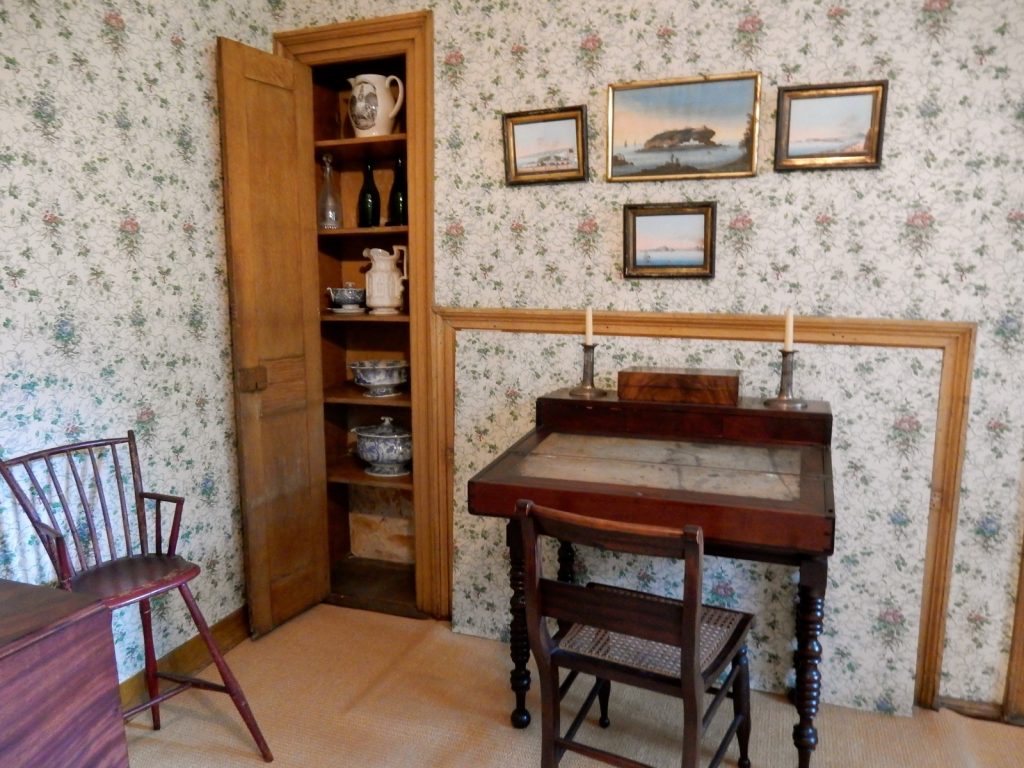 Henry wrote his first published piece at the age of 13 – based on a story he heard from his grandfather about a Revolutionary War Battle. He slipped the poem, signed only "Henry," under the door of the Portland Gazette. Somehow the poem made it into the Gazette's "Poet's Corner" – and was later slammed for being "remarkably stiff" and "mostly borrowed." The poet obviously learned from his mistakes.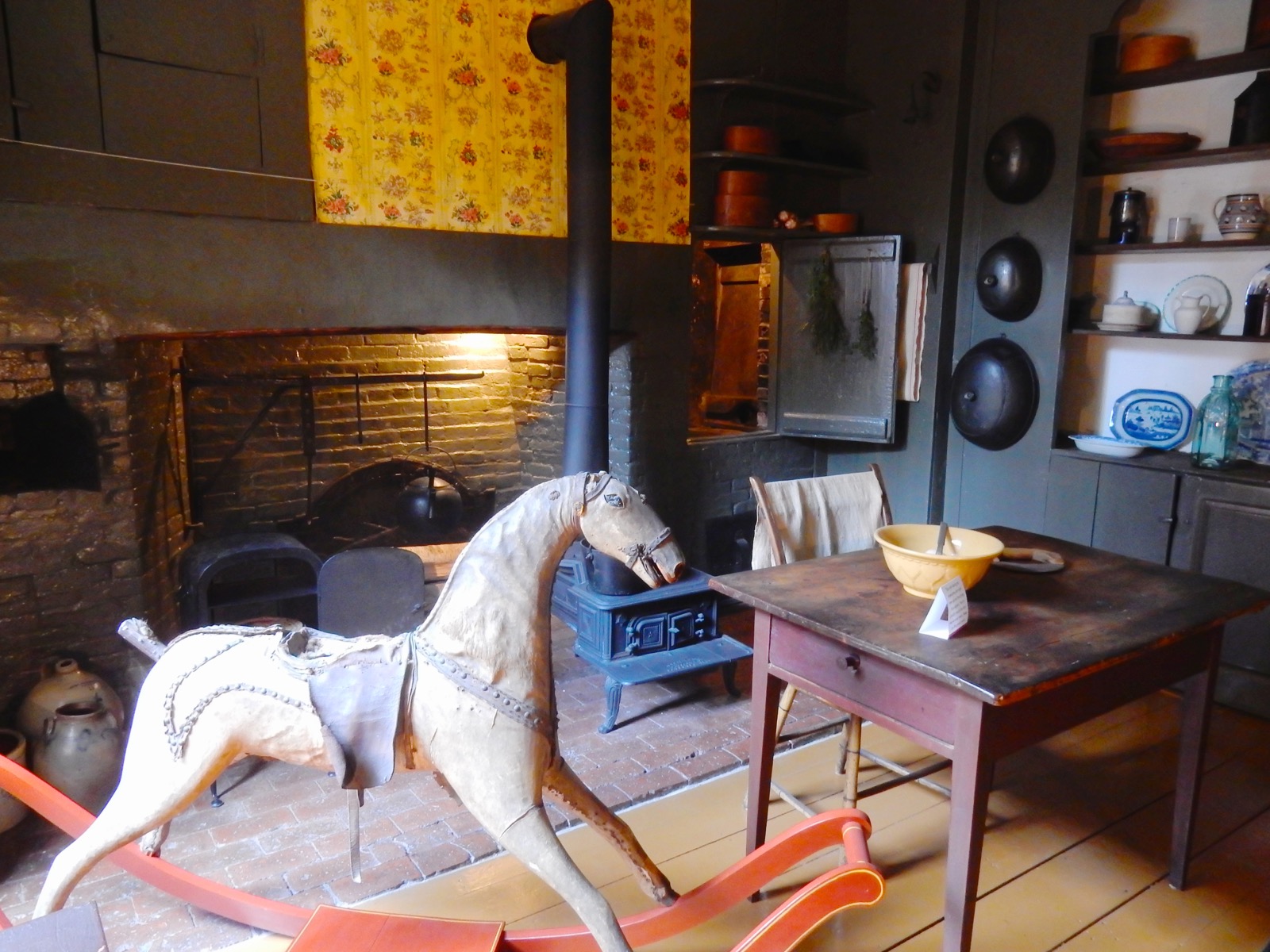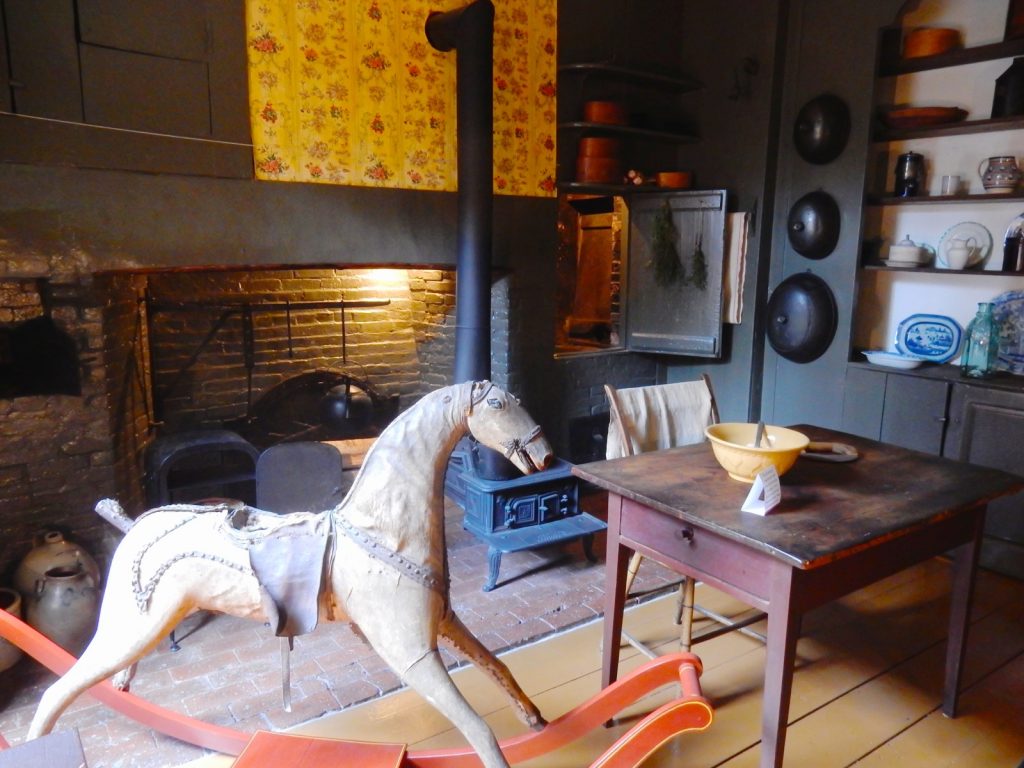 One of the joys of touring a writer's home, especially for Lit Lovers like myself, is the thrill of being within reach of objects important to said writer – childhood toys, furniture, writing desks, especially. The rocking horse that Henry loved remains in its original place in the kitchen.
The table at which Henry did his homework when he was seven, in the dining room that Stephen converted into his law office, is also still there. Even Henry's boyhood desk, which he used repeatedly even after he moved out, is on display. Henry found inspiration whenever he came home to visit his parents.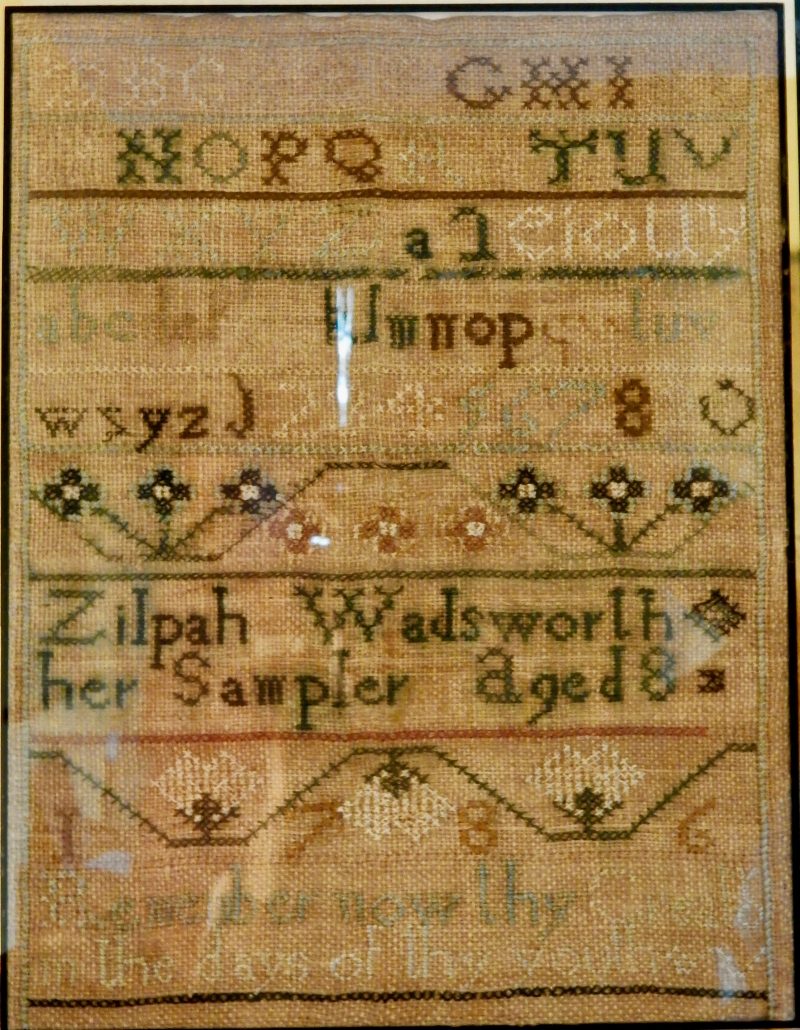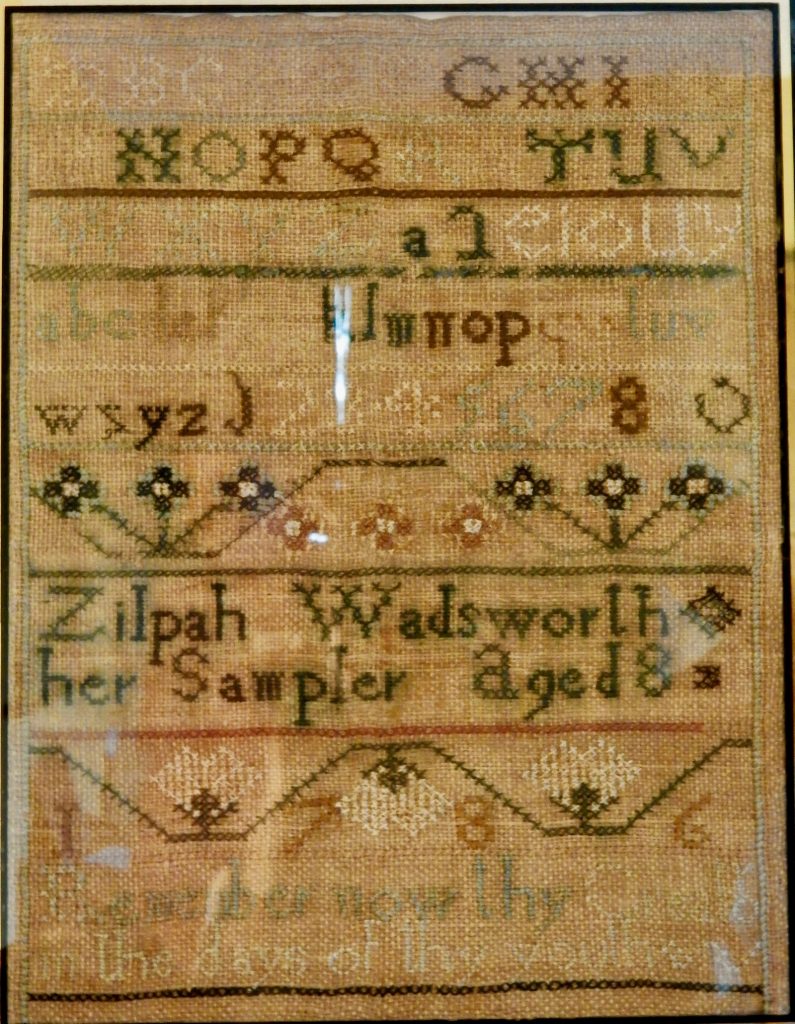 Upstairs, a meticulous sampler, embroidered by Zilpah Wadsworth, age 8, in 1786, hangs on the bedroom wall. It's mounted near the rare 1775 armchair desk that belonged to her father, Peleg Wadsworth.
Into each life some rain must fall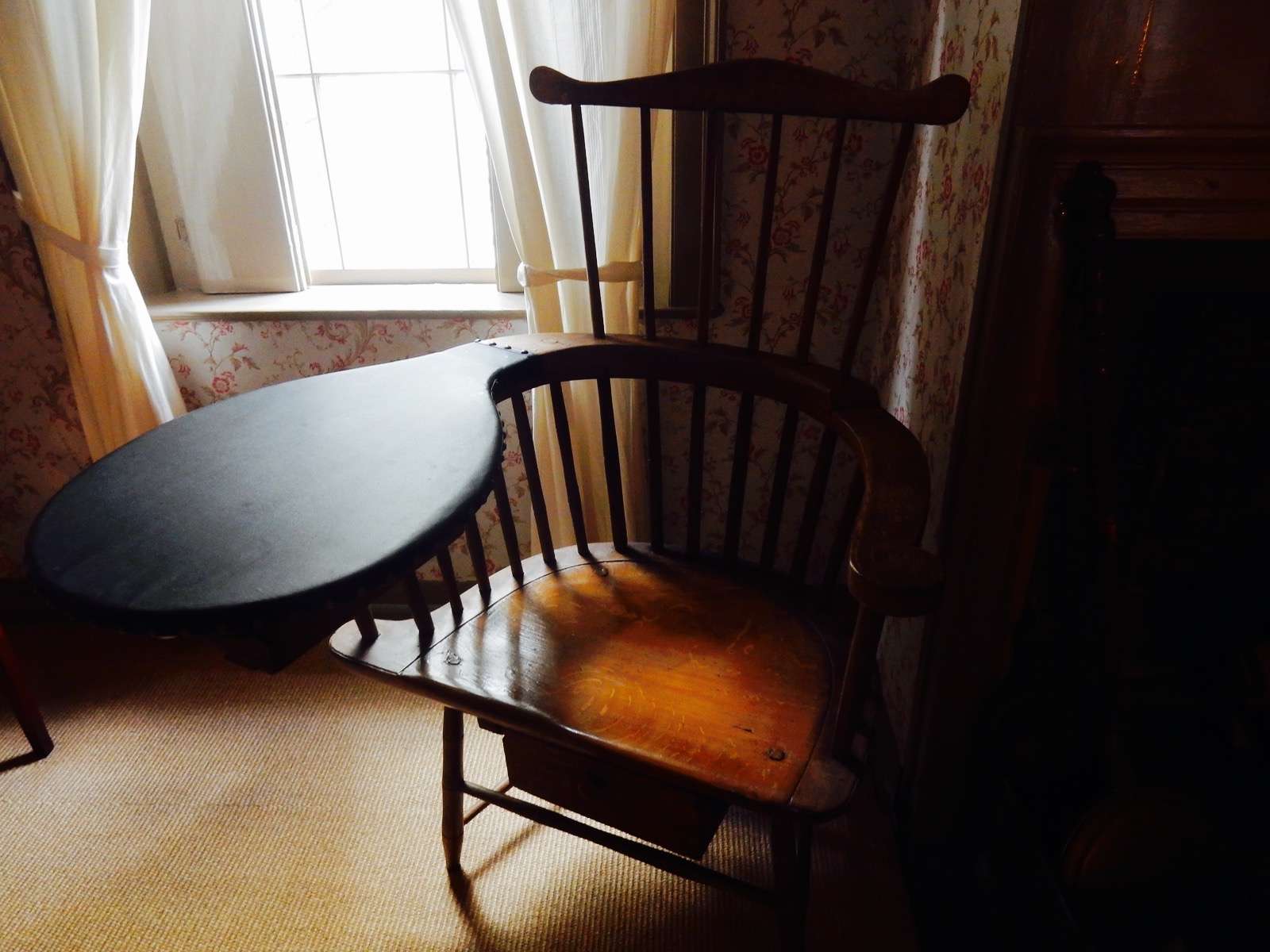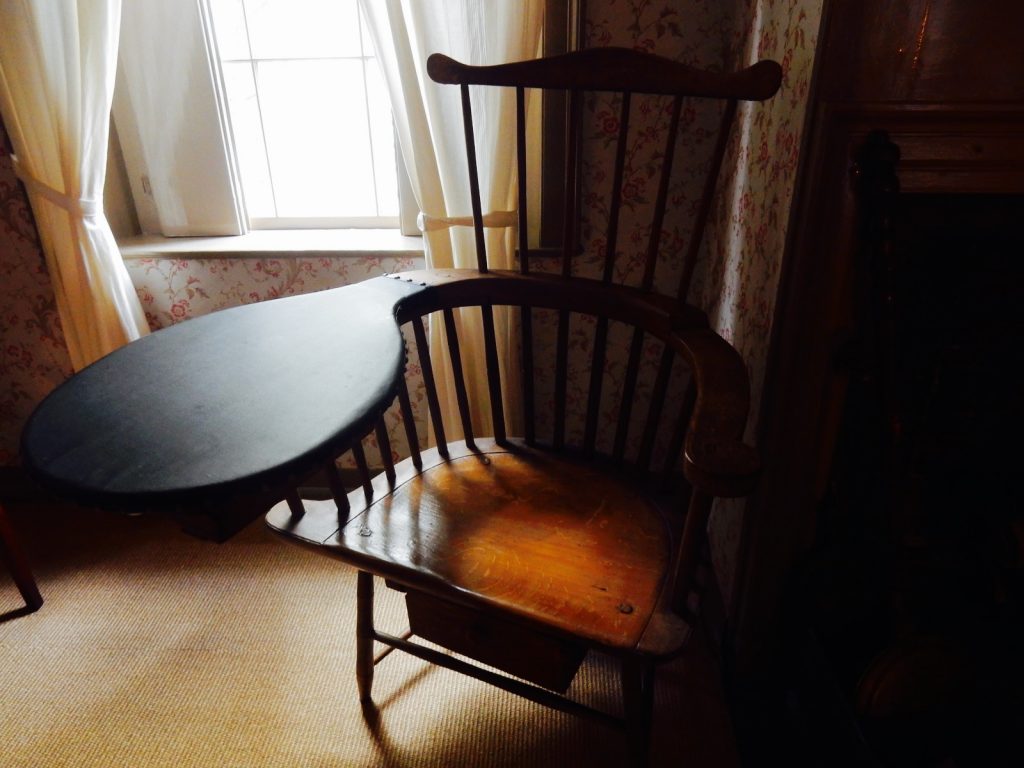 Henry graduated High School at 14, went to Bowdoin College and stayed to teach there at 22. Years later, after traveling through Europe to study foreign languages, he taught at Harvard. He married twice. Henry's first wife, Mary, died of a miscarriage at 22. (While in mourning, he wrote the poem, The Rainy Day, with the famous line, "Into each life some rain must fall").
He and his second wife, Frances "Fanny," had five children and grew old together. Henry's sister, Anne Wadsworth's, story was a somewhat sadder one. She married George Washington Pierce at 22, and returned home a widow at 25. Anne never remarried and never had children, choosing instead to take care of her parents, her Aunt Lucia, and younger siblings in this home.
She always felt the house belonged to the public. Lucky for us, she left it and its beautiful garden, in admirable condition. $15, May 1 – May 31. Monday-Sunday 12pm-5pm, June-October: Monday-Saturday 10am-5pm. Sunday: 12pm-5pm.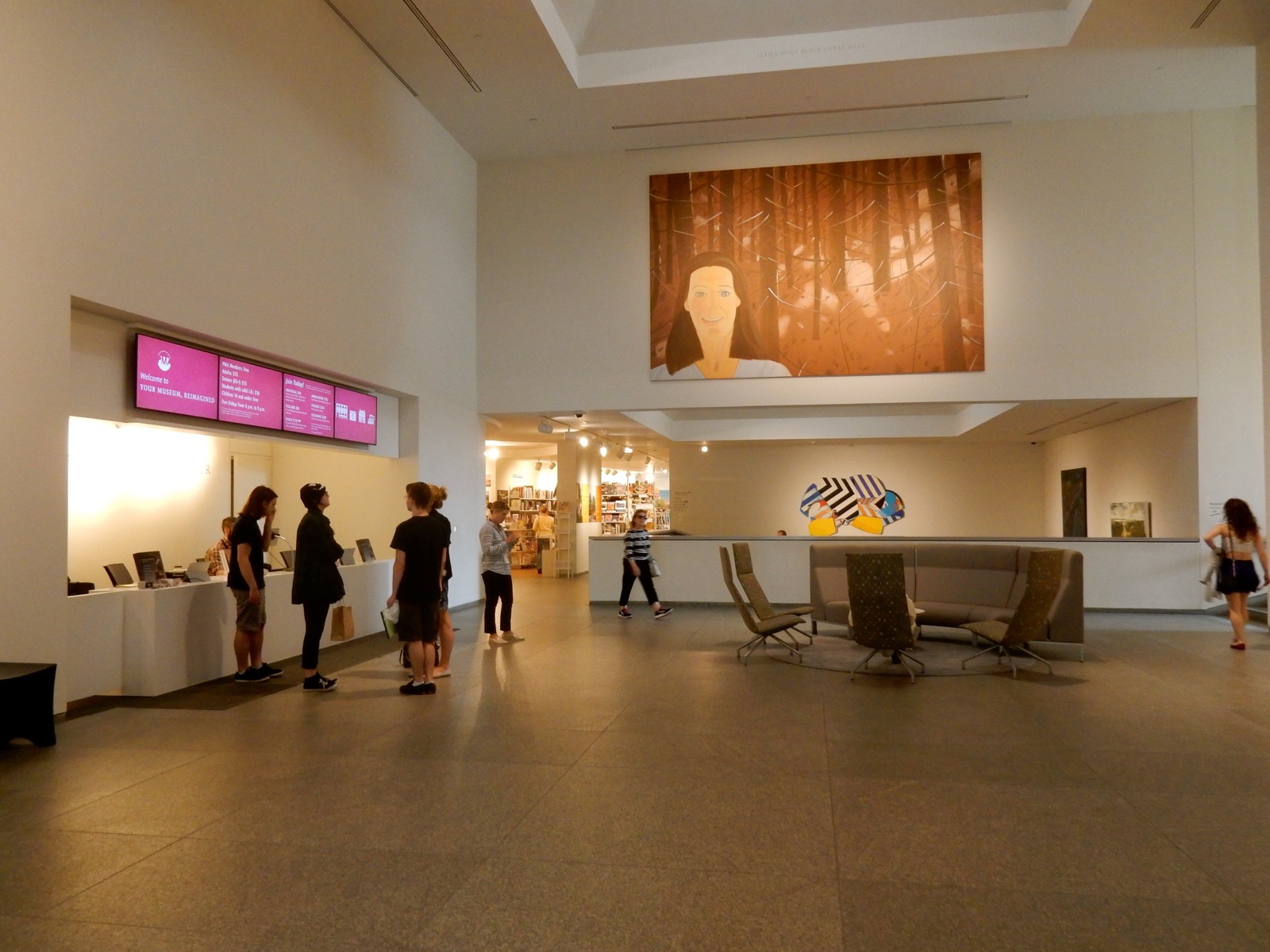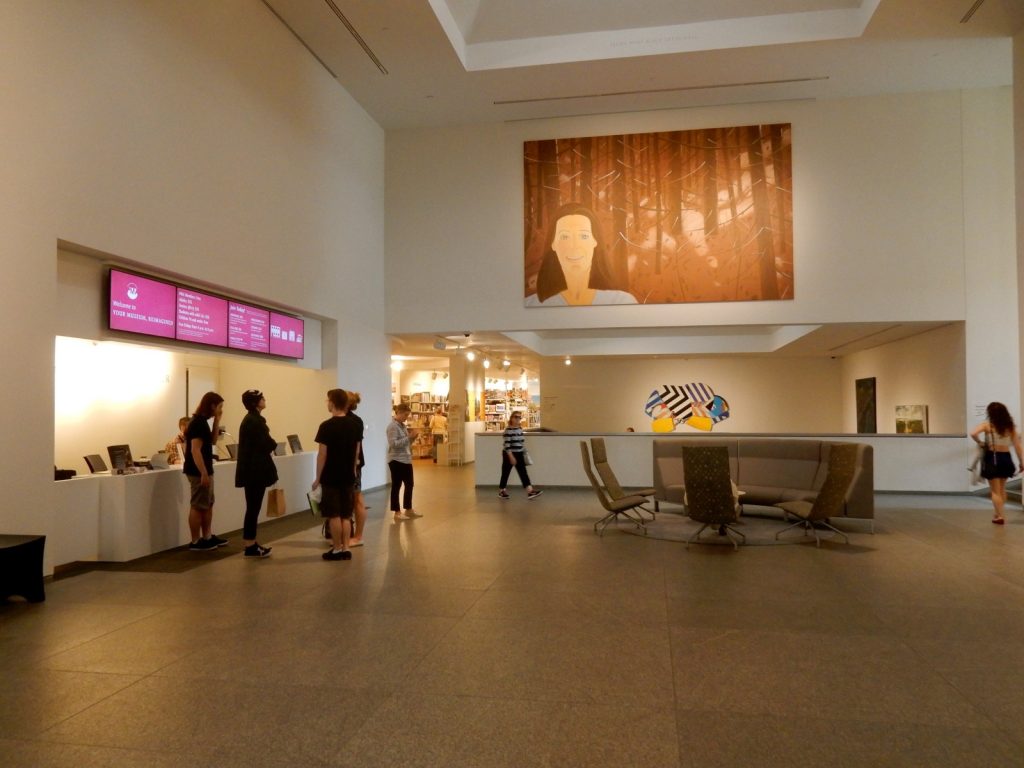 Winslow Homer first exhibited here in 1893. Since then, this human-scale world class museum has focused on American/Maine artists, American and French impressionists, contemporary art, and the decorative arts.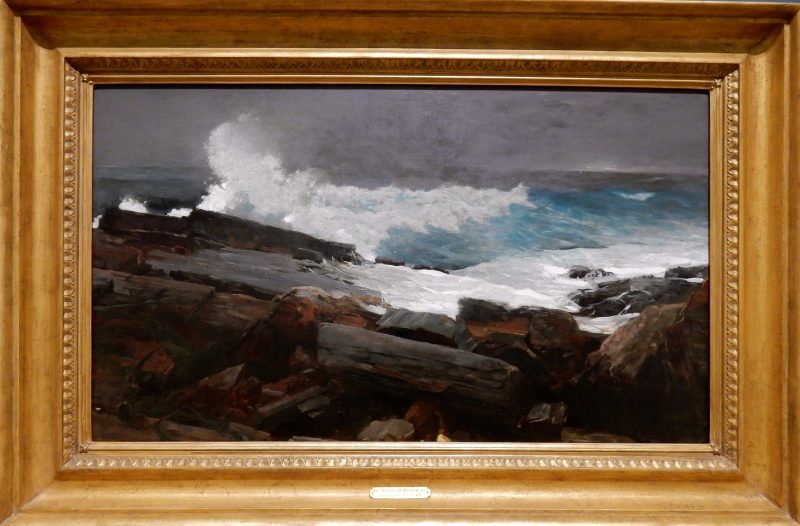 Not only is the art significant inside the multi-faceted PMA, the architecture is as well. Important work from 19th and 20th Century artists adorn the walls of three linked buildings: an 1801 Federalist mansion, a 1911 Beaux-Arts structure, and the newest contemporary addition, built in 1983.
But the beauty of this museum is that, unlike the monumental art museums in New York or Paris, Portland's home to great works can be perused in an hour or so. Though, of course, you may want to linger longer. Sat-Wed 10-6, Thurs, Fri 10-8, Free Fri 4-8pm. $15, under 14 free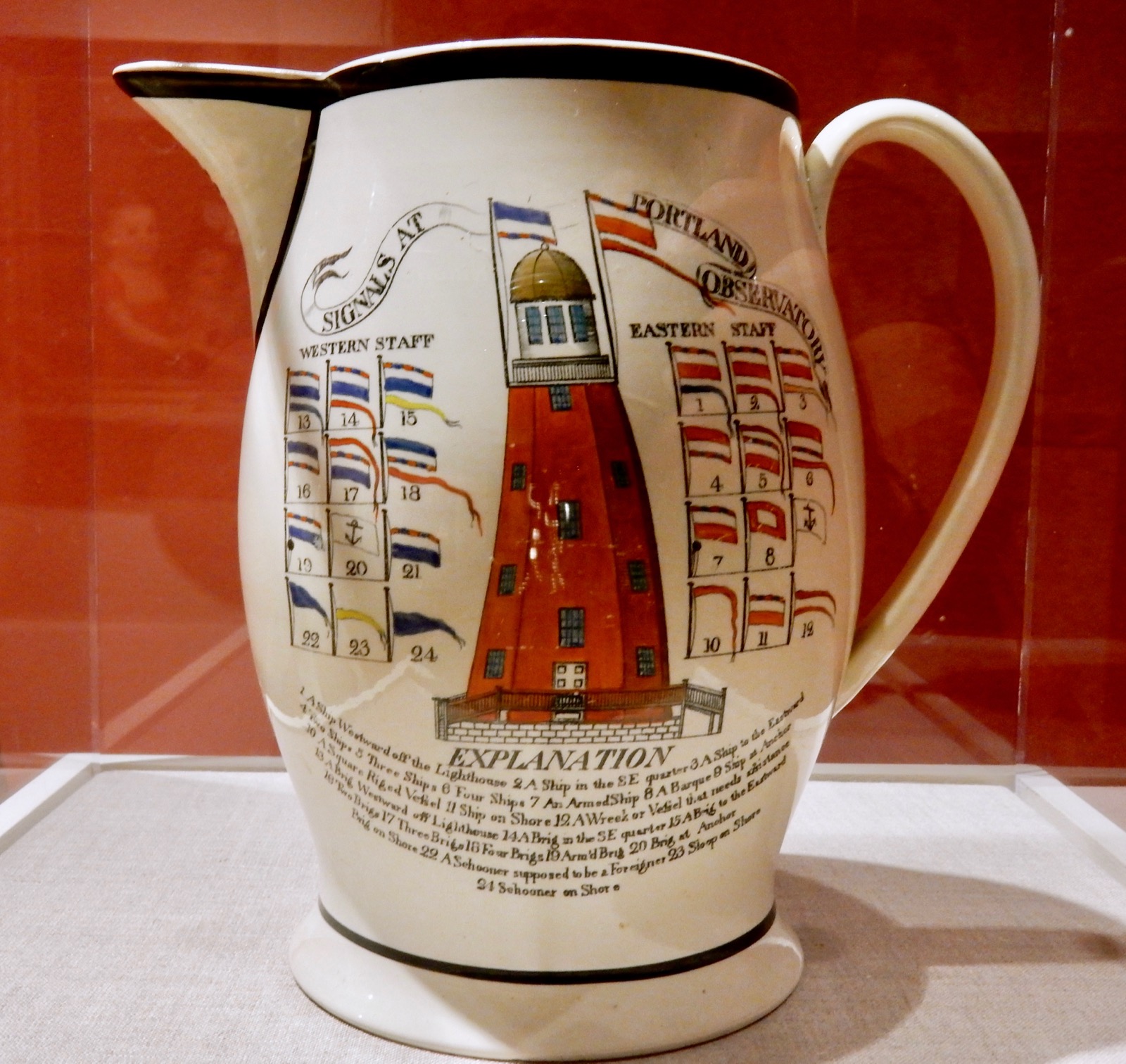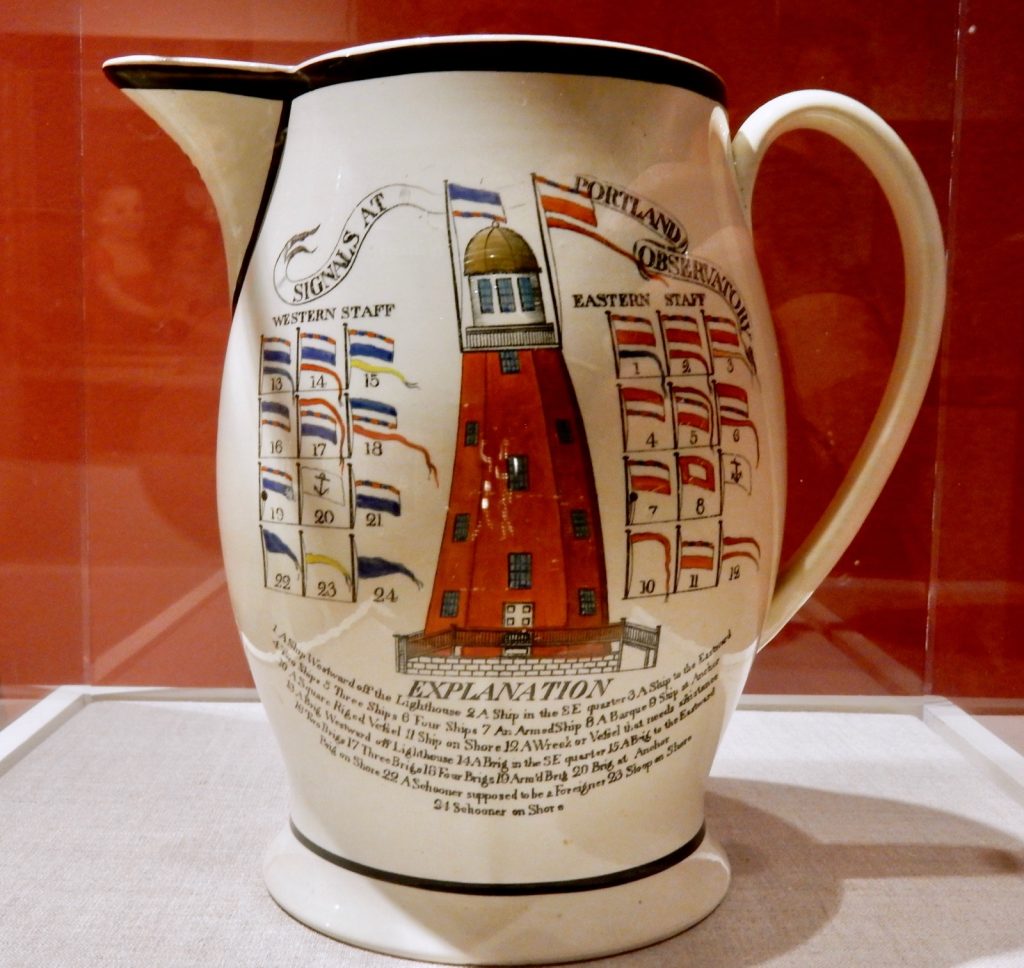 This octagonal, 86′ high tower is the last remaining of its kind in the US. The Portland Observatory served as a communication station for cargo ships in Portland Harbor. In the early 1800's, Captain Lemuel Moody manned a powerful telescope through which he could identify incoming vessels from 30 miles away.
Moody would then signal the dockhands below with coded flags, allowing merchant ships enough time to both reserve a berth on the wharves, and to hire a crew of stevedores. In addition to learning about this unique maritime history, the views from the top of the tower are breathtaking. Daily Memorial Day to Columbus Day, 10am-4:30pm; $10 adults, $8 kids
Homer was the consummate Maine artist, capturing the essence of maritime and town life in the nation's most Eastern state. For a limited time in spring and fall, only ten people are allowed at a time to see his preserved studio and inner sanctum. Tickets must be booked through the Portland Museum of Art. Obviously, this sells out in advance- so book quickly. $65 per person seasonally, 207-775- 6148.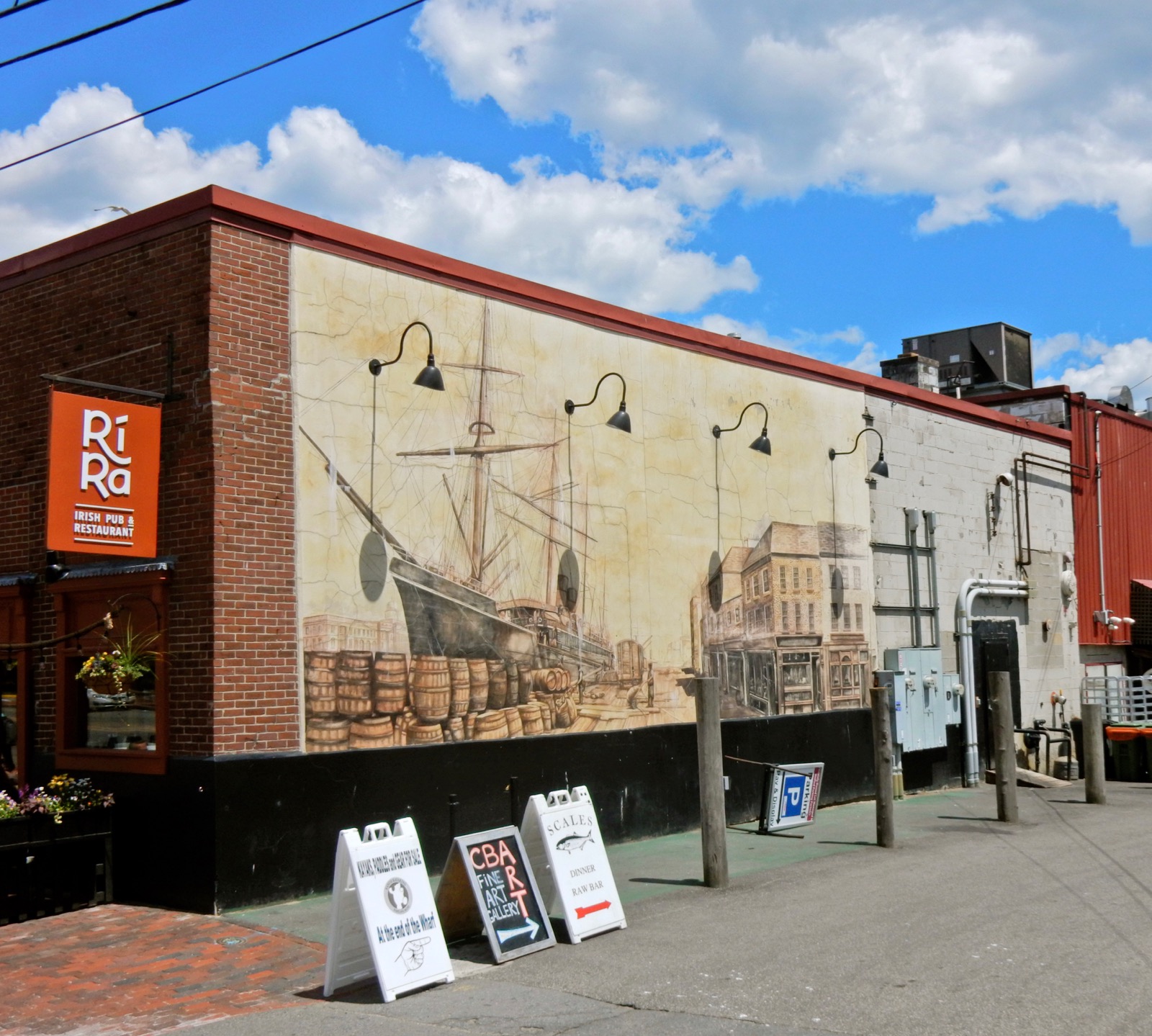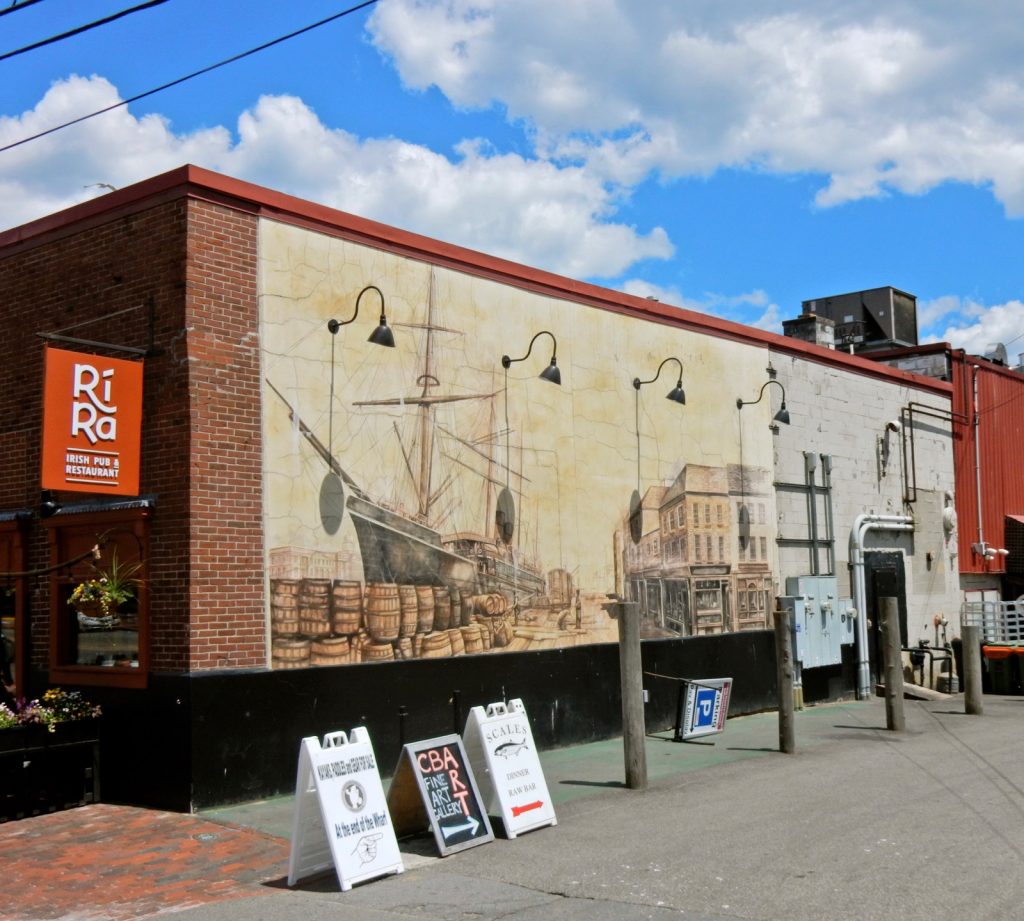 To get a sense of what the captains of yore must have experienced gliding into pristine Casco Bay, arrange for a two-hour Windjammer sail on either the Baheera or Wendameen. These stately tall ships were built in the early 1900's and have been restored. Daily, May – Labor Day; four departures per day, $44 adults, $15 children.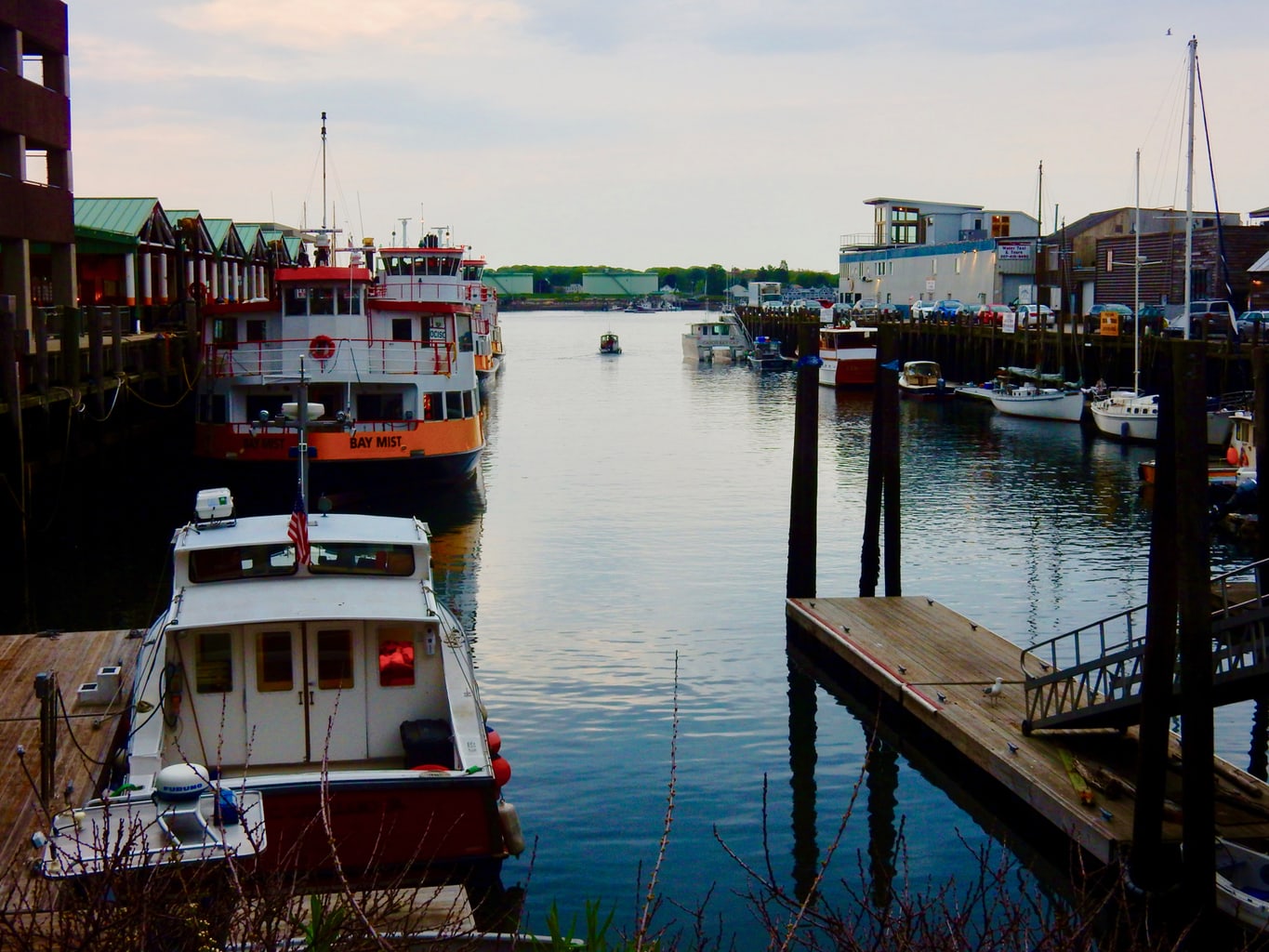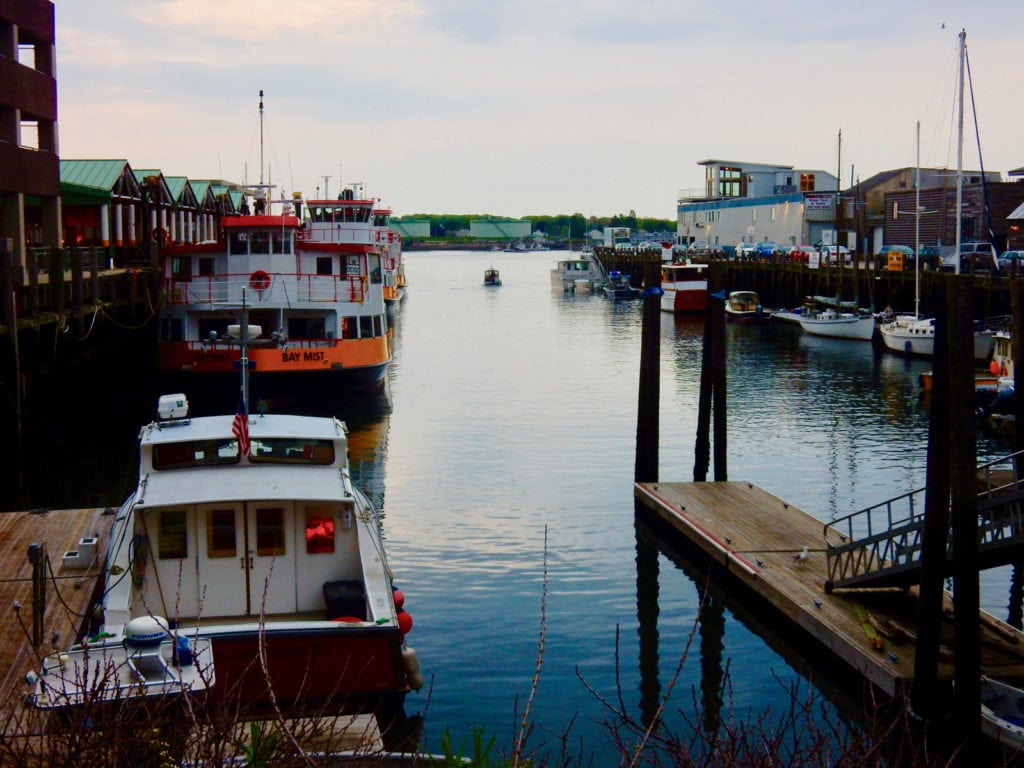 Go out with the crew of the Lucky Catch, for an idea of the lobsterman's life. The crew of the Lucky Catch discuss sustainable harvesting of Lobster, recount the history of Portland Lighthouse as you motor by, and offer a lot of lobster lore and local history. 90 minutes, May – October; $35 adults, $28 youth. Lobsters also available for purchase.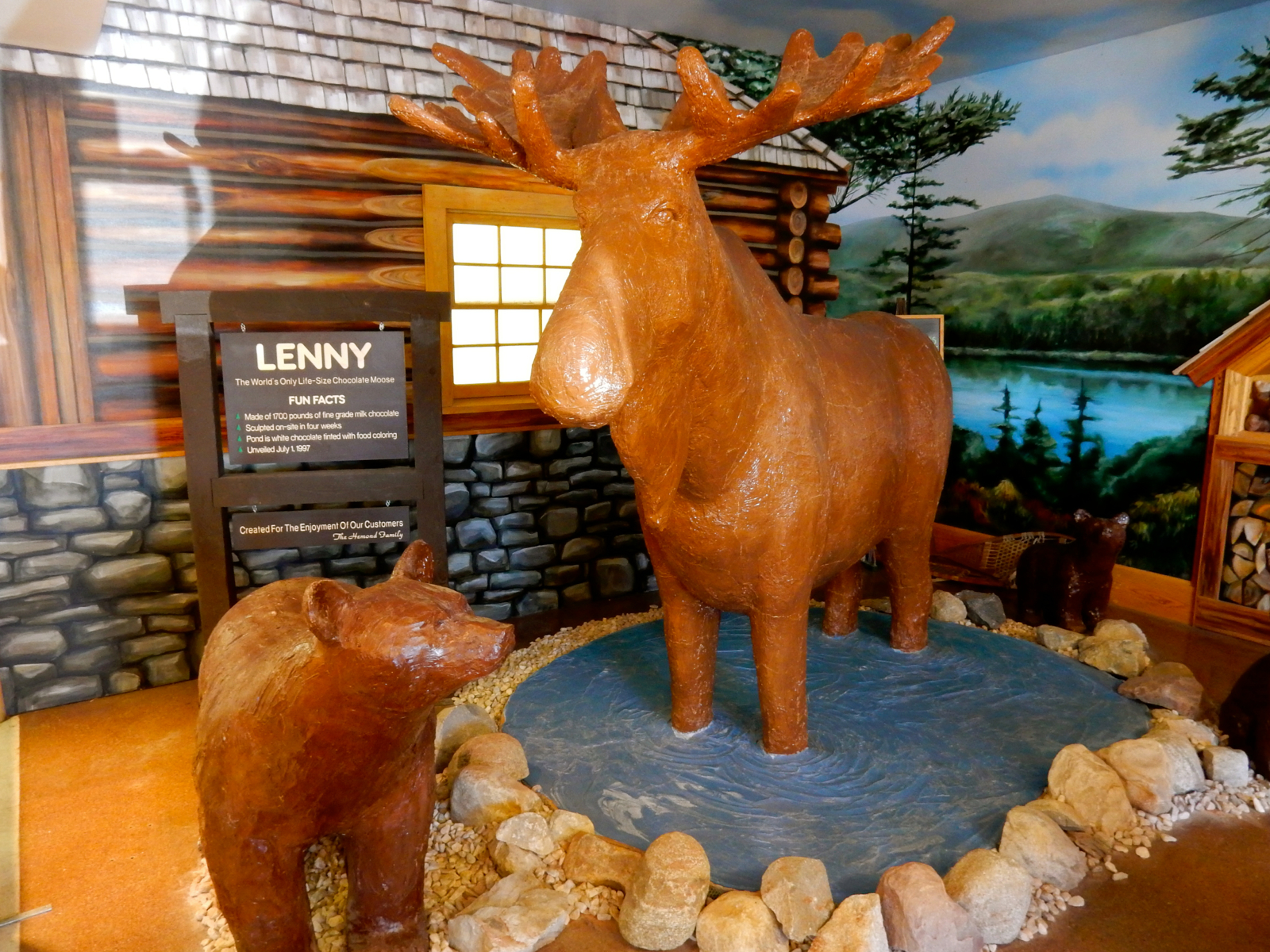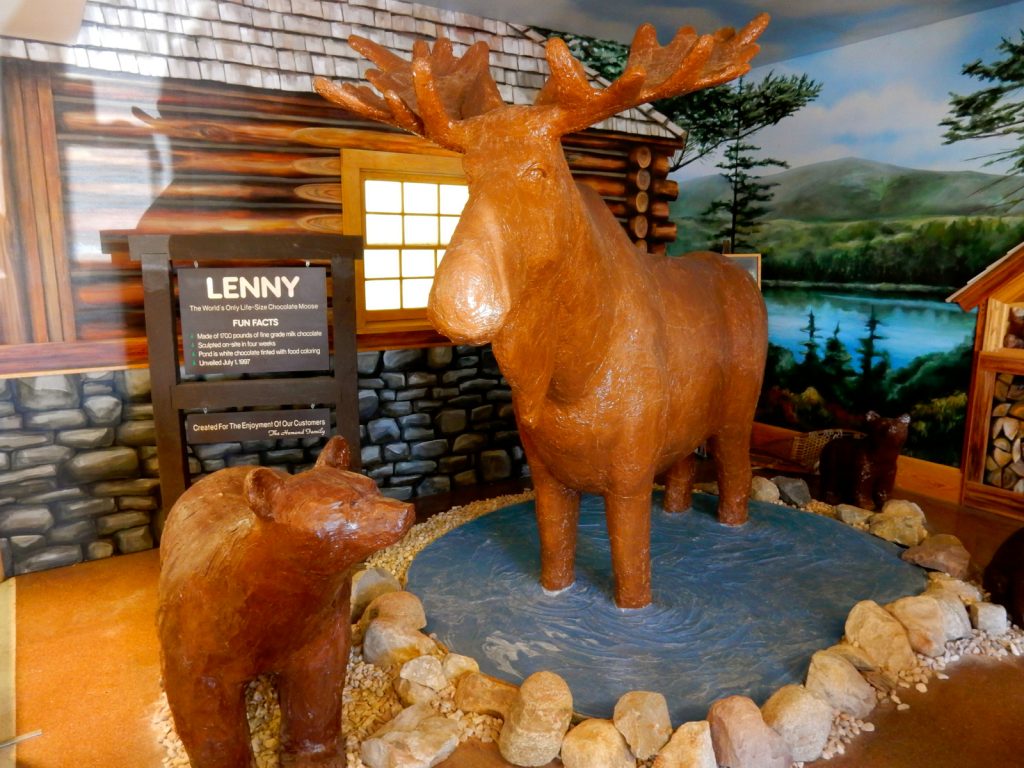 In operation since 1929, Len and Libby Candies made it onto the tourist map when "Lenny" moved in. "Lenny," a 1,700 pound chocolate moose is made of fine grade milk chocolate, sculpted in four weeks on site by an art professor from University of Maine. He was unveiled on July 1, 1997.
Lenny has been standing in a "lake" of white chocolate tinted blue, for over 20 years. Amazingly, he has not melted or become deformed, thanks to the air-conditioning that keeps all candy, including the shop's signature confection, Bangor Taffy (caramel rolled in powdered sugar), intact.
Restaurants In Portland, Maine
Blyth & Burrows is a top-shelf gin joint, an up-market speakeasy, a hip spot for bro's and gf's of all ages. Josh Miranda, who opened up 14 other bars and restaurants (but never his own) all over the country, wanted to come home and "build the kind of place that Portland hasn't seen – a cool Portland bar. And I want people to come for that reason."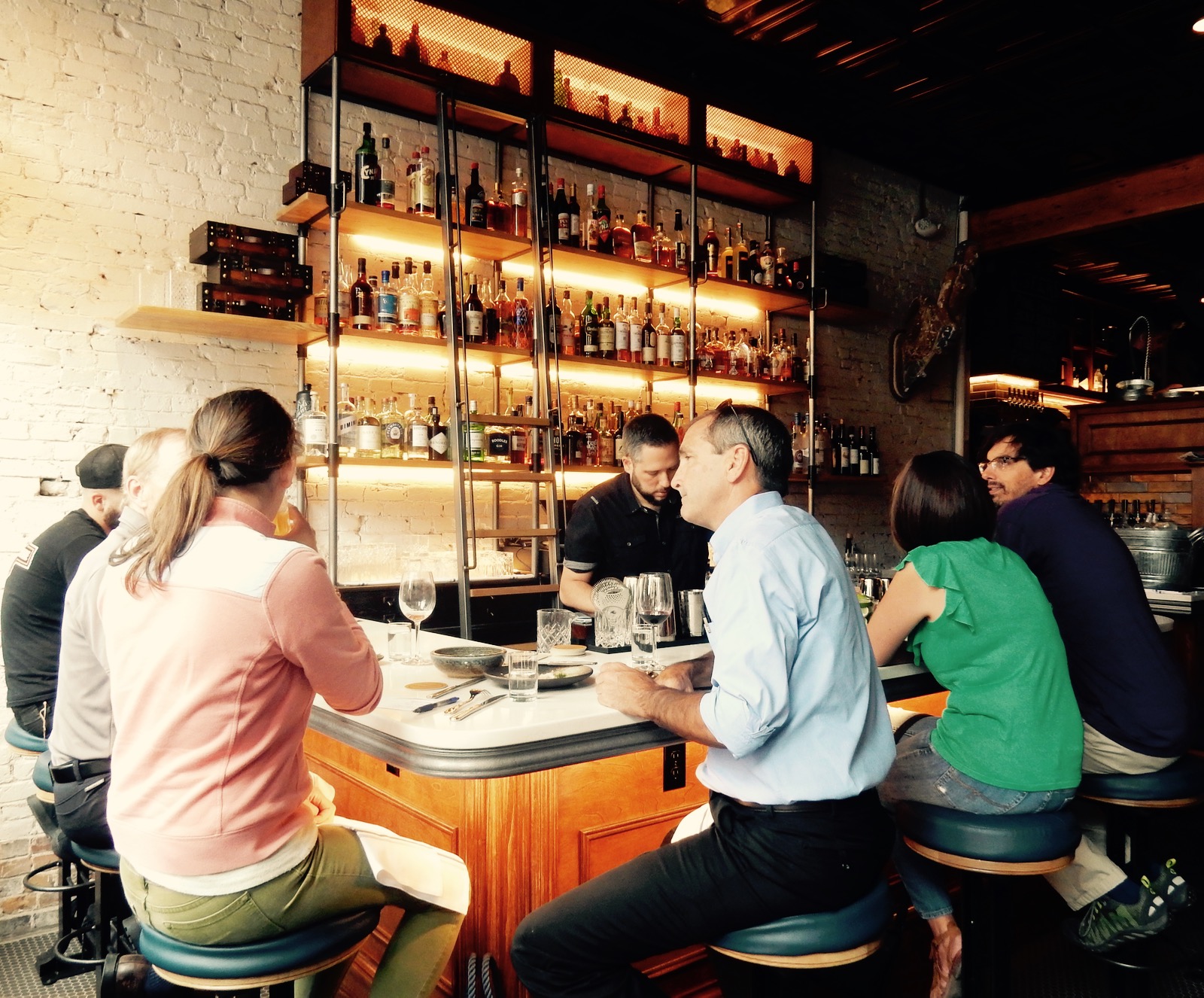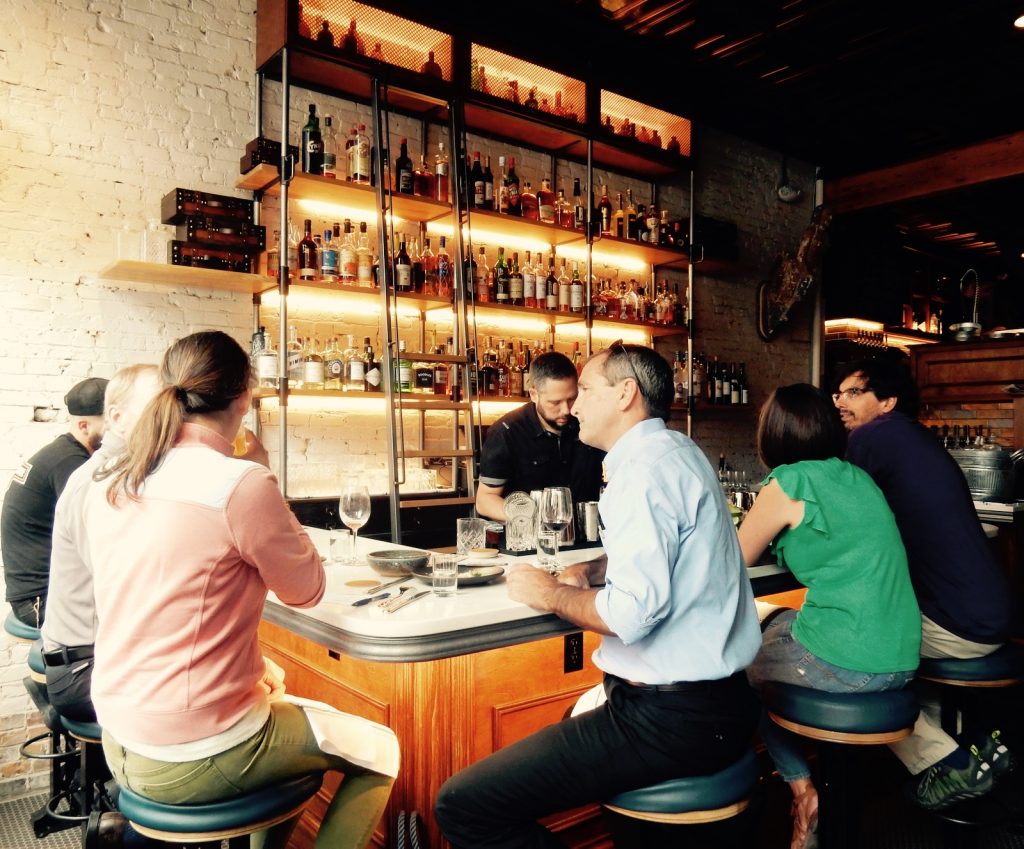 Miranda grew up in the Monjoy neighborhood, and as a kid would visit the Eastern Cemetery nearby. There, he was obsessed with the above ground box tombs of two young ship Captains, Captain William Burrows (American), and Samuel Blyth (British), who died in battle during the War of 1812 just off the coast, and were interred side by side. The officer's portraits, renderings of sailing ships, and other nautical paraphernalia cover the walls in homage to Portland's maritime history and these men.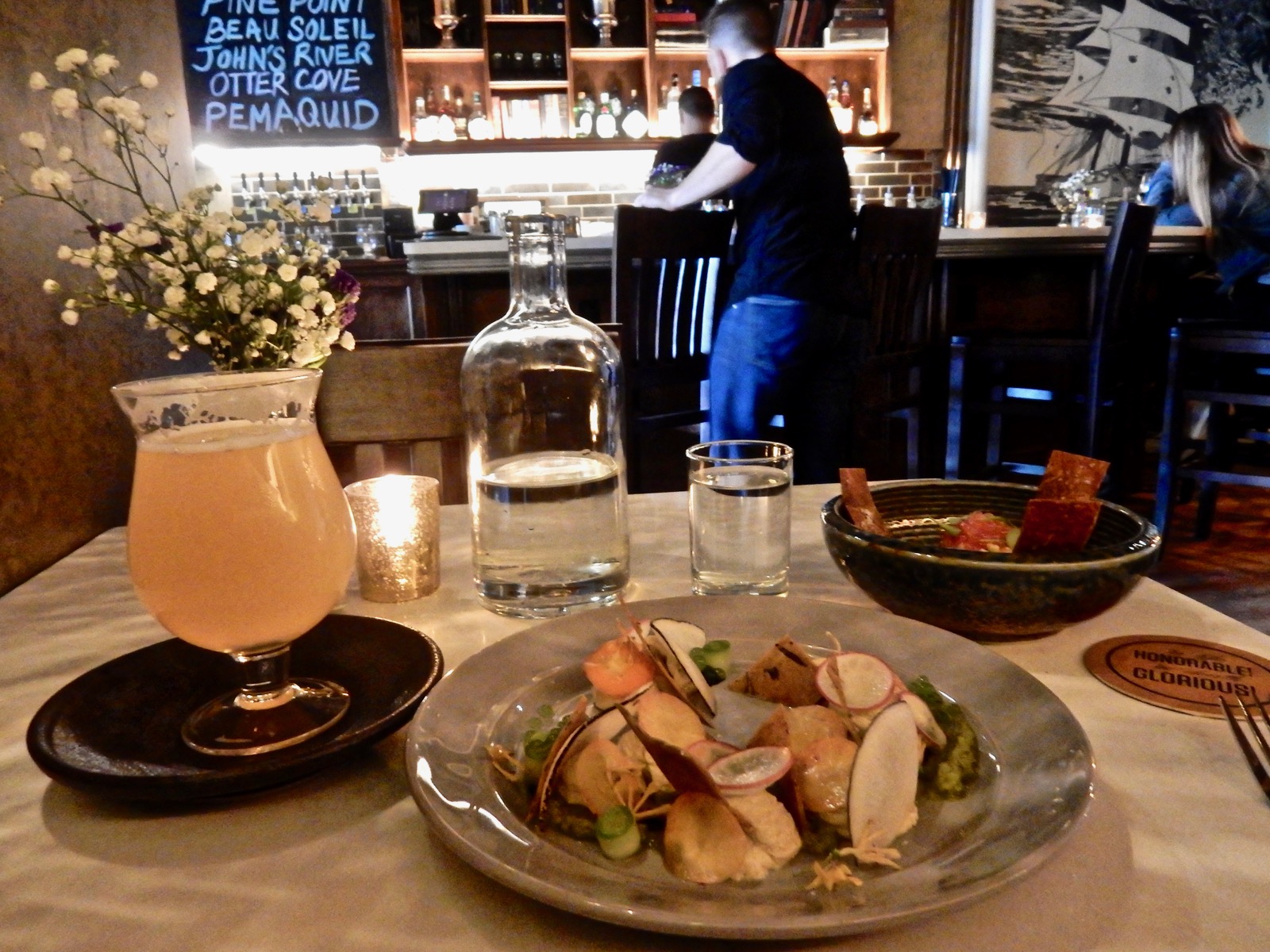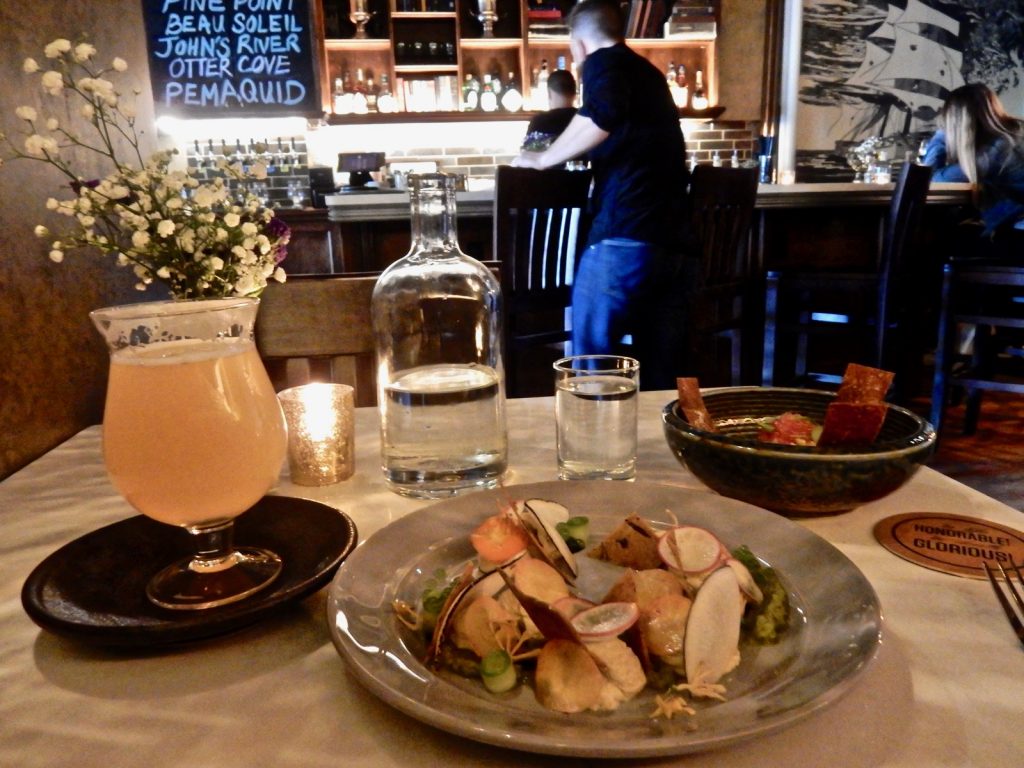 But make no mistake. This place is so serious about crafting mixed drinks, you'll find four eye-catching bars on several levels. Of course, you can get a craft-draft, but opt for a custom-made or snappily-named concoction – such as "I Like the Cut of Your Jib," with rye, scotch, pine liqueur, lemon sherbet and sea smoke bitters, or "Death Stalker," a deadly blend of mescal, tequila, yellow chartreuse, mango, chili, and lime. There's also a pub menu as befits a funky Maine bar – with Peruvian Ceviche ($11), Lobster Roll ($18), fresh oysters and more, to accompany your liquid refreshments.
Blyth & Burrows Speakeasy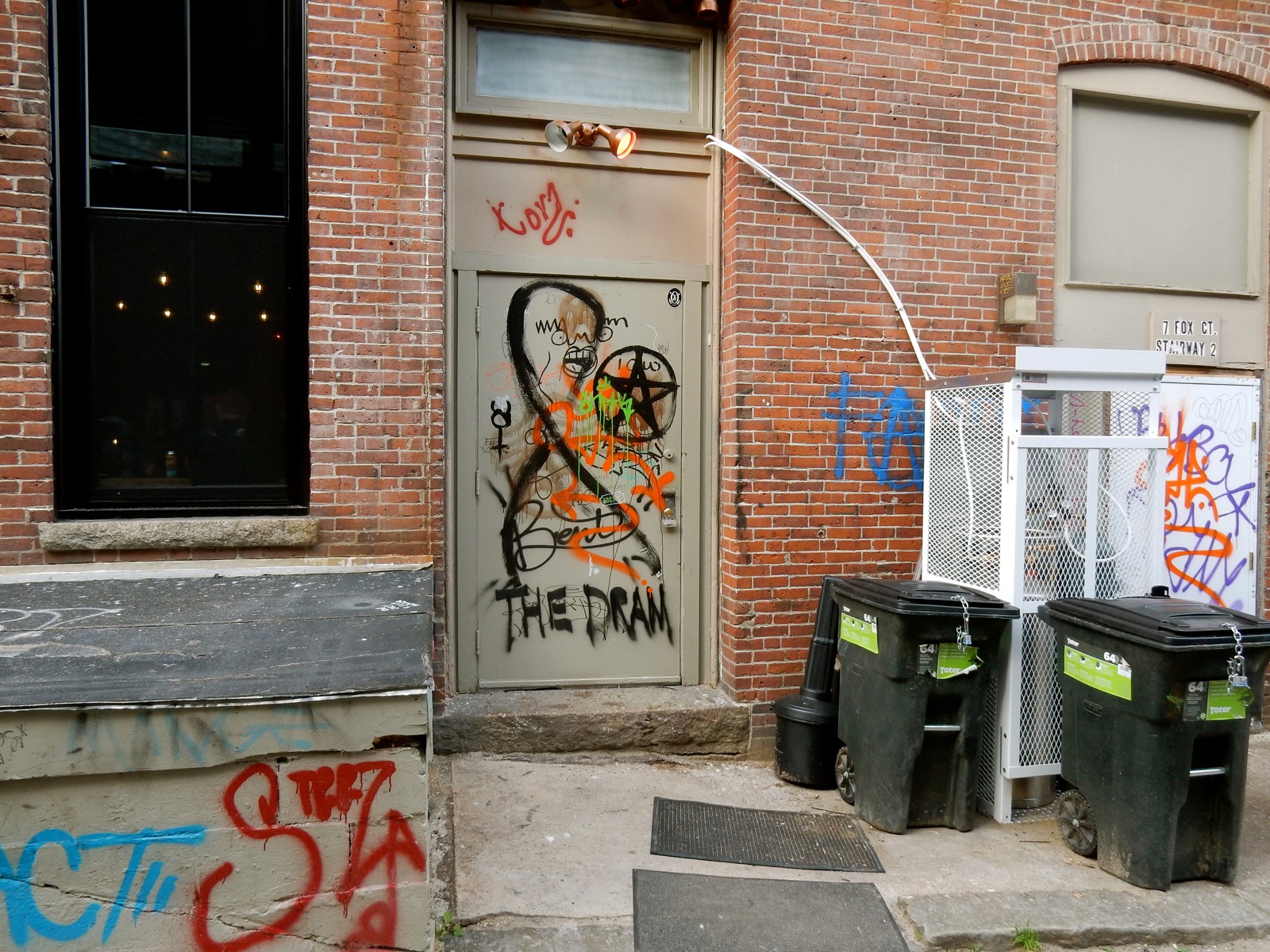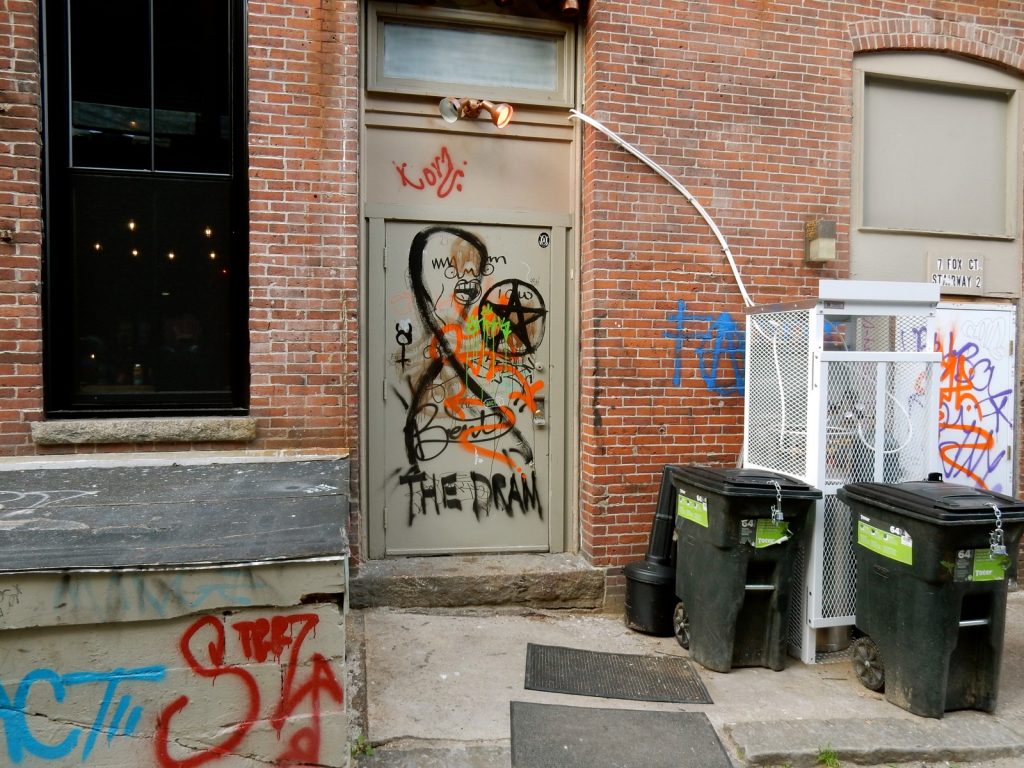 And yes, there is an actual speakeasy here – a "secret room" downstairs, accessed either through the bookcase-door, or through the street-level graffiti'd back door flanked by garbage cans. For those who'd like some quiet atmosphere, opt for the more sedate, low-lit Victorian parlor downstairs as well. From the looks of it on a June mid-week night, Miranda's wish for Blyth & Burrows to be Portland's new hotspot is coming true.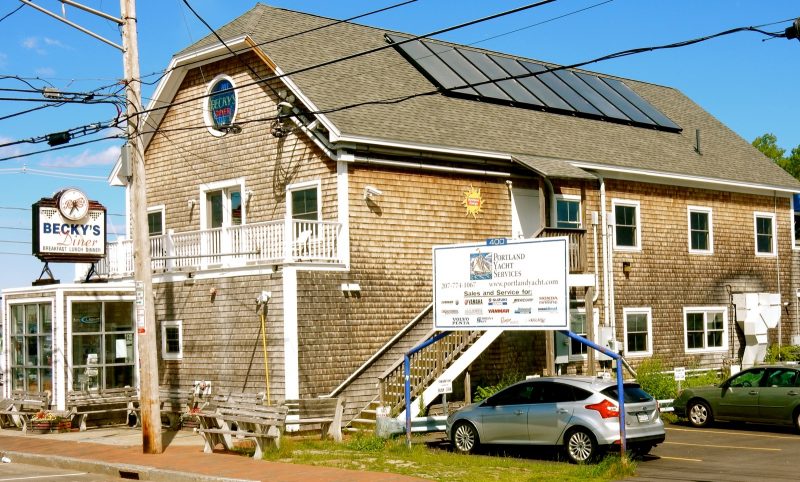 Fishermen and locals have been besotted with this hole in the wall for years. You'll find everything from raved-about blueberry pancakes to twin lobster dinner. Come at 4am when Becky's opens daily, and you just might find some room amidst the commercial fisherman getting ready to head out for the day's catch.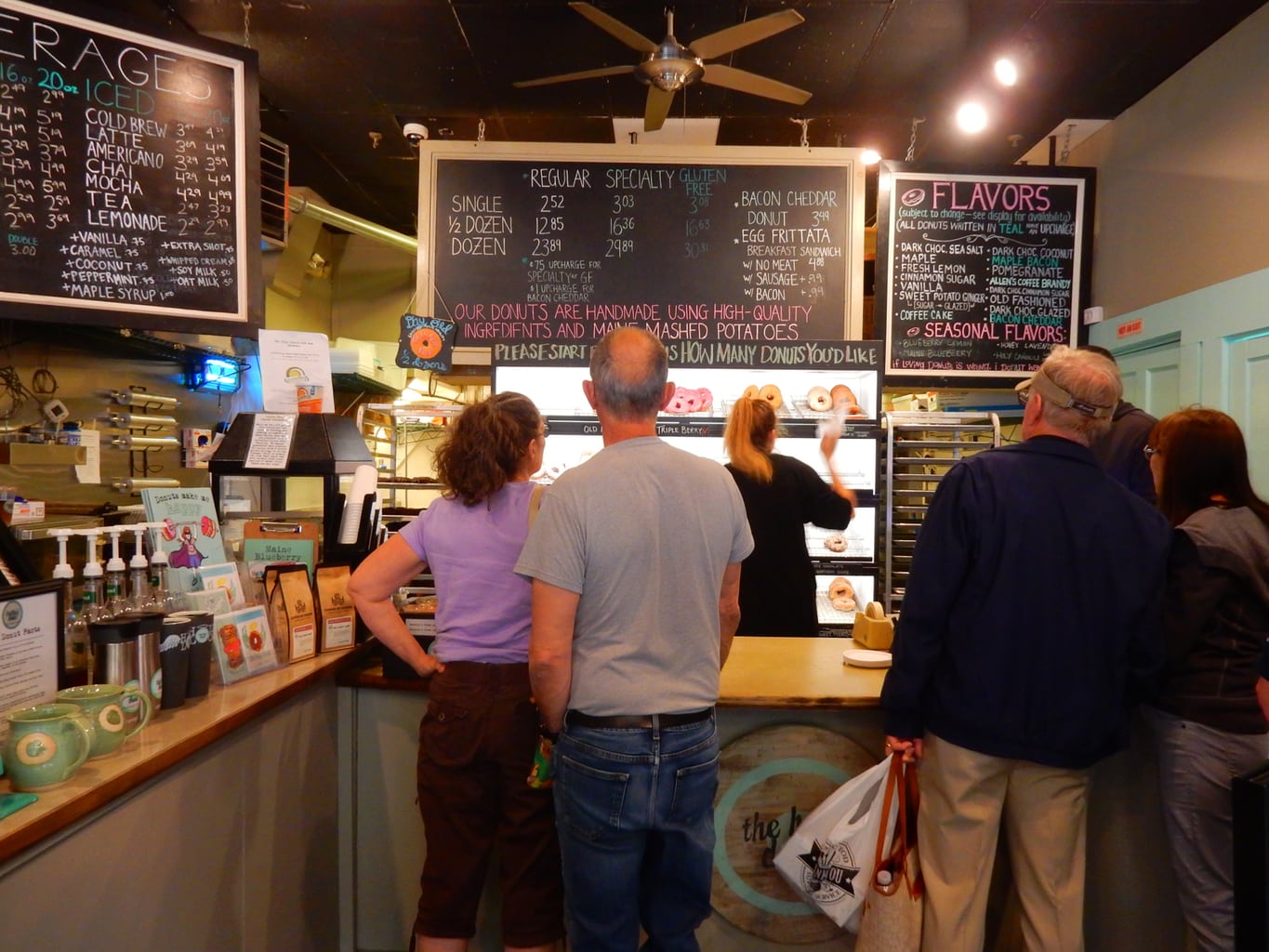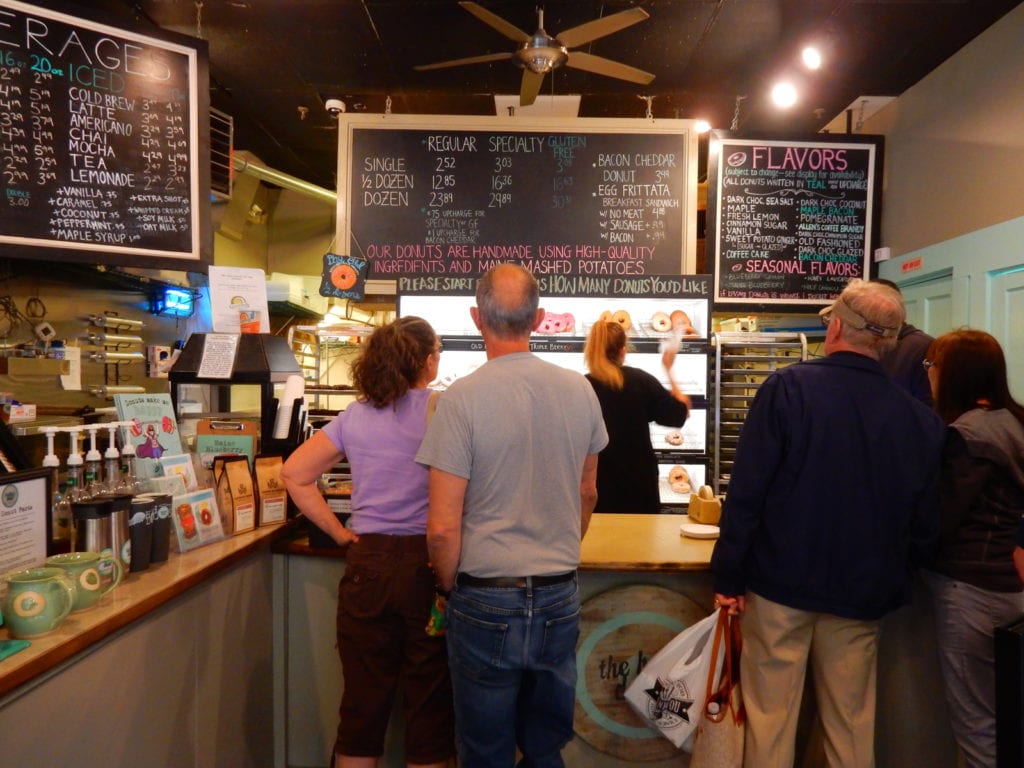 Made from potatoes, these artisanal donuts take the cake for inventive flavors. No wonder lines are out the door all hours of the day. (Until 7pm or when the donuts are gone).
If your heart can handle it, waddle to hole-in-the-wall Duckfat, 43 Middle St., and order the fries crisped in, yup, duckfat. Save up all of your cholesterol allowances for this one afternoon. It's worth it.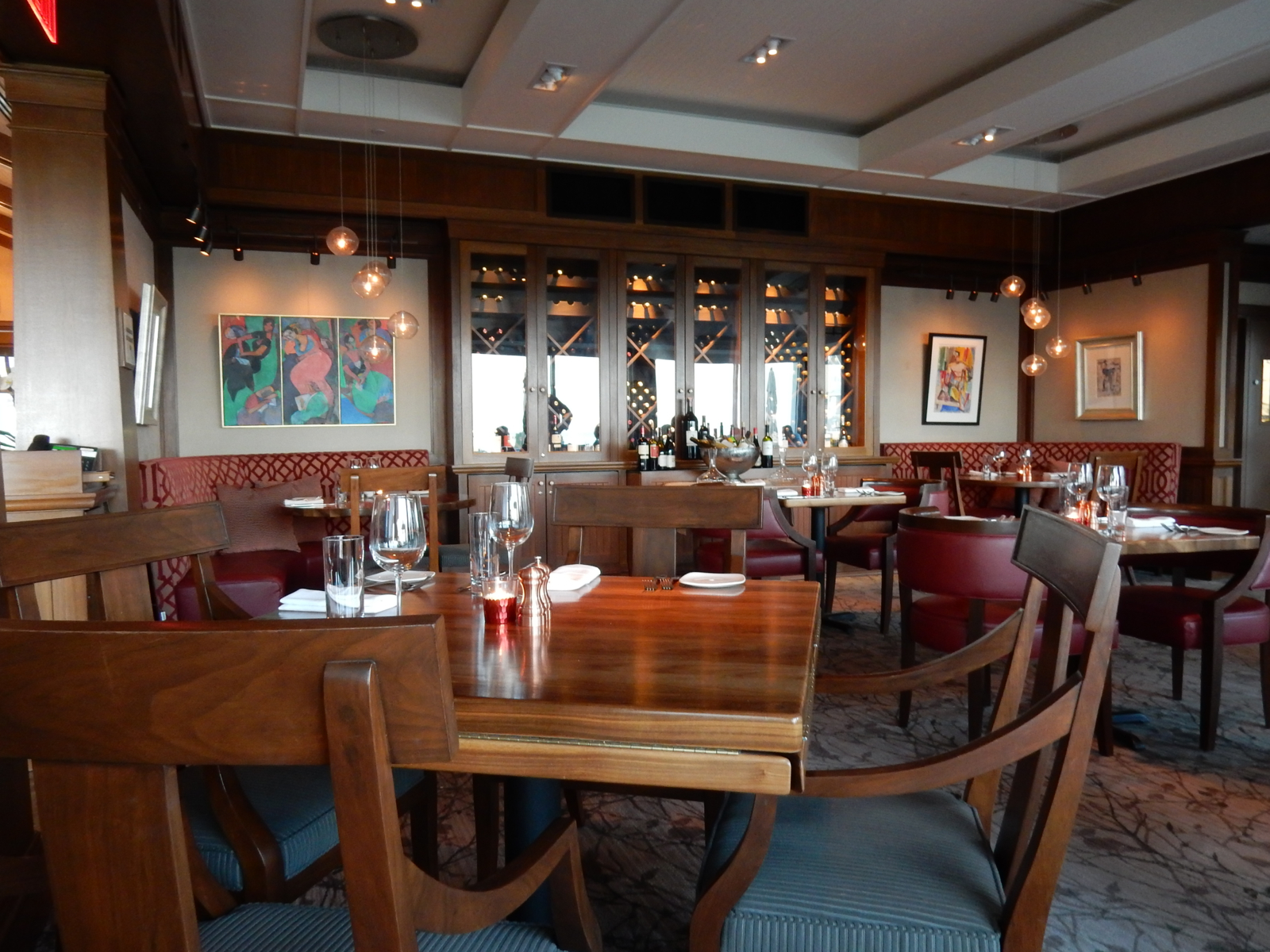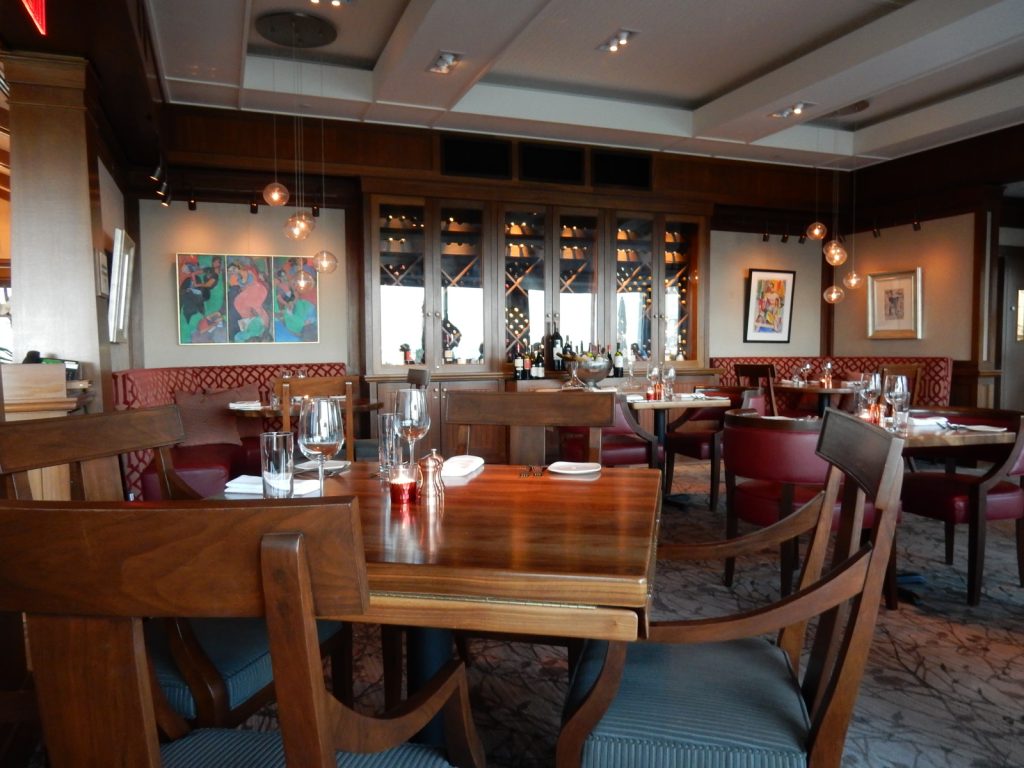 If you choose to bunk at the luxurious, ocean-side Inn By the Sea, you don't have to go far for some of the best food around. It's sea-to-table dining in direct view of said Sea, and not only do the chefs know what they are doing (and then some), but wait-staff is bend-over-backwards nice.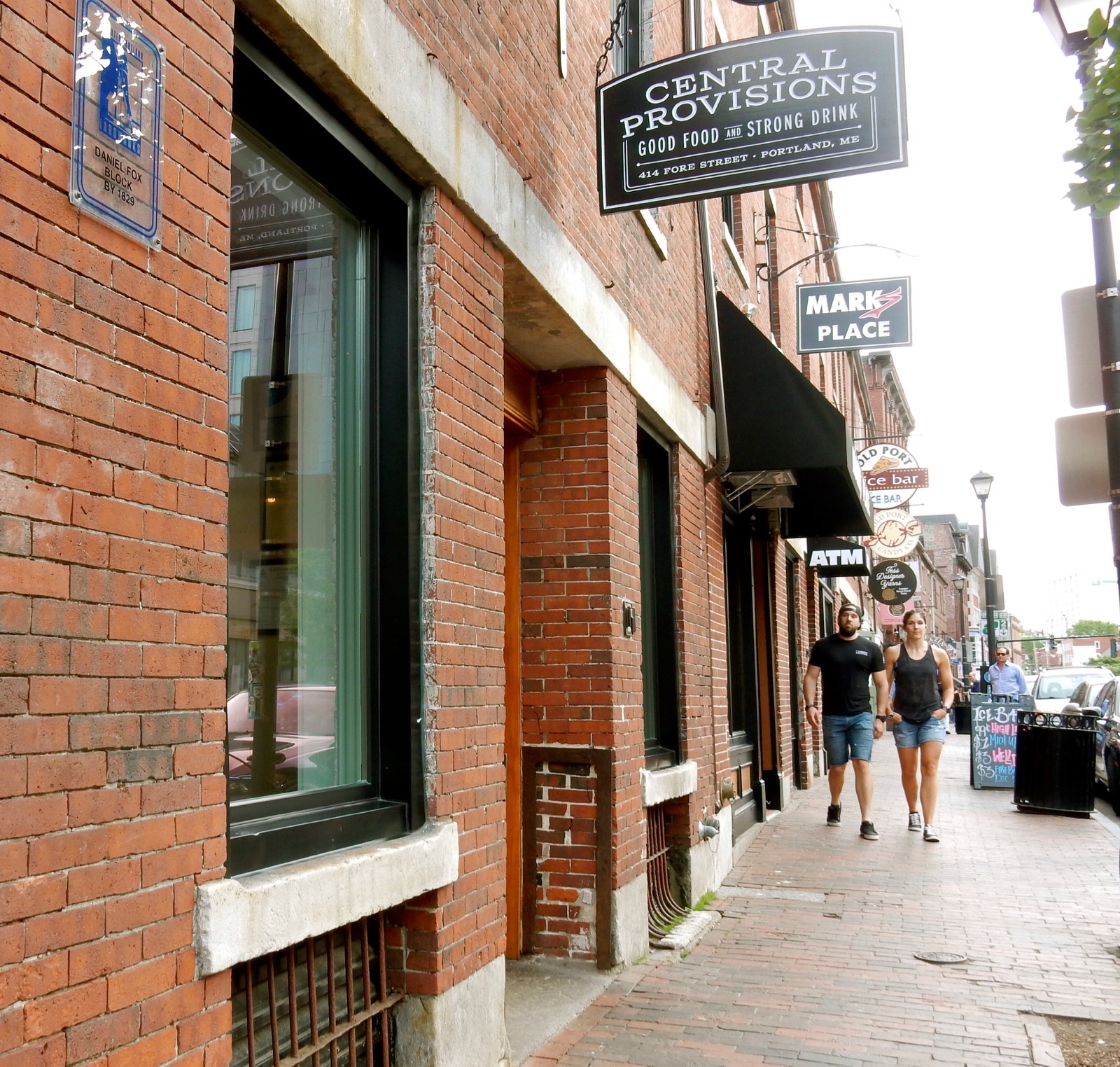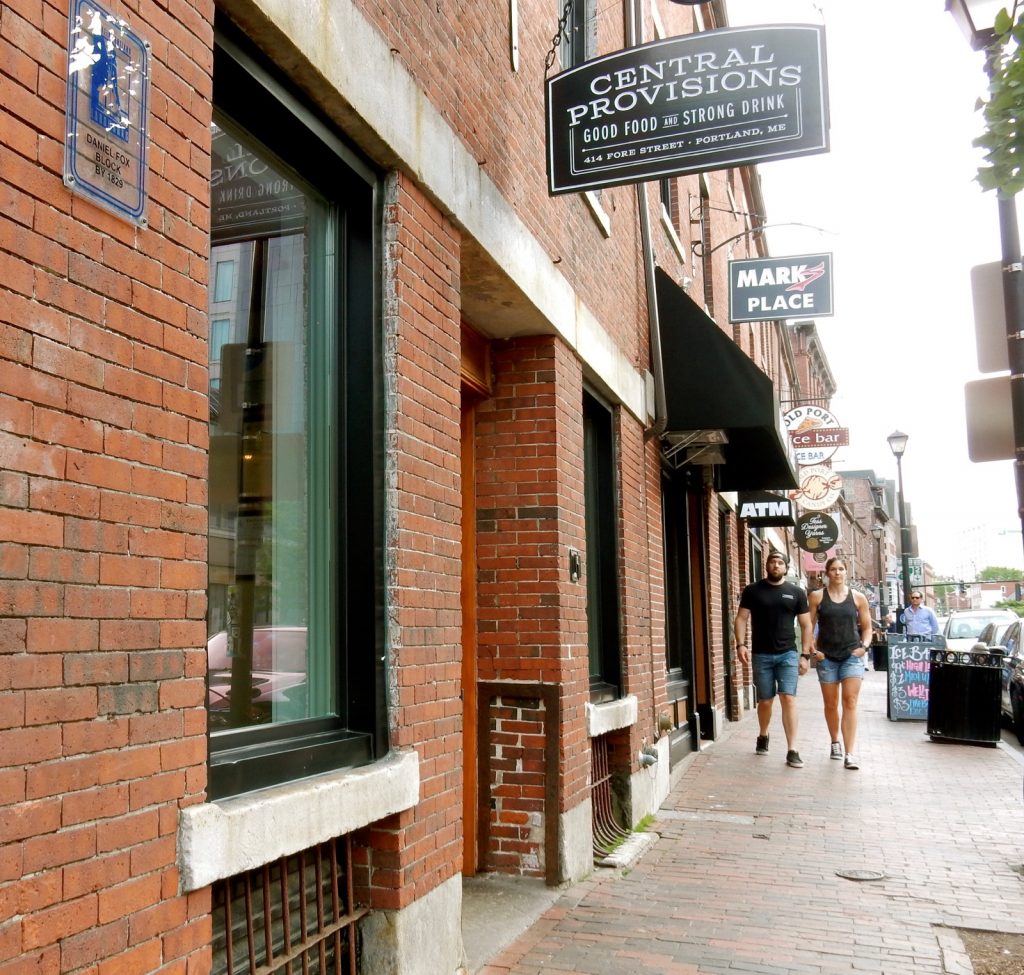 EAT: Locals Love
James Beard winning restaurant, Fore St., led the foodie revolution in Portland. But that was so 25 years ago. (Although it still tops many lists). Now, with JB winners left and right, it's tough to choose. Locals love Eventide, Honey Paw, and Central Provisions for small plates and open kitchen. And Front Room Restaurant and Kitchen in the Monjoy Hill neighborhood, for upscale comfort food. "Downscale" favorites include OTTO for pizza, and Empire Chinese Kitchen.
Novare Res is considered the "Best Beer Bar in Maine." Nick Cote, a young old cabin boy at Migis Lodge, who has lots of chef friends and "knows almost everything about Foodie Portland," favors the Thirsty Pig – for its homemade sausages and Millennial scene.
Hotels In Portland ME
Portland Harbor Hotel is the perfect choice if you want to stay right in town, on Fore Street a block from the docks, where all the action is. This luxury hotel has been drawing celebrities and people who eschew franchise accommodations since way before Portland was a crazy-trendy destination.
As Portland has grown in culinary prominence, attracting more and more tourists, a slew of other hotels have opened. But the Portland Harbor Hotel has kept up with the times, refashioning formerly traditional rooms into cool nautical-chic spaces, and updating its restaurant's name and menu.
First Impressions of Portland Harbor Hotel
Hand your car over to the valet in the hotel's garage, and head up to reception on the 2nd floor.
The ship shape lobby – where you'll find a small reception desk and the concierge – is dressed in navy blues and corals, with varnished wood floors. It's quite the departure from the more antique décor that greeted guests prior to the 2017 renovation.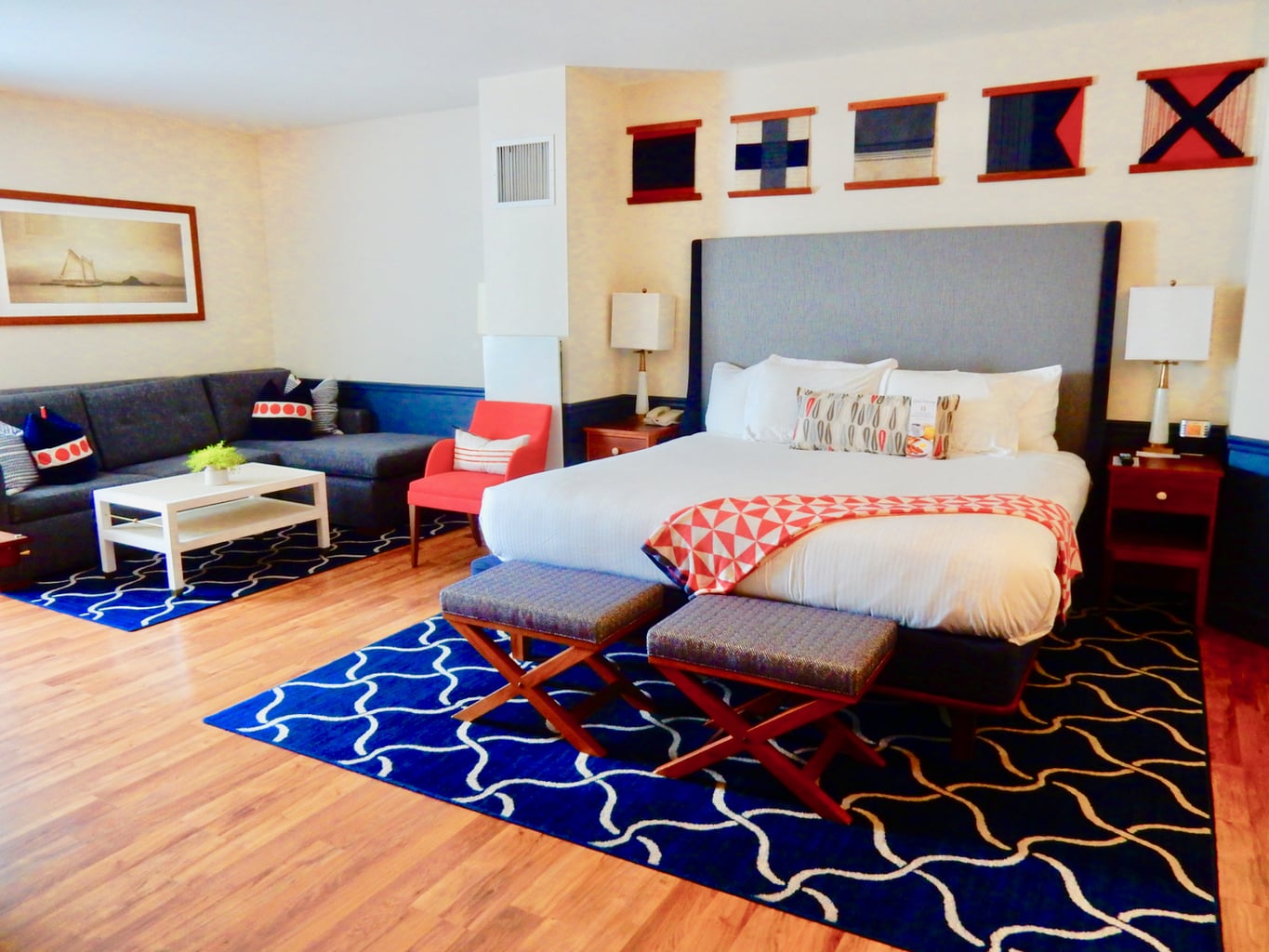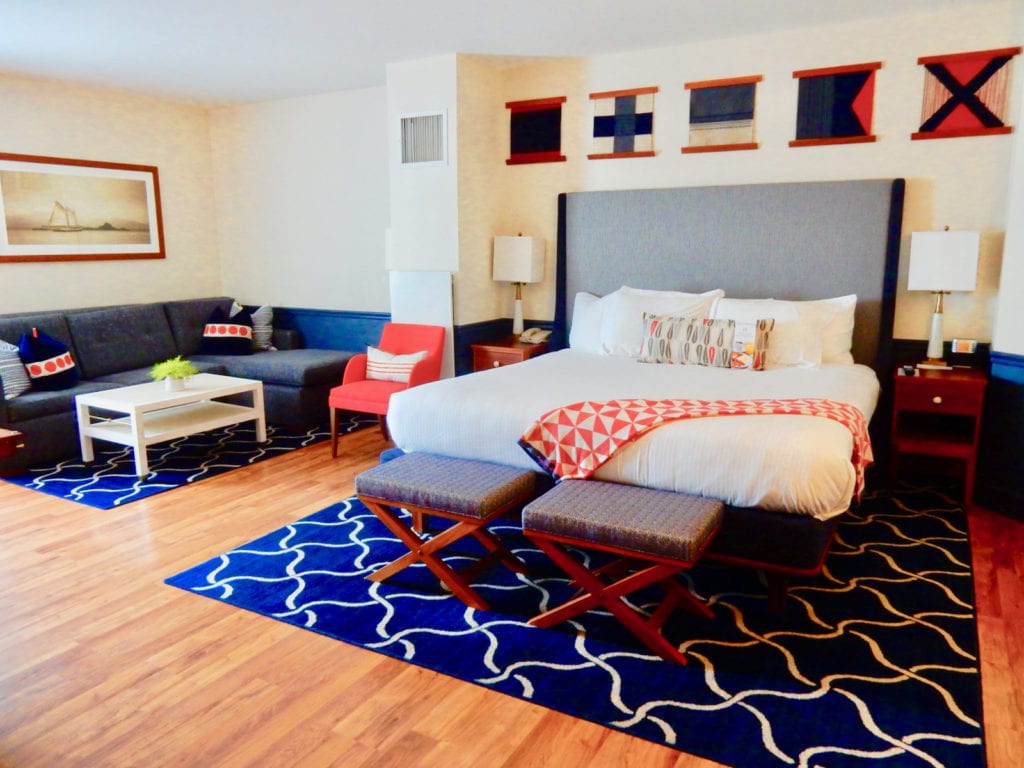 Rooms at Portland Harbor Hotel
Now, guest rooms are spacious, bright, colorful and modern, with elements that hark to the Old Port waterfront. Wood floors are burnished to a sheen. Woven maritime signal flags line the wall over each luxury bed. Pictures of old time sailing ships provide some historical perspectives.
Bathrooms are large, with tiled floors, granite sinks, and glass rain showers.
But if your taste runs to Zen contemporary, stay in of the six Executive King Suites, in their own exclusive wing. These rooms feature a two-sided glass fireplace and Japanese sliding doors that open onto a large soaking tub in a khaki-colored granite and wood bathroom.
Turndown service includes a tiny chocolate lobster on your pillow. How more Maine can you get?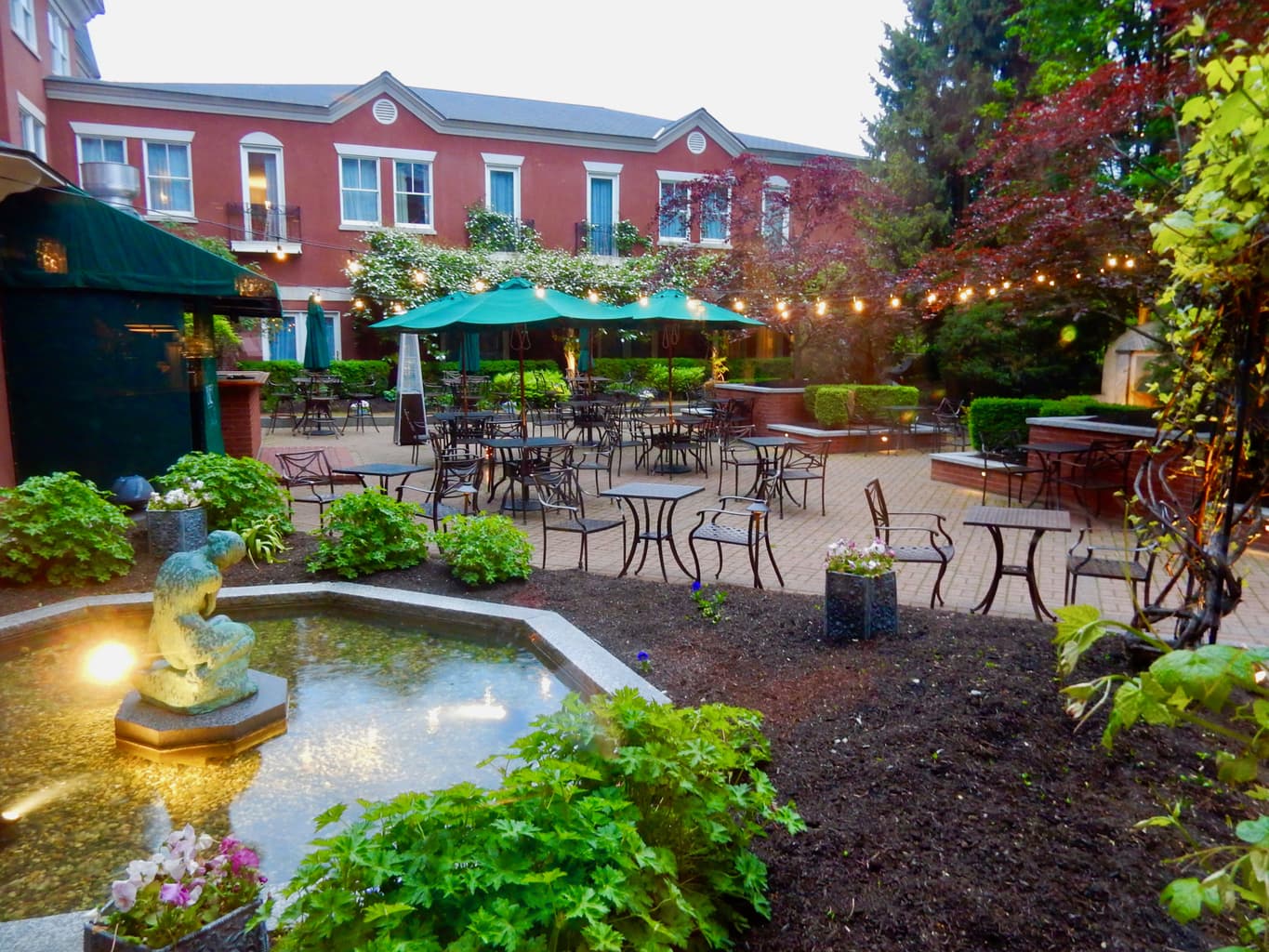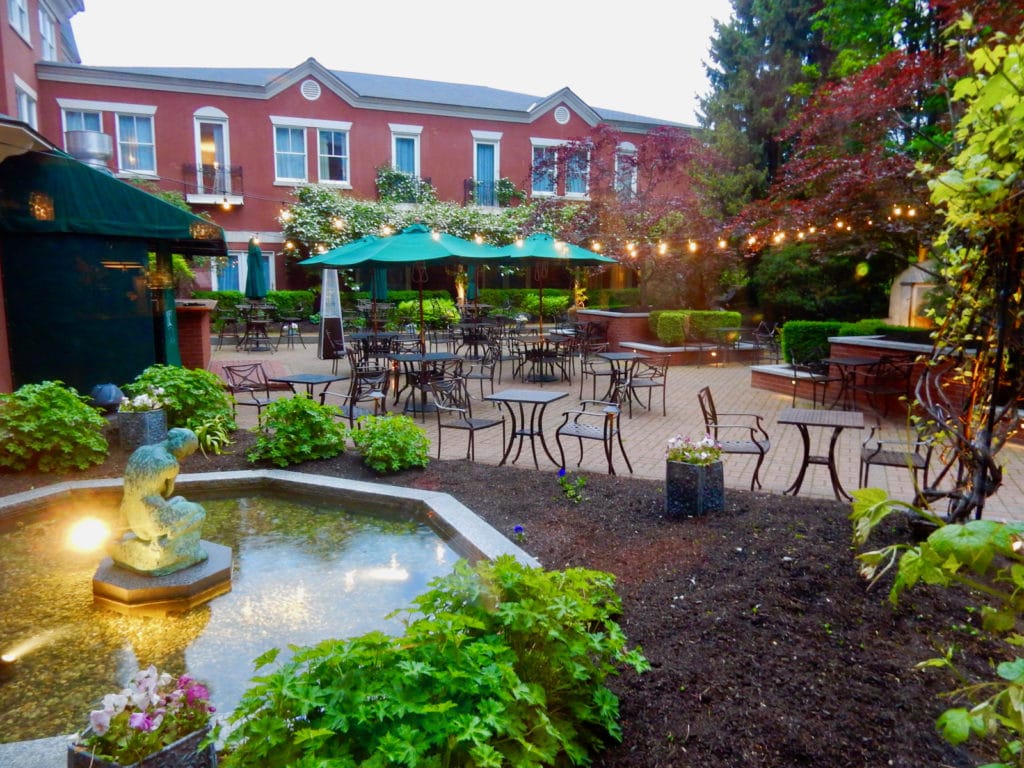 Dining at Portland Harbor Hotel
The in-house restaurant, BlueFin, is the perfect place for a pre-dinner cocktail or a signature Lobster Popover. Yes, Portland is a James Beard-winning restaurant town, but this casual in-house restaurant has one thing that all the others don't: an enticing patio garden with fire pit and fountain.
Diners who are not staying in the hotel won't find it wandering the storefronts. On the second floor of the Portland Harbor Hotel, though, it happens to be one of the coziest bars in town. Savvy bartenders, with an old-fashioned sense of professionalism, whip up the perfect drinks.
Choose a love-seat or a table overlooking the garden. Dine on "Lobster Scargo" – lobster chunks in garlic butter with herbed crumbed topping ($21), Fisherman's Ravioli (with fish of the day, $34), Wagyu Burger ($19), the above-mentioned Lobster Popover which comes with fries and slaw (MP), or any other surf-and-turf type dish.
Amenities at Portland Harbor Inn
Fitness Center with latest machines in the Executive Suite Wing, though available to all.
Complimentary bicycles.
Starbucks coffee self-serve machines available in the morning on each floor.
Rooms and Suites at Portland Harbor Hotel from $189 (low season deluxe room) to $529 (high season suite) includes use of bikes, wifi, and Starbucks coffee.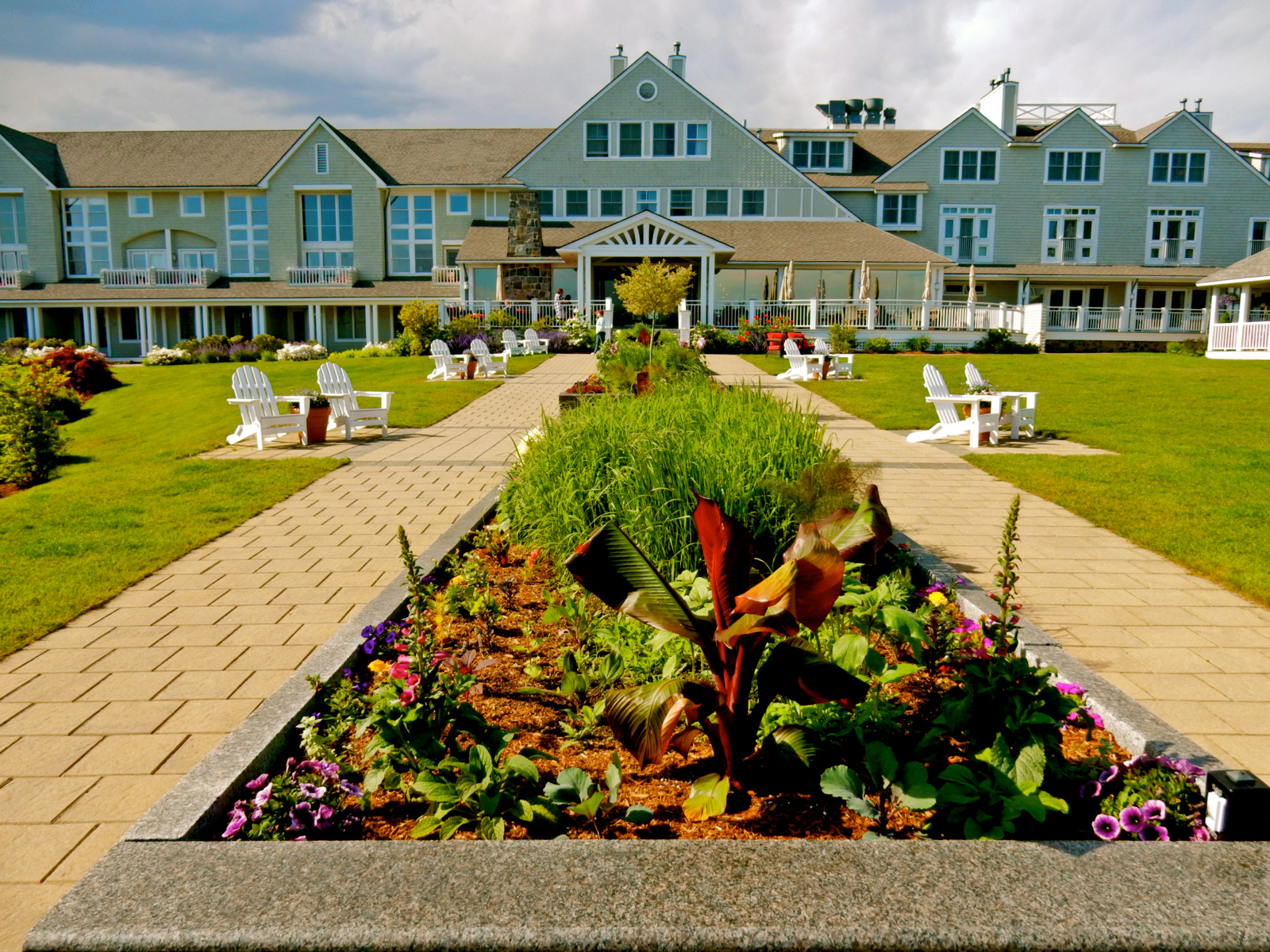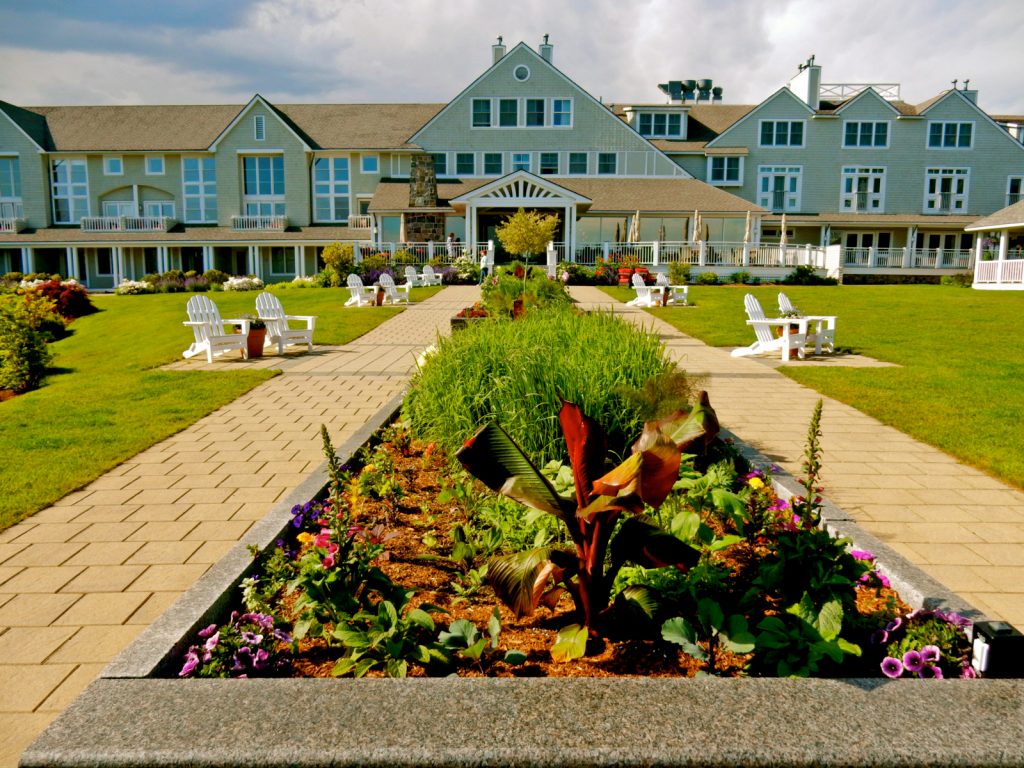 STAY: Inn By The Sea, Cape Elizabeth
Ten minutes from Portland, Inn By the Sea is a Maven Favorite with full write-up HERE.
I was having a nice chat with the bartender and a couple of lovely women I'd just met at this boutique hotel 15 minutes from Portland ME. It was 9pm on a Thursday night in June, and all the tables were taken, with more people waiting; ergo, my choice of bar stool. Plus, I was traveling alone and wanted company.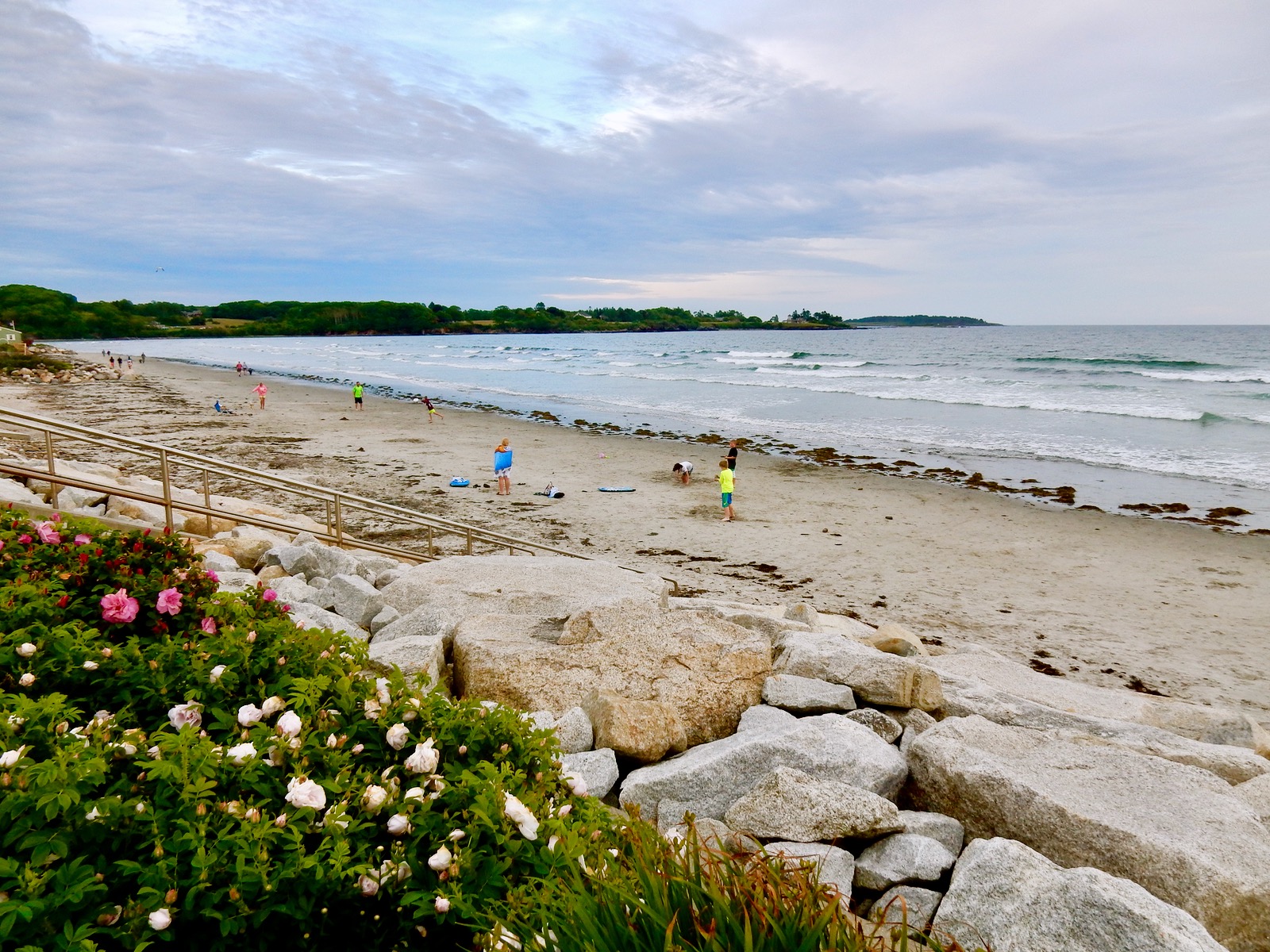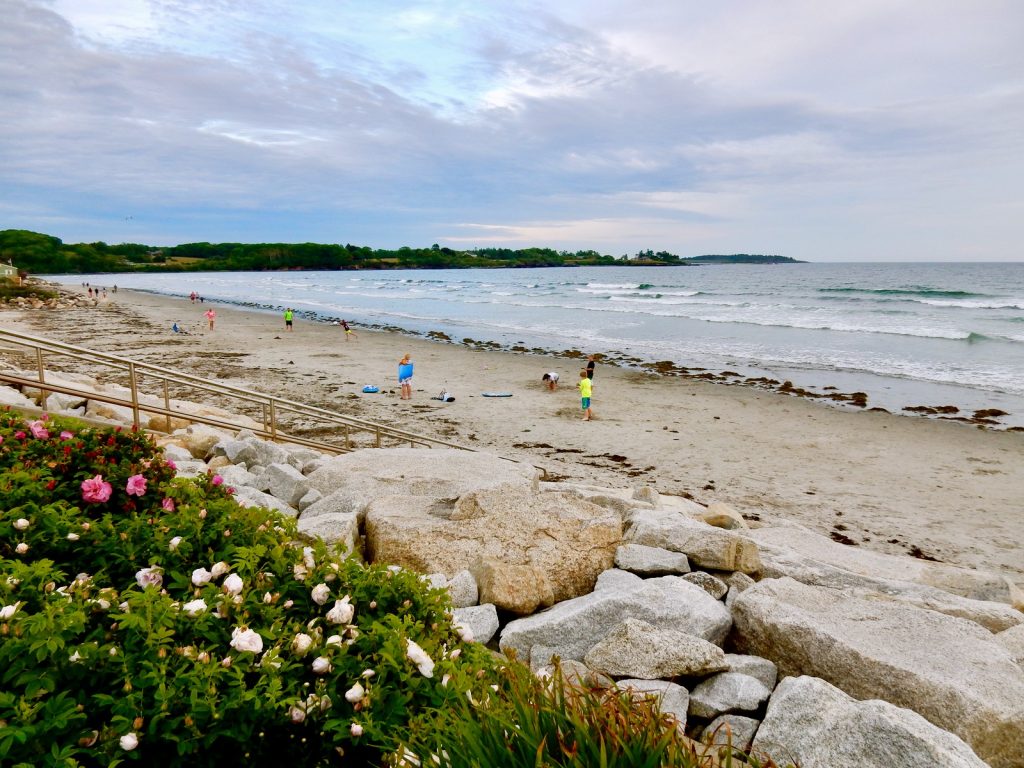 "I hope you don't write about this place," said my new friends, sisters who each own a summer bungalow a block away. "We want it for ourselves." I flashed that smile I use when I can't make a lasting promise. There's no way I can keep my mouth shut about this obviously beloved establishment.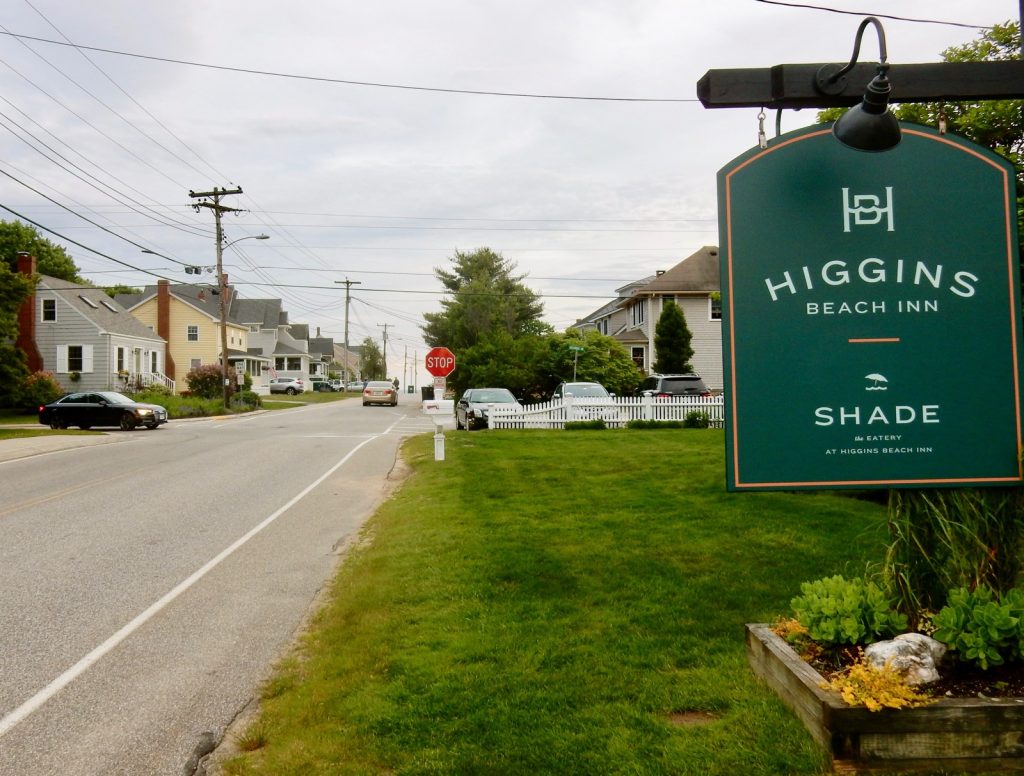 A block from one of Maine's most popular sandy shorelines, the Higgins Beach Inn has been a favorite of beachgoers since 1923. Even as it inevitably fell into decline in recent years. Within a residential neighborhood, locals were anxious to see what the new owners – the Migis Group (which also owns 250 Main in Rockland, Migis Lodge on Sebago Lake, and the Blackpoint Inn nearby) – would do with the place when they took it over in 2016. I'm here to report that the refreshed Higgins Beach Inn is a wonderful redo – with fresh, modern beachy-clean rooms and an excellent new restaurant.
First Impressions of Higgins Beach Inn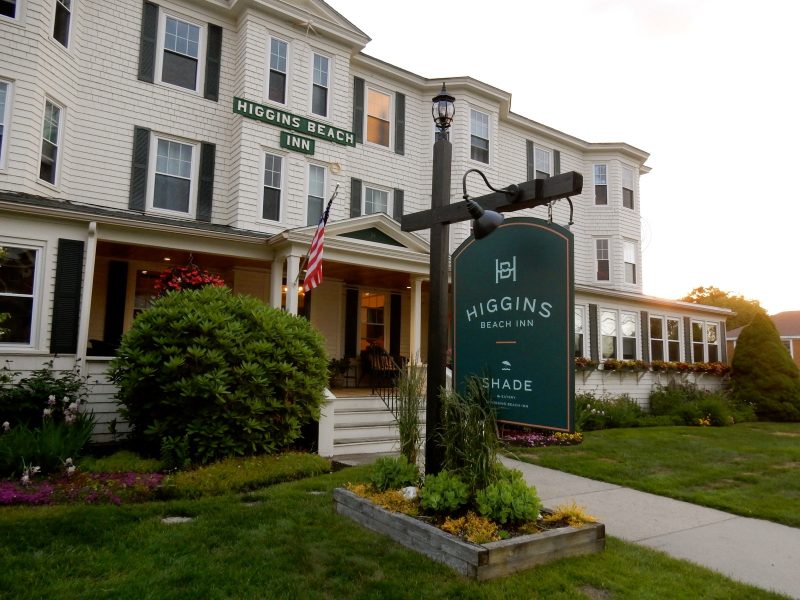 Walk up the steps to the veranda into a small reception area. One friendly employee welcomes you, hands over the key to your room, and draws your attention to the decadent, freshly baked cookies on the counter. "Take one." If it's dinnertime – the lobby is mobbed with patrons either emerging from or entering the in-house restaurant, Shade.
This festive atmosphere is proof of an increasing neighborhood embrace. These customers are not, for the most part, tourists. Many walk here from within a few square blocks.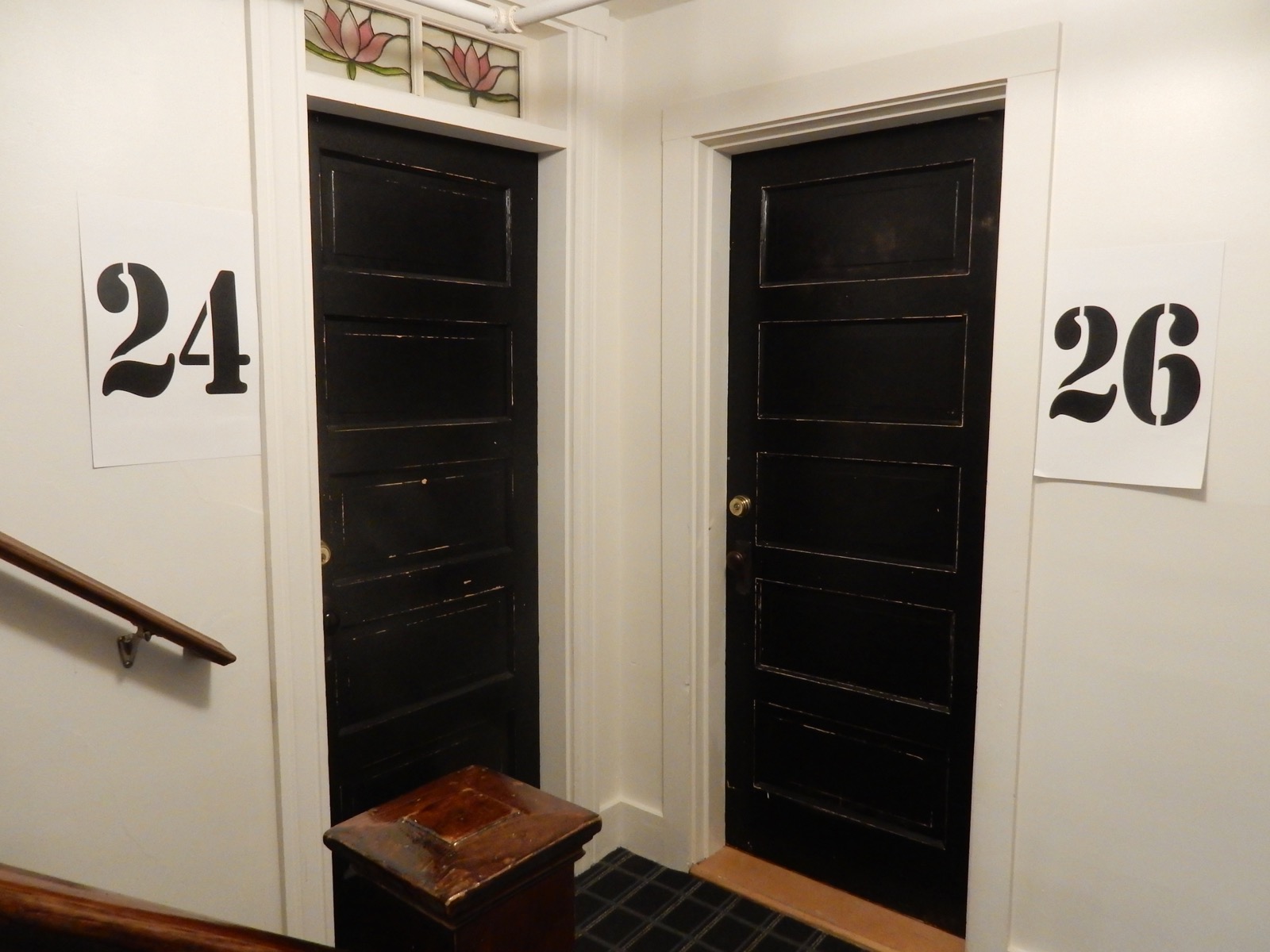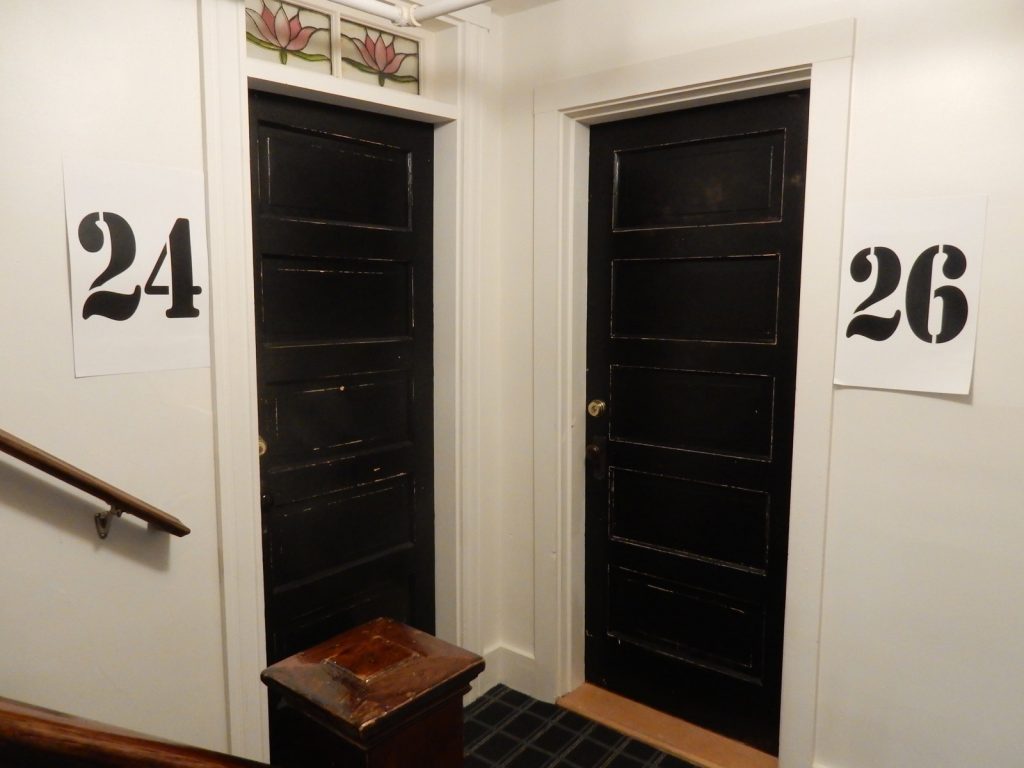 Guest rooms at Higgins Beach Inn were recreated as bright, fresh, poppy chambers. However, interior designers left some of the building's old character alone. Stairs and hallways hark back to the good old days, though with fresh paint and new carpeting, leaving old squeaky warped floors and wooden stair handrails and banisters that have seen generations of guests.
Rooms at Higgins Beach Inn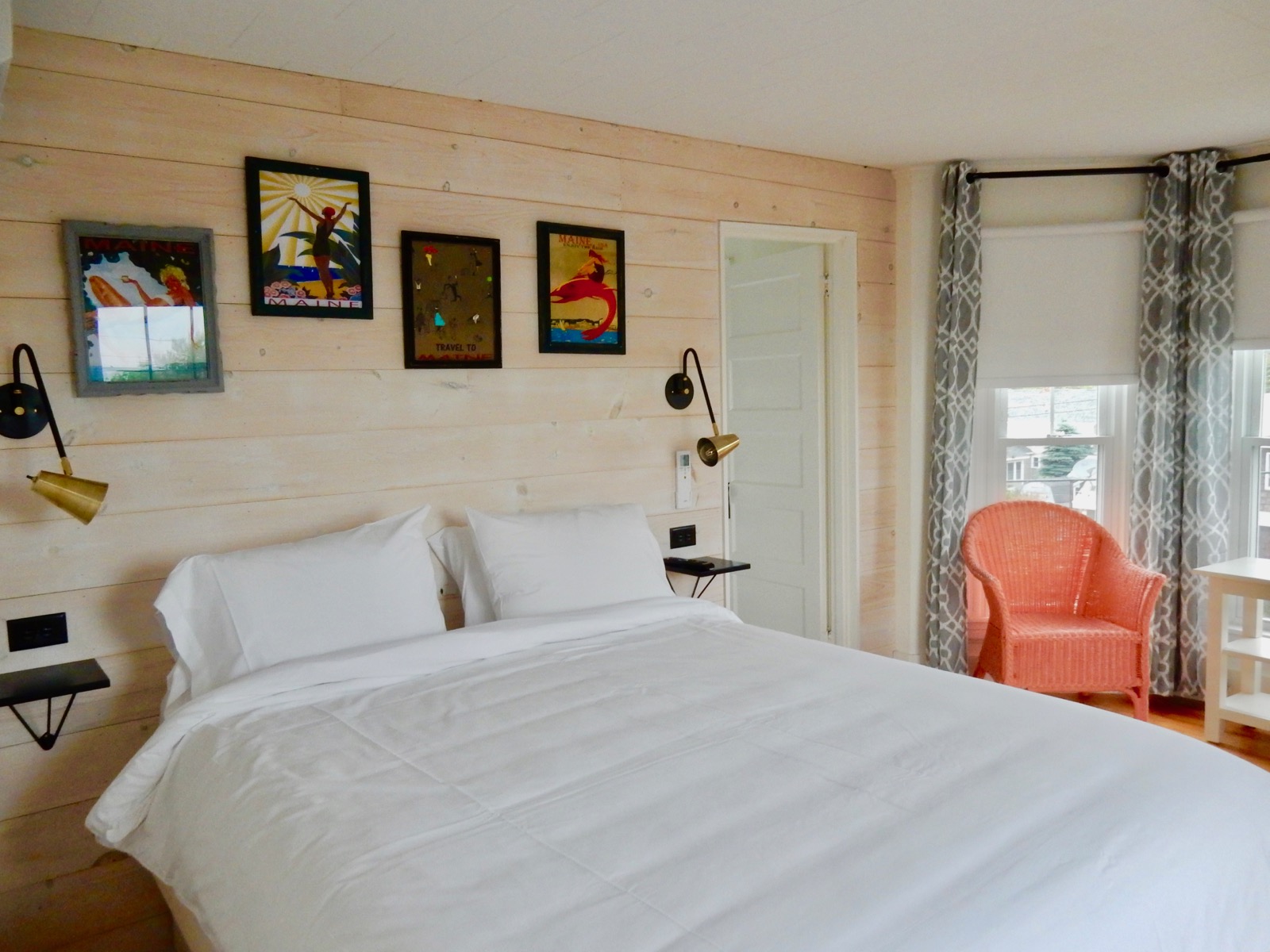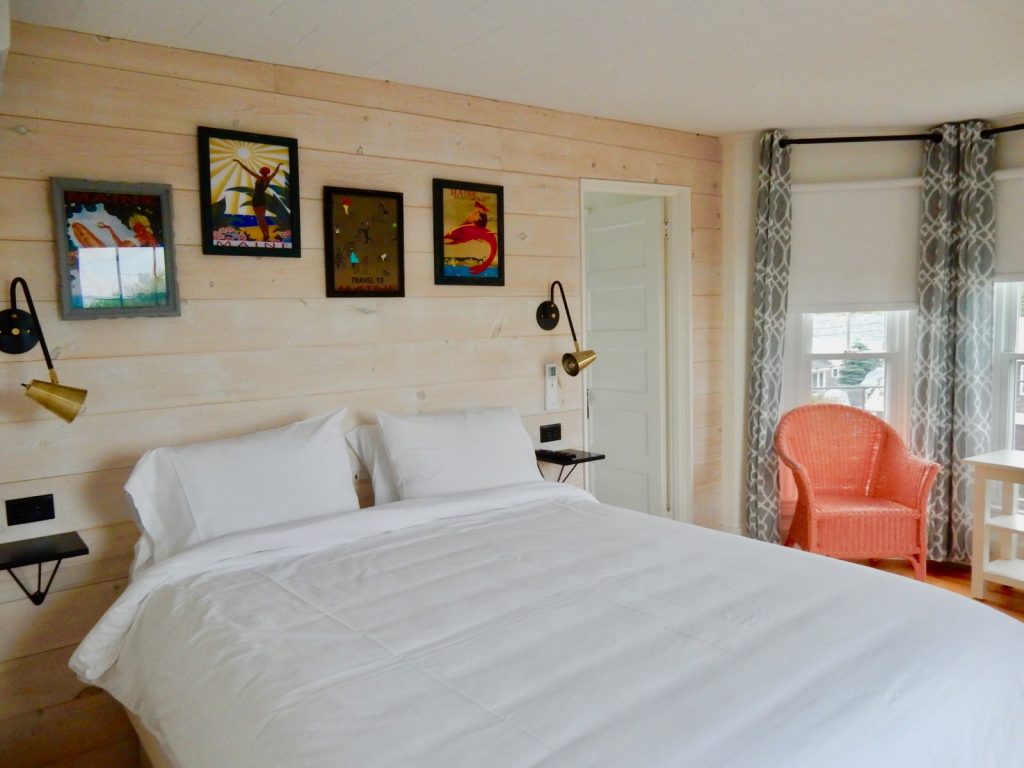 Polished hard wood floors gleam. Contemporary grey and white curtains let in just the right amount of light when closed. (However, there are also black out shades). And the white-duvet clad beds are heavenly.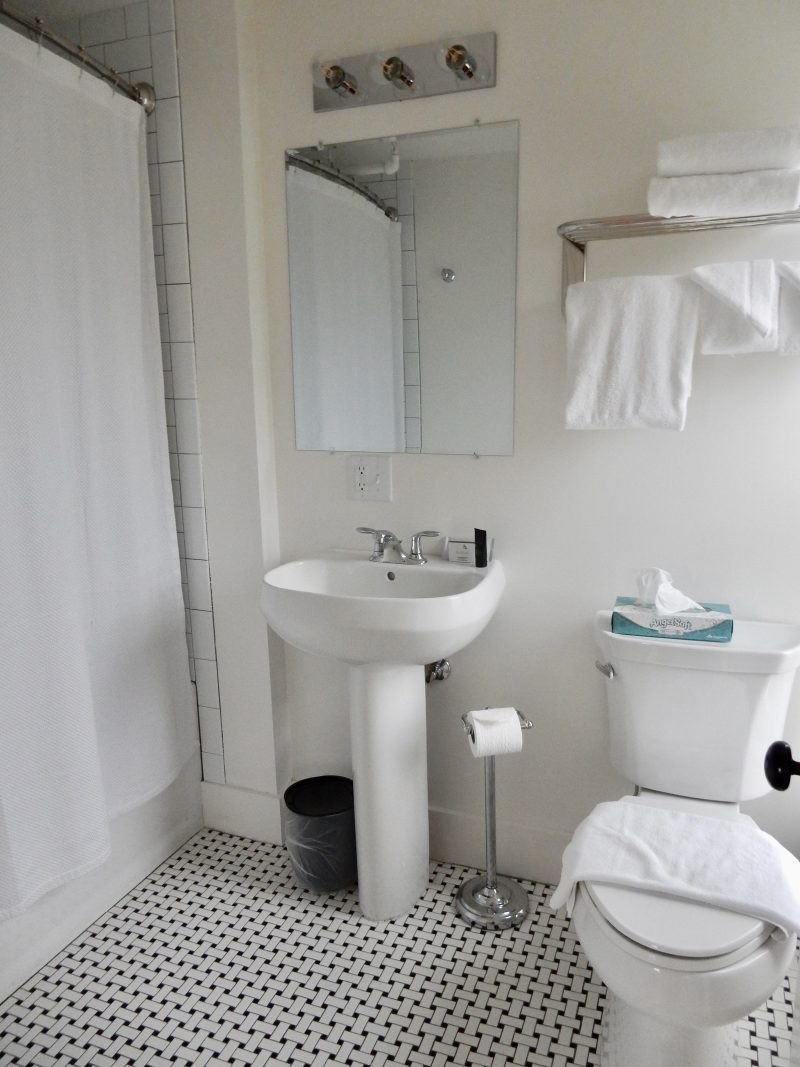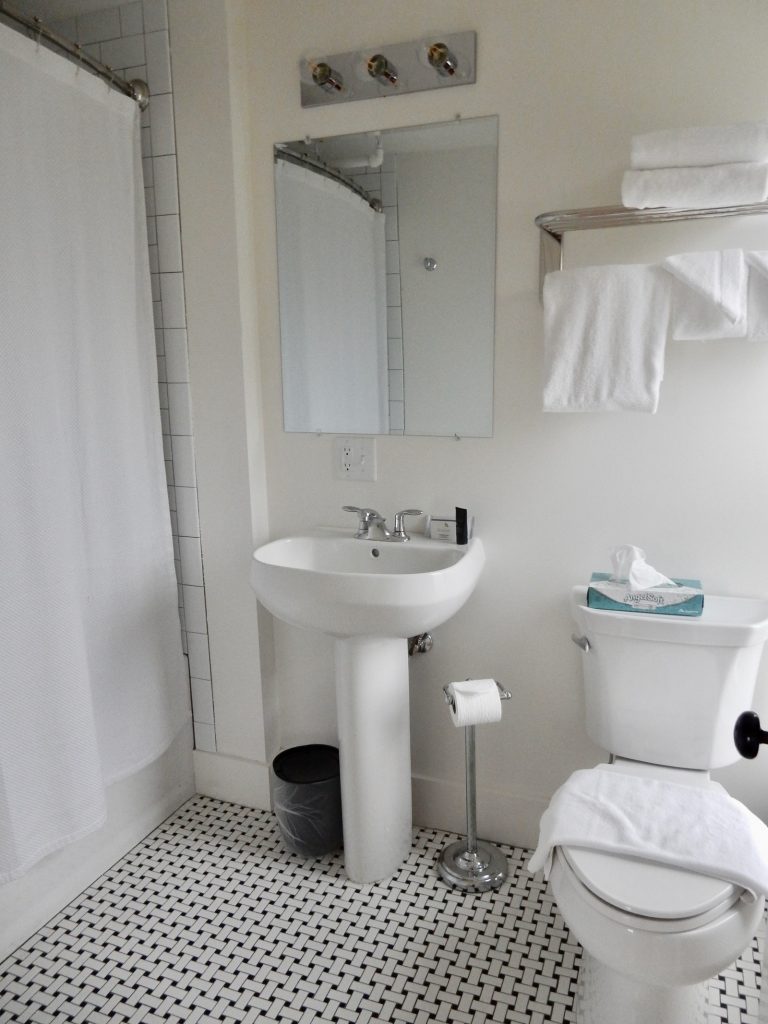 Coral hued faux-wicker chairs and Maine Travel artwork on bright white walls add a punch of color. There's a small cubby for hanging clothes (no closet), an empty glass bottle for drinkable water (receptionist asks you to bring it downstairs so she can fill it), and a small bathroom with subway tile showers and restored basket weave mosaic floor.
Though not classically luxurious, the inn is beautiful, clean, breezy, and adorable. I never underestimate the appeal of clean and adorable in refreshed hotel rooms, especially when prices are low compared to other resort hotels.
Dining at Higgins Beach Inn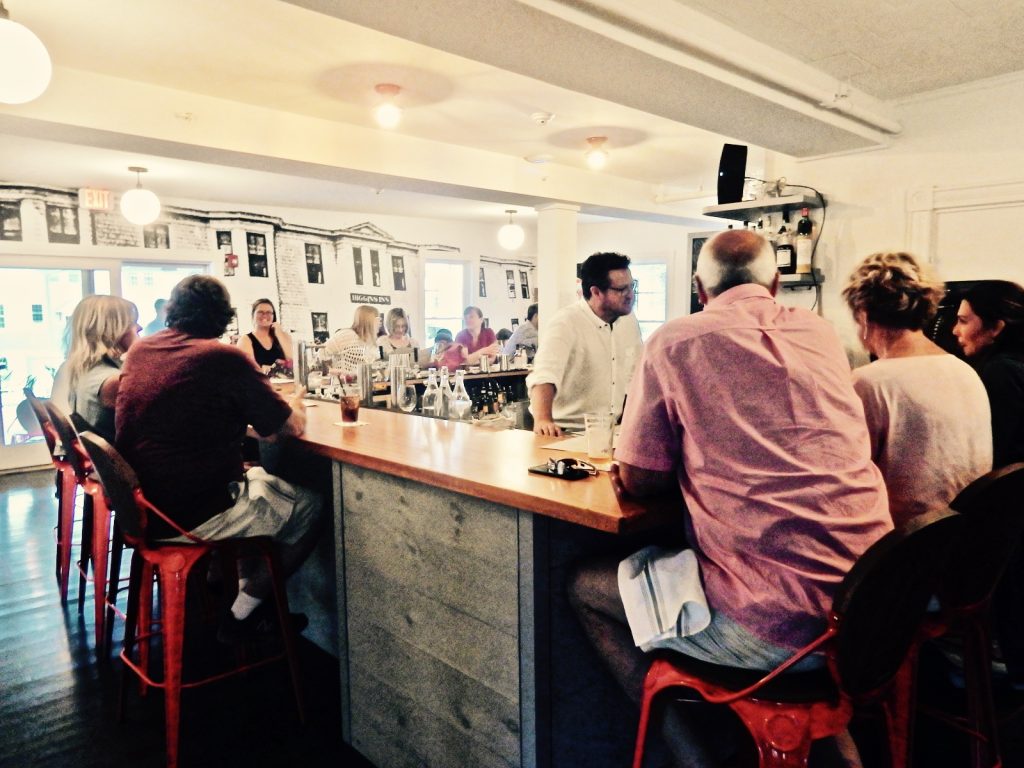 Shade is one fun restaurant, with a lively open bar in the middle of the room commanded by Irish bartender, Evan, who can raise the spirits of (and serve same to) any and all weary travelers.
There's an outside deck and a small room where the front veranda used to be. Now enclosed, it's outfitted with Butcher-block tables rimmed with funky red steel and wood chairs.
In the morning, select from a comfort food breakfast menu – Buttermilk Pancakes, Bagels and Lox, Corned Beef Hash, Cinnamon French Toast. This generous repast comes complimentary with the room.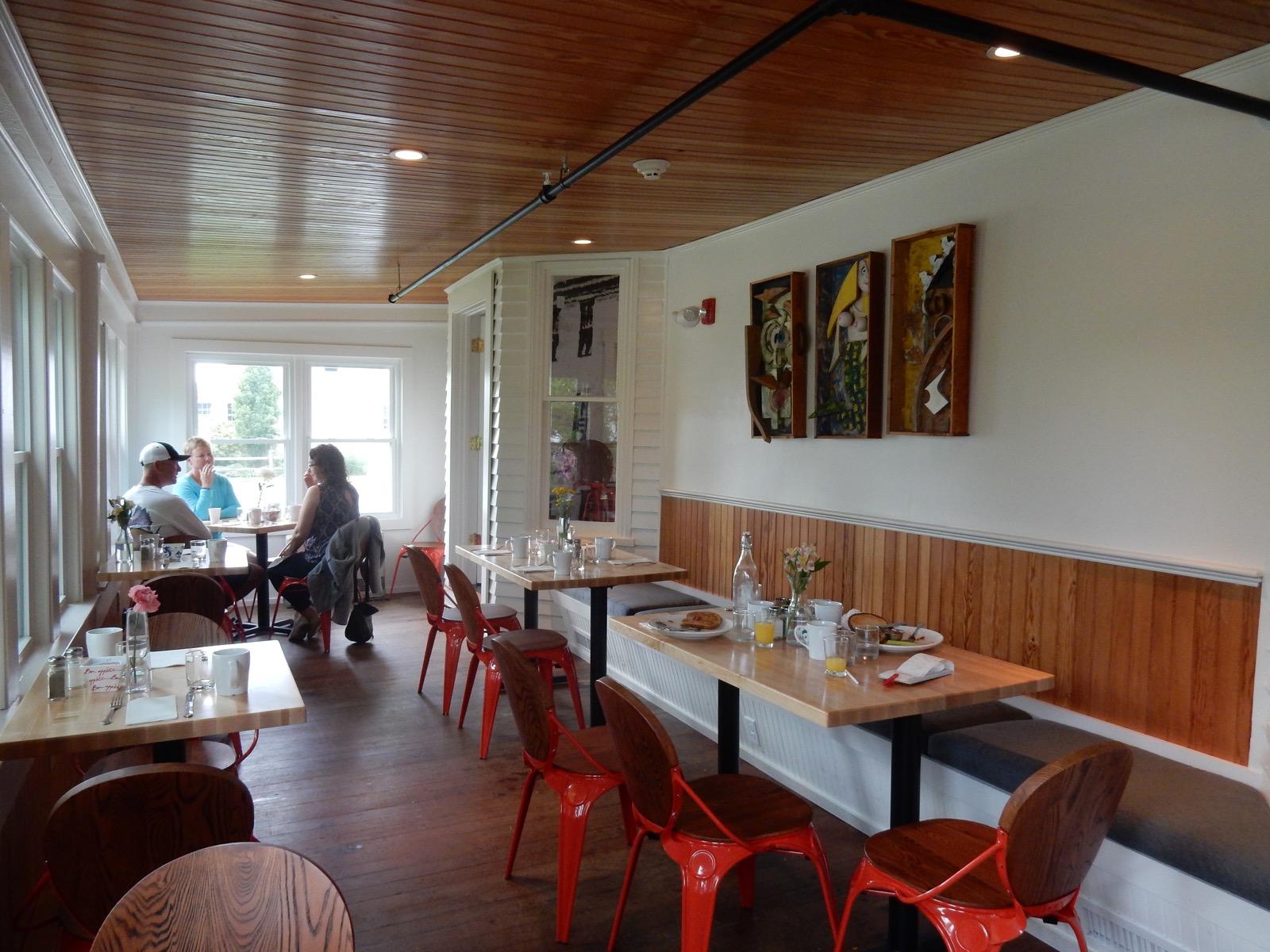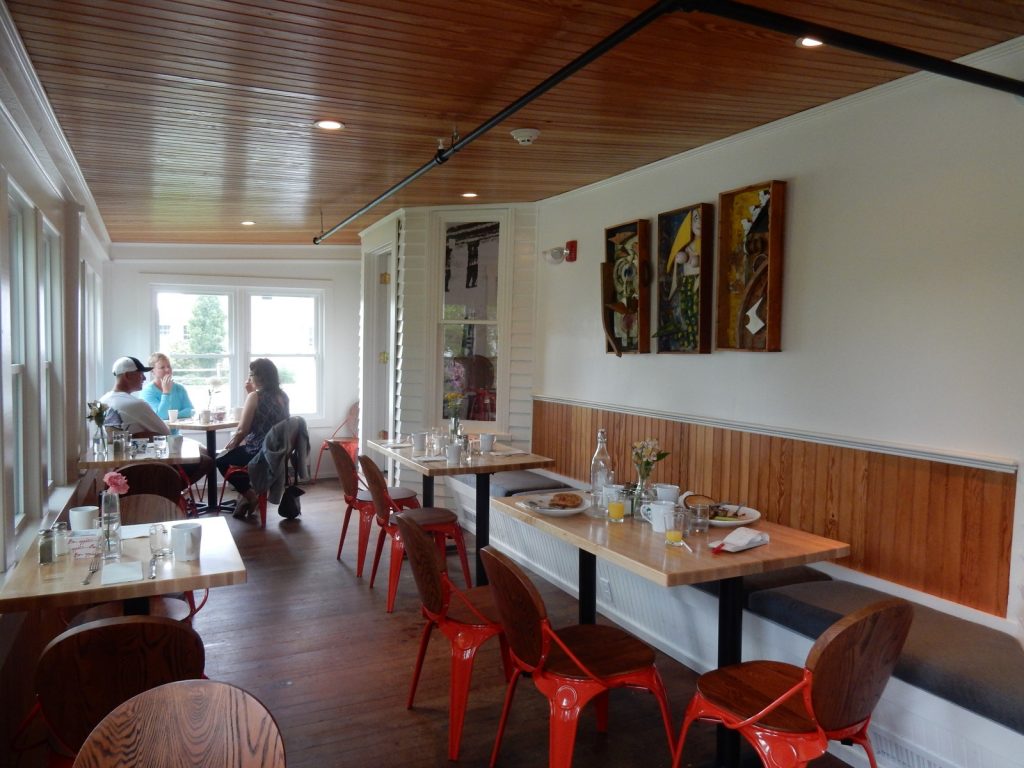 By night, Shade turns hip and trendy. But not as crazy-expensive as a resort beach town can be. Though you can get Steak Frites ($24), Shellfish Stew ($24), Damariscotta Oysters ($16 for 6, $30 dz.), New England Fish and Chips ($20) and other seasonal dishes, my fave was the perfectly charred and seasoned Grilled Chicken Sandwich on Ciabatta ($14) with goat cheese, pesto, and roasted red peppers.
Room rates from $189-$229 include breakfast.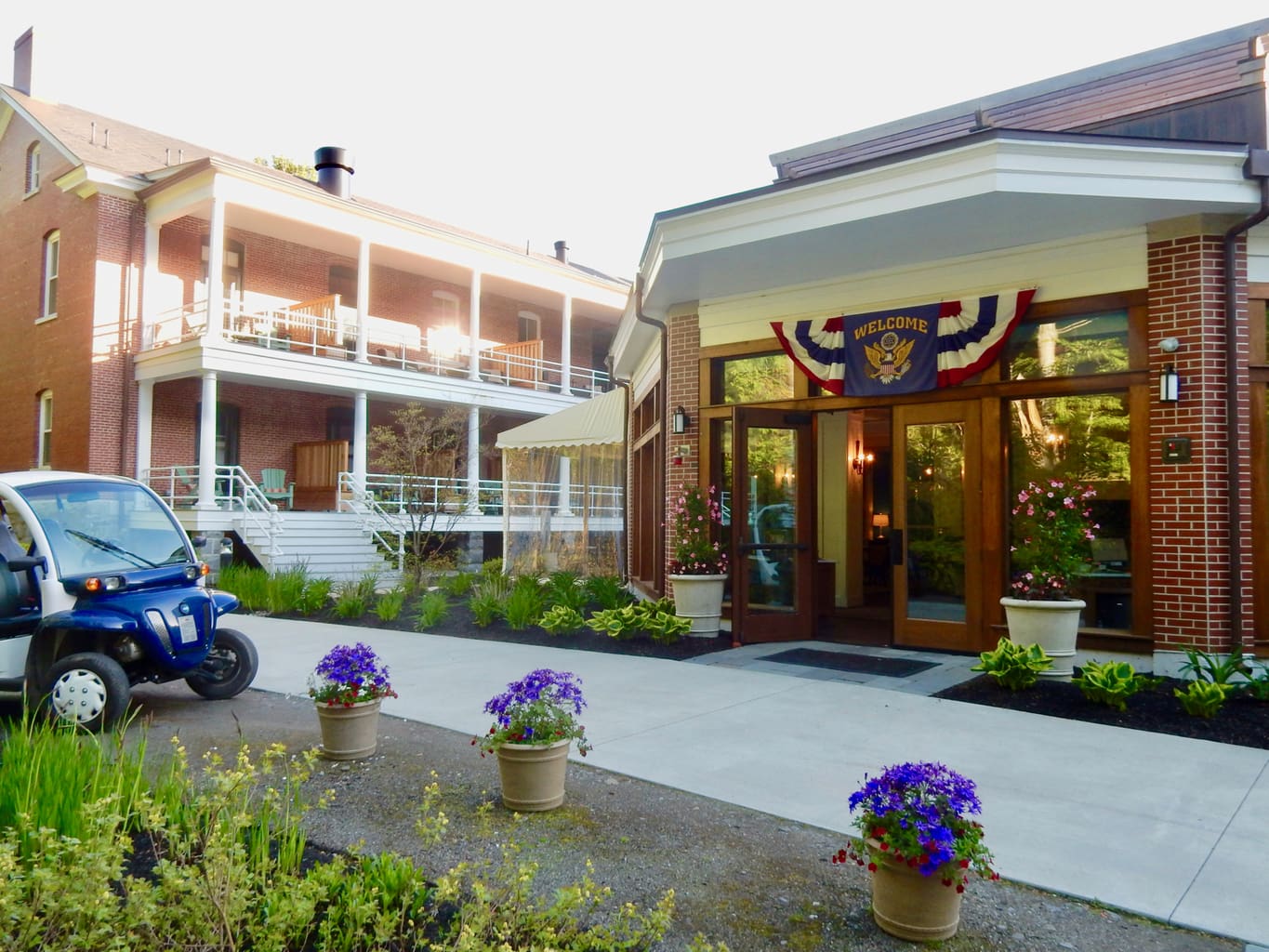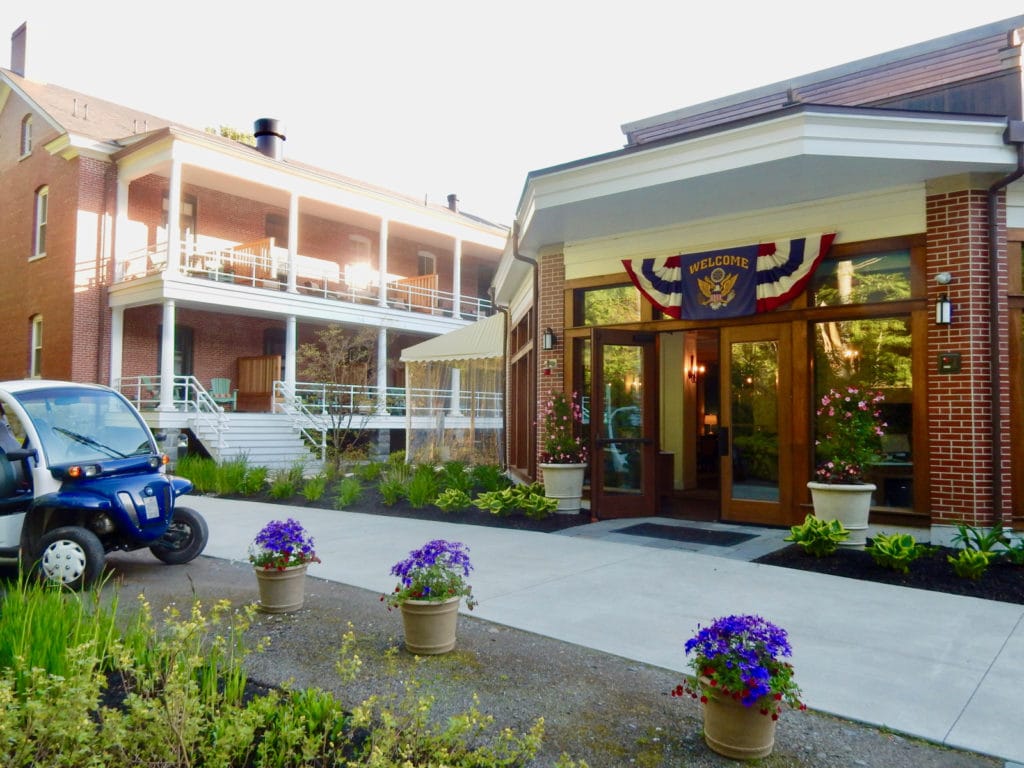 STAY: Inn at Diamond Cove
You'll have to take a Casco Bay Ferry out to Great Diamond Island (about a 30-45 minute ride). But it's worth it for this secluded, upscale Inn carved from the remnants of a Naval Training Base. A Maven Favorite – you can read all about it here.
Getting There:
Located off Interstate 95, Portland, Maine is 2 hours from Boston and 5 from NYC by car. It's also easily accessed by Amtrak train from Boston and other points on the Downeaster route, as well by bus. Concord Bus connects Portland to several New England cities. By ferry, Casco Bay Lines provides regular ferry service to nearby islands.