Last Updated on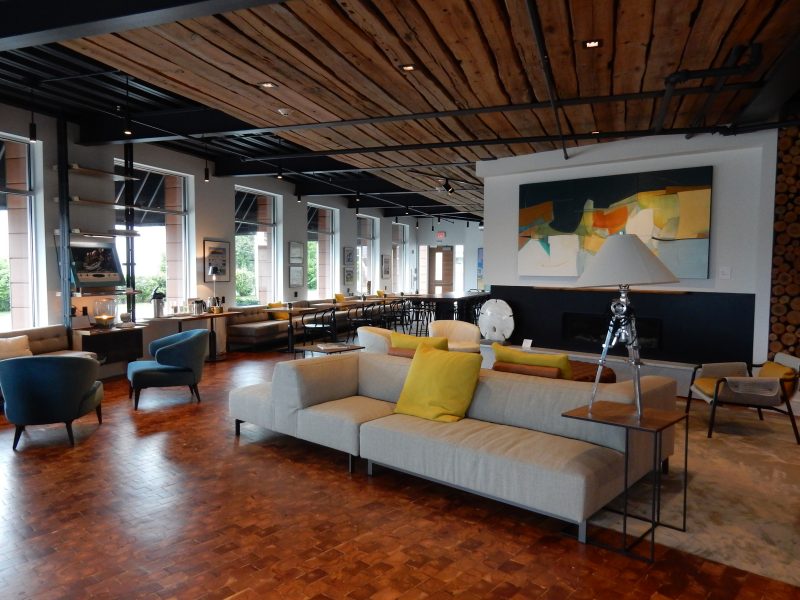 Ever since it opened in May 2016, 250 Main has won raves from guests, and it's no wonder. Like any great boutique hotel, design elements are not only pleasing to the eye, but to the body and heart as well. The hotel's owners, Cabot and Heidi Lyman, who also own Lyman Morse Boatbuilding, employed workers from their boatyard to construct the hotel. Evidence of yacht design, building and structural elements can be seen throughout each of five floors. 250 Main is, in all respects, a fabulous place.
First Impressions of 250 Main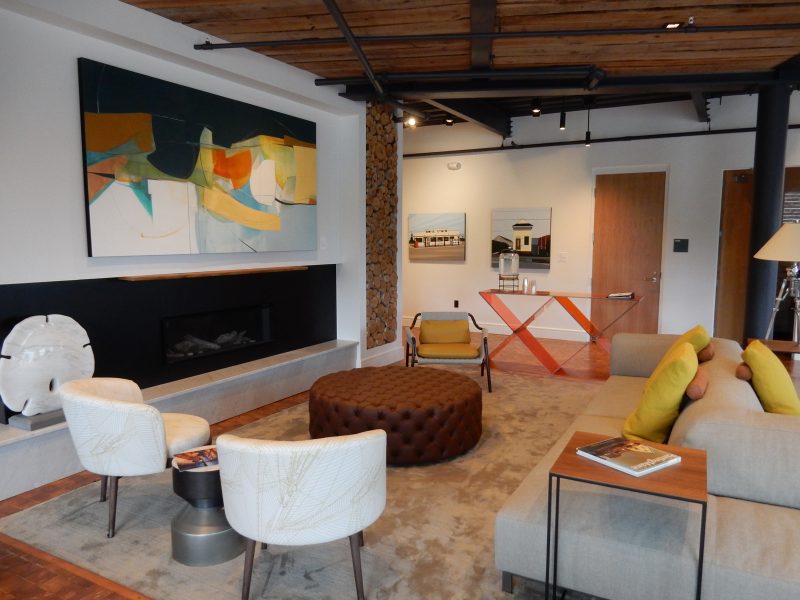 Just two blocks from the gallery-studded section of Main St., 250 Main sits next door to an indie coffee shop and across from a boat launch parking lot (where you can park your car overnight) and the harbor beyond. An "in-town" hotel, there are no sweeping lawns or pools, but you won't care about that when you walk into the lobby, done up in creams, mustard yellows and mink browns punched by vibrantly hued contemporary art.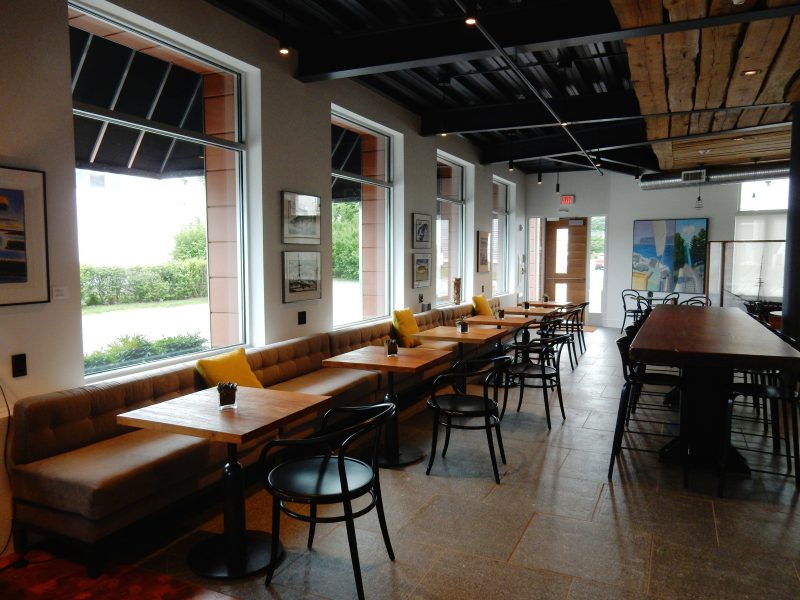 Modern, Italian-made seating and locally reclaimed wood tables (sourced from salvaged boats) entice you to sit by the glass fireplace for a glass of wine (offered complimentary after 4pm) and conversation. Look up to see dark brown I-Beams juxtaposed with distressed wood-boards overhead –homage to different eras of boat building.
There is one receptionist at the desk 24/7, bringing this 26- room place down to an intimate B&B level. He or she will recommend that you take the elevator to every floor, as each elevator landing serves as a bite-sized art gallery. In fact, there's original art displayed throughout the hotel and even in each guestroom – a true Rockland experience.
Rooms at 250 Main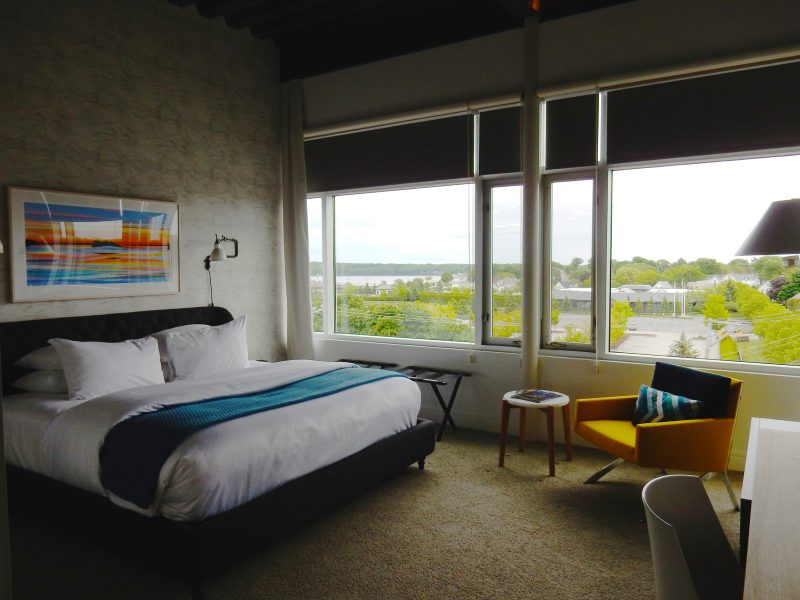 Rooms, in a word, are stunning. Masterfully decorated, they come in a variety of sizes all with mid-century modern furniture in bold punchy colors. Rooms on 5th floor feature soaring 14 ft ceilings clad in brown steel I-Beams and walls of windows overlooking the harbor. But the piece de resistance is the billowy bed, a bed you never want to leave, topped with a downy white duvet and teal throw. It's heaven – one of the best I've ever sunk into.
The bathroom is small, but those who indulge in long showers will love it. Clean lines, cream-colored porcelain tiles, and a dark stone floor; designers left ample room for a contemporary tiled glass rain shower.
Food at 250 Main
In the morning, soft piano music plays as you nibble on skewered fruit, homemade granola, mason-jar-yogurt, and muffins; a "modern Continental" breakfast that comes comp with the room. Take your bites to the central communal central table – a pitted, rough-hewn plank reclaimed from the hotel owner's shipyard – or to any of the cool seating in the open lobby.
In the afternoon, the hotel offers complimentary wine and nibbles – and though there's no in-house restaurant, there are plenty to choose from just a few blocks away.
Just the Facts
Rooms from $169 to $509 (low to high season, small to large room) include afternoon wine and nibble, "Modern Continental" breakfast.