Jay Peak is one of the few New England ski resorts still open when spring peepers herald the closing of mountains in warmer climes.
Open since the mid1950s, Jay Peak Vermont has a reputation among diehard skiers as the place to go to extend the season on some of the most challenging ski trails in the East Coast.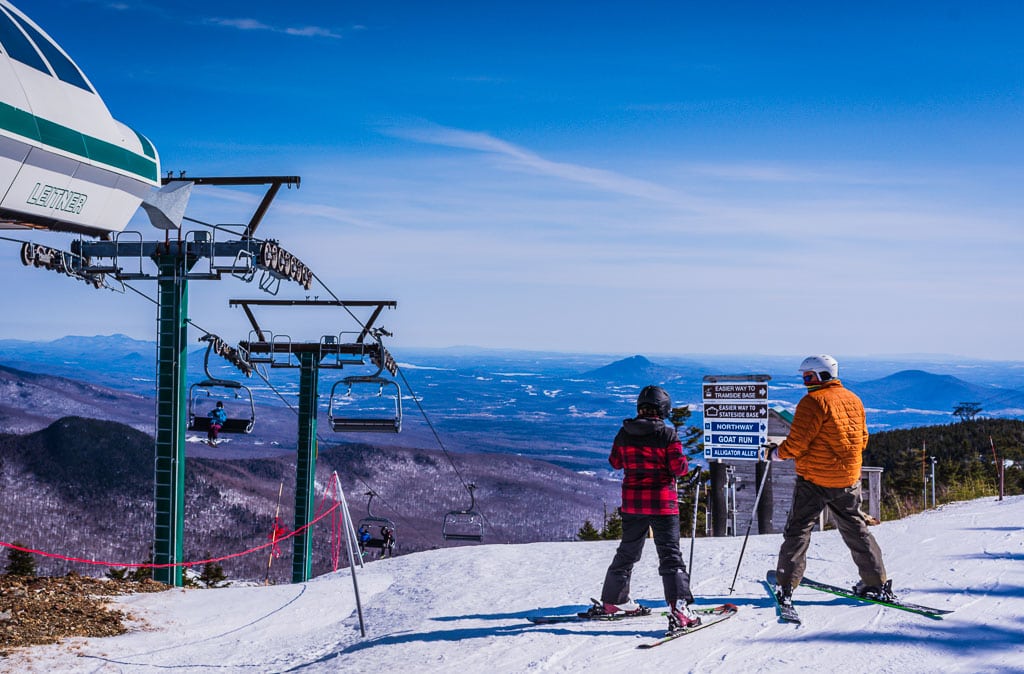 Good thing this VT destination has plenty to offer less gung ho skiers. As we discovered on a recent romantic getaway, it's the perfect choice for getting away from crowds and reconnecting with a ski-obsessed beloved.
Jay Peak Mountain has lots of challenging ski runs, as well as beginner terrain. Still what we love is that Jay Peak VT also has plenty to offer non-skiers too.
When does Jay Peak open for skiing?
Jay Peak typically opens in time for Thanksgiving and even has an annual tradition of offering an all-you-can-eat buffet feast at slopeside Alice's Table.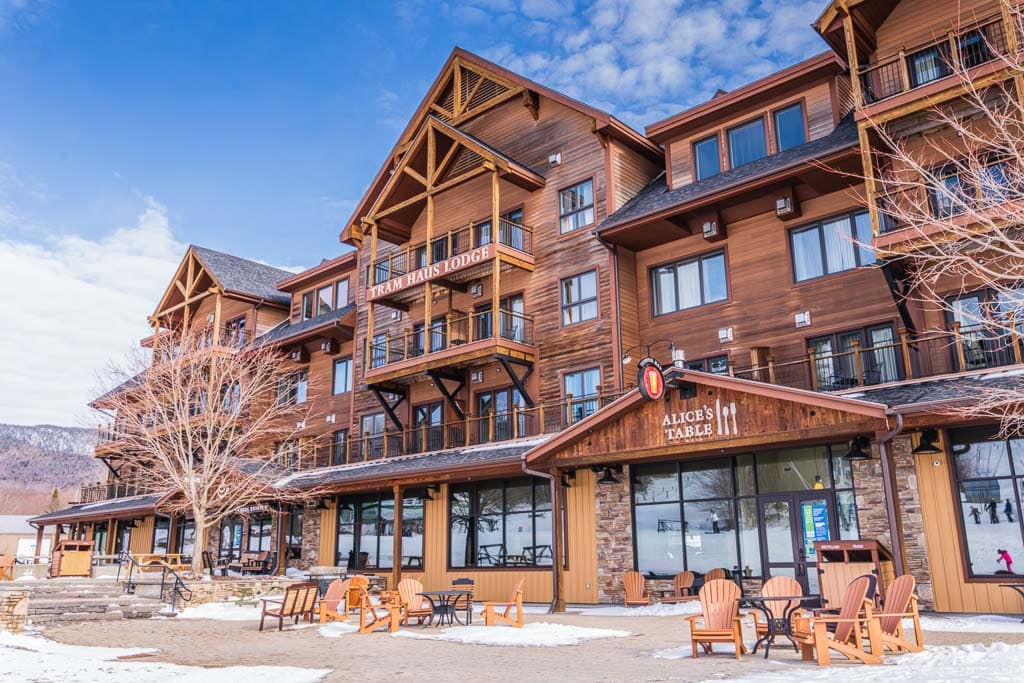 When does Jay Peak ski season end?
Jay Peak skiing is usually open until at least the first week in May. Expect, however, that weather conditions may necessitate trail closures. Also, some lifts and attractions may only open on weekends and holidays during the shoulder season.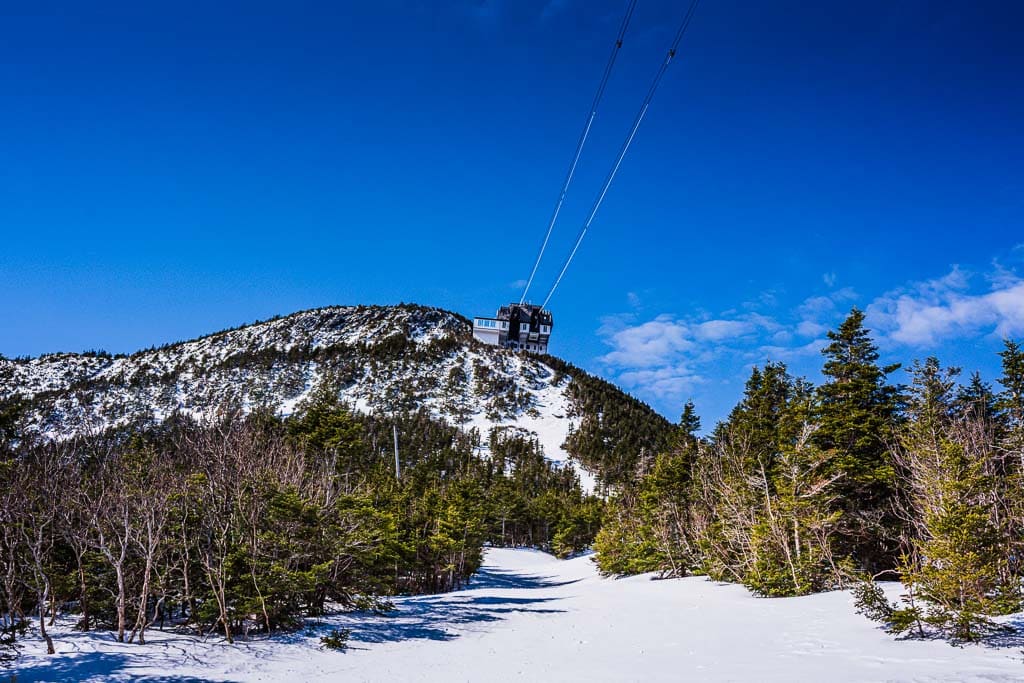 On our midweek visit at the end of March, we found that without the tram we couldn't access the highest-elevation ski trails. Otherwise, most trails were open and in good condition (with some patches of ice as is to be expected when you Ski The East.)
As luck would have it, the mountain received several inches of snow as we were leaving. It was very tempting to stay a little longer for the fresh powder!
But even in the offseason, Jay Peak Resort is open for visitors who appreciate the rugged charms of Vermont's Northeast Kingdom paired with the pleasures of a wide range of activities and luxury amenities.
Where is Jay Peak?
Located near the United States – Canadian border in Vermont's Green Mountains, Jay Peak is closer to Montreal (1.5 hours by car) than Boston (3.5 hours by car) or Albany NY (4.5 hours by car.) Burlington VT is about the same distance by car as Montreal. Go figure.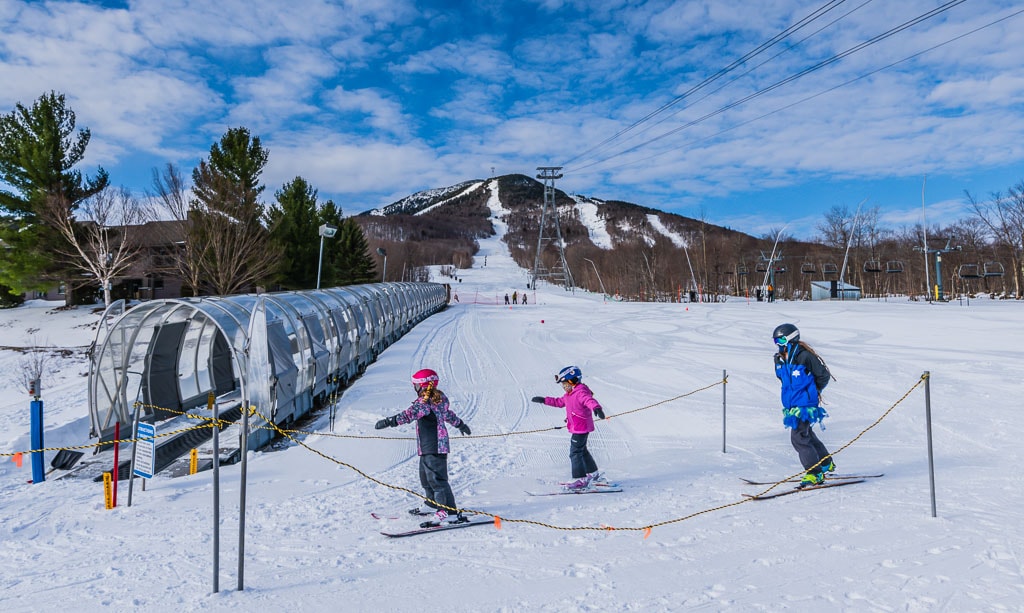 Is Jay Peak good for beginners?
Jay Peak Mountain is excellent for beginners. An extensive Beginner Zone of 11 trails and introductory glades faces slopeside restaurants and hotels. It's connected by two Moving Carpets and three chair lifts.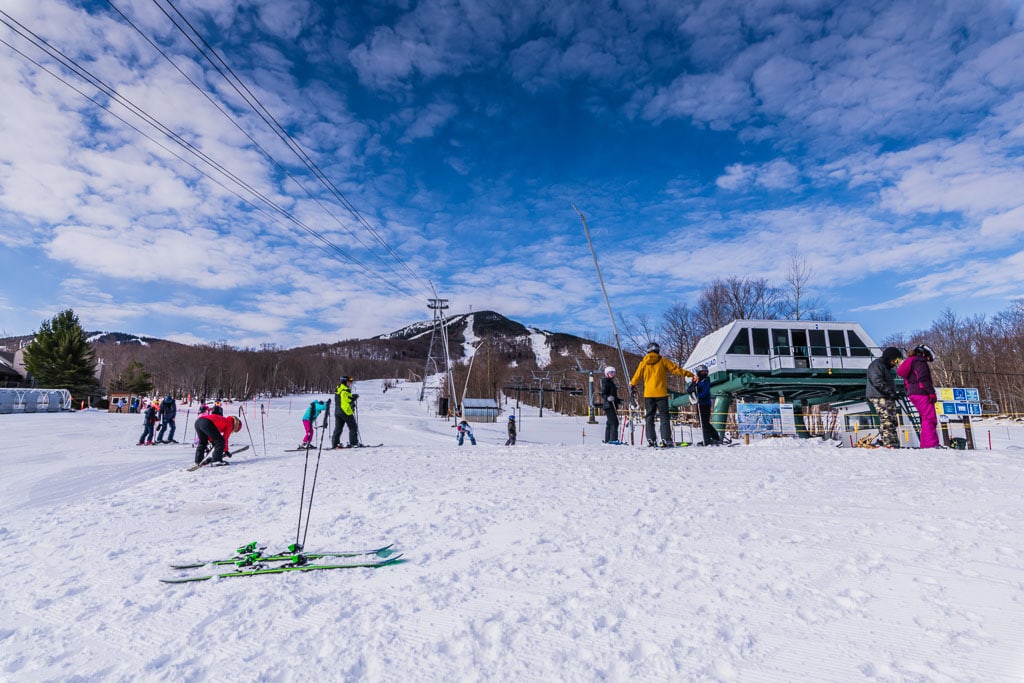 Intermediate skiers, on the other hand, may be disappointed. The Jay Peak ski map claims 20% novice, 40% intermediate, and 40% advanced trail difficulty ratings.
But we discovered some blue square trails that would be labeled black diamond on less challenging mountains. There weren't a lot of choices at the top for this not-so-confident intermediate skier.
On the bright side, although there didn't seem to be a lot of choice of blue square trails, the runs that do exist are long–enough so that I was tired after a couple of runs.
Ski enthusiasts also rave about the Woods Skiing Policy. Expert skiers are welcome to ski boundary to boundary.
Things To Do At Jay Peak Ski Resort
Open year-round, the Jay Peak Pump House indoor waterpark is one of the most popular non-ski attractions at the resort. As such, advance ticket purchase is highly recommended.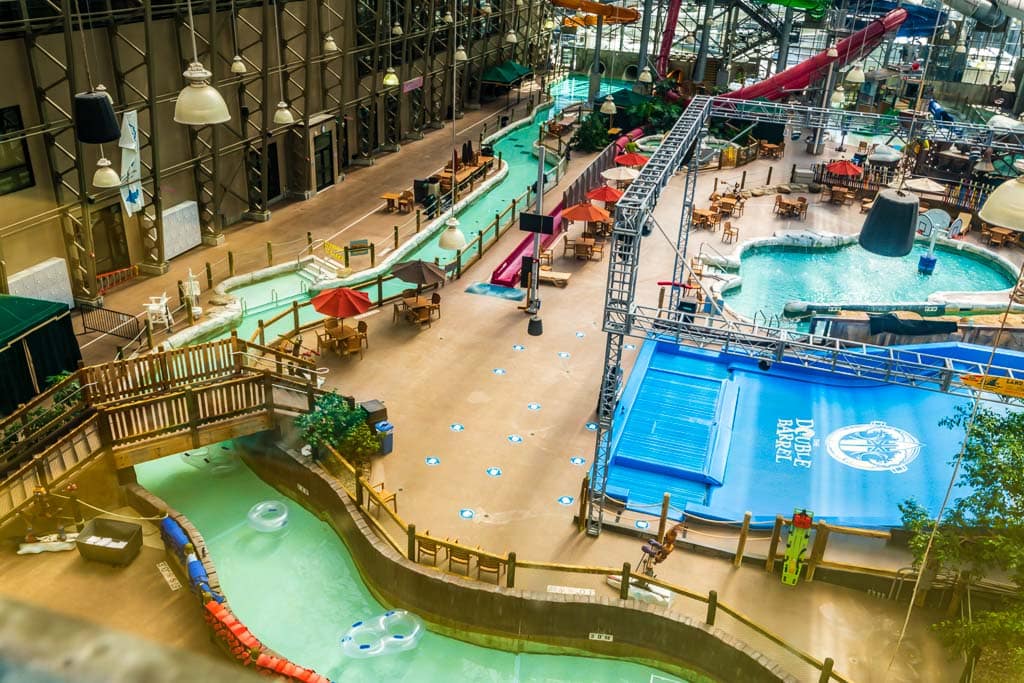 Right now, with limited admission due to COVID restrictions, it's particularly fun for the lucky few who get to ride the slides or tackle the FlowRider. (Note that the lazy river and hot tubs remain closed.)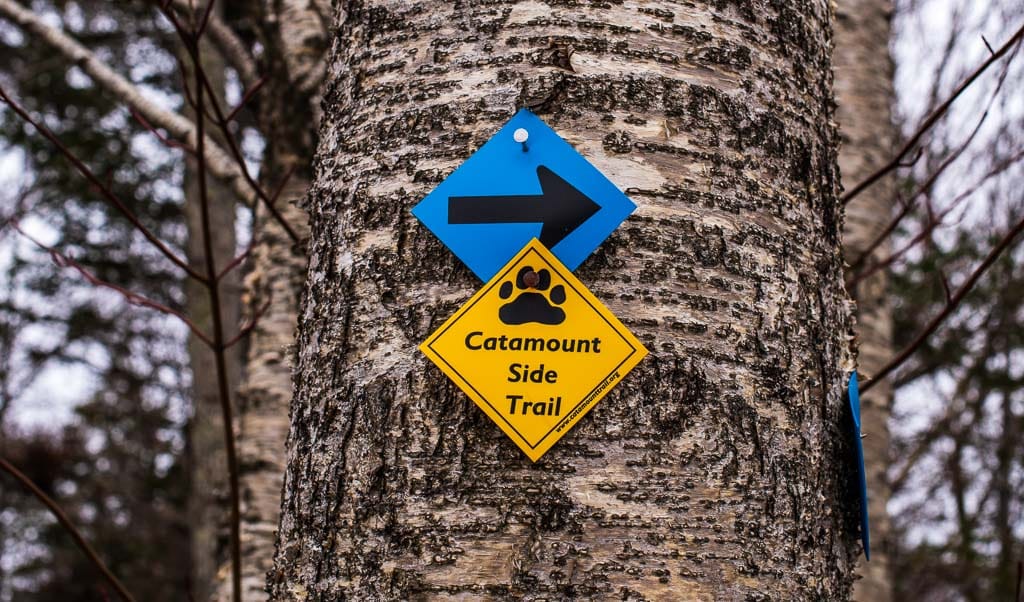 Nordic skiing is great exercise, and with twelve miles of cross-country ski trails, Jay Peak is a wonderful place to get a workout. Trails are clearly labeled as beginner, intermediate, or expert, with additional trails reserved for snowshoe use. Lessons are available by reservation.
Do note that trail conditions are highly dependent on Mother Nature.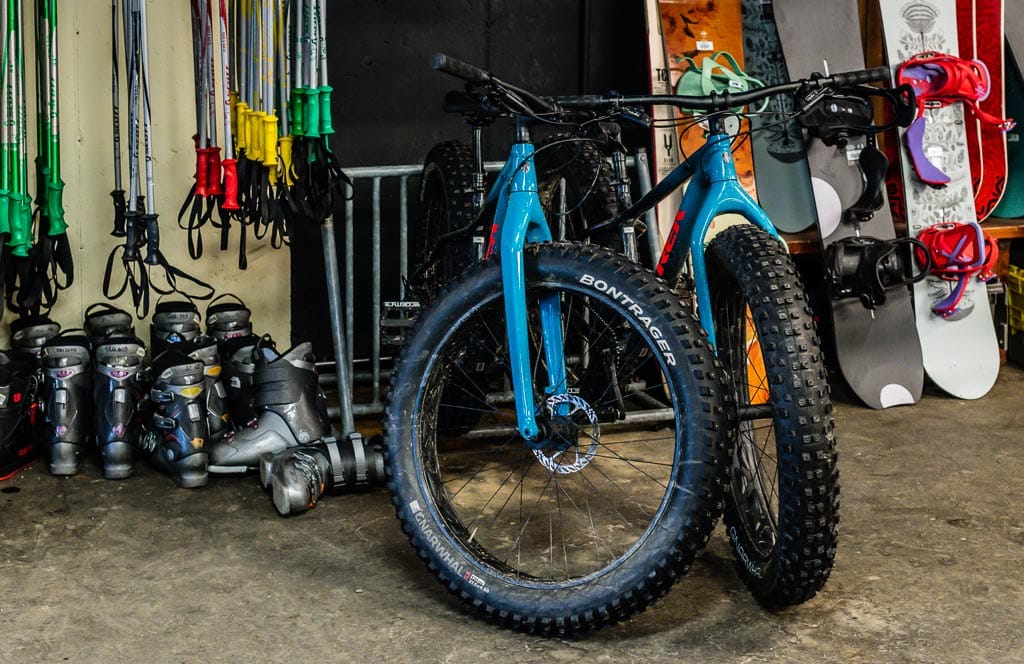 Fat Biking
The West Bowl Nordic Trail System is also open to Fat Biking. Rentals rates include a helmet and trail pass.
Clips & Reels Recreational Center
Usually open year-round, the Clips & Reels Recreational Center features a 142-seat movie theater (complete with its own liquor license,) a ropes course, an arcade, and an indoor climbing gym. Note that this year, under COVID restrictions, it's only open for private rentals.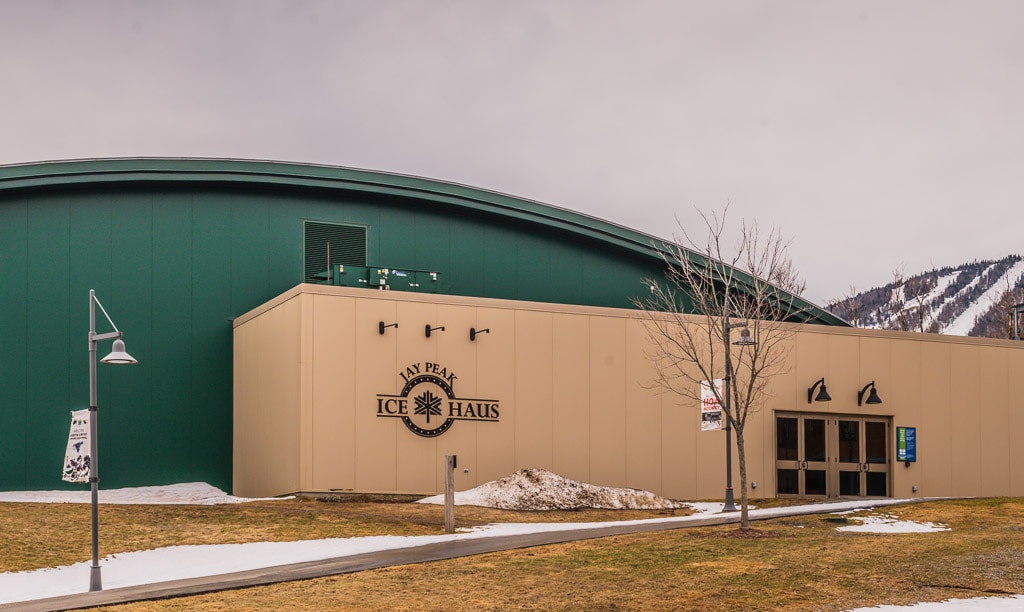 Featuring an NHL-sized ice skating arena, Ice Haus alternates public skating, lessons, and hockey. The Jay Peak Hockey Tournament typically runs 42 weekends of the year.
Special event? No problem. Ice Haus is available for private rental ($225/hour.)
A full complement of cosmetic treatments–manicures, pedicures, and facials–are available in addition to therapeutic massages. Reservations required.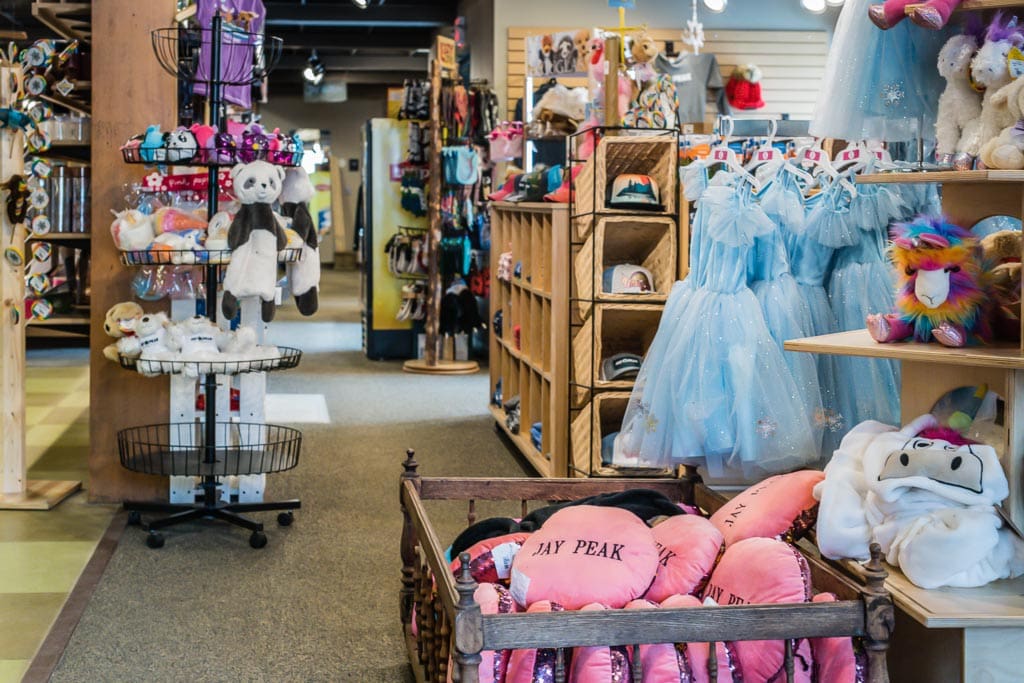 Shopping At Jay Peak
There are a couple of choices for shopping at Jay Peak Ski Resort. Snacks, souvenirs, wine, and a beer cave can be found at Provisions General Store.
Skis, snowboards, and related items are at The Gear Shop. (Tip-Find great ski deals at end of the season!)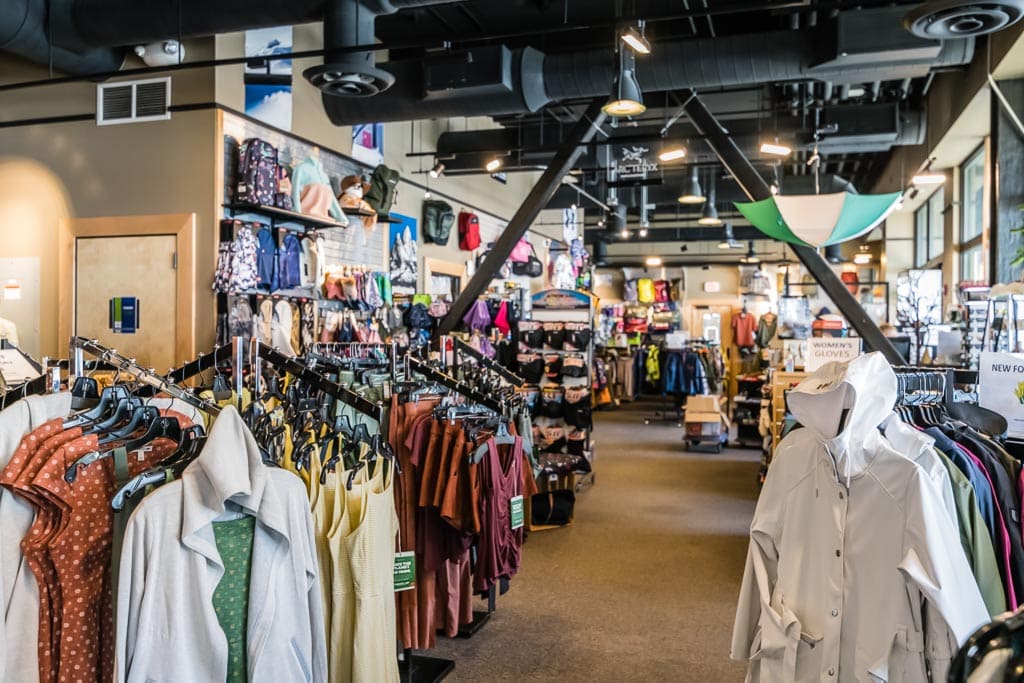 Look for stylish outdoor fashion and an excellent selection of Dakine backpacks at The Mountain Shop. Prices are surprisingly reasonable for upscale designer goods at a resort location.
Things To Do At Jay Peak In Summer/Fall
With the obvious exception of ski trails, most resort activities are available in the summer and fall too. The big difference is that Jay Peak hiking opens up with the option to ride to the top (summit elevation 3,968 feet) on the tram.
Also, Jay Peak Golf becomes available by late spring on a championship course surrounded by hills and woods. Even in early spring, a cleared walking trail sees morning runners and afternoon strollers.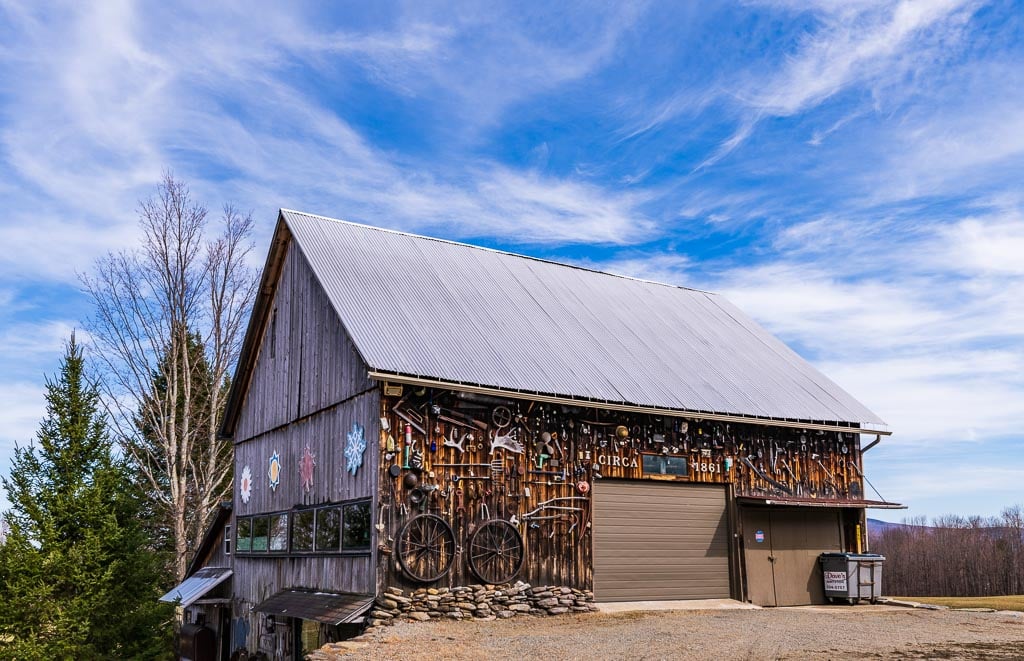 Things To Do In Jay VT
Jay Country Store is one-stop shopping at its best. We went there for gas and snacks upon arrival and ended up making this a daily stop. Hearty $5 burritos made for a very filling breakfast, grinders to go are good for lunch, and a wide selection of local beers and Ben & Jerry Ice Cream satisfied end-of-day cravings.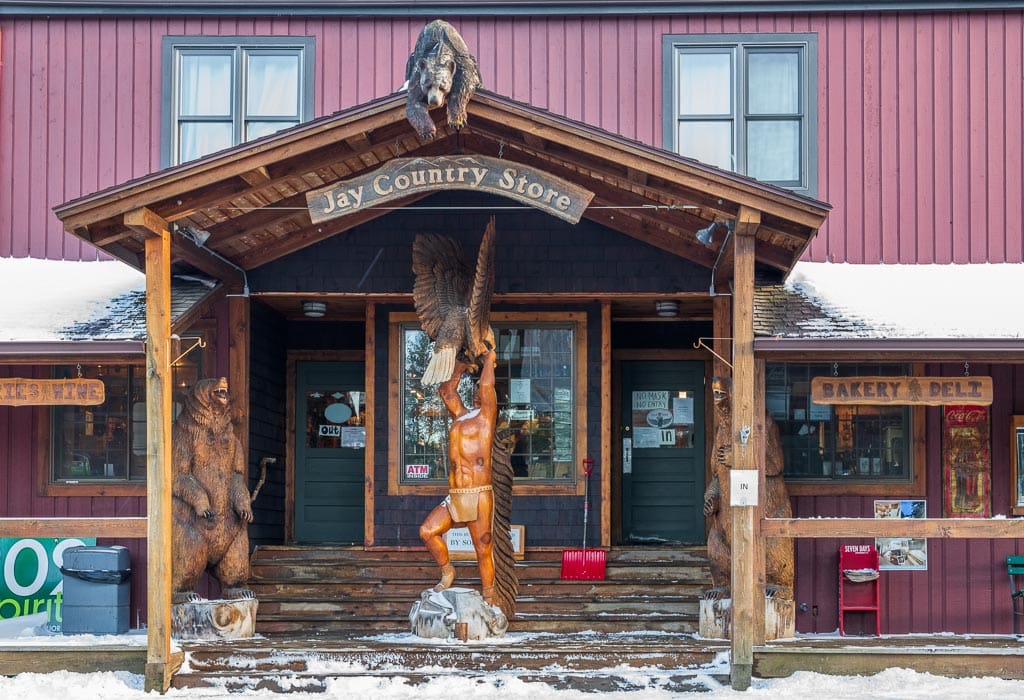 We even handled our souvenir shopping there as my husband added to his ski mountain sticker collection and I found a tempting selection of ski hats.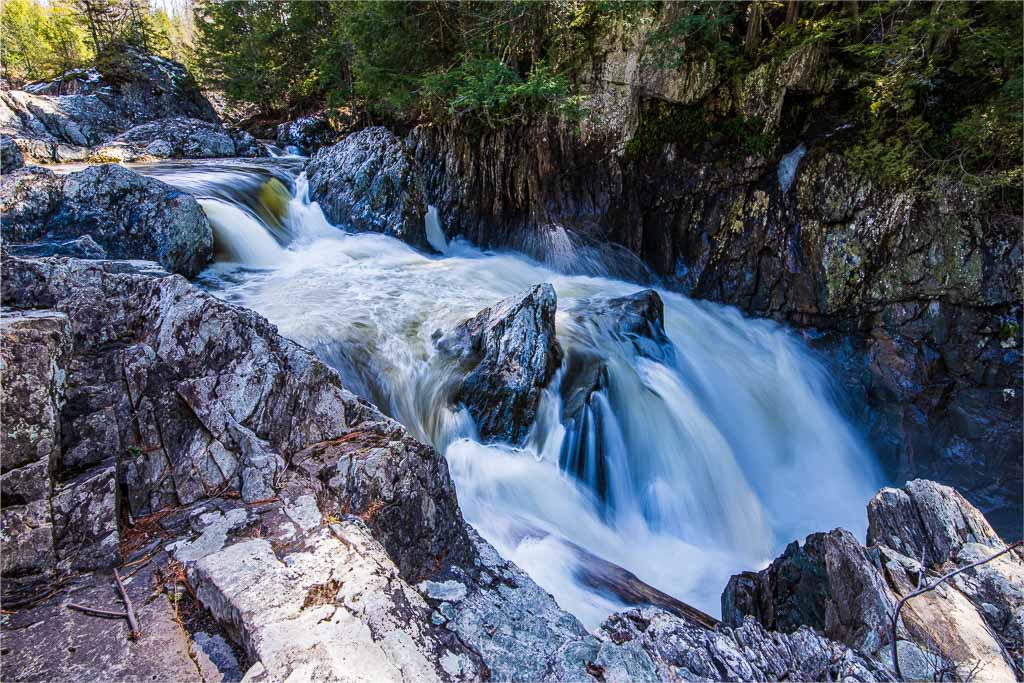 In spring, the main attraction at Big Falls State Park near Troy VT is a 35-foot-tall waterfall on the Missisquoi River. Come summer, it's the pool next to the falls that welcome picnickers.
Vermont Sugar Shack
We went in search of hikes at Hazen's Notch State Park, but when the road turned to dirt and eventually onto a road closure sign, we had to turn back.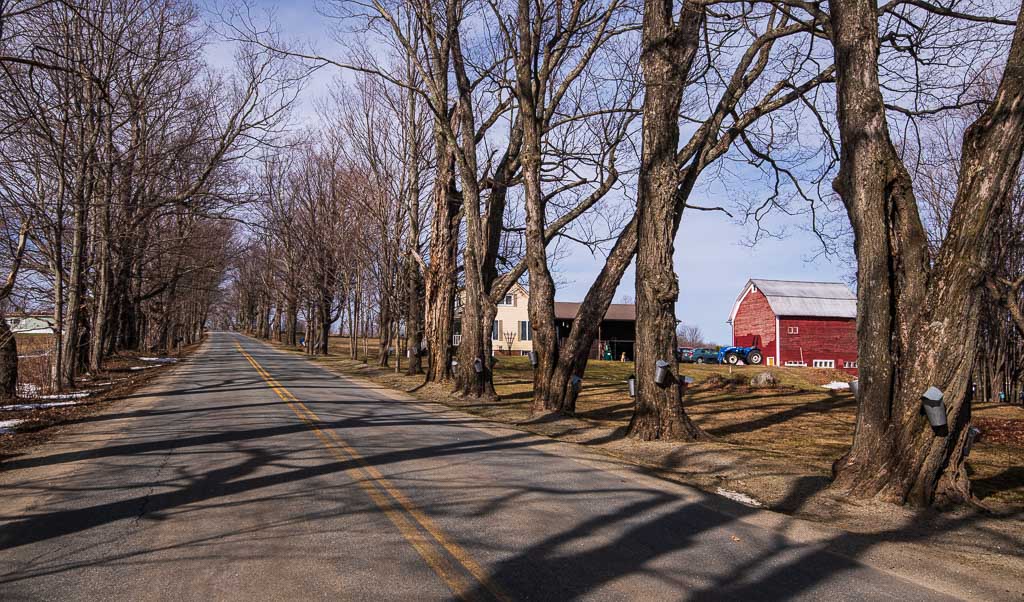 It wasn't a total loss because we got to see Vermont's famous maple syrup industry in operation.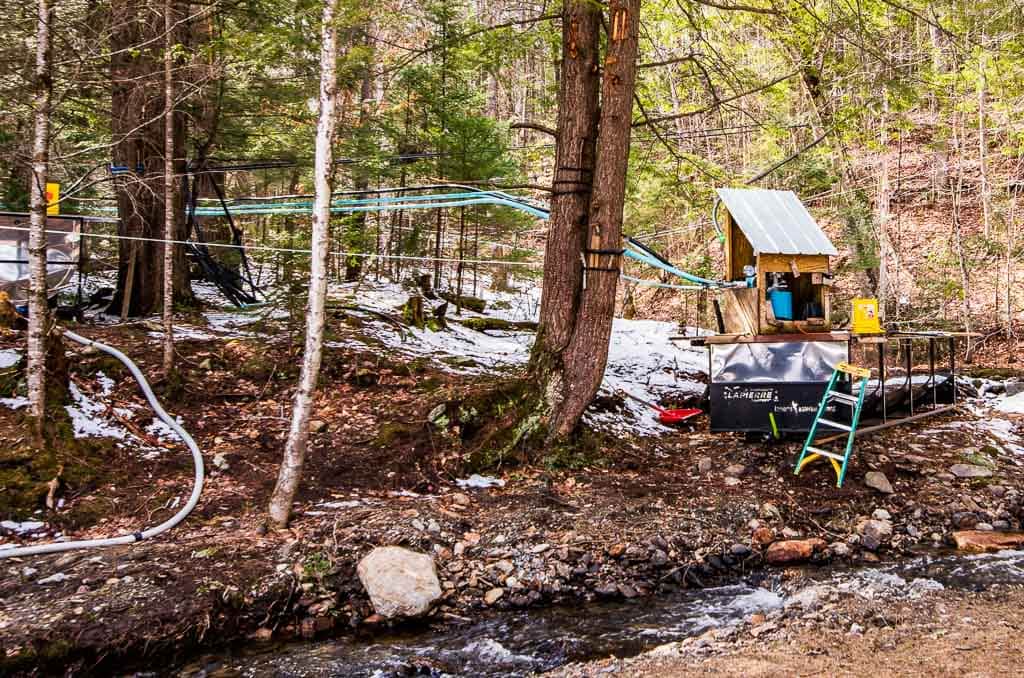 For the third year in a row, my husband has taken to tapping our backyard maple trees. So, he was especially interested in seeing the variety of sap buckets and tubing tools being used along the roadside.
For a closer look, call ahead to see maple syrup production nearby in the sugar shack at Couture's Maple Shop.
Covered Bridges Near Jay Peak
Thanks to the popular film, Madison County, Iowa may be better known for its covered bridges. But Vermont has over 100, making it the state with the largest amount of covered bridges per square mile.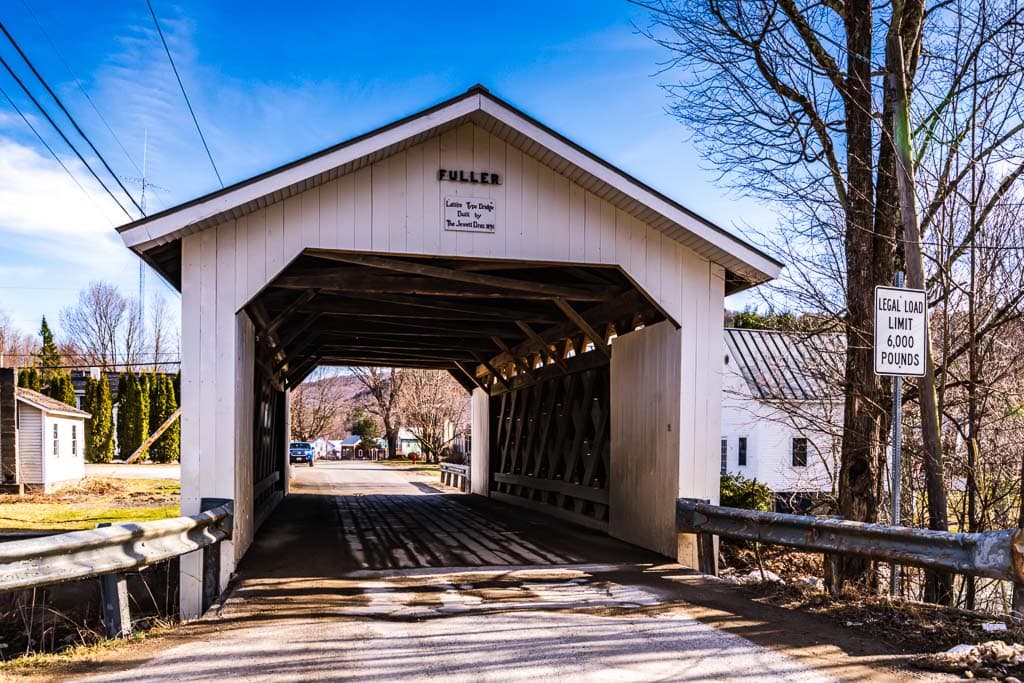 Near Jay Peak, Montgomery VT gained fame as "Vermont's Covered Bridge Capital." Its six bridge total, plus one shared with Enosburg, tops the count of any town in the US.
Comstock Covered Bridge
Creamery Bridge
Hutchins Covered Bridge
Fuller Covered Bridge
West Hill Covered Bridge
Hopkins (on the town line to Enosburg VT)
Longley Covered Bridge
Biking Near Jay, Vermont
There's a variety of bike trail opportunities near Jay Peak. In addition to road biking, there's miles of mountain bike trails, including very challenging terrain in the Green Mountains. Find rentals and trail information at The Jay Cloud Cyclery.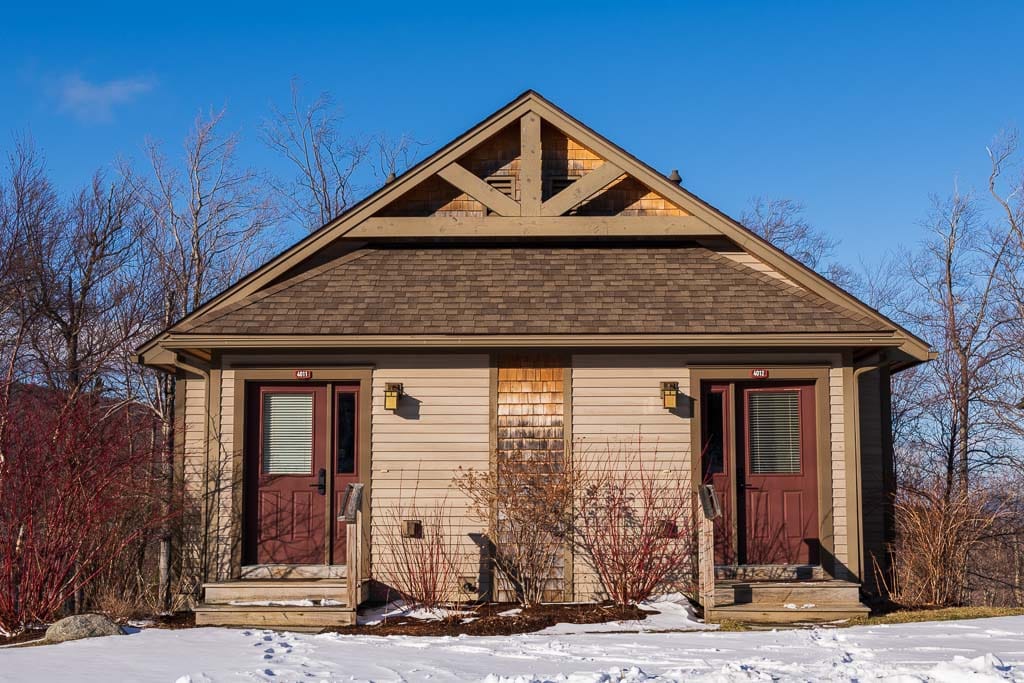 Jay Peak Lodging
The Getaway Mavens usually go for the most romantic/interesting/luxurious accommodations. But when planning early morning skiing, you want convenience.
We stayed in one of the cottages next to the golf course. It wasn't ski in/ski out. (That's only for the slopeside hotels.) But it worked well for us, offering room to spread out and solitude far from other guests.
The shuttle wasn't running this year, but the day parking lot by the tram was never full. So, the 2-minute drive back and forth was no big deal. Honestly, we could easily have walked the distance.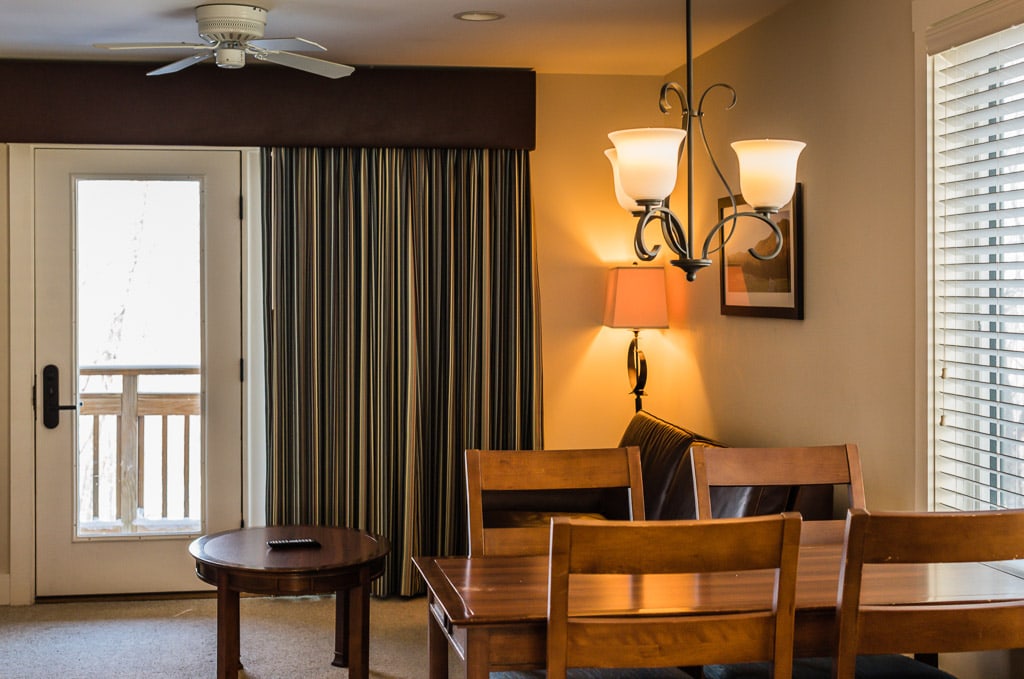 The 2-level Jay Peak condo appeared to be brand new, although the layout was a little odd. The bedroom is downstairs while the only bathroom is upstairs.
Upstairs, the main level also features a dining table, living room, and balcony. A leather sofa (which could open up to additional bedding) fronts a gas fireplace (operated by a timer) and large TV. It's not a Smart TV but does have HBO channels.
We did appreciate the full kitchen, even if we never cooked. The refrigerator and microwave was handy for storing and heating leftovers. And what's a romantic getaway without morning coffee lovingly prepared by My Honey?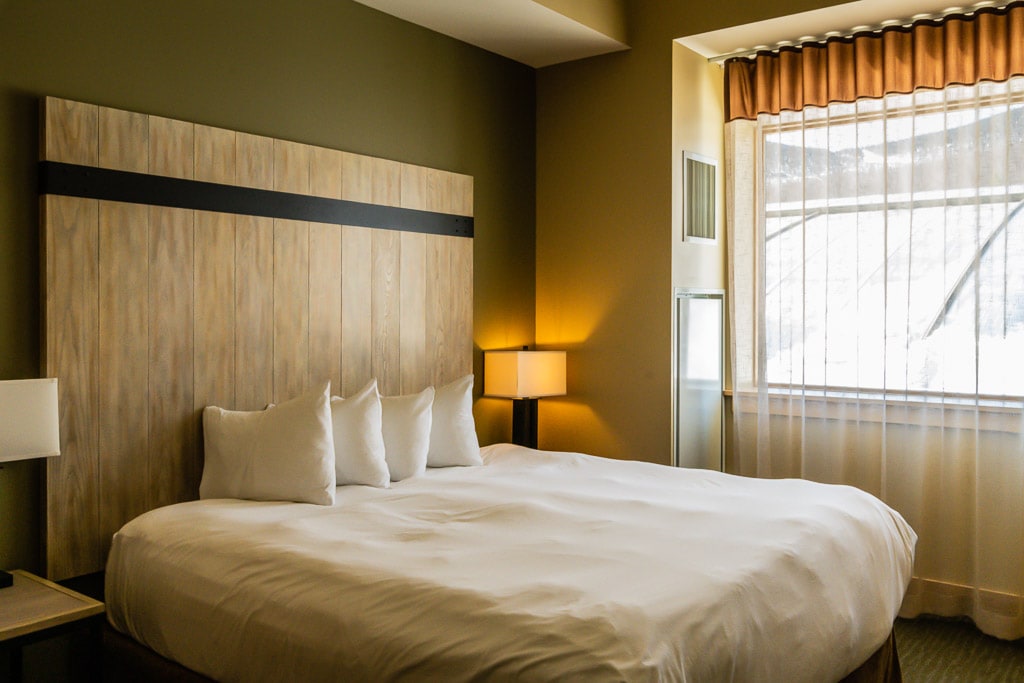 Where is Jay Peak water park?
The attraction we kept hearing about was the water park. And, when we traveled with young kids, that would most likely have determined the lodging choice at Hotel Jay & Conference Center.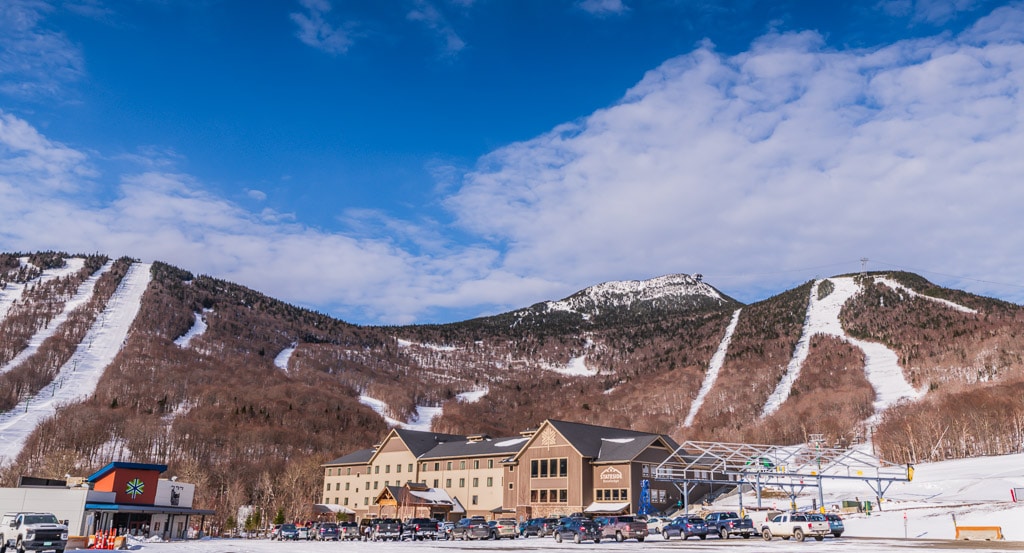 More Jay Peak Hotels
Another family-friendly choice would be Stateside Hotel & Base Lodge. It's right next to the Mountain Kids Adventure Center and the Clips & Reels Recreation Center.
In a post-pandemic world, we might choose Tram Haus Lodge. It's conveniently located at the base of the tram and central lifts, with multiple restaurants and a coffee house on site. And it's where you find the Spa. Nuff said.
Hotels Near Jay Peak
If we return after ski season, there are two accommodations we would consider:
Phineas Swan Inn & Spa looks to be a very romantic and historic property. It's located in Montgomery VT, so it's a good jumping off point for biking to the covered bridges.
Couture's Maple Shop and Bed and Breakfast offer a farm vacation experience. In addition to the sugar shack, it's also a Cabot cheese-producing dairy farm.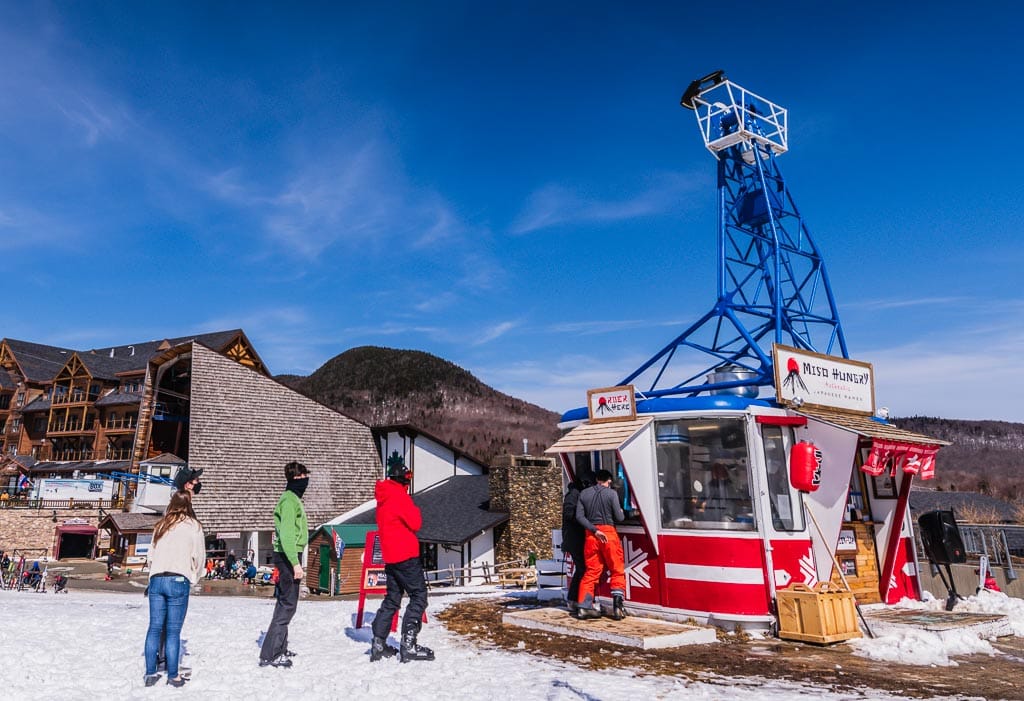 Jay Peak Restaurants
You don't need to leave Jay Peak Ski Resort to eat. Visitors on a budget can cook at condo accommodations, with a variety to ingredients available at the Provisions store. At supper time, there's even a free meal delivery service from many resort restaurants.
Slopeside, there are several food kiosks including Waffle Cabin, The Box Food Truck, and the delicious Miso Hungry Ramen Tram.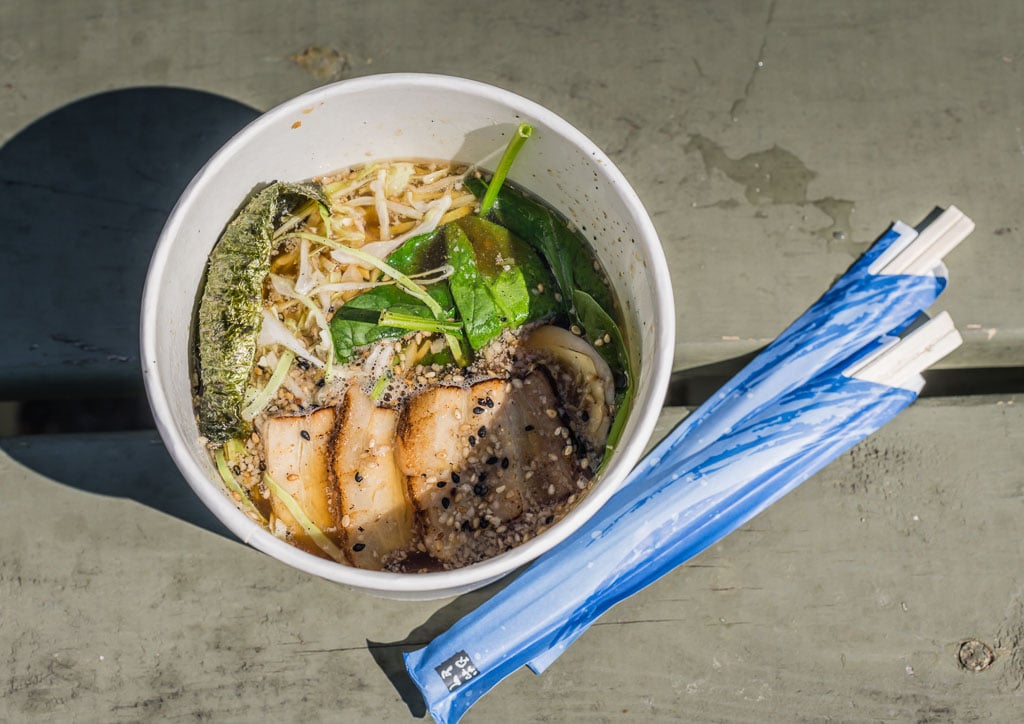 A deli, two coffee shops, a couple of cafeterias, and several bars and restaurants round out the dining options.
Best Restaurants Near Jay Peak
Chowhound Smokehouse
As mentioned before, we are partial to the Jay Country Store. Late spring through fall, it's also home to the Chowhound Smokehouse food truck. Influenced by both Canadian and American cuisine, you'll find Pork Poutine and an insane 8-patty burger challenge.
Montgomery VT Restaurants
Locals recommend a few venues in Montgomery VT including The Inn Restaurant & Bar and Mexican night at Bernie's Restaurant.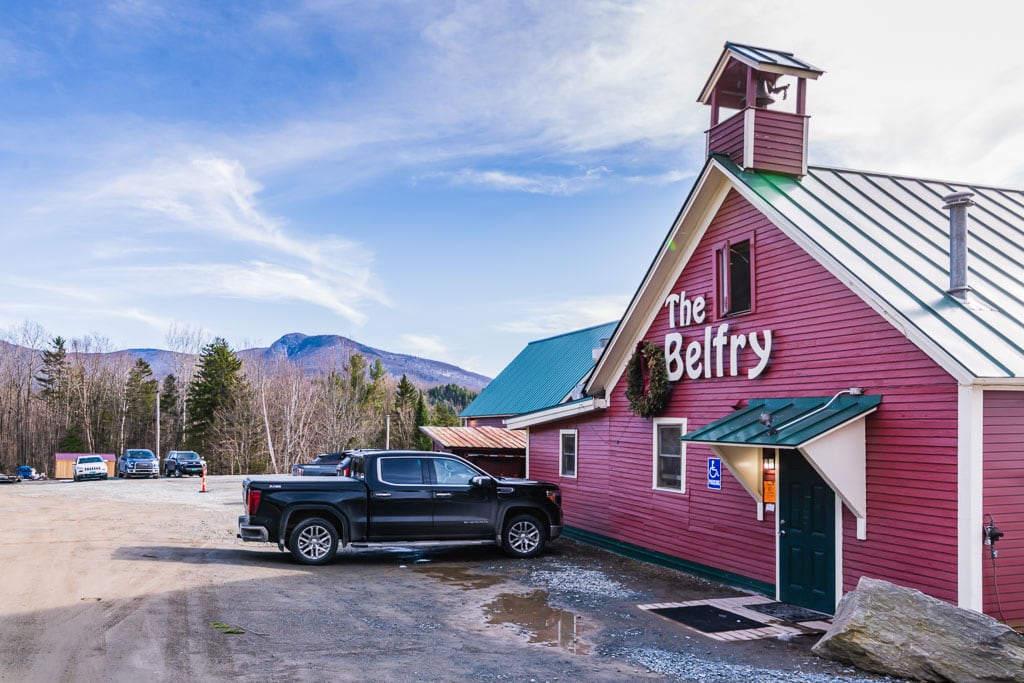 Halfway between Jay Peak and Montgomery VT, The Belfry feels like a comfy pub. But with an upscale menu, farm-fresh ingredients, and a liberal bar selection. And, because this is Vermont after all, you'll find plenty of maple syrup infusions.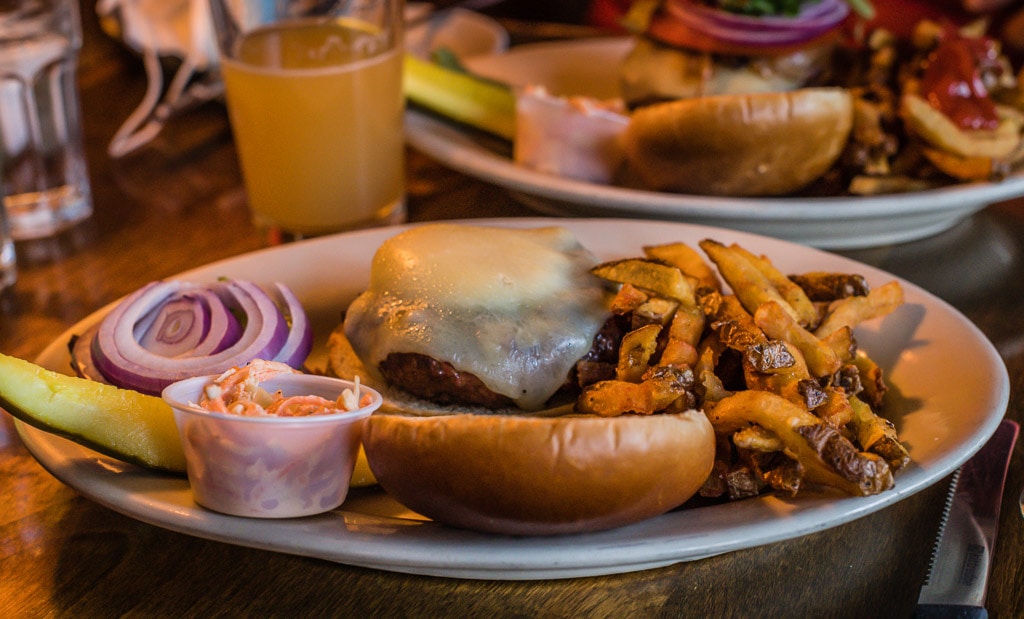 My husband declared that the 1/2 sirloin Jay Peak Burger was what every hamburger aspires to be. Personally, I was a big fan of the house-made Maple Balsamic Vinaigrette and the Maple Cream Pie.