Last Updated on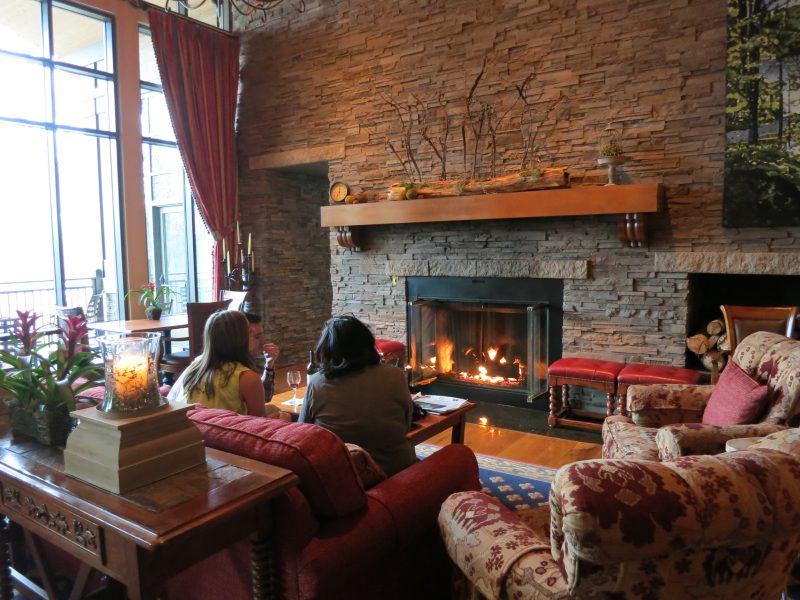 In the Pennsylvania woods, about 100 miles from New York City (35 miles from the nearest city of Scranton PA), The Lodge At Woodloch in Hawley PA is the upscale, luxury-spa component of The Woodloch Pines Resort – situated about 2 miles away.
While the family-friendly Woodloch Pines has been family owned and operated for nearly 60 years, the adult-only (16 and up) Lodge At Woodloch opened in 2006. Remarkably, in that short span of time, this exclusive 57 room hotel, situated on 150 woodland acres, has been ranked among the Top Ten "World's Best Destination Spas" by both Conde Nast Traveler and Travel+Leisure Magazine.
First Impressions of Lodge at Woodloch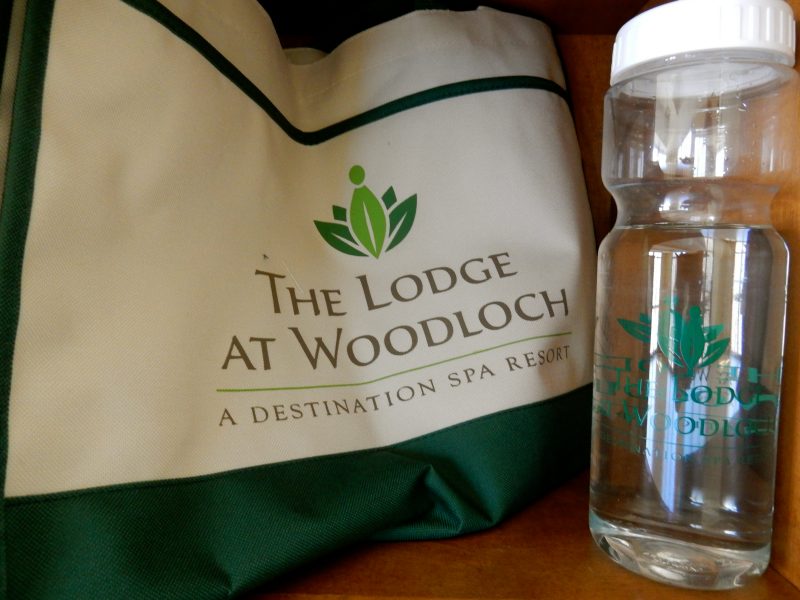 From the moment I was vetted at the main gate, and then drove under the portico of the Adirondack-style lodge entrance, I felt at peace. Part of this had to do with the top-notch service that met me outside the lodge building – a "don't worry, we'll get your bags to your room and valet your car, no ticket needed" kind of fawning, which was repeated throughout my stay from super-friendly, unpretentious employees.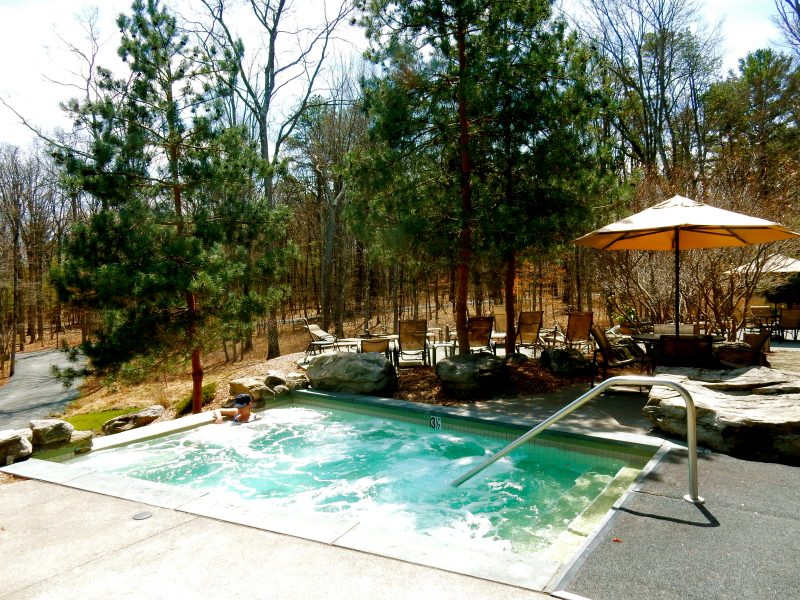 Part of it was the knowledge that the only decisions I had to make for 3 days concerned choosing which fitness classes to attend and what to order during three daily gourmet meals. But this sense of serenity also had a lot to do with the surroundings – a lobby that captures the essence of the surrounding woods, a coterie of guests clad in terry robes, the absence of cell phones (none allowed outside of private rooms), fires cracking in fireplaces throughout the building. A girl could get used to this kind of pampering.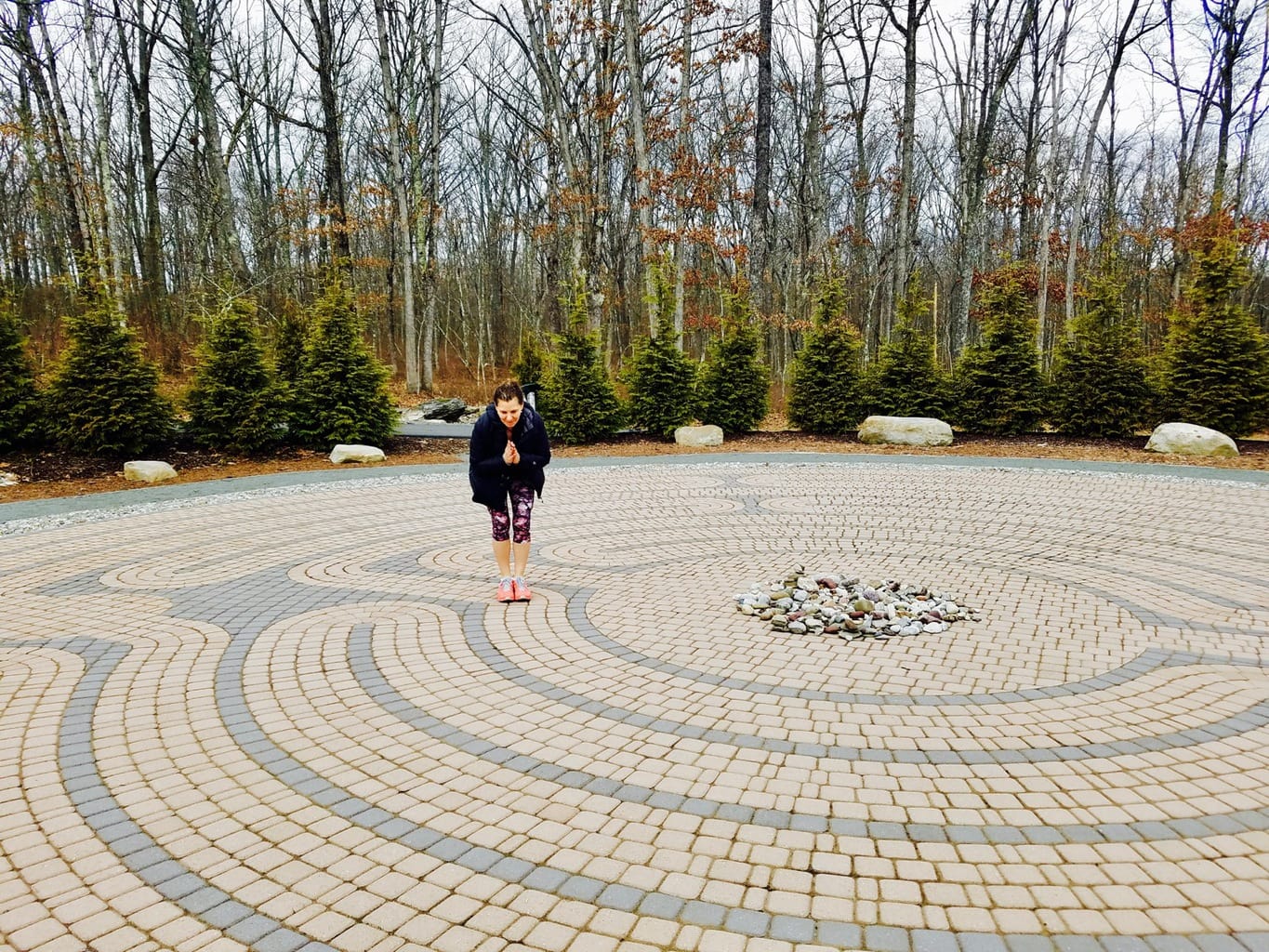 The Lodge at Woodloch redefines what we've come to expect from a Destination Spa experience. You can take advantage of each and every hard-core workout class, yes. But you can also walk meditatively around the newly paved outdoor Labyrinth, sooth your bones in a Restorative Yoga Class, or do nothing but sit in the Library and read. Your choice. Alcohol is permitted (though wine and drinks are not included in the "all inclusive" price), and the excellent cuisine is far, far from rabbit food.
Guestrooms at Lodge at Woodloch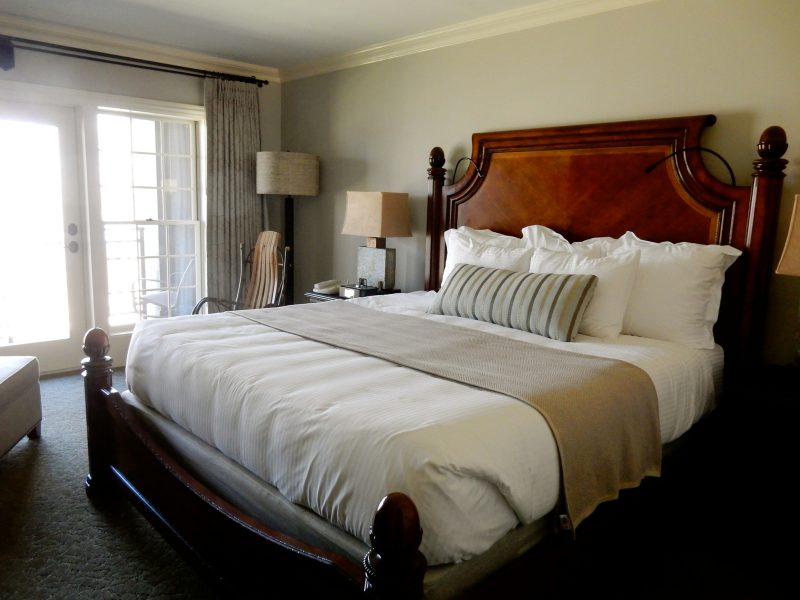 The shades-of-earth palette is tranquility itself. Moss hued carpeting, subtle grass-cloth wallpaper, stone-based lamps, organic tree-trunk mirror, upholstered chair and ottoman, a bent twig rocker, granite bathroom with marble shower and drapes imprinted with budding tree branches; the space seems breathed into existence by Mother Nature herself. Keeping up to date, there's a large flat screen HD TV and other modern conveniences, but the point is to unplug here, wander the grounds, from class to class, or to the spa for a massage.
Dining at Lodge at Woodloch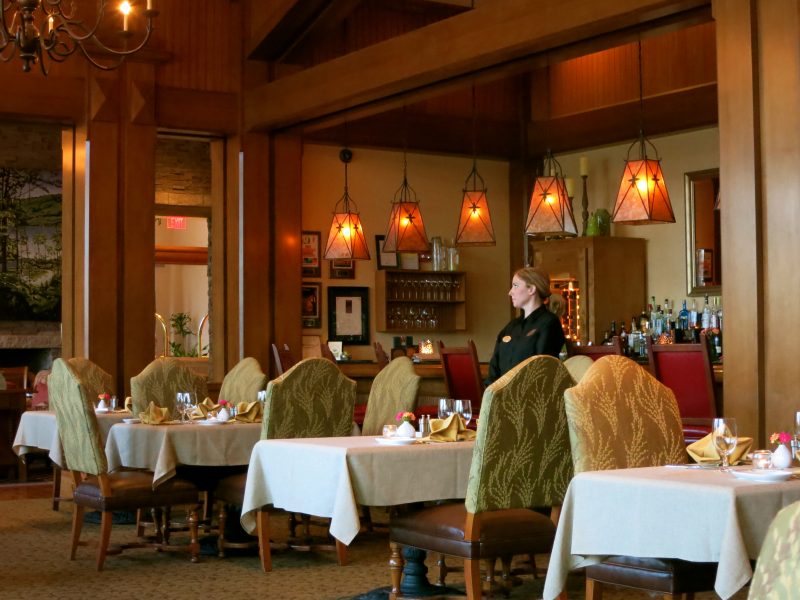 TREE Restaurant, with picture windows overlooking an outside patio fire pit, the woods and 15-acre lake beyond, offers some of the best and most refined food in the region. It's no surprise that it's won over fans from New York City and other urban areas, and draws patrons who are not guests here (but guests do get first dibs on reservations). Regardless of time of day, wait-staff is friendly and on the ball.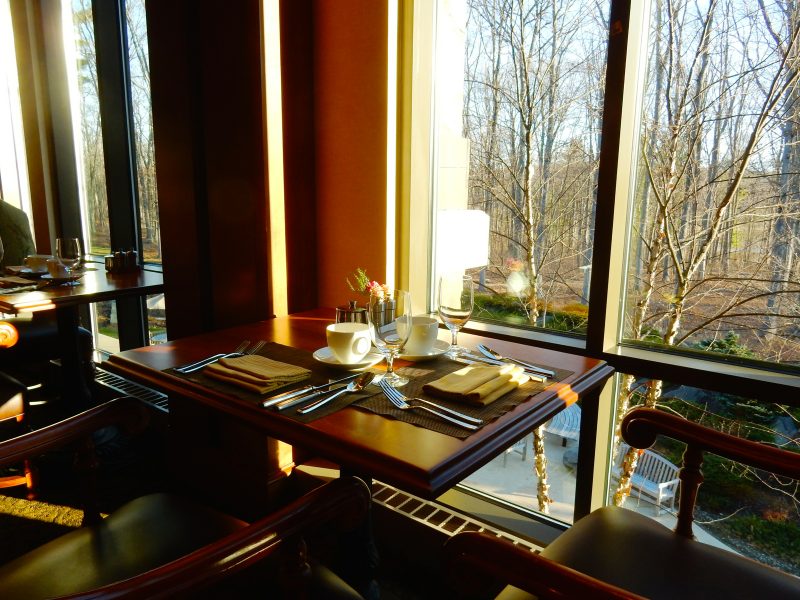 Breakfast and lunch are casual – come in your bathrobe if you'd like – but do dress for dinner. Evening is the only time of day you are required to wear real clothes; you'll want to look nice while taking pleasure in an exceptional 4-course meal.
Dishes change seasonally, with many ingredients sourced from an on-site garden and beehives, or from nearby farms. My Udon Noodles with Vegetables in Citrus Soy Sauce was slurp-upably fantastic, and the house-made Pheasant Sausage, followed by Sliced Sirloin With Flash-Fried Brussels Sprouts were, like all meals here, beautifully plated and superbly prepared.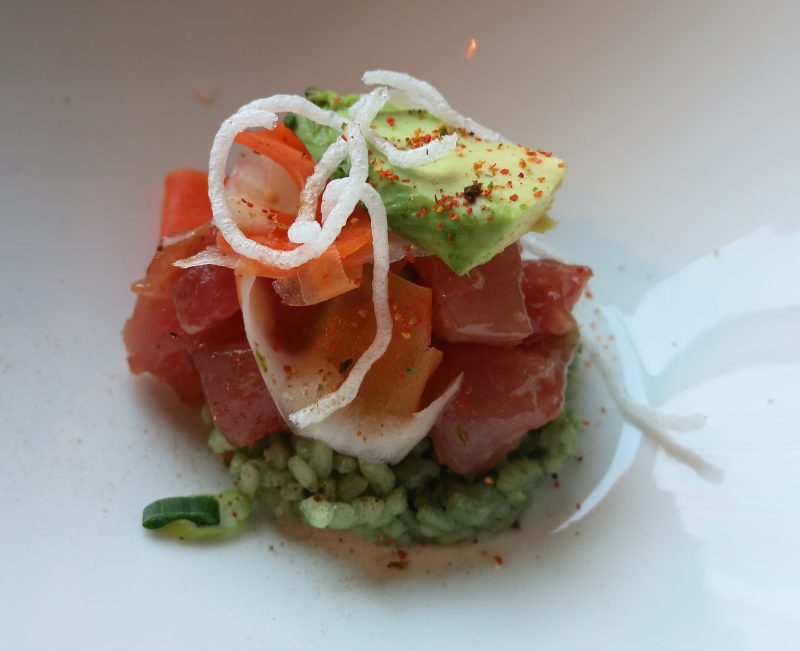 Mentally prepared for less fine fare at an all-inclusive resort, I was shocked and impressed by the epicurean experience here. As a 2015 Wine Spectator Restaurant Award winner, its no surprise that this destination spa is popular with gourmands and oenophiles from all over the world.
Classes and Amenities at Lodge at Woodloch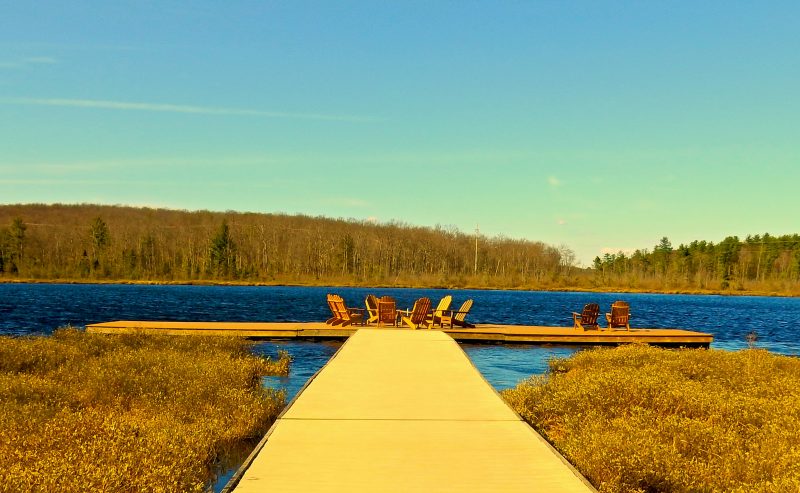 A paved path snakes around the hotel's 150 acres and from it you can access the meditation Labyrinth, an archery range, the dock, waterfront, and a little activities shack called The Lily Pad.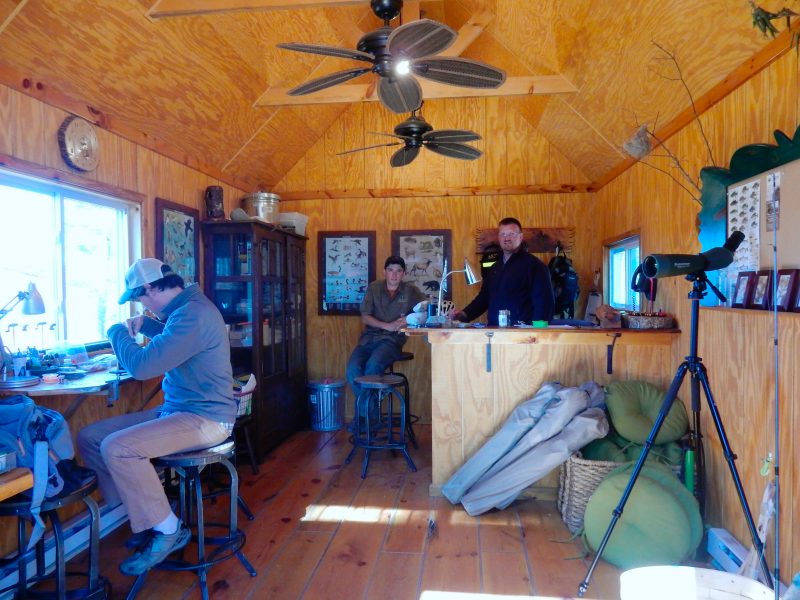 From 9am-5pm, head to the Lily Pad for s'mores kits (with tended wood fire right outside for marshmallow roasting), fly-tying and fishing classes, and accessories required for a slew of other outdoor adventure sports.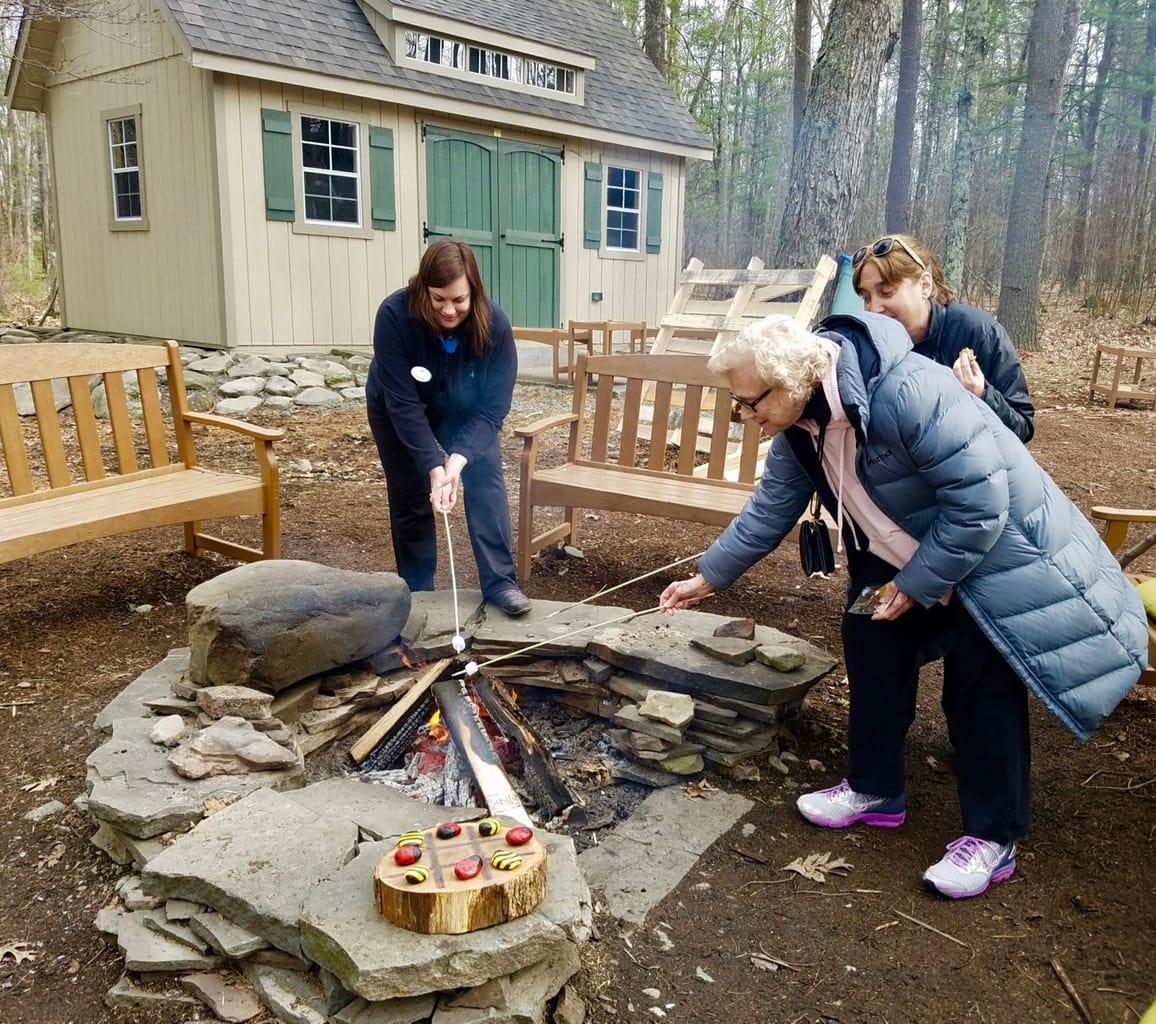 In winter: snowshoeing and x-country skiing. In summer: kayaking, canoeing, and fishing.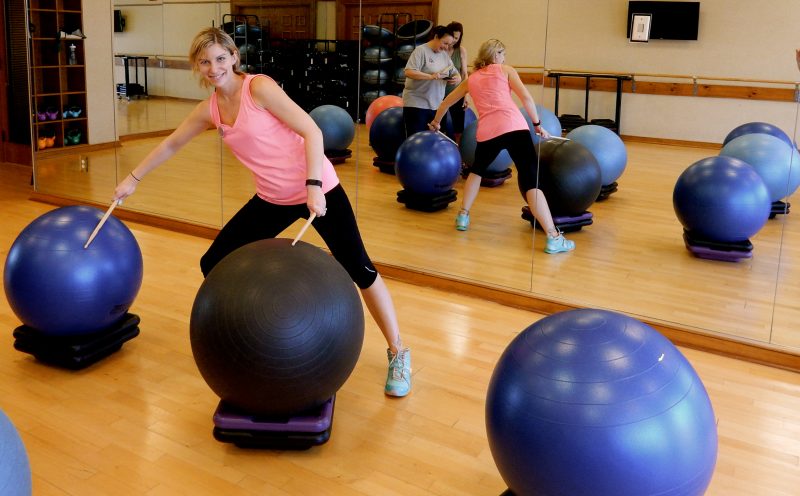 All of these activities are included in the daily rate – as are all indoor studio classes. On day one, I mellowed out by taking the "Restorative Yoga" class that utilized props to help me stay in comfy positions, and then a "Mala Meditation" session, which introduced me to the 108-bead method of focus and meditation. The following day, I revved it up with Drums Alive (drumsticks, fitness balls, lots of fun) and 50 minutes of Zumba.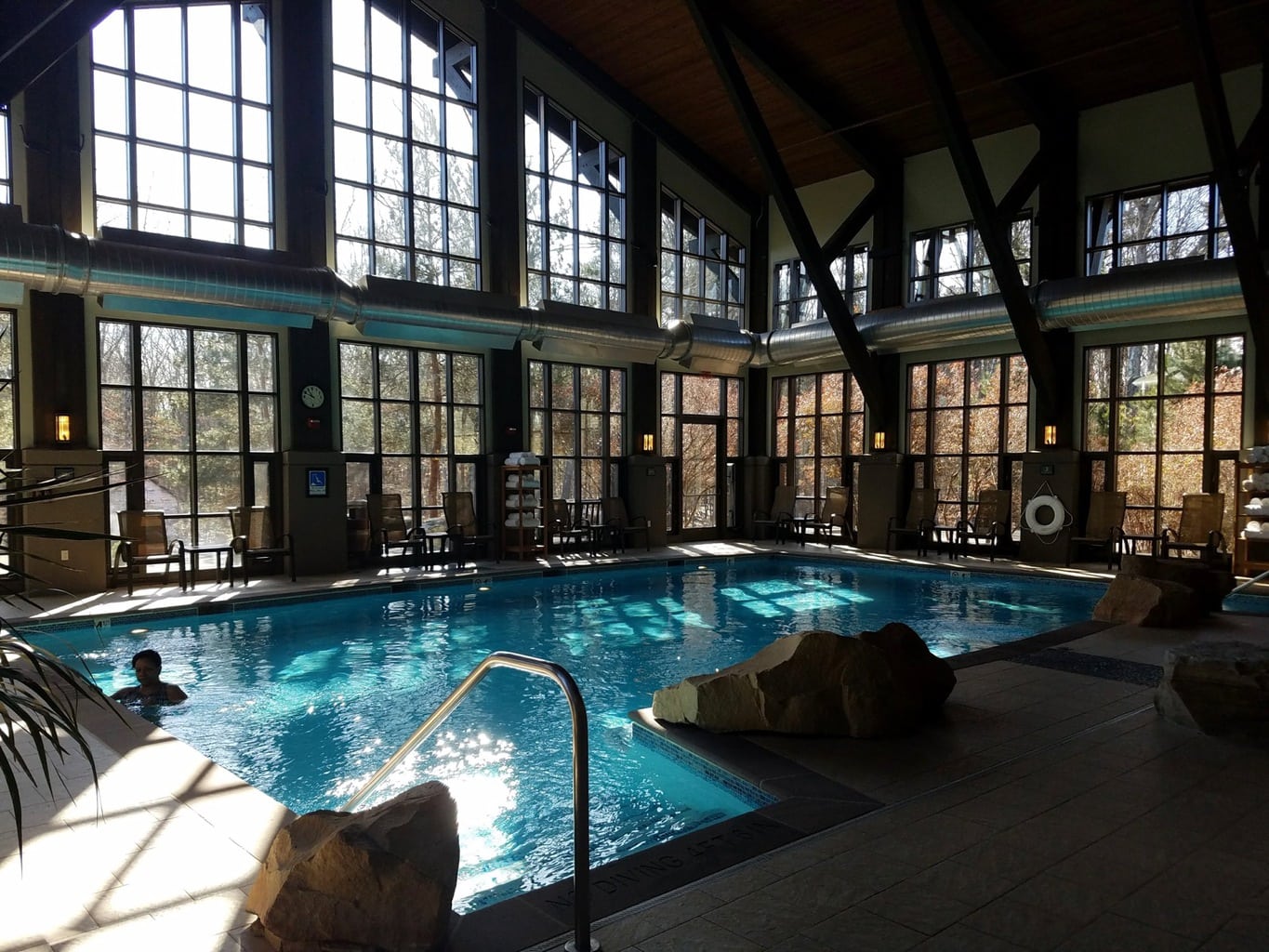 I did laps, ran, and took a Water Aerobics Class in the gorgeous indoor pool.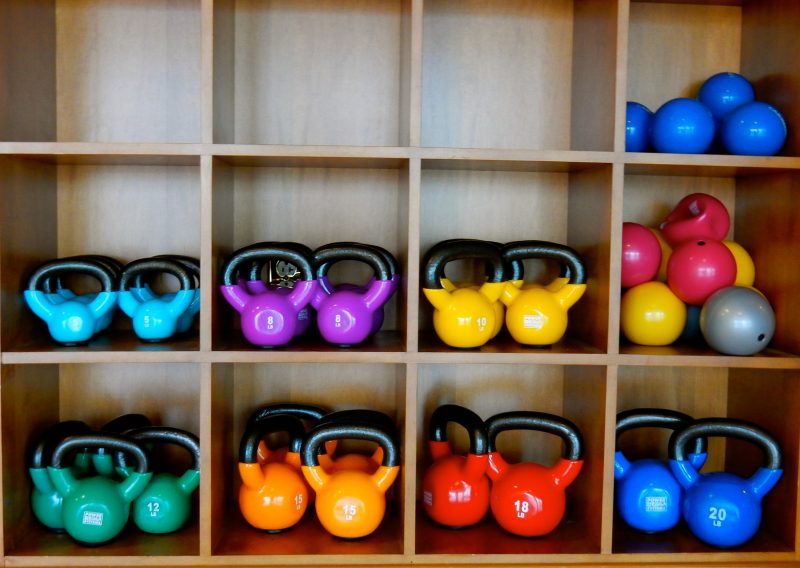 I missed "Off the Wall Yoga," which uses straps and gravity to open the spine, Bollywood Belly Dancing, T'ai Chi, Cardio Blast Legs, and avoided the large machine-filled fitness center entirely. There are classes at any given time of day, ranging from meditation to full-on workouts, so you can take your pick.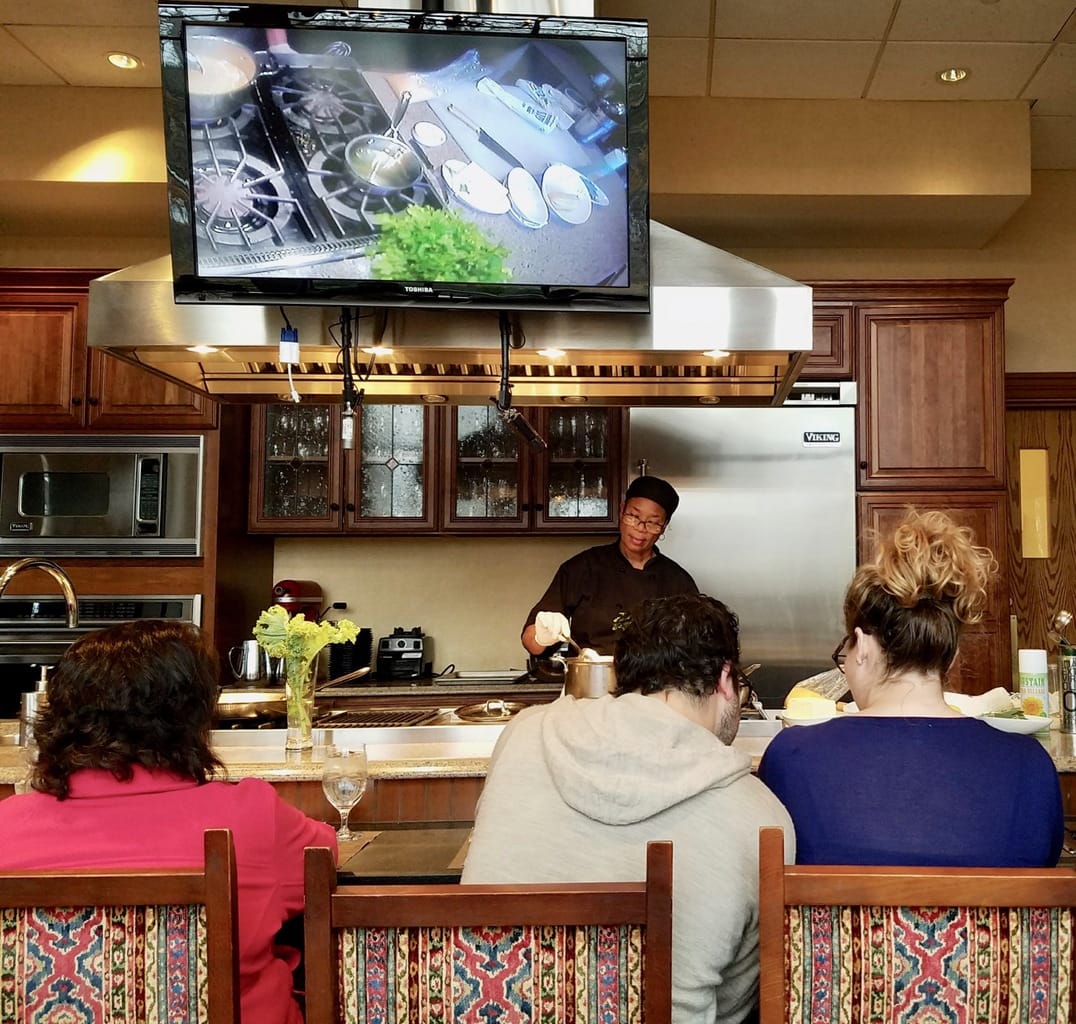 But even if saying the word "exercise" makes you sweat, there are plenty of other options here, including the ever-popular cooking demonstrations by top chefs in a professional chef's kitchen.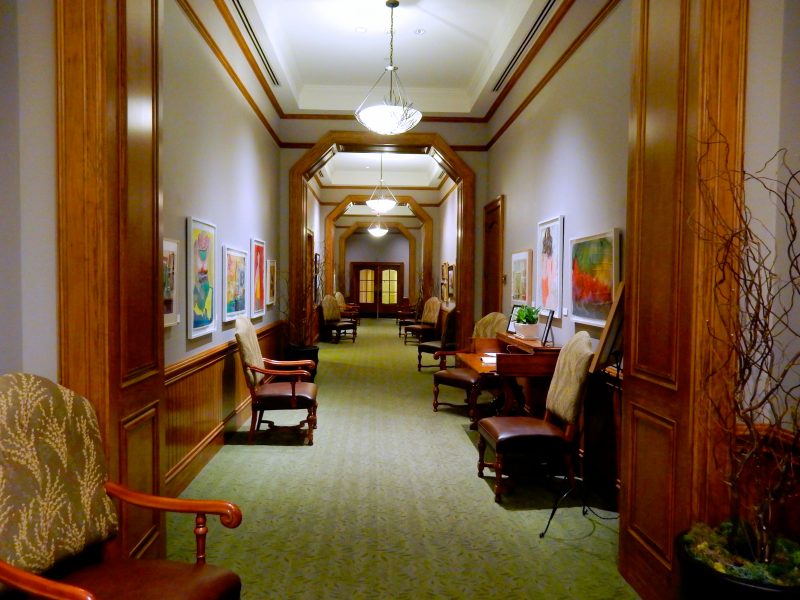 You can also take craft lessons (silk scarf-making, mosaics – extra charge), join a meditation session, learn to increase your longevity through diet, or slowly peruse the art in the "Gallery Hallway" (featuring regional artists, changed every three months) on the way to the Library or to your room.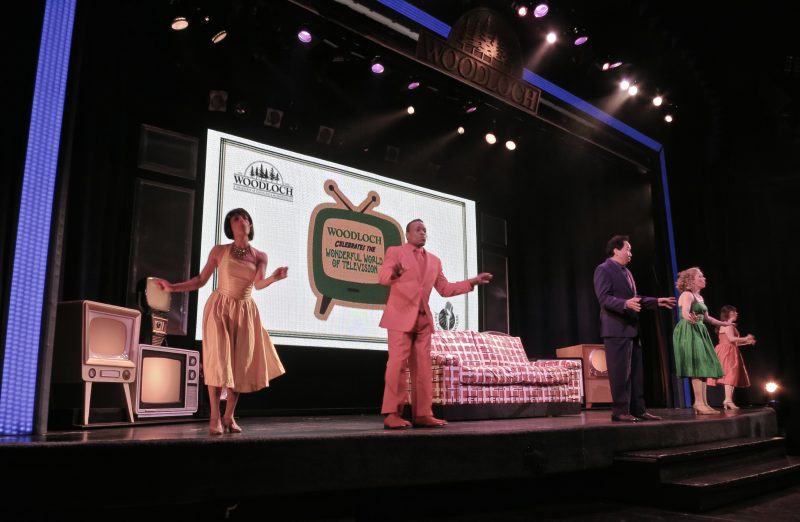 And then, there's the evening Broadway-style show at The Woodloch Pines, accessed by a Lodge bus. I know it sounds hokey and slapdash, but trust me, this professional and entertaining musical is a hoot. Staged twice a week (Wed. and Sat) in a large dinner-theater space, last year's Salute to TV Show Theme Songs was a big-hearted trip down Memory Lane for me. I was blown away by the talented voices and skillful acting chops – of the Woodloch Pines staff! Wow!
Spa at Lodge at Woodloch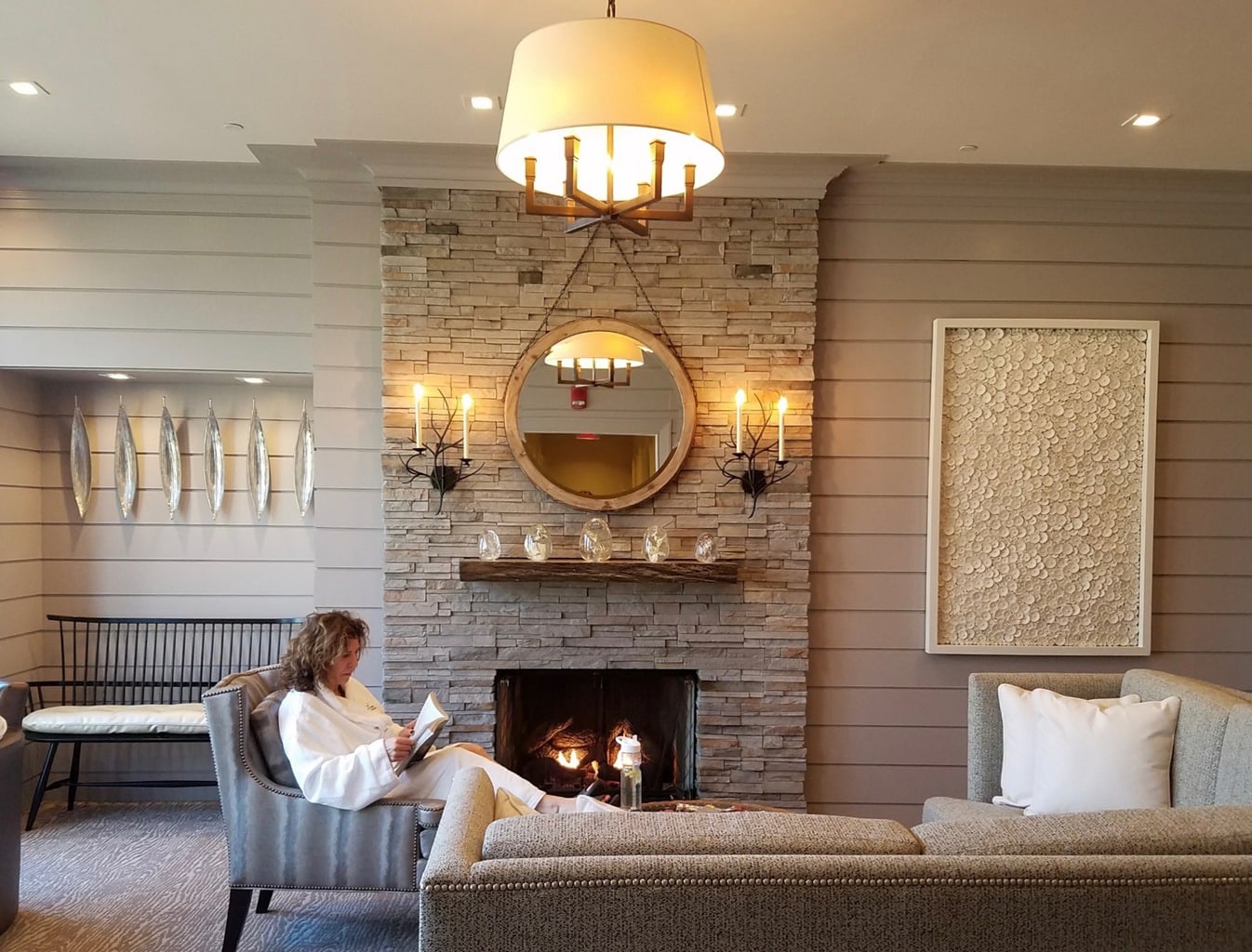 If you haven't been here before, or your last visit was before December 2017, you'll be pleasantly surprised by the updated women's Spa waiting area. The old dark locker area has been beautifully transformed into several bright off-white seating/reading areas. Though spa treatments cost extra, you'll want to book at least one (or really, more) during your stay.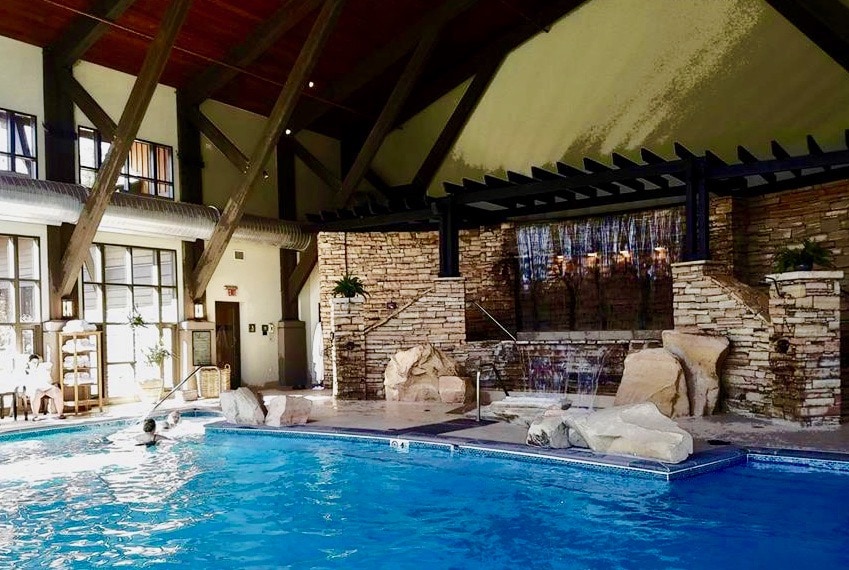 Start with a swim in the indoor pool, or a quick shvitz in the steam or dry sauna, before yielding to the pleasures of an array of therapies and body treatments. There's a massage for Migraine Relief ($75 for 25 minutes), CranioSacral bodywork ($140, 50 minutes), and even Float Therapy in a large, lighted tank and nothing like the coffin-like deprivation tanks of old ($90, 50 minutes). No matter what you choose, you can be assured that your therapist is one of the best and most professional in the business, based on reports from everyone I spoke to.
Just the Facts
There are packages and discounts midweek and off-season, but figure on about $500-$600 per person per night, which includes three gourmet meals per day, group fitness and wellness classes, lectures and cooking demos, use of spa and fitness facilities, guided group adventures, valet parking, wi-fi, daily newspaper, and all gratuities (18% is added as service charge, so no tipping necessary during your stay). Does not include alcoholic beverages or spa treatments.