Last Updated on
WHY GO: From its inception, Philadelphia has been a city of diverse "Makers." Founded as a center of commerce rather than a religious colony, newcomers didn't have to pay that irksome Church tithe, so strivers from all backgrounds sought their fortunes here. By 1740, Philadelphia was the largest city in the colonies –  an engine of industry. In 1754, one German immigrant observed, "Pennsylvania is heaven for farmers, paradise for artisans, and hell for officials and preachers." This "paradise for artisans" has gone through a rebirth in recent years, revitalizing Philadelphia's flagging neighborhoods, bringing a distinctive creative energy to each. You can explore each of 14 identified neighborhoods – none more than a 15 minute walk or drive from Old City – through hot restaurants, attractions and shops.  Or, become a "Maker" yourself in one of the many studios cropping up all over the city.  Highlighted here are a few neighborhoods to get you started.
OLD CITY/HISTORIC PHILADELPHIA 
This is the Philadelphia that most tourists know. Independence Hall, the Liberty Bell, Constitution Museum – all here.  But as you can see, Old City encompasses so much more.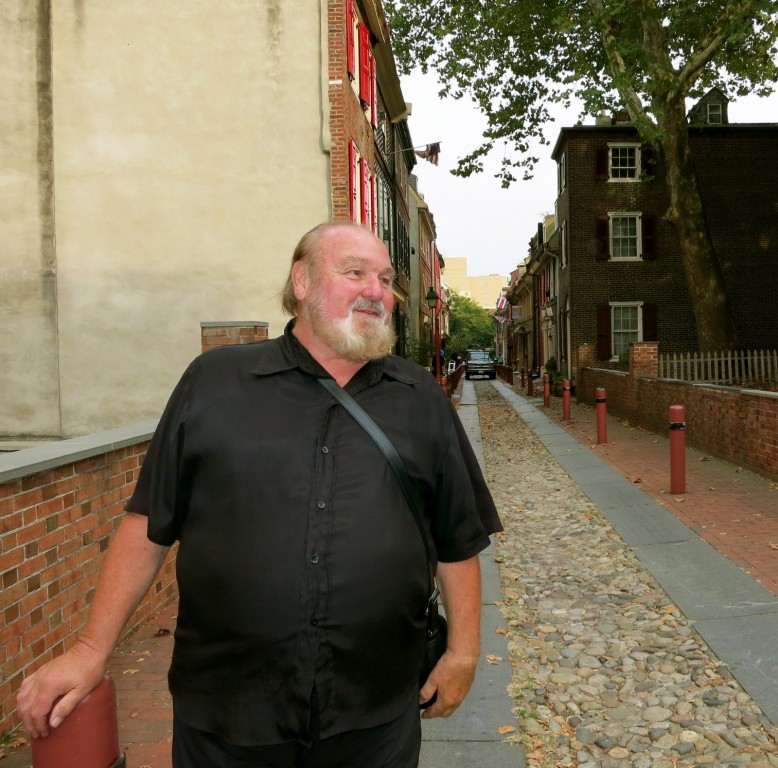 TOUR: Elfreth's Alley. Built in 1702, Elfreth's Alley is known as "America's oldest residential street." Artisans, including a free African tailor, a Jewish furniture maker, German shoemakers and bakers, female dressmakers (Mary Smith and Sarah Milton) among others lived side by side in 32 tiny homes that also served as shops, sales rooms and studios. Take a tour with loquacious Ed Mauger, President of Elfreth's Ally Association, and he'll let you in on a few "clues" about how to tell 300 year old homes from the newest 200 year old homes (hint – it's in the bricks and number of steps), and point out some of Ben Franklin's innovations still in use (triple mirror outside 2nd floor window to see who was at front door, and street lamps made with replaceable panes of glass and vent for oil heat). Tours $5, Noon and 3pm, April – December, Tuesdays – Saturdays: 10-5, Sundays: 12-5
VISIT: National Liberty Museum. It's a quirky little museum dedicated to the idea of Freedom and its definition.  Though you'll be captivated by beautiful Chihuly glass art, go for this reason: you can hear our "original Liberty Bell," made in the same foundry in England with the same materials – this one without the crack. $7 adults, $2 kids, open Tues-Sat 10-5, Sun Noon-6.
DO: The Center for Art In Wood. Create your own "Narrative Vessel," dreidel or other wooden crafts at this museum cum workshop. Even if you don't sign up for a four 4-hour hands-on class, stop in to admire the sensual works of art. $35 Make and Take Workshops, One Saturday per month Noon-4pm.
DO: The Clay Studio. This isn't your typical "paint already made clay pieces." The Clay Studio is an actual throw the pot kind of place, and offers Saturday clinics and the occasional Friday Night Date Nights with wine and beer, where you can reenact the sexy pot-throwing scene from Ghost – if only in your head.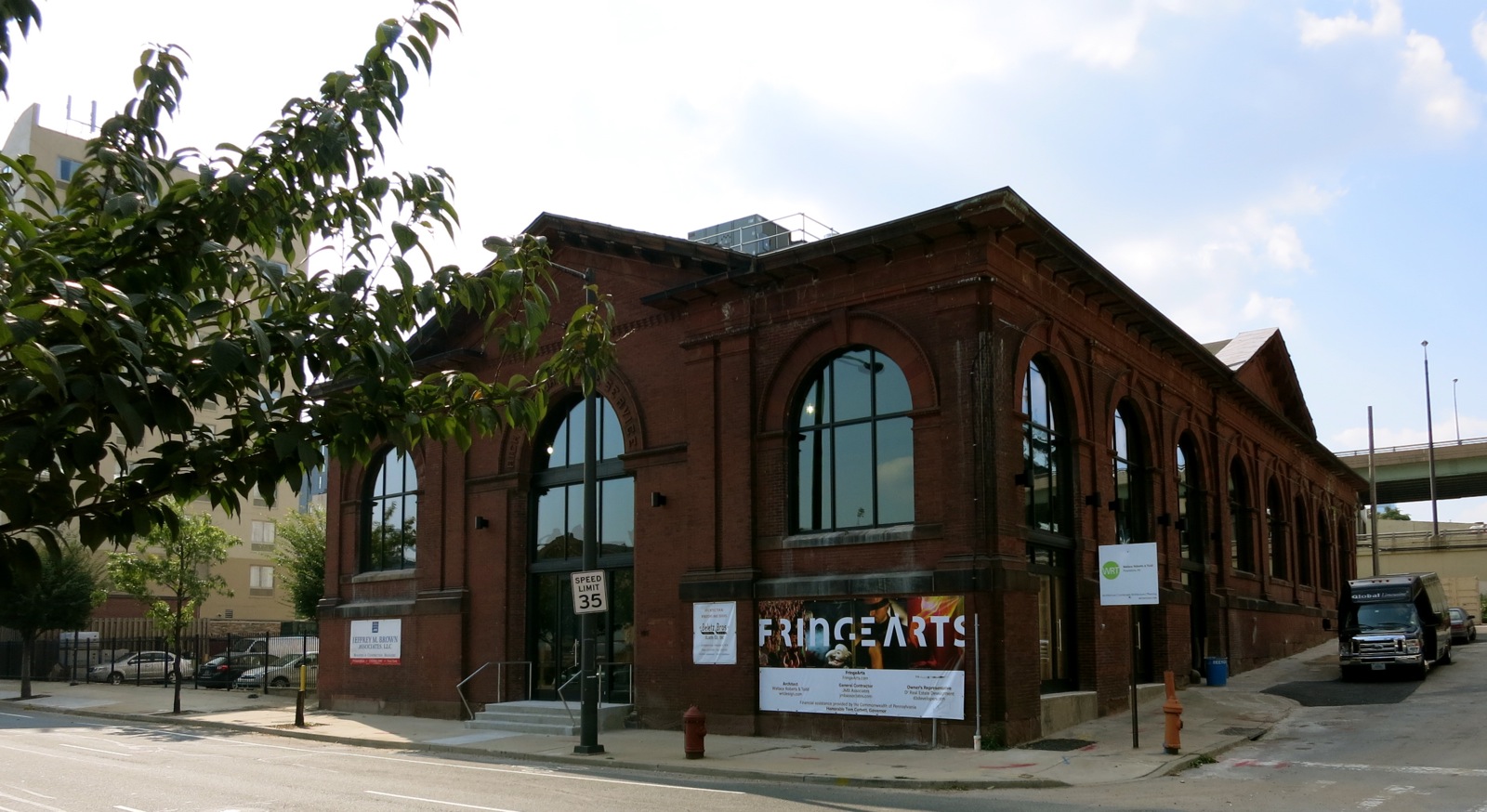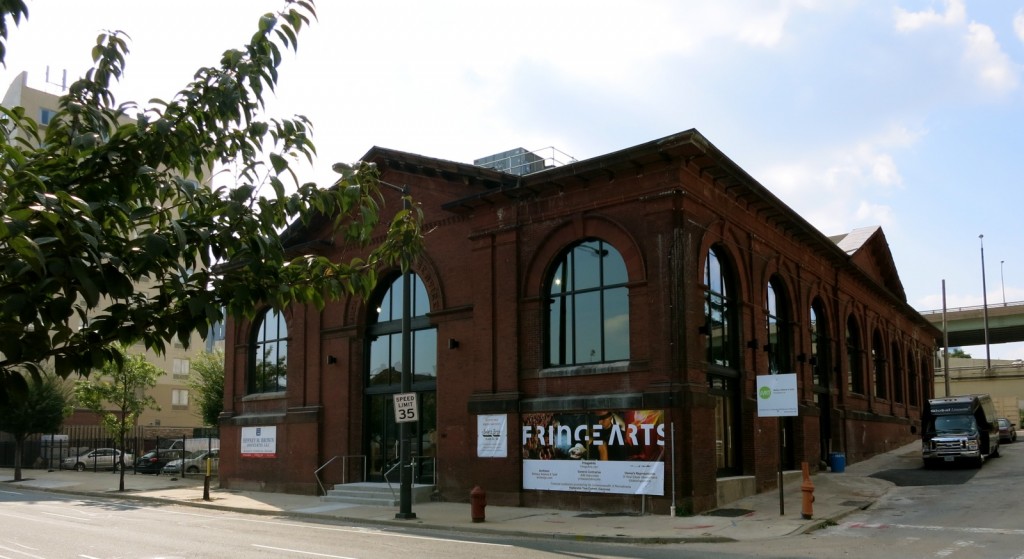 SEE: A Show at Fringe Arts. The new permanent theater and headquarters for what is locally known as "The Fringe" is now based inside a 1903 Fire Pumping Station, the first of its kind in the country and built to create enough pressure for water to reach the tops of new-fangled turn of last century 30-story skyscrapers.  Decommissioned in the 1950's and vacant until 2012, "this building used to save lives and now it will enrich lives," says David Harrison, VP, who points out the cast iron pipes and pressure gauges kept as architectural elements.  With year-round programming, classes, concerts, and events in a 240-seat theater– not to mention a soaring bar/restaurant designed for live entertainment and priced for starving artists to billionaires, Fringe Arts brings offbeat-theater-loving mobs to this special spot under the Ben Franklin Bridge on the Delaware River.  Consult website for shows and times
SHOP: Art in the Age of Mechanical Reproduction. "Art in the Age" began as a T-Shirt line and now stocks all manner of handcrafted items, aka "stuff made with thought." Shop for jewelry, artwork, clothing and books, including upcycled accessories from wunderkinds Walter and Margeaux Kent's Peg and Awl.   Art in the Age has also partnered with the group that created Henricks Gin to distill 80 proof spirits. Though you can't purchase bottles of these robust liqueurs named Root (from root beer), Snap (gingersnap) and Rhubarb, in the shop, you can taste them for free during Thursday Night Happy Hour and then buy them from local liquor stores.
SHOP: United By Blue. Trendy t-shirt merchants, Mike Congi and Brian Linton vow to remove one pound of trash from the planet's oceans and waterways for every product sold. Utilizing their considerable marketing talents for good, United By Blue is spreading countrywide. This flagship store is the original, and includes a coffee bar where you can purchase a shot of organic esspresso while considering how many t-shirts to buy.
Best Places to Eat In Old City, Philadelphia
EAT: Zahav. A selection of salads, fresh-baked breads, humus, Moroccan Chicken ($10), Veal Stuffed Grape Leaves ($12); this is not your father's Falafel restaurant. James Beard winner, Michael Solomonov elevates Israeli cuisine to remarkable heights in this contemporary golden space (Zahav means "gold" in Hebrew). You'll want to order from the four course-tasting menu ($39), an insider favorite, so you can all share every single delight.
EAT: Paesano's. It's the kind of place where the ole spring-loaded screen door slaps shut behind you as you cram into a line three-deep waiting to order massive, made-from scratch sandwiches.  There's no place to sit, so take the namesake concoction- brisket, horseradish mayo, provolone, roasted tomato and fried egg mounded on a roll  across the street to the Race Street Pier and watch boat traffic glide by as cars pass overhead on the Ben Franklin Bridge.
EAT: Wedge and Fig. On temperate nights, opt to eat in the adorable outdoor patio garden you'll discover down a long narrow alleyway in back of this great neighborhood "Cheese Bistro."  Bring your own wine and order cheeses "bundled by region." Cheese Slates $18 for 3, $26 for 5. Perfect nibble following a day in the workshop.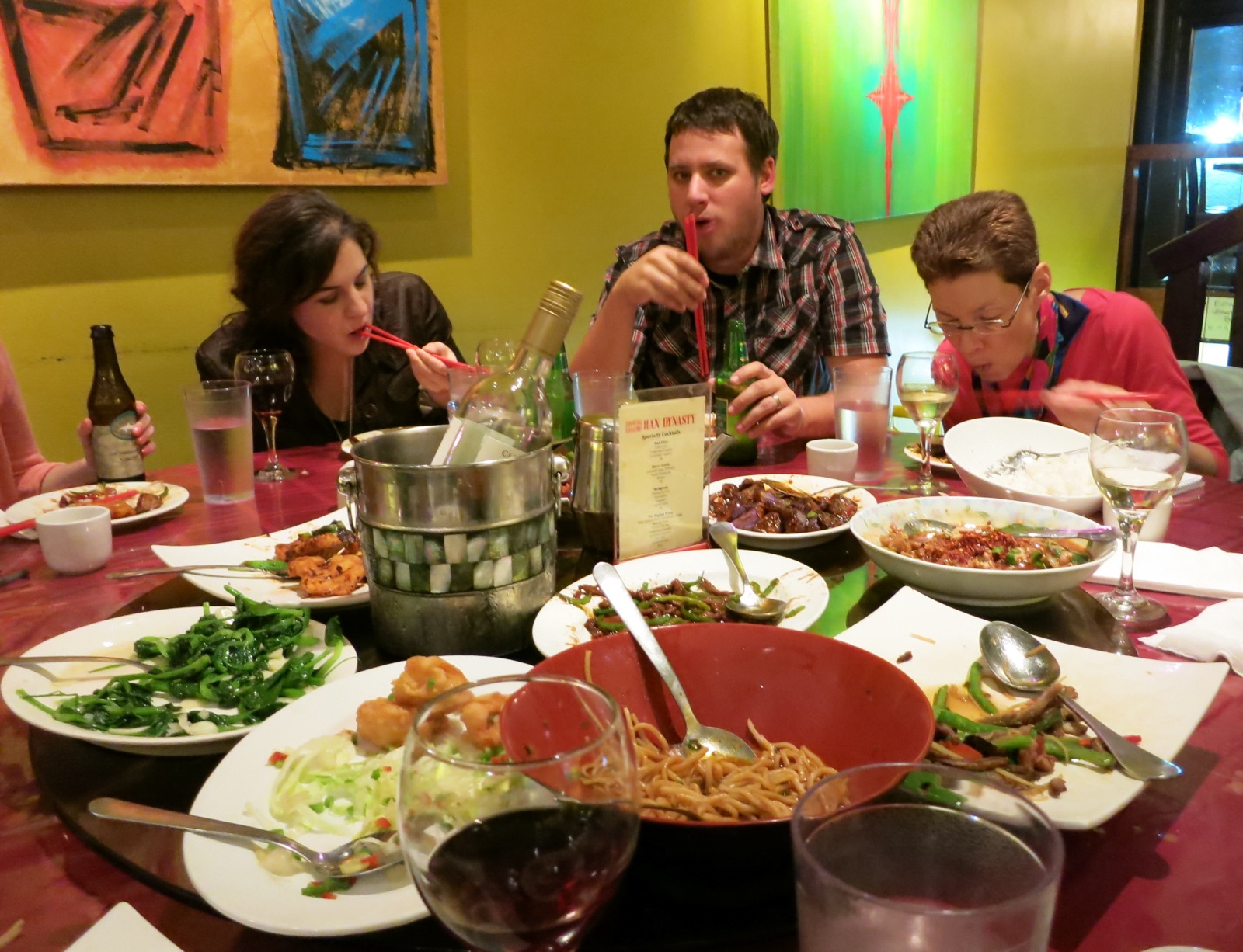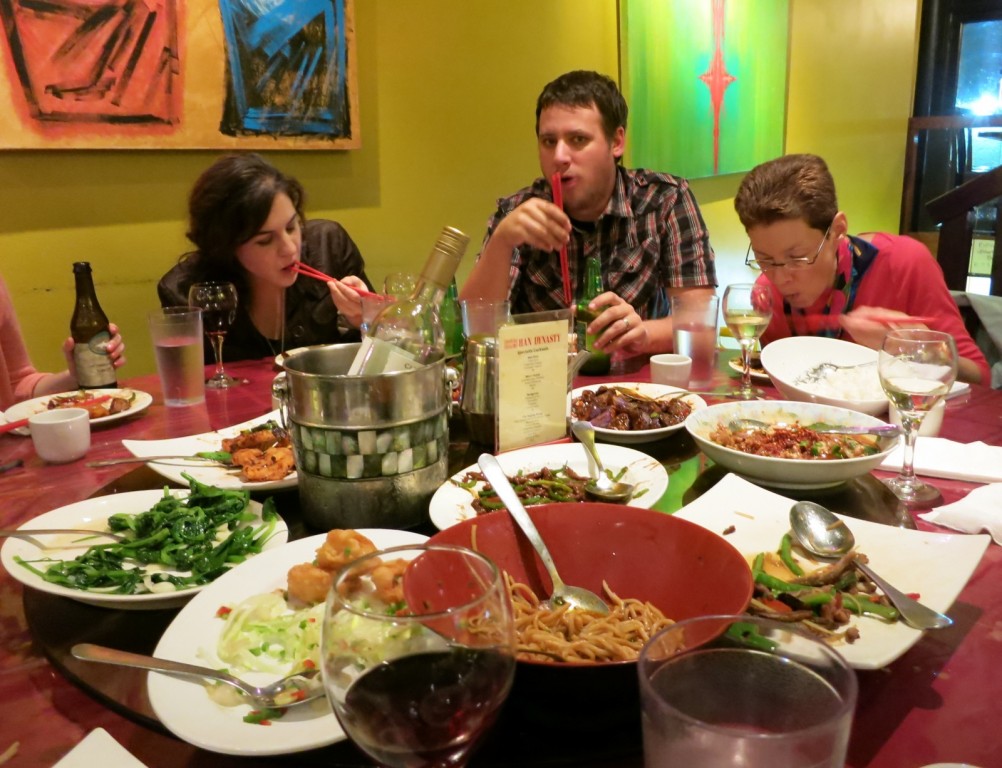 EAT: Han Dynasty. This is the original, the first, and the incredible authentic Szechuan food restaurant that just swept Adam Platt, New York Magazine's food critic, off his feet after his foray to Han Dynasty's East Village, NYC outpost.  Yes, there are currently seven restaurants in the group, but go to the first on Chestnut (soon to move across the street into larger space). Signatures like the Dan Dan Noodles ($6.95), Spicy Cucumbers ($6.95) and Cold Sesame Noodles ($6.95) and entrees identified by "heat" on a 1-10 scale, represent the Gold Standard in Szechuan cuisine and have won over the Travel Channel, Food Network and other aficionados of tongue-tingling sauces.
ICE CREAM: Franklin Fountain. Though not as dense and creamy as say, Ben and Jerry's, Franklin Fountain's creations are just as inventive. And the black and white mosaic floor, tin ceiling, Chinese take-out cups, servers dressed in bow ties and pearls, and working 1910 cash register is a heartwarming throwback to simpler times.
GRADUATE HOSPITAL NEIGHBORHOOD
 Transformed over the last few years, it's just a 15-minute walk from Center City and growing in popularity with the young professional crowd.  Named after the large research hospital that has since closed, Graduate Hospital is known for its bars and overflows with an eclectic mix of restaurants and is just starting to develop retail. You'll recognize some of the residential areas from the movie The Sixth Sense.  The main characters lived here.
DO/TOUR: NextFab Studio. Proclaimed a "Gym for Innovators," this collective workspace and idea incubator brings industrious creative's together and is the nationally recognized premier facility of its kind in the Northeastern US. Founded in 2009, it's a workshop on steroids, a for-profit, membership based derivative of the FabLab movement. Currently 300 members pay $1300 per year to access two MILLION dollars worth of machinery and a coterie of top-notch instructors. But even non-members can pop in and take a 2-hour class in laser-cutting, 3-D printing, Adobe Illustrator and plenty of other hands-on projects. Free one-hour tours are offered 2-6 daily on weekdays or by appointment on Sat/Sundays. Two hour classes for non-members $79-$99.
Best Places to Eat in Graduate Hospital Neighborhood, Philadelphia
COFFEE: Ultimo Coffee. "Trained and certified baristas, sweet, sweet milk from Lancaster County," Ultimo has been named "One of the Best Coffee Shops in America."
EAT: Honey's Sit 'N Eat. In the former Schwemmer's Hardware store, goods line old shelves, antique billboards and store signs hang from the ceiling: it's the perfect venue for comfort food. "Nothing healthy but all delicious," says our waitress. Eggs used to make sizeable omelets come from free-range Lancaster County chickens, and calorie-counting be damned, Honey Cristo ($14) – challa French toast stuffed with double-smoked ham and Swiss cheese, is one amazing signature dish.   If you're watching pennies, come on weekdays between 7 and 9am for the $3.95 two eggs, potato, toast and coffee special.
DRINK/SCENE: Bob and Barbara's. Where else can you imbibe with "liquor drinking music" out of a Hammond B-3 Organ combo? Enjoy "Thursday Drag Night" with the "Philly Special" – a shot of Jim Beam followed by a can of Papst Blue Ribbon Beer.
NORTHERN LIBERTIES
Northern Liberties area of Philadelphia was so named because plots of land in the then rural area were given away free with the purchase of acreage in Center City as per William Penn in 1682.  Now, steel and glass contemporary buildings coexist with original brick row houses drawing artists and hipsters to this once-blighted former domain of Schmidts Brewery. Developed by Philadelphia's answer to Donald Trump, Bart Blatstein, the Northern Liberties district has been re-imagined as a place where people can live, work, shop and eat within a cozy few blocks, so it's no surprise that the neighborhood exudes a trendy European/Founding Fathers vibe.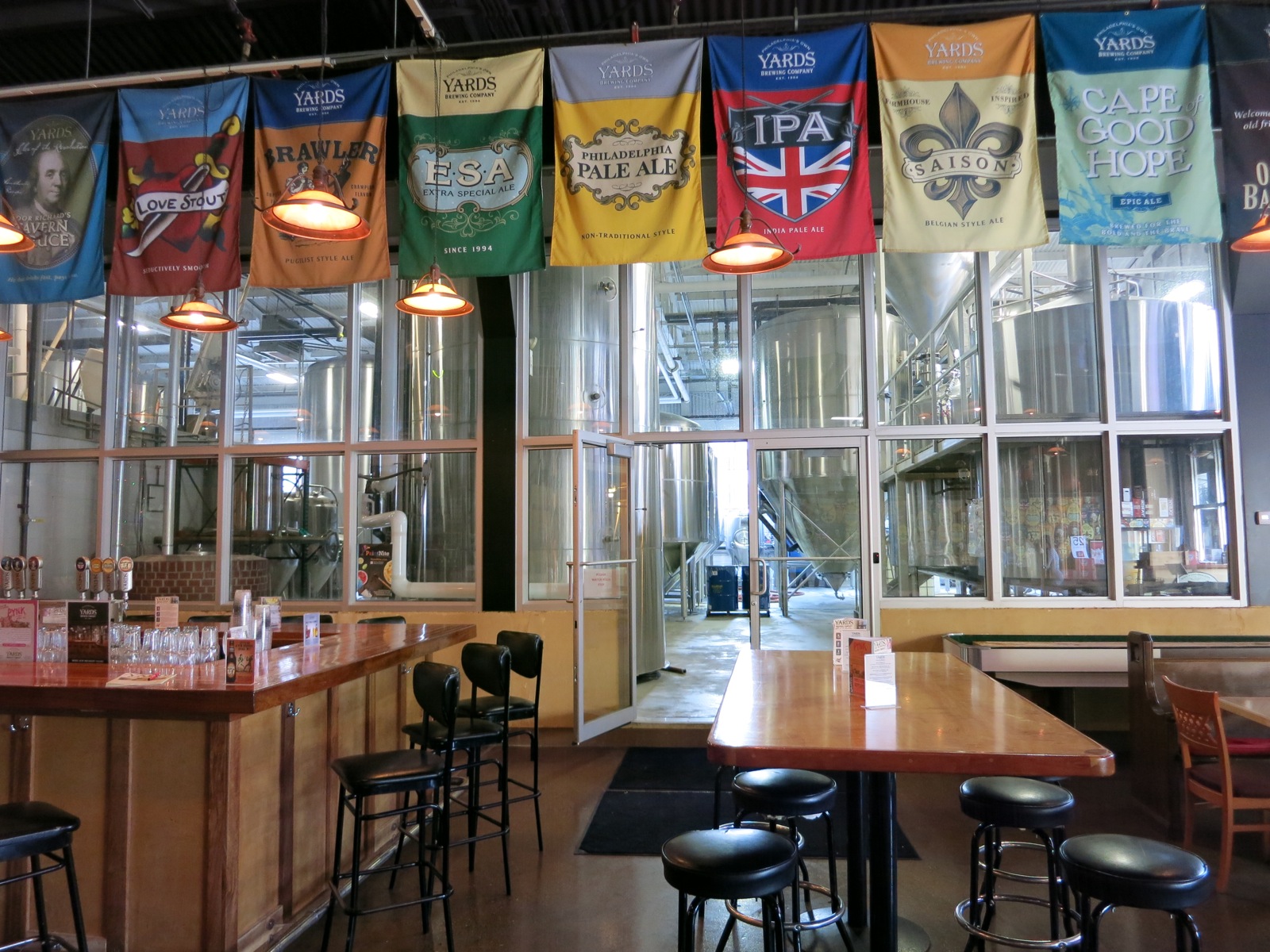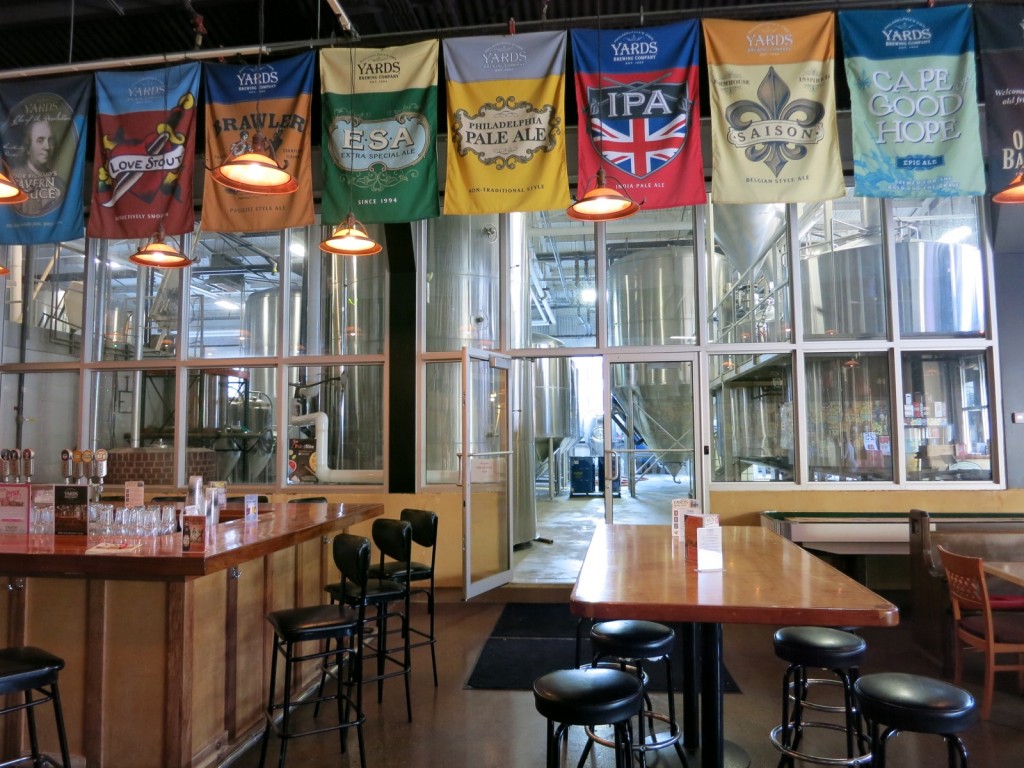 VISIT: Yard's Brewing Company. The owner of Yards Brewery, Tom Kehoe, is as innovative as his brews are awesome. "Ales of the Revolution" named for Washington, Jefferson and "Poor Richard" (Ben Franklin Ale already existed) were brewed following our founding fathers' own recipes from the 1700's.  Belly up to the tasting bar- a recycled bowling ally lane, to sip dark but mild Brawler, bestseller citrusy Philadelphia Pale Ale and "sweeter than most" IPA among plenty more. Each week a different food truck is stationed right outside the door, and Yards curates a beer-pairing menu for an ultimate lunch or dinner experience. Free 30-minute tours Sat and Sun noon – 4pm – you get three tastes. Tasting room open daily noon to 7pm.
COFFEE: One Shot Cafe. Philly is known for its coffee-shops-that-are-not-Starbucks, which is a good thing.  Indie One Shot fuels this energetic neighborhood.
EAT: Bar Ferdinand. One of the most stunning interiors, it seems delectable even before you take a bite.  But BF is known for excellent Tapas and has the Best Brunch in the City, according to fans.
Best Places to Stay in Philadelphia, PA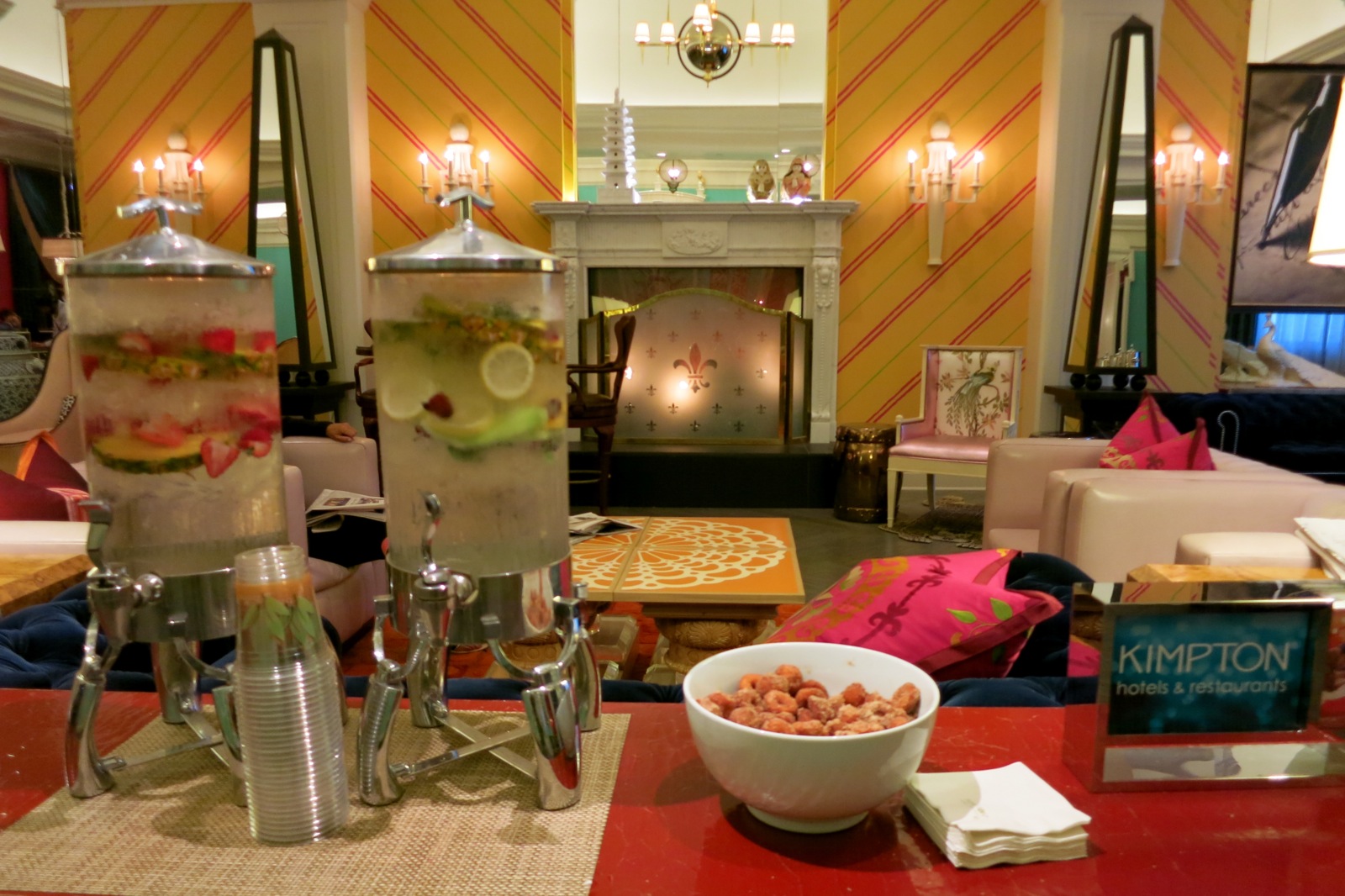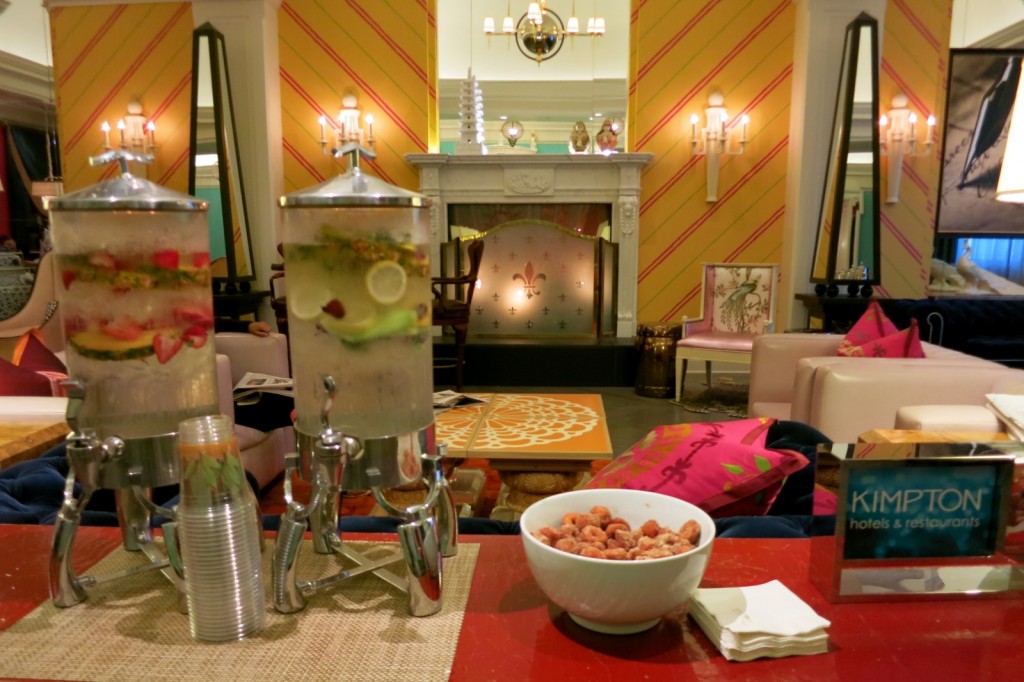 STAY: Hotel Monaco or Palomar, Philly. These are Kimpton Hotels where designers are allowed to romp, imagine, and dress up lobbies and rooms to whimsical, colorful, idiosyncratic, yet extraordinarily comfortable and modern effect. A phenomenal complementary afternoon wine and nibble hour just adds to the fun.
Like this post? Put a pin on it!