Last Updated on
WHY GO: Norwalk CT has gone through its ups and downs, but now, with new restaurants and nightlife, it's on a definite upswing. Families come here for the award winning Stepping Stones Museum and Maritime Aquarium.  Gourmands can't wait to try out the newest bistro on the block.  And boaters and kayakers wax lyrical about the islands, fishing and wildlife. No matter how you approach it, though, you're bound to find something to surprise you in this quirky Connecticut maritime town.
Things to Do in Norwalk CT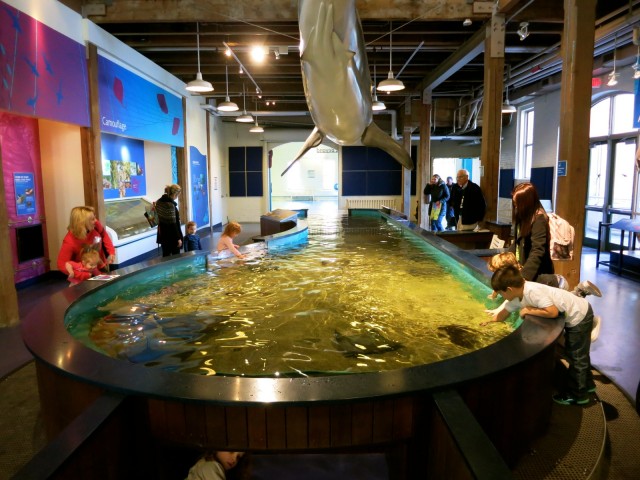 VISIT: The Maritime Aquarium at Norwalk. One of the largest attractions in the state, this Long Island Sound focused aquarium draws over half a million visitors a year.  Live sharks in a 110,000 gallon tank, loggerhead turtles, seals, rays and jellyfish join a cast of other aquatic animals – some you can pet, and others best left behind glass. With an IMAX Theater, traveling exhibits and Marine Study cruises to Long Island Sound, you can spend the good part of a day learning about the region's maritime environment in this former 1860's iron works factory renovated as a state-of-the-art educational center.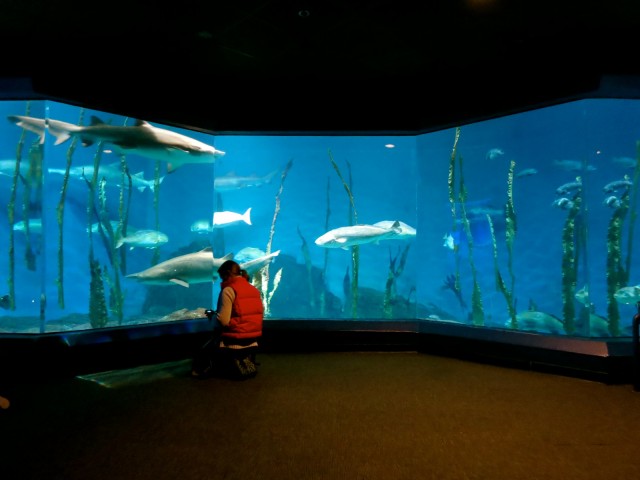 Ever growing, the Aquarium went though a multi-million dollar renovation in 2013.  Gone is the Wooden Boat exhibit and in its place a wide open Ray and Shark touch tank and the grossly popular "Jiggle A Jelly" – a touch tank filled with, yep, benign Moon Jellyfish (other non-touch tanks teem with the poisonous Atlantic Sea Nettles). Another exhibit, Go Fish, introduces visitors to overlooked aspects of the local fishing industry.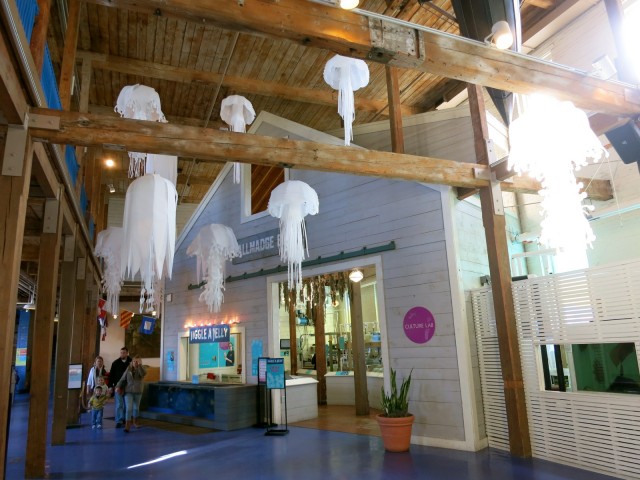 Kids clamor around a fishing boat, and you can stare at some intimidating Big Game Fish – Cod, Pollack, Halibut – luckily avoiding the hook inside a huge fish tank. Pick up an updated "Seafood Watch" brochure, a Northeast consumer guide to seafood and what to chose and what to avoid this year. A newly procured hybrid Research Vessel – the Spirit of the Sound catamaran –  is quiet, green and holds twice the number of guests as did the old boat. Hours: 10 a.m. to 5 p.m. daily, Aquarium and IMAX – $24.95 adults, $22.95 seniors, $17.95 kids 3-12.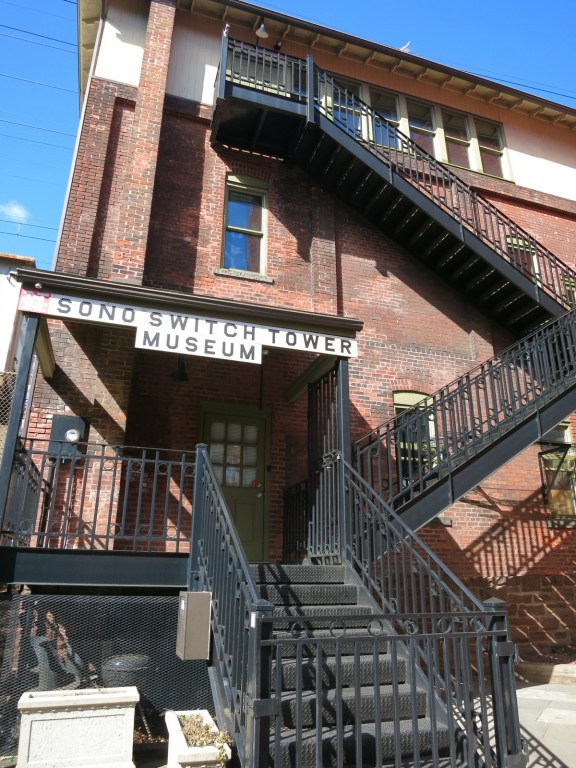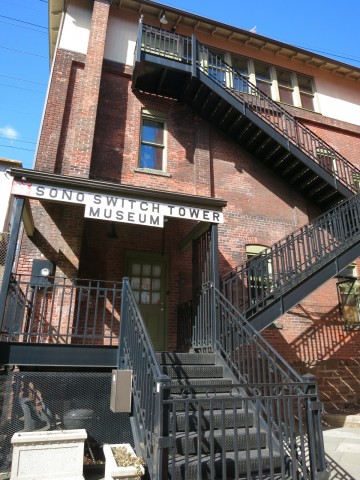 VISIT: SoNo Switchtower Museum  Train historians worked long and hard to preserve "Signal Station 44" – removing three garbage cans full of pigeon poop from this 1896 Switch Tower to clean it after years of decay.  Climb narrow iron stairs to the burnished third floor for a chance to pull the disengaged Armstrong levers (so named because you needed a strong arm to budge them!) that once moved track switches manually on the main line. It's a fascinating peak at tough railroad jobs before computers took over the heavy lifting. May-Oct, Sat and Sun 12-5, free.
VISIT: Matthews Park for a Trio of Attractions – Lockwood Matthews Mansion, The Center for Contemporary Printmaking and Stepping Stones Museum.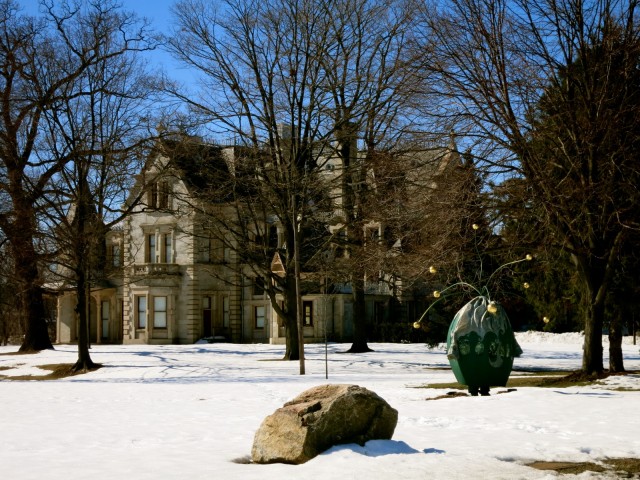 Lockwood Matthews Mansion Museum was built by financier and railroad baron LeGrand Lockwood between 1864 and 1868, and is considered one of the earliest and most significant Second Empire Style country houses in the United States. Spring – Dec, Wed-Sun tours at noon, 1pm, 2pm, 3pm, $10 adults, under 8 free.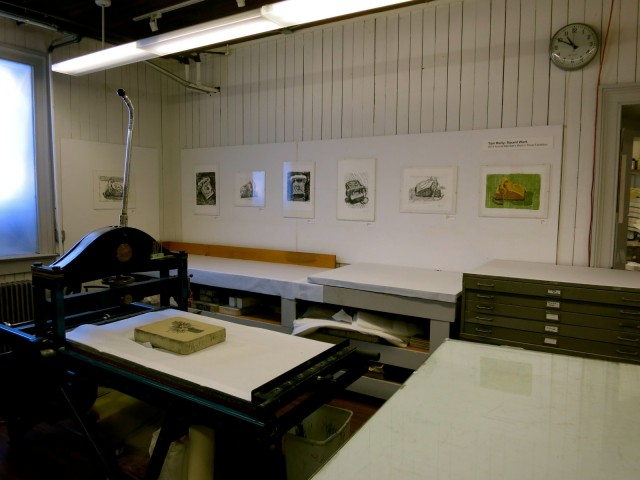 The Center for Contemporary Printmaking, features both emerging and established artists. Catch a rising star and purchase a woodcut, etching, silkscreen or lithograph for $75 and up (take that, Art Basel!) or sign up for a 6-hour printmaking workshop and create one yourself.  The Center is the only one of its kind between New York and Boston, and in addition to five gallery shows per year and a slew of classes, it offers Editioning services for established artists and a cottage for a selected Artist in Residence. Monday through Saturday 9 am – 5 pm, and Sunday 12 – 5 pm. Free.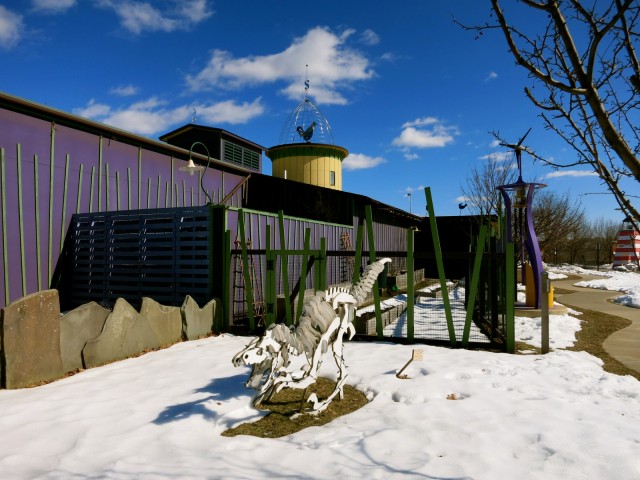 Stepping Stones Museum for Children was built with a keen eye to what excites and stimulates a child's mind. Geared toward children 1-10, this small but active learn-through-play center engages even the youngest crawlers. No detail is overlooked. Whimsical water wheels are attached to rain gutters outside big picture windows.  Even when it rains, there's something to learn. $15, open daily 10-5 from Memorial Day to Labor Day. Closed Mondays From Labor to Memorial Day.

TOUR: Sheffield Island. Over 200 years ago, ewes were kept on Sheffield Island to keep them from the boys on Ram Island just across the way. Since then, Sheffield Island has been a compound for cholera patients, a ritzy estate and most importantly, home to the Sheffield Island Lighthouse. You can visit this decommissioned 10-room granite lighthouse, built in 1868, as well as the rest of the 54 acre island, administered by Stewart B. McKinney National Wildlife Refuge, during a three hour tour run by the Norwalk Seaport Association.  A 45-ft. catamaran transports 49 people several times a day in season for a half hour narrated tour of Norwalk Harbor (passing barrier islands and the famous Norwalk oyster beds). Families pushing strollers and picnickers join history buffs for a glimpse into what life was like on this island before electricity.  The lighthouse keeper had to carry two five-gallon pails of oil (40 lbs. each) up to the top floor every four hours to keep the light lit. Tours and ferry cost $22 per person.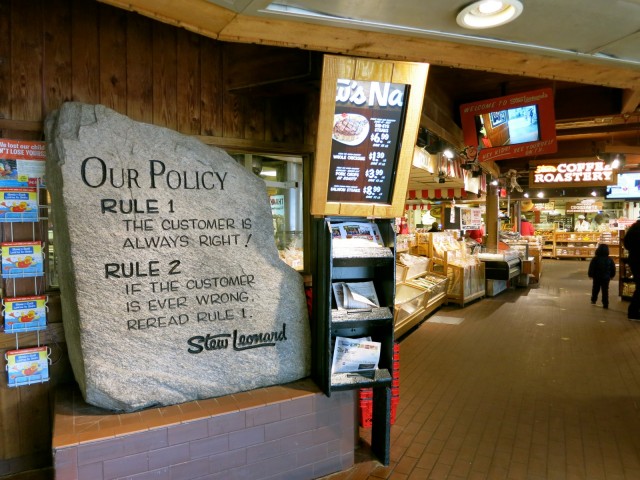 GO: Stew Leonard's. If Walt Disney had gone into the grocery business, this is what he'd have come up with.  Goats bray from the roofs of tiny sheds in the parking lot petting zoo, parents and kids line up for creamy soft-serve custard ice-cream before grabbing a cart, and tots are entertained by animatronic cows and milk-cartons as Mom and/or Dad choose (and samples) fresh produce, meats and fish from overflowing shelves. Locals have been bringing out of town friends here for years.
EAT/PLAY/ETC: The Block at Waypointe. A block from Mathews's Park (Stepping Stones Museum), The Block is a mixed-use development with something for everyone- whether you live there or not – all in one place: four restaurants – Colony Grill (great pizza), Sedona Taphouse (Good American food and beer), Barcelona (terrific Spanish Tapas), and the latest – Bobby Q's Cue & Co.  A fitness center – Endurance House, a salon – Salons by JC, and even a spot to paint and drink wine – Pinot's Palette. It's everything you need for a fun day or night out, all tied up in a bow (or in this case a central brick courtyard).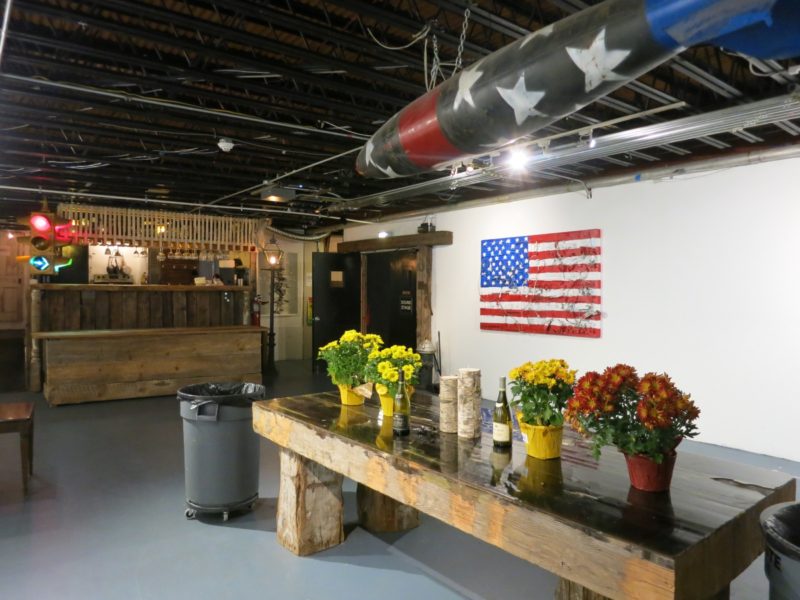 GO: Factory Underground. If you've ever wondered where all the collapsed barns, felled trees, and demolished 1800's houses in Southern Connecticut have gone, just take a peak into the 7,000 sq. ft. Factory Underground – a recording and video production studio, and private concert and event space, founded by Edisun front man, Ethan Isaac, in Norwalk CT. Edisun is best known for its tours of duty through conflict zones – giving U.S. Armed Forces in Iraq, Afghanistan and around the world a taste of hard-rock from home.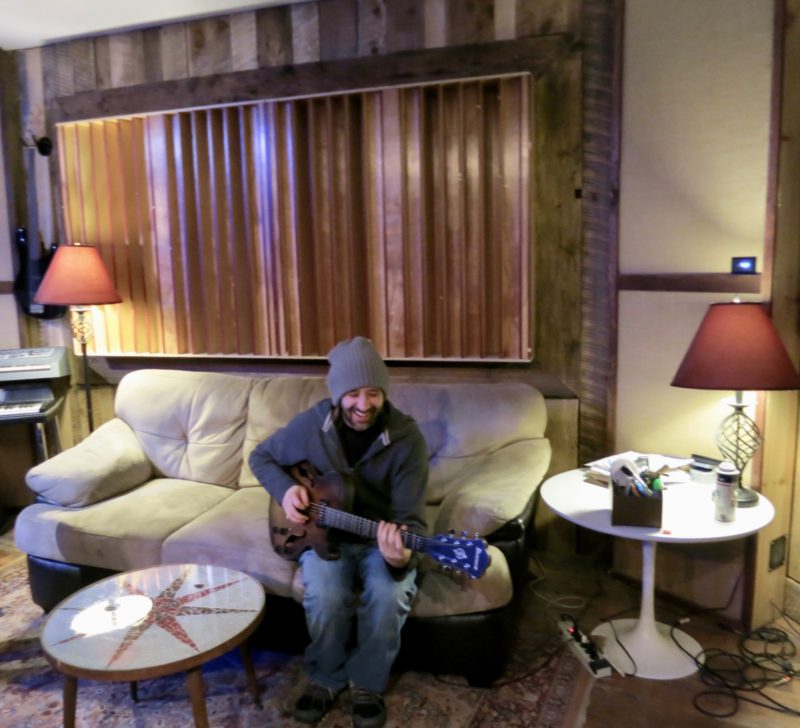 But Isaac and his partner, the Hip-Hop/EDM artist, Kenny Cash, are also keen on reclaimed and distressed wood and some weird-ass design elements, like an American Flag emblazoned WWII bomb, sourced "from a farm in Jewett NY", that hangs over a table in the bar/event room, and other……things. "We always get a look when we tell people looking for the bathroom to take a left at the chainsaw," says Marketing Director, Marc Alan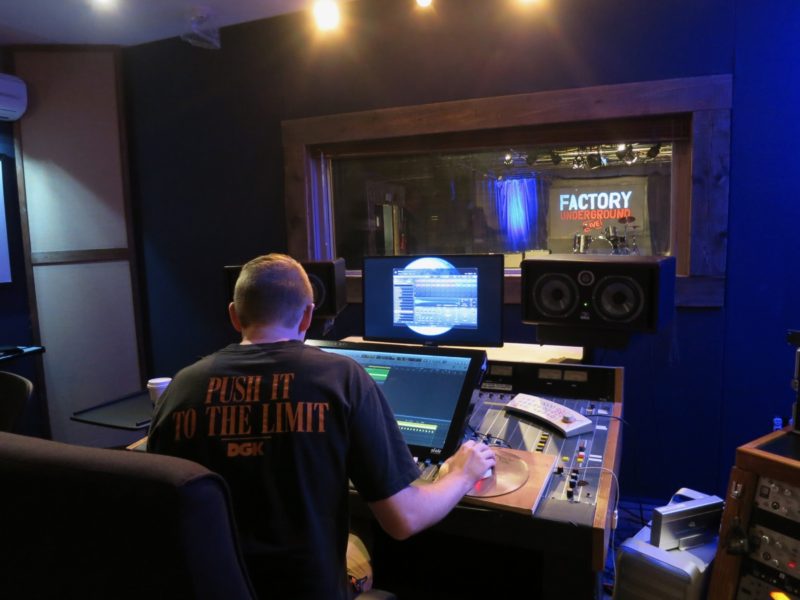 Factory Underground winds through chambers both large and small; offering an industrial kitchen, soundstage rehearsal space, and several recording rooms. If you're lucky, you'll be invited for, say, a book-launch party. Or you just might end up in this basement venue for Norwalk's First Friday – a monthly event just getting off the ground in 2017.
Best Places to Eat and Drink in Norwalk CT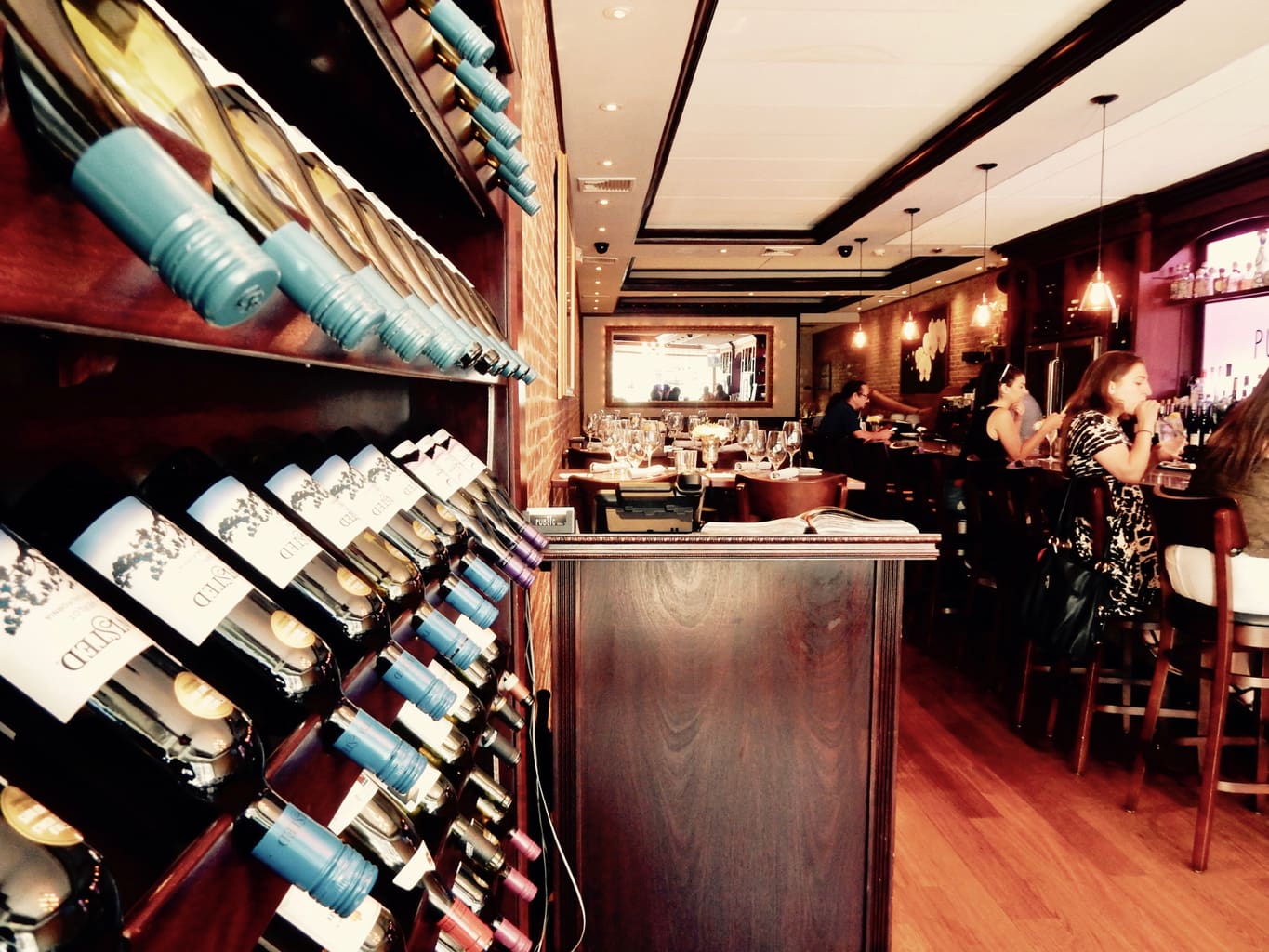 EAT: Public Wine Bar. Though you walk through the door greeted by a floor to ceiling wine rack, this brand new "Wine Bar" is not just about the vino. Specialty cocktails rule the day – with concoctions like Public 88 – an "orchid infused Toto's French topped with Rose Cava," Blackbird Singing – a sour whiskey blend, and the fiery Hot Blooded Margarita. Though the Spicy Tuna Tartar ($13), Salmon A La Plancha ($22), and Chicken and Wild Mushroom Pappardelle ($22) are all excellent, my absolute favorite is the Shaved Brussels Sprouts on Risotto Cake – citrus-lemony greens sitting on a caramelized disc of crispy-sticky rice. Paired with the Public 88, it's the perfect light bite.
EAT: Cask Republic/Norwalk. One of three "Casks" (others in Stamford and New Haven CT), this Norwalk newcomer hits all the proper notes of an upscale pub. Communal butcher-block table? Check. Beer, wine, and cocktails on tap? Check. Elevated bar bites? Check. Watch out for the cocktails – they can pack a punch. Example: Sangria On Tap ($12) is spiked with wine (of course), and also Hennessy, Bacardi Dark Rum, and Triple Sec. The "handcrafted" Insomnia ($12) is a concoction of Smirnoff Vanilla and Rise Nitro Coffee. You'll want to try the appetizers: Beef Empanadas ($11) in the shape of Roman helmets, Stir Fried Cauliflower ($10) with Ginger/Sesame Aoli, Tuna Tartar ($15), and of course, the award winning Pesto Mac & Cheese ($11) – a killer blend of crunchy-creamy pasta delight.
EAT: Saltwater Restaurant and Bar. Emphasis is on the bar in the space that years ago was Ocean Drive (notable for its Chihuly glass chandelier) and then cycled through several eateries before Saltwater took over. You've got your Kale Salad, Fried Calamari, Fish & Chips, and PEI Mussels, of course, and other comfort food of the pub variety. But both clam-shack nautical décor and cocktails like the creamy-sweet Coconut Mojito and Cylinder Cooler (Stamford CT based Cylinder Vodka, cucumber, elderflower, simple syrup, Club Soda) are quirky enough to separate this restaurant from the ordinary.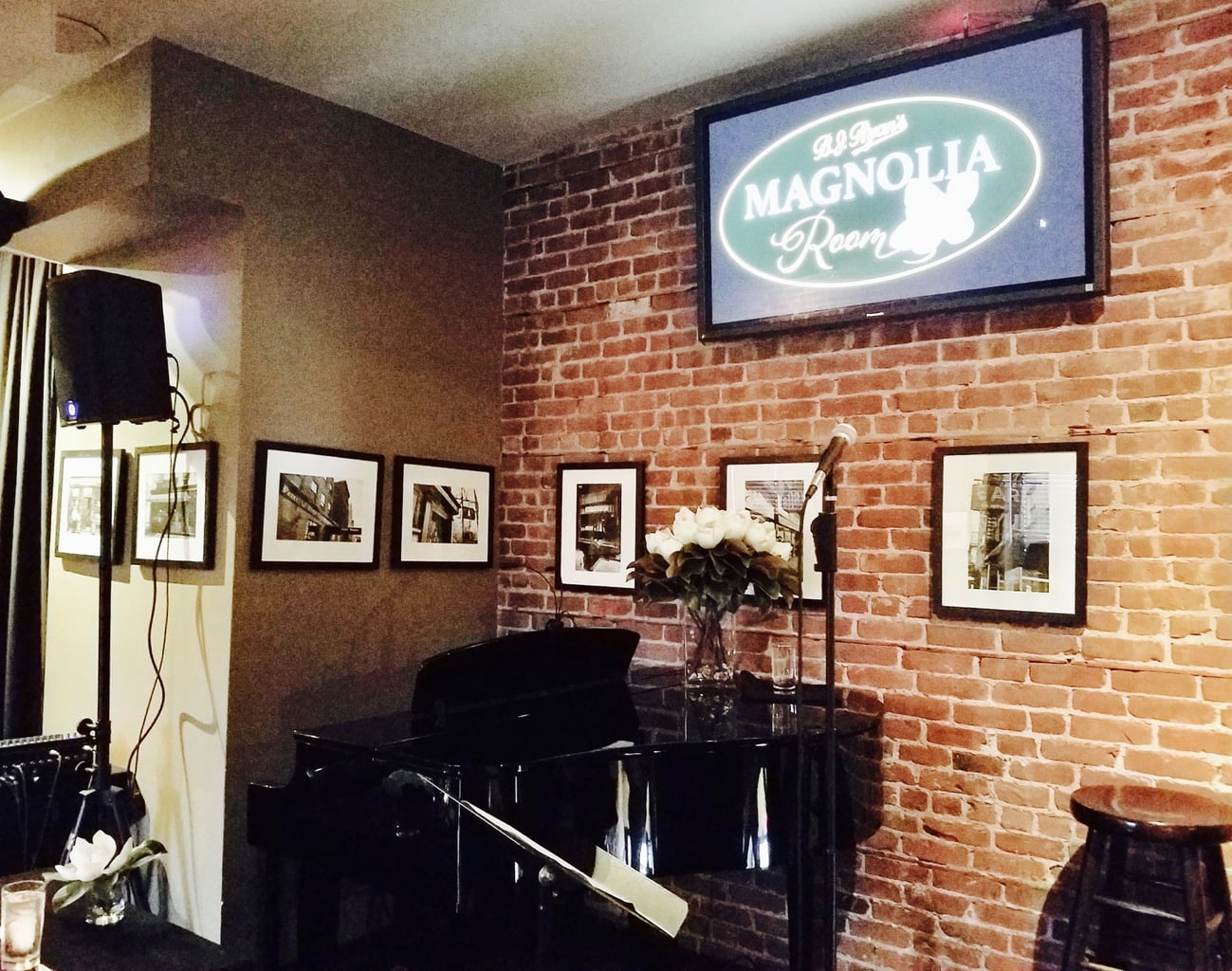 EAT/NIGHTLIFE: Magnolia Room at B.J. Ryan's. Who knew Fairfield County CT would wholeheartedly embrace a New York style cabaret, complete with prominent Broadway show crooners, an intimate room aglow with votive candles, and dinner service? Opened in April 2018 in a room above B.J. Ryan's pub, the 60-seat Magnolia Room, brainchild of singer, actor, pianist and music director, Kenneth Gartman, has seen a tremendous amount of success in a very short time with a full house every week. Entertainment has been compared to "a Broadway veteran in your living room, singing songs for you and a small group of friends." For now, musicians and vocalists – ranging from soulful to cheeky – perform only on Friday nights. But plans are in the works to expand to Sunday Brunch and other evenings in the Fall 2018. Stay tuned.
EAT: Peaches Southern Pub and Juke Joint. This gem of a place serves cuisine that can best be summed up as "inventively lowbrow Southern cooking." Named after owner, Greer Peaches Fredericks (yes, Peaches is her actual middle name), the ambitious and witty restaurant offers vittles that include a "Redneck Pu-Pu Platter" – complete with Ritz Crackers, pimento cheese, sausage, Texas Toast, Pickled Deviled Eggs, roasted corn salad, and Peaches' famous house-made Pepper Jelly, and other "Southern Tapas." There's Country Fair Bacon – thick-cut bacon encased in Funnel Cake batter; Fried Green Tomatoes just lightly sautéed, more tomato than breadcrumbs; Thigh High Chicken Sandwich; Bucket O'Chicken – the best fried chicken I've had in decades; and of course, mason jar cocktails that put the libations of other, more hoity, mixologists, to shame. My favorite? Bourbon Sweet Tea: Dangerously easy to down.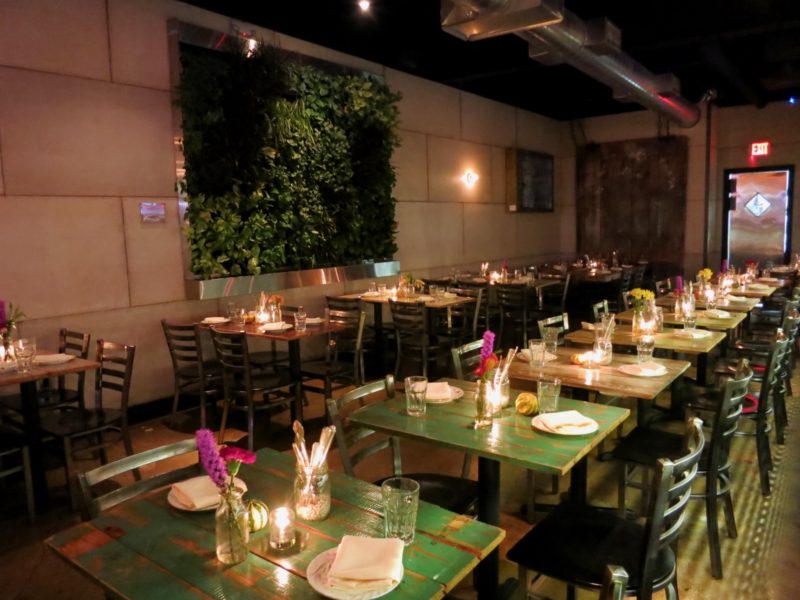 EAT: The Spread. This place is so farm to table, the tabletops are reclaimed farm barnwood, and are enlivened by "living walls." The eclectic "New American" menu reflects Chef Carlos Baez's heritage (Mexican) and work history (in a sushi restaurant, among others). His Shrimp on Caramelized Quinoa Cake with Chorizo Sauce won "Best of Best Dish" in CT Magazine. Try the Ricotta Gnocci – with tender stewed veal "meatballs." Ambrosial.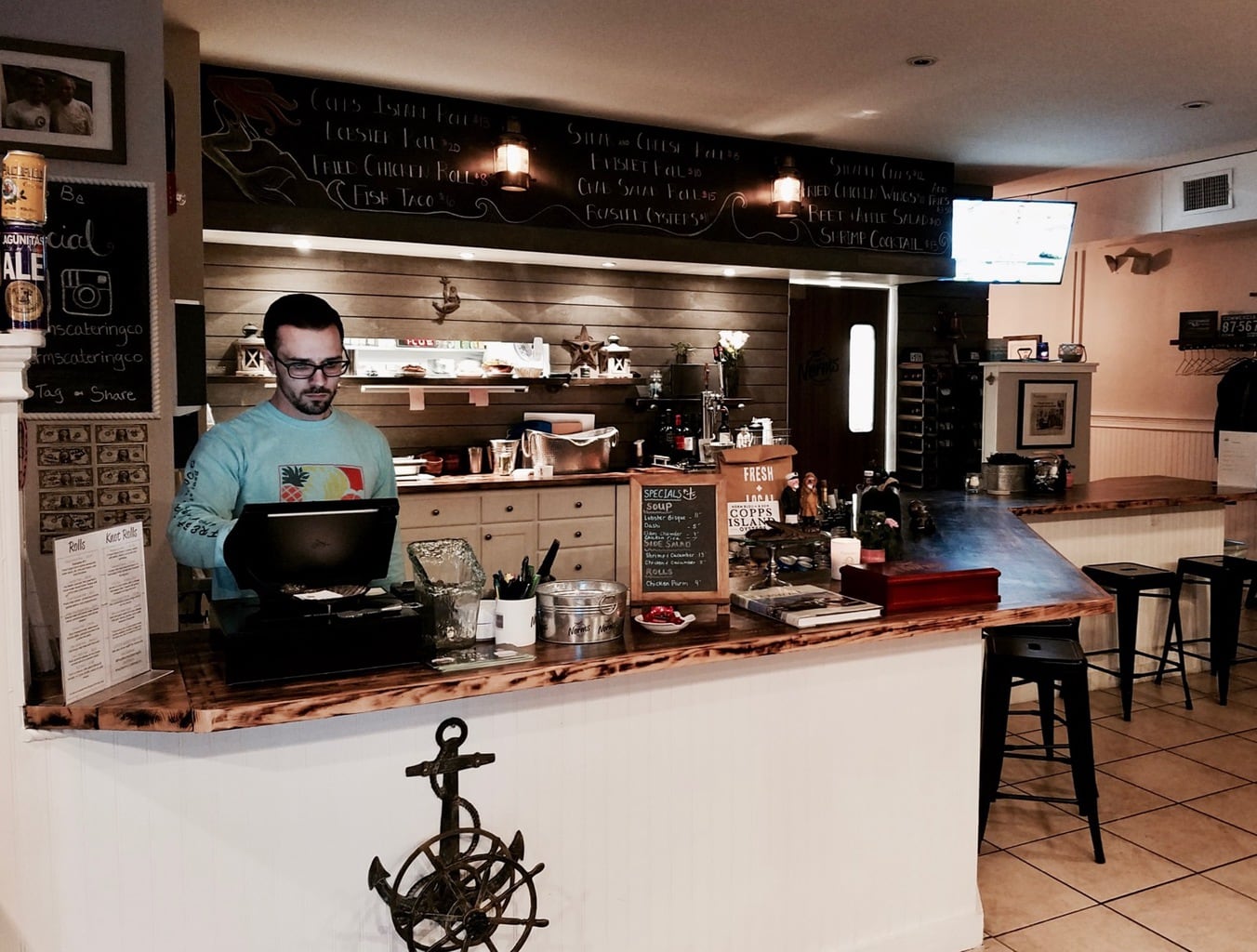 EAT: Knot Norm's. Young chef/owner Jay LeBlanc has got himself a winner in his little extension of an already thriving catering biz. Not only is his mega-chunk warm lobster rolls winning awards, but he's equally adept with fried chicken, Korean BBQ Brisket, and, incredibly, on-the-spot whipped up vegan dishes. In East Norwalk (across the Norwalk River from the Norwalk Maritime Museum), this tiny place may be hard to find at first, but believe me. It's worth it.
EAT: The Beach House. This nautically themed restaurant replaced Mama's Boy (when owner Greer Peaches Frederick opened her newest place, Peaces – see above). Naturally, seafood is a strength here, especially the chock-full-of-lobster-and-shellfish Seafood Risotto, toothsome Oysters Rockefeller, and my favorite – Seafood Crepes.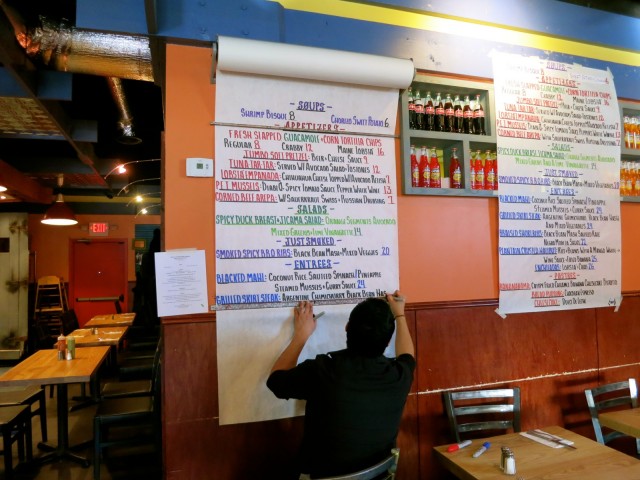 EAT: Valencia Luncheria. Why is it that some out of the way restaurants cause such a commotion?  Because they are so excellent, patrons will travel off the path to get to them.  This is the case with this colorful Arepas, Empanada and Burritos emporium.  You can dine on the cheap (stuffed corn cakes are $4-$5, empanadas are $3.75), or try a Platos of the day. And yep, there's a bar scene: cocktails with Mexican Coke or Jalapeno infused vodka are fiery awesome.
Best Places to Stay in Norwalk CT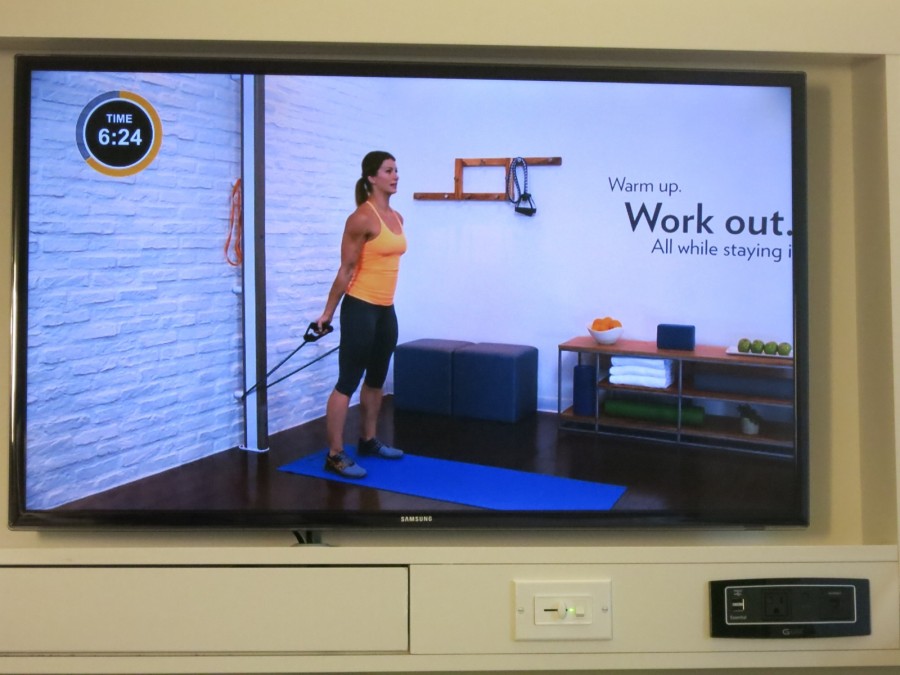 STAY: EVEN Hotel. It's a brand new kind of hotel – one devoted to your health and wellness. Rooms feature mini-gyms and top celebs in food and fitness have partnered to make each stay a "wellness" experience.  Surprisingly, this new trend in lodging launched in little Norwalk, and you can experience it firsthand as part of your Norwalk escape. A boon to guests – the shuttle to hip SoNo is free.  $99 on weekends to $349 during peak times.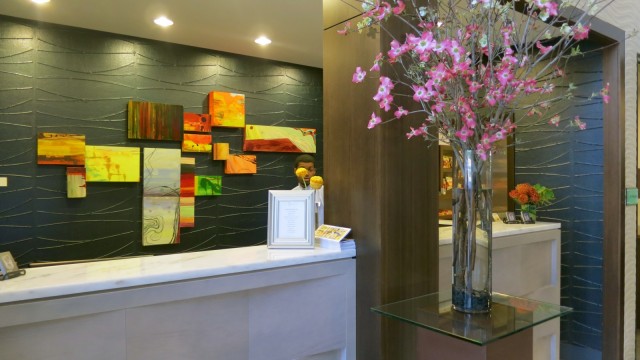 STAY: Hotel Zero Degrees. Sister property to the hot boutique hotel in Stamford, CT – this sleek Norwalk version is roughly a 10-minute drive to the attractions in SoNo.  But no worries, they've got a complimentary shuttle to get you there. Modern, trendy and oh so comfy, the Hotel Zero Degrees is the only place this Maven can recommend for now in town. Quilted metallic grey headboards, back-lit mirrors in glossy bathrooms, orange throws and walls for punch – rooms are fresh and fun. Like any all the rage boutique establishment, rates include a bevy of complimentary perks: warm breakfast, wi-fi, covered parking, Starbucks coffee, shuttle to downtown and a very fun rooftop lounge where drinks will cost you, but table games will not.  $129-$400 per night.