First Impressions of EVEN Hotel Norwalk CT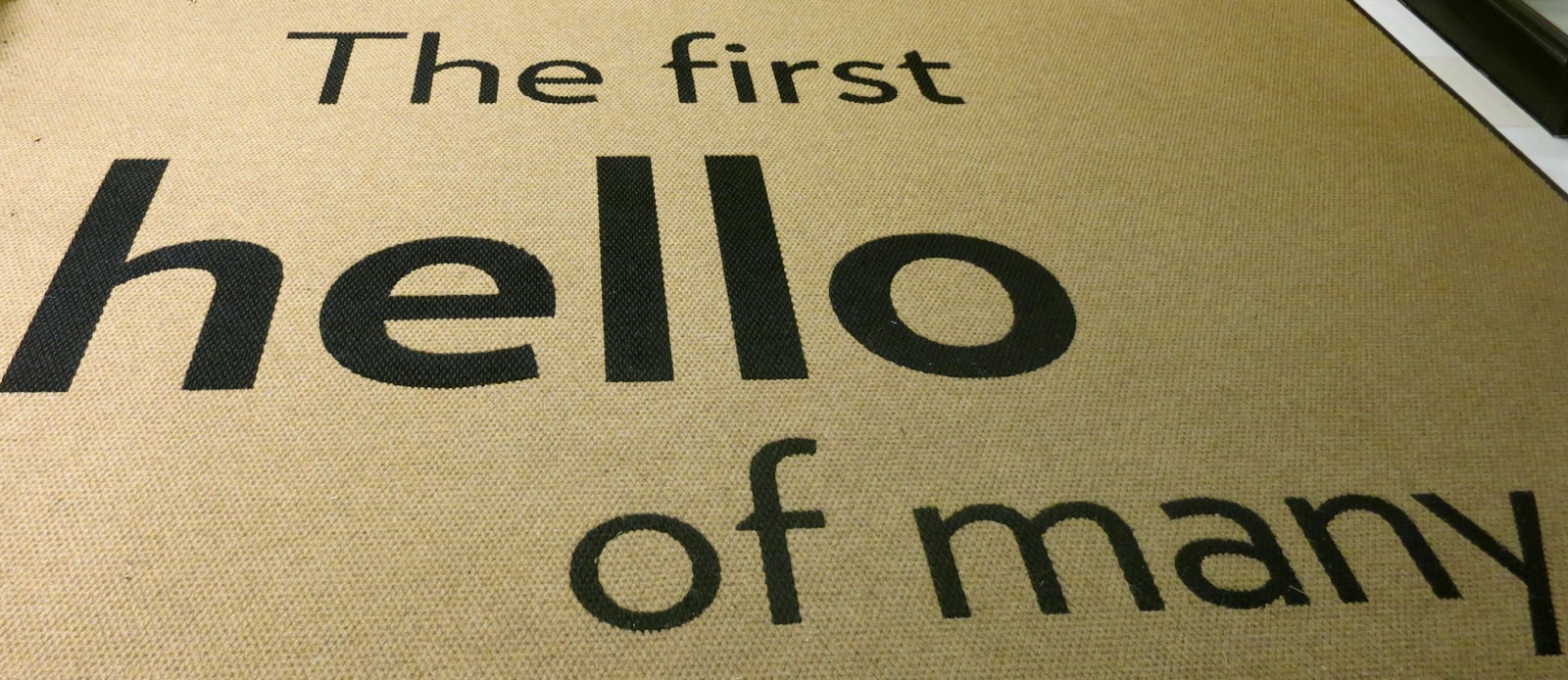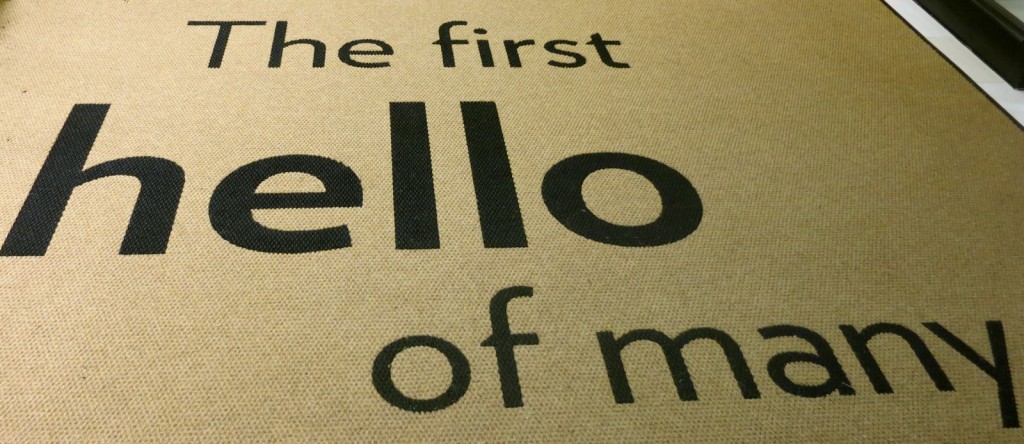 I hope this is the beginning of a wonderful trend in hospitality – that of the hotel as gym, health food restaurant, and workout motivator. The EVEN Hotel is all of those things, and as a result, it's gaining plenty of fans.
EVEN Norwalk CT is not exactly tucked away in some bucolic landscape. It sits across from a corporate park on a busy road. But it is an optimal location for visiting executives, traveling sports teams, and vacationers looking for a novel and healthy way to bunk down for the night.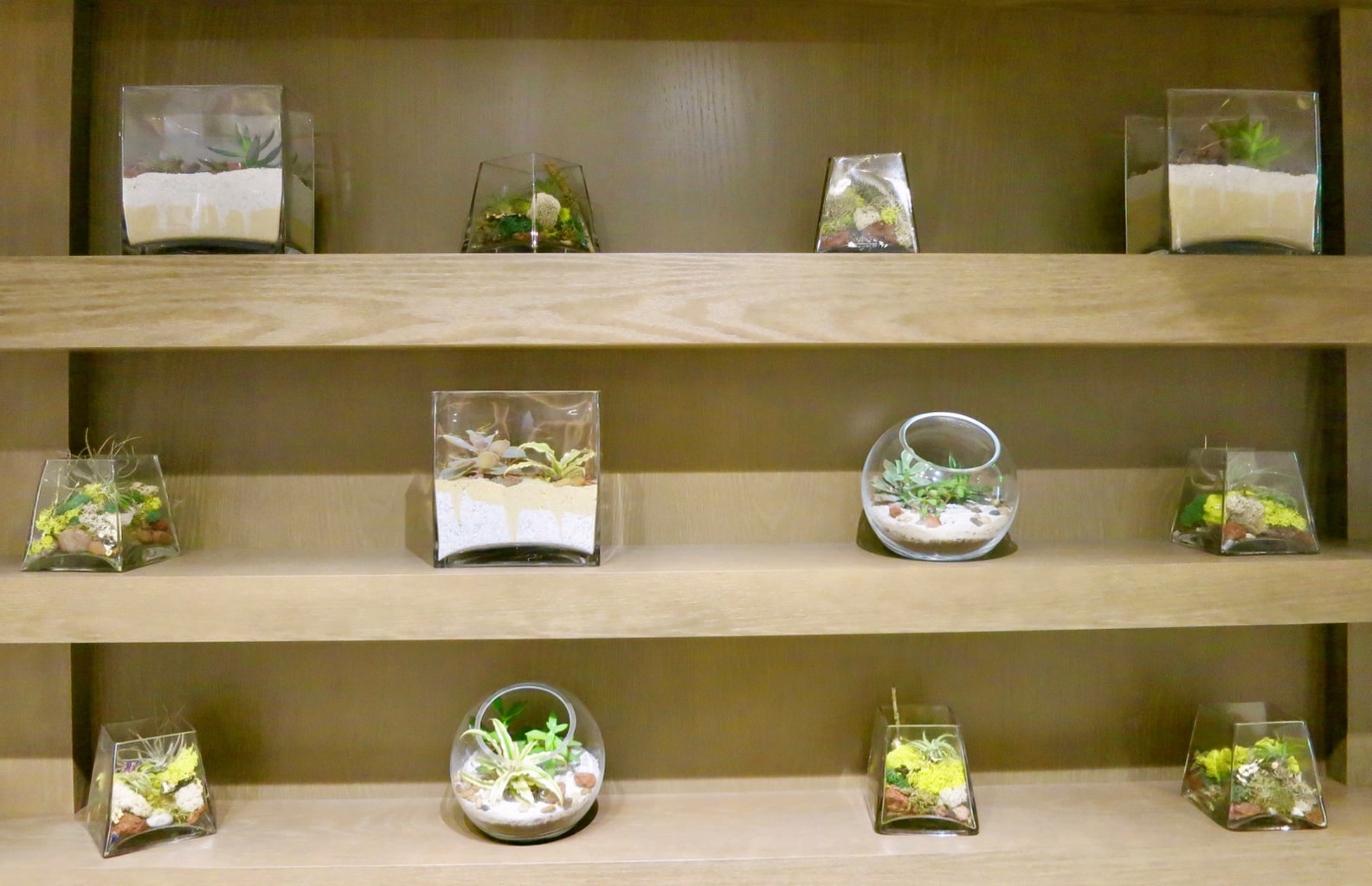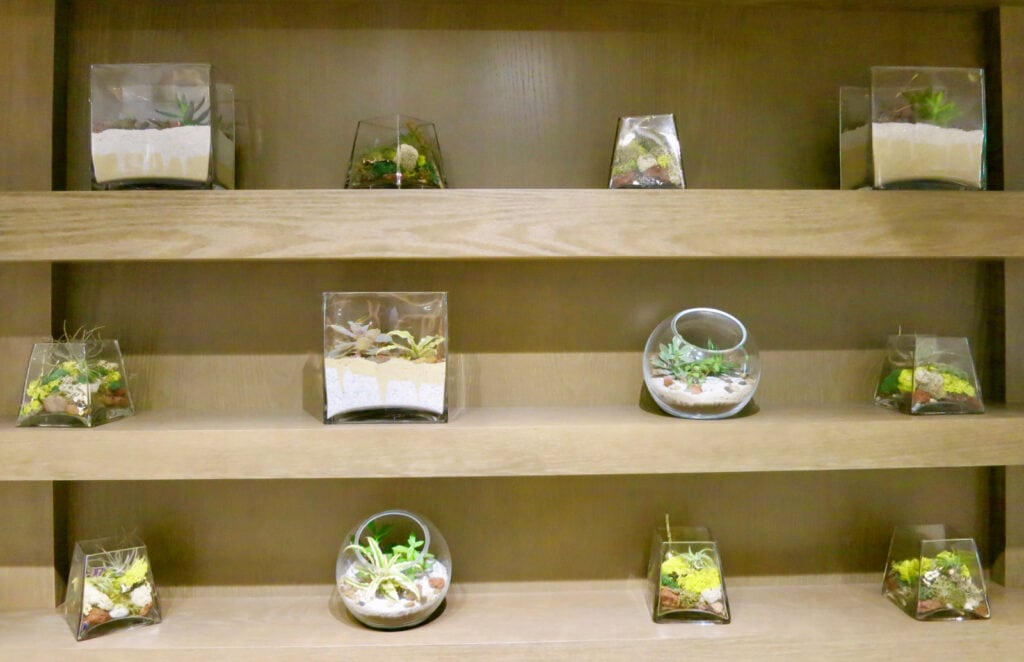 Catchphrases and motivational sayings pop up everywhere, beginning over the front door: "(If you're) Feeling Well – Come (on in)." You will certainly feel well and welcome. Hotel employees seem committed to your happiness with genuinely friendly service.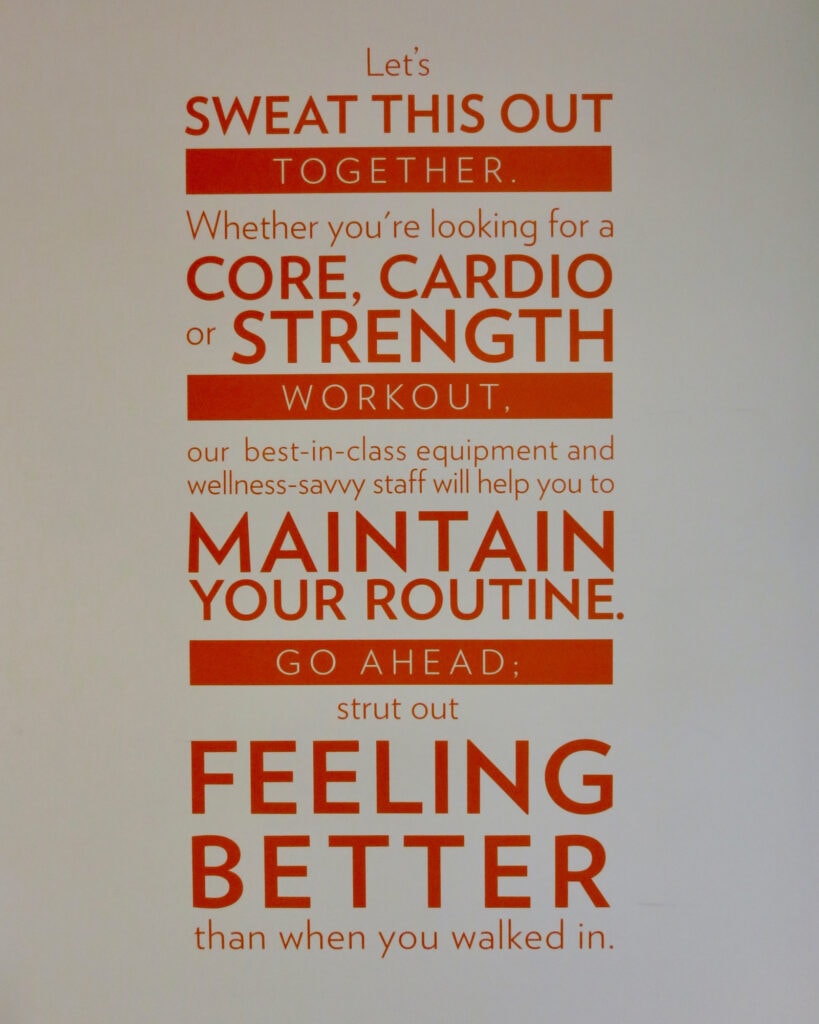 Automatic glass doors swish open to a "First Hello of Many" mat and a forest of living green walls.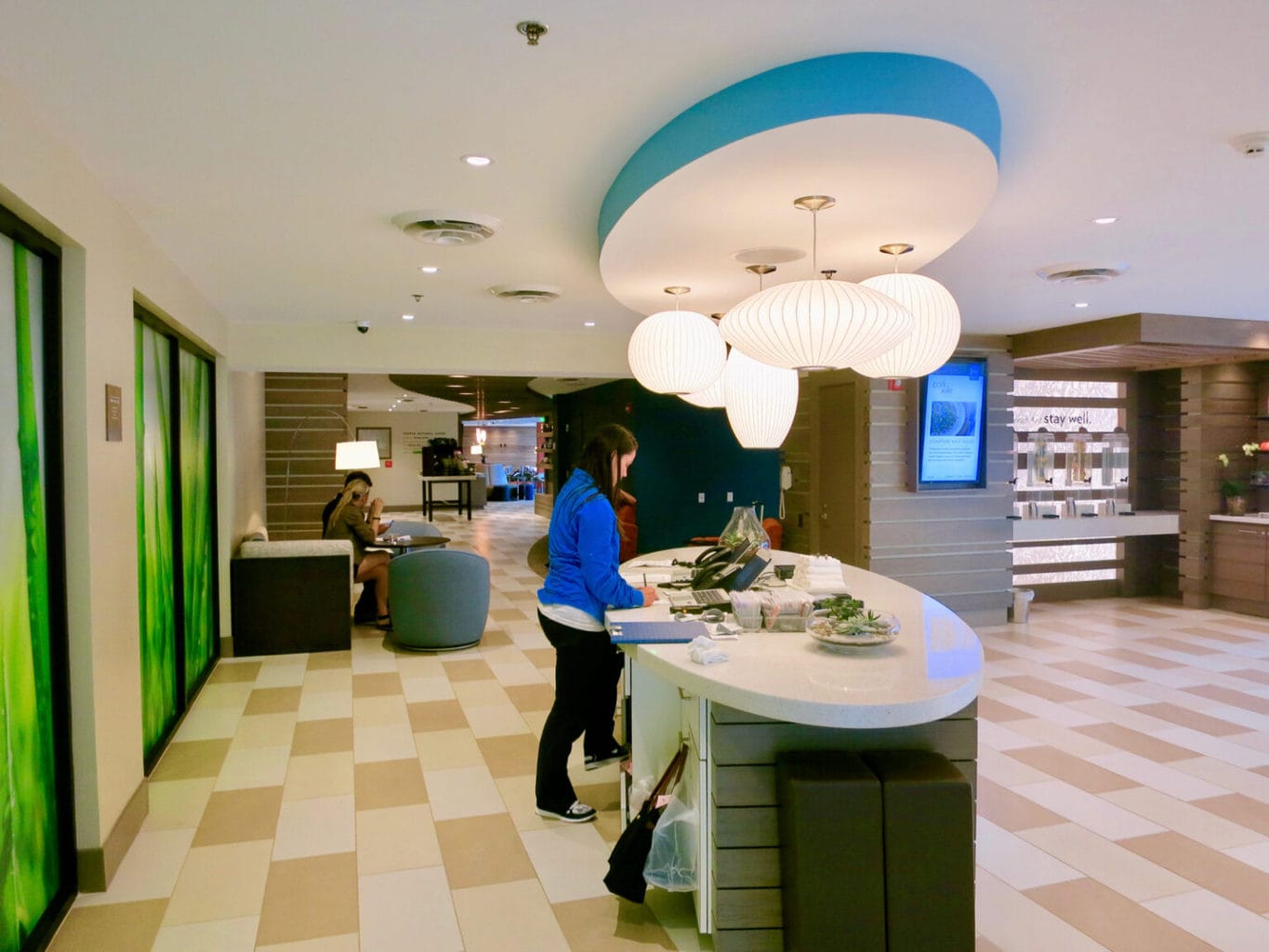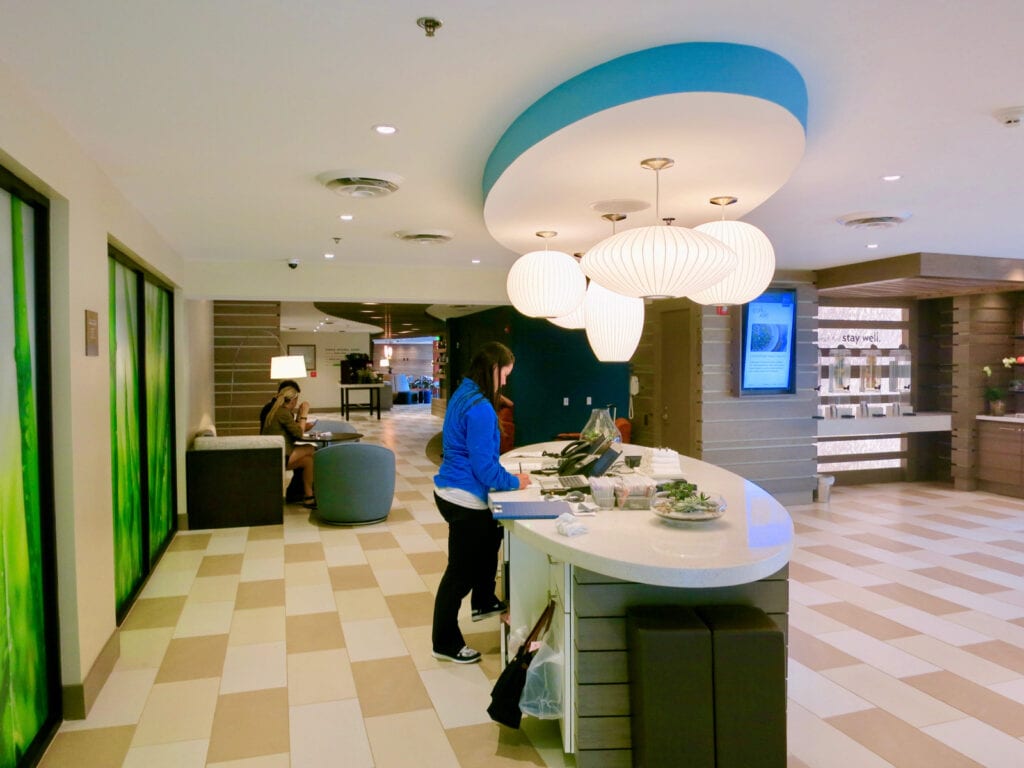 You can walk completely around the oval "welcome island" where smiling team members hand you a cool face-towel and room swipe-keys both in card and bracelet form. Start hydrating right away at the "Water Wall" – a selection of infused waters.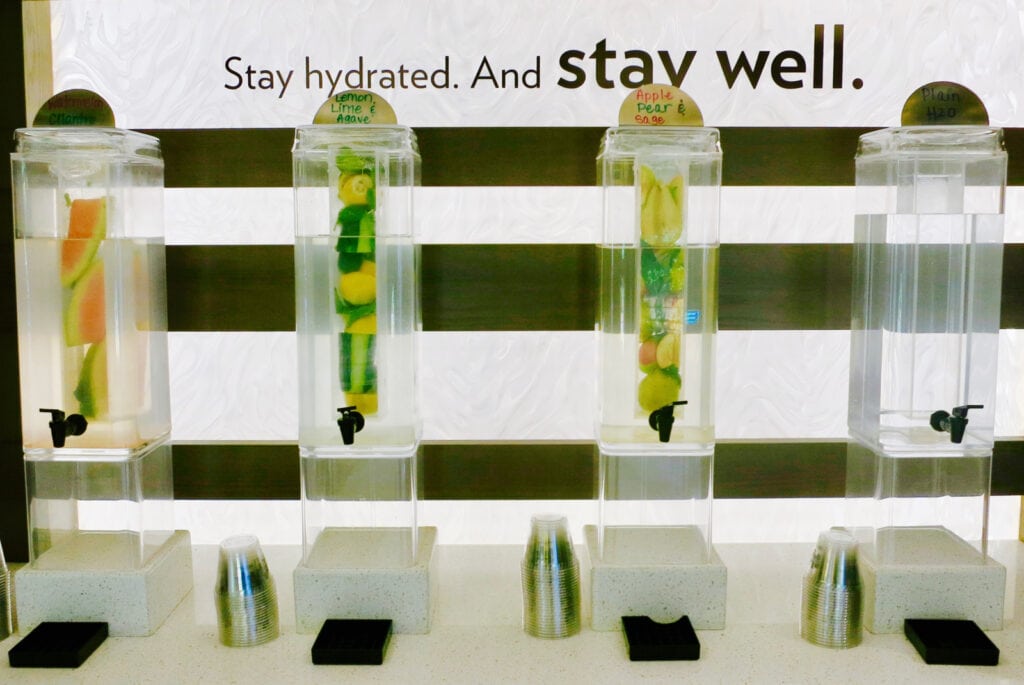 Service at EVEN Hotel Norwalk CT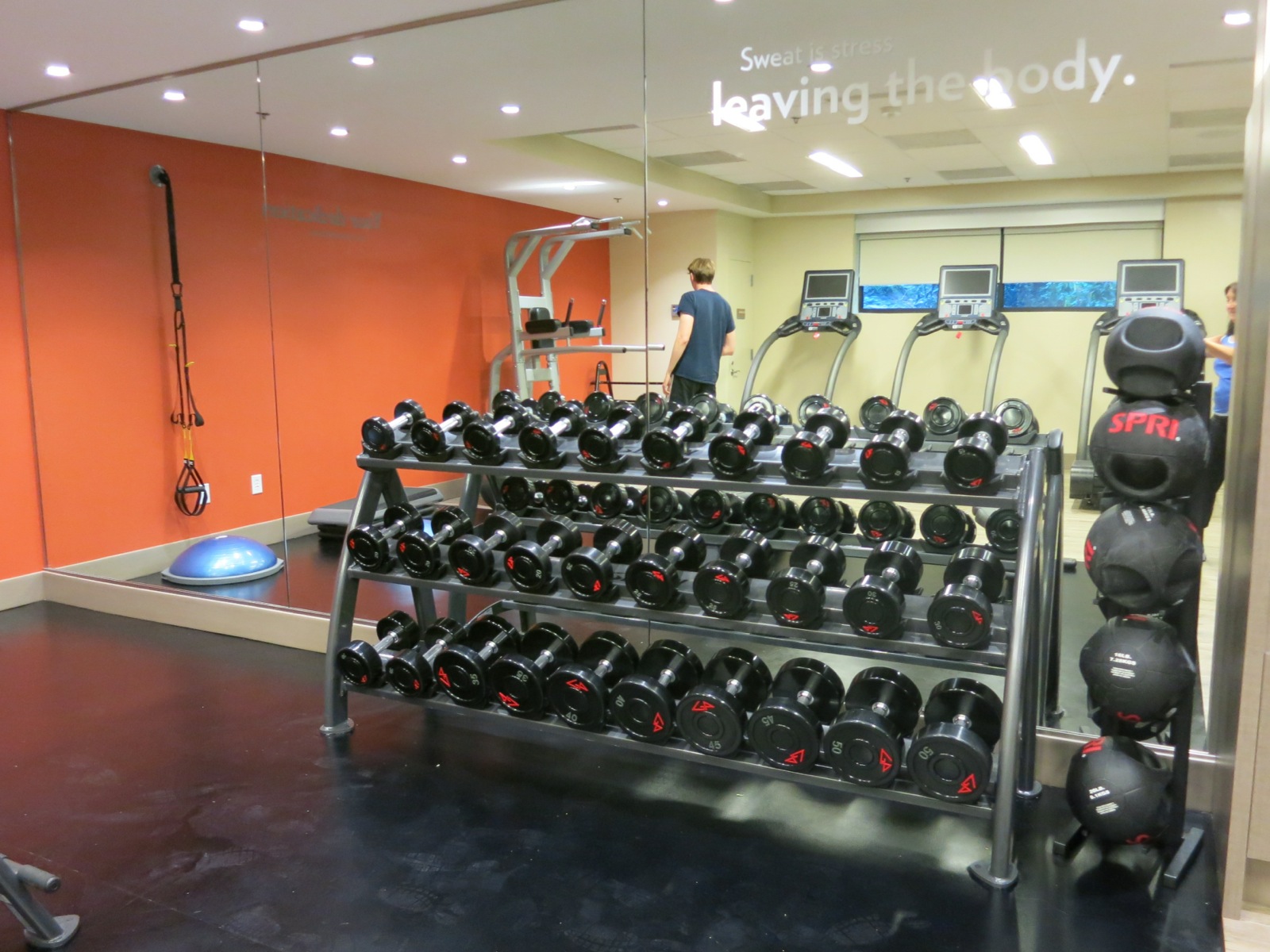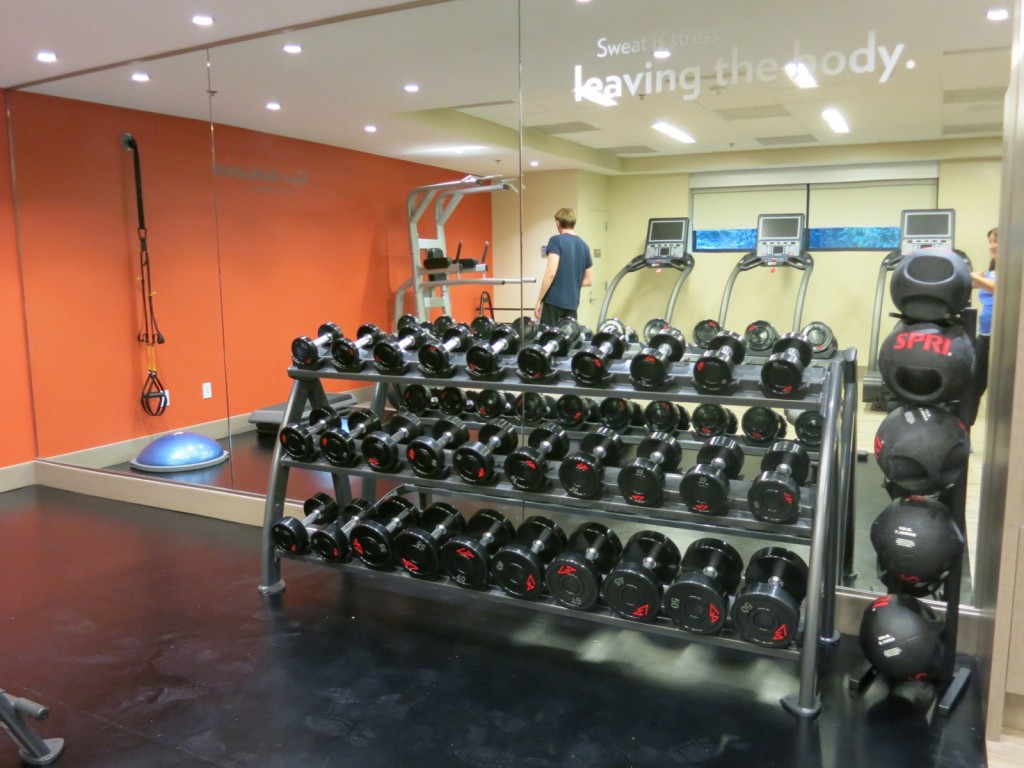 It is readily apparent that service is integral to the EVEN Hotel culture. Staff members wander around, in and out of the gym-like fitness center, inspiring people to stay on track.
In fact, employees have been known to give guests hi-fives after completing a circuit or treadmill goal.
The workout room is located right behind the Welcome Island, rather than down a long dark hallway. As such, it provides a sense of security, especially for women traveling alone.
Guest Rooms at EVEN Hotel Norwalk CT
All room numbers are even. Cute, right?
Even cuter and more impressive is what's inside: your very own mini-gym, personalized right down to the greeting on the dry-erase board that hangs above a stand-up desk. I found the fact that I wasn't just a number on a reservation sheet especially touching.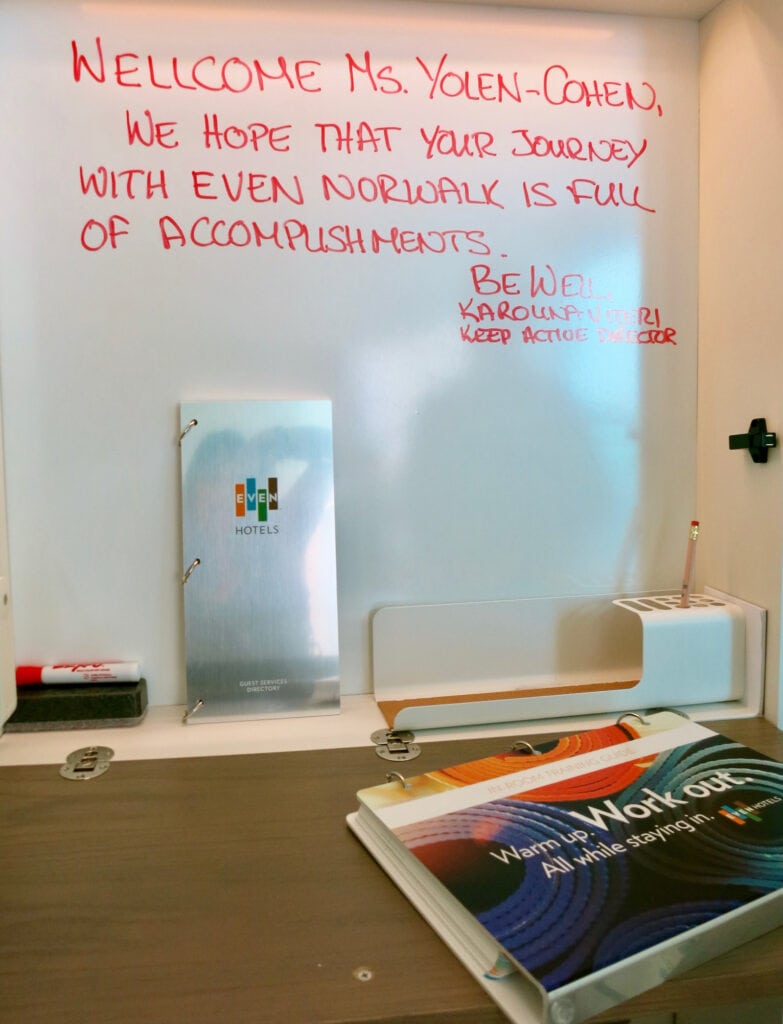 In Room Training Zone
A section of cork flooring designates your "in-room training zone." It's stocked with a stability ball, custom designed built-in pole with four connection points, resistance bands, a yoga mat, yoga block, foam roller and Clorox Wipes. Small ottomans serve as luggage benches and workout accessories.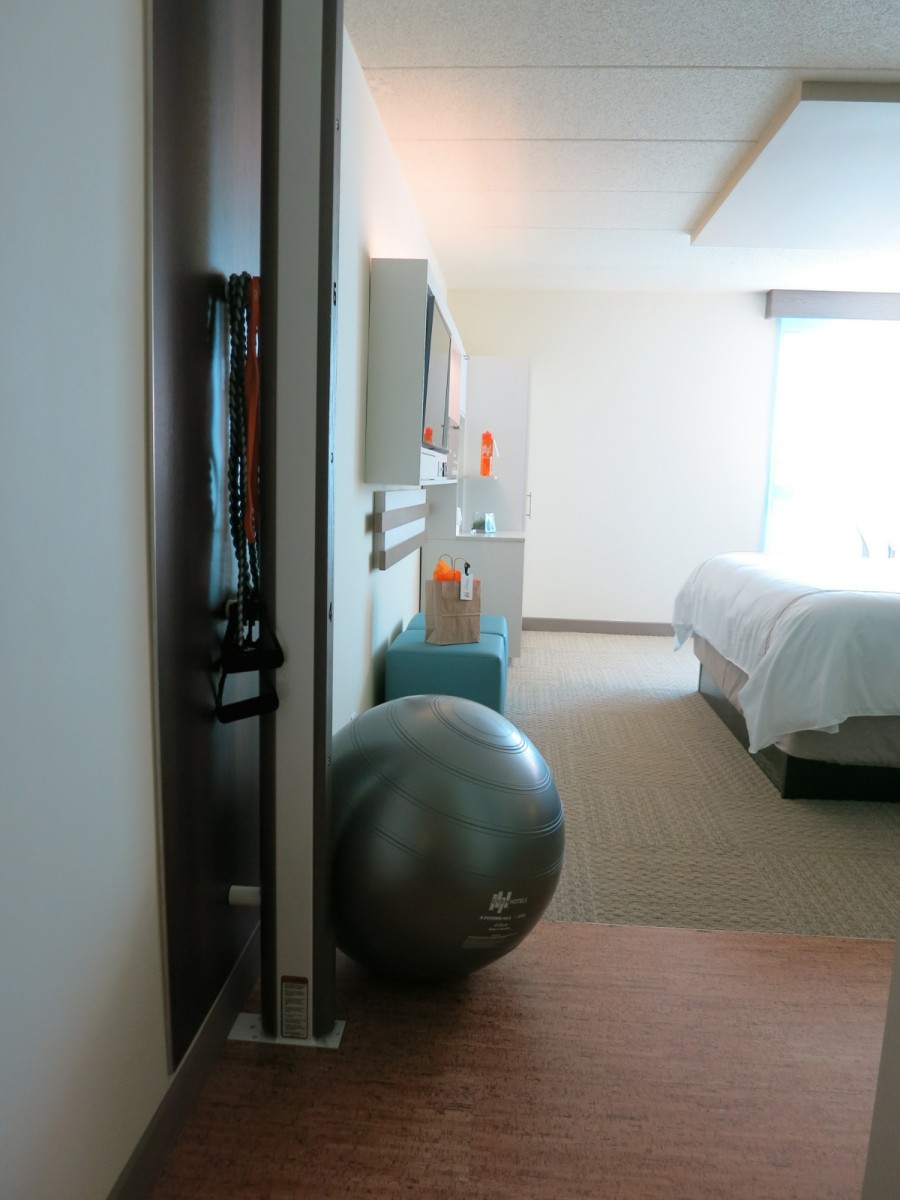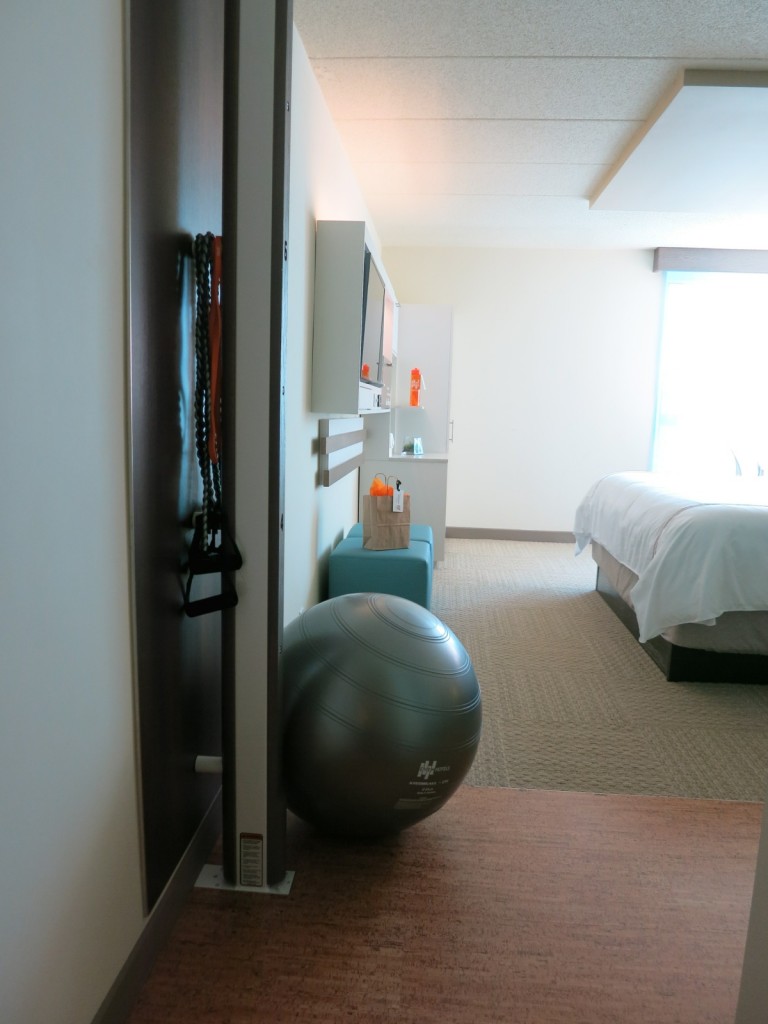 The swing-out flat-screen TV is pre-set with dozens of workouts, conducted by EVEN Hotel partner and Big Looser trainer, Jennifer Widerstrom.
An In-Room Training Guide – compiled by EVEN Hotel consultant Tammy Stokes (of West Coast Workout fame) is also available.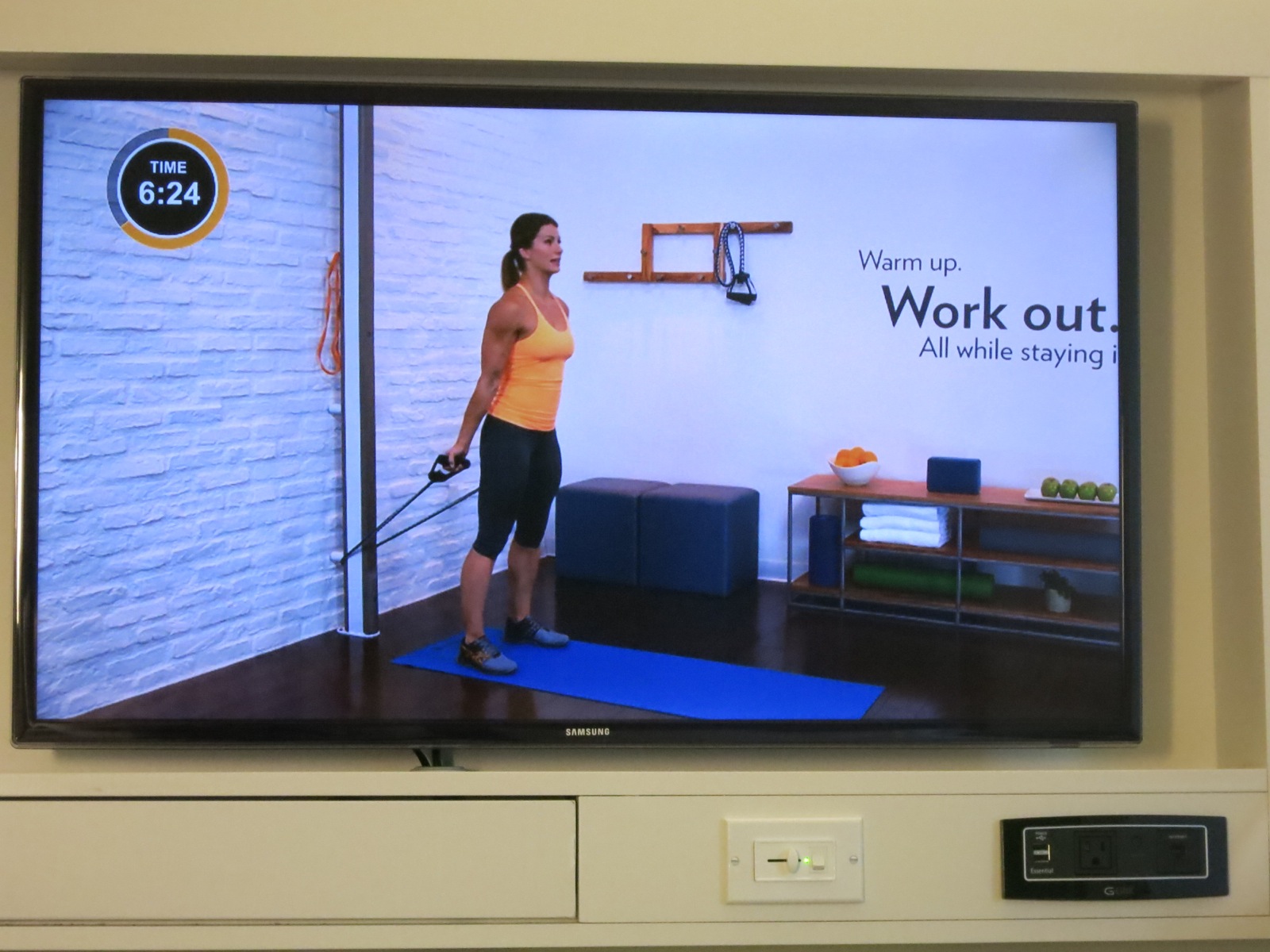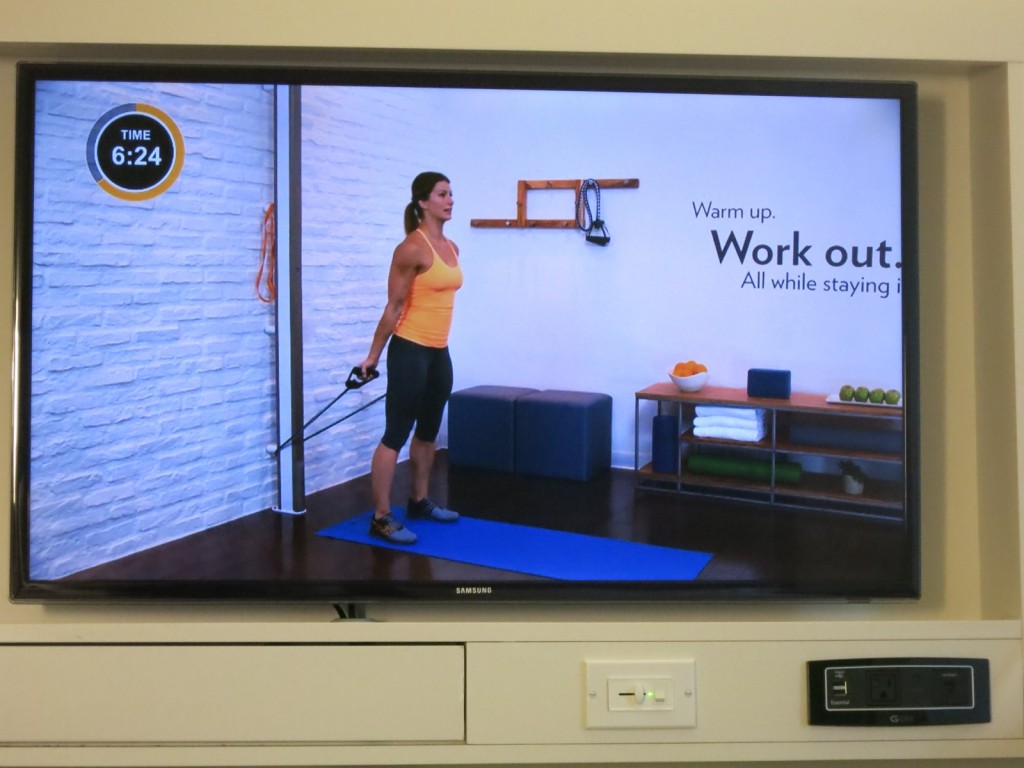 Guest Room Aesthetics
Each guest room is an oasis of calm – no frilly décor or loud colors. I found the high-end Simmons Beauty Rest beds with eucalyptus sheets and king-size pillows difficult to leave in the morning.
But the brightly lit bathroom with glass enclosure rain head shower and EO products got me out of bed and on an "even" keel.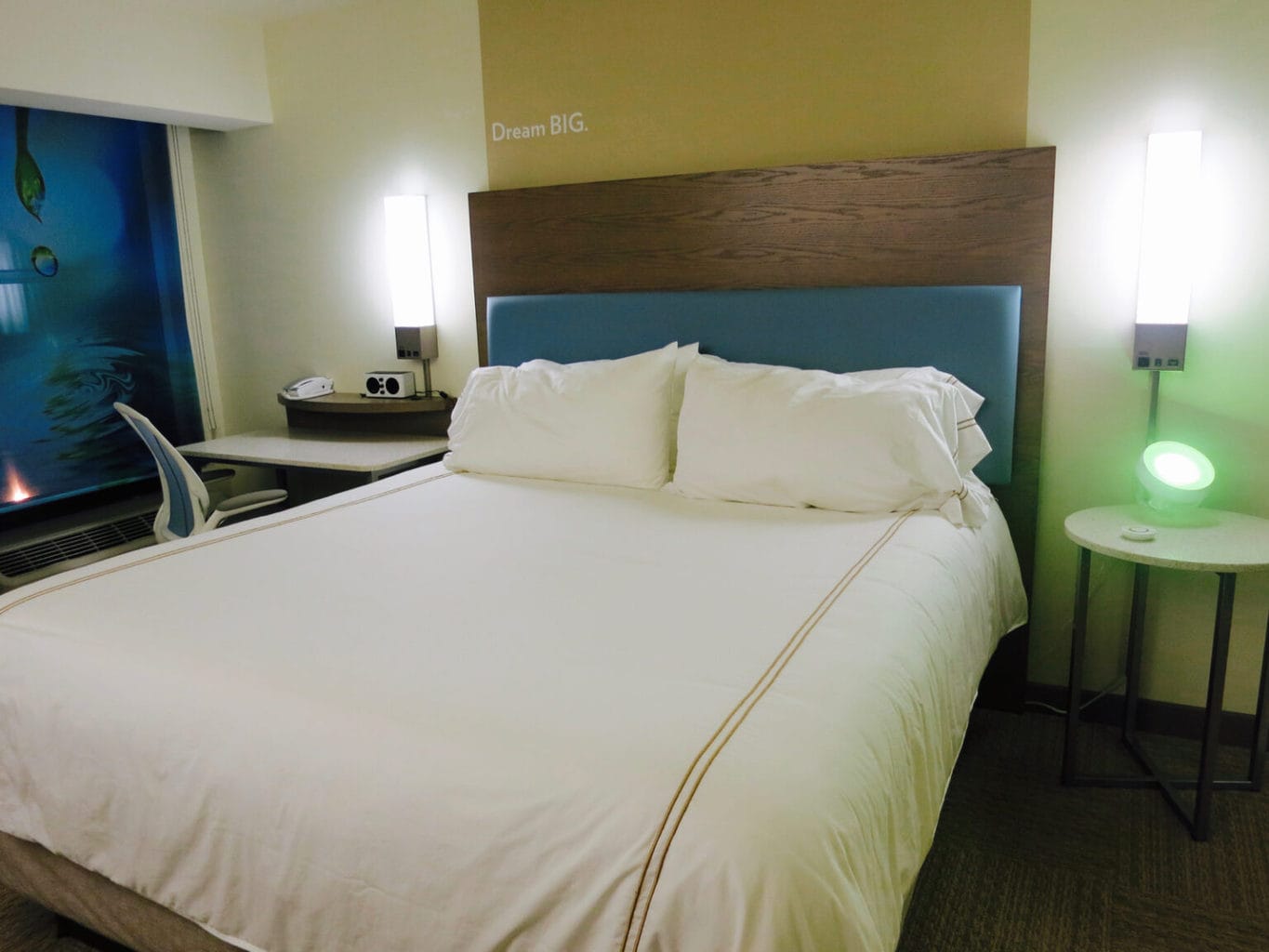 One of my pet peeves while traveling is following electrical cords in hotel rooms to outlets located behind beds or nightstands.
Thankfully, my in-room workout did not require pulling the bed away from the wall to plug in my chargers. Outlets are at an easily accessible torso-height near the bed.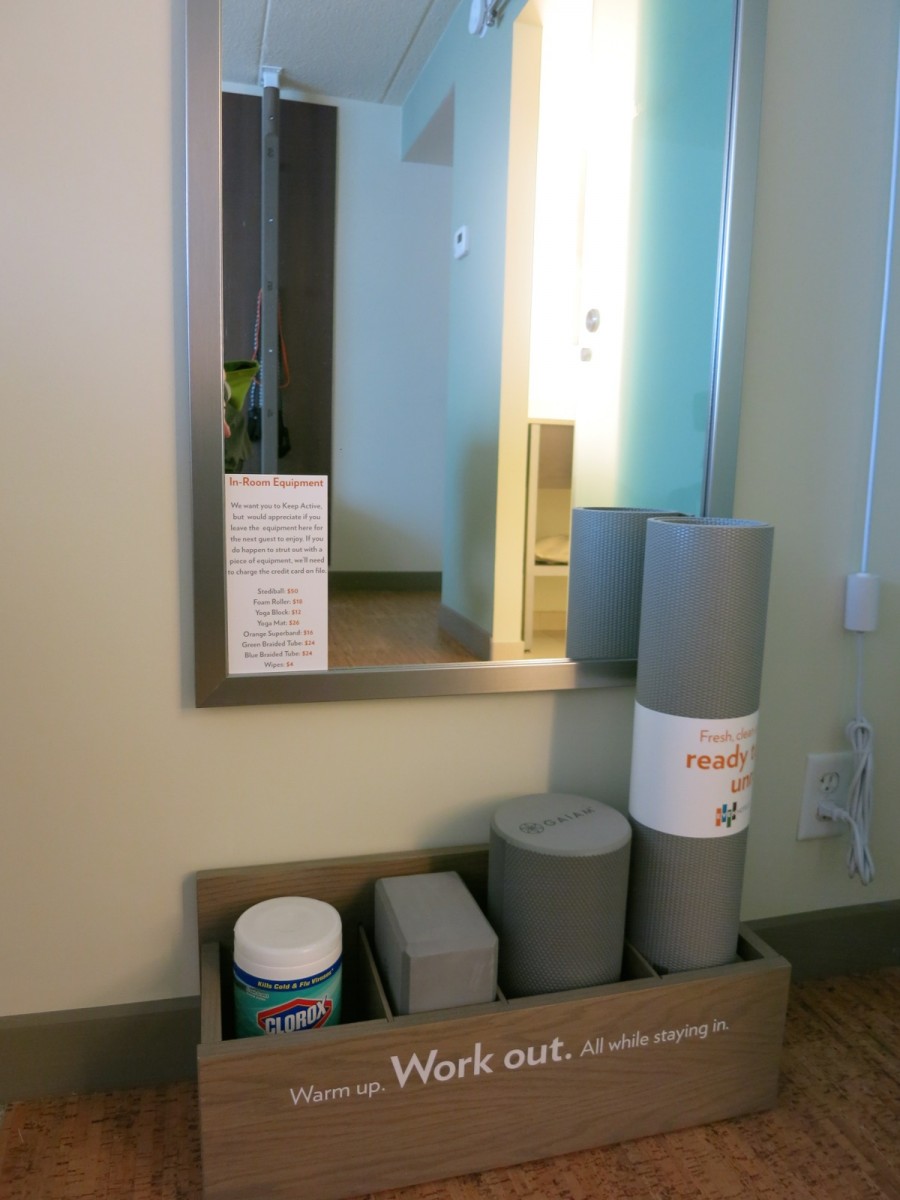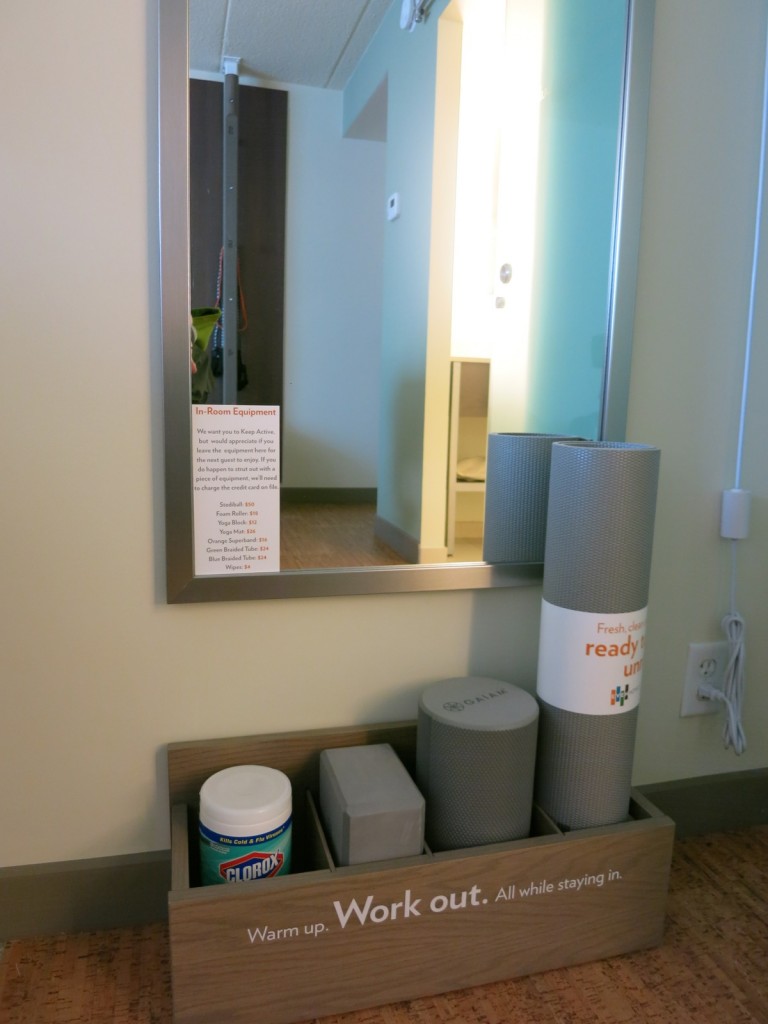 I found another room accessory less practical, but cool. The modish lava-lamp-esque mood-light on the nightstand casts the room in relaxing or energetic hues by changing colors from red to blue to yellow at your touch.
Keep in mind that while rooms facing the main road are, as I mentioned, an oasis of calm, they are not silent. If you are sensitive to traffic noises, you may want to bring earplugs.
Dining and Drinking at EVEN Hotel Norwalk CT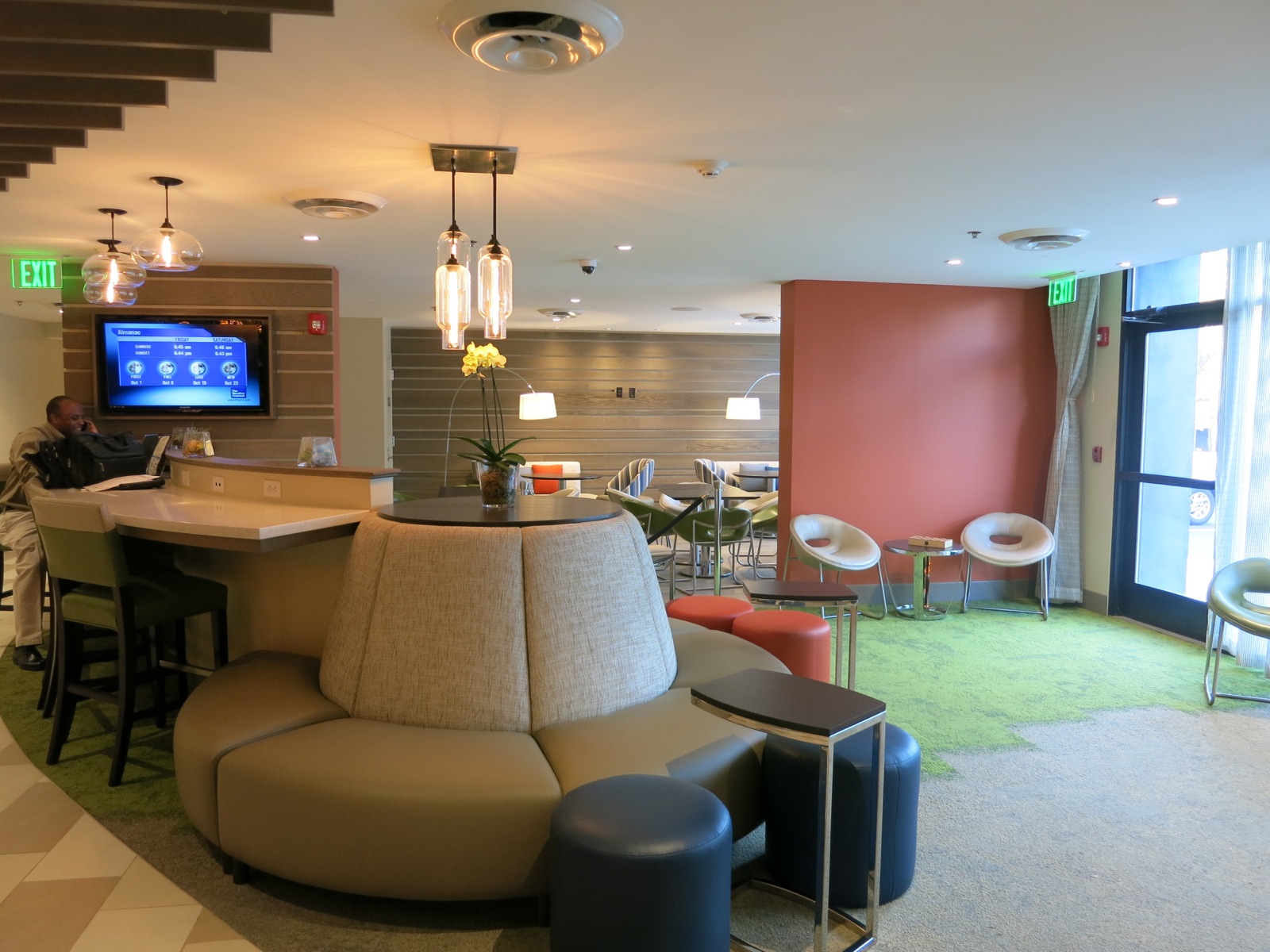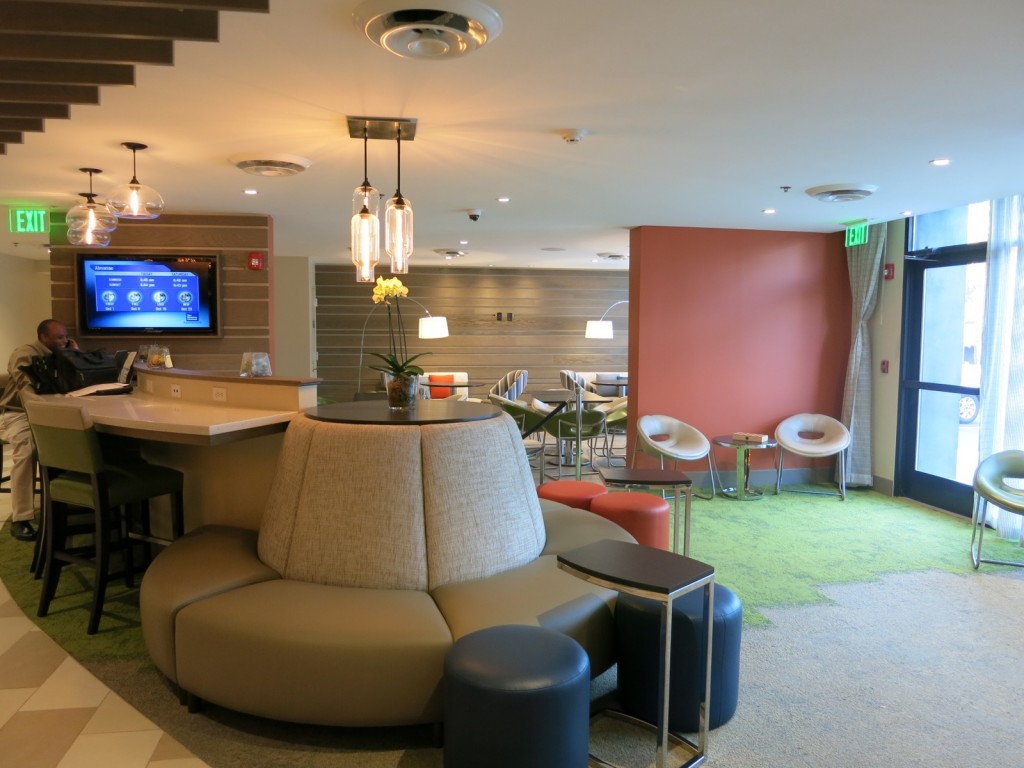 Seating for the casual in-house restaurant, Cork and Kale, flows throughout the lobby and common areas. Breakfast and dinner offerings skew healthy but are not without indulgences, such as well-crafted cocktails from the bar, small-bite charcuterie boards and flatbread-pizzas for dinner.
Pick up healthy treats as well as fresh-ground Jittery Joe's Coffee and artisanal teas in the lobby market.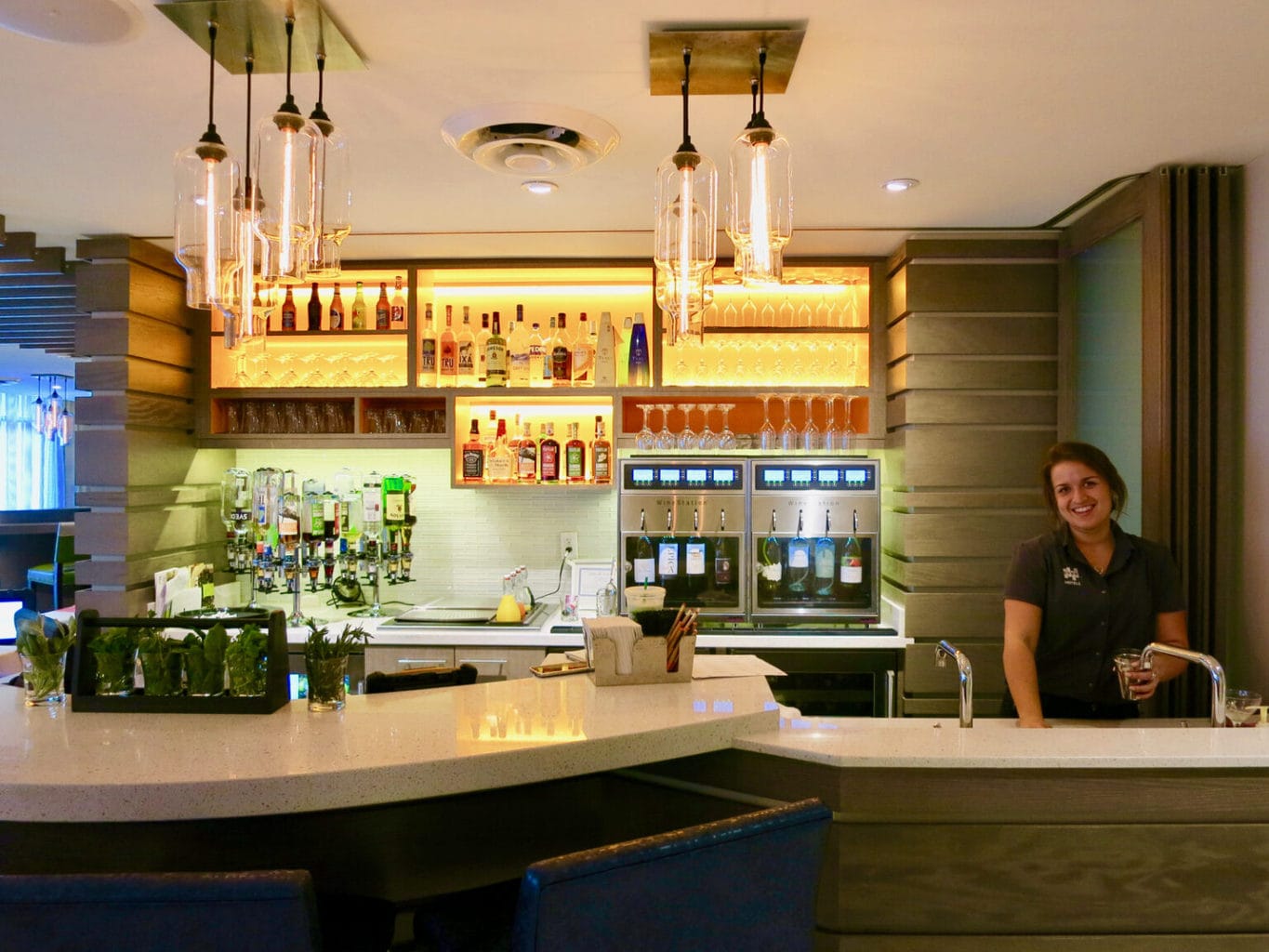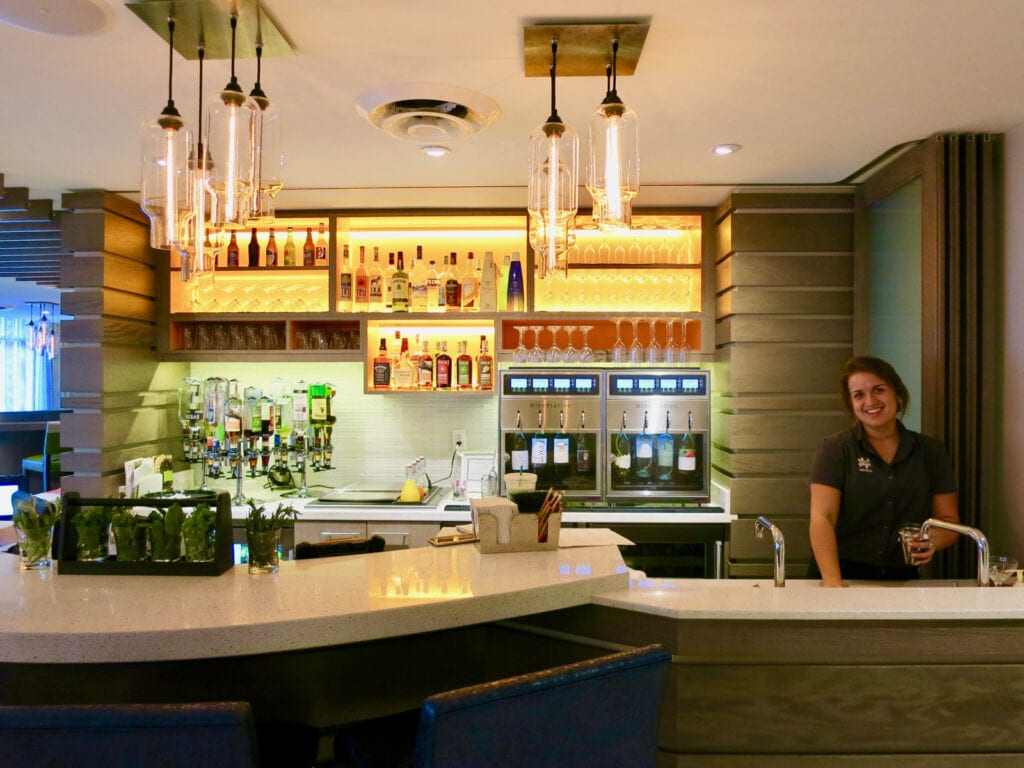 If your idea of health and wellness involves deciding between Red or White – or sipping Sake infusions and rum concoctions, EVEN Hotel delivers. As hotel staff understands, everyone relaxes in his or her own way.
Amenities At EVEN Hotel Norwalk CT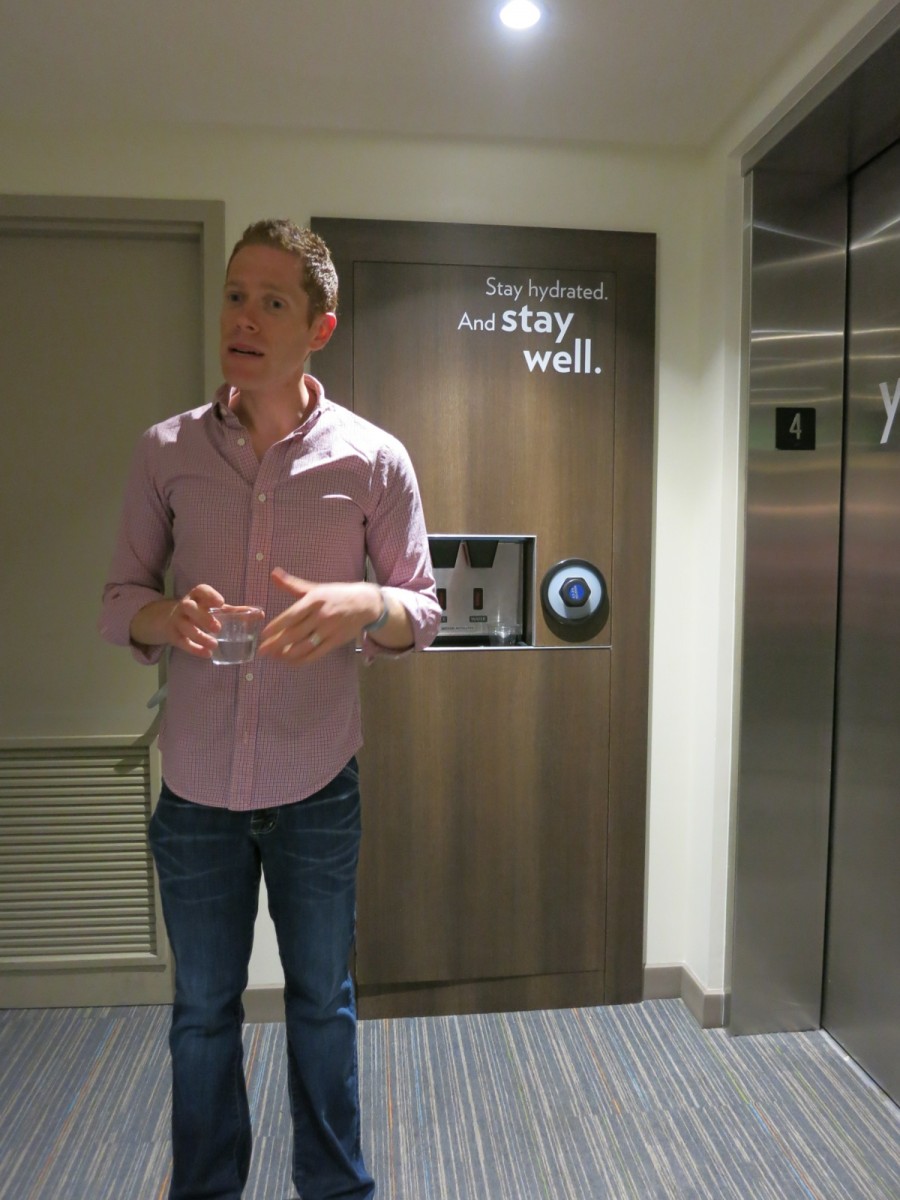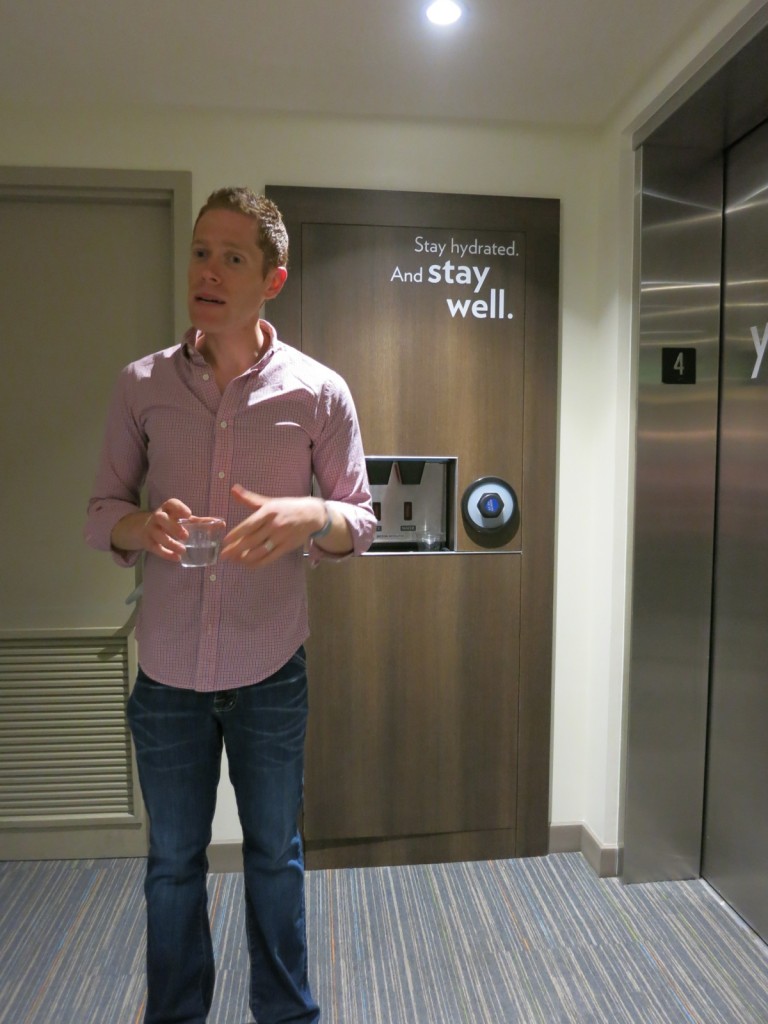 There are "filtered water wells" throughout the hotel to fill the water bottle that comes complimentary with the room.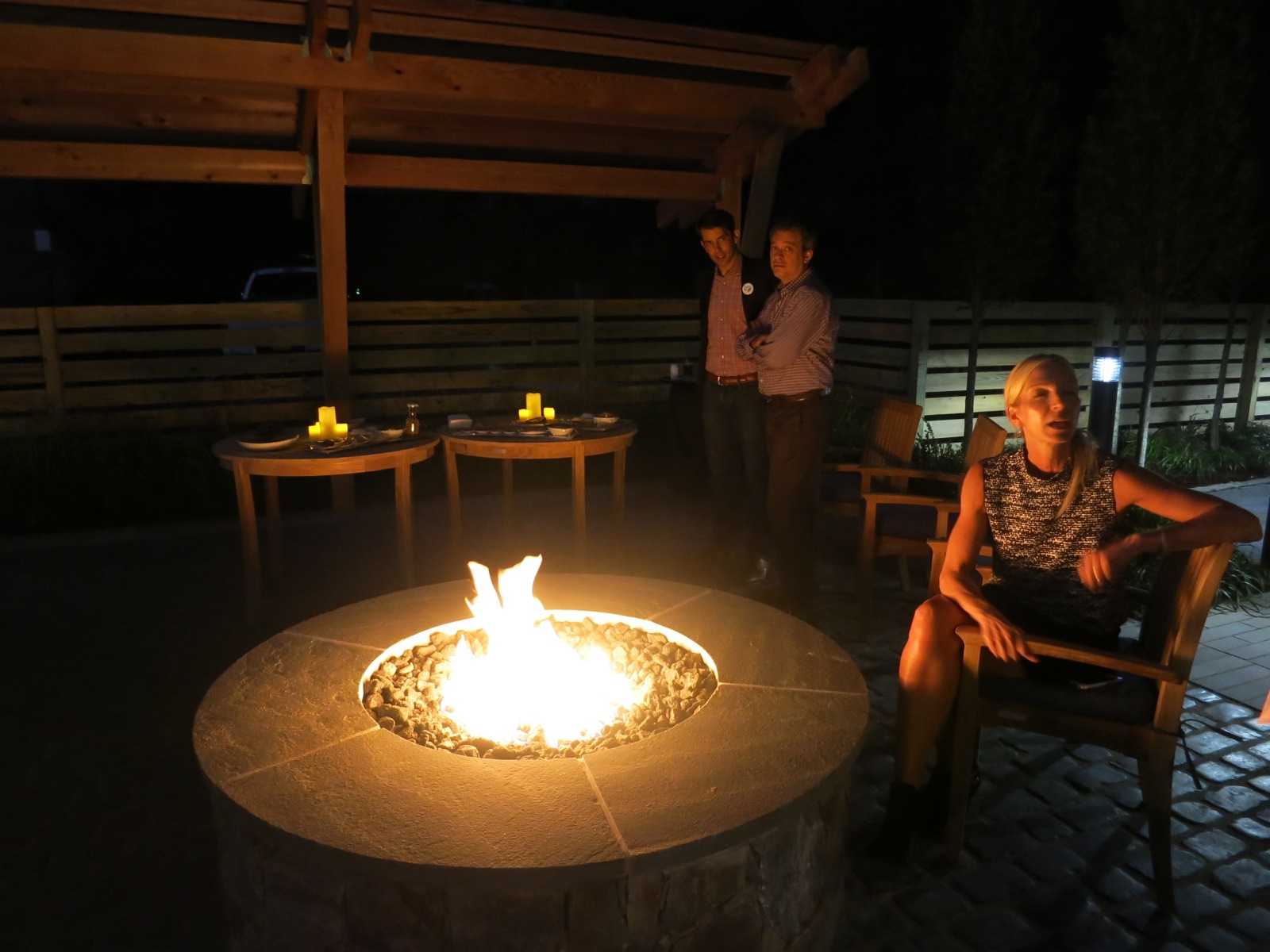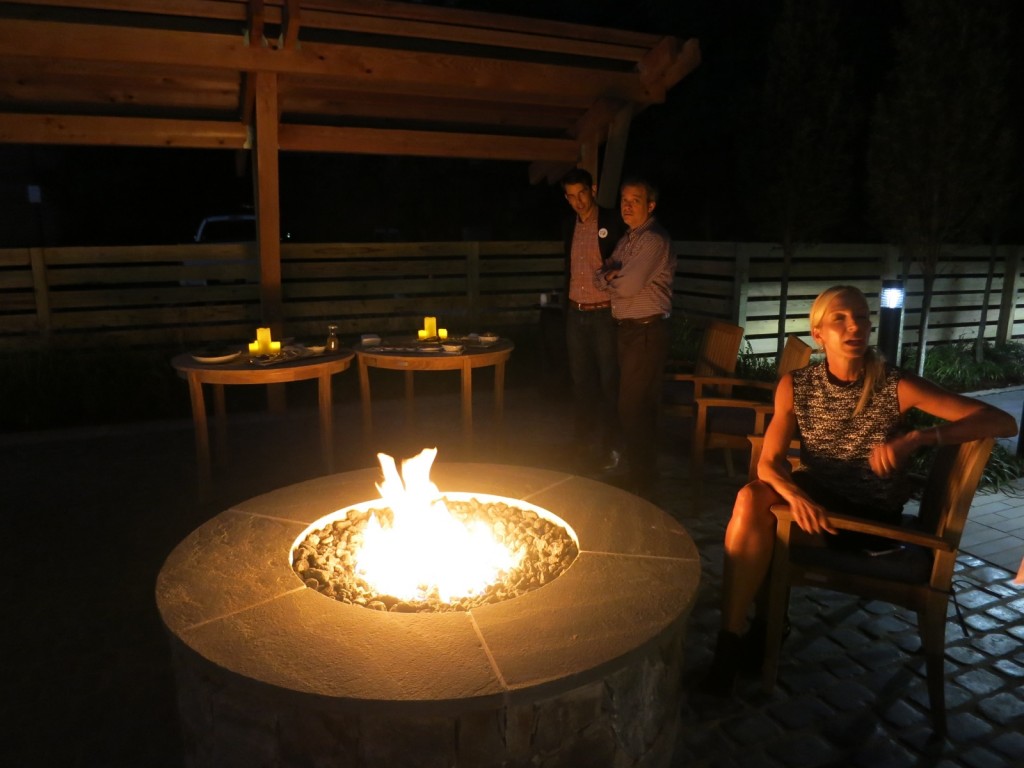 Outdoor Fire Pit makes for great gathering place.
Complimentary wi-fi is uber-fast.
Complementary parking, and complementary shuttle to South Norwalk.
Just the Facts
Rooms at EVEN Hotel, Norwalk CT start at $99 on weekends and top out around $349 and include the amenities outlined above.
For those with some free time, check out the attractions and eateries in Norwalk CT on this Getaway Mavens post.