Last Updated on December 18, 2022 by Editor
WHY GO:  Jamestown NY, as far west as you can get in New York State, seems an unlikely place for a National Comedy Center. That, and the nearby Chautauqua Institution, are not easy places to get to. But, man, the journey is worth it. Hometown to Lucille Ball, Jamestown has cornered the market on comedy with the opening of the National Comedy Center in August 2018.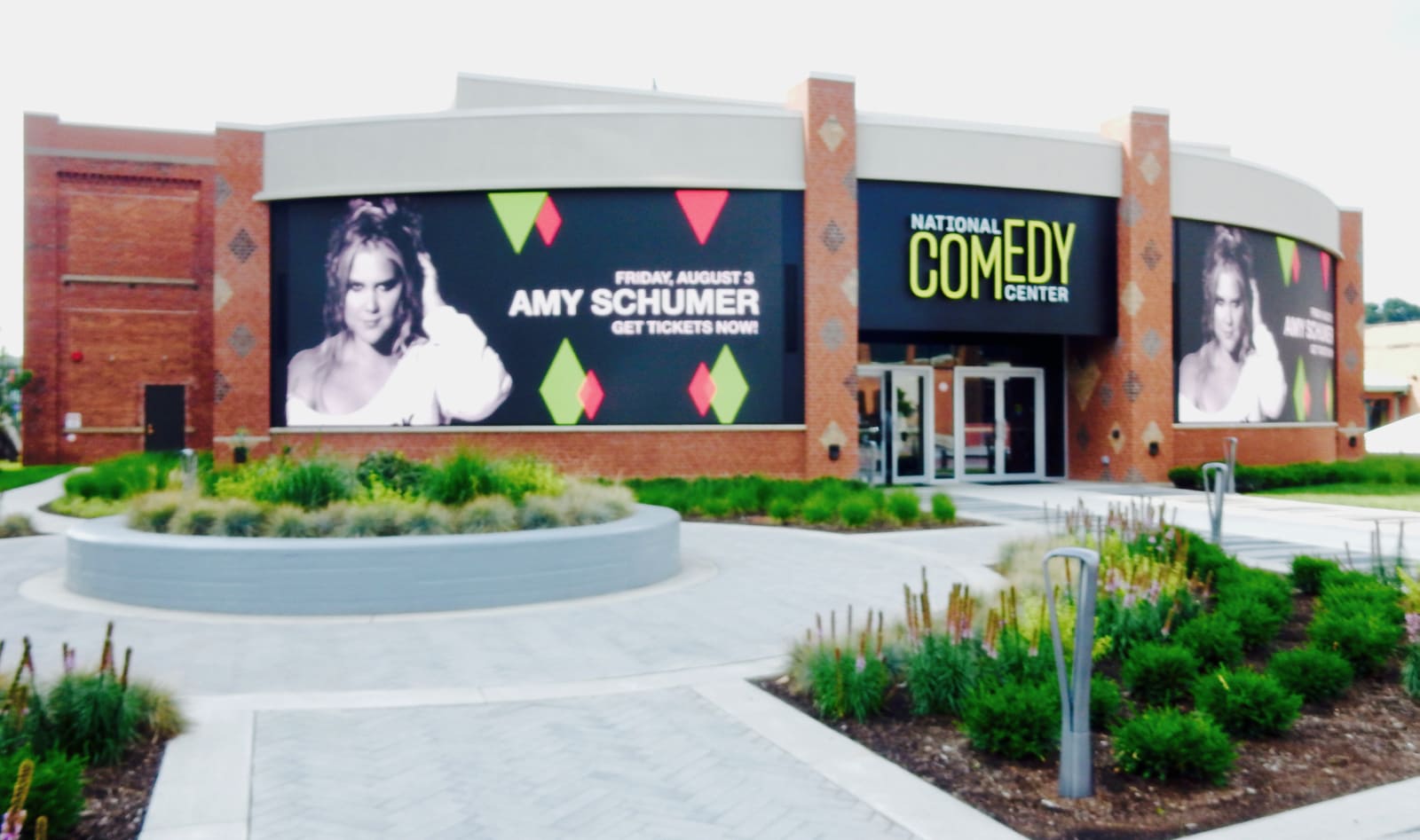 And the Chautauqua Institution, a summer study, lecture, and performing arts center, has done the same with intellectual and cultural pursuits. Just a 20-minute drive from each other, you can combine a trip and make a week or more out of this region that is soon to be on everyone's radar. The Mavens tell you how here:
Things to Do in Jamestown NY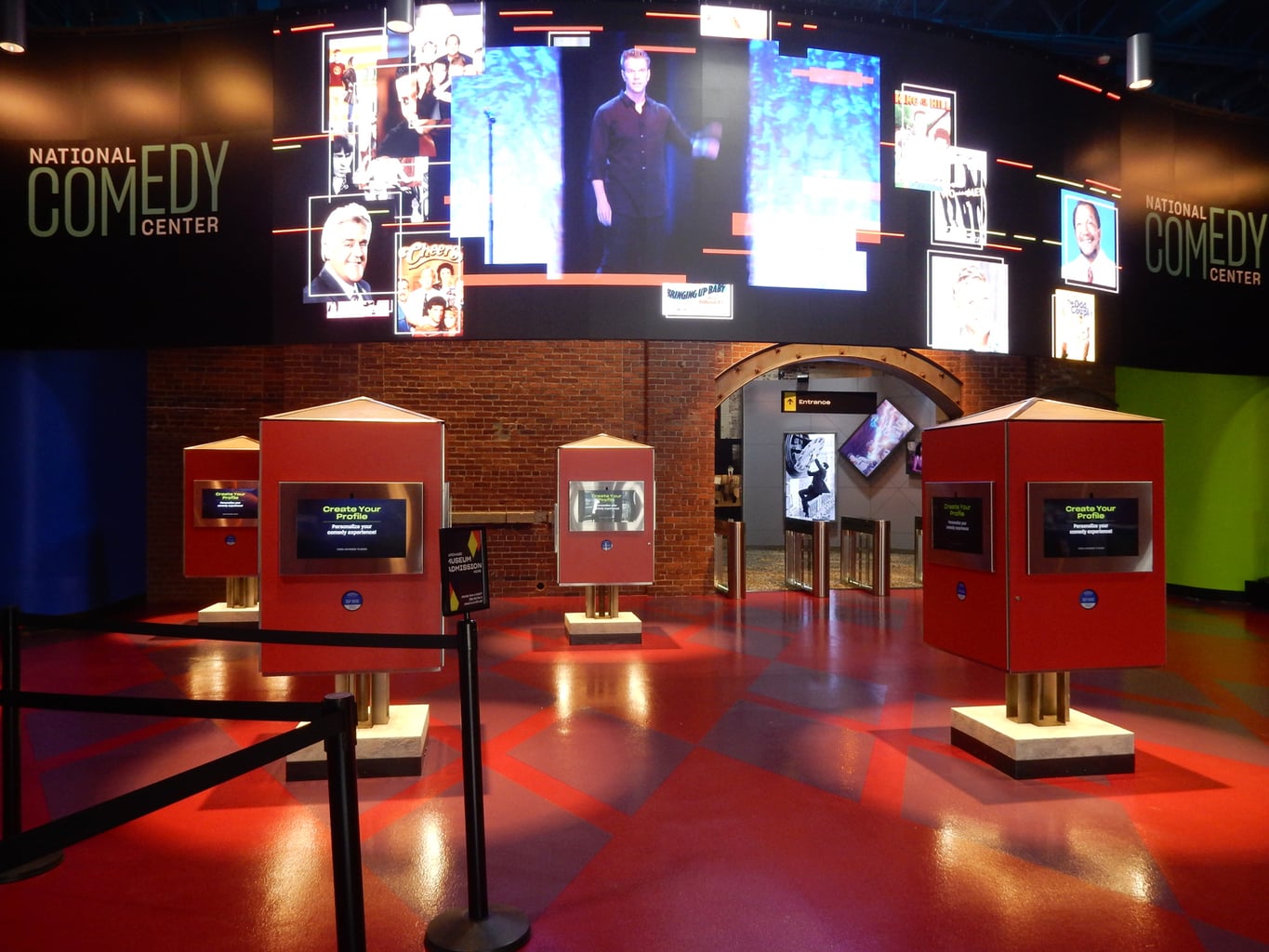 This zingy, incredibly interactive 50-exhibit museum is an outgrowth of the annual Lucille Ball Comedy Festival, and the biggest thing to hit this remote area of New York in, well, forever. And we have our beloved Lucy to thank for it.
The daffy but shrewd businesswomen, Ms. Ball, didn't want a shrine devoted to her alone. She preferred that her hometown be a destination for comedy as a whole. Of course, her fans just had to open a Lucille Ball and Desi Arnez Museum. (Still open. See below). But now the focus of Jamestown NY is on the Titans of Titter, the Champions of Chuckle, the Lions of Laughter.
Personally Program Your Wristband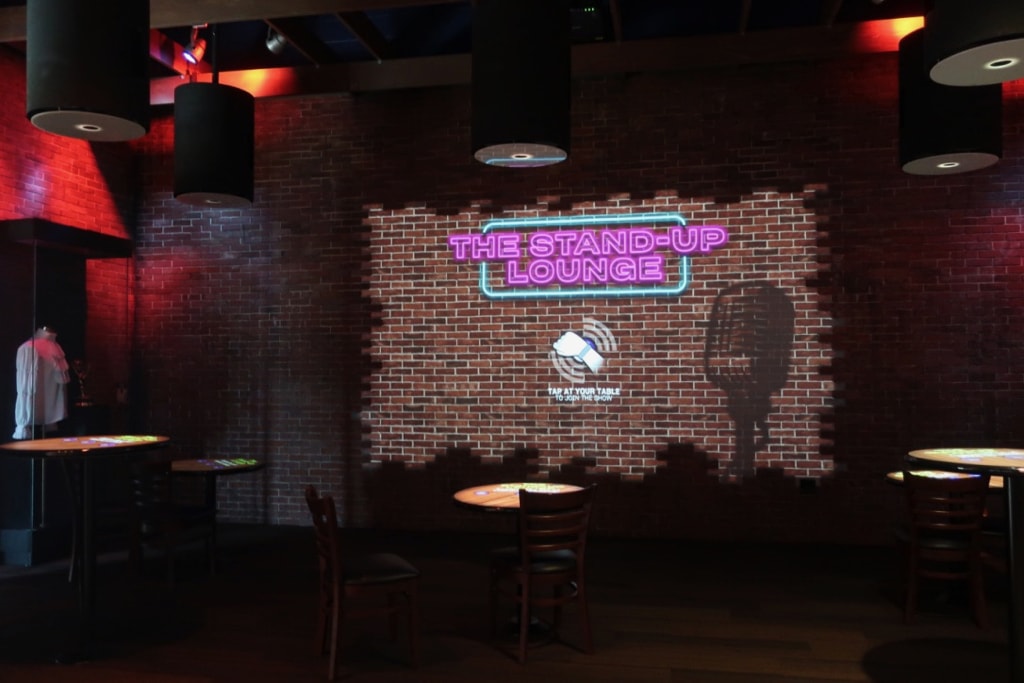 The museum lobby is a mini Times Square, with videos of stand up comedians on massive screens. Plunk down your money, and you get a "laugh band" – a computerized wristband that you can program at entry kiosks, with your photo, email address, and comedy preferences.
Do you like witty banter? Irreverence? Sarcasm? Wackadoodle? Wordplay? Do you prefer nuanced to in-your-face? Canadian-nice to American snark? The programable wristband enables you to interact at various stations in the 37,000 sq. feet museum.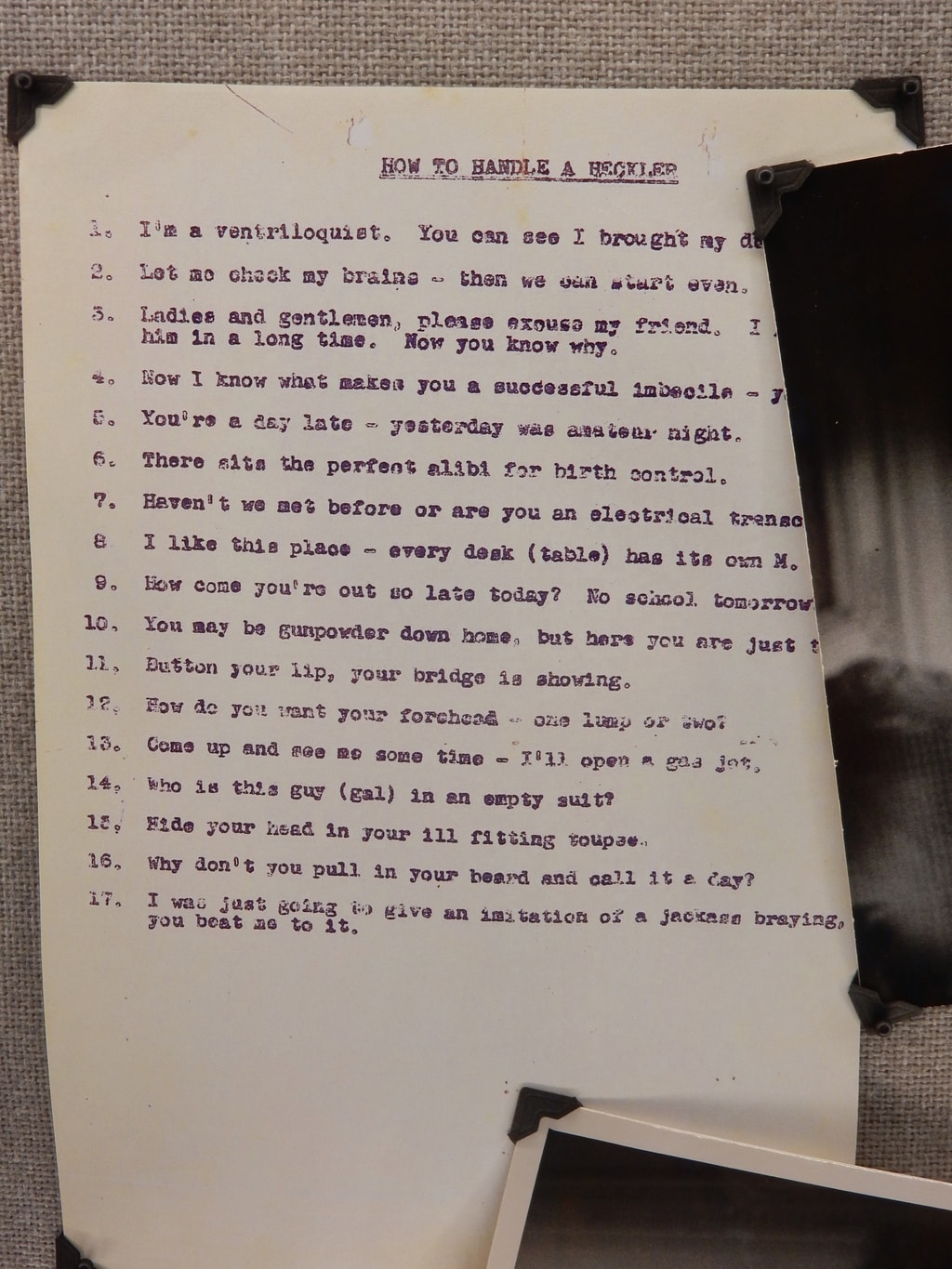 Comedic artifacts, drizzled among the interactive exhibits, are on display. See Seinfeld's "Puffy Shirt," Rodney Dangerfield's necktie, Lucy's polka dot dress, Joan River's well worn list of "How to Handle Hecklers."
There is so much to do here, it's tough to know where to start. Watch a hologram of Jim Gaffigan, explaining how he got his start. Or spend a whole day studying George Carlin's concert tapes and going through his papers. (His daughter, Kelly, donated her father's complete archives to the Center).
Interact With Comedians
The Stand Up Lounge projects routines based on the type of comedy that everyone who has "tapped in" has in common. In other exhibits, you can manipulate a "Late Night" camera, find out how your favorite comedians are "related" on the Comedy Continuum, manipulate props used in comedy bits, create cartoons, match sound effects to movie clips, make your own social media meme, practice your acting chops in front of a green screen, and engage in a "Laugh Battle" with friends.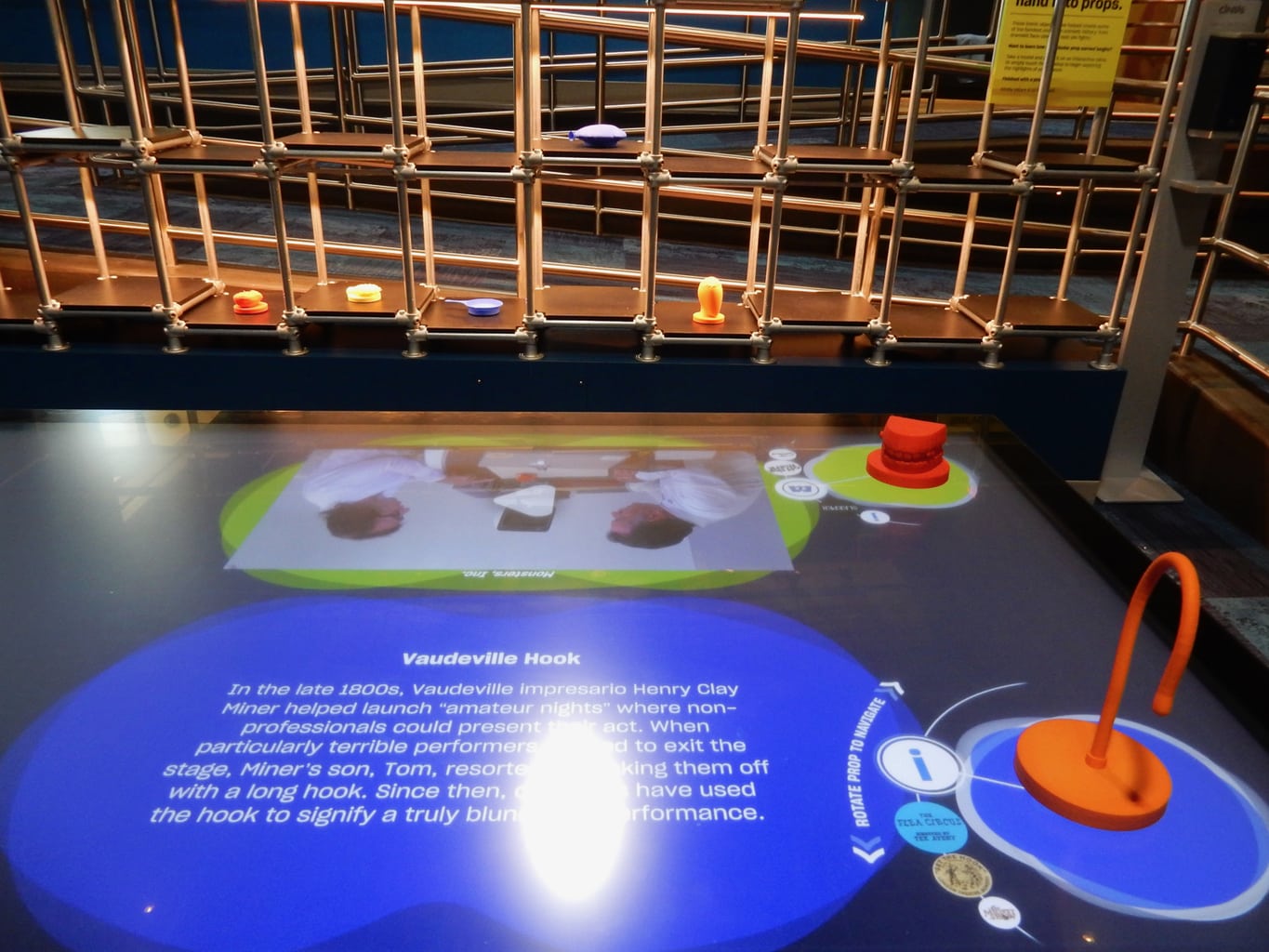 For shock value, head to the basement – the Blue Room – where boundary-pushers abound. A recorded George Carlin greets visitors with "the seven words you can't say on TV." Lenny Bruce trench coat is on display, along with a slew of his notes and photos.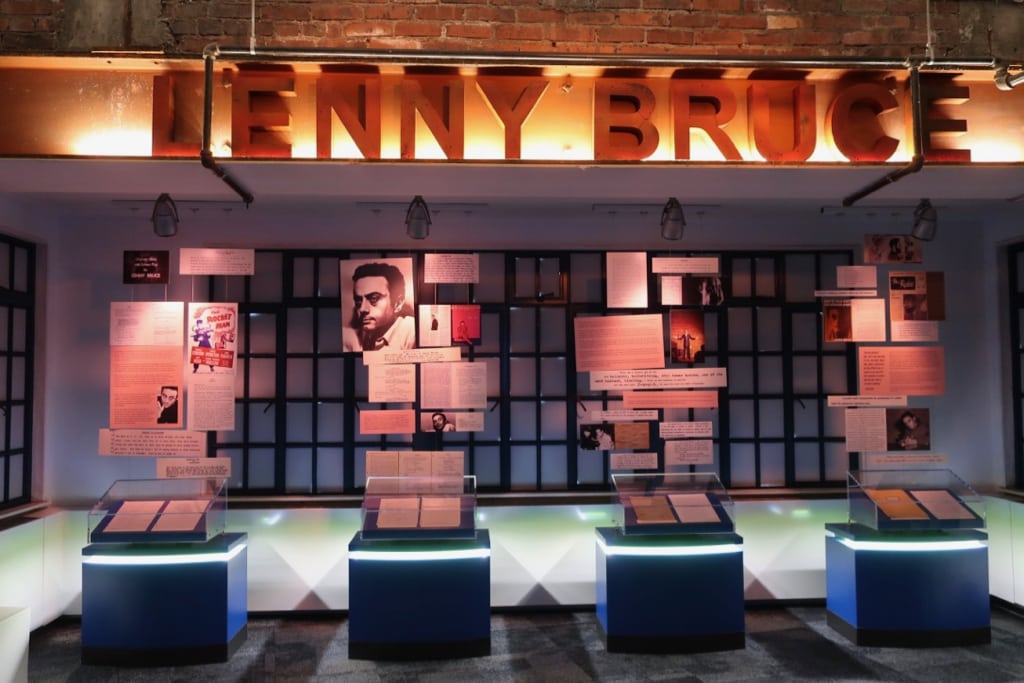 Also, discover the bawdy woman-before-her-time, Rusty Warren, who shocked the public in 1960 with her "Knockers Up" album and routine. (Some say Warren was inspiration for The Marvelous Mrs. Maisel – and her "Tits Up" mantra). Plan to spend at least 4 hours at the Center. For comedy lovers, there's nothing better. Open Sun-Thurs 10-5, Fri/Sat 10-9, $23.50 adults, $12.50 kids.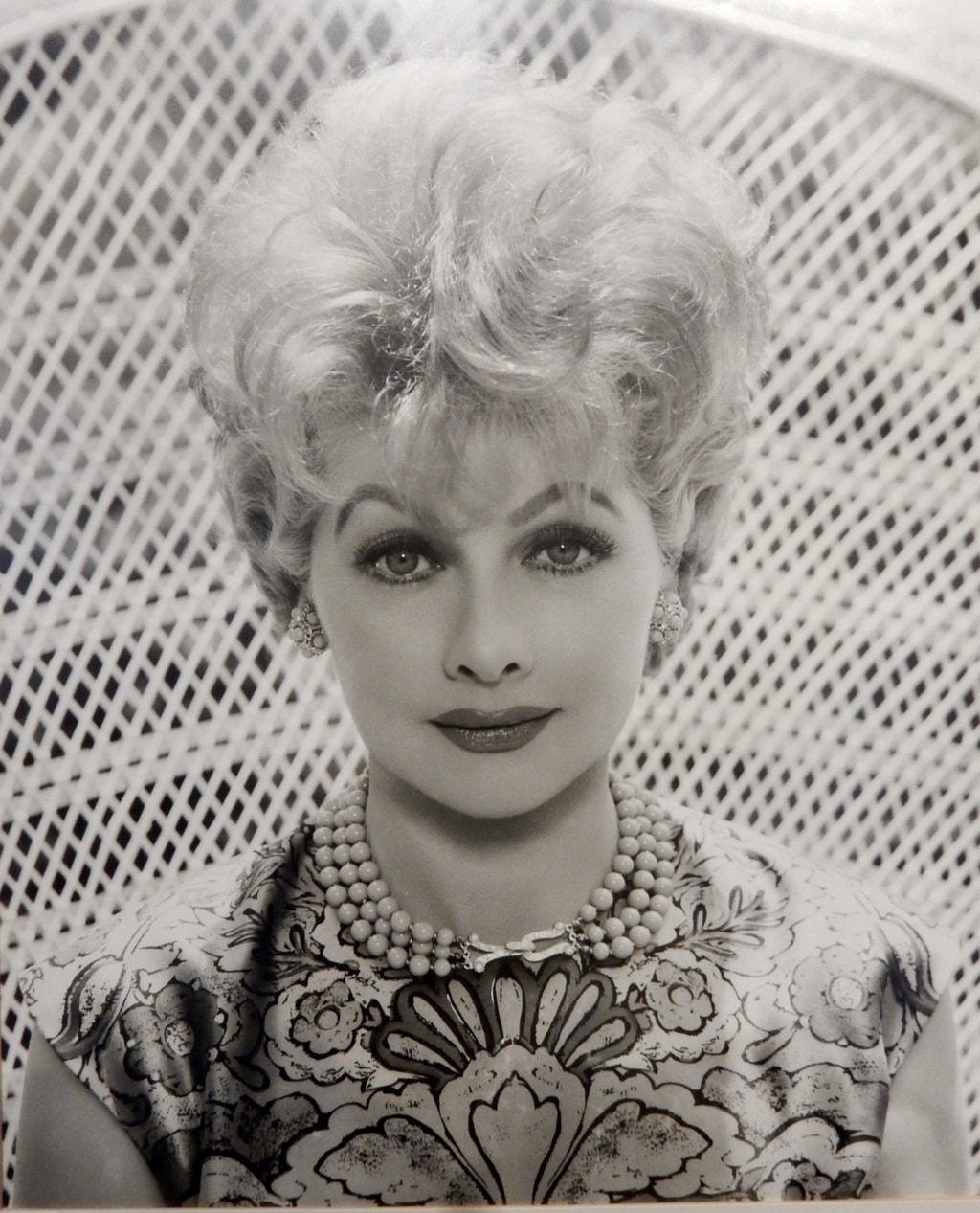 Lucille Ball, the groundbreaking Queen of Comedy, was spirited from the get-go. Discover her tragic upbringing and later triumphs in these two museums, located side by side. There are poignant videos of family members, lots of costumes worn by Lucille and Desi, and in the Studio portion, the Ricardo's New York and Los Angeles apartment sets.
Lucille Ball's Childhood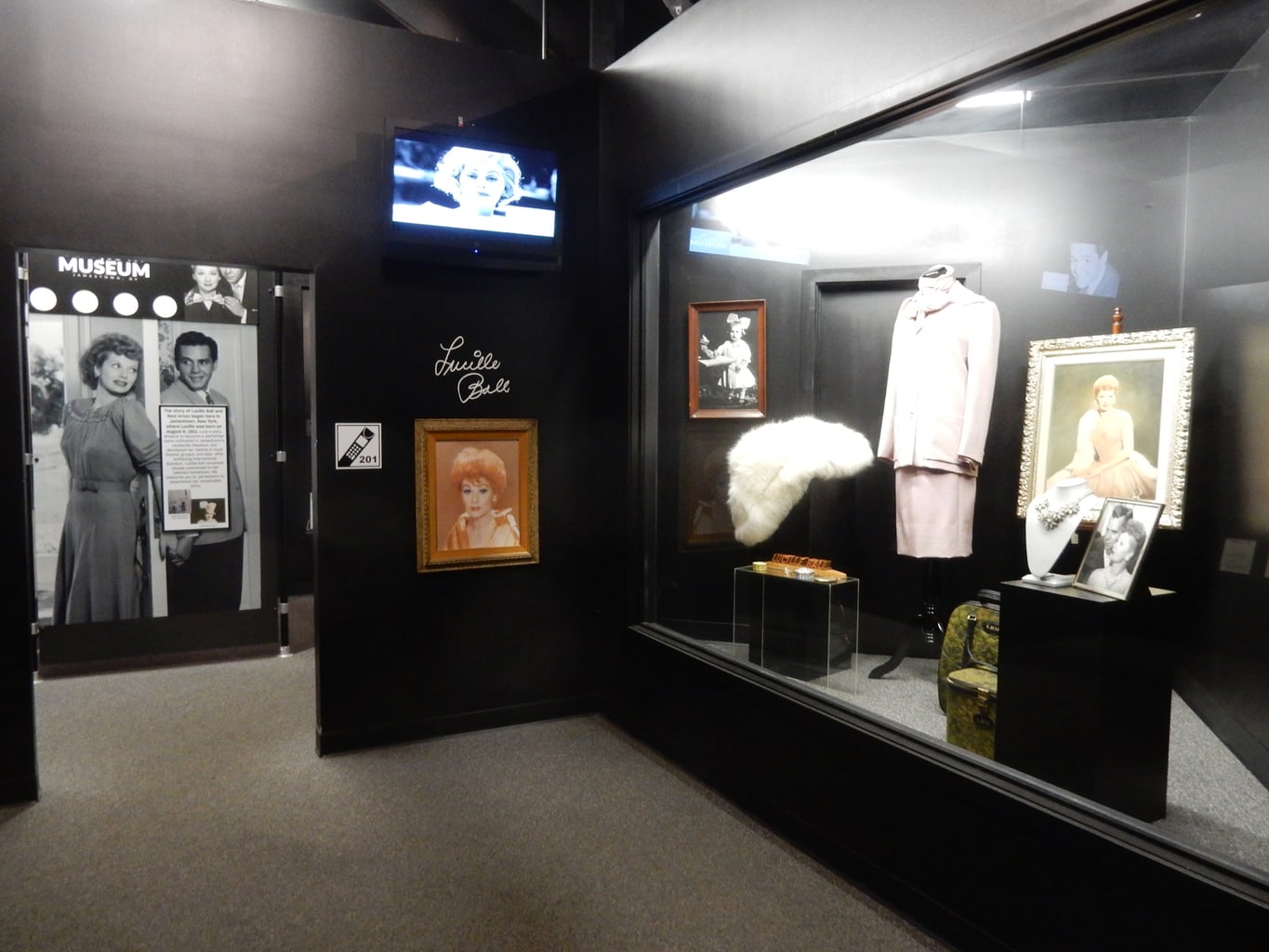 Ball was born in Jamestown in on August 6, 1911. At age 3, after her 27-year-old father died of typhoid, she moved to the nearby town of Celoron NY to live with her grandparents. A handful and a beauty, Ball took off for New York City at age 15 to pursue a modeling and drama career. It did not go well. She returned to upstate NY after three months.
But in 1928, Ball's grandfather was involved in an accidental shooting death (he allowed a minor to use his gun). Ball returned to Manhattan to make money and "bring the family together." This time, she succeeded. By the '30's Lucy was bound for Hollywood.
Lucy and Desi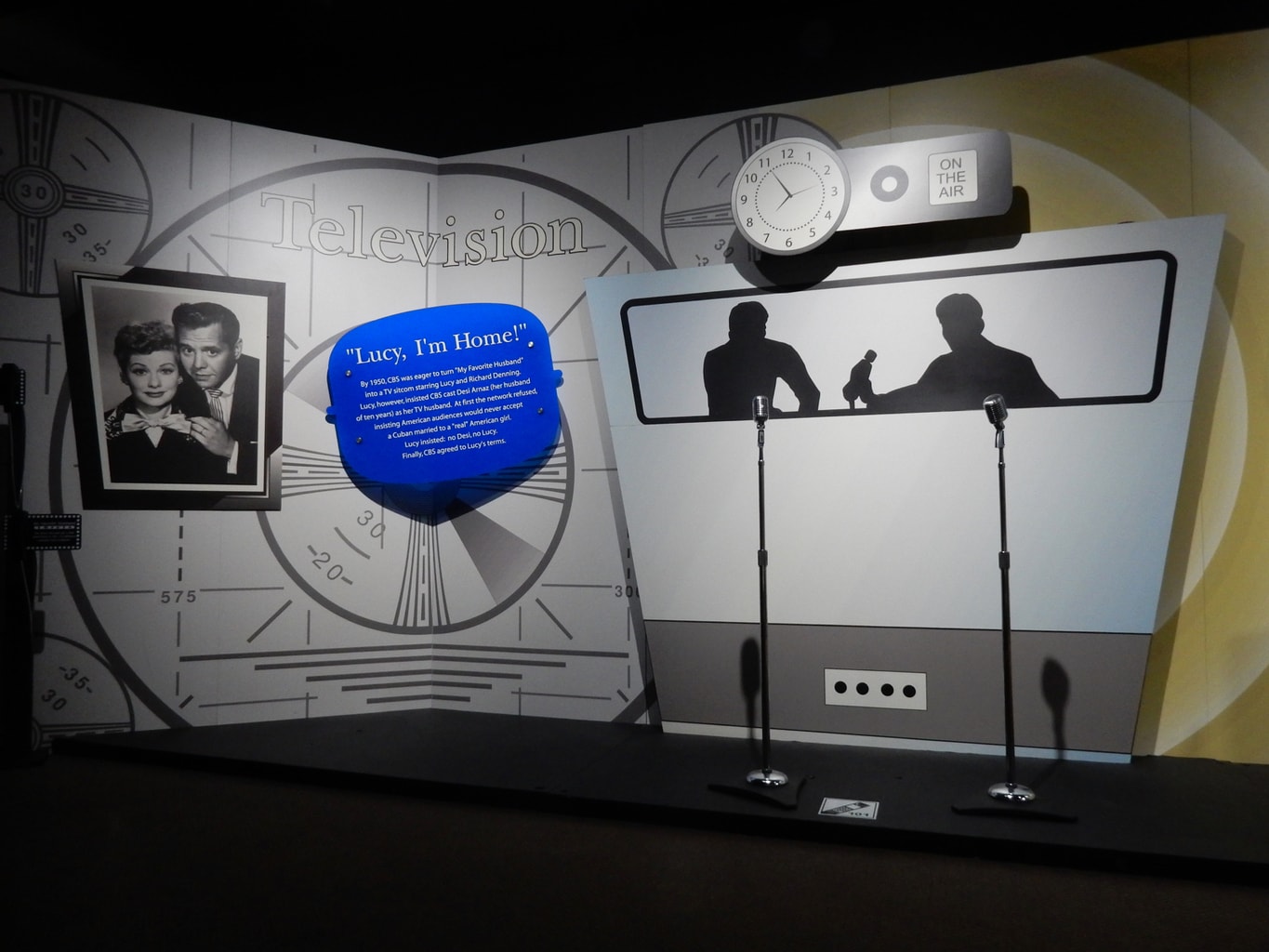 In 1939, Cuban heartthrob, Desi Arnaz (whose wealthy family had fled from Cuba to Miami after the 1933 Revolution) came to L.A. to film Too Many Girls – starring, as it turns out, Lucille Ball. They met cute on an RKO Soundstage, and eloped in 1940.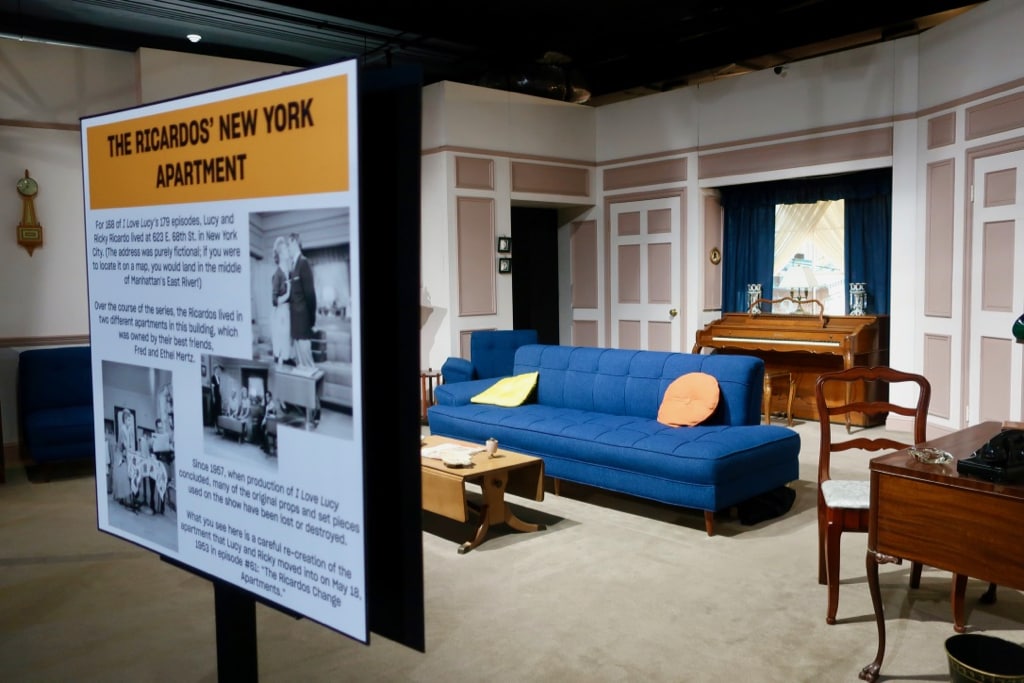 I Love Lucy
Ball was starring in a radio program for CBS when the network asked her to develop a program for television. She insisted on working and acting with her husband, Desi, but CBS declined, asserting that the public wasn't ready for an all-American woman married to a Hispanic man on TV.
So Ball and Arnaz established their own studio – Desilu Productions, and had complete control over their work. The girl-clown and the fall-guy husband with the funny accent worked so well, the TV show became an instant hit.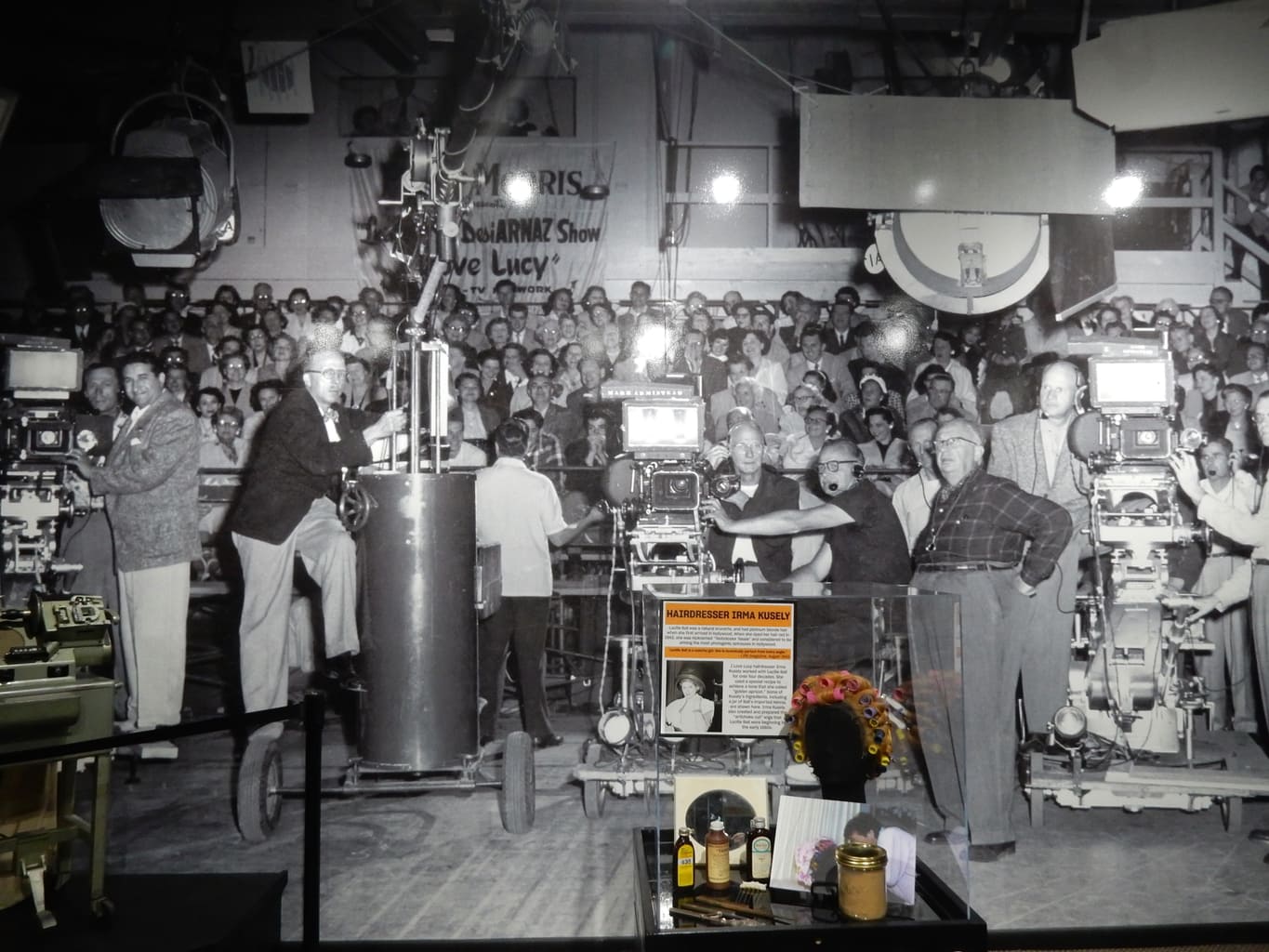 I Love Lucy debuted on Oct. 15, 1951 and ran until 1957. It was replete with "firsts:" The first time a show was shot on film in front of a live audience. The first time a pregnant woman was shown on TV (although the word "pregnant" was off limits, which led to Desi's famous " 'spectin").
Though they divorced in 1960, Lucy and Desi remained friends until his death in 1986. She passed away in 1989. Open year round Mon-Sat 10-5, Sun 11-5, $16 for both museums – includes audio-tour of Desilu Studios.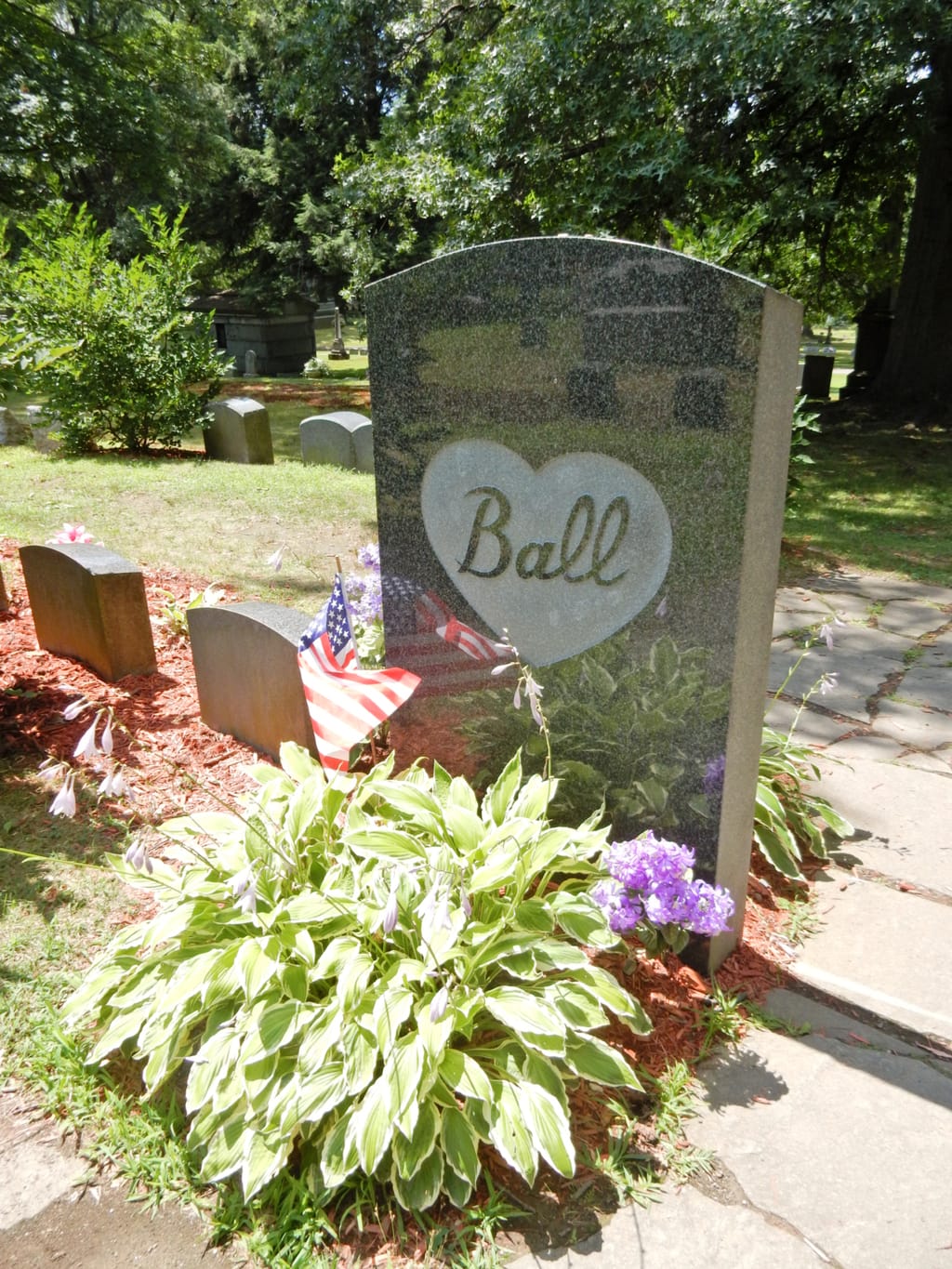 Pay respects to Lucille Ball in her family plot. In 2003, her cremated ashes were removed from a Hollywood cemetery and moved here – without Desi. To find her grave, just follow the I Love Lucy hearts on the cemetery road.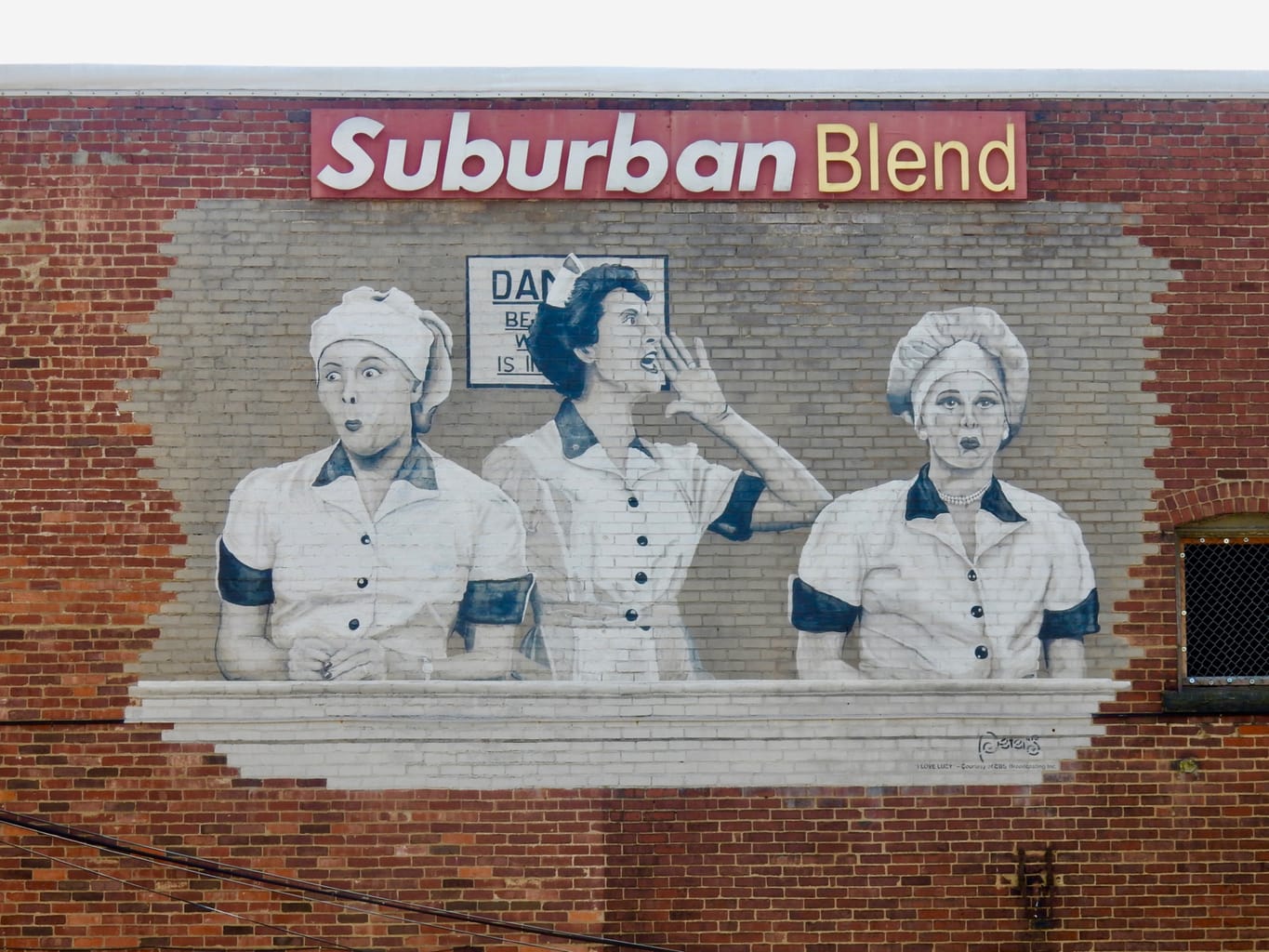 PHOTO OPS: Jamestown Lucy Murals
Drive around town and look for the Lucy Murals: renderings of Lucille Ball at various times of her life.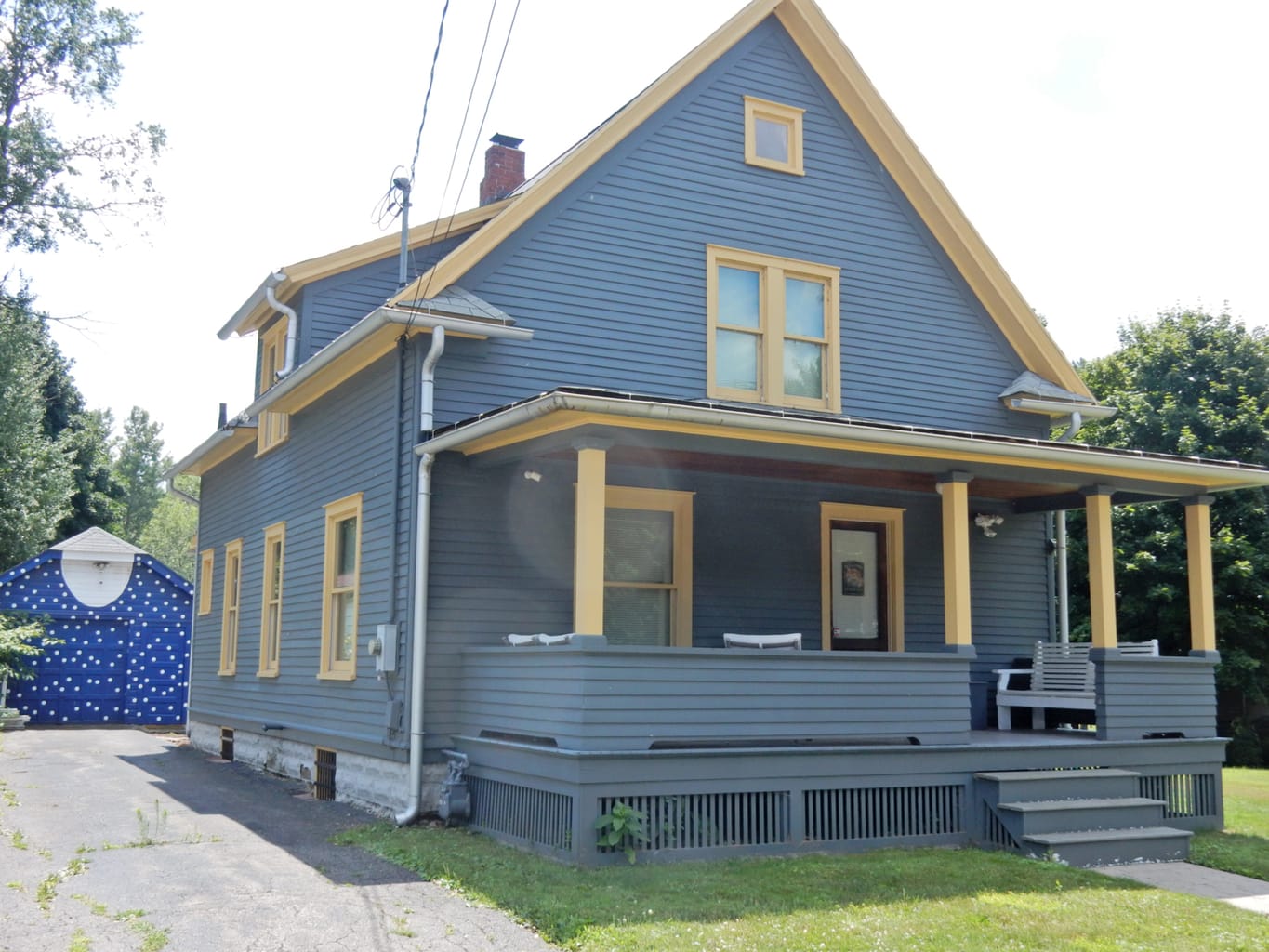 MORE PHOTO OPS: Lucy Statues, Celoron NY
This was Lucille Ball's "second hometown" – just 3 miles from Jamestown. Her grandfather's house at 59 Lucy Lane, where she moved to as a toddler, is in private hands and not open to the public, but has become a touchstone for many.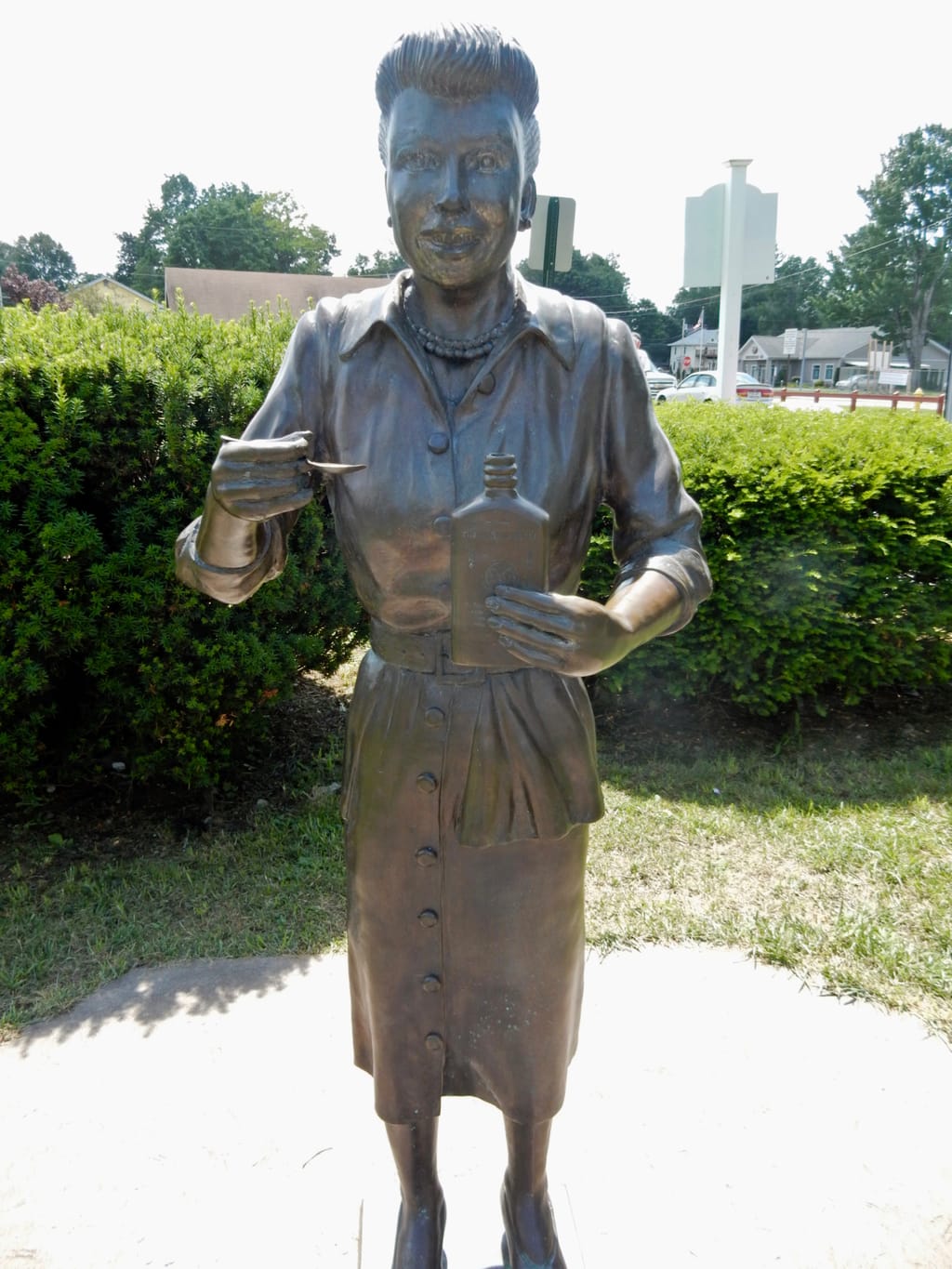 More well known are the two statues at Lucy Memorial Park. A sickly grinning Scary Lucy, erected in 2009 looked nothing like her and caused such an outcry that in 2016, Lovely Lucy was added in the Park. Both still stand today.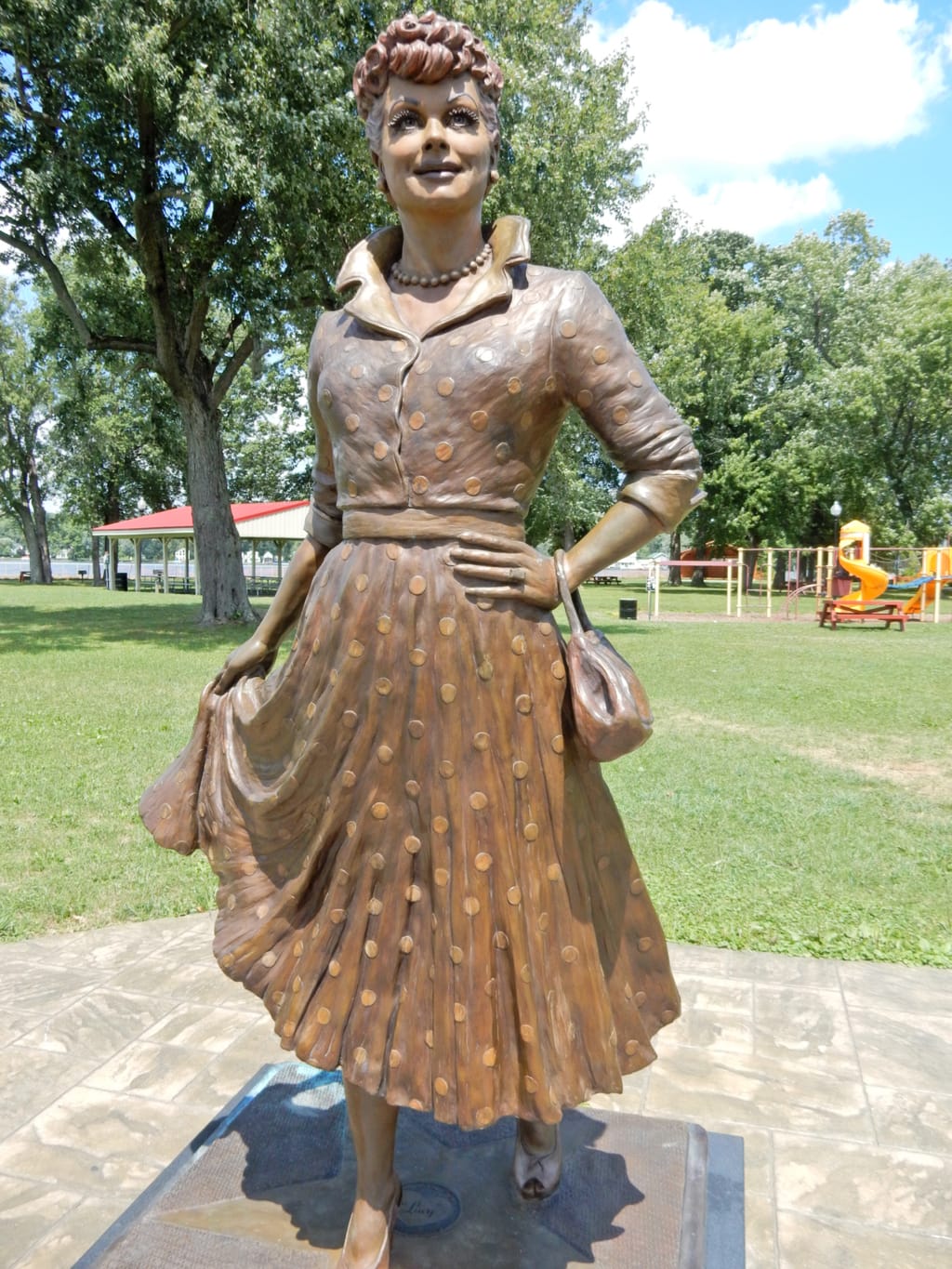 A museum, archival library, and resource for students at Jamestown Community College, this homage to the later-day Audubon, the Jamestown-born Roger Tory Peterson, is a must see for birders of every stripe.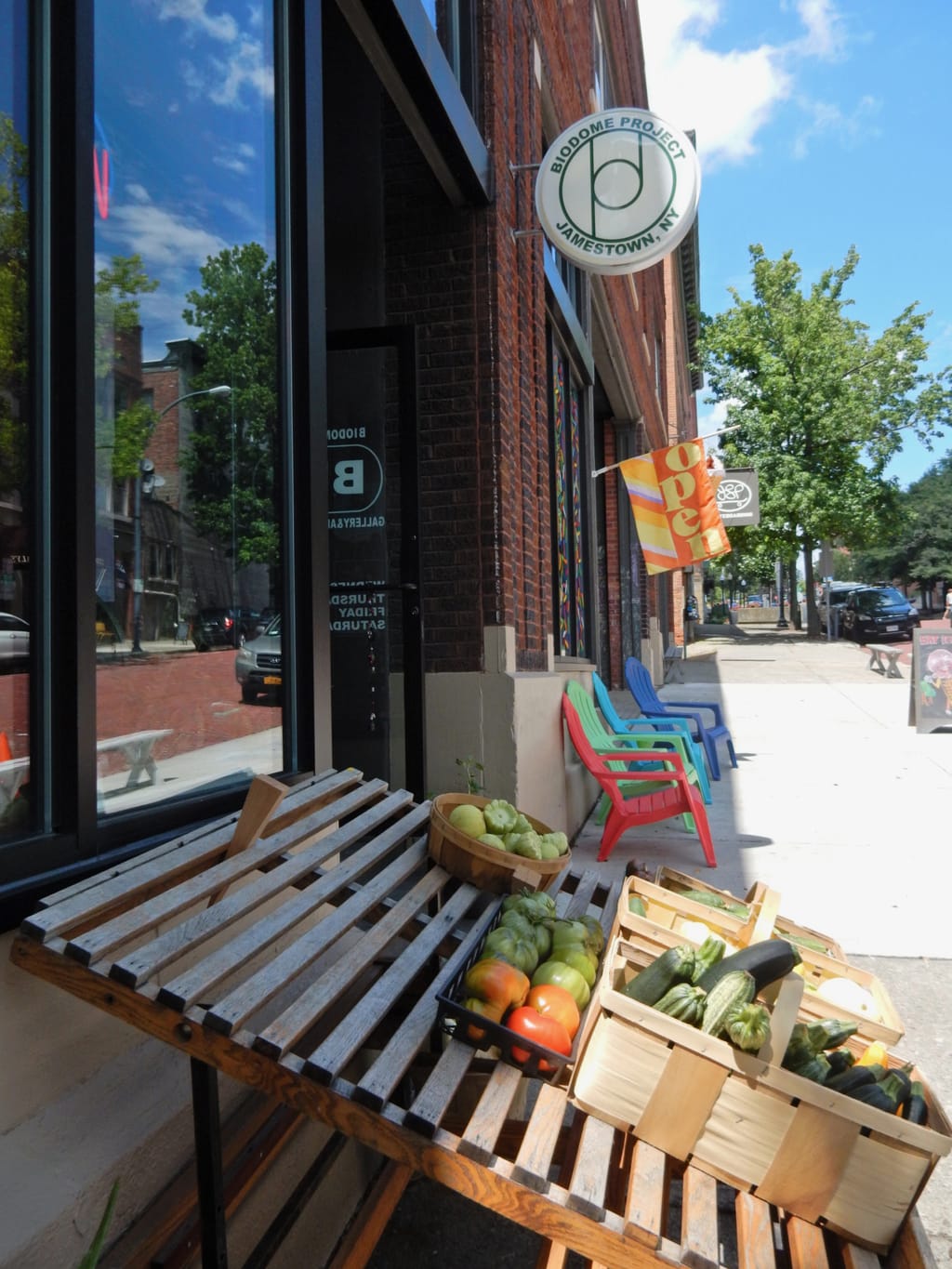 This Etsy-made-manifest has popped up next door to The Sprinkle Cone (see below). Along with crafts made by locals, you'll also find organic produce.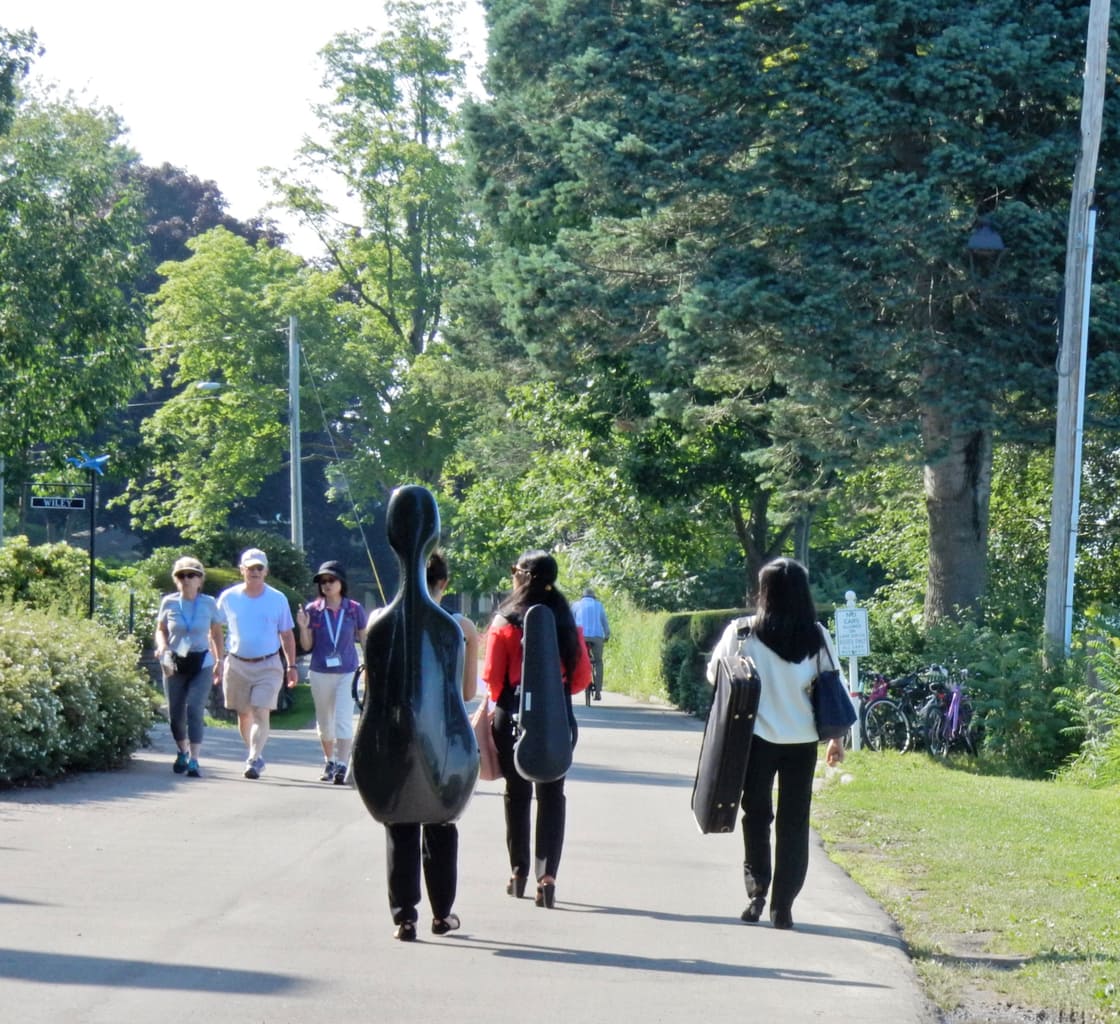 DO/STAY: Chautauqua Institution, Chautauqua (20 minute drive from Jamestown)
This 9-week-long summer learning/recreational village is a multi-faith lakefront resort, with fine and performing arts, classical and rock concerts, lectures by stellar politicians, scientists, academics, religious figures, and visionaries, movies, golf (two 18-hole courses), sailing, tennis, fitness centers, two beaches, and so much more. For that reason, we've covered it at length in this post. 
It's sort of like Chautauqua Institute, but for Mediums – as the World's Largest Center for Spiritualism. Lily Dale offers plenty of programs and workshops (one on how to bend spoons). Classes, a "fairy trail," and the famous "Inspiration Stump" will keep you plenty busy. If you don't want to stay, and would just like a "reading" – you can sign up for that as well.
Restaurants in Jamestown NY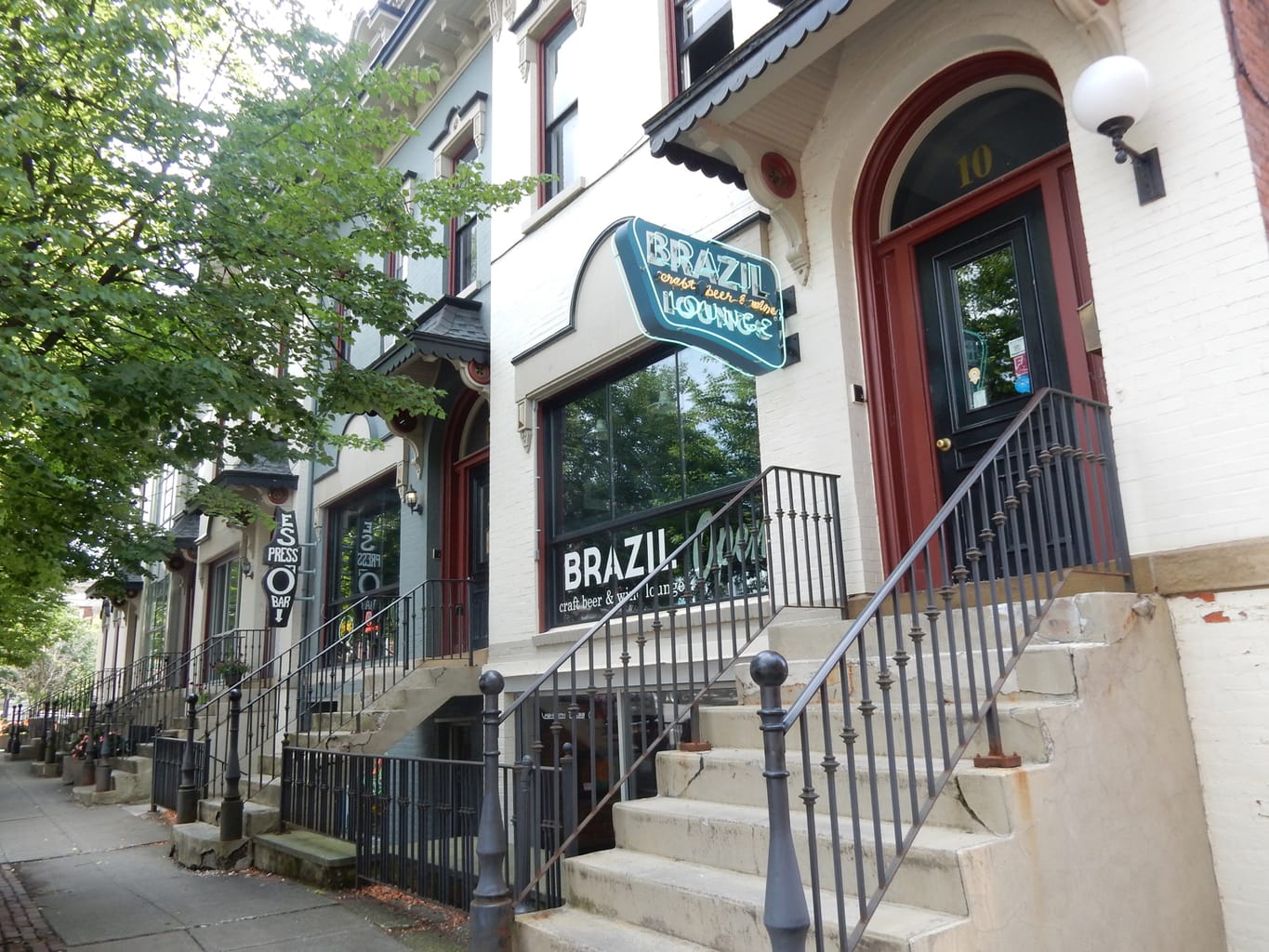 This sub-street vegetarian eatery is amazingly good. Since inception, it's become a full service  restaurant offering a huge outdoor patio/parklet. Plus, Labyrinth has integrated the lounge more fully into the business.
This eatery draws all those who appreciate fresh-brewed ice-teas, salads, sandwiches, and Signatures like the Beer and Cheese Soup, made with IPA, a variety of cheeses, potatoes, carrots, onions, Dijon Mustard and Frank's Hot Sauce.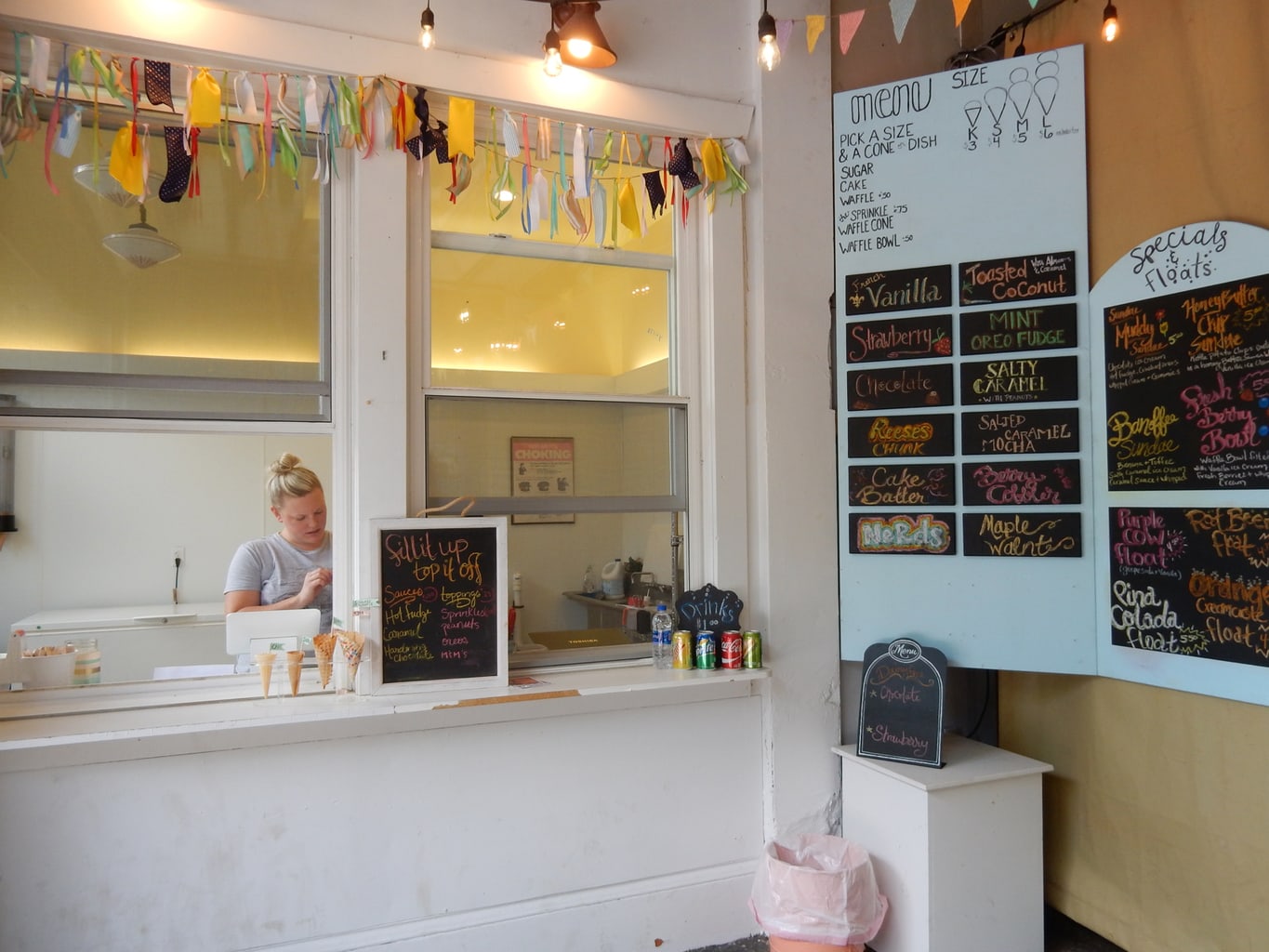 ICE CREAM: The Sprinkle Cone
Owners of this ice-cream establishment, The Sprinkle Cone, have glammed up the plain ole waffle cone by embedding it with rainbow colored sprinkles. But that's not where the goodness ends. The locally made Addie's Ice Cream sold here is the stuff summer memories are made of.
EAT: Locals recommend
Forte for excellent fusion. And Landmark Restaurant for great comfort food. The Chop House on Main for steaks and great service. 
Where to Stay in Jamestown NY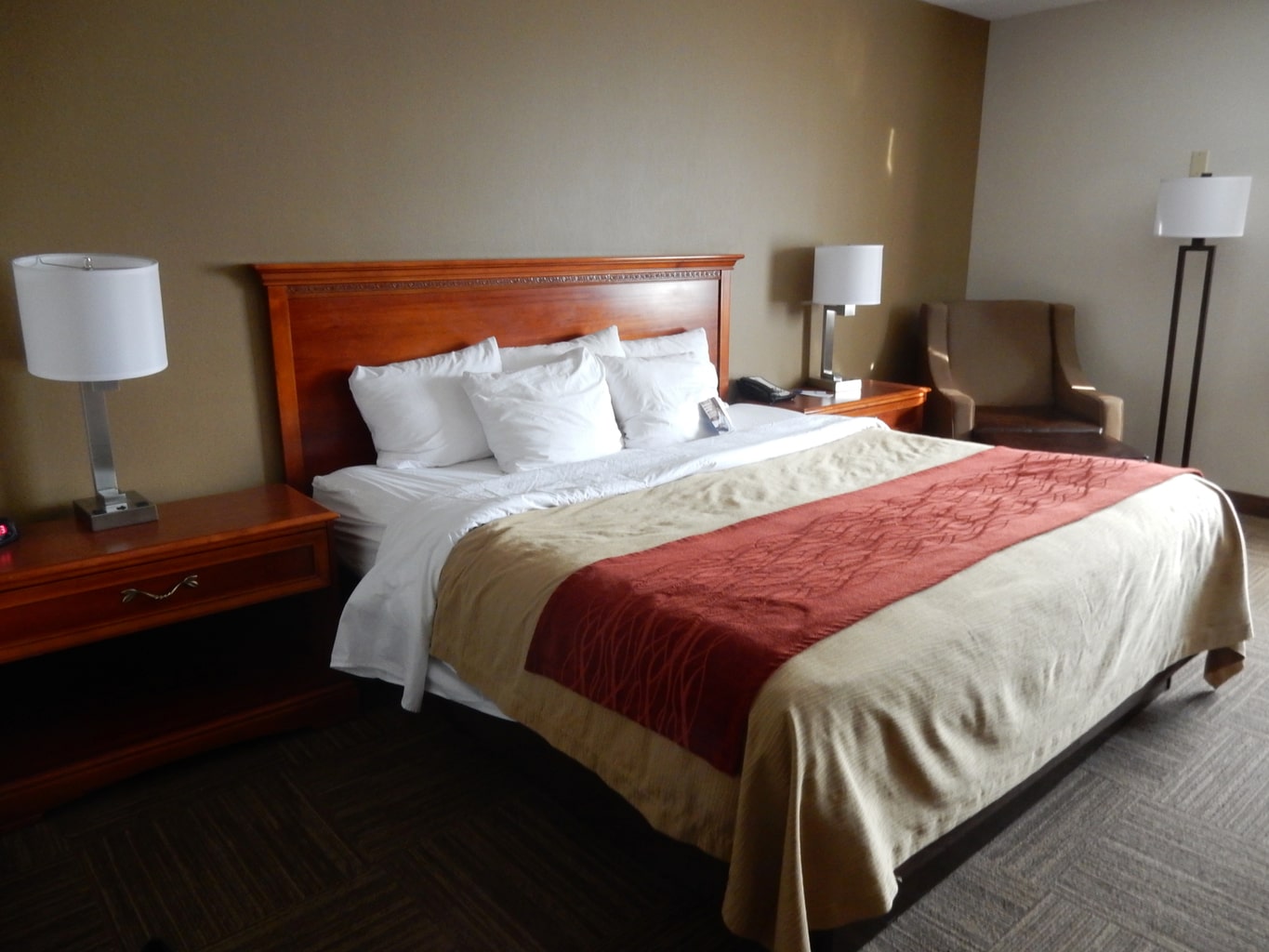 For those not staying on the Chautauqua Institution campus, Jamestown offers a variety of franchise hotels, with more coming onboard. The Comfort Inn, just a few miles from downtown, convenient to I-86, is a friendly, clean, reasonably priced hotel with refreshed rooms from $129 per night.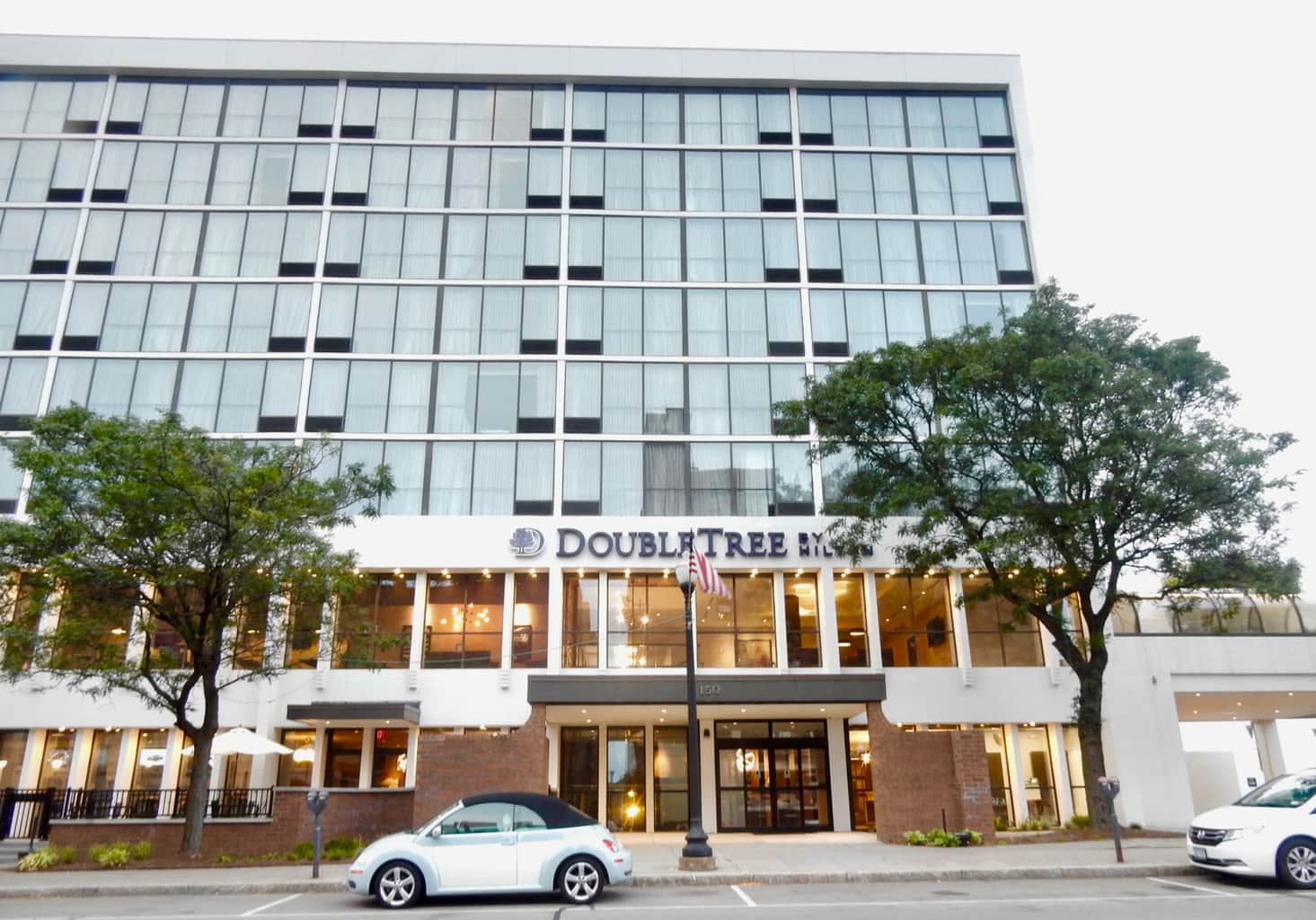 In town, both La Quinta Inn and Doubletree Hotel are great options within walking distance of the Comedy Center.