One of the most romantic destinations in all of America, Downtown Charleston, is found in the South Carolina Lowcountry. Charleston, South Carolina is synonymous with Southern charm, historic elegance, and a vibrant cultural tapestry that weaves together the past and present.
Well-preserved, and beautiful, Charleston's historic district is concentrated in an easy-to-walk area, but it doesn't tell the region's full story. For that, you need to head about ten miles out of town to the romantic gardens at some of the area's original plantations.
So, we did both. We stayed in Downtown Charleston for two nights, leaving the car parked and walking around the compact city. And then we spent a couple of idyllic days meandering through the romantic gardens along Ashley River.
Here are our recommendations for the most luxurious hotels, top restaurants, and all the fun things to do in Downtown Charleston. Plus, we tell you how to stay in the romantic gardens at one of the most environmentally-minded, architectural-award-winning inns in America.
Want to pair a Charleston Romantic Getaway with a beach vacation? Folly Beach is only a 30-minute car ride from Downtown Charleston, and Kiawah Island is less than an hour away.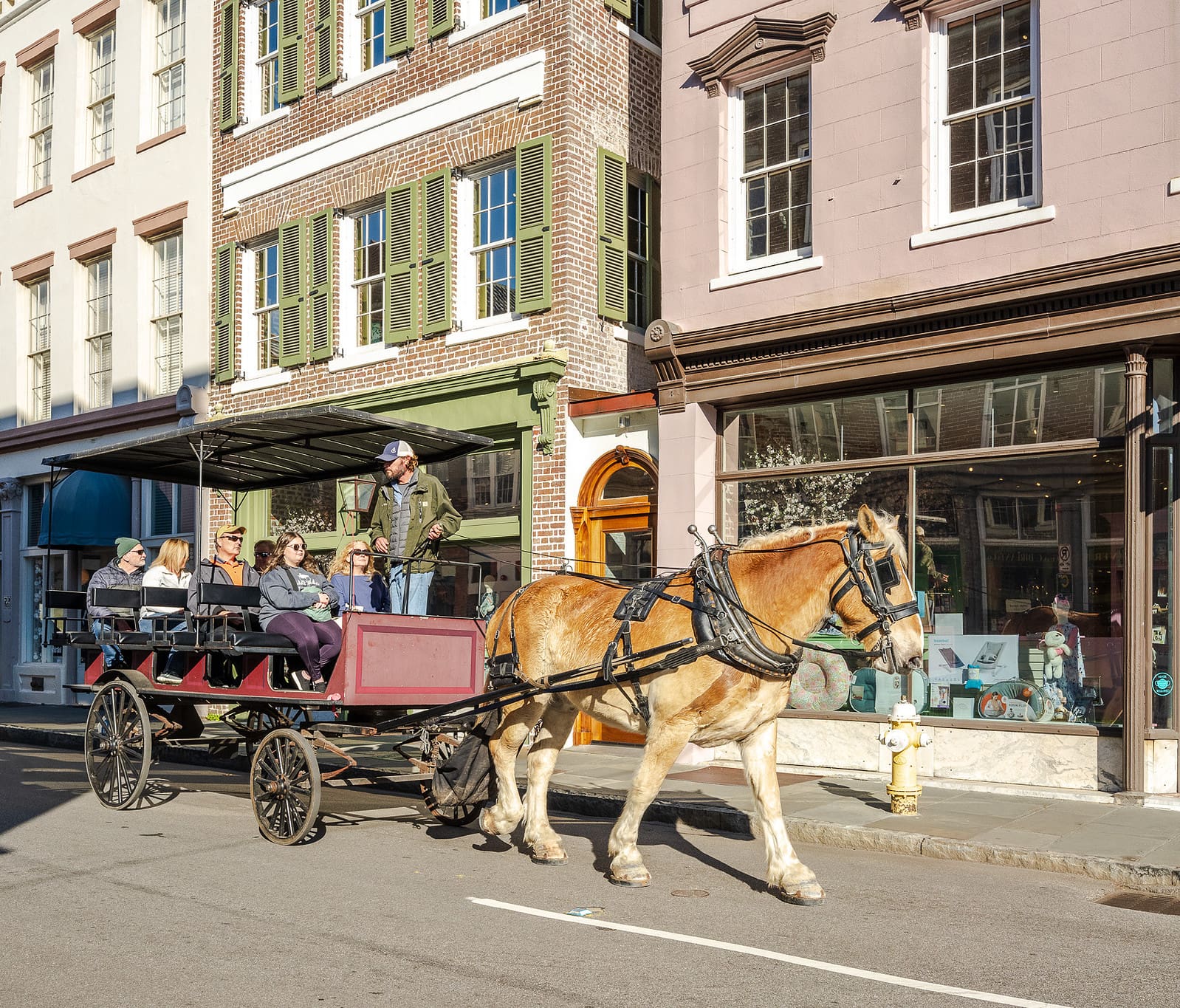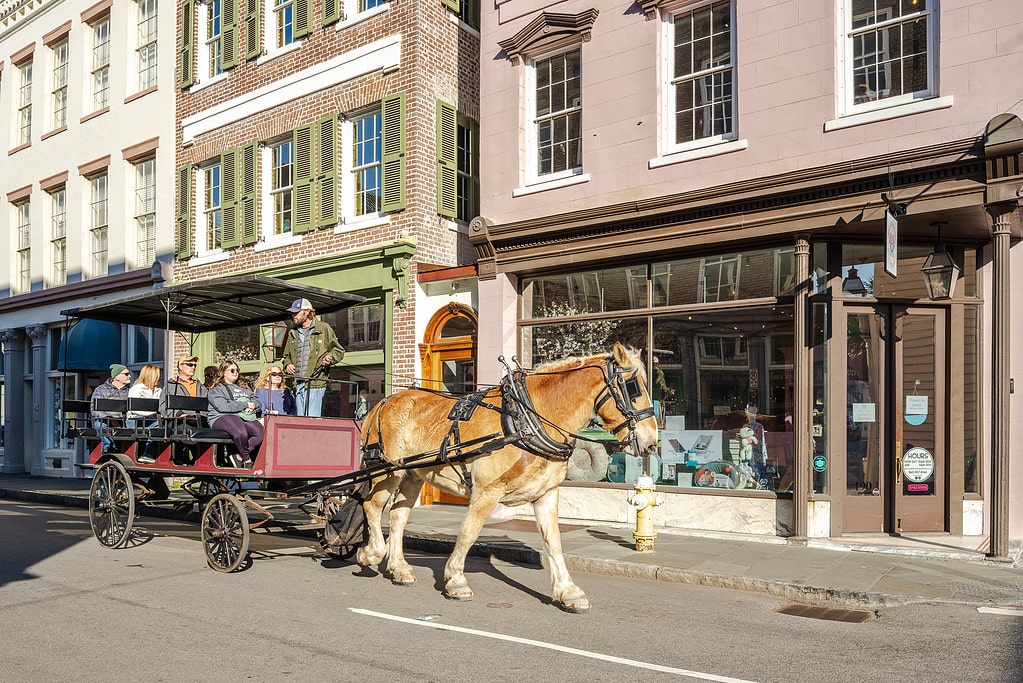 Where is Downtown Charleston?
Downtown Charleston, affectionately known as the "Holy City," is situated on the Charleston Peninsula in South Carolina, between the Ashley and Cooper Rivers. It is the heart and soul of Charleston, steeped in history and rich with southern charm. Home to iconic landmarks such as the stately Rainbow Row, beautiful Waterfront Park, bustling City Market, and the historic Battery, Downtown Charleston offers a blend of old-world elegance and contemporary vitality.
Its historic district, one of the most well-preserved in the United States, is a tapestry of cobblestone streets, antebellum houses, and majestic churches, all nestled under a canopy of Spanish moss-draped live oaks. This region is not just a destination, but a journey back in time, showcasing the grace, beauty, and hospitality of the South.
Getting Around Downtown Charleston
Charleston Visitor Center
Located in the heart of downtown, the Charleston Visitor Center is the perfect starting point for visitors looking to explore all that Charleston has to offer.
Exhibits showcase Charleston's diverse cultural heritage and highlight the city's unique charm. Even more can be found next door at the Charleston Museum, America's first and oldest museum, whose extensive collection of artifacts and exhibitions delve into the region's history, culture, and natural heritage.
Conveniently next door to a large parking garage, this is a good spot to catch the free DASH trolley, with three routes that cover most of Downtown Charleston's attractions.
Charleston Bike Taxi
Charleston Bike Taxi offers a unique and eco-friendly mode of transportation that allows visitors to explore the historic streets of Charleston in a fun and leisurely way. As you hop aboard their charming pedicabs, you're greeted by friendly and knowledgeable drivers who serve as guides and storytellers, sharing fascinating tidbits about the city's rich history and vibrant culture.
Charleston Water Taxi
The Charleston Water Taxi is a delightfully scenic way to get from one part of town to another. An All Day Pass (available daily except in winter) allows you to hop on at any of four locations: Waterfront Park, Maritime Center; Patriots Point (USS Yorktown,) and Charleston Harbor Resort.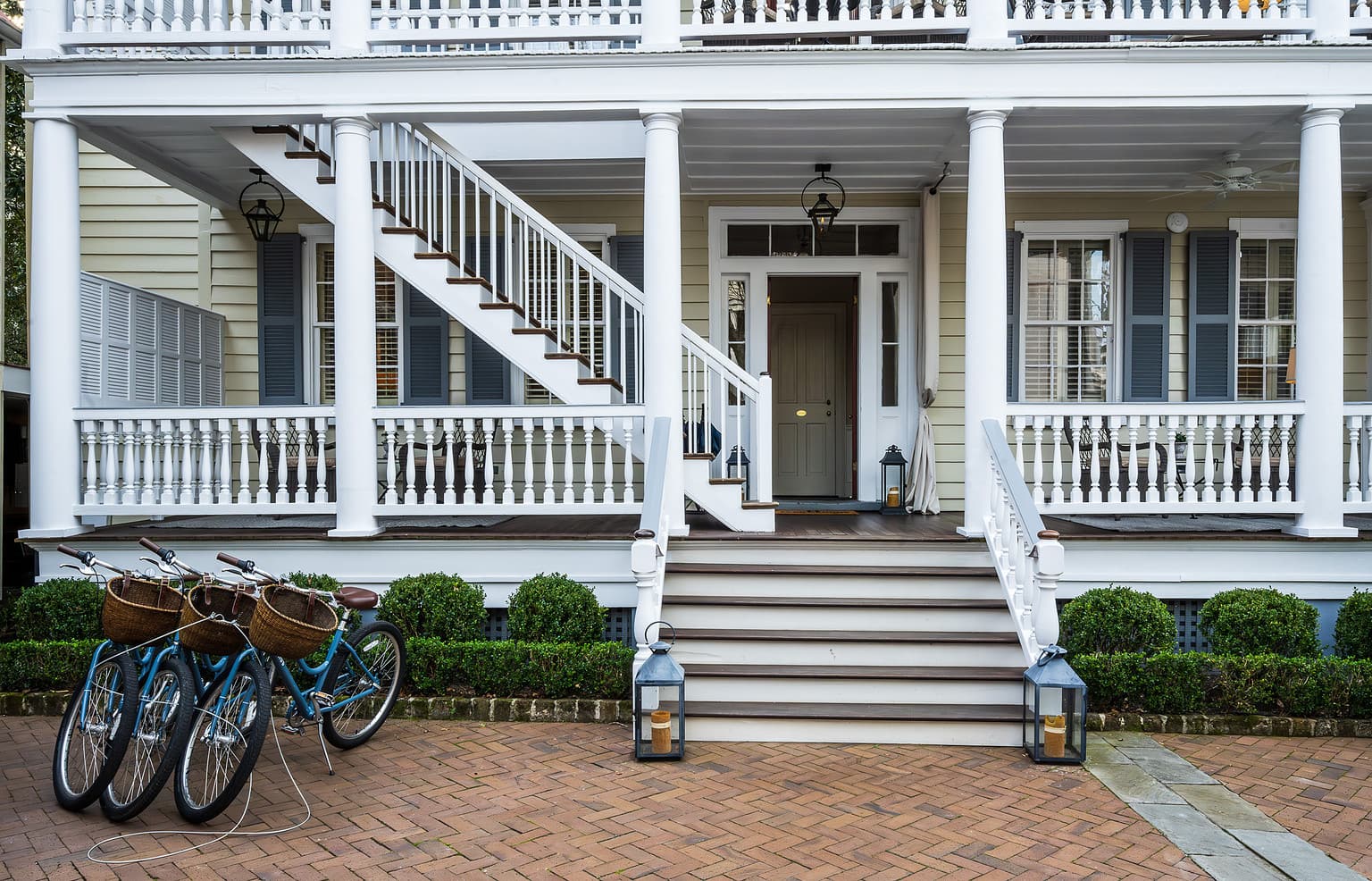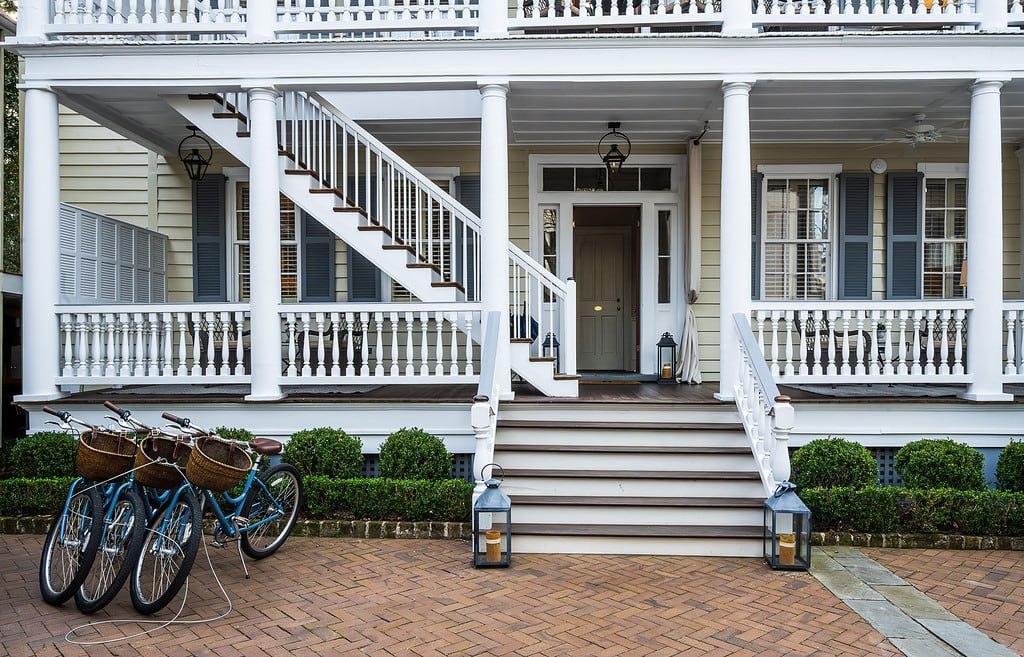 Stay In A Luxurious Downtown Charleston Hotel
Zero George Street
Zero George Street is a boutique luxury hotel set in an 1804 building located in the heart of Charleston, South Carolina, offering an intimate and sophisticated experience for discerning travelers. Located in a collection of restored historic buildings, Zero George Street seamlessly blends Southern charm with contemporary elegance, creating a serene and inviting atmosphere.
The hotel's design pays homage to its rich history while providing modern comforts and amenities. Each of the property's guest rooms and suites exudes a sense of understated luxury, featuring elegant furnishings, plush bedding, and tasteful decor. The rooms strike a balance between classic sophistication and modern touches, offering a tranquil retreat for guests to unwind after a day of exploring the charming streets of Charleston.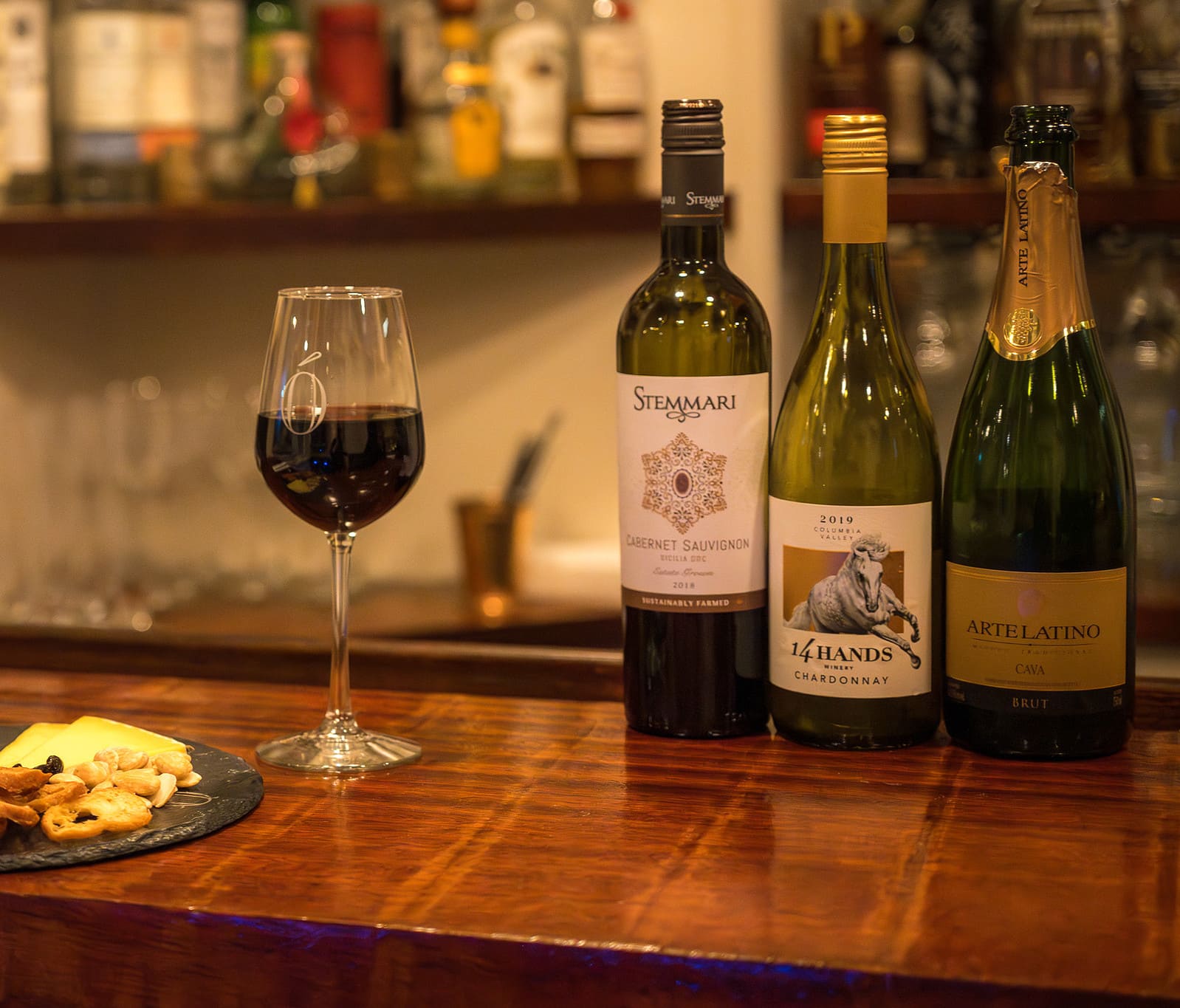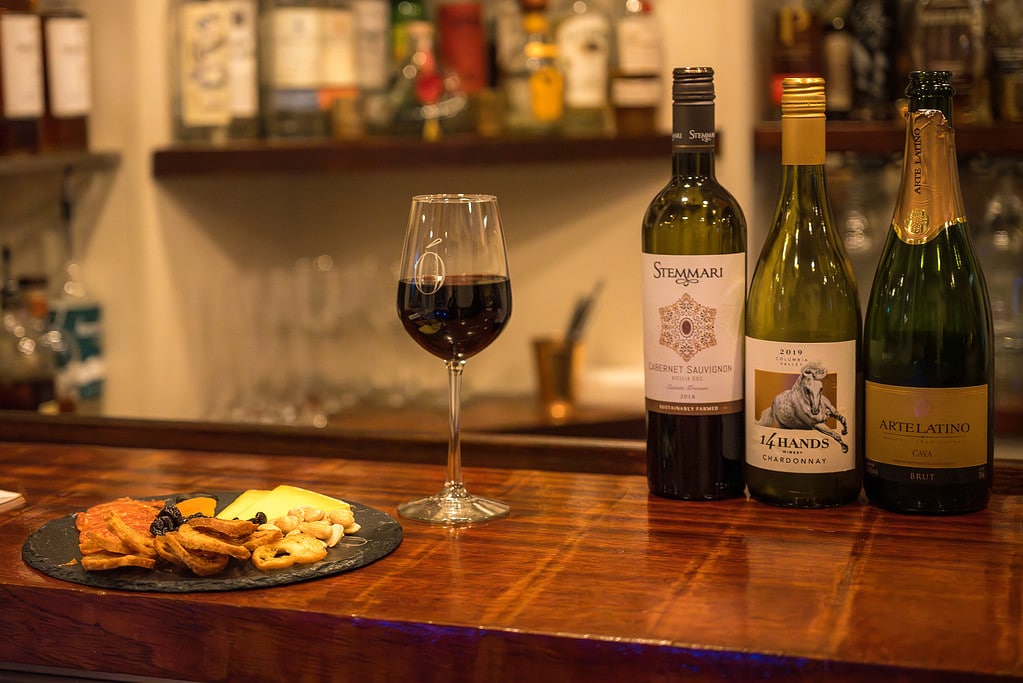 One of the standout features of Zero George Street is its charming courtyard, a lush oasis surrounded by ivy-covered brick walls and fragrant blooming flowers. The courtyard serves as a serene gathering place for guests to relax and enjoy the peaceful ambiance. Whether sipping a morning coffee or unwinding with a glass of wine in the evening, the courtyard provides a tranquil outdoor space where guests can retreat from the hustle and bustle of the city.
For culinary enthusiasts, Zero George Street offers an exceptional dining experience at its award-winning restaurant headed by two-time winner of Food Network's Chopped and Chopped Champions, Vinson Petrillo. The restaurant showcases seasonal ingredients sourced from local farmers and fishermen, creating a menu that highlights the vibrant flavors of the Lowcountry. With its farm-to-table approach, the restaurant provides an elevated and delectable dining experience that celebrates the region's culinary heritage.
It wasn't available during our stay but we're told that the Caviar Bar is a must. And that, when available, the Cooking Class at Zero George is always surprising as well as a lot of fun.
Zero George Street also offers a variety of amenities and services to enhance the guest experience. Guests can take advantage of complimentary bicycles to explore the historic streets of Charleston, a wine-and-charcuterie cocktail hour, and an included "Continental" breakfast that takes the term to a whole other level.
Beyond its elegant accommodations and exceptional dining, Zero George Street benefits from its prime location in Charleston. Within walking distance, guests can explore the city's historic landmarks, world-class restaurants, art galleries, and vibrant cultural scene. The hotel's concierge is always available to offer recommendations and assist with arranging activities or reservations, ensuring that guests make the most of their time in Charleston.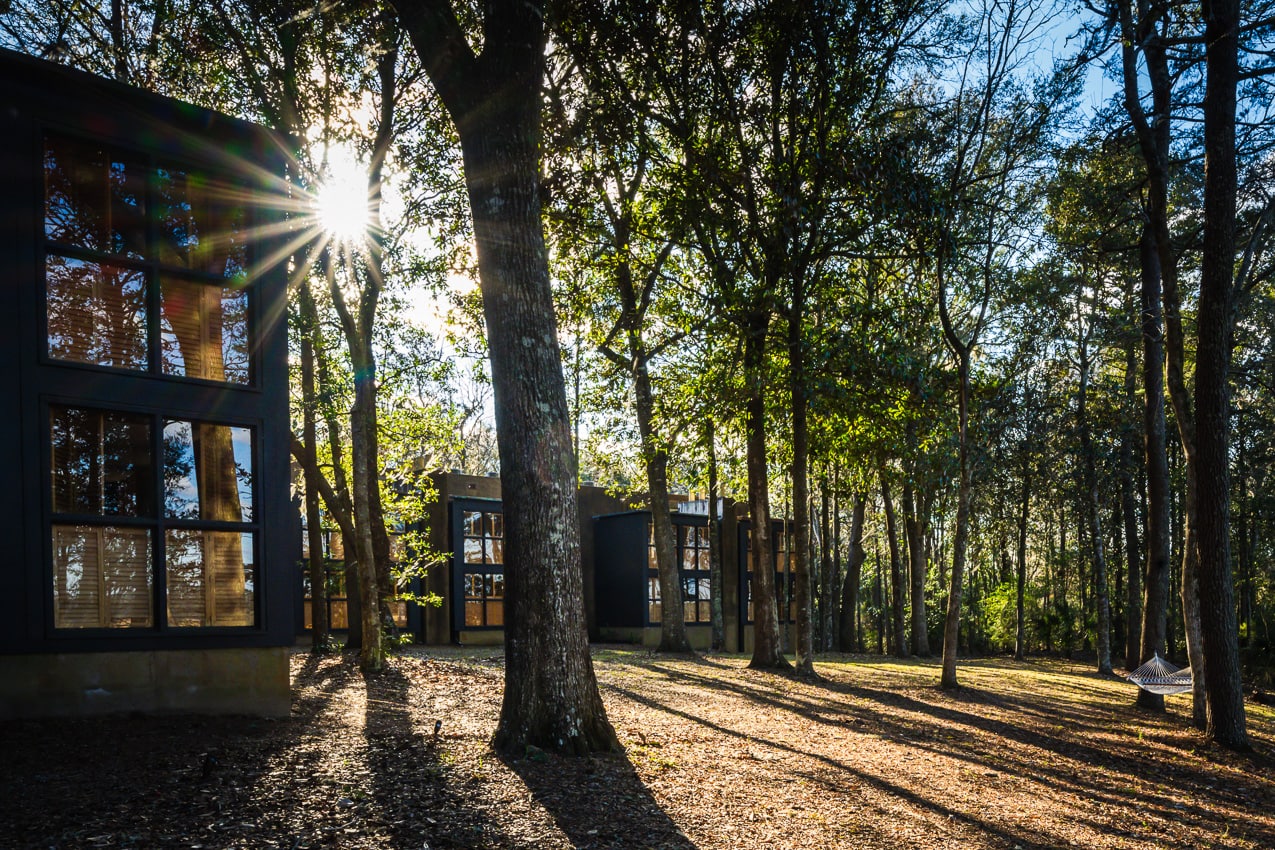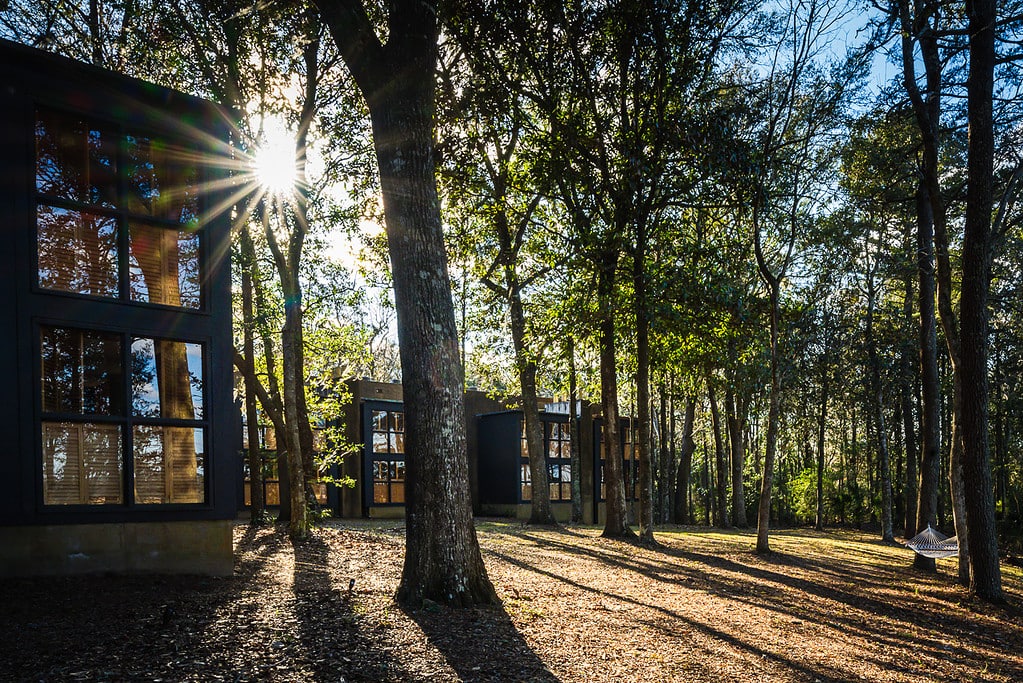 A Romantic Garden Getaway At A Hotel Near Charleston SC
Just outside Downtown Charleston, The Inn at Middleton Place is an exquisite retreat nestled within the captivating grounds of Middleton Place, a historic plantation along the Ashley River.
Offering a serene and immersive experience, this boutique hotel allows guests to fully embrace the natural beauty and tranquility of the Lowcountry. The Inn's architecture blends seamlessly with the surrounding environment, with its modern design elements and expansive windows that frame stunning views of the gardens and Ashley River.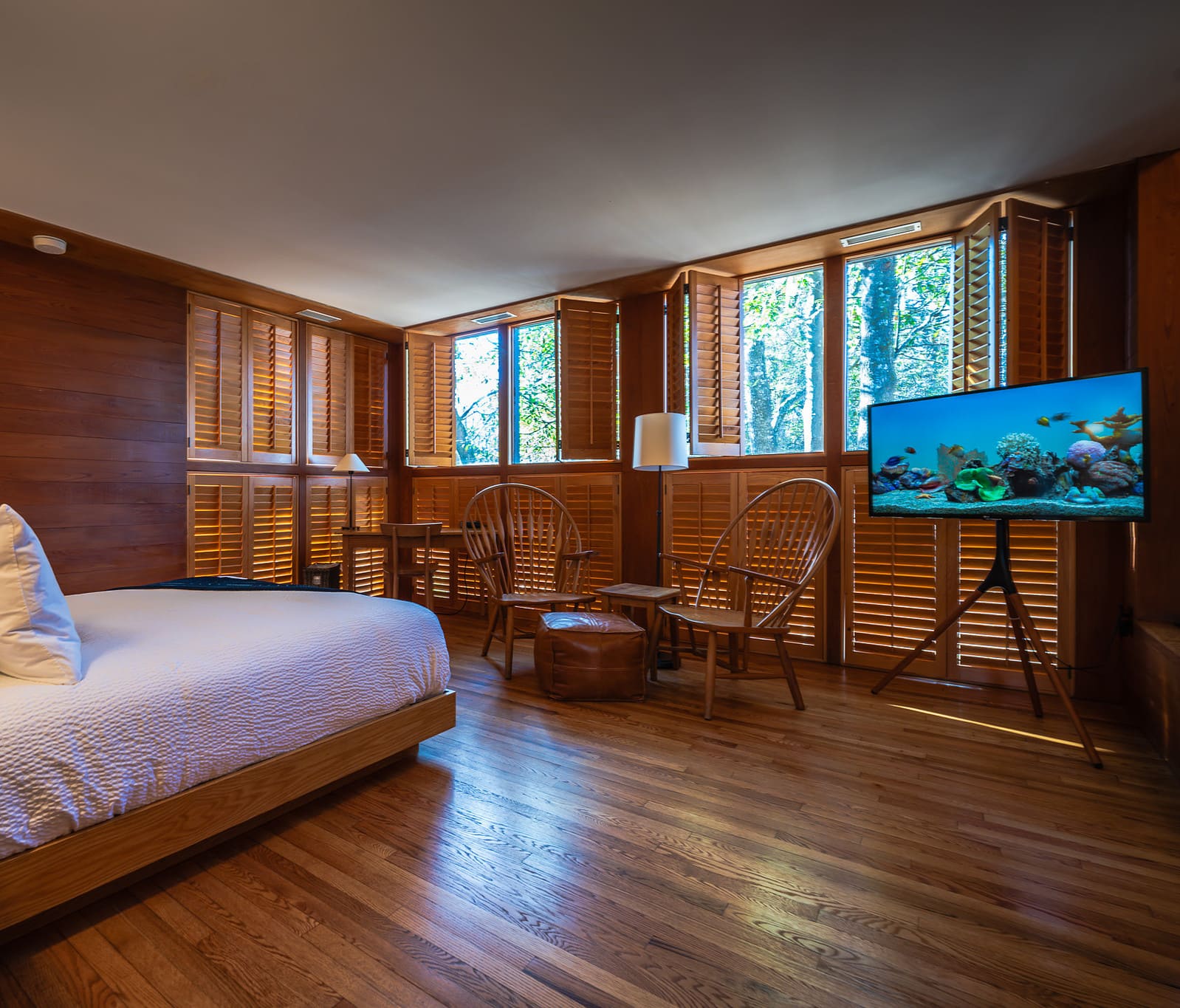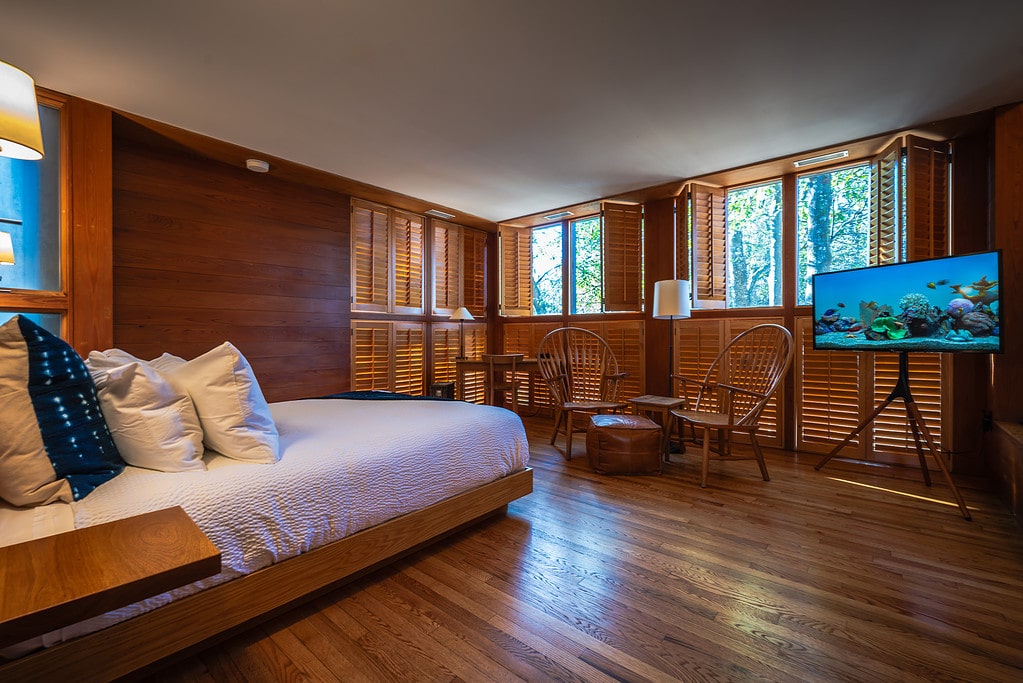 The guest rooms and suites are thoughtfully designed with a minimalist aesthetic, providing a calming and comfortable sanctuary. Our room had a wood-burning fireplace, which was perfect for the slight chill of a winter evening. And the enormous bathroom could've doubled as a spa; locally sourced Deep Steep toiletries were delightful.
With its close proximity to the Middleton Place Gardens, guests have the unique opportunity to explore the grounds at their leisure, wandering through lush landscapes, observing wildlife, and experiencing the timeless allure of this historic plantation. And horse lovers can even book trail rides at the Middleton Place Equine Center.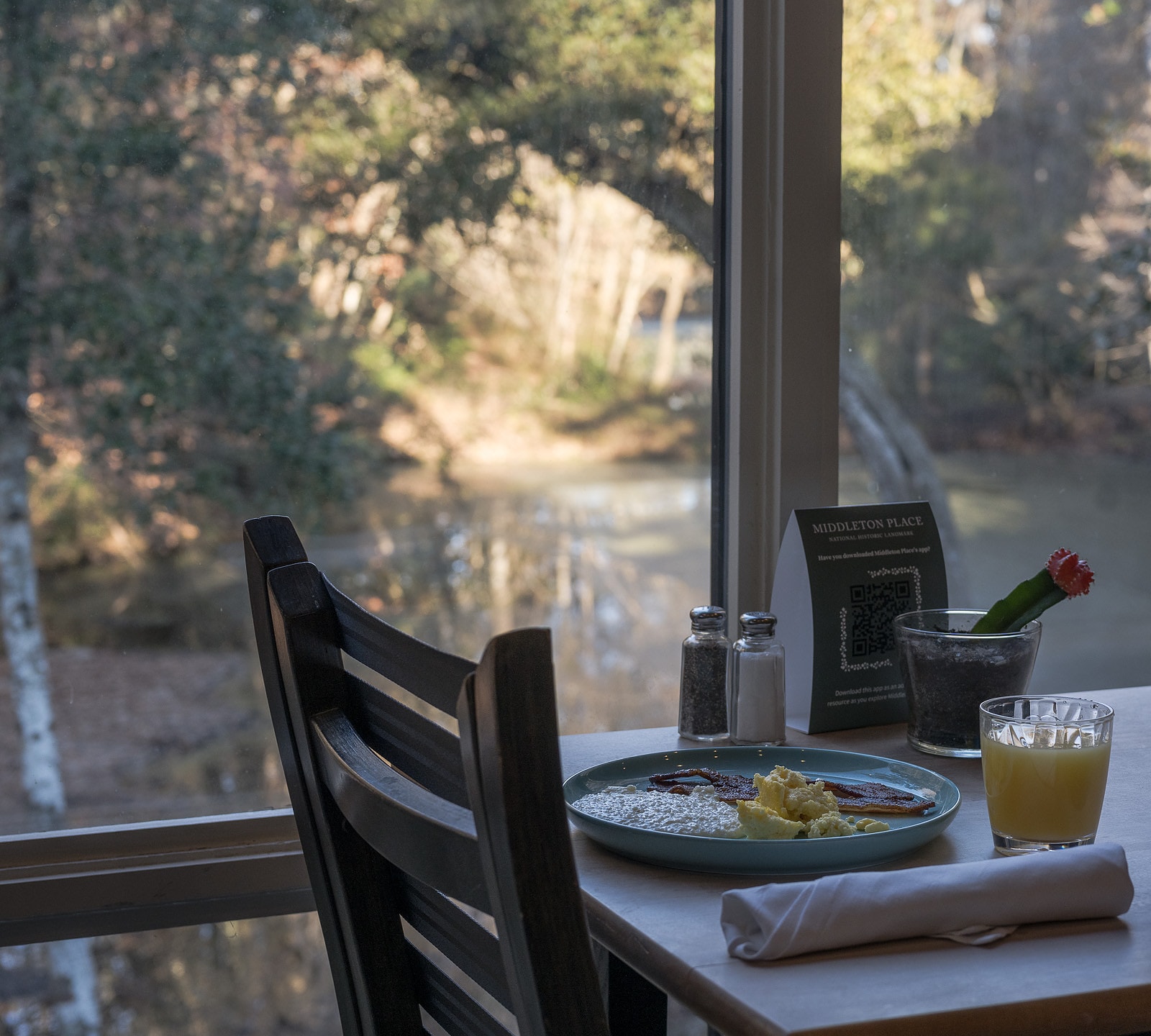 Our second-story room had all the privacy and joyous feel of a treehouse but with the benefit of being located at an inn with numerous amenities. A lounge provides tea/coffee all day, and there's a small bar serving drinks and snacks during open hours. Boardgames are left available, and guests are invited to enjoy a complimentary Happy Hour as well as an Evening Night Cap. And there's also a lovely Lake House where guests are treated to a generous Continental Breakfast.
The Inn at Middleton Place is only a 20-minute drive from Downtown Charleston, so it's easy enough to make this your base for exploring the city. But it's so quiet and peaceful, it feels like a whole world away.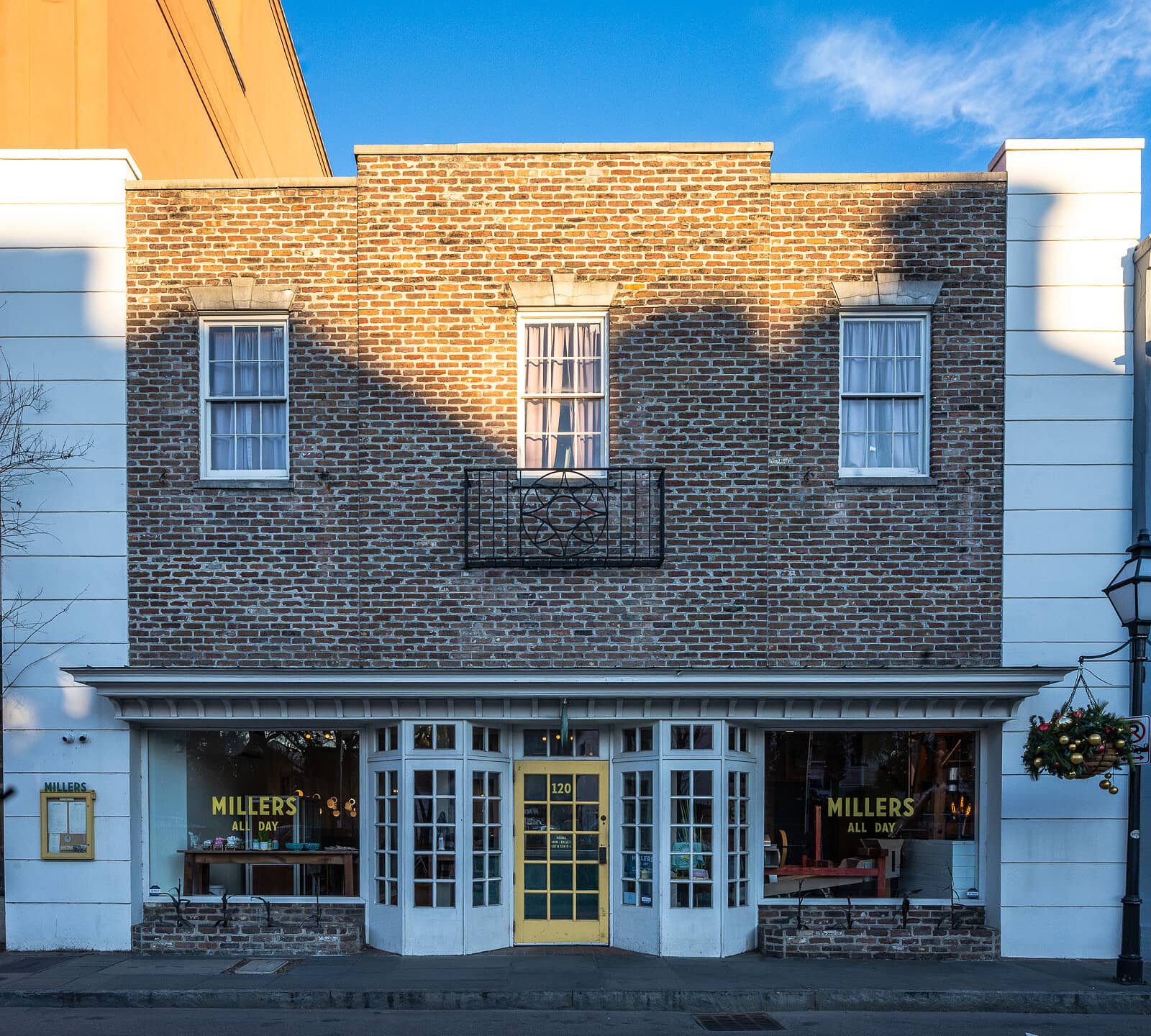 Downtown Charleston Restaurants
It would take a month of Sundays, at least, to explore all of Charleston's recommended restaurants. I was told that I absolutely had to go to Leon's Fine Poultry and Oyster Shop for the best Southern fried chicken. As for BBQ, that's a contest between Lewis Barbecue and Rodney Scott's BBQ; some locals prefer the former for the fixins. And when I asked about romantic restaurants, the consensus was that the absolute top date night restaurant is Chez Nous.
Since we couldn't partake of every restaurant on a short getaway, here's what we enjoyed:
BREAKFAST/LUNCH: Callie's Hot Little Biscuit
If you've been following How She Rolls on PBS, you won't want to miss your chance to sample Carrie Morey's famous biscuits at Callie's Hot Little Biscuit. There are two locations of the biscuit-forward eatery, on Upper King and in City Market, as well as a roving food truck. Of course, you can order the biscuits for home delivery, but why not do one better? Sign up for a biscuit-making class, and you can enjoy this Southern treat anytime.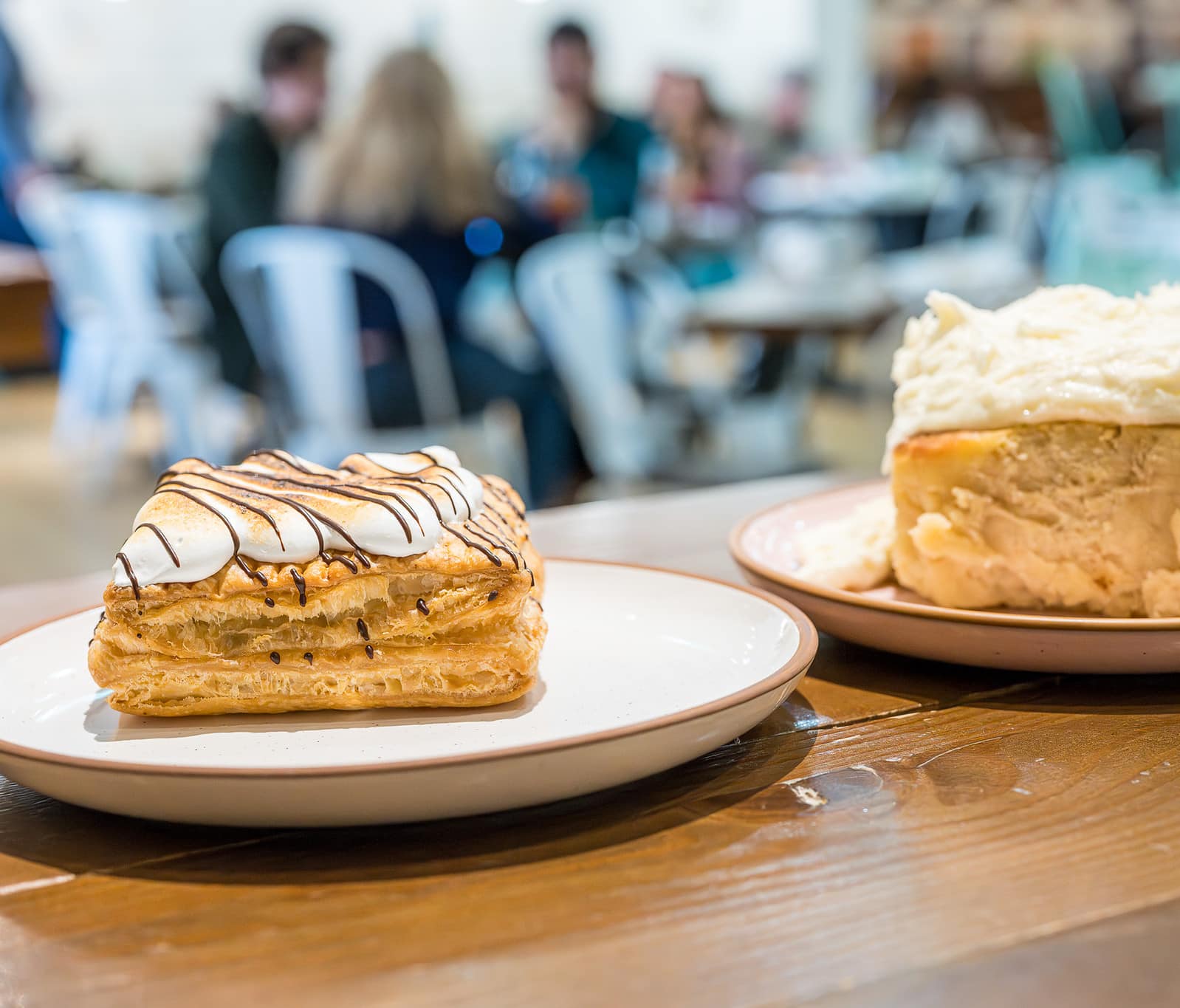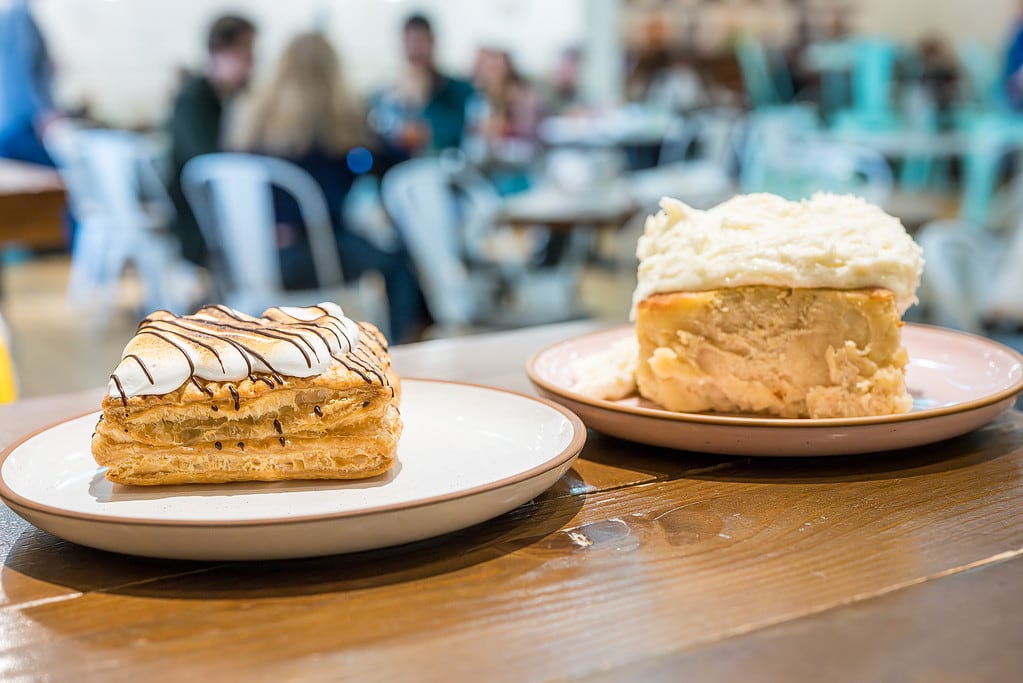 BREAKFAST/LUNCH: Millers All Day
Millers All Day is known for its inviting, relaxed atmosphere with a touch of vintage charm. The decor is influenced by the classic American diner style, adorned with retro fixtures, a large bar, and picture windows that let in an abundance of natural light.
But the menu is an ode to local, seasonal produce with a focus on local produce, sustainability, and specialty-milled grains. One of their most popular dishes is Shrimp and Grits, but it isn't made with just any grits. That dish uses Red Corn Grits, while the Tomato and Okra menu item features Unicorn Grits.
An excellent choice for a leisurely brunch any day, Millers offers an extensive drink menu, including classic cocktails, beer, wine, and an exceptional selection of house-roasted coffee. But what this sweet-tooth-Maven truly loved were the desserts, an O-M-G-!!! Cinnamon Roll with Cream Cheese filling and an elevated S'Mores (currently replaced by a Strawberry Poptart.)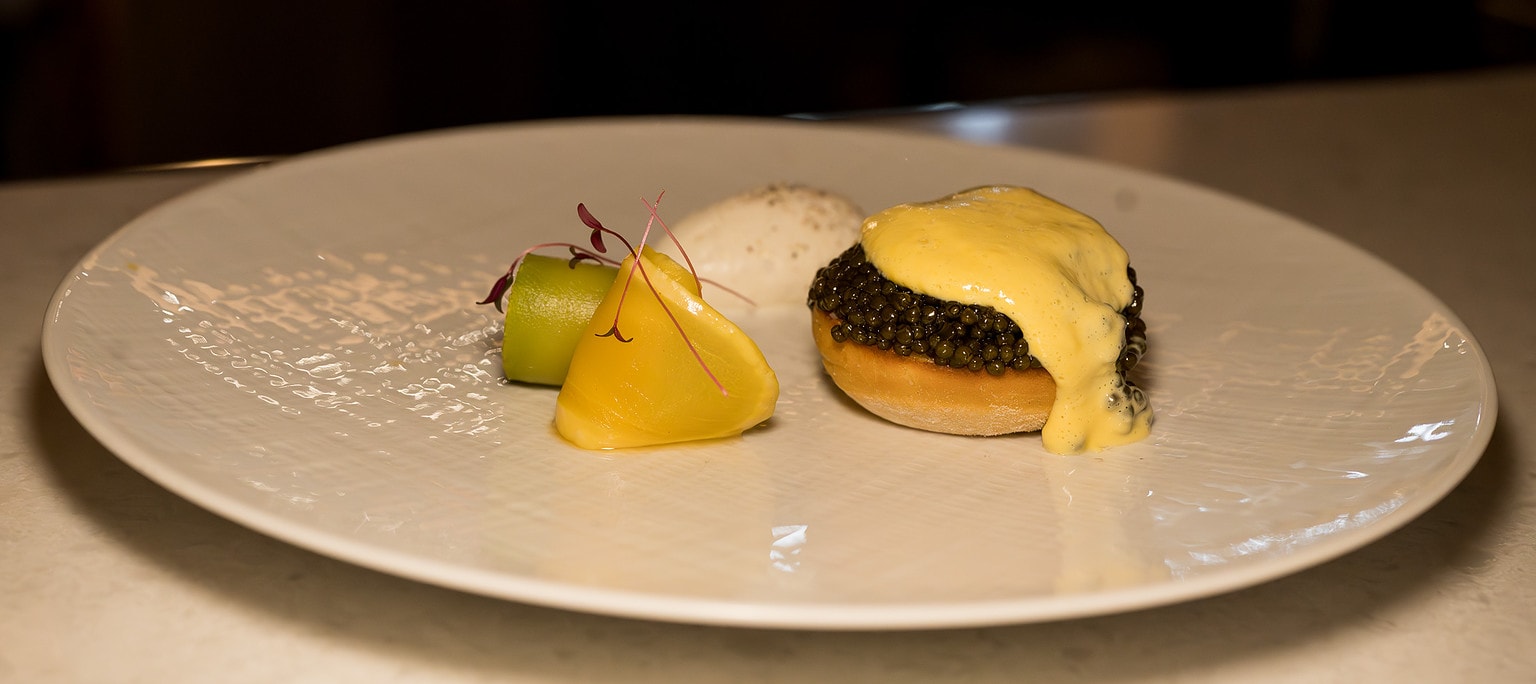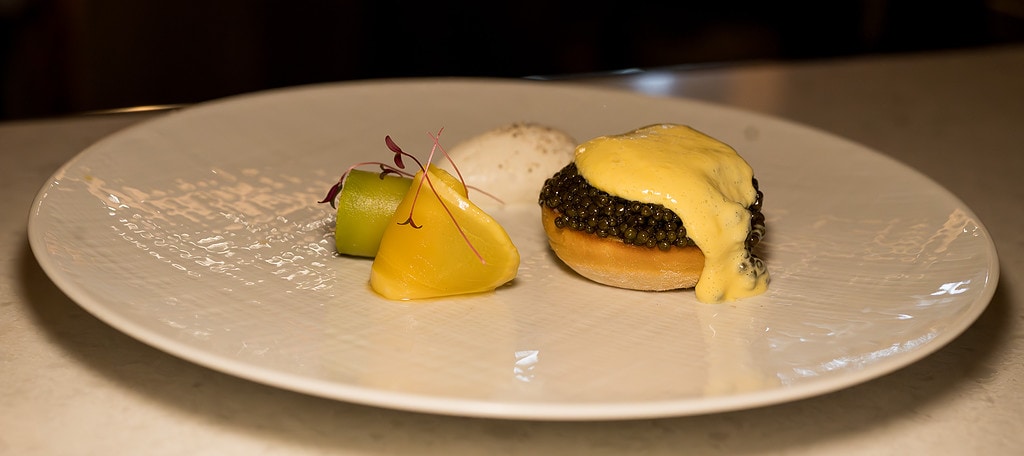 TASTING MENU: Wild Common
Wild Common takes an innovative, artistic approach to food with a dedication to local, seasonal ingredients.
The name of the restaurant, Wild Common, is inspired by the poem The Wild Common" written by D. H. Lawrence, an ode to the beauty of Nature. This thinking clearly inspires recipes that elevate the natural flavors of ingredients in the shared experience of a communal dining setting.
Under the direction of acclaimed chef Orlando Pagán, the restaurant presents a menu that can best be described as "creative American". There's a strong focus on seasonality and local produce, with a selection that often changes based on what's available and at its peak. Dishes are thoughtfully curated and beautifully presented, and often feature a unique blend of flavors and textures that demonstrate a clear passion for culinary artistry.
Wild Common is not just about food, though. The wine and cocktail program complements the food perfectly and is equally innovative. The restaurant's interior design is intimate and inviting, with a mix of modern and rustic elements that create a comfortable, yet sophisticated, atmosphere. The works of four local artists are seen on the back of menus and also projected on a giant wall screen.
Seating is available in the Courtyard and Dining Room, and there is a Chef's Table option in the Mezzanine for small groups. But, without question, the best seat in the house is at the Chef's Counter where you can observe the magic being made.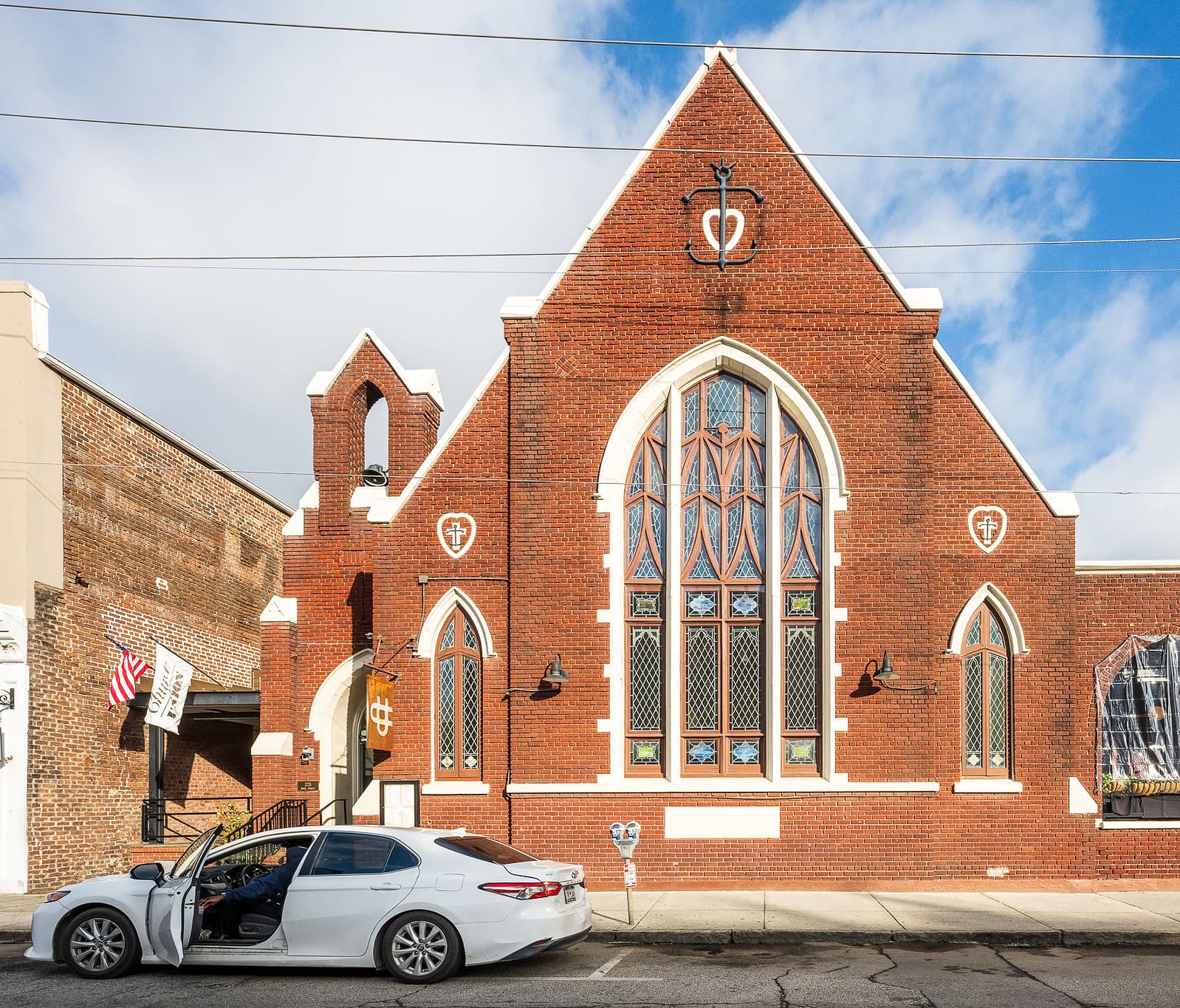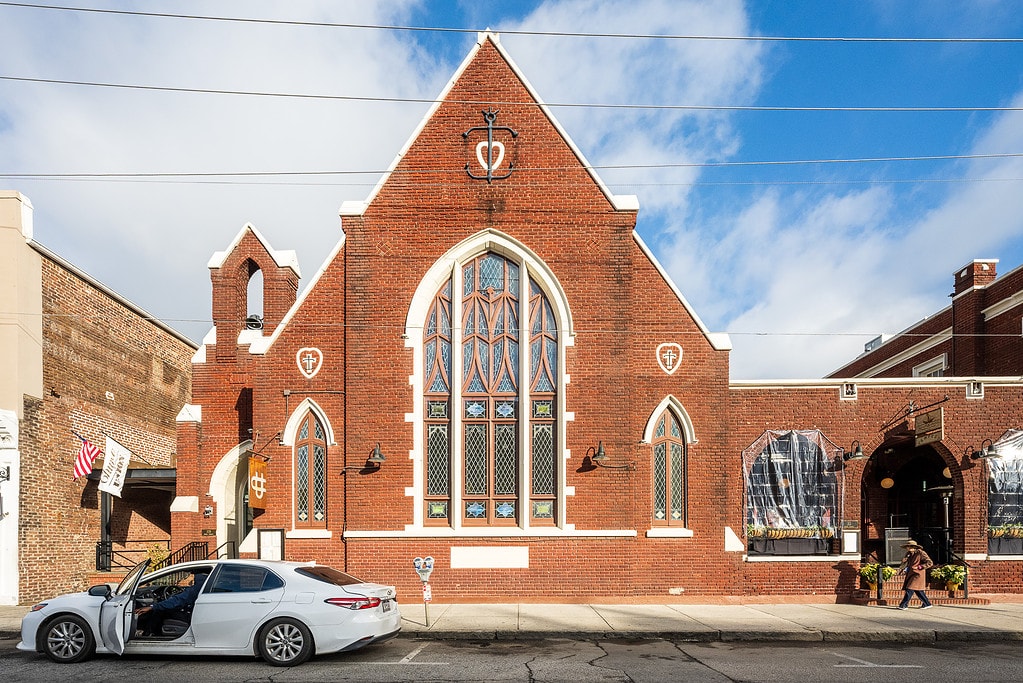 BRUNCH/LUNCH/DINNER: Church and Union
Your first clue that there's something different about Church and Union is that the restaurant is located in a former church. The second is that The Art of War is inscribed on the ceiling, a months-long project by artist John Norris. Inside, the vibe is warm and inviting, but also hopping at the long bar on a weekday evening.
Opt for a candlelit table for two and settle in for cocktail hour; the Ghost with tequila and a kick from cayenne pepper is a must. The menu is extensive with tried-and-true items such as the Prime Rib, but the Fried Chicken is made a little different (and deliciously so) from the traditional Southern version with the addition of mole negro and pico de gallo.
Come for date night, and return for a refreshingly different weekend Brunch menu.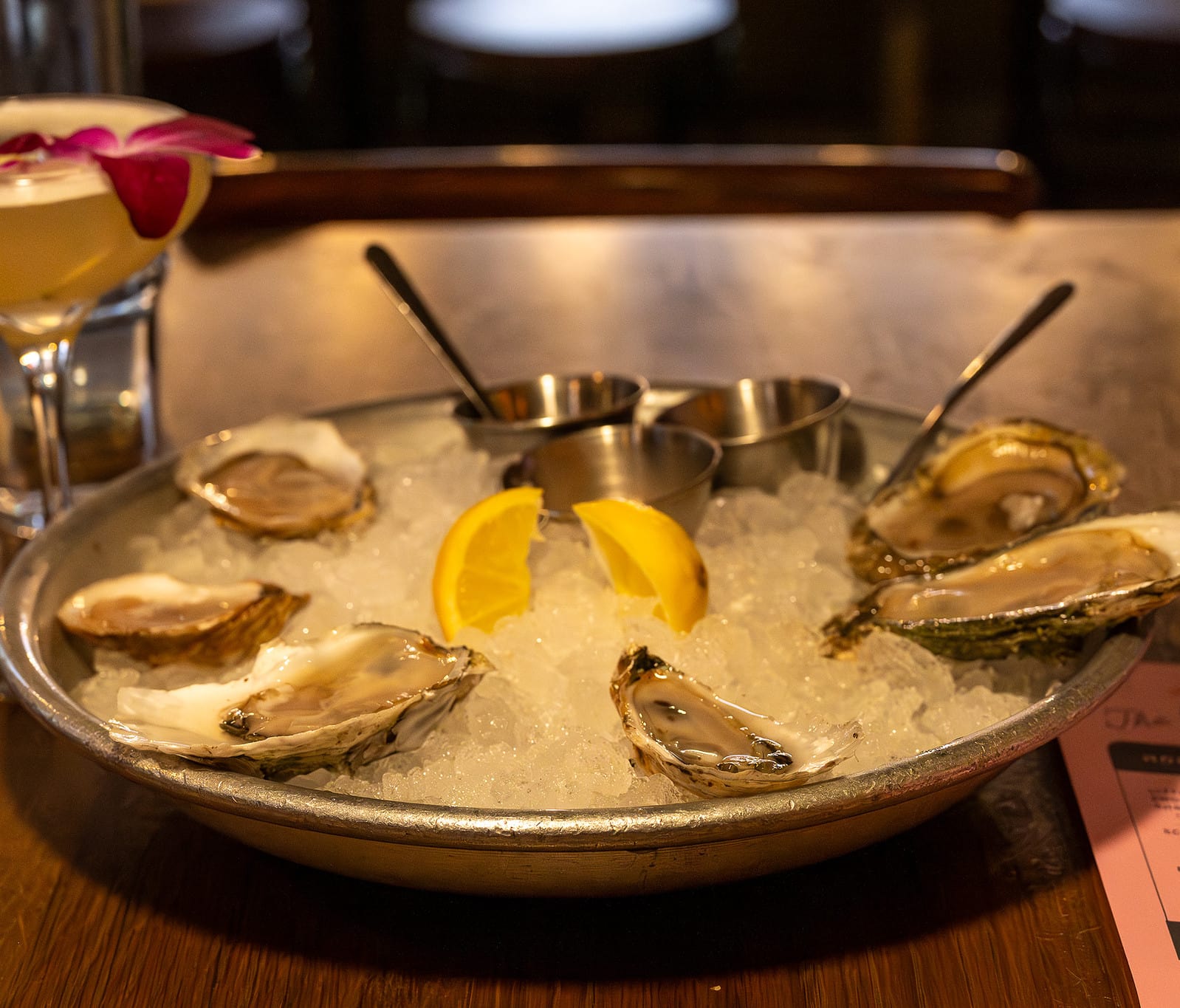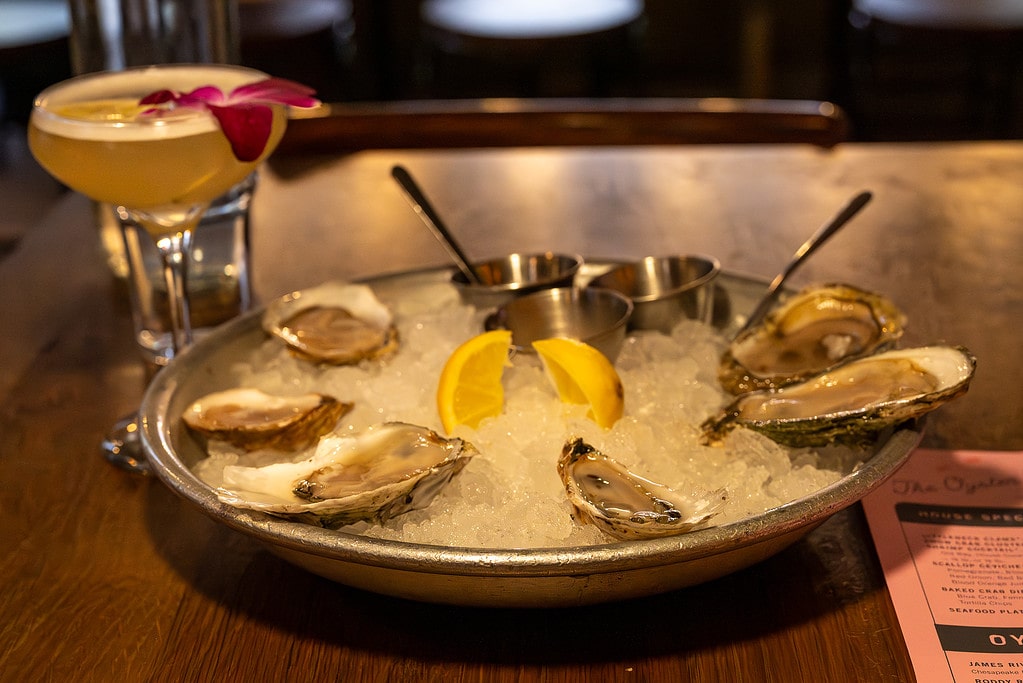 DINNER/SUNDAY BRUNCH: The Darling Oyster Bar
Located in a beautifully restored 115-year-old building, The Darling Oyster Bar has become a hot spot for locals and visitors alike.
The interior of the restaurant is strikingly stylish, with a mix of vintage and nautical elements that create a cozy yet vibrant atmosphere. And right at the front entrance, facing the large exterior window is its raw bar, where guests can sit and watch as chefs shuck a variety of fresh oysters.
The menu at The Darling Oyster Bar focuses on seafood, much of it sourced from local purveyors. In addition to a wide selection of fresh raw oysters, guests can enjoy a range of dishes from clam chowder and lobster rolls to shrimp and grits and whole fish preparations. The restaurant also offers a number of non-seafood dishes to ensure there's something for everyone.
Complementing the food, The Darling offers a carefully selected wine list and an impressive range of creative cocktails, some of which have a distinctly Southern twist.
While its decor and food are certainly noteworthy, perhaps more importantly, The Darling Oyster Bar exudes warm hospitality. The staff is friendly and knowledgeable, helping to create a dining experience that's welcoming and enjoyable.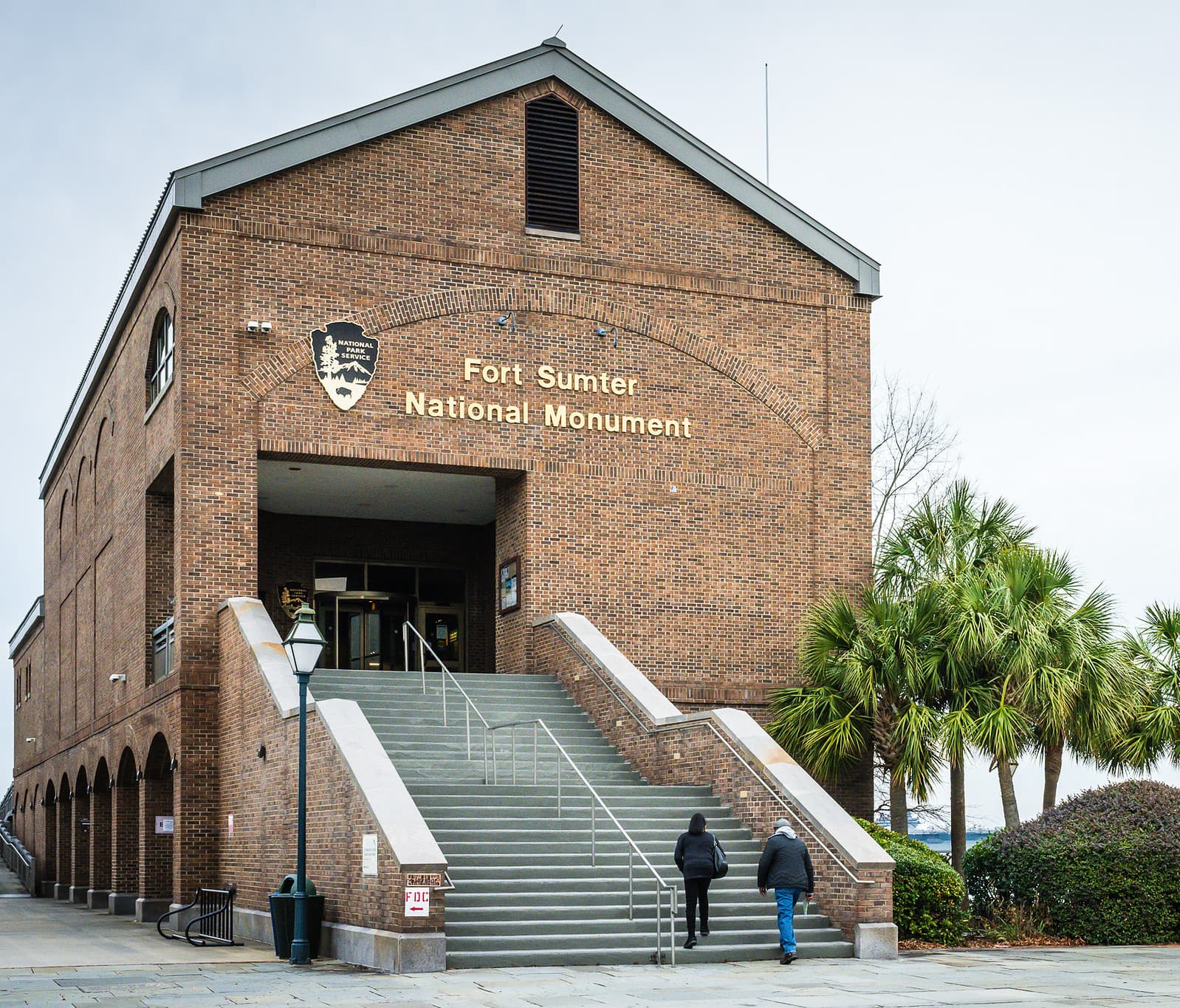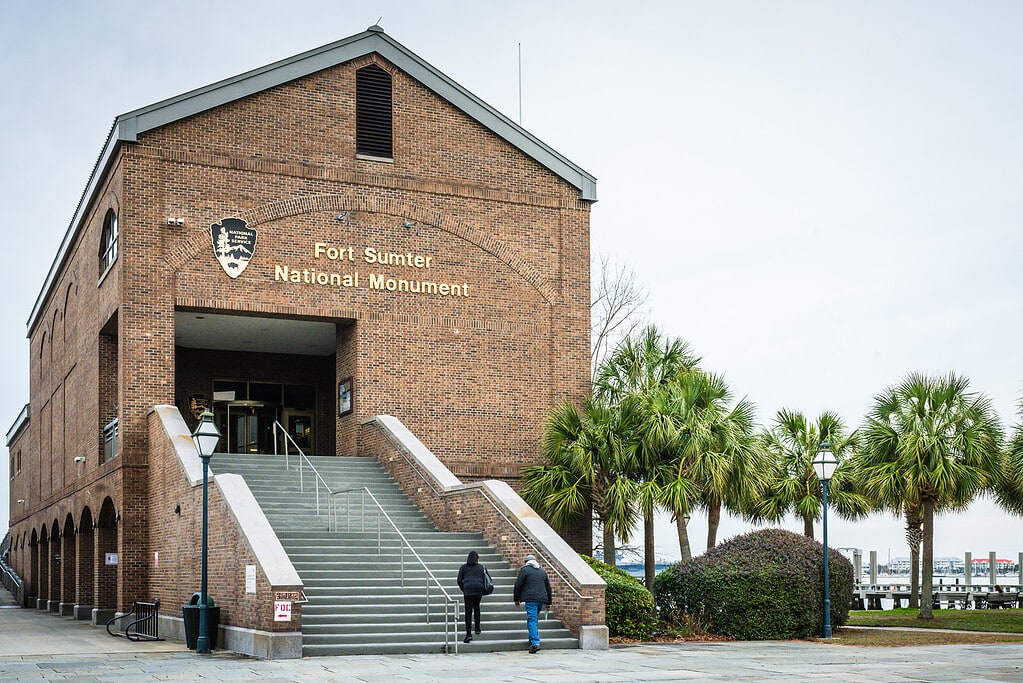 Things To Do In Downtown Charleston Historic District
TOUR: Fort Sumter National Historic Site
A tour of Fort Sumter National Historic Site begins with a stop at the Visitor Center, next door to the South Carolina Aquarium, and continues with a ferry ride to the actual fort.
Located at the entrance of Charleston Harbor, Fort Sumter holds great significance as the site where the first shots of the American Civil War were fired. Take a guided tour to learn about the events that led to the war and witness the remnants of this historic site. The knowledgeable tour guides will transport you back in time as they recount the stories that unfolded on these hallowed grounds.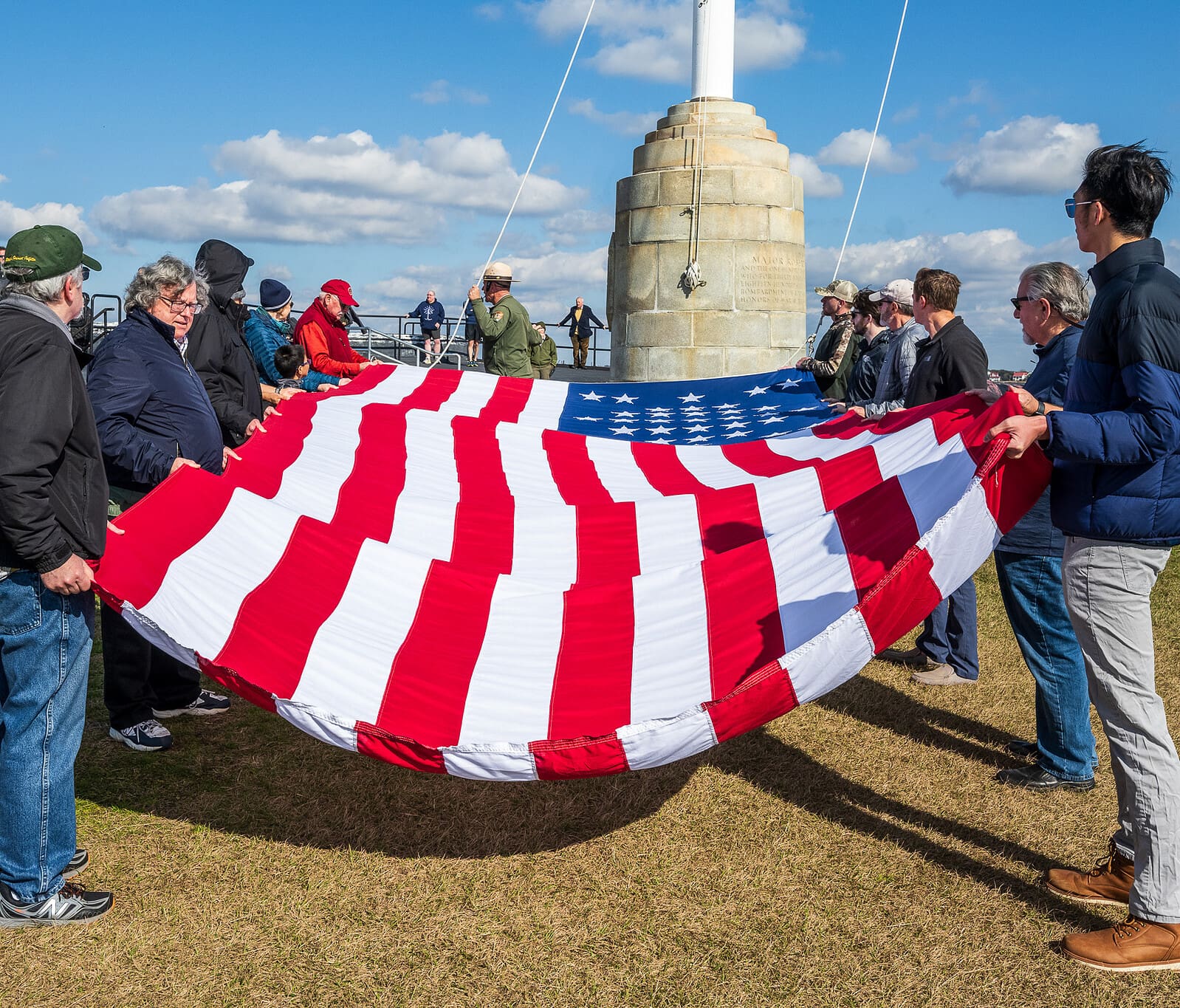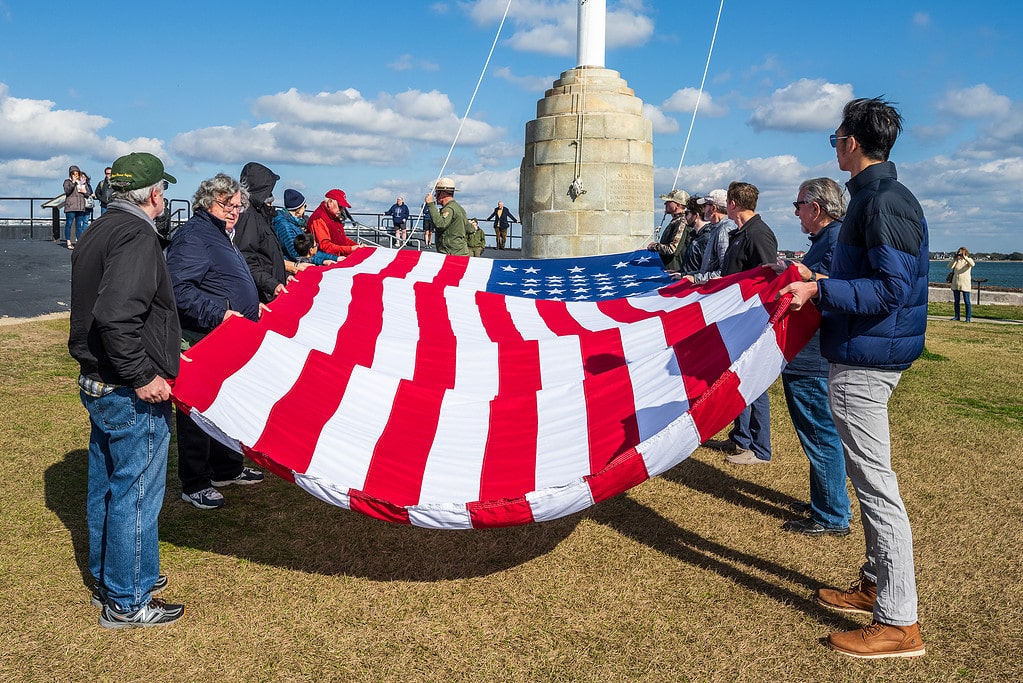 What we most appreciated about the tour is that, before allowing a group of visitors to help with raising the United States flag, the park ranger sat us down and helped us understand the mindset of all actors involved. We were asked to put ourselves in the shoes of plantation owners, enslaved people, and Union soldiers.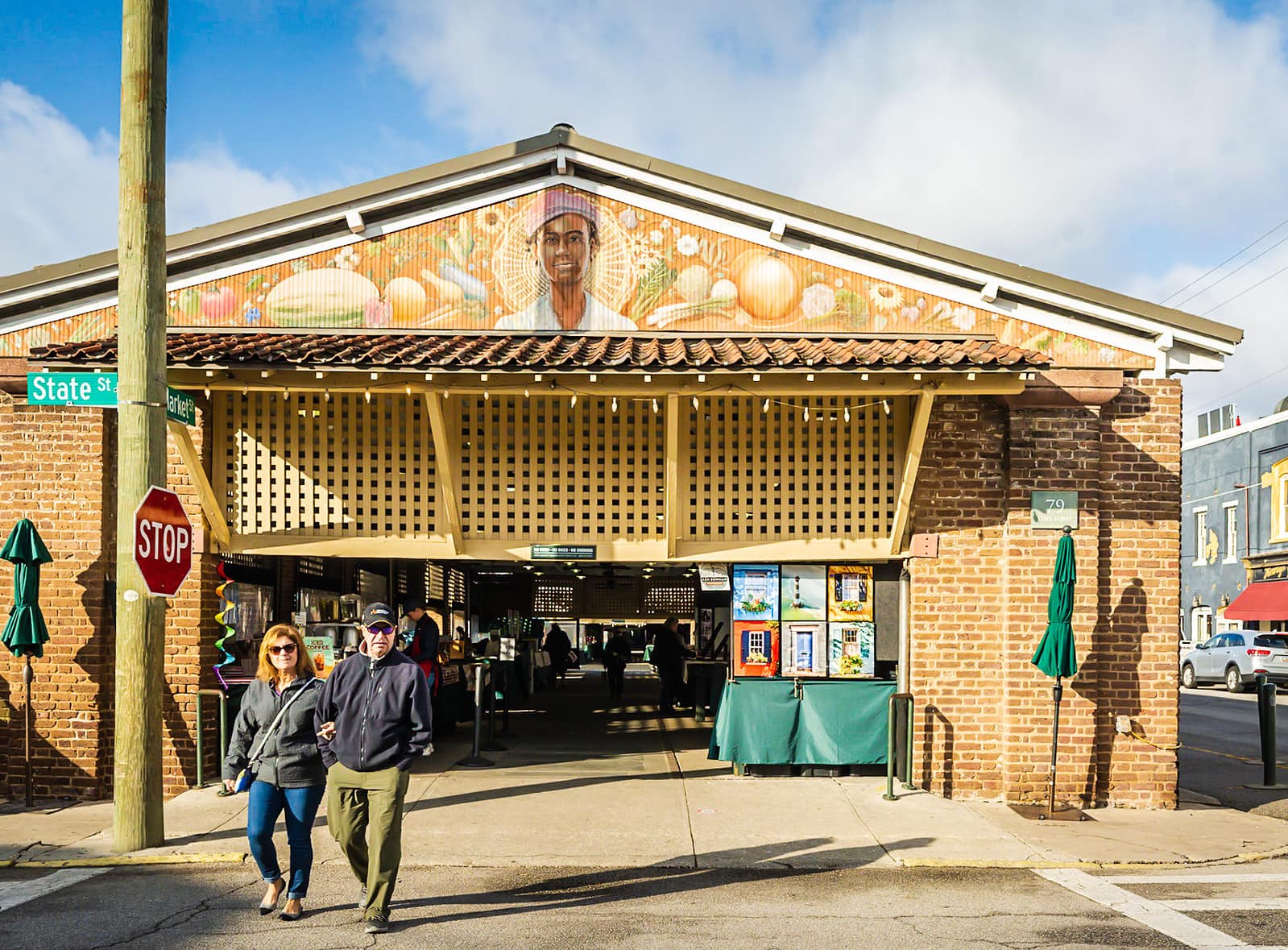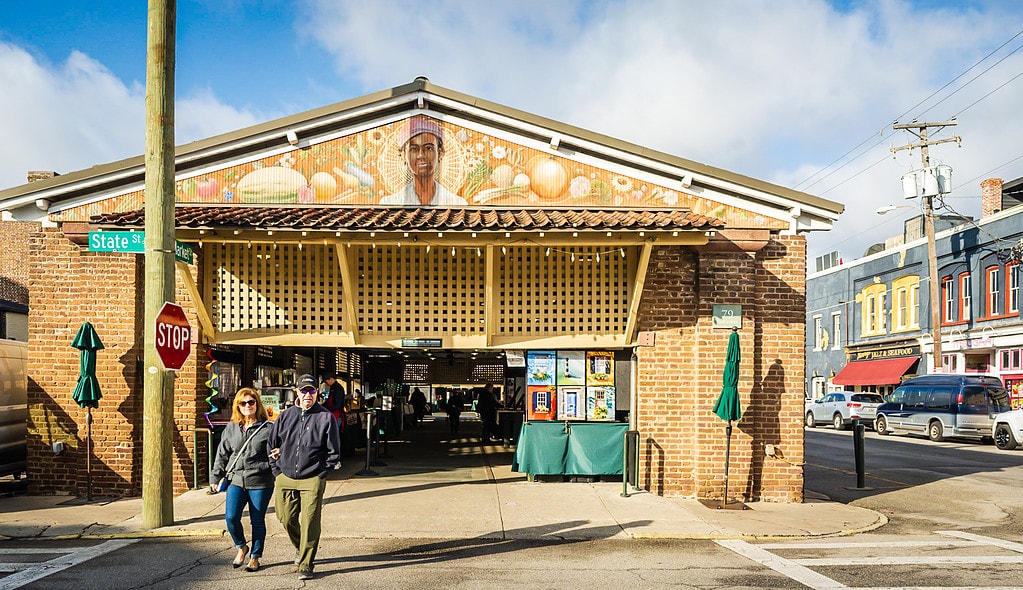 SHOP: Charleston City Market
Immerse yourself in the vibrant culture of Charleston by visiting the historic Charleston City Market. This open-air market, located in the heart of downtown, is a treasure trove of local crafts, artwork, and souvenirs. Stroll through the bustling stalls, interact with local artisans, and indulge in the rich flavors of Lowcountry cuisine.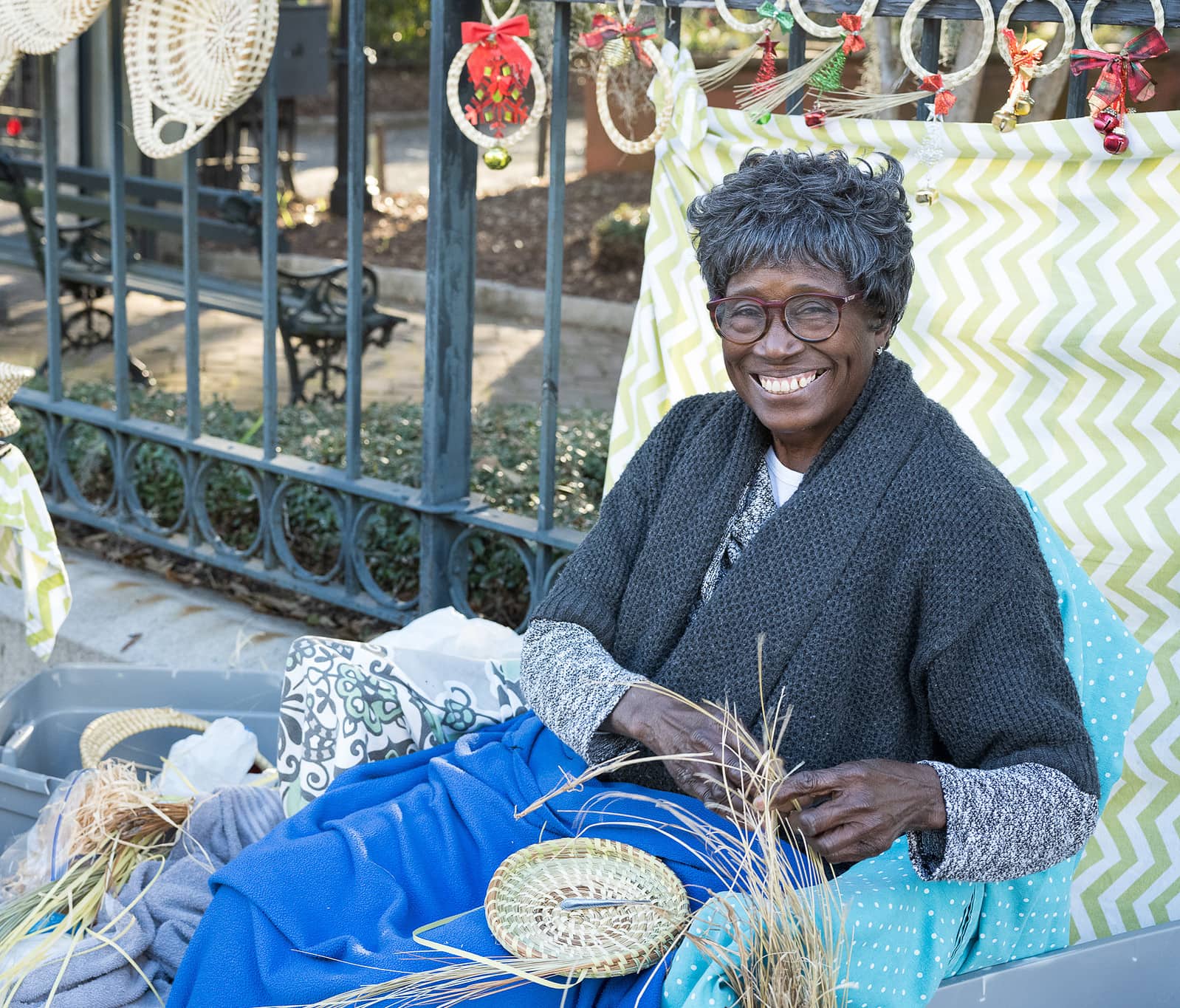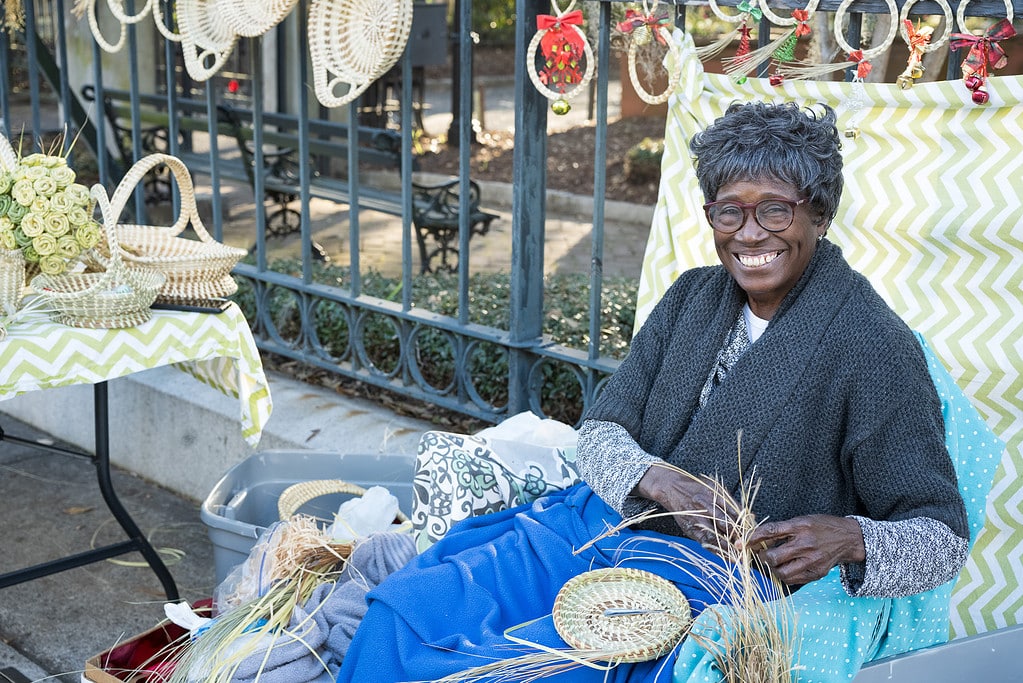 Although there were a couple of sweetgrass basket displays, we held off making a purchase until meeting Ann Simmons in front of St. Michael's Church. Taught by her grandmother, she's been making South Carolina's Official Art Craft for over sixty years.
To learn more about Sweetgrass basketry and the Gullah Geechee people, consider attending the annual Sweetgrass Festival in Mount Pleasant SC.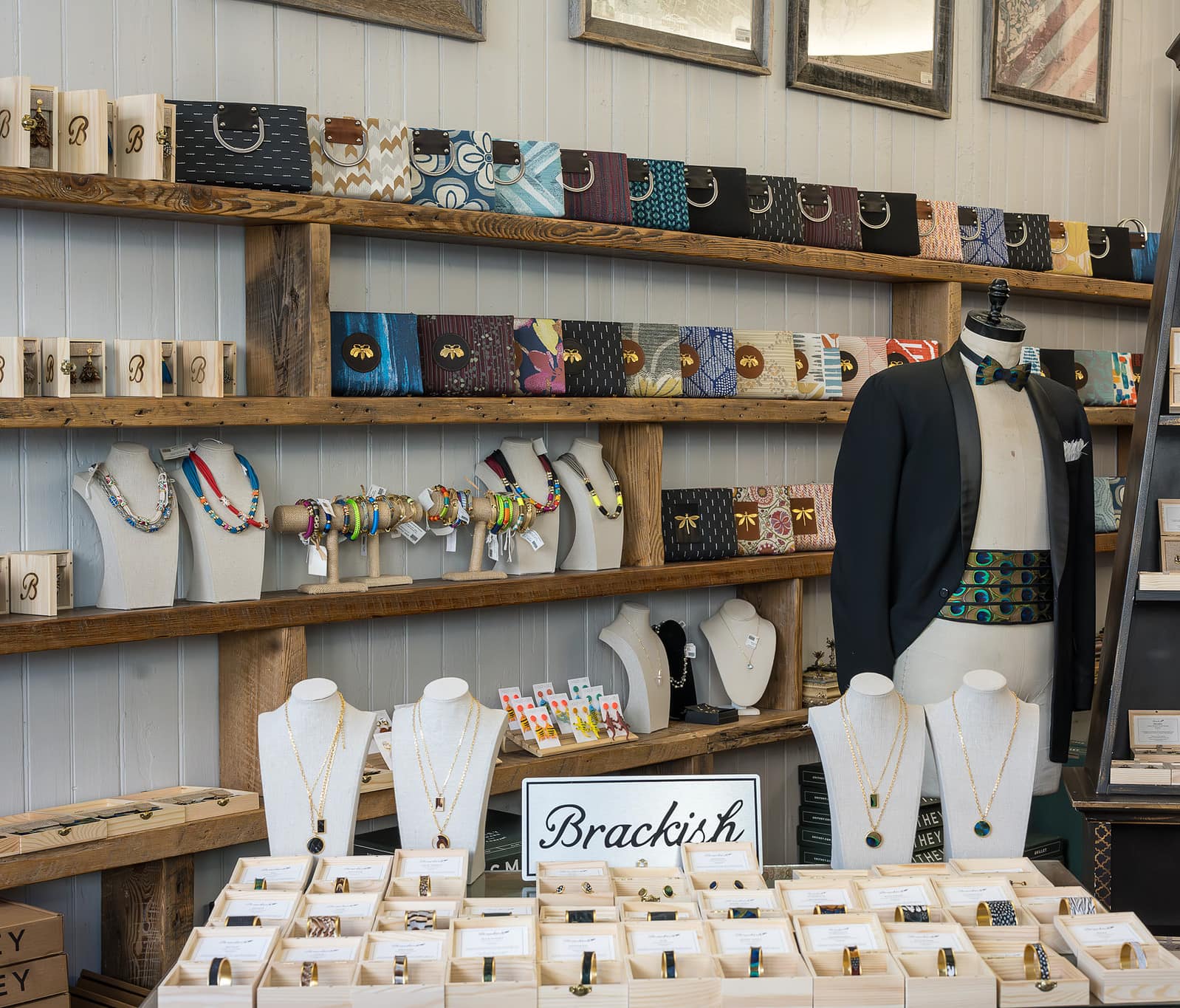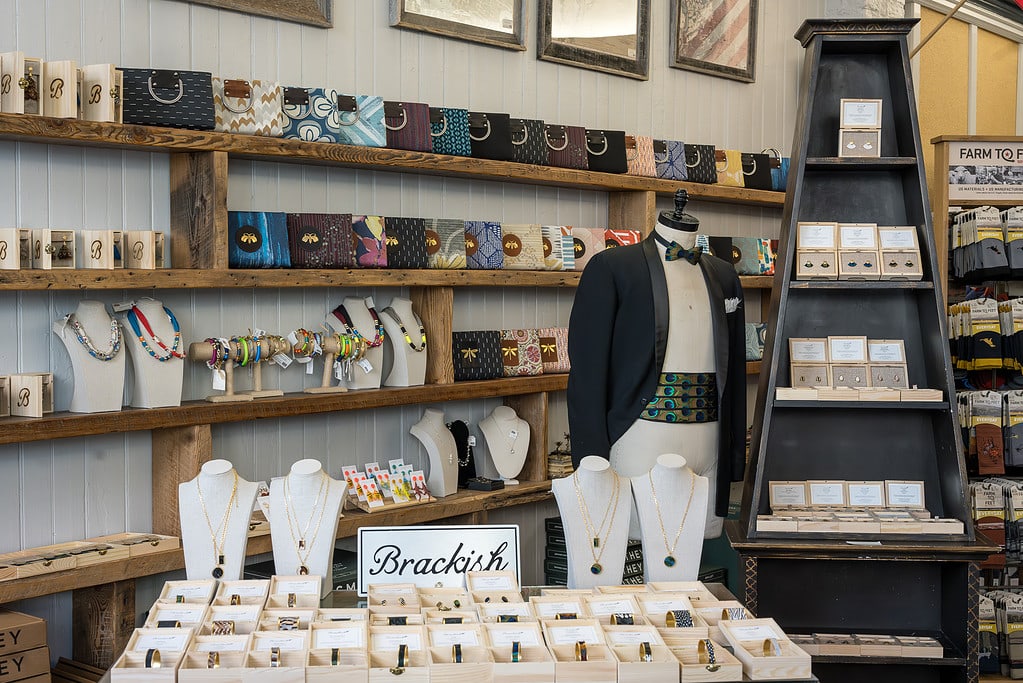 SHOP/TOURS: Preservation Society of Charleston
In 1920, Susan Pringle Frost rallied to preserve one house, thus sparking the first grassroots preservation organization in the nation. She founded the Charleston Preservation Society, now known as the Preservation Society of Charleston, with an ongoing mission to protect and celebrate Charleston's unique character.
You can support this endeavor, while also supporting local makers, by shopping at the PSC Shop. There, you'll find a most unusual collection of handcrafted items, from Brackish's feather bowties and jewelry to J.Stark's timeless weekender bags. And, at the back, there's a great collection of books by local authors, in addition to more global choices.
They also run a number of tours, including House & Garden Tours, Historic Walking Tours, and Insider's Garden or Architecture Tours. Check the website for availability.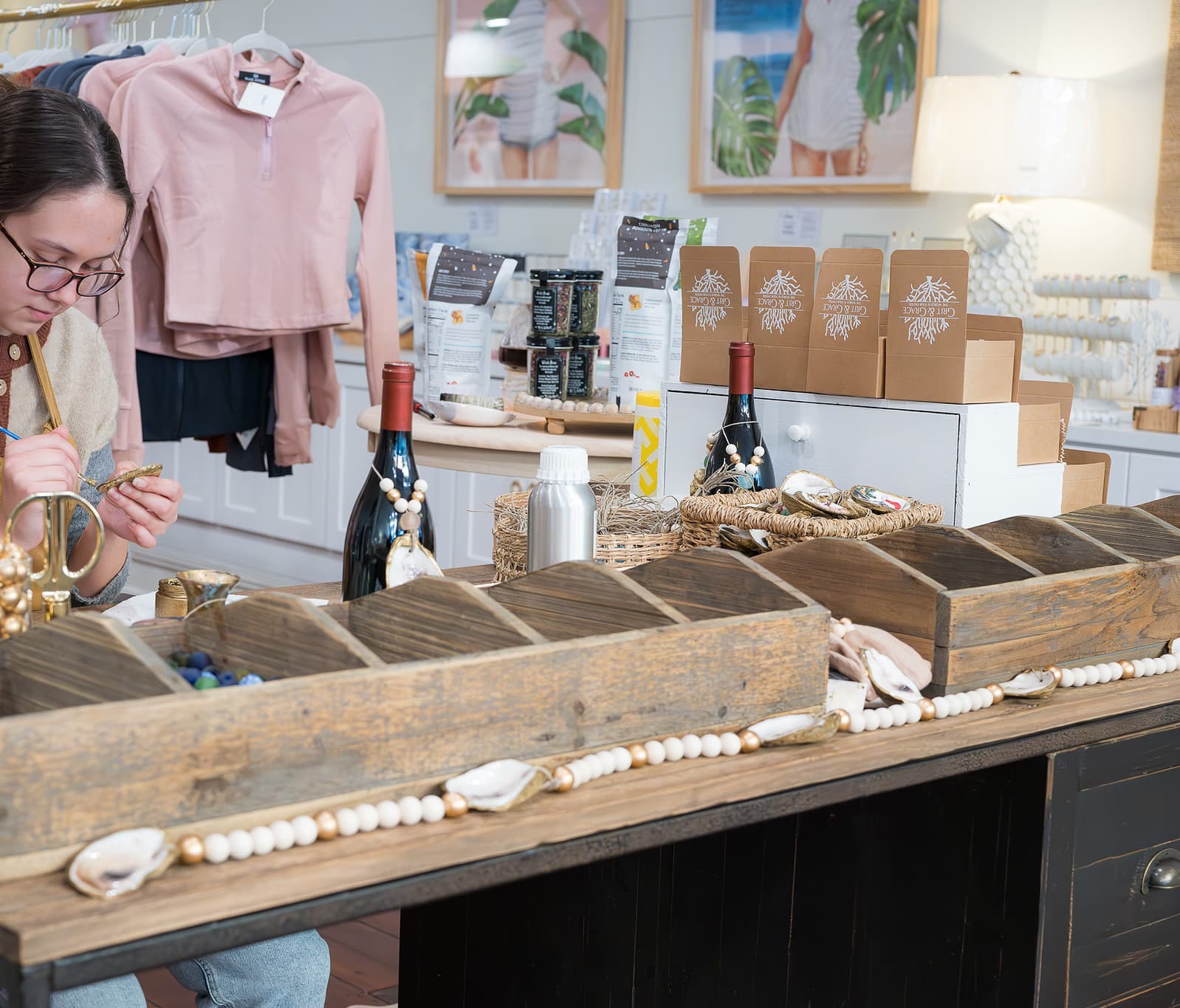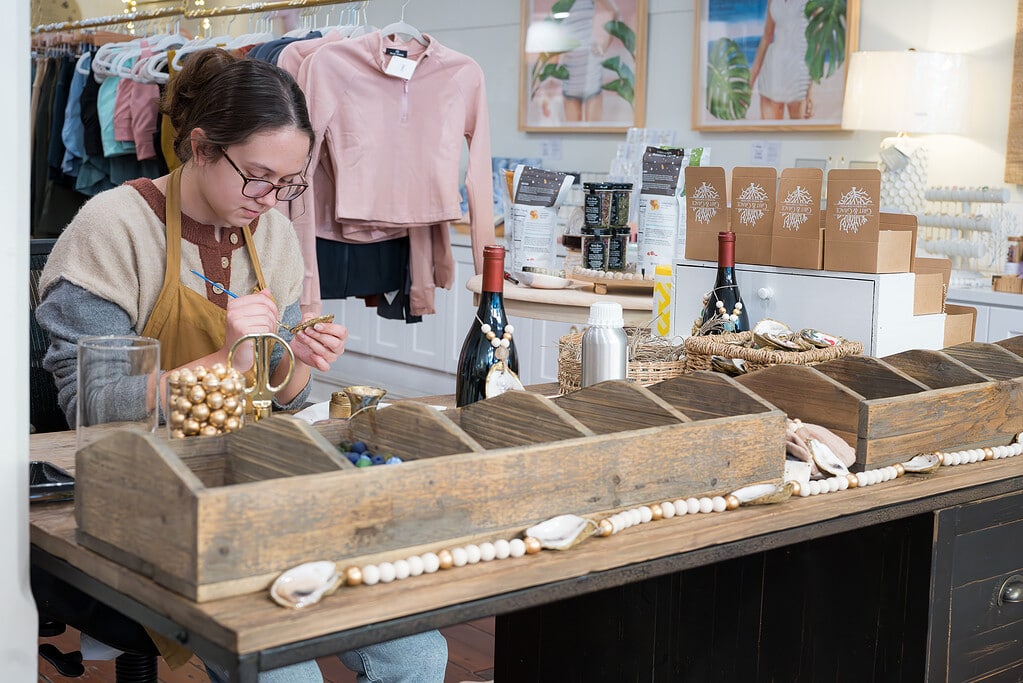 SHOP: Grit and Grace Studio
What to do with oysters after shucking them? Grit and Grace Studio found a solution in repurposing the spent oyster shells into elegant jewelry and jewelry dishes that have become desirable bridal gifts. And, while creating a whole line of home decor items, they also recycle oyster shells to reef restoration projects.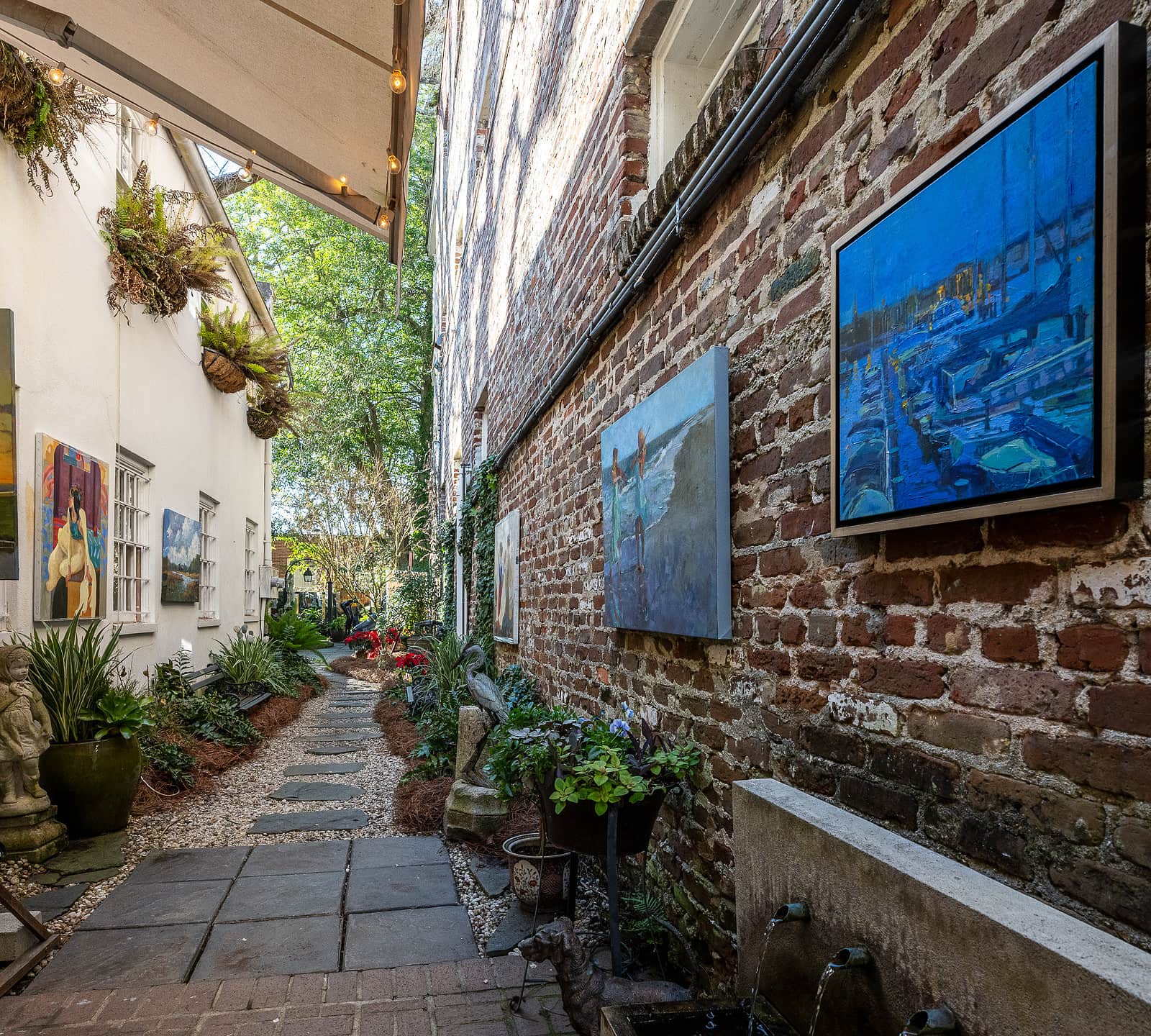 SHOP: Reinart Fine Art Gallery
Founded by contemporary impressionist painter Rick Reinert, the Reinert Fine Art and Sculpture Garden Gallery is a place where art enthusiasts can admire a wide range of works, many of which reflect the beauty and charm of the Southern landscape.
The gallery boasts a curated collection of works from more than 60 professional artists, both emerging and well-established, who work in a variety of mediums. Styles range from contemporary and impressionistic to realistic and abstract. In addition to paintings, you'll also find a selection of sculptures that add a unique three-dimensional aspect to the collection.
One of the distinctive features of Reinert Fine Art is its outdoor sculpture garden. Here, visitors can stroll among a collection of sculptures set within a landscaped outdoor space, enjoying the interplay of art and nature.
The interior of the gallery is equally inviting, with a welcoming atmosphere that encourages visitors to explore at their leisure.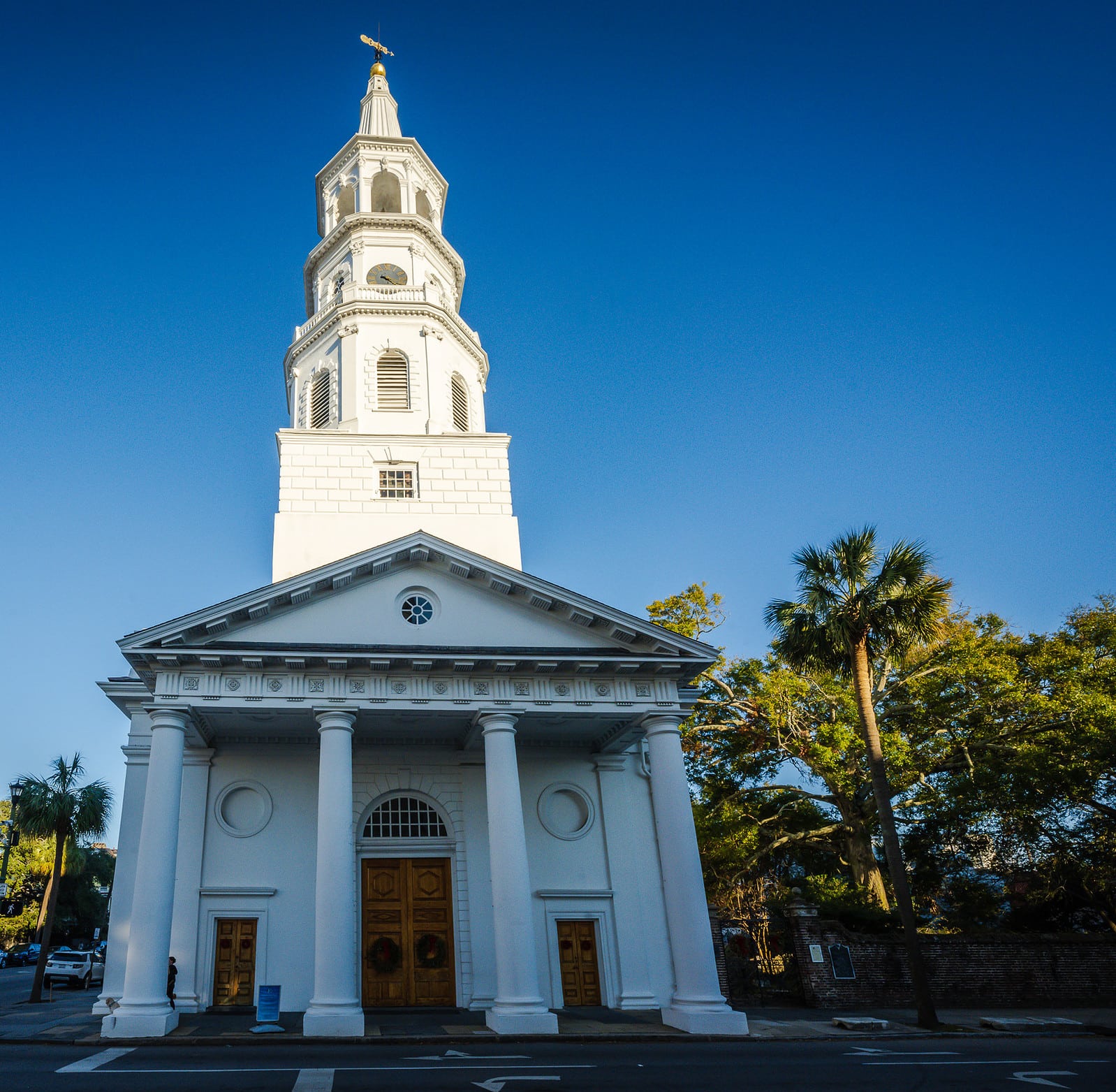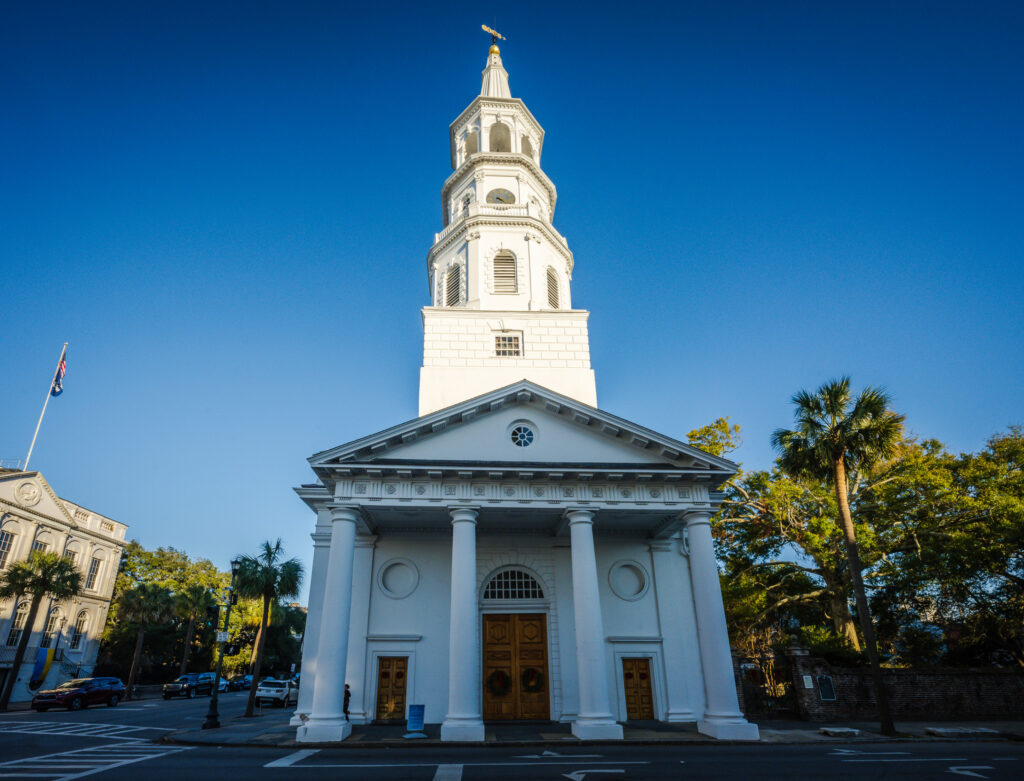 VISIT: St. Michael's Church and The Four Corners of Law
The Four Corners of Law, an iconic intersection in downtown Charleston, is another noteworthy stop on your exploration of the city. Situated at the crossing of Meeting and Broad Streets, this spot is named for the four institutions of law represented on each corner: St. Michael's Anglican Church (representing God's law), Charleston County Courthouse (representing state law), the United States Post Office and Courthouse (representing federal law), and City Hall (representing local law).
It's hard to miss St. Michael's Church, its tall white steeple is an iconic part of Charleston's skyline. Built in the 1750s, it's the oldest church edifice in the city. And during the American Revolution, patriots climbed to the top of the 186′ belfry to warn of British attacks.
Most interestingly, local lore suggests that the bell tower was once a make-out spot for couples and that you can still find their initials carved into the woodwork. Whether fact or fiction, it remains to be seen.
TOUR: The Edmondston-Alston House
According to the history books, General P.G.T. Beauregard watched Fort Sumter being bombed from the Edmonston-Alton House, where he also harbored Confederate General Robert E. Lee. Now, the house has been beautifully restored with period furnishings reflective of the early 19th Century period when it was built.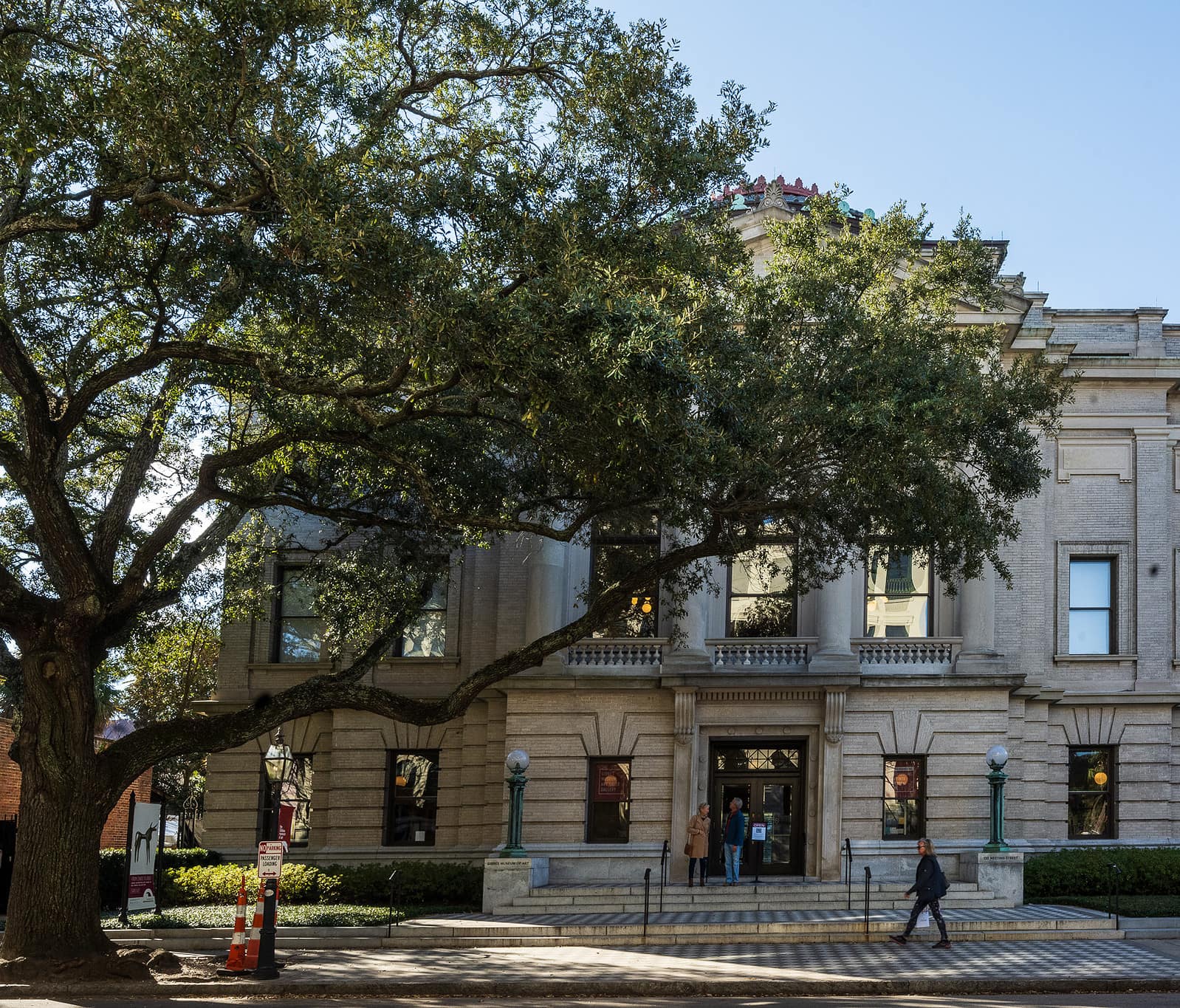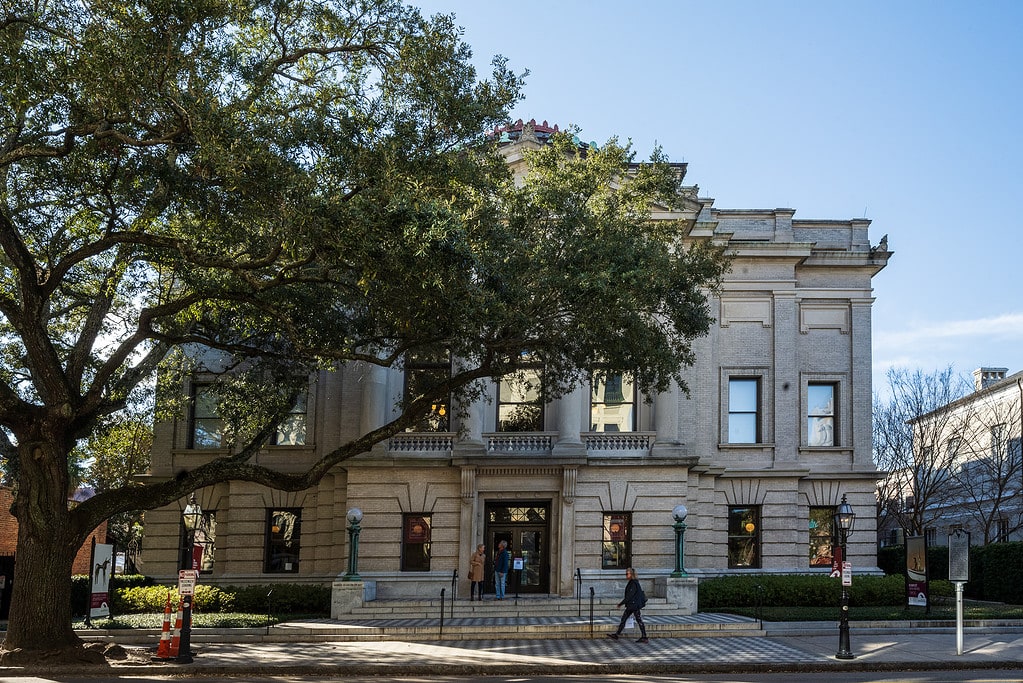 VISIT: Gibbes Museum of Art
The Gibbes Museum of Art is a renowned cultural institution that celebrates the artistic heritage of the Lowcountry region. With its extensive collection of American art, engaging exhibitions, and commitment to fostering a deeper appreciation for the visual arts, the Gibbes Museum offers visitors an enriching and captivating experience.
Housed in a beautifully restored Beaux-Arts building, the museum itself is a work of art. Its elegant architecture and grandeur make it a fitting setting for the exquisite artworks it houses. As visitors step through the museum's doors, they are greeted by a space that seamlessly blends historic charm with contemporary sensibilities. In fact, you enter through a historic facade and exit into the modern when you head out into the courtyard at the back.
The Gibbes Museum's collection spans a wide range of artistic styles and periods, with a particular emphasis on works that reflect the history and culture of the South. From the early colonial period to the present day, the collection showcases the diverse artistic expressions that have shaped American art. Of particular interest is a Miniature Portrait collection, spanning 200 years and 100 artists, and the sweetgrass basketry of Mary Jackson in the Mary Jackson Modern and Contemporary Gallery.
Walk From Joe Riley Waterfront Park To White Point Garden
Stretching along the shoreline, the Joe Riley Waterfront Park provides visitors with stunning panoramic views of the harbor, the iconic Arthur Ravenel Jr. Bridge, and the sailboats gracefully gliding across the water.
One of the highlights of Charleston's Waterfront Park is its iconic pineapple fountain. This whimsical fountain, adorned with a large pineapple on top, has become an emblematic symbol of Charleston's warm hospitality and Southern charm. The gentle cascades of water create a soothing ambiance, inviting visitors to relax and unwind.
Strolling along the promenade, you'll find plenty of benches and shady spots where you can sit and enjoy the waterfront views. Take a leisurely walk on the pier that extends into the harbor, offering an up-close look at the boats and the occasional dolphin or pelican passing by. The cool breeze and the rhythmic sounds of the water create a tranquil atmosphere, making it an ideal place for reflection or simply enjoying a moment of serenity.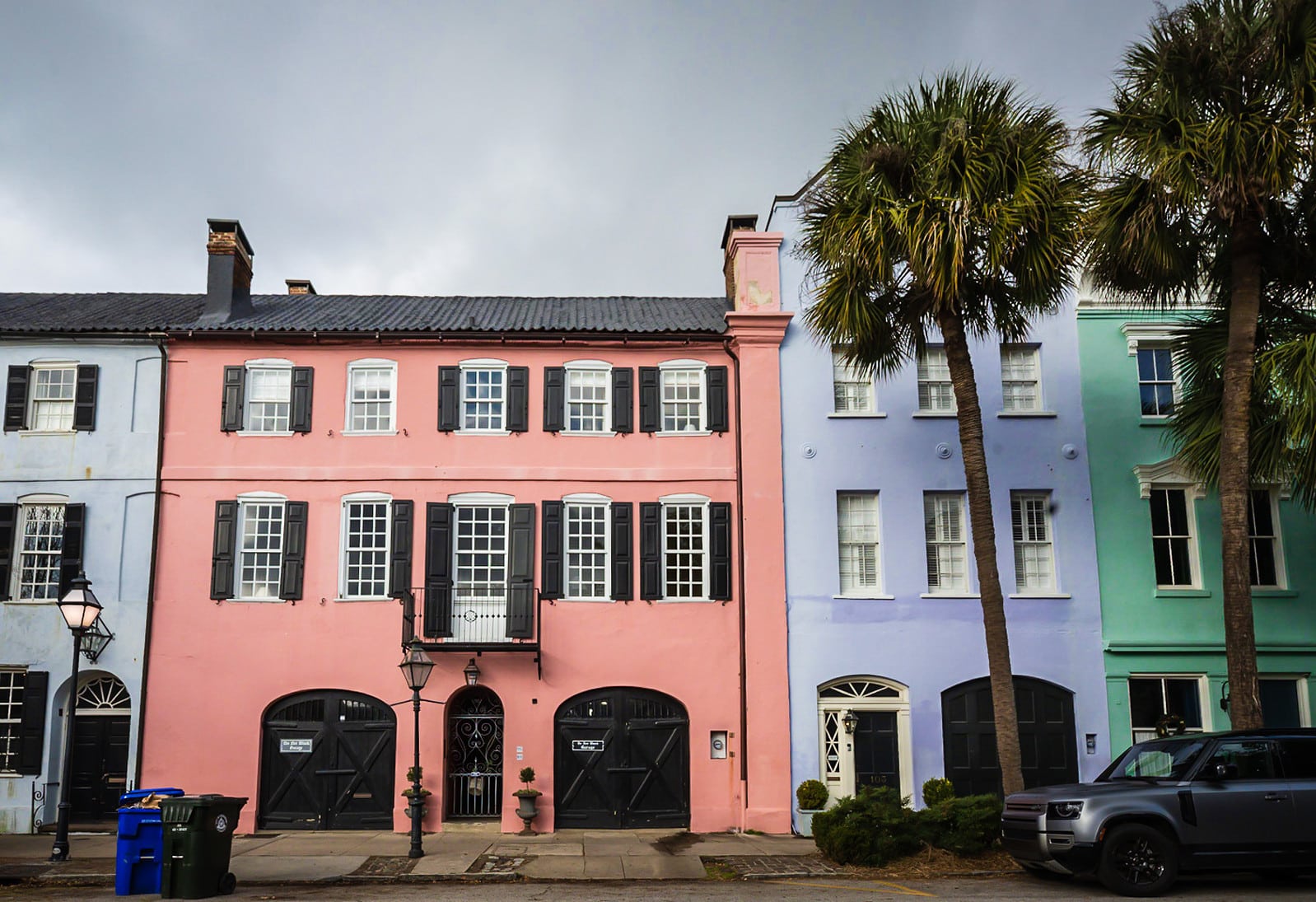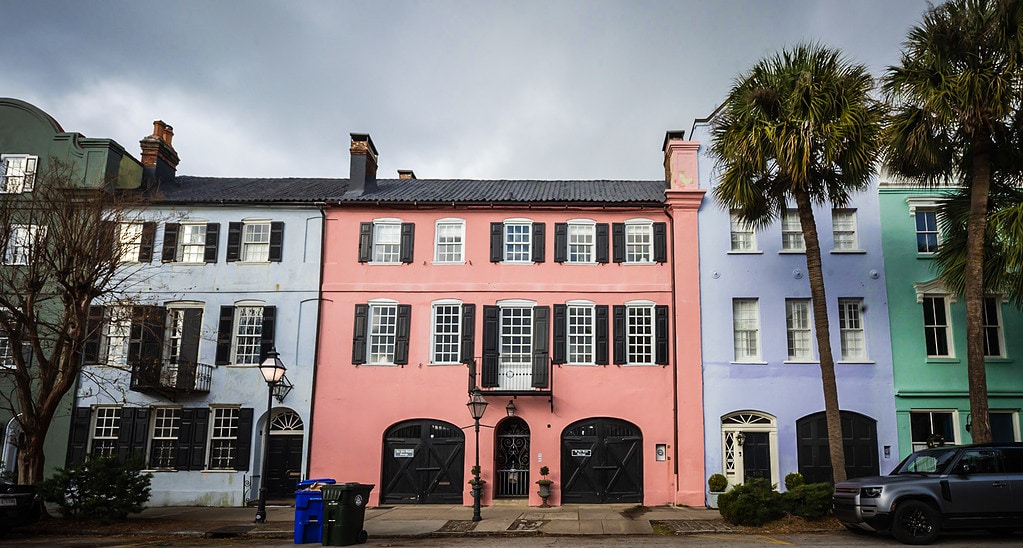 It's about an eleven-minute walk to White Point Garden where you will find more oak trees as well as a gazebo, Civil War cannons, and various statues and monuments. But between both parks, make sure to drop in on Rainbow Row. These colorful historic houses are a perfect backdrop for a couple's selfie.
TOUR: Patriots Point Naval & Maritime Museum
Step aboard the USS Yorktown, an aircraft carrier that served in World War II, and explore the vast exhibits and interactive displays at Patriots Point. This museum is a tribute to the bravery of the men and women who fought for our country's freedom. Take a guided tour to fully immerse yourself in the rich history of this iconic vessel and gain a deeper understanding of the naval heritage of Charleston.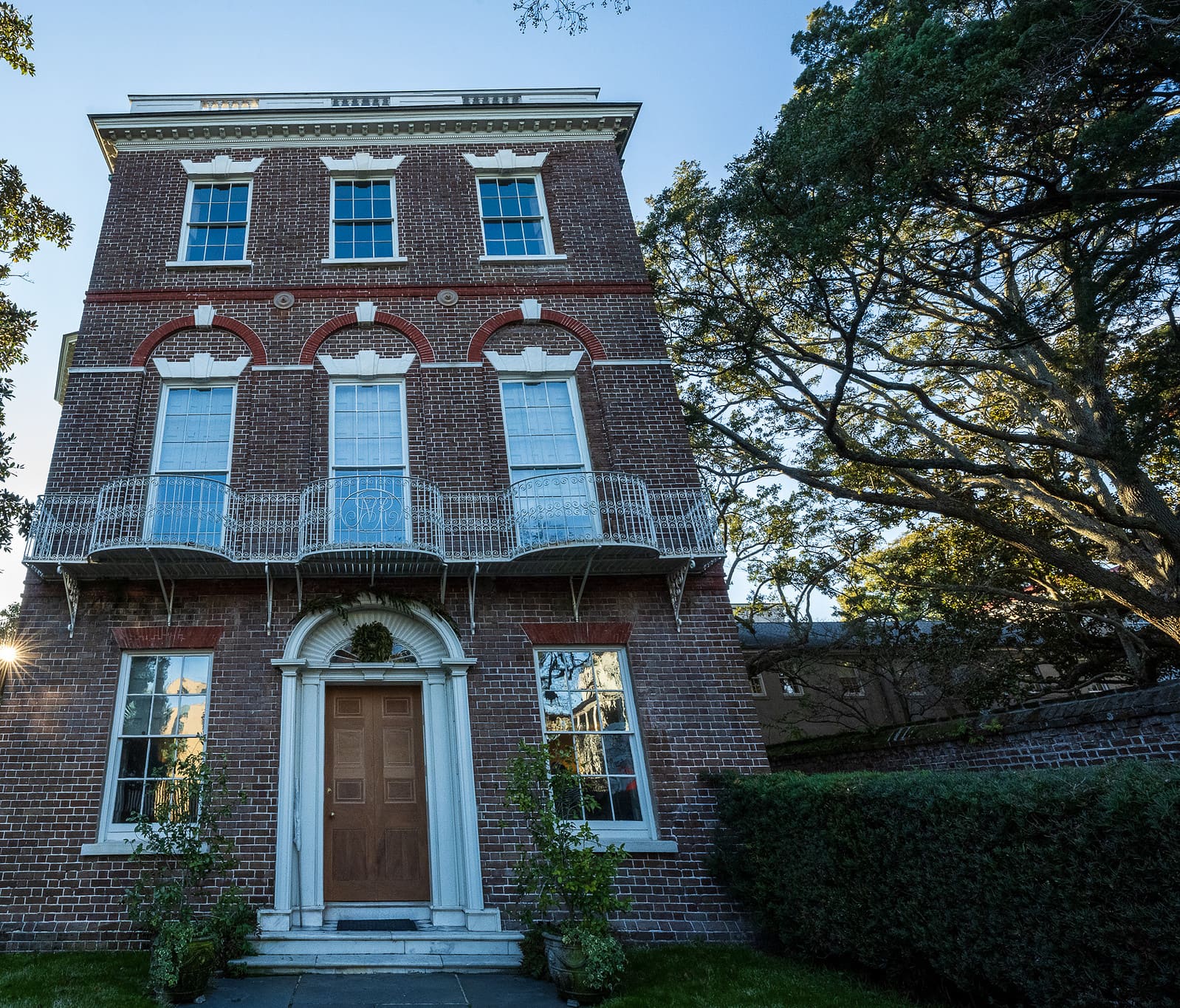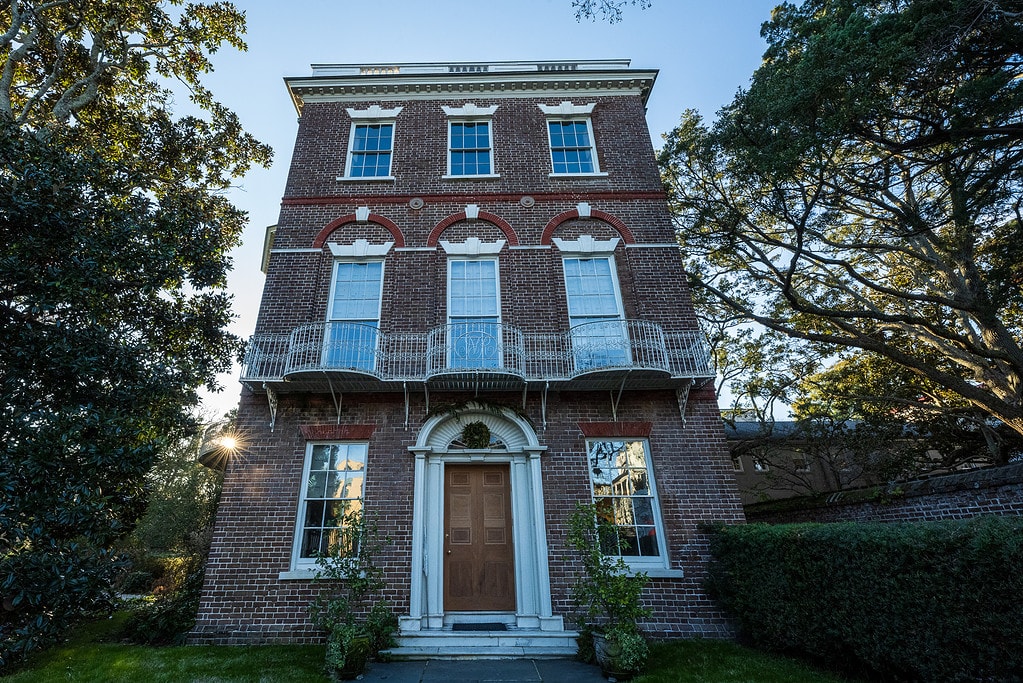 TOUR: Nathaniel Russell House
Step into the opulent world of the 19th-century elite by visiting the Nathaniel Russell House. This beautifully preserved historic mansion showcases the intricate architecture and lavish lifestyle of Charleston's wealthy past. Take a guided tour of the house and its stunning gardens, and marvel at the exquisite details and craftsmanship that have stood the test of time.
GO: Gullah Tours In Charleston
Gullah Tours in Charleston offers a unique and immersive experience into the rich cultural heritage of the Gullah people, who are descendants of enslaved Africans brought to the Lowcountry region. These tours provide visitors with an opportunity to learn about the Gullah Geechee culture, traditions, language, and contributions to the history of Charleston and the surrounding areas.
Owner and tour guide, Alphonso Brown, literally wrote the book on this topic, A Gullah Guide To Charleston: Walking Through Black History. So it's no surprise that these tours are led by an exceptionally knowledgeable and passionate tour guide with a deep understanding of Gullah history and culture.
Participating in a Gullah tour in Charleston is not only a chance to learn about an often-overlooked aspect of American history but also an opportunity to celebrate the resilience, creativity, and enduring spirit of the Gullah people. These tours offer a powerful and enlightening journey that deepens one's understanding of the diverse cultural fabric of Charleston and the impact of Gullah traditions on the region's history and identity.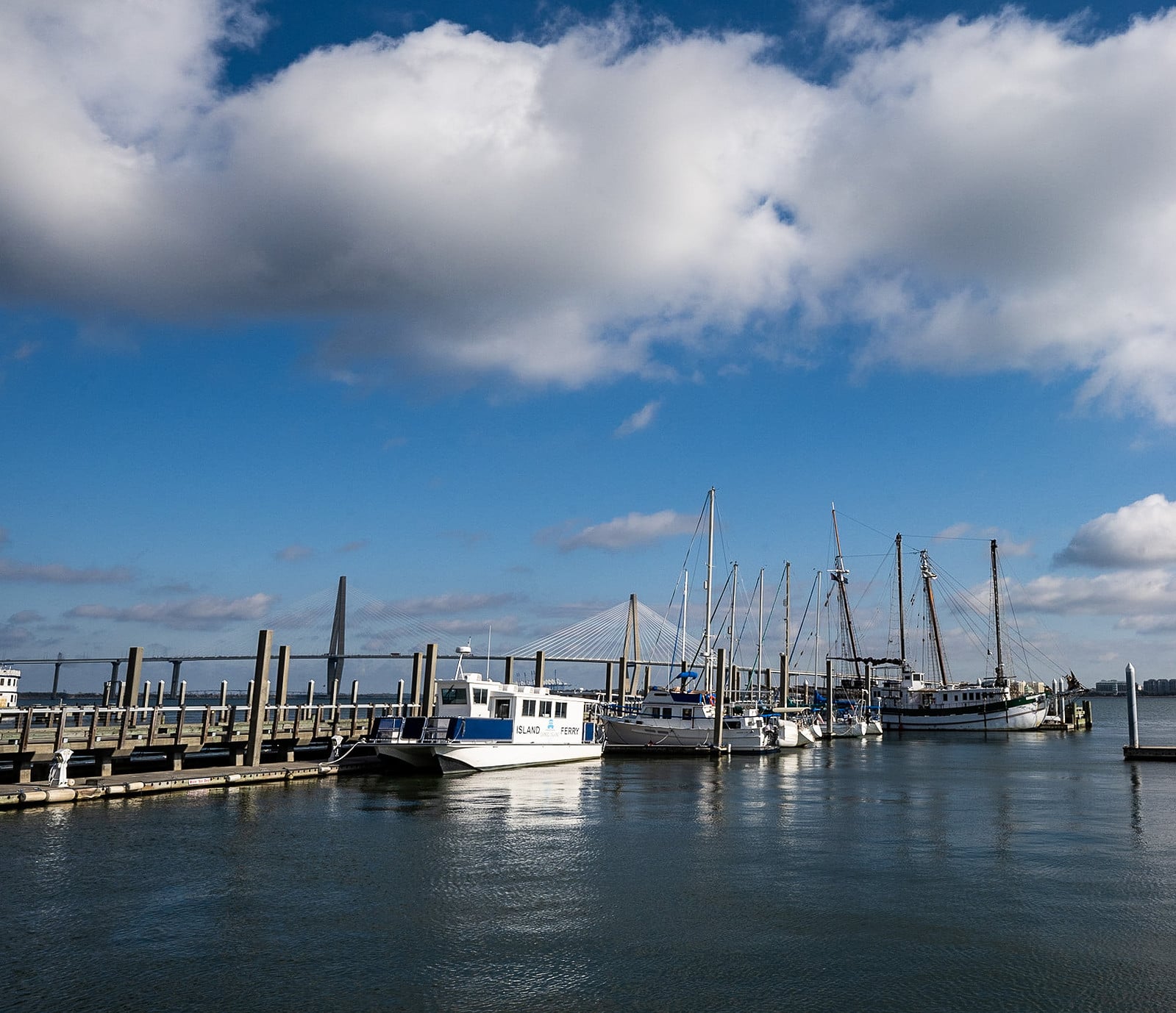 GO: Fate Sailing Charters
Fate Sailing Charters in Charleston offers an extraordinary and unforgettable sailing experience, allowing guests to embark on a journey of discovery and relaxation along the scenic waters of the South Carolina coast. With their fleet of elegant and well-appointed sailboats, Fate Sailing Charters provides a range of customizable sailing excursions, from romantic sunset cruises to adventurous day trips.
Led by experienced captains and crew, these excursions offer the perfect blend of tranquility, adventure, and breathtaking views. Whether you're a seasoned sailor or new to the world of sailing, Fate Sailing Charters invites you to set sail, feel the wind in your hair, and create lasting memories as you explore the beauty of Charleston's coastline in a truly unique and immersive way.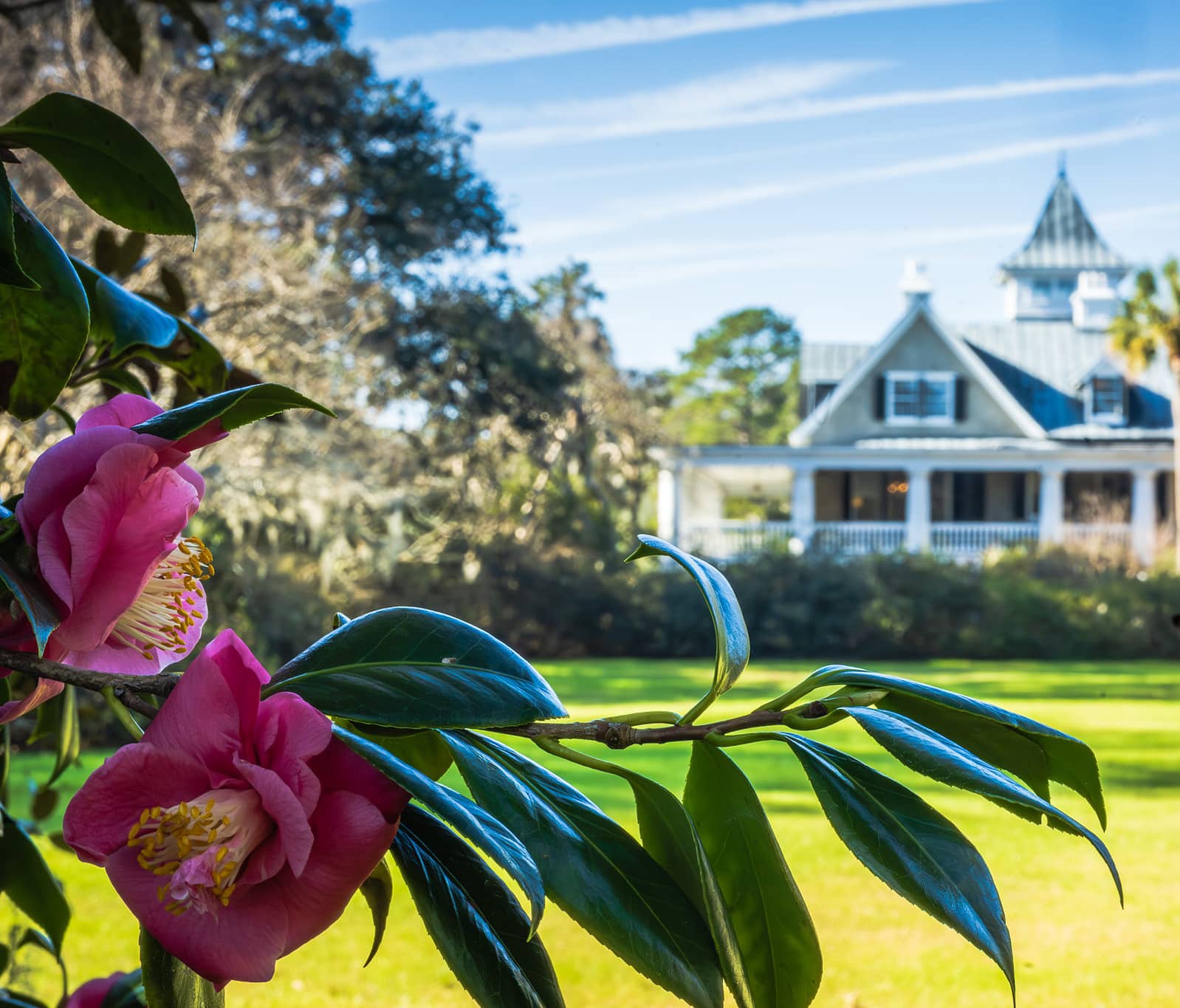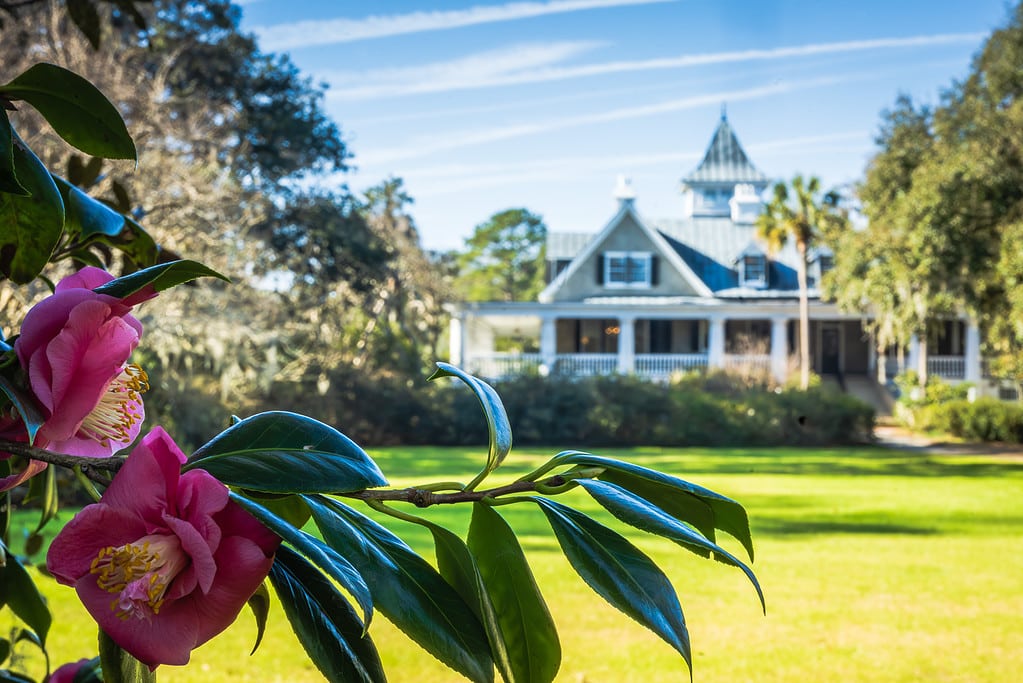 Romantic Gardens Near Downtown Charleston
TOUR: Magnolia Plantation and Gardens
Magnolia Plantation and Gardens holds the distinction of being known as America's oldest romantic garden due to its long and storied history, as well as its enchanting and picturesque landscapes. The plantation's gardens, which have evolved over centuries, embody the essence of romanticism through their natural beauty, serene ambiance, and harmonious design.
Dating back to the 17th century, Magnolia Plantation's gardens have been shaped and nurtured by generations of owners who sought to create a tranquil and idyllic retreat. The careful planning and cultivation of the gardens reflect the Romantic era's emphasis on connecting with nature and the appreciation of its inherent beauty.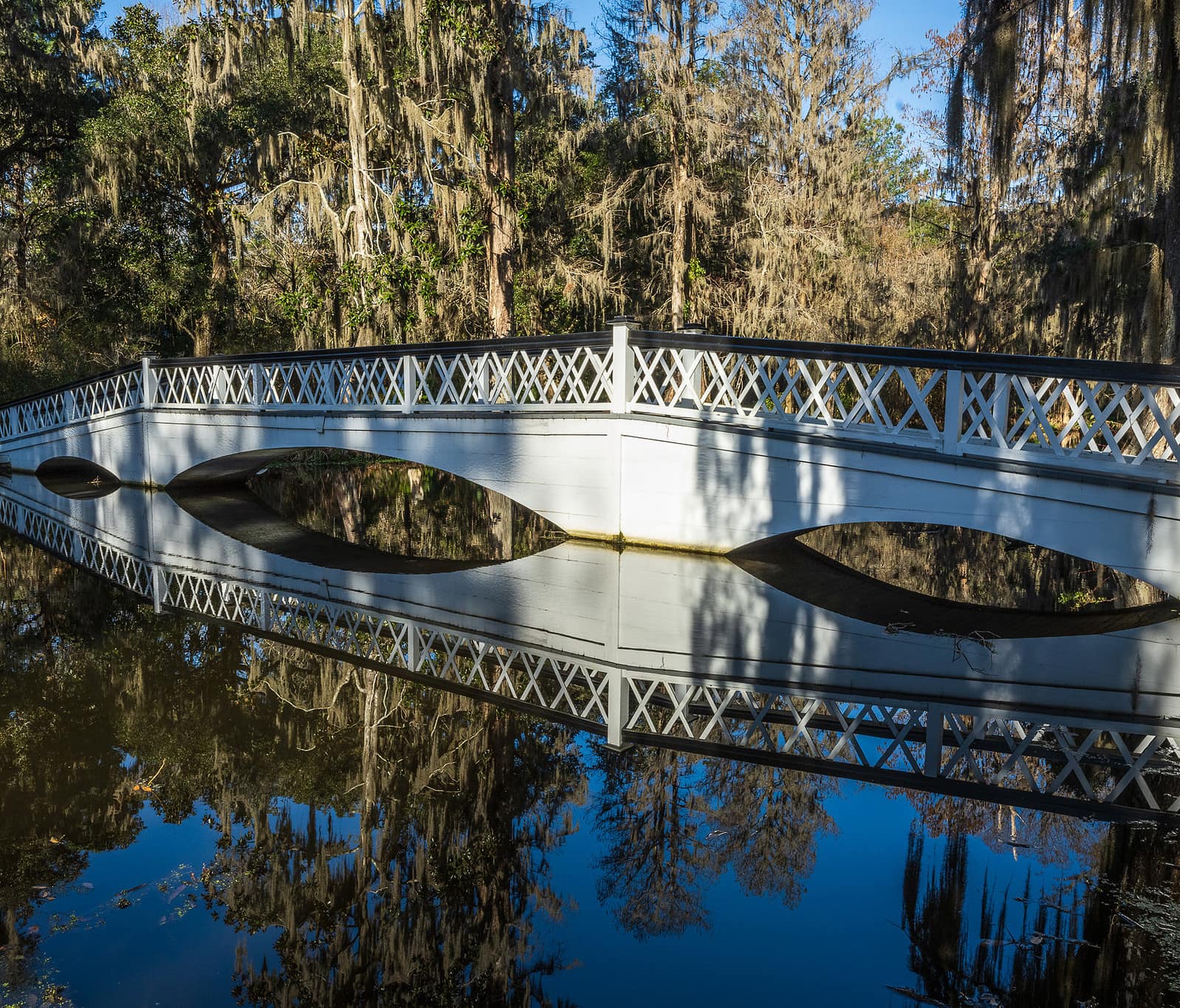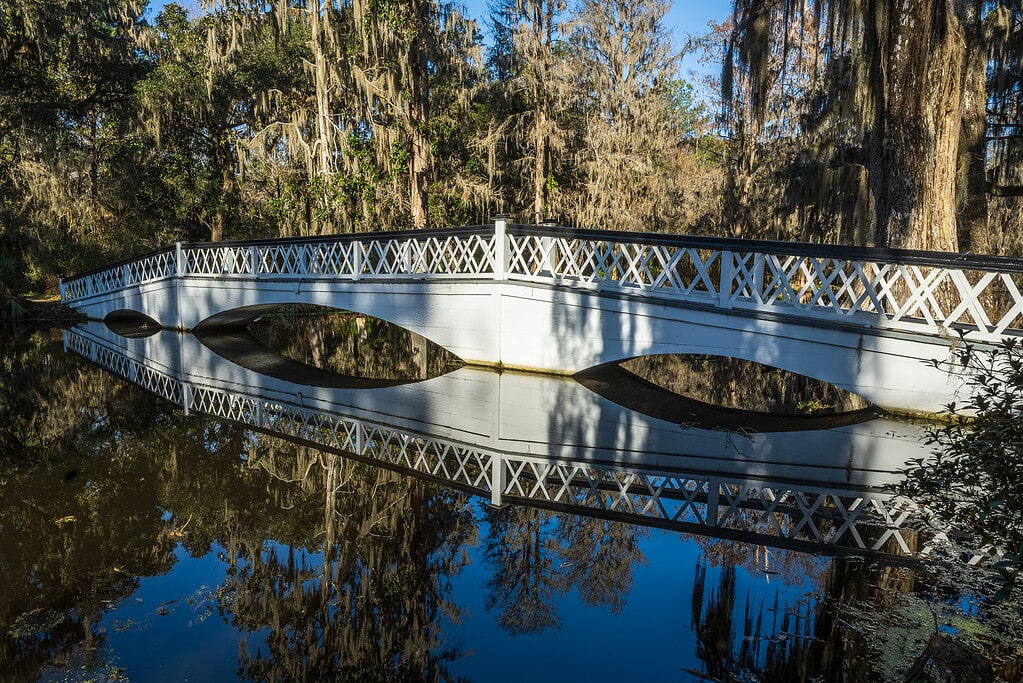 One of the defining characteristics of romantic gardens is their ability to evoke a sense of wonder and evoke strong emotions. Magnolia Plantation's gardens accomplish this through their diverse array of landscapes, each offering a unique and captivating experience. From vibrant flower beds bursting with colors to serene ponds reflecting the surrounding greenery, every corner of the gardens invites visitors to immerse themselves in the beauty of the natural world.
The gardens at Magnolia Plantation also boast a sense of timelessness, transporting visitors to a bygone era. The moss-draped oak trees, meandering pathways, and quaint bridges evoke a sense of nostalgia and romanticism. The carefully curated design elements, including hidden nooks, shaded alcoves, and peaceful gazebos, contribute to the gardens' romantic allure, encouraging visitors to stroll hand-in-hand and discover hidden treasures along the way.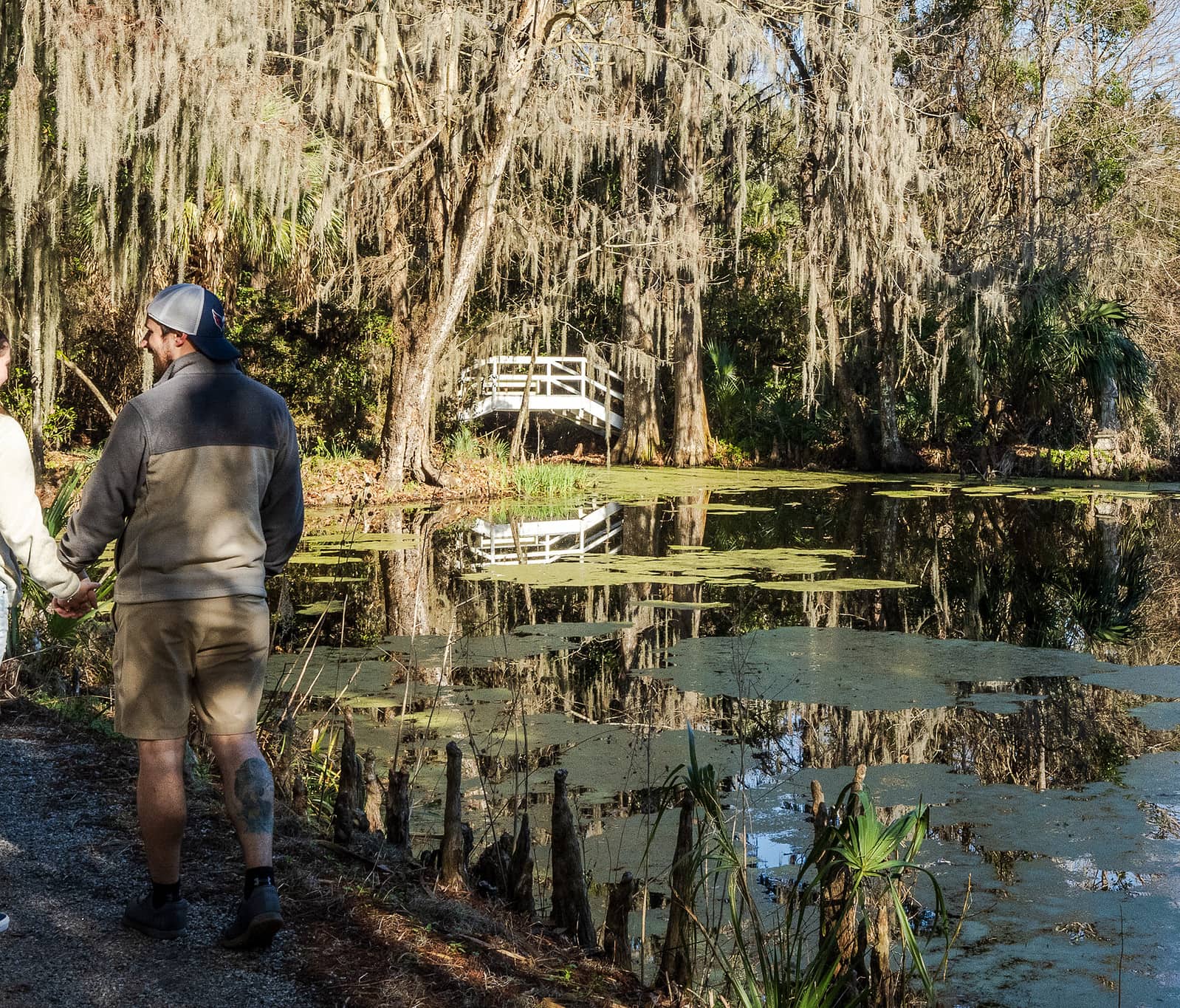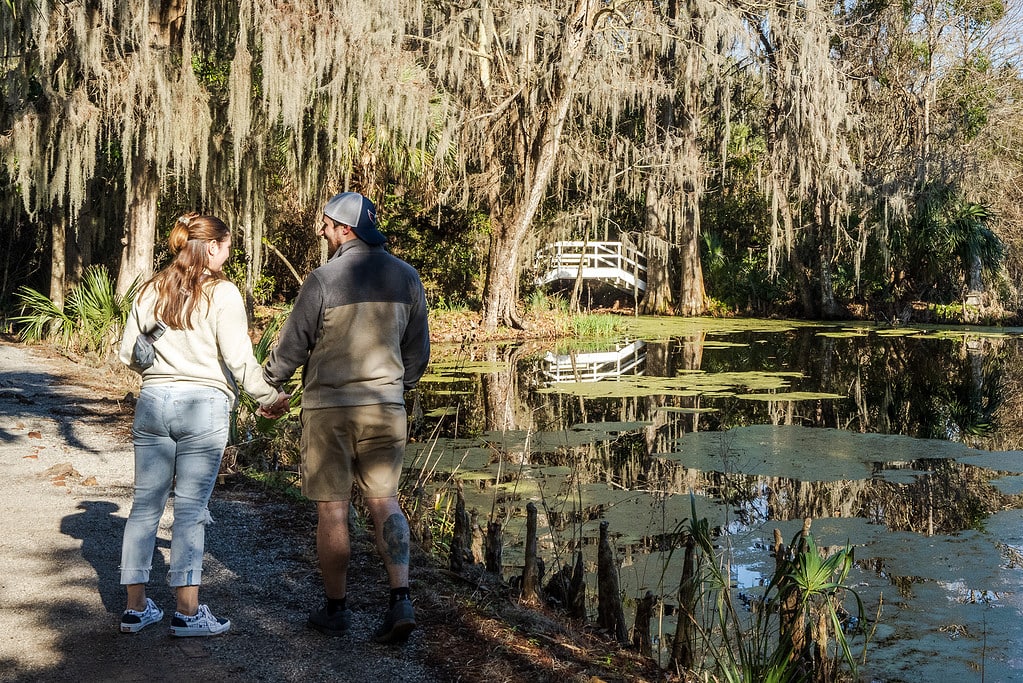 Moreover, the gardens' deliberate juxtaposition of cultivated spaces and wild landscapes adds to their romantic appeal. Magnolia Plantation seamlessly integrates manicured lawns, formal flower beds, and symmetrical designs with more naturalistic elements, such as the Audubon Swamp Garden and the expansive rice fields.
This balance between human intervention and the untouched beauty of nature captures the essence of romantic gardens, where the interaction between man and the natural world is harmonious.
General Admission entitles visitors to explore the 66 acres, with over 6 miles of walking and biking trails. It also includes the guided "From Slavery to Freedom" tour which stops at the cabins once used by the enslaved workers who made the success of Magnolia Plantation, and by extension, that of Downtown Charleston's development possible.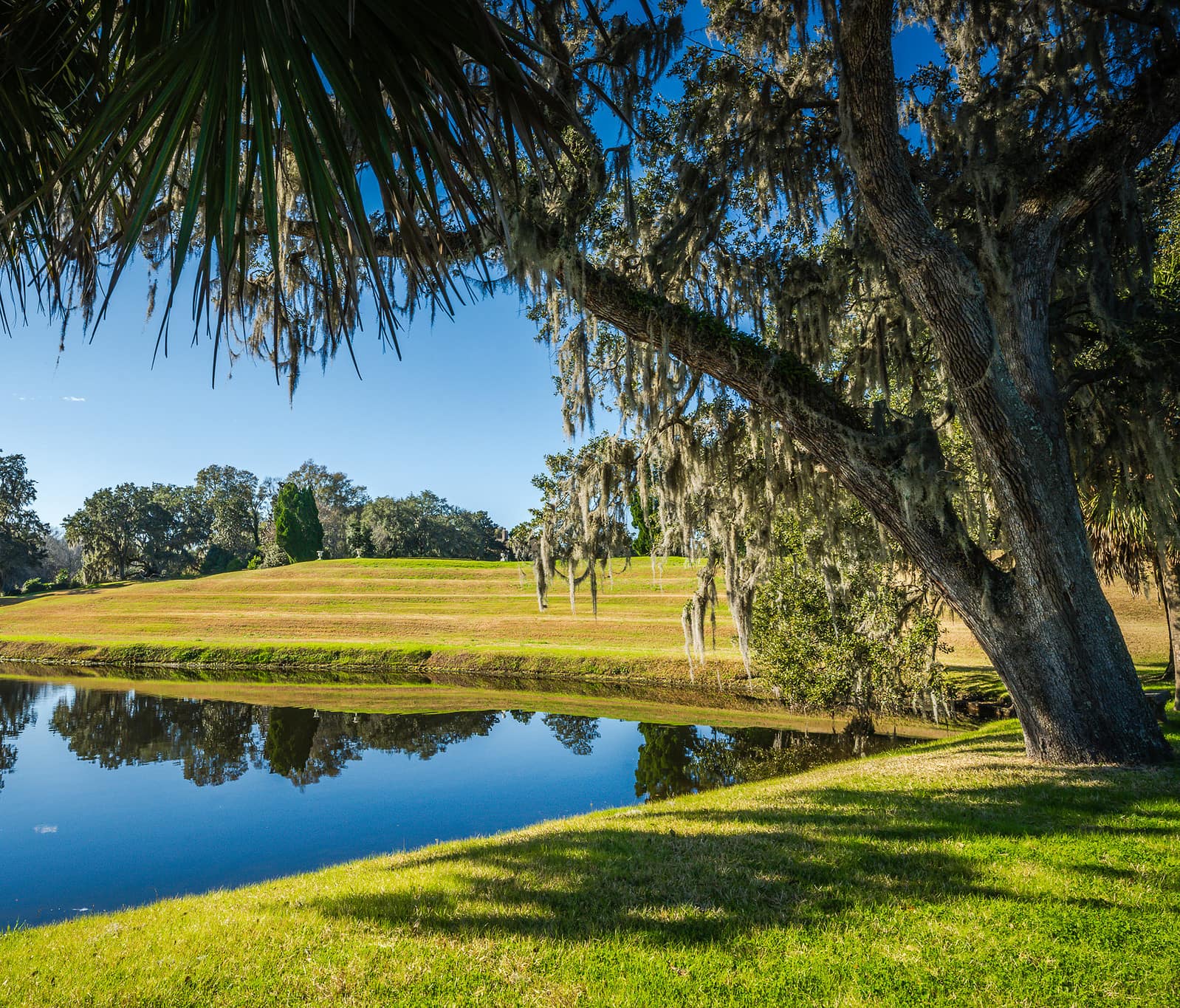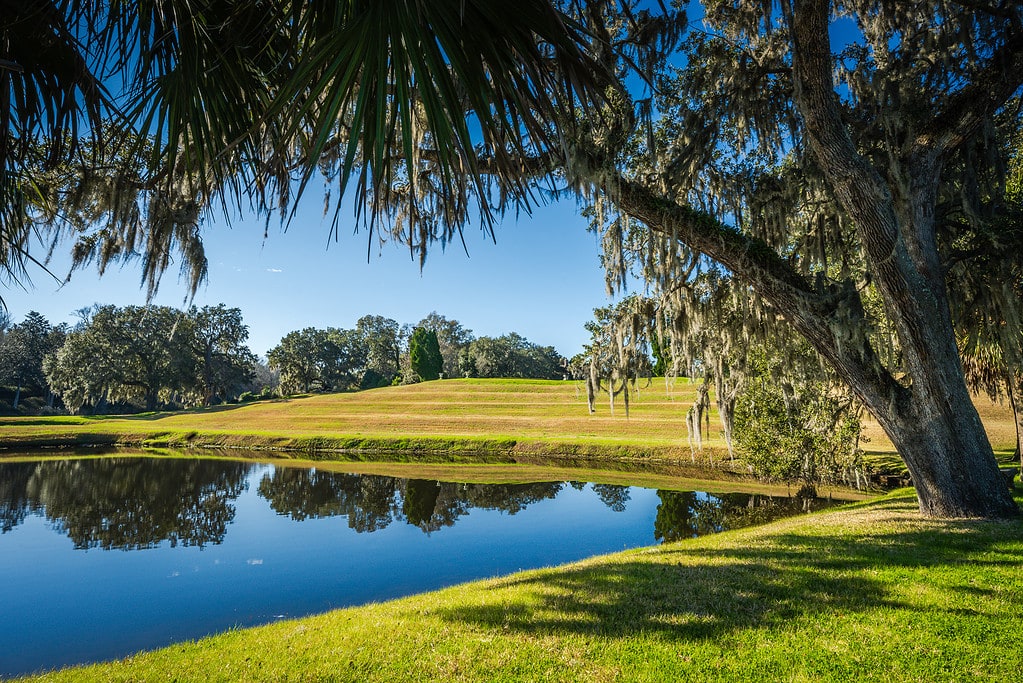 Tour: Middleton Place
Next to Magnolia Plantation and Drayton Hall, Middleton Place is a true Charleston gem that promises a delightful journey through time. This National Historic Landmark boasts America's oldest landscaped gardens, where you can see both the symmetry of the original formal gardens and the influence of the later Romantic style.
If only you could have a bird's eye view, you would notice that the banks of the lawn-covered hill resemble a symmetrical butterfly. And yet, paths lead onto winding allée covered in blooming camellias, remnants of the Camellia japonicas given to the Middletons in 1786 by French botanist Andre Michaux.
And that's in addition to a beautifully preserved plantation house, and an insightful on-site museum.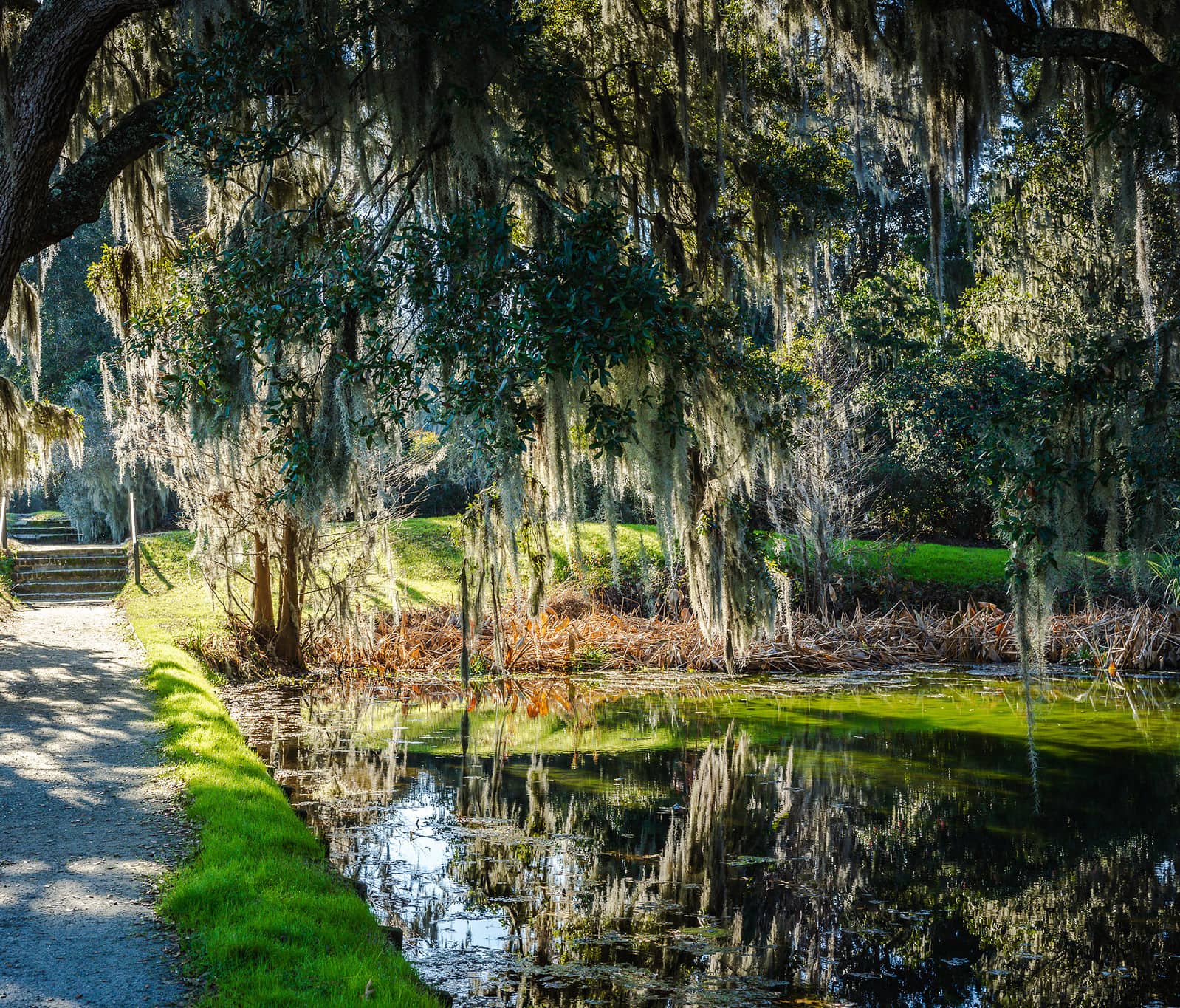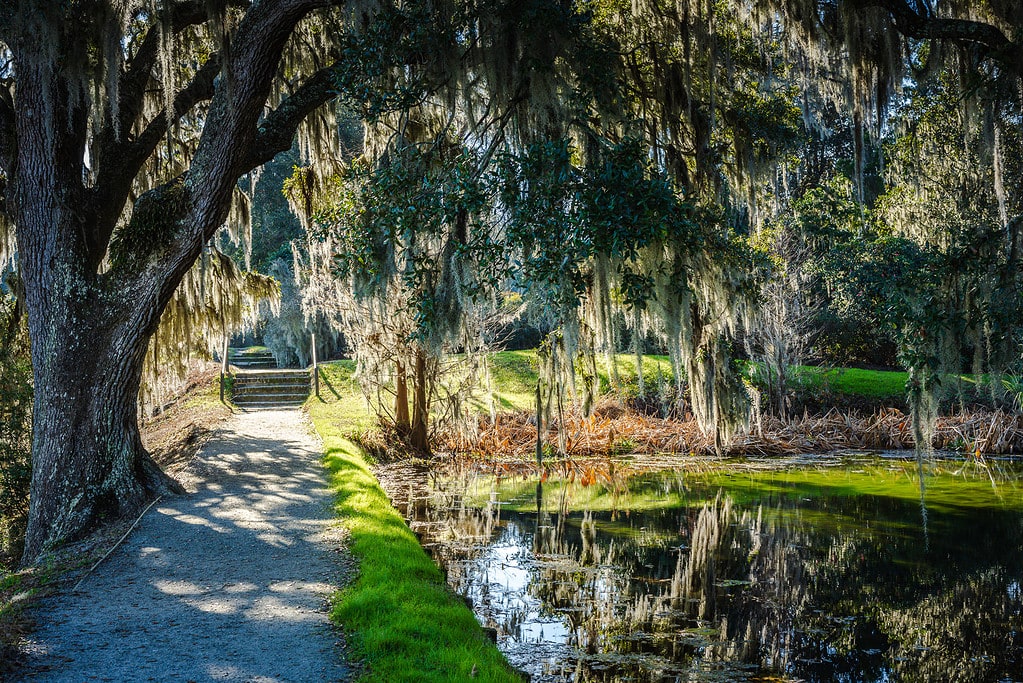 The plantation house, dating back to 1755, is filled with an impressive collection of furniture, silver, porcelain, and paintings that tell the tale of the Middleton family and their pivotal role in American history. The working Stableyards offer a glimpse into 18th and 19th-century plantation life, with heritage breeds and craft demonstrations.
To complete the experience, the on-site restaurant serves dishes inspired by traditional Low Country recipes, often made with organic produce grown on the premises.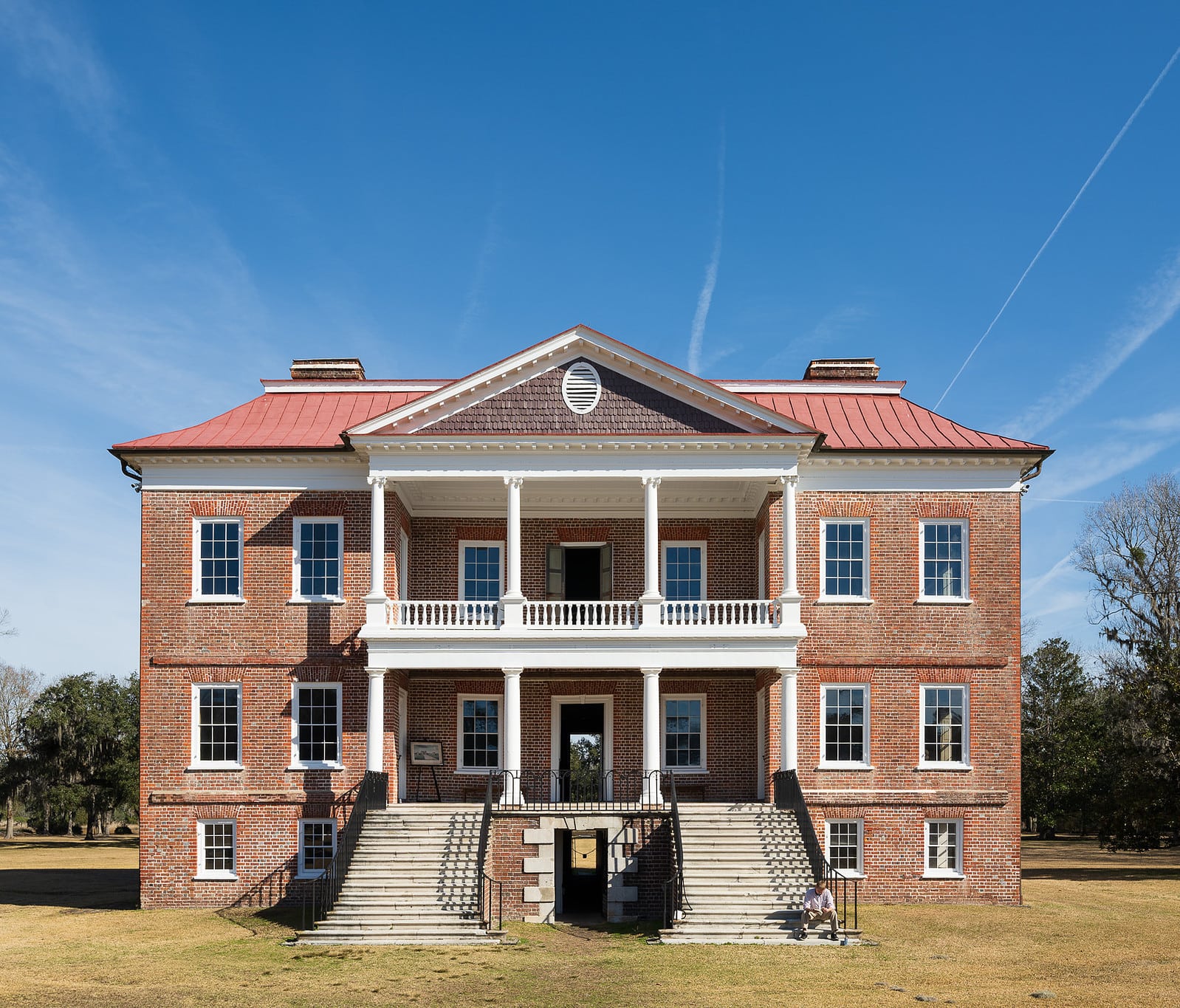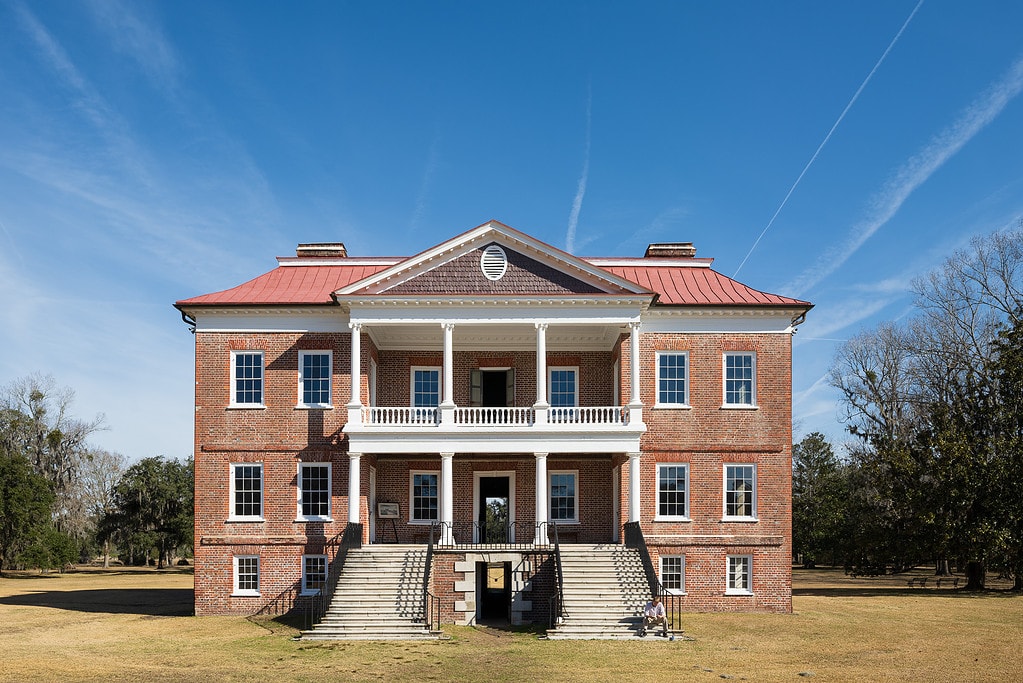 VISIT: Drayton Hall
The remarkably well-preserved 18th-century Drayton Hall Plantation House and Museum stands as one of the finest examples of Palladian architecture in the United States. What sets Drayton Hall apart is its commitment to preservation rather than restoration. The main house is maintained in near-original condition, giving visitors a remarkably authentic glimpse into the past.
Start at the Gates Gallery where a video, timeline mural, and museum collections introduce you to the Drayton family.
Then, as you wander through the unadorned, yet strikingly beautiful rooms, you can almost hear the whispers of the seven generations of the Drayton family who lived here. Alongside its architectural grandeur, Drayton Hall tells a more comprehensive story by honoring both the free and enslaved people who contributed to its history.
Exhibits in the Caretaker's House tell the story of the African American community who kept the property going for one hundred years after the Civil War when phosphate was mined on the grounds.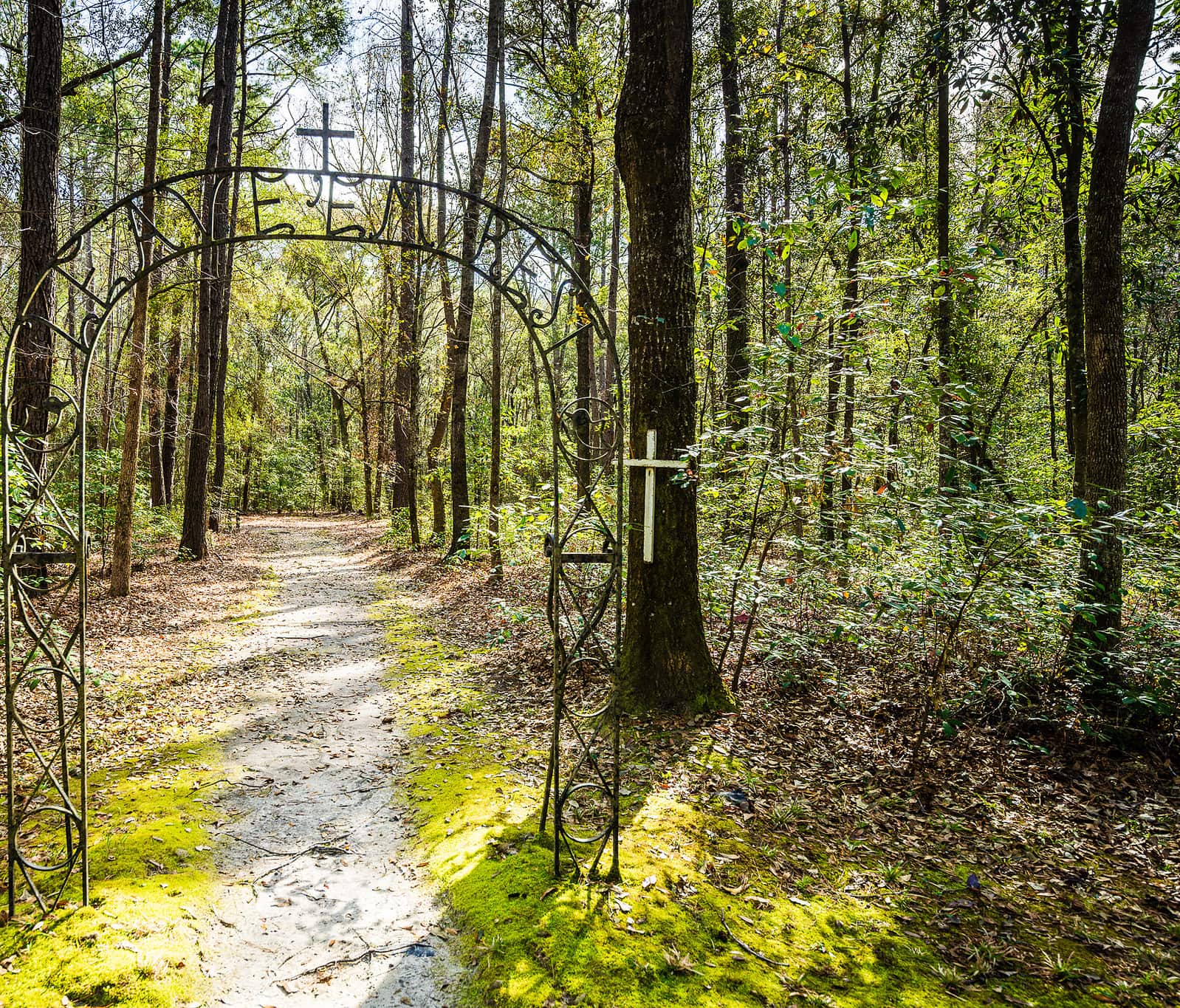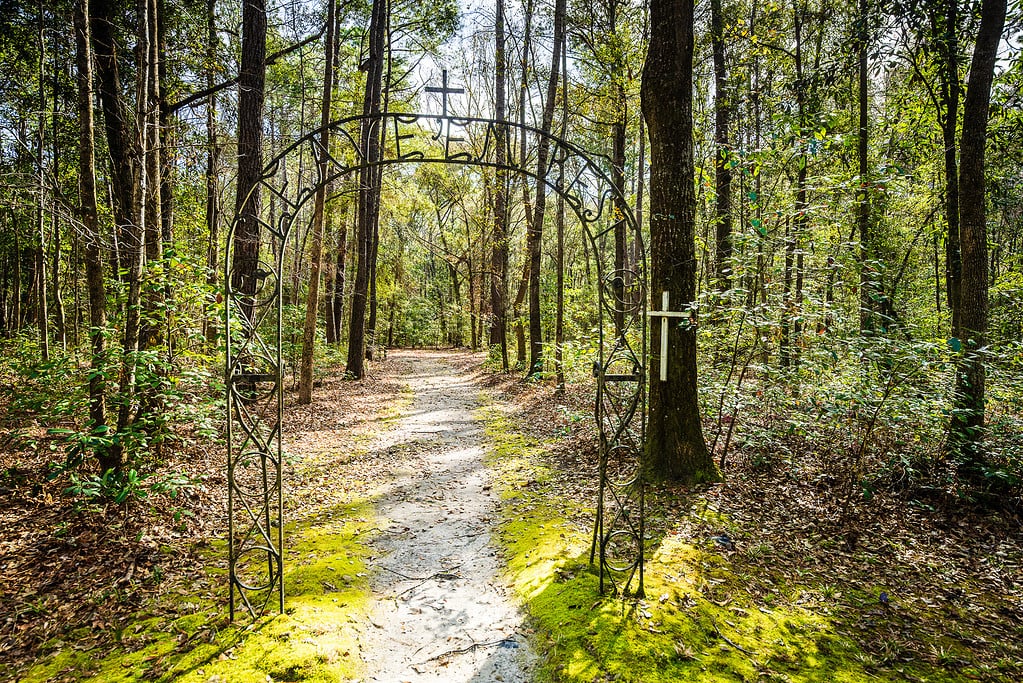 Outside the main house, the sprawling grounds invite exploration, including a carefully preserved African American cemetery that dates back to the 1790s, one of the oldest documented African American cemeteries in the nation still in use. This is a sacred place.
A visit to Drayton Hall is not just a step back in time, but an educational journey that paints a vivid picture of Southern history in all its complexities. It's an essential stop for history buffs and architecture enthusiasts alike.
More Romantic Getaways In The Southeast
All articles belong to Getaway Mavens LLC, and all photos belong to us as well, unless otherwise noted. It's all copyrighted. Please don't repost anything elsewhere without asking us first. All rights reserved. This site uses cookies to enhance your experience.
We make no guarantees of any price listed on our site. We're not responsible for content on external websites linked to ours, including linked resources, an external blog post, any partner site, hotel property sites, or affiliate sites. We only write about places we have vetted, but can't guarantee that your experience will be exactly the same.
Posts may contain affiliate links at no cost to you. Several of our trips are also compensated by the respective tourism boards for the city or state we are visiting. This never impacts how we share the destination with you – opinions are always our own and we pride ourselves on that. We do not sell links or accept unsolicited guest posts under any circumstances. Don't even ask.
United States Copyright, Getaway Mavens, LLC