Last Updated on June 7, 2021 by Malerie Yolen-Cohen and Sandra Foyt
One of the best ways to break up the 20-hour road trip between New York and Florida is to spend a day in Savannah. Besides being one of America's most beautiful cities, it's a wonderful place to stretch your legs and fill up on comfort food.
The first time I visited Savannah, Georgia it was with a plan to tour the birthplace of Girl Scout founder Juliette Gordon Low with my daughter. As I recall, the Regency-style Wayne Gordon house and furnishings were gorgeous and the story fascinating.
But I fell in love with its fairytale setting: streets lined by Spanish moss-draped oaks, golden domes and bright awnings, and a lively park or square at every step. This was a place that I would want to visit again and again just to to meander aimlessly, soaking in dappled sunlight and the gracious architecture of one of the United States' largest National Historic Landmark Districts.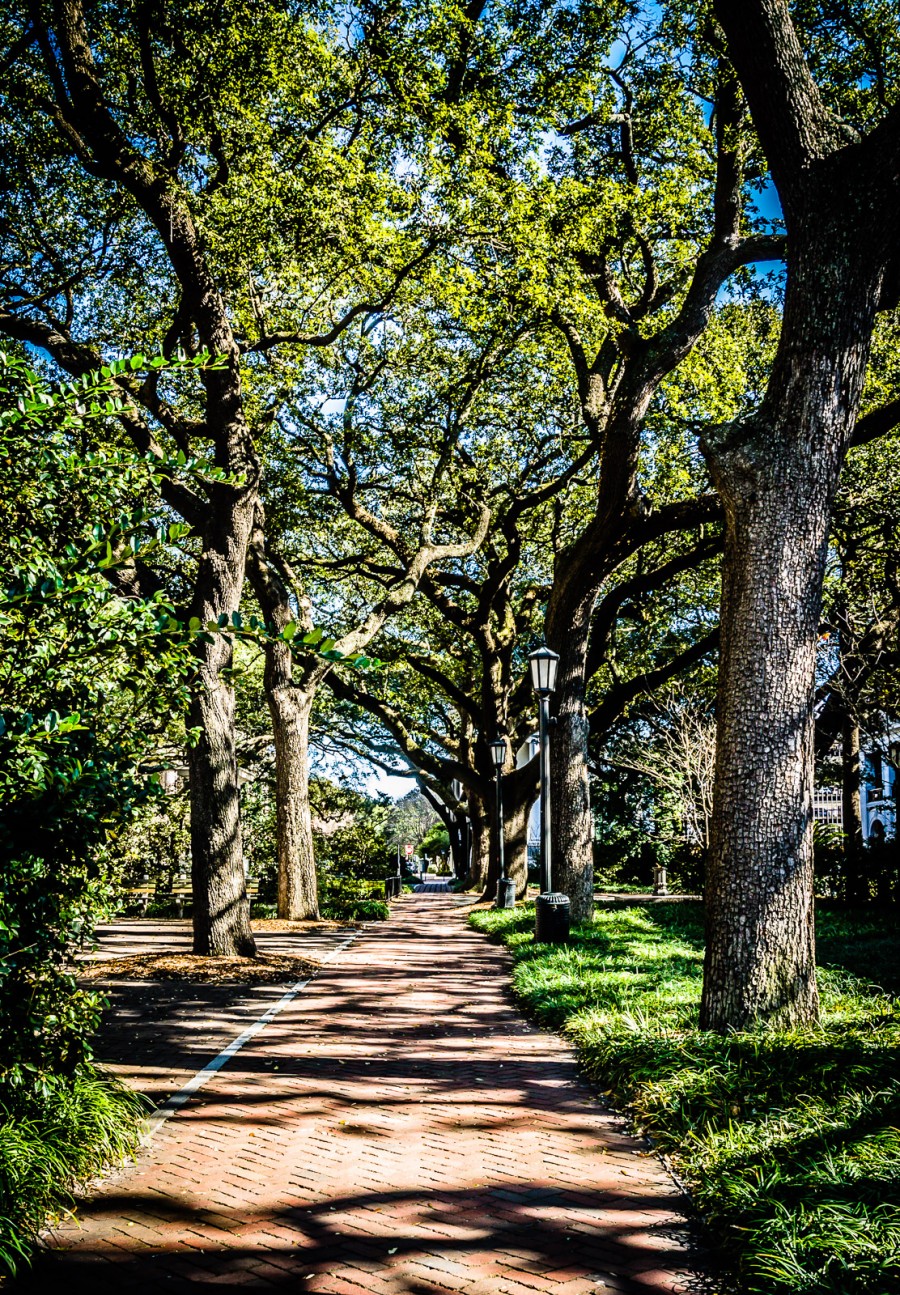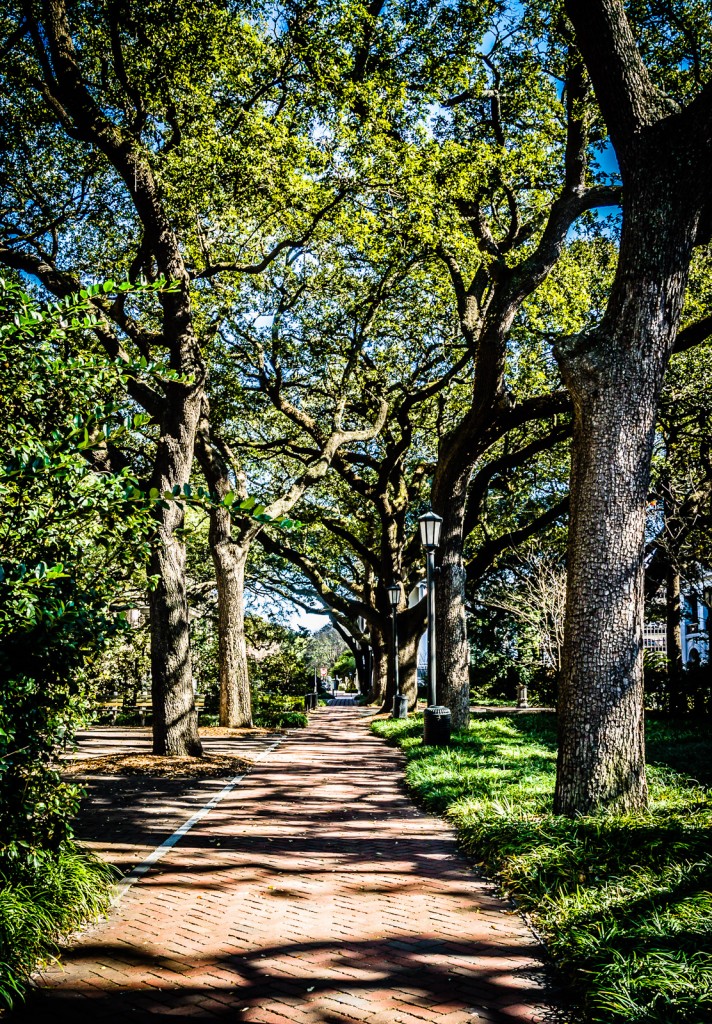 Self-Guided Walking Tour of Savannah
With over twenty squares in Savannah, you could wander in any direction and be amply rewarded. On a recent afternoon, I left my car in the underground parking garage near the newly rebuilt Ellis Square. Until recently, Ellis was one of the squares lost to urban development in the 1950s but now it's a wide open space where folks gather to picnic on the steps.
(Tip- The Visitor Center kiosk stocks city maps and brochures; ask about all-day Visitor Parking Passes, $7/1-day, $12/2-day.)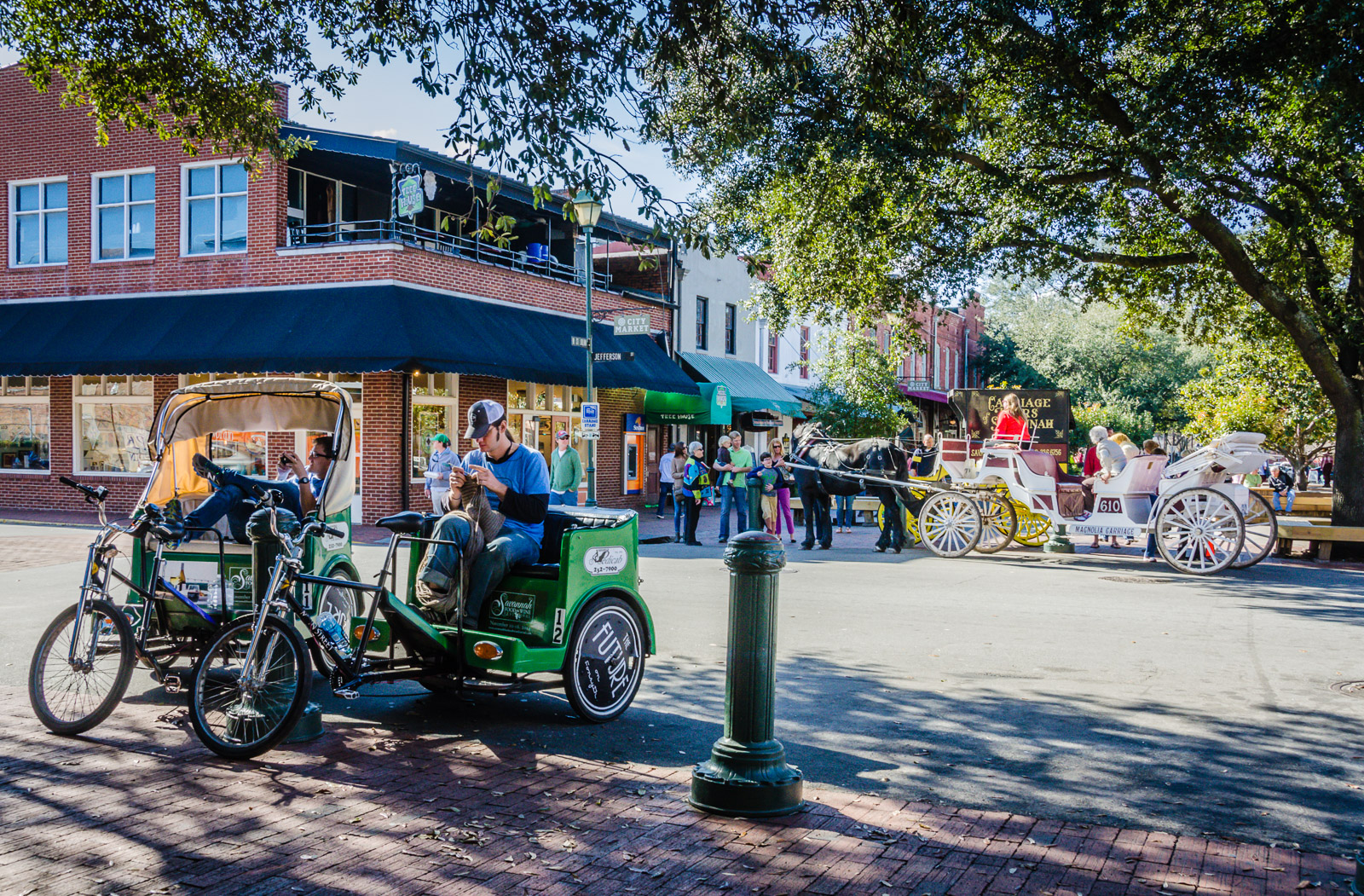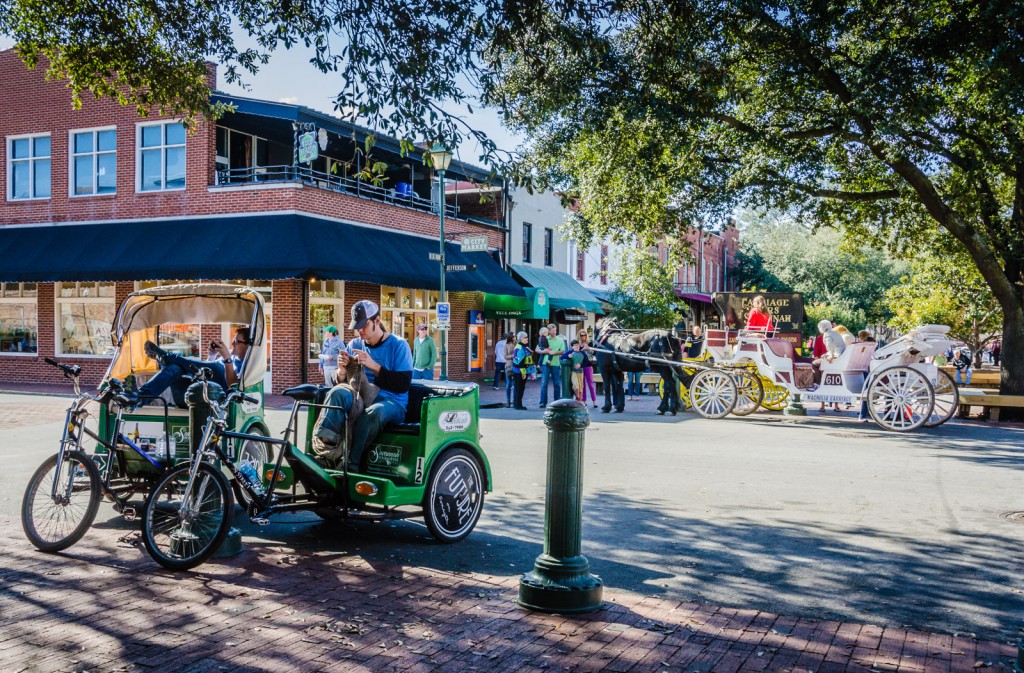 I saw horse-drawn carriages and bike rickshaws parked next door by the City Market, the "commercial and social center of historic Savannah," but bypassed them in favor of exploring at my own pace. A short block or so away, I entered through a canopy of oak trees into Johnson Square.
Savannah's largest square is also its oldest; laid out in 1733 by General James Oglethorpe, the park commemorates several local heroes. A sundial reminds visitors of the early colonists while a marble bench pays tribute to Johnny Mercer, the songwriter best known for "Moon River" and "Days of Wine and Roses."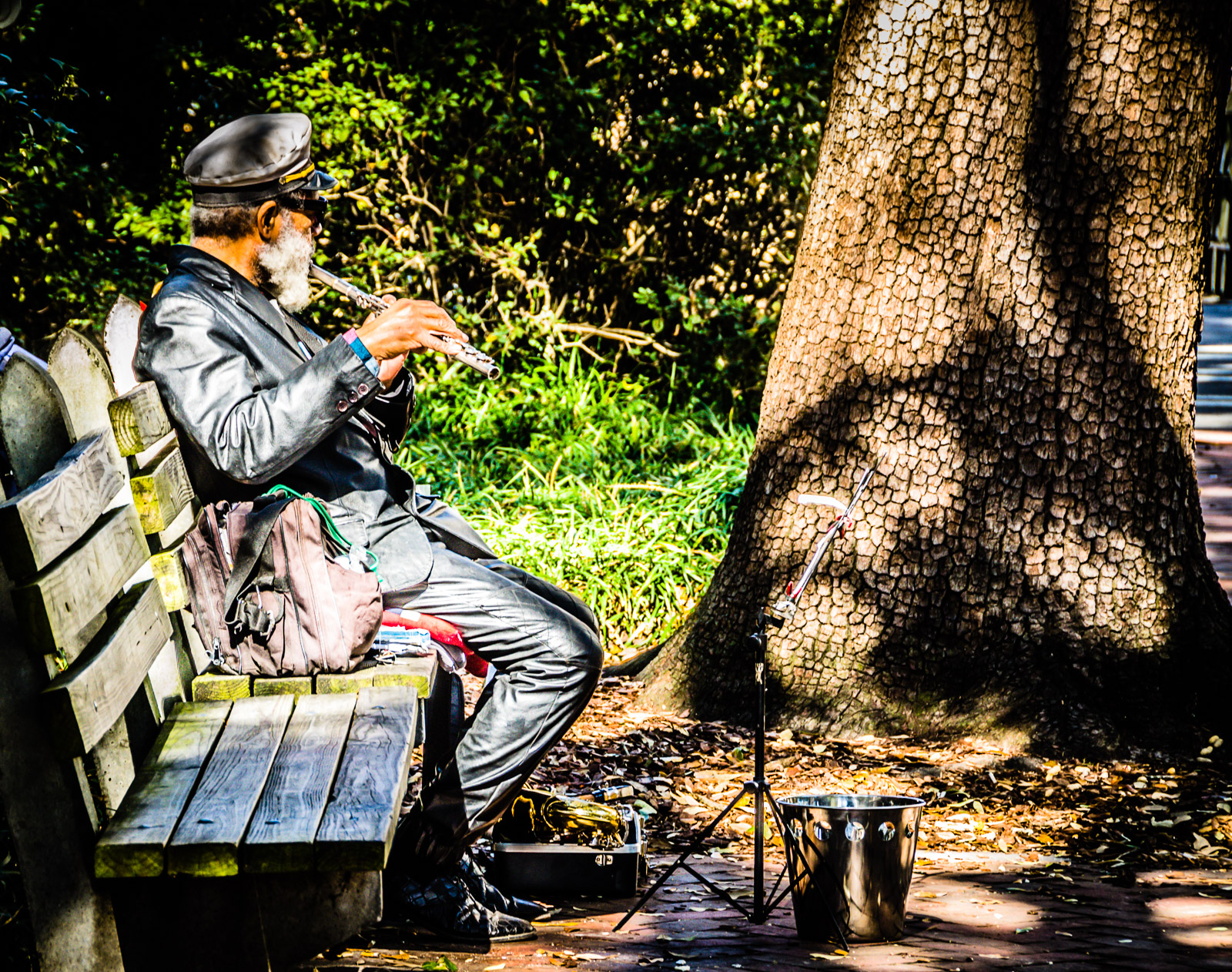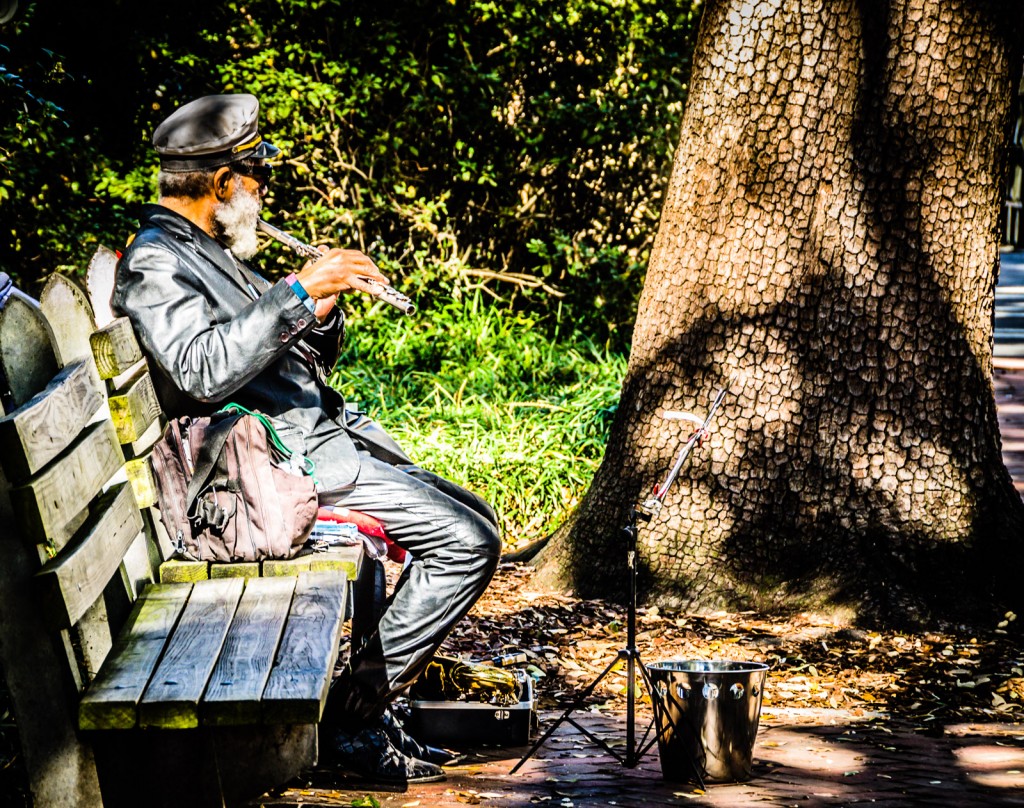 Even on a Sunday afternoon in the depths of a Southern winter, the park bustled with activity. Pedestrians paused to capture selfies at an obelisk dedicated to Revolutionary War hero Nathanael Greene. Sweet tunes emanated from a grizzled flutist stationed at a park bench, a stainless steel bucket at his feet silently asking for contributions. Exiting the park, vivid paintings displayed for sale seemed to burst onto the street.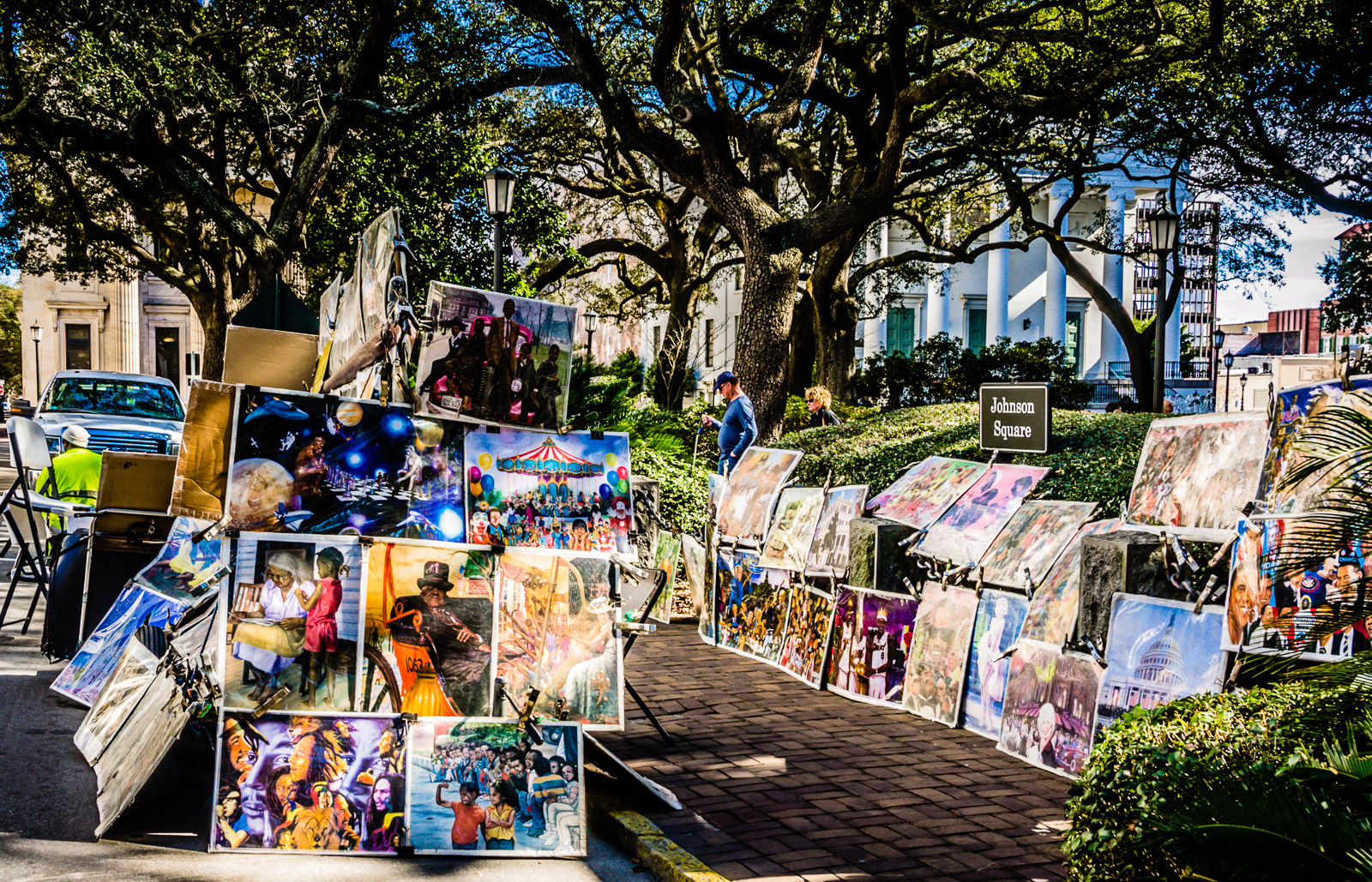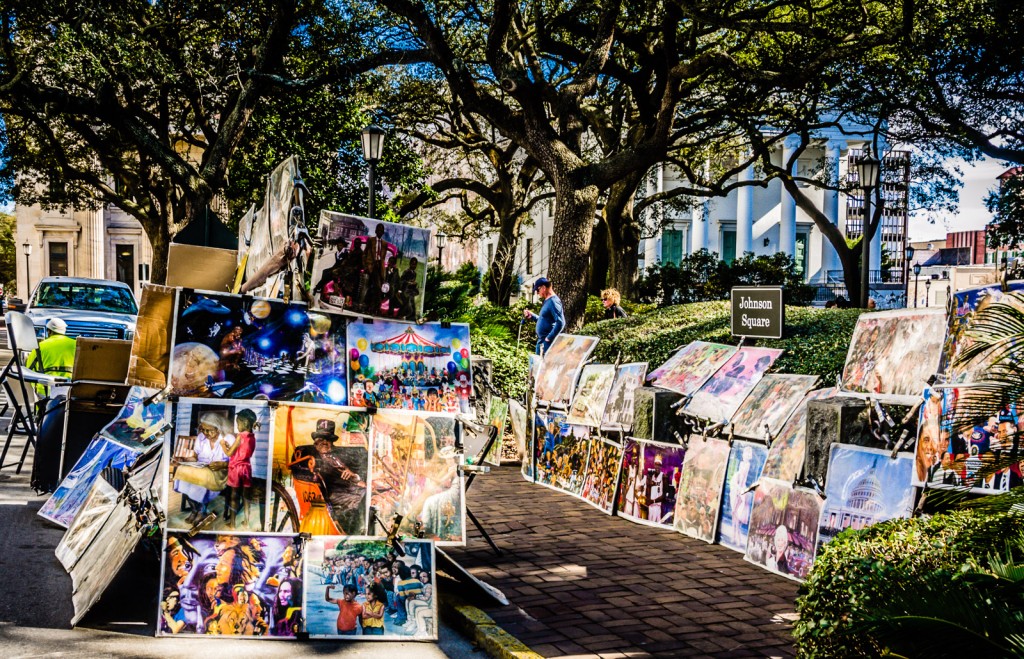 Looking up from the art stand, my eyes were drawn down Bull Street to Savannah's City Hall. Built in 1906, the building's protruding dome is entirely covered by a shiny layer of 23-karat gold. (Tip – Sign up for a free behind-the-scenes tour at noon the first Tuesday of every month; reservations required.)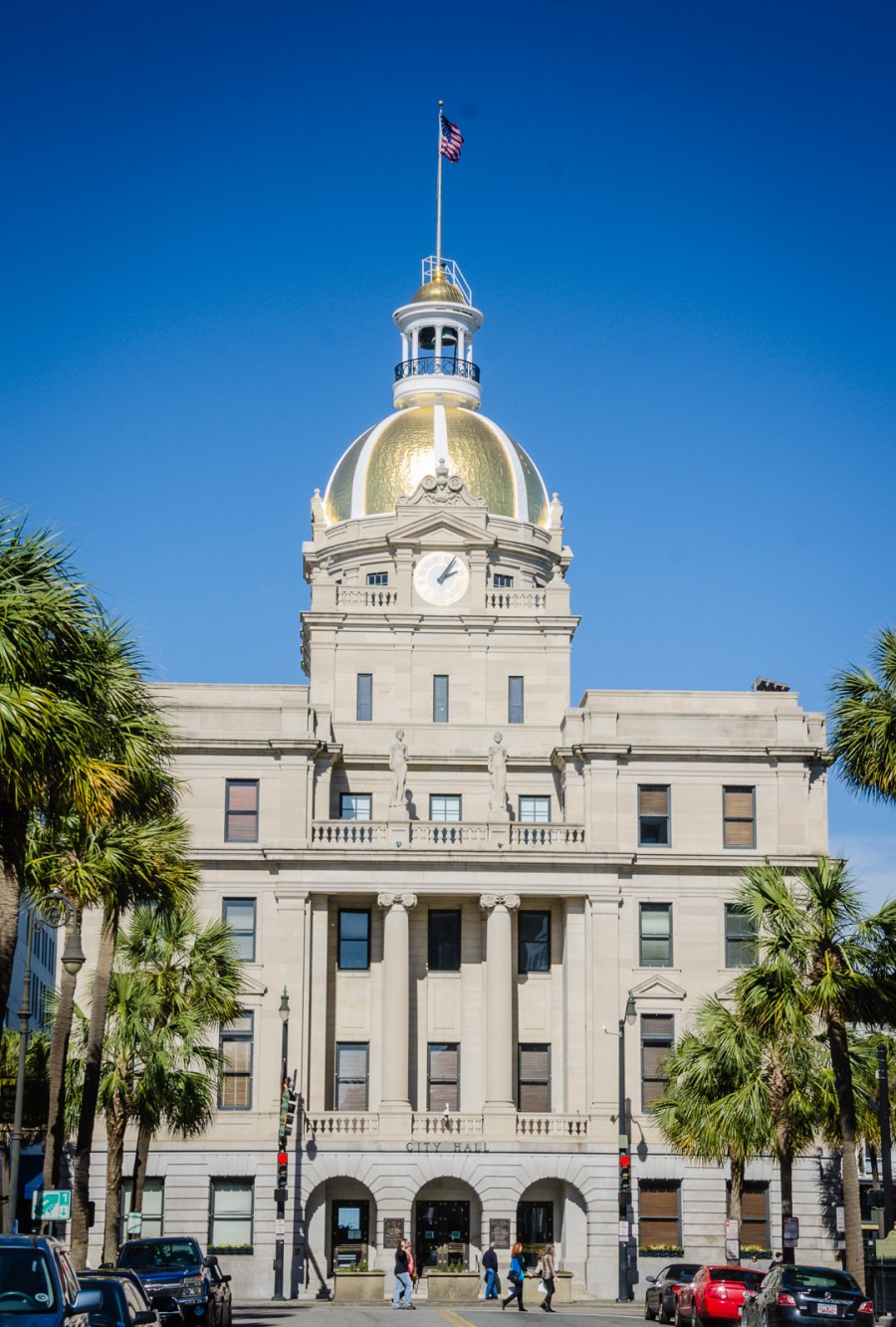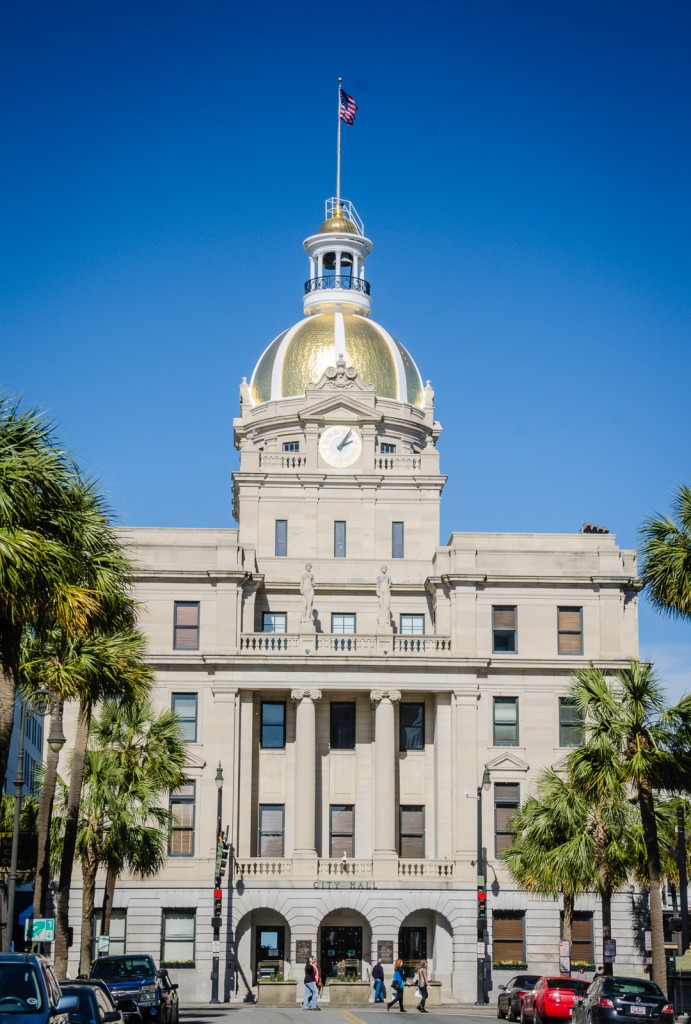 Next to City Hall, I approached River Street via Upper Factors Walk. In the 1870s when cotton was a $40 million export, Savannah was known as the "Wall Street of the South." Cotton factors handled sales for their rural clients at these buildings located on the bluffs along the waterfront.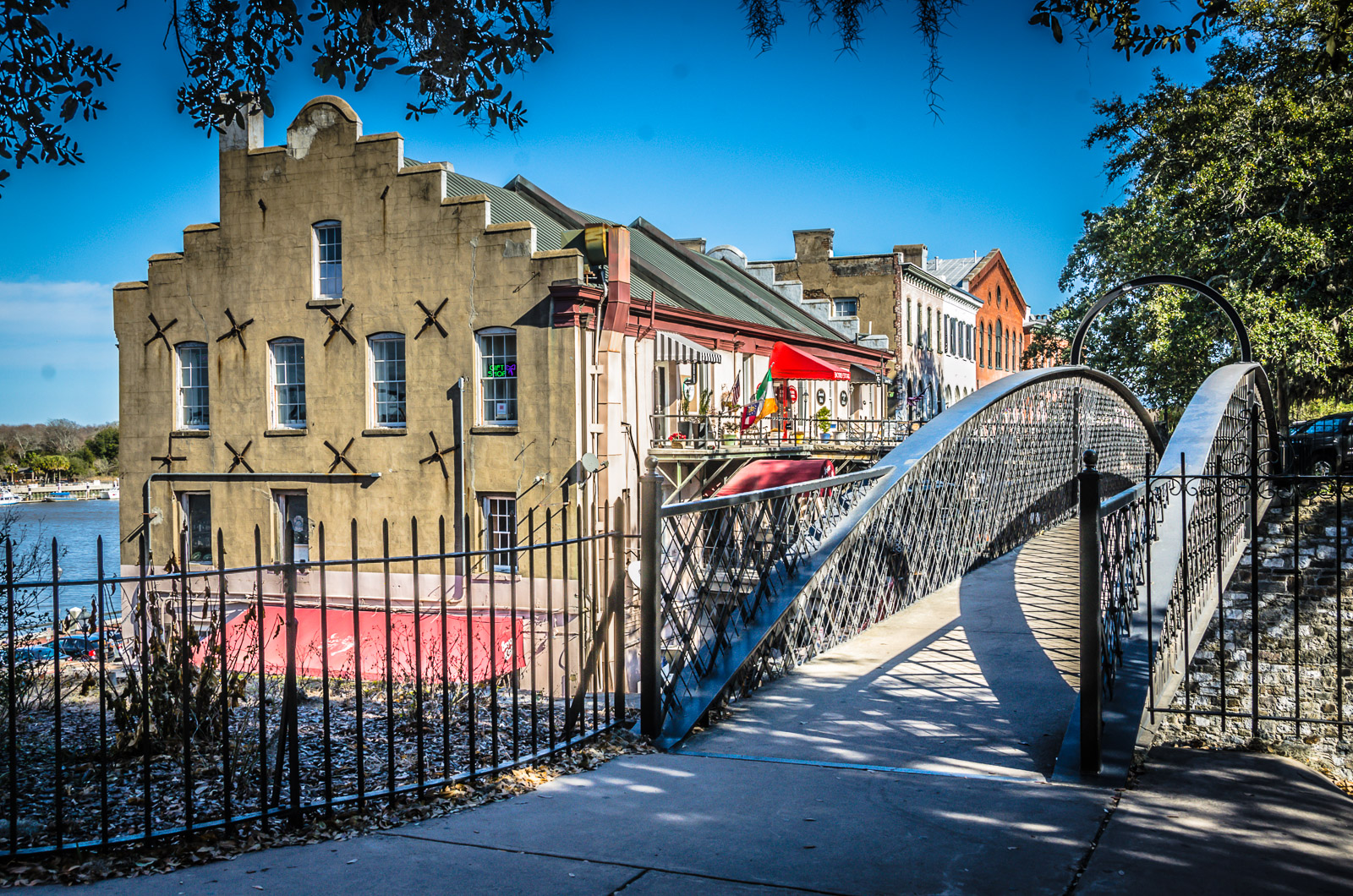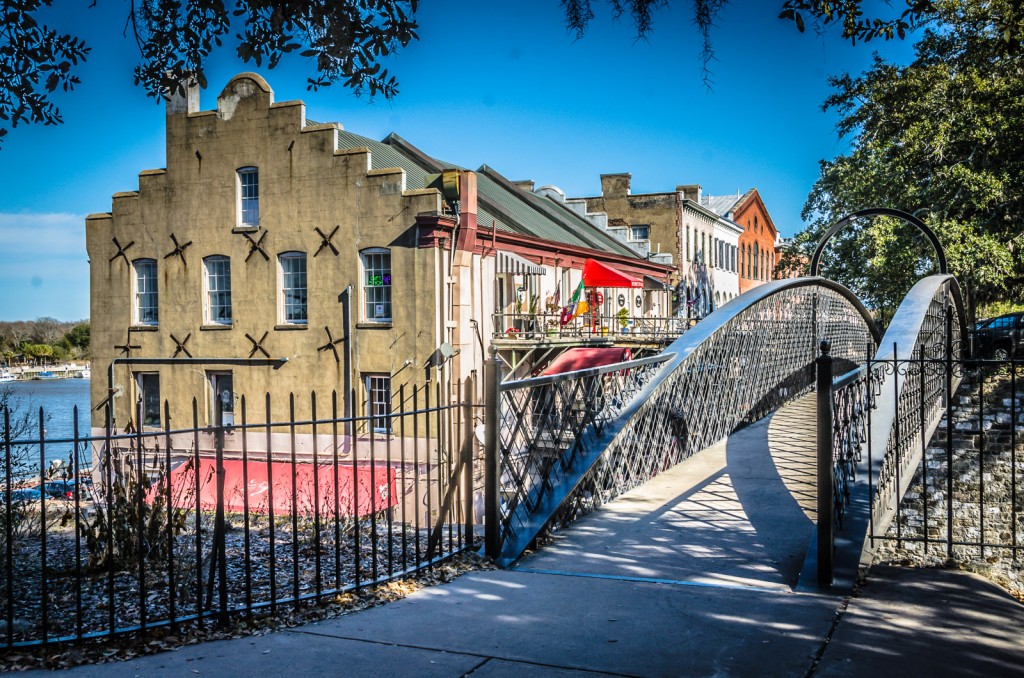 "King Cotton's Place," the Red Romanesque Cotton Exchange building dominating this walk was occupied by these cotton brokers until the late 1940s. Currently, visitors are welcome to drop in on the headquarters of the Savannah Chamber of Commerce.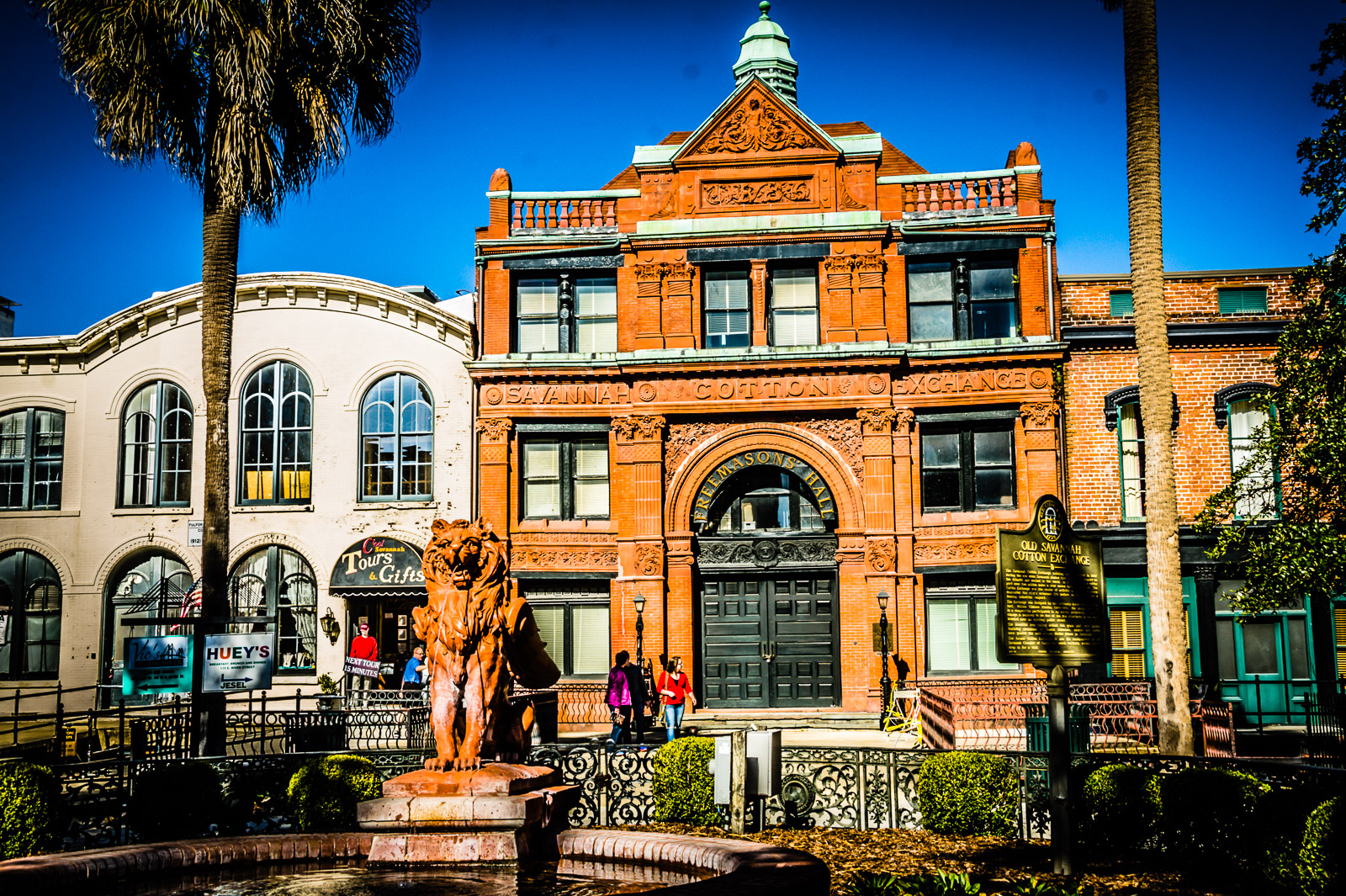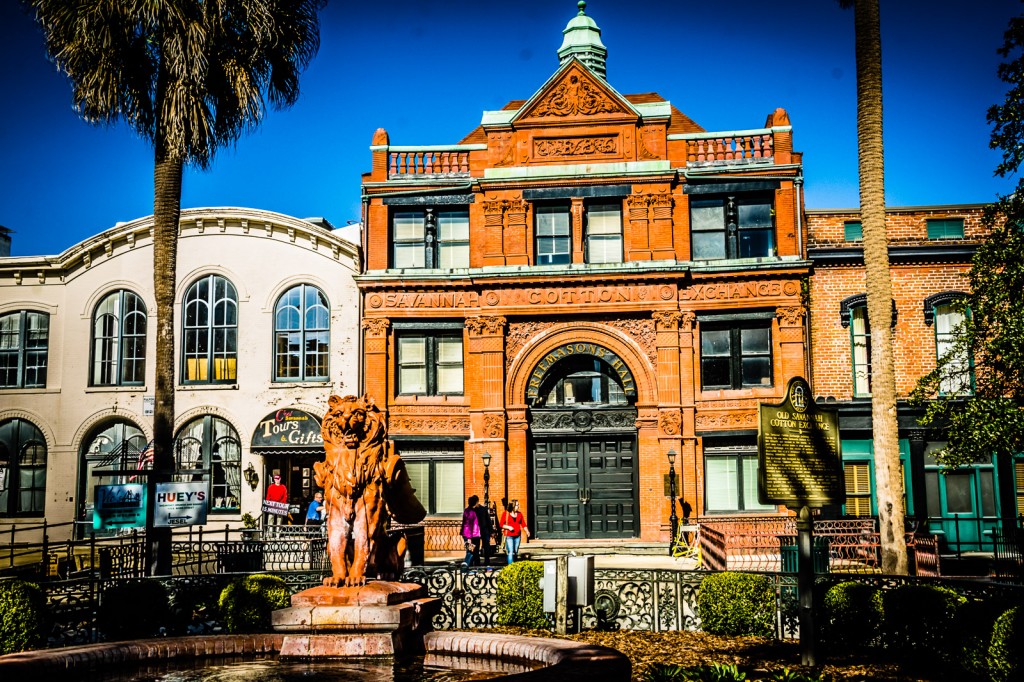 In front of the Cotton Exchange, I stopped to photograph the iconic statue of a winged lion, or griffin depending on whom you ask, that was destroyed in 2008 by a drunk driver. It has been restored to its full magnificence, and now spouts a stream of water into a pool surrounded by an iron fence embellished with the images of famous poets and American presidents.
The buildings along Factors Row on Bay Street rise 2-3 stories from River Street, with a few having entrances on both levels. I descended down a brick stairway labelled, "Historic Steps–Use At Own Risk."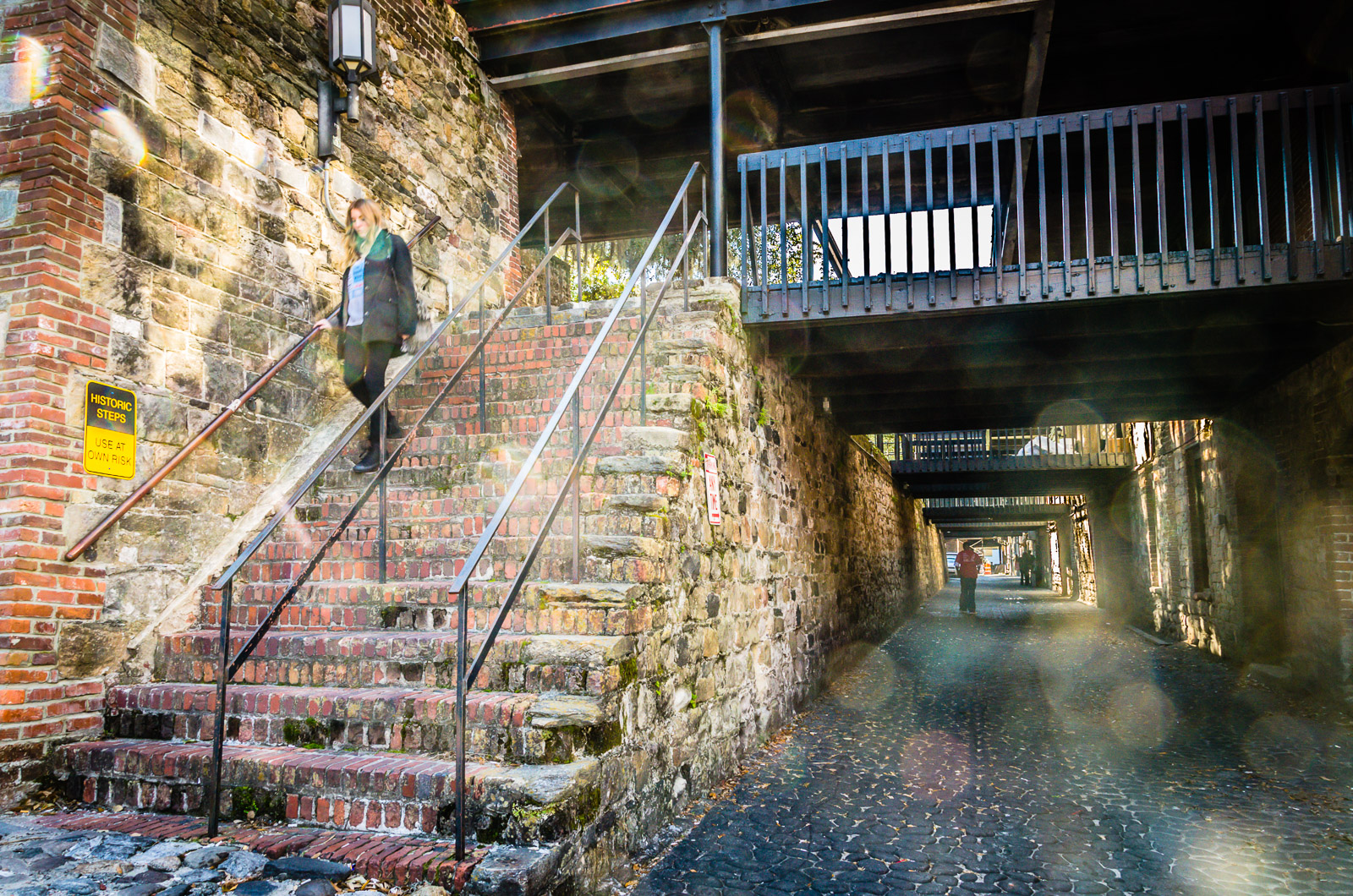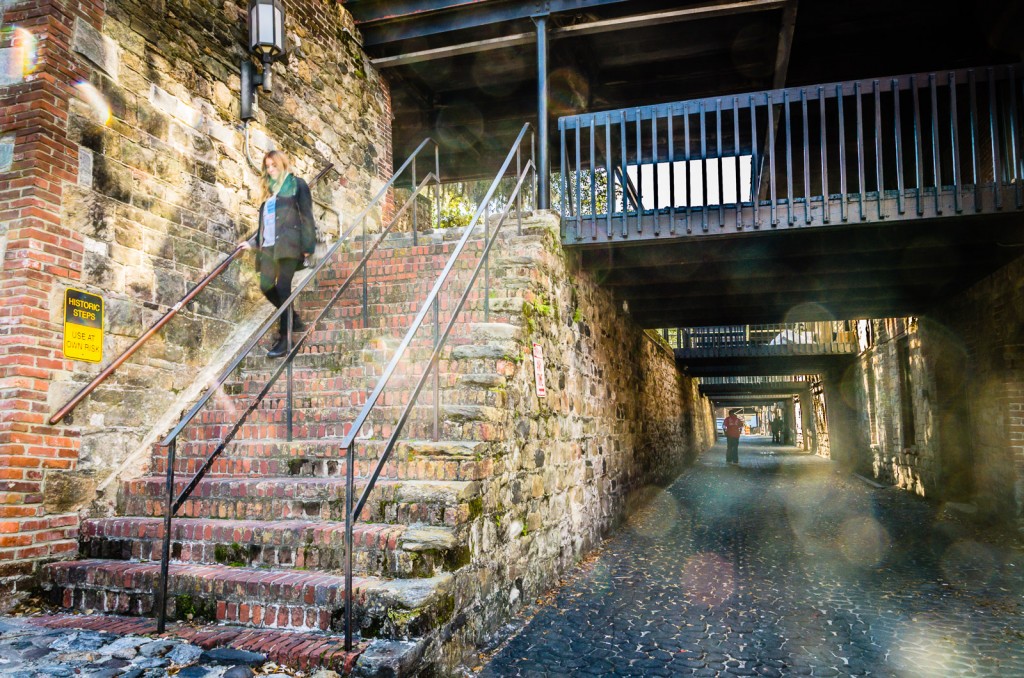 Savannah's River Street along the Savannah River merits its own walking tour, even if it's a little touristy. On that sunny afternoon, I saw a caricature artist , a street vendor making palm frond trinkets, and tourists lining up to get their photo taken with one of Savannah's river boats.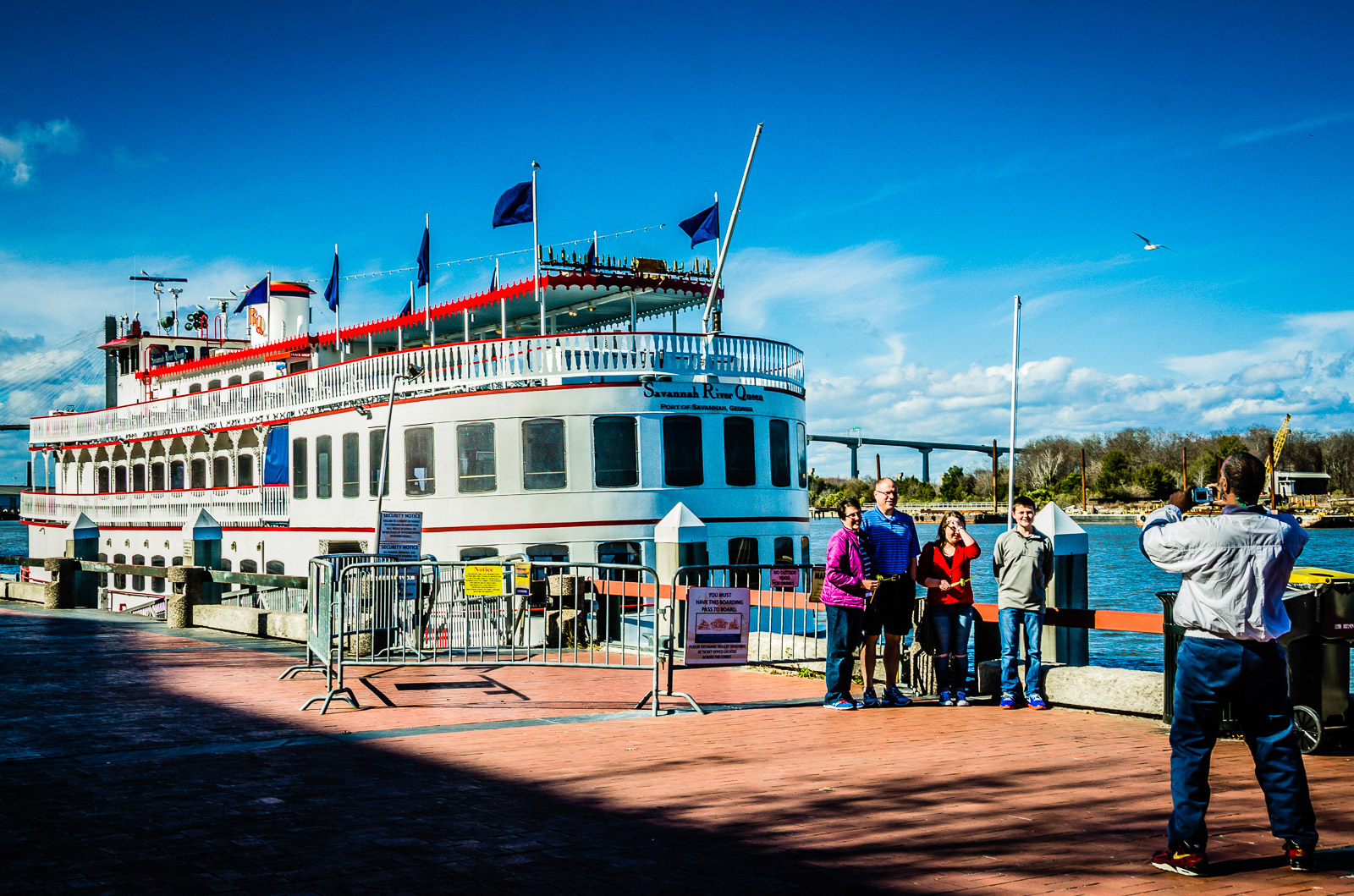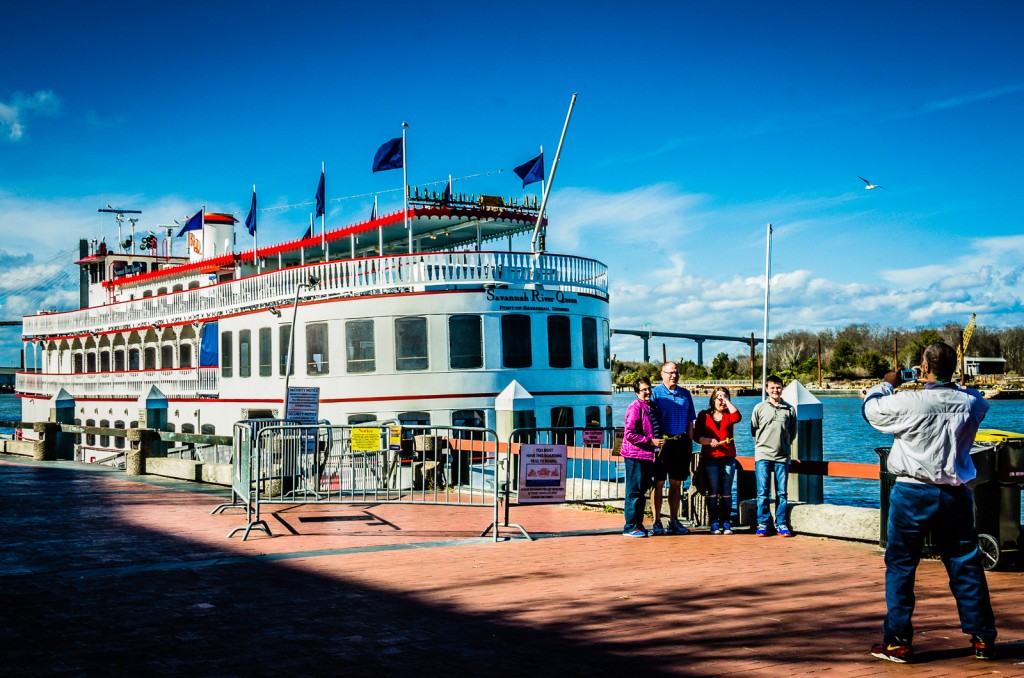 I found a number of restaurants and souvenir shops, but did not linger as by then I had worked up an appetite for Paula Deen's legendary Southern comfort food.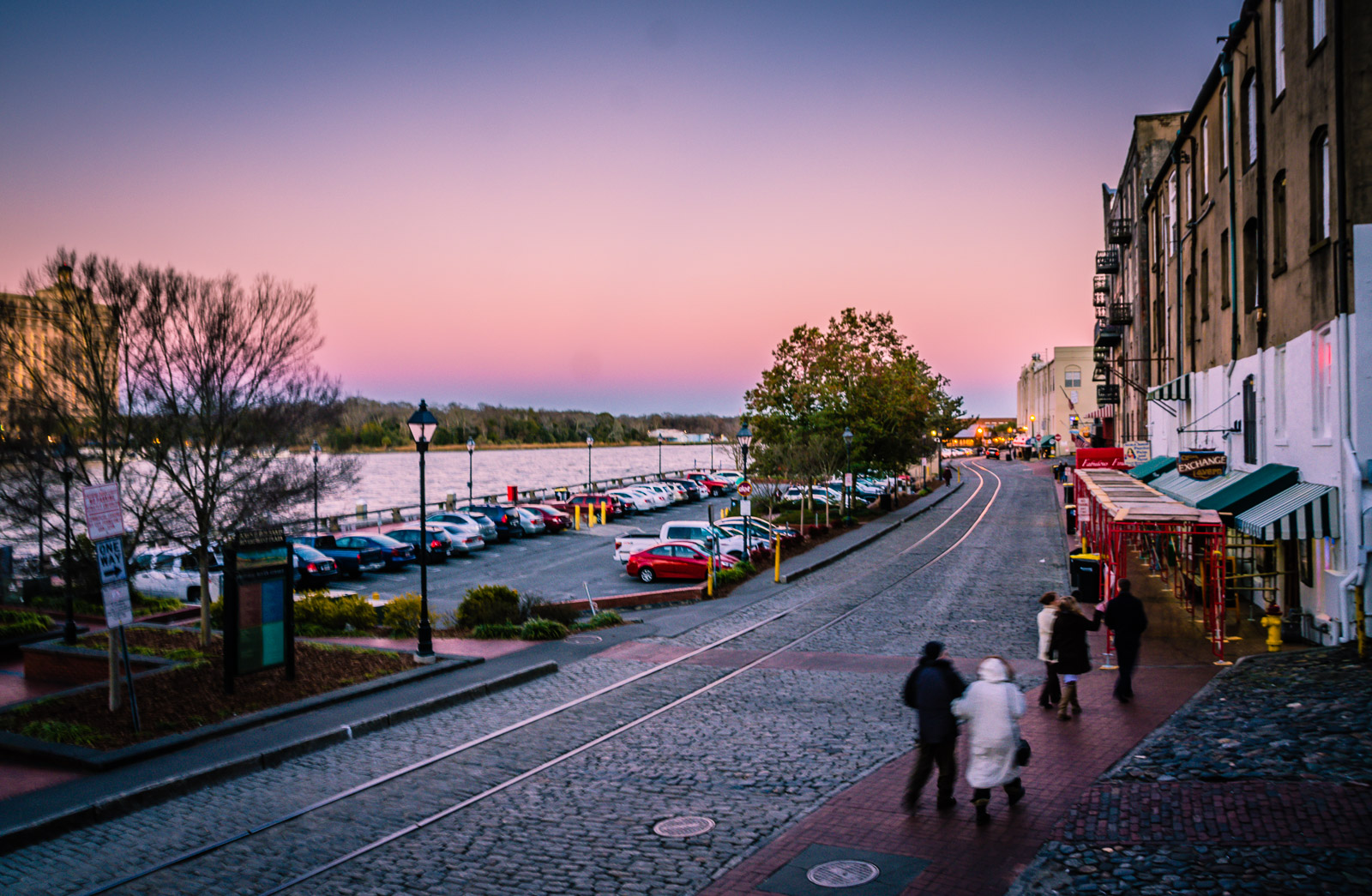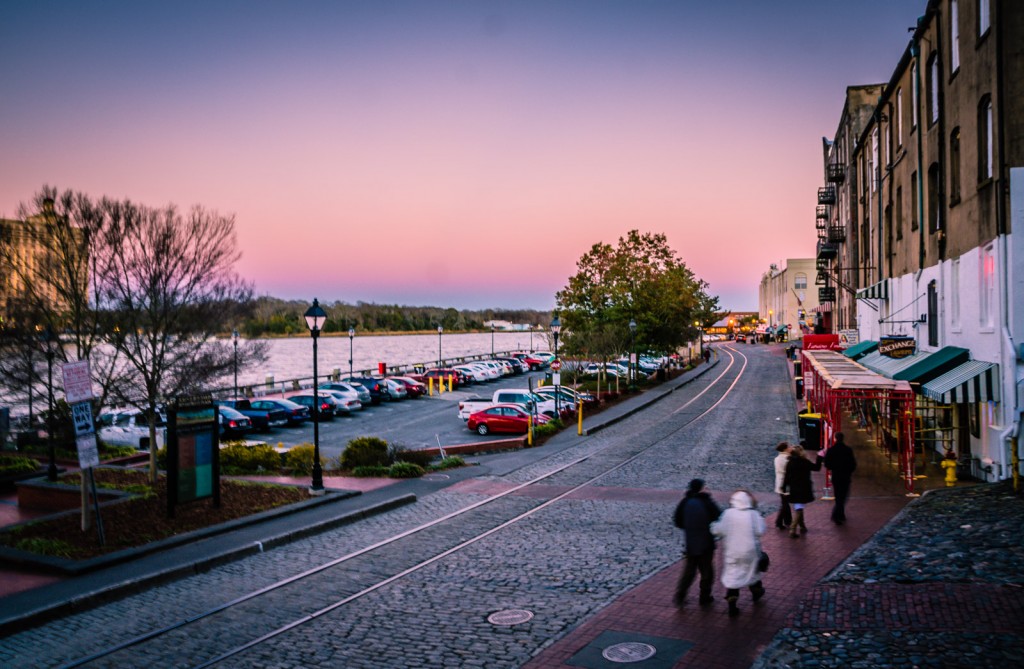 Restaurants In Savannah GA
The other reason I first went to Savannah years ago was to check out Paula Deen's restaurant. I had been warned that it is extremely difficult to get a table at The Lady and Sons without a reservation, but I've been lucky. The first time I was seated within the hour, and this time I arrived just before the restaurant filled up with the late Sunday afternoon crowd.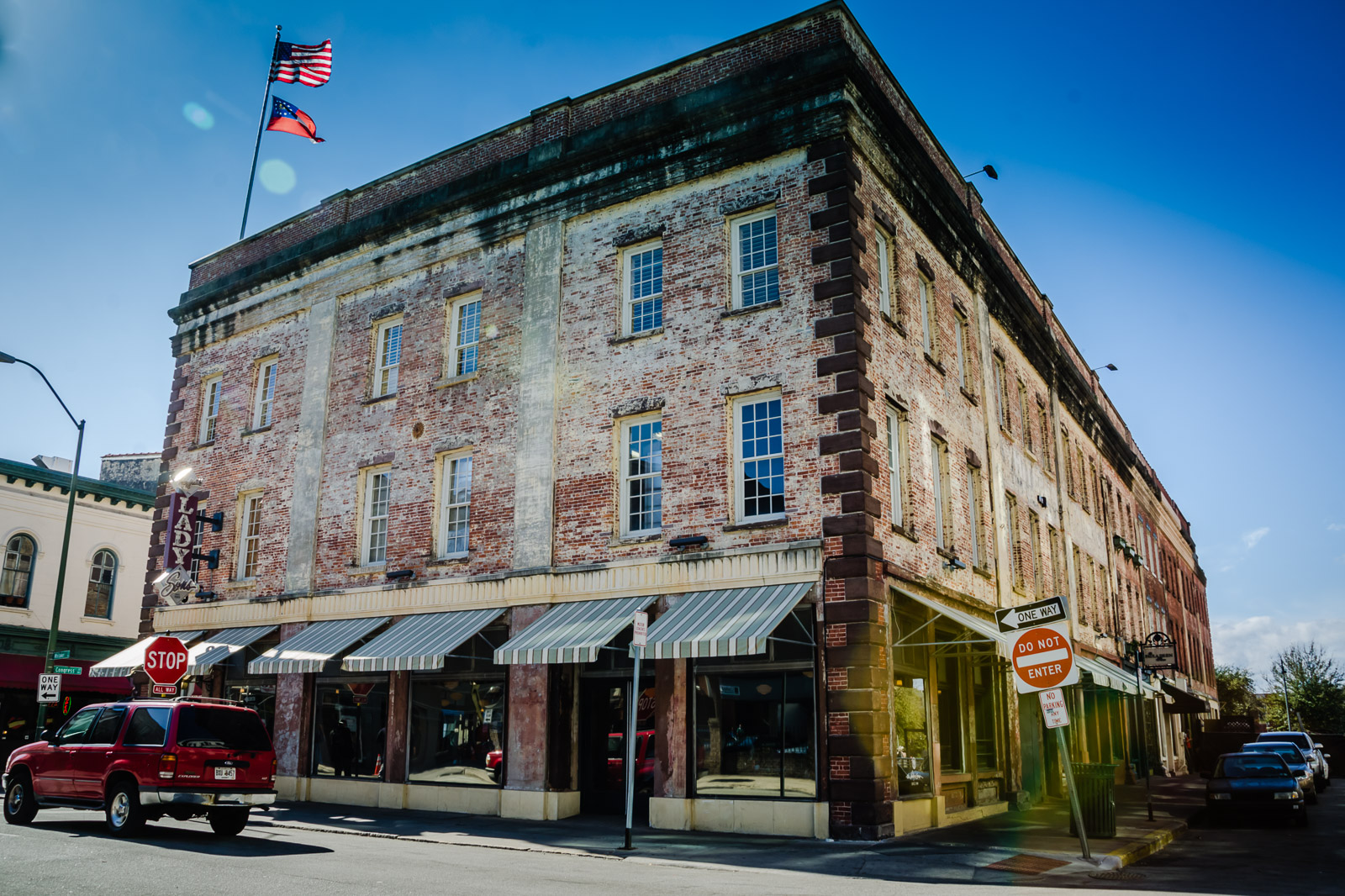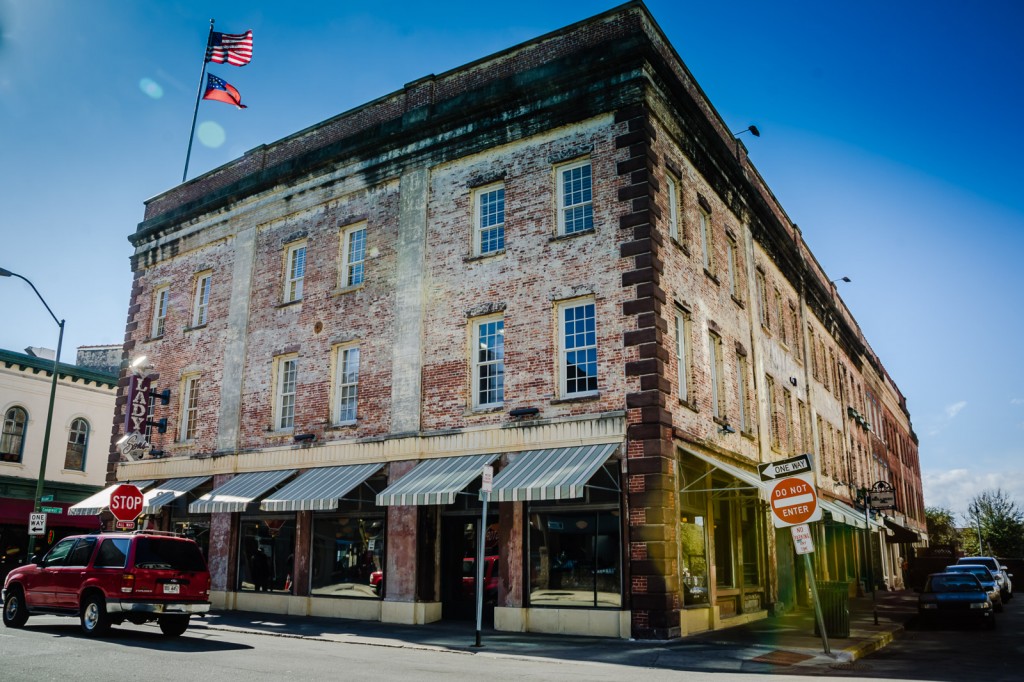 Sundays at The Lady and Sons are buffet only, which is great because it's the best way to try a little of everything. Not to be missed are the fried chicken, fried green tomatoes, mac n' cheese, and, of course, the biscuits.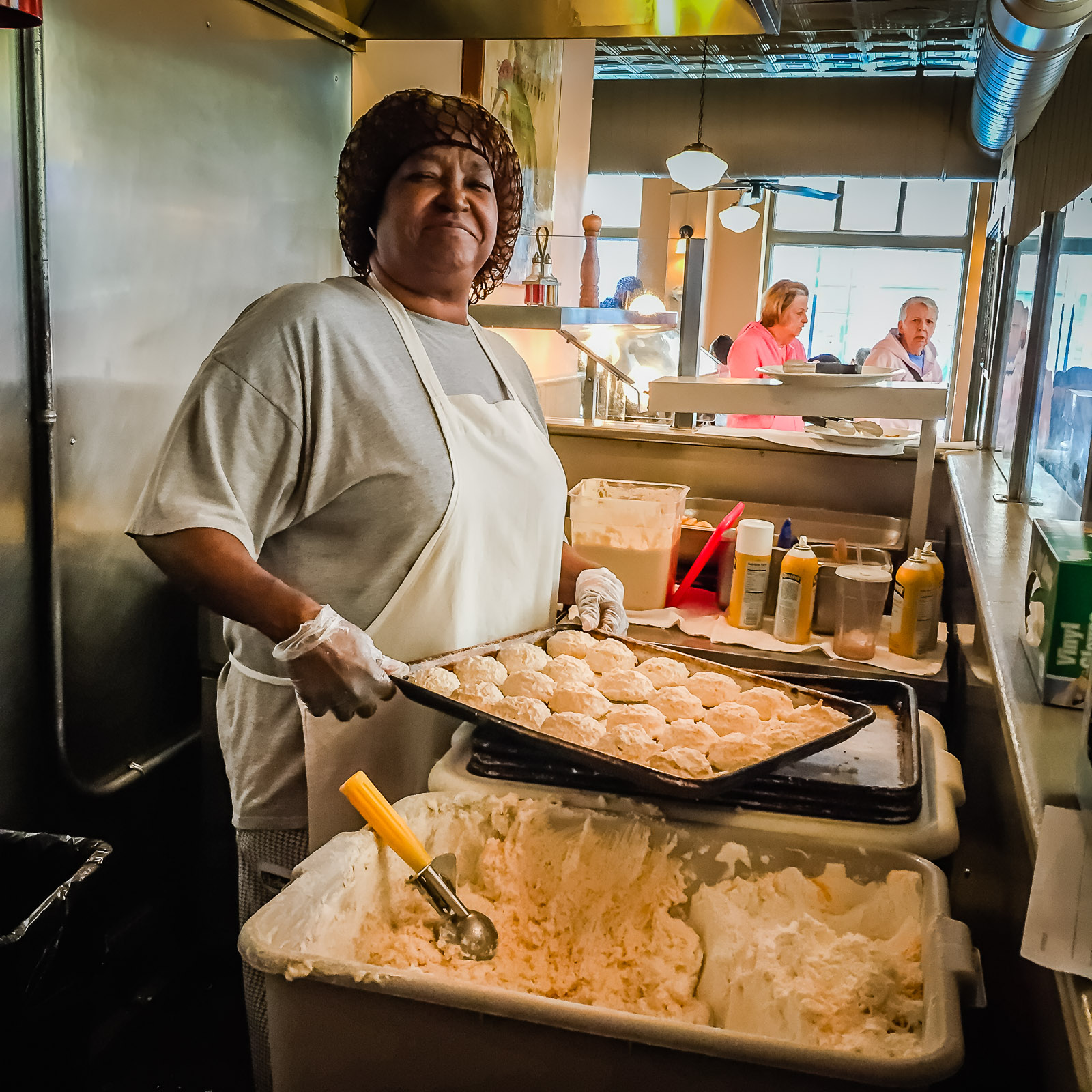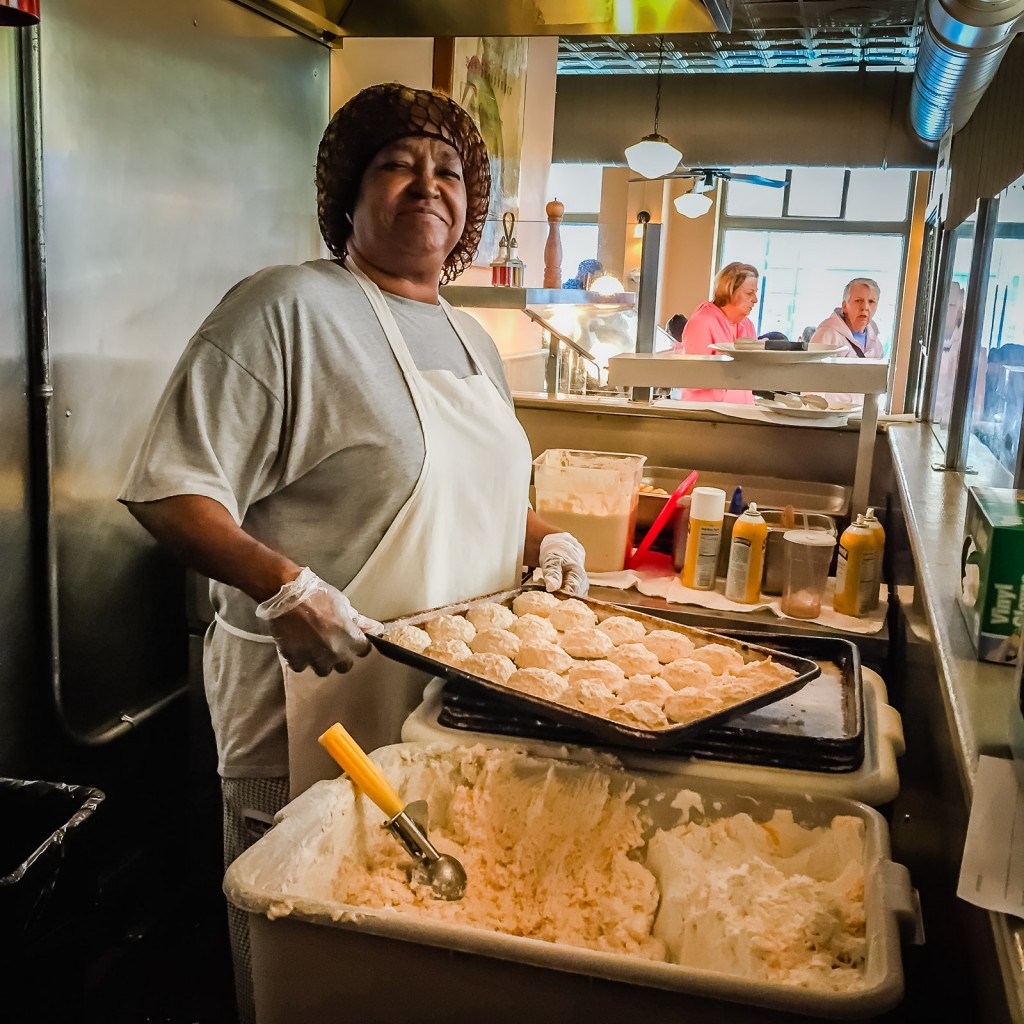 Those biscuits are a meal in themselves, and clearly made with a lot of love. Even with the city walk, I barely finished my plate sampler and ended up boxing up dessert–Paula Deen's marvelous banana pudding–for later. (Tip – The Lady and Sons is conveniently located next to the Ellis Square parking garage.)
Hotels In Savannah Georgia
The best way to experience Savannah's charm is to stay in a historic hotel such as the River Street Inn. Located on Bay Street with temporary parking access right next door to the Cotton Exchange on Upper Factor's Walk, the inn was originally constructed in the the 1800's to serve the cotton trade.
Built from recycled ballast stone, the original two floors were expanded to five, thus connecting the high bluff with waterfront access. Nowadays, the lobby can be accessed from Bay Street while all 86 guest rooms offer stellar views of the Savannah River.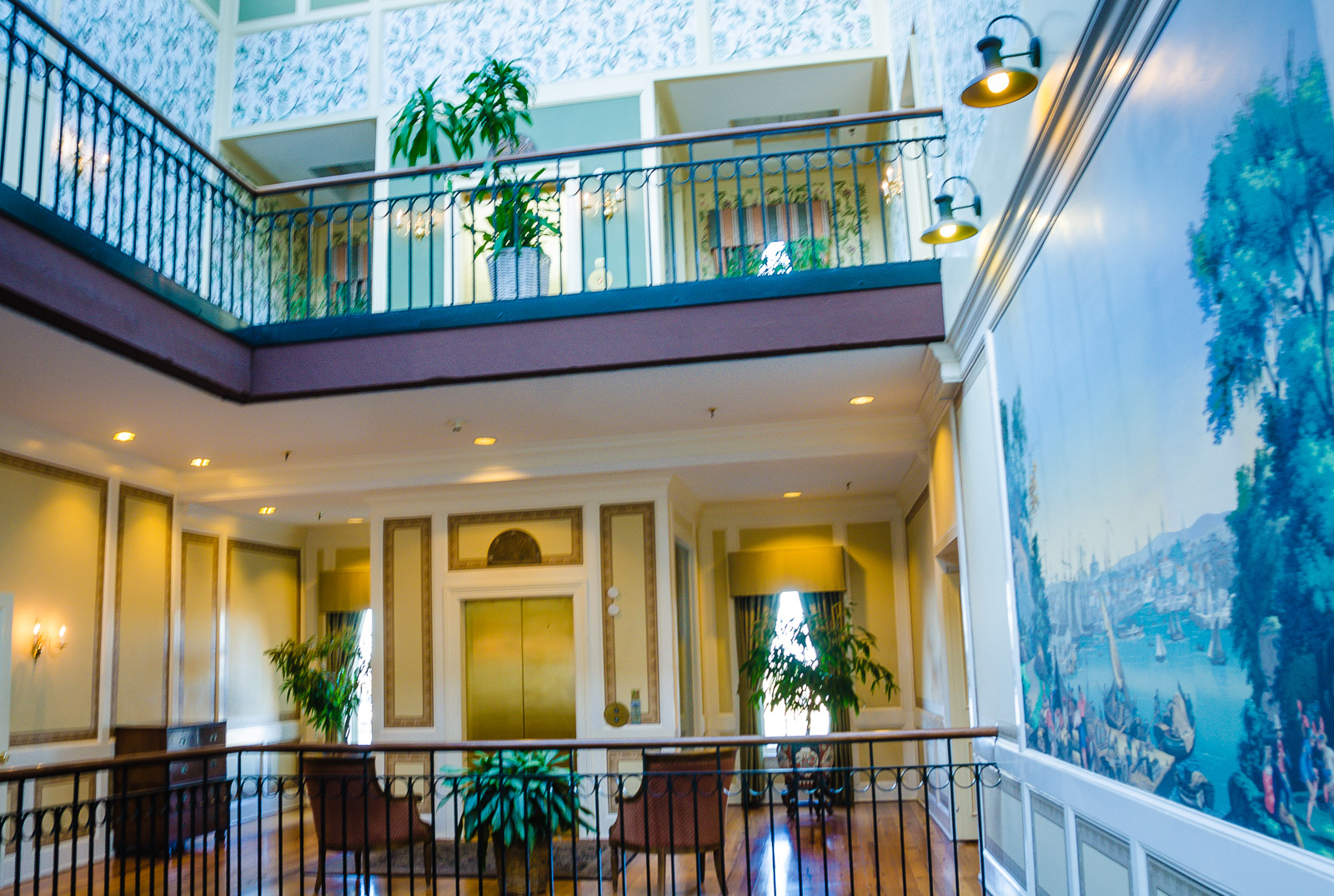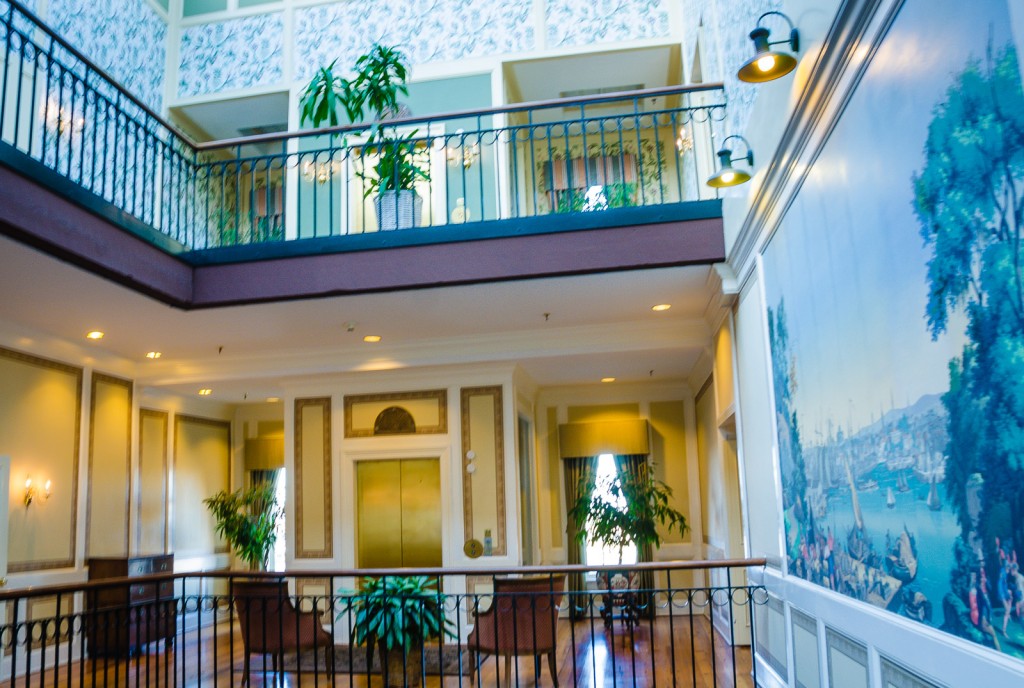 Ask for a room with a balcony. The wrought-iron, French-style balconies are tailor made for photographing passing ferries and sipping wine under starry skies. Rates from $179 per night. Complimentary Guest Reception serving wine, champagne, and hors d'oeuvres, Monday – Saturday, 5:00 pm – 6:30 pm.
Weekend Getaways In Georgia