Last Updated on November 20, 2022 by Editor
WHY GO: Bethesda MD, and North Bethesda's Pike and Rose District, in Montgomery County are the closest it gets to Washington DC (just 8 miles away). But you might never get to the US Capital, once your realize how much there is to do, see, and eat in this burgeoning area.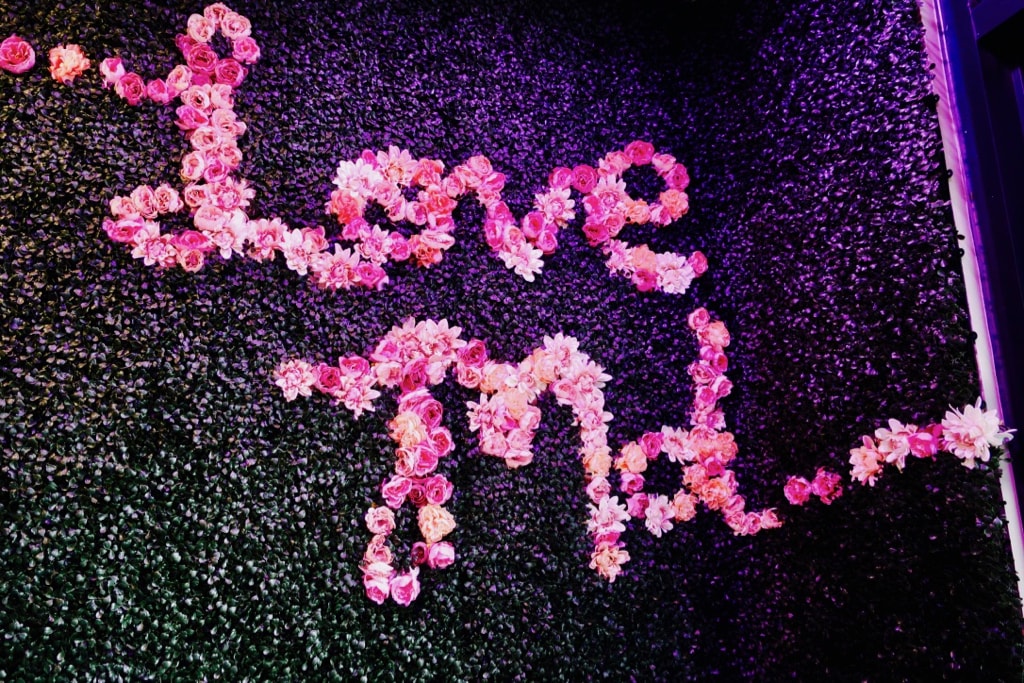 Enjoy High Tea accompanied by live Classical Music. Visit the museum dedicated to formerly enslaved hero you've probably never heard about. See a show possibly bound for Broadway at the Round House Theater. And then be amazed by everything else you can do in Montgomery County MD.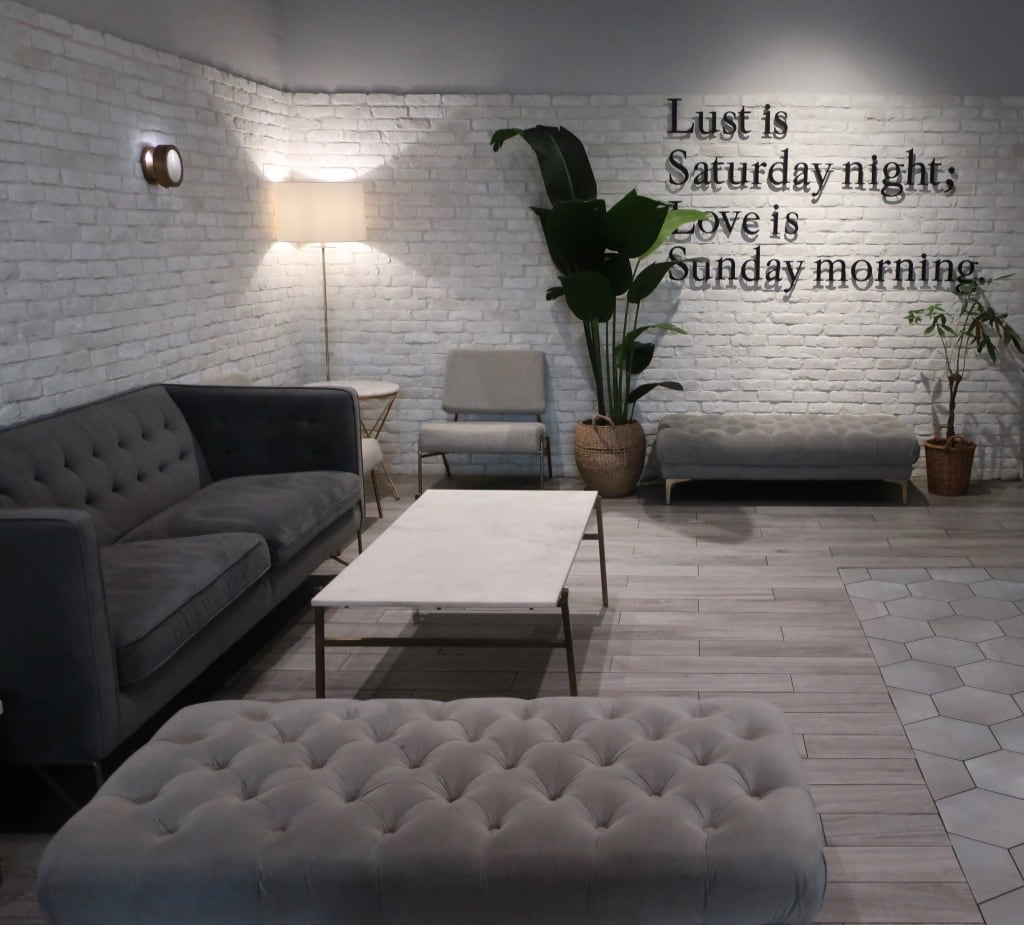 Love is in the air in this near-DC part of Maryland. The Getaway Mavens explain all below.
Things to Do in Bethesda and N. Bethesda MD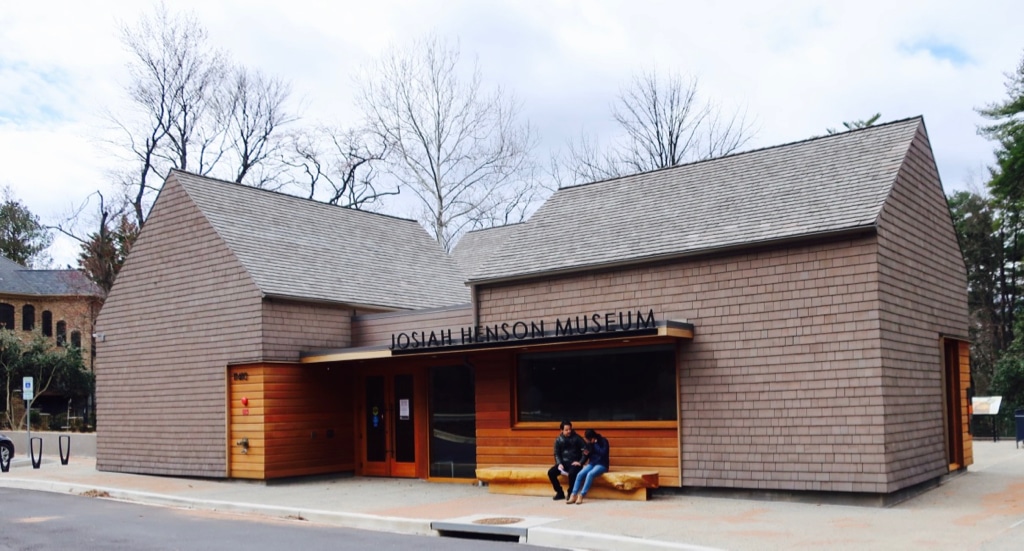 TOUR: Josiah Henson Museum, Bethesda
It's pretty incredible, in these days and times, to learn about an enslaved person turned hero who is not Frederick Douglas or Harriet Tubman, or even Solomon Northup (12 Years a Slave).
Josiah Henson was one of a couple of hundred enslaved people on the Riley Plantation – now a series of buildings, including a Visitor's Center – that constitute the Josiah Henson Museum in Bethesda MD.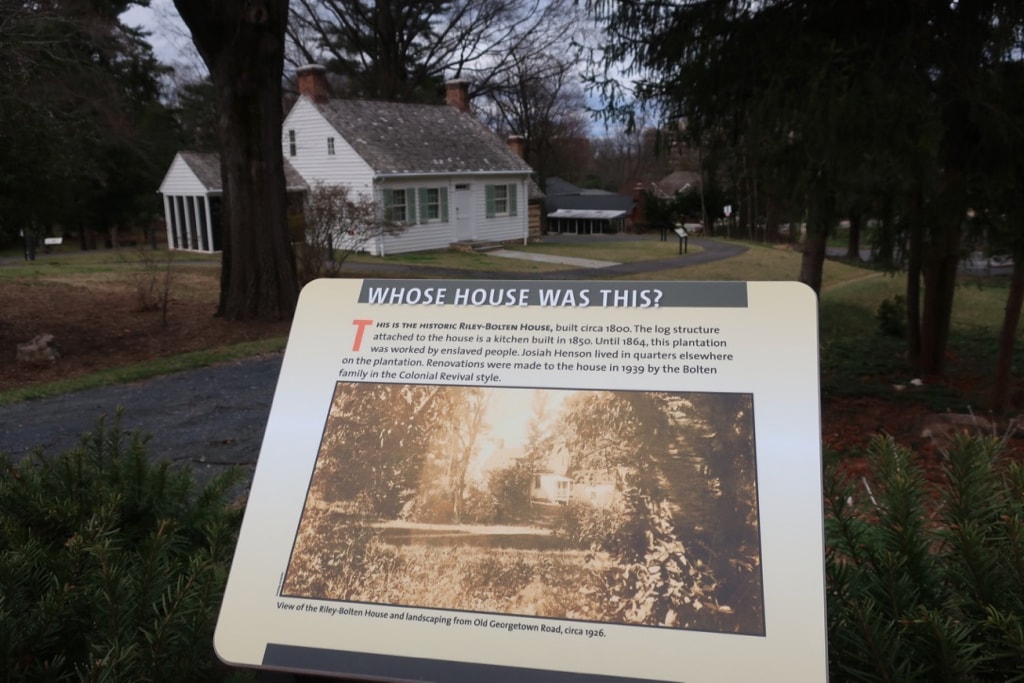 In 2006, four acres of the formerly 240-acre wheat and dairy plantation, was purchased and developed as an educational center and ongoing archeology site. So far, over 40,000 pieces of the past have been found here, with more to be unearthed.
Plan to spend at least a couple of hours or more here. Start with an orientation film in the Visitor's Center, and then tour the park.
The Uncle Tom's Cabin Connection
It's inconceivable to me that Henson is not a household name, given that it was his "Slave Narrative" – his diaries – that informed Harriet Beecher Stowe when she penned Uncle Tom's Cabin. Raised in slavery, he escaped from Kentucky to Canada in 1830, and then, like Tubman, returned many times to save 118 more people.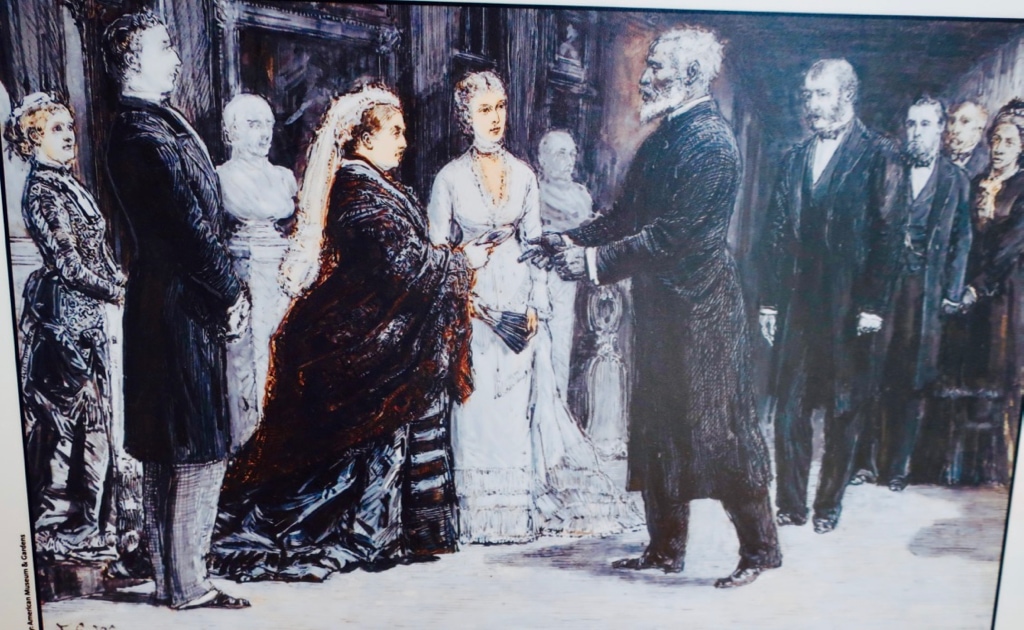 Uncle Tom's Cabin became such a best seller (second only to the Bible), Henson was invited to England to meet Queen Victoria in 1877. Nearly 140 years later, Queen Elizabeth presented President and Michelle Obama with documentation of that auspicious event.
Harriet Beecher Stowe awakened Americans to the horrors of slavery, so much so that President Abraham Lincoln credited her with flaming the passions leading to the Civil War. Legend has it Lincoln said to Beecher Stowe, "So, you're the little woman who wrote the book that started this Great War!"
At that time, Southerners called the accounts in Uncle Tom's Cabin "highly exaggerated."
Josiah Henson's Bravery
Born within an institution that treated humans like chattel, Henson was a boy when he began to attend church and discovered that God was egalitarian. It changed his whole outlook on life. He was a quick learner, extremely capable, and as such Riley promoted him to Overseer.
A gambler and deep in debt, Riley offered Henson his freedom if Henson took 18 other slaves to his brother's plantation in Kentucky so he wouldn't be forced to sell them to settle his debts.
On his way, Henson traveled through Ohio, a Free State. He could have escaped then, but was conscientious about following through on his promise to Riley. Big mistake. No surprise, Riley reneged on his vow, forcing Henson to take matters into his own hands.
Back in Kentucky, Henson made the 6-week, 700-mile trek to Ontario several times, establishing a colony for Free Blacks, along with a sawmill training school. There, he wrote his diaries, which were published in 1849.
When Beecher Stowe read them, she created the serialized Uncle Toms Cabin, initially published in installments in The National Era, a DC abolitionist newspaper. In 1852, the collection of stories became a book, and was translated into dozens of languages. Josiah Henson became famous, but would claim throughout his life, "My name is not Tom and never will be."
How "Uncle Tom" Became a Negative Stereotype
Unfortunately, in an attempt to disempower African Americans after Reconstruction and during Jim Crow, threatened whites used blackface minstrel shows and cartoons to pervert the original "Tom" into an emasculated stereotype. The phrase "Uncle Tom" became synonymous with someone who kowtowed and was subservient to Whites.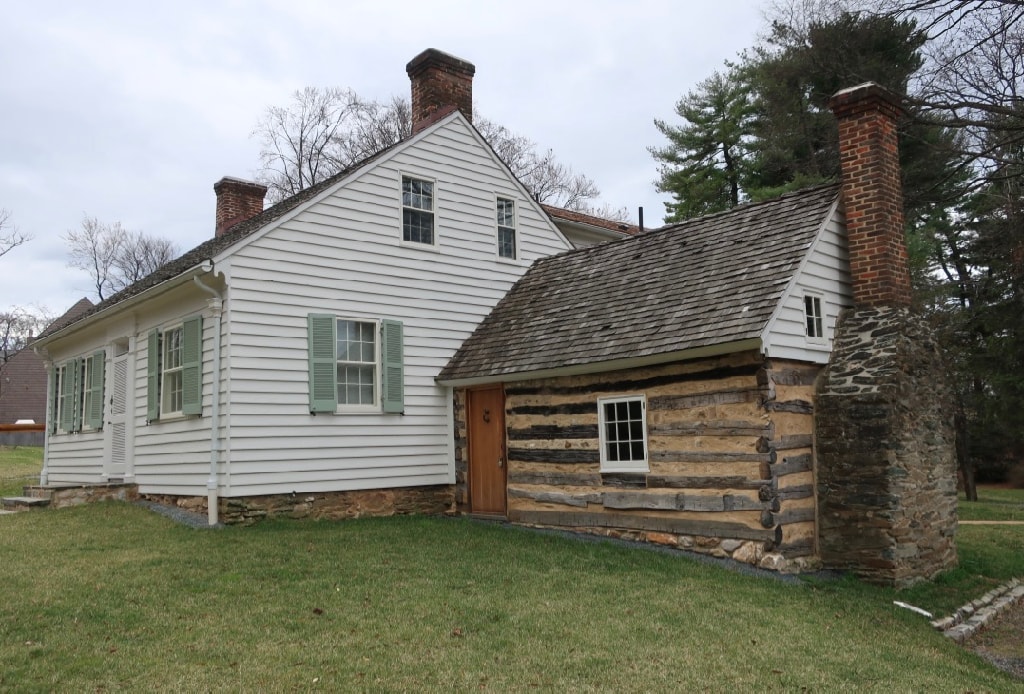 Until recently, locals called the Riley House "Uncle Tom's Cabin." But of course, Uncle Tom was a work of fiction, and it's not a cabin. The Riley Family occupied the home until 1926. The property was subdivided in the '30's – when some slave huts were still standing.
The original Riley home has changed and been added on to, yet the log-built kitchen still remains. The home and adjoining Log Kitchen together serve as an excellent museum – with educational panels, archeological finds, and interactive kiosks. Learn much more about Henson, Riley, and their descendants – many who are still involved in this project.
$5, adults, $4 kids and seniors. Open Fri-Sun. 10-4.
The few places for parking at the museum is for handicapped only. All others must park at the Kennedy Shriver Aquatic Center, located 1.5 blocks away at 5900 Executive Boulevard, North Bethesda. From there, follow a walking path to the sidewalk to the corner of Nicolson Ln and Old Georgetown Road. There are interpretive signs about Josiah Henson's life that will also direct you to the museum.
SHOP: Shops at Wildwood, Bethesda Near Josiah Henson Museum
A short drive from the Josiah Henson Museum – this upscale strip mall has a few must-visit shops. Find cool gifts (including funky matchstick incense) at Red Orchard, and then cool down at Sarah's Handmade Ice Cream, known for its flights of the most inventive, dense, and creamy ice cream flavors.
There are two buildings on the Strathmore campus, and it is impossible to confuse them. One is the contemporary 2,000-seat modern glass concert hall that would not look out of place among the theaters at, say, Lincoln Center in NYC.
The other is the 1899 Georgian Mansion, "one of the handsomest summer homes near Washington," according to the Washington Evening Star in 1903.
The latter is where you want to be for an indulgence rarely seen anymore: high tea in a soaring wood paneled room while classical musicians play.
You'll dine on scones with clotted cream, crustless cucumber sandwiches, and an abundance of sweets. In the middle of the day, it's the ultimate guilty pleasure.
People of all backgrounds, colors, ages, and nationalities have been partaking of this sophisticated ritual at Strathmore Mansion for 35 years, taking tea on proper china served by cheerful volunteer "Tea Ladies." You can quickly identify the regulars. They are the ones who come solo, book in hand.
While waiting for the event to begin, peruse the latest art exhibit throughout the mansion. And don't miss the great gift shop. Tea on select Mon, Tues, Wed 1pm-2:30, $24. Includes performance and light lunch ($28 for premium teas).
This was chosen as one of the Best Places in Maryland to Pop the Question.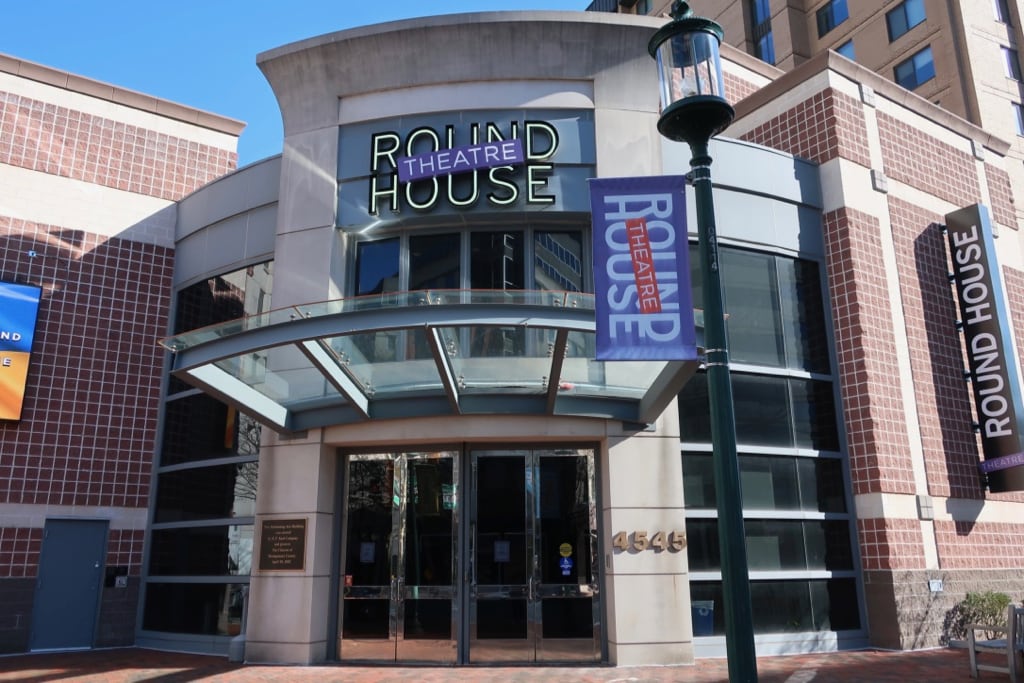 THEATER: Roundhouse Theater, Bethesda
Opened in 2002 and revamped in 2019, The Roundhouse Theater is poised to be more vibrant and welcoming post-Covid shutdown, with a re-imagined lobby bar and adjusted acoustics.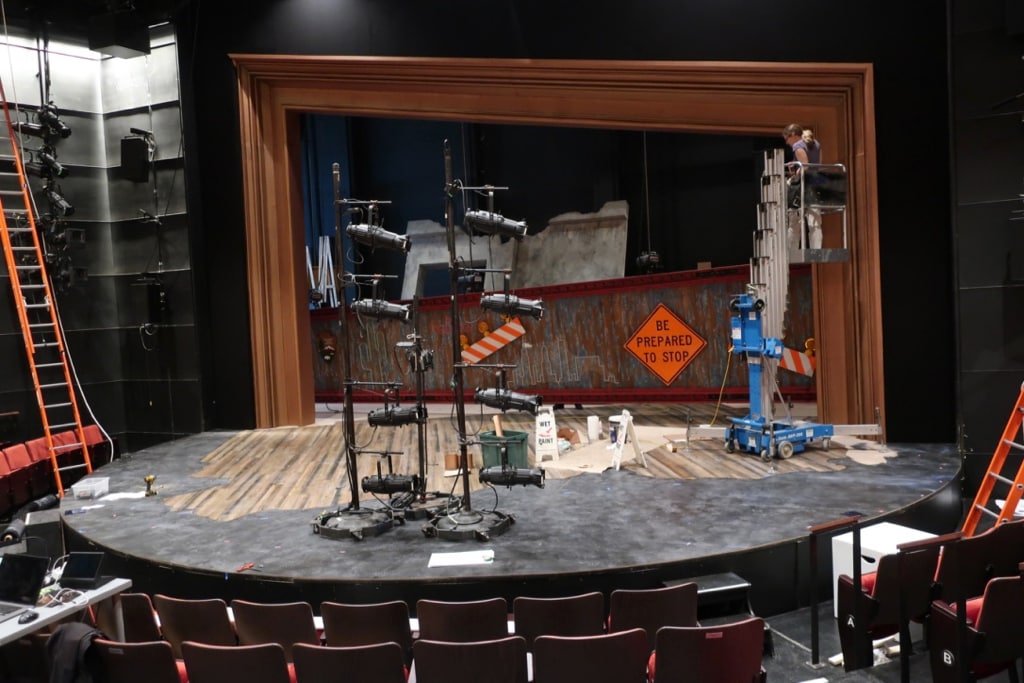 The theater is a community magnet, with eight stage productions a year, innovative projects, and unique programming. For example, the public can sit in on play development – in essence learning how actors and playwrights work together to get an idea from page to stage.
And each year, The Teen Production Company, chosen from all over Montgomery County, can get in the action – developing and staging a four-day performance (the Sarah Metzger Memorial Play).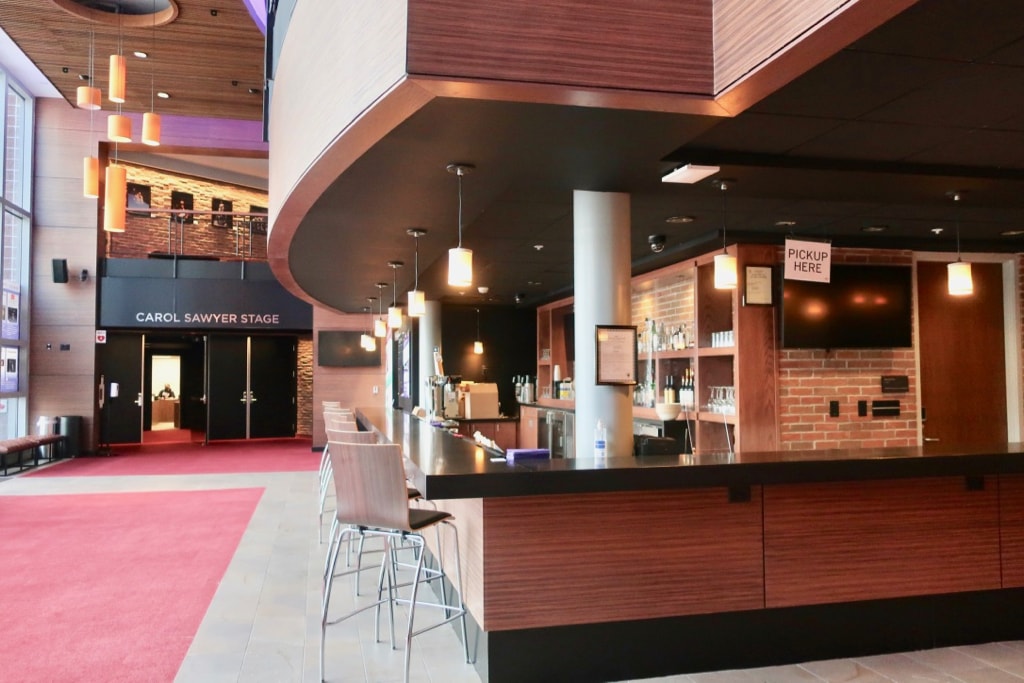 The soaring, sun-flooded lobby area buzzes with patrons participating in the Actor Talk Back while nibbling menu items and drinking cocktails themed to what's on stage at the time.
The Roundhouse stages two inaugural productions a year. If the one you choose to see goes on to Broadway, you can say you saw it here first. Check website for schedule.
EXPLORE: Bethesda Arts and Entertainment District
Thirty years ago, there was "nothing here," but you'd never know it now. This area of Montgomery County MD has over 200 restaurants, theaters, shops, and hotels – a completely renovated Hyatt Regency that sits atop a Metro Stop, and, coming soon – an AC Hotel (Marriott).
EXPLORE/STAY: Pike and Rose, N. Bethesda MD
This mixed-use development was constructed deliberately to appear as if buildings were of different styles and ages. Pike & Rose has all the trendy big box fun and games – and some newly emerging names.
Find R.E.I., LL Bean, Pinstripe Bowling and Restaurant, I-Pic Movie Theater (with lounge chairs, blankets, food and beverage service), as well as some of the area's best restaurants. (see below).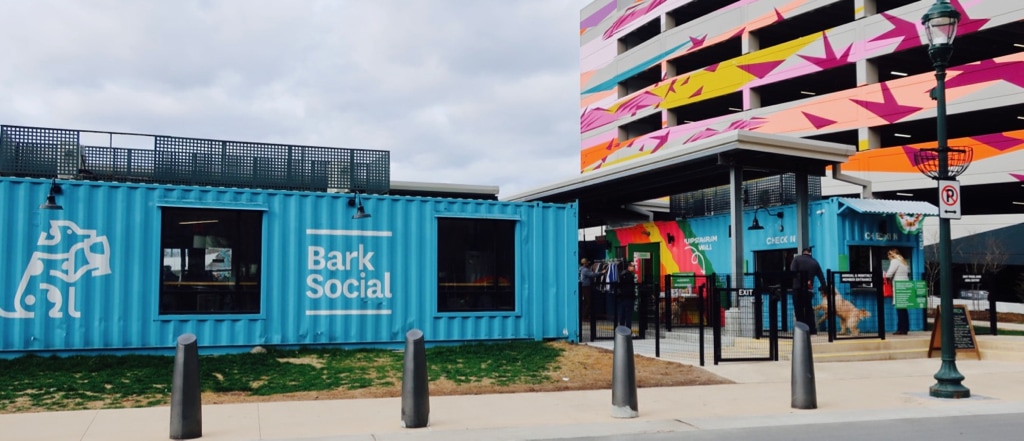 There's a splashy dog park, Bark Social, for pups and their people. And a small central park for hanging out and socializing.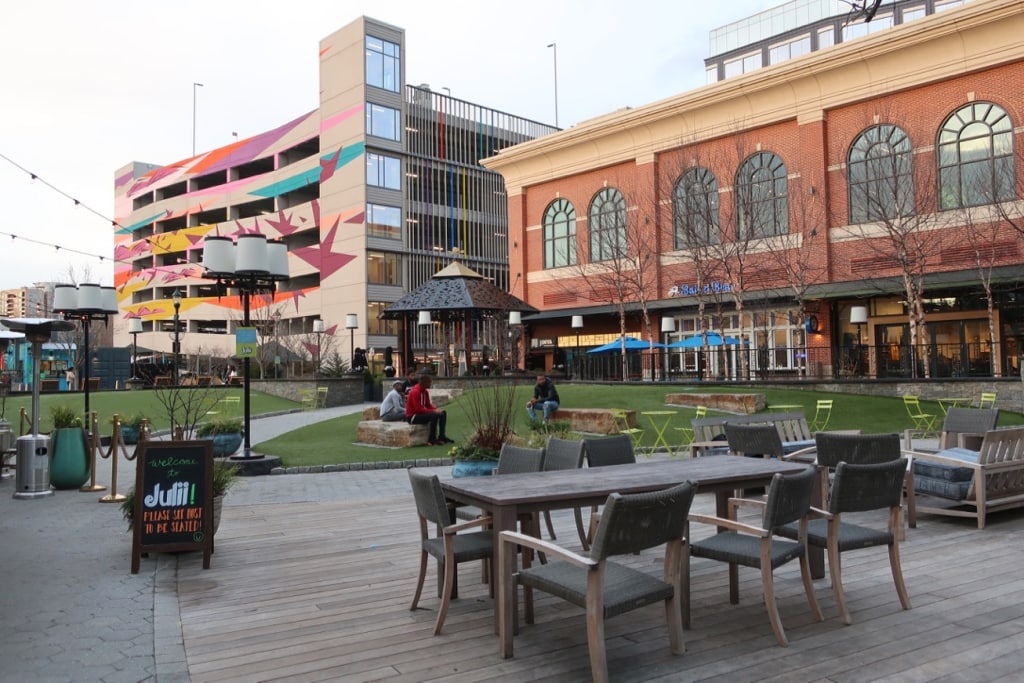 The trendy Canopy Hotel (see below) opened in March '18, has been drawing more and more people to this hopping section of N. Bethesda.
Best Restaurants in Bethesda MD Including N. Bethesda, Pike & Rose
If you have a hankering for "sizzling" Escargot, book a table at this Mon Ami Gabi (one of 5 countrywide). This classic French bistro features all of your favorite saucy, buttery dishes done to perfection – including, of course, Steak Frites. So popular, there was hardly an empty seat on a cold April Monday night. Hence, RSVP's are highly recommended.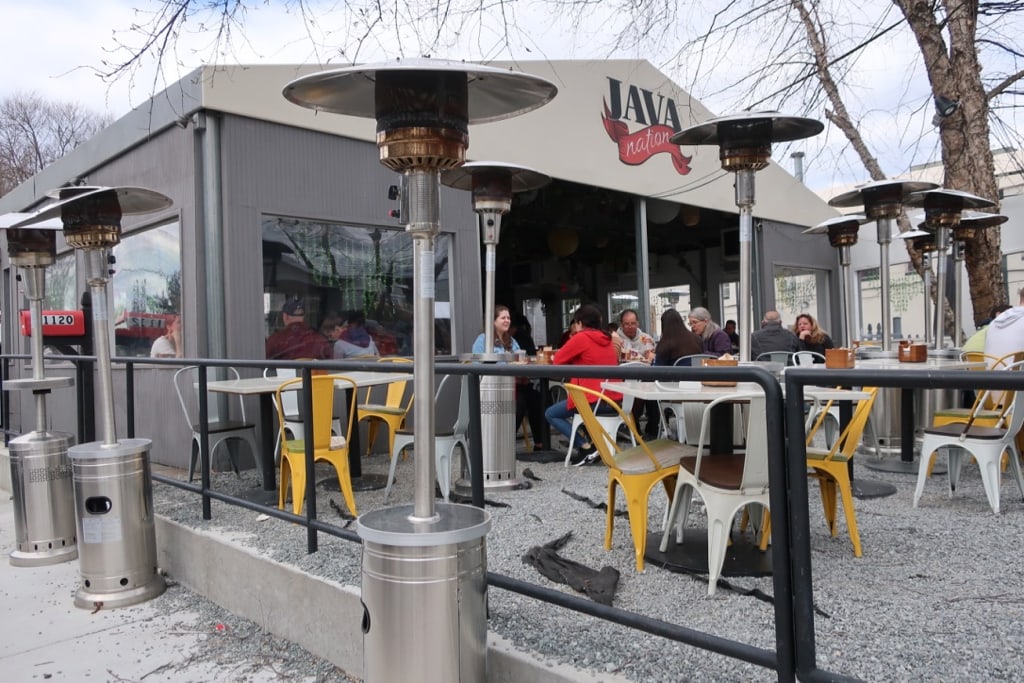 EAT/LUNCH: Java Nation, Bethesda
On a busy road between a dry cleaners and a package store, Java Nation was bustling, on a March Sunday, with diners drawn to its social, delicious, and healthful aspects. There's indoor/outdoor seating with halfway option: an eye-pleasing wind-protected patio. Menu offerings run from Mexican fare to Avocado Toast. A fully stocked bar turns this place into Cocktail Heaven at night.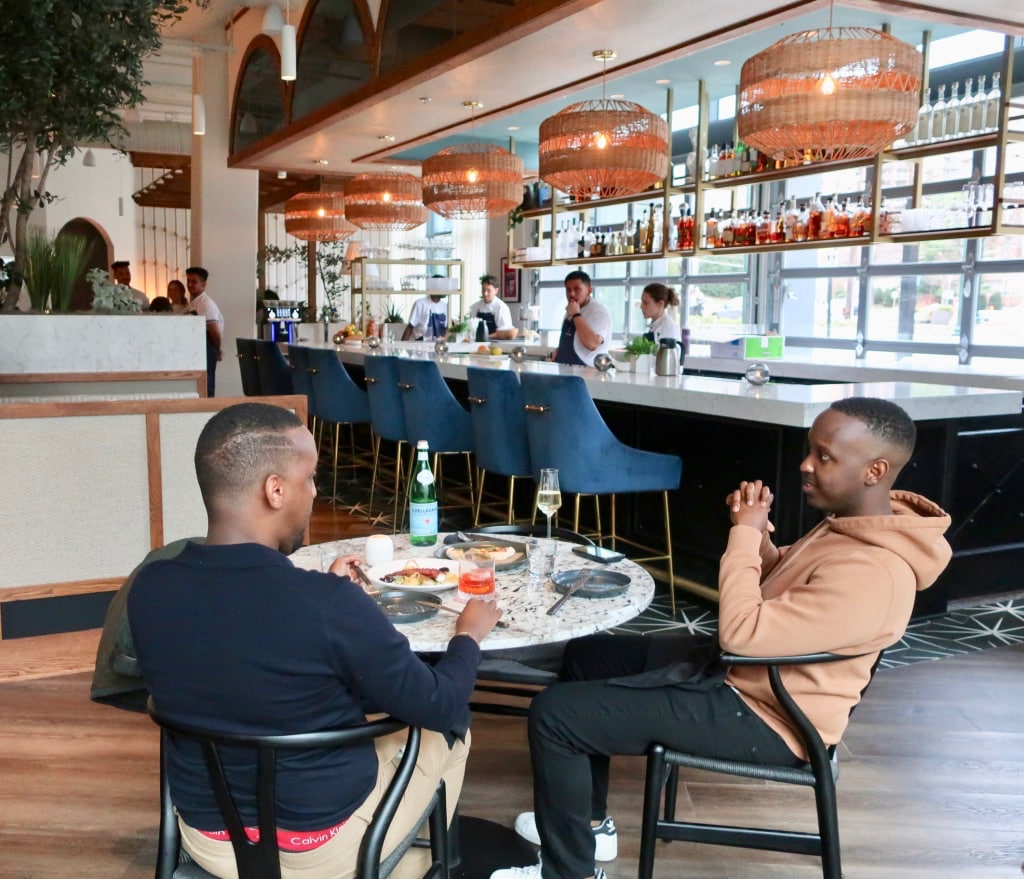 EAT: Melina in Pike and Rose, N. Bethesda
The latest restaurant to open at Pike and Rose, Melina, is not your father's OPA! Greek restaurant. The ambiance is modern and sleek and service, attentive, but not too. Starters are fantastic, such as the Charred Baby Gem Salad ($14) – more like grilled Romaine, topped with Manouri Cheese, Lemon Confit, Pistachio Pesto – and flavorful Chicken Thigh skewers ($14).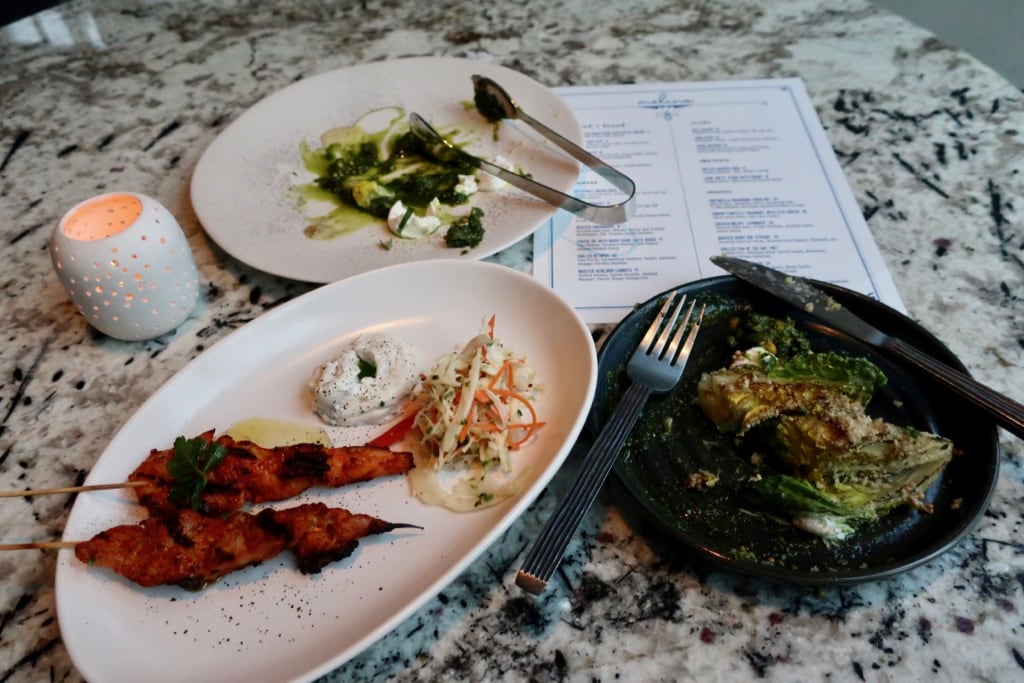 Those with bigger appetites will want to try the Chicken Lemonato ($25) or the signature Slow Roasted Lamb Neck ($44).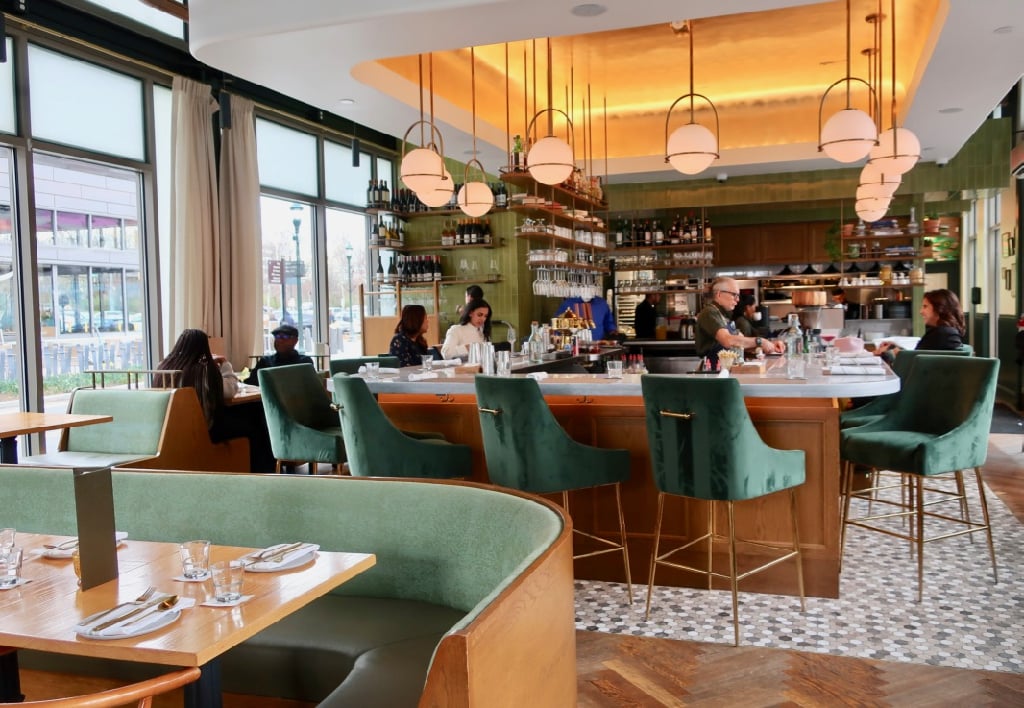 EAT: Julii in Pike and Rose, N. Bethesda MD
Care to dine in Left Bank chic? Julii, across from the Canopy Hotel, (and within view of the "Bark Social" dog park), is a swank melding of 1920's and 2020's Paris. Arrange for a table in the pretty dining room, or sit on a emerald green velvet stool at the bar, and enjoy French Onion Soup ($12), Trois Fromage ($16), Steak Frites ($39), or Bluefin Tuna Nicoise ($24) among other Fresh delights.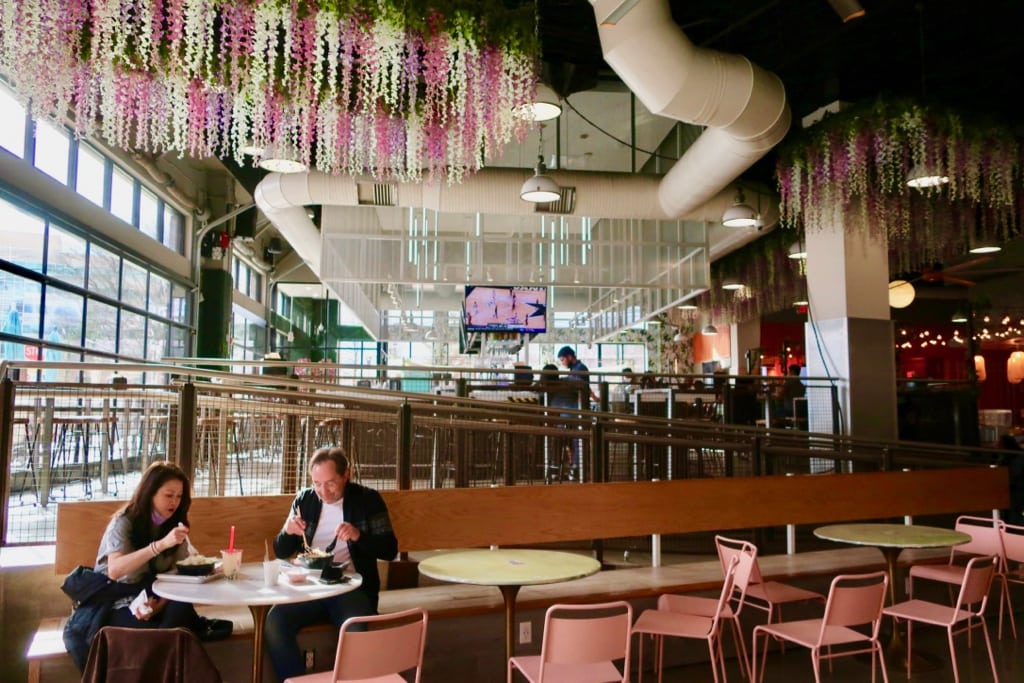 EAT: The Block Food Hall in Pike and Rose, Bethesda
Gourmet Food Halls are great if you're looking for something good, fast, street, and relatively cheap. The Block delivers on all of these. With a notable Asian influence (Kyoto Matcha, Opa's Korean BBQ, Ahn-Mazing Viet Kitchen, Pokeworks), and Little Miner Taco – plus a serious full service bar – it's like dining at a Food Truck rodeo, but with a roof over your head.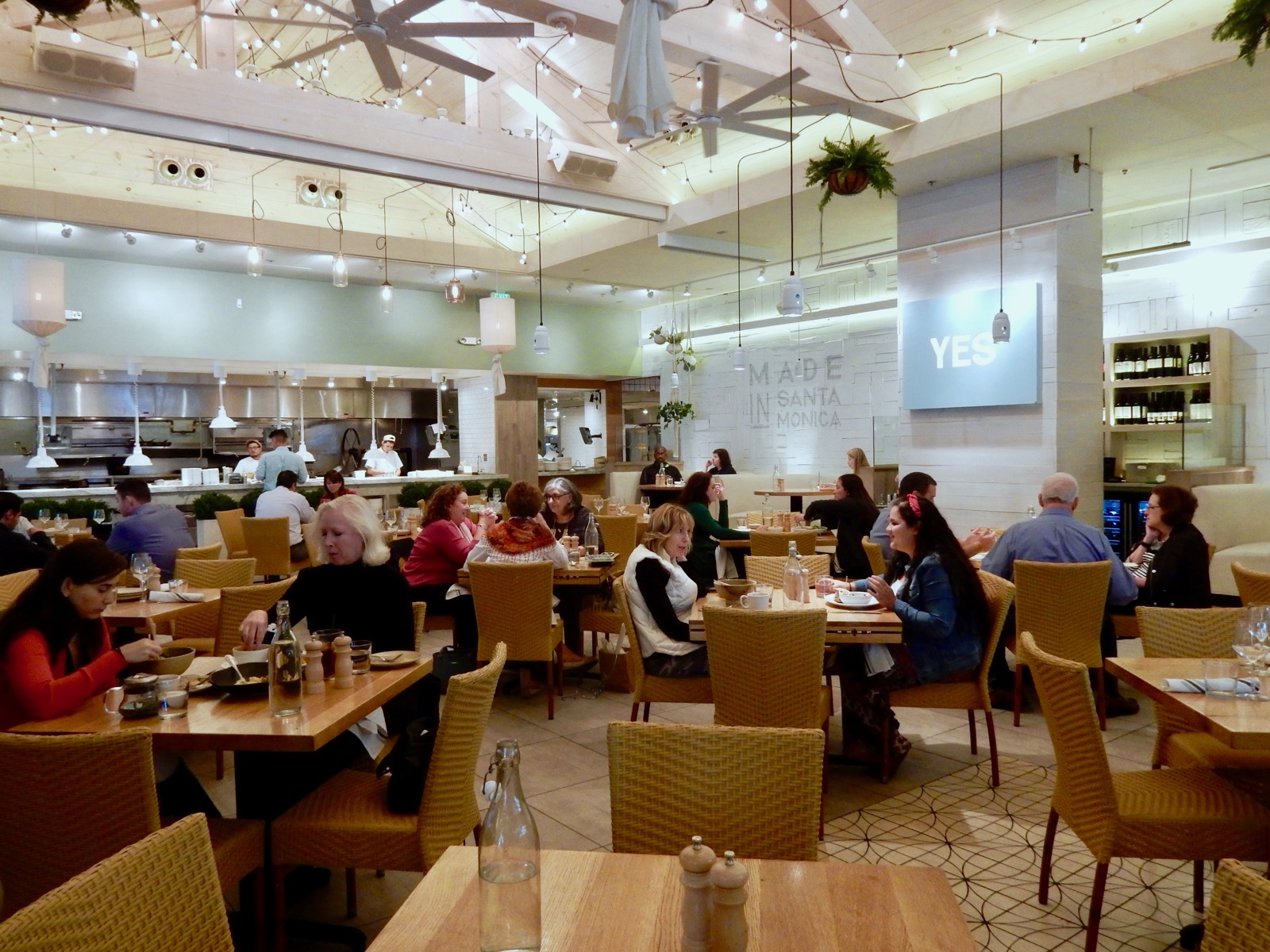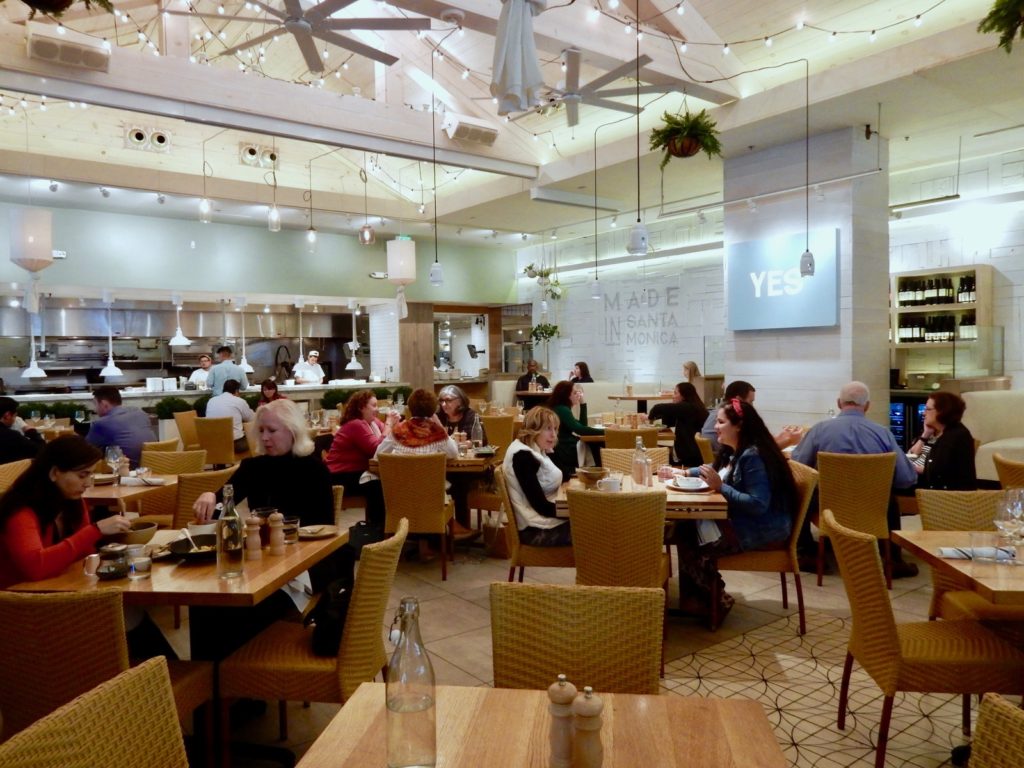 This whitewashed, cathedral-ceilinged, stylish eating establishment, fresh both in its food offerings and bright and airy ambiance, has that unmistakable California vibe. Naturally, handcrafted sandwiches, soups, and salads are popular.
But the Poke Bowls are Summer House standouts. Chose Classic Hawaiian, Salmon, and Spicy Tuna ($15.95), served over rice or greens.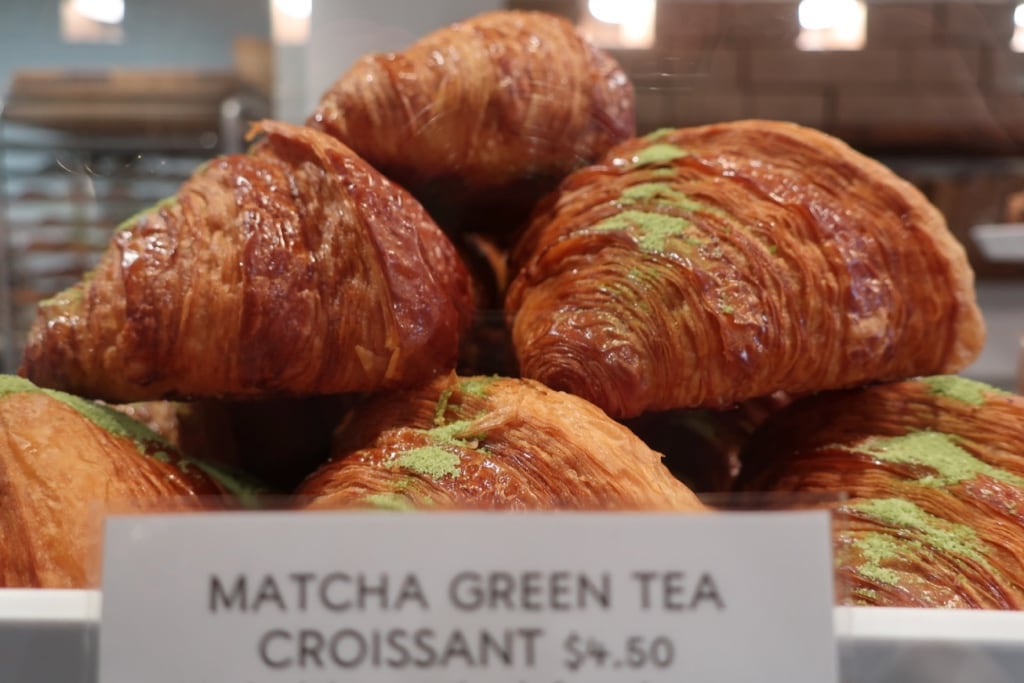 EAT/BREAKFAST: Sunday Morning Bakehouse, Pike and Rose
Of course, it's always Sunday morning at the modern and bright Sunday Morning Bakehouse. Oven fresh goods are drool worthy – with some unusual offerings, like Macha Croissants, flecked in green.
Best Hotels in Bethesda and N Bethesda's Pike and Rose MD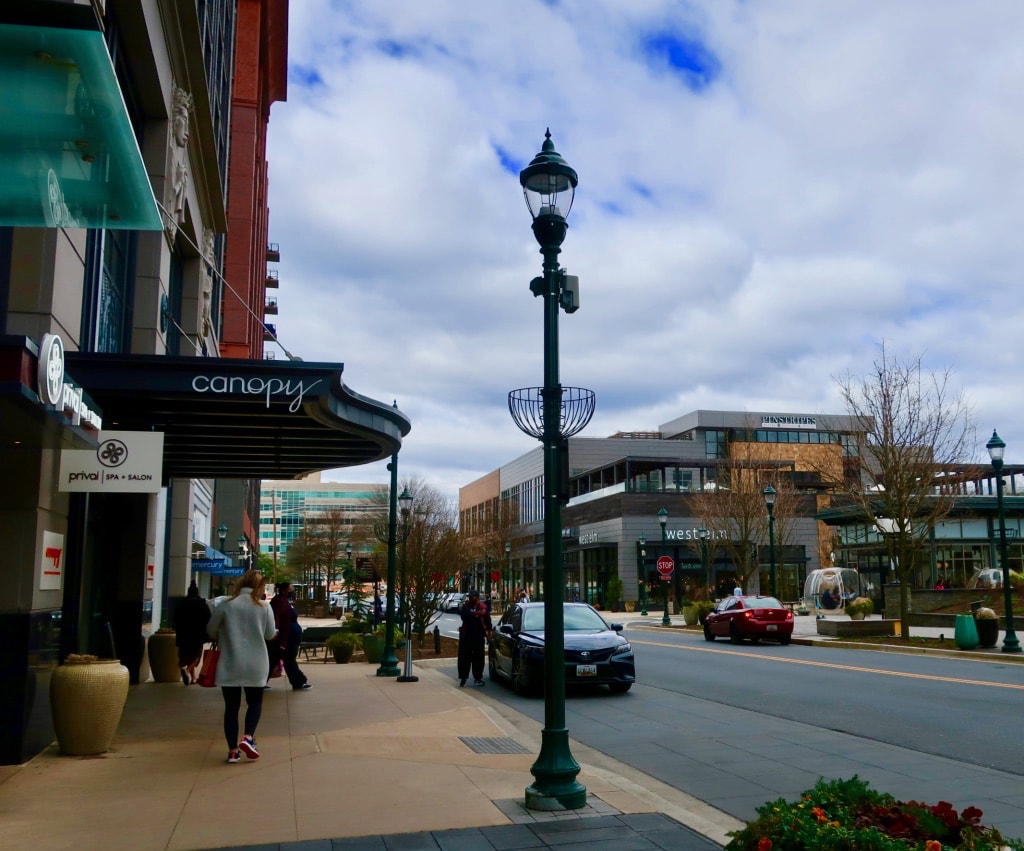 STAY: Canopy By Hilton Bethesda North
The spiffy section of N. Bethesda, Pike & Rose, is the perfect setting for Canopy – Hilton's answer to Gen X and Millennial travelers who are all about being enthusiastically social, and seek out craft drinks, opportunities to mingle, and stylish streamlined rooms.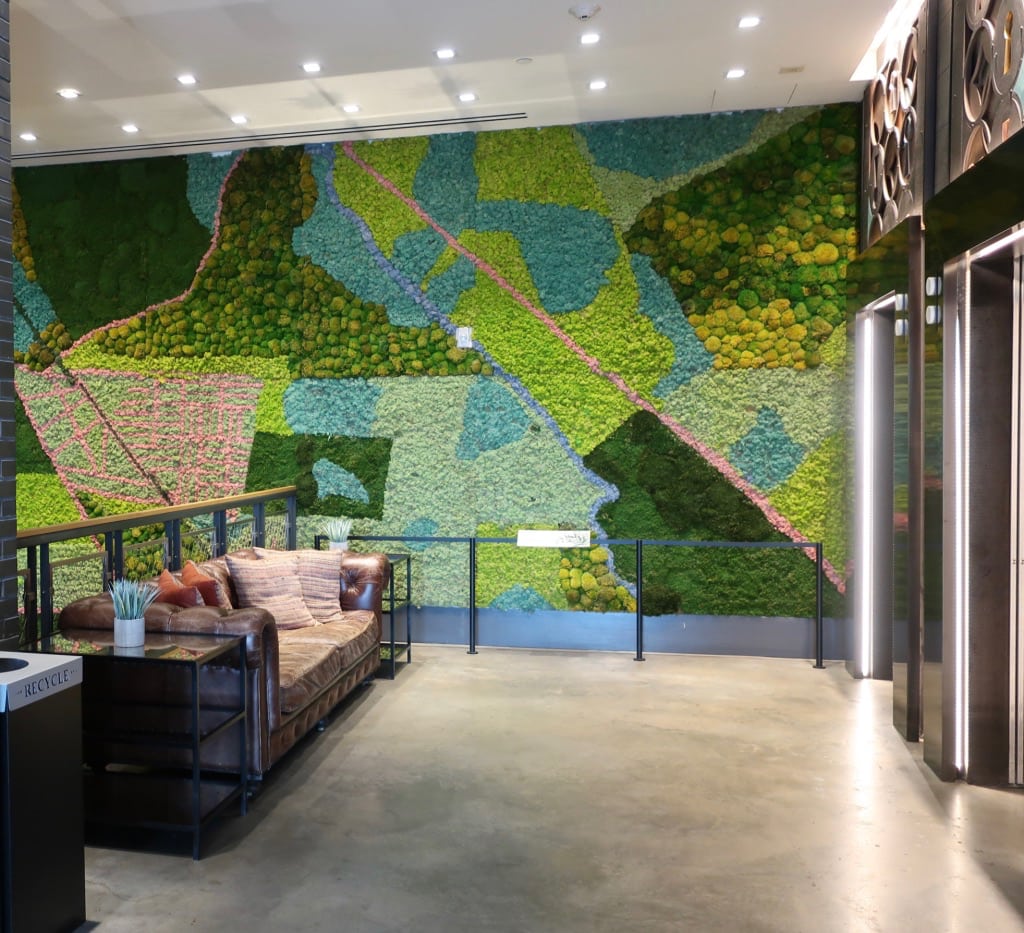 There are all the bells and whistles the modern traveler has come to expect: dog-friendly (50 lbs. and under), living walls, filtered water to fill your water bottles, and neutral colored sunlit rooms with industrial floor to ceiling windows, subway tile bathrooms, and a design-forward aesthetic.
About 30 minutes away from the Washington DC Mall by Metro, Canopy Hotel is a great alternative to more expensive lodgings in the City. Especially if you drive down and have to park your car. Overnight parking at Canopy is $25 per night vs. twice as much for most hotels in DC.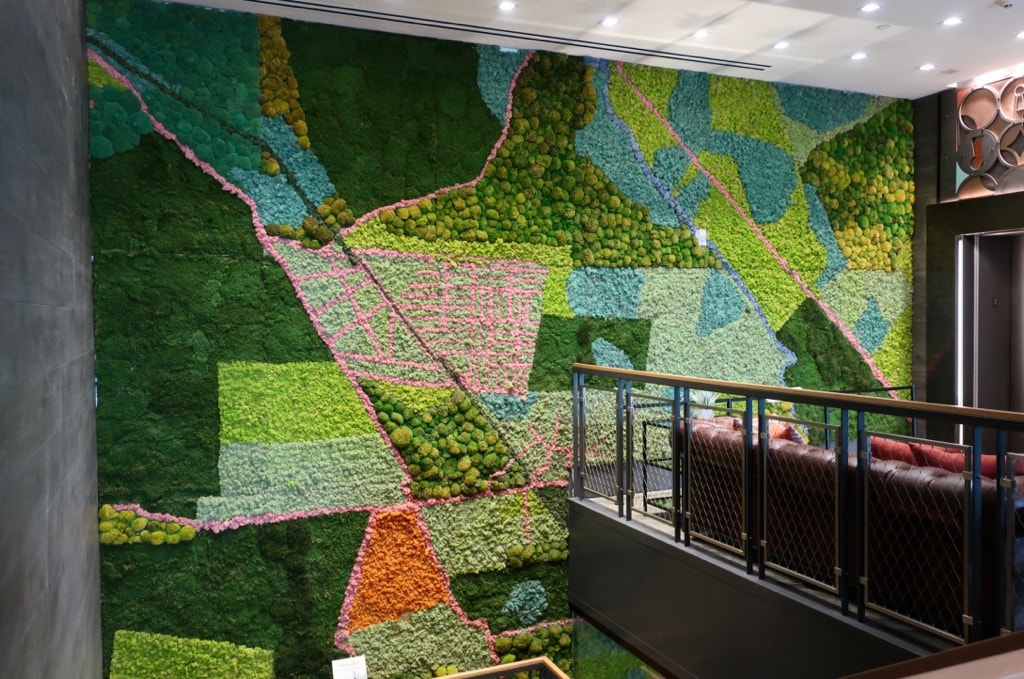 First Impressions of Canopy Hotel N. Bethesda
Walk in on the ground floor to find innovative art everywhere. The two-story living wall, covered in multi-colored moss, depicts shades of Montgomery County.
The central chandelier, feathered with pages from the first National Geographic magazine issues, celebrates local notable, Gilbert Grosvenor, the founder of National Geographic, who was considered "the father of photojournalism."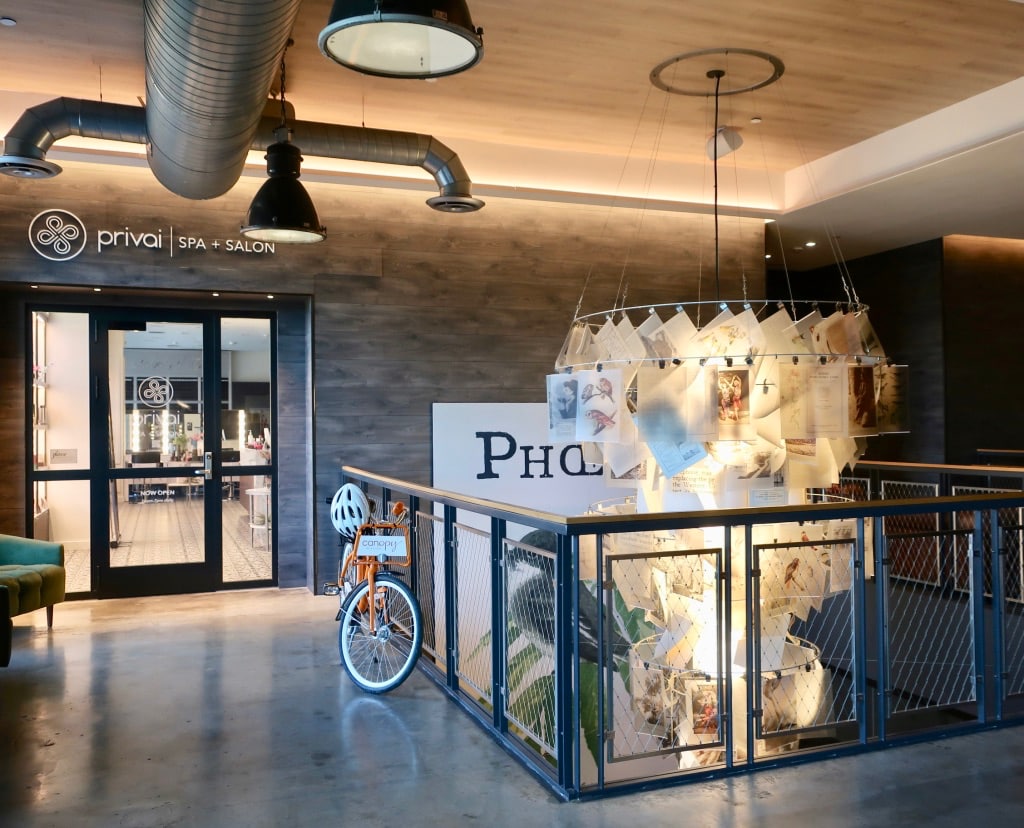 Take the elevator to the 3rd floor reception area where you'll also find the entrance to Privai Spa.
Rooms at Canopy Hotel N Bethesda MD
All 177 large contemporary rooms, in shades of gray and sand, range from 330sq. ft to the one bedroom 780 square foot suite.
Each features a refrigerator drawer, a glass milk-bottle that serves as a water jug (fill with filtered water at designated water and ice stations on each floor), flat screen TV's, and all the customary amenities you'd expect from a luxury hotel.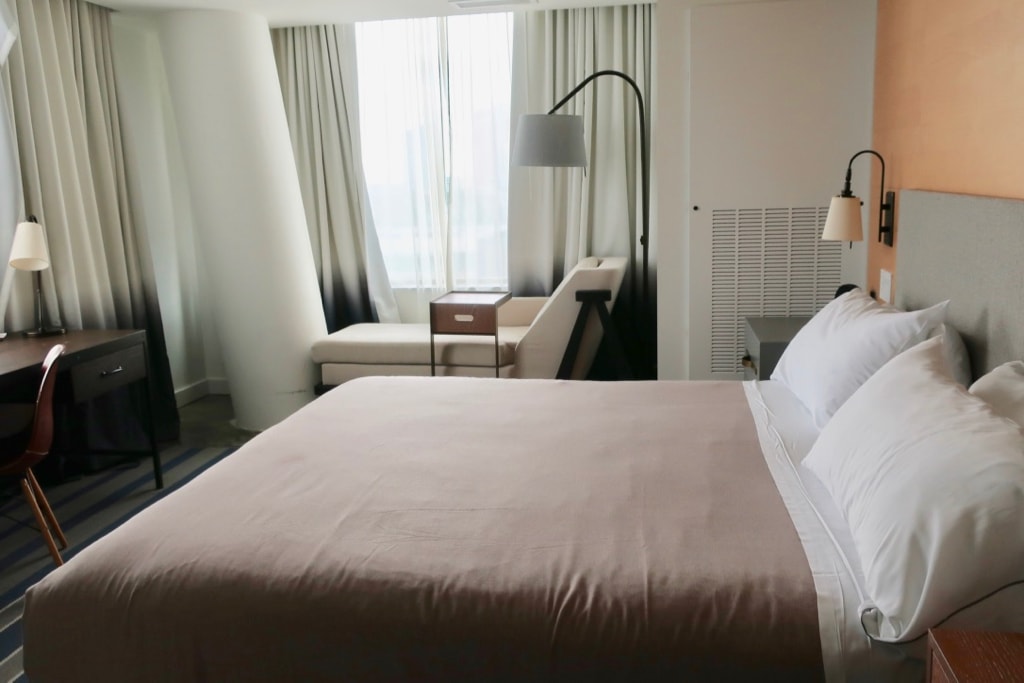 The heather grey duvet tops a soft-sheeted crisp and comfy bed. If you prefer reading elsewhere, by all means sit on the ergonomically designed settee by the window. It's outfitted with a convenient table and overhead lamp.
Brightly lit bathrooms are immaculate, each an industrial-made-cozy space with poured concrete floor and shower wall.
Orange and gray grippy socks, in King Premium and higher-level suites, keep your feet toasty on cool, slippery floors. They are adorable take-home perks.
Dining at Canopy Hotel N Bethesda MD
The brand new Hello Betty! is set to open in stages, starting in mid-April 2022. Designers have come up with an East Coast-California "beachy vibe:" Think "fish tacos" and ocean-seaside pallets in an indoor-outdoor space that can seat 300.
There will be lots of cocktails, Happy Hours, and other fun ways to attract the Pike & Rose community: not the least of which is a 40ft Delta Rise boat (sourced from the Eastern Shore) on the terrace, reconfigured as a working bar.
A complimentary Evening Tasting every afternoon from 5-6 features either local wine, beer, or specialty cocktail samples. Just a "teaser", to whet your interest.
Canopy Amenities
Though not owned by Canopy, The Pravai Spa, specializing in skin care, can be accessed from the Reception Area.
Complementary use of bicycles in season.
Complimentary afternoon wine, beer, or craft cocktail tastes.
Premium rooms: complementary signature socks to take home.
Filtered Water
Wi Fi
Rooms and Suites from $179-$550 per night. Include free use of bikes, daily wine/beer/cocktail Tasting Hour 5-6, unlimited filtered water, cushy socks to take home (Premium King and above).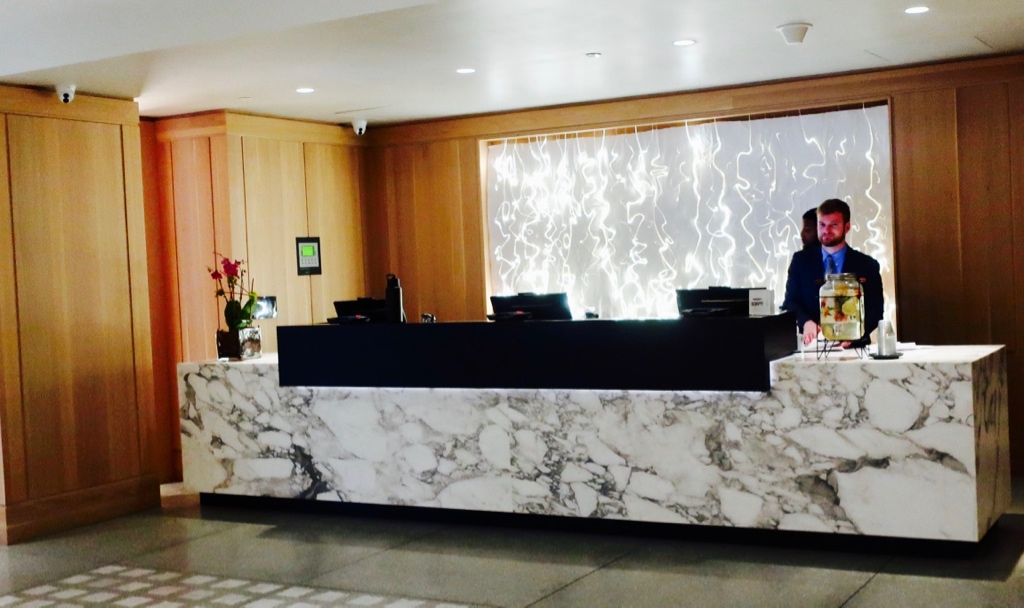 STAY: AC Hotel (Marriott), Bethesda
An enclosed rooftop fitness center steals the show at the new 220-room AC Hotel that sits in the shadow of the Marriott International Headquarters in Bethesda. A lifestyle Marriott brand, AC Hotels tout a "European vibe with local flare." This one, built from ground up, shares a soaring commercial office tower.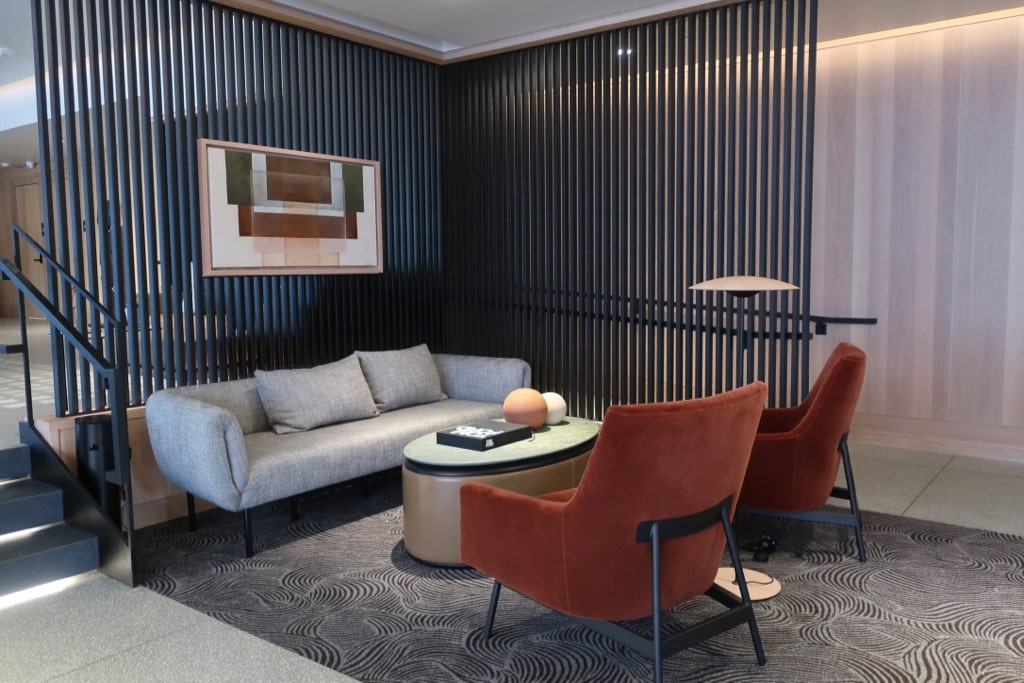 The sunlit lobby, in colors of earth and stone, features local art. The large lobby bar attracts crowds – with plenty of drink options on tap. Sure – ten taps are devoted to beers, but cocktails and wine are on tap as well.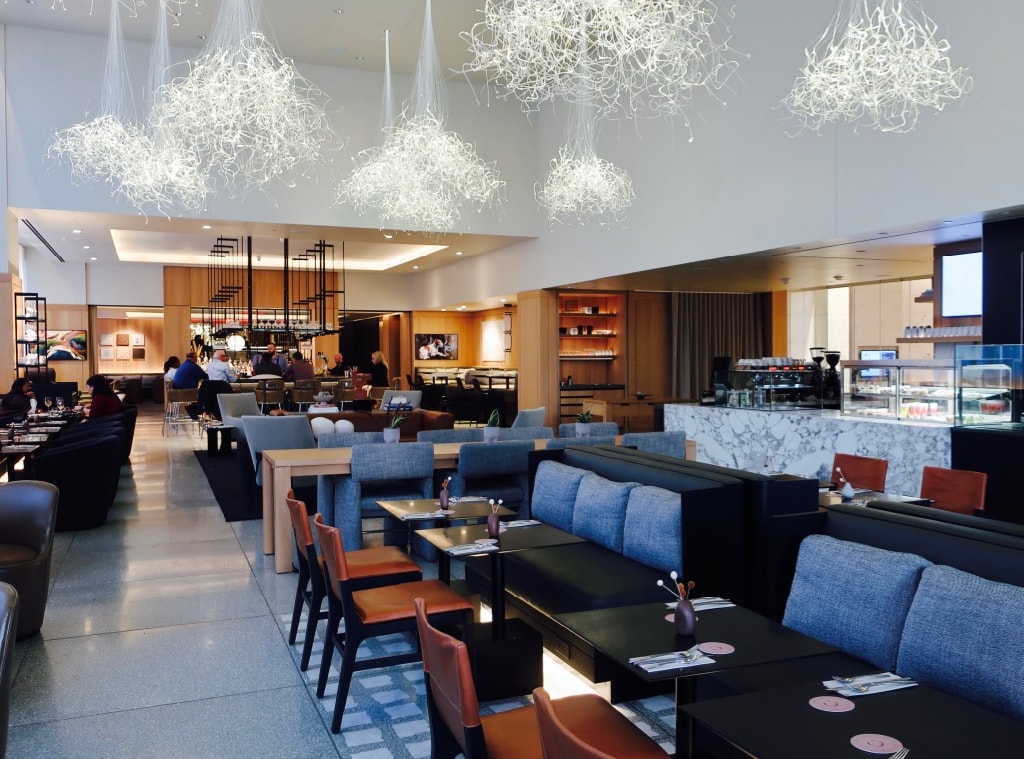 Dining at AC Hotel Bethesda
Restaurant Corella features tapas and other Spanish fare in a room atmospherically illuminated by delicate, weblike paper light sculptures hanging from the ceiling. The food is delish, the vibe at the large modern bar, convivial, and the service – friendly and efficient.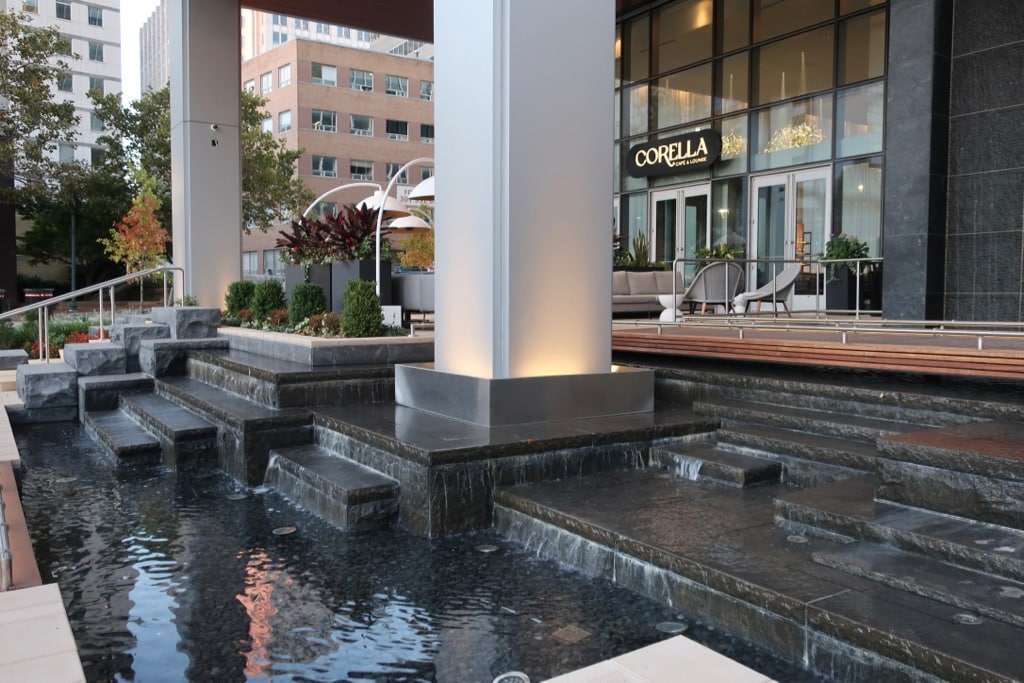 On the patio outside, water tumbles from uplit fountains, and heat lamps arch over tables and seating. It makes for a cozy space in the midst of downtown Bethesda.
Fitness Center
In an unusual and, hopefully, trendsetting twist, the 4,000 sq. ft. state of the art Fitness Center is atop the hotel, rather than in the basement. Stare out walls of windows offering views of booming downtown Bethesda as you lift weights, work the machines, or sweat through a virtual spin class.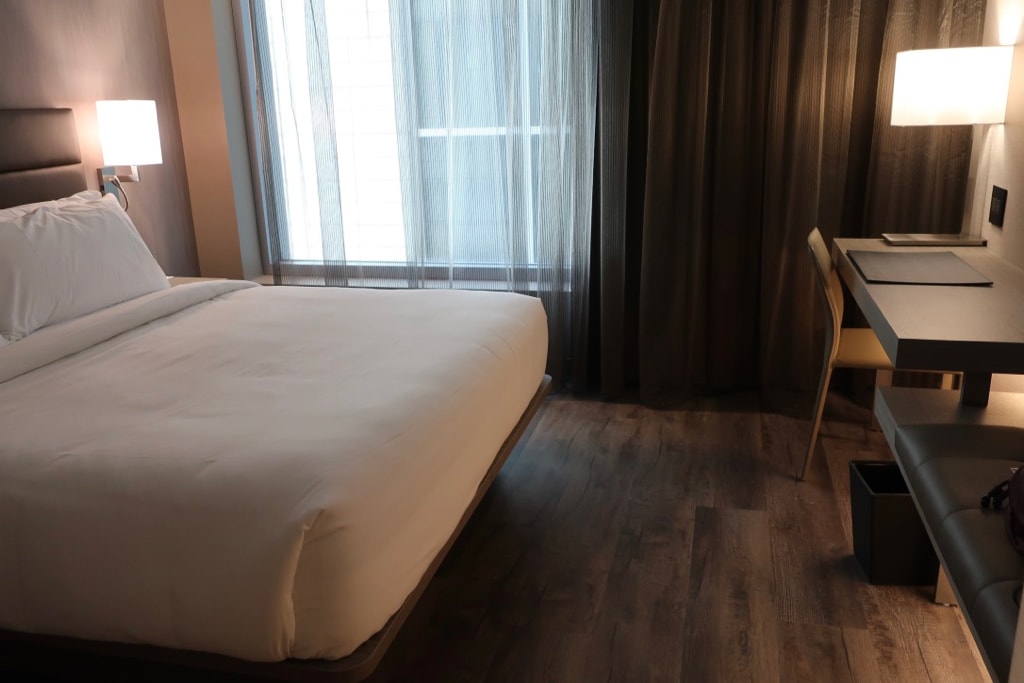 Guest Rooms
Guest rooms are also in those calming shades of wood and stone, with floor to ceiling windows and 15" smart TV's. Lines are clean and modern – with wood-like floors that can take a beating.
As a woman, I appreciate one small but mighty feature in the bathroom: a foot bar a step up from the floor in one corner of the handsome stone-tiled rain shower. Guys aren't the only ones who shave in the water stream!
Across from a Metro (one stop to DC lines), and the Vamoose Bus to Chinatown, this AC is well positioned for travelers who want to drive to the DC area from, say, Connecticut, but don't want the hassle of finding or paying for a place to park in the District. Just FYI – the Hotel's dedicated underground parking costs $25 per day. Rooms from $169 per night.
(AC Hotel Bethesda was included on Getaway Mavens Best Romantic Hotels in the Northeast US 2022 list.)