Last Updated on July 9, 2020 by Editor
WHY GO: The lush, green mountains around Bennington VT, just over the Massachusetts border on Route 7, are the defining aspect of this region – inspiration for poets and artists like Robert Frost, Grandma Moses, and Norman Rockwell. And for entrepreneurs, as well.
Bennington Pottery, Dion Snowshoes ("performance snowshoes"), and Hemmings Motor News all originate in Bennington VT. Discover the appeal of this stunning region on this romantic getaway that includes, of course, great craft beer, awesome cider donuts, and luxury accommodations.
Things To Do In Bennington VT (And Nearby)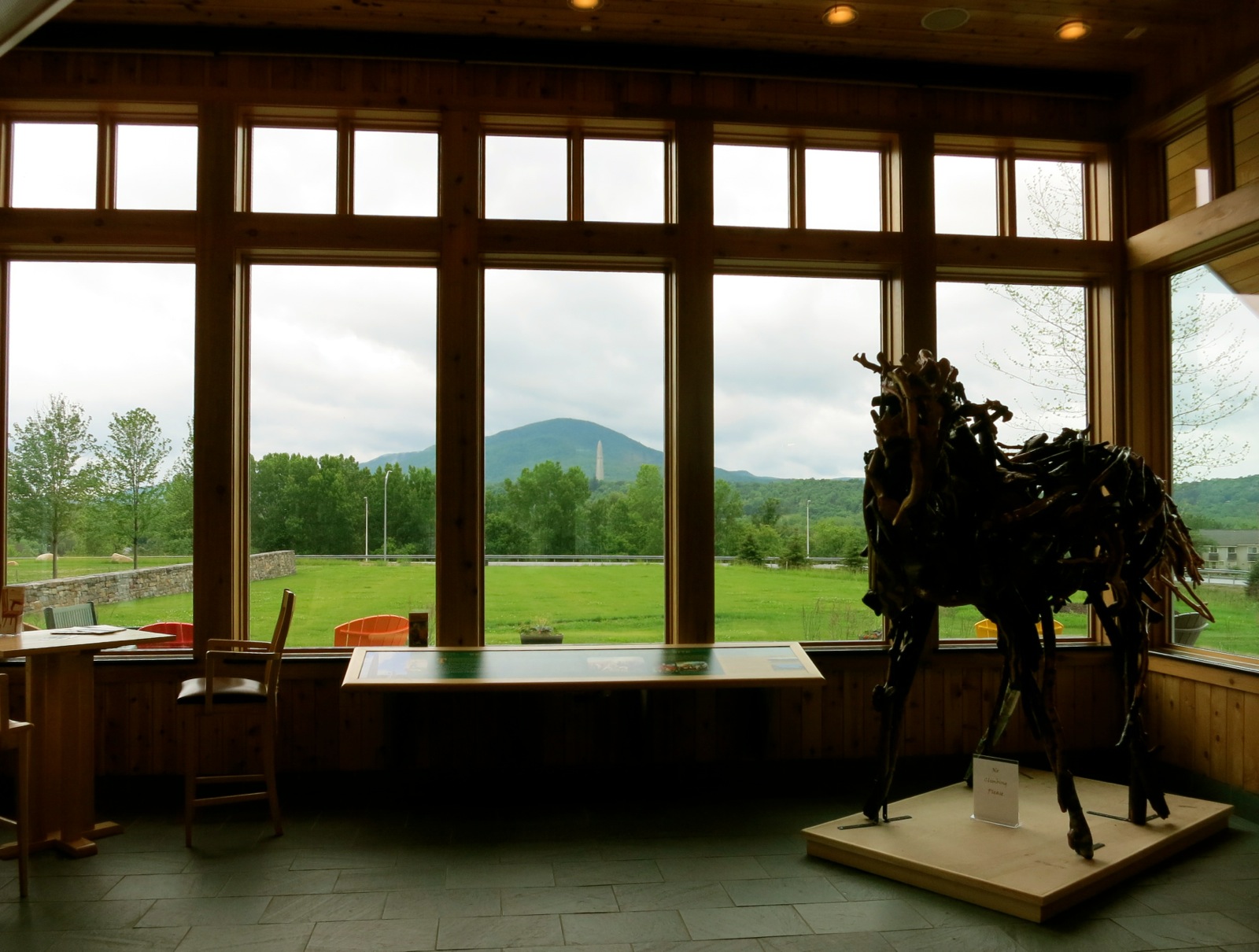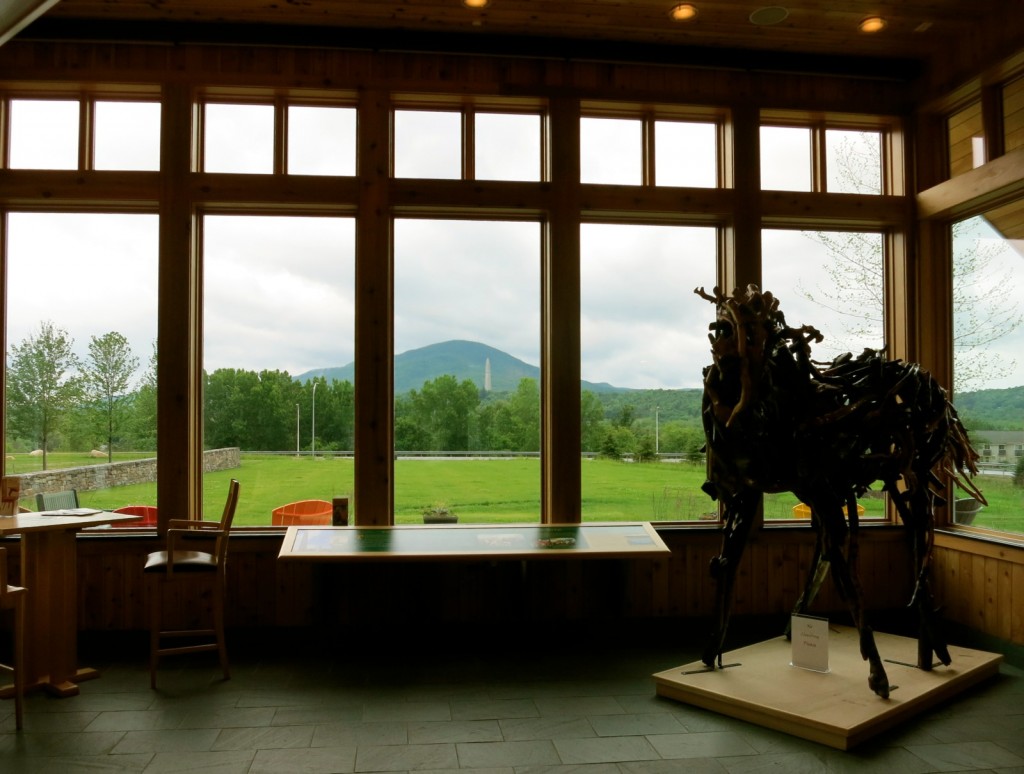 This is that rare State Welcome Center that is not on a major interstate. At the intersection of Routes 7 and 9 – stop here for a fantastic view of the Bennington Monument, free Green Mountain Coffee, and, according to many visitors, the "cleanest public bathrooms anywhere."
Well-trained, conscientious Vermont "Ambassadors" will guide you to the best places depending on your interests. Open 7-9 daily. Free.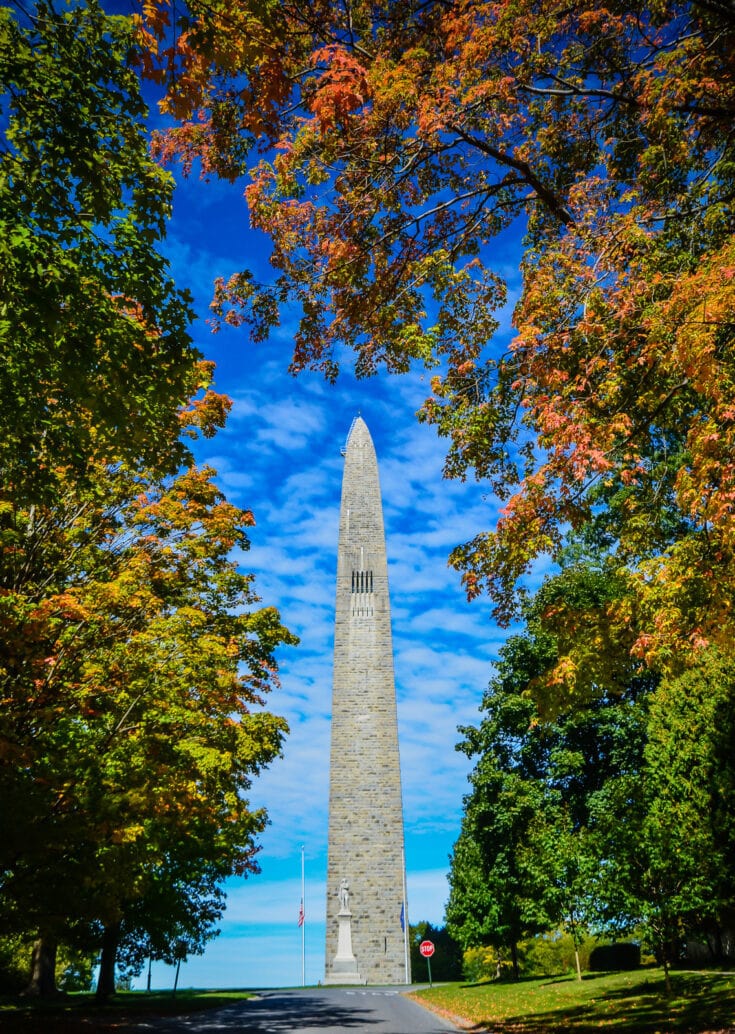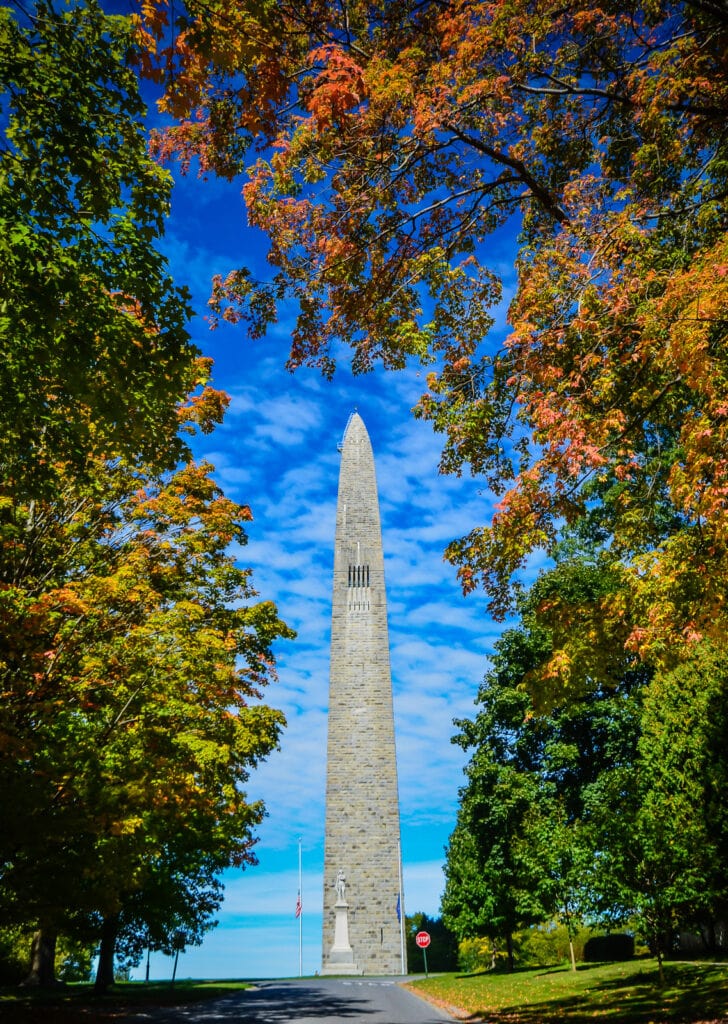 Standing at 306 ft. 4 ½ " tall, the limestone Bennington Battle Monument obelisk is the most visited historical attraction in Vermont. It's also its most visible.
Rising up through the green foliage, it can be spotted from afar. The monument was erected in the 1800's to commemorate the Revolutionary War Battle of Bennington, fought on August 16, 1777.
Take an elevator to the top (a 1 minute, 14 second ride) for fantastic 360-degree views of Vermont, Massachusetts, and New York. Open Mid April through October, 9-5, $5 adults, $1 kids.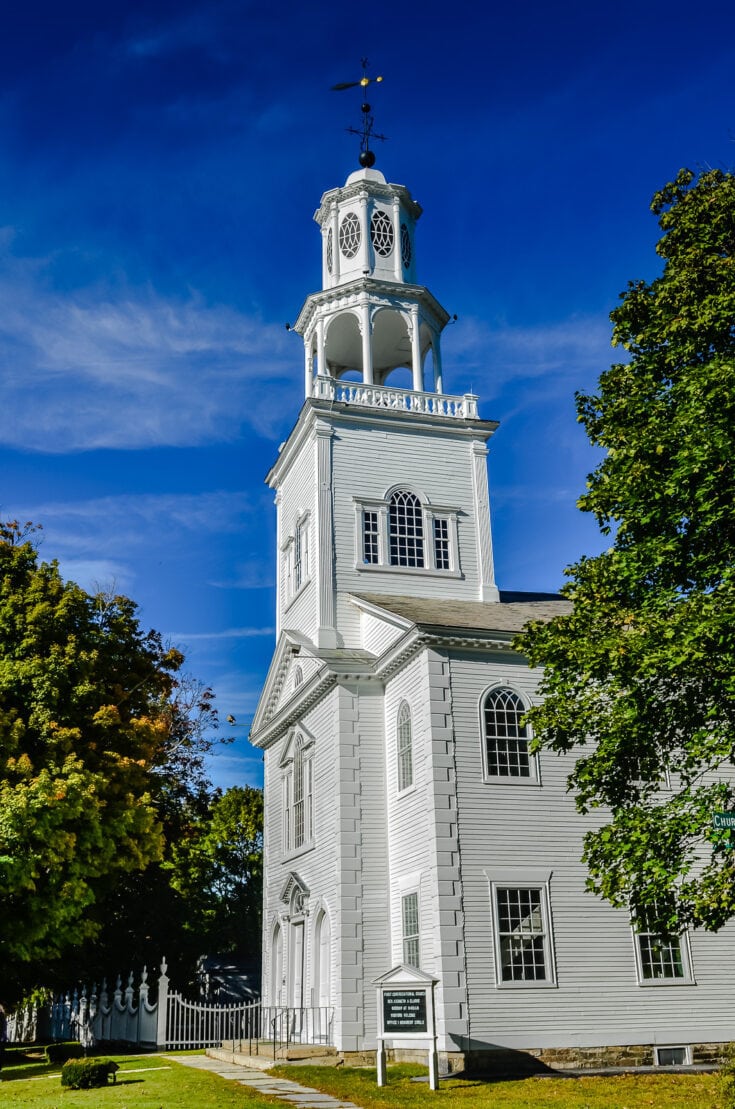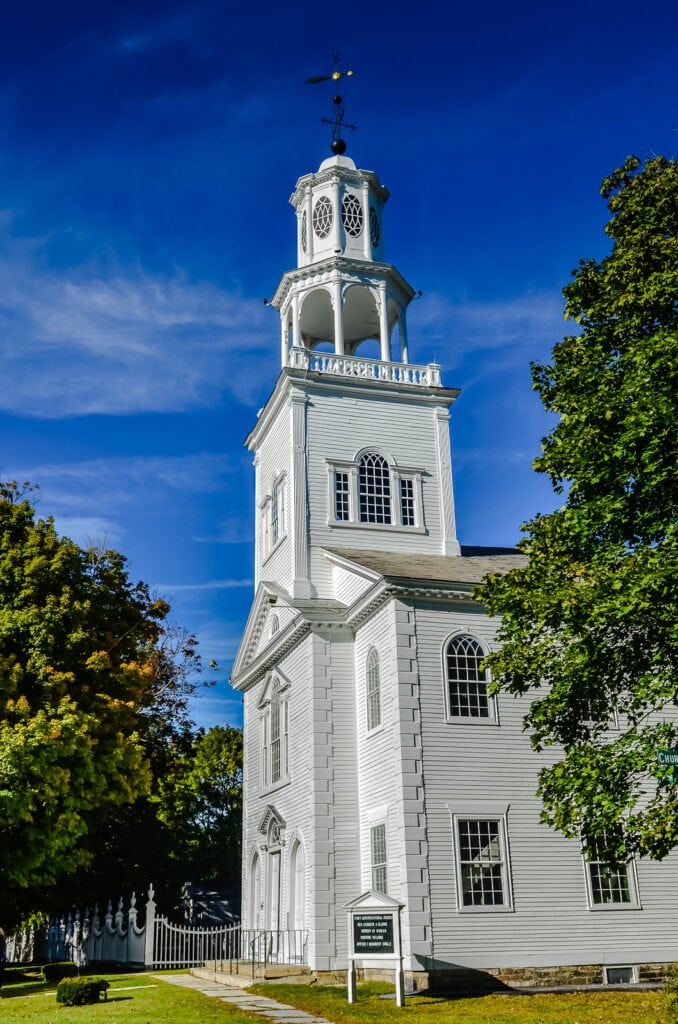 The first church in Vermont "dedicated to the separation of Church and State," this congregation was established in 1762, and the church erected in 1806.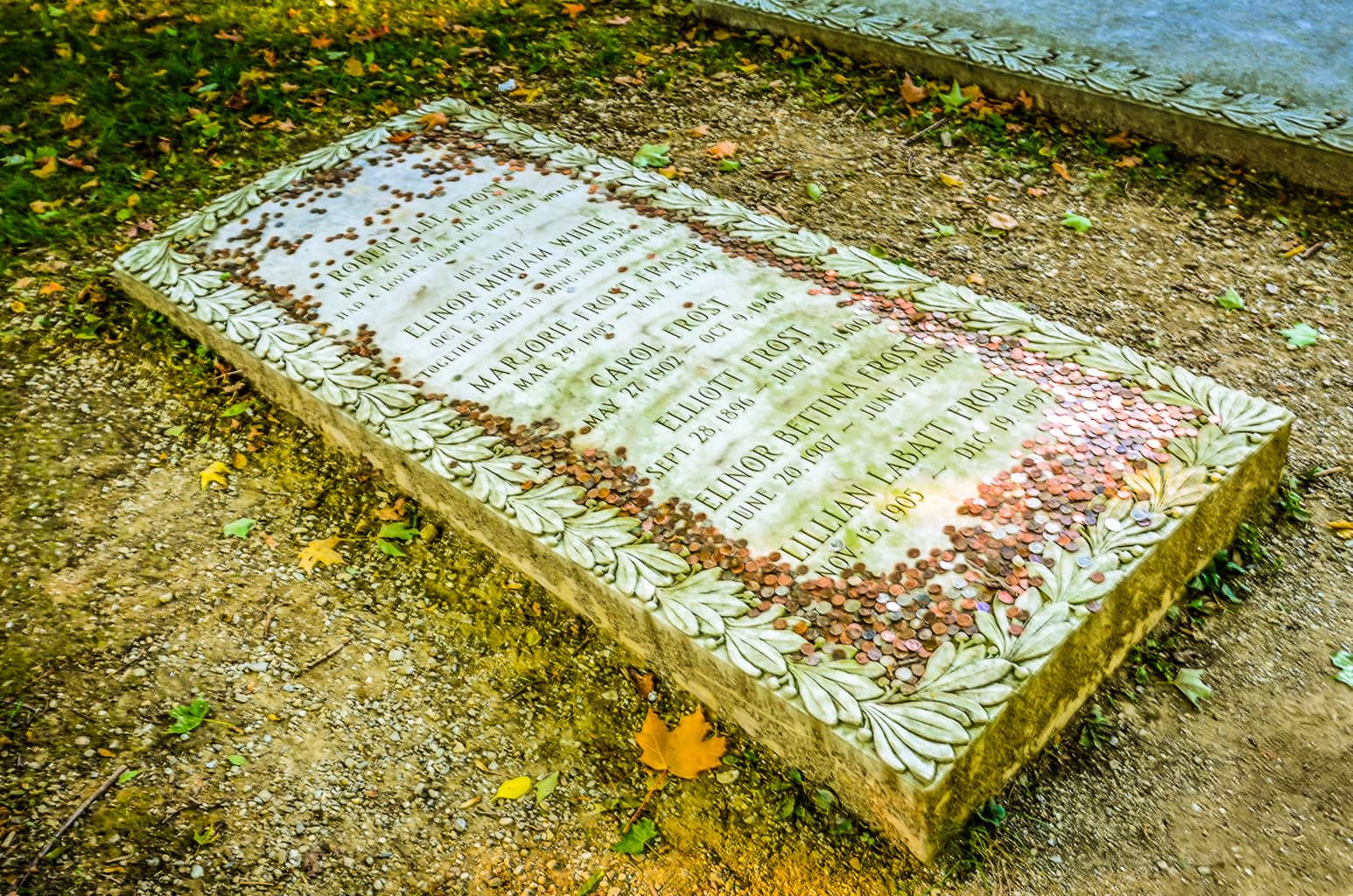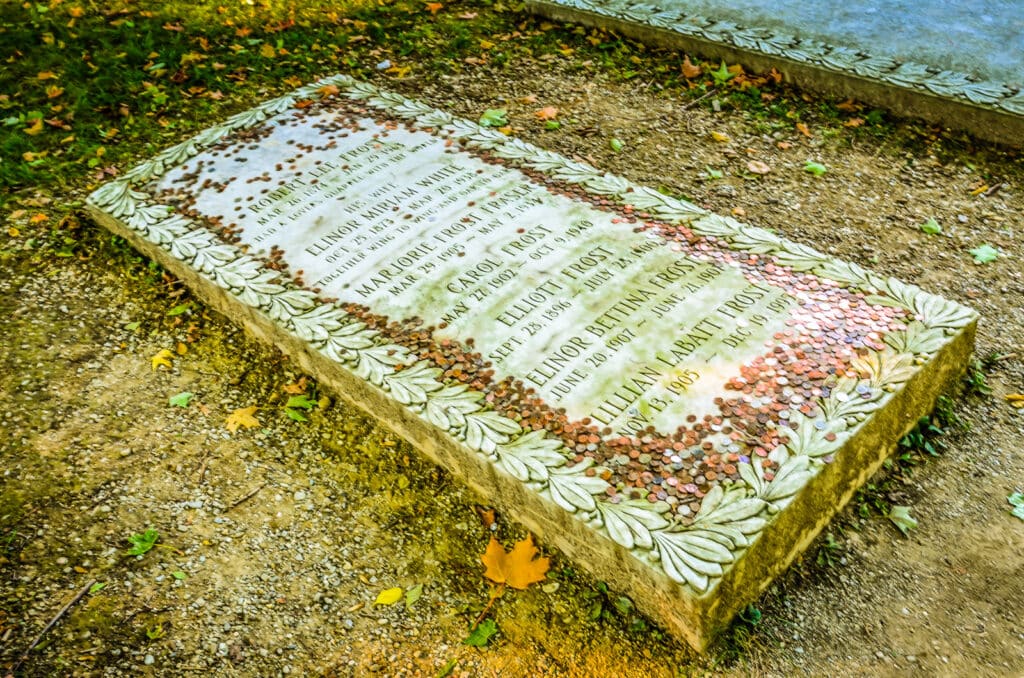 You'll find the burial place of America's rural poet, Robert Frost, behind this quintessential New England house of worship in "Vermont's Sacred Acre" – the cemetery out back.
Frost, who was born in 1874 and died in 1963, is buried with many family members. His gravestone is engraved with the parting words, "I had a lover's quarrel with the world."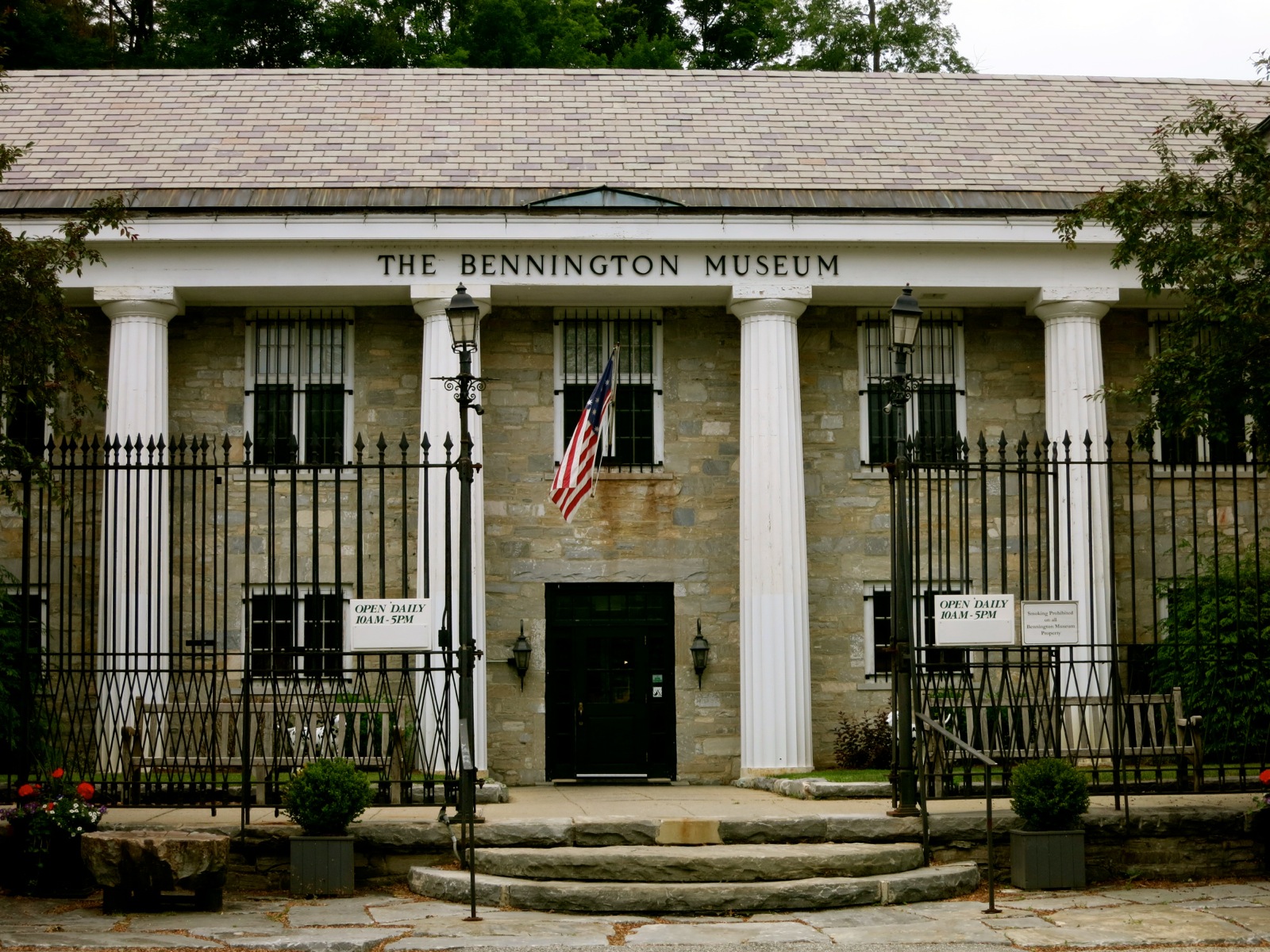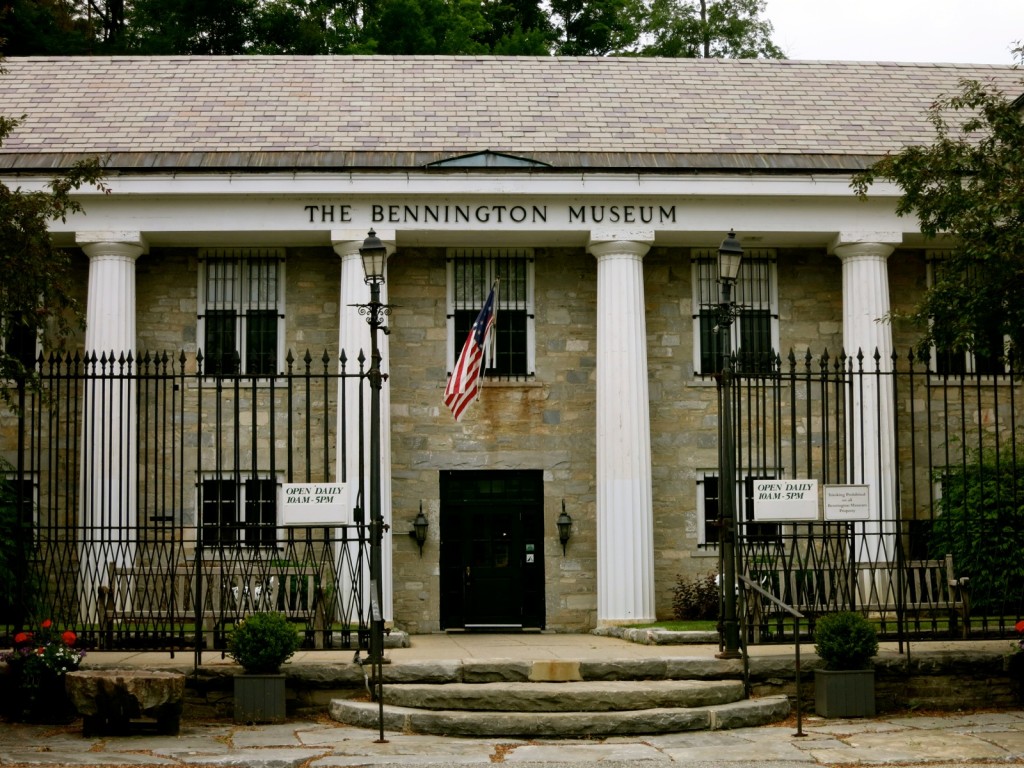 Most people come to this art and history museum to see the largest collection of Grandma Moses paintings in the world.
But The Bennington Museum is branching out in new directions. Over the last few years, it's added more mid-century modern art and is "filling in the blanks" about "Gilded Age" Vermont (1890's – 1920's), when an industrial boom drew an influx of wealthy mill owners.
You'll find one of only twenty 1924 Martin-Wasp Motorcars ever made, and portraits of women in their finery.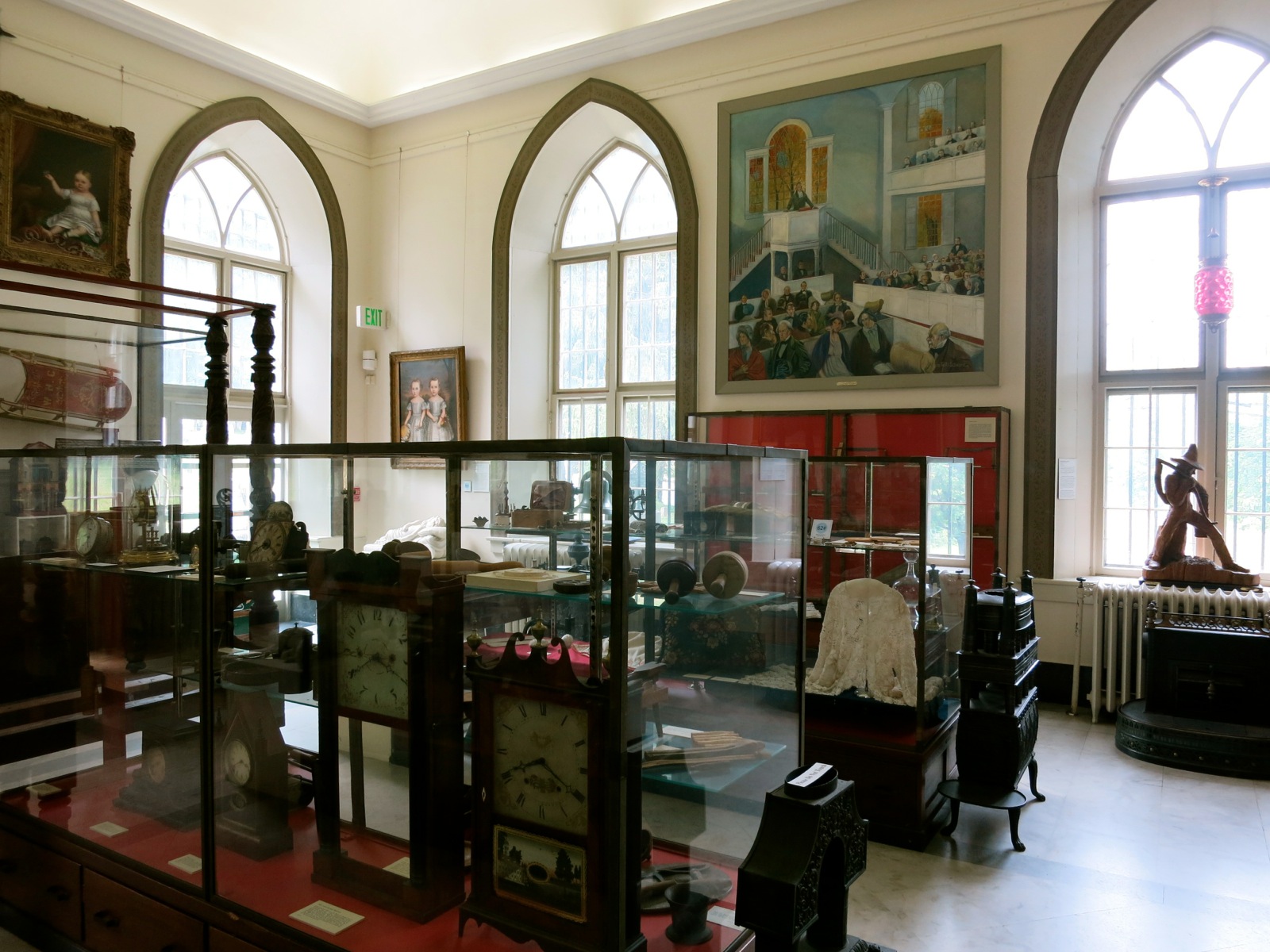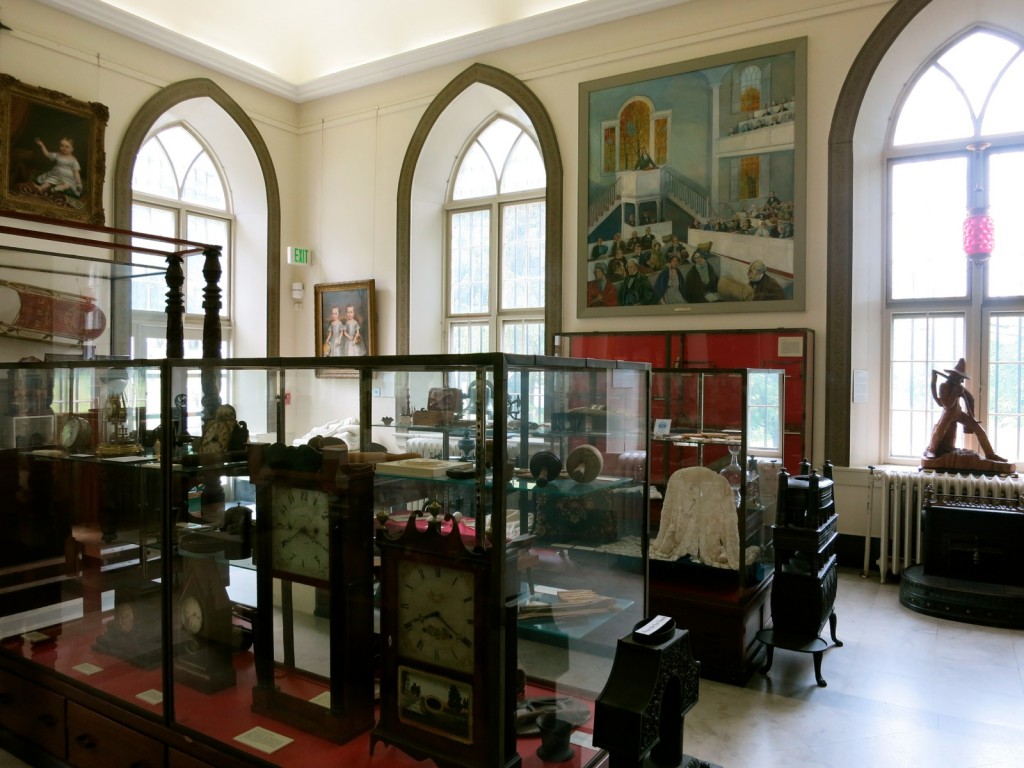 The museum's original building was in a former Catholic Church – a rare instance of "adaptive reuse" when The Bennington first opened in 1928. Built in 1855, the church became too small for the growing number of Irish and Italian workers who streamed to the region to work in the mills.
The original building remains an old-world glass curio-case "Church Gallery," indicative of museums of yore. As such, it is chock a block with stuff. Find marble slabs, radios, pottery, weathervanes, clocks, statuary and even bobbins and lace – all representing goods made or sourced here.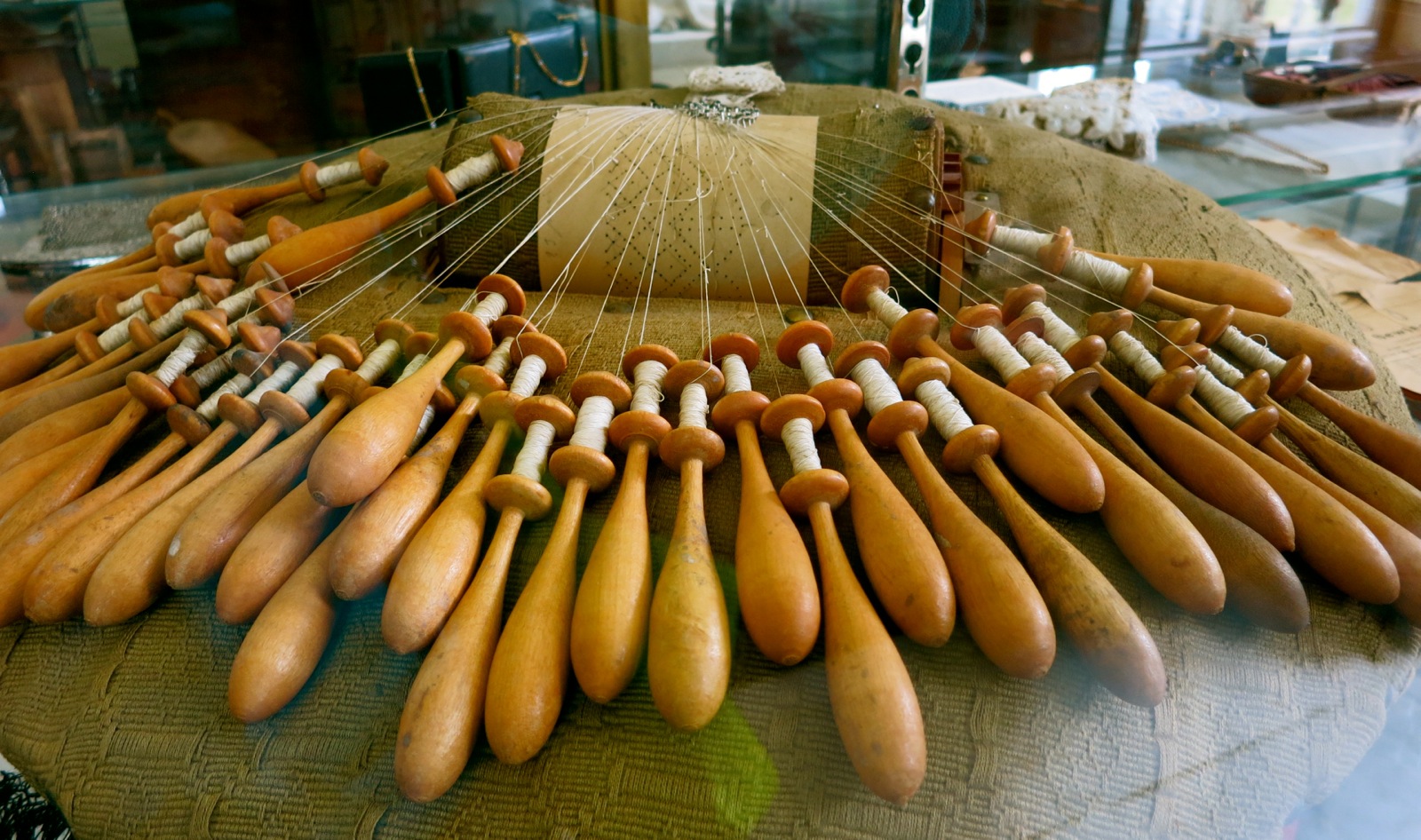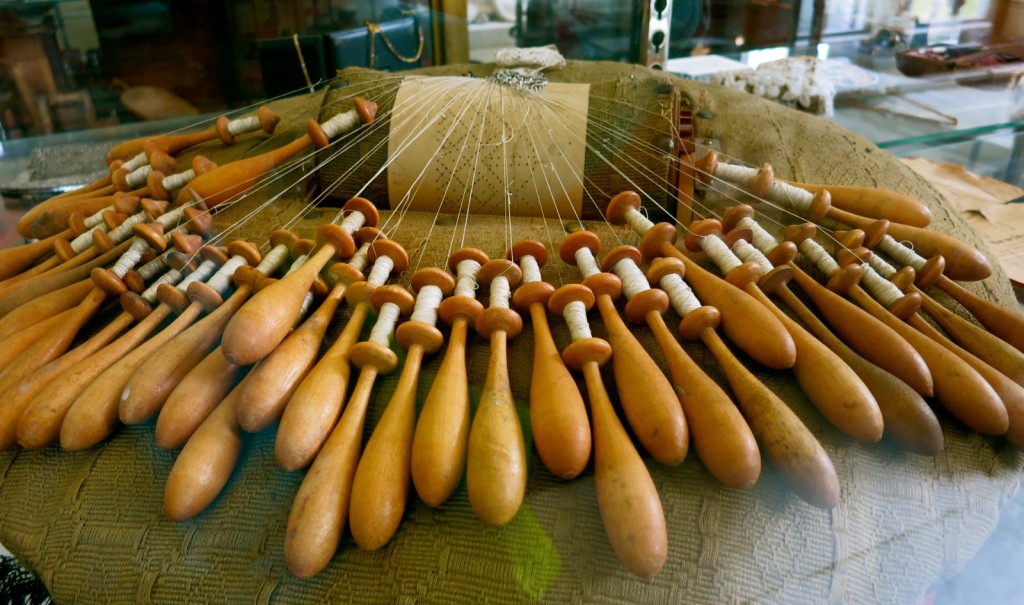 But of course, you're here to see Grandma Moses art. Born the year Abe Lincoln was assassinated and passing away the year JFK was assassinated, Anna Mary Robertson Moses was a late blooming, self-taught artist who started painting "the simple farm life" in earnest at age 78. She proved that you are never too old to follow your passions.
The museum has incorporated Moses' one-room schoolhouse into its structure as a hands-on gallery for kids. Open June through October, 7 days a week from 10 a.m. to 5 p.m. (closed July 4), February14 through May and November through December, every day except Wednesday from 10 a.m. to 5 p.m., $12 admission.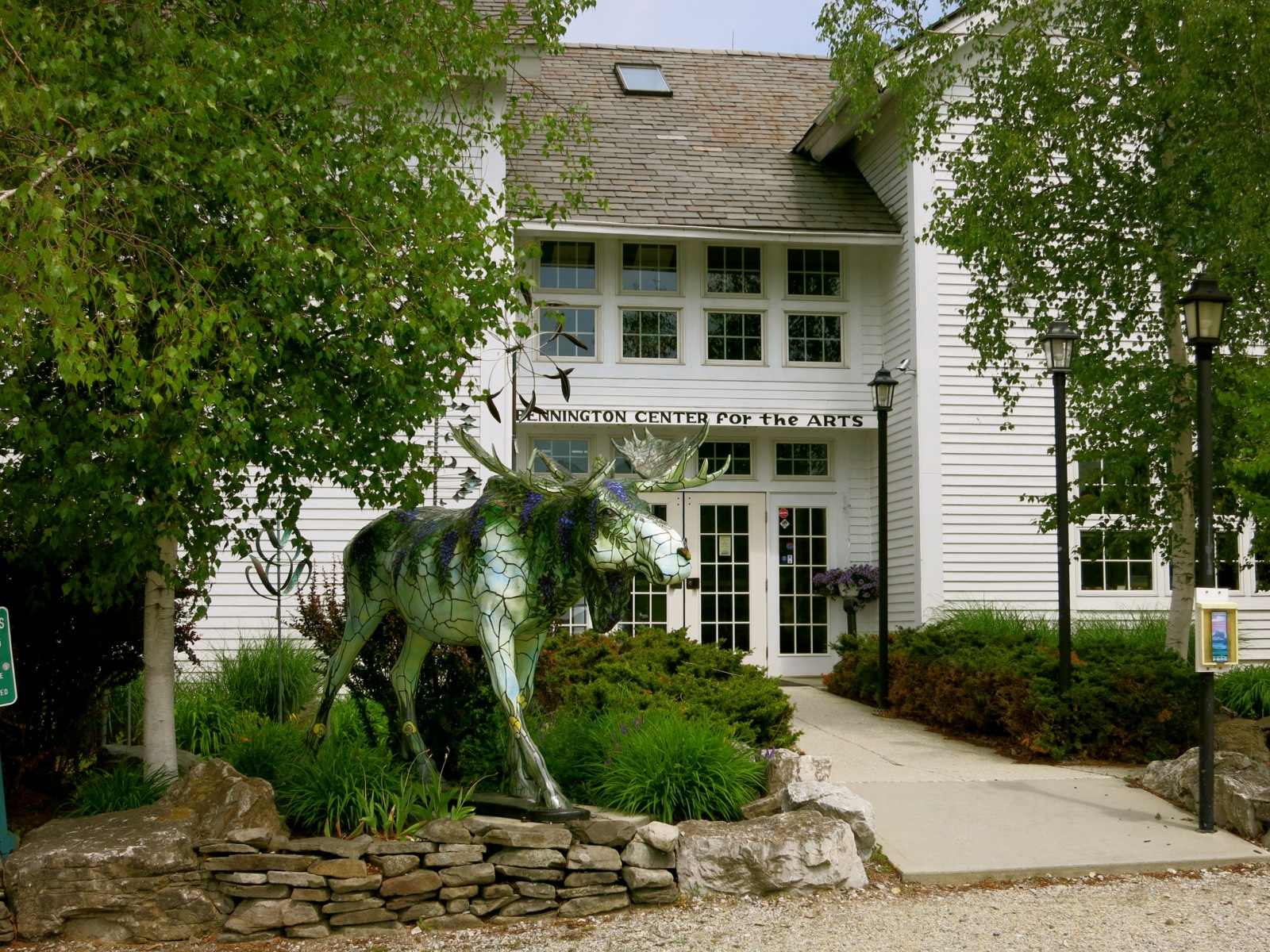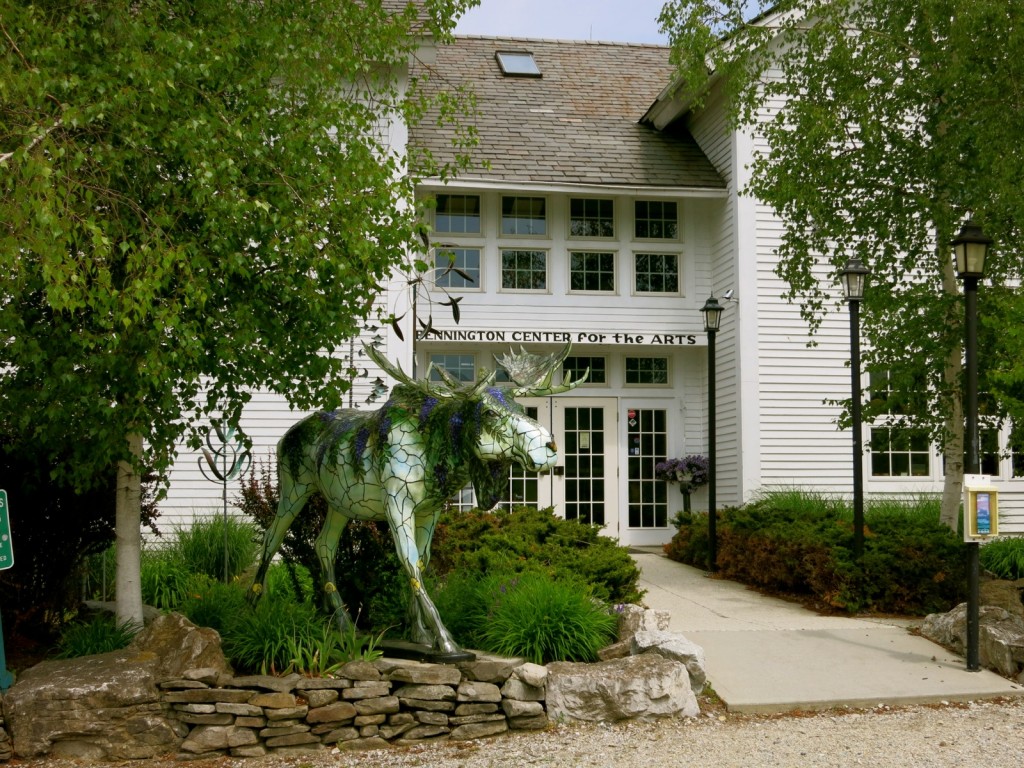 VISIT: Bennington Center for the Arts/Covered Bridge Museum
Known for its offbeat classes – such as The Birds of Prey Carving Class – the Bennington Center for the Arts is also home to a series of galleries where most art is for sale. Don't miss two galleries upstairs that house a well-rounded Native American Art collection.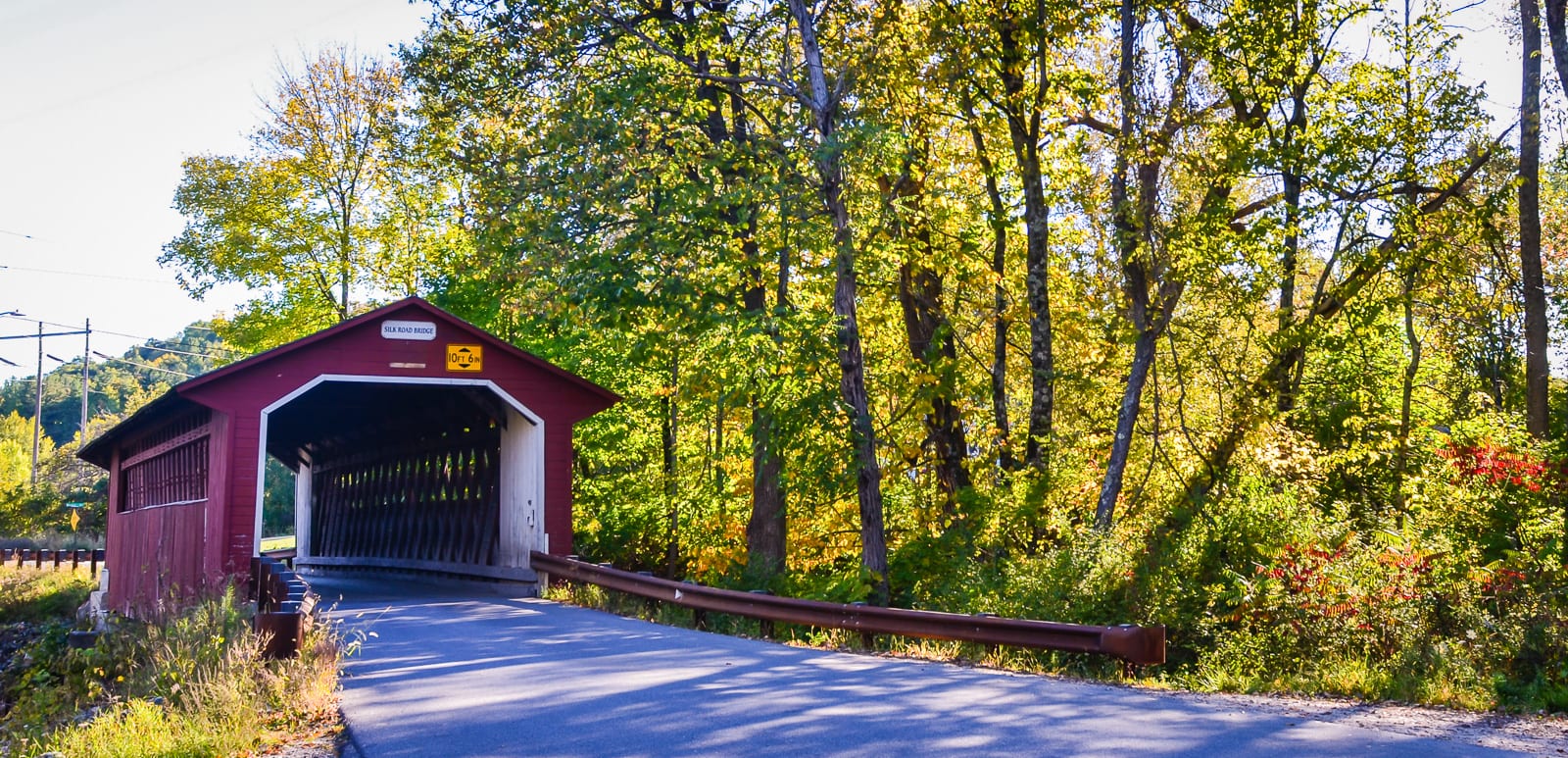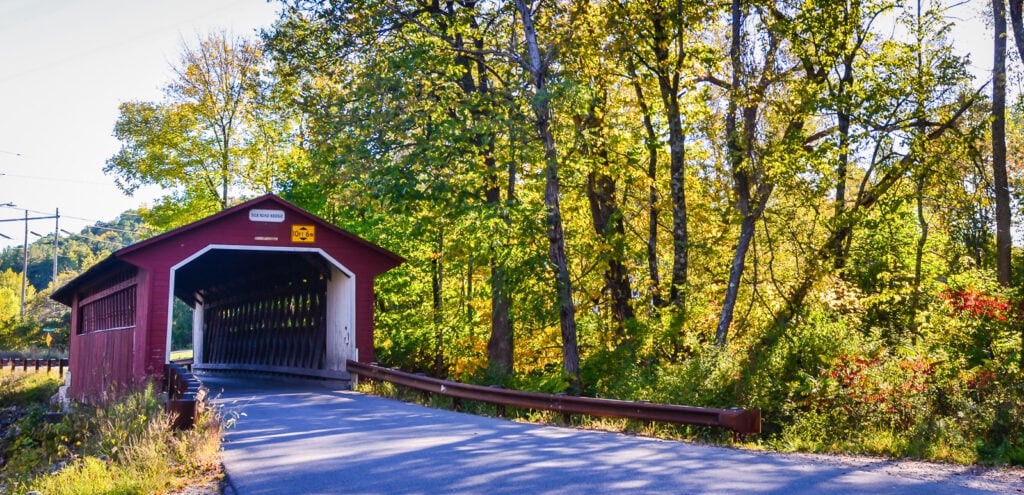 A wing of the Bennington Center for the Arts, the quirky Covered Bridge Museum is a joy to anyone who has ever appreciated the beauty of a wooden bridge.
In 1841, one British travel journalist wrote, "The timber bridges of America are justly celebrated."
Through photos, videos, and scale models, this museum celebrates every aspect of them, from engineering to craftsmanship. All were built without computers or modern machinery. There's an exhibit about haunted spots and one on "Edifice Wrecks" – the effects of earth, air, fire and water on bridges that could not be preserved. Open May-Dec, Wed-Mon 10-5. Jan-April, Fri-Sun 10-5. $9 adults, under 12 free.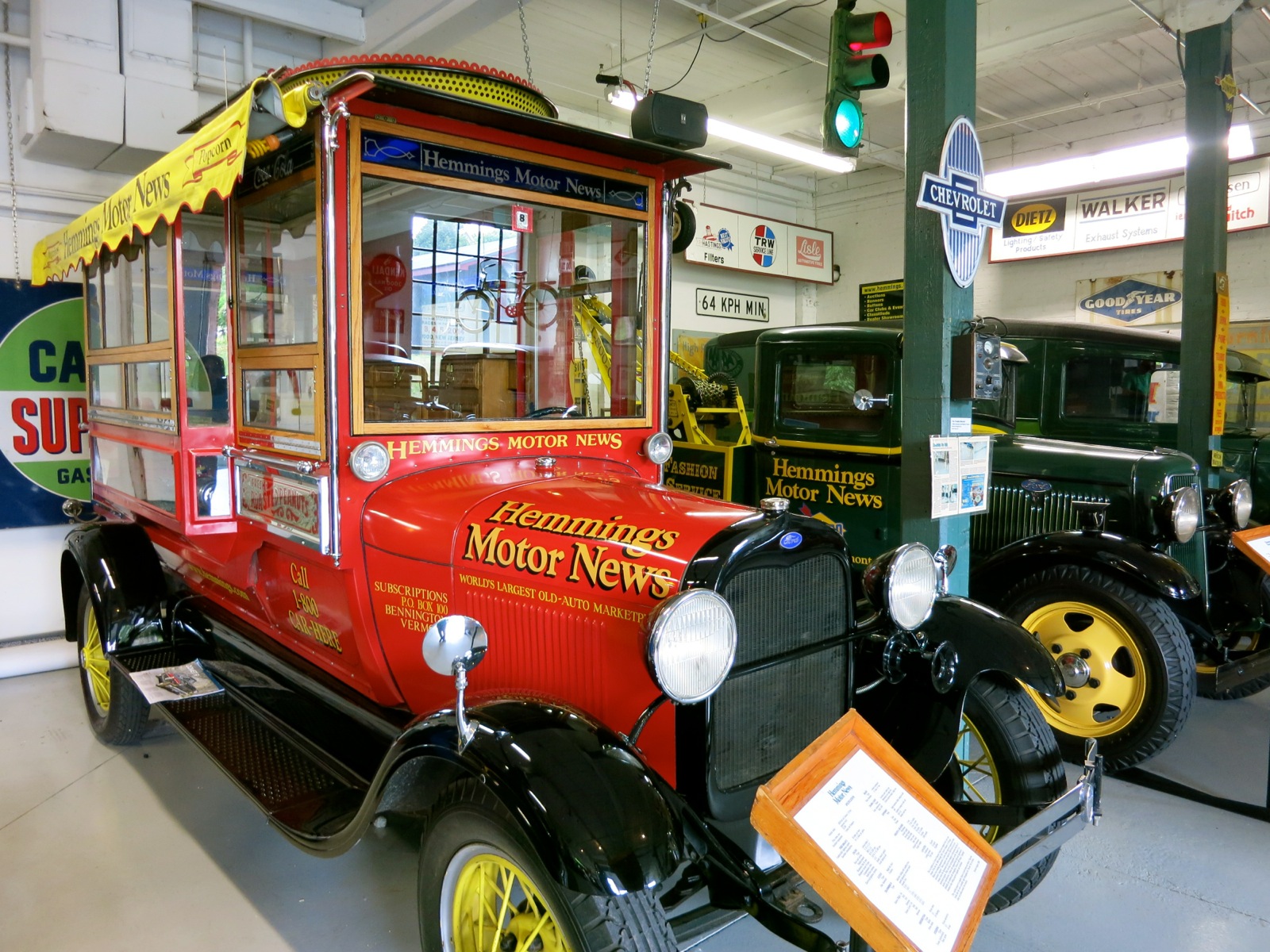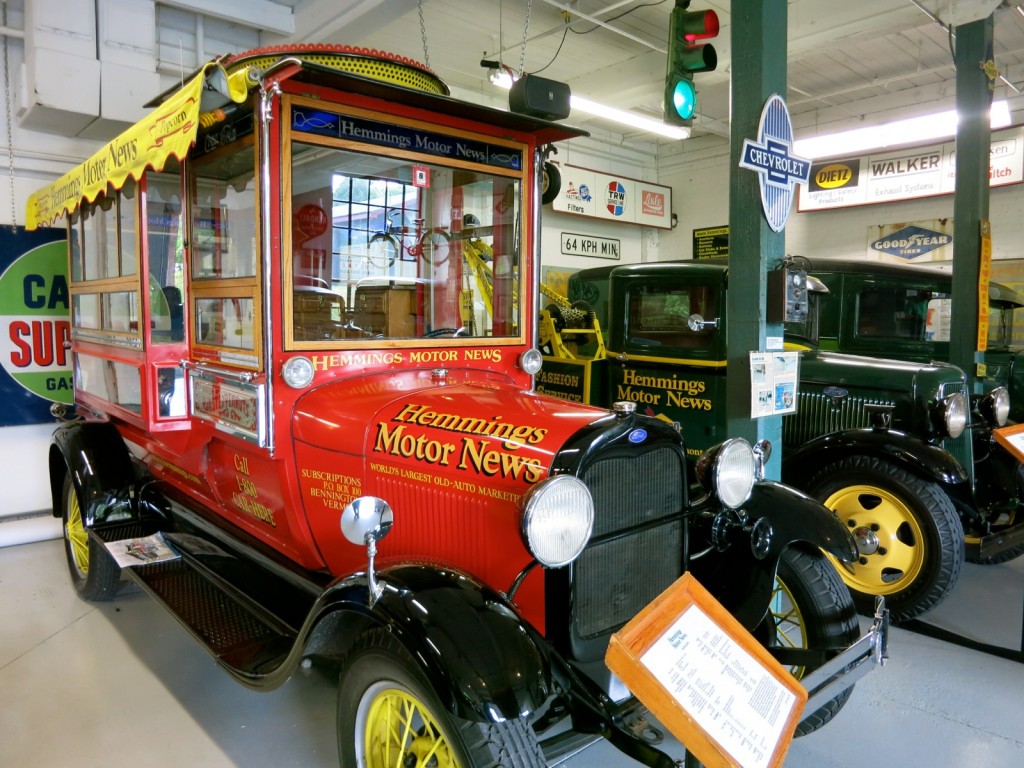 Nearly a quarter million fans of antique and prestige cars around the world receive this monthly publication, printed right here in Bennington VT. Yes, Jay Leno is a fan.
But there's also an antique car museum "out back" (in a large retrofitted truck garage), an automotive goods store, and old-fashioned pumps where amazingly, you can still gas up your ride. Museum open June-October, 10-3 daily, free.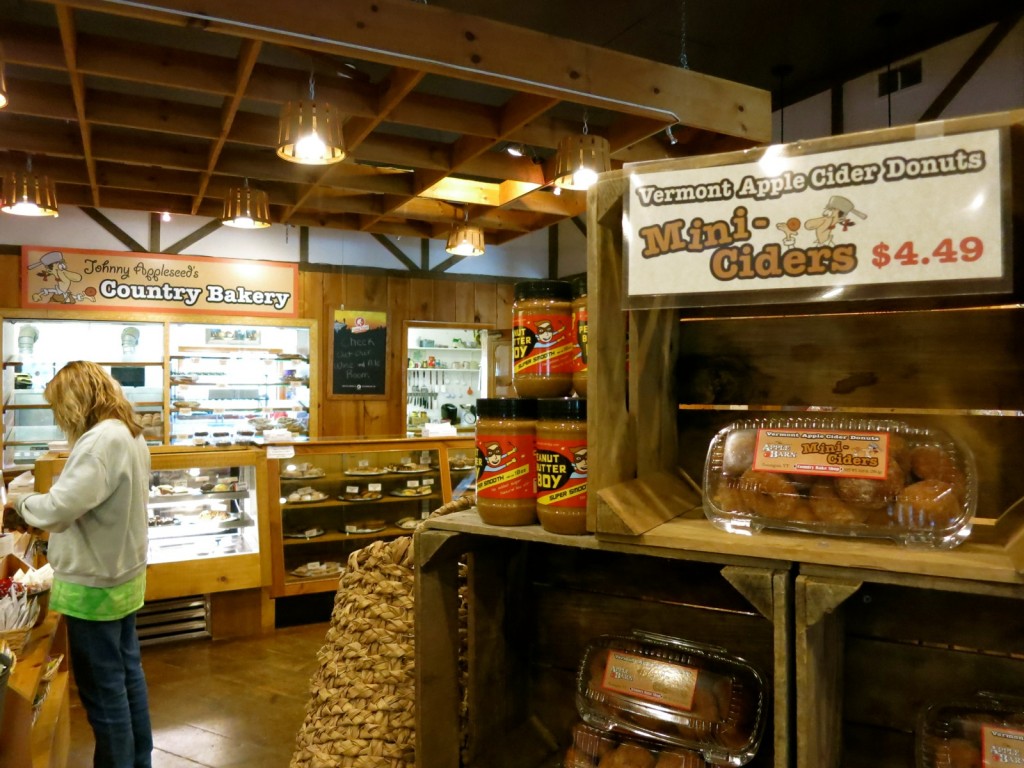 On Route 7 as you approach Bennington from the South, The Apple Barn is often the first place visitors stop when coming into town or passing through. Though its got one of the largest apple orchards in the state, you can't pick 'em yourself.
But you can pick from dozens of varieties and apple iterations in baskets and on shelves in this fun place. Don't miss Apple Barn's famous Cider Donuts- a true first taste of Vermont.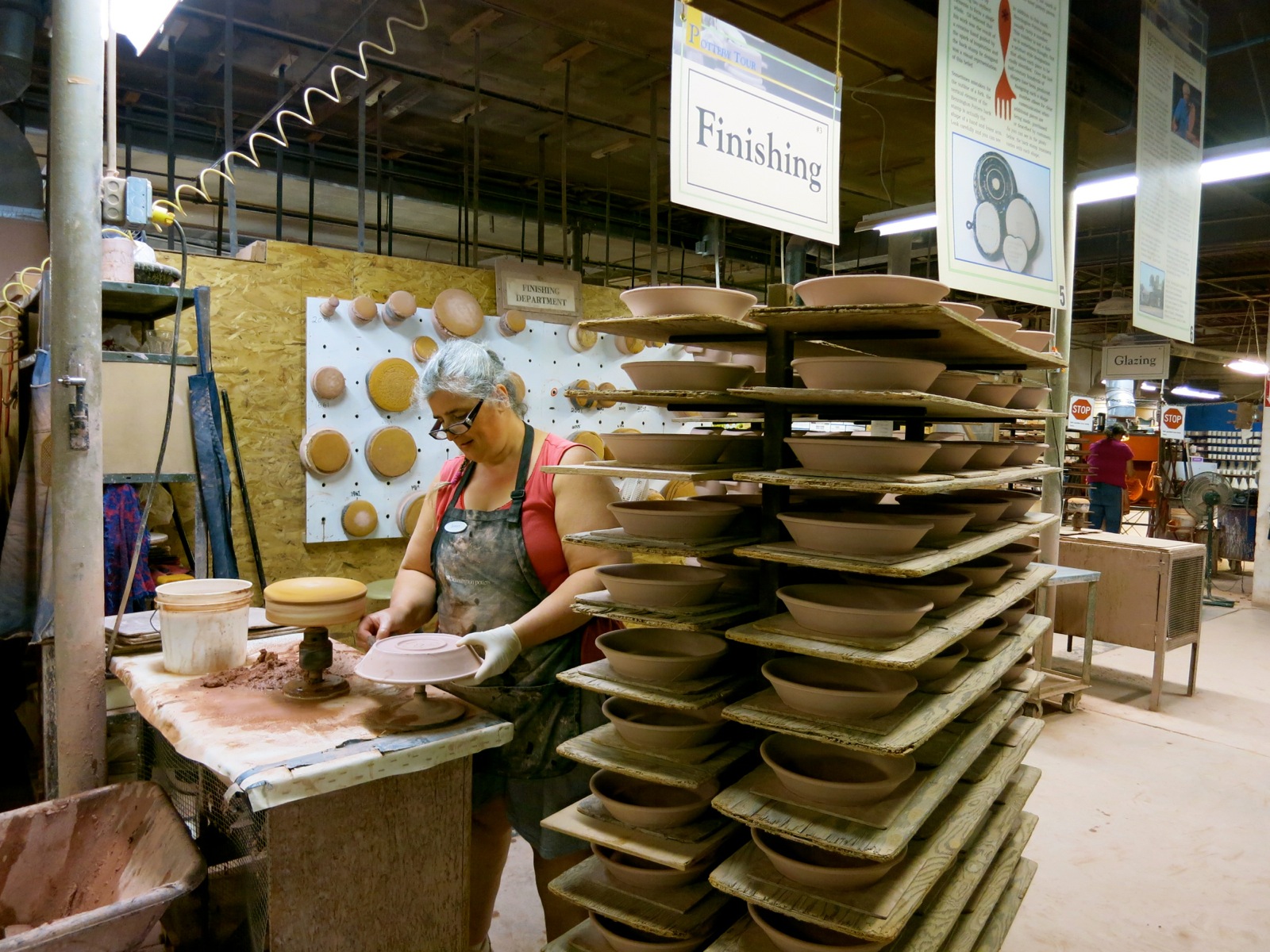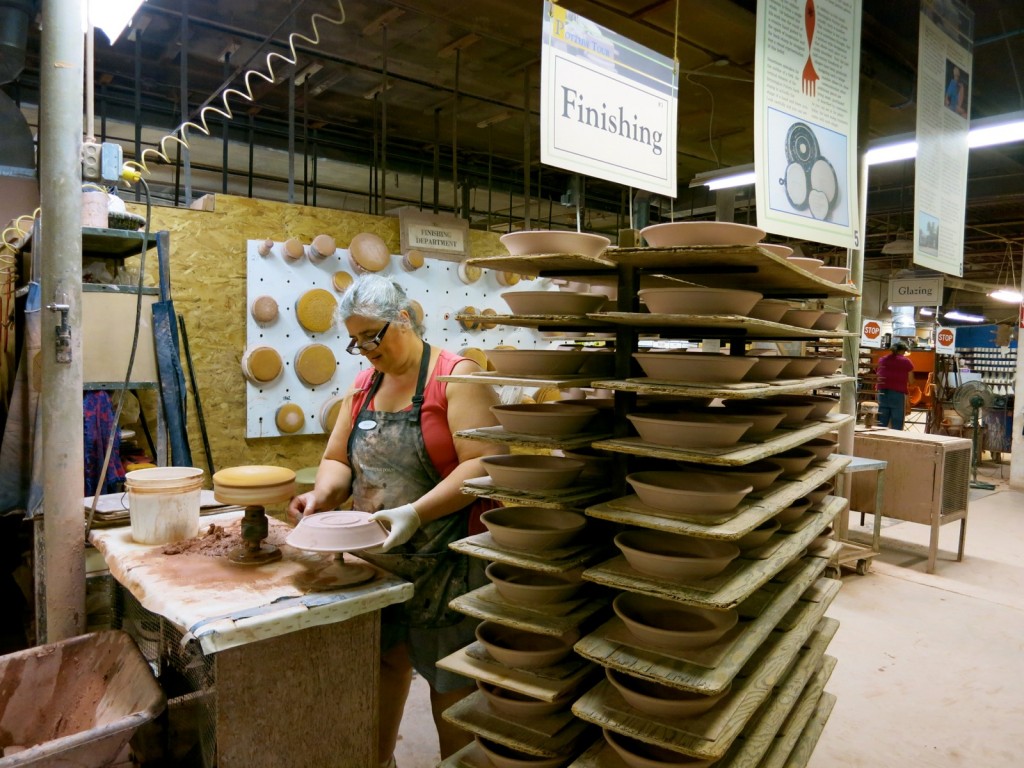 Bennington Potters is the LLBean of pottery – a Vermont institution since 1948. Take a self-guided tour of the production facility, and then shop in the vast, colorful clay arts emporium. Though it costs nothing to browse, it might be tough to leave without purchasing at least a hand-crafted mug.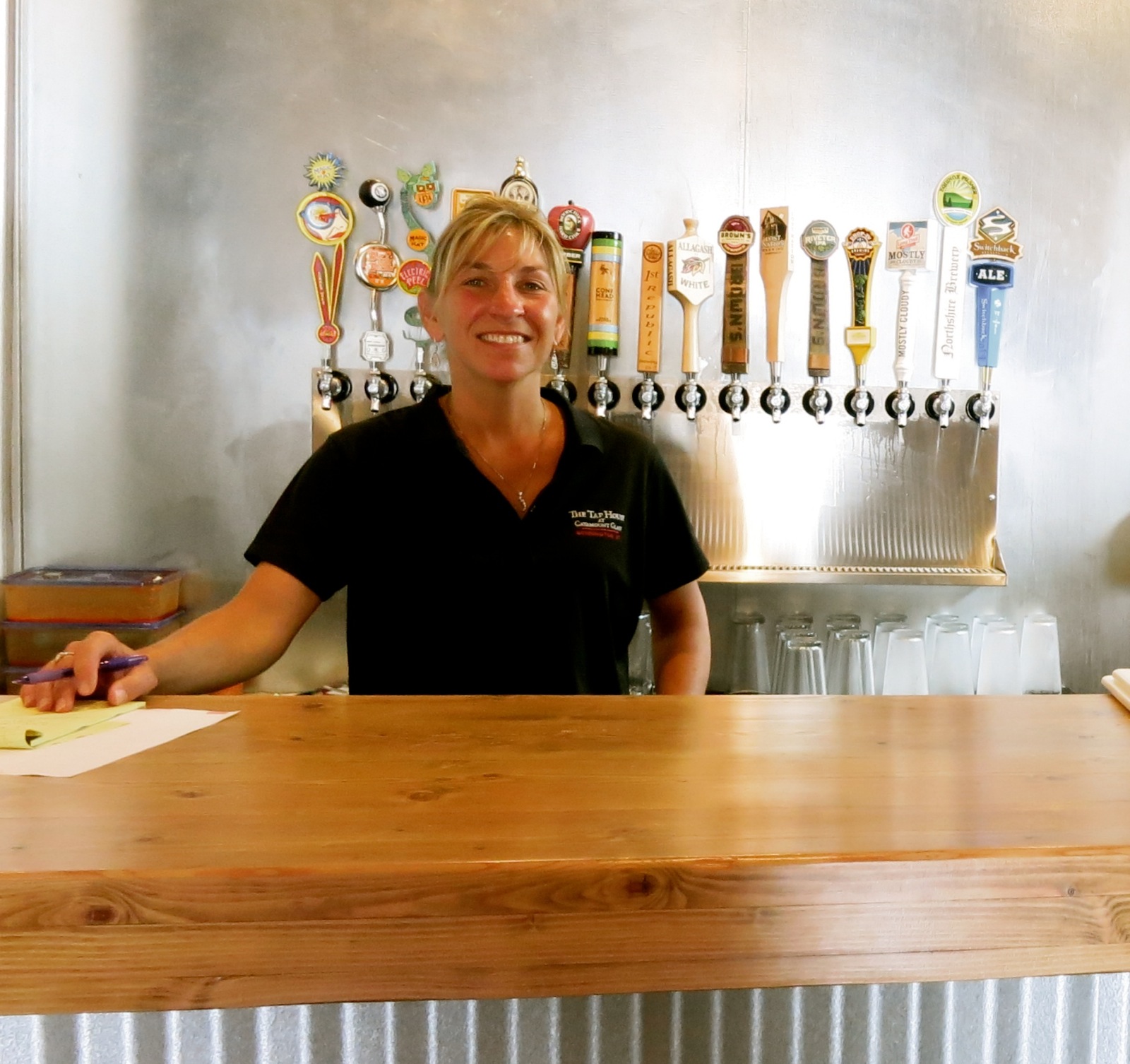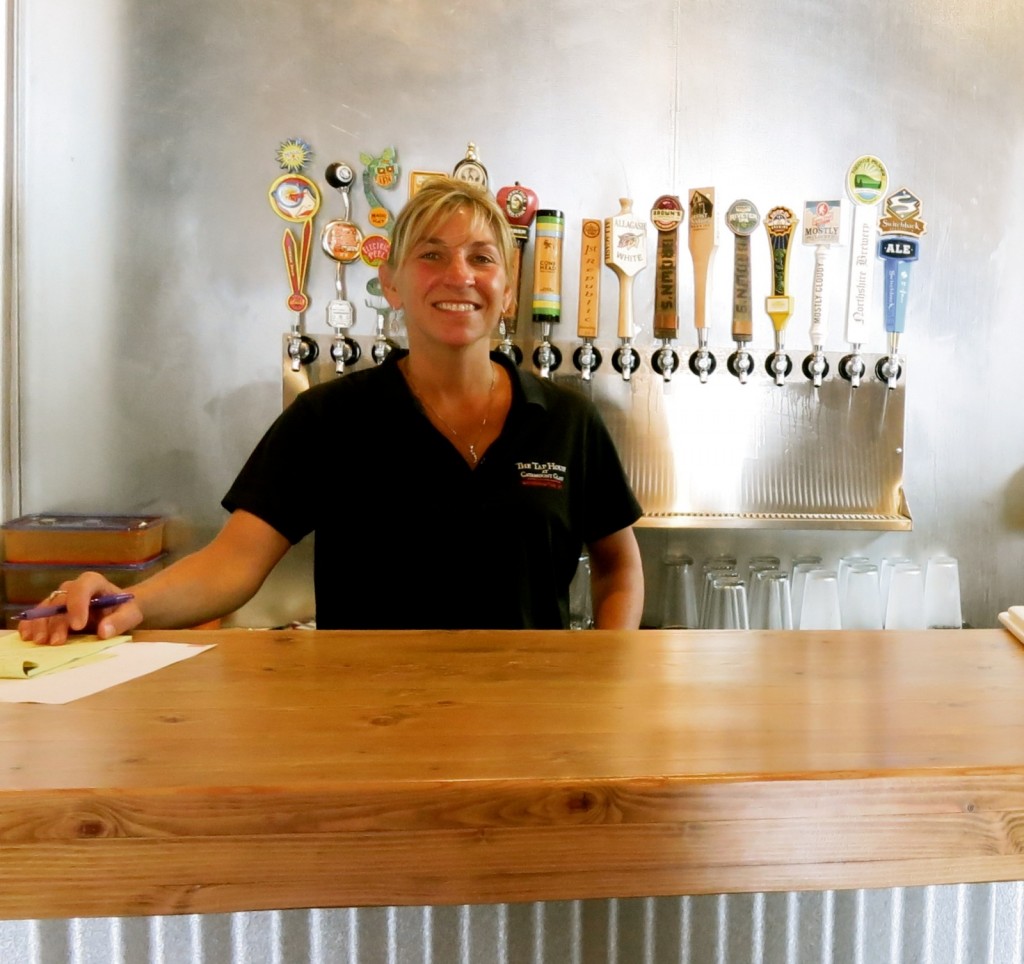 SHOP/DRINK/EAT: The Tap House at Catamount Glass
Though the glass is made elsewhere, the folks at Catamount design and personalize innovative ware for food and beverages. Glass coffee/beer mugs double as measuring cups, and its best-selling glass carafe serves as a no butter or oil needed microwave popcorn popper.
In a brilliant move, the owners decided to open a tap house on site. "We have the glassware, why not serve the beer?" The place has expanded from just a local craft-draft tasting room to an eatery with fantastic pub food.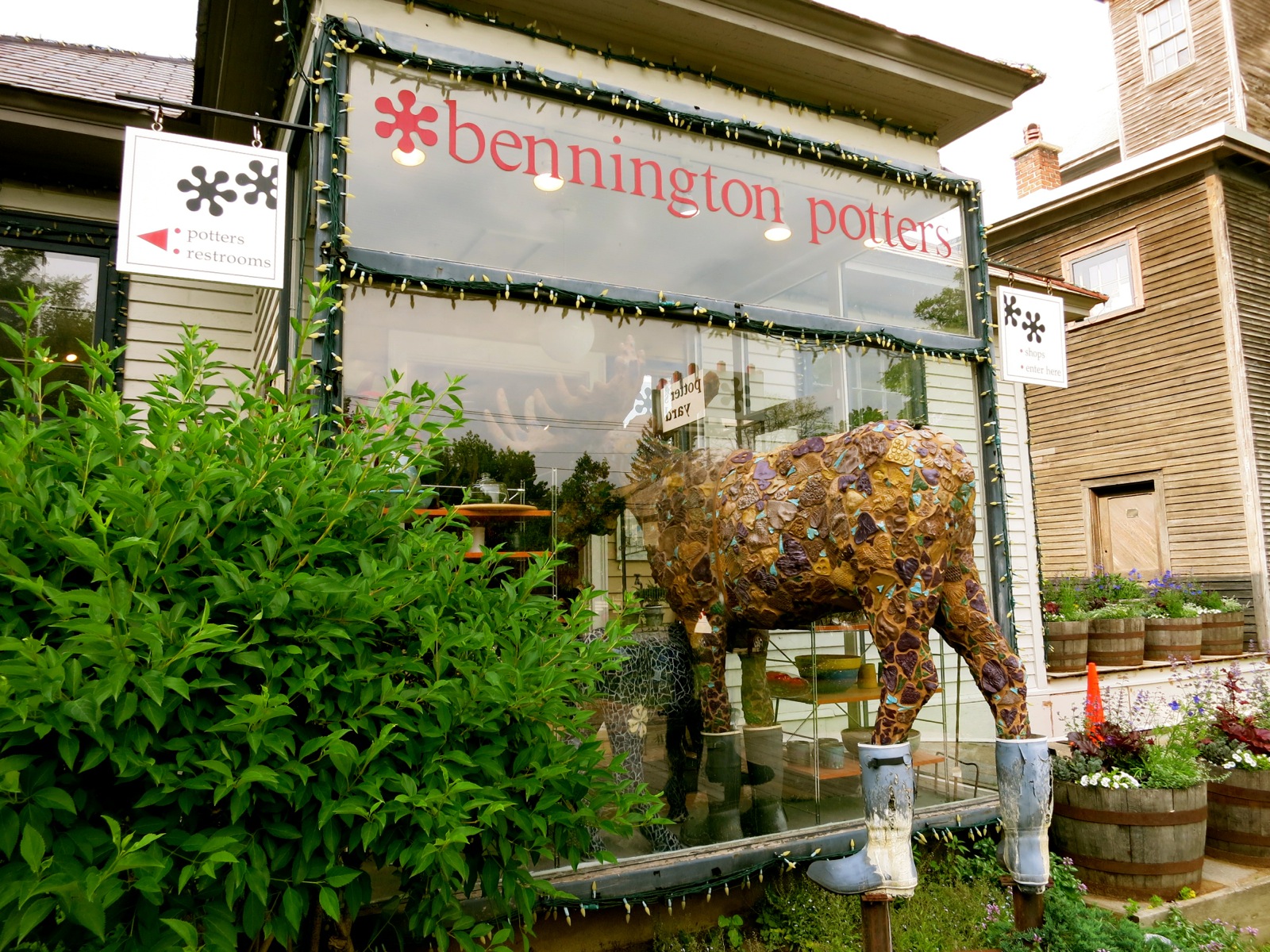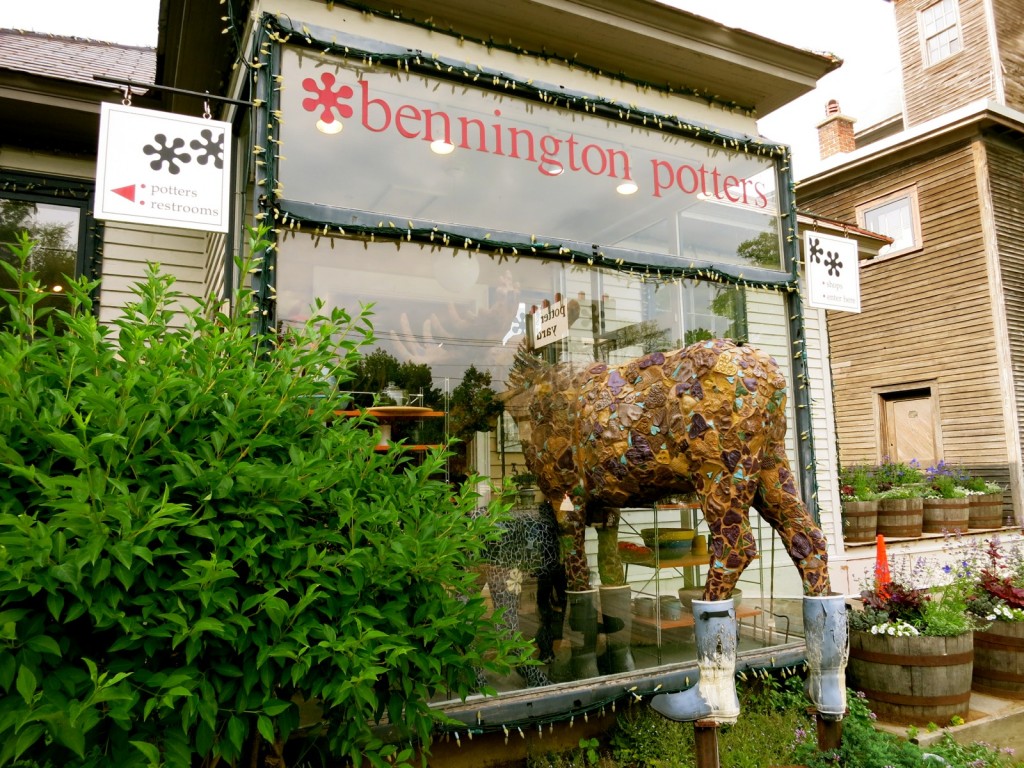 SHOP: Bennington Galleries
Bennington's got a cute downtown – Bennington Arts Guild (BAG), Hawkins House Crafts and Jewelry, Cake Gallery, and Crazy Russian Girls Bakery are all worth exploring.
Must-See Attractions from Bennington VT to Manchester VT on Historic Route 7A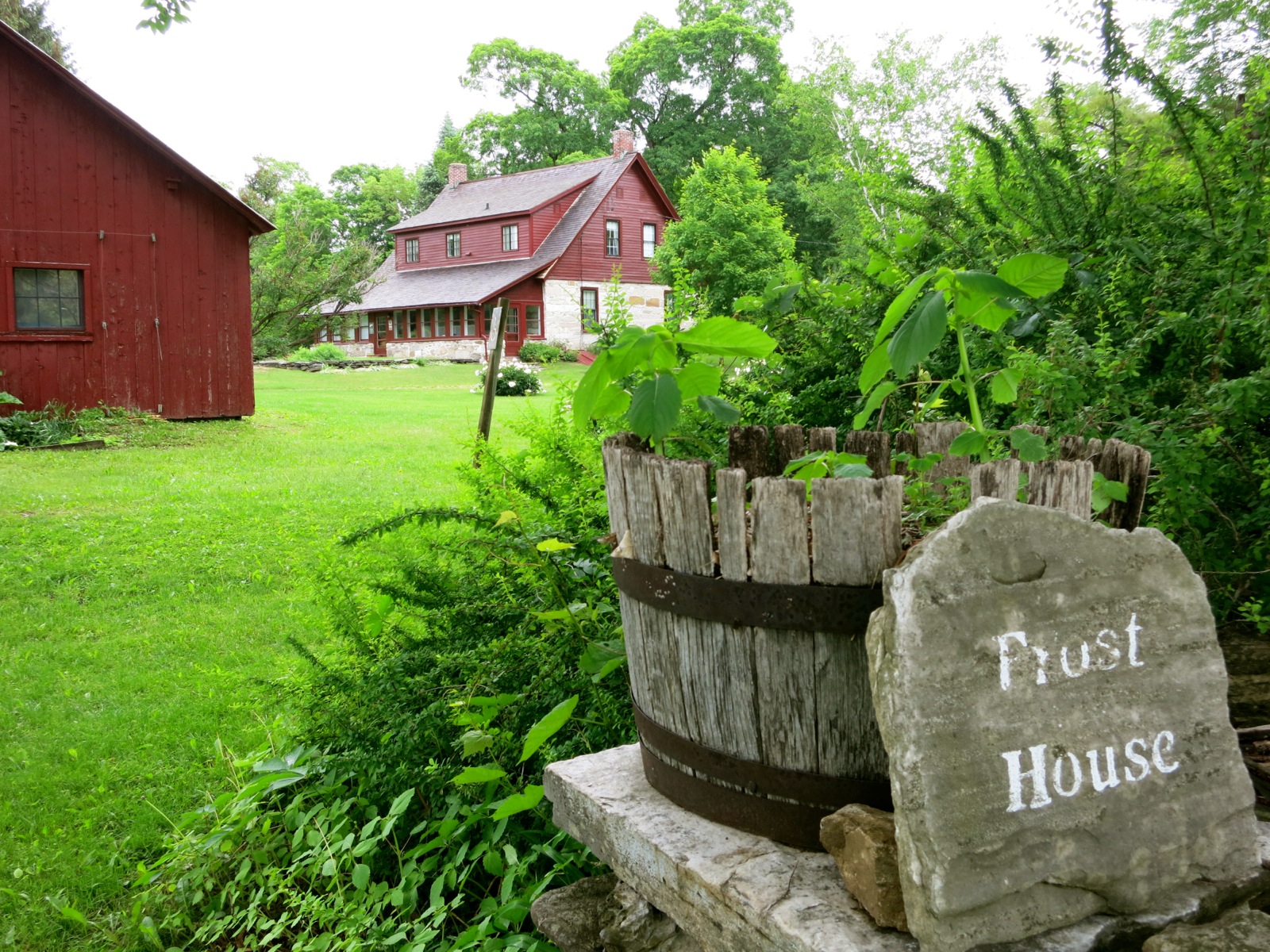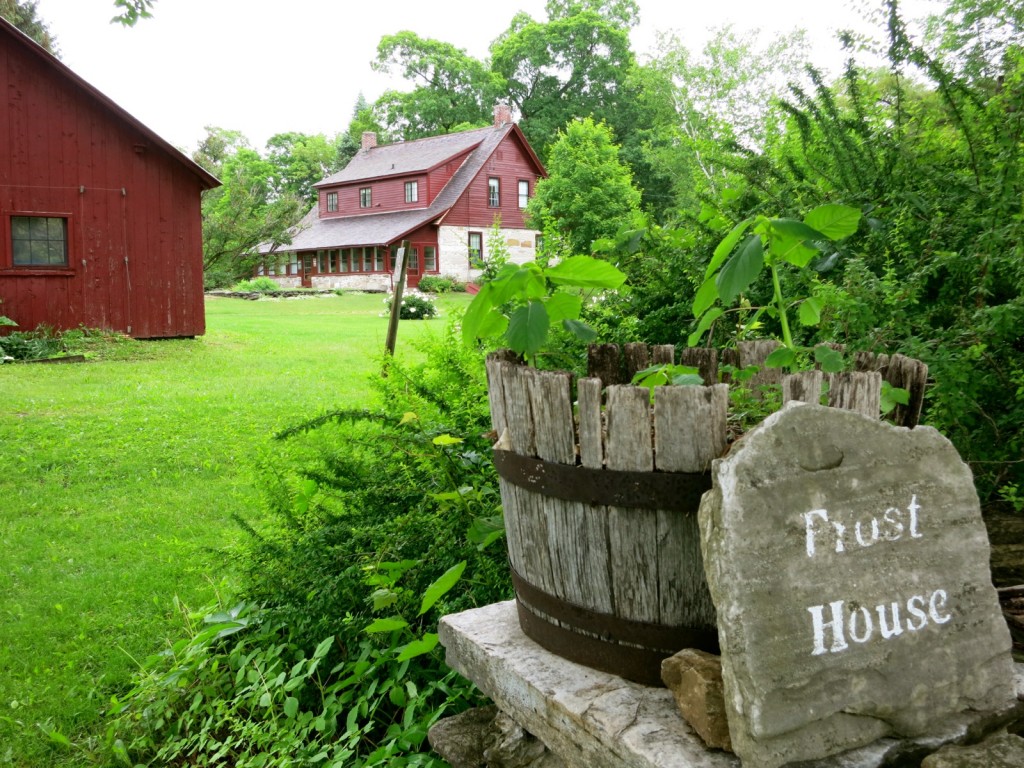 A bit forlorn, Frost's house and barns are nevertheless gripping in their semi-distressed state. One gathers that this is the way Frost lived – his gaze outward over the fields and forests that surround the property.
You understand his poetry a bit better here – it's where he wrote one of his most popular poems, Stopping By the Woods on A Snowy Evening. I have promises to keep, and miles to go before I sleep. Open Wed-Sun 10-5, $6.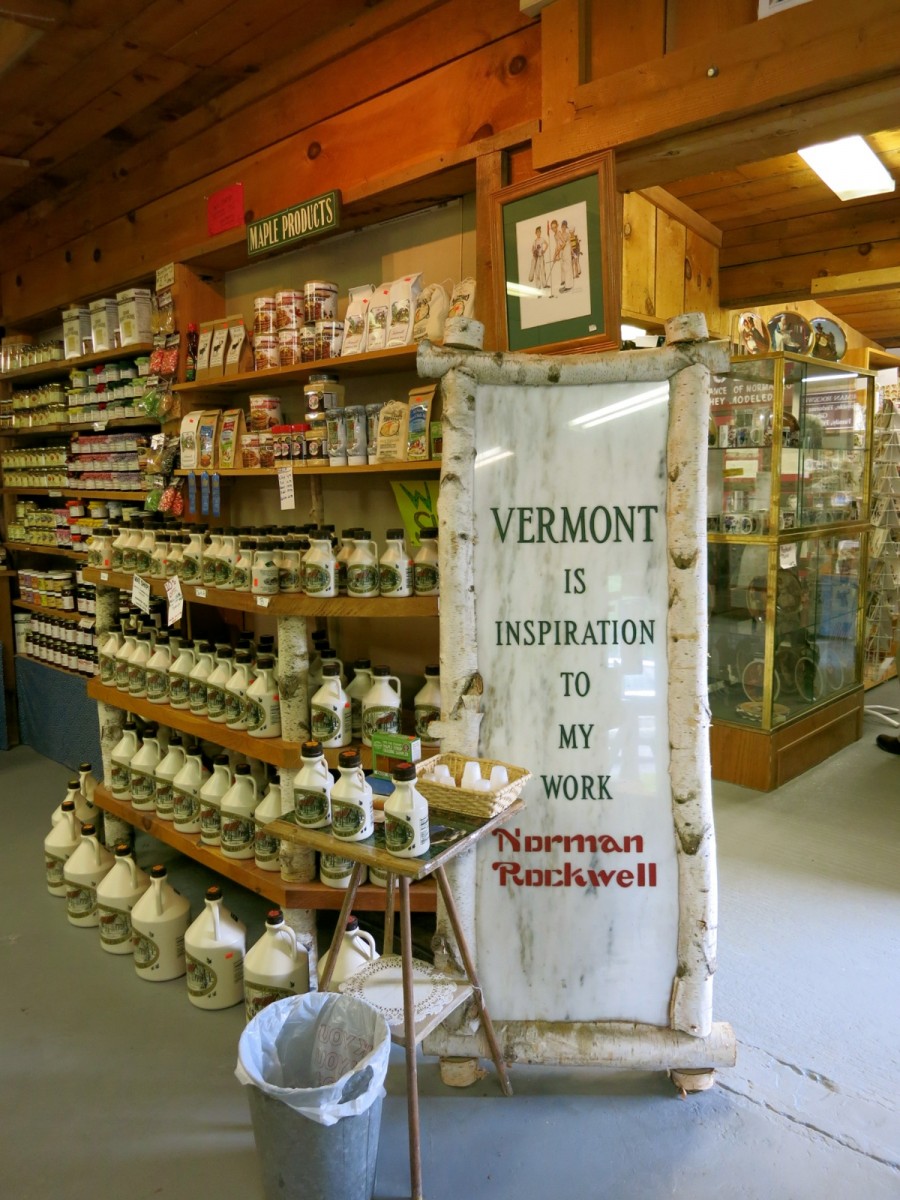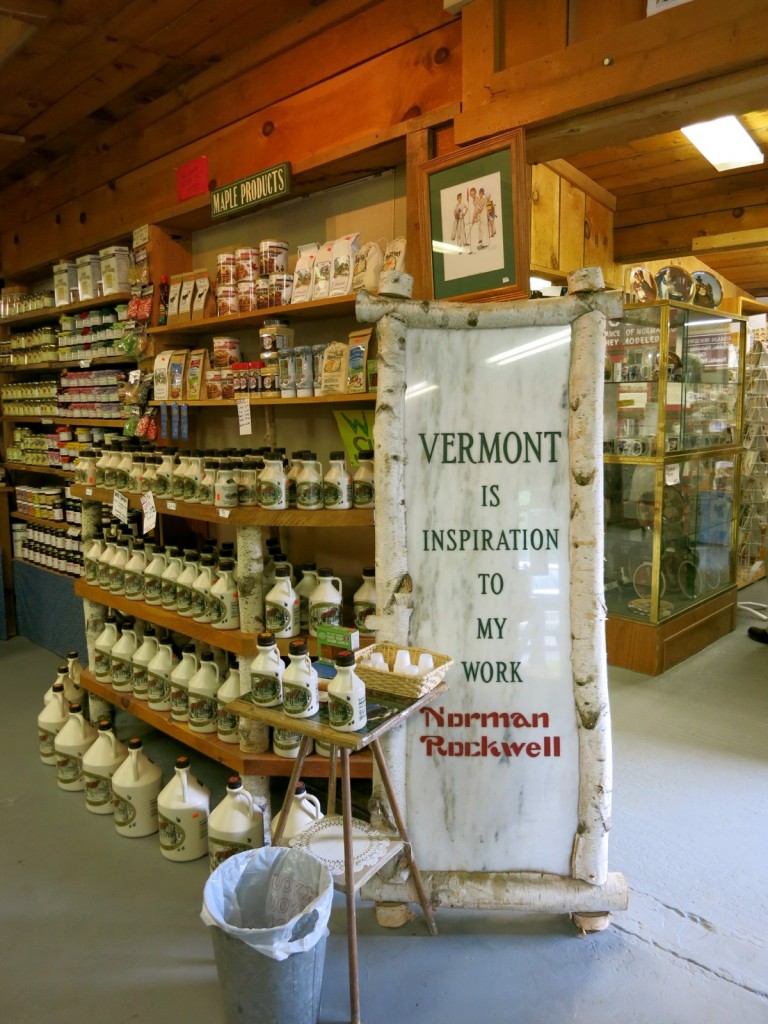 Discover this Maple-Syrup maker/bakery/condiment shop a few miles north of Arlington VT. Norman Rockwell lived here for 14 years before moving to Stockbridge MA.
Obviously, Rockwell enjoyed the simple, rustic life of Small Town America.
Escaping from the societal dictates of New Rochelle NY to a small home in Vermont, Rockwell relied on his country-neighbors to model for his paintings.
Sugar Shack employees say that Rockwell's subjects show up at the shop from time to time. You just might meet one. A 15 minute film of Rockwell's life is shown continuously when the shop/museum is open 9-5 daily from mid April – December.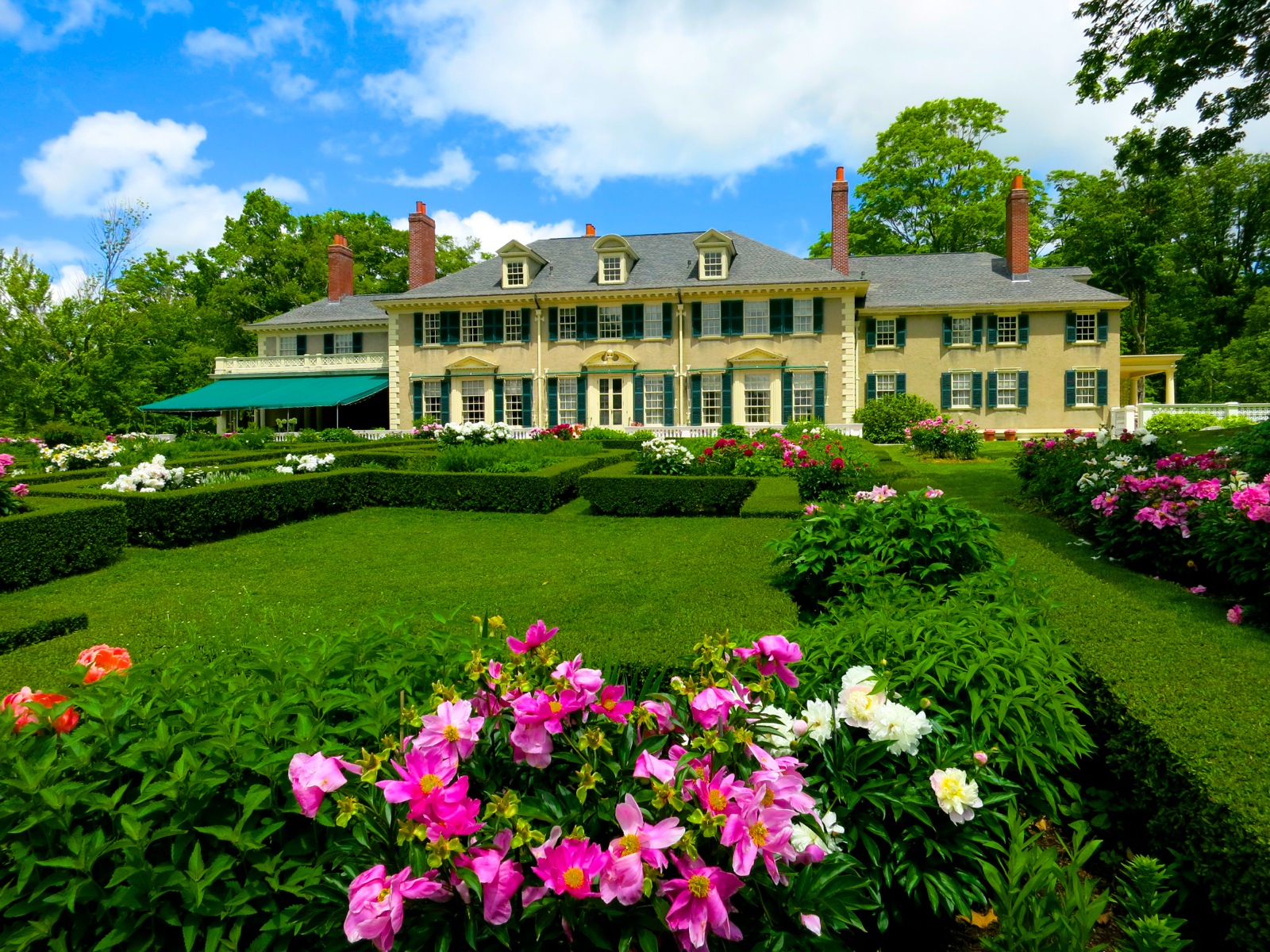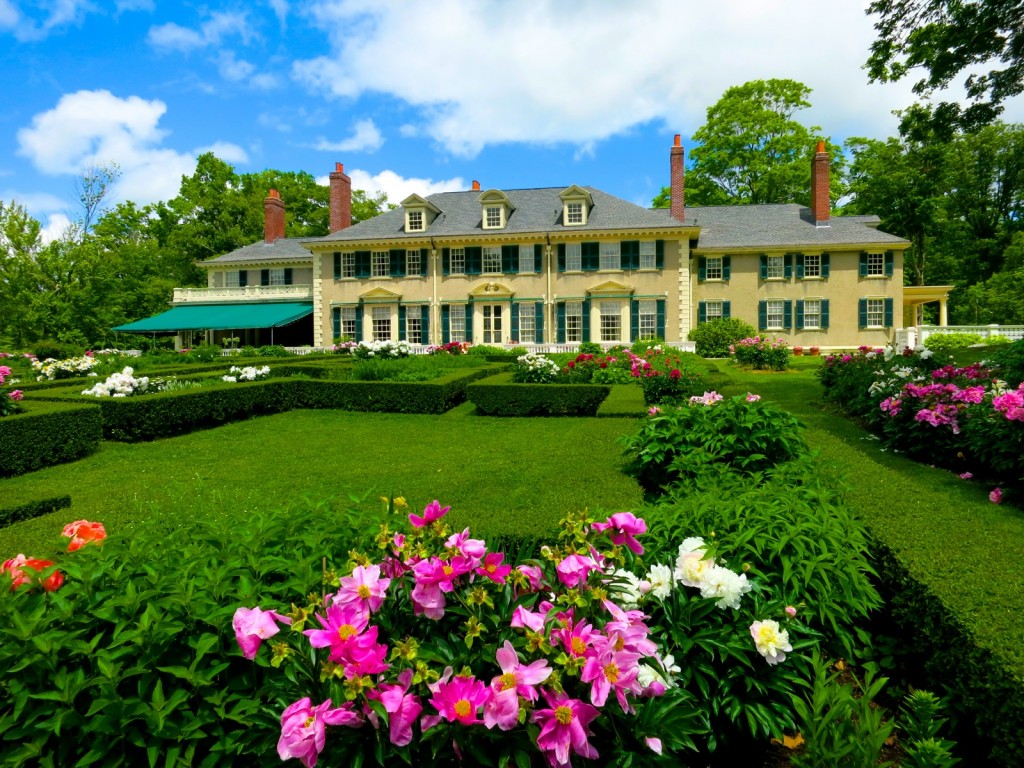 TOUR: Hildene Robert Todd Lincoln's Home
In 1903, Robert Todd Lincoln, surviving son of President Abe Lincoln, built his summer home on 412 magnificent acres in Manchester, VT – a popular summer escape for wealthy industrialists. As an attorney and President of the Pullman Company, Lincoln oversaw great strides in railroad car engineering.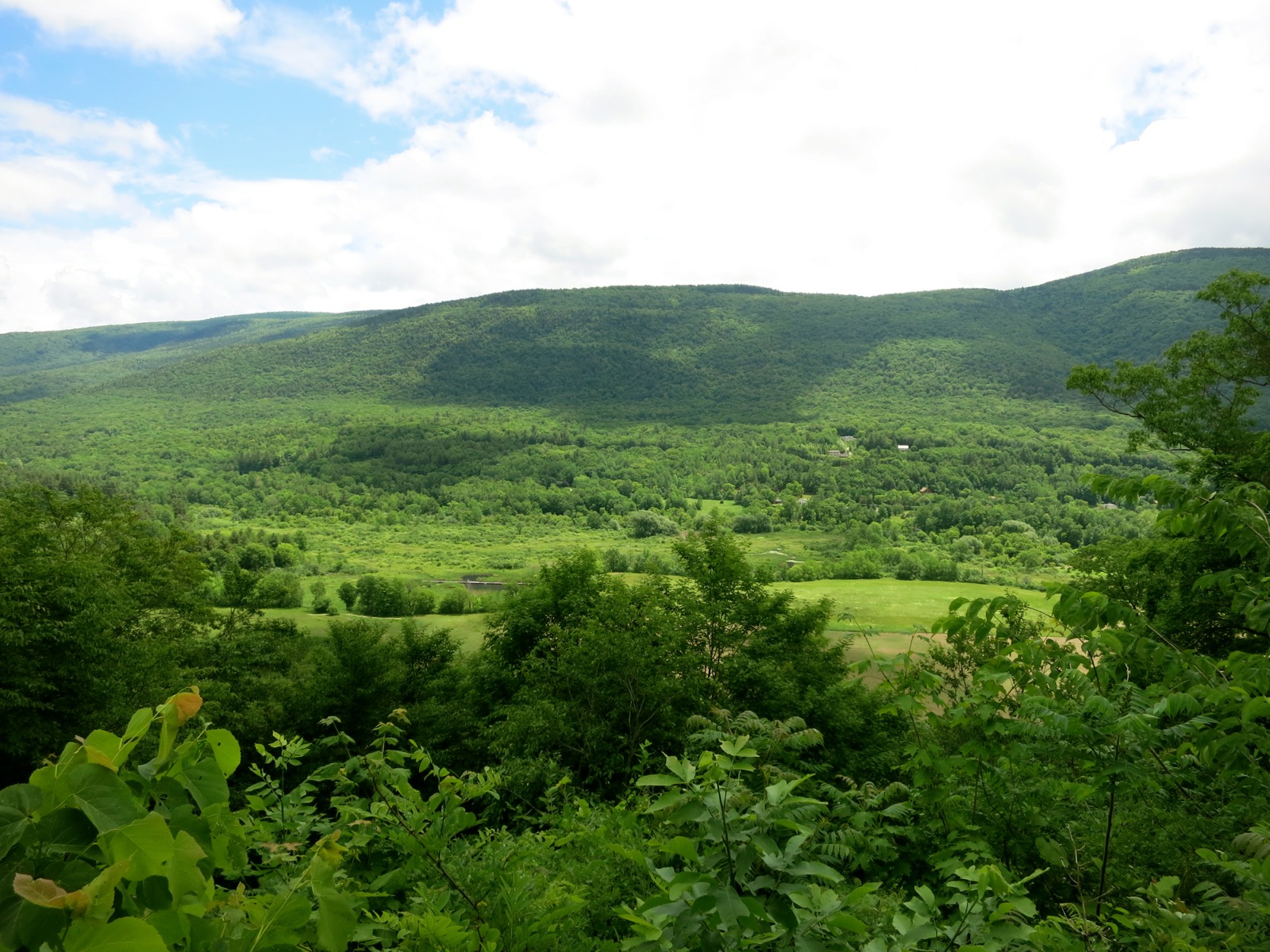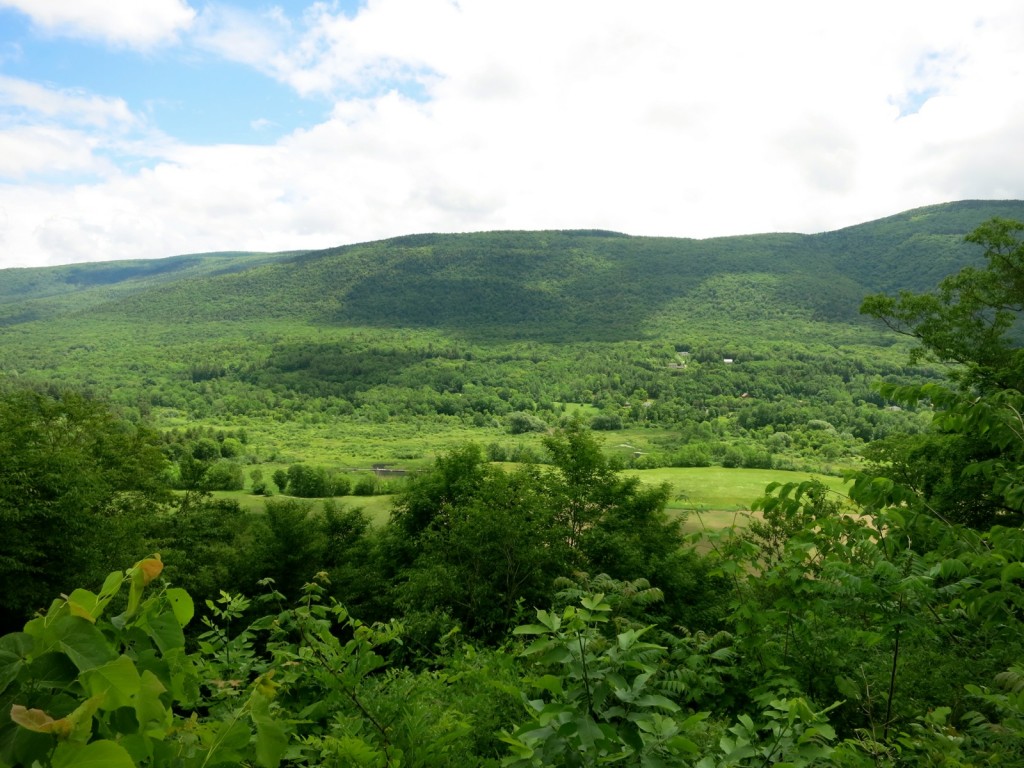 Now, Hildene serves many purposes. It's a working dairy farm, an artisanal cheese-maker, an observatory, a study in post-Civil War African American society, a beautiful mansion, gardens and more. Plan at least three hours here.
Passed down the family line, Hildene fell finally into the hands of great-granddaughter Mary Lincoln Beckwith, who died in 1975. Lincoln's home, then in late stage Grey-Gardens-like decrepitude, fell into the hands of the Christian Science Org. The organization subsequently turned it over to a newly organized preservation group called Friends of Hildene.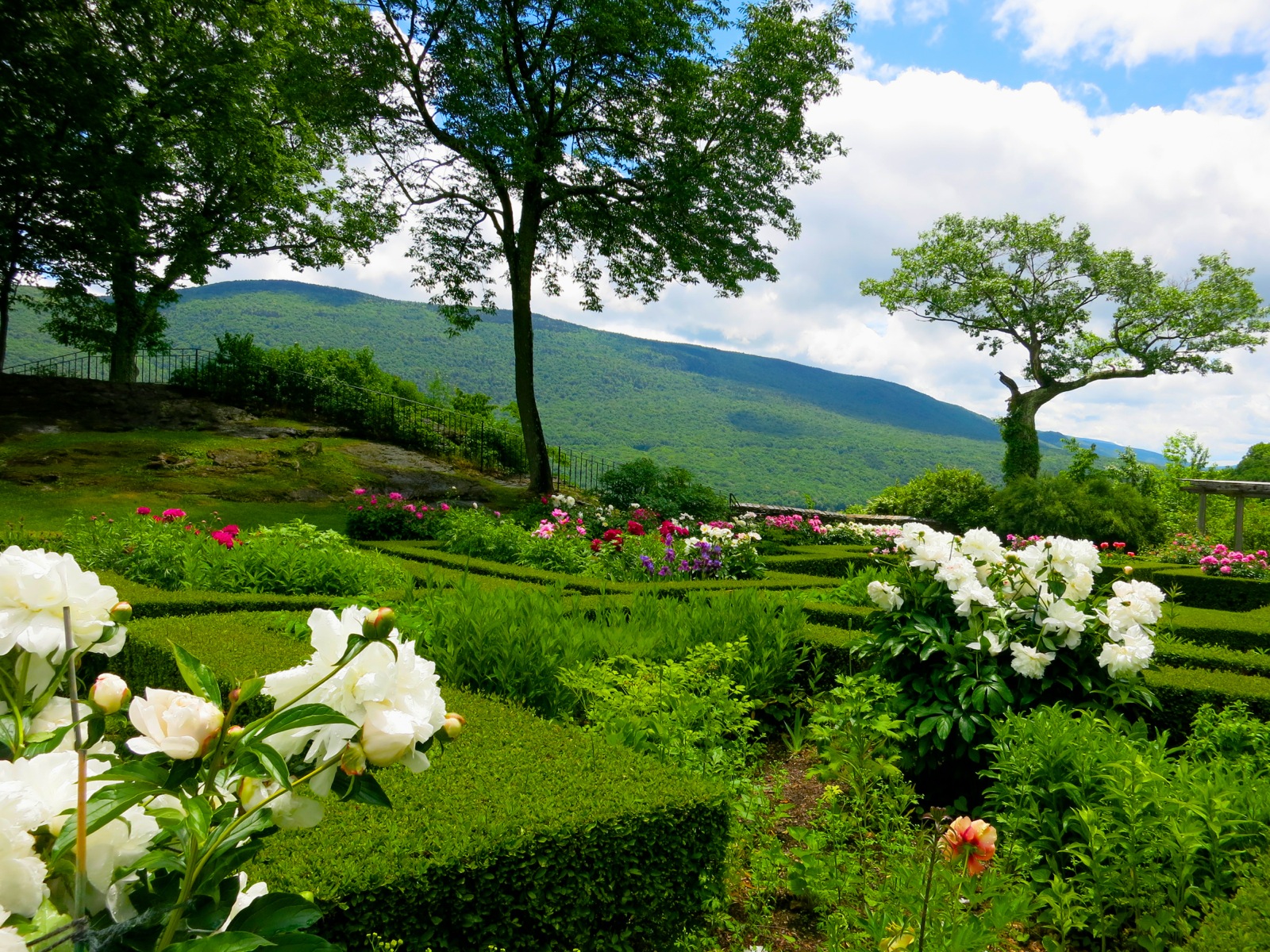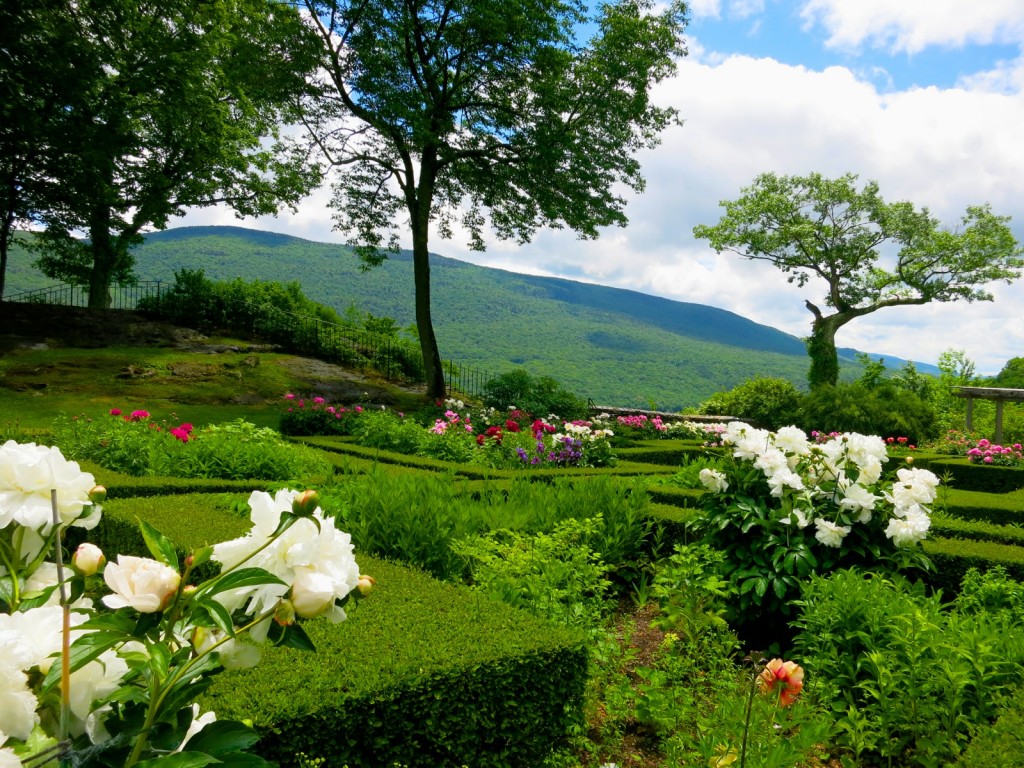 Since then, FOH has restored the home and gardens back to its former glory. It continues to establish programming and new attractions that are "modern but rooted in history."
Ergo – a solar-powered dairy farm, greenhouses in which students study soil science and farm-to-table gardening, a "Pollinator Sanctuary," a Bobolink preserve, and a 600-ft floating boardwalk over wildlife-rich wetlands.
Touring Hildene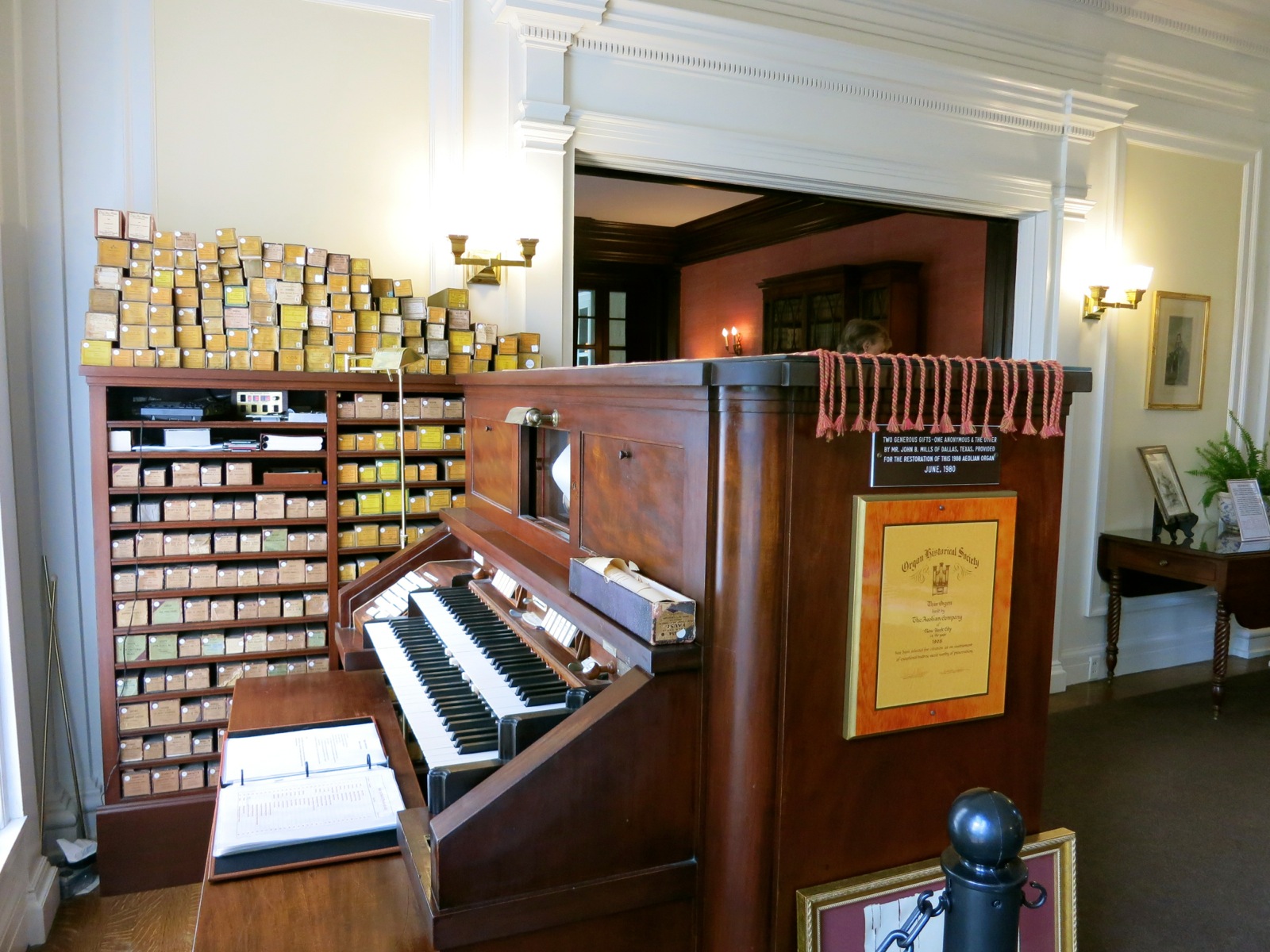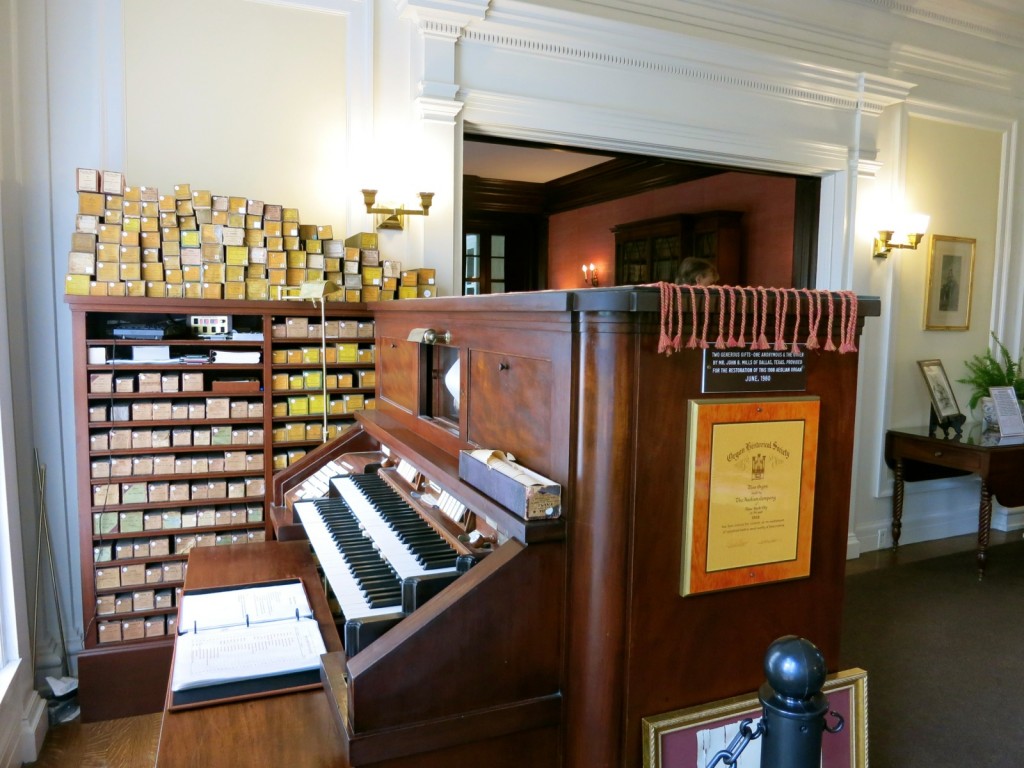 Start in the former carriage house, now a beautiful well-stocked Visitor's Center. Take a tour of the main house. You'll hear rousing music from a player organ featuring 1,000 pipes hidden within staircase woodwork.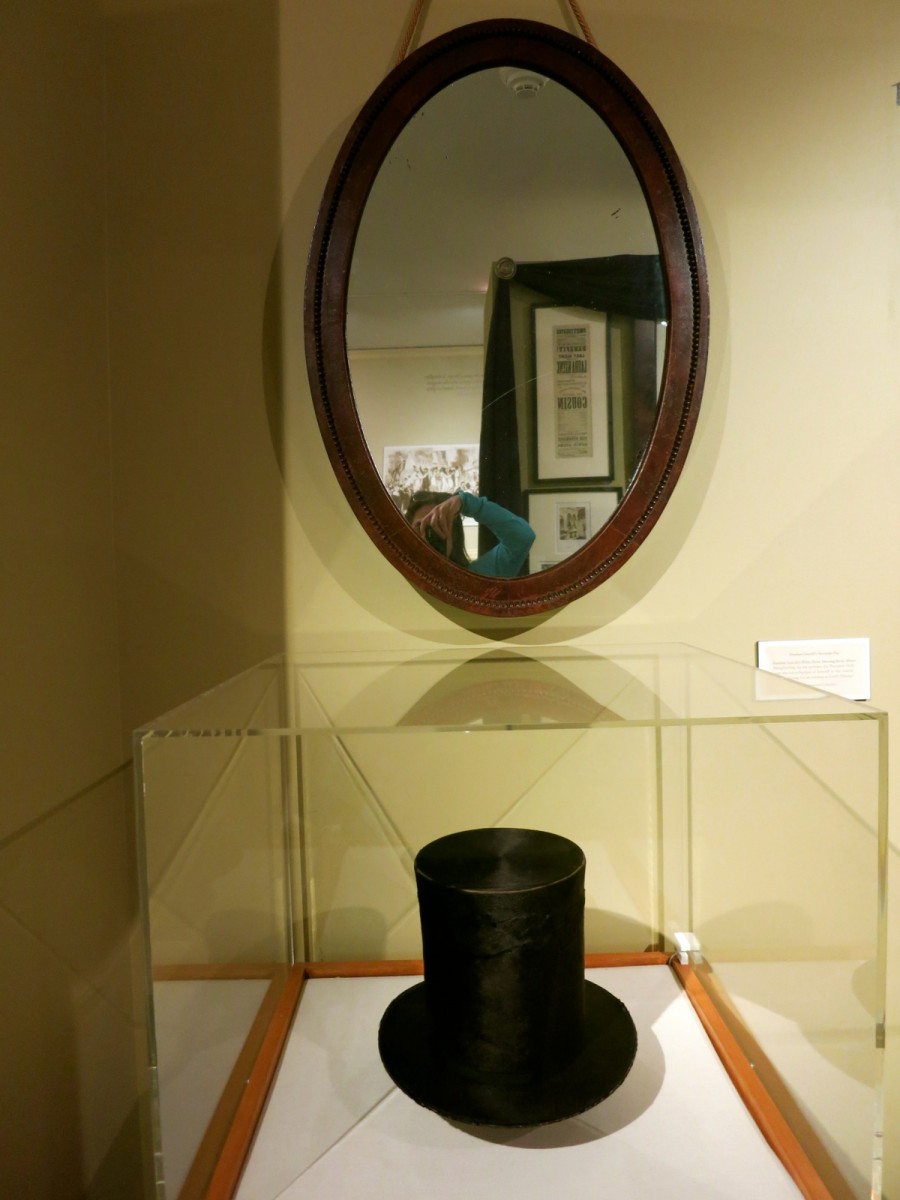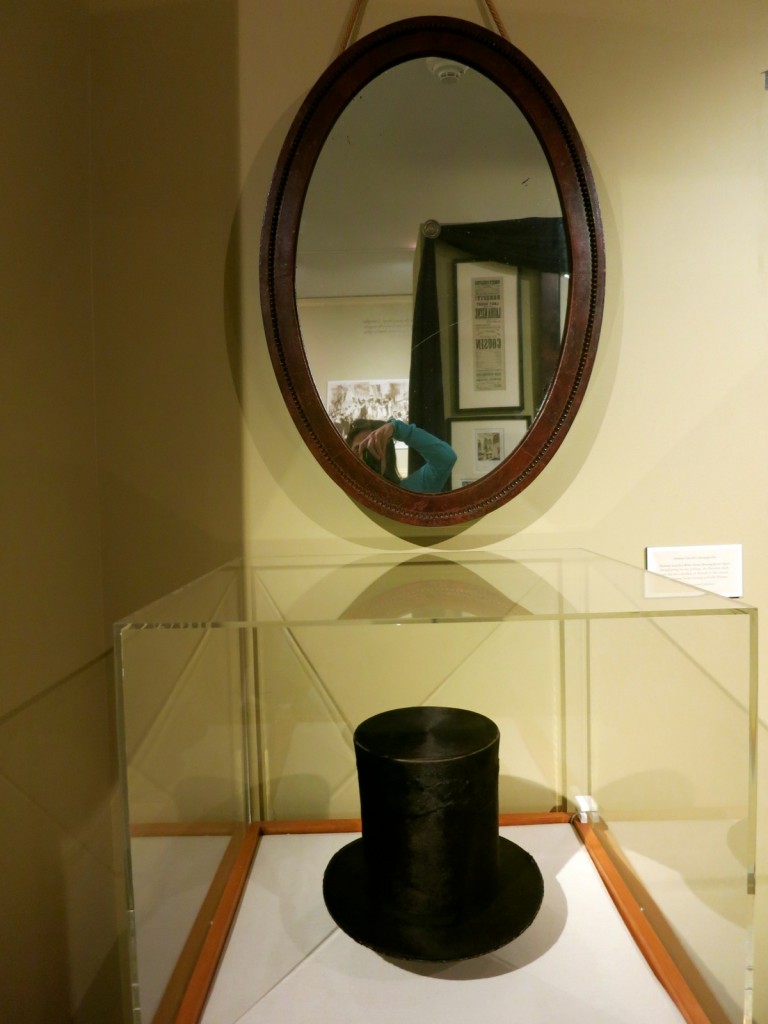 You'll see Lincoln's Pullman Car home office, original wallpaper in many rooms, and fresh flowers throughout the house, care of dedicated volunteer "Flower Ladies" who change out the blooms twice a week.
Upstairs in the Abraham Lincoln Exhibit, rests one of Lincoln's three surviving black top hats. It sits beneath what experts believe is the mirror the President used just before going to the Ford Theater on the night he was assassinated. Chills.
The Pullman Train Car Connection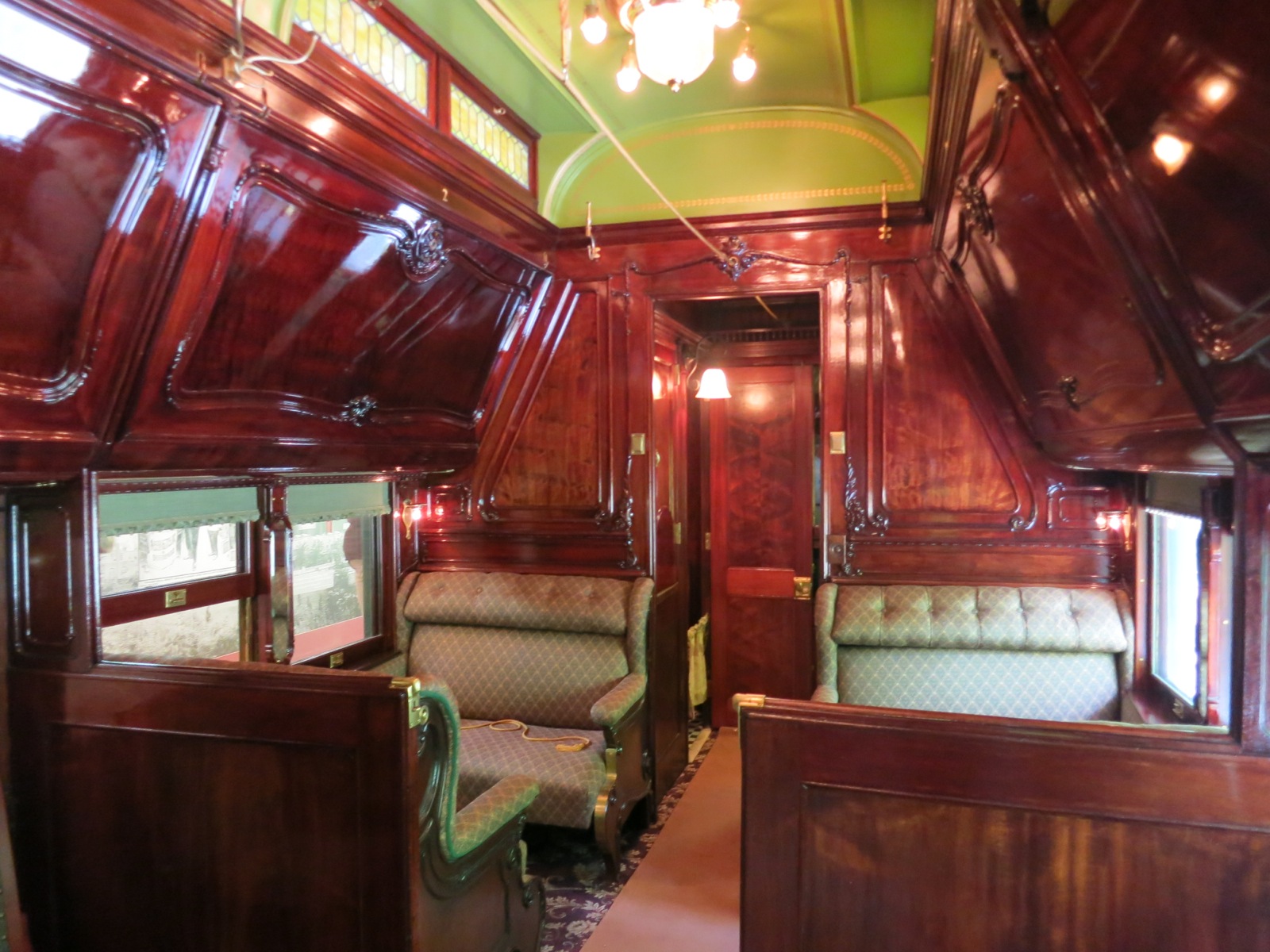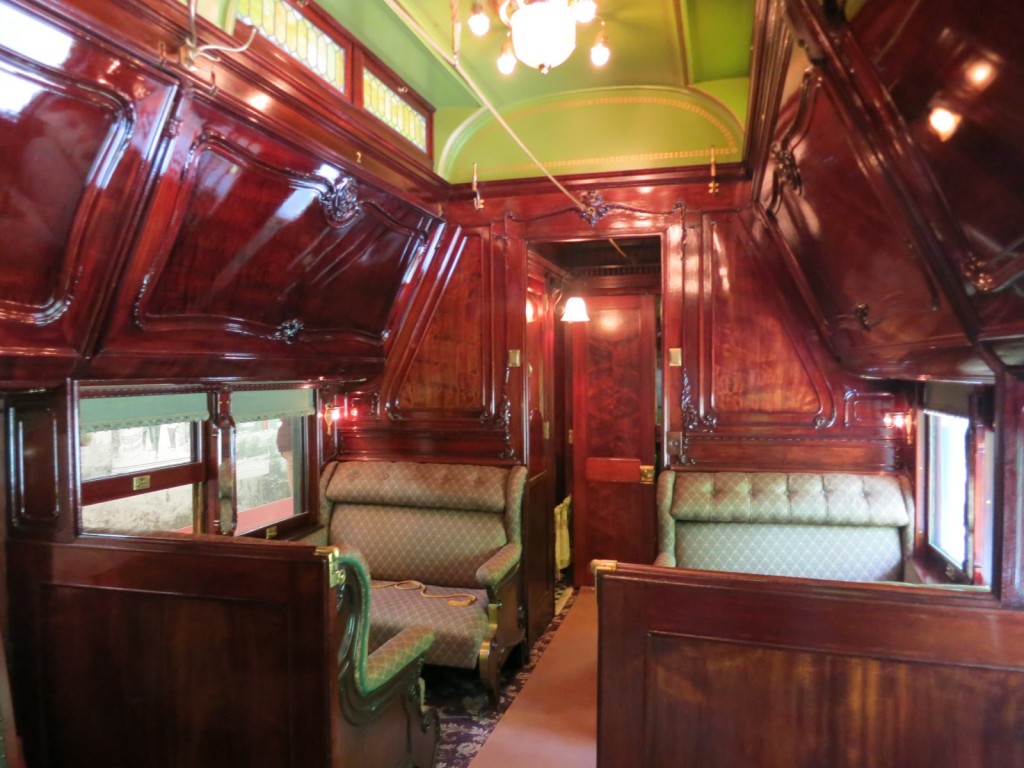 Next, walk down the hill to "Sunbeam," a fully restored 1903 Pullman Palace Car. Interpretive signage highlights 100 years of African American history from "Emancipation to Civil Rights Movement" (1863-1963). The exhibit is a platform for discourse about the advancement of African Americans following the Civil War
Walk through a very plush burnished wood Pullman Executive Charter Car. The train exemplifies the height of luxury for the most elite white businessmen, who would be catered to by a private black porter and chef.
Interestingly, the Pullman Company offered opportunities for black men to interact with successful white men. Porters took note of passengers speech patterns, latest dress styles, heard the latest business news, and read the books they left behind.
However, though Pullman provided the best jobs for African Americans after the Civil War, they worked effectively 24/7 for very little pay. In most cases, tips only. It was grueling work that many compared to slave labor.
Jumping Baby Goats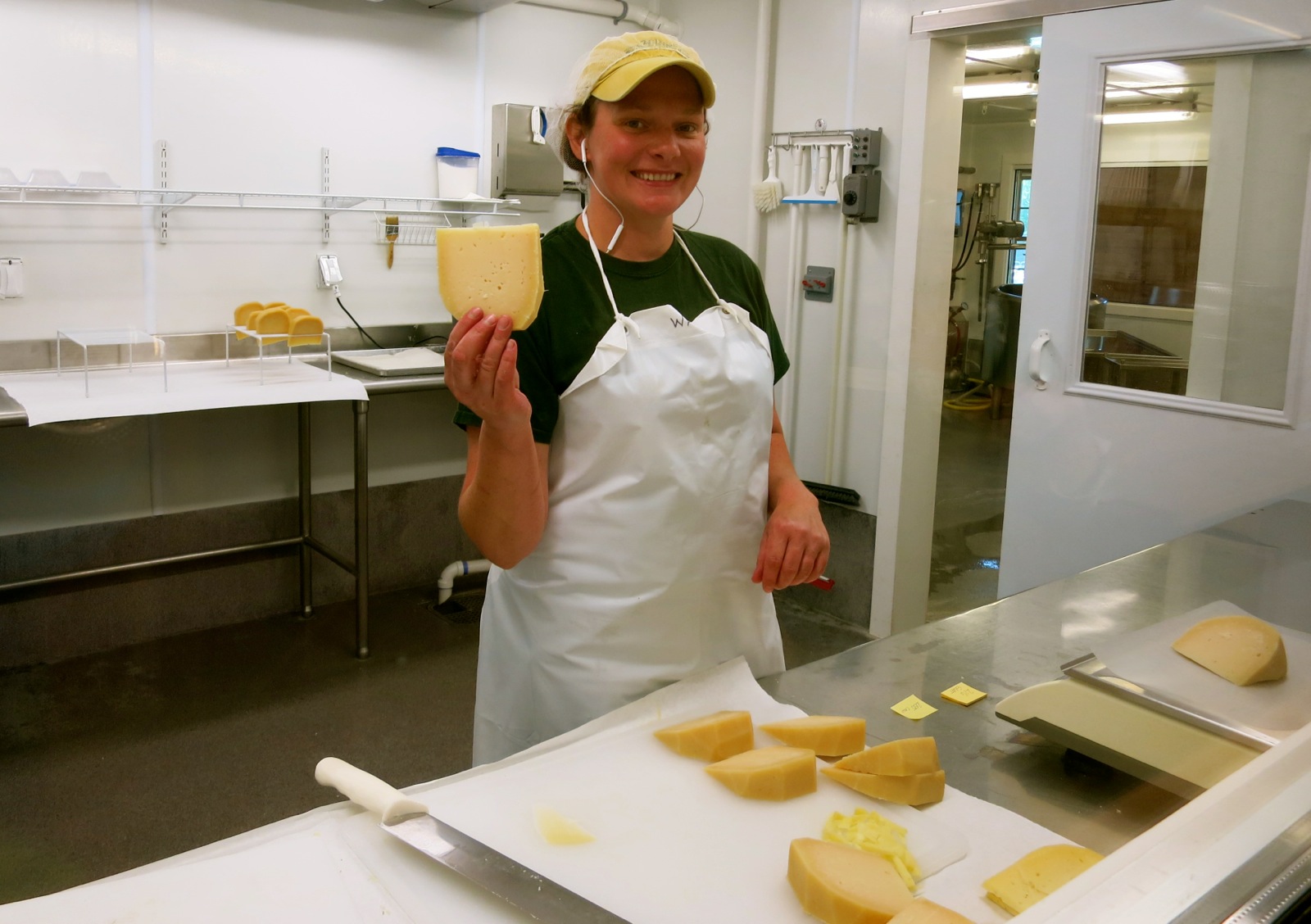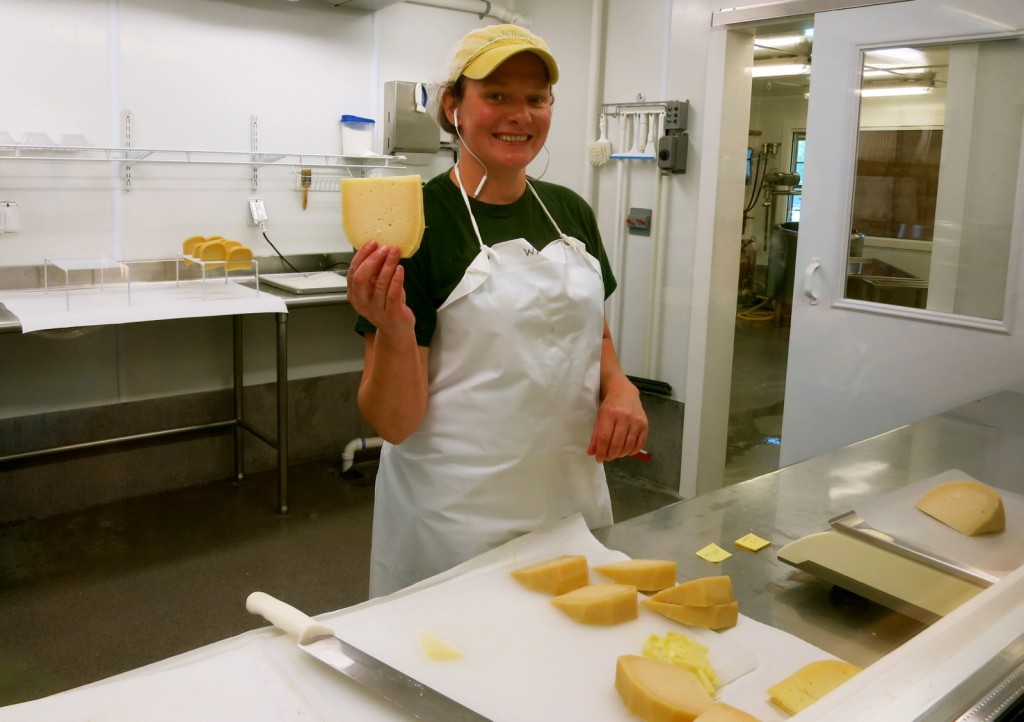 Don't leave Hildene before stopping at the Nubian goat barn, especially in the spring when the babies are jumping.
The public can observe the cheese-making process, from milking to packaging, at the Rowland Agricultural Center. And of course, you can buy the best chevre cheese on site. Plan to spend at least half a day to see everything. Open daily 9:30-4:30 (except Christmas and Easter), $23 adults, $7 kids
Restaurants in Bennington VT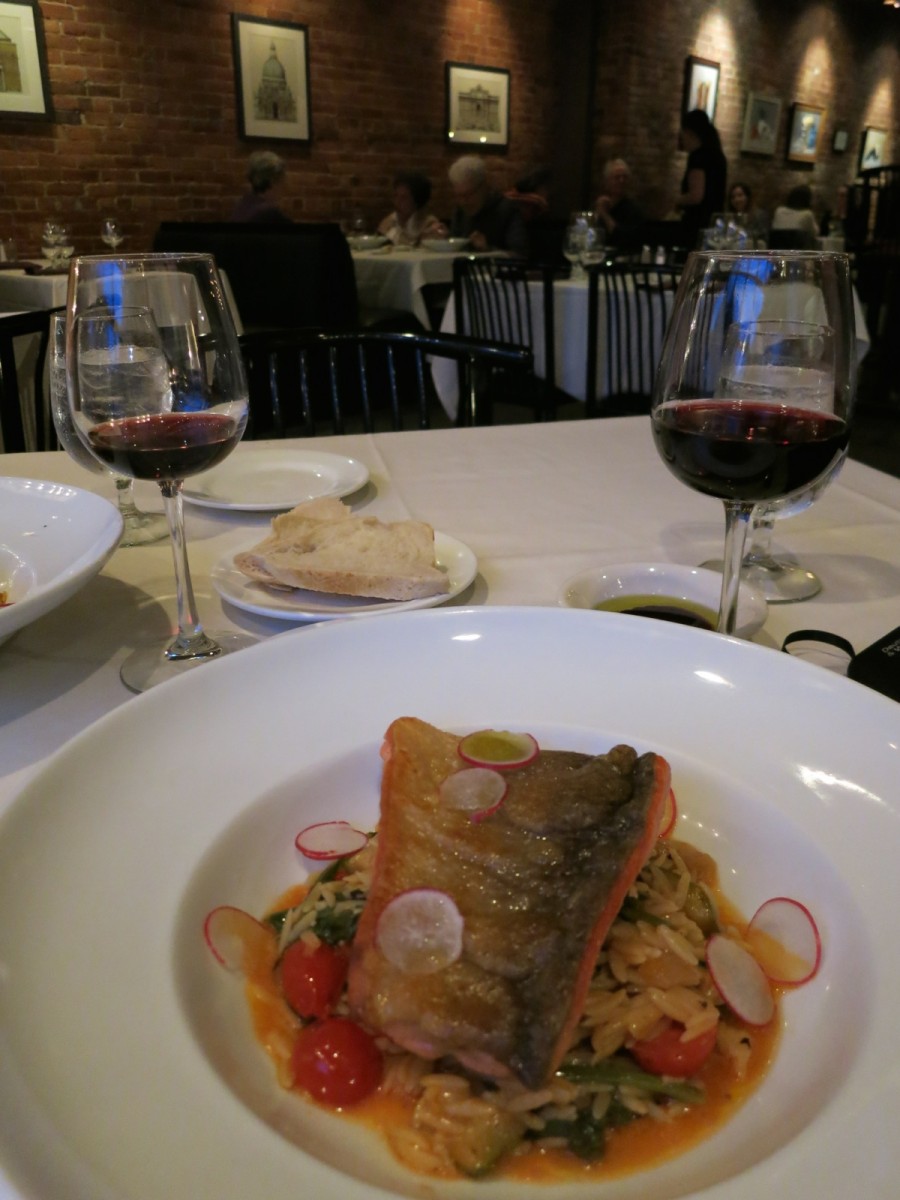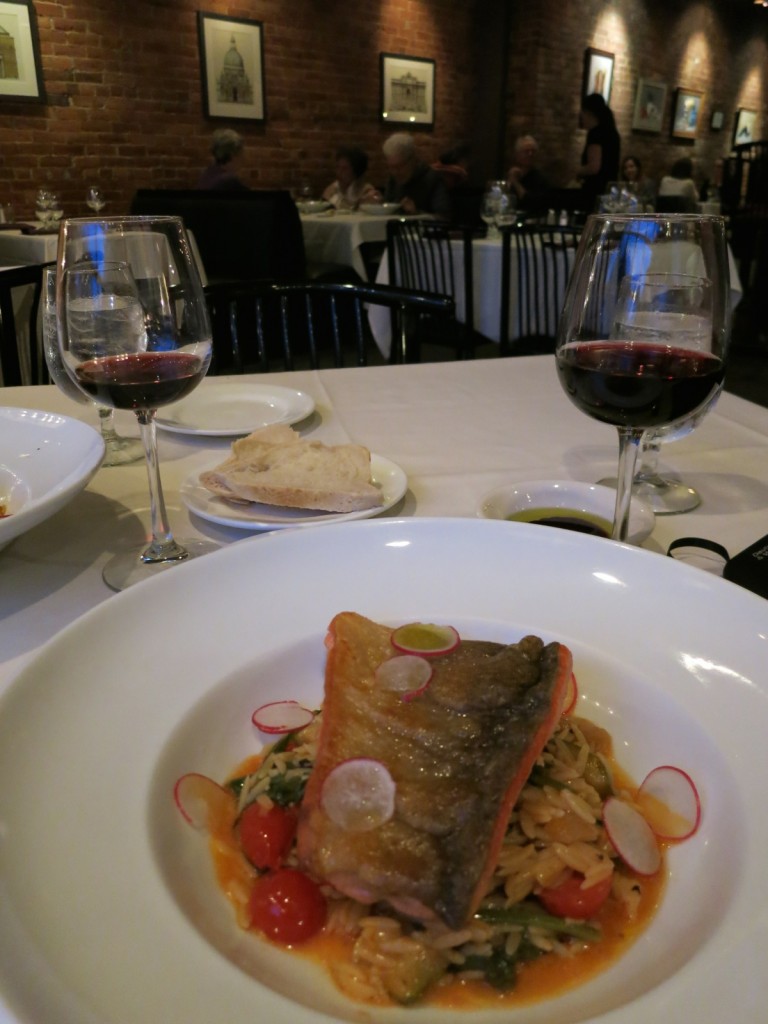 Brick walls, candlelight, colorful art, it's rustic-cozy with excellent cuisine. Order the Warm Spinach Salad followed by Crispy Chicken and Risotto – topped with grilled mushrooms and pan roasted tomatoes – or other innovative specials.
With most entrees priced in the $18-$23 range, you can go ahead and order a bottle of nice Italian red without breaking the bank.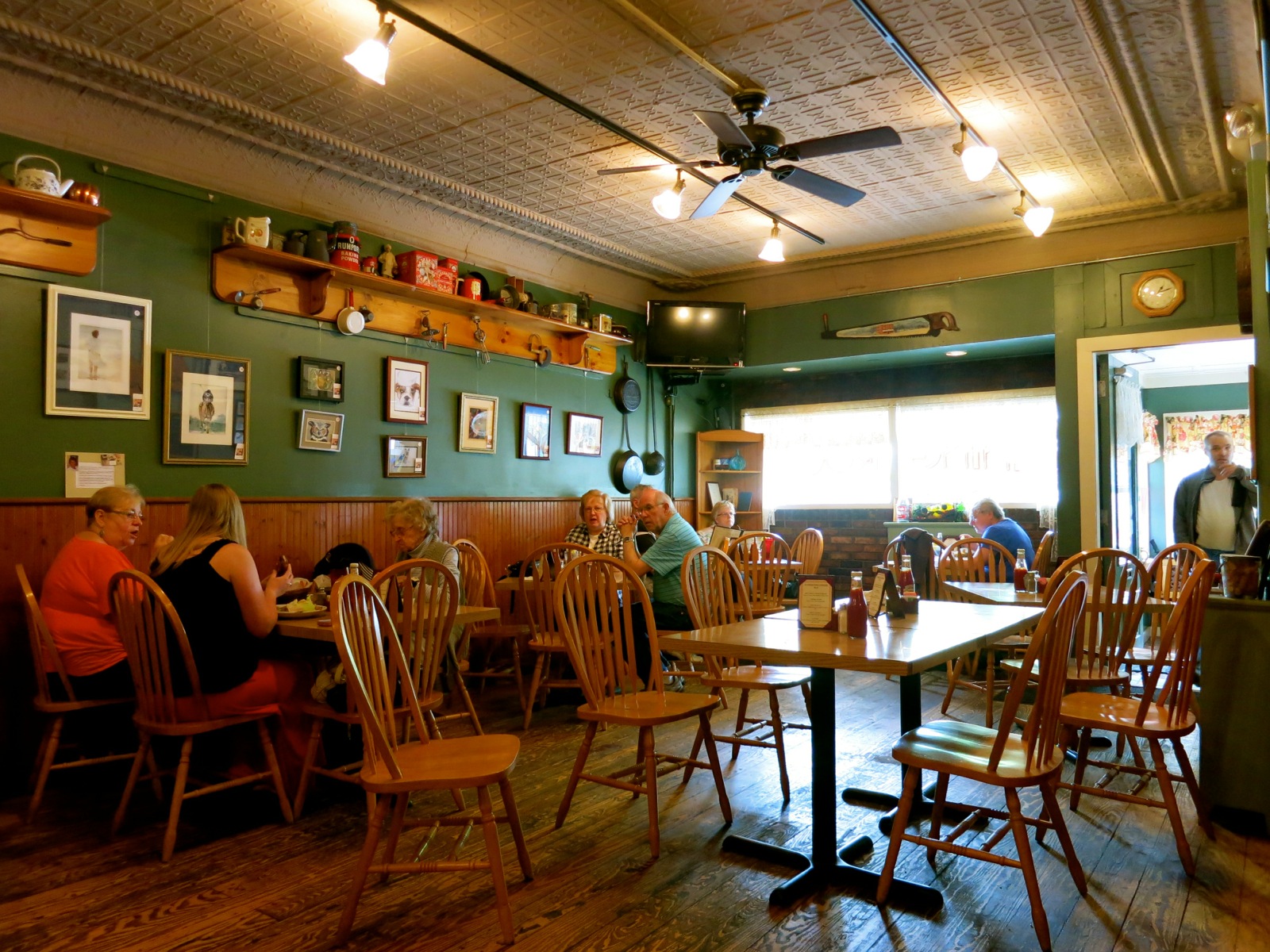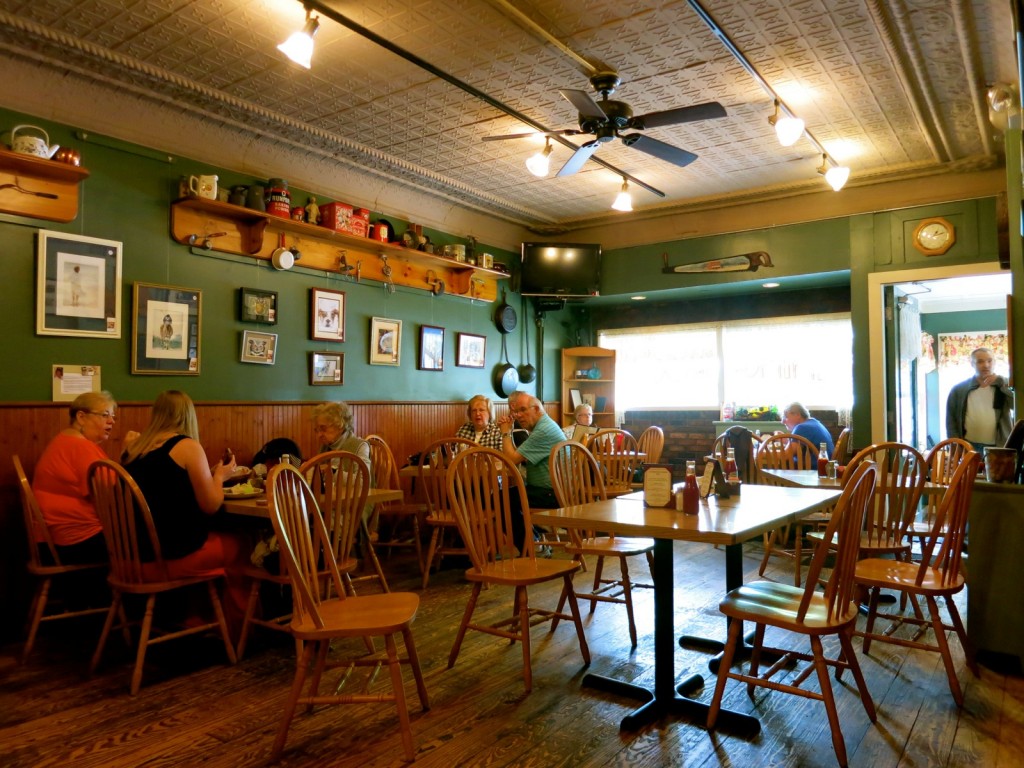 Housed in the former North Bennington Post Office, the casual-country Kevin's has become both a local and "second home" favorite.
Owned by a very community-minded couple (Kevin trains other chefs), servings are generous, prices are low, and the food is fresh and good. Salads (including a "Shrimp Caesar") are $7-$14, Fish and Chips $9, Entrees $10-$19. Come early or late on weekends – there's always a line out the door.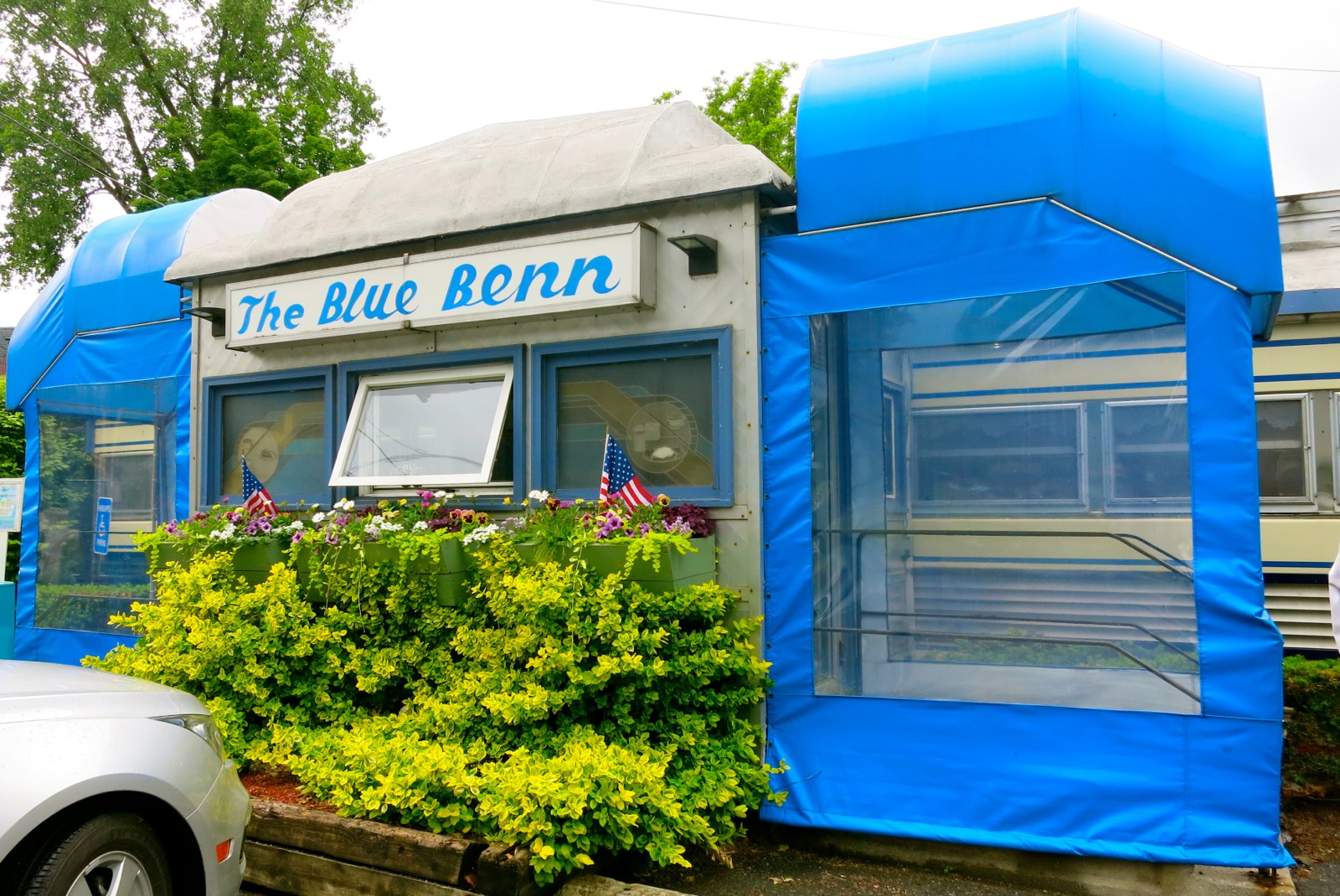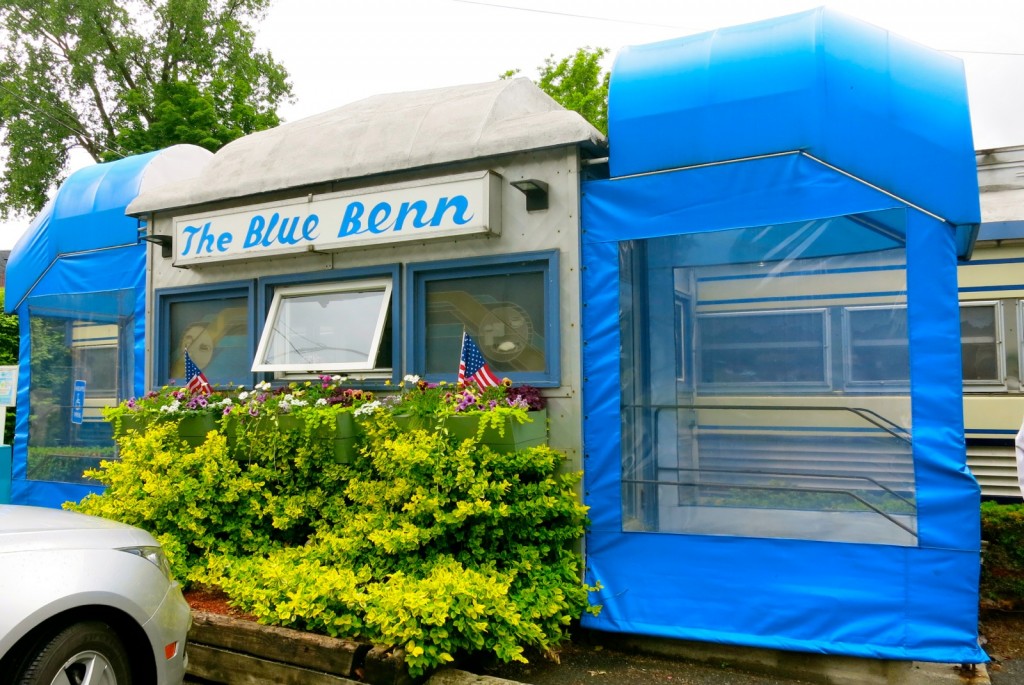 EAT/BREAKFAST: Blue Benn
This little blue diner has been a Bennington icon for years. Many travelers and second-home owners make this their first stop in town every year.
EAT: Locals also recommend – Lil' Britain for authentic British fish and chips, Madison's Brewery Pub and Restaurant, Pangaea in N. Bennington for affordable comfort food.
Where to Stay in Bennington VT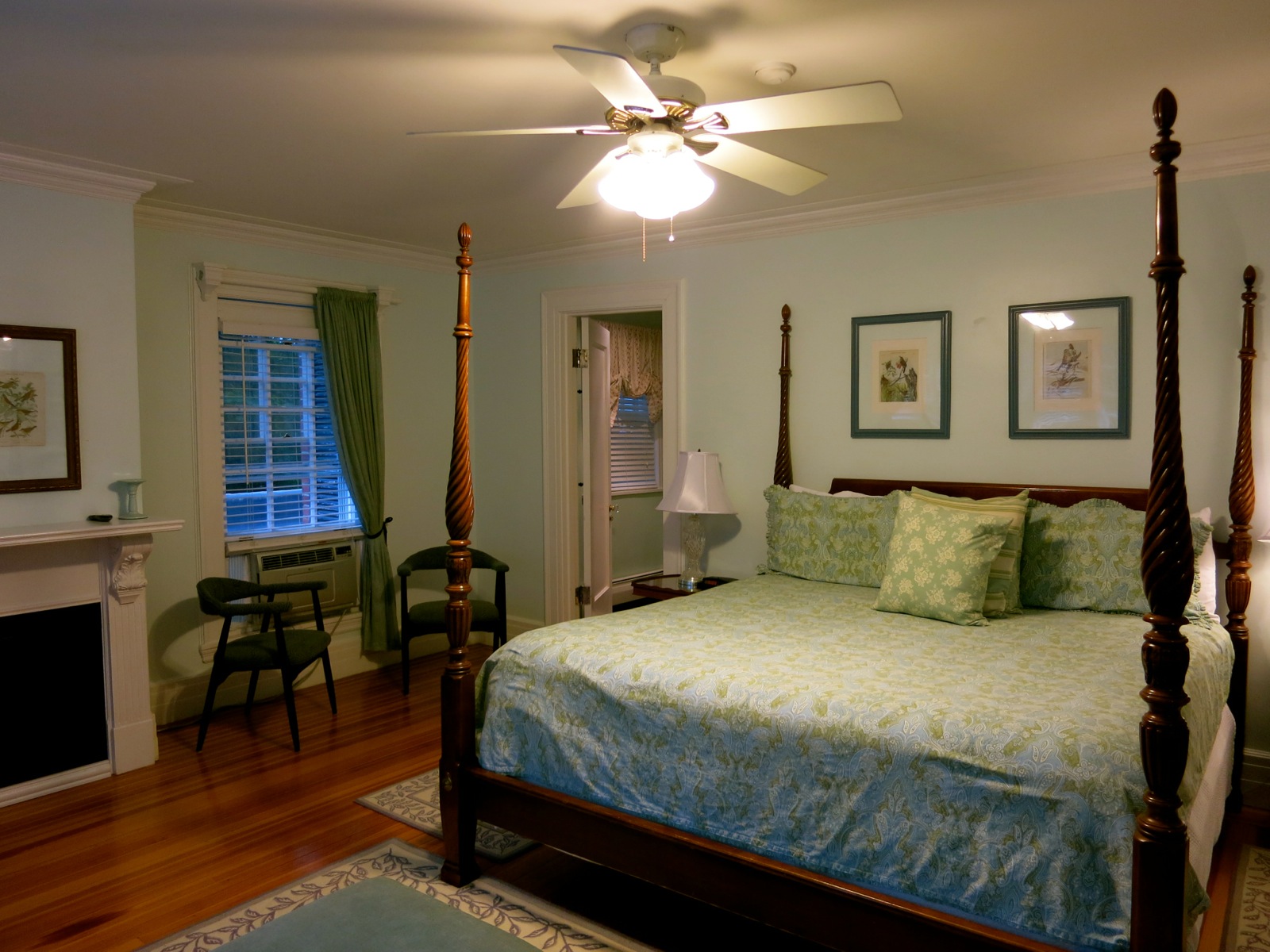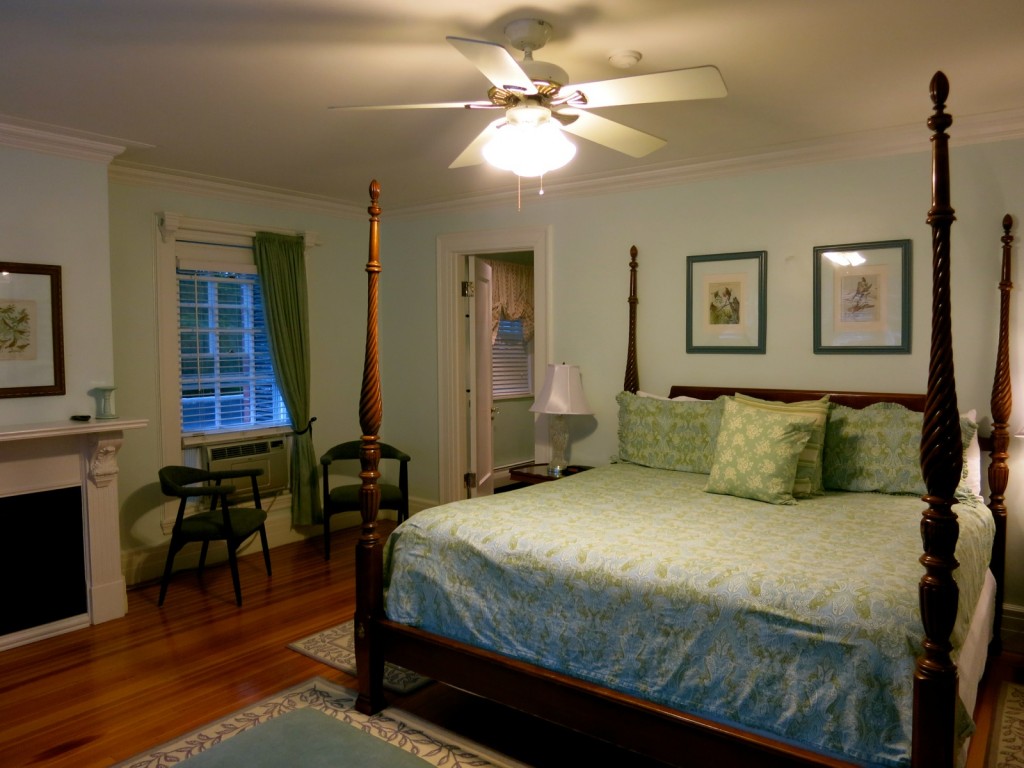 The Four Chimneys, a grand, Federal style 11-room inn, has been lovingly maintained by the charming and welcoming Lynn and Pete Green. The inn is perfect for visitors who are seeking the Victorian-age "summer in the mountains" experience along with lightening fast wi-fi access.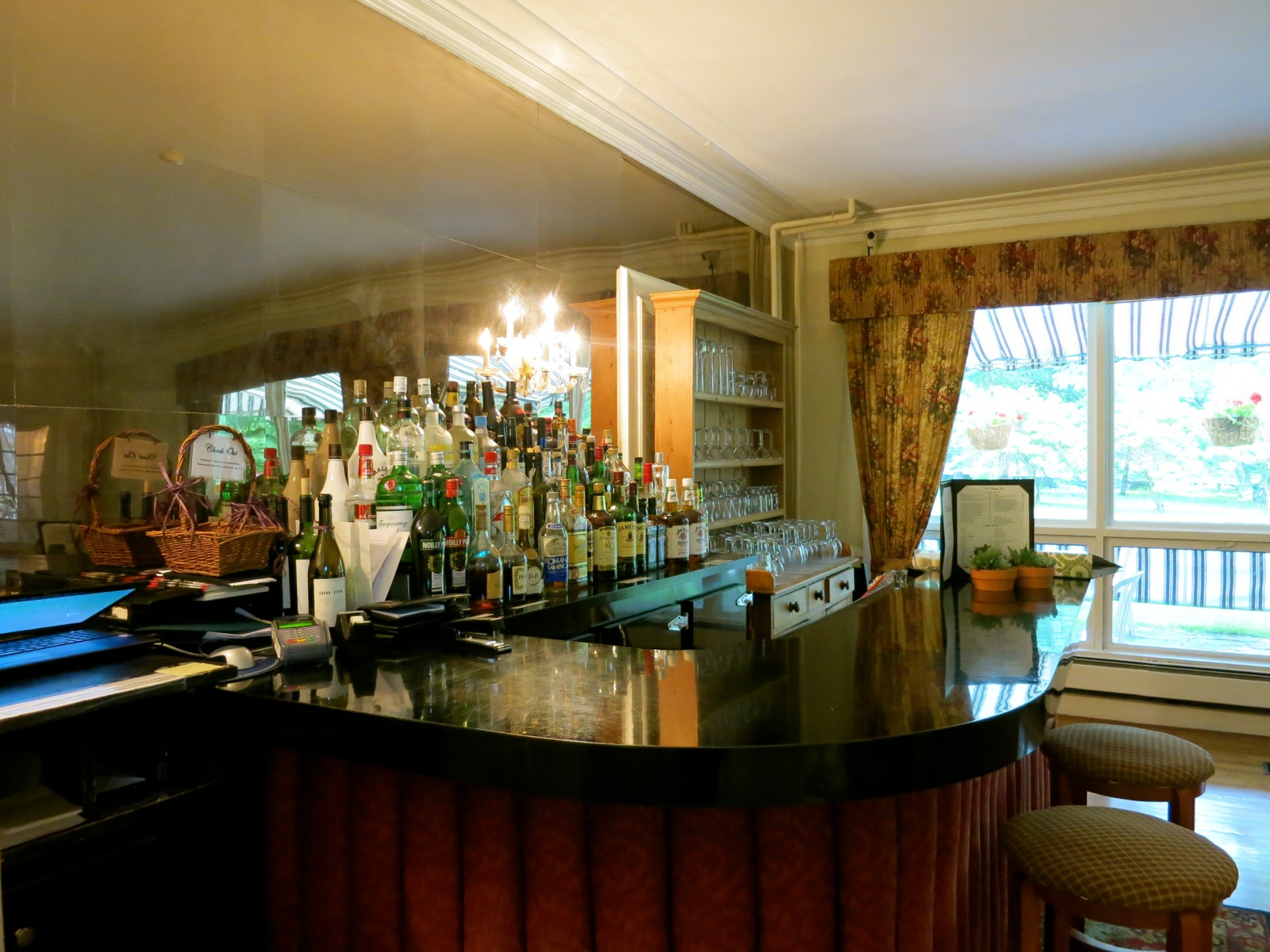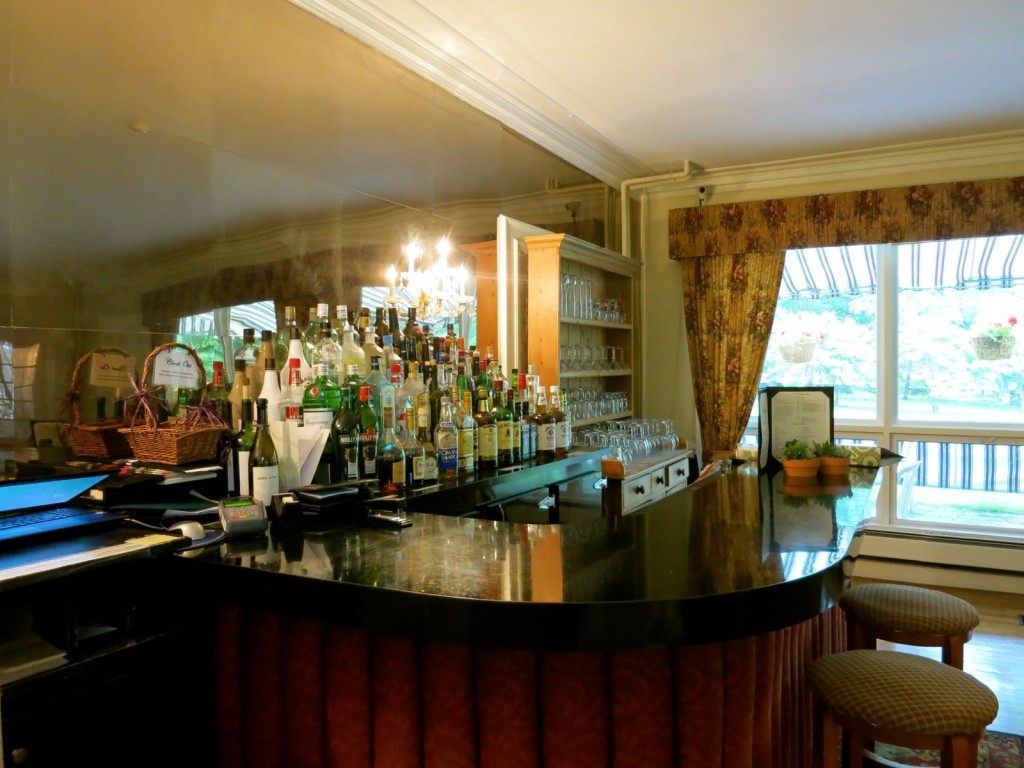 Each room, painted in soothing pastel colors, is uniquely beautiful. Room 1 features a carved four poster bed, fine antique furniture, hard-wood floor covered by floral rugs, gas fireplace, and a flat screen tv hidden behind a painting (that swings open like a door).
The large bathroom is delightful with a glass shower, tiny crystal chandeliers over a Jacuzzi, and a distinctive copper sink. It's a room made for romance or peaceful solitary pursuits.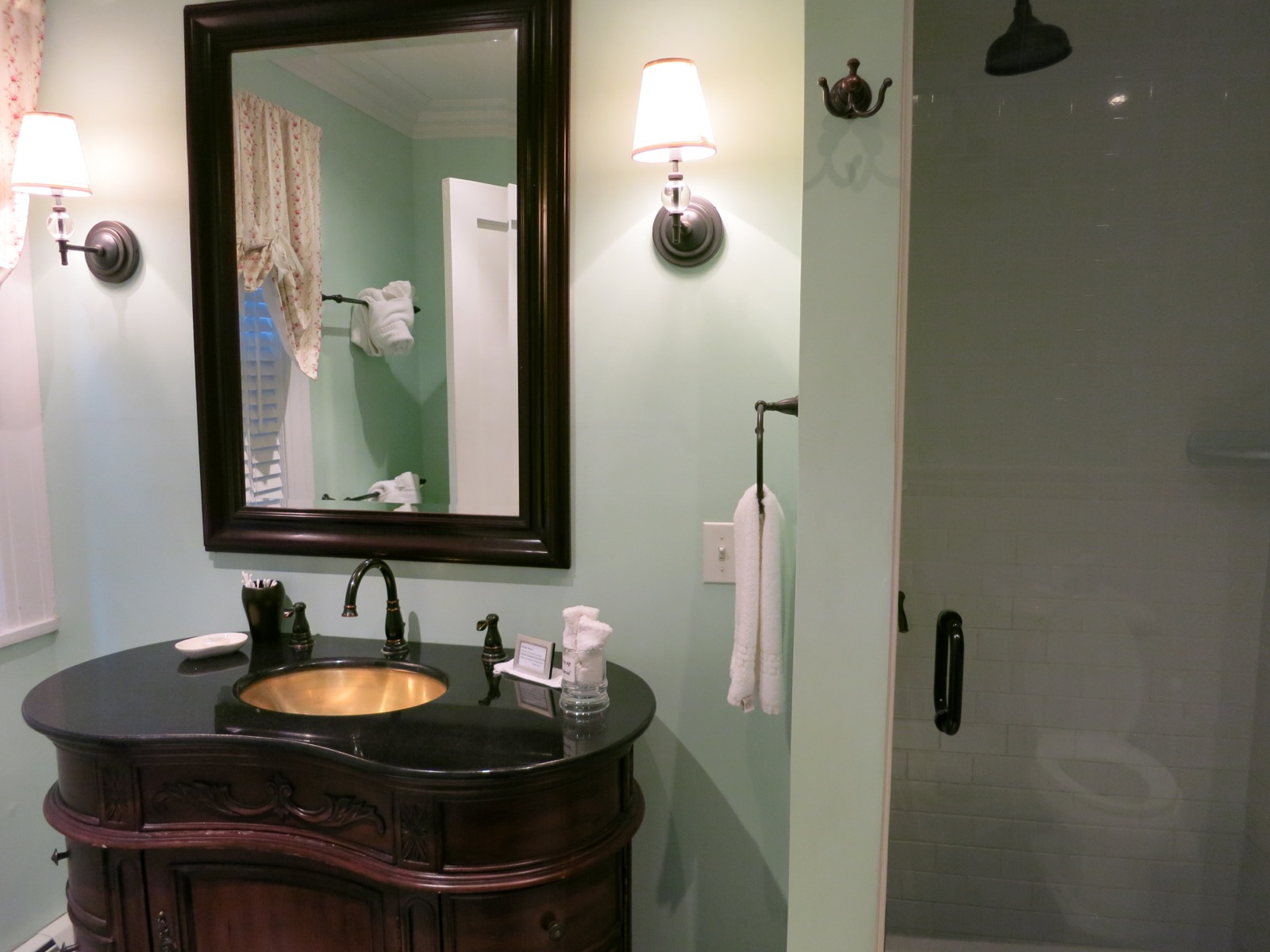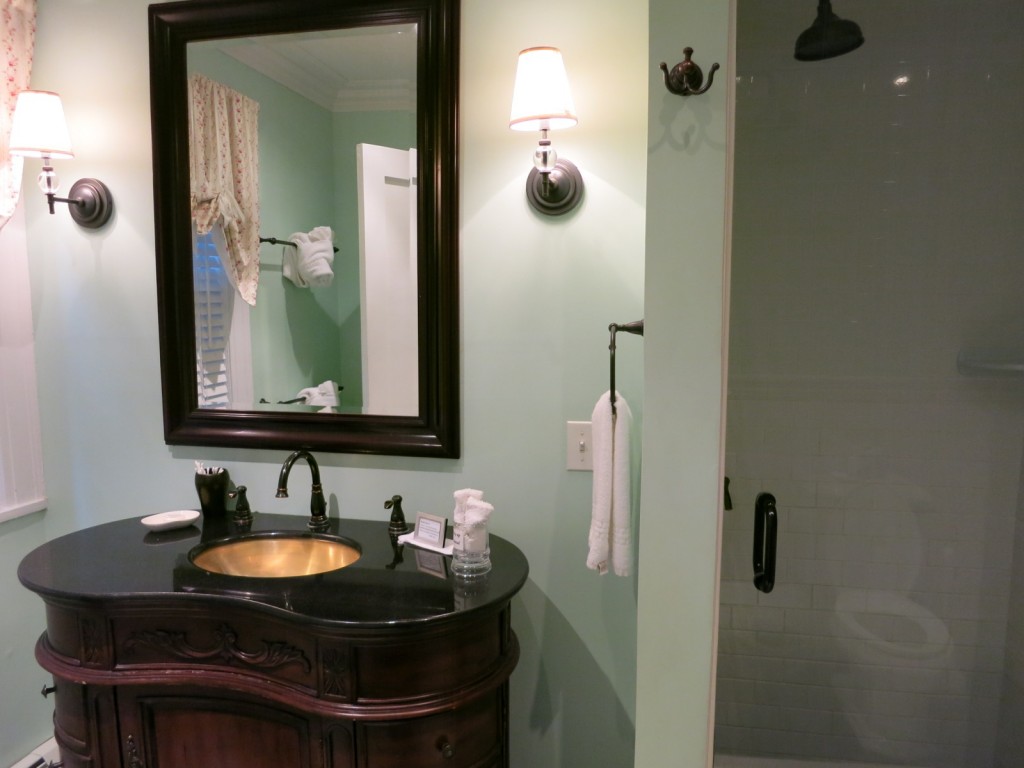 The cocktail bar downstairs (available for guests only) is a favorite of repeat visitors, who look forward to socializing in a comfortable setting.
Open from 5:30pm-9:30pm, this "living room" bar invites conversation among strangers. You can also choose to take your drink outside to the awning-covered patio overlooking the front lawn. The landscape is lovely even when it's raining.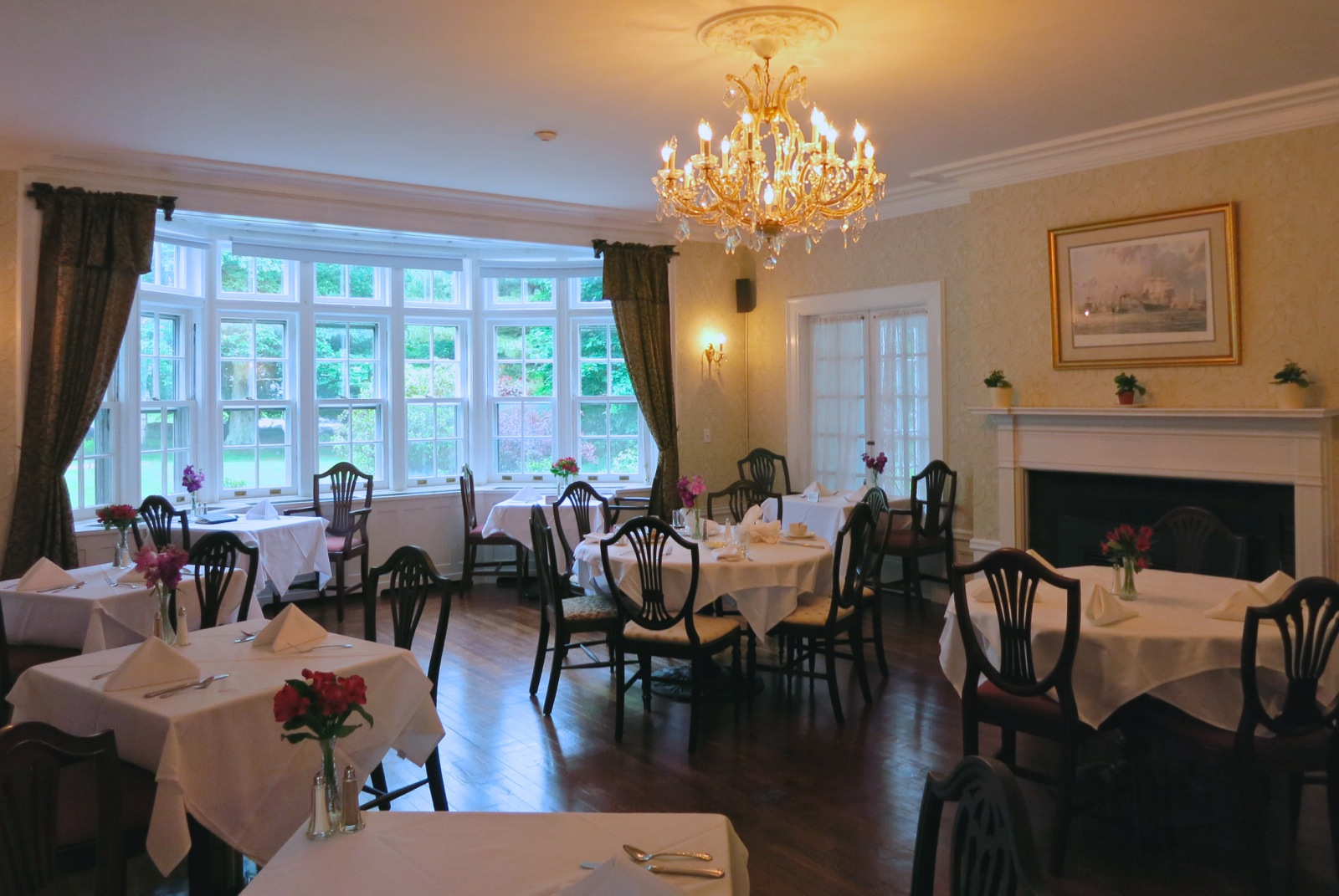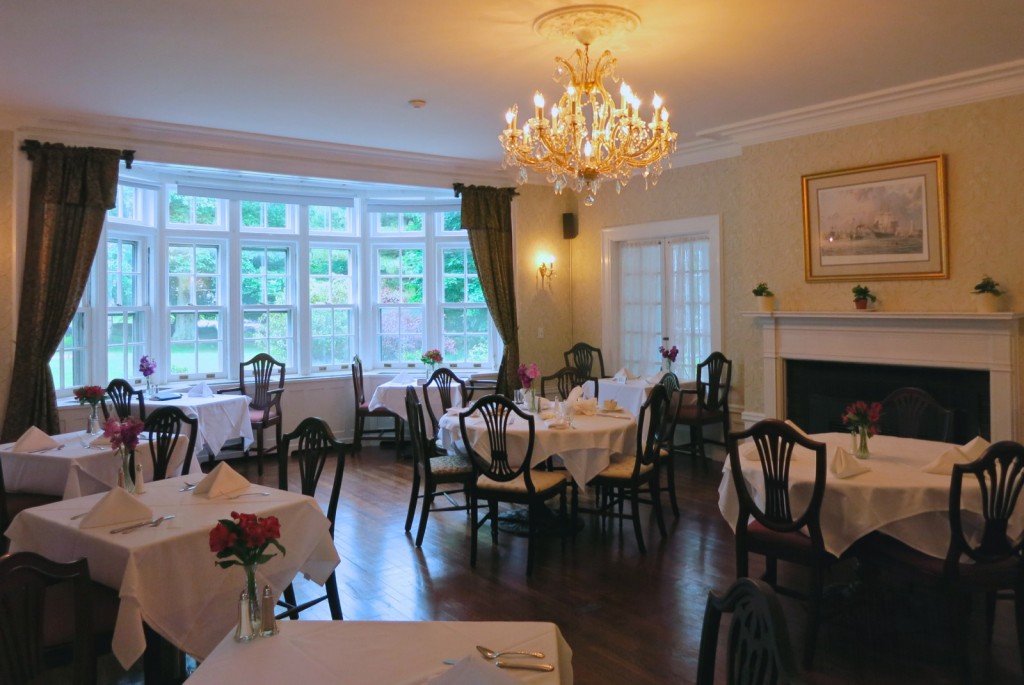 In the morning, an excellent, made to order hot breakfast is served in a beautifully elegant dining room; a true indulgence. Room rates from $139-$449 per night include a full breakfast, coffee and water available 24/7, wi-fi and parking.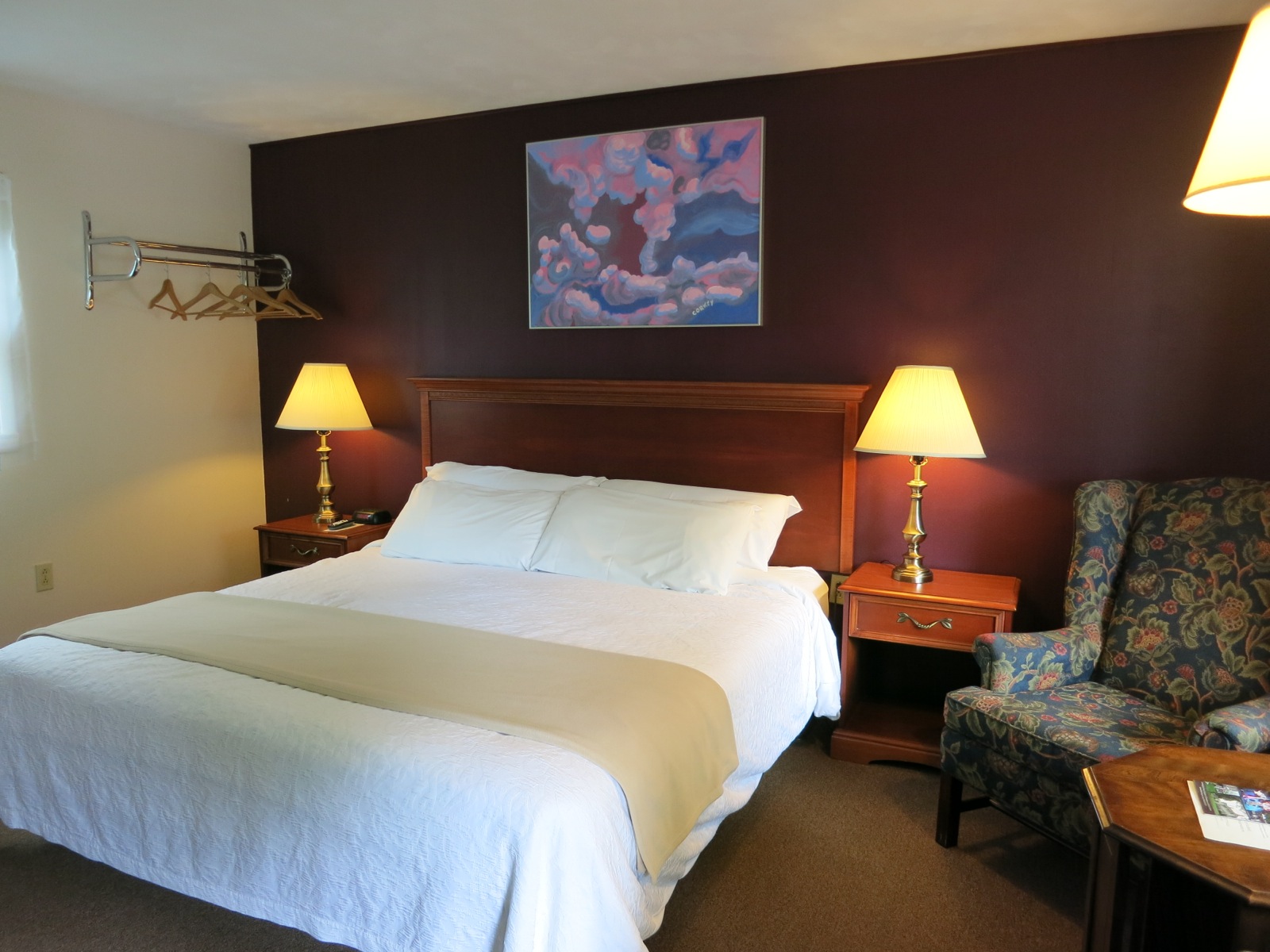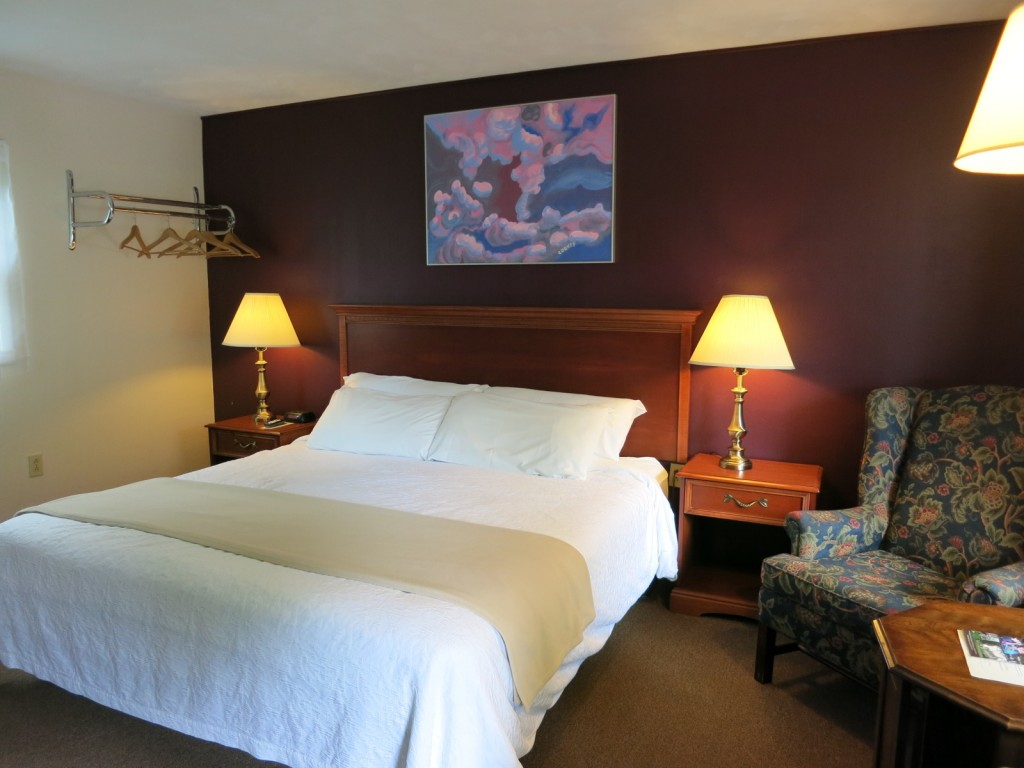 New owners would love to change the name of this funky little place (right on Route 7a) to Art Motel. Each room – with one deeply colored wall, features local art that guests can purchase. There are also programs for painting and woodworking classes – given on a lawn with gorgeous views of the mountains. Rooms from $105 per night.
More Weekend Getaways In Vermont