Last Updated on May 27, 2022 by Editor
WHY GO: Come to Bangor ME and you'll be introduced to war heroes, troop greeters, and snowplows the size of ships. Rabid Stephen King fans make pilgrimages to this city in the middle of Maine.
But of course, there are other reasons to visit the Bangor area beyond catching a glimpse of The King of Horror or his former Victorian manse. Just keep reading.
Things to Do in Bangor ME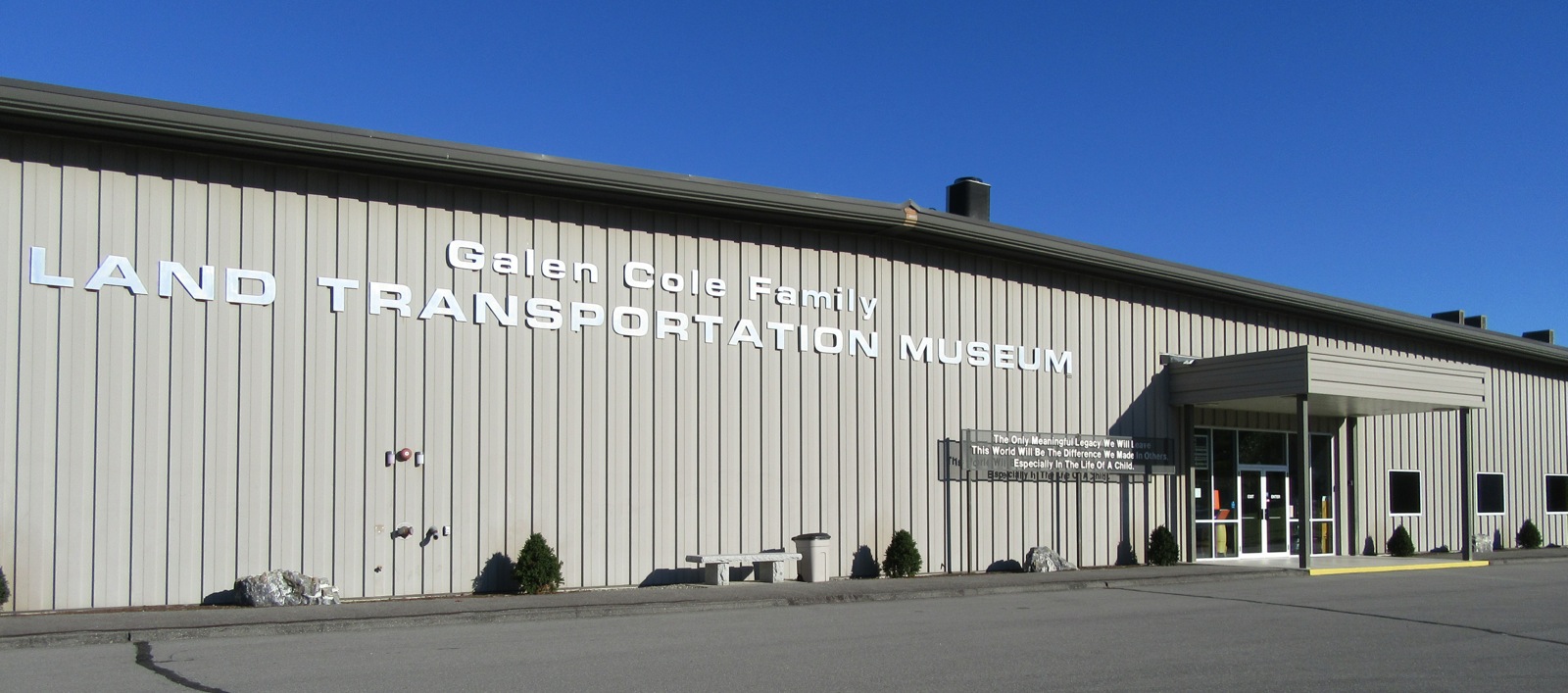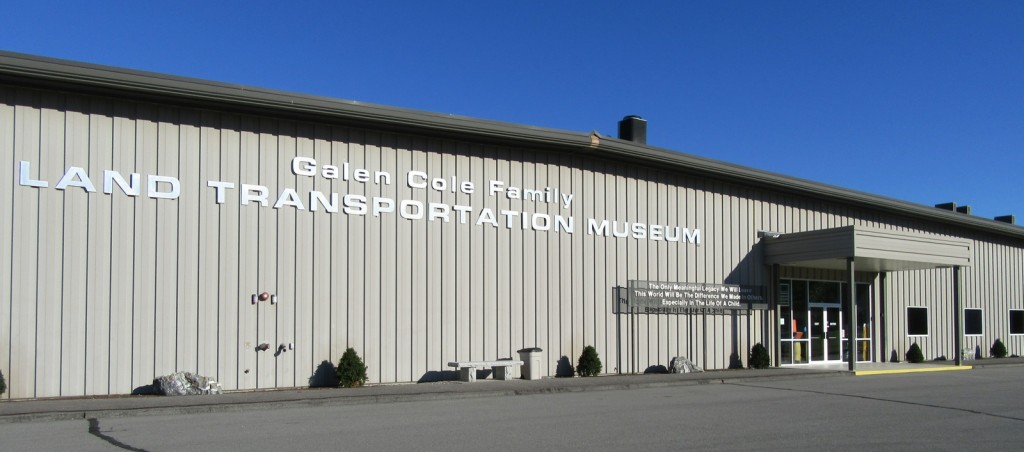 This is no boring assemblage of old trains, old cars and antique fire trucks. Oh contraire.
Yes, you'll find all of those things in this nondescript putty-colored warehouse flanked by WWII Memorials (4,914 Bangor citizens served, 110 lost their lives). Several programs and exhibits here, however, stand out in quirkiness and poignancy.
Cole's WWII Connection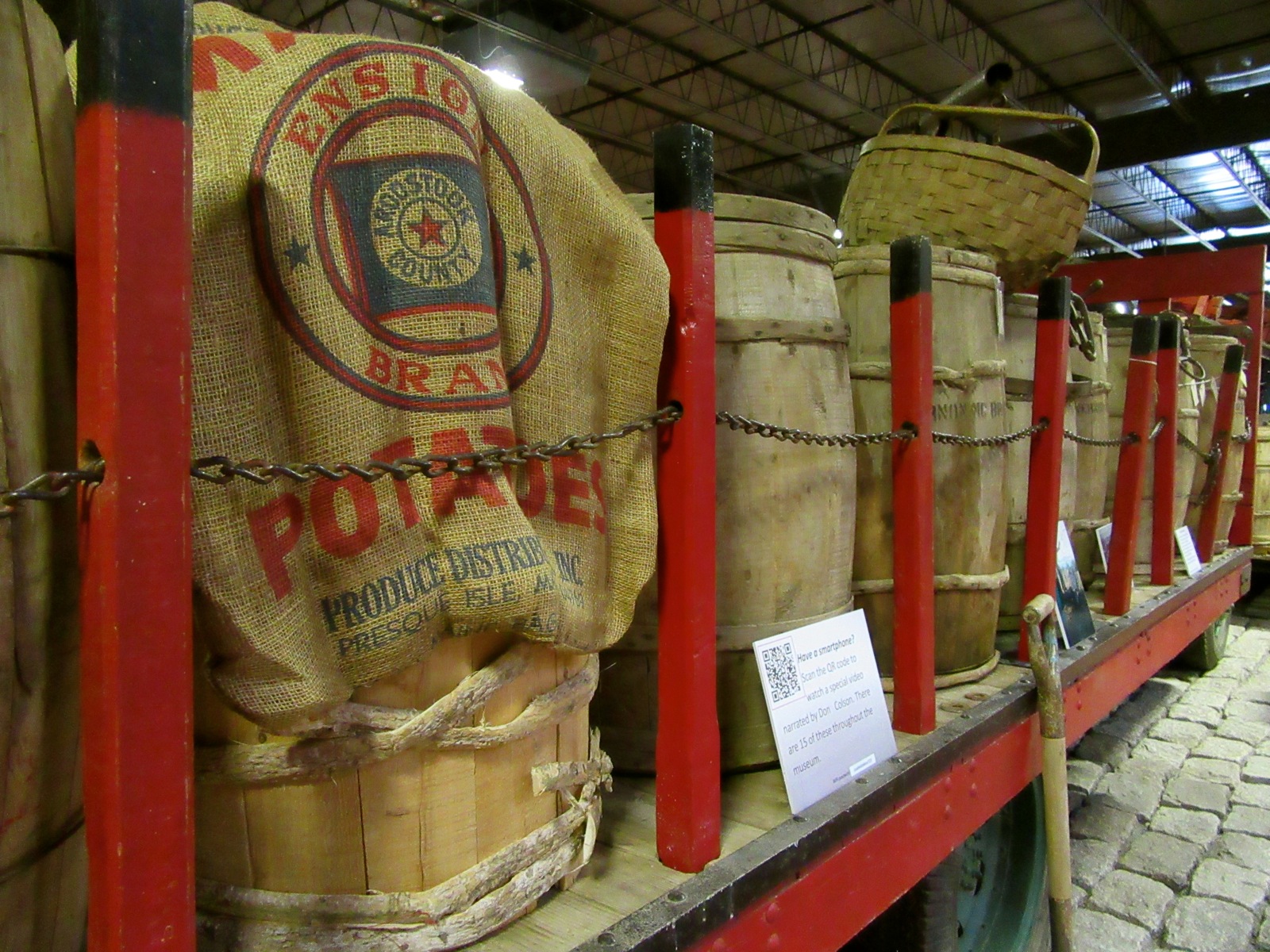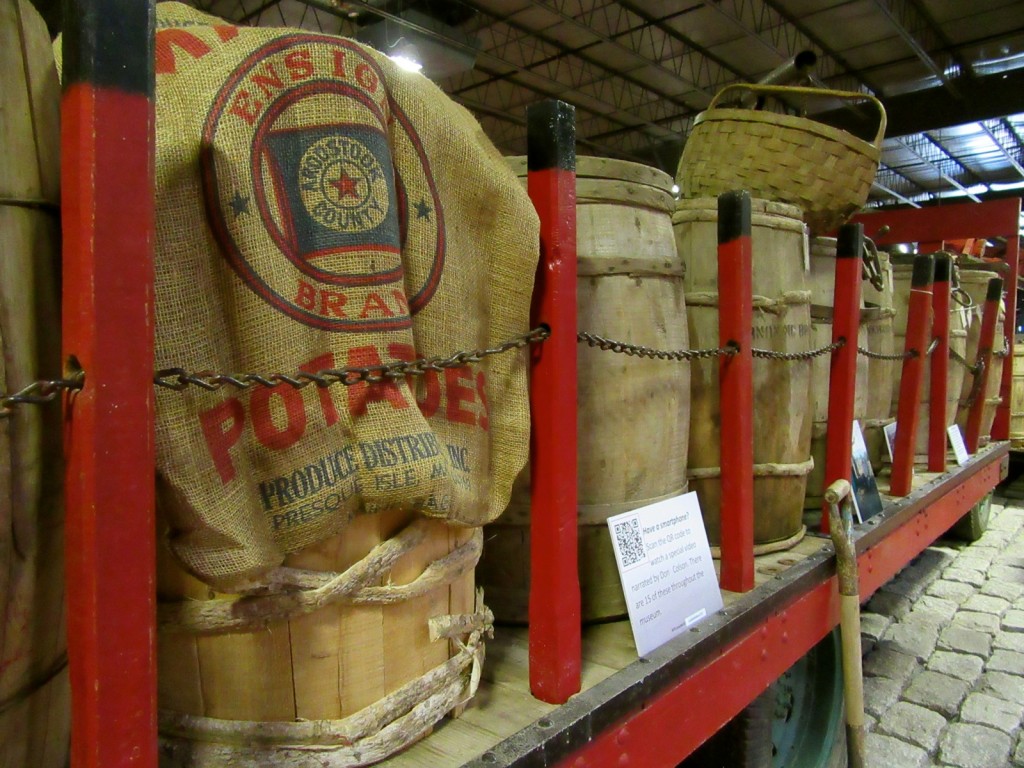 Galen Cole, owner of Cole's Express Trucking Co. (which was bought out by Roadway in the late 1990's), served his country in WWII. Along with the 200 vehicles on exhibit, the Museum is chock full of mementoes from Galen's time in Europe as a soldier.
Most memorably, there's an exhibit honoring a German woman for tending to his wounds after his truck came under fire. Medics set up a field hospital on this woman's farm. Instead of complaining, the farmer provided fresh sheets and food to the wounded.
Forty years later, Cole arranged to have this hero and her family come to Bangor to thank her for her kindness. Photos from this celebration can be seen amidst the old trucks and cars.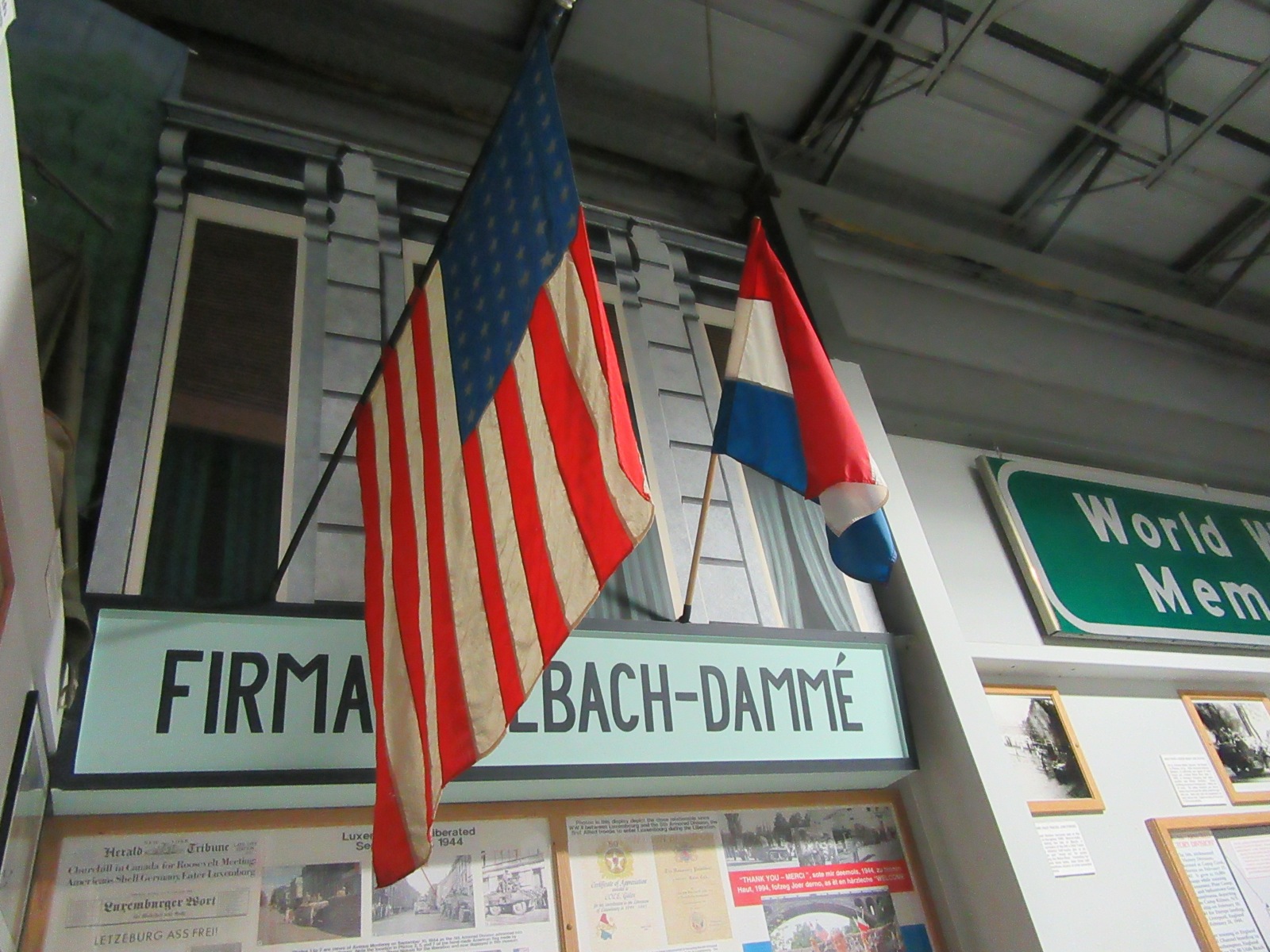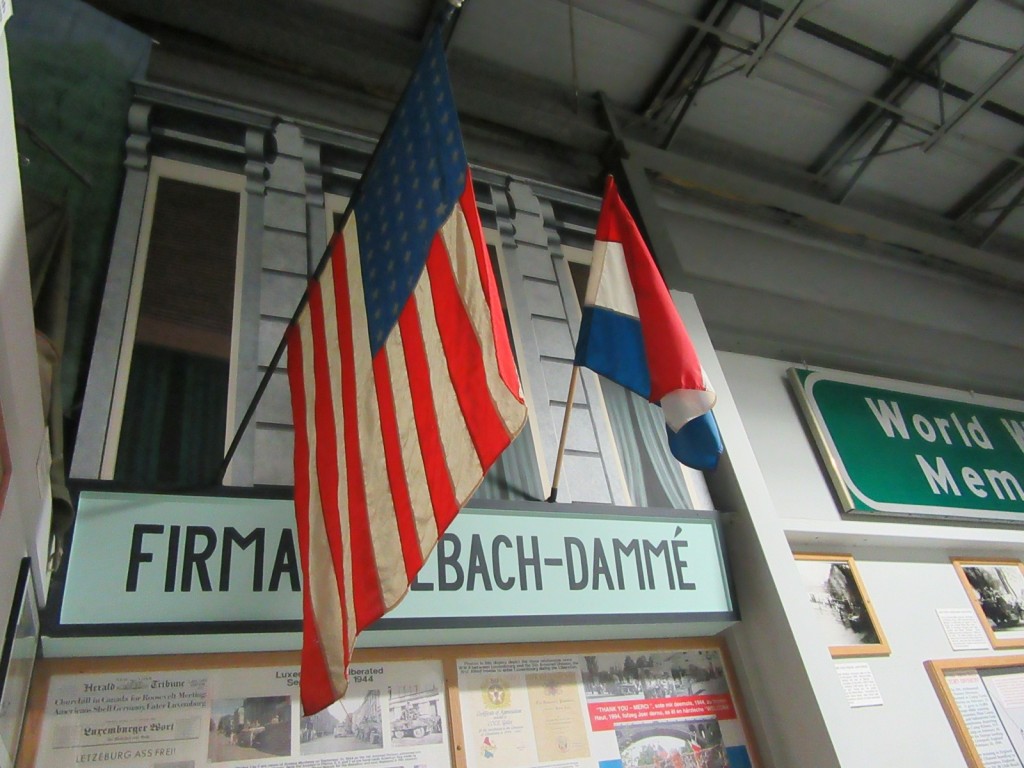 Perhaps the most well known WWII artifact here is the American Flag made from the scraps of a red, white and blue Luxembourg flag. The flag was hanging out of a main street window when U.S. troops, under General George Patton, liberated this tiny Germanic country from the Nazi's.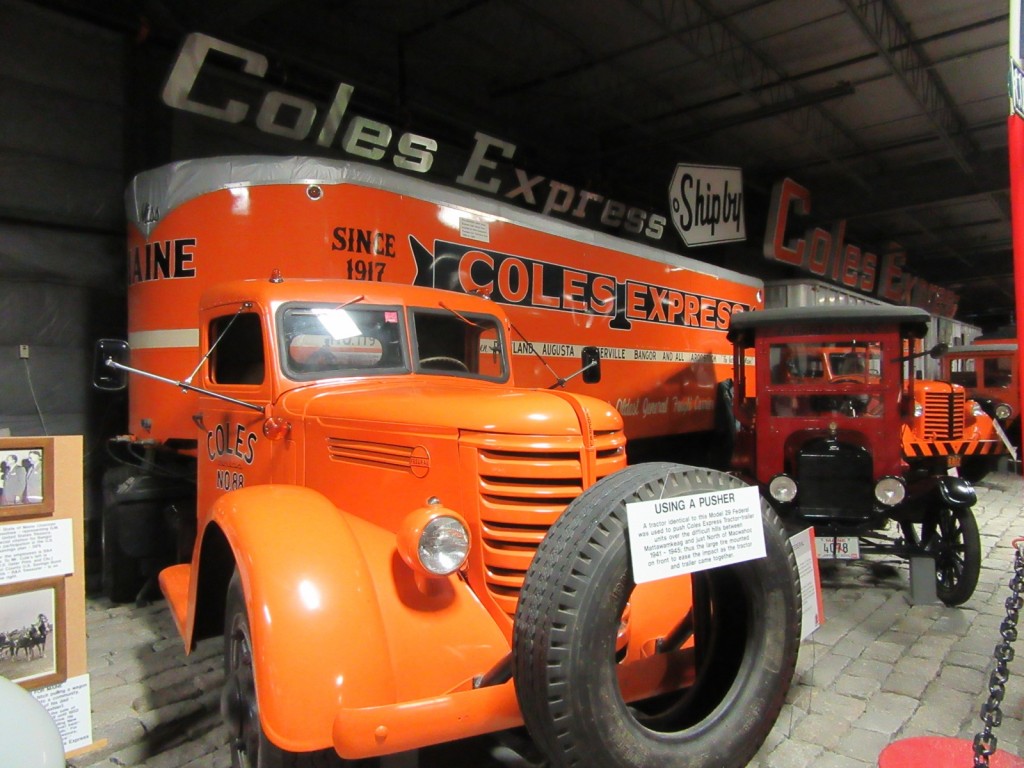 Yes, the WWII artifacts are impressive, but those who visit for the "Transportation" aspect of the museum will not be disappointed.
Big and Important Vehicles
There's the requisite collection of fire engines, and train cars. Bangor and Aroostook American Railfan 557 takes up a good portion of this vast space. You'll also behold old bikes, motorcycles and tractors.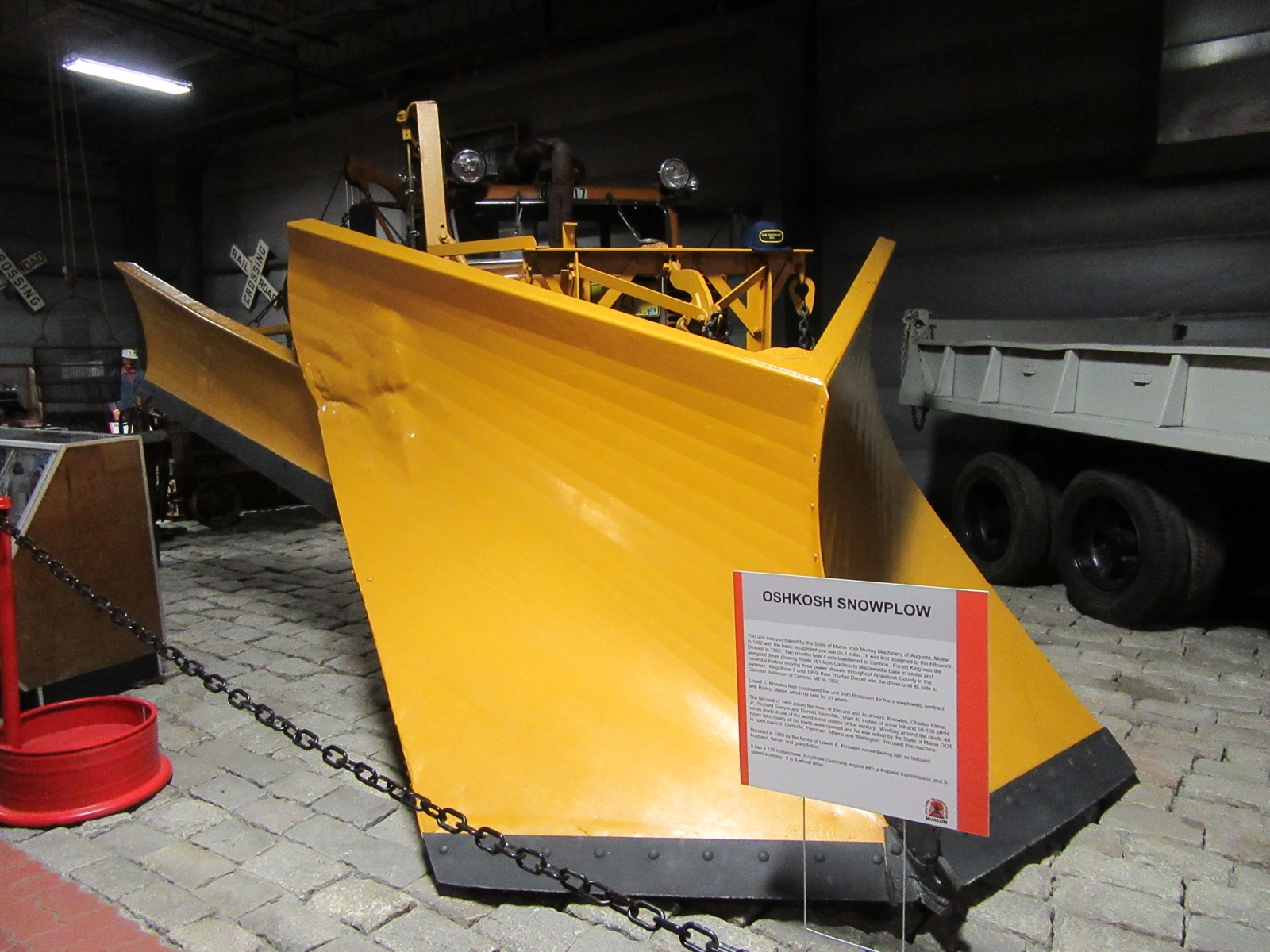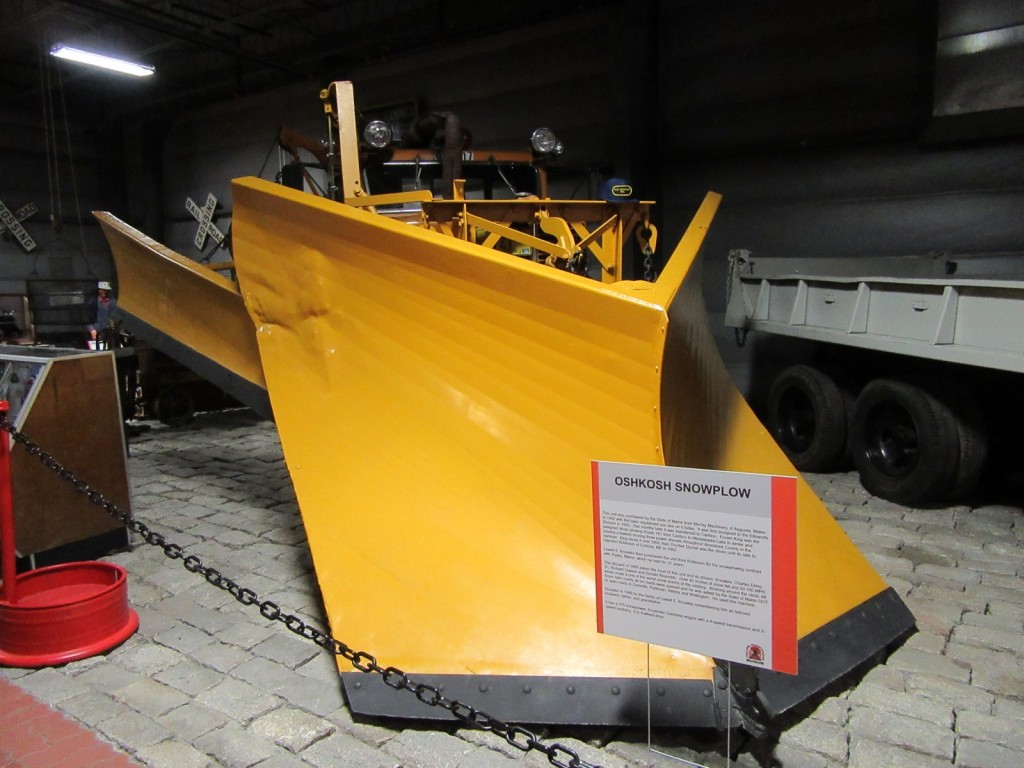 But, this being Maine, you'll also find a whole series of SNOWPLOWS. Some are so massive, the blades sweep like the prow of a ship to clear ten feet of snow from both sides of the street at once.
There are Snowcats, a 1926 Model-T Snowmobile, an 1895 hearse with wheels and sleigh runners, a 1941 GMC Potato truck, and a progressive history of Cole's Express Trucks from horse drawn wagon to 18-wheeler.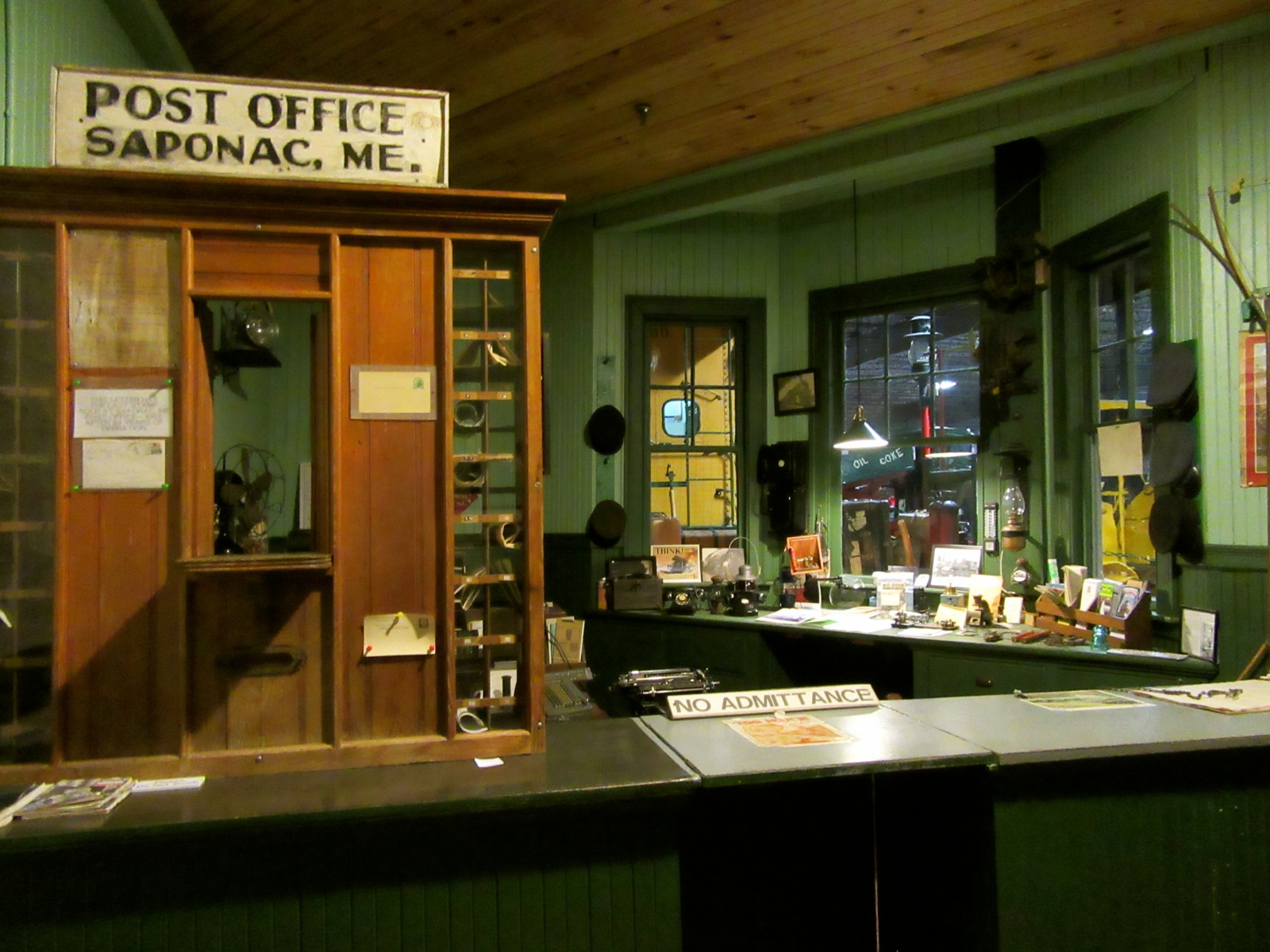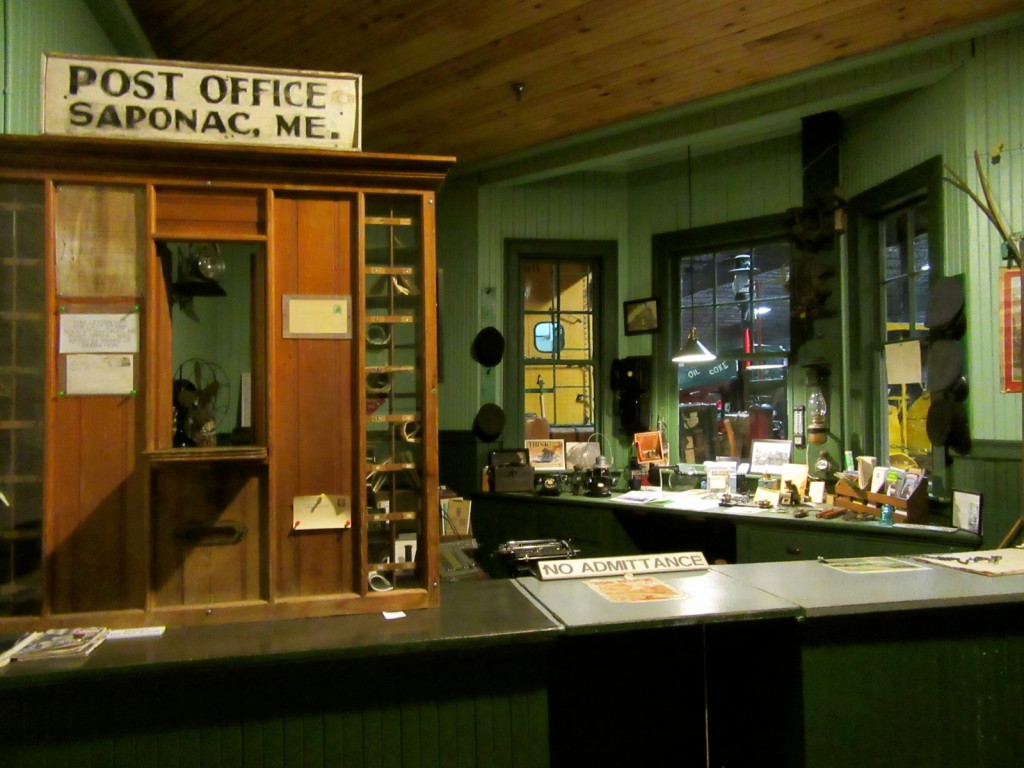 The back corner of the museum features the complete Enfield Train Station where Galen's father, Albert "Allie" J. Cole, started his trucking company in 1917.
Talk to a Vet Program
Cole's Land Transportation Museum is notable for its unique and important "Talk to A Vet" program, where veterans from all wars forge connections with school groups through Q&A sessions.
Come first thing in the morning Mon-Friday during the school year and you might be privileged enough to engage with veterans like the 89 years-young Austin Carter, who also provides impromptu tours of the museum. Cole's Museum is a must-see for any Bangor visitor, and well worth at least two hours of your time. Open daily May-Nov. 11th, 9-5. $7, under 18 free.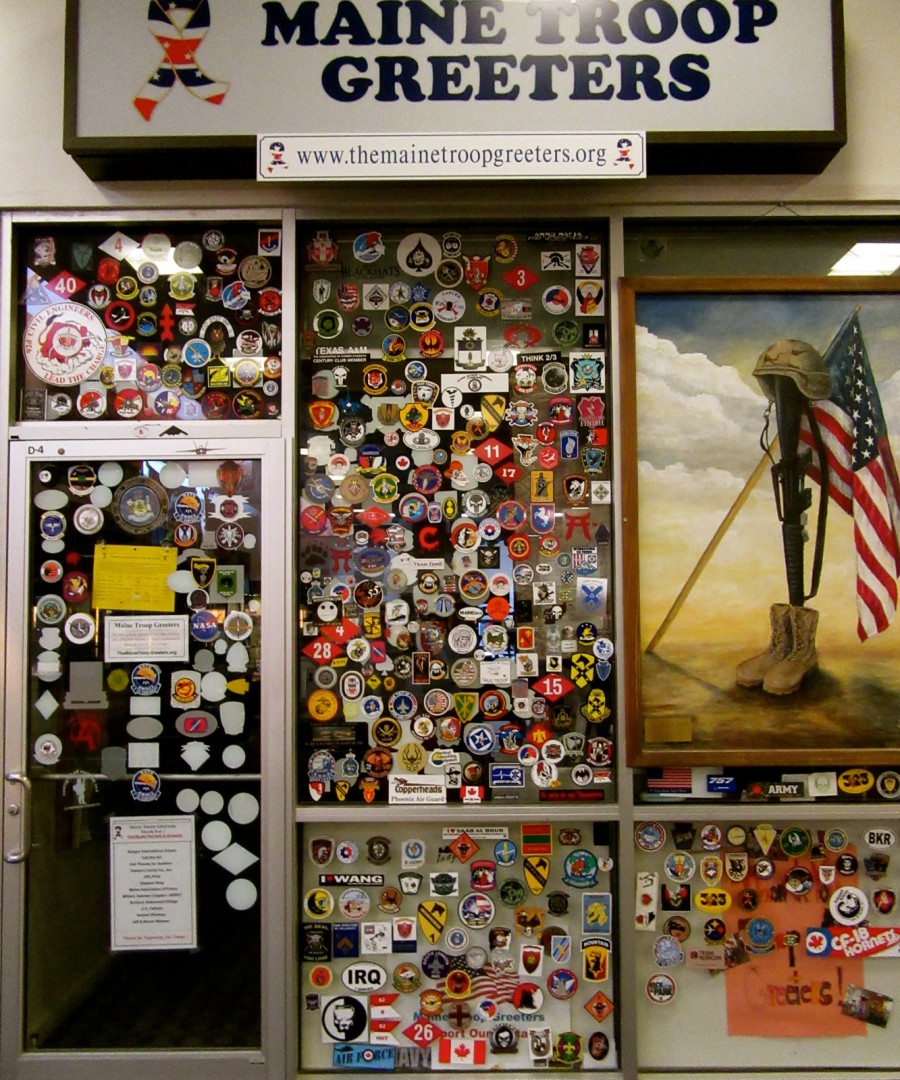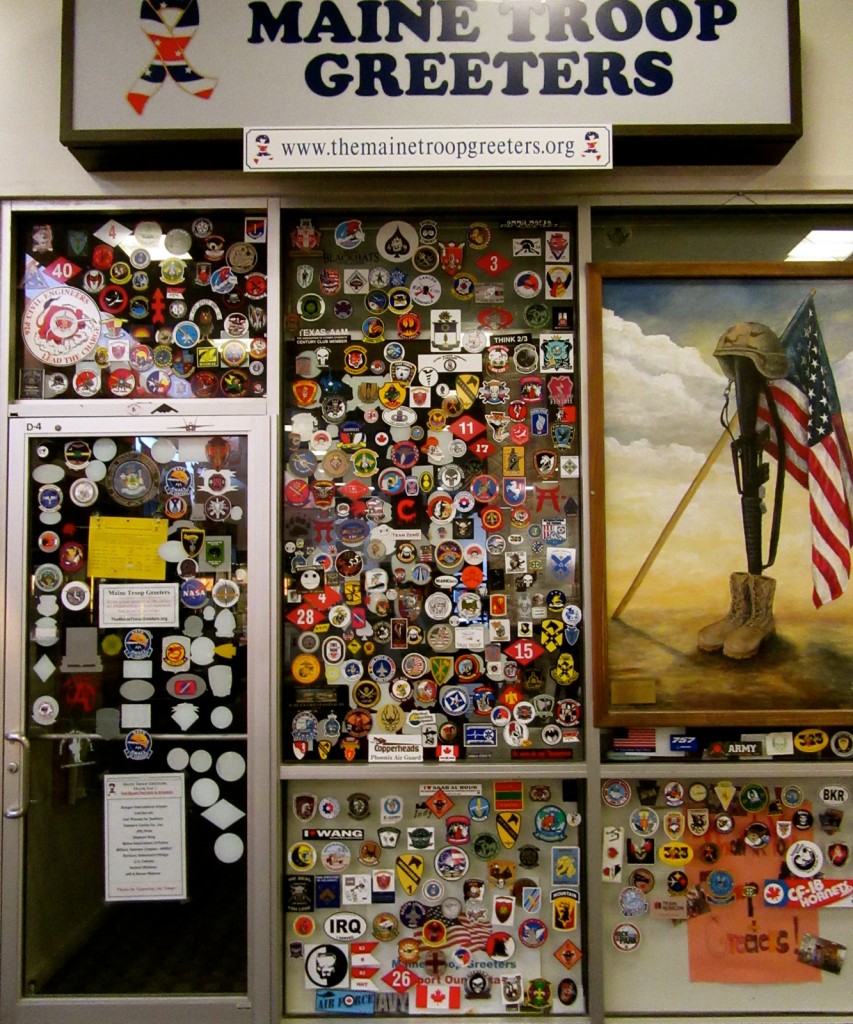 VISIT: "Troop Greeter" Exhibit at Bangor Airport
Bangor is the prime refueling stop for military planes coming back from overseas, and the first place that soldiers returning from war land. Often in the wee hours.
For years now, about 75-100 civilians, many retired military, greet these tired and despairing men and women as they disembark from planes and come through the airport halls.
The Troop Greeters form lines, hold signs of encouragement, and dispense openhearted hugs. They've done so for nearly a million troops since 2003.
Even if you don't time your visit to coincide with one of these greetings, you can still see the collection of coins, patches, posters and other paraphernalia donated by grateful soldiers. The Greeters, according to locals, are "The Pride of Bangor." Airport open 24/7, free.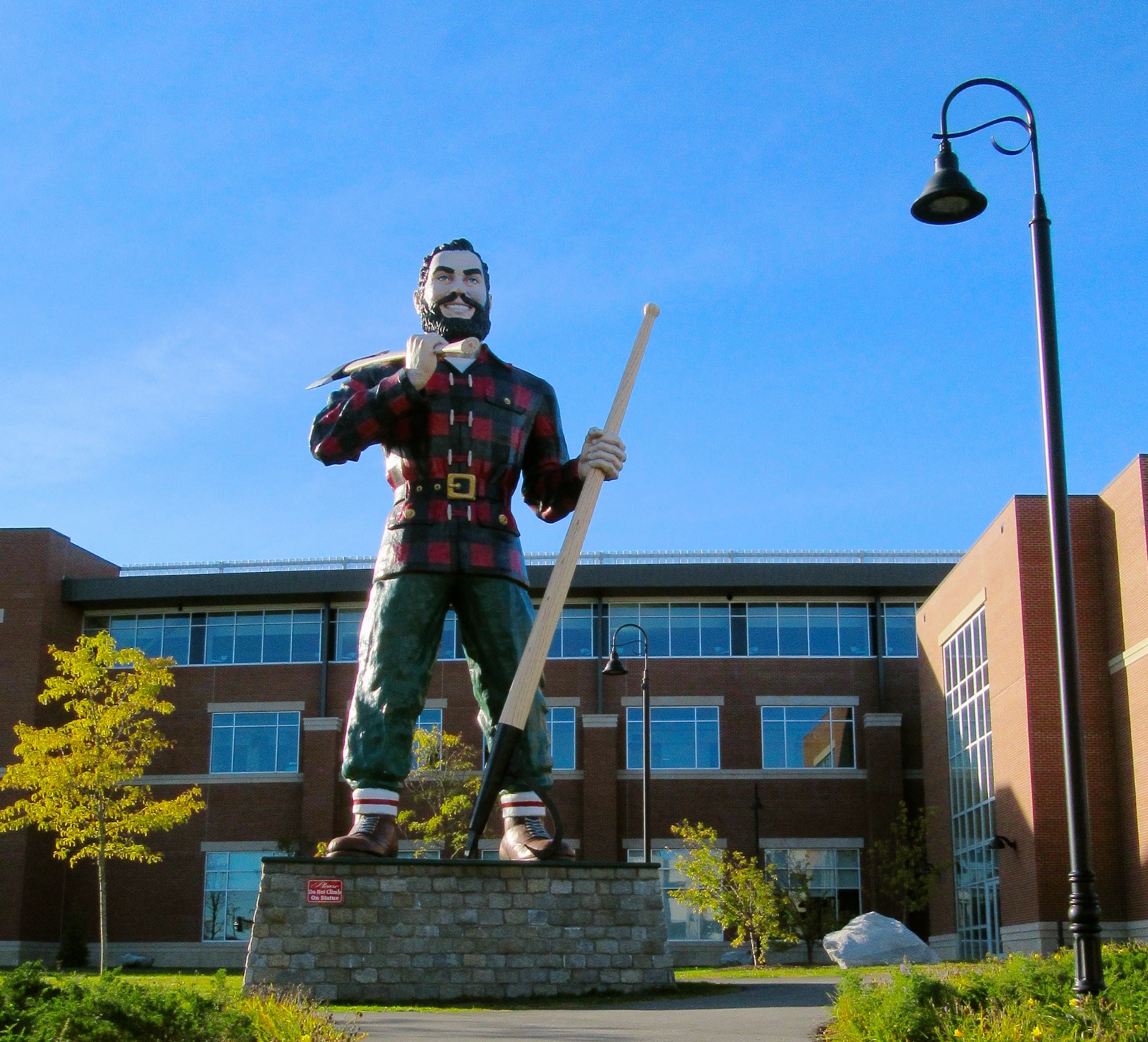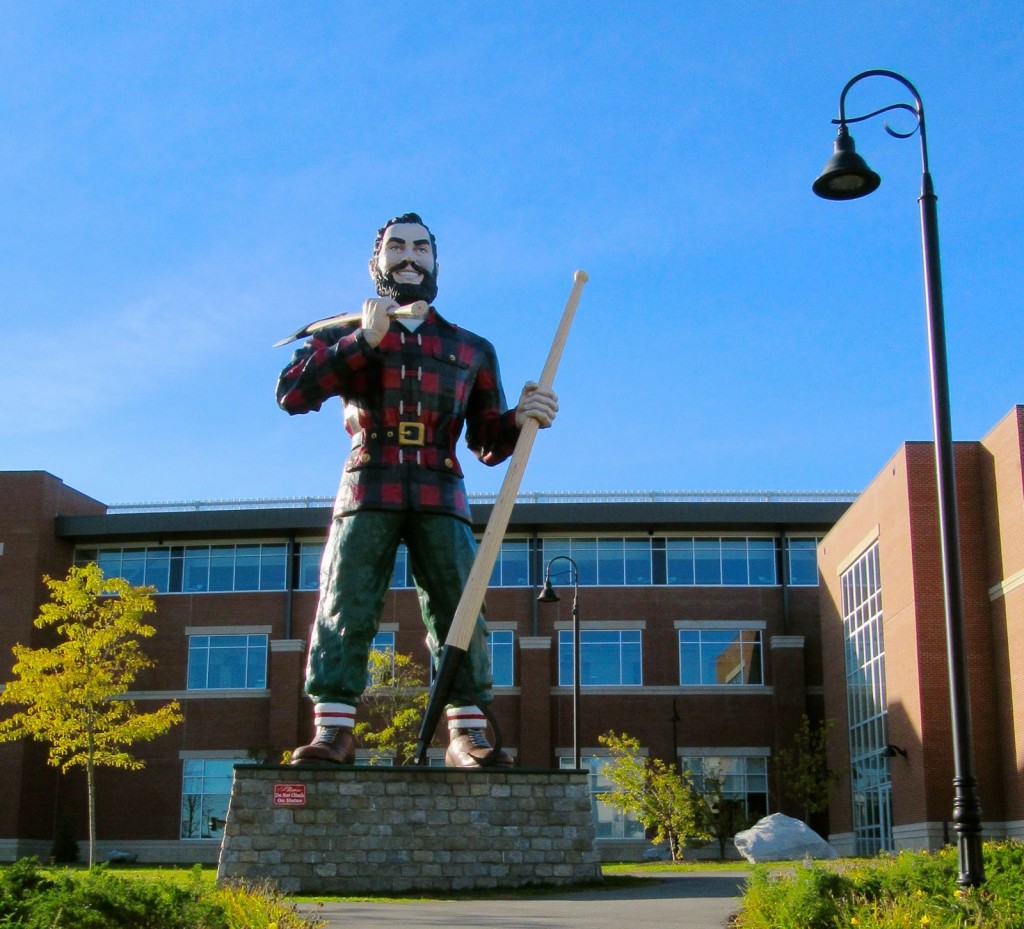 SEE: Stephen King Sites
As most King enthusiasts know, "Derry, Maine" is the author's stand-in for his hometown of Bangor. Many scenes in King's books are drawn from actual attractions and places here.
The 37-foot tall fiberglass Paul Bunyan Statue (purportedly the largest in the world), has stood in the same location since 1959 (now in front of the new Cross Insurance Conference Center). Bunyan came to life in the book "It" – chasing the kids into Bass Park ("Bassy Park") Harness Race Track.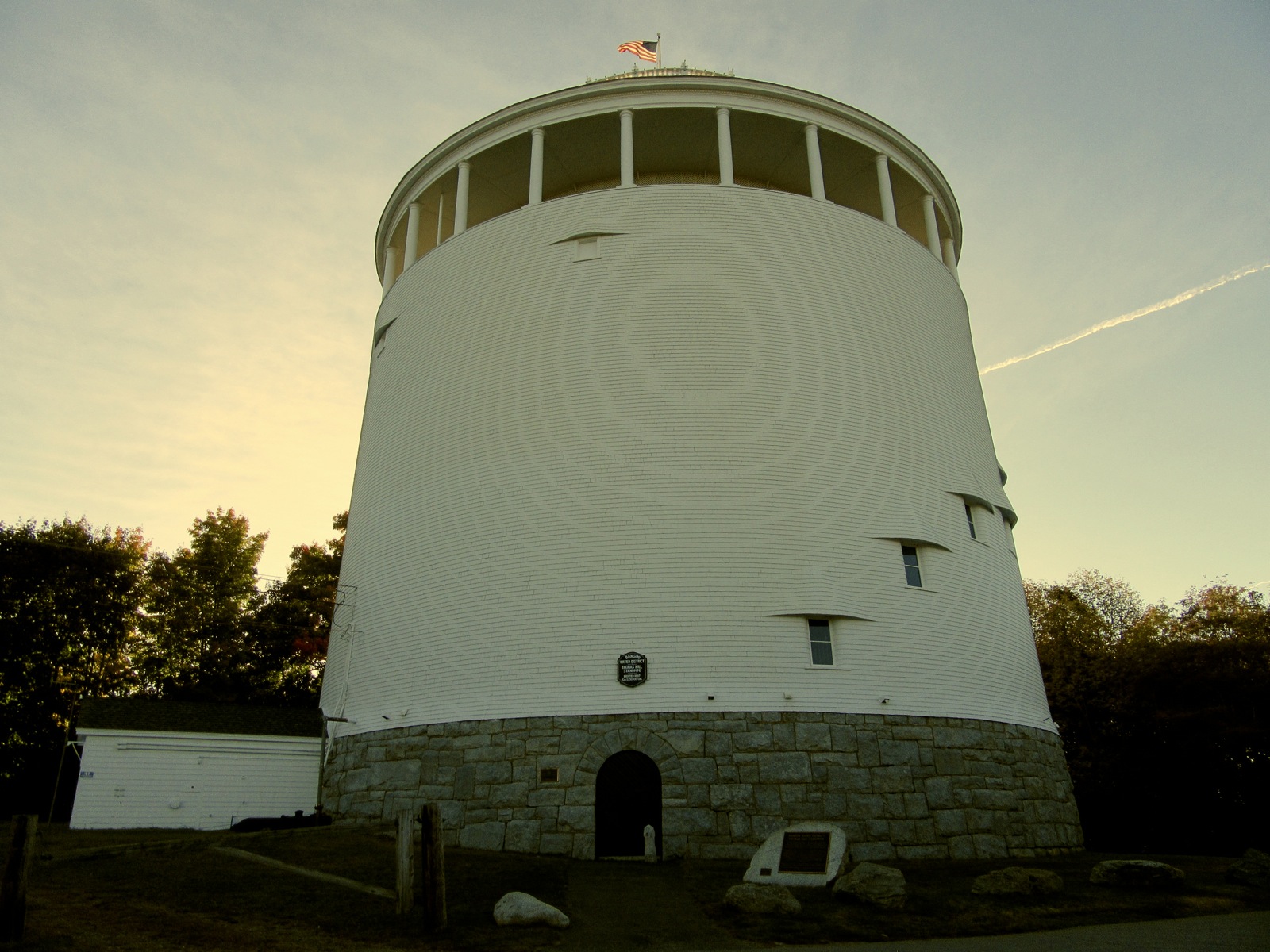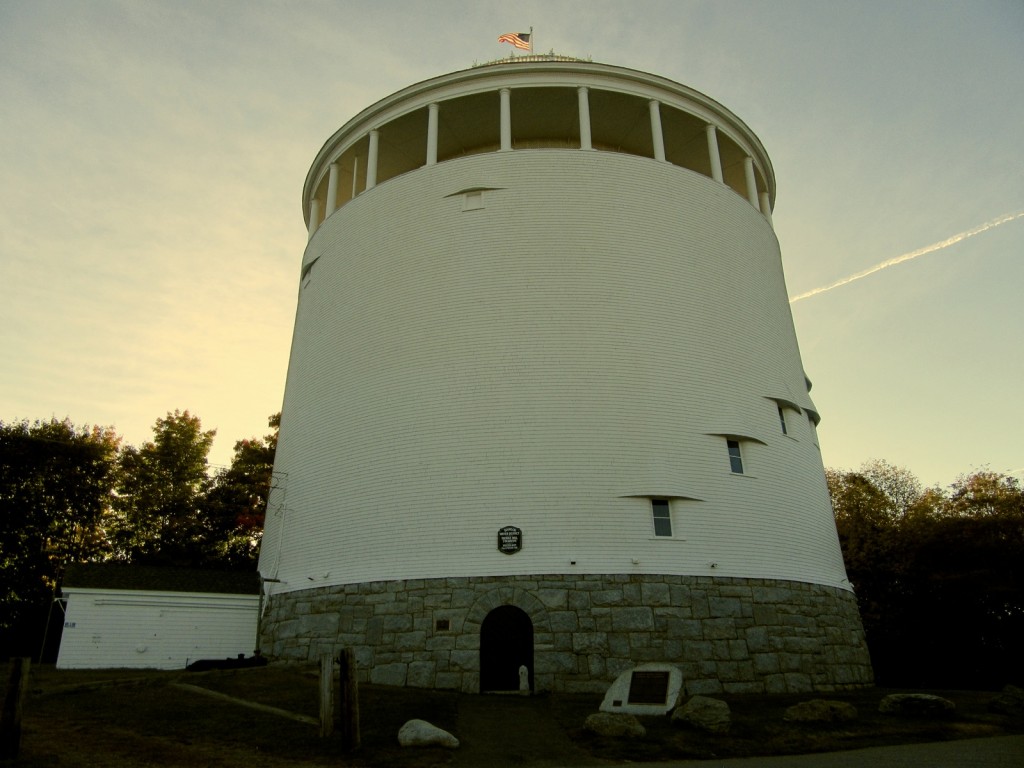 The historic and pretty white brick Thomas Hill Standpipe, built in 1875, regulates 1,750,000 gallons of water for downtown Bangor. King wove the Standpipe into "It" as well, alluding to a true story of a local boy who climbed in and drowned.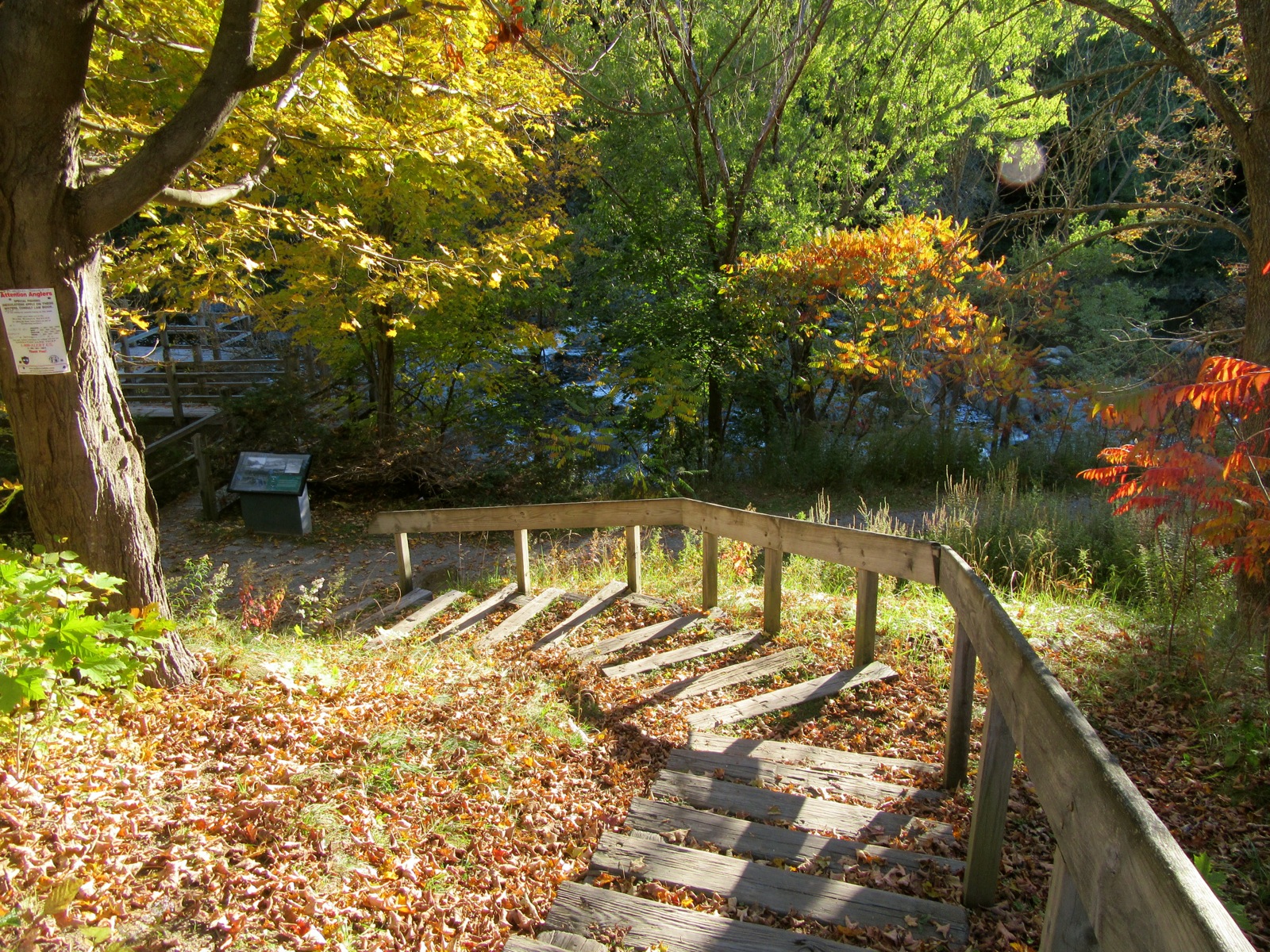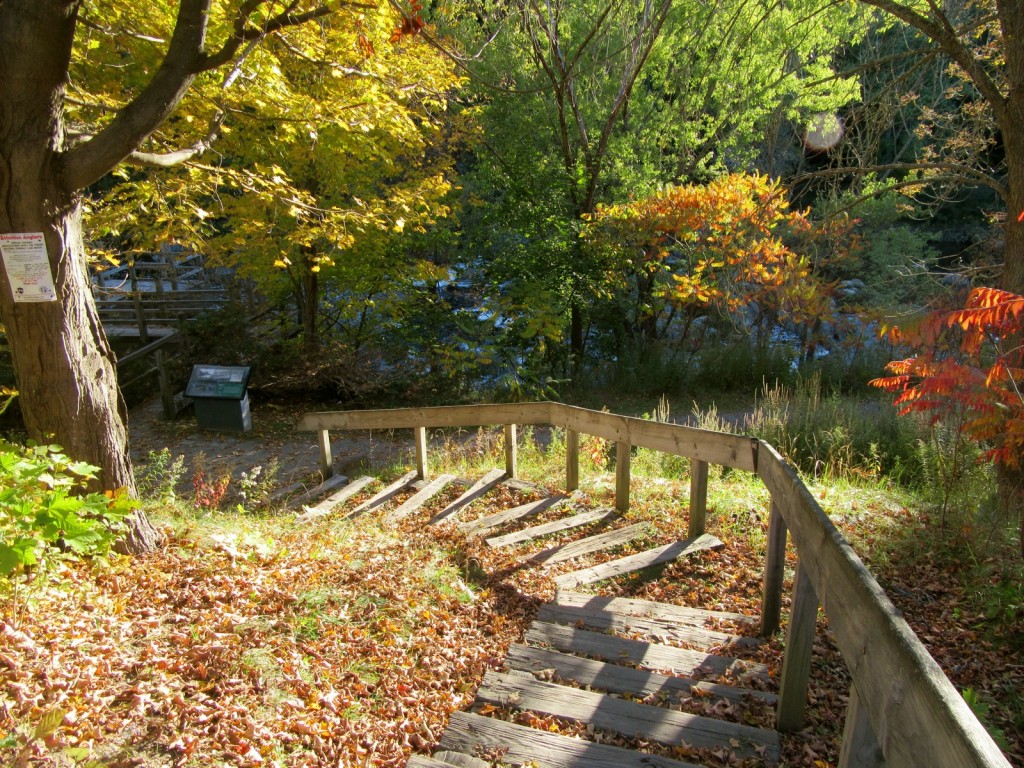 The two mile long Kenduskeag Stream Trail  is a heavily wooded area within Bangor. The forest is featured prominently in "It" as The Barrens, the spooky area where the boys hid from bullies. Now, these woods are a pretty place to stroll, especially during foliage. Just don't stay there after dark!
Pet Cemetery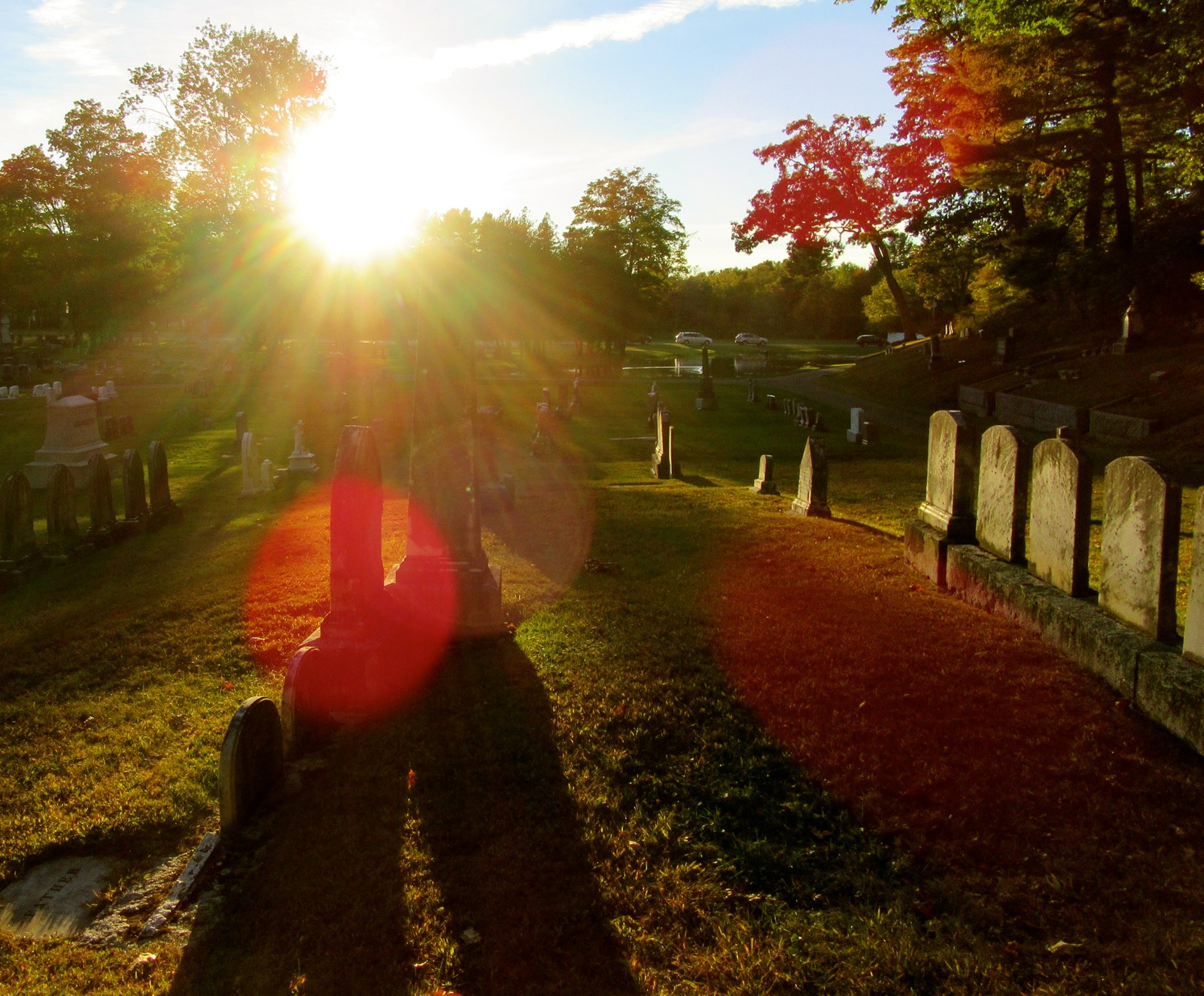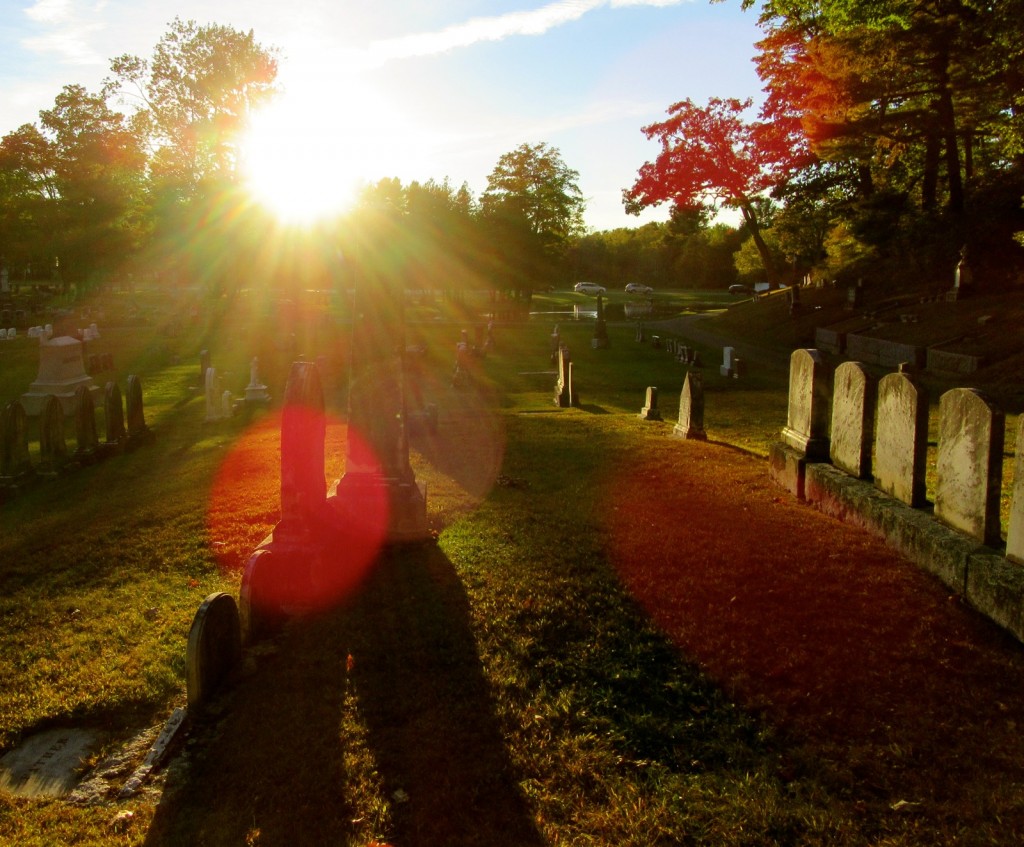 Mt. Hope Cemetery, the country's second oldest garden cemetery (after Mt. Auburn in Cambridge MA) was setting for Pet Cemetery, and where the movie was shot as well. Far from ominous, the cemetery is actually a beautiful park for the living, where residents walk their dogs and sightsee.
King Family Philanthropy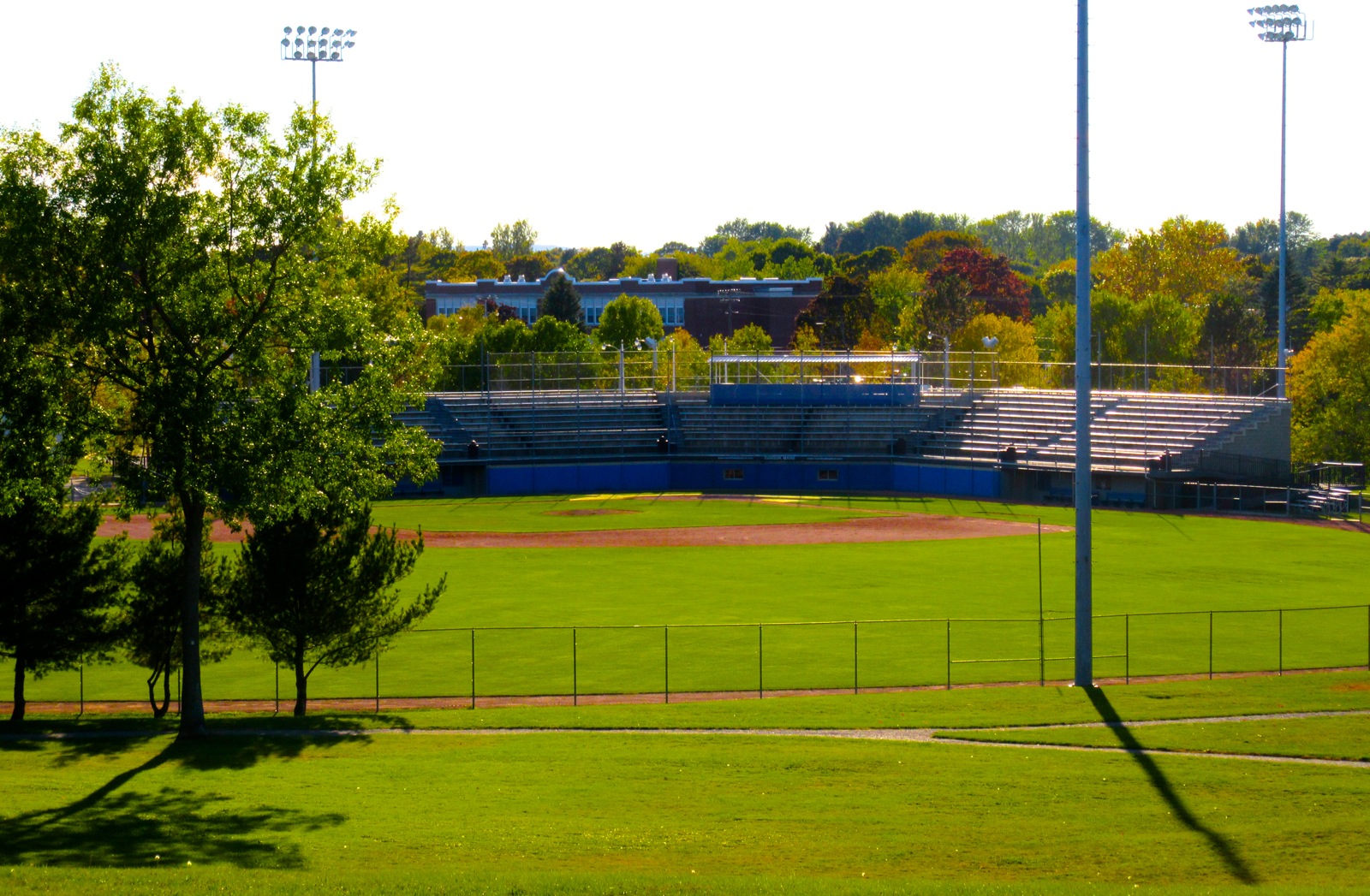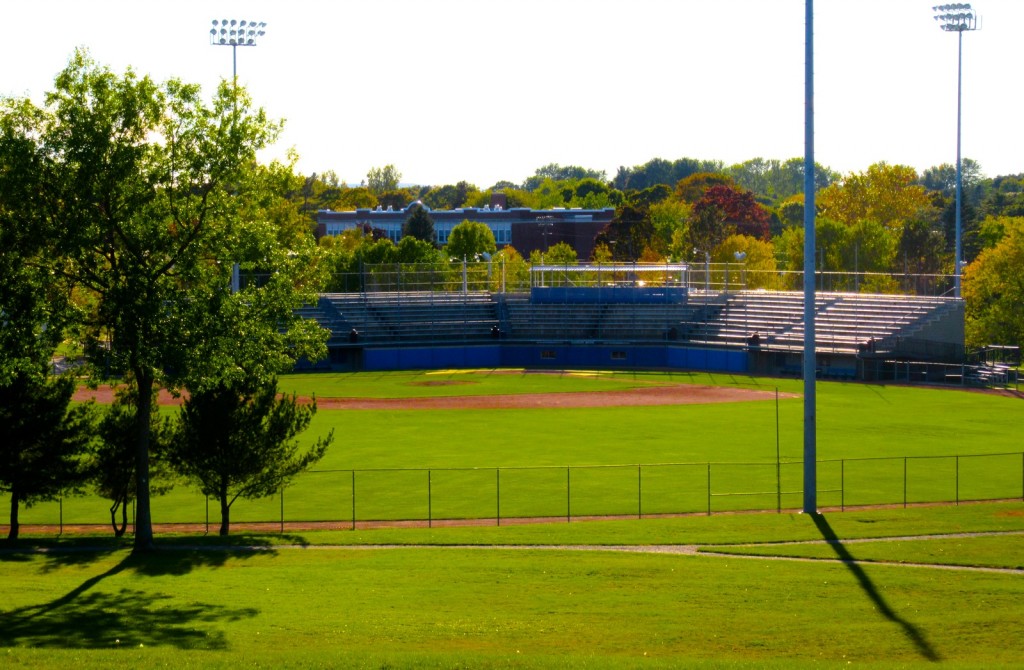 Though not in any of his books, you'll want to stop at the Shawn T. Mansfield Stadium.  A "youth only" baseball field, it's the envy of even professional teams, and evidence of Stephen and Tabitha King's philanthropy.
A 2,000 seat stadium, with Kentucky Bluegrass and night lights, Mansfield Stadium was the King's gift to the city, named in memory of Shawn Trevor Mansfield, a friend of their son's who died at a young age.
According to Bangor residents, the Kings gave a great deal back to the community. But you will not find one public institution heralding the King name. They are just humble that way.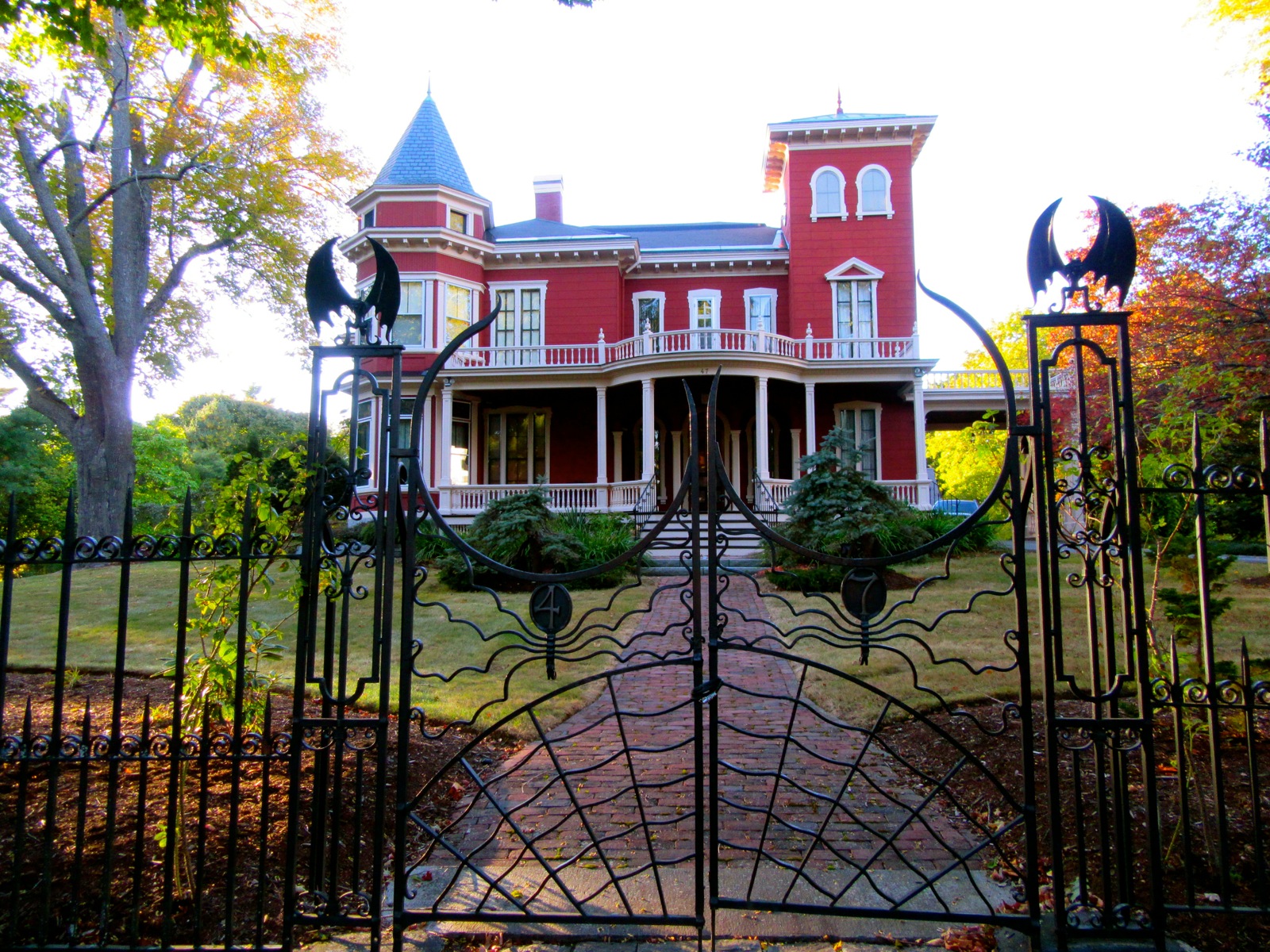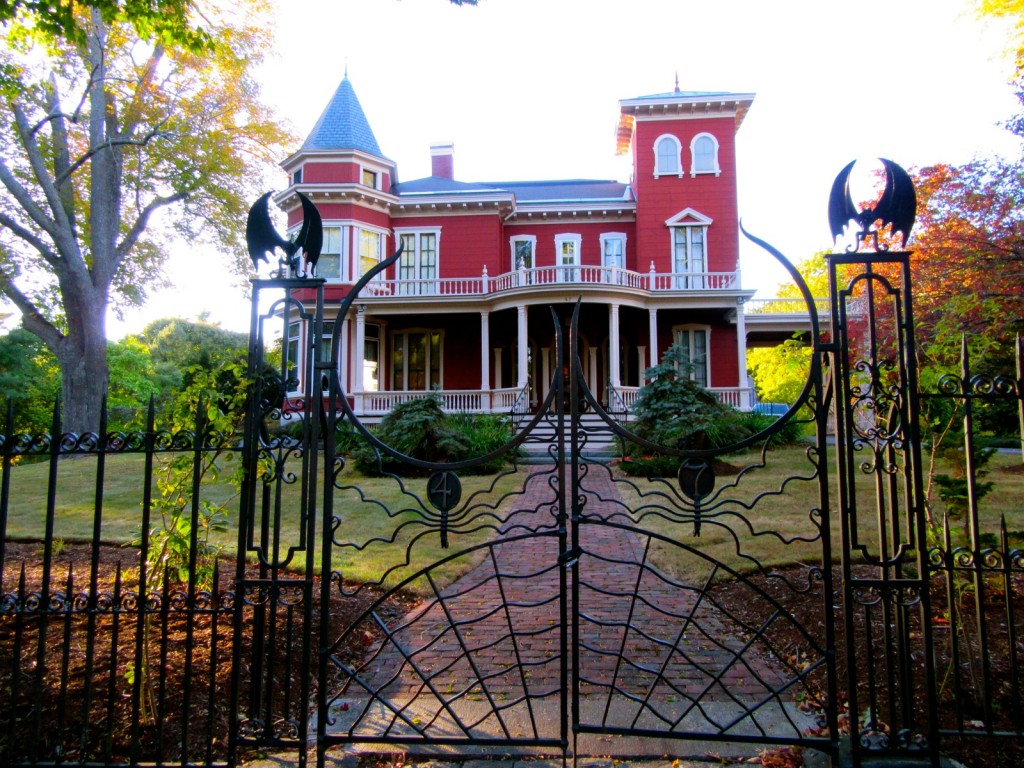 Perhaps the most famous Stephen King sight in Bangor is his former home. On a street arrayed with the stately houses of lumber barons, King's late 1800's Victorian is recognizable by its deep coral color. Oh, and the black wrought iron fence embellished with spider webs, bats and dragons.
Although the King family has decamped for Florida, they continue to give back. Rezoned as a non-profit, the King's Bangor home is slated to become a Writers Retreat.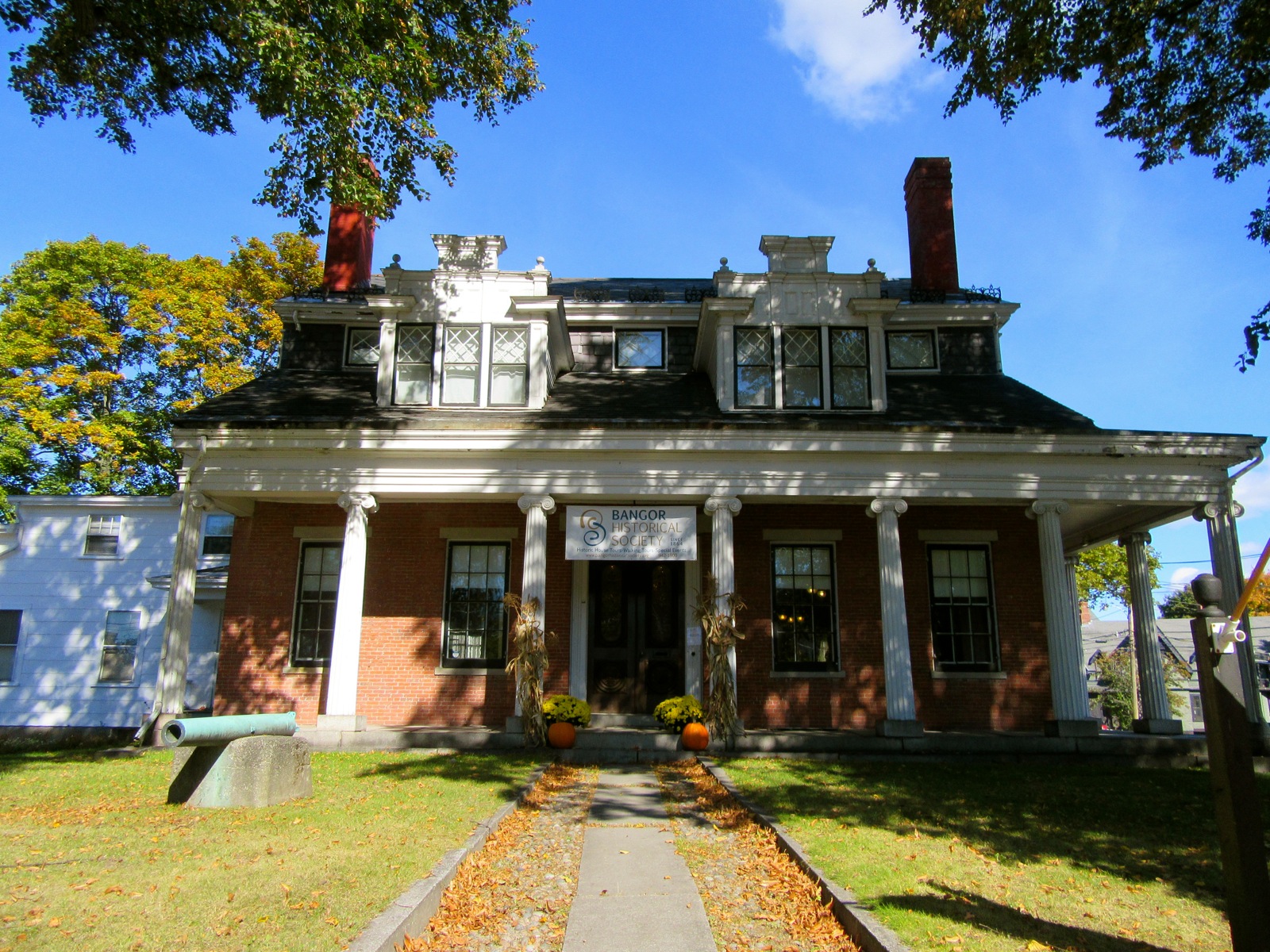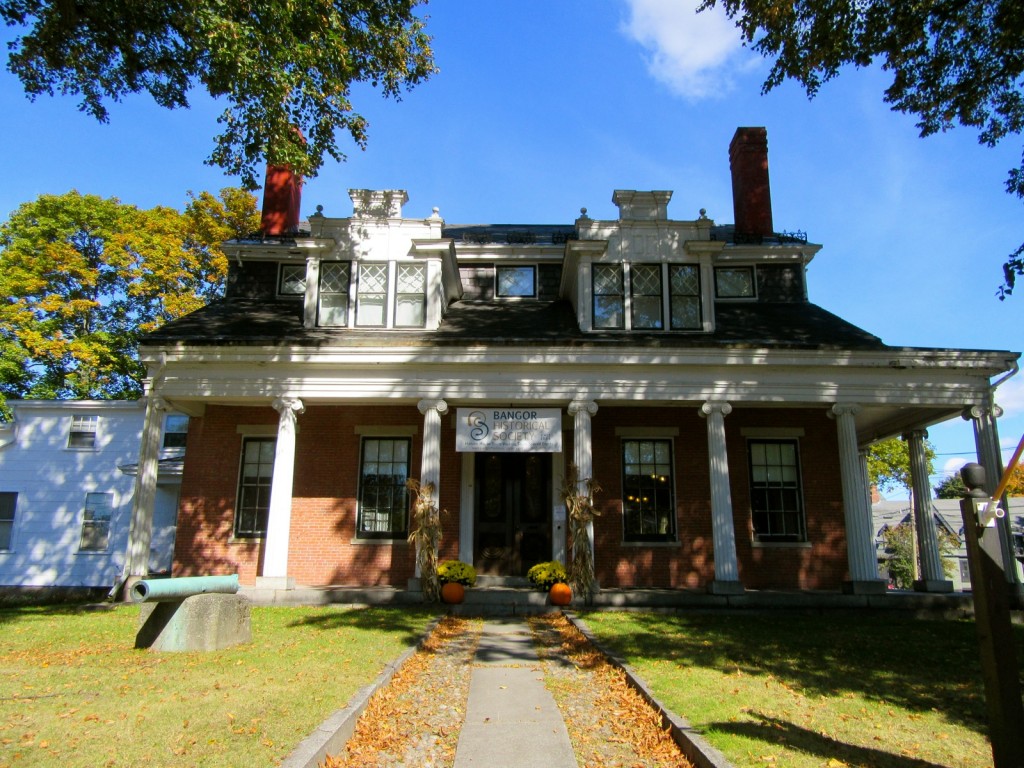 According to Melissa Gerety, past Director of the Bangor Historical Society, "Bangor is a city of many cool small things." (The new Executive Director is Michael Melochick).
One of those things is the Historical Society, established in 1864. Although it suffered a loss of historical artifacts in the Great Bangor Fire of 1911, Bangor citizens united afterwards to donate items. So the collection was slowly rebuilt.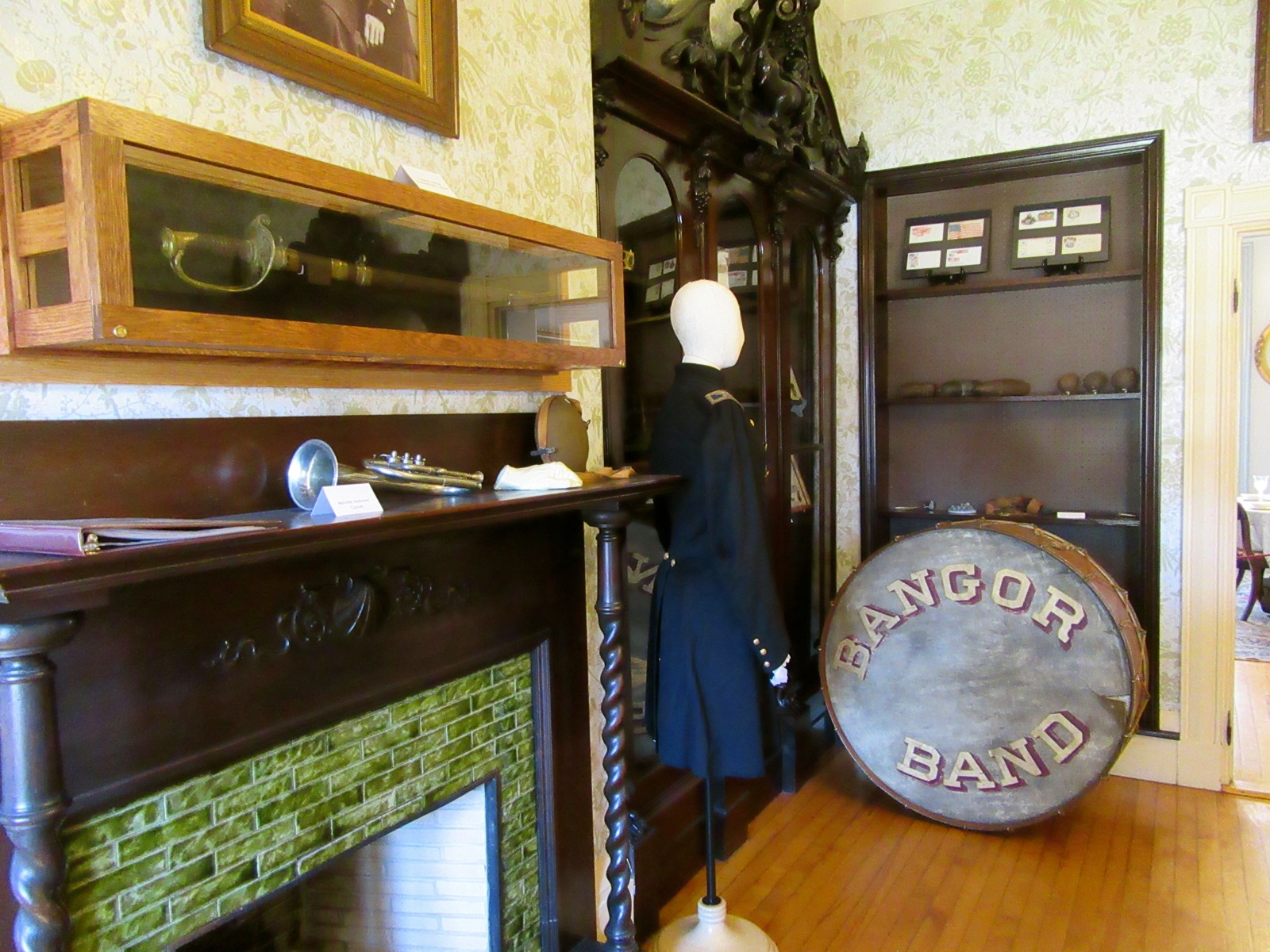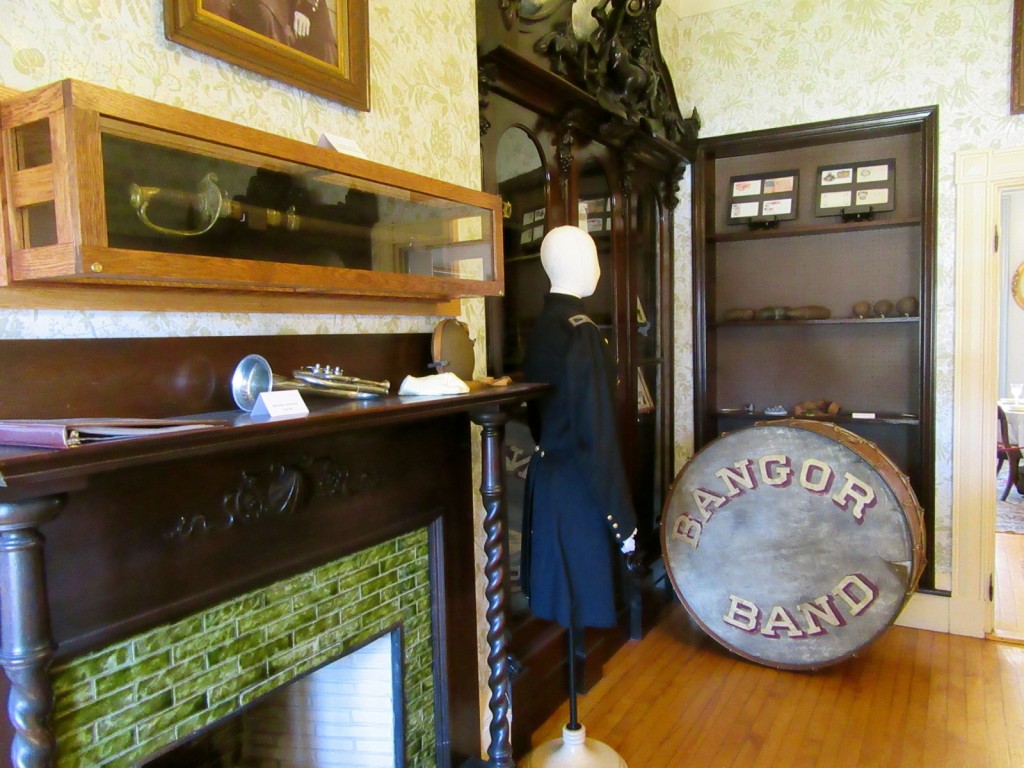 The Society is housed in the 1836 home of lumber baron, Thomas Hill, designed by Trinity Church (NY) architect, Robert Upjohn.
Touchstones, like the sword that Joshua Chamberlain carried into battle at Gettysburg and John Hancock's bathrobe (!?) are on display here. Incredibly, the 1895 Bangor Band Ceremonial Drum, lost in Boston in 1928, was found a few years ago on Ebay!
Lately, parts of the Historical Society collection have been put online. So, even if you can't visit in person, you can still browse artifacts from the comfort of your own home. Check website for hours, fees, and tour times.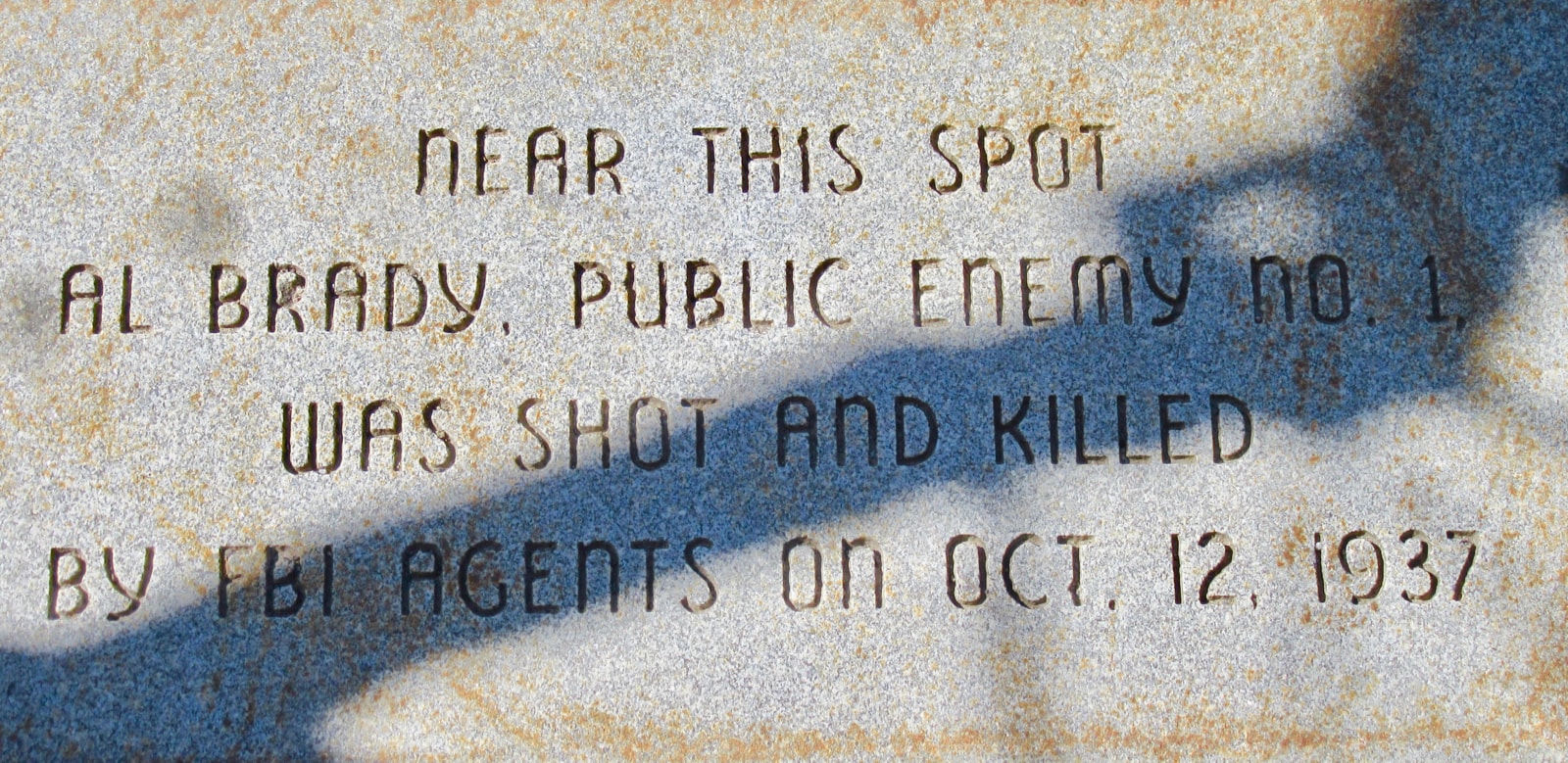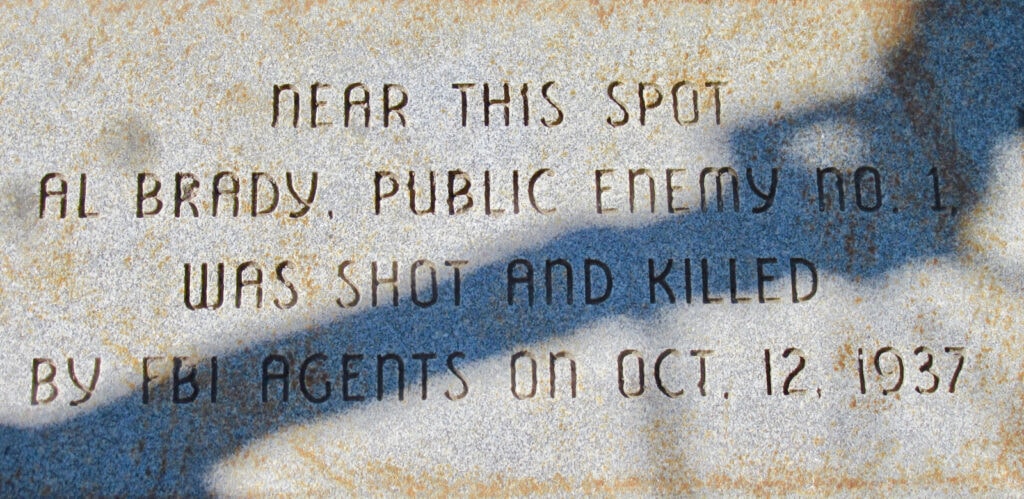 WALK/SHOP: Central and Main Streets
Offbeat trivia: On October 12, 1937, Public Enemy #1, Al Brady, was shot and killed right on Central Street – where a plaque now marks the spot. A local sporting goods store owner, "Shep" Hurd, tipped off the FBI after Brady came in to purchase a Tommy Gun "to go hunting." Hurd was paid the exorbitant sum of $2,500 for this information, which he spent on a grand home in Searsport, ME – now the Captain Nickels Inn.
Meander through some terrific shops. Don't miss the funky gift and semi-precious stone emporium – the Rock and Art Shop.   And of course stop into indie book store– Briar Patch. 
The U of Maine Museum of Art outpost is a cool place to check out in downtown Bangor for a few minutes. This modest basement gallery exhibits a rotating roster of big and small name contemporary artists.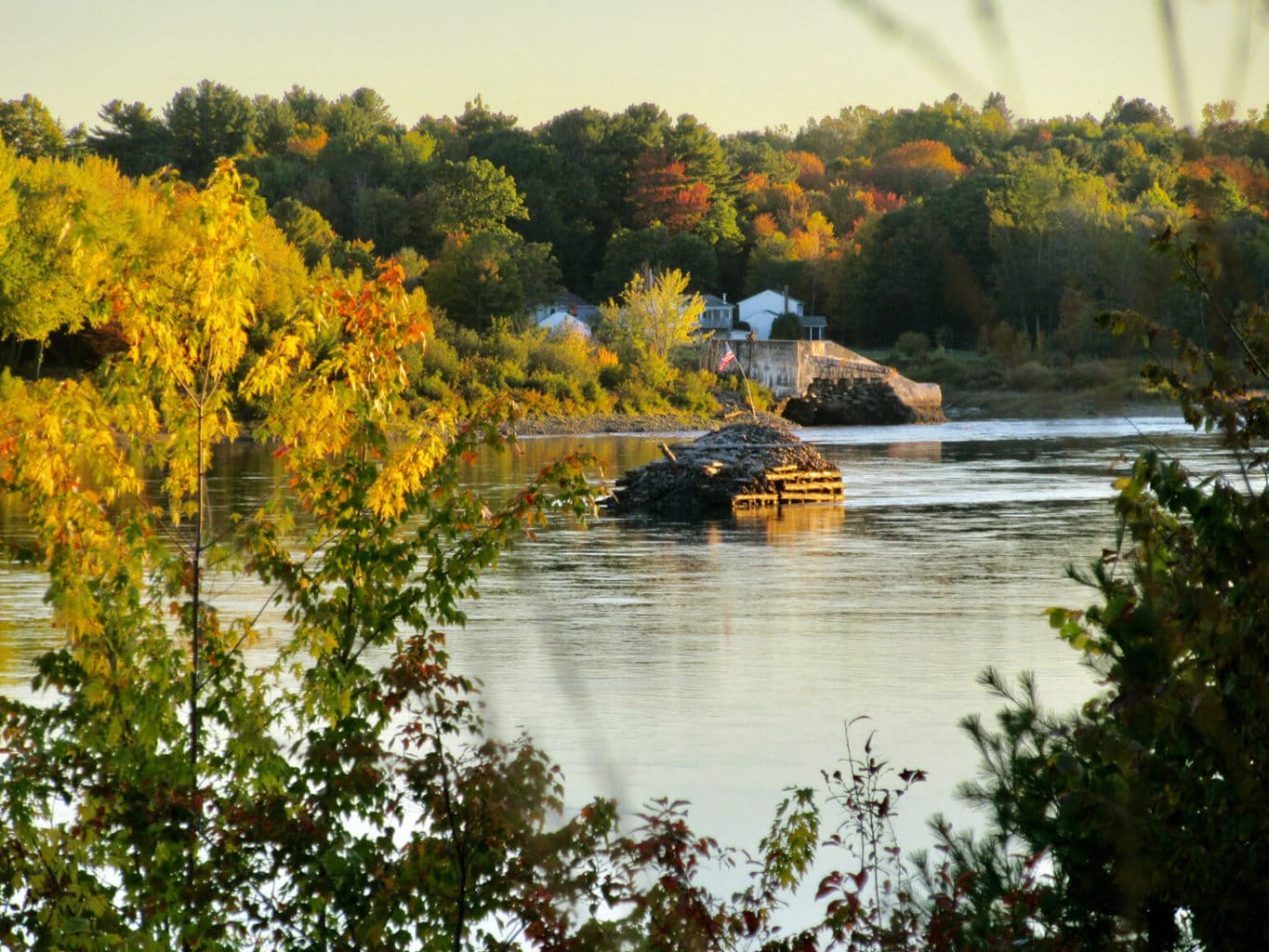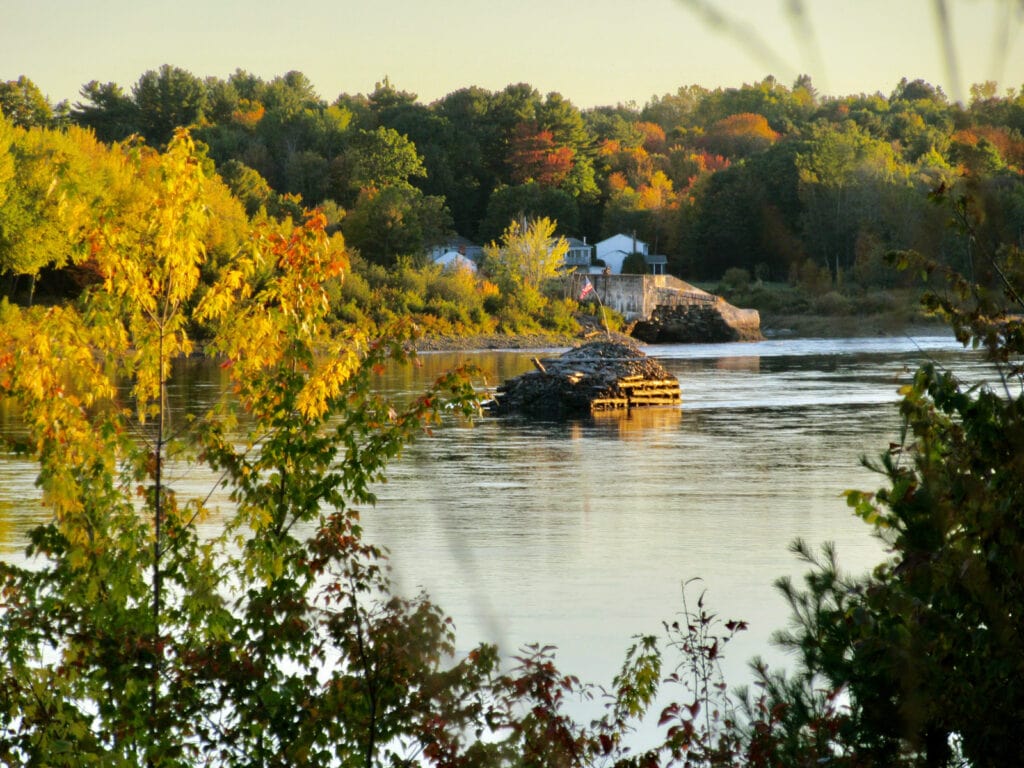 PHOTO OP: River Drivers
Passing the Penobscot River, you'll see what appears to be a beaver dam in the midst of the water. But this site is in fact a man-made platform that "river drivers" would stand on to break up log jams in the middle of the river. Many lives were lost, so the mid-river assemblage stands in homage to those brave loggers.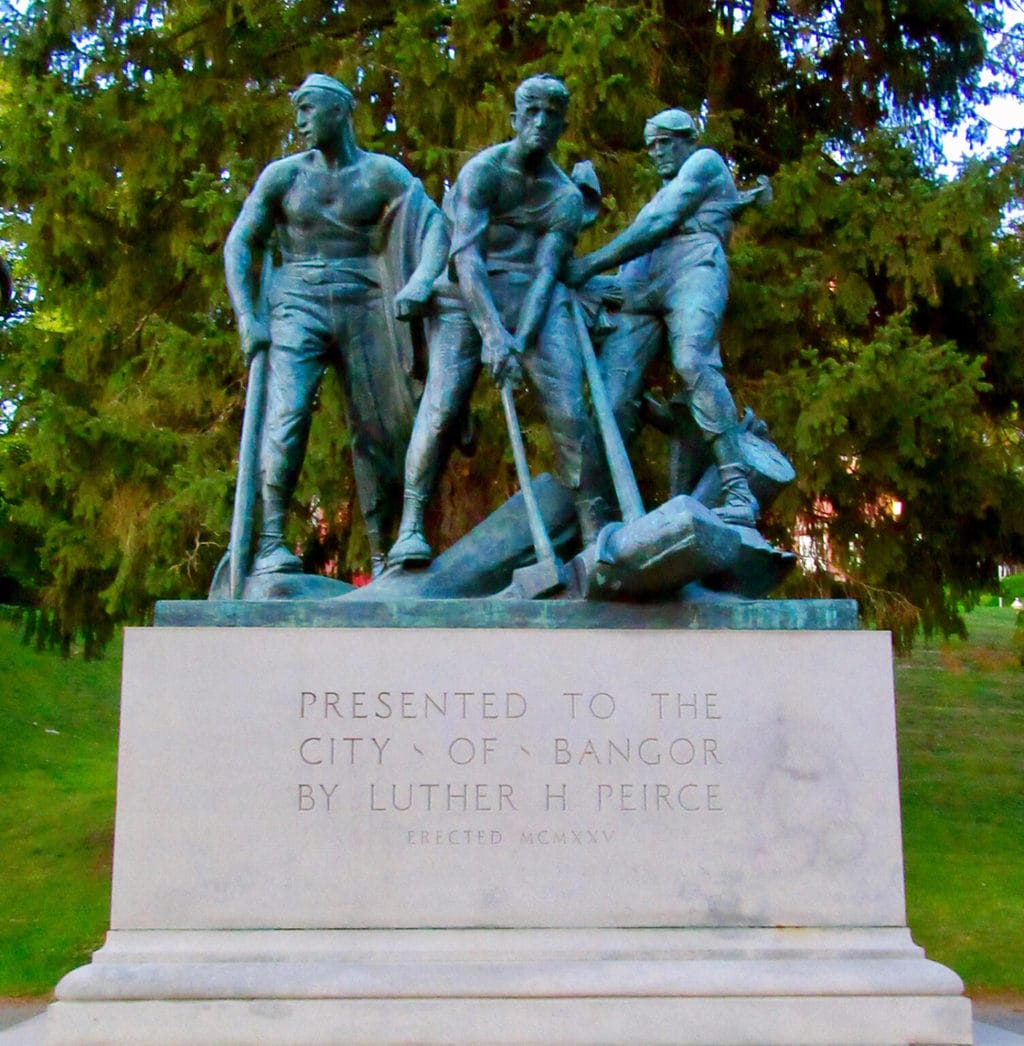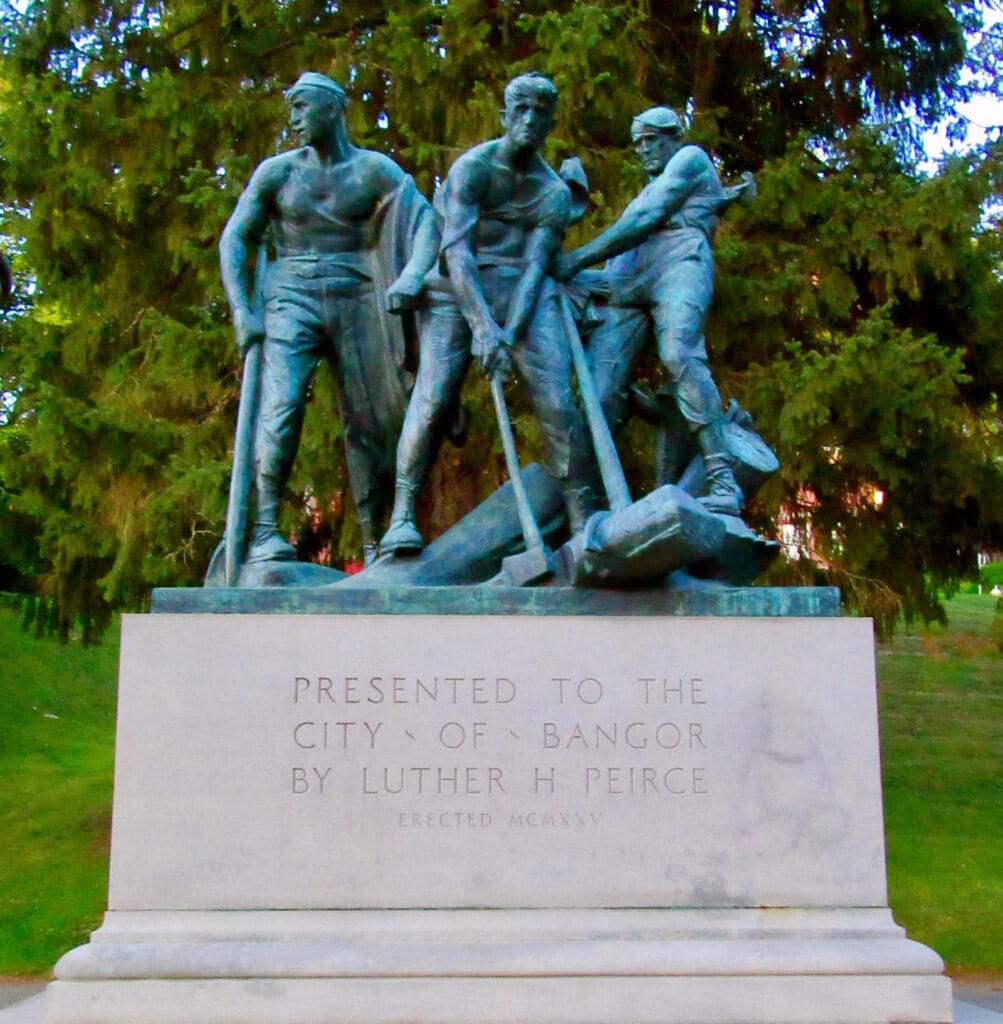 The Pierce Monument – depicting three River Drivers at work – stands outside the Bangor Public Library.
You'll find this small but worthwhile museum inside the Collins Performing Arts Center on the U of M campus about 20 minutes north of Bangor. Pre-Columbian to contemporary indigenous artifacts, delicate to freaky, are on exhibit in in glass cases that wrap around two rooms.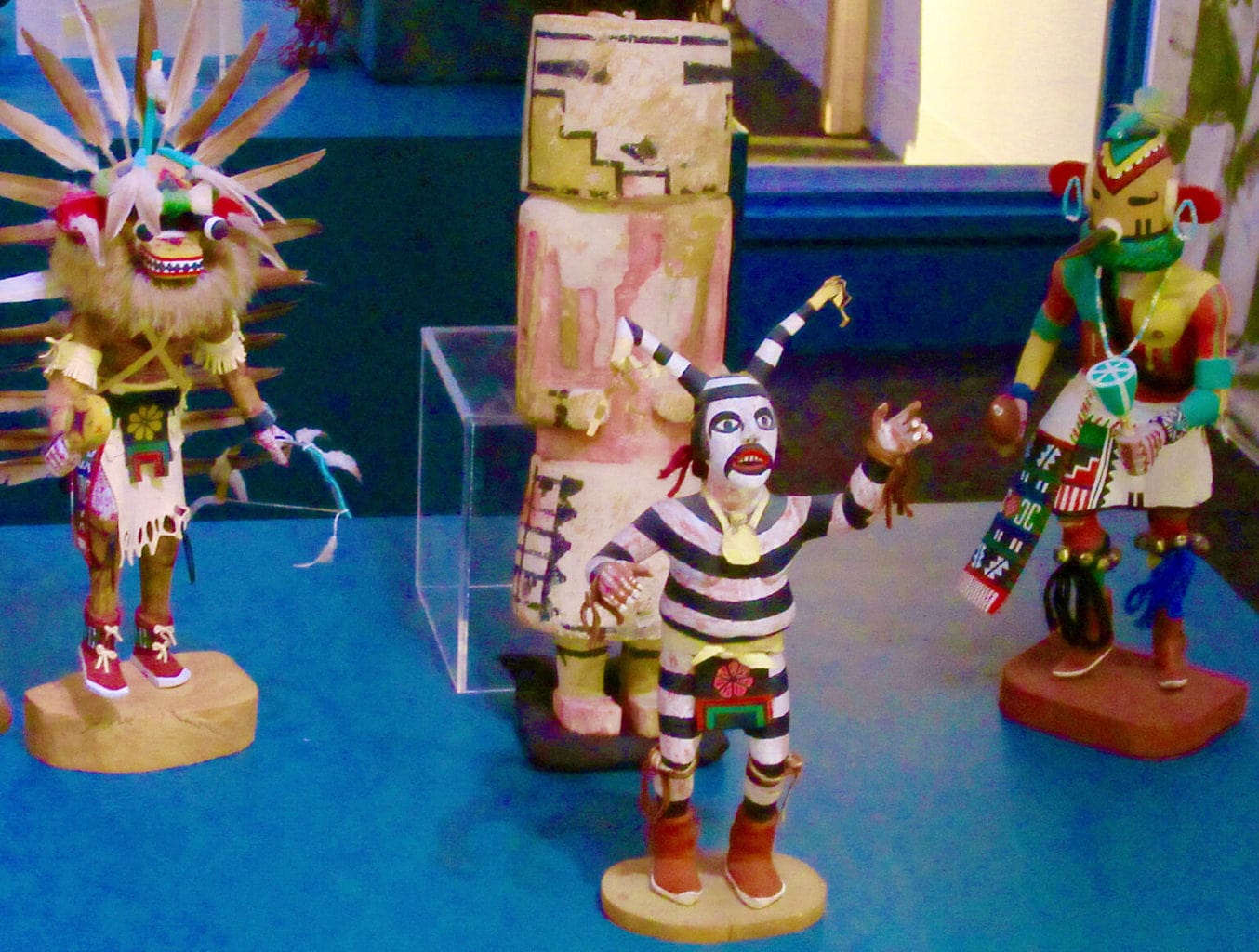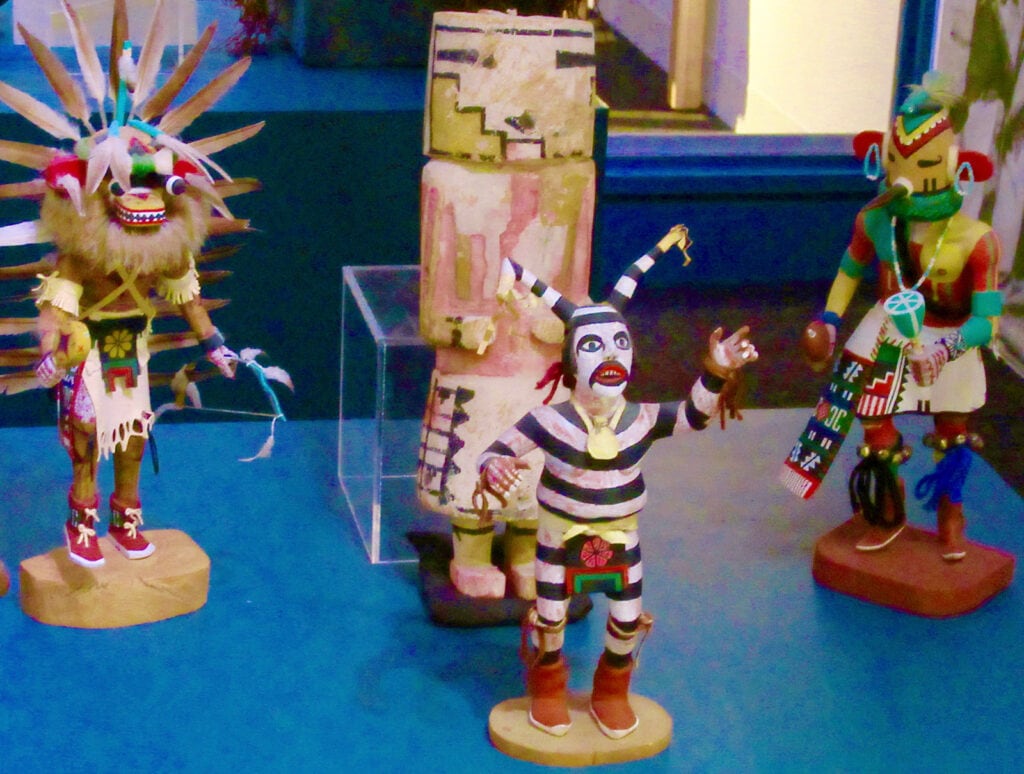 See clothing and adornments, woven basket and clay jars, a Tsimshian Sun Mask, amazing Quillwork baskets, Root Clubs carved into ferocious walking sticks, crooked knives (for skinning animals and whittling wood), and a Beetlejuice-like take on a Northeastern Kachina. A conventional museum this isn't, and definitely worth a half hour of your time. Open Mon-Fri 9-4, Sat 11-4, free.
Where to Eat in Bangor ME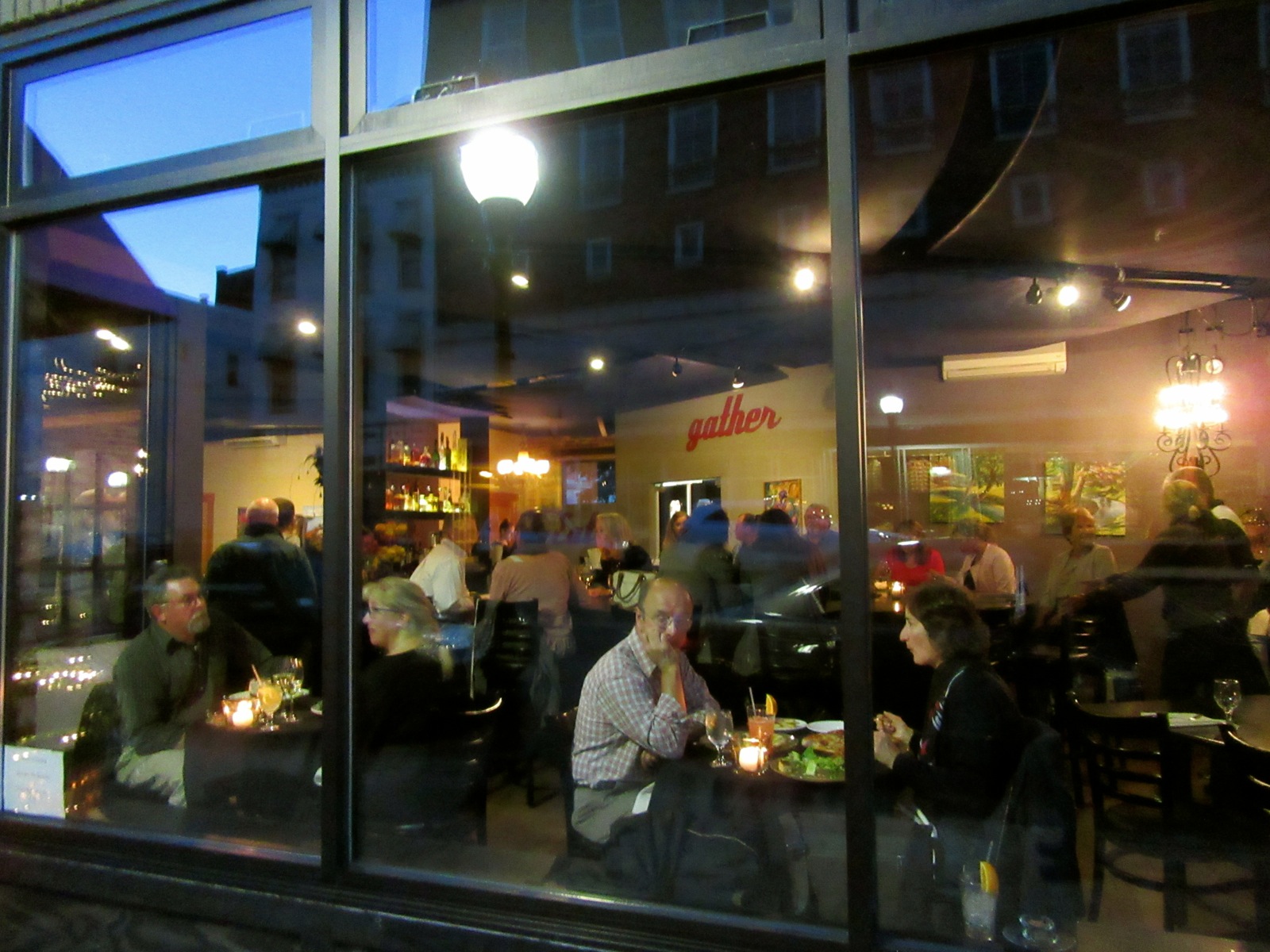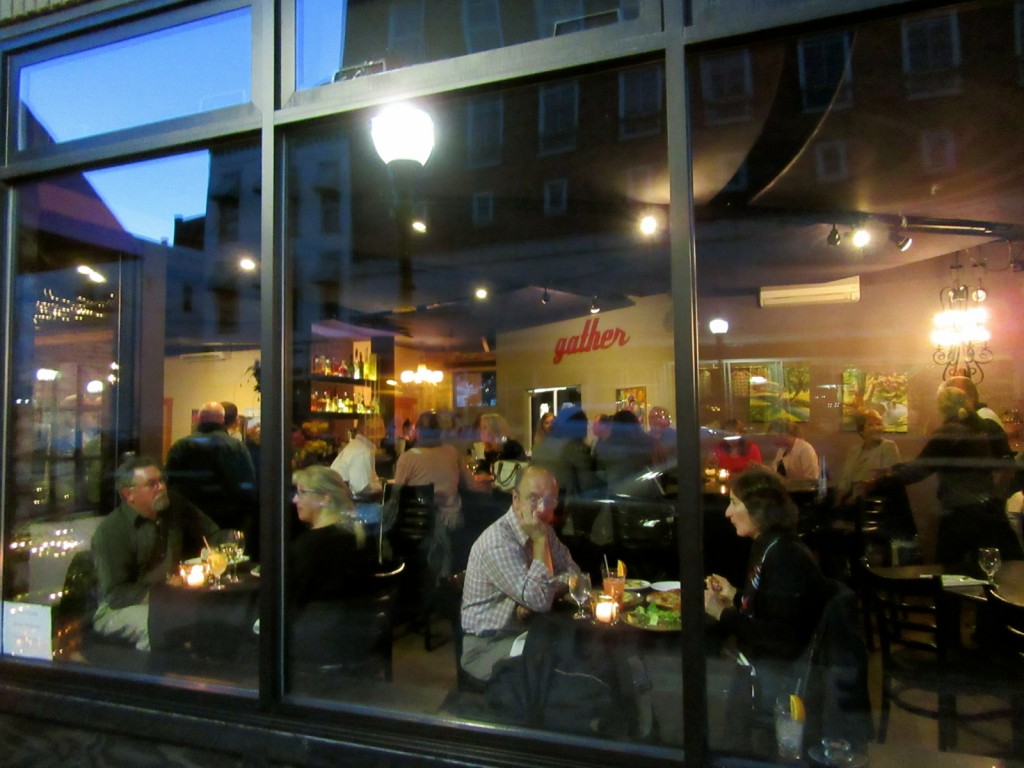 The cocktail list at 11 Central is titled "Be Merry." And that's exactly how diners feel in this brick-walled, art filled contemporary restaurant. Flatbreads and locavore dishes bring locals and visitors back time after time. Patrons navigate the latest specialty cocktail list while sitting around a humongous ameba shaped bar. The mood at 11 Central is merry indeed.
This wood-stove, local family-farm sourced upscale restaurant, can be found at Residence Inn a bit out of town. And very worth the short drive.
EAT: Locals also love
Bagel Central for coffee and college vibe. Fiddlehead for locavore fine dining and Paddy Murphy's for beer and Irish pub grub. One enthusiastic local reader suggested, "Dysart's on the Odlin Road (a classically unique truck stop). Nicky's Cruise-In Diner on Union Street close to the airport. Fairmount Market on Hammond Street (you MUST try the freshest egg salad sub in the world)."
Where to Stay in Bangor ME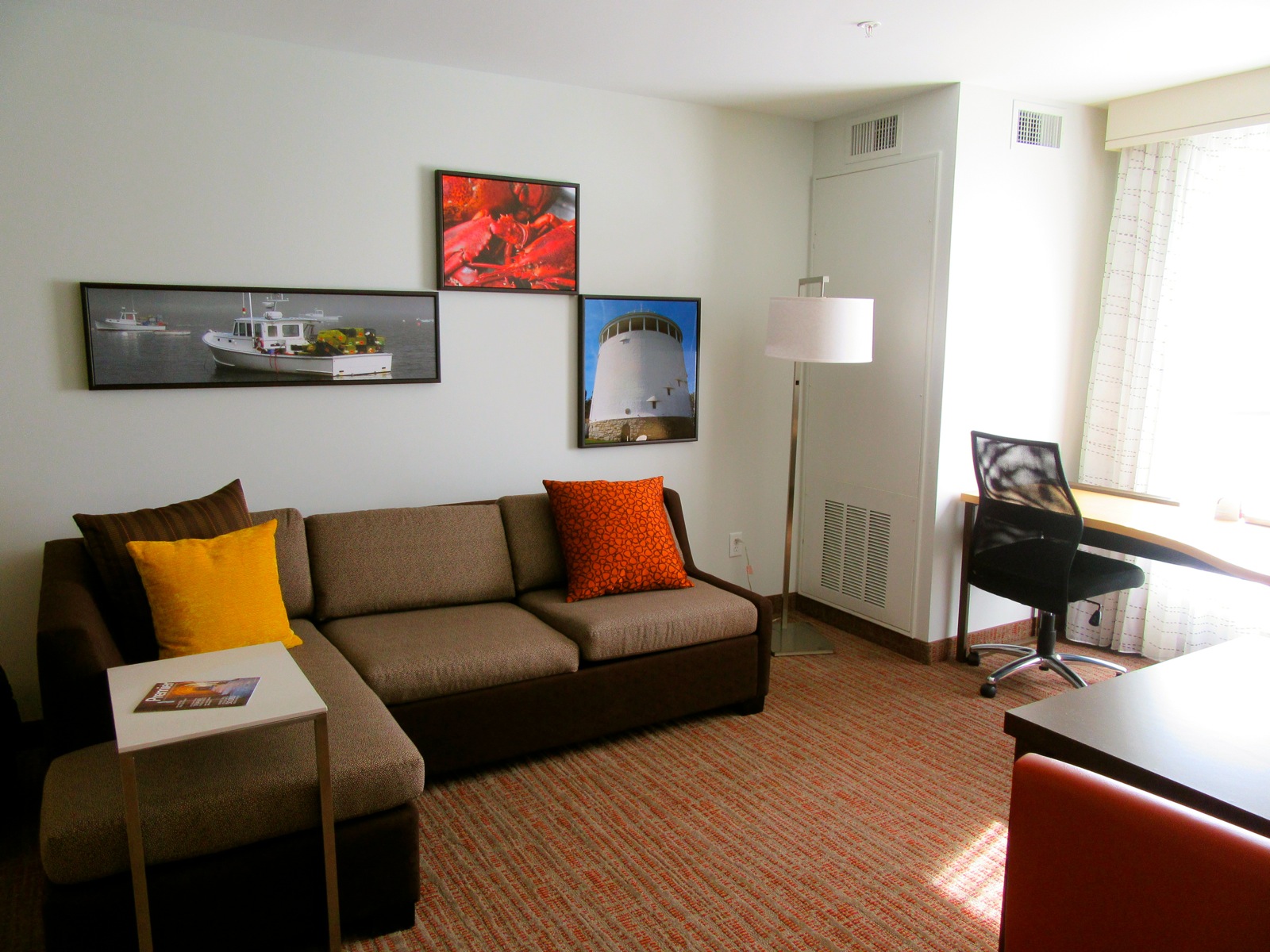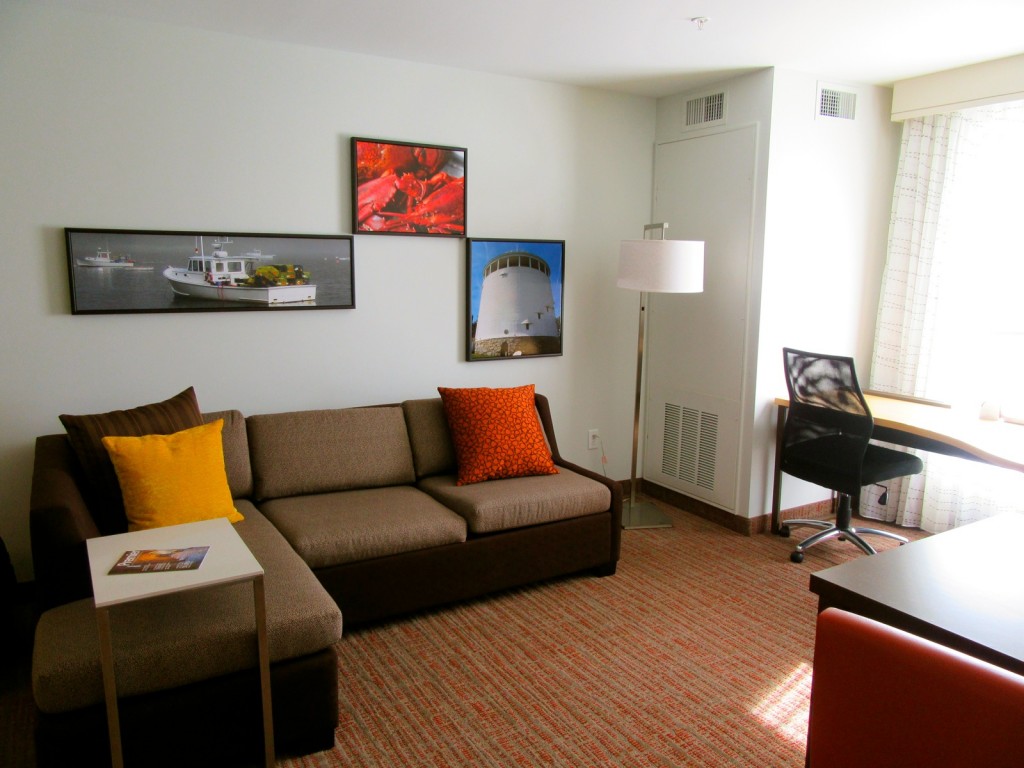 STAY: Residence Inn by Marriott
Bangor is not known for its B&B's but it has a nice selection of chain hotels. Residence Inn, right next door to the Cross Insurance Convention Center takes the prize. Rooms are sleek and pristine in chocolate hues that pop with colorful accessories and art.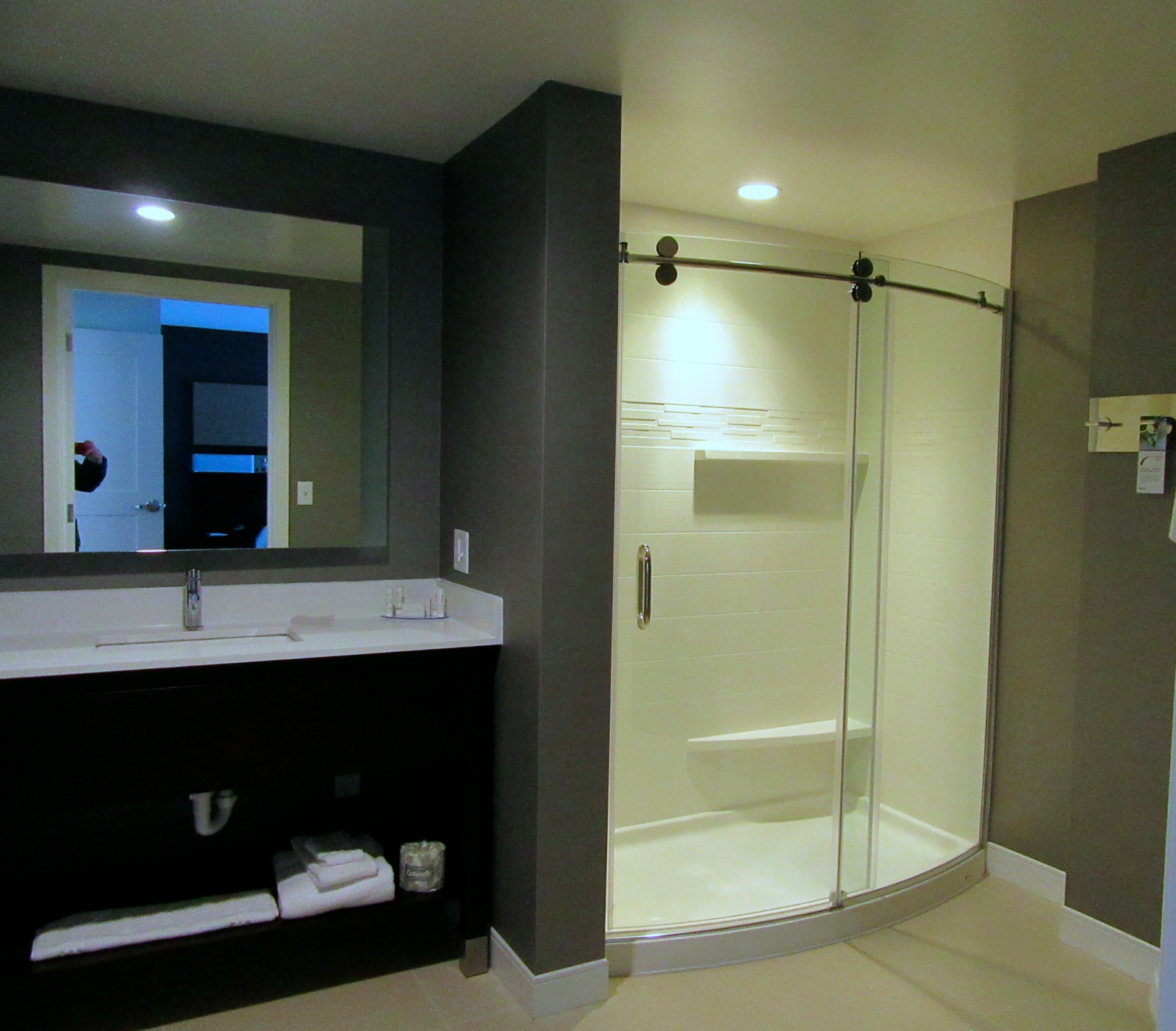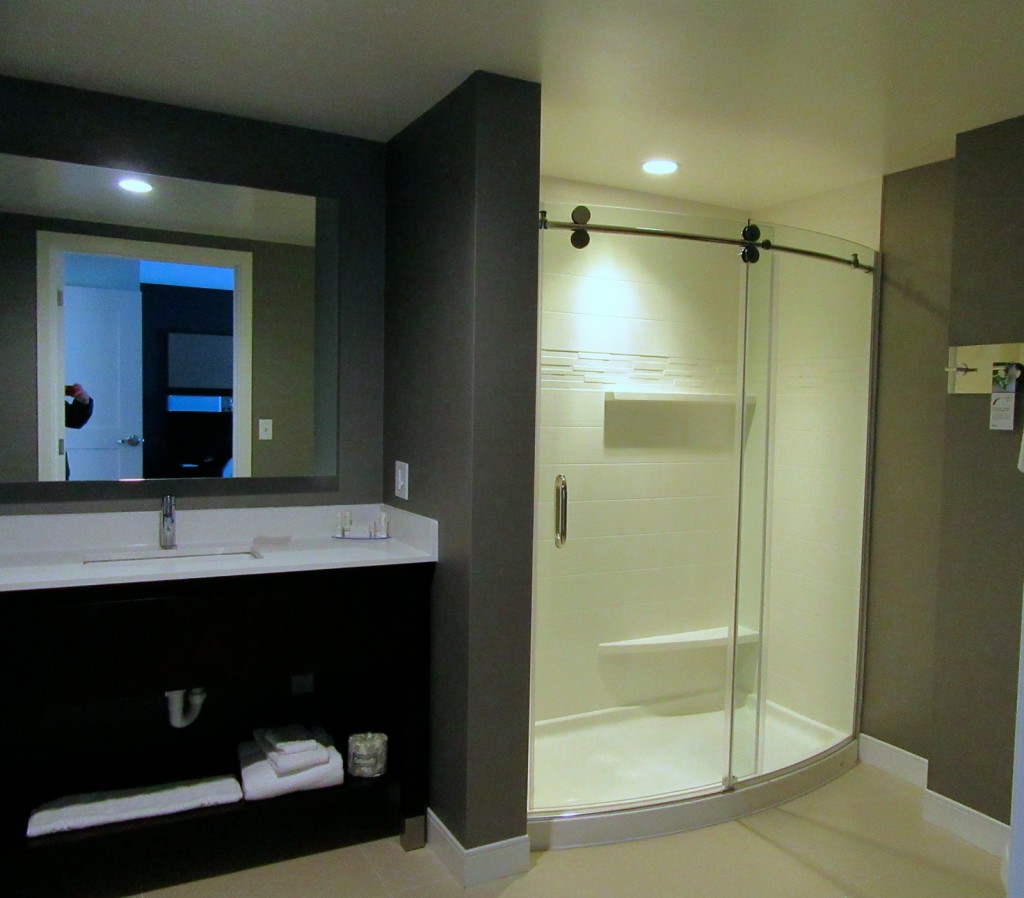 Bedding is dreamy, but the shower in the handsome bathroom is the star amenity: with a curved glass door and large enough for two, it's the ultimate indulgence for a road-weary visitor. There's one perk for guests who want a nice meal without leaving the hotel. Timber Kitchen and Bar, is right off the lobby. Rooms $127-$229 include hot breakfast.