Last Updated on
WHY GO: A tidy downtown anchored by the venerable Woodstock Inn (for 150 years!), Woodstock VT and the surrounding area is not glutted with kitsch or tourist fare. Once a release valve for the Victorian wealthy who'd take the train from NYC or Boston to White River Junction, and then the 14-mile spur into the mountains, Woodstock feels romantically lost in time.
This is the region where Calvin Coolidge was born and raised and where the National Park Service chose to impart the history of land conservation in the US. Add to that great hand-crafted cheese, famous artisans, and a historic luxury inn, and you're golden for a wonderful weekend.
Things to Do In Woodstock VT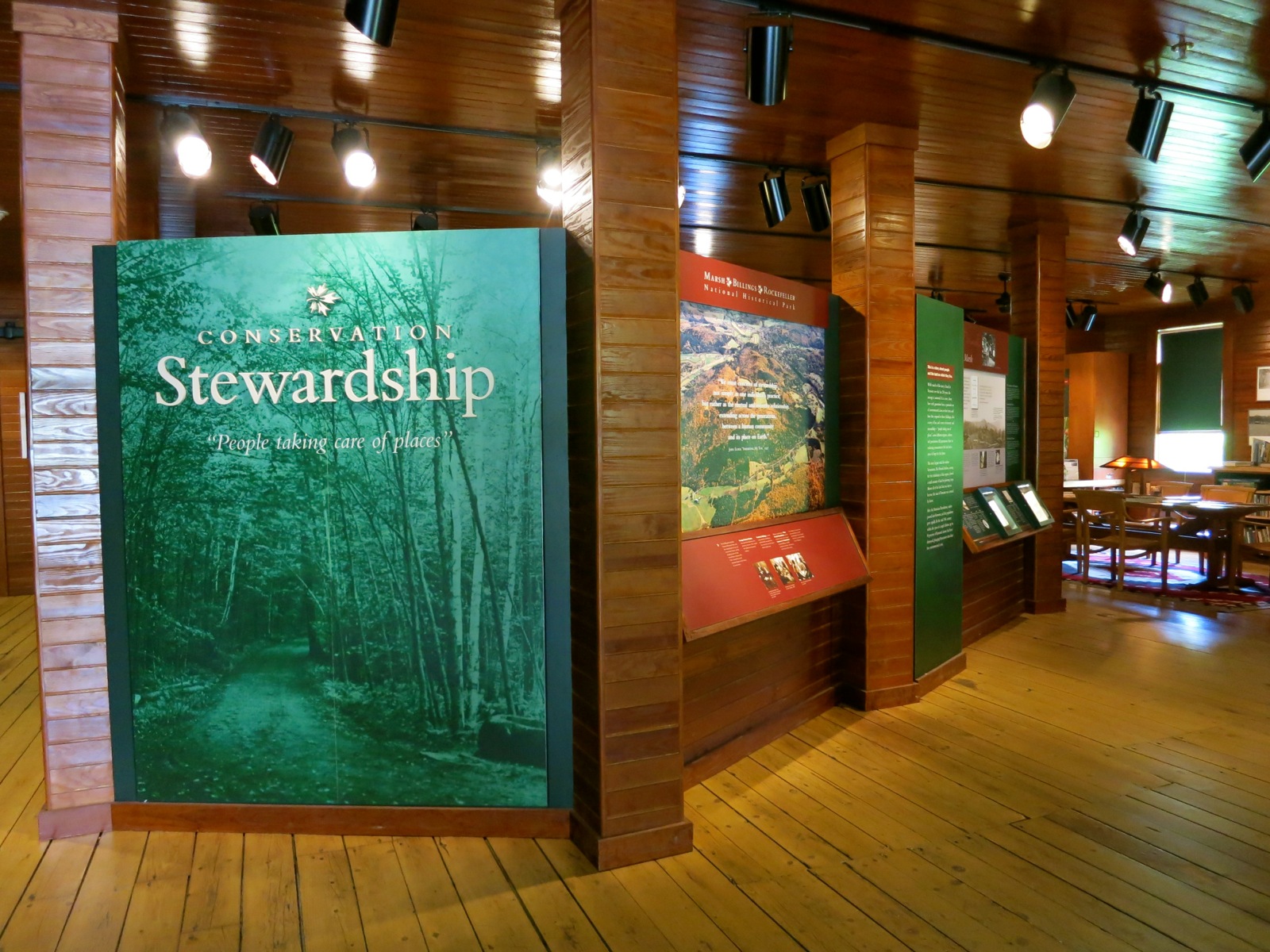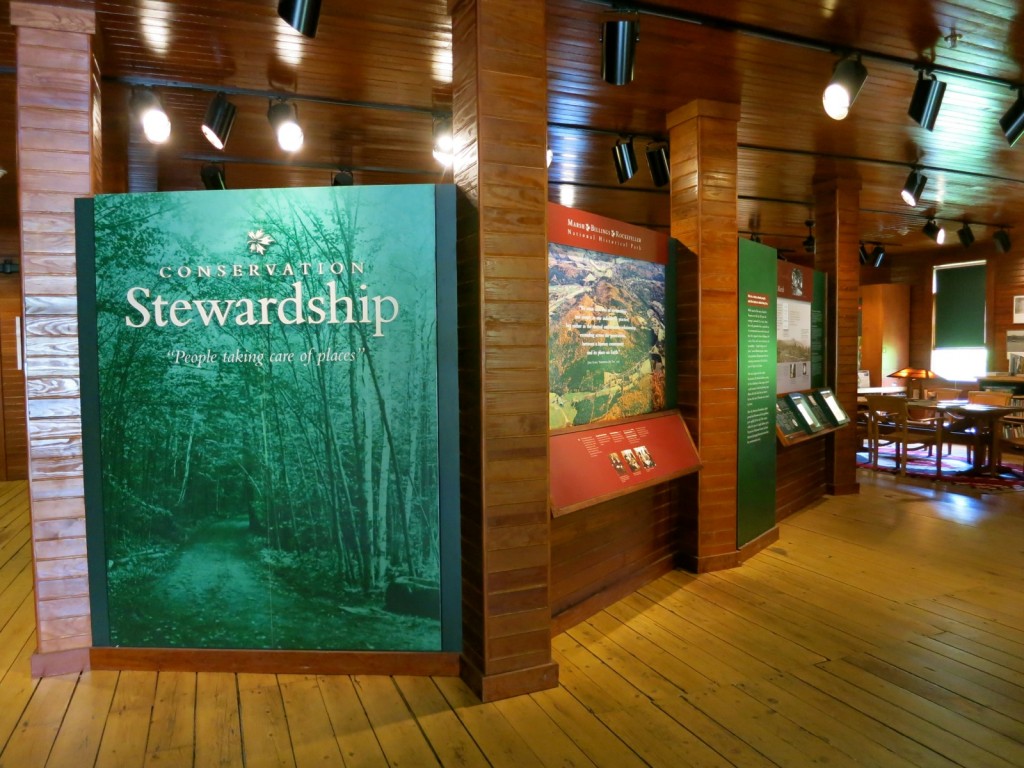 TOUR: Billings Farm Museum and Marsh-Billings-Rockefeller National Historic Site. Plan at least half a day (3-4 hours) to explore these two attractions that used to be one – until Laurance Rockefeller donated his summer home to the National Park Service in 1992. Purchase tickets for both in the Farm Museum Visitor's Center.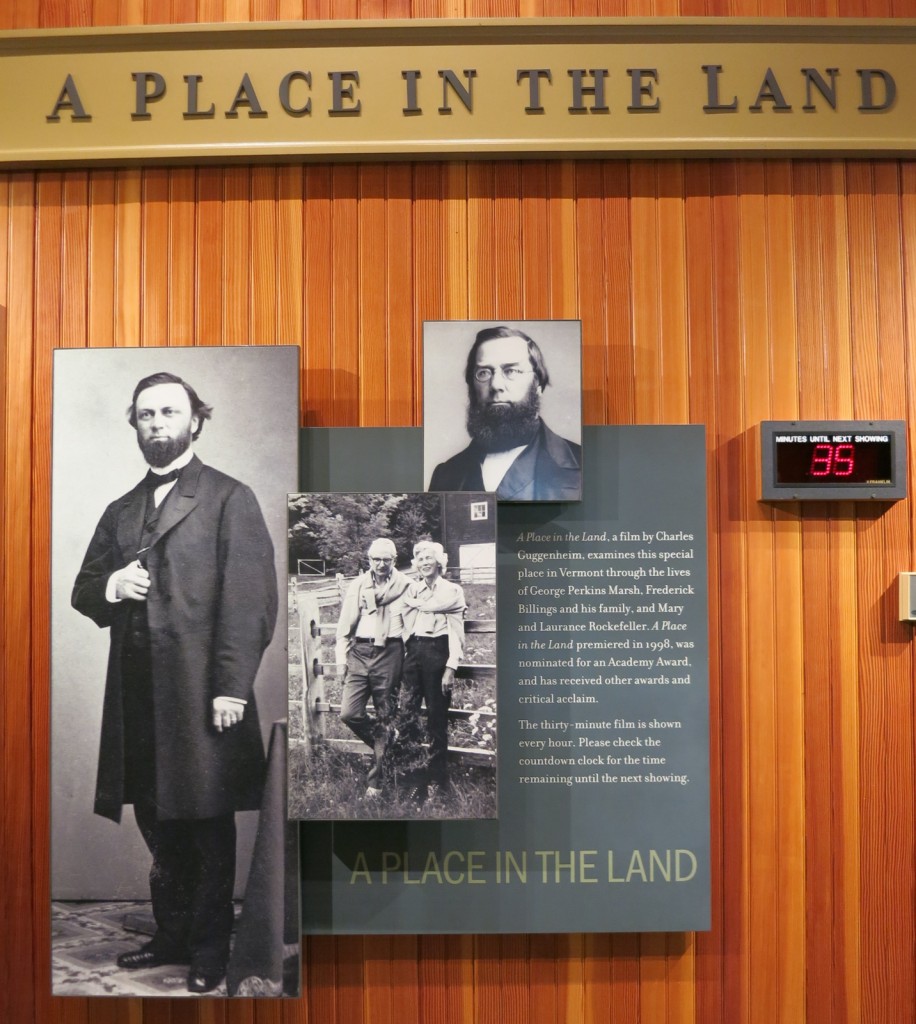 Begin by watching the award-winning 32-minute documentary; "A Place in the Land," which clearly conveys the reason this place has so many names, and the significance of each. All three men who owned this home, it turns out, were environmentalists way before their time. In fact, the homebuilder, George Marsh, sounded the alarm about climate change over 150 years ago.
Marsh, born in 1801 in Woodstock watched as 60% of the virgin timber was cut down to clear the land for farming. Floods and erosion followed, fishes disappeared. Marsh became a lawyer, and then a politician, advocating for the reclamation of rivers.
On diplomatic assignment in Turkey and the Ottoman Empire, he studied the history of the arid land through ancient maps that showed lush forests in the areas devastated by desert, and attributed the fall of the Great Empires to overgrazing and deforestation.
" I fear that man has brought the face of the earth to a desolation almost as complete as that of the moon," he wrote in his seminal call to action tome, Man and Nature in 1864 (the very book that influenced "The Father of Conservation," Gifford Pinchot, years later).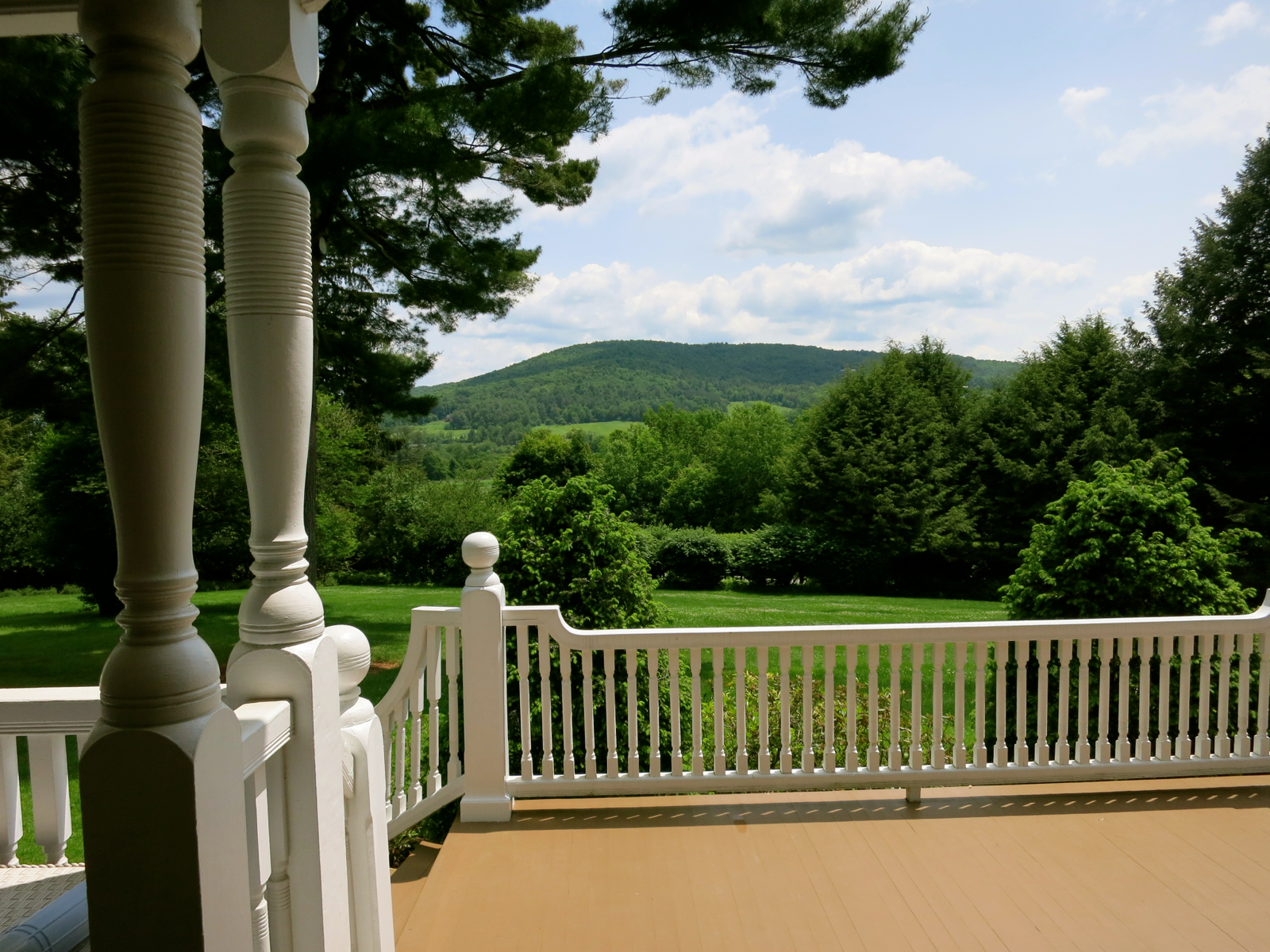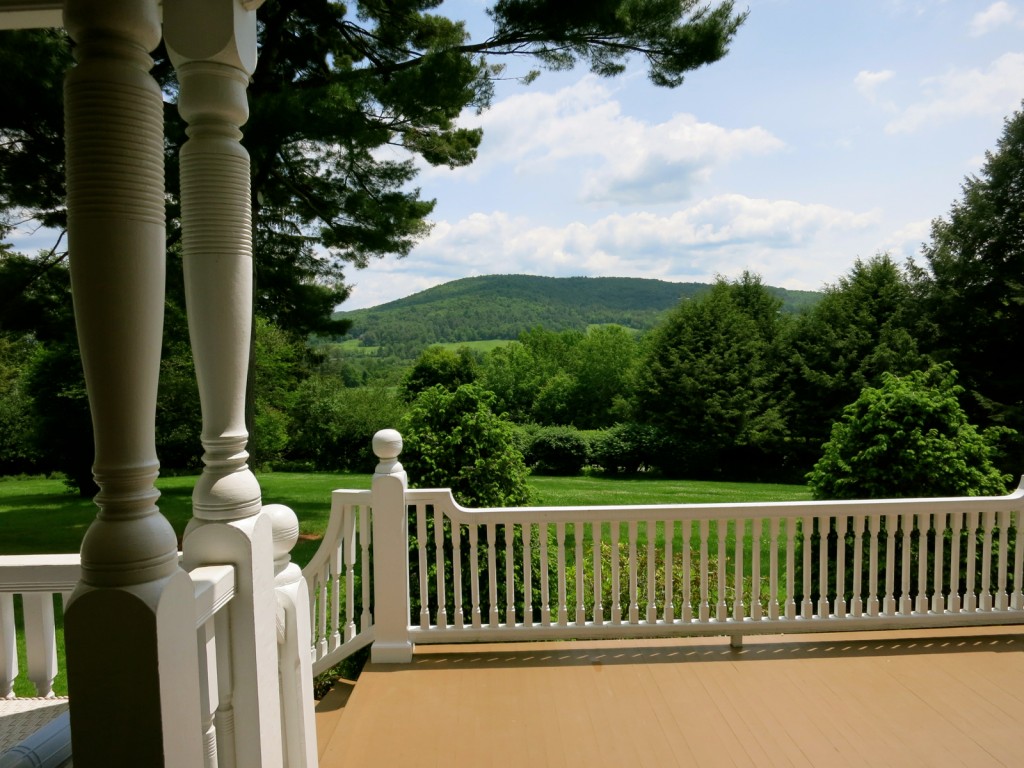 While Marsh was overseas, his brother sold the home to Vermont-born lawyer/industrialist, Frederick Billings, who had made a fortune in land speculation out West during the California Gold Rush, and invested in the Northern Pacific Railroad and other Western state businesses. (Billings, Montana was named for him).
But, like Marsh, he was concerned about damage done to the environment through the clear-cutting of the great Redwoods. He felt that replanting trees and restoration of the land was not only possible, but an obligation.
Billings had left Woodstock at age 25, and returned in middle age to implement his ideas. Beginning in 1871, he re-propagated the denuded hills, built his farm as a sustainable model, constructed a nice home for farm and business manager, George Aiken, and oversaw what is now open for visitors- the adjacent Billings Farm.
Frederick Billings died in 1890, but he wished for the farm and home to remain in the family. Unusual for the time, the property was handed down through women. It passed from Billings' wife to their daughters, to their granddaughter, Mary, who married Laurance Rockefeller in 1954.
Out of all the five children of John D. Rockefeller, Laurance had inherited his father's commitment to conservation. John D. brought Laurence out west and along the Hudson River Valley to soak in the power of natural, untainted landscapes. Laurance became an advocate for Historic Preservation and land conservation.
He persuaded his brother, Nelson, Governor of NY, to establish the Adirondacks as a protected State Park, and to expand the system of New York State Parks. He and Mary donated their extensive property on Saint John in the Virgin Islands, as well as their home in Woodstock VT, to the National Park Service.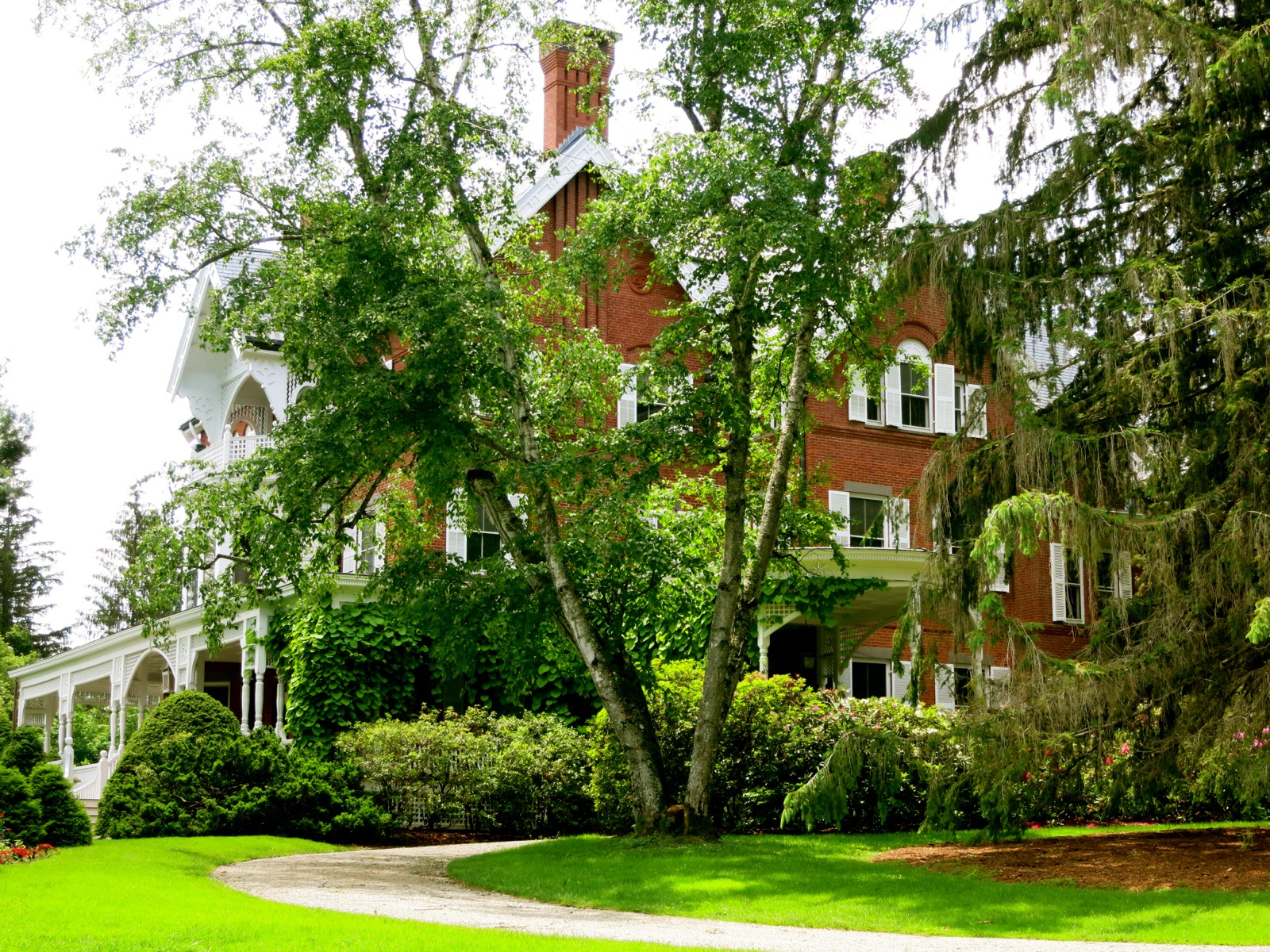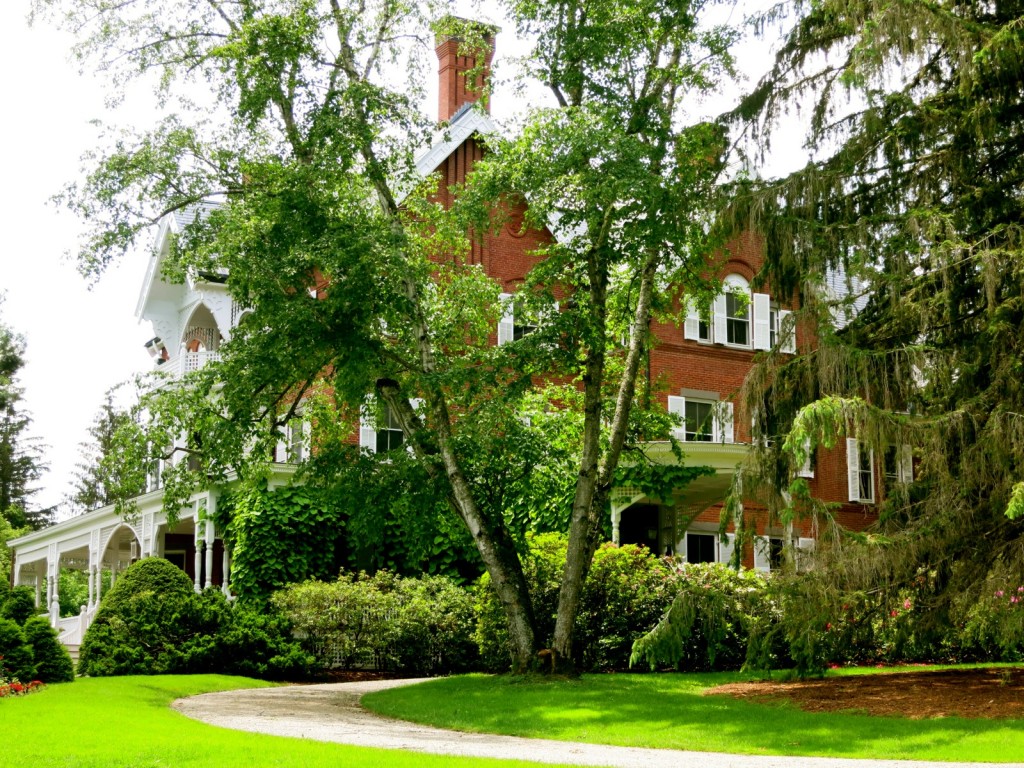 The Marsh-Billings-Rockefeller National Historical Park is now the first National Site dedicated to understanding the history of conservation in the United States. Take a one-hour tour of the manor home (up the hill), left as it was when Laurance and Mary turned it over to the National Park Service in 1992.
It's full of Thomas Cole and Hudson River School of Art oils – and you can take an "Art Tour," as well as other specialty tours of the home and grounds, which includes the Bungalow, The Belvedere (a "rec" house with bowling ally and soda fountain) and hundreds of acres.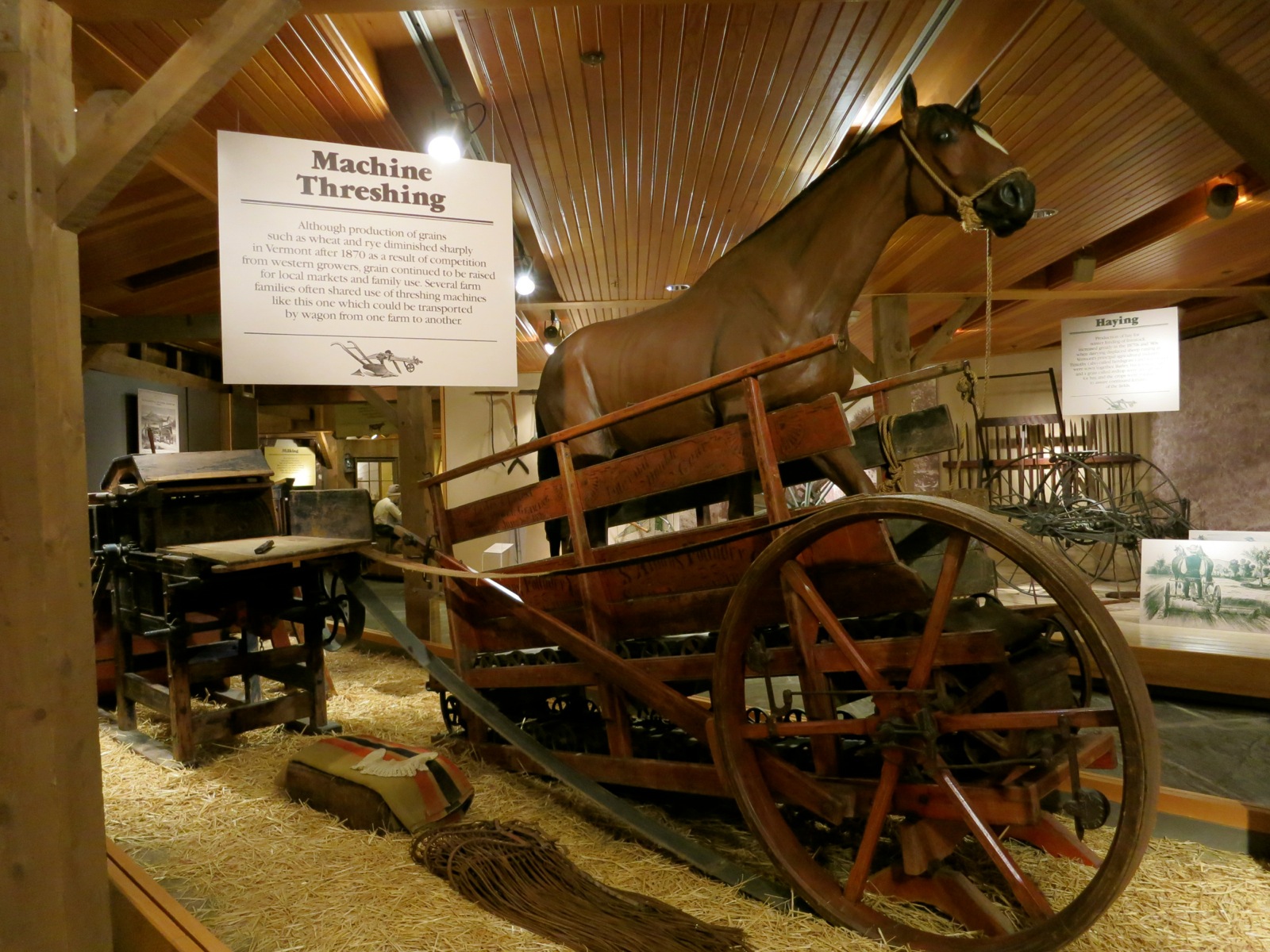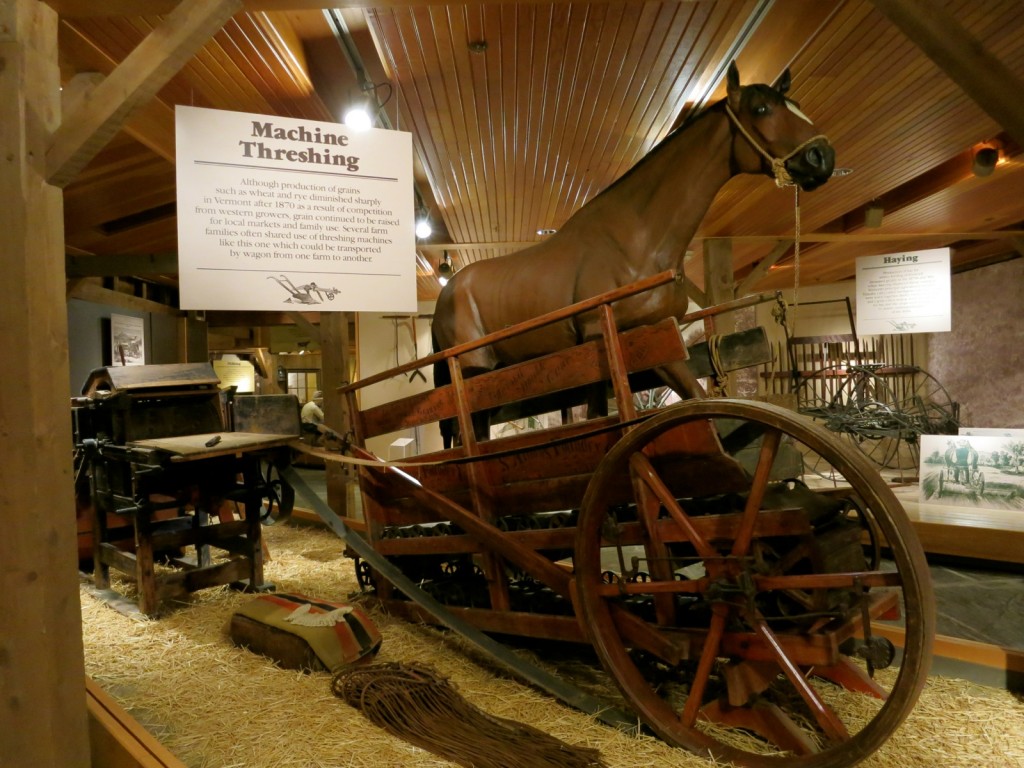 You can also spend many hours at the adjacent Billings Farm, still considered one of the finest dairy farms in America and a museum of Vermont's rural past. Begin in the museum on the second floor of the Visitor's Center.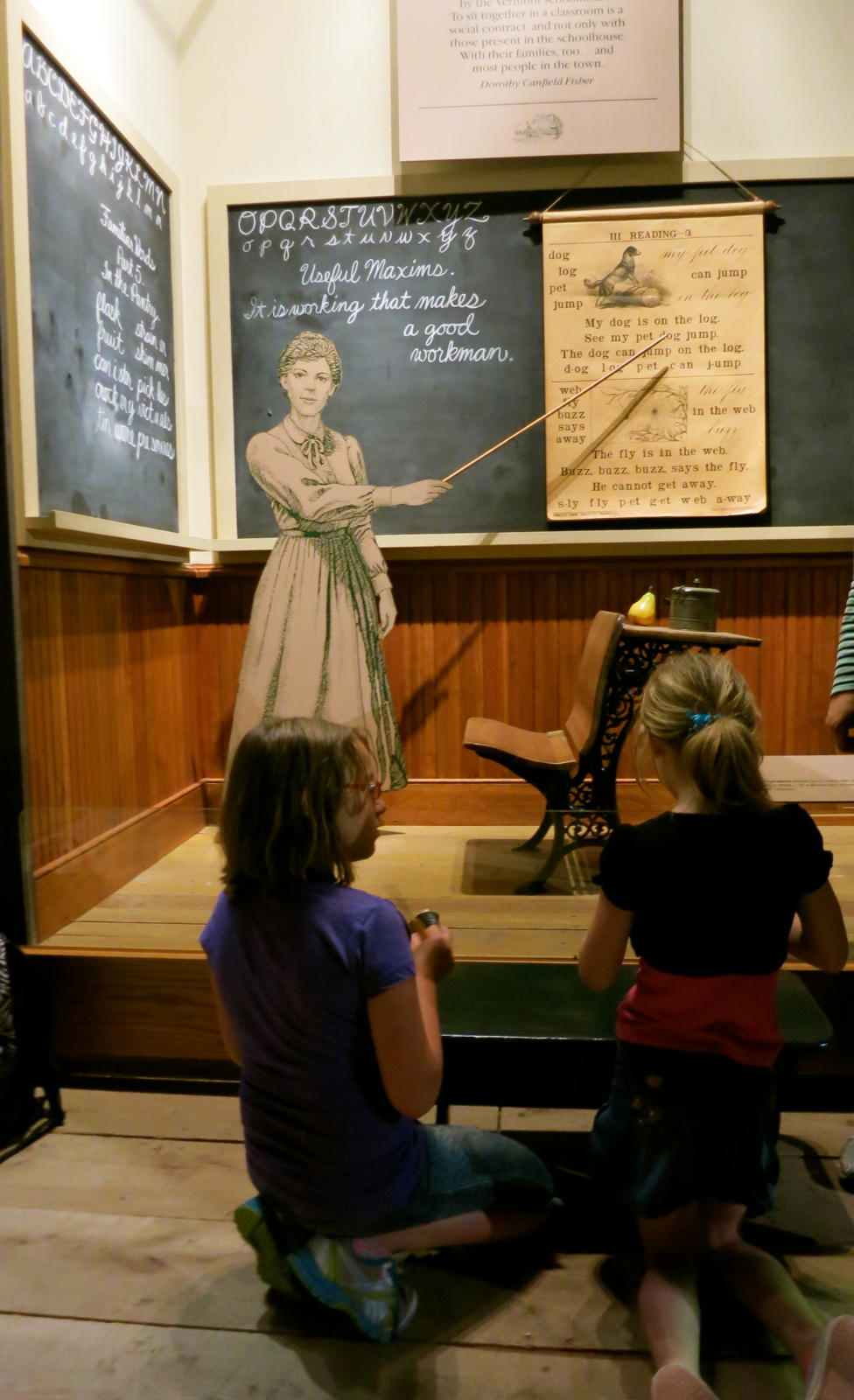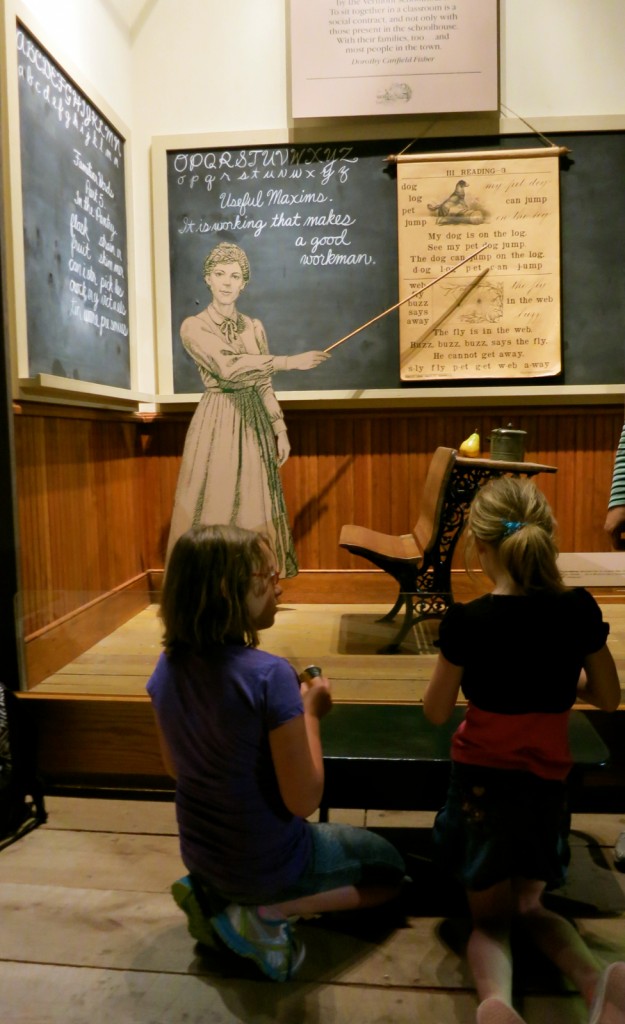 The place is massive, incorporating dioramas of antique farm tools at work, machinery from the 1800's, a complete cross section of a farm home and dry-goods store, a one-room schoolhouse, a sugaring exhibit, and gaggles of school kids engaged in activities (like churning butter).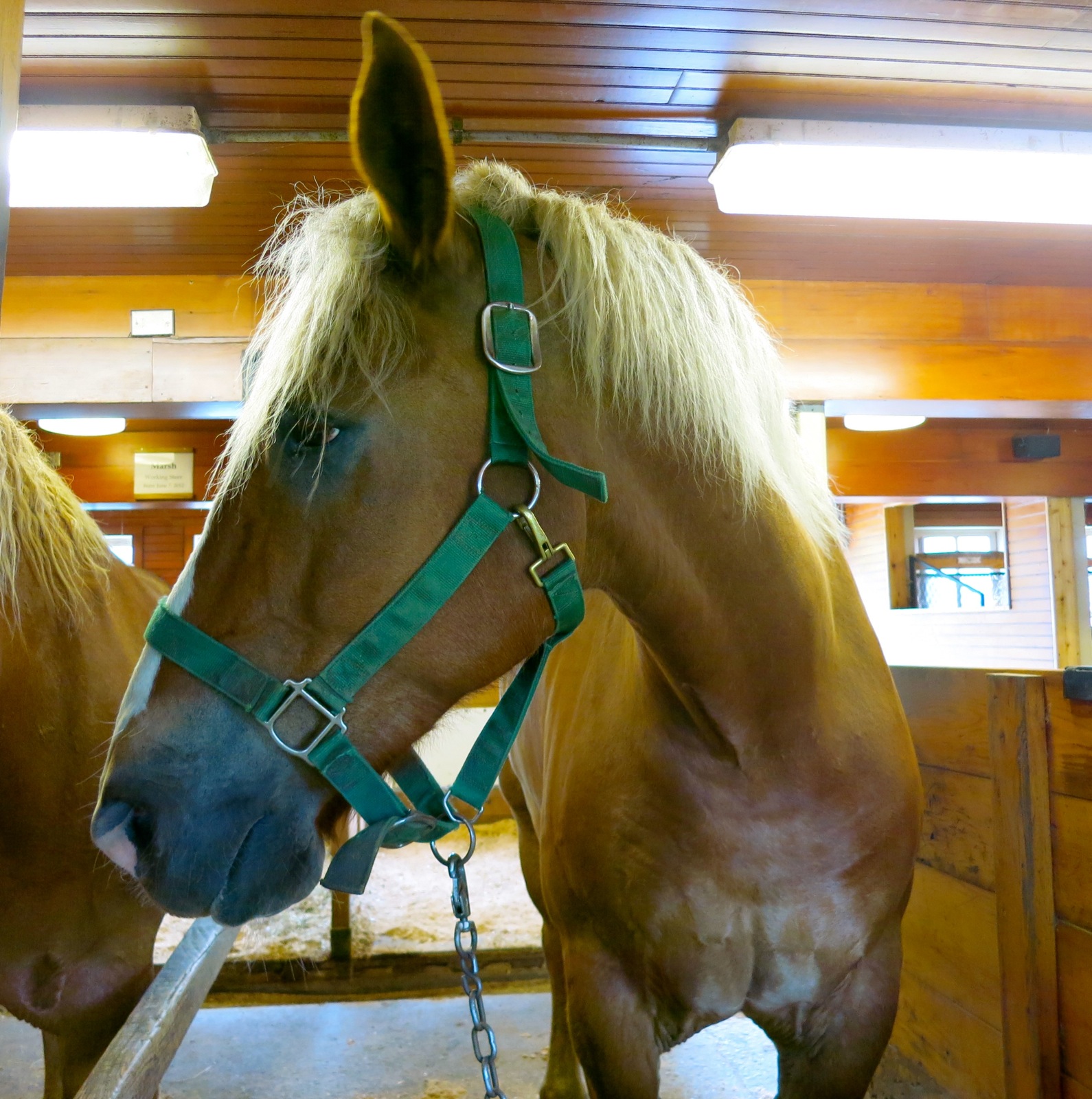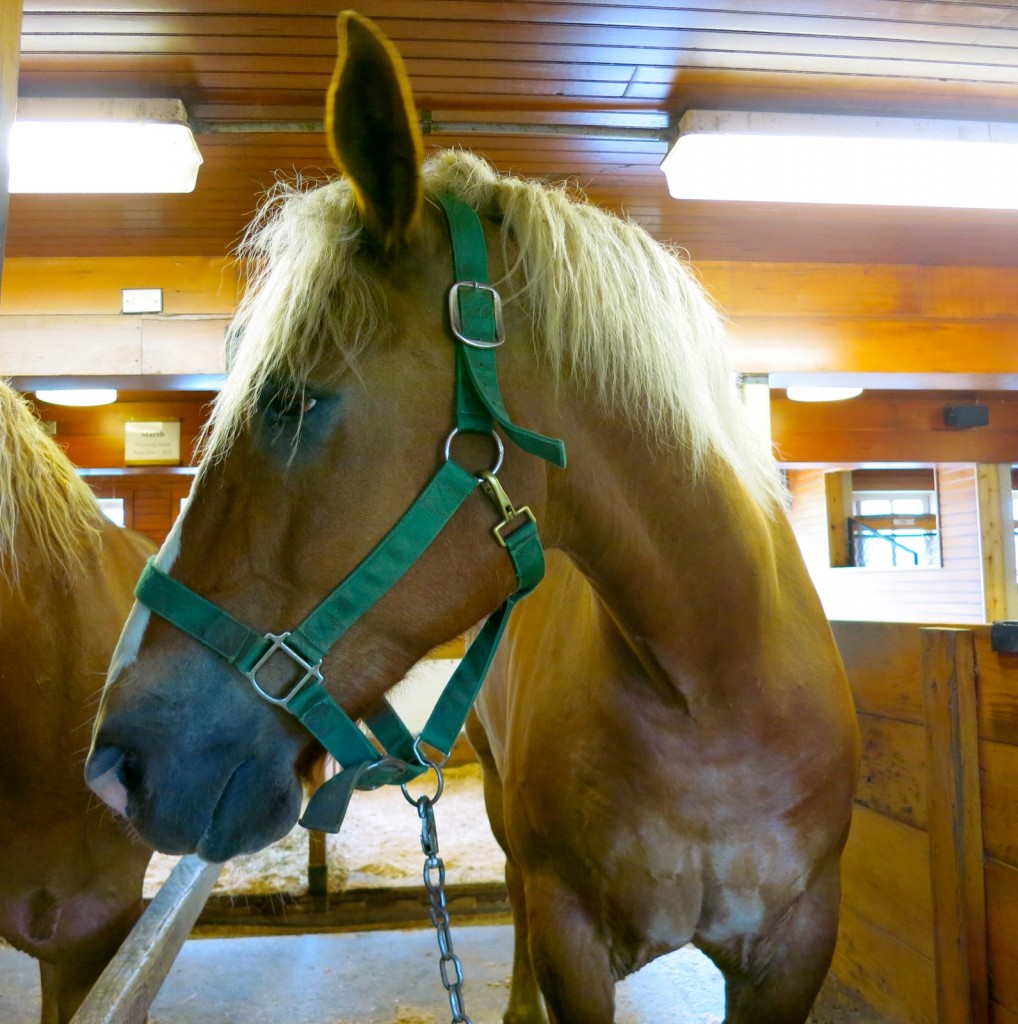 Within several barns, you might meet Tom and Jerry – a pair of sturdy draft horses – see cows being milked (or right afterwards, when they take a siesta), and view babies in the "Calf Room."
Though the animal barns are a joy to visit, do make it a point to tour the 1890 Farm Manager's home (tours every hour), built by Frederick Billings for George Aiken and his family. On Long Island, Aiken was raising a sturdy, adaptable cow that he'd imported from the Isle of Jersey – a breed that came to be known as Jersey Cows.
He understood that farming could be sustainable, rather than the "subsistence farming" of the time. He "got" what Billings was attempting to do with the land, and moved his wife, four daughters, and his cows here.
A tour brings you through the premium butter-making operation in the basement (as a railroad magnate, Billings had the ways and means to ship his proprietary butter all over the Northeast), into the living rooms and to Aiken's office upstairs. The home was outfitted with the most modern amenities, including indoor plumbing. Most fascinating are the three faucets at every sink: hot, cold and a separate spigot for soft rainwater, pumped from a cistern, that was used for cooking and laundry.
Farm Museum Open May1-October 31 daily 10-5, weekends only November-February. Marsh-Billings-Rockefeller Site open Memorial Day – Oct 31, 10-5 daily. Nov-Feb weekends 10-4, $19 for entrance to both sites. Special events throughout the year (check website).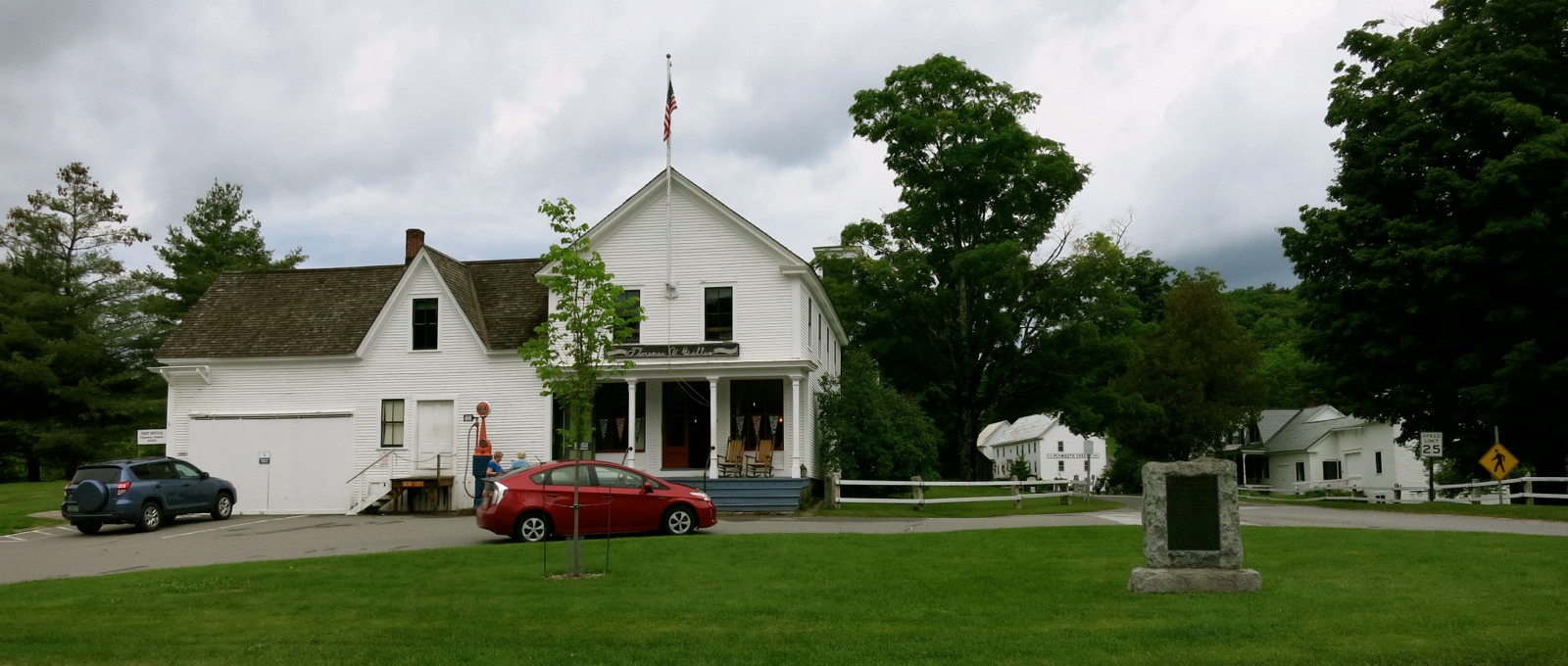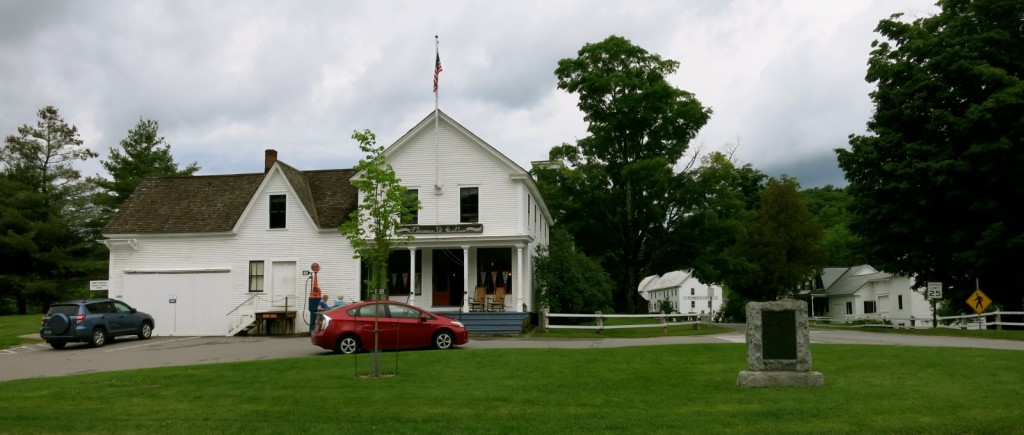 TOUR: Calvin Coolidge Homestead District/President Calvin Coolidge State Historic Site. Our country's 30th president was born in a modest rural home and grew up tilling the land. As Vice President, he was thrust into the Presidency when Warren G. Harding died suddenly of a heart attack, presided over "Roaring 20's" America, and exited politics right before the Crash of '29.
About 13 miles west of Woodstock, all 25 structures that make up the small hill town where Coolidge was born and spent much of his time have been meticulously preserved, though it is not technically a "living history museum." Residents from the surrounding area still come to the operating US Post Office for their mail.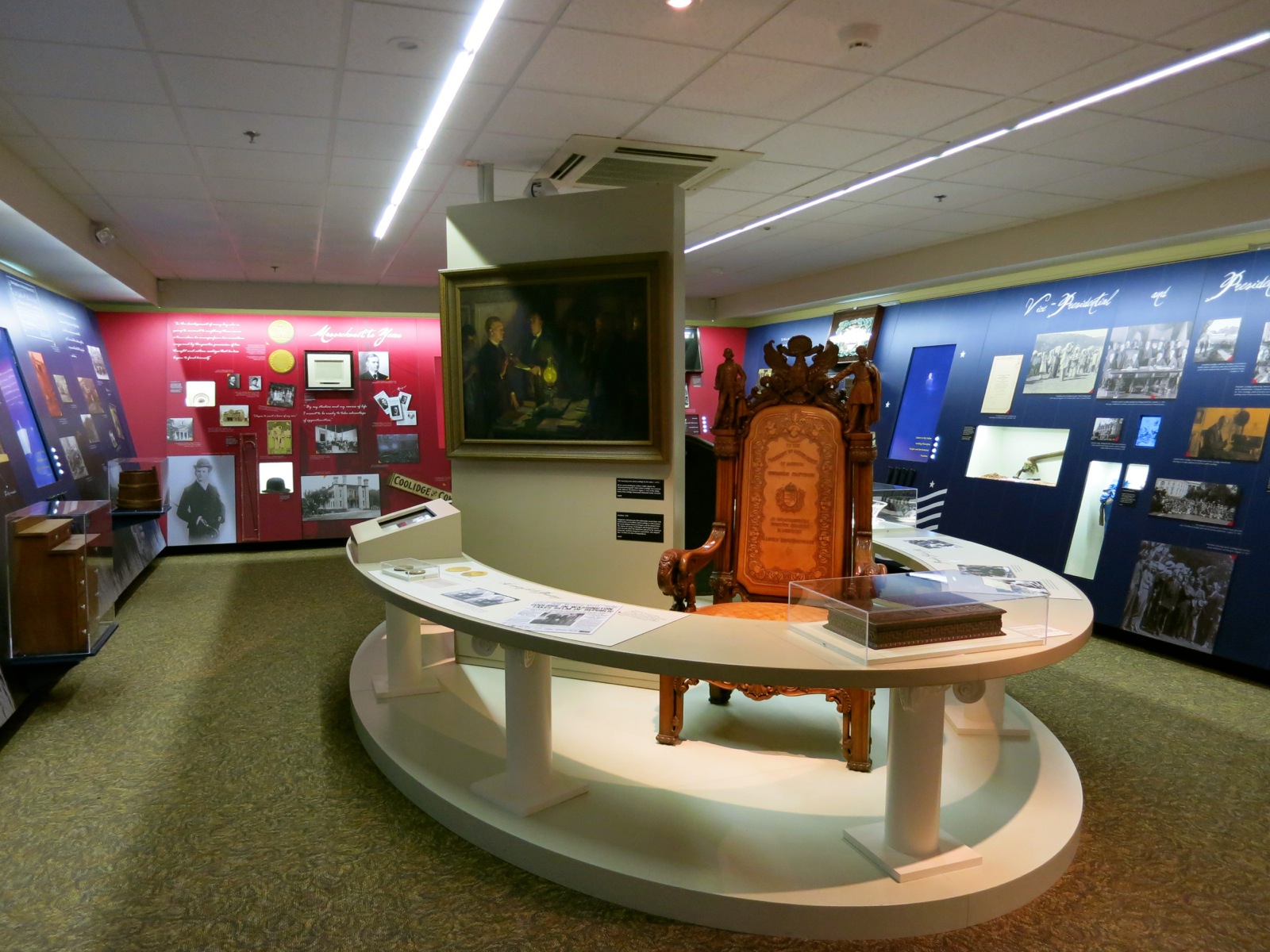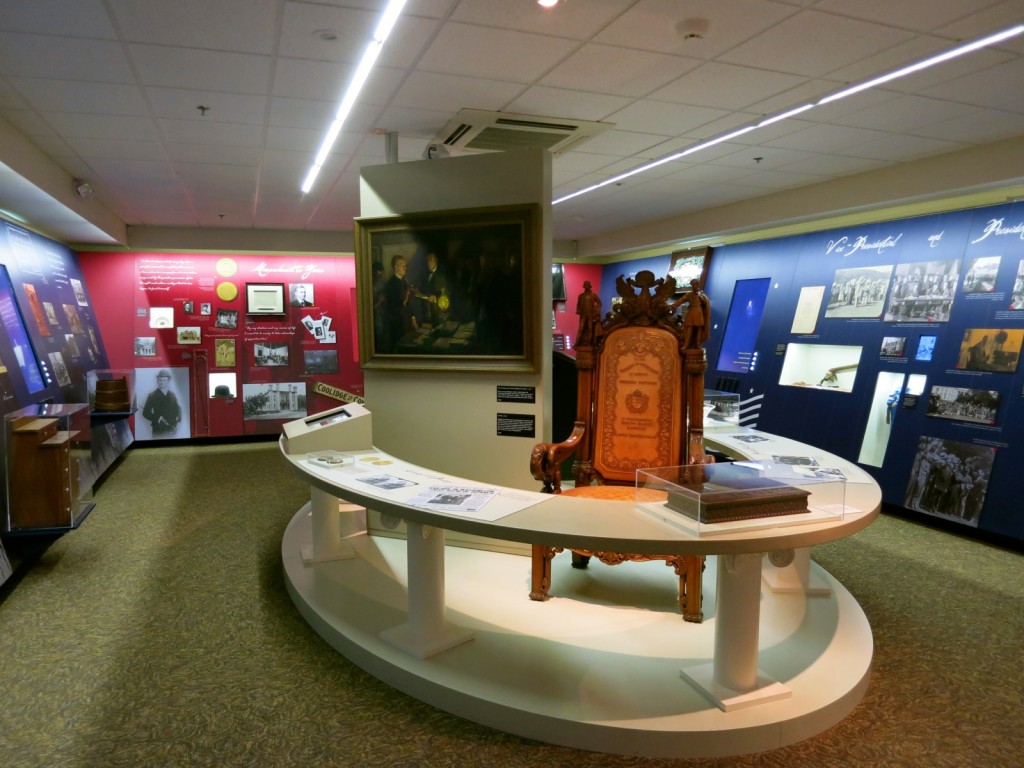 Begin at the Visitor's Center, home to an excellent, interactive museum about Coolidge and his fashionista-wife, Grace. Called "Sunshine" by White House staff for her easy, cheerful disposition, Grace was a teacher for the deaf before meeting Calvin. She became a favorite First Lady while her husband was in office and a voice against Nazi Germany while touring Europe with a friend in 1936, after her husband had died.
You'll see the piano that Grace enjoyed playing (the first piano ever to fly in an airplane), some of her more memorable dresses, such as a ten pound gold-beaded number from Sterns in Boston (Calvin loved to buy her clothing), and much more about her husband who, although fiscally conservative, was a social progressive.
Coolidge favored shorter workweeks, and voting rights for women. One of the first Acts he signed into law was the Indian Citizenship Act, granting full U.S. citizenship to Native Americans.
The award-winning museum is divided by stages of Coolidge's life, with slanted walls making it easier to read and watch videos. You can "Ask Coolidge a Question" – (voice recognition technology at work!), and access over 30 newsreels.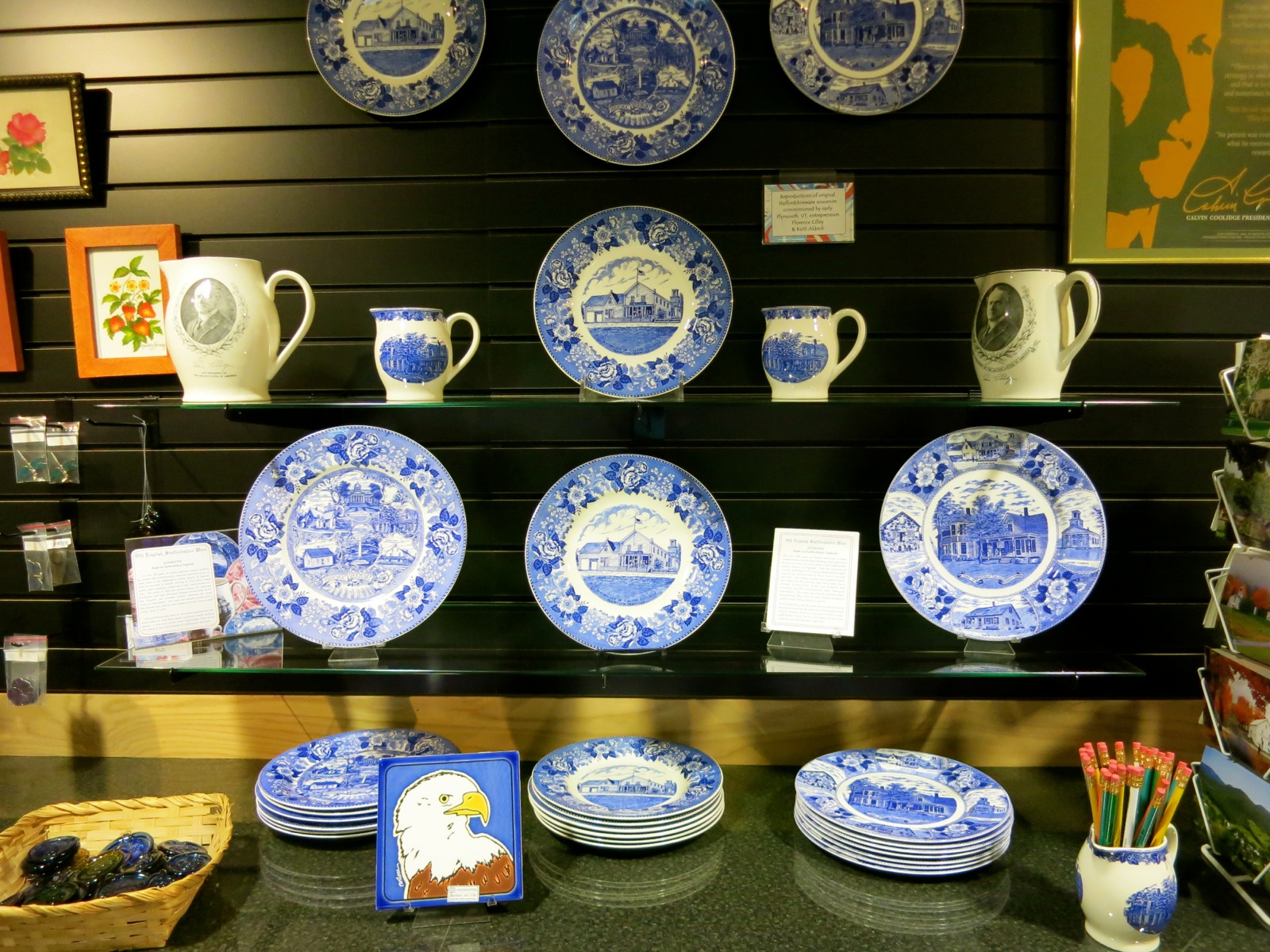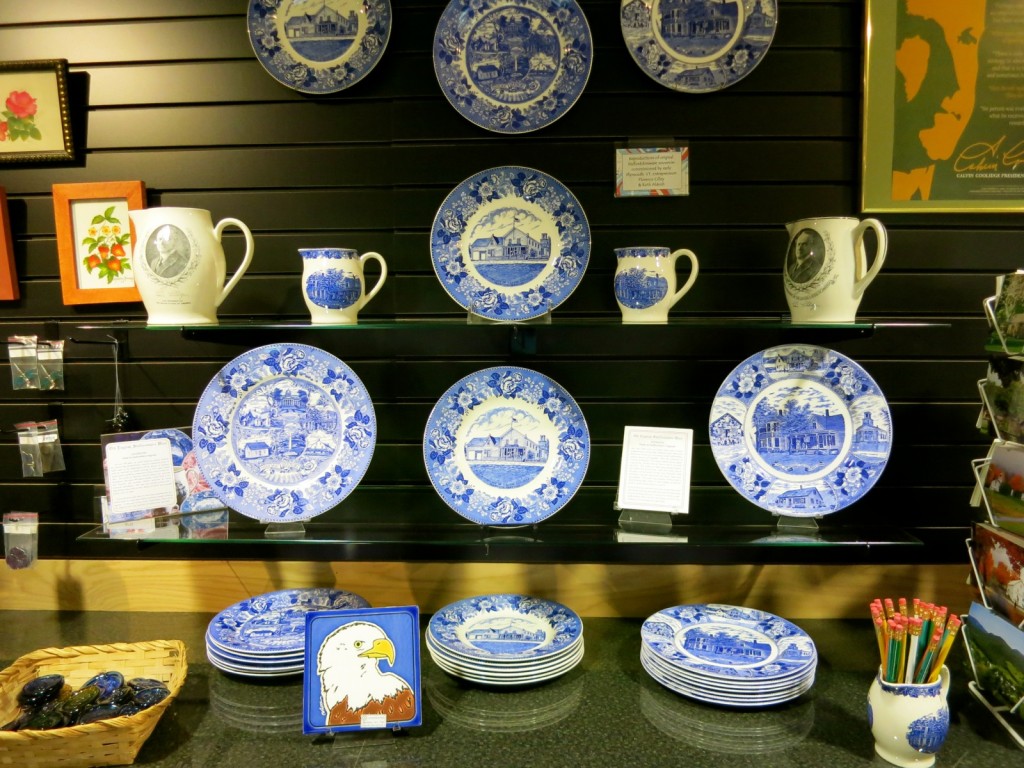 The tiny town of Plymouth Notch (pop 29) became a sensation overnight, when John Calvin Coolidge, Sr., a notary public, swore his son into office at 2:47AM on August 3, 1923 by the light of a kerosene lamp in his family homestead. (The home did not have electricity or indoor plumbing).
It was a "quaint" old-fashioned town, even by 1923 standards (even more so now) and the American populace ate it up. Thousands of tourists came to this little place – so gift shops and ice cream stands opened to cater to them. Shaffordshire of England created custom souvenir plates that sold like hotcakes.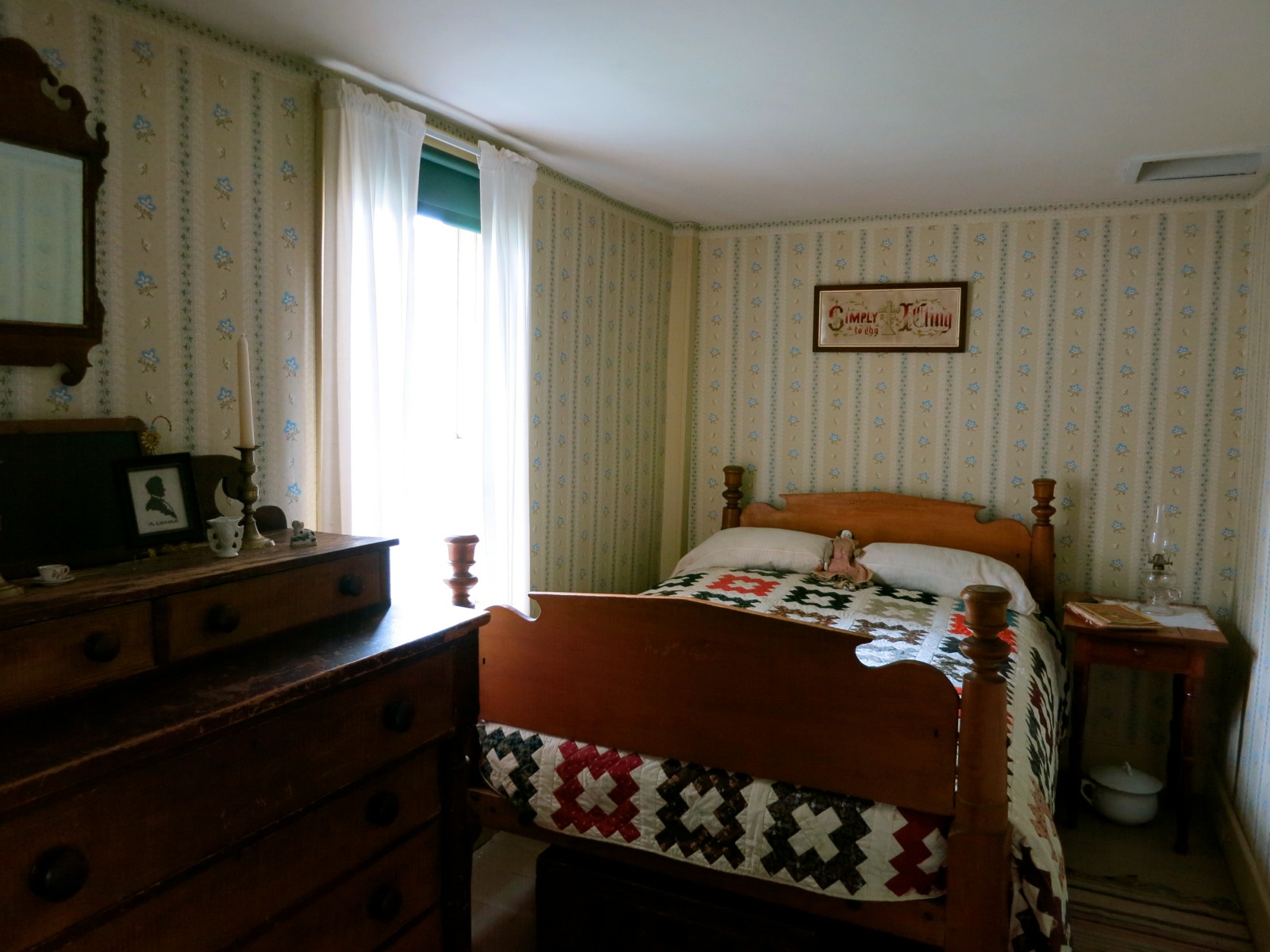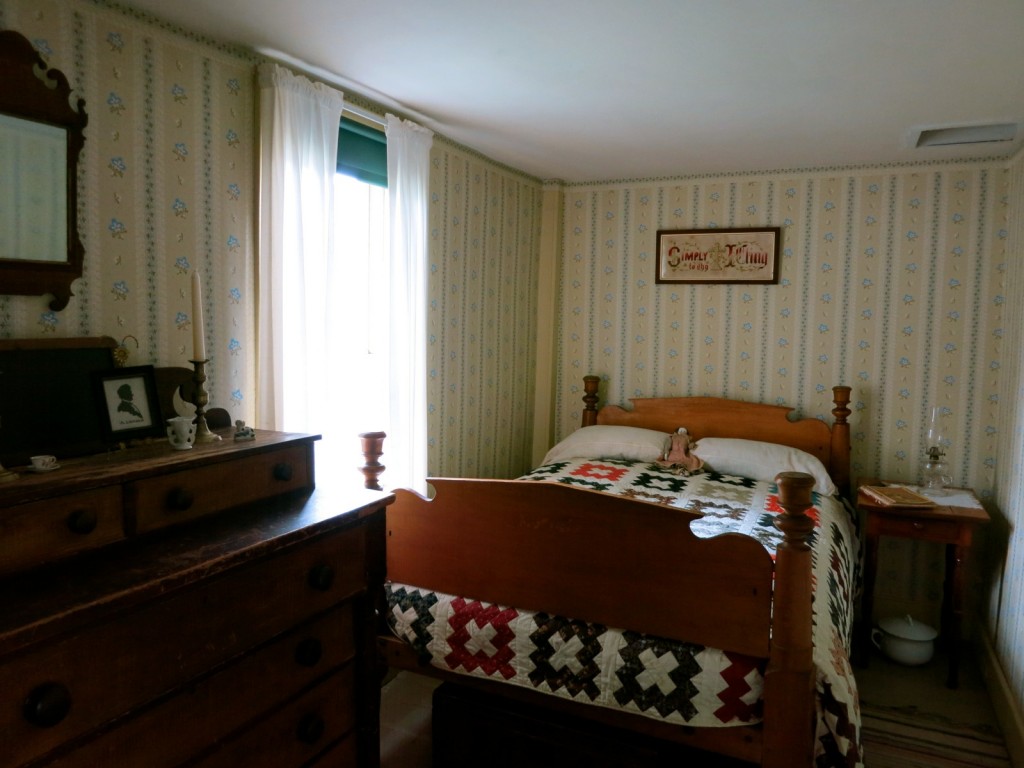 Take a guided tour of the town (on the hour) to see the humble wooden home and bed in which Coolidge was born – attached to the family's general store. The Coolidge's built a larger home across the street, where you'll find the small study dimmed as it was on the night Coolidge took office, and a crude work-frock that he'd don whenever he did field work.
What was so important about that simple frock? It seems that the press came to Plymouth Notch and found Coolidge farming in his work clothes. Media reported that the new President was attempting to exaggerate his humble beginnings by throwing on a costume for the cameras. From then on, Coolidge farmed and fished in a three-piece suit – a witty response to those snarky reporters.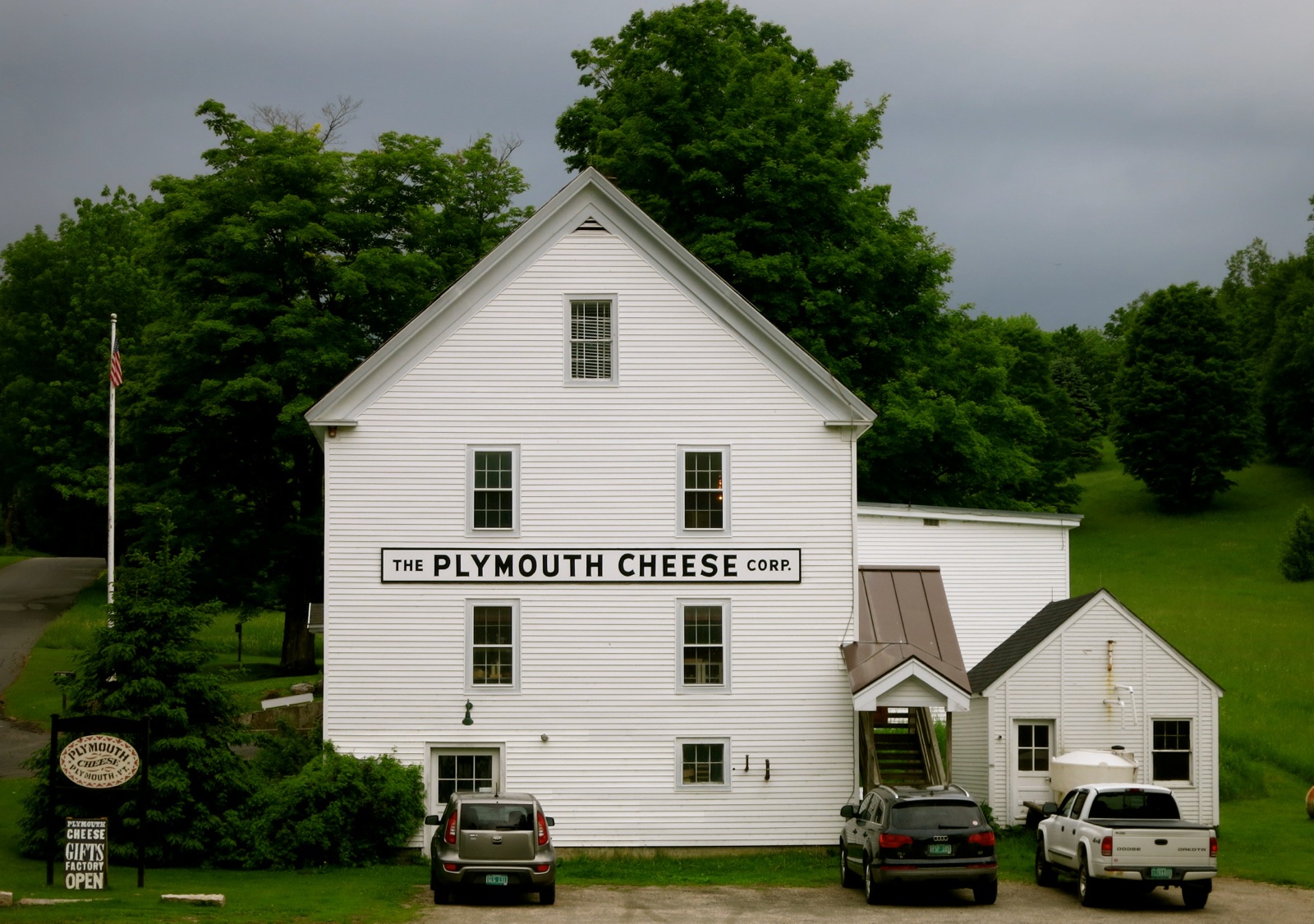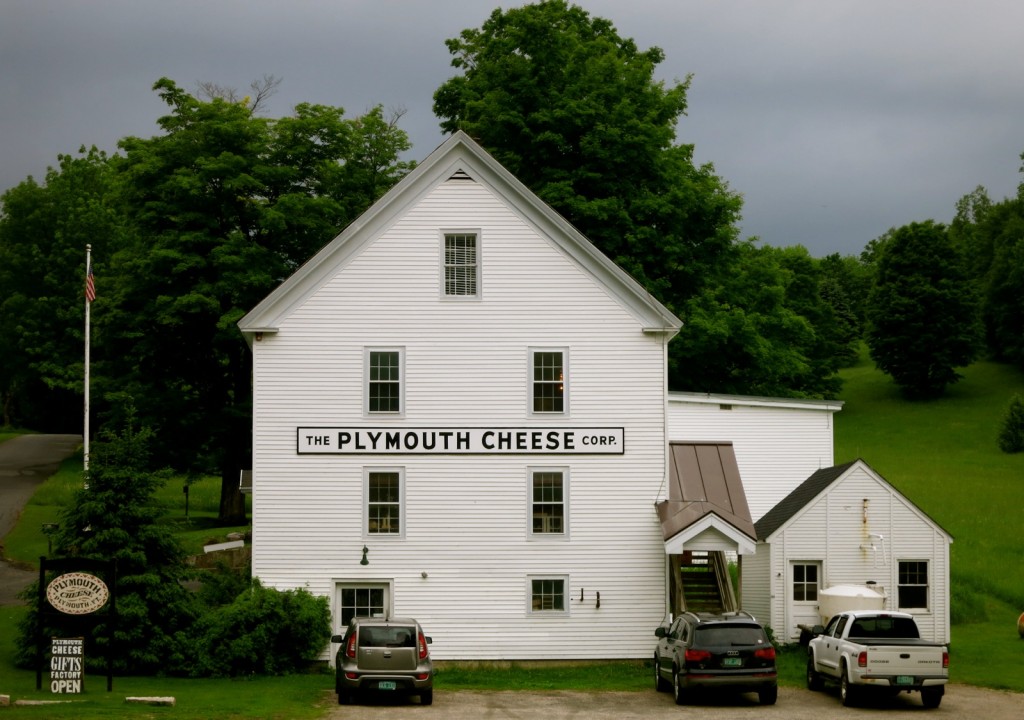 Before leaving the State Historic Site and the little hamlet of Plymouth Notch, stop into the Plymouth Cheese Factory – founded, in the same barn, by Calvin Coolidge's father in 1890 (he ran it into the '30s). In the 1960's Calvin's son, John, reopened the cheese-making concern and ran it until the 90's. In 2009, it was opened again, with Plymouth Cheese much in demand by NYC chefs and specialty cheese shops around the country.
Historic Site open Late-May through Mid-October, daily 9:30-5. $9.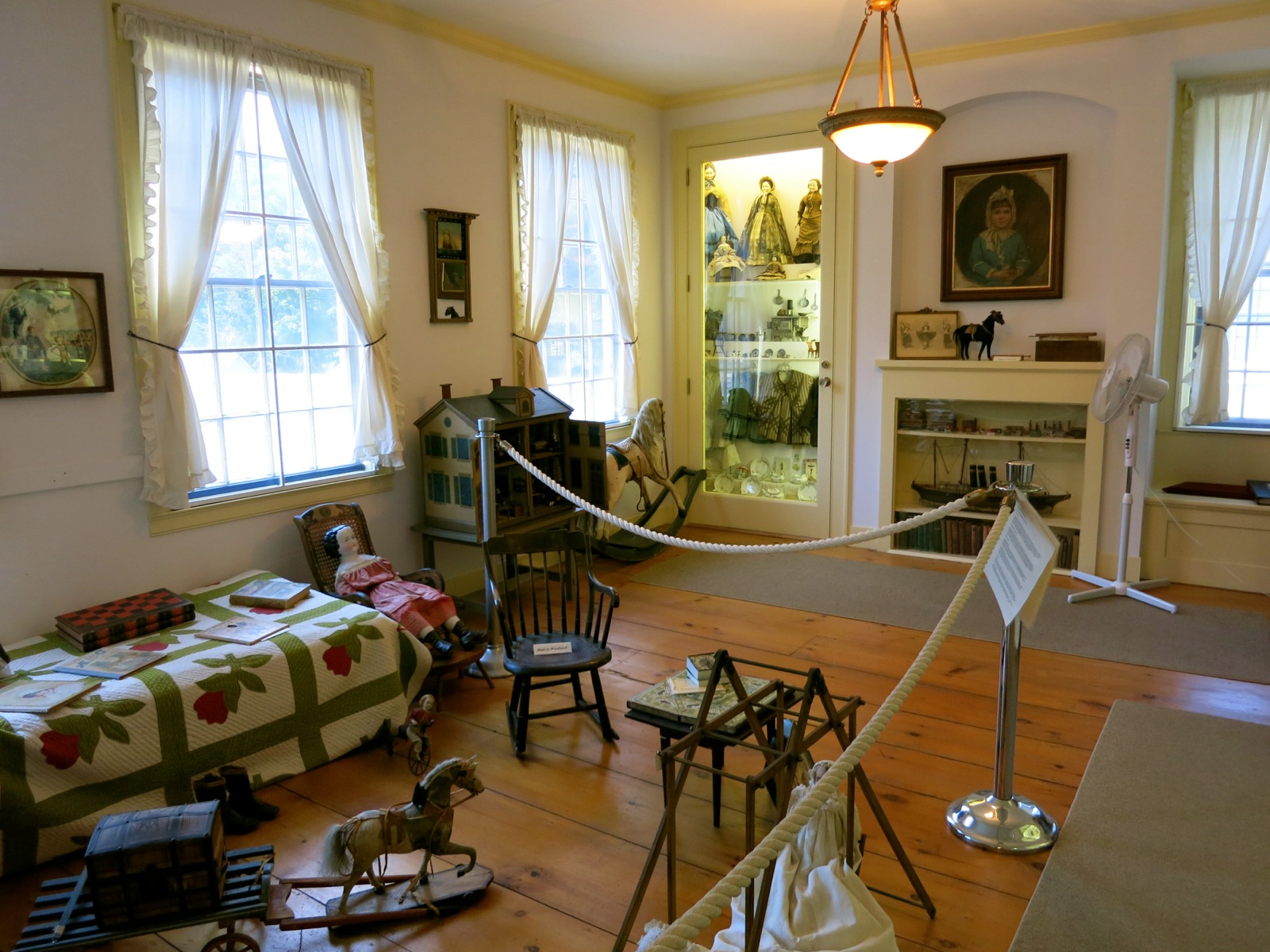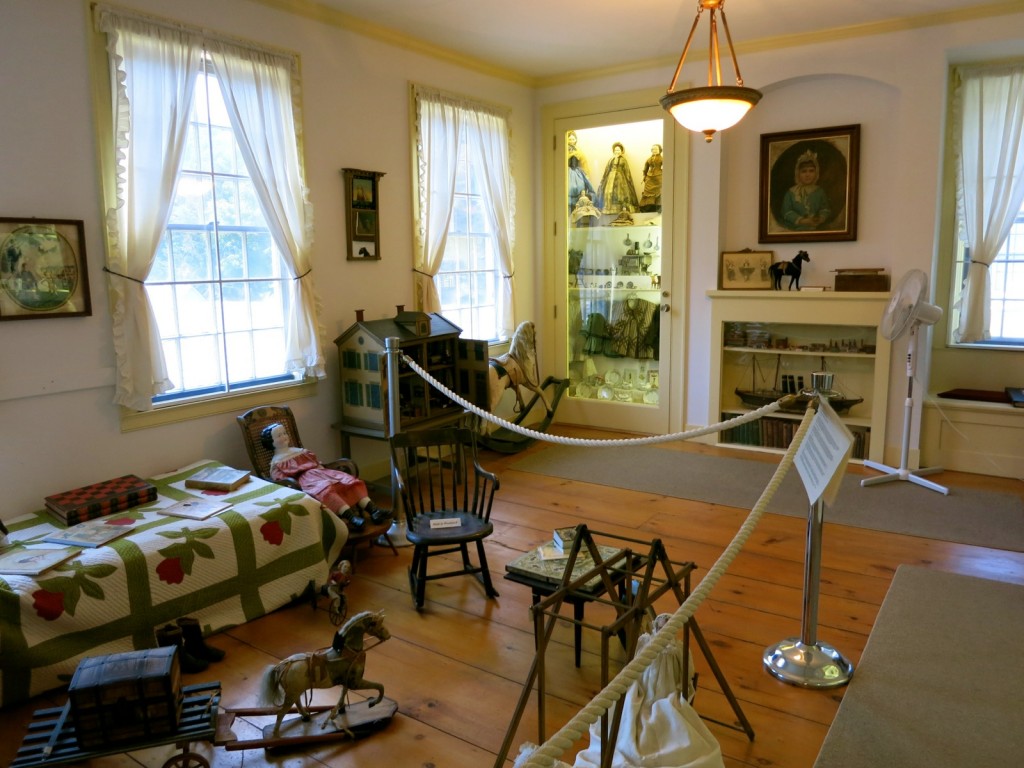 VISIT: Woodstock History Center. Right in town, the home of the Woodstock Historical Society is often overlooked by tourists. But this 8-room home of Charles and Mary Dana, built in 1807 right on the river, does have its merits: like the authentic 1772 Town Charter with seal of King George III, original wide-plank floors, fixtures converted from candlelight to oil to electricity, and a cornecopia of early 1800's toys in the children's room upstairs.
Innovative programs – like free antique appraisal days and cemetery tours complete with re-enactors – bring out the locals and visitors looking for something different to do.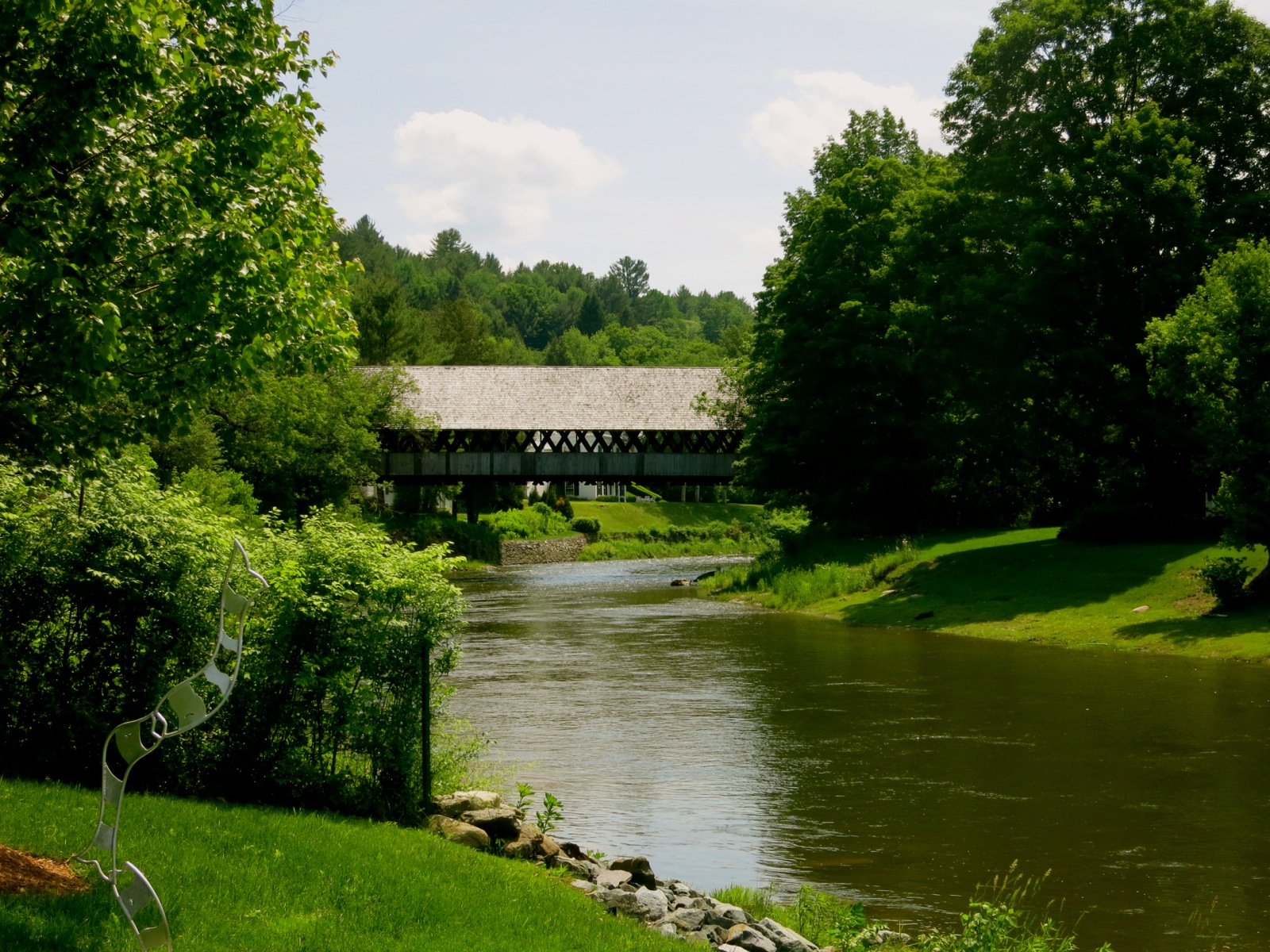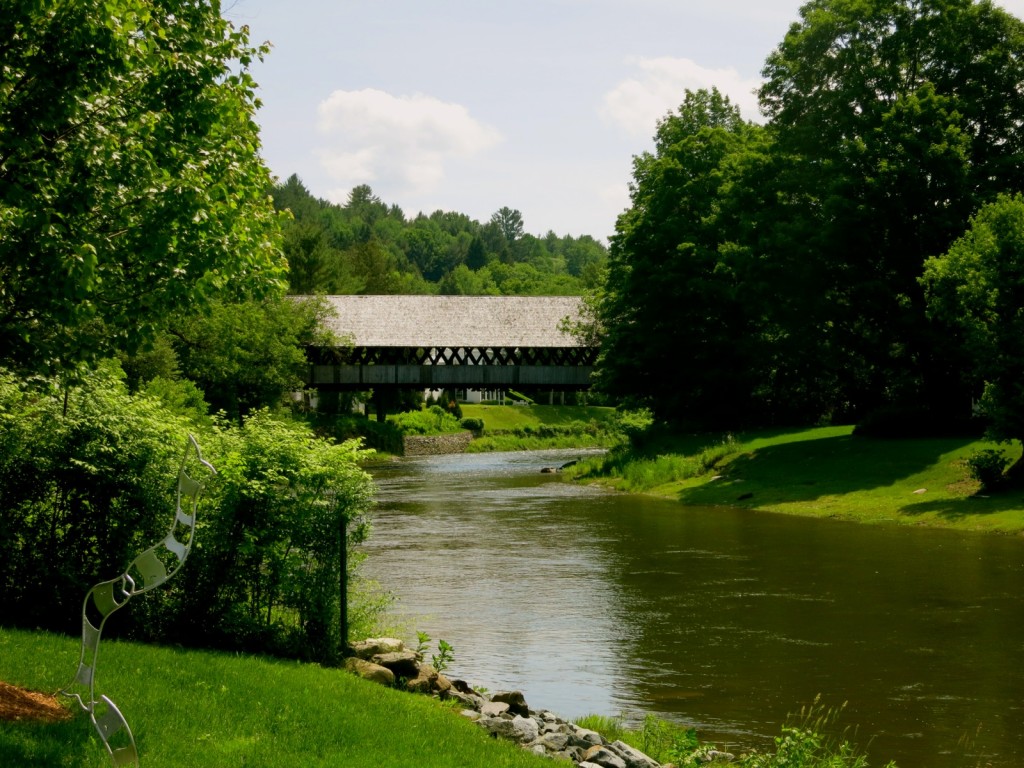 But perhaps the #1 reason you should come here is for the backyard on the river. It's got the best view of the town's covered bridge. Open May – Oct. Wed-Sat 1-5, Sun 11-3.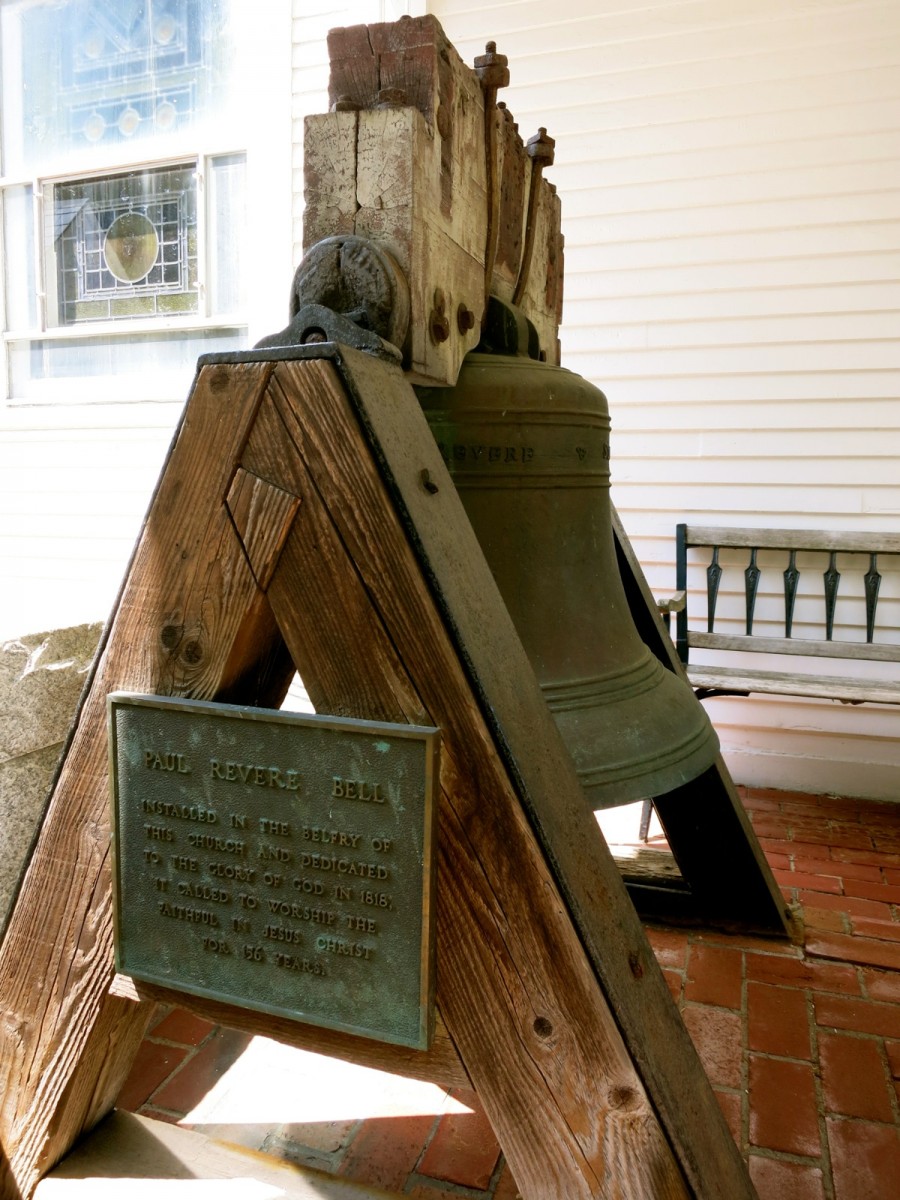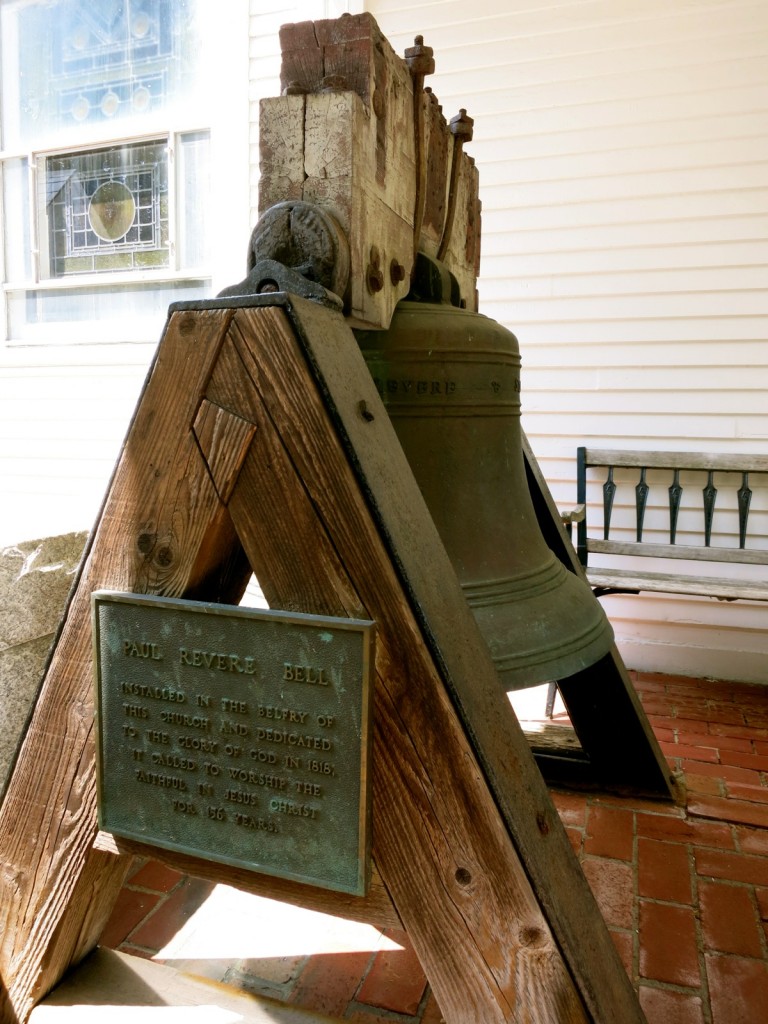 SEE: Bell cast by Paul Revere & Sons Foundry at the First Congregational Church of Woodstock VT. There are five Revere bells in Woodstock, VT. This one is not in use – and on display on the steps leading up to the church (two doors down from the Woodstock History Center).
SHOP: FH Gillingham & Son General Store, Woodstock. This late 1800's store is still in family hands, and you can pick up almost anything, from prepared gourmet food to fishing tackle to cutting edge gifts, and still have no idea what to expect in the next room.
In a 1994 piece for the Philadelphia Inquirer, Suki Casanave wrote about Gillingham, "Best of all is the smell inside the store – an aroma of fresh-ground coffee beans, spices, cheeses, chocolate, and well-oiled floors. If someone ever wanted to bottle a scent and call it 'General Store,' this is where they'd come get it."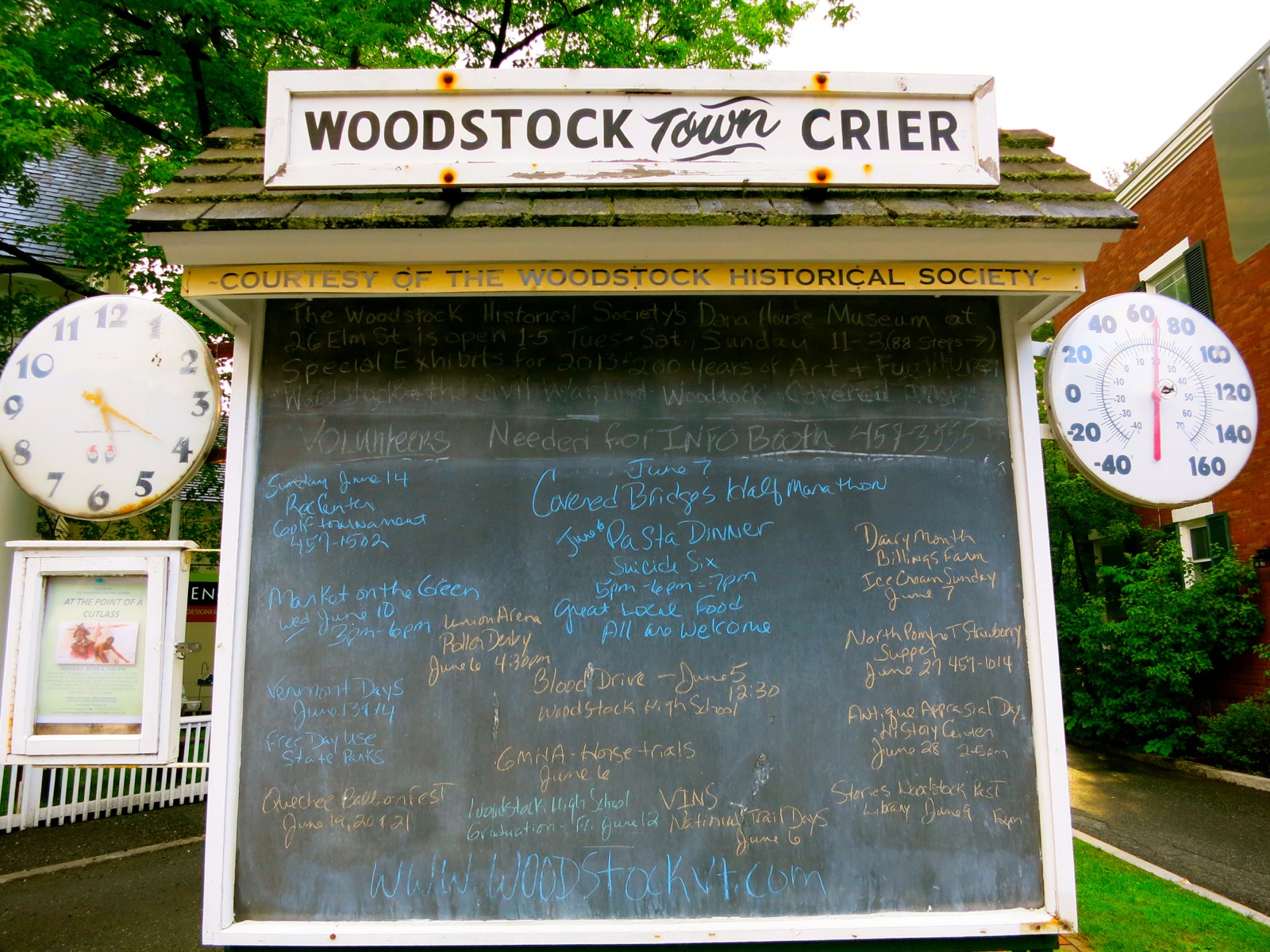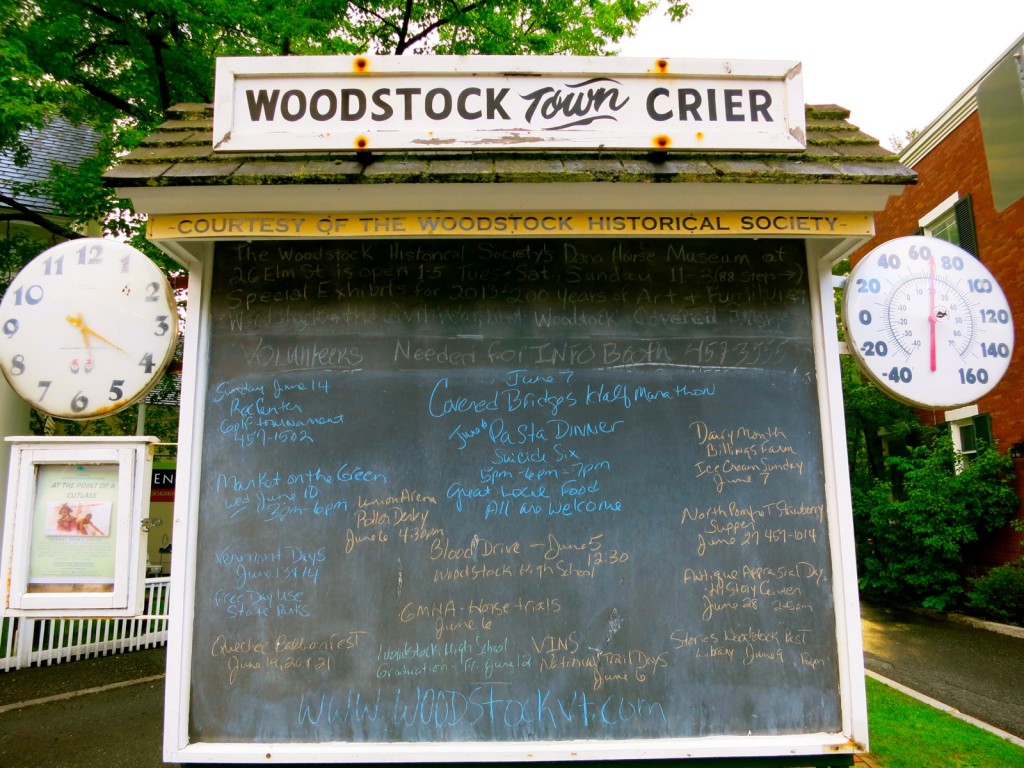 SEE: The Town Crier. For over 60 years, this simple blackboard near the Green has been central clearinghouse for all Woodstock events. Maintained by the Woodstock Historical Society, you'll find dates and times of ice-cream socials, movies, lectures and just about anything else going on in town.
WALK: Downtown Main Streets. Everyone does. And you will not find one "Big Box" store in town. You will, however, stumble on the wonderful indie Yankee Bookshop and Vermont Flannel, where I picked up my new favorite comfy-Winter nightgown ($50), and other great shops and galleries.
SEE: Famous artisans, Miranda Thomas and Charles Shackleton at work. In Bridgewater – a few miles west, a renovated 1814 mill houses the busy workshops of world-famous potter Miranda Thomas, (whose bunny, bird and floral motifs have won over UN dignitaries and heads of state) and her husband, Charles Shackelton. "Simon enticed us to move here," said Thomas, referring to down-the-street neighbor, glassmaker Simon Pierce whose own workshop is 10 miles away in Quechee.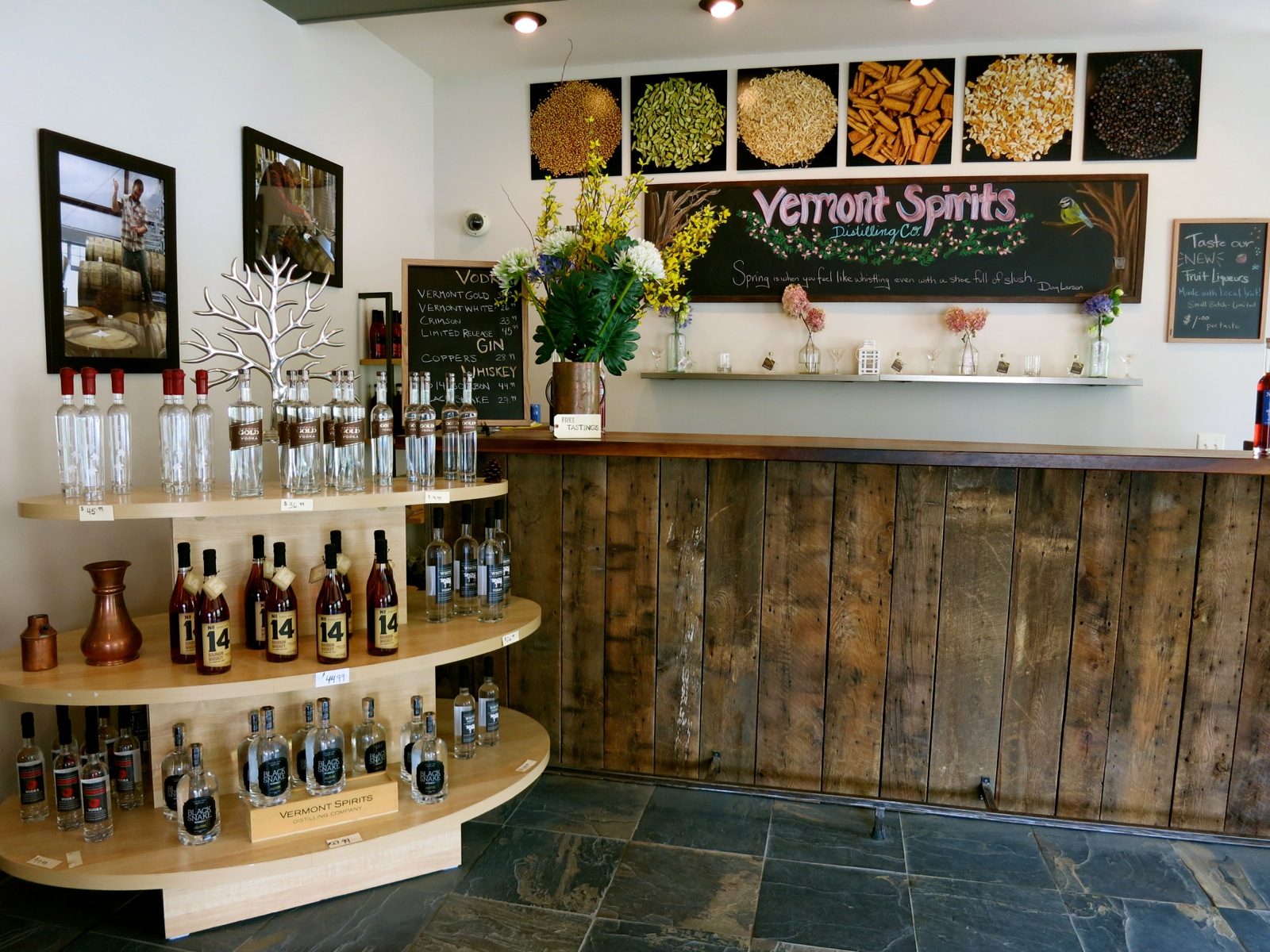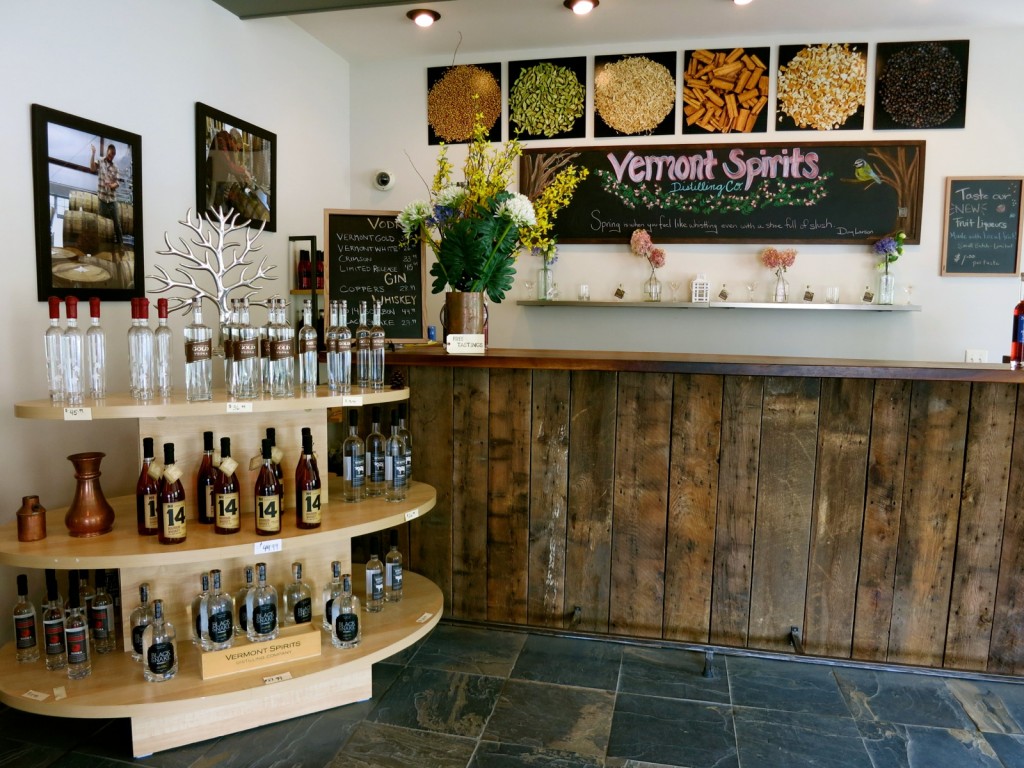 SEE/TASTE: Simon Pierce, Cabot Cheese, Vermont Distillery, Quechee. Stop in to see glassmaker, Simon Pierce, then to the Cabot Cheese annex (lots of samples) before settling in for a few sample sips at Vermont Spirits. I'm a straight up Vodka gal, but VS's bestselling No 14 Bourbon won me over to the Bourbon side with a smooth, warming maple finish. You'll also find Crimson Apple Vodka, Black Snake Whiskey and Vermont White Vodka distilled from whey.
Where to Eat and Drink in and Around Woodstock VT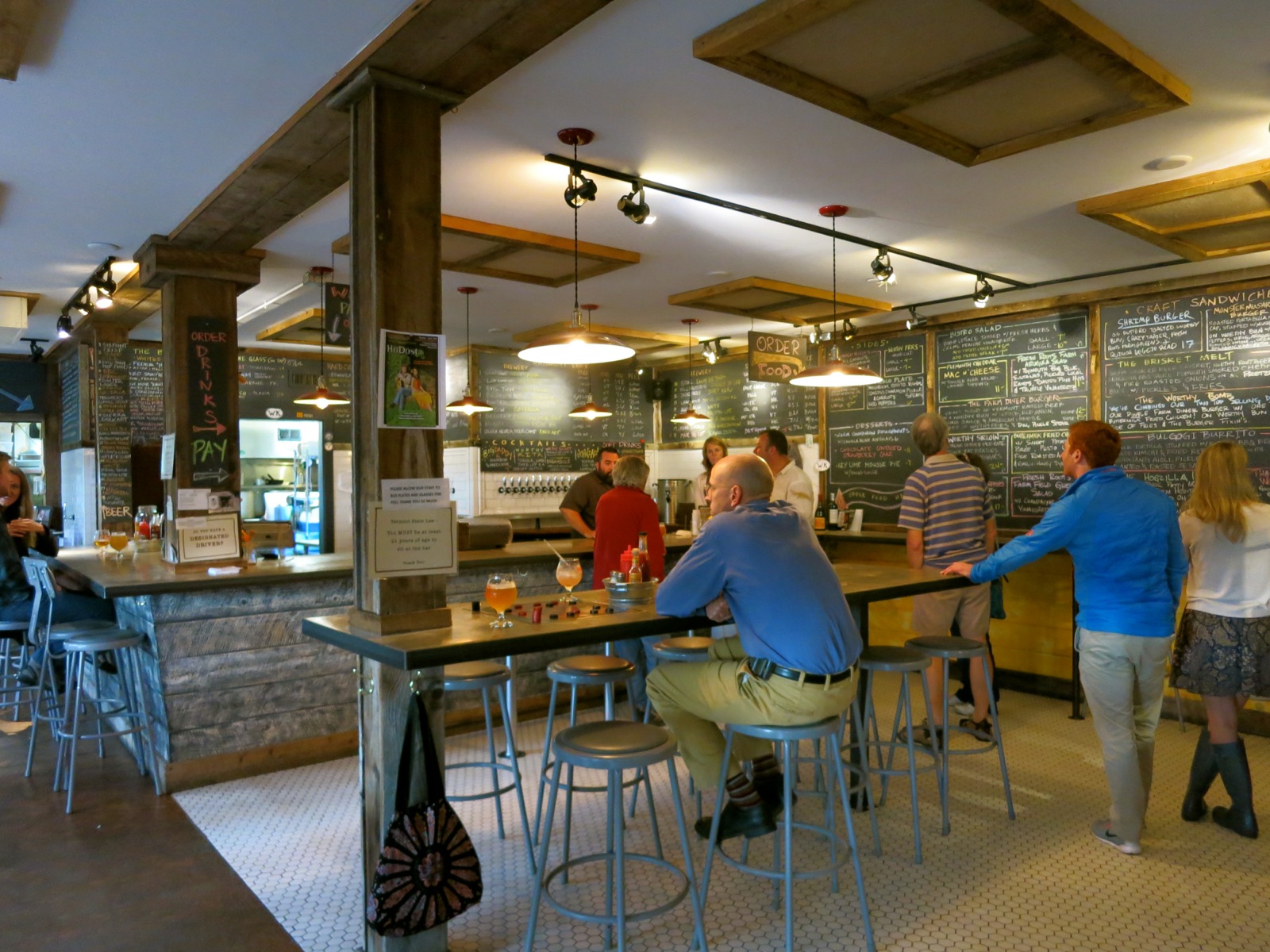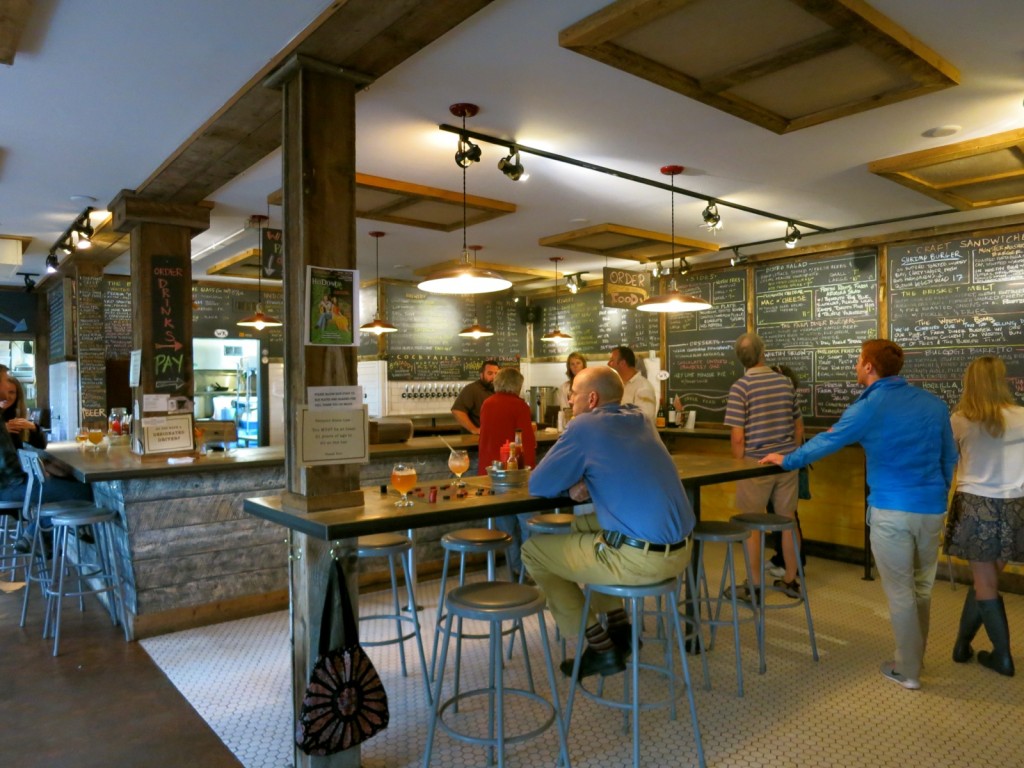 EAT: Worthy Kitchen. Just a quick drive out of town, in a multi-shop building on a hill, Worthy Kitchen serves up "Craft Beer Farm Diners" – the likes of Vermont Raised Burgers $12, Portobello Mushroom Burger on Worthy Bun $14, specialty burritos and wings (Rootbeer-Sriracha-BBQ!), and 18 craft beers on draft.
The space is fun and funky. Poured concrete communal tables invite convivial conversation, huge blackboards advertise the beer and food specials of the day, and you order at the counter – get a buzzer, and wait to pick up your food. Easy. Good. Fun.
DRINK/BREWERY: Long Trail Brewery. Stop in to this popular brewery for samples and a quick meal. A bit out of town, it's a hit with locals and a hoot to tour. Go upstairs to the observation deck to see one of the fastest bottling facilities known to beer. It's frantic and mesmerizing.
STAY: Woodstock Inn and Spa. This is a Maven's Favorite – see complete write up here. Room rates start at $250 per night low season, $470, high season. The additional $25 per room per night resort fee offers guests Billings Farm Admission, morning coffee and tea, afternoon tea and cookies, unlimited bottled water, admission to Racket & Fitness Club, Group Fitness Classes, Resort Shuttle, Parking, Wi-Fi, use of bikes, and complimentary day passes to Suicide Six midweek, non-holiday only.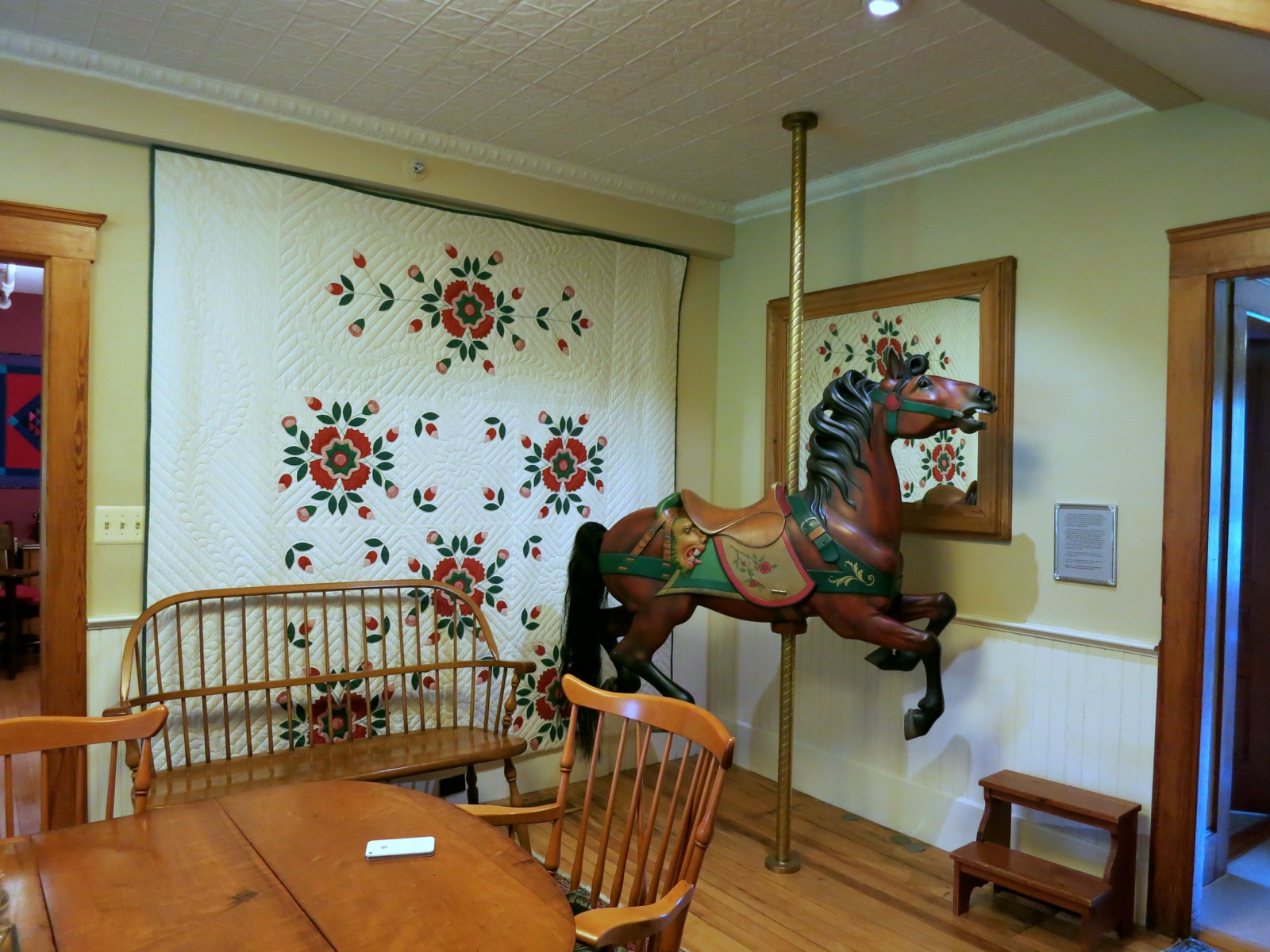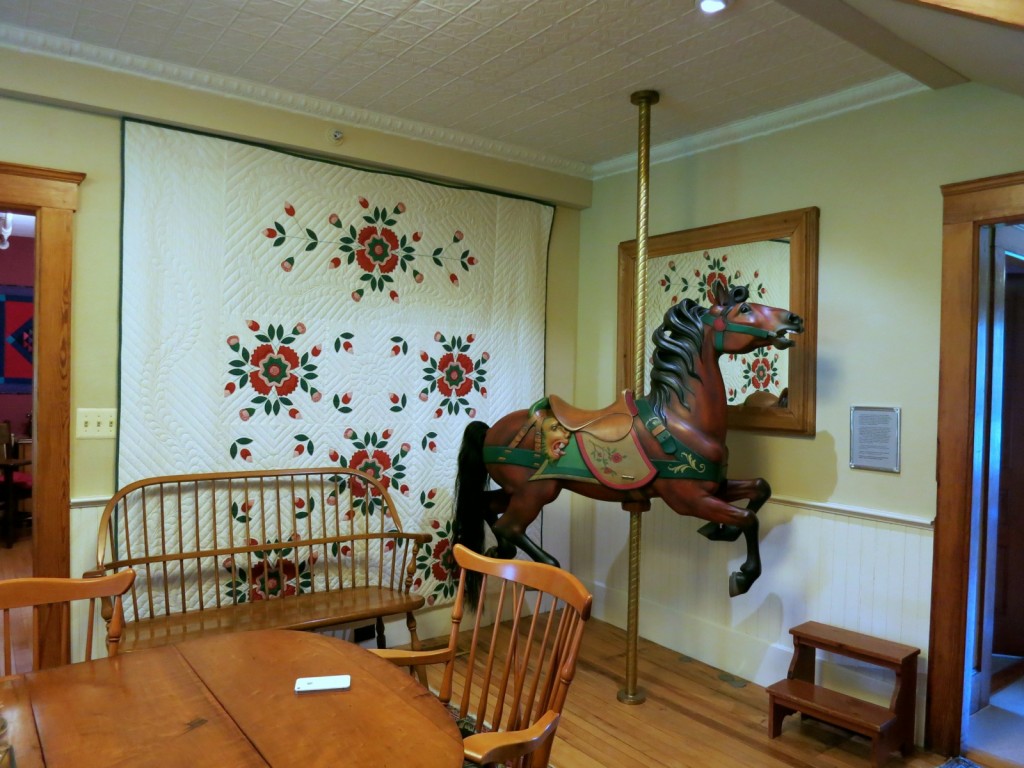 STAY: Farmhouse Inn at Robinson Farm. It will forever be known as the "Robinson's place," but owners, Tory and Barry Milstone opened this old farmhouse as a B&B in January 2008 and have since turned it into a worthy destination. Five guestrooms dressed in lots of quilts, rag rugs, pen and ink drawings, Turkish towels, and luxurious bedding are eclectically tasteful.
A rinse beneath the rain-showerhead in the dark slate-tile shower in Stan's Room transports you to a hidden waterfall. Behind the house, an elaborate four-story 1915 red barn (purported to be the tallest barn in Vermont) formerly housing cows and lots of hay, now accommodates free-range chickens -"the girls." You can see them muttering and laying on a personal tour of the property.
I'd venture to say that this is the only B&B in the world with an antique carousel horse in the dining room where a sumptuous breakfast, including backyard ingredients such as syrup tapped from property trees, produce from the kitchen garden, eggs from happy hens, and an occasional trout from the river across the street, is served. $155-$285 depending on room size and season includes fresh, hot, country breakfast.