WHY GO: It seems that every Hollywood star, US President and famous author visited Milford PA when Louis Fauchere, Master Chef at New York's celebrated Delmonico's Restaurant opened Hotel Fauchere in the 1880 as a summer escape for city-weary folk.
Now open year round, and having earned a Relais and Chateaux designation, the Fauchere is but one reason to skip over the New York border to this Pennsylvania resort town. (If you're a vegan, we give you a worthwhile option just 7 miles away).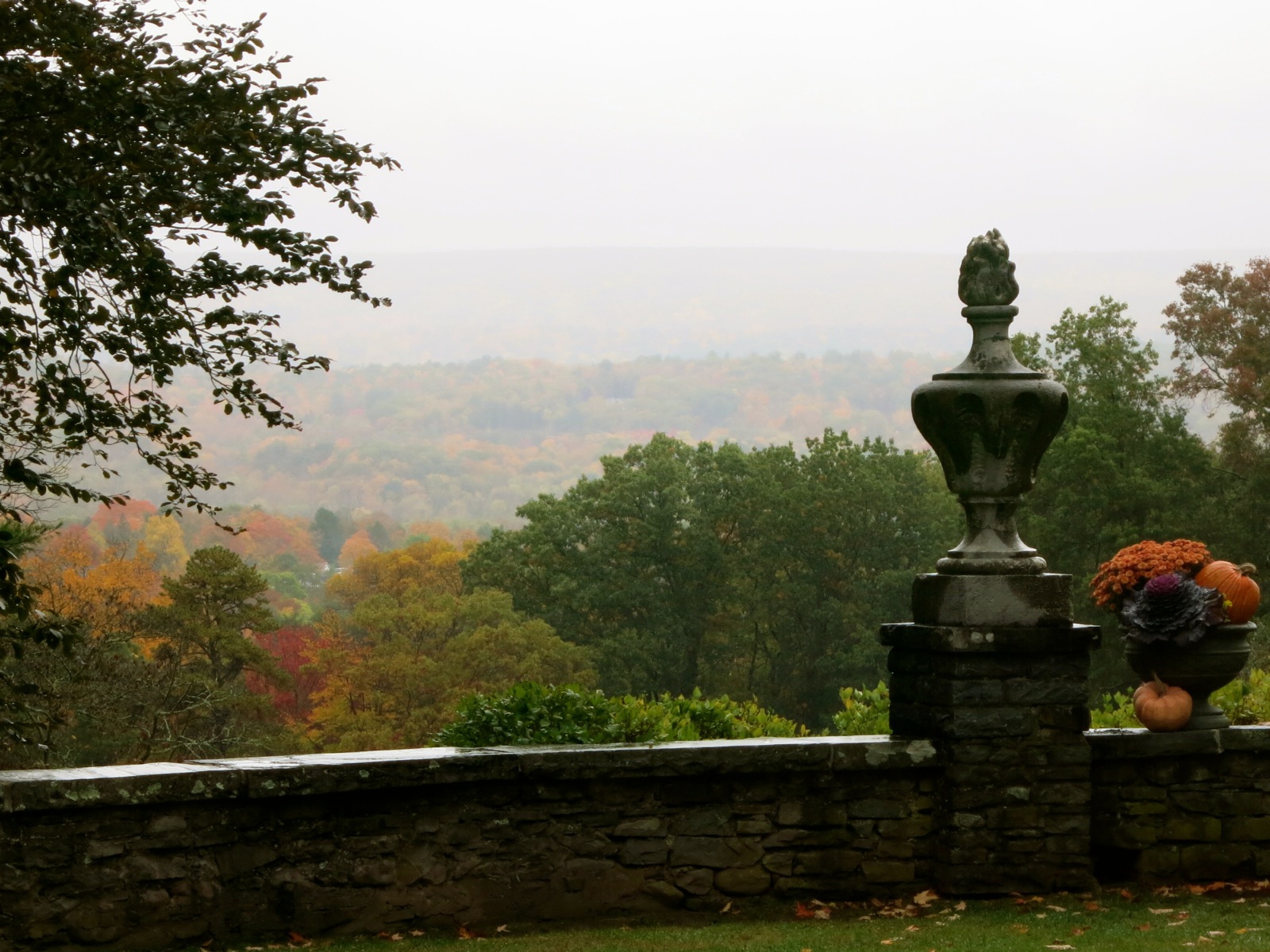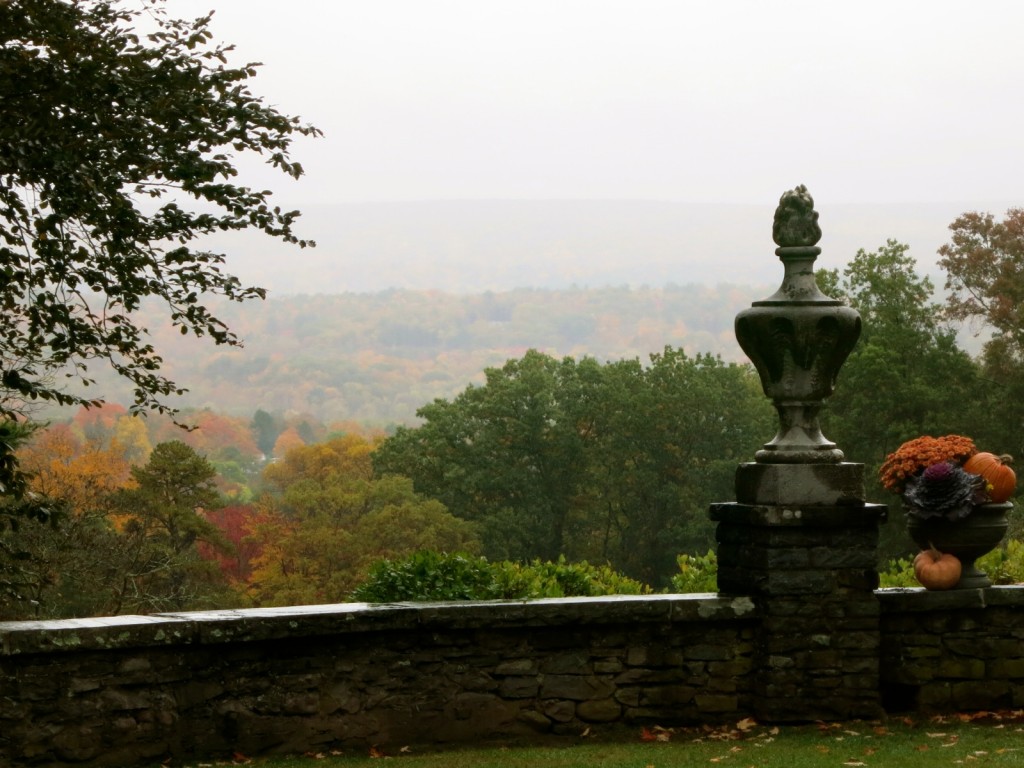 Milford is "The North Gate" of the 70,000-acre Delaware Water Gap National Recreation Area and was summer home to the founder of the US Forest Service, Gifford Pinchot. So, you know the landscape has to be divine. But what makes Milford "offbeat" is that it's home to a relic soaked in the blood of Abraham Lincoln, dating from the night of his assassination. Come to Milford PA to be spoiled by Mother Nature and Man. And, to be immersed in a piece of tragic US history.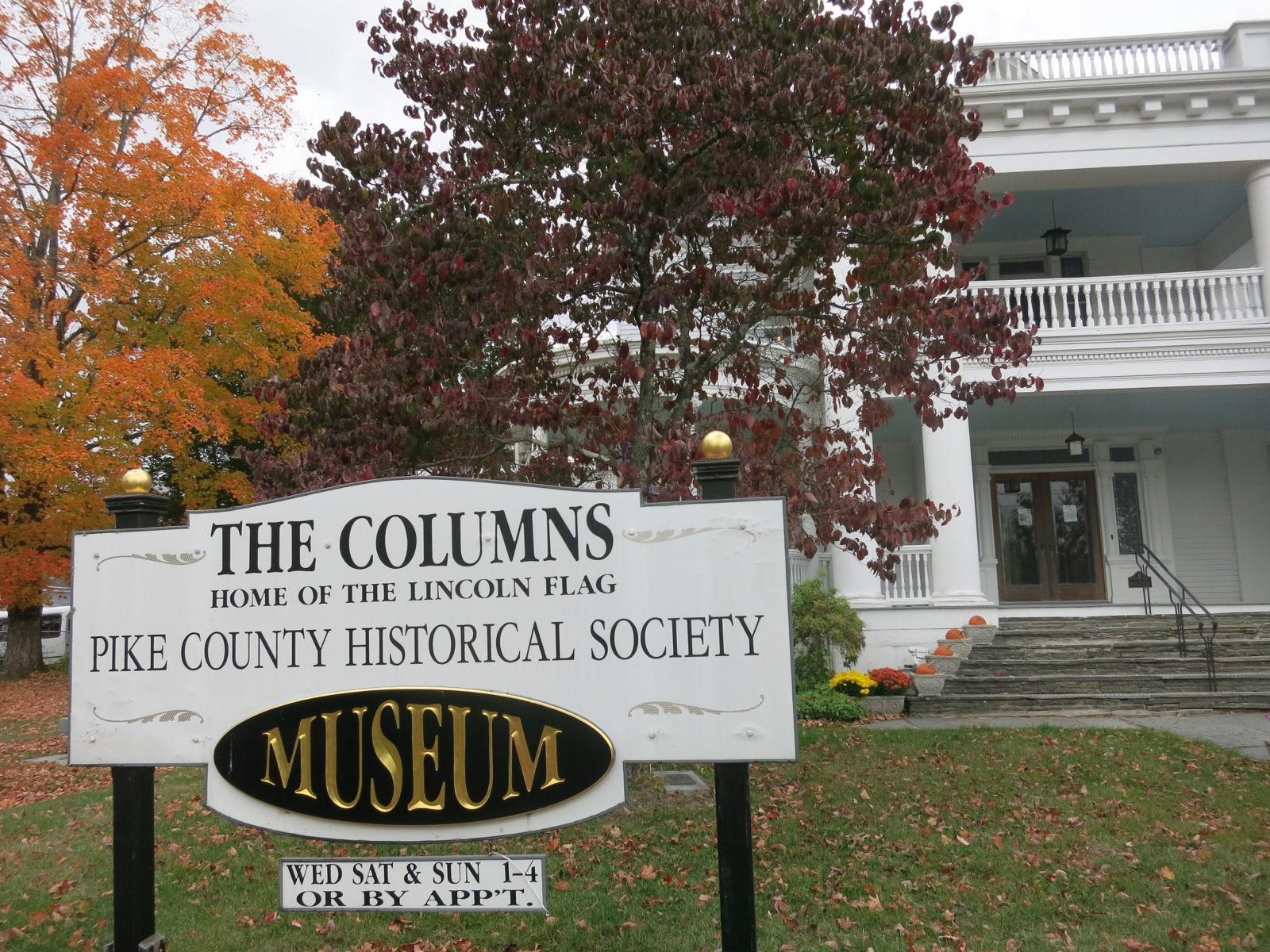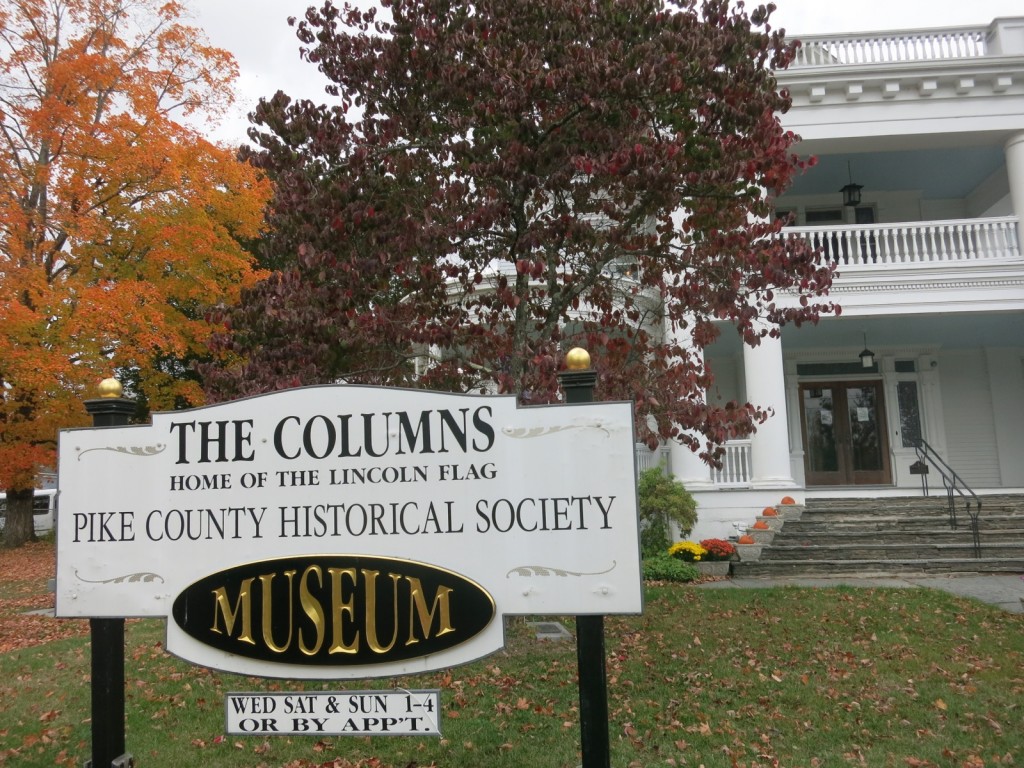 This is the final resting place for one of the most historic flags in US history: the one used to cradle President Abraham Lincoln's head after he was shot. You can behold this bloodstained relic among a great number of really strange artifacts. How did the flag get to this out of the way place, you ask?
How Did the Bloody American Flag Banner Get Here?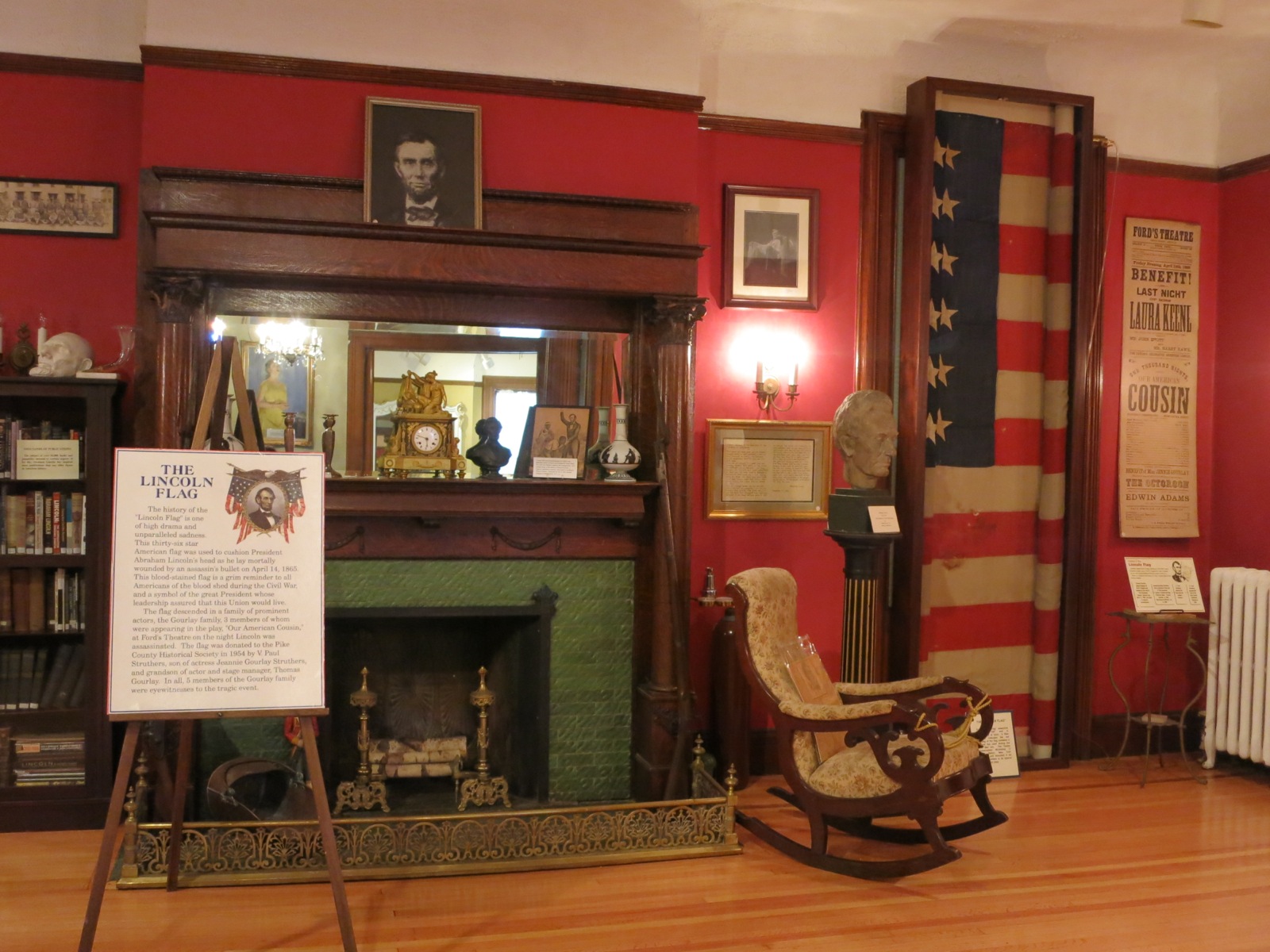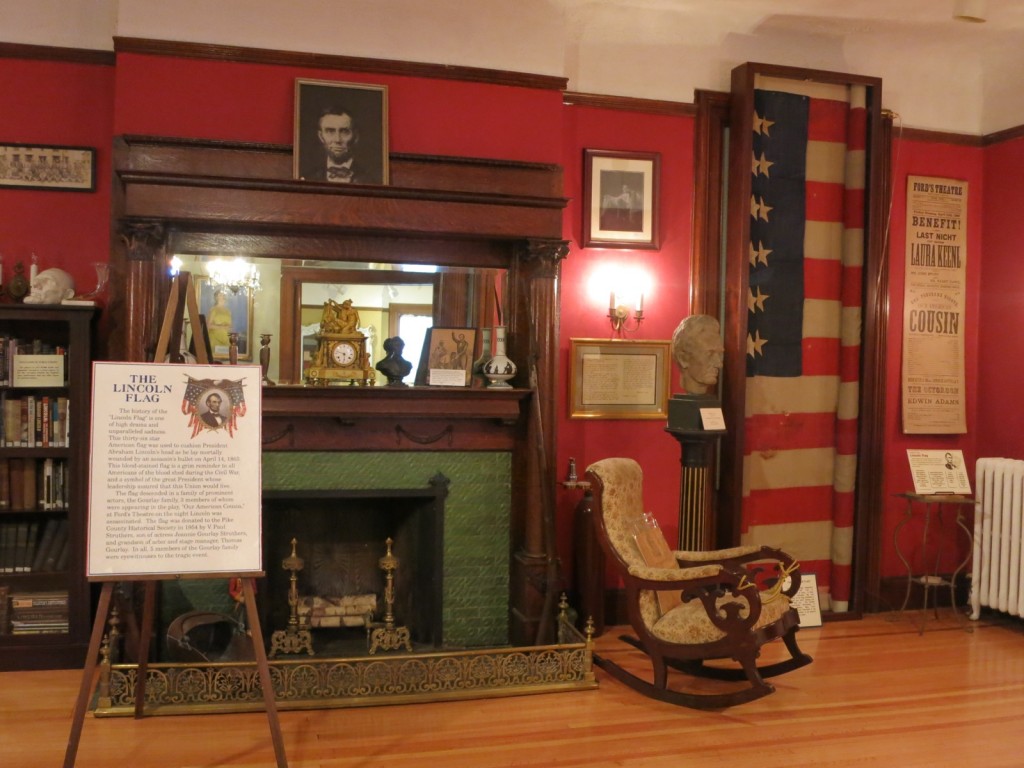 Well, Thomas Gourlay was stage manager of the Ford Theater in Washington DC as well as an actor. He appeared in "My American Cousin" with his two actress daughters, Jeannie and Maggie, on April 14th, 1865. From the stage, the three witnessed the assassination of President Lincoln.
In the madness, Gourlay took the flag banner that had cradled Lincoln's bloody head. He passed it down to Jeannie, who retired to Milford in 1888. Before Jeannine died, she gave the flag to her only son, Paul Struthers, who donated it, and other personal effects, to the local Historical Society.
But knowing how the flag got here, and actually being within inches of it are two very different things. It is positively goose-bump provoking in person.
More Than the Lincoln Flag
The Lincoln Flag, however, is not the only important artifact in this unique museum. There's a constellation of oddities to be seen, among them a collection of Civil War pencil sketches and watercolors rendered by Theodore Kline between skirmishes on the battlefield – some on the back of music sheets. And handcuffs and noose used to arrest and then hang Herman Schultz, who murdered his wife in 1898.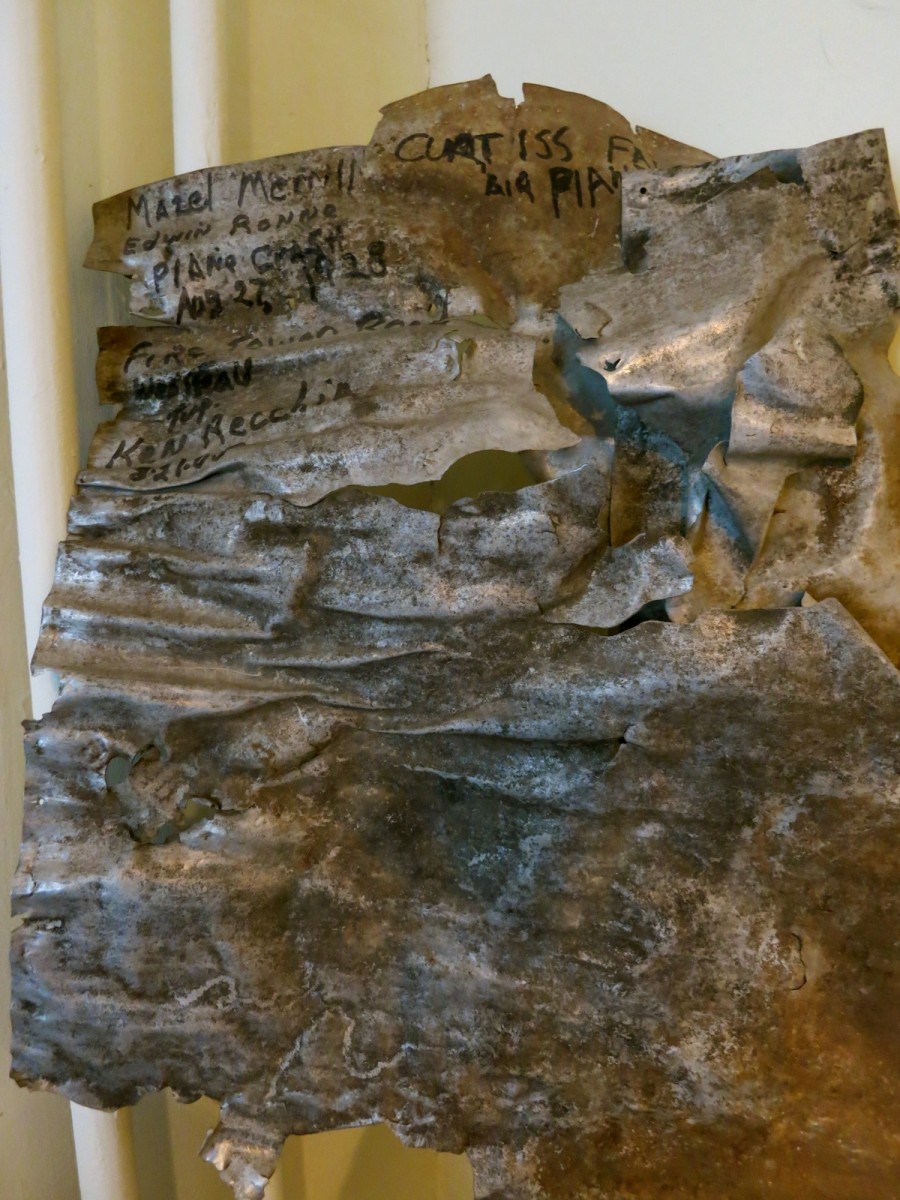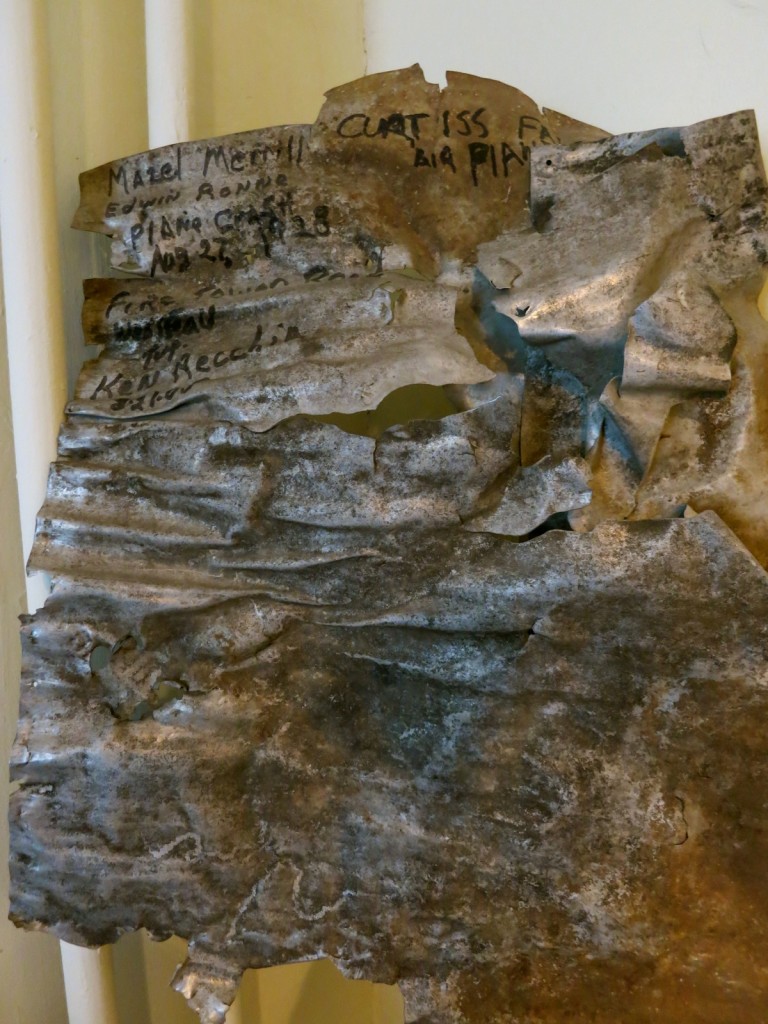 Upstairs, you'll find a piece of  wreckage from a plane owned by Charles Lindberg that had crashed nearby in 1928. It was grabbed, like the Flag downstairs, as a rather twisted souvenir. Open Wed, Sat and Sun 1-4, July an August, Wed – Sun 1-4. $5 adults, $3 students.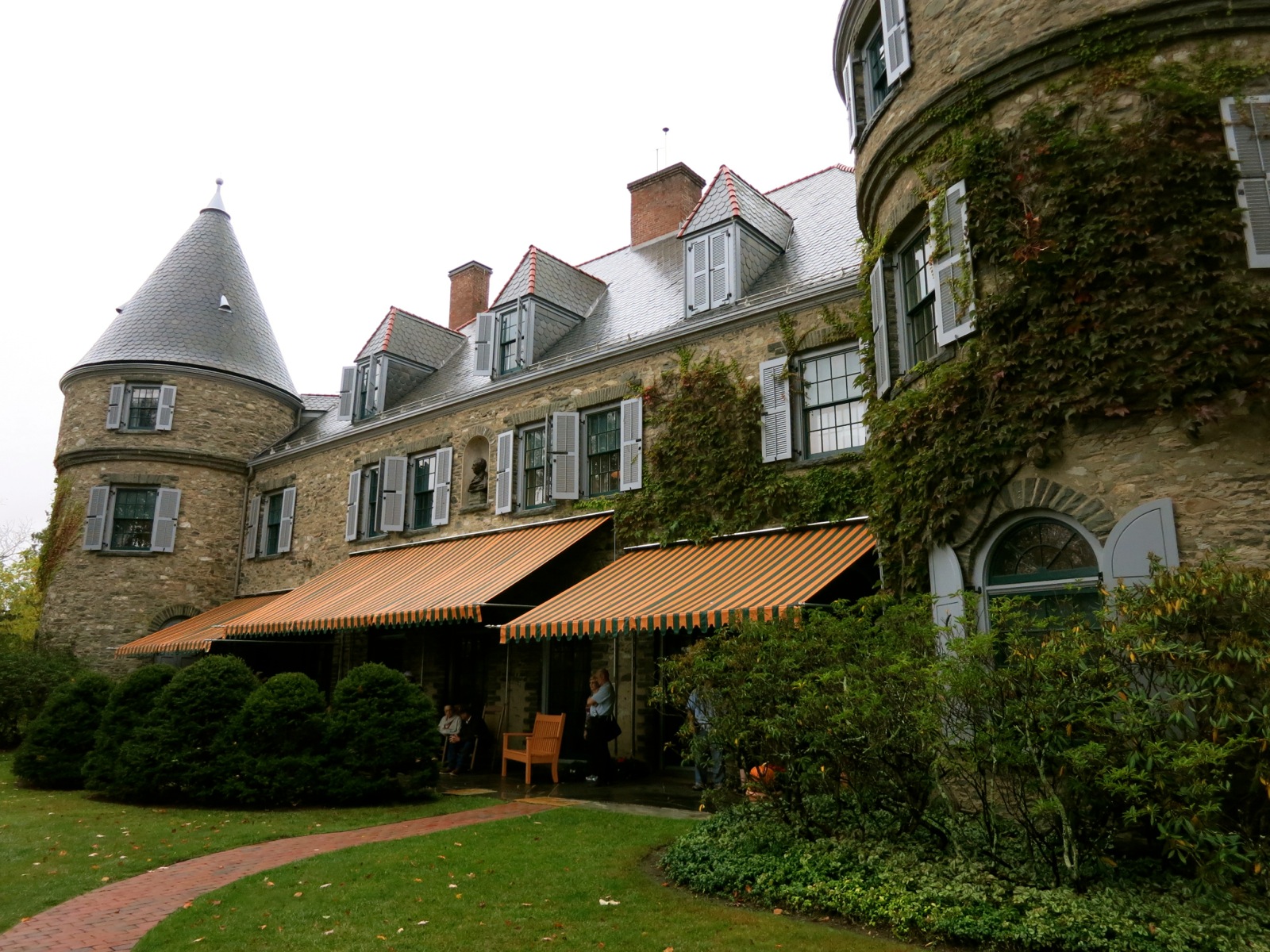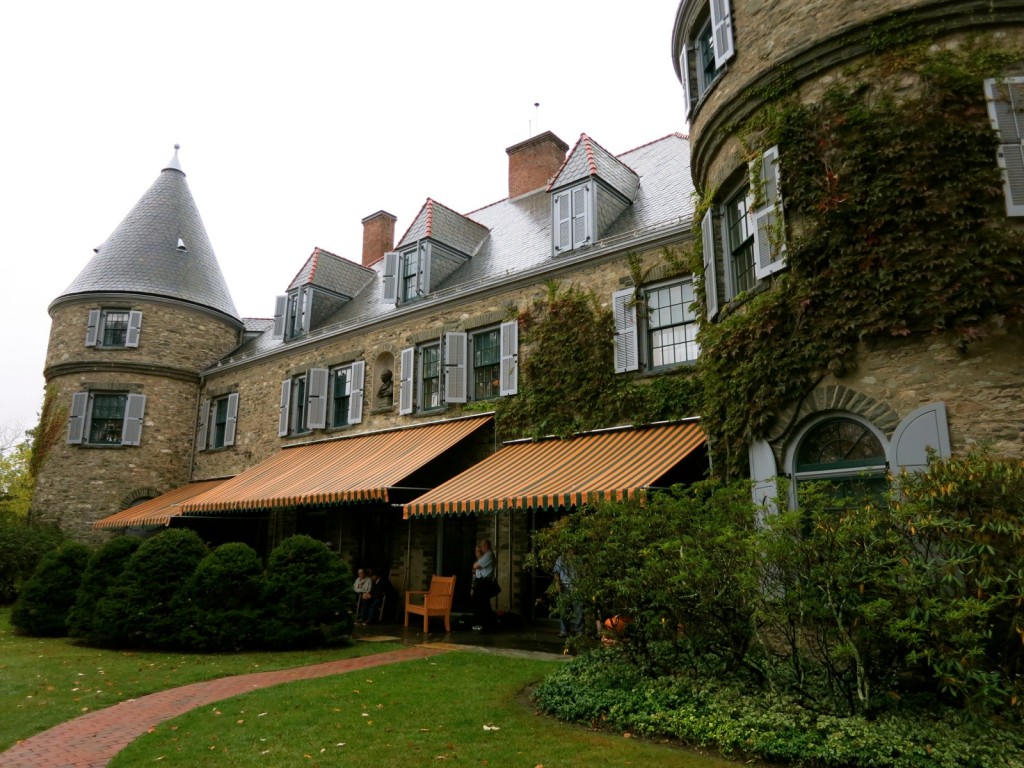 You shouldn't leave Milford without at least an amble around the breathtaking grounds of Grey Towers, the imposing mansion that belonged to Pennsylvania Governor, Gifford Pinchot. In addition to being the first US Governor to appoint an African-American and a woman in his Cabinet, Pinchot also founded the US Forest Service.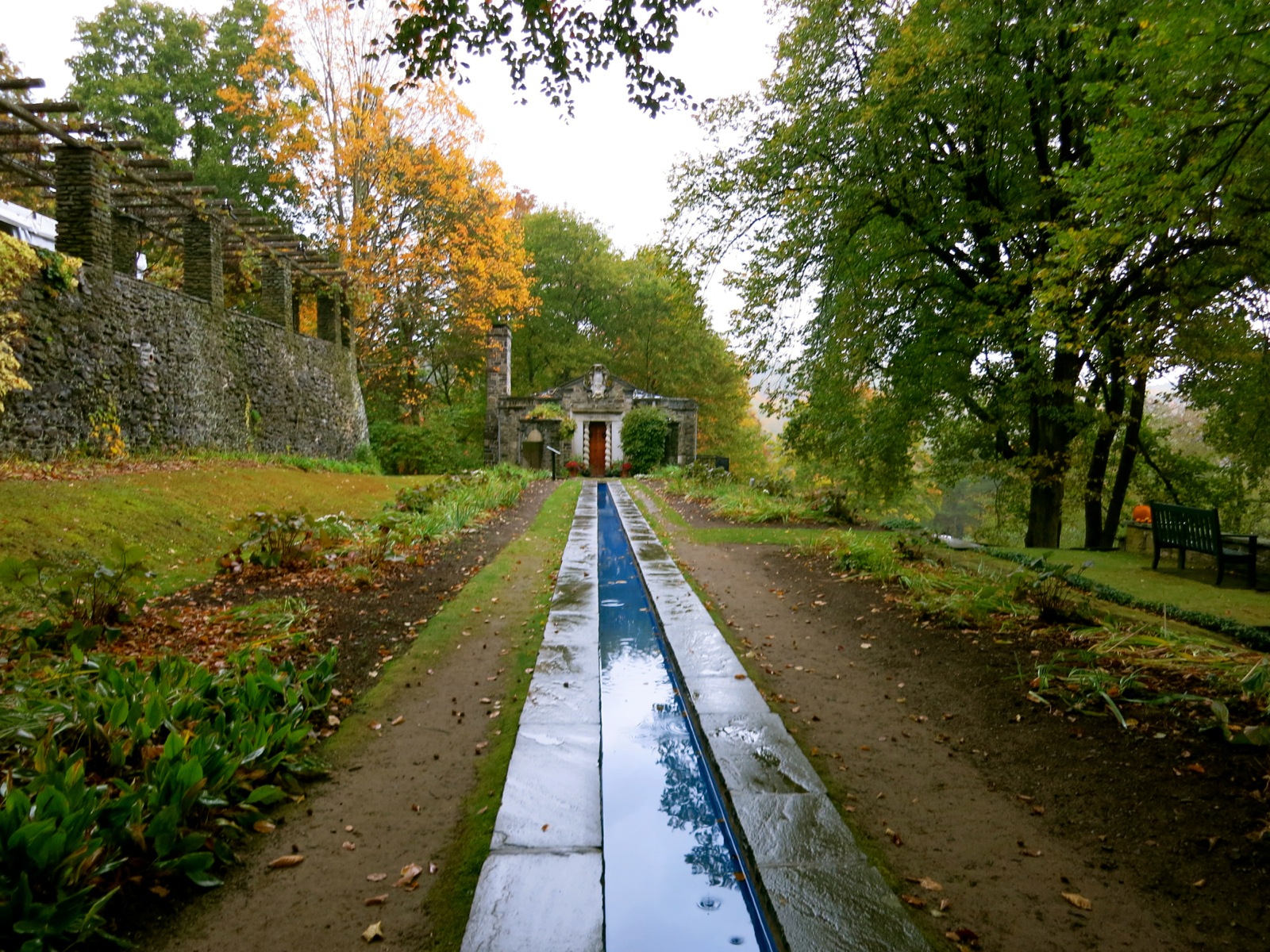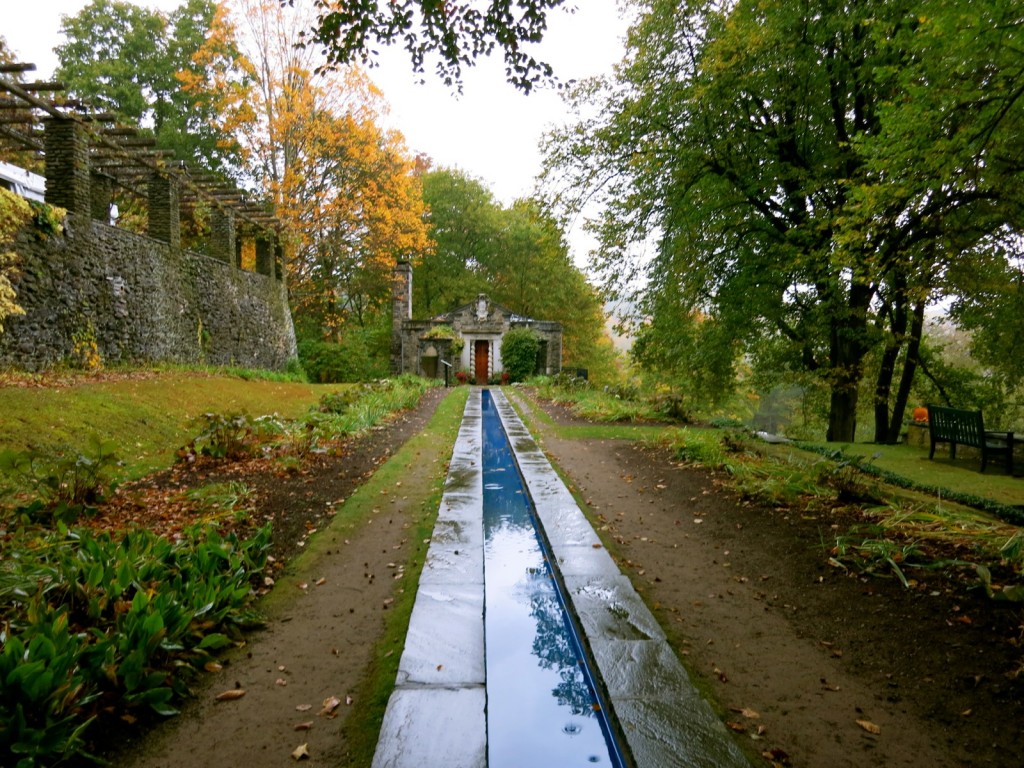 Historically, artists and public servants have generally been supported by rich parents, or a wealthy spouse. So, too, here. Grey Towers was actually built in 1886 by Gifford's parents – a wallpaper tycoon and his heiress wife – to mirror the mansion of the Marquis De Lafayette (whose bust is nestled in the stonework).
The imposing edifice, strictly a summer home, was constructed from local, hand cut bluestone, slate, and flagstone. Gifford, the oldest child of four, inherited the home in the 1920's, and lived here with his wife, Cornelia.
Welcome Into Grey Towers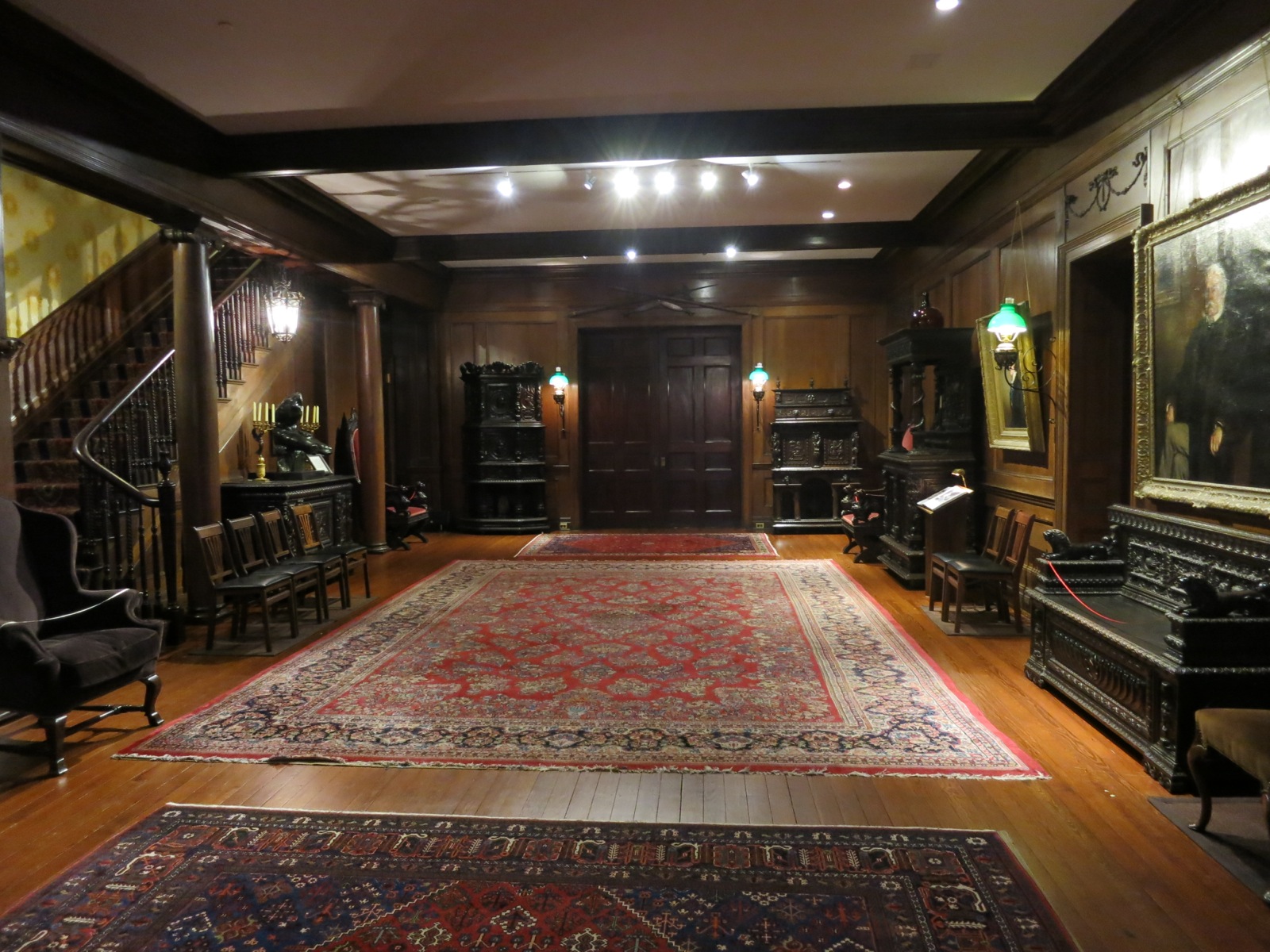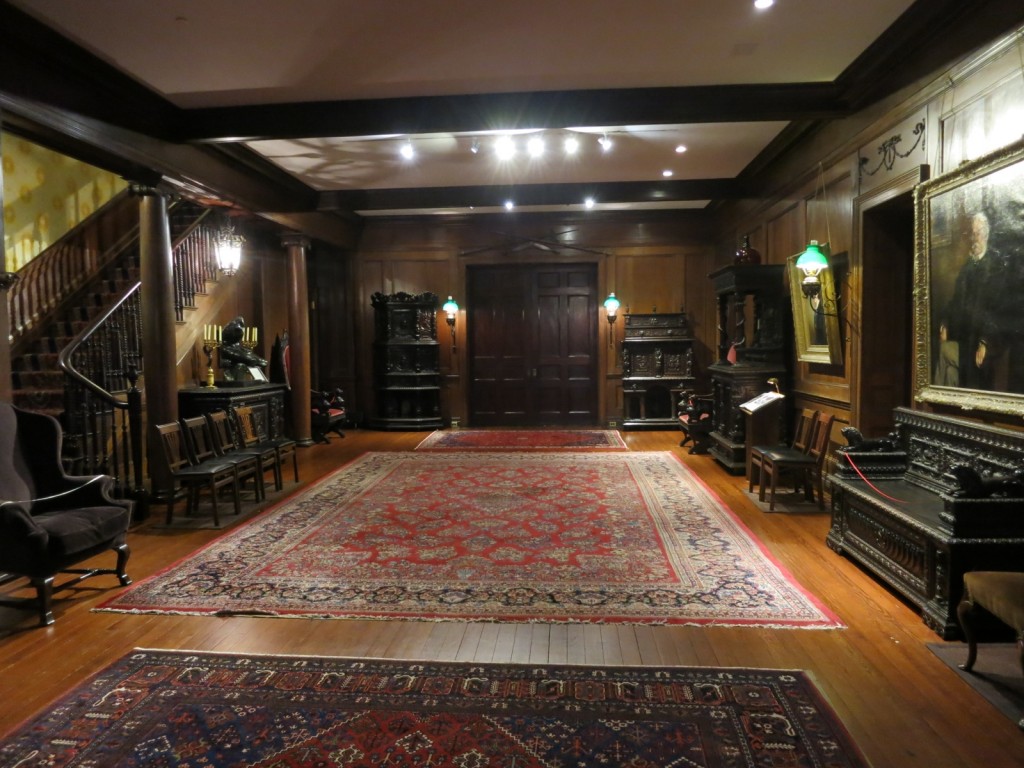 A one-hour tour begins outside for an overview. (And what an absorbing view it is). Then, with mounting anticipation, you're invited into the wide Great Hall – looking like it did in the 1880's – as if you were a guest.
You can take pictures and sit on furniture, unless otherwise indicated. In other words, you're made to feel comfortably at home here, just as Cornelia was when she'd breeze into the hall after a morning ride and throw her saddle on the couch.
Feminist Cornelia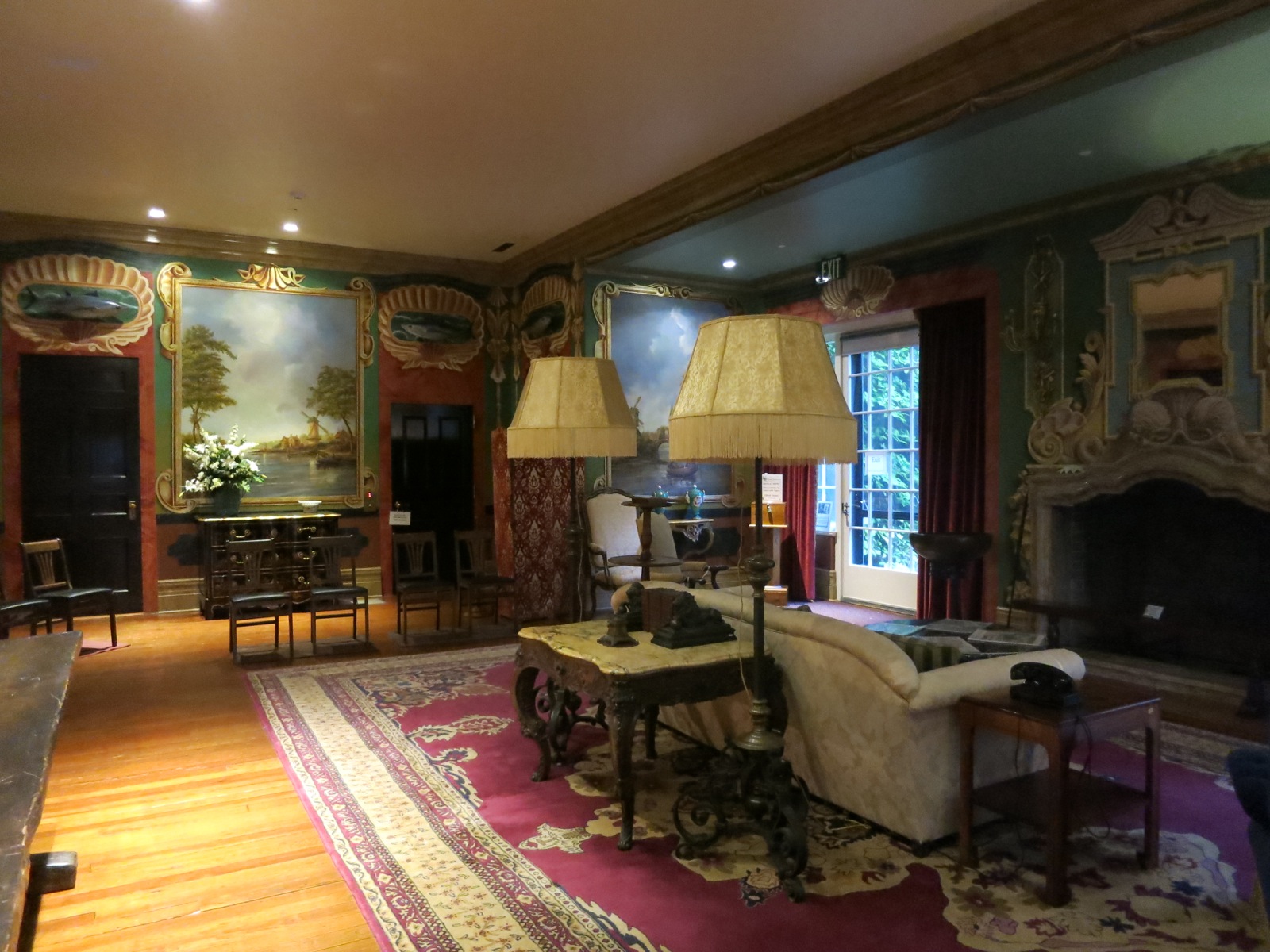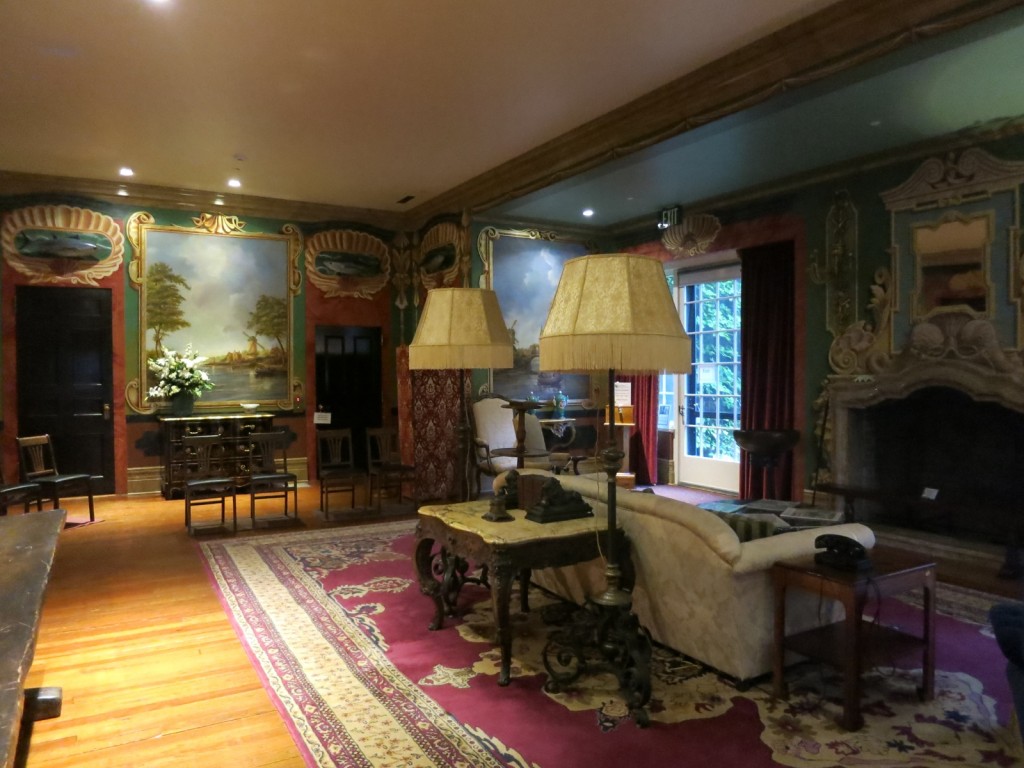 Gifford met Cornelia, a politically active suffragist and feminist, while working on Teddy Roosevelt's campaign in 1912. Cornelia poo-poo'd the strict Victorian gender division of men and women in the home. She united the rooms that once served as the men's smoking chamber and the women's gossip parlor into one library for all.
And she brought a sense of fun and casualness to the place. I've seen impressive outdoor water features before, but never a so-called "Finger Bowl Table." Dinner guests would stand around a large, thigh-high basin and send floating bowls of food to each other. It seemed so festive and "roaring 20's."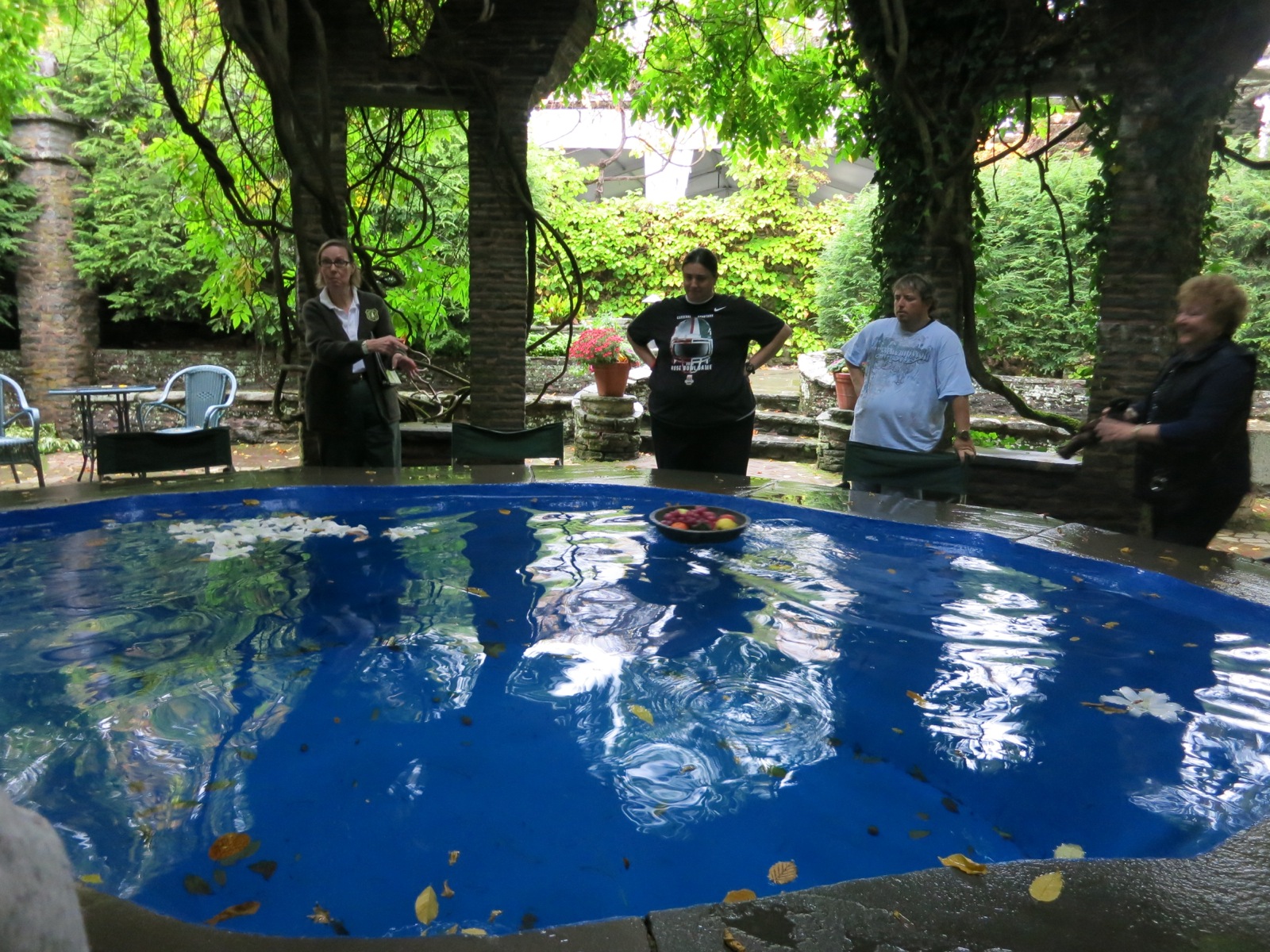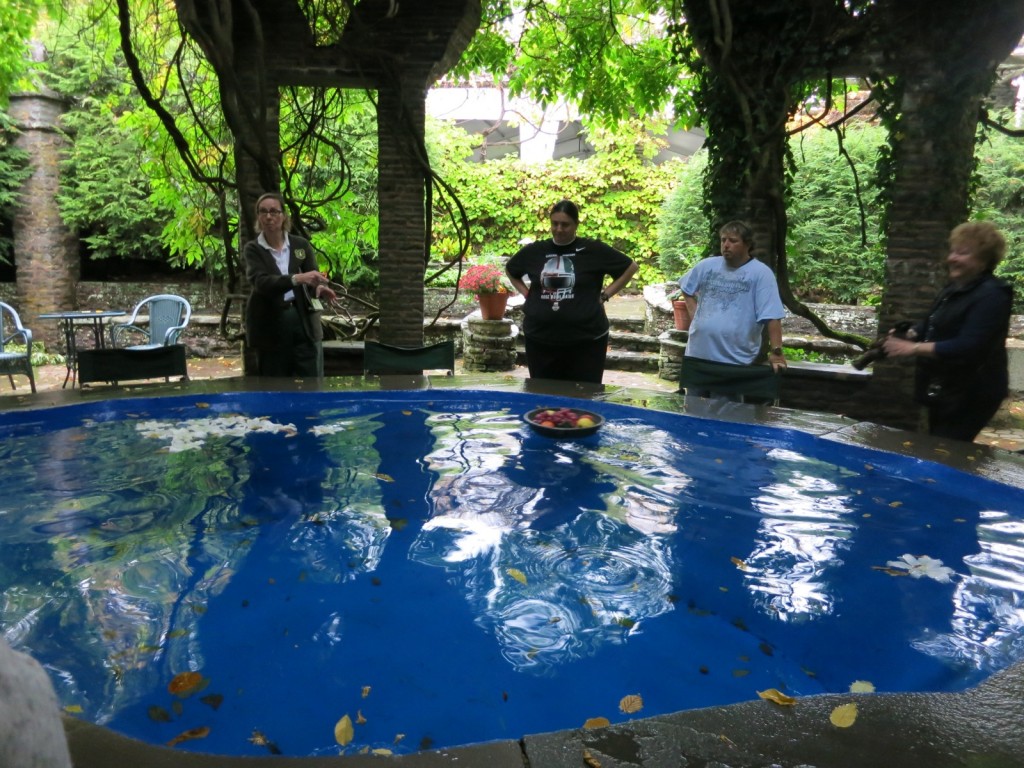 Influence of George Perkins Marsh's Man and Nature
Gifford was highly influenced by the 1864 book Man and Nature by George Perkins Marsh – a dire warning and call to arms about the rampant pillaging of our natural resources. His signed 1882 edition of the book sits under a glass dome in the library.
There was no Forestry Department at Yale when Gifford matriculated in 1889. To rectify this, he and his father, who'd made a fortune cutting down trees to make wallpaper, endowed the prestigious Graduate School of Forestry at Yale University in 1900.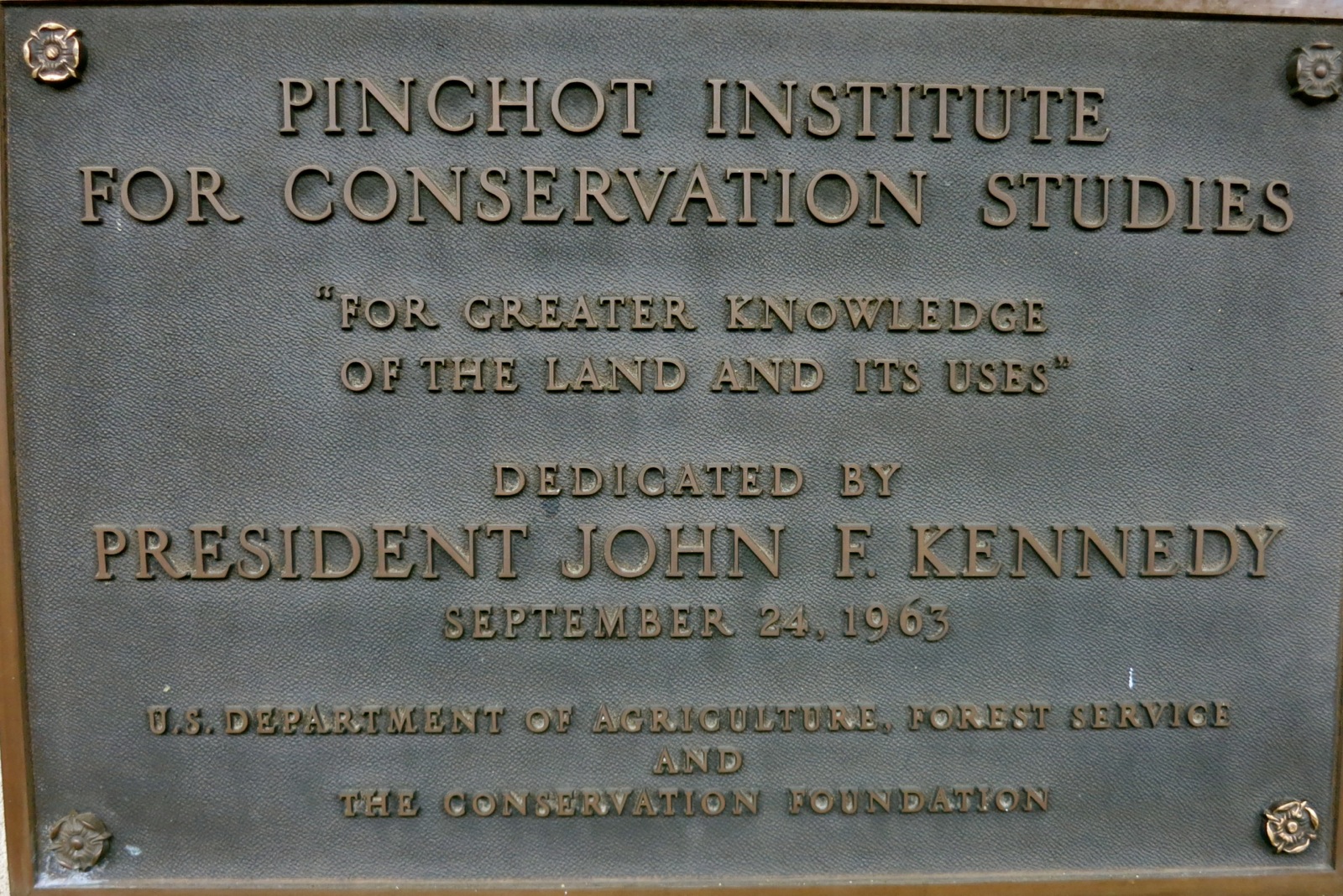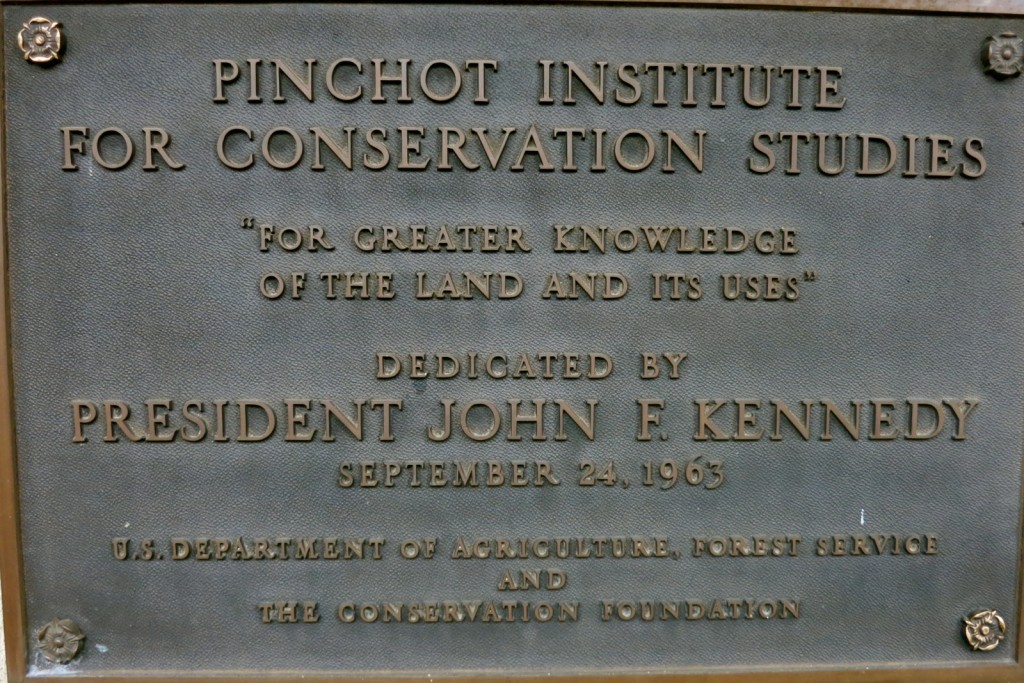 In 1963, just weeks before he was assassinated, President John F. Kennedy dedicated Grey Towers as a National Historic Landmark. Tours in warm season Weekdays 12, 2, 4 and weekends on the hour 11-4, $8. Grounds open year round. Check website for downloadable self-guided grounds-tour.
Grey Towers is one of the most quirky-romantic places to propose in PA.
Where to Eat in Milford PA (and Port Jervis NY)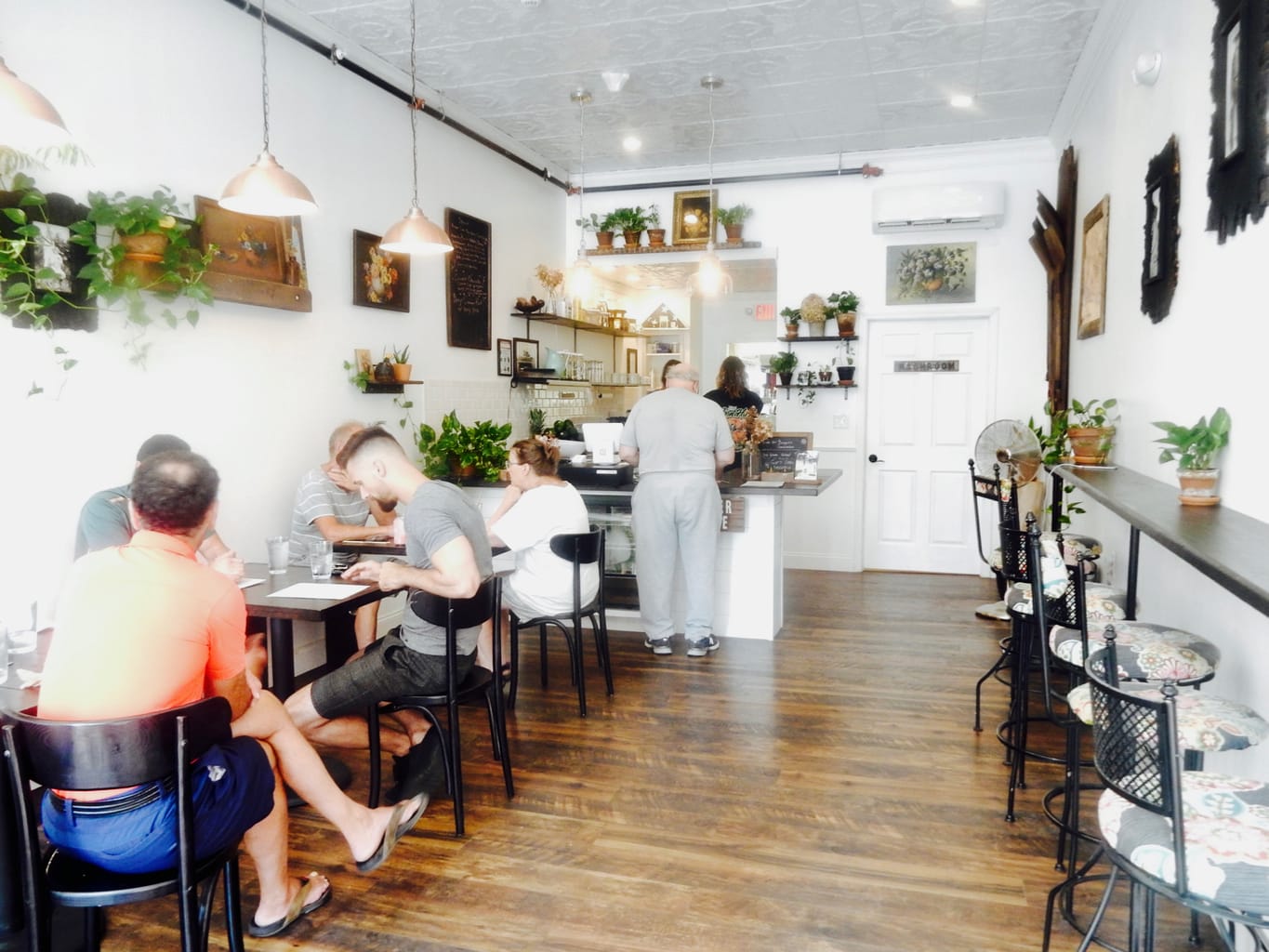 Though Port Jervis is 7 miles from Milford PA, I include the plant-based Fogwood+Fig here because 1) it's the only vegan restaurant within 30 miles, and 2) my non-meat-eating husband states that he'd drive 1 ½ hours from our home to eat this incredible food.
To say that Fogwood+Fig is making waves in Port Jervis would be an understatement. Owned by Jeff Tautrim, former assistant to fashion photographer, Bruce Weber, and his chef/interior designer wife, Diana Bezanski, Fogwood+Fig has been a real gift to this little industrial town. In fact, large photos of cowboys, framed with wood that Tautrim salvaged from his ranch's bunkhouse, line the walls.
The couple moved here from the West Coast. "We brought a bit of California here," says Tautrim, who grew up on his family ranch – La Paloma – that borders Ronald Regan's ranch in Santa Barbara. (As an aside, Tautrim's grandfather helped design the B-1 Bomber and Space Shuttle Booster Rocket).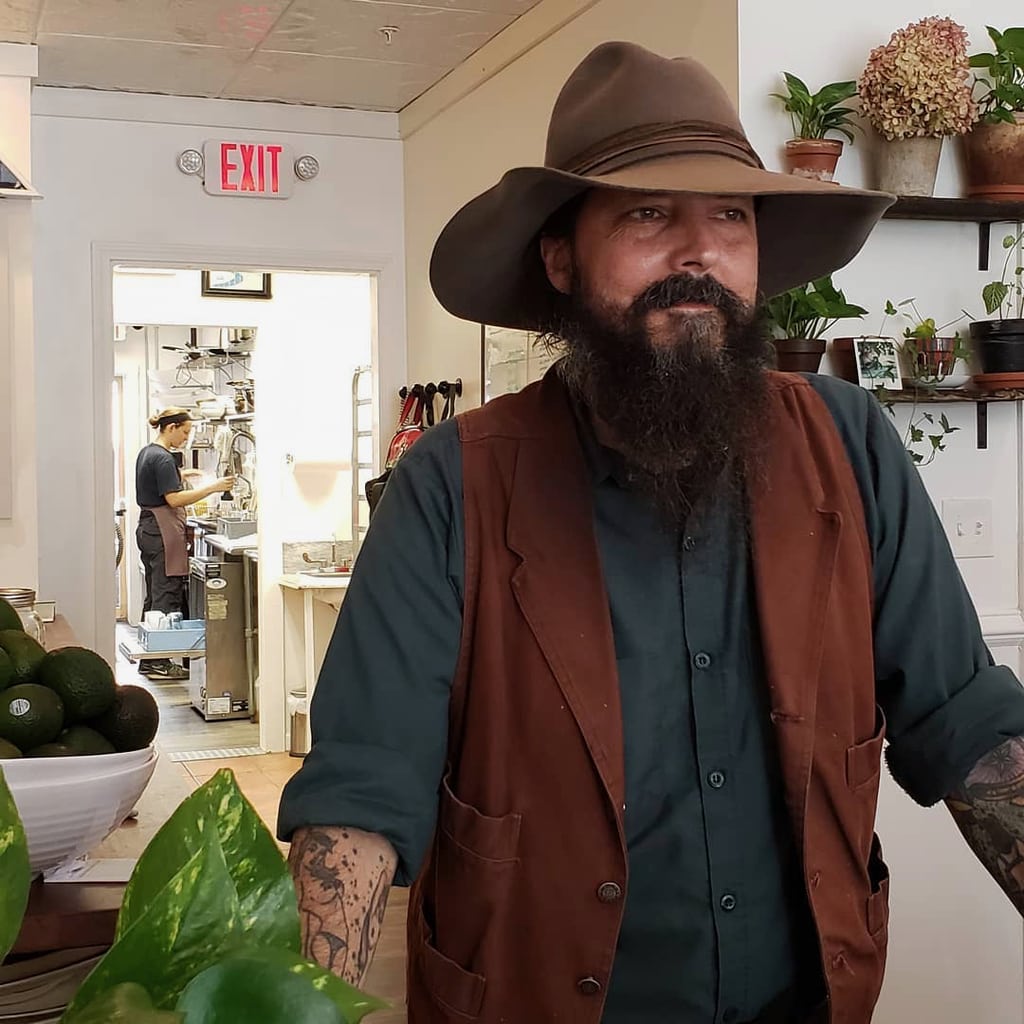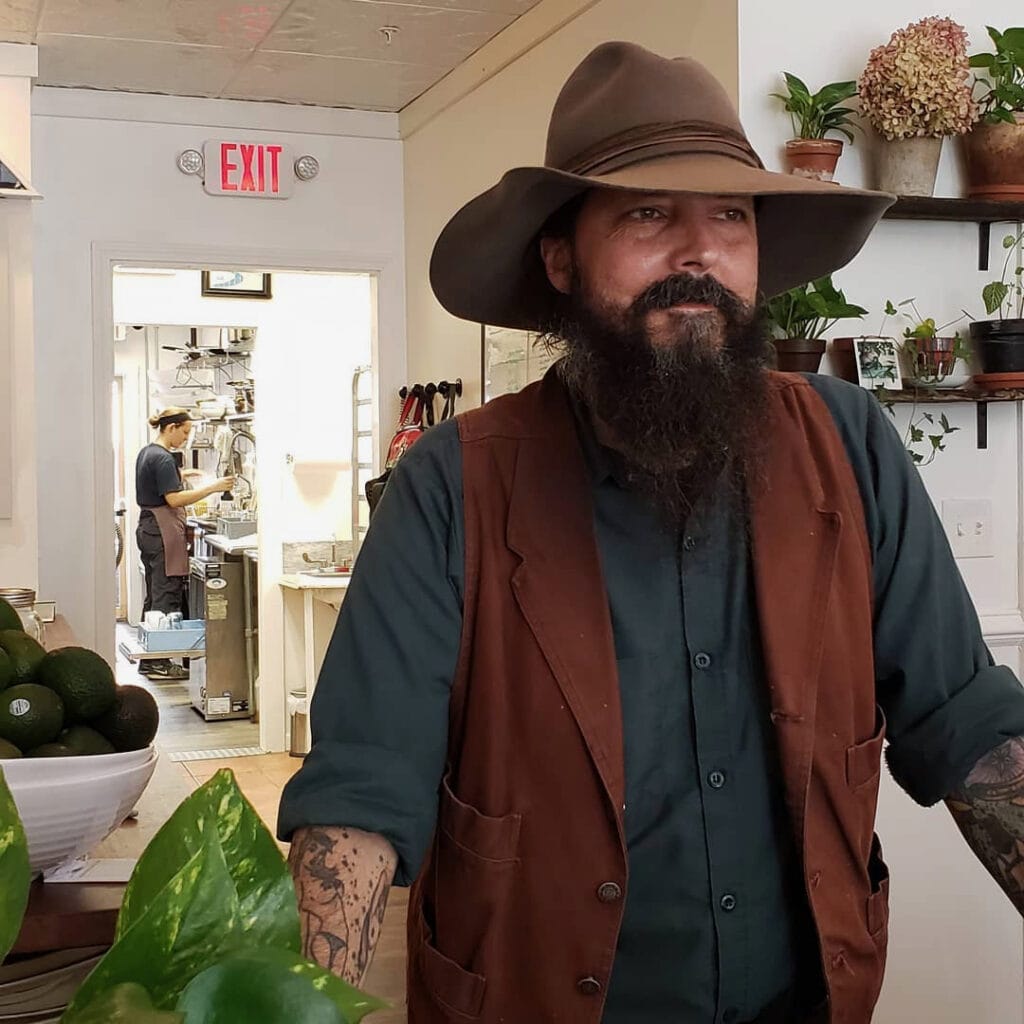 Crowds queue up early for Bezanski's from scratch meals, which can be taken away or eaten on tables hand-made by Tautrim. Everything is made fresh each morning, including burger buns, with ingredients sourced from local farms. "Burgers" ($11), "BLT's" ($11), Creamy Mac and "Cheese," and an abundance of salads are served up in a pretty space.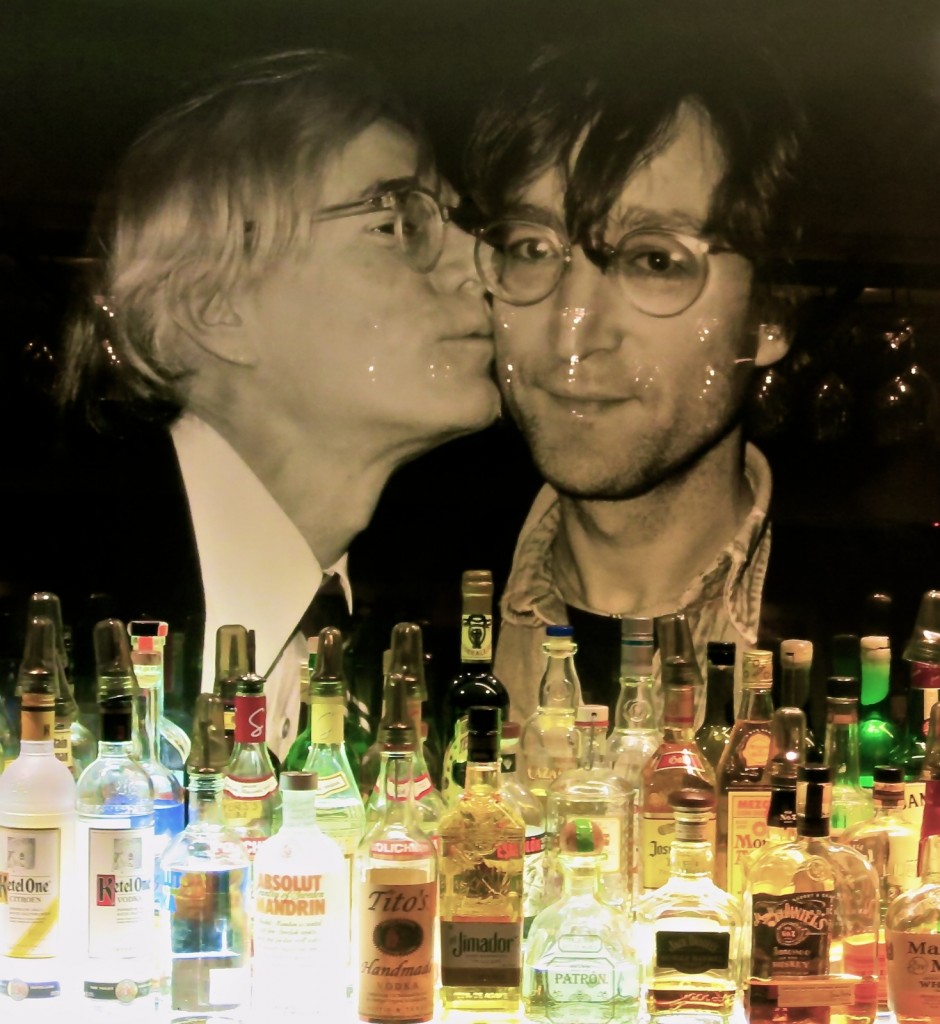 Bar Louis is situated in the basement of the Hotel Faucher. It's where the hep cats gather, deals are done, introductions are made – all within sight of Chris Makos's large glossy photograph of Andy Warhol kissing John Lennon.
It's a city-folk-visit-country crowd. Everyone seems dressed as if going to an art opening. Dishes are adorably inventive. I'd return for the multi-textured-flavored signature Sushi Pizza and grilled Thai Ribs alone. But everything is tasty and perfect for sharing.
EAT: Locals and repeat visitors recommend
John's of Arthur Ave. for pizza. Tequila Sunrise for great Mexican food.  Waterwheel for "always fresh" lunch. And Village Diner for a traditional 50's diner experience (and awesome desserts).
Where to Stay in Milford PA
This hotel has been a Milford Landmark since it opened in this space in the 1880's. Now a Relais and Chateaux property, it is notable enough to warrant its own post. Superior Rooms start at $189 ($206 with tax) per night. 
Little cottage rooms at this pristine, comfortable 40's style motel are inexpensive, but not cheap. With wainscoting and freshly painted deep hued walls, it's a blast from the past with prices, it seems, right from that era as well. Rooms from $70 – $120 per night.