WHY GO: During the Civil War, the little Shenandoah Valley town of Winchester VA suffered from extreme Multiple Personality Disorder. Allegiance towards Union and Confederate forces alternated an alarming seventy two times over the course of the conflict. All this stress and anxiety may have followed the populace into the afterlife. According to some folks, Winchester is one of the most haunted towns in Virginia.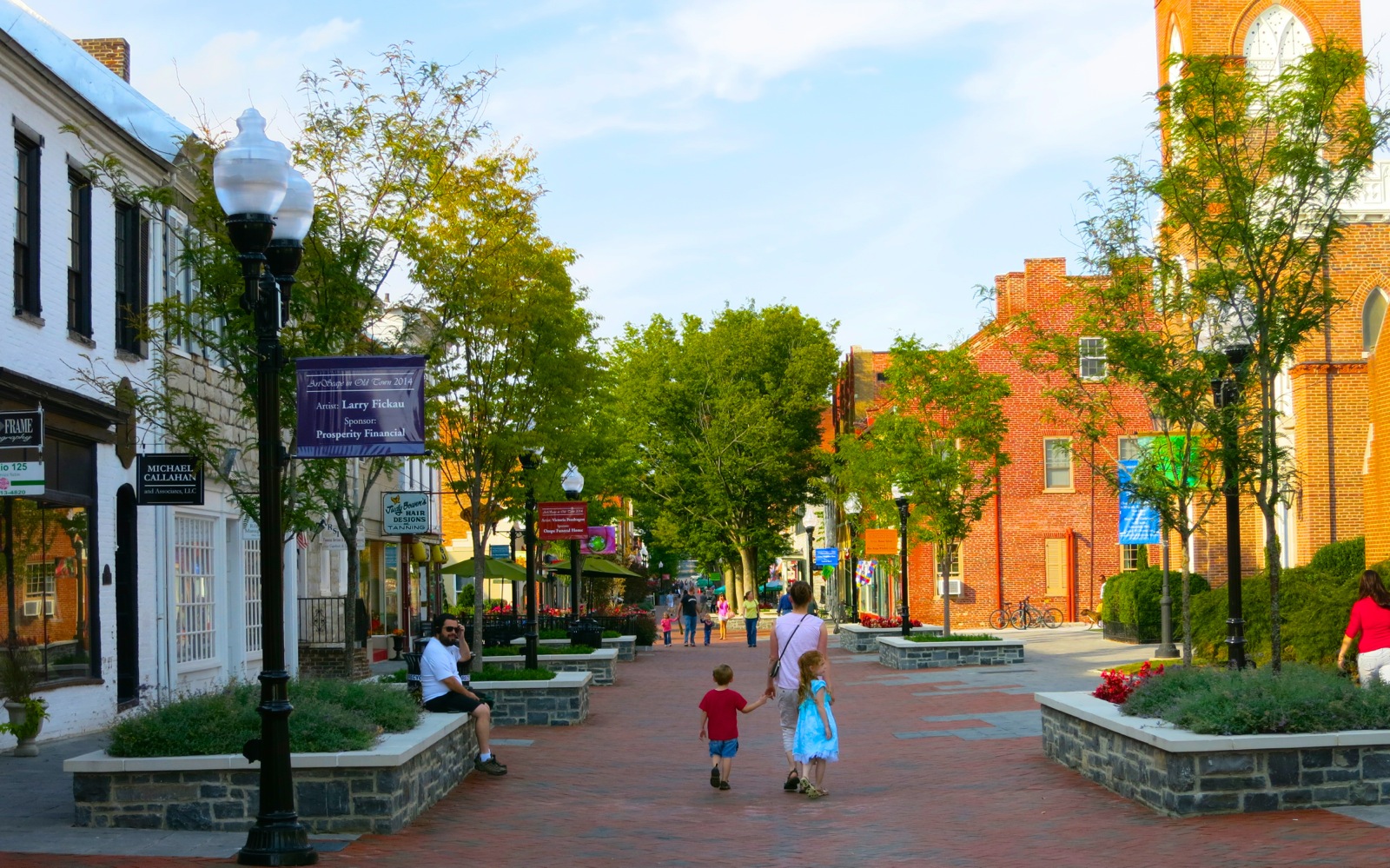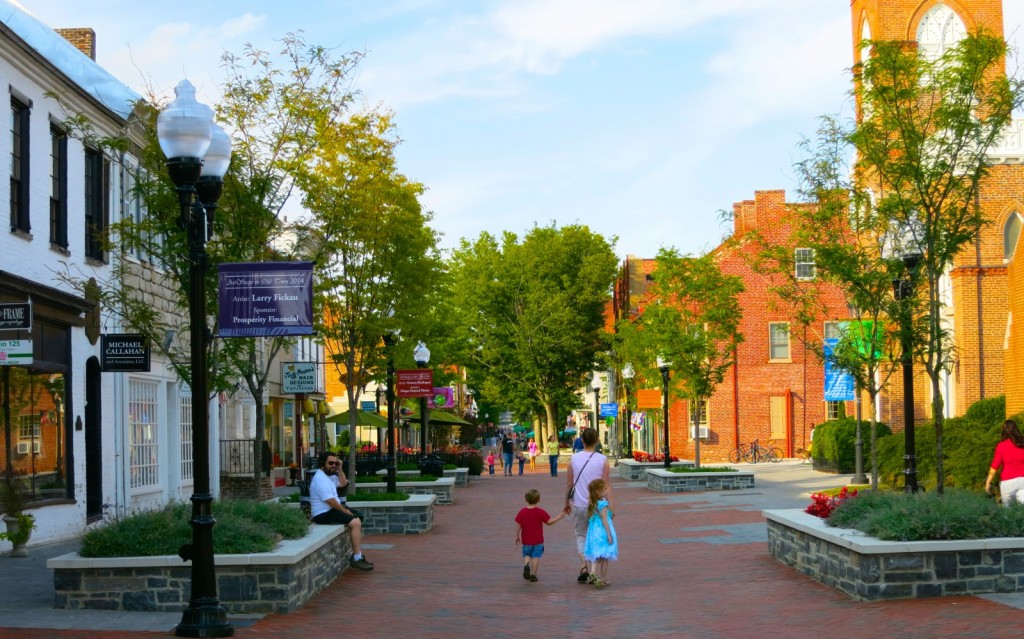 Speaking of craziness, Country Music star, Patsy Cline, drove her Winchester VA neighbors crazy with her teenage wild-girl antics.
You'll discover all of this along with bountiful restaurants, farm markets, a tiny arts village, a recently renovated historic downtown hotel, and enough history in the Winchester area to keep you busy for days.
Winchester is on our list of 20 Surprisingly Romantic Getaways in VA. Check it out if you wish to explore the state further.
Looking for someplace dreamy outside of Virginia? Check out our 150 Best Romantic Getaways in the Northeast US (Virginia to Maine).
Things to Do in Winchester VA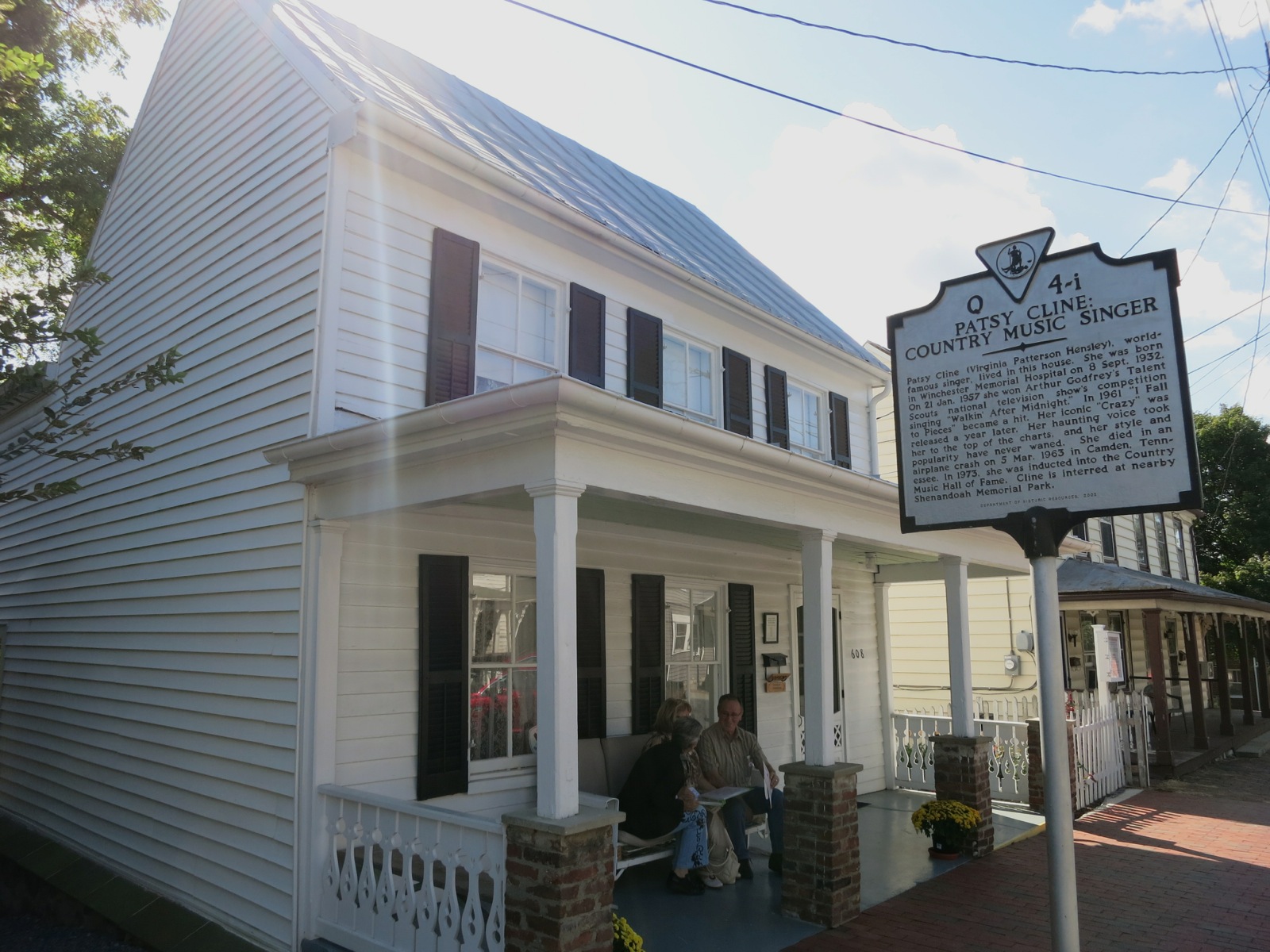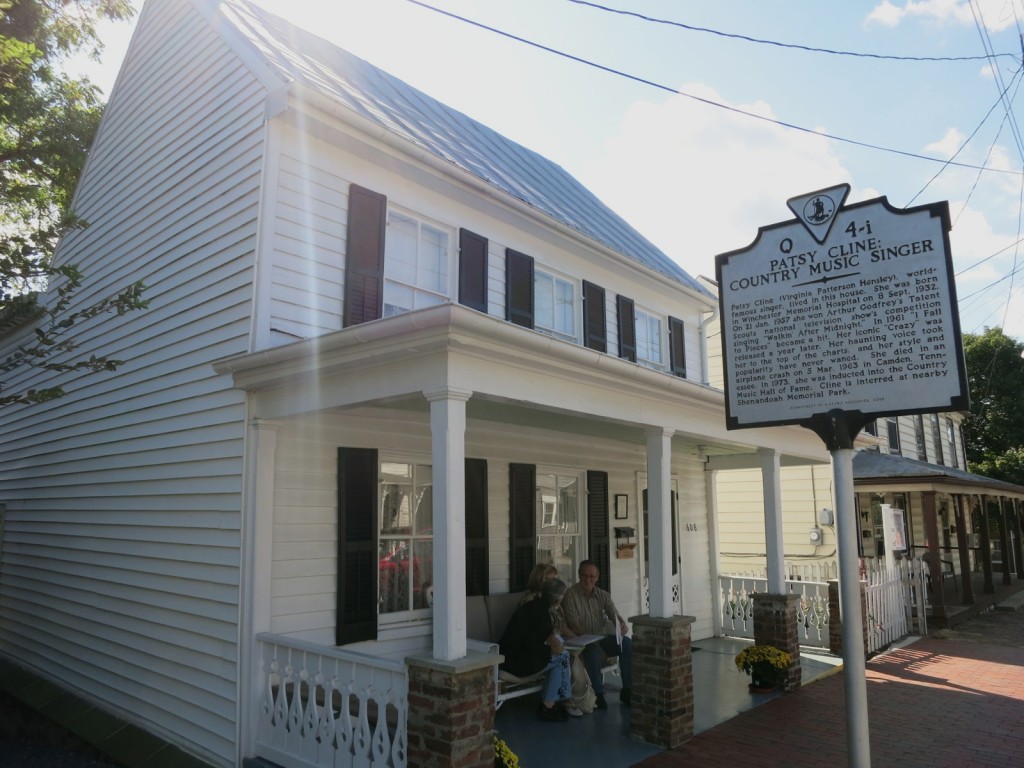 Dirt poor, Winchester-born Virginia Hensley moved 19 times before settling in this house with her mother at age 16. She lived here from 1948 until 1957 – the longest the country music star ever lived in one place.
"Ginny," by all accounts a "wild" girl, went on to win the Arthur Godfry Talent Scout competition in 1957. She subsequently married Gerald Cline, changed her name to Patsy, divorced Cline, and married Charlie Dick, and went on to fame and fortune before dying tragically in a plane crash in 1963 at 31 years old.
A tour through what was an 1840 two-room log cabin, enlarged after Cline won the $10,000 Arthur Godfry Award, is like stepping into the 1950's. According to very knowledgeable guides, Patsy "was a product of her loving mother. Forceful, strong, they were like sisters."
Among personal items, such as the Feed Sack pillowcases and apple-crate bedside tables, you'll see a headshot photo signed by the famous Country Music singer. "To Mom – WE finally made it." $8 adults, $4 youth for 45 minute tour. Open April 1-Oct 31 Tues-Sat 10-4, Sun 1-4. Nov-Dec, Fri, Sat 10-4, Sun 1-4. Jan-March by appointment only.
Patsy Cline's Childhood Home is one of the best quirky Places to Propose in Virginia.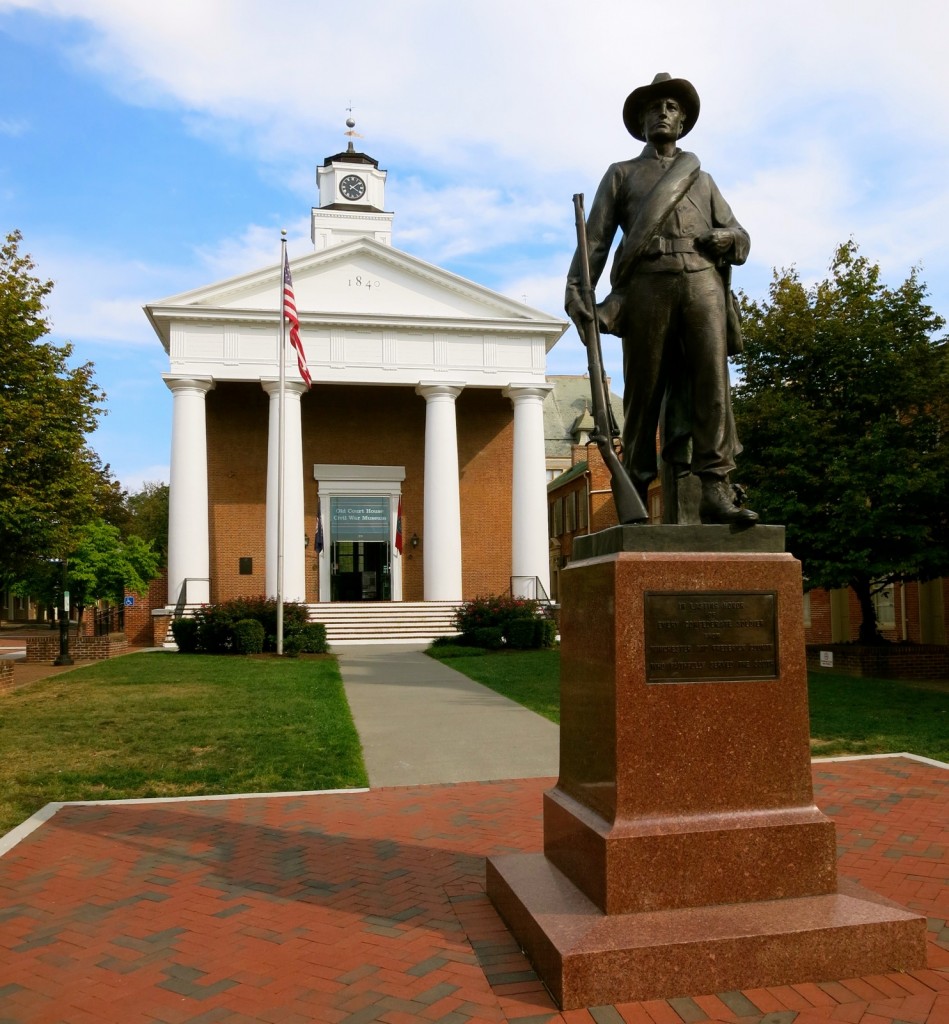 VISIT: Old Courthouse Civil War Museum
Located in the Pedestrian Mall, this stately courthouse was built in 1840, and in use until 1987. Then, in 2001, it opened as a Civil War Museum. Start in the original courtroom, where the judge sat above defendants and lawyers, for a great photo op.
With original oak railings and hardwood floors, it looks the way it did in 1861 at the start of the Civil War. Due to its location close to the Northern Virginia border and with a railroad depot, Winchester was winter camp for both Union and Confederate armies.
Local allegiance whipsawed back and forth  72 times over the course of the war. In some instances within the same family, in the same house.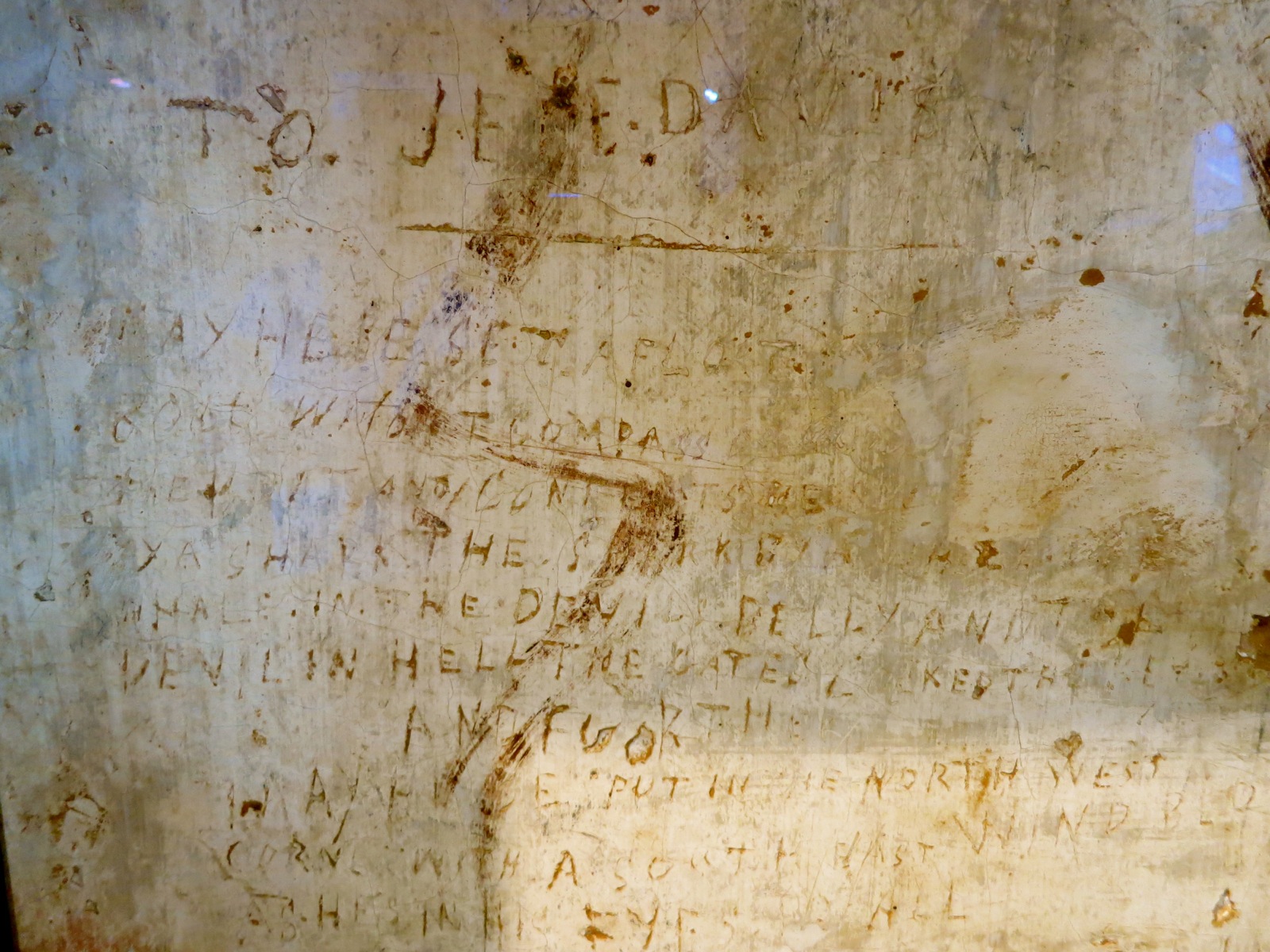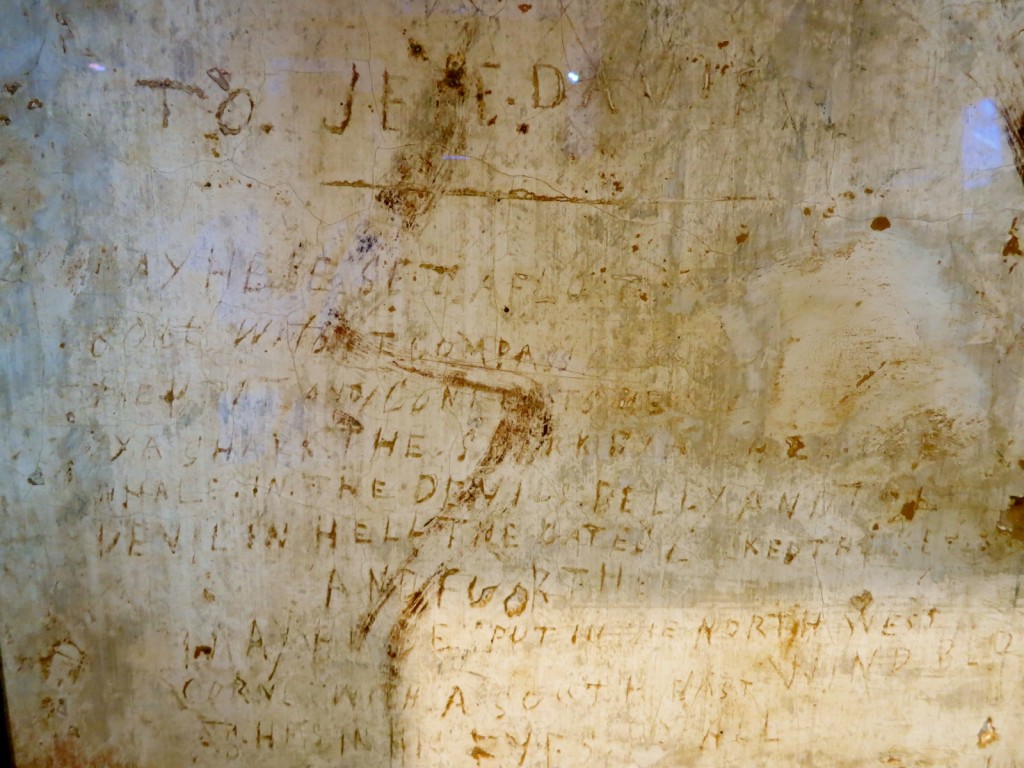 This "witness building" served as war-hospital, barracks and prison. Look for evidence of all three, as well as stirring exhibits, including artifacts representing the "Changing Technology of War," "Camp Life," and lots of bowling-ball-sized cannonballs.
Most jarring are photos of piles of amputated limbs, and original graffiti on the plaster wall where Civil War soldiers were jailed – condemning Jefferson Davis to hell. $5 adults, $3 kids. May-Oct Mon-Sat 10-5, Sun 1-5: Nov-April Wed-Sat 10-5, Sun 1-5.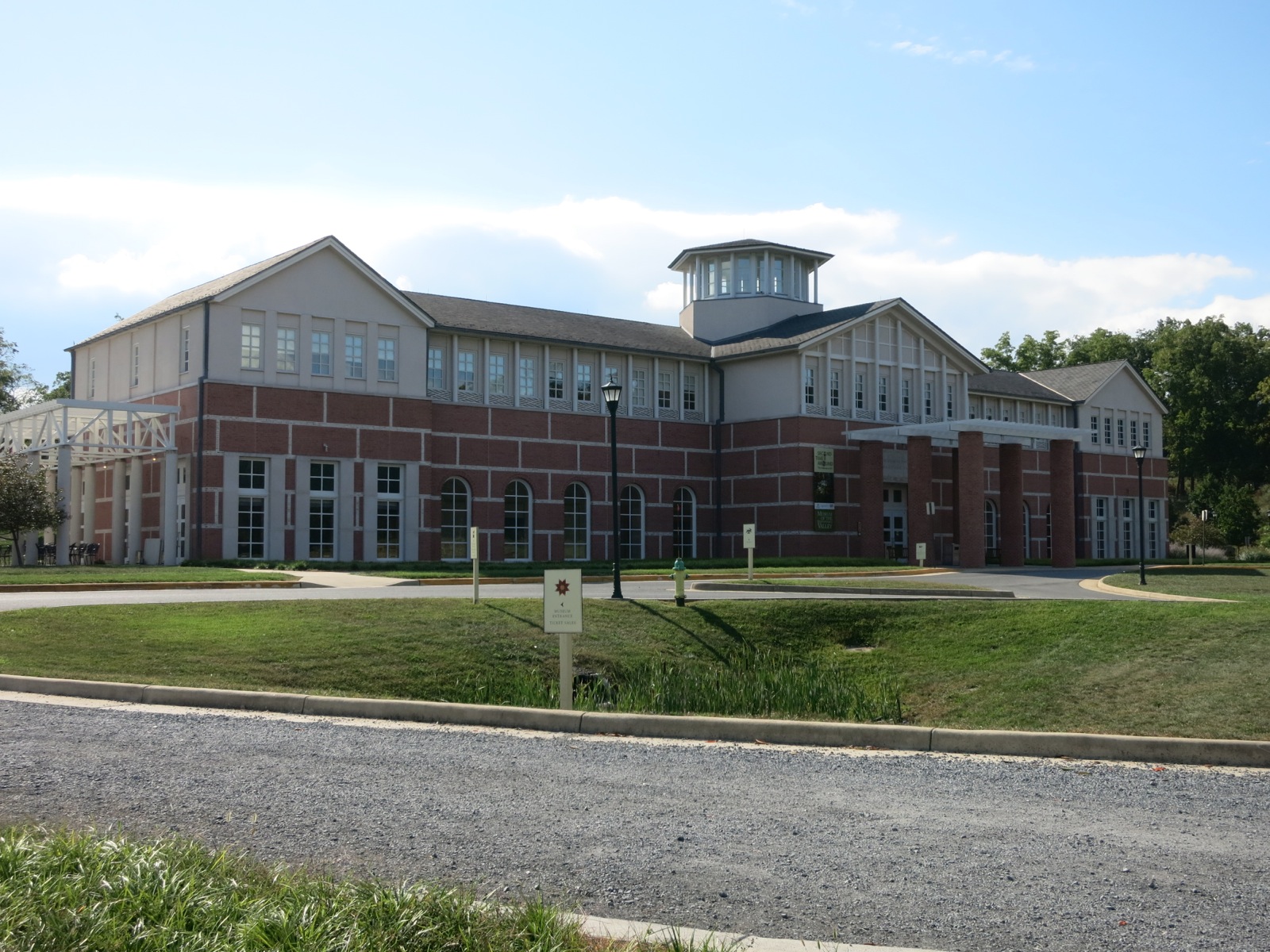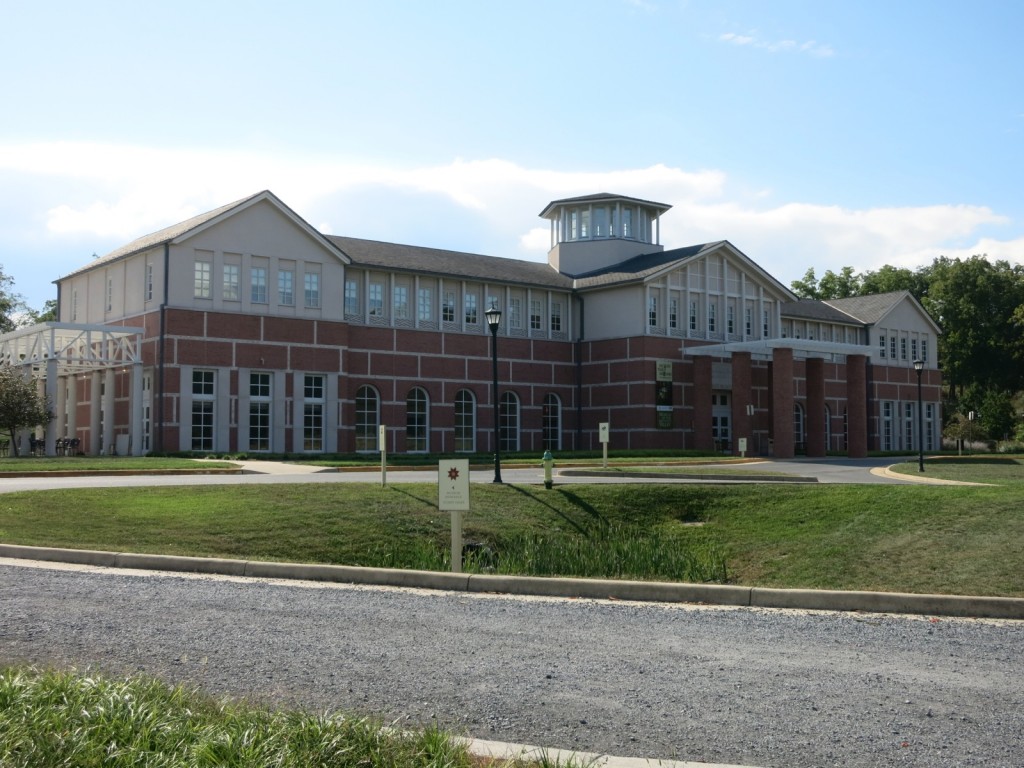 Ken Burns hung out here while the Patsy Cline exhibit was up (2013-2014) as research for his Country Music documentary.
Located on acres of farmland and incorporating the Wood-Glass manor, this $20 million Michael Graves designed museum is a stunning tribute to Virginia's Shenandoah Valley.
Built to look like a barn, you'll find "Old Jake" – a fireman weathervane pot-marked by bullet holes – staring down at you beneath a ceiling made from Douglas fir trees. Also find videos, films, country home dioramas juxtaposing an 1830's kitchen with a 1930's kitchen, and the complete dining room from Glen Burnie – the late 1700's manor house which you can also visit.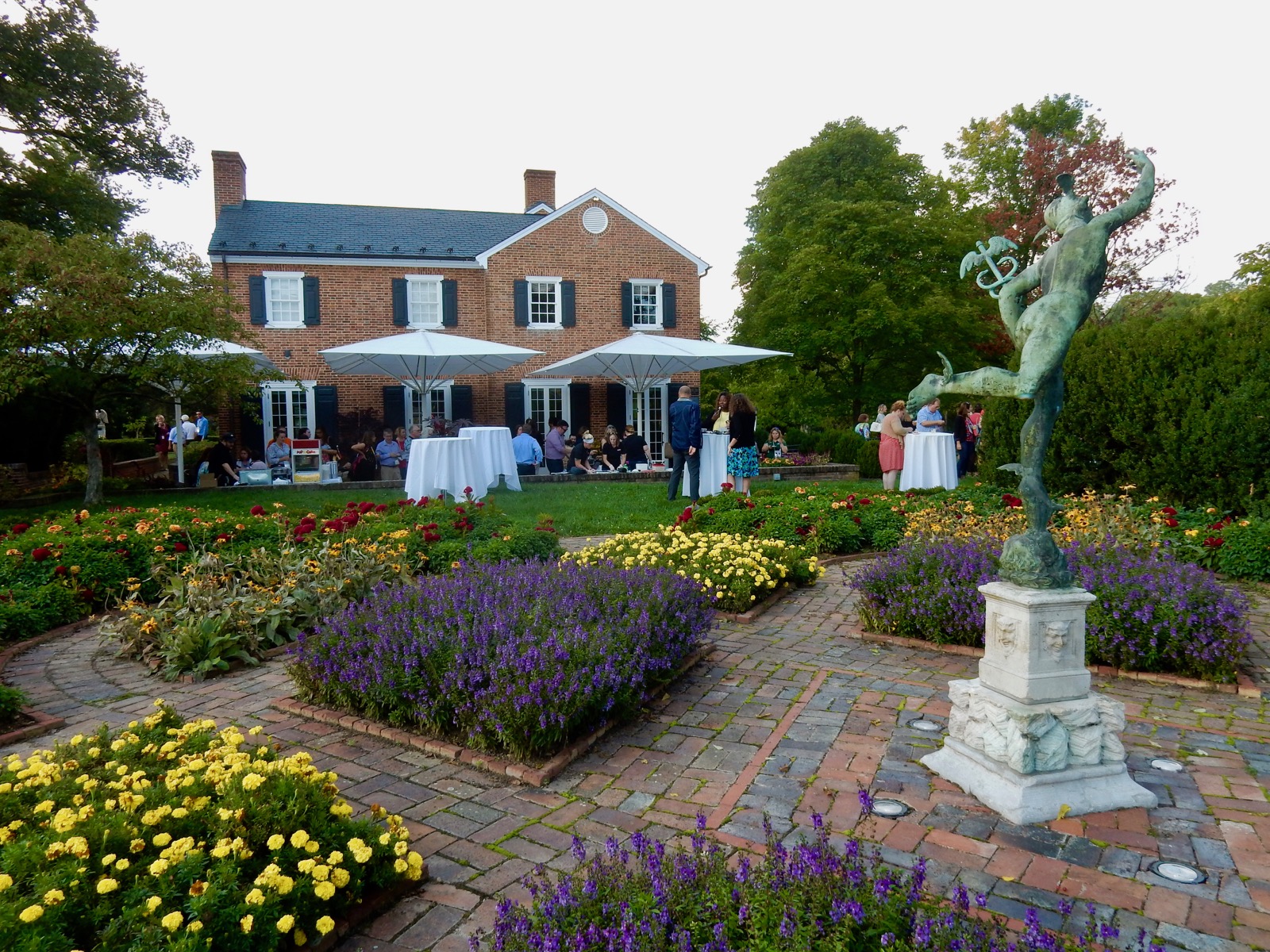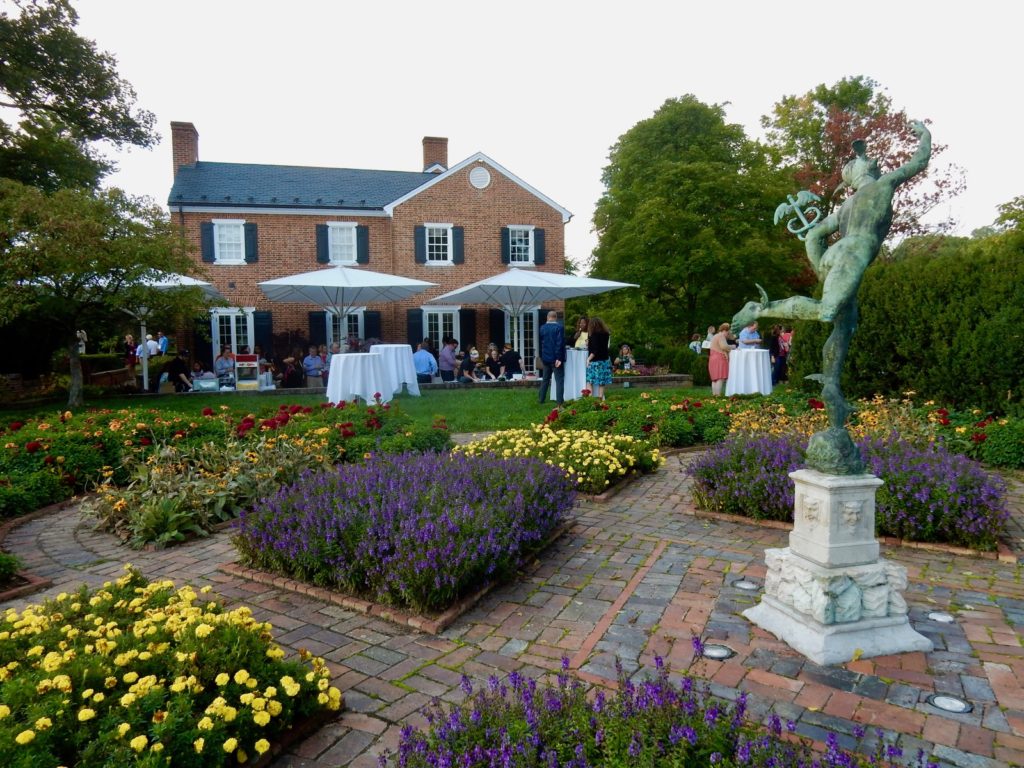 In fact, the acres of gardens at Glen Burnie are an attraction here in and of themselves, with water features and Asian flourishes. A healthy reason to get outside and wander. Open Tues-Sun 10-4, $10 adults, kids under 12 free.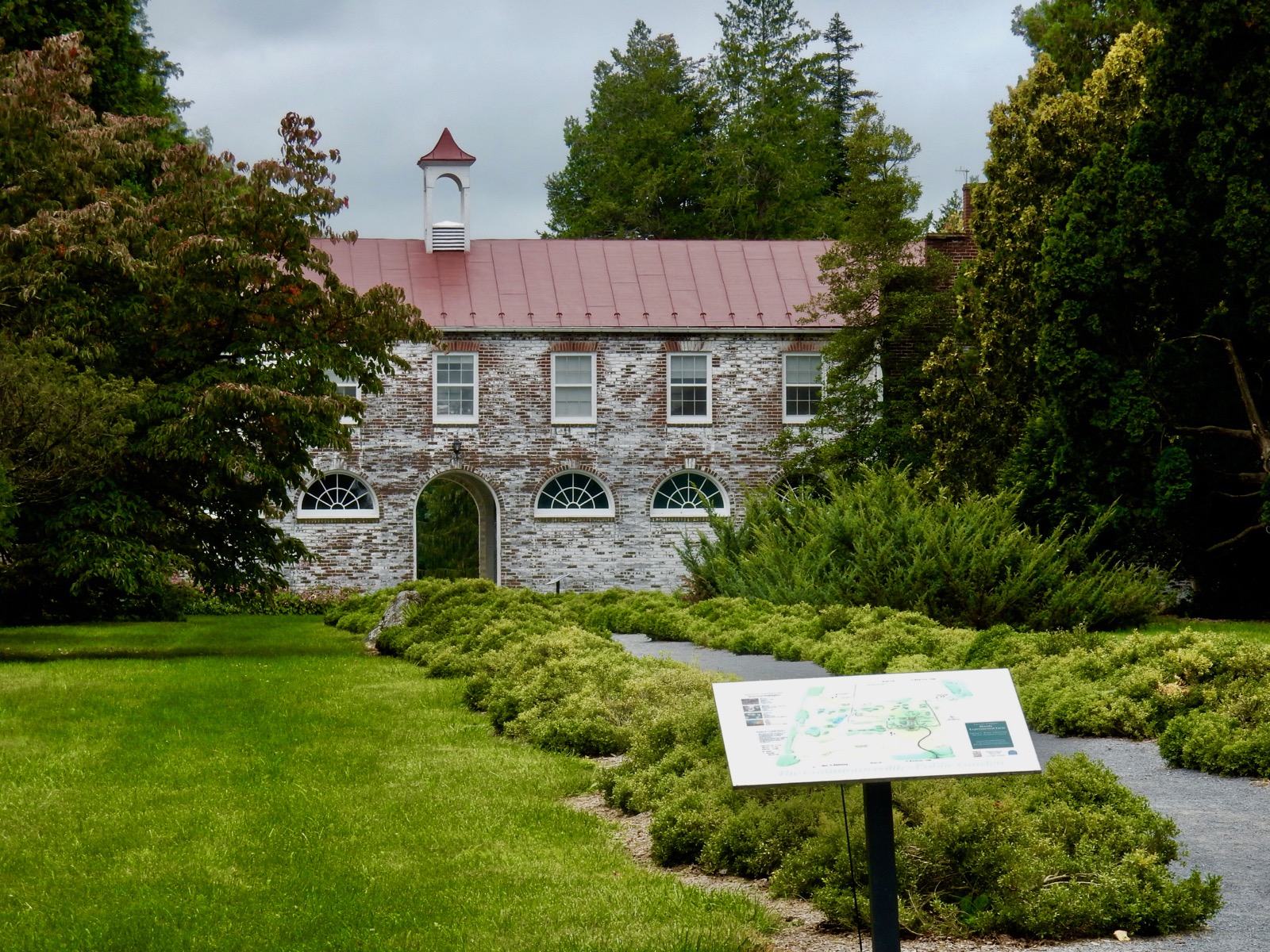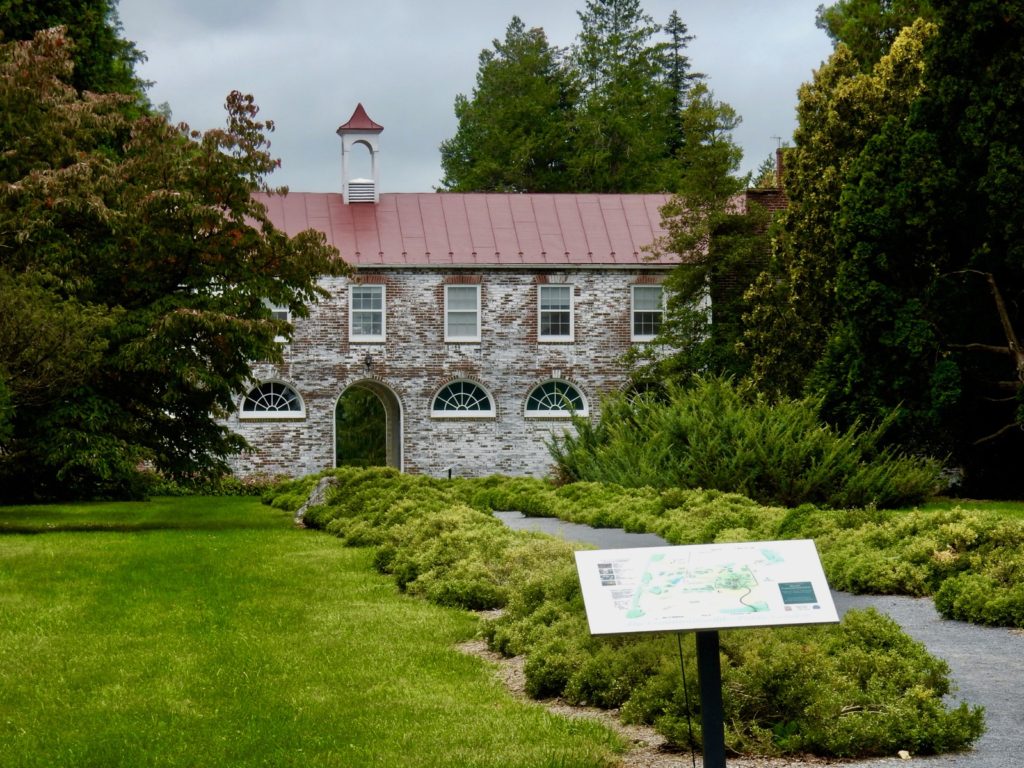 You gotta love a gorgeously landscaped property with the slogan, "We don't raise crops or cattle, we raise scientists."
This stunning 720-acre estate, complete with former slave quarters that have been converted into classrooms and labs, integrates science, research, and public outreach through numerous public educational programs, a Conifer Trail (with 23 specimens), VA Birding and Wildlife Trail, one of the largest Ginkgo Groves outside of native China, and other landscapes to explore.
Sign up for a Full Moon Walk, a Make 'n Take Air Plant Terrarium, or a Haiku Walk and Write. Bring your horse (riding trails), your dog, your kids, or just come alone for a lunchtime "TreeTorial." Open daily dawn to dusk, free.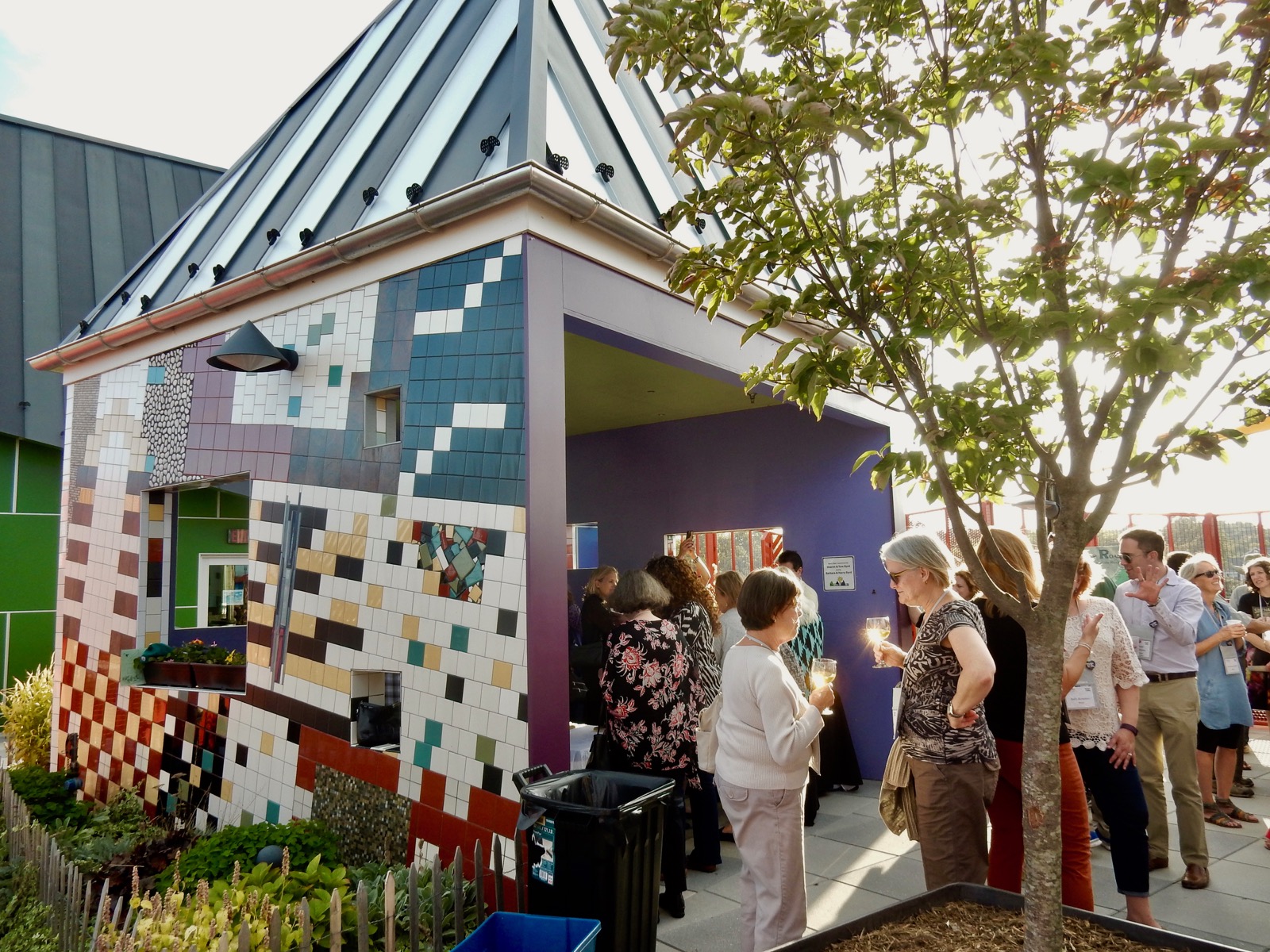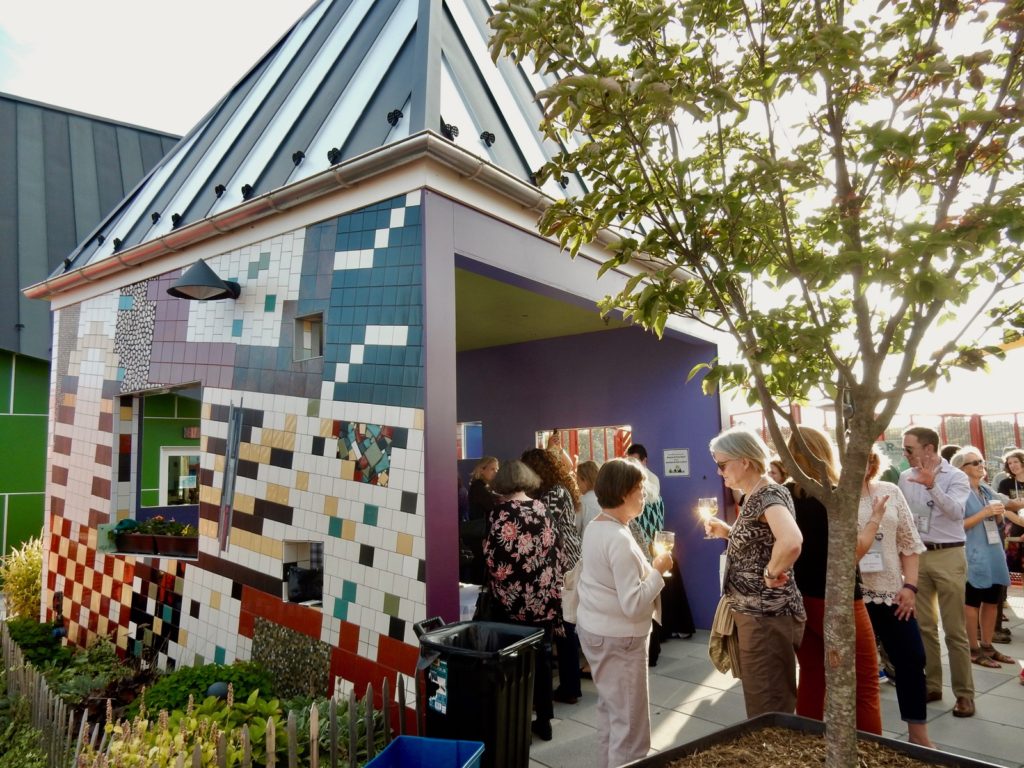 The SVDM's vision – "to spark curiosity and inspire learning through exploration and creative play" applies just as much to adults as it does to kids.
Because, who's not a kid at heart? With three floors of interactive science experiments and chances to play, this relatively new museum swarms with families on rainy days. Don't forget the incredible rooftop – with a zany zig-zaggy tiled house. It's a perfect perch from which to watch the sunset.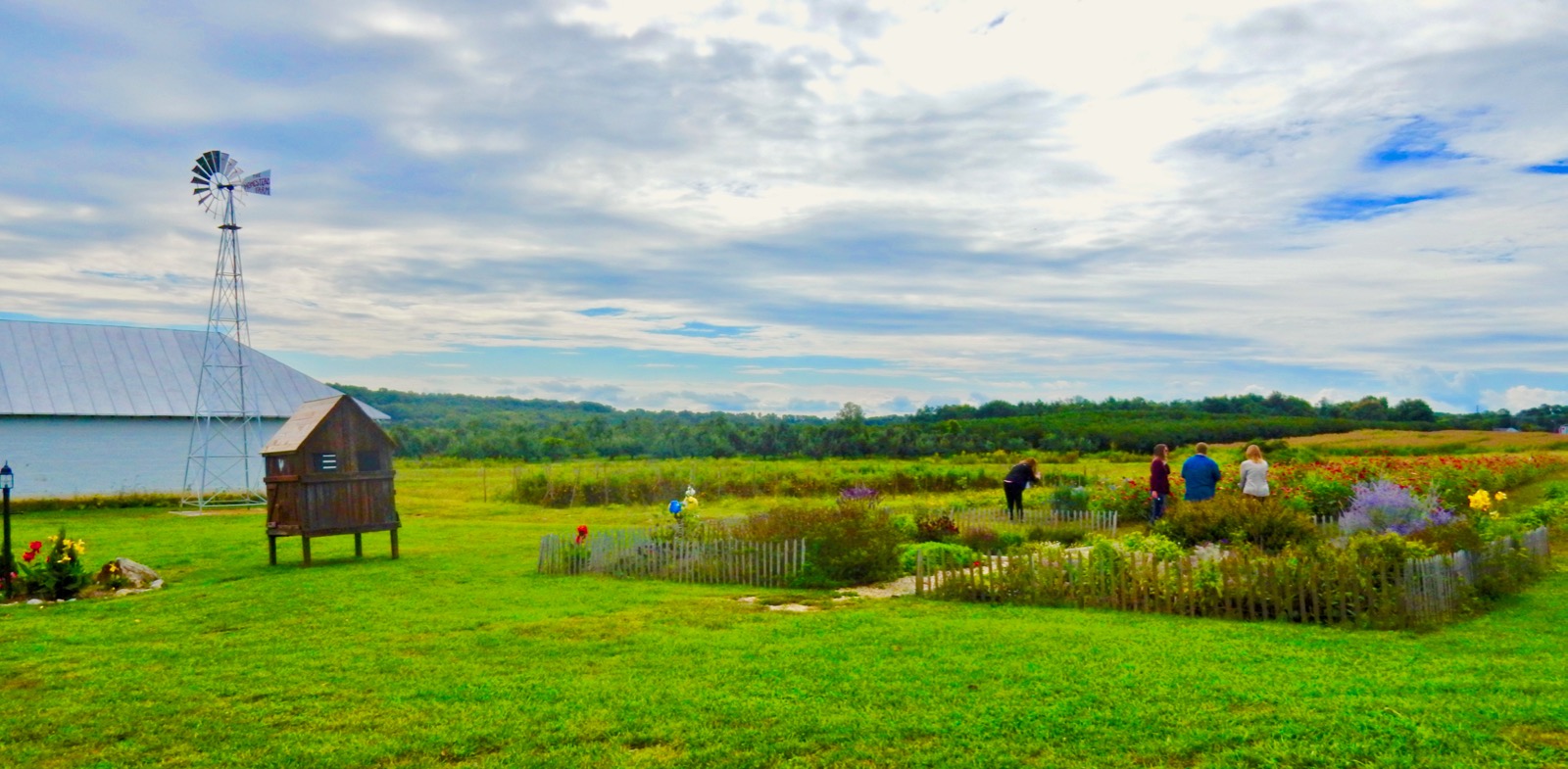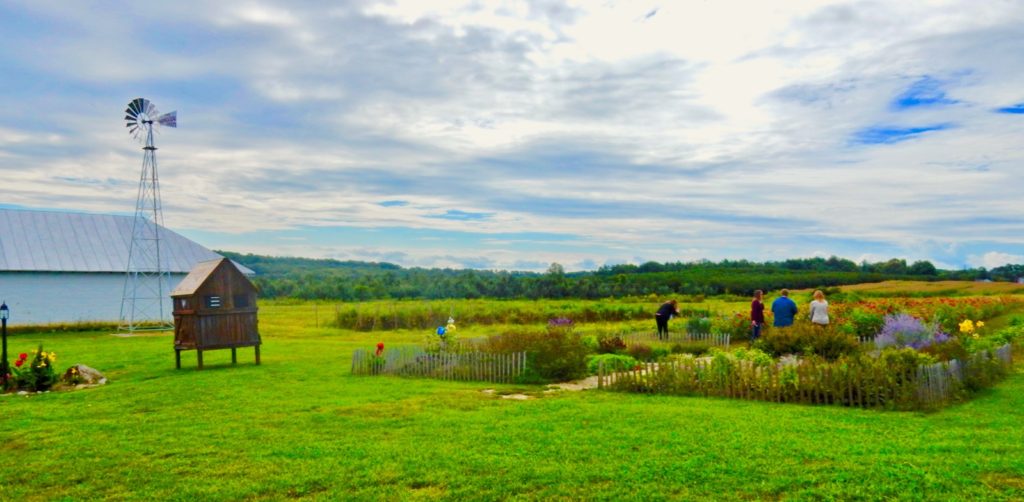 Everything in this country-home market is organic and non-GMO. So Katherine Solenberger doesn't give a whit how the very fine apples in her family's commercial orchard look, aesthetically.
And anyway, "our apples don't require much (organic) spraying because they'll be processed" for juice, cider, and vinegar, rather than shipped whole to grocery stores.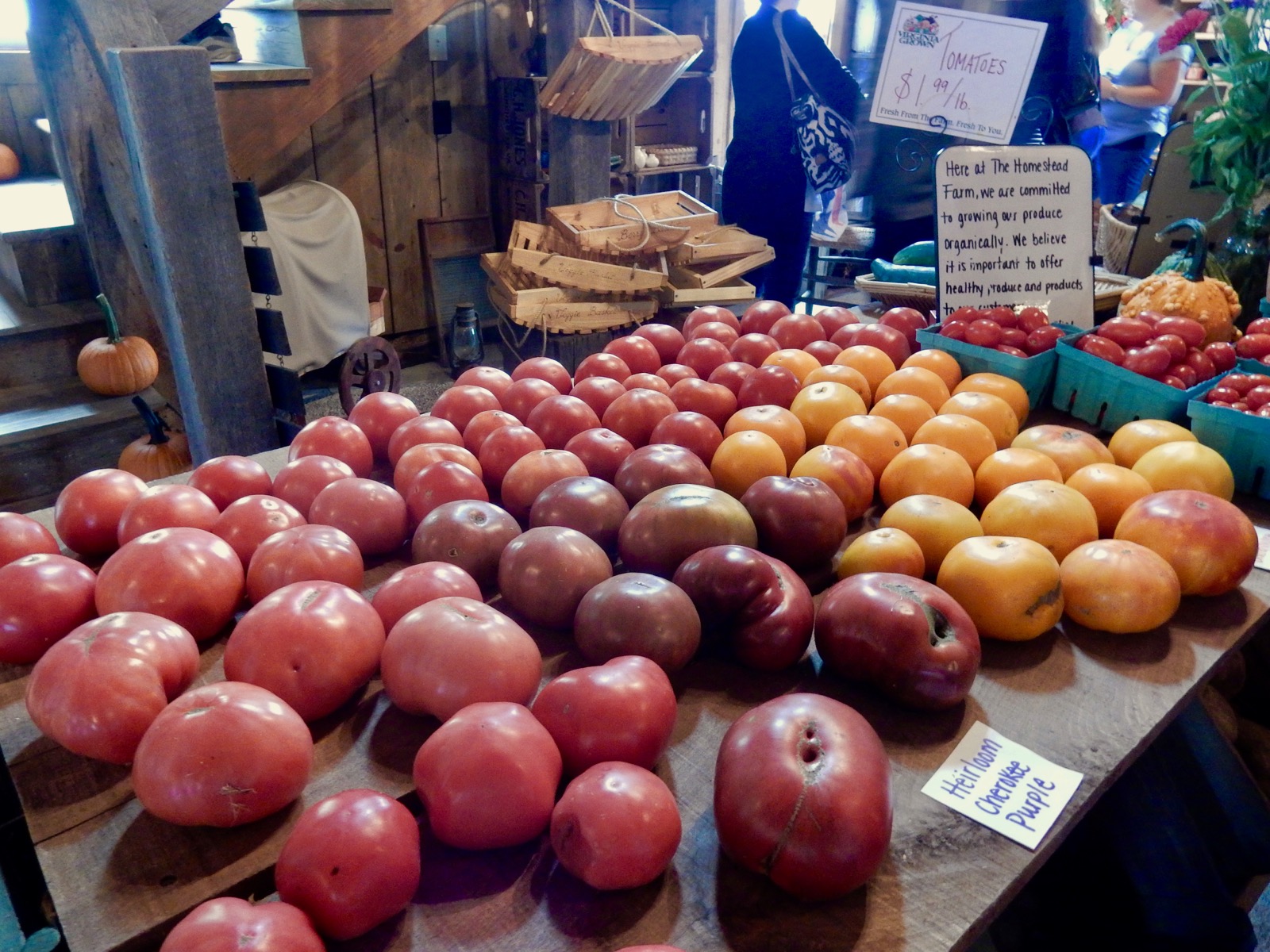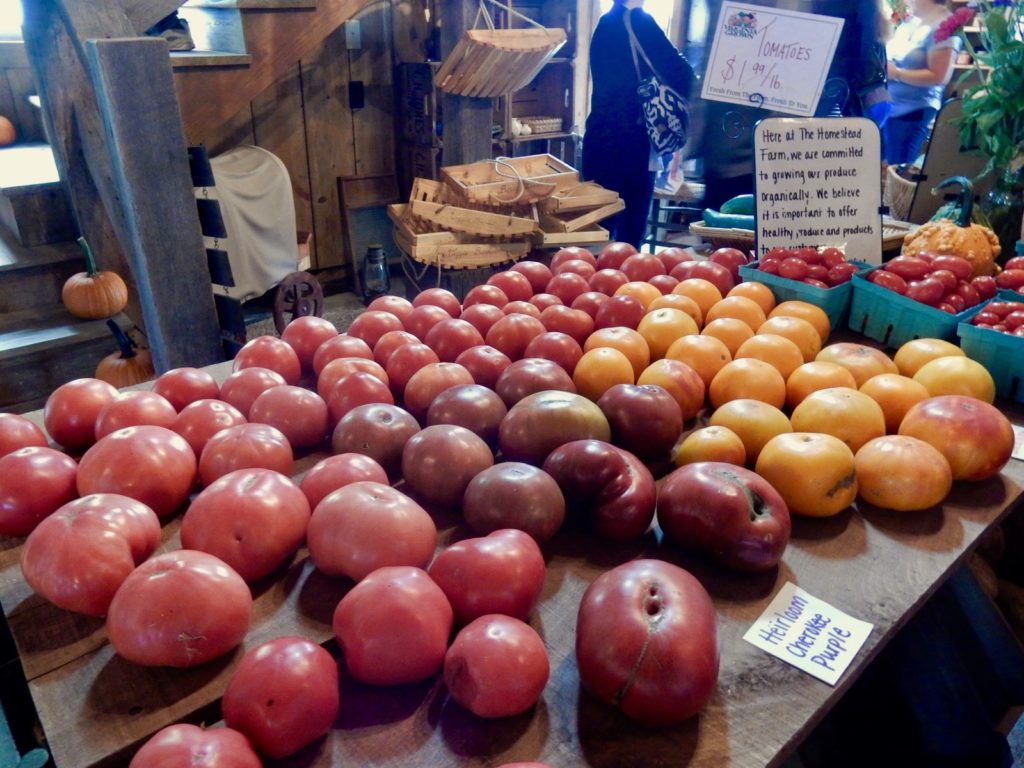 Building on a three hundred year tradition – "George Washington was instrumental in planting apple orchards here" – Katherine's great Uncle, J. Fred Thwaite, expanded the apple-growing industry in the Winchester area.
The family recently opened The Homestead Farm in Uncle Fred's farmhouse. Go ahead, pick up organic produce and country knick-knacks and, on Thursday evenings from July to November, listen to live Bluegrass on the front porch, complete with home-cooked meal – all for $10. Meal starts at 6:30, music at 7.
You'll find this hard cider brewery next door to The Homestead Farm. My favorites – the purple 522, a black-current cider, and Malice, its best seller.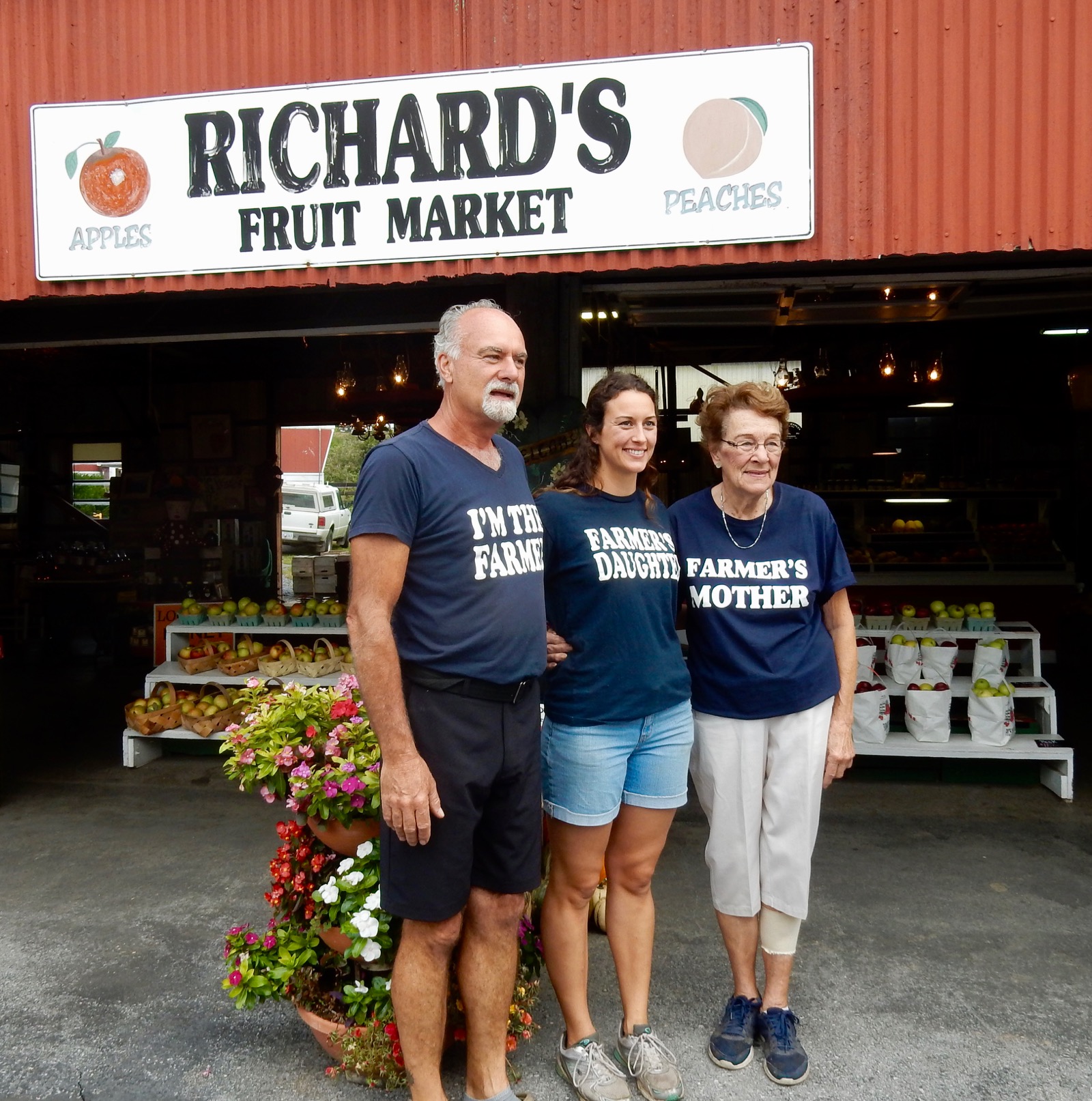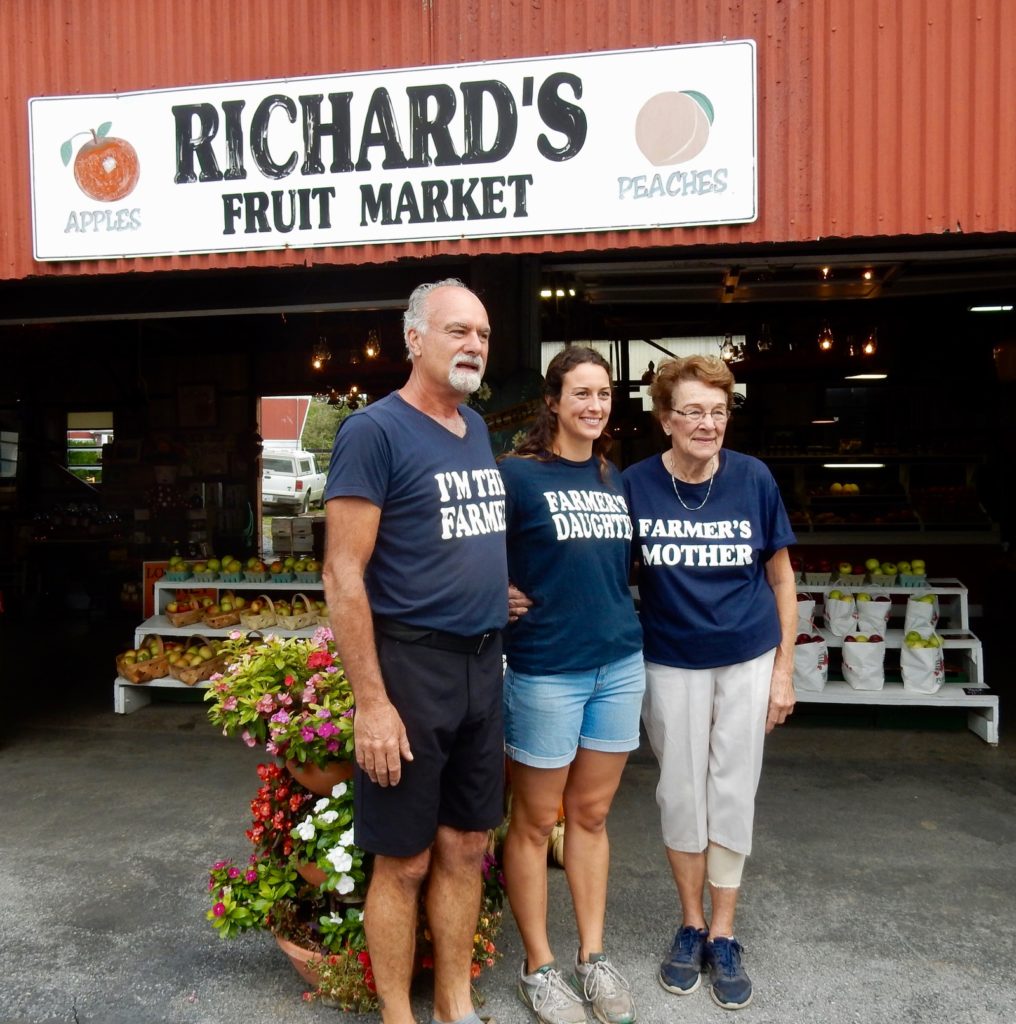 A true family orchard and farm for 63 years, Richards is now run by three generations – including Mom, Mary, who at 83 years of age still puts in over 60 hours a week. You'll find beef, apples, peaches, and a pick-your-own flower garden.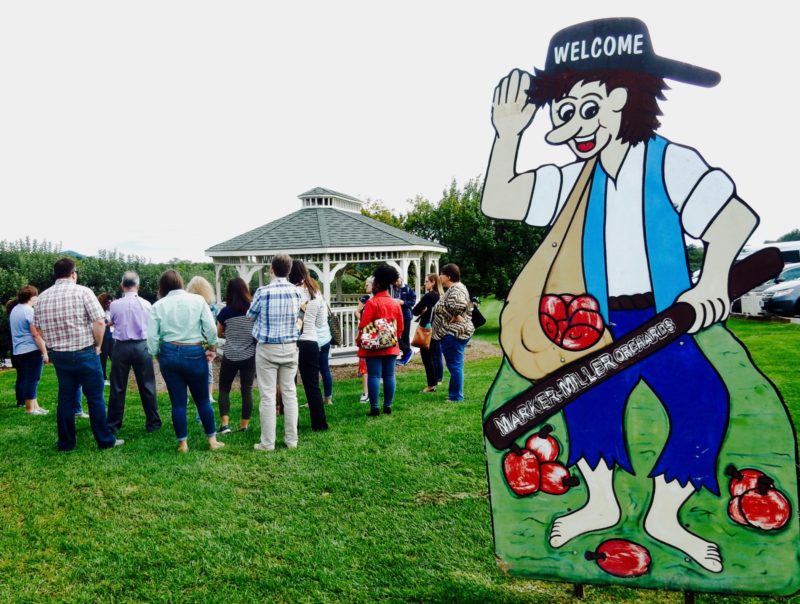 This market and fruit farm offers a true hands-on harvest experience. So, pick your own apples (22 varieties from July to November), peaches, blackberries, raspberries, and other fruits to your heart's content.
The market shop also offers a bountiful selection of produce, jams, ice cream, fudge, prepared foods. Most noteworthy are the very popular cider donuts – best eaten when just out of the oven.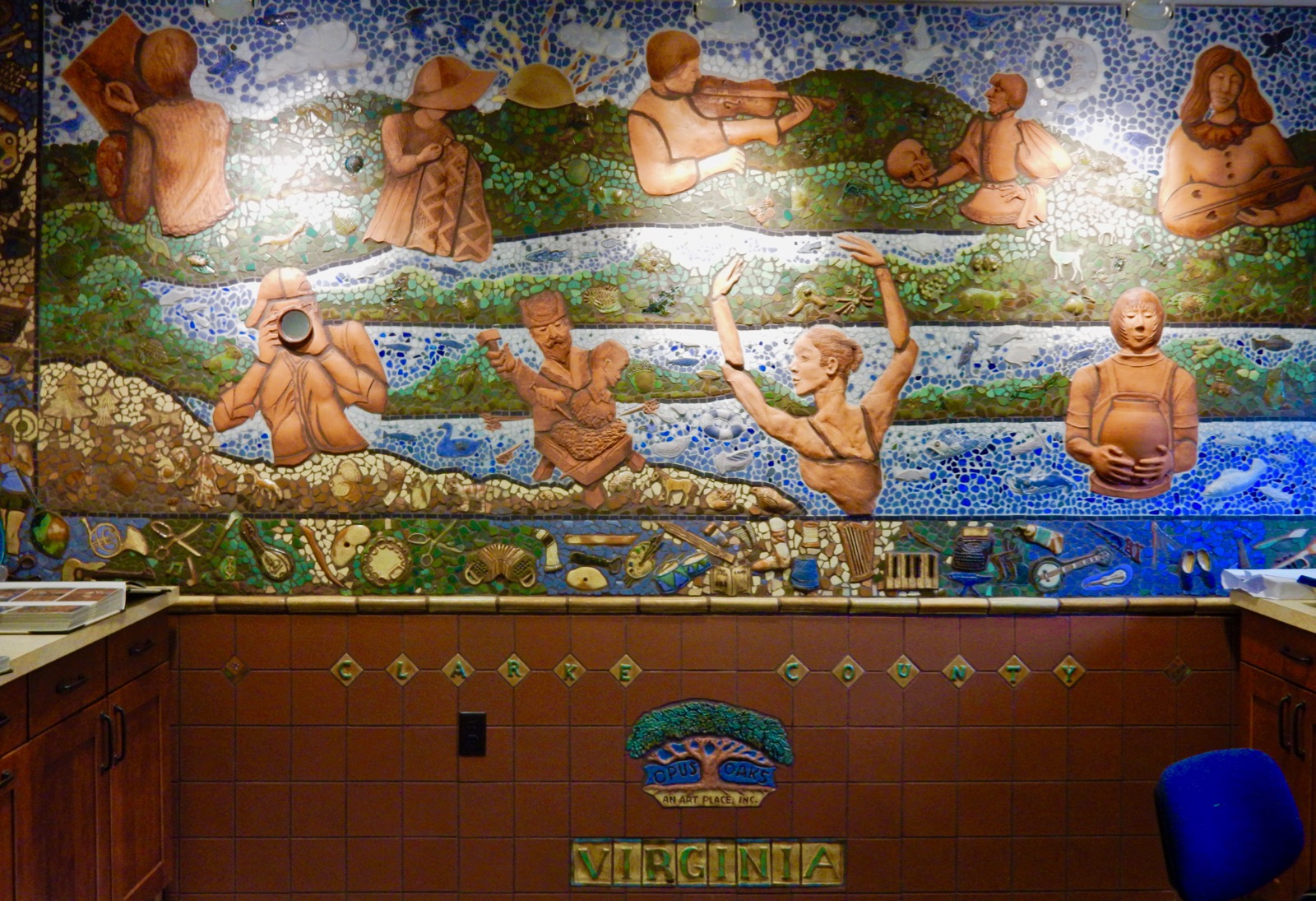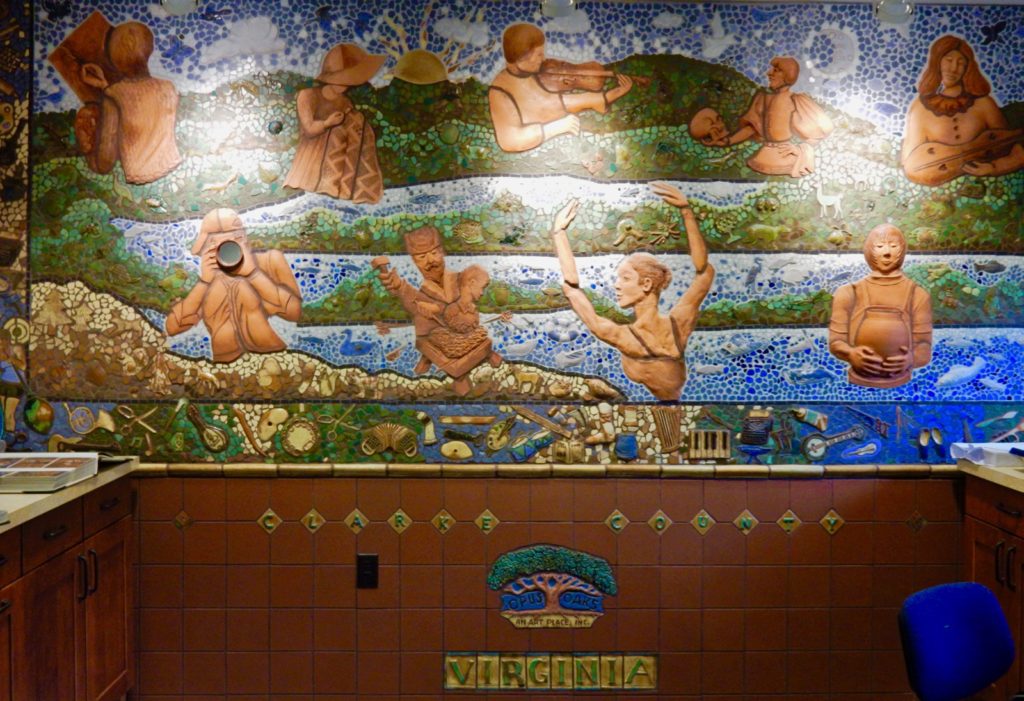 ARTS/SHOP: Town of Berryville
The arts are alive in the Lilliputian town of Berryville. So be sure to stop into Rose Hill Barns, both an Art Gallery Space and music venue, to see the latest creations, and listen to all kinds of tunes, in two repurposed dairy barns.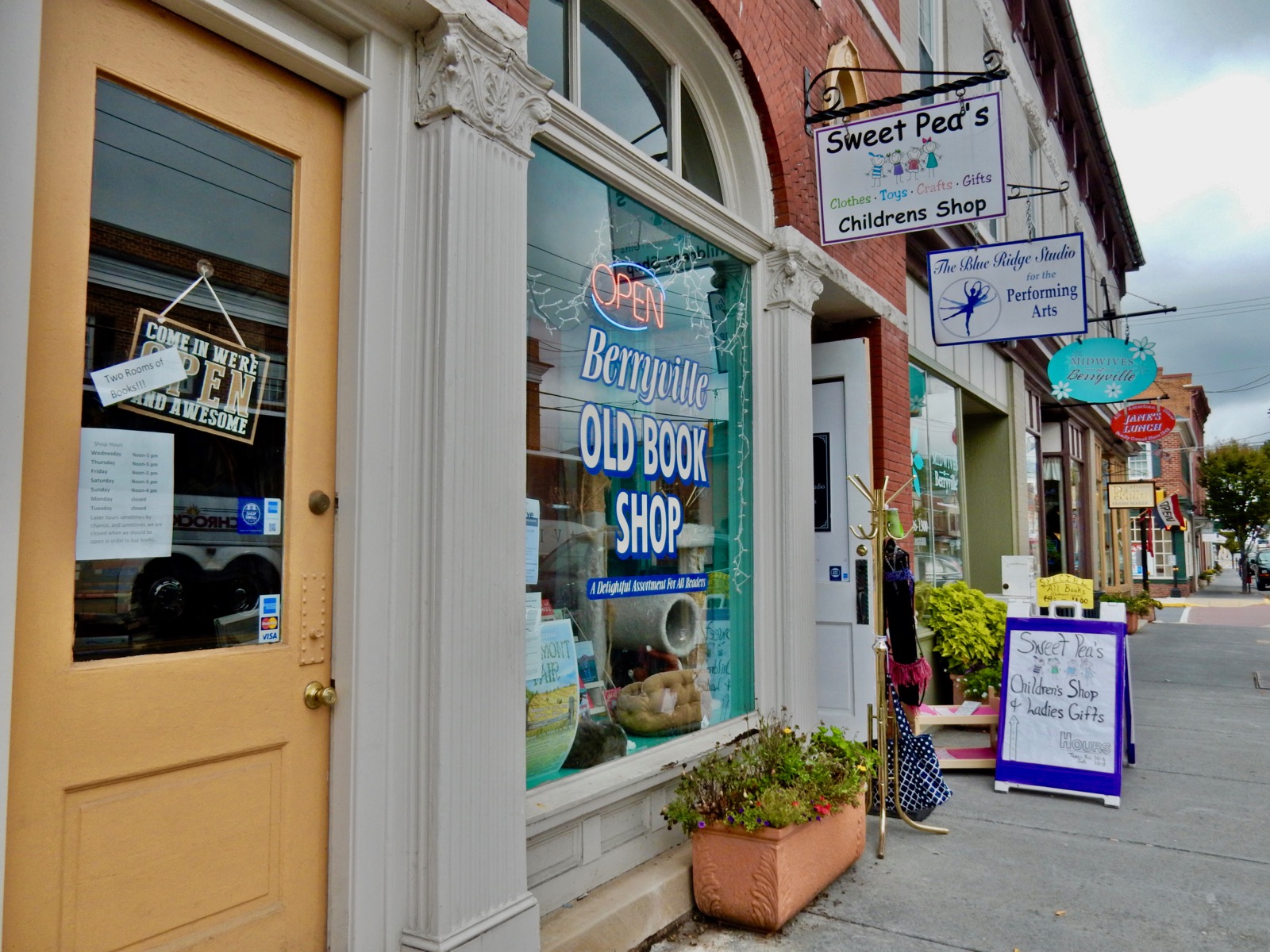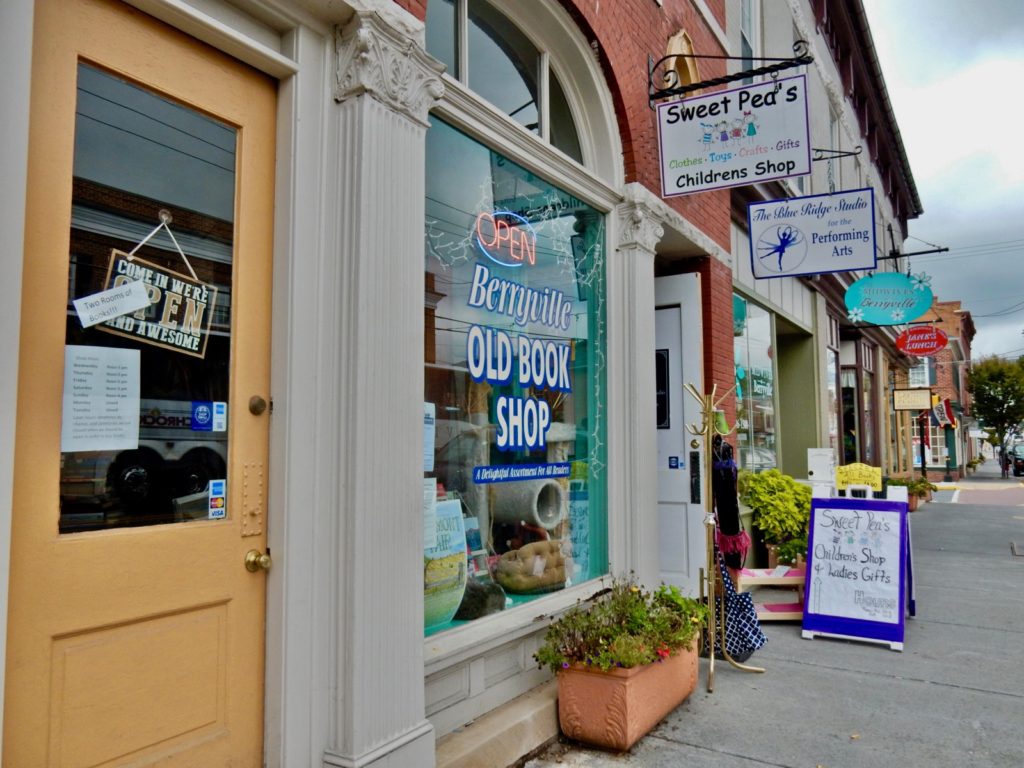 Then, walk through town and stop into shops like Center Ring Designs, Modern Mercantile, Fire House Gallery, and P.H. Miller Studio, owned by Peter Miller, a practitioner of the dying art of hand-crafted framing and gilding.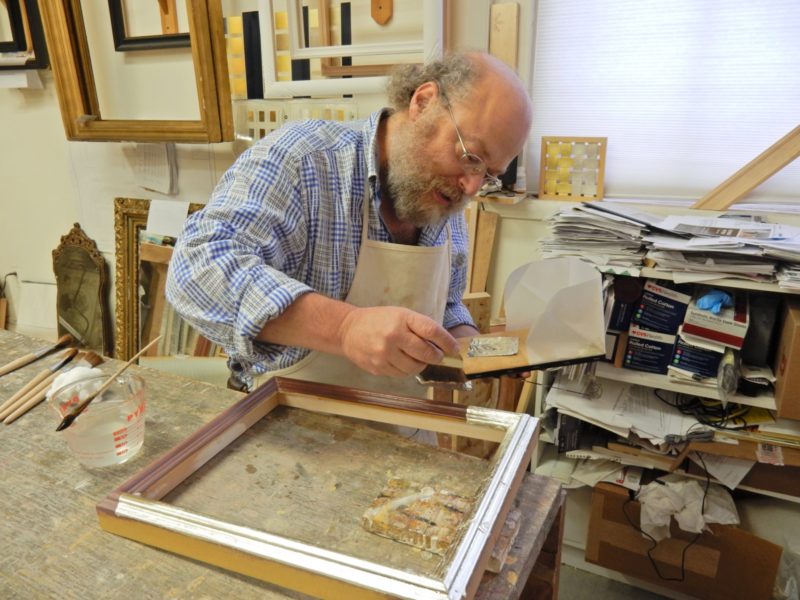 Hailing from Woodbury/Southbury Connecticut, the internationally renowned Miller moved to Virginia to be near family. He set up his shop in Berryville, where he continues to transfer onion-skin-thin strips of gold onto hand-carved wooden frames. Come in to watch him at work – it's fascinating.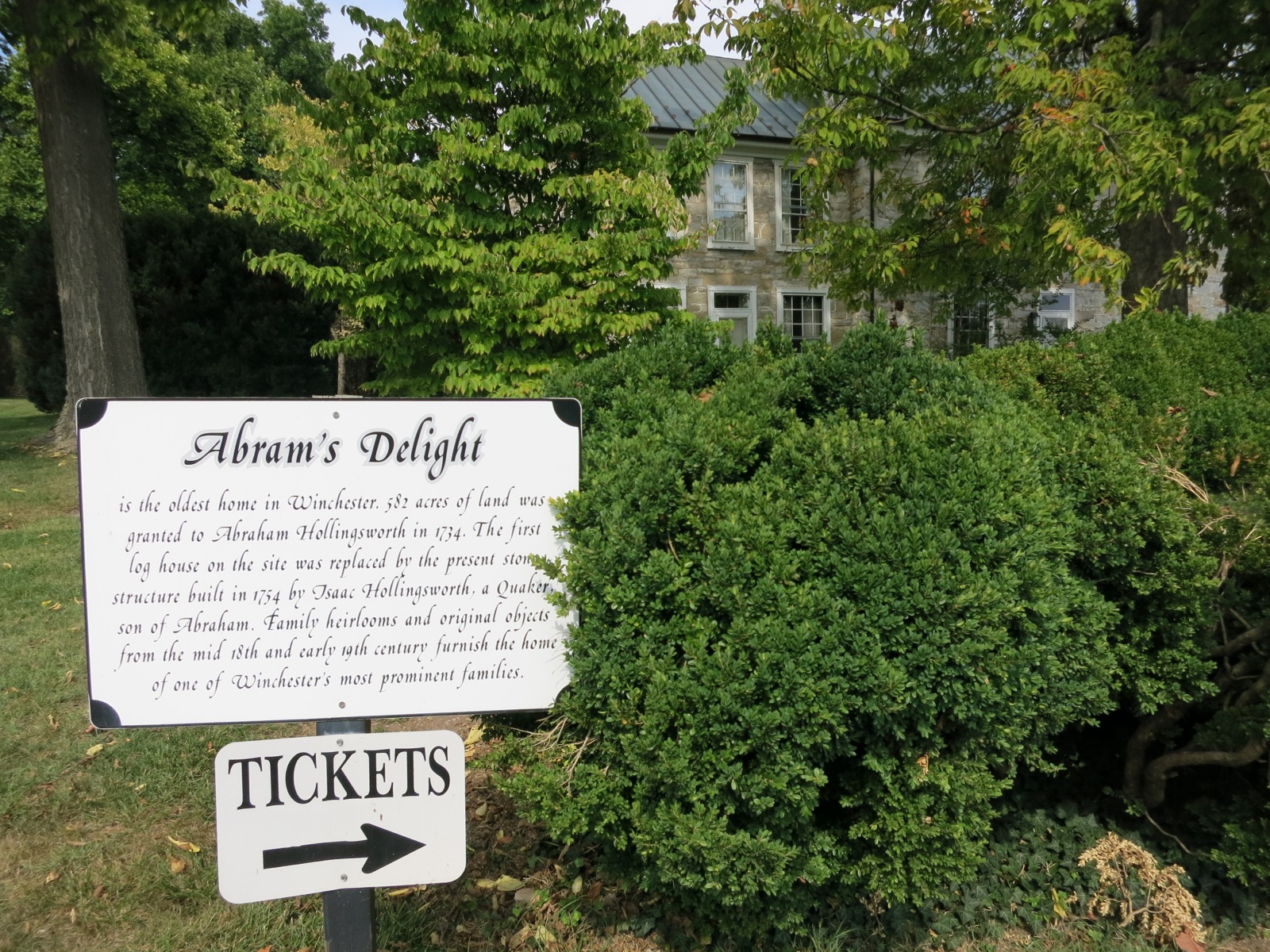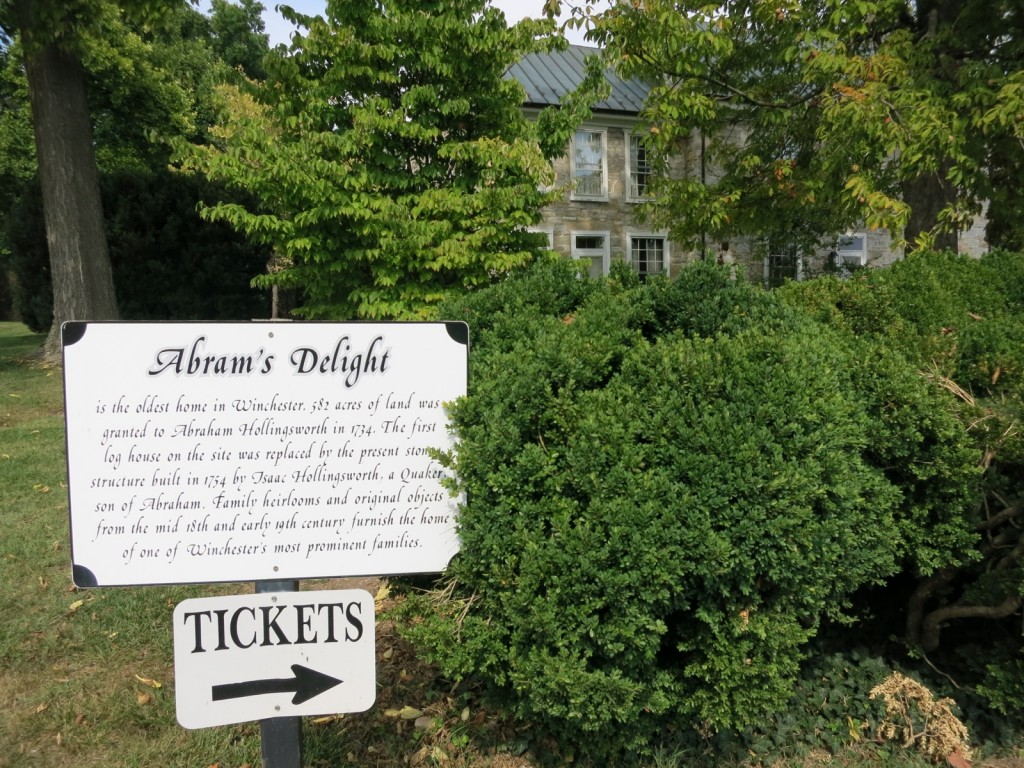 Stop into the Winchester Visitor's Center (open daily 9-5) and you'll be directed next door to the oldest compound in the state, "Abram's Delight" (where you can purchase tickets to all three properties).
In 1732, when this area was an "absolute frontier," Abe Hollingsworth called the land "a delight to behold." A typical story of American enterprise, subsequent generations improved on the property. Soon, the family business extended into a thriving mill. Consequently, Hollingsworth built this stone home, reminiscent of his ancestral home in Cheshire, England.
The parlor features the original 1754 oak floor and iron coat-of-arms fireplace grill from the English manor. One of the small pleasures of exploring historic homes is the interesting period pieces you'll discover. Here, the most intriguing are a "flirting fan," with tiny mirror so that ladies could look at potential suitors without seeming forward, and a "cooling bench" – long and wide enough to lay out bodies of the deceased.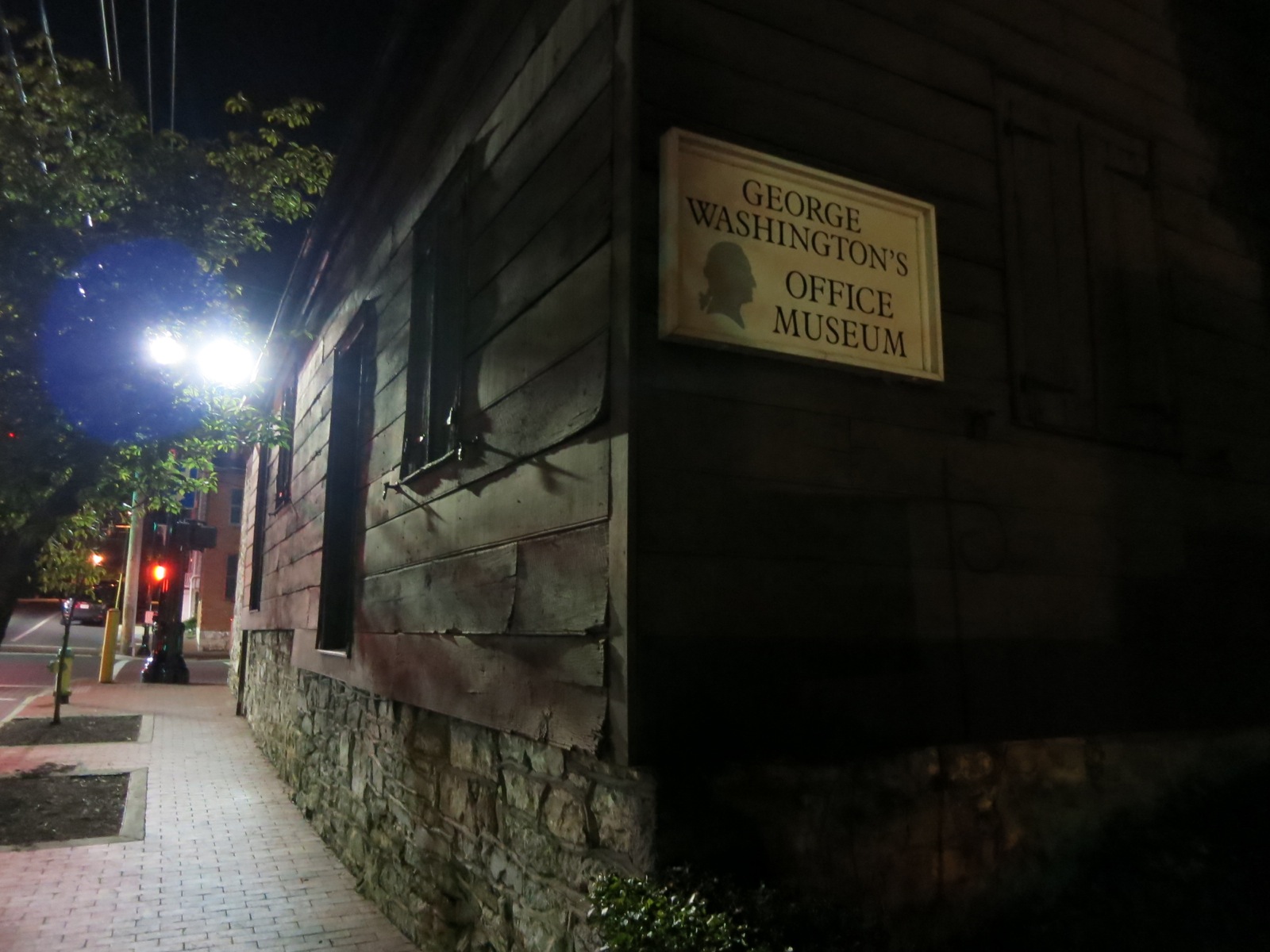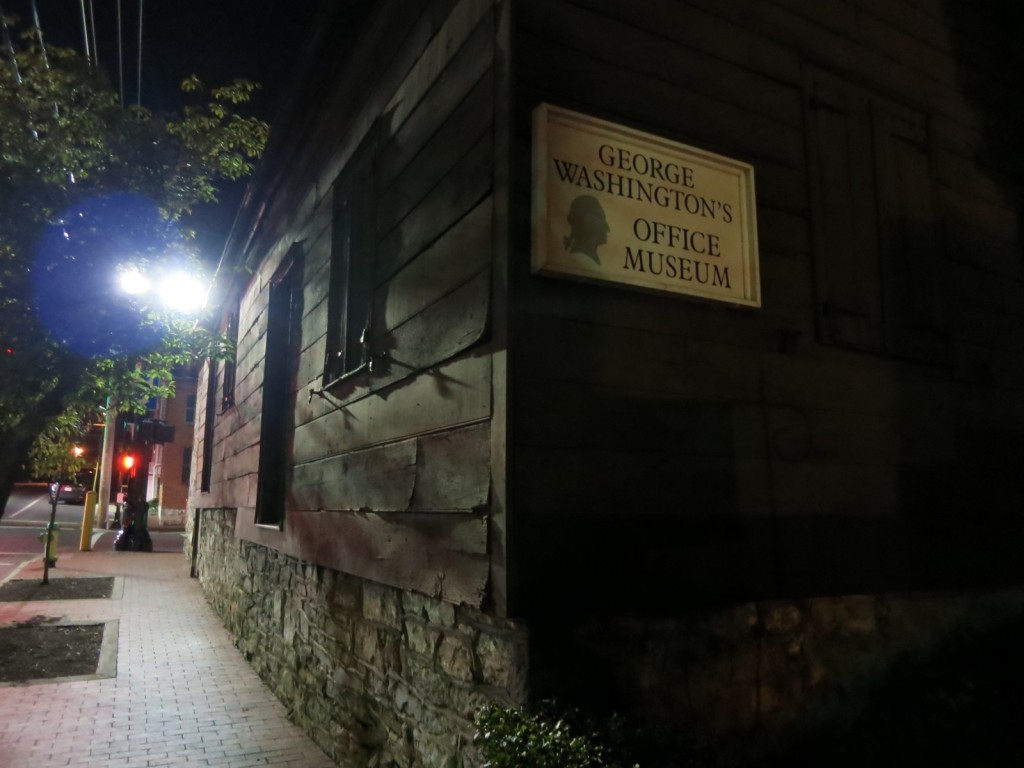 George Washington's Office Museum
GW's office is located in the log cabin that served as his office while supervising the construction of Fort Loudoun, features his surveying equipment and other personal effects.
Stonewall Jackson's Headquarters
This restored Hudson River Gothic Revival house once belonged to the great-grandfather of Mary Tyler Moore, Lt. Col. Lewis T. Moore. It now serves as a museum containing hundreds of Civil War artifacts including Jackson's prayer book and camp table. Moore provided his home to Jackson during the Confederate leader's brief stay in Winchester during the Valley Campaign from 1861-1862.
In 1993, Mary Tyler Moore donated the reproduced gilded wallpaper that graces the walls. All properties open April – October 31, Mon-Sat 10-4, Sun 12-4, $5 per property, $10 block ticket for all three properties.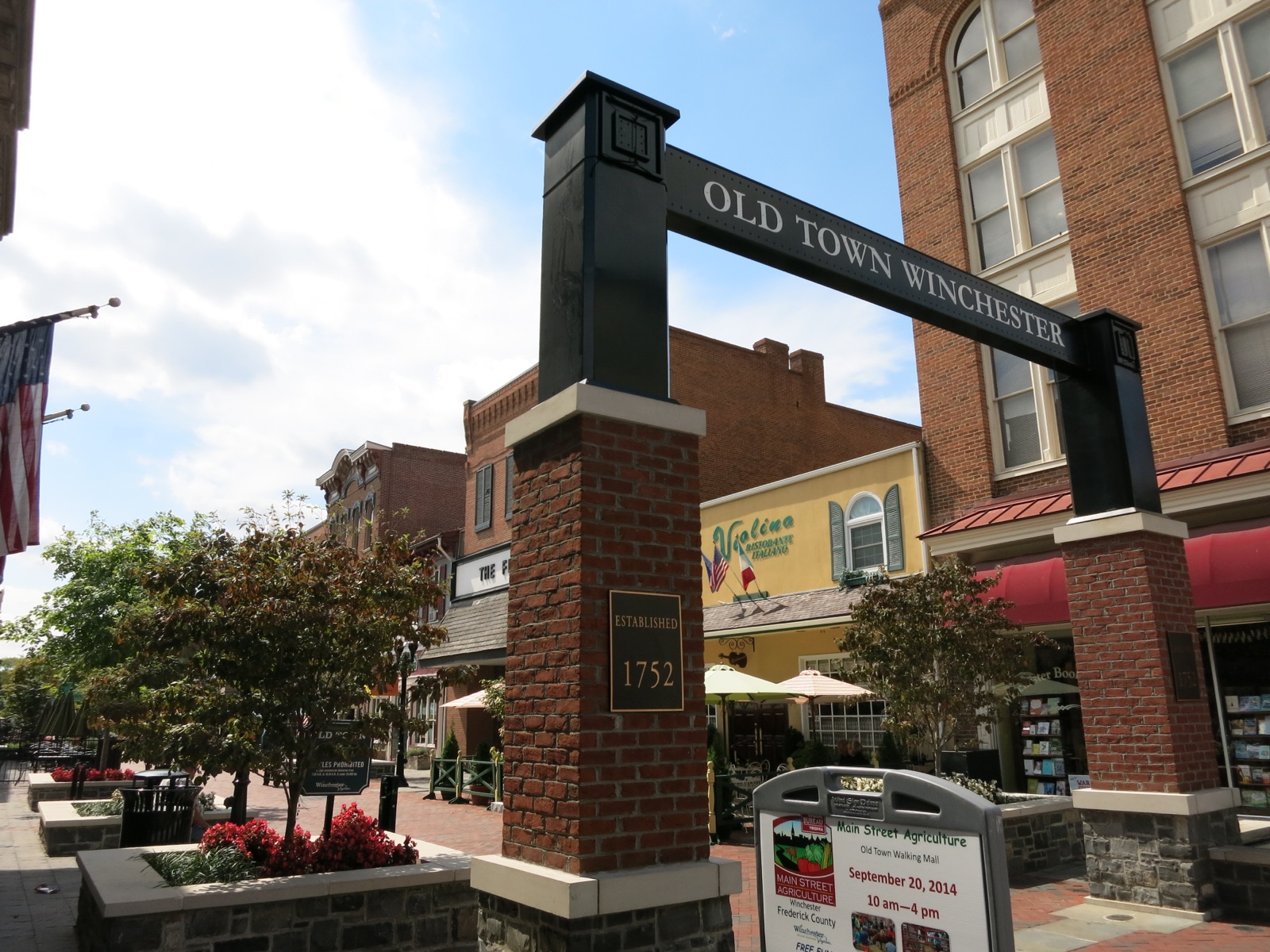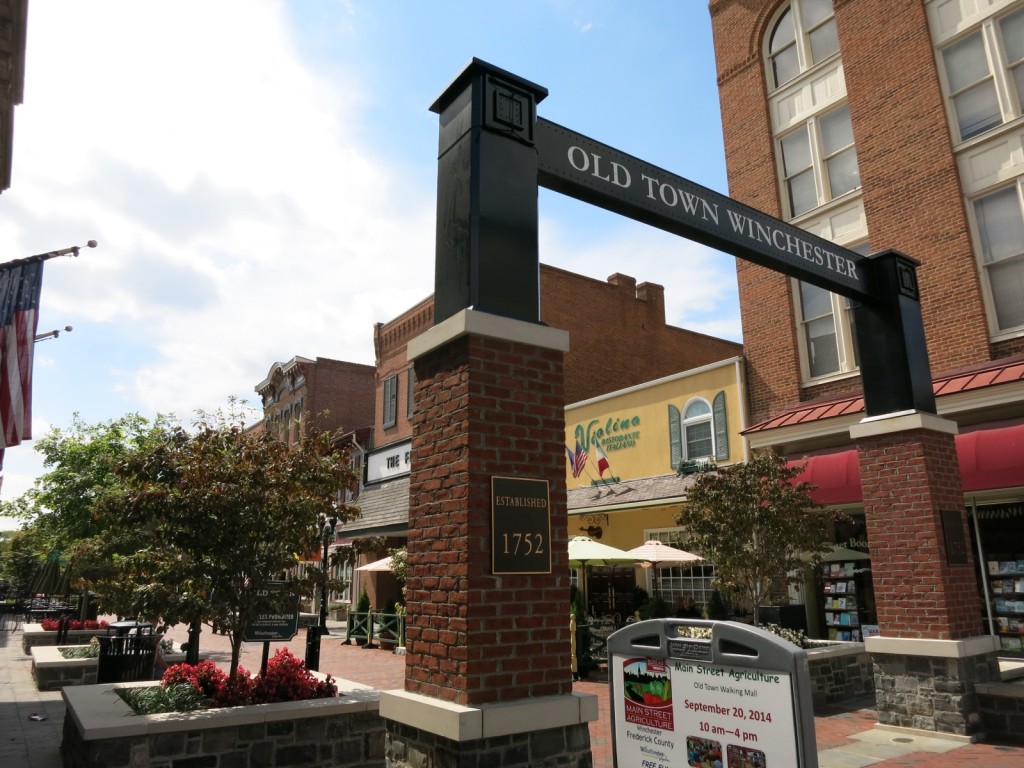 A few blocks long, chock full of boutiques and restaurants, the Old Town Pedestrian Mall is where the action is in Winchester.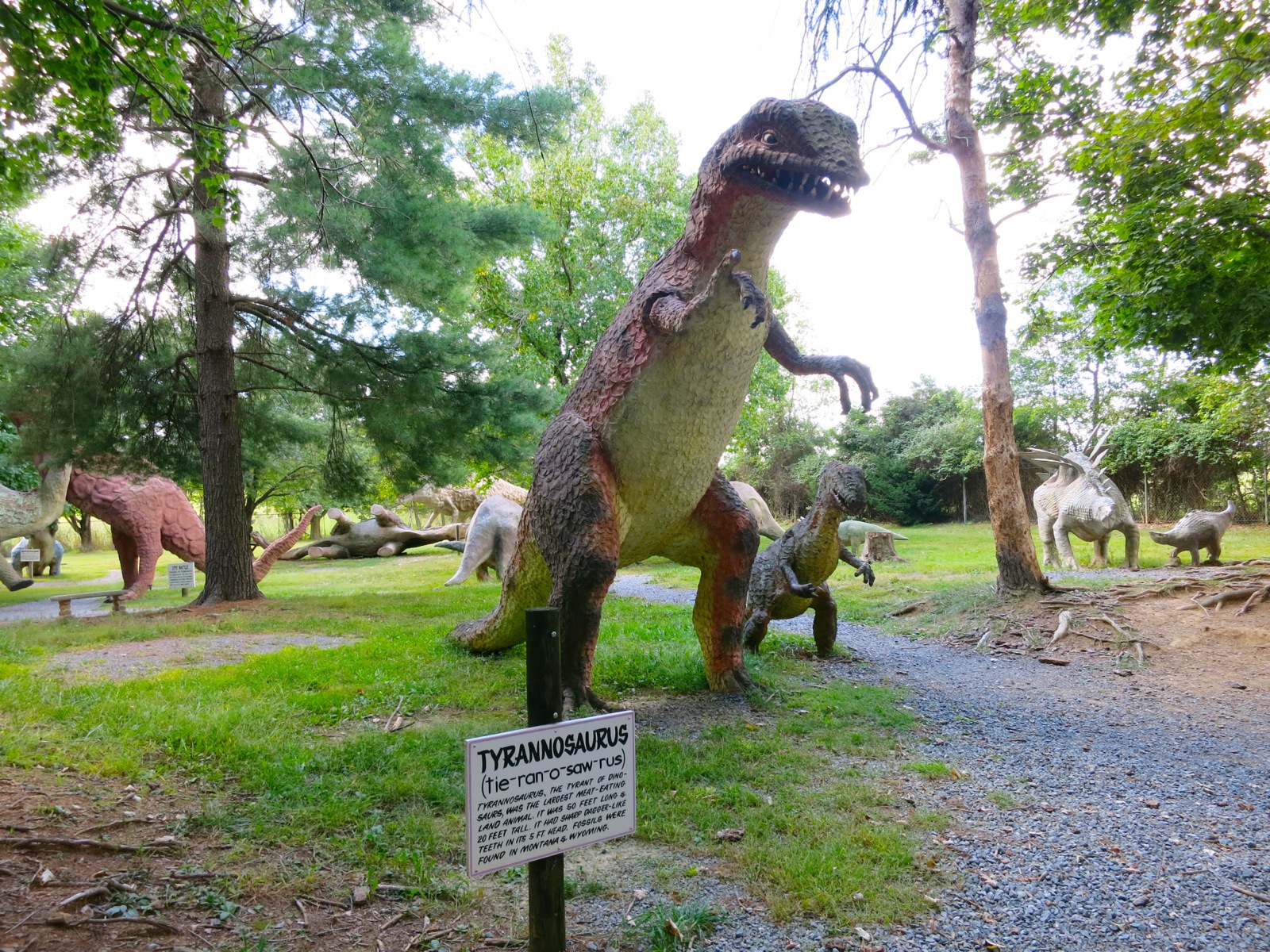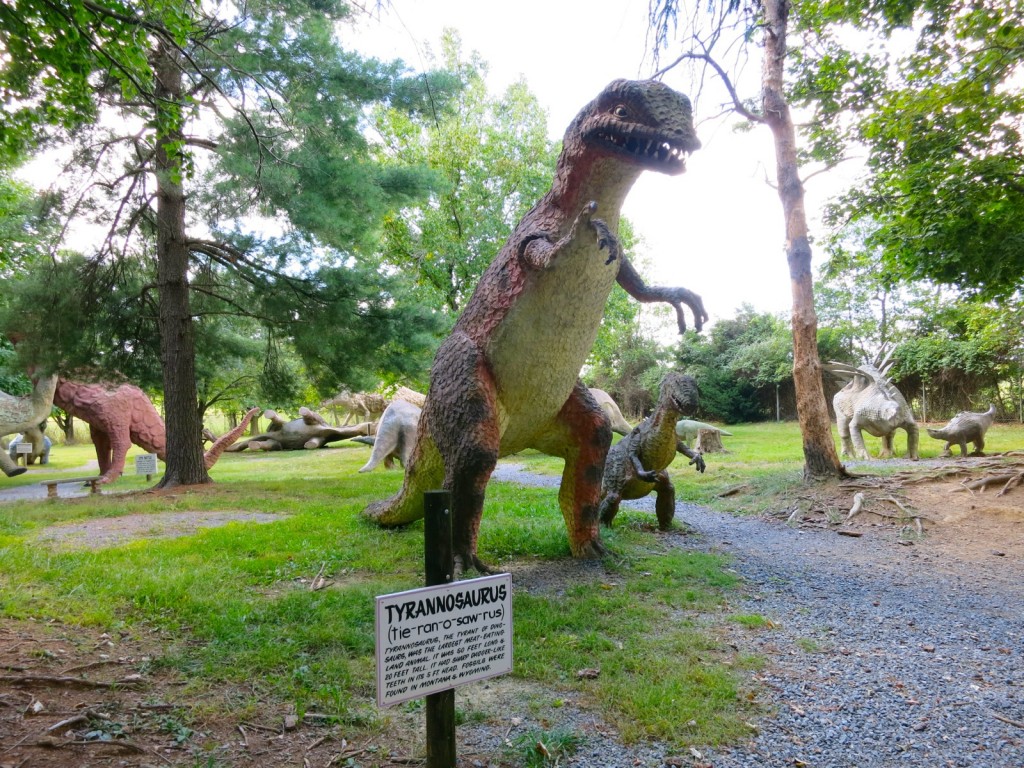 No, they don't move, spit or roar, but if you're driving towards points south, and are a fan of old-fashioned roadside kitsch, Dinosaur Land will fulfill your quirky curiosities.
About ten minutes out of Winchester in White Post, VA, original owner Joe Geraci opened the Rebel Korner Gift Shop in 1962. Then, he purchased five large dinosaur statues to attract drivers from the main road.
Over the years, the family has installed nearly fifty more in a hilly park behind the gift shop – among them a towering Cobra and mega Praying Mantis (?). OK, so it's Dino-Snake-Insect Land, really. But it's all in fun and a great leg stretcher.  $6 adults, $5 kids, open daily March-Dec 9:30-5 (till 6 in summer).
Best Places to Eat in Winchester VA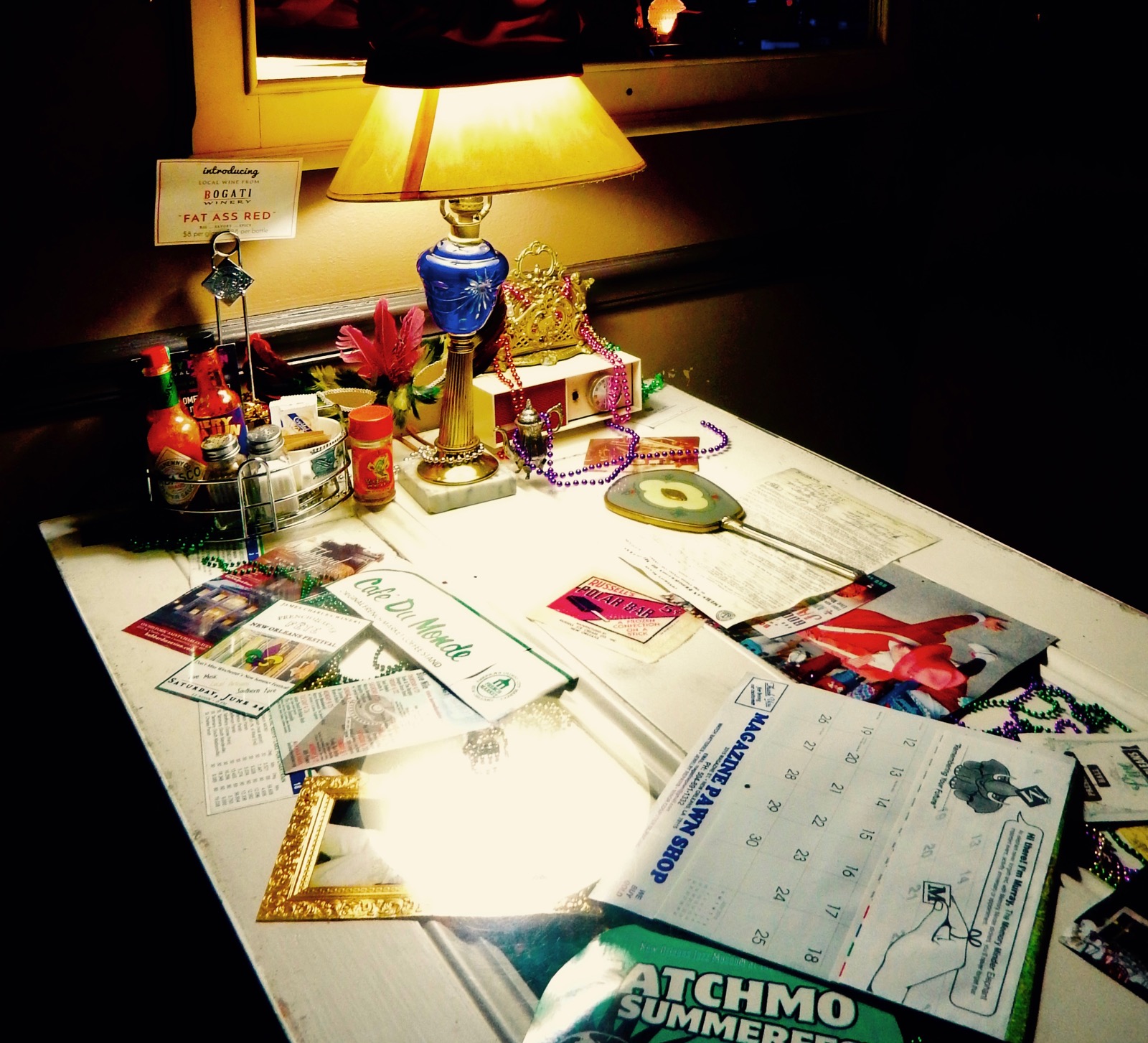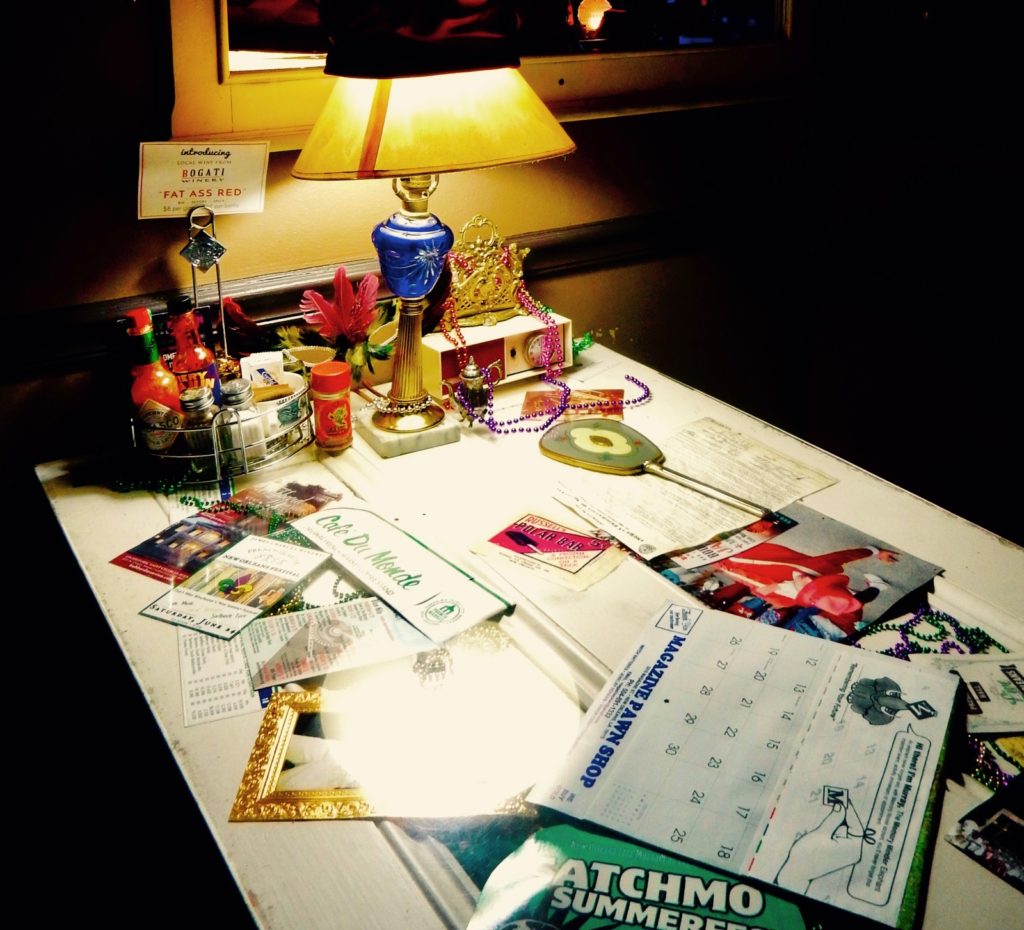 EAT: Sweet NOLA'S
Any restaurant named for "New Orleans LA" has a lot to prove this far northeast. Chef-owner, Cheryl Ash, delivers the Cajun goods. In spades.
Seems that all offerings, from the Creole Potato Salad ($3), to cornmeal-dusted Fried Okra ($3), Gumbo ($8.75), Satchmo's Red Beans and Rice ($8.50), to Po' Boys of all varieties, are such incredibly fantastic Louisiana swamp food, at such low prices, it made me forget what American State I was in. Let alone what decade. All this in a dazzling, sparkly, drenched in color space, best described as Early Mardi Gras. Laissez les bons temps rouler!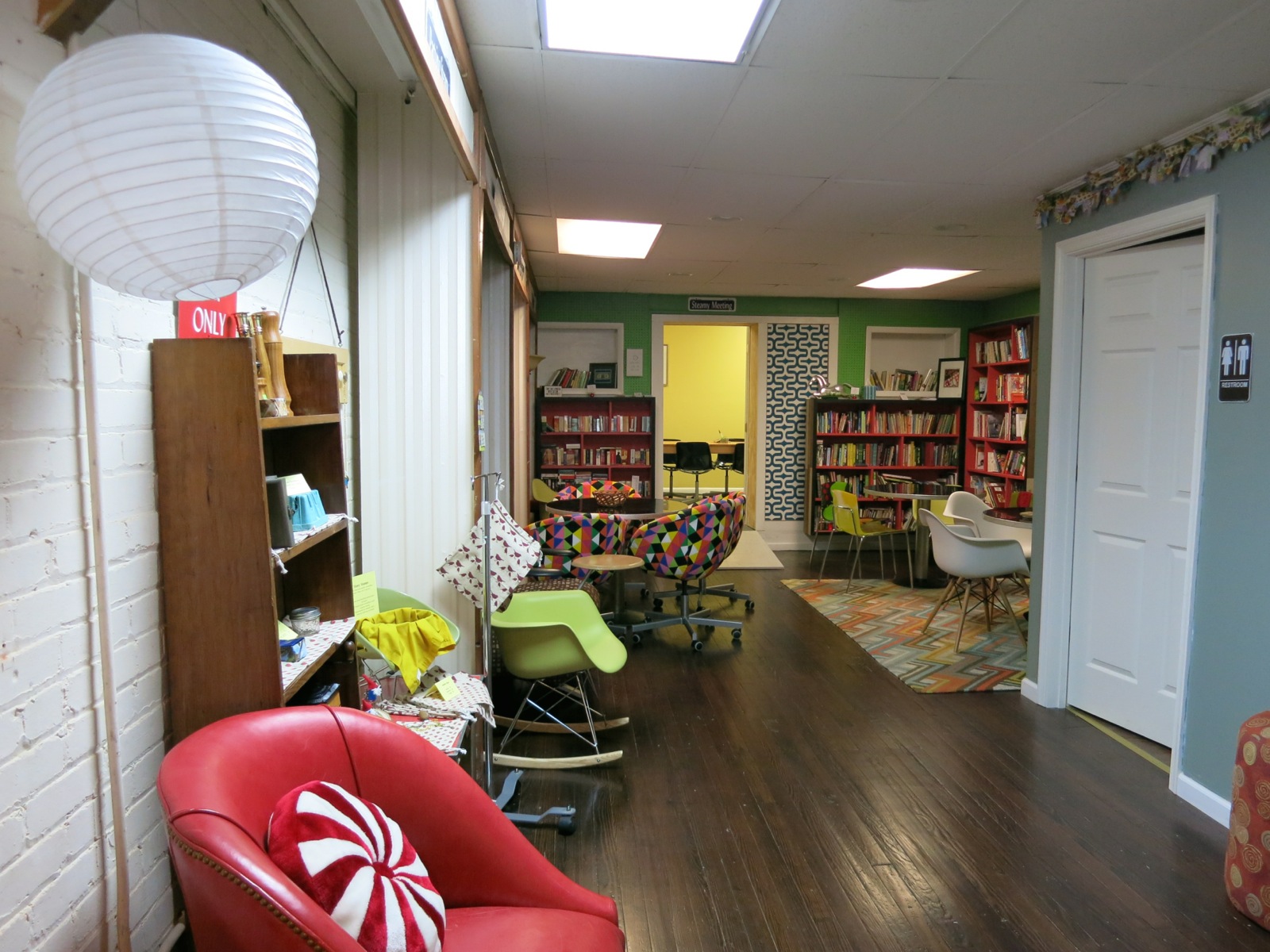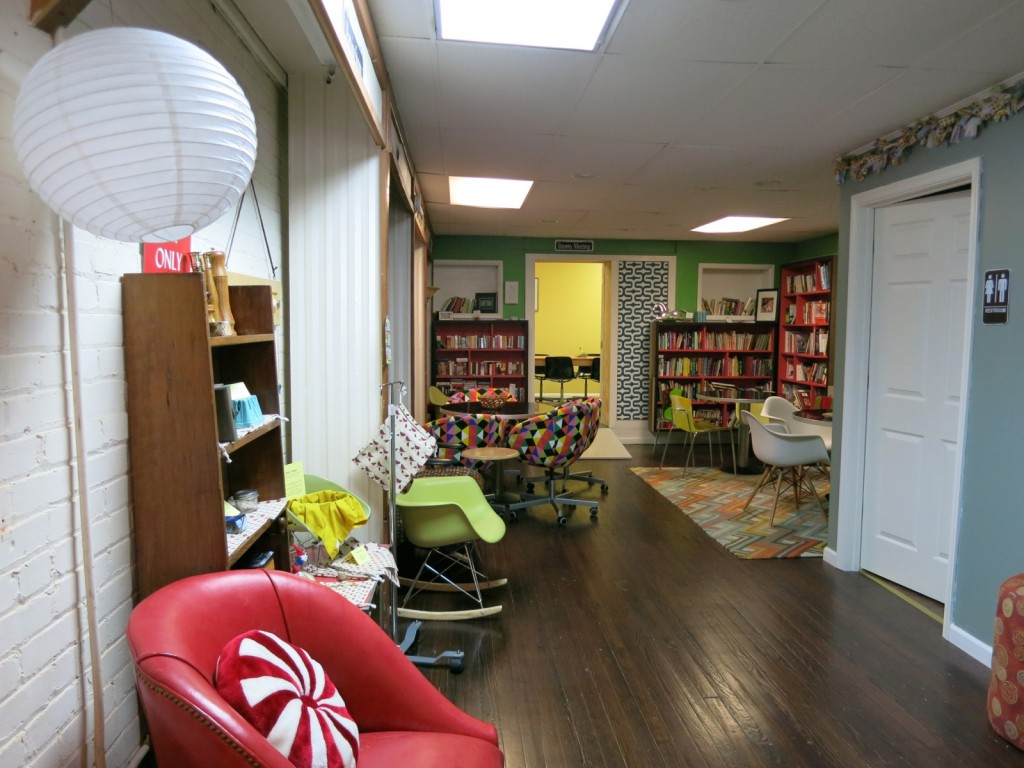 EAT/BREAKFAST: Steamy's Cafe, Winchester VA
Across from the GW Hotel, Steamy's doesn't look like much from the outside. But it's "Friends" cute inside –especially the back room where you'll find tables, chairs and bookshelves full of books.
Aside from the crafted coffees, humus with veggies and smoothies, you'll find from-scratch pretzel-like bagels made before your eyes by John, the pastor of AnotherChanceChurch.com, a non-denominational "homeless and lost outreach center." Located just down the street, Another Chance counsels and feeds and provides showers for anyone who needs it. "We just read The Good Book and put it into practice."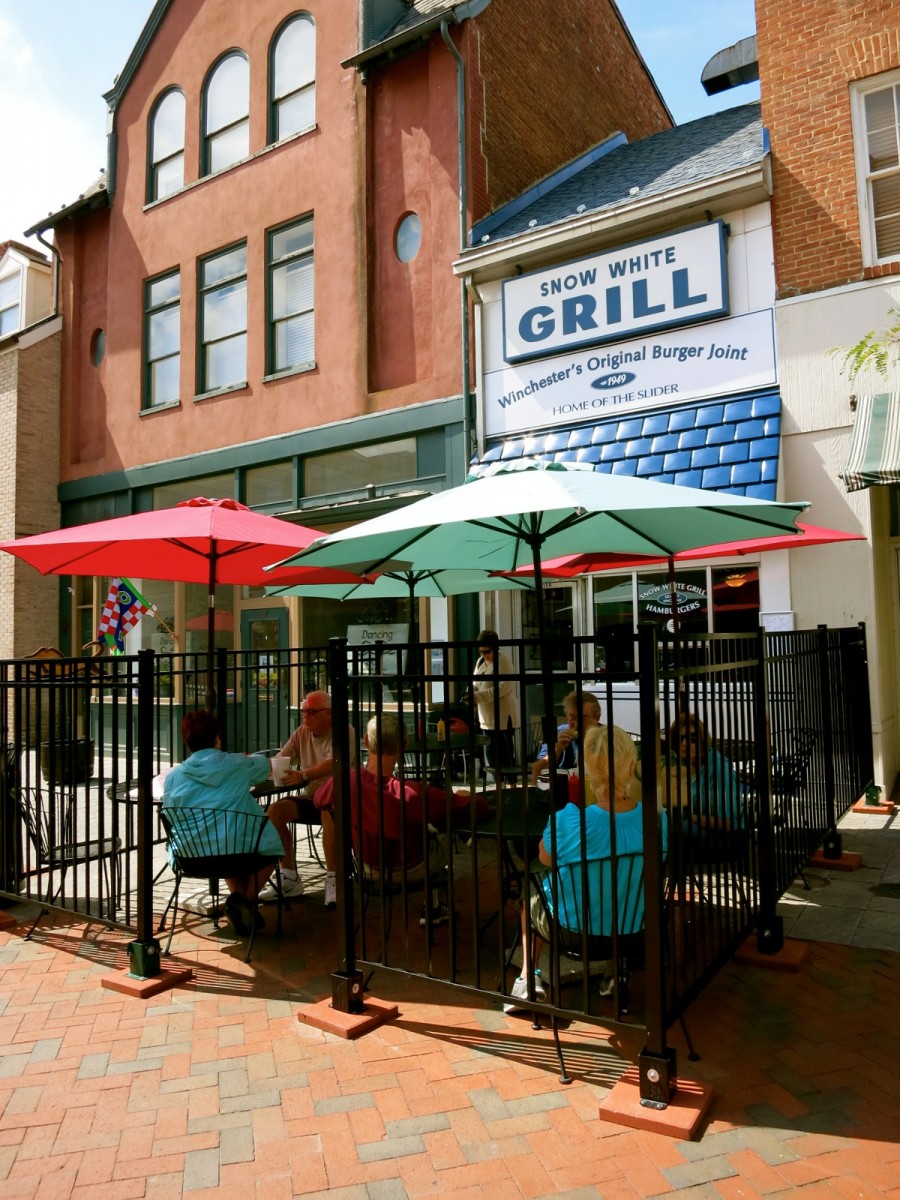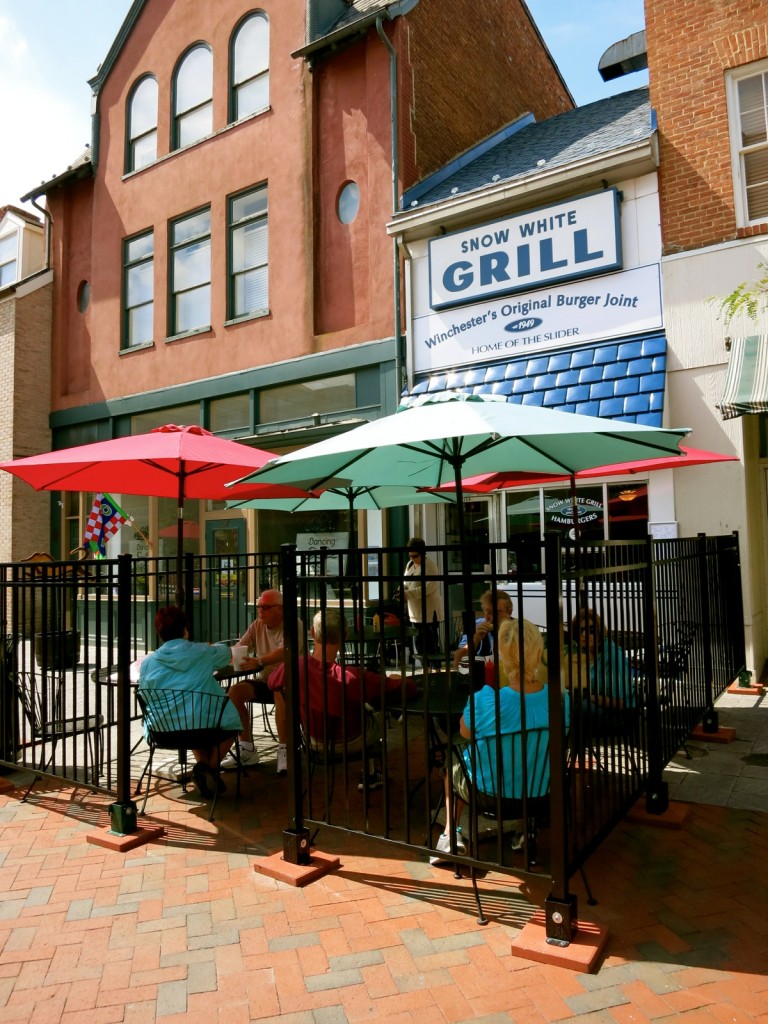 EAT/THROWBACK: Snow White Grill
Sit on one of the stools and watch burgers being grilled. Or, order through the window and have a seat outside. Either way, this "Home of the Slider" will warm the cockles of your non-commercial fast-food seeking heart.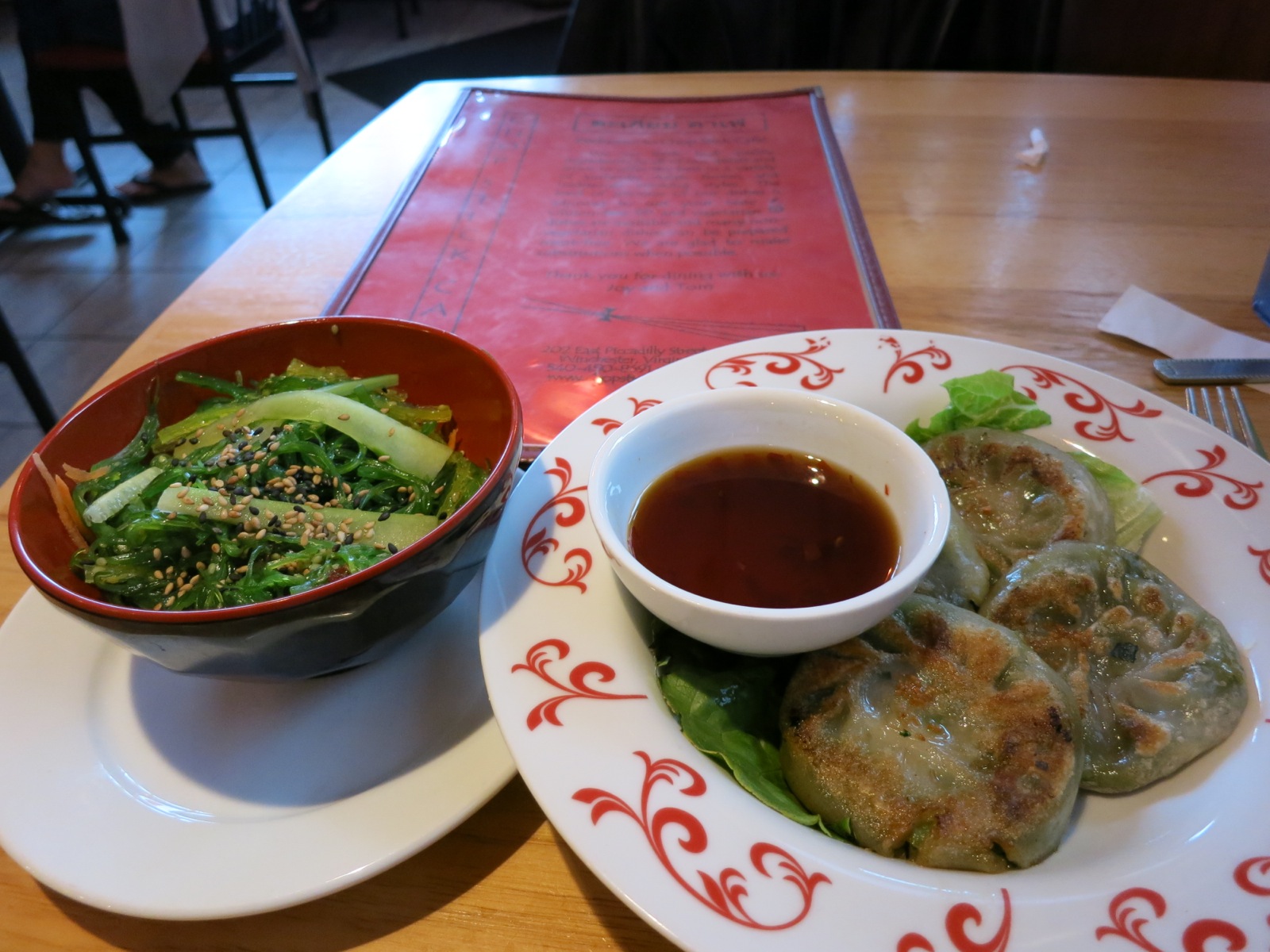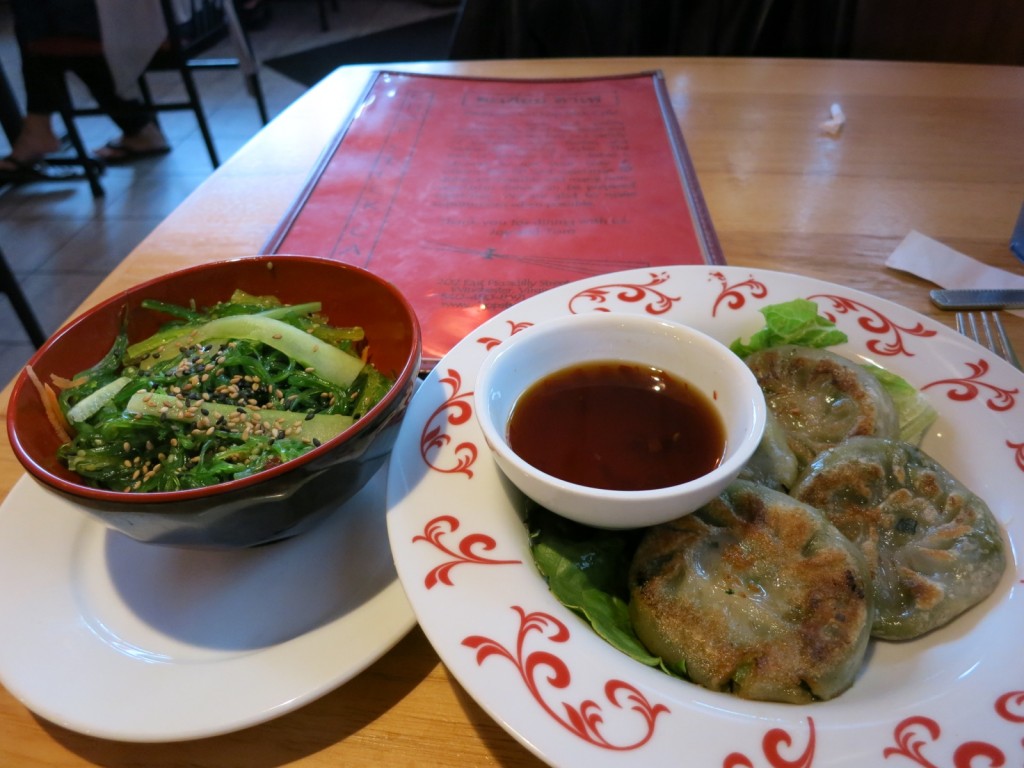 What this tiny corner-store café lacks in atmosphere, it more than makes up for in quality and cost. The most expensive entrees don't inch much above $10. Pho is $9, Sushi Rainbow Roll is $10, and Marinated Rib Eye Stir Fry is a relative King's Ransom at $15. Patrons range from tatted purple hair youngsters to suits to canoodling couples – and it's always packed.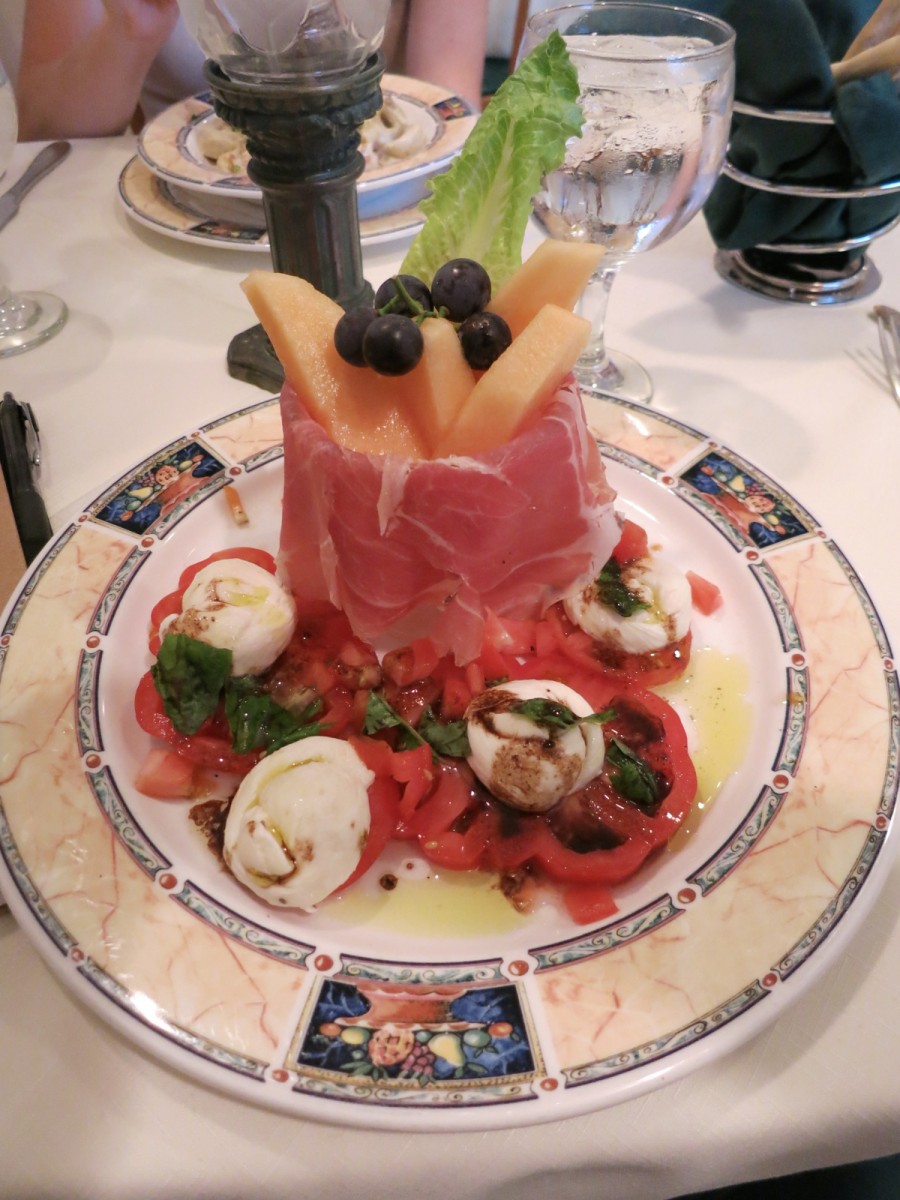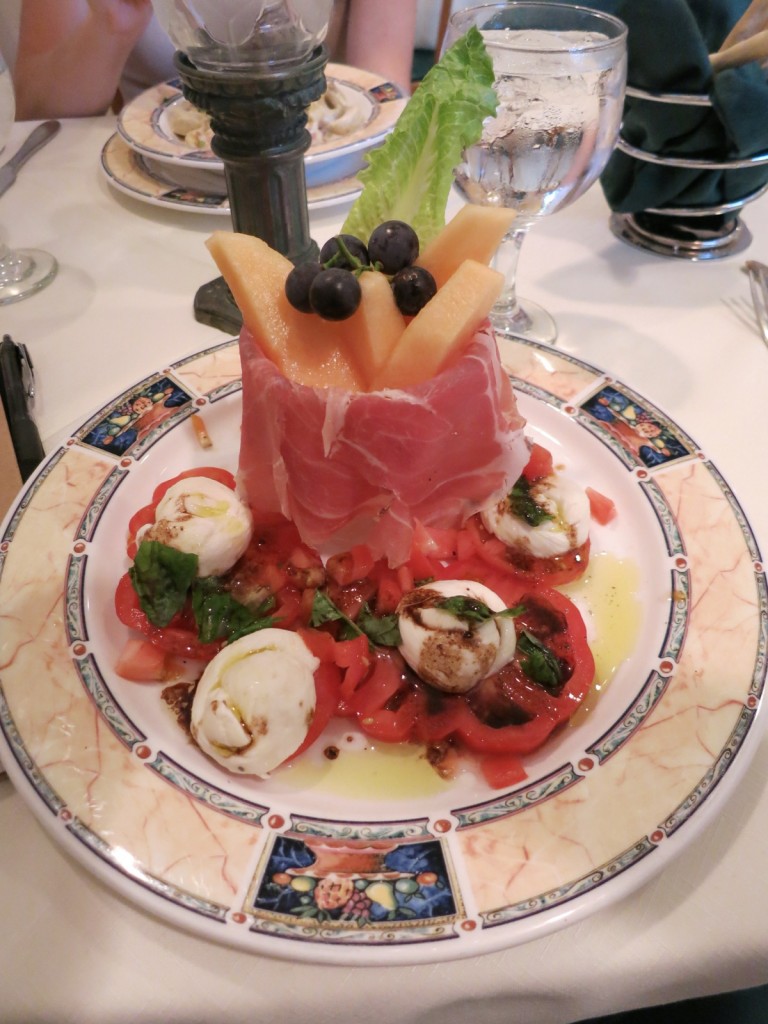 This little white tablecloth spot proves that Virginia can do classic Italian exceedingly well. Nibble on Zucchini Flowers and homemade pastas. Finish up with freshly made gelato.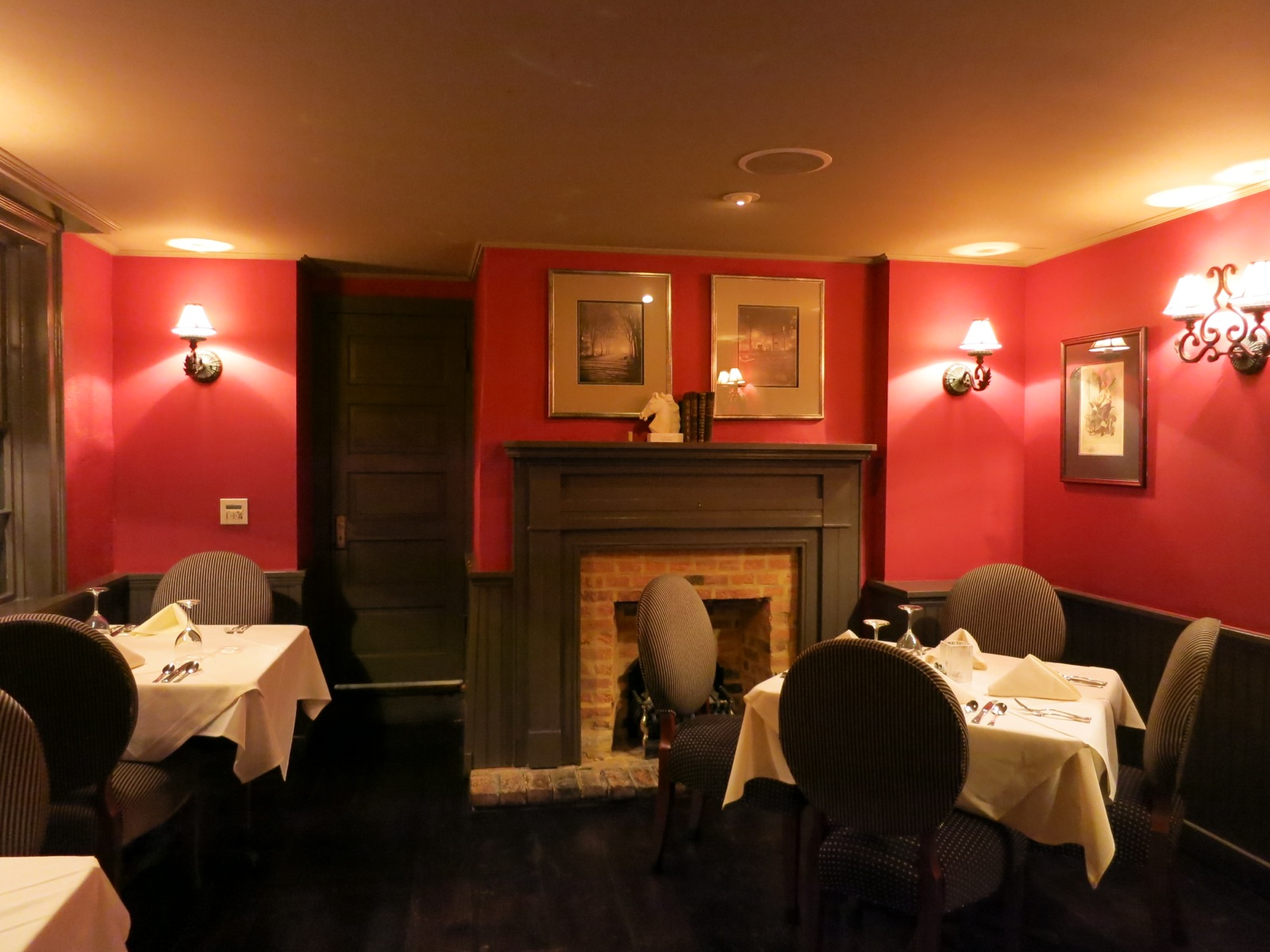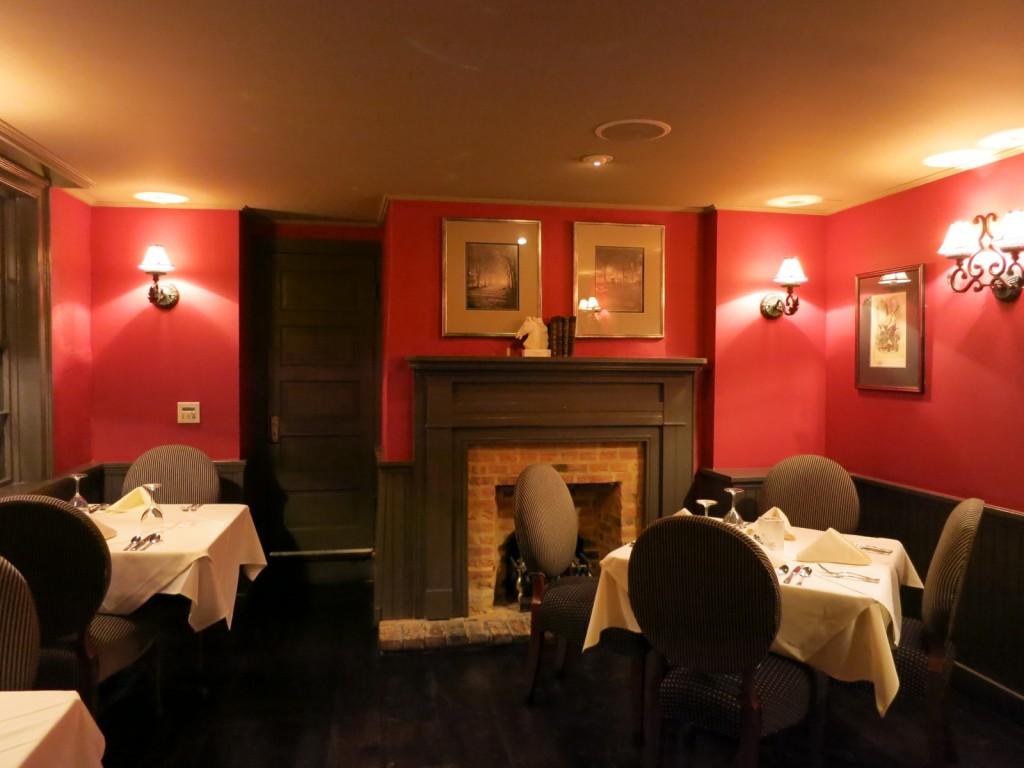 It's upscale American, heavy on martinis and piano-bar gatherings.
Where to Stay in Winchester VA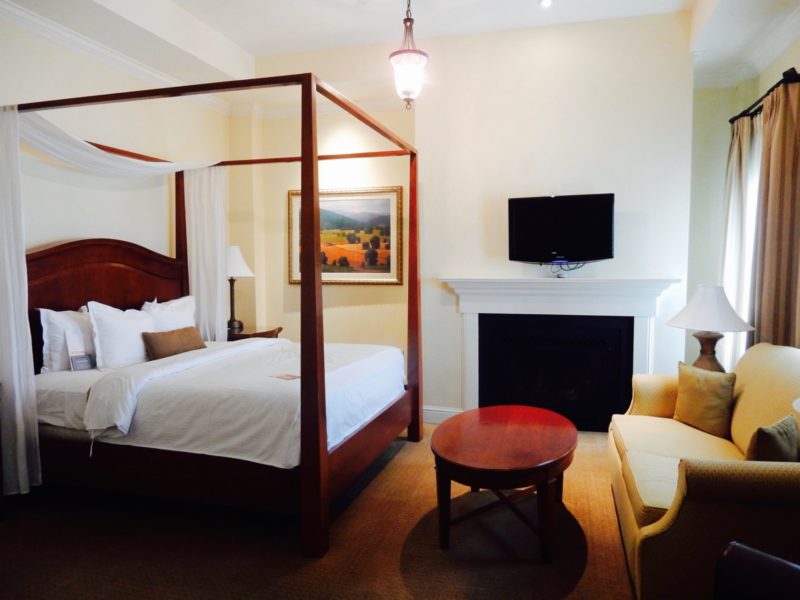 This venerable old hotel, built in 1924 and renovated in 2008, is just a block away from the car-free outdoor Pedestrian Mall. Gold and off white rooms were not stripped of their "pre-war" charm, with crown molding, framed full-length mirrors, Shaker-style canopy beds, double doors in suites – but of course modified to include modern amenities.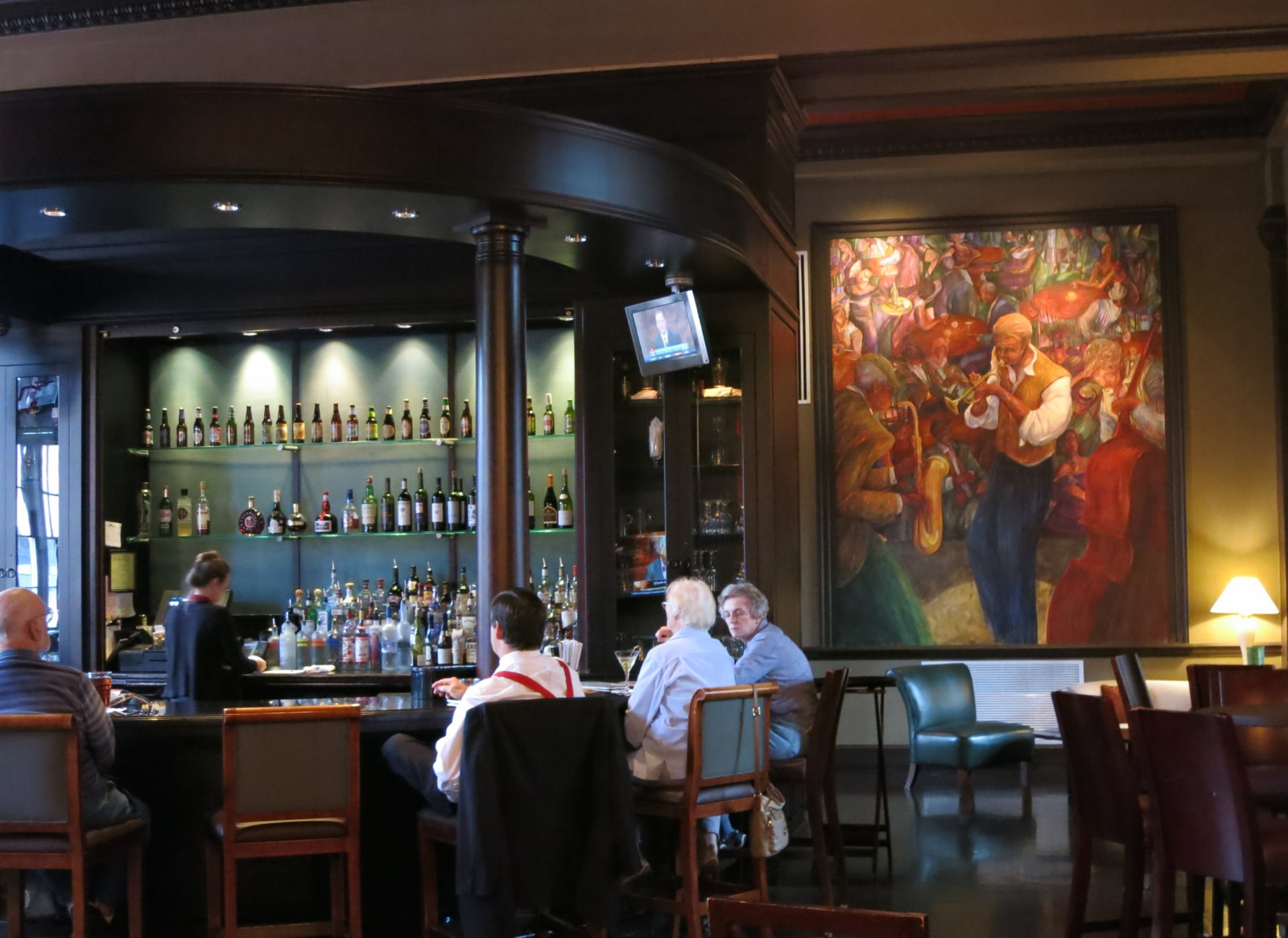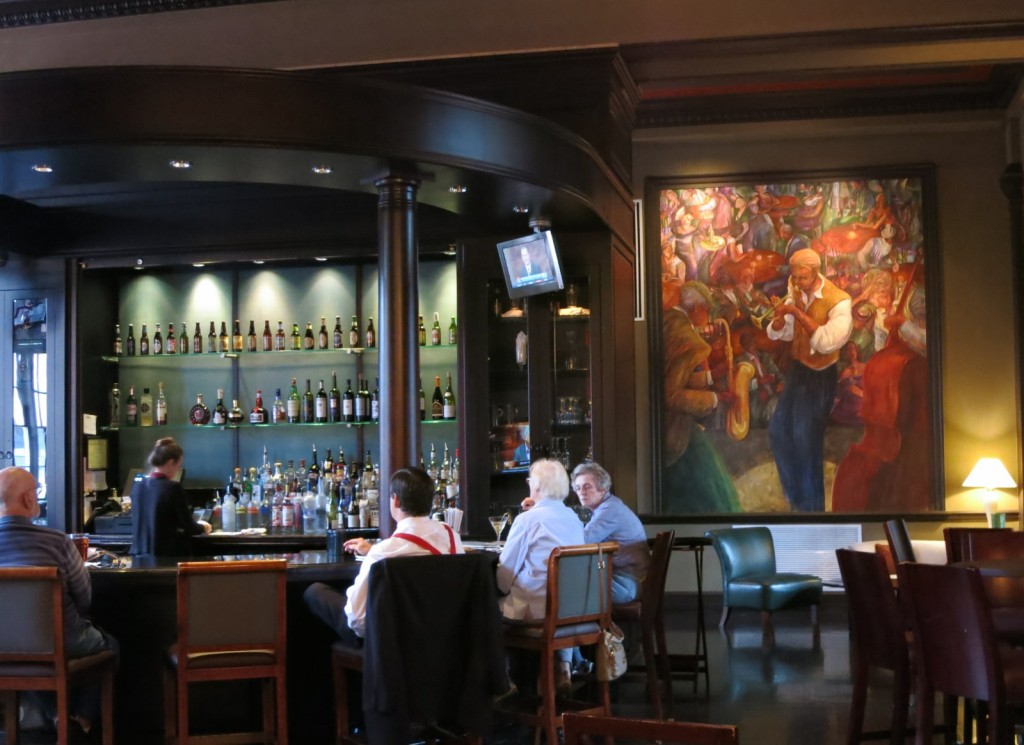 Top floor corner suites are kited out with travertine and granite bathrooms, a two-person, multi-jet, rainhead glass shower, and large tubes of True Blue Spa toiletries. The indoor pool – Greco-Roman cool – is a window away from the in-house spa and fitness room.
A beautiful lounge, just off the lobby, is dominated by a semi-circular bar and cool large-scale 20's jazz-era mural. Even on weekday nights, it's a popular gathering place. Rooms and suites from $119-$369.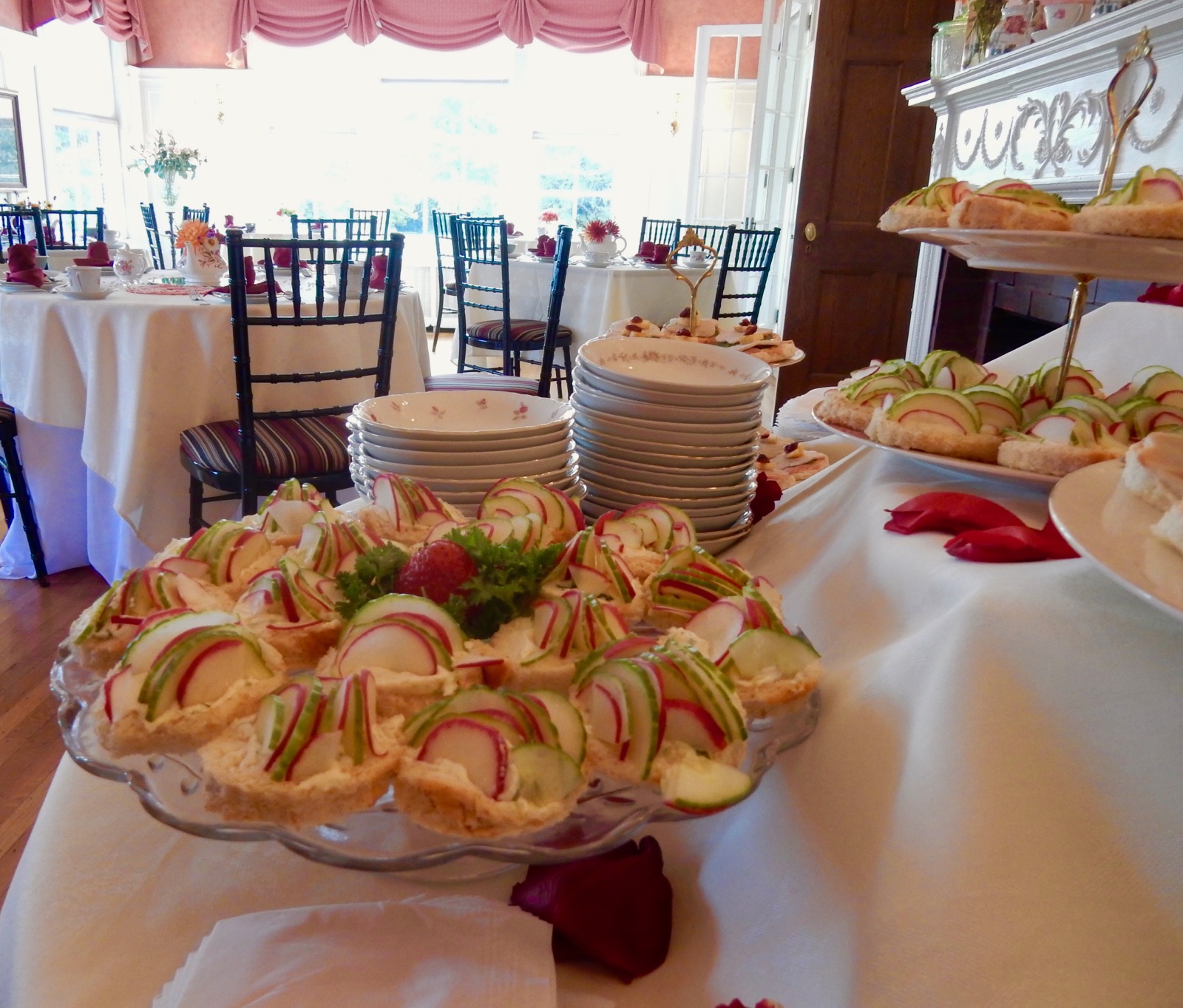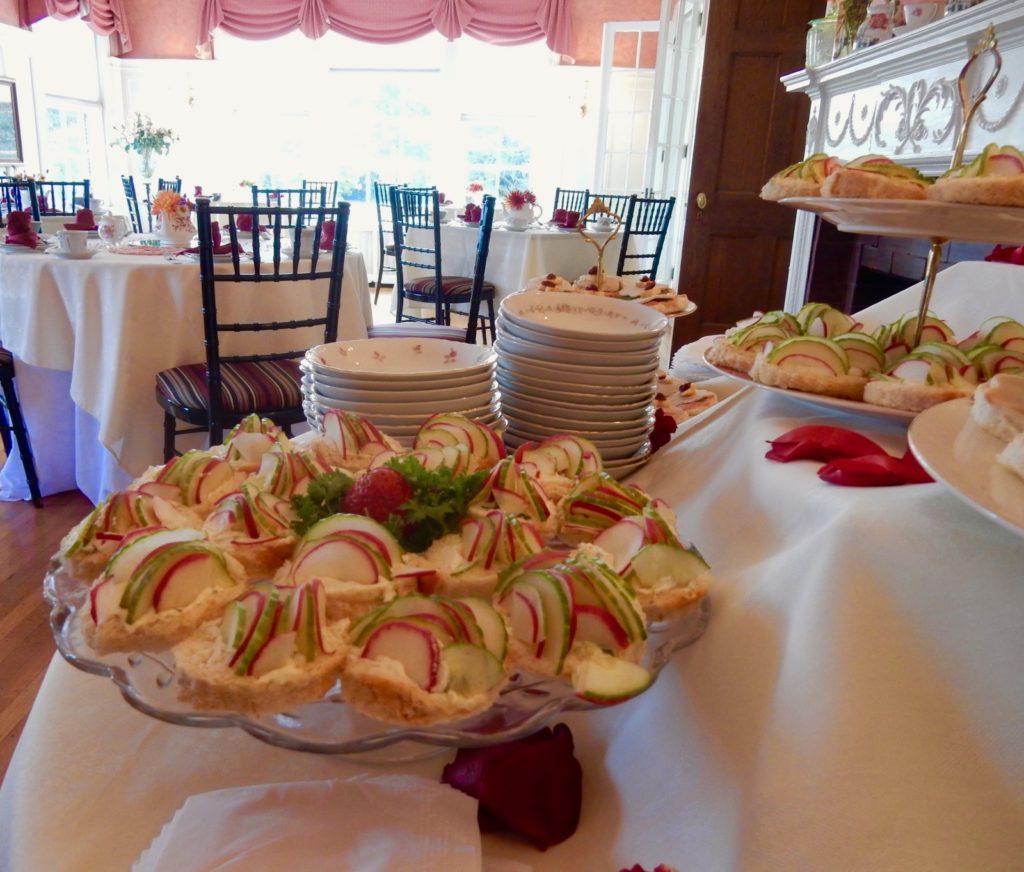 Now a well-known wedding venue, Rosemont, built in 1811 on 315 acres, was also the site of The Battle of Berryville in September 1863. As such, it's steeped in history. Come to this spectacular home for Manor House Tea ($44) on select Fridays and Sundays, or book one of the themed rooms, named for Roosevelt, Eisenhower, Kennedy, Johnson, Nixon, Einstein and others who stayed in here. It's not just for brides and grooms. $250-$350 per night.