WHY GO: A "port" town, Syracuse NY was sophisticated and open to the outside world from the get go, despite its remote Central NY location. The Erie Canal actually coursed right through downtown: old photographs convey a Venice-like panorama. But the the waterway was paved over in the 1920's.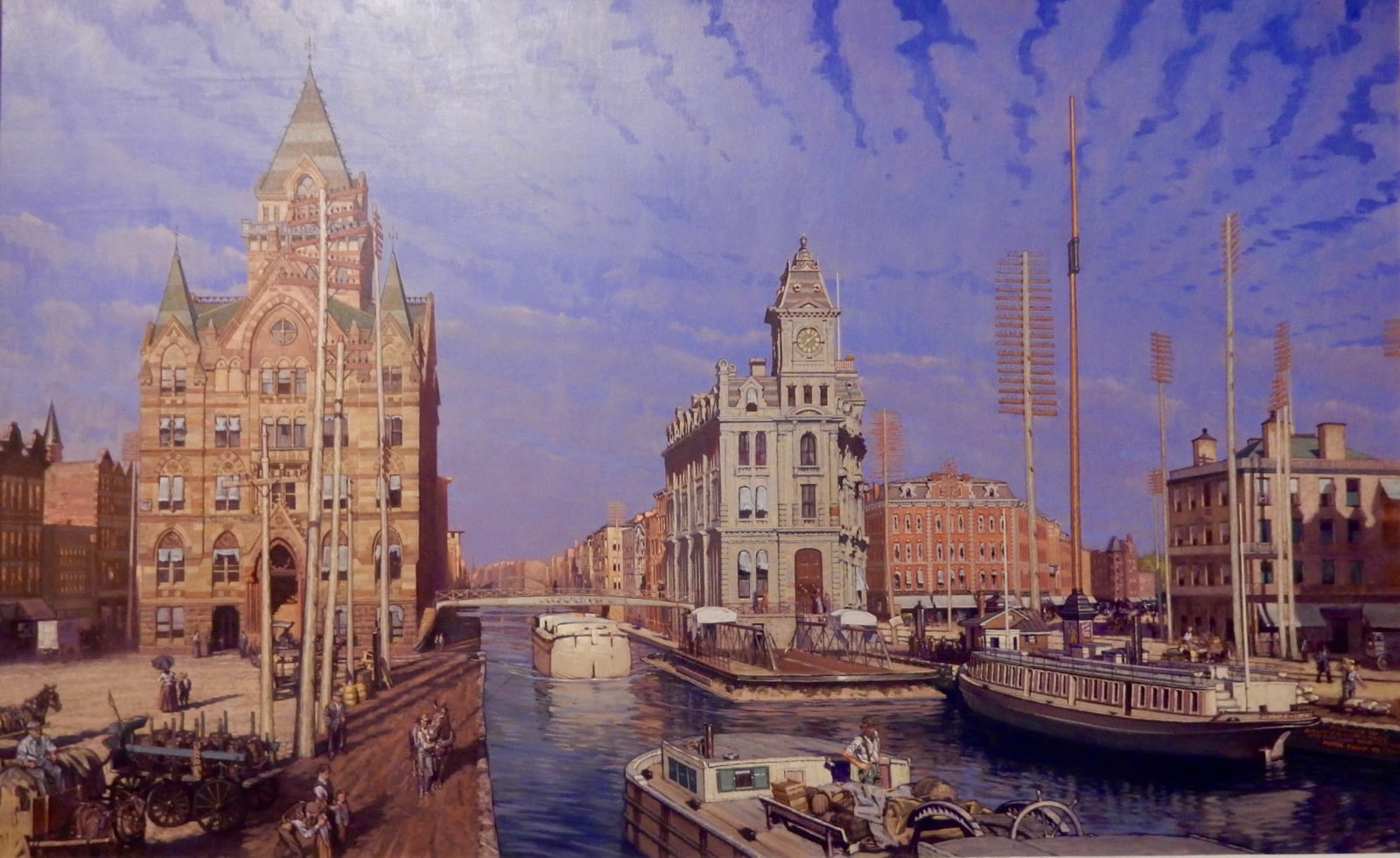 Syracuse has been going through a renaissance as of late, though, with the reopening of a fancy Prohibition-era hotel, renewed interest in an I.M. Pei designed museum, the honoring of Native American history that informed our Declaration of Independence and Constitution, and the rediscovery of a Women's Rights leader who was purported to be the model for Dorothy from the Wizard of Oz.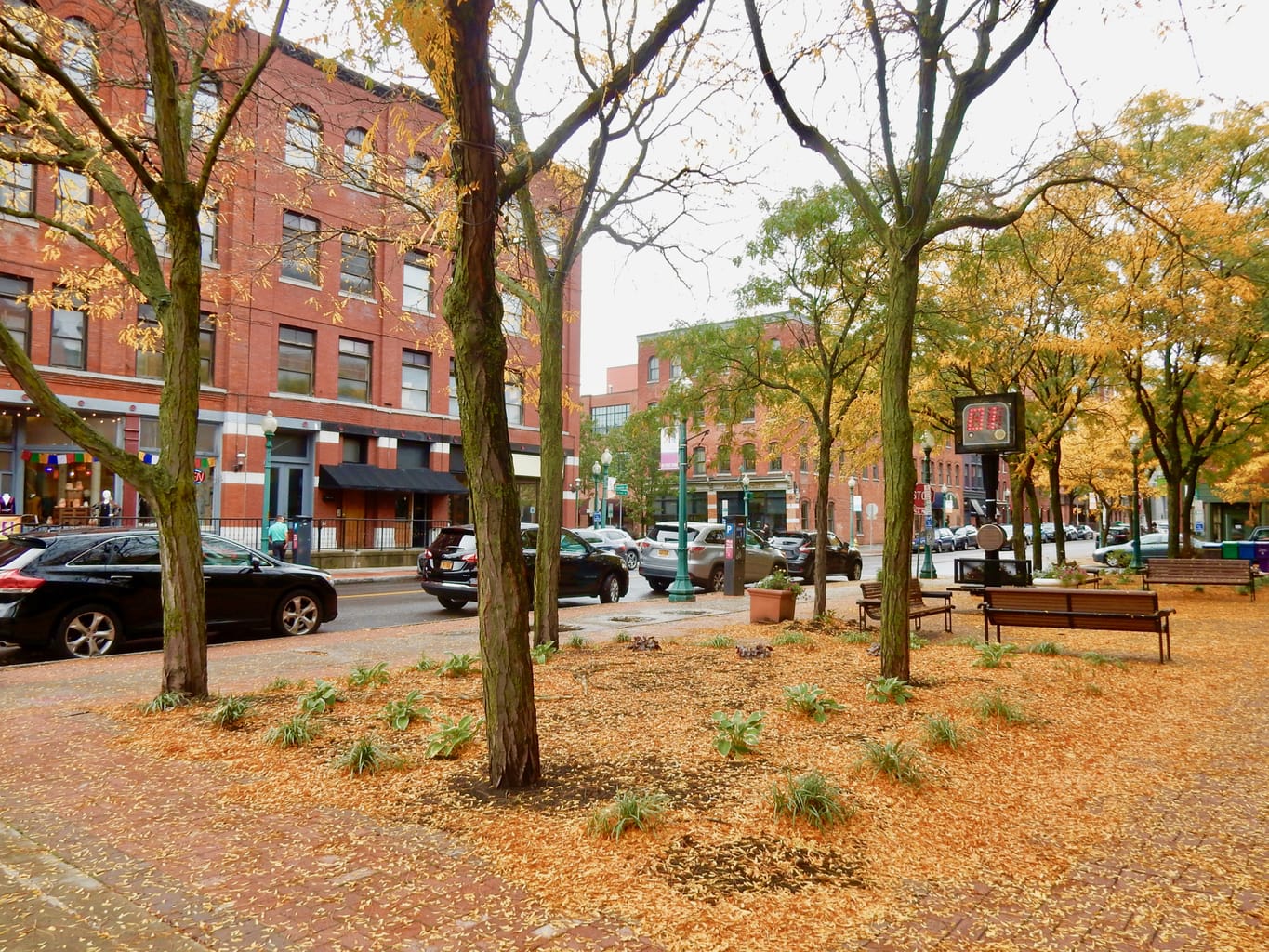 Oh, we don't forget the great places to eat. Or drink: like the fantastic distillery that doubles as the Best Apple Orchard in the USA.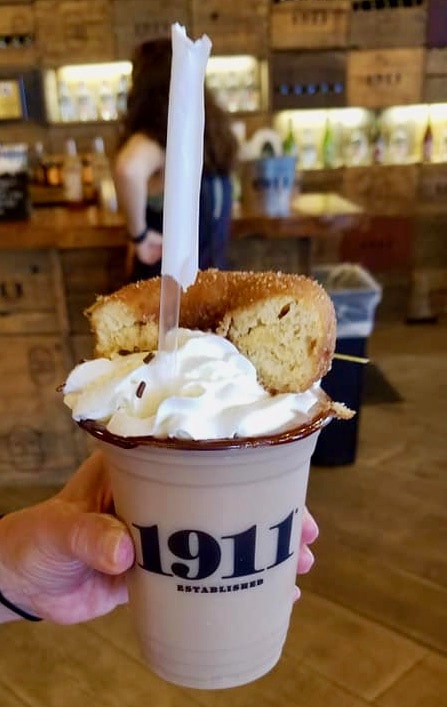 If you come to Syracuse just to drop your kid off at the University, plan to stay a day or two. You'll be surprised at what's new. Read on….
Want to extend your romantic and/or college trip? Find information in our post about Greater Utica NY.
Things to Do in and Around Syracuse NY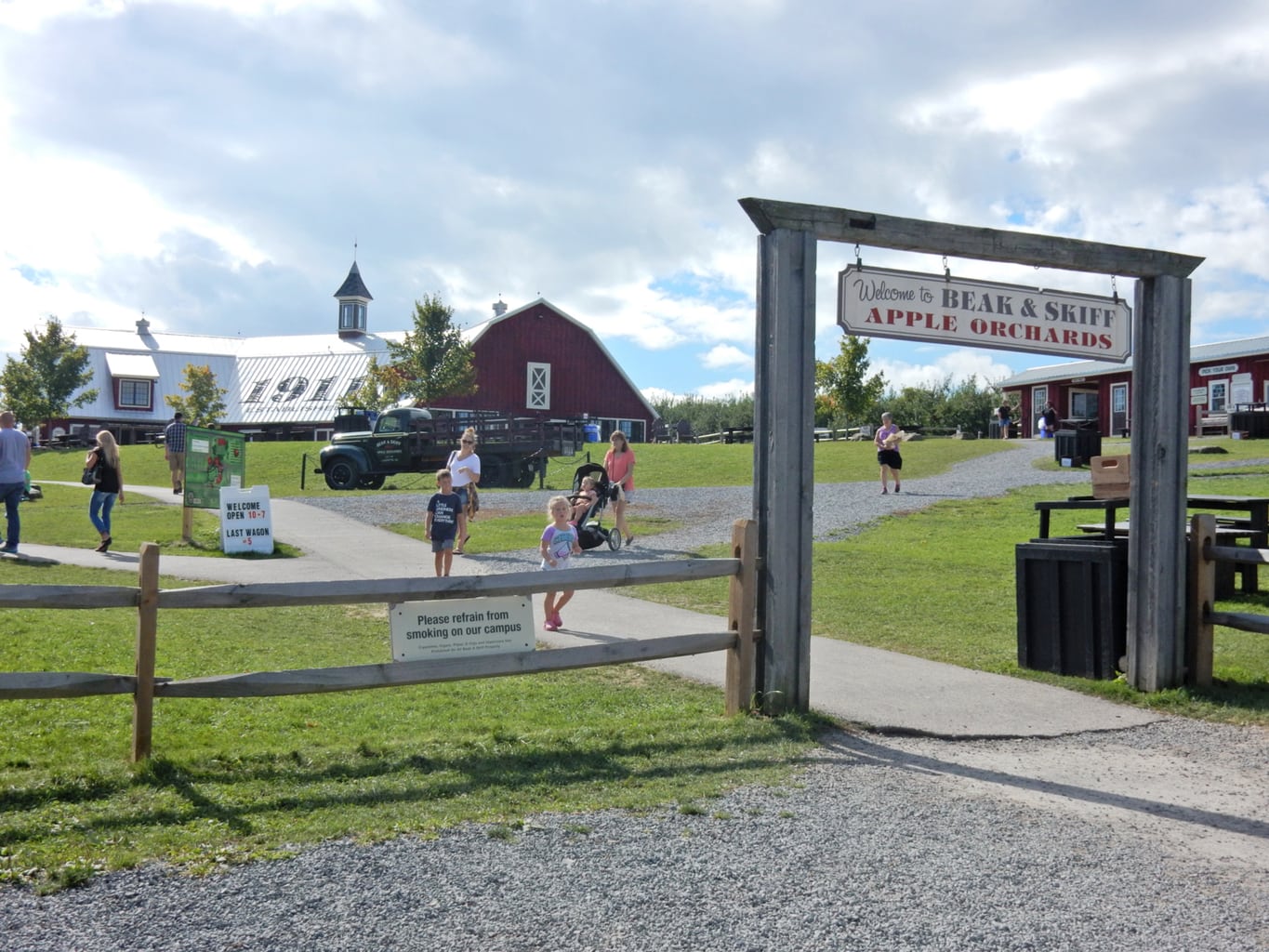 For several years in a row, USA Today named Beak & Skiff, now run by the 4th and 5th generation of its founding families, the "Best Apple Orchard in America."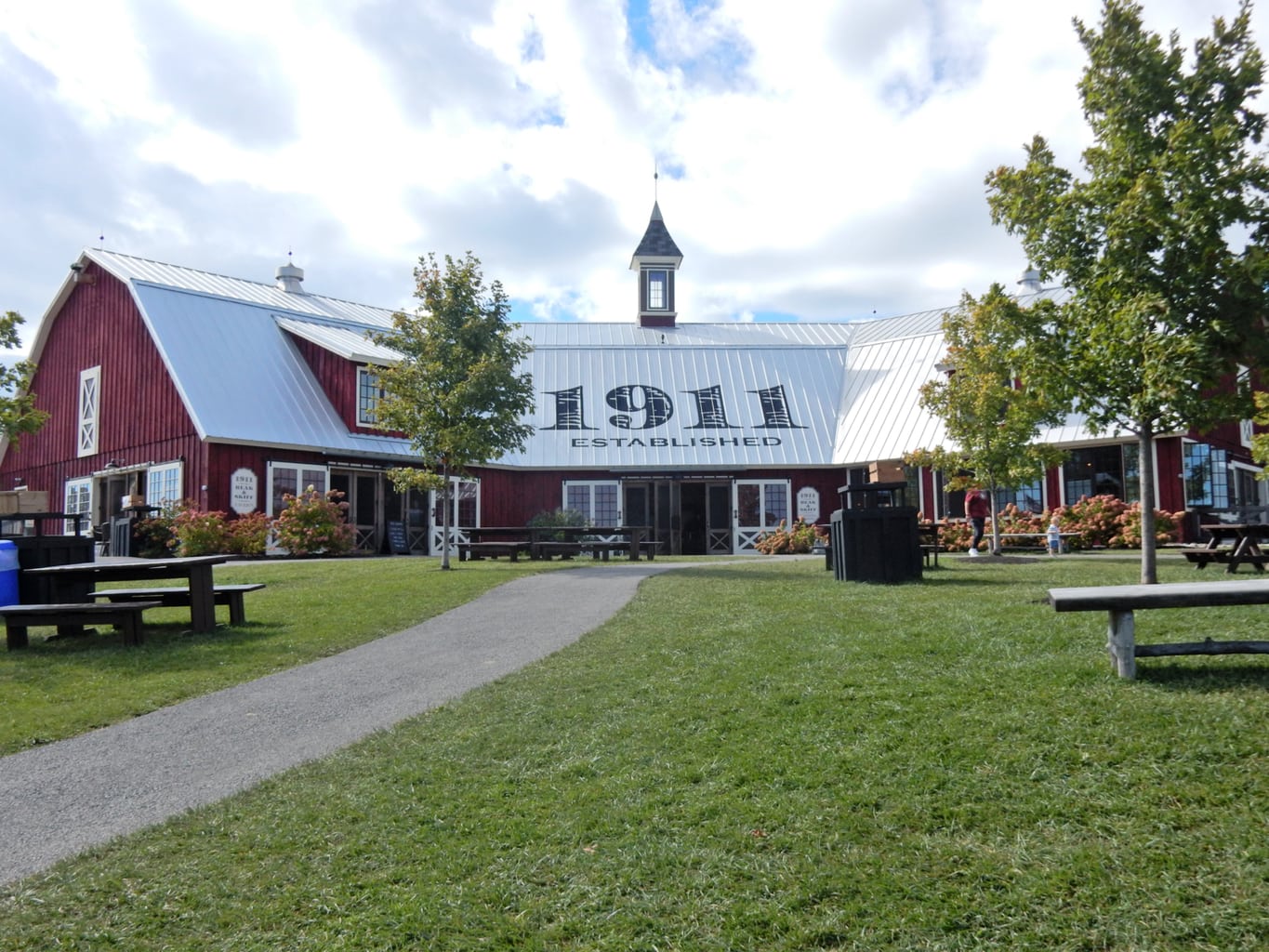 That would probably come as a surprise to those who go there strictly for the 1911 Distillery. There, apple-distilled flavored Vodka, Gin, and now Bourbon (the first product that is not made with apples) flow into tasting cups and are employed in the creation of smash-hit cocktails like the "Tipsy Cow" (Cold Pressed Coffee Vodka, Chocolate Milk, Coffee, topped with Whipped Cream and half a Cider Donut), and the "Orchard Palmer" (made with Honeycrisp Vodka). No surprise that bottles and cans of Hard Cider and Wine, pressed from home-grown fruit, soar off the shelves.
Families flock to Beak & Skiff each fall for "Pick Your Own Apples," an annual tradition for many around here. The "campus" of B&S on Apple Hill has been expanding over the years, as well. Each generation of Skiffs add something new, and there's no end in site.
Beak and Skiff History
First Generation, George Skiff and Andrew Beak planted apple seeds in 1911. Third Generation, Marshall Skiff, added the popular U-Pick. Fifth Generation, Eddie Brennan (whose mother, Debbie, is a Skiff), now manages the 1911 Distillery and Cidery, and has eyes trained on a wedding business and upgrading the 1911 Store and Tasting Room for year round events.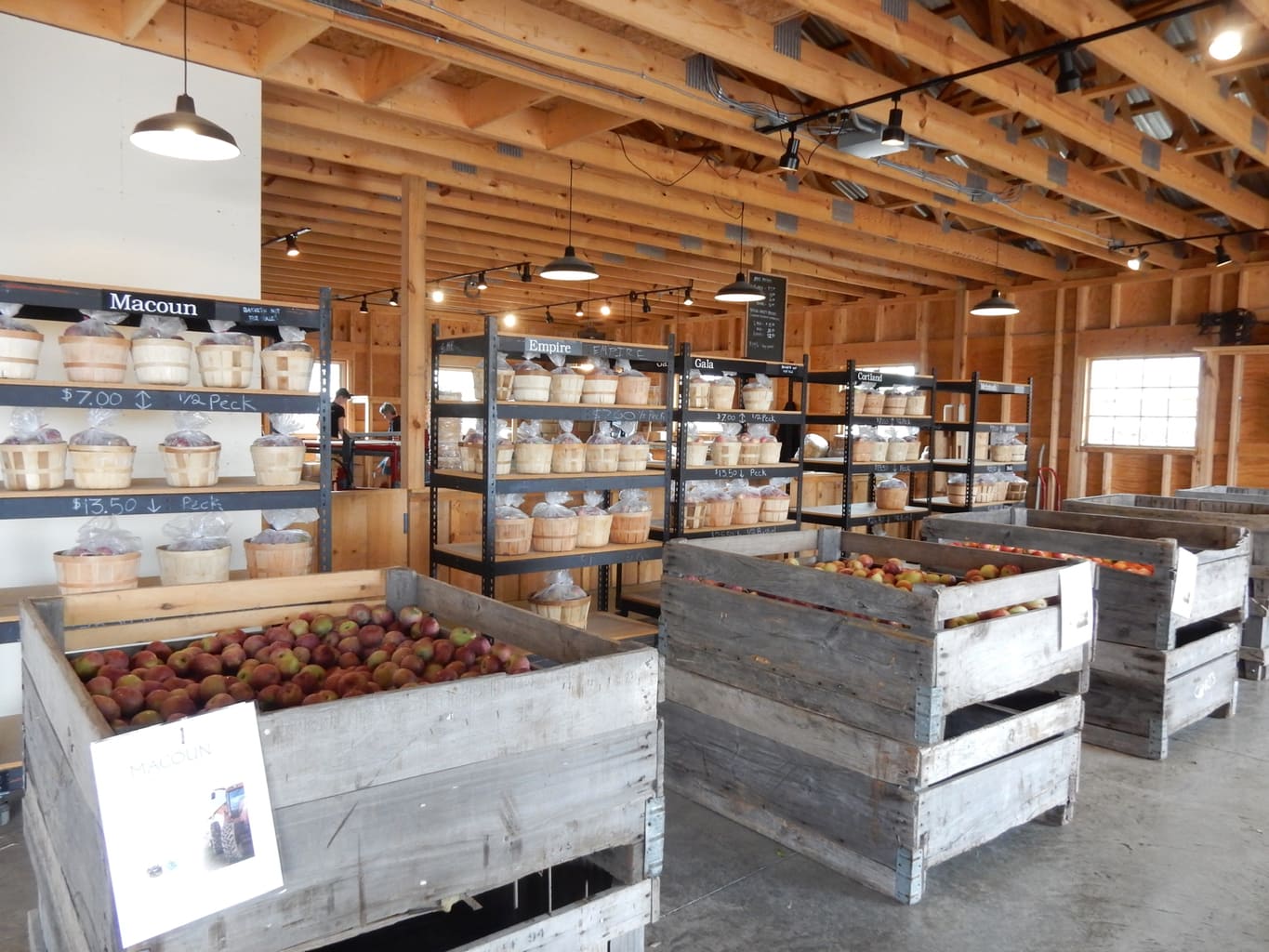 Sure, you can jump on a hayride out to the orchards, and try sips of distilled beverages before buying. But also, grab a quick meal at the Café and Bakery (those cider donuts! Or fantastic Apple Pie), and purchase orchard related knickknacks in the General Store. And of course you can bypass the "picking" completely and gather up a bushel any of 20 varieties of just-picked apples in the Apple Barn.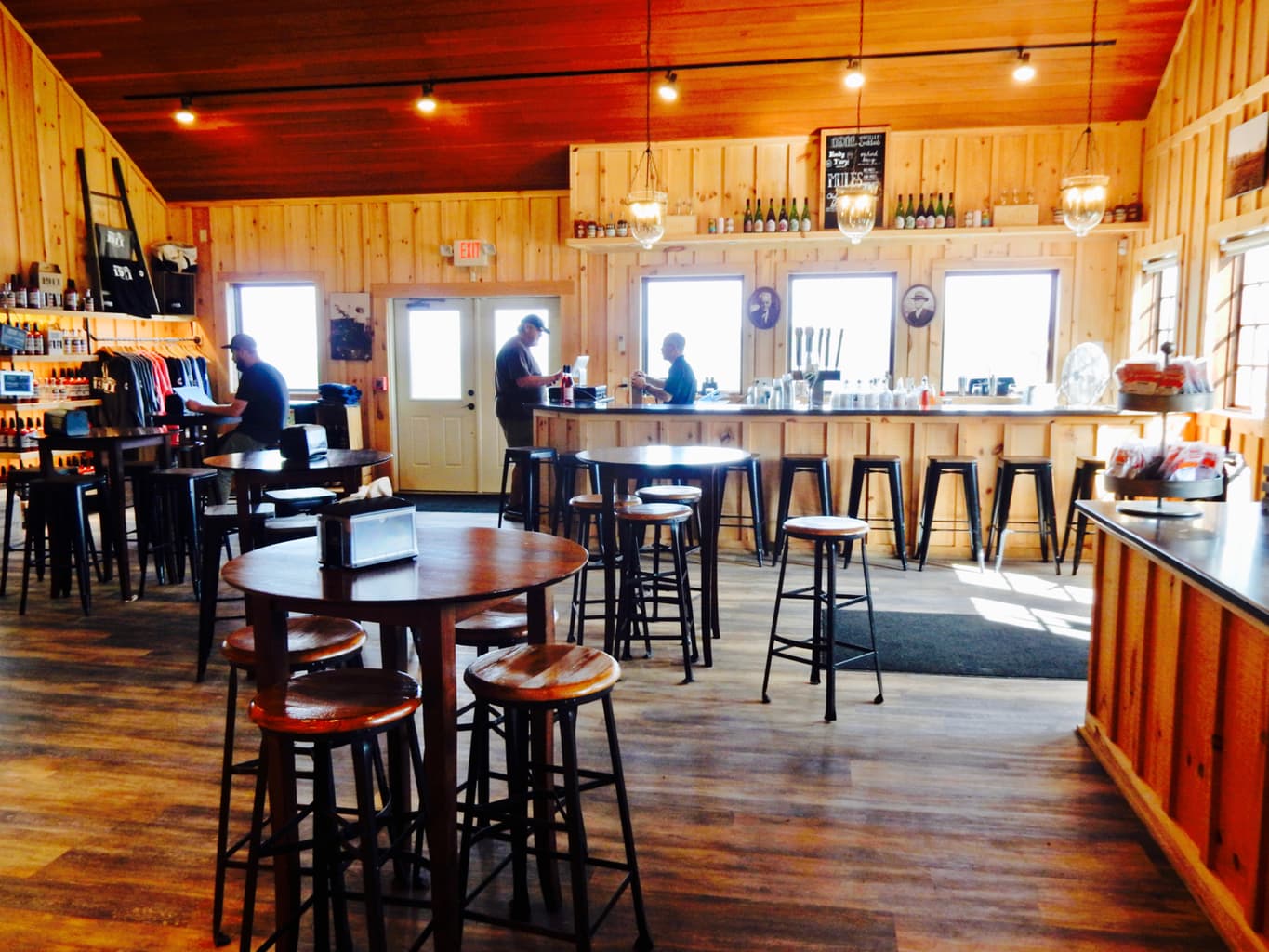 If you're into hard cider, wine, and spirits sampling, but want to avoid all the Orchard crowds, head a minute down the road, take a right on Rt. 20, and you'll find the 1911 Distillery and Rickhouse.
For now, it's a less frenetic place to sip on the best of Beak & Skiff's boozy offerings.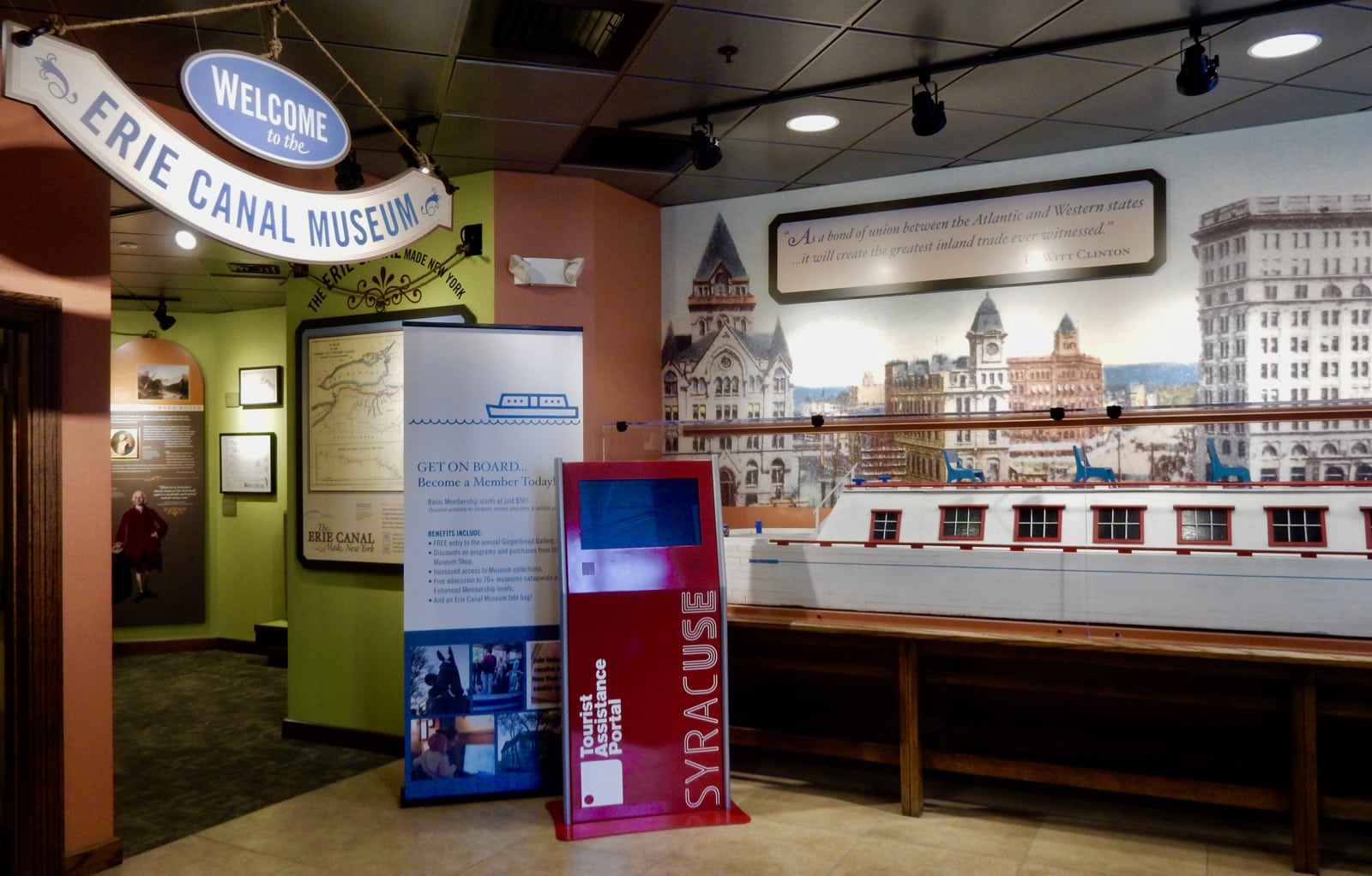 Did you know that the Erie Canal cut straight through downtown Syracuse? In fact, the older part of the Erie Canal Museum was, in 1850, the Weighlock Building – a pull out where canal boats were weighed for tolls, like semi-tractor trucks are today. It's preserved as the last remaining canal boat weigh station in America.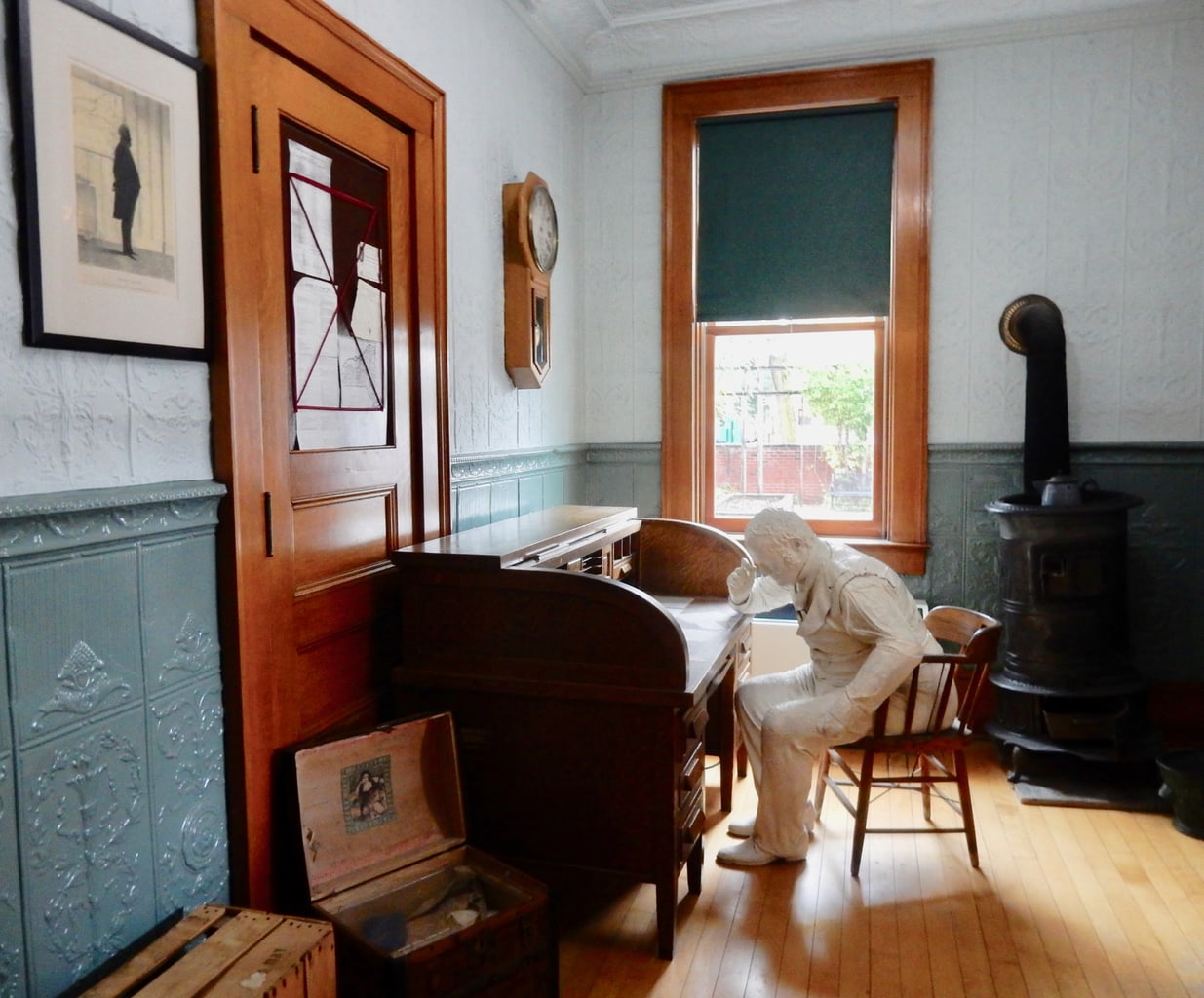 The Erie Canal Museum first opened in 1962. Since then, it has doubled in size, with a new 2016 first floor exhibit showcasing "functional interactives" (phone stations where you can listen to stories) amid text panels and artifacts.
Between 1817 and its completion in 1825, constructing the Erie Canal was a shot in the dark – a project undertaken by workers with no formal engineering training.
Hacking out a 363-mile long ditch of water, linking the Atlantic Ocean to the Great Lakes through the New York wilderness, joked many, "was it's own School of Engineering."
A Canal Ran Through It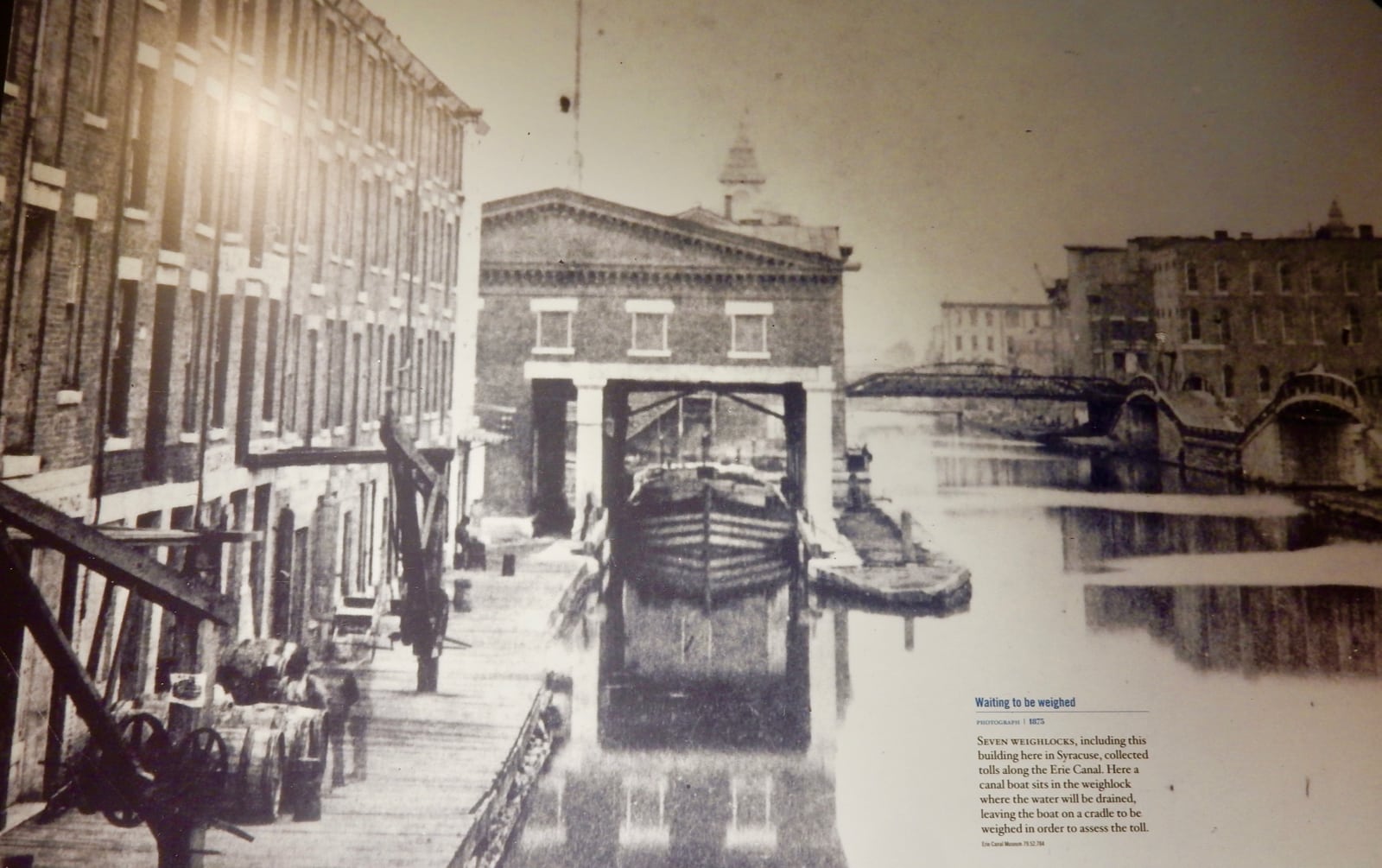 The decade of the Canal's construction happened to align with the heyday of postcards. Fortunately for museum visitors, plenty of pictures document each phase. Enlarged and on display, these tinted photographs impart both a realistic and romanticized version of the historic "Wedding of the Waters."
Some visitors get so caught up in these photos, signage, and artifacts, they completely miss the walk-on canal boat, which is definitely a museum highlight.
Don't Miss the Canal Boat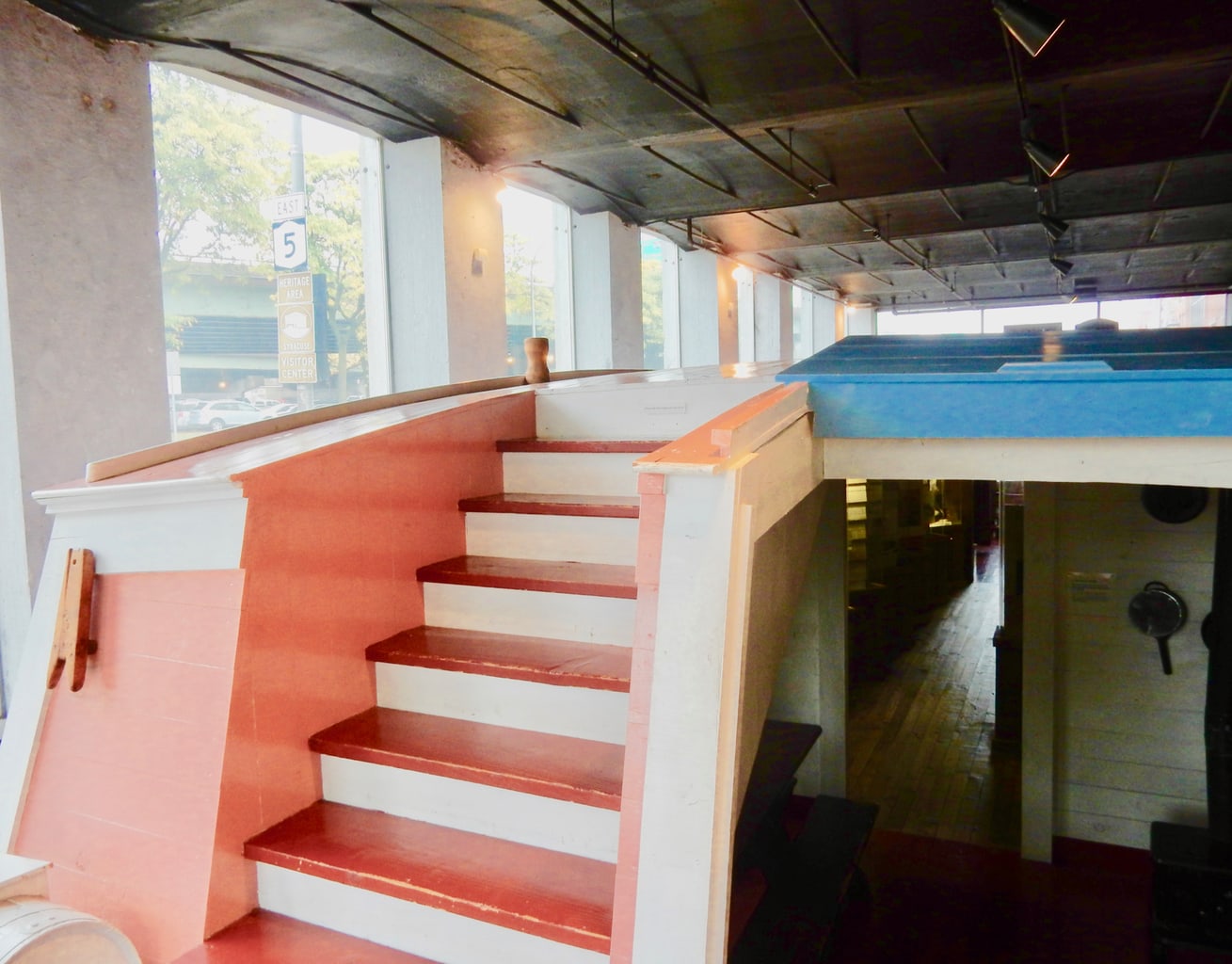 To find it, walk past the Weigh-master's office. The full sized replica of a Line Boat (used by a shipping "line"), that carried cargo, passengers, and maintenance workers, is housed in its own room.
Canal work was a family affair. Each family lived in the back of the boat. The middle section was generally used for storage and cargo, and the bow area accommodated very, very basic passenger quarters consisting of three salami-sized hammocks one above the other. (Overnight train sleeping compartments seem luxurious in comparison). Look behind and ahead of the boat, and get a sense of where the Canal ran through town. It's now a paved city thoroughfare.
Don't miss a ride up in the multi-media elevator to the second floor where you'll find vignettes of life in a Canal Town: a Tavern, General Store, and Guild Theater. By dint of canal-town status, goods and people came to Syracuse from all over the world, thus worldly from the start. Open Mon-Sat 10-5, Sun 10-3, free but $10 suggested donation.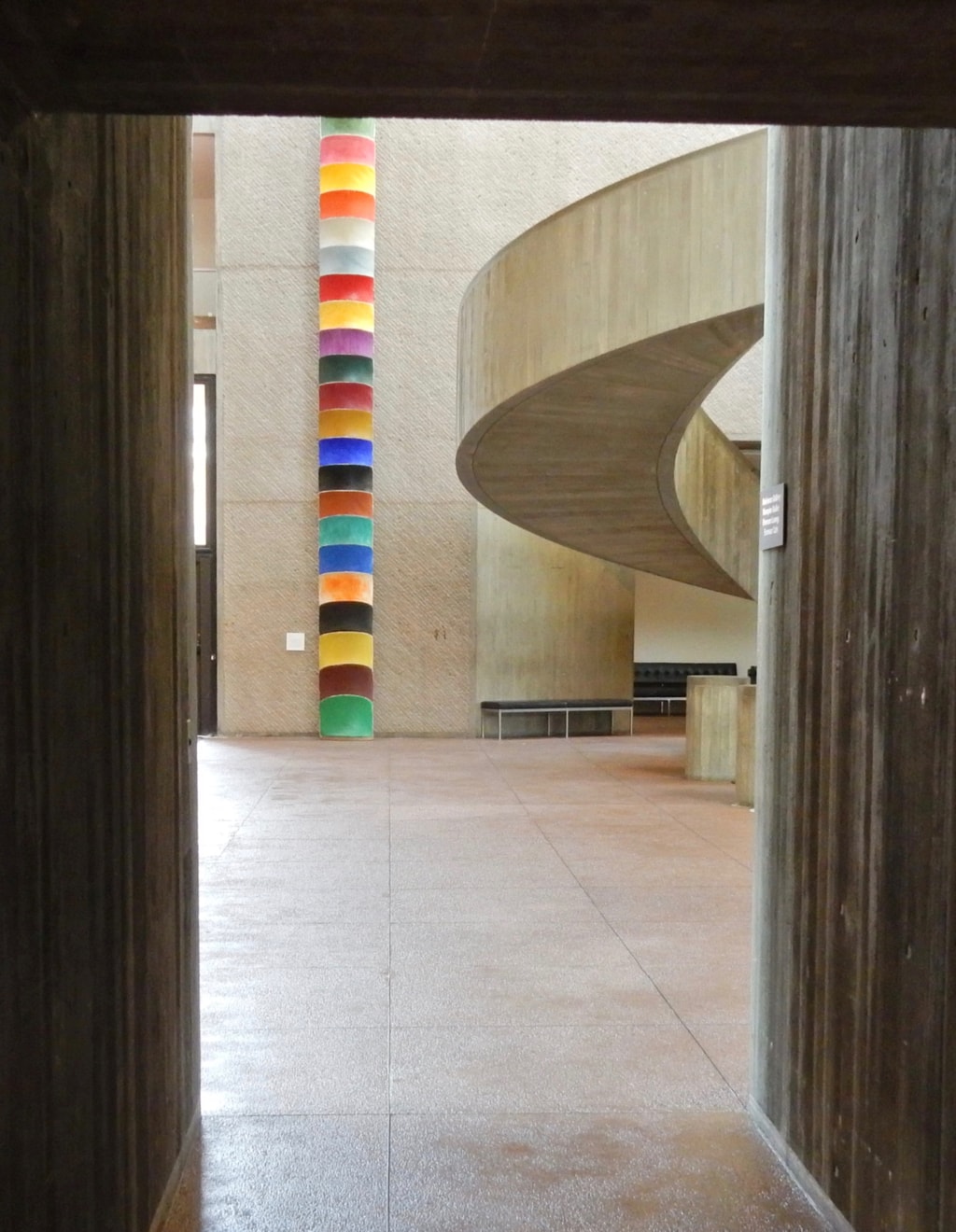 I.M. Pei's second commission in Syracuse (after S.I. Newhouse School of Public Communications at Syracuse U), the Everson Museum is a work of art in itself.
Boxy and weighty like a bomb shelter – the durable concrete structure that sits in the city's central plaza is nothing like the delicate projects Pei would subsequently design. But inside, the architecture – all muted grey cement walls and curvy staircases – are counterpoint to vividly colored ceramic art that is the heart of the Everson.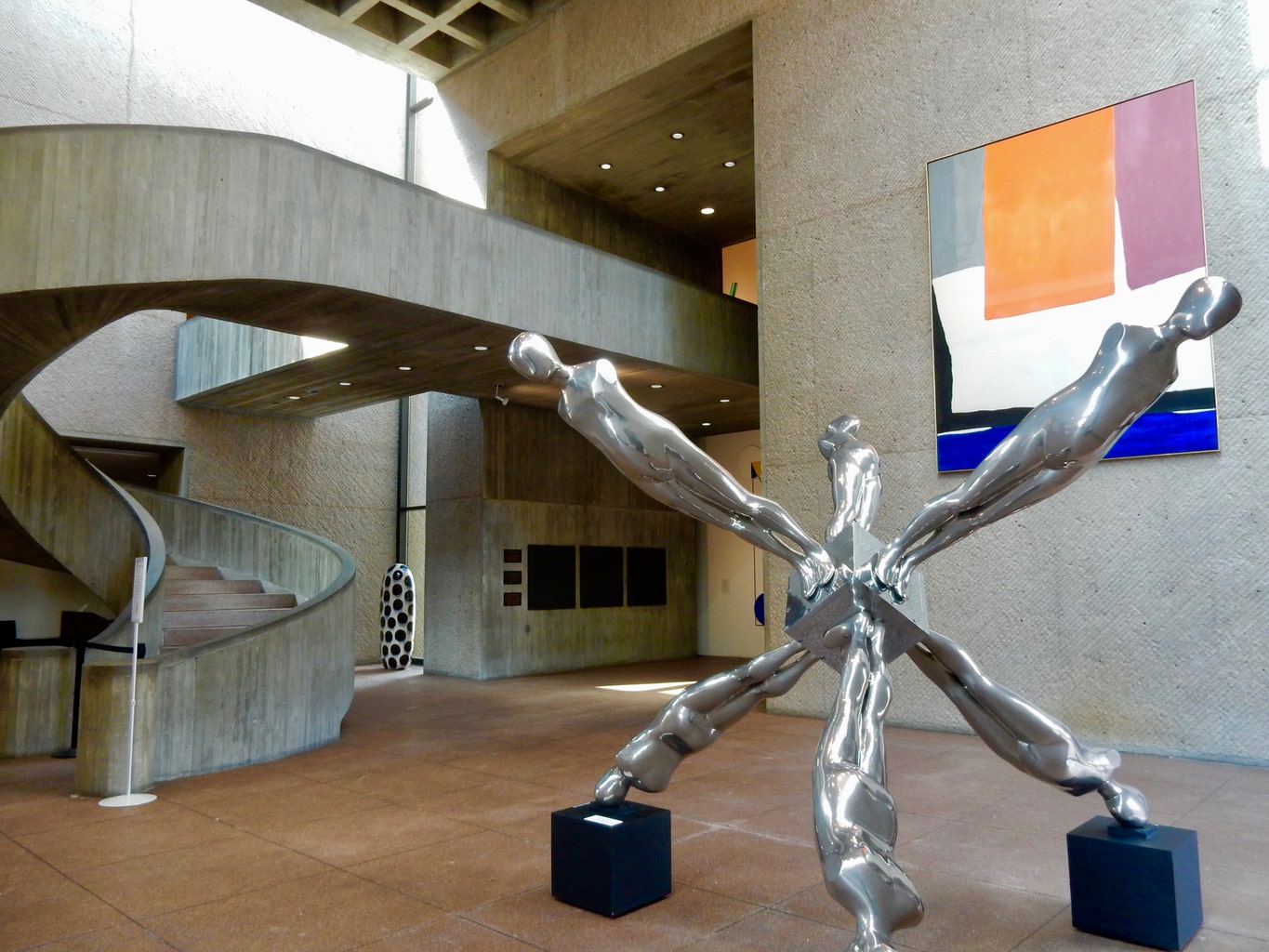 The downstairs gallery houses fragile pieces within a large glass box in the center of the room, and in mirrored shelves along each wall. It's airy and novel. Definitely worth a viewing every few months as exhibits change periodically.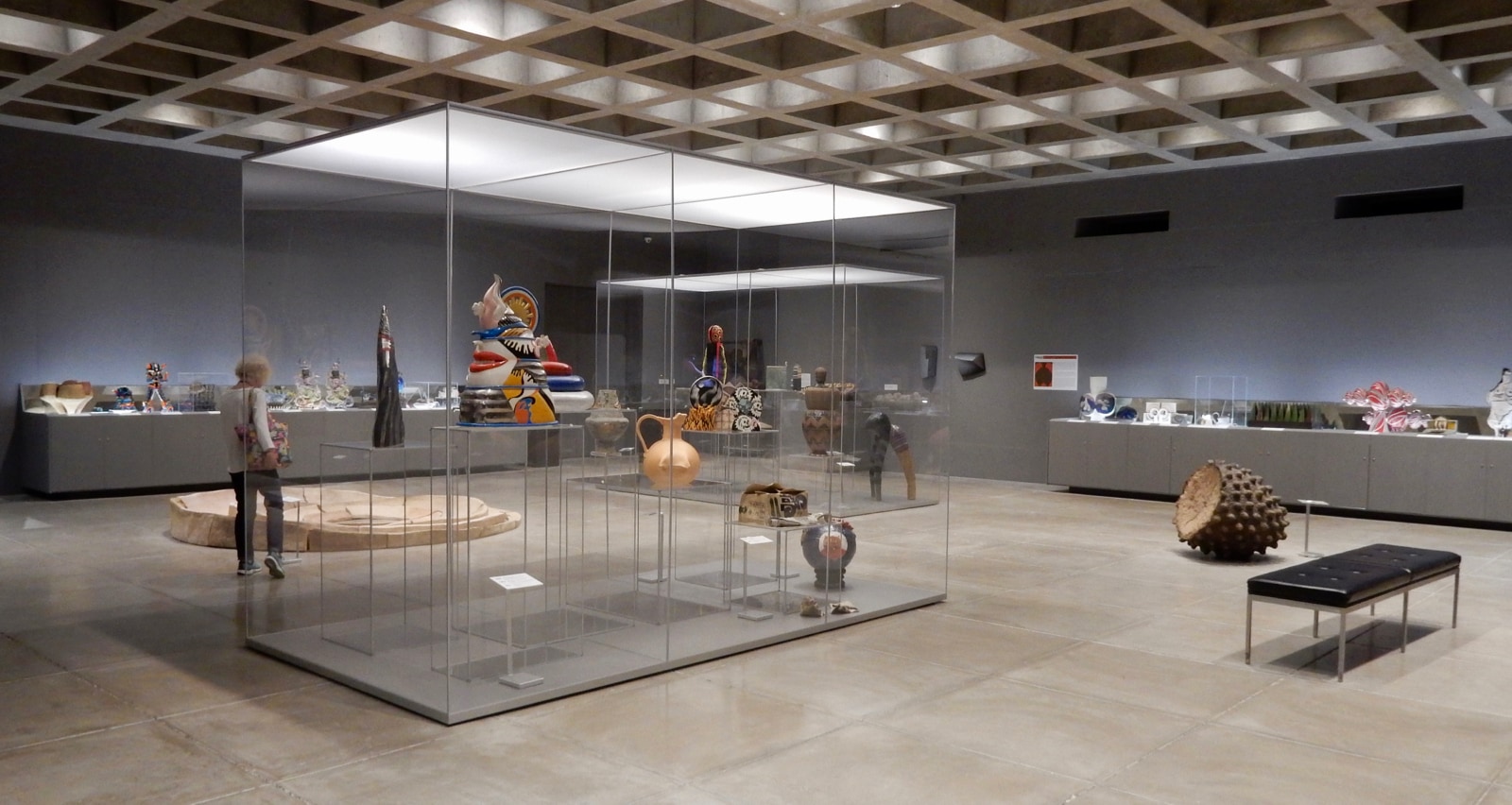 Two paintings, purchased with funds raised by the community and school groups in the 1970's however, always remain on view. See an original Gilbert Stewart portrait of George Washington, and one of 62 variations of The Peaceable Kingdom by Edward Hicks.
Don't miss the boutique-like gift shop, which has great, affordable contemporary ceramic art and jewelry for sale. $8 adults, kids under 12 free, open Wed-Sun noon – 5, Thurs. till 8pm.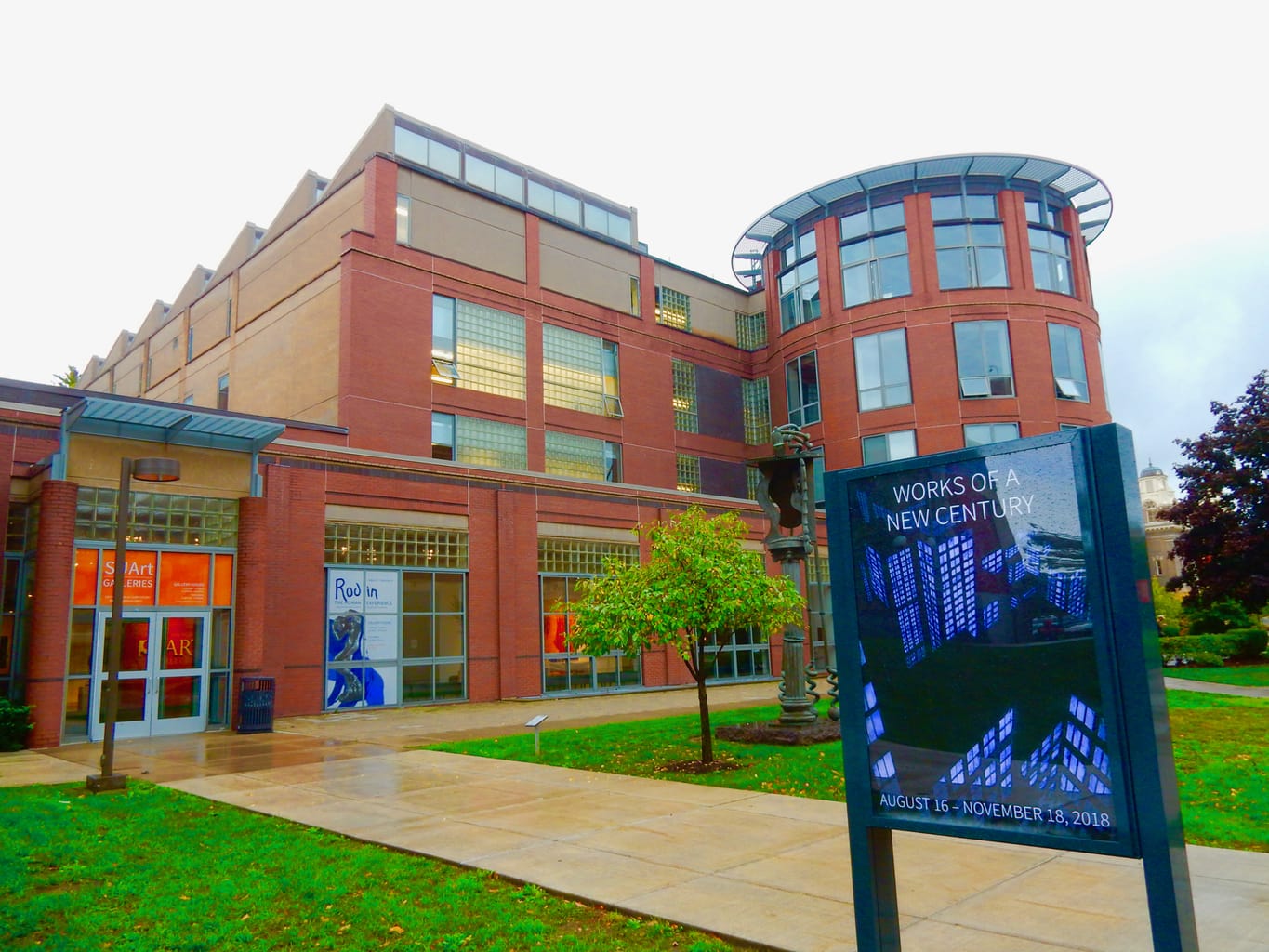 With a concentration on American Prints, and a permanent collection that rotates every semester, the SUArt Gallery on the Quad is worth a look even if you are not an art student – or even a student – at Syracuse University.
This collection of 45,000 objects, from the 15th to 21st centuries includes the work of world-renowned artists. Recently, sculptures by Rodin from the Iris and B. Gerald Cantor Collection were on view.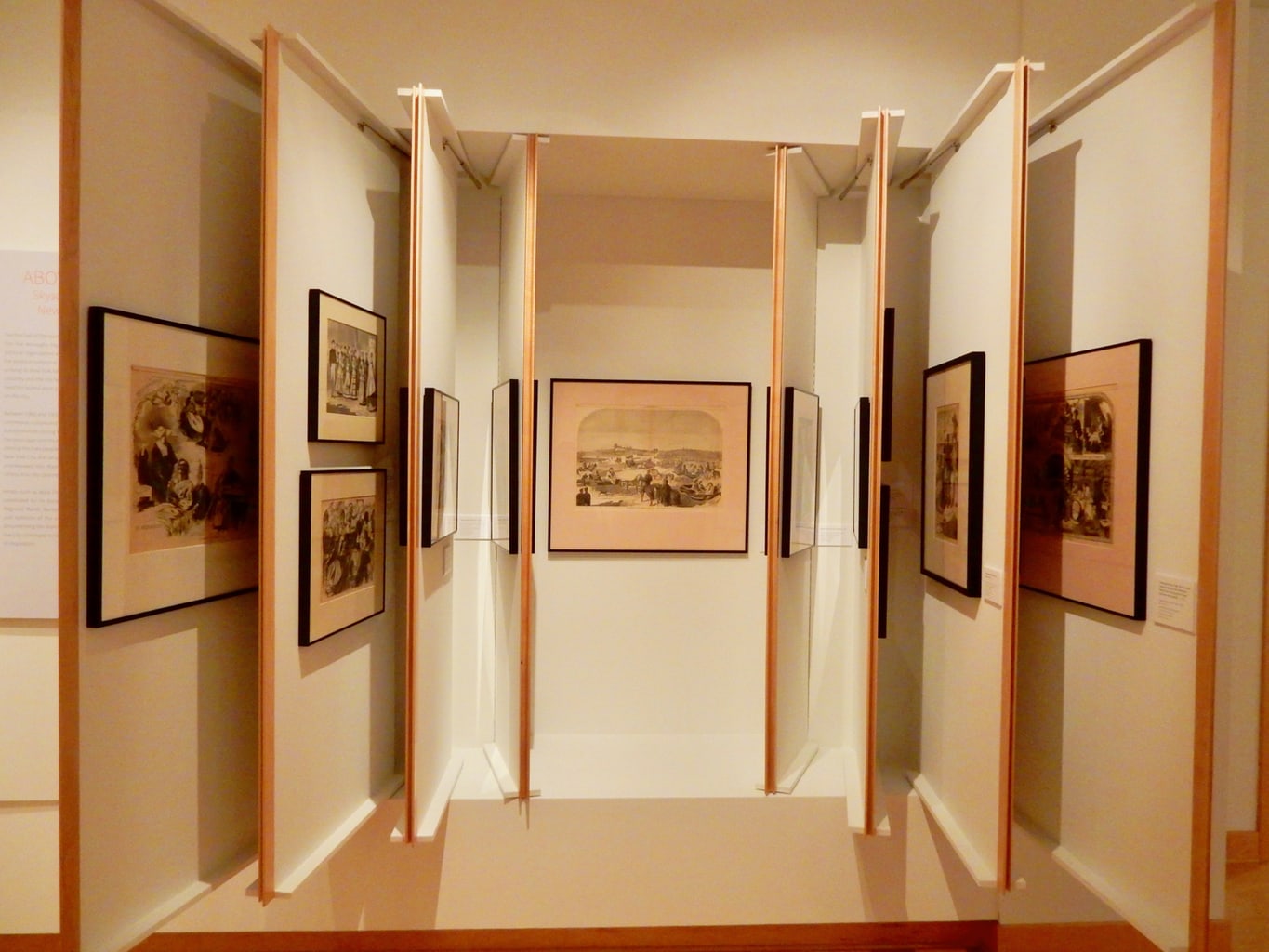 Holdings include Burchfield, Avery, Man Ray – and, much to my surprise, a Salvador Dali portrait of Col. Jack Warner, founder of Warner Bros.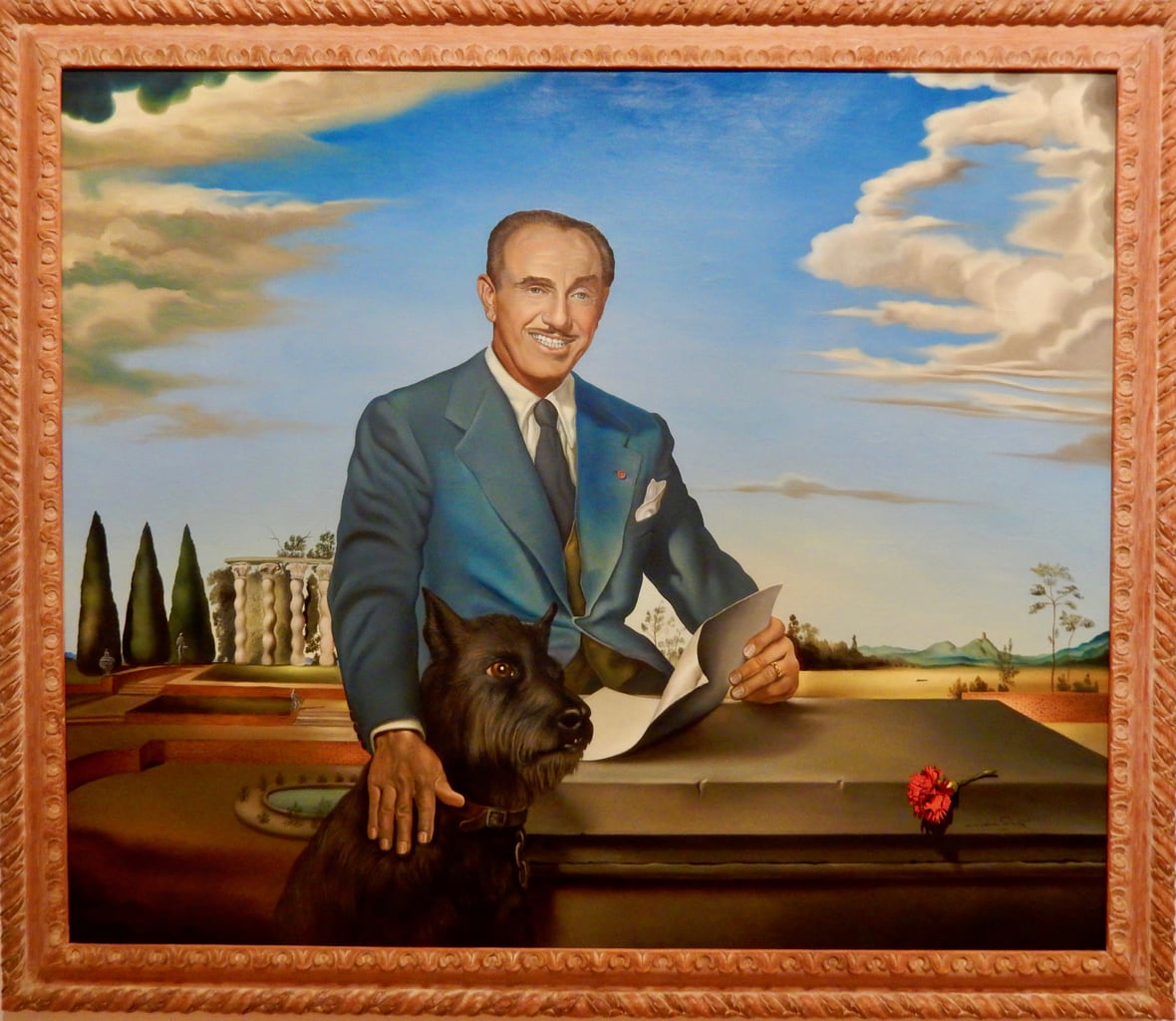 Warner looks so much like Walt Disney, many viewers mistake one entertainment mogul for another. Apparently, Warner hated Dali's depiction of him so much, he ordered the painting to be installed in his doghouse.
Ask to see the myriad prints in Study Cabinets –a series of cases within cases constructed with engineering precision by campus Physical Plant mechanics. The Print Room contains over 20,000 renderings in architectural drawers, and is open to all for perusal or study. Open Tues-Sun 11-4:30, Thurs till 8, free.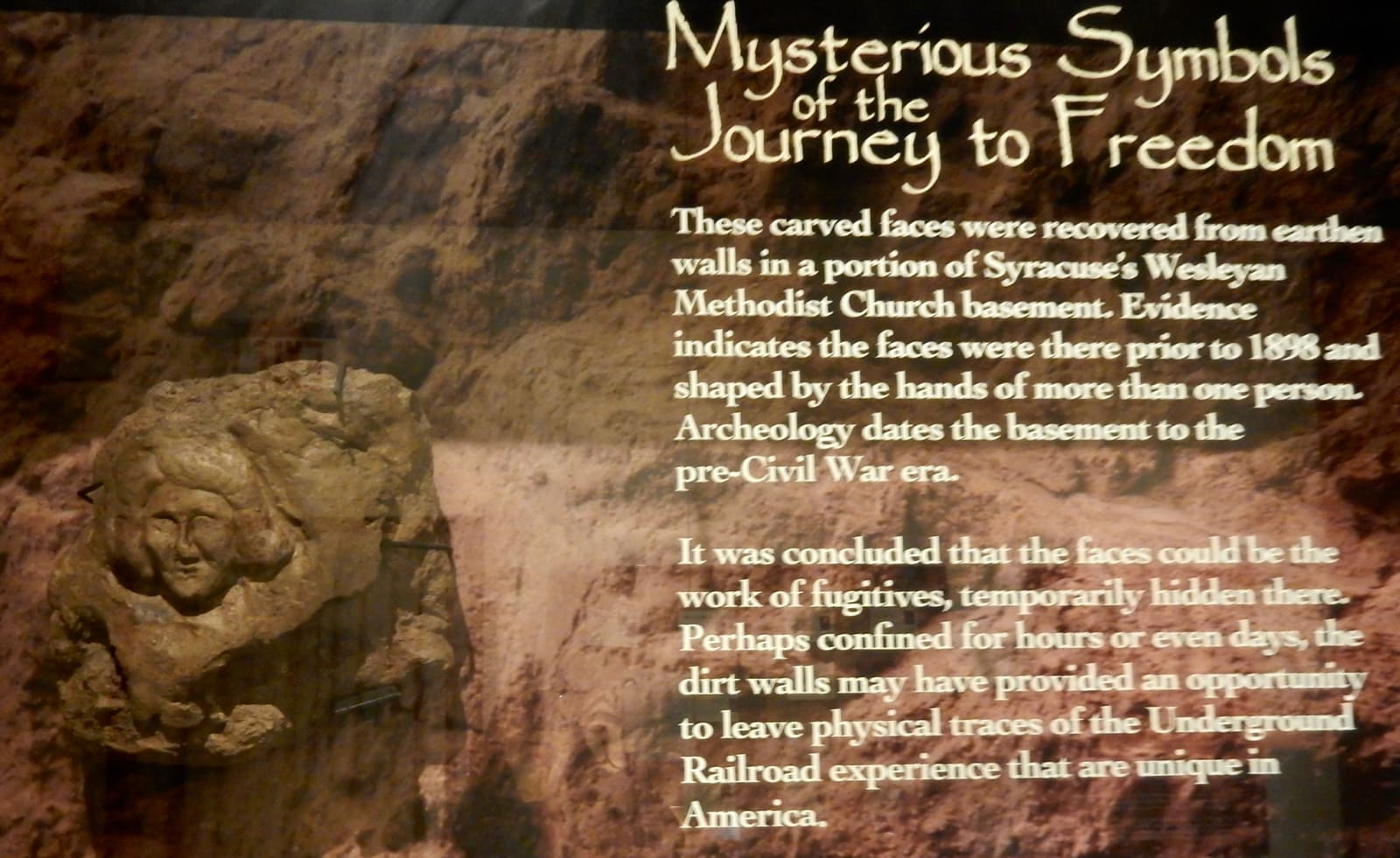 I'm always on the lookout for the most profound or strangest things in any local history museum. The OHA did not disappoint. One exhibit illuminates set of small earthen faces, discovered in a small tunnel under the former Wesleyan Methodist Church (now The Mission Restaurant), dating to the mid 1800's.
It is assumed that runaway slaves, hidden by abolitionist parishioners, crafted these clay characters while awaiting their next move. Like many in this region, the Church openly participated in the Underground Railroad, which had "stations" throughout upstate NY.
Native Americans and American Immigrants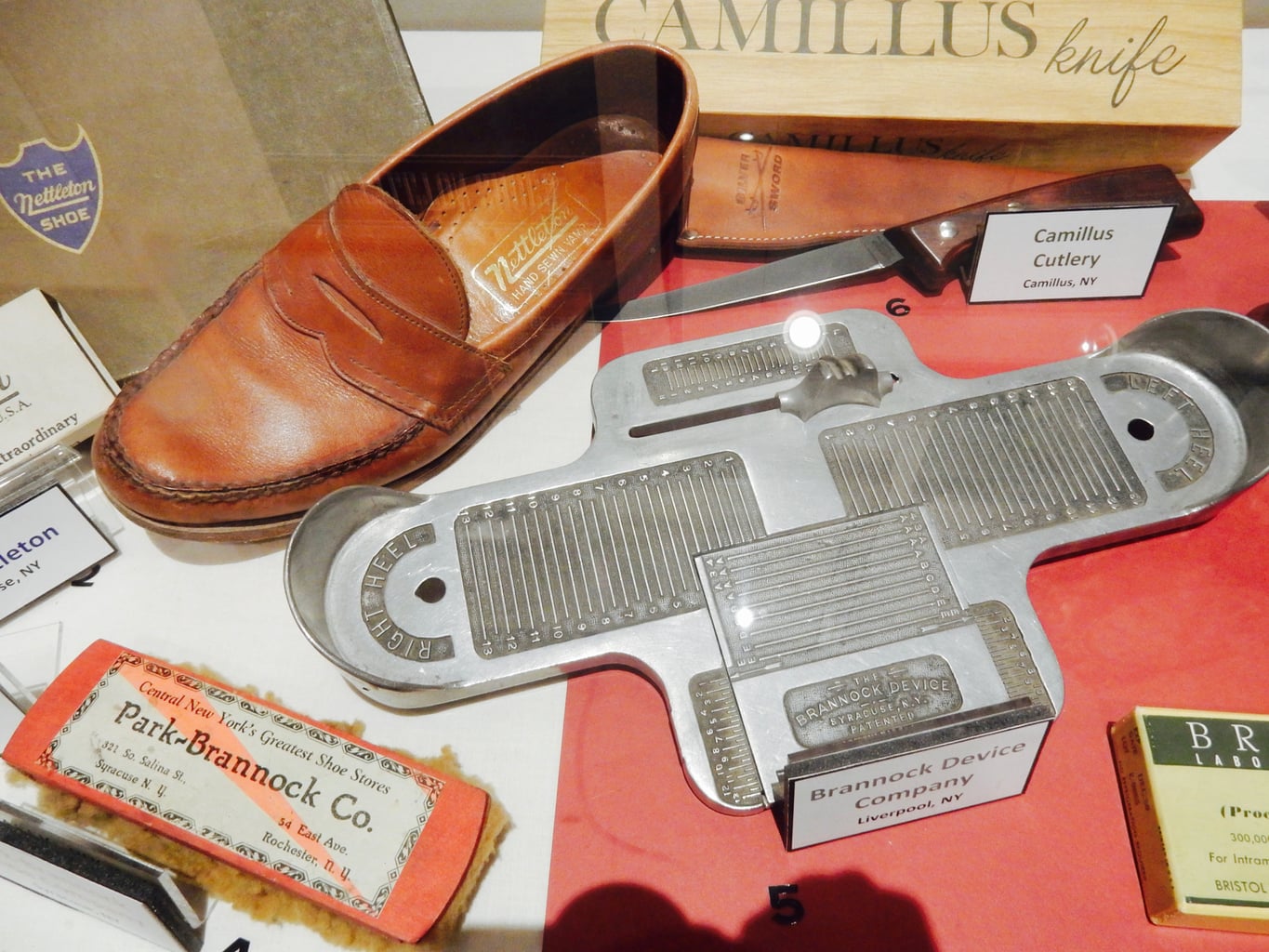 You'll also find Native American artifacts and stories of the Five Nations that constitute the Iroquois League – Seneca, Cayuga, Onondaga, Oneida and Mohawk. (These tribes are now collectively referred to in their native name, the Haudenosaunee).
Discover not-so-native-American Syracuse history, too. Such as the 3 Jewish Eastern-European-born Shubert Brothers who moved with their family here in 1882. The showbiz bro's purchased a theater in Manhattan in 1900, pioneering the Broadway District as the hub of American Theater that we recognize today.
What common items were invented and are still manufactured in Syracuse? Well, one is the Brannock Device, known to all as the slidey thing that measures your foot size in shoe-stores. And also, every single candle used by the Vatican – made by Cathedral Candle Company. (Get yours in this gift-shop – the only place to buy them retail in the USA).
Syracuse based Marsellus Casket Co., which closed in 2003, was the preferred coffin-maker for the Kennedy family and Nancy Regan, who was one of the last to be buried in one.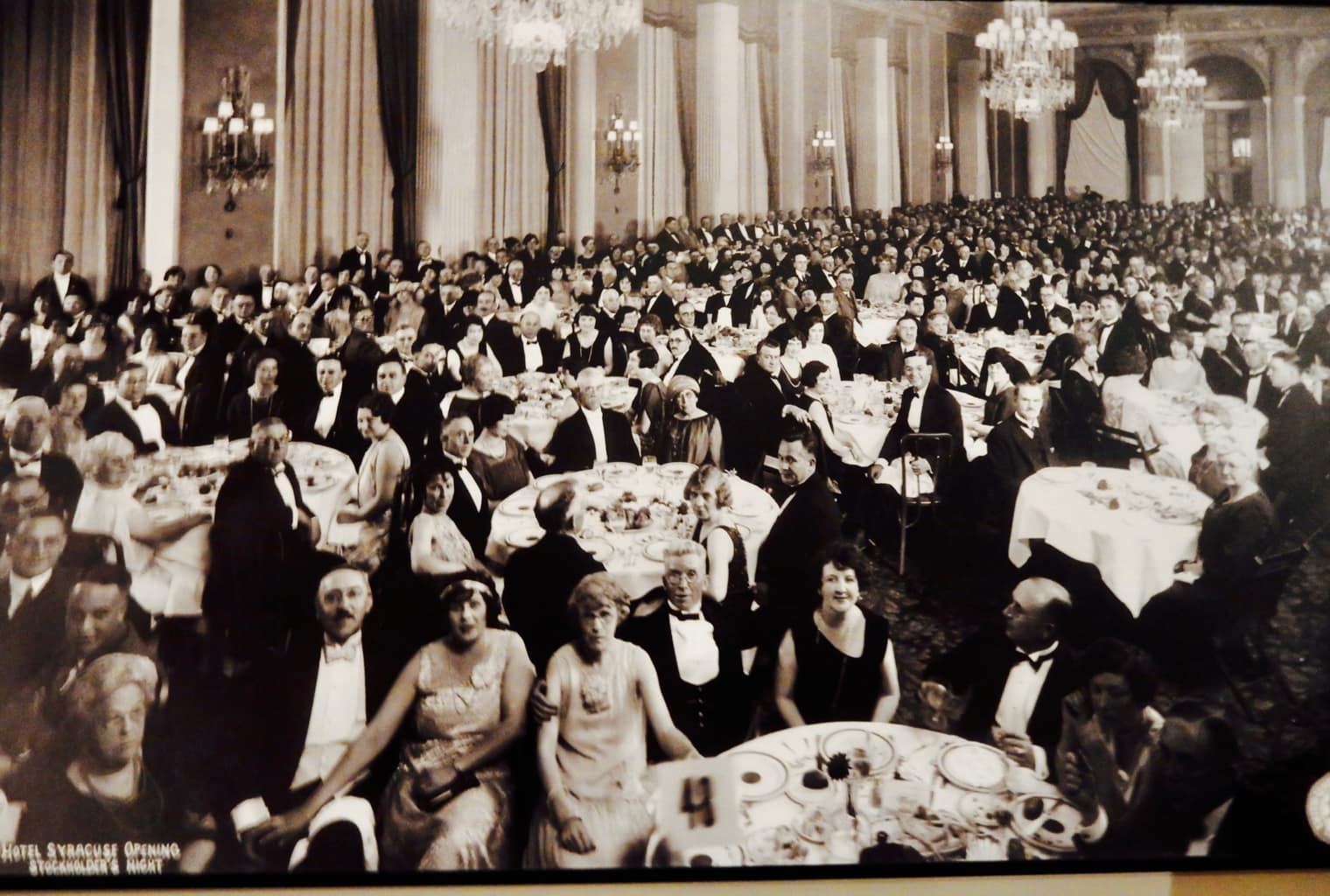 Don't leave before finding the enlarged photo taken at the opening of the Hotel Syracuse at the height of Prohibition in 1924. Look carefully to see many revelers with hands under tables, or barely hiding flasks – a snapshot of the reality of the day. Open Wed-Fri. 10-4, Sat/Sun 11-4, free.

Matilda J. Gage was one of the three founders of the National Women's Suffrage Association (NWSA), along with Susan B. Anthony and Elizabeth Cady Stanton. She was was also the inspiration for Dorothy in the Wizard of Oz. And yet we never hear of Gage today. Why is that?
One reason has to do with Gage's rift with Anthony and Stanton. A woman way before her time, Gage insisted on the separation of Church and State, believing that the Church kept women at heel. This stance was too radical for the Women's Rights Movement seeking, at the time, to create coalitions with the religious fundamentalists leading the Temperance Movement.
The bond between the trio broke down over the religious issue. After 20 years agitating for Women's Rights (1869 – 1889) together, Anthony and Stanton kicked Gage out. And then, they wiped her name from most documents. It took some journalists' sleuthing to bring Gage back to the fore.
Matilda Joslyn Gage Foundation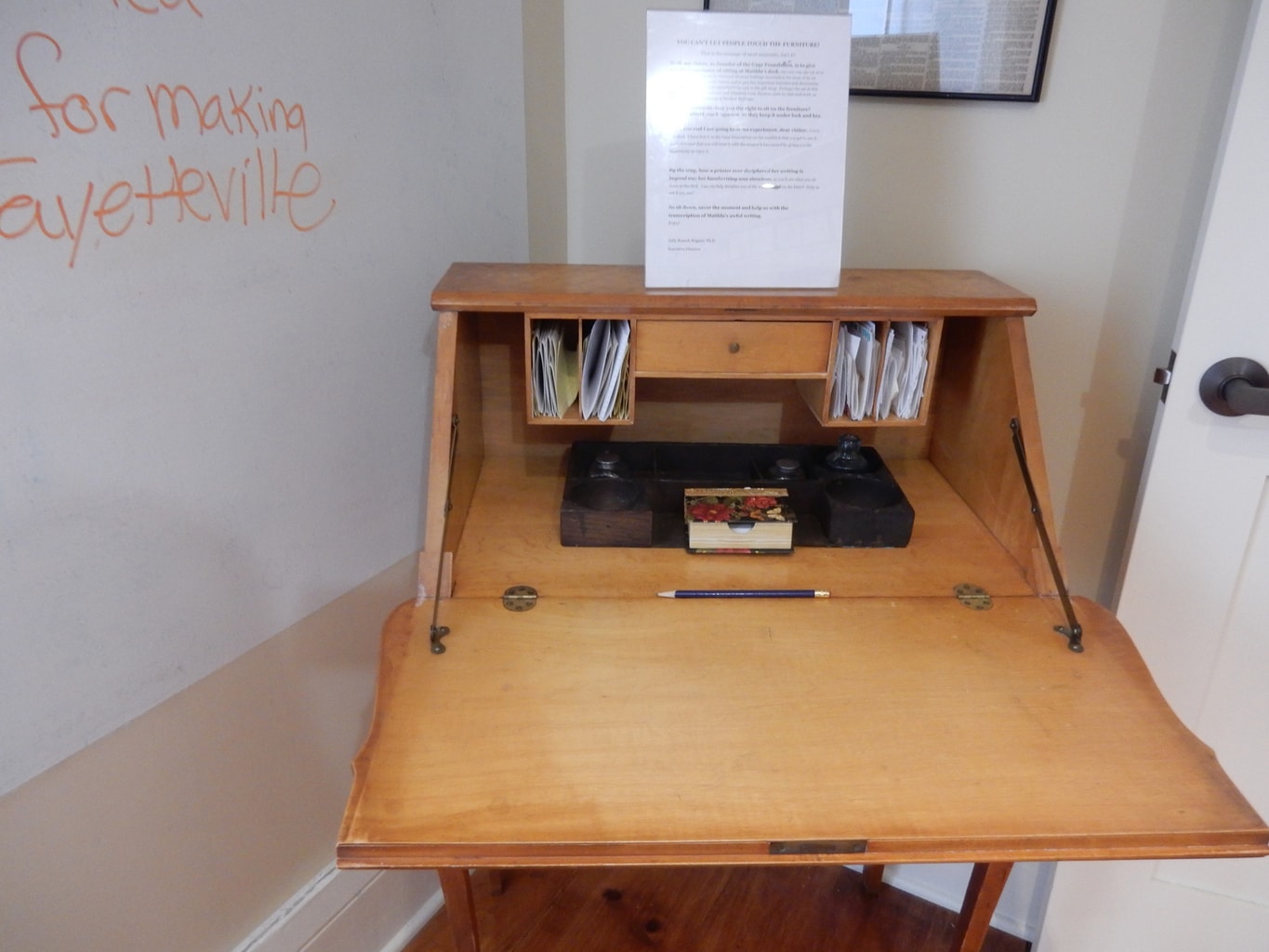 The Matilda Joslyn Gage Center is now located in her own home a few miles from Syracuse. The house was renovated and opened as a museum in 2010. A sign at the entrance insists that you "Check your dogma at the door," and "Think for Yourself."
You can actually sit at Gage's own desk in the back parlor where she worked, and if you wish, write notes to her. Rooms serve as galleries addressing Social Justice issues (Women's Rights, Underground Railroad, Religious Freedom) and Gage's history.
Matilda's father, Dr. Hezekiah Joslyn, was a well-known abolitionist. The Joslyn home in Cicero NY served as a station on the Underground Railroad. In addition, Matilda grew up around the Native American Nation of the Haudenosaunee – a Matriarchal society that regarded men and women equally. The exposure to this kind of non-violent gender equality informed her life's work.
A Member of the Wolf Clan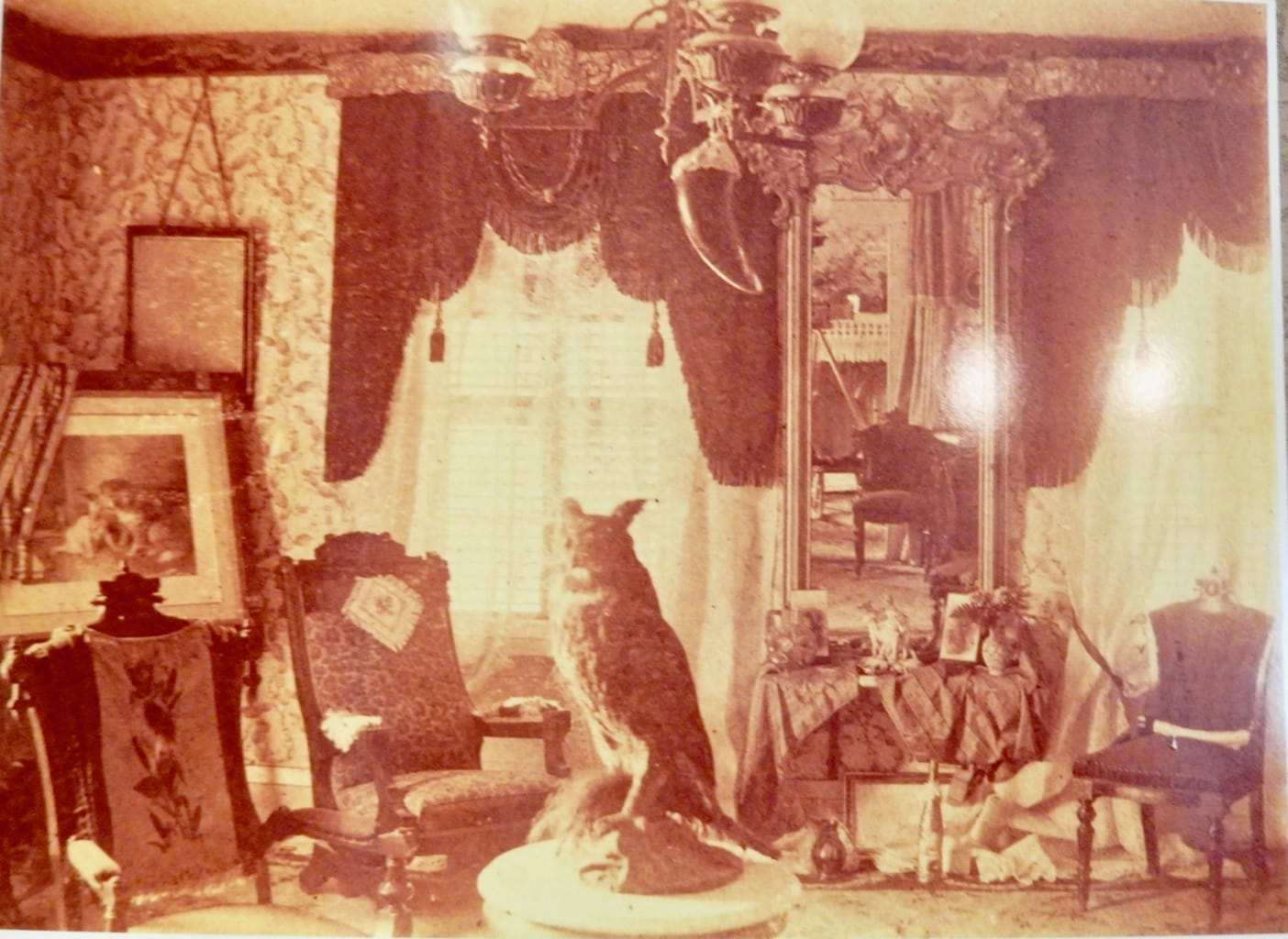 Matilda married Henry Hill Gage in 1845 and moved to Syracuse, where the couple raised four children. Gage was unable to attend the Seneca Falls Women's Rights Convention in 1848. But by the time the 3rd Convention came to Syracuse in 1852, , she had risen as a noted speaker and writer on Women's Suffrage.
Although the Movement was concerned primarily with Voting Rights, Gage, guided by her tribal experience, focused on Equal Rights for Women. In the 1870's Gage was an advocate for the Native Americans at a time when the US Government treated them poorly. So, to honor her, the Mohawk Tribe adopted her into their Wolf Clan.
The Wizard of Oz Connection
By all accounts, Gage was a "good wife and mother." And Henry was supportive of his wife's work, taking care of the kids when needed. One of their four children, Maud, married a dreamer of a man 8 years her senior, against her mother's wishes.
That man was L. Frank Baum, who years later wrote The Wizard of Oz. Baum and Maud were married in 1882 in the front parlor of this home. Now "The Oz Room," it's decorated as it was when Gage lived here.
Baum purportedly based his main character, Dorothy, on his strong, speak-truth-to-power Mother In Law. Remember, this was at a time when women were generally portrayed as damsels in distress. Matilda J. Gage was Dorothy's "spiritual ancestor." She taught women to be brave, speak up, speak out, and use the power of their convictions. It's a message that still resonates today.
The epitaph on her gravestone reads: "There is a word sweeter than Mother, Home, or Heaven. That word is Liberty." Open Tues-Fri 10-3, first and last Sat of each month 10-3, free for individual drop-ins, Groups: $8 adults, $6 kids.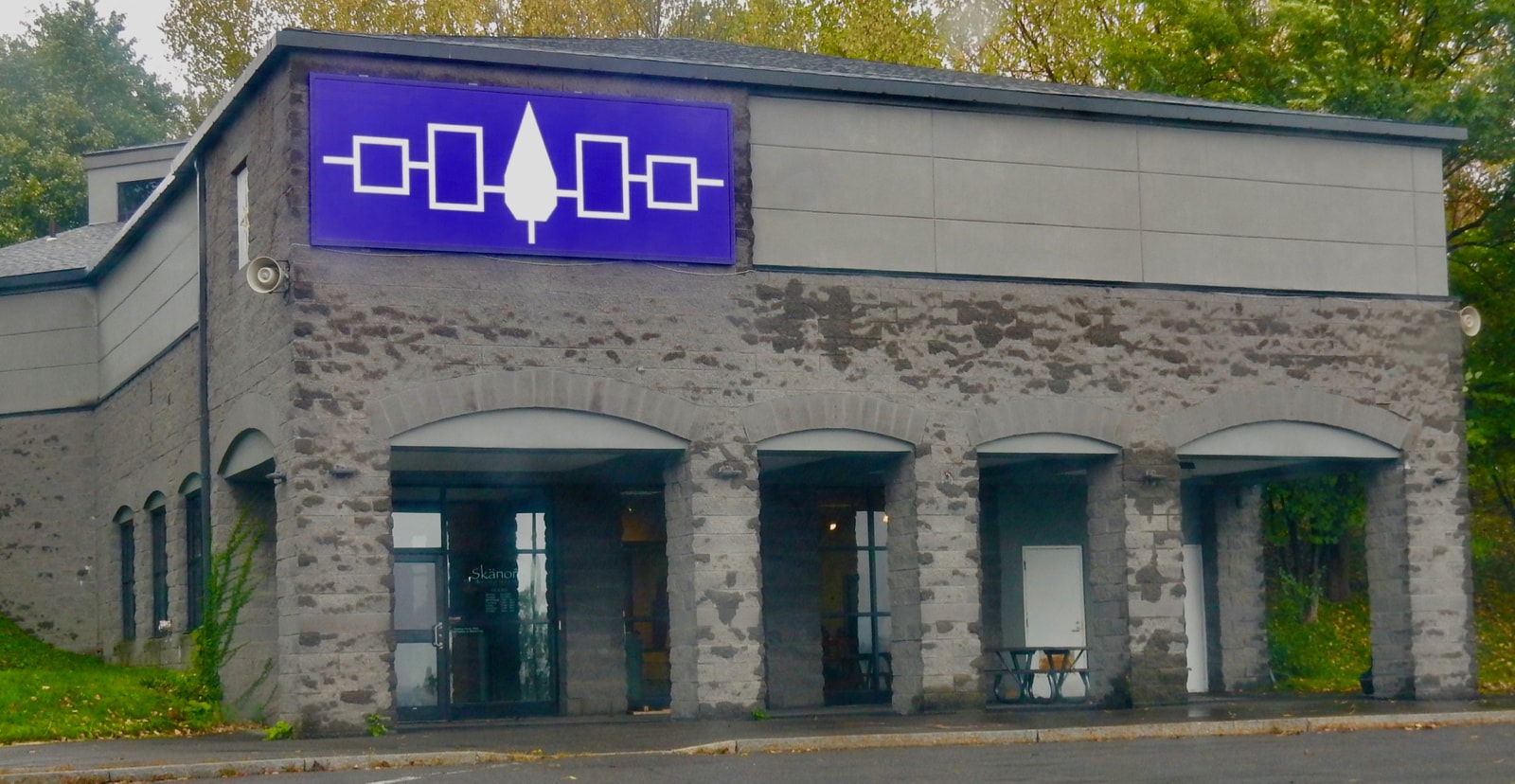 Man, do we need a Law of Peace Center right about now. This interpretive museum tells the story of the indigenous peoples of Central New York from the perspective of The Onondaga Nation. Incorporating video, text panels and artifacts, the museum is centered on oral history traditions and importance of language in maintaining a culture.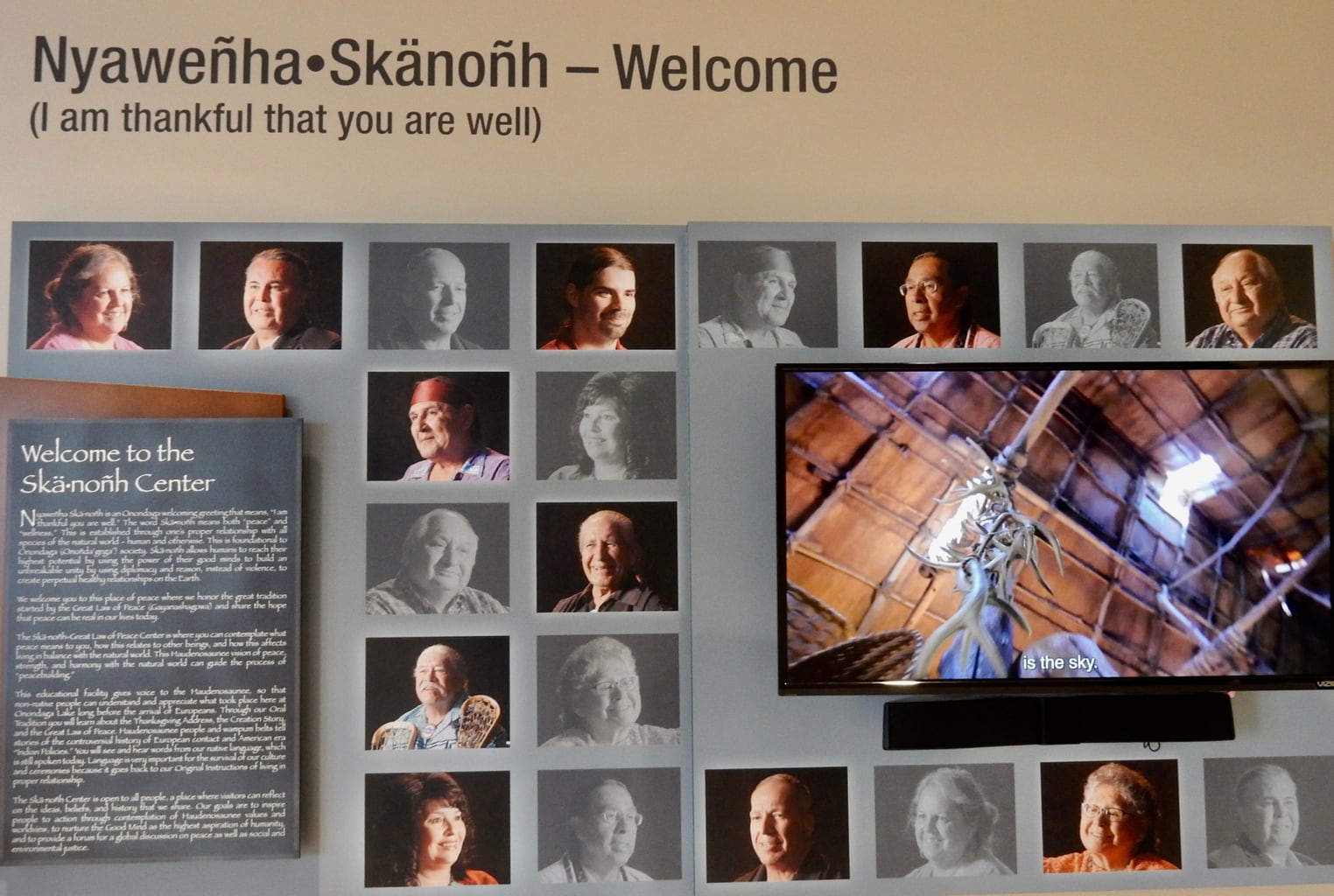 The Ska.Nonh Center's exhibits start on the first floor with the "Words that come before all else" – the Thanksgiving Address. This incantation might be different from person to person (crops, weather, health), but uniformly conveys gratitude to the "Creator" aka "The Great Peacemaker."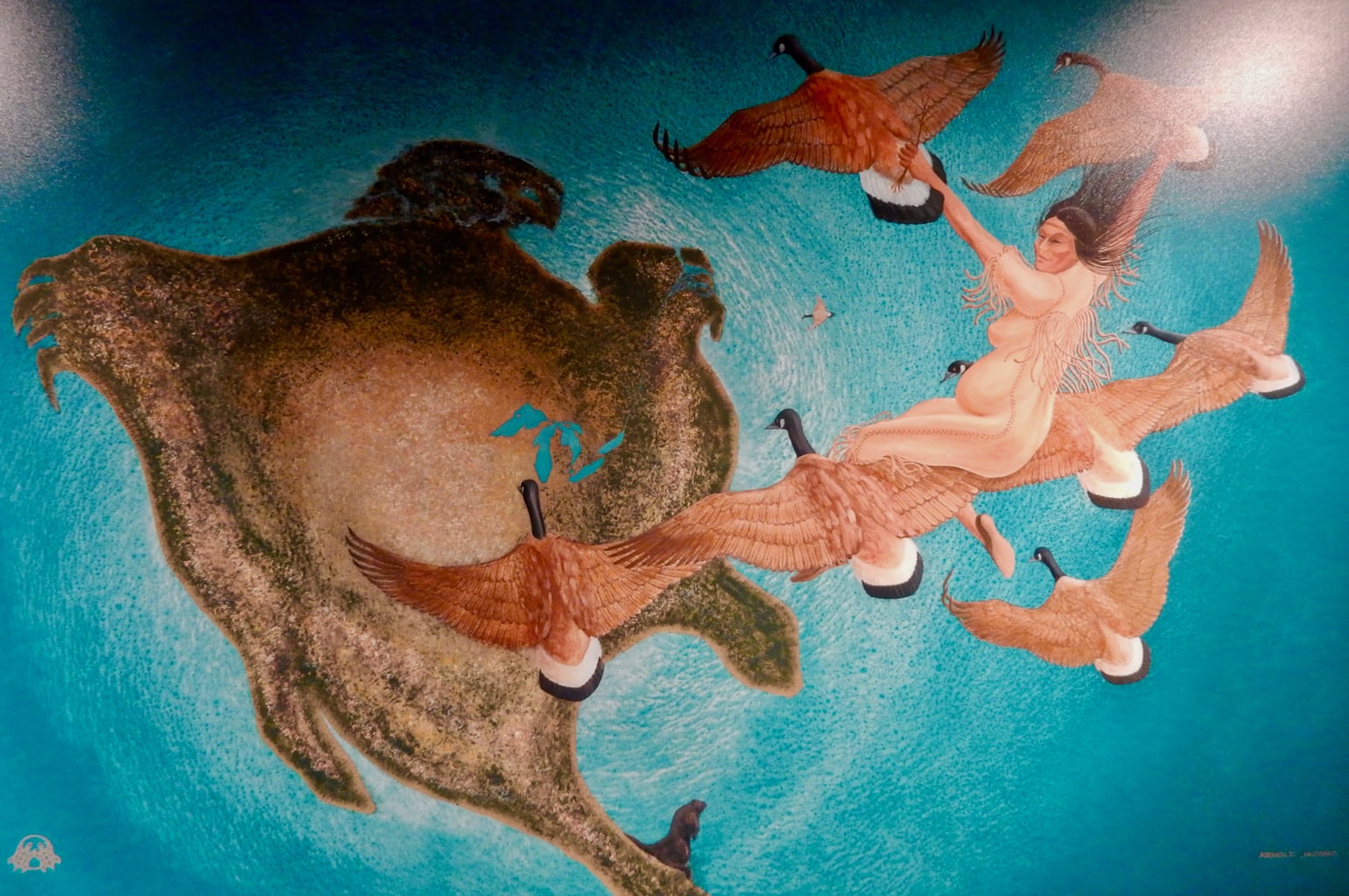 You'll learn about the Haudenosaunee Creation Story (involving a pregnant Grandmother who fell from the sky, a goose that caught her, and the turtle upon which she landed), and the significance of the Great White Pine Tree; a symbol of peace between the Five Nations (Seneca, Cayuga, Onondaga, Oneida and Mohawk).
Ben Franklin and Democracy
In 1744, Benjamin Franklin, then the owner of a profitable Printing Press in Philadelphia, asked to sit in on a Haudenosaunee meeting. This open-minded Founding Father wished to learn about decision-making in a true Democracy versus under a King.
Franklin was inspired by the way the five nations of the Haudenosaunee made treaties with each other and with the Europeans. This meeting informed Franklin's decision to found the United States as a Democracy rather than a Monarchy, as was originally and vigorously discussed.
Ruth Bader Ginsberg and the Doctrine of Discovery
Upstairs, there are a number of exhibits about the Onondaga Tribe over time. One, in particular, intrigued me. It involved a 550 year old law, a recent land claim, and, of all people, Ruth Bader Ginsberg.
In 1452, King Alfonso V of Portugal issued a Papal Bull – the Doctrine of Discovery – that sanctified the seizure of non-Christian lands. This Doctrine allowed Portuguese explorers to "invade, capture, vanquish and subdue all pagans."
In 2005, the Onondaga Nation filed a Land Claim for territory in Central NY: a case that made it all the way to the Supreme Court. In the case of Sherrill v. Onondaga Indian Nation, Justice Ginsberg cited the Doctrine of Discovery in the majority decision against the Native American claim. Open Wed-Fri 10-4, Sat/Sun 11-4, $5 adults, children 8 and under free.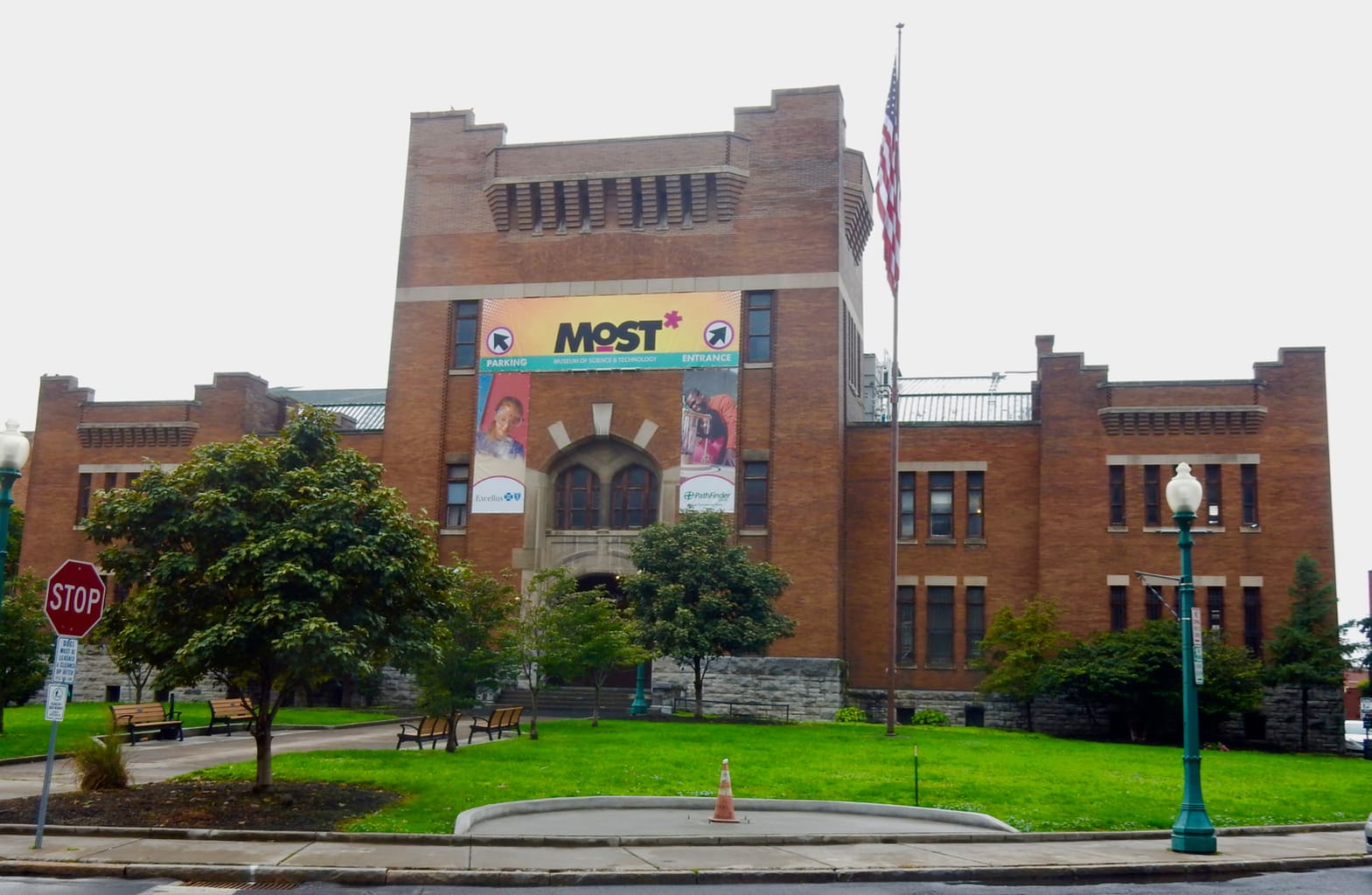 Until the 1980's this former U.S. Armory was repository for Military vehicles. Now, dinosaurs stand where tanks and jeeps used to be. And, as this is a hands-on science museum, there are plenty of interactive exhibits covering "nanoscience to dark matter."
MOST encompasses the only domed IMAX Omni Theater in NY State. Its amateur radio station made headlines when visitors spoke to an astronaut in the International Space Station for 9 minutes.
There's so much more to love here. There's a multi-level crawl-through Playhouse, a fully functional Flight Training program in the cockpit of an F-16, a Planetarium (with a countdown clock that shows when the Space Station passes overhead), a walk-through heart, Energy and Health Exhibits, and an abundance of other cool opportunities. $17 Adults Museum and IMAX Combo, $15 kids, open Wed-Sun 10-5.
Where to Eat in Syracuse NY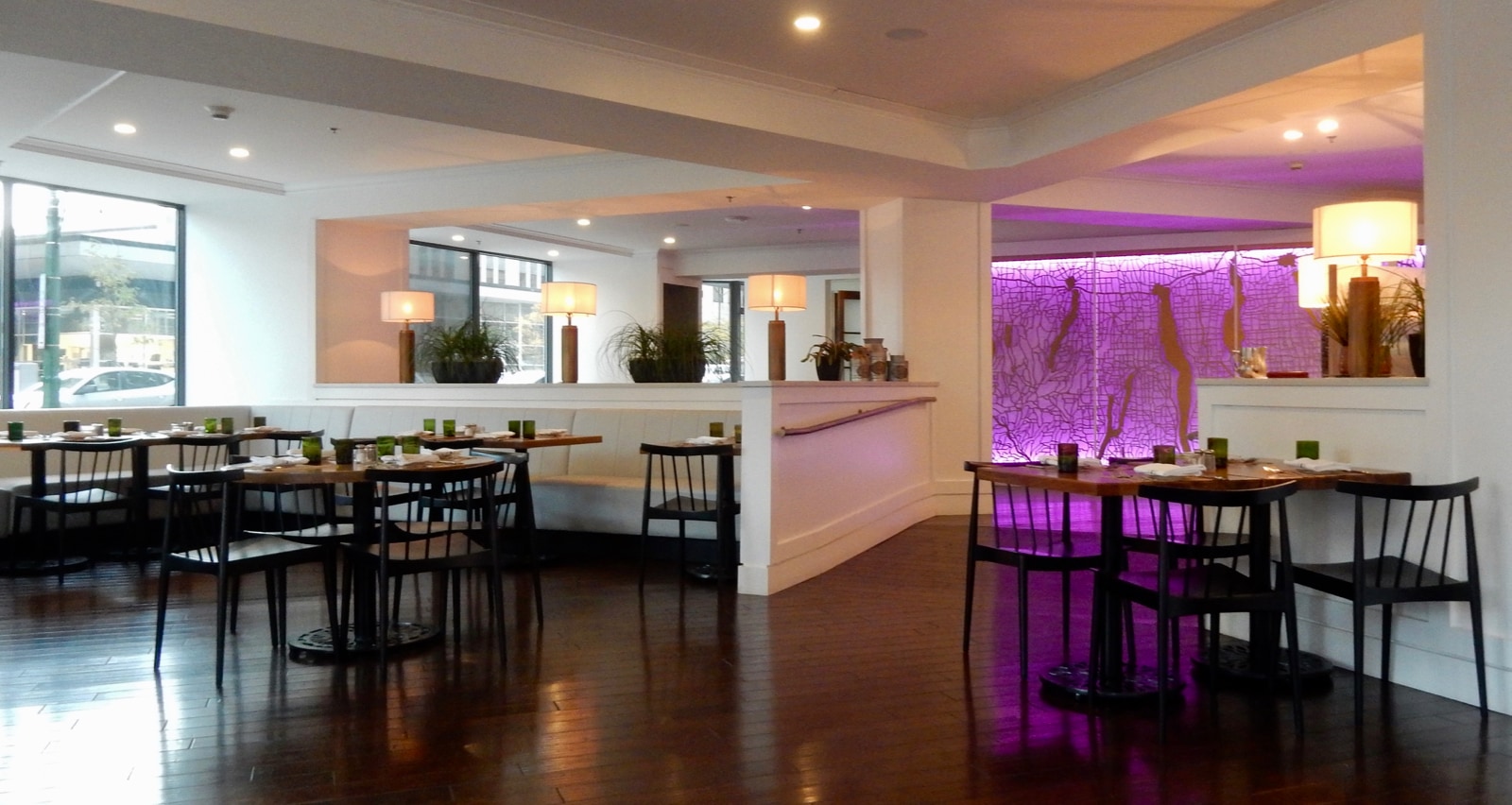 EAT: Eleven Waters @ Marriott Syracuse Downtown
The trendy-contemporary Eleven Waters (referencing the 11 Finger Lakes)is a popular place for an upscale meal at very reasonable prices: Onion Soup $7; Bistro Cesar $8; Puttanesca $15; Roast Half Chicken $25, Rigatoni Bolognese $16, and more.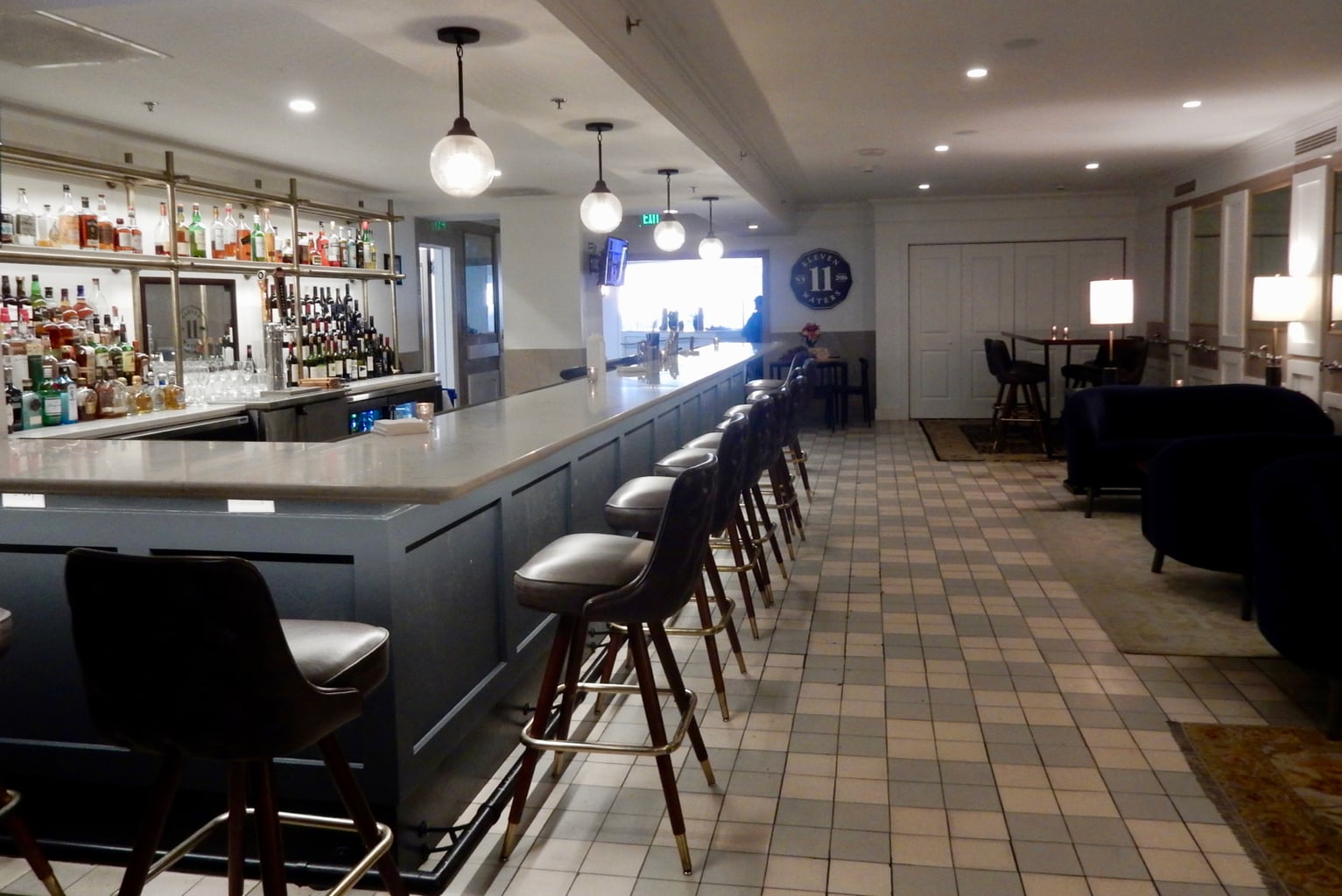 The Eleven Waters Bar, carved out of the hotel's former barbershop, features shampoo sink faucets on one wall, and cocktails named in the spirit of the place. Try Clean Shave (a "clean" version of a Moscow Mule), Undercut (rum, lime juice, grapefruit and maraschino liqueur), and Mullet (a classic Mint Julep).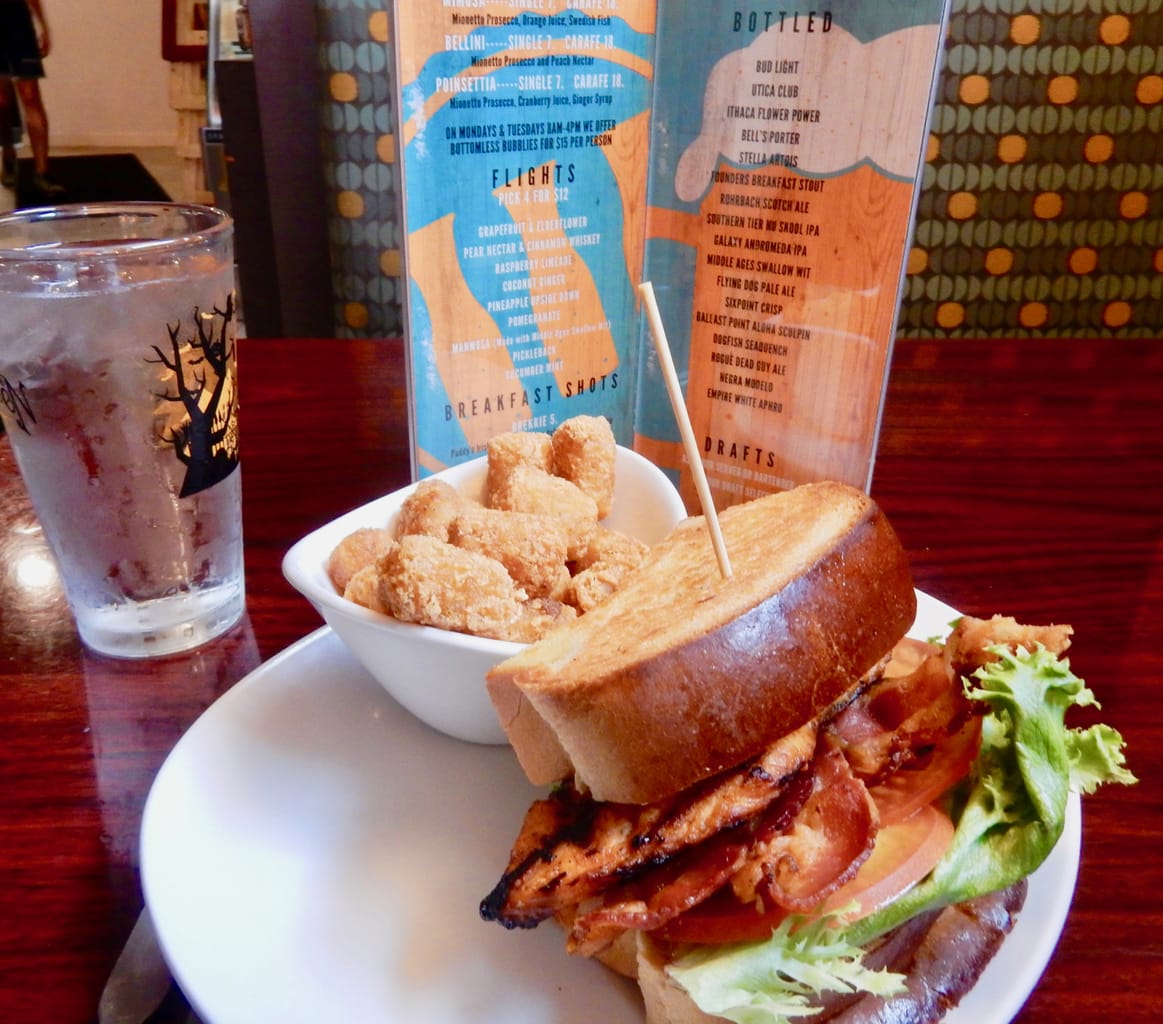 EAT: Locals recommend
Dinosaur BBQ – the first one ever – for amazing Q. Funk 'N Waffles, first opened by entrepreneurial students on the SU Campus and now off campus offering any kind of loaded waffle you can think up. Pastabilities for homemade pastas and "stretch bread." Kitty Hoynes – an authentic "real deal" Irish Pub on Armory Square. Lemongrass Restaurant for upscale white-linen Thai cuisine. And Modern Malt – a tweaked Malt Shop with a full bar rather than milkshake machines and Tater Tots instead of fries.
Where to Stay in Syracuse NY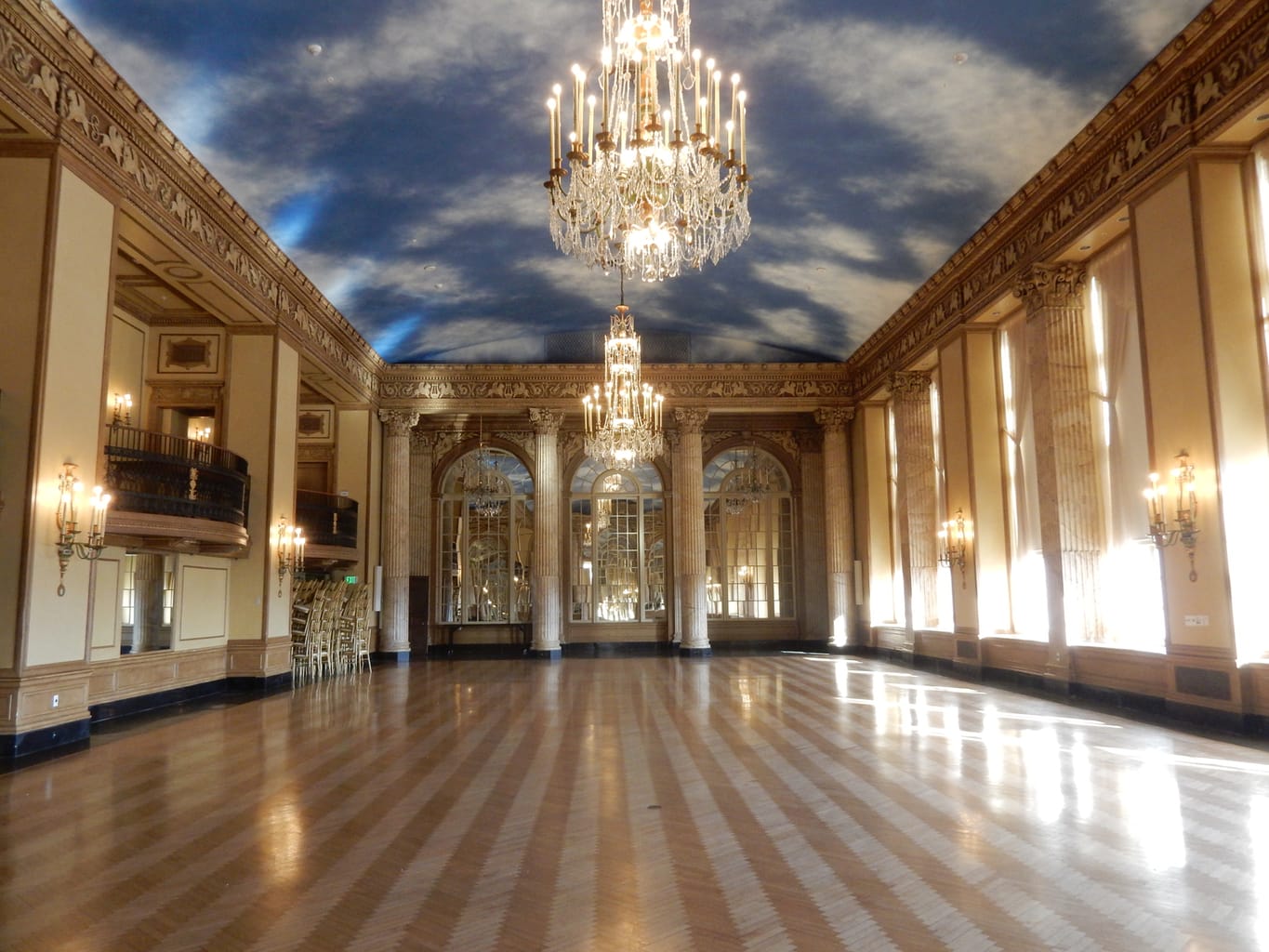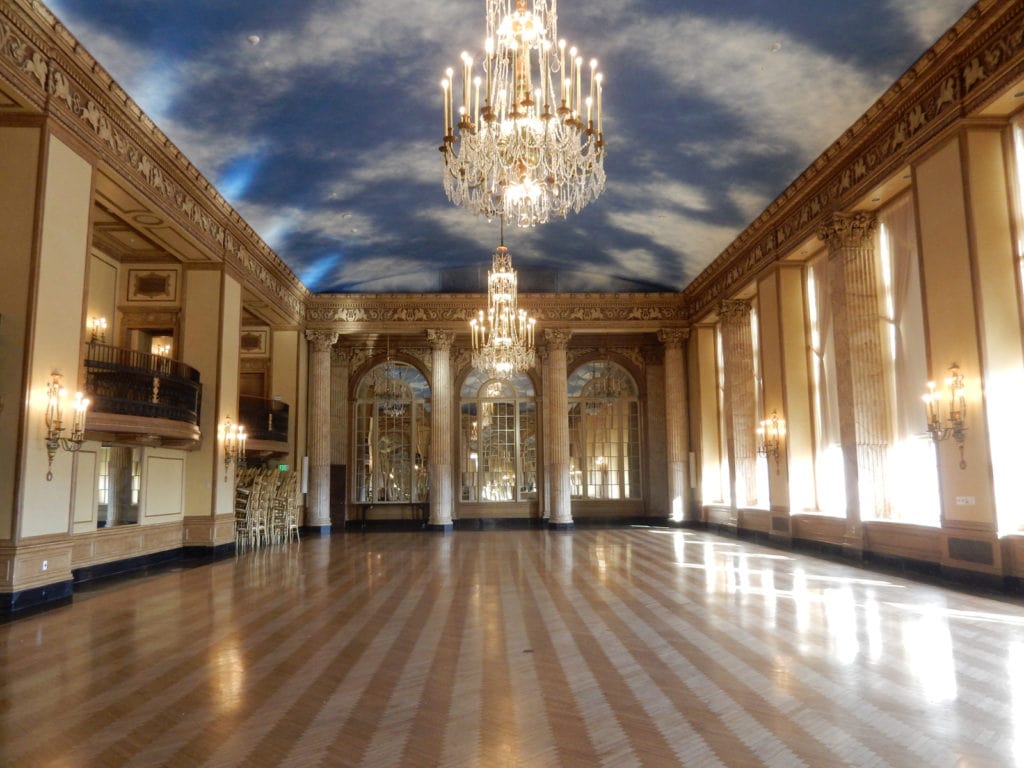 STAY: Marriott Syracuse Downtown
The Hotel Syracuse was a sensation when it first opened in 1924. Dwight Eisenhower, John Kennedy, Richard Nixon, Jimmy Carter, Bill Clinton, aviator Charles Lindbergh, entertainers Bob Hope, Nat King Cole, Elvis Presley, the Rolling Stones, and John Lennon (who celebrated his 31st birthday here, with Yoko) were all guests.
In the thick of downtown, the top floor Grand Ballroom in all of its Versailles-like grandeur was the place to be in Syracuse. But by the 1980's, the hotel had lost its luster. It became a banquet facility, and then cycled through one owner after another before failing by the early 2000's.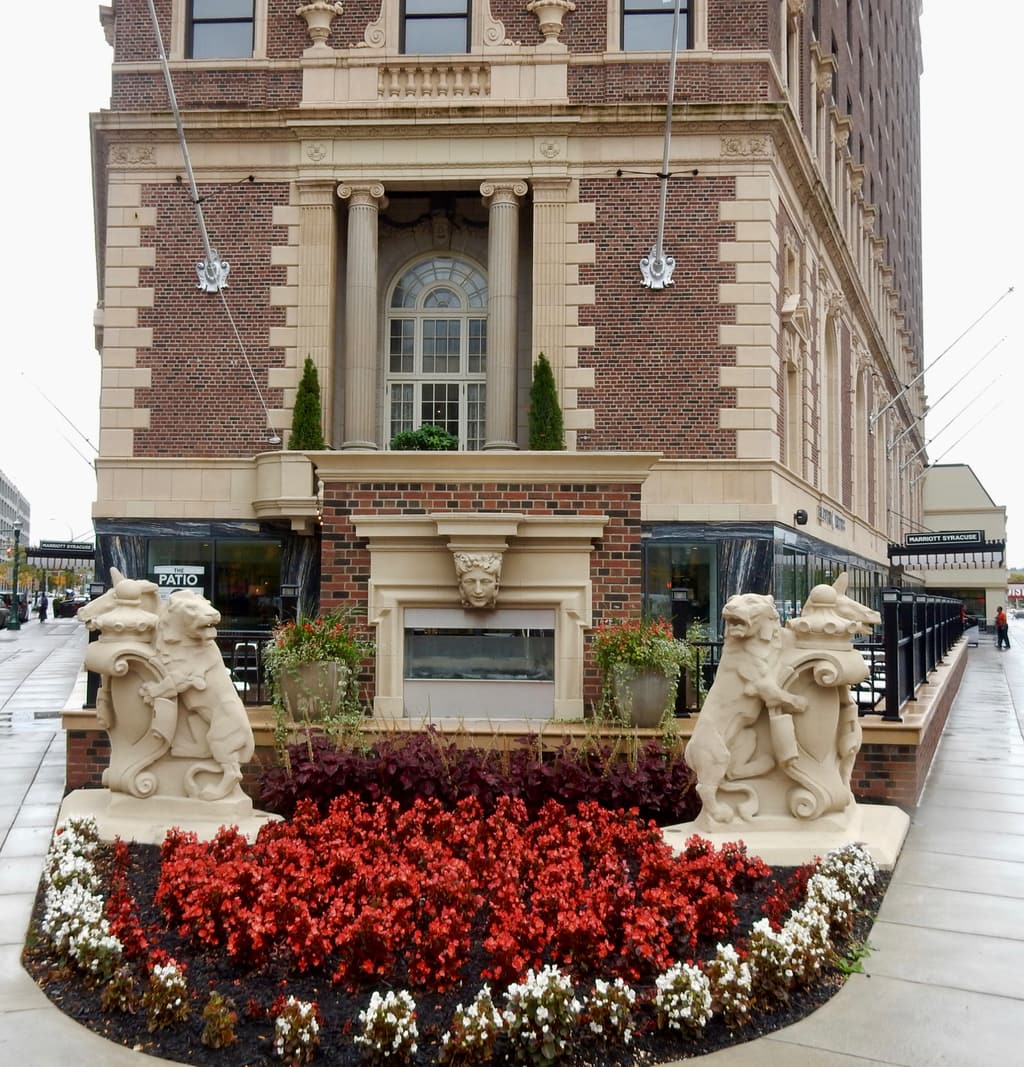 Every iconic decrepit-turned-grand-again-hotel has a Knight In Shining Armor story. And this one is no different. Ed Riley, a Syracuse native who made it his life's work to rescue distressed hotels though the Pyramid Hotel Group in Boston had his heart set on this faded former beauty in his own hometown. By the time he agreed to raise funds for the $76 million project in 2014, the ceiling of the Grand Ballroom was caving in. The rest of the place was not much better.
Now privately owned, this flagged Marriott, reopened to much fanfare on June 15, 2016. It is once again an epicenter of a revitalized Syracuse, in high demand for weddings. The "smaller" Persian Terrace room accommodates 290 guests. And, the breathtaking top floor Grand Ballroom – sky blue painting overhead, gilded walls, and wrought iron balconies spanning the length of the hotel can seat 400 guests.
First Impressions of the Marriott Syracuse Downtown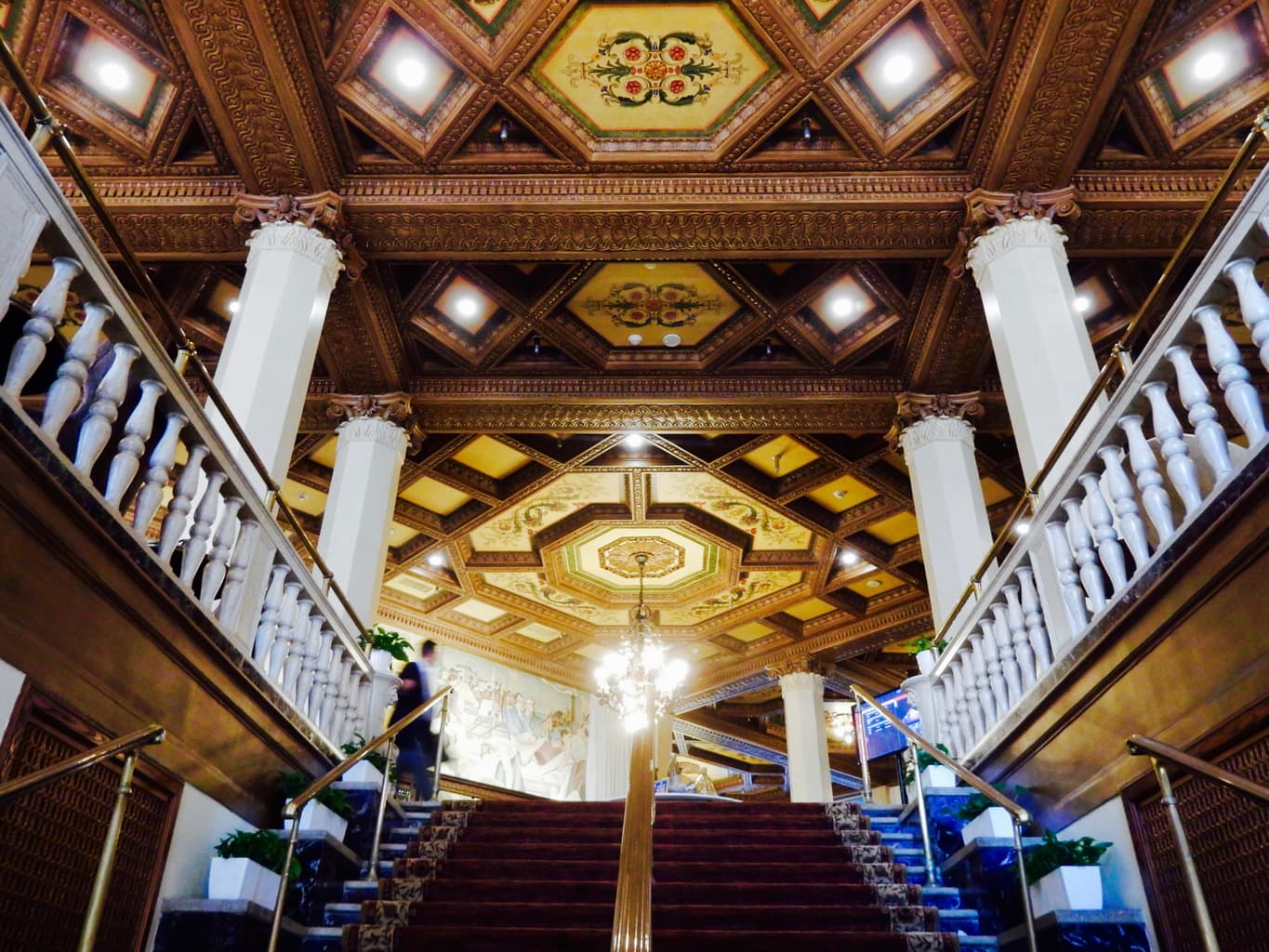 Walk in on the ground floor, head up the stairs, and the lobby wows as its 20 ft. stenciled plaster carved ceiling comes into view. The Terrazzo floors and crystal chandeliers are all original to 1924.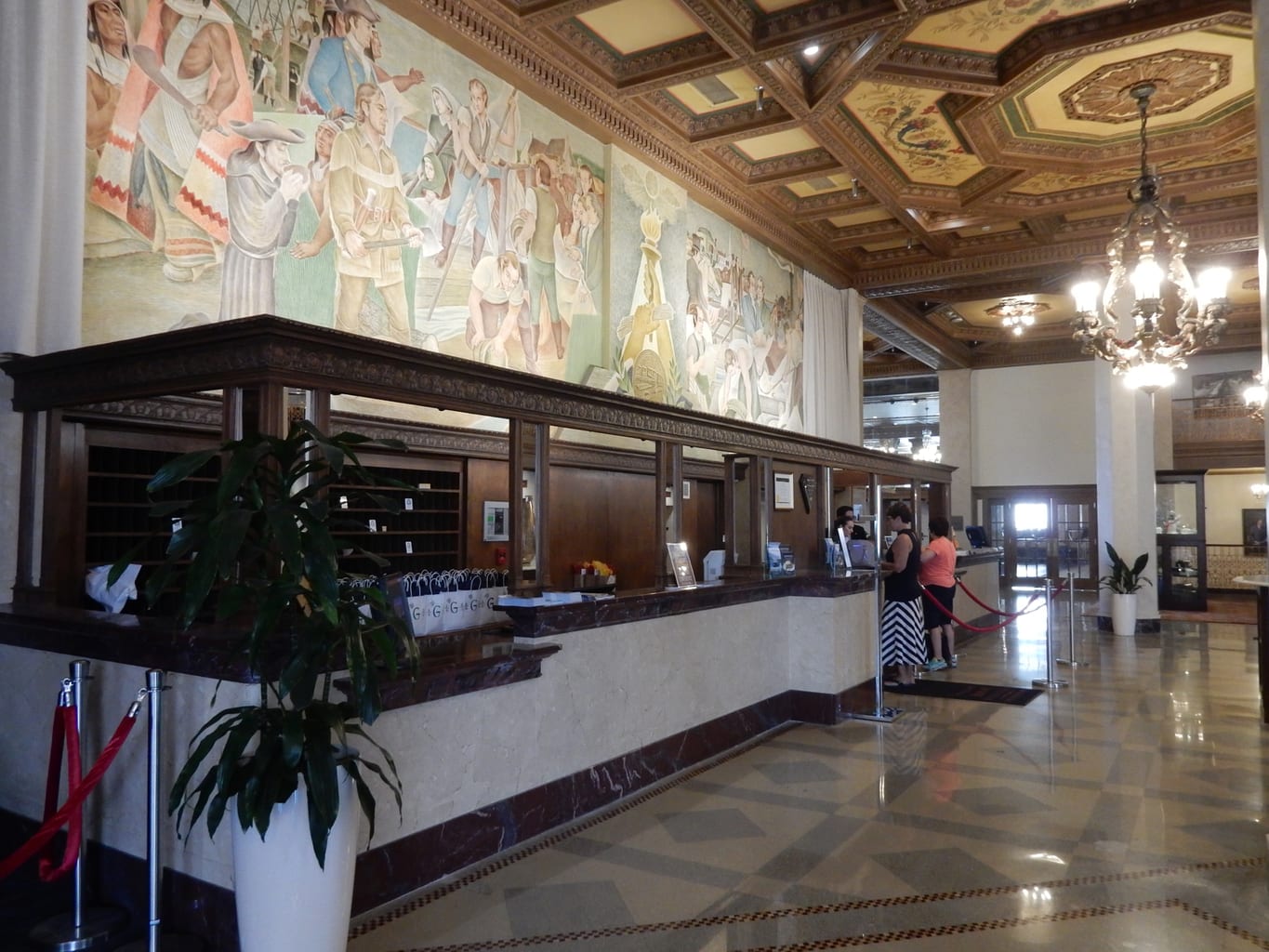 The mural behind the reception desk, formerly covered up with mirrors, is now a focal point at check in. Painted by SU Art Professor, Carl Roters in 1949, the mural depicts 100 years of Syracuse history from Native American to the salt mining industry. It could well be mistaken for a WPA piece. Roters was also responsible for the artwork in the ceiling. A fun activity, say the staff here, is to look for his face in the floral renderings above you.
Rooms at Marriott Syracuse Downtown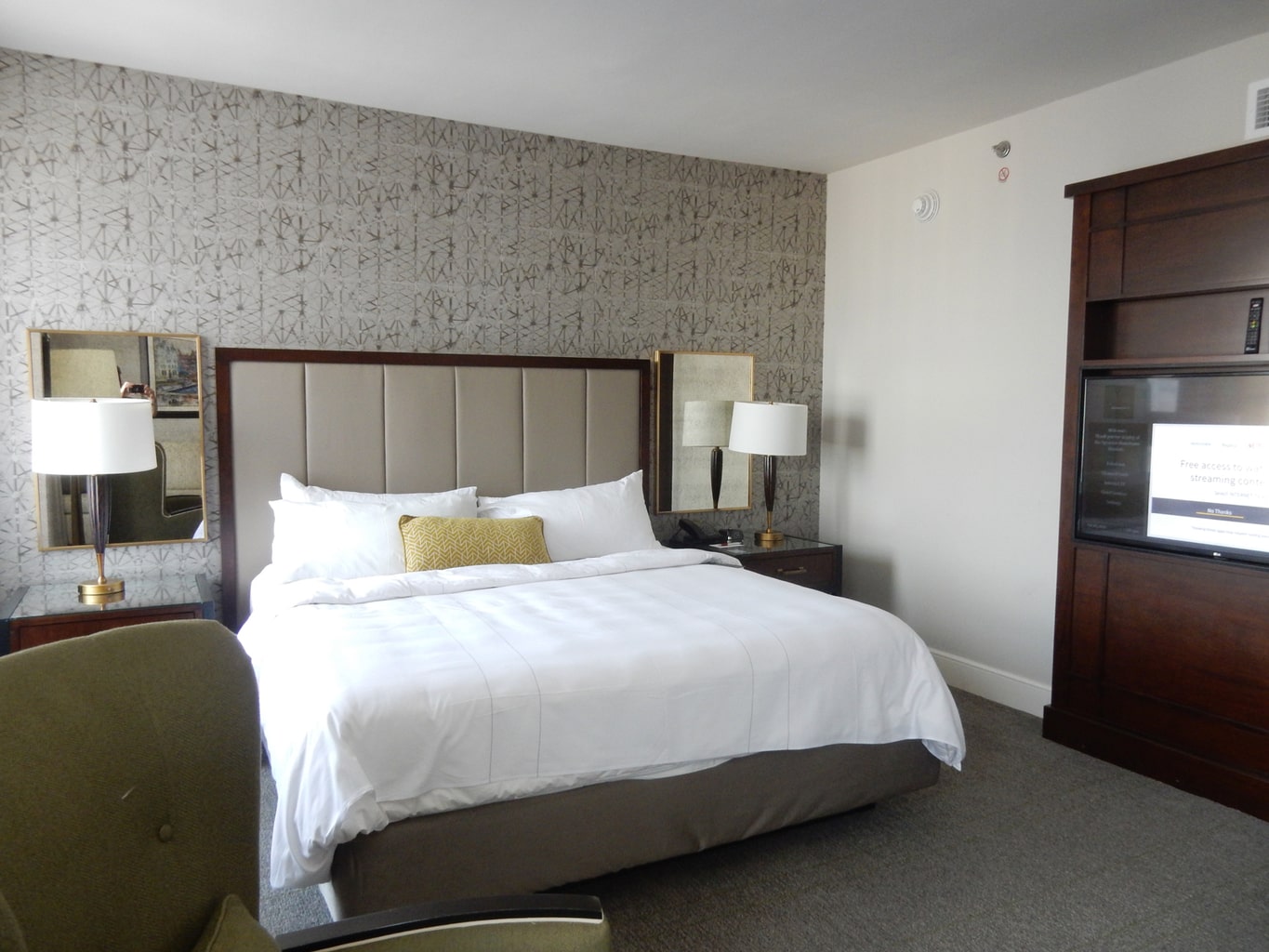 Most of the 261 rooms have been renovated to modern aesthetics and luxury standards. But in one way they hark back to the 1920's. The hollow bulbous "Coffin Doors" – with interior compartments that allowed guests to leave laundry for cleaning – have been reinstalled. (Although, of course, they are no longer necessary). Rooms dressed in Stickley furniture are cozy and elegant in white and green-gold, feature beds so comfy, you can easily miss your alarm.
Dining at Marriott Syracuse Downtown (See Above under Where to Eat)
Rates from $126 per night. Packages from $175 for 2 include buffet breakfast in 11 Waters and 2 Signature Cocktails in the evening.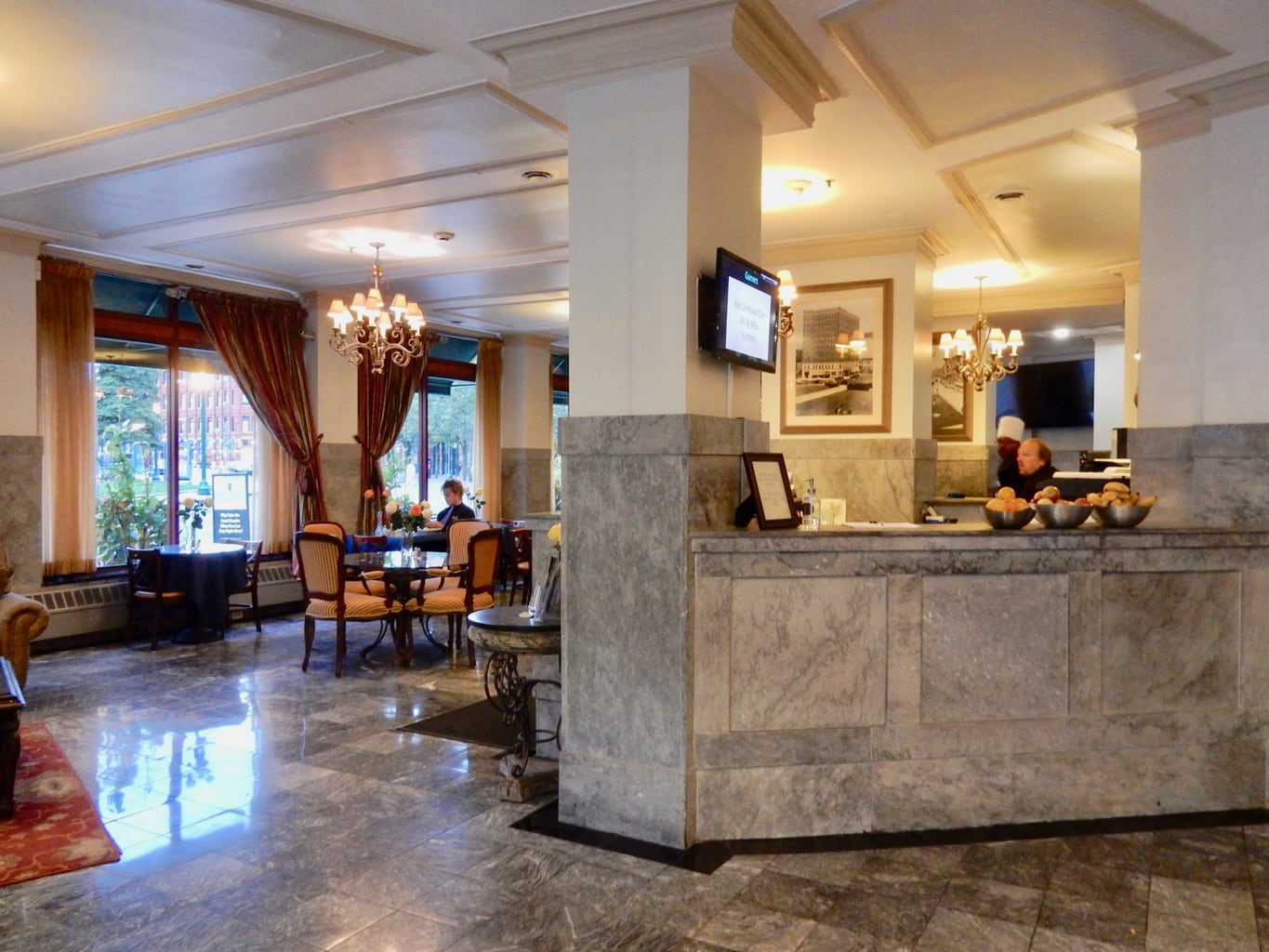 If you want to feel cared for in the cozy, elegant ambiance of years gone by, the Jefferson Clinton, a Historic Hotel of America, is your best bet in Syracuse. Wonderfully situated on Armory Square, across the street from MOST (Museum of Science and Technology), and next door to the highly recommended Lemongrass Restaurant, this small establishment whispers "understated luxury." And most of all "personal, amiable service".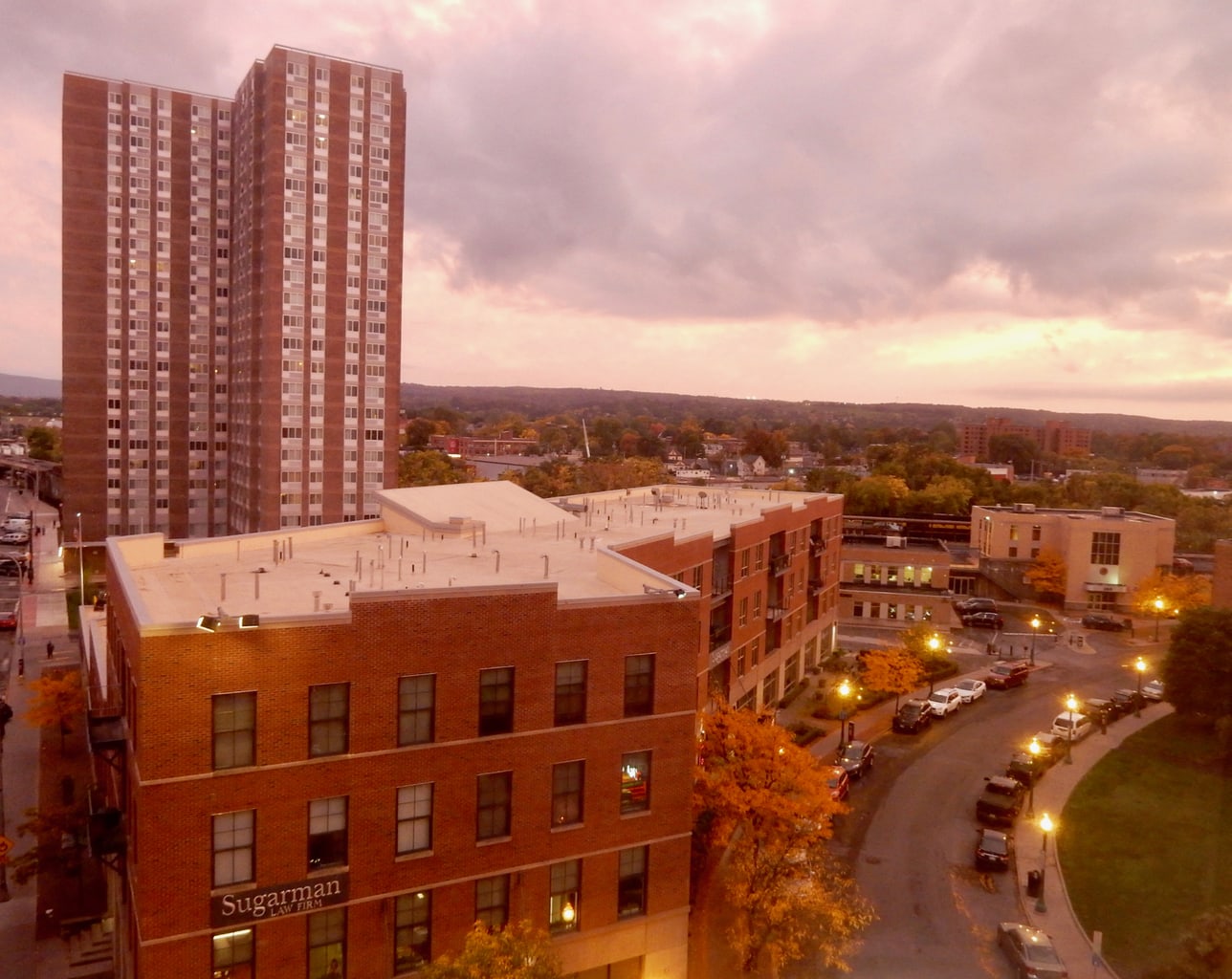 In the morning, the small lobby turned eatery thrums with dozens of business people enjoying a buffet breakfast that includes an omelet station.
The omelet chef was one of the friendliest I've ever met. He executed each order quickly. He even brought plates to the guests with a smile. The whole vibe was so upbeat, one patron remarked, "so this is The Place where everyone goes for breakfast in Syracuse!"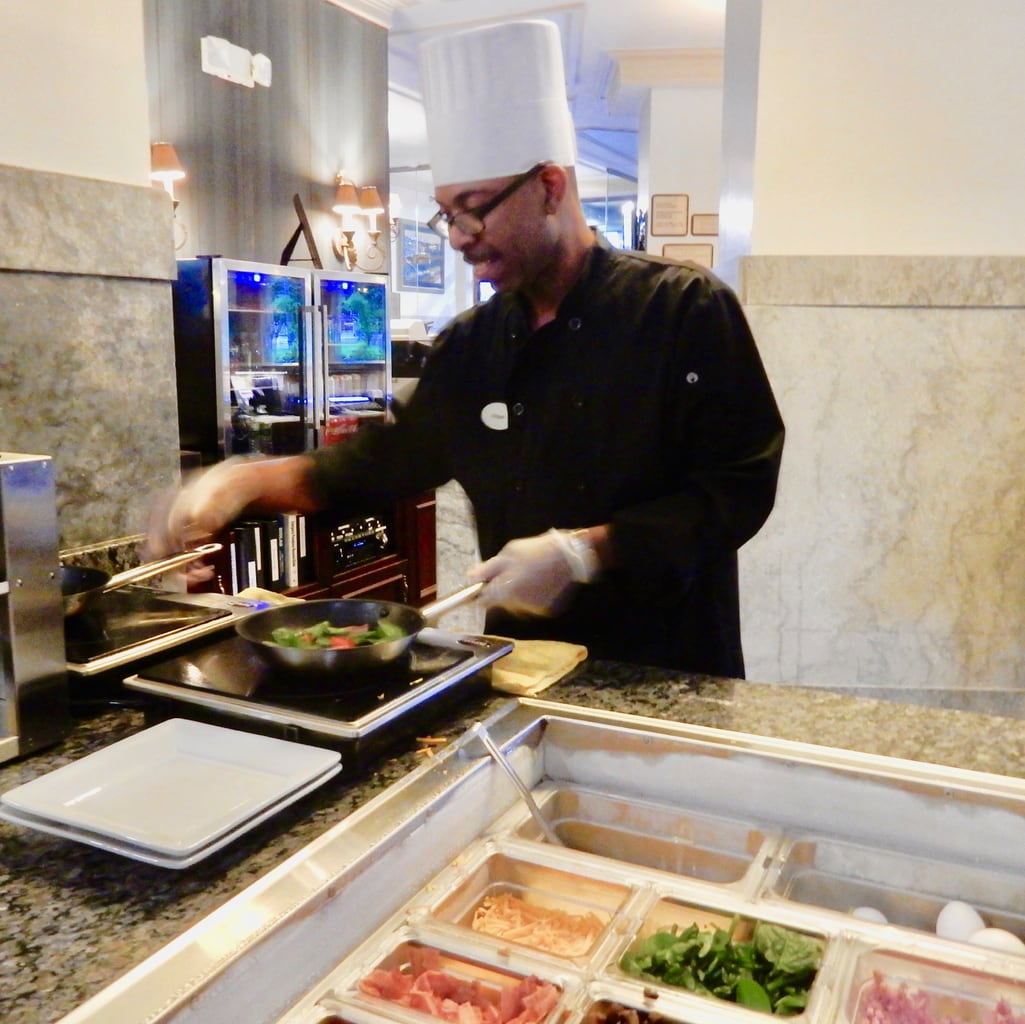 Leave some time to get up to your room: there is only one elevator. While waiting, grab a fresh-baked cookie (afternoon) or apple (anytime) from the reception desk.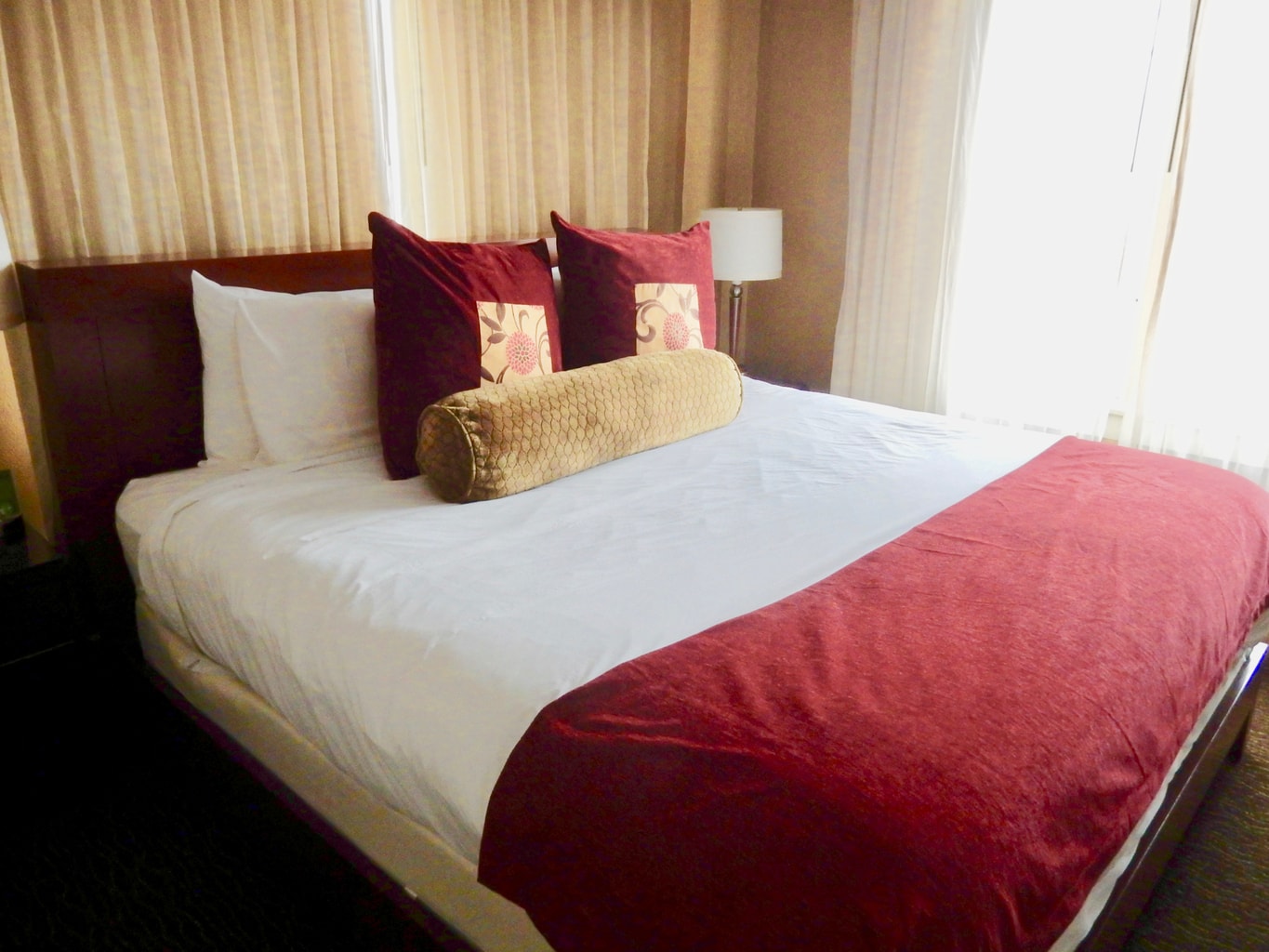 Rooms of maroon and gold, sport new carpeting, ecru-colored grasscloth wallpaper and, a mix of contemporary and traditional furnishings (glass desk, wingback chairs).
Tiled bathrooms are clean and bright, with a good amount of lighting over a Corian sink. Bedding is so dreamy-comfortable, I actually slept through the night for a change.  Rooms from $155 per night. Includes hot buffet breakfast with made to order omelets, free wifi.