With its stunning beaches, fresh seafood, and rich cultural heritage, there's an incredibly long list of romantic things to do in Corpus Christi for couples. Located in coastal Texas, where it borders Padre Island National Seashore, there are six islands, nine beaches, and over a hundred miles of white-sand beaches in and around Corpus Christi.
But this South Texas city was also the hometown of Selena Quintanilla Pérez. Often simply known as Selena, the "Queen of Tejano Music," was a highly influential Mexican-American singer, songwriter, and fashion icon. Her extraordinary talent, charismatic performances, and enduring hits left an indelible mark on the music industry, and her life and legacy continue to inspire generations even after her tragic death in 1995.
And yet, Selena is but one of many creative artists who continue to enrich Corpus Christi. From enchanting museums to colorful murals, as well as an exciting music scene, this vibrant city appeals on many levels.
Read on for a curated list of fun things to do in Corpus Christi with your sweetie, plus our romantic getaway hotel picks and favorite restaurants.
Looking for even more weekend getaway ideas? We've got 50, nearly one for each week of the year, in our roundup of romantic getaways in the USA.
Where is Corpus Christi?

Corpus Christi is a coastal city located in the southern region of Texas, United States. It sits on Corpus Christi Bay, off the Gulf of Mexico, making it one of the state's major seaports. Corpus Christi is approximately 214 miles southwest of Houston and about 145 miles southeast of San Antonio.
The city is the eighth largest in Texas and serves as the county seat for Nueces County, but its metropolitan area extends into Aransas, Kleberg, and San Patricio counties.
Because the area rests on a curve along the Texas Gulf Coast, it's often referred to as the Coastal Bend.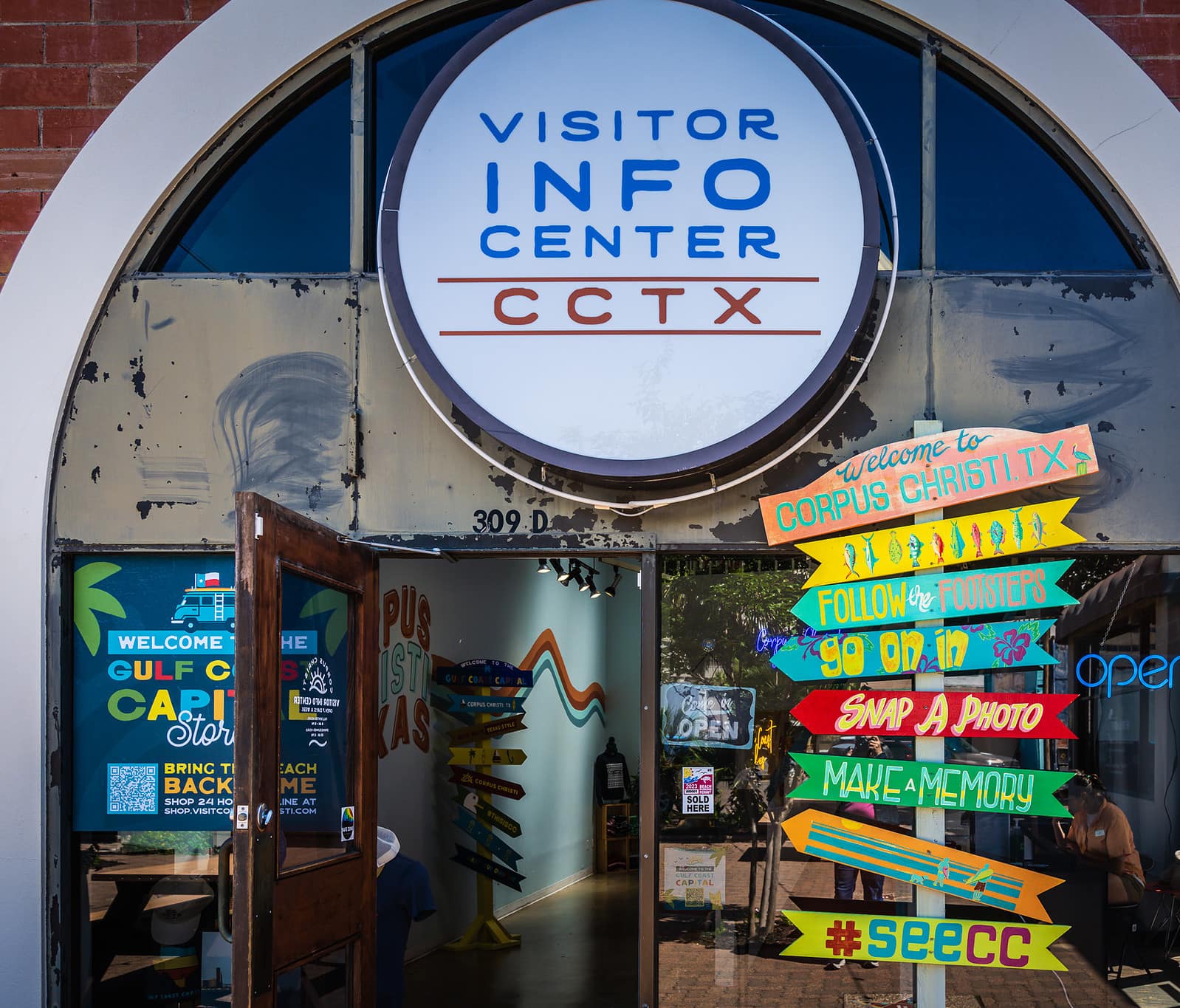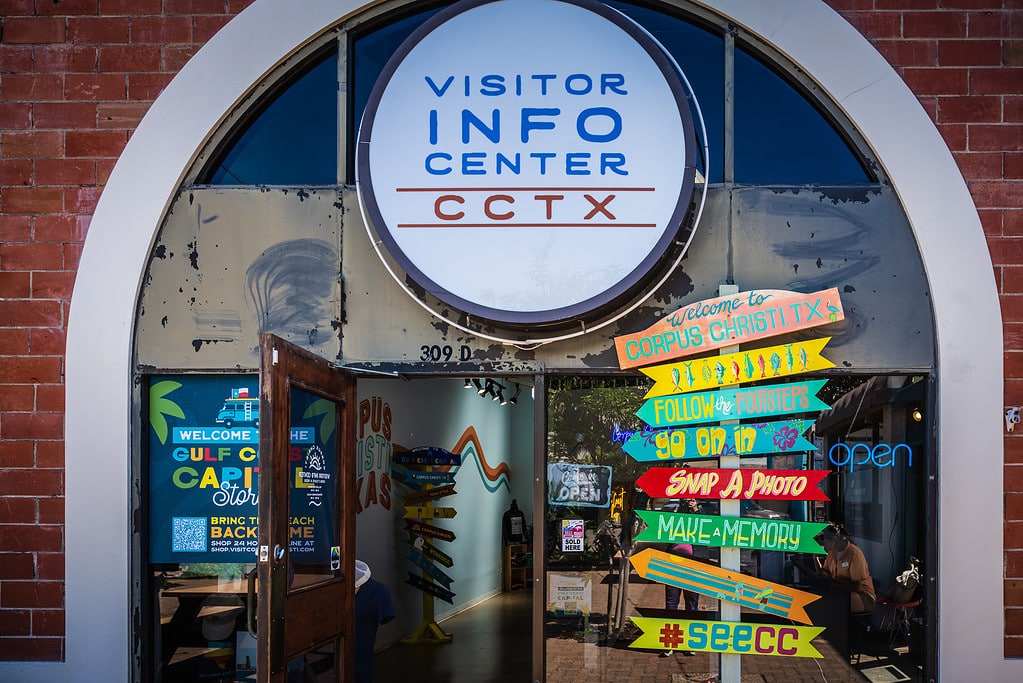 Best Things To Do In Corpus Christi
Begin Your Getaway At The Corpus Christi Visitor Information Center
Start your romantic escapade at the Corpus Christi Visitor Information Center, located next to the now-closed Texas Surf Museum and multi-restaurant complex. You can gather valuable insights about the city's attractions, events, and local tips. And there's a great selection of branded souvenirs too.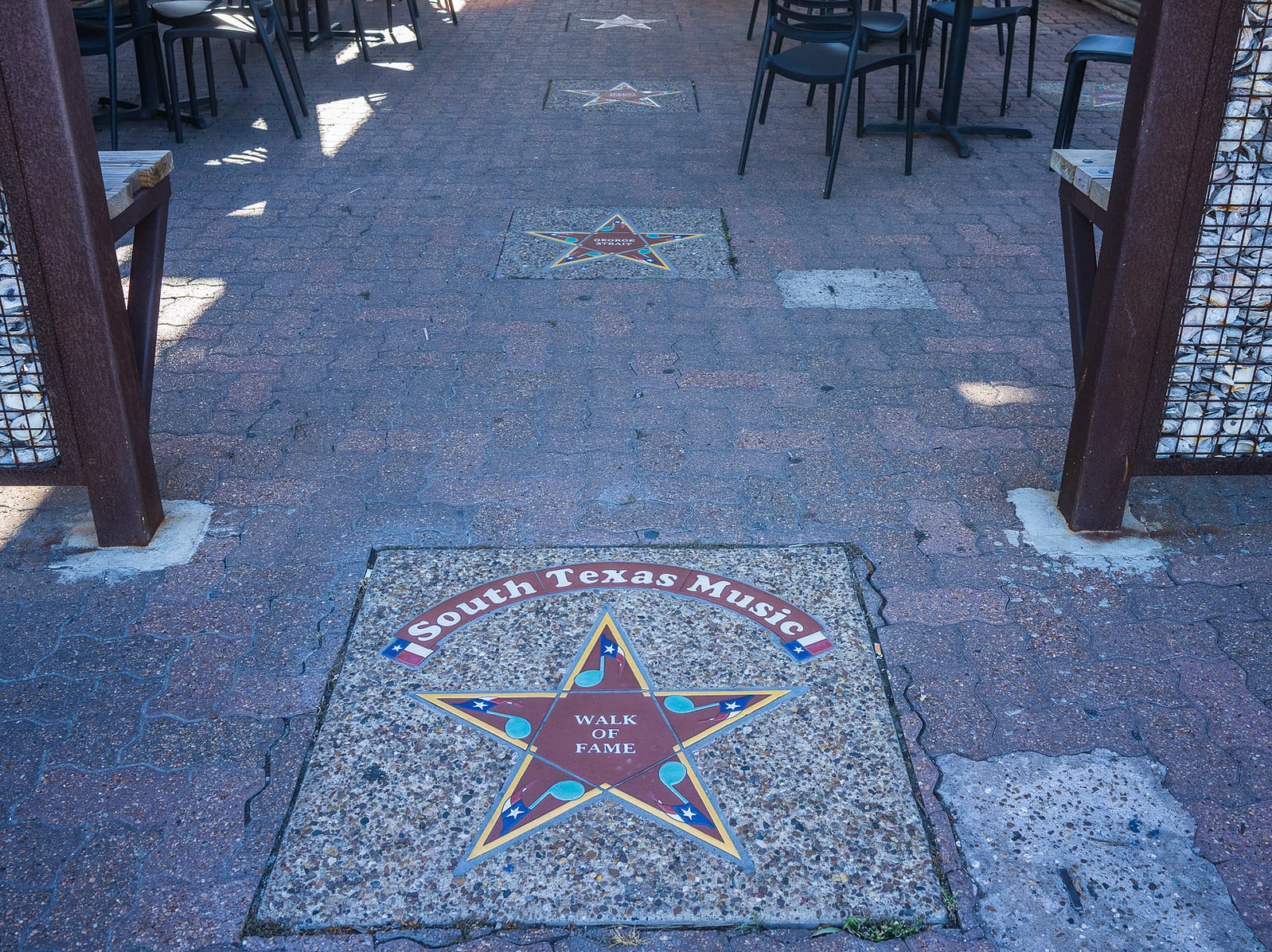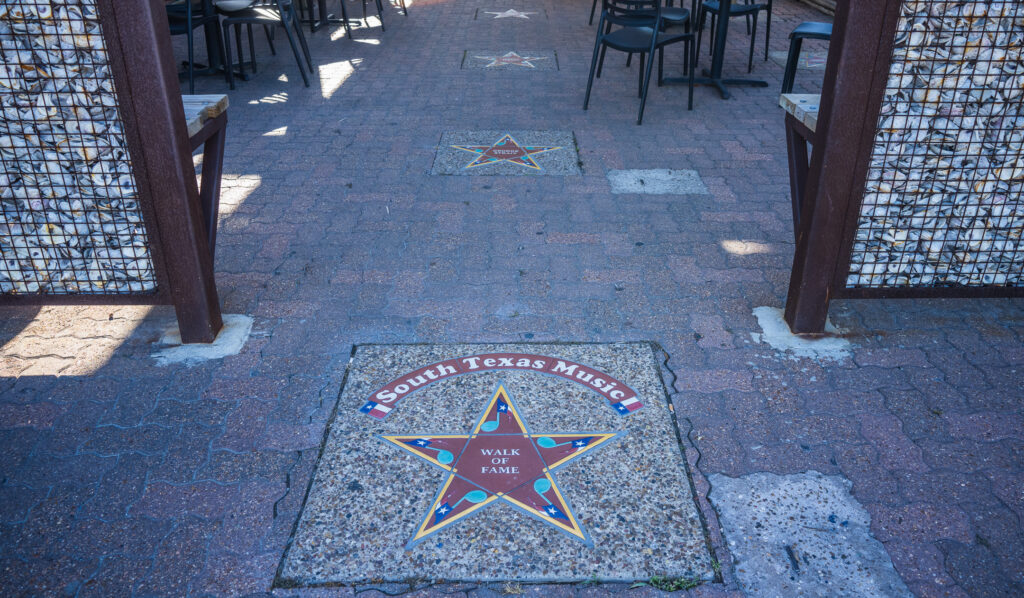 This is also where you'll find the South Texas Music Walk of Fame. Now numbering 93 stars, each for a local musician, the walk will be completed this year when seven more are added. There are even more nominees, but that's all that space allows.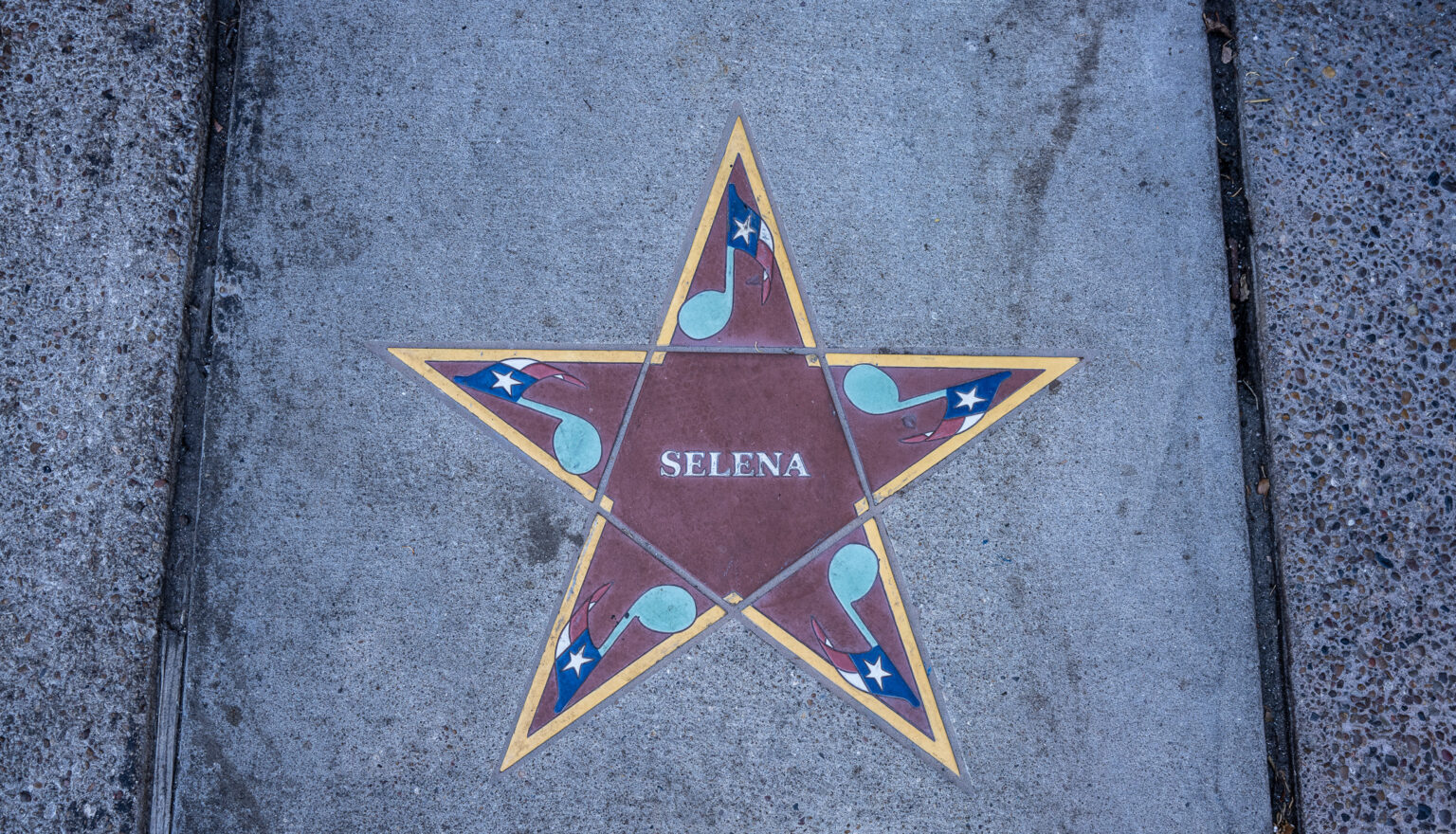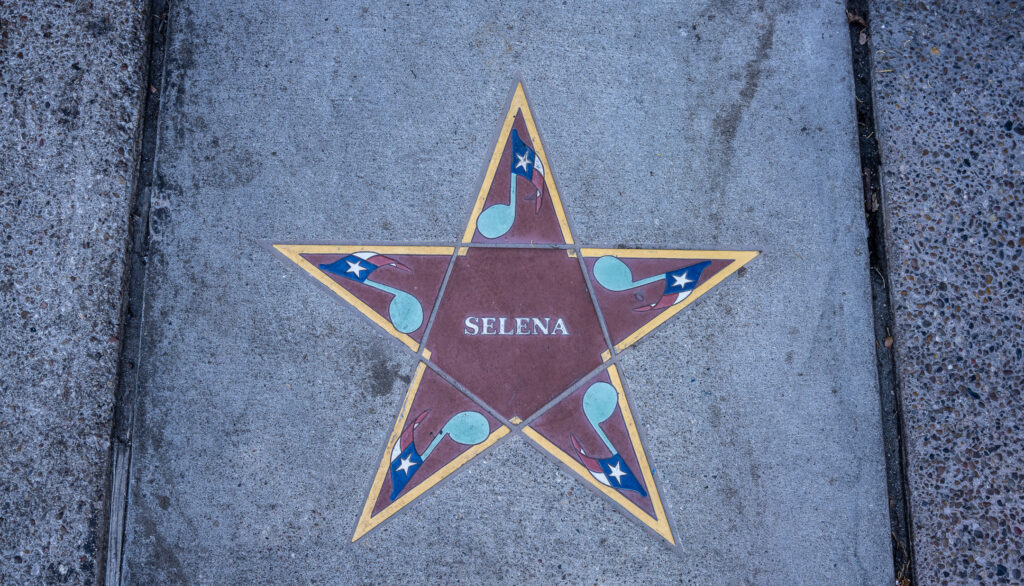 Look for Selena's star near the back entrance to the Executive Surf Club restaurant, in addition to a widely diverse list of famous stars you might not have realized came from South Texas.
Make The Pilgrimage To The Selena Tributes
TOUR: The Selena Museum
For fans of music and cultural icons, a visit to the Selena Museum is a must. Pay homage to the late Tejano superstar, Selena Quintanilla-Pérez, as you explore a collection of her memorabilia, personal items, and awards. Let the melodies of her love songs fill your heart as you celebrate her legacy together.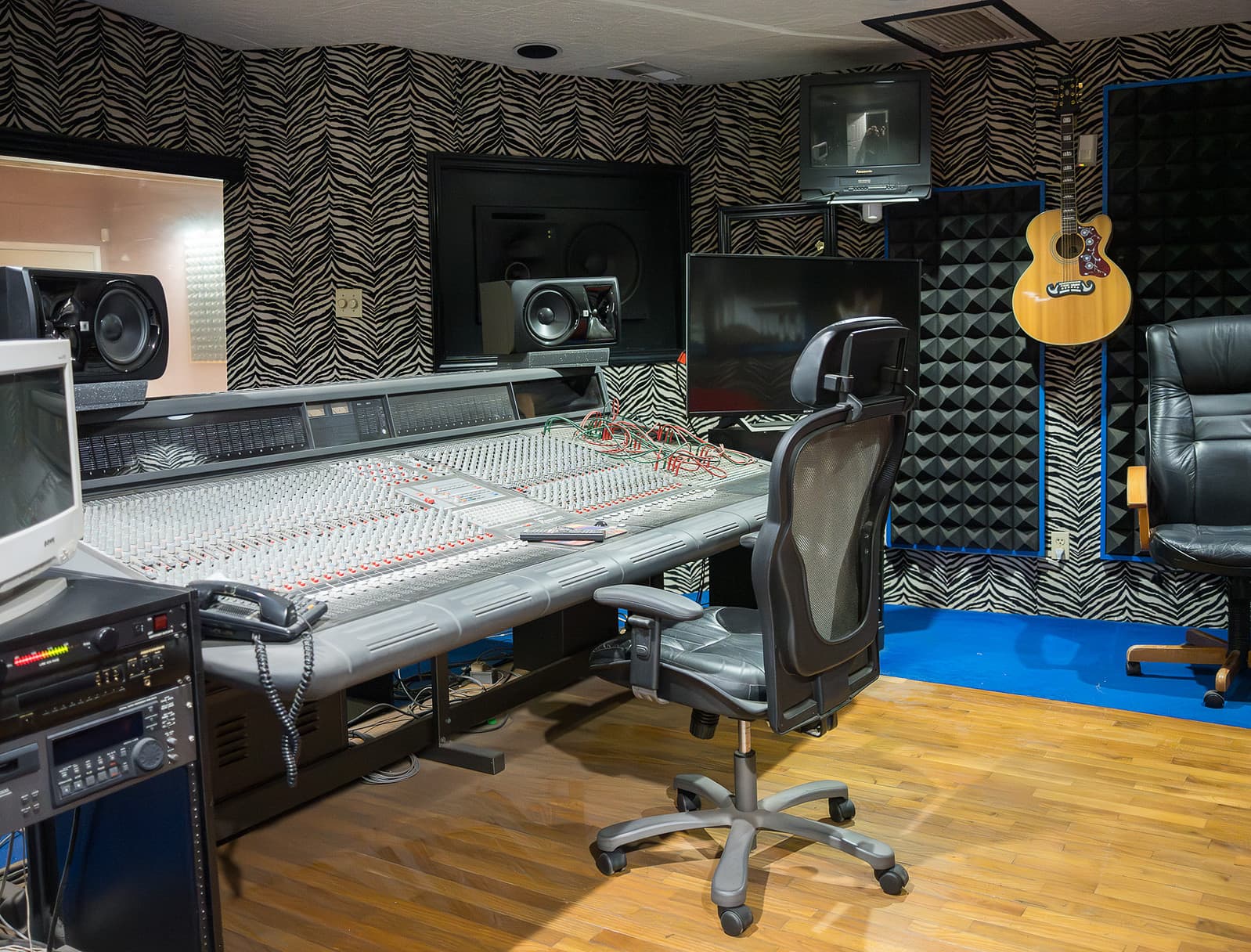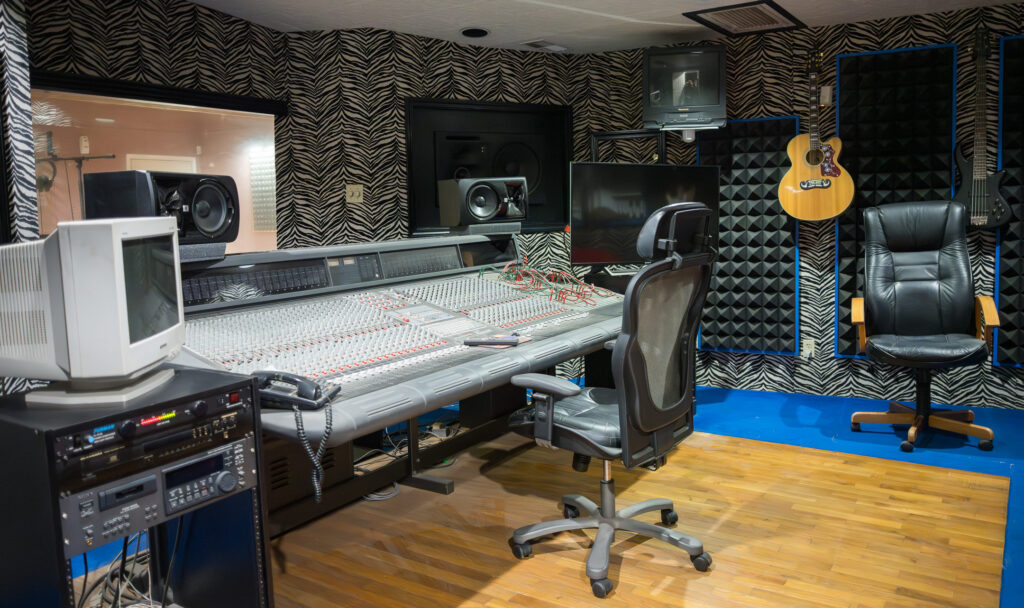 The guided tour begins at her recording studio and then continues in the collections room where you'll see her gold records, red Porche, and nearly twenty of her best-known outfits. These are fully accessorized and displayed on life-size mannequins, and accompanied by photos of the original wearing, so you can fully appreciate Selena's savvy fashion sense.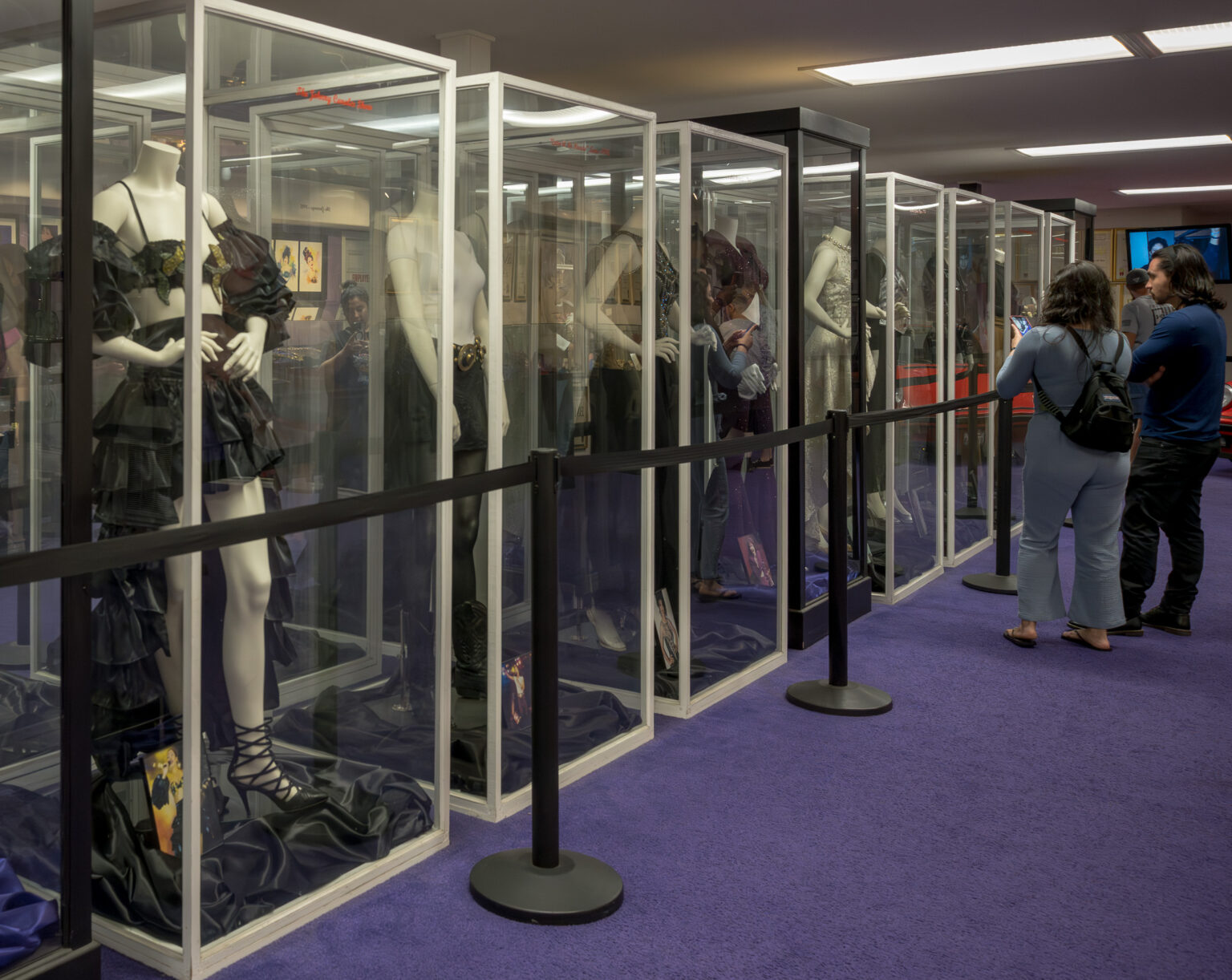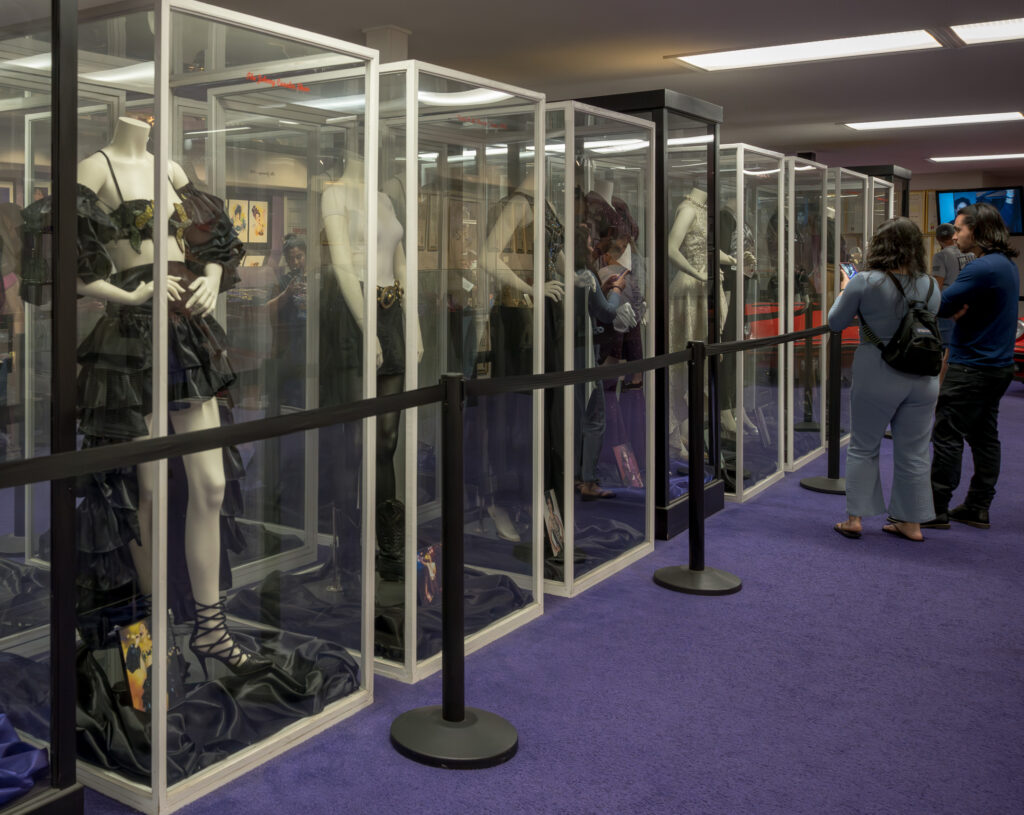 SEE: Self-Guided Selena Trail
Diehard fans may want to drop by Swantner Park where a flashback in the Selena movie, starring Jennifer Lopez, was filmed. This is the scene where Selena learns how to dance the cumbia from her mother by simulating a washing machine.
Stop by the Molina Neighborhood, at 705 Bloomington Street, where she shared a home with her husband, Chris Perez. And look for the San Singuenza-painted mural outside Times Market, it features her famous quote, "The goal isn't to live forever…the goal is to create something that will."
Taste Selena's favorite meal at the Tex-Mex Hi-Ho Restaurant, the Carne Guisada, and check out the homage to Selena in all the displayed memorabilia.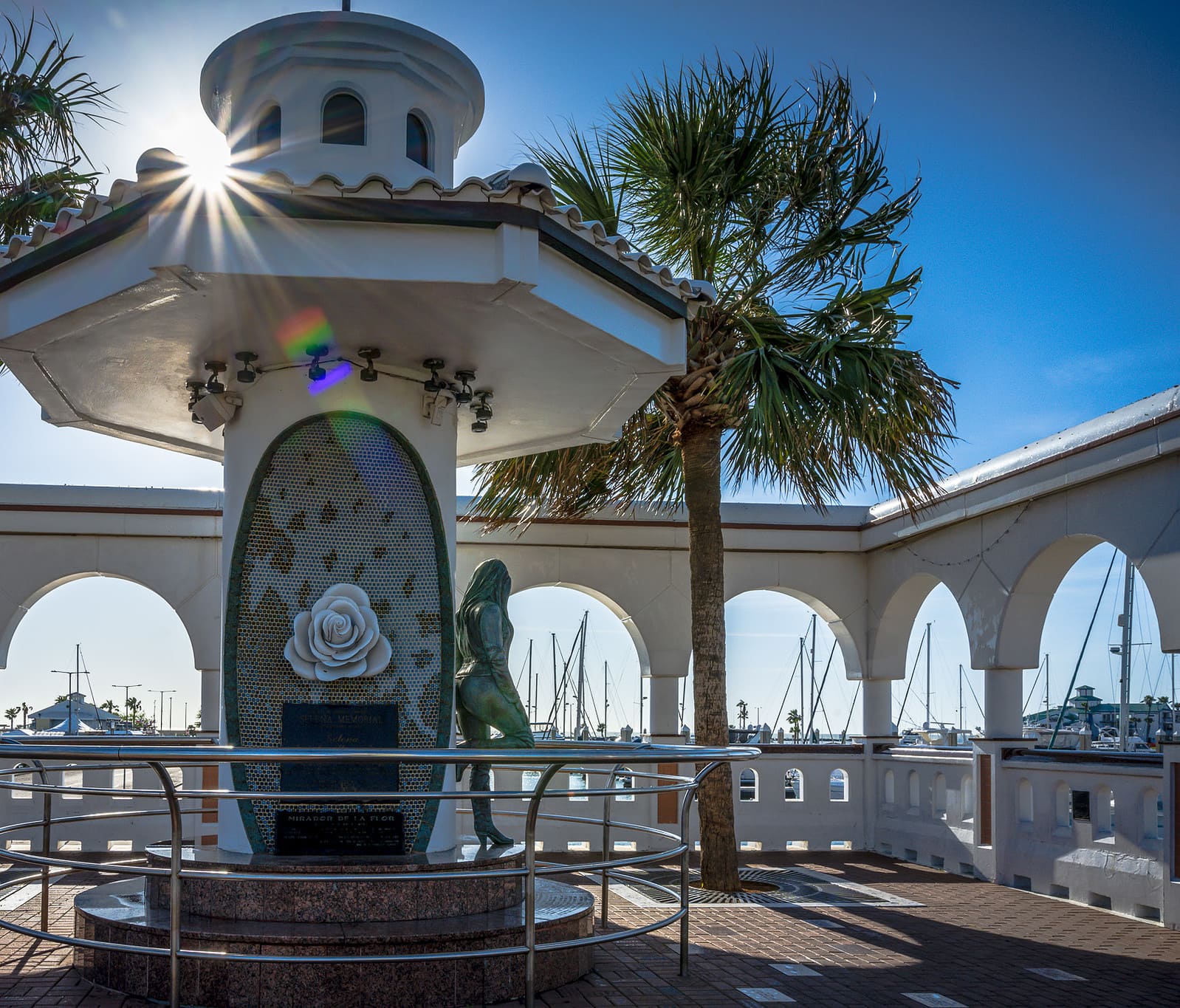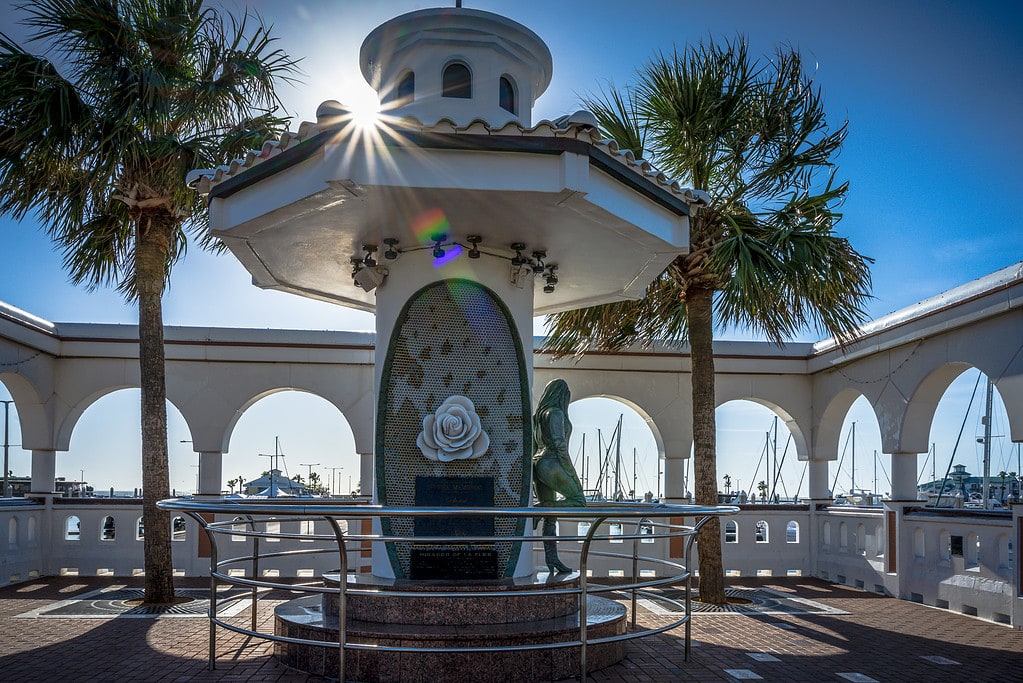 SEE: The Selena Memorial Statue
Even if you're not familiar with Selena, a visit to the Selena Memorial Statue, "El Mirado de la Flor" at the Corpus Christi Seawall, is well worth the stop. The memorial itself is gorgeous, and you'll want to check out the carved floor tile messages from friends and family, as well as many handwritten messages from adoring fans.
And walking along the beautiful marina waterfront is one of the most romantic things to do with your partner. Interestingly, the Bayfront Seawall was designed by sculptor Gutzon Borglum, who became famous for sculpting Mount Rushmore.
To learn more about the memorial, visit the Corpus Christi Museum of Science and History. In addition to regional history exhibits, as well as a focus on natural history, there is a small exhibit that tells the story of what went into the making of the memorial. The display also includes the original mold design of the Selena bronze statue.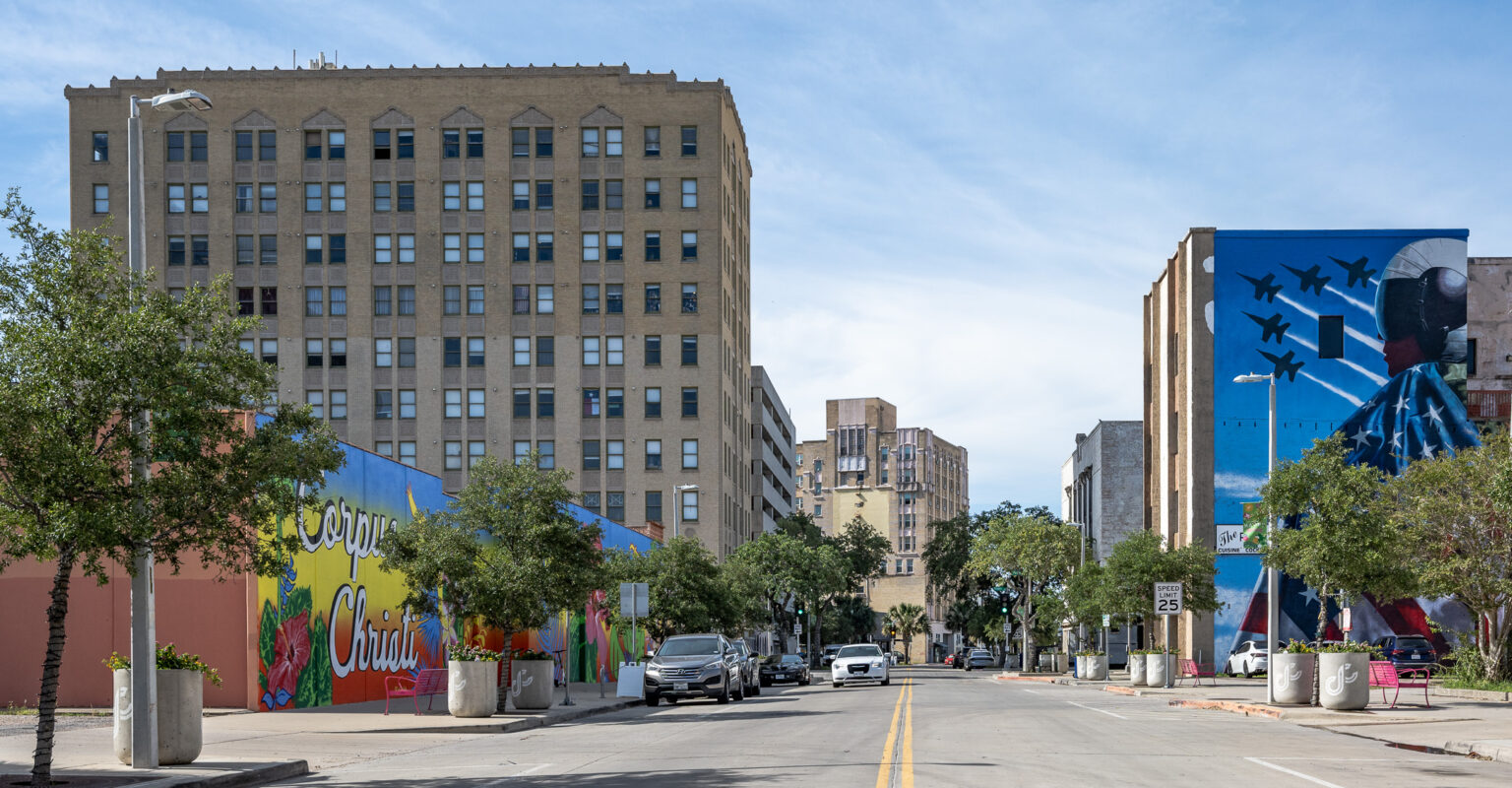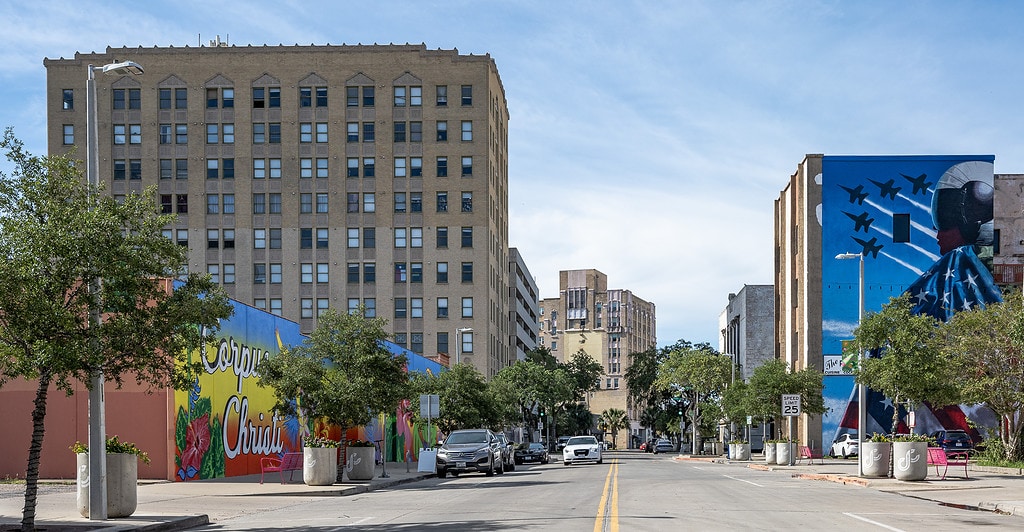 Jump Into a Colorful World of Corpus Christi's Art Scene
FIND: The Corpus Christi Mural & Art Trail
Download a mobile art pass at The Corpus Christi Mural & Art Trail for trail information, check-ins, and prize eligibility.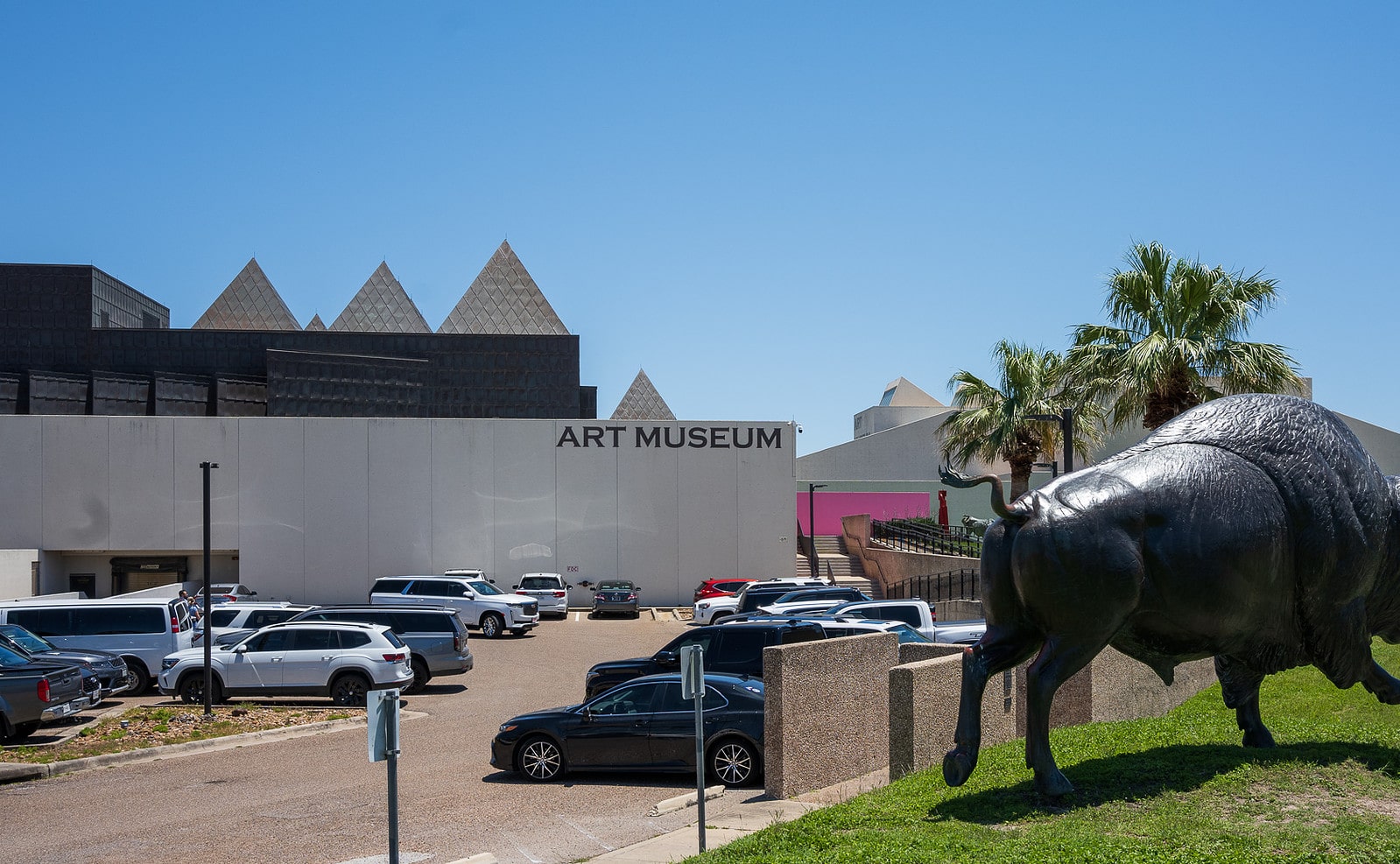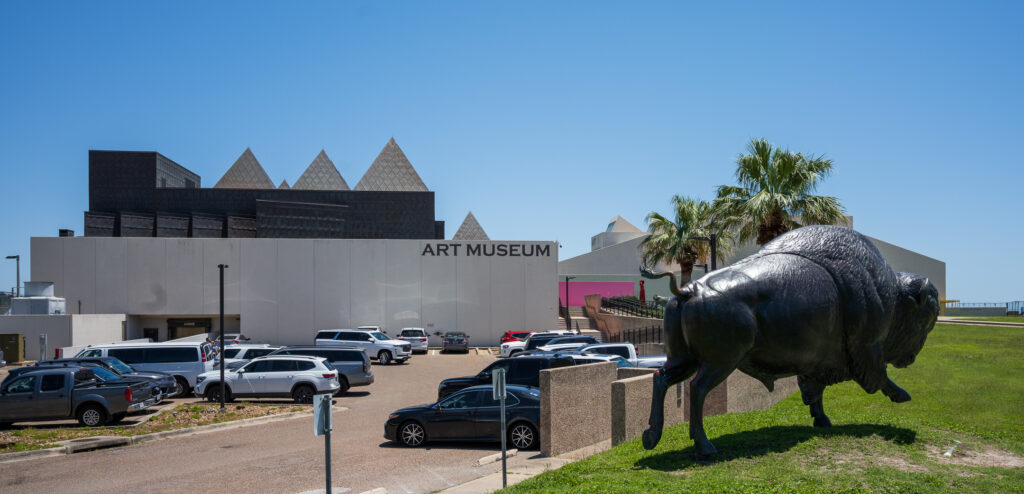 VISIT: The Art Museum of South Texas
Perhaps nowhere else is the connection between U.S. and Mexican heritage more evident than in the spectacular architecture of the Art Museum of South Texas.
Originally designed by East Coast architect, Philip Johnson in 1972, the structure was greatly expanded in 2006 by Mexican architect, Ricardo Legorreta. Now the colorful jumble of blocks and pyramids forms a distinctive landmark on Corpus Christi Bay.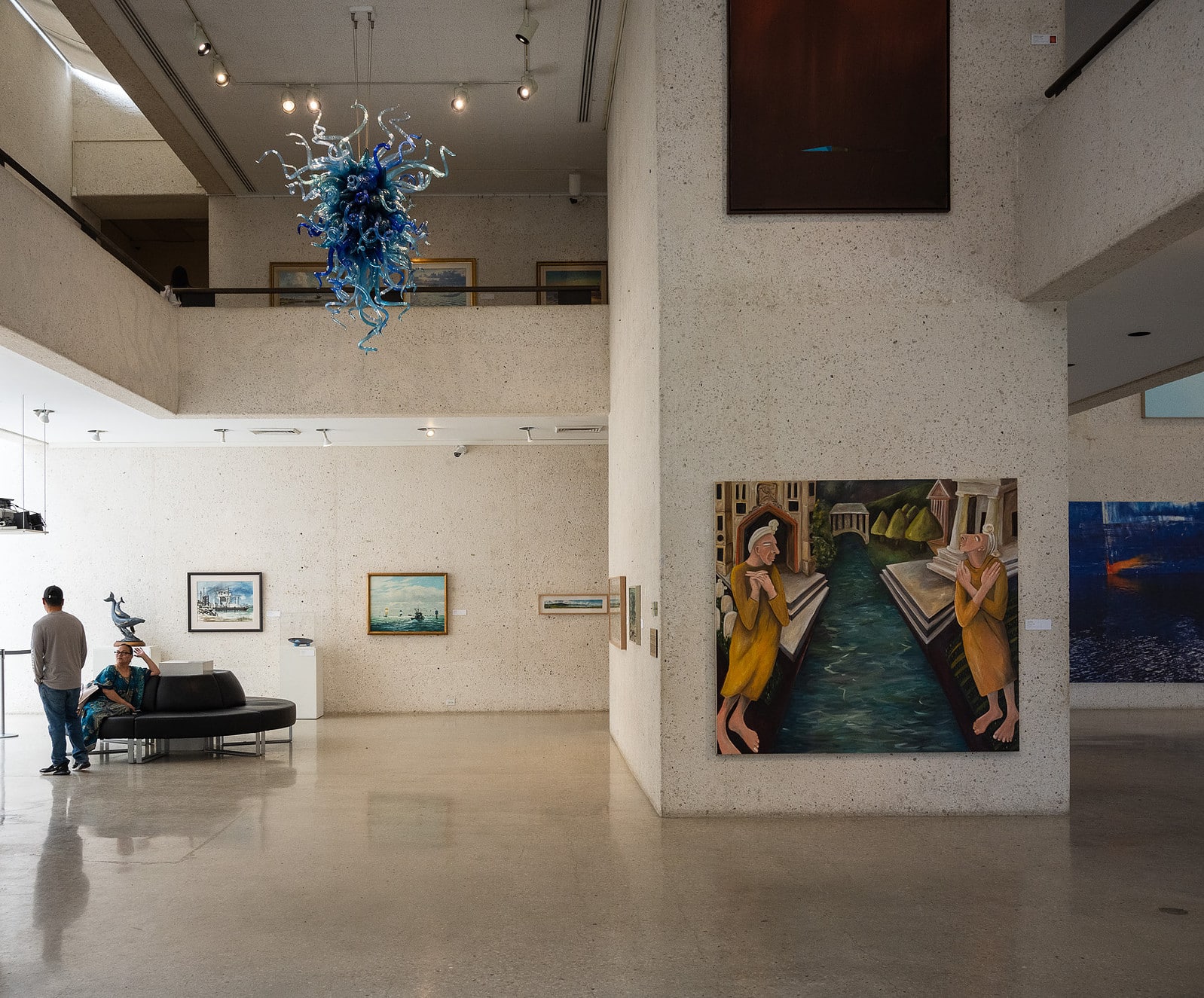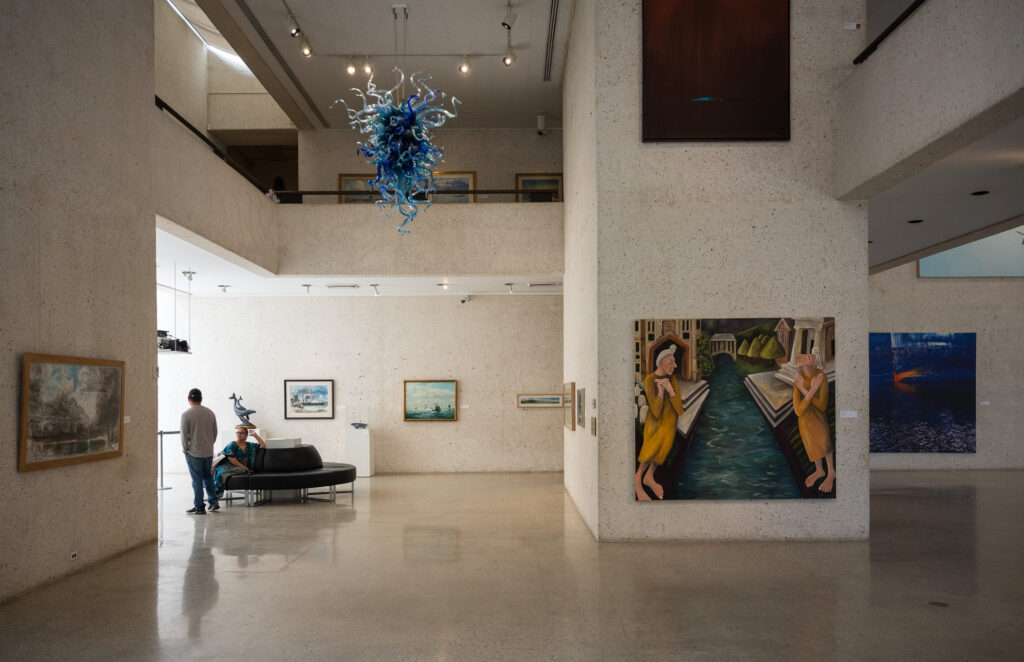 Inside, couples stroll hand in hand through stunning galleries that display a diverse collection of art from the Americas, particularly from Texas. Visiting exhibitions can be especially thought-provoking, and the current Collidoscope: de la Torre Brothers Retro-Perspective is no exception.
This was a particularly apt exhibit as the artists themselves grew up as bi-lingual and bi-cultural; living on the border between US and Mexico all their lives. Using humor, symbolism, and a mind-blowing range of artistic crafts, the pair touch on consumerism, overconsumption, hyperculture, migration, nationalism, and racism, among other topics.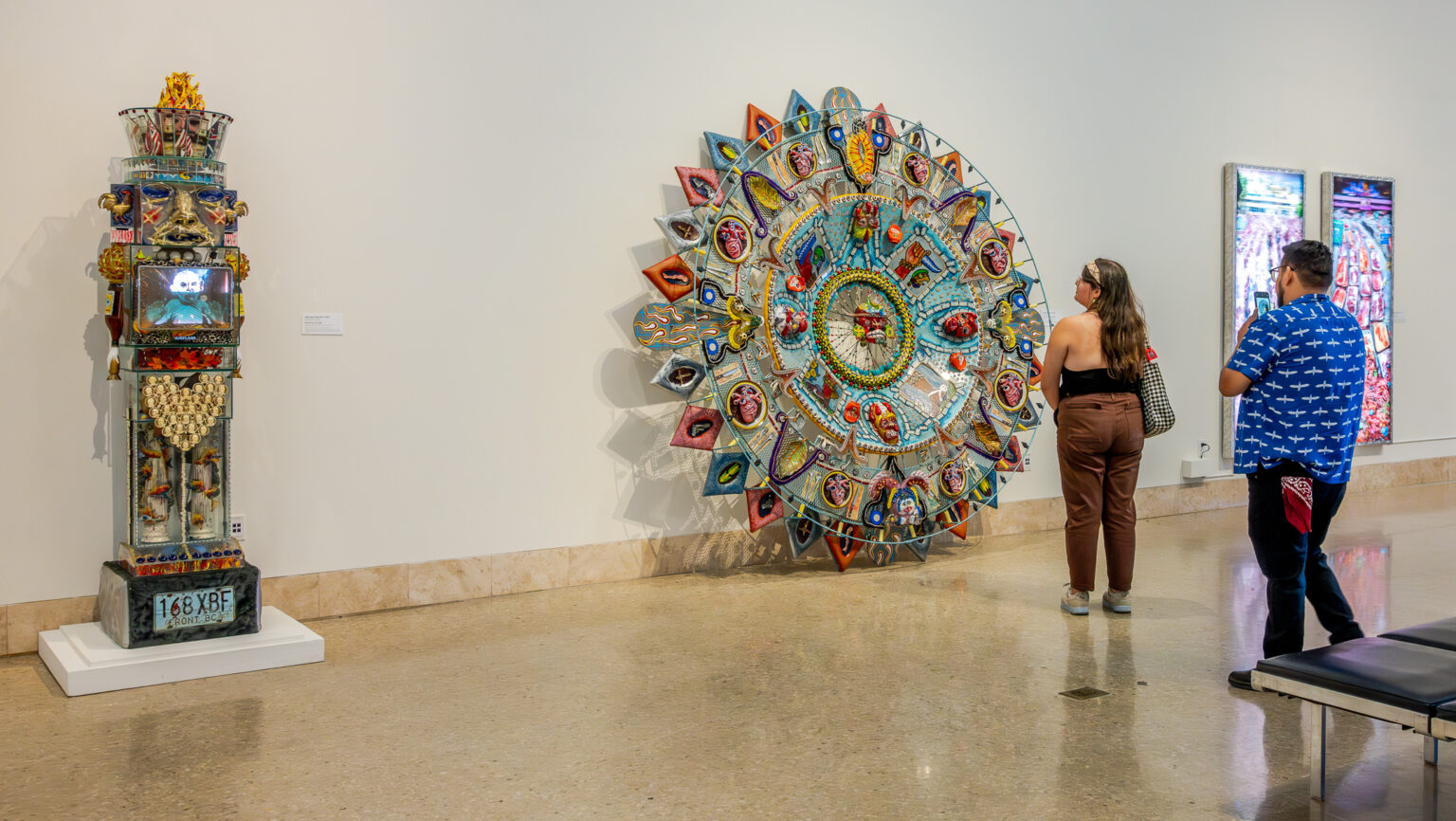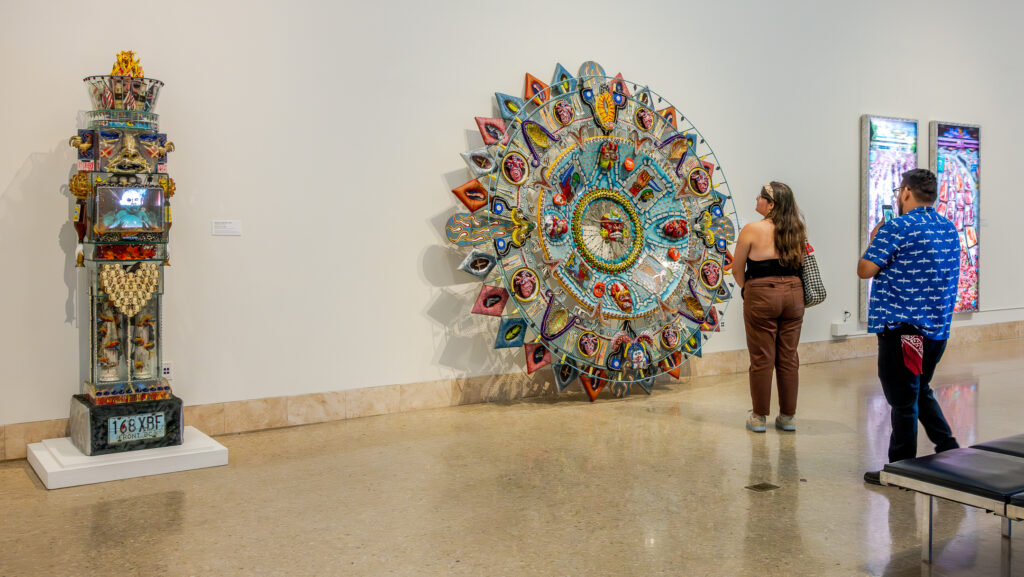 It's no surprise that Collidoscope was the inaugural temporary exhibit at the newly opened The Cheech Marin Center for Chicano Art & Culture of Riverside Art Museum (The Cheech) with support from the Smithsonian's National Museum of the American Latino (an initiative currently seeking a spot on the National Mall.)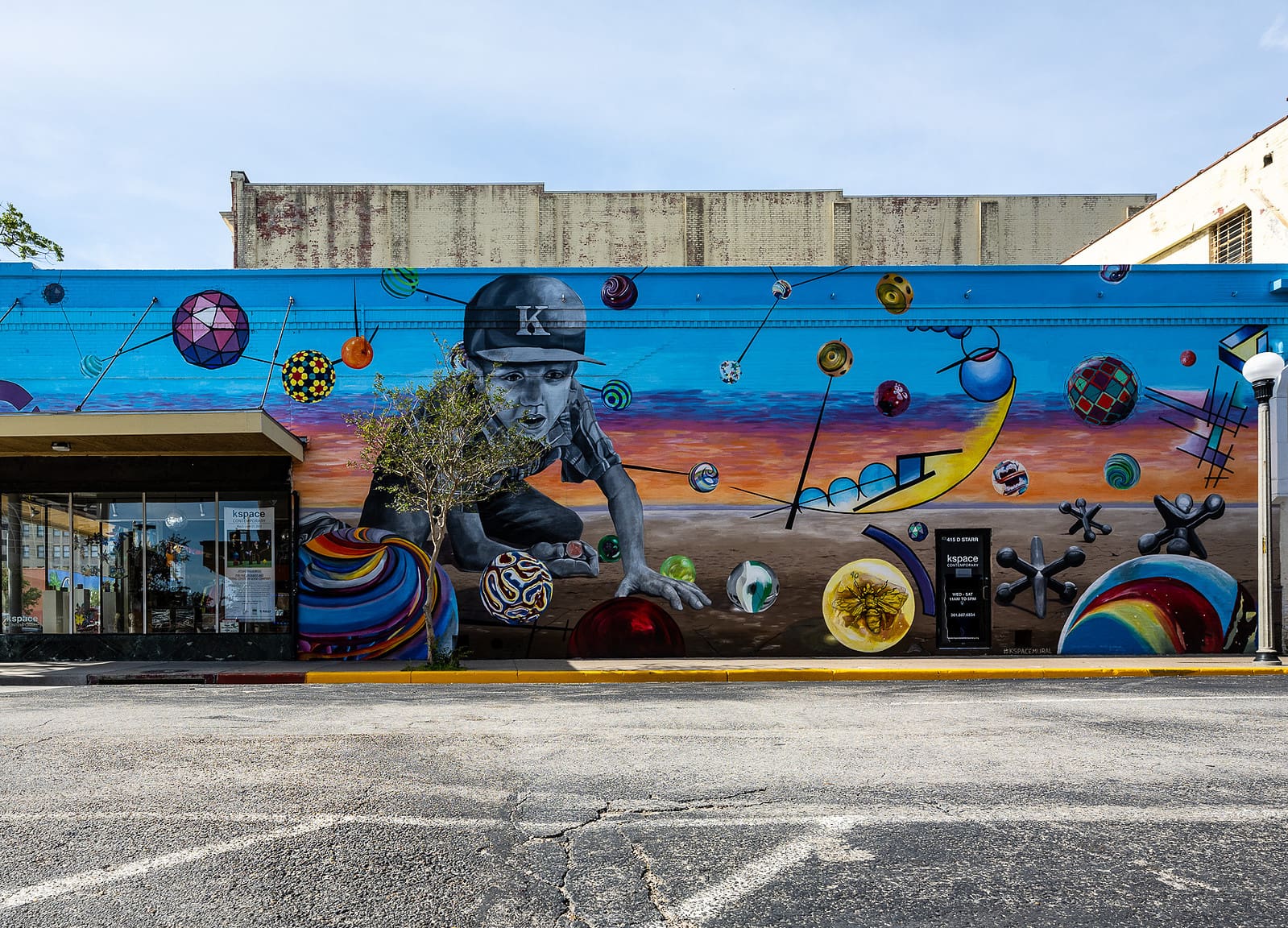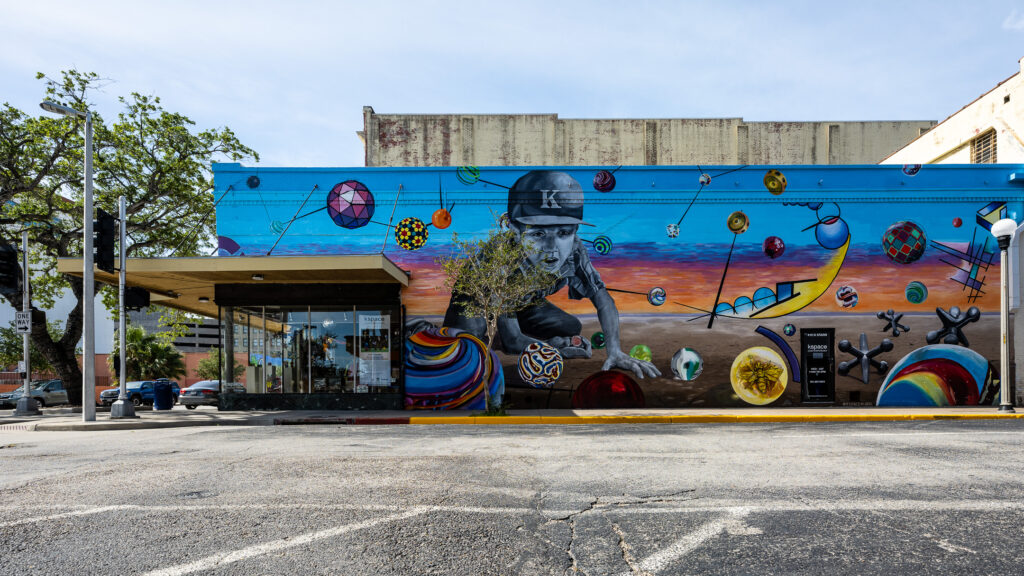 VISIT: Kspace Contemporary
See where boundary-pushing contemporary artworks come to life. With a nod to the building's history as a Kress Five & Dime Store, KSpace Contemporary shows over a dozen solo and group exhibitions each year.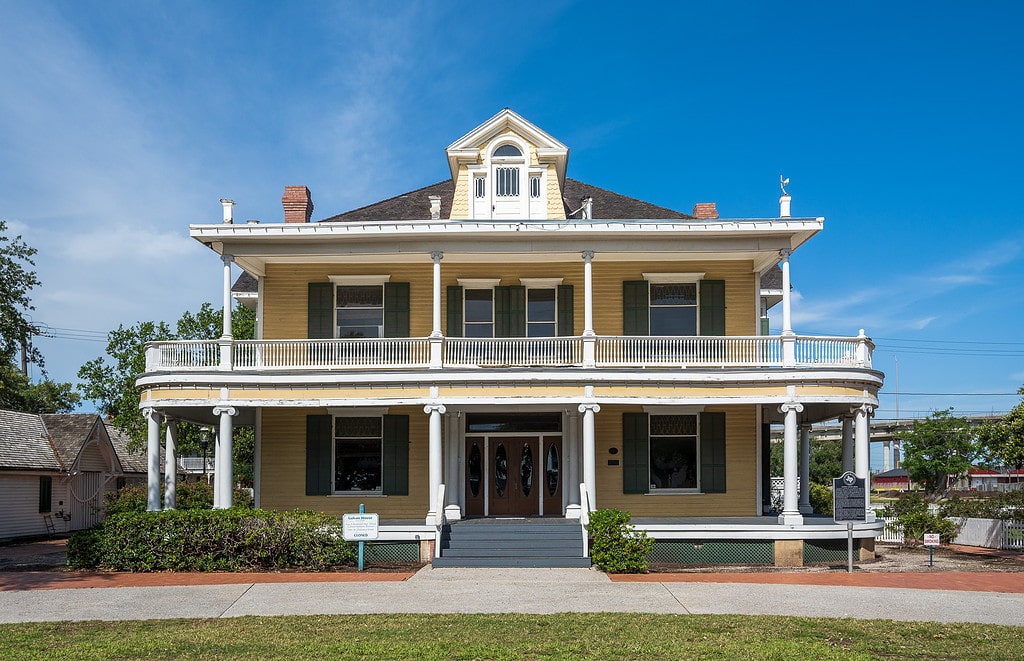 EXPLORE: Heritage Park
View the architectural roots of South Texas at Heritage Park, a city square with a collection of local historic homes. There are eleven buildings, including several Victorians, with the oldest dating back to 1851.
Most are closed to the public, so you'll just admire them from the outside. However, the Museum of Hispanic Culture (Instituto de Cultura Hispanica) maintains public hours. Additionally, Corpus Christi's oldest home, the Centennial House, located nearby, may be toured on the first Sunday of every month.


Escape The Blue Ghost
Ignite your adventurous spirit by visiting the USS Lexington Museum, an aircraft carrier turned museum. Explore the decks, admire vintage aircraft, and delve into the rich history of this majestic ship. Climb to the flight deck for breathtaking views of Corpus Christi Bay, where you can steal a romantic moment with your loved one.
Commissioned during World War II, the Essex Class aircraft carrier is massive with eleven decks spread out over 100,000 square feet. Visitors can view over a dozen WWII-era aircraft, as well as a cool Scale Model collection and a Pearl Harbor exhibit. There's also a flight simulator and 3D theater, plus an Escape Room attraction that makes good use of the ship's nickname, the Blue Ghost.
Apparently, Tokyo Rose gave it the moniker after Japanese propaganda claimed that the USS Lexington had been sunk no less than four times.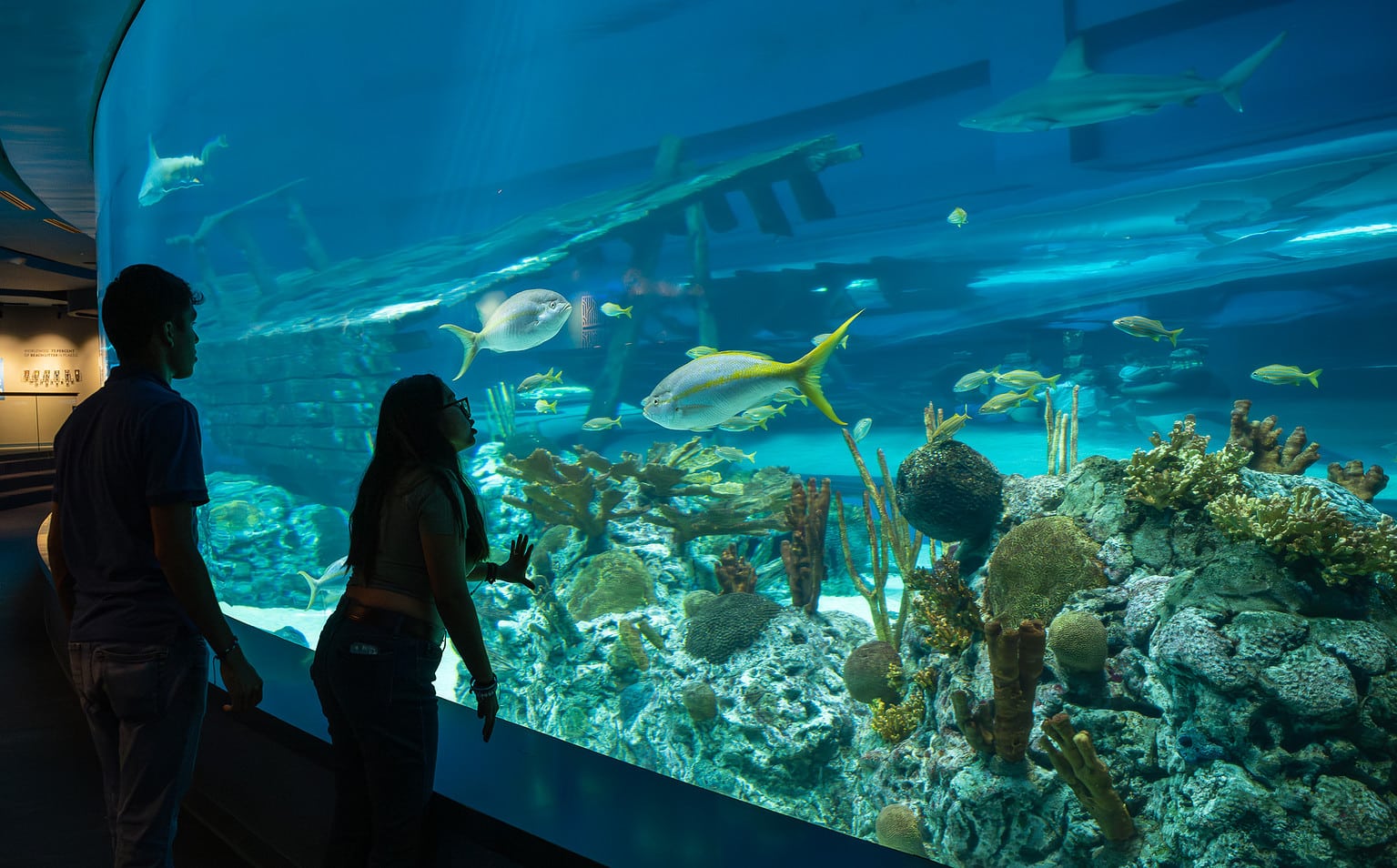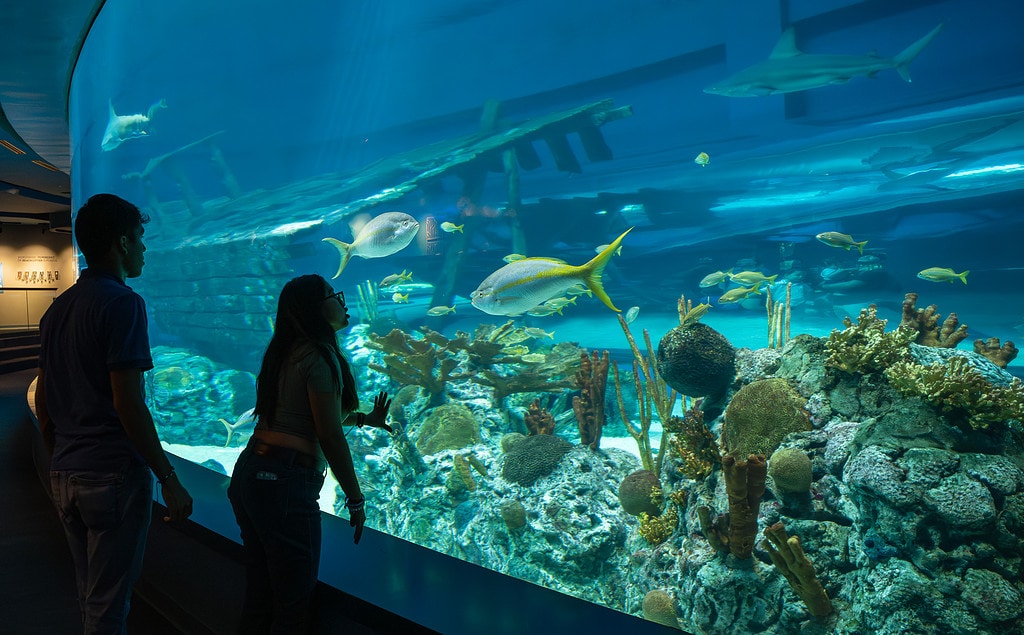 Dive Into The Gulf Coast
Explore Coastal Texas' marine life at the Texas State Aquarium and Wildlife Rescue Center. Actually housed in two side-by-side buildings, the Wildlife Rescue Center is a state-of-the-art facility. And if you time your visit right, you just might see one of the procedures through windows into very modern veterinarian operating rooms.
We didn't see any on our weekend visit, but we were able to spot a sea turtle diving through a window into a tank.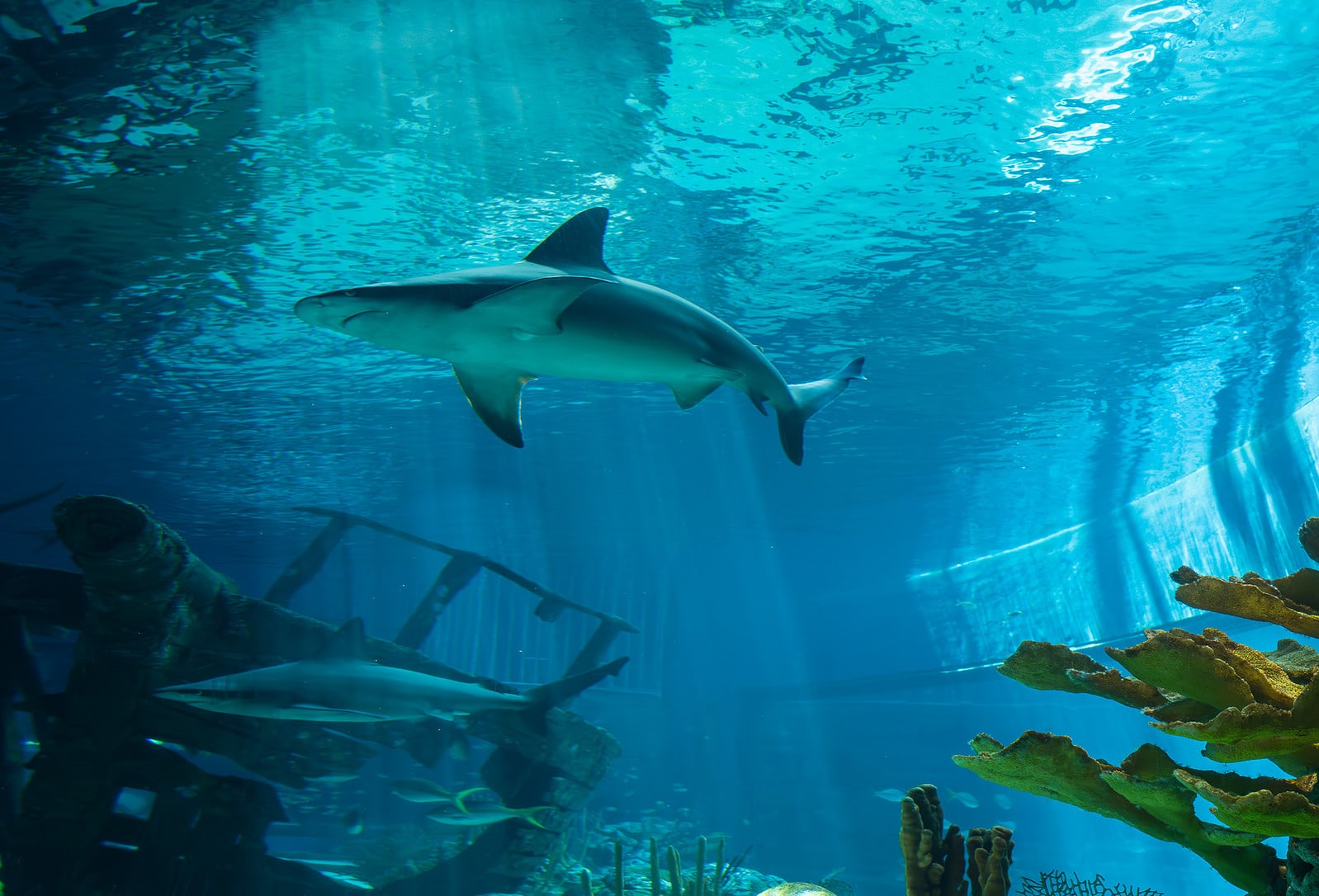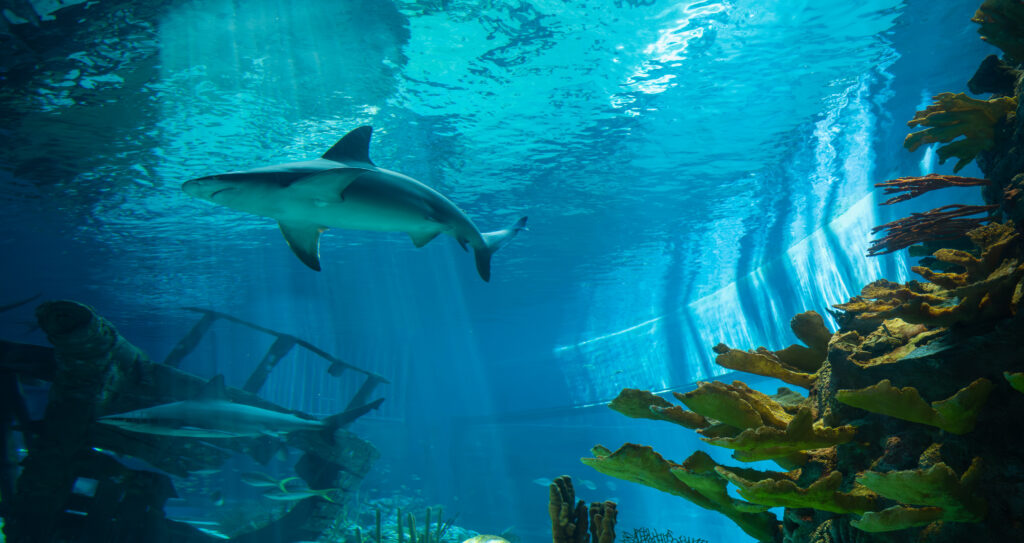 In the main building, you can walk through a number of habitats, including a Gulf of Mexico habitat. Admittedly, being originally from the US Virgin Islands, I was partial to the Caribbean Journey which takes you around and UNDER a 400,000-gallon shark tank.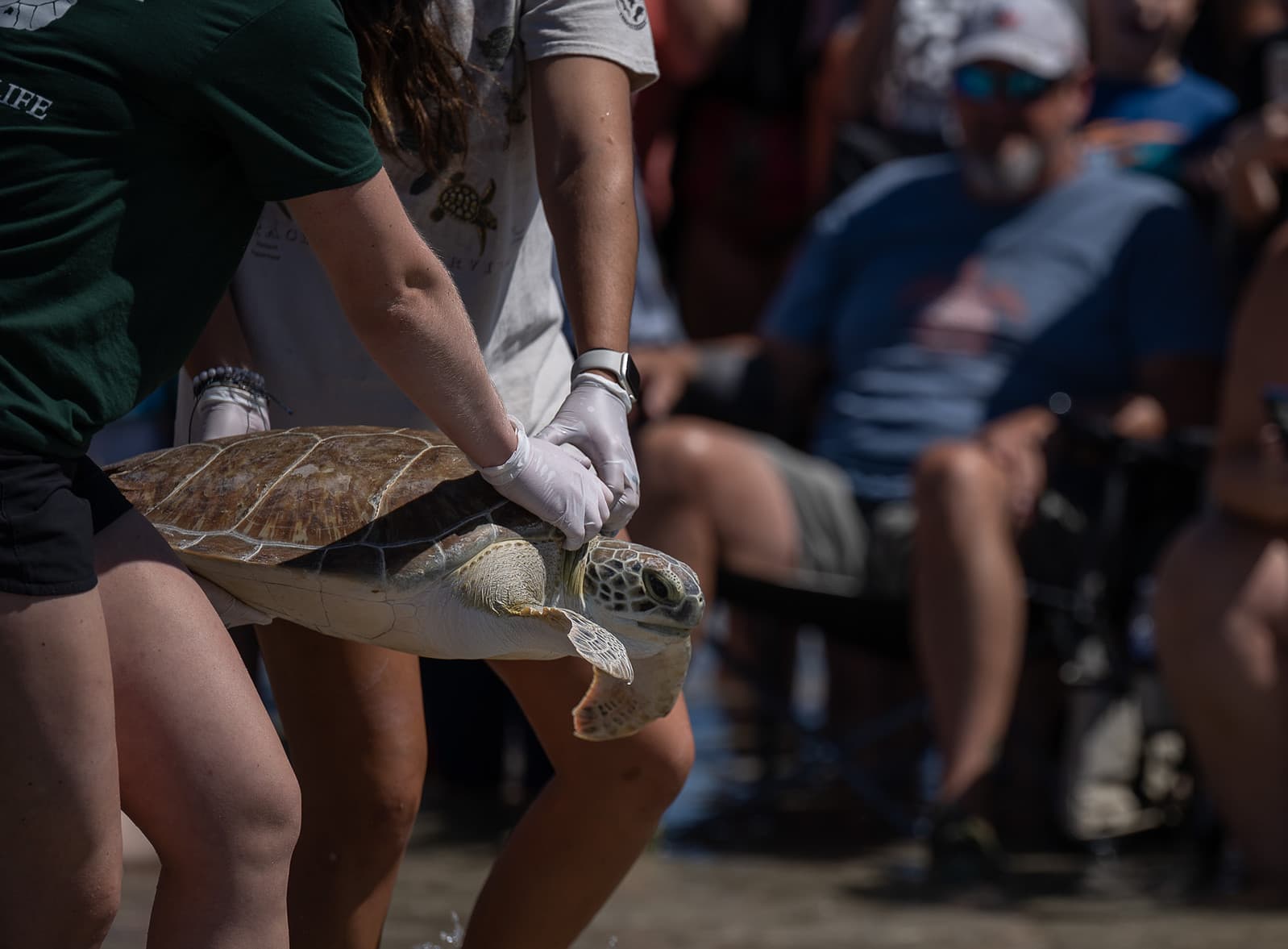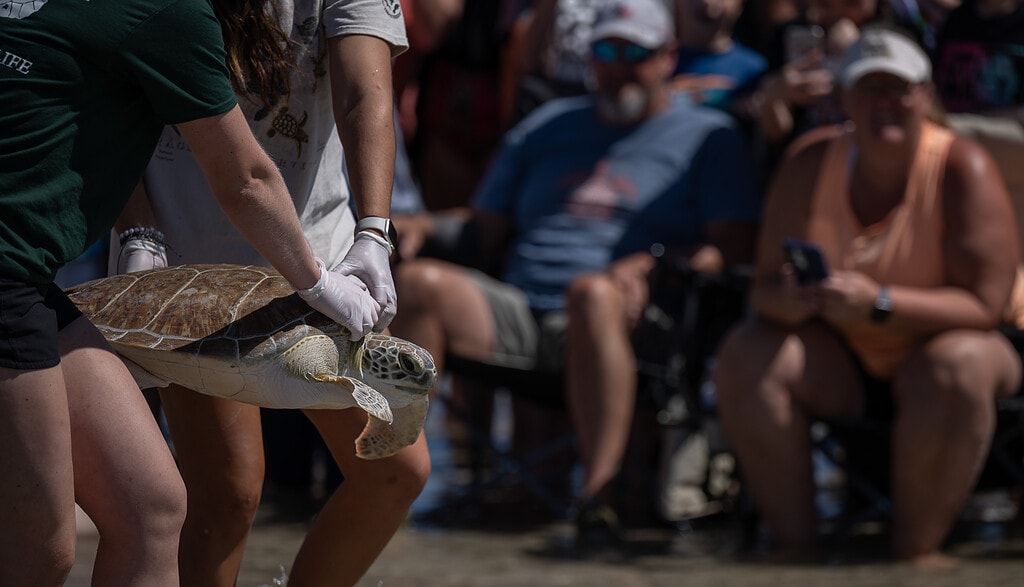 Just by luck, our visit coincided with a scheduled Sea Turtle release by another great wildlife rescue organization, the Texas Sea Life Center. On the first sea turtle release of the year, thousands lined up at JP Luby Beach to see twelve sea turtles being returned to the ocean after a stint at the rehabilitative center located in Packery Channel Nature Park (located on the way to Mustang Island State Park or Padre Island National Seashore.)
Several days a week, visitors are invited to tour the facilities and meet sea turtle patients as well as education ambassadors.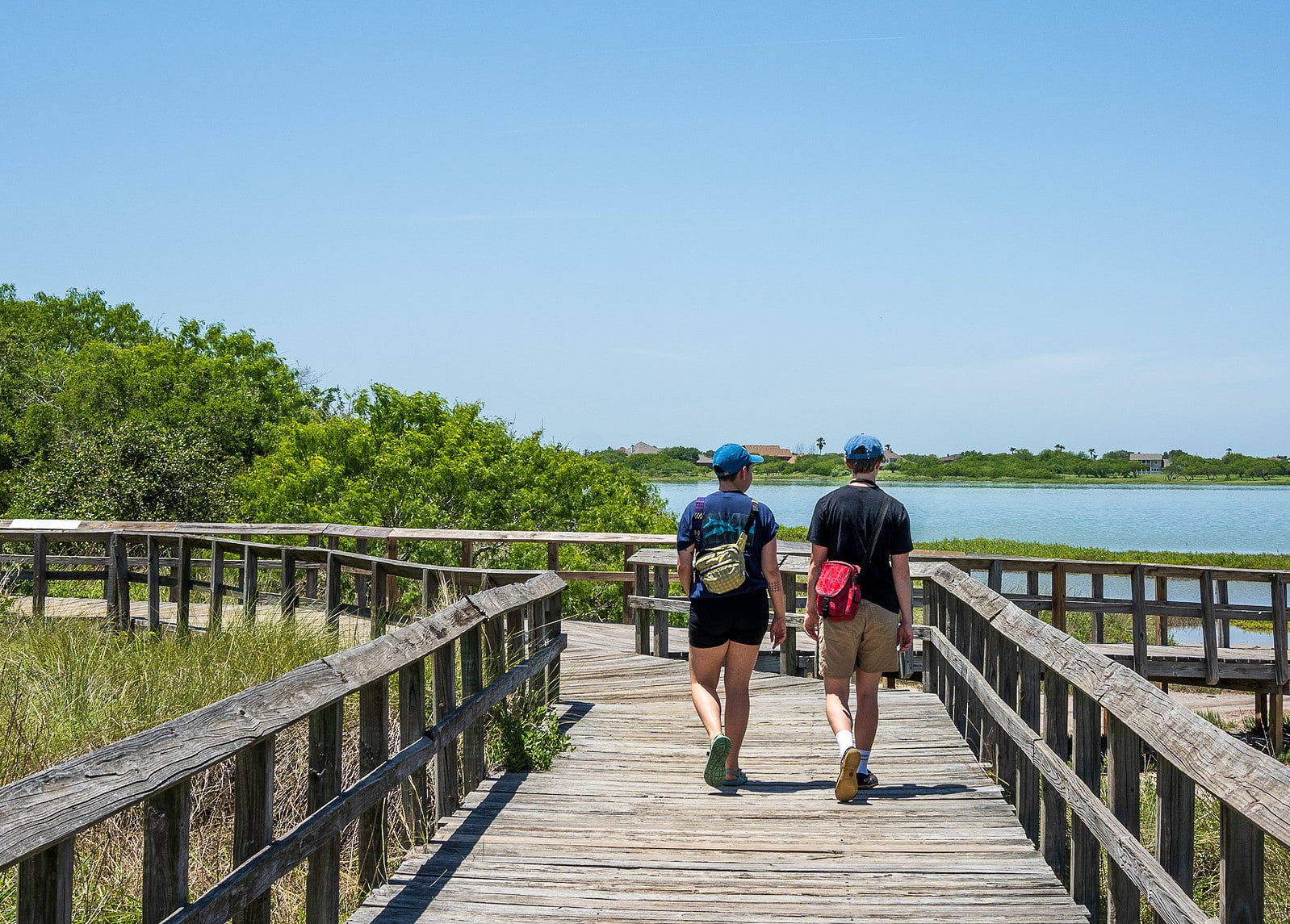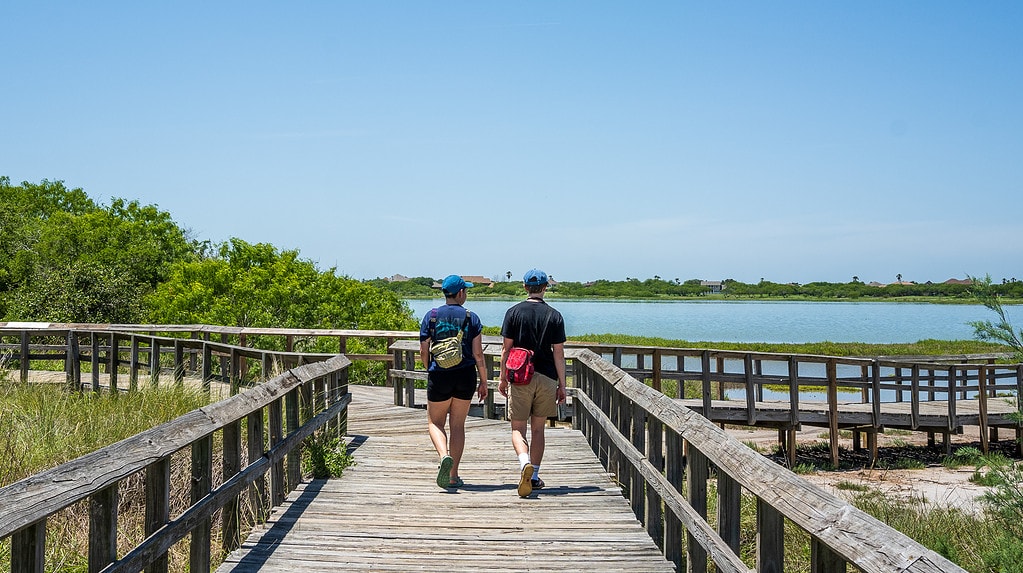 Collect Birds In The Birdiest City In America
The boardwalk trail at the Packery Channel Nature Park mentioned above is also an excellent spot to collect birds during the Birdiest City In America Competition. And, in fact, with over 200 species of birds, Corpus Christi has won that honor year after year.
In addition to the nearby state and national parks, here are a few more great places to go birding in Corpus Christi: Blucher Park, the Hans & Pat Suter Wildlife Refuge, and the Brennecke Nature Trail at the South Texas Botanical Gardens (see entry below.)
Soak In The Sunset On The Bay
Book the sunset boat tour aboard the Japonica from Harrison's Landing, and you stand a good chance of witnessing dolphins frolicking in the water. Even if you miss them, the view of Corpus Christi Bay can't be beaten. Afterward, drop by the restaurant for lunch or dinner & drinks.
Share A Play Date At Hurricane Alley Waterpark
With its thrilling water slides, lazy river, wave pool, and thrilling rides, Hurricane Alley Waterpark promises a splashtastic adventure for visitors of all ages.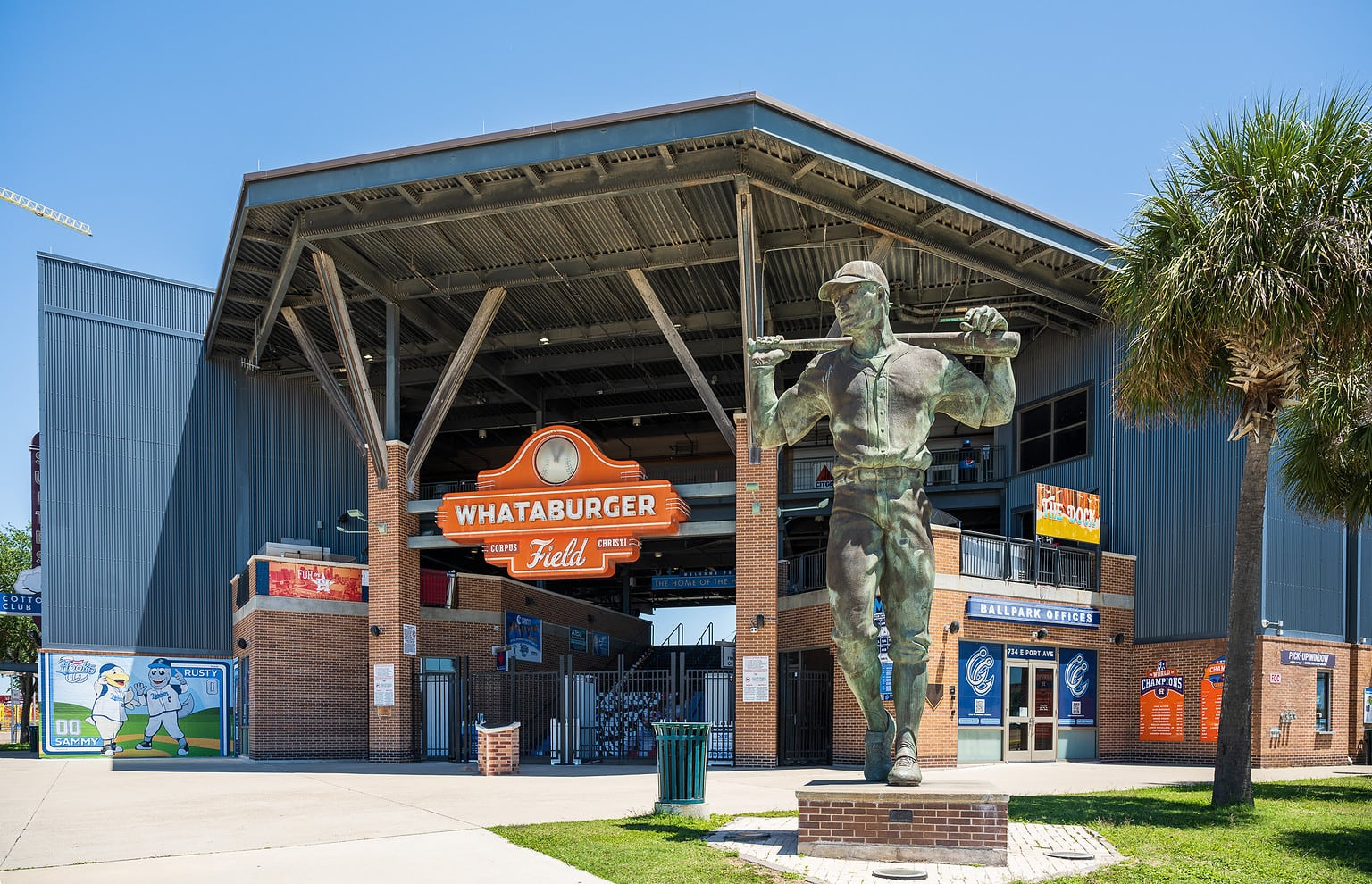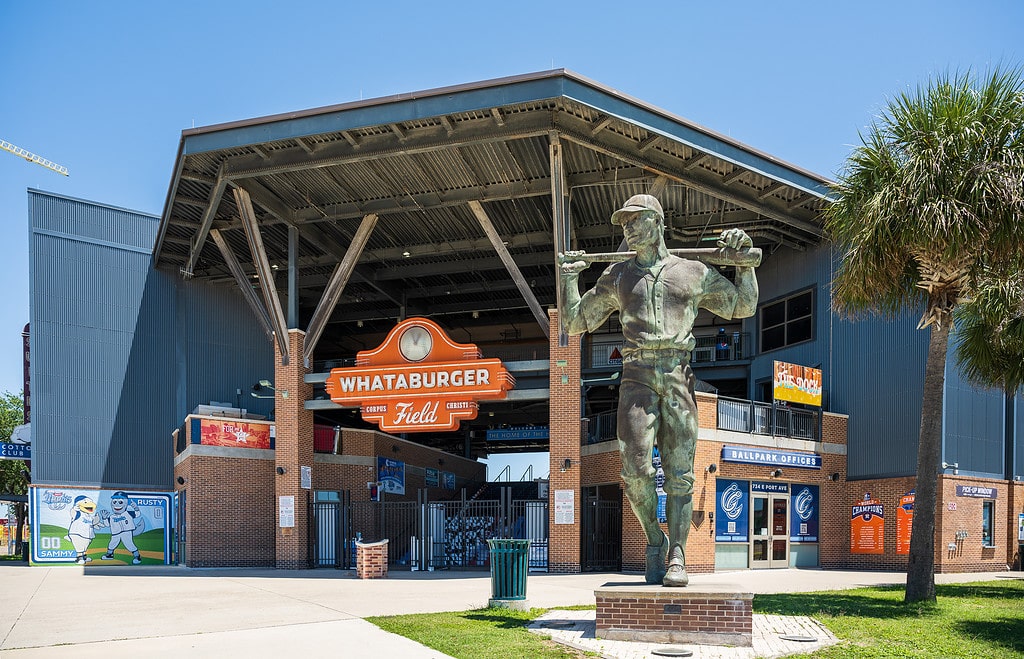 Catch A Classic At Whataburger Field
Home to the Corpus Christi Hooks, a Minor League baseball team, the Whataburger Field stadium is a surprisingly modern venue to watch America's favorite pastime.
Share A Romantic Picnic With Your Beloved
Enjoy all the pleasure of a beautifully laid-out picnic, without any of the work. Pretty Picnics Corpus Christi offers a number of picnic packages–from a simple date night Sweetheart Picnic option to a Proposal Package and even a Wedding Picnic. And it's available at three park locations within Corpus Christi: Swatner Park, Whitecap Beach, and Cimarron Park.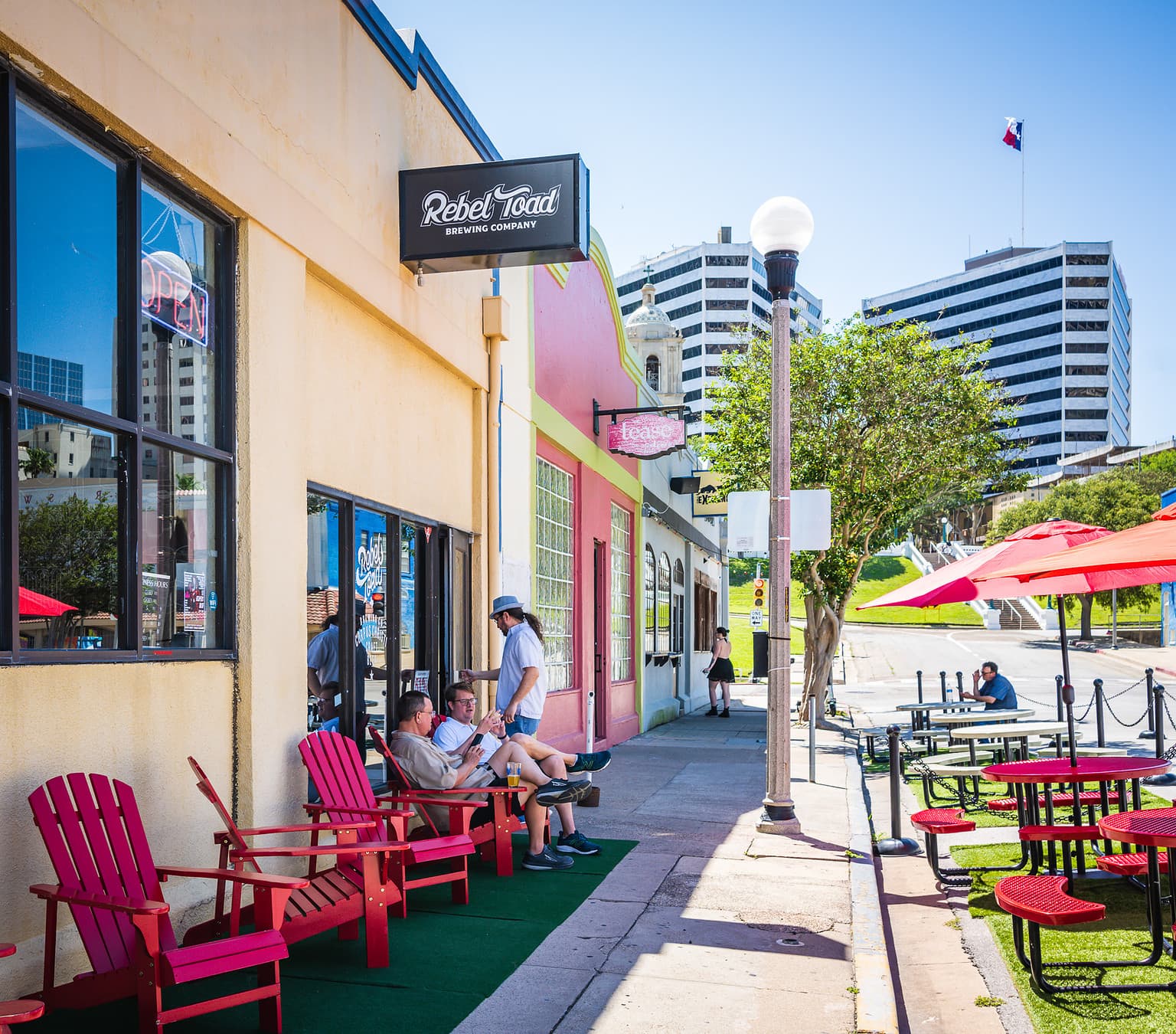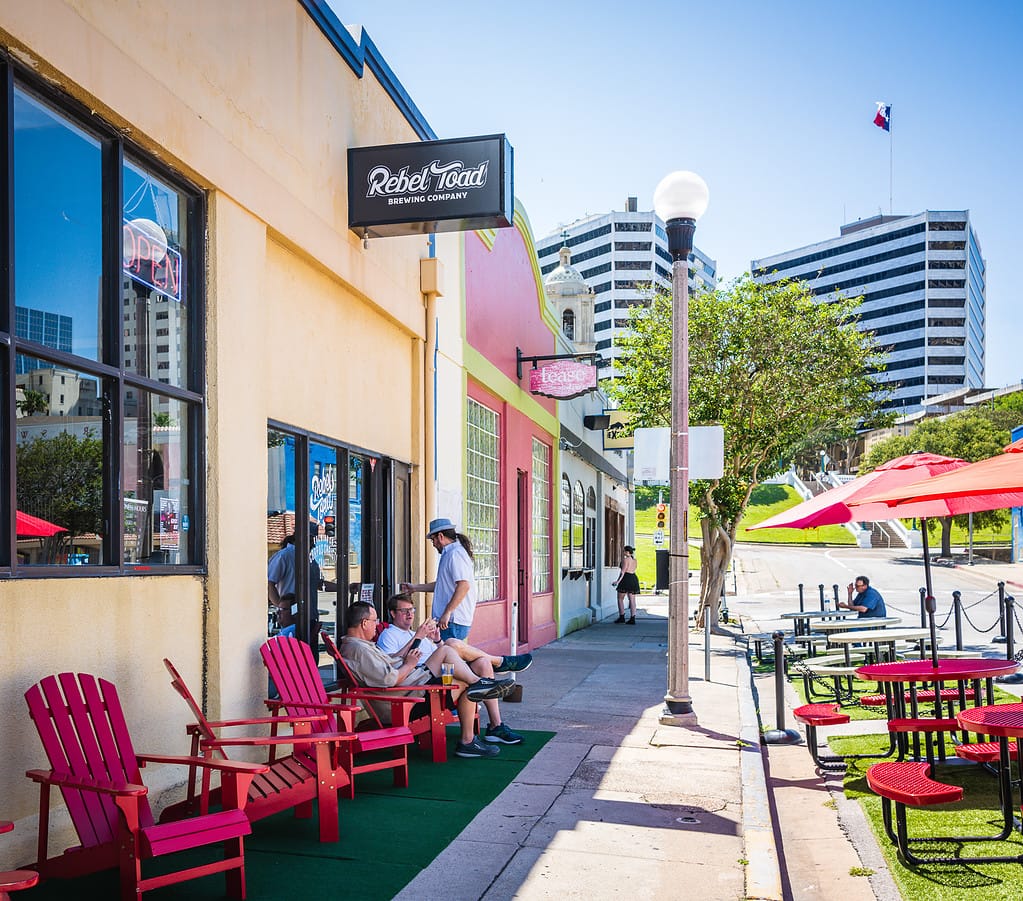 Go Bar Hopping After Dark (Or Much Earlier)
Rebel Toad brews can be found at a number of bars and restaurants around South Texas, but why not go to the source? The Tap Room, located about a block from the Corpus Christi Visitor Center, typically carries 8-12 beers on draft and is a surprisingly mellow place to hang out. Rebel Toad is one of 5 local breweries on the Corpus Christi Beer Trail.
Set in a former Greyhound Bus Station, BUS (Bus Under the Sun) offers signature cocktails–ex. Ghost of the Greyhound–plus shareable snacks. Both pet and kid-friendly, there's an indoor and outdoor bar, plus live music and yard games.
Art gallery or a beer garden? Why not both? The Produce Bar Co., a collaboration between Produce Art Gallery and El Dusty (a project by the DJ, Dusty Oliveira, thought to have invented Cumbia Electronica) whose Produce Goods has lately morphed into a mini-bodega.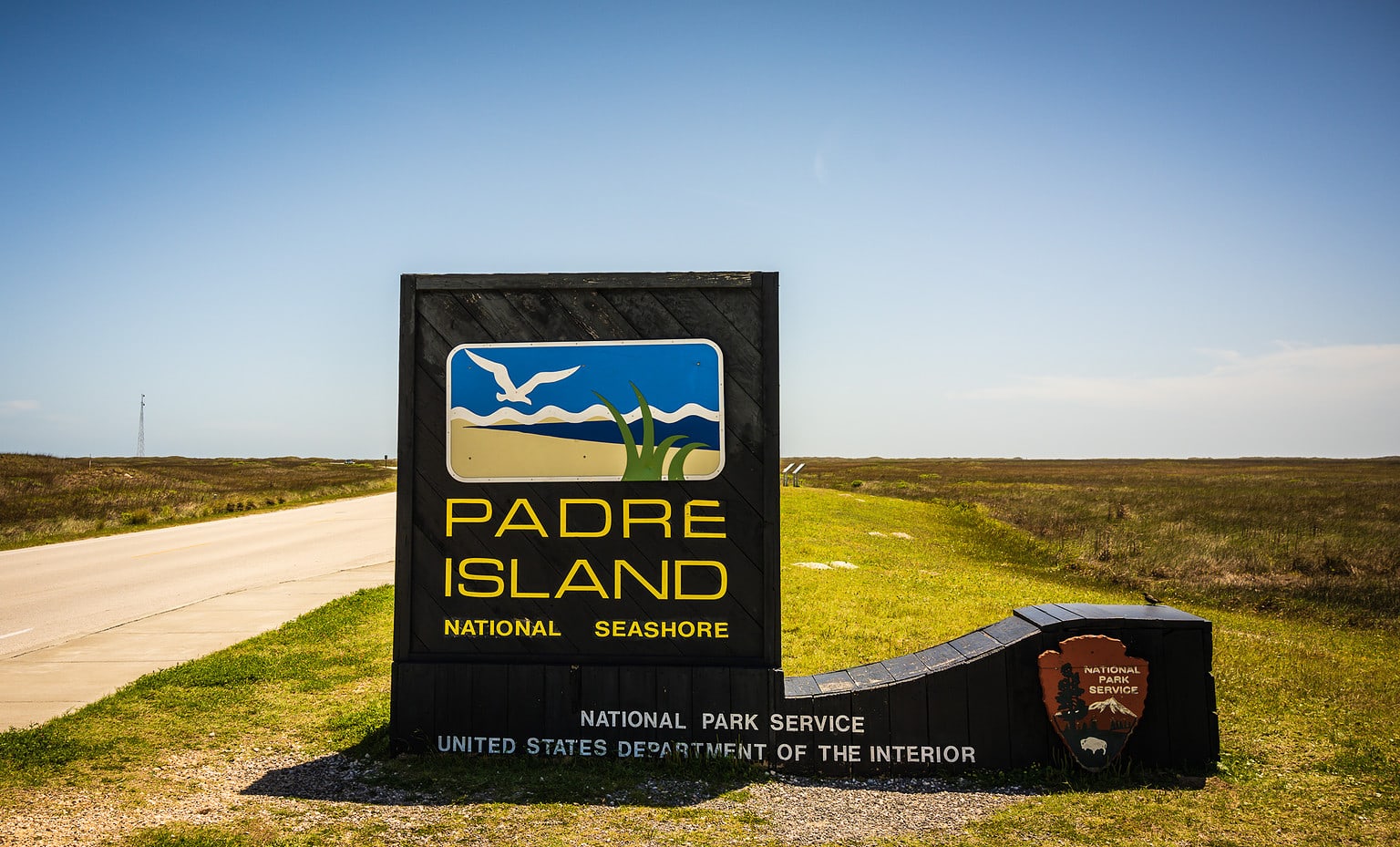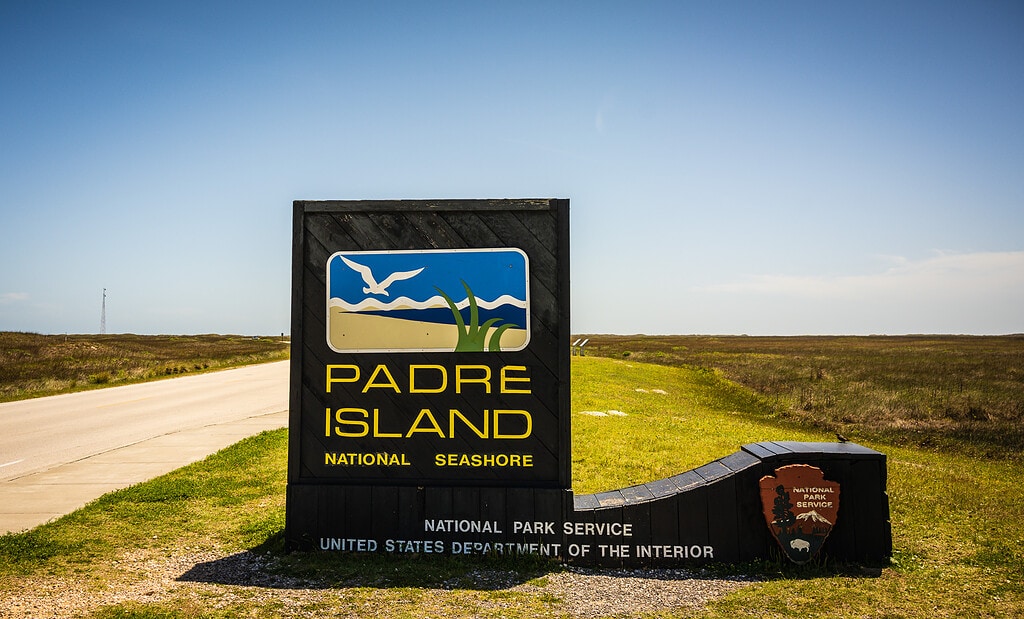 Things To Do Near Corpus Christi
GO: Padre Island National Seashore
For many folks visiting Corpus Christi, the initial draw may well be to explore Padre Island National Seashore. But the experience can be as adventurous, or not, as you like. Park activities include hiking, birding, fishing, and a full spectrum of watersports.
Regardless, we highly recommend beginning your visit at the Malachite Visitor Center.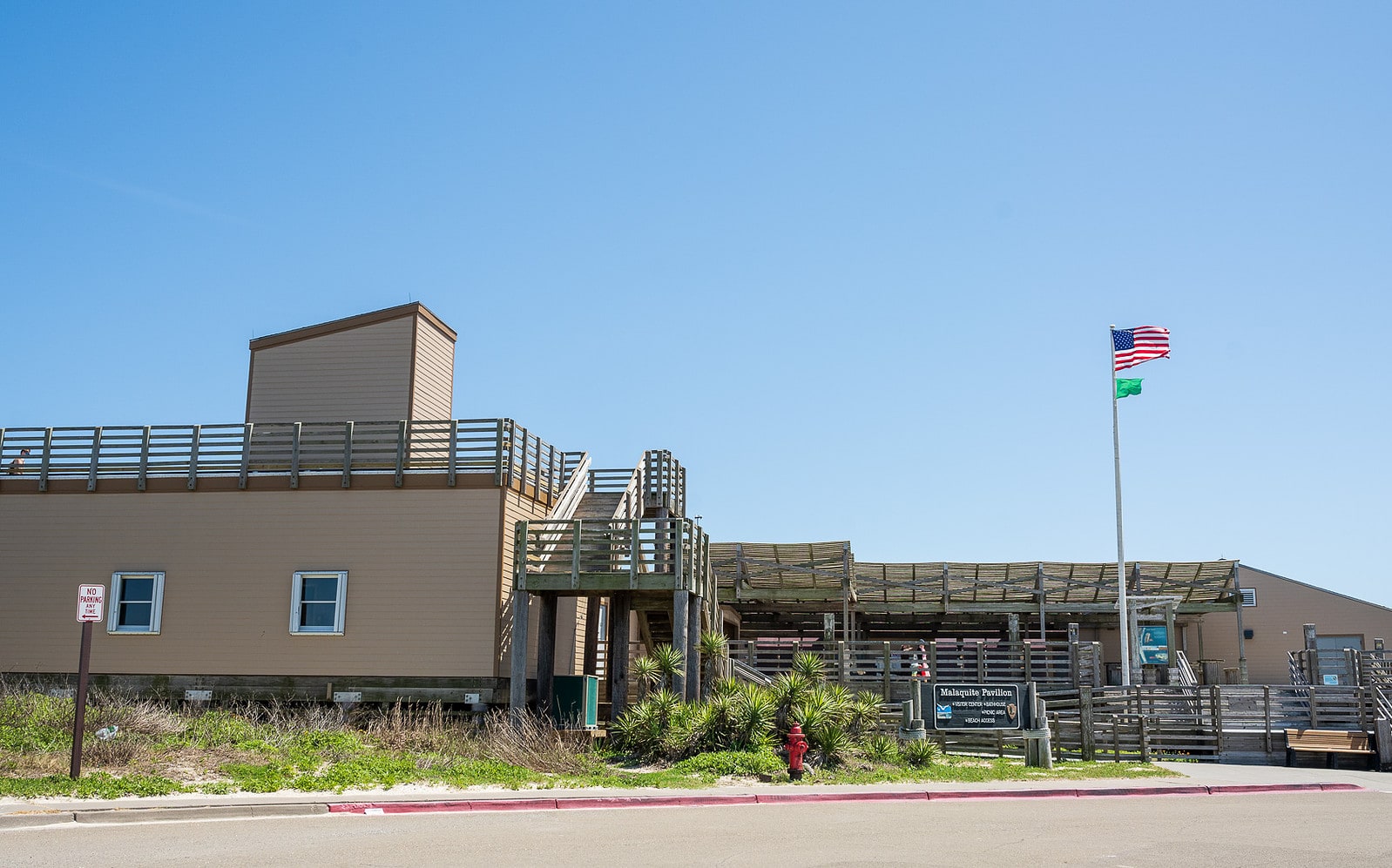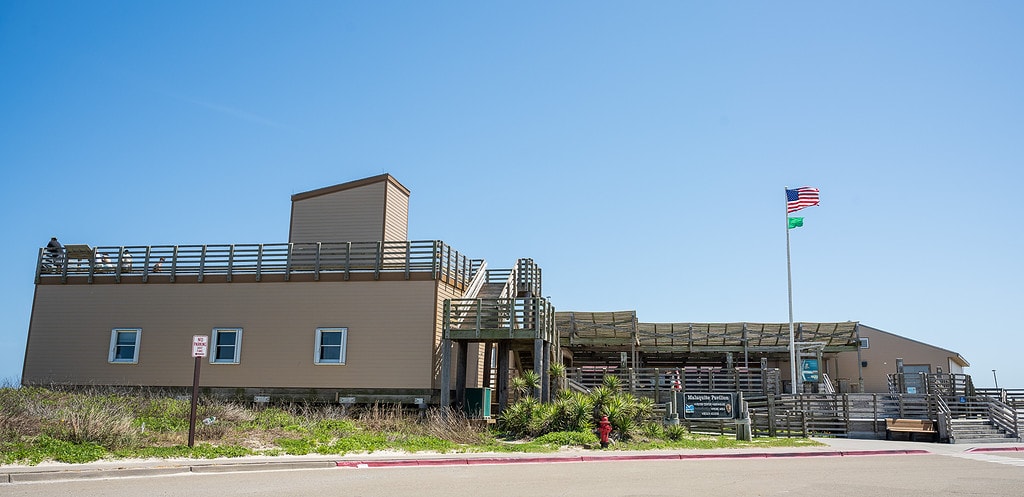 Park Rangers will be able to recommend activities, and most importantly, they can share current tide information (also available on www.USHarbors.com.) This is crucial information if you plan to camp down island along the 60 miles of unpaved beachfront where you are allowed to drive.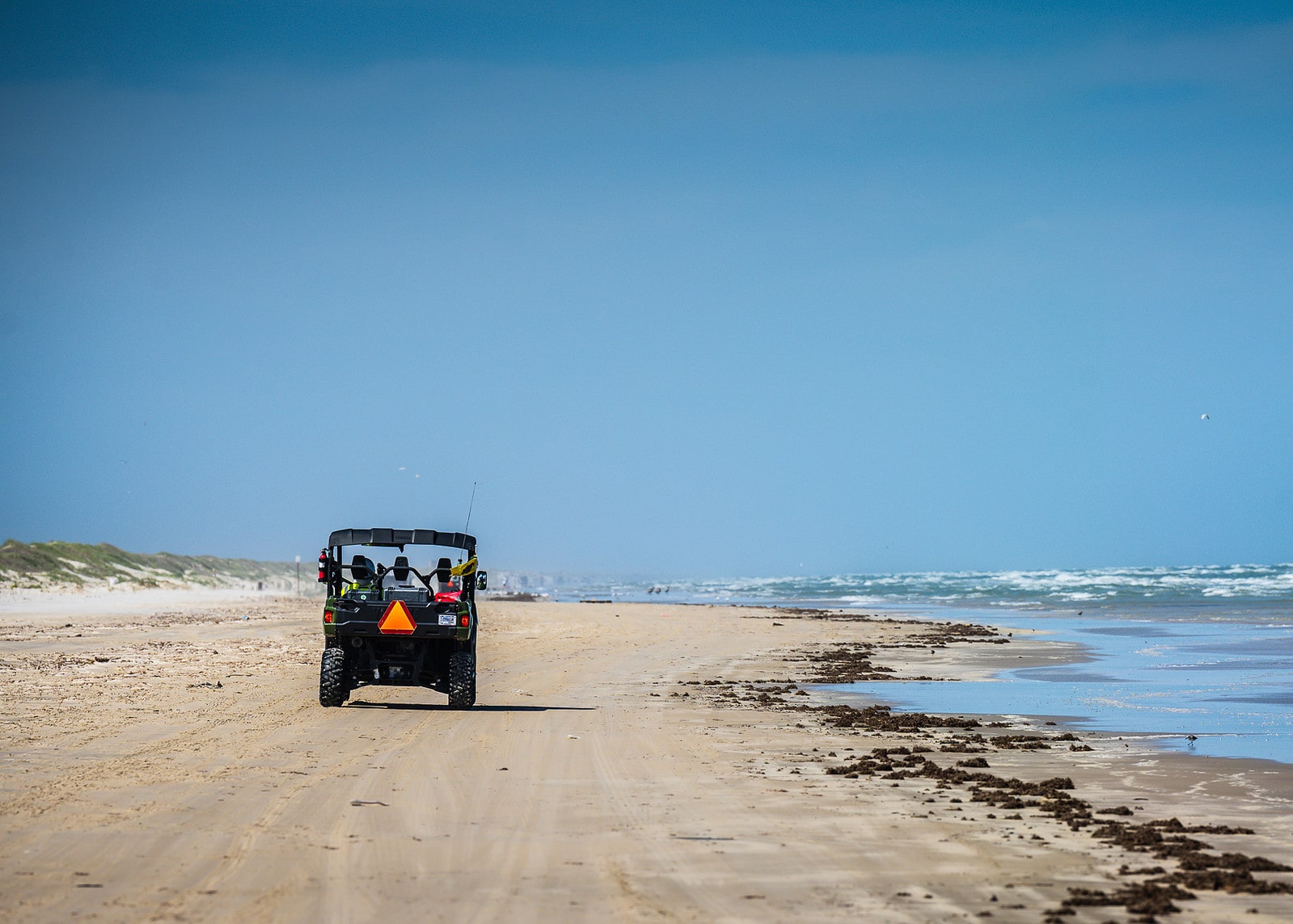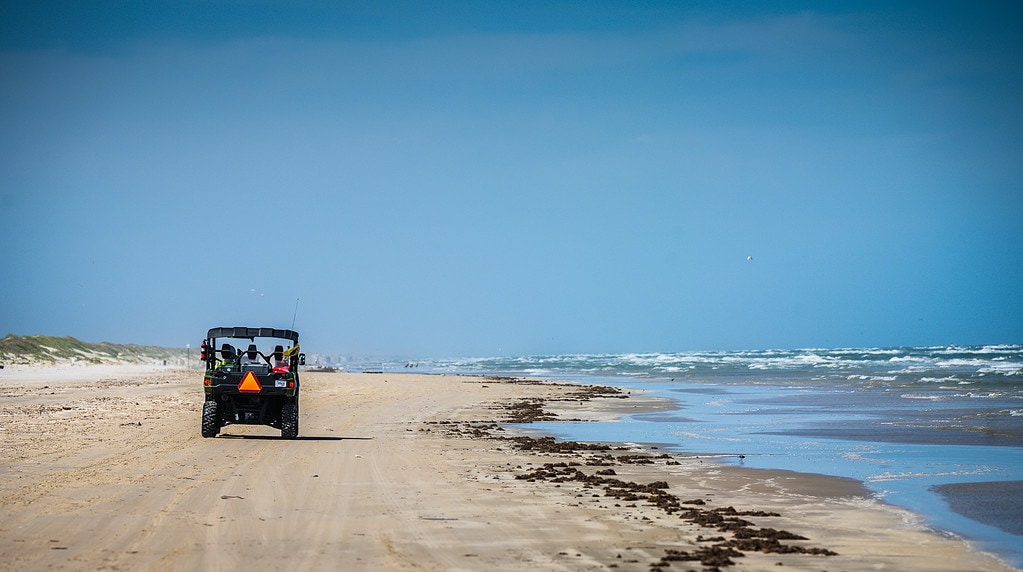 Bear in mind that after the first 5 miles you will need a high-clearance, 4-wheel drive vehicle. Do plan to allot several hours is you want to reach the end as the speed limit ranges from 15-25 mph, and then you still have to double back to return.
I suspect that many visitors begin and end their visit right at the Visitors Center. It offers a small exhibit on local flora and fauna, restrooms, a water fountain, and, best of all, access to the 4.5-mile Malaquite Beach where driving is not permitted.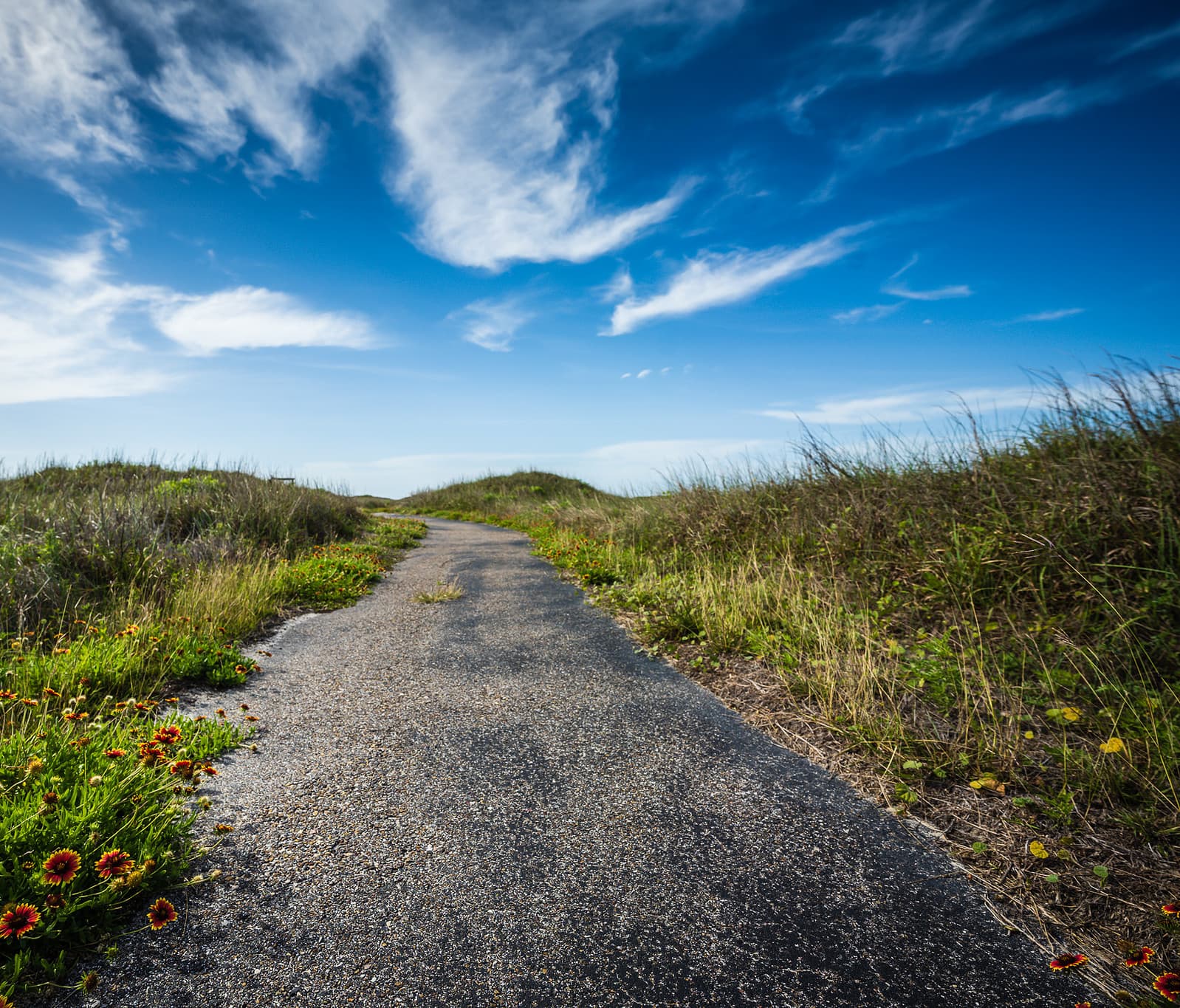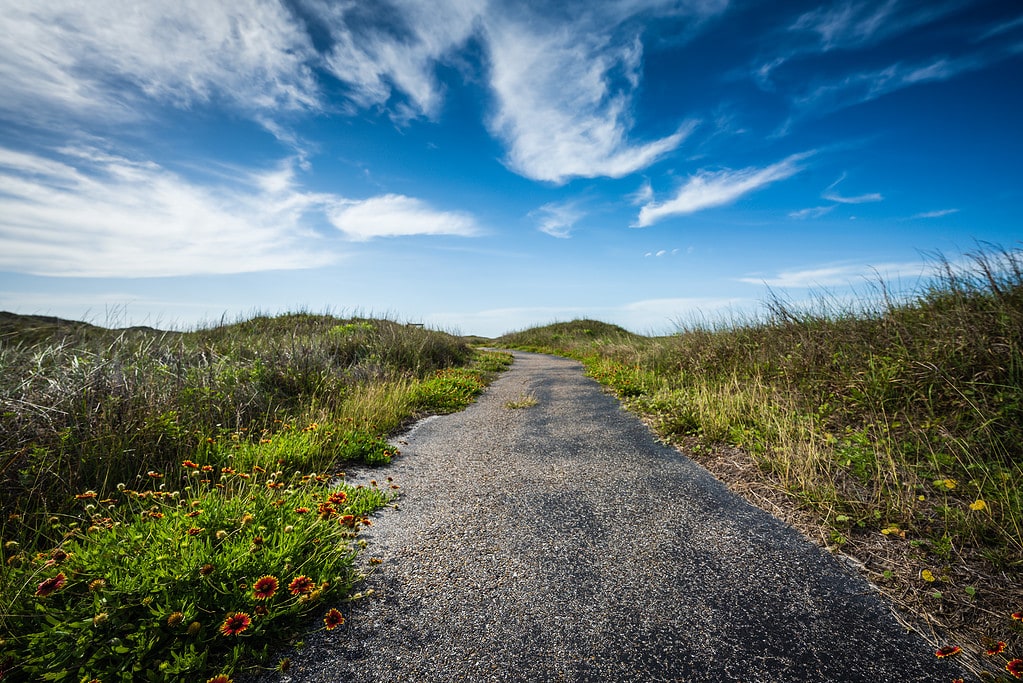 There's also a short trail nearby, the Grassland Nature Trail, that's located practically at the entrance to the park. At only 3/4th of a mile, and fully paved, it's an easy walk. And, when in season, you won't want to miss seeing all the beautiful wildflowers.
Also nearby is one of the top windsurfing spots in the United States, Laguna Madre. Access is at Bird Island Basin where you'll also find the Worldwinds Windsurfing concession offering rentals and lessons for both windsurfing and more advanced Winging (Windfoiling.)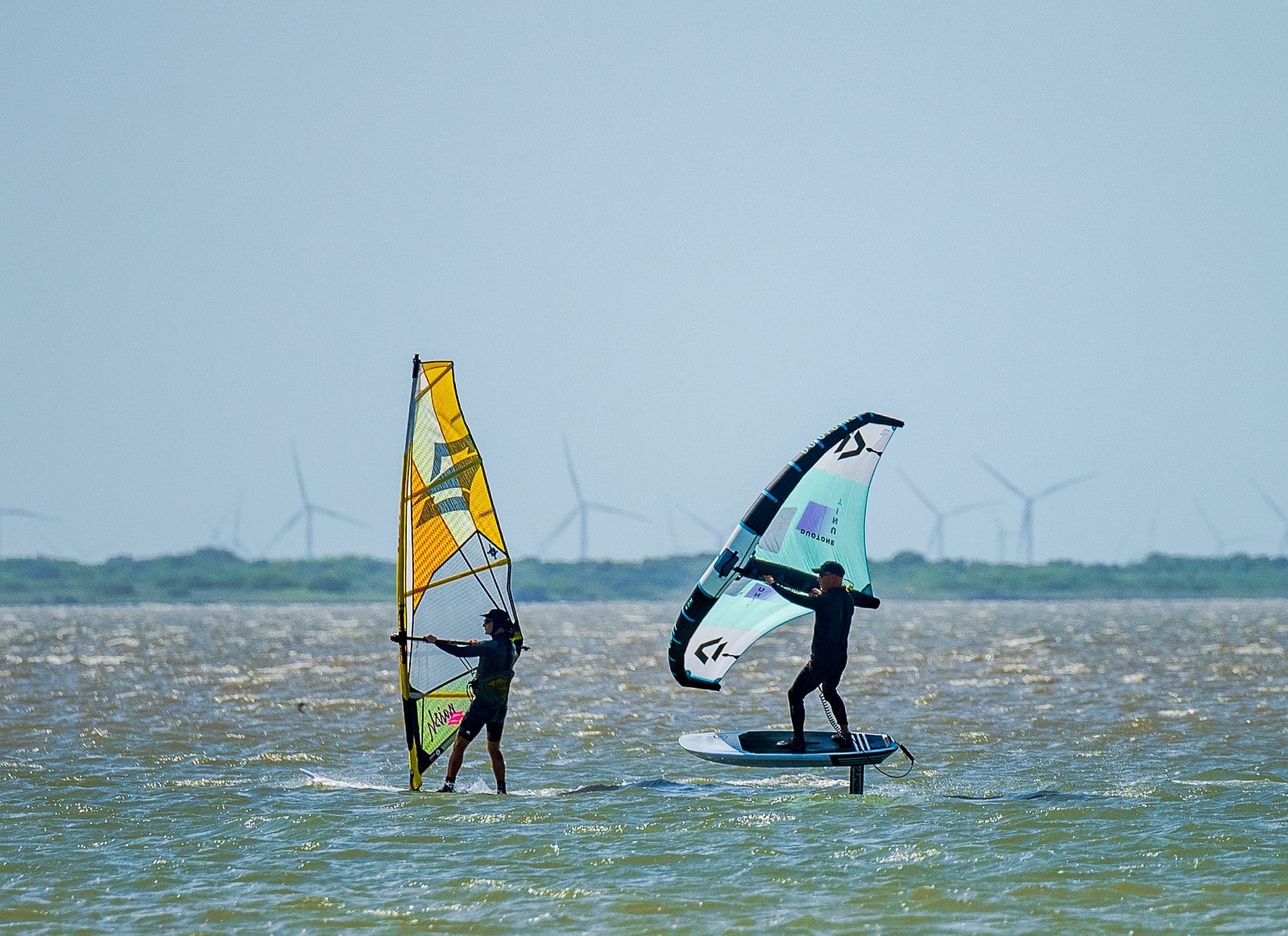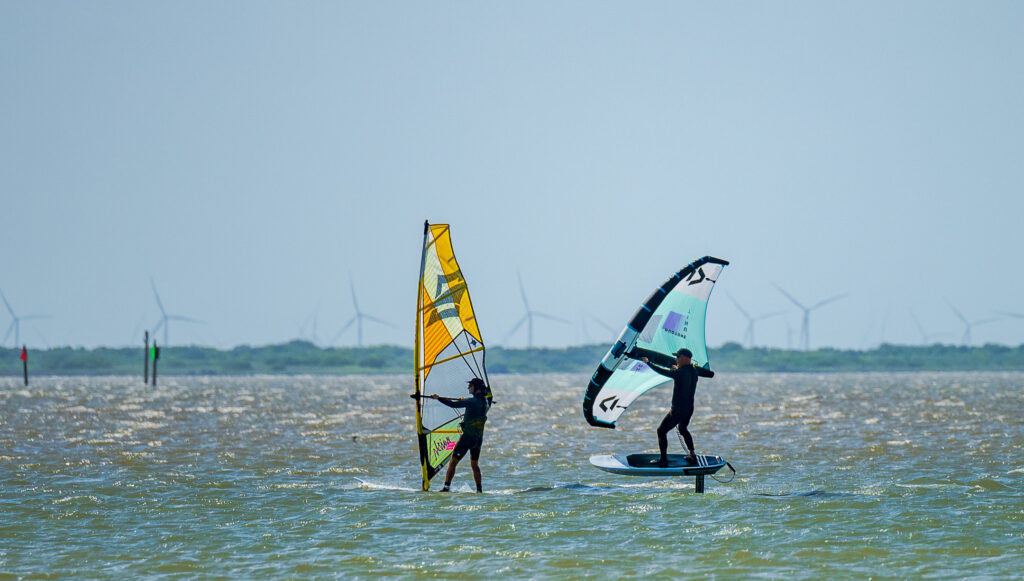 Lessons and gear may be reserved online and is absolutely necessary to ensure winging lessons. Kayaks and standup paddleboards are also available to rent.
There's also a day-use area with picnic tables and a boat ramp; a campground is located nearby.
From Bird Island Basin Road, you can also access the hiking trail to Novillo Line Camp, the last remnants of the historic Dunn Ranch where cattle were once raised. (See the AllTrails entry for trail details. Also, National Park Planner warns that you may find the entry gate closed when the road is flooded.)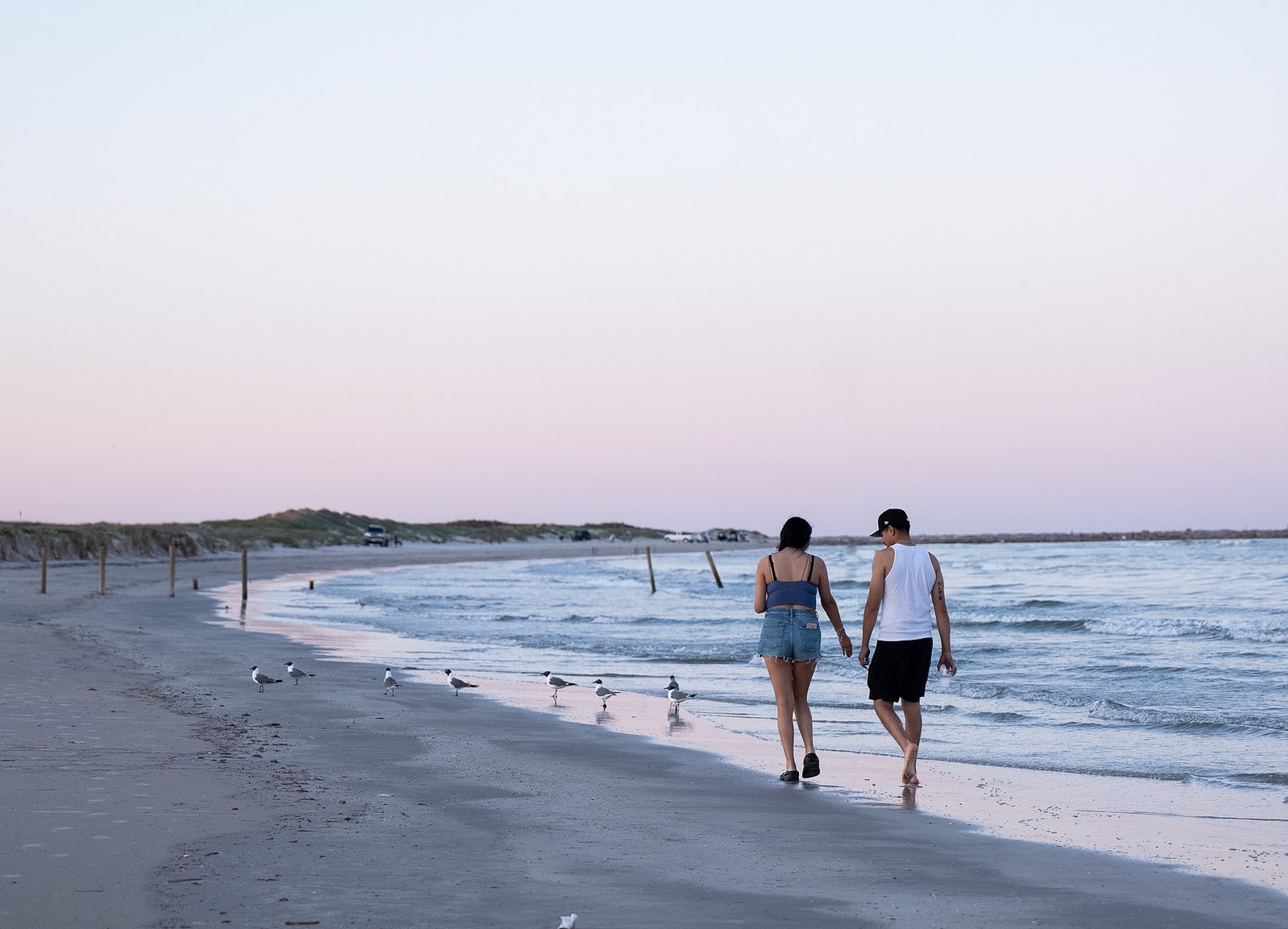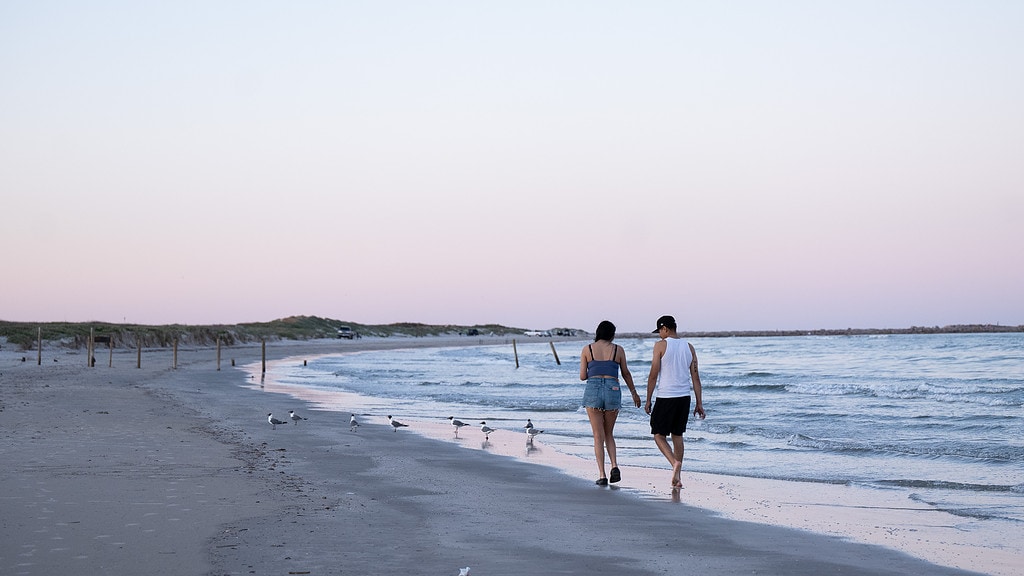 GO: Mustang Island State Park
Walk hand in hand along the sandy shores of the 5-mile-long beach at Mustang Island State Park. Feel the gentle ocean breeze, and watch the mesmerizing sunset paint the sky in vibrant hues. These pristine islands offer the perfect backdrop for a romantic picnic or a relaxing beachside getaway.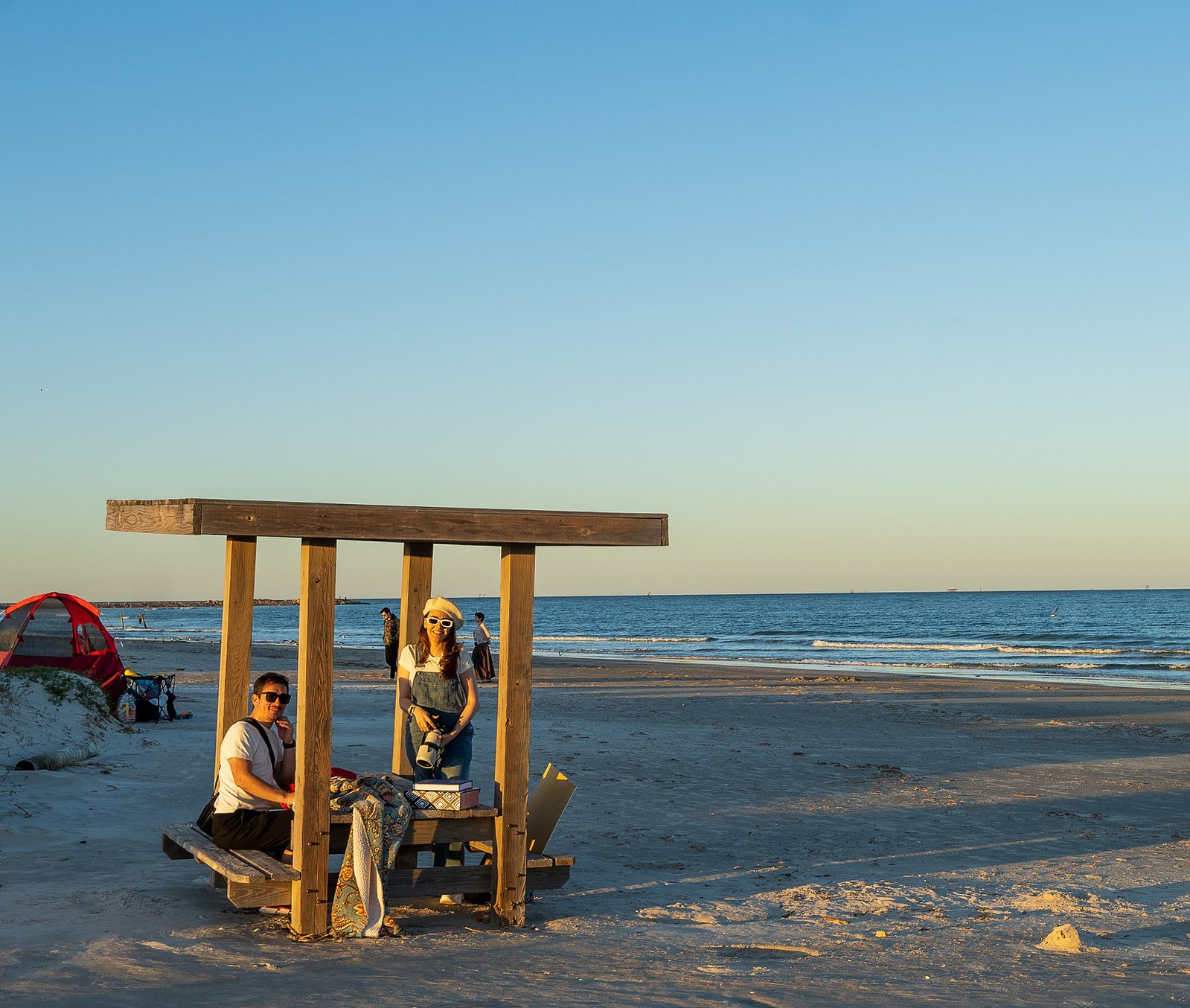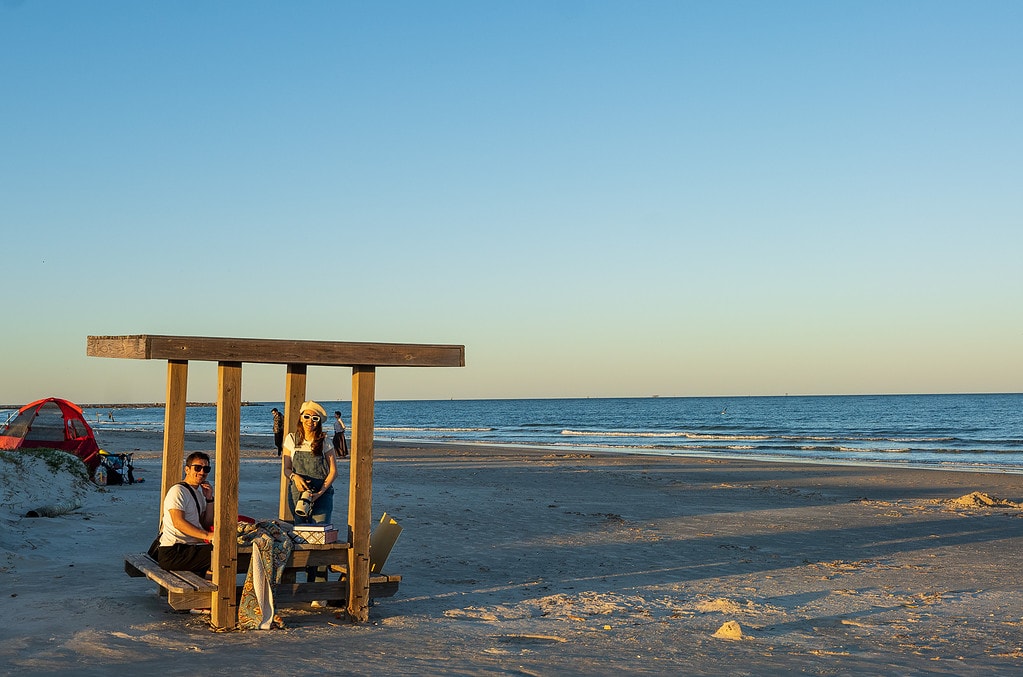 Sheltered picnic tables make for delightful dining al fresco, but if you want to level up your party game, consider renting a Love Shack Tiki Hut. They come equipped with a margarita machine, speakers, hammocks, lounge chairs, a generator, and more. (Tiki Huts are available to set up on any North Padre Island and Nueces County Coastal Beaches, south of beach mile marker #62.)
DO: Glow In The Dark Kayaking With Glow Row
Indulge in a unique and whimsical experience by embarking on a glow-in-the-dark kayaking adventure with Glow Row. Paddle along the sparkling waters of Corpus Christi Bay under a starlit sky while the LED lights below your transparent kayak illuminate the water, potentially offering a glimpse of sea life.
DO: Ride Horses On The Beach
While wild horses ceased to frequent Mustang Island in the 1800s, you can still enjoy the thrill of riding a horse on the beach. For the ultimate romantic experience, book the 1.5-hour Sunset Horse Ride On The Beach from Horse On The Beach.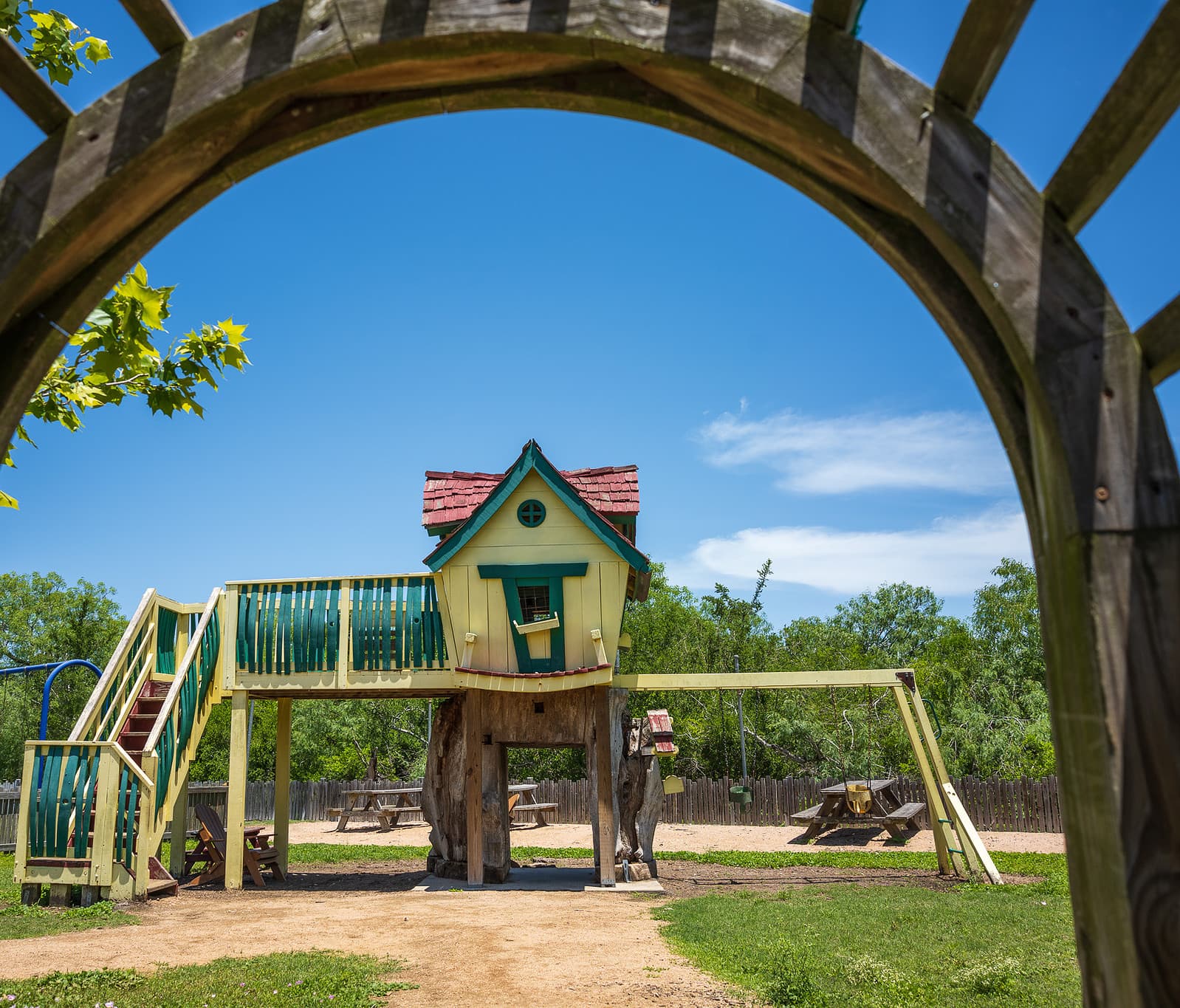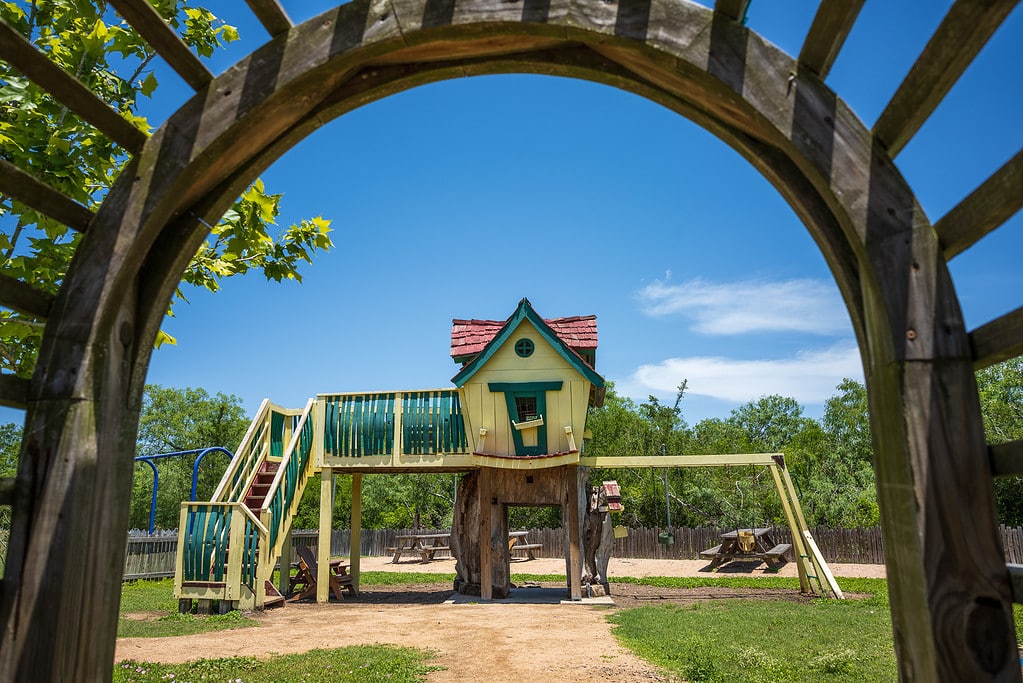 VISIT: South Texas Botanical Gardens
The best way to get to know the natural landscape of Coastal Texas is the lovely South Texas Botanical Gardens. Take leisurely strolls over 182 acres along Oso Creek through enchanting gardens, breathe in the fragrant blooms, and revel in the serenity of the surroundings. Some of the most interesting gardens include the Butterfly, Bromeliad, and Orchid Gardens.
The collection includes over 800 bromeliads and over 2000 orchids (with many orchids available to purchase.)
Bird lovers will appreciate the Mary Hope Brennecke Nature Trail, on the Great Texas Coastal Birding Trail. With a boardwalk along a native forest habitat, as well as a birding tower, along Gator Lake, birders can spot both wetland and forest birds.
Corpus Christi Restaurants
Corpus Christi cuisine is often described as a blend of Tex-Mex & Texas-style BBQ with a liberal infusion of fresh seafood. As far as we can tell, you really can't go wrong here. As with the hotels, it often comes down to choosing the venue that's closest.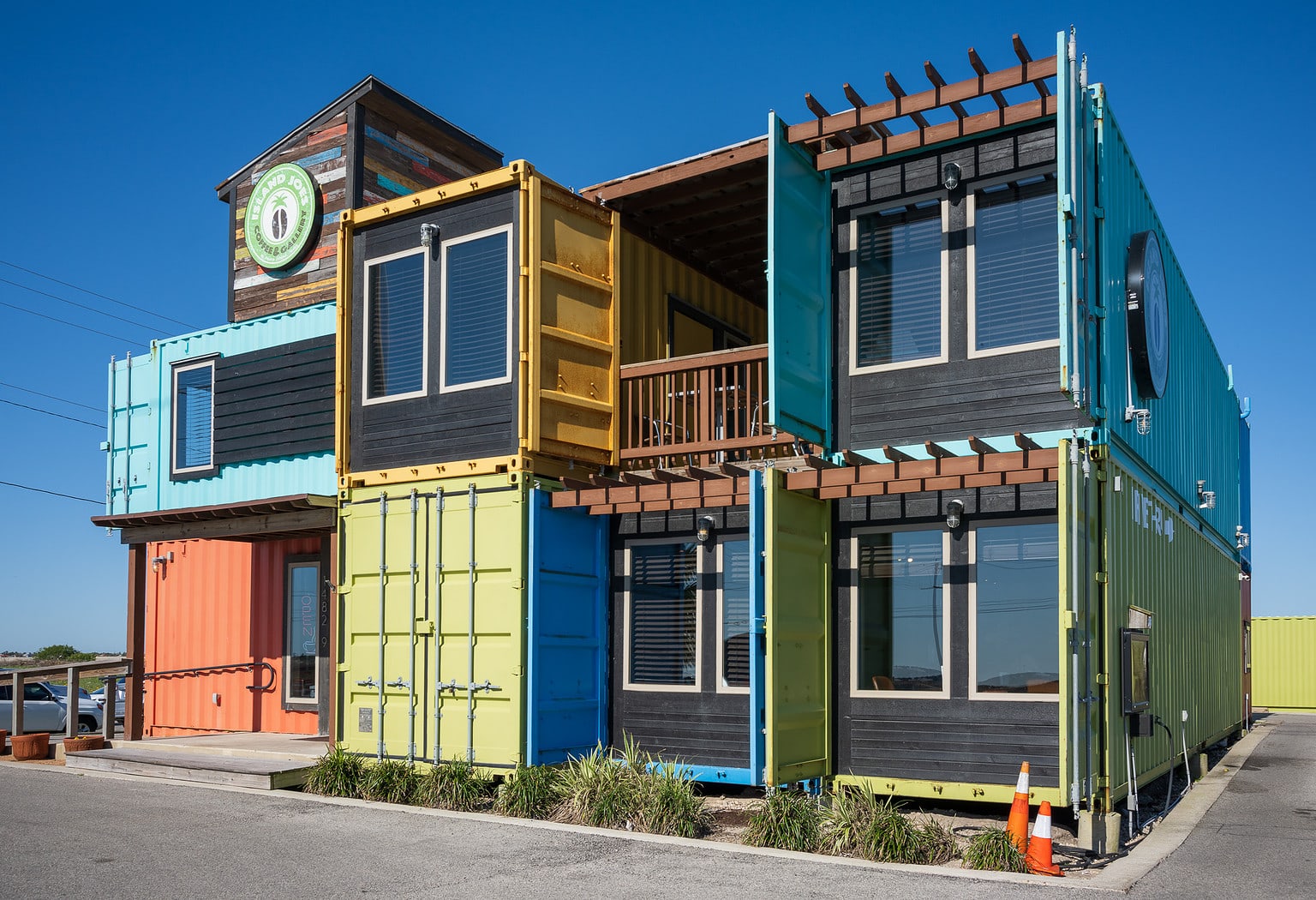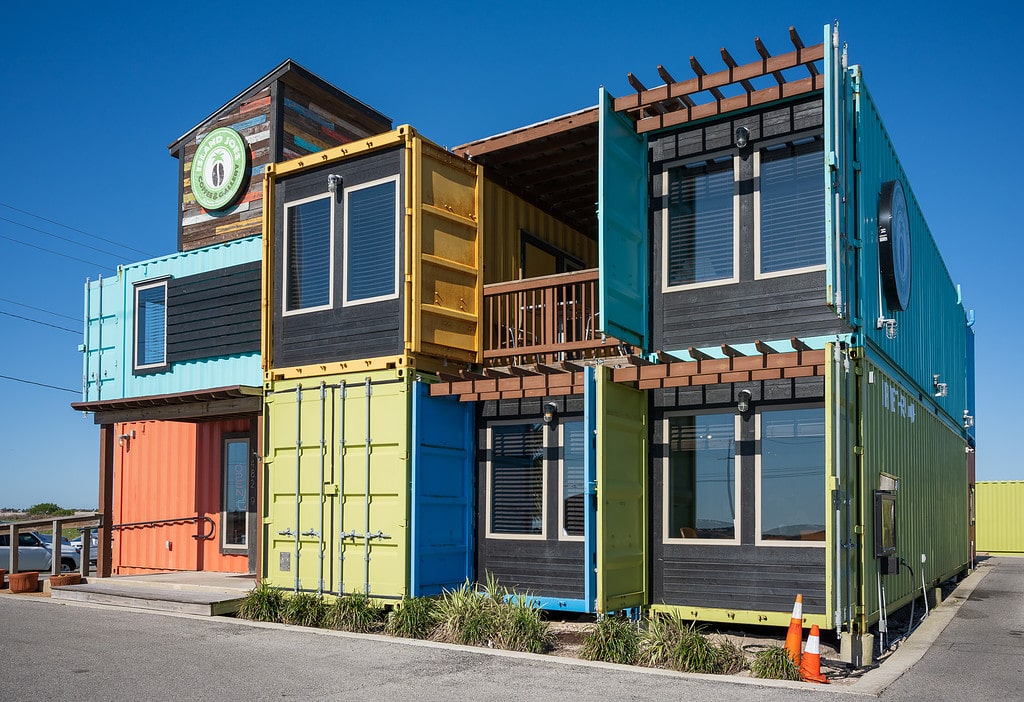 COFFEE/BREAKFAST: Island Joe's Coffee and Gallery
Headed to Mustang Island or the National Seashore? Do yourself a favor and drop in at Island Joe's Coffee and Gallery. Constructed from a pile of ten brightly painted shipping containers, interior colors are derived from the vivid photo gallery, many captured in the Caribbean.
Coffee is roasted in-house daily and flavored syrups or whipped cream are homemade. Do savor the Texas Kolaches; all feature cheddar, while variations include shoulder bacon or pork sausage. We heartily enjoyed the Frittata and Cucumber and Dill Toast.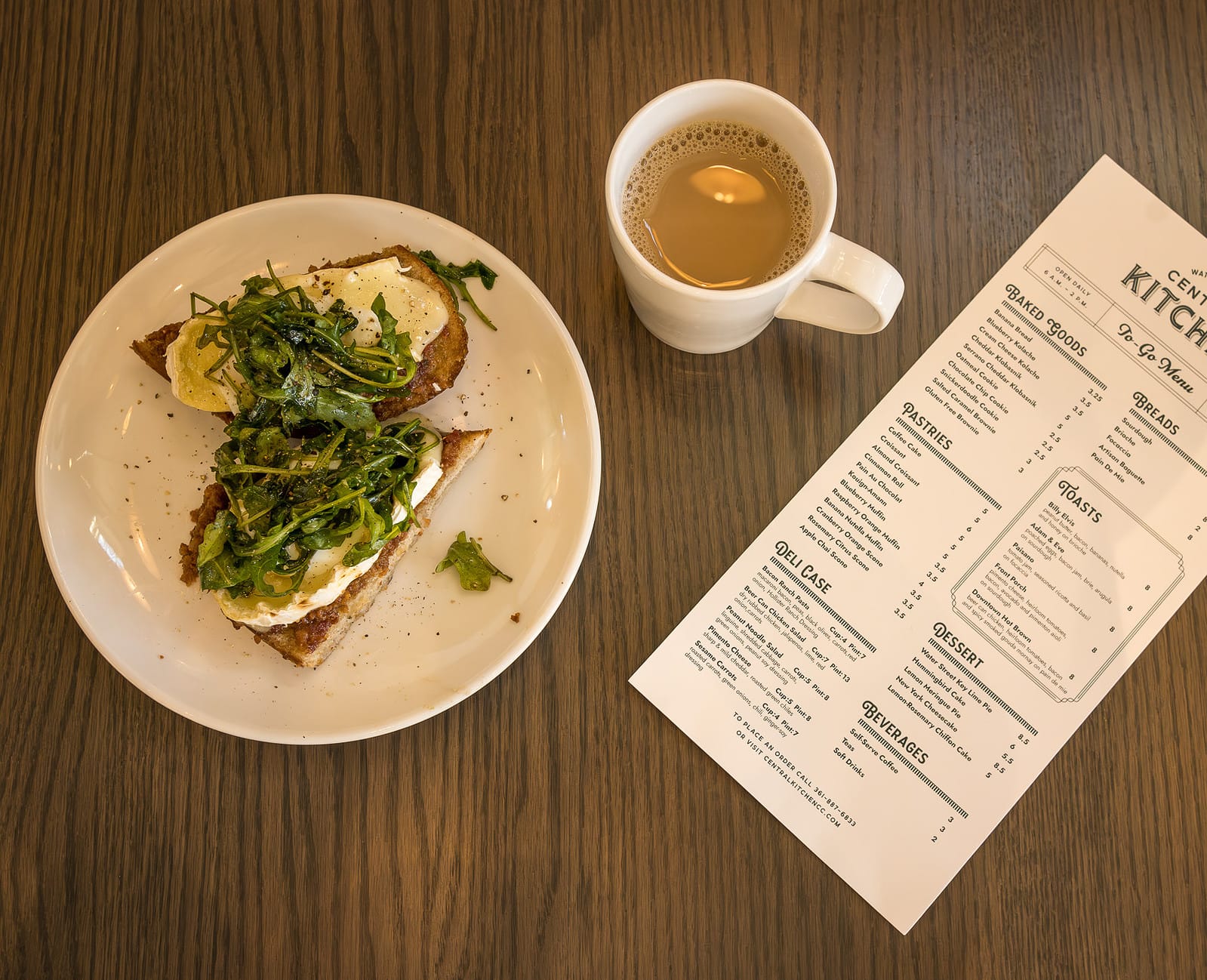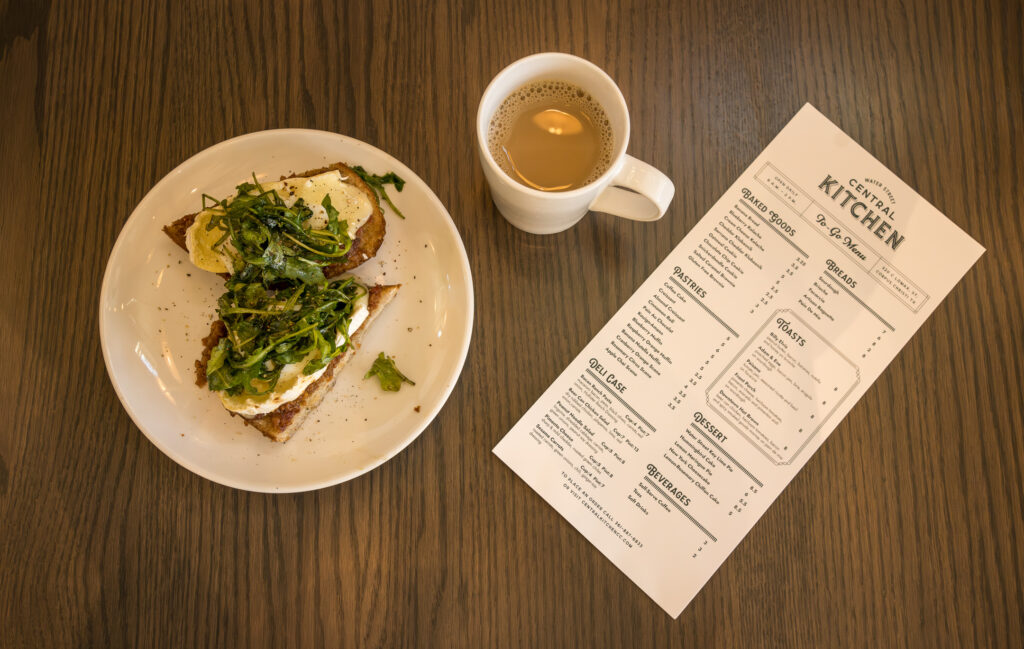 BREAKFAST/LUNCH: Central Kitchen
If toast is what you crave, you're in luck. Central Kitchen offers some of the most creative toast toppings. We sprung for the Adam & Eve (poached eggs, bacon jam, brie, and arugula on sourdough) but would've happily scarfed down any of the items on the Toast menu, not to mention the oh-so-tempting pastries or Texas Kolaches.
Central Kitchen is the latest venture to open of the Waterstreet Company which includes the Water Street Oyster Bar, Elizabeth's, the Sushi Room, and the Executive Surf Club.
ALL DAY: Lucy's Snackbar
Start your day at Lucy's Snackbar with a latte and one of the heartiest breakfast sandwiches you'll find anywhere. Return for inventive sandwiches and beer or wine on tap. Yogurt on a sandwich? Yes, please!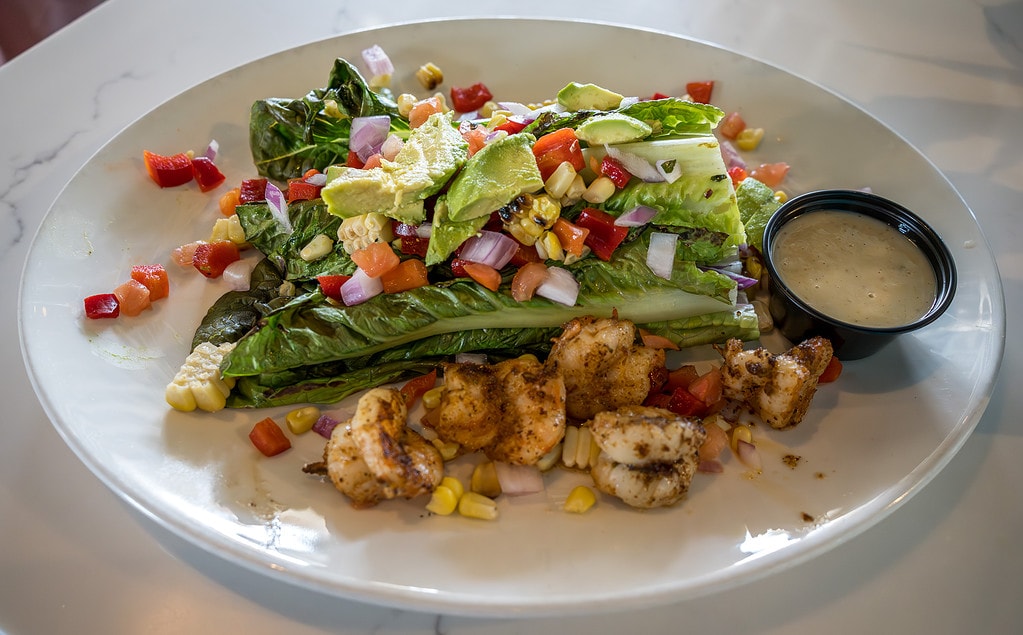 ALL-DAY BREAKFAST/LUNCH: Hester's Cafe
With a dizzyingly long list of made-from-scratch dishes, the Hester's Cafe menu features an impressive list of breakfast faves. But we were there for lunch and couldn't resist sampling some of the exceedingly fresh shrimp that Coastal Texas is known for, and the Blackened Gulf Coast Shrimp Salad delivered. It was super fresh and flavorful, not to mention super quick to disappear from the plate.
Note that there are two locations, both offer outside seating, but Lamar Park has the arguably prettier courtyard.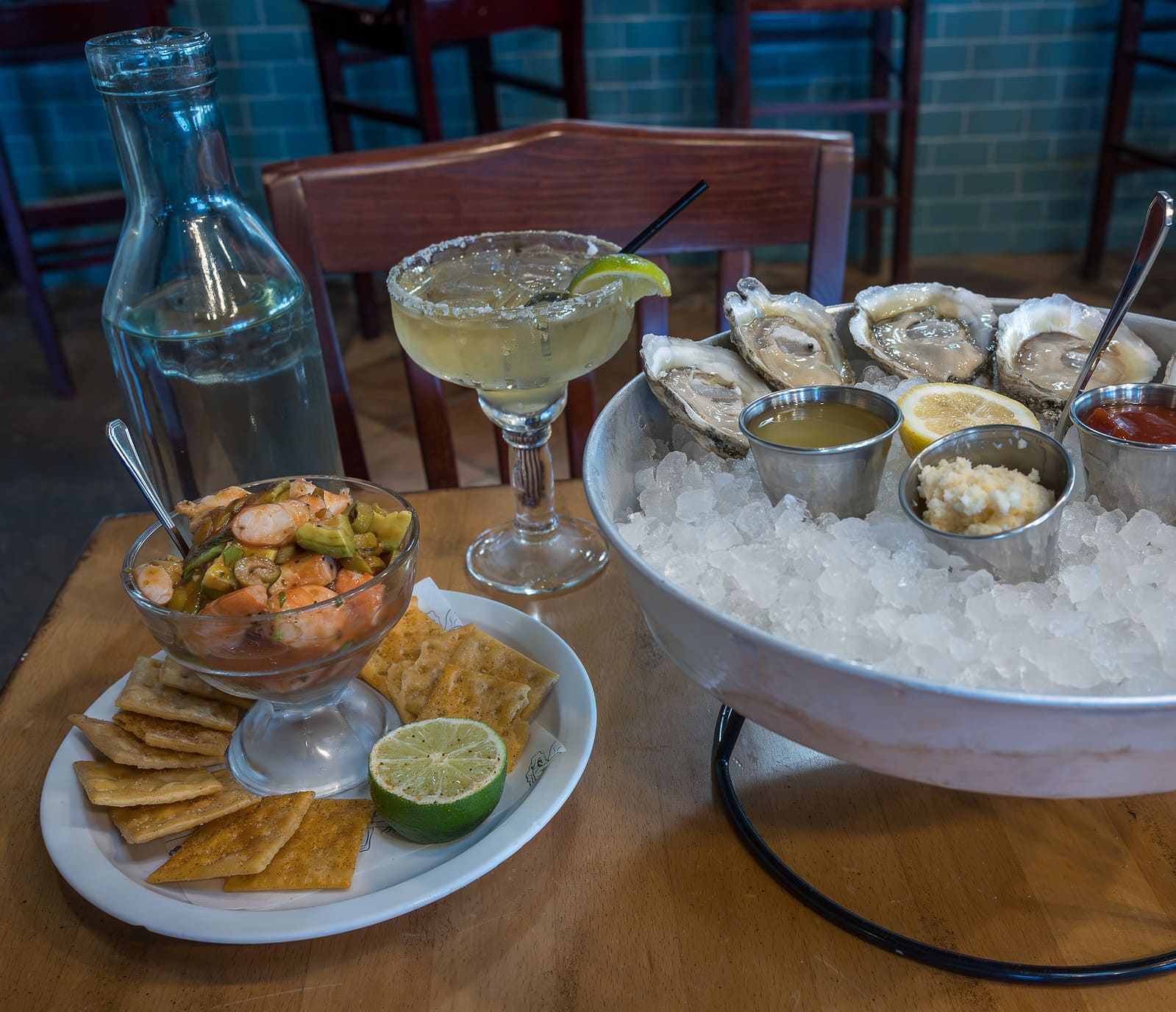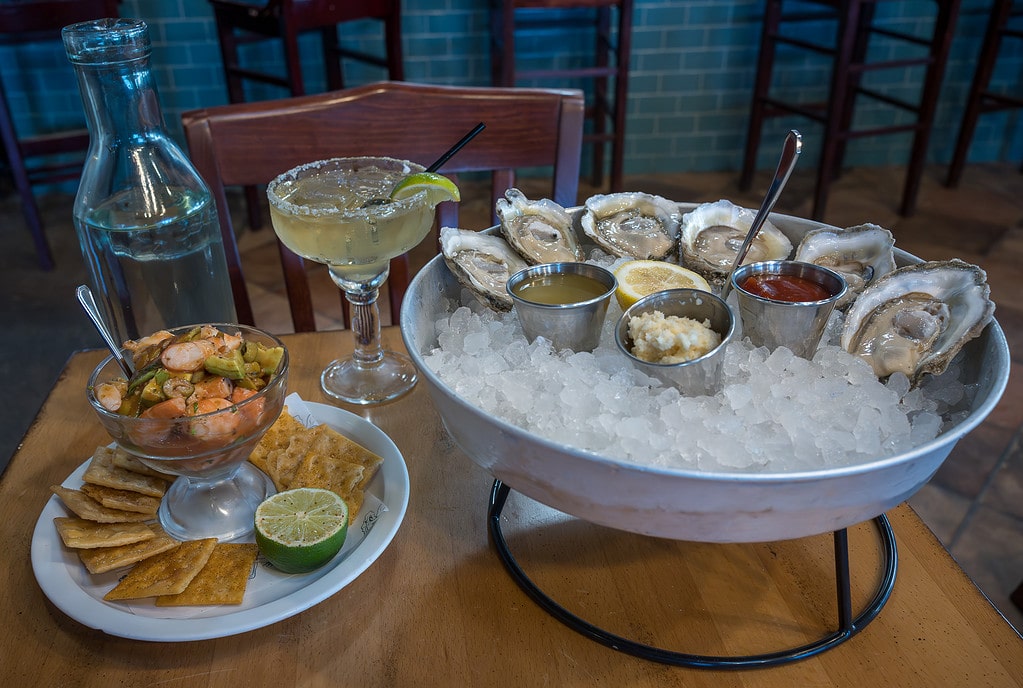 SEAFOOD: Water Street Oyster Bar
Instead of gravel, ocean-front parking lots on the Gulf Coast are covered in oyster shells. The shellfish is a staple at several local restaurants, but at the Water Street Oyster Bar, it's the main attraction.
Although numbers are down 50-85% in the last century, wild oyster fishing is a $70 million industry in Texas. Gulf oysters are bigger and meatier than their East Coast counterparts, and often sweeter; with a loyal fan base who choose these preferentially.
Most of the half million oysters served on Water Street come from Louisiana, but a new era was ushered in on July 2022 when the Texas Oyster Company (a venture by retired Brad Lomax, founder of the restaurant) served its first harvest of Copano Unos. Raised at Copano Bay, years of political and environmental challenges had gone into producing Texas' first-permitted farmed oysters. (Read the whole saga in Texas Monthly.)
The Oyster Bar features a huge raw bar where you can observe oyster shucking, but you can choose from a couple of rooms in the large restaurant as well as a long list of seafood favorites on the menu.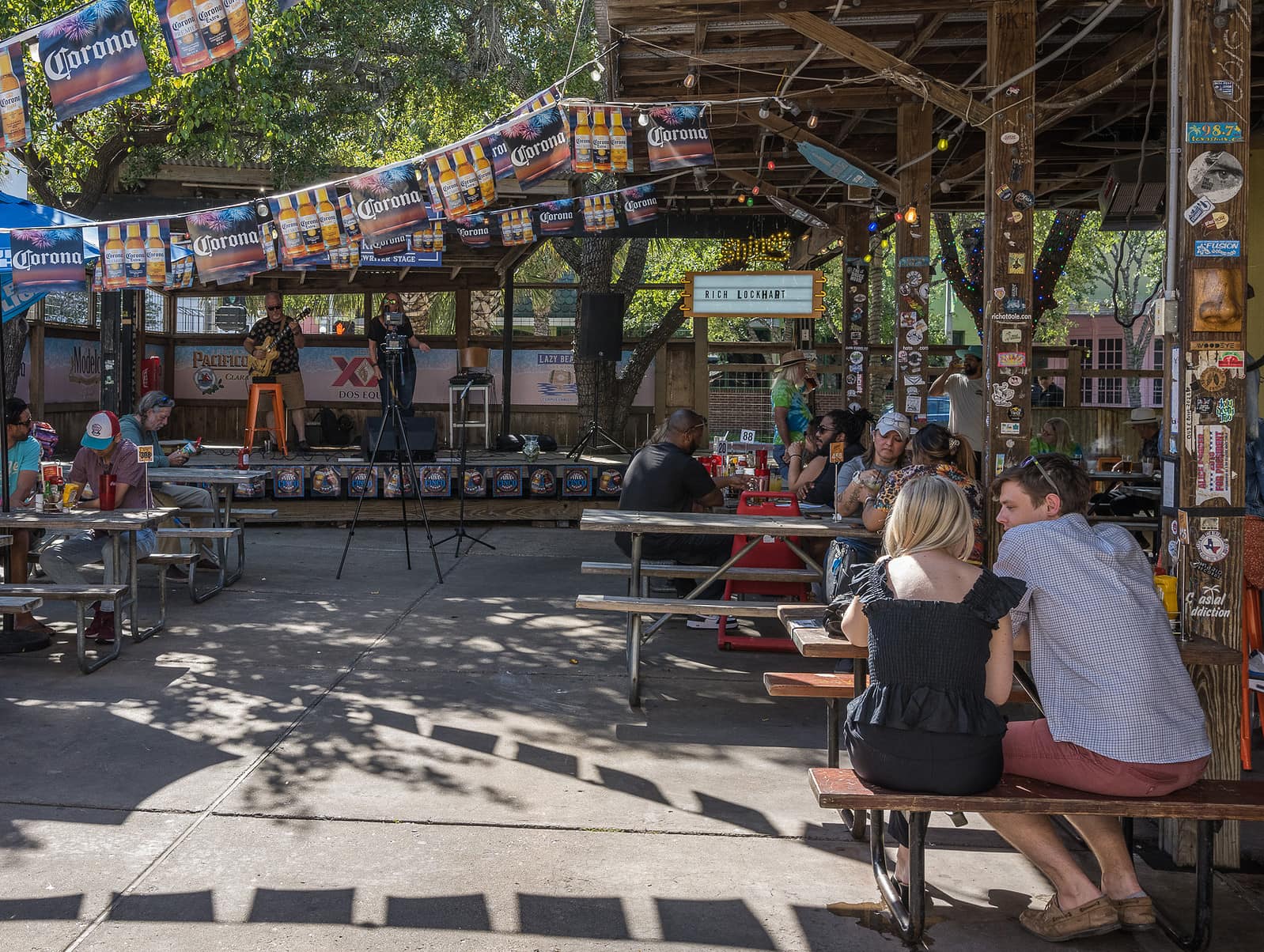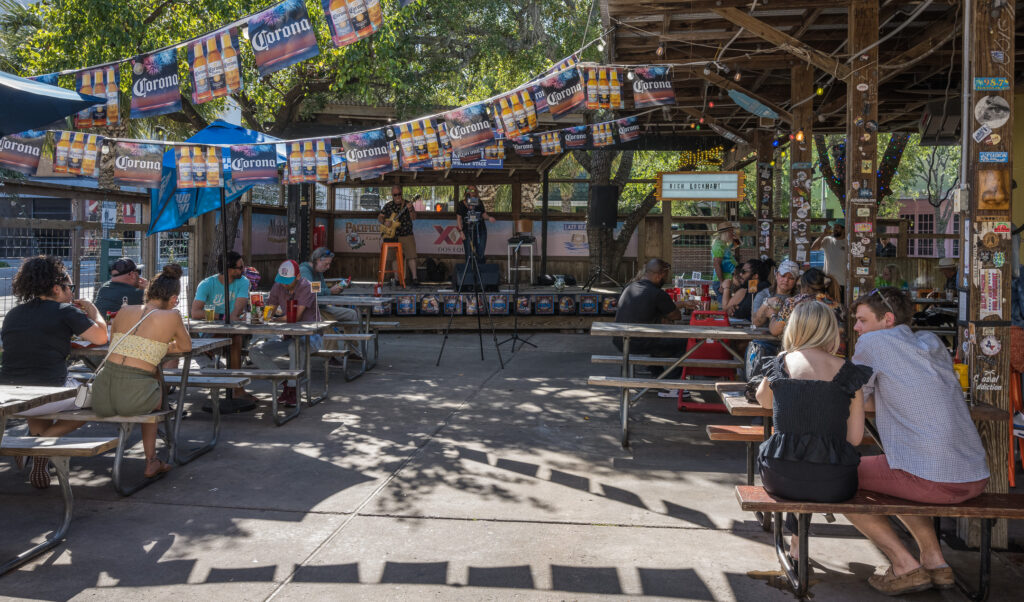 PUB/MUSIC: Executive Surf Club
The Oyster Bar is one of several ventures by the Water Street Market Company that includes the Executive Surf Club, a Sushi Room, and the Central Kitchen restaurant described above.
The Executive Surf Club serves at least eight different burgers; a pound of wings, fried pickles, or Serrano Peppers stuffed with pepper jack cheese. Plus Chalupas, Quesadillas, and Nachos (Tip -Ask for local favorite "Johnny Joechos" from the Secret Menu.) It's your typical Pub menu but on steroids.
Besides the food, what draws the crowds is the live music acts and movie nights in the courtyard. It's an eclectic lineup, check the Executive Surf Club Facebook Page for the monthly schedule.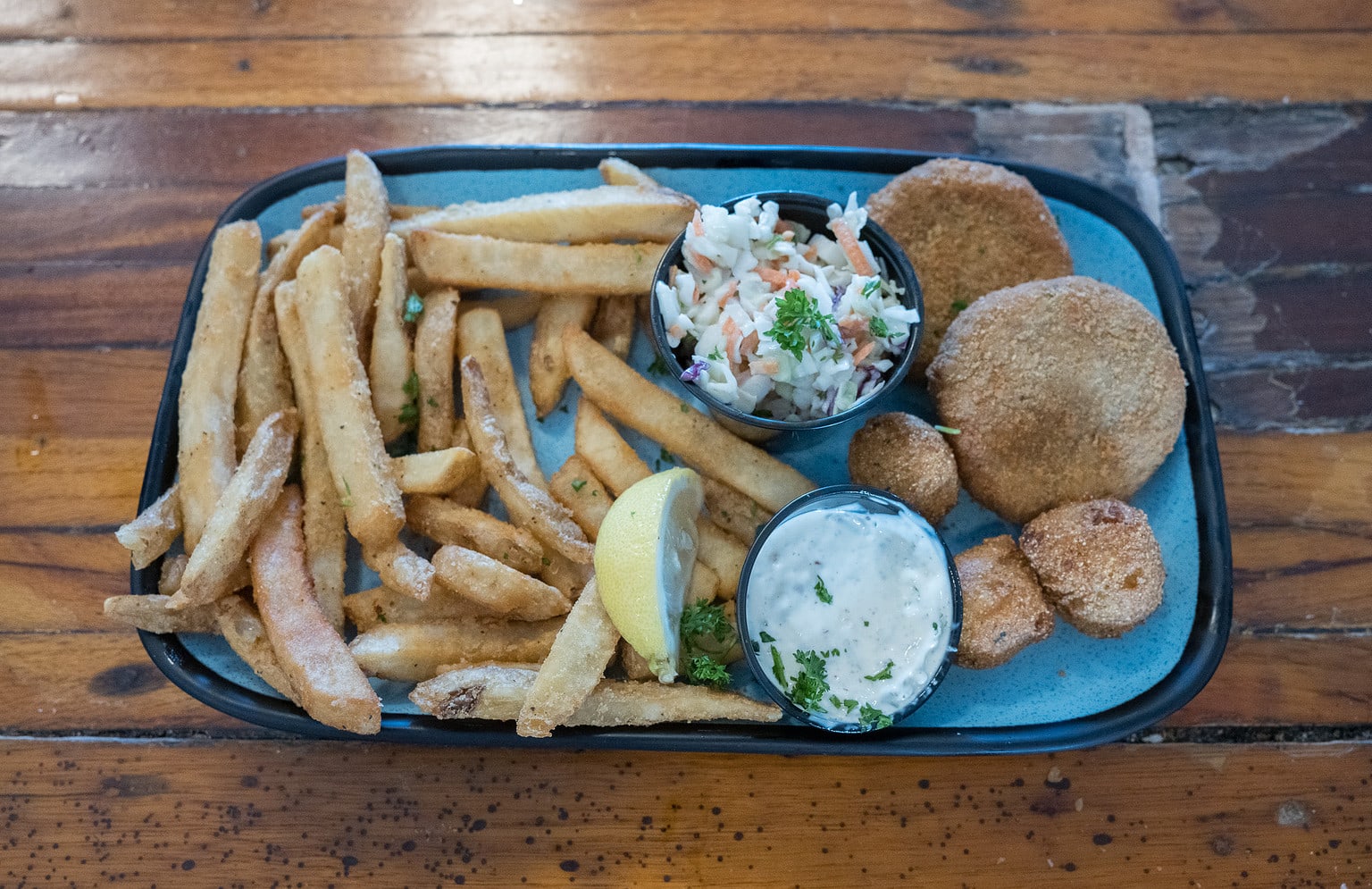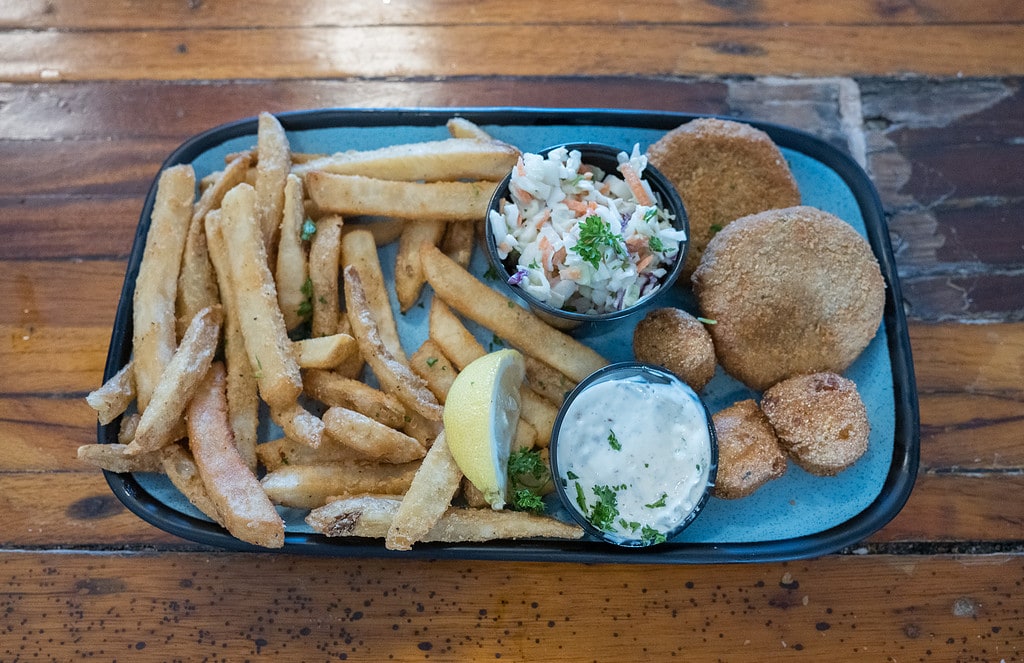 SEAFOOD/MUSIC: Docs Seafood & Steaks
With waterfront dining right off Padre Island Drive, Docs Seafood & Steaks is where everybody gathers after a beach day. Drop in for a drink or stay for lunch or dinner; the crabcakes are excellent and locals rave about the Blackened Redfish.
Gone fishing? Docs offers a clean & cook service for your catch.
For a romantic dinner, request the quieter balcony seating as this has the added benefit of being where you get the best sunset over ocean views.
BRUNCH/ROMANTIC DINNER: Elizabeth's at the Art Museum
Perhaps because of the thrill of entering the museum after hours, or more likely due to the culinary mastery of Mediterranean dishes, Elizabeth's at the Art Museum gets our vote for most romantic restaurant in Corpus Christi.
We stopped by for a between-meals snack of homemade hummus, and enjoyed a waterfront view from the patio. However, we would gladly return for dinner or brunch under twinkling lights.
Corpus Christi Hotels
Corpus Christi offers a number of outstanding hotels, but for most visitors, it's a choice between hotels downtown or by the beach. The best luxury hotels in Corpus Christi not only offer a wide array of amenities onsite but they're located within walking distance from popular restaurants and the city's lively nightlife. And yet, it's hard to top staying right on the beach.
On our recent visit, we enjoyed the convenience and pampering of a Downtown Corpus Christi stay. But we've included a couple of great beachside recommendations to give you a choice of options.
Hotels In Corpus Christi
DOWNTOWN LUXURY RESORT: Omni Corpus Christi Hotel
For couples seeking a romantic getaway, the waterfront Omni Corpus Christi Hotel in the Central City neighborhood delivers an experience steeped in luxury and coastal charm. Upon entering, you're welcomed by a tastefully designed lobby and the warm, attentive staff that promptly facilitates a smooth check-in process (in our case, directly from the ground-level garage,) setting the tone for a delightful stay.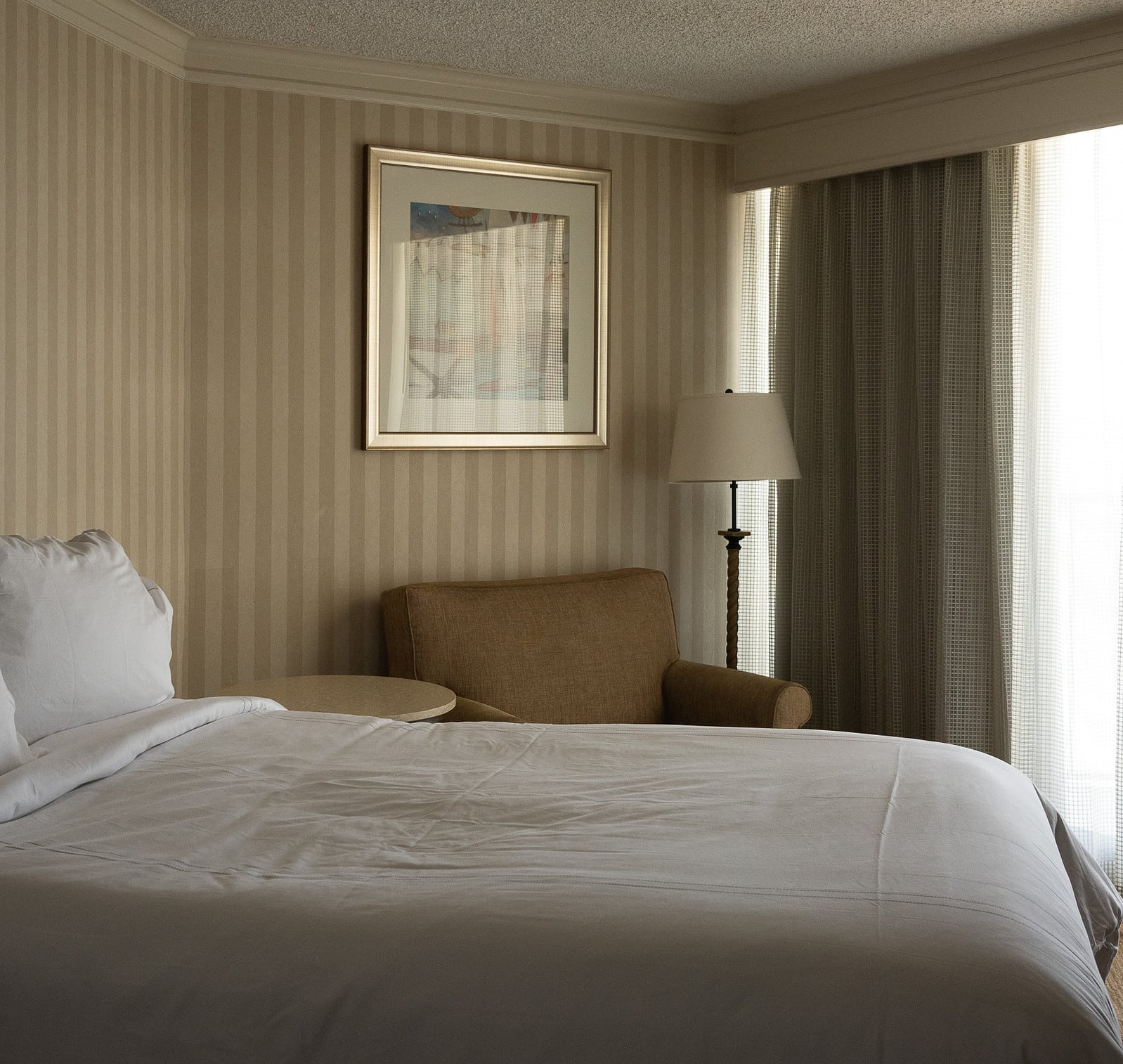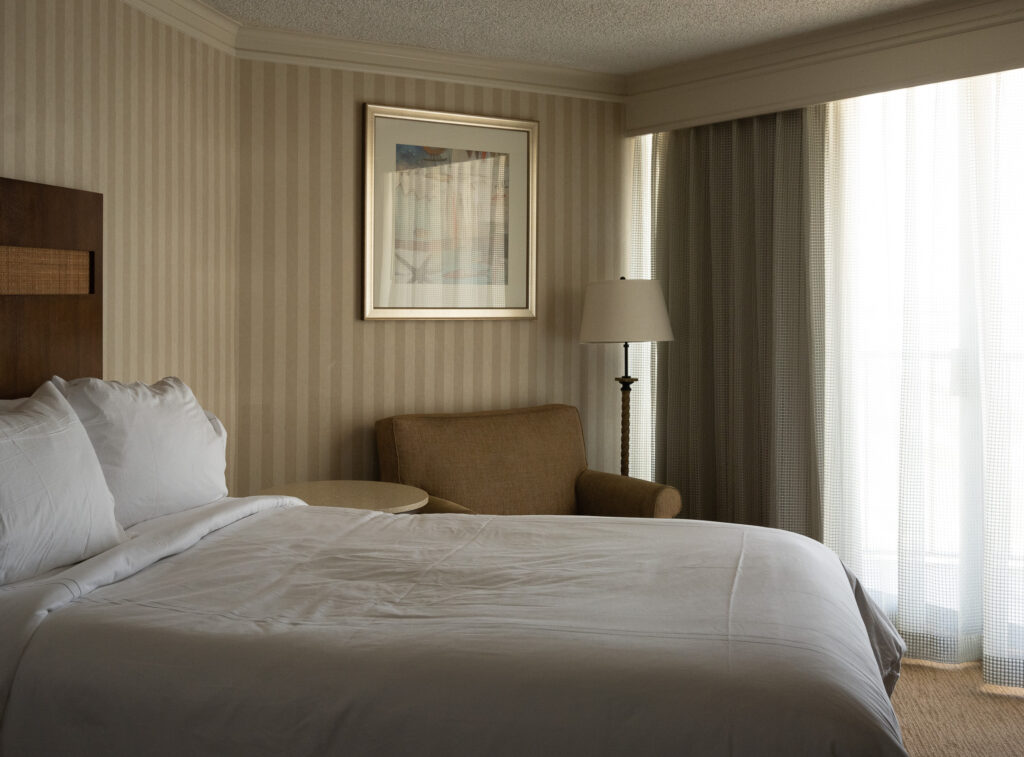 Guest rooms are comfortable if a little beige. The bedding is Egyptian cotton and bathrobes are standard, while a mini-fridge and Keurig coffeemaker provide a certain level of convenience. Unfortunately, there is no free WiFi in the guest rooms, although some would argue that that is a boon to a romantic getaway.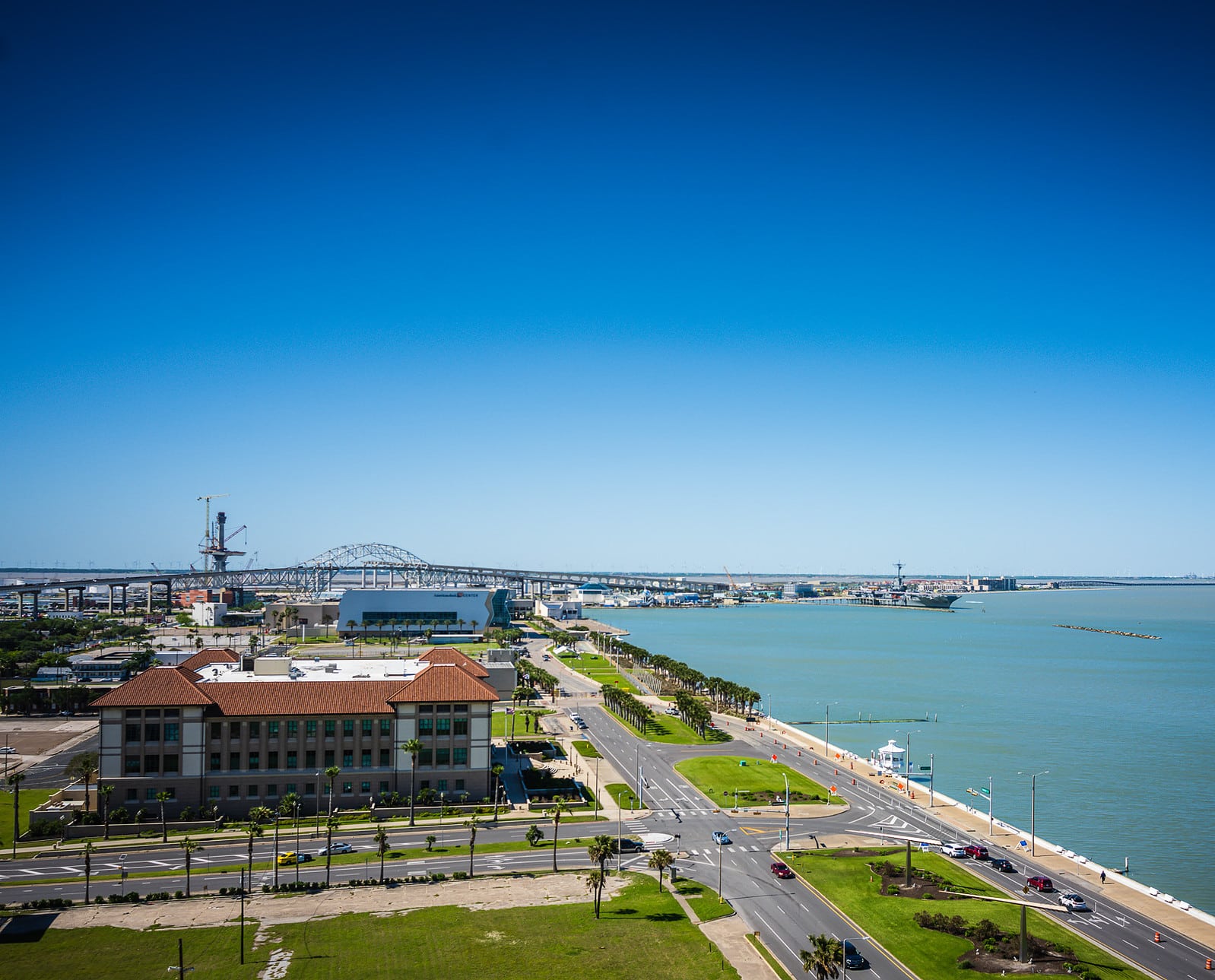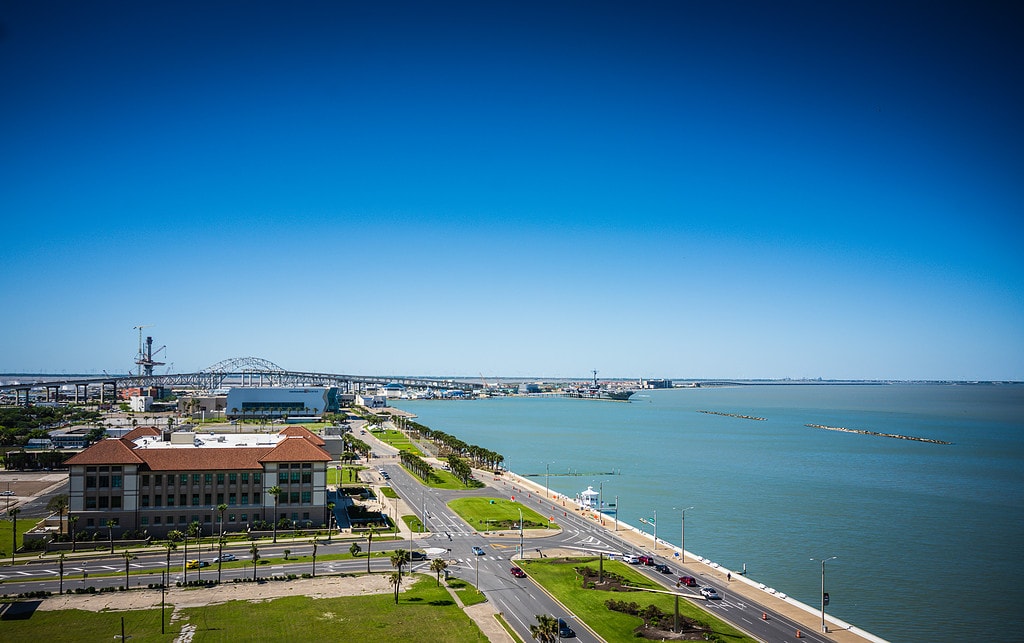 But the star of the show was our private balcony. We could look out all the way from our location by the Selena Memorial on the waterfront all the way to the USS Lexington on North Beach. And when the sun set over the bay, this dreamy backdrop was pure magic.
When it comes to dining, the Omni Corpus Christi impresses with a range of culinary delights, with the rooftop restaurant, the AAA Four Diamond (the only one in South Texas!) Republic of Texas Bar & Grill stealing the show.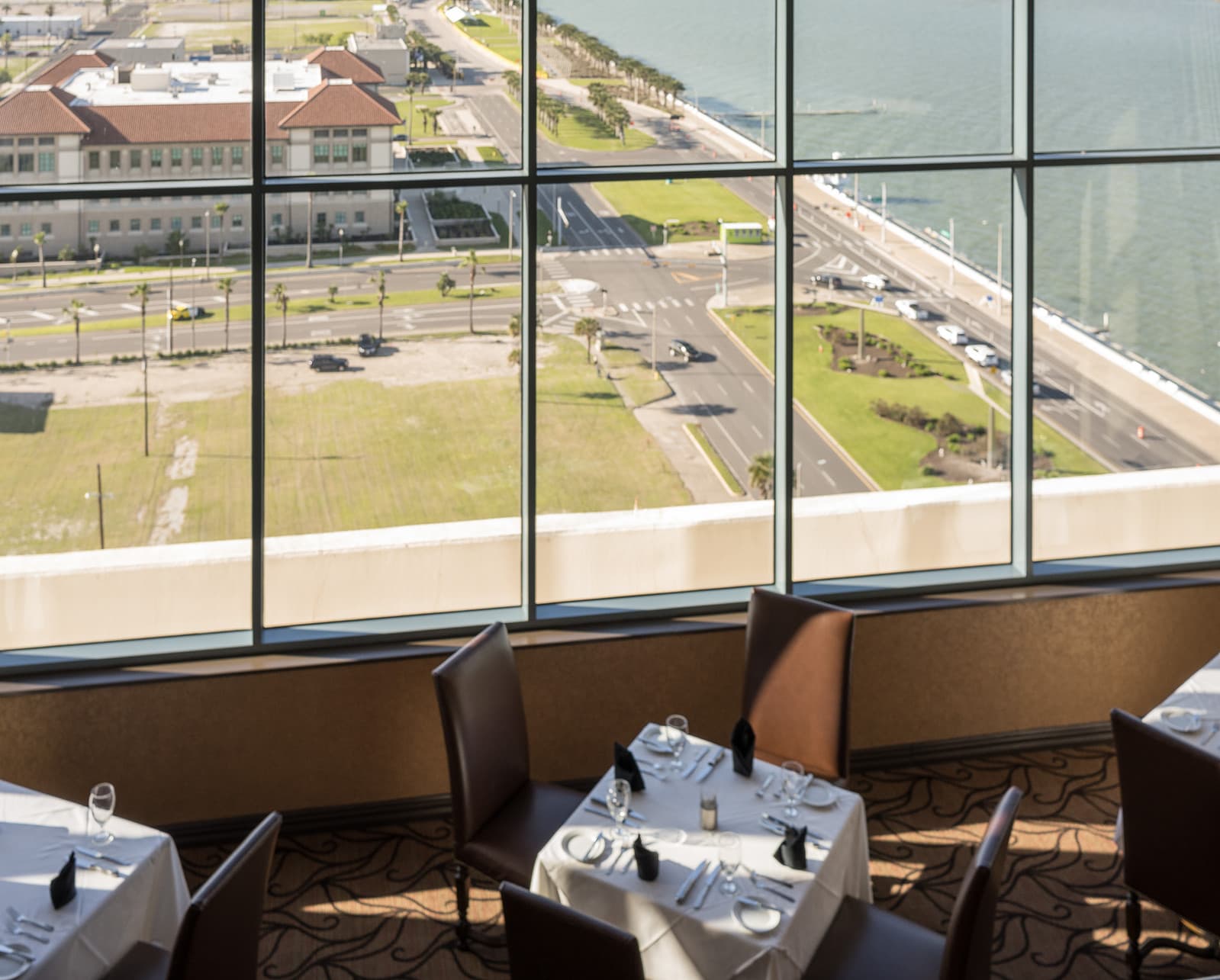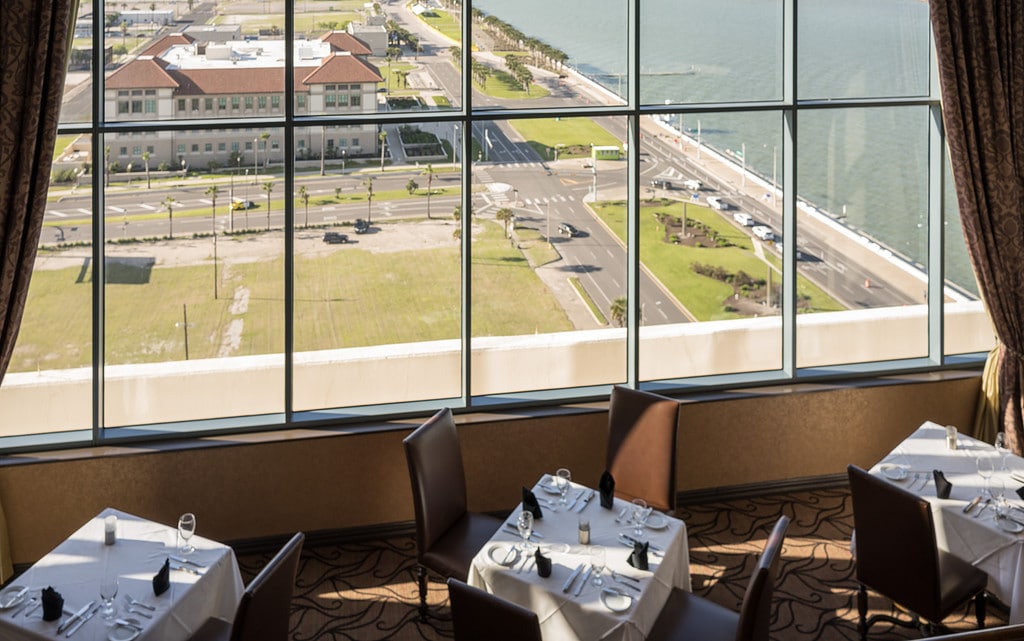 Dining with a floor-to-ceiling view of the stunning Corpus Christi Bay creates a truly intimate and memorable ambiance that's perfect for date night.
And for the ultimate decadent splurge, consider reserving The Wine Room for the seven-course meal with four perfectly paired wines.
Additional dining options include a coffee and convenience shop in the lobby, buffet-style breakfast, poolside service, the cozy Topsiders Lounge cocktail bar, and, of course, room service.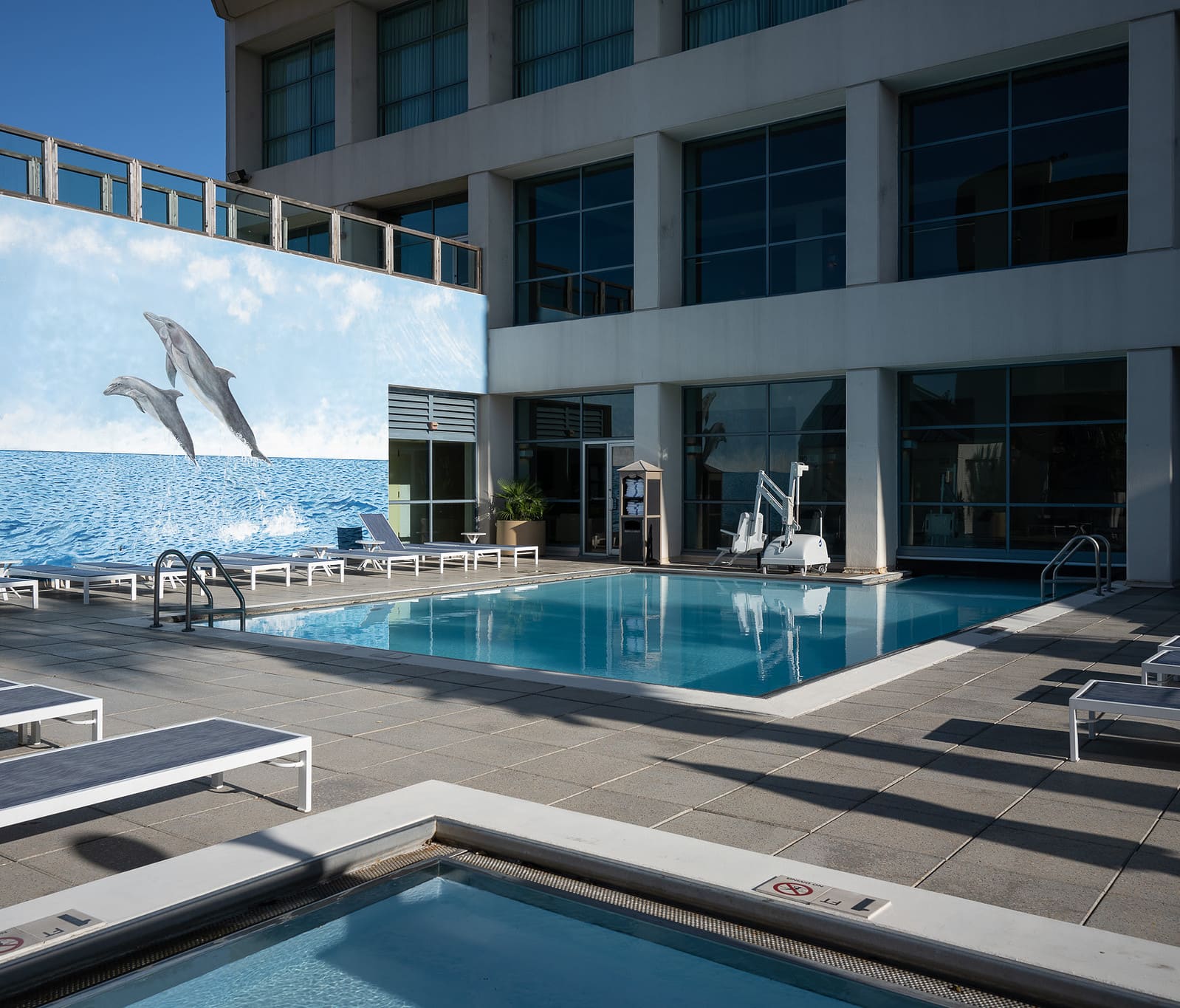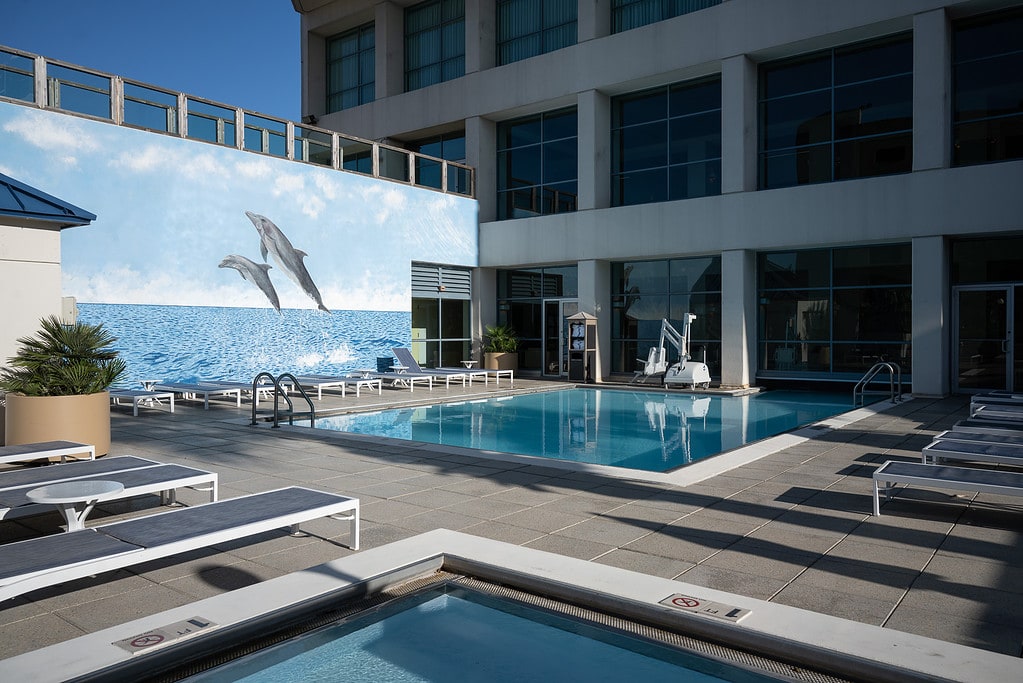 There are several beaches within a 10 to 20-minute drive from the Omni, but you don't need to leave the premises to swim or sunbathe. Want to work out? Request an In-Room Fitness Kit or check out the fitness center and the indoor racquetball court. In the mood to lounge? Pull up a chaise lounge by the indoor/outdoor heated pool.
Yet, the charm of the hotel isn't just about these luxurious amenities. It lies in the smaller, intimate moments it creates – strolling hand-in-hand in the nearby marina, or sipping a cocktail together at the bar.
Corpus Christi Beach Hotels
BEACH CONDOS: Lively Beach Resort
Stay in your own waterfront condo at Lively Beach. Choose from pool or partial beach views of JP Luby Beach at a resort condominium that's at the gateway to Mustang Island State Park and Port Aransas.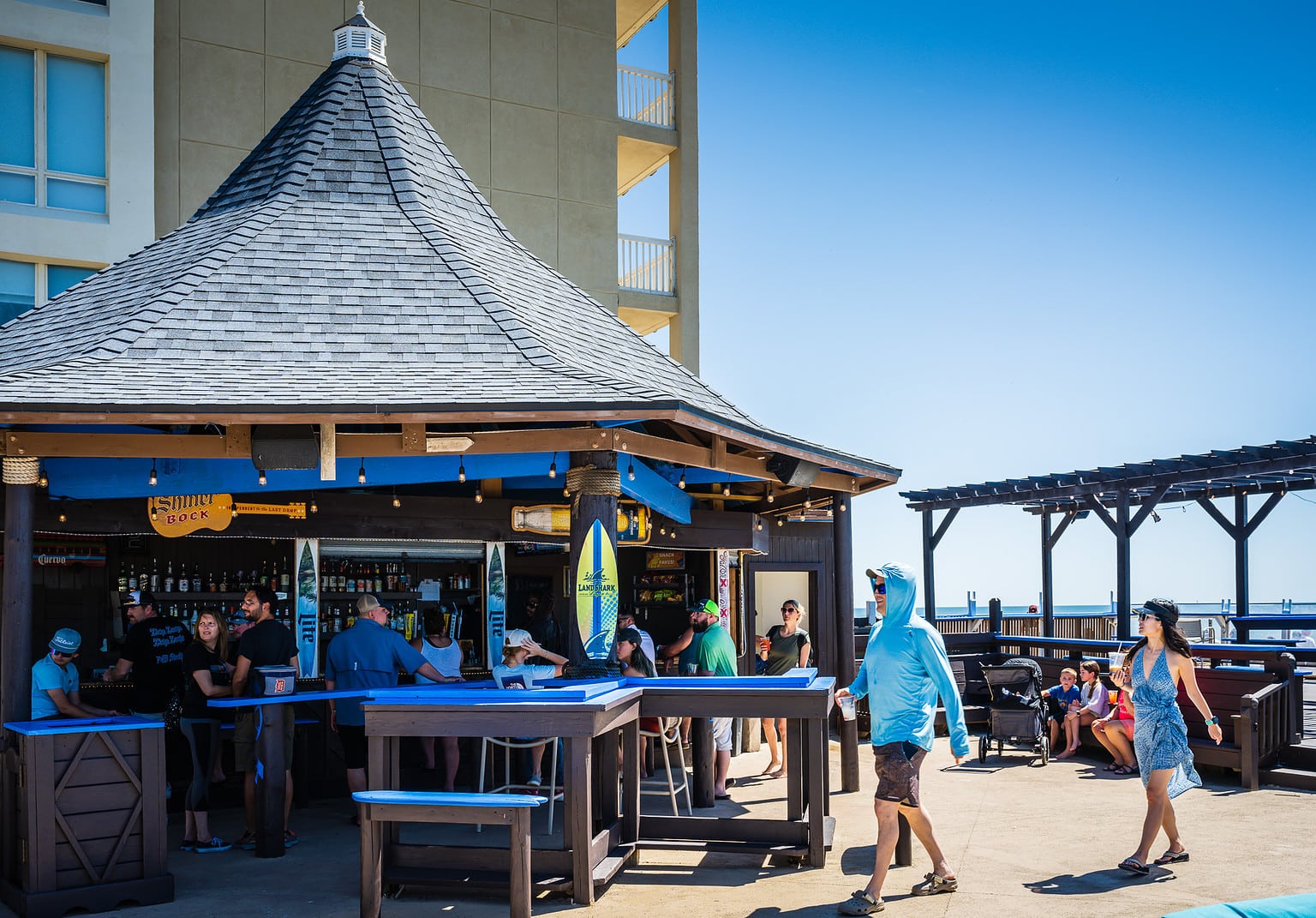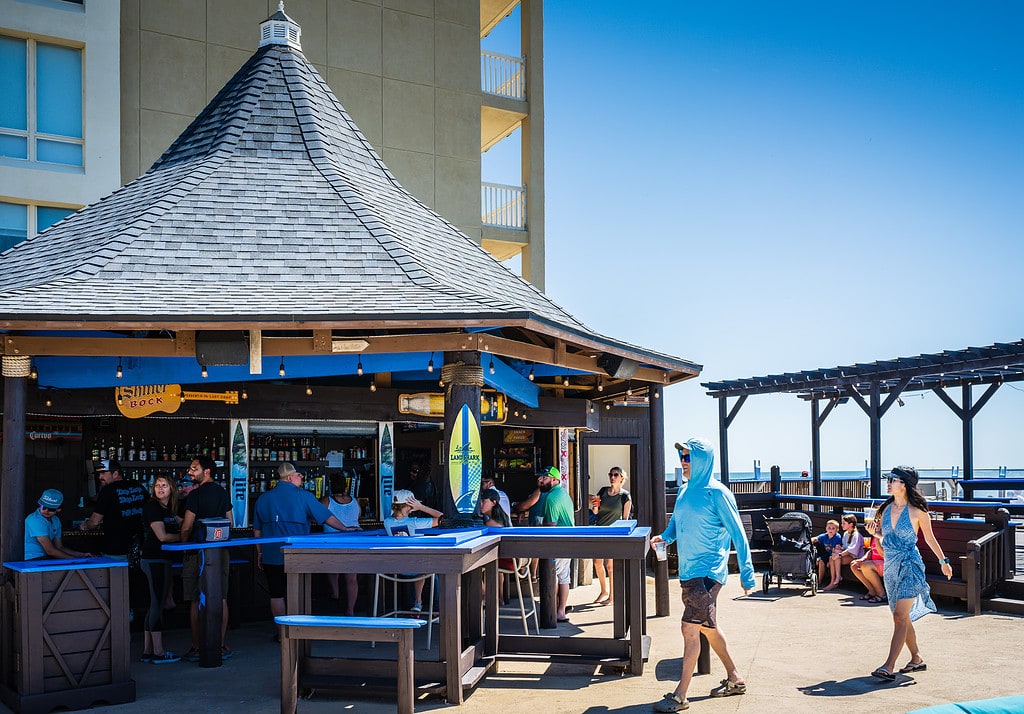 BEACH RESORT: Wyndham Corpus Christi Resort – North Padre Island
Nestled on the pristine beaches of North Padre Island, the Wyndham Corpus Christi Resort is an enticing haven for travelers looking for a laidback getaway. The spacious, contemporary guest rooms feature private balconies for soaking in the stunning island sunsets, while on-site dining options range from fresh seafood to traditional American fare.
With an array of recreational activities such as fishing, surfing, and bird watching, plus a festive poolside Tiki bar, the pet-friendly resort is not just a place to stay but a destination that offers an immersive Texas coastal experience.
More Romantic Getaway Travel Guides Nearby
All articles belong to Getaway Mavens LLC, and all photos belong to us as well, unless otherwise noted. It's all copyrighted. Please don't repost anything elsewhere without asking us first. All rights reserved. This site uses cookies to enhance your experience.
We make no guarantees of any price listed on our site. We're not responsible for content on external websites linked to ours, including linked resources, an external blog post, any partner site, hotel property sites, or affiliate sites. We only write about places we have vetted, but can't guarantee that your experience will be exactly the same.
Posts may contain affiliate links at no cost to you. Several of our trips are also compensated by the respective tourism boards for the city or state we are visiting. This never impacts how we share the destination with you – opinions are always our own and we pride ourselves on that. We do not sell links or accept unsolicited guest posts under any circumstances. Don't even ask.
United States Copyright, Getaway Mavens, LLC