Last Updated on July 11, 2022 by Editor
WHY GO: When Dr. Theodor Seuss Geisel wrote, "Oh, the places you'll go, there is fun to be done, there are points to be scored, there are games to be won," he may have just been spinning lyrics about his own hometown, Springfield MA.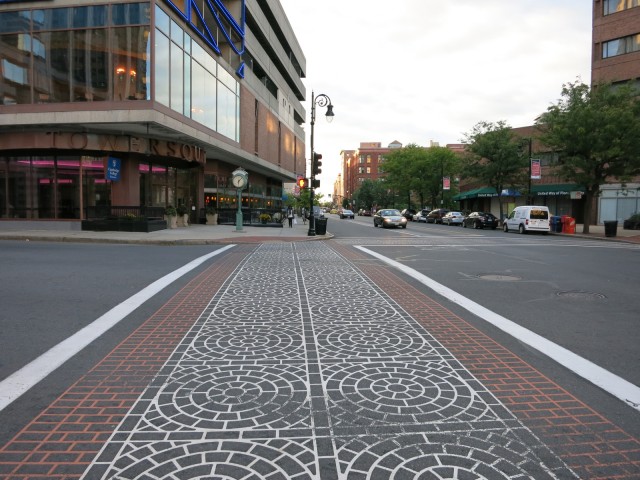 Of course, you can score points at the National Basketball Hall of Fame. But be sure not to miss the "Organ of Muskets" at America's first National Armory built just after the Revolutionary War, and other city innovations at the Springfield Museums.
Springfield might not leap to mind as a great overnight getaway, it's true. But we're asking you to give it a chance. Visit the Basketball Hall of Fame then stay for remarkable history, great homemade Bratwurst, authentic Louisiana fare, and the best barbecue this side of the Mason Dixon line.
Things to Do in Springfield MA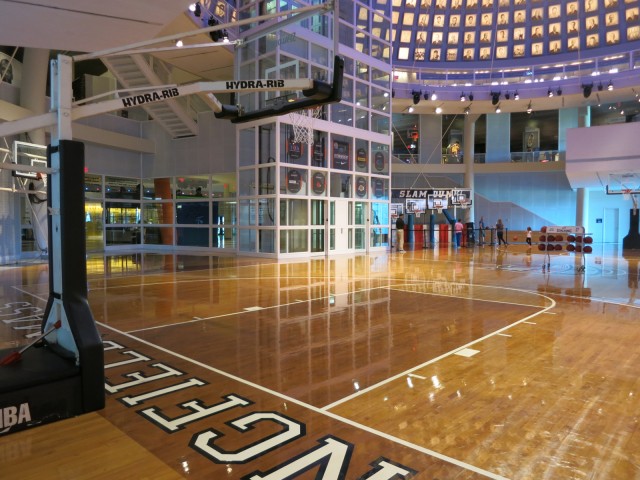 Basketball has come a long way since Dr. James Naismith invented the game at Springfield College in 1891. You'll find everything you've ever wanted to know about the sport and the people who play it, at the Basketball Hall of Fame.
With an eye-catching design that attracts motorists from speedy Interstate 91, the slick planetarium-looking structure draws Michael Jordan wannabes and driveway slam-dunkers alike.
In the expansive lobby, visitors stand in athlete's footprints while watching videos of season highlights. The regulation-size Center Court hosts clinics, shooting competitions and skill challenges. Try to palm a basketball. Compare your "wingspan" with that of Kevin Durant's impressive 7'5."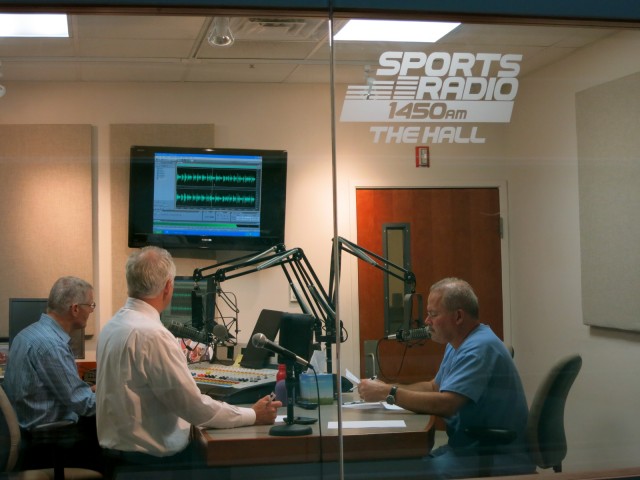 Watch AM Sports Radio 1450 goings on through the lobby window. And pay tribute to your favorite players in the "World's Premier Basketball Museum."  $25 adults, $16 kids. Daily 10-4.
I was originally going to shove all four Springfield Museums into one paragraph. But then I visited them and realized that lumping them all together takes away from the individual quirkiness of each. Begin in the happy, Dr. Seuss-ified Visitor's Center and purchase tickets to all five museums and the Dr. Seuss National Memorial Sculpture Garden. $25 adults, $16 kids, Tues – Sat. 10-5, Sun. 11-5.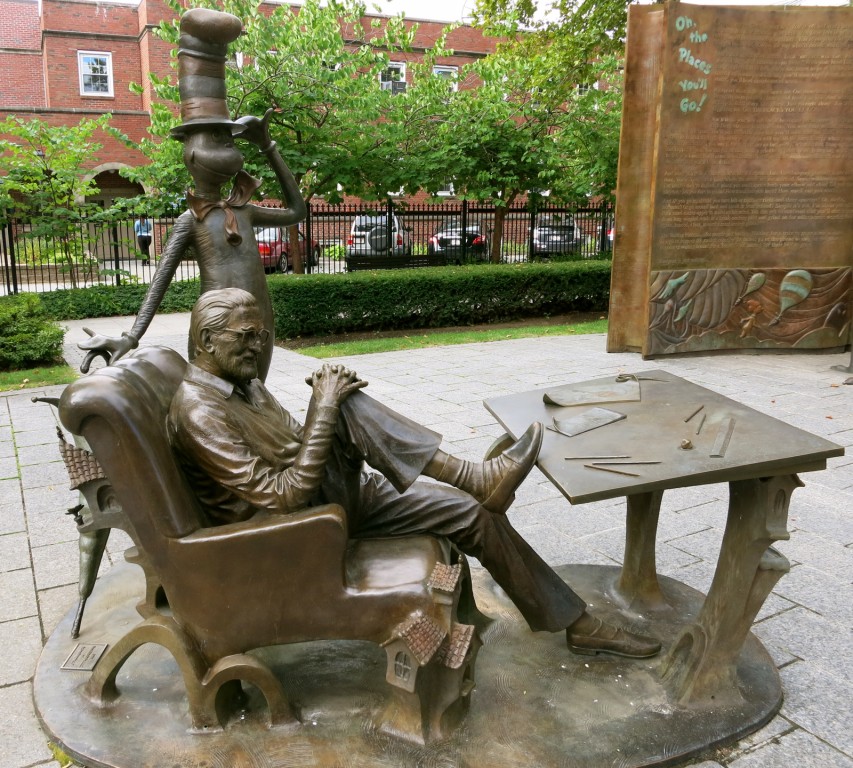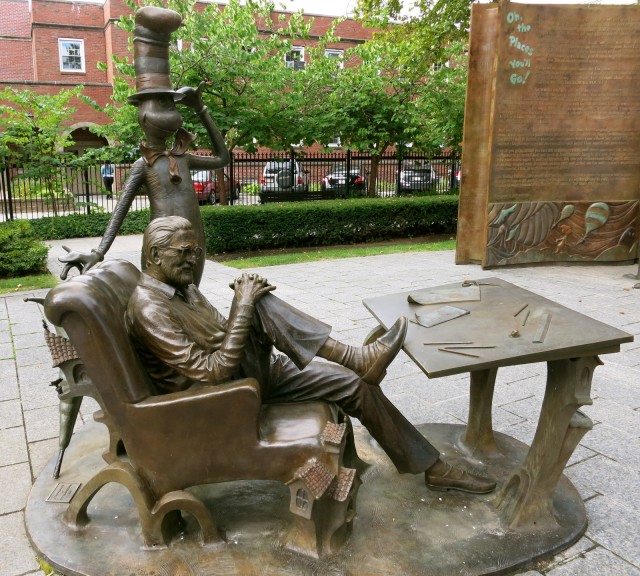 Theodor "Dr. Seuss" Geisel grew up in Springfield MA and much of what he did and saw here ended up in his illustrations and writings. His father was a brewer who was forced to find a new career after Prohibition. The Sr. Geisel was hired to run the Springfield Zoo, and he allowed little Ted a run of the place. It's no surprise, then, that Dr. Seuss's fantastical creatures stem from this time in his life.
Learn about Seuss's roots at the newest museum on the quad. And then plan a photo op with Geisel or The Cat in the Hat or Horton or any of the several dozen Seuss characters planted in this wonderful sculpture garden.
This science museum's got your stuffed animals (and not the plush, bedtime kind if you know what I'm saying), including an orphaned polar bear named Snowball, who lived at the Springfield Zoo for 29 years before standing, in perpetuity, at the entrance to the museum.
Stop into the gift shop and look over the door to find what might be – at 26 feet – the biggest taxidermied Python on record. In the world.  There are plenty of live critters here as well. So, if you've got a few minutes, it's worth a peak.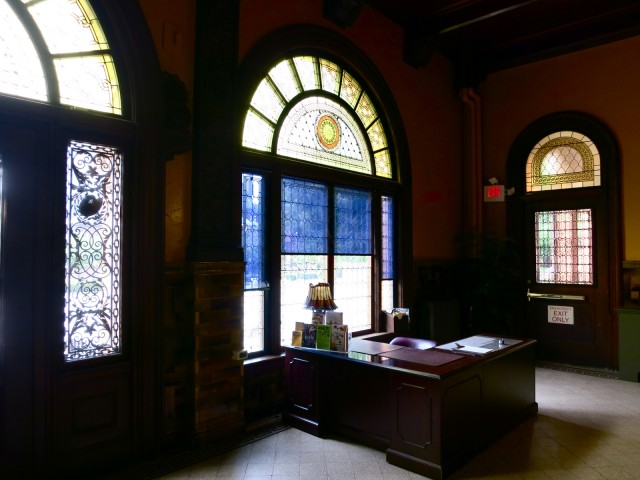 The Smith Museum opened in 1895, during an era when wealthy eccentrics built public institutions to showcase their eccentric collections. (In this case, Asian art, arms and armor including the largest assembly of cloisonné outside of China). In addition, the building itself is architecturally significant. Built in the style of an Italianate Villa, original stained glass Tiffany windows cast a dim golden glow into the magnificent foyer.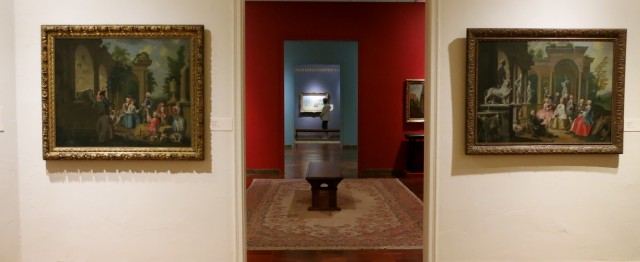 Situated in a 1930's Art Deco building, the D'Amour Museum has assembled the usual suspects – Remington, O'Keefe, Winslow Homer, European artists, etc. Plus, it has the country's only permanent gallery dedicated to art created for the middle class: the lithographs of Currier and Ives.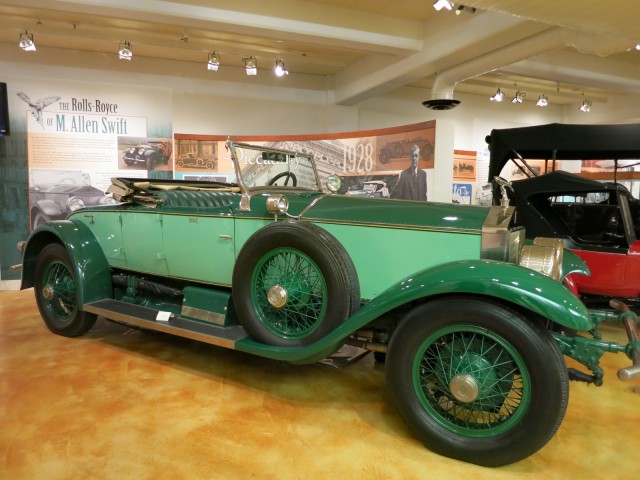 Connoisseurs of vintage motorcycles, Smith and Wesson pistols, and/or candy-colored Rolls Royces will want to spend most of their time at this museum, in the former New England Telephone and Telegraph building.
Artifacts, from all the companies once (and still) headquartered here, are on full display. These include the largest collection of Indian Motorcycles in the world. Based in Springfield, Indian manufactured the most commercially successful bike in the world, reaching its pinnacle with the iconic 1928 Scout.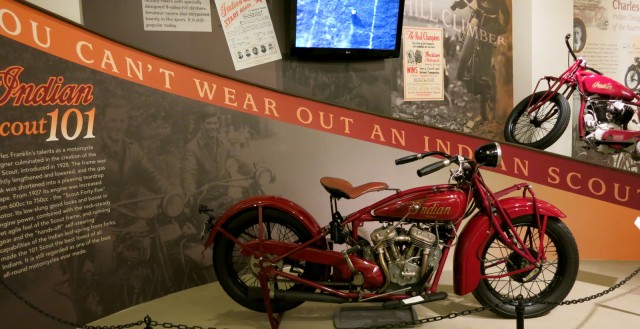 You'll also find a gorgeous green 1928 Rolls Royce, built during the 10 years (1919-1929) that the English automaker moved production to Springfield, MA.  The Museum also houses the largest collection of revolvers and pistols (1,500), from Springfield's still operating Smith and Wesson Company, including four engraved by Tiffany, and the Model #1 dated 1858.
The game of Basketball, Milton Bradley's Checkered Game of Life, Friendly's Ice Cream, and Breck Shampoo also got their start in this western MA river city.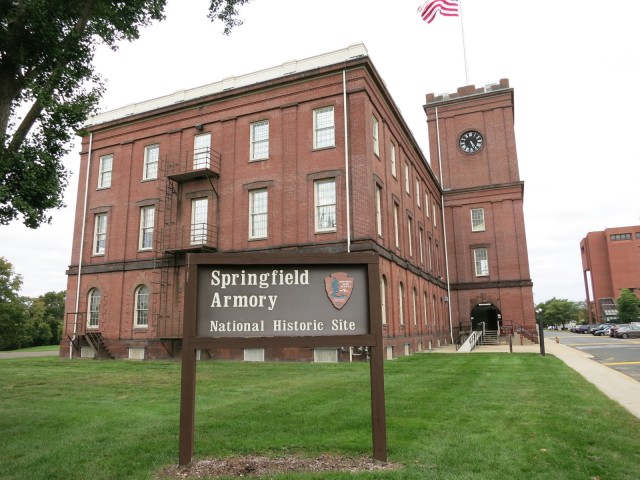 In 1843, Henry Wadsworth Longfellow referred to the double-musket racks at the Springfield Armory as an "Organ of Muskets" in his poem, "The Arsenal at Springfield."
This is the Arsenal. From floor to ceiling,
Like a huge organ, rise the burnished arms;
But from their silent pipes no anthem pealing
Startles the villages with strange alarms.
Ah! what a sound will rise, how wild and dreary,
When the death-angel touches those swift keys
What loud lament and dismal misery
Will mingle with their awful symphonies.
Commissioned by President George Washington in 1777, the Springfield Armory, America's first Federal Arsenal "carried out manufacturing, storage, repair, testing and development of arms for the US Army." It did so until 1968. During its heyday – World War II – 15,500 workers (42% women!) churned out hundreds of thousand of M1 Rifles per year.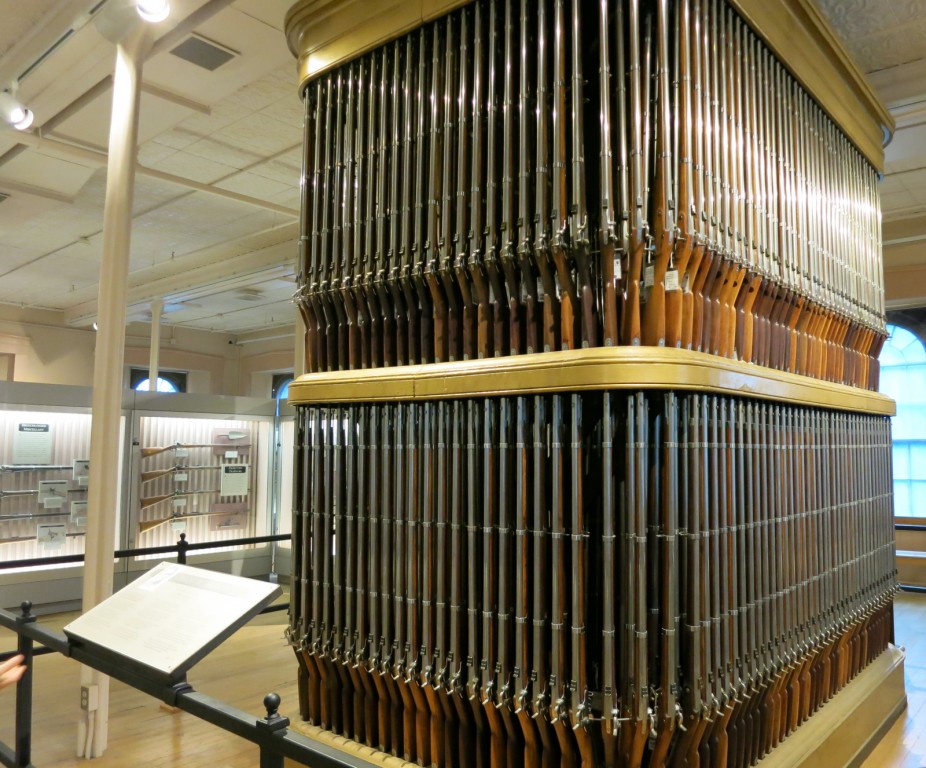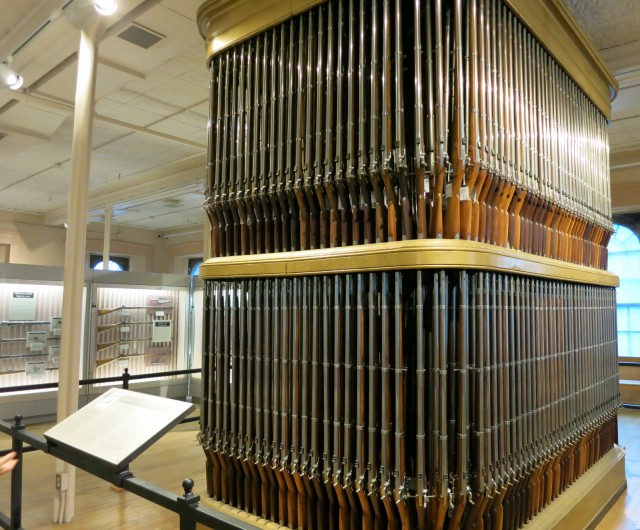 Now a National Historic Site housing the world's largest collection of American military guns, the Armory does not glorify gun culture. However, it deftly informs visitors about the technological innovations gleaned from weapons production over the years. And it champions the Springfield citizens who "worked diligently to provide our military with the best infantry weapons necessary to safeguard the nation."
The Armory features machinery and exhibits about gun-making. (Look for enlarged photos of women missing fingers – a common industrial pitfall pre-OSHA). More exhibits include ballistic tests, evolution of firearms, rare models,"mishaps,"  and an array of gatling guns. The one remaining "Organ of Muskets" is arguably the most photographed image here. Indeed the Springfield Armory presents a sobering overview of what our soldiers use in battle. Open Memorial Day – Oct. 31, daily 9-5. Nov-May, Wed-Sun. 9-5. Free. 
Best Restaurants in Springfield MA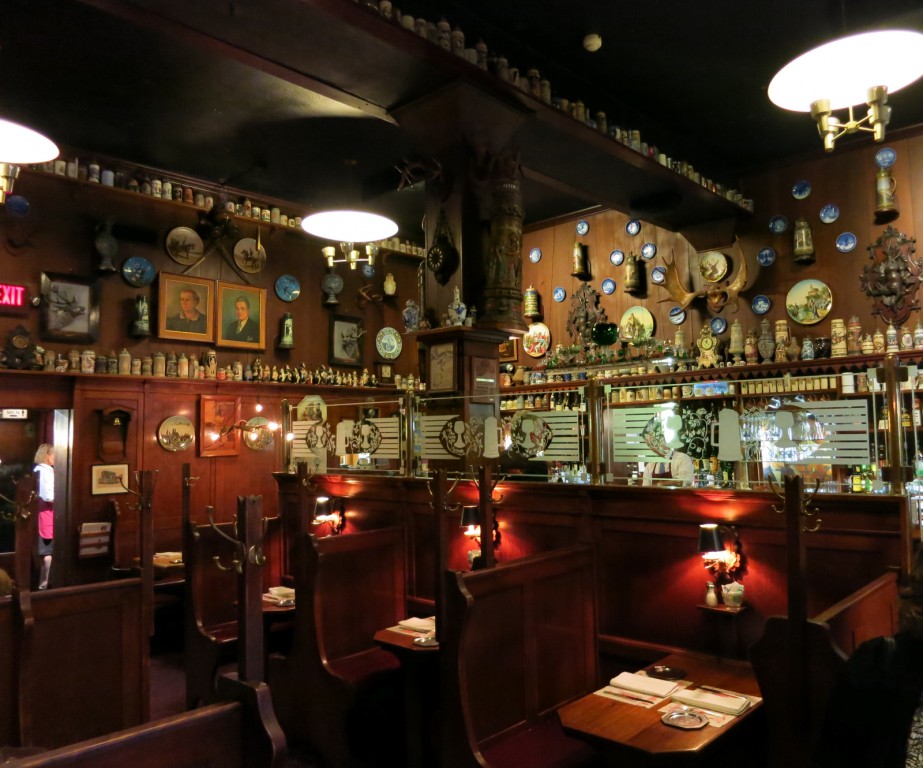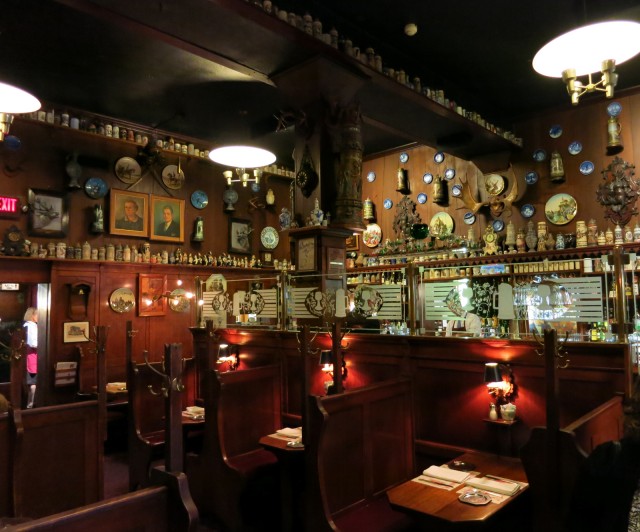 A local landmark, this doubly named restaurant has been dishing out schnitzel and other excellent German chow since 1935.  Crammed with 2,000 beer steins and an impressive collection of corkscrews in several bar and dining areas, SP&F was listed among "Twenty Legendary Restaurants in the USA" by Gourmet Magazine.
Still family-owned, still making their own delectable Bratwurst, and still mixing "Salad with Roquefort" ($6) tableside, this warm and welcoming restaurant keeps traditions alive. All while inventing new ones. Of course, German beer is the signature beverage. But if you're looking for a sweet alternative, ask for the "Ice Cream Drink,"  a mixture of Grand Marnier, Galliano, and other liqueurs.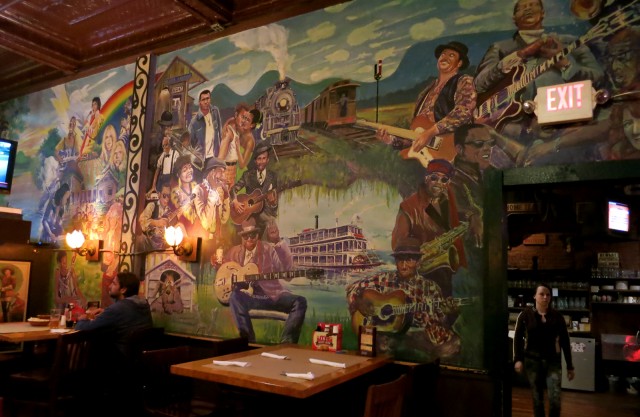 This is preposterously good southern BBQ. Honestly. Yes, Theodore's was once named the Best Blues Club in the country by the esteemed Blues Foundation. (Which explains the wonderful murals of blues musicians covering the walls). But the food is the primary reason BBQ fans come here. Don't leave Springfield without trying Theo's Short Ribs ("the bacon of beef"), St. Lewis Ribs, or Pulled Pork with delectable homemade Carolina Mustard in this purportedly haunted old printing factory. Apparently, Ghosthunters taped a convincing episode in this very place.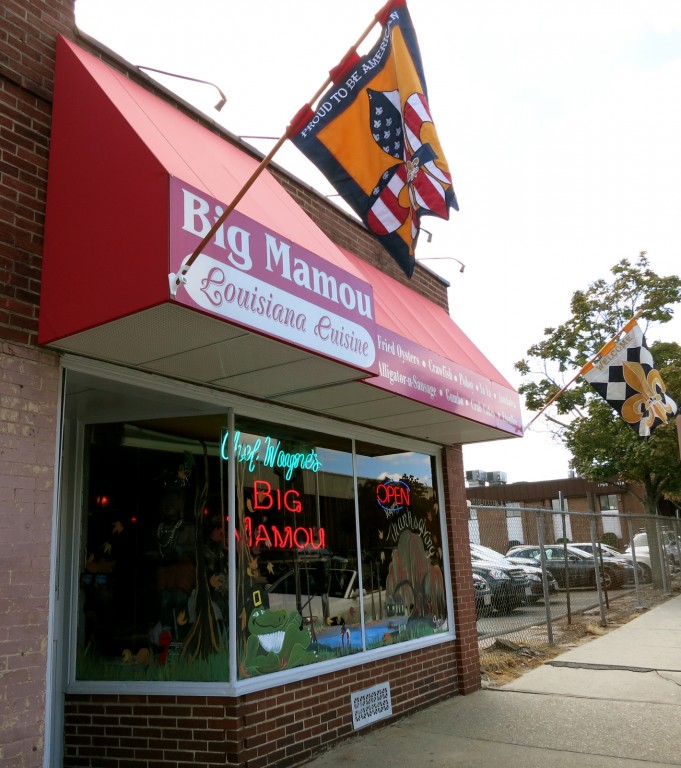 Located in a space you'd likely pass by (or actively avoid), it would be a shame if you did.  Anyone who appreciates Big Easy seasonings will find some of the best Cajun food in the country in this unassuming open-kitchen café, wedged between a parking lot and a furniture discount store on a wide, busy road. My personal favorite is the "Chicken Mississippi."  This stew of cubed chicken, al dente onions and spinach in lip-smacking broth is so good, you'll ask for more cornbread to sop it up.
Where to Stay in Springfield MA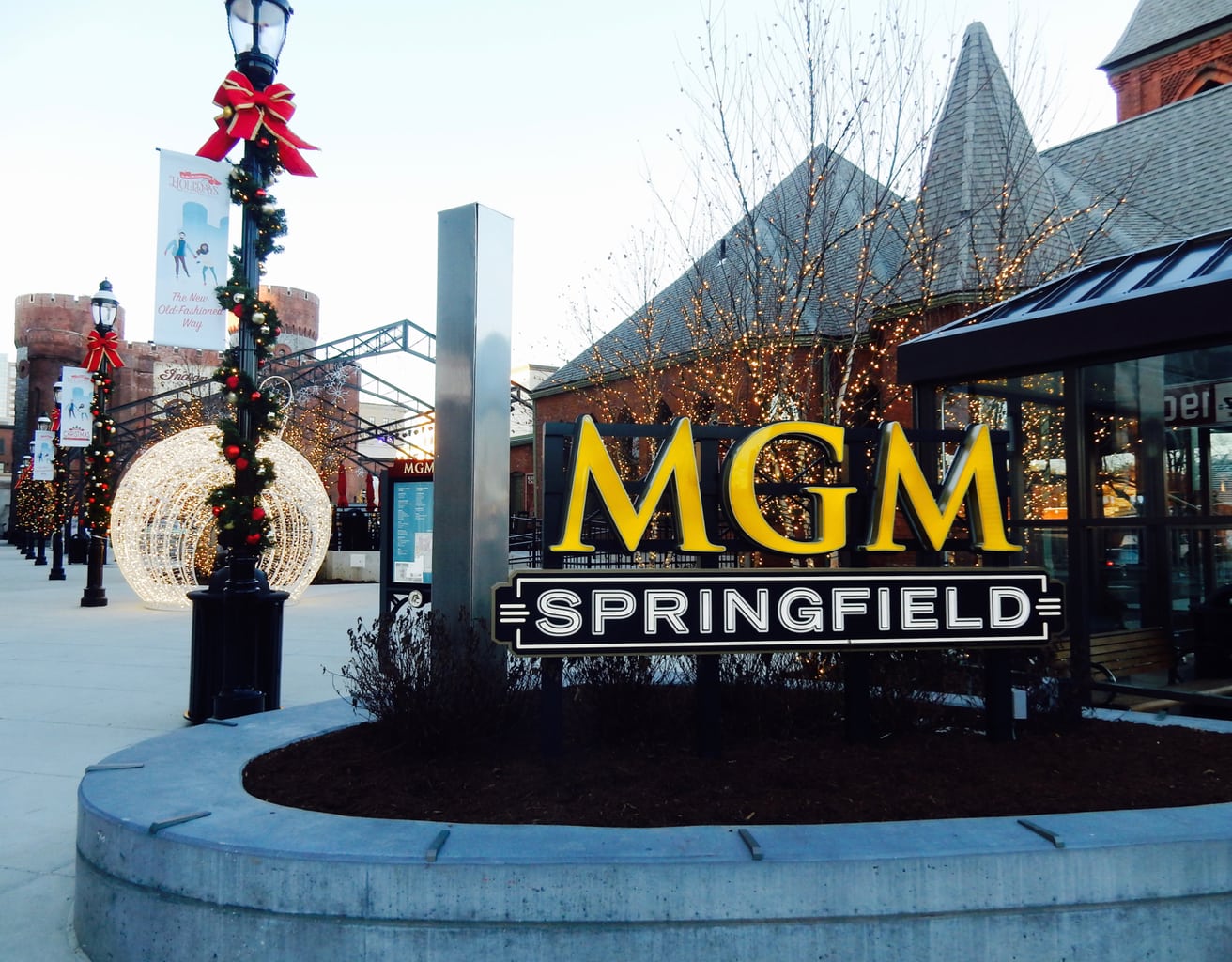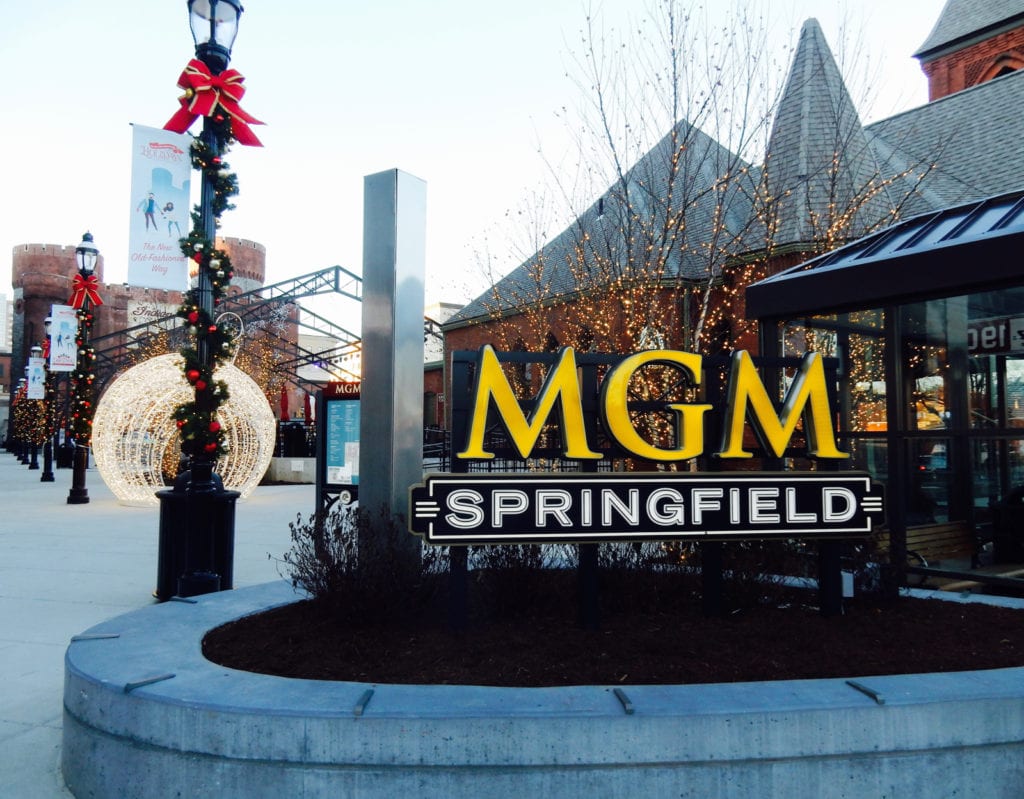 STAY: MGM Springfield 
Not just for gamblers, this new "Resort casino" is contributing to the revitalization of downtown Springfield. A "Maven Favorite" you can read all about it HERE.