Last Updated on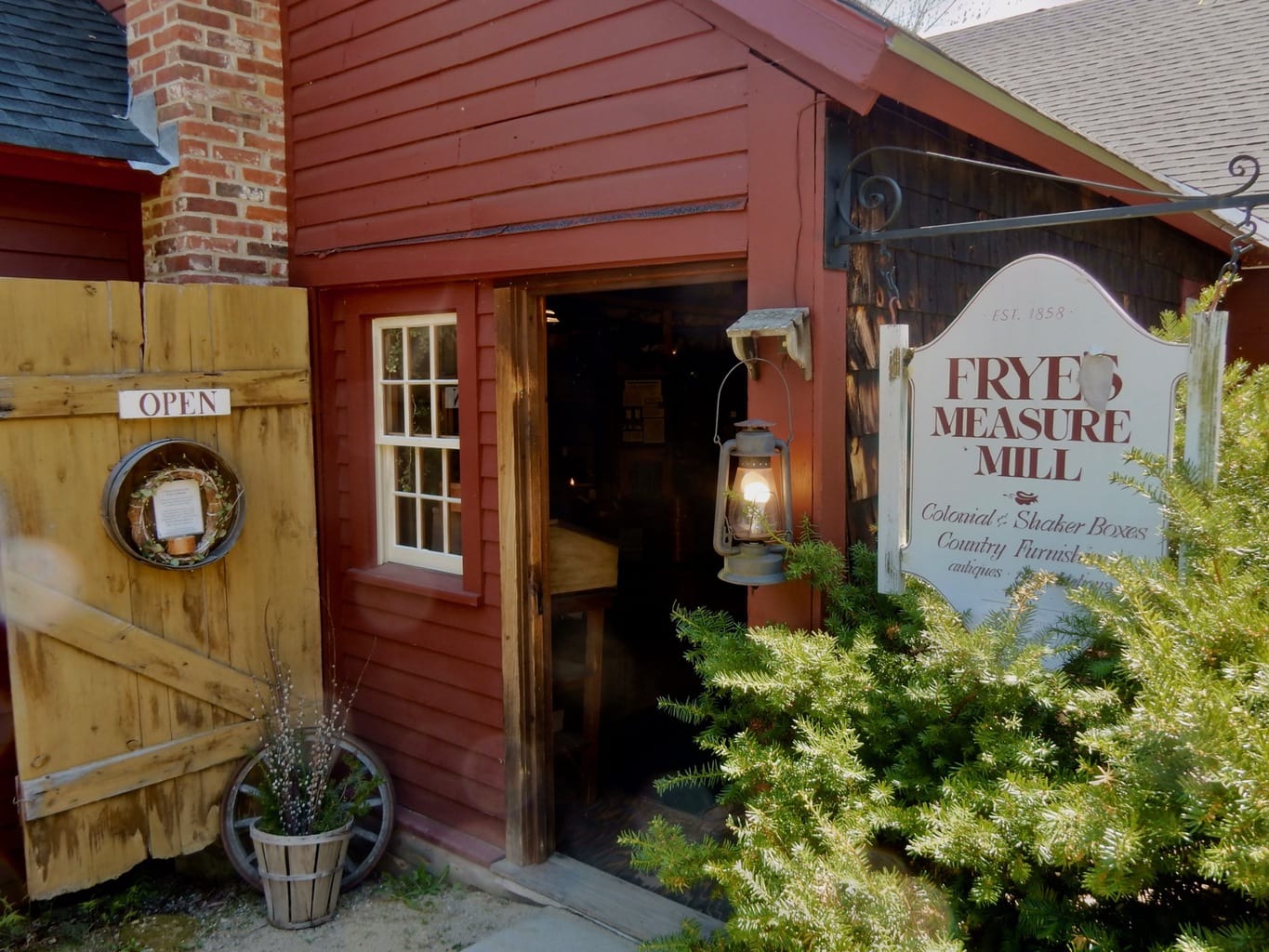 WHY GO: You can't get more New England than the generally overlooked Southwest New Hampshire. In the stoic way of the region, there are no hyped-up ads urging you to visit, even though you'll find Uncle Sam, Little Red Riding Hood, warm Maple Syrup, big scoops of ice cream, Yankee Magazine, and the 225 year old Old Farmer's Almanac here.
Throw in gorgeous hikes on mountains and through gorges, Ken Burns' hometown, one of the oldest artist colonies in the USA, and a true New England Country Inn, and you've got the makings of an incredible, deeply New Hampshire cultural weekend.
Things to Do in Southwest New Hampshire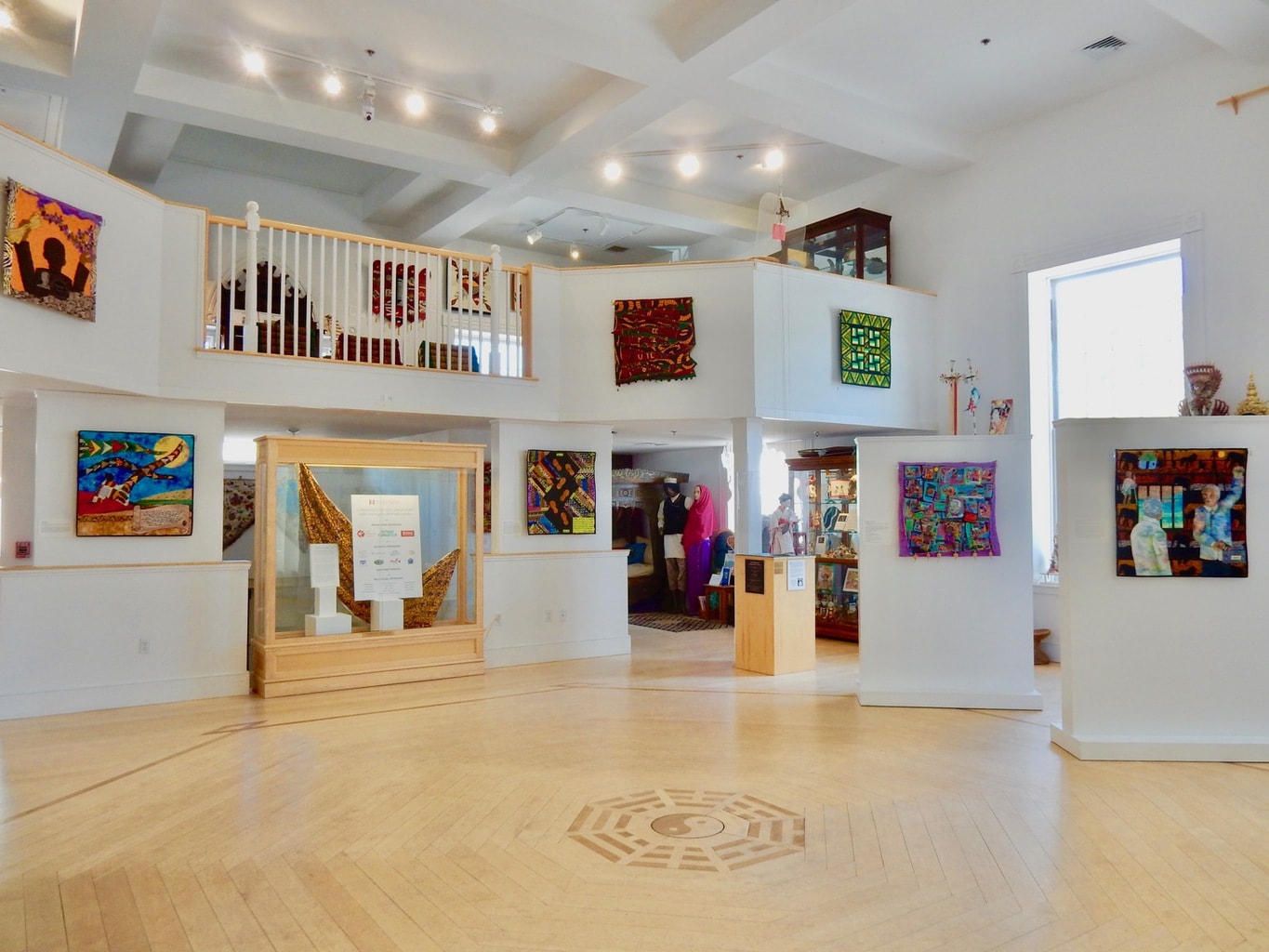 VISIT: Mariposa Museum, Peterborough. When David Blair and Linda Marsella, decided to showcase the folk art and artifacts they collected around the world, they envisioned a restored Peterborough Marionette Opera House, destroyed in a 1999 fire, as a hands-on institution where people of all ages could interact and learn about world cultures.
Renovated in 2001, with a new contemporary, bright and soaring central 2nd story gallery accessed by a curved flight of stairs, and exhibit space on three floors, the Mariposa Museum is a peaceful, pleasant, and surprisingly engaging place to spend time.
There are rotating exhibits (in Spring 2018, Nelson Mandela Quilts), permanent displays of carvings, puppets, and folk art from India, Tibet, Nepal and more, and a whole upper level filled with percussion instruments – bells, harp, drums, maracas, and rain sticks – for the public to "please touch with respect" and play.
A hit with the kids, the Mariposa Museum elicits joy in their parents as well. Open Tues-Sun 11-5, $8 adults, $5 children.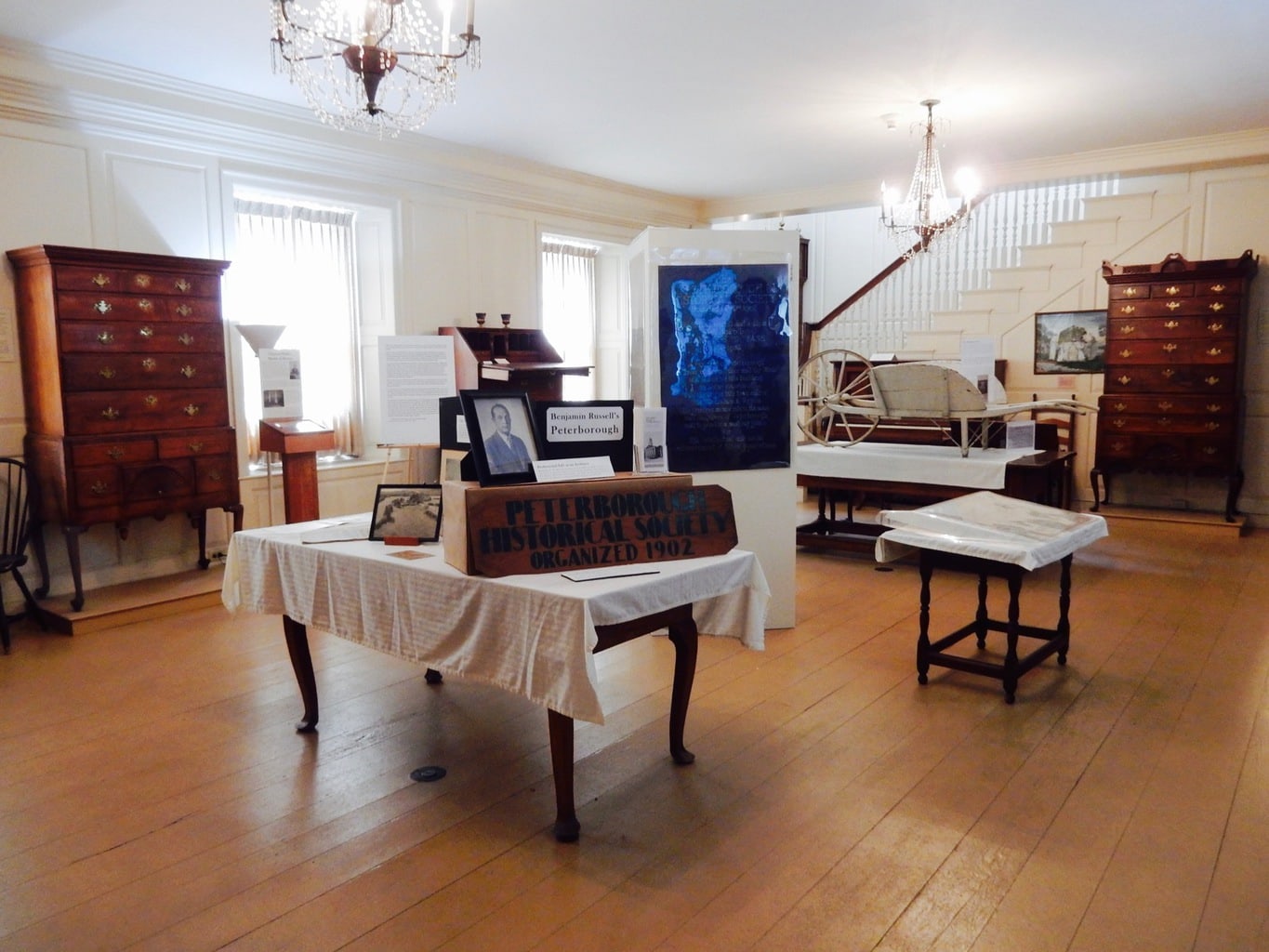 TOUR: Monadnock Society for History and Culture, Peterborough. If you want to delve into quirky local history, there's no better place than the MSHC, which also serves as the Peterborough Visitor's Center, a performance space with great acoustics, and several buildings out back moved from across the river, now used for school groups and events.
The three-room "museum" has a regional reach, with a concentration on, architect Benjamin Russell, who helped design the Museum of Fine Arts, Boston, and who, in the early 1900's, transformed Peterborough though his Georgian Revival style buildings. Downstairs, there's a demonstration Colonial Kitchen, and upstairs, the "Town Attic" set up for children with lots of interactive games and clothing to try on.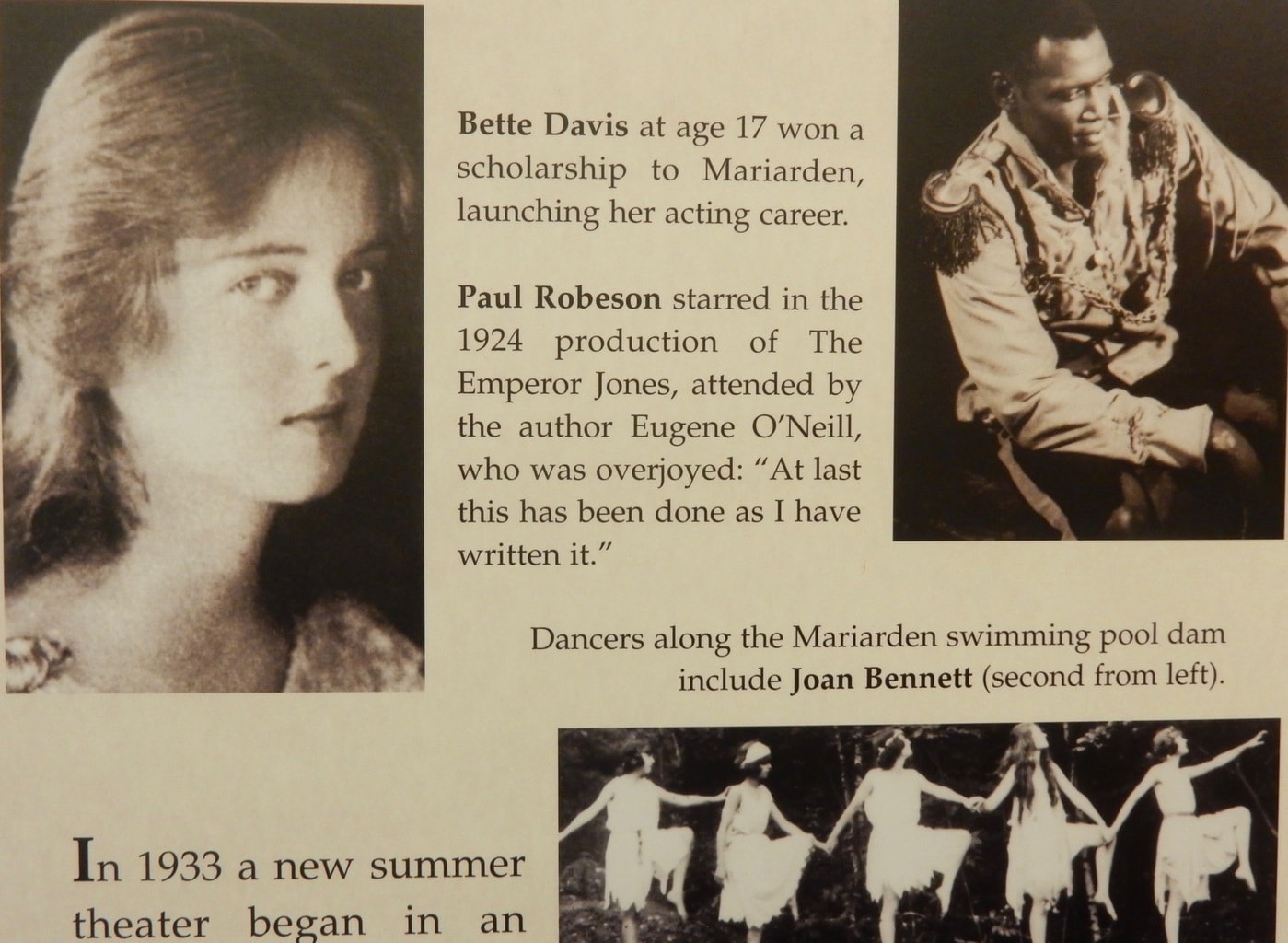 What I found most interesting, however, was an item on one of the Peterborough timeline posters that hang in the building's entry hall. In 1922, the Mariarden Theater, possibly the first outdoor stage in America, opened here as a school for Shakespearean drama and dance. Charles Coburn and Walter Pigeon taught drama, Martha Graham taught dance, and until it closed in 1934, the Mariarden had drawn performing art luminaries like a young Bette Davis and Paul Robeson.
VISIT: Sharon Art Center, Peterborough. The bright, open, polished to a gleam galleries showcase the best and most compelling work of local artists. But the Gift Shop ups the game – with incredible crafts and the vibrantly colored large-scale animal paintings of Rosemary Conroy, whose oils ($1,400 – $5,000) and career are really taking off.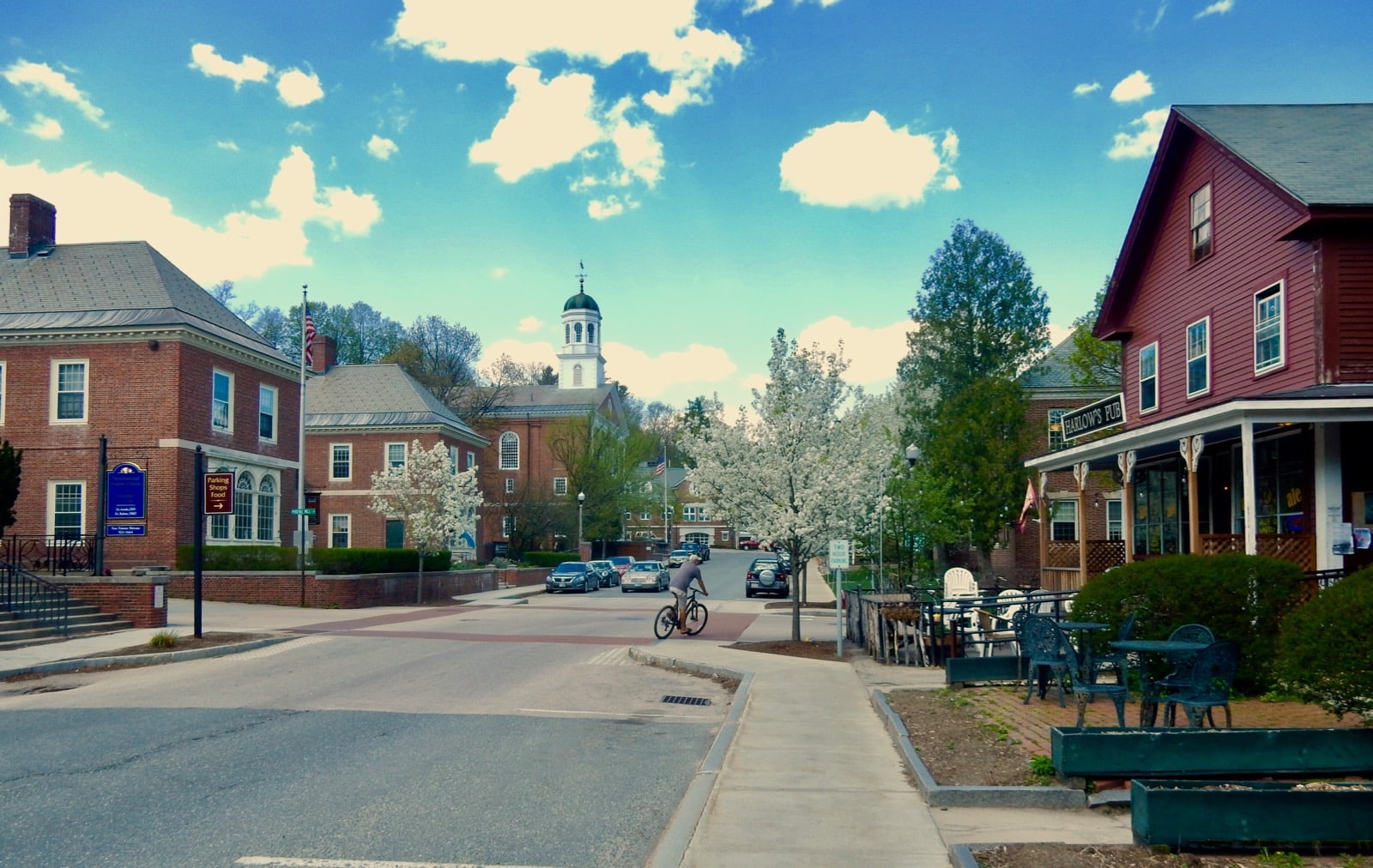 EXPLORE/SHOP: Peterborough. There are several shops worth stopping into – all offering the bygone ritual of personal attention. The Nest Children's Shop is the ideal place to find unique baby and kids gifts. The Toadstool Bookshop has been recommending the best in literature for over 45 years, and it's where you'll find the adorable café, Aesop's Table. You can't leave town without at least one Chocolate Turtle from Ava Marie Chocolate – award-winning for a reason.
POP IN: Yankee Publishing, Dublin. Remember the old Yankee Magazine; the small Reader's Digest sized periodical for the same RD demographic? That's been gone for years, and in its place a larger, glossy, top-drawer publication with a modern appearance that telegraphs a new New England sensibility without scrubbing its old fashioned virtues.
Yankee Magazine, New Hampshire Magazine, and The Old Farmer's Almanac (under the Yankee Pub umbrella, established in 1792 by Robert B. Thomas) are housed in a red barn building (next door to a white steeple Church) on the main Peterborough to Keene route in the two-blink town of Dublin. Stop in, say hi, purchase a magazine, and rest assured that print media is not only alive and well, it's thriving in this small New Hampshire town.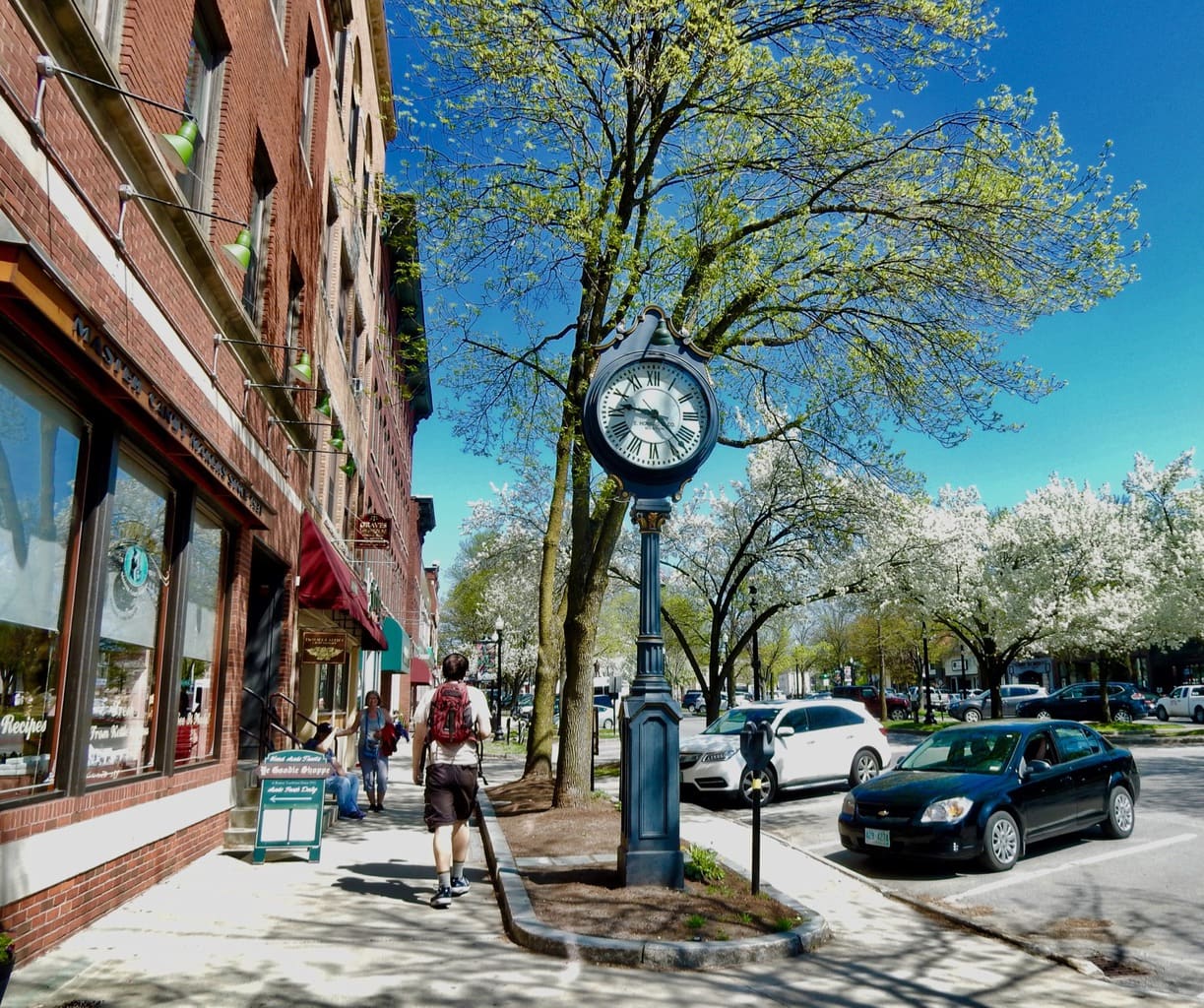 SHOP: Keene Downtown. If the urban label can be applied to any town in this part of New Hampshire, it should be applied to Keene, which presents, at first, as a Big Box store "anyplace" (Dicks Sporting Goods, Kohl's) but actually has a pretty "town-center" vibe. You may find your own, but my two favorite shops are Miranda's On Main for contemporary women's fashion, and Ye Goodie Shop – for old fashioned candy made right on site.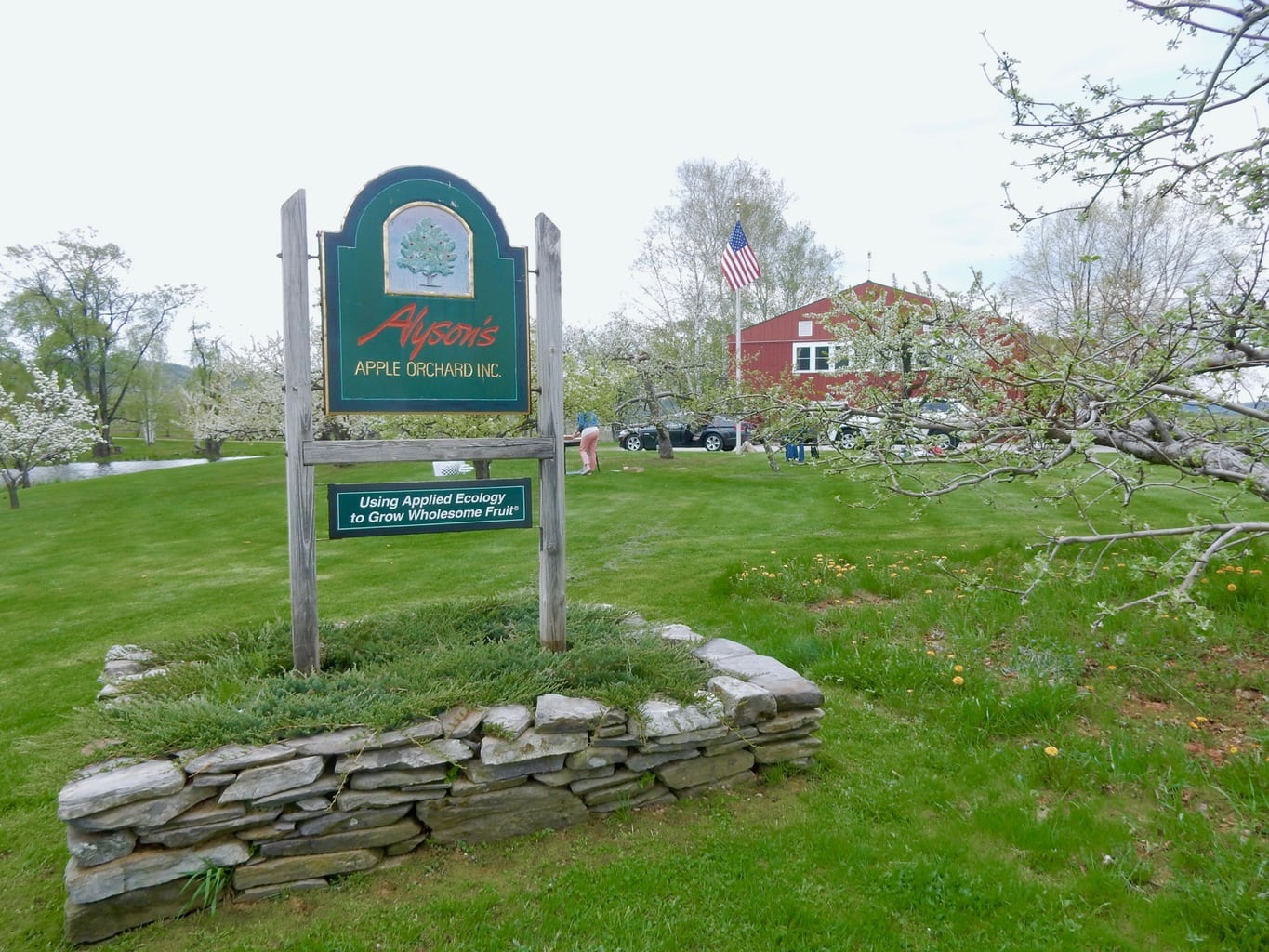 DRIVE: Keene to Walpole on Route 12. It's 17 miles from Keene to Walpole NH, home of documentary maestro, Ken Burns. On your way, stop at the family-owned Summit Winery for free tastings of what fans call great Cabernet Sauvignon and Sauvignon Blanc. Up the road in the outskirts of Walpole, find the 450-acre Alyson's Orchard – one of the largest in New England – a pick-your-own fruit orchard and popular wedding venue.
From mid-summer through fall, pluck what's in season – be it peaches, blueberries, raspberries, plums, pears, or apples. Your destination in Walpole Center is LA Burdick Chocolate – the source for those ambrosial confections found in chocolate boutiques throughout the USA – and The Restaurant at Burdick's (see below), co-owned by Ken Burns – the place to go in New Hampshire for a "Special Meal" according to readers and editors of Yankee Magazine.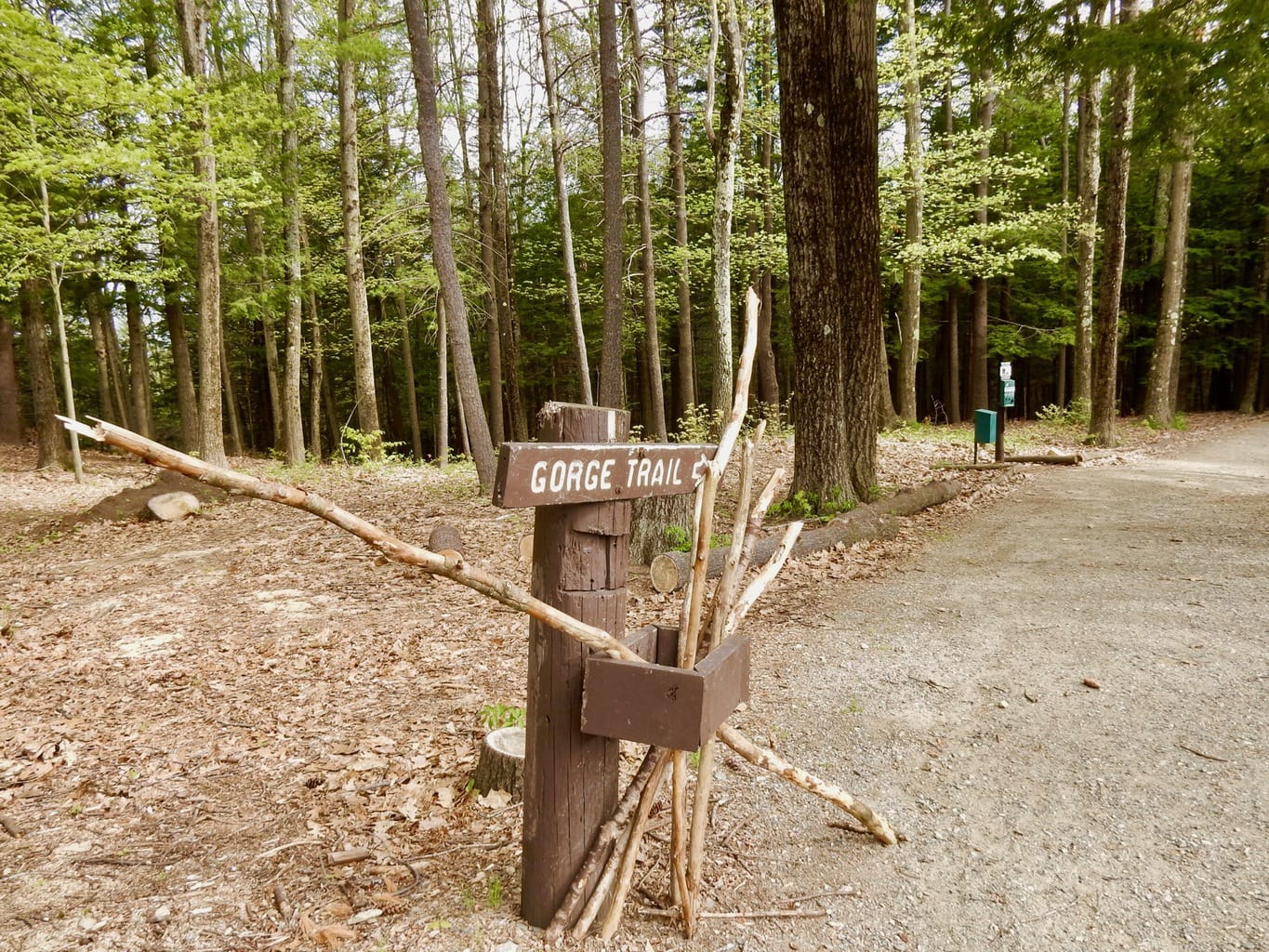 HIKE: Chesterfield Gorge, Chesterfield. You'll find the trailhead on Route 9 between Keene and Chesterfield. It's a popular one, as evidenced by the spray of walking sticks in a box at the beginning of the 1.6-mile trail.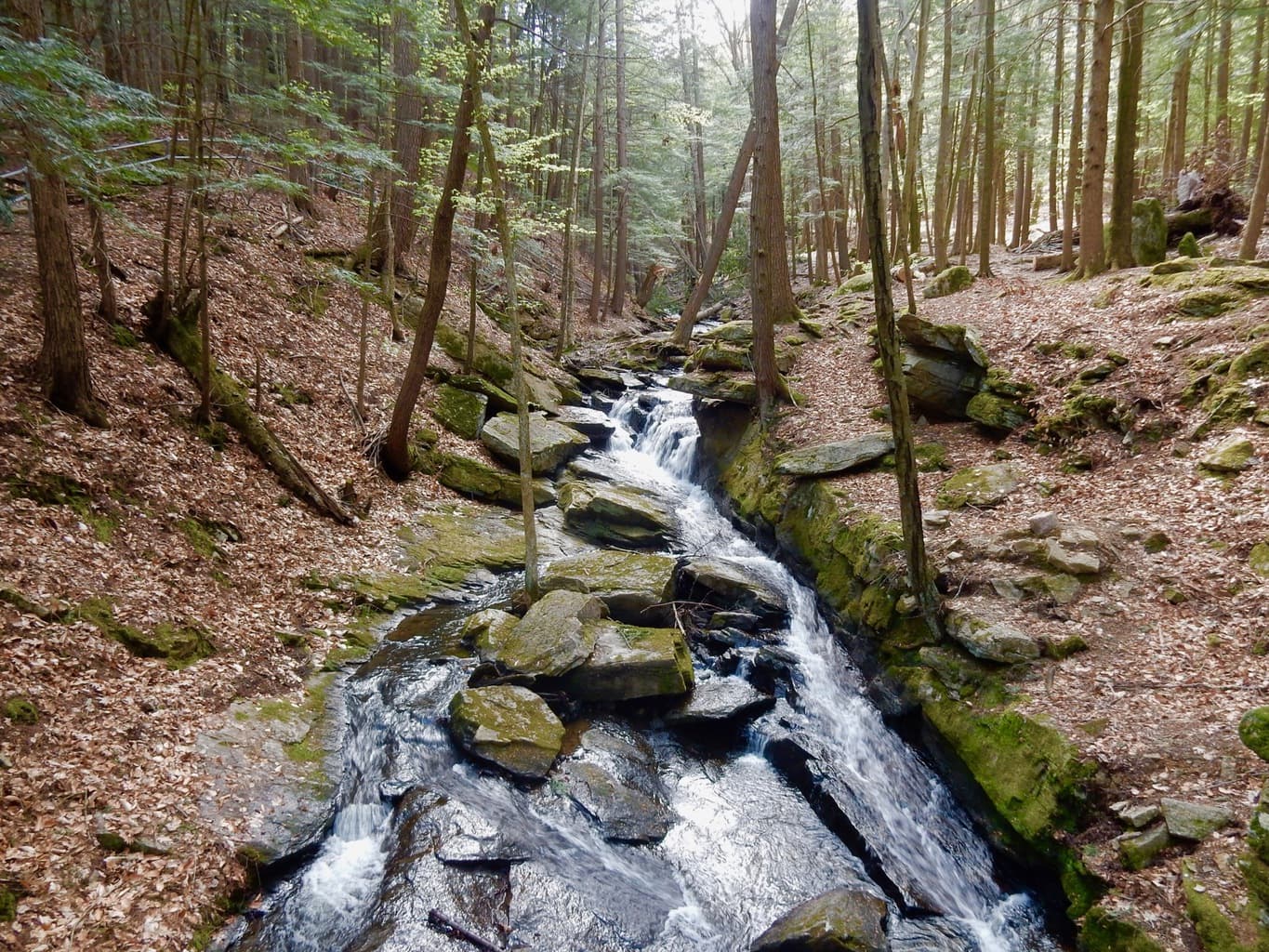 To do it justice and get your forest bathing in, plan 45 minutes to an hour. While marked "easy" – this is not a flat paved path. There's a 121 ft elevation, peppered with roots and rocks, but……white water tumbling over boulders and fallen trees in the cataract of a forest floor is as "gorges" as it gets.
HIKE: Pisgah State Park and Madame Sherri Forest. Pisgah State Park encompasses 13,500 acres with miles of trails that are popular with x-country skiers in winter. The Madame Sherri Forest has one of the most peculiar back-stories – based on an eccentric New Yorker – the Broadway show and Ziegfeld Follies costume designer, Madame Antoinette Sherri. In the 1920's, Sherri built a stone "castle" on land she purchased in Chesterfield NH, hosting over the top parties for her city friends, until her money ran out.
She died a pauper in 1965, three years after her "castle" burned down. Now, hikers can take the moderate 2.3-mile Ann Stokes Loop to Indian Pond to see the ruins.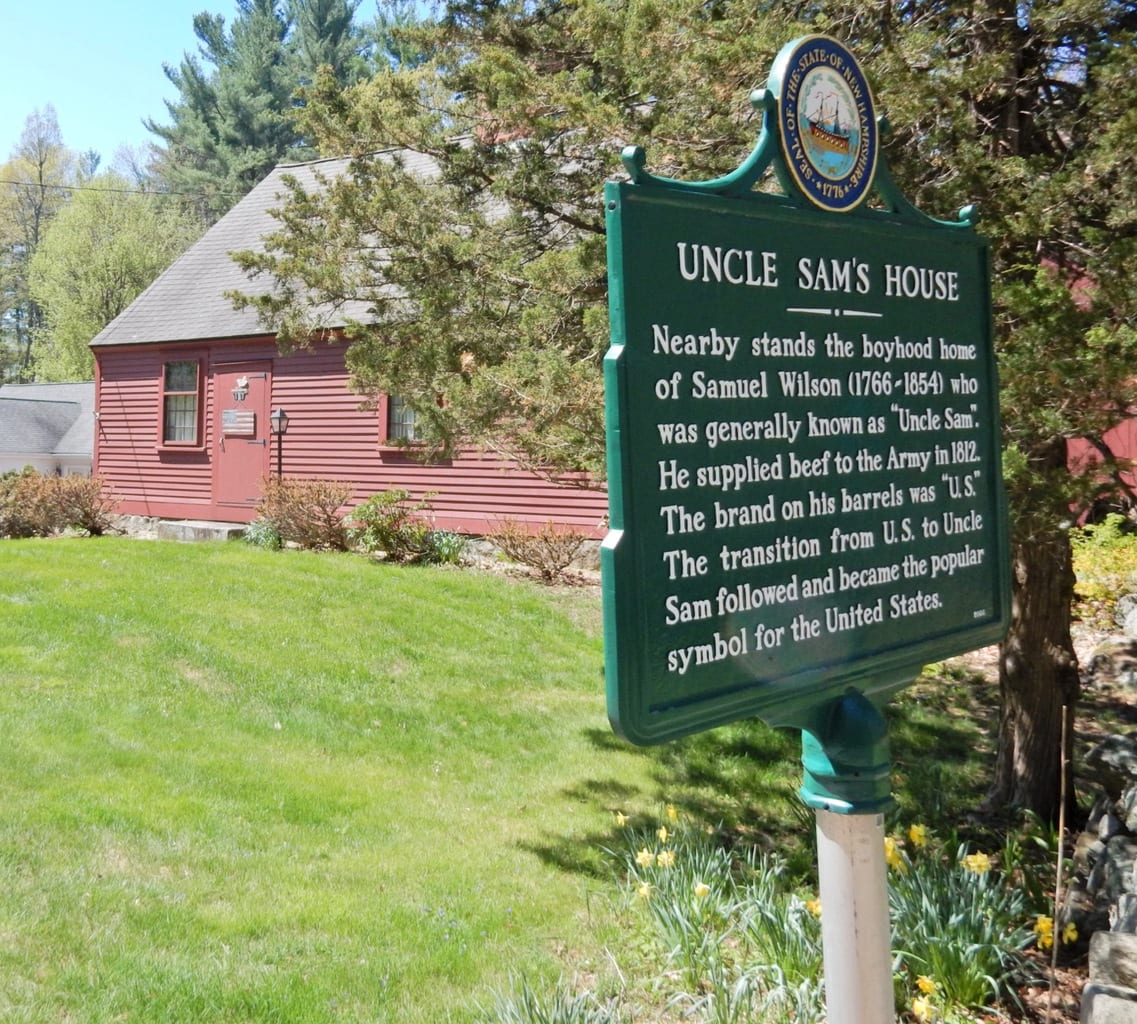 PHOTO OP: Uncle Sam's Boyhood Home, Mason. Yes, there was a real "Uncle Sam" and he lived in New Hampshire before moving to Troy NY. Provisioner Sam Wilson supplied beef to the newly formed U.S. Army during the War of 1812. His shipment barrels were stamped "U.S." to indicate U.S. Government property, but because his first name was Sam, the initials U.S. gave rise to "Uncle Sam." Sam Wilson became the face of Army recruitment, broadening into a symbol of America itself.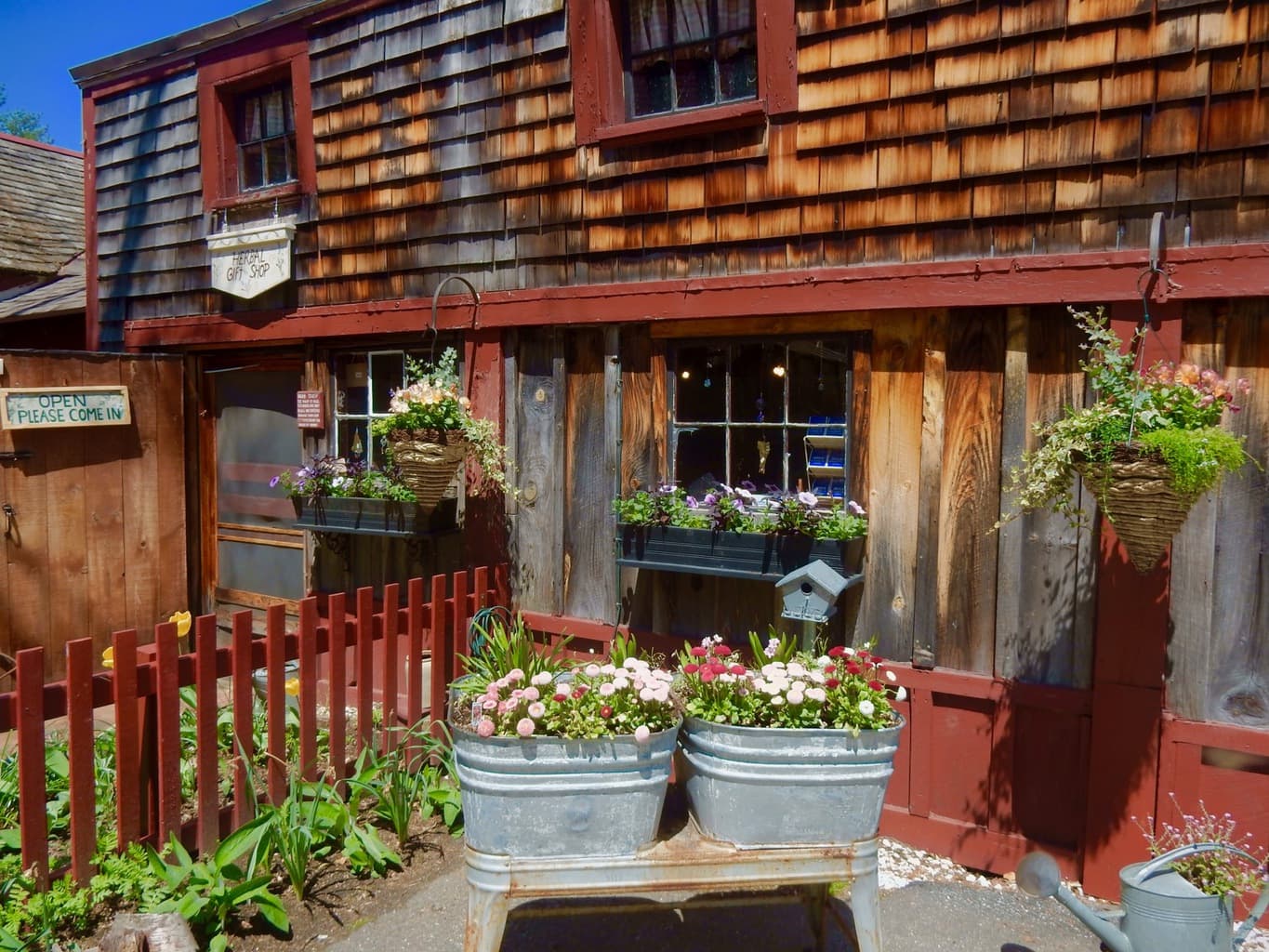 SHOP/EAT: Pickity Place, Mason. You'll have to make a concerted effort to get to the 10 acre Pickity Place, bouncing on miles of rutted dirt roads in rural Mason NH before finding a sign at the entrance. But you'll be in good company – scores have been coming here to eat, wander the gardens, and purchase all manner of dig-in-the-dirt items in the Herb Shop since this 1786 farmstead opened as a 55-seat restaurant in 1977.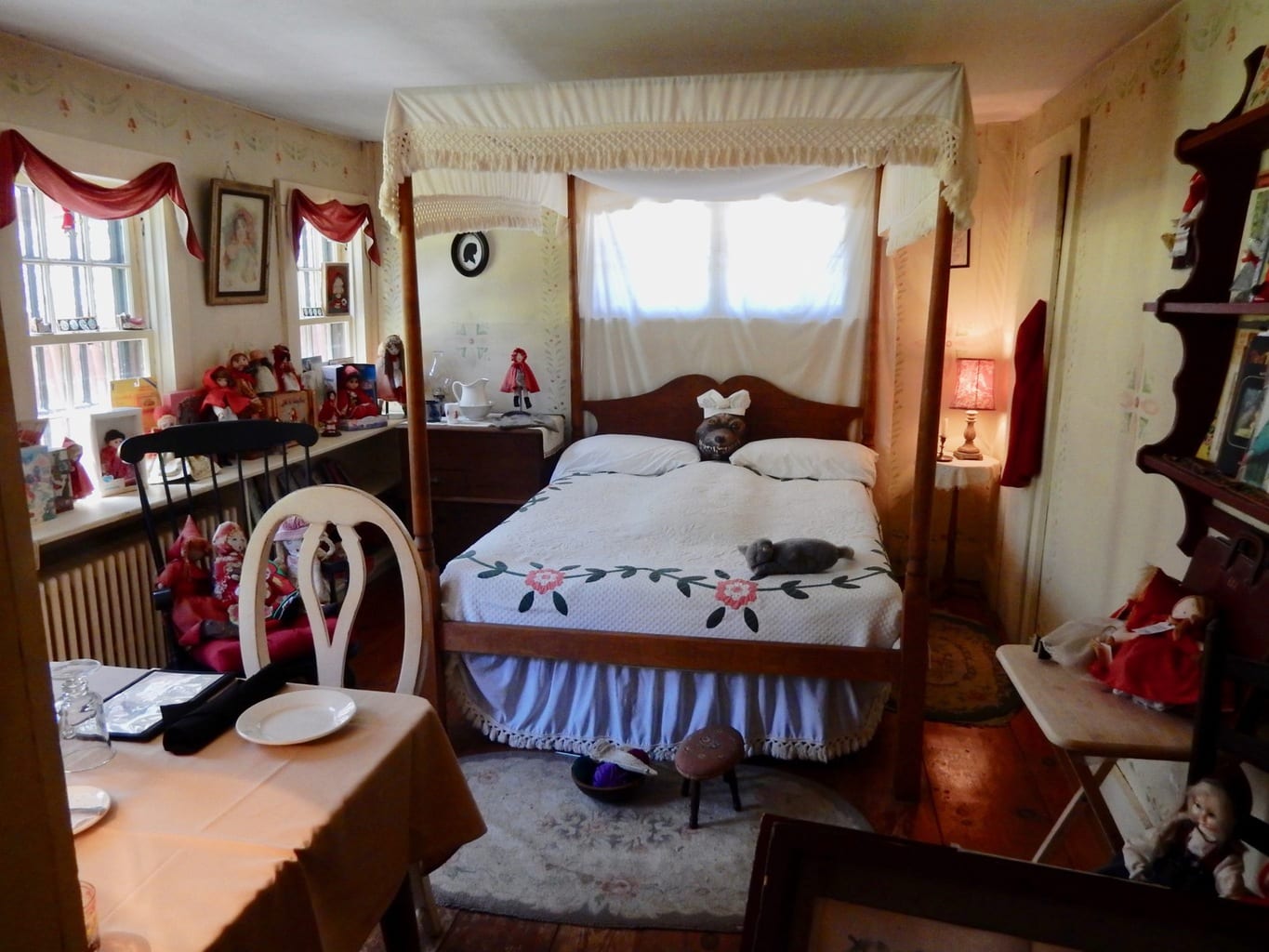 Pickity Place is "over the river and through the woods," appropriately enough, as it was rendered as "Grandma's House" in the 1948 American version of Little Red Riding Hood (Golden Books). Commissioned to illustrate the European fairy tale for Simon & Schuster, Elizabeth "Twig" Orton Jones came to New Hampshire from Chicago, identifying this red cottage as the perfect setting for the story. Now, a chamber off the entry foyer is fashioned as "Grandma's Room" – straight from "Twig's" illustration – complete with granny-hatted wolf on the bed.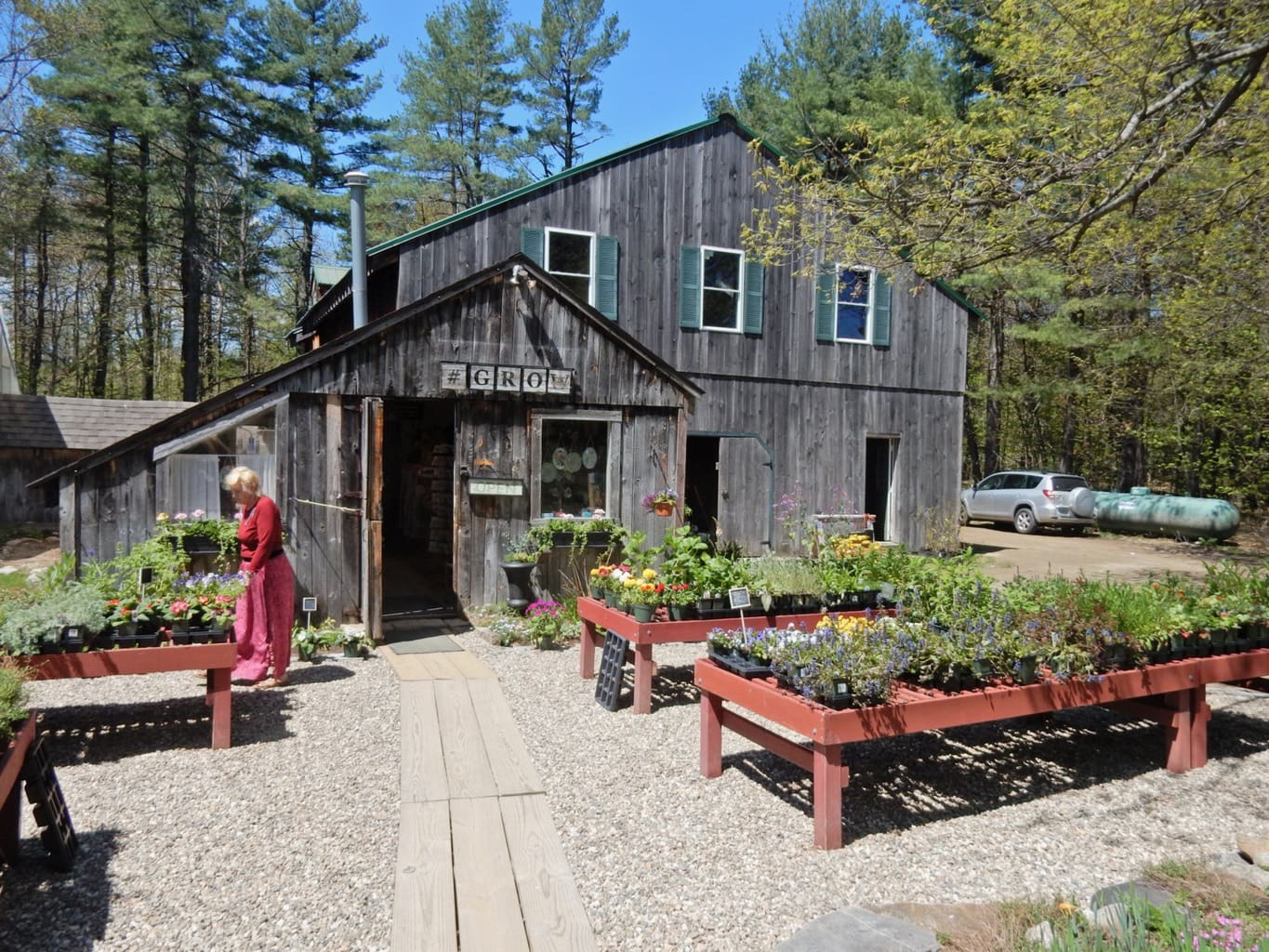 But the real reason that generations have been making their way here for decades is the five-course "herbal cuisine" prix fix lunch: a succession of savory dishes visually enhanced by fresh-picked flowers and herbs from the on-site garden. Recently, a 20-ish woman claimed that Pickity Place was her "favorite place on the planet."
Her grandmother used to take her here, and now she comes with her husband. It's not an uncommon story. There are three seatings in the 55-person dining room every day – at 11:30, 12:45 and 2pm. $21.95 pp. Grounds open daily year round 10-4 (until 5 April – Dec.).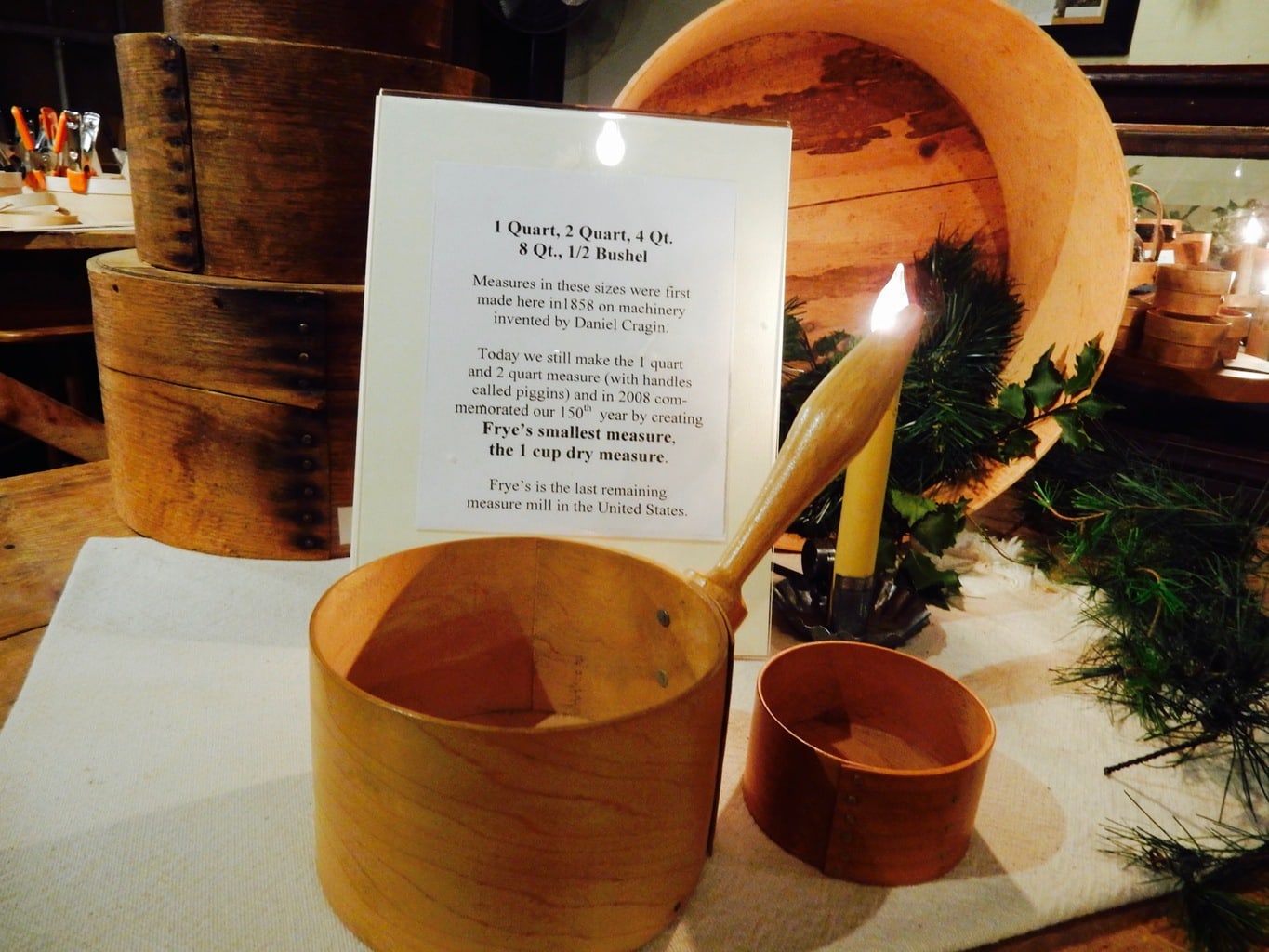 SHOP: Frye's Measure Mill, Wilton (2 miles from Wilton Center). Established in 1858 and on the National Historic Register, Frye's is the last remaining "Measure Mill" in the USA. What's a Measure Mill, you ask? It manufactures wooden boxes used to measure dry goods like flour and sugar.
Measures in 1, 2, 4, and 8 Quarts, and Half-Bushel, were first made at Frye's on machinery engineered in 1858 by Daniel Cragin. Today, Frye's still makes the 1 and 2-quart scoops with handles called "piggins." You can watch the mill in action on select days, turning out measures as small as one cup, as well as Shaker-style boxes and furniture. Open Tues-Sat 10-5, Sun 12-5.
DO: Climb Mount Monadnock from Monadnock SP, Jaffrey. Over 125,000 people a year climb Mount Monadnock. You can join them if you've got firm footing and firmer ankles, and are willing to attack roots and rocks on steep assents. With these prerequisites you'll crush the 4.5-mile Mount Monandock Trail all the way to the 3,165 ft summit. The 4 to 5 hours hike is one of the most popular outdoor activities in this region.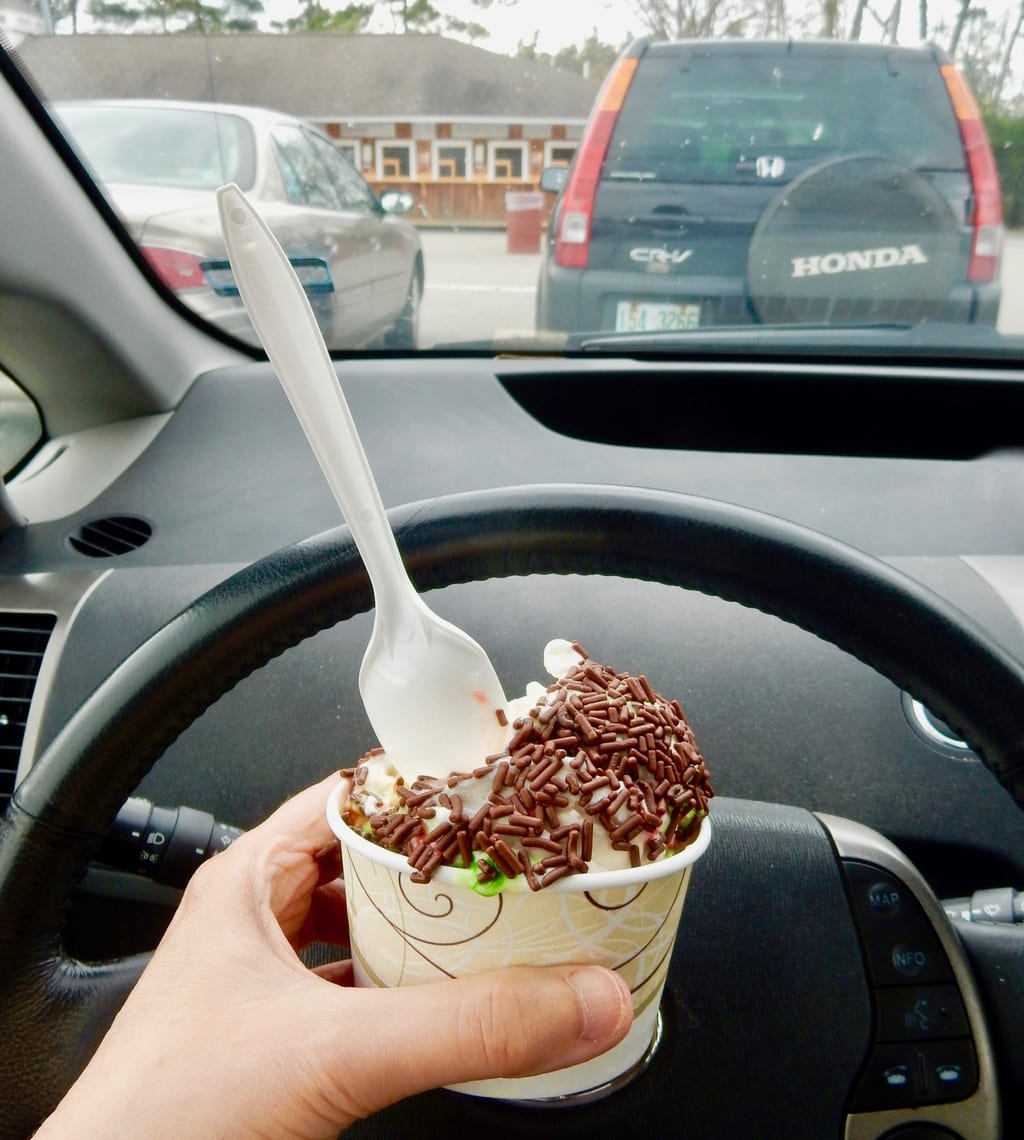 ICE CREAM: Kimball Farm, Jaffrey. After mountain climbing nearby, you'll be well rewarded with a creamy, ambrosial ice cream with butterfat content so high, it goes down smooth as silk. To top it off, Kimball Farm is known for doling out some of the largest scoops in New England – and good thing, too, because you'll finish every luscious drop. In season, be prepared to join a long line that wraps around the store and outdoor stand.
Where to Eat in Southwest New Hampshire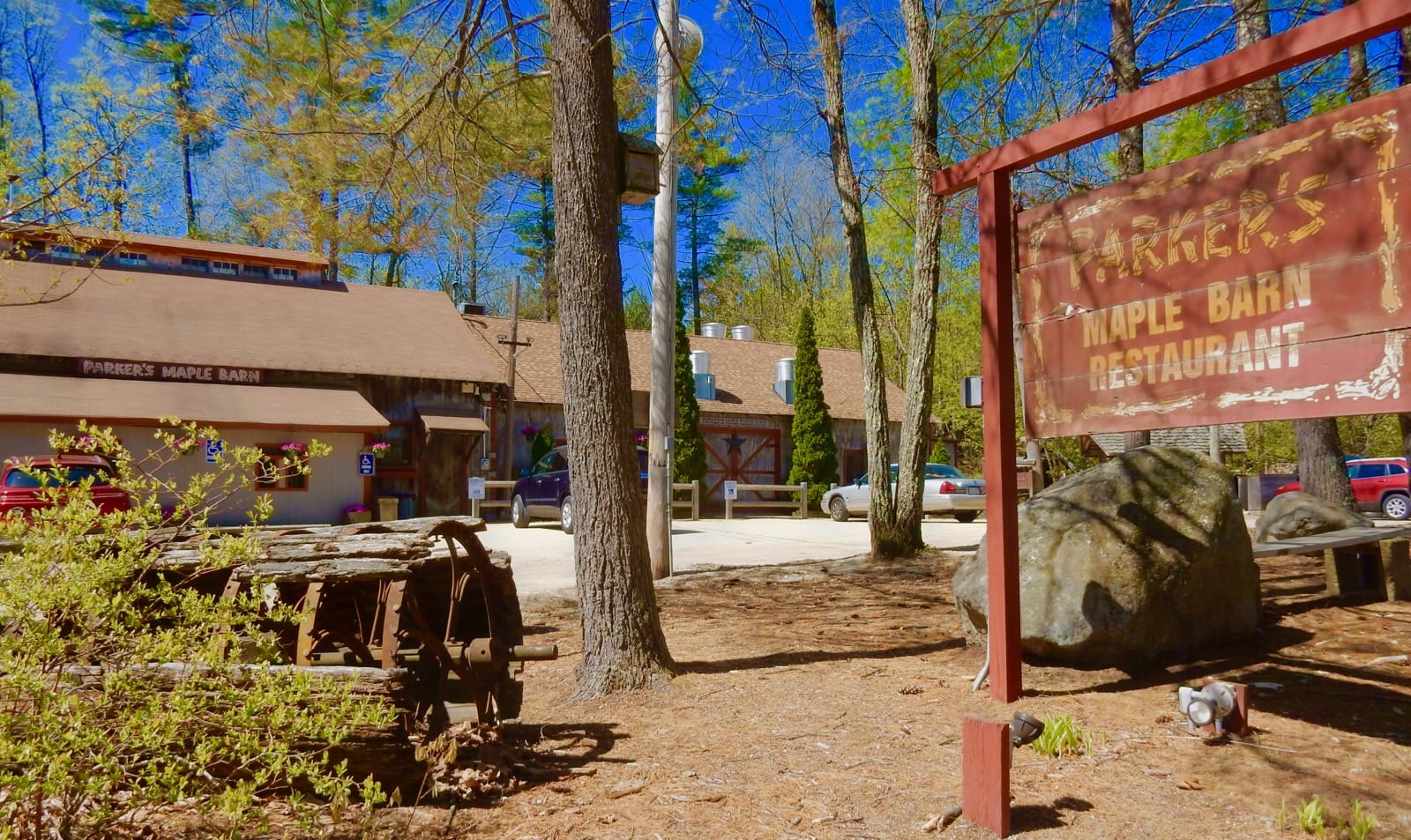 EAT/BREAKFAST: Parker's Maple Barn, Mason. Join the parade of locals and tourist who chow down on plate-sized buttermilk pancakes doused in hot maple syrup. The sweet amber stuff, made right here in the Sugaring Barn, comes to the table in tiny bottles straight from the kitchen's steam table. The Barn, Restaurant, Gift Shop, and other buildings are situated in an otherwise pastoral, woodsy section of Mason.
Family owned since 1969 (first the Parkers, and, since 1987, Ron and Sandy Roberts), the Maple Barn has garnered an enviable following – often filling up its wooden table knickknack-scattered country-cute dining rooms with patrons from all over the world and just down the street. Try the "Maple Coffee" – coffee beans soaked in maple syrup – for a complete maple experience. And then, cross the small covered bridge to the Gift Shop where you can purchase as much Parker's Maple Syrup as you'd like.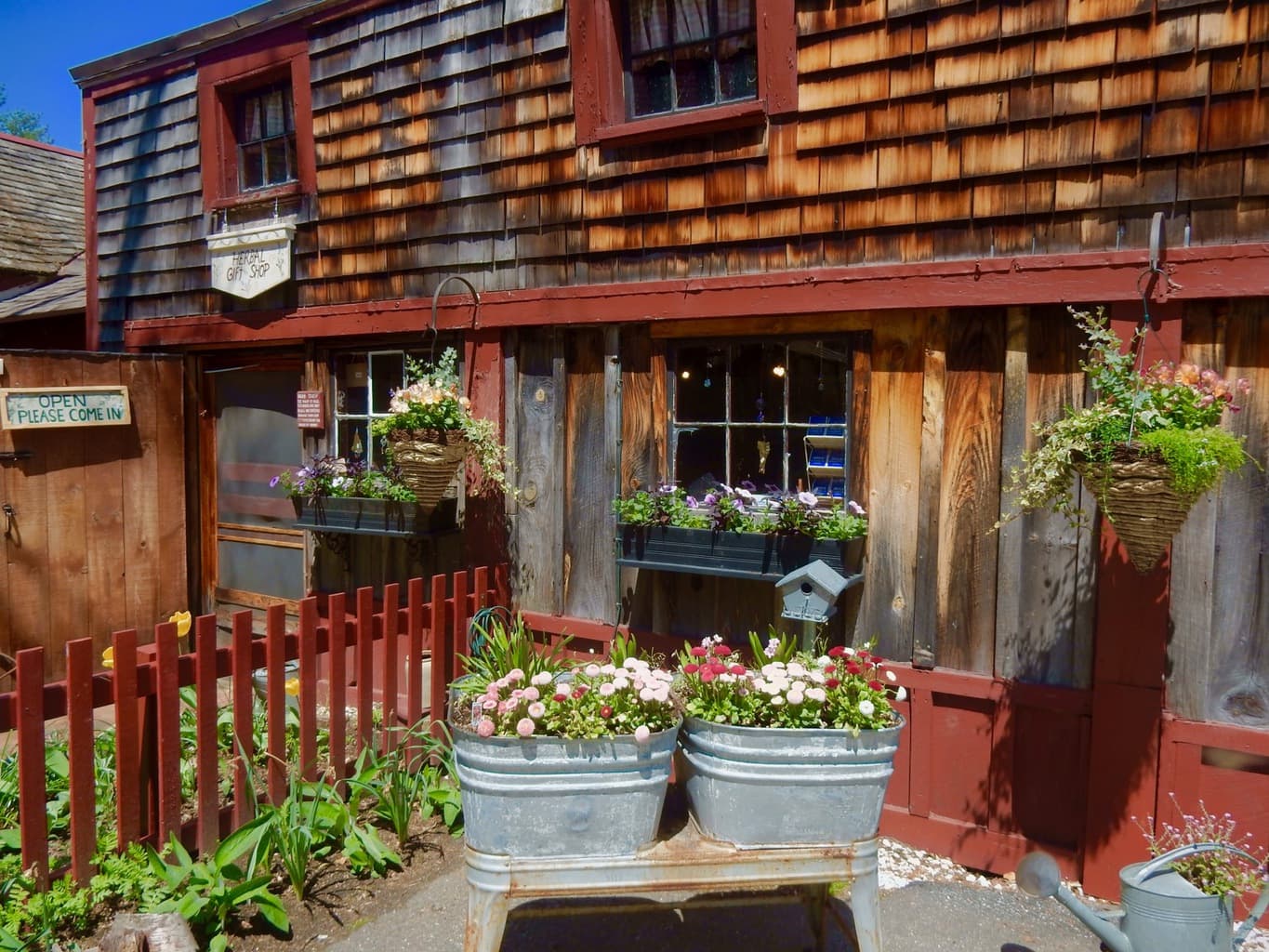 EAT/LUNCH: Pickity Place, Mason (see above).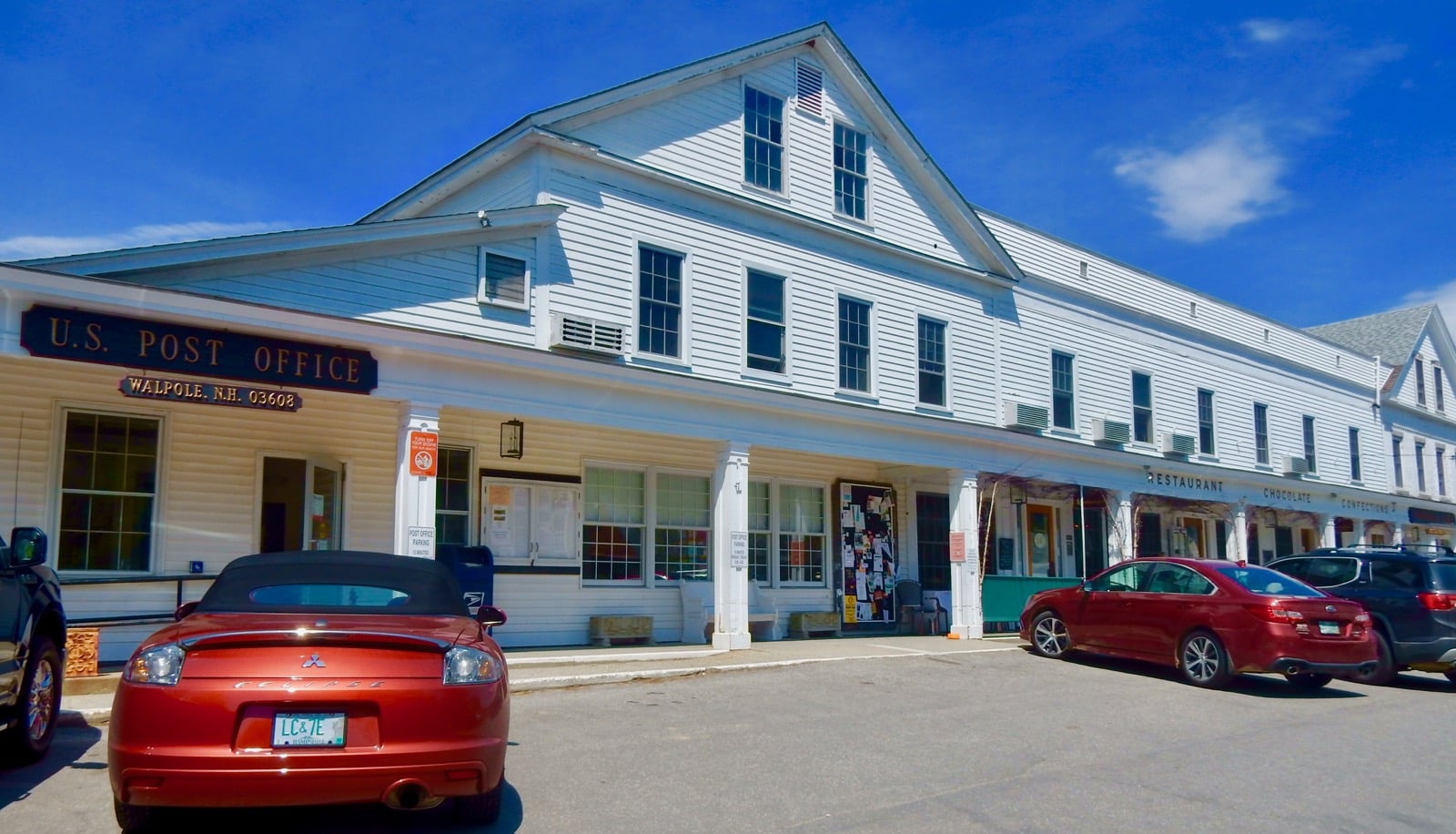 EAT/DINNER: The Restaurant at Burdick's, Walpole. This upscale, finely tuned restaurant, touted by some fans as the Best in New Hampshire, is a revelation in a town so small, the eatery literally shares a wall with the local Post Office. Burdick's, co-owned by documentary maker and homeboy, Ken Burns, also shares the opposite wall with the chocolate maker of the same name – L.A. Burdick's – a confectionary known around the world, and the reason the restaurant exists here in the first place.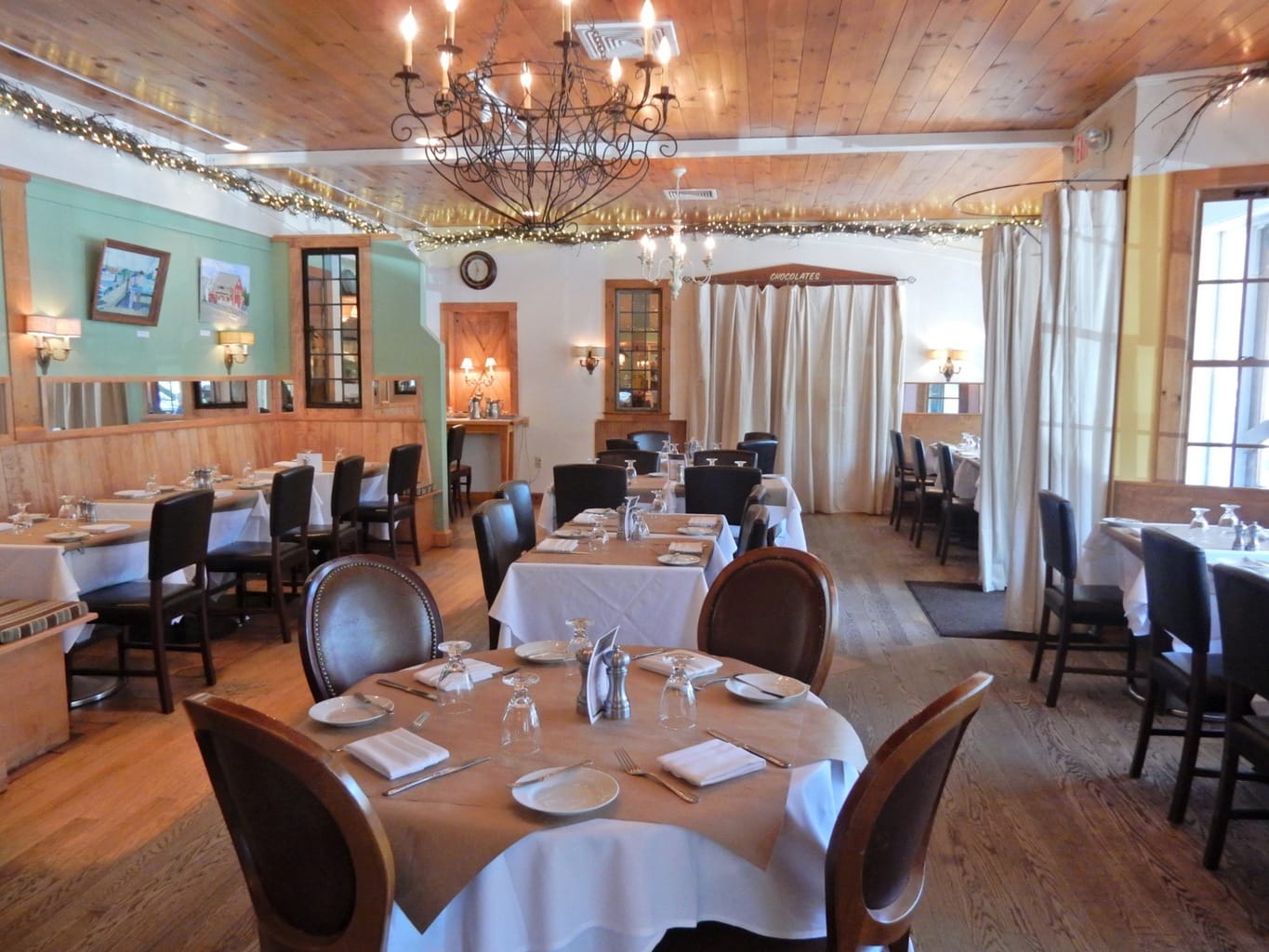 Dishes range from salads and burgers to more substantial fare in a sweet Parisian Bistro by way of New England Sugar Shack space. The Turkey Burger Reuben with thin golden fries is a crackerjack version of the corned-beef original, as are other tweaks on traditional dishes.
EAT/KEENE: Locals recommend The Stage, which has "been there forever," and Luca's and Nicola's for Italian. Also winning raves, Taqueria Odelay – for casual Mexican.
ICE CREAM: Kimball Farm, Jaffrey. (See above).
Where to Stay in Southwest New Hampshire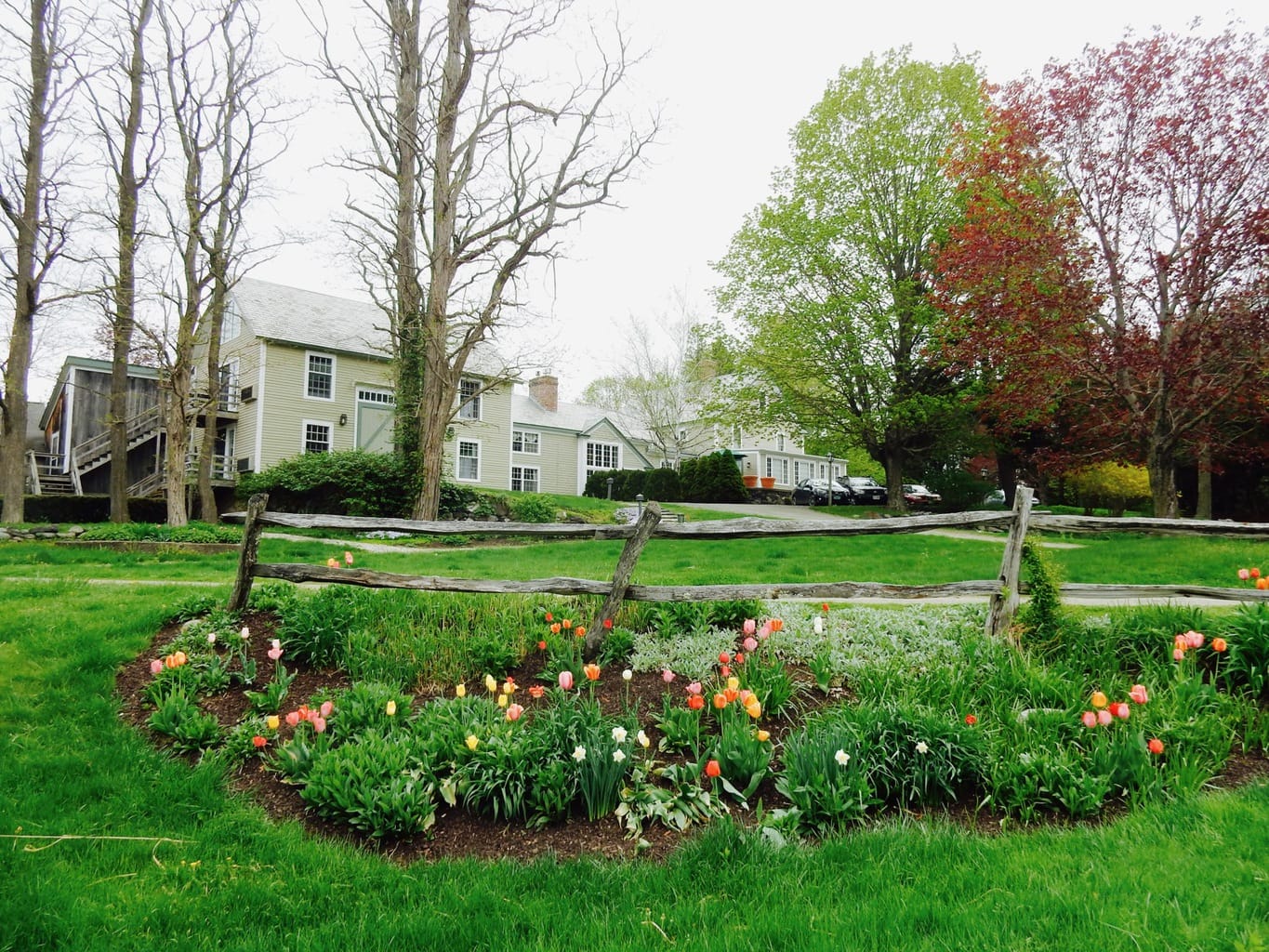 STAY: Chesterfield Inn, W. Chesterfield NH. Judy and Phil Hueber created a Yankee-luxe home away from home for corporate travelers, parents of students at area colleges (Keene State, Marlboro, Landmark), girlfriend groups, and of course leaf peepers in autumn. As a Maven Favorite, you can read the complete write up here.