WHY GO: Right on PA Route 6, Monster Truck driver, Joey Sylvester, made his World Record Jump in northwestern PA at the annual Cornfield 500. That should give you some idea of recreation in this seldom visited region of this long state. You'll also find an old-fashioned rambling inn/dinner theater and some massive penitentiaries of fish (I'd say "schools," but these carp are disgusting and rude) in a tourist spot where "ducks walk on the fish". You'll be on the Ohio State line when you end this drive, and can make the decision to head two hours to Cleveland or just another hour to Erie for some Great Lakes R&R.
120 Miles from Smethport to Linesville, PA on US Route 6
From Smethport, venture west 28 miles through the tiny rural communities of Preston, Ludlow, Sheffield, and Clarendon then on to the relatively large city of Warren (pop. 40,000), marked by a huge oil refinery on its Eastern end and the Allegheny River that arcs through downtown. With a Historic Downtown District (on the National Register of Historic Places), Warren is also home to Blair Corporation – one of the largest catalog companies in the world. The legacy of driven, industrious Pennsylvanian, John Blair, who in 1910 started his company by selling trademarked rubberized black raincoats to undertakers, Blair Corp. has grown into a billion dollar purveyor of elastic-waist leisure-ware.


It's another 28 miles to the Miller's place in Columbus, PA. Self-professed "Professional Rednecks," Sabrena and Blair Miller got married on CMT's My Big Redneck Wedding and founded what is now considered to be a premier international Monster Truck Competition, the Cornfield 500, held every Labor Day weekend on their property. (Joe Sylvester accomplished his 237ft. World Record jump – in his truck, Bad Habit – at the 2013 Cornfield 500). If you are traveling at the end of the summer and find yourself in a traffic jam in this very rural region of Pennsylvania, this is why; the Cornfield 500 draws over 20,000 monster truck fans for that one weekend a year.
Continue west on Route 6 for 22 miles where the route splits into a through Route 6W and the old 6N spur. Route 6 once officially ended in the tiny town of West Springfield, the reason this spur exists, and should you wish to take 6N to its end – about 30 miles – and then backtrack to the existing Route 6, by all means do. You'll pass through Edinboro where you can grab an ice-cream cone at local favorite Dairy Supreme and enjoy views of Edinboro Lake.
From the 6/6N split, US Route 6 pairs with Route 19 as it travels west. Another 7 miles brings you to Cambridge Springs, built around the same formula as Saratoga Springs and other hot springs towns in 1880's America. Back story; man pokes around for oil, finds mineral water, claims that the bubbling stuff is a healing and restorative elixer, tourists come and then just as abruptly leave when the FDA declares that hot springs don't cure anyone of anything.
STAY: Those hot springs are long gone but there is one remaining link to those innocent times in Cambridge Springs, PA and that's the many-splendored, rambling 126 year-old Riverside Inn, $139-$200, a classic old resort and dinner theater. This inn is a real throwback and a perfect place to bunk down for the night. The lobby is wreathed in Victorian refinement, the dining room serves theme buffets, and waiters in the pub actually engage in conversation with the locals who hang out there. Rooms are bare bones, clean and pink-flower sweet. Groups return time and time again for a singular old-timey experience and to attend the dinner theater, which is as funny, improvisational and bawdy as it gets.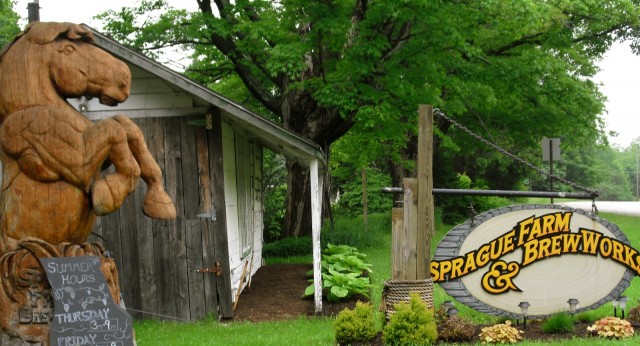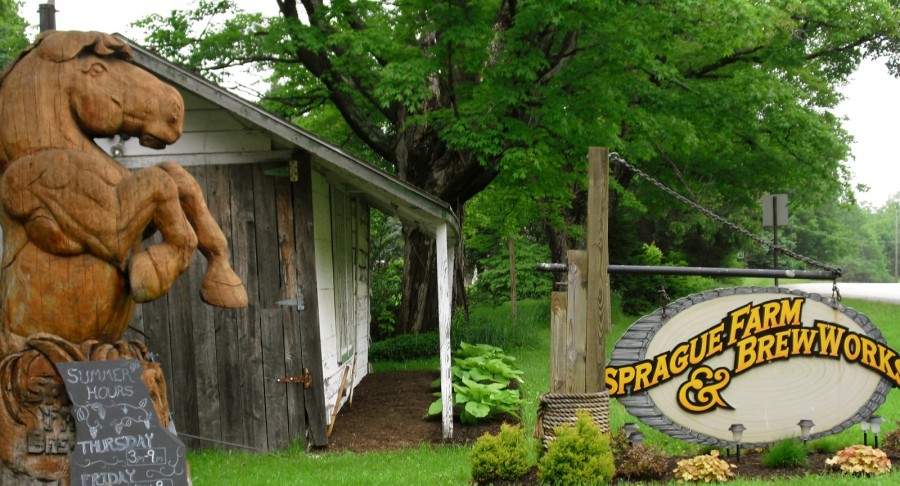 STOP/DRINK/EAT: If provocative live theater is not your thing, and you relish deftly-made beer in a festive atmosphere, head 4 miles west on Route 6 to Sprague Farm Brew Works, Venango, PA,
Owned by locals Brian and Minnie Sprague – this hidden gem features live music on weekends, a decent pub menu, fresh craft-on-tap and the only bar in the world made from the original mast base of the Flagship Niagara, a warship that served in the Battle of Lake Erie during the War of 1812. Brian is a "chain saw artist" and when the ship was being renovated, he had the opportunity to take parts that were being replaced.  The Spragues work hard, but love their chosen independent business.  "I make, promote and drink beer for a living," says Minnie.  "I LOVE my job!" Thursday 4pm-9pm, Friday 3pm-9pm, Saturday Noon-9pm.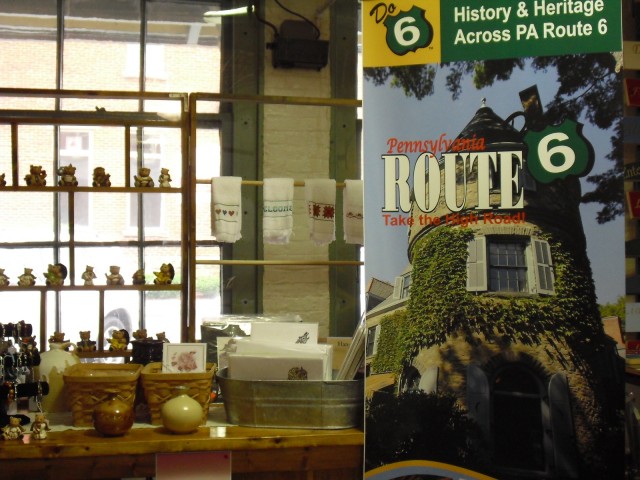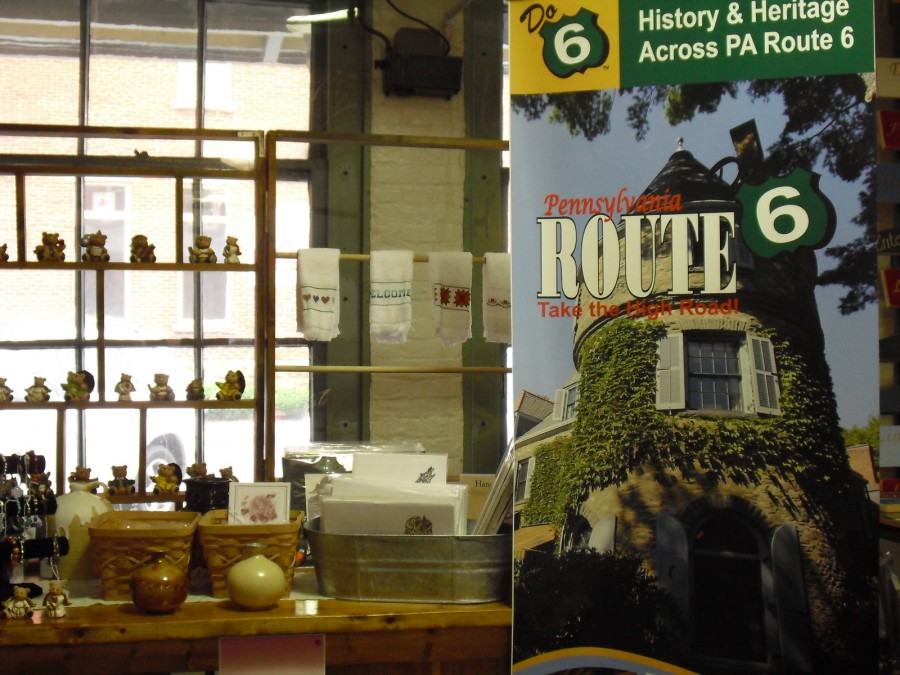 STOP/BREAKFAST: Ten miles west on Routes 6/19, in Meadville you'll find Market House, a mini version of Philly's Reading Terminal Market, in a stately brick building housing a dozen or so purveyors of locally jarred and prepared foods, baked goods and knickknacks. Meadville is also site of Chief Justice Baldwin Reynolds Home/Museum; June-Aug, Wed-Sun. 10-4,which offers 1 ½ hour tours from Noon-3pm on the hour. 
As you leave Meadville on Route 6, slow down and keep an eye out on your right for the Pennsylvania Department of Transportation (or PENNDOT as it's called here) headquarters. A very funky, snap-shot-worthy mural, created out of old road and highway signs, encircles the whole DOT compound.
Route 6 pairs with 322 on this commercial strip that is accented by chain hotels, fast food restaurants and Big Box stores, but by the time you arrive in Conneaut Lake, 10 miles west of Meadville, family restaurants, marinas and tackle shops prevail. An old family amusement park – Conneaut Lake Park – about 2 miles off 6- looks as though it's seen better days. Adjacent to the Park, the Conneaut Lake Hotel -a faded glory formerly fashionable resort – appears to be in need of some (read: lots of) sprucing up, too. Though the lakeside setting is glorious, the montage is just begging for renovation and another day in the sun.
STOP: It's just 8 miles to Linesville, and the kitschiest of kitsch Pymatuning State Park Spillway, where, yes "Ducks walk on the fishes' backs" (though in this case, it's Canadian Geese). You take a left off of Route 6 on S. Mercer St./Hartstown Rd. for two miles, past the Fish Hatchery through gorgeous lakeside landscapes. The tourist area is unmistakable; on the left-hand side of the road there's a parking lot and a shop where you can purchase bread for the fish and t-shirts for the kids. Get your video camera ready; these gaping carp congregate en masse for a hunk of hot-dog roll in the most disgusting, implausible way. When you're sick of gawking, there's plenty more to do (fishing, boating, swimming) in the area. The 17,000-acre Pymatuning Reservoir is the largest manmade lake in Pennsylvania, and Northwestern PA's largest summertime attraction.
From Linesville, it's an easy 45-mile drive to Erie, PA for more War of 1812 enlightenment and Lake Erie sports. Check out our post about Erie here.