WHY GO: Right on PA Route 6, Monster Truck driver, Joey Sylvester, made his World Record Jump in northwestern PA at the annual Cornfield 500. That should give you some idea of recreation in this seldom visited region of this Northeast US State.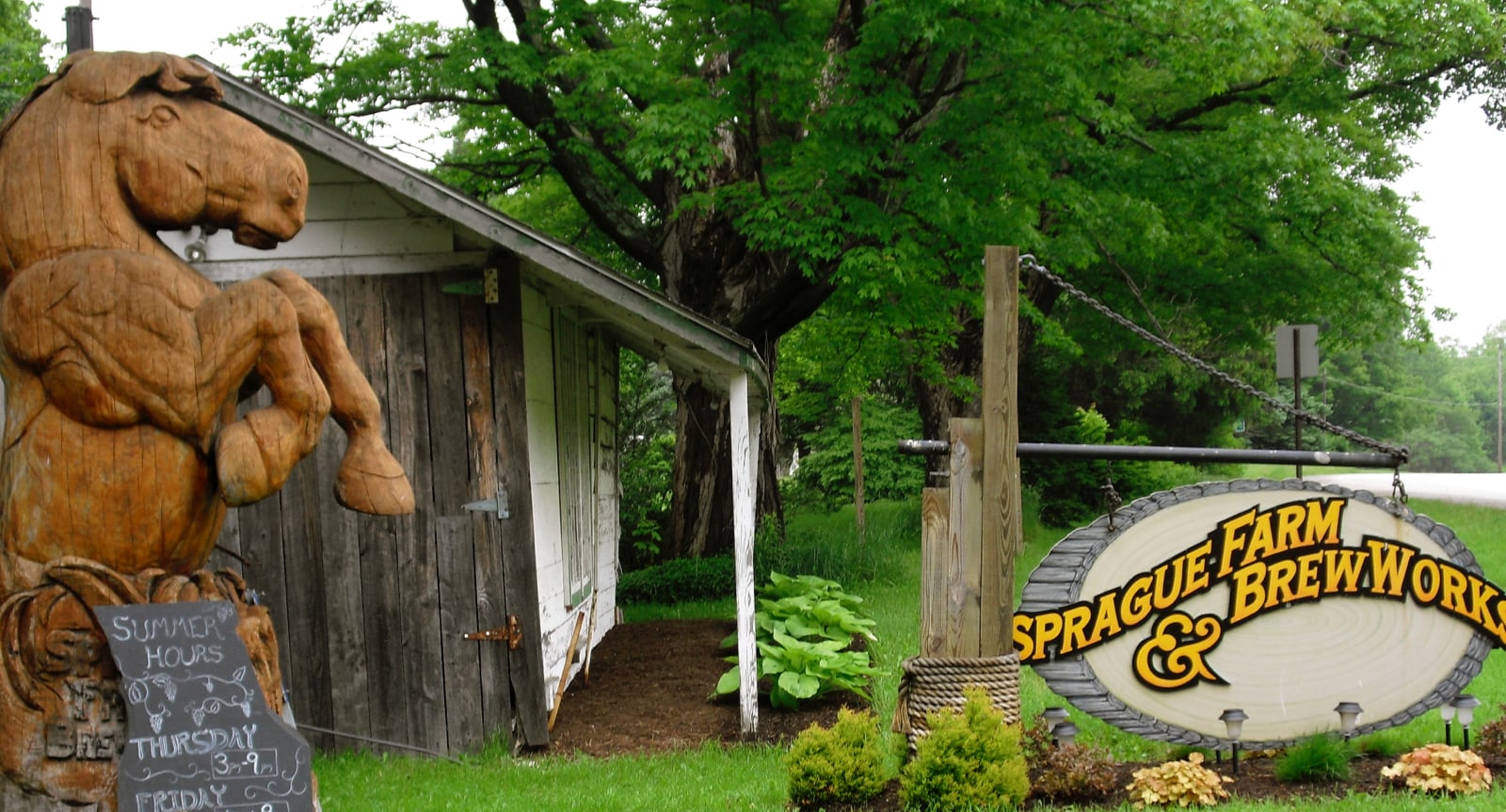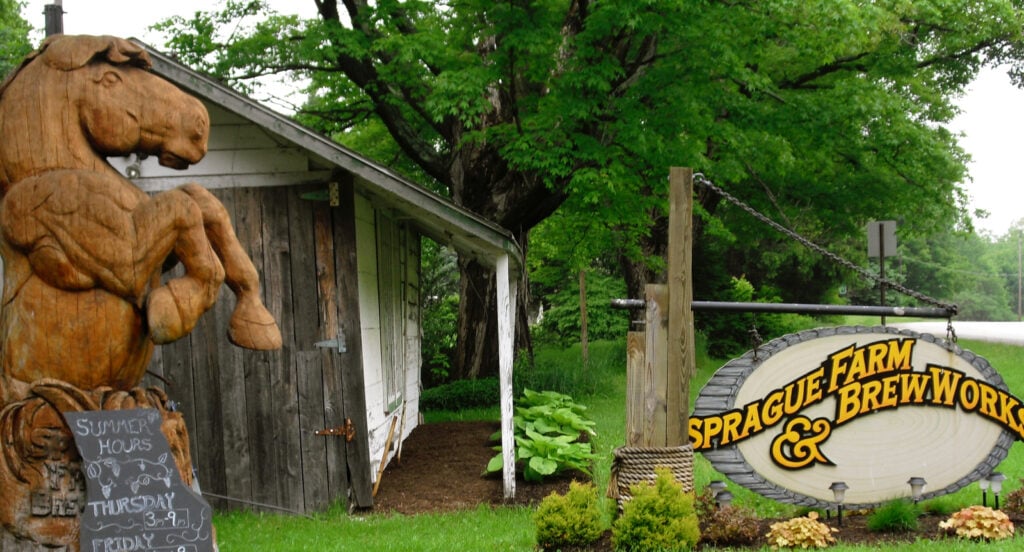 You'll also find a dramatically destroyed railroad bridge, now a tourist attraction, prisons of fish (I'd say "schools," but these carp are criminally voracious) in a tourist spot where "ducks walk on the fishes' backs." You'll be on the Ohio State border when you end this PA Route 6 drive. From here, decide whether to head two hours to Cleveland or just another hour to Erie for some Great Lakes R&R.
120 Miles from Smethport to Linesville, PA on PA Route 6
Driving west from Smethport, take several worthwhile detours off Route 6. First, the Kinzua Bridge State Park, 4 miles north of US 6 at Mt. Jewett on SR 301 will take your breath away.
Kinzua Bridge
Octave Chinute (who later worked with Wright Brothers) designed the bridge in 1882 to transport newly discovered coal to southern locales. The Kinzua Bridge was the highest point on the profitable New York – Erie Railroad line.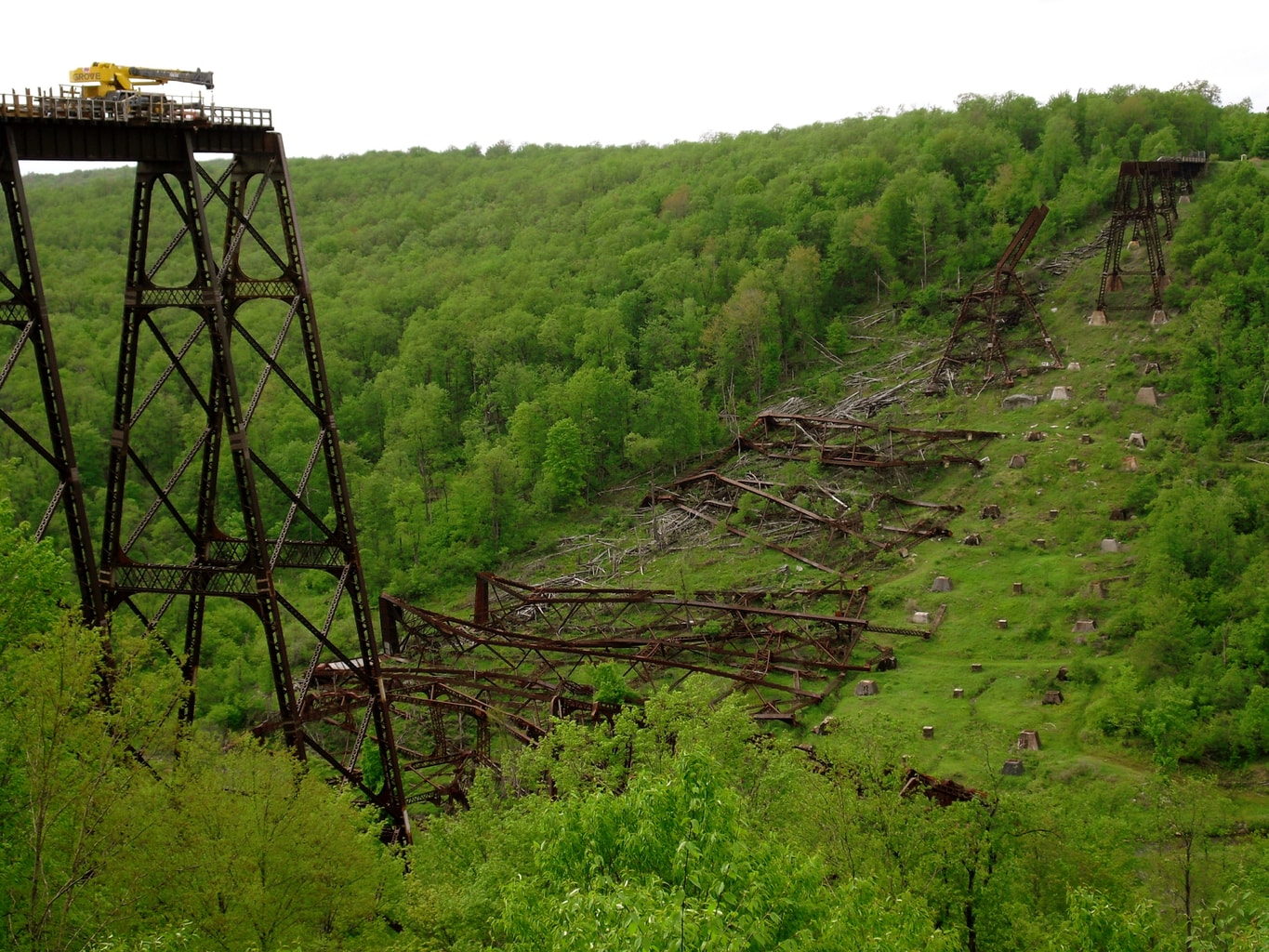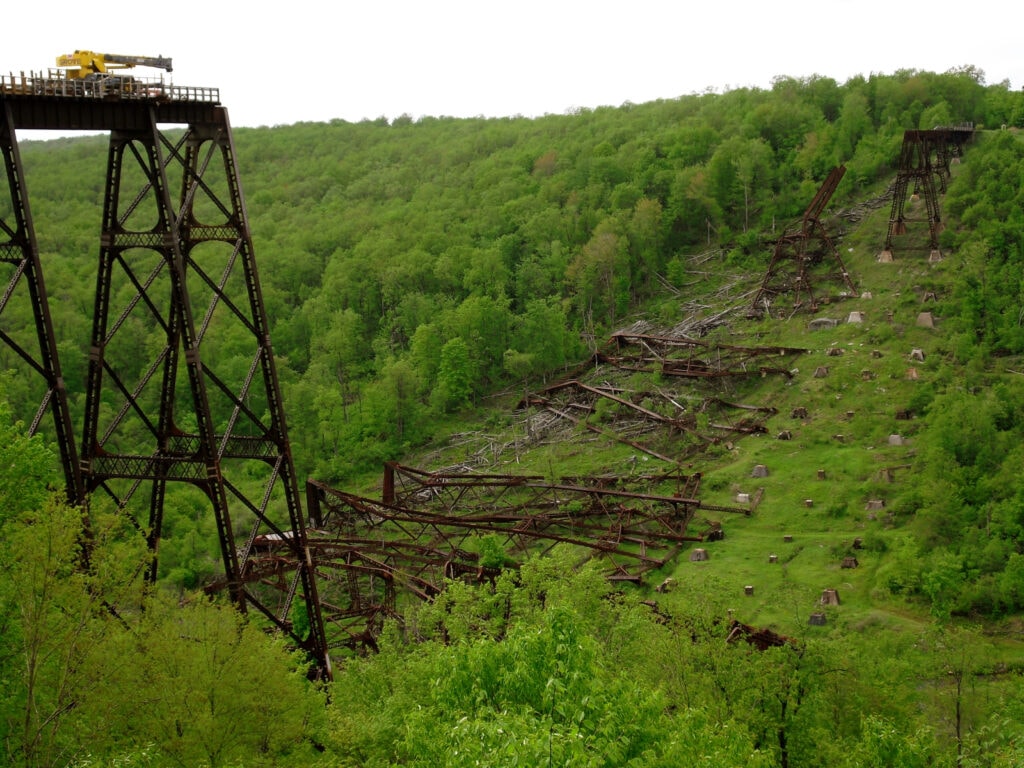 Statuesque and aerodynamically engineered 300 feet off the valley floor, the Kinzua Bridge was one of America's most popular tourist attractions when first built. Swarms of Victorian men and women made the trek to see this miracle of engineering.
But sadly, in July 2003, a freak tornado barreled through the valley, demolishing the bridge within seconds. Now, you can walk onto a Skywalk and stare into the valley from what's left of the bridge. The deformed and twisted steel bones on the valley floor look like the remains of a Transformer battle.
Mt. Jewitt Mural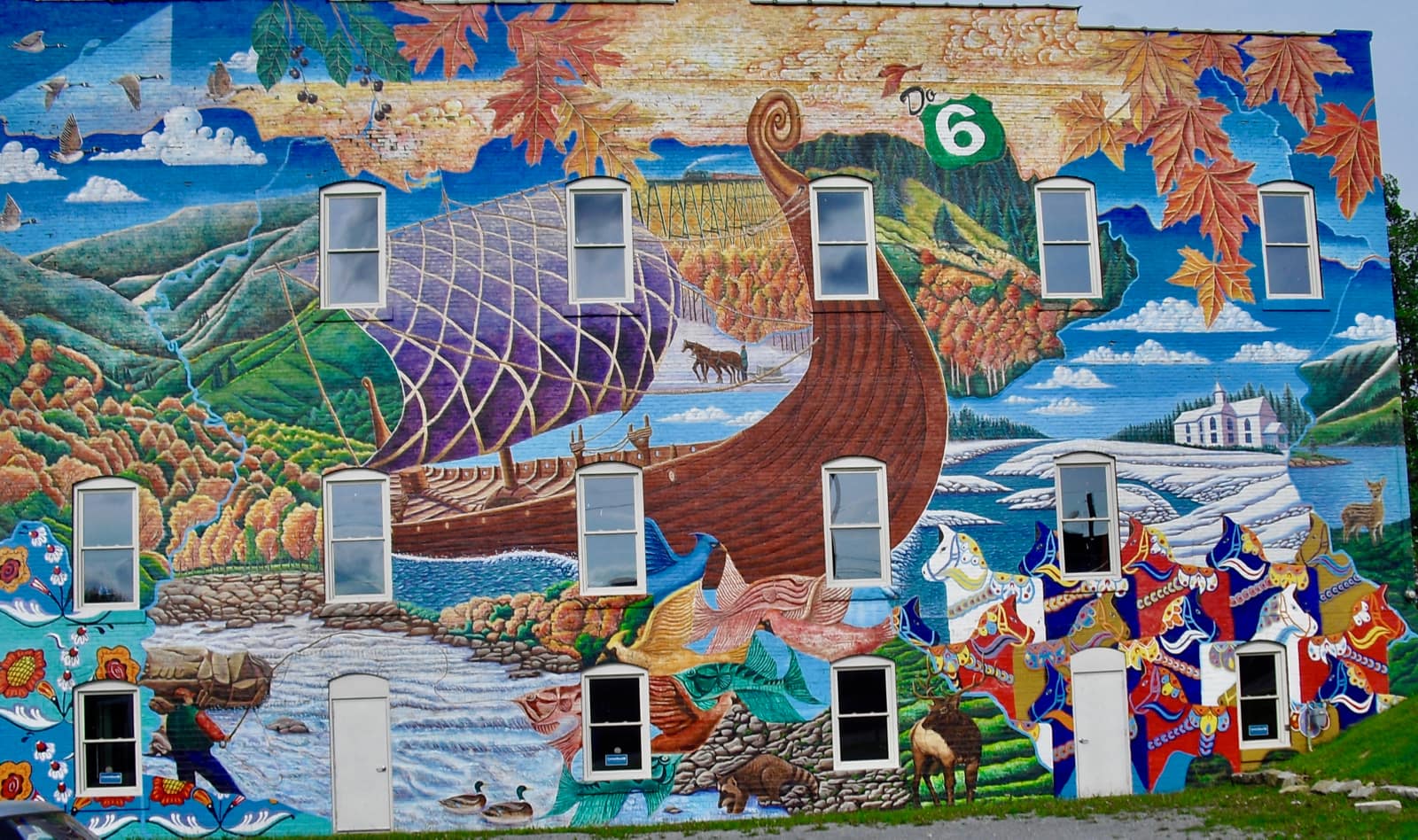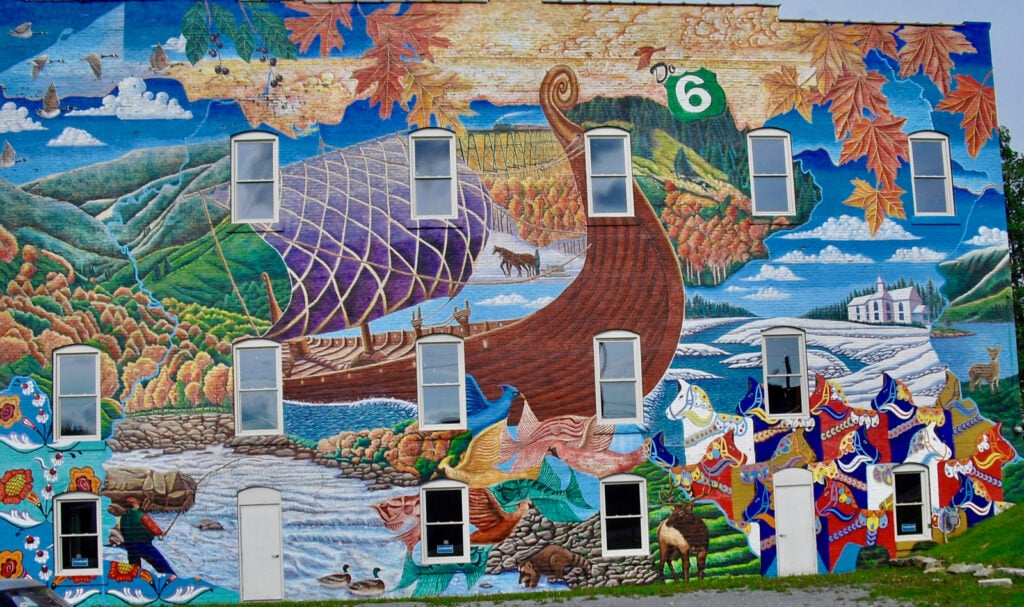 Backtrack onto PA Route 6 west and pull over in the center of Mt. Jewitt to see an incredible 3,500 sq. ft. mural, designed by internationally recognized muralist, Kong Ho. Highlighting the Allegheny National Forest, and in the shape of the state of PA, the mural is a vibrant testament to the scenic beauty of the PA Route 6 corridor.
Zippo Factory and Museum, Bradford PA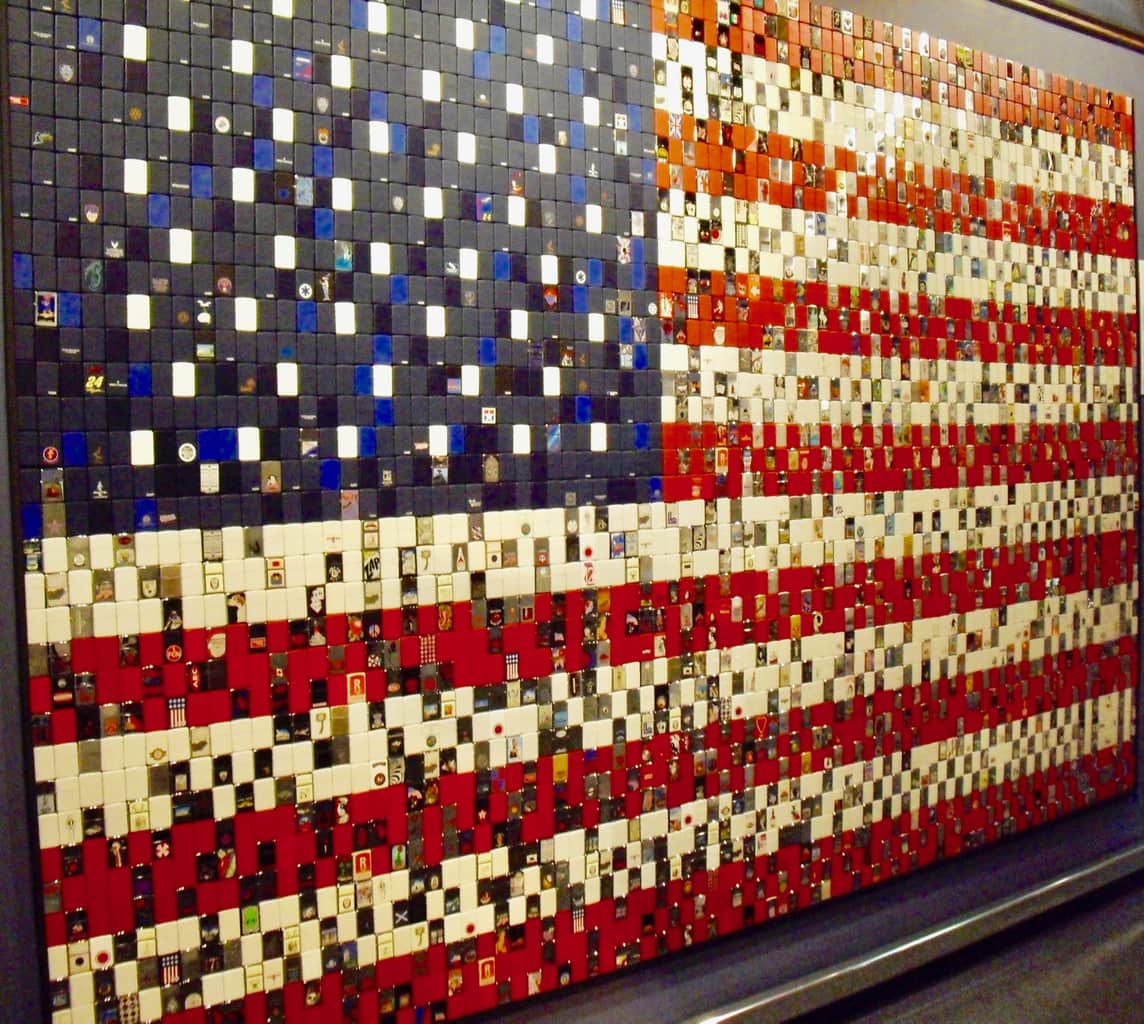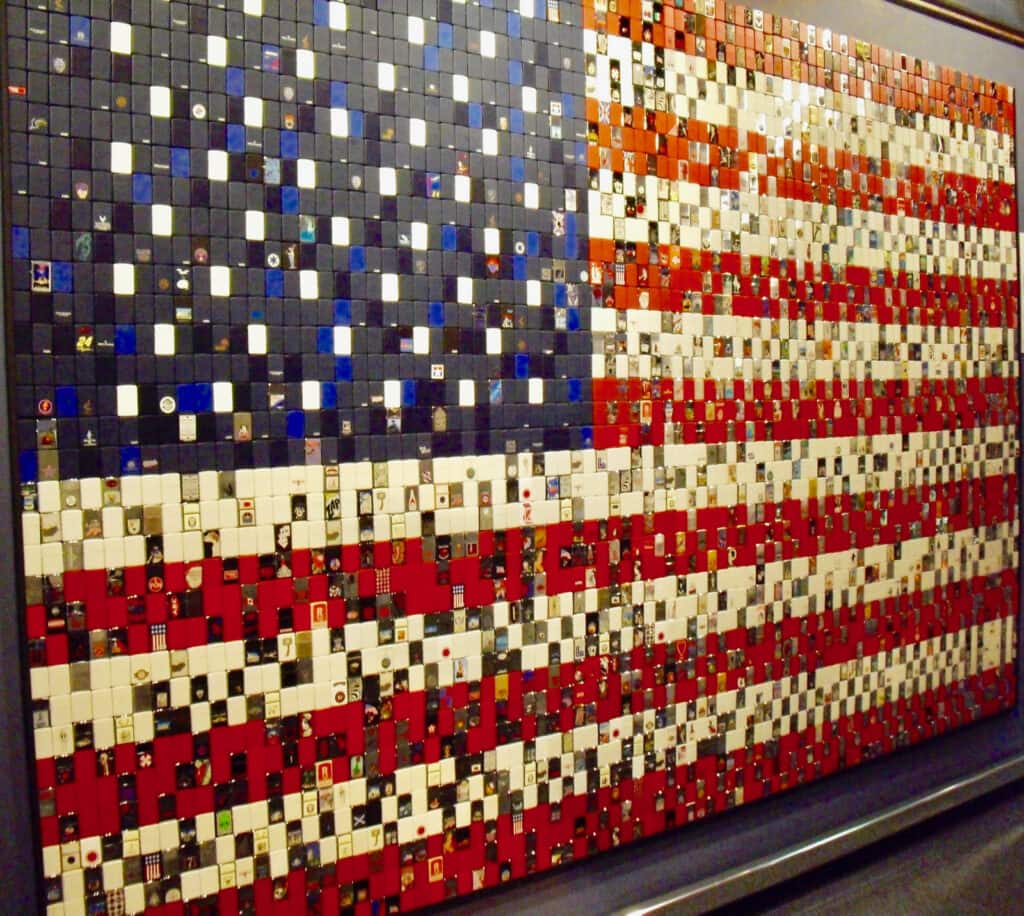 Continue 3.5 miles west on Route 6. If you're fascinated by the iconoclastic Made-In-America lighter company, Zippo, please hook a right onto Route 219N and drive 19 miles to Elm St. Exit. Follow signs to the Zippo/Case Knives Visitors Center, home of the "Windproof Lighters; It works or we fix it free," definitely worth the 40 mile round-trip detour.
Flickerwood Wine Cellars
Back on Route 6, turn right and drive 8 miles to the center of Kane. Before reaching town, take a left on Route 321 and follow signs to one of several wineries cropping up in this part of PA. Flickerwood Wine Cellars produces 35 varieties of vino, but shines when it comes to dessert and sweeter wines, and visitors can sample them and grab a bite in the appealing tasting room.
Kane PA and Artist Denny Driscoll
Spend any time in neglected or discarded US Route 6 towns and you might just discover individuals who are resourceful and passionate enough to salvage whole communities. Devoted to his hometown, Kane artist Denny Driscoll fits this category. He is Kane's (and US Route 6) unofficial historian (Denny jokes that his wife claims he's "over sixed").
Driscoll's artwork is displayed in Kane's Railroad station – called The Depot saved from demolition and now serving as the Kane Historic Preservation Society for artifacts "made in Kane." Many of these objects are toys from the Holgate Toy Company. Anyone who has ever stacked rings on the wooden "Rocky Color Cone" has owned or played with a Holgate toy.
Dr. Evan O'Neill Kane, the son of the town's namesake, earned a rather strange place in history. In 1932, he performed hernia surgery on himself to prove the effectiveness of local anesthesia. "Many people from Kane were explorers," says Driscoll. "Dr. Kane applied that spirit of exploration to the medical arena."
Texas Hot Lunch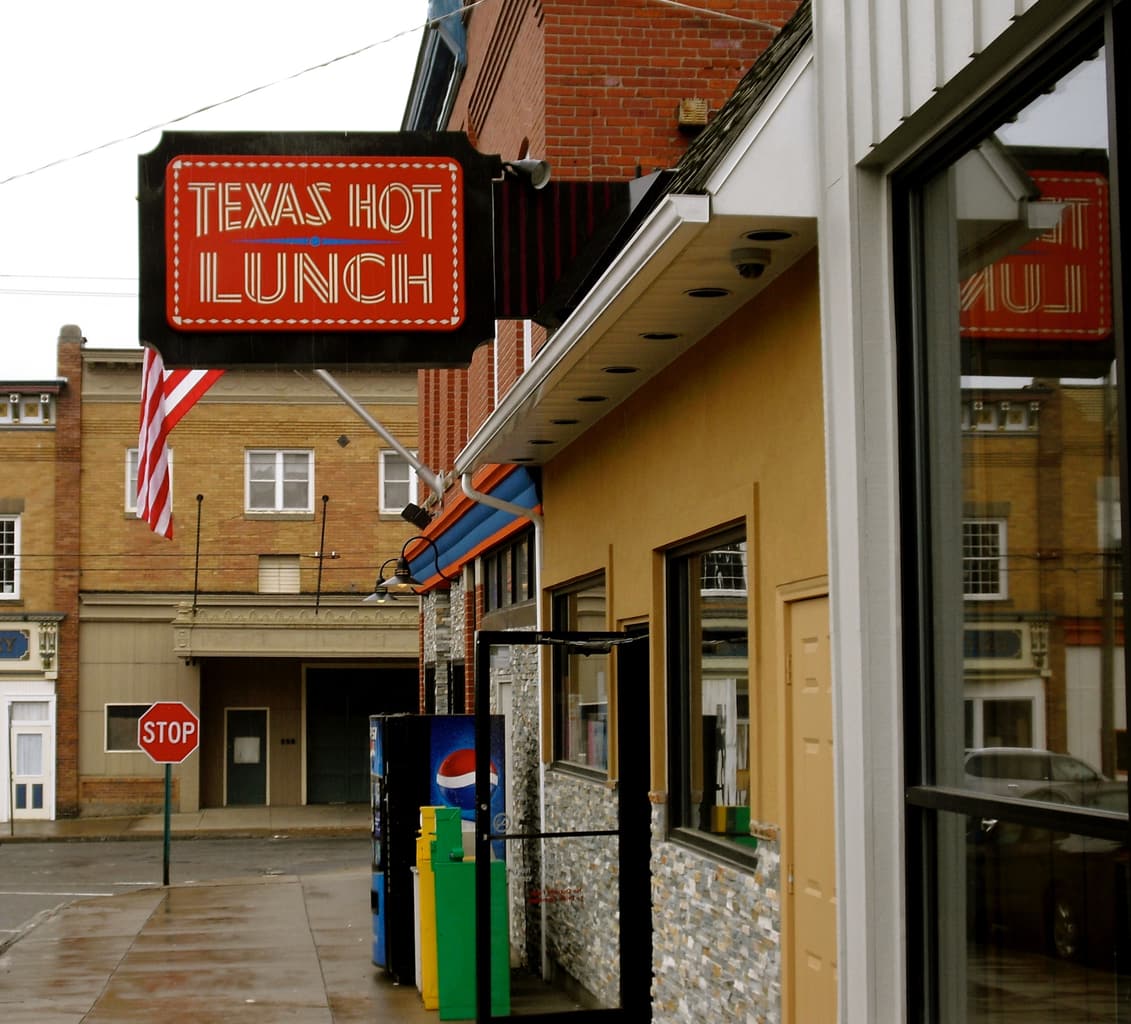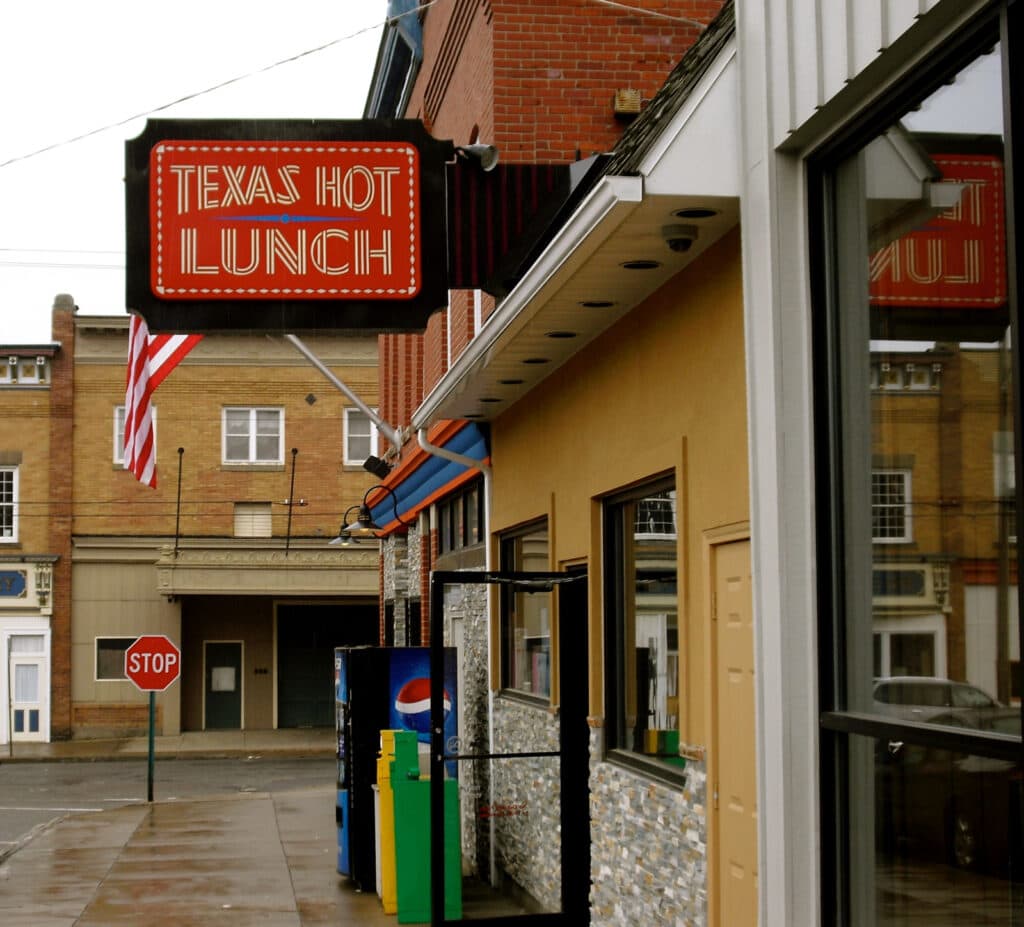 Before leaving Kane, down some "Texas Hots" at dive-y Texas Hot Lunch. Locals sing the praises of that signature hot dog – a zesty mini sausage smothered in spicy Greek chili sauce. It's not the most attractive thing, but it sure is good.
Warren PA
From Kane, venture west 28 miles through the tiny rural communities of Preston, Ludlow, Sheffield, and Clarendon then on to the relatively large city of Warren (pop. 40,000), marked by a huge oil refinery on its Eastern end and the Allegheny River that arcs through downtown.
With a Historic Downtown District (on the National Register of Historic Places), Warren is also home to Blair Corporation – one of the largest catalog companies in the world. The legacy of driven, industrious Pennsylvanian, John Blair, who in 1910 started his company by selling trademarked rubberized black raincoats to undertakers, Blair Corp. has grown into a billion dollar purveyor of modestly priced leisure-ware.
Cornfield 500


It's another 28 miles to the Miller's place in Columbus, PA. Self-professed "Professional Rednecks," Sabrena and Blair Miller got married on CMT's My Big Redneck Wedding and founded what is now considered to be a premier international Monster Truck Competition, the Cornfield 500, held every Labor Day weekend on their property. (Joe Sylvester accomplished his 237ft. World Record jump – in his truck, Bad Habit – at the 2013 Cornfield 500).
If you are traveling at the end of the summer and find yourself in a traffic jam in this very rural region of Pennsylvania, this is why; the Cornfield 500 draws over 20,000 monster truck fans for that one weekend a year.
6N Spur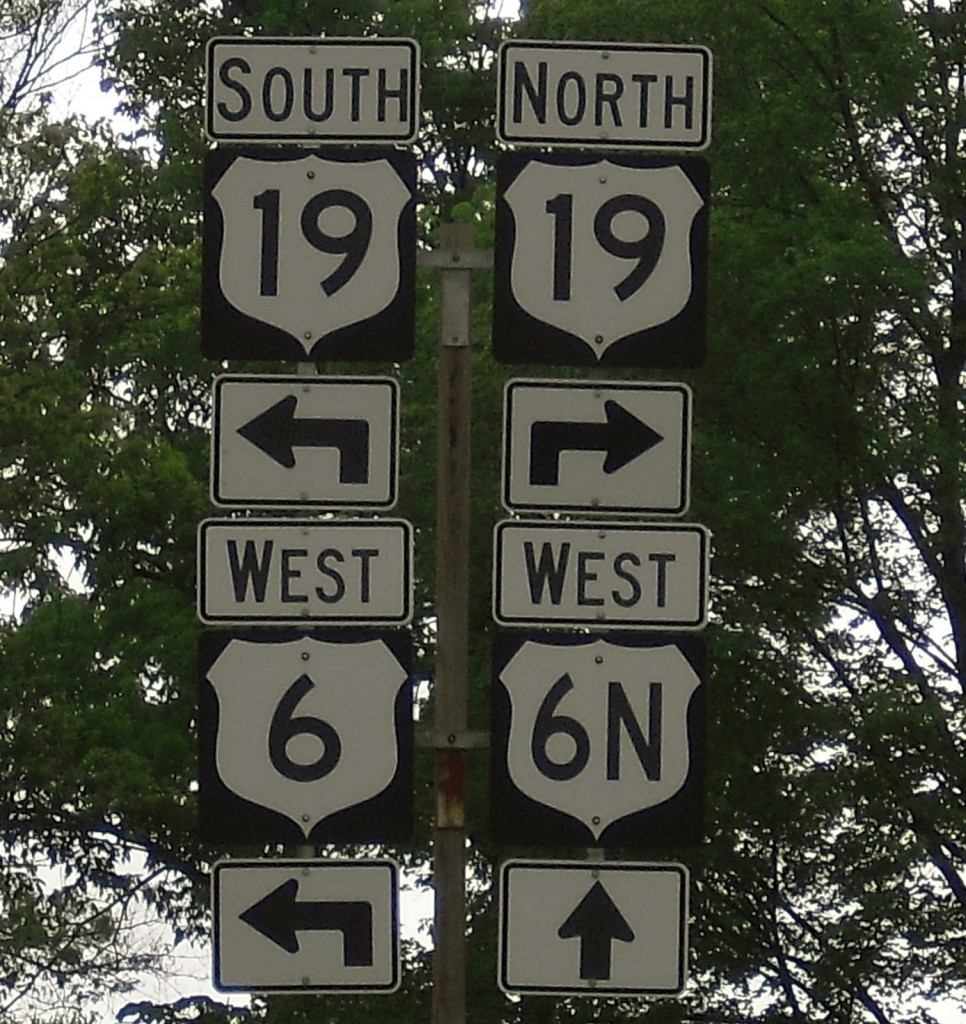 Continue west on Route 6 for 22 miles where the route splits into a through Route 6W and the old 6N spur. US Route 6 once officially ended in the tiny town of West Springfield, the reason this spur exists.
Should you wish to take 6N to its end – about 30 miles – and then backtrack to the existing Route 6, by all means do. You'll pass through Edinboro where you can grab an ice-cream cone at local favorite Dairy Supreme and enjoy views of Edinboro Lake.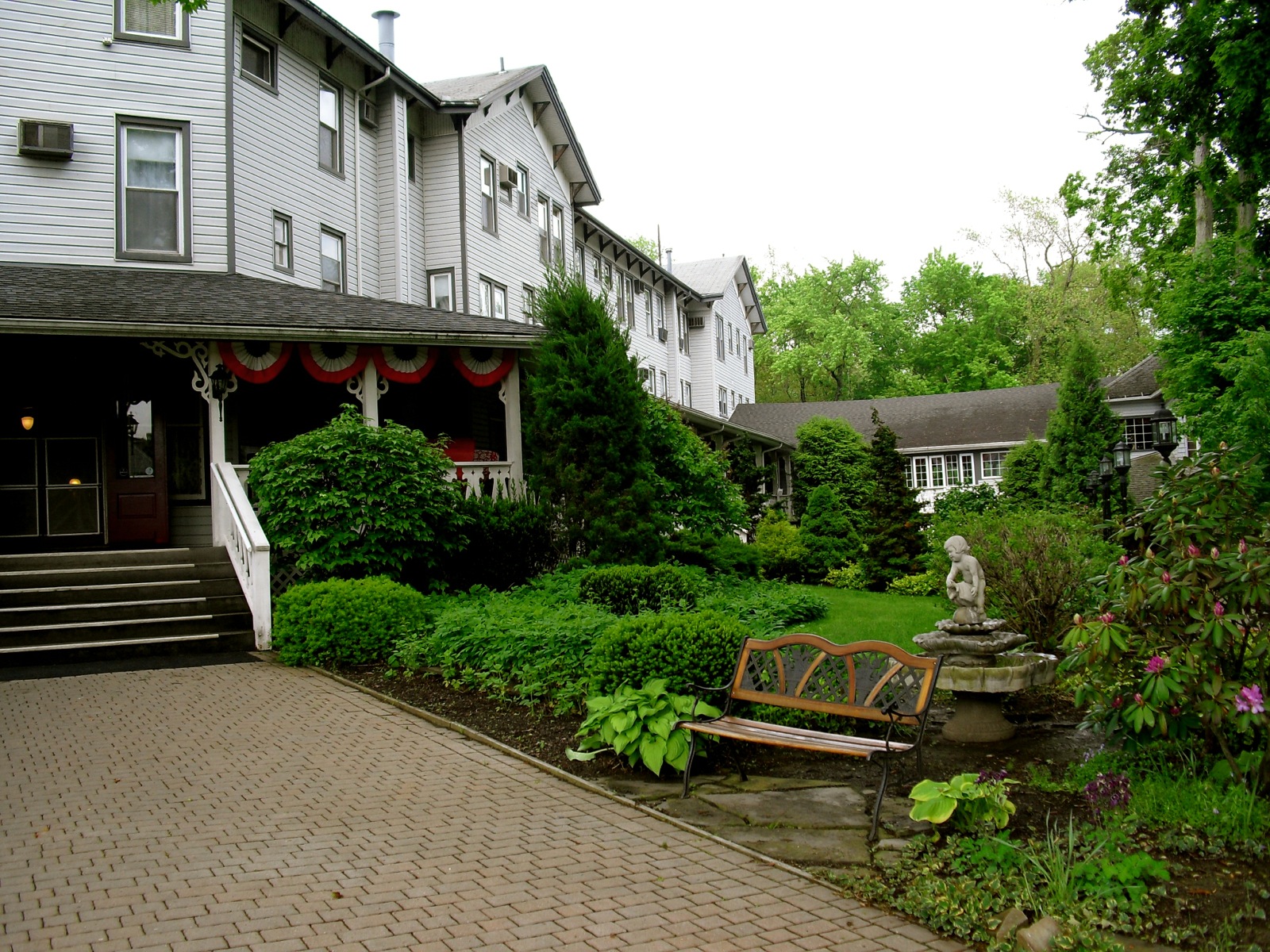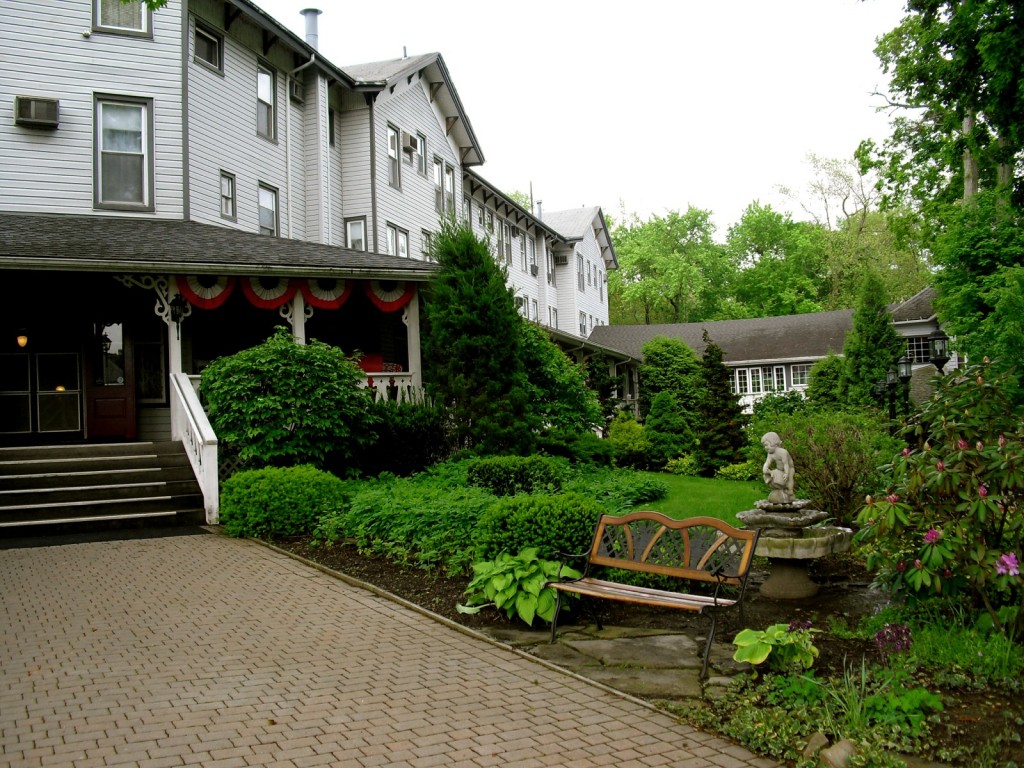 From the 6/6N split, US Route 6 pairs with Route 19 as it travels west. Another 7 miles brings you to Cambridge Springs, built around the same formula as Saratoga Springs and other hot springs towns in 1880's America. Sadly, in May 2017, the iconic Riverside Inn was destroyed in a fire. It had been a community cornerstone for decades.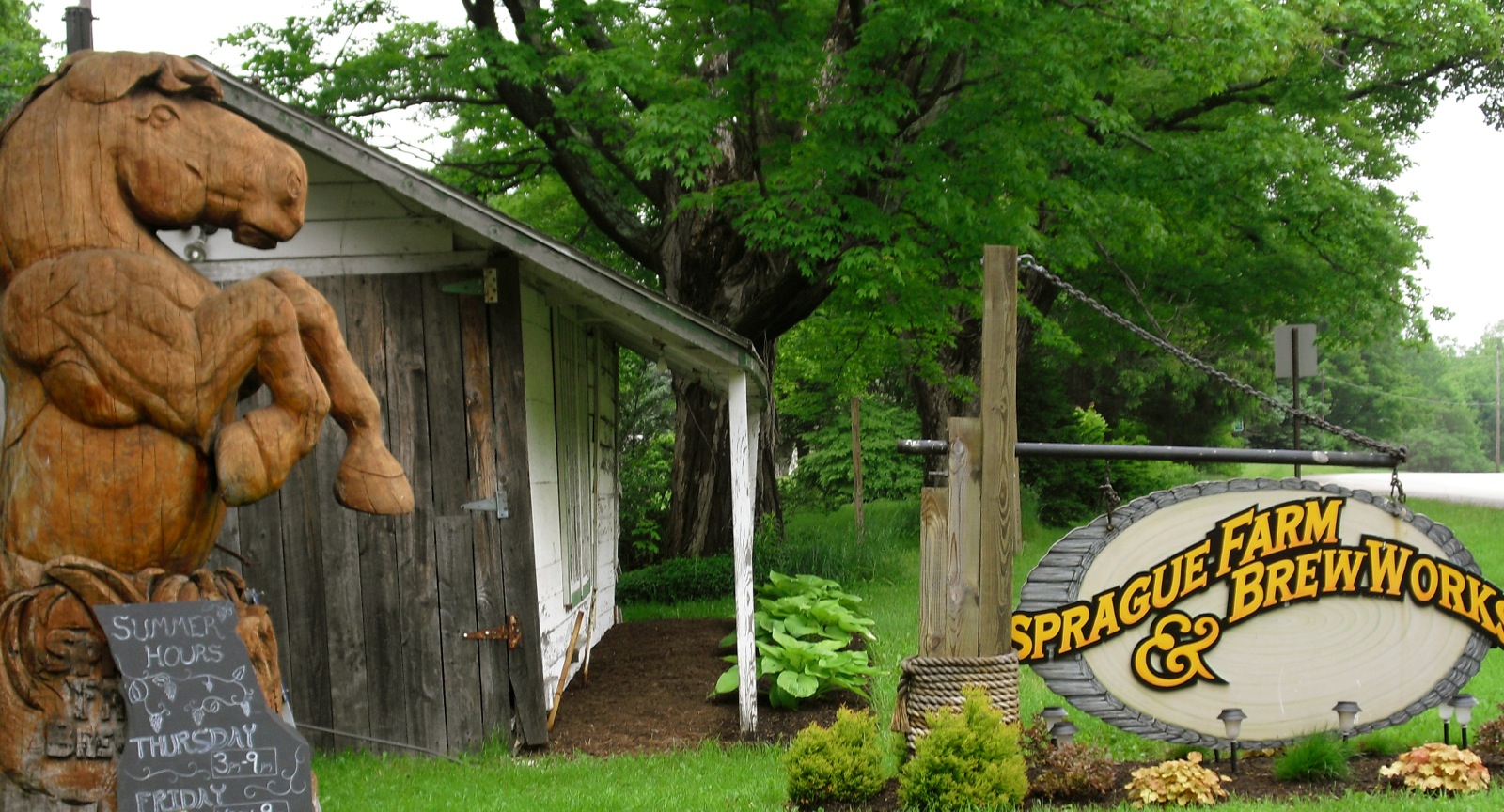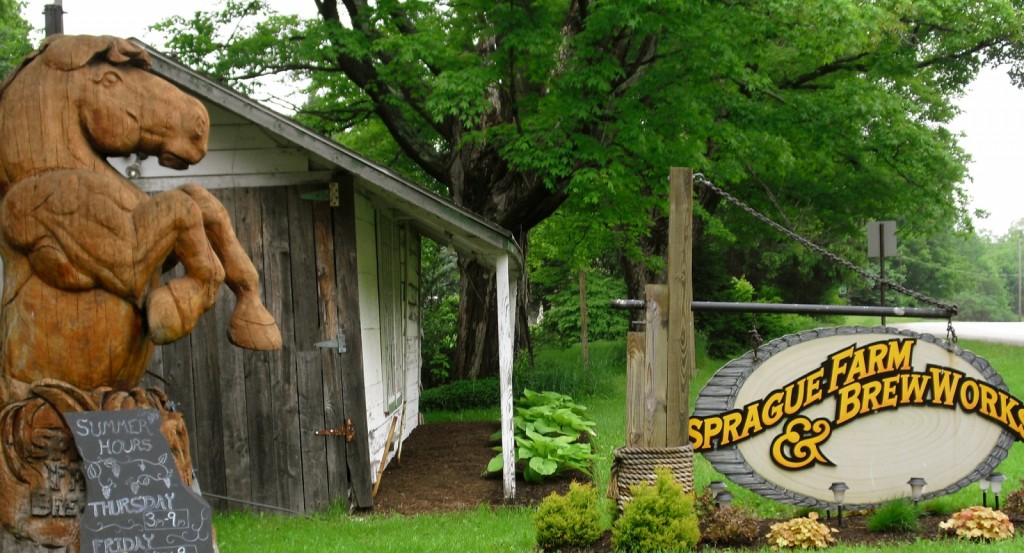 If you relish deftly-made beer in a festive atmosphere, head 4 miles west on Route 6 from Cambridge Springs to Sprague Farm Brew Works, in Venango.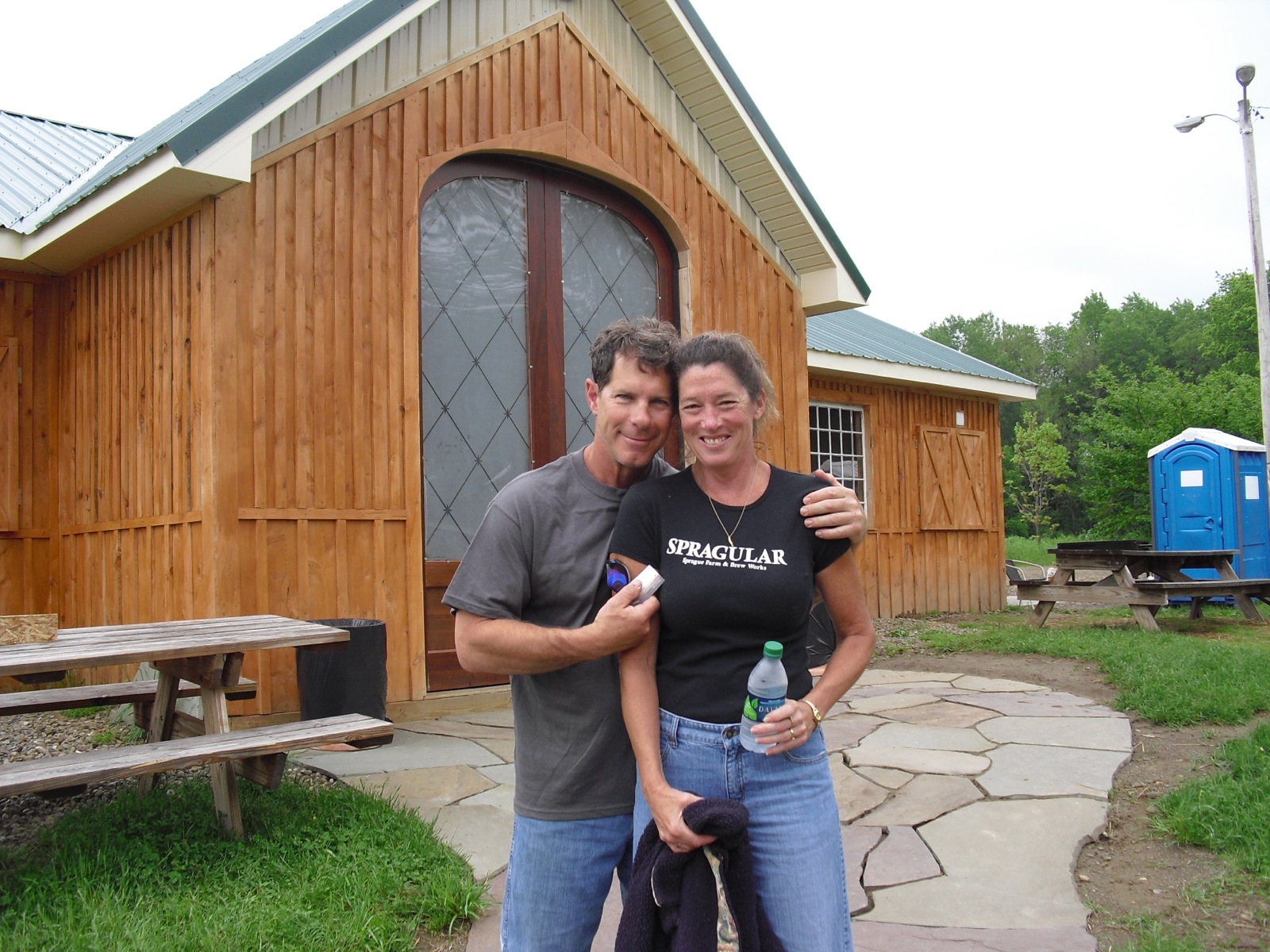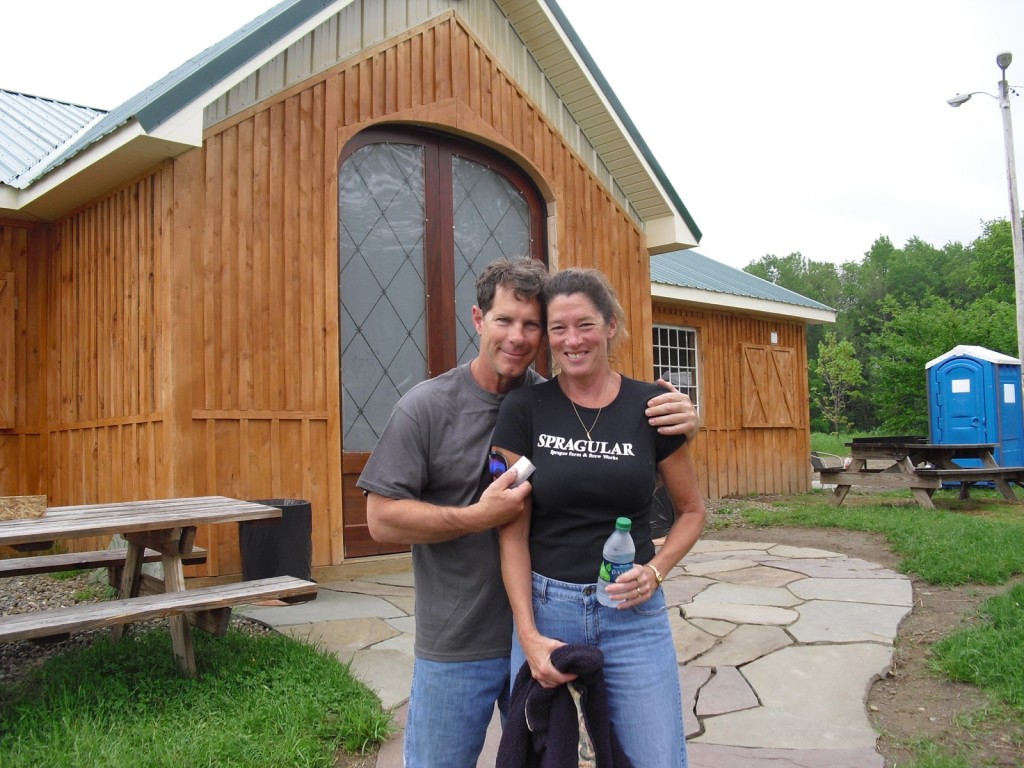 Owned by locals Brian and Minnie Sprague – this hidden gem features live music on weekends, a decent pub menu, fresh craft-on-tap and the only bar in the world made from the original mast base of the Flagship Niagara, a warship that served in the Battle of Lake Erie during the War of 1812.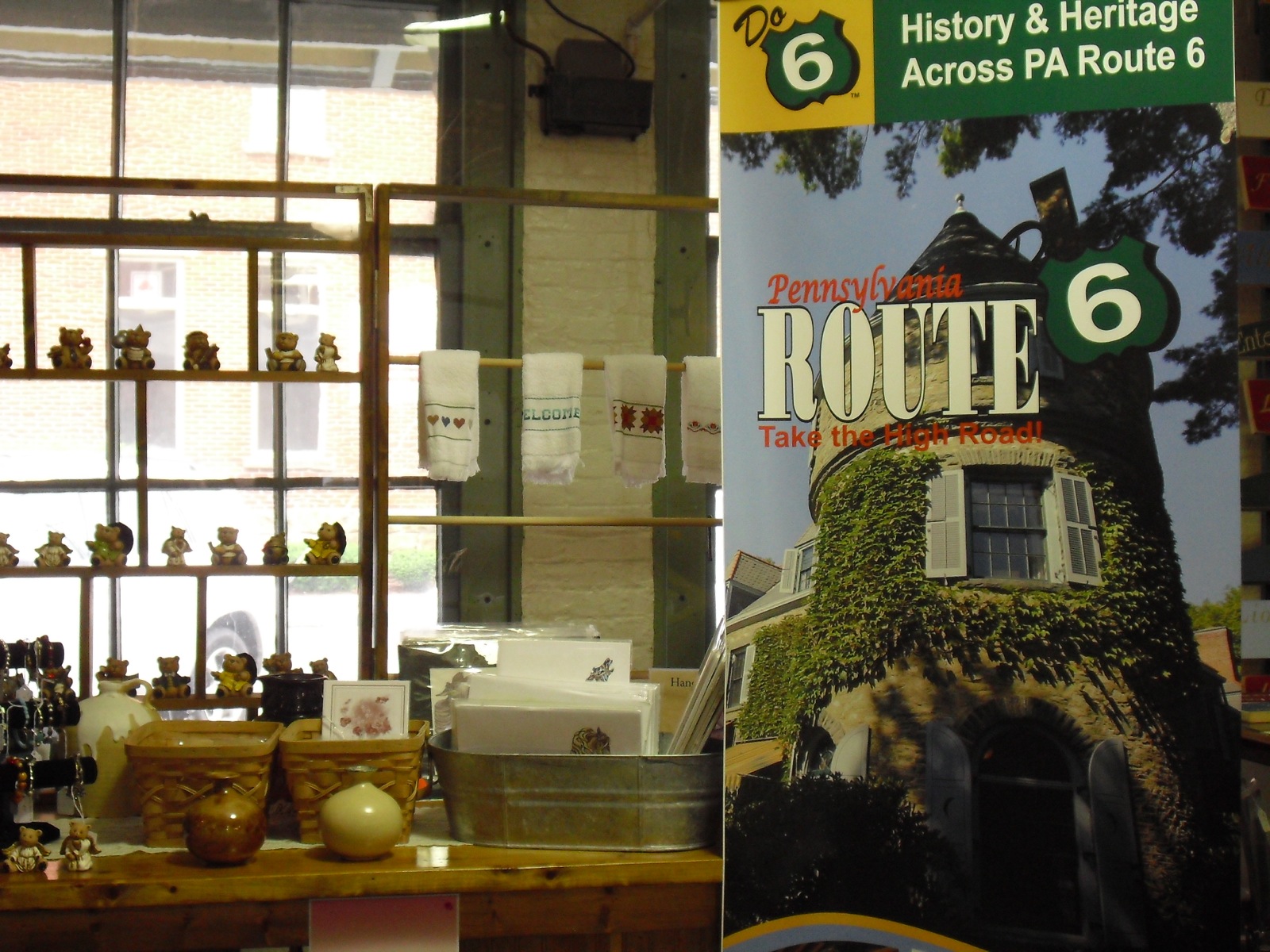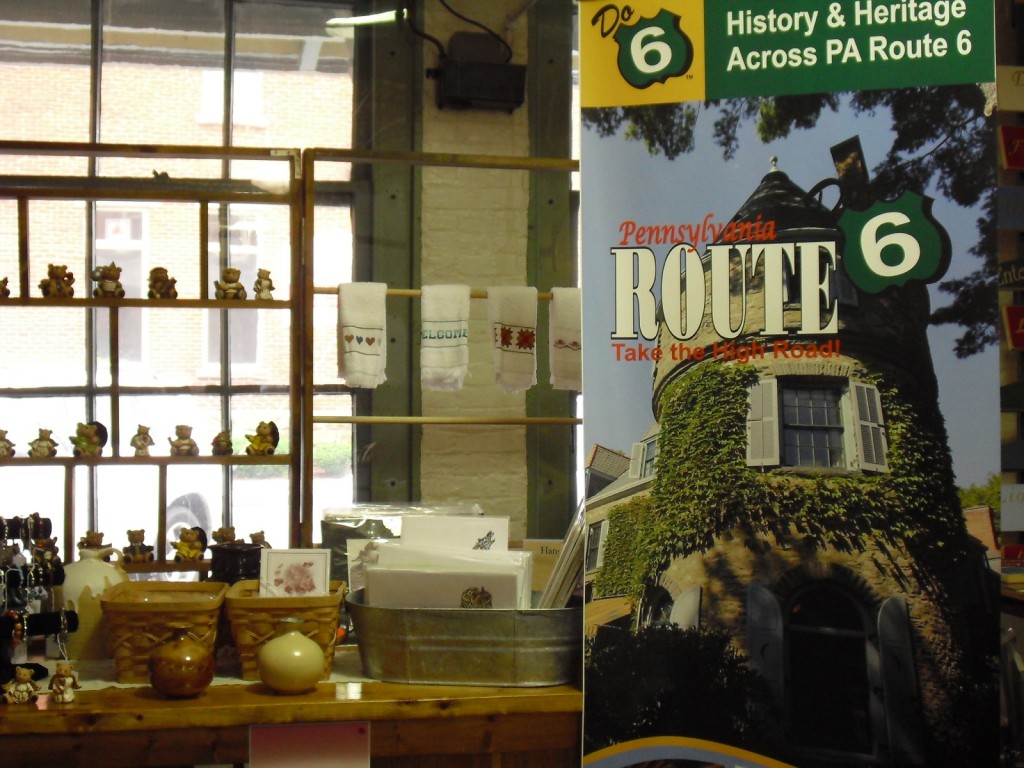 Ten miles west on Routes 6/19, in Meadville you'll find the Meadville Market House, a mini version of Philly's Reading Terminal Market, in a stately brick building housing a dozen or so purveyors of locally jarred and prepared foods, baked goods and knickknacks. Meadville is also site of Chief Justice Baldwin Reynolds Home/Museum; June-Aug, Wed-Sun. 10-4,which offers 1 ½ hour tours from Noon-3pm on the hour.
PENNDOT Decor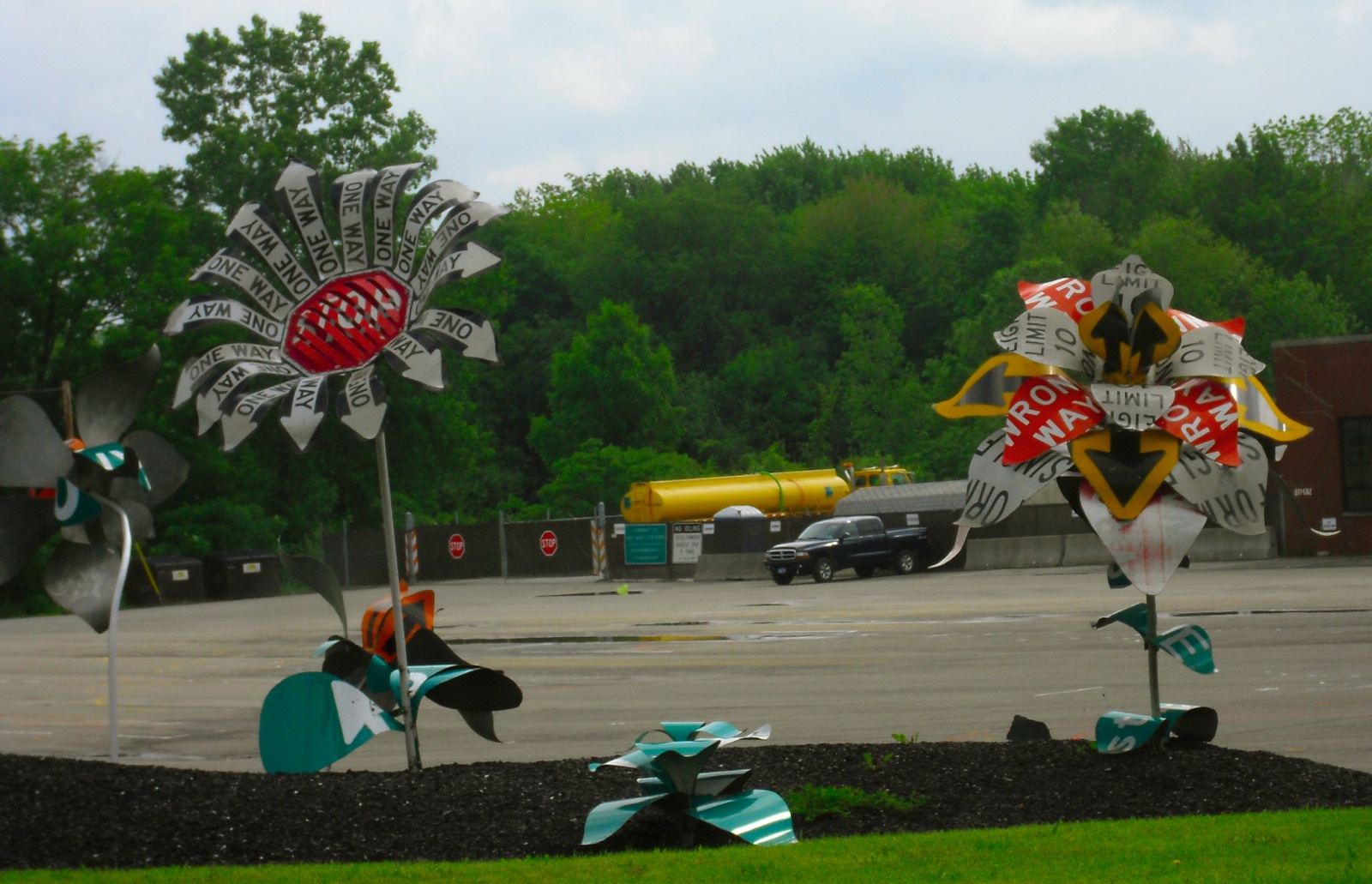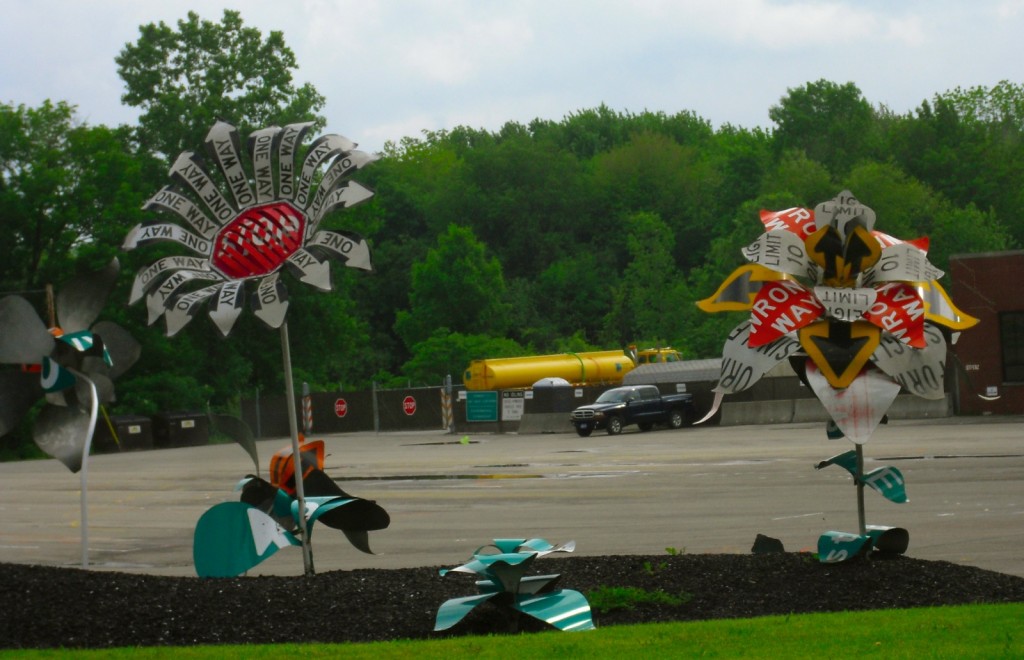 As you leave Meadville on Route 6, slow down and keep an eye out on your right for the Pennsylvania Department of Transportation (or PENNDOT as it's called here) headquarters. A very funky, snap-shot-worthy mural, created out of old road and highway signs, encircles the whole DOT compound.
Conneaut Lake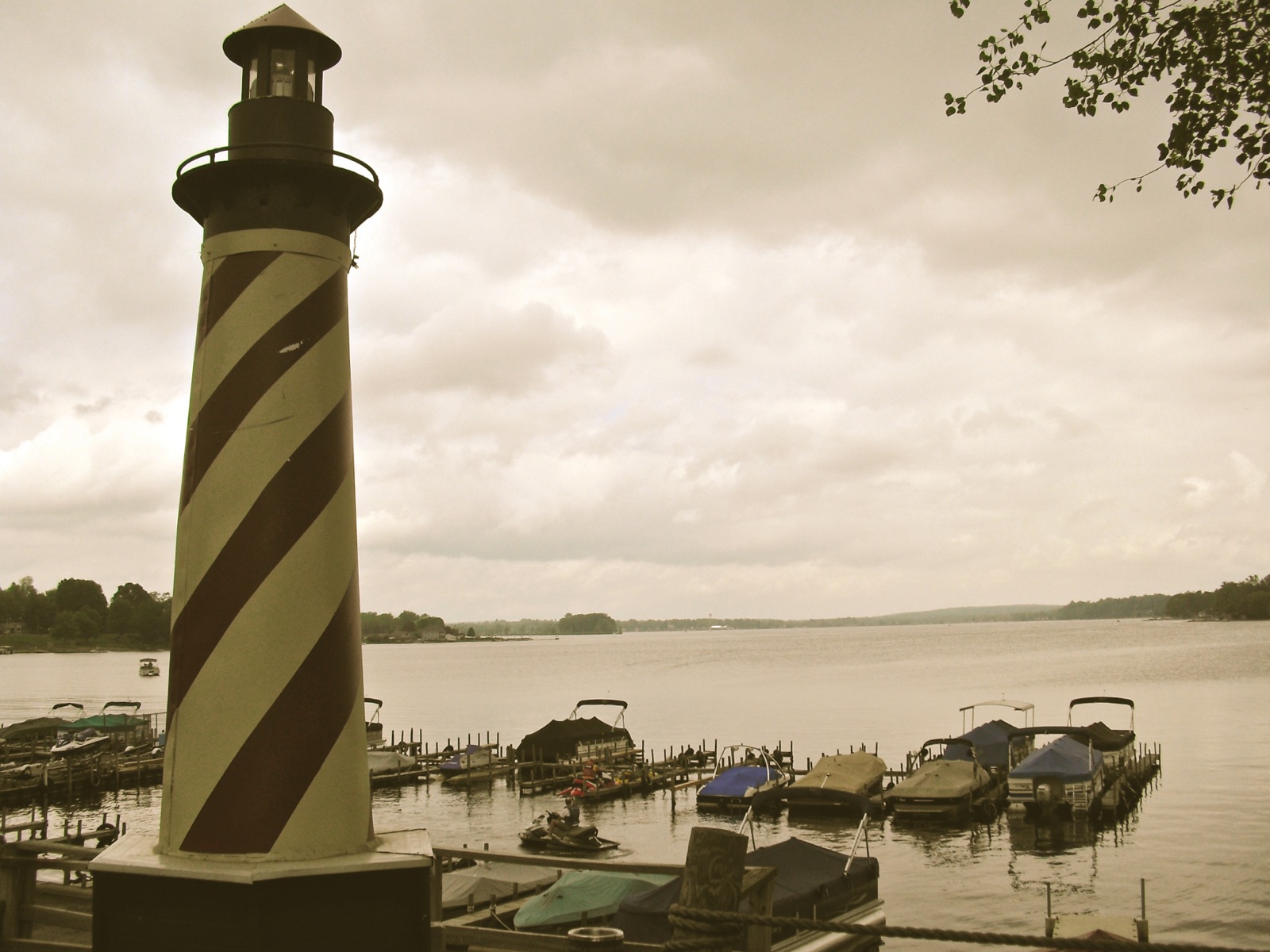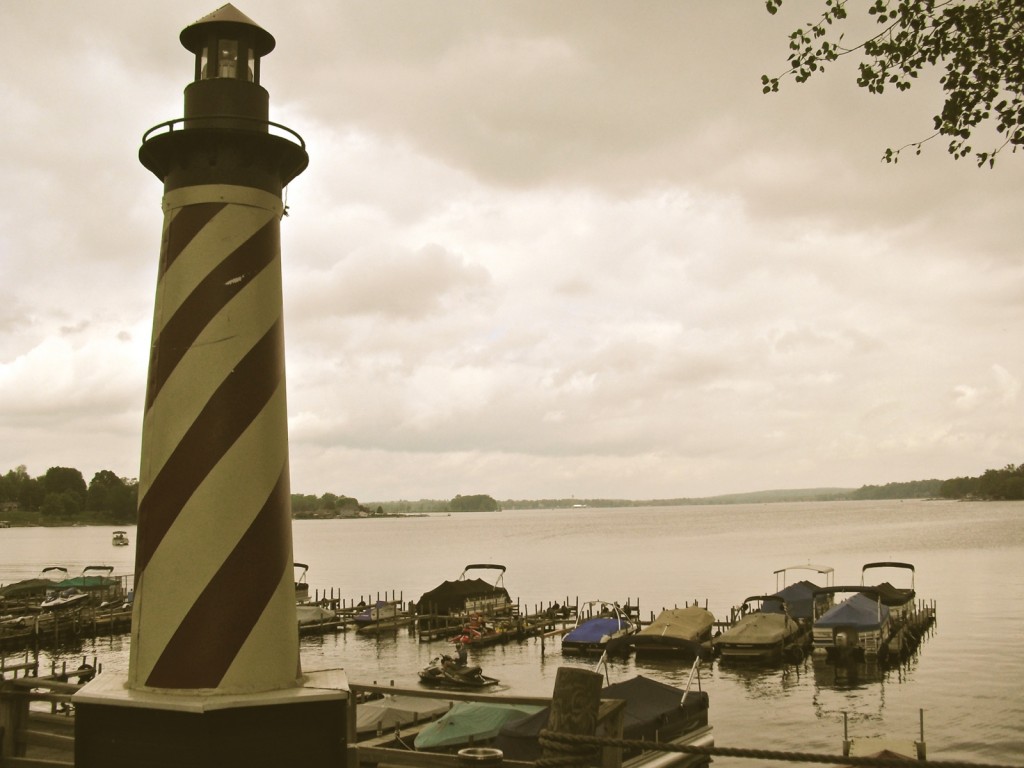 Route 6 pairs with 322 on this commercial strip accented by chain hotels, fast food restaurants, and Big Box stores, but by the time you arrive in Conneaut Lake, 10 miles west of Meadville, family restaurants, marinas and tackle shops prevail.
An old family amusement park – Conneaut Lake Park – about 2 miles off 6- is home to the historic 1937 wooden roller coaster, Blue Streak. Adjacent to the Park, the Hotel Conneaut Lake – a faded, formerly fashionable, resort – appears to be in need of some (read: lots of) sprucing up, too.
Linesville PA Where "Ducks walk on the fishes' backs"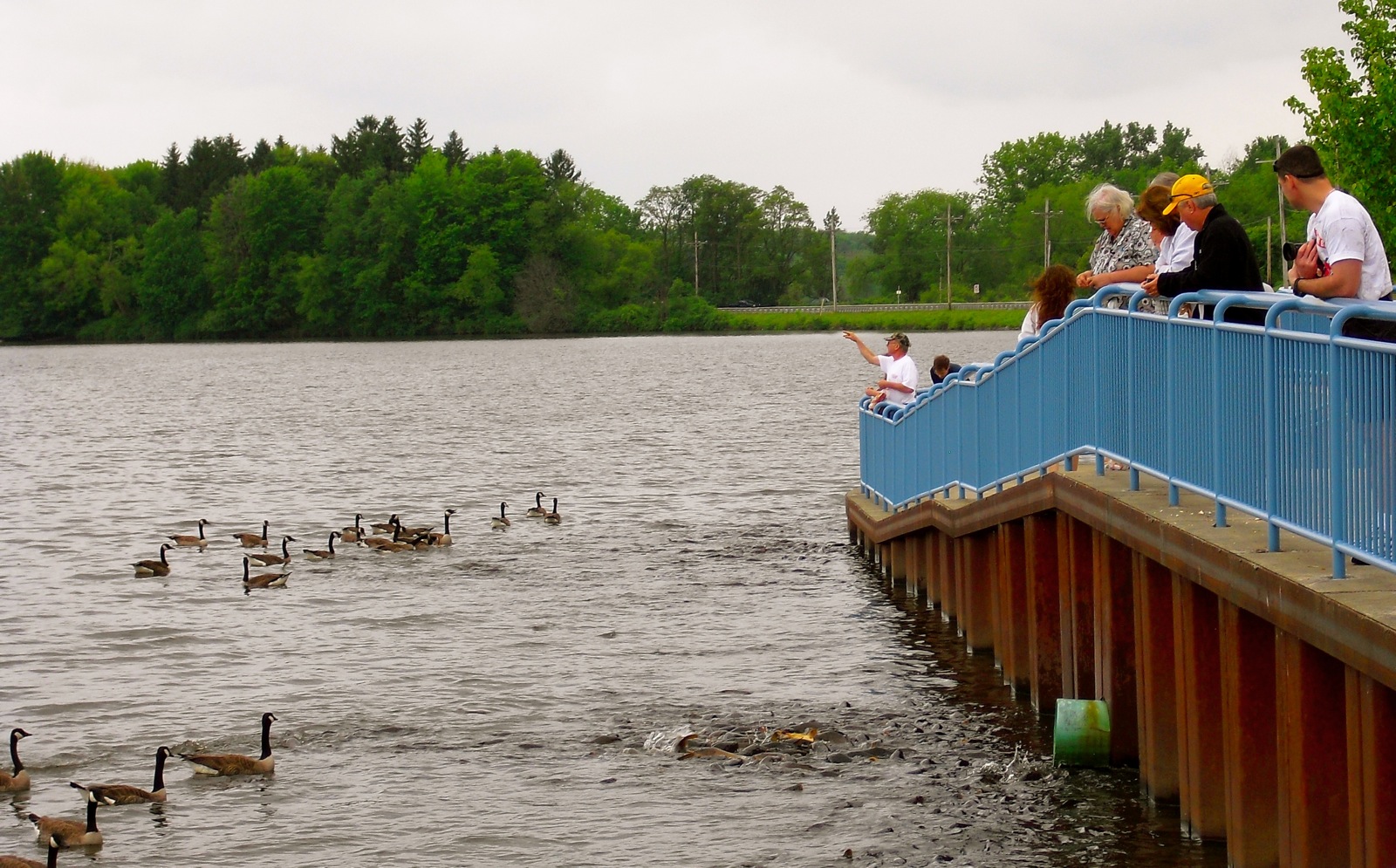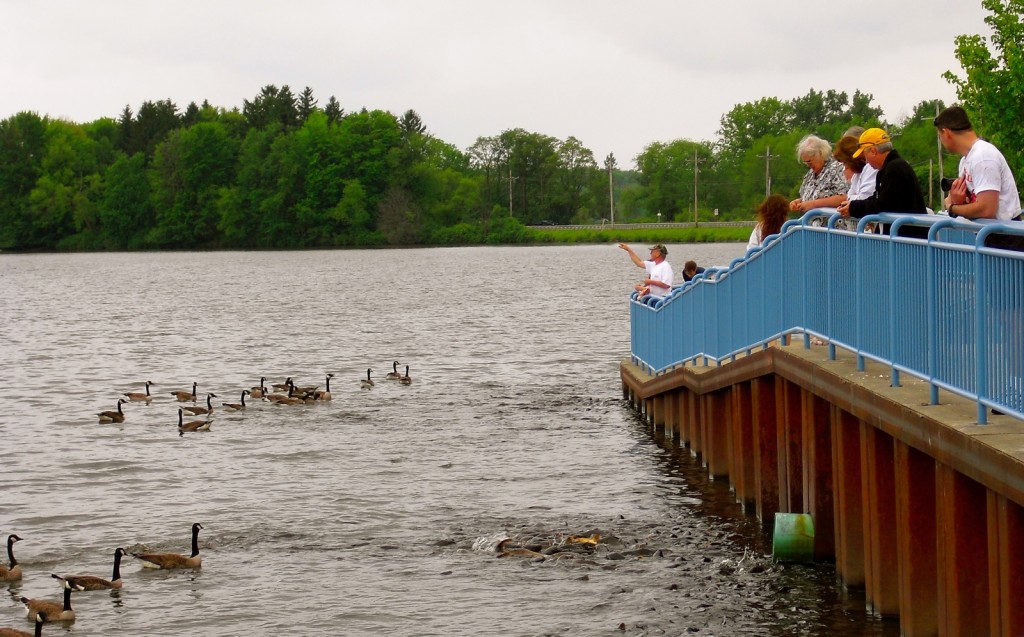 It's just 8 miles to Linesville, and the kitschiest of kitsch Pymatuning State Park Spillway, where, yes "Ducks walk on the fishes' backs" (though in this case, it's Canadian Geese). You take a left off of Route 6 on S. Mercer St./Hartstown Rd. for two miles, past the Fish Hatchery through gorgeous lakeside landscapes.
The tourist area is unmistakable. On the left-hand side of the road there's a parking lot and a shop where you can purchase bread for the fish and t-shirts for the kids. Get your video camera ready. These gaping carp congregate en masse for a hunk of hot-dog roll in the most disgusting, implausible way.
When you're sick of gawking, there's plenty more to do (fishing, boating, swimming) in the area. The 17,000-acre Pymatuning Reservoir is the largest manmade lake in Pennsylvania, and Northwestern PA's largest summertime attraction.
From Linesville, it's an easy 45-mile drive to Erie, PA for more War of 1812 enlightenment and Lake Erie sports. Check out our post about Erie here.