WHY GO: Maryland's second largest city (after Baltimore), Frederick MD, is on the move. Distilleries have popped up like stills in the hills, And a stunning downtown canal-walk swarms with locals on balmy days and nights.
With its brick row homes, adorable boutiques, and growing culinary scene, Frederick feels like a mini-Philly but has a charm all its own.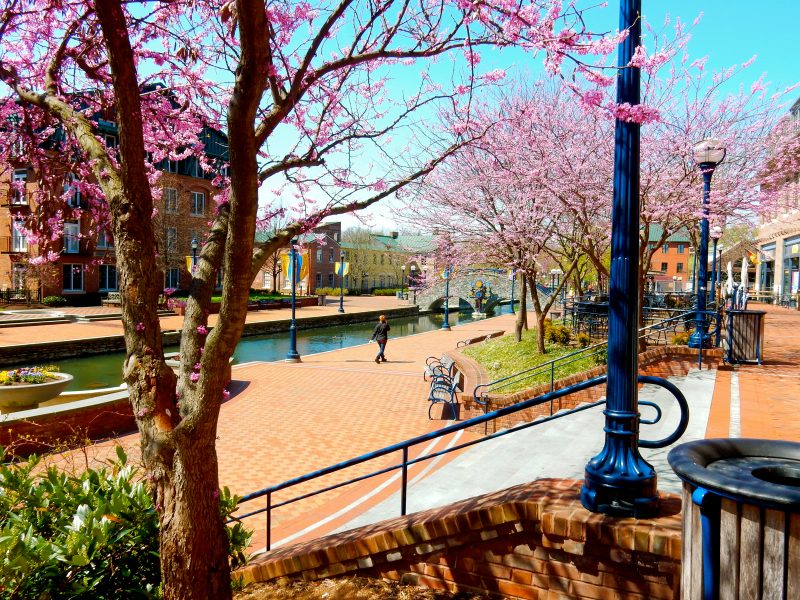 To give offbeat travelers thrills, Frederick is home to the best Museum of Civil War Medicine in the world. Visit the city of Frederick Maryland for its fantastic attractions, shops and restaurants – and then stay in B&B's that will surround you with warm hospitality and beauty. The Getaway Mavens spell it all out here:
Frederick is on our list of 17 Best Romantic Getaways in Maryland. Check it out for more adventures with your loved one.
Things to Do in Frederick MD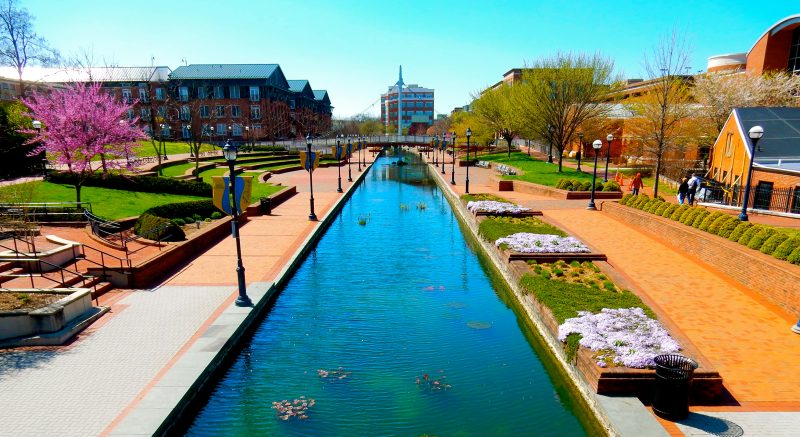 In a former cannery warehouse, the Frederick Visitor's Center is the epitome of repurposing. That goes for the area of town, as well, which has moved from industry to recreation, retail, and housing of late.
Come in to plan your visit, or just to learn a thing or two about the area in its wagon-wheel shaped exhibit hall.
Our country's first canonized Saint – Elizabeth Ann Seton – lived and died in Frederick County. The Presidential Retreat, Camp David, is nearby in Catoctin Mountain Park.
The 620-mile National Road, built in 1811 to connect the Potomac and Ohio Rivers, came right through here.
The man who penned the Star Spangled Banner, Francis Scott Key, is buried here (there's a remnant of one of the "bombs bursting in air" on display). And during the Civil War, both sides crossed this "neutral" State numerous times when Frederick City itself was "one vast hospital."
Frederick's merchants and restaurateurs are a cohesive, collaborative bunch. So much so, city tourism offers something I've rarely seen: a Downtown Frederick Gift Card to use at over 150 establishments. Scope out the place first, and then purchase a gift card for your favorite traveler. It's a very cool and offbeat wedding or anniversary present.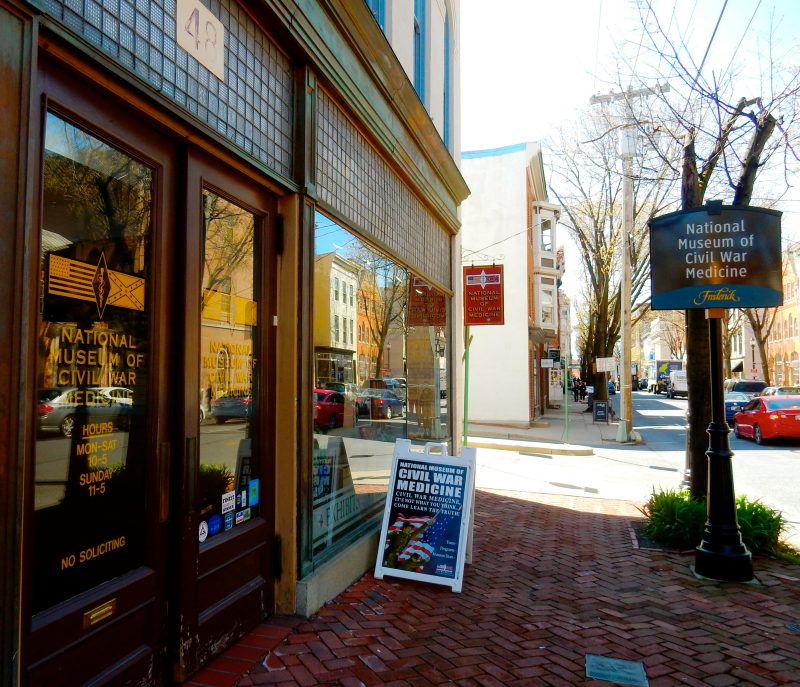 Speaking of "one vast hospital," this phenomenal museum in the center of town (in a former furniture manufacturer where tables, chairs and coffin were made) gained fans due to the popularity of PBS's Mercy Street.
Museum curators and historians were tapped to consult on that Civil War mini-series, depicting medical ministering during the conflict.
Ramping Up for Mass Casualties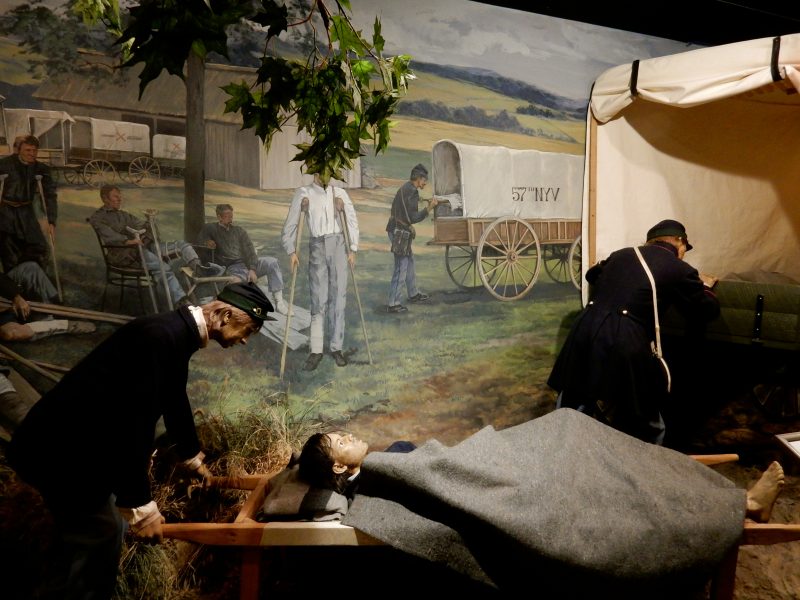 During the Civil War, Frederick served as a large medical facility located at the center of Antietam, Gettysburg and Washington DC.
Out of Antietam's 23,000 casualties, 10,000 were brought here. The wounded effectively doubled Frederick's population.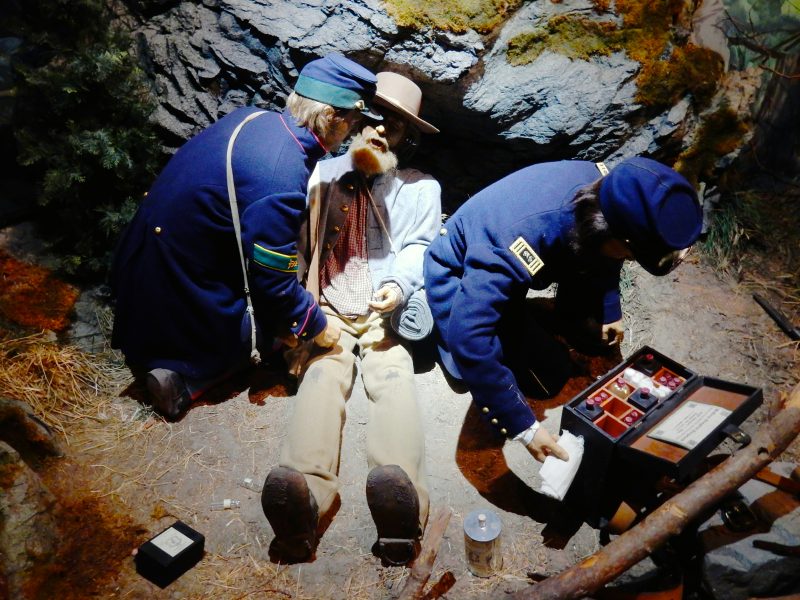 You won't see the blood and gore associated with most exhibits on Civil war surgery, or depictions of soldiers writhing in pain while having legs sawn off. What this museum does best is dispel myths about mid-1800s medicine and its application on the battlefield.
Though doctors back then didn't understand the source of disease or infection, medical schools trained would-be surgeons on cadavers (usually obtained by "body snatchers" or grave-robbers). Subsequently, those in the profession had extensive knowledge of the human anatomy.
Medics carried medical field kits with morphine for immediate pain relief. Surgical patients, transported to field hospitals via horse-drawn ambulances, were anesthetized with ether or chloroform.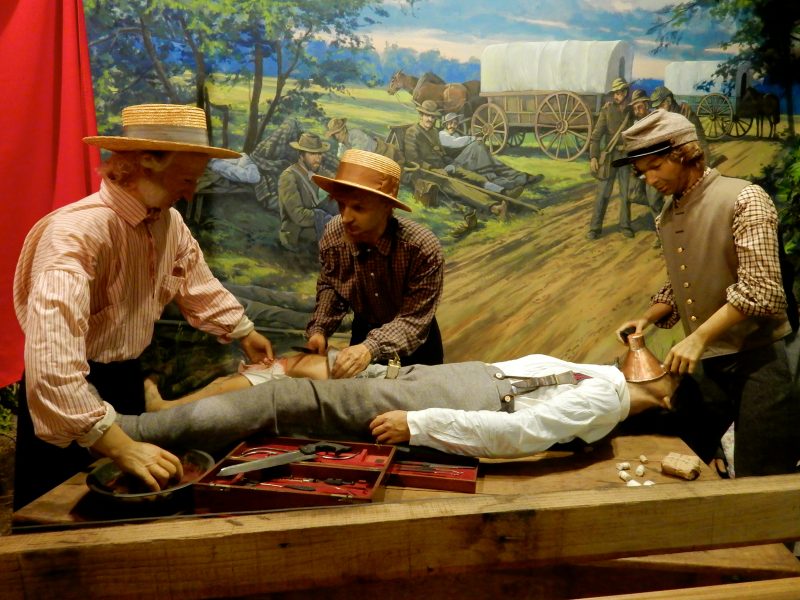 Medical technology and knowledge grew leaps and bounds during the Civil War. When the war began in April 1861, there were 16,000 soldiers. By its end in 1865, nearly three million men (and some women) served.
It was the most rapid militarization in history, thus the need for doctors was great. In 1861, just 120 surgeons served both sides, growing to nearly 15,000 over the course of the war.
Revamping Battlefield Medicine
Before Dr. Jonathan Letterman was recruited to organize battlefield medicine, soldiers lost lives unnecessarily. Management of the injured and sick was chaotic at best, deadly at worst.
Letterman, considered the "unsung hero of the Civil War," revamped every step in a soldier's care and recovery. He structured a progression from emergency treatment on the battlefield, to field hospital, and then, when stable, to a larger city facility for recovery.
Letterman's first major test was at Antietam, where 17,000 men were moved off the battlefield in 12 hours. His process is still the basis for our modern military evacuation system.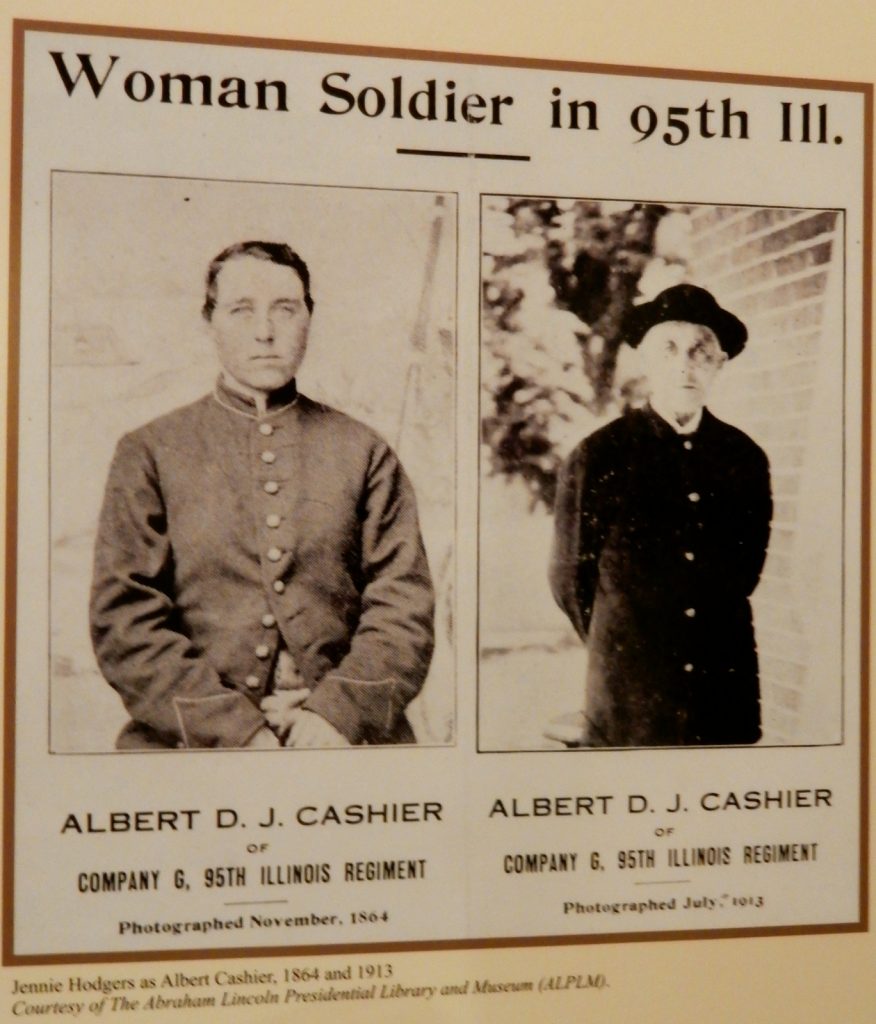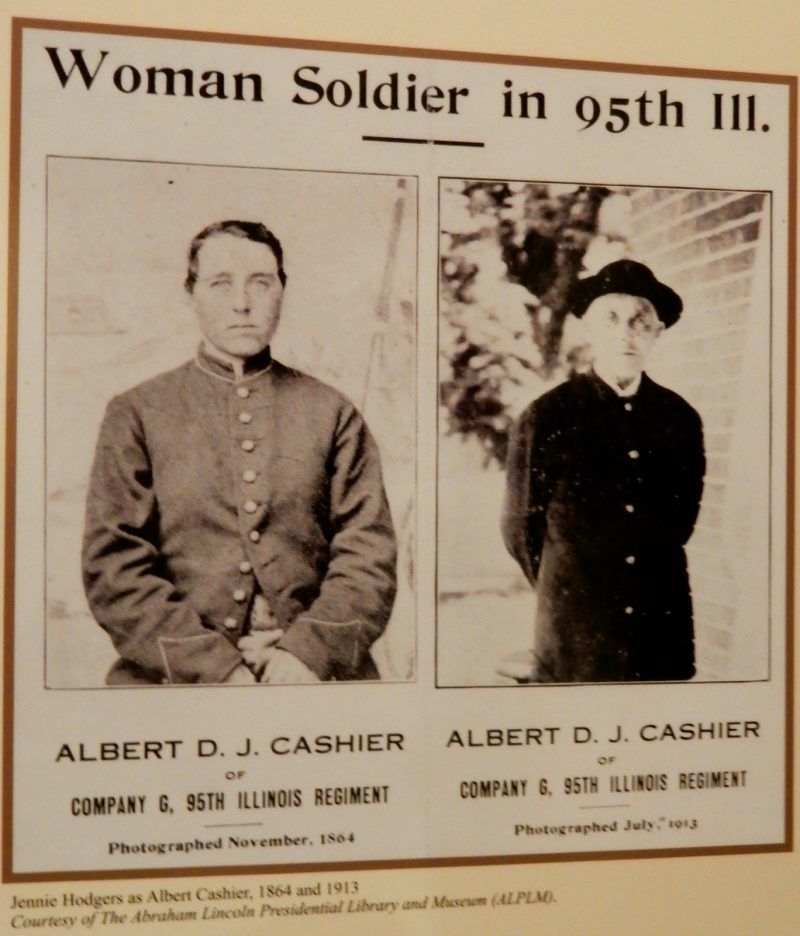 Exhibits showcase women in the Civil War from Clara Barton ("a one-person NGO") to those who disguised themselves as men in combat.
It's estimated that over 300 women passed themselves off as men during this time. One was Jennie Hodgers, who served in the Union Army as Albert Cashier, and lived as Albert until 1910 when, in his 60's, he was hit by a car and taken to the hospital.
Discovered to be a woman, Albert was shamed and forced to wear a dress. According to the Civil War Trust website, "Many of Albert's former comrades, although initially surprised at this revelation, were supportive of Hodgers and protested her treatment. (S)he was buried in full uniform and given a tombstone inscribed with her male identity." $9.50 adults, under 9 free. Open Mon-Sat. 10-5, Sun 11-5.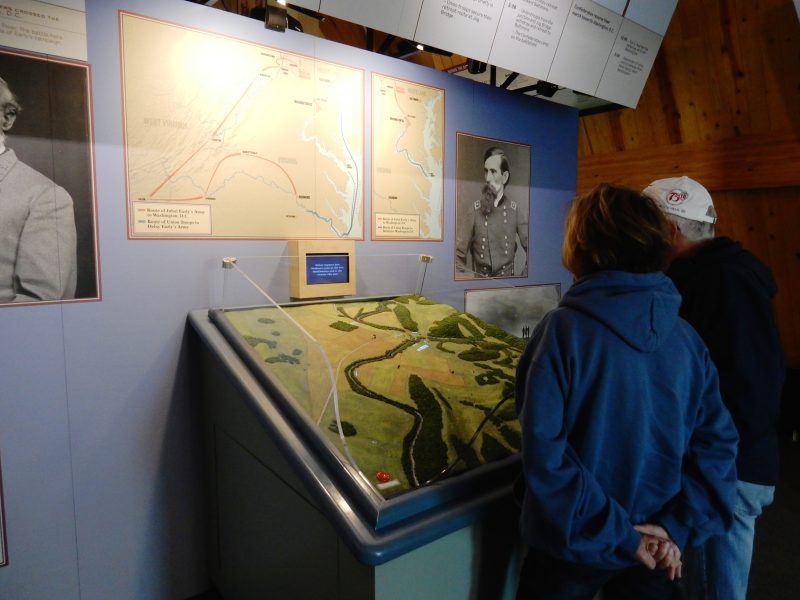 Every Civil War battle was significant in its own way. The tagline here, "A day gained, a Capital Saved," sums up this particular clash. This is where 5,800 Union soldiers met 15,000 Confederates on their way to take over Washington DC.
Though the Confederates won this battle, it bought Union General Lew Wallace enough time to gather his troops and protect the Capital city. On July 9, 1864, this turned out to be the South's last incursion into the north.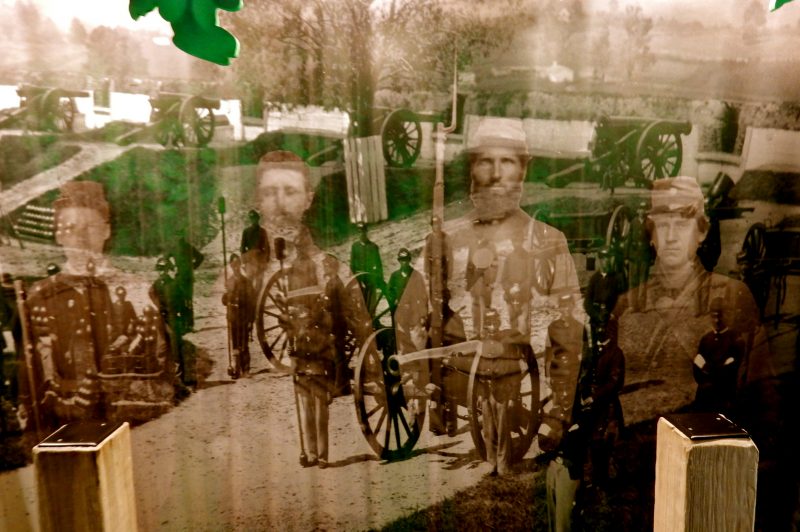 Along the National Road, Monocacy Junction was "the road to Washington, DC" with two strategic bridges (horse and railroad) over the Monocacy River.
Though you can drive the 1,650 acres on an podcast audio tour, be sure to examine the exhibits in the Visitor's Center, especially the 8-minute sound and light show on a dynamic topographical map, narrated with great intensity; e.g. "Confederate soldiers keep coming like a sheet of flame."
Monocacy is also notable for its ongoing archeological excavation of what was one of the largest populations of enslaved people in the region, the French owned L'Hermitage, owned by the Vincendieres family who were reputedly one of the most brutal slaveholders on record. Visitor's Center open 8:30-5 daily, Free.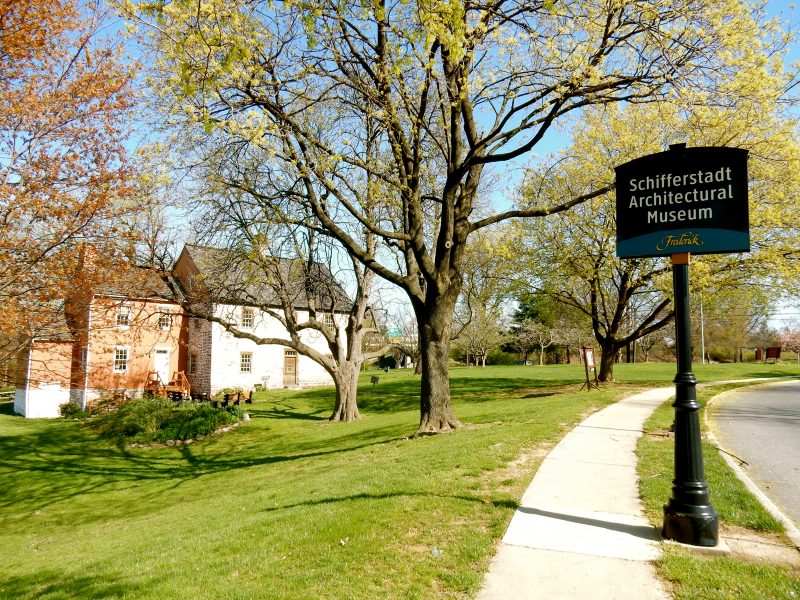 Calling all civil engineers or architects! This stone structure is less a contents-of-an-old-house museum than a study in how German homes were constructed in the mid 1700's.
Built by Elias Brunner in 1758 (with an 1867 brick addition) the structure became a tenant farmhouse and was never updated or restored. So, unlike many continuously lived-in homes of that time, this one, left to seed, was ironically "preserved by neglect."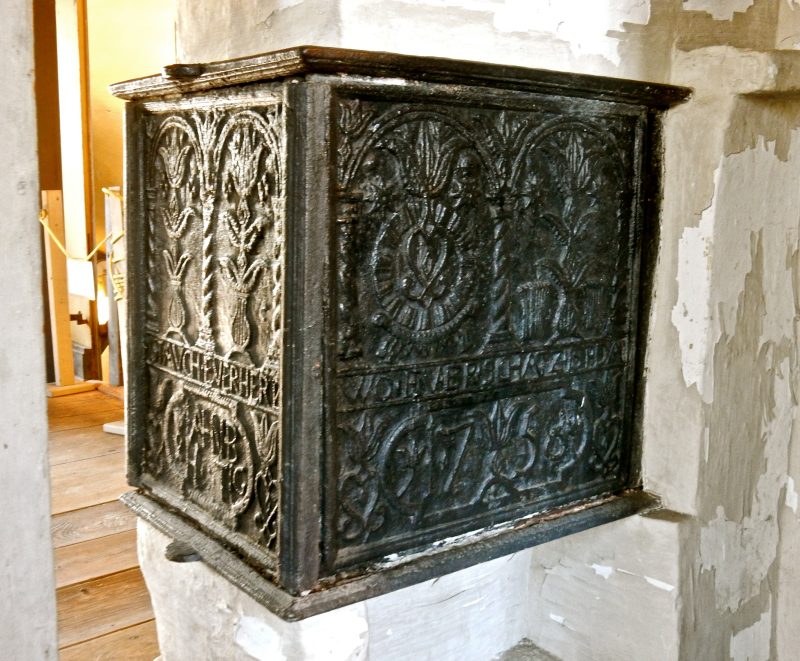 So, you'll see how wooden beams were joined through cutouts in two-foot thick sandstone walls, and original brickwork, doors and hardware.
A guide points out an iron wall safe with rams horn hinges in the front room wall, a polished granite sink angled out the kitchen window that utilized water pumped from the creek right outside, and upstairs, the last remaining 1758 Five-Plate German Stove (inscribed with German bible verse) in the US still in its original setting.
Fixed between two children's rooms, it was stoked from the hallway. $5, under 12 free. April – Early Dec. Sat/Sun 1-4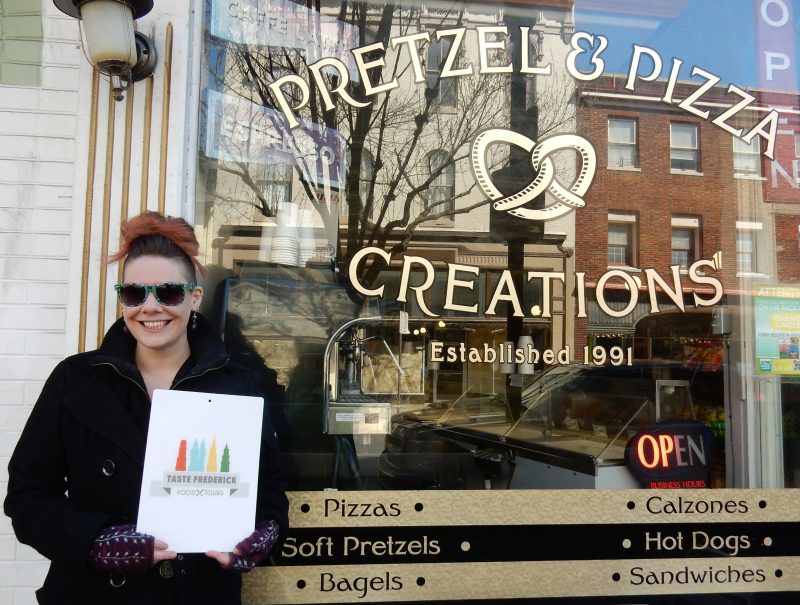 (See in Where to Eat Section for individual restaurants). This 3-hour history-food walking tour provides the perfect overview of a little city on the move. With tastes at six restaurants/markets and visits to Carroll Creek Park and other historic venues, this tour is perfect if you've got only a few hours to spare.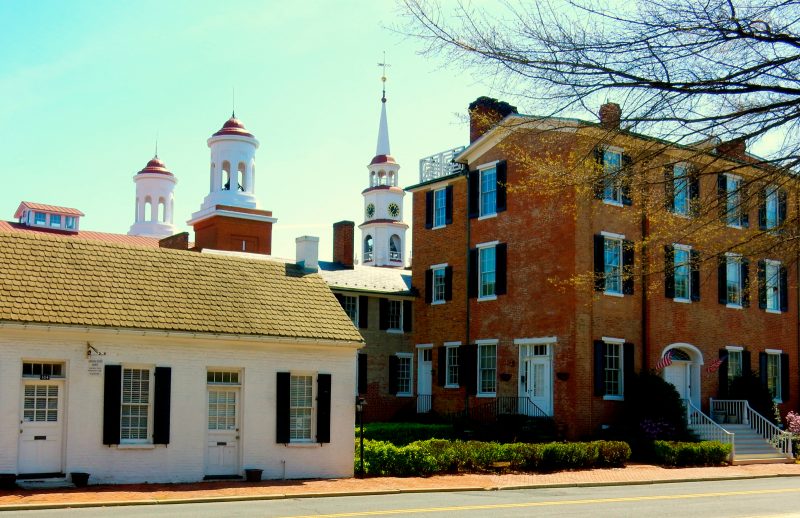 You'll meet your guide (mine was the bubbly novelist, Jessica McHugh) at Pretzel & Pizza, and then head to N. Market Pop Shop, Brewer's Ally, along Carroll Creek to Wine Kitchen.
Onward to the Theater District (the beautifully restored Weinberg Center for the Arts). Pause in front of Town Hall to capture a photo of "The Clustered Spires" of Frederick's Churches mentioned in John Whittier's Barbara Fritchie poem. Stop at the "Spite House," erected solely to stop the construction of a city road on private property. And then it's on to Firestone's Market and finally for artisanal chocolate at Zoe's, the "Official Chocolate of the 2011 Emmy Awards." $89 for three hour tour and copious amounts of food.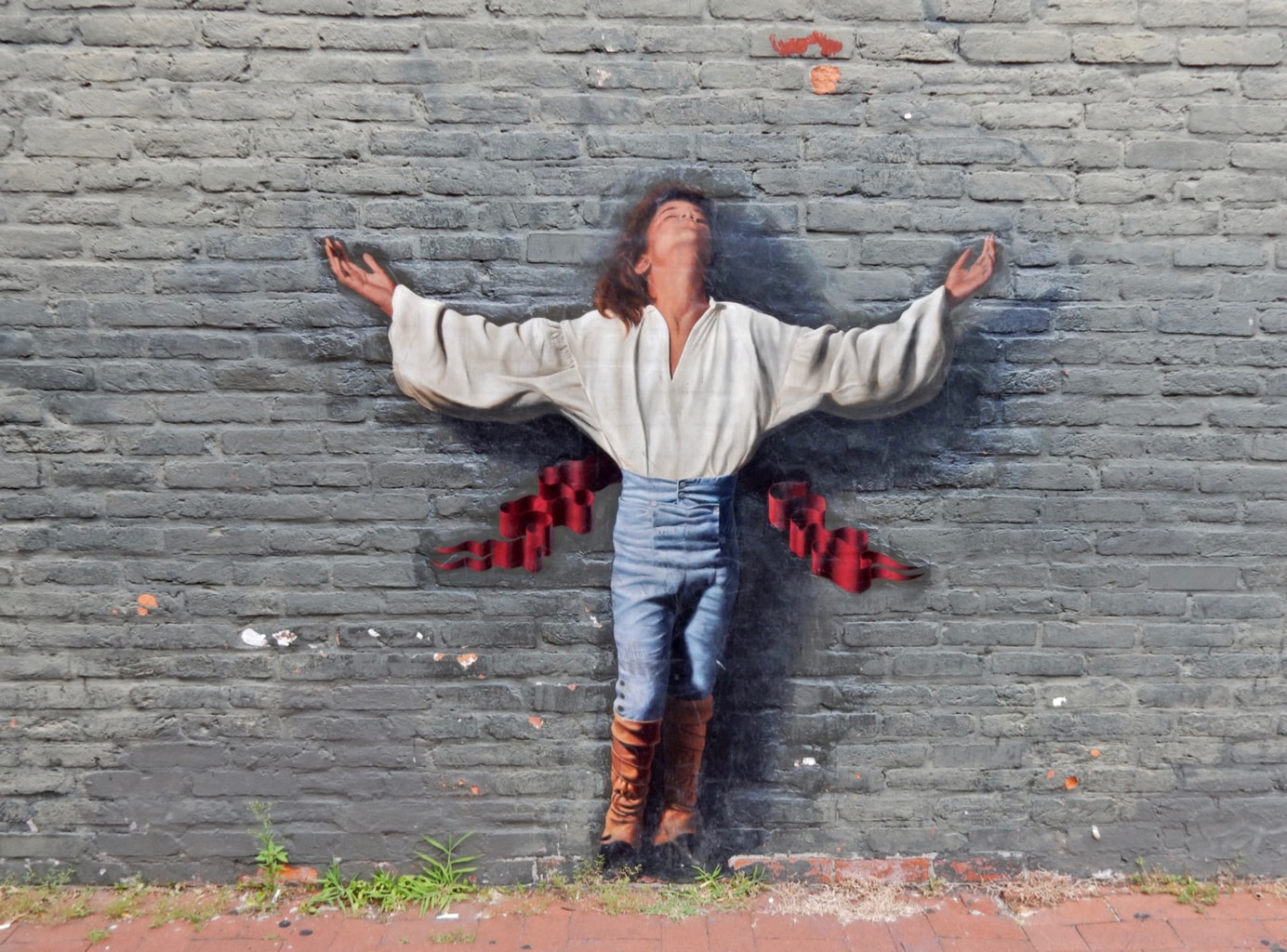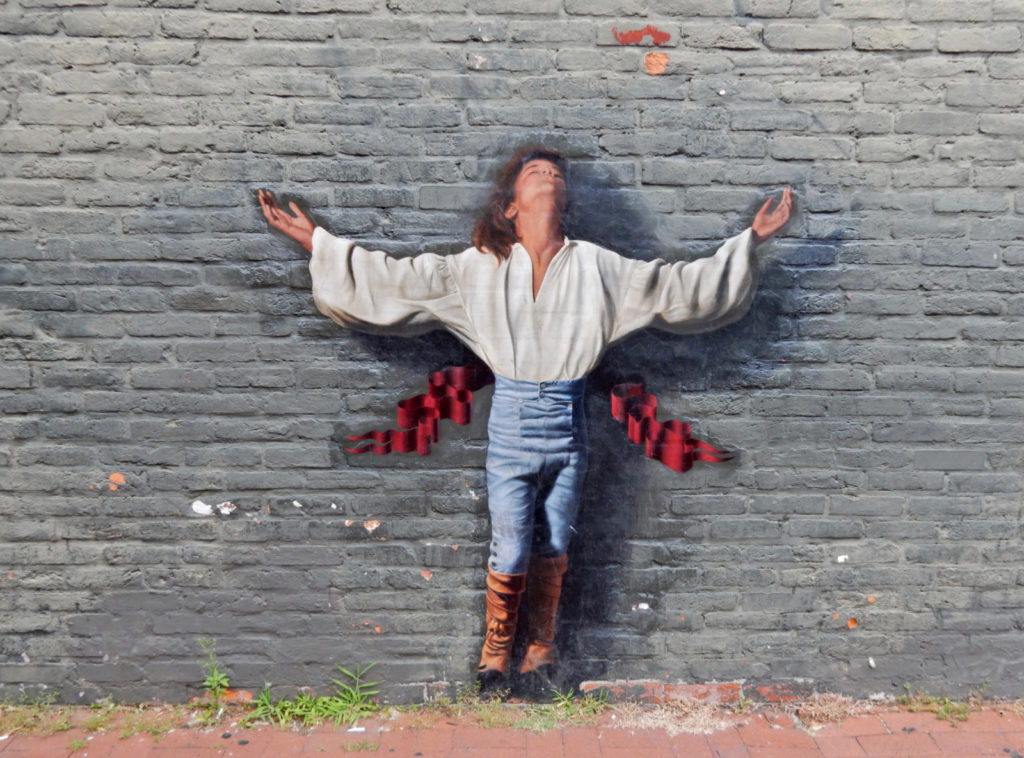 There are "angels in the architecture" on this 2-mile, self-guided art tour through 17 public art works in Frederick. This is especially apparent when you come upon the downtown "Edge of Gravity" Mural: an Instagram darling, for sure. But of course, there are more surprises in store.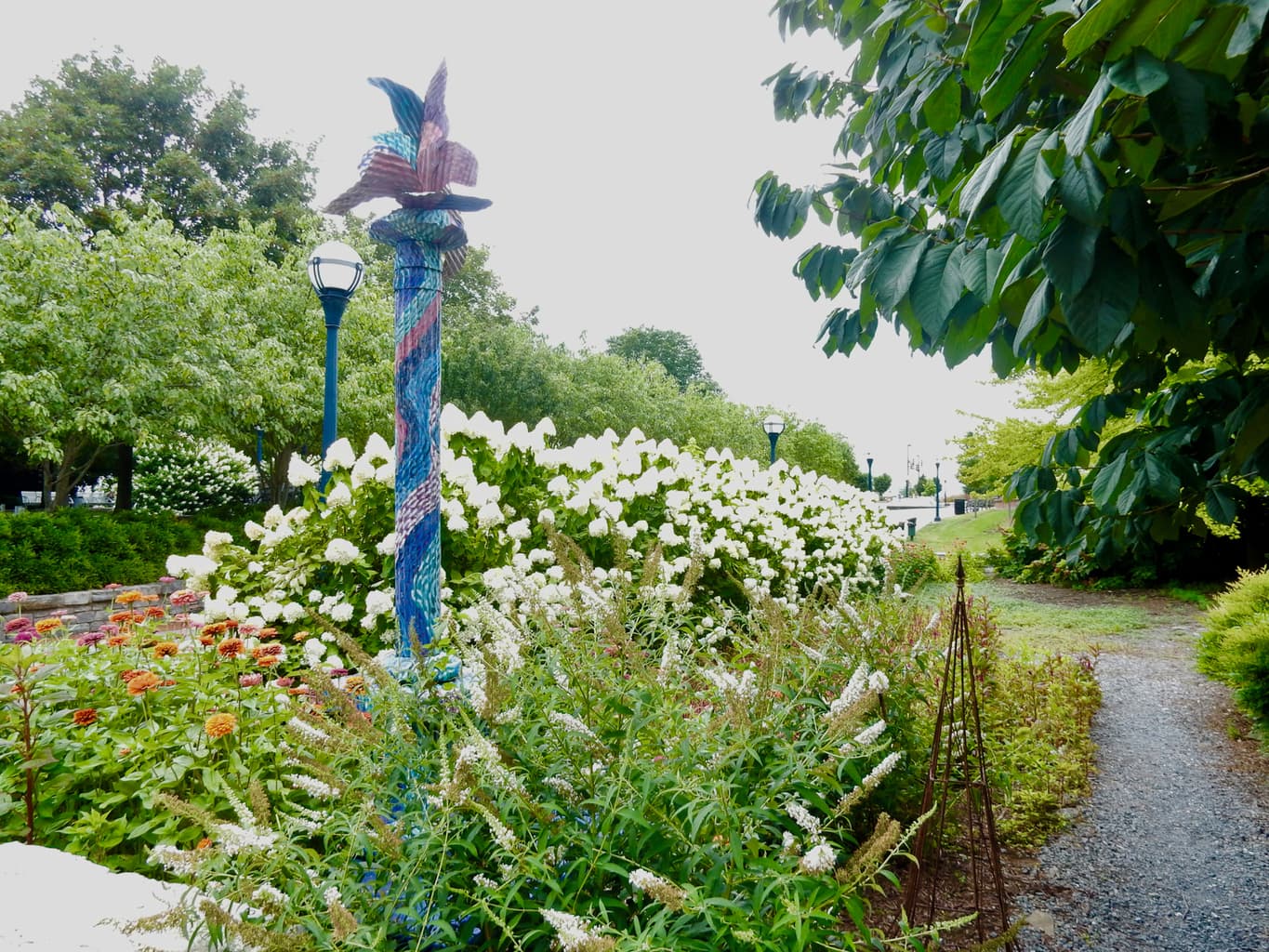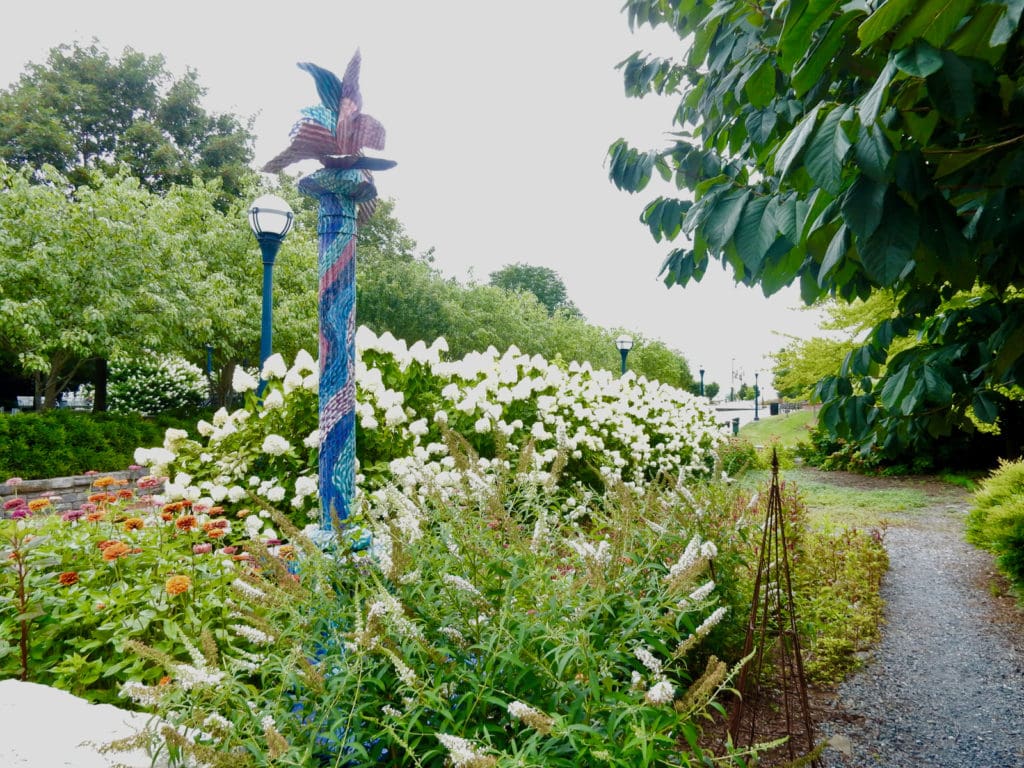 A nice inclement weather retreat on your Carroll Creek stroll, this Arts Center offers classes and workshops and current exhibits in seven galleries. Free, Mon-Sat. 9-5, Sun 11-5.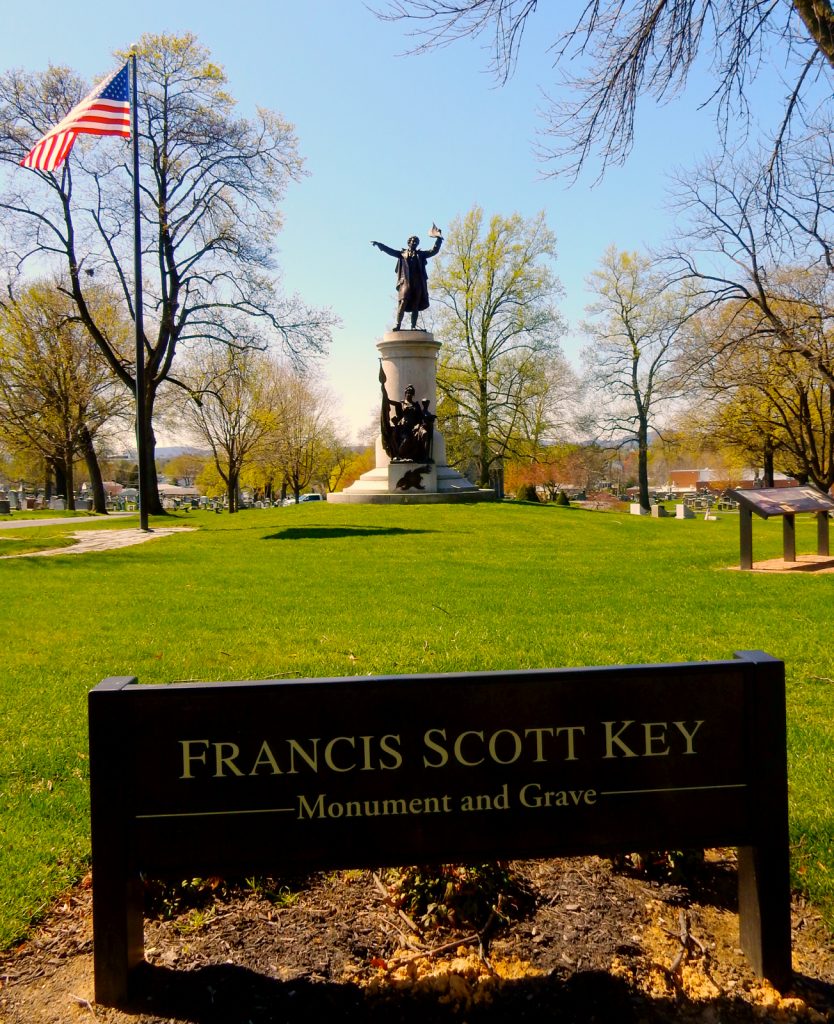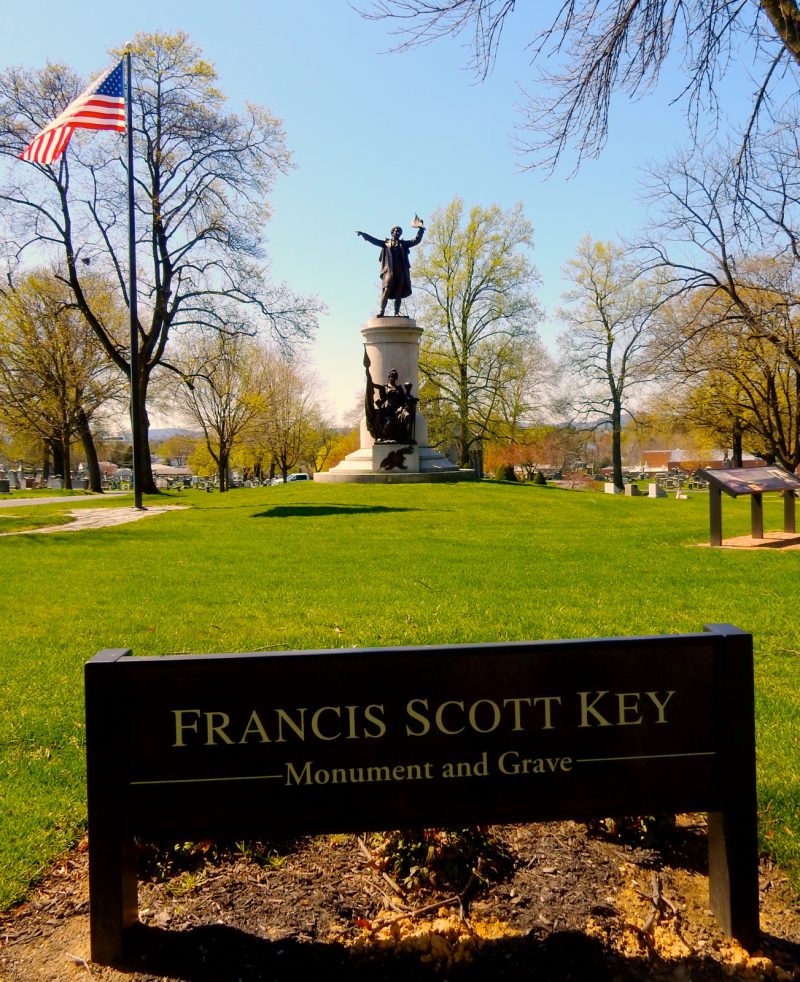 A monument to Key is front and center at this final resting place for 34,000 others, including a multitude of soldiers buried in Confederate Row.  Barbara Fritchie, an elderly Union firebrand immortalized in John Whittier's poem of the same name, is also buried here. Fritchie was purported to have yelled: "shoot if you must this old gray head, but spare this country's flag instead" as Confederate soldiers marched through town.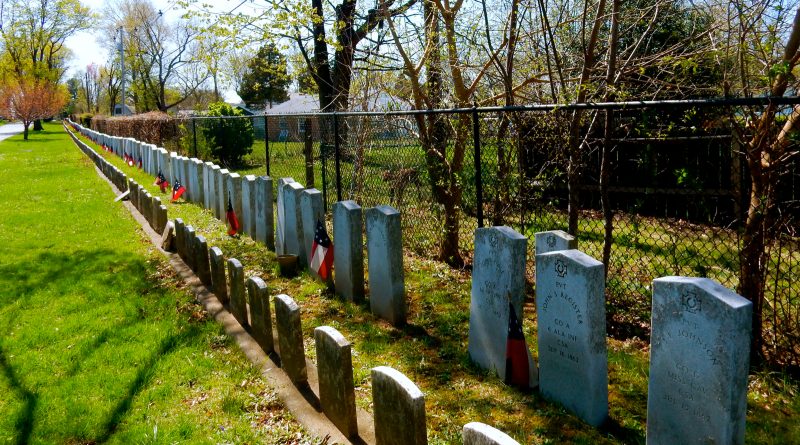 Later, it was determined that Fritchie, in her 90's at the time, would have been much too ill and frail to lean out of her window to shake her flag at the oncoming enemy. But why let facts get in the way of a famous poem?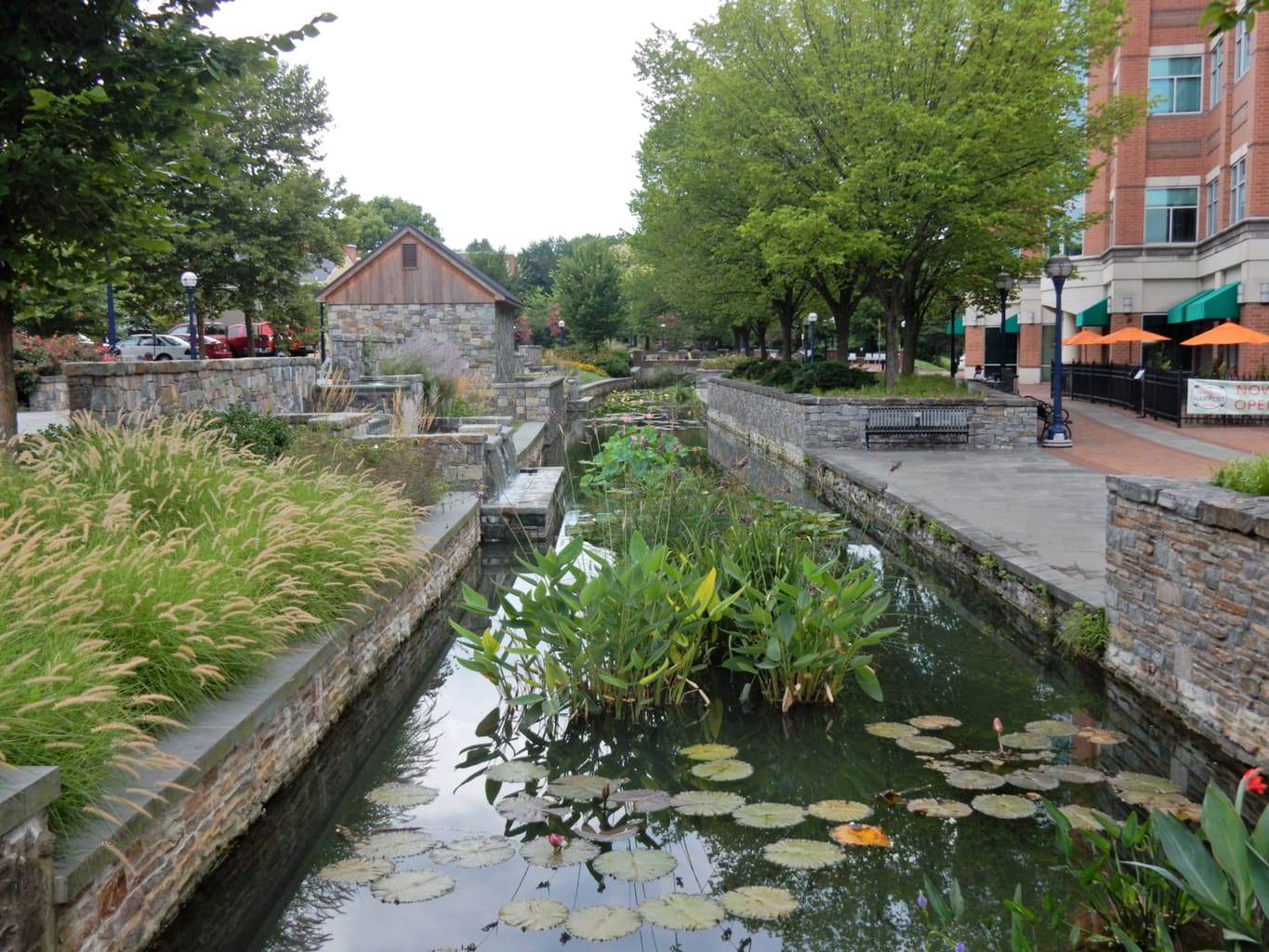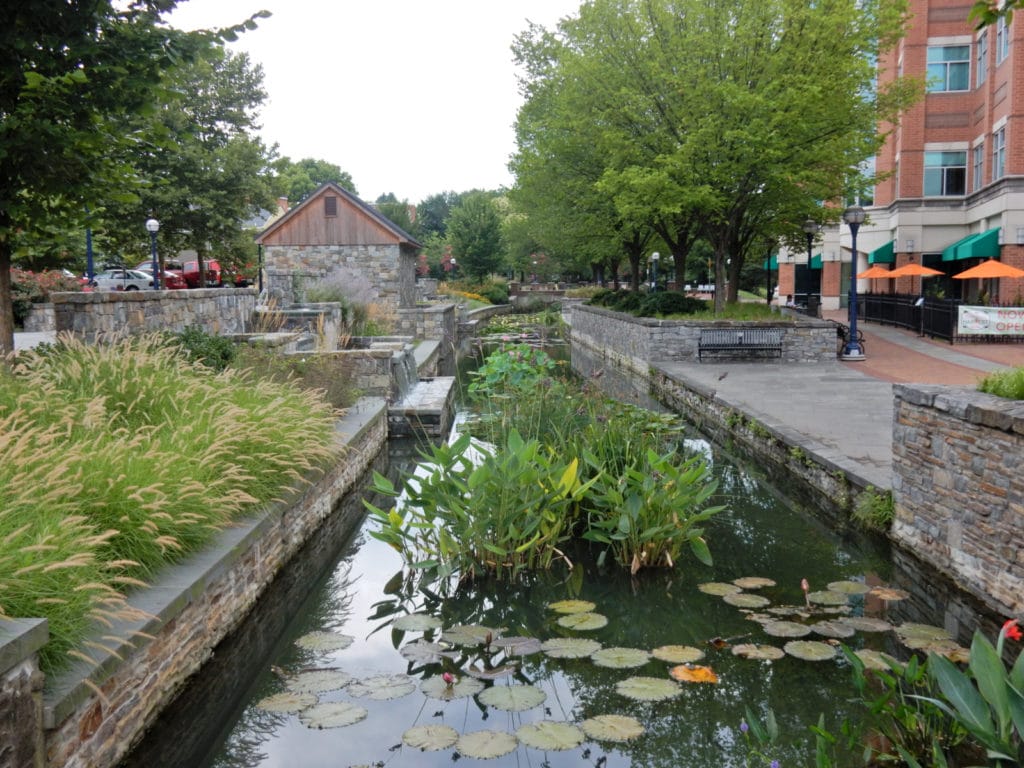 Can't get to Venice? This one-and-a-half mile canal-walk, ribbed with stone and iron pedestrian bridges, will get you there – in mind at least.
The "Community Bridge," a trompe l'oiel masterpiece spearheaded by artist William Cochran in 1998 that appears to be an ivy-covered stone arch, is the centerpiece of this marvelous downtown park, which used to be the dividing line between white and black neighborhoods.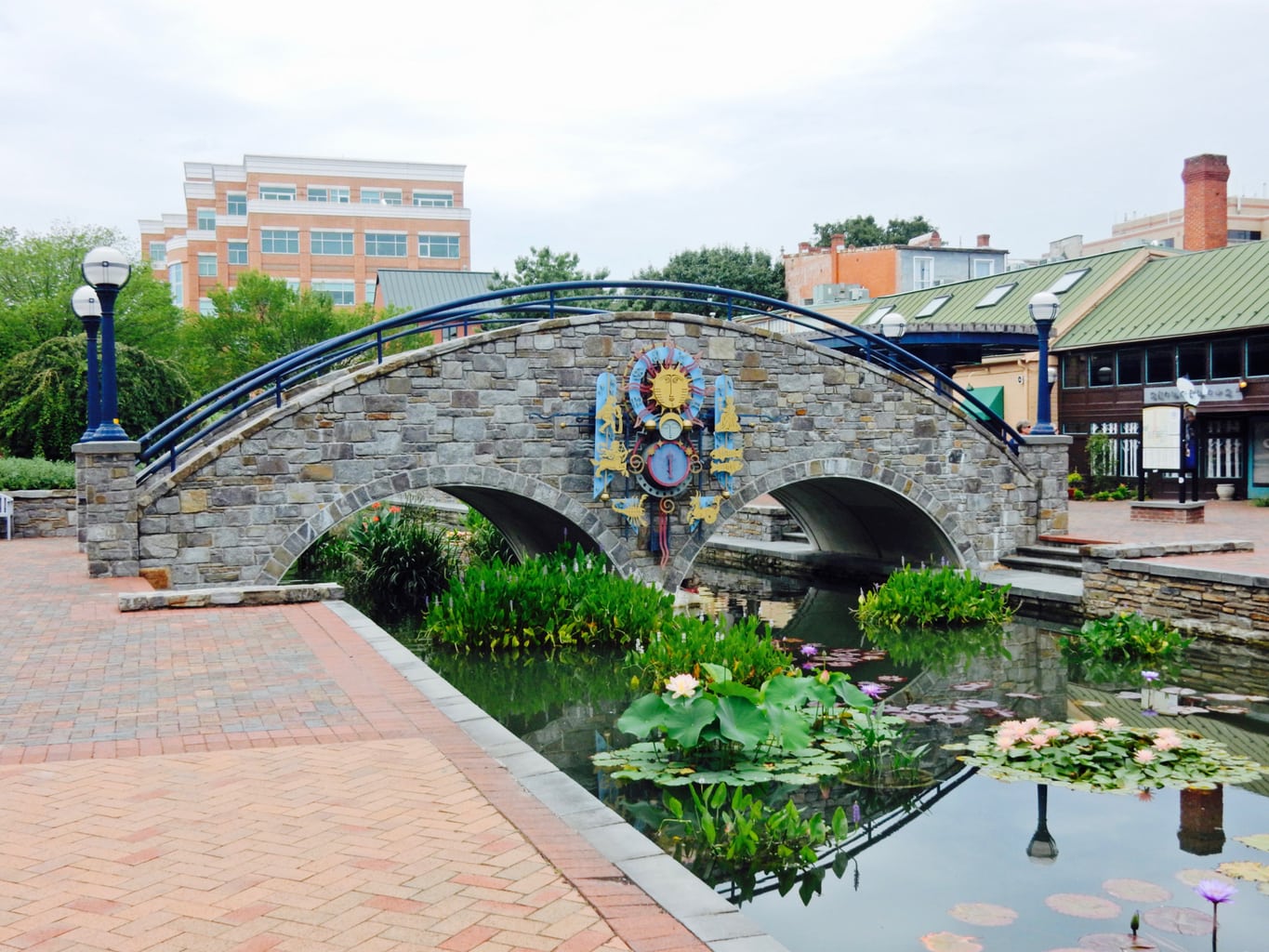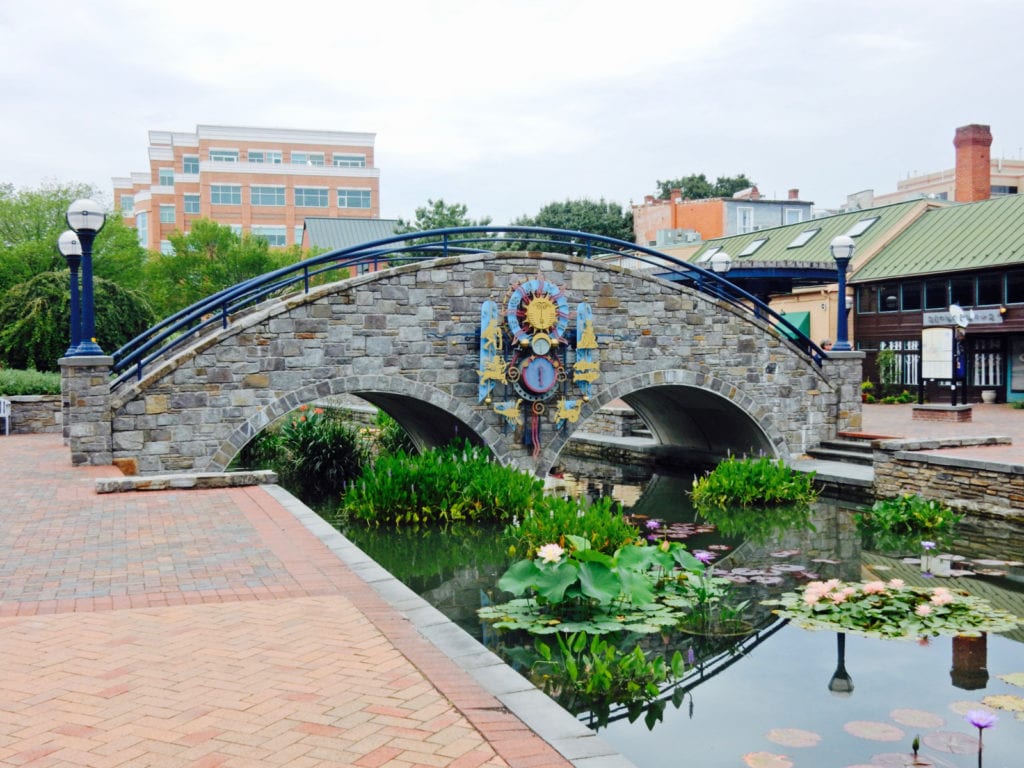 Now, the Community Bridge, the larger "Unity Bridge" and several other ornate wrought iron bridges link the two sides over a free-flowing canal, landscaped with Cherry Blossom trees, lily-pads and other colorful blooms. Gorgeous.
This was chosen as one of the Best Places in Maryland to Pop the Question.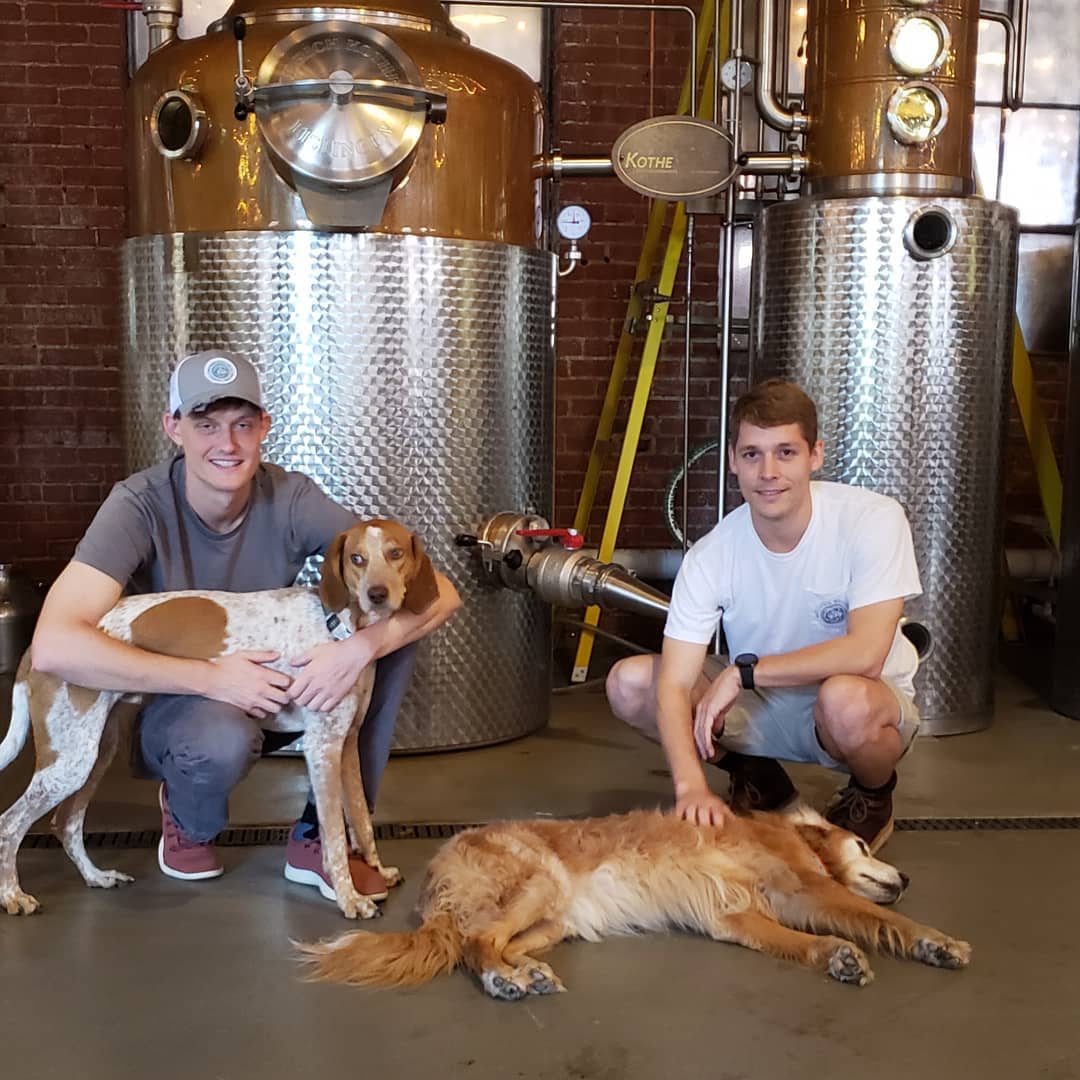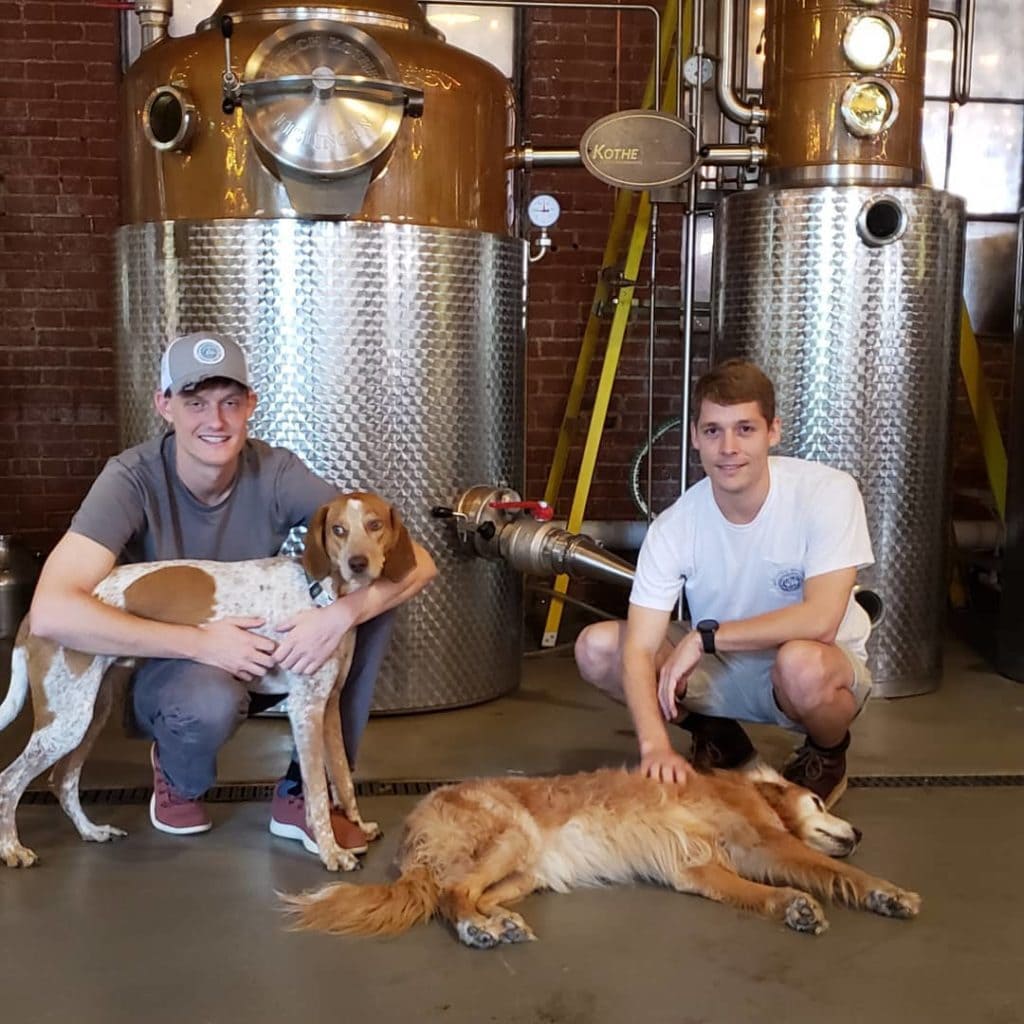 Young entrepreneurs, Braeden Bumpers and Tyler Hegamyer, launched McClintock Distilling Co. at the end of 2016. Situated inside a 108-year-old building that housed one of the first auto-mechanic garages in the USA ("pre-Model-T"), McClintock is now known for its award winning gins and whiskeys.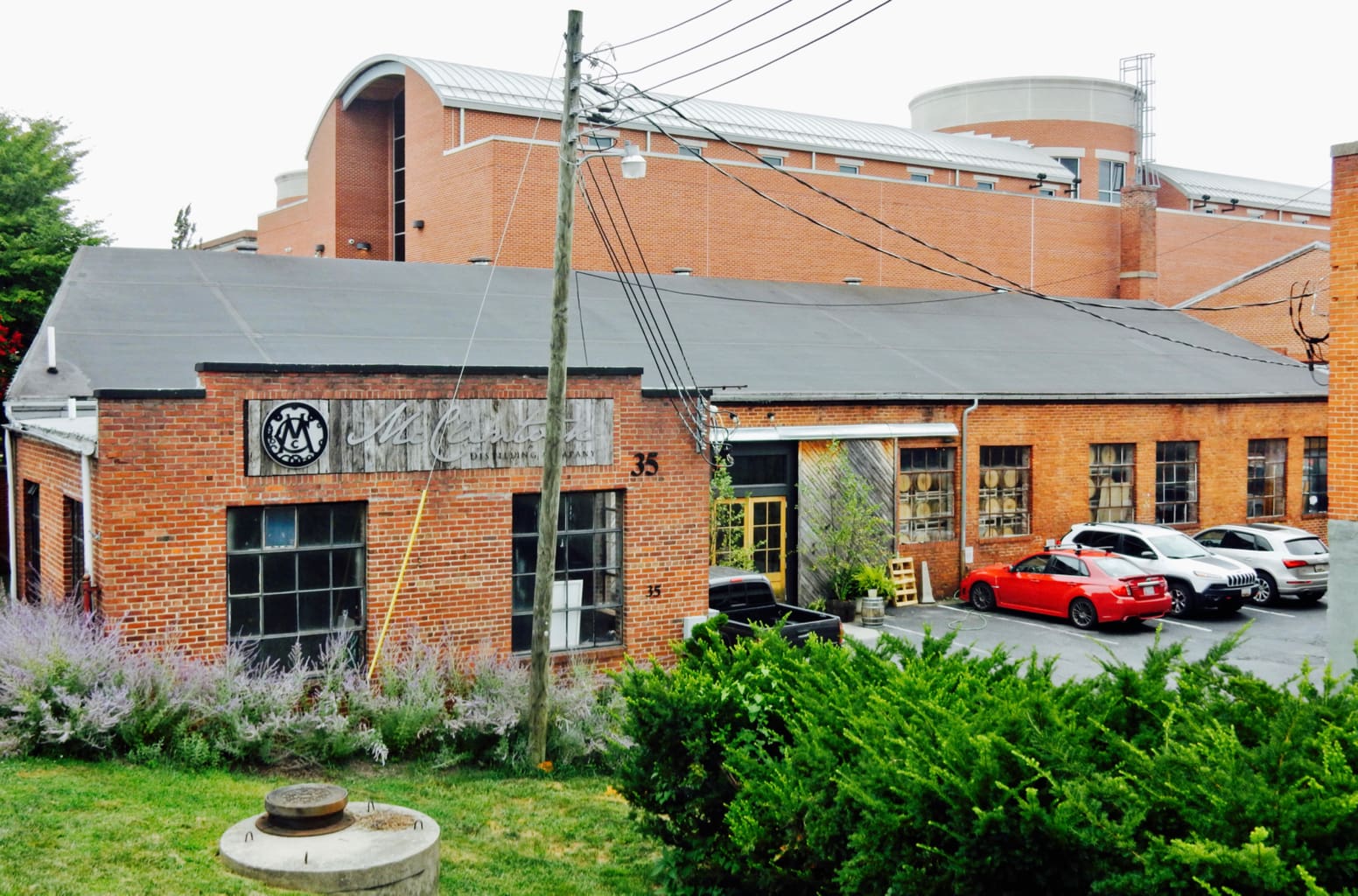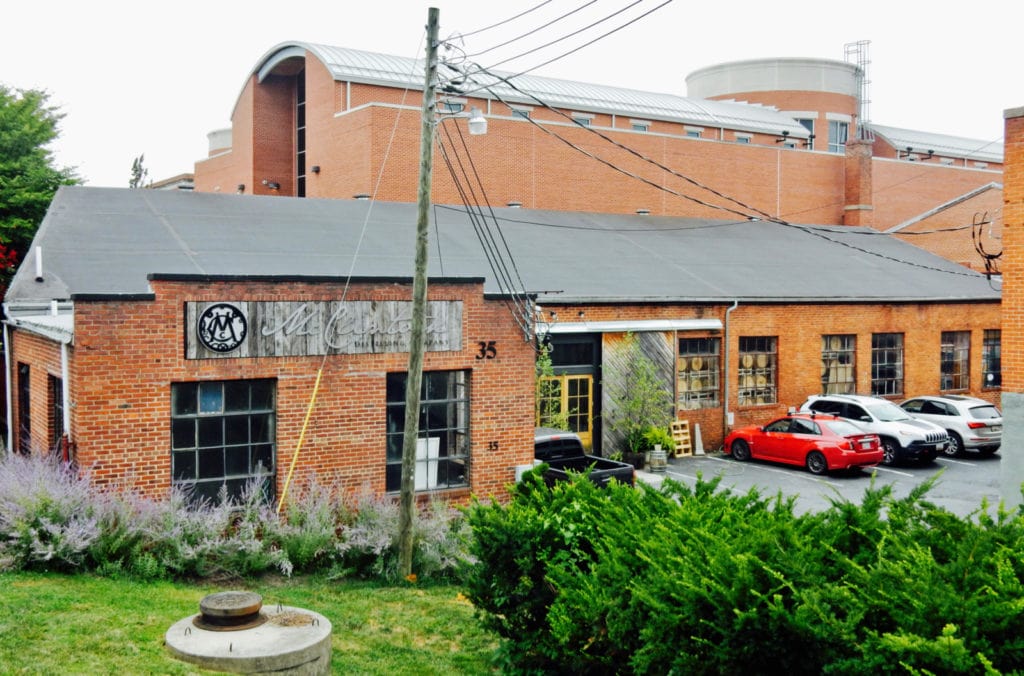 The first organic distillery in Maryland, McClintock uses only the highest quality non-GMO, heritage grains that undergo a pre-Prohibition "Stone Burr" milling process that does not burn the grains. This makes the resulting liquor smooth and clean-tasting enough to win Double Gold in both San Francisco World Spirits and International Spirits Competitions.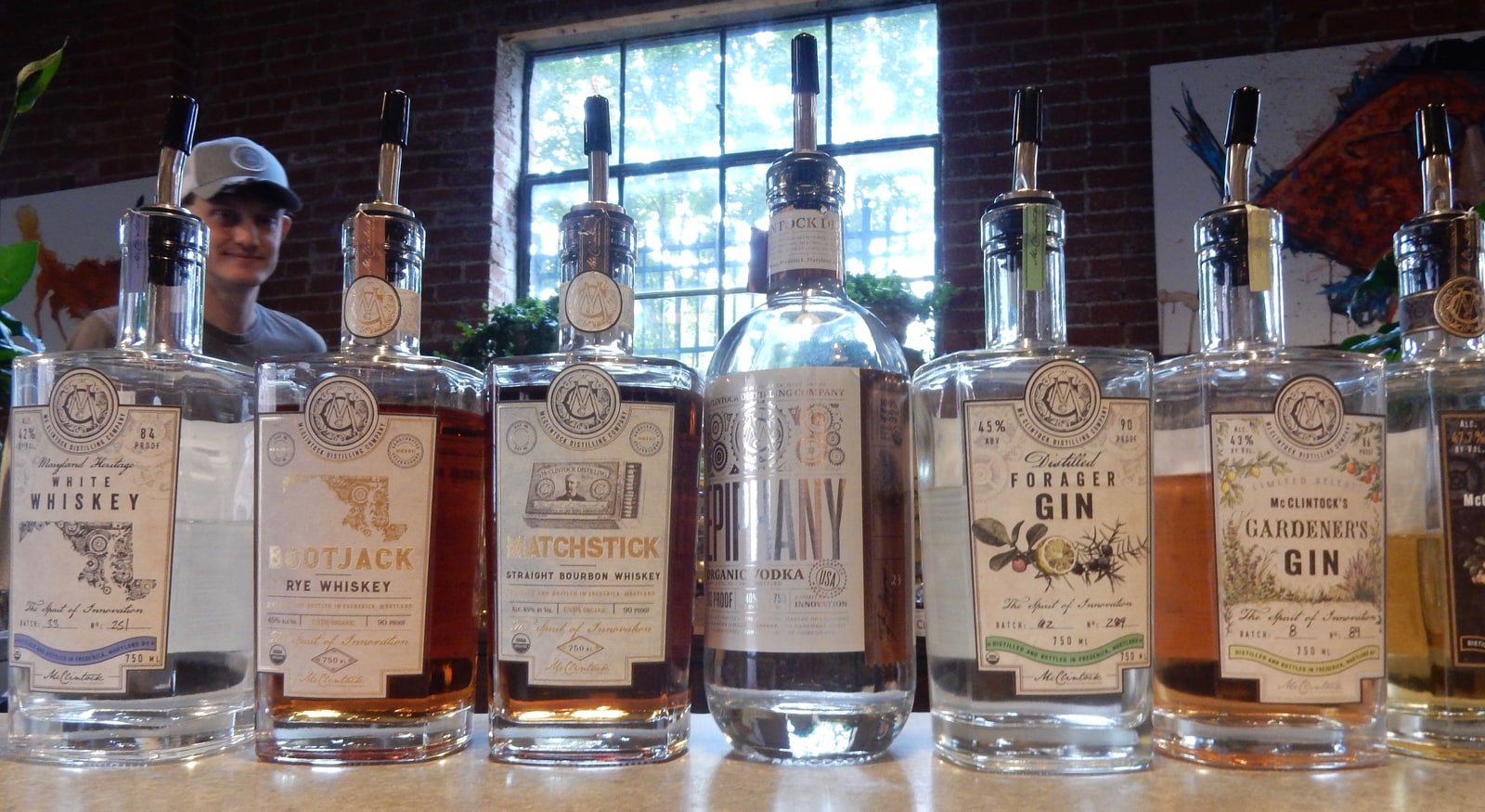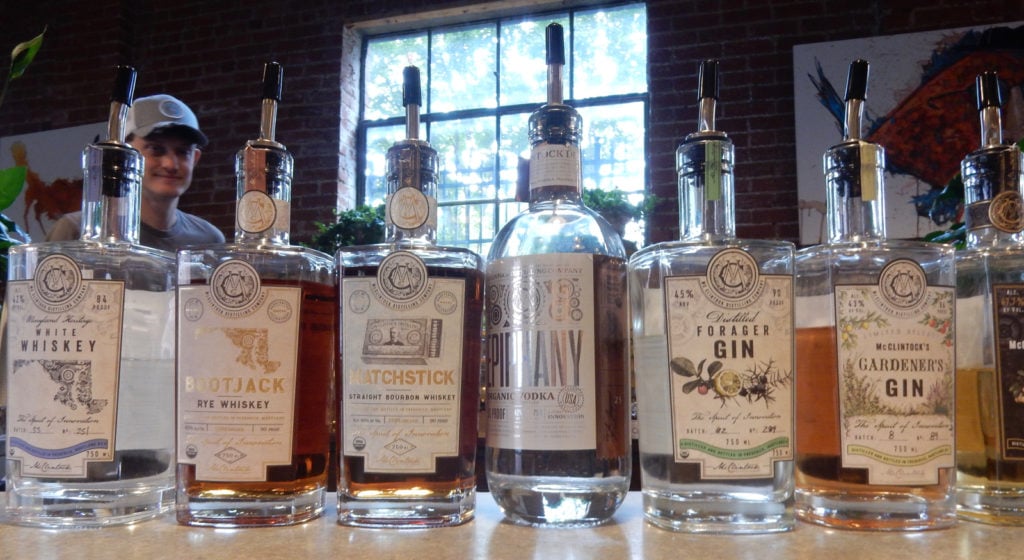 Bumpers and Hegamyer met in college – pursuing Business and Environmental degrees while home brewing on the side – and then worked for other distillers before opening their own. The team brings Ryder (Tyler's Golden Retriever) and Boon (Braeden's Coon Hound) in to work every day, and the dogs accompany them on tours.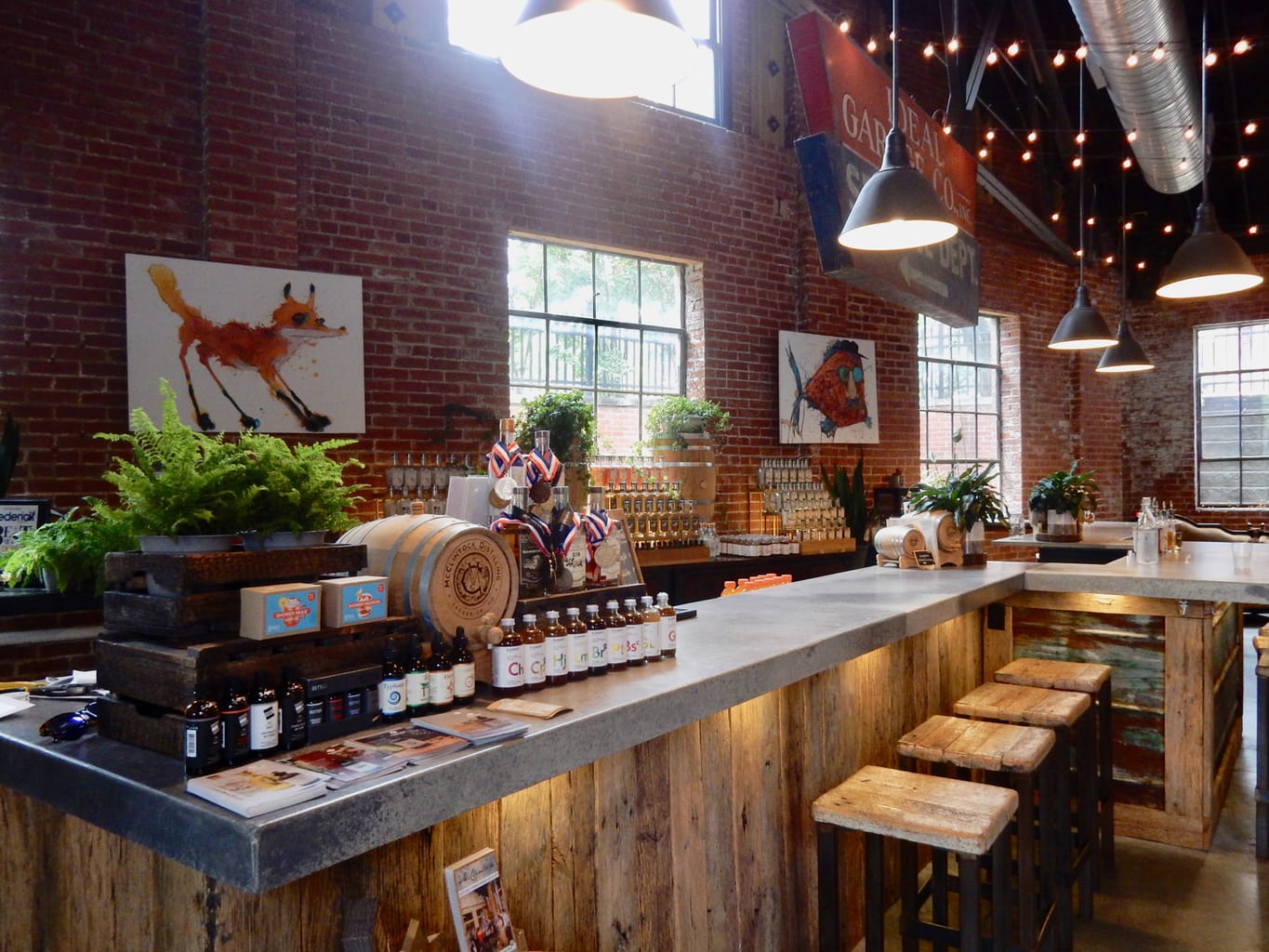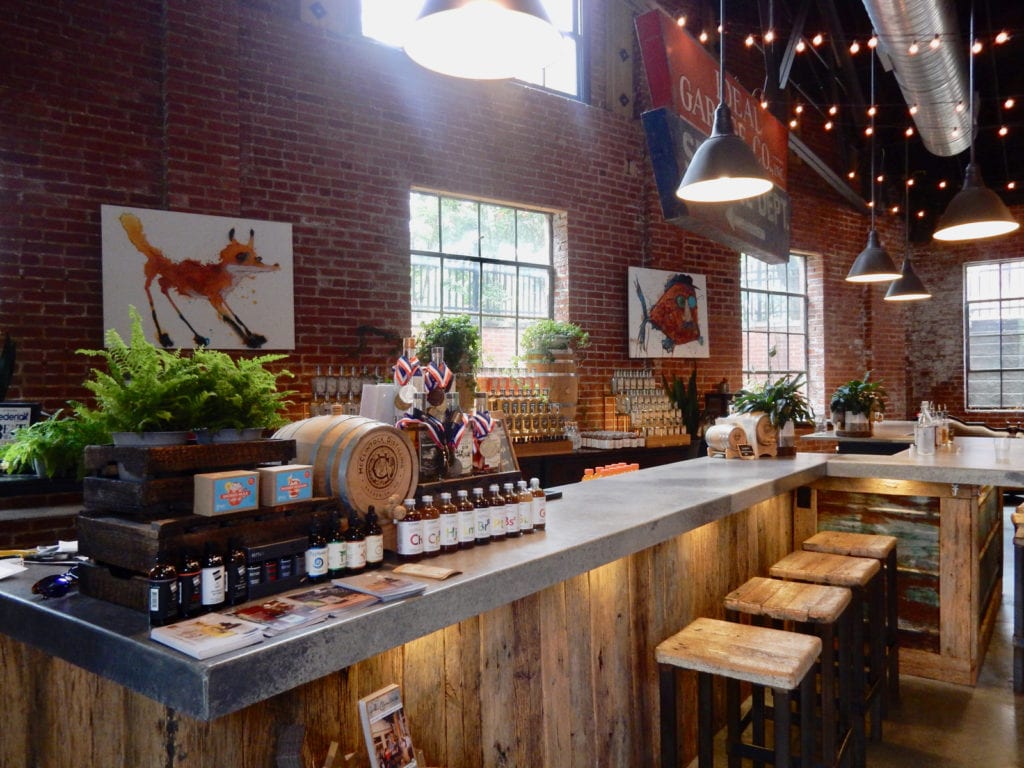 You can "taste the garden" in the botanical-forward Gin Forager, and sip on summer with lavender infused Gardener's Gin. But be sure to savor a spot of the multi-awarded McClintock Reserve Gin, which drinks like a whiskey. After six months in barrel, you can taste the fruity cognac notes. Bumpers and Hegamyer plan to expand into a cocktail lounge with an educational component. Their passion is certainly infectious.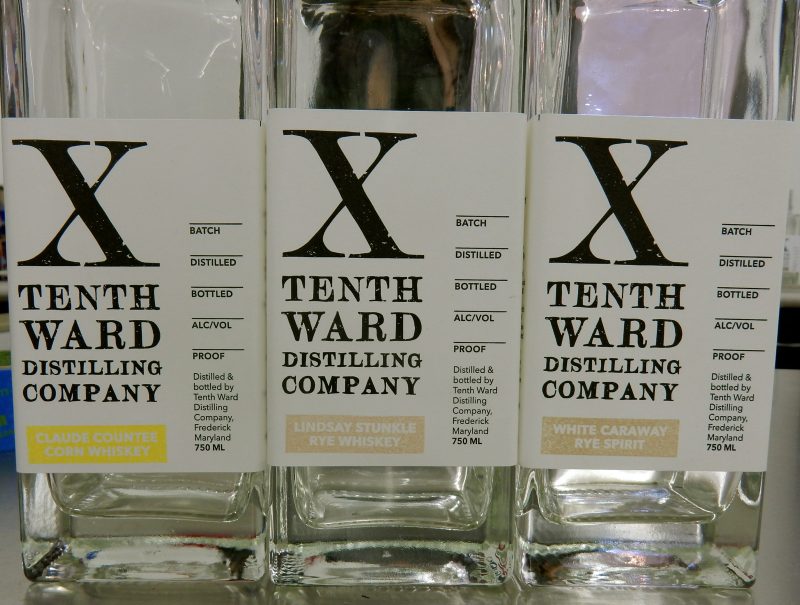 Joining Dragon Distillery and McClintock Distilling, X Ward is part of the revival of Frederick's former stinky industrial tannery neighborhood. Its slogan, "Ward off Ordinary" prepares you for out-of-ordinary spirits like Caraway Rye Sprit ("tastes like rye bread"). Here's a cool souvenir idea; bring back a "Home Aging Kit" – a bag of infused wood chips that turn your clear whiskey a caramel color.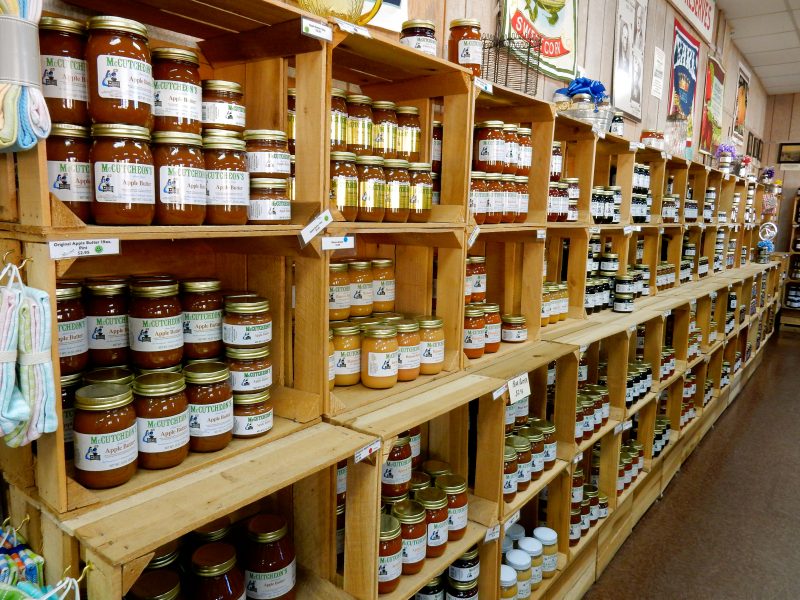 Find all things apple (except whole apples) at this apple products outlet – and more fruit related items, like salsa, butters, jams, honey, pickles, and juice blends. Open Mon-Fri 8-5.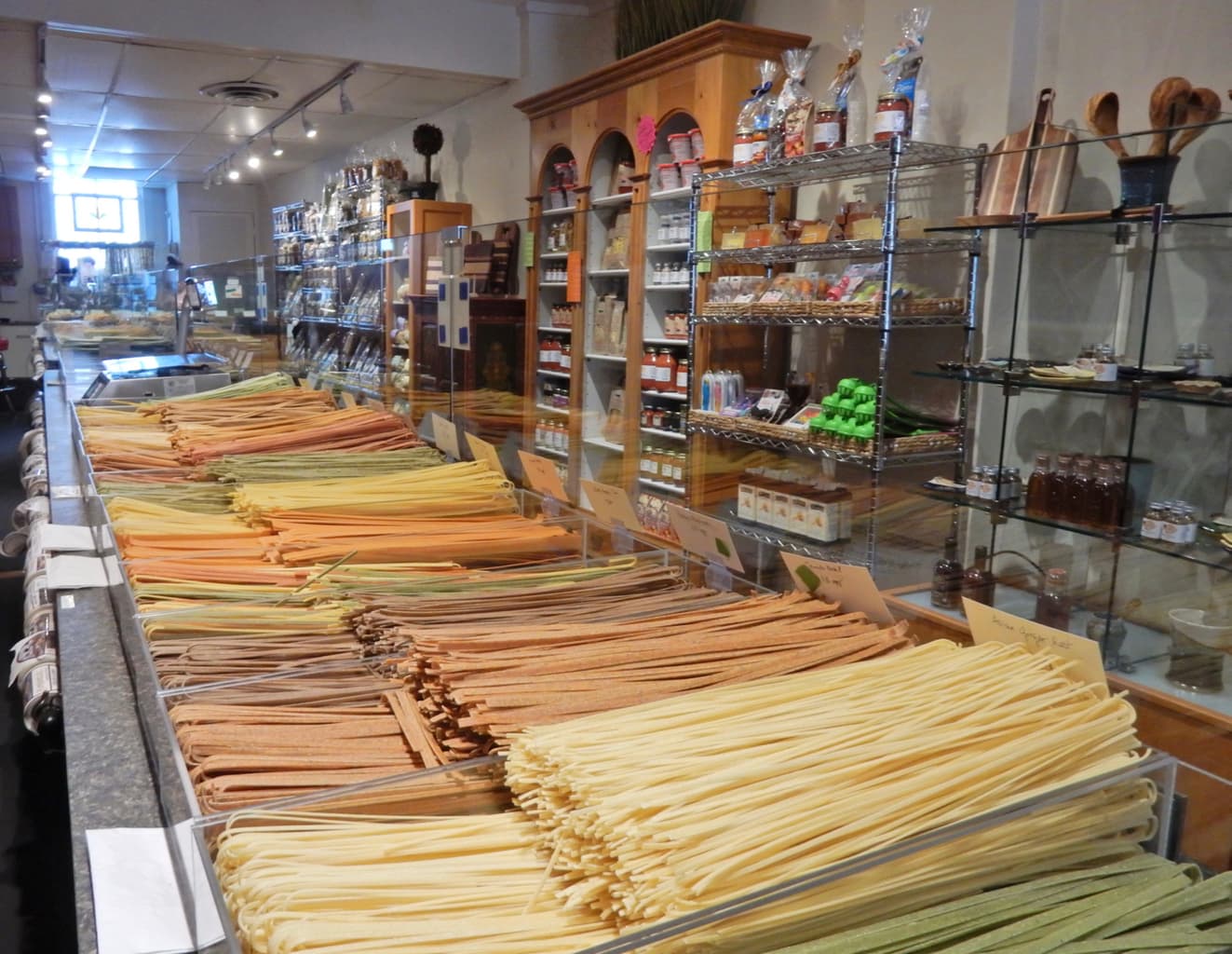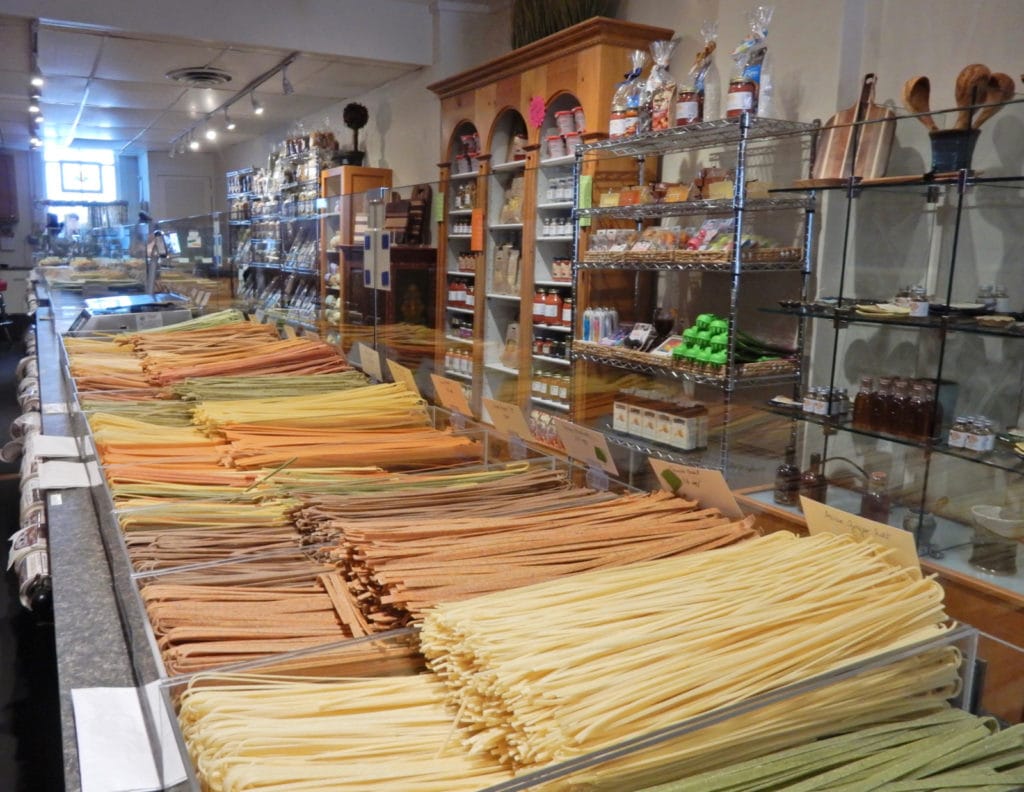 SHOP: Downtown Frederick
Downtown's got some great indie shops, including the "Worlds Best Battery-Free Toys Store," Dancing Bear, and the fantastically fun Muse Gift Shop where you'll find locally hand-crafted t-shirts, house wares, jewelry, and stuff you would never buy for yourself but hope someone else does.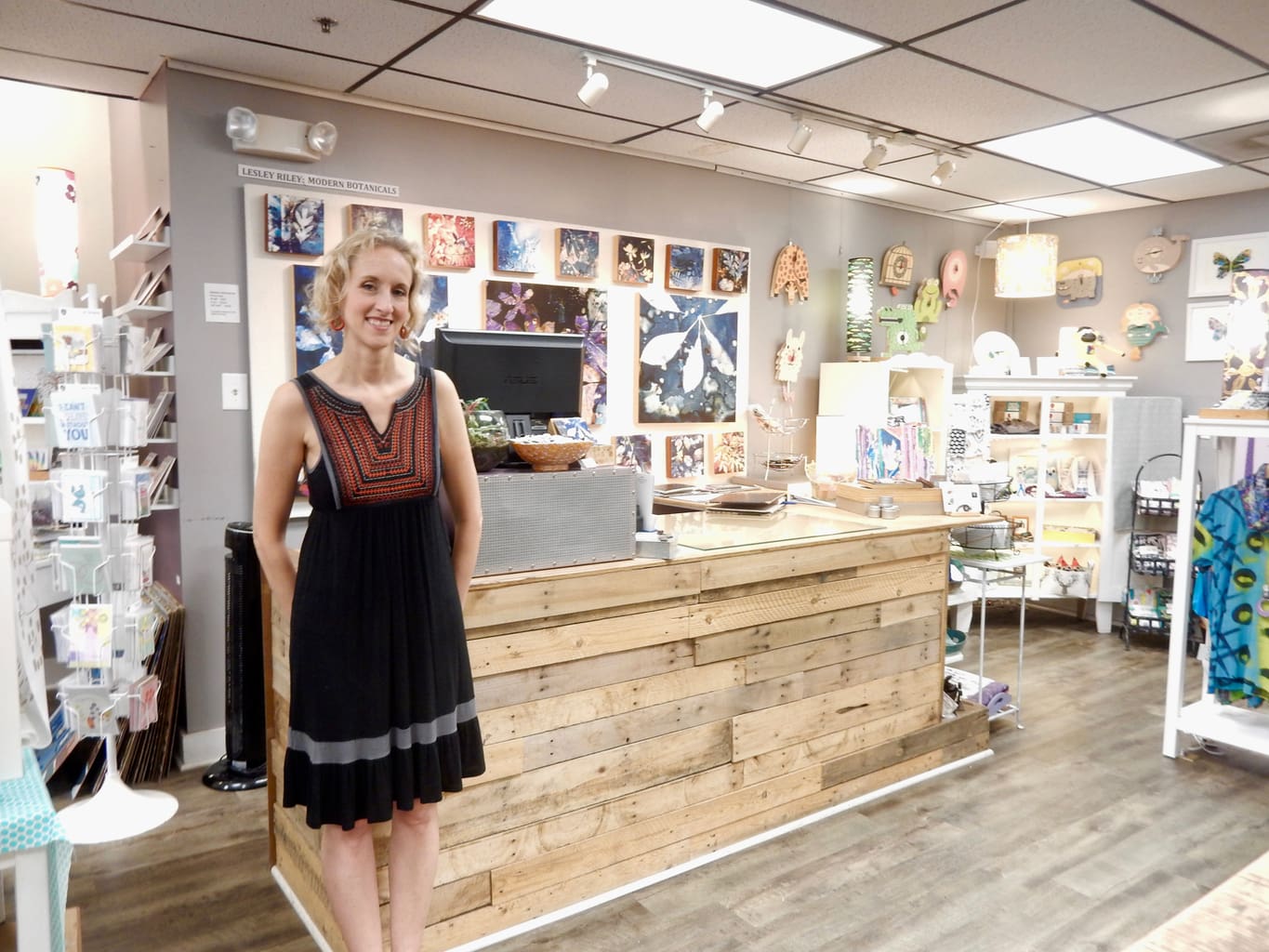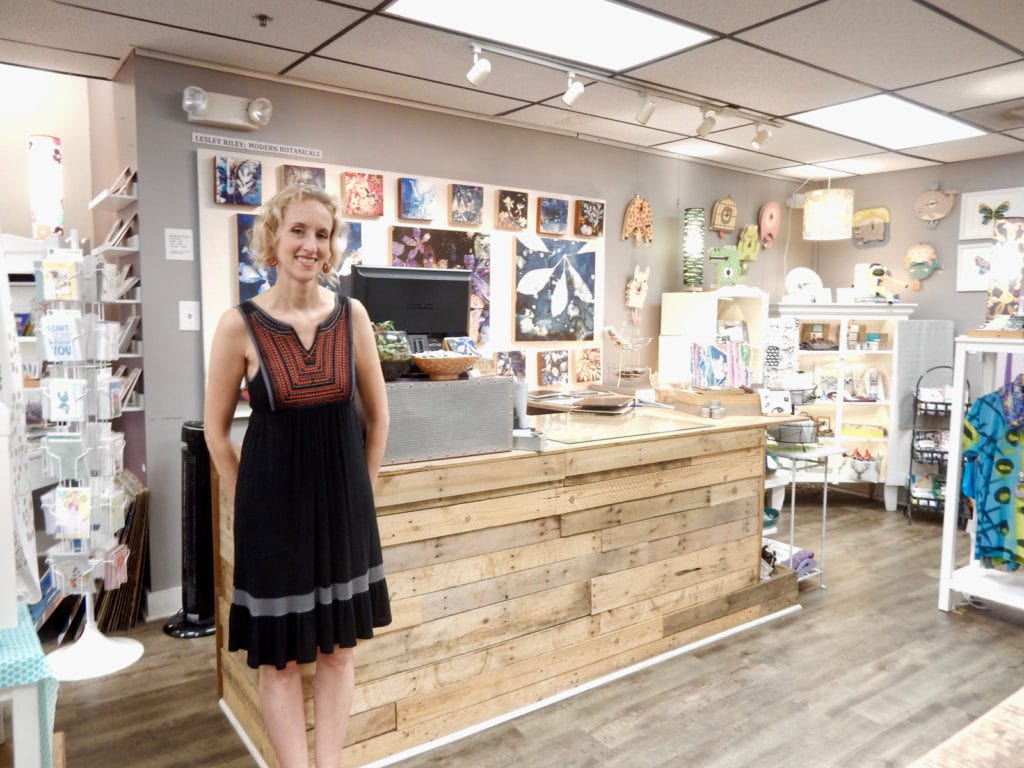 But there are also so many indie boutiques, so little time. More favorites: Curious Iguana – because I love small independent bookshops. Ec'clectibles – for unique giftie things. Molly's Meanderings – for fab clothing and house-goods. Terressentials – handcrafted Fair Trade items from around the world. The Pasta Palette – colorful homemade pasta presented like a work of art.  Crème de la Crème – for internationally sourced unusual and fine home and body décor.
A Side Trip to Emmitsburg MD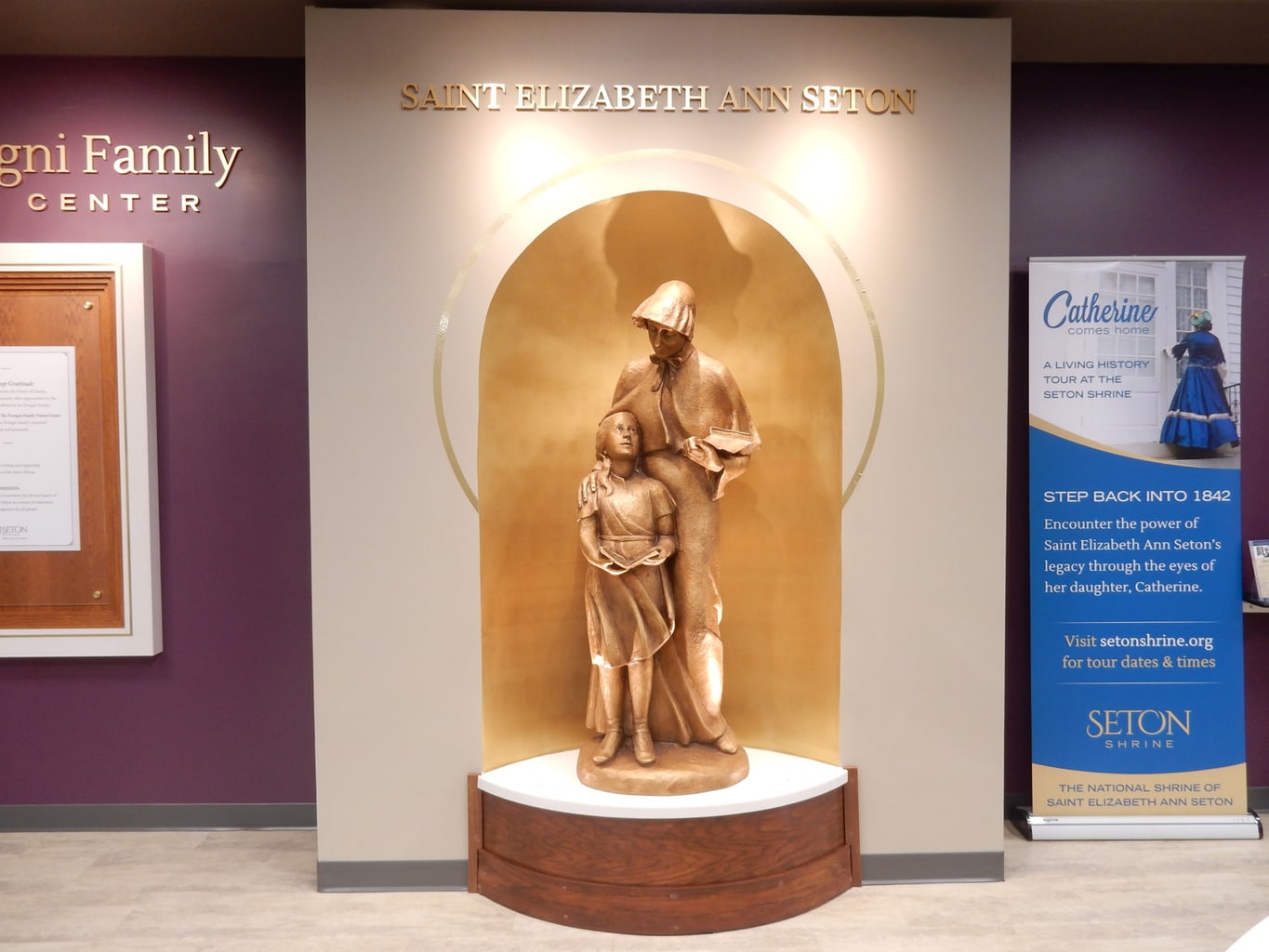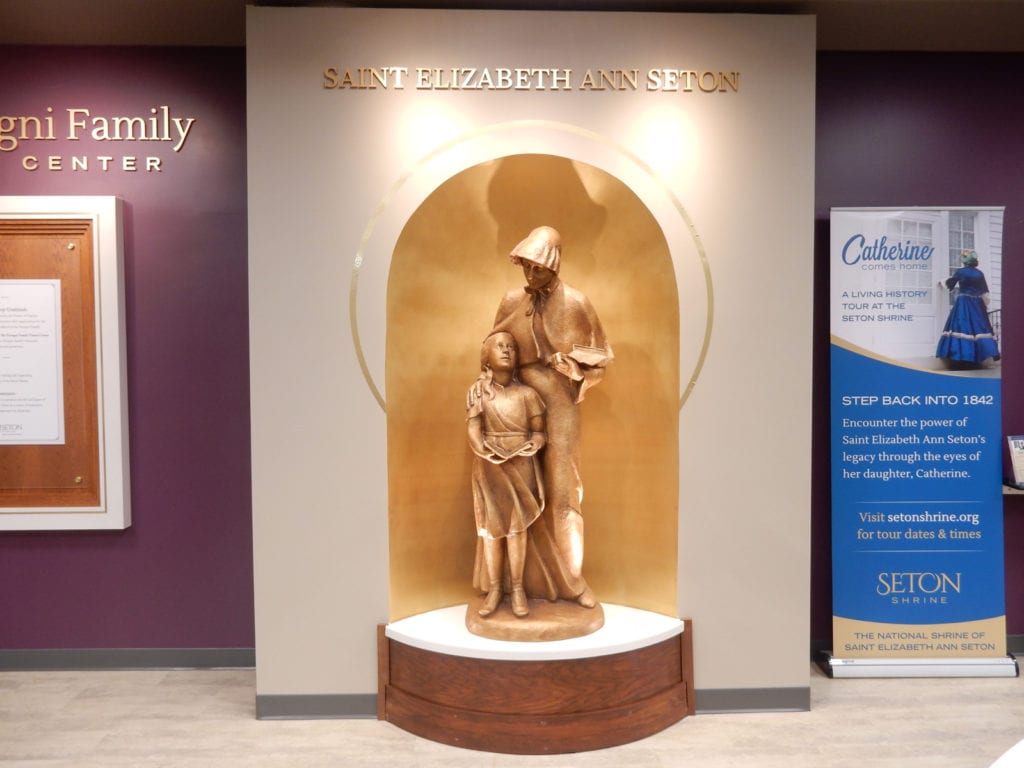 Just 25 minutes N. of Frederick on Rt. 15, find the Shine of America's first saint.
In 1803, Elizabeth Ann Seton was a young bankrupt widow with five small children. In 1975, she became the first American citizen to be canonized as a Saint. Learn her incredibly engaging story in the place she raised three daughters, established her school for girls, and where she overcame great obstacles.
Start in the Visitor's Center. Even if you are not Catholic, the buildings and grounds that make up this Shrine – the Basilica in particular – are stunning. And Seton's story, though based on her religious fervor, also includes several of our country's Founding Fathers.
Elizabeth was born in 1774 into an Episcopalian family in New York City. Her father was a doctor (the museum displays his medical bag).
She married into the wealthy Seton family, and lived next door to the then lawyer, Alexander Hamilton, who represented Elizabeth's husband, William, through Bankruptcy proceedings. (Later on, Seton petitioned her friend, John Adams, to recommend her son for a Naval post).
William, sick with tuberculosis, moved his family to Italy for a "change of air," and it was there that Elizabeth was introduced to, and was moved by, the Catholic faith.
Seton Finds Solace in Catholicism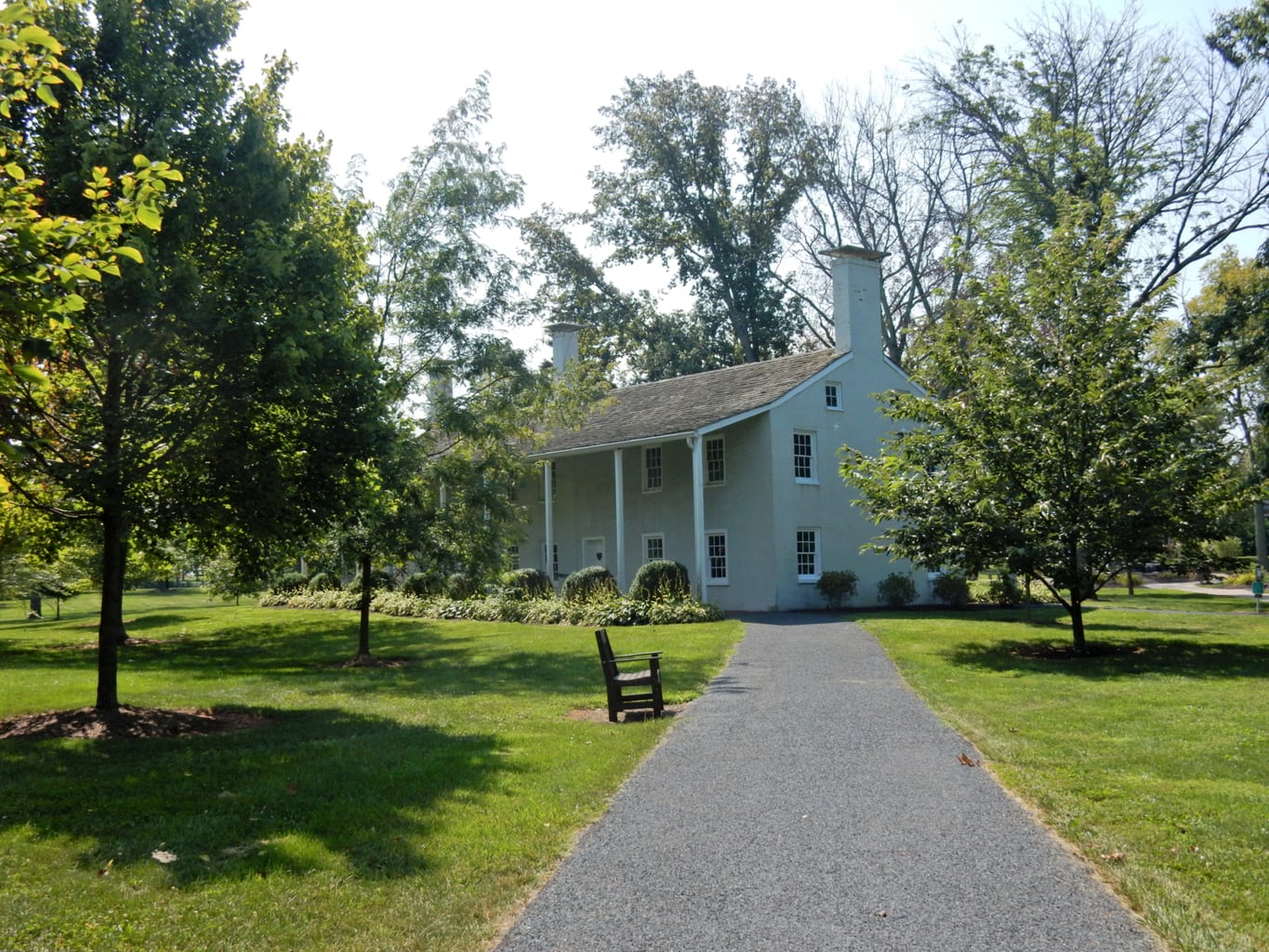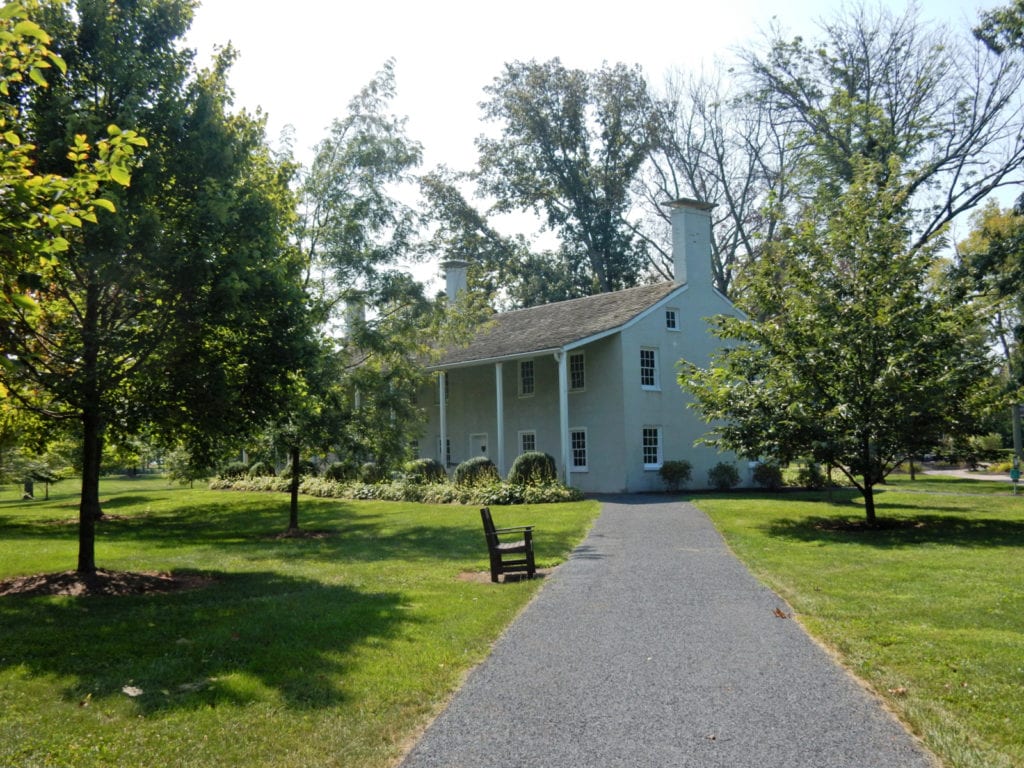 William died at age 35 in 1803, leaving Elizabeth destitute with 5 children. She returned to Maryland, converted to Catholicism, and established the Sisters of Charity of St. Joseph in 1810 to teach girls from poor families. (This adjacent property became St. Joseph's College, which closed in 1972 and is now owned by FEMA and the National Association of Firefighters).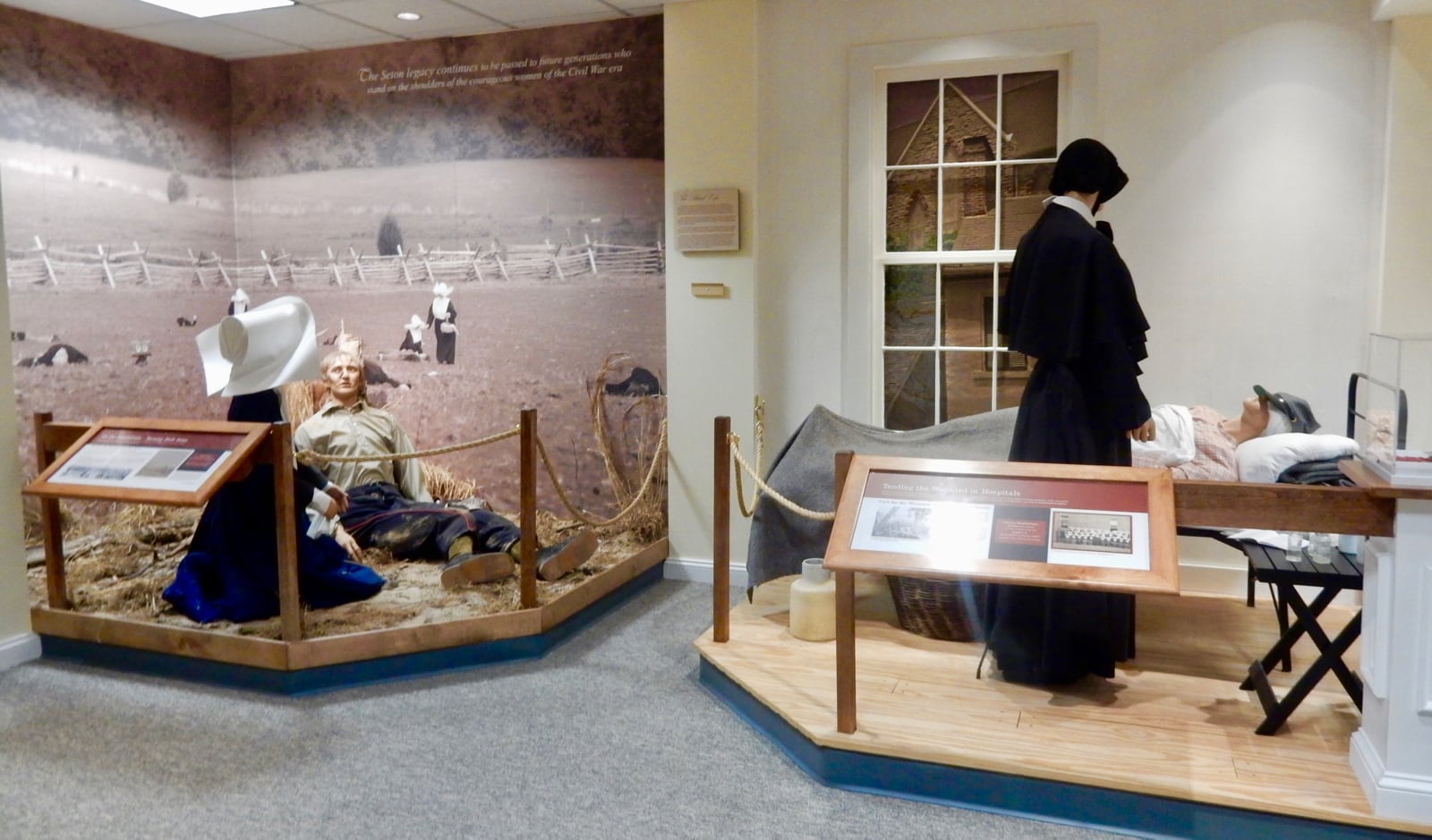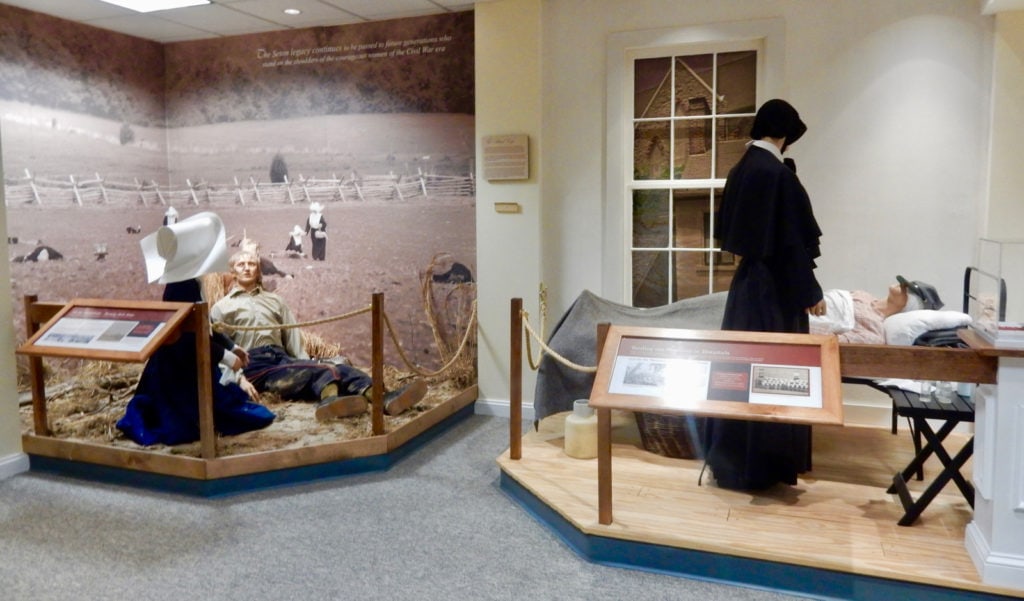 The Sisters of Charity School of Nursing, founded in 1822, a year after Seton's death, became an important source of medical personnel during the Civil War.
As a religious order, Sisters of Charity nurses had no loyalty to one side or another. And, because of their insistence on cleanliness ("next to Godliness"), the Sisters had a much higher survival rate than other medical practitioners.
Tour Seton's Homes and Church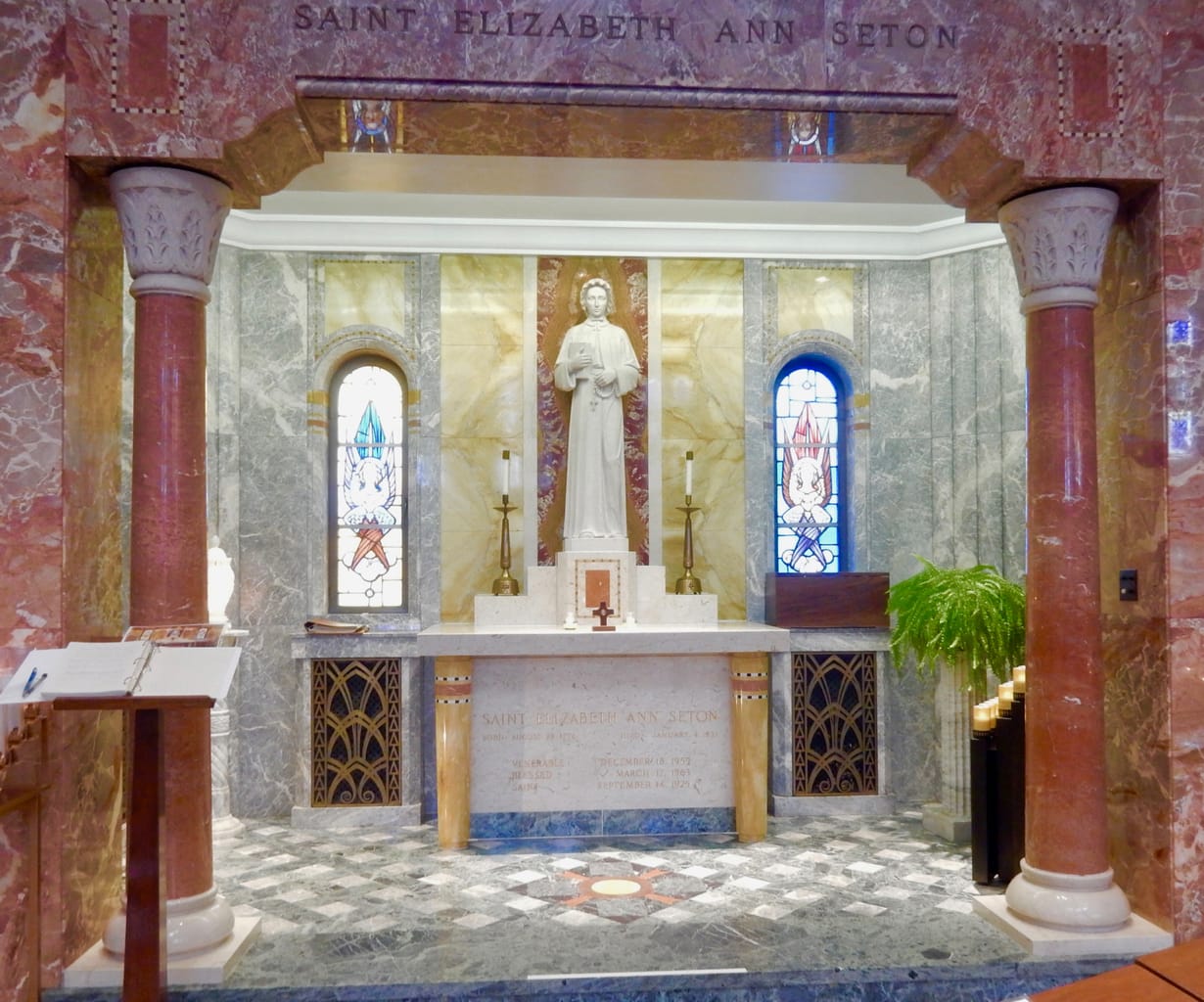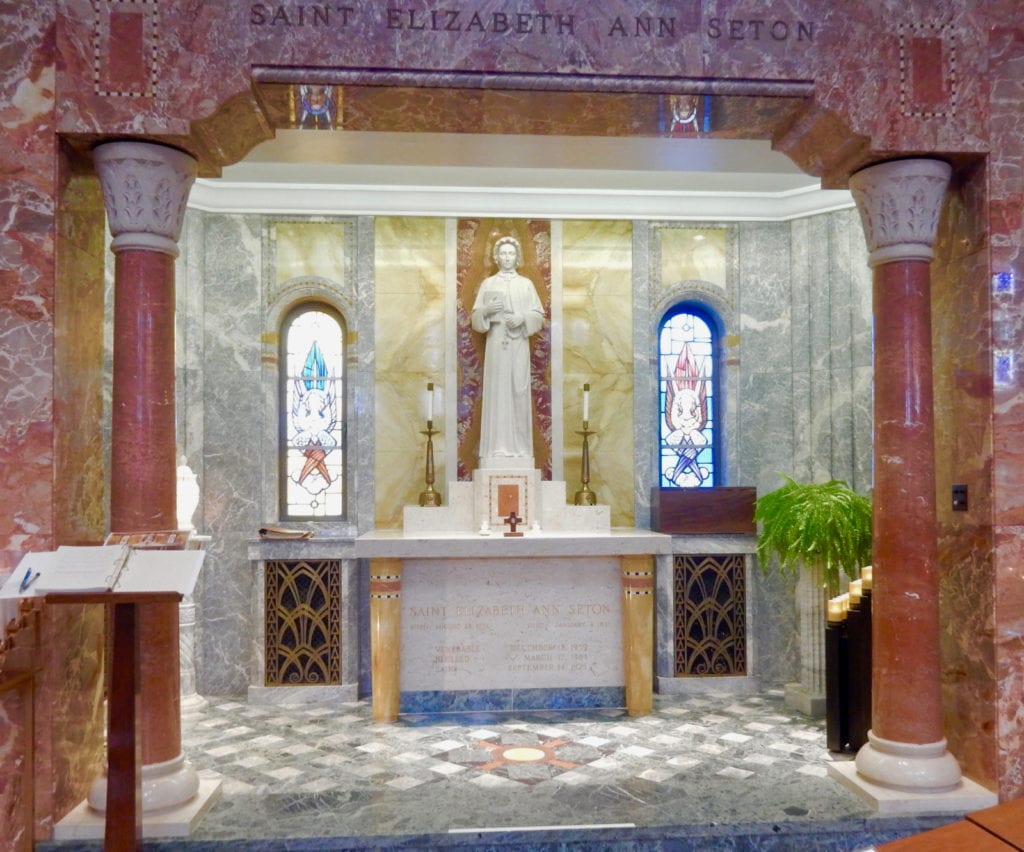 An hour-long tour of the Shrine takes you from the Museum to The Stone House where Seton and her three daughters first lived. Next to the "White House" where she established what became the first Parochial School in the USA in 1810. Seton died at age 46 of T.B. in this very home.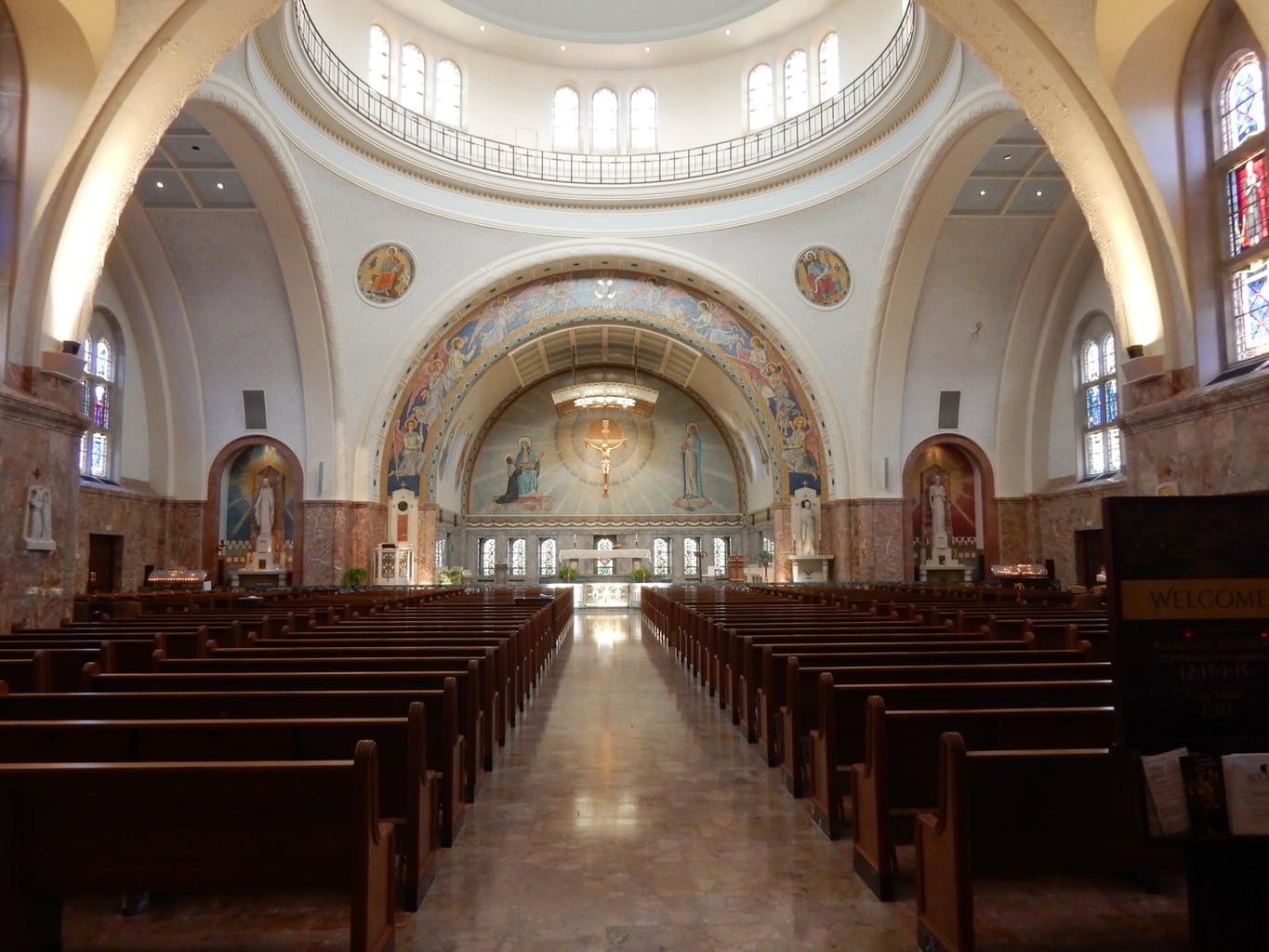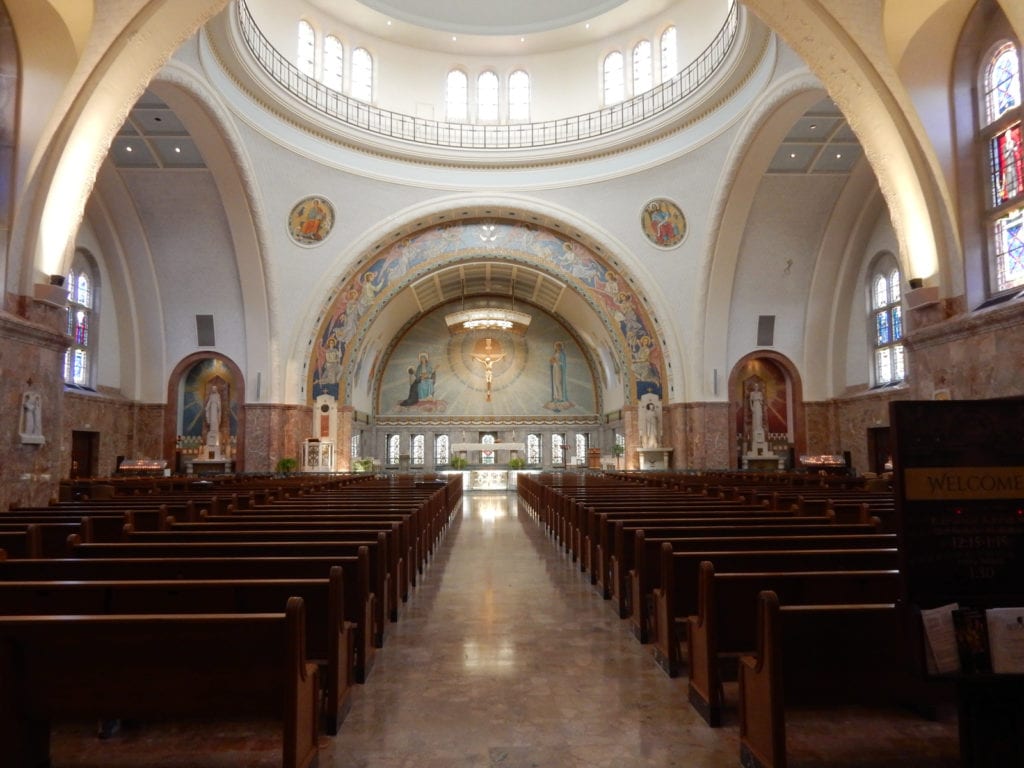 The Basilica, built in the early 1960's is worth seeing, even if you don't take a tour. A Choir of Angles mosaic frames the alter area – and though you can't see it unless you ask, there's one tiny missing piece.
The artists were instructed to leave out one tile, because "only God is perfect." Mother Seton rests in the alcove of this Church. It still conducts Mass six days a week at 1:30pm for visitors and the community (though is not part of a Parish).
Free admission into the Museum and 12 minute film. Mon-Sat. Museum and Basilica open 10-6, Sun 12-6. $8 adults, $6 kids for house and Basilica tours on the hour from 10:30-4:30, Living History Tours at other times (check website for details).
Restaurants in Frederic MD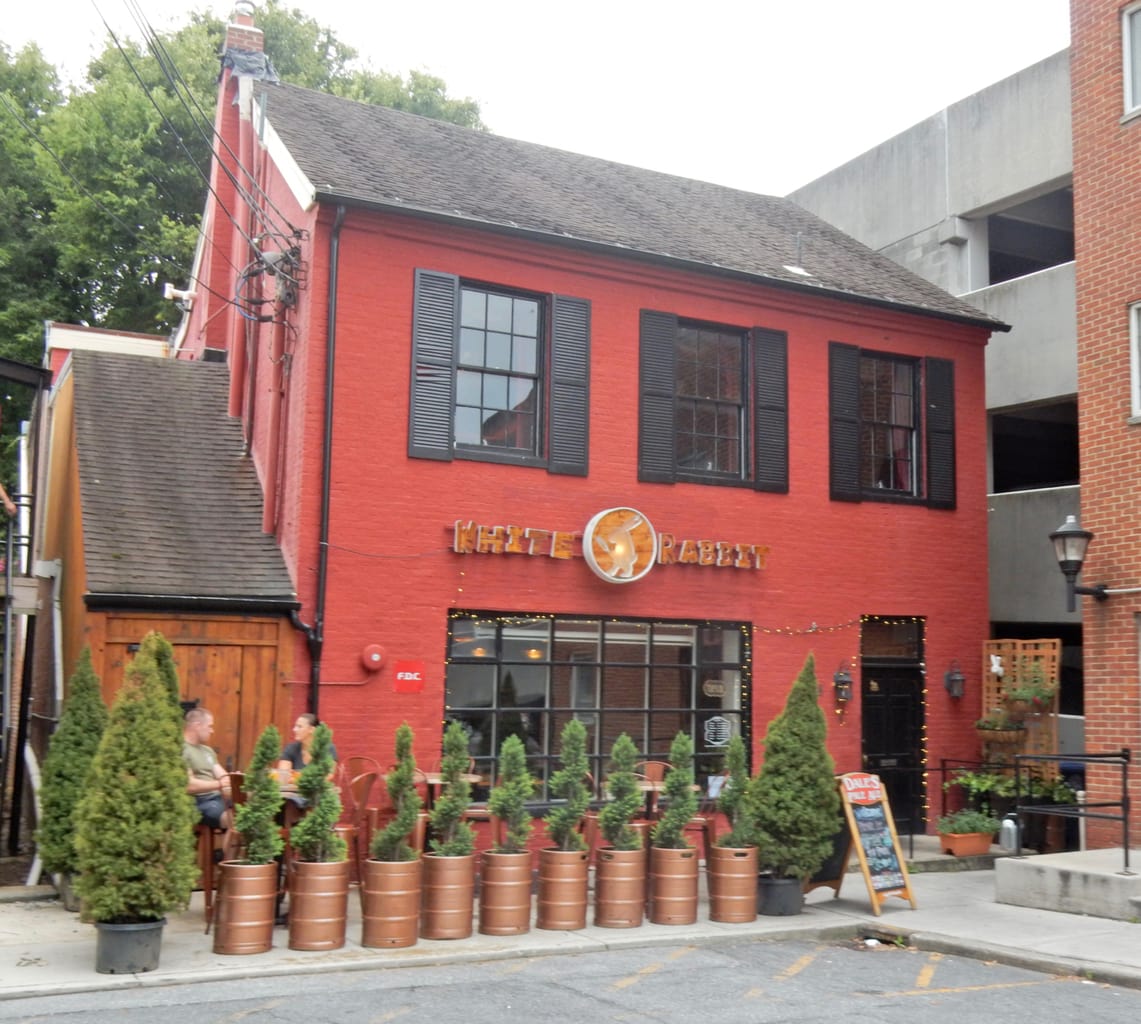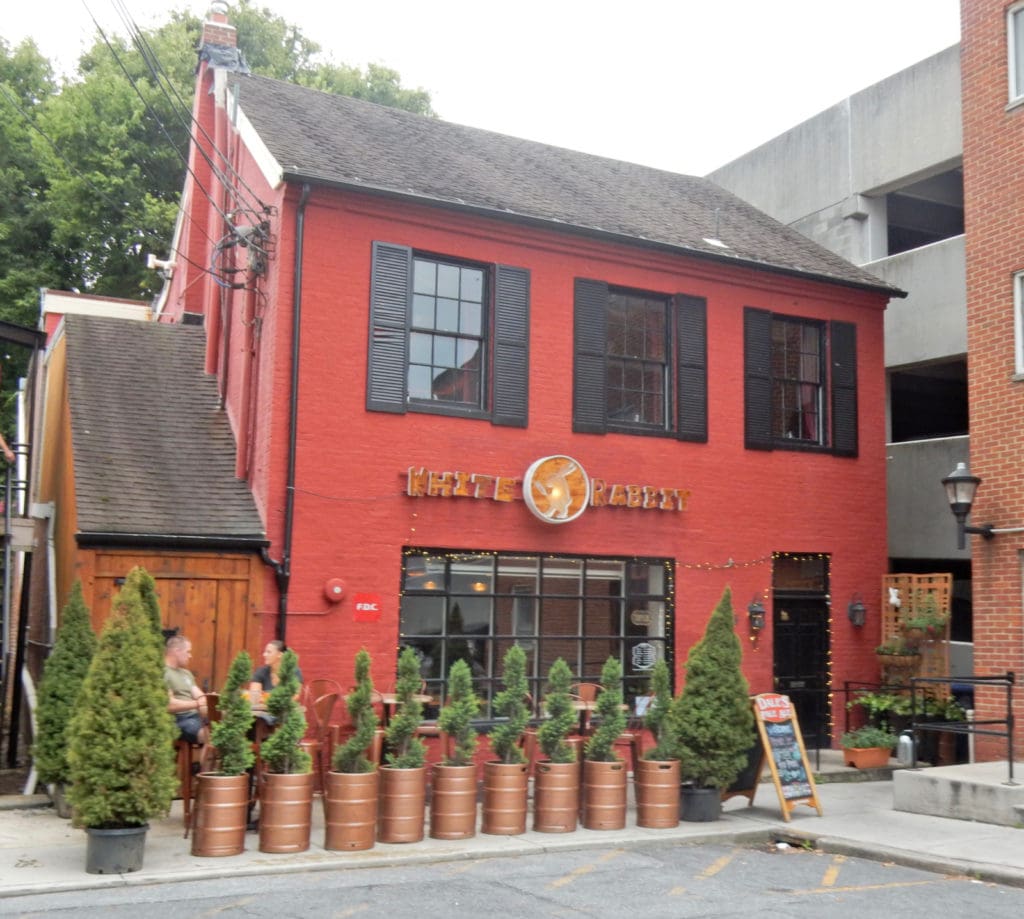 Tucked away behind the Church St. Parking garage, White Rabbit is a great place to hang out for craft beer and good upscale pub food. Signatures draw from a hodge-podge of cultures – from the old South, Chicken Biscuit, to Canadian Crab Poutine, to my fave, the very scrumptious Asian 129 King Pao ($23) – a version of Kung Pao Chicken (or Tofu).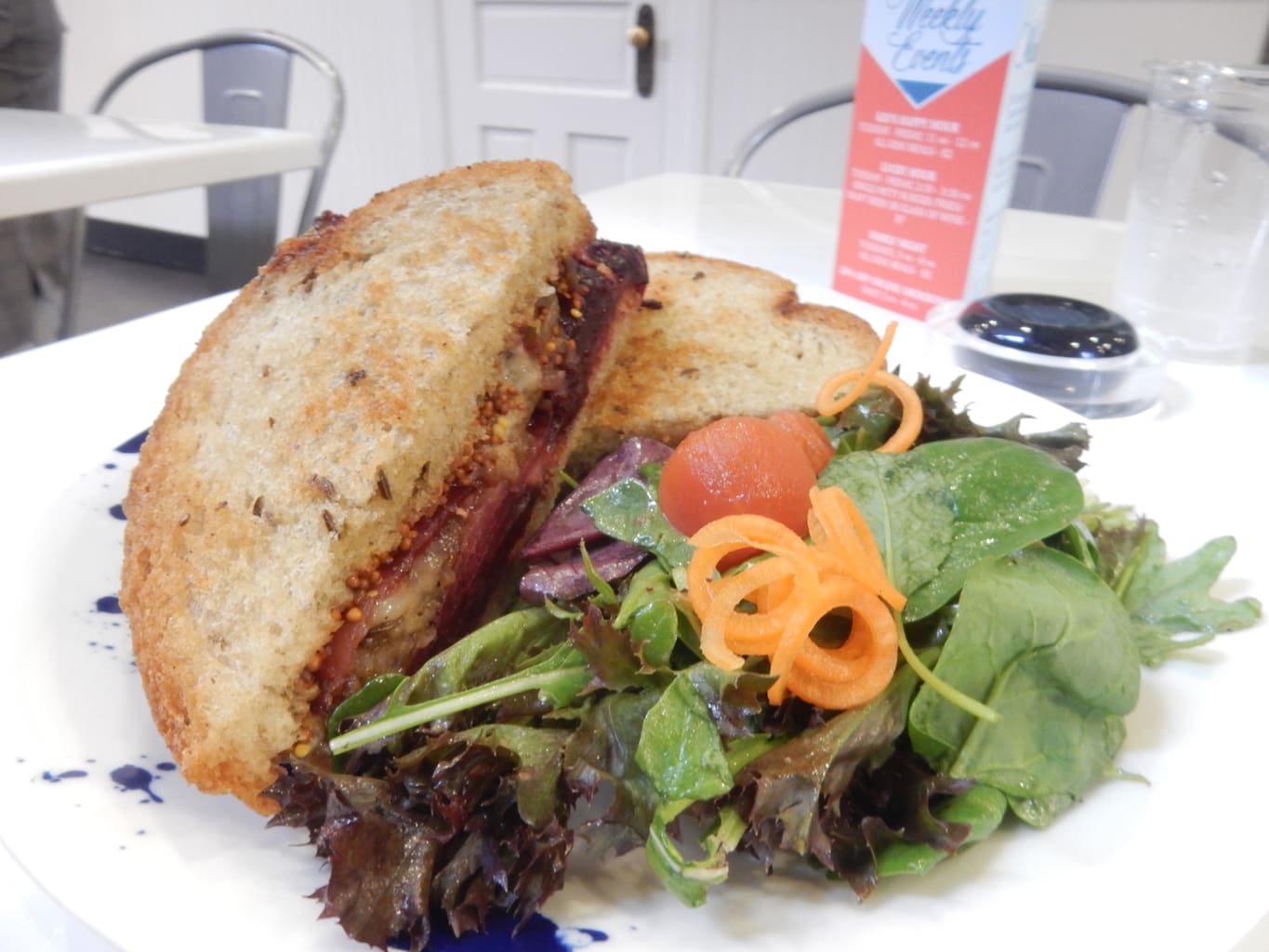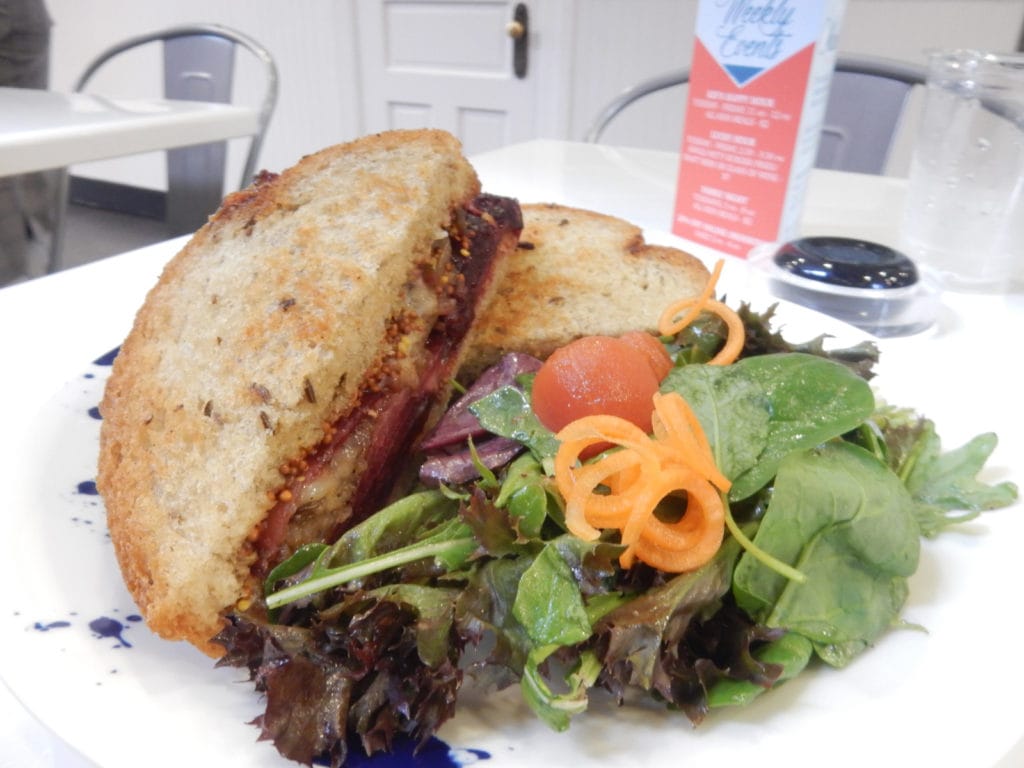 This new contemporary "fast-casual" eatery, across from the National Museum of Civil War Medicine, has all the elements of a trendy lunch-dinner-bar. The uber-popular "Beetstrami" – beets stand in for meat in a Rueben-esque sandwich – conveys so much about the focus of the menu.
Though you can get meat dishes here, vegans will be ecstatic. Not merely a sandwich shop, Maxwell's is jammin' for Wine and Beer half-price Happy Hours as well.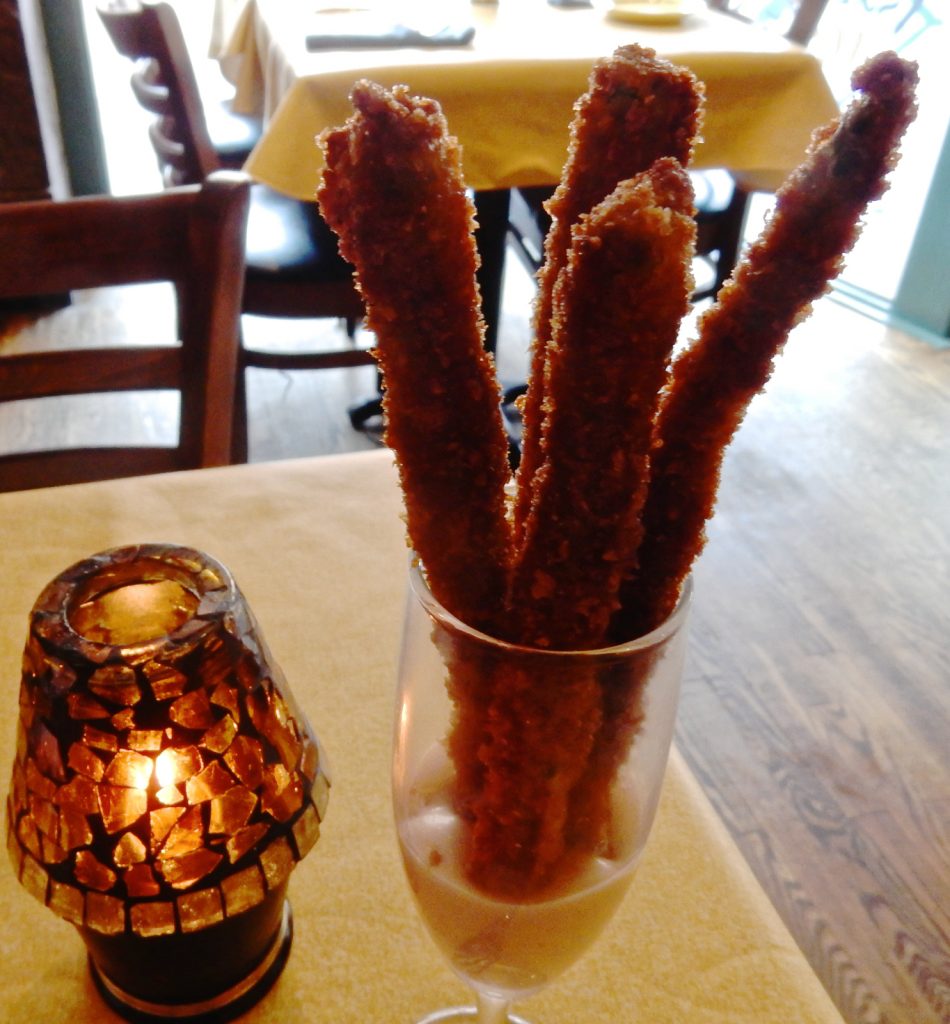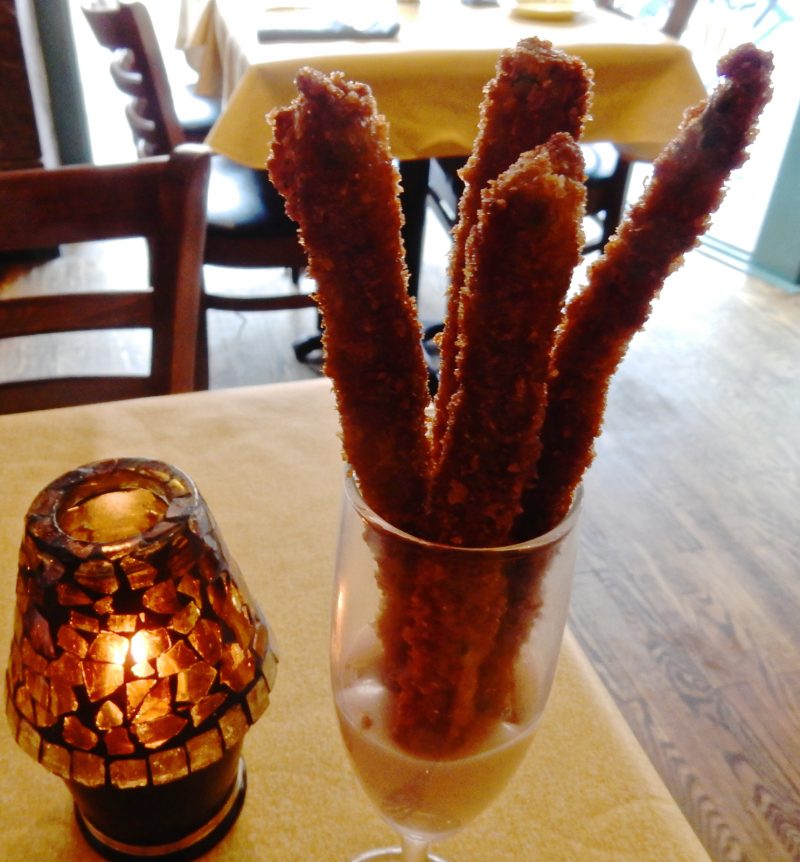 Known for tapas – specifically the incredible "Asparagus Fries" – in a cute and colorful space. The Feta-Watermelon-Mint salad is the best of its kind I've had anywhere
Like its sister WK in Leesburg VA, this place is all about the wine and fresh produce coming through the front door. Local bites – like Fried Green Tomatoes and snappy, light Radish Salad couldn't be better. Unless you enjoy it outside on the patio while watching people stroll Carroll Creek Park.
Opt for the very tasty Turkey Reuben Calzone ($10) assembled with house-made sauerkraut and Thousand Island dressing. A favorite of the bar crowd, you can also get $3 pizza by the slice along with your beer and wine.
Go for your classic tavern food at Firestone's or grab the Hot Pressed Pastrami Sandwich mentioned in the Washington Post at the smaller take-out market next door.
The old Town Hall used to sit on this site, followed by the Opera House. But since 1996, this former brewhouse (now the brewery is a mile from here) has been a pub as well. Try the pizza made with beer in the crust. Naturally it goes great with the house 1634 Ale.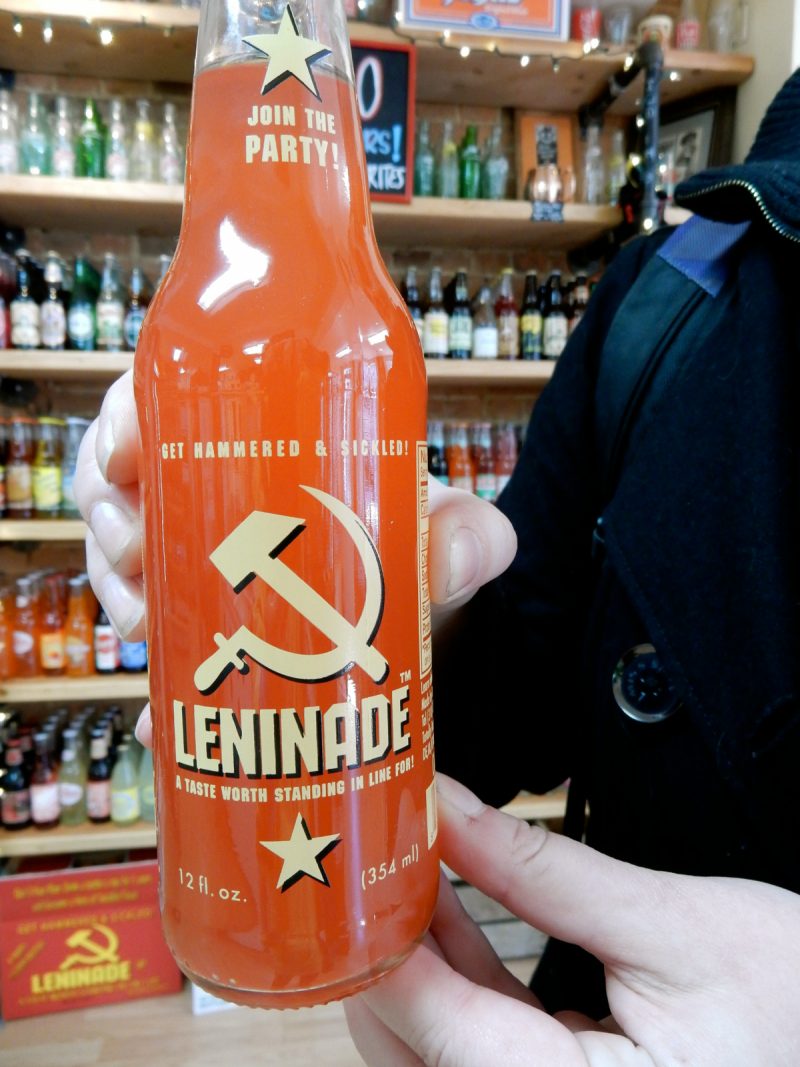 It will be tough to choose among 300 kinds of sugar-cane sweetened sodas, but here's one idea for a dear Soviet friend: the strawberry lemonade, Leninaid, marked by a hammer & sickle and the phrase, "when you're Russian for a treat and there's no time for Stallin."
Hotels in Frederick MD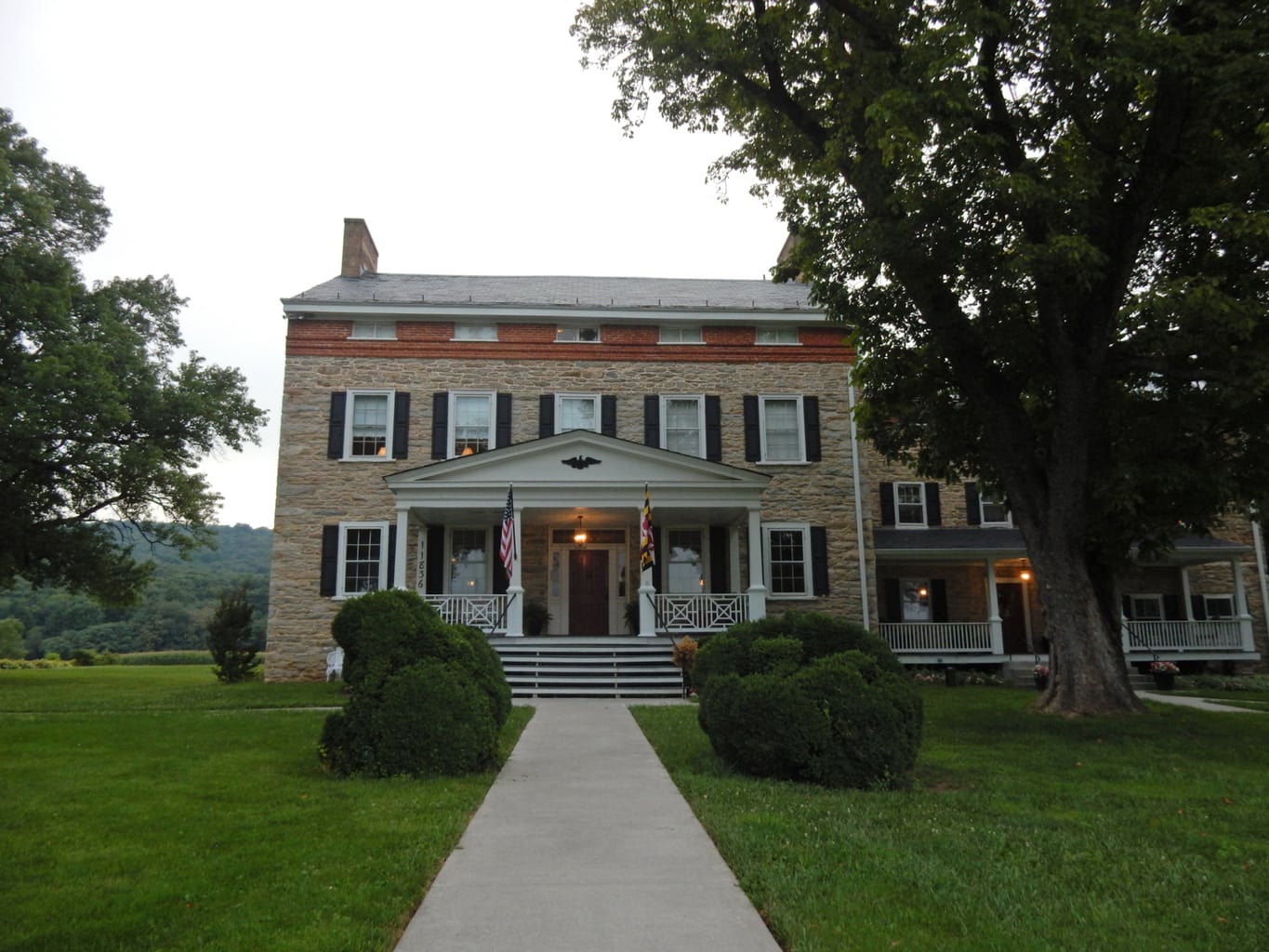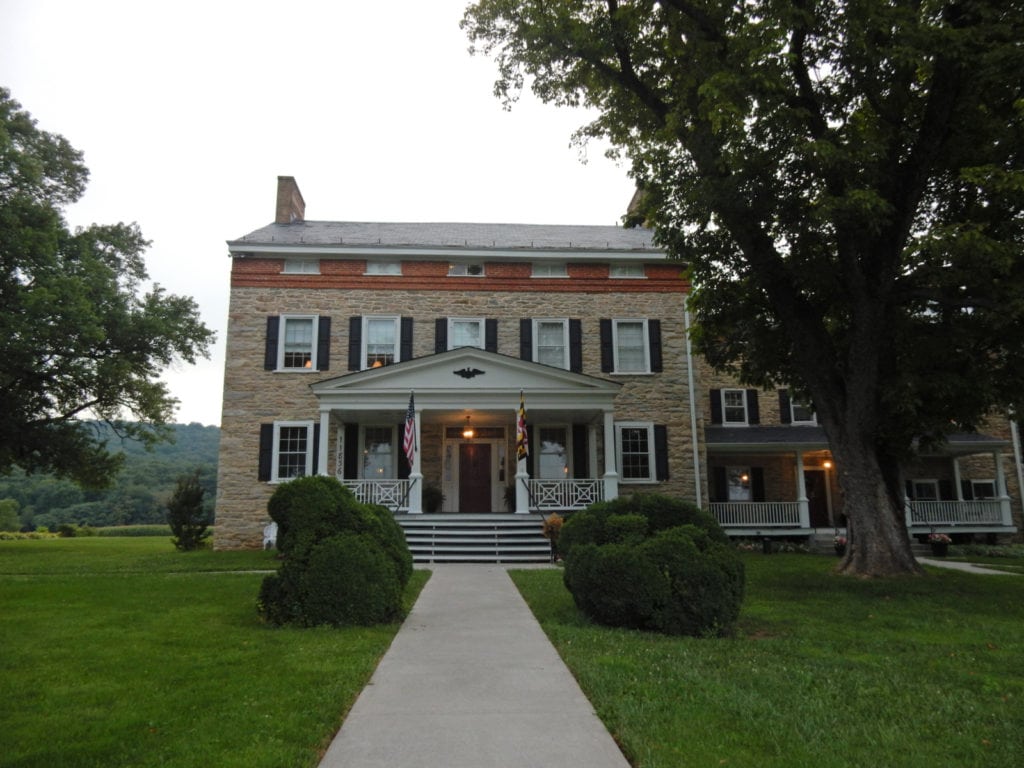 Ten miles north of Frederick, this compound on a hill surrounded by farmland encompasses a Winery, Distillery, Brewery, Lavender Field, and Manor House. As such, Inn @ Springfield Manor is a wildly popular venue for weddings.
The Johnson Brothers, who owned the nearby Ironworks that turned out cannonballs and armaments for the American Revolution, built the manor in 1730's. In 2015 it opened as a B&B.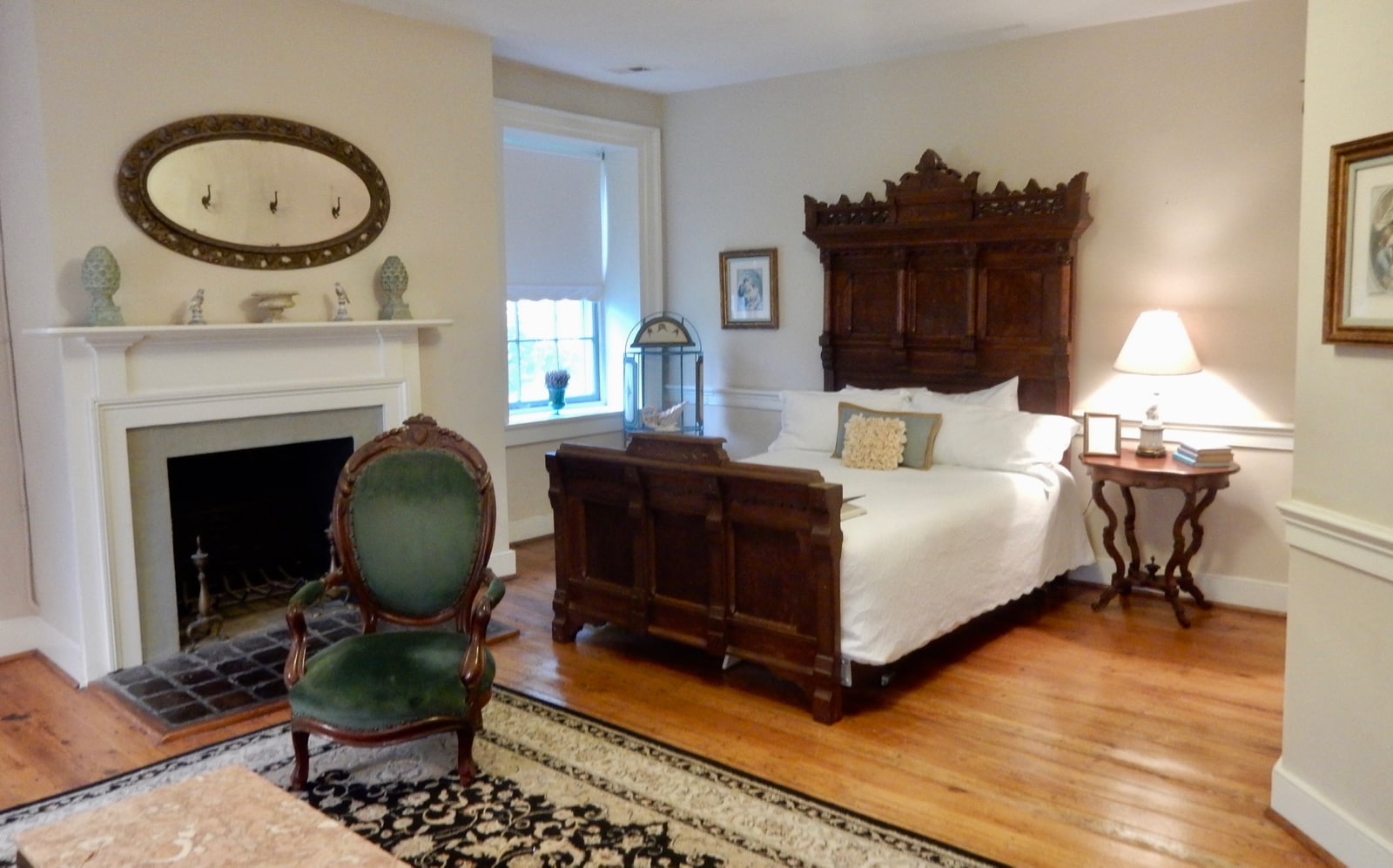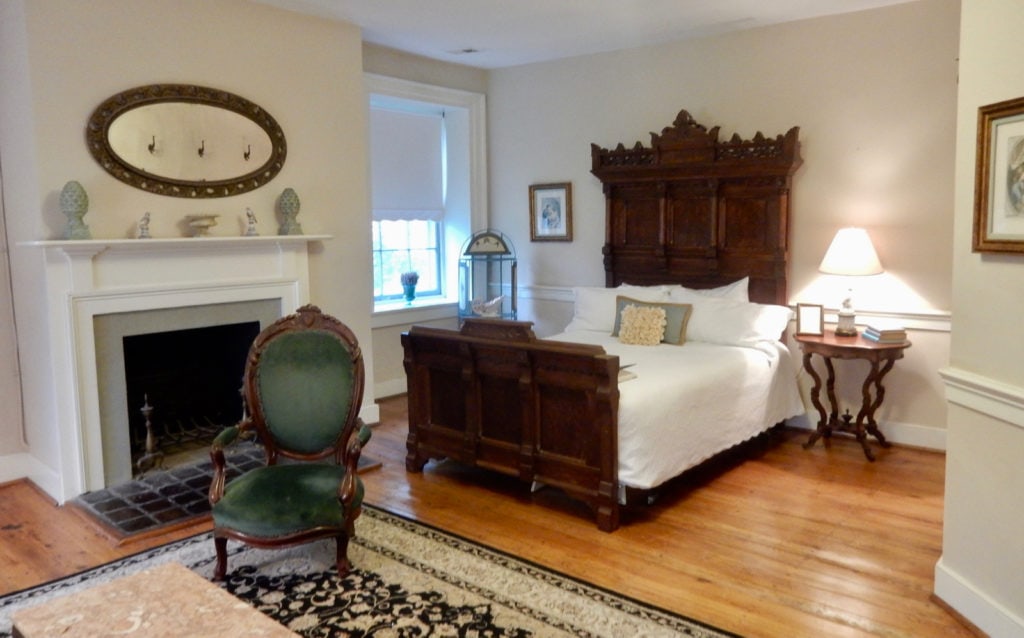 Guest Room Inn at Springfield Manor Thurmont MD
The Manor, with original wood floors, and modernized marble bathrooms, features the epitome of the over-used phrase "luxuriously appointed antique filled rooms."
In this case, though, it's an accurate statement. High ceilings, crystal chandeliers, and comfortable beds: the 8 guest rooms are upscale and quiet, especially midweek.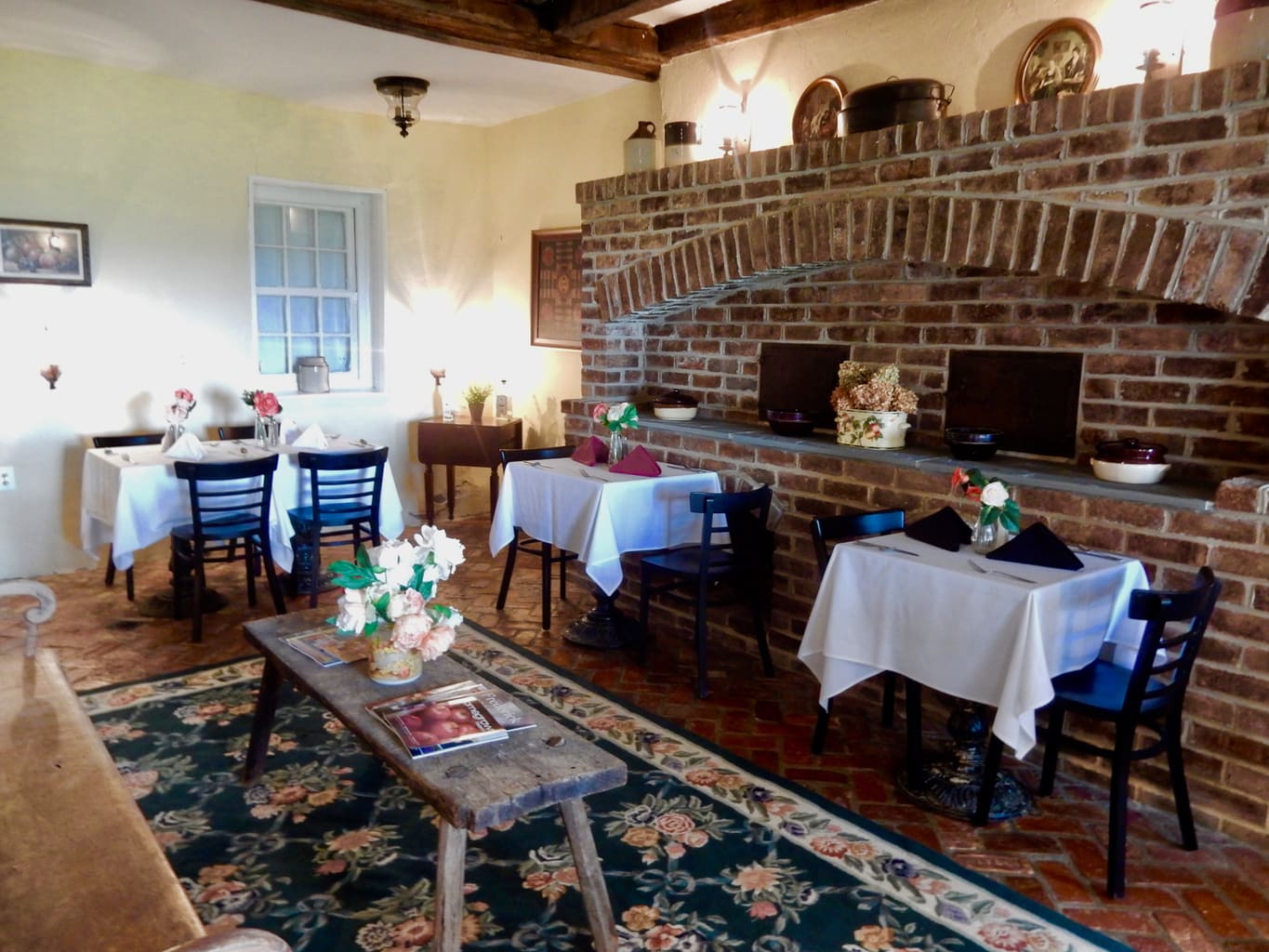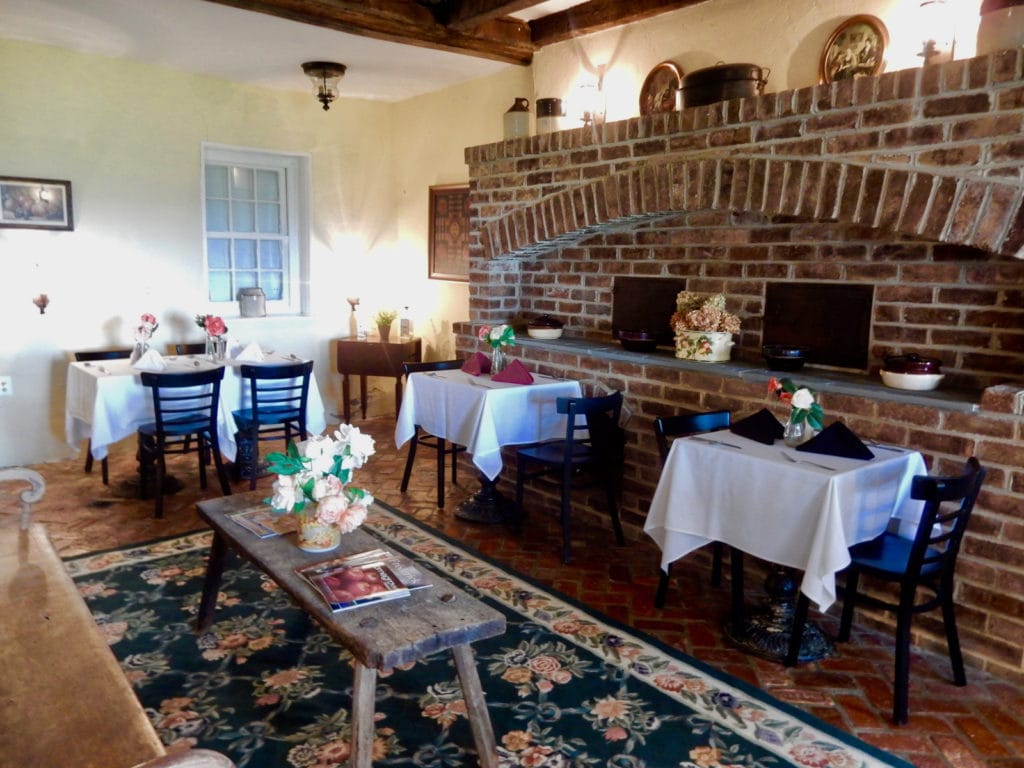 Breakfast is included with the room – and it's a knockout. Mine was composed of a Western Omelet Soufflé, Hash Brown Nest, and two sausages. As pretty on the plate as it was good to eat. Rooms are $290 per night and include a gourmet breakfast for two.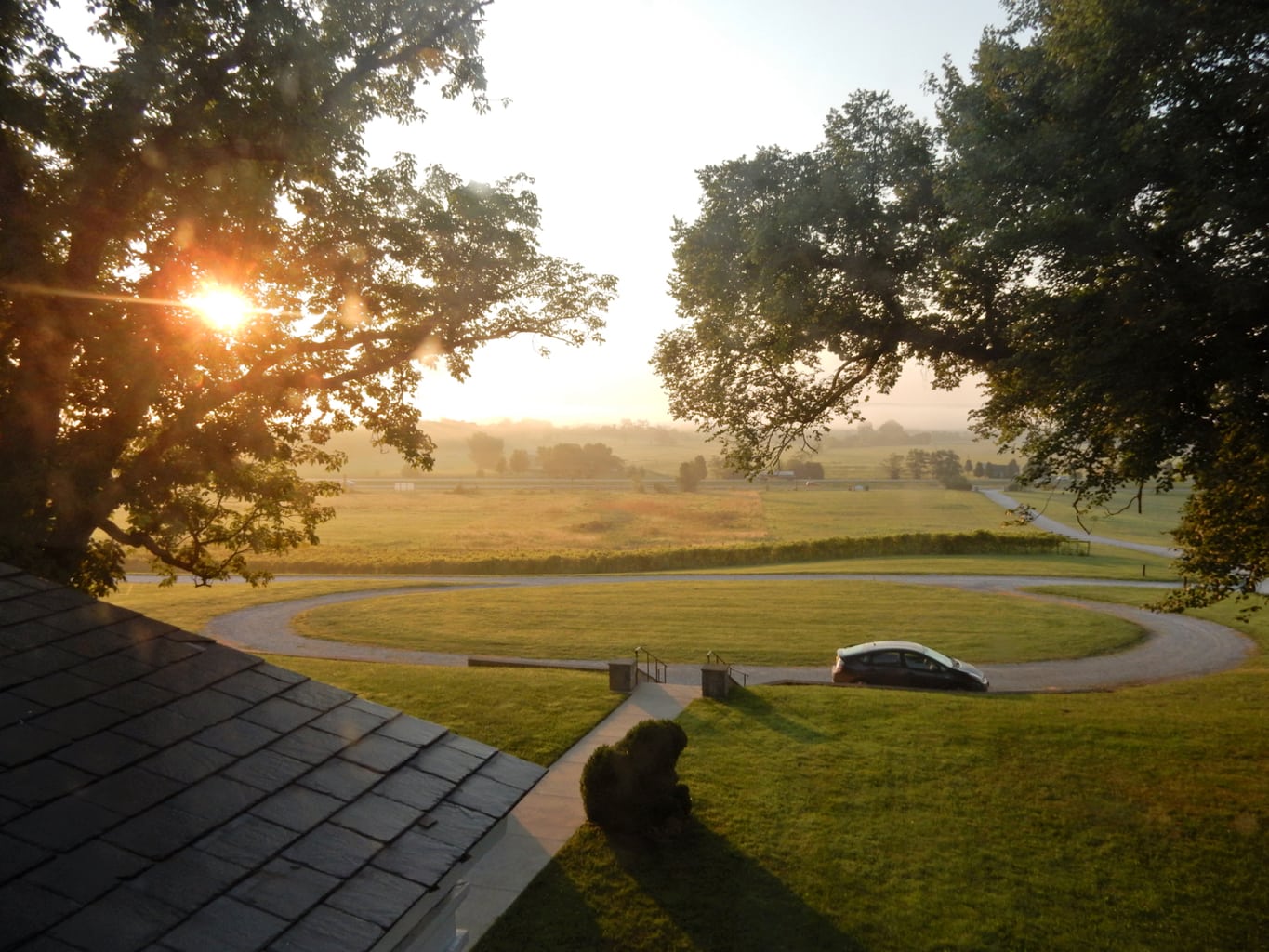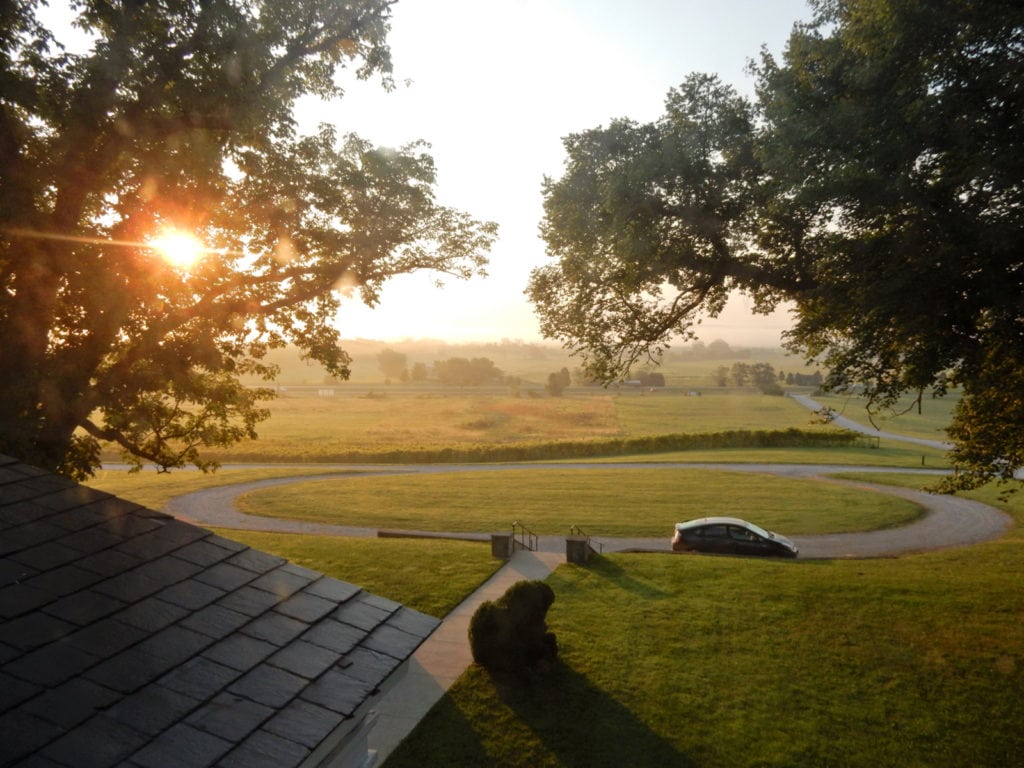 I recommend this Inn highly with two caveats. One, be prepared to call a phone number posted on the front door to let the on-site innkeepers know you've arrived. It takes them a minute to get there, but they are welcoming once they do. The other is that internet connection is week, very sporadic, and doesn't reach some rooms. Good to know ahead of time.