What's Up With the Logan Inn in New Hope PA?
The last time I stepped foot in the Logan Inn was in the 1980's, on a New Hope PA Ghost Tour. By that point, this Main Street hotel had been operating as an Inn for over 250 years, first receiving guests in 1727. By the late '80's it was pretty faded and old fashioned.
My, how things have changed.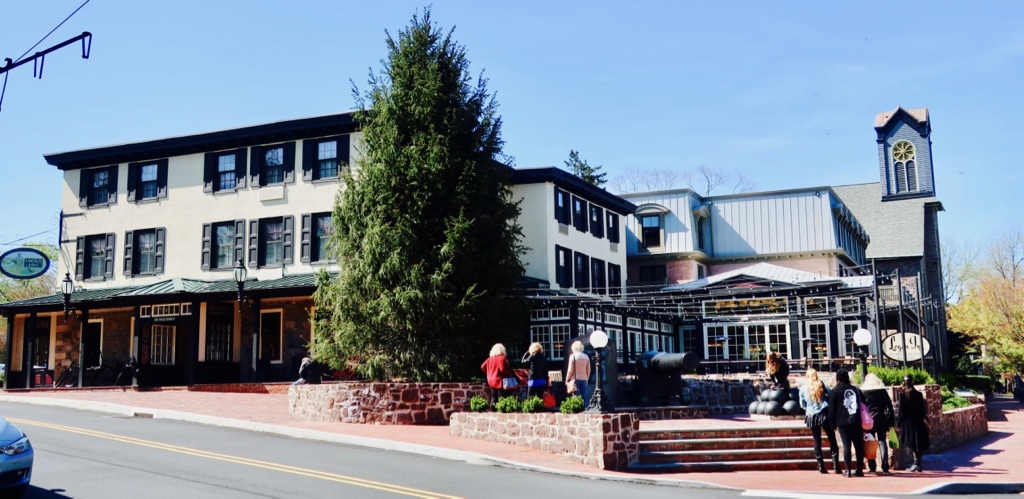 Within the last year, the Logan Inn has undergone an astonishing transformation: from traditional to trendy. Reopened in the summer of 2021 after a complete redo and expansion, it now rivals some of the coolest, hip hotels in the country.
Gone are the dark, atmospheric rooms. Now, the place is festooned with contemporary art in many forms: affixed to walls throughout common and private areas; as glass sculptures in windows; and even doing double-duty as whimsical furniture. 
(Logan Inn was included on Getaway Mavens Best Romantic Hotels in the Northeast US 2022 list.)
First Impression of the Logan Inn
Walk into a world of Adirondack meets Frank Lloyd Wright style: all wood, stone, and walls of windows. A good part of the main floor is taken up by the outsized in-house Ferry and Main Restaurant. The space alternates between low and towering ceilings, depending on whether you're in the old or new section of the hotel.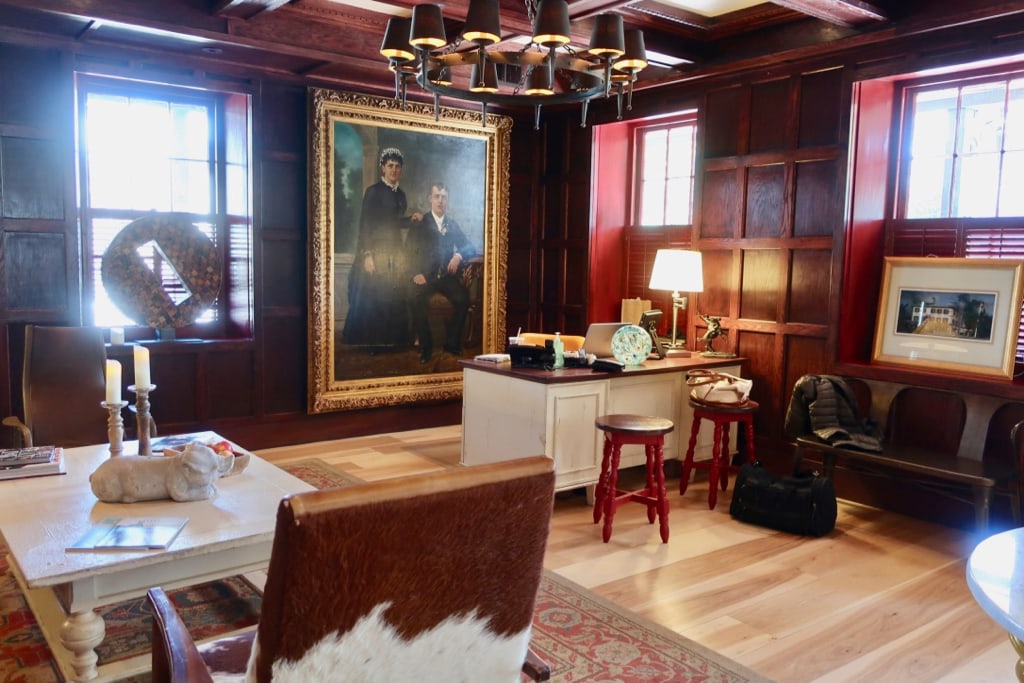 Check-in is at a desk in the older, darker section of the floor, and the "sit"uation is the only "miss" during my whole stay. Guests are asked to plop themselves on small wooded stools, which might not be the optimal seating for some. Like me.
Nevertheless, there's a lot going on in the room, much to take in, and much to enjoy. A portrait of a colonial couple hangs behind the desk: perhaps the Logan's first proprietors in 1727. There's a mélange of figurines, paintings, and art both loopy and serious.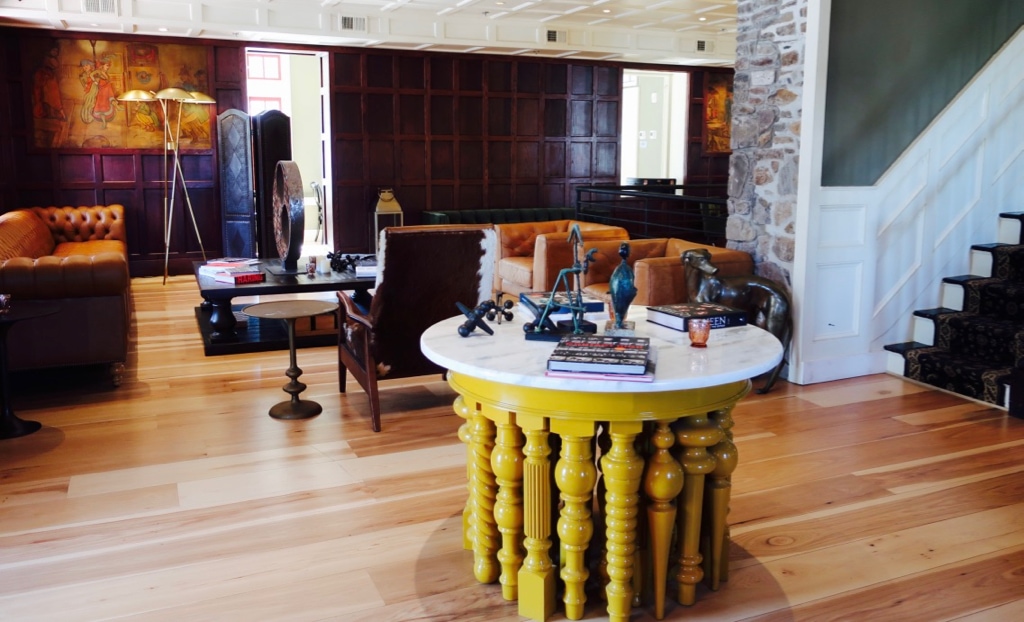 My favorite piece of furniture is the small marble table near the base of the stairs to older guest-rooms. It's a disc of white marble atop a centipede's worth of legs, each individually carved and painted Goldfinch yellow.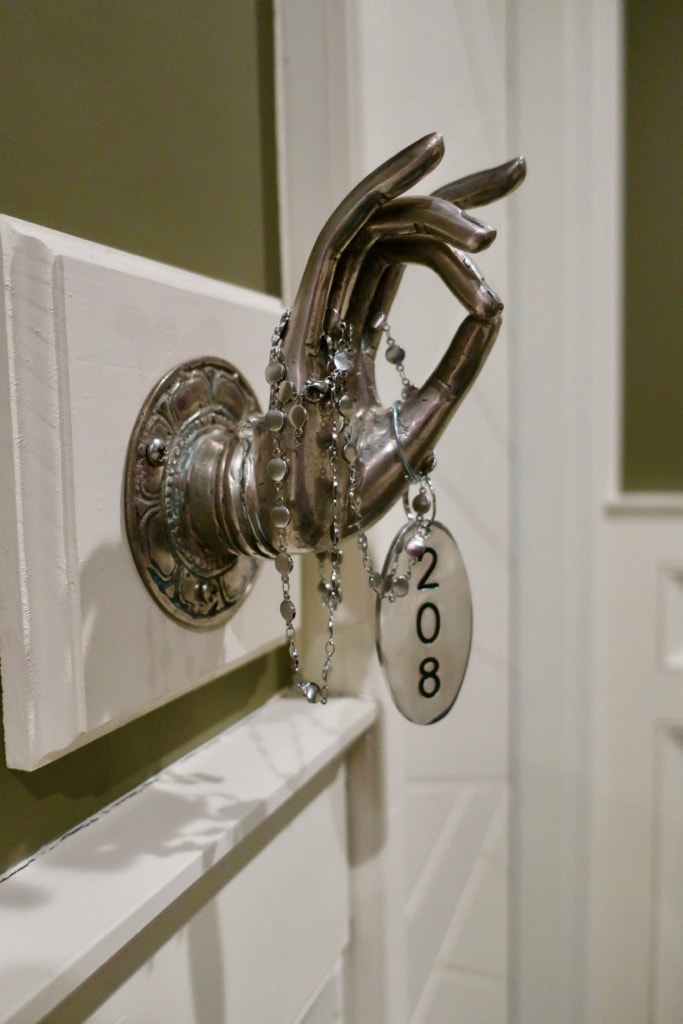 Rooms at the Logan Inn
Each guest chamber is an art museum unto itself, starting with the room's number, which is strung like a necklace around the fingers of a delicate woman's hand. In white bronze, of course.
Room 208 – a King Suite Balcony – is most popular. (New Yorkers would pay through the nose for an apartment this size. Especially with these appointments).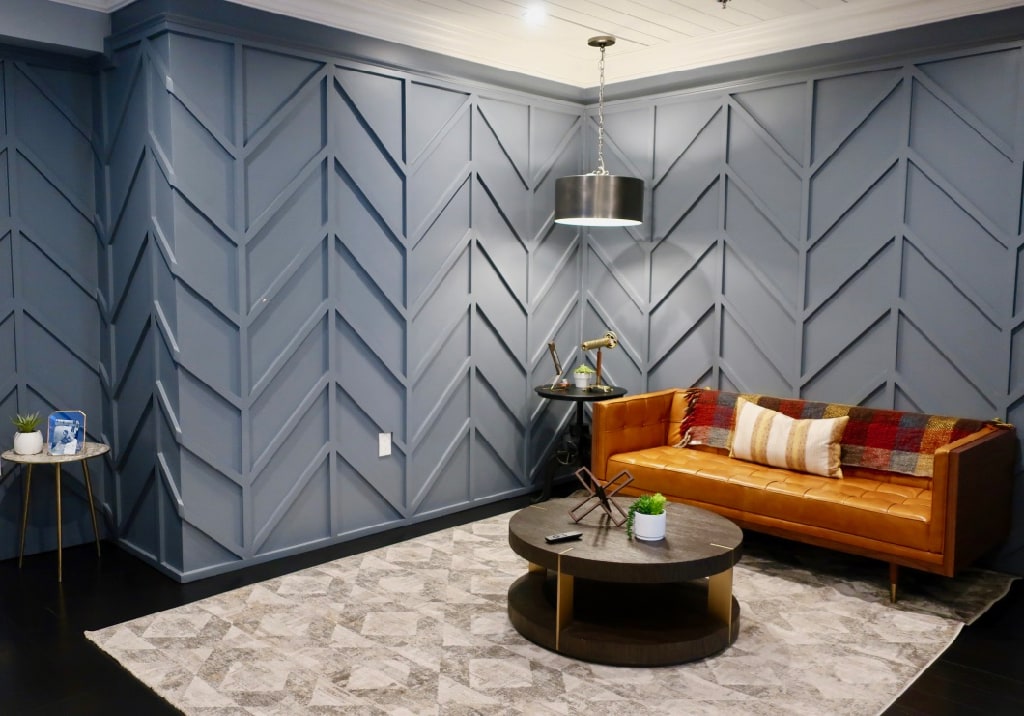 There are two large flat-screen HD TV's – one in the sizable sitting room decked out with sculptures, geodes, two small kaleidoscopes, and other doodads on side and cocktail tables.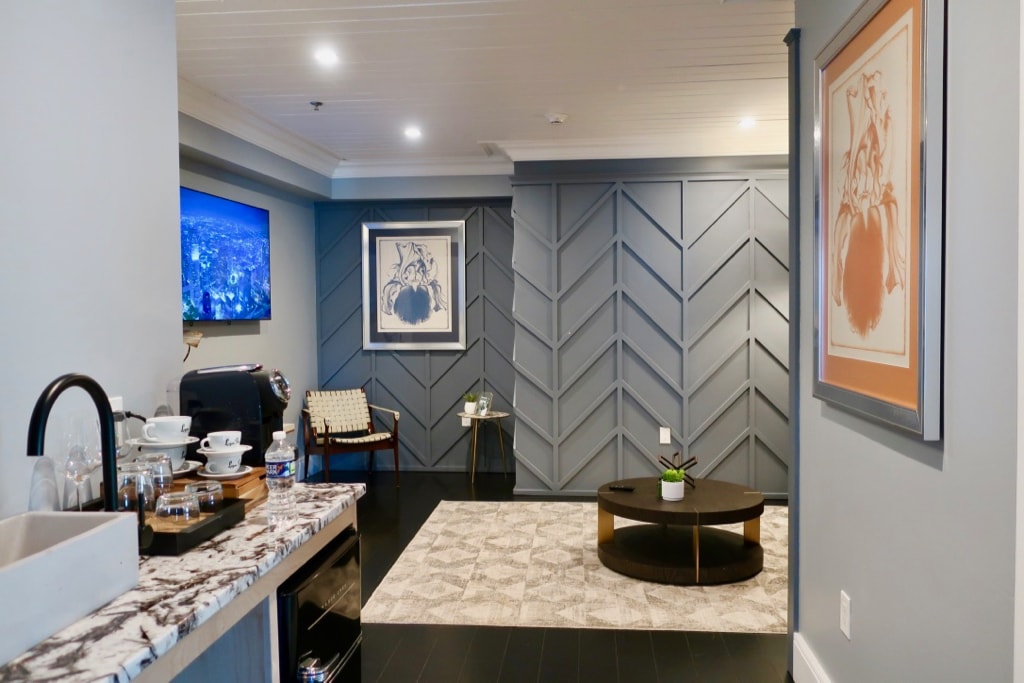 A small wet bar is stocked with booze you can buy, as well as complimentary coffee and a Lavazza machine to brew it in.
The black/white/grey palette is most dramatic in the bathroom – which sports a gorgeous granite counter, veined in those colors. One of the reasons this room is most requested, especially for couples lusting for a romantic getaway, is the sensuously curved white soaking tub.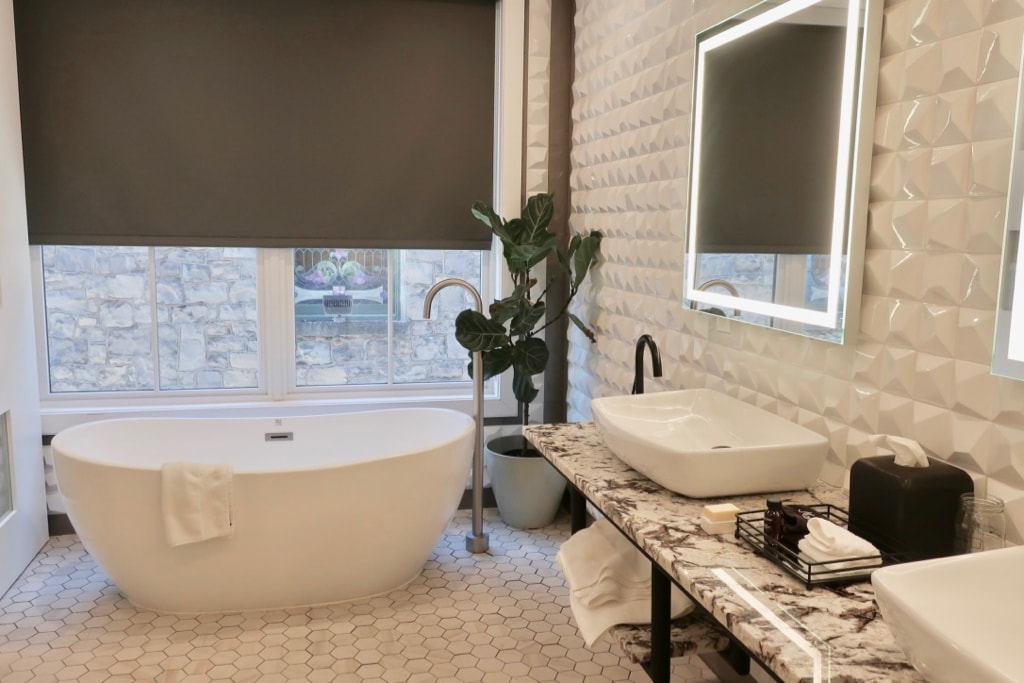 The most interesting feature in the bathroom, however, is not the tub, but the textural wall tiles. Spiky trapezoidal shaped in gleaming white, they cover the walls of both the toilet room, and humungous rain shower. Even the towel hooks are funky – little iron climbing men – in the color of the black bathroom fixtures.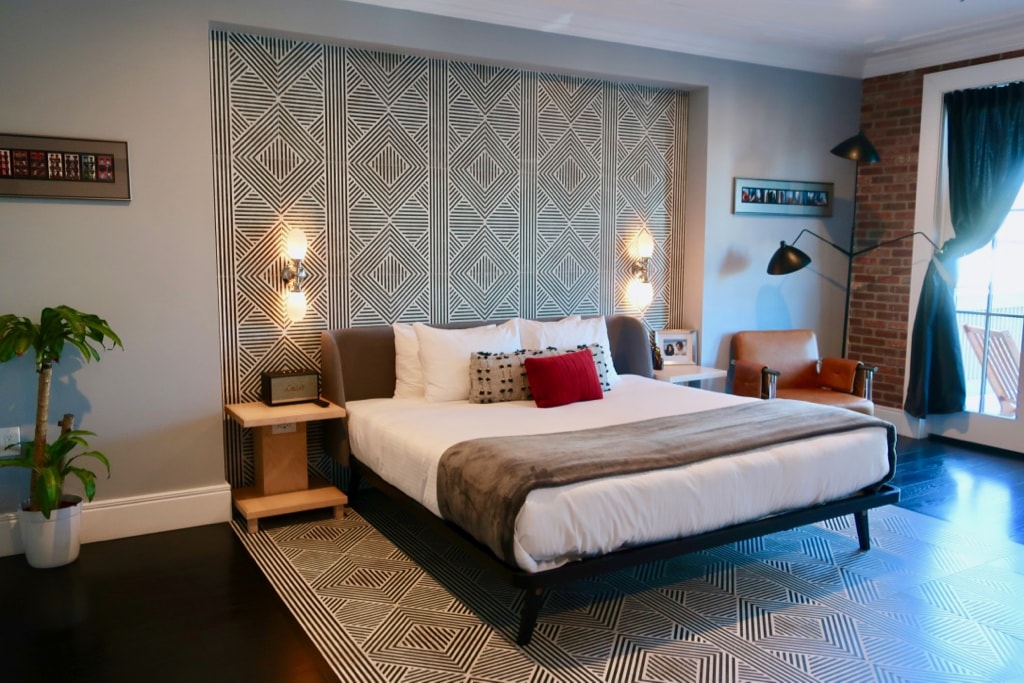 In lieu of carpeting, rooms sport plank flooring. In 208, geometric black and white tiles also form a faux area rug that climbs up behind the uber comfortable platform bed. Here is where you'll find the second TV.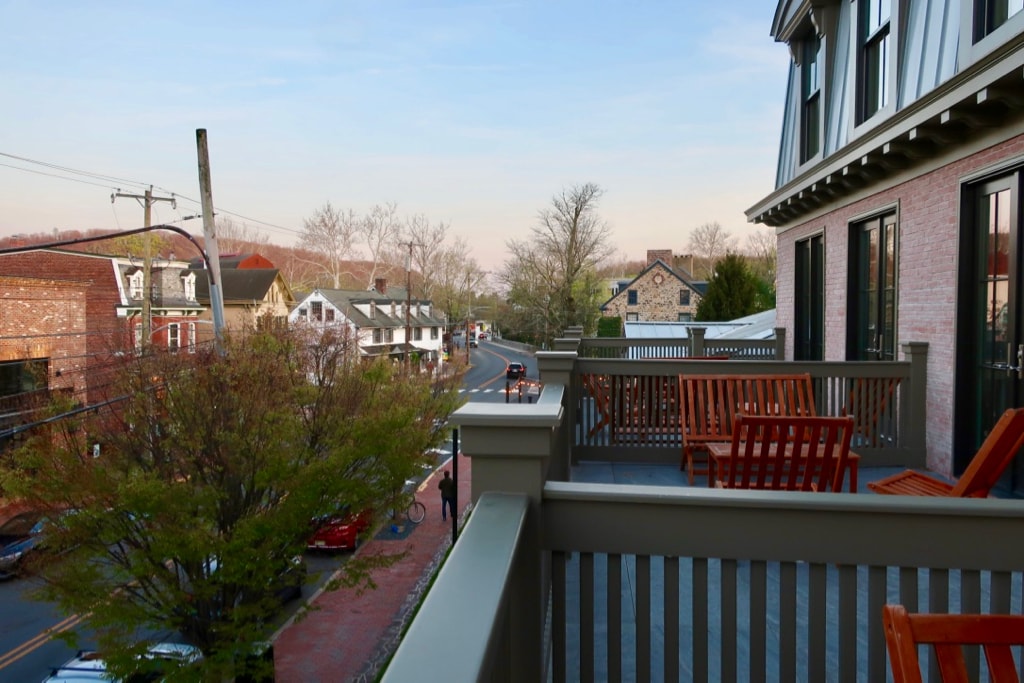 French doors lead out to a large patio. From there, you can sit and watch the Main St. world go by.
Ferry and Main Restaurant
Open concept is an understatement when it comes to Ferry and Main, the Logan Inn New Hope in-house restaurant named for the street intersection on which the hotel sits. Tables extend to almost every part of the lobby/main floor (and out on the patio). Diners can watch chefs at work from nearly all vantage points.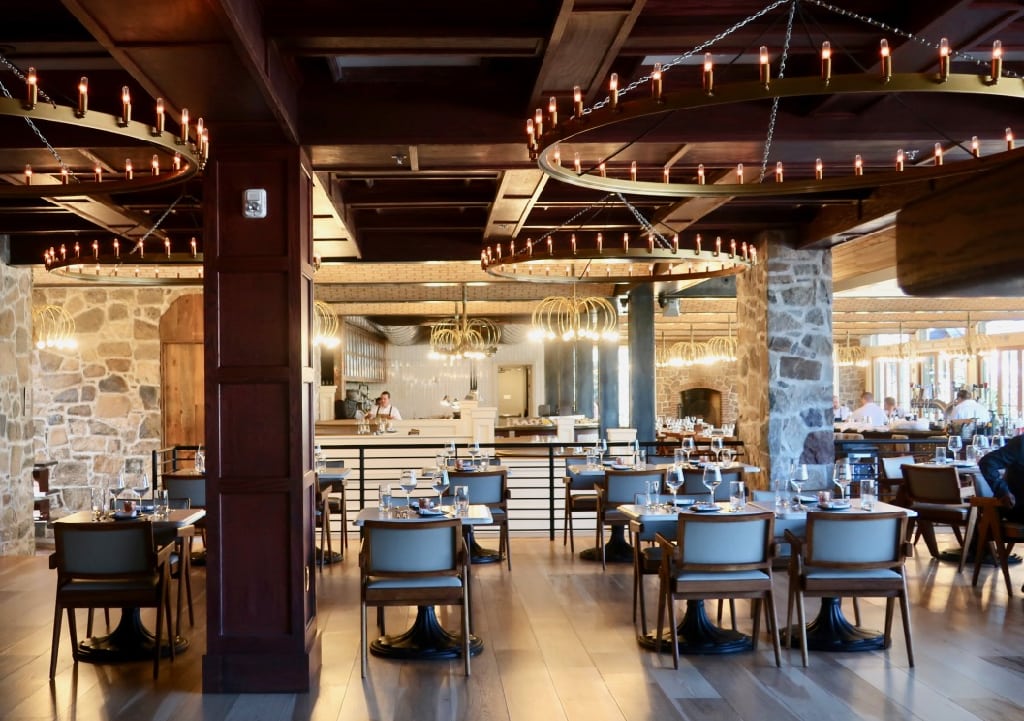 Oysters and lemons sit atop a trench of ice that edges a bright and very dynamic open kitchen, signaling the prominence of the raw bar. But the best food here comes from fire, not ice.
Chef Greg Vassos is the genuine article, not afraid to be innovative. I like that in a chef. An "open fire" restaurant, with grills that allow around 5 open fires at once, Vassos likes to have each menu item "interact with fire" for a charred, smoky, tweak on tradition. This includes vegetables.
As the wife of a vegan, I've eaten at almost every vegan restaurant in New York City and the surrounding area. Some are lackluster, but many are good, bordering on brilliant. And even though Ferry and Main is not a vegan restaurant, Vassos is a brilliant plant-based chef.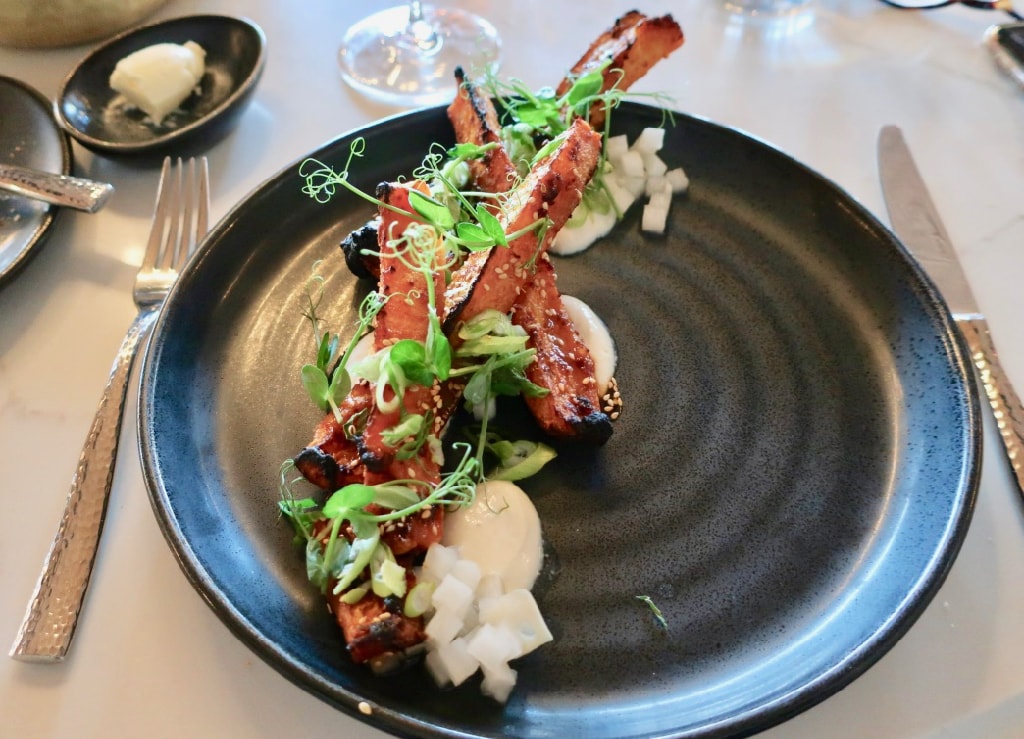 Take, for instance, the totally toothsome "Chicken Fried Artichokes" – assembled with malt vinegar powder, kumquats, and mushroom marmalade. Or, what I would call Butternut Squash Ribs – licked by flames, and set on a bed of diced daikon and tahini yogurt. The blend of flavors and textures in both dishes was remarkable.
Vegetables are the most difficult ingredients to make interesting (from a foodie standpoint), but Vassos achieves the nearly impossible. Given that, I'm sure everything on the F&M menu is remarkable as well.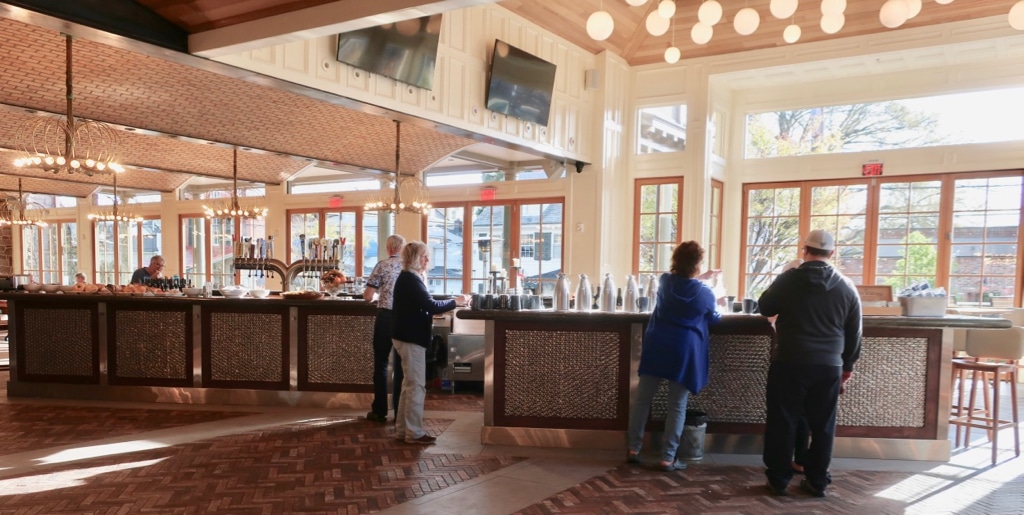 Breakfast at Logan Inn
At present, the Logan Inn New Hope serves a basic bread, pastries, yogurt, and granola breakfast in the restaurant space. On sunny days, it's a cheerful spot to start your day.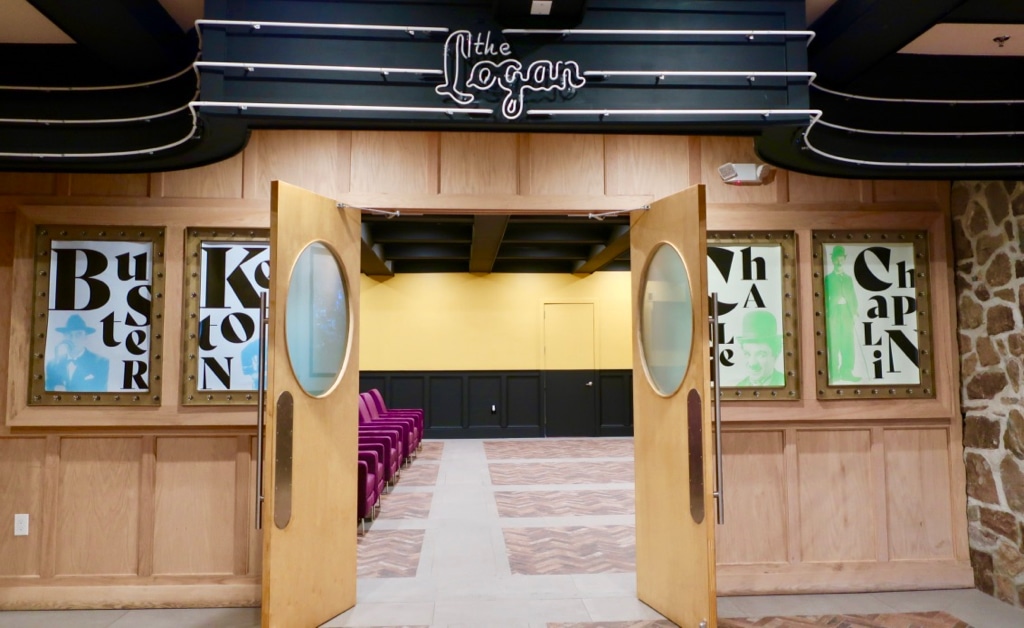 Logan Inn Basement
In addition to a small movie theater (with concession candy, to boot), the basement features a private bar and dining room. Celebrity art photos kick up the cool factor a few notches as well.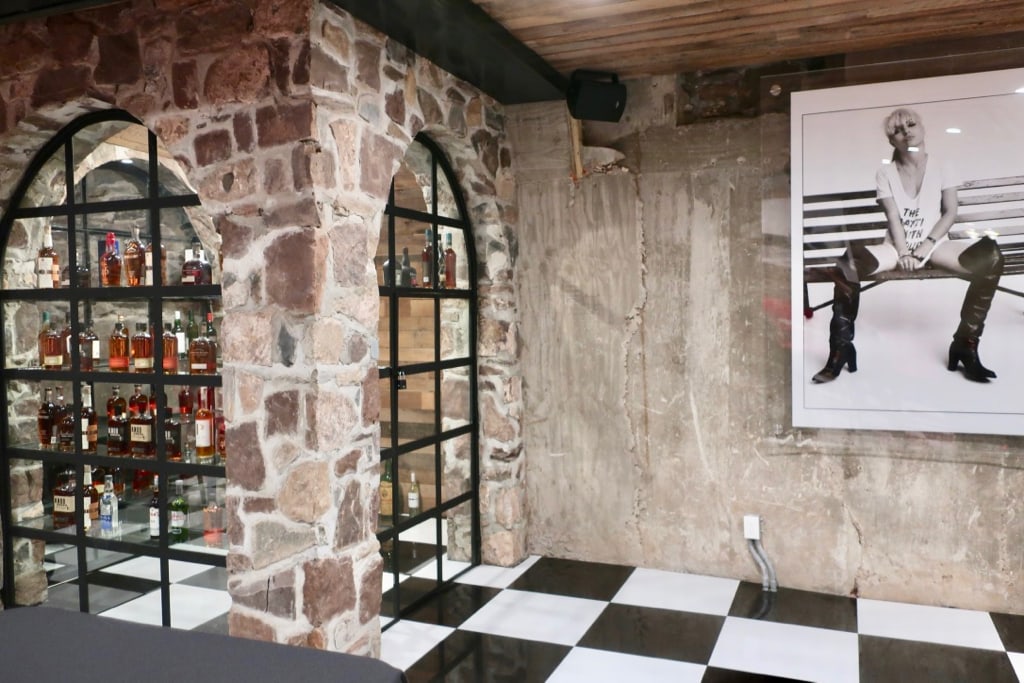 But is the Logan still haunted? Perhaps that question was answered the night I stayed, when a group of psychics held a "spiritual" dinner right in the basement. Whatever their findings – it didn't effect me. I was happy, and ghost-less, up in my new-section King Balcony Suite. Rooms from $210-$350, Suites from $400-$610 per night.
There's much to do in New Hope PA, so consult this Central Bucks County PA post.