WHY GO: Central Bucks County PA contains an embarrassment of riches.  Towns like New Hope and Doylestown have attracted tourists for over a century.  The Bucks County Playhouse, a legendary "Summer Stock" theater that launched the careers of Grace Kelly, Robert Redford, and many others, is back in full swing.
Author James Michener and inventor, Henry Mercer, also had roots here. And it's where General George Washington crossed the Delaware River. Come to Bucks County PA for great, inventive cuisine, a newly redone chic boutique hotel, and one of the most indulgent B&B's in the Northeast.
For more to do and other restaurants and lodgings in and near New Hope, refer to this Covid-era Bucks County post.
Things to Do in Central Bucks County PA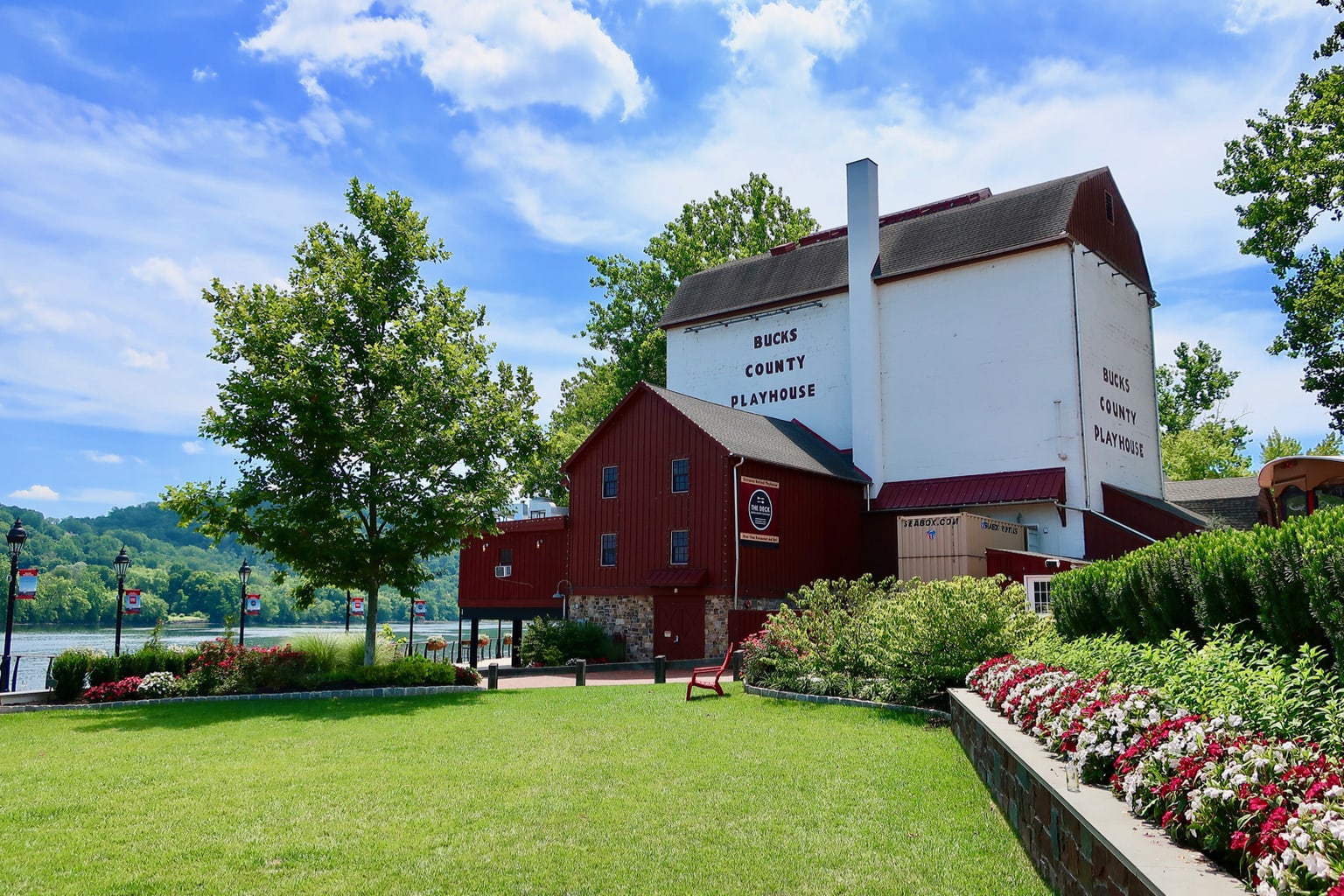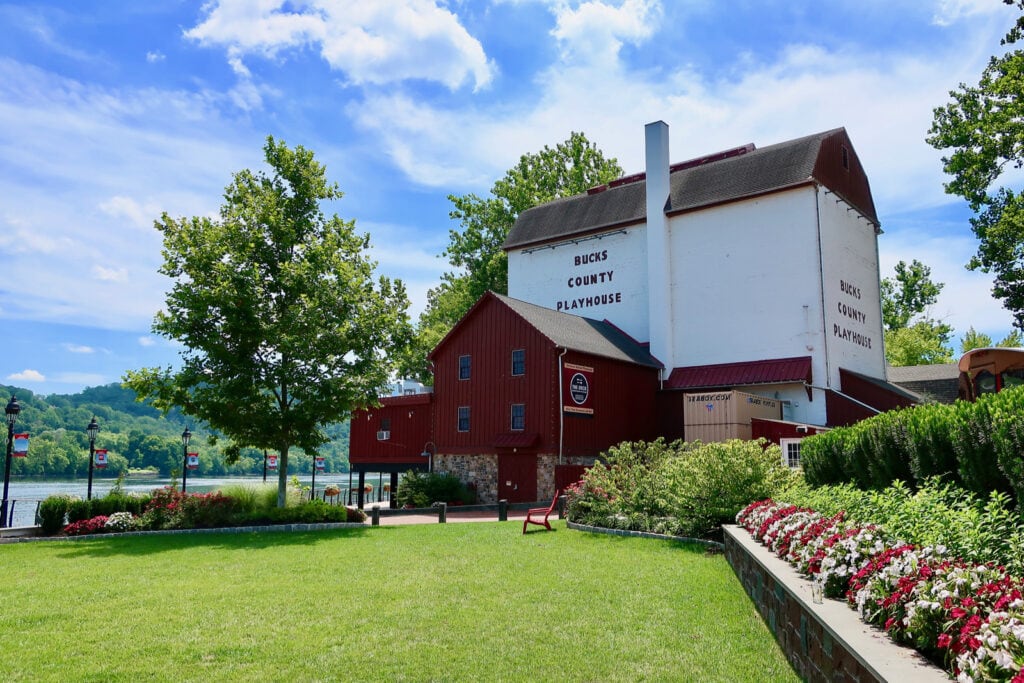 This was the "Summer Stock" theater that launched many a famous actor. Neil Simon debuted his first play, Come Blow Your Horn, here. Grace Kelly earned her chops on this stage. And so did a young Robert Redford – in Nobody Loves Me, which went on to Broadway as Barefoot in the Park.
From the time it opened in 1939, The Bucks County Playhouse was the place to be seen. And it remained that way for decades – until it wasn't.
Flagging and in receivership in 2010, the Playhouse went through an extensive renovation and reopened as a community-owned not-for-profit theater in 2012.
It is now back stronger than ever with new chairs, a polished floor, removal of dropped ceiling, state-of-art catwalk that replaced the old Hemp-Rope system. The Bucks County Playhouse may be in its 76th season, but it feels renewed.
Tour the Bucks County Playhouse
Built in the late 1700's as the New Hope Grist Mill (after which the town was named), you'll learn about the theater's history on a great "behind the scenes" tour.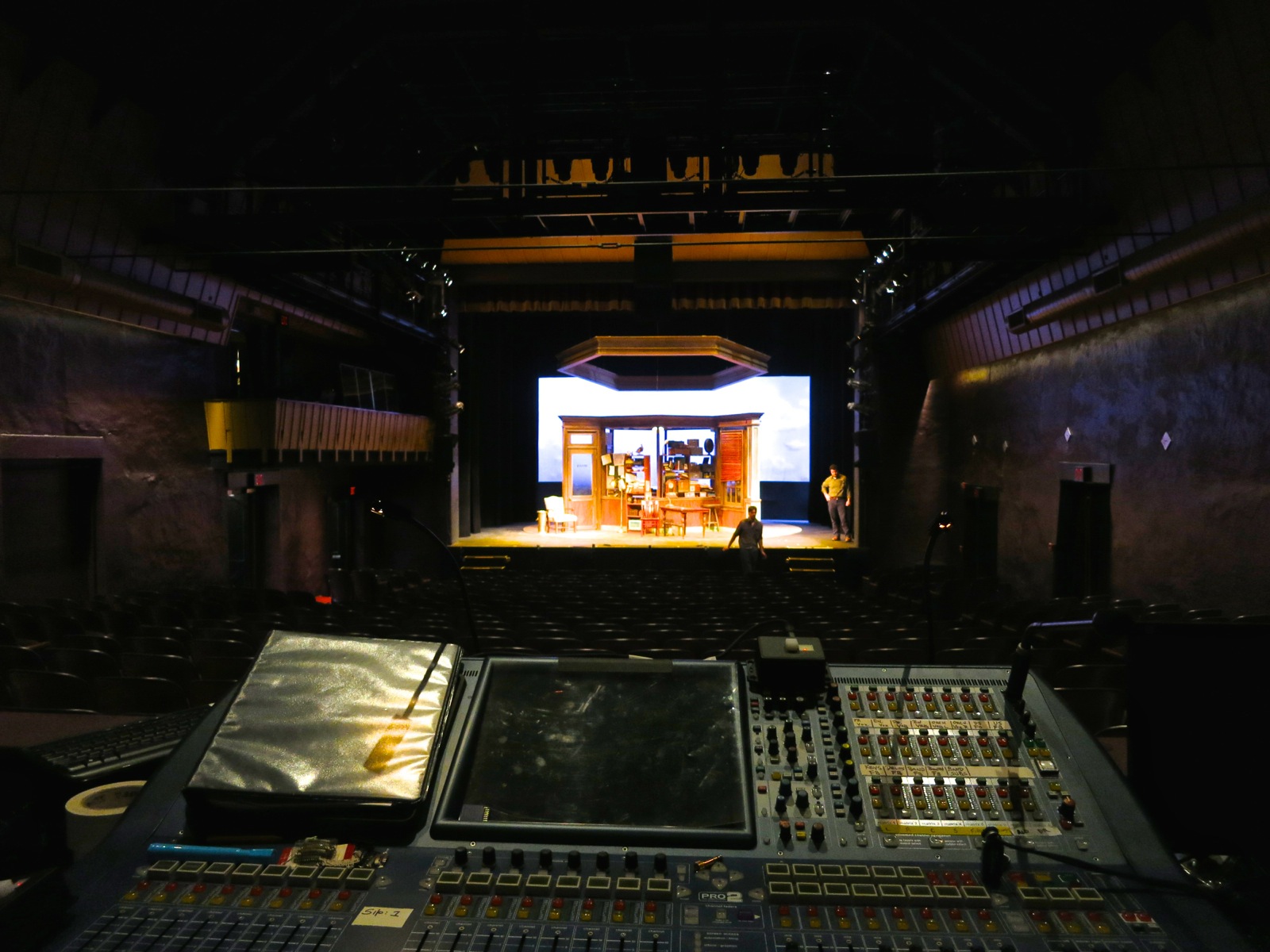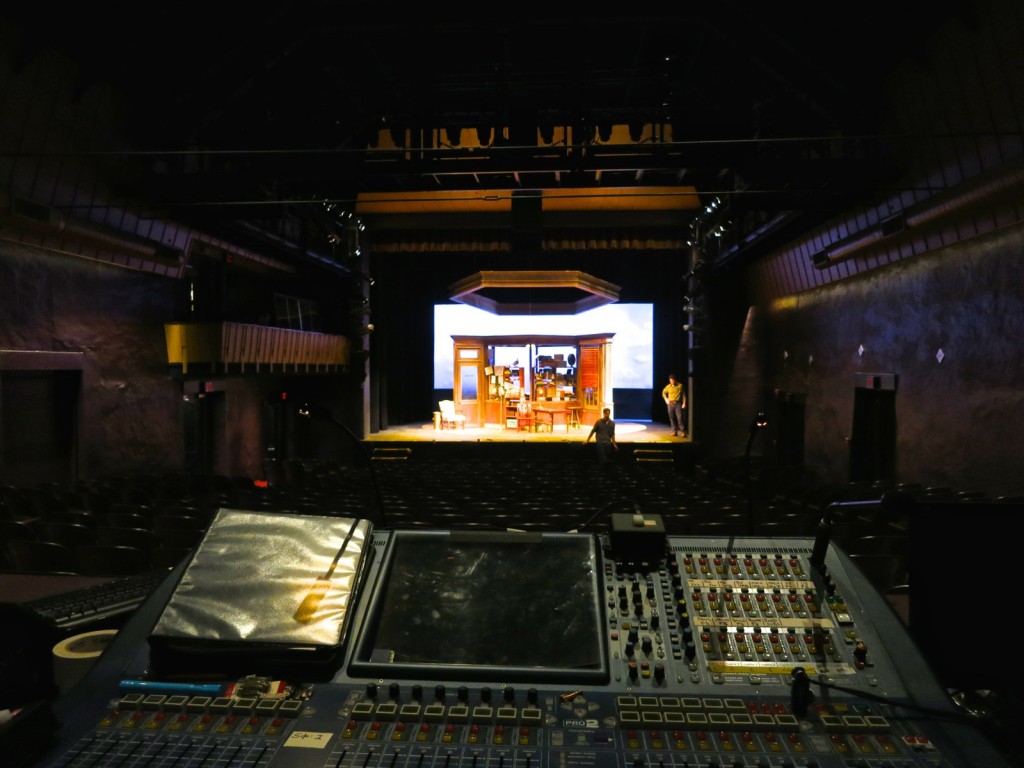 In the 1920's and '30's, many New York City artists were priced out of the Hamptons as a summer retreat. So, they looked 85 miles to the West, in Bucks County PA, a sleepy yet beautiful region along the narrow Delaware River.
Moss Hart, Oscar Hammerstein, and many up and coming actors, composers, and musicians moved here. They became the original sponsors of a summer theater aka "summer stock." (Prior to air-conditioning, when theaters in Manhattan were oppressively hot, actors would perform in summer resorts like Cape Cod, MA and Ogunquit, ME).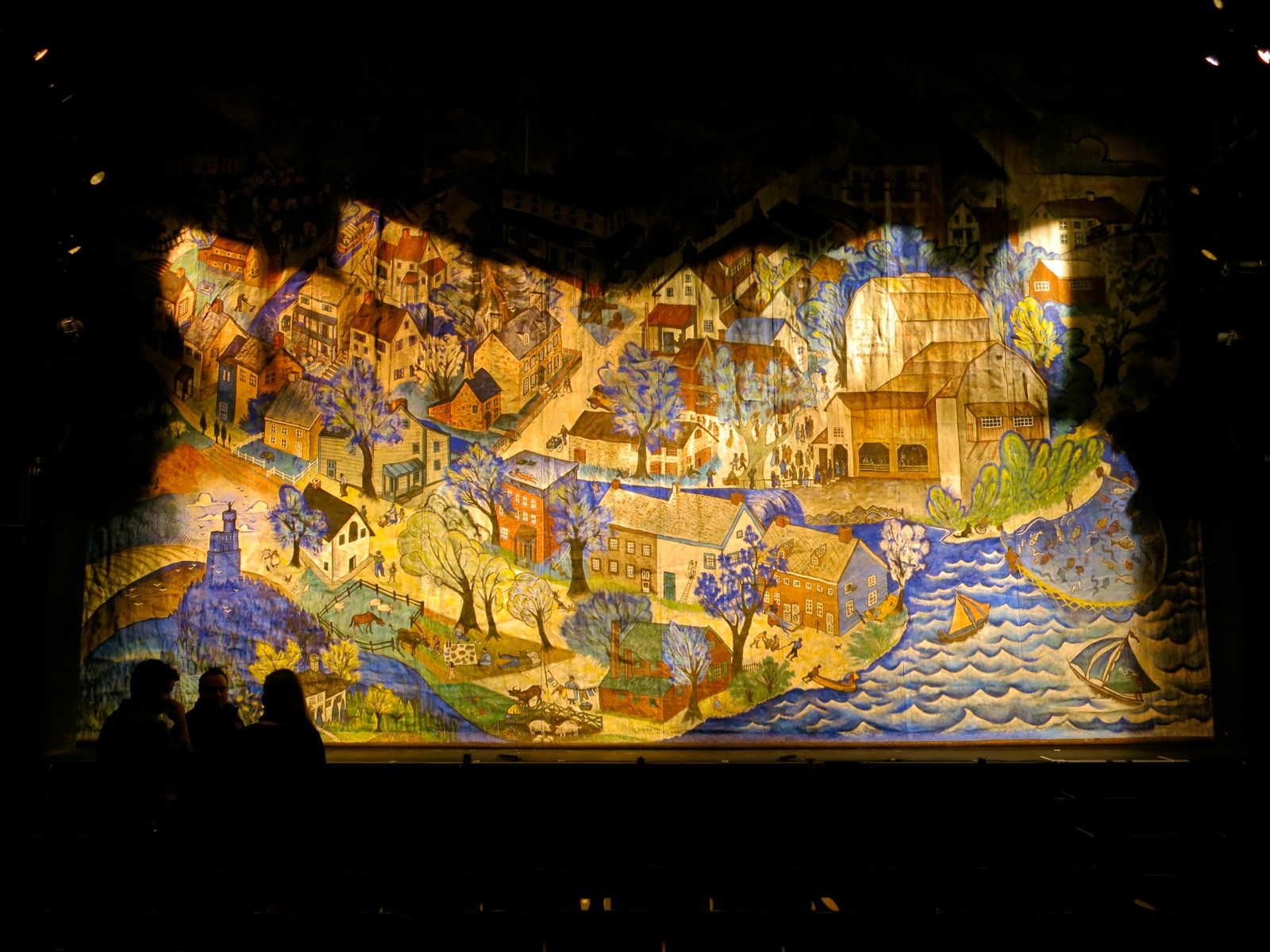 Two important, original elements were preserved during the theater's renovation. One, a magnificent "Fire Curtain" mural of New Hope, painted by Julia Child's brother-in-law, Charles Childs, still graces the stage.
Second, in February 2015, theater techs got "the grindstone" working again. The 75 year old stage turntable hadn't been working since 1955, when a flood rusted and locked up the gears.  The fix led to much joy on the part of the stagehands, who until then were forced to move sets manually
Yes, the Bucks County Playhouse is back. In 2014 alone, it sent two critically acclaimed productions to Broadway: Mothers and Sons starring Tyne Daly. And Misery, with Bruce Willis in the leading role. Tickets from $25. Check website for performance calendar.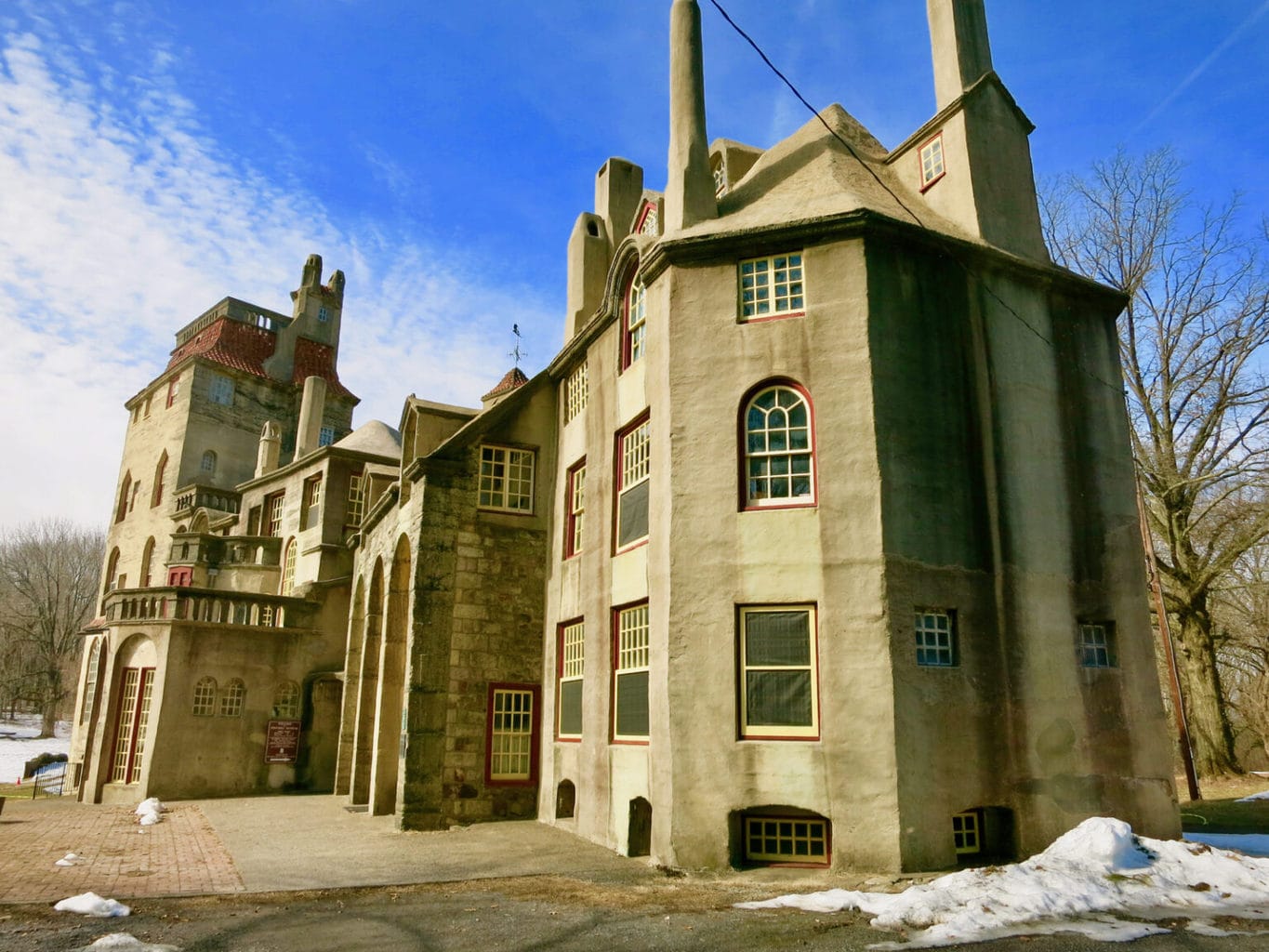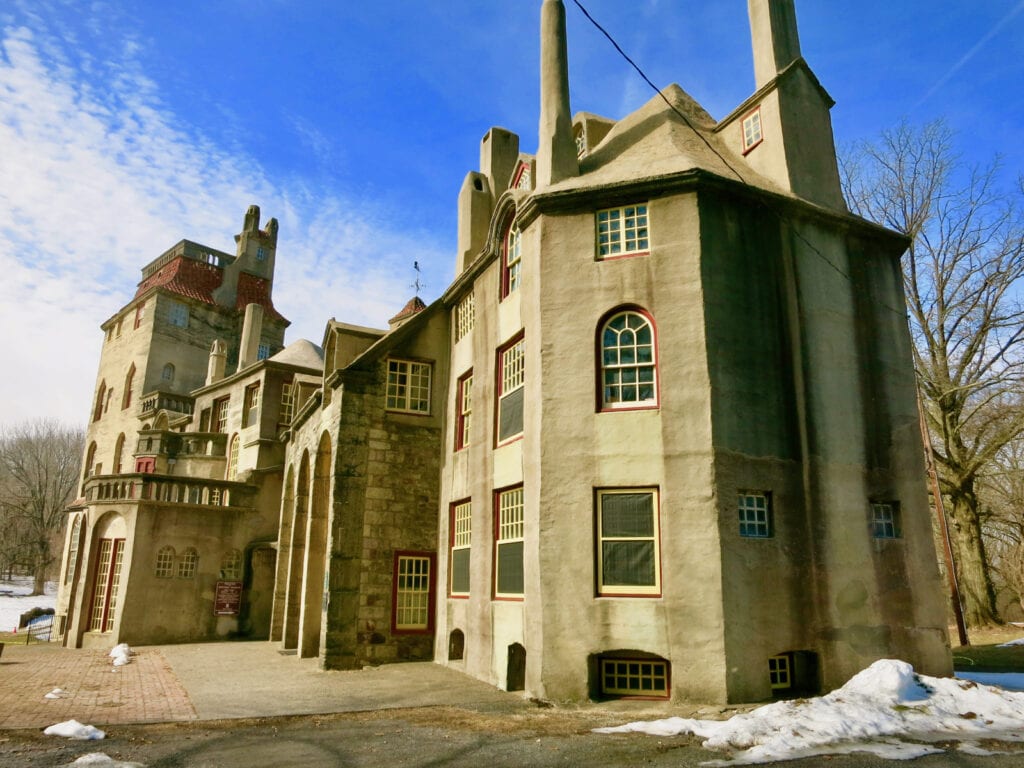 "Renaissance Man," Henry Mercer, born in Doylestown in 1856, was an artist, archeologist, writer and lawyer. And an Eccentric with a capital E.
He loved medieval castles, extensive cave systems, Irish fiddle music, and the Arts and Crafts movement. And he apparently hated the way fires consumed homes and buildings of the time.
So, before the advent of cement mixers, in 1908-1912, Mercer combined all of his loves and fears and had this free-form 44-room 32-curved-staircase cement mansion built of hand-mixed concrete.
Mercer adorned the stark grey walls with "Storytelling" Moravian Tiles. These were colorful 3-D relief, sculptural clay creations that depict biblical tales, discovery of the New World, and motifs of nature and ordinary life. All set right into the concrete.
He also eventually built his own Moravian Tile Works on his property. It is owned by Bucks County and still in operation and open for tours – see below.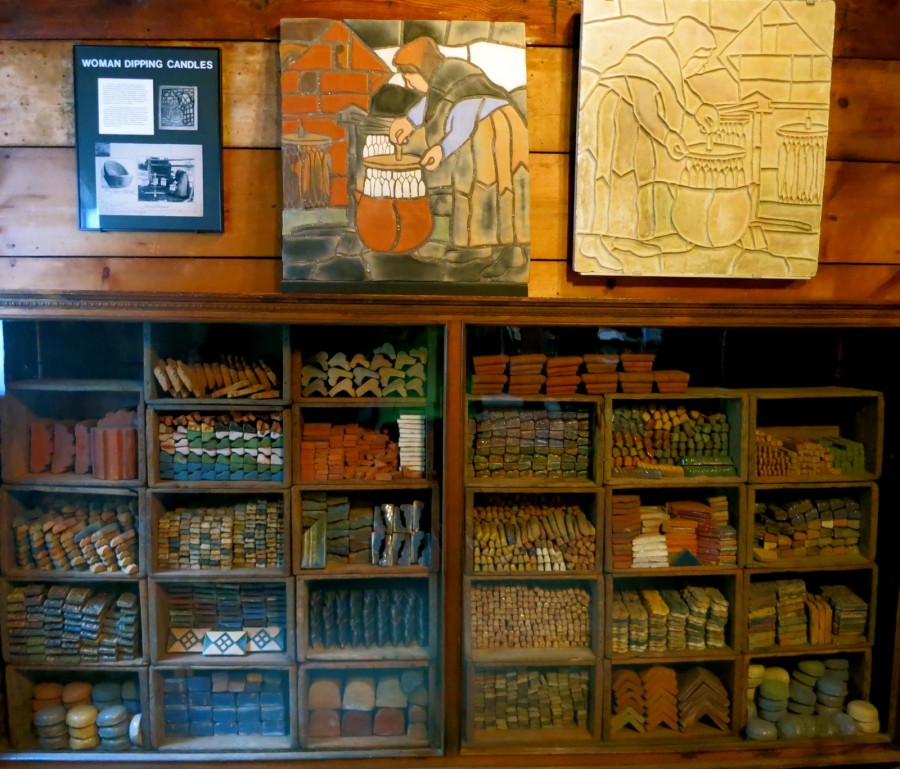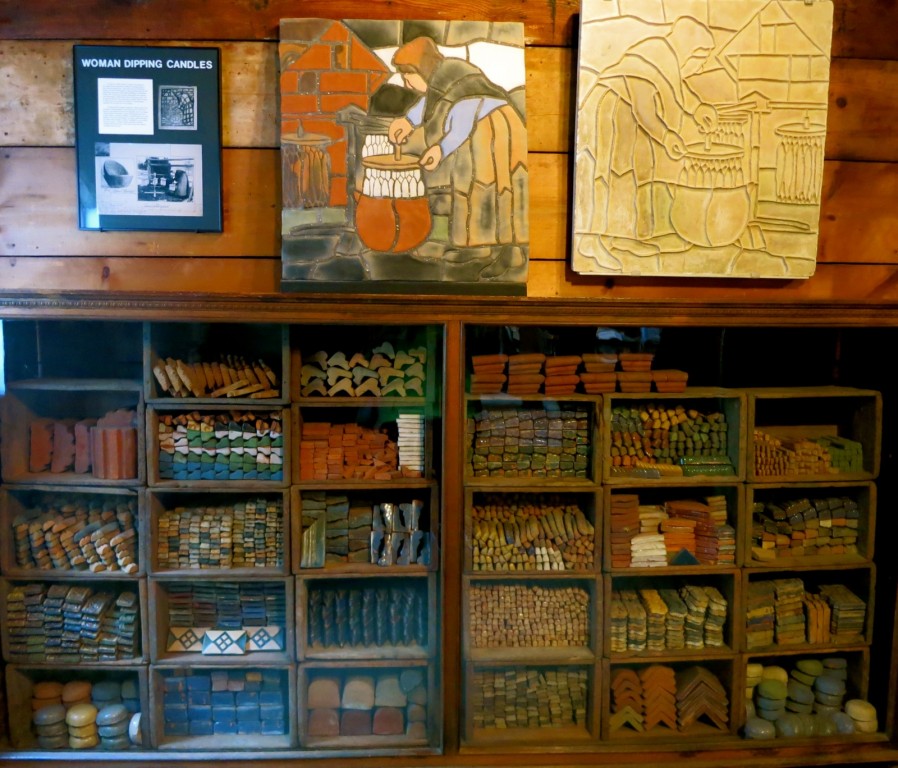 On your one hour Fonthill Castle tour, learn about the ten unskilled laborers, and a horse named Lucy, involved in the building of this reinforced concrete, fireproof structure.
Peer into Hobbit-like rooms with arches and asymmetrical ceilings and see wonders galore. Best of all, discover hidden passages and ten secret ways to get in and out of the Central Hall on this labyrinthine trek through the home. Open year round daily 10-5. $15 adults, $8 kids for one hour guided tours.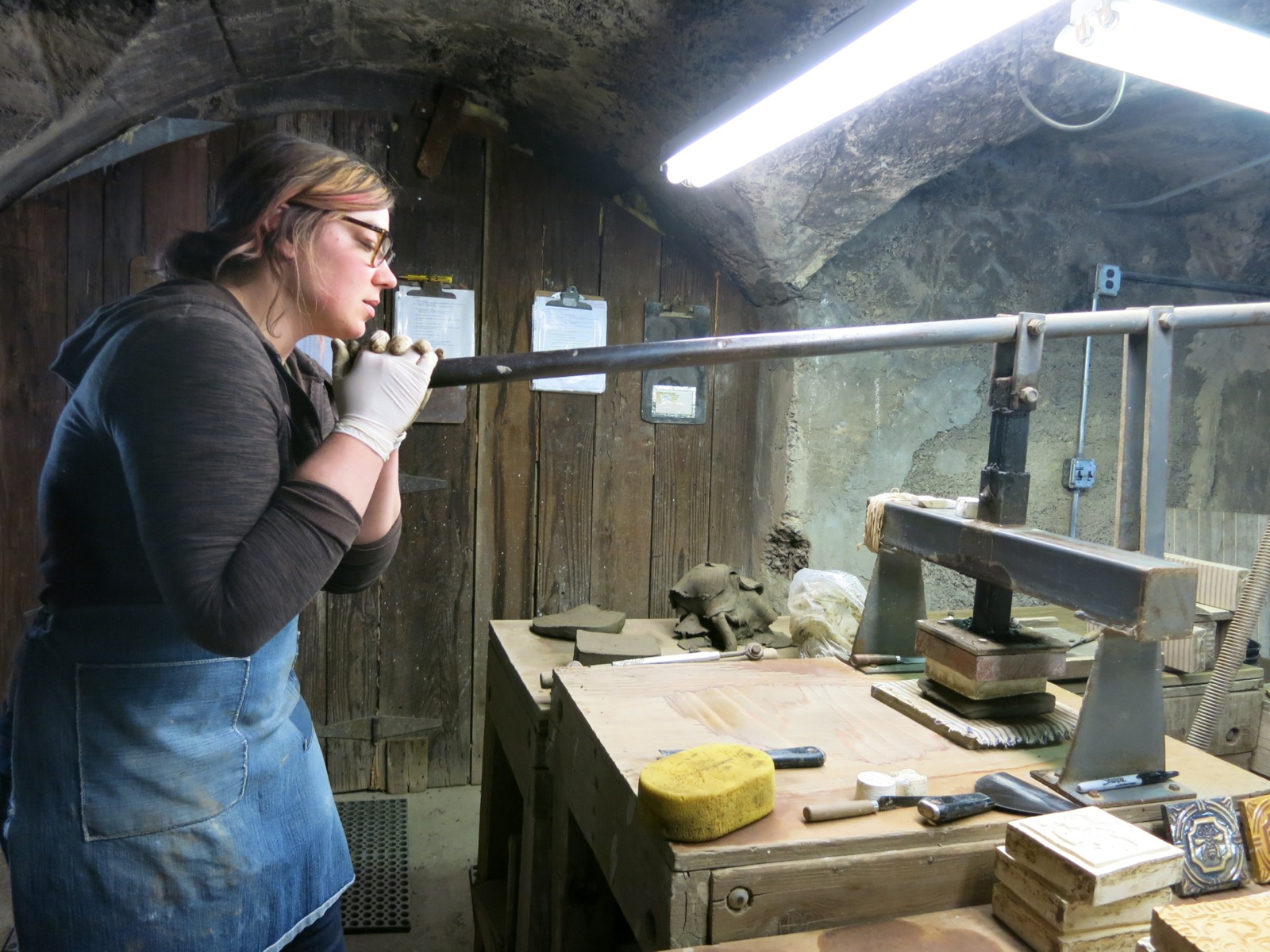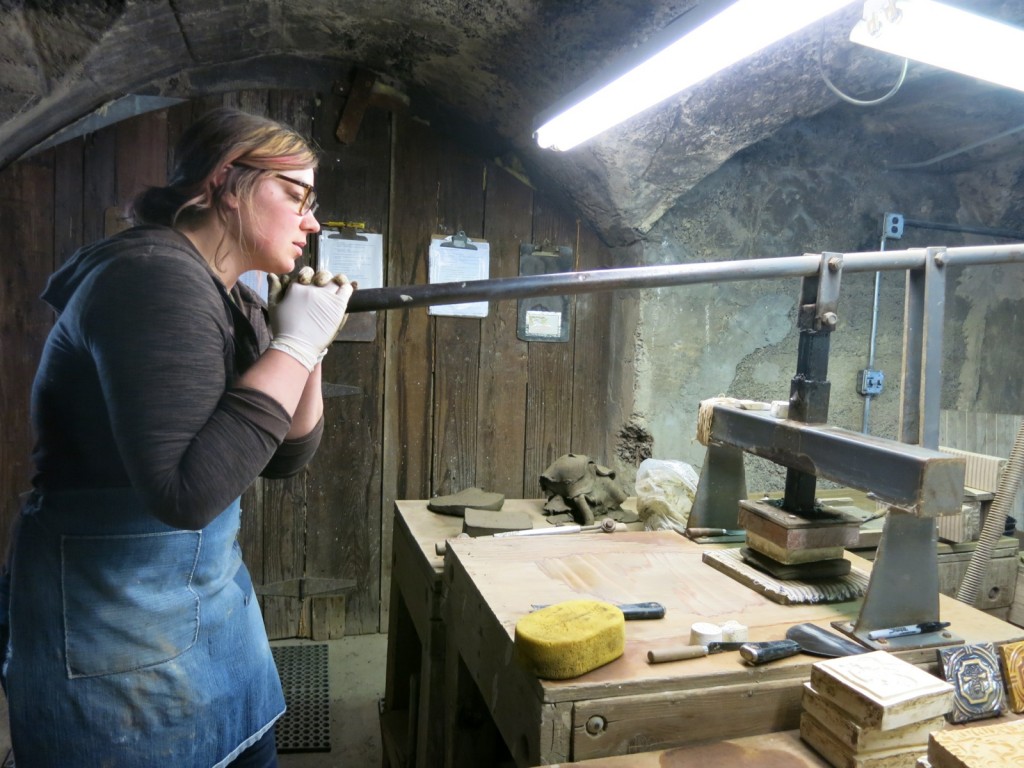 Tour Fonthill Castle and then watch how those great Arts and Crafts tiles were made by hand. Afterwards, buy a few. Or more if you plan to decorate your home a la Mercer.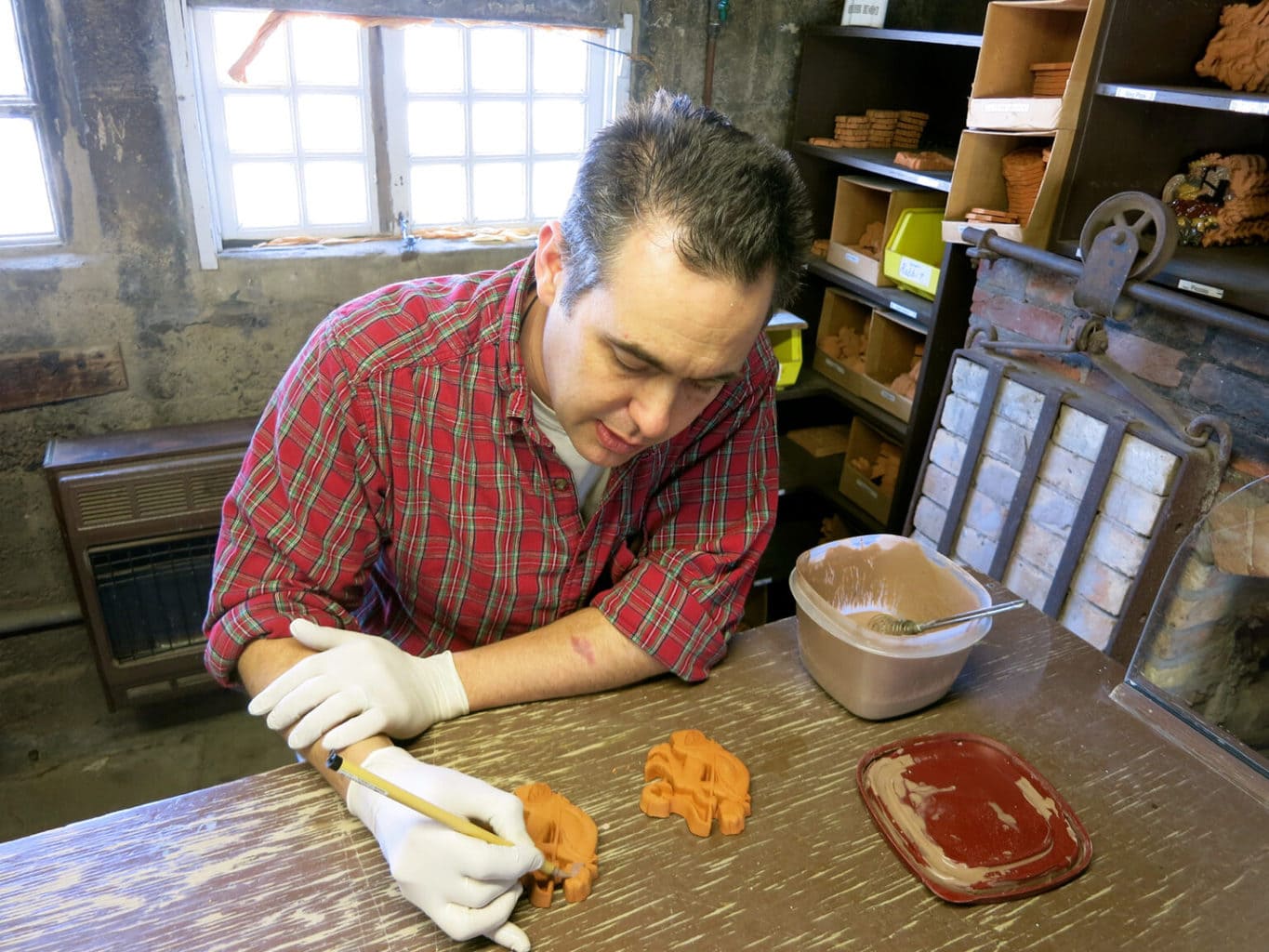 Watch a 17-minute video that shows the tile-making process.  And afterwards take a self-guided tour that allows you to engage with artisans at work. Ridiculously, each tile starts as clay, dredged from local lakes, sometimes studded with fishing tackle and other detritus.
Artisans press this malleable mud into various shapes using 1850's brick-making machines. The dried tiles are then hand glazed. Of course, you exit through the gift shop where you can purchase thumb-sized pieces for few bucks and go up from there. Open daily 10-4:45, $5 adults, $3 kids.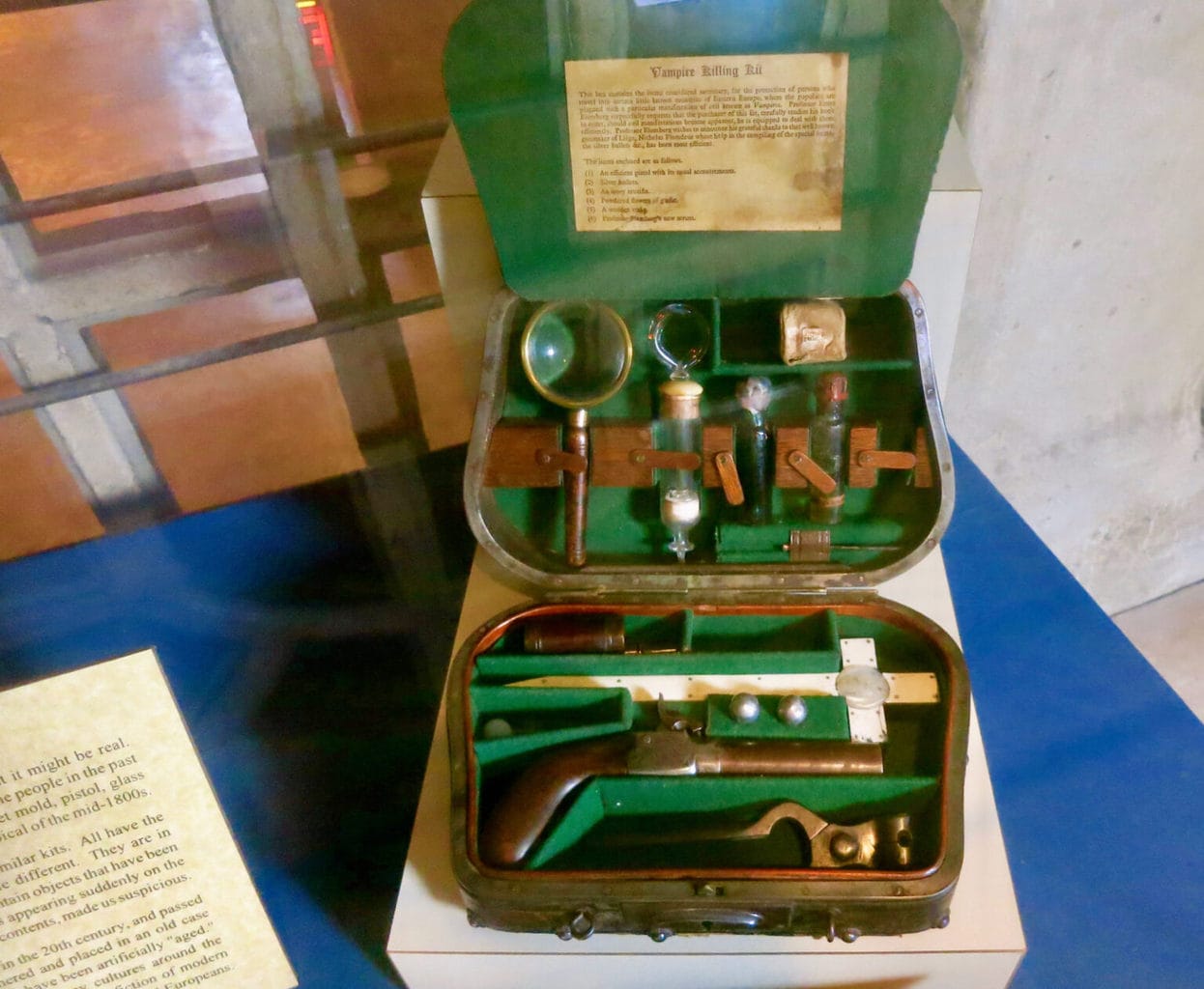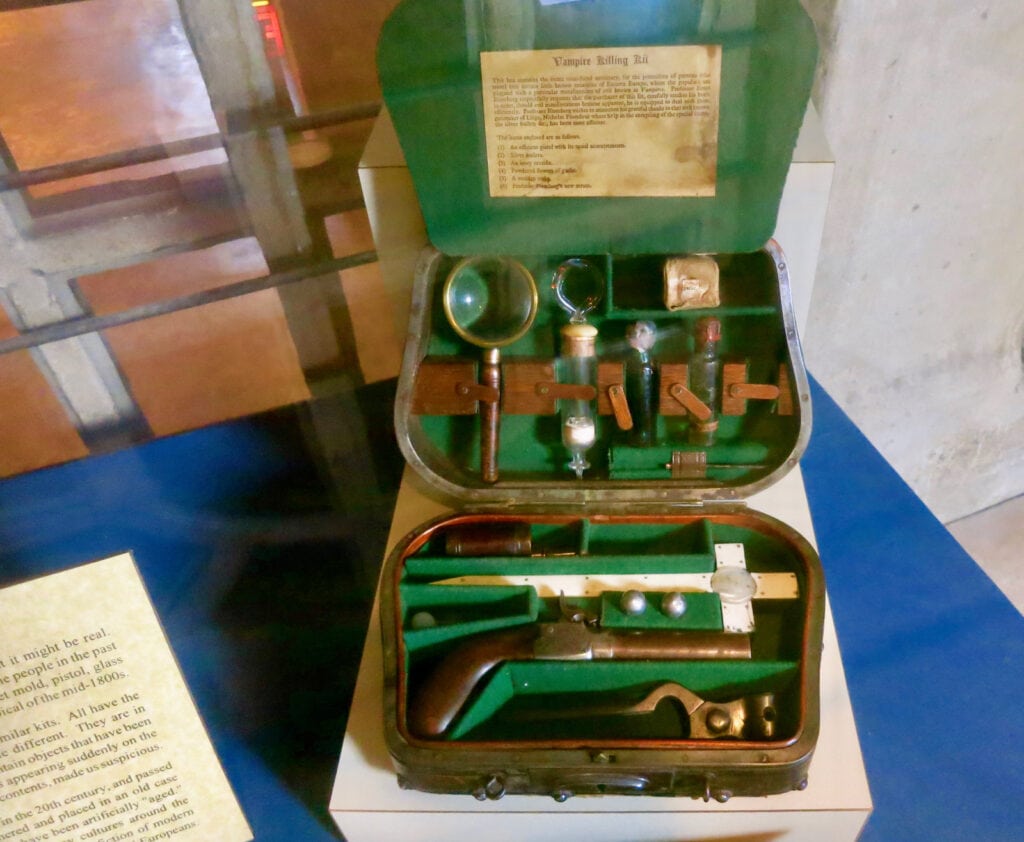 VISIT: Mercer Museum Doylestown, Bucks County PA
Opened in 1916, this was the third concrete structure built by Henry Mercer to house his collection of pre-industrial tools.  First-time visitors will just want to stand in the 6-story Center Court of Mercer's original edifice, look up and gawk.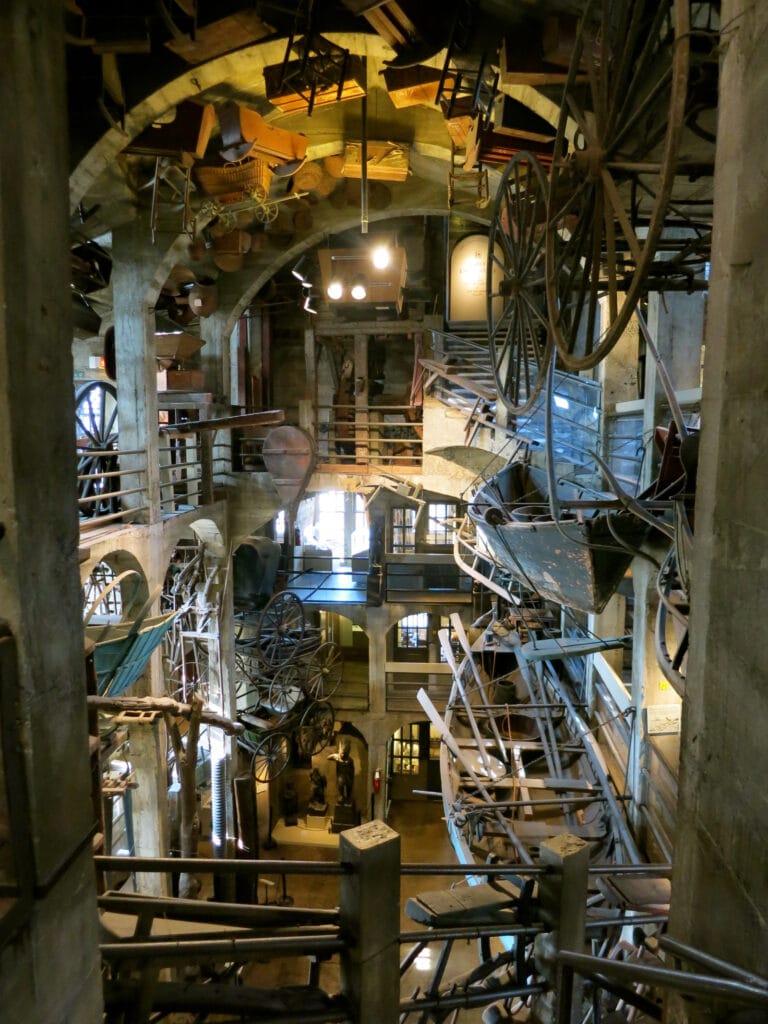 Mercer was a poster-boy for the Offbeat.
Thousands of obsolete tools, representing sixty crafts and trades, either hang from walkways or are crammed into display cases. There's a whaling boat way, way up there. Plus, you'll find a cigar store Indian, stove plates, antique buckets, wagons, musical instruments, and thousands more stamped with I.D. numbers.
But make a beeline to the following two really curious items. The museum houses a Vampire Killing Kit – complete with pistol, silver bullets, and crucifix (acquired by the museum in 1989). The 9-ft high hangman's gallows on the 7th floor was last used to execute a murderer in 1914. Open year round Daily 10-5, Sun.  $15 adults, $8 kids, self-guided tours with headsets.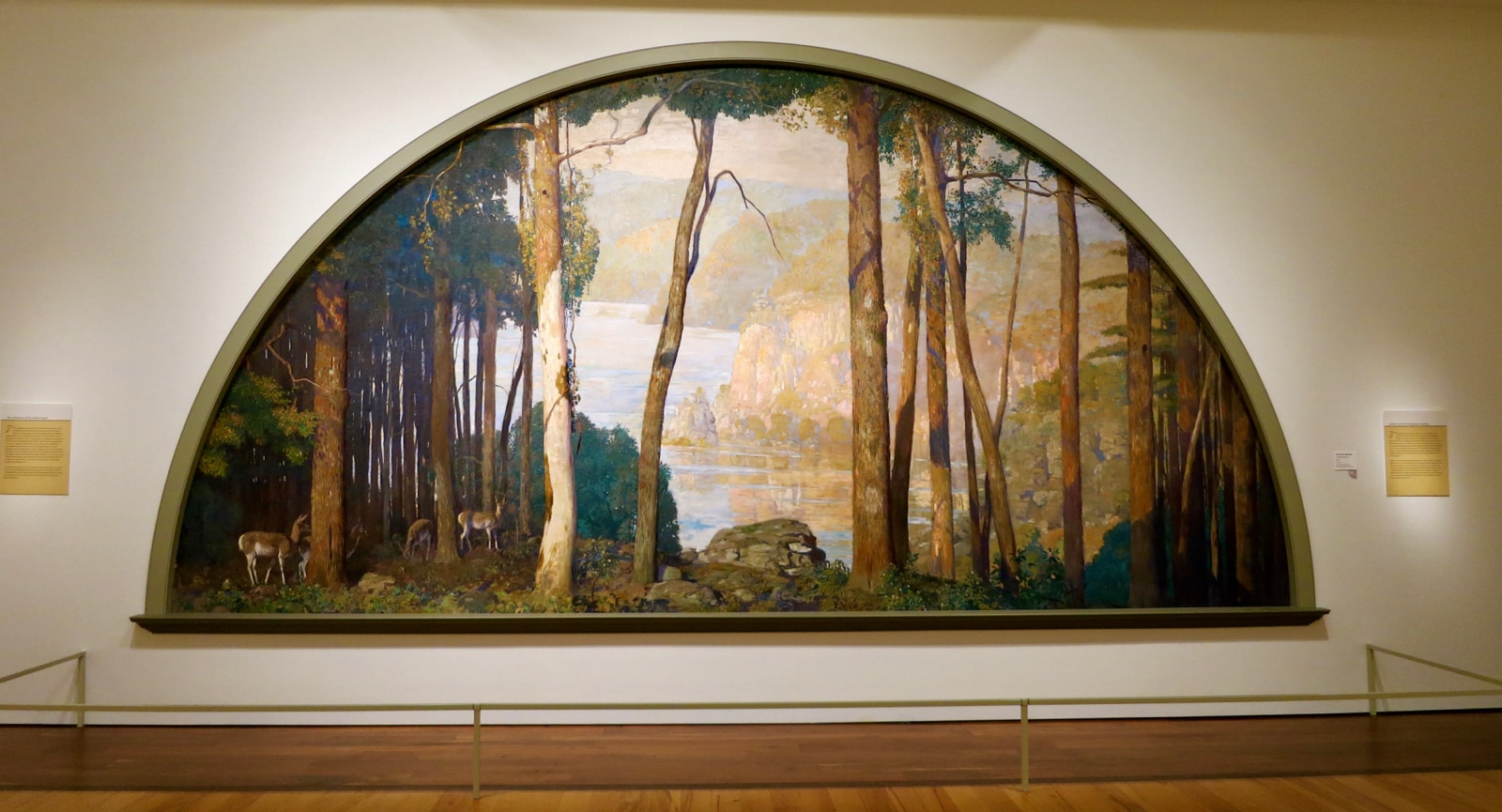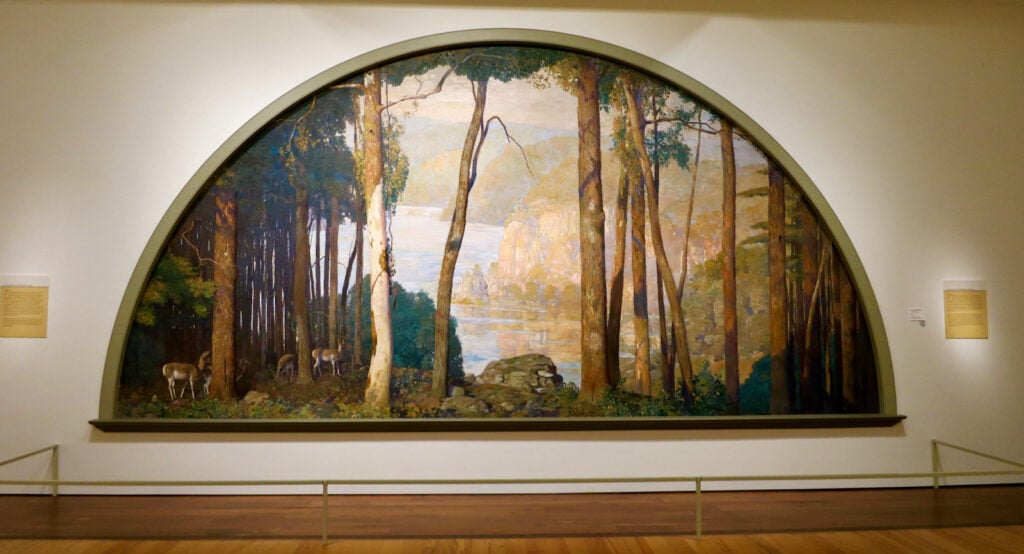 An art museum named after the King of the Generational Saga? Yes, the man who wrote Hawaii and The Source had roots in Bucks County. Though dirt poor ones.  And apparently he was an art collector since birth.
The Bucks County Prison closed in 1984, sparking a grass roots movement to repurpose the building as a world-class art museum.  Michener was pressed to lend his name as fundraising draw.
The Michener Art Museum is now considered "The Art & Soul of Bucks County." It features the largest collection of Pennsylvania impressionists, thanks to a donation of 68 paintings from Gerry and Margaurite Lenfest in 1999.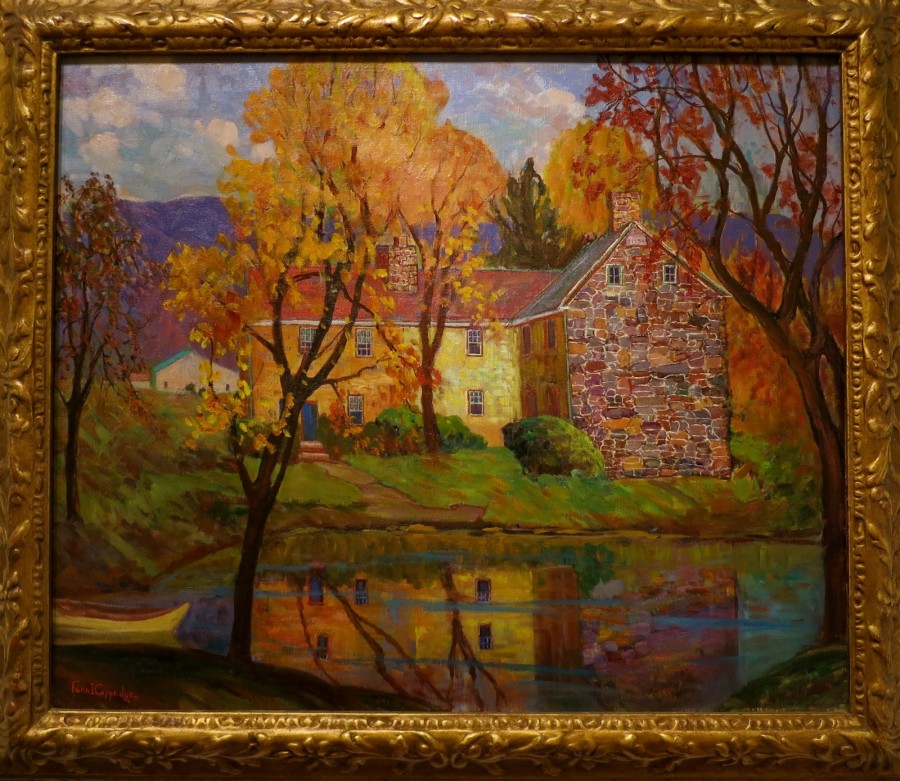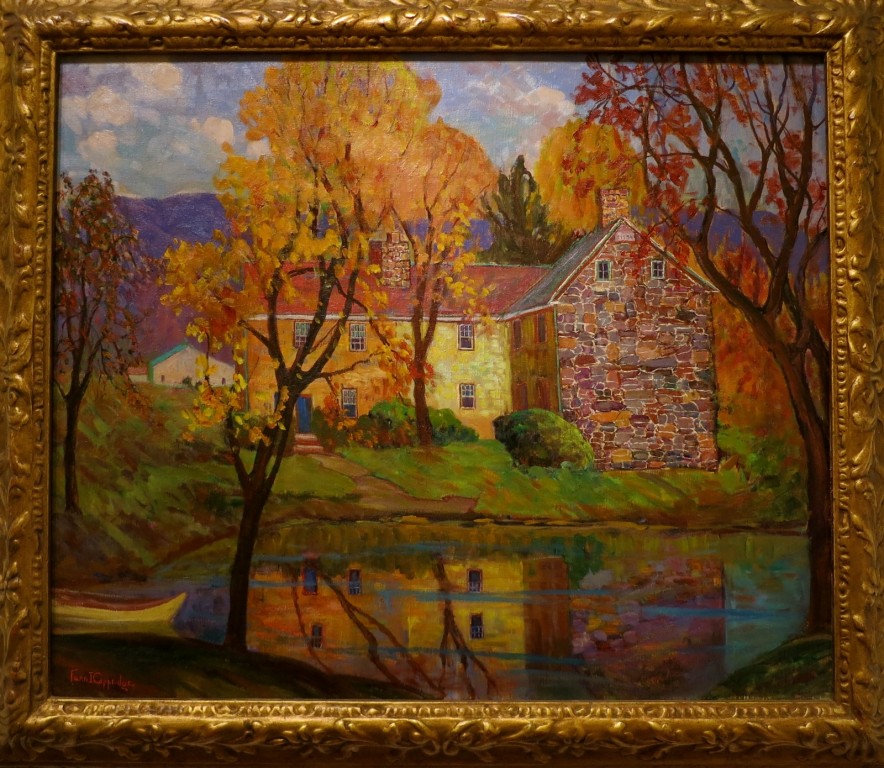 A large Daniel Garber mural of the Delaware River anchors the Lenfest Exhibit, which also includes most of the great PA impressionists of last century, including my personal favorite, the vivid saturated barn and landscapes of Fern Coppedge.
In addition to paintings, the Michener showcases unusual modern and texturally grained organic Japanese furniture in stunning floodlit galleries. Most is the work of the "Father of American Craft" movement, George Nakashima. Just incredible. Tuesday through Friday: 10 am to 4:30 pm
Saturday: 10 am to 5 pm
Sunday: 12 pm to 5 pm, $18 adults, $6 kids 6-18. Under 6 free.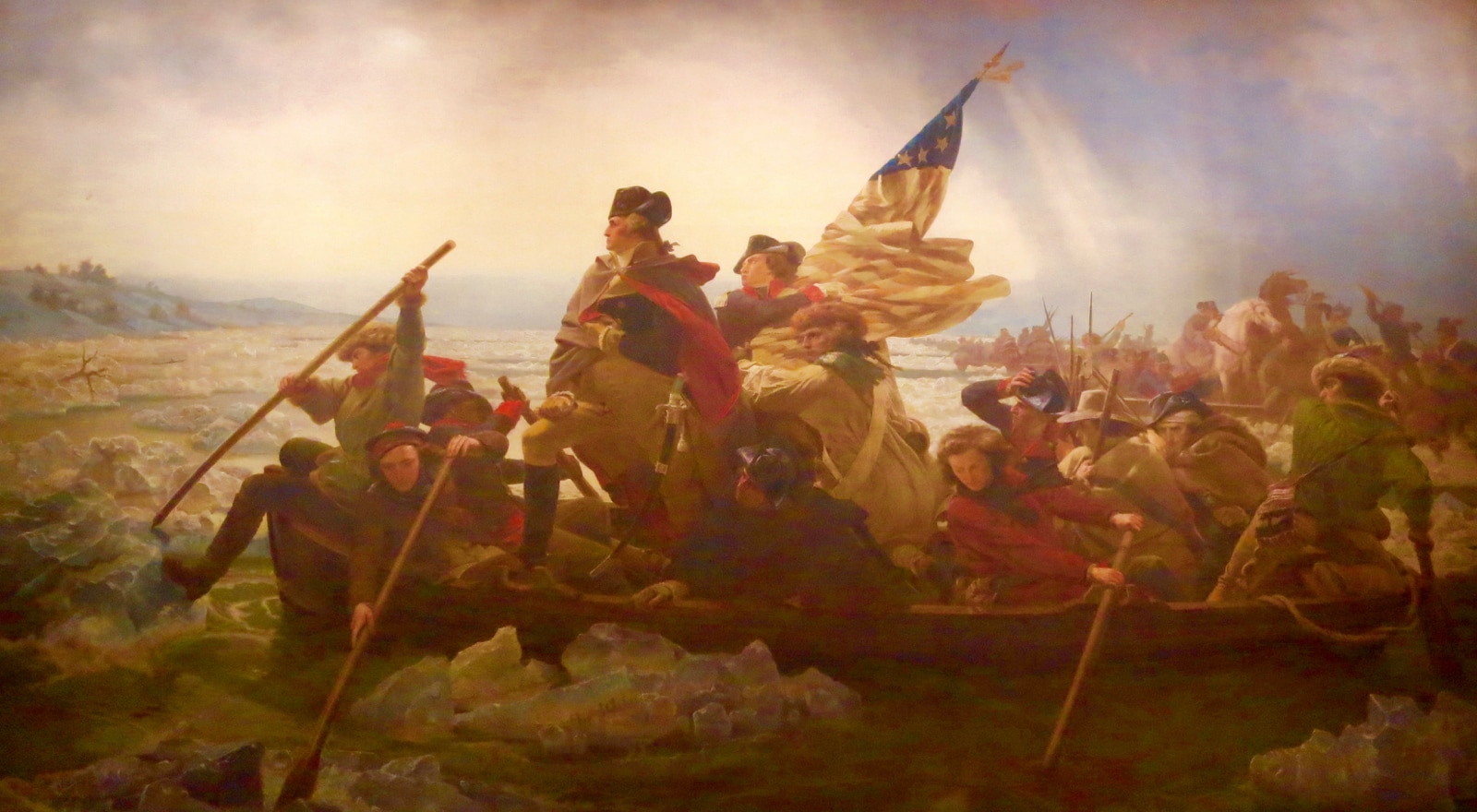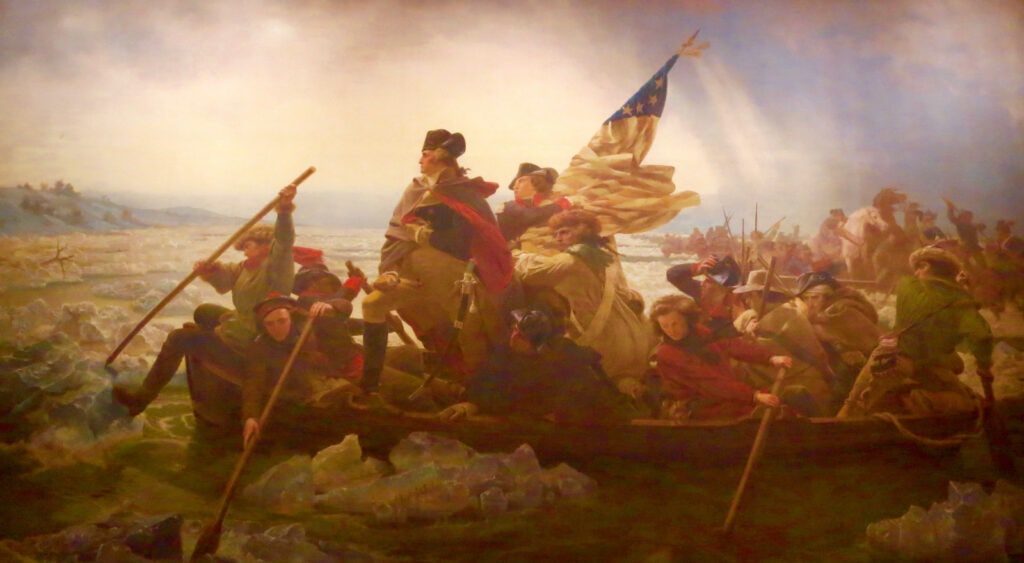 "These are the times that try men's souls," Thomas Paine wrote on December 23, 1776, as George Washington and the remainder of his militia huddled nearby that harsh winter.
After the Declaration of Independence was signed on July 4th, Washington positioned his troops in what is now Manhattan and Long Island. He lost each of those battles against the British.
By December, with morale at an all time low, the 11,000 strong Continental Army had dwindled to 4,000 as they retreated to the Pennsylvania side of the Delaware River.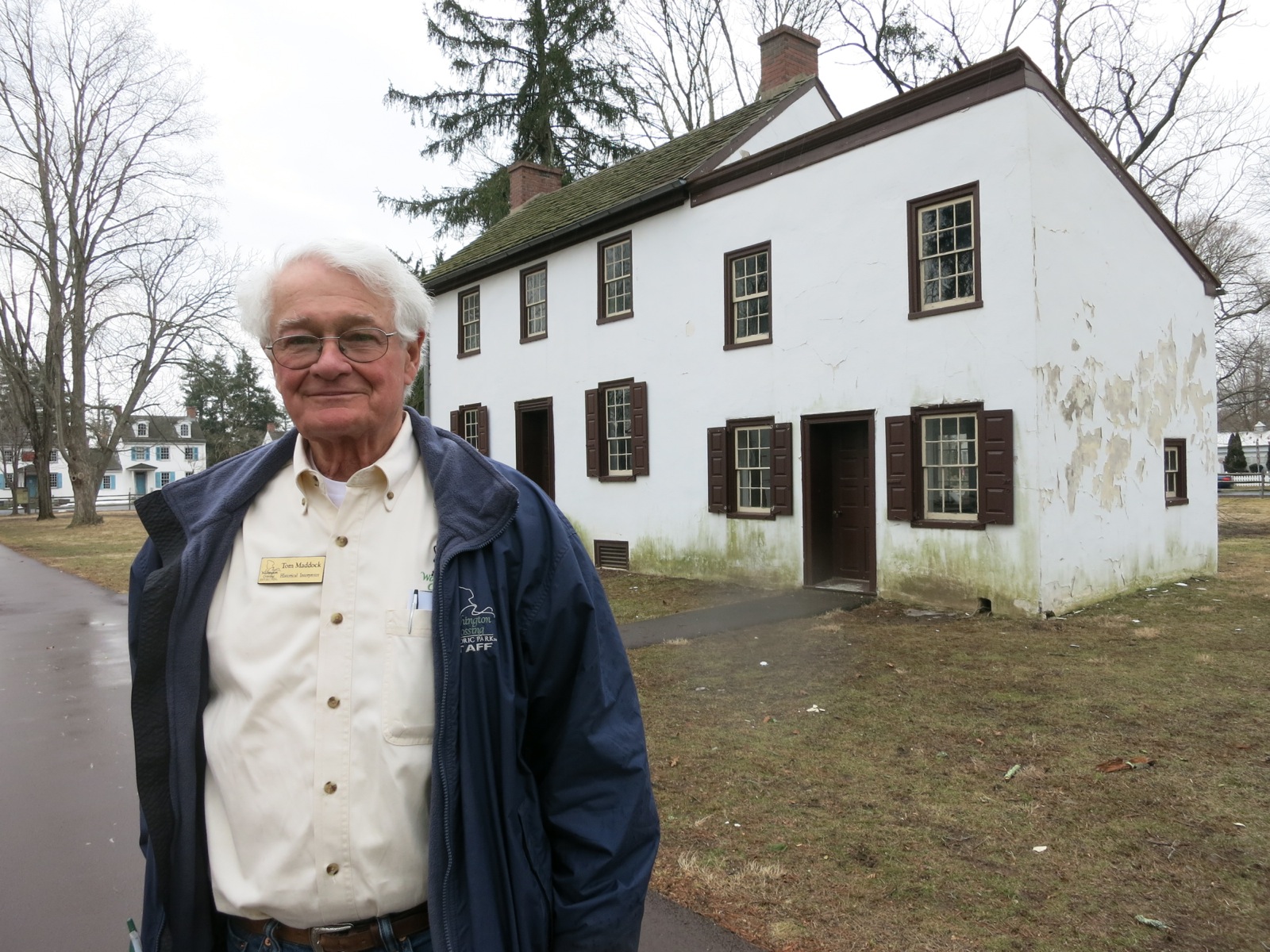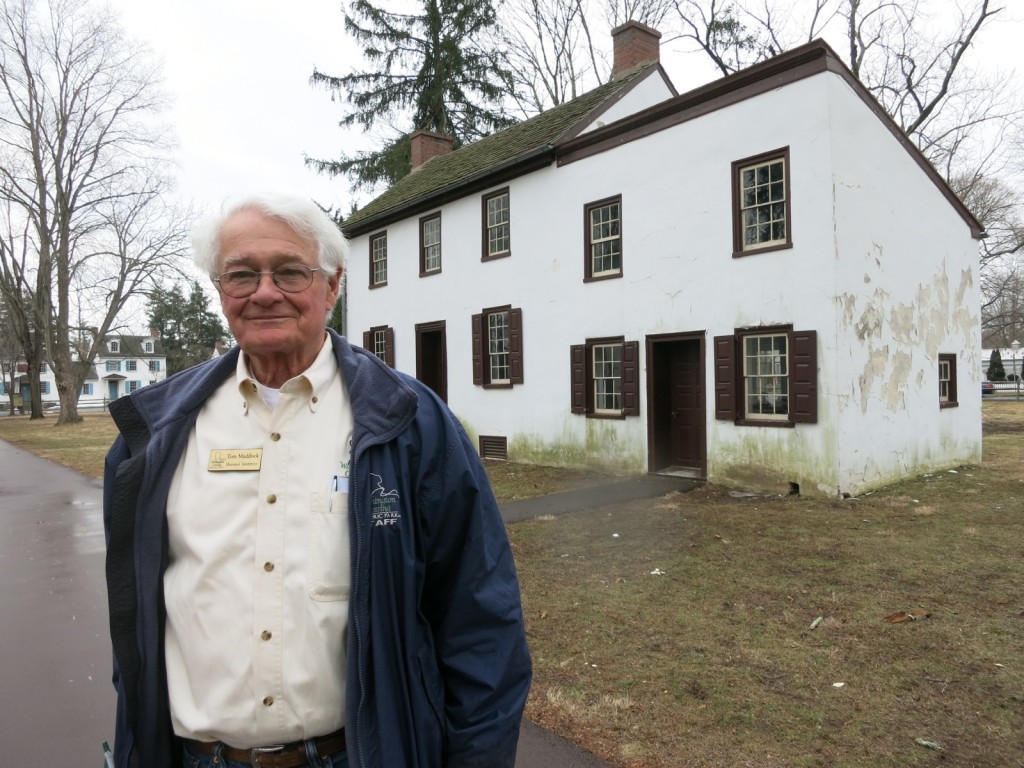 On December 25, with the Delaware nearly frozen, Washington made the decision cross with 2,400 soldiers and surprise the enemy in Trenton, New Jersey.
The Battle of Trenton was the first of his three victories as Commander in Chief within ten days.
For a personal look at Washington Crossing, ask Tom Maddock to guide you. He grew up on site in a home no longer standing. Your one-hour tour begins with a short video and lecture about that famous rendering of Washington Crossing the Delaware.
Painted by German national, Emanuel Gottlieb Leutze in 1840, it was meant to be strictly symbolic – not a "snapshot" of what actually happened. For example, Washington would not have been brandishing the American flag. It had not been created yet. Open Tuesday-Saturday, 9:00am to 5:00pm, Sunday, 12:00pm to 5:00pm Fee for walking tour.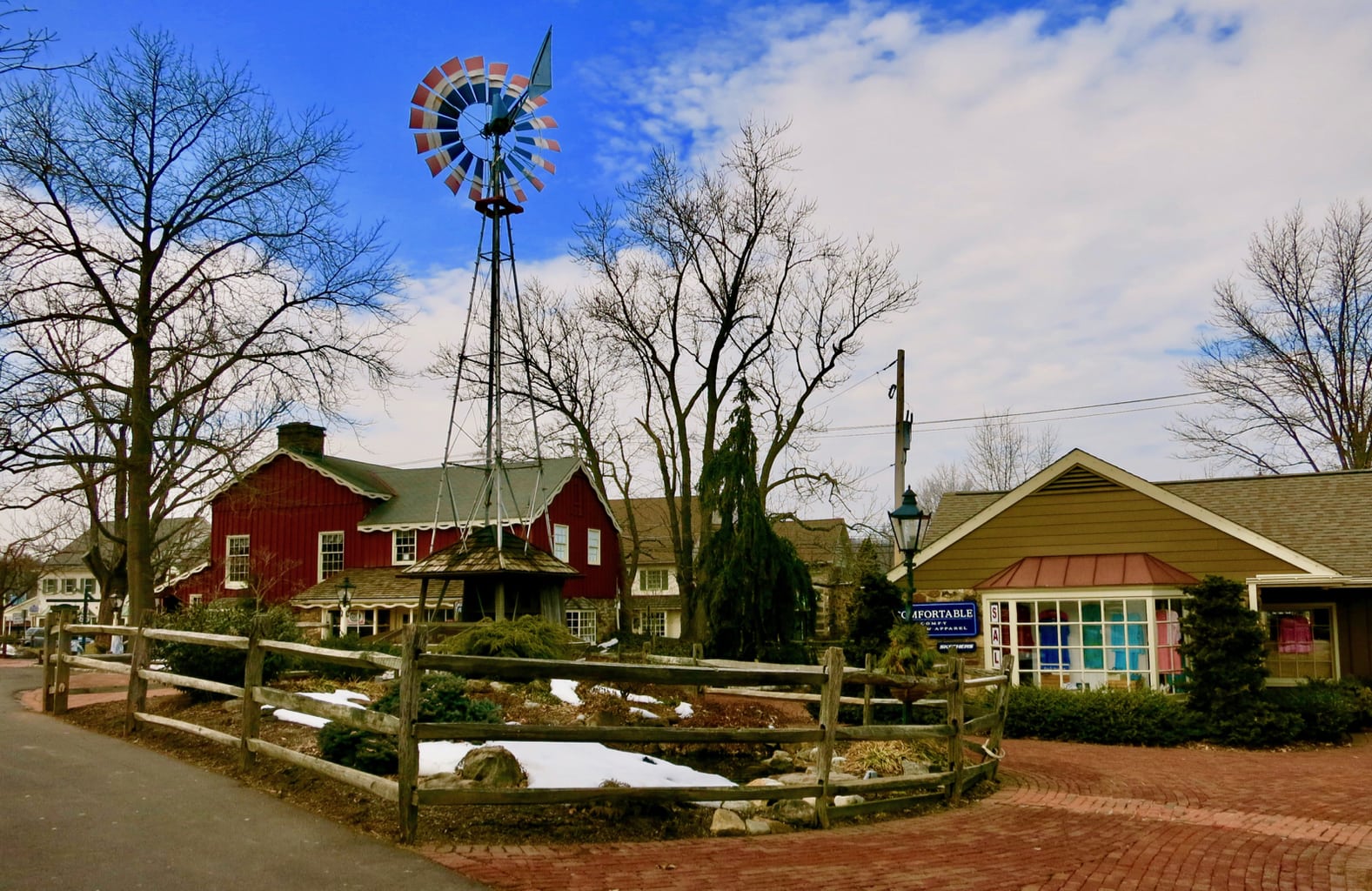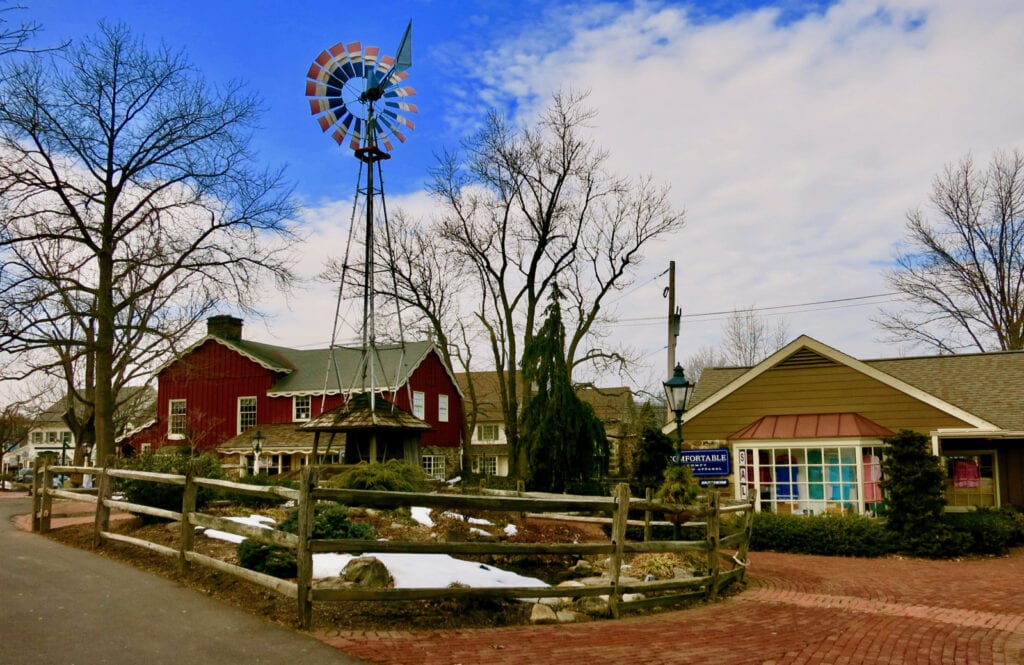 In the 1962, Earl Jamison, a local chicken farmer, enchanted by Carmel and Disneyland in California, decided to create his own little "Colonial-Era" village to host community events.
He converted a set of chicken coops into the Cock and Bull Pub. And he made sure that his childhood favorites, like "Chicken Pot Pye," were on the menu. Since then, Peddler's Village has expanded to over 42 acres, with 70 independently-owned shops and restaurants. And one inn – the Golden Plough.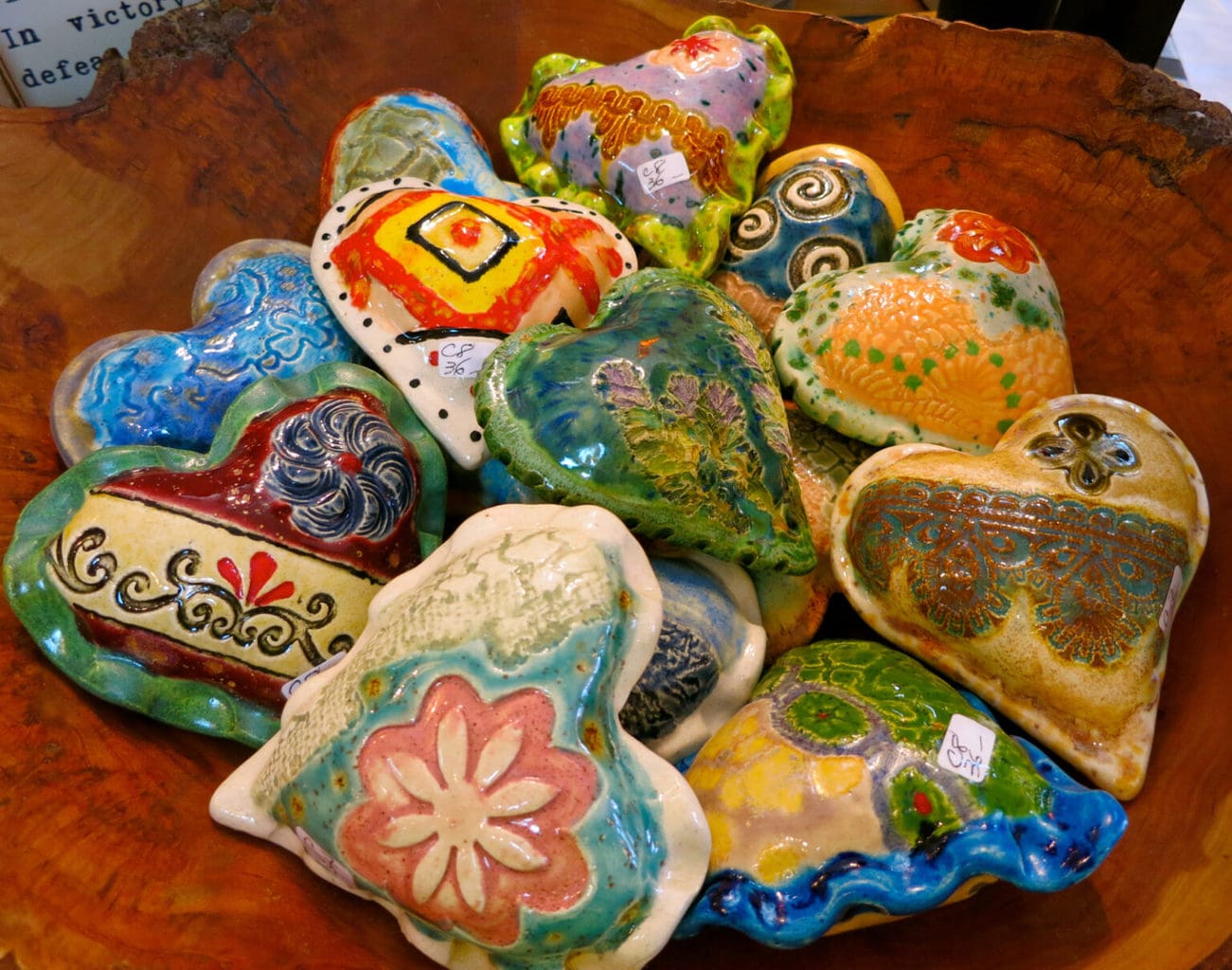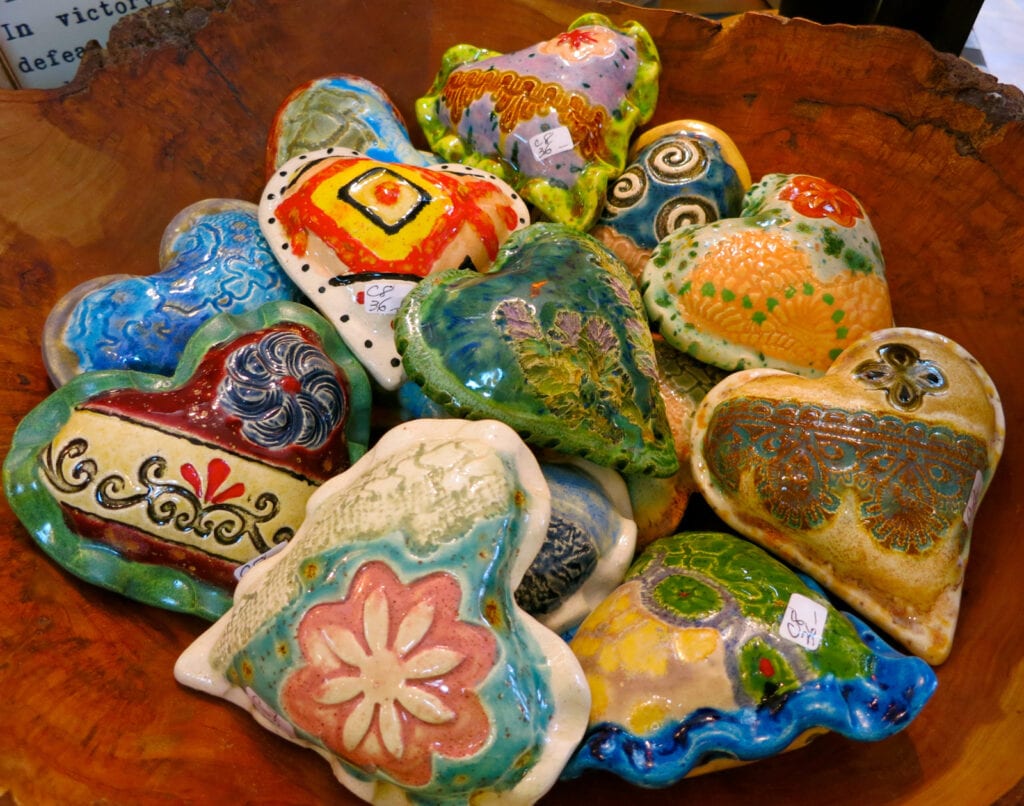 Earl did much of the work, laying out all the brick walkways himself.  Though he passed away in 2002, Peddler's Village is still family owned and operated. Annual Festivals – like Apple in November, Strawberry in May and Scarecrow in the Fall –  bring in locals and guests by the thousands.
You can pick up a fun Ceramic Heart ($30-$36) at Artisans Gallery, infused olive oil at Casa Casale Italian Shop, and monogrammed toilet paper ($7.95) and decorative home hardware at Knobs and Knockers. Monday – Thursday, 10 am – 6 pm  Friday – Saturday 10 am – 8 pm Sunday 11 am – 6 pm.
History is spooky on the ever-popular evening tour of this riverside canal town. Hear about the mystery hitchhiker, spirits that still hang around old inns, and other unexplained Bucks County PA phenomenon. 8pm every Saturday from June-mid November. (Fridays as well in Sept an Oct.), $10.  No reservations necessary.
Restaurants in Central Bucks County PA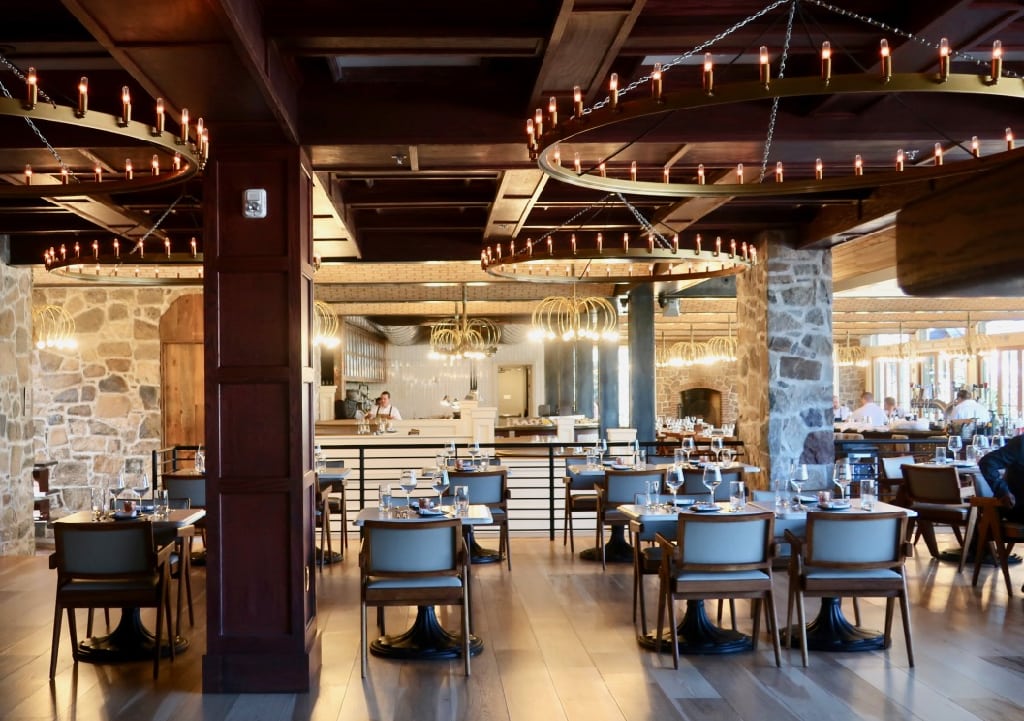 EAT: Ferry and Main, New Hope
Located in the newly renovated to chic Logan Inn, Ferry and Main is yet another stellar Bucks County eatery. You can read all about it in this Logan Inn post.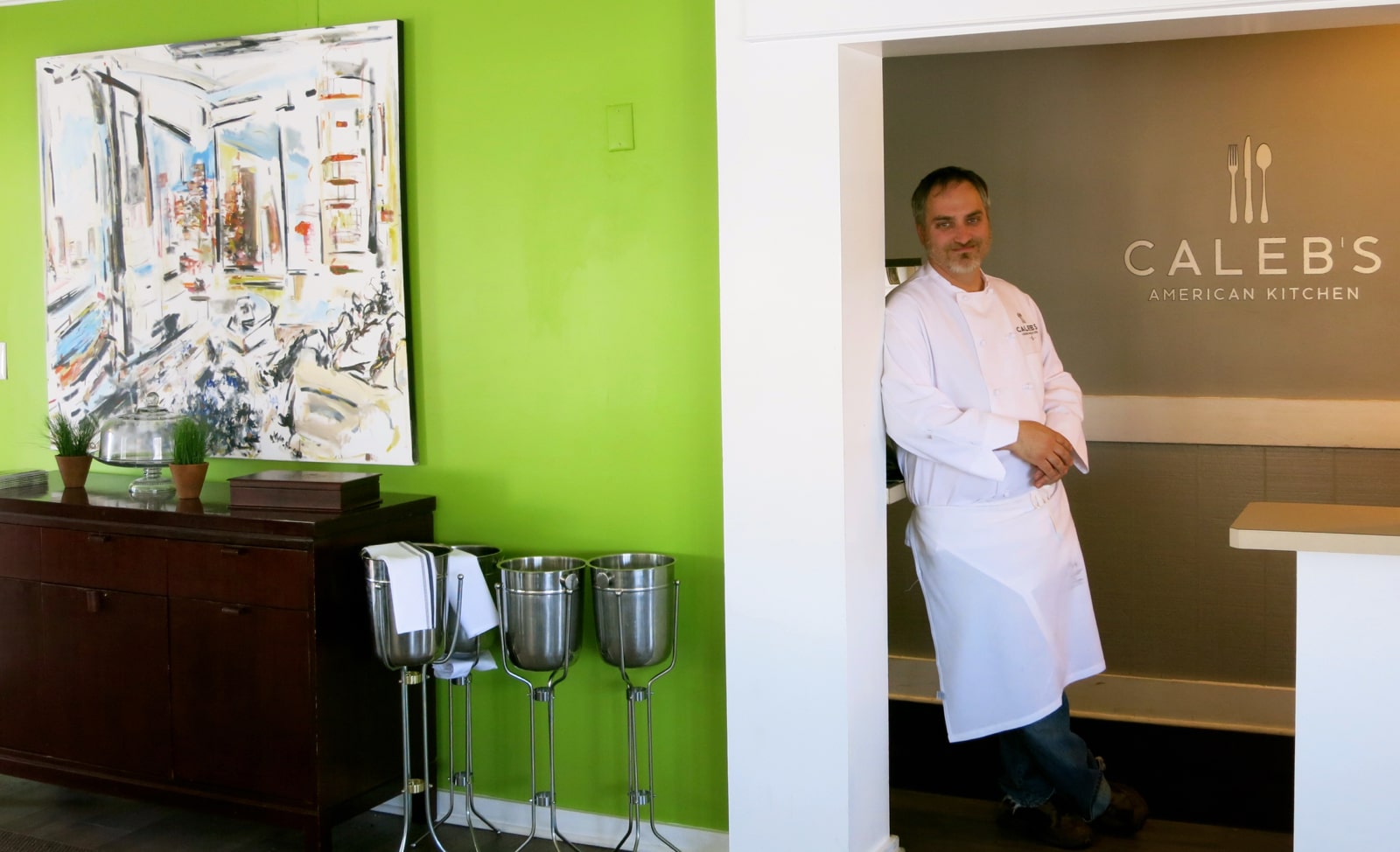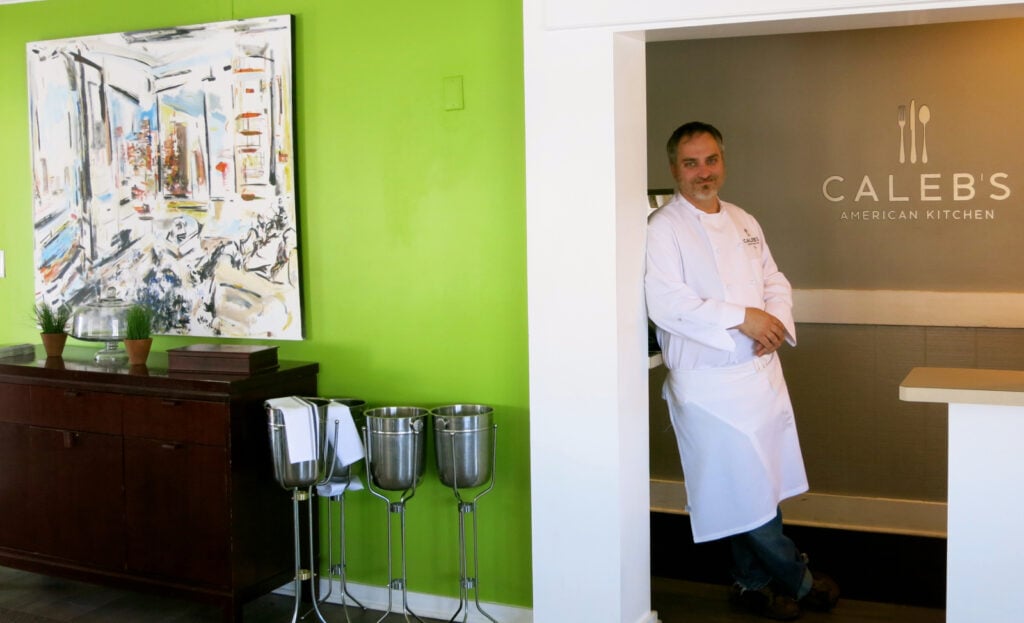 When Chef Caleb Lentchner opened this MoMa-like, farm to table spot in October 2013, he didn't want it to be "a tourist place." So, embracing "Regional American Cuisine," he kept the price-point low and in flowed the locals.
And, from the looks of it, first time patrons and visitors, too, are effusive in their praise of décor and everything that comes from the kitchen.
With walls of bright lime green festooned with contemporary art and circular lamps hanging over grey tables and white chairs, Caleb's is surely a departure from most traditional Bucks County eateries.
Lentchner sources ingredients from the best. "Big Salads" and a variety of burgers are $12-$15, and inventive dinner entrees are in the $20's – $30's range.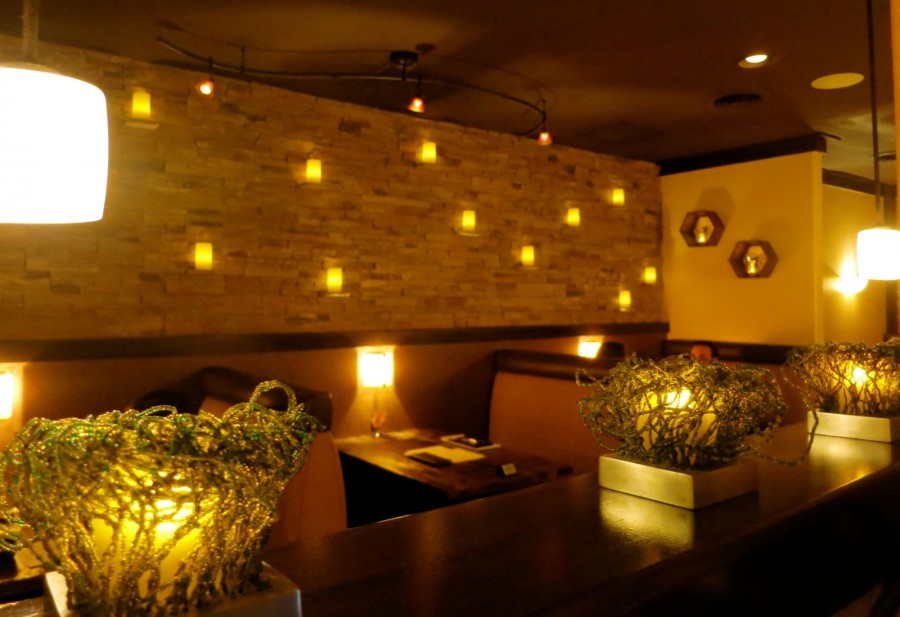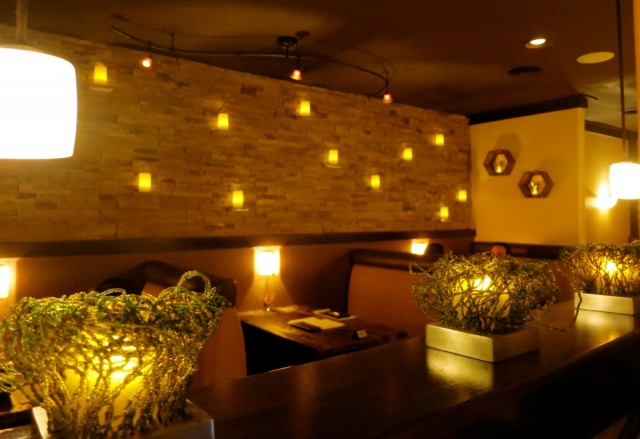 If you want to sit and revel in bite after bite of cutting-edge, imaginatively served small-plate food, Honey Restaurant in Doylestown is worth a drive from anywhere. "Self-taught" Chef Joe McAtee has been thrilling locals and visitors with his ever-changing world-inspired American cuisine, thinking outside the box. Way outside.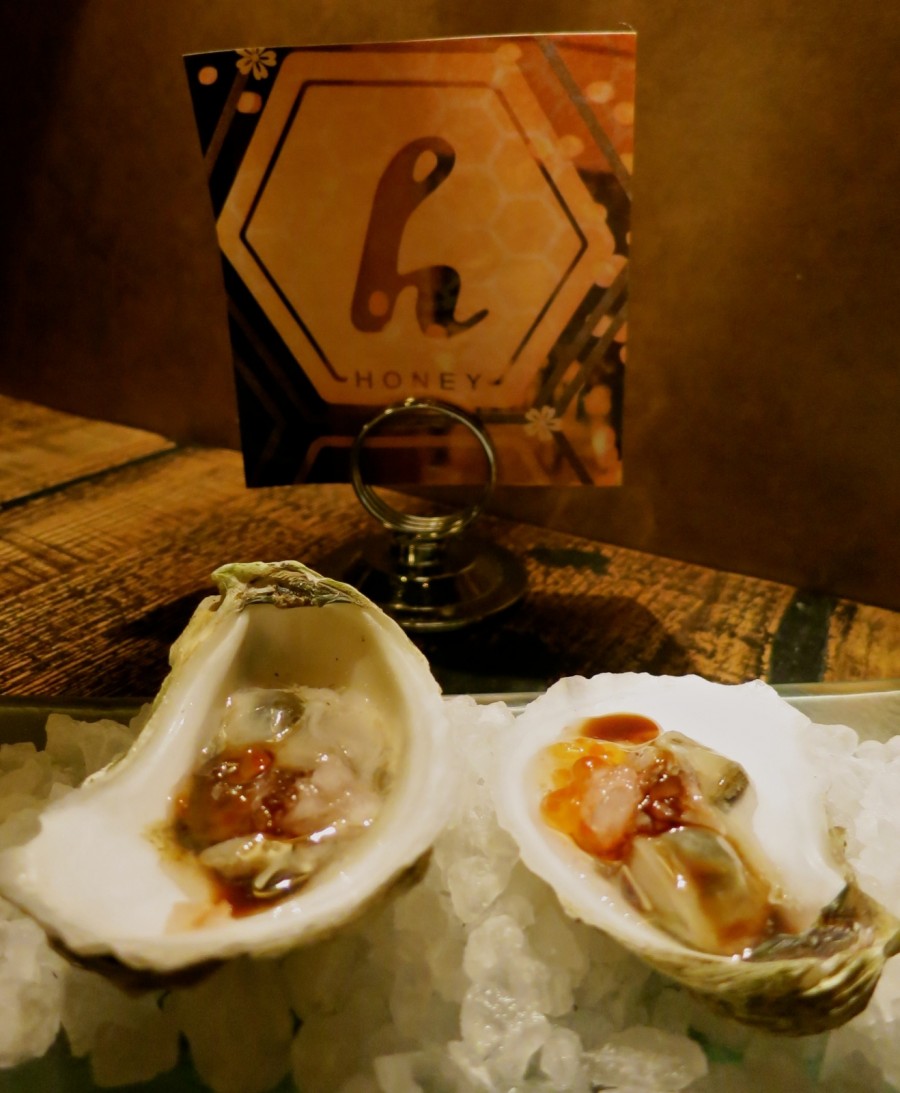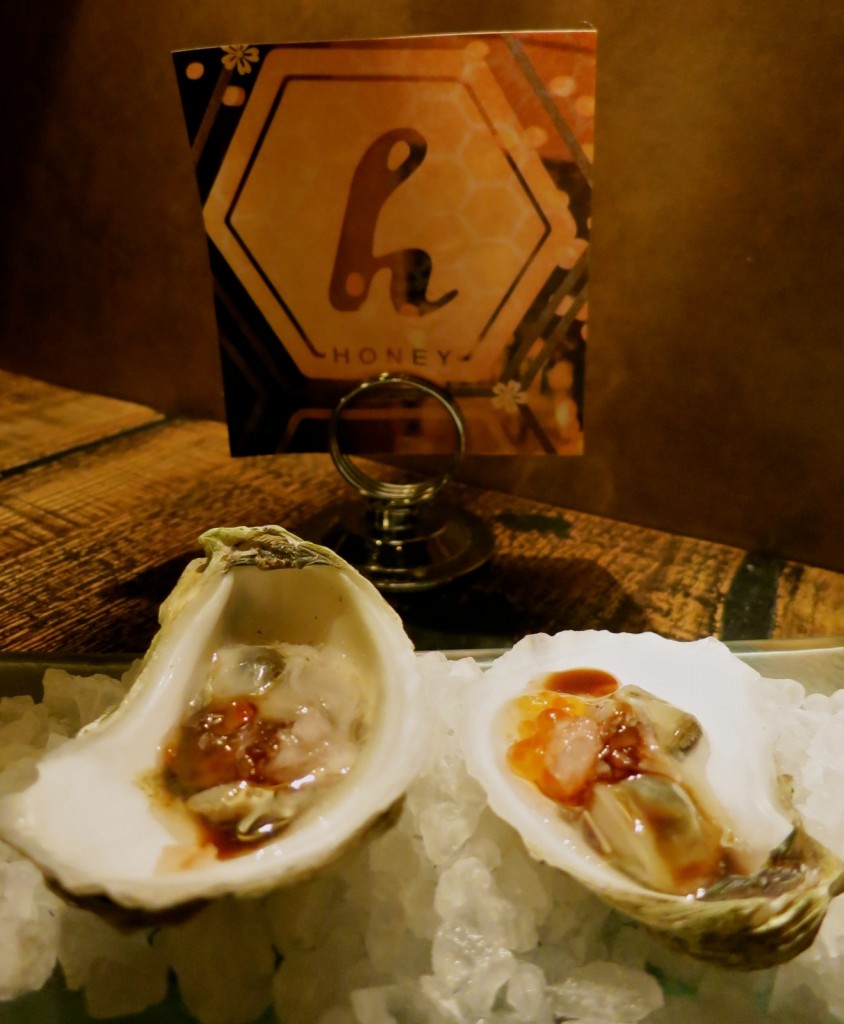 McAtee pairs Black Tea Glazed Spare Ribs with Spicy Ginger Ice Cream ($18), Boar with Escargot on skewers ($24), Black Velvet Oysters with a deeply flavored Guinness Stout reduction ($21); each resulting in a blend of potent tastes, temperatures and textures.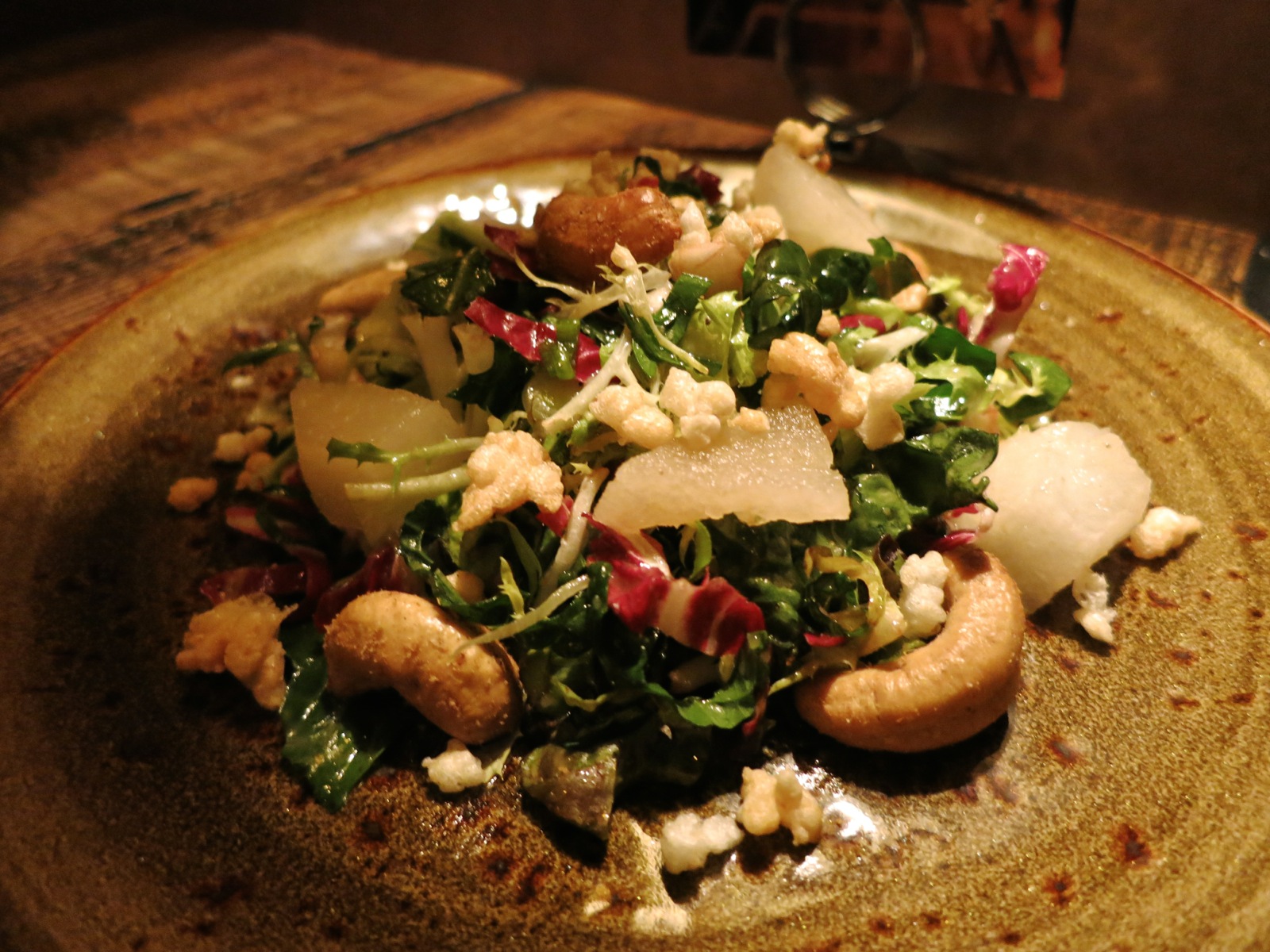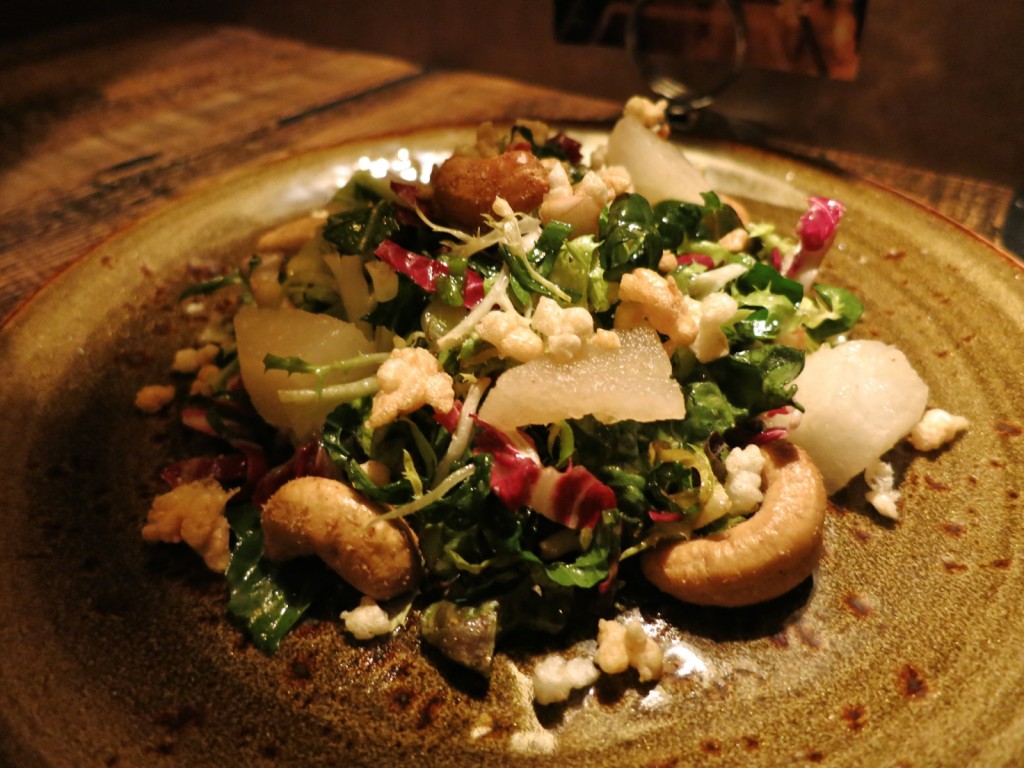 If I lived closer, I'd return day after day for a quadruple portion of the Kale Salad ($12), which offers up a variety of crunches – from the snappy fresh greens, puffed rice, crispy cubes of Asian pear and cashews.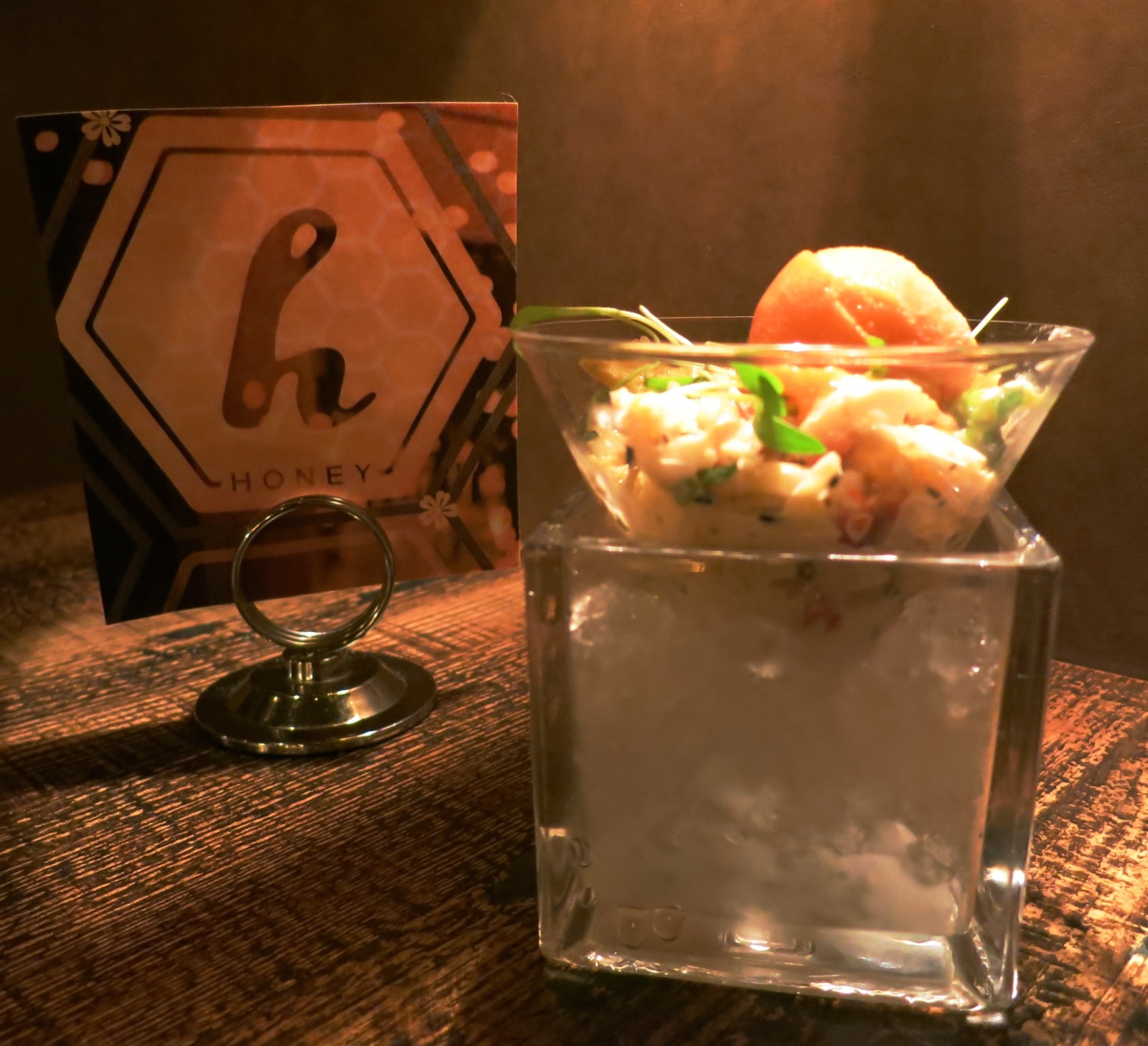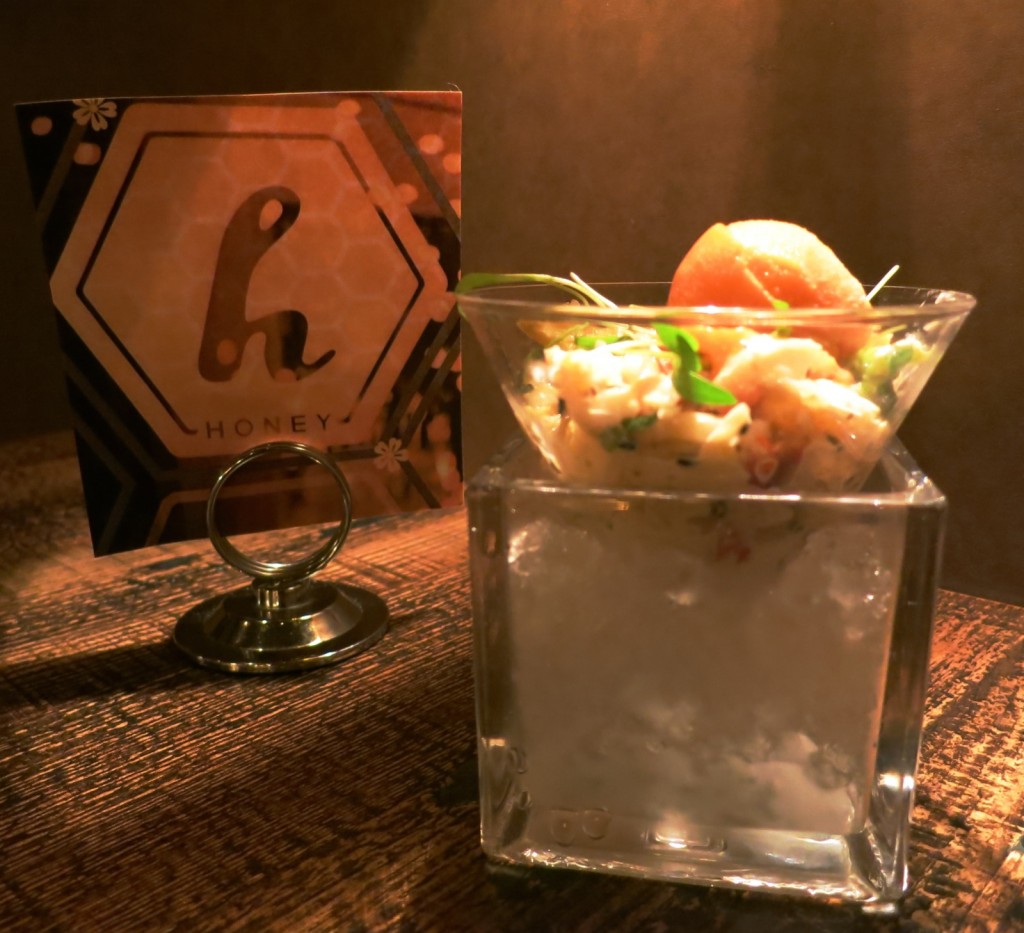 And though I'm not a huge fan of shellfish, I went wild for the Fire and Ice ($24) – a mélange of Alaskan King Crab, spicy carrot sorbet and miso-chile mayo – an implausible combo of sweet, spicy, savory, and freezing. Lots going on, but it works. Check calendar for special event tasting menu; $150 per COUPLE for 9 courses.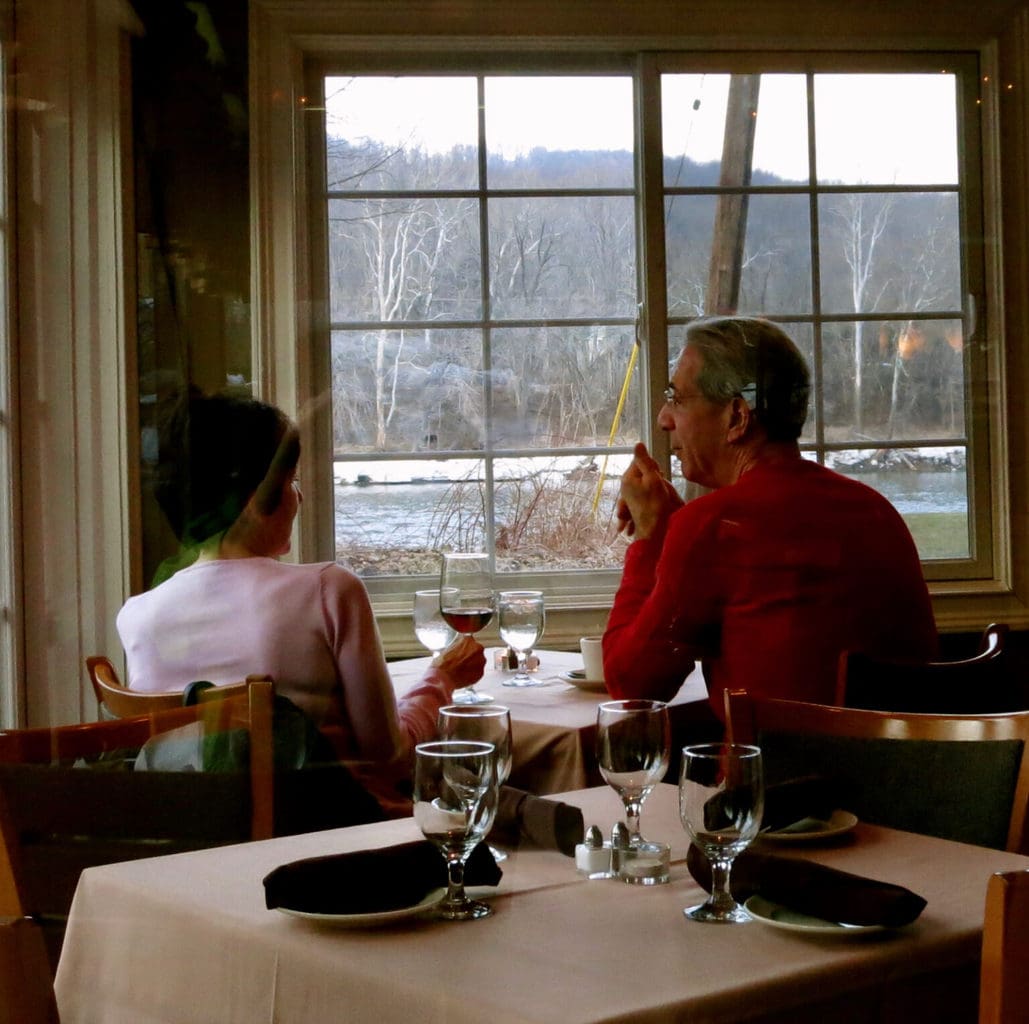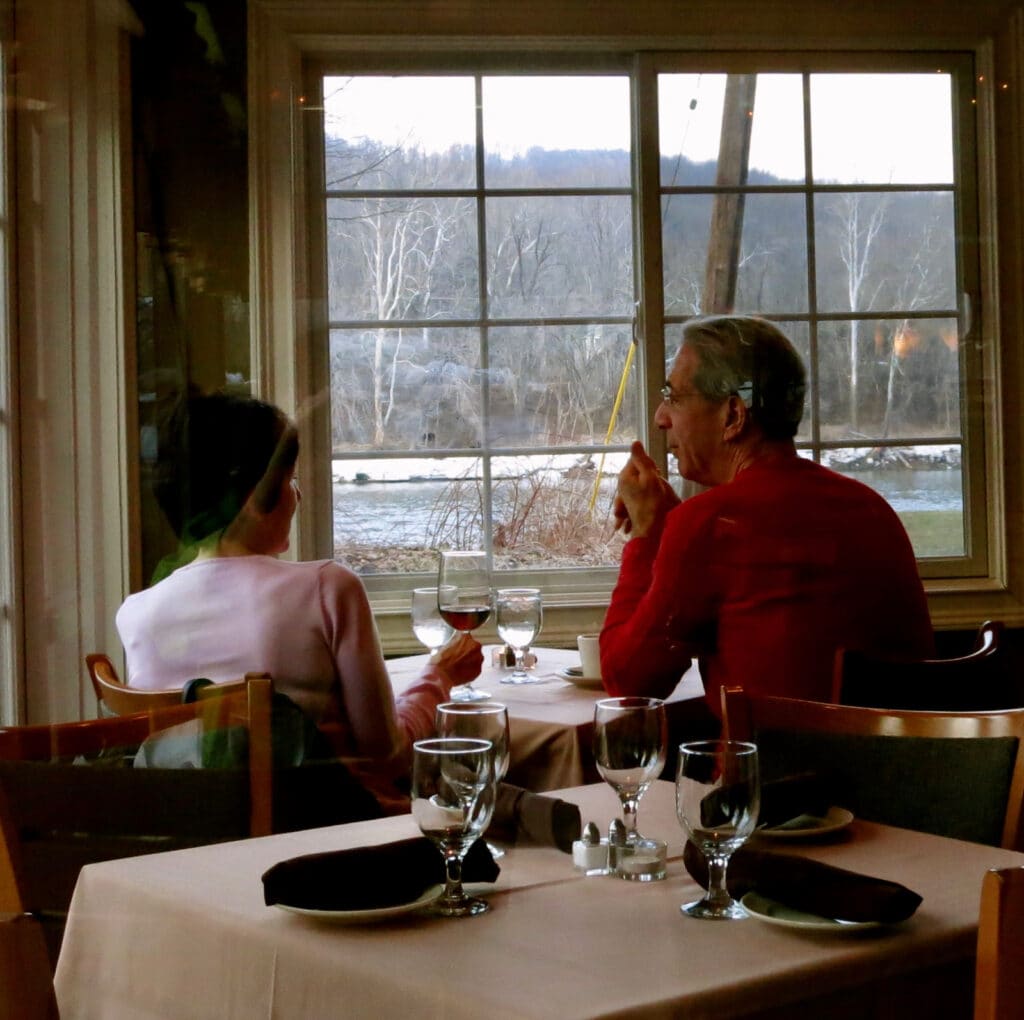 Some great food comes out of this nondescript, simply decorated roadside restaurant on the river road between New Hope and Washington Crossing.
Nosh on Ahi Tuna encrusted with sesame seeds in honey soy sauce or Chicken Rosamaino, sautéed in olive oil with garlic, shallots white wine while watching cyclists and the river go by.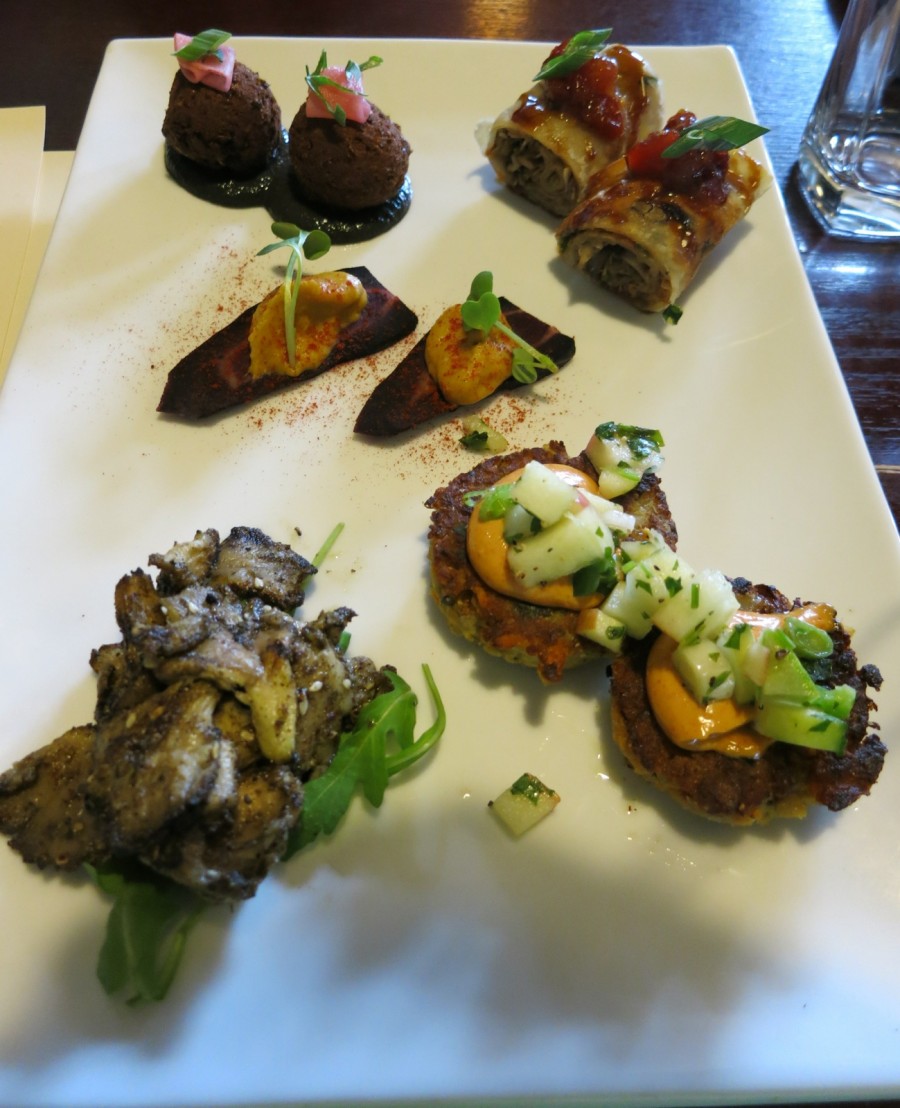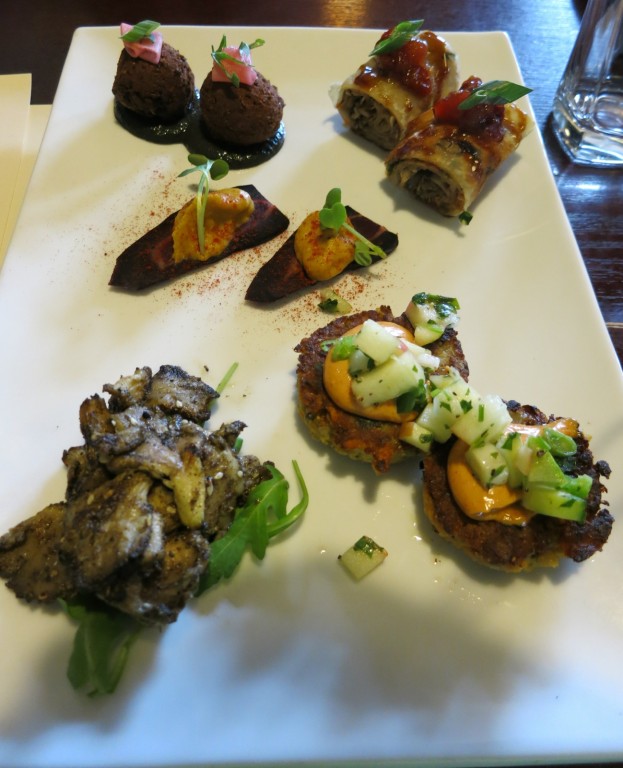 Over half of his patrons aren't vegan or even vegetarian, says chef/owner Ross Olchvary. The all-plant based food here is that good.
Of course, the menu changes seasonally, but if available, go for Olchvary's Grilled Oyster Mushrooms ($9), Black-Eyed Pea Sweet Potato Griddle Cakes ($10), or Green Onion Pancake Roll ($9).
The PB&J French Toast sprinkled with molecular gastronomically made peanut butter powder – turns yummy creamy in your mouth. I'm a big fan of Vegan done well, and this restaurant is among the best.
Bowman's Tavern, right on River Road, was updated in 2014 in both atmosphere and menu. Though it looks like a tumble-down roadhouse, owners James Seward and chef Mike Livelsberger "increased the quality" of both the food and décor.
Greens come from a garden out back. And Mike forages his own mushrooms in the surrounding forests. His signature – Seared Scallops with creamed corn and white truffle oil, reflects an uptick in cuisine. At night, expect crowds – there's live music every night of the week.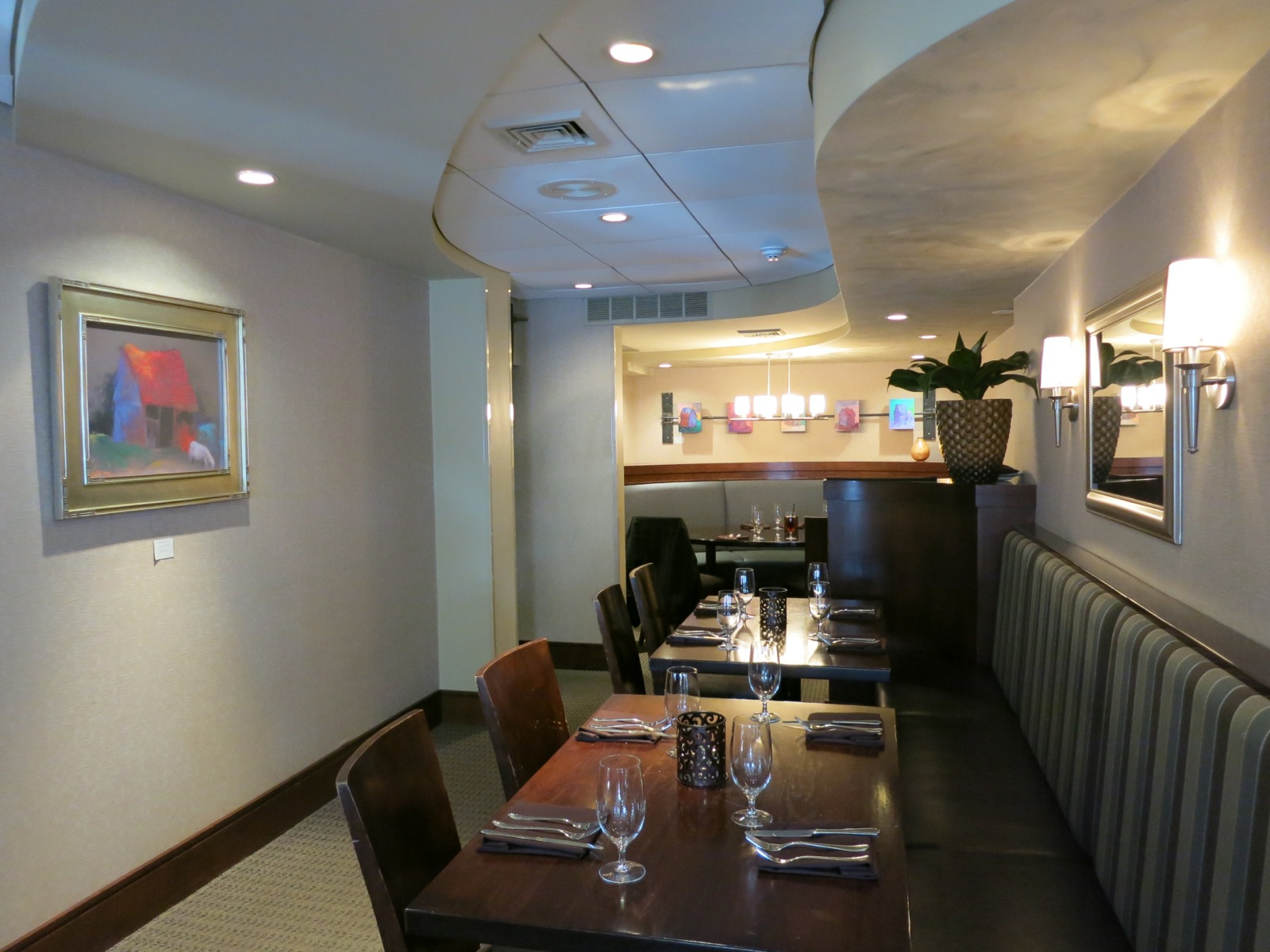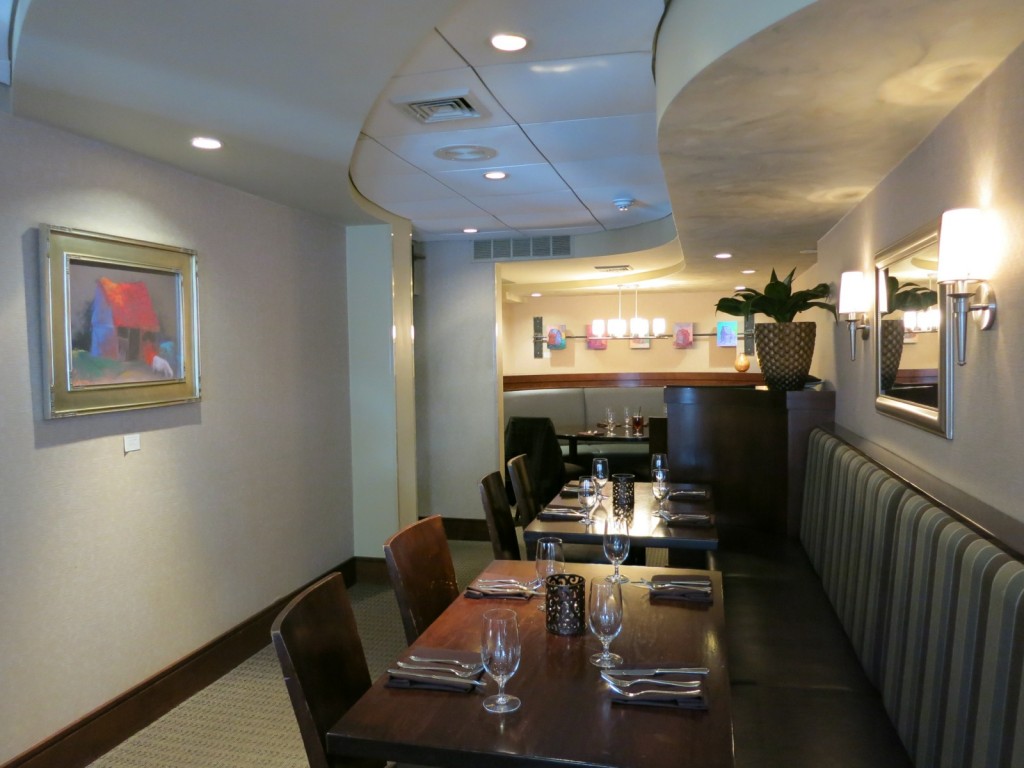 Re-named in honor of its founder after his death, this fine restaurant was Jenny's Bistro, then Earl's Prime before new General Manager, David Zuckerman and chef Bill Murphy took over. They lightened the design, purchased vivid artwork from neighboring artist,Al Lachman, and brought truffles and micro-greens to the table.
Local farms supply chicken and pork. Salad-makings grow in an on-site greenhouse and the 1,800 sq. ft. garden. Earl's generally wins Wine Spectator Award of Excellence for its 170-bottle selection.
Start with the first-rate Chop-Chop Salad. Then spring for the 18oz Cowboy Steak, or toothsome Bolton Farms Chicken with Truffled Polenta and Shaved Brussels Sprouts, and end with Meyer Lemon Ice Box Tart.
Where to Stay in Bucks County PA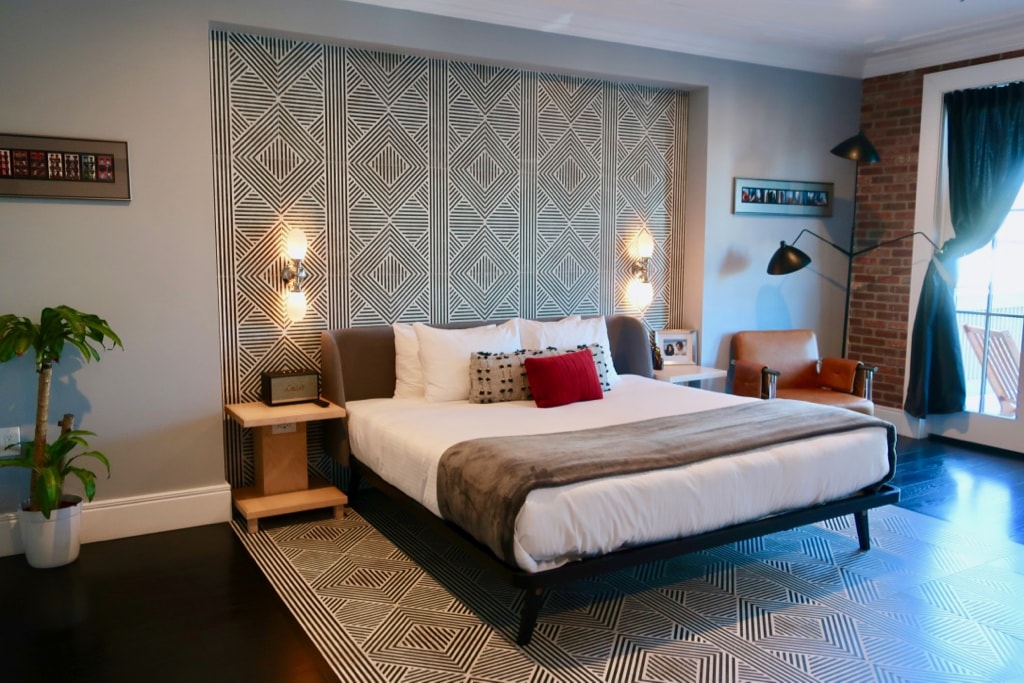 STAY: Logan Inn, New Hope PA
After a top to bottom renovation and expansion, the Logan Inn is so cool and trendy (not to mention, delicious), the Getaway Mavens have proclaimed it a Maven Favorite, with its own page coverage in this Logan Inn New Hope post.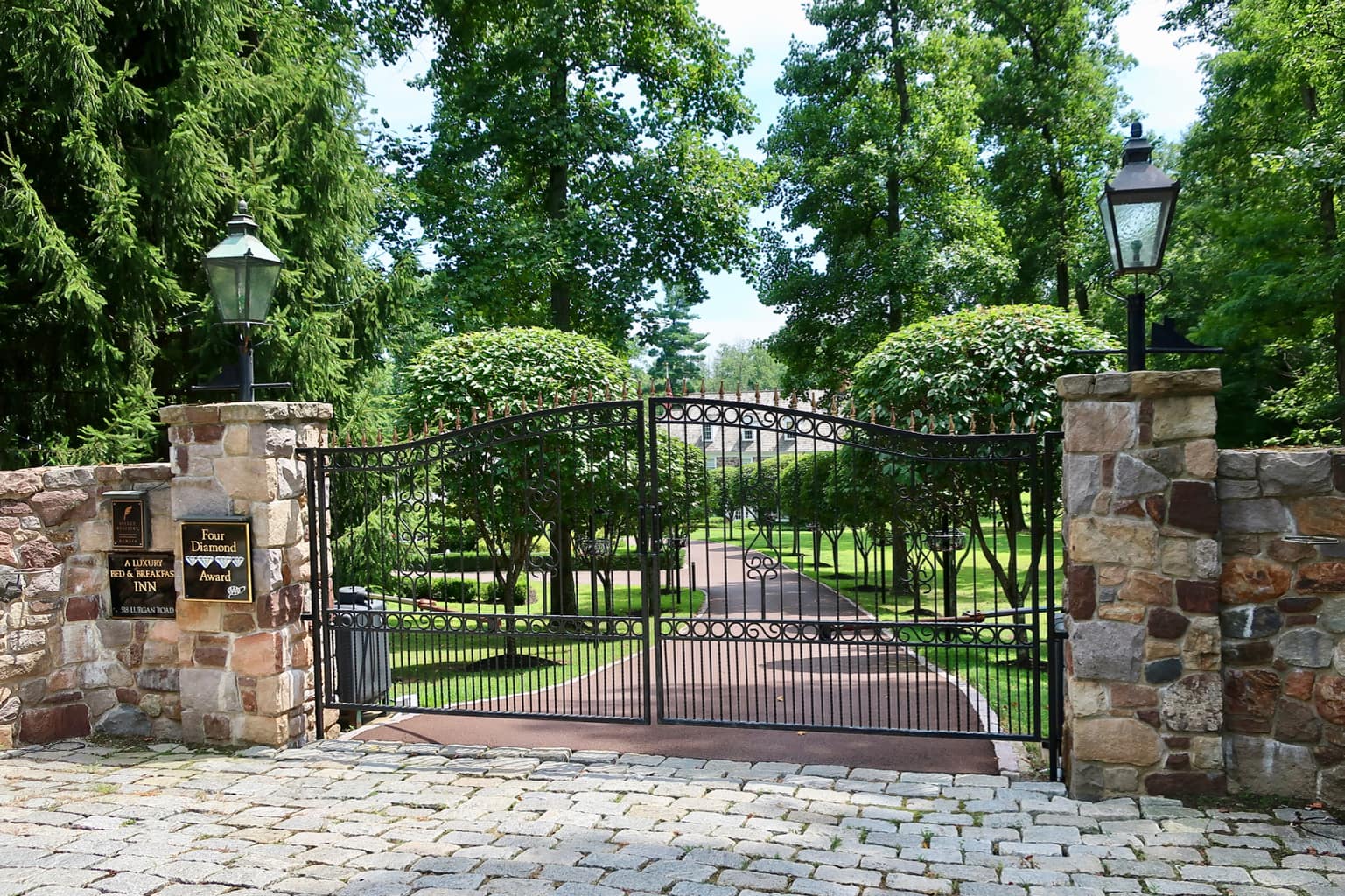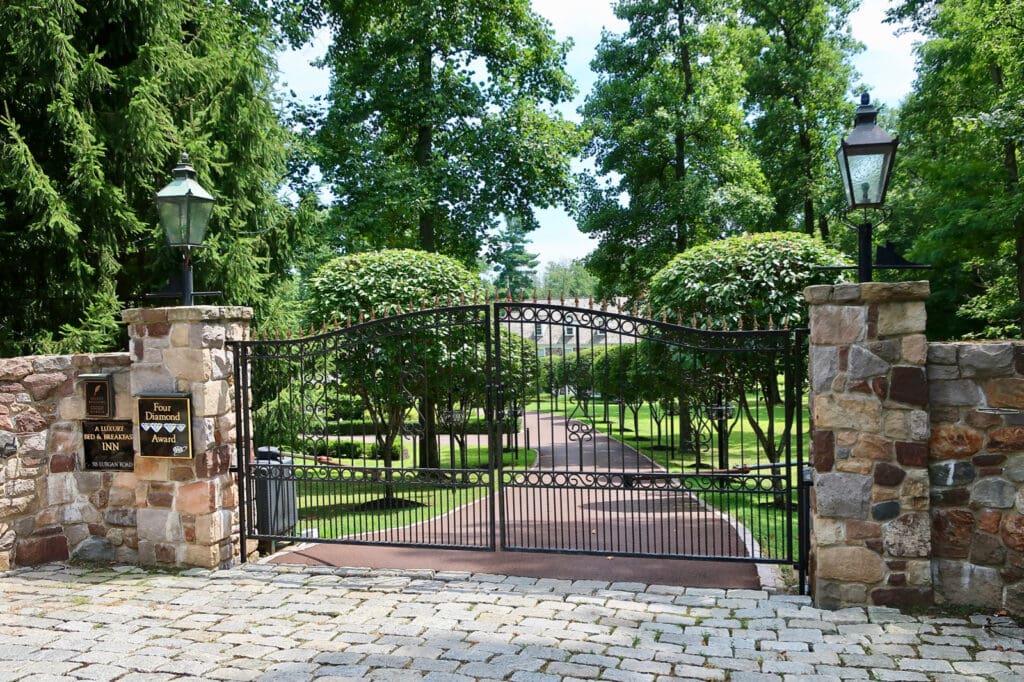 Travelers seeking the best of the best in lodging will see their needs well met at the Inn at Bowman's Hill. Earnest Innkeeper/owner, Mike Amery, helps his guests "Relax, Celebrate, Connect and Make Memories" at this Four Diamond property.
A Maven Favorite, you can read a complete Getaway Mavens review of the Inn and its rooms and suites here.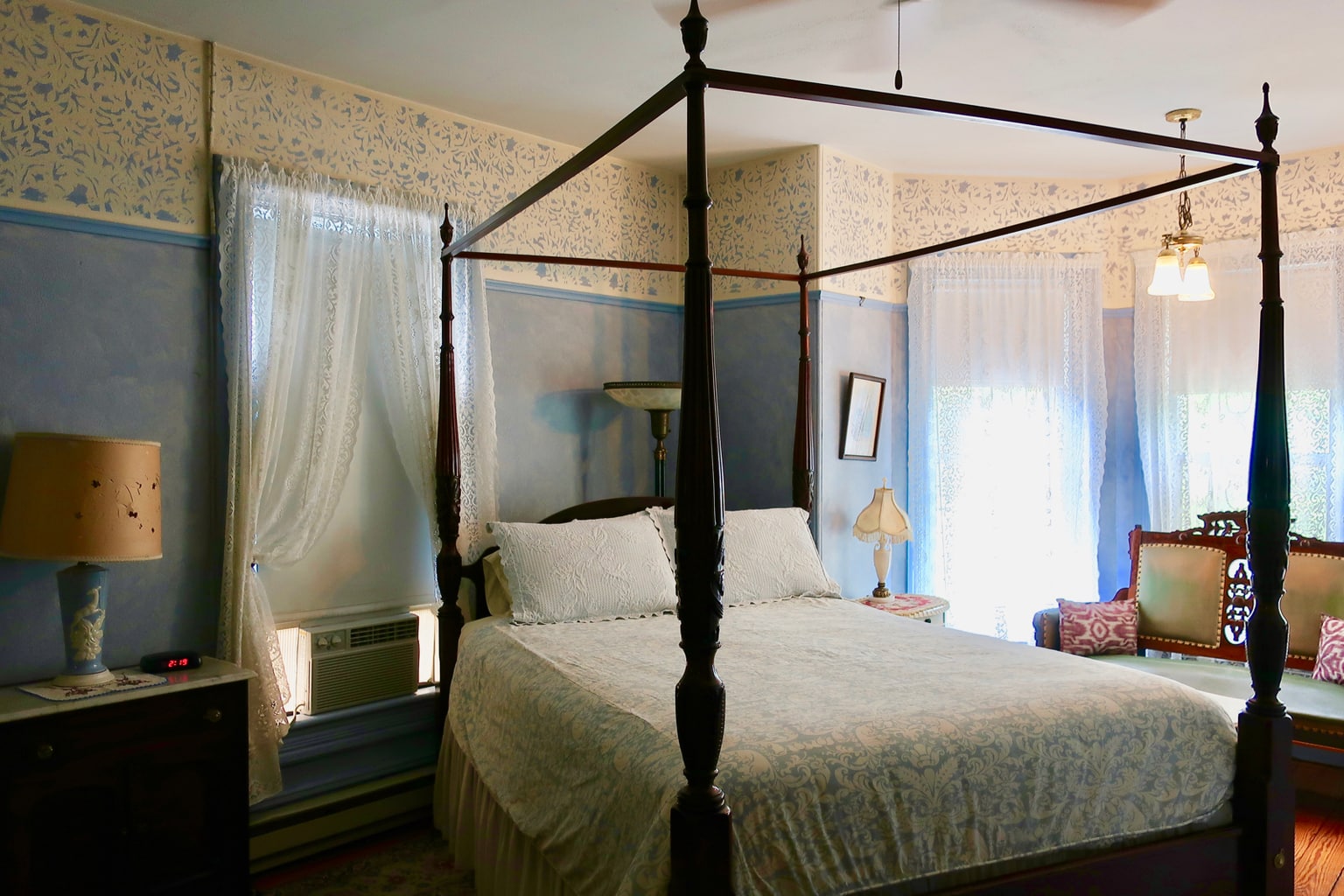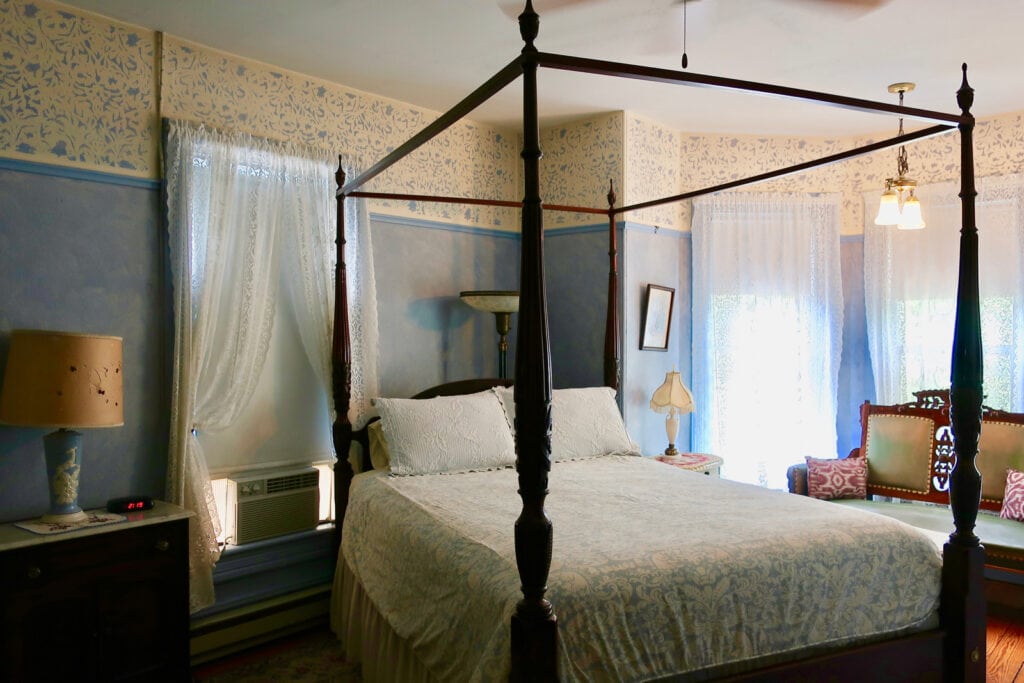 Carl and Nadine (Dinie) Glassman are well schooled in the art of Bed and Breakfast management. So well schooled, they wrote the book, "How to Start and Run Your Own Inn." In addition, the couple operates the country's oldest apprenticeship program for aspiring innkeepers.
It's no surprise that the Glassman's own 18-room B&B, The 1870 Wedgwood Inn, stands out in the business. Though common rooms sport all the welcoming cozy appointments of a Victorian B&B, you need not leave your room or suite at all. Especially with your double-Jacuzzi tub facing a blazing fireplace.
Gourmet breakfast will be delivered right to your bed. And in the evening Carl's own home-brewed Almond Liqueur waits for you at bedside, along with two shot glasses and chocolates. Rooms $125-$275 include breakfast, baked goods on arrival and Carl's famous Almond Liqueur.