Last Updated on
After a $7 million redo, the 400 room Hyatt Regency Chesapeake Bay, on 342 acres of Maryland's Eastern Shore is back in luxe-lodging form. Step inside the lobby, now sporting a ship-shape polished wood floor, and you'll see the difference right away. During the school year, this Hyatt is mostly filled with business and government conferences, but come summer, it swarms with families hoping to reconnect and have fun. According to those who stay here, it delivers big time. There are three pools (one with water slides, another featuring a nightly movie), award-winning Golf Course, a wildlife sanctuary, auditorium-size well-stocked game room, kayaking, cruising, and, splurgy spa: everything a family needs for a complete vacation in one place. To top it off, the waterfront setting is gorgeous.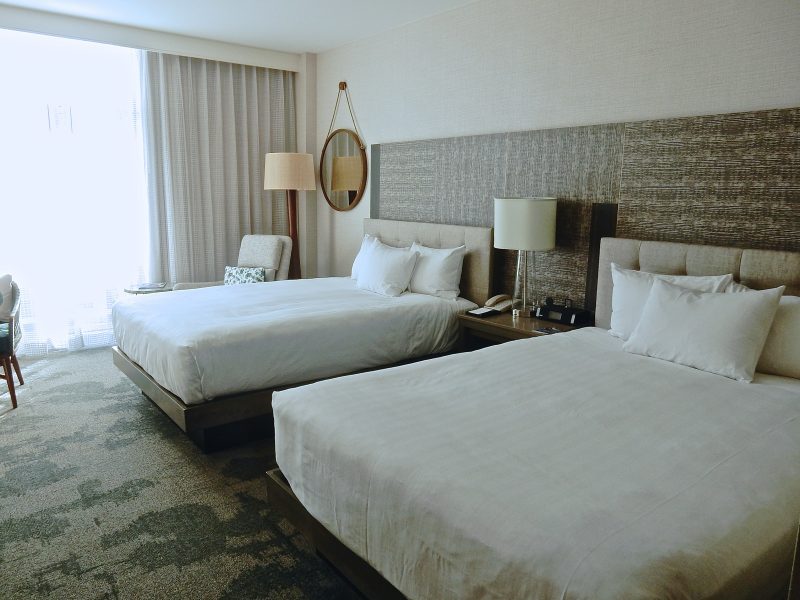 Gone is the basket-weave furniture of yore, the outdated color scheme, the faded carpeting.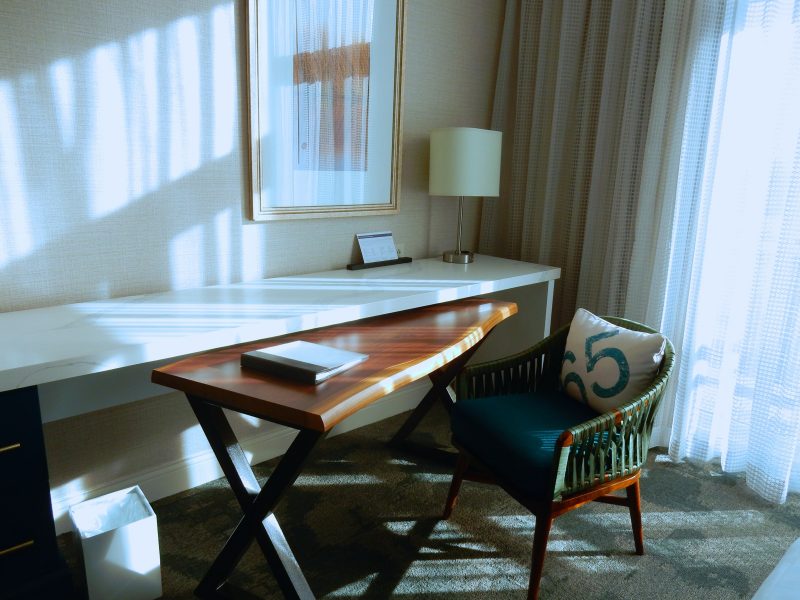 All rooms, newly clad in grays and Navy Blue, with updated design-forward furnishings and double Queen Beds (replacing the "Double" double beds), are refreshingly au courant.
Dining at Hyatt Chesapeake Bay
There are several dining options here, so you really don't have to (ever) leave: Water's Edge Grill serves three meals a day, Blue Point by the Marina (fantastic views, fresh seafood) dinner only, Dock's Poolside is self-explanatory, Eagles Nest – by the golf course, and Michener's Library, at the foot of the lobby stairs, for cocktails by the fireplace, some live music, and a game of billiards on one of two tables.
Sago Spa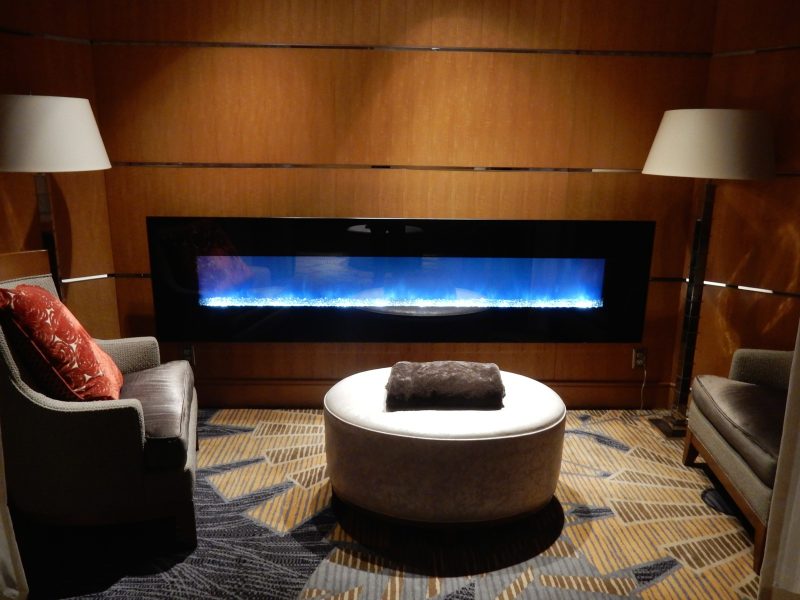 The Sago Spa was renovated in 2012 and even locals book treatments here. Try the Signature Hot Stone Massage, and your whole outlook on life will change, at least for a few relaxed hours. Massage therapists are professional, attentive and capable of turning those shoulder knots to mush. Sago Spa also has dry and wet sauna's and a quiet "Relaxation Room" with snacks, tea, and infused water. Open 10-6 off season and 9-7 in season.
Amenities at Hyatt Chesapeake Bay
It's a major Hyatt property right on a celebrated body of water, so of course there are amenities aplenty: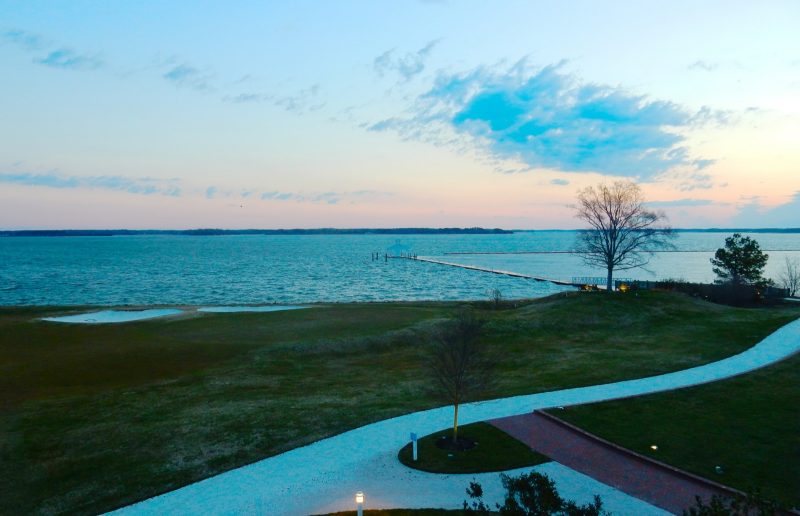 18 Hole Keith Foster Golf Course that traverses the Choptank River
150-slip Marina – boaters have full use of the Hyatt amenities
Large Fitness Center with updated cardio and free weights.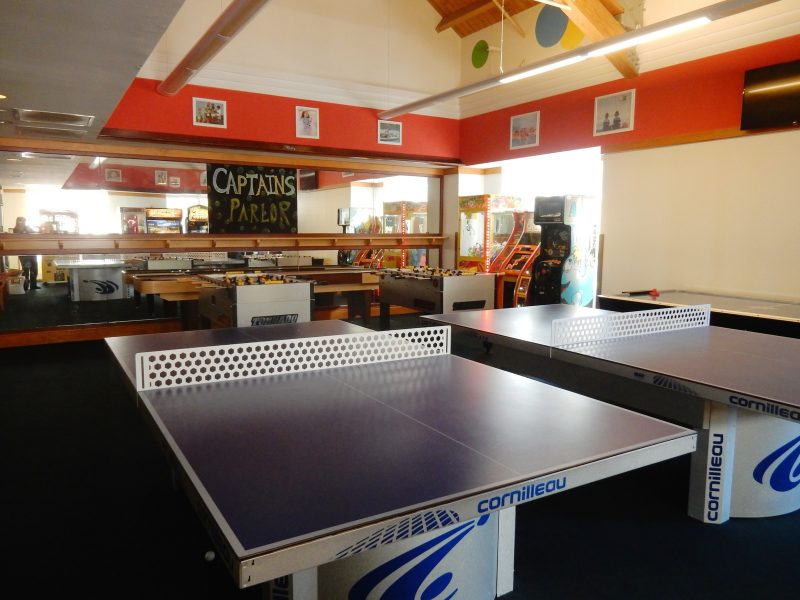 The huge and hugely popular Game Room – coined "Captain's Parlor"- has both Arcade and Table Games.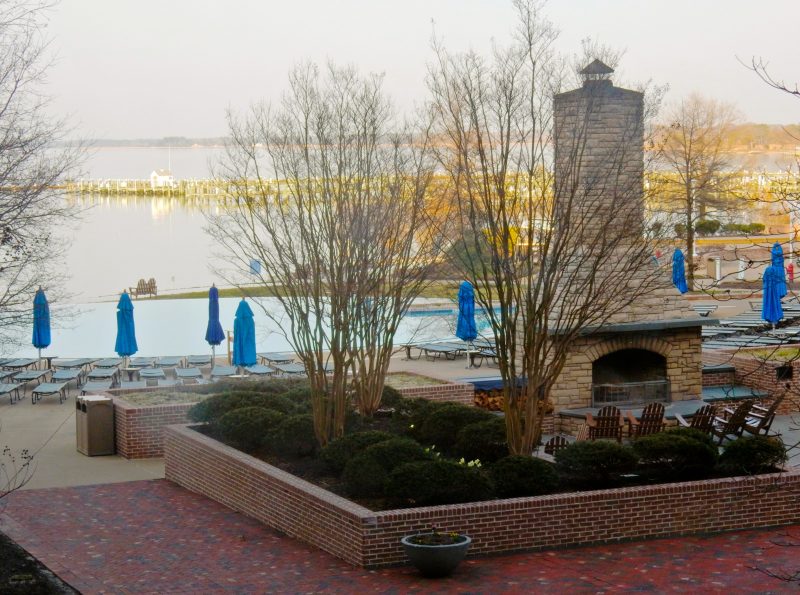 S'Mores by the outdoor "Grand Fireplace" every evening at 6pm.
Yoga on Saturdays in the summer – at 9am.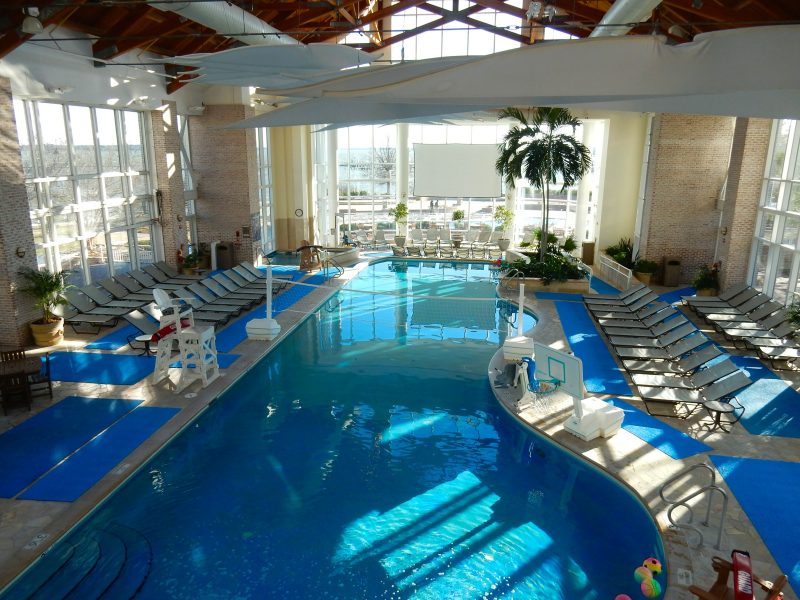 3 Pools – the massive indoor pool screens a movie every night when darkness falls and hosts lots of other fun events for kids including token dives and races. The outside Crescent (infinity) and Waterslide pools are jam packed in the summer season.
18-Acre Blue-Heron Wildlife Refuge
Other amenities include Putt Putt, a Frisbee Golf Course, Tennis, Basketball, Beach Volleyball, and jogging/walking trails.
From Memorial Day to Labor Day; Blackwater Paddle and Pedal offers on-site jet ski, SUP, kayak rentals and cruises on the Choptank River on their 46' Charter Boat.
Just the Facts
Room rates $179 per night midweek off season to $500 per night weekend peak season. Packages that include golf or breakfast available.