Last Updated on
STAY: Heron Harbor Suites at Port of Egypt Marina, Southold. The Getaway Mavens constantly search for deserving attractions, restaurants and lodging off the beaten track, and this little updated fishing motel certainly qualifies. From busy Route 25, the place reads as just another roadside motel, but drive in, check in, and both the rooms and landscape are well worth staying for. Great for couples, perfect for families.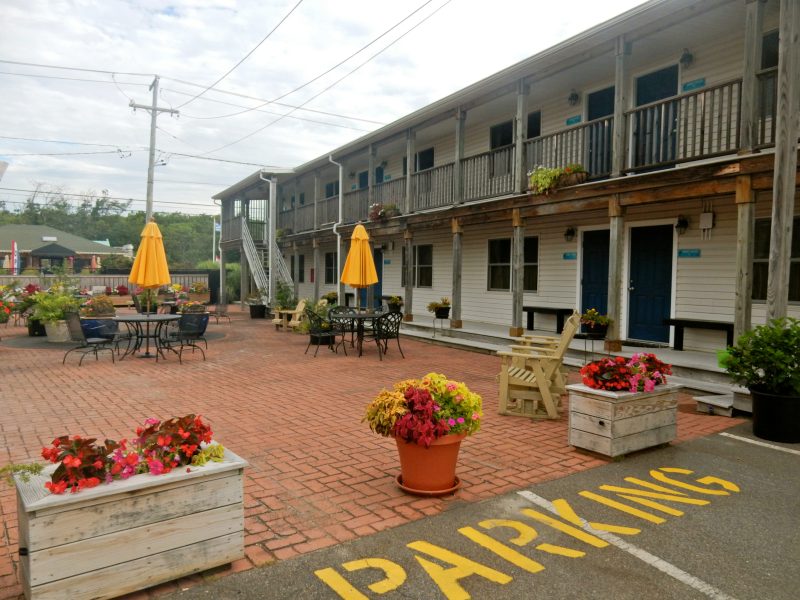 The Heron Harbor Suites, tucked into the front of the sprawling Port of Egypt Marina on Route 25 in Southold, can be deceiving. Some of the buildings look so weathered, you might pass right by this array of motel rooms unless you knew how nice they were inside.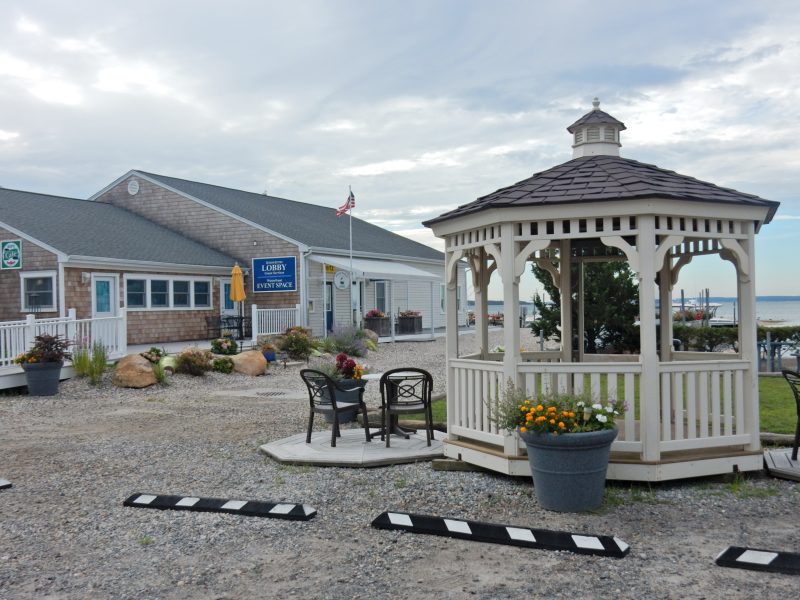 Even nicer is the view from the front of the complex – a panorama that incorporates yachts at docks, a small sandbar, which has become a nesting area for the rare Oyster Catcher bird, and Shelter Island across this portion of Peconic Bay. You can sit at a table by the waterside or in an Adirondack chair and take in the view with wine you've just purchased from a North Fork winery (The Old Field Vineyards are about a mile away), or head over to A Lure Restaurant on the other side of the lobby building (on-site).
Rooms at Heron Harbor Suites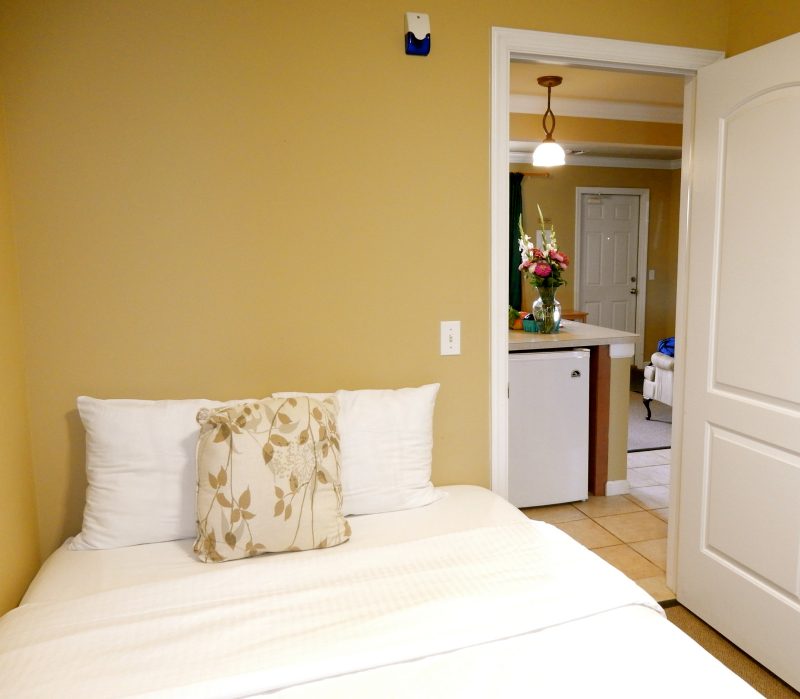 There are a variety of rooms to choose from – those within a two-floor building are conventional, clean and traditional, with high-end amenities like flat-screen TV's and upscale bath products. Two-bedroom suites feature full kitchens (stocked with kitchenware) and one bath.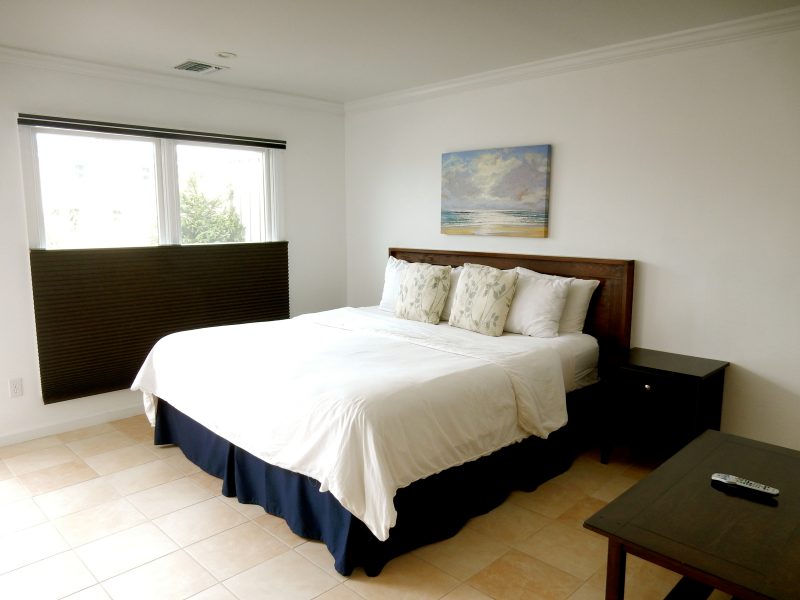 For those seeking a more stylish stay, book a Studio Suite, newly renovated after Hurricane Sandy wiped out or severely damaged some of the marina's structures. Sand-colored tiled floors, contemporary bedding and cute bathroom accoutrements give these guest rooms a bleached, beachy vibe. (FYI – Travelers who require an ultra-luxurious experience should look elsewhere. Though these accommodations are charming, clean and comfortable, and the setting first rate, it is not a 5-star hotel.)
Dining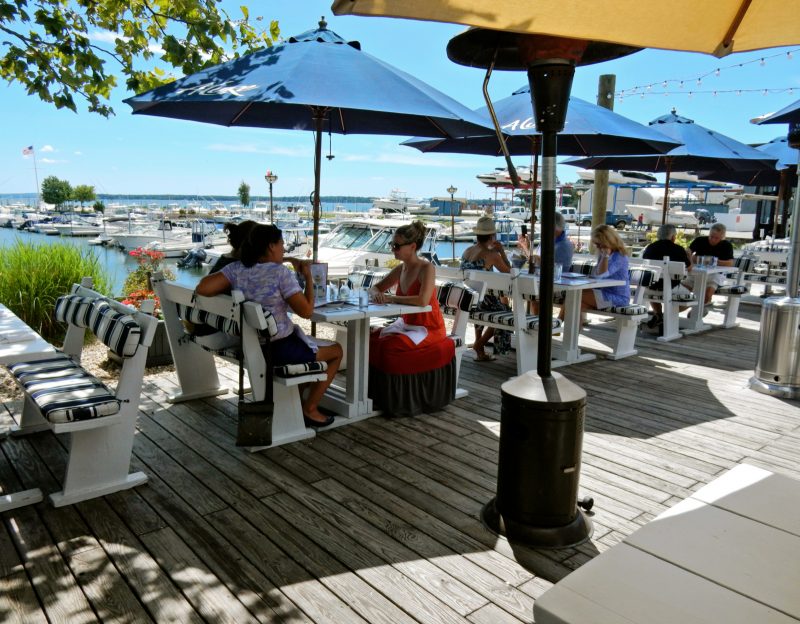 The on-site restaurant, A Lure, is actually a well-respected destination eatery. This fine restaurant overlooking the yachts at dock draws patrons from all over the North Fork and is just a 5-minute drive from Greenport. The toothsome cuisine, with ingredients seemingly fresh-plucked from land and sea, and the ambience together create a very Eastern LI experience – something you might expect in the Hampton's. But here it's a much mellower vibe. Tuna Tartar, with a hint of sesame-ginger-soy, is perfect, as are eye-catching salads and the addictive Sweet and Spicy Shrimp, which, not surprisingly, is the house-best-seller.
Amenities
Wi-fi is free (and fast) inside each room.
Hotel guests are invited to use the marina pool.
Eagle's Neck Paddling on-site offers kayak rentals.
Just the Facts
Rates from $129 off-season smallest room midweek to $579 for 2 bedroom suite that accommodates 6 in high season includes free parking, wi-fi and beach passes.