Last Updated on
WHY GO: Are you a collector of "First," "Biggest," "Longest" or "Most Extreme" places in the world? Do you love road trips? Interested in French culture? Well, Madawaska ME is the most extreme Northeast Corner of the USA, rich in French-Acadian history. And Fort Kent is Mile 1 of the US Route 1 that extends all the way to the tip of Florida, 2,200 miles away. But these are not the only reasons to visit the US/Canada border towns that are part of Aroostook County on the St. John River. You'll find laughing Acadians, a great little Boutique Hotel and some really fun nightlife – yes, nightlife – in the area of Maine that exemplifies "You can't get there from here."
Things to Do in Fort Kent and Madawaska ME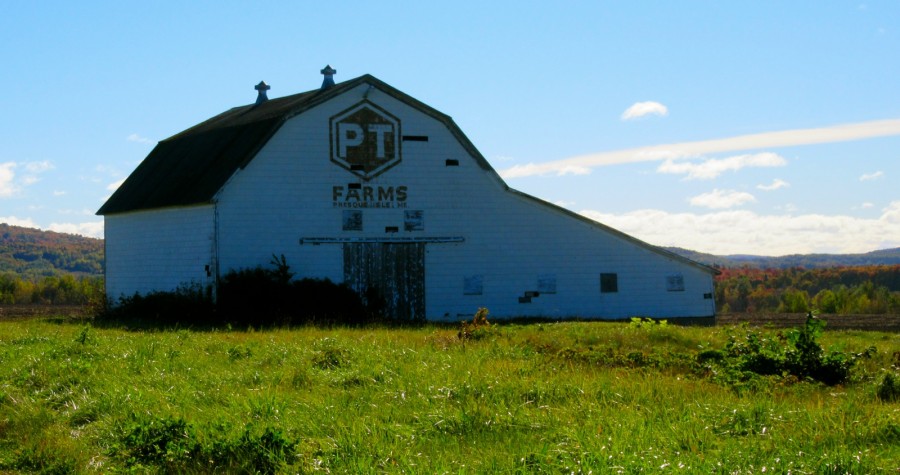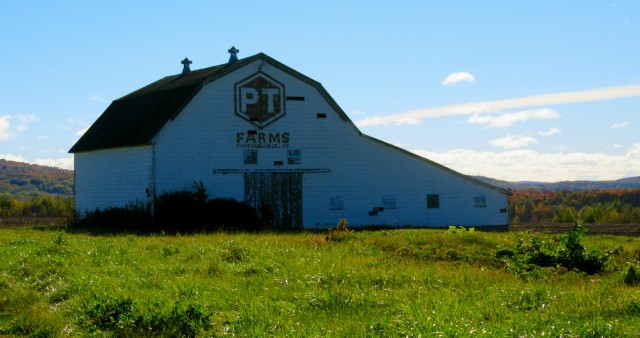 DRIVE: Up Route 1 to the St. John River Valley. From Presque Isle, it's 60 miles to Madawaska and on the way you'll pass a barrage of potato farm stands. If it's October, they will be bursting with 20 and 50lb sacks of the tubers – which you can pick up for a song (on the honor system).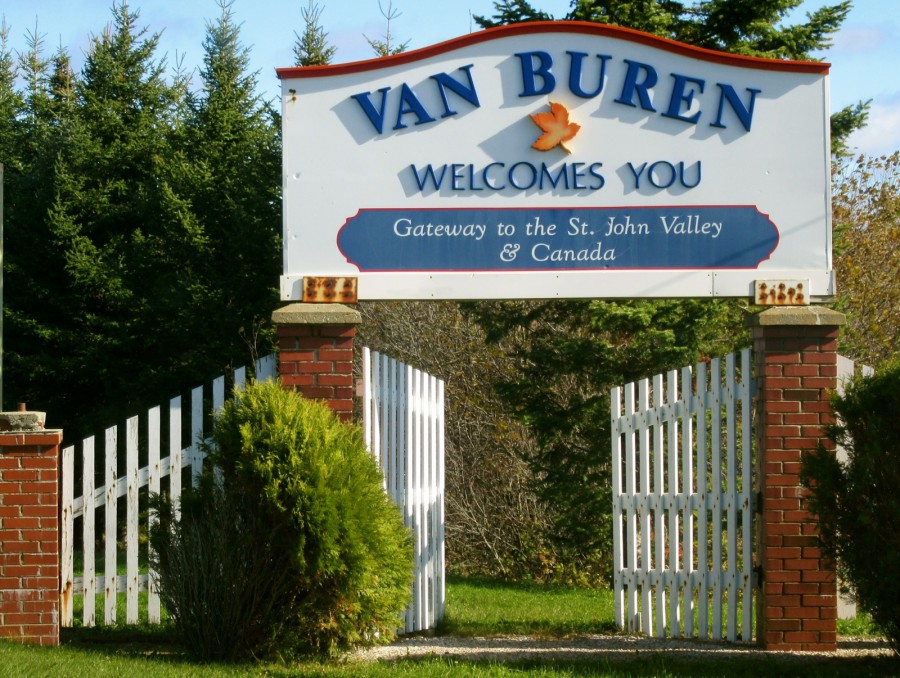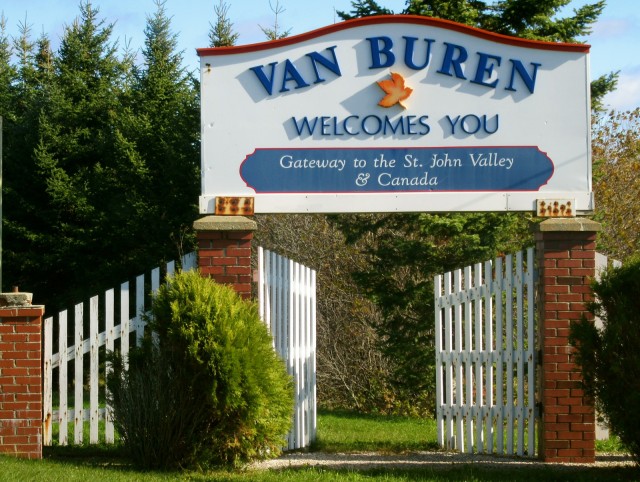 TOUR: Acadian Village, Van Buren. You'll get to Van Buren first, so plan to stop at the Acadian Village (just past a red house on the left and a roadside cross). The 17 building complex showcases furnishings from different periods, and four homes that were actually lived in. Open only in summer, it's well worth your while to explore.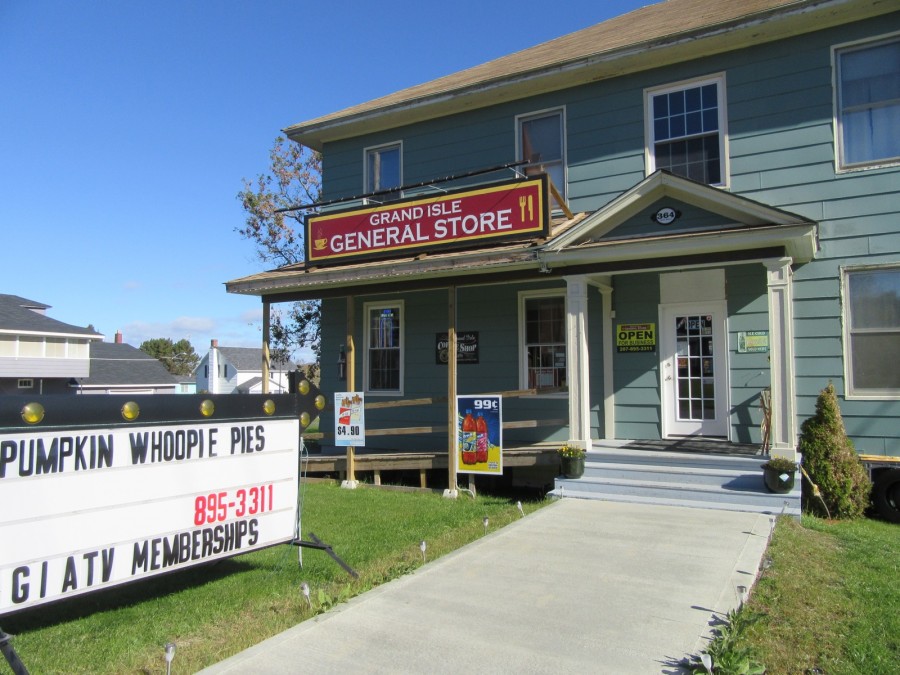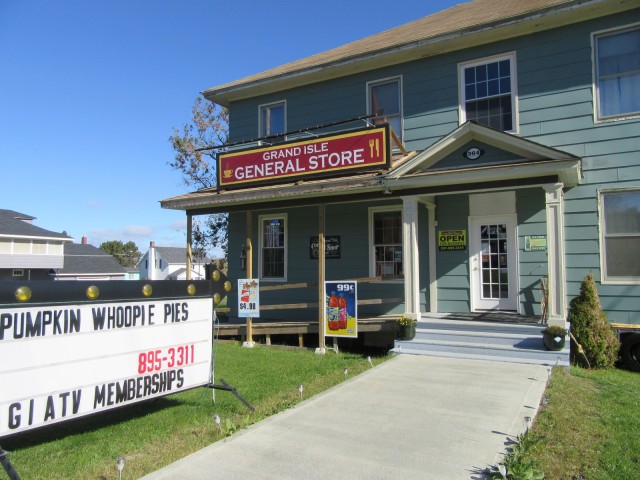 VISIT: Grand Isle. Next is the relatively swanky town of Grand Isle. The first home you'll see is a riverfront mansion sporting garden sculptures – and then the Musee Culturel Du Mont-Carmel in a decommissioned Catholic Church. Stop in at the General Store that caters to rugged hunters and snowmobilers – definitely a culture trip for those from "Down East."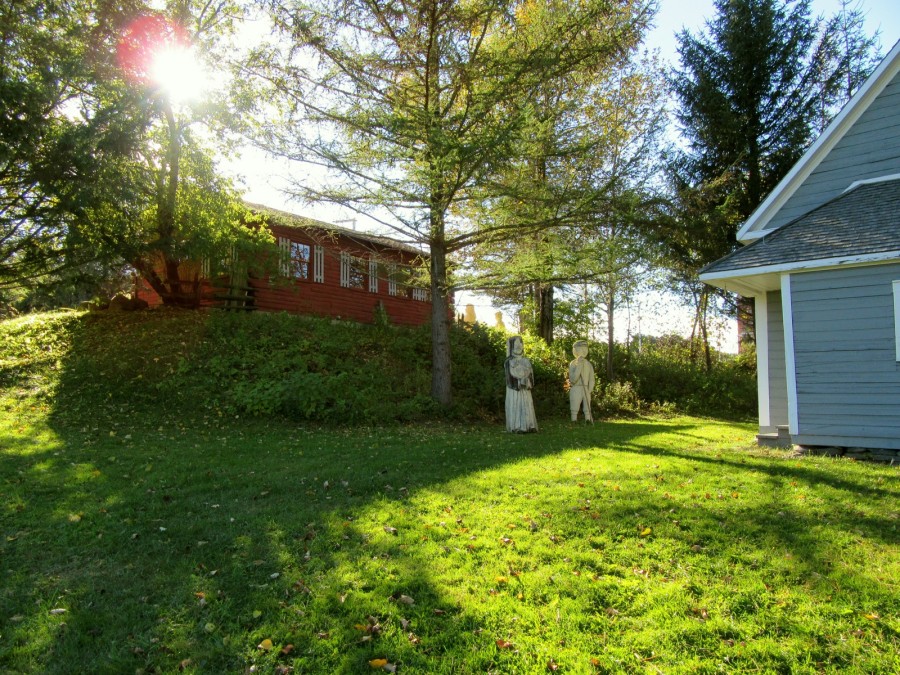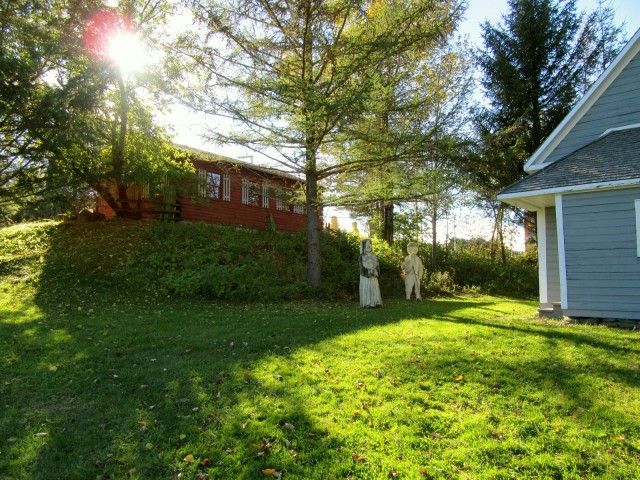 TOUR: Tante Blanche Museum and Acadian Cross, Madawaska. Tante Blanche – aka Marguerite Blanche Thibodeau, an Acadian folk hero – possessed elements of Mother Theresa, Robin Hood and Florence Nightingale. An "Angel of Mercy" to many, Tante Blanche was a formidable figure during the Great Winter Famine of 1796, after floods and frost destroyed all crops. Seemingly larger than life, Tante Blanche battled driving wind and snow as she trudged door-to-door to collect food and clothing from the rich to give to the poor.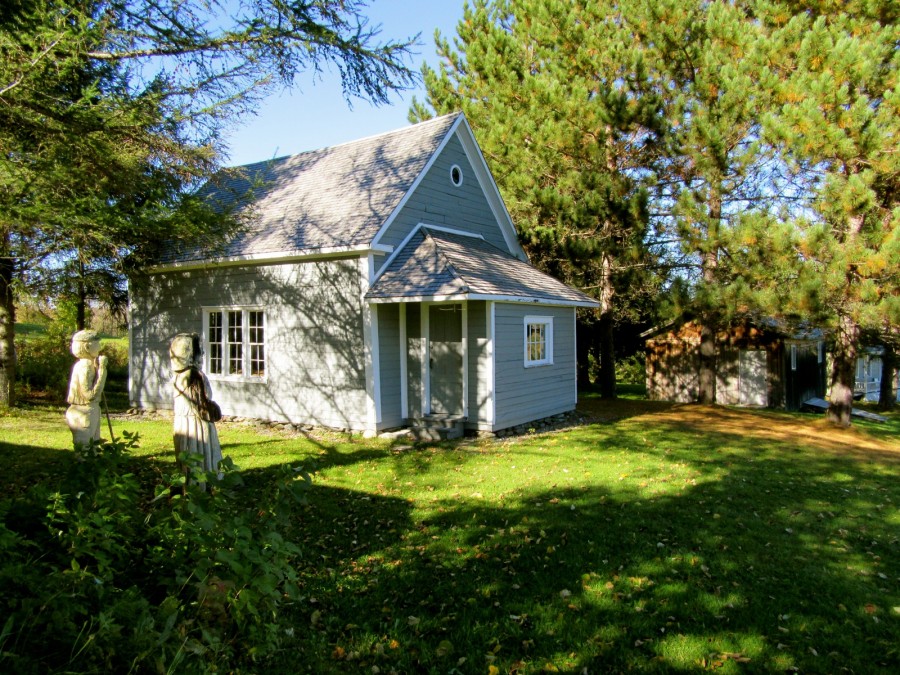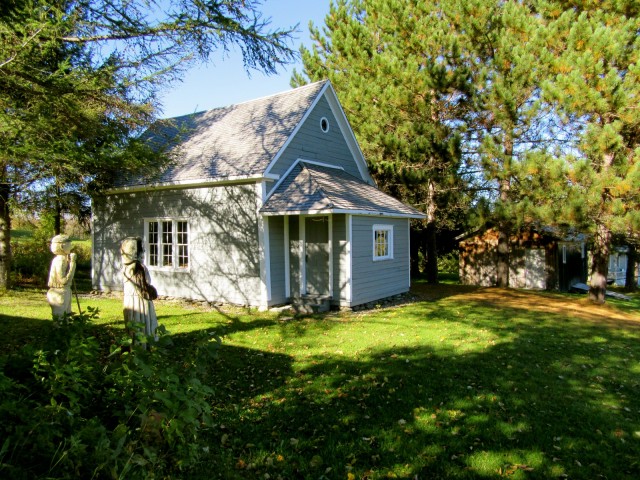 You'll learn her story, among others, at the museum's Visitor Center, built in the 1970's, which is filled chock-a-block with artifacts from the area. Be sure to sign up for a tour of all four structures in the museum complex for a comprehensive history of the little known Maine Acadians.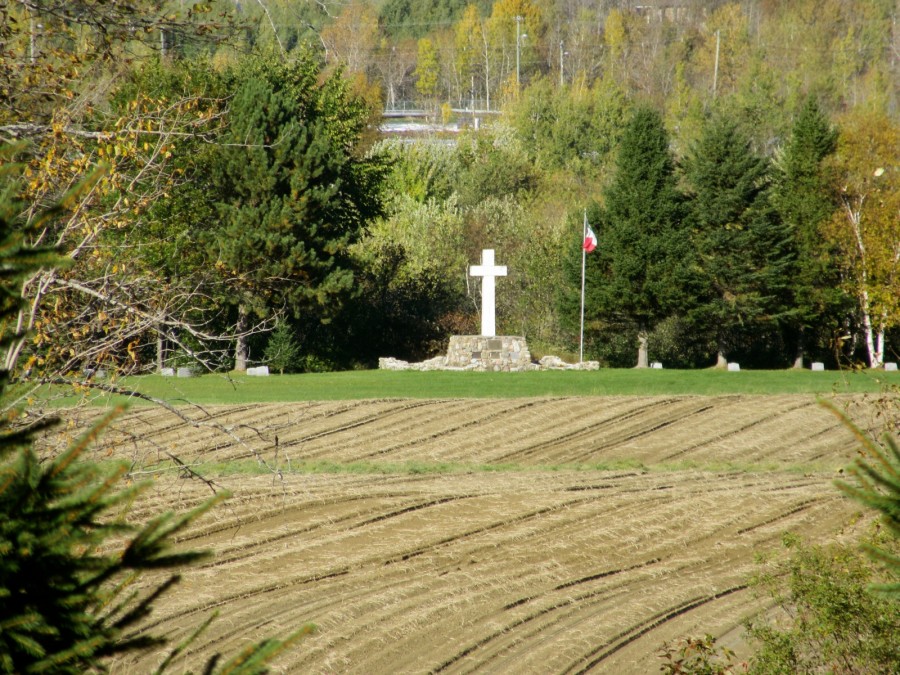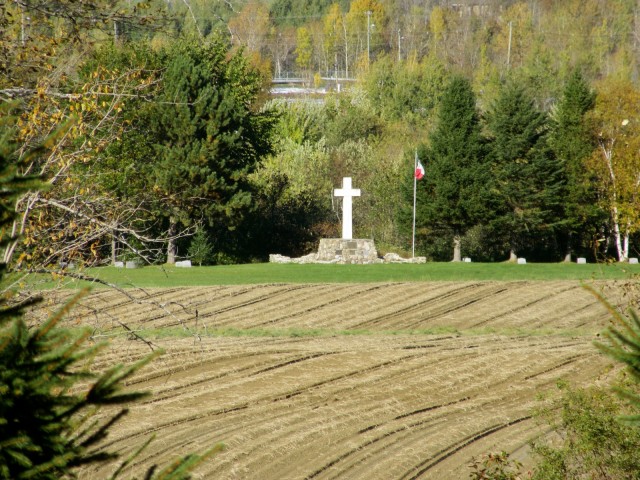 In the 1750's, after Great Britain conquered what is now Nova Scotia, New Brunswick and Price Edward Island, the resident Acadians were deported to France and the 13 Colonies (French Acadians would eventually move to Louisiana – where they are known as Cajuns). However, a small band of "refugees" who "missed the boat" came up the St. John River, thanked God for safe passage, planted the Acadian Cross on the embankment (rebuilt as a 14 foot white marble Historic Shrine where, legend has it, it first stood behind the Tante Blanche Museum), and made their home in Northern Maine.
Many Acadian men married "French Canadian" women from Quebec, and so the descendents here still speak both English and French, and have an accent singular to this region. French and English building techniques differed, too, and are identified by terrific informational signage. (The French dovetailed logs at the corners, while the English notched and stacked them like Lincoln Logs).
A tour of Madawaska School District #1, the only remaining schoolhouse from the 19th century in the community where, from 1870-1930, local children were educated, dramatizes the importance of learning American history at the time. Portraits of George Washington, Abe Lincoln, and Betsy Ross hang on the wall along with a 1904 Map of the USA and the Pledge of Allegiance in its original form – minus "Under God," (which was not added until 1954).
The Albert Homestead, occupied until 1970, was the home of Madawaska's first Town Treasurer, Luc Albert. Paperwork indicates that the building possibly dates back to the late 1700's. Restored to its original design, you can still see ax strokes in overhead beams and wall logs, and elements of classic nautical Acadia details like "Ships Knees" used as ceiling/wall supports. Open June 15 – Labor Day, 9:30-4:30 weekdays, 1-4:30 Sunday.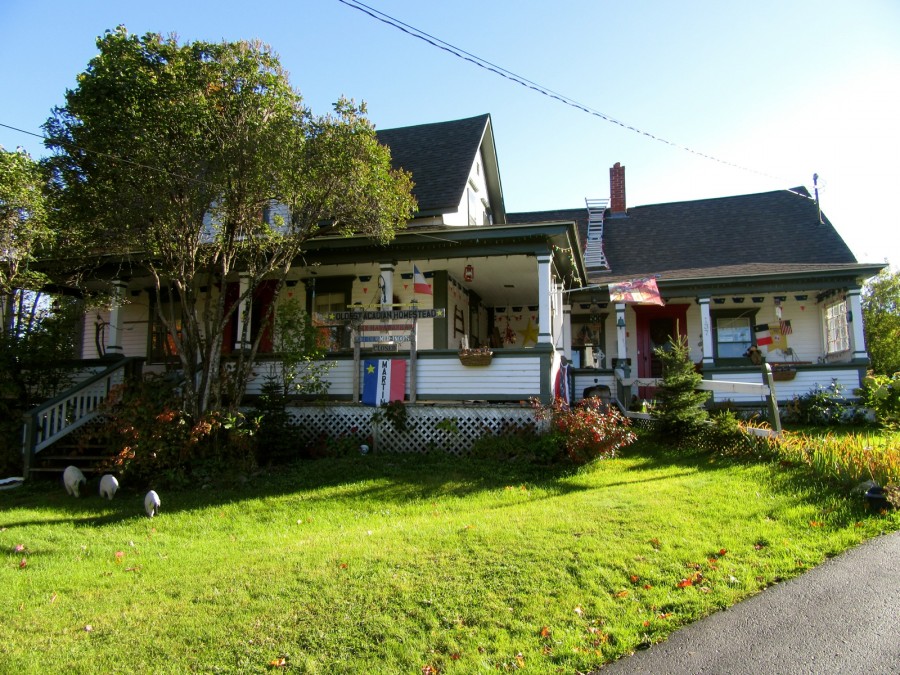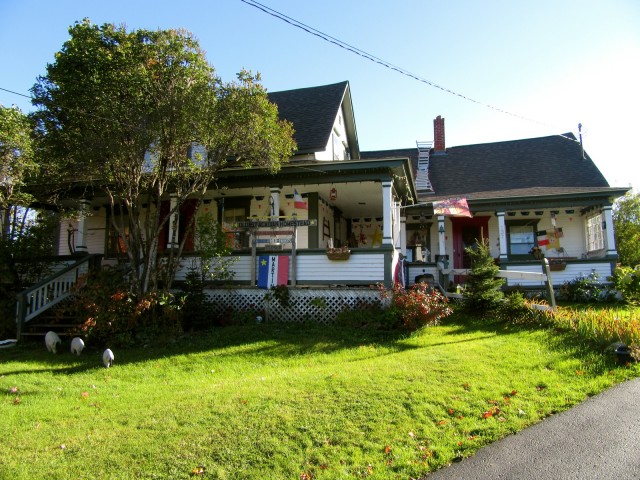 TOUR: Martin Acadian Homestead. This 1823 log and timber structure is still a private home, though tours can be arranged with the owner, Lois Muller, a seamstress and liturgical artist. The original owners, Isaie Regis Martin and his wife, raised 17 children here. "Isi's" family was originally from France: His grandfather was the first European (non-indigenous person) to be born in Nova Scotia.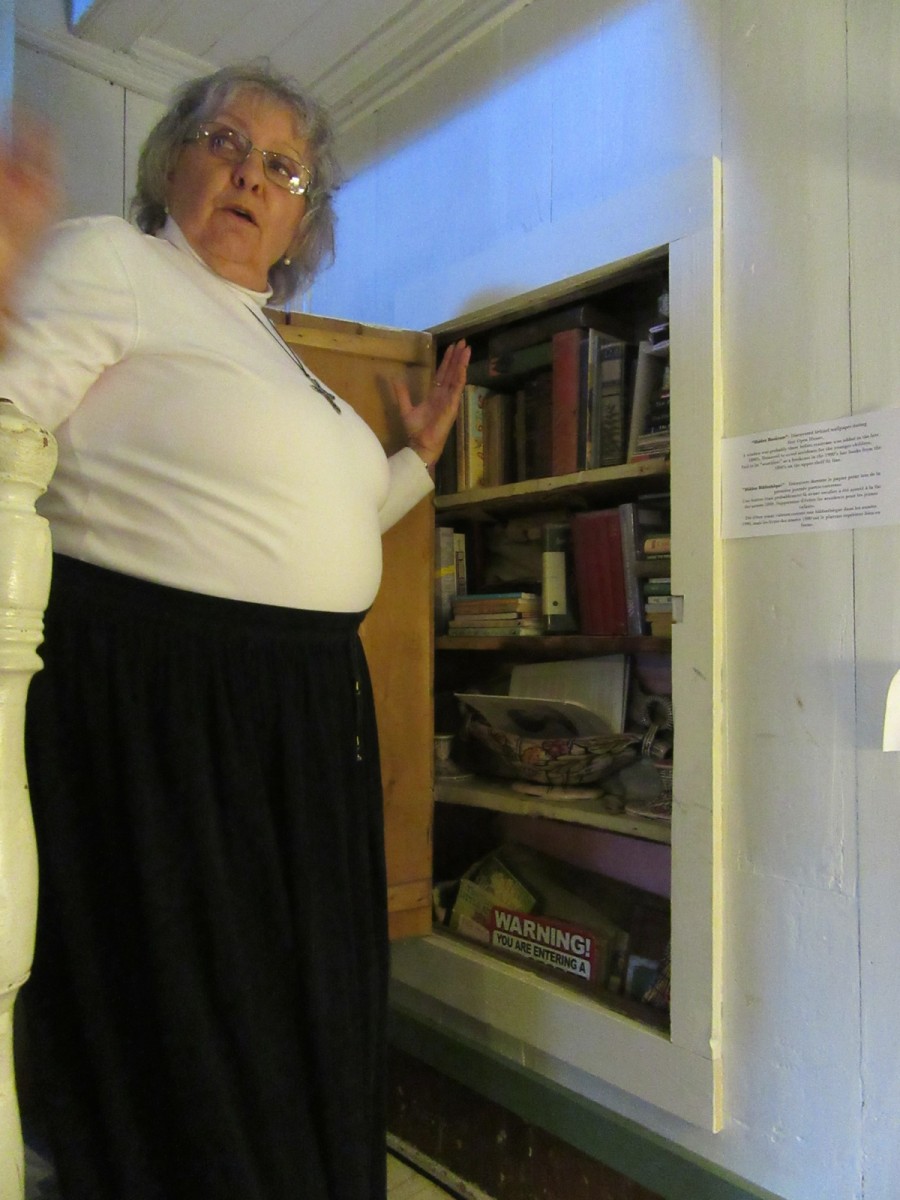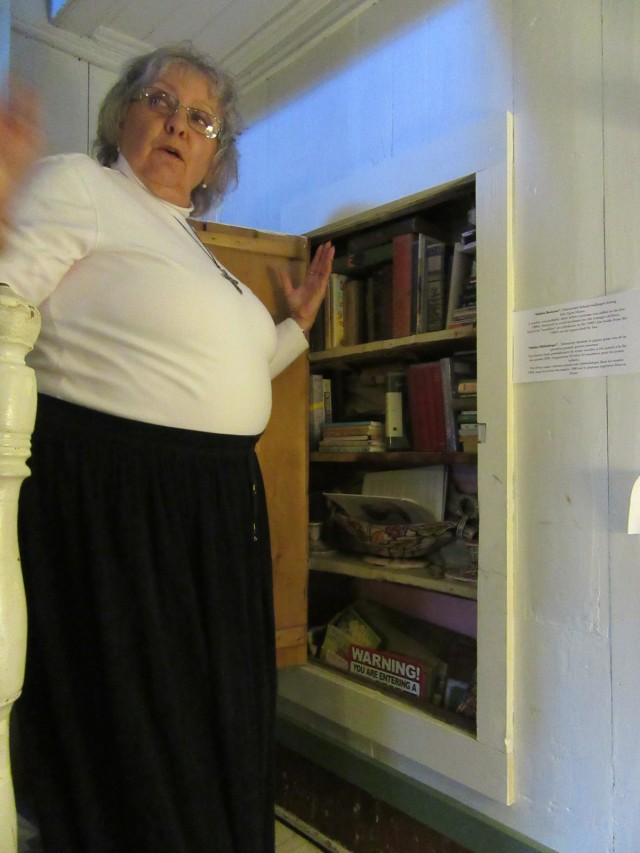 The home features important characteristics of Acadian architecture – tongue and groove joints, shipbuilding workmanship, bricks under stairs to heat the room. Lois and her husband are restoring the home to its 1920's appearance. The hidden bookshelf at one stair landing was most likely covering a window. "Some kid must have taken a tumble down the steps and crashed through it," Lois imagines. Go up to the loft, with its original wood floor. Nearly all of the windows are authentic "bubble" glass. There's a scary root cellar accessed through a trap door in the living room, and hidden cabinets galore.
Though the interior is a bit discombobulated at the moment – a visit here will give you a good idea of how the "Common Man" in Madawaska lived and worked at the turn of last century. Contact Paul and Lois Muller, 207-728-6412 for a tour.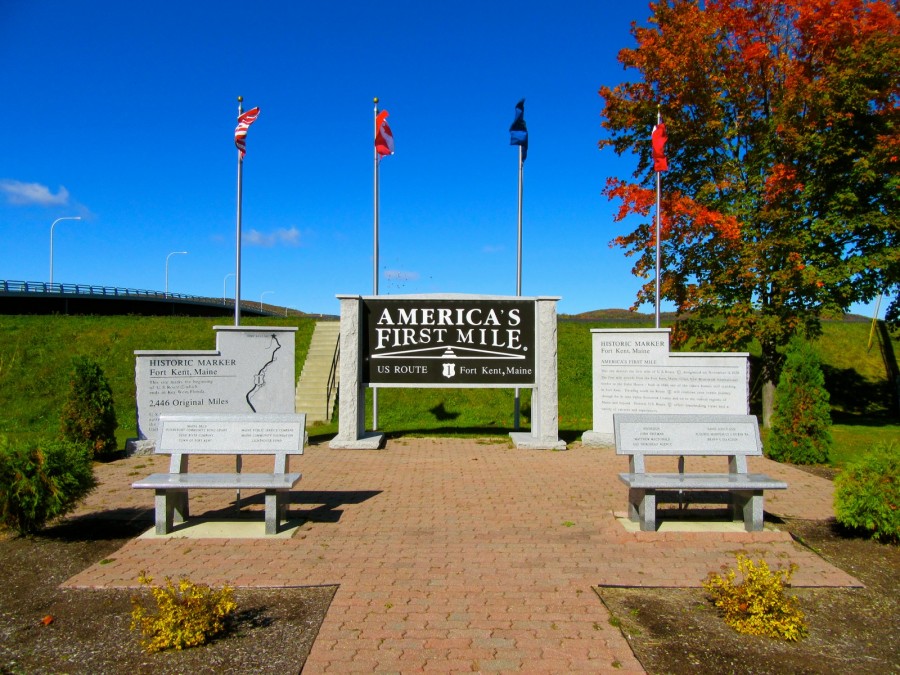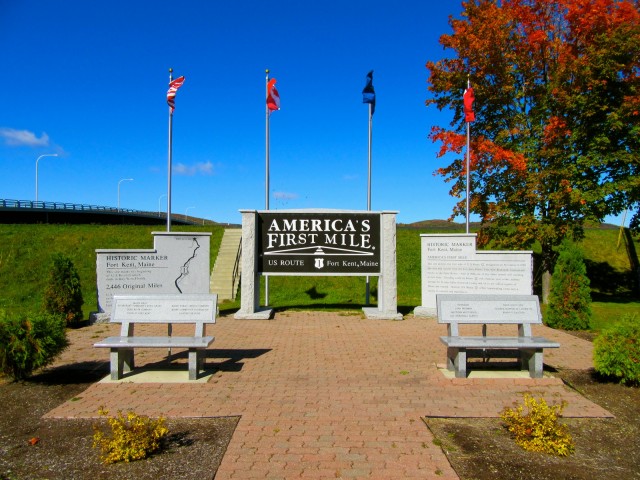 VISIT: Fort Kent. Driving another 19 miles west of Madawaska along the St. Johns River on US Route 1, you'll keep Canada on your right as you approach the granite sign that marks the Beginning of US Route 1 – "America's First Mile." Fort Kent Main St. is the starting point for the Can-Am Dog Sled Race every year, and features a substantial border crossing into Canada, just a few steps away.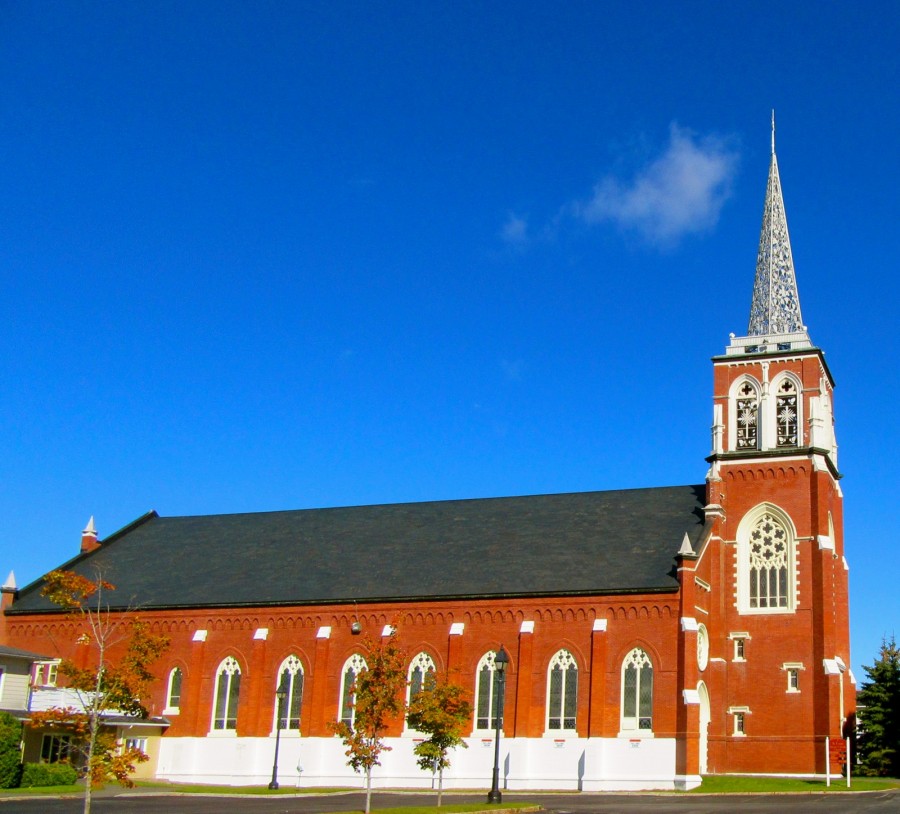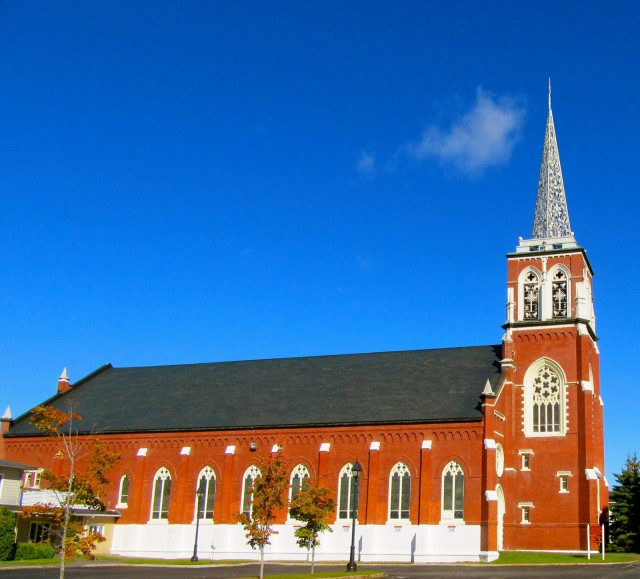 Check out the magnificent filigreed steeple of the 130 year old St. John Vianney Parish Church (26 East Main St.) and Darren Connor's Farm Life Murals on the sides of several buildings.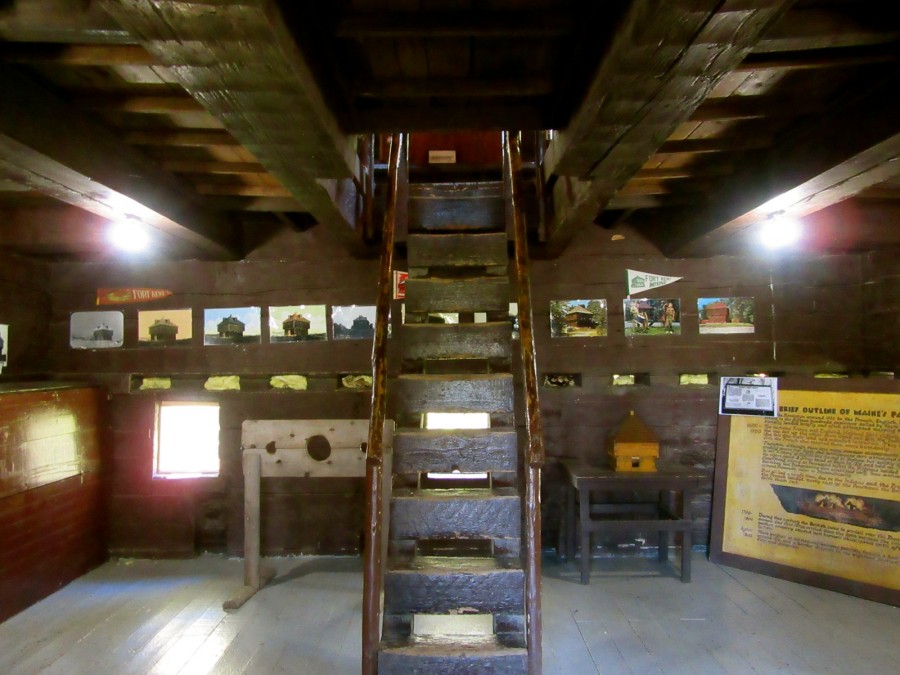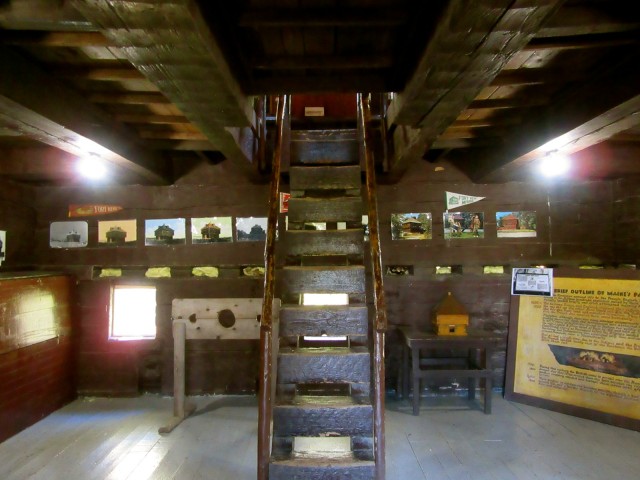 If it's open, step into the Fort Kent Blockhouse, a small fortification built during the "bloodless" Aroostook War in 1838-1839, and featured in the border dispute between the US and Great Britain (settled between New Brunswick and Maine in 1842). Daily 9-5, Memorial Day to Labor Day, Free. 
Best Places to Eat in Madawaska ME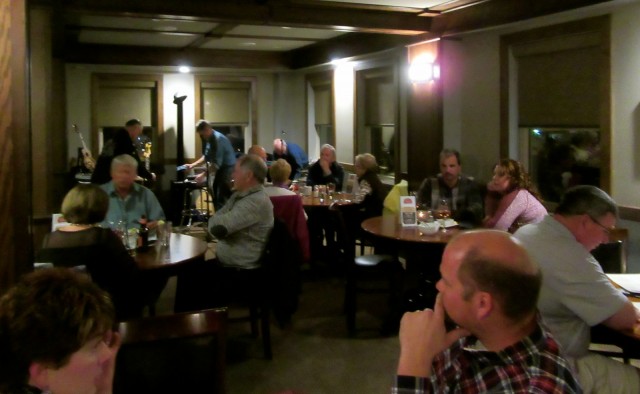 EAT/DINNER/DANCE: Voyager Lounge at Inn of Acadia. If you come on a weekend, when a live band is performing, you'll most likely be the only out-of-town guest in the room. Clearly, Acadians love to have a good time. On a rainy Saturday night in mid-October, the Voyager Lounge, dressed in modern grays and reds, teemed with laughing, yakking locals having the time of their lives. It was enough just to be an observer and absorb the fun and festivity. The food is good and fresh – unexpectedly good, in fact: Seared Sesame Encrusted Ahi Tuna ($18) over greens is cooked to perfection, and don't even get me started on the "S'mores Ravioli" dessert ($6). Suffice it to say I ate the whole thing.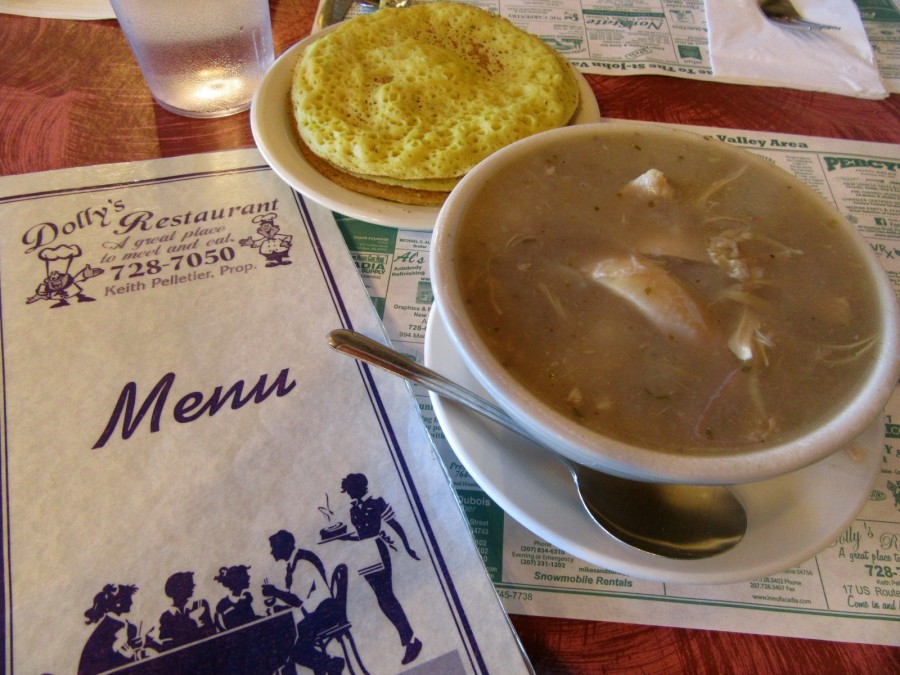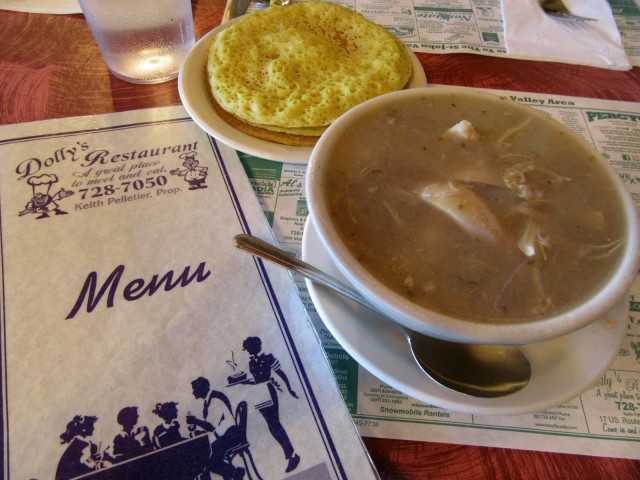 EAT/LUNCH: Dolly's Restaurant. This diner-like cafe has won awards for its home-cooked comfort food, particularly the regional specialty, Ployes – most buckwheat pancakes – and Chicken Stew (more like dumpling soup). Try a bit of both for $5.99 for a true taste of Acadian cuisine.
Best Places to Stay in Madawaska ME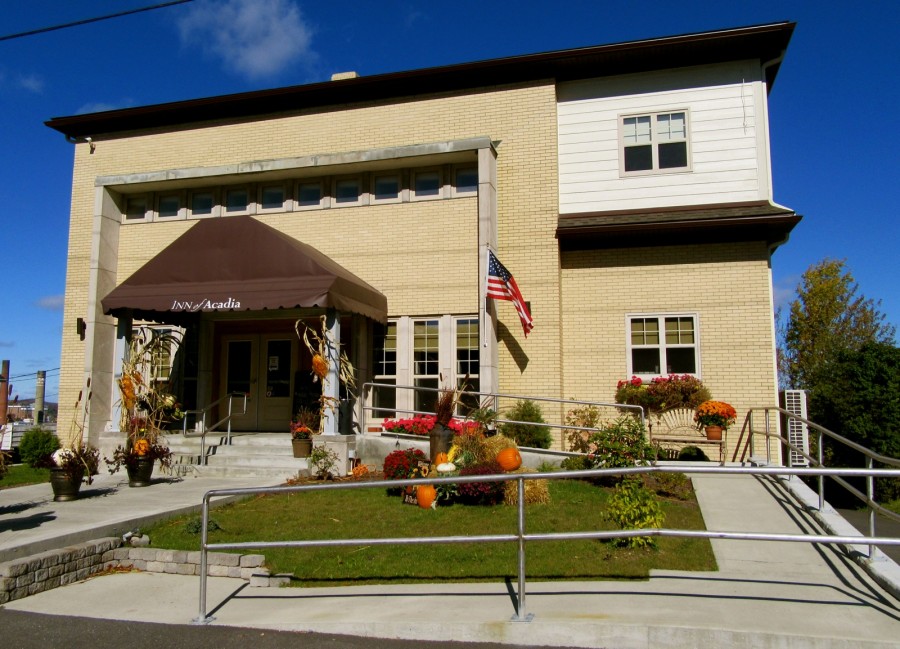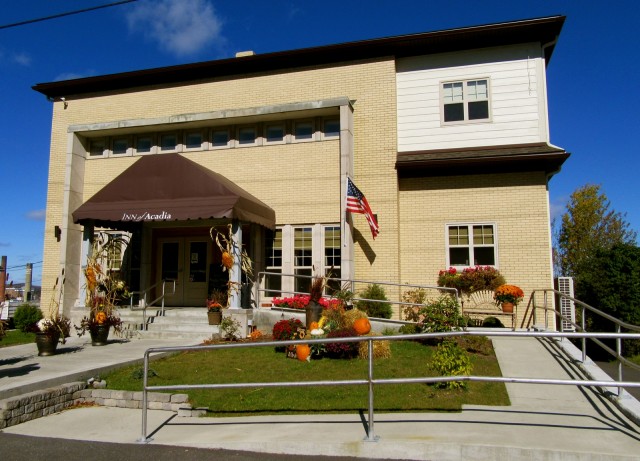 STAY: Inn of Acadia. Aroostook County's only "Boutique Hotel" – the Inn of Acadia, housed in a former convent nursing home – is ultra-friendly, adorable, convenient (with good on-site restaurant, see above) and comfy. More contempo-spare than lavish, bedding is delightful, ceilings and windows soar, and bathroom showers, though a bit on the small side (at least in Room 4) are enlivened by glass mosaic tile work. There's a tiny lobby, a smile at reception, and relief that you've made it here, to the "end of the country" in a way, to such a sophisticated and gracious place.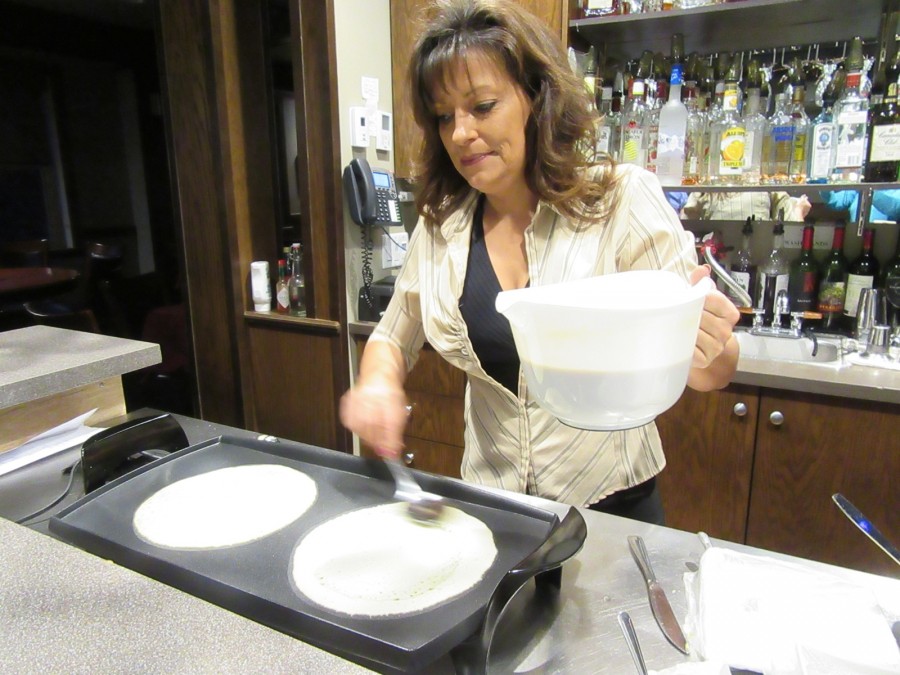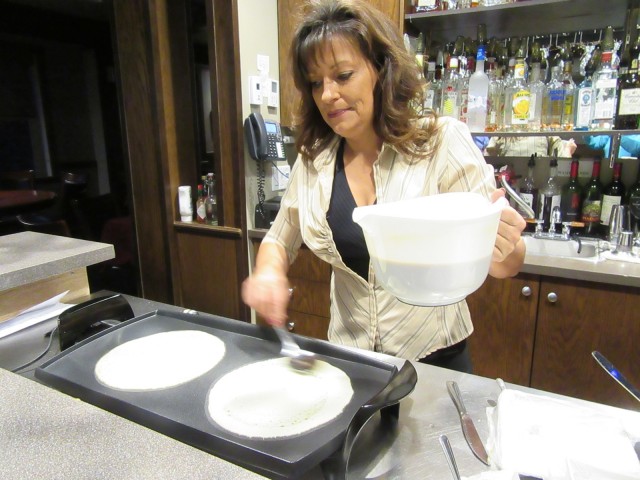 In the morning, enjoy a hot breakfast in the Voyager Lounge. Opt for the delish crepe-like Fruit Ployes – made on a skillet right before your eyes. A great way to start the day. Room rates from $93-$129 include a hot, made to order ployes breakfast.